Halloween is right around the corner. And as you plan what to wear for the spooky holiday, we have sorted one of the detail of your look – your manicure. Below, find the best of Halloween acrylic nail designs for 2023:
#1 Want Halloween-inspired nail art but can't ditch your favorite French manicure style? There's a hack to have them both etched on your nails, and the hack is presented in our first Halloween acrylic nails short. The French tips each feature a signature holiday element like blood drip, ghost, and spider web. One of the tips has a pumpkin though – giving a completely authentic vibe to the ongoing fall season. The usage of vibrant colors makes this design by G's Beauty Base exceptional and eye-catching.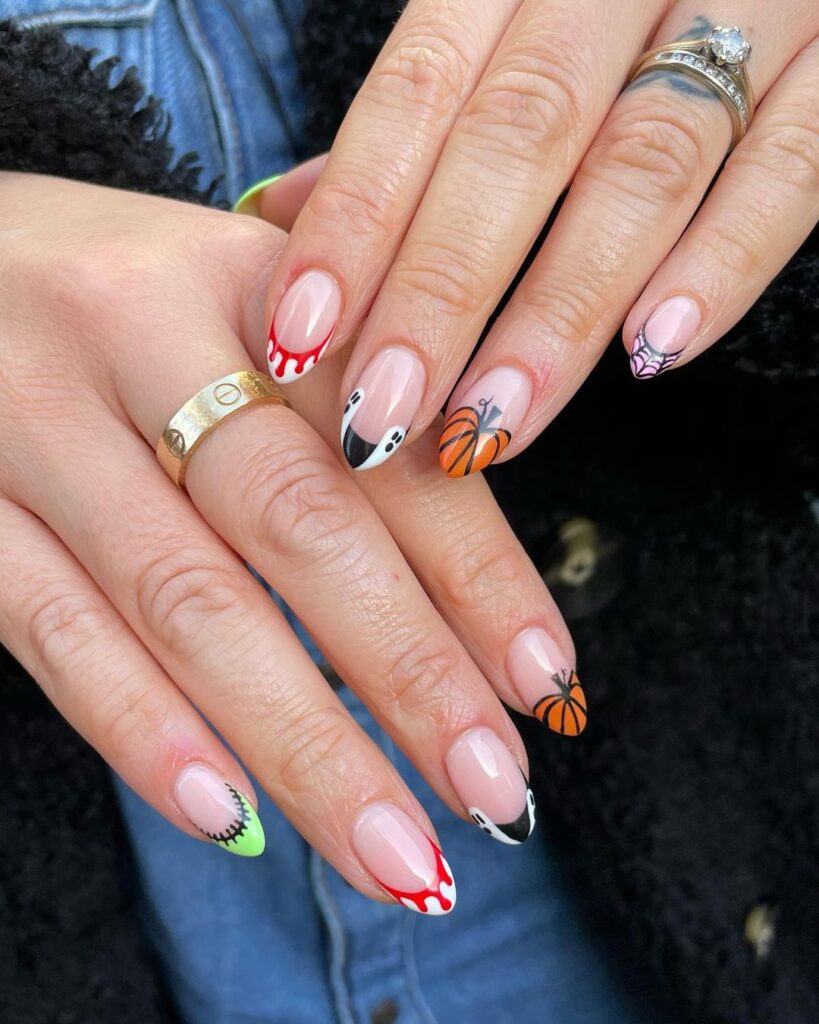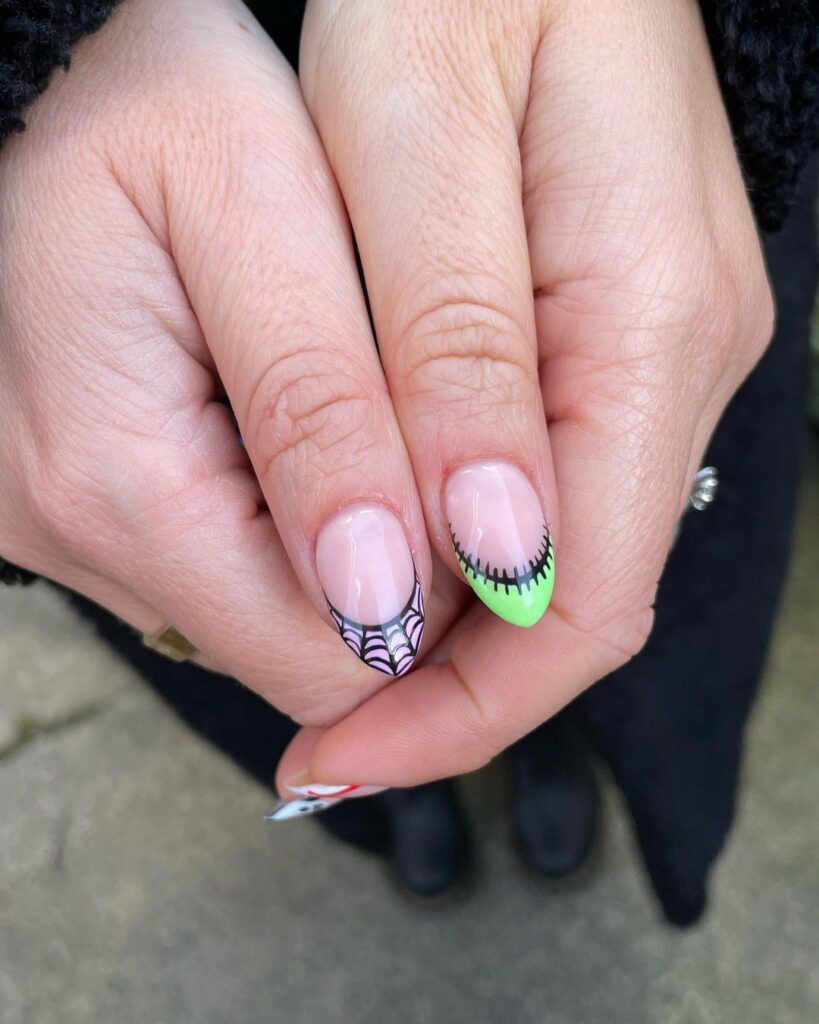 #2 Created by England-based nail artist, Abbey Bright, this gorgeous one of Halloween acrylic nail designs features many notable elements of the traditional holiday. It's done in a deep purple color – a sharp contrast and a visual treat to those bored of the usual orange hue on fall nails designs. The classic Halloween elements are done in black like the spider web and the color drip, while the ghost drawing is done in white for a beautiful accent. Adding to the chic Halloween nails is the glitter, which turns on the glam of the nail art without distracting too much from the actual occasion.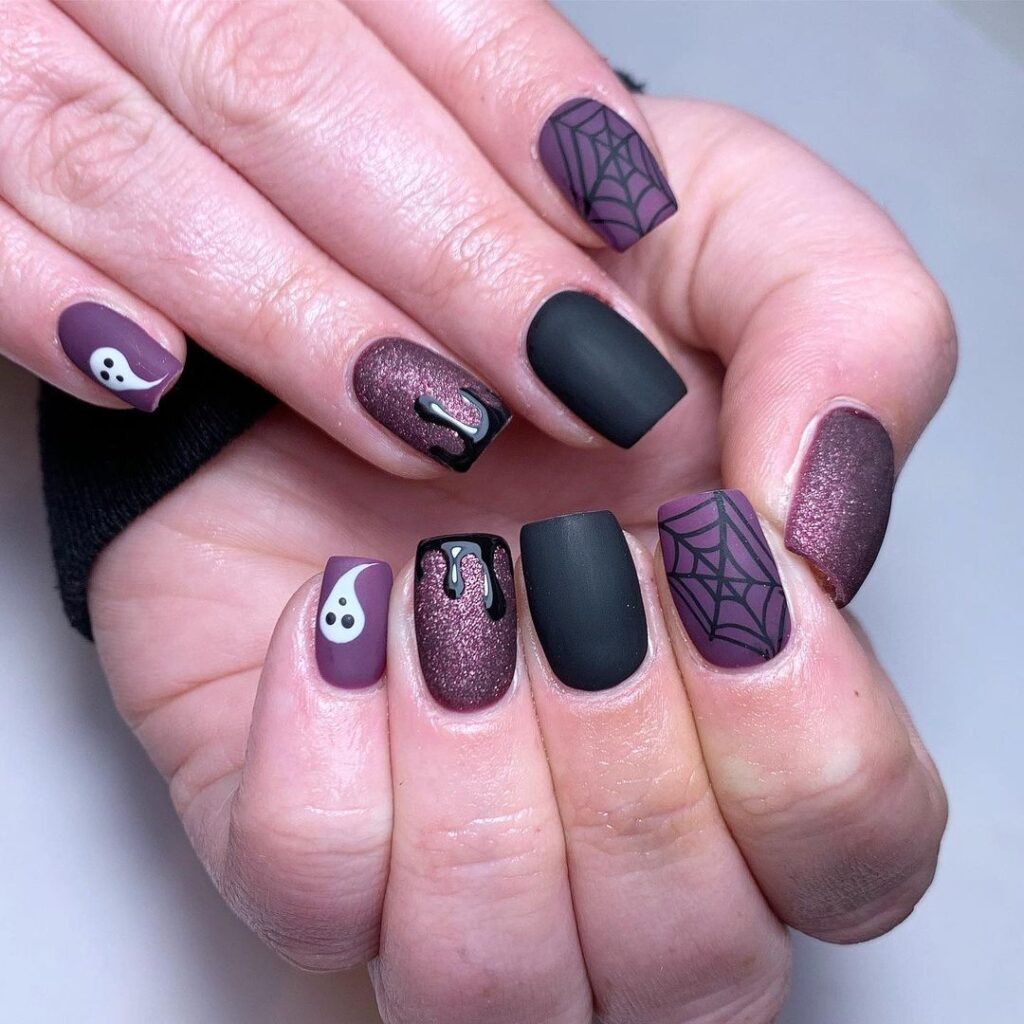 #3 If you want to partake in the festivities by getting nail art inspired by the holidays but also want to keep it subtle and less obvious, here's Halloween acrylic nails 2023 made just for you. It features the signature French manicure tips in the Fall orange color encompassing the warmth of the season with a black outline to give a nod to the festival. If you don't want to get these done in acrylics, you can totally DIY these Halloween nails at home. Start by shaping your nails in a smooth almond shape. Carefully section the French tips and fill them with Fall orange color. Lastly, do the outline using a dotting tool and a steady hand.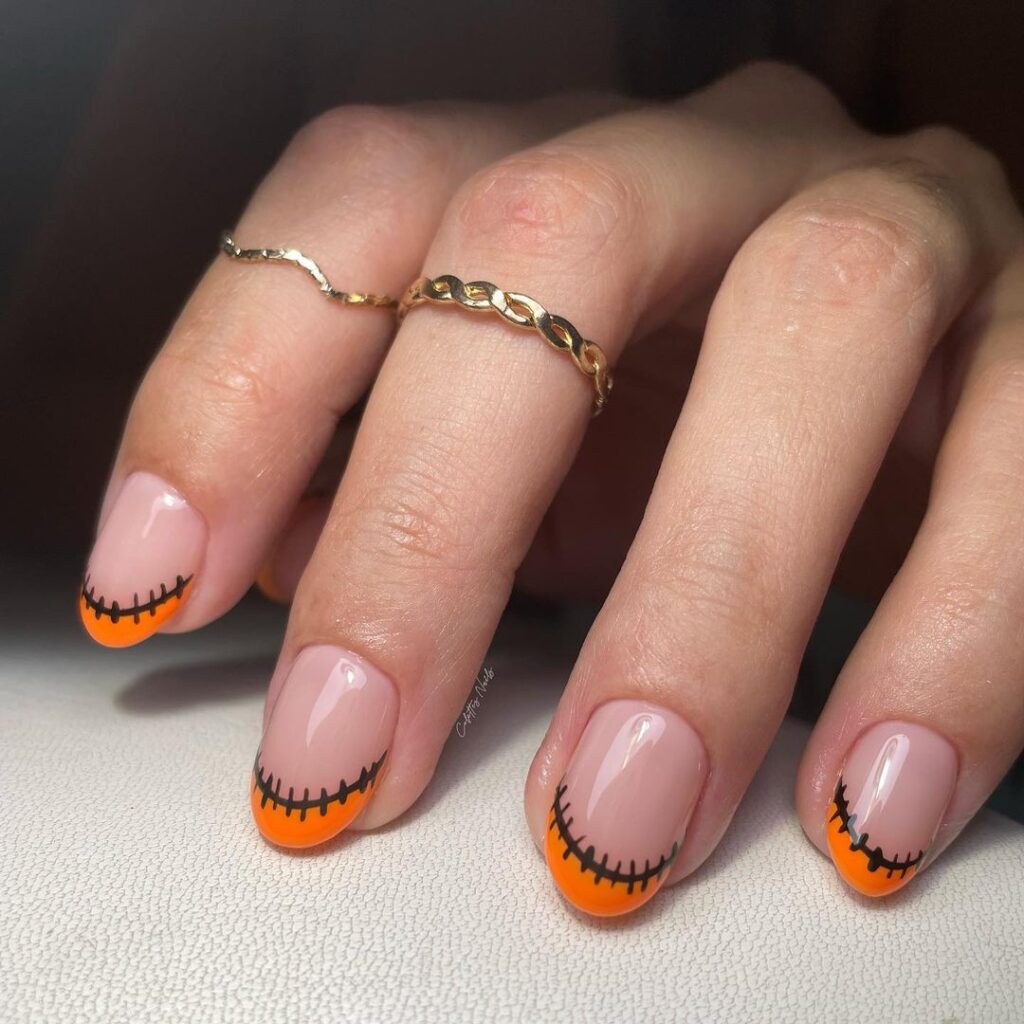 Courtesy: Colette's Nails
#4 If you're looking for a Halloween acrylic nail idea for your toes, we have got a cutesy one for you in our next inspirational design. It features a soft pink base on all nails with just the biggest one of the nails done in cute ghost drawings and some stars in the middle. Ghost Halloween nails are quite popular and also make for easy do-it-yourself Halloween nails design at home. You just need to nail down a careful outline because filling them up is fairly easy. You can also do these cute Halloween nails uploaded by foot model Austin Summers on your fingers by making any one finger of your choice an accent nail. If you're recently engaged, the ring finger is just the perfect choice.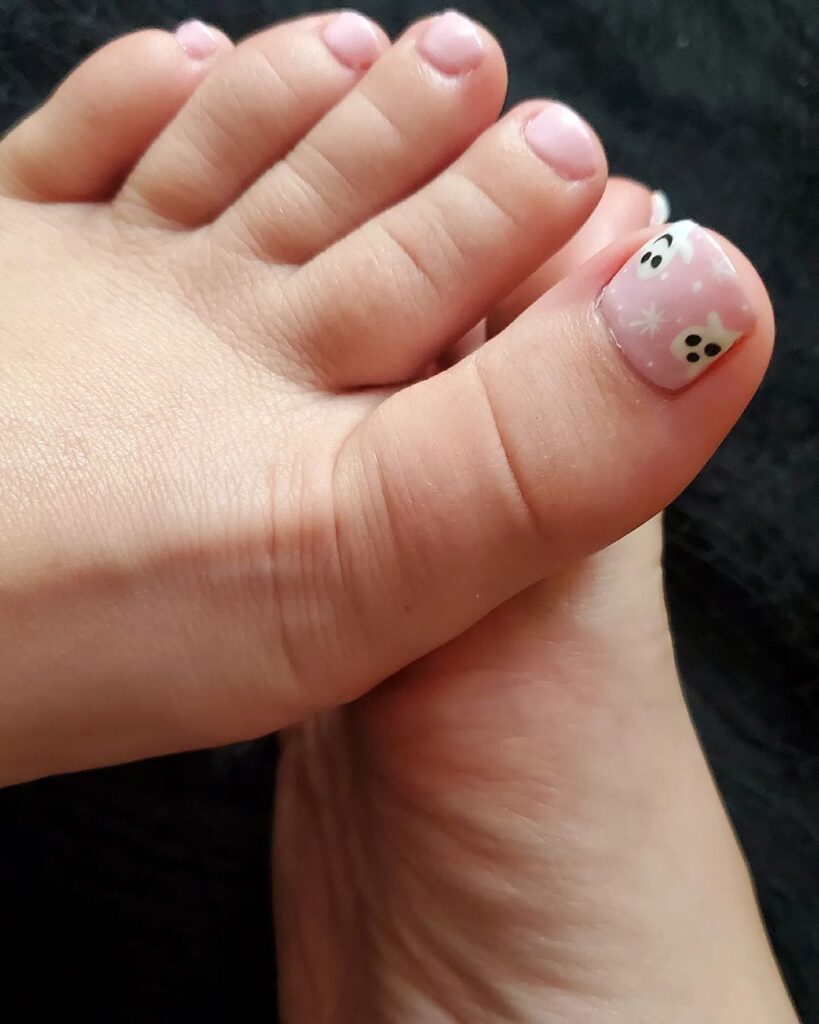 #5 Orange is the color of the season. It is popular in fall not just because it's symbolic of the color of leaves and harvest, but also because it represents joy and positivity by combining the stimulation of red and the cheerfulness of yellow. Embody this happy shade into your Halloween acrylic nail designs in an elegant matte effect. Leave them as it is or make them holiday-themed by adding holiday essentials like spiders and spider webs. We're quite impressed by the simplicity yet gorgeousness of these short Halloween acrylic nails.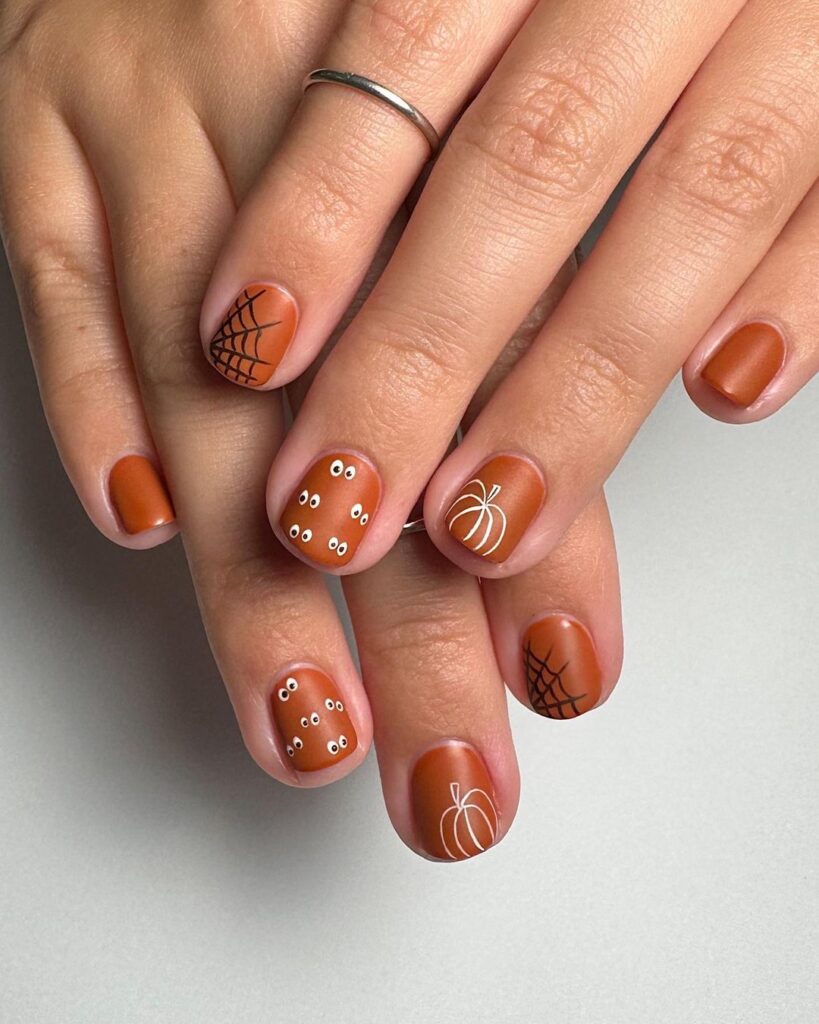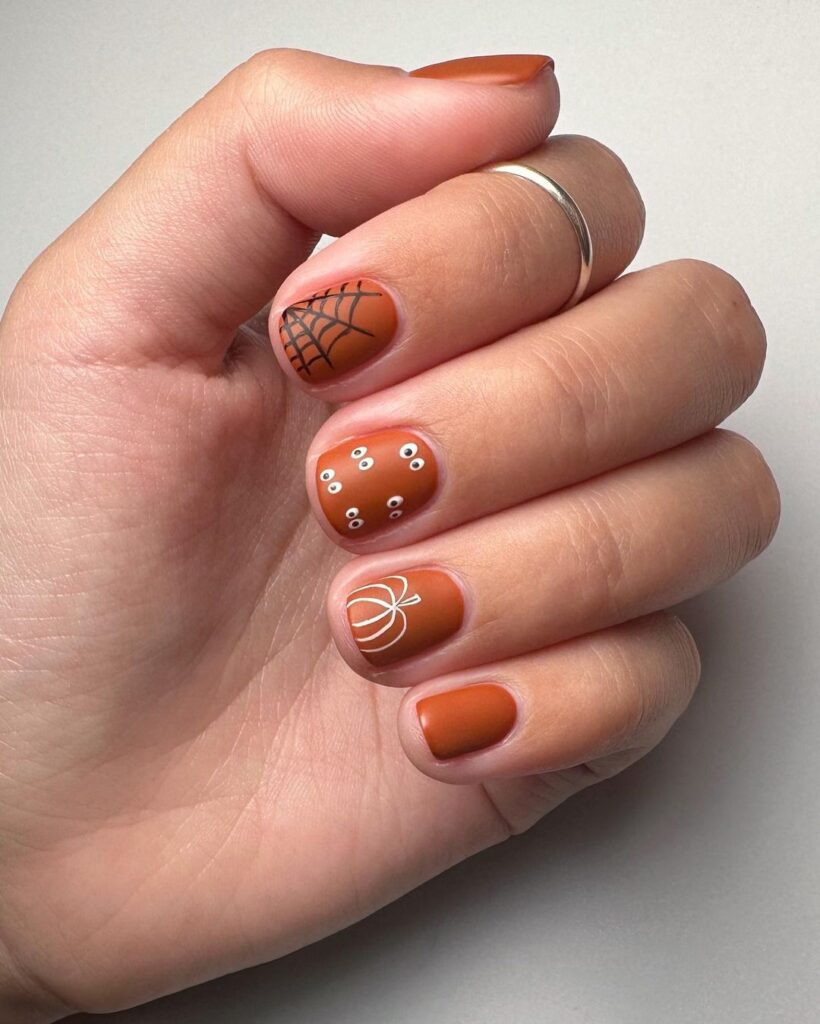 Nail Design by @studiobarinails 
#6 Long Halloween nails are popular because they give more room to portray your creative expression, and thus add to your personality. Longer nails are also preferred because of their feminine aesthetic, which is considered to be on the rise at the moment. No matter what your reason is for getting lengthy talons, we have beautiful Halloween acrylic nail designs to bedeck them. It's done in a light brown palette with holiday-inspired components for a complete chic vibe. While they are done in a pointy shape, you can get them done in a coffin or trapeze nail shape as well.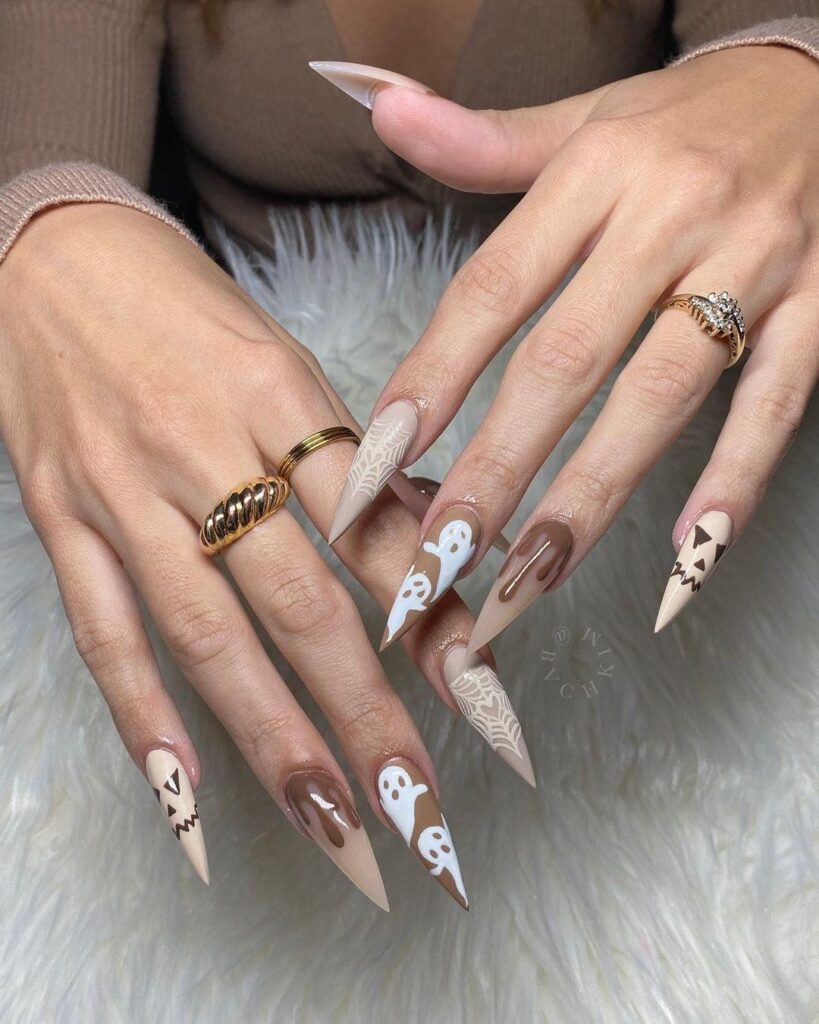 Courtesy: @bvchkim
#7 Nowadays, nails have become as important as the outfit itself. They are a great way to add to your personality, showcase your creative streak, and boost your confidence. You can feel the difference when you come out of the manicurist's appointment, can't you? To help you stay ahead of the curve, here's the next one of our Halloween acrylic nails. It has the signature French manicure accented by spider sketches here & there. Just what you need when you love your classic French mani way too much and still infuse Holiday-feels into your nail design.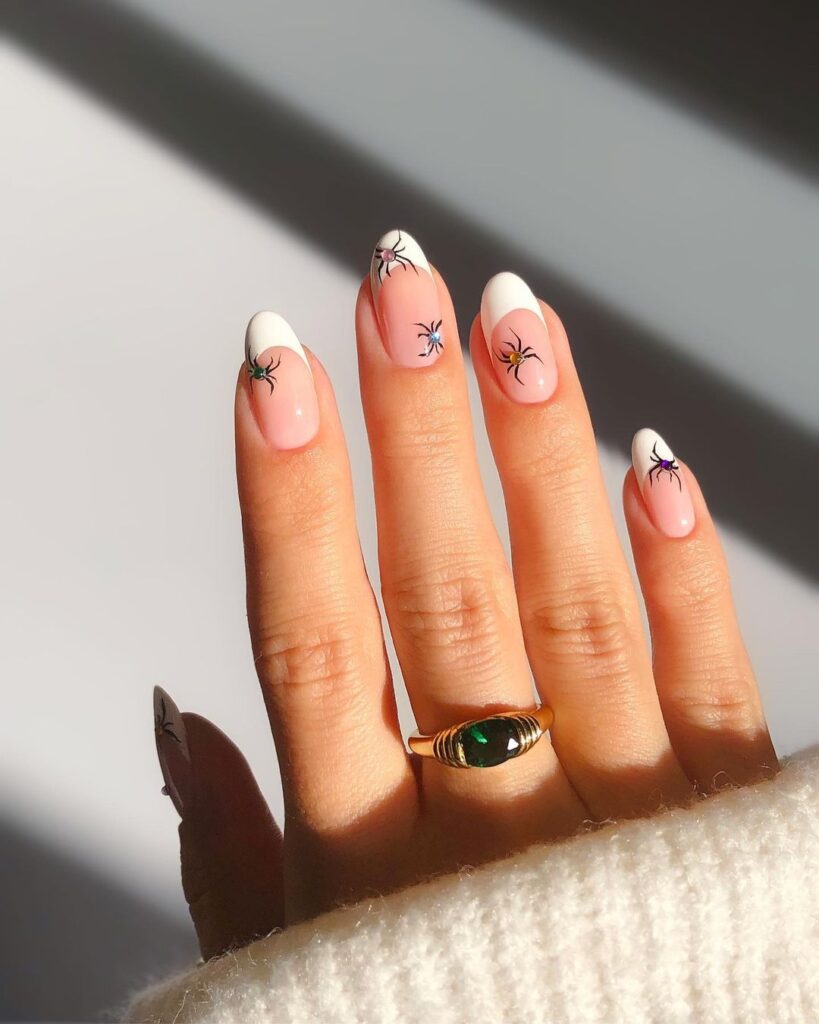 Courtesy: @basecoatstories
#8 Lavender is a very popular color right now. From clothes to home decor to nails, you can see the hue everywhere. According to trend forecasters at WGSN and Coloro, the 2023's color is "Digital Lavender". Its calmness, serenity, and escapism attributes have wooed everyone. And if you're someone who likes to stay ahead of the trend, incorporating lavender in your fashion choices is the way to go. Here's a nail art done in subtle lavender glitter polish elevated by accent nails done with sketches of spider webs and bats.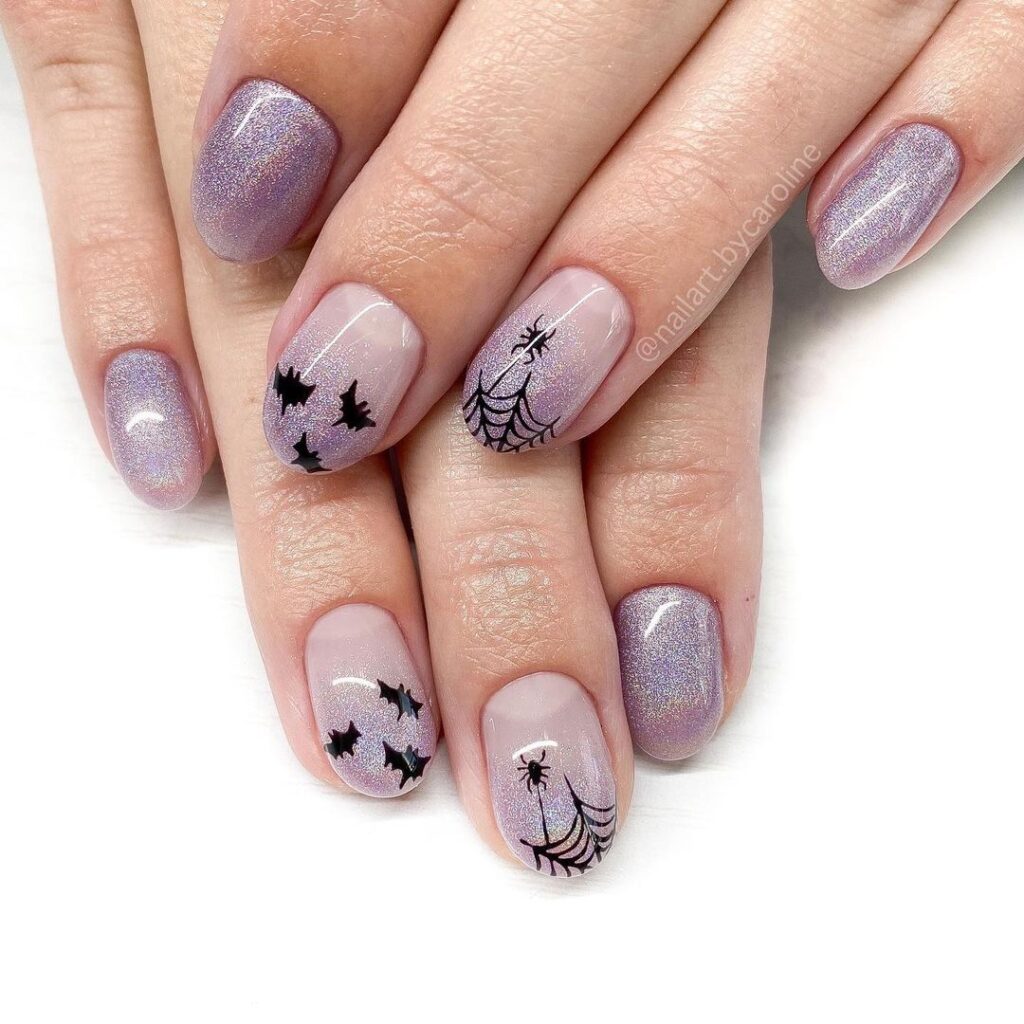 Courtesy: Caroline Moyes
#9  Clearly, the French manicure is quite popular among women. Even when it's not the classic white tips style, there are some other stylish and holiday-inspired ways it's incorporated into the nail designs. Here, the two-tone manicure done in black & white comprises spider webs done in color contrast for Pinterest-worthy Halloween acrylic nails. The almond nail shape elevates the glamour of the manicure and still keeps it subtly minimalist. You can also try these simple Halloween nails at home if you think you can nail down the spider webs sketch – because they're the star of this Halloween-inspired mani. 
Photo by Marcella Vizcara 
#10 You will see many iterations of French tips manicure on this list, and here's another one. Newcastle-based nail artist Linz did these modish and artistic Halloween acrylic nails with a curvy outline filled with polka dots and spooky elements done on a nude base on each nail. The color combination is a safe amalgamation of white, black, and fall orange for a classic and elegant style. If you're a beginner, you might want to enlist some help from a professional to recreate this nail design. Nonetheless, it's sure to draw tons of compliments for its endearing and artistic attributes.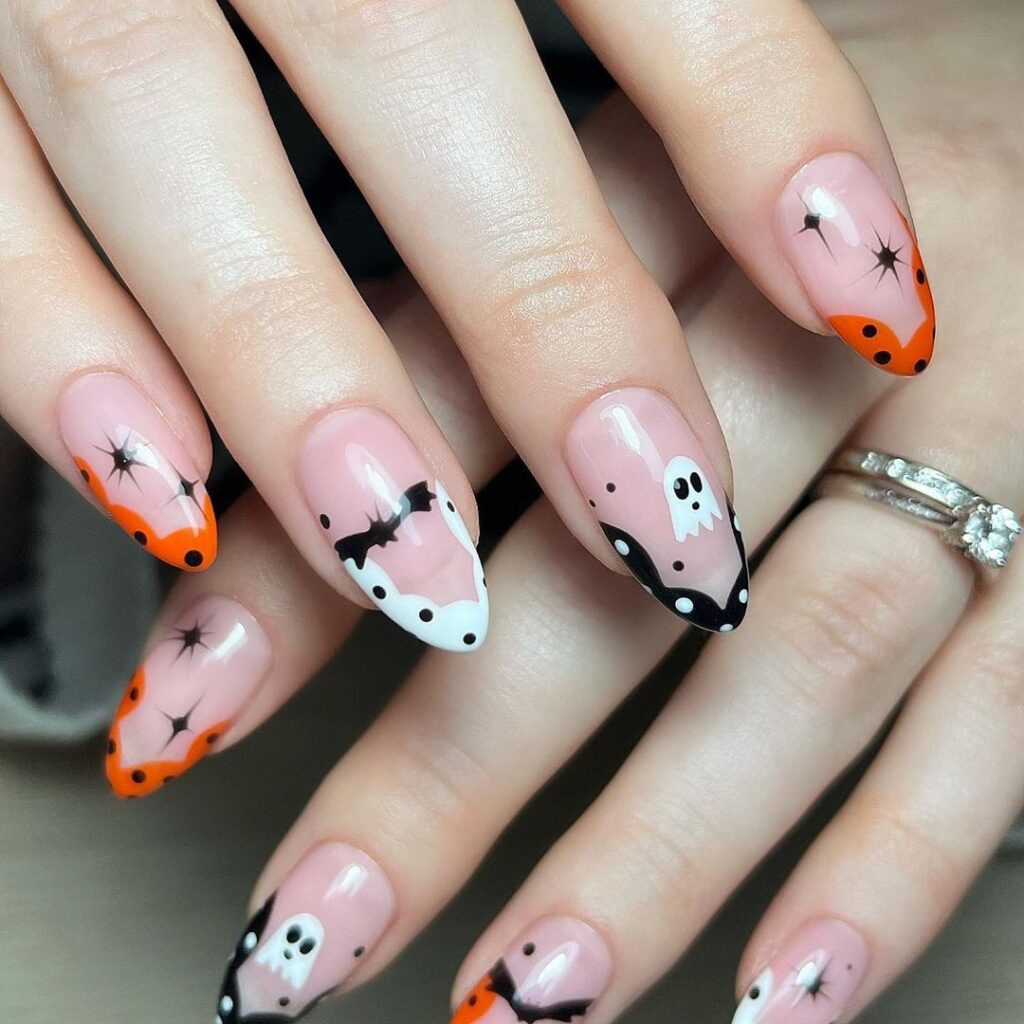 #11 Fall is generally associated with a palette of warm, rustic colors, but it doesn't have to be if you don't want to. The next of the Halloween acrylic nails 2022 ditches the usual fall palette for the manicure and instead, combines vibrant colors (often seen in summer nails and spring nail designs) in pink & blue or a gorgeous visual appeal. Further incorporating spirals, stars, and the highlight of them all – the cute ghost covered in florals – this design is sure to grab some eyeballs and will be one of the main center-of-attraction of your outfit for days to come.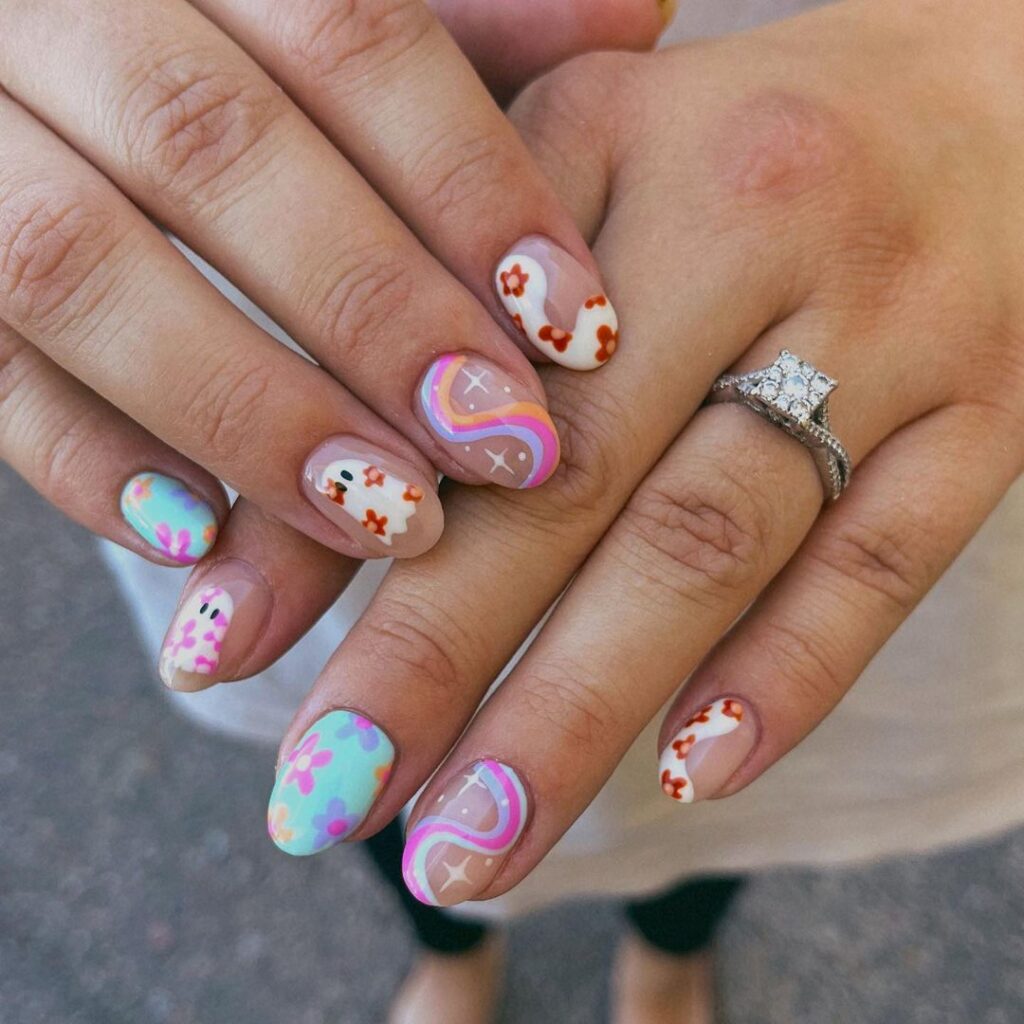 Halloween Nails by Tamami Page
#12 The blood-drip nails are sought-after this Halloween 2022. Not only do they make for one hell of a stylish manicure, but they are also fairly easy to do – no matter whether you choose to do these Halloween acrylic nail ideas yourself or want to get them done by a professional. They can also be done in different shade combinations. From the maroon and bright red color shown below to charcoal black and red or black and fall orange, there are many physical iterations of this Halloween black manicure to try. Plus, they work with all nail shapes, so pick your favorite one and you're good to go.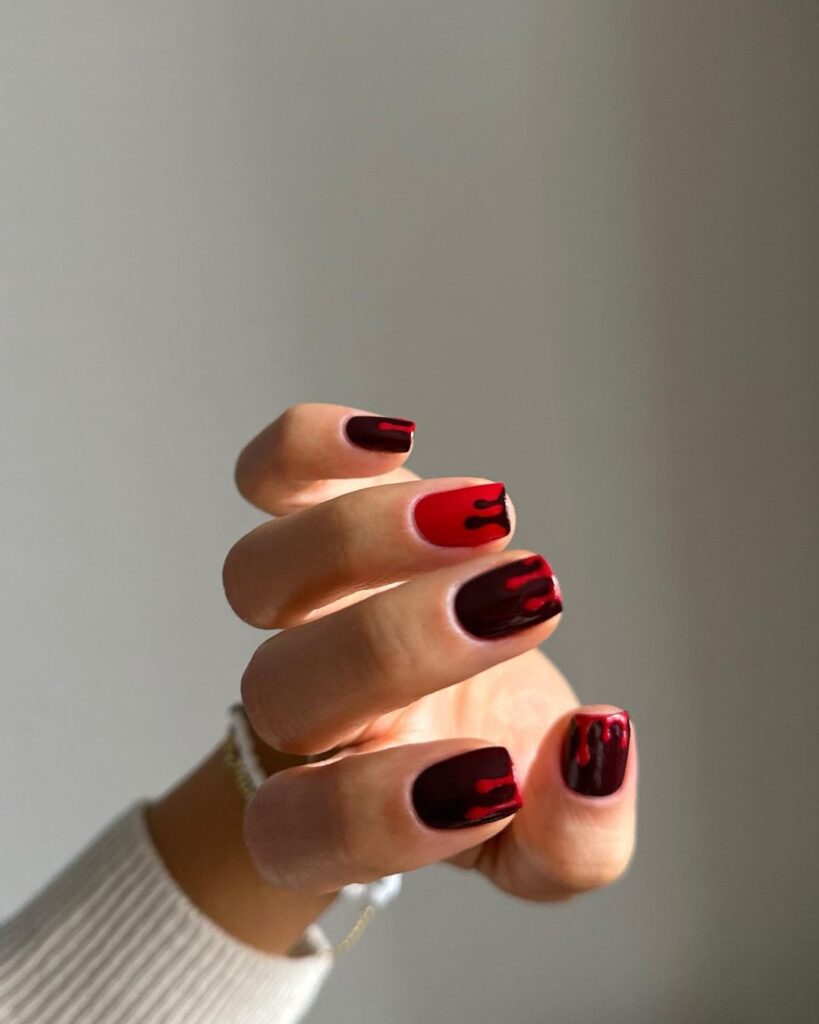 Halloween Nail Design Courtesy Hang Nguyen
#13 You don't have to include the spooky Halloween motifs in your manicure if you don't want to! Just include the season-inspired colors and some minimalistic art to create nail art that represents all of you. These easy Halloween nails are done in black and fall orange – a stunning combination of shades to include in your manicure – and combine them alternately with accent nails done in stripes and orange. To DIY this design, shape your nails and grab the season's most popular colors and get straight to the point. To create the stripe pattern, use tapes and section the thin segments for similar intricacy.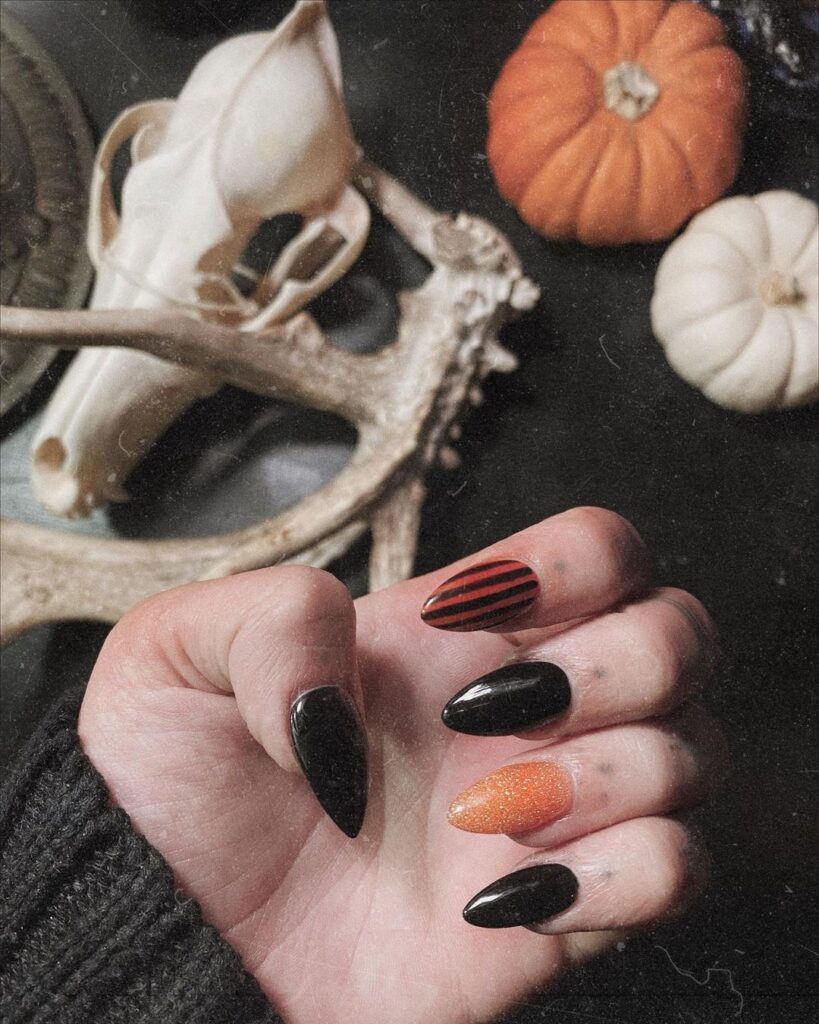 Via @nikki_correia
#14 You can never go wrong with a combination of black and white – one of the most popular, obvious, and best examples of monochromatic color schemes. Include them in your Halloween acrylic nails for a surefire way to impress and set a statement. The design can be as minimalistic or as maximalist as you want it to be. But if you lean on the former side, the next manicure on our list will impress you at first look. Done on sheer nails backdrop, it includes ghost motifs and a portrayal of the night sky. The best part? You don't have to draw the ghost motifs but can instead use the stickers to carefully place them over the mani.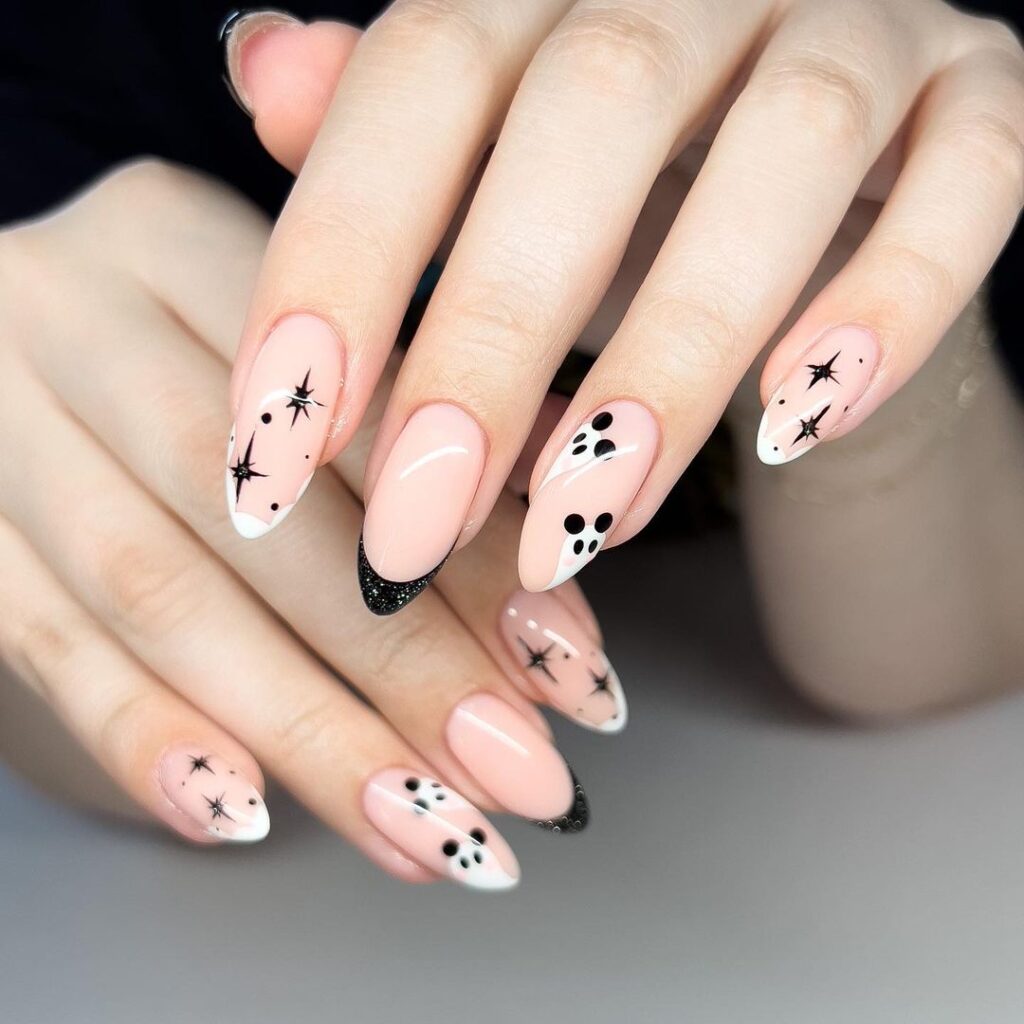 Via @nailnymphs; Buy ghost stickers here
#15 Yet another one of the Halloween nail designs done in the elegant black & white color scheme and elevated by the night sky, ghost, and bat motifs. This nail design looks minimalistic but is surely a work of a professional. The careful amalgamation of different elements requires care and intricacy – which can only be achieved by an expert in the field. If you've already scheduled a manicure appointment for the upcoming holiday, we'd recommend saving this one of the Halloween nails for inspiration.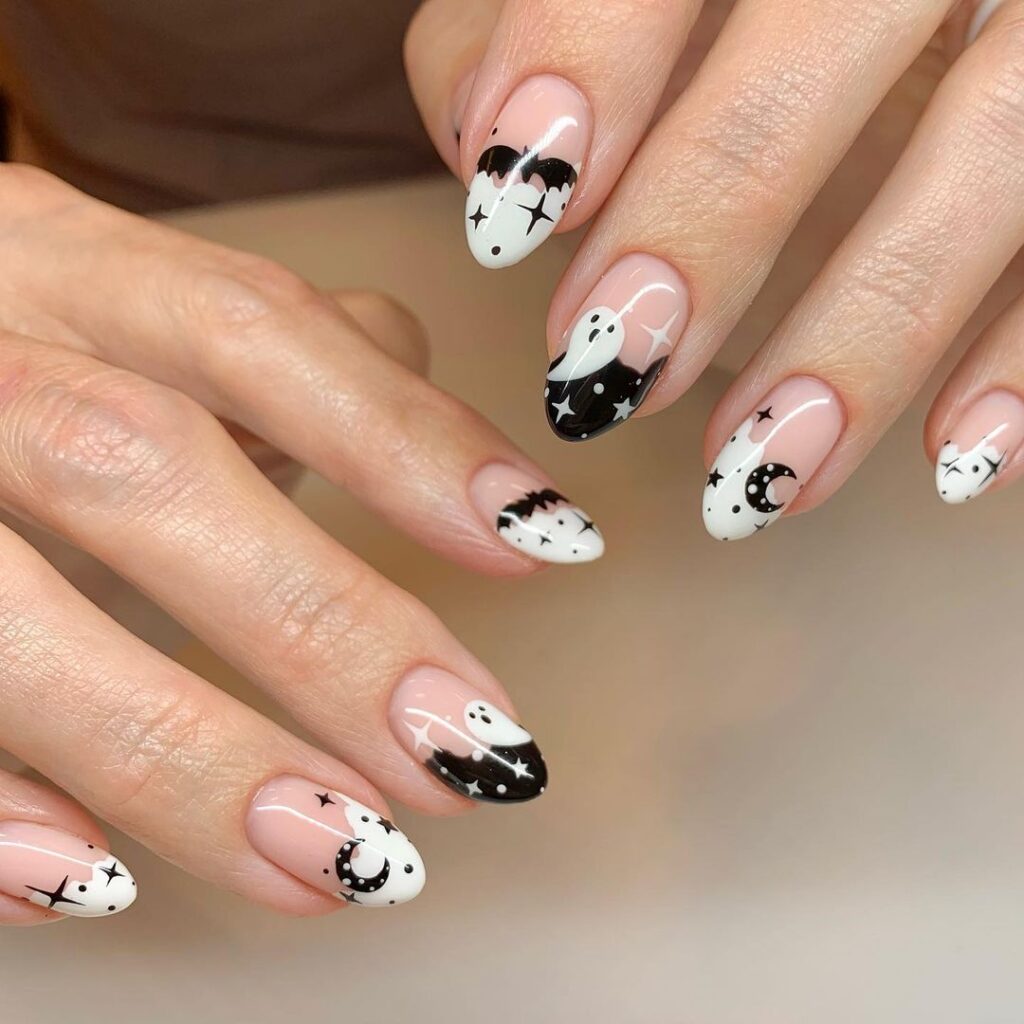 Via @meganrnails
#16 These little ghosts are almost part of every Halloween nail design – and why wouldn't they be? They are cute, a bit spooky, and are the perfect embodiment of this traditional Christian holiday. Since they're drawn in white, you can use almost any base to portray them. But the fall orange is popular because of its nod to the ongoing season. Combine the vivid shade with lighter ones to create a balance in the color palette as you prepare to set the statement on the holiday. Done by Utah-based Tamami Page, we absolutely love this Halloween nail art idea.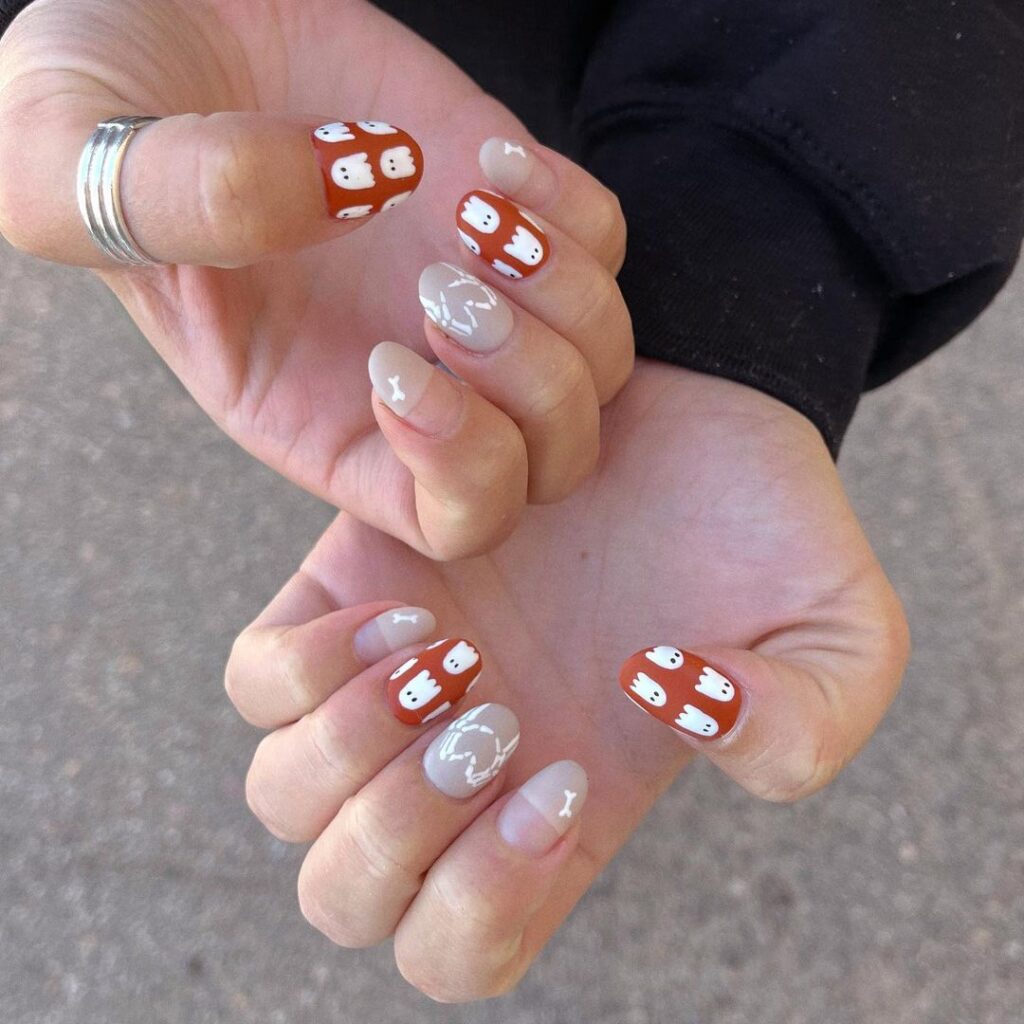 #17 These short Halloween acrylic nails are perfect for those who don't want longer nails for their manicure. There are other benefits of short nails as well. They're easier to maintain, don't interfere with your everyday tasks, and you don't have to worry about them breaking. Plus, getting shorter nails for acrylic or gel extensions also maintains the health of your nail bed. More so, short nails are equally good at expressing your creative streak for any holiday. Like here, all nails are etched with a Halloween-relevant motif for a complete look.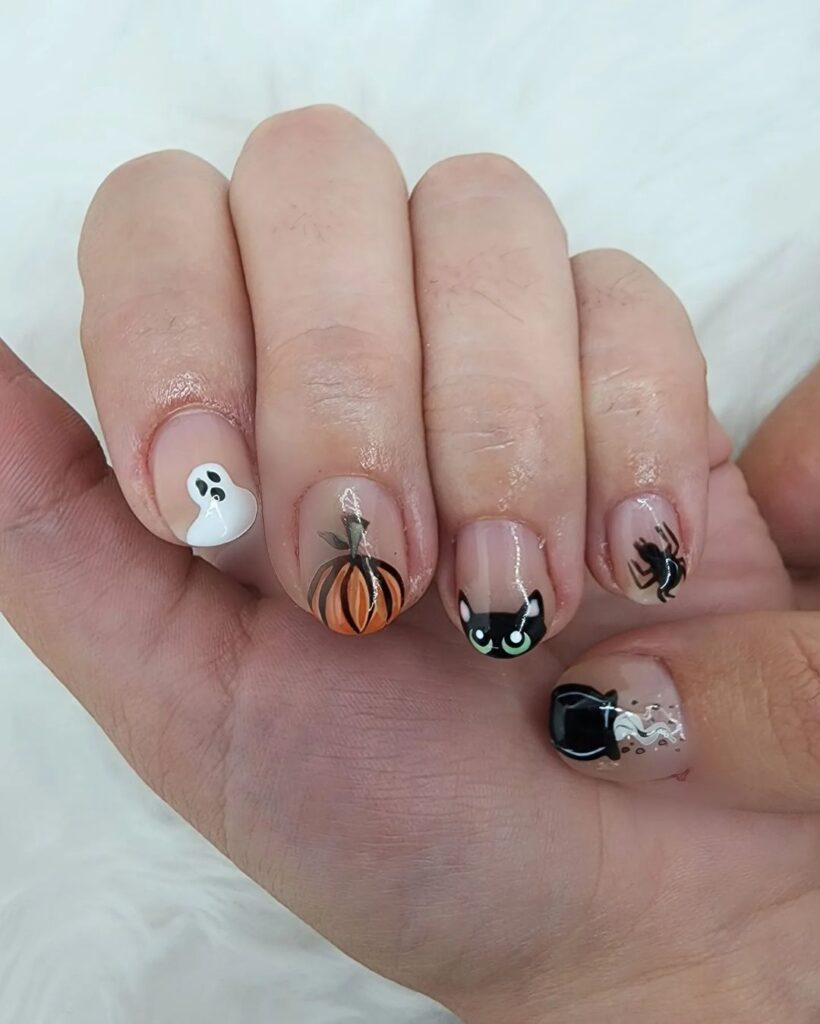 Courtesy: @gabyfiscal_
#18 If you're looking for some coffin Halloween acrylic nails idea, here's one done in light orange and white color to impress you. The pinky nail is done in the drip-down effect, the ring finger has the spider design done in both corners, the middle finger has 'spooky' and 'boo' written on them, and the index finger is done in a half-ghost pattern for a coordinated and gorgeous manicure idea. Done by California-based @vanesbeauty_, you can find many other Halloween acrylic coffin nail ideas on her page to find the one that matches your personality and preferences.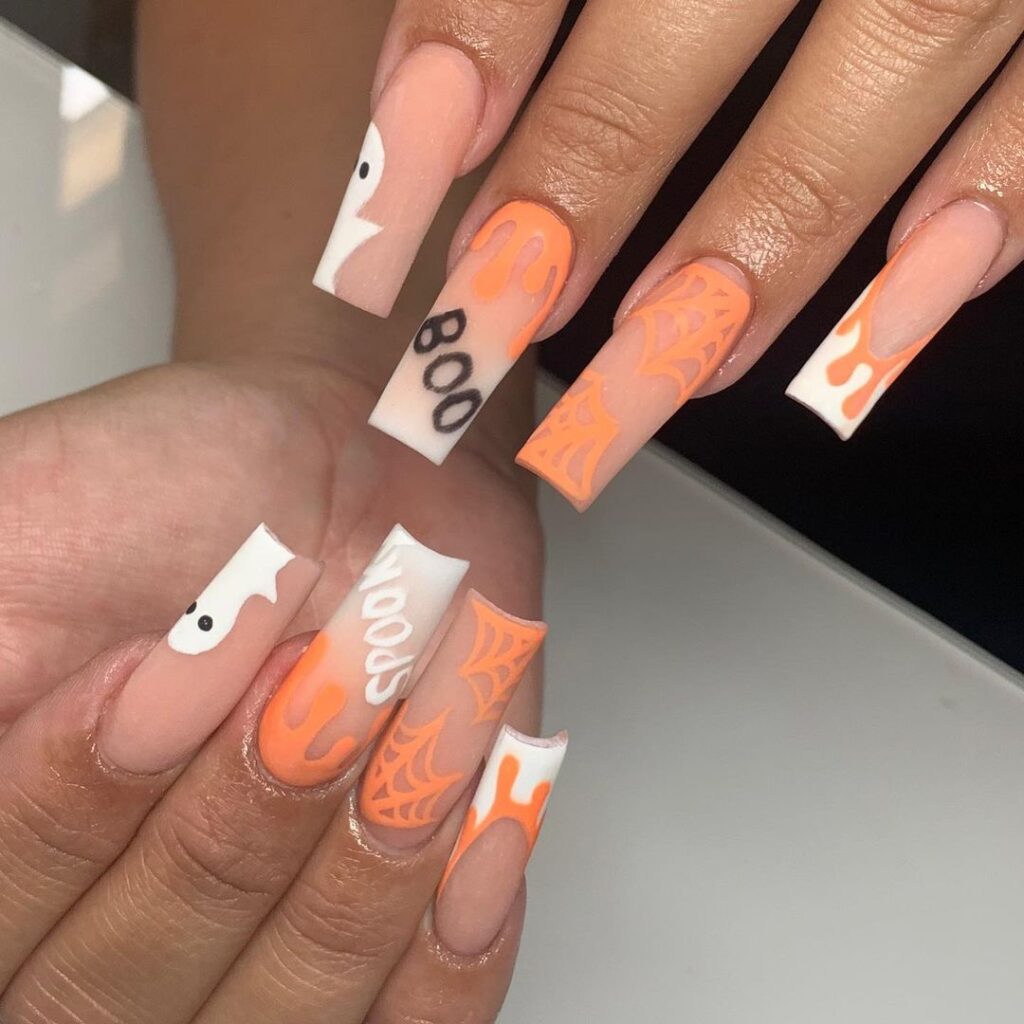 #19 For those who aren't into too much of motifs for their nail art design, you can find beauty in the minimalistic black Halloween nail art elevated by a simple spider and spider web motif in the middle of the two nails. The square nails are a great pick for this design and you can play with the length of the nails as well – keeping them as long or as short as you'd like. Because of the easier and small motifs, you can also DIY this design at home. Make sure to cover the design with gloss at the end to keep the glimmer of the nail art alive.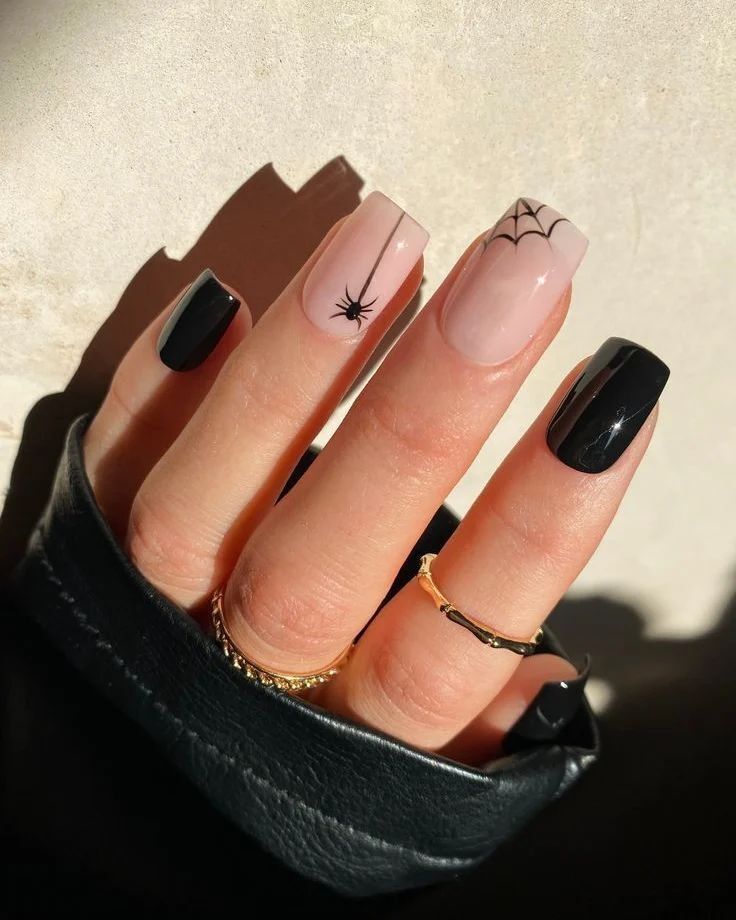 Courtesy: @nails.imagen
#20 If you are in love with the little ghost motifs popular in Halloween acrylic nails, here's a mani that's replete with them. For those who don't know, these ghost motifs not only have to be drawn, but you can get plenty of stickers online (like the ones here). The motifs don't necessarily have to be done in the same way as pictures, you can use your creativity to stick them over the nude base as you'd like. Cover them all with a gloss nail polish so they stay in place.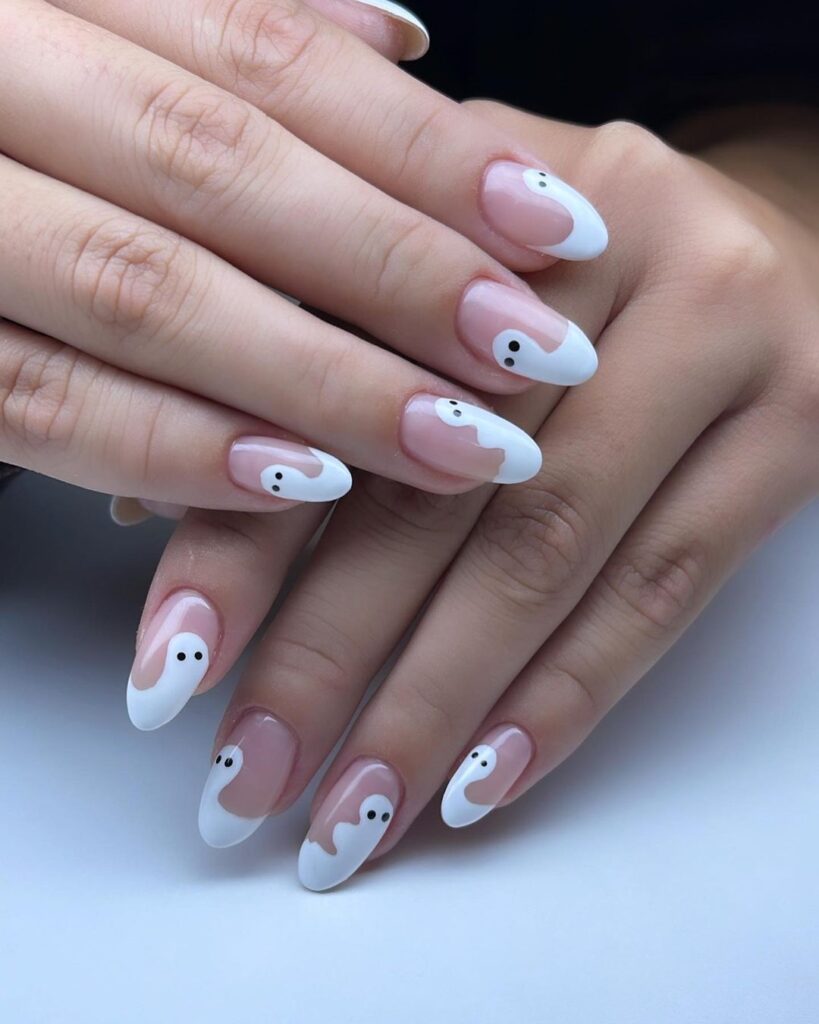 Courtesy: @nailsbyliana
#21 We just love how adorable this next one of the Halloween acrylic nails design looks! It's spooky, yes, but in a very endearing way. For women who want to radiate cuteness and playfulness with their nail art, this manicure is just perfect. It incorporates a drip nail on the pinky finger followed by a pumpkin motif done in pink rather than the usual fall orange, then there's the spider web drawing followed by our favorite of them all – the gauzed bandage ghost. Imagined and created by Wales-based nail technician G's Beauty Base, we are in love with this mani and her creativity.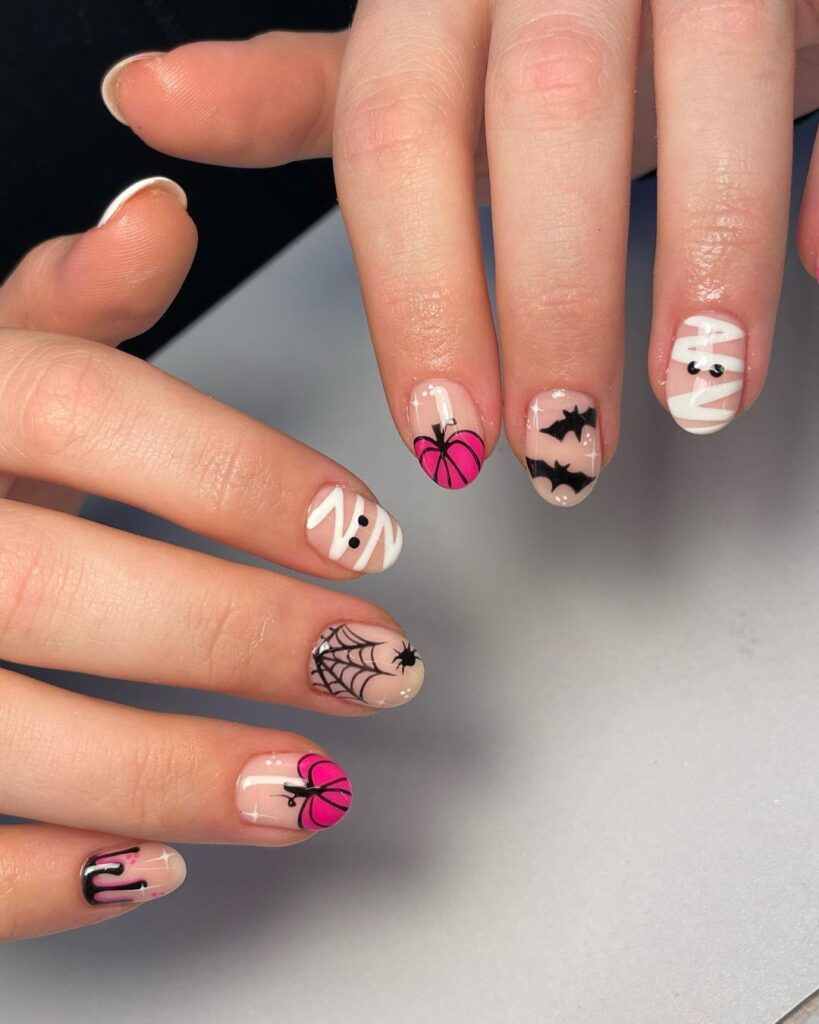 #22 Pink might not seem like an obvious choice of polish color for your Halloween manicure, but it surely does make a good choice. Though the design consists of the usual holiday-inspired elements, it's the artistic nature of the mani which draws attention to it. To infuse the same creativity, we'd recommend you choose an expert technician to do your nails. They have a knack for ingenuity and originality and can create a manicure based on your preferences and input. You'll end up with Pinterest-worthy Halloween acrylic nails, which everyone will be drawing inspiration from later.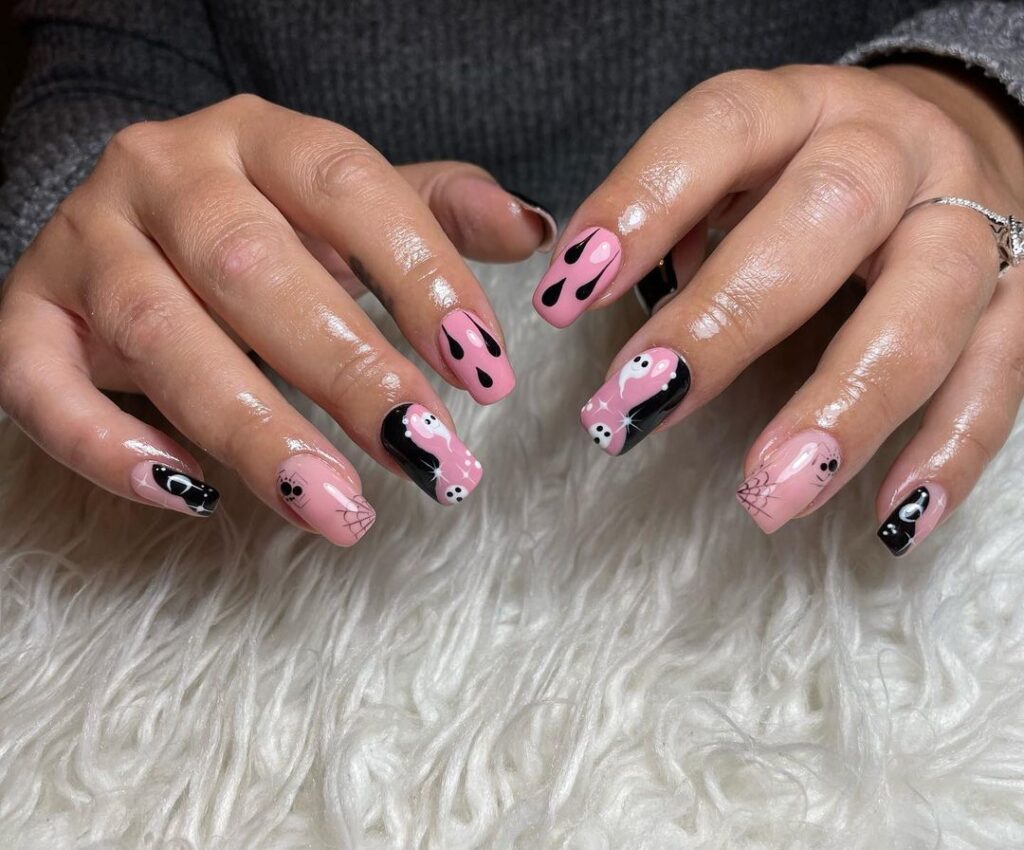 #23 There's utter beauty in simplicity. Minimalism has become a way of living for many people. The notion stands for clarity, purpose, and intentionality so we promote things we most value and remove anything that distracts from it. It can be practiced in many aspects of your life – from your home to your meal plan to your clothing and now, your manicure. For the upcoming festivities, a minimalistic yet elegant design like this can help you channel your life choices whilst keeping it stylish and sophisticated.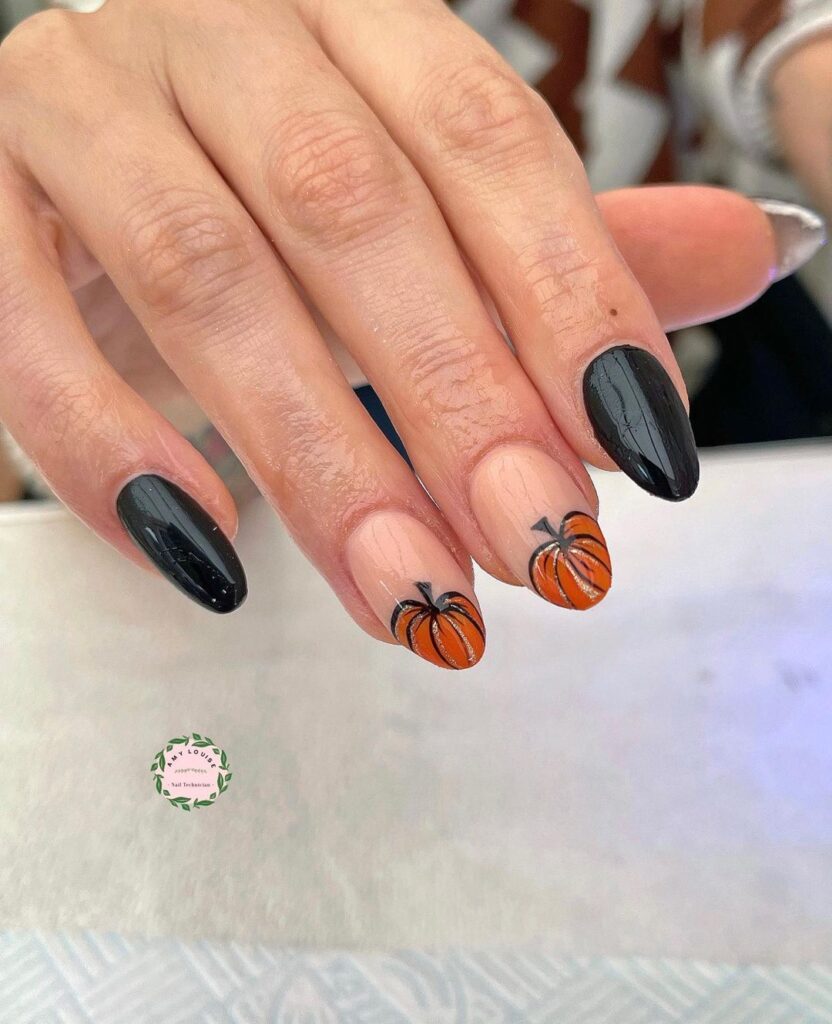 #24 These ghost acrylic nails radiate cuteness on another level. In other ghost drawings, you will notice that there are only eyes and no mouth, but this one's different, as it's open-mouthed. It's also quite the hypocrisy because it's us who'd be left shocked and frightened when we see a ghost. Nonetheless, it makes for a great twist to the usual ghost motifs on Halloween nails and sure will grab eyeballs to your manicure. Another thing we admire about this nail design is the intricately done shimmer tips – that's definitely a work of a professional or someone who has experience in DIY nail art.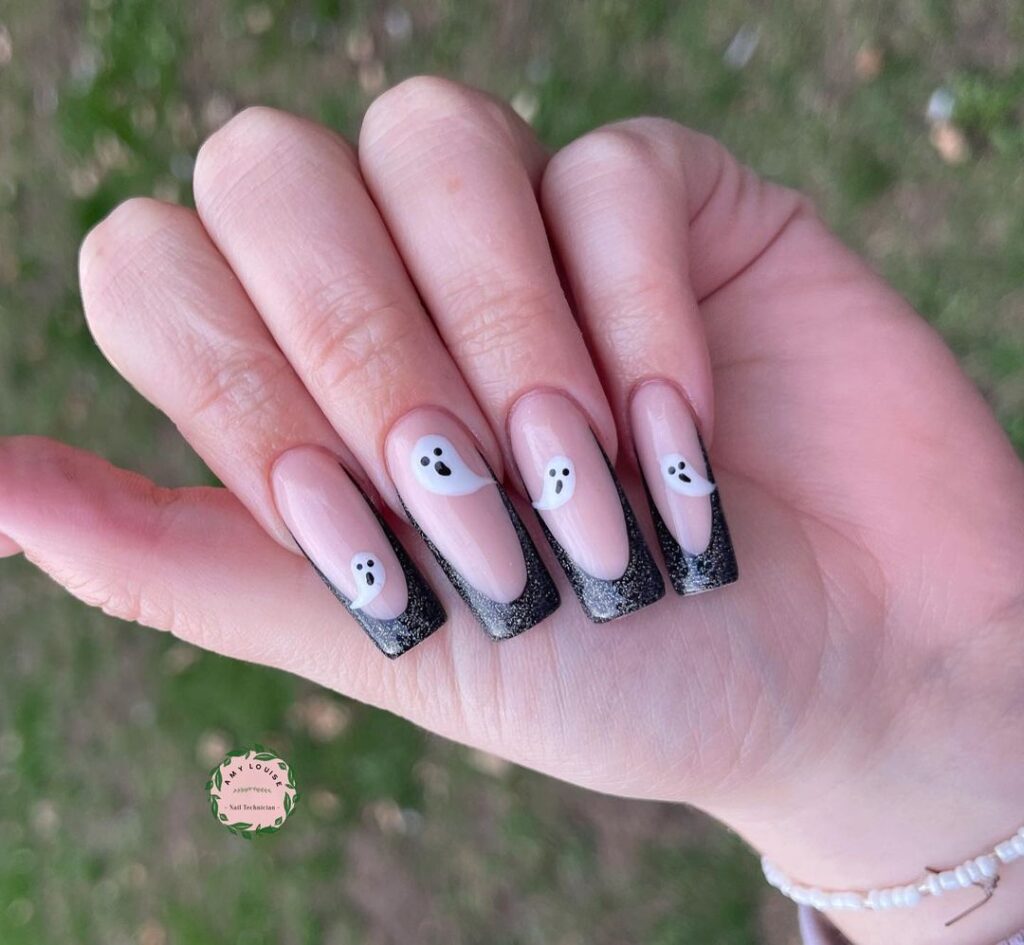 #25 Cuteness is dripping from this appealing nail art for Halloween. It involves two nails covered in black nail paint followed by a glitter overlay for a glimmering effect. The middle two nails are doused in Halloween-inspired details which can be done at a professional salon, but you can also easily do them at home with some basic nail art tools. Start by sectioning the tips using a dotting tool and make a curved line. Next, make the polka dots and stars. To add the finishing touches, you can either make the ghost & pumpkin with a dotting tool or you can also paste their stickers on your mani. Don't forget to cover it all with a gloss polish for a finished look.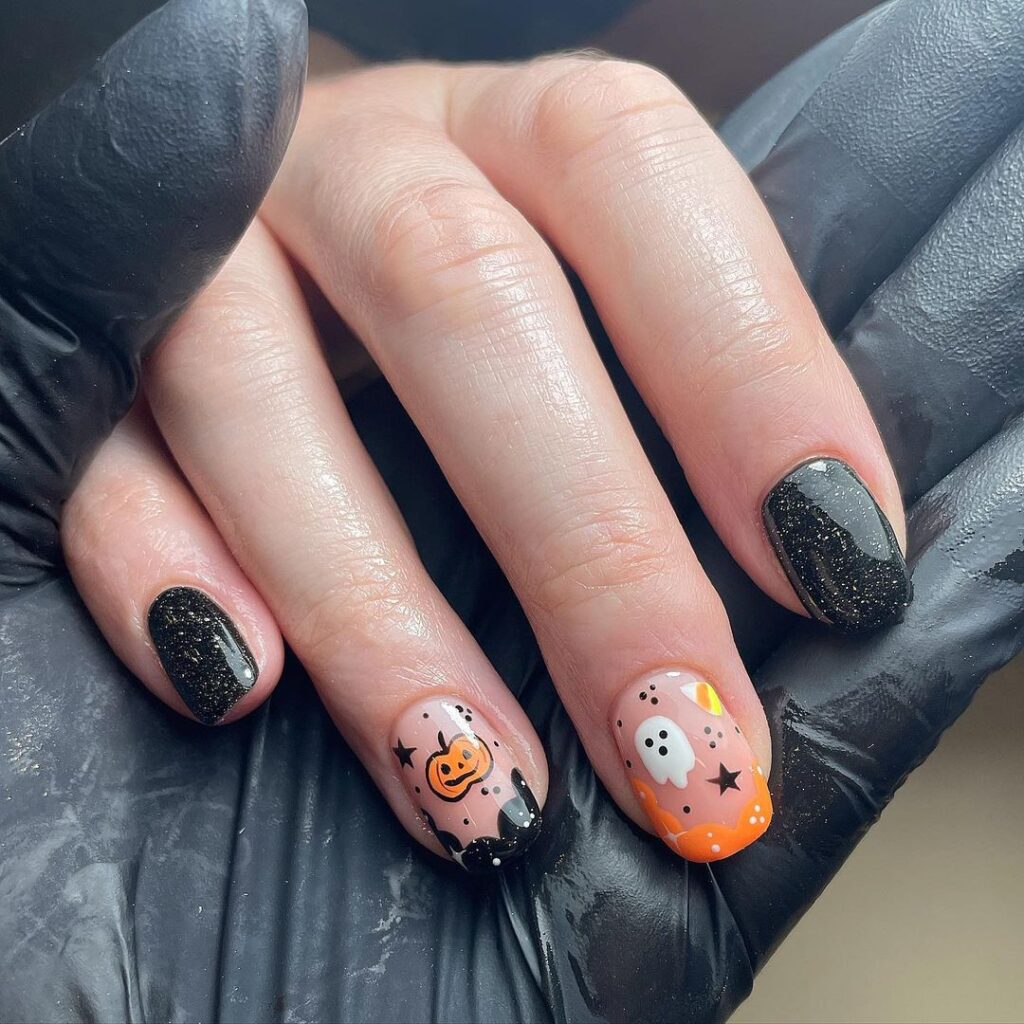 #26 "Boo" is not just a Halloween buzzword, it's also a tradition. It involves hanging a basket of treats on your neighbor's door anonymously. The basket consists of a placard that reads, "we've been booed" which they have to hang on their door. It also includes two more placards so they can carry on the tradition and "boo" more of their neighbors, hopefully, continuing the chain. Including it on your manicure ensures you can tell someone about this beautiful tradition, keeping it alive, whilst simultaneously having gorgeous Halloween acrylic nails set to flaunt.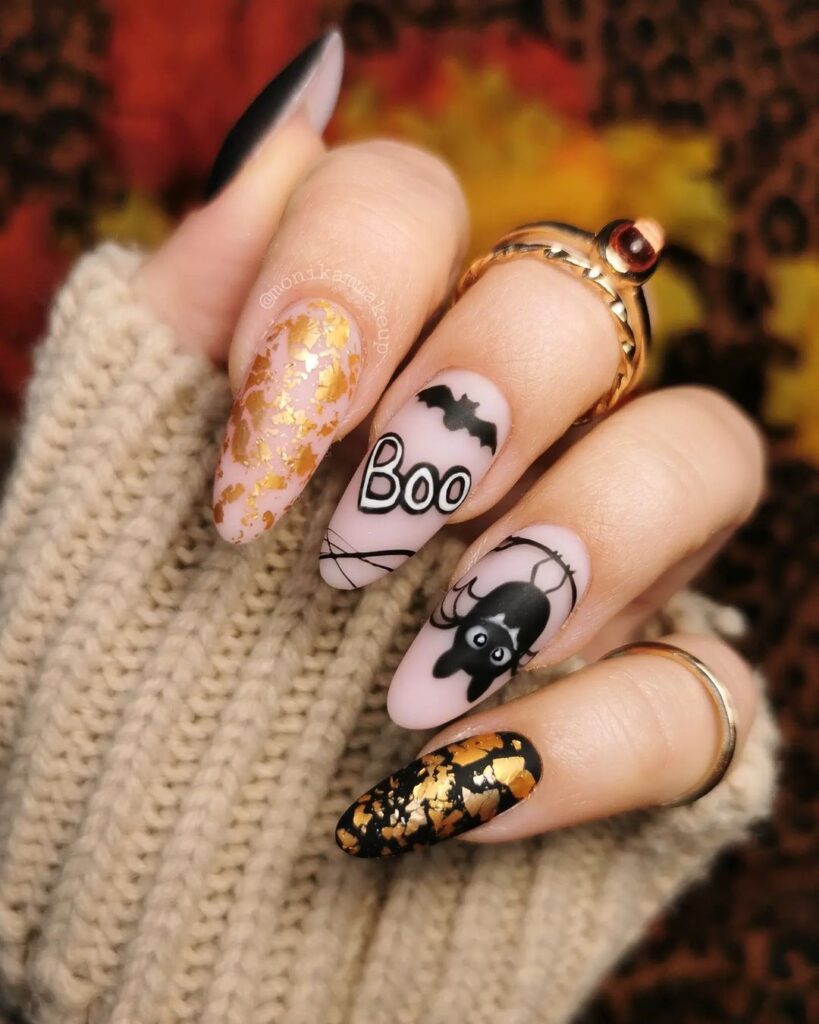 Gorgeous Nail Design by Monika Makeup
#27 These Halloween coffin acrylic nails are a work of art and truly an embodiment of your creative expression. Having said that, they are best left to be recreated by a reputed professional in the field, given both the nail shape and nail art require intricacy. Coffin nails are practically everywhere. They are Kylie Jenner's go-to nail shape and have been sported by many other celebrities as well, trickling down from the glamour town to us. If you're going for longer nails this holiday season, opting for them can be a good choice as they are both chic and trendy.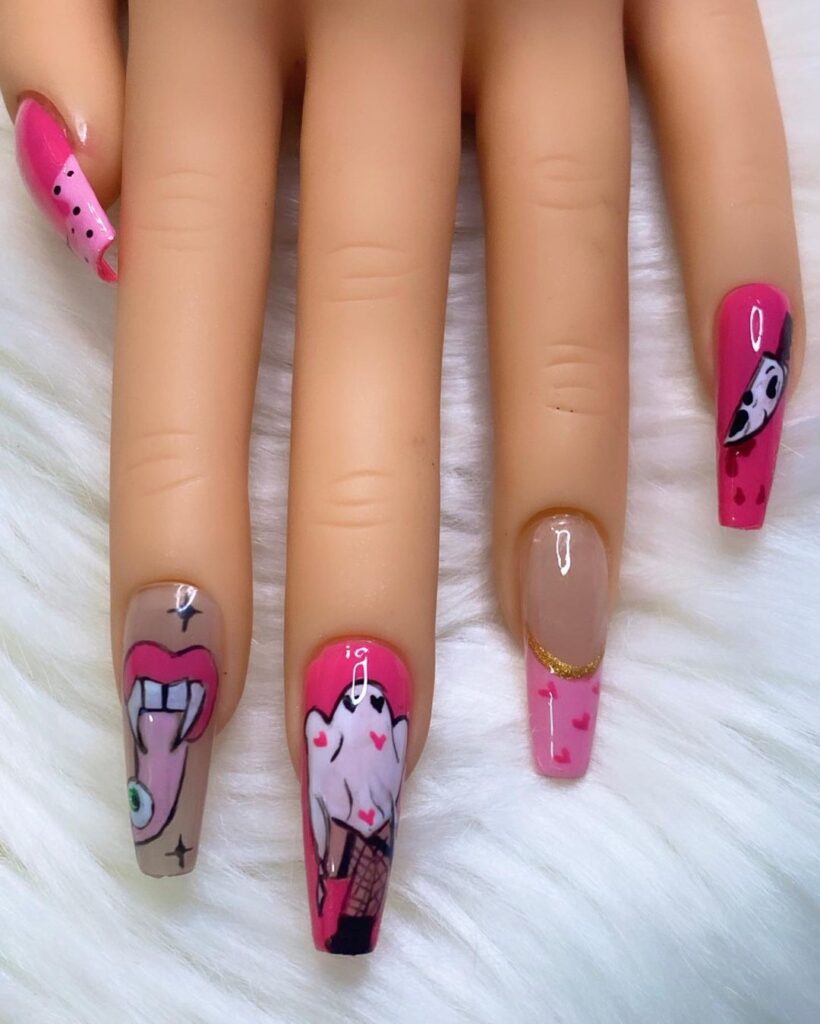 Via @gelx_by_bel
#28 We bet you can't find a cuter set of spooky characters than this manicure. The nail art surely has it all: the relevant autumn orange color, a lighter base so the characters come out, a black cat, a pumpkin, the cutesy ghost motifs, and the infamous blood drip. If you don't have a lot of time to get your mani done, a professional can do this Halloween acrylic nails design quickly. But if you have patience and the time, this one's perfect for the DIY enthusiast in you. With the right colors, a dotting tool, and a whole lot of coffee, recreate this design with ease and the same appeal.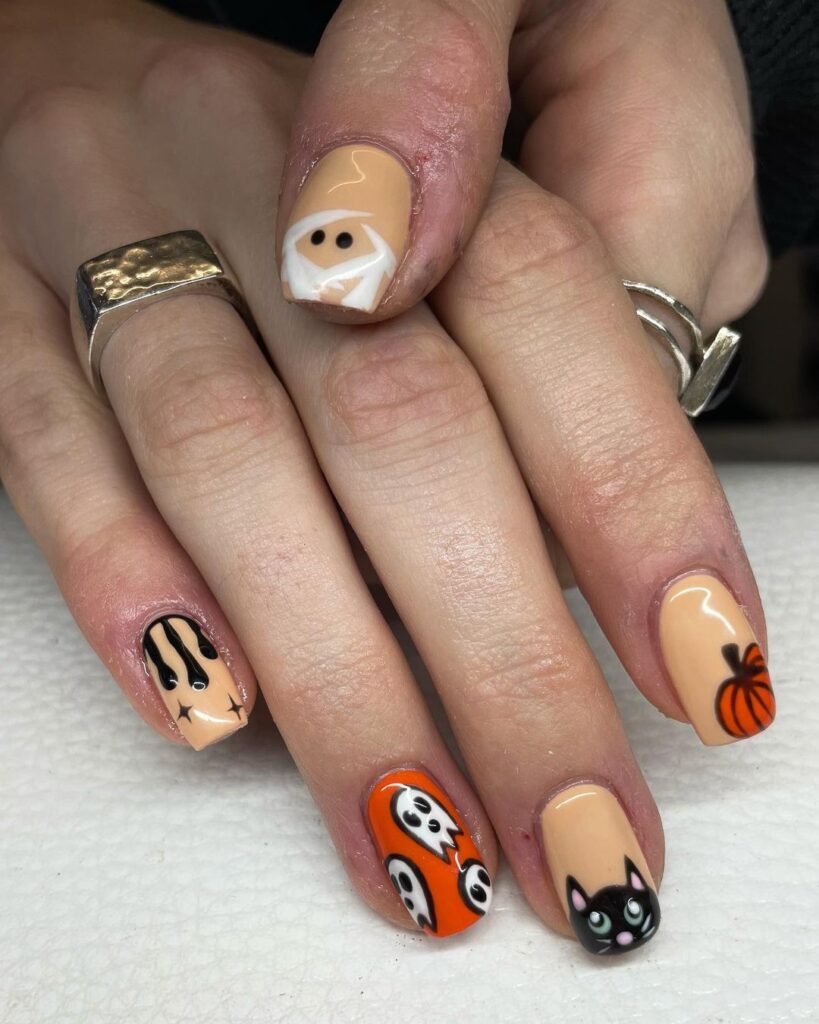 Courtesy: Chrissie Maguire
#29 Our usual galaxy nails, but make them inspired by the spooky season. Galaxy nails are the ultimate design for the party season and are always preferred by women everywhere. They hold the perfect balance of glimmer and elegance, and if you want to carry your love for this design to the spooky season, here's an idea to swoon you over. An itsy-bitsy spider and a petite spiderweb motif is all you need to create Halloween-inspired galaxy nails. You can DIY them at home, but if you want them to last longer, both acrylics and gel extensions can do the trick.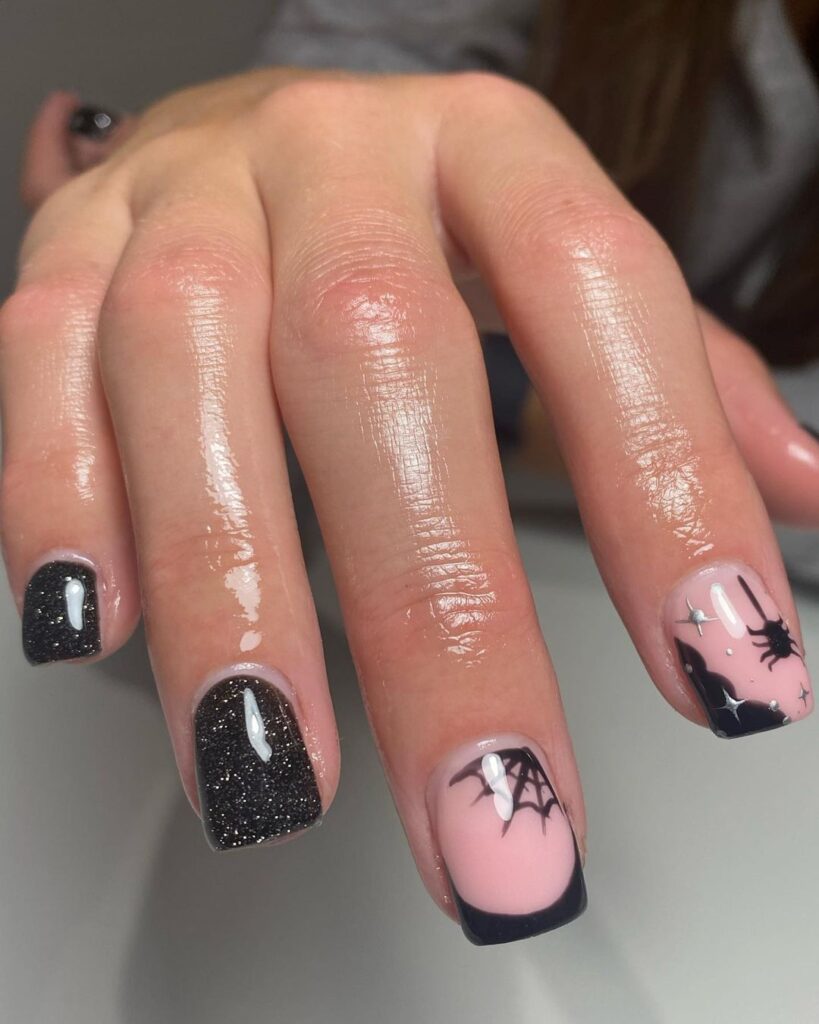 Courtesy: @gelsbydemi_
#30 Well, the midway of this list is finally getting spooky. For those looking for Halloween acrylic nails inspiration that's all eerie, here's a design made just for you. It involves the drip nails done in red, some other color often makes it less scary but that's not what this nail design is about. The accent nails add perfectly to the theme of the nail design by painting a ghost face that looks creepy at first look. Besides the stiletto nail shape, you can try this design with an almond or ballerina shape too. They also give the perfect pointed space for the ghost's character to take center stage in these red Halloween nails.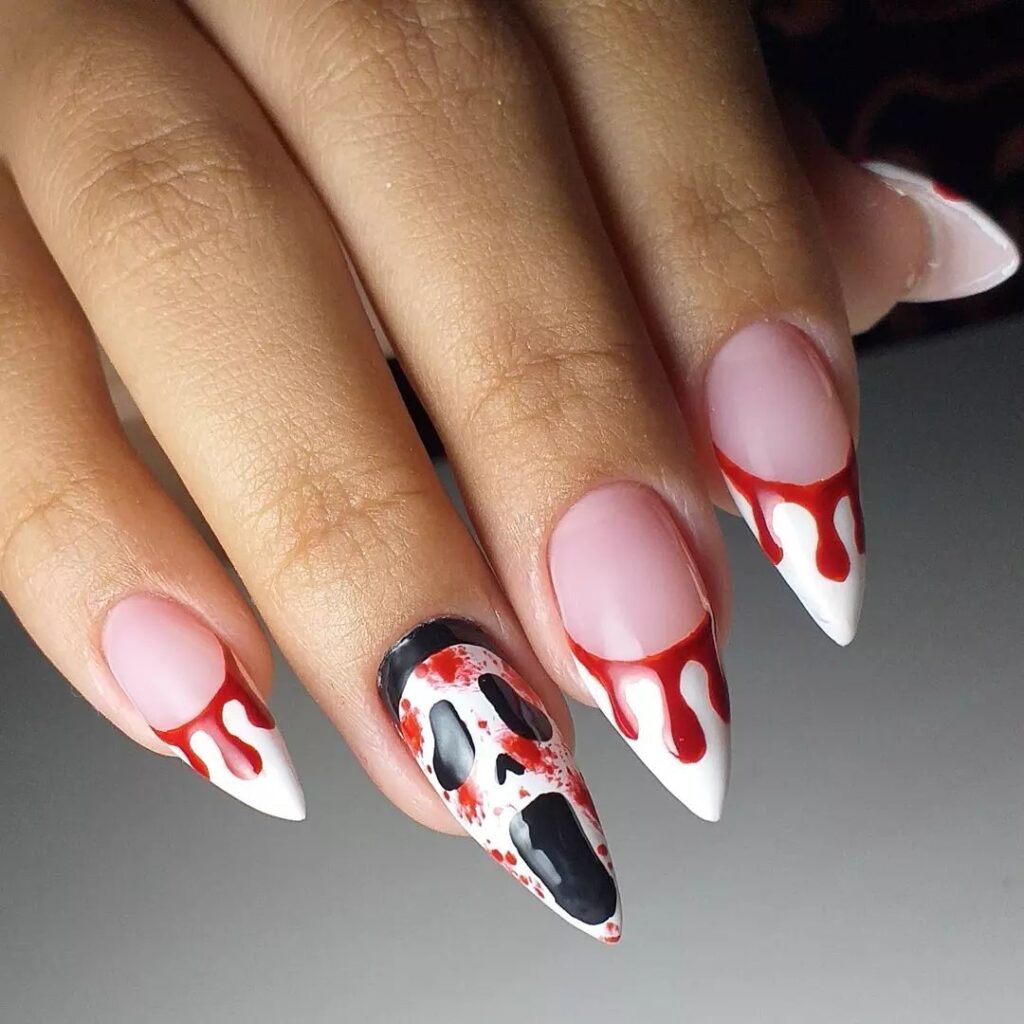 Courtesy: @claudiasilva154
#31 For those who can't let go of their classic French manicure on Halloween, there are high chances of you loving these cute acrylic Halloween nail designs. Wales-based nail artist Ella Preston is the brains behind these minimal and vibrant simple Halloween acrylic nails. If you don't have time to go to the salon for these nails, you can totally DIY them at home by using stickers. You might have to draw the drip yourself though, which is an easy task using a thin-tip brush. Top them all off with a gloss polish for a glimmer effect at the end.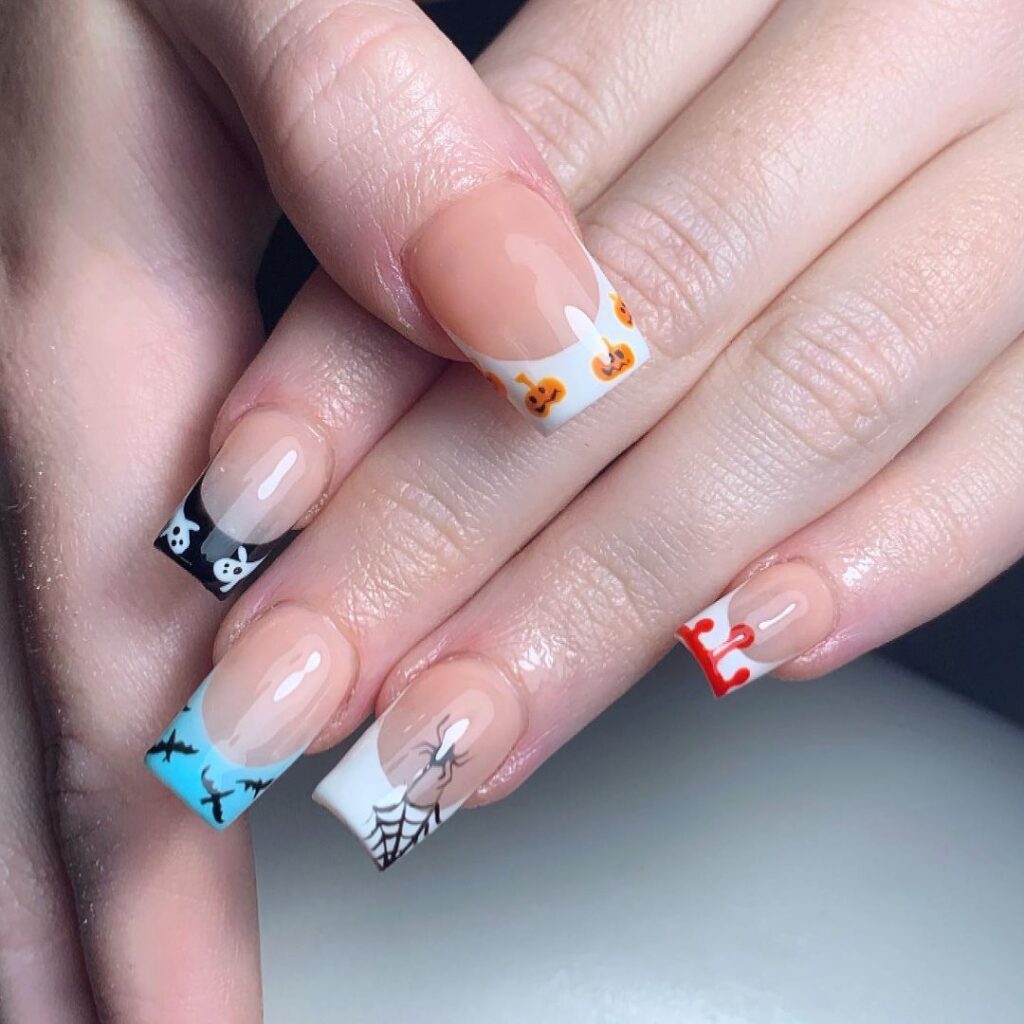 #32 Bats are eerie and spooky creatures that are often overlooked in a Halloween manicure. These Halloween 2022 acrylic nails though are doused with bats done on dark grey background for a night-time effect. Bats are often considered to be a symbol of bad luck, but nothing can be further from true. In fact, nocturnal animals symbolize wisdom, and bats, in particular, are symbols of initiation, transition, and new beginnings in life. In some cultures, it's believed that if a bat passes through a play, it's guaranteed to be a success. So, if you want them to be a part of your mani and also, want some good luck symbolism, this nail art is the way to go!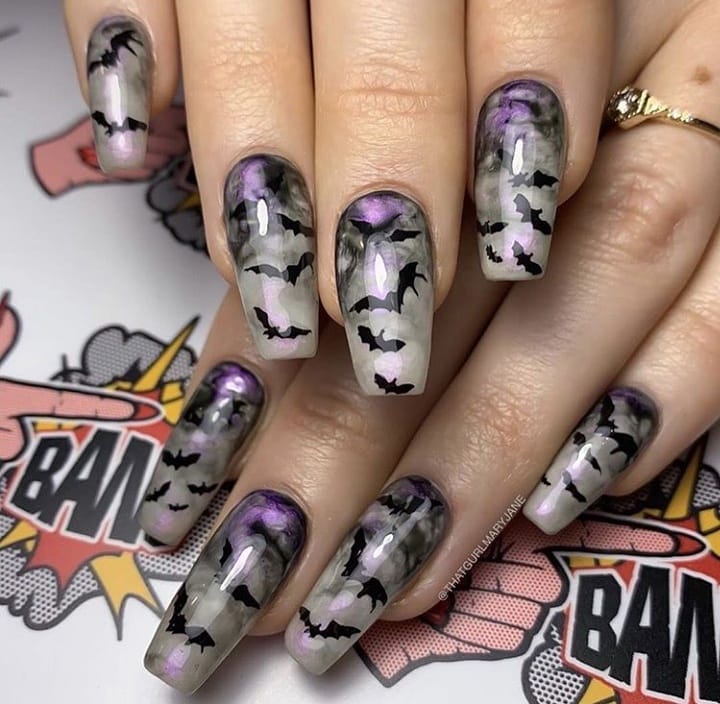 #33 There's no way to show off your love for the animated feature film Corpse Bride than your Halloween nails. Portraying a drawing of each of the main characters on every nail, there's only beauty and a creative streak in this nail design. Recreating these nails surely requires you to take a trip to a specialist nail artist. Pick wisely though, because not all nail technicians are skilled at character drawings. So, look through their portfolio and Instagram before booking them for the task.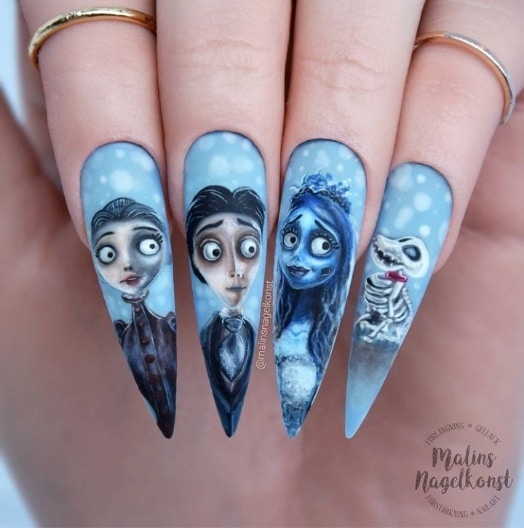 Courtesy: Malin Schlott Nail Artist
#34 Orange and black manicures will always be the favored option for Halloween manicures, but you can play with them to create so much more personality to manicures, like the ones created by California-based Outta Hands. Every nail speaks for itself. There are illustrations of a ghost, a spiral, a scary pumpkin, and a French manicure nail with tips doused in a black base and orange glitter. The spooky mug has our attention as well. If you want to get an aesthetic shot of your nails, I'd definitely recommend posing alongside Halloween-themed elements as well.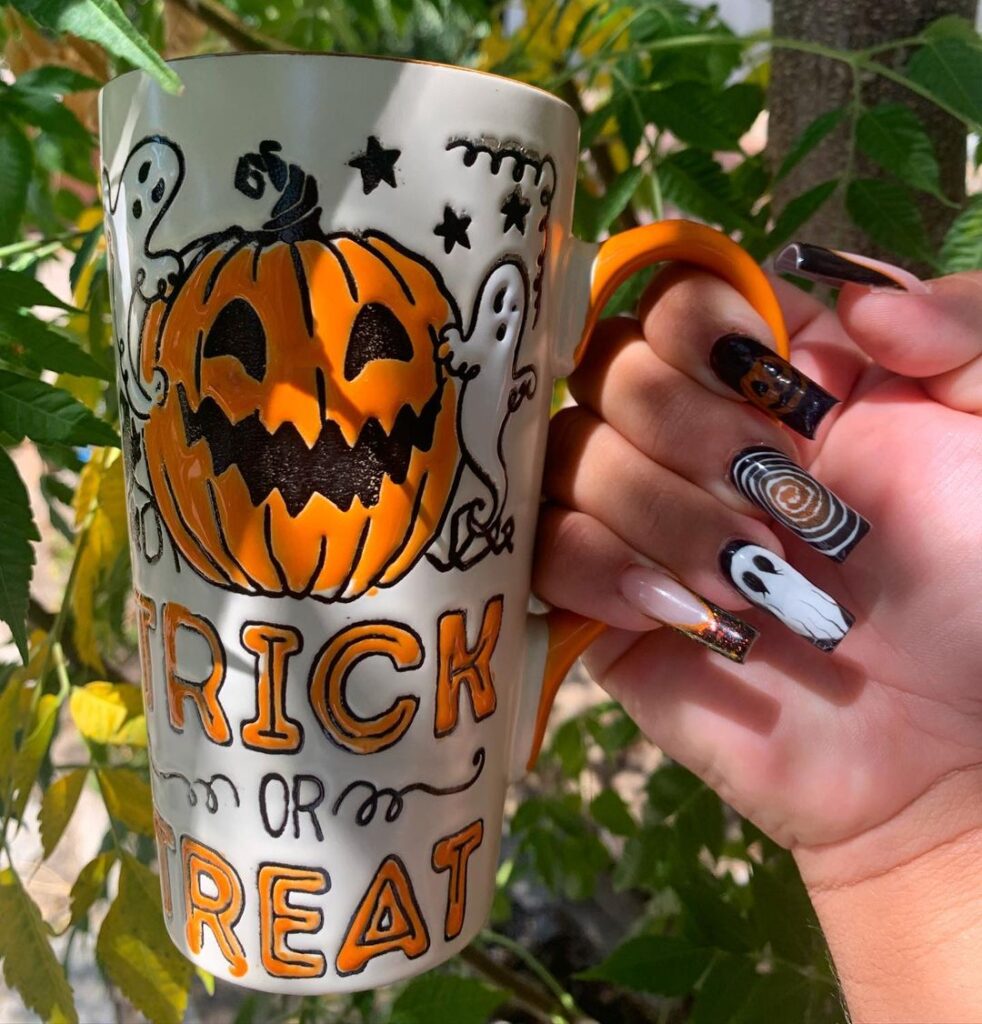 #35 Not all Halloween nails need to be ghostly or creepy, some can be cute and lovely without the use of any motifs that are of the former nature as well. These pink nails done on a nude background incorporates a spider-web with a heart and stars on one of the accent nails to negate any spookiness of the Halloween characters. We love how these nails are done in a square shape, but they would look good with any nail shape or length you choose.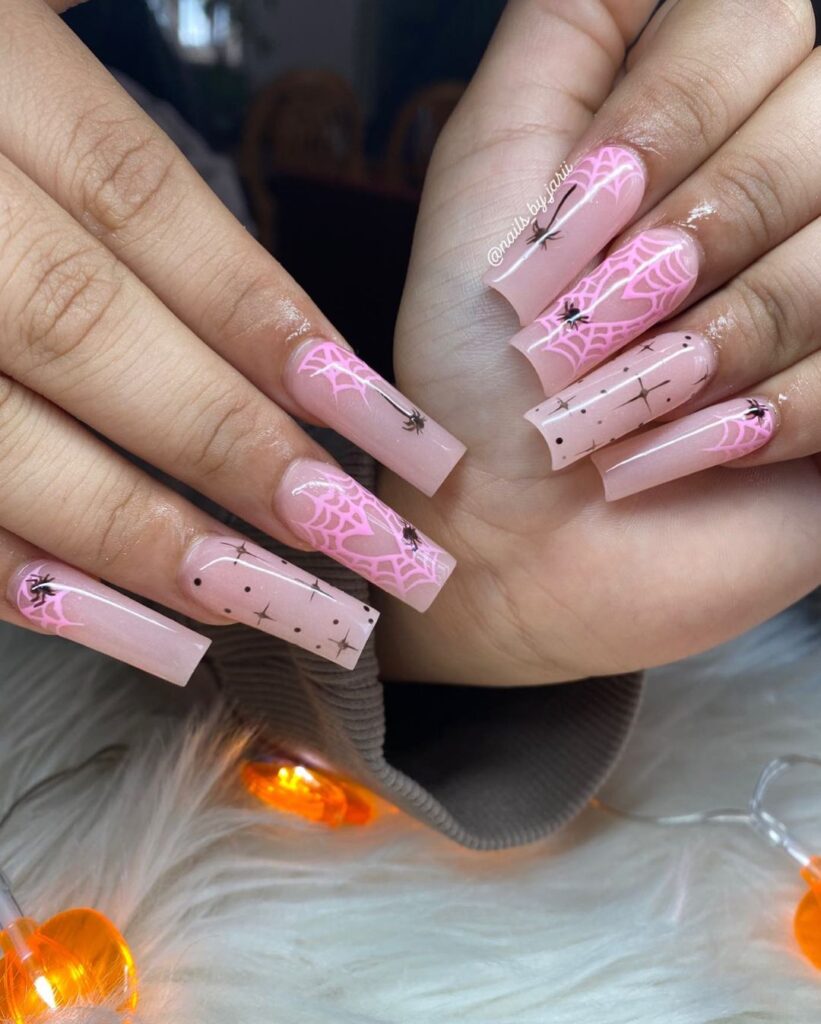 Courtesy: @nails_by_jarii
#36 Black Halloween nails are quite popular as the shade not only aligns with the festival's spookiness but also makes for an elegant setup for any of the motifs specific to the holiday. Done in an intricately-shaped almond nail, the index and pinky finger are done in all black while it's the middle of the two nails that adds the Halloween-relevant touches. Again, you know the trick. If you don't have time to get these nails done at the salon, get the stickers from Amazon using this link here. Don't forget to cover it all with a top coat so the stickers stay well in place and no one is able to tell that yours aren't professionally done nails.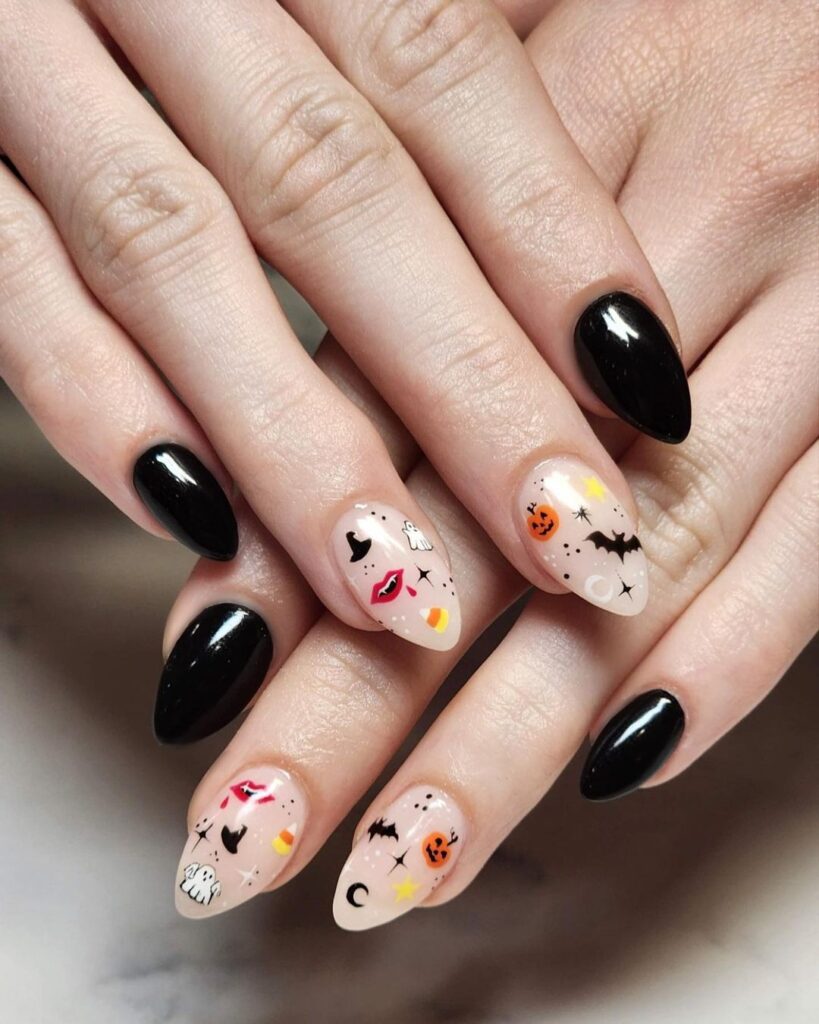 Courtesy: @paintedbyanh
#37 You must be convinced by now that longer nails do give you more space to express your creativity. And it's only in the holiday season that you get a chance to experiment with something fun and playful. If you're all up to giving up your short nails this holiday season and exploring lengthy talons bedecked in artistic designs, our next Halloween acrylic nails 2022 can serve as an inspiration for you. It includes all the spooky characters and is accented by glitter and stars for a beautiful effect that makes the entire manicure come together.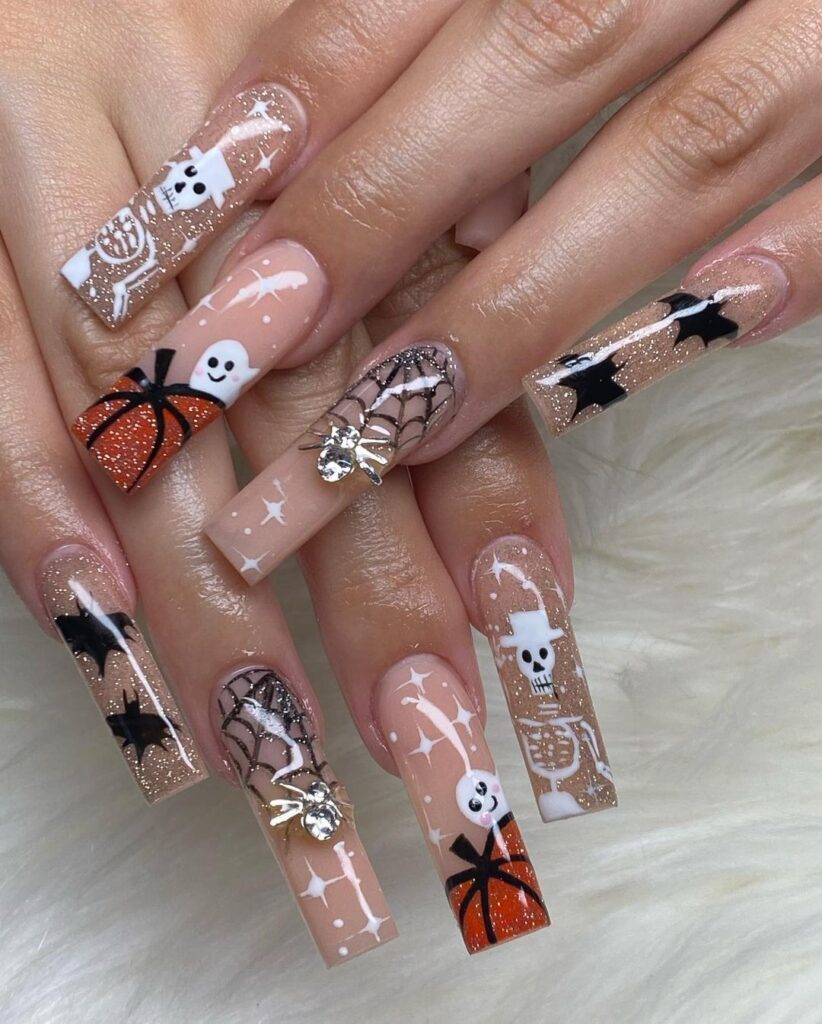 Courtesy: @mayaasnails
#38 This Halloween don't dress as a skeleton to exude the annual holidays' spirit, instead wear them on your nails. While these Halloween acrylic nails look difficult to recreate, they actually aren't. They do need patience though and a steady hand (not meant to be tried by beginners). Start with a jet-black base and let it dry completely. Next, carefully place the bones in a white hue one by one. This manicure is done for a small Halloween nails design, you can do it with a longer nail shape as well. Just pick your favorite one and this art will still look as alluring as portrayed in the picture.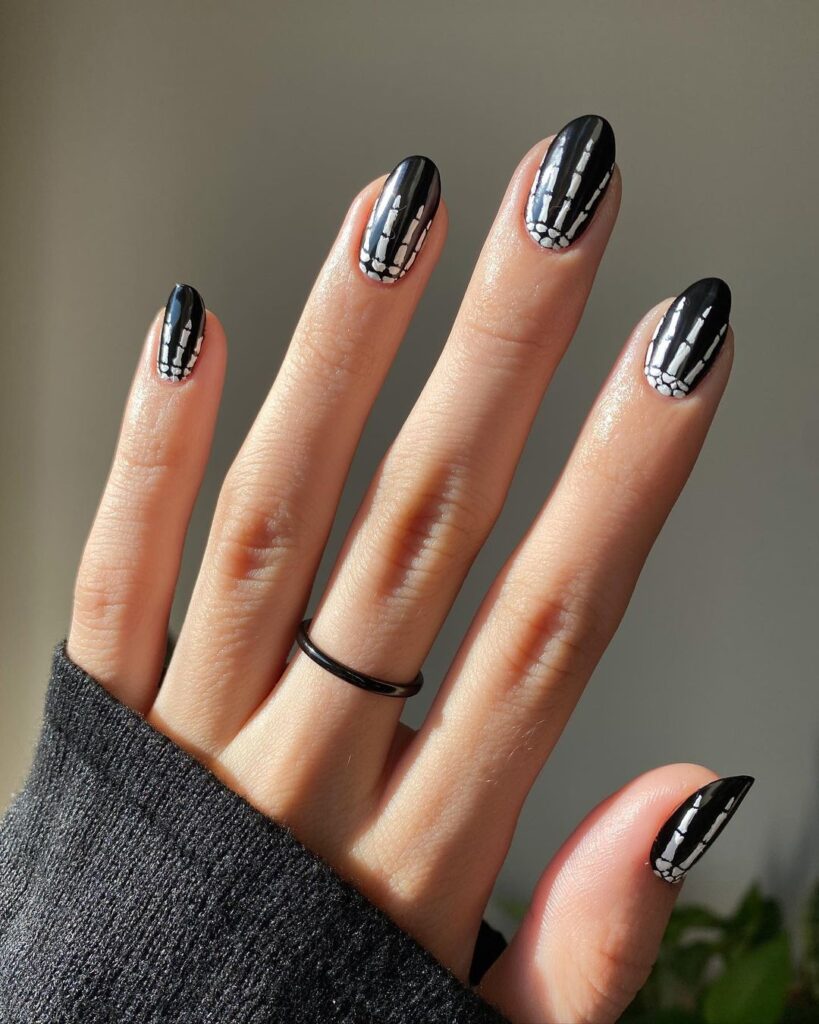 Courtesy: Stefanie
#40 Ah! How we adore these gorgeous orange and black Halloween nails designs. It's the perfect balance between simple and holiday-relevant. The long almond nails are elevated by orange ombre on the tips and the middle two nails are enhanced by spider webs. You can also completely skip the spider webs motif if you want something fall-specific only as you know acrylics and gels are a commitment for 2-3 weeks and not just for a day. When you're done, do get a gorgeous picture clicked like this pictured above a pumpkin backdrop because social media flaunting is imperative when you get cute nails like this.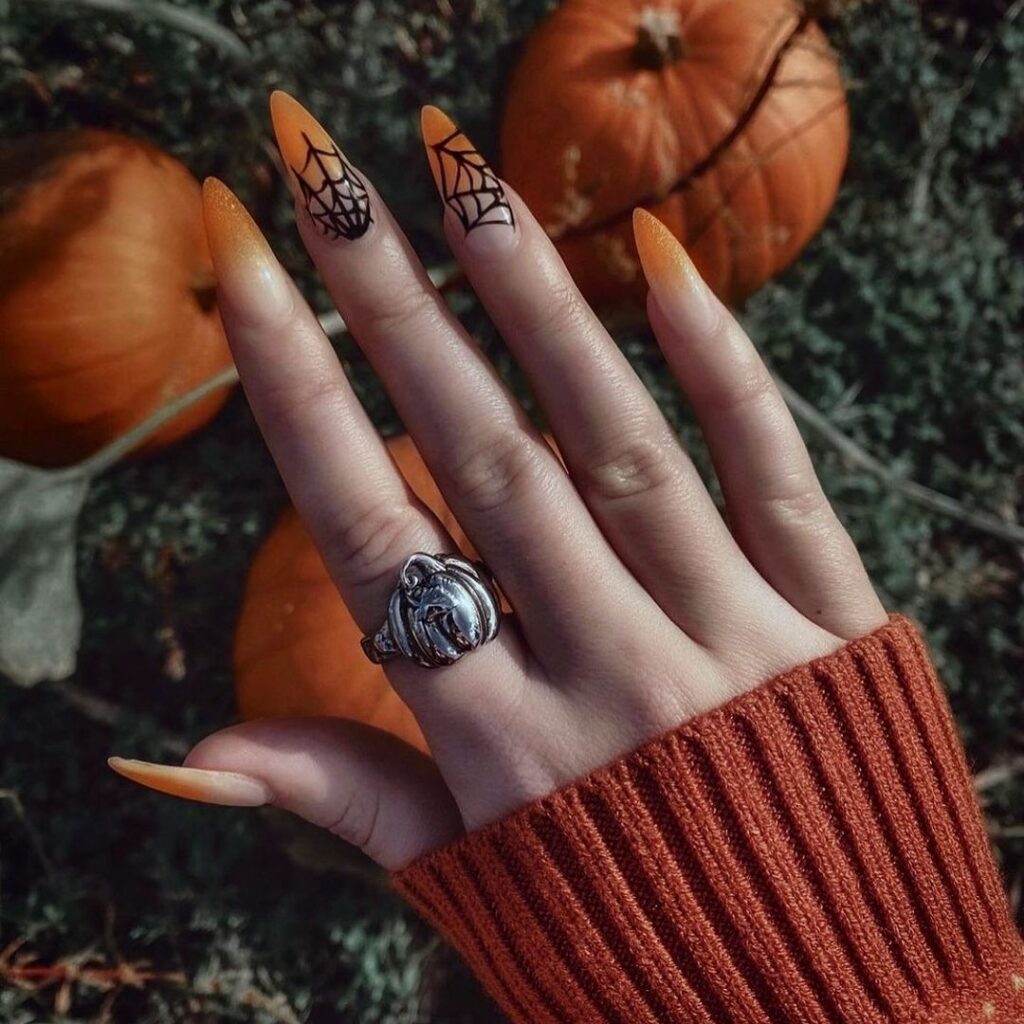 Courtesy: Mysticum Luna
#41 Sure, you'd spot the same Halloween motifs in every manicure, but it's the way it's arranged that makes all the difference. Like here, Get Nailed by Lorena, an Ontario-based nail technician, arranges them with stars and gets creative with the tips by outlining them in a curved line and filling them alternately in orange and black shades.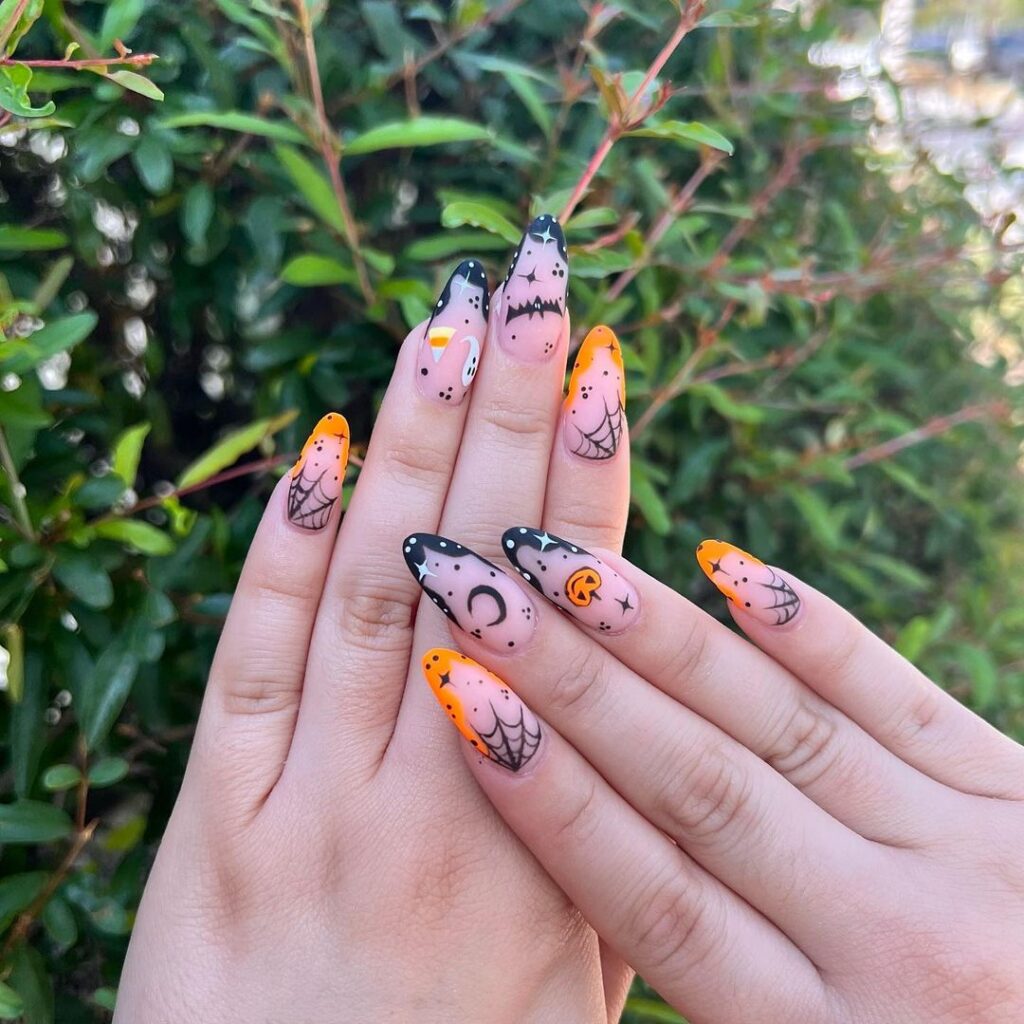 #42 We just absolutely love this Halloween nail idea that depicts a graveyard – which is an unusual spooky motif to include in your manicure. We'd definitely advise you to have this recreated by an expert because the attention-to-detail is very important to get the same results as shown in the picture. Before booking your appointment, just send this picture to the artist and see if they're comfortable creating it.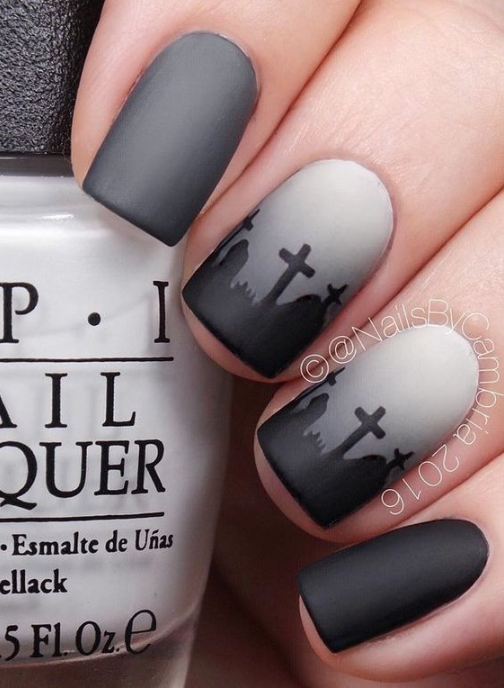 #43 Channel your minimalistic style with the next Halloween acrylic nails idea on the list. It is also one of the easy Halloween acrylic nails that will not take much time or money.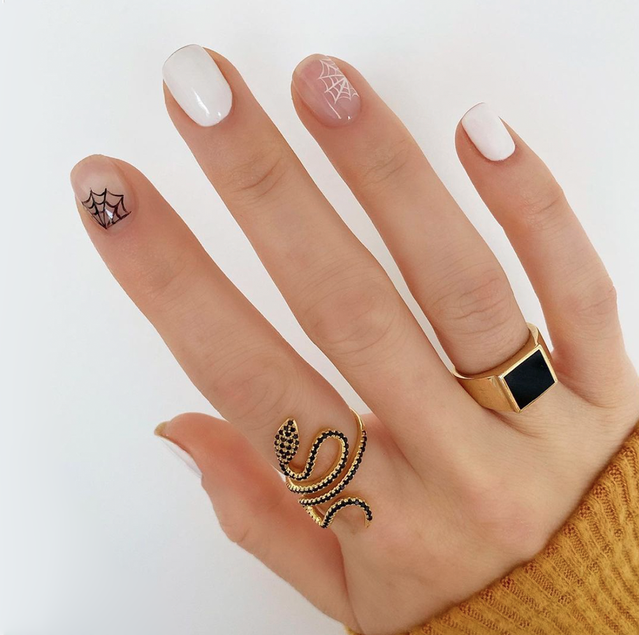 #44 With the help of transparent nail extensions, this artist created a perfect base for the adorable spooky motifs on this manicure. If you are one of the lucky few whose nails grow out and also don't break easily, then you can recreate this design without any artificial extensions. Start with buffing your nails and shape them as you prefer. Now, you can draw the motifs or use stickers to complete the characterization. Leave them as is, or cover them in a gloss top coat for a shimmering effect.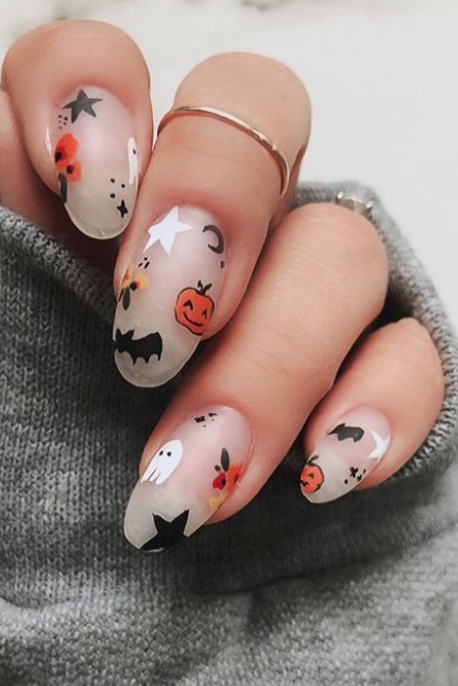 #45 These black Halloween nails scream elegance and grace. It keeps things simple by painting the tips black and just including a spider-web design on the accent nail. For this one of the designs, you will need longer nails so the web is shown clearly on the nails. To recreate shorter nails, cover the entire accent nail in black and cover it in the spider web motif instead.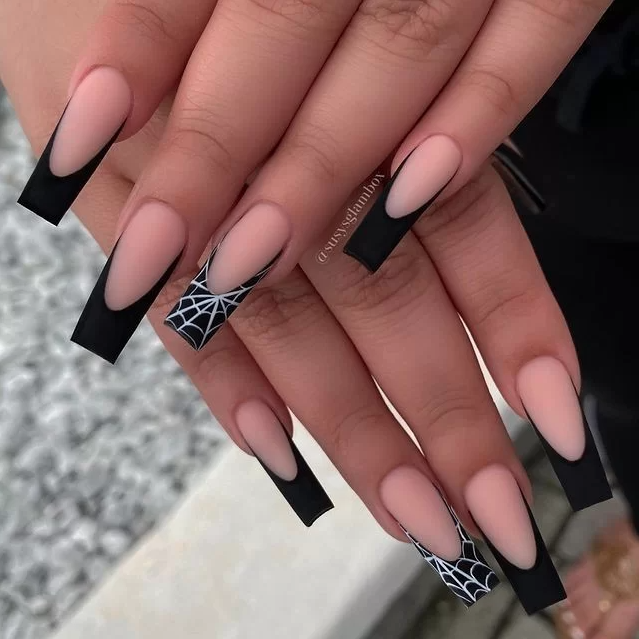 #46 For those who're looking for a fall-specific manicure to sport on their Halloween, here's the one. The manicure plays with beautiful rustic shades – often seen in the fall palette, with the middle two nails covered in gold foil leaves relevant to the autumn.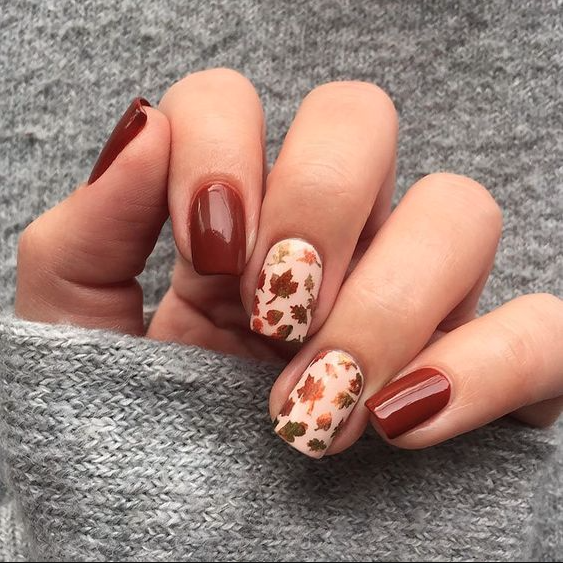 #47 Here's yet another Halloween manicure that doesn't include any motif catering to the festival but makes it relevant by including the popular shades of the Halloween acrylic nails – black and orange. It's a subtle nod to the festival whilst giving you a manicure that's also fall-relevant and not just meant to flaunt for one day.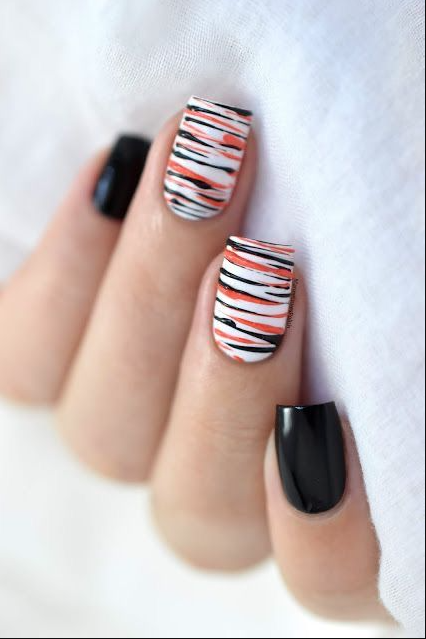 #48 Just how cute do these almond nails look in pink and doused in Halloween motifs? We love how even the blood drip is done in pink so even the spookiest of elements look adorable in the manicure. This is just the ideal Halloween ghost nail design for those who are afraid to include any eerie elements in their manicure and only want cuteness in their nail design.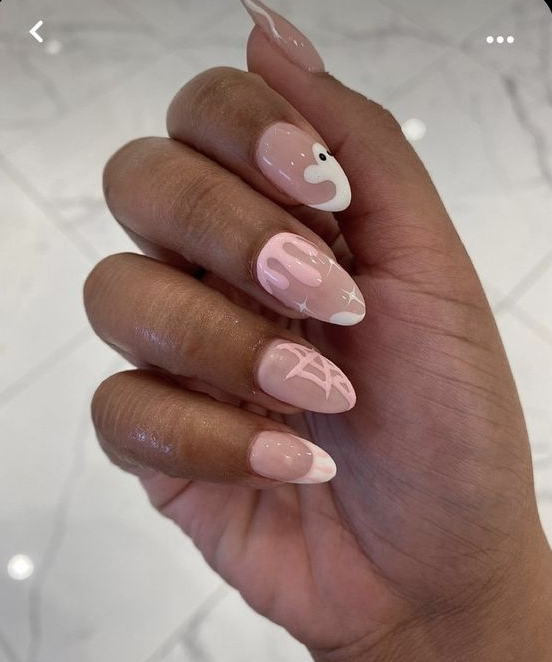 #49 These pumpkins and ghost Halloween acrylic nails are gorgeous and love at first sight! Longer nails are often doused in many creative elements, but if you want yours to be simple, then here's a good design to replicate. Yet again, if you're one of those lucky few who can grow longer without a much bigger risk of them breaking, just shape them properly and use a dotting tool or stickers to create these motifs. Don't want longer nails? This design will look great with shorter nails as well.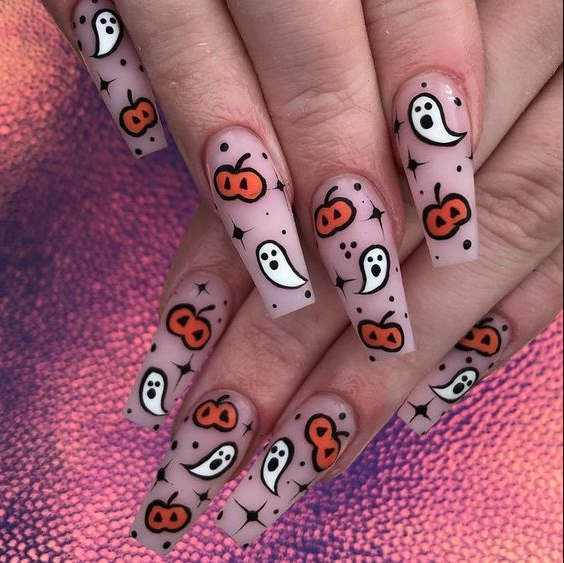 #50 Black Halloween nails are popular and you can choose to keep them simple & subtle without any spooky motifs by just painting the accent nails with moon and stars. These simple Halloween acrylic nails can be done at home or you can get them professionally done as well so they last for around 2 to 3 weeks. Home manicures generally don't last this long and the featured manicure is relevant even after Halloween.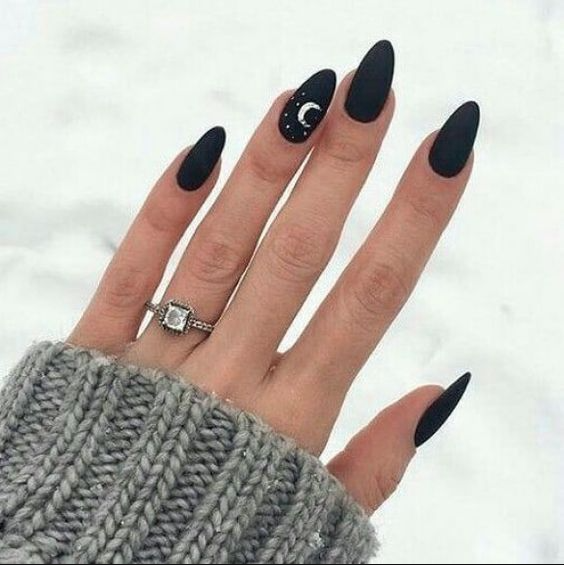 #51 These cute ghost Halloween nails are absolutely endearing. They feature curved short Halloween acrylic nails done in soft pink and elevated by star elements and ghost motifs here & there. When nails are this adorable, you hardly need any outfit to make a statement. Don't forget to click a picture of them because if you haven't uploaded any updates on social media, have you ever done it in RL? 
#52 These glossy Halloween nails are short and appealing. They feature an orange fall palette with one nail in glitter and one nail portraying a cute pumpkin motif. Nails like these are ideal for when you want to spend money on a professional manicure that stays relevant for the entire season and not just for one day.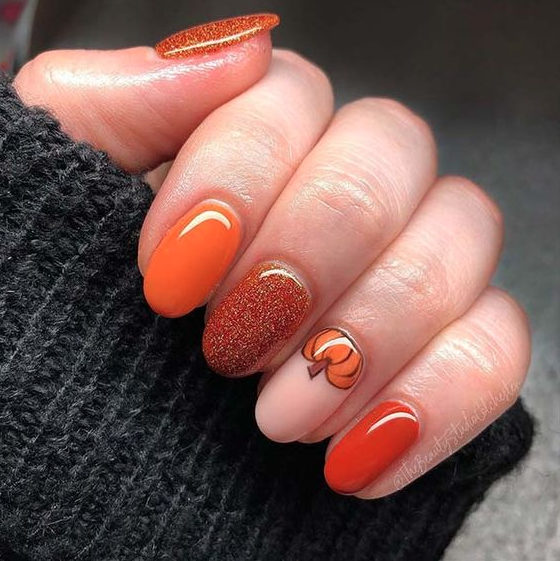 #53 You don't always have to draw characters or fancy designs to make your manicure festival relevant. Sometimes using the right colors is all you need. Now, you can get these Halloween nails in acrylic if you want them to stay put for a few weeks, or just do them at home if you have the colors available. Leave them matte or cover them in a gloss coat for a gleaming effect.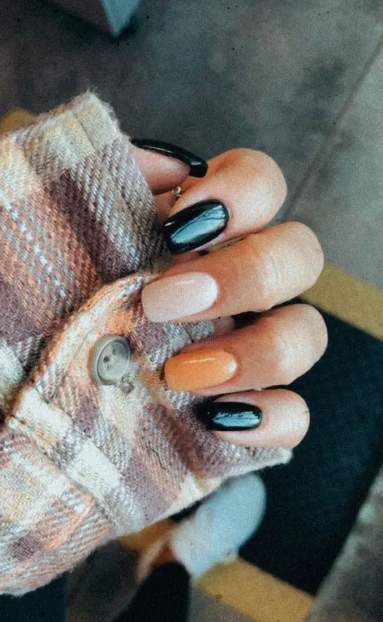 #54 Explore the gorgeous combination of orange and black in a stunning manicure design for Halloween like this one. The pink finger is painted all orange, the middle one all glitter, the index one all black, and the highlight of the manicure – the ring finger is done half glitter and half orange using the coolest transition effect. It's a season-relevant if not flagrantly Halloween look.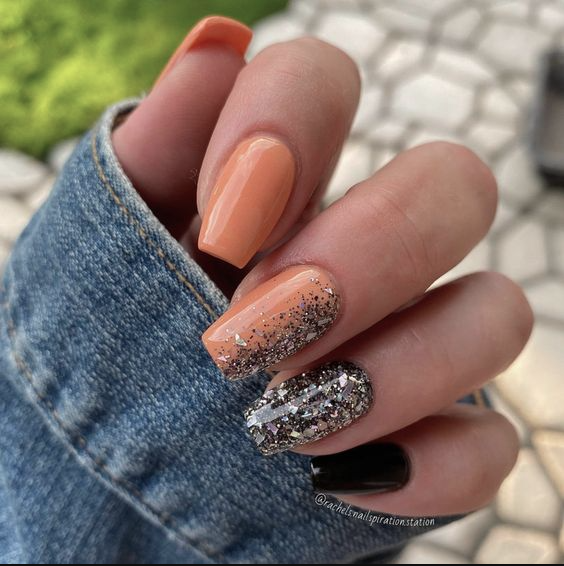 #55 Now, if you're bored of the usual orange and black color combination, try this fresh purple and black combination for Halloween instead. Incorporating the ghost motifs on the purple base and glitter on the black polish, this design is a perfect combination of glamor and chic.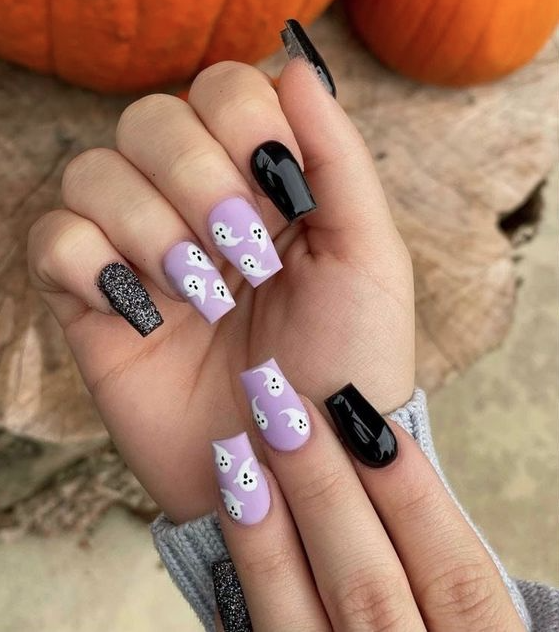 #56 This one of the Halloween acrylic nail designs uses just black and white colors to create a spooky yet cute nail art to try on All Hallows' Eve. It comprises of French manicure on three nails followed by ghost art on the middle nail and flowers on the ring nail to balance out the spookiness with cuteness for an adorable Halloween nail idea.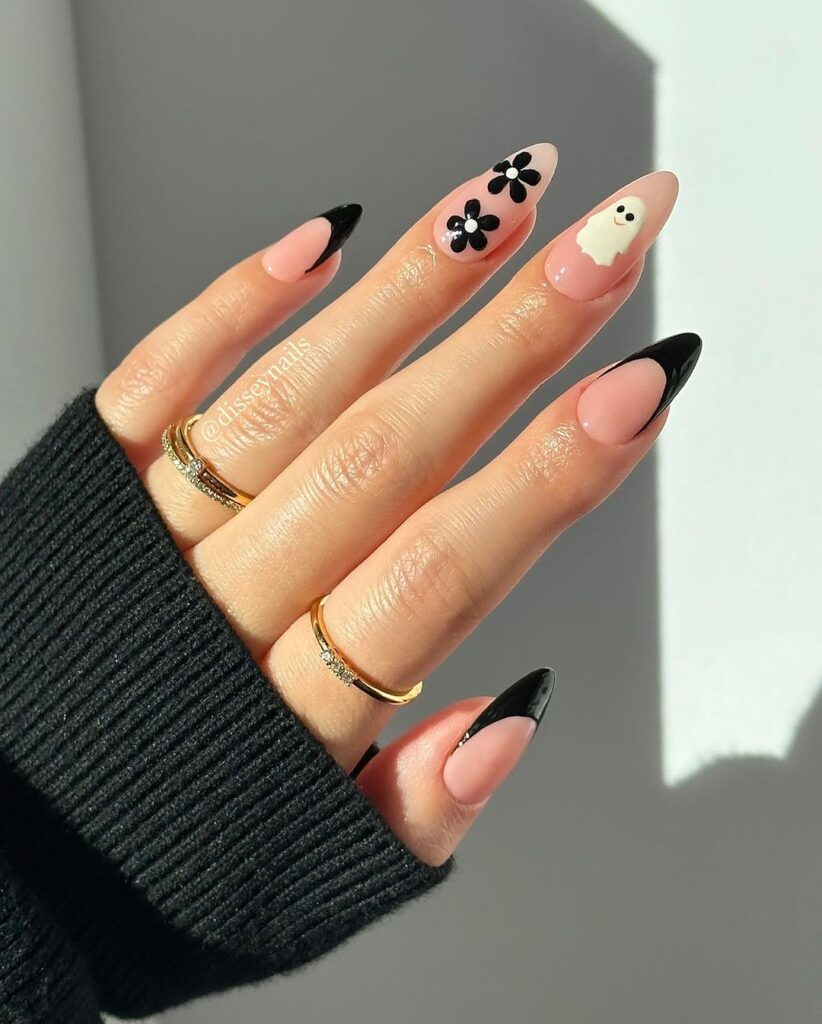 Courtesy: @disseynails
#57 Are you looking for something glittery, fancy, yet Halloween-themed to recreate? Using the silver glitter as the base, this one of the enchanting acrylic Halloween nail designs spider webs, ghost caricatures, and drip nails to infuse the eerie holiday vibe without holding back. Since the manicure uses only white and silver colors, it can go with almost any attire you choose for the holiday as well!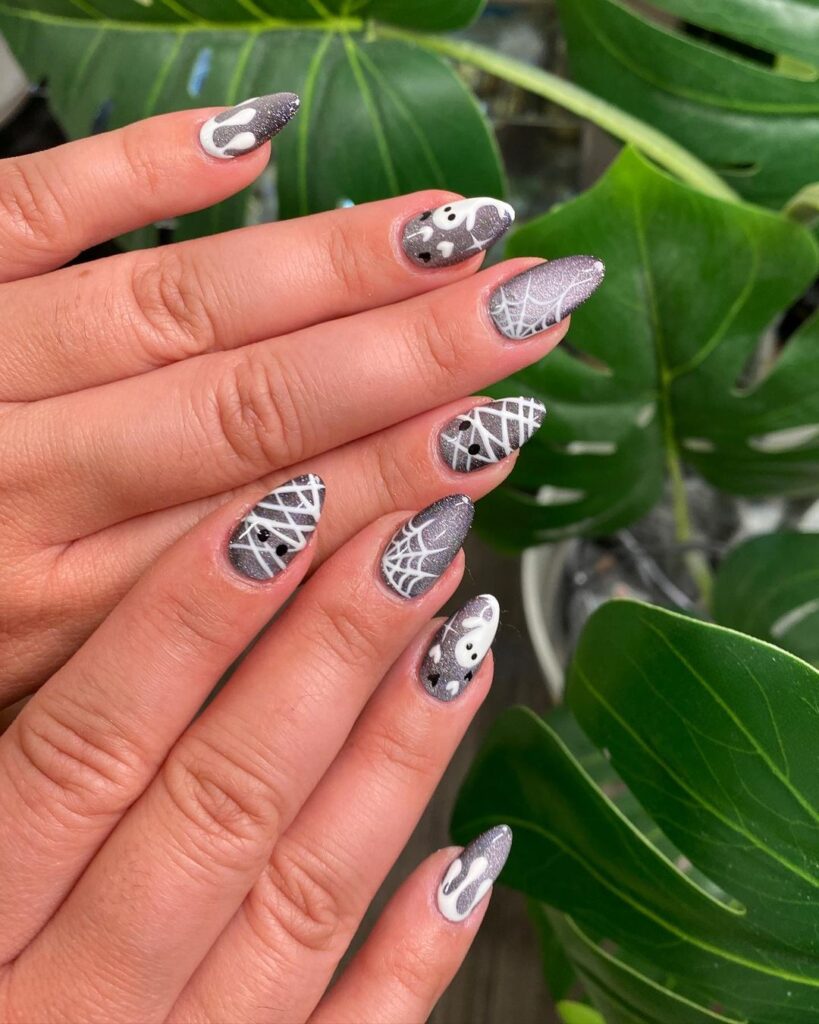 Courtesy: @nylove_nail
#58 These short Halloween acrylic nail design is every bit eye-catching, Halloween-inspired, and cute. It starts with coffin-shaped nails consisting of drip, ghosts, and stars, but all the elements are created with a mellow spooky vibe to give you a mani that's neither gory nor scary. It's all fun and gets you into the Hollywood vibes automatically.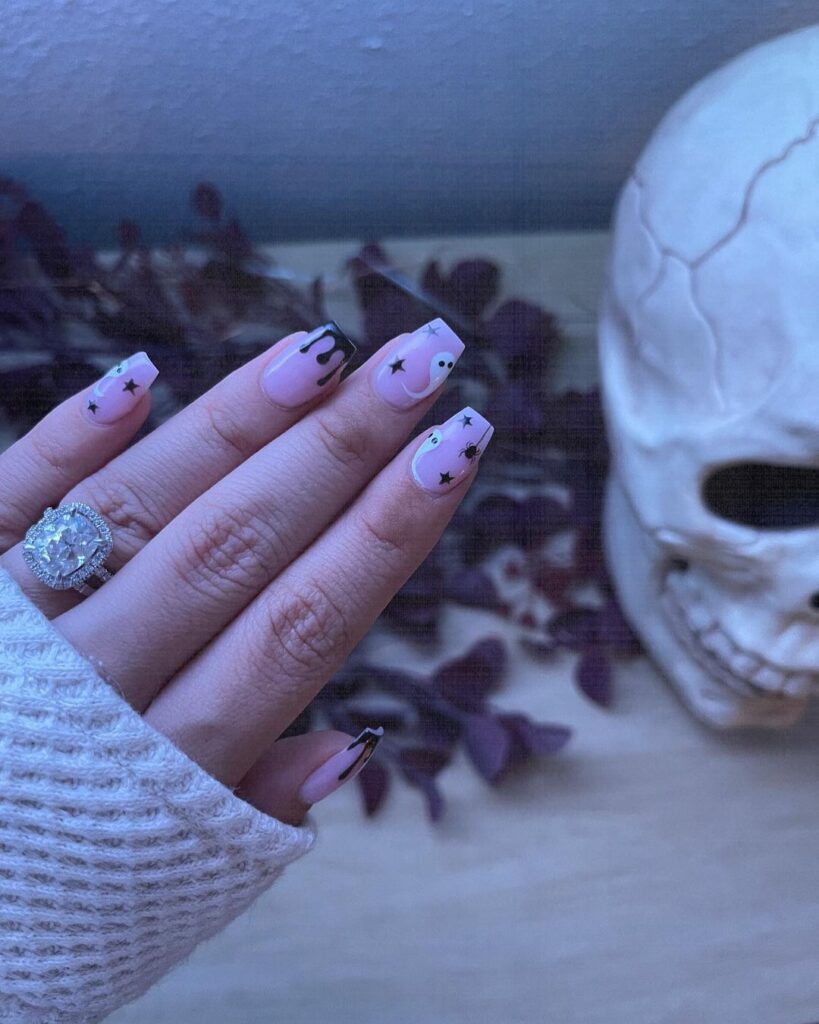 Courtesy: Cailey Corrine
#59 White goes with almost any color, but with brown it forms a unique and visually appealing combination that fits into every aesthetic – from home decor to fashion choice to this gorgeous one of the Halloween acrylic nail designs! The square-shaped nails are bedecked with spooky pumpkin drawings, drip art, and the customary ghost illustration for a mani that will surely attract the attention of anyone you encounter.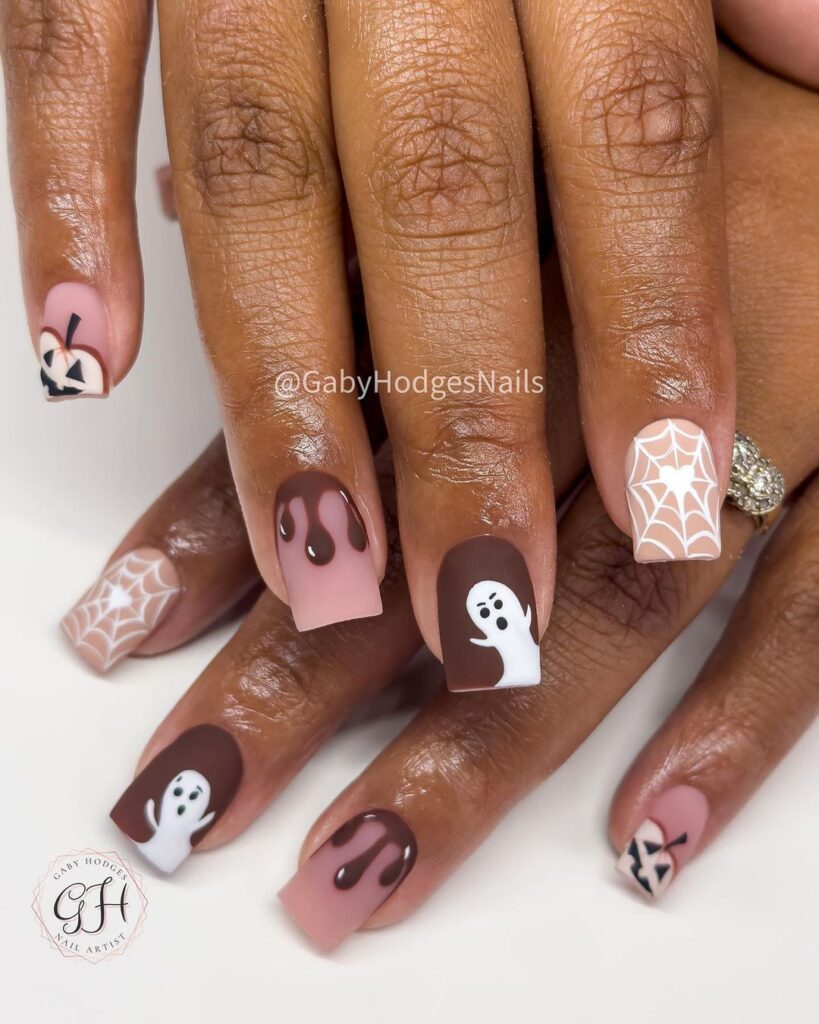 Courtesy: @gabyhodgesnails
#60 Another brown & white nail design because this is a color combination that will not fail to impress ever! This one also uses the same elements as above, but it's the heart in the middle of the spider web that caught our attention. It's just small touches like this that can make your acrylic nail Halloween nails stand out among the crowd.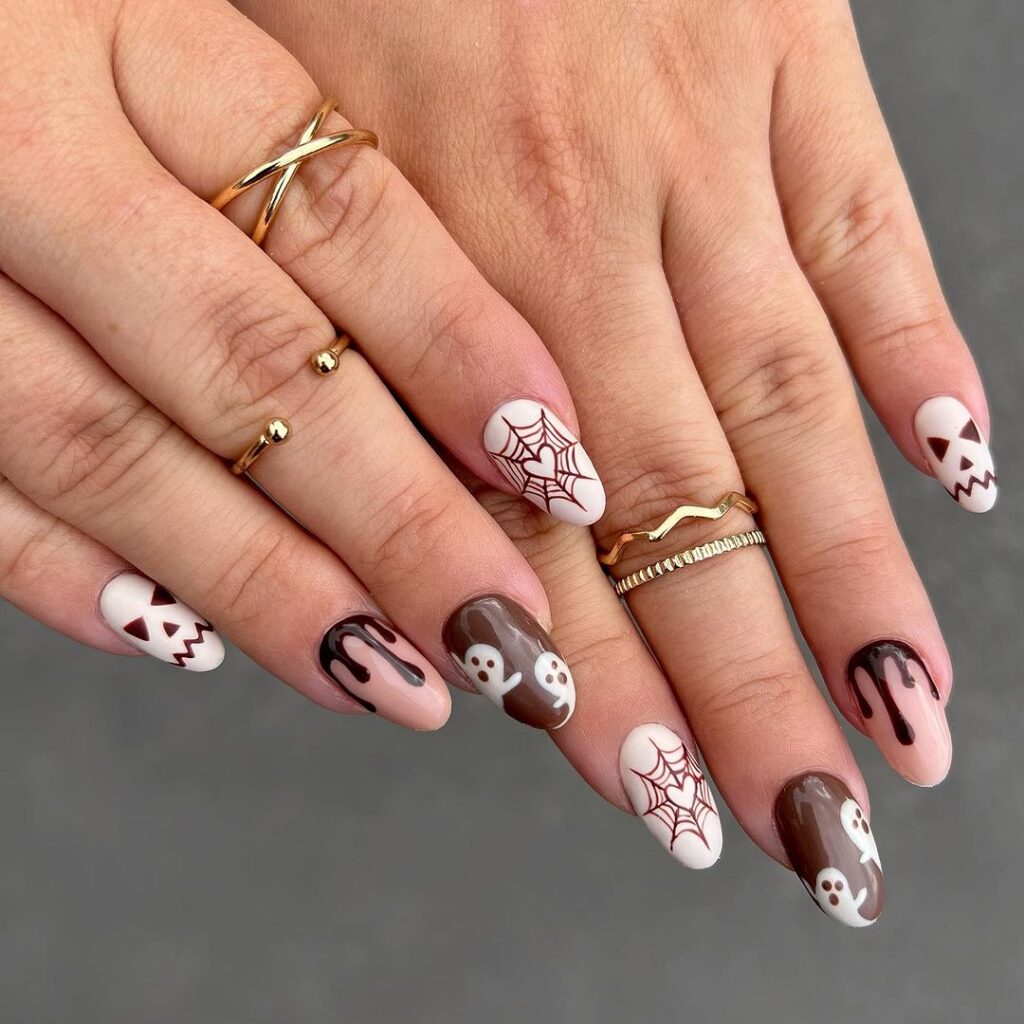 Courtesy: @nailsbyjanine.x
#61 These short Halloween acrylic nail design starts with a transparent base and uses purple and white as the main colors for the mani. You can always experiment with colors for your Halloween manicure. It doesn't always have to be red or black. Just use your favorite color and the customary elements to create your favorite one of the Halloween acrylic nail designs.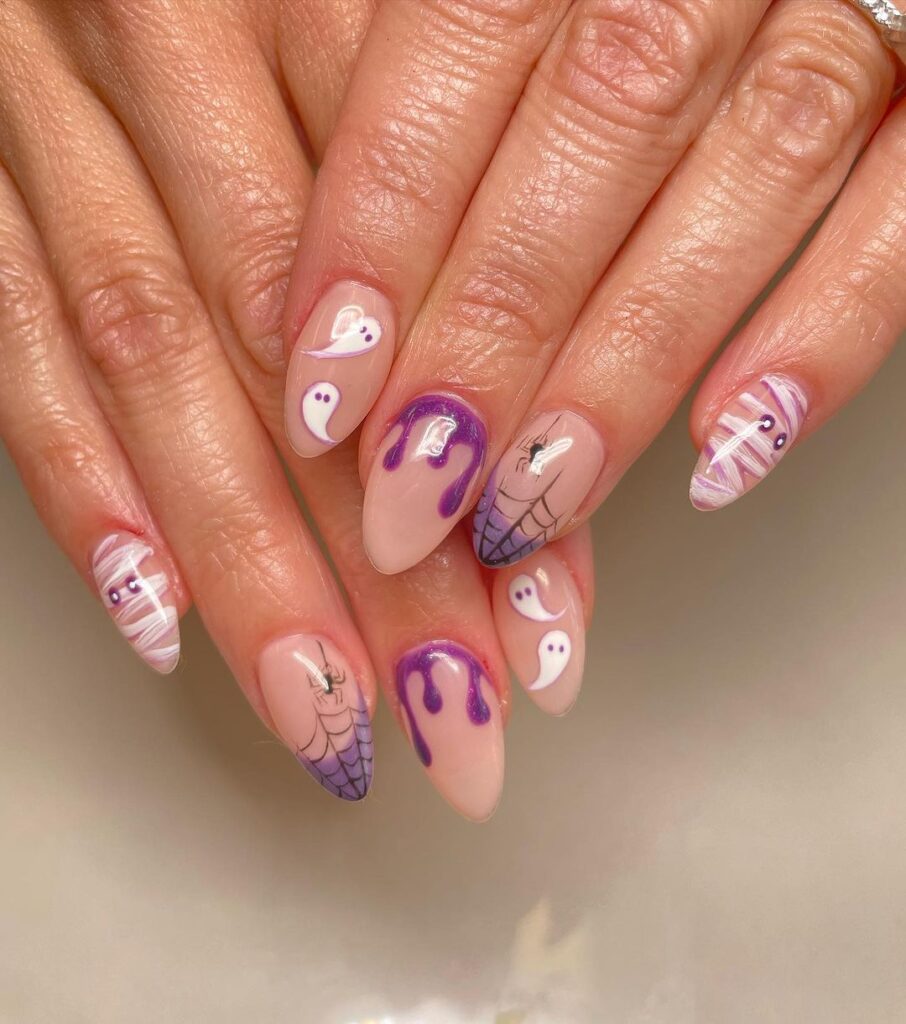 Courtesy: @polishbychloe
#62 We absolutely adore how these nails add charm and sweetness with the romantic pink shade and a captivating ghose element in the middle. Matte nails are often not the first choice, but they can add a distinctive appeal to your mani as they are seldom chosen over gloss nails. Matte manicure also takes less time to apply because matte dries faster. So if you forgot to get your Halloween nails in time, matte nails can be a good option.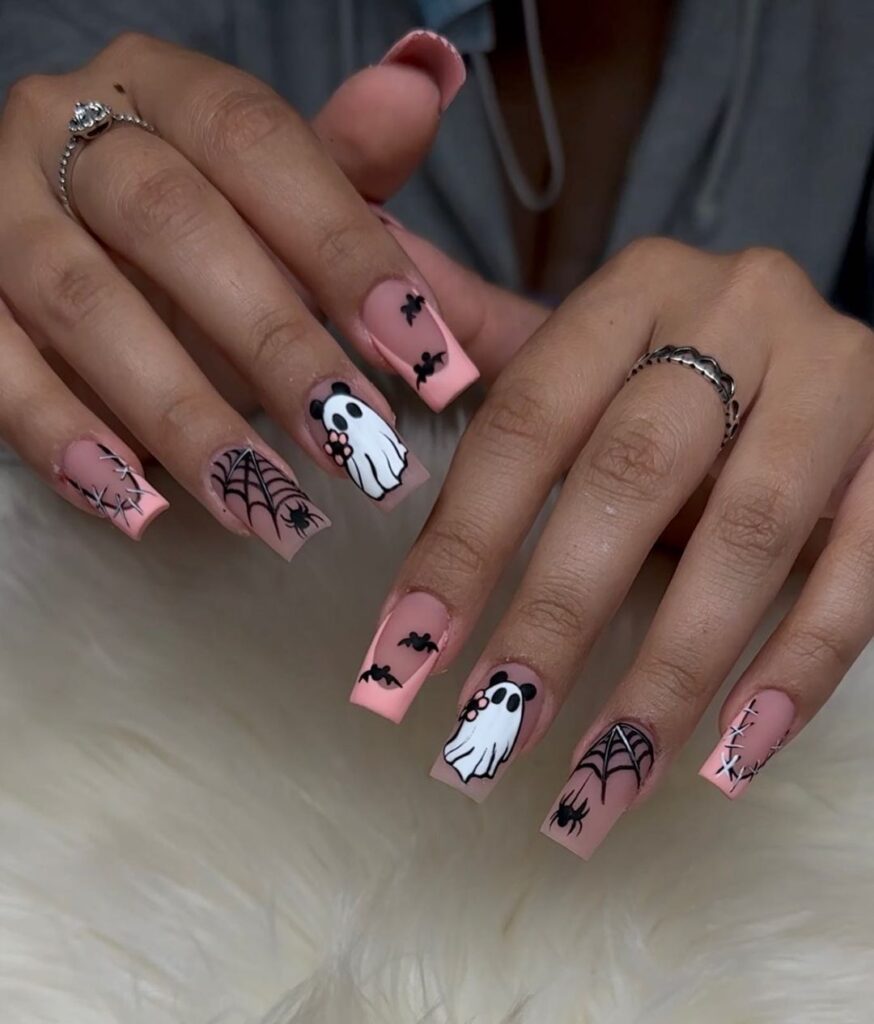 Courtesy: Sam Lucero
#63 These black and white Halloween nails give an exquisite nail aesthetic. It consists of the customary Halloween manicure elements, but it's the less-chosen bats that add to the spookiness of the design. Though these nails use white as the base, you can obviously go the other way around and use black as the base and white to draw the elements. It will give the same visually appealing look to this manicure idea.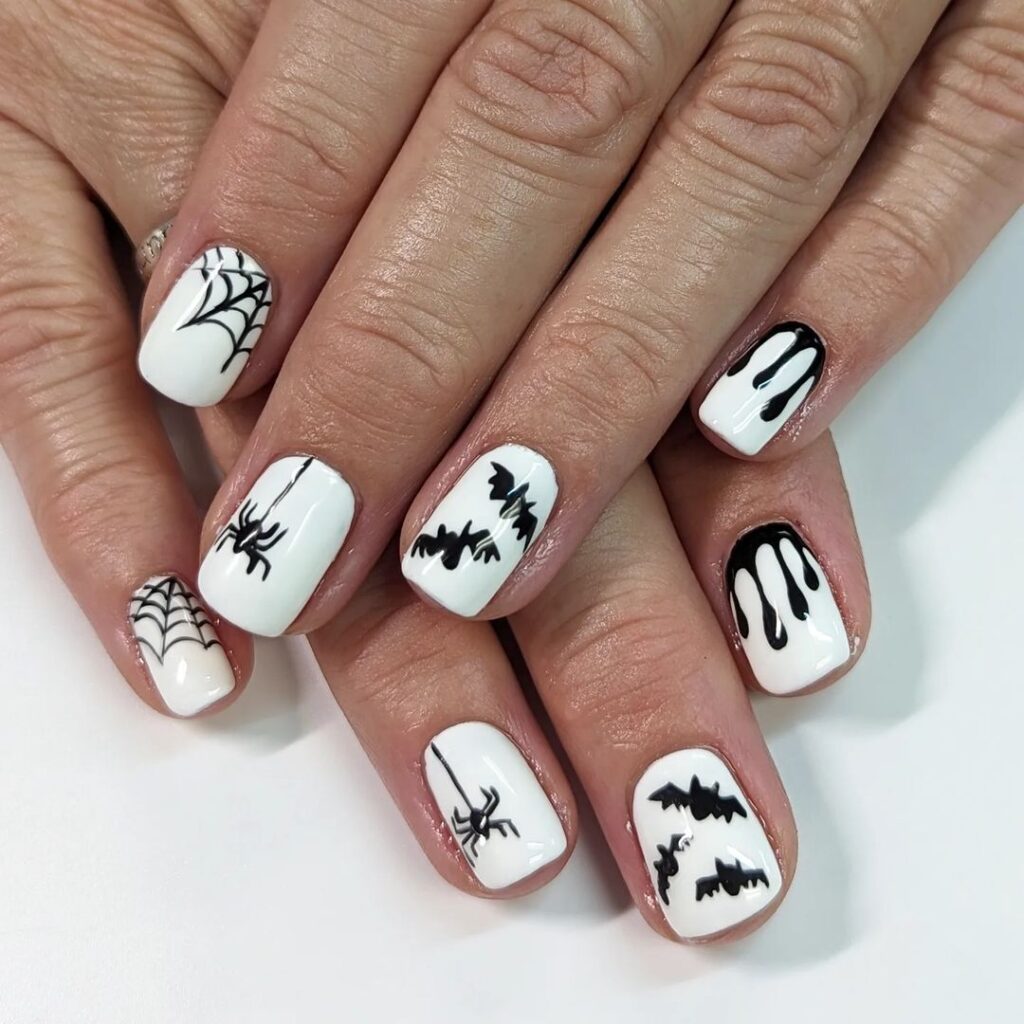 Courtesy: @nailsbycarlyc
#64 For those who want to explore a longer set of acrylic nails for Halloween, here's an adorable idea with a tinge of spookiness to give a shot. Drawn using outstanding intricacy, bold outlines, and a touch of mystique, this manicure is impressive, elegant, and glamorous. It's the one that will help you unleash your creativity and help evoke a vibrant personality.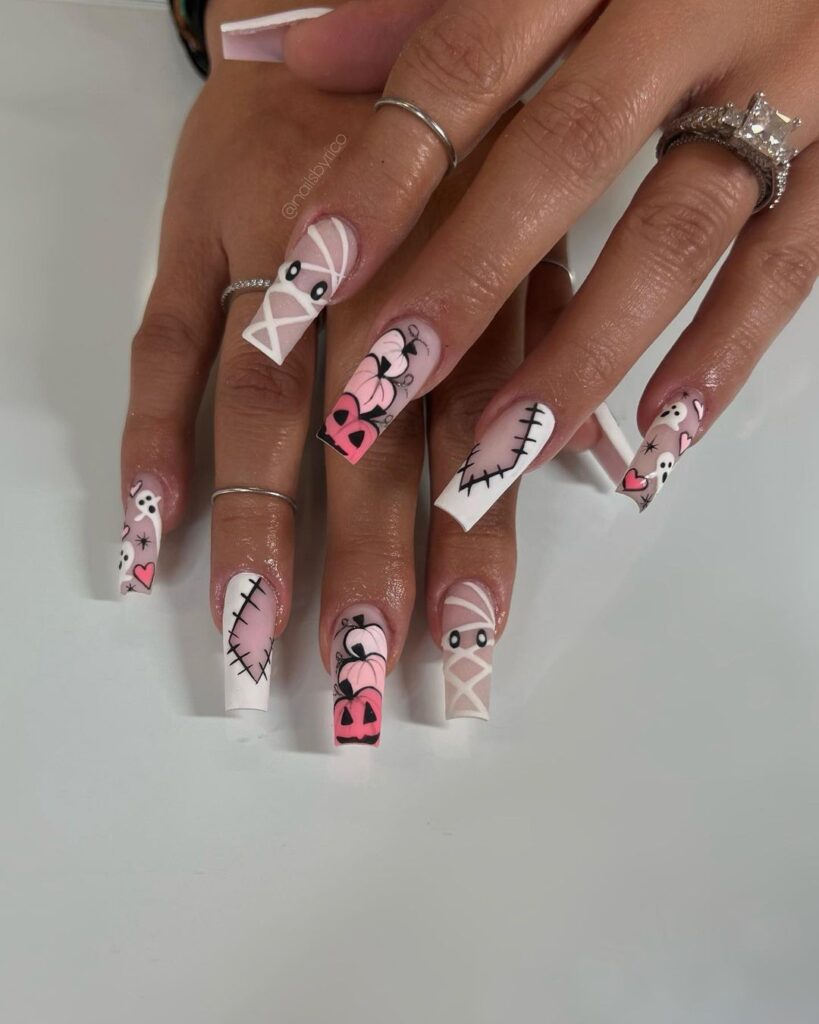 Courtesy: @nailsbyrico
#65 For Halloween acrylic nail designs that use all the elements of the festival without scaring you, try this amazing idea that sketches all the elements but with a tinge of cuteness and the romantic pink shade for a striking Halloween manicure. Yet another color that will evoke the same feeling as this design is purple! So for those who want to mix and match the shade, try a shade of purple as well!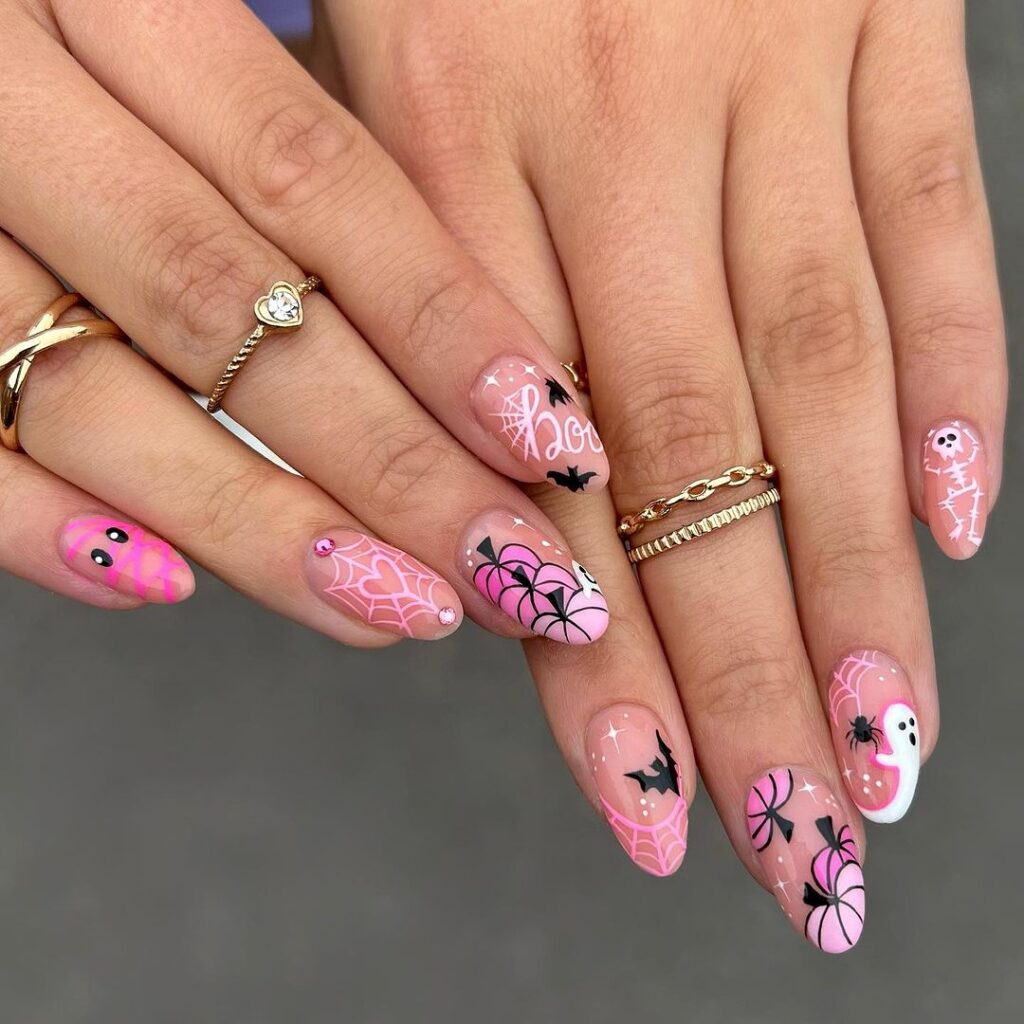 Courtesy: @nailsbyjanine.x
#66 All the girls who love to explore the colors in their manicures, Tessa Lyn Nails is the Instagram account you'd want to stalk. With over 185k followers, she posts inspirational nail art on her social media and most of them blend such beautiful hues in interesting designs for a striking look. Here, she combines pink, orange, and white colors on the base and uses black to create the elements for stylish nail art.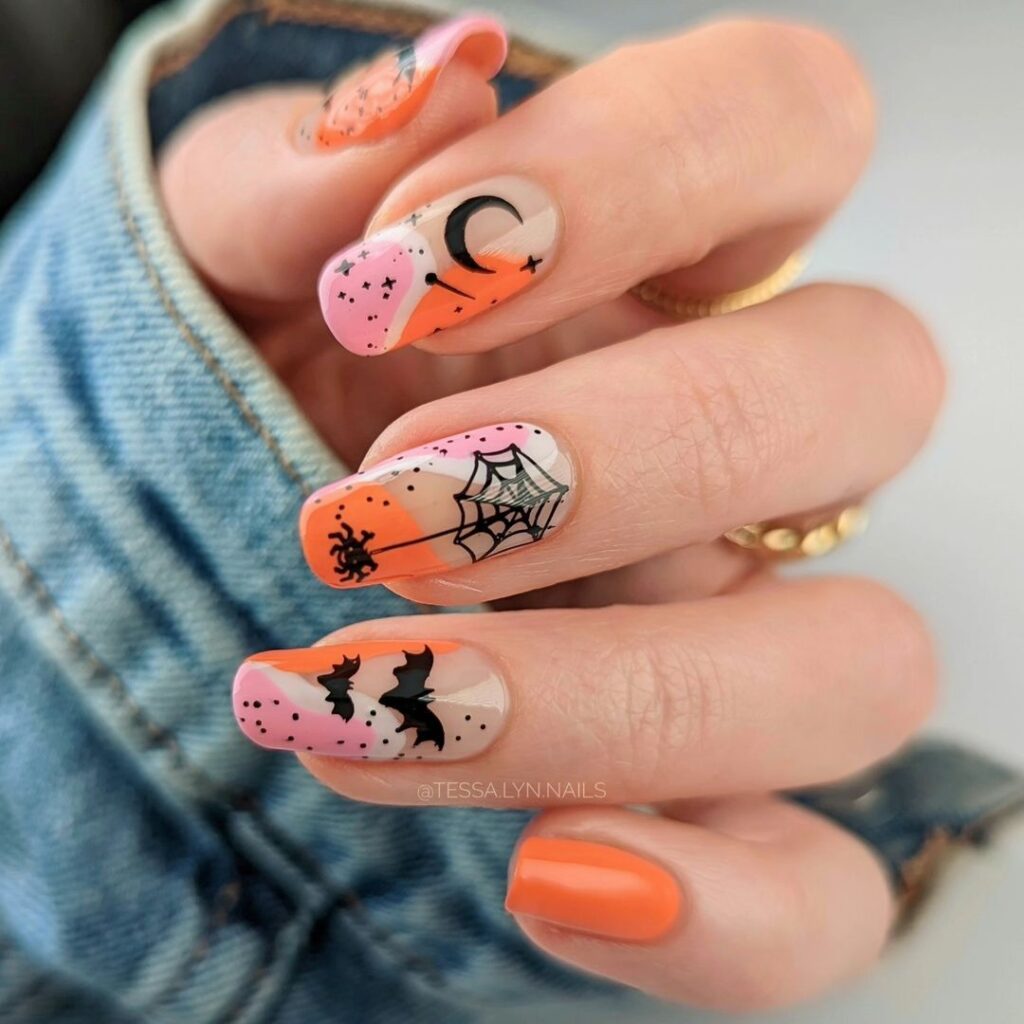 #67 Drip nails are one of the easiest DIY Halloween acrylic nails to try. You can start by prepping the nails: filing, cutting, and applying a transparent nail base. Now you can create a French manicure design before starting with the drip nail art or continue without it. To create this spooky element, draw three vertical lines with a brush, each one of a different length, and connect them! Fill the top area and apply a top coat after the polish has dried! Find a video DIY of the same below.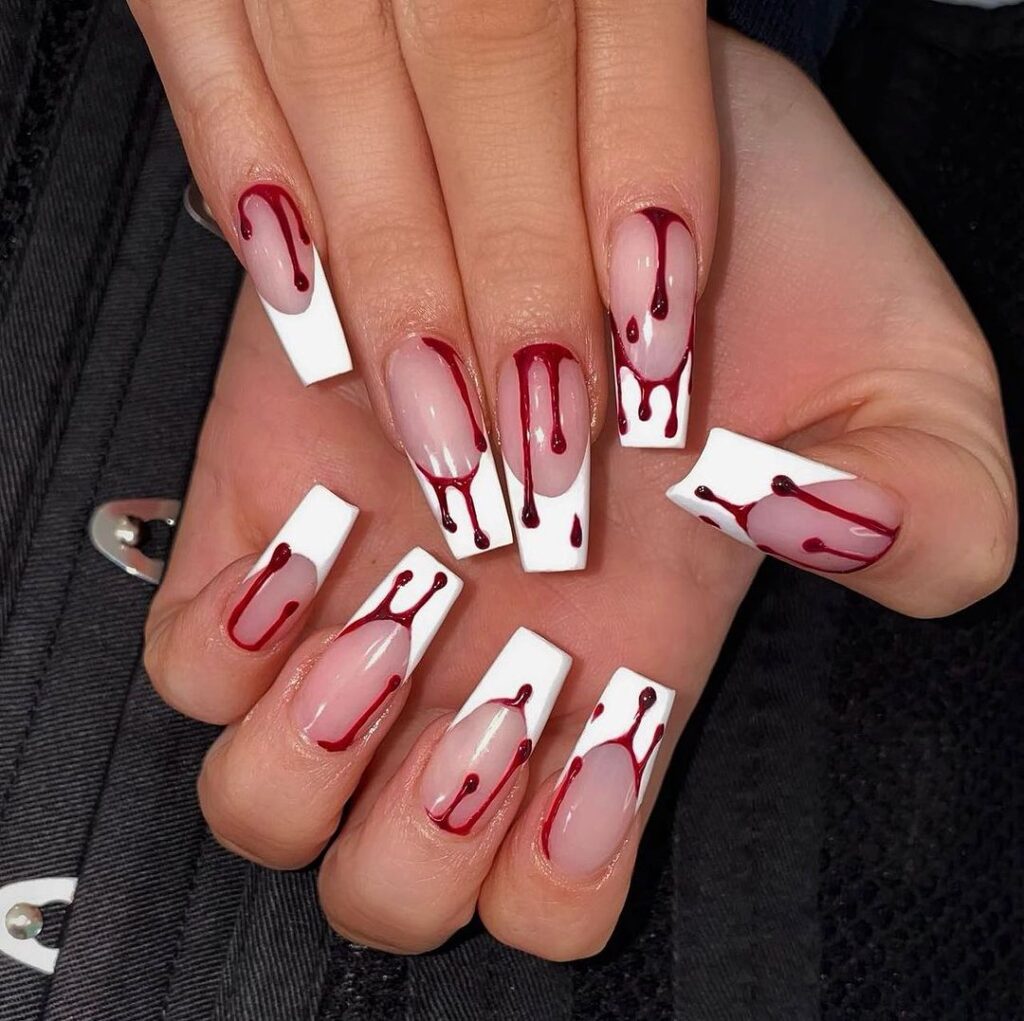 Courtesy: @chaunlegend
Buy Essie Nail Polish here. 
#68 These black French tip nail design features long, square-shaped nails with a glitter ghost as an accent nail to give you a manicure that's inspired by Halloween and is quite spooky! You can experiment with any other color as well to give you a mani that represents your preferences and style to the truest.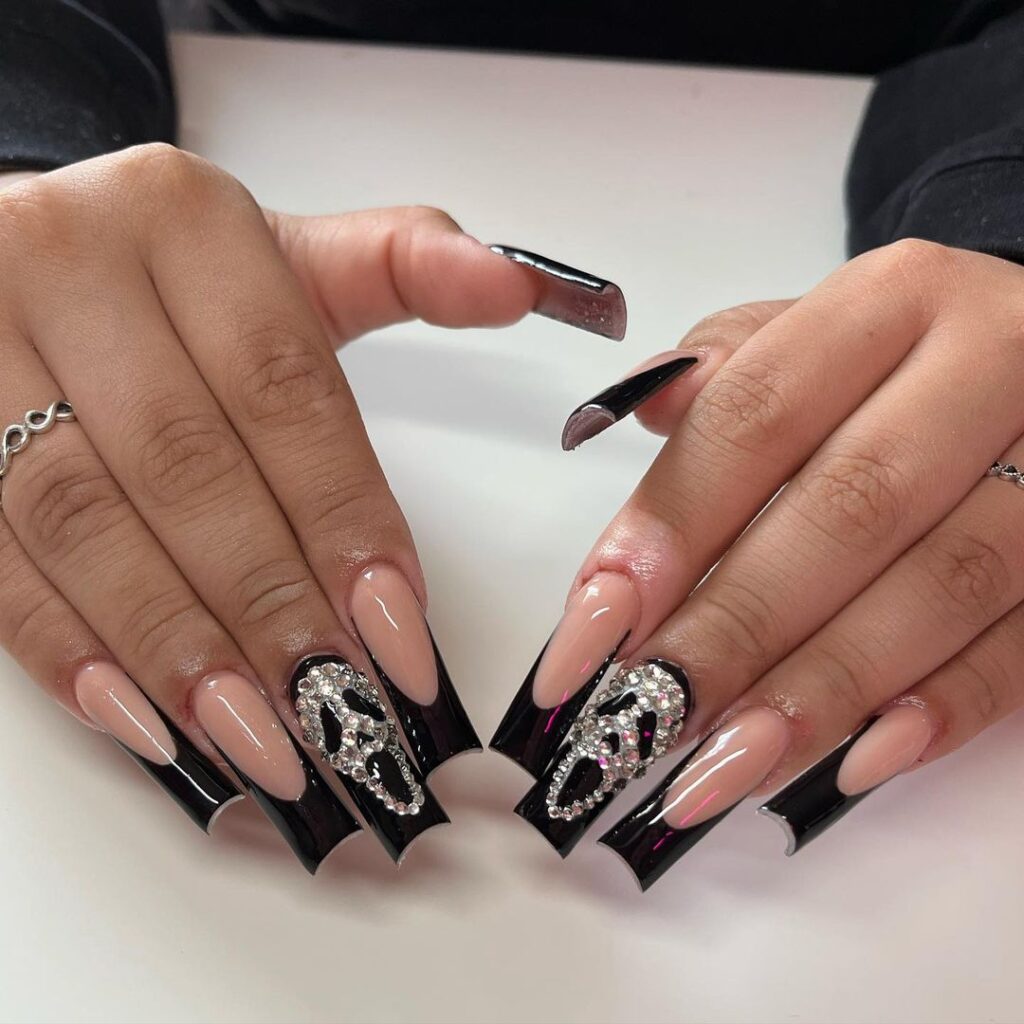 Courtesy: @alondraxnails
#69 If scary nails are your thing, let me introduce you to this spookiest one of the Halloween acrylic nail designs created by Newwak-based nail technician @nailsby.mariam. It features a 3-D nail design on the index and pinky finger done using beads with the middle nail featuring a ghost figure and the ring finger comprising splattered red dots for a truly Halloween-inspired design!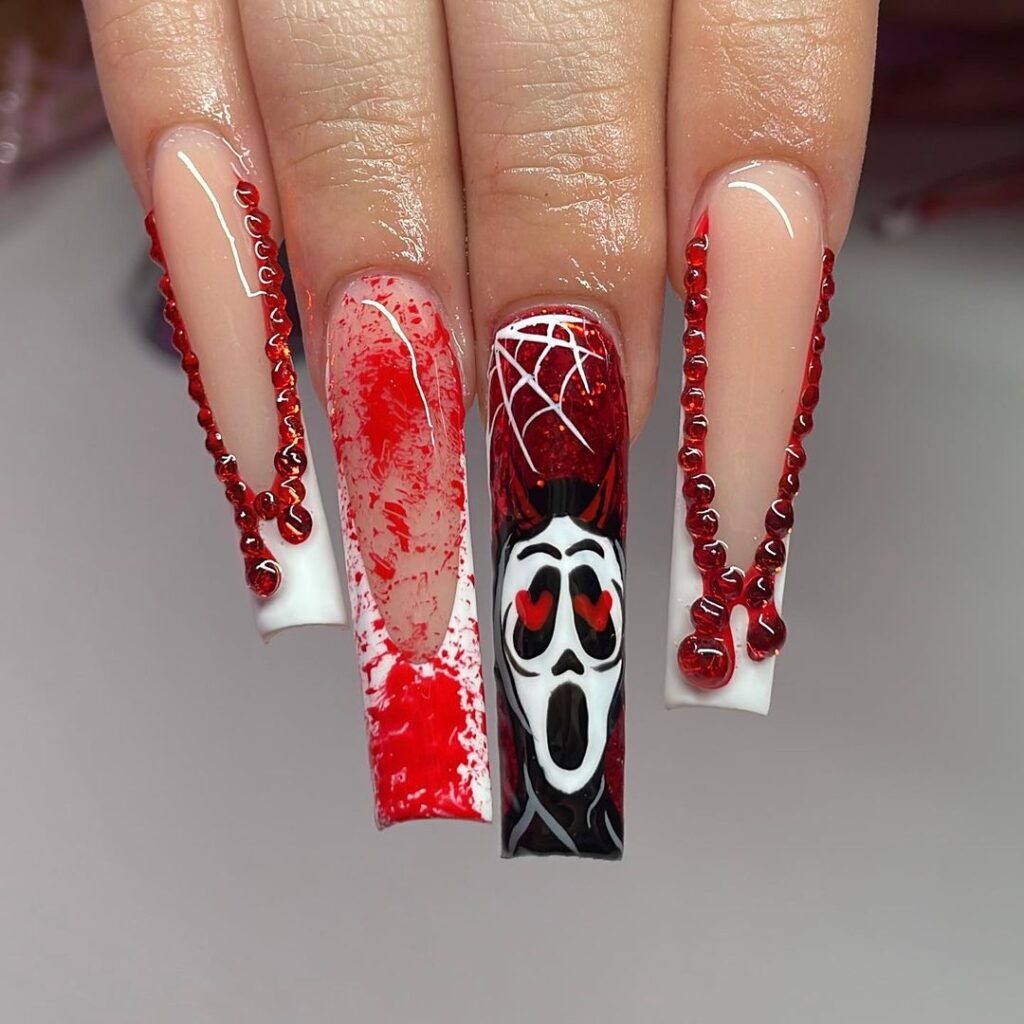 Courtesy: @nailsby.mariam
#70 With different elements on each nail and a winsome combination of colors, we love the minimalism of this one of the Halloween acrylic nail designs. The minimalist aesthetic is always able to exude elegance and goes with everyday attire and fancy looks equally. When you're using different combinations of colors, it's recommended to stick to hues proven to go together, so you don't end up creating a mani whose colors don't blend well with each other.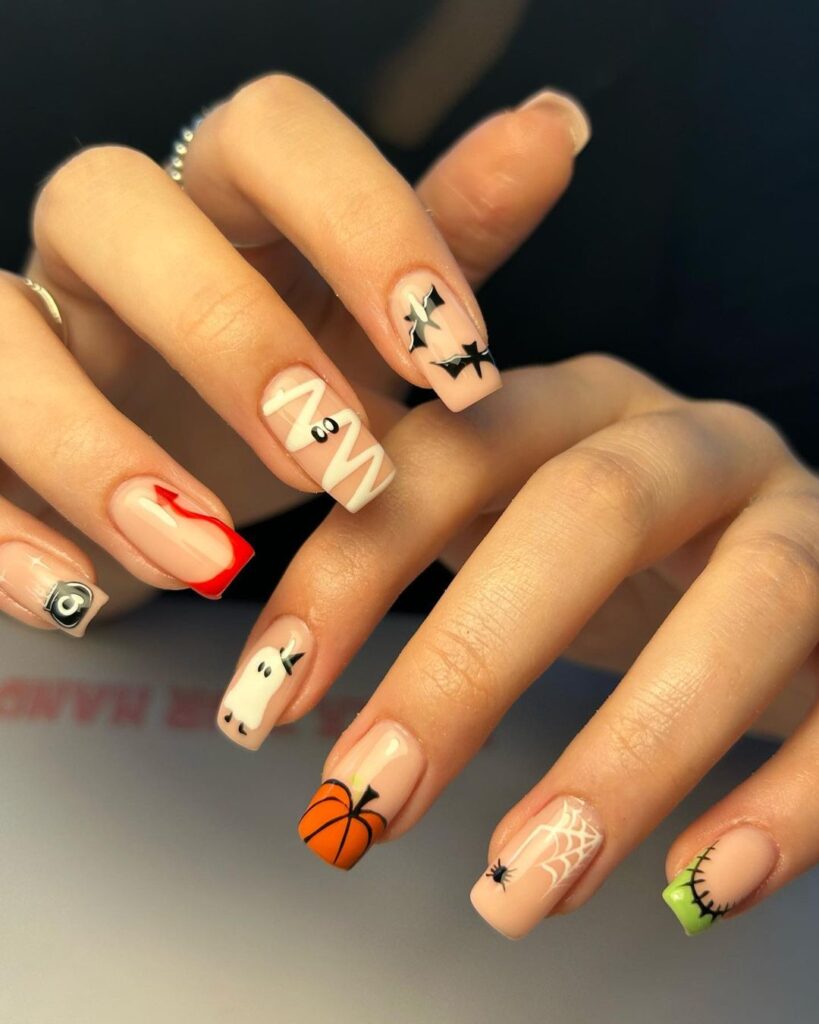 Courtesy: @gsbeautybase
#71 For those who don't shy away from creativity, glamor, or the length of the nail art, try this long nail design in a pointed shape and 3-D nail art for a unique, spectacular design. Besides the customary spider web and spooky pumpkin, the manicure also features other interesting elements such as Hello Kitty, a lollipop, an evil eye, and a star for a noteworthy and dazzling Halloween manicure.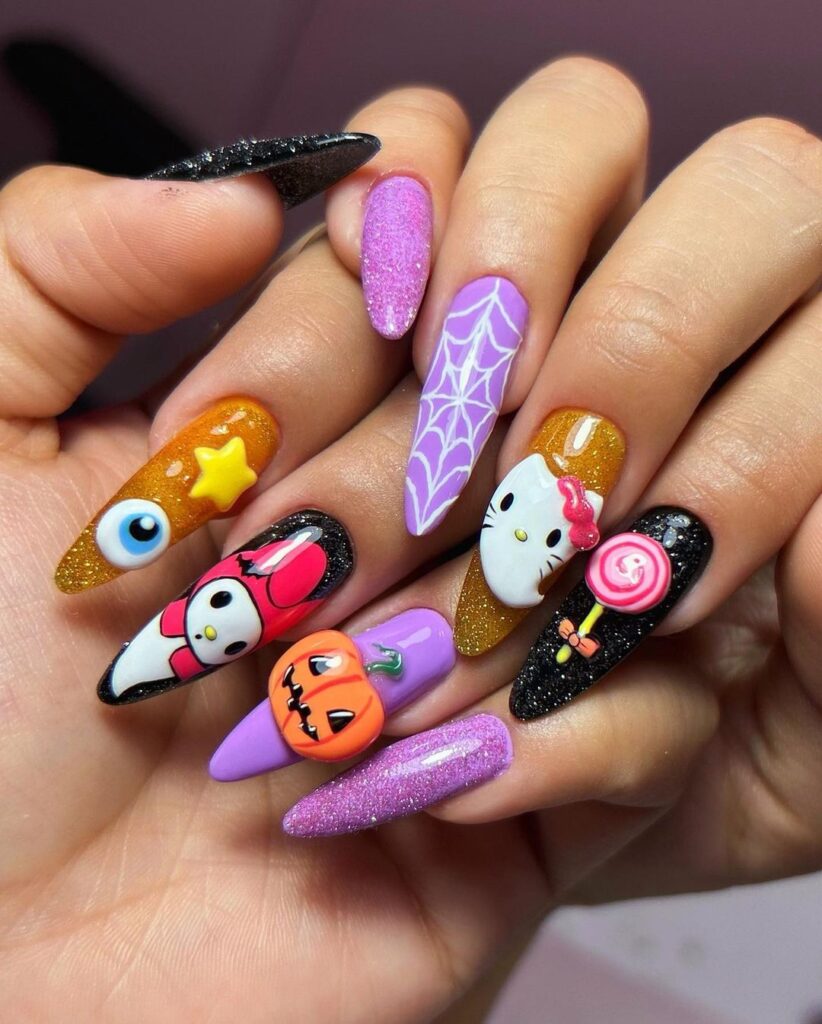 Courtesy: @stefnailss
#72 Ghosts are the most common elements of any Halloween acrylic nail designs, and they truly capture the essence of this festival. Utilizing their glamor and appeal, the next manicure uses different types of ghost designs on different nails for an appealing manicure. You can even use ghost stickers to DIY this Halloween nail idea with ease.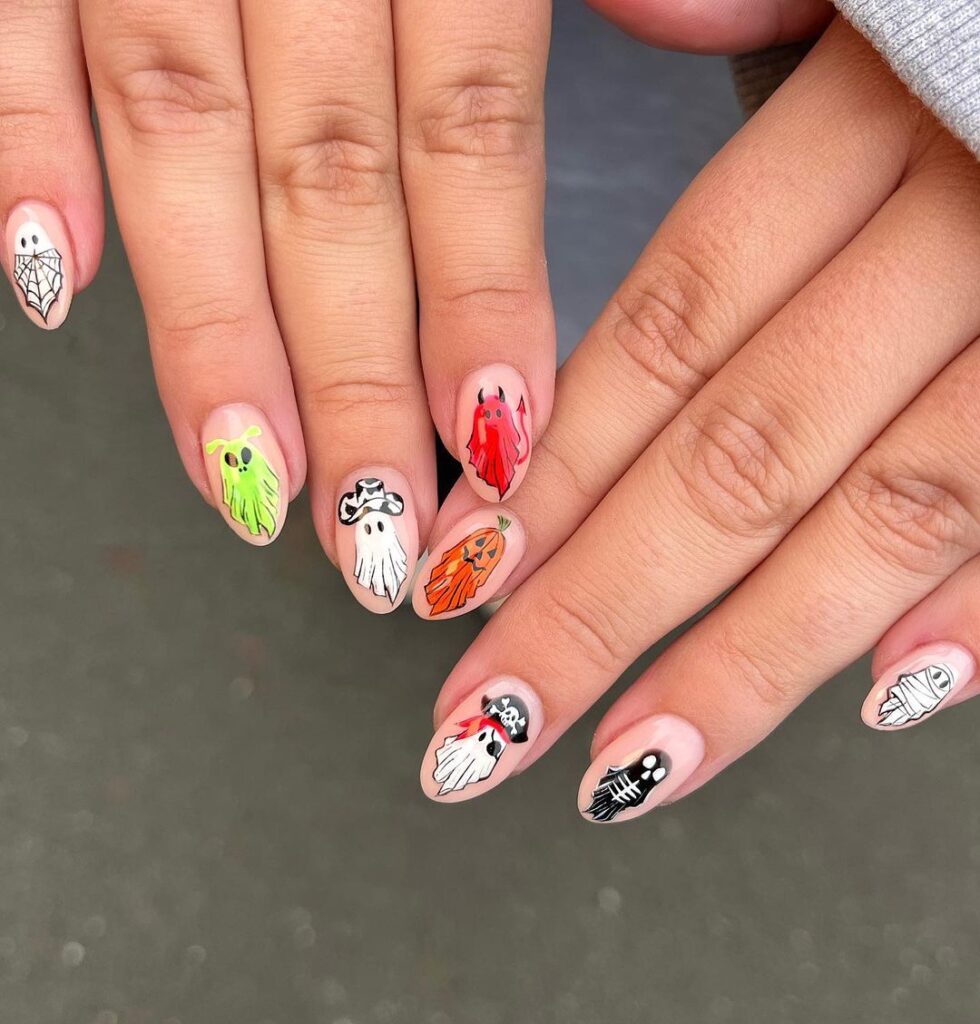 Courtesy: Nails by Heather
#73 This black-and-white nail design uses a black-and-white color combination – a common one for the Halloween manicure – and features common Halloween elements with a geometric nail to break the monotony of the customary spooky nails. Yet another color combination to try with the same design is brown and white.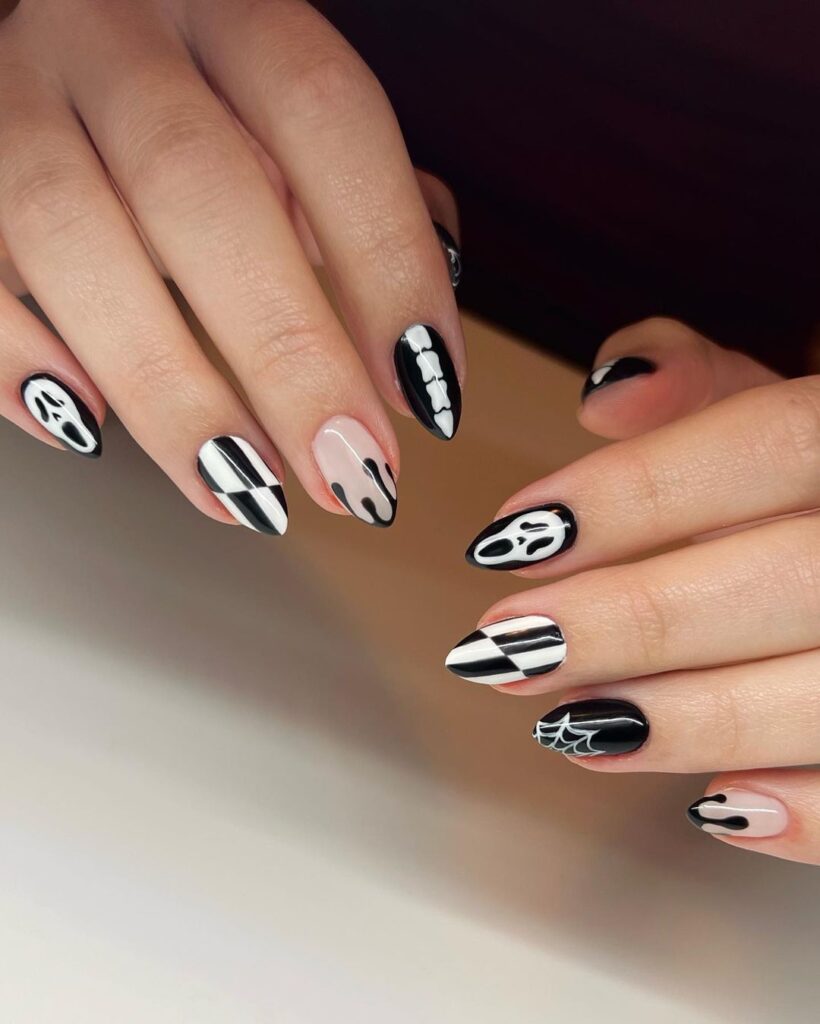 Courtesy: @mynailgirl_emily
#74 Capturing the essence of the Halloween season rather than the festival itself, the next one of the Halloween acrylic nail designs is all about "THE" shade of autumn – orange – and uses it as the tips for the French nails. It further features stars to capture the night-time of the dark Halloween night and subtly nod to the occasion.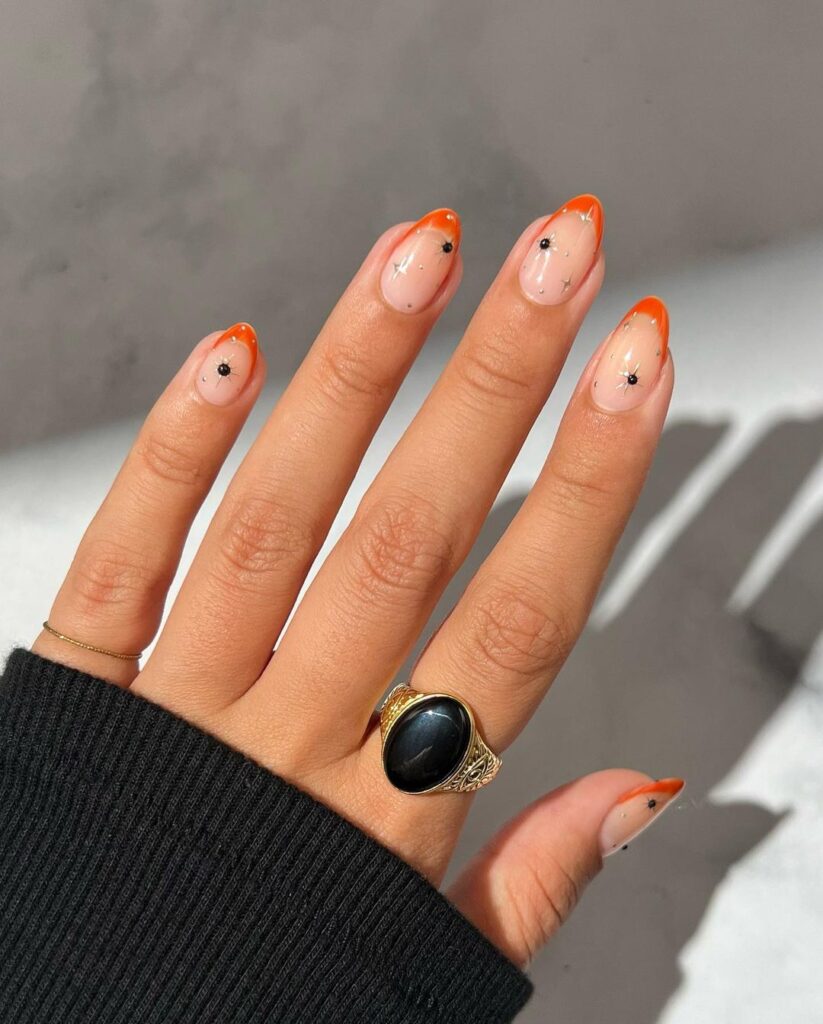 Courtesy: @samrosenails
#75 This is one of those Halloween acrylic nail designs that can be done professionally – if you want them to last longer – or that can also be recreated at home with ease – if you're short on time and don't want to get nails done professionally for a specific day! To DIY, start by filing your nails and cutting the tips to the desired shape. Next use Halloween nail stickers for the elements and once they are firmly stuck, use a top coat to finish!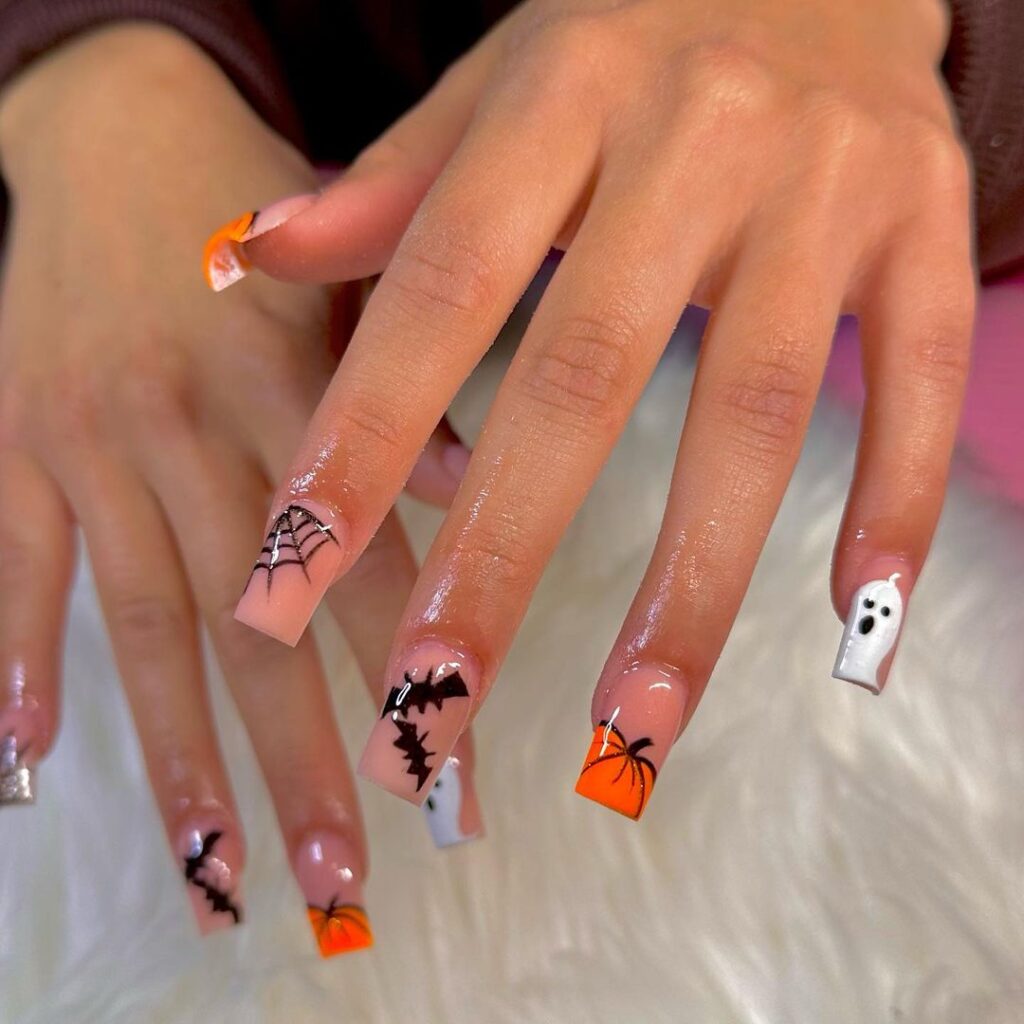 Courtesy: Lena Marquez
Buy Halloween stickers for nails HERE. 
Buy Halloween Press-On nails HERE.