French manicures are timeless, classy, and extremely versatile. Come another season and we see another variation of the classic French manicure. Some popular versions are invisible, V-tip, double, and now the reverse french manicure. 
What Is A Reverse French Manicure?
A reverse French manicure is exactly what the name suggests. You take your traditional French manicure tip and flip it so the half-moon-shaped tip is on the base of the nail rather than on the top of the manicure. The reverse French manicure is also known as the inverted French manicure and is celebrity-approved with A-list actors like Blake Lively and Jennifer Lopez sporting the trend on various occasions. As with any nail trend, there are so many reverse french manicure ideas to try too! And we have included 59 of them below after a quick DIY on how to do a reverse French manicure. 
How To Do A Reverse French Manicure?
To create a reverse French manicure, you will need nail polish in two different colors, a small brush, and a set of French manicure guides or stickers. Here are the steps to create a reverse French manicure:
Start by cleaning and filing your nails to the desired shape. Apply a base coat to protect your nails and help the polish adhere better.

Once the base coat is dry, place a French manicure guide or sticker at the base of your nail to create a half-moon shape. Make sure the guide is firmly in place, so the polish does not bleed under it.

Paint the area inside the guide with the darker color of nail polish. You may need to apply two coats to get good coverage. Let the polish dry completely before removing the guide.

Once the darker polish is dry, carefully remove the guide or sticker to reveal the half-moon shape.

Use a small brush to paint the rest of the nail with the lighter color of nail polish. Be careful not to get any polish on the darker half-moon shape. Apply two coats if necessary.

Allow the polish to dry completely, and then finish with a top coat to seal the manicure and add shine.
Your reverse French manicure is now complete!
59 Reverse French Manicure Ideas!
#1 Chocolate brown paired with baby pink well in this reverse French manicure. Colored French nail designs aren't a new thing and any interesting color pairing can make them eye-catching. You can pick your favorite color combination and use it for a reverse French manicure to have a modish manicure that also reflects your preferences.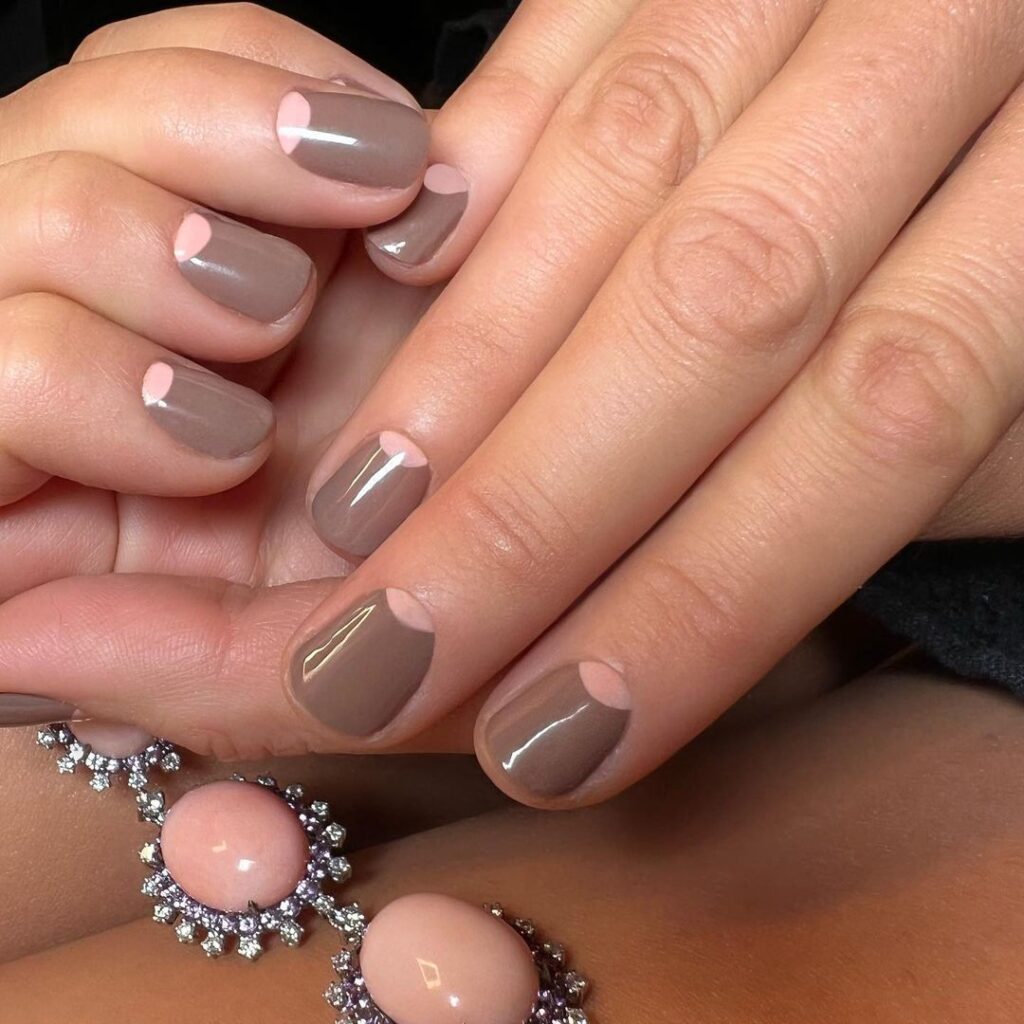 Courtesy: @enamelle
#2 For someone who loves their manicure to be simple and sophisticated, these baby pink nails with just a bit of blue reverse tip on the bottom are a good pick. Pink and blue always make a great color combination in nails. The reason is simple. These two colors come on the opposite sides of the color wheel and so they create a strong visual contrast when paired with each other, evoking beauty and harmony that's reminiscent of the natural world.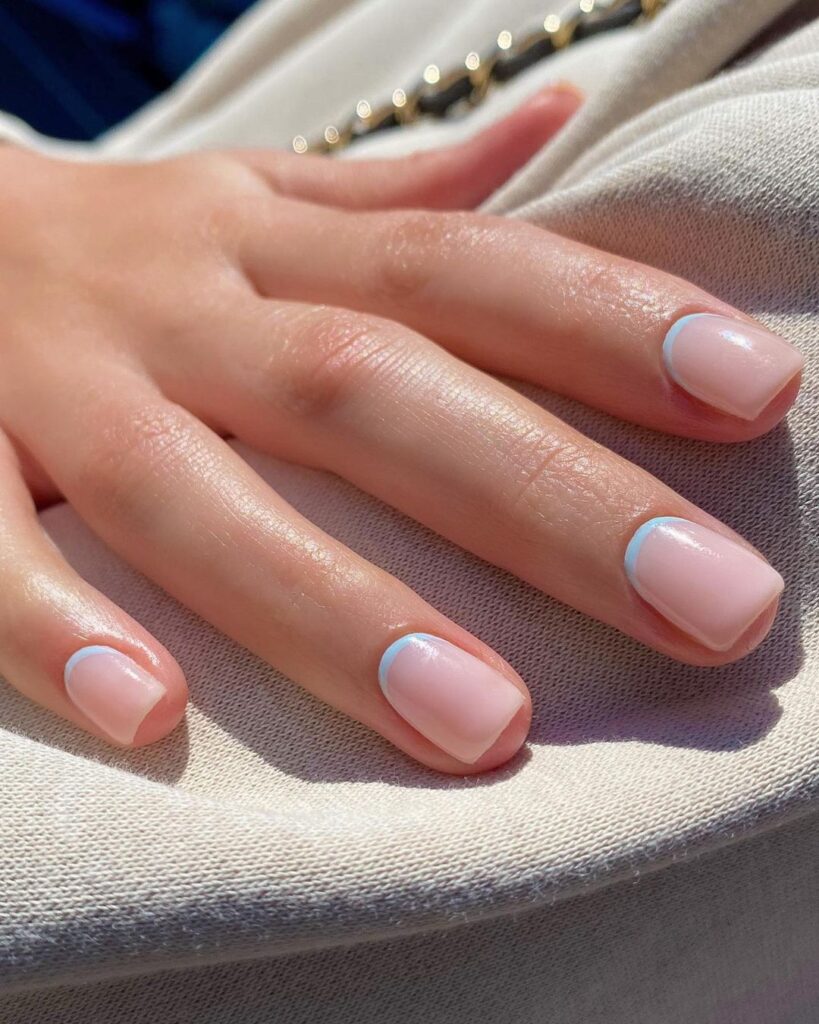 Courtesy: @fayelouisedennis
#3 This reverse French manicure red also includes the traditional French tip in pink for a manicure that stands out but doesn't seem it's overdone. What matters when you're creating this artistic nail look is to have pointed nails so the French tip and the French reverse tip have a place of their own and can shine separately.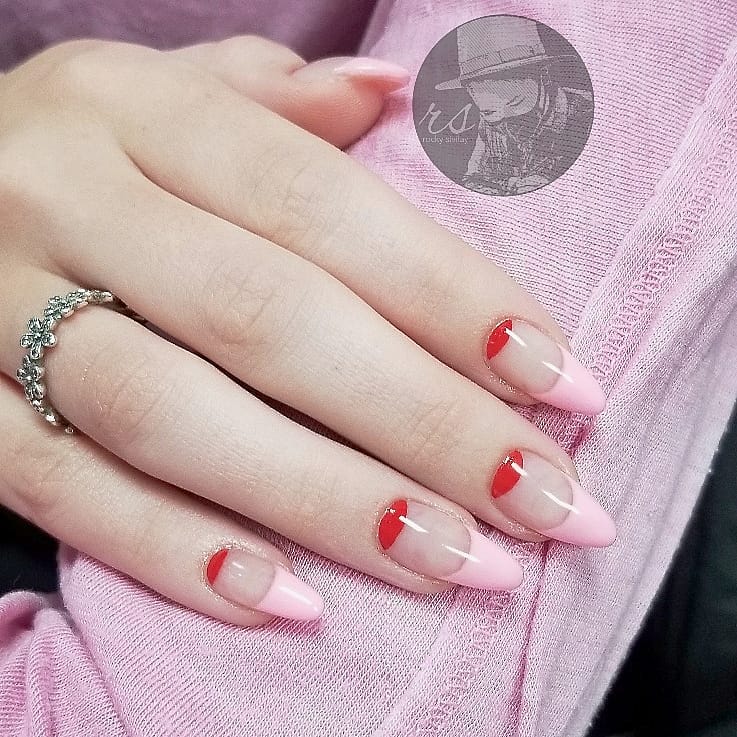 Courtesy: @rockysivilay
#4 Black reverse French manicure is popular, just like the black French tip nails in the original form. Black is a chic and classic color that fits almost any style and preference. Adding it to French nails infuses this quality of the hue into the manicure as well. Overall, a black french manicure in the reverse tip is a great option for those looking for a modern twist on a classic style.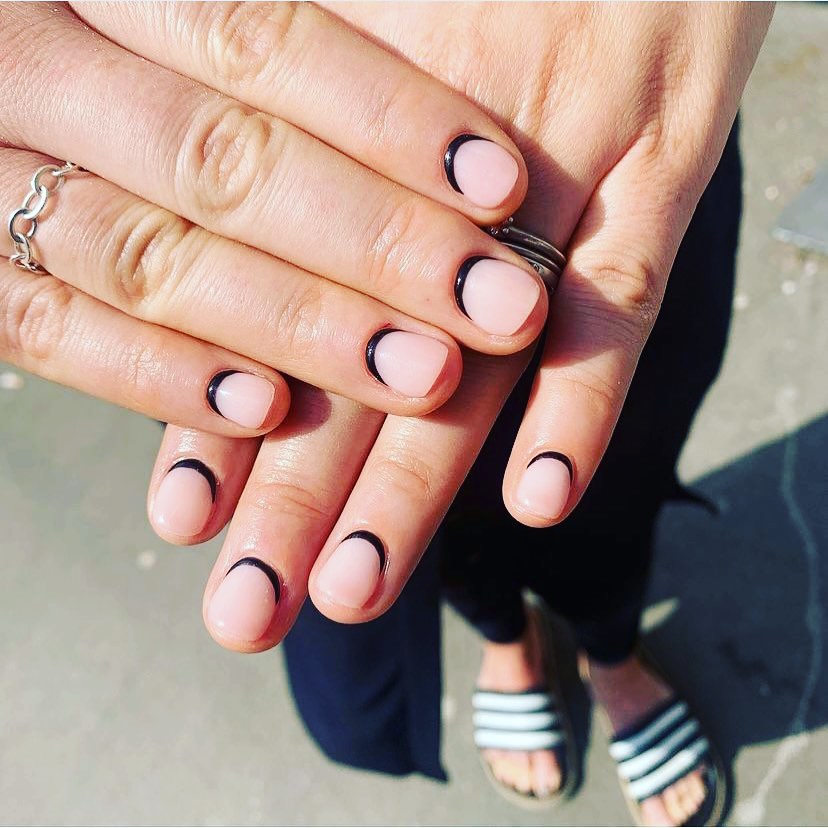 Courtesy: Layla Warfield
#5 This isn't your basic reverse French manicure. It involves a French tip on the base of the nail but it also extends to the corners of the nail just so subtly for a distinctive touch. To recreate it at home, you'd need a dotting tool to swipe the colored tip oh-so-flawlessly. You can use any other color of your preference, but if a gorgeous summer nail design is on your mind, yellow can work quite well.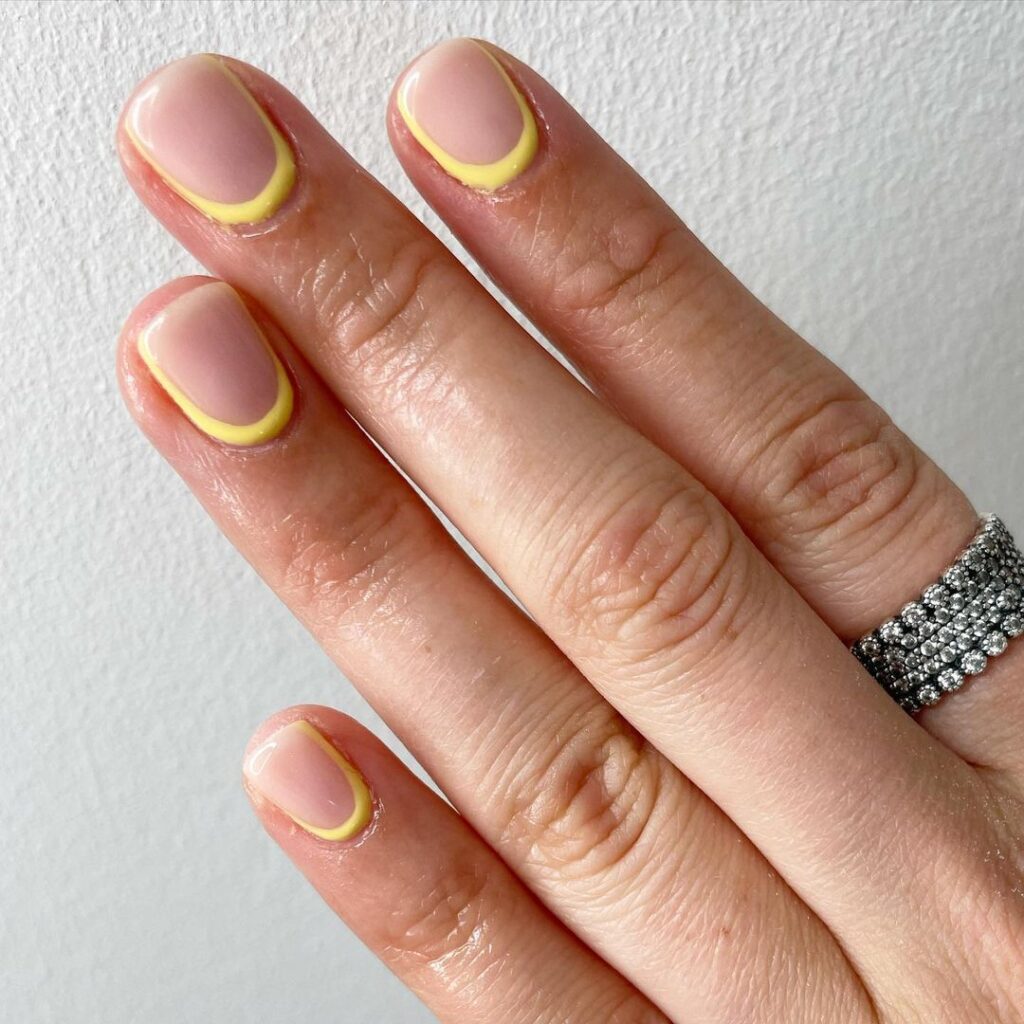 Courtesy: Marion Draper
#6 We love this DIY glitter reverse French manicure which can be easily done at home. The key to creating this inverted French manicure at home is to have a steady hand to make sure the lines are neat, so you're able to maintain the intricacy of the design. It's okay if you get the nail paint on the outside of the nail base as it can be removed using a nail polish remover. What you have to take care of is the inside of the lines and it's important to have a steady hand when drawing it.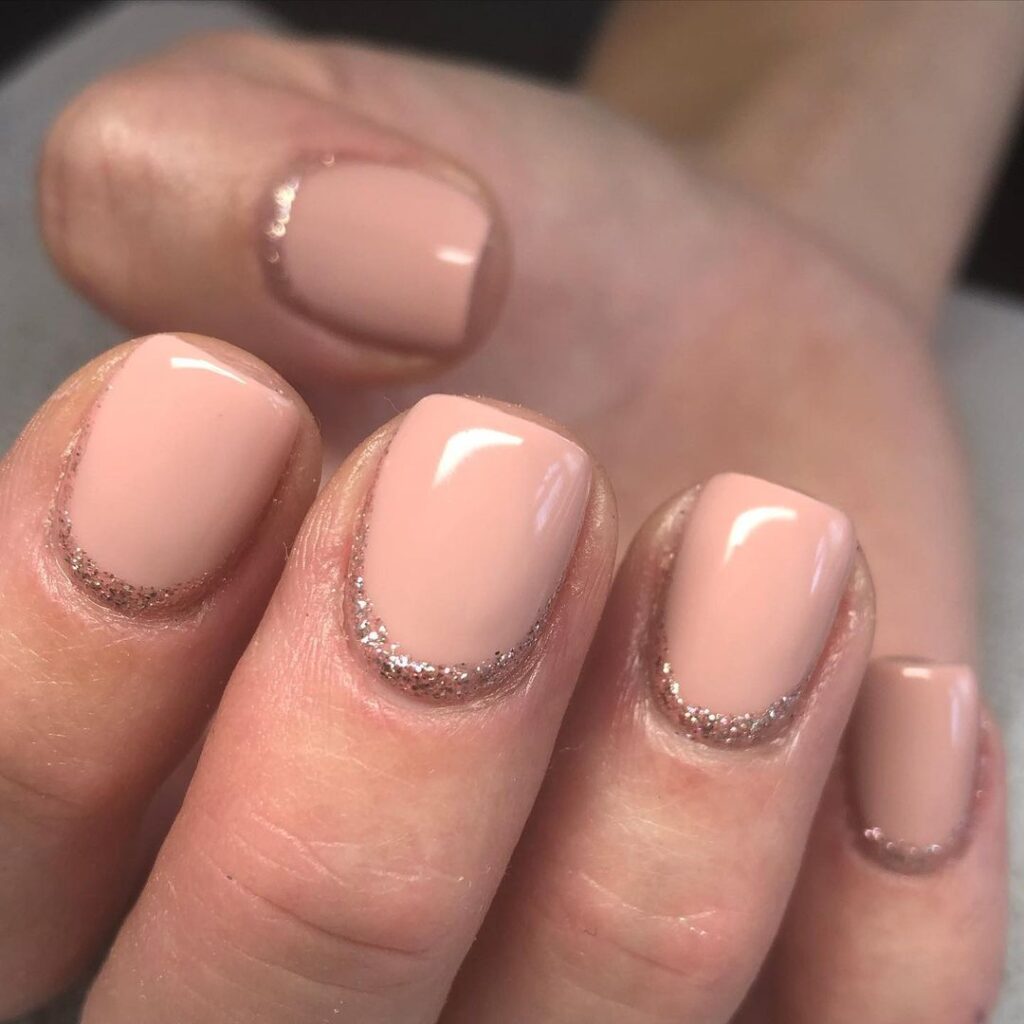 Courtesy: Ruby Wilson
#7 The next reverse French manicure in almond nails is done using different colors on each nail. Having a different color French tip on each hand is a fun and creative way to add some variety to your nail art. It creates a unique and playful look and is a great way to experiment with different colors and styles without committing to a full set of nails.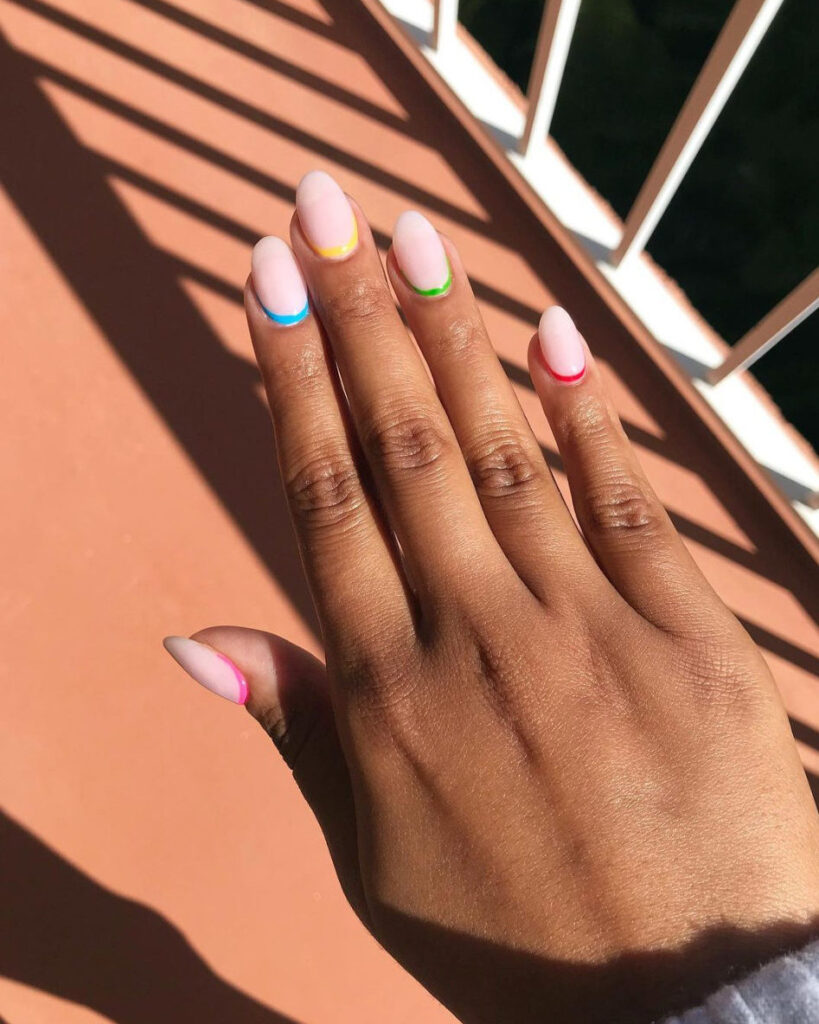 Courtesy: @yournewnaillady
#8 Ombre has seeped into every manicure trend and the reverse French manicure ombre trend is no different. The next design is done using two shades of pink, with light pink acquiring the base and dark pink used to create the reverse French tip. You can also reverse the colors and it will still look as good as this one!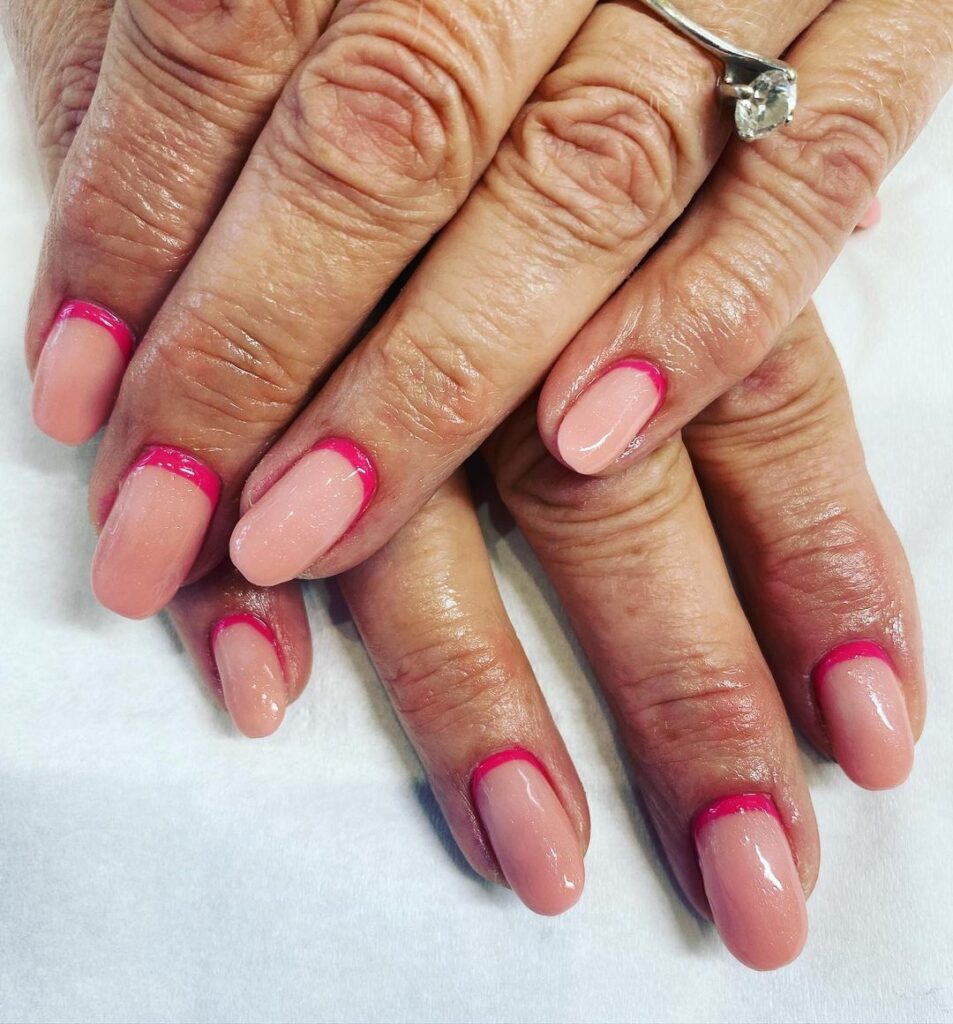 Courtesy: @lexquisechorlton
#9 The reverse French manicure gold is a good way to add some personality and definition to any color nails you like! Here, the orange almond nails are elevated using a shiny golden color that's not too shimmery, but has a glossy effect to add some brightness to the matter nails.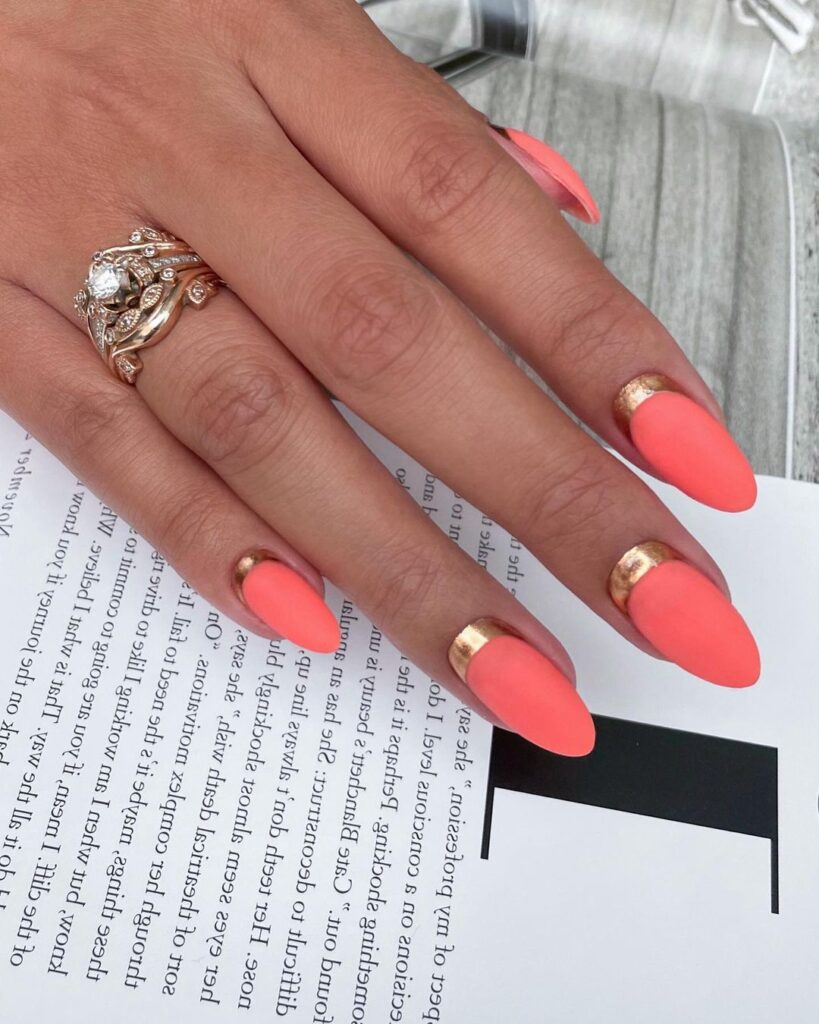 Courtesy: @yani_tsunami
#10 The double French tip manicure style can be applied to reverse French manicures as well! You should know that a double French manicure takes a certain neatness and should only be attempted by someone who is an expert in nail design. This reverse French manicure ombre is done in a blue shade and double tip for a stunning look.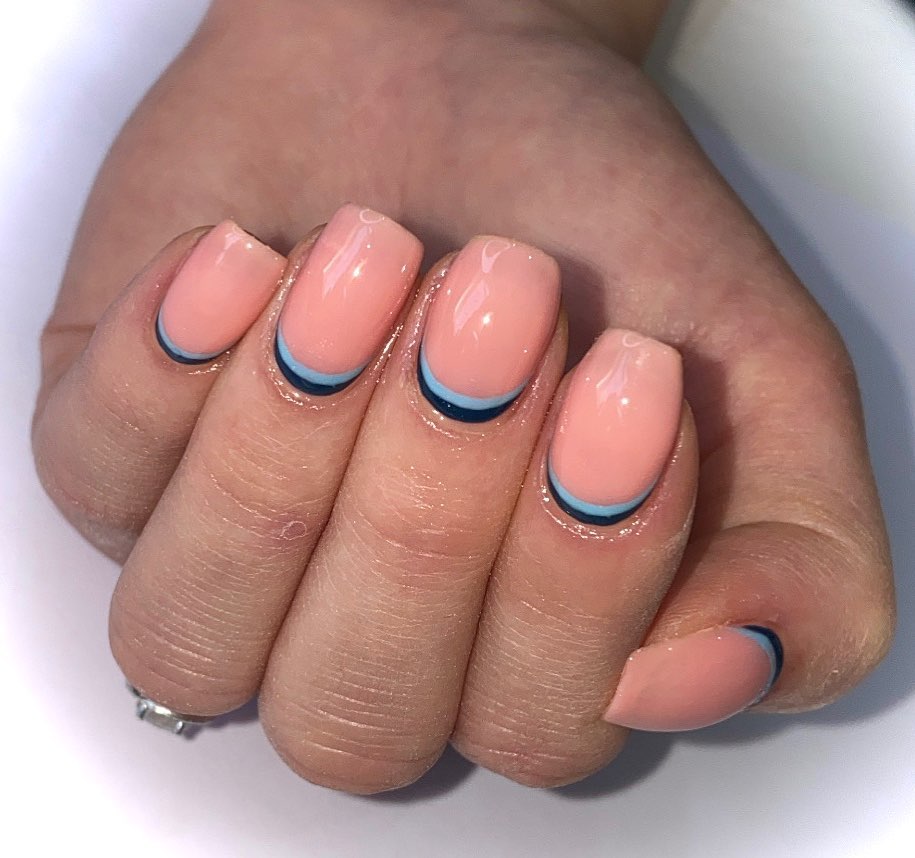 Courtesy: @gelsbyemilia
#11 White nails create a minimal, sophistical, and chic look, and this is the type of manicure that goes with all shapes of nails. To elevate their appearance, you can simply paint the base tips with multi-color for impressive and quirky nail art. This is also a very easy reverse French tip idea as it just involves a simple line across the base which can be easily fashioned with a simple brush.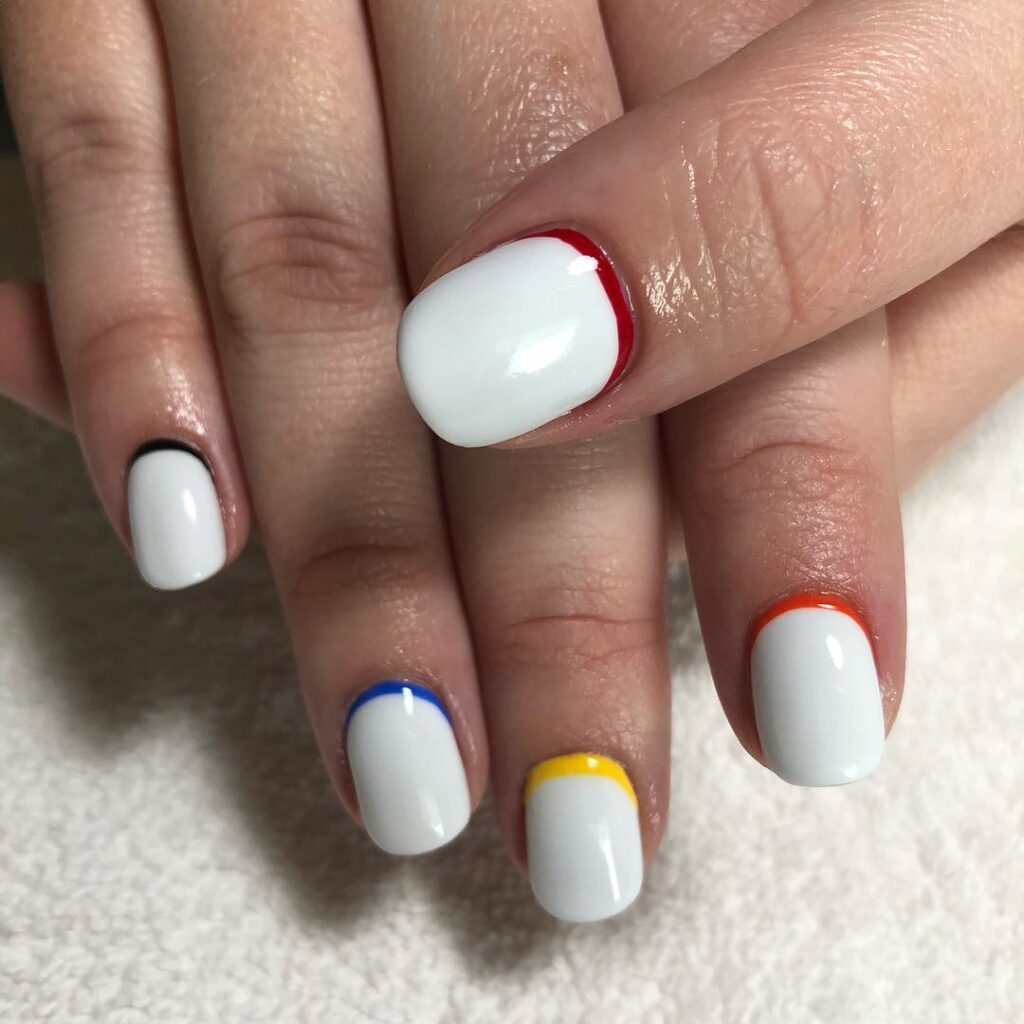 Courtesy: Natalie Williams
#12 All the styles of French manicures can also be included in the reverse French tip nails as well! Like the dual-color French manicure, where half of the tip is painted in one color and the other half has another hue. Since this one features two colors of the same shade, it's also a beautiful idea for reverse French manicure ombre.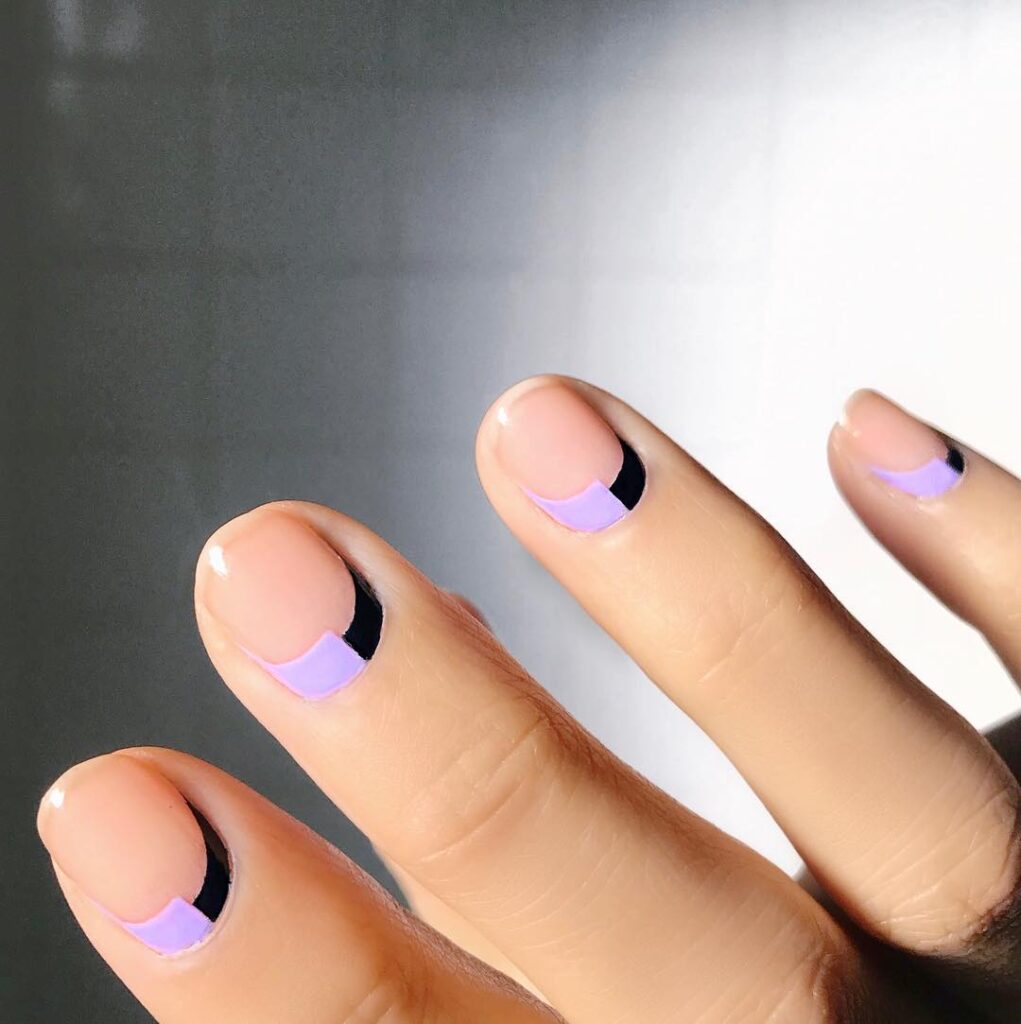 Courtesy: Hang Nguyen
#13 Just like we mentioned above, any type of French tip nail can be done in reverse as well. The next manicure style features a double-tip French manicure style in striking double lines of blue on a pink base. DIY this at home by first painting the base pink and letting it dry, followed by blue curved lines on top.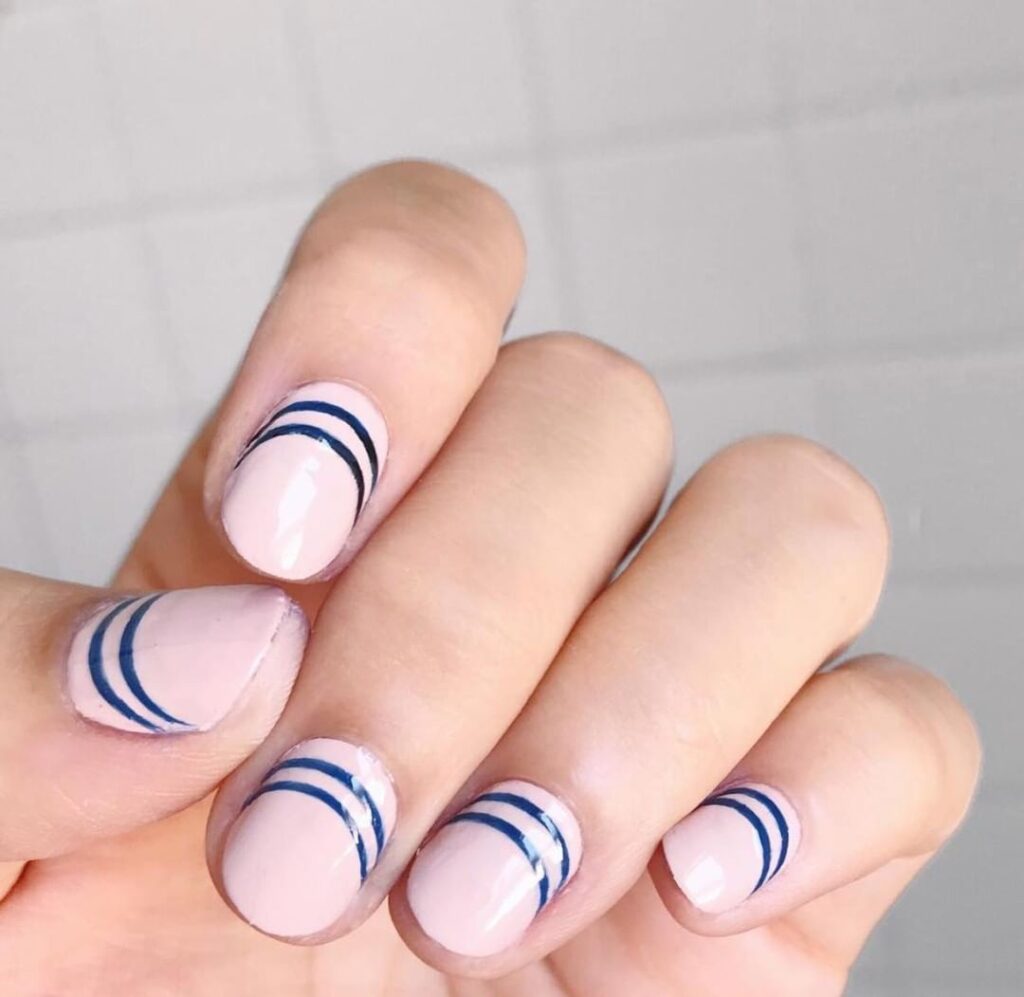 Courtesy: Hang Nguyen
#14 If you want your manicure to stand out, try a combination of colors that are unusual and look surreal with each other. Besides the design, a fresh combination of colors in a manicure can do a lot to make your nails look distinctive. Here, the amalgamation of French blue and orange looks notable. But you can dry a different combination yourself. Here's a list of some of the most unique color combinations.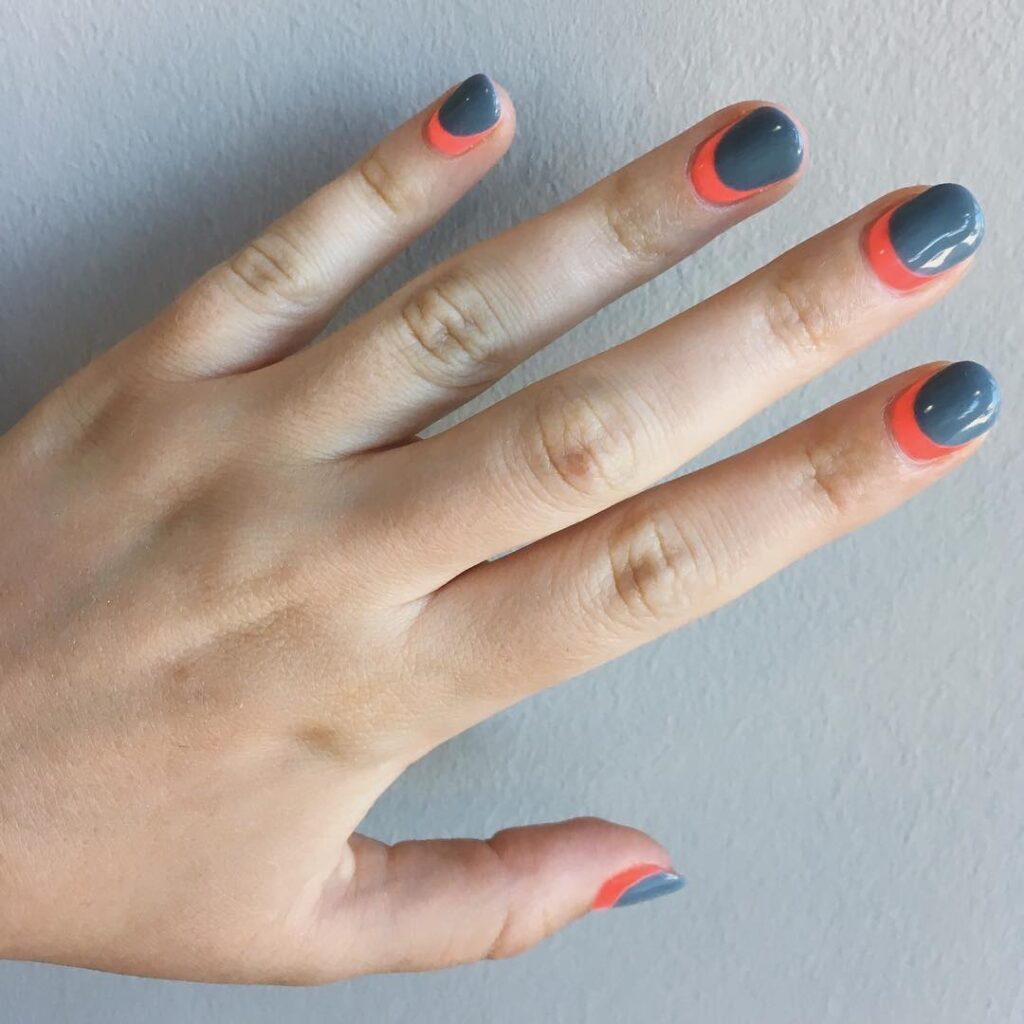 Courtesy: @swaknails
#15 "Just leave a sparkle wherever you go" – which you surely will when you bedeck your nails with a glitter reverse French manicure like this! These nails do take a bit of expertise for recreation, and we'd advise you to only trust an expert nail artist to recreate them for you! It will surely draw a lot of compliments and we'd advise you to get them done at least once in your exploration of nail styles journey.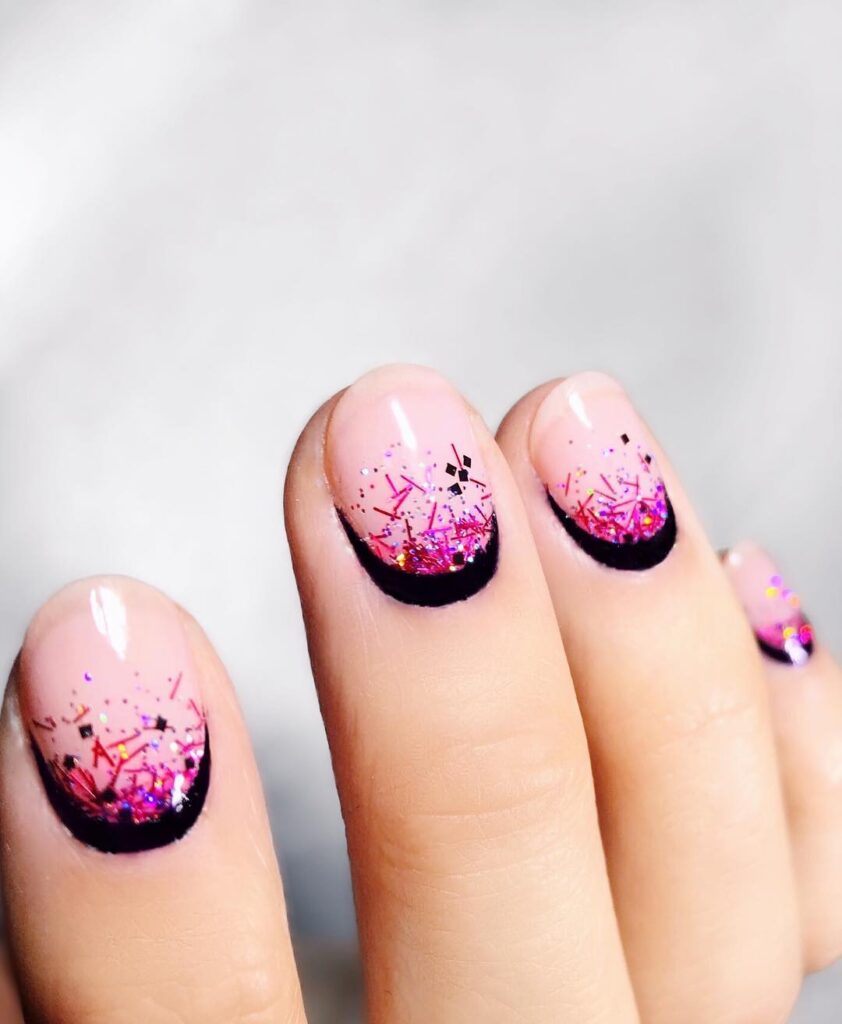 Courtesy: Hang Nguyen
#16 This reverse French manicure short nails features a classic combination of pink and glitter. Pink nail designs often have glitter and vice-versa. These two shades create a fun and feminine combination that is perfect for adding some glamour and shine to any occasion, from a night out with friends to a special event. 
Courtesy: @reynbownailartist
#17 Maroon and golden foil is yet another exciting combination and a beautiful way to incorporate red reverse French manicure nails into your love for trying manicures. Done on square-shaped nails, these nails are done in deep maroon followed by a golden foil reverse tip. You can create the reverse tip by first neatly sectioning the curve line and filling it up with a golden shade.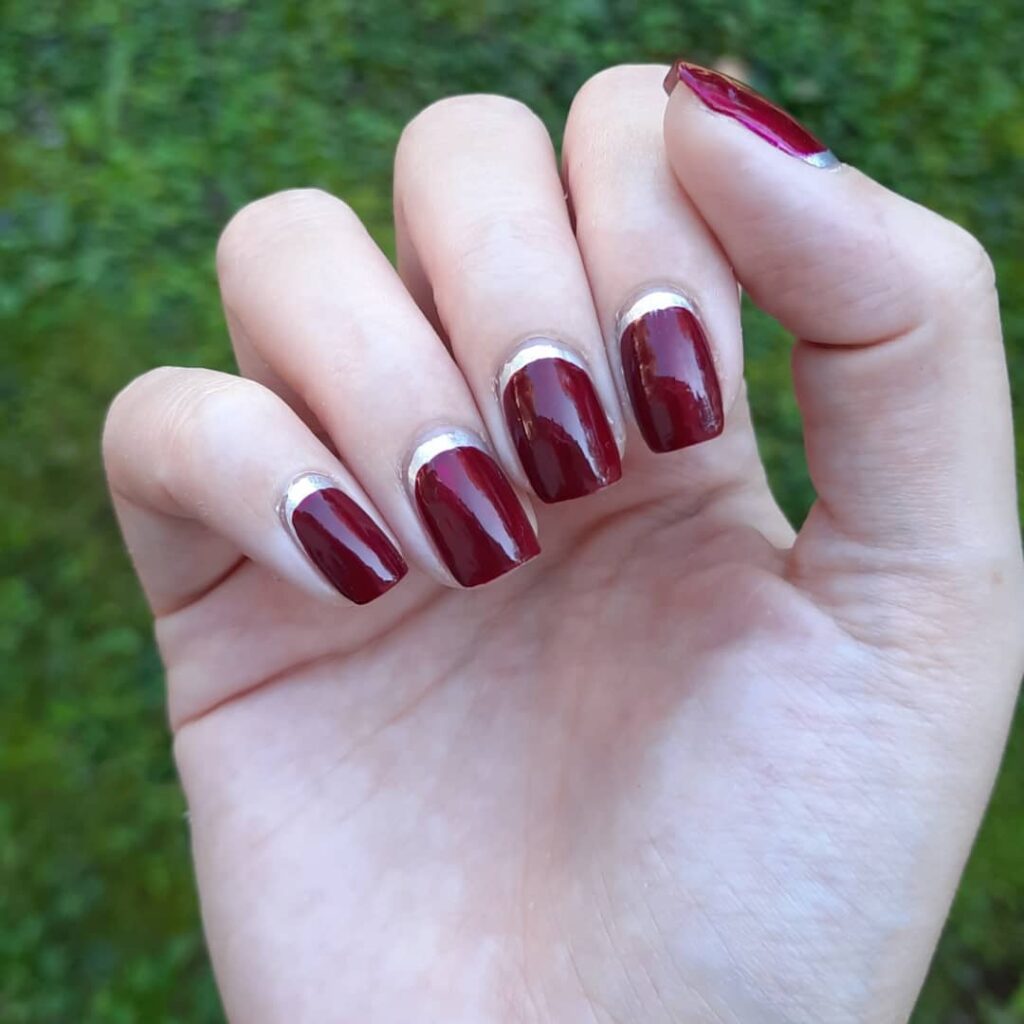 Courtesy: @lazydaynails
#18 Nude nails look very elegant, chic, and sophisticated. One of the reasons why nude nails are so popular is because they can be customized to suit a variety of skin tones and personal styles. Plus, they can be enhanced by very subtle embellishments like studs, metallic accents, and even glitter in a reverse French tip. The last one is featured below!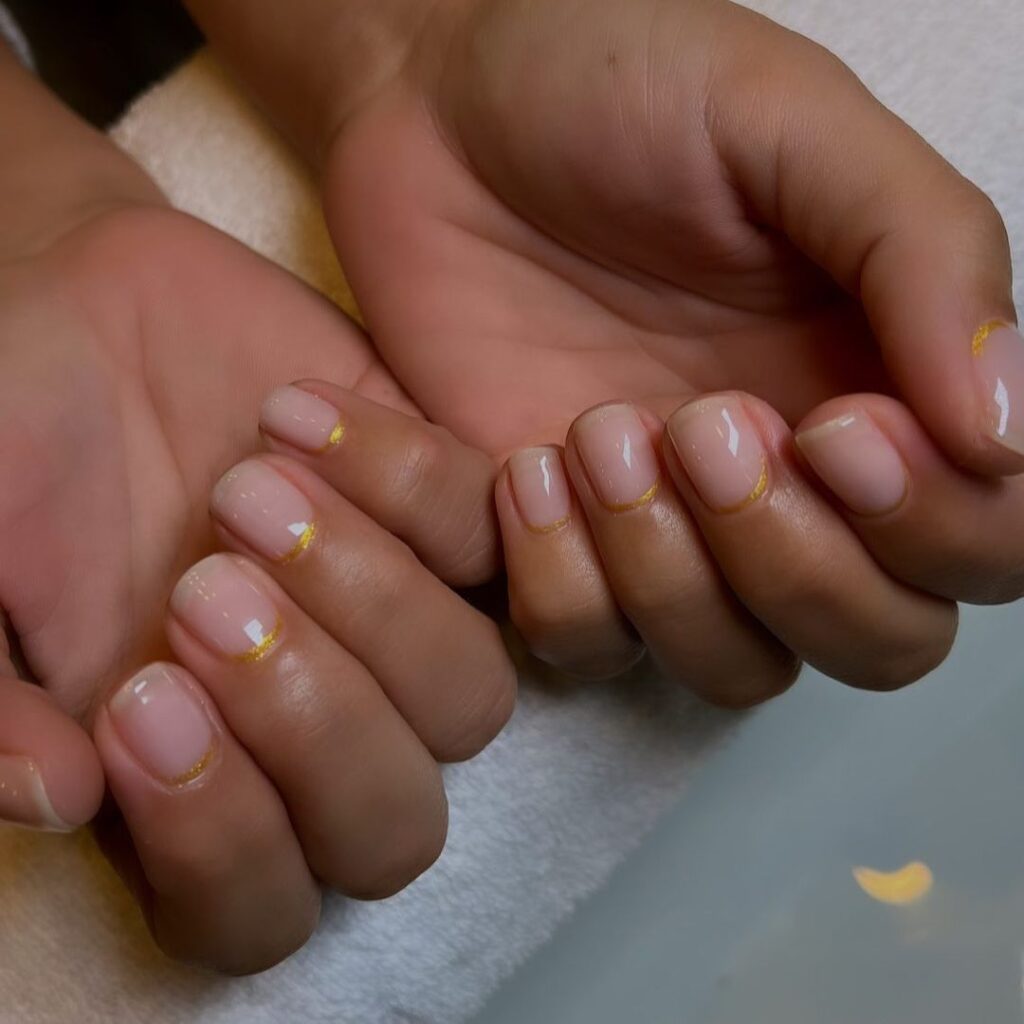 Courtesy: @nailsxkash
#19 Who said you can't incorporate both normal French tip style and reverse French manicure idea into one manicure? That's the thing about manicures – there are absolutely no rules! You can be as creative as you like. This pink reverse French manicure features a thin pink line on the top and a thin white line on the bottom for a beautiful look!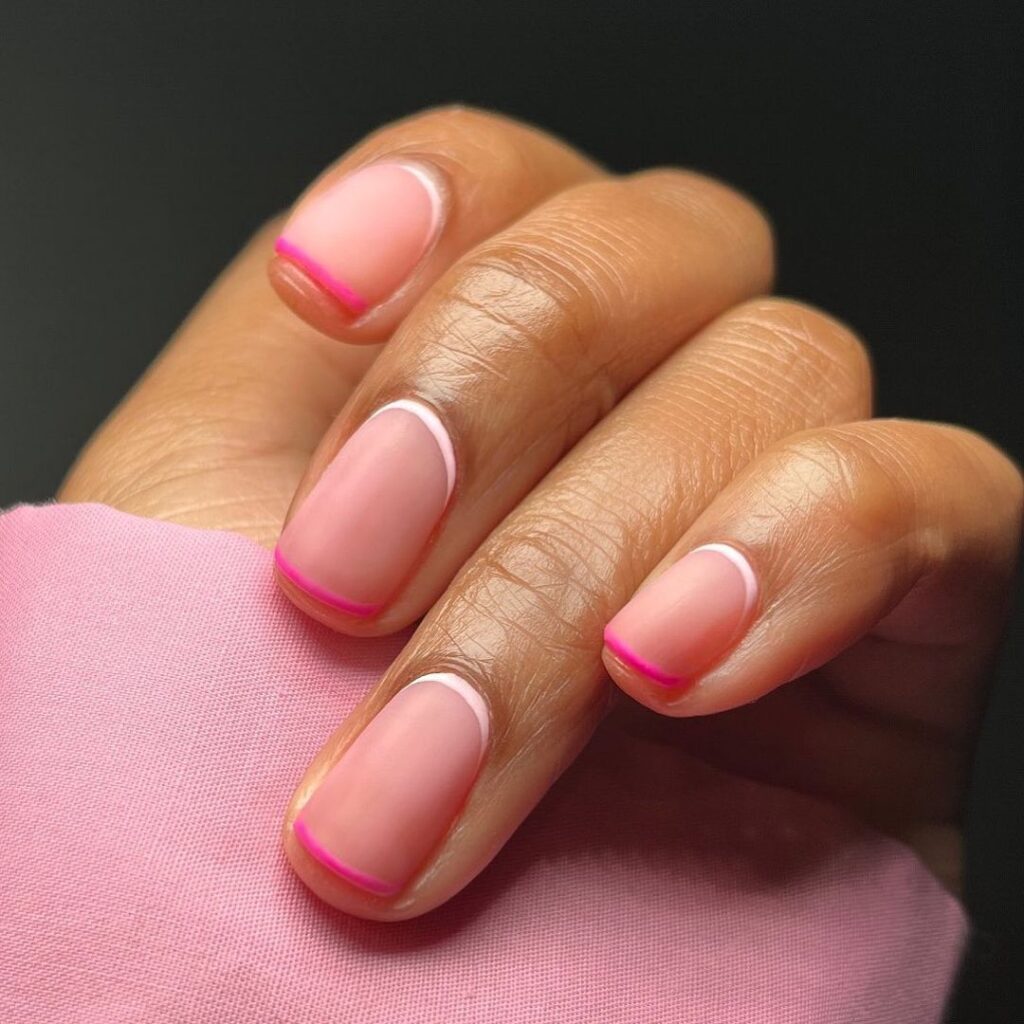 Courtesy: @polishedbylolo
#20 This ombre reverse French manicure is done in shades of blue and is a very easy answer to your question about how to do a reverse French manicure. All you need to do it start with the darker shade (the one that covers the maximum portion) and let it dry completely. Then using a dotting tool, section the below apart and fill it up. You can cover it all with a gloss coat or just let it be!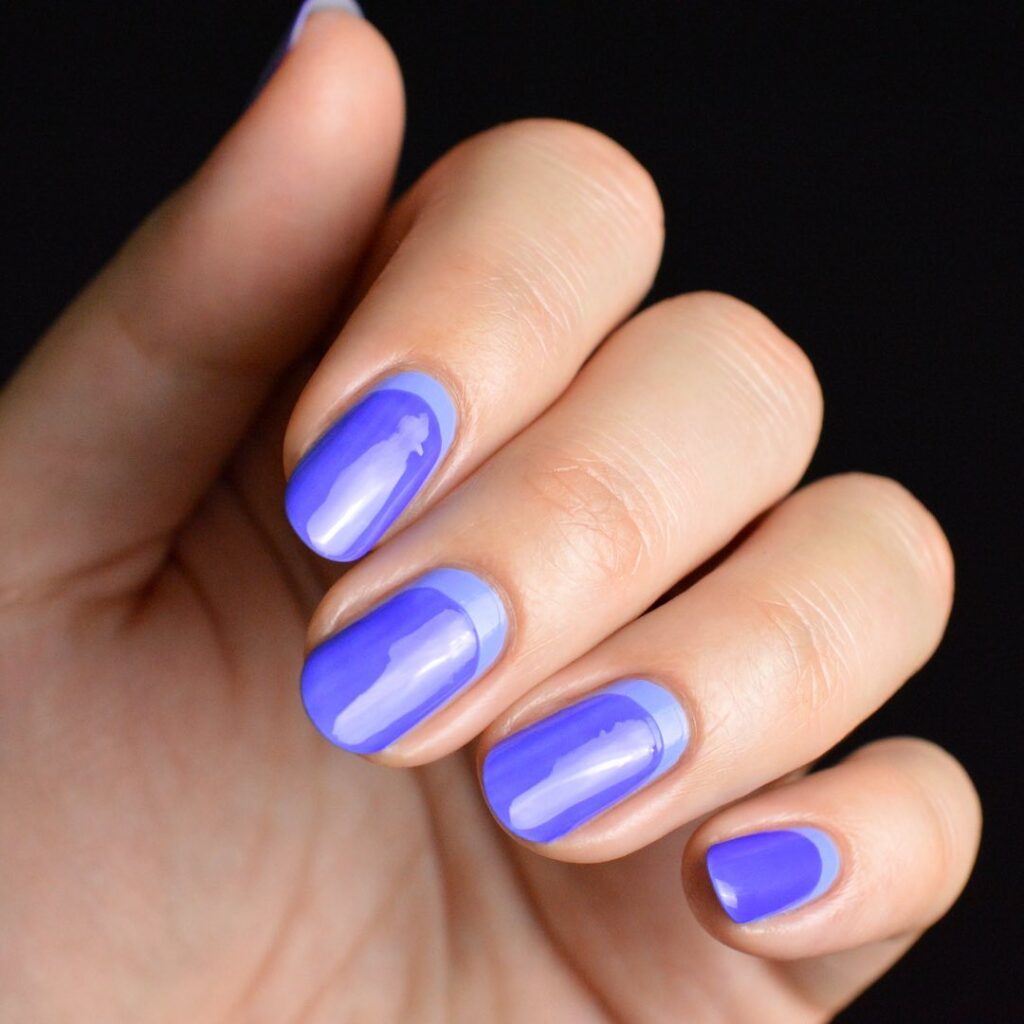 Courtesy: @blushlacquers
#21 This reverse French manicure almond nails incorporates evil eyes. The evil eye is a symbol that has been used for centuries to ward off negative energy and protect against evil spirits in many cultures around the world. In an evil-eye manicure, the symbol is often painted onto the nails using a combination of blue and white nail polish, or other colors that complement the design. This style of nail art can be a fun and creative way to express your personal style and beliefs, while also making a bold statement with your nails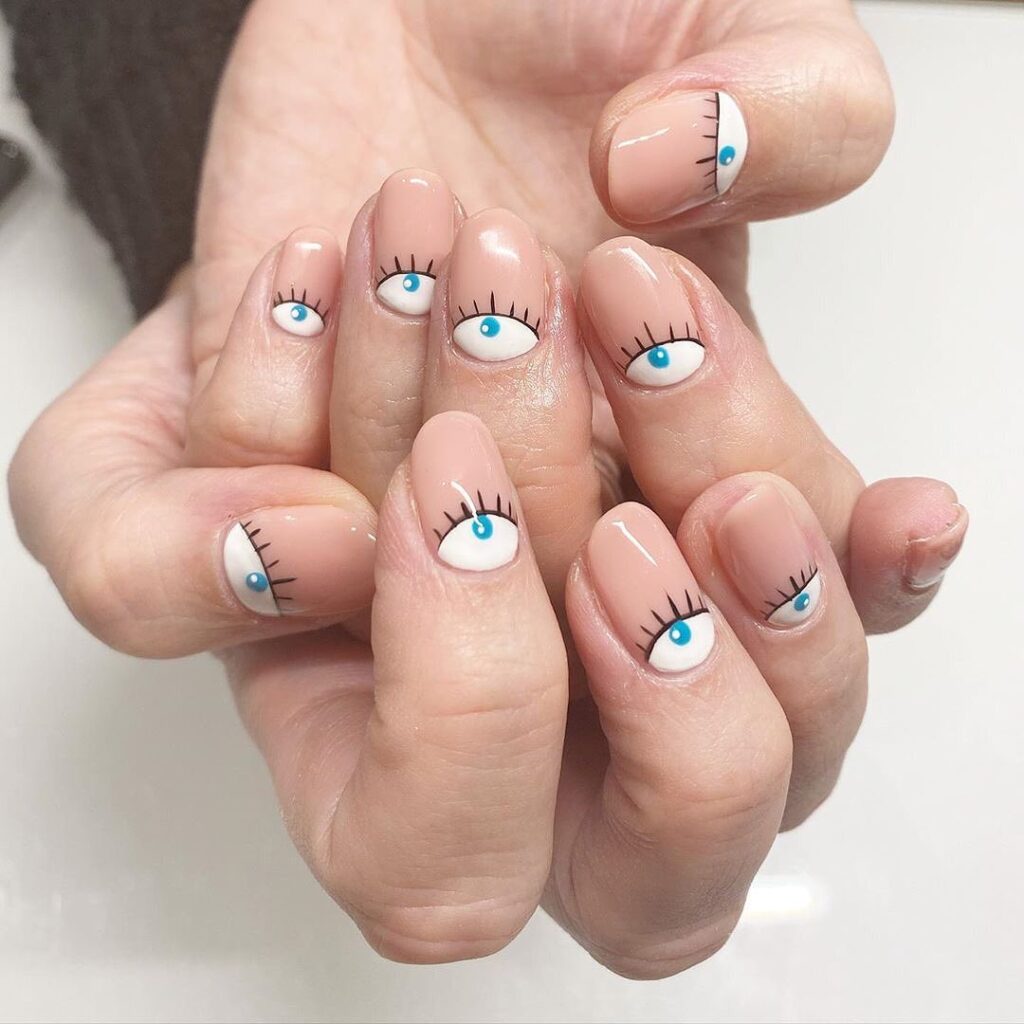 Courtesy: @emme_nail
#22 This ombre reverse French manicure is every bit striking and stylish. It features a normal ombre French manicure in white and a deep white reverse French tip on the bottom. We think it's a wonderful way to add some outstanding appeal to these usual nail styles. Pair the nail polish art with some statement rings and an Instagram-worthy picture is ready to be uploaded to your social media!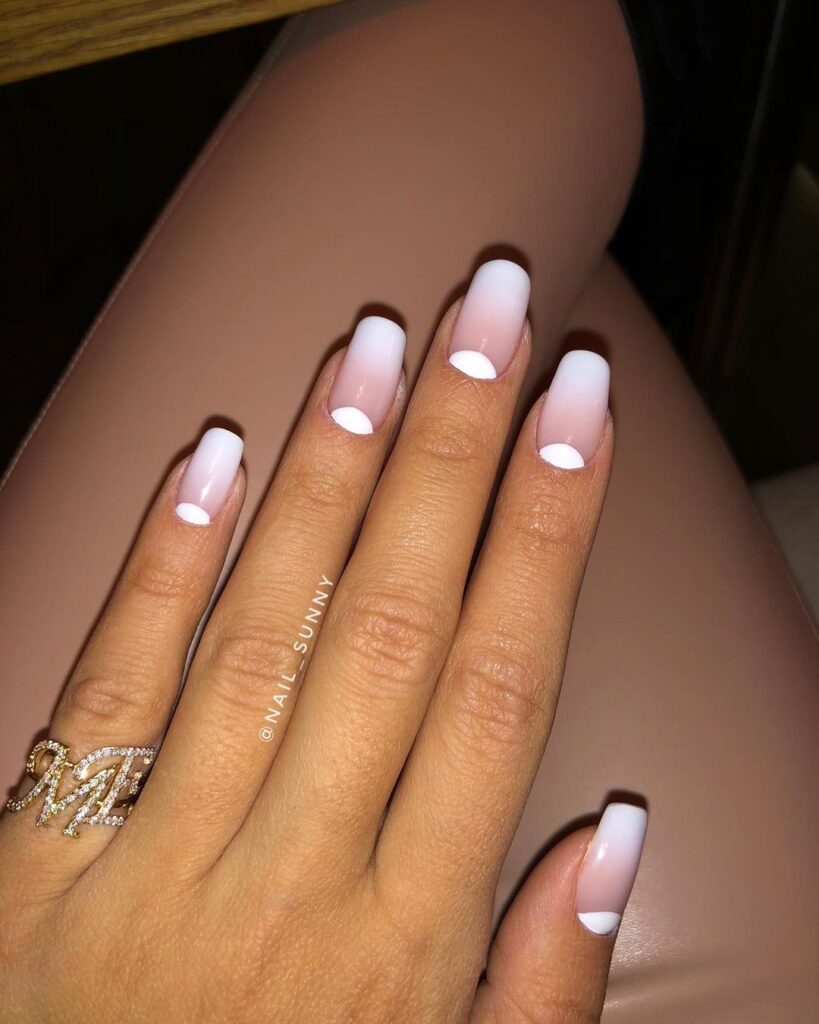 Courtesy: @nail_sunny
#23 We love this gorgeous French manicure idea featuring a subtle white base that's partly nude and partly white with a sleek white tip on the base. The square-shaped nails add a remarkable attribute to this nail design. The shape of the nails does matter when you're trying your manicure and if you're confused, it's best you take advice from your nail technician on what shape to go for!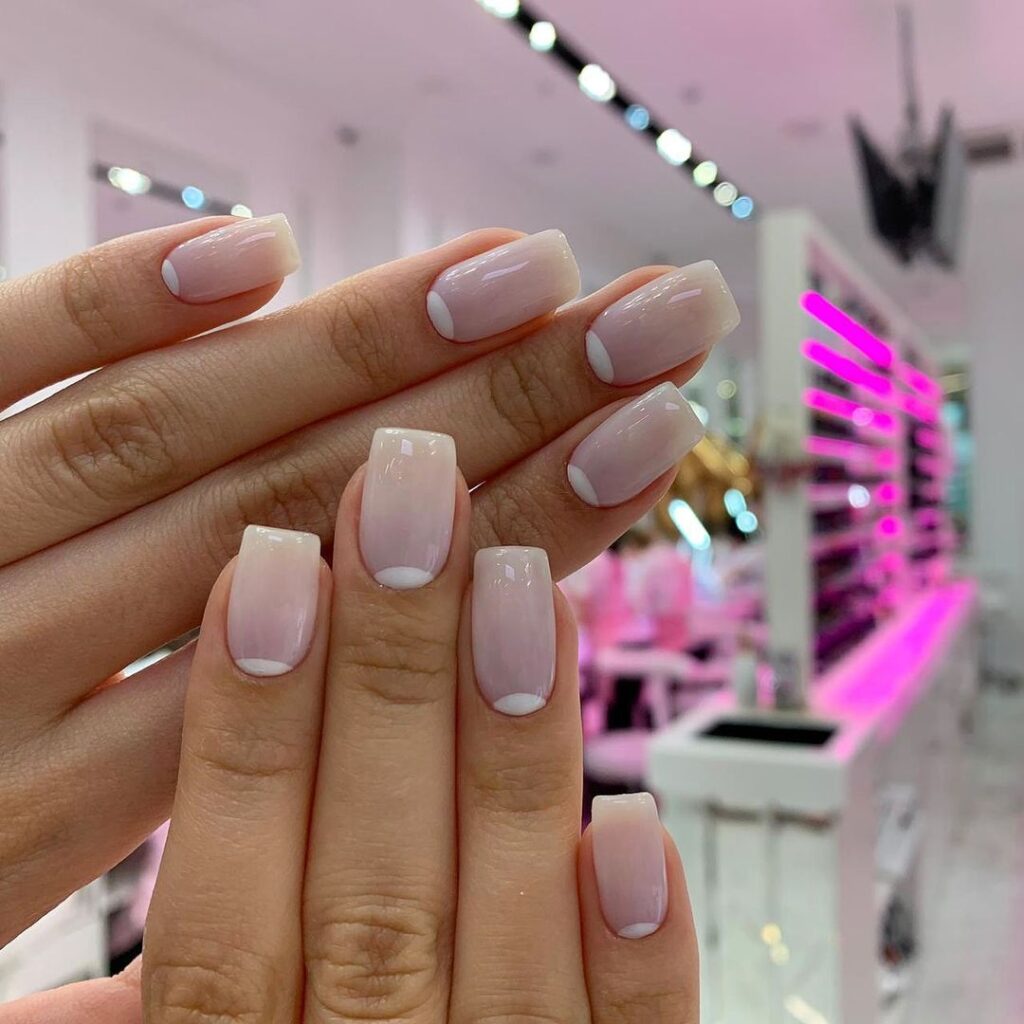 Courtesy: @nail_sunny
#24 Leopard print nails are popular for their drama and personality, and adding to them, the reverse French manicure only enhances their dramatic element. Women also love leopard print to represent their strong feminine energy and incorporating them into your nail art can be an amazing way to add some personal style and belief to your manicure.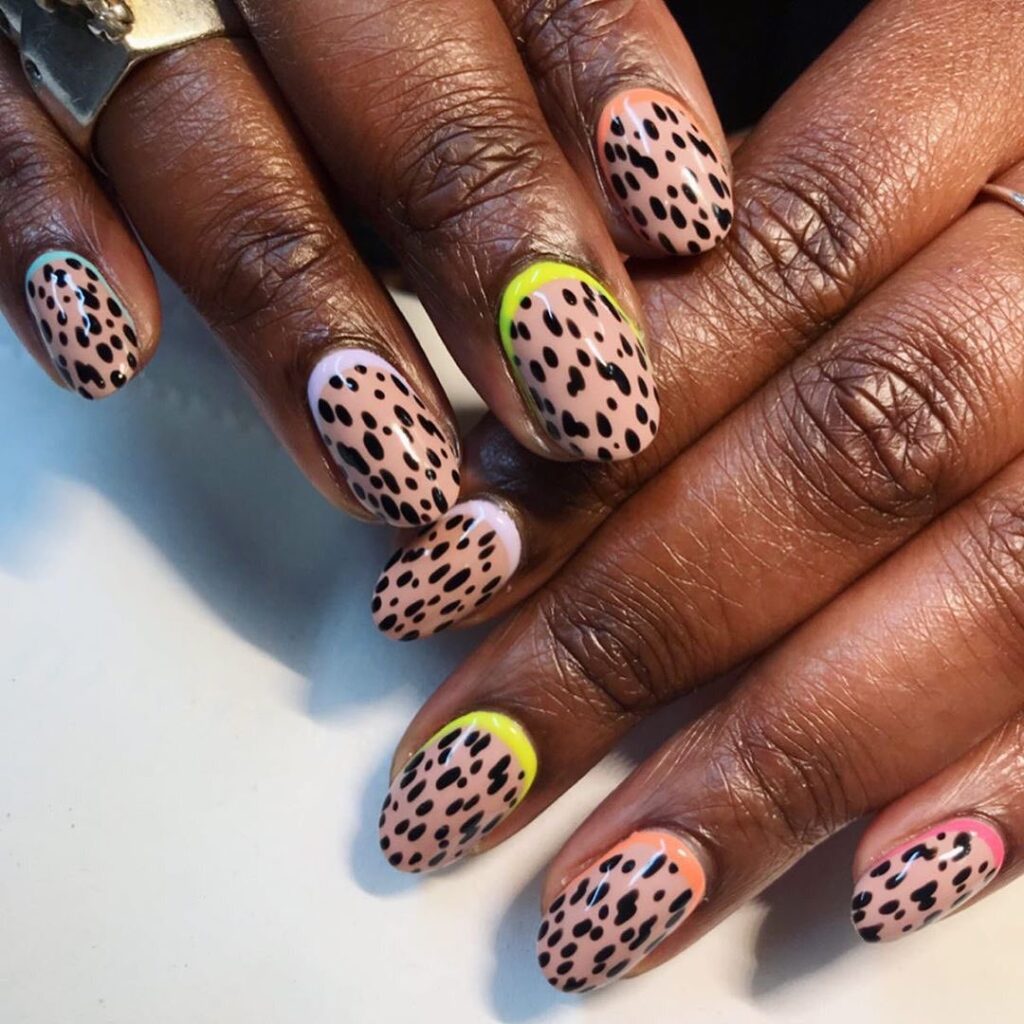 Courtesy: @nailitmedia
#25 Matching two types of nails with each other isn't anything new, but doing them smartly is very important, especially if both nails are done differently than each other. Here, you have an ide of how to incorporate two types of nail art into one idea! Together, this creative design makes for a chic and elegant style that also stands out!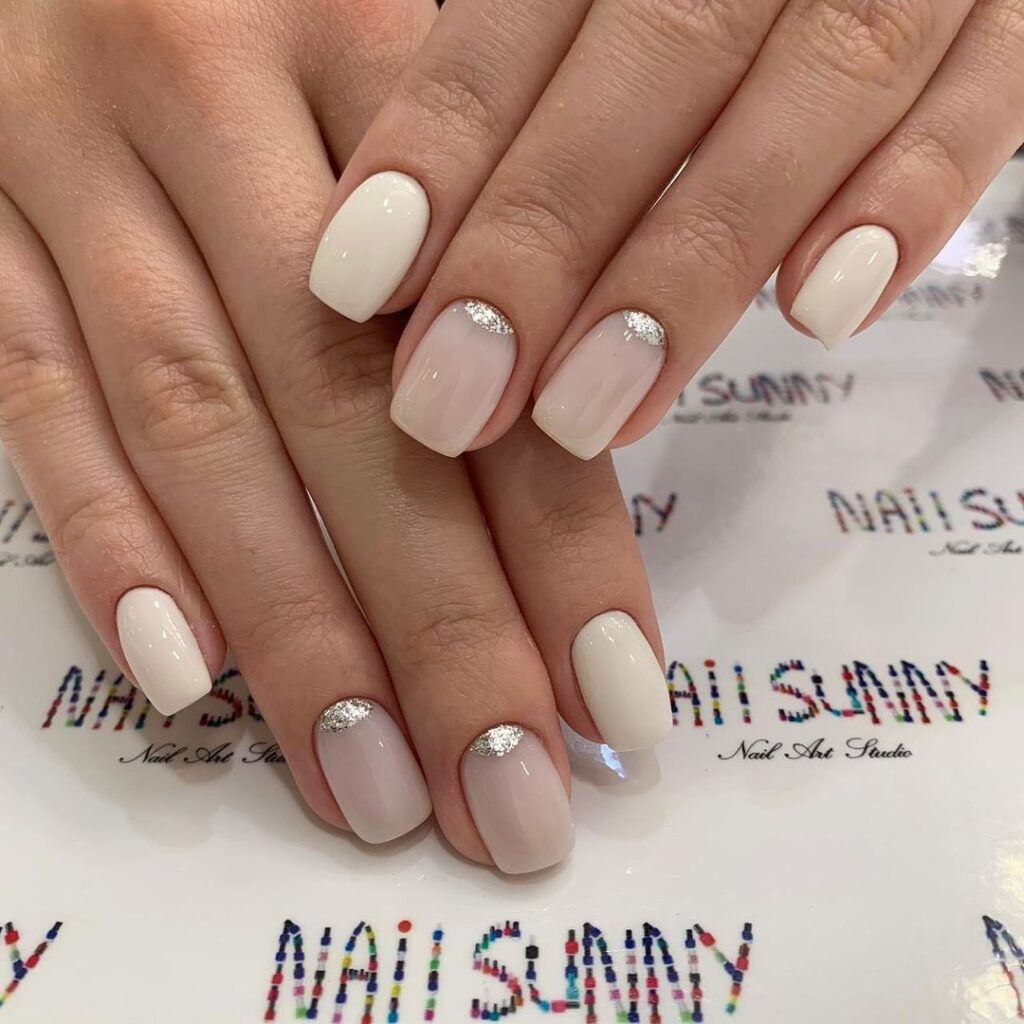 Courtesy: @nail_sunny
#26 We absolutely love this nude nail French manicure idea with a white tip on the base. While here the nail paint used is white, you can easily recreate the idea with any other color of your liking as white goes with many shades.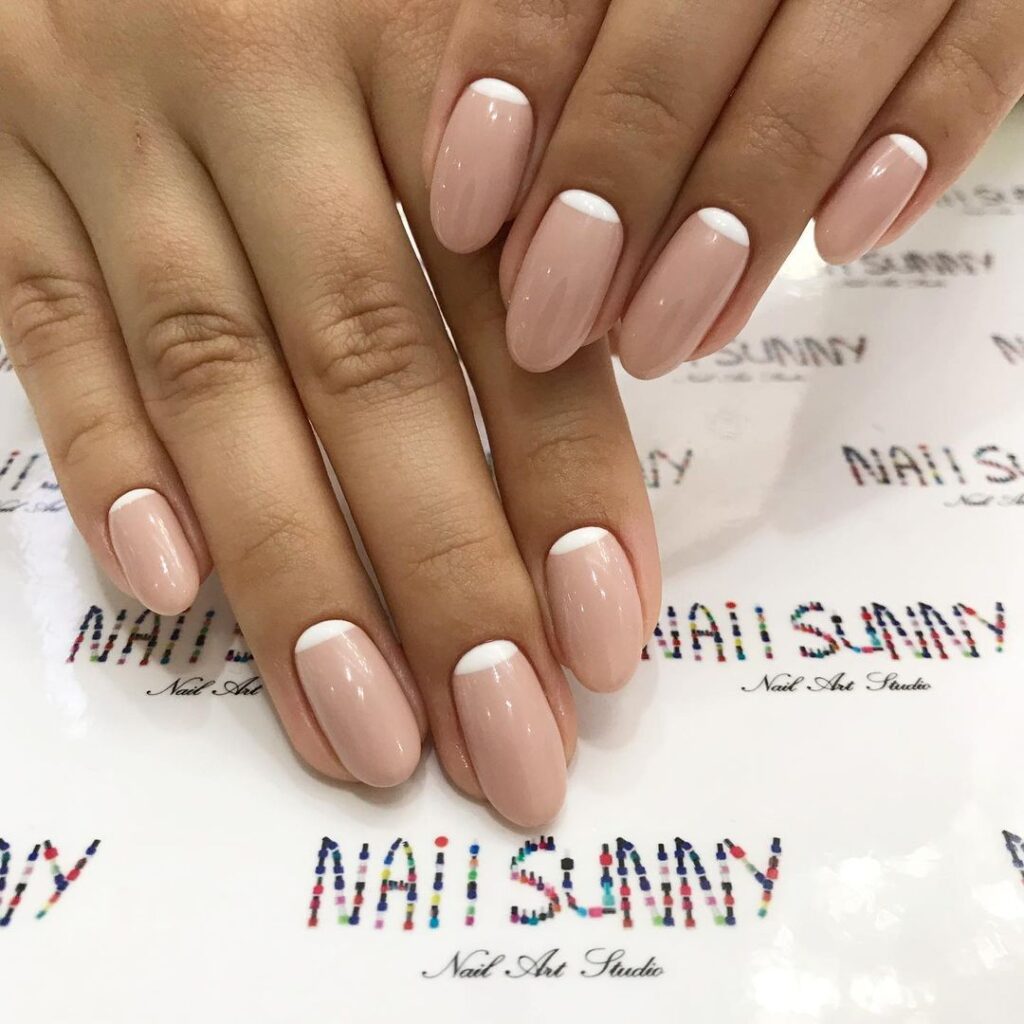 Courtesy: @nail_sunny
#27 Neon nails are a fun and playful way to add a pop of color and energy to any outfit. They are especially popular during the summer months and for music festivals, as they are eye-catching and can create a sense of excitement and playfulness. But if a complete neon manicure isn't your cup of tea, you can make it as a French tip – reverse or otherwise – to add the same attributes to your nails but in a subtle manner.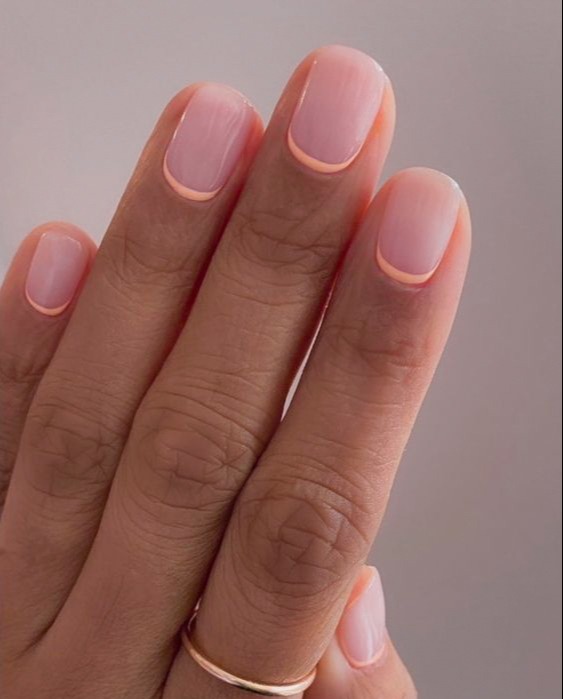 Courtesy: @close.cosmetics
#28 Here's another French manicure featuring shades of mint green with complete color and French tip styles in both usual and reverse styles. The best part about this nail design is that it can be created with your favorite color and you can also make it specific to the season – opting for brighter shades in summer and warmer tones in winter.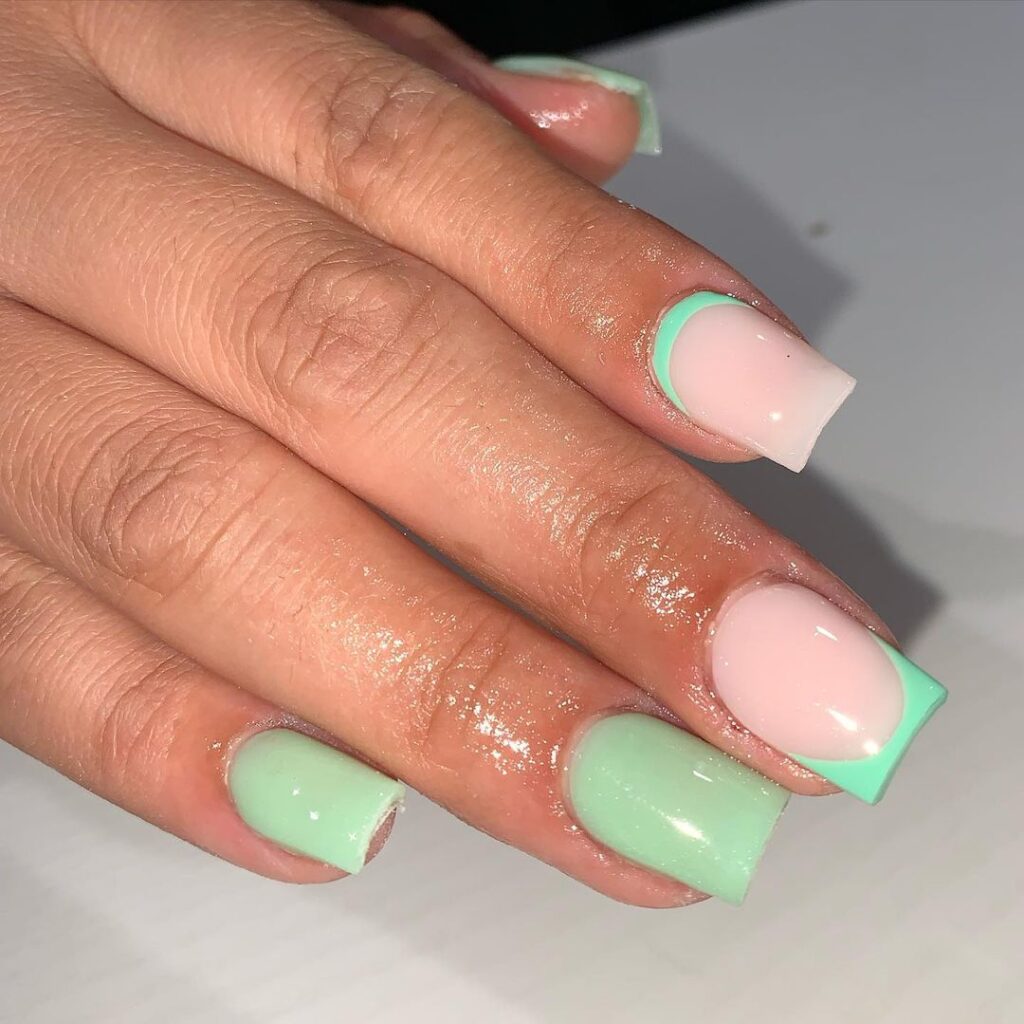 Courtesy: @polygelbykat
#29 We are adoring these super glossy French manicures, done in the double-tip style in reverse. The colors used for the double-tip are pastels and it's going amazingly well with each other and the white base.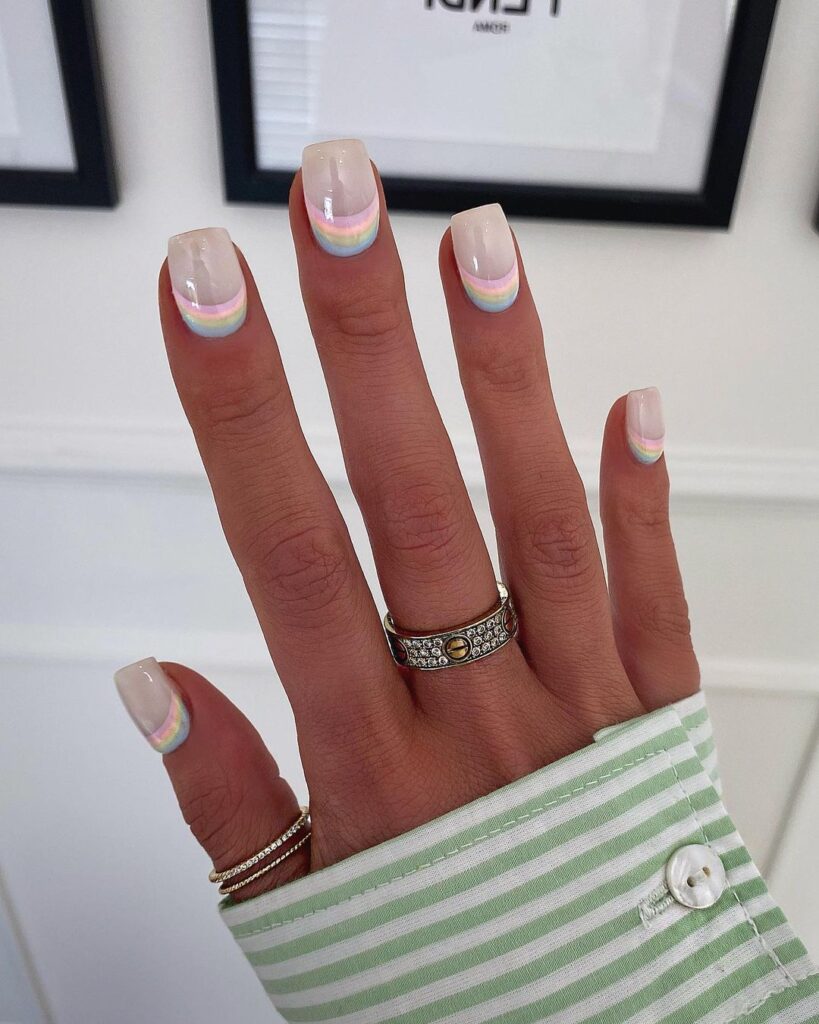 Courtesy: Sarah Woods
#30 This black reverse French manicure with a heart motif is a fun and romantic style of nail art. Creating a heart motif might need some expertise with manicures when you're DIY-ing them at home! To add more interest to the design, you can also use glitter, rhinestones, or other embellishments to accent the hearts.
Courtesy: @blush_beauty_nails_gorey
#31 Add a touch of glam to your French manicure with this stylish ombre twist! Featuring a gradient of soft, pastel hues that seamlessly fade from one color to the next, this manicure is perfect for those who love subtle elegance. But that's not all – shimmering studs are added to take your look to the next level, making this manicure an absolute show-stopper. Get ready to turn heads and make a statement with this modern and chic take on a classic style!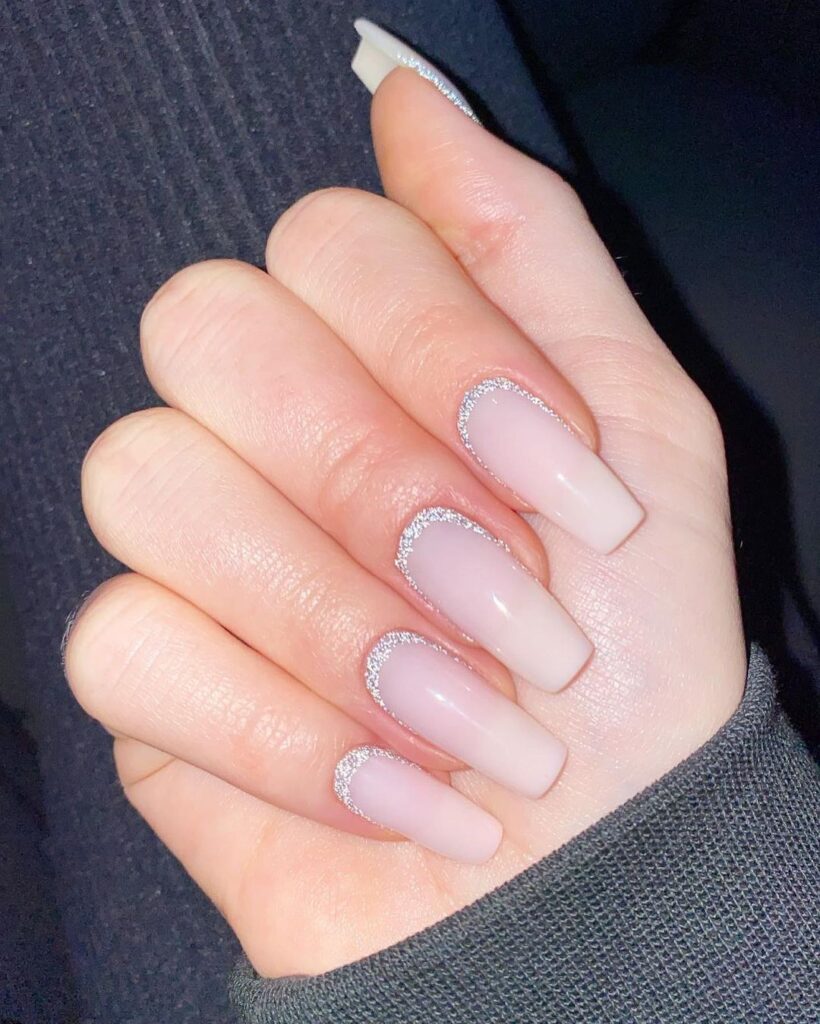 Courtesy: Sophie
#32 This reverse French tip manicure is done in darker and lighter shades of pink with square-shaped nails. While the traditional French manicure looks primarily good with pointed nail shapes like almond, the reverse tip French nails are different. They look better with square-shaped nails and coffin shapes.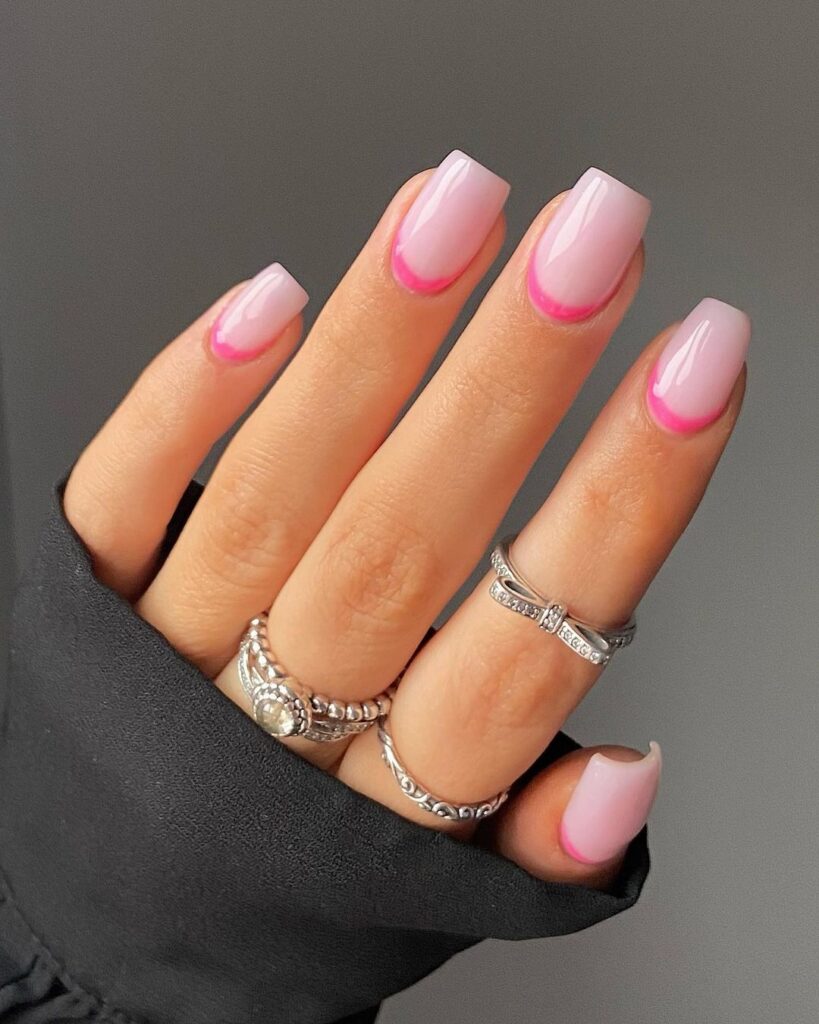 Courtesy: Aimee L Link
#33 The next one of the pink reverse French manicures is done in lighter and darker shades of pink but is elevated by the glitter in the nail. You can see that it's not created as neatly as you'd expect but still look quite gorgeous! So even if you're trying to recreate this manicure at home, it's okay if it isn't as neat. You can use the dotting tool to create the sections on the French tip and then cover it all up with gloss for a shining effect.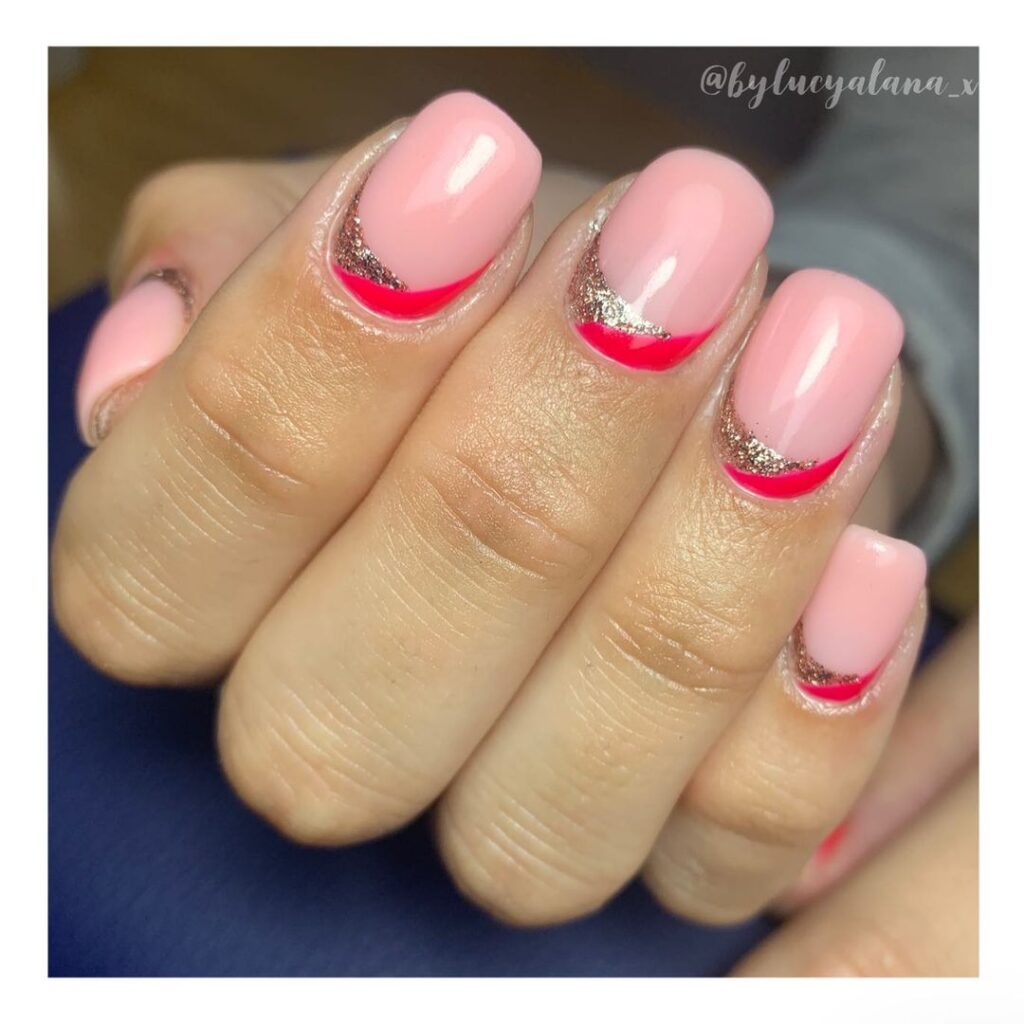 Courtesy: @bylucyalana
#34 Who says you can't have it all? This playful and bold twist on the classic French tip manicure allows you to express your unique style with a pop of color on each nail! Choose from a spectrum of vibrant shades to make a statement and show off your fun and fearless side. Each nail features a different color tip, creating a cohesive and eye-catching look that is sure to turn heads. This is the perfect manicure for anyone who wants to break free from traditional style and embrace their individuality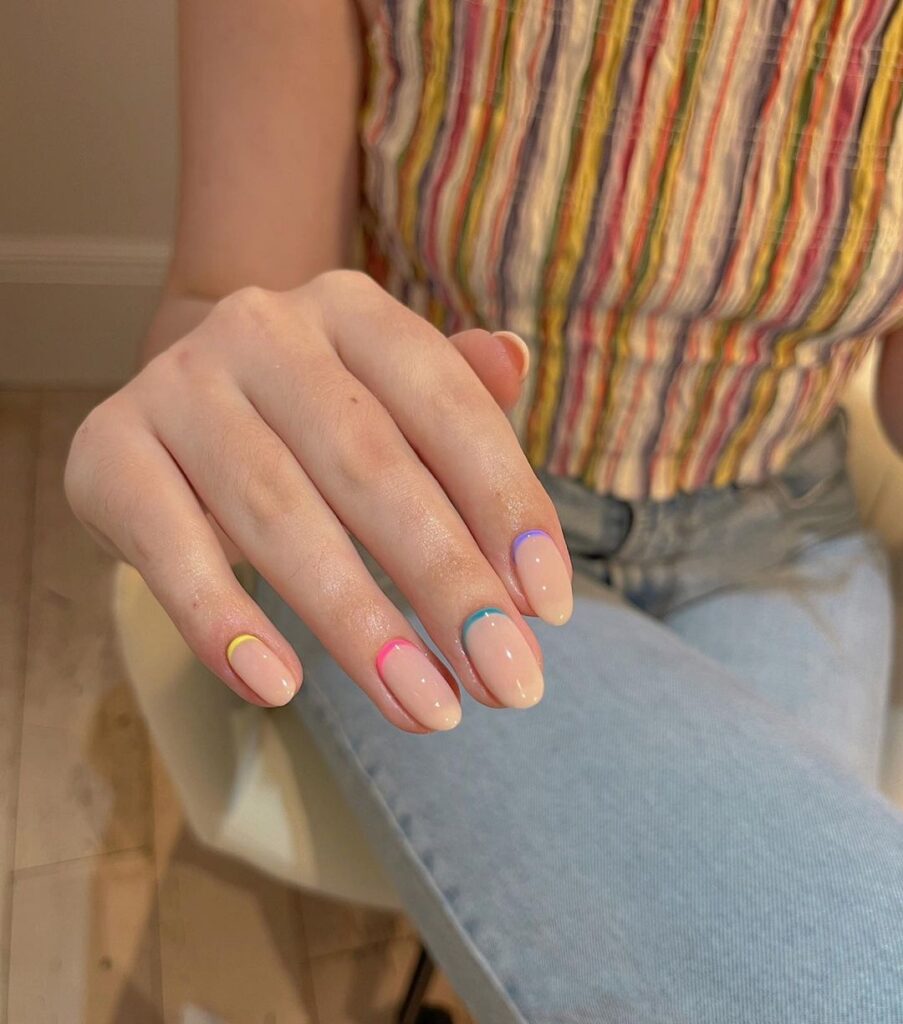 Courtesy: Corinna Bianca
#35 Let your nails do the talking and show off your personality with this one-of-a-kind French tip manicure! It features a rainbow tip instead of the normal tip, which is such a fun and cheery take on the classic style. It's safe to say this style of manicure will look better with the reverse French manicure style only, and not how the French tip nails are done traditionally.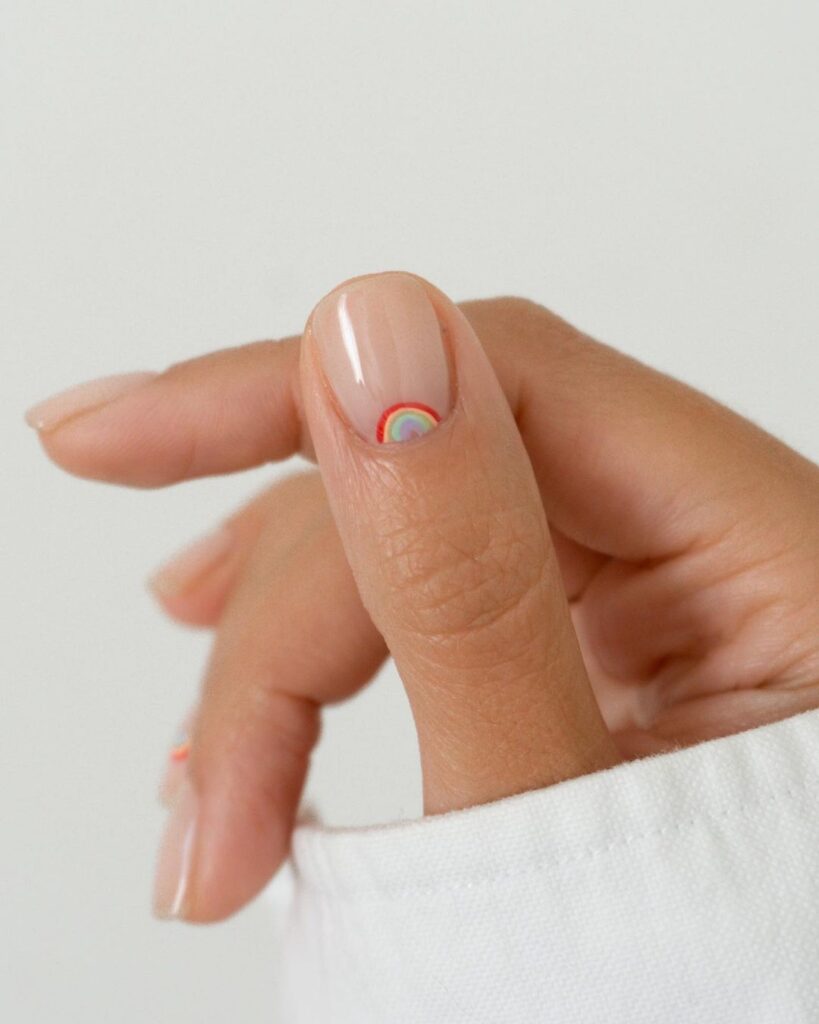 Courtesy: Andrea Barbet
#36 These blue reverse French manicure nails are done in gorgeous French blue color and are enhanced by a zebra-print reverse tip on the bottom on alternate fingers. By skipping some nails, this manicure ensures the creativity is contained and to the point, and not overdone so as to add balance to the design.  
Courtesy: Belle Marie
#37 We love how these nails incorporate many different patterns in one remarkable manicure idea! It has a heart motif on some nails, followed by French tips in both classic and reverse patterns to create a stunning red reverse French manicure idea. You can create this idea with any other color as per your liking and preferences. 
Courtesy: Abigail's Nails
#38 This black reverse French manicure is smartly paired with white polish in an alternating style for an ingenious design. Combining both reverse and normal French tips in one manicure can be a great way to add some visual interest and create a unique and modern take on the classic French manicure. The key is to balance the two styles and ensure they complement each other, rather than clash or overwhelm the overall look.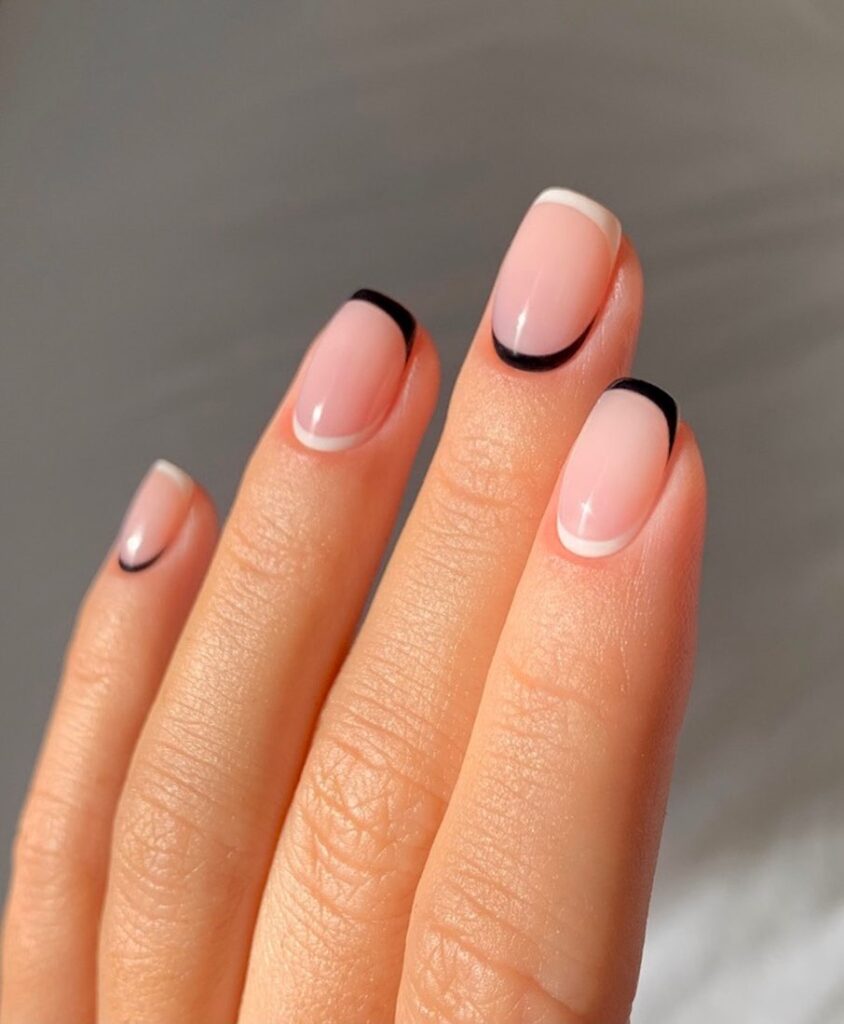 Courtesy: Georgia Rae
#39 Featuring a reverse French tip with a bold, sparkling glitter tip, this manicure is sure to add a glitzy and glamorous twist to your manicure. The glitter tips create a dazzling contrast against the neutral base color, adding a touch of sophistication and elegance to any occasion. Glitter also lasts for a longer time than normal colored nails, so it's a good option for DIY nails.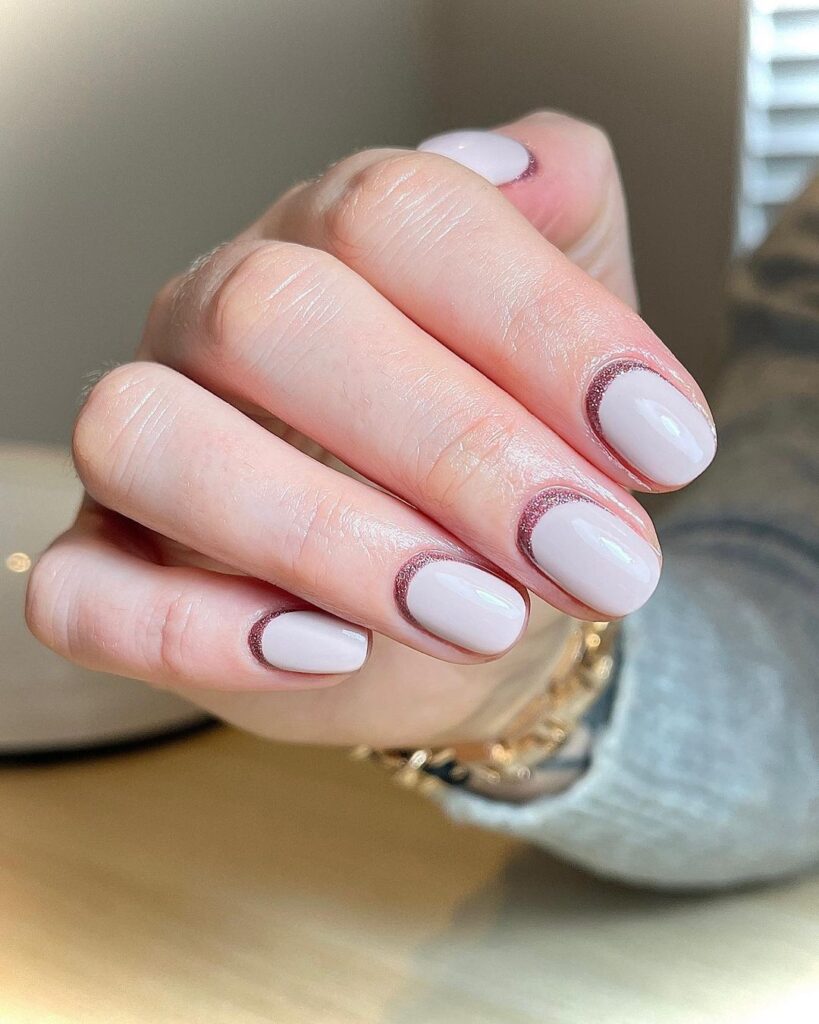 Courtesy: Megan Daniel
#40 This reverse French manicure color is all about the ombre pattern done subtly on the tip. Light and darker colors are always a good option to include two colors in the double-tip French manicure, and you can opt for any palette you like!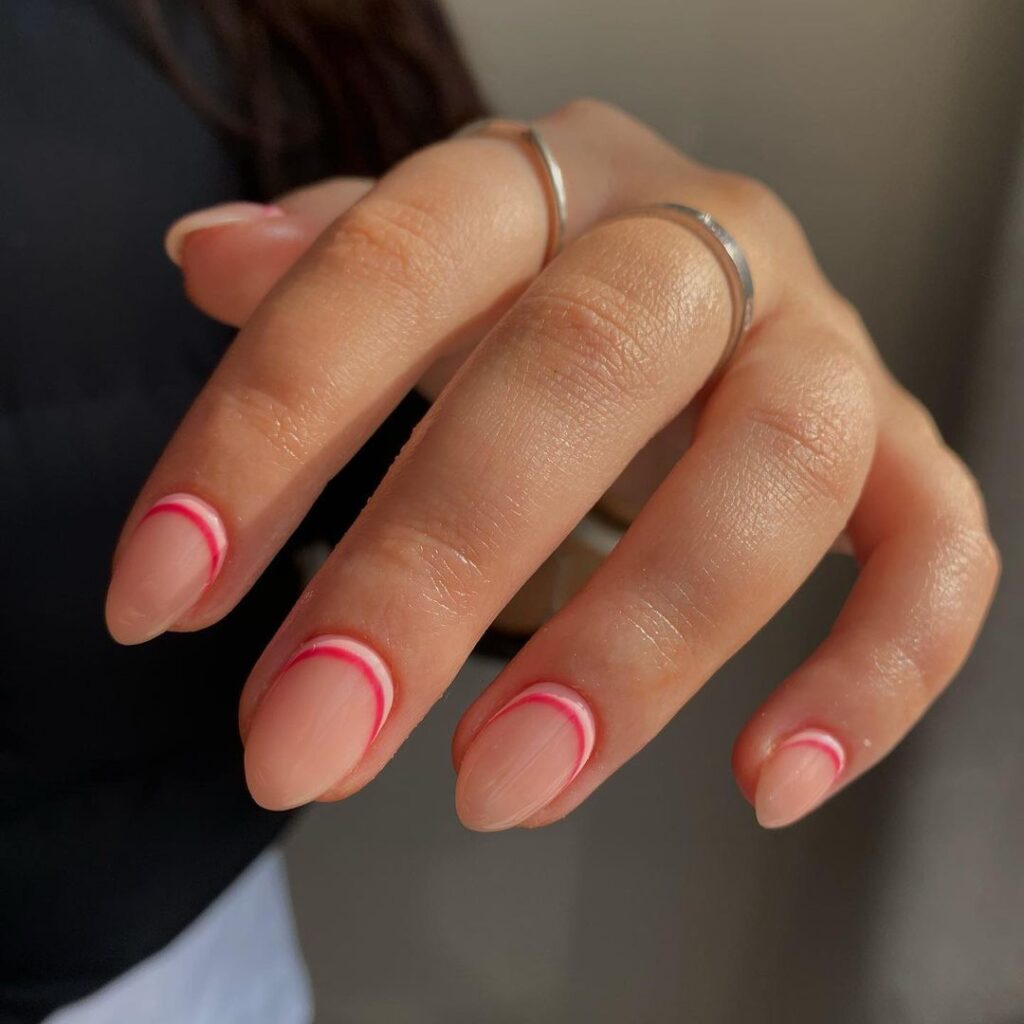 Courtesy: Sophie Ivanoff
#41 Sometimes all you need to create a stunning & eye-catching French manicure design is to play with the lines a little bit and you have captivating nail art all ready to dazzle!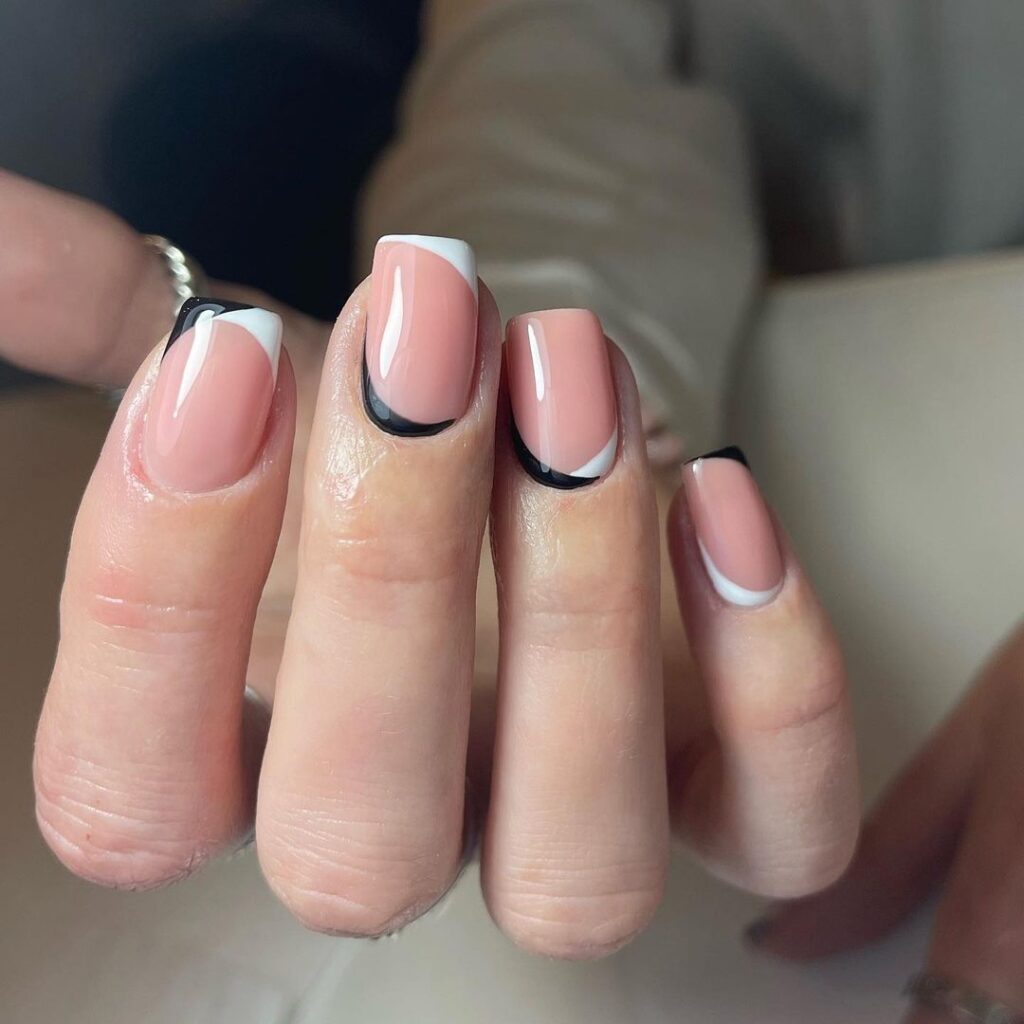 Courtesy: @isabeldbeauty
#42 This reverse French manicure almond nail is done on a white base with a green tip on the bottom followed by a glitter line to enhance the dazzling attribute of the design. Besides green, you can try other darker shades with this manicure like maroon, black, hot pink, or even navy blue. White is a universal shade and can complement a number of hues, so this design can be as versatile as you want it to be!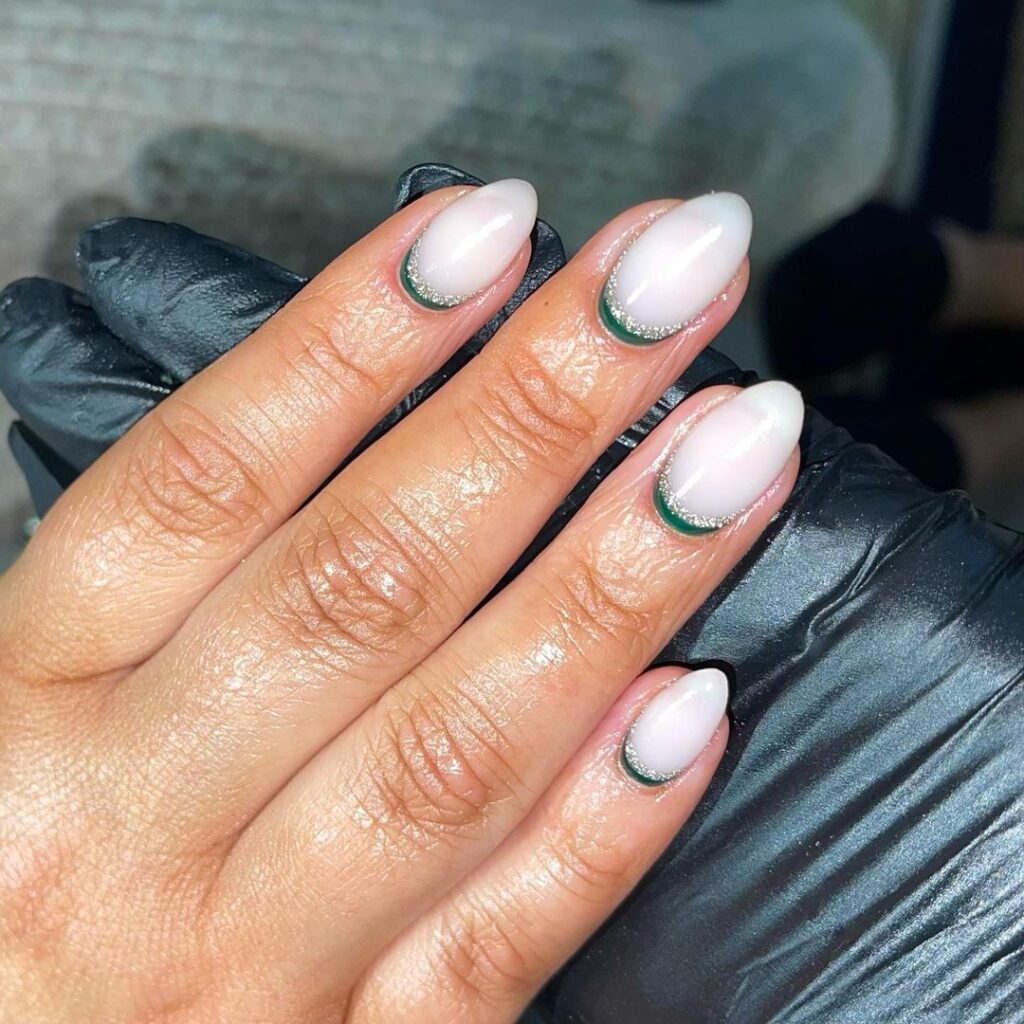 Courtesy: Gabrielle Fensome
#43 This one of the reverse French manicures is different from the others! It involves a floral tip on the bottom of one of the nails and a similar one in the classic style on the other hand, while the ring finger is covered in glitter and pink has a nude pink shade. Having different designs on all fingers is common, but you do need to make sure there's some coherency to make them all look amazing together.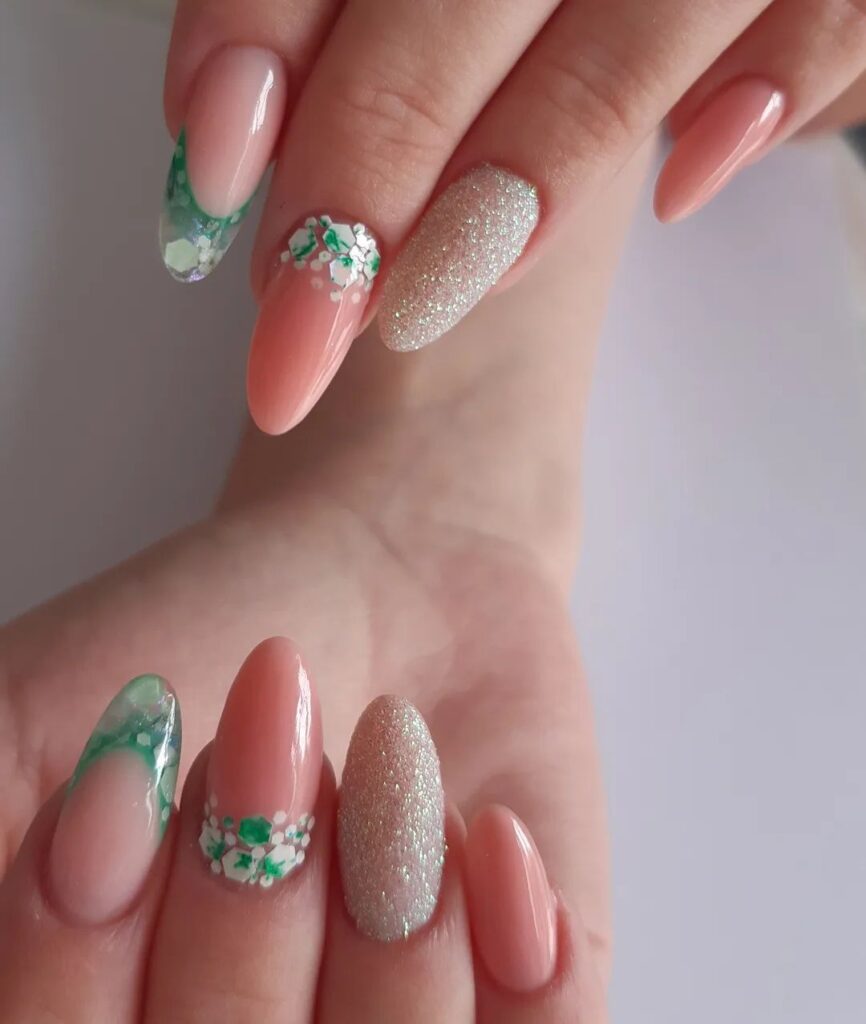 Courtesy: Le Studio de Lau
#44 Double the fun, double the style! This modern take on the reverse French manicure features a unique double-tip design that is both eye-catching and bold. The lines also are made differently on each nail for a truly distinctive pattern.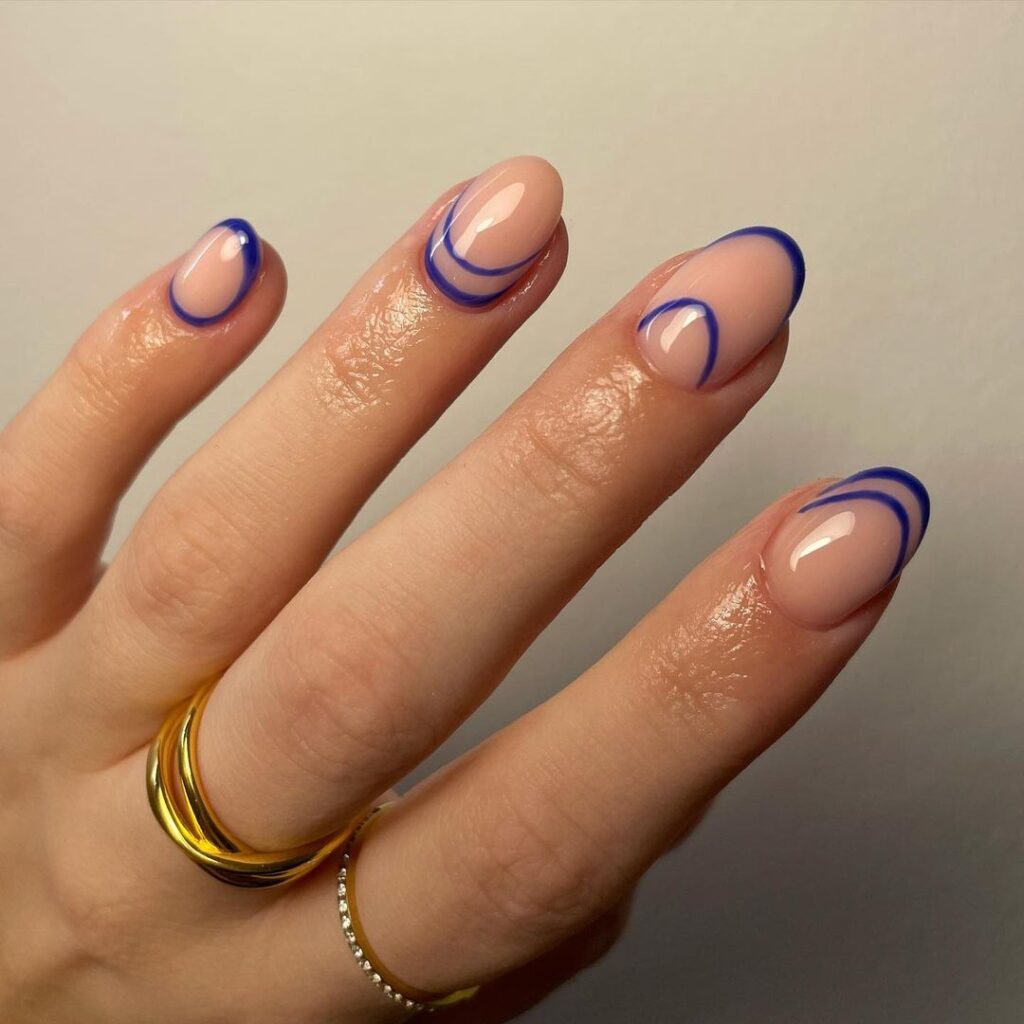 Courtesy: By Tayler
#45 Bring on the bold with this electrifying twist on the classic French manicure! Featuring a reverse French tip with a neon pink shade that pop against a dark or neutral base, this manicure is sure to catch the eye. The neon tips add a playful and youthful touch to any outfit, making it perfect for those who love to express themselves with color. This manicure is ideal for summer or any time of year when you want to add a vibrant and trendy look to your nails.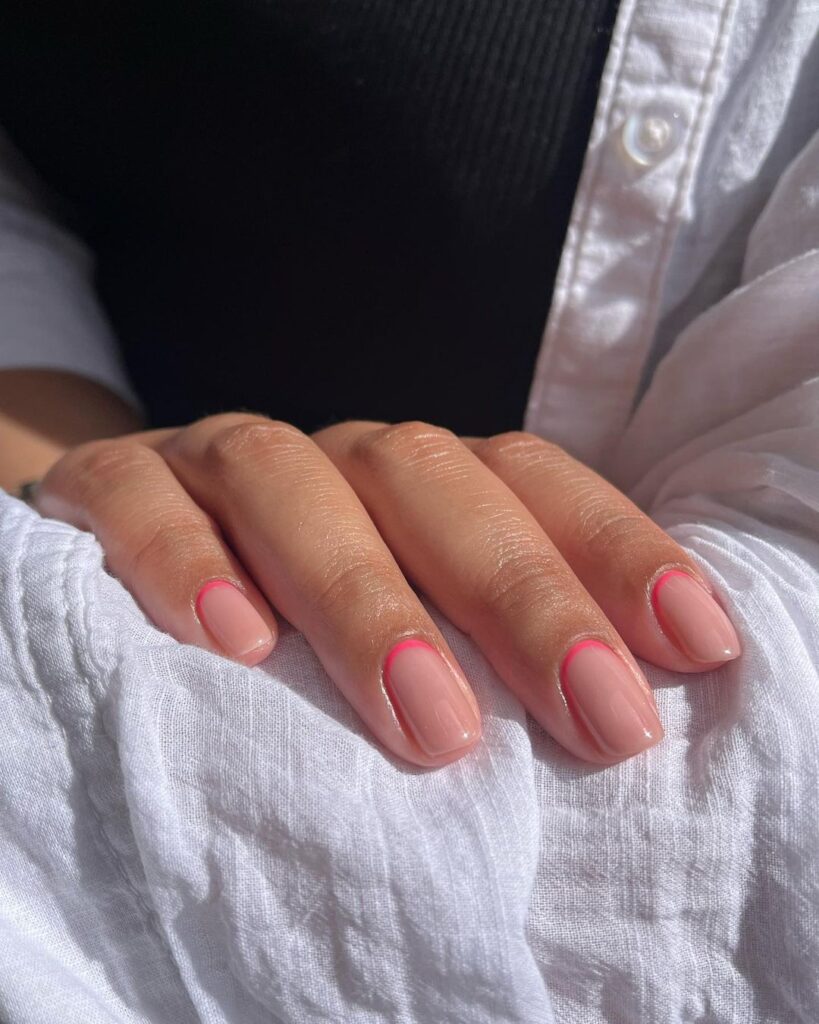 Courtesy: Courtney
#46 Black and white is always right, and this manicure proves it! This bold and modern twist on the reverse French manicure features a sleek and sophisticated double-tip design in black and white. The contrasting colors create a striking visual effect that is sure to impress. While this manicure is done on short nails, you can create this manicure with any medium-length nails as well!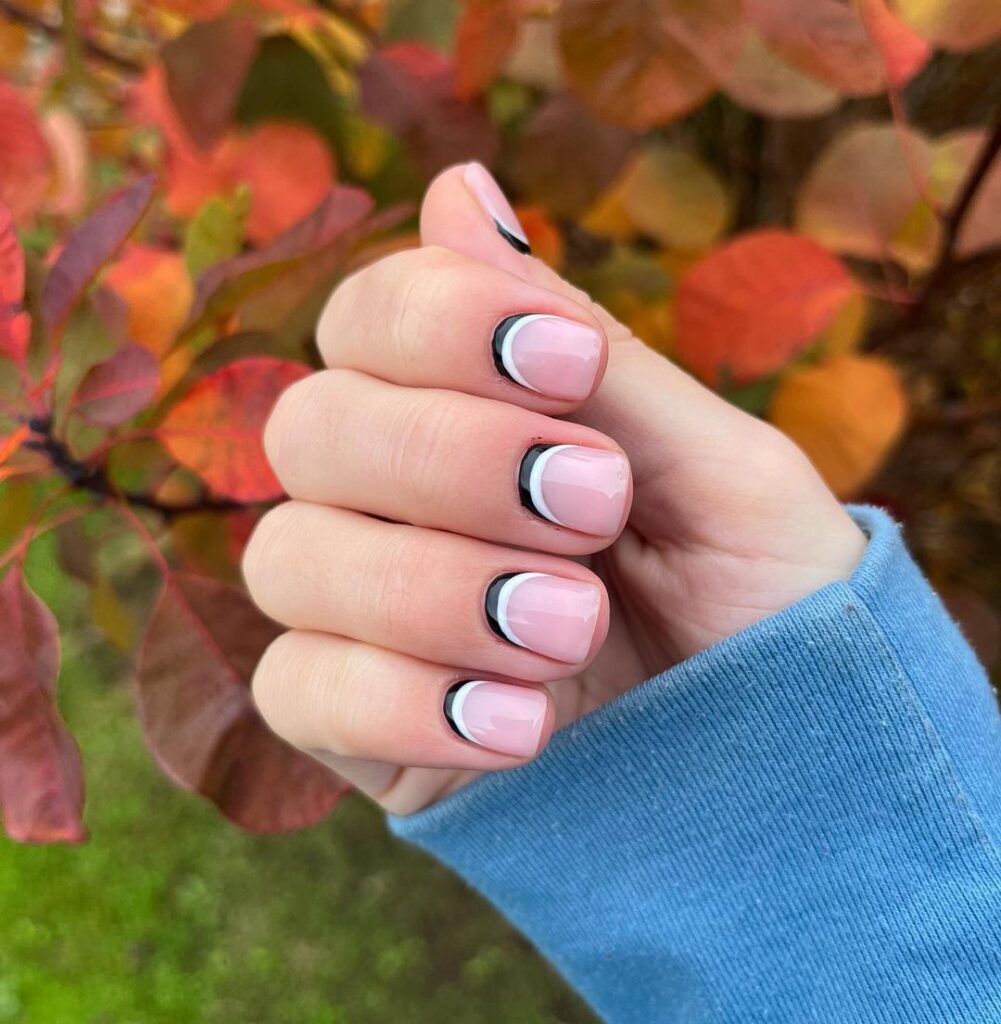 Courtesy: Nails by Poppy
#47 This vibrant reverse-tip French manicure idea is anything but boring! Made using a number of striking shades that complements each other perfectly for a striking nail idea. You can use your favorite combination of colors to recreate this manicure, but we'd suggest to choose the palette wisely as a mix of a number of colors can become messy or gorgeous, depending on the choices.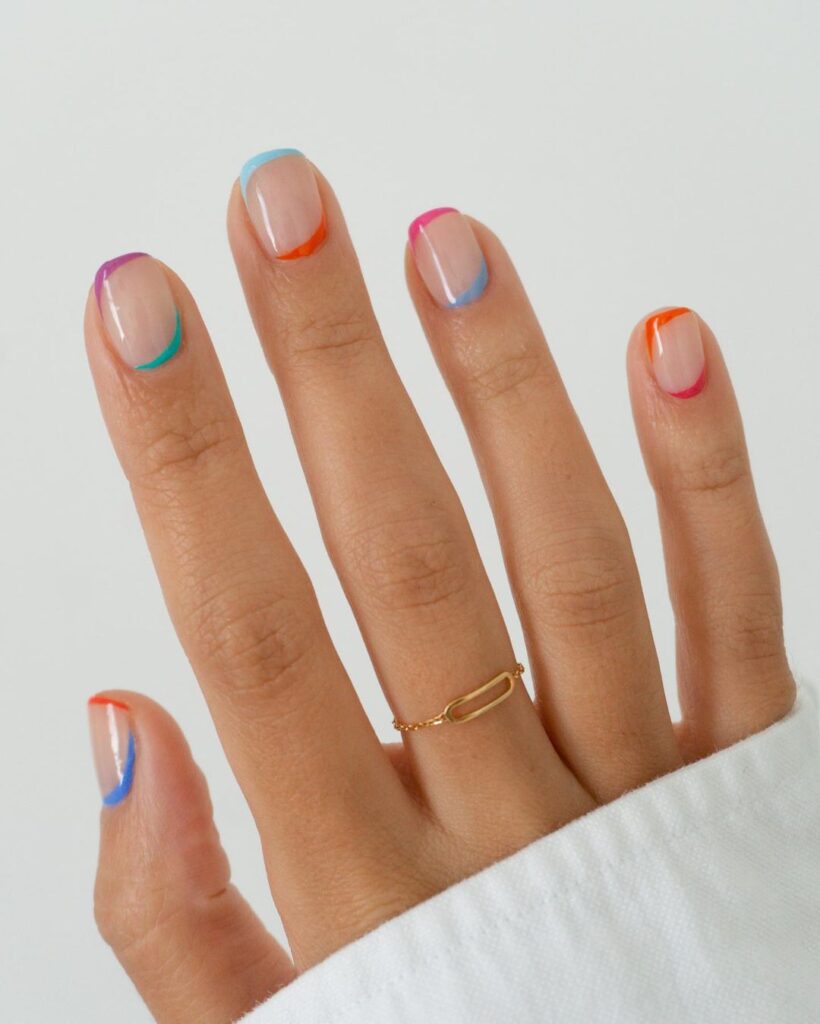 Courtesy: Andrea Barbet
#48 These square-shaped nude nail design is enhanced by a white reverse French tip that is further elevated by a small evil-eye motif. To achieve this look, start with a reverse French manicure base in a neutral or light color. Then, use a fine brush to create the evil eye motif in your accent nail, using a contrasting color or a metallic hue for the motif. You can add additional details or embellishments, such as glitter or rhinestones, to make the design pop.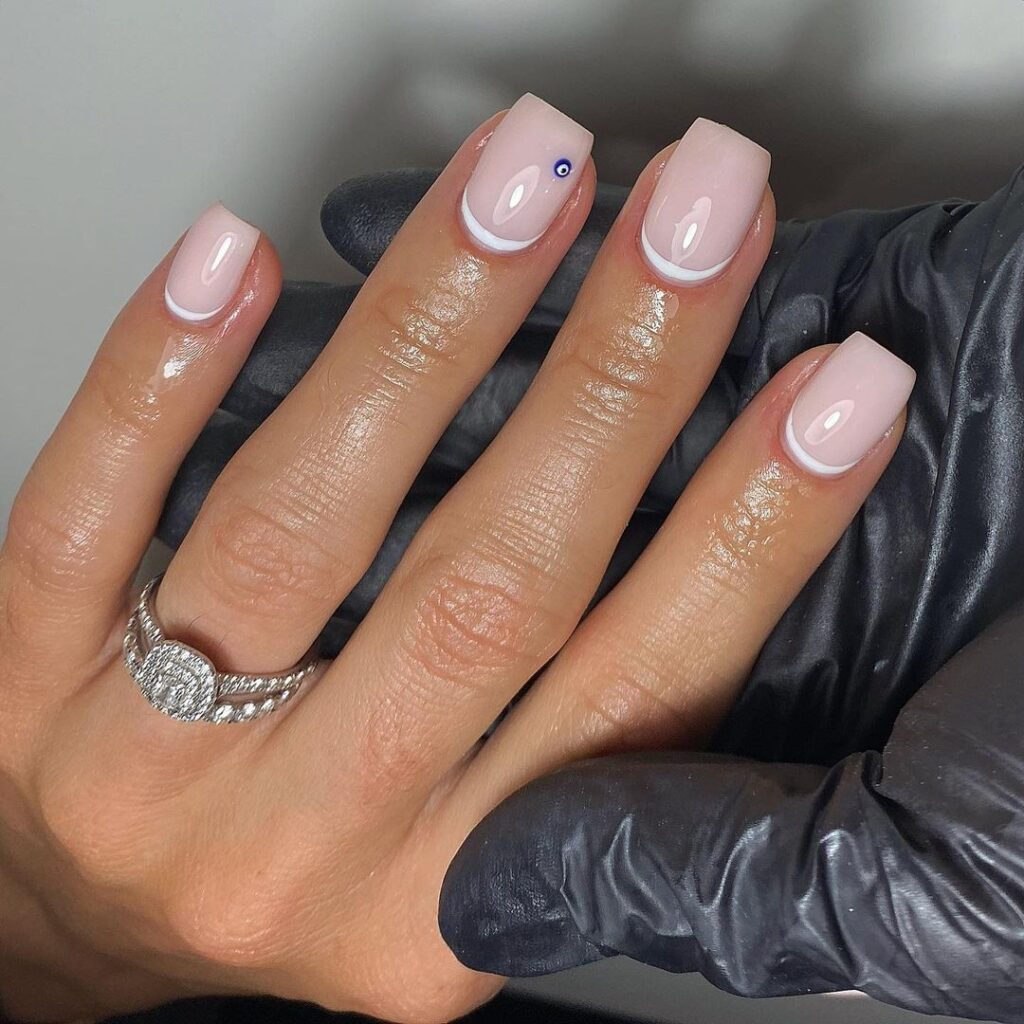 Courtesy: @mel_vivalasnails
#49 Heart-tipped French manicure is a popular variation of the traditional French manicure and involves making a bow-heart shape at the top instead of the white tip. The next featured red reverse French manicure does the same and reverses the heart-shaped on the bottom of the nail so you can enjoy the same pattern with this latest trend.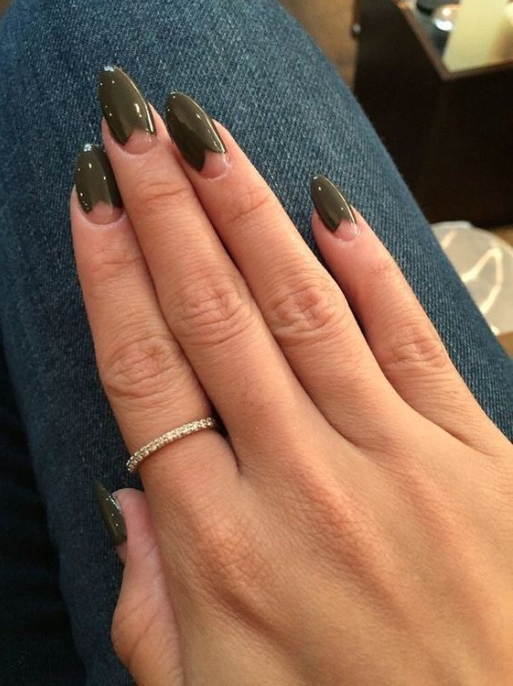 #50 This manicure is perfect for those who love to experiment with unconventional nail art and want to make a statement. The tooth-shaped tips add a touch of humor and playfulness to the classic French manicure, making it a great option for a night out or a fun event. The green and white go amazingly, but you can try other colors for a twist like brown or red!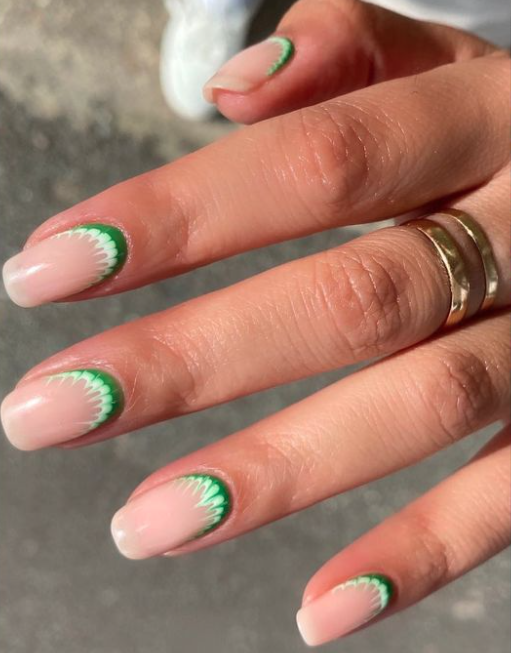 #51 We're adoring this blue reverse French manicure! Done against a bright white base, the bold and beautiful blue tips add a striking contrast that's eye-catching and vibrant at the same time. Perfect for any occasion, this manicure combines trendy style with timeless elegance, making it a versatile option that is sure to impress.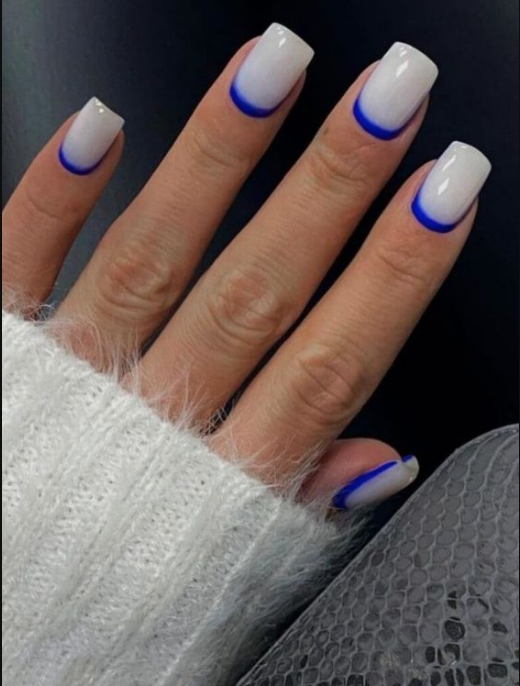 #52 This ombre reverse French manicure features studs to create the tips. The design used in this manicure would suit the reverse manicure better than the traditional manicure. The studs do add a touch of glam to the traditional manicure design, and are a remarkable addition to showcase your style! So go ahead, add some bling to your nails, and let your inner fashionista shine!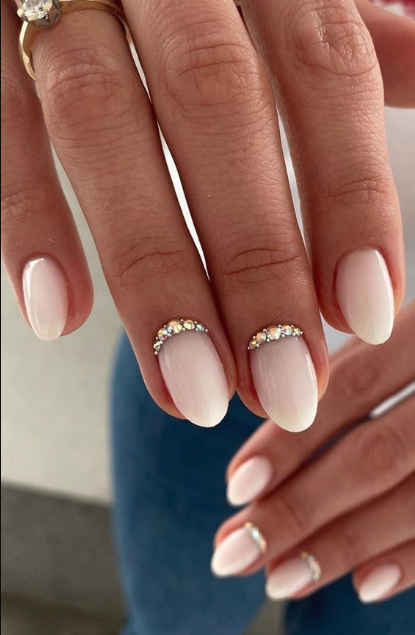 #53 The next one is a black reverse French manicure done with playful dots and a pink base for a unique design. You can create this stunning manicure at home. Start by painting the base pink and let it dry completely. Next, use a dotting tool to create the reverse tip in black, and use different thickness dotting tools to draw the dots above. Let them dry and cover it all with a gloss coating.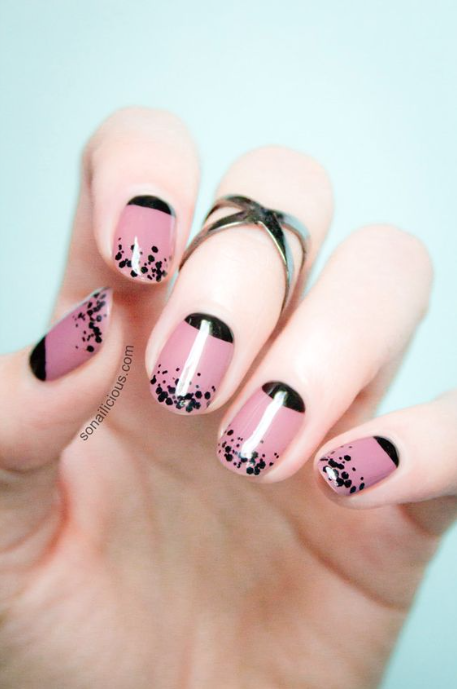 #54 These small reverse French tip nails are all about subtlety and elegance. Designs like these are perfect for those who want a timeless design but also don't want their nails to have some kind of modish attribute. Best part? You can recreate these nails with utmost ease at home. Just be careful when you're doing the intricate tips below so your DIY manicure looks as flawless as in the picture.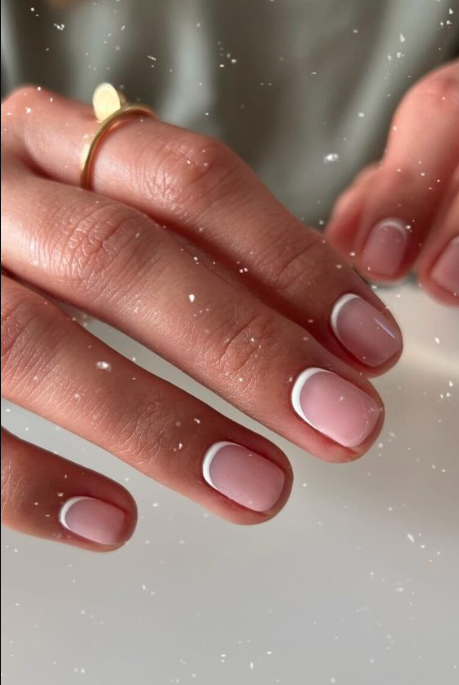 #55 Anything can be made striking and eye-catching when you play with the geometry of the lines. This red reverse French manicure also plays with the lines of the French tip and makes it in the triangle form to give you a design that's all about spectacular nature!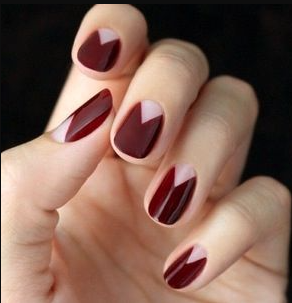 #56 This gold reverse French manicure is done in a matter ink blue base, which is different as it merges the best of both worlds – matte and glossy. The combination creates an edgy and elegant look, perfect to elevate your nail game. You will love to recreate this manicure with other matte colors as well – like matte green, gray, or even lavender!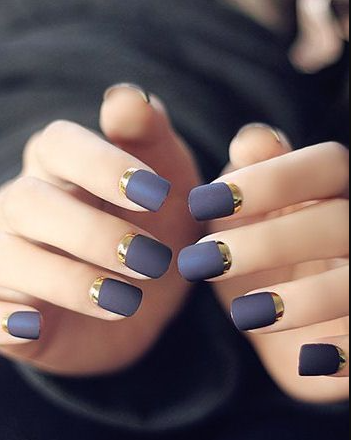 #57 We love this white reverse French manicure is elevated by an ink-blue tip on the bottom. When you notice closely, you will see that all nails have slightly differently-shaped sections than others, which can be a motivation for you to DIY this manicure at home. You can try your best to make the manicure intricate, but even if it isn't, it would still look flawless – here's proof!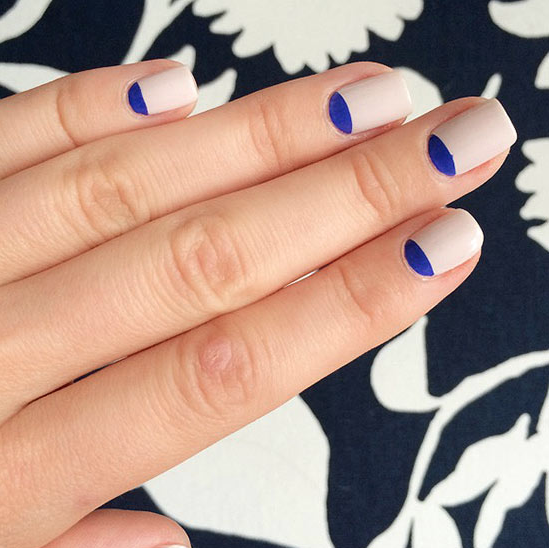 #58 This glitter reverse French manicure is only for those who want glamorous oozing from their nail design, and aren't anything about subtlety in their manicure. Perfect for any occasion, this silver glitter and black tip French manicure is sure to make a statement and grab a ton of compliments. So get ready to add some sparkle to your nails and show off your style with this dazzling and trendy design!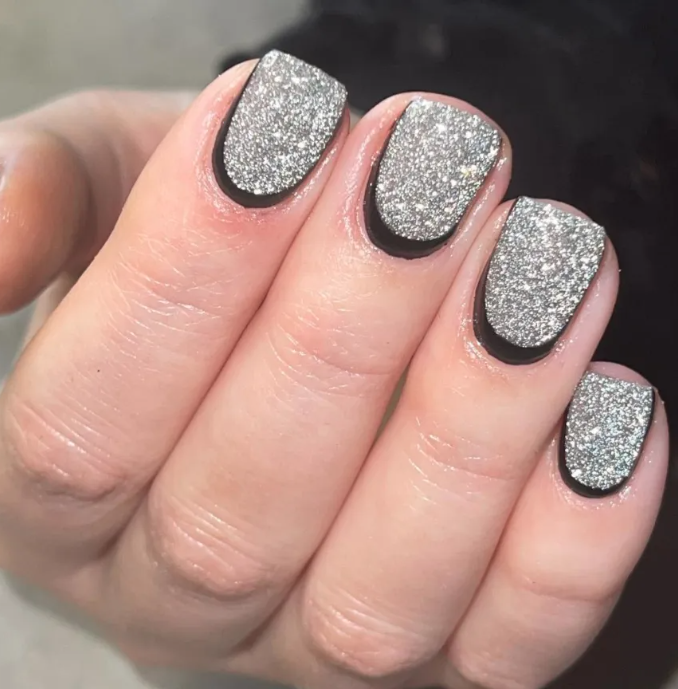 #59 Ending this reverse French manicure ideas list with a black and red reverse French manicure, that's all about ingenuity and elegance! Meant to go for any occasion, season, or event, versatility is another strong attribute of this manicure as well. Save this into your list of manicures to try and you won't regret it!