Greenery has always been popular in wedding cakes, but there's just something about the eucalyptus leaves that gives it an edge over others. Their rich look, marked appearance, and ability to complement any floral or wedding theme have made them a rising trend in the wedding world. Find eucalyptus wedding cake inspiration in this blog to include this fresh, pretty leaf on your big day! 
#1 Let The Leaves Shine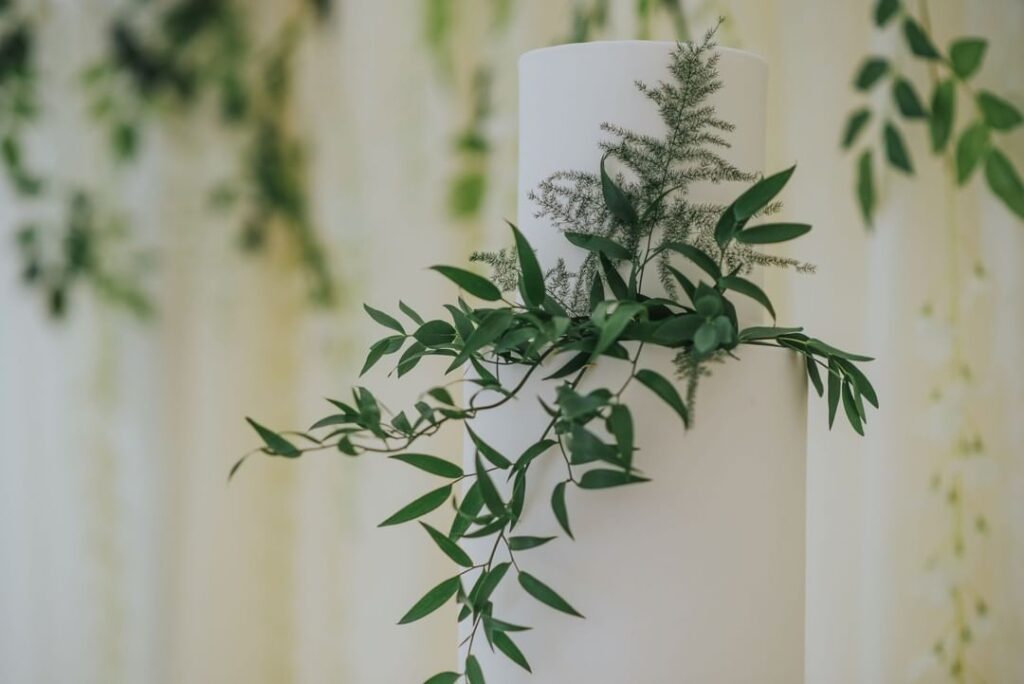 Courtesy: @oneoakeweddings
We love how this white wedding cake with no texture, embellishments, or any other florals, shines through with just the eucalyptus leaves. Just a peek into why we are so in love with the eucalyptus leaves on wedding cake and why they make for such a popular addition to this confectionery! 
#2 Play With The Right Elements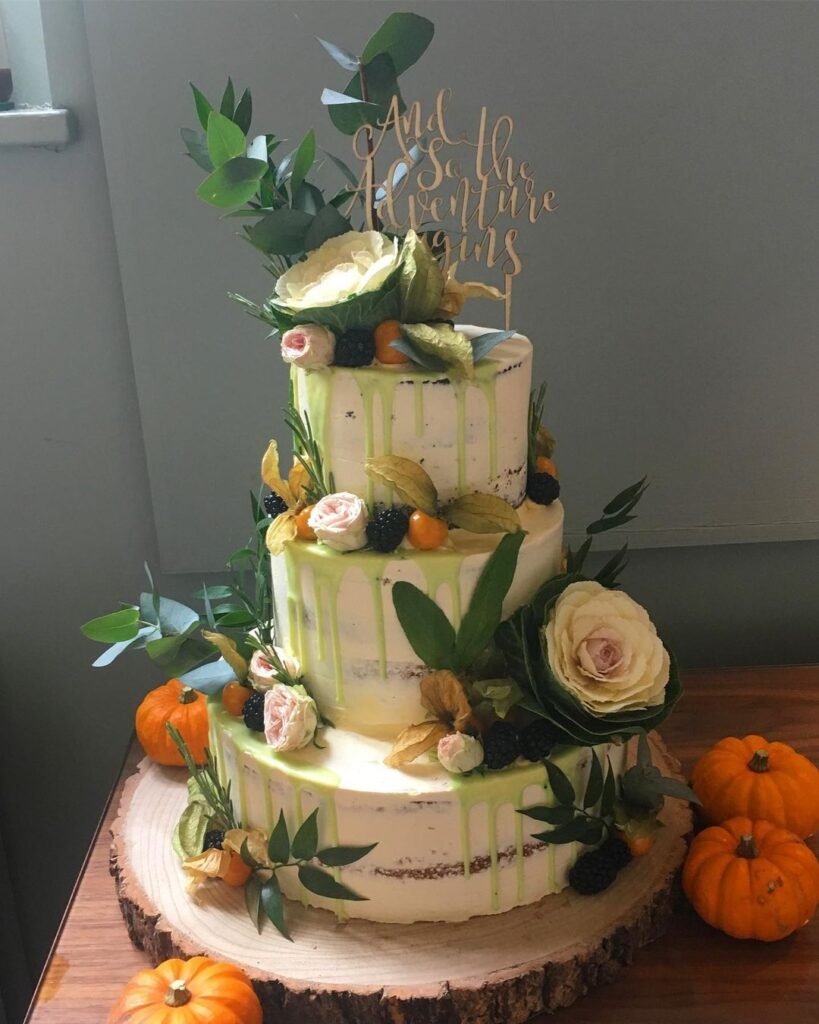 Courtesy: @florence_cornish
This cake screams a fall wedding all over! It has greenery, an autumn palette, and pumpkins that align with the theme and the naked appearance nods to the rustic celebrations popular in the season too! 
#3 Choose White Roses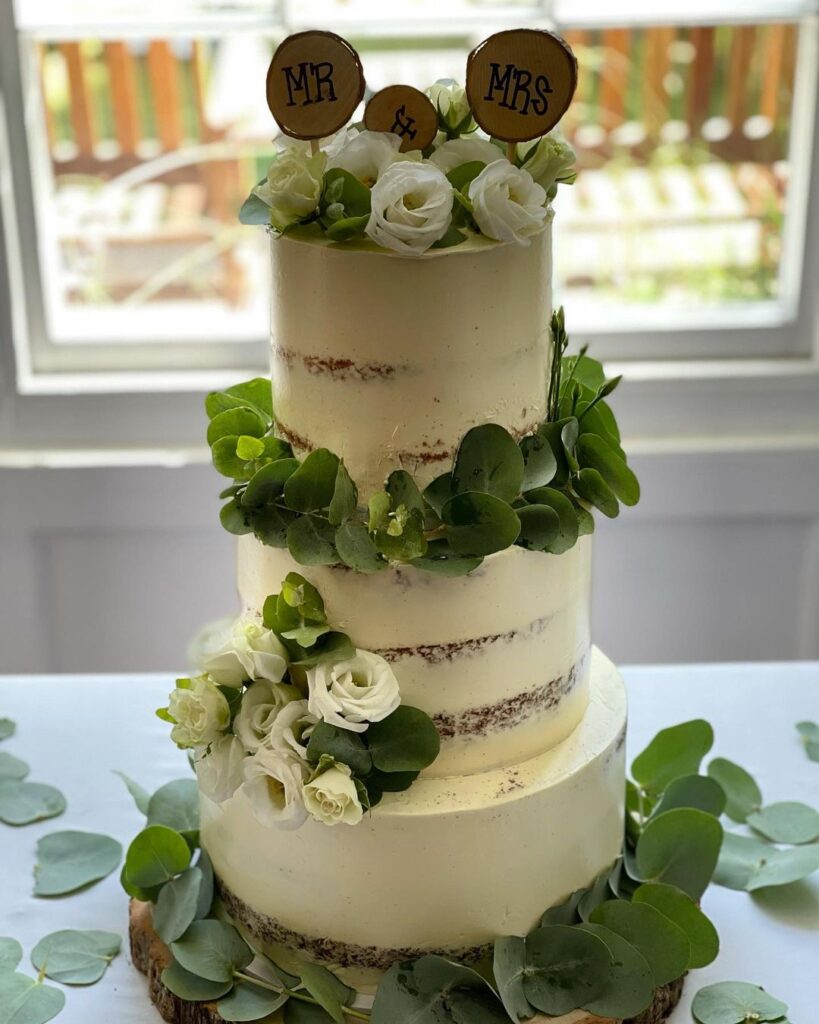 Courtesy: Cuckoo Cakes
White roses are one of the most common combinations for a eucalyptus wedding cake because they pair well with the greenery whilst also complementing the color of the star confectionery of the night! Choose them in abundance with the eucalyptus leaves for a gorgeous design. 
#4 Think Pink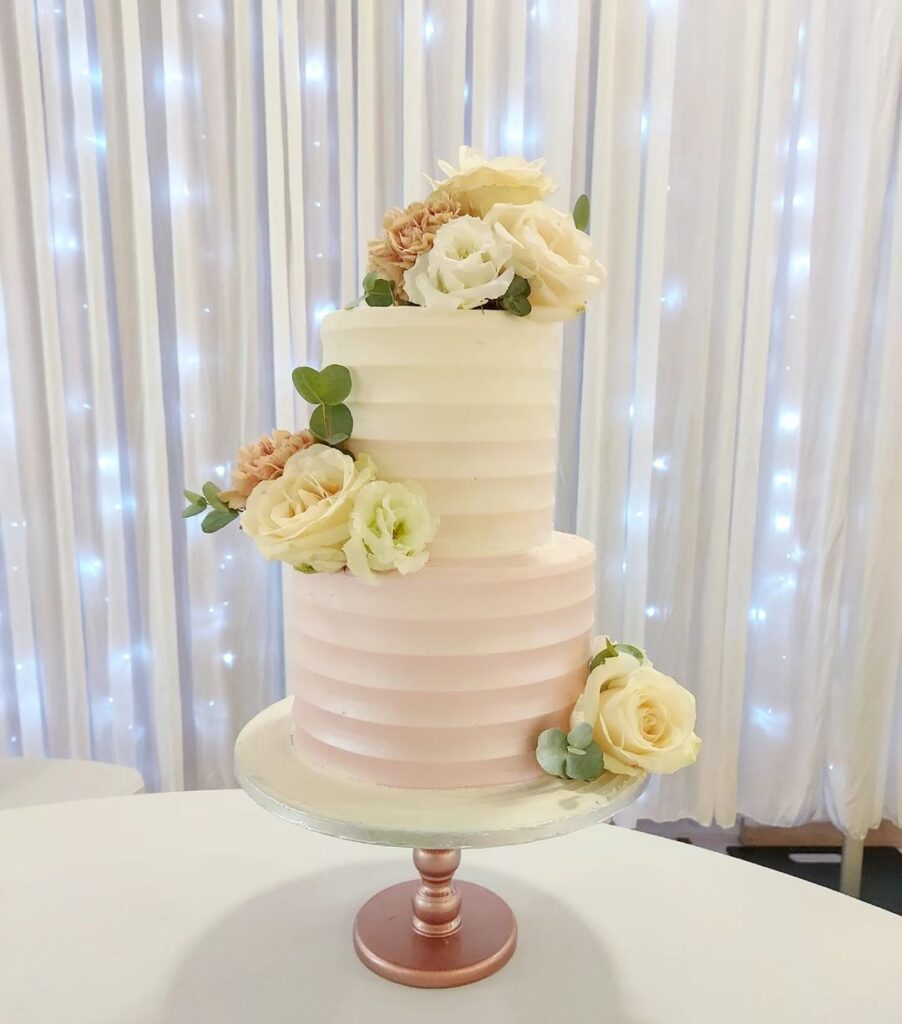 Courtesy: The Lettie Gray Bakery
Talk about a romantic wedding cake! The light pink frosting on the bottom tier complements the white one gorgeously and with clusters of white and pastel florals on the sides, you will create an idyllic wedding cake that will garner compliments like crazy. 
#5 Opt For Sugar Flowers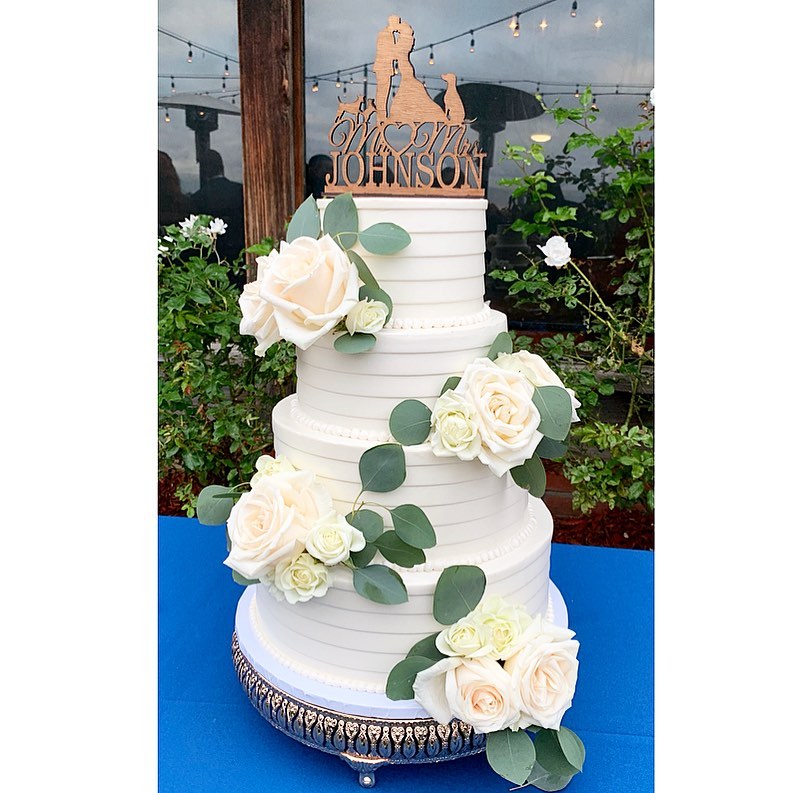 Courtesy: Nettie's Cake Creations
If you don't want to use a ton of flowers for your cake, but just a few, then opt for florets that are blooming in full. This ensures that the ones put to make an impact and you don't have to overspend on the florals.  
#6 Keep It Simple (Yet Textured)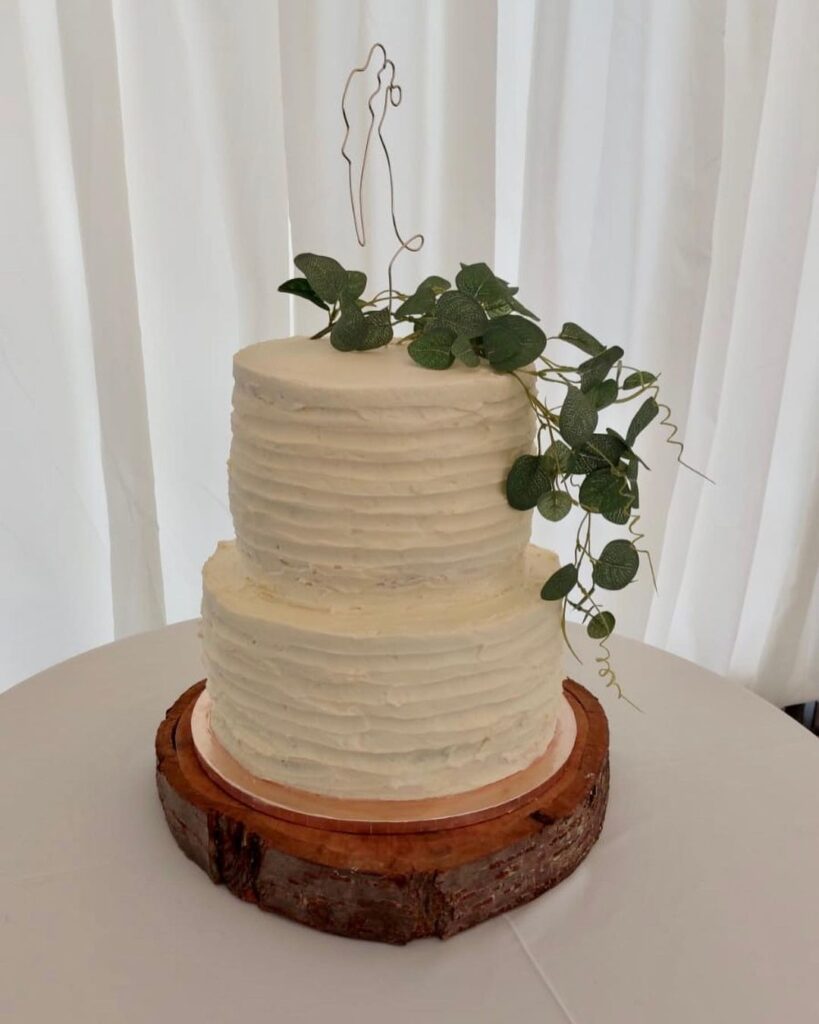 Courtesy: Brunch Cafe
This lightly frosted wedding cake with a distinct texture is perfect for a rustic reception. Wooden barrels and greenery accents further add to the theme without taking away from the simplistic nature of the cake. (You can get this eucalyptus garland for wedding cake here.)
#7 4-Tiered Beauty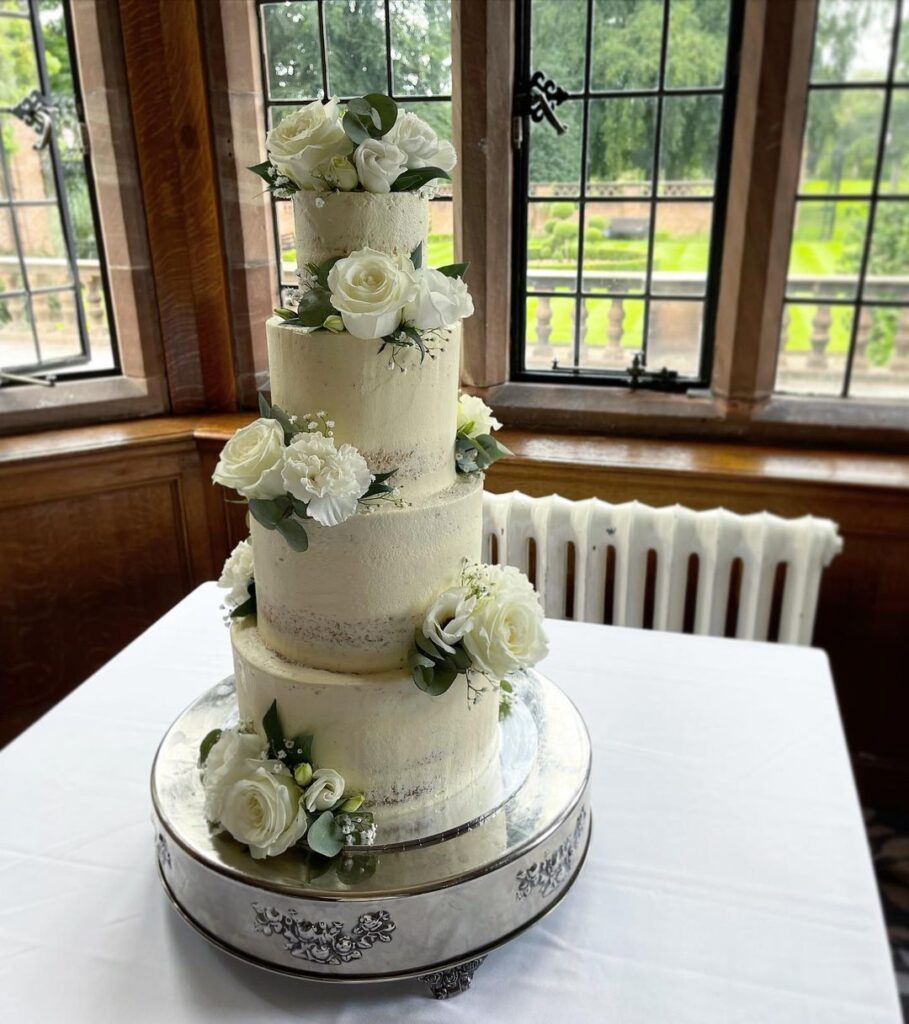 Courtesy: Laura's Cakes & Cupcakes
This tall wedding cake is semi-naked and is decorated with clusters of white roses and eucalyptus. For couples who want a multi-tiered wedding cake while managing the budget, opt for clusters like this as they are inexpensive and don't require much work to place, hence helping you cut down the cost without compromising the aesthetic. 
#8 Summer Paradise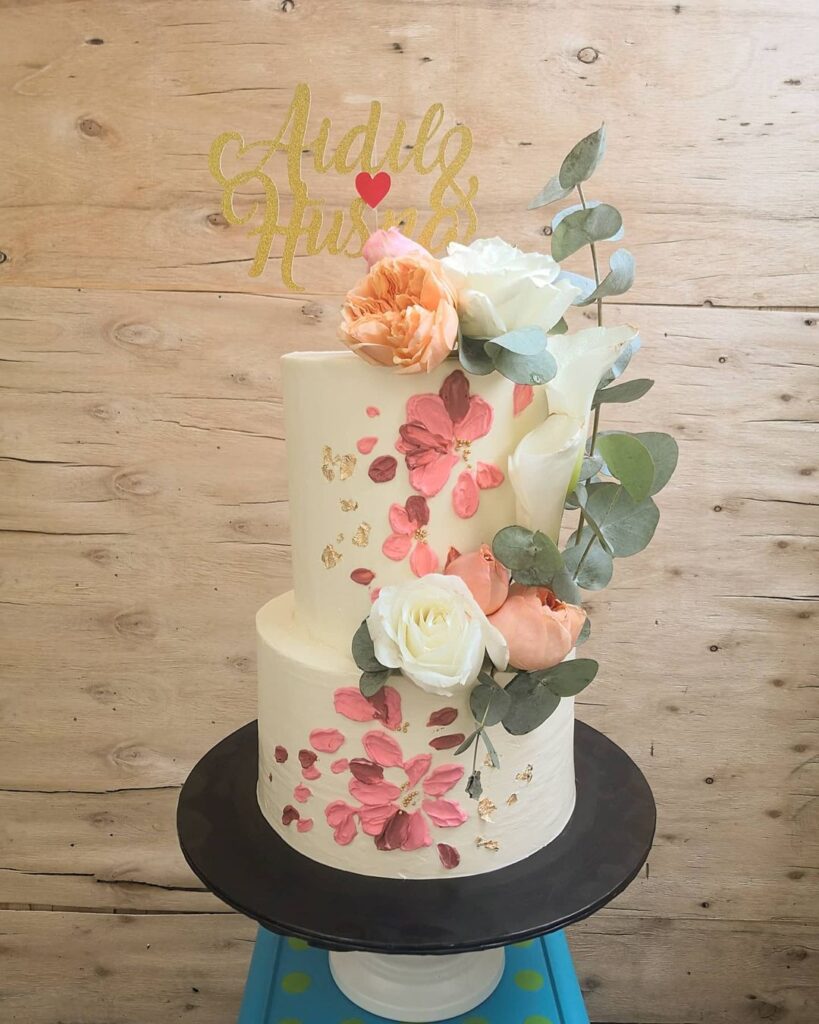 Courtesy: Mahathir Mustapha
Opt for an eucalyptus garland for wedding cake alongside flowers, and mix and match between fresh and painted. The blooming theme is super gorgeous and can make for a superb fit for any kind of celebration. Choosing a statement cake like this is all about finding the right baker who can do more with less and uses their ingenuity to give you a dessert that you will cherish forever! 
#9 Wow With Majestic Patterns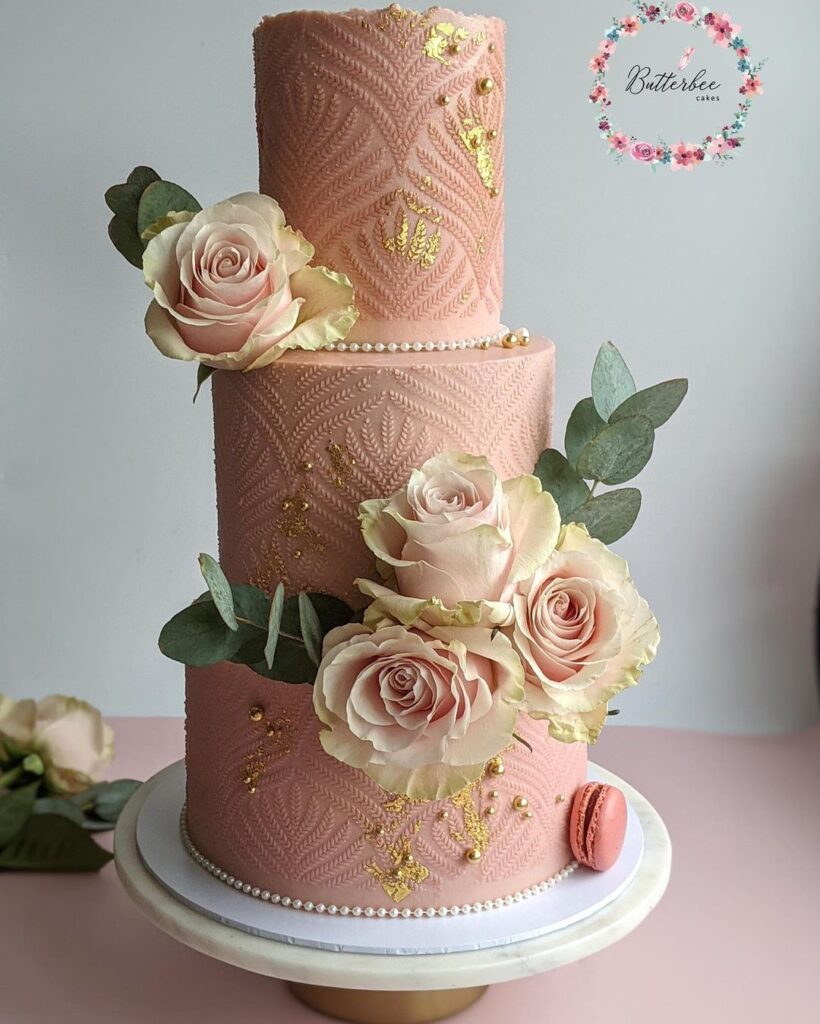 Courtesy: @butterbeecakes
Pink wedding cakes are romantic, pretty, and charming. Therefore, it's hard to not consider a pink wedding cake for your celebrations. The next one is eucalyptus-themed as well, so you can have both your favorite decoration choice and color in one idea! 
#10 Set The Scene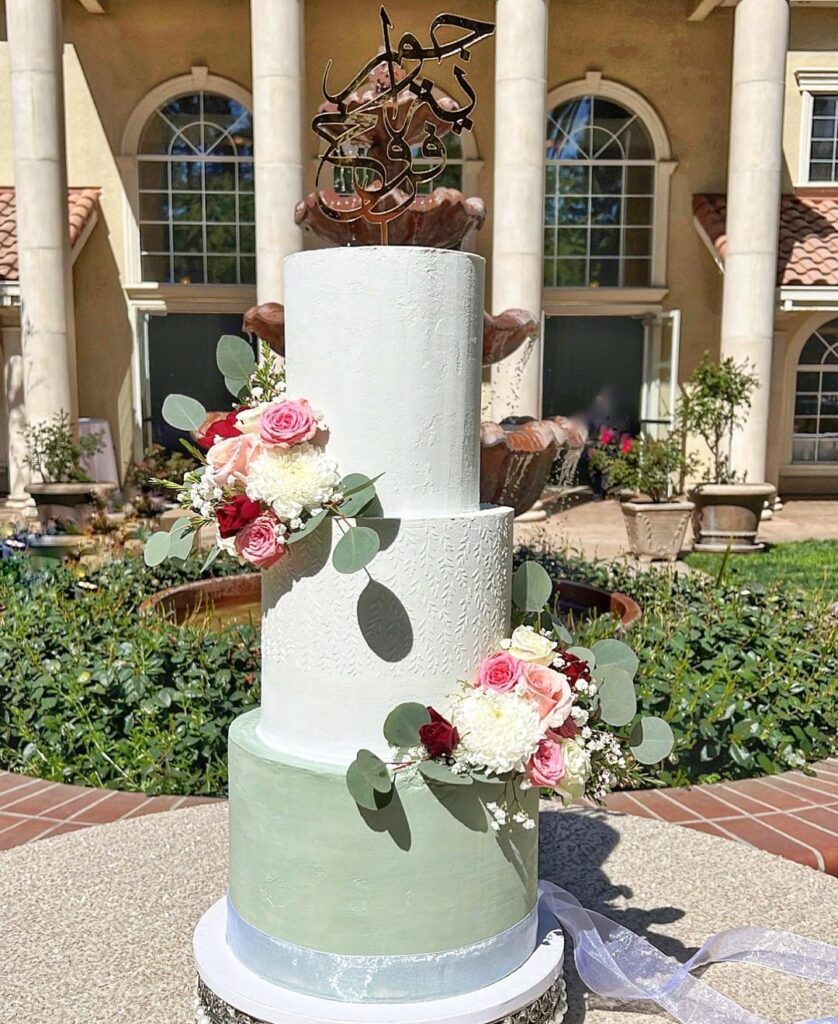 Courtesy: Ehsan Tahir
Having a garden wedding? It's likely that you're a lover of nature and all things green. Why not express it explicitly by putting foliage on the cake and also making one of the tiers green? One of the amazing summer and fall wedding cake flavors to try which gives you green frosting on the outside is matcha! 
#11 The Love For Naked Wedding Cakes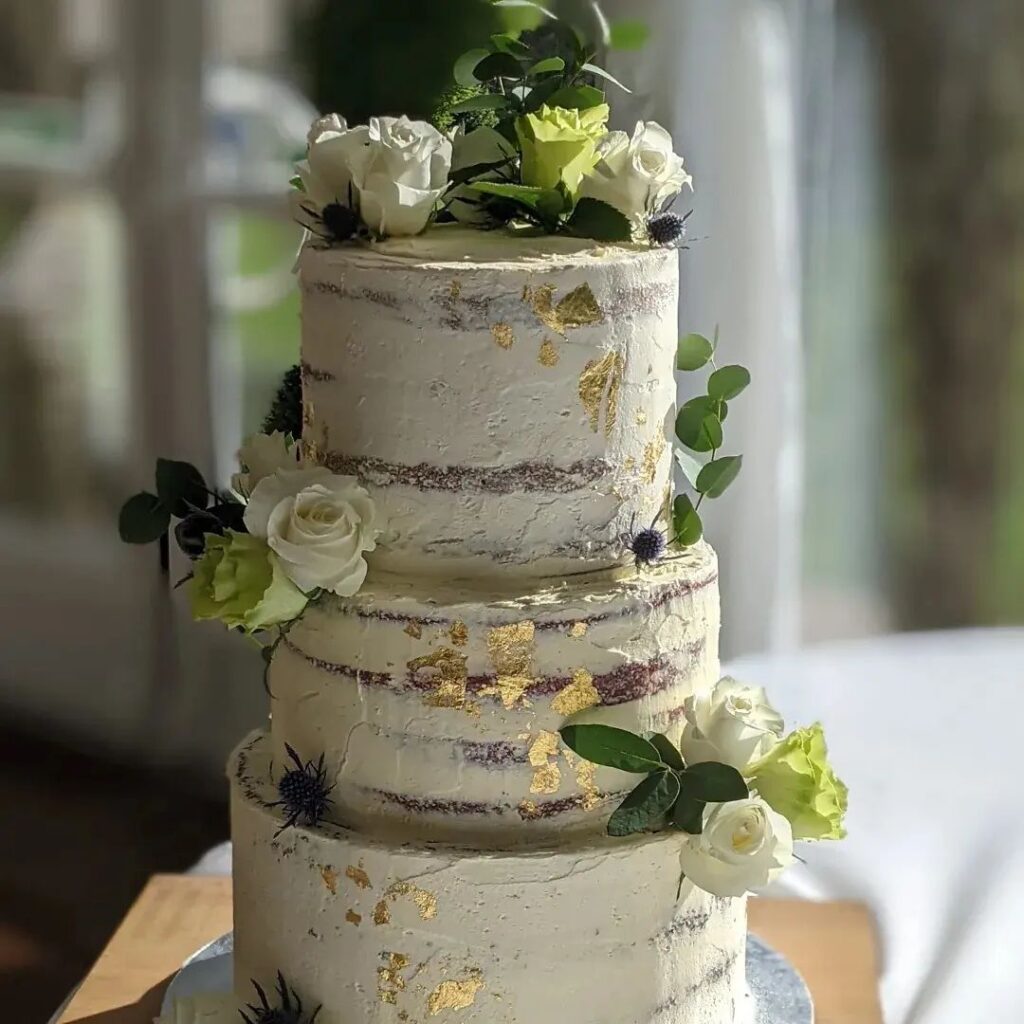 Courtesy: @pibaking
A naked wedding cake with eucalyptus is an easy find! Somehow eucalyptus has those rustic, boho vibes that goes with the theme of a naked cake perfectly. This three-tiered cake has eucalyptus, white roses, and golden foil to decorate the dessert and it's just a beauty that you'd want to stare at all day! 
#13 Embellish Just The Rims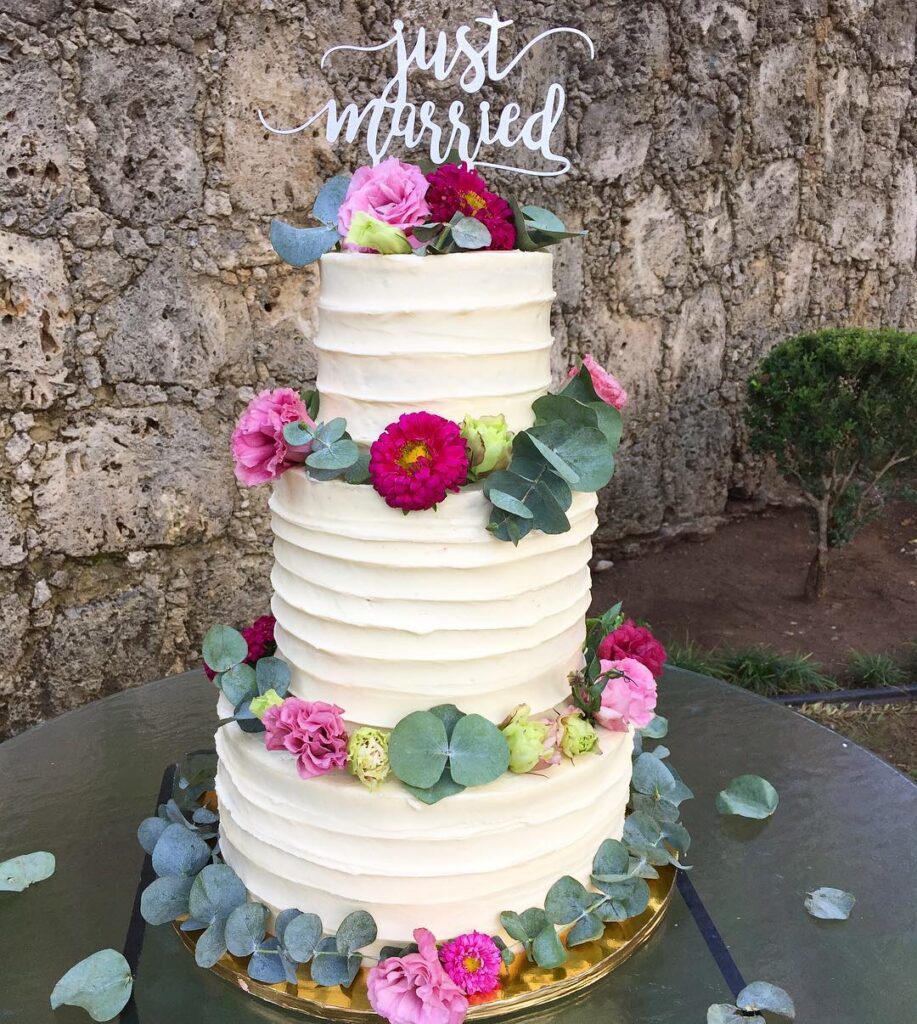 Courtesy: @cakeawishmty
This three-tiered textured cake includes a variety of florals and foliage on the rims of each tier to bring a romantic yet delicate look to your reception. The texture further adds a playful element to this stunning piece of confectionery. 
#14 Overflowing Florals 
Courtesy: @baking_artsy
While a towering, multi-tiered cake is what the majority of couples opt for, you certainly don't have to choose it if a single-tiered cake is more of what you think works best for your D-Day. Also, know that a one-tier wedding cake can be just as creative, statement-worthy, and impactful as a multi-tiered wedding cake. Let's take eucalyptus on wedding cake, for example. This tall single-tiered cake stands out among the rest despite its smaller size and uses leaves and flowers in abundance to make an impact. 
#15 Just A Trail Of Eucalyptus Leaves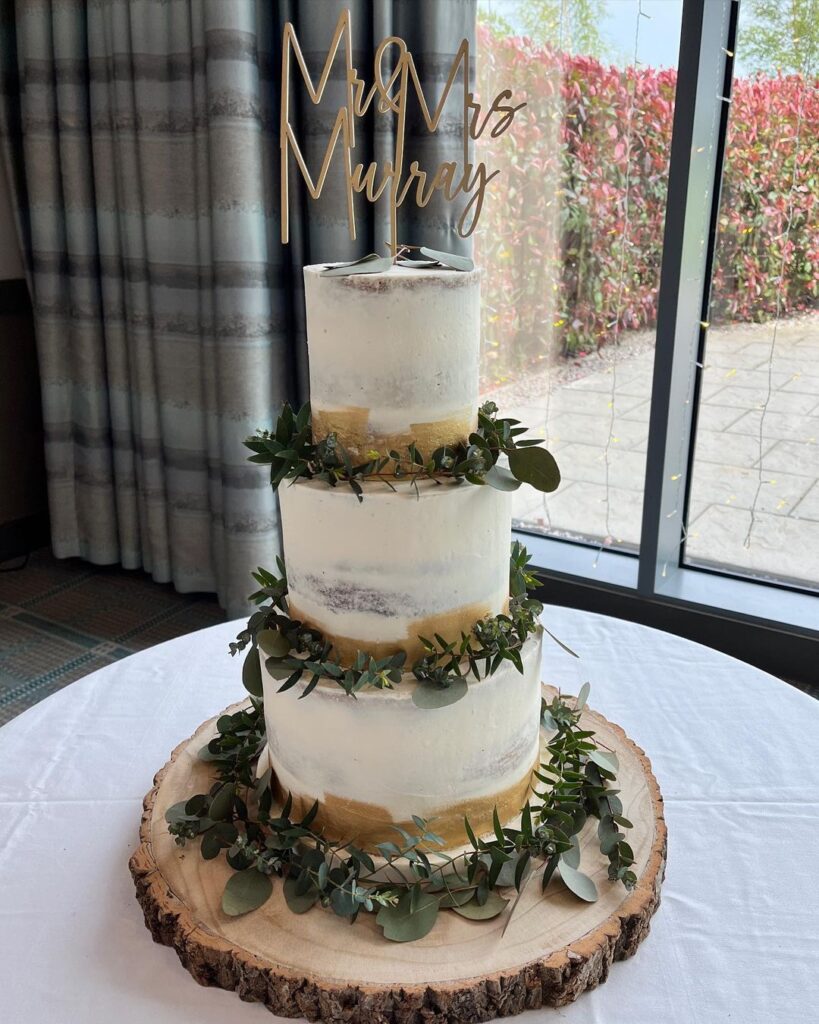 Courtesy: Cakes by Kirsty
Since eucalyptus leaves aren't edible, enhancing the tiers with trails of eucalyptus branches makes it easier to remove them during serving without compromising the aesthetic. The wooden brown accents is the perfect color to align with the forested or barn celebrations, but you can change the hue and the decor as per your wedding theme. 
#16 Elevate With Dried Pampas Grass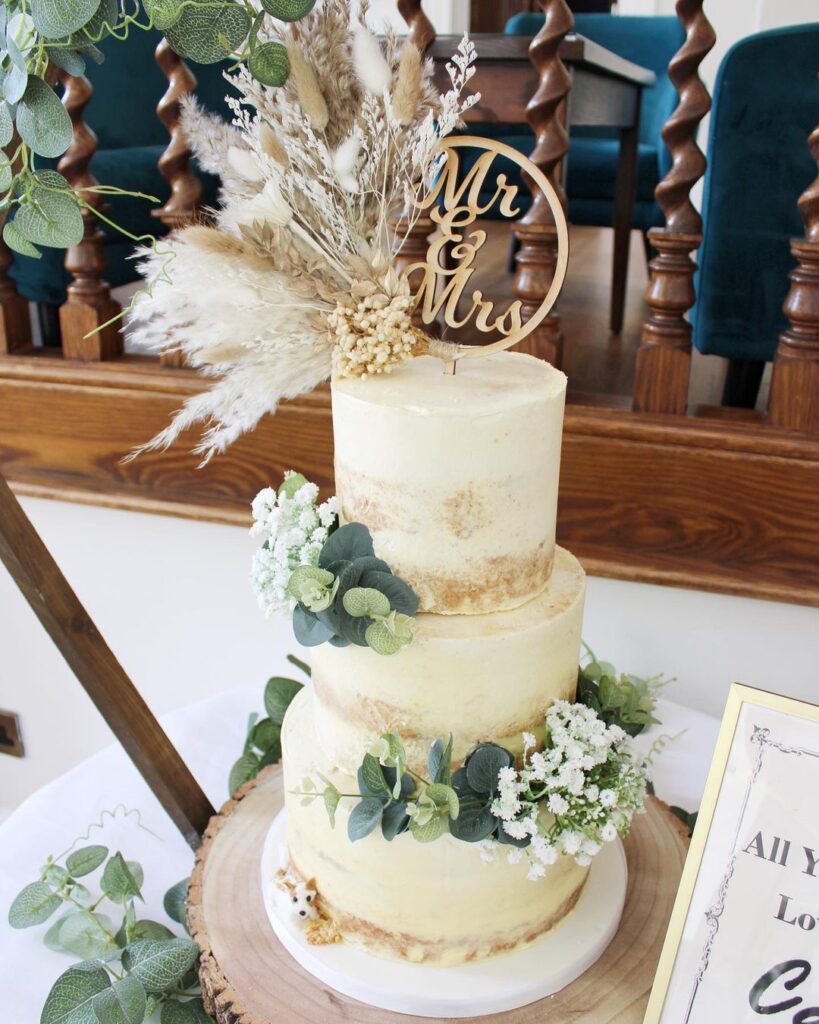 Courtesy: @amybakerscakes
Dried pampas grass is everywhere! It's a boho element to add to your special day whilst also adding opulence in abundance. You can always add it as a cake topper to complement your eucalyptus wedding cake decorations or in the cascade or clusters for a suave appearance.  
#17 Embrace The White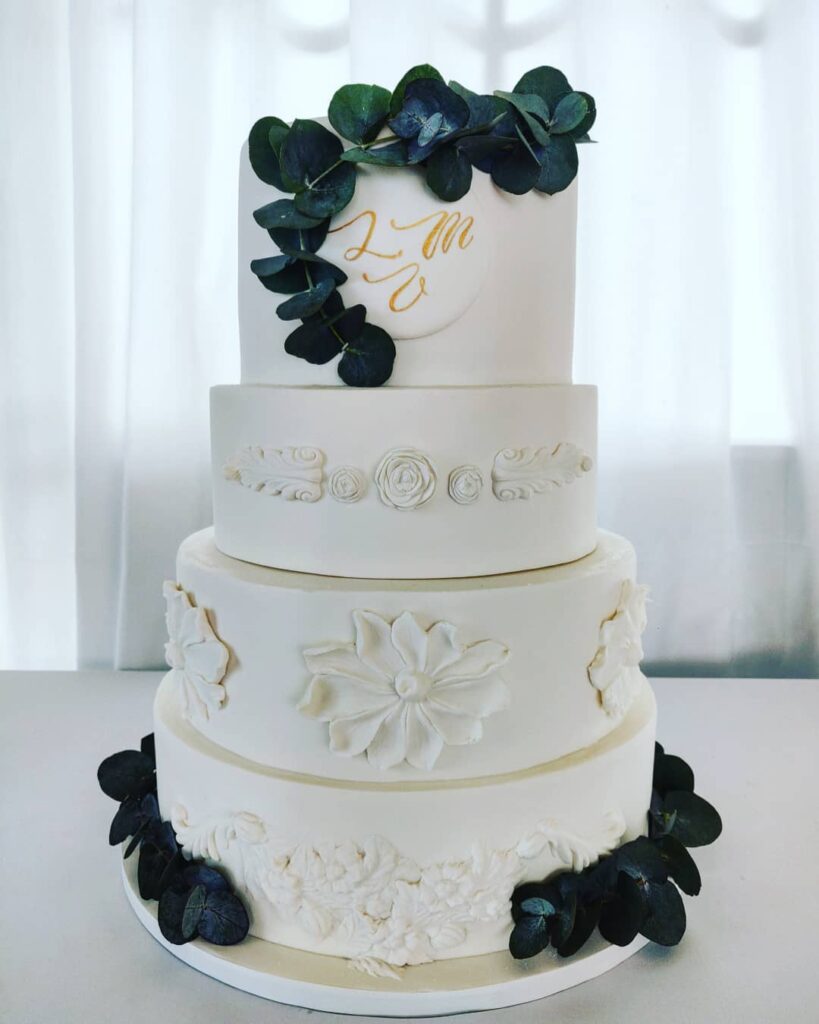 Courtesy: Cupsicake
Do you know why the wedding cakes are white? Traditionally, white was seen as a symbol of purity and also had to align with the bride, making white the go-to color. Further, as refined sugar was considered a luxury back then, it was also used to signify the family's ability to afford the sugar. Moving away from the symbolism, white is still considered THE color of the cake and is revered for its pristine and elegant look. If you're in love with the white hue for wedding elements as well, take this simple eucalyptus wedding cake as an inspiration for your own special day! 
#18 The Trending Drip Wedding Cake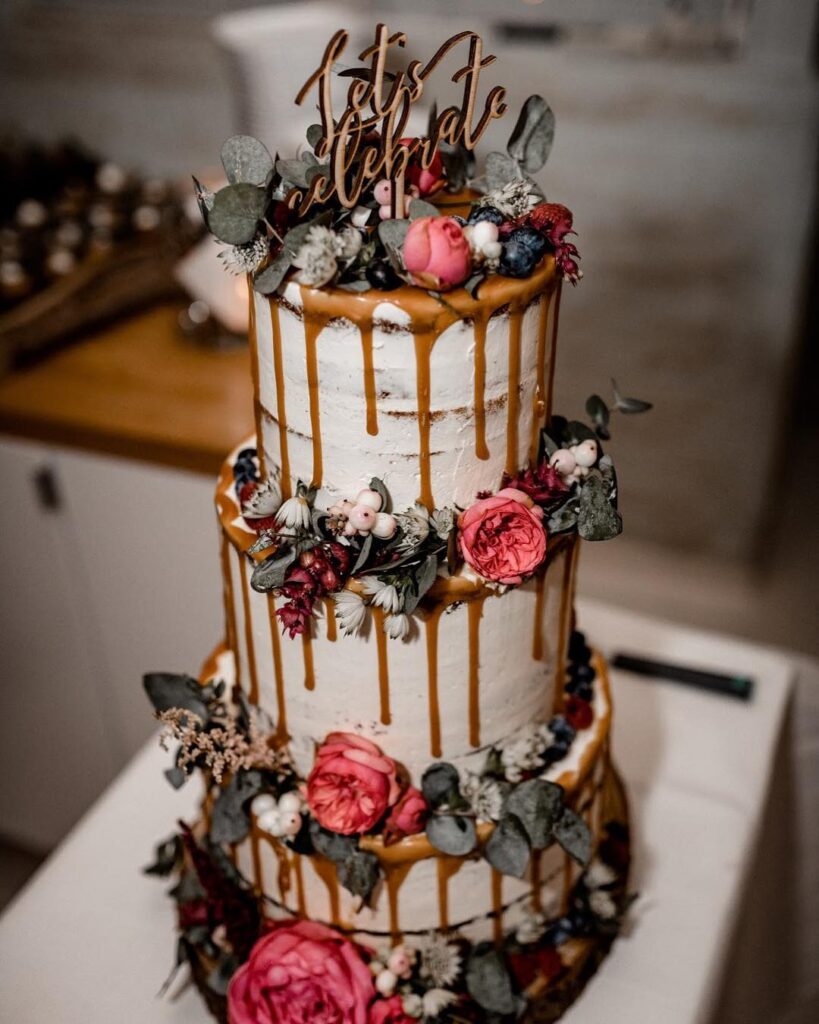 Courtesy: The Baker's Wife
Drip wedding cakes are a new and stylish wedding trend that adds a playful touch to your main dessert. The next eucalyptus themed wedding cake uses this element along with other foliage, florals, and toppers in a dark-color palette, making it ideal for a rustic wedding celebration. 
#19 Mix Fruit With Flowers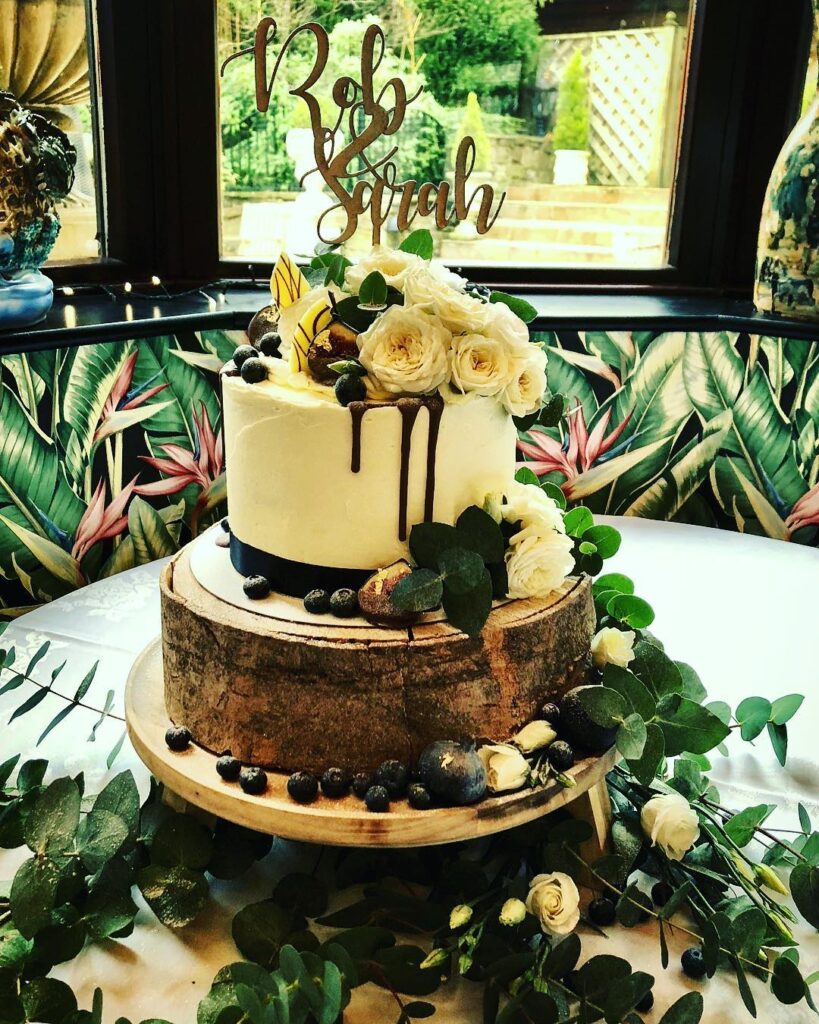 Courtesy: @the_barn_bakery
Embrace the bounty of blooms with fresh fruits! We love how this cake has many contrasting elements and yet all of them come together beautifully for an excellent appearance. There's a chocolate cake layer followed by chocolate drip followed by luscious berries, blooming roses, and refreshing leaves that adds up amazingly for a wedding cake that will turn heads over and over again. 
#20 Choose Golden Foil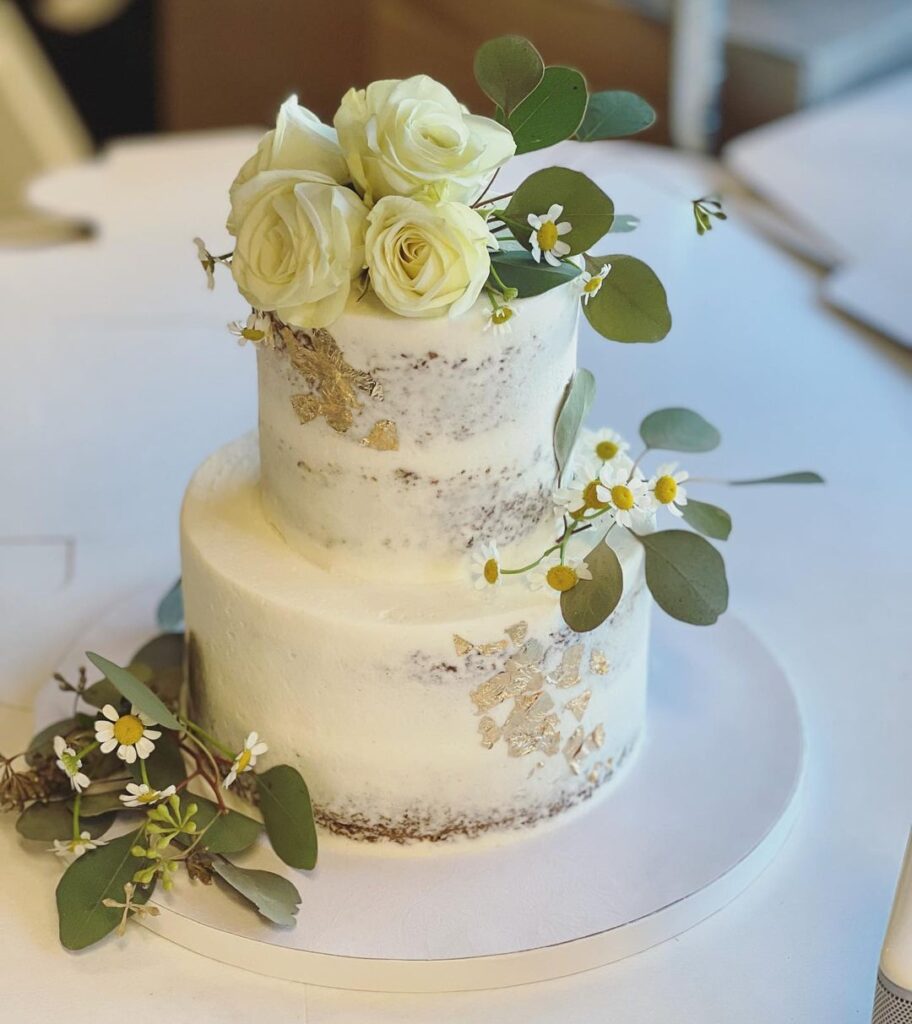 Courtesy: Yvonne's Vegan Kitchen
This naked wedding cake with eucalytpus is gorgeous in more ways than we can describe. It has a beautiful semi-naked finish – which trust me not all naked cakes are able to exude! Next, it's decorated with twigs of daisies interlaced with the leaves and lastly, all the florals and foliage are arranged nicely for a magnificent appearance. 
#21 Let The Simplicity Shine Through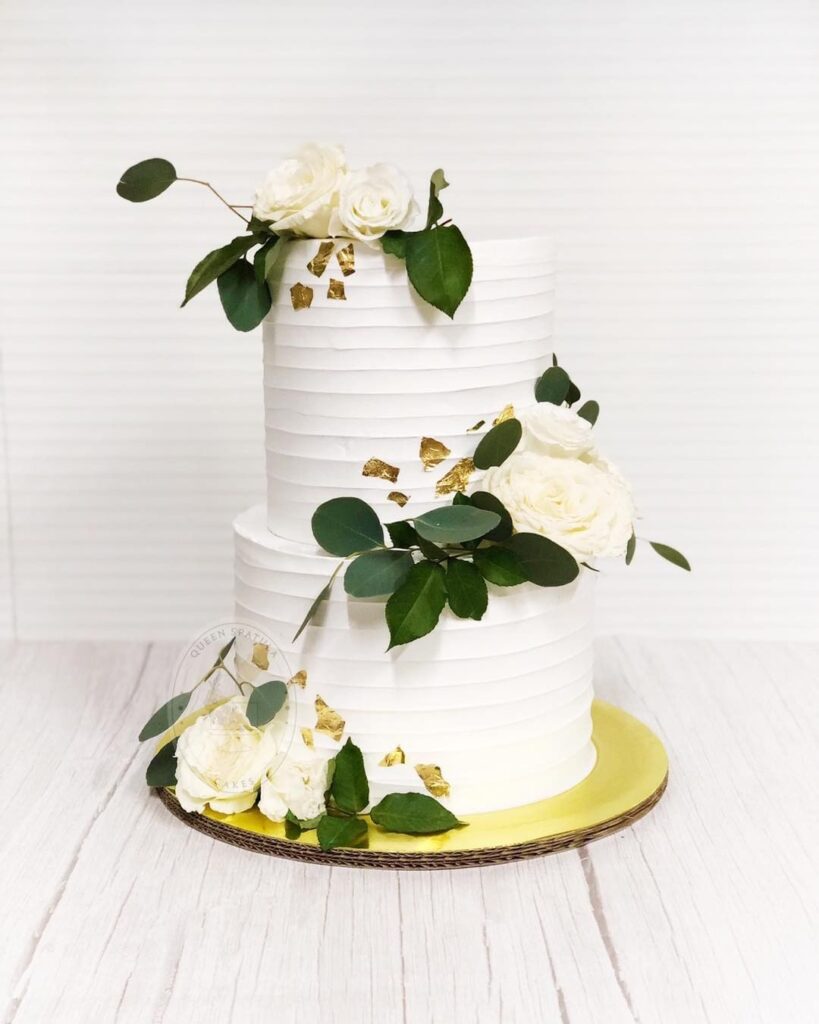 Courtesy: Queen Spatula Cakes
Add some wow factor to a tall two-tiered white wedding cake with greenery and white florals. Eucalyptus leaves on wedding cake are often added with white flowers because the combination goes well, but you don't have to just stick to this basic collaboration. Add any small element to make the cake stand out. Like here, touches of golden foil embellishment do the trick. 
#22 Add A Cascade Of Leaves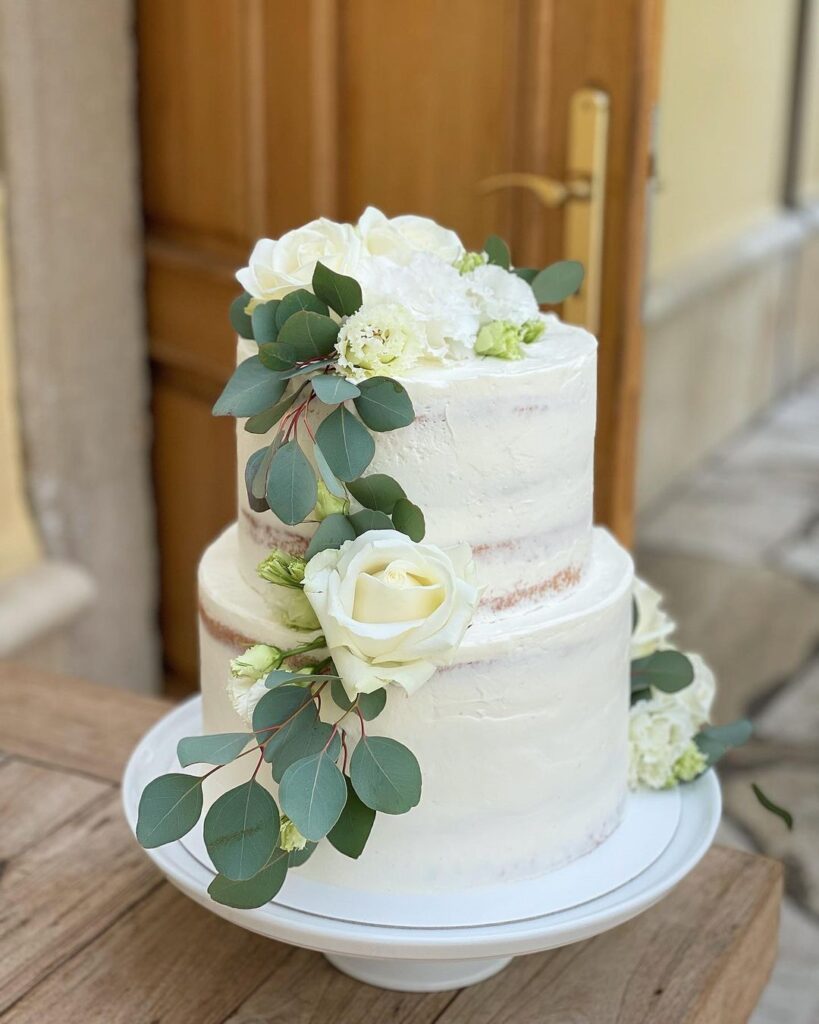 Courtesy: Annamaria Wurster
Cascade immediately gives a creative and striking vibe to your wedding cake – no matter how minimal or extravagant it may be! This two-tiered creation has leaves as the cascade with fresh white roses added as an adornment as well. Some of the bread peeking through makes this semi-naked cake perfect for any kind of celebration – from formal to rustic to a barn wedding! 
#23 Trail For A Semi-Formal Celebration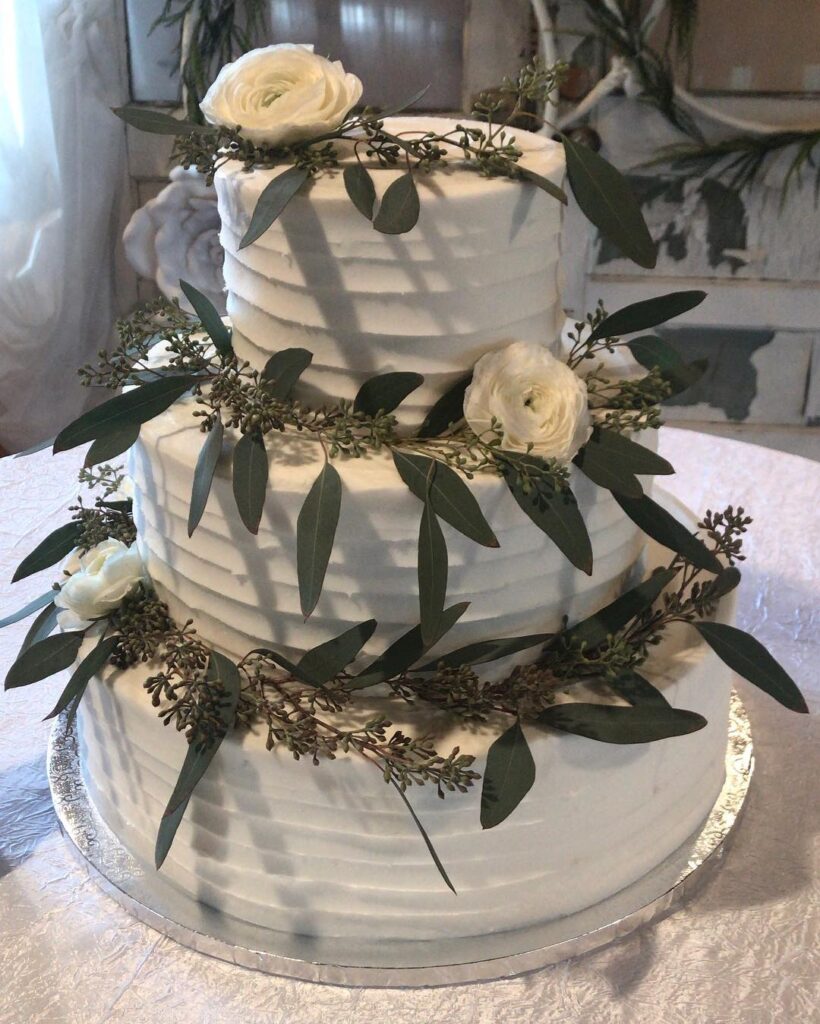 Courtesy: Allison Davis
Eucalyptus comes in many varieties and you can add in any kind depending on your aesthetic choice. Though, know that some types are toxic and shouldn't be used on the cake (even with the edible glaze). Trust your baker to have this information though! This textured cake instantly becomes pretty when a trail of eucalyptus leaves is added with some fresh white flowers on the rims. 
#24 Wow With Chunky Florals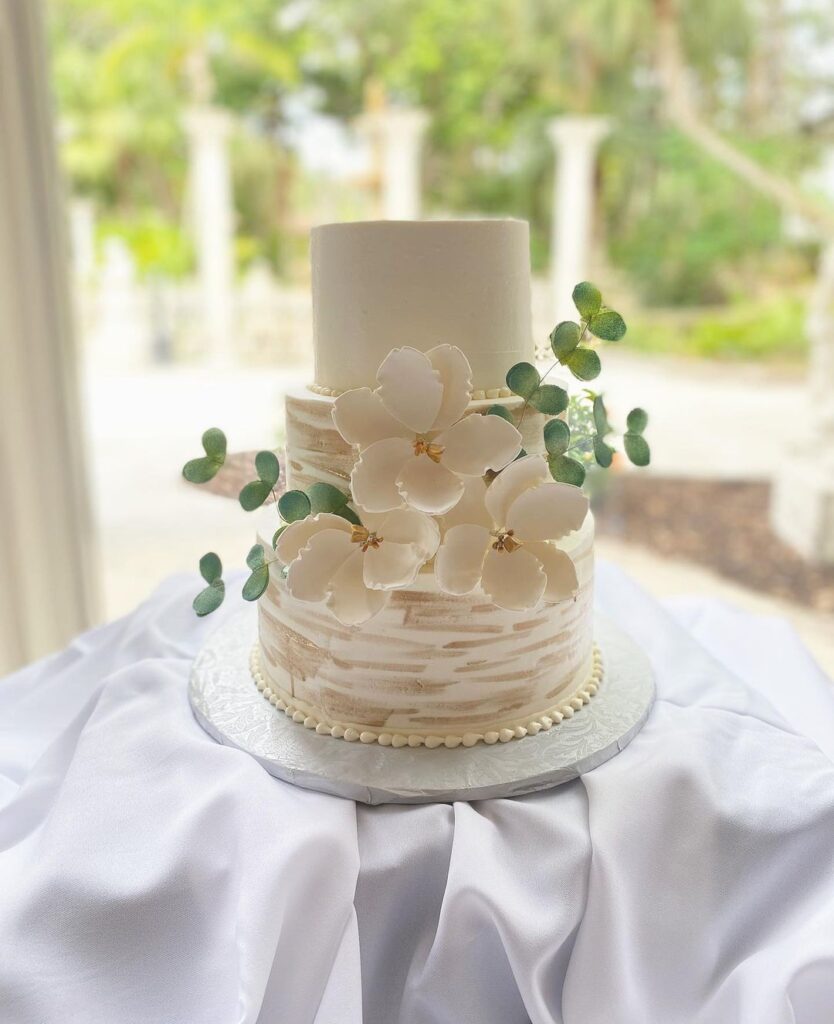 Courtesy: @apieceofcaketampa
Sugar florals are always a convenient and winsome option to add to your eucalyptus wedding cake decorations. They just add an ingenious vibe to the dessert and are also food-safe. FYI: Sugar flowers will often cost more than using natural flowers on the cake as it requires more effort and time. Plus, putting sugar flowers also requires extra management to ensure they don't get spoiled. So prepare to add some extra $$$ to the cake budget if you want sugar florals on the cake.  
#25 Branch Accent With Texture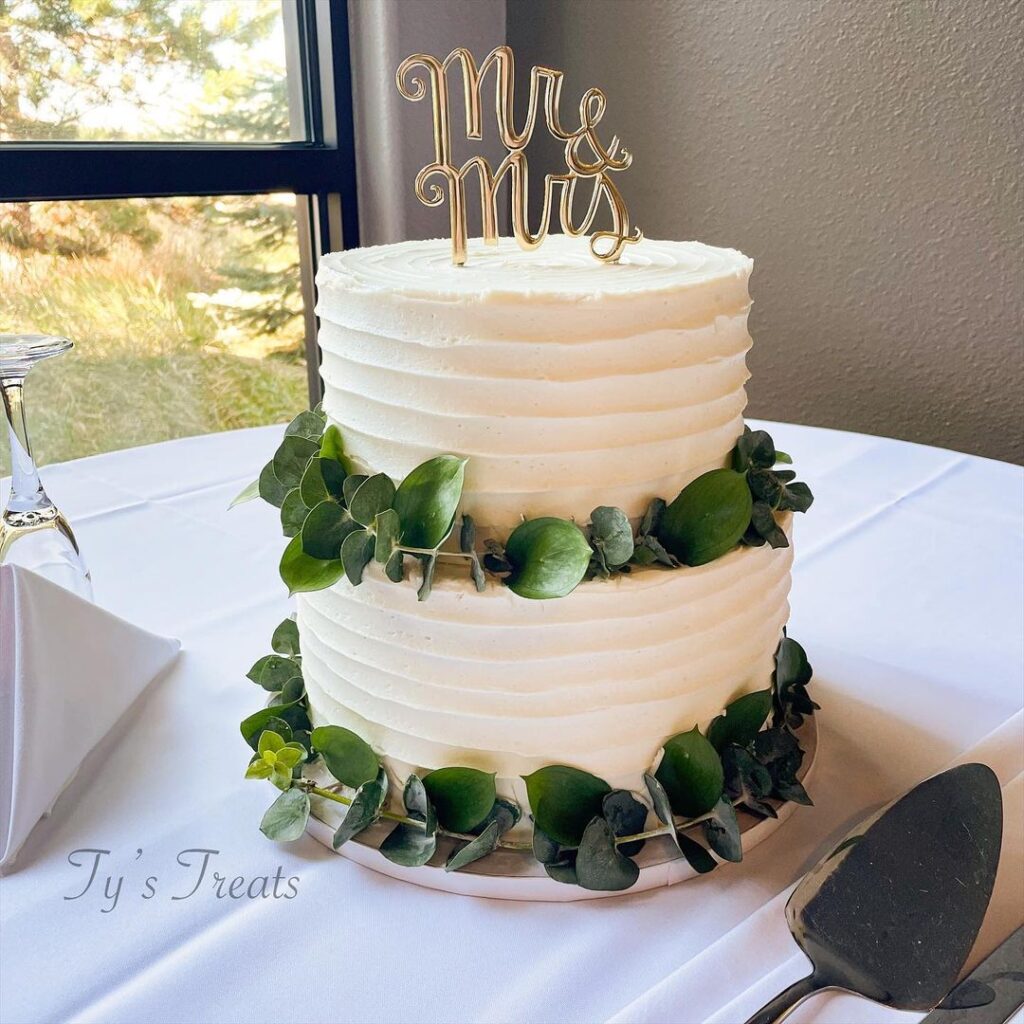 Courtesy: @tystreatscake
Your cake is the star of your wedding reception, but it doesn't have to be extravagant to become the star. Sometimes simplicity aligned with elegance and a dash of creativity is all you need to make your wedding cake shine through the glistening reception party. With branches of eucalyptus leaves as the border, this cake immediately evokes sophistication and brilliance. 
#26 Go Monochromatic With a Hint Of Green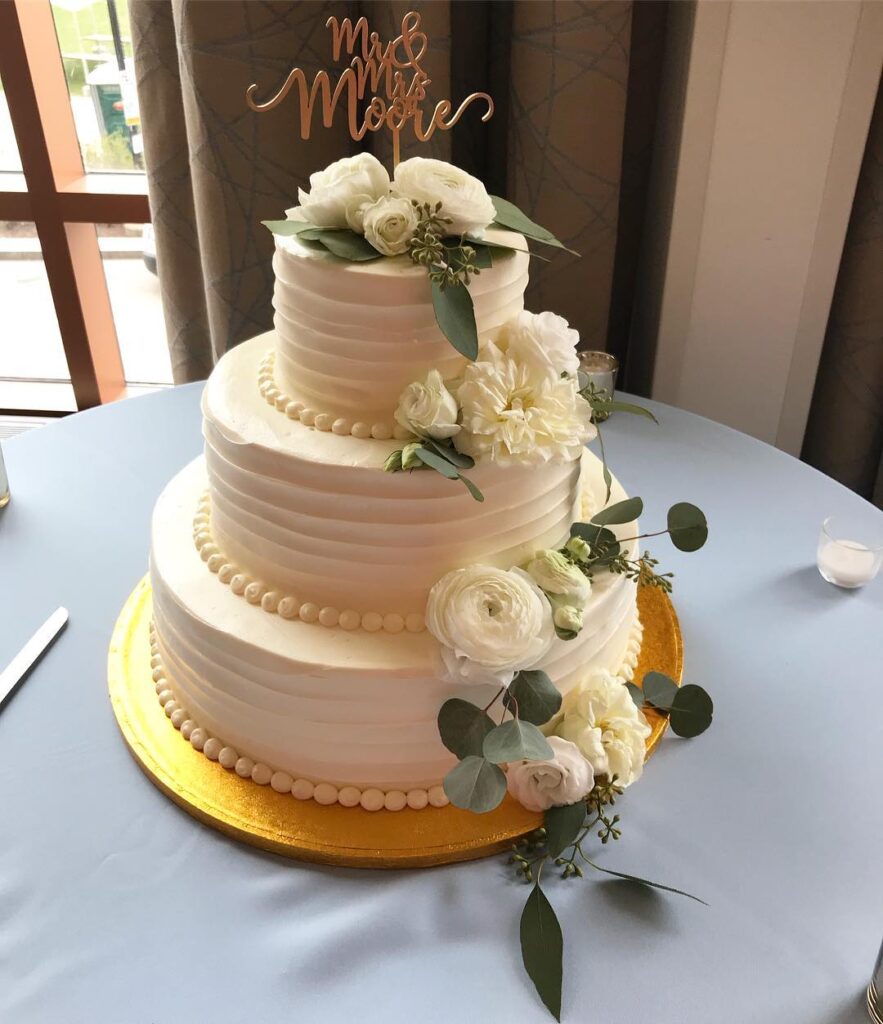 Courtesy: @communityflowershop
We absolutely love how this couple let their white wedding cake shine through by keeping the adornments minimal yet pretty! To add another alluring element, the cake is textured and has dots lined on the rims of each tier for a ravishing appearance that's sure to woo the guests! 
#27 Create A Bold Cascade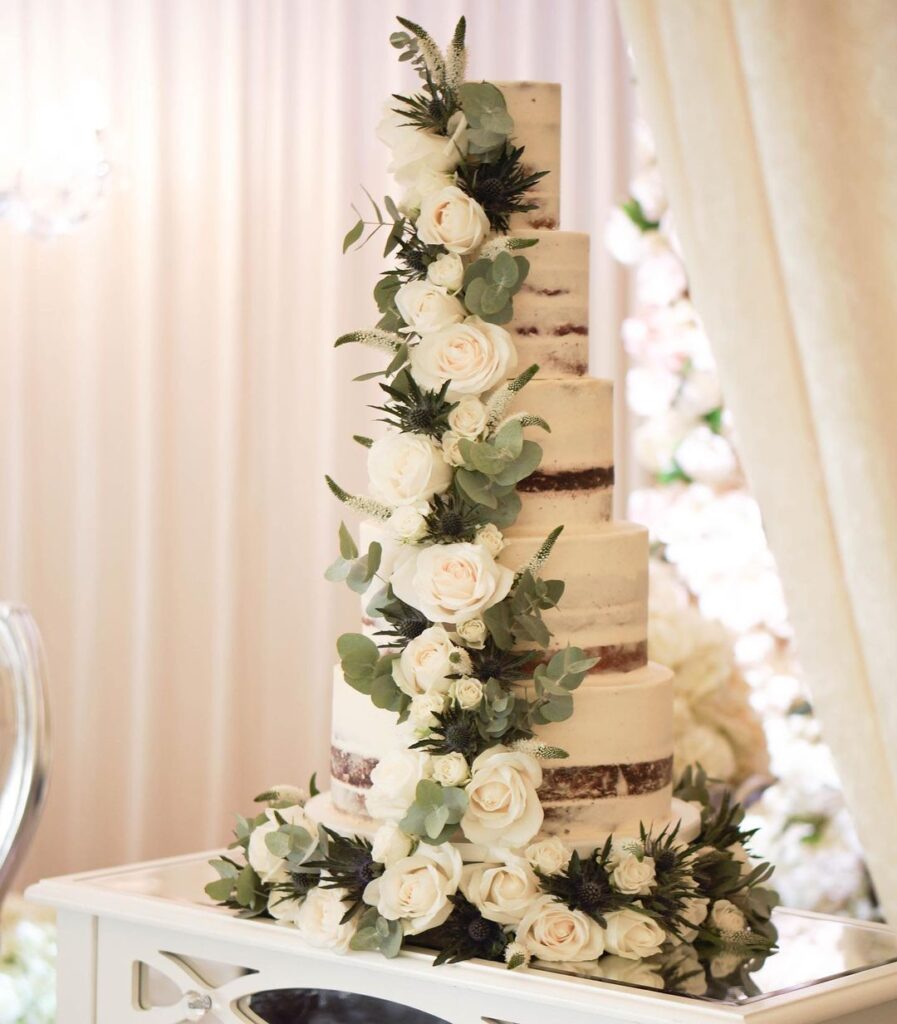 Courtesy: @annacakecouture
For a sophisticated yet eye-catching appearance, choose a voluminous cascade of fresh roses and leaves that proves to be an ideal accompaniment to this multi-tiered semi-naked wedding cake. The cascade is extended throughout the base of the cake for a remarkable look and design. 
#28 Pretty In Pink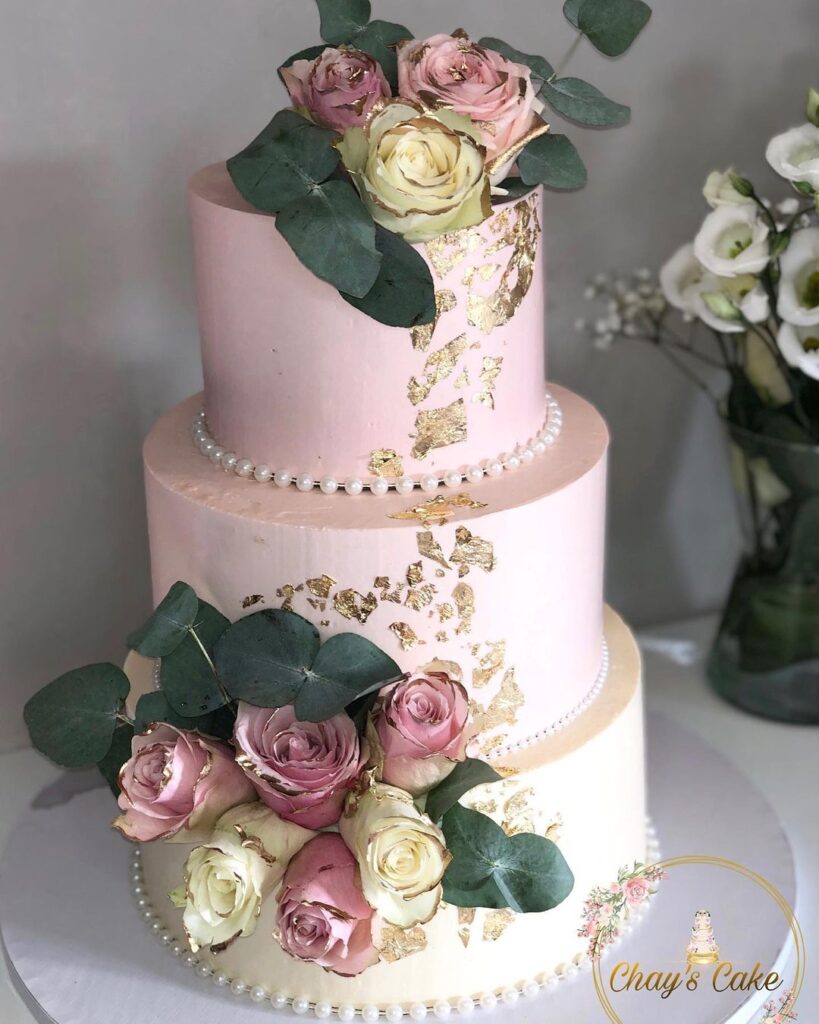 Courtesy: @chays.cake
For someone who loves all things pink, I don't see why a pink wedding cake would make for an incredible choice for anyone's nuptials. Pink is romantic, and natural, and adds a whimsical element to anything it's added. This pink eucalyptus wedding cake is decorated with pearls and clusters of roses for a clever enhancement lending an elevated appearance.  
#29 Embrace Elegance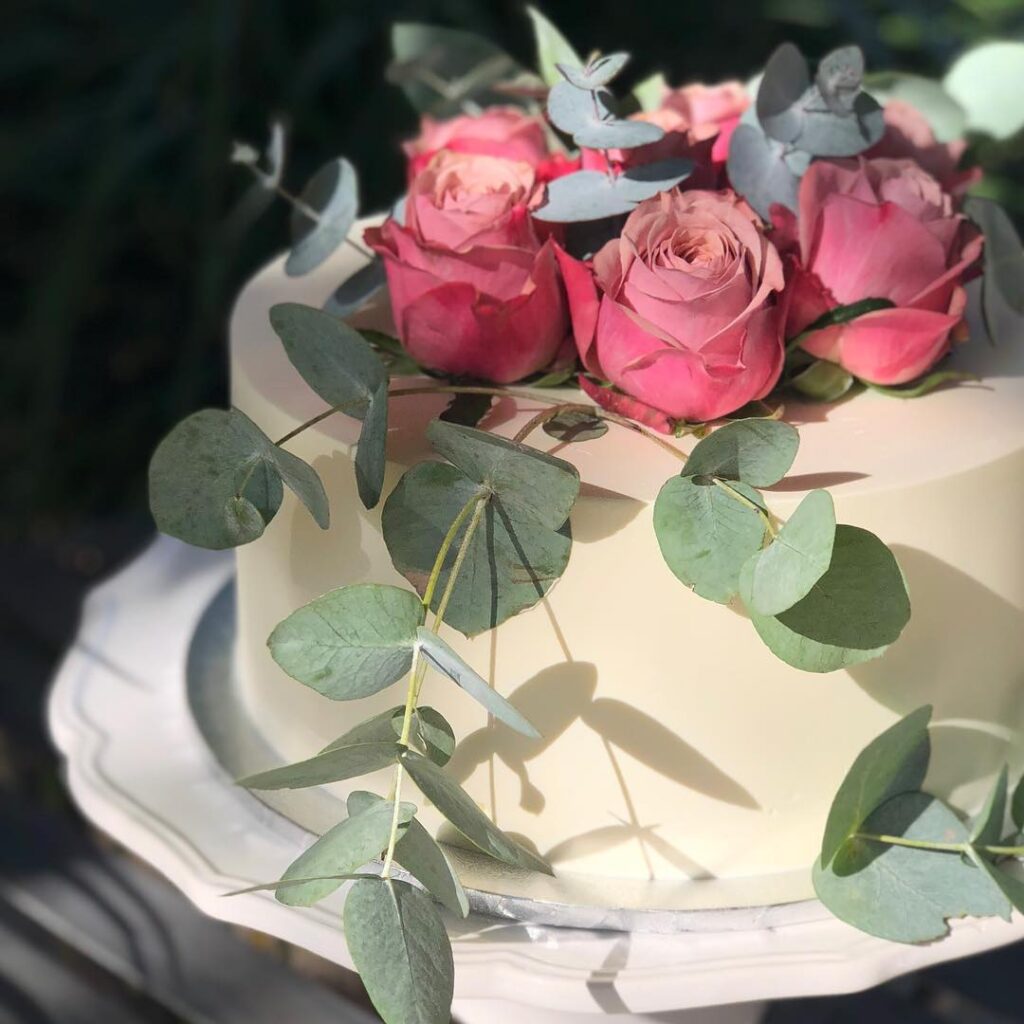 Courtesy: @mydubaiwedding
We love how this couple didn't give into the pressure of having a fancy, multi-tiered cake as their main dessert and instead resorted to a small yet statement cake for their wedding day! The pristine white cake was adorned with fresh roses and eucalyptus stems to make it visually appealing to the guests. 
#30 Make Your Love For Greenery Evident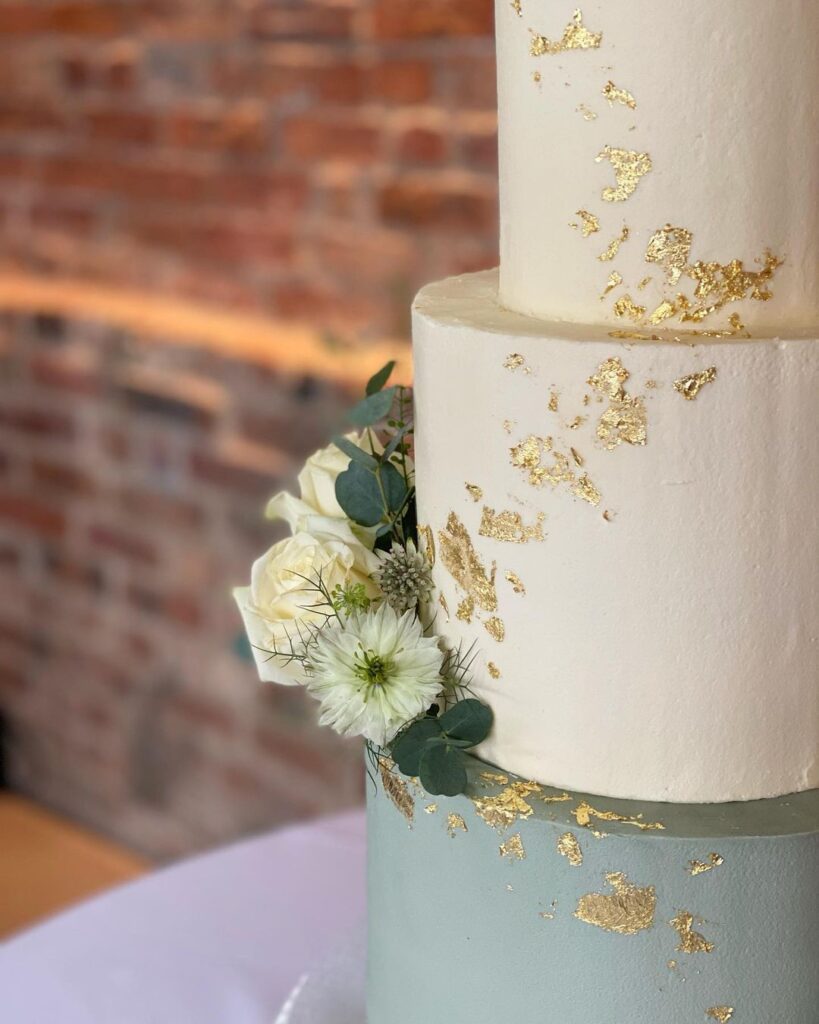 Courtesy: @baked.by.alice
Your wedding cake is more than just a dessert – it's an extension of your personality. Just like every other element of your wedding, make it into something that reflects your tastes, like your love for greenery and Mother Nature. This wedding cake with eucalyptus has a green tier on the bottom while the golden foil adds a subtle touch of whimsy.  
#31 Just The Right Florals Details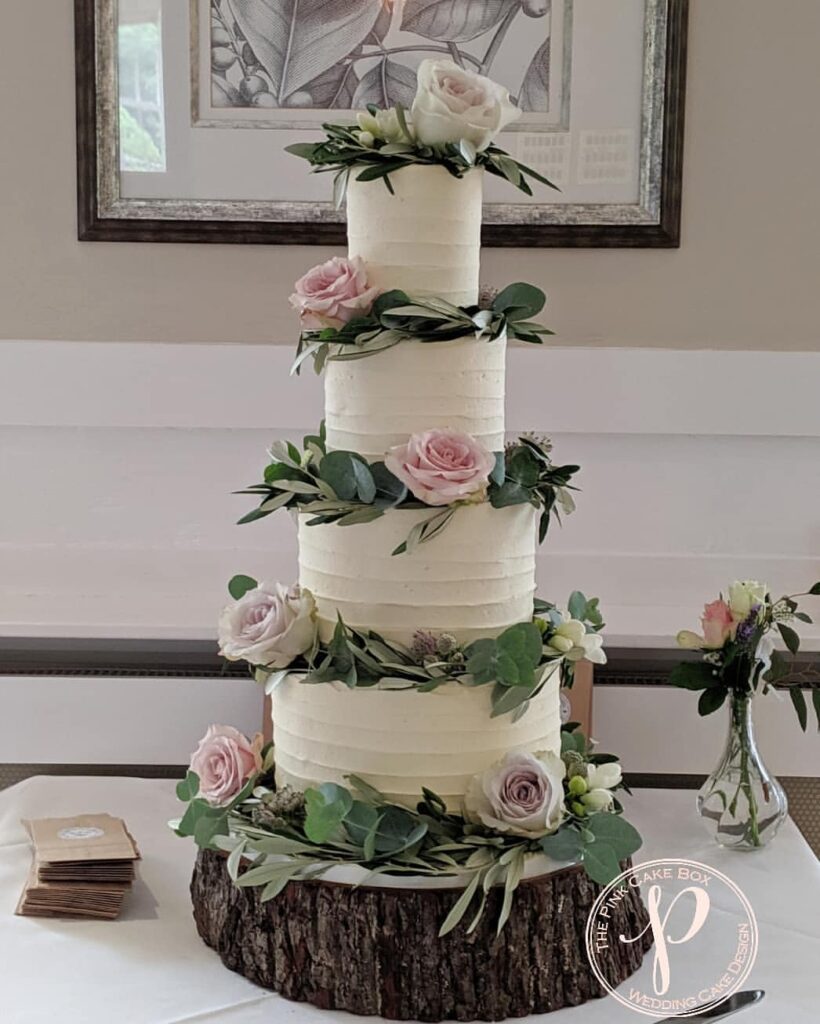 Courtesy: @pinkcakeboxuk
A eucalyptus-themed wedding cake, but add some freshness with pastel-colored flowers. This type of decoration can be replicated on any number of tiers, even a single-tier cake with an eucalyptus garland will look amazing with this sort of adornment. 
#32 Mix Fresh Foliage With Sugar Flowers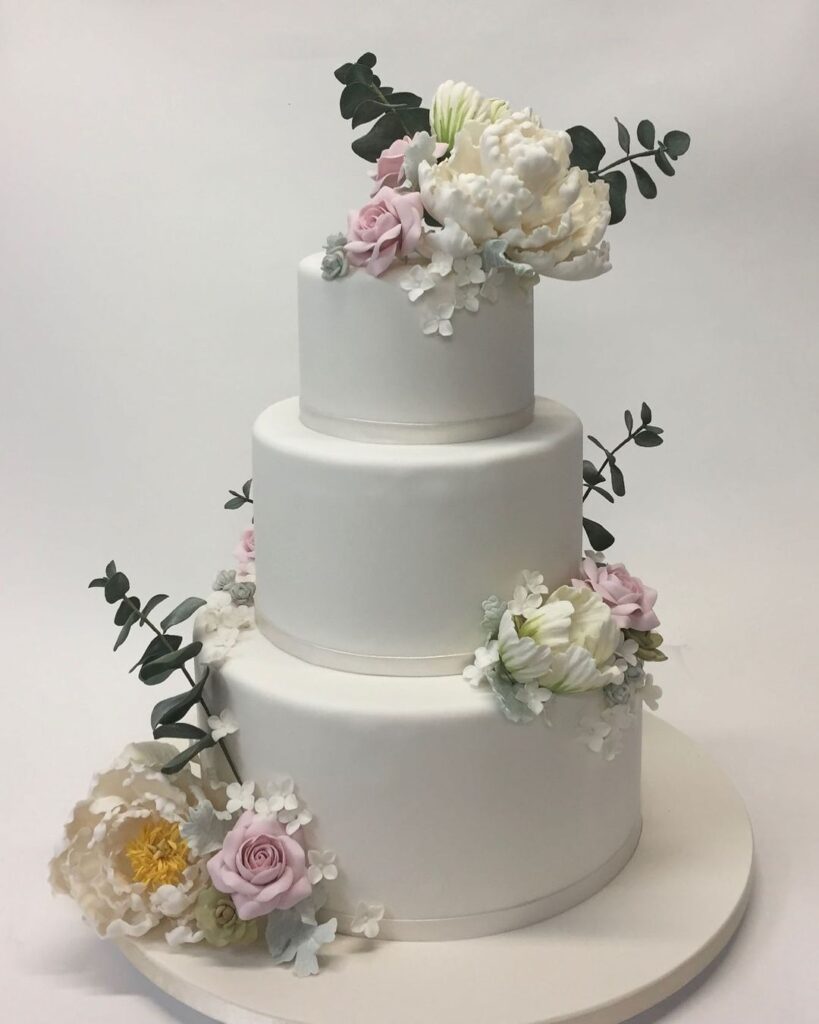 Courtesy: Charlotte Neuville
The mix of fresh flowers and sugar ones is undeniably feminine and romantic. We love the way the flowers were left to speak for themselves on a white canvas. 
#33 Exude Elegance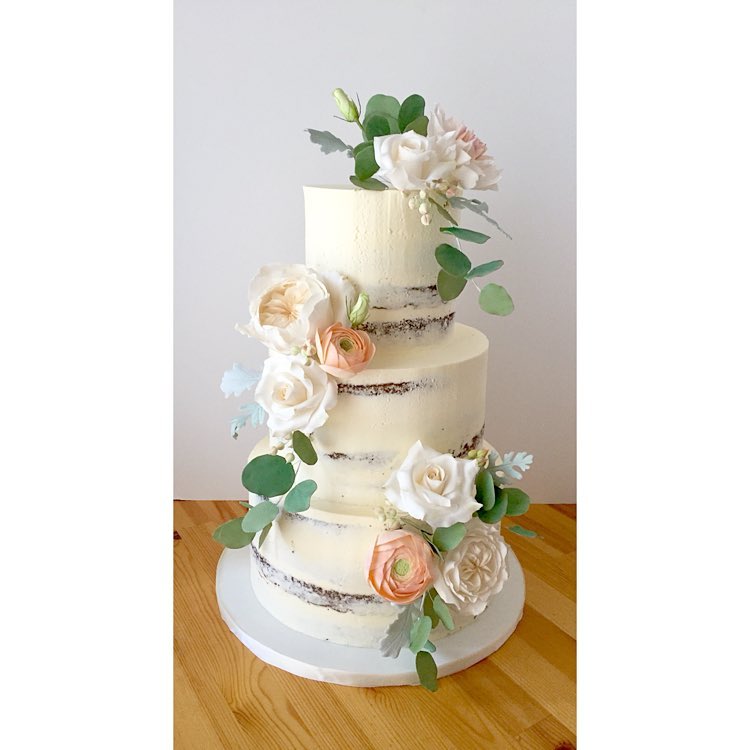 Courtesy: @sweet_savor
This naked wedding cake with eucalyptus is ideal for a springtime wedding with flowers in perfect pastel shades. The confection is further proof that you don't need exotic blooms to make your dessert shine. Just the right assemblage of florals and foliage can do the trick. 
#34 Blooming Florets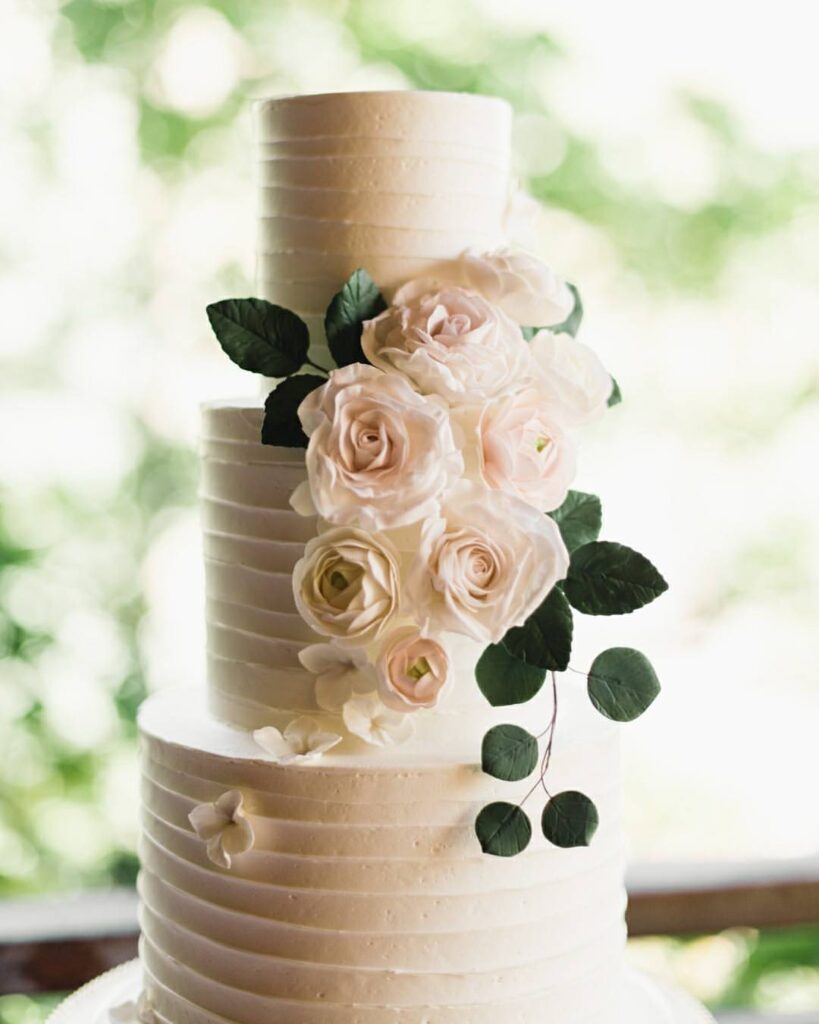 Courtesy: @flourandflourish
The fresh white roses on this eucalyptus wedding cake make it look like they were plucked straight from the garden. The minimal greenery is the perfect match to the otherwise pristine ivory color.  
#35 Goodness of Chocolate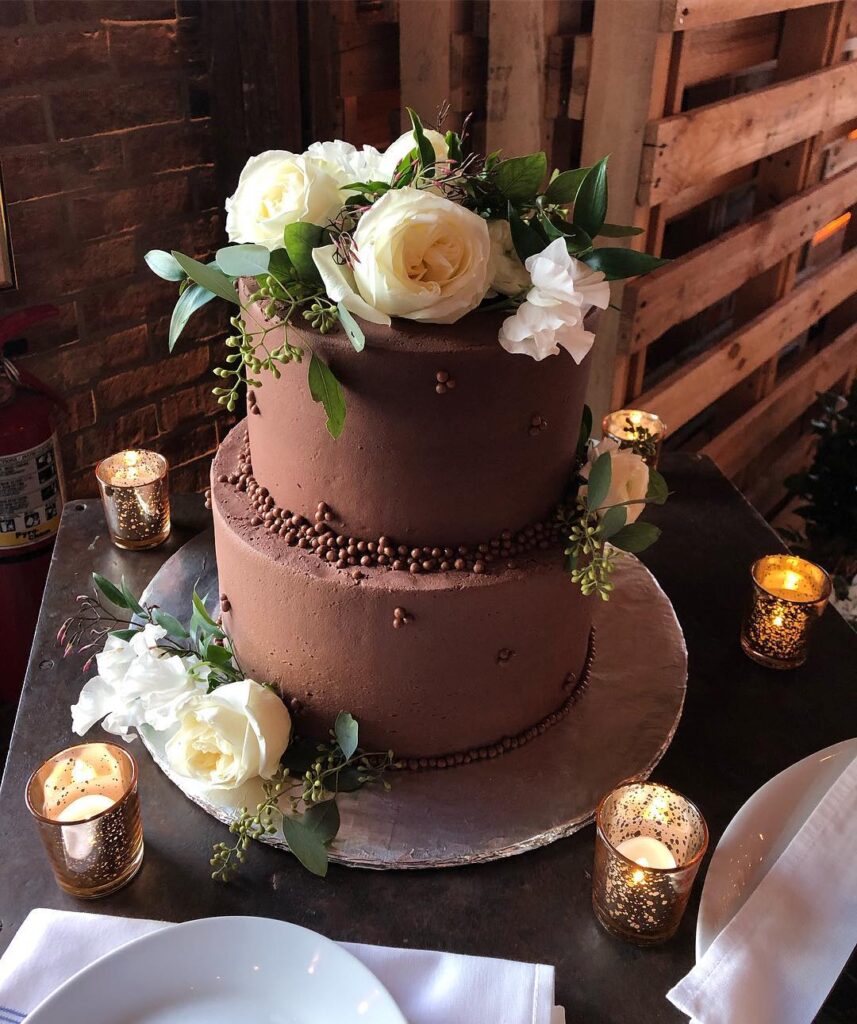 Courtesy: @tangledwebfloral
Your wedding cake doesn't have to be the basic vanilla dessert – especially if you don't want it. A decadent chocolate cake can be just as fitting for the ceremony. As a lovely finishing touch, some blooming florals and fresh foliage will make this confectionery reception ready. 
#36 Can You Smell The Summer?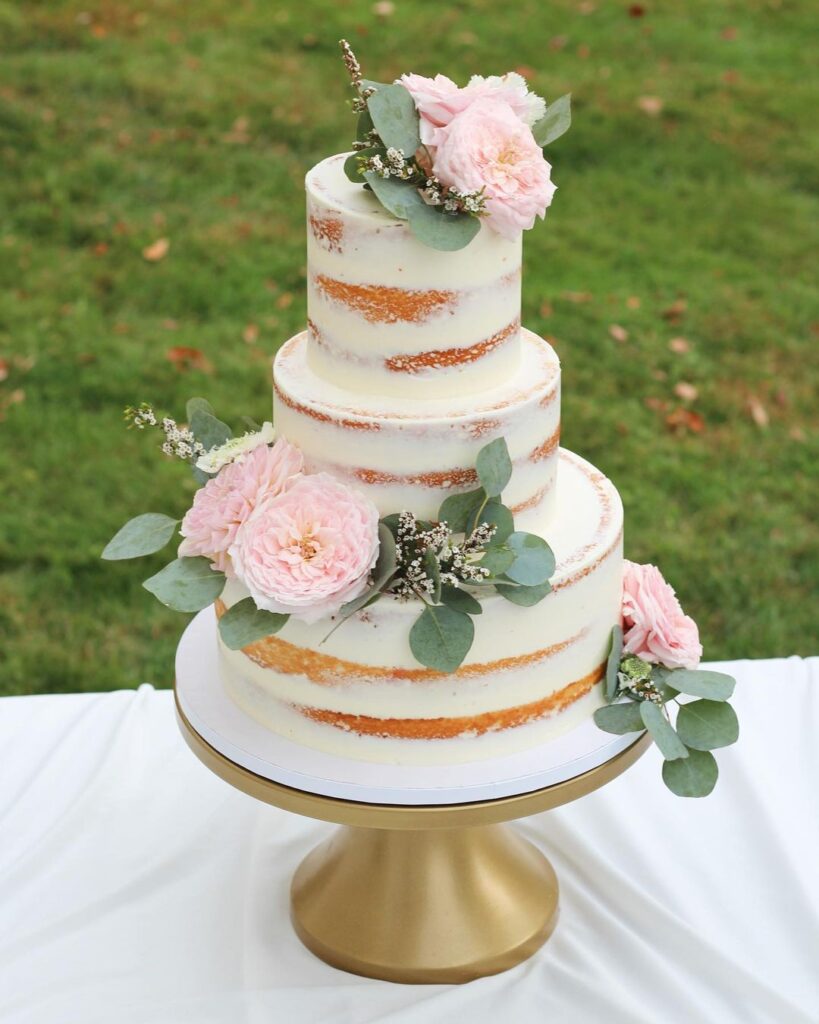 Courtesy: Henny B Cakes
Citrus flavor, plush flowers, and a verdant landscape – this eucalyptus cake decor screams a summer wedding more than any other cake on this list. 
#37 Floral Galore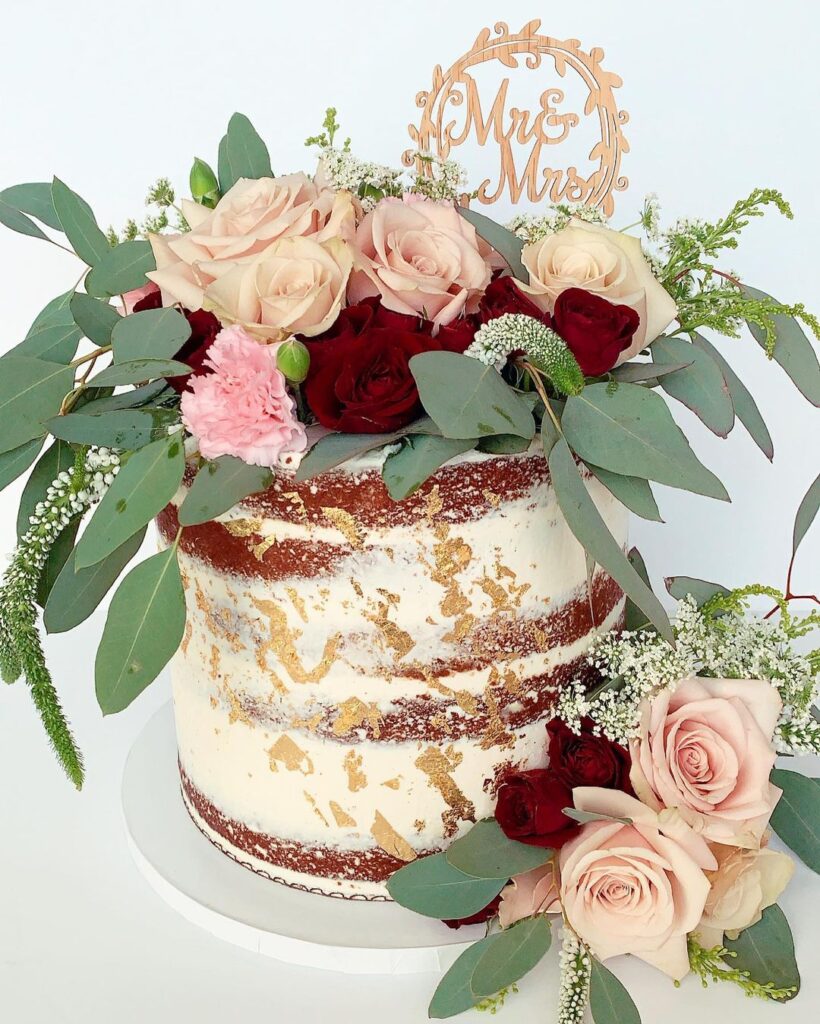 Courtesy: Ehsan Patisserie
Who said a single-tiered cake doesn't give you enough room to decorate? Here, the single-tiered cake is loaded with blooming flowers and fresh foliage for a fresh look that's perfect for any kind of celebration.  
#38 Add Donuts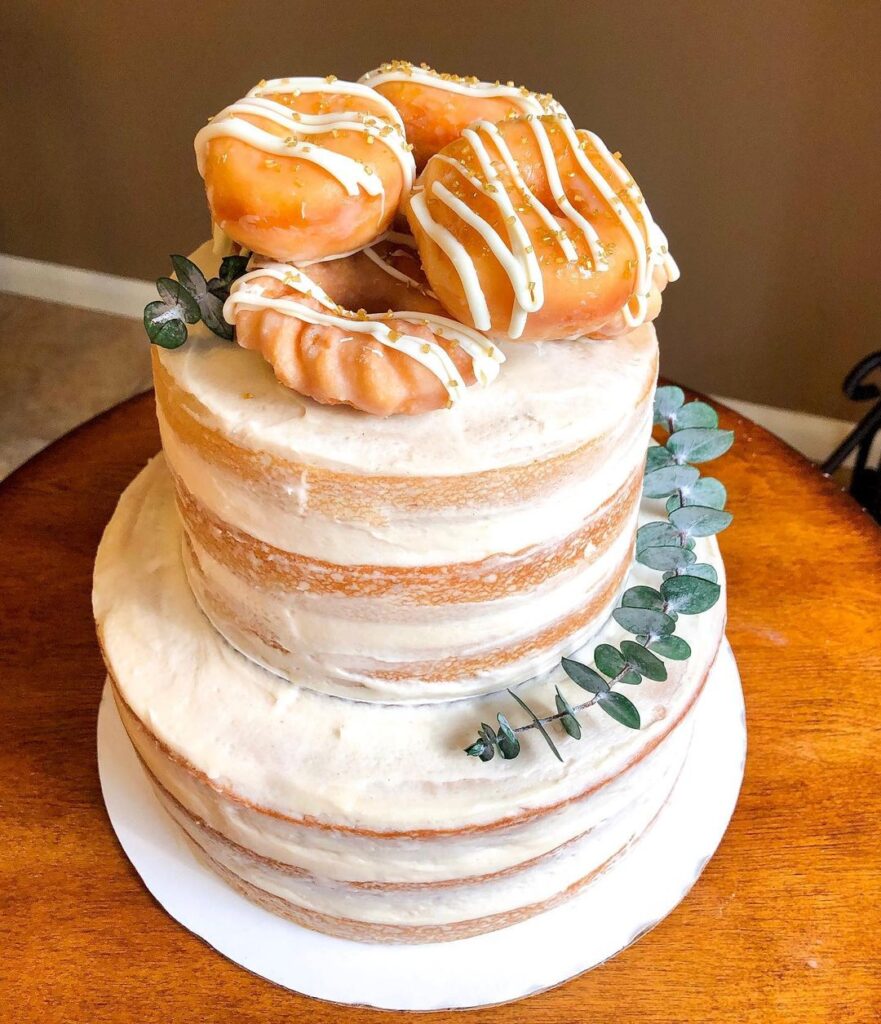 Courtesy: @universityofcupcakes
Doughnut cakes – whether entire doughnut towers or cake mixed with doughnuts – have become quite popular recently as an alternative to the classic wedding cake. You can definitely experiment with this nostalgic style by adding some glazed donuts on top of the cake for a whimsical look. 
#39 Simple Yet Gorgeous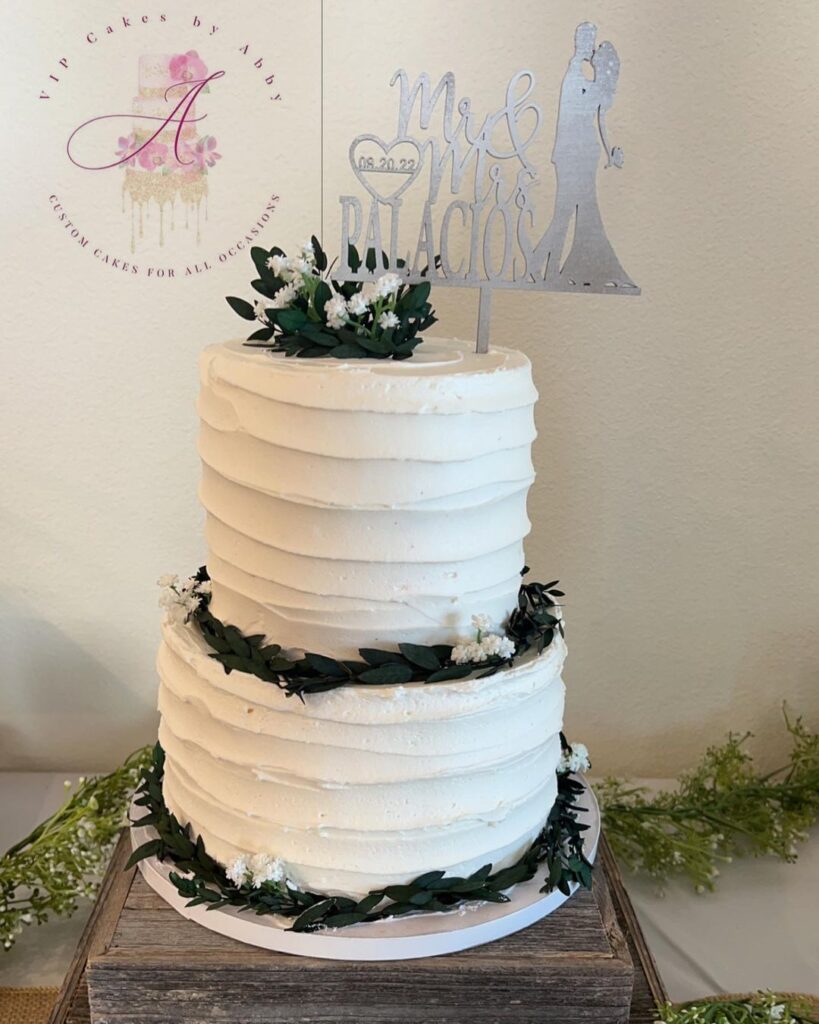 Courtesy: Vip Cakes by Abby
Don't be afraid to add texture to your cake. In fact, if a simple eucalyptus wedding cake is on your mind, then texture can add the glam needed for the special occasion. The leaves are a perfect match to the pristine white of the cake anyway. 
#40 Choose A Playful Caricature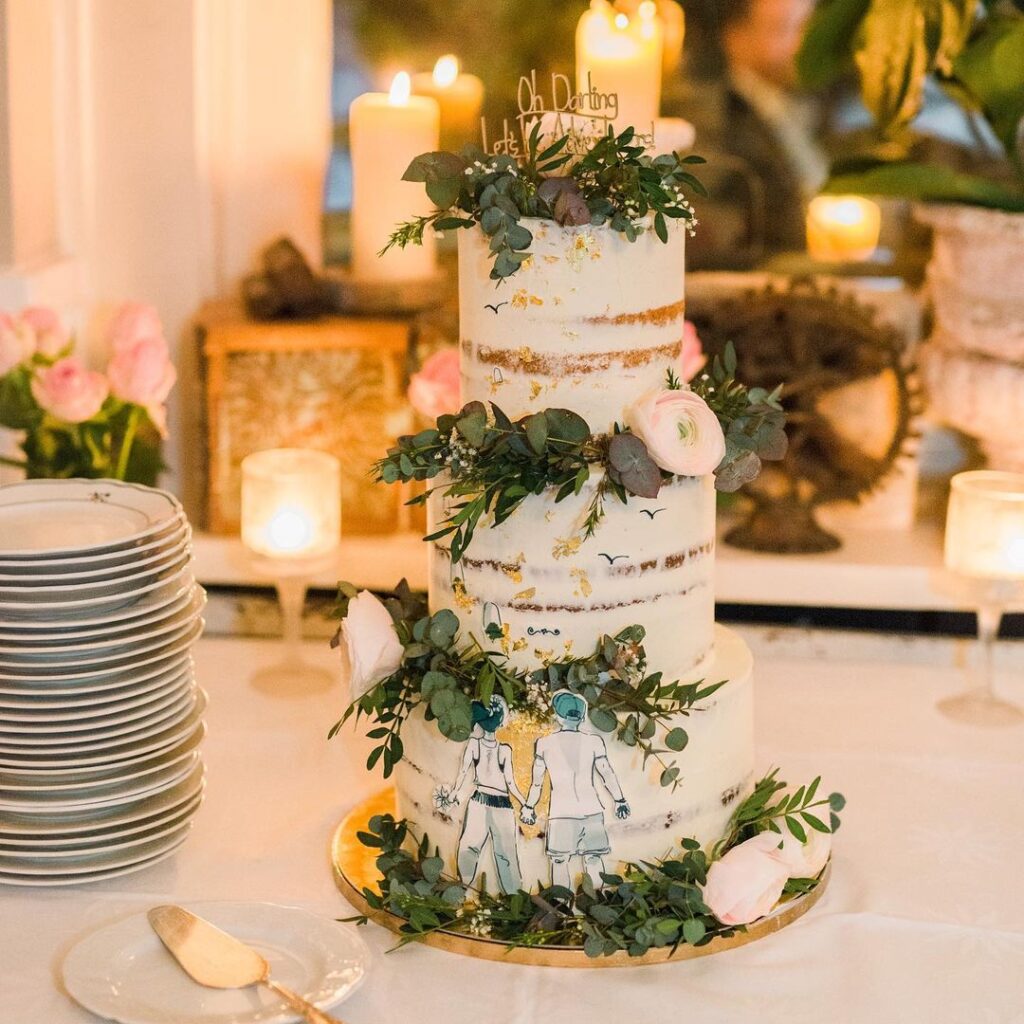 Courtesy: @thebakerswife01
If you want to personalize your wedding cake, one of the ways to do so is by adding a caricature to the dessert. You can also save it as a keepsake from the wedding. 
#41 Red & White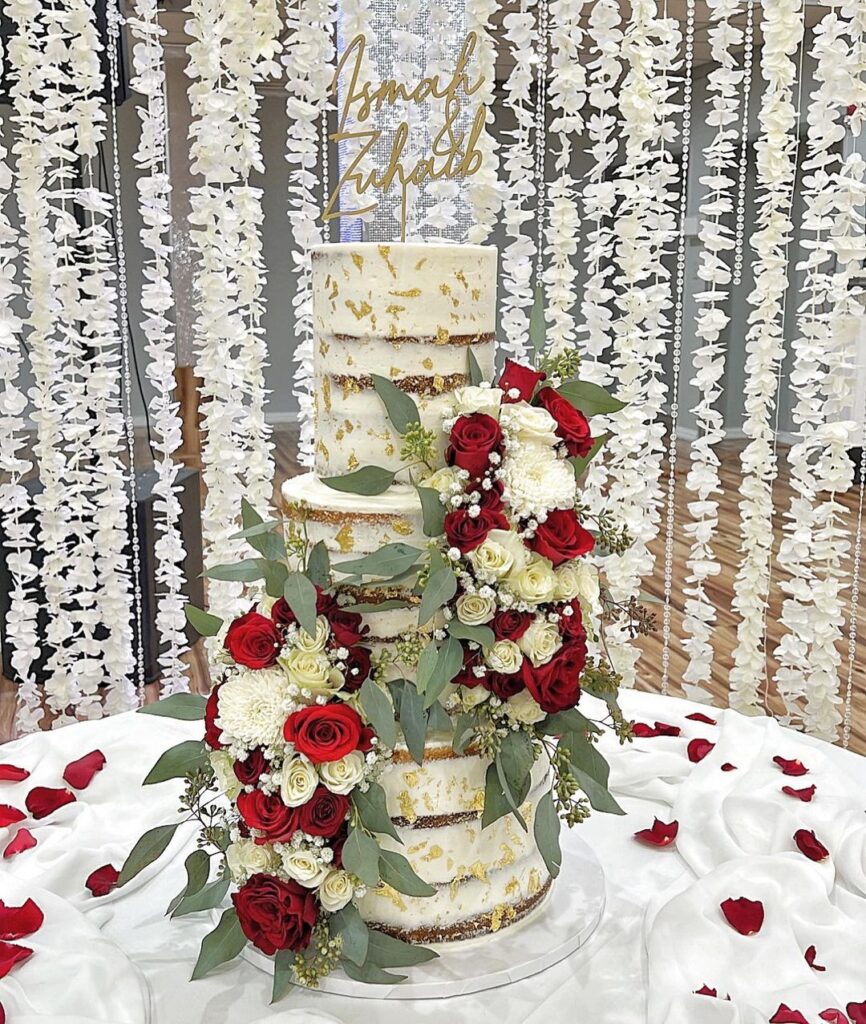 Courtesy: Ehsan Patisserie
There's no other color that symbolizes romance and love more than red! Combining this powerful symbol of love with white blooms and eucalyptus for wedding cake is this gorgeous confectionery that's as striking as sumptuous. 
#42 Wow With A Cascade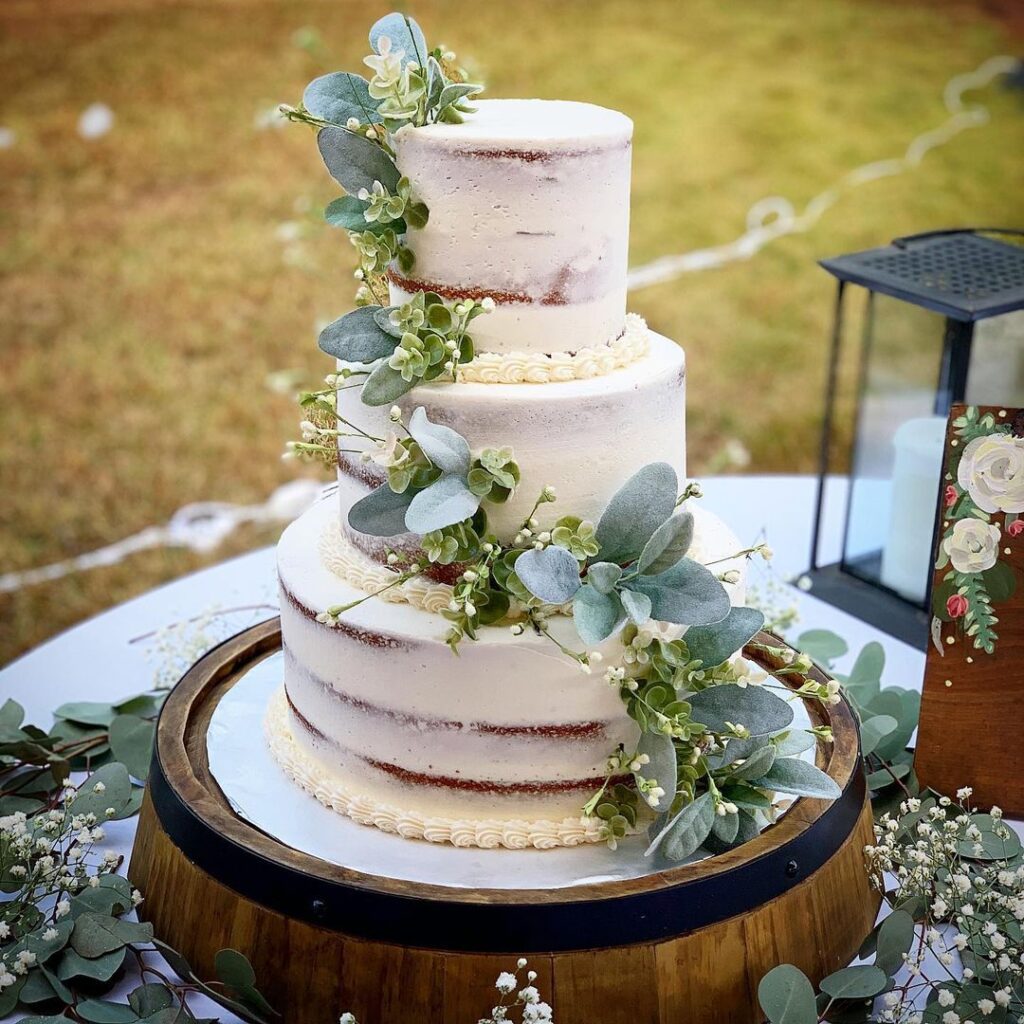 Courtesy: Custom Cake Studio
We adore the look of this wedding day sweet, with a cascade of eucalyptus garland going from top to bottom. Both eucalyptus and baby's breath aren't safe to eat, so putting them in the form of garlands makes it easier to remove them during serving as well. 
#43 Accentuate Minimally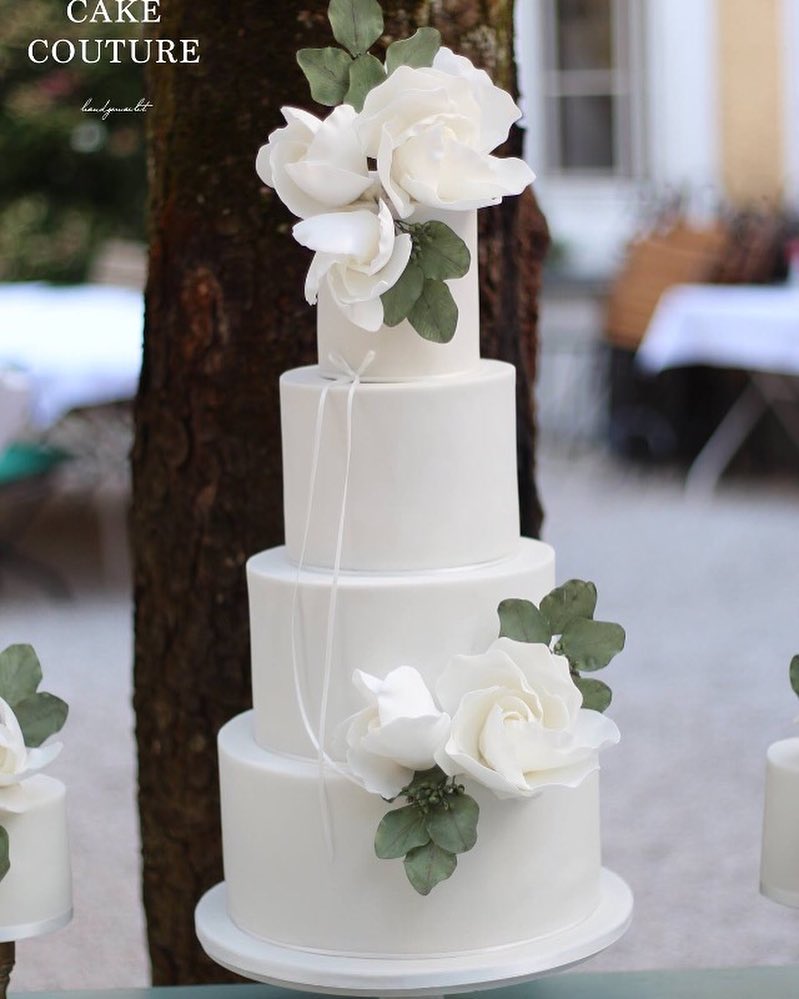 Courtesy: Cake Couture
Let your cake artist showcase their creativity. The chunky sugar flowers look incredibly real and are food-safe as well. When you opt for sugar flowers, you can choose to decorate the main confectionery with any floret of your choice – even if it's not in season or not available locally! 
#44 Let The Greenery Shine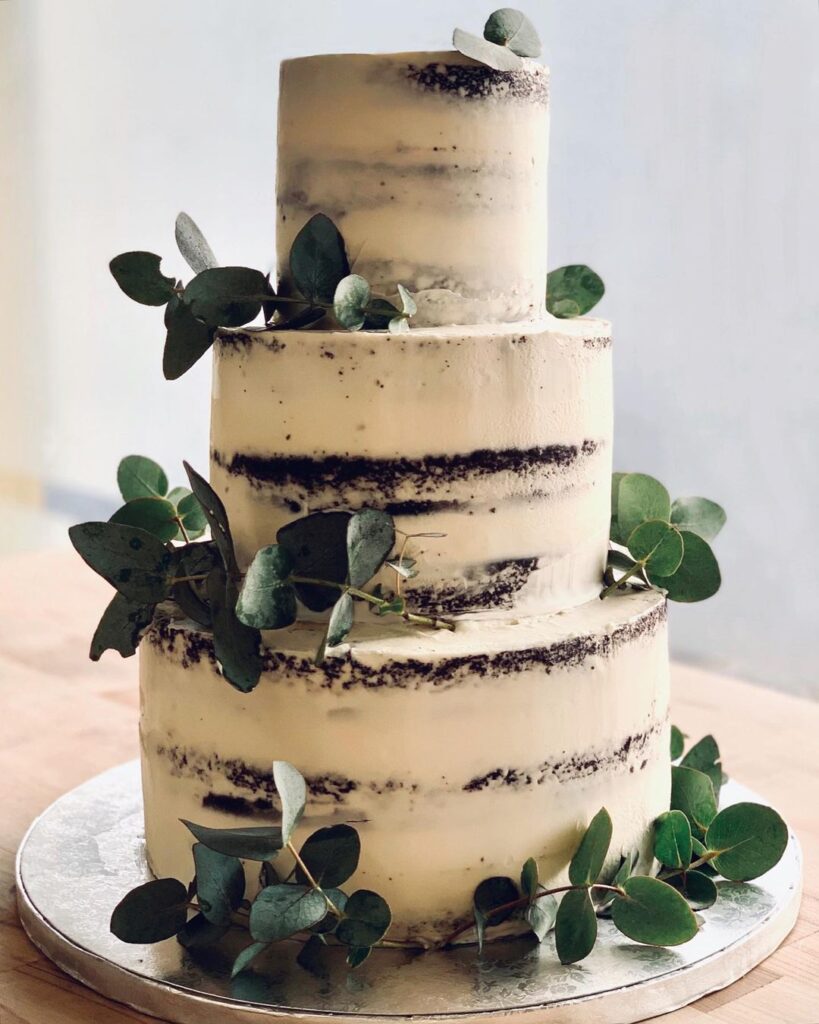 Courtesy: Ramone's Bakery & Cafe
This naked eucalyptus wedding cake is only decorated with the eucalyptus leaves for an aesthetic look. The embellishments are perfect for a rustic celebration and if you're fond of florals, you can add some white flowers to the mix to add to the cake decor! 
#45 Eucalyptus On Wedding Cake Only!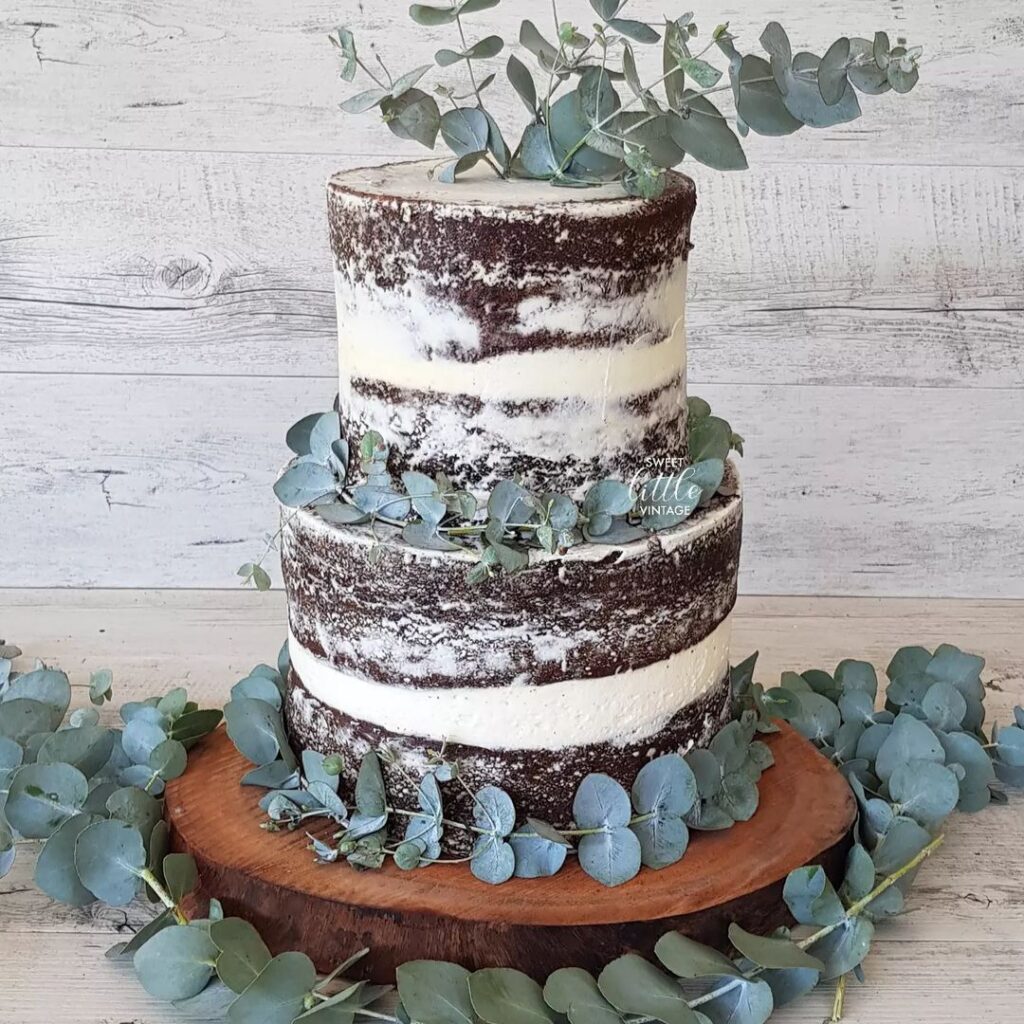 Courtesy: Sweet Little Vintage
We admire how this naked eucalyptus wedding cake gives a sneak peek into the delicious chocolate flavor that leaves the guests tempted to try a piece! You can also add a surprising flavor combination to provide them with a further surprise. Think mocha and chocolate or peanut butter and chocolate for a delectable twist. 
#46 DIY Eucalyptus Wedding Cake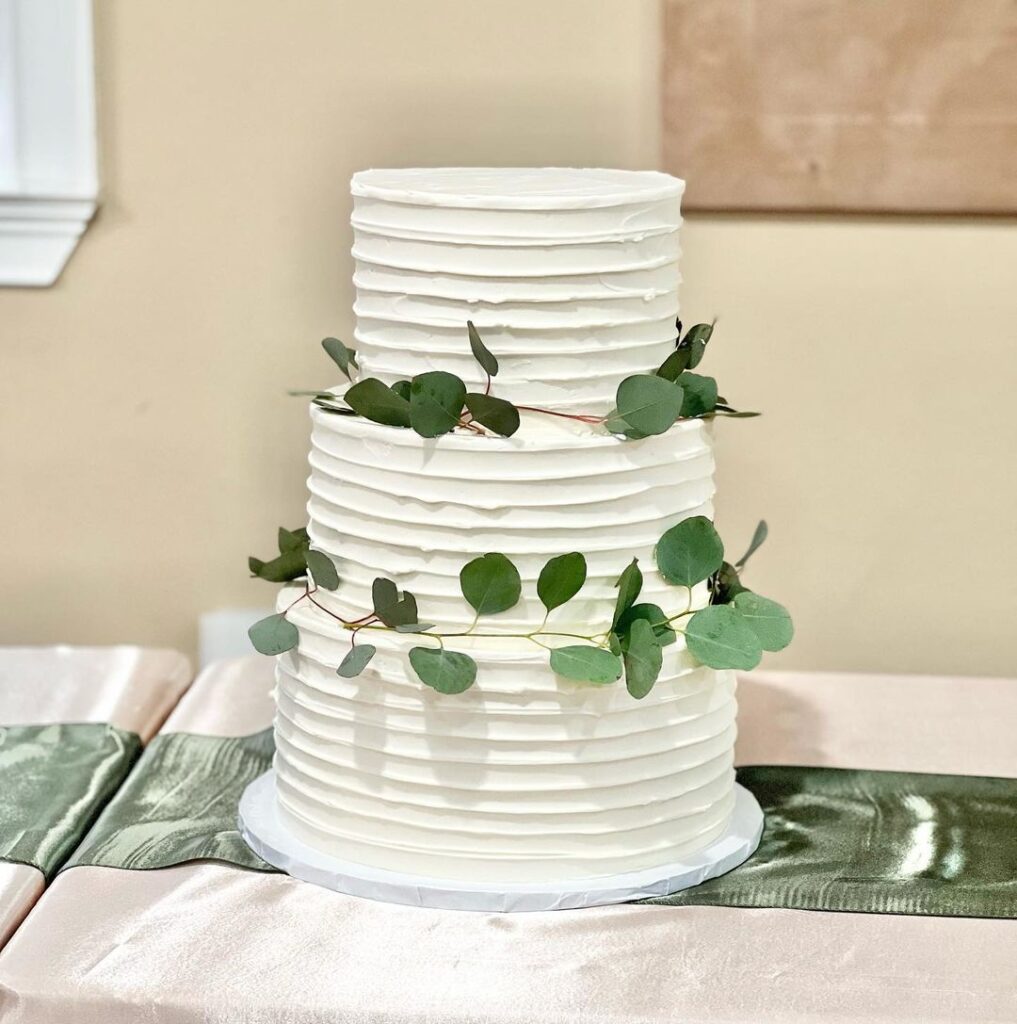 Courtesy: Vanilla Bean Sweets
If you want to DIY your wedding cake (because the average wedding cake costs $500, as per the study done by The Knot), then adding a eucalyptus garland can be the easiest decor to recreate for the main dessert. 
#47 Three-Tiered Goodness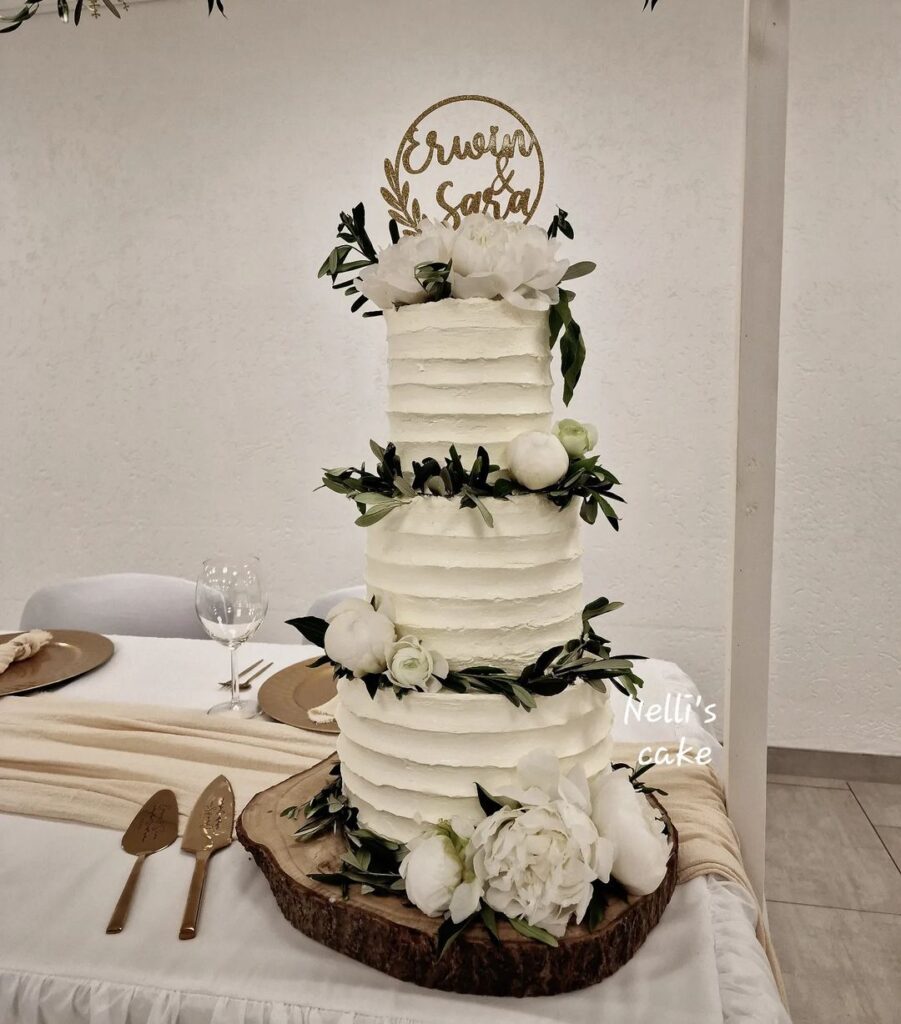 Courtesy: Nelli's Cakes
For a cake brimming with texture, adding eucalyptus garlands alongside a few white florets is a simple and stunning enhancement. A personalized cake topper with the name will further add some personality to the decorations. 
#48 Unique Detailing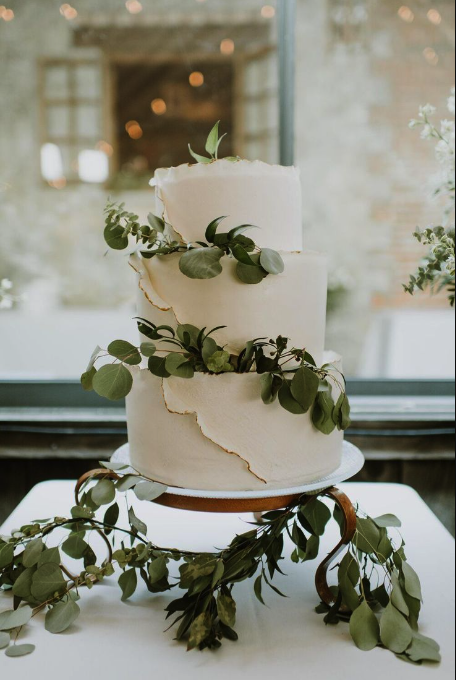 Here, a classic white 3-tiered wedding cake is elevated with some texture and gold foil on both the tiers with eucalyptus embracing the dessert here & there to evoke a botanical feel.  
#49 Eucalytpus Wedding Cake With Some Accents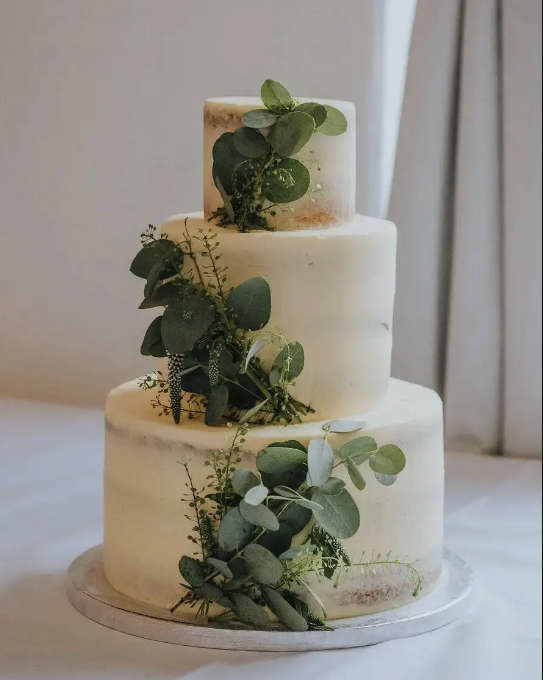 Courtesy: Luminary Bakery
With just a bunch of foliage added on each tier with the rest of the space left bare, this cake is both striking and impressive. Because of the simple clusters, this decor is something you can even DIY and save some hefty $$$ on the cake decorations. 
#50 Let The Cake Topper Shine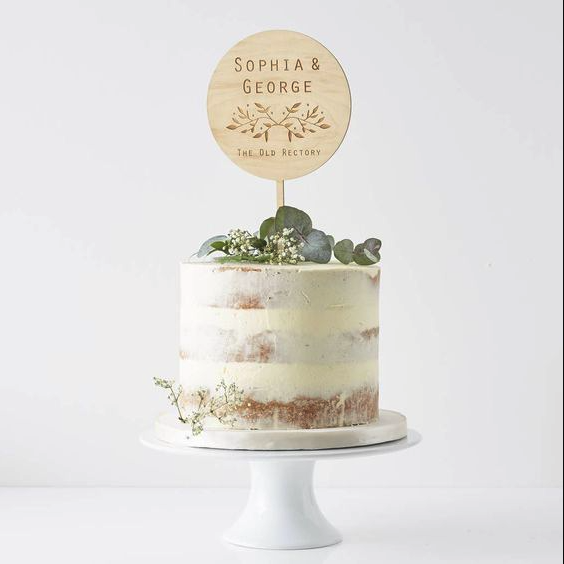 A simple eucalyptus wedding cake with just one tier can make as much an impact as a multi-tiered dessert. A semi-naked appearance, some eucalyptus leaves on the top, and a few baby's breath as a minimalistic decor make this cake exude elegance and sophistication like no other. 
#51 Make Statement With Color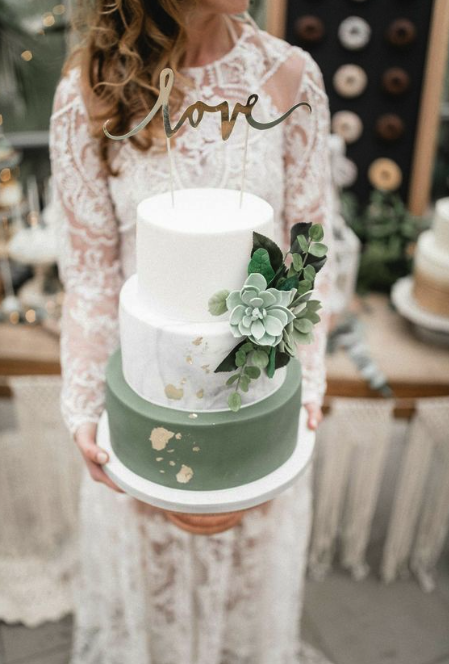 Make your love for eucalyptus leaves on wedding cake and greenery clear by letting one of the tiers of the cake be entirely green! Don't forget to pose with it as well, and give your cake the much-needed love it deserves. 
#52 Shades Of White & Green On A Naked Cake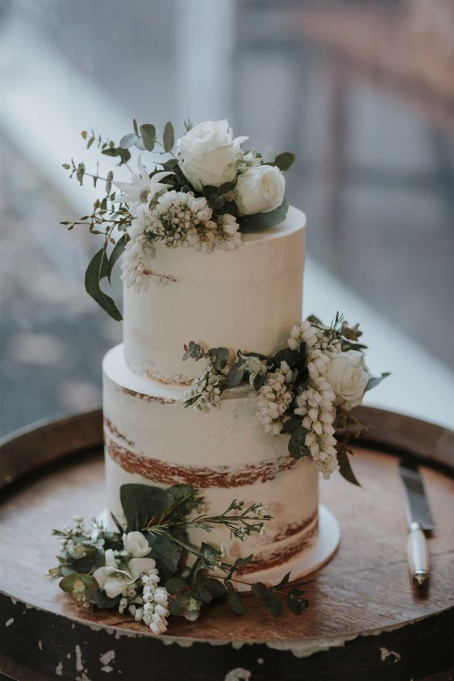 When you choose a eucalytpus garland for a wedding cake, white flowers are often used in conjunction. They don't necessarily have to be roses though. A bunch of other white florals can be added to the cluster for a visually appealing and ingenious cake design. 
#53 Mint Green Patterns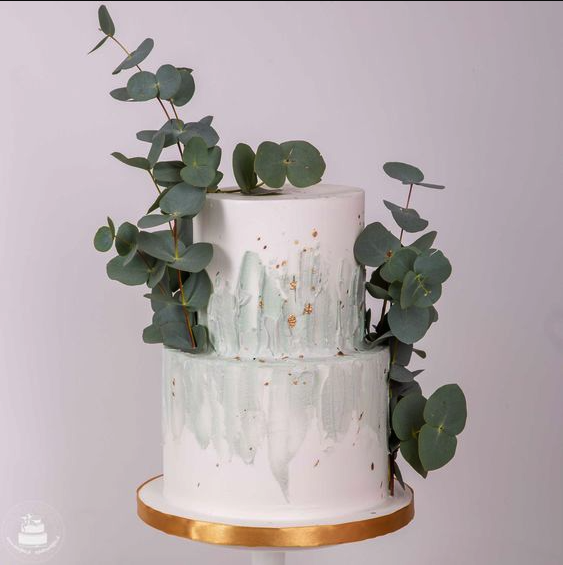 If you want your eucalyptus-themed wedding cake to stand out, you don't have to ponder too much on the creativity. Sometimes, just the minimal design can make it eye-catching. Here, the mint-green textures on the middle of the cake give it uniqueness without taking away from the white aesthetic. 
#54 Elevated With Marble Patterns & Green Hue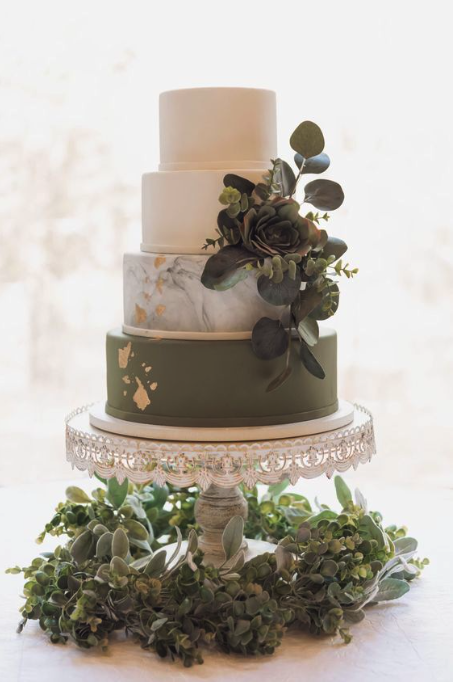 Add some wow to the basic white cake by making one of the tiers marble patterned and the other one completely covered in a beautiful moss-green frosting. With just a cluster of foliage on the side, these eucalyptus wedding cake decorations are minimal yet stand out – thanks to the design of the cake itself. 
#55 Lavish & Gorgeous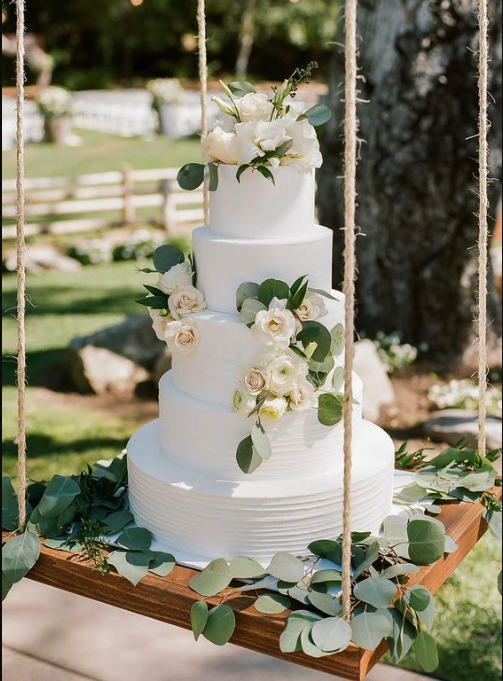 A five-tiered gigantic cake will drive all the attention itself. More tiers also give you more opportunity to showcase your personality though! This time, it's the adoration for nature's lush greens that takes the center of attention. A lavish design like this is best suited for a grand celebration.
FAQ's
Is Eucaplytus Safe To Put On Cake? If No, How Do You Make Eucalyptus Safe For Cake?
Unfortunately, eucalyptus isn't safe to eat, but it's safe to put on the cake. Eucalyptus leaves are aesthetic and used widely, so you might be wondering why so many jeopardize their health when the leaves aren't safe themselves! The answer to this million-dollar question is simple. The stems and leaves are sprayed with edible glaze before they're put on the cake. This makes them safe to be used as decoration but not to be eaten still! 
Also, you should know that not all eucalyptus are equally toxic (though none are safe to eat either). Some eucalyptus varieties are more harmful than clothes because of the presence of compounds eucalyptol, which is toxic in high doses, or high levels of essential oils that can cause gastrointestinal upset, nausea, and other adverse effects. Using eucalyptus in the cake will require specific knowledge and expert caution, so choose a baker who is experienced in using this foliage. Nevertheless, it's always recommended to put signage when the cake is served that eucalyptus leaves shouldn't be consumed at all! 
Alternative: Buy Fake Eucalyptus Instead 
What Other Common Florets & Foliage Are Unsafe For Cake?
Another common flower that's often used in wedding cake decoration but isn't edible is baby's breath. They aren't toxic but can cause discomfort when eaten. It's used for decorative purposes only and is removed when served to the guests. Other examples of flowers and foliage that are generally considered unsafe for use on cakes are lilies (all the varieties), wisteria, sweet peas, and foxgloves (also known as digital). Each one of them is toxic and unsafe in its own way and shouldn't be consumed at any cost. Additionally, hydrangeas, azaleas, and buttercups are also poisonous if consumed. 
What Are Some Edible Natural Decorations For Cake?
A variety of safe and visually stunning edible flowers can be used to elevate the aesthetic appeal of cakes while providing a delicate infusion of flavors. Among these, roses stand out as a classic choice, with their soft petals available in various colors and boasting a delicate floral taste. Violets, with their charming purple and blue hues, are another favored option, offering a subtle, slightly sweet flavor. Other popular choices include pansies, with their vibrant colors and mild, grassy taste, lavender flowers that can add a vibrant appeal to the dessert with a pleasant flower, and calendulas, known for their bright orange petals and slightly tangy flavor. When adorning cakes with edible flowers, it's crucial to verify their origin and ensure they are free from pesticides or chemicals to ensure safe consumption and a delectably beautiful presentation. 
Safe foliage to use on the cake are sage, thyme, rosemary, and bay leaves. Basil leaves, mint leaves and lemon balm leaves are other common decorations used for summer wedding cakes and are edible and safe to eat. They are also delicious and can add a tangy, unexpected flavor to the main dessert! Some edible flowers, like pansies and violas, come with edible leaves attached. These can be used together to create an eye-catching cake decoration. 
Eucalyptus In Wedding:
What Does Eucalyptus Mean At A Wedding?
Eucalyptus has a beautiful symbolism of protection, abundance, and purity. Because of their untarnished beauty, ability to withstand challenging situations, soothing freshness, and medicinal properties, the usage of foliage in different wedding elements often symbolizes the fresh start of the couple's wedding journey with purity, strength, harmony, and a desire to care for each other and nurture the relationship throughout the life's ups and downs.  
It's important to note that the symbolism of eucalyptus at a wedding can vary by culture and personal interpretation. Couples often choose wedding decor elements that resonate with their own values and sentiments, so the symbolism of eucalyptus may hold a unique meaning for each couple. Ultimately, eucalyptus is appreciated for its aesthetics and the positive connotations it brings to the wedding atmosphere. 
Is Eucalyptus Expensive For Weddings?
No, eucalyptus is less expensive than many other common floral arrangements and foliage. However, costs can vary depending on the season and from which vendor you're sourcing the leaves. Though, it would still not be as costly as other wedding flowers and foliage. Some of the common eucalyptus varieties like silver dollar eucalyptus or seeded eucalyptus are often more economical than rare or exotic varieties. If eucalyptus is grown locally in your region, then choosing that variety over others will also cut down the cost. Couples can work with the florist to find cost-effective ways to incorporate eucalyptus into the wedding decor, such as combining it with other greenery and flowers. Ultimately, eucalyptus can be an attractive and affordable choice for adding natural beauty and symbolism to wedding decorations. 
How Do You Keep Eucalyptus Fresh For A Wedding?
Having fresh eucalyptus at weddings is essential to maintain its vibrancy and aesthetic throughout the ceremony. Here are some tips to help you keep the eucalyptus fresh at the wedding: 
#1 Hydration: After collecting the eucalyptus branches that you wish to use for decoration, store them submerged in water and vegetable glycerin to prevent any decay. Keep changing the water every 2 to 3 days to keep the branches clean and fresh. 
#2 Storage: The eucalyptus stems need to be stored in a cool, shaded area away from direct sunlight as it can spoil the arrangement by making them wilt faster. 
#3 Misting: If the eucalyptus has to be arranged for longer periods of time without water, it's important to mist them to keep the leaves hydrated and fresh. The frequency will depend on the climate, with hot and dry climates demanding the stems be misted every hour. 
#4 Use Floral Foam: When the eucalyptus is used in decor that can be used with floral foam, then it's the best way to keep the eucalyptus fresh at a wedding. Some examples include bouquets, centerpieces, and aisle decor. 
#5 Refrigeration: Florals and foliage should be the last thing that gets set up at a wedding. Keep the eucalyptus leaves refrigerated until it's needed. Place it in a sealed plastic bag or container to prevent it from drying out. 
Eucalyptus Wedding Decor Ideas:
Eucalyptus makes a stunning addition to not just wedding cake, but also to other wedding elements that you could think of! These easily available plant species can be coupled with almost any kind of flower and arranged in abundance or small capacities to make a statement. Here are 6 ways you can incorporate the plant into your wedding day: 
#1 Beautiful Accents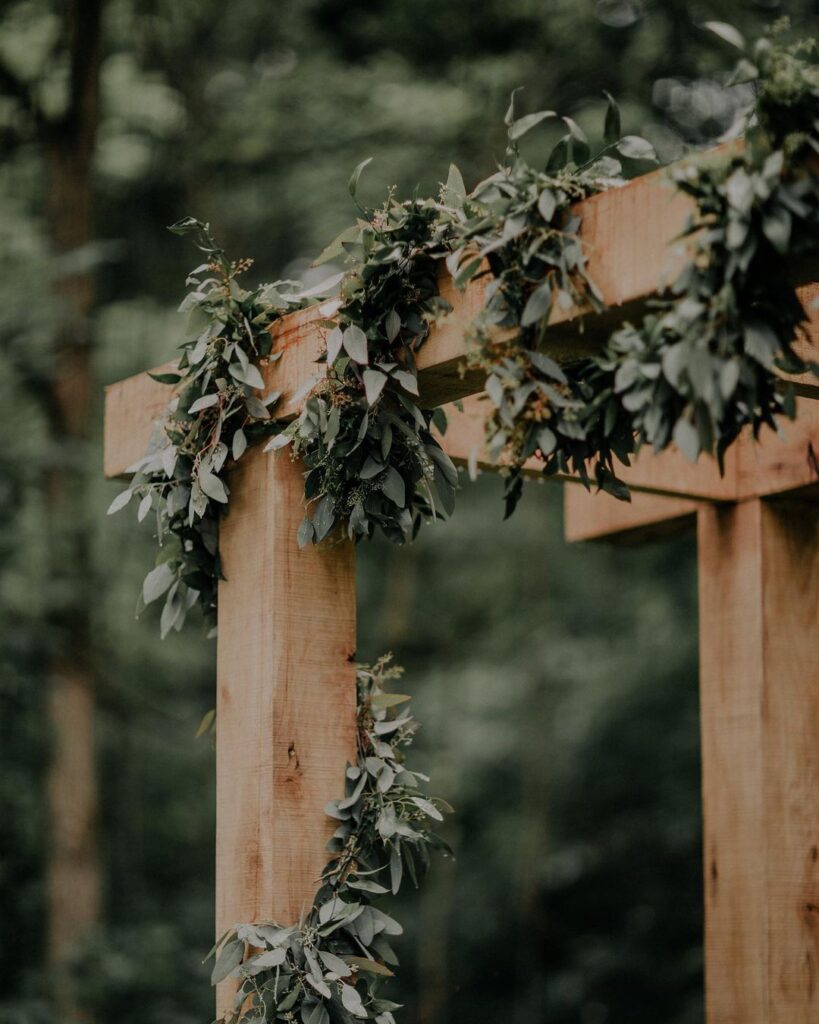 A few leaves make a simple statement on the wooden stand which can be put anywhere through the celebrations for a splendid accent. 
#2 A Hideaway For Your Vows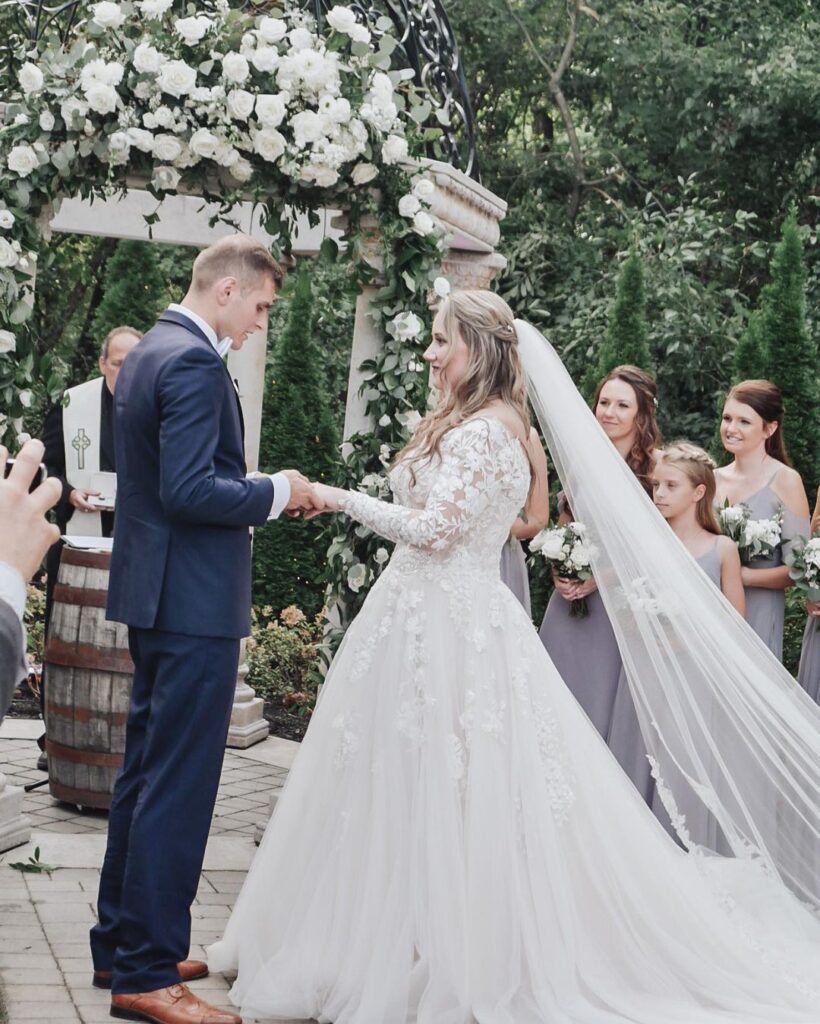 Whether it is a forested or a garden ceremony, foliage can make for an amazing decor element as it would blend with the natural aesthetic well. A towering arrangement of eucalyptus and white blooms forms the perfect backdrop for your ceremony! 
#3 Enhance The Seating Chart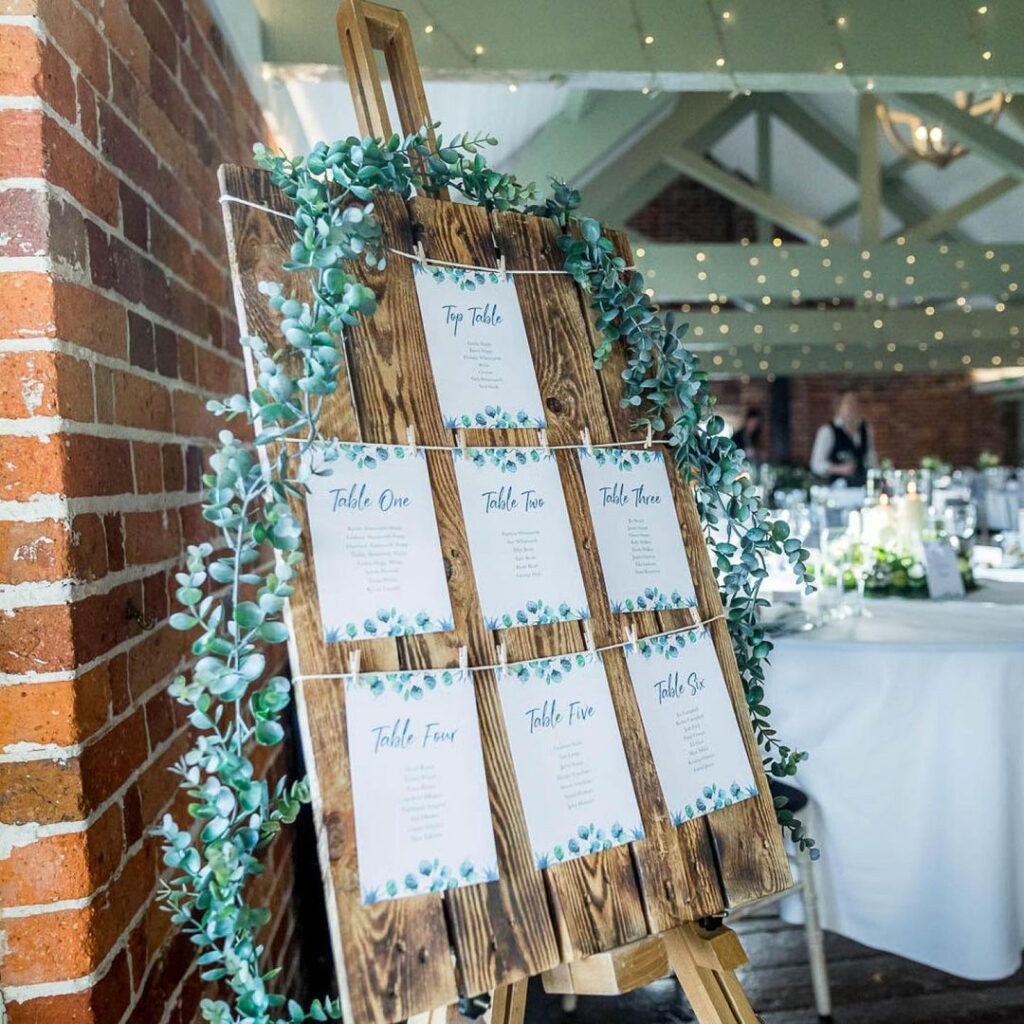 Wondering how to enhance the seating chart for a rustic celebration? A garland of eucalyptus will do the trick with no further additions. 
#4 Dress Up Your Name Plate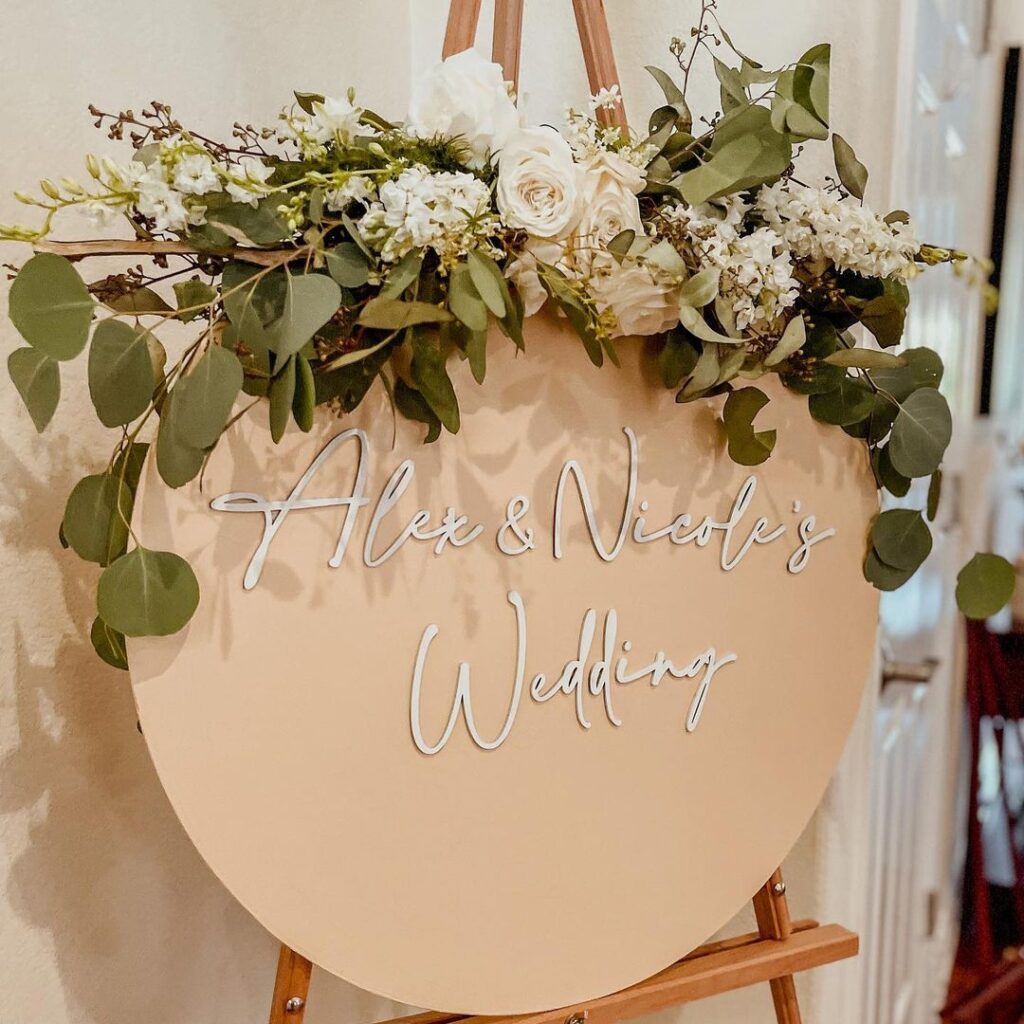 Adorn your nameplate with lush eucalyptus leaves and blooming white flowers for an elegant bucolic charm. 
#5 Add Charm To Reception Table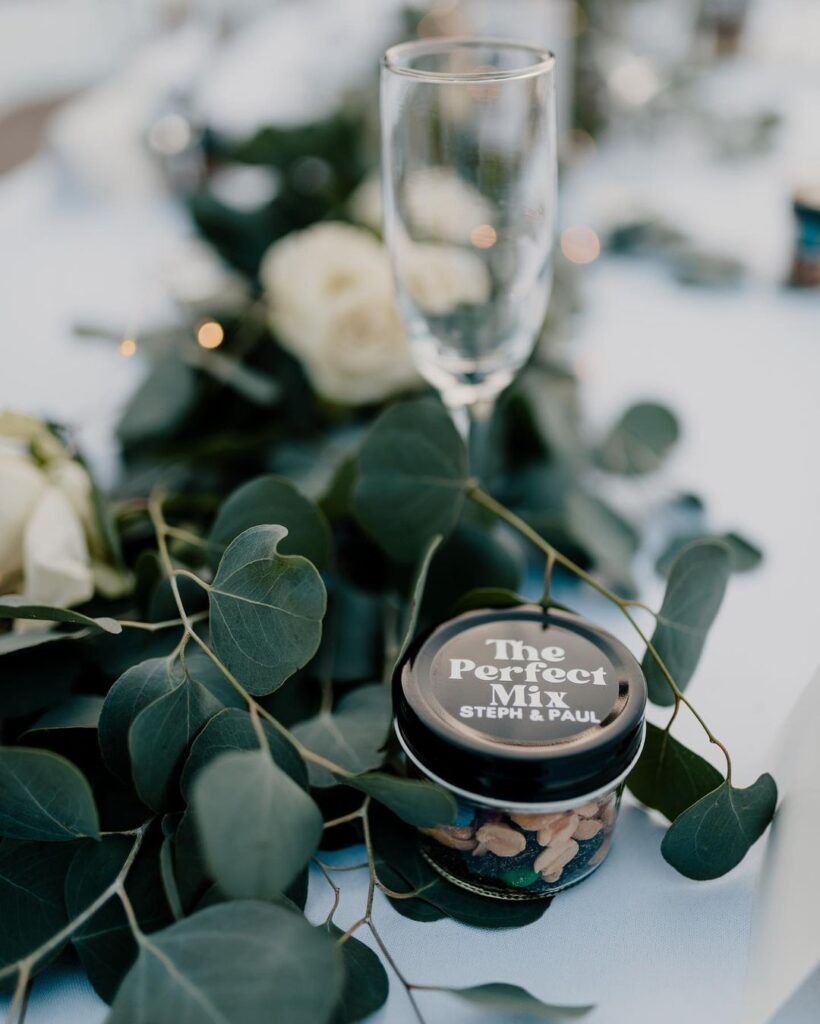 Nothing will look quite as ravishing on a reception table then pristinely arranged eucalyptus leaves running from end-to-end on the table with adorable accents in the middle. 
#6 Make It Into A Chic Bouquet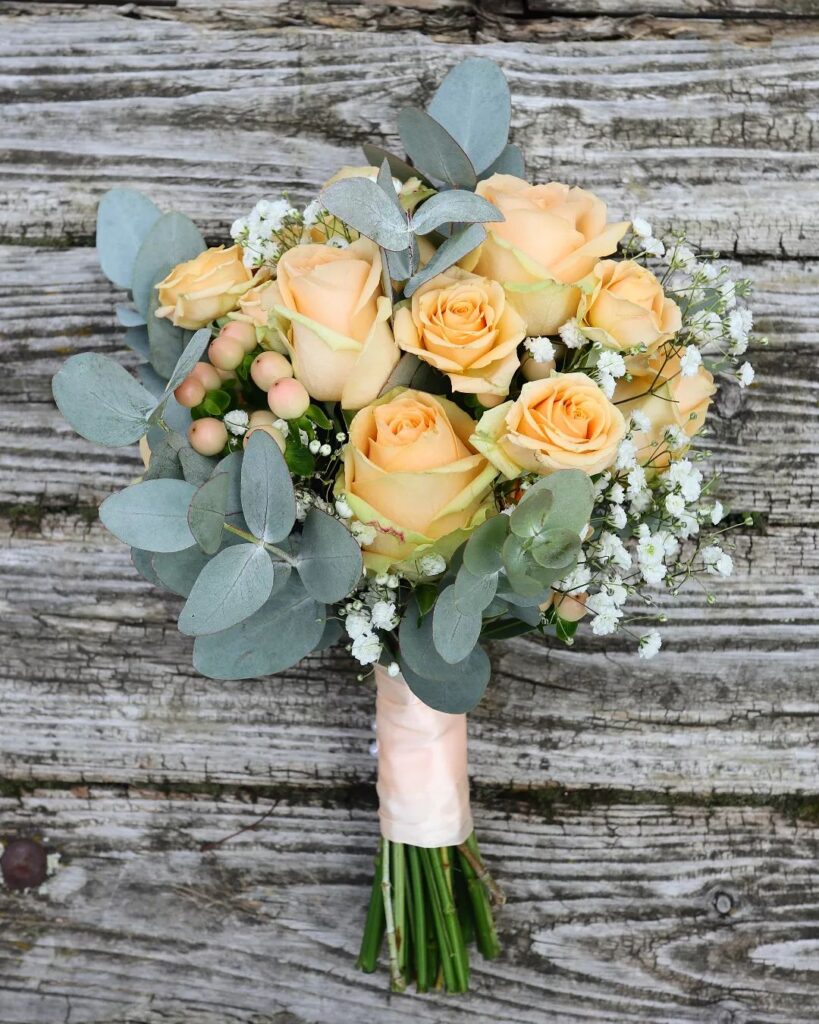 Doesn't this look like a perfect summer bouquet to carry down the aisle? Mix eucalyptus with any of your favorite flowers to create a gorgeous bridal bouquet.