The problem of ingrown hair is downright annoying. One of the most common problems women of all ages struggle with in equal proportions and the only at-home solution to this issue is exfoliation. The best exfoliating scrub for ingrown hairs on the legs and body can help ingrown hair by removing the dead skin layer and letting the hair grow how it's supposed to. See, ingrown hair basically happens when the hair follicle can't grow hair out of the follicle and the hair either grows back or gets stuck. Exfoliation helps to remove the dead skin cells so the hair can move out of the follicle the way they're supposed to! If you're currently struggling with ingrown hair, below find the best exfoliating for ingrown hairs on legs and body: 
Best Exfoliating Scrub For Ingrown Hairs:
#1 EVERCLEARNOW Face & Body Scrub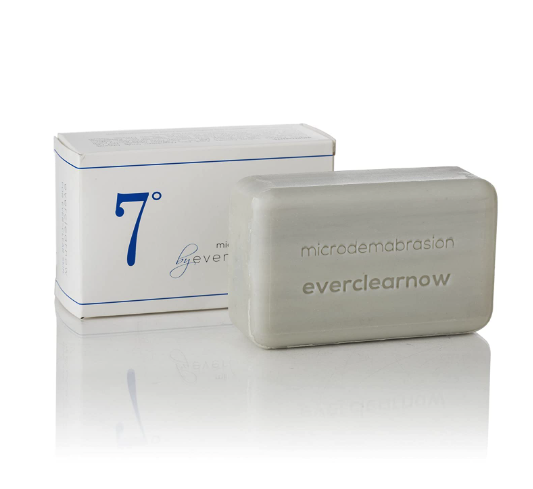 The EVERCLEARNOW has launched face and body scrubs that help with exfoliation. The company's main motto is to help those who suffer from dead skin cells either on their face or body. It has specifically helped those who suffer from KP. "I have had KP for as long as I remember. When I was young kids used to point at my arms and ask if I was cold. After a while I got used to saying yes – but we all know what was really happening. I've tried scrubs, lotions, and retinol, but nothing worked. 1 month of using this soap and I felt the back of my arms were smooth – for the first time in my life. I'm never stopping using this bar now," writes one of the reviewers on Amazon. 
The main ingredients in this soap which helps in removing dead skin and detoxifying the skin are sodium palmate and magnesium oxide. The former helps to pull dirt and grime away from the skin and the latter kills any bacteria and completely detoxifies the skin. When you use this product continuously, you will automatically see fewer bumps on the skin and clear, glowy skin. The soap bar also contains hydrating, moisturizing, and collagen-boosting ingredients such as rosemary oil, jojoba leaf oil, olive oil, arnica oil, shea butter, and aloe leaf juice oil. This product is manufactured in the USA with all the highest-quality ingredients and a cGMP/SOP-compliant facility with cruelty-free FDA-compliant standards. 
Pros:
Uses chemical exfoliation rather than physical exfoliation

Contains hydrating ingredients to prevent the skin from drying

Contains collagen-boosting ingredients like aloe vera leaf juice and arnica

Can be used daily 

Completely natural and is free of any harmful chemicals

Has amazing reviews and has helped people with severe KP as well
Cons:
Can be expensive

The product can get wasted if not used properly
#2 Revitale Salicylic Acid Soap For Pore Exfoliation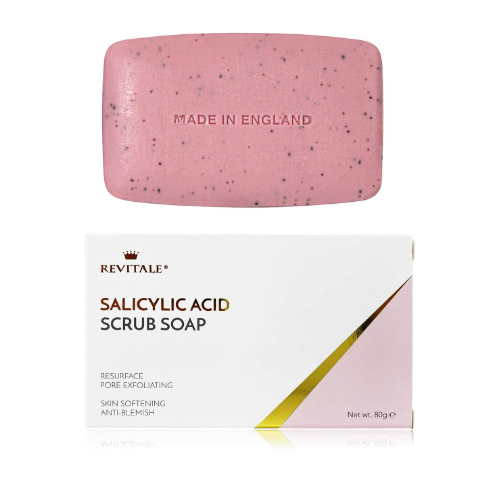 This one of the best exfoliating scrub for ingrown hairs on legs and body works by both chemical and physical exfoliation. It contains salicylic acid, a popular skincare ingredient known for its ability to exfoliate and unclog pores. It's able to deeply penetrate the surface without any harshness and breaks down the bonds between dead skin cells, promoting their shedding. This exfoliation process helps to improve skin texture, treat and prevent acne, and reduce the appearance of ingrown hair and rough patches. Additionally, salicylic acid can also stimulate collagen production, leading to a smoother, more youthful complexion when used regularly. It also contains apricot kernels in small size so it also adds to the removal of dead skin layer without any abrasion or harsh effect. 
Besides the salicylic acid and apricot scrub soap, it comes in another version that contains salicylic acid and sulfur. The sulfur version also contains exfoliating walnut and apricot shells, but it can be a bit drying and should only be preferred by individuals who have moisturized skin. The soap also contains glycerin which can prevent the skin from drying due to both chemical and physical exfoliation. "I ended up switching to bar soap to prevent plastic waste and I fell in love with this soap. It is surely one of the best exfoliating scrubs for ingrown hairs on legs because I have had them for a long time and now, they have reduced so much. It also lasts a long time," writes one of the reviewers on Amazon. 
Pros:
Contains salicylic acid, a strong but not harsh chemical exfoliation

Also has a physical exfoliator for added exfoliation and gentle cleansing

Enriched with glycerin so the skin doesn't dry out

Dermatologically tested and approved 

Economical 
Cons:
Some might find the smell unpleasant
#3 pureSCRUBS Exfoliating Scrub For Ingrown Hairs On Legs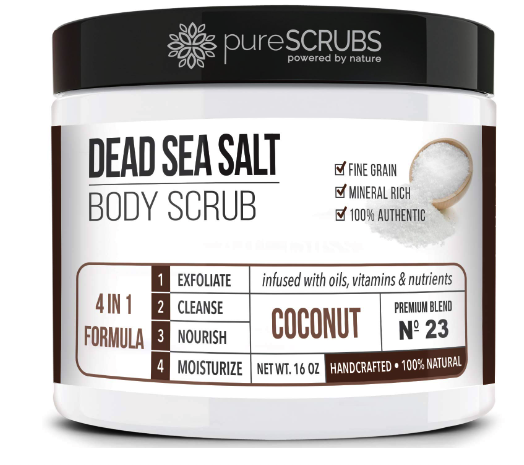 This one of the best exfoliating scrub for ingrown hair is a physical exfoliator made with all-natural ingredients. The primary exfoliator is dead sea salt, a healing mineral that clears the pores from deep within, exfoliates the skin, and hydrates owing to its moisture-retention properties. It also has antibacterial, antimicrobial, and anti-fungal properties which remove acne and help with other skin conditions like eczema or psoriasis. When used regularly, the dead sea salt also reduces cellulite and wrinkles on the body. Besides the star ingredient, this exfoliates scrub for ingrown hair and also has moisturizing, collagen-boosting ingredients such as shea butter, argan oil, sweet almond oil, avocado oil, coconut oil, geranium oil, and carrot seed oil. The ingredients are all hand-blended and if you have them available in your home, it can be a great homemade exfoliating scrub for ingrown hair to try! 
What we also love about this exfoliating scrub for ingrown hairs on legs and other parts of the body is that it comes with 3 free bath items. One of them is loofah, made of all-natural ingredients to help you buff away the dead skin cells with just shower gel. The next is a wooden spoon which makes scooping the scrub easy. Lastly, it also has an exfoliating oatmeal organic soap, another offering from the brand to gently exfoliate and cleanse the skin on a daily basis. "I don't review products as much as I'd like to, but this one made a drastic difference in my ingrown hairs and was worth taking out the time. I love the little extras and the coconut scent is refreshing," writes one of the reviewers on Amazon. 
Pros:
Contains dead sea salt, an excellent exfoliator

Has many oils to hydrate and soothe the skin

Uses only organic and natural ingredients of the highest quality

It's cruelty-free, hand-crafted, and chemical-free

Includes free bath items (loofah, soap bar, and scooping spoon)
Cons:
Physical exfoliators might irritate sensitive skin
#4 Himalayan Salt Scrub For Body & Foot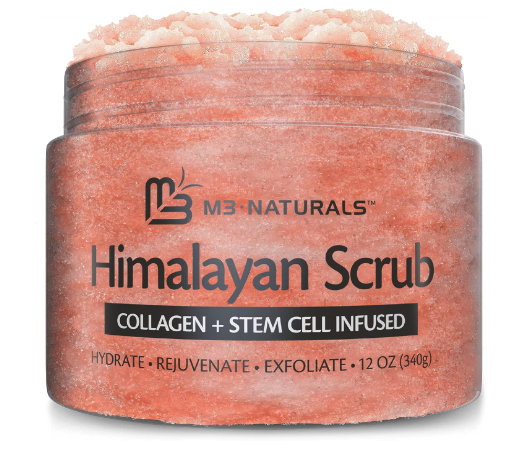 This gorgeous-smelling Himalayan salt scrub can be a game changer in treating your ingrown hair. While other salts can be drying and harsh on the skin, the Himalayan salt scrub contains healing minerals that restore the deep hydration of the skin as it blasts away dead cells for softer, glowing skin. Besides it's ability to remove the top layer of the skin, this natural exfoliant also improves skin tone and evens it out. The salt also has the ability to boost blood circulation in the area which promotes collagen production and gives a more youthful, tiger look to the skin of your body. This M3 Naturals scrub comes in the finest of particles so you won't have any problem taking out the scrub or applying it as ones with coarse particles often fall on the ground. 
Besides the main exfoliator, this exfoliating body scrub for ingrown hair also contains collagen and stem cells. Besides taking collagen supplements, applying collagen topically can also stimulate collagen synthesis and growth, improving the firmness and elasticity of the skin. It also has stem cells known for their potential to repair the skin, augment moisture retention, and plump the appearance of the skin. The amino acids, peptides, and antioxidants in the stem cells work together to infuse all these benefits and are therefore an amazing addition to any skincare product. 
Pros:
Works for all skin types

Doesn't have any abrasive effects on the skin

The healing minerals of Himalayan salt improves skin's quality

Collagen and stem cells help with youthful appearance and reducing wrinkles

Has natural ingredients such as grape seed oil and lychee fruit oil to foster the skin's appearance

Affordable for all strata of people
Cons:
May be too harsh for some people
#5 First Aid Beauty AHA-BHA Ingrown Hair Pads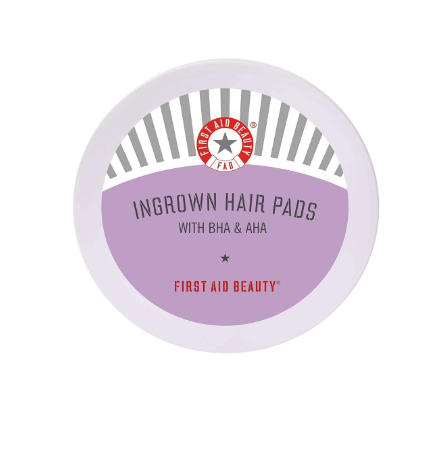 This non-messy and super convenient-to-use ingrown hair pad by First Aid Beauty consists of both AHA and BHA for those looking for a chemical exfoliating scrub for ingrown hairs on the legs and body. These pads can be used in multiple areas of the body like the face, neck, legs, arms, underarms, and bikini area. It's formulated with glycolic acid and salicylic acid which prevents painful ingrown hairs and the presence of aloe vera and witch hazel keeps the skin smooth and doesn't strain it of its natural oils. Clinically proven, the product reduced bumps in 92% of the participants (total number was 52) after 10 days and 100% said this product didn't irritate the skin at all. 
One of the things that you have to remember when you use this product is to stay away from the Sun! Because these peeling pads contain strong AHAs and BHAs for exfoliation, they can make your skin sensitive to Sun exposure and increase the chances of sunburn. So stay out of the Sun as much as you can and apply sunscreen for at least a week after using this product. "I bought these for myself but my husband kept stealing me for the upper part of his arms where he has had bad ingrown hairs for as far as I can remember. If it can work on his skin, it can work for anyone. Definitely recommend," writes one of the reviewers on Amazon. 
Pros:
Contains powerful chemical exfoliants to show positive effects on ingrown hair quickly

Has amazing reviews and comes from a trusted brand

It's a multi-purpose pad and can be used for both face and body

Free from all the harmful and harsh chemicals like parabens, formaldehyde, phthalates, mineral oil, etc. 

Offers deep exfoliation

Fragrance-free formula
Cons:
Makes your skin sensitive to the Sun

Expensive
#6 Dylonic Exfoliating Razor Bump Brush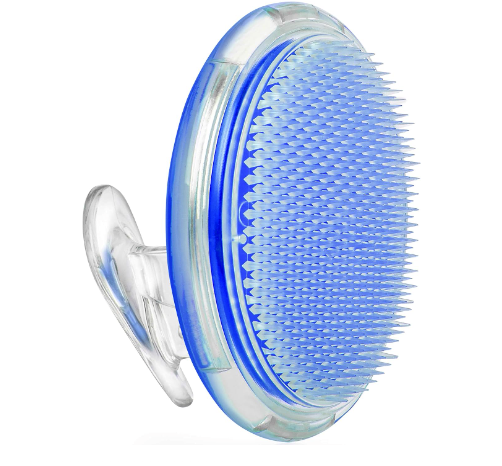 If you're someone who doesn't like using scrubs or exfoliators, then this razor bump brush which requires no extra effort can be the best exfoliating scrub for ingrown hairs on legs & body that you're searching for! It's a hand-held silicone exfoliating body scrubber that can be used daily or occasionally as you wish. It can be used on both wet and dry skin. Some people might find dry skin exfoliation harsh so you can use some shower gel or just plain water before you massage with this brush. The brush has an ergonomic design with an easy-to-hold handle that perfectly fits into your palm and makes it convenient to use. This light and gentle brush has bristles that are both firm and gentle so it massages away dead skin cells without causing any abrasive effect on the surface. 
Another positive attribute of this Dylonic exfoliating scrub brush for ingrown hairs is that it can have a 100% money-back guarantee if there are no results. This shows a lot of confidence in the product and also underscores its efficacy. With over 13,000+ positive ratings, it's one of the best exfoliating scrub for ingrown hairs on legs and body to purchase online. "This item worked like a charm for me. Not only did it slough away all the dead skin cells, but it also helped me with bumpy skin on the thighs and the back of the calves. I highly recommend," writes one of the reviewers on Amazon. 
Pros:
It's easy to use and doesn't require any time for scrubbing

Economical and doesn't require any re-purchasing

Hygienic and can be used by couples 

The pressure can be adjusted as per individual requirements

Ergonomic design with easy-to-use handle

Can be used as both wet and dry scrub

It's a chemical-free, affordable exfoliator to trust
Cons:
Can be harsh and uncomfortable for some people
#7 First Aid Beauty Body Scrub For Keratosis Pilaris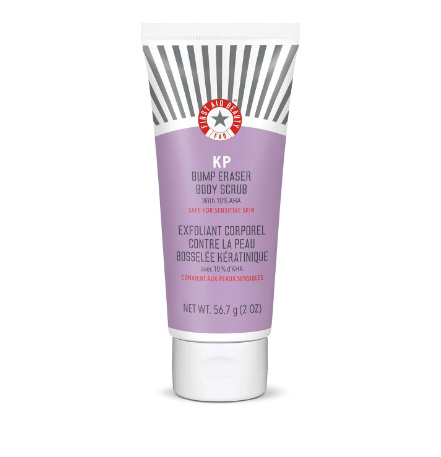 Besides the peeling pads, First Aid Beauty also has a body scrub for anyone suffering from KP or other related conditions like ingrown hair, bumpy skin, or dull skin. This exfoliating scrub comes with a combination of chemical exfoliants, namely glycolic acid and lactic acid, at a combined level of 10% to loosen the skin's topmost layer containing dead skin cells, decongest pores, and reveal healthier-looking skin that is smooth to the touch and radiant to look at! Besides chemical exfoliants, this scrub also contains pumice buffing beads, a gentle physical exfoliant to remove dead skin layers, cleanse the skin, and restore the skin's natural vibrancy. Because it contains both physical and chemical exfoliators, it removes the ingrown hair quickly to deliver the benefits of chemical peel and microdermabrasion all in one. 
"I really wish I had taken before and after photos of the KP I've dealt with on my thighs for most of my life. I have tried several other (and, in many cases, more expensive) brands that claim to combat KP but none worked until I got this product. This exfoliant has a gritty, almost cement-like texture. You need to have damp skin so this goes on smoothly. I only applied this on my thighs – about an inch amount on each – and then used my hands to massage the area before washing it off. It only took 2 months to see significant results and the best part is I see far fewer bumps on the thighs, which I thought would never happen. This is a reliable product and anyone with KP can give this a try," writes one of the reviewers on Amazon. 
Pros:
Contains both physical and chemical exfoliants to remove KP quickly

Convenient to use as it comes in a cream form so the product doesn't fall when you take it in your hand and apply

Vegan and cruelty-free

Doesn't contain any harmful chemicals

Free from artificial fragrance and artificial colorants
Cons:
Can make the skin sensitive to Sun
#8 KP Bump Eraser Exfoliating Scrub For Ingrown Hairs On Legs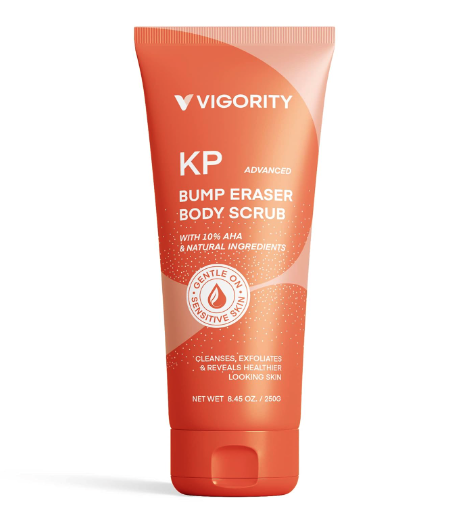 Natural walnut shell powder combines with glycolic acid and lactic acid to give you a fast-acting best exfoliating scrub for ingrown hairs on legs and body. The powerful ingredients combine together to remove dead skin cells completely, cleaning the pores, exposing the radiant skin from within, and removing acne. It also has moisturizing ingredients such as shea butter, jojoba oil, and seaweed so the scrub soothes, hydrates, and transforms the skin right when it does its strong exfoliating action. As this is a chemical exfoliant, this scrub does make your skin sensitive to the Sun and it's recommended to reduce the exposure and apply sunscreen at least a week after you use this product. The presence of green tea extract also ensures that there's natural protection against UV radiation and it also calms irritation so you don't experience any after-effects after using this scrub. 
"The best part about this product? You don't have to scrub vigorously to see results. The bumps on my arms are gone with gentle massaging and after just 4 uses! My arms are much softer now and I am planning to use this next on the bikini region," writes one of the reviewers on Instagram. This best exfoliating scrub for ingrown hair is also very easy to use. Start by taking a sufficient quantity in your hands and applying it on wet skin. Rub in circular motions 3 to 5 times and let it say for a few minutes. Rinse with clean water and repeat this procedure twice a week. 
Pros:
Contains a powerful combination of physical & chemical exfoliants to remove ingrown hairs fast

Has no harmful ingredients and comprises just a small list of ingredients so it doesn't confuse the consumers

Just a small amount goes a long way

100% organic and vegan product

Cruelty-free and dermatologically-tested
Cons:
This can result in irritation for those with sensitive skin

May increase the skin's sensitivity to Sun
#9 Differin Body Scrub With Salicylic Acid For Body Acne & Ingrown Hair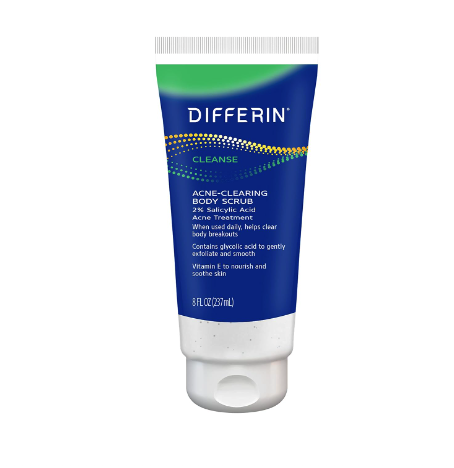 Yet another chemical best exfoliating scrub for ingrown hairs on legs and body is the Differin body scrub. It contains a strong combination of chemical exfoliants: 2% salicylic acid and glycolic acid! Chemical exfoliants are often considered better than physical exfoliants because they offer a more gentle and effective way to slough off dead skin cells and promote skin renewal. Physical exfoliants, like scrubs or brushes, can be harsh and abrasive, leading to microtears in the skin and potentially exacerbating skin issues. In contrast, chemical exfoliants, such as alpha hydroxy acids (AHAs) or beta hydroxy acids (BHAs), work by dissolving the bonds between skin cells, causing the outer layer to gently slough off. This process is more even, precise, and less likely to cause irritation or damage. 
The gel-like texture of this exfoliant also contains water-soluble Vitamin-E exfoliating beads which further amps the removal of dead skin layer and reveals radiant, smooth skin from within. "This product does a great job for exactly what I needed it for – ingrown hair on thighs, especially inner thighs. My only problem is the medicinal scent which is a tick-off as I have used nice-smelling physical exfoliants before. Nonetheless, if you can ignore it, this works like a charm," writes one of the reviewers on Amazon. 
Pros:
Works for all skin types

Contains a good percentage of chemical exfoliants to see the results

Has blue tansy as one of the ingredients that can calm and soothe the skin

Fragrance-free formula

Tested by dermatologists
Cons:
Some might not like the scent
#10 OUAI Hair & Body Scrub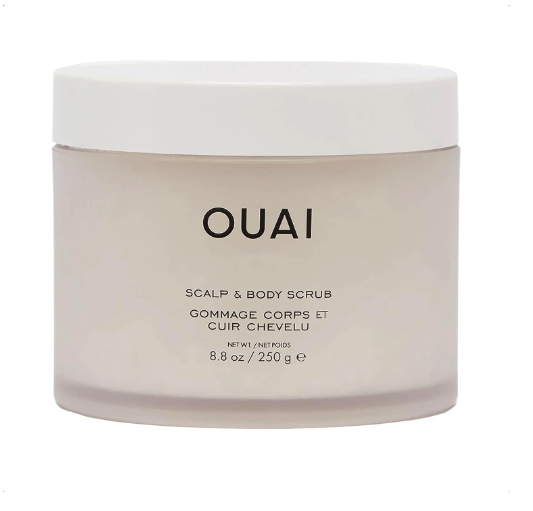 The Ouai hair and body scrub is a foaming coconut oil sugar scrub that is meant to be applied on wet skin after which you gently massage the scrub and remove it with just water. The sugar in the product gently exfoliates the dead skin cells and boosts microcirculation to boost collagen production and promote youthful skin. There's also coconut oil in this exfoliating scrub for ingrown hair which nourishes the scalp and body from deep within. The presence of a probiotic blend supports the skin's natural microbiome, which contributes to healthy sebum and fatty acid production and also regulates the pH of the skin. With regular use, it will leave your scalp and skin clean and smooth. 
Another positive attribute of this best exfoliating scrub for ingrown hairs on legs and body is the amazing smell. The company has worked hard to make the scent luxurious, just like the product. They have added the Melrose Place scent – which is one of the best-selling perfumes, which has notes of rose, bergamot, lychee, cedarwood, and white musk. Consumers are obsessed with the smell of this exfoliating scrub for ingrown hair too. "I will buy this scrub over and over again. The scent is unreal and it feels like I am on a tropical island in my own bathroom. I also adore the texture of the product and how it works on my skin without drying it out. Expensive – but worth a try," writes one of the reviewers on Amazon. 
Pros:
Goes on the body easily

Hydrates the skin

Free from parabens, phthalates, and sulfates 

Smells amazing

Also works on your hair

Comes from a well-renowned luxury brand

Suitable for all skin types
Cons:
FAQ's 
Why Do We Get Ingrown Hair?
Ingrown hairs occur when a hair, typically after it has been shaved or removed, grows back into the skin instead of outward through the hair follicle. This can happen for several reasons. Firstly, hair that is naturally curly or coarse is more prone to ingrown hairs because it may double back on itself as it grows. Secondly, improper shaving or hair removal techniques, such as shaving too closely, using dull razors, or pulling the skin taut, can cause the hair to be cut below the skin's surface. Inflammation from these techniques or from other skin conditions can also block the hair's path. Additionally, wearing tight clothing that causes friction against the skin can increase the likelihood of ingrown hairs. The body's natural response to these conditions can result in hair becoming trapped beneath the skin, leading to the development of ingrown hairs. 
How Do We Prevent Ingrown Hairs?
Several methods can help prevent and kill ingrown hairs:
#1 Exfoliation 
Regular exfoliation with a gentle scrub or loofah can help remove dead skin cells, allowing hair to grow unimpeded.
#2 Warm Compress
Applying a warm, damp cloth to the affected area can soften the skin and open up hair follicles, making it easier to release the ingrown hair.
#3 Topical Solutions
Over-the-counter products containing salicylic acid, glycolic acid, or alpha hydroxy acids can help exfoliate the skin and reduce inflammation, promoting hair to surface.
#4 Avoid Tight Clothing
Wearing loose-fitting clothing can reduce friction and irritation on the skin, decreasing the likelihood of ingrown hairs.
#5 Proper Shaving Technique
If you shave, make sure to shave in the direction of hair growth, use a sharp razor, and moisturize the skin before and after shaving
#6 Don't Pick or Squeeze
Picking or squeezing ingrown hairs can lead to infection or scarring. It's best to allow the hair to surface naturally.
#7 Professional Treatments 
In severe cases, or if ingrown hairs are recurrent, consider professional treatments like laser hair removal or electrolysis to permanently reduce hair growth.
#8 Consult A Dermatologist
If ingrown hairs are a persistent problem, consulting a dermatologist can be beneficial. They can offer more advanced treatments like steroid creams, antibiotics for infected ingrown hairs, or even perform procedures like laser hair removal to release trapped hairs. 
Do The Best Exfoliating Scrub For Ingrown Hairs On Legs & Body Work?
Yes, the best exfoliating scrub for ingrown hairs on legs and body does work. They contain carefully crafted ingredients that can work to gently exfoliate the top dead layer of the skin and clear the path for the ingrown hair so they grow the way they're supposed to. Both physical and chemical exfoliators can work in their own way, but it's the formulation that decides which one will work better. Sometimes even the chemical exfoliation can turn out to be harsh and irritating. And sometimes the salt scrubs work better than the chemical exfoliants. Above, we have listed the 10 best exfoliating scrub for ingrown hairs on legs and body after careful research, and it includes both chemical and physical exfoliants.  
Does Loofah Help With Ingrown Hair?
Loofahs, which are natural sponges or scrubbers often made from the fibrous interior of the luffa plant, can potentially be helpful in preventing ingrown hairs. Using a loofah as part of your regular skincare routine can aid in exfoliating the skin, removing dead cells, and preventing hair from becoming trapped beneath the surface. This gentle exfoliation can help the hair grow freely, reducing the likelihood of it curling back into the skin and causing ingrown hair. However, it's important to use the loofah gently to avoid over-exfoliation, which can lead to skin irritation. Additionally, combining loofah use with proper shaving or hair removal techniques can further reduce the risk of ingrown hairs.
What Are Some DIY Exfoliating Scrub For Ingrown Hair On Legs? 
Here are 3 DIY scrubs that can effectively get rid of ingrown hairs:
#1 Salt Scrub For DIY Body Exfoliating
Ingredients
1 cup of Dead Sea Salt (Buy

Here

)

¼ cup of Jojoba Oil (Get

Here

)

A few drops of your favorite essential oil
How To Use:
Mix all of these ingredients together and store. When you're ready to use, apply some on damp skin and scrub. Let it sit for a few minutes before washing off with lukewarm water. 
#2 Coffee Grounds & Brown Sugar Scrub
Ingredients:
Coffee Grounds

Brown Sugar

Coconut Oil
How To Use: 
Mix coffee grounds and brown sugar in a 2:1 ratio. Add coconut oil to create a thick paste and apply the scrub in gentle circular motions. Let it sit for a few minutes and rinse off. Pat dry. 
#3 Baking Soda & Honey Scrub
Ingredients:
Baking Soda

Coconut Oil

Honey
How To Use: 
In a mixing bowl, add all of these ingredients in equal proportions. Mix them and apply them in circular motions. Massage for a few minutes and rinse with lukewarm water.