Shopping for your bridal trousseau can be a daunting task. You have to pick more significant details such as wedding dresses and jewelry to more minor pieces such as the wedding nail art designs or the lehenga blouse design. The struggle does get real. The hassle of finding the perfect bridal outfit and hopping from store to store can be fun, but tiresome. Though, things become easier when you are a little aware of what you want. It can be as simple as the kind of embroidery, the designer, the exquisiteness, or the type of silhouette you want to carry. For brides, two silhouettes are the most popular: Lehengas or Sarees! Wondering which one to choose for your wedding day? Bridal Lehenga vs Bridal Saree? We have listed the pros and cons of both below to help you with the decision. 
Wedding Lehenga:
A wedding lehenga is a traditional and opulent attire that consists of a skirt, a blouse, and a dupatta. Currently, the double dupatta style is the most adored by brides and the way it's arranged can also be a statement in your bridal look. Choosing a lehenga is a good decision for brides who want to look like the center of attention and can't let go of this most popular attire for their special day. Lehengas can be heavier than sarees, but there are many variations available. You can opt for a printed lehenga or a heavily embroidered lehenga or a pure silk lehenga with threadwork as per your preference. There's literally no dearth of choices. Below, find the pros and cons of choosing a bridal lehenga over a bridal saree.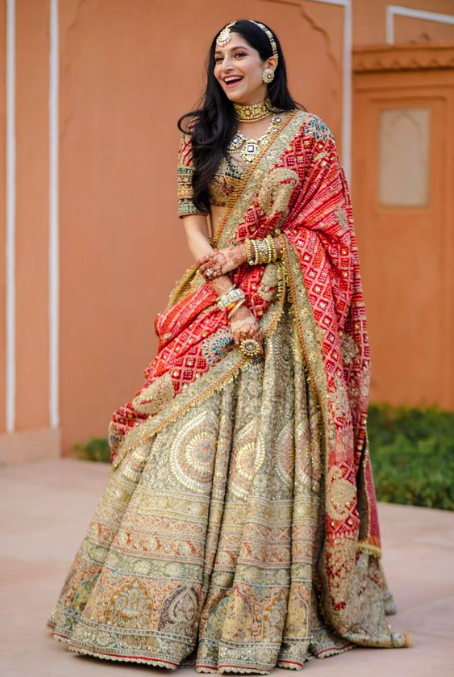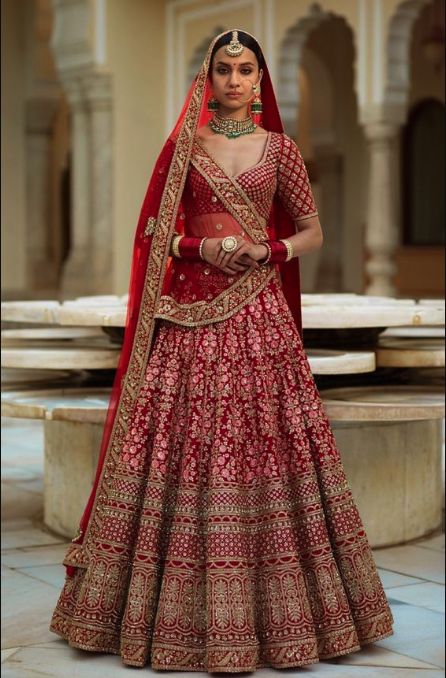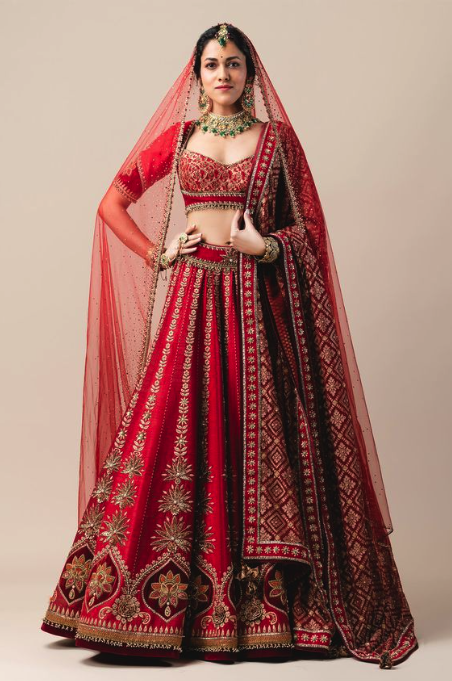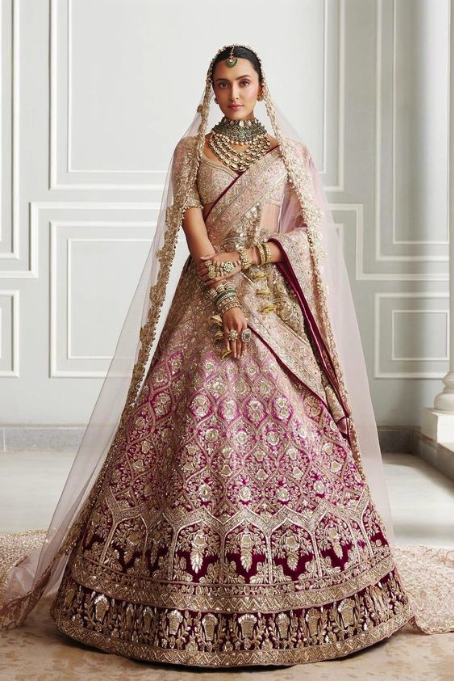 Pros:
They have a contemporary yet traditional bridal look. 

They are available in a variety of styles. Markets are filled with bridal lehengas as per your preference and style. 

Lehengas can be customized with a wide range of fabrics, colors, and intricate embroidery, giving brides more control over the design to suit their preferences.

Lehengas can be paired with different blouse styles, creating unique and eye-catching

Perfect for brides who want a grand bridal look where she wants all eyes to be on her! 
Cons:
Lehengas have low re-wearability and you can only wear them for special occasions like Karvachauth or for events that are related to your close family or friends. 

They are difficult to handle and can get stuck in your footwear constantly. 

They are expensive and good lehengas can go anywhere upwards of 70k. 

There isn't much experimentation available with this silhouette. 
Wedding Saree:
The saree is the most classic Indian silhouette, inherent to our region and worn in different ways in different regions of the country. In fact, in many traditions, a saree is typically worn by the bride for the wedding ceremony. This includes cultures such as Assamese, Tamil, Telugu, Gujarati, Kannada, etc. Whether you're headed for a palatial destination wedding or just want an intimate affair in the comfort of your hometown, a saree can be a befitting choice for both. Many designers make sarees catering to the bride's preference, and many celebrities also wear sarees for their special day – like Alia Bhatt, Deepika Padukone, and Rhea Kapoor. It's re-wearability certainly can't be denied with Alia Bhatt re-wearing her bridal saree again for the National Awards!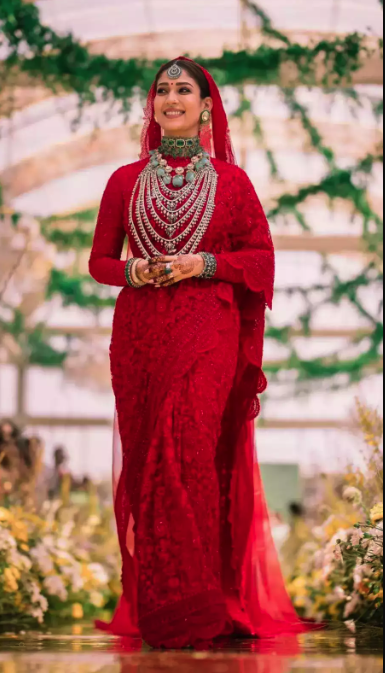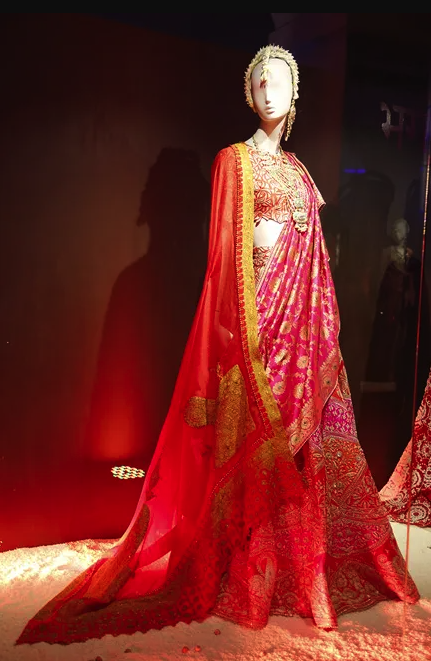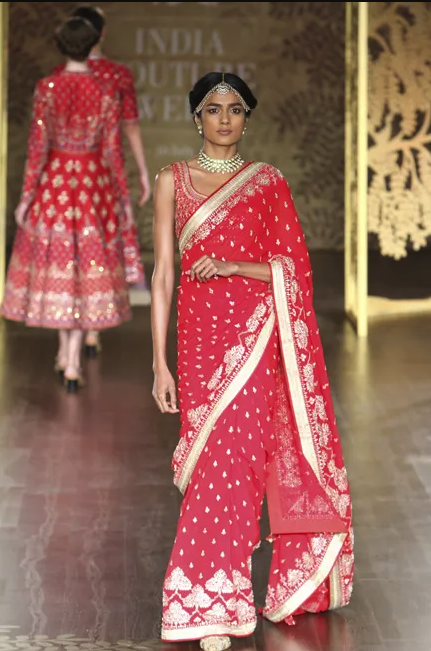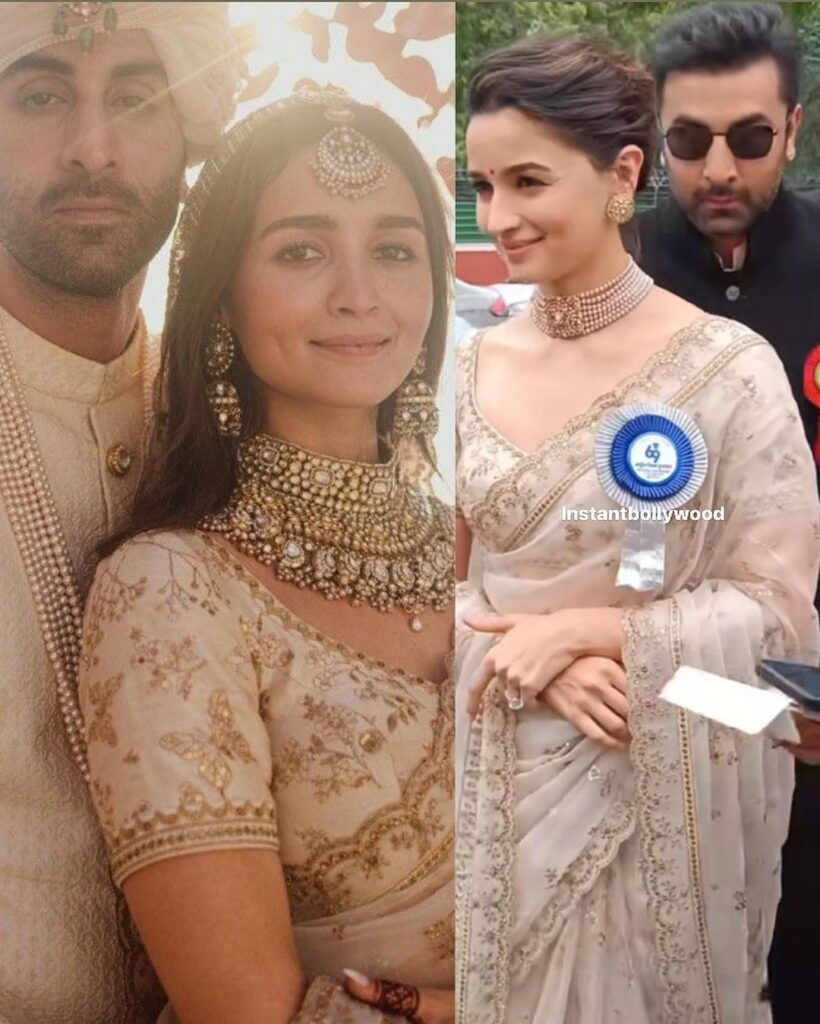 Pros:
Easy to carry and drape

It's versatile and can be worn for multiple functions in the future with ease

Bridal sarees are cost-effective and you can get a nice, pure saree with exquisite embroidery in around 50k or less. 

Heavy jewelry goes amazingly with the saree and you can choose to layer the jewelry pieces so they can be re-worn later as well

Sarees are easy to drape and anyone in your family can do it. You don't have to pay for the draping separately. 
Cons: 
If you are not used to moving around in the saree, it can be uncomfortable to walk in.

Pure silk sarees – which is generally the choice of brides – are difficult to maintain in the long run and can get cut if the crease isn't changed from time to time. 

Draping can be a task and can only be done by someone who is experienced in it. 

Jewelry options become limited.