One thing that can completely change your Indian wear look is the blouse design. And that's why you start brainstorming blouse ideas way before you even purchase a saree or a lehenga. I remember owning a cut-sleeve blouse with a lehenga and I got bored of the style after wearing it 2-3 times, so what I did was attached full-length net sleeves to it and the trending tube light work along the hem, and trust me, it gave a whole other look to my outfit. That's the difference a lehenga blouse design can make! 
Whether you are looking for a simple lehenga blouse design, a bridal blouse designs back cut design or a unique blouse design for your outfit – we have got it all sorted. Take this blog as the lehenga blouse design catalogue coz girl, you'll find everything you've been looking for in this blog and more! Keep scrolling. 
Lehenga Blouse Designs To Save Right Now!
#1 Kicking off this list with this elegant lehenga back blouse cutting that's perfect for your wedding day. Bored of the normal U-cuts and round cut for the blouse back, this one with a curved cutout will surely impress you!

Via Pinterest
#2 Any lehenga blouse design list isn't complete without the signature Sabyasachi sweetheart neck design. The one that accentuates your breast gracefully and highlights the neckline so your bridal jewellery pops up.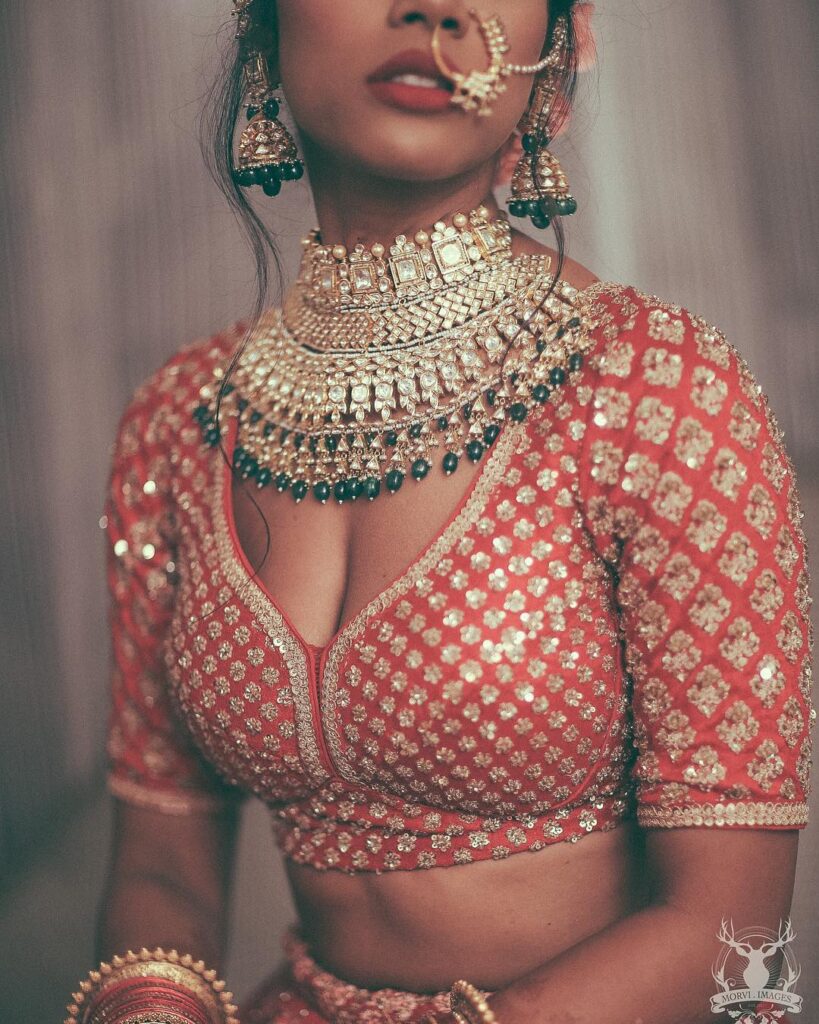 Via Morvi Images
#3 Double dori blouse back will never go out of fashion. Flaunt your flawless back with this deep cut blouse and fancy tassels. What further spruces up this blouse design is the front sweetheart cut that's so subtle in the making. Sonaakshi Raaj really nailed her bridal outfit – from her outfit's intricacy to the makeup and jewellery – everything is worth swooning over!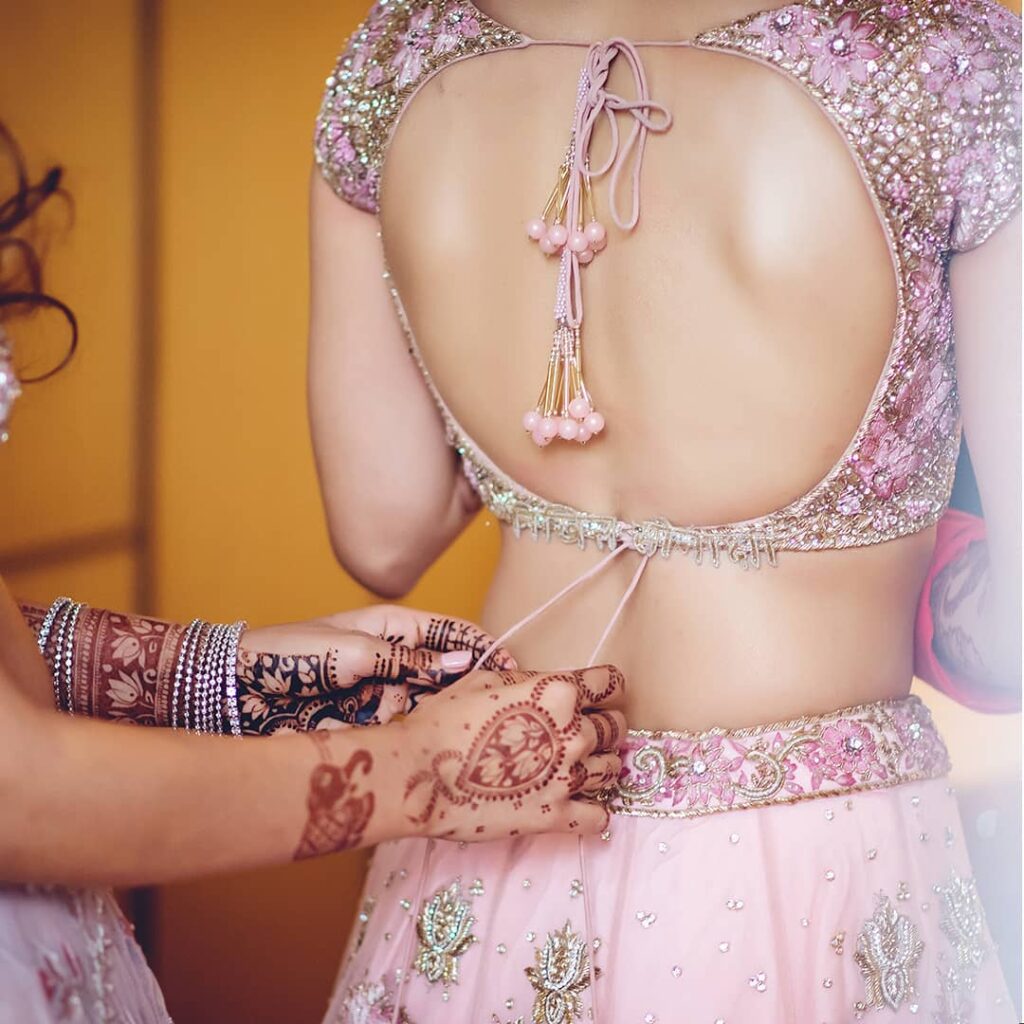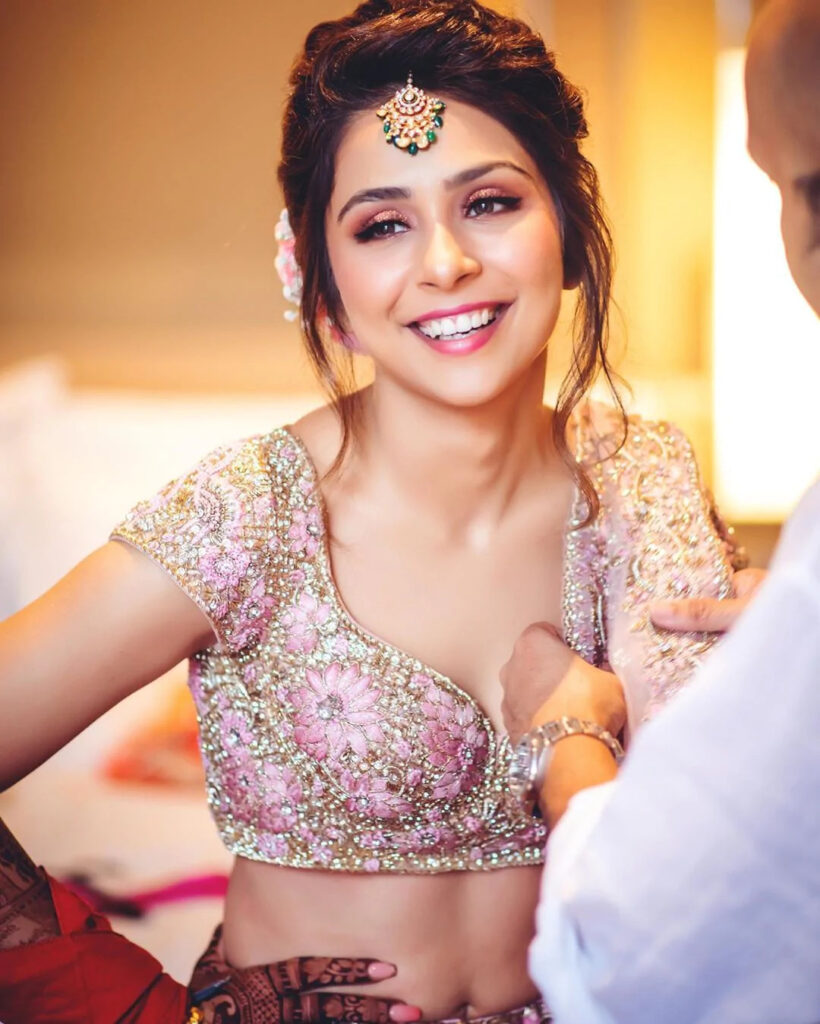 Via Sonaakshi Raaj
#4 Another latest lehenga blouse design for the 2023 brides is this V-shape cut that's oh-so-sexy! Best for brides, bridesmaids, and sister-of-the brides/ grooms whose style statement screams bold, this one should be bookmarked right away.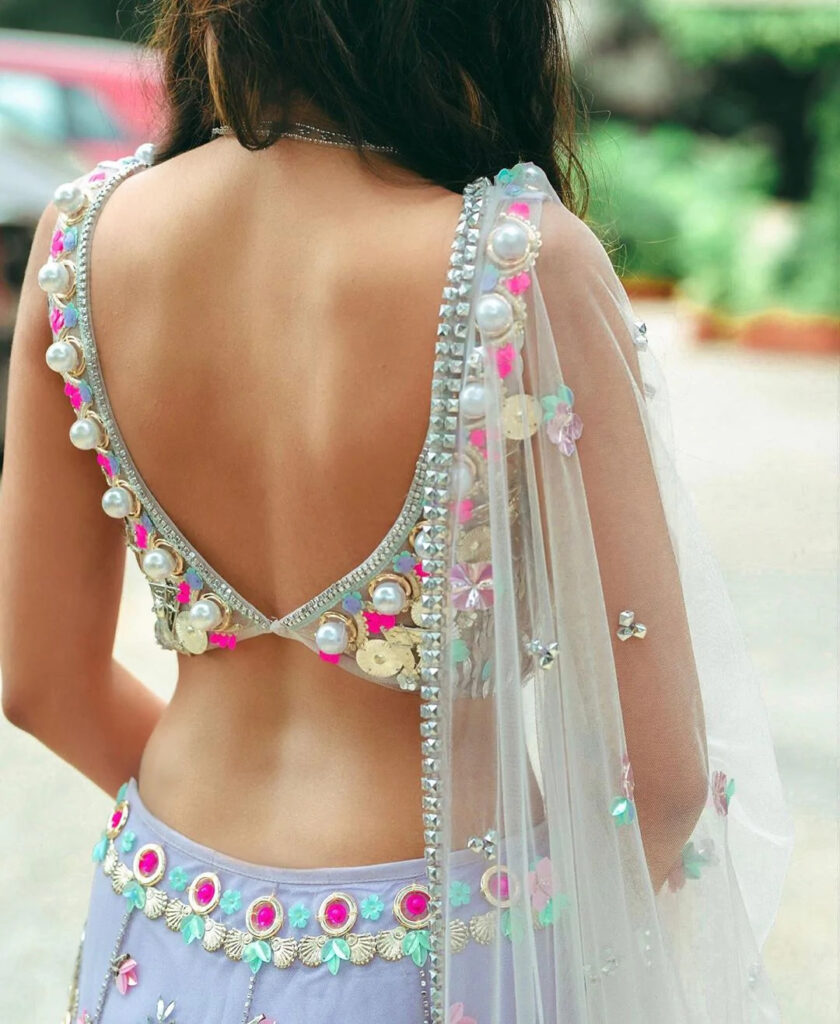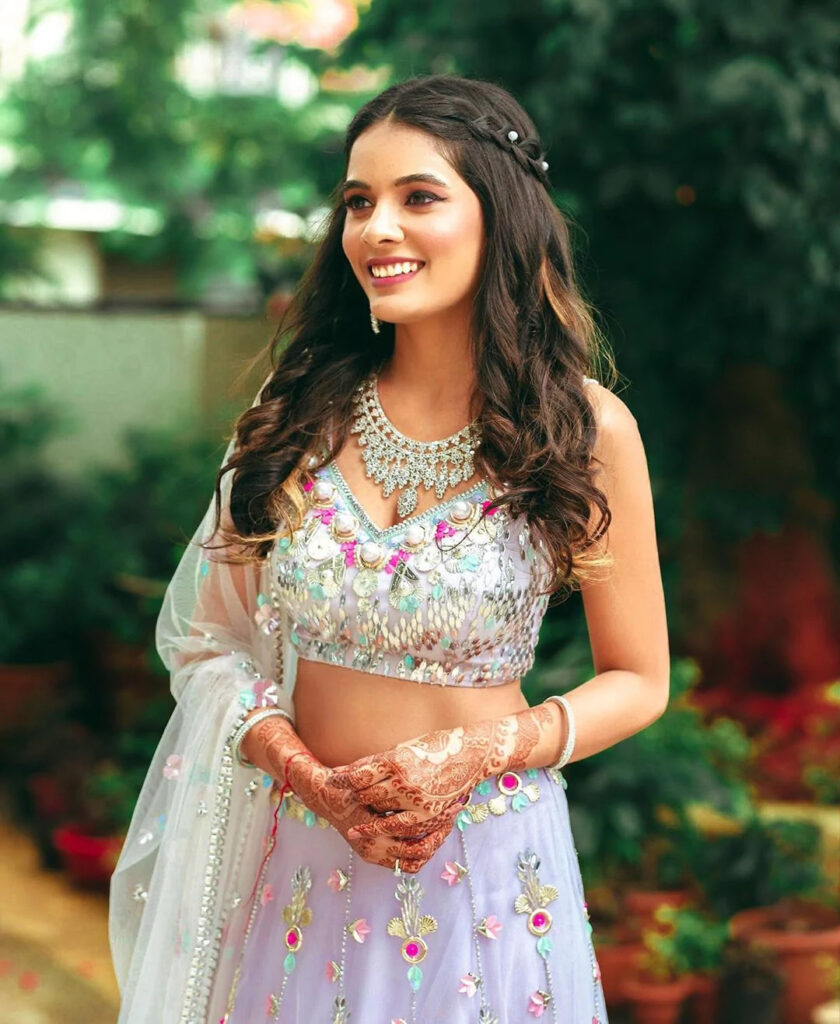 Via Papa Don't Preach By Shubhika, @sanyamehta96
#5 The recent lehengas from designer Falguni Shane Peacock are coming with these V-neck lehenga blouses with full sleeves & we are loving them! Just see how gorgeous they look and give your lehenga a modish twist. Here are two brides who wore them – one for mehendi and the other for sangeet – so you can be assured that they'd look good any time of the day and in any kind of color!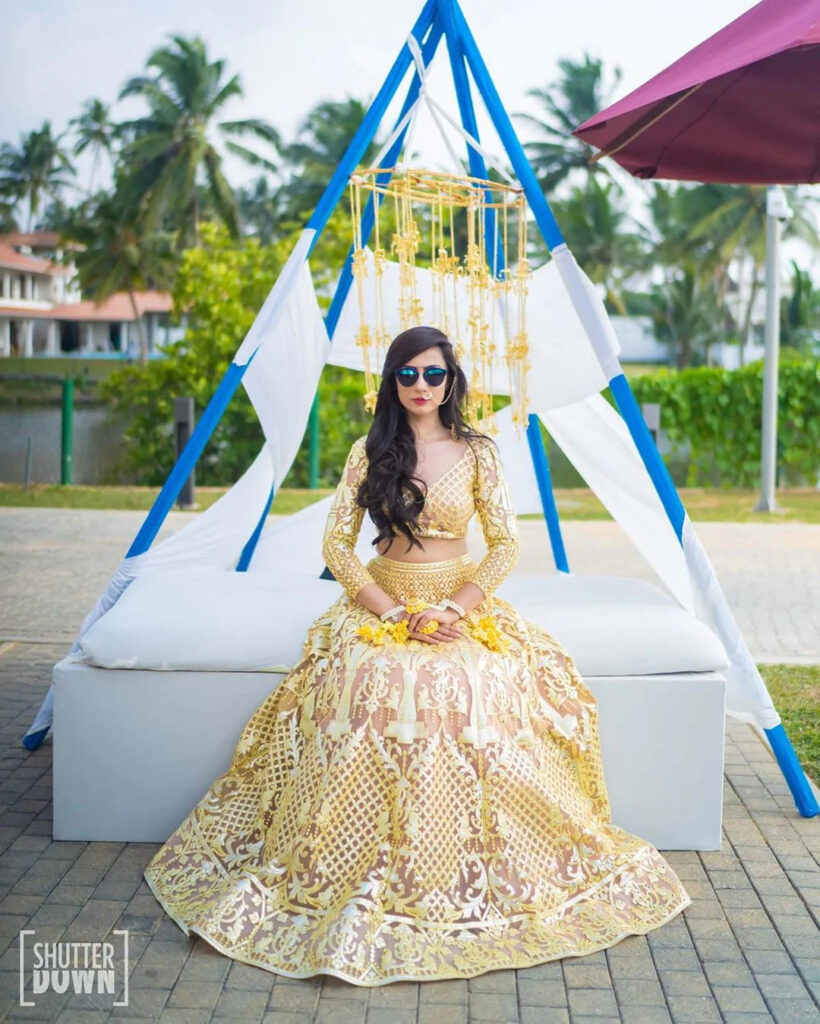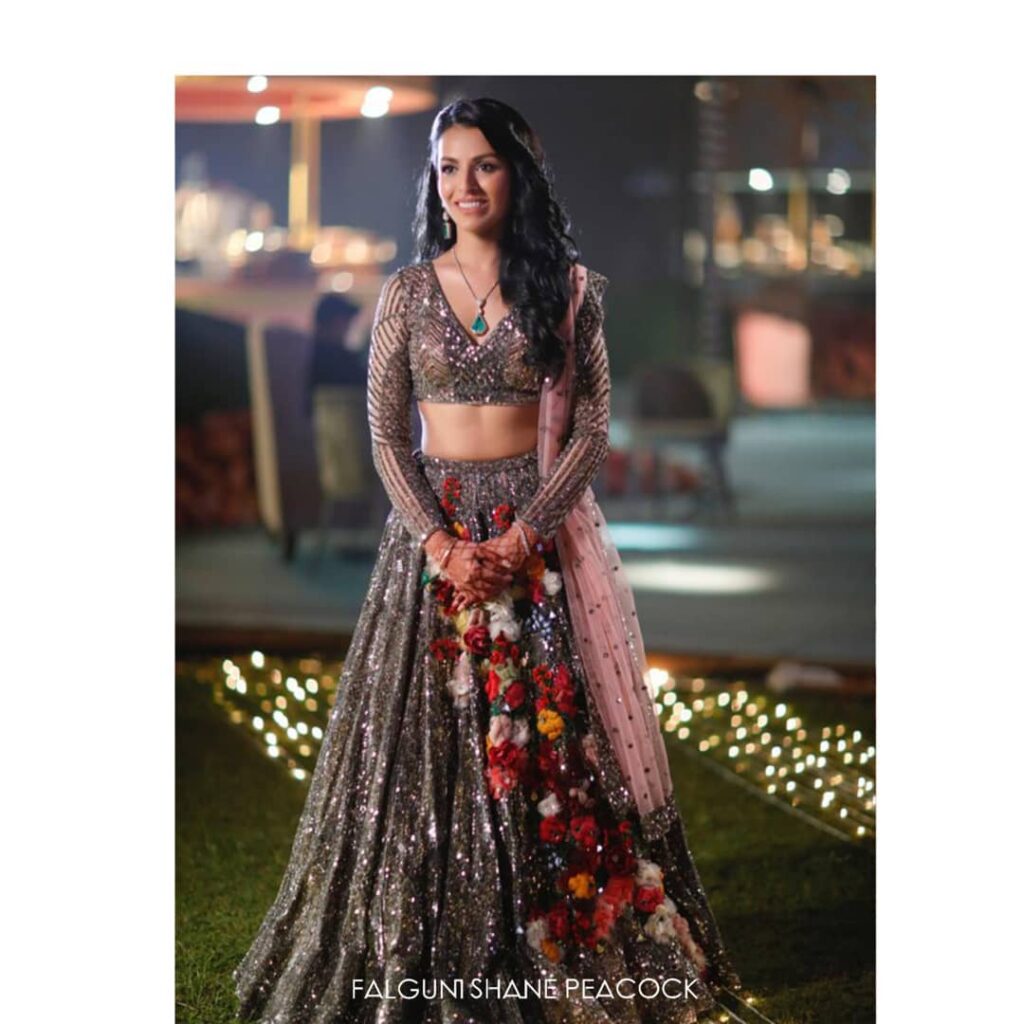 #6 Who loves puff-sleeve lehenga blouses? Doesn't it bring back the memories of Aishwarya Rai in Devdas? We know they look old-school, but once in a while going all in on traditional style will surely make you stand out from the crowd. Take cues from this bride on how to nail down the puff-sleeve blouse design look in a chic manner.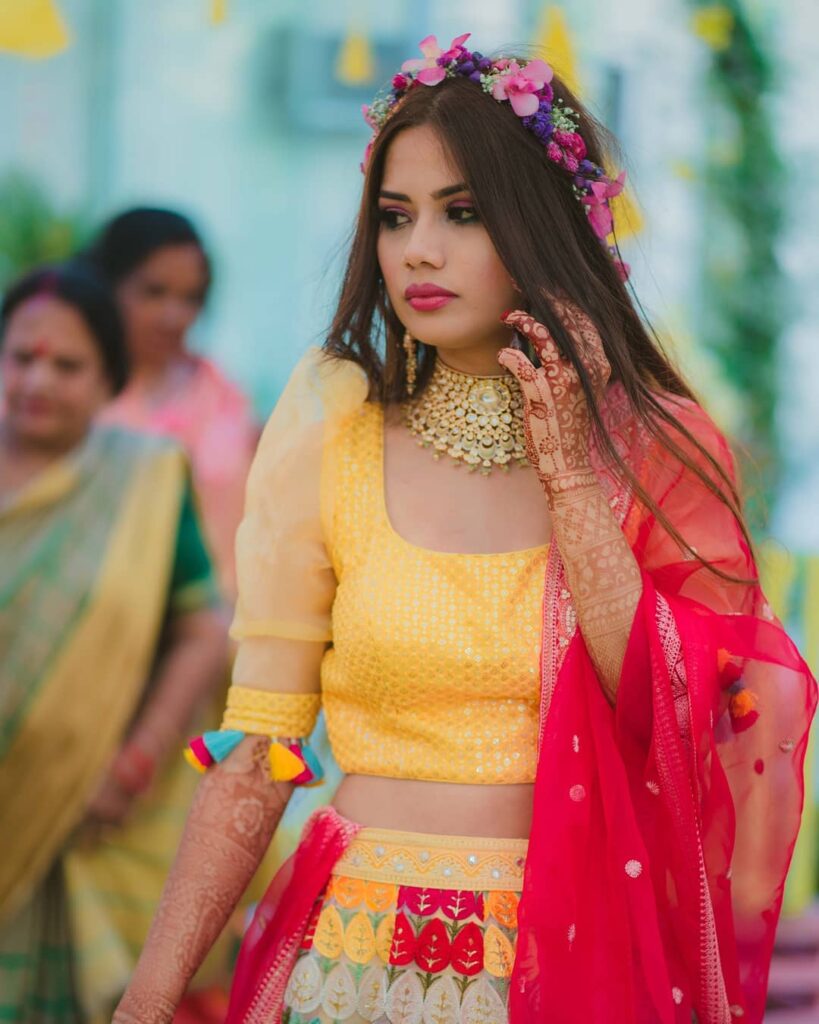 Via @shalzv// Check out her wedding blog here.
#7 You need to have at least one bow-back lehenga blouse in your trousseau! A V-shape back cut also gives you a long and elongated look, so for brides looking for an enhanced back look, this is the design to save right now.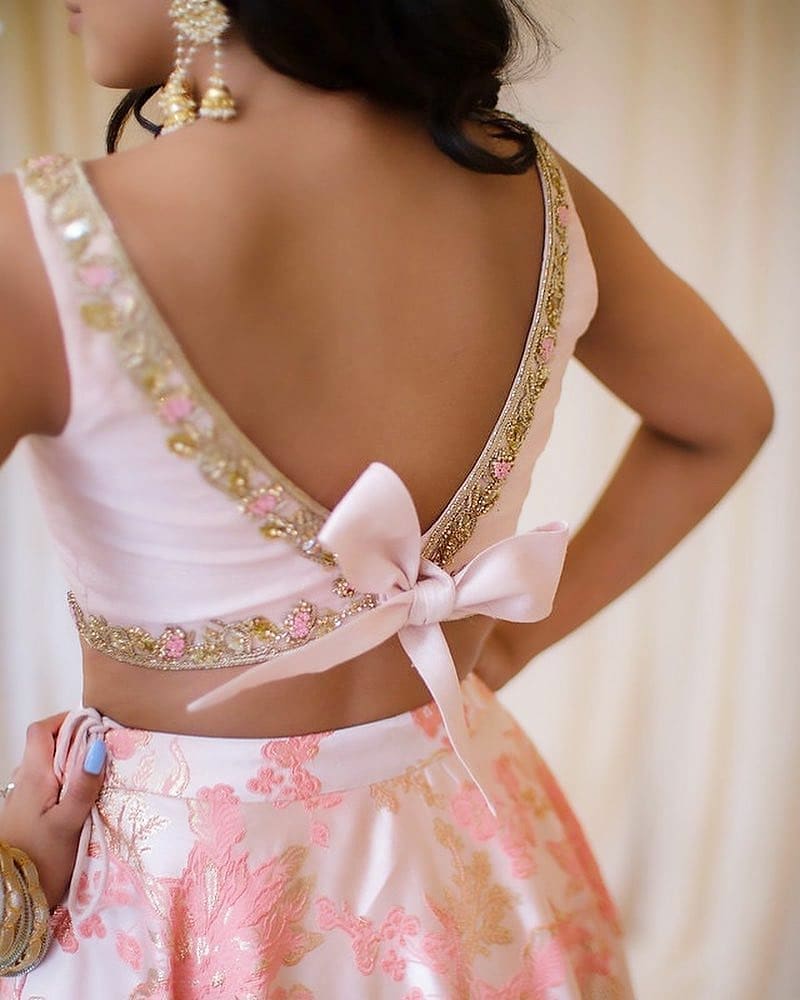 Via Pinterest
#8 Fan of dori blouse back design, but don't want to show off a lot of skin? Then add a lot of criss-cross doris and big tassels to your blouse, exactly like this bride. And also make it zero-neck. It will give you an appealing look while hiding your love handles. This is a lehenga blouse design that's perfect for your wedding or Haldi!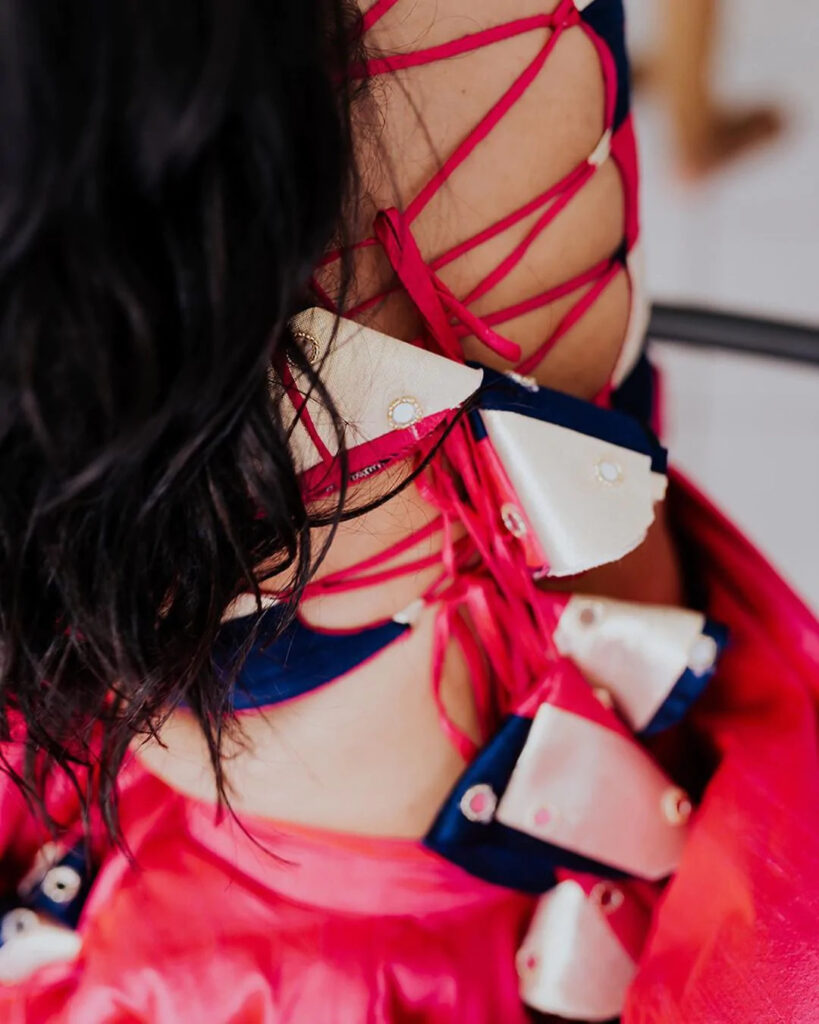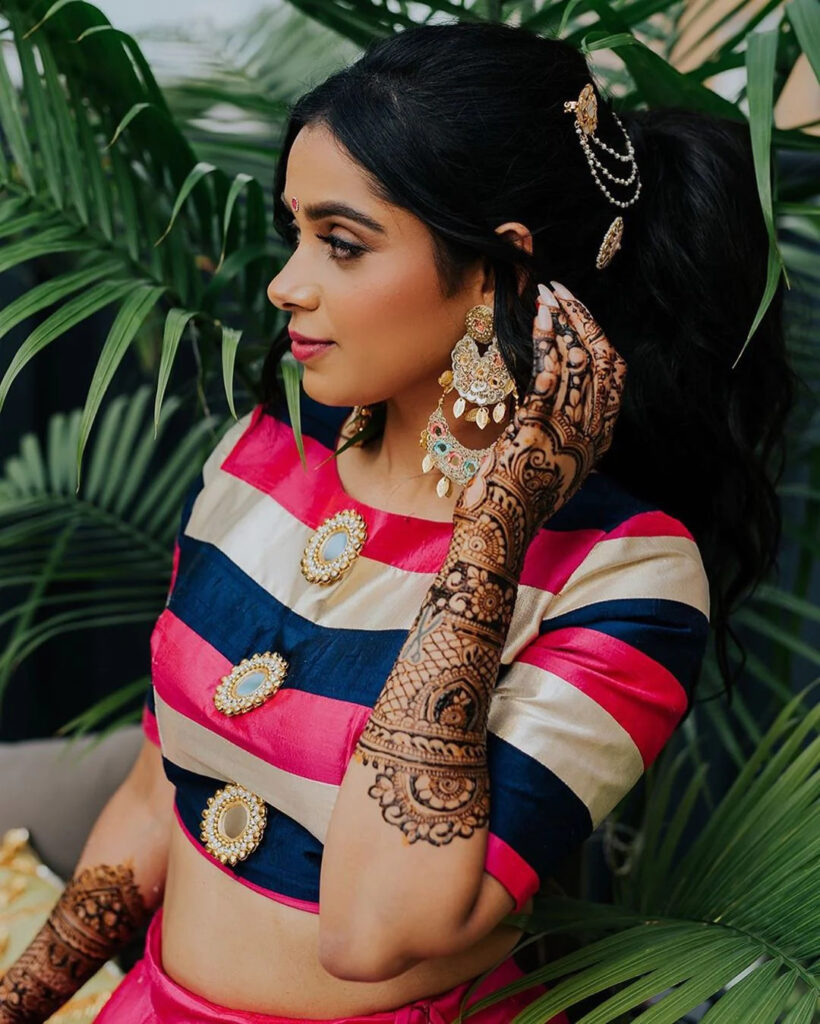 Via Mani Jassal
#9 One-shoulder blouses are trending right now. They are so pretty and delicate. Brides who want a lehenga blouse design that covers up yet gives them a stylish look, this is the design ideal for you. They look extremely flattering and are apt for your mehendi, sangeet, or cocktail party.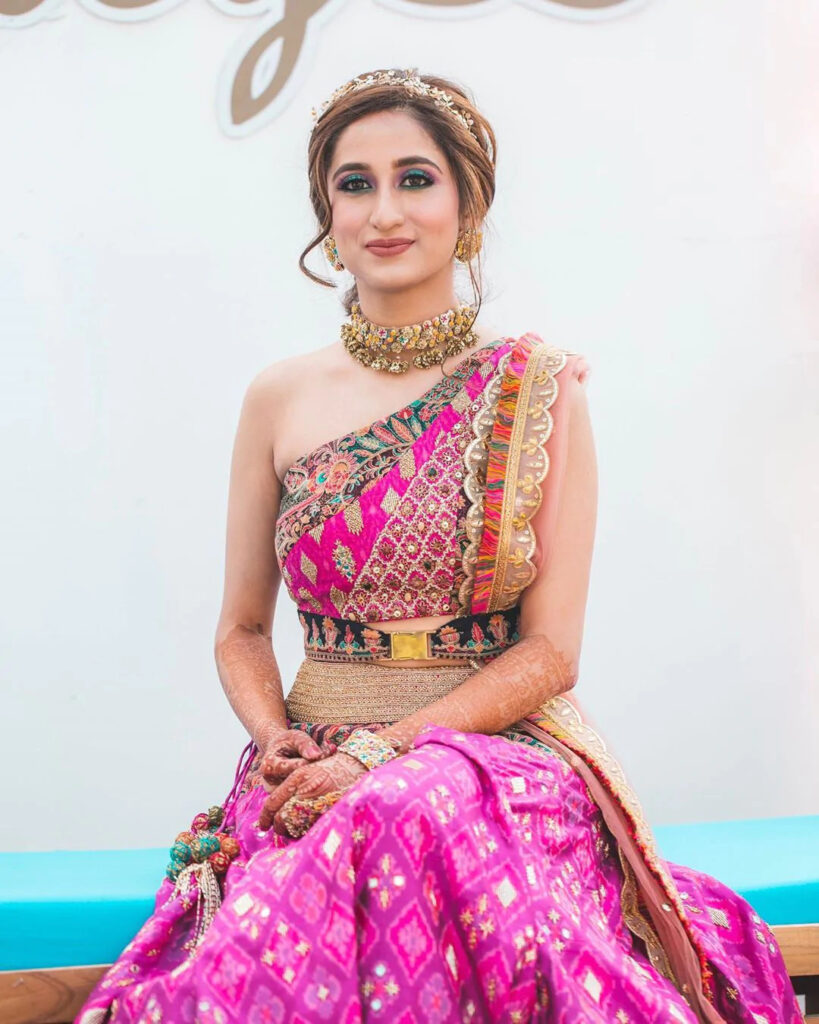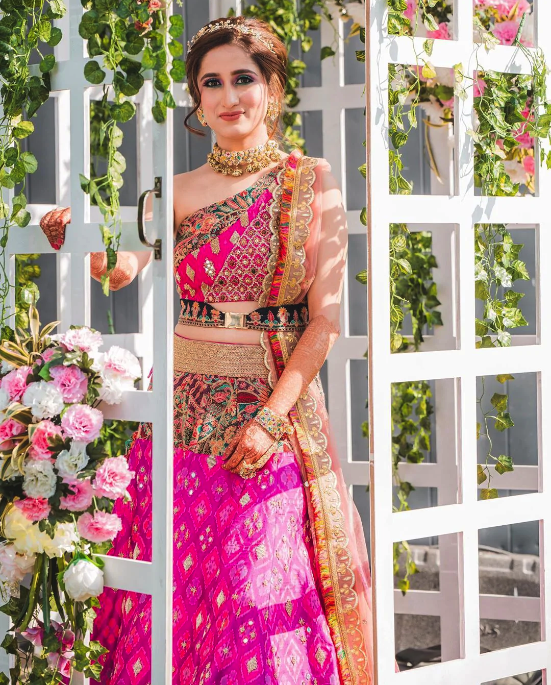 Dress via @qbikofficial
#10 Some brides of ours are always looking for something that's simple and elegant, that's how they define their style. If you're one of those, this lehenga blouse design will awe you. One can never go wrong with a classic U-shape cut and a little dori on the top. You can add some fancy latkans for a more glamorous look or just leave it as it is!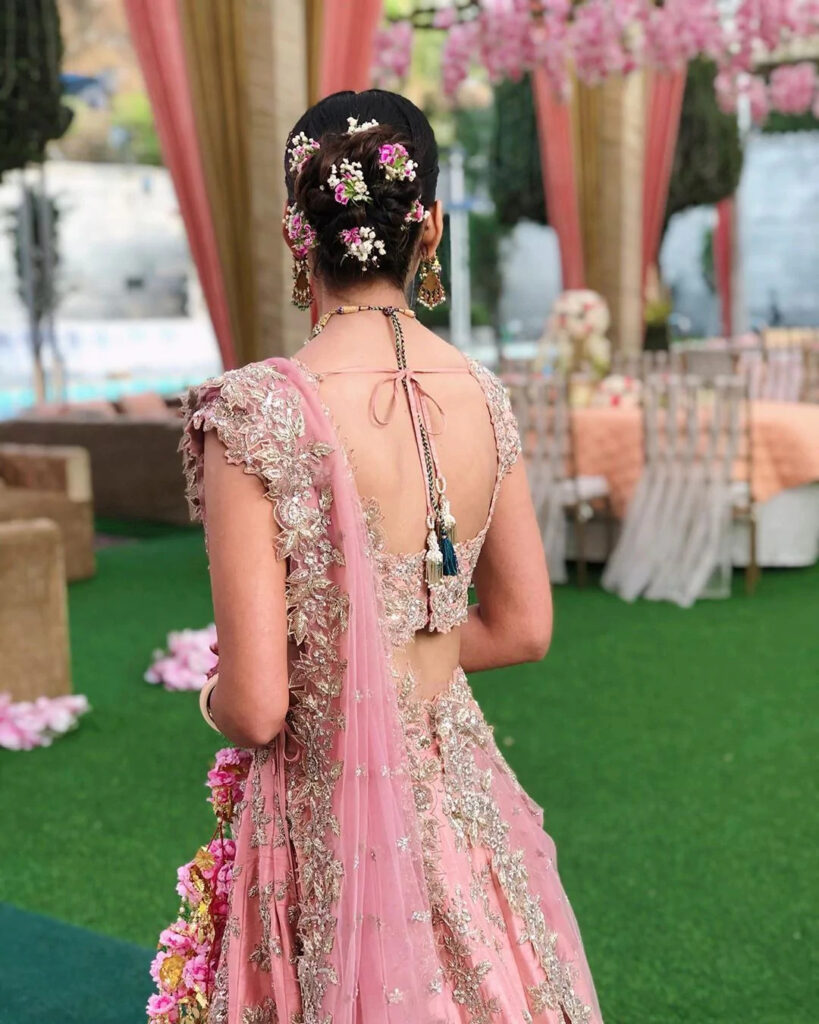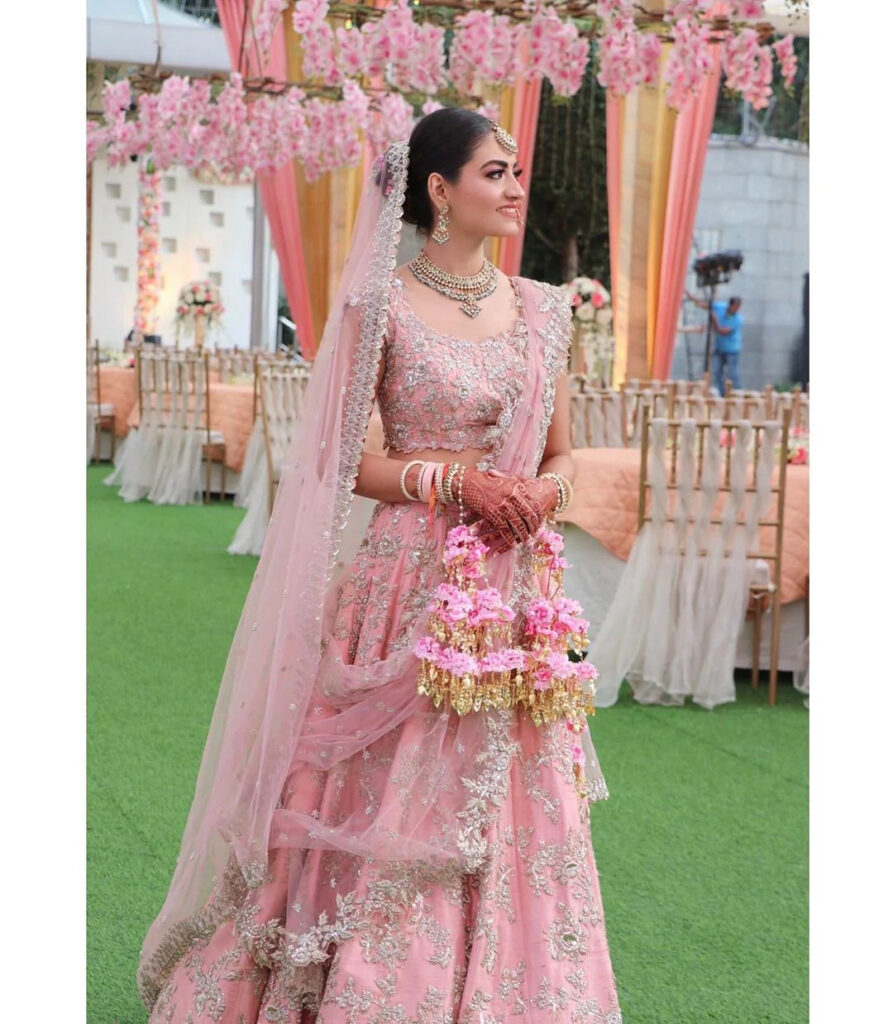 Via Anushree Reddy, @rashisehgalofficial
#11 Another design for brides who like to play safe is the classic round cut with a dori or a bow. It's the one design that we spot on brides the most and the one that looks good with all kinds of front necks – like boat neck, zero necks, collar neck, or a U-shape cut. Another upside of this blouse design is this can be pretty comfortable to wear with your heavy lehengas, so you feel at ease.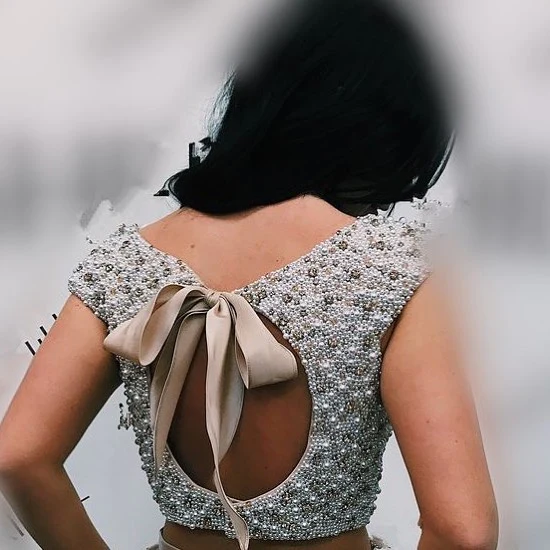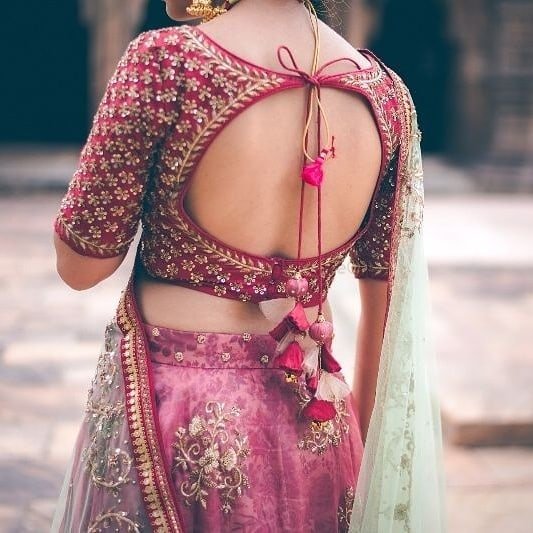 #12 Trend-Alert! Say goodbye to your dupatta woes by getting a lehenga blouse design that has dupatta attached to it already. This way, you can dance around without worrying about the dupatta slipping away or the pins getting loose. Isn't this a superb option for your sangeet night? We think so!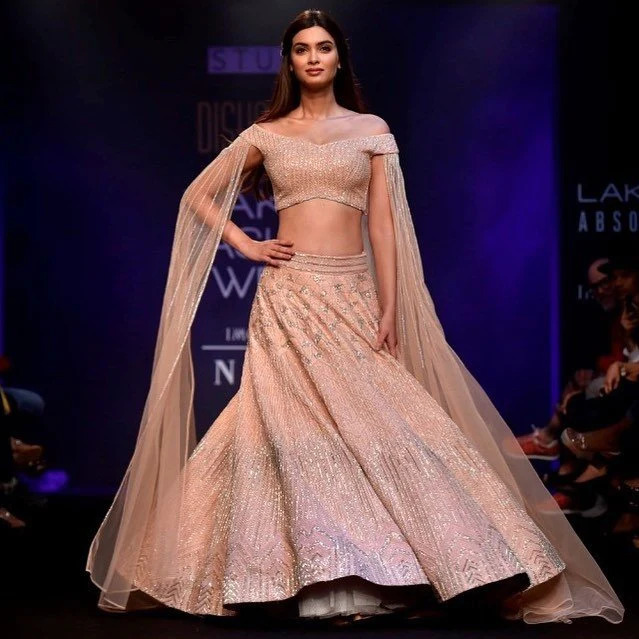 Diana Penty in Disha Patil
#13 High collar neck blouses with full sleeves are a big rage these days and this bride shows you how to look flawless in it! Isn't this such a fashionable and sophisticated option? Her asymmetrical lehenga is another aspect that's catching our eyes. We think her style is a major inspiration for brides-to-be.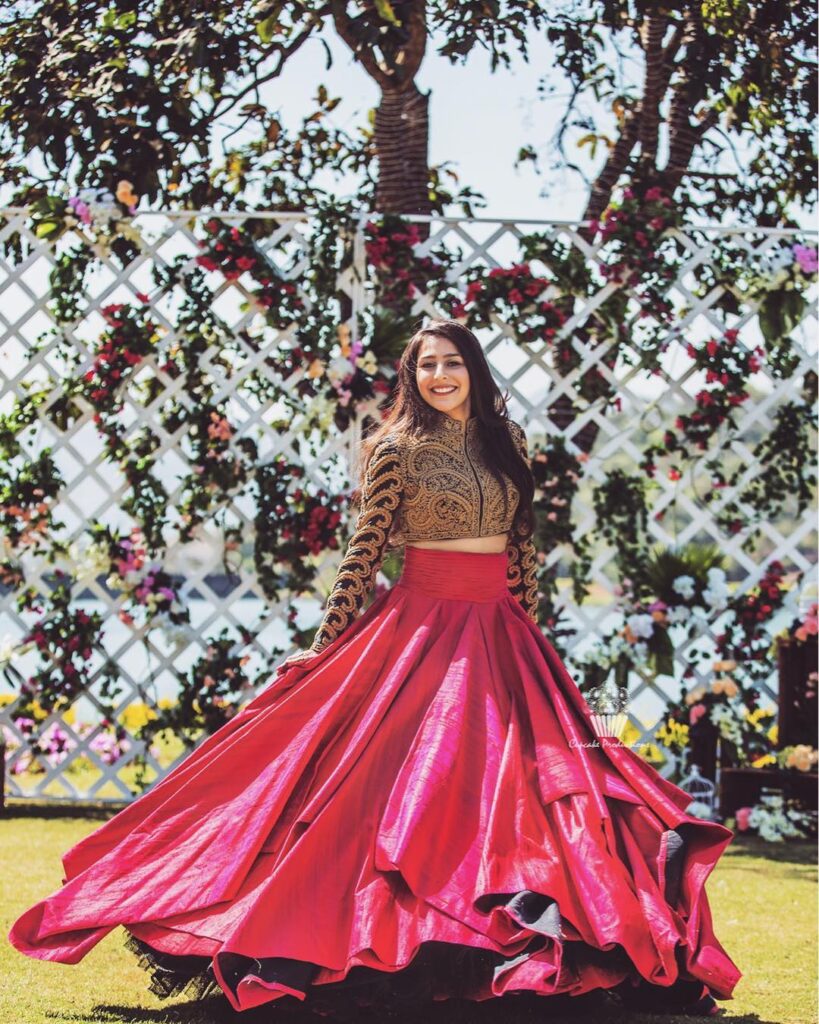 Via @cupcakeproductions, @shantanunikhil
#14 A monochrome red lehenga never fails to impress. This bride looked utterly ravishing in it on her big day with a boat neck lehenga blouse that looks sassy, without exposing too much! Moreover, the blouse also flatters the single dupatta look. Brides looking to ditch the double dupatta, take some hints from her!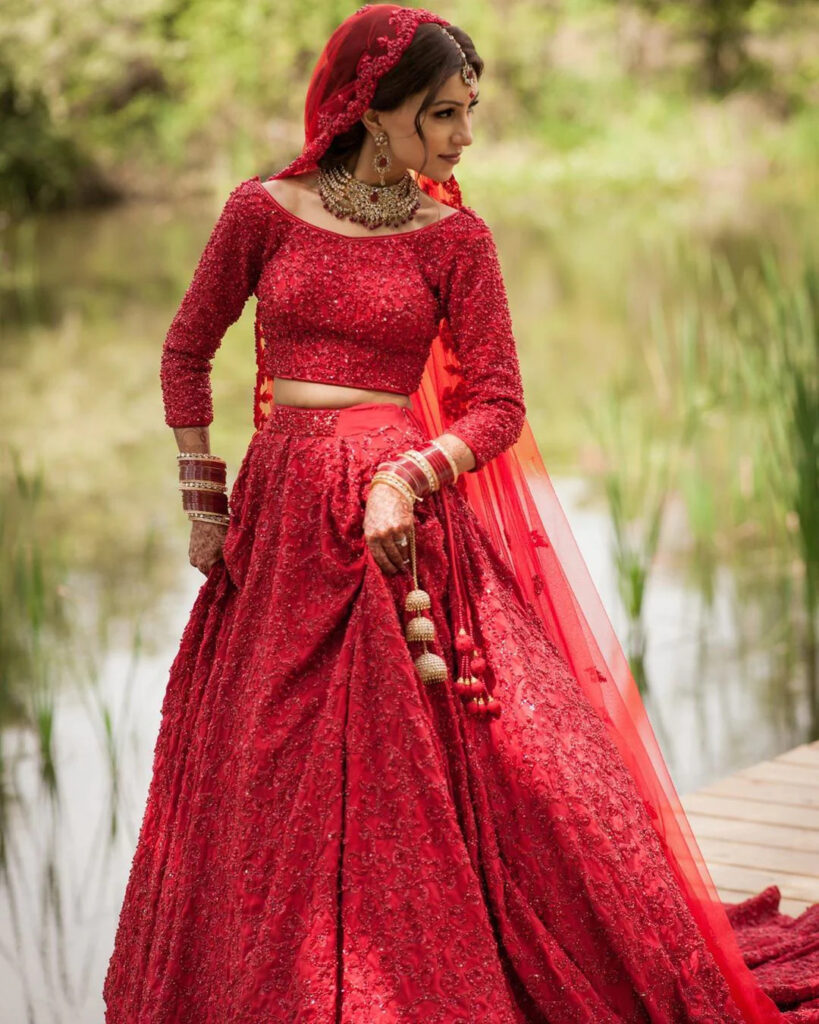 Via @vinita.dm
#15 A white lehenga has become a popular choice among brides/ bridesmaids lately. We also did a blog on it a few days back, check it out here. Complimentary her white lehenga is the chic and sophisticated blouse design that looks so splendid.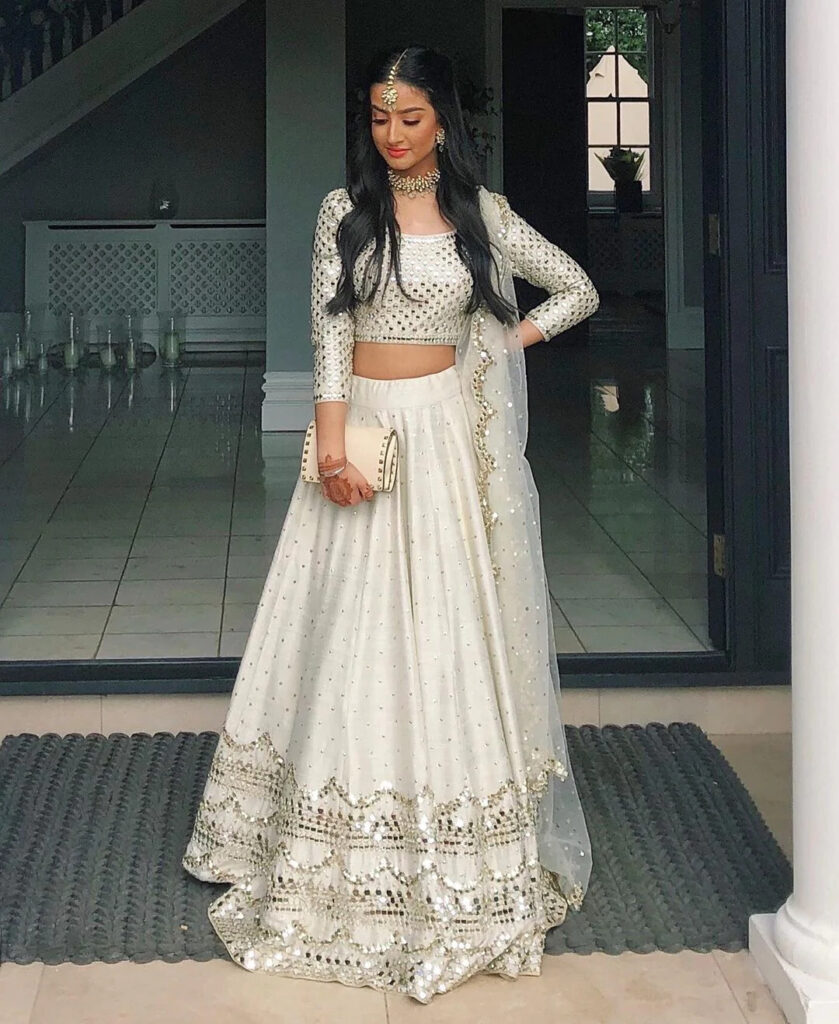 Via @avanii
#16 There's no doubt that bloggers and fashion influencers give us some of the best inspiration, whether it's Indian wear or Western wear. When Karishma Yadav from @pinktrunkk stepped out in this breathtaking outfit, we were gawking at her for a while. It's such a unique mustard yellow hue for your mehendi or haldi, plus she wore her dupatta as a cape making another style statement, and adding to it is the deep V-neck blouse with full sleeves that's such a noteworthy design and is literally the star of the whole outfit! Just wow!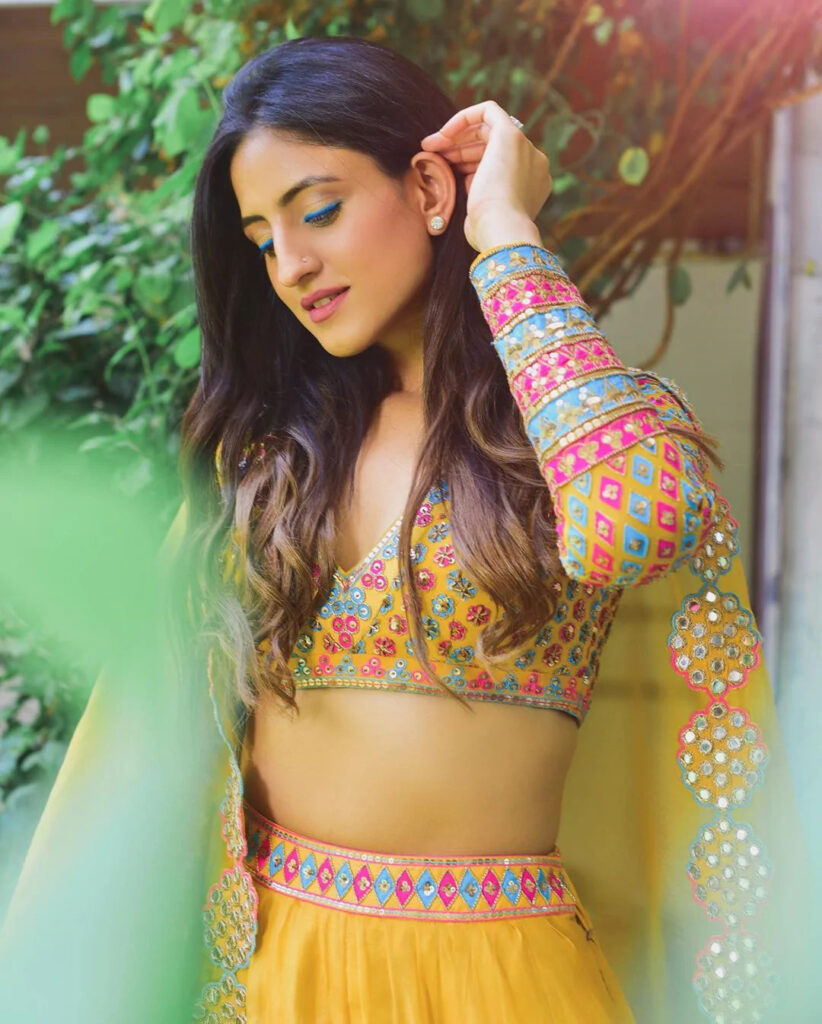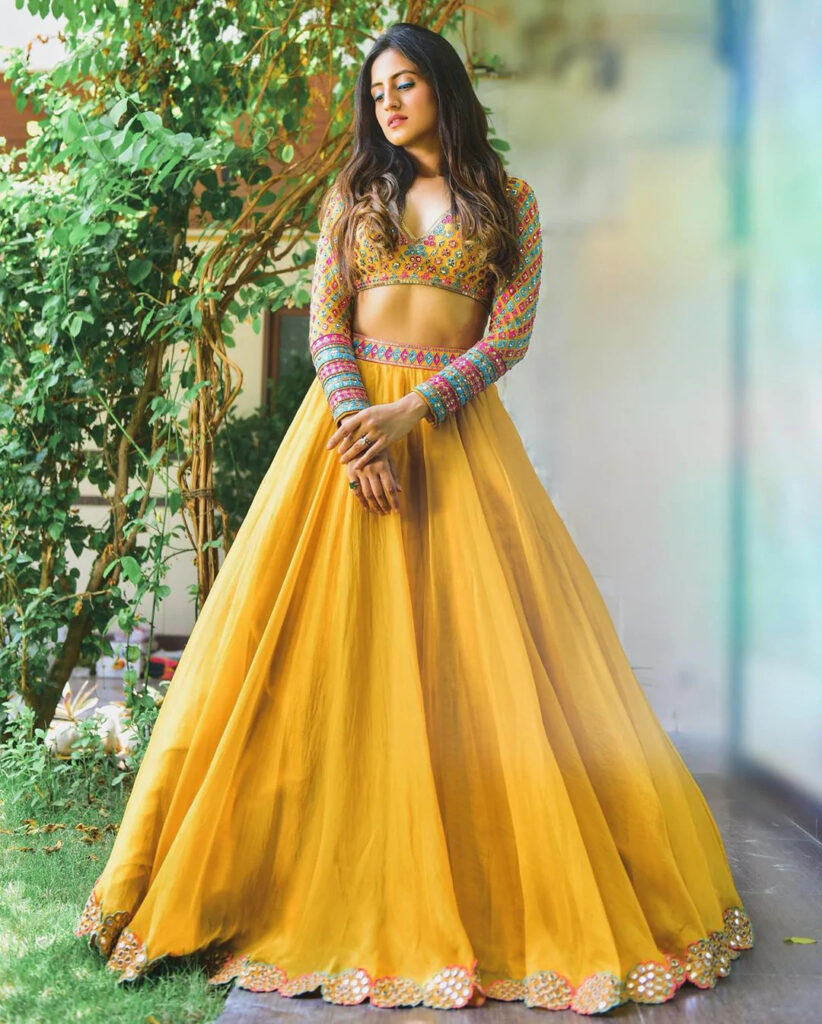 Via @pinktrunkk, @vvanivats
#17 A bold yet super interesting lehenga blouse design to try out! It has a loose lining at the bottom that goes all the way to the back and a gripping cut at the back. Baring the back and the chest, while hiding the arms with the full sleeves, isn't this such a captivating blouse to pair with a lehenga?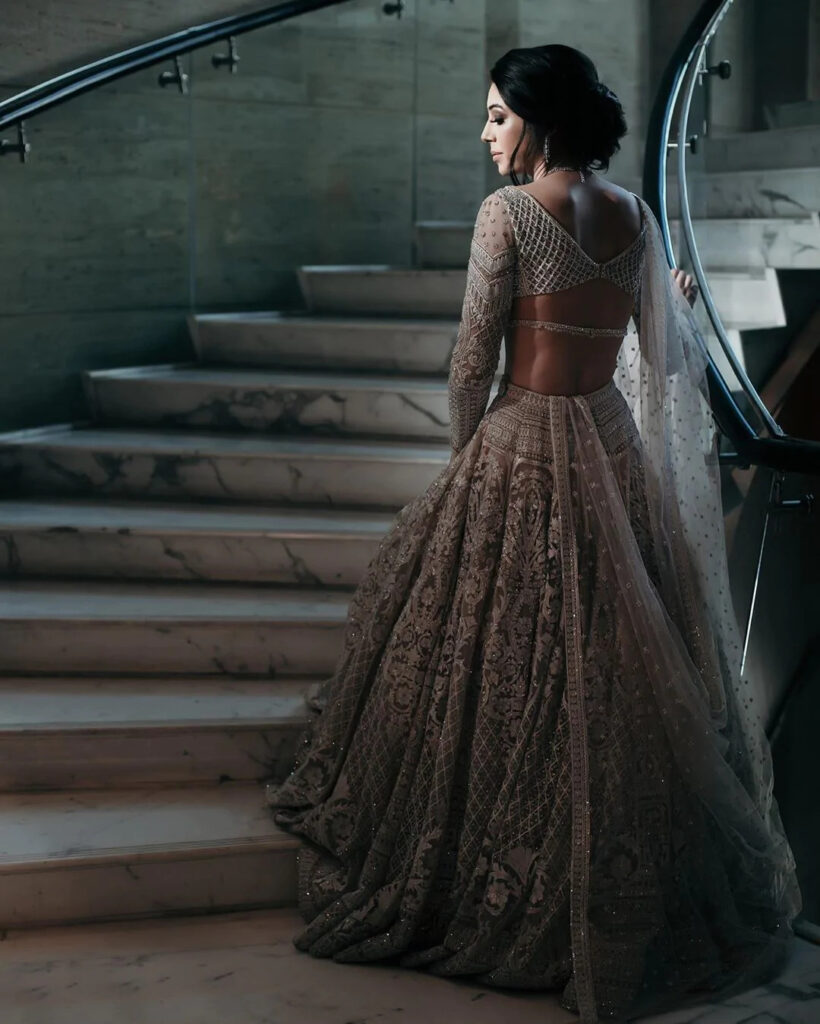 Dress by Falguni Shane Peacock, Cupcake Productions
#18 Who can forget Kareena's iconic blue lehenga look at Diwali with a round-cut zero-neck blouse? These pictures have been circulating since she debuted in this outfit. And her blouse design has been admired and copied by almost all of us. So here it comes again. In case, you were looking for a timeless lehenga blouse for your bridal attire.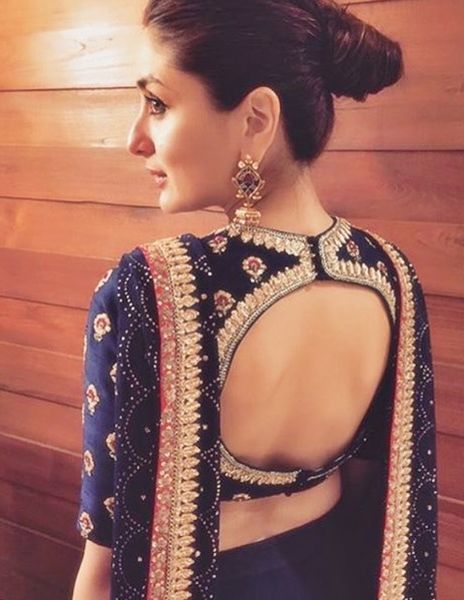 Lehenga by Sabyasachi
#19 Sheer blouse design with intricate embroidery is apt for brides who wouldn't like to flaunt their skin in a subtle manner. These are a little tricky to make though. So if you aren't aware of a trusted masterji or buying it from a known designer – we won't suggest investing in it. Btw how glamorously does this lehenga blouse make your jewellery pop out!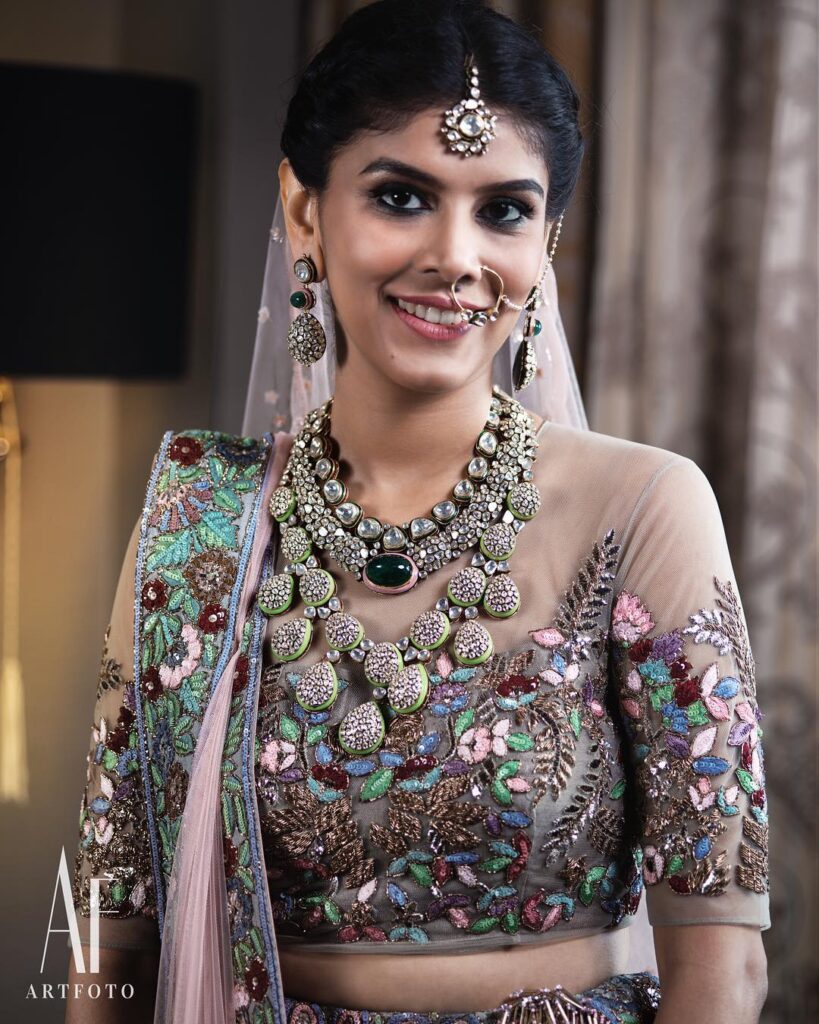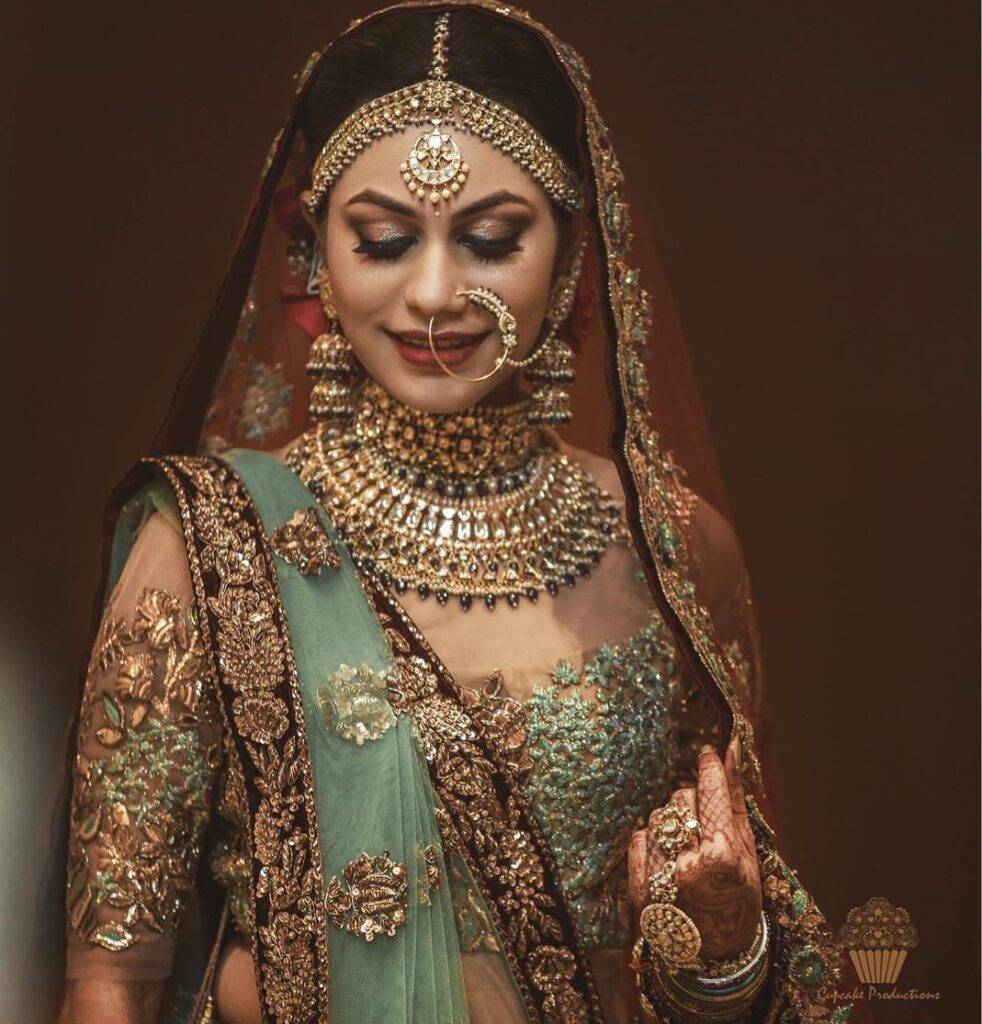 Outfit by Manish Malhota, Photography: Artfoto Studios (Top), Cupcake Productions (Bottom)
#20 There's just something so sexy and unique about a strappy blouse design, it's hard to not have at least one of these in your trousseau! See how bride Isha Multani carried it with such poise at her mehendi function. Just the right choice for the diva bride in you!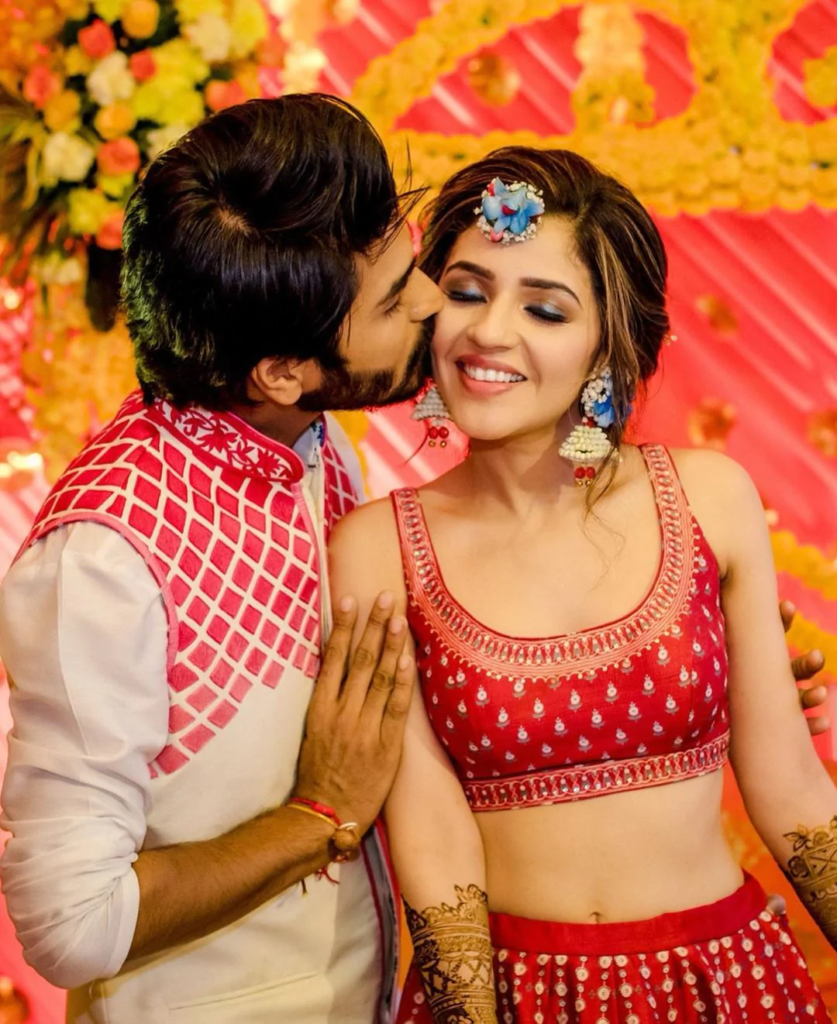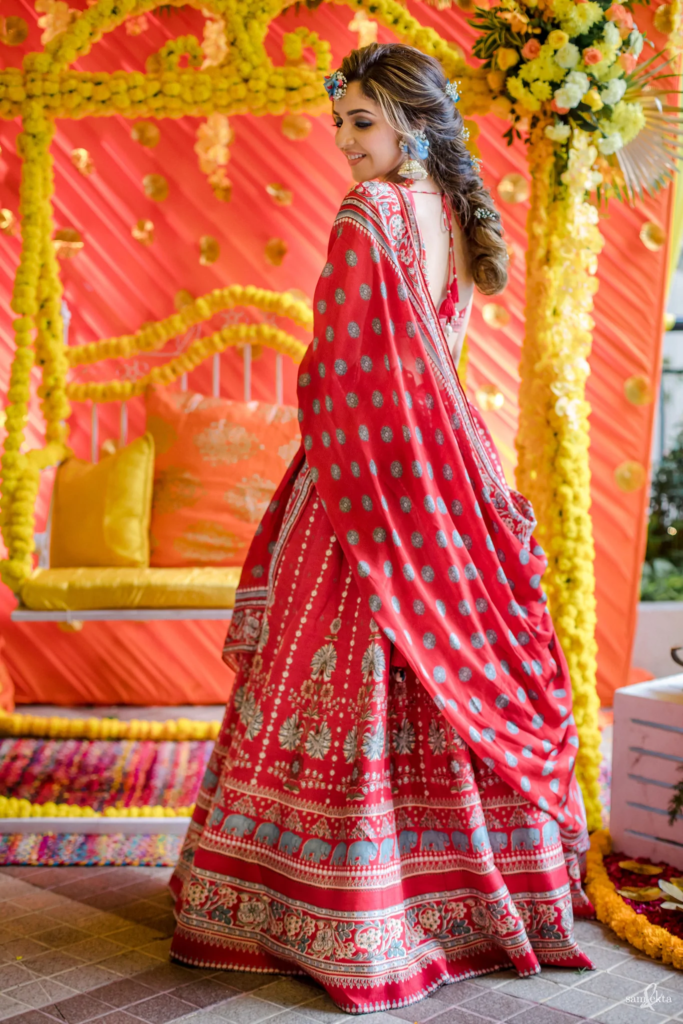 #21 Another strappy & sexy blouse design with a twist. The lining and quirky cutting make it look pretty stunning. And the best part is it's easy to make, so your boutique vali aunty can do it without any hassles and is easy to carry – perfect for your mehendi when you want an effortless look!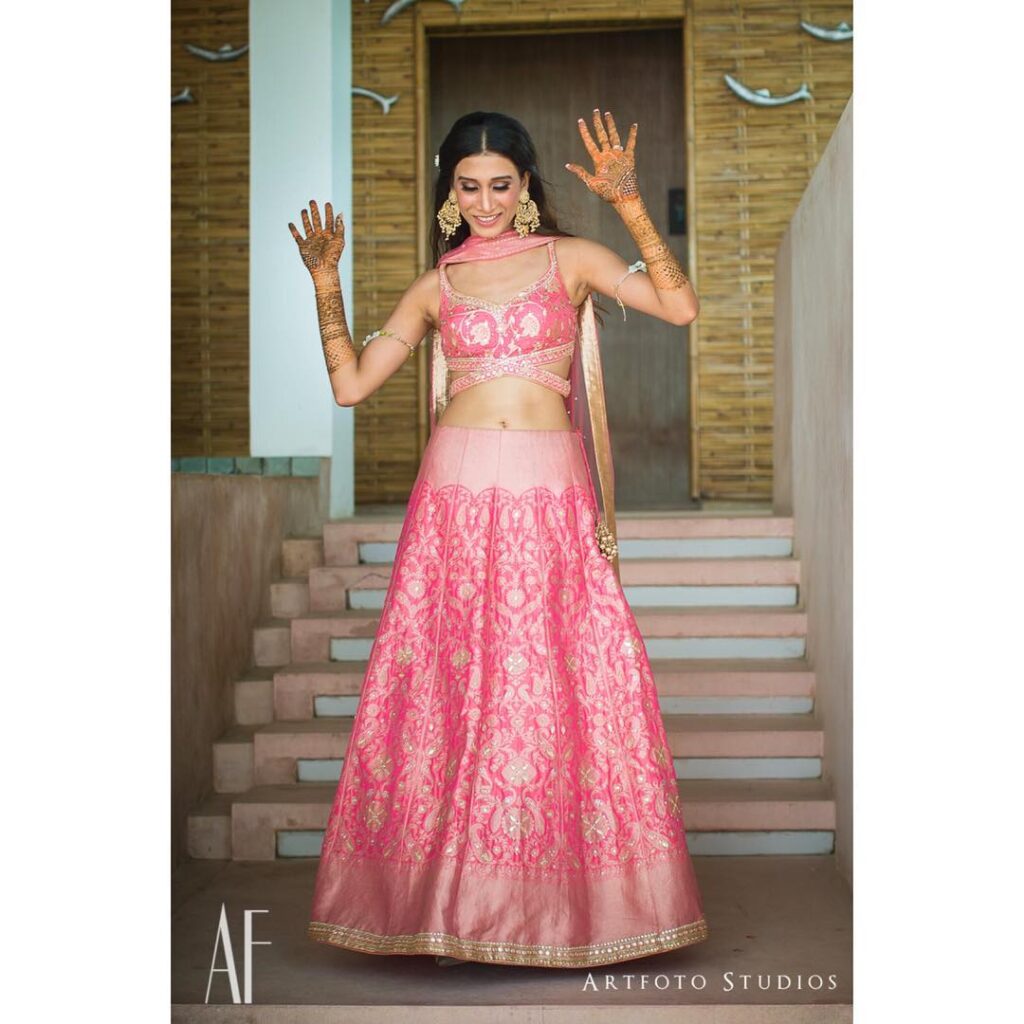 Via @artofotstudios, Anita Dongre
#22 The following pictures feature off-shoulder blouse designs that will make everybody go wow. You can go for a deep off-shoulder blouse or a delicate one depending on your style and comfort. We think they upgrade your lehenga and entire look with their charm and are a perfect fit for your prewedding, roka, or cocktail night!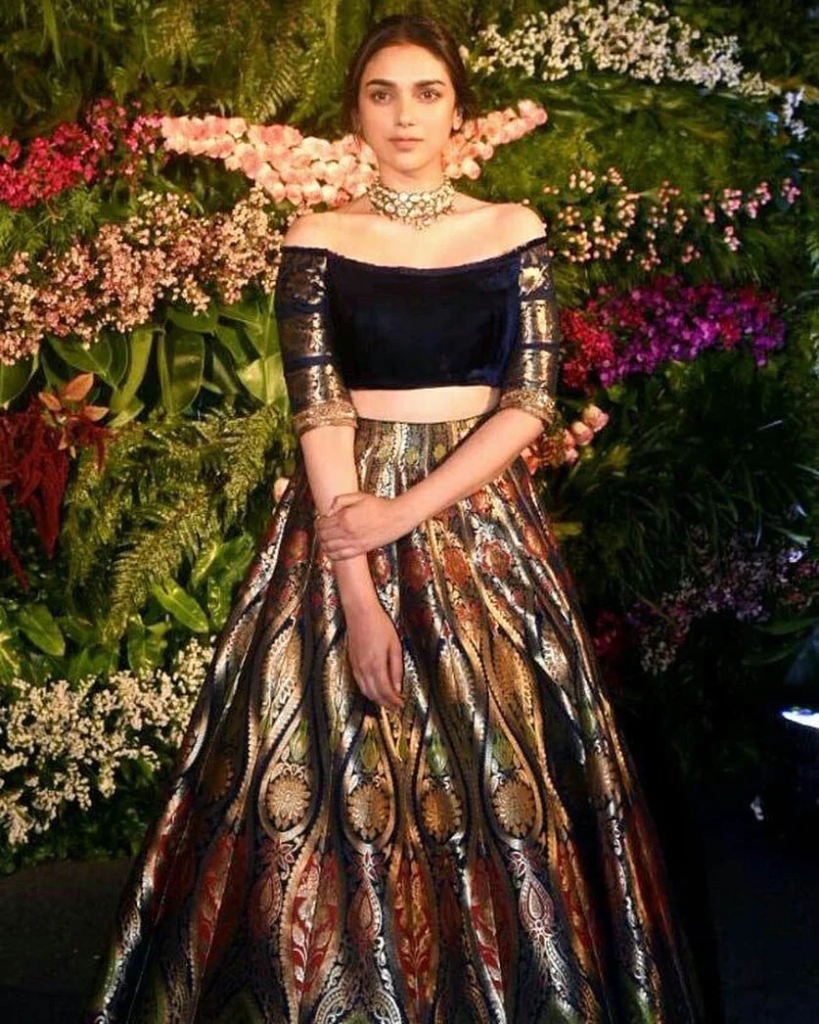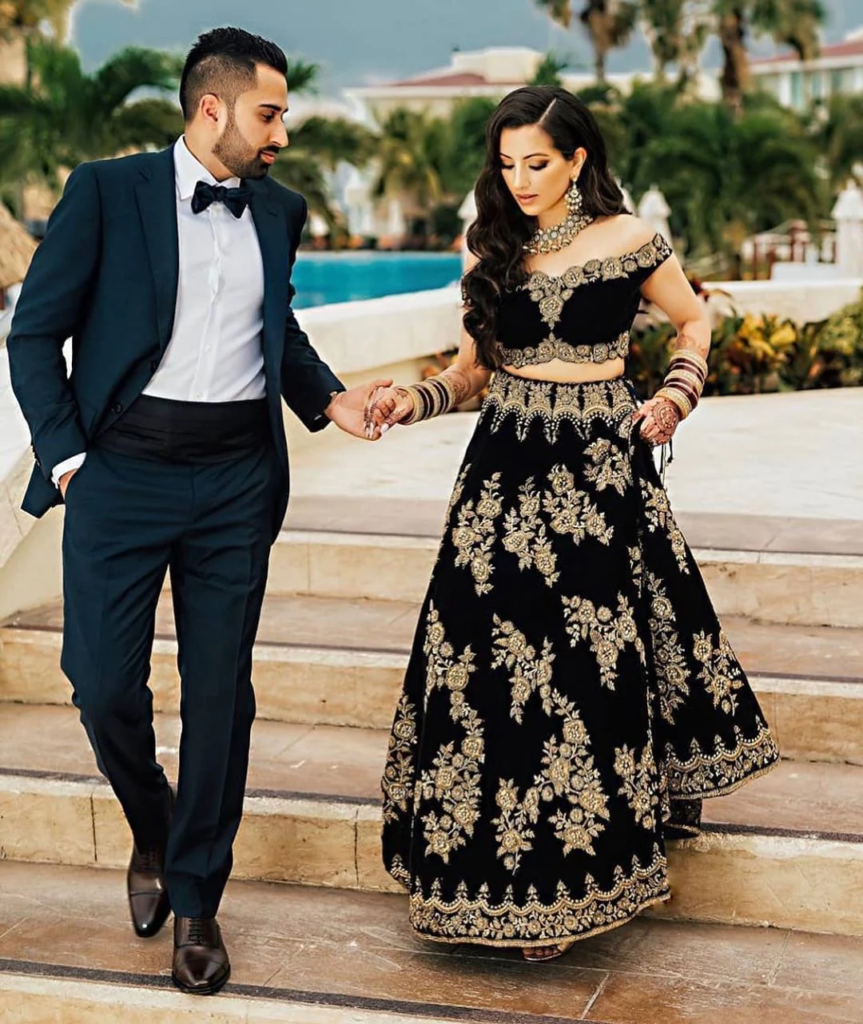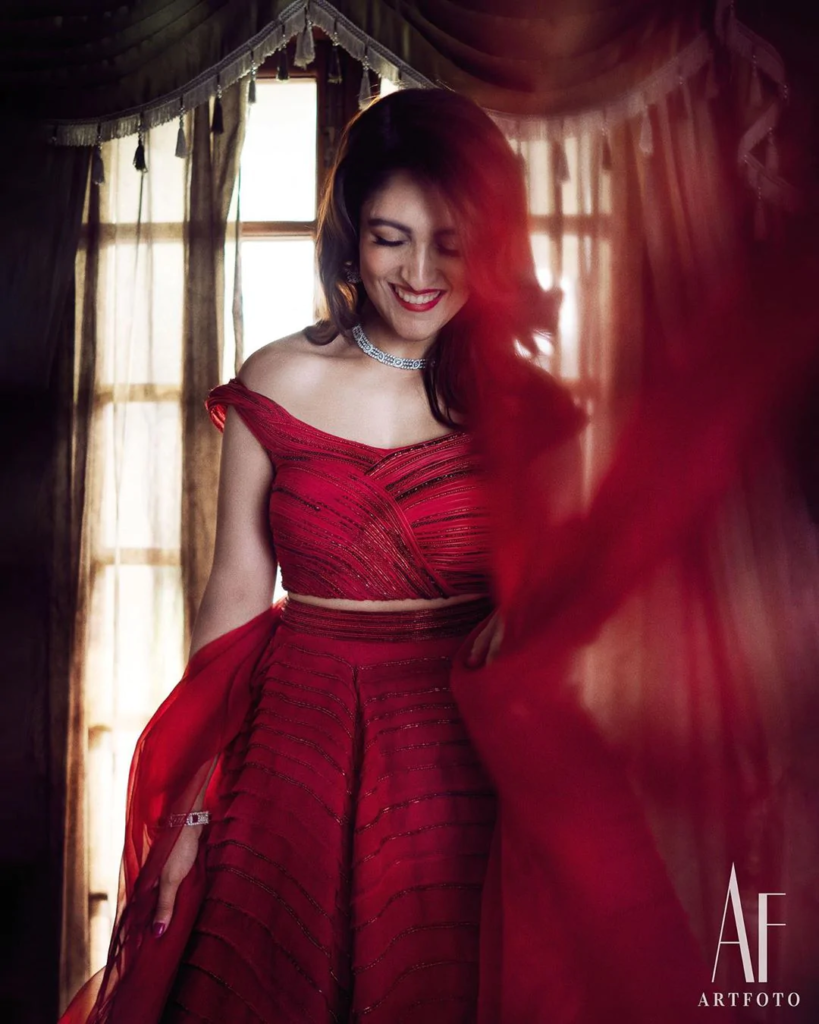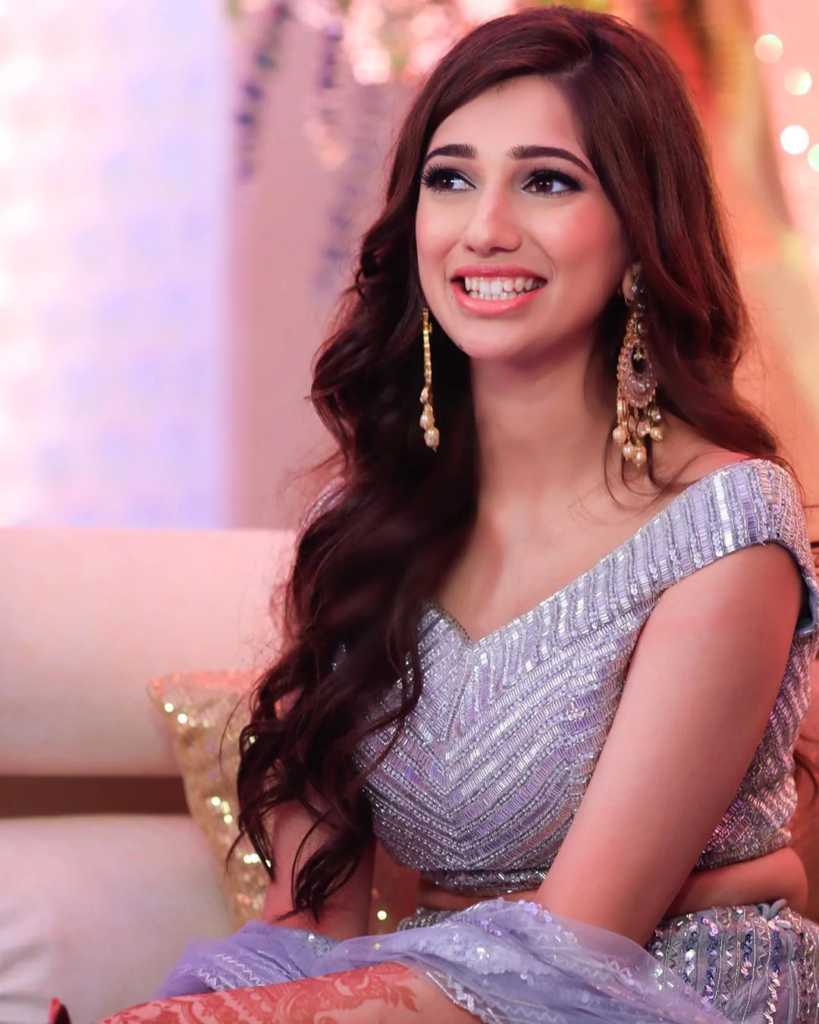 Via @arfotostudios, @devkipaayal, Gaurav Gupta Official
#23 This lehenga blouse design embellished with an intricate cutout and a dori in the bottom is such #bridalweargoals. It looks gorgeous and unique and will make for a great fashion statement.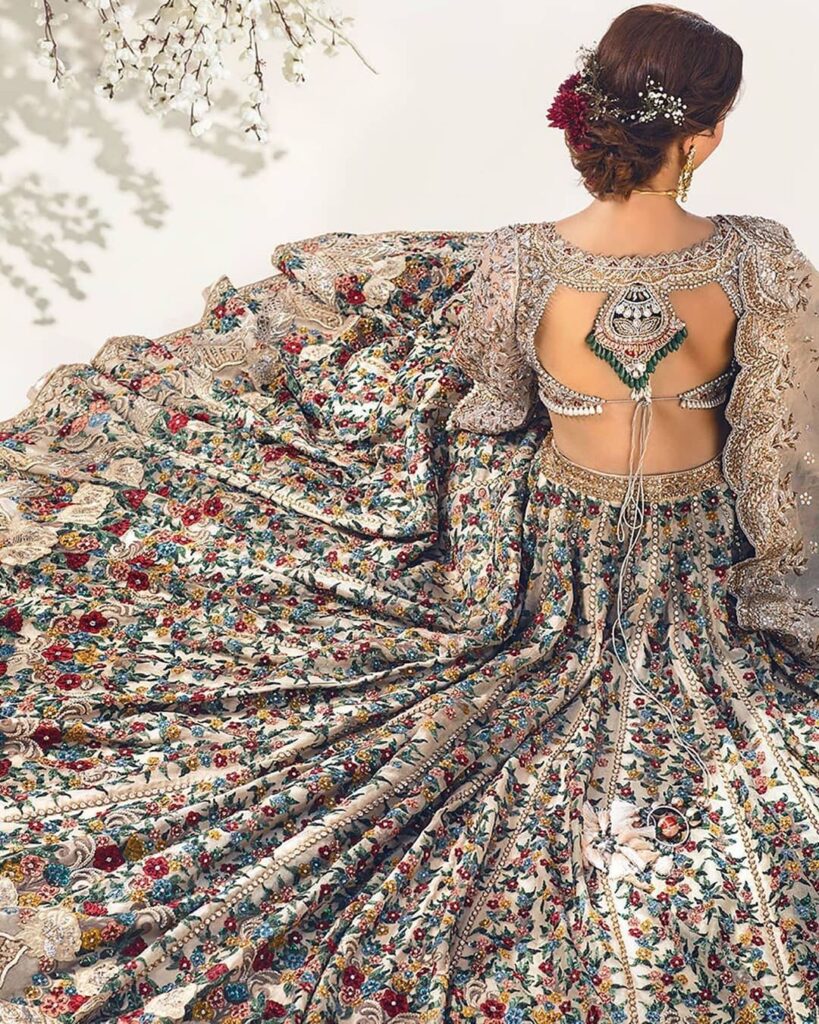 Via @tenadurrani, @ayazanisphotography
#24 Another bridal blouse design that's quite popular but hard to exclude from any list. This classic blouse with fluffy latkans and multiple Dori back will add a pinch of drama to your otherwise normal attire.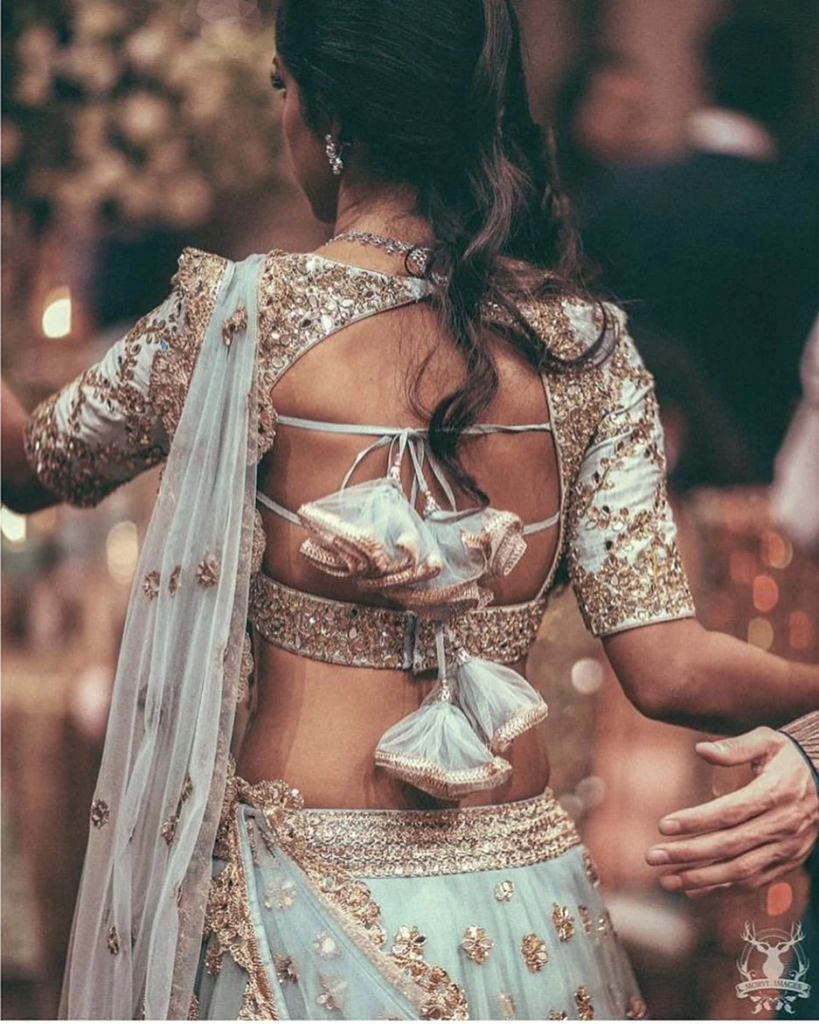 Via @morviimages
#25 Set the temperatures soaring high with this quirky blouse back-cutting that's sexy AF. The blouse is like the perfect mix of all things pretty – trendy, easy-peasy, attention-worthy, and intricate embellishments, it's hard to take our eyes off!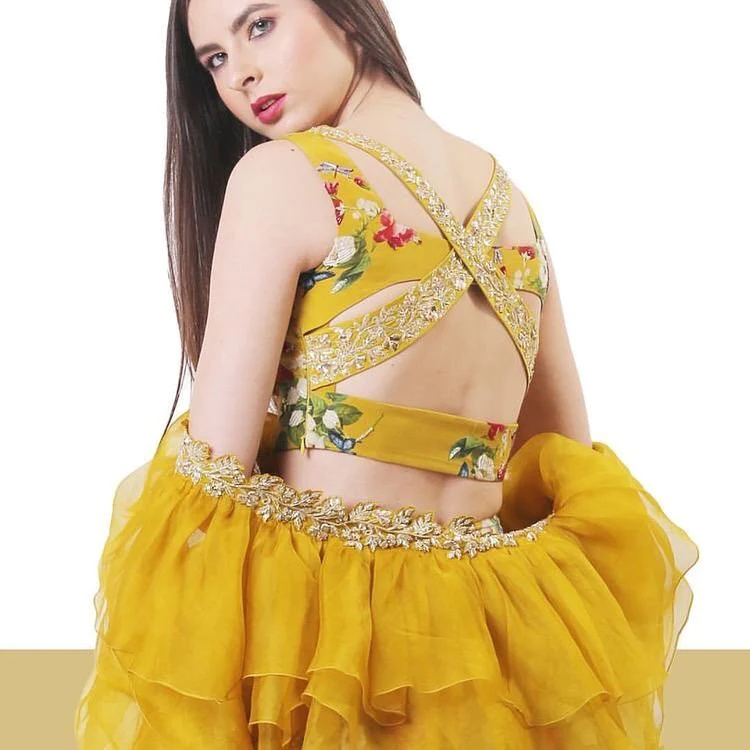 Via Pinterest
#26 A crop top-lehenga style just never fails to impress, more so when the blouse is so ogle-worthy. The strappy blouse design with an off-shoulder cut is perfect for your minimalistic look that grabs everyone's eyes.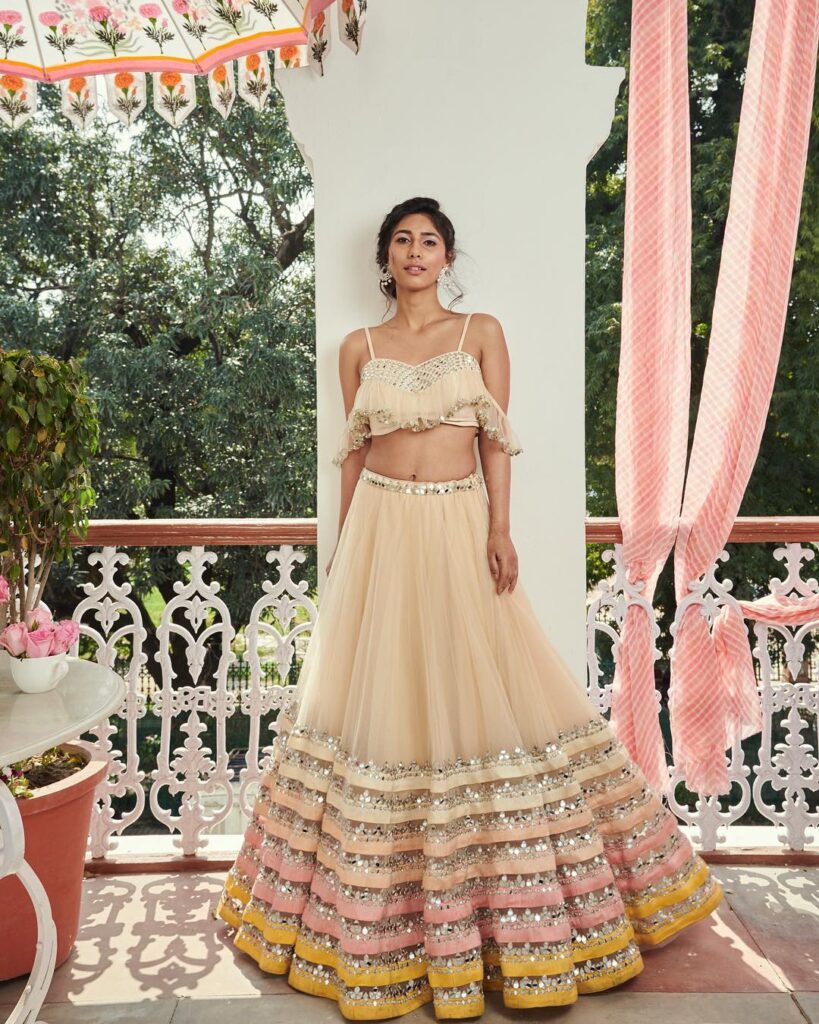 Via Abhinav Mishra
#27 Just can't get enough of the strappy lehenga blouses, can we? Well, while the one above is tailor-made for our modern brides, this one is for those who'd like to keep their look traditional. We also love the bride's chikankari yellow lehenga with hints of blue in it, such a pretty lehenga for your mehendi!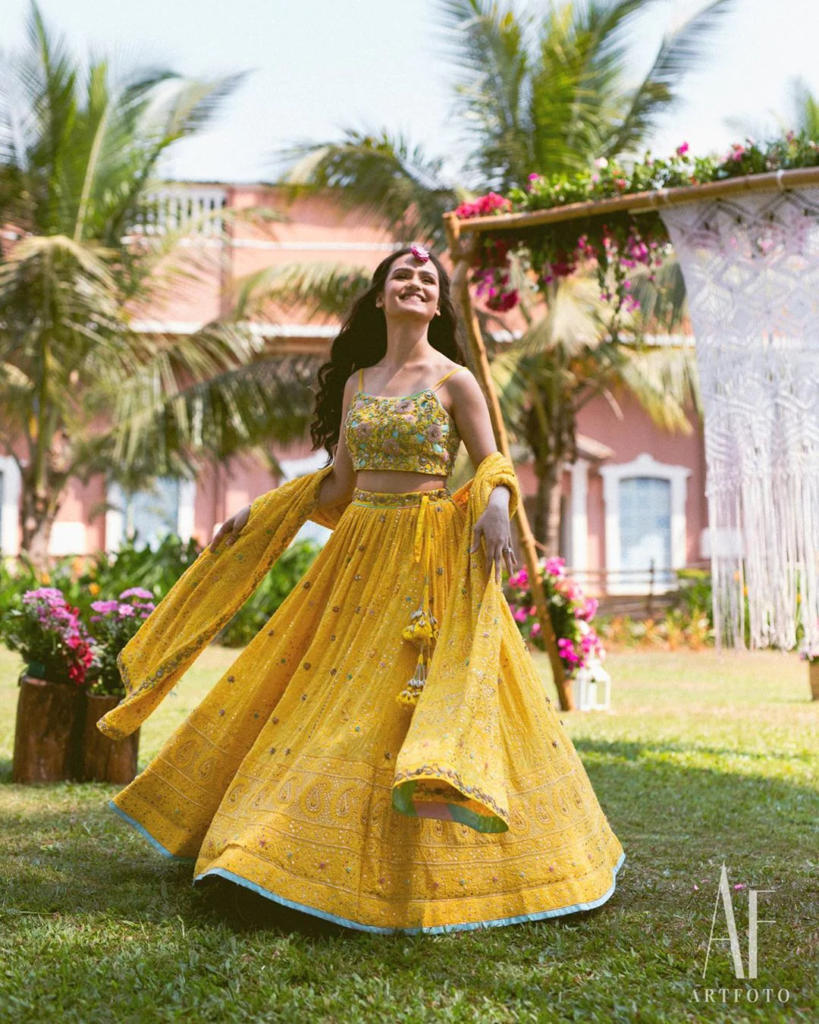 Via @artfotostudios 
#28 Talk about crazy and creative & you can't miss this stunner's lehenga finely designed by Shantanu Nikhil. The striking hue, artistic blouse, enchanting jewellery, and her graceful pose – there's so much that can make you admire this picture.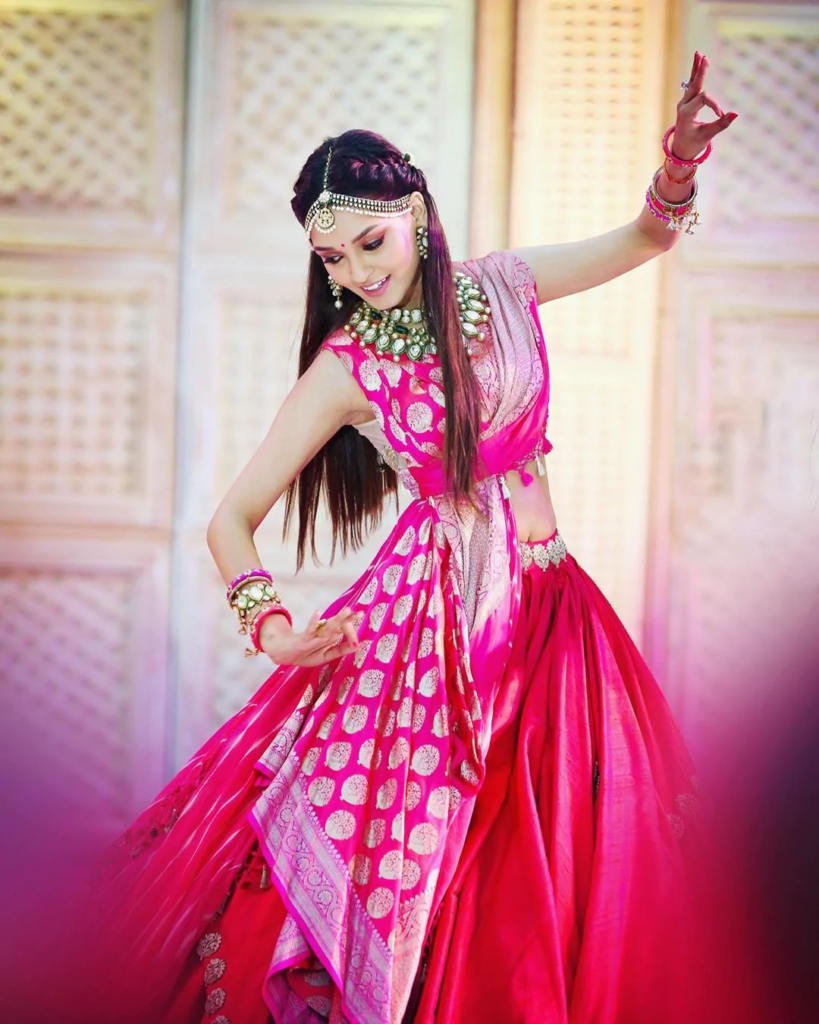 #29 Another spectacular blouse design that's elegant in every sense. Just look at its quirky cut. Brides, if you have been working out your upper body, it's time to show off those collar bones and firm chest. Get your hair all tied up so everyone can admire your stylish side and overflow you with compliments.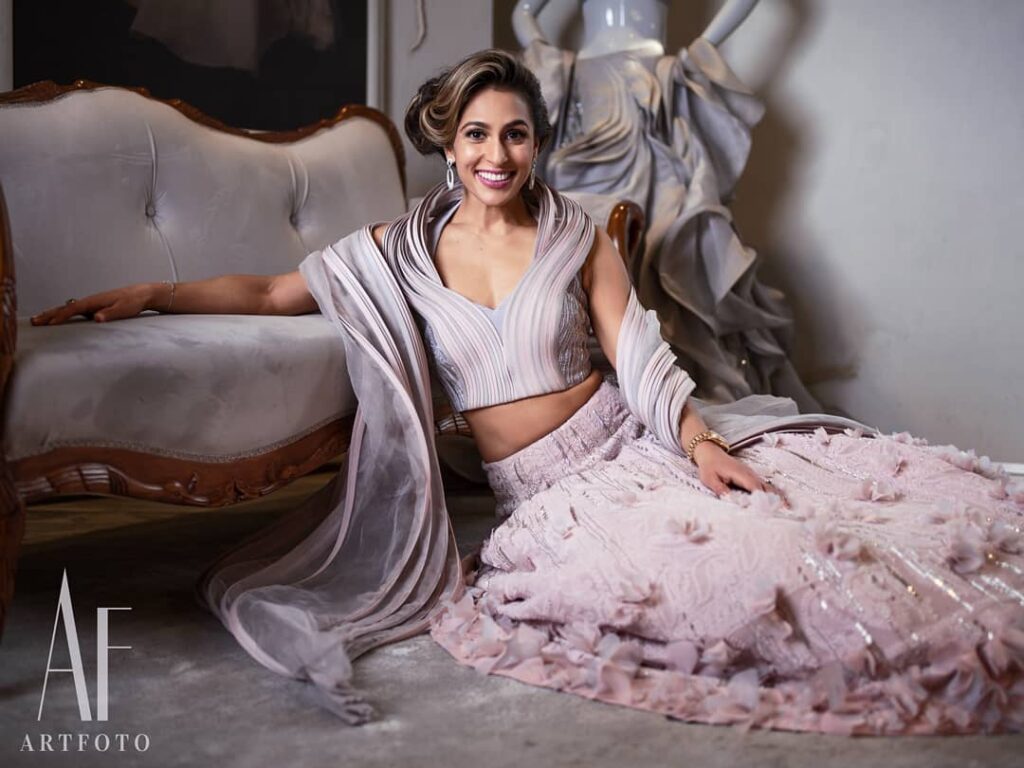 Via @artfotostudios
#30 A long cut blouse that accentuates your curves without showing off any skin. Isn't that just the dream of brides who wouldn't want to bare a lot? They are not that common but look amazing, see! It's such an easy lehenga blouse design to make, so your boutique vali aunty will be happy too. Go for this design without thinking twice.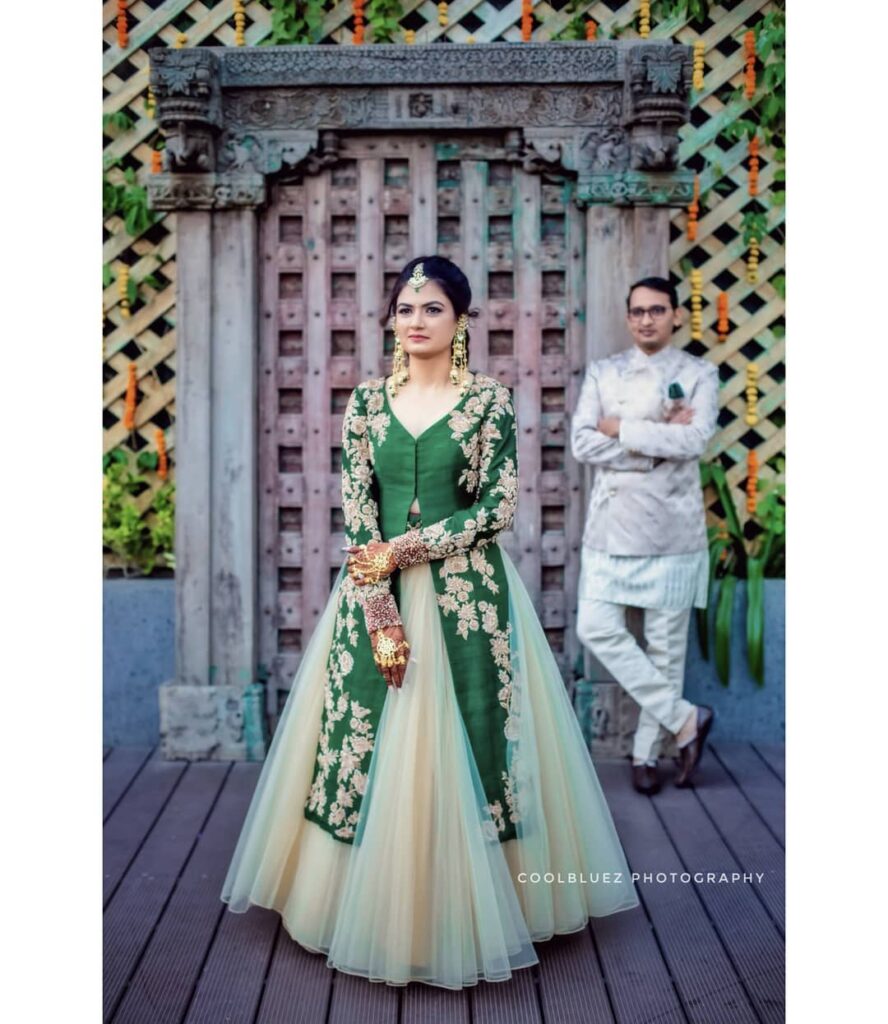 #31 Trisha's engagement look is the recent bridal avatar to have gone viral. And for all the right reasons. Gorgeous curls, glowing & dewy makeup, and a statement Sabyasachi ensemble – each part of her look is an inspiration. But the one that we are awed by the most is her jacket-style blouse design. Pairing your simple strappy blouse with an embellished jacket like this will get your glam on & prepare you to dazzle at any function you attend!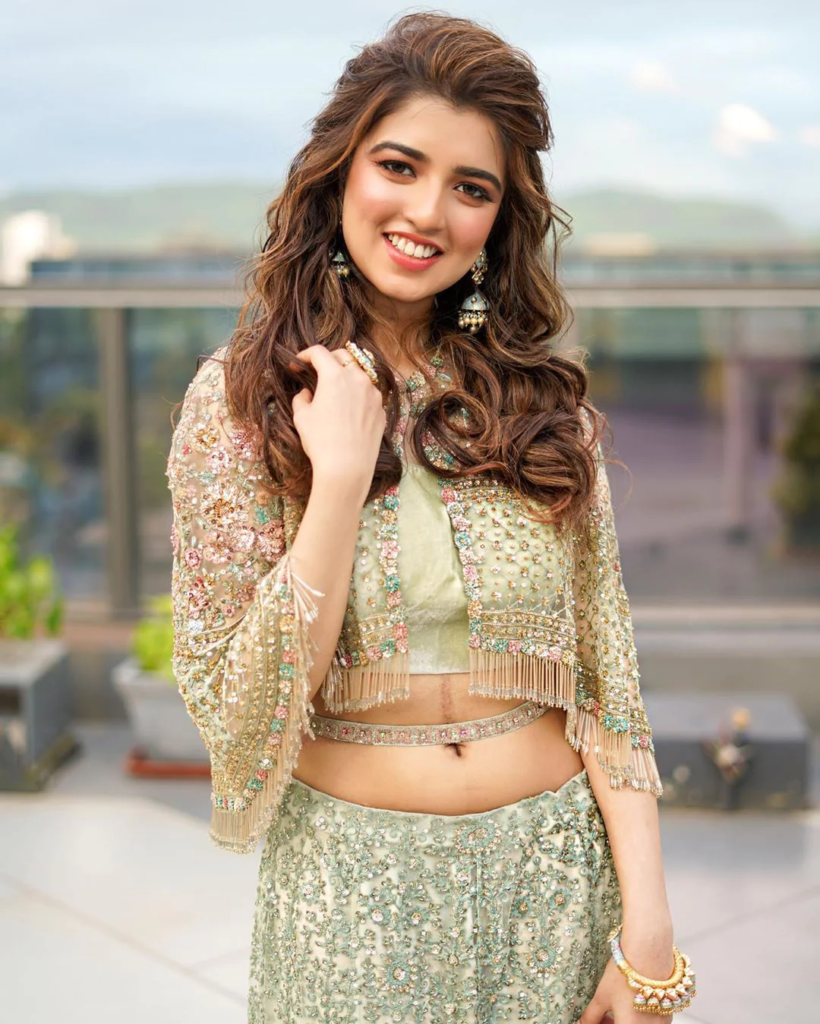 Via @ritikahairstylist, @dramaeinbaaz
#32 Look fun and gorgeous with this fabulous blouse design, jazzed up with a lehenga belt. The extra drama on her sleeves is sure a head-turner. Such a marvelous piece to wear for your reception or sangeet night!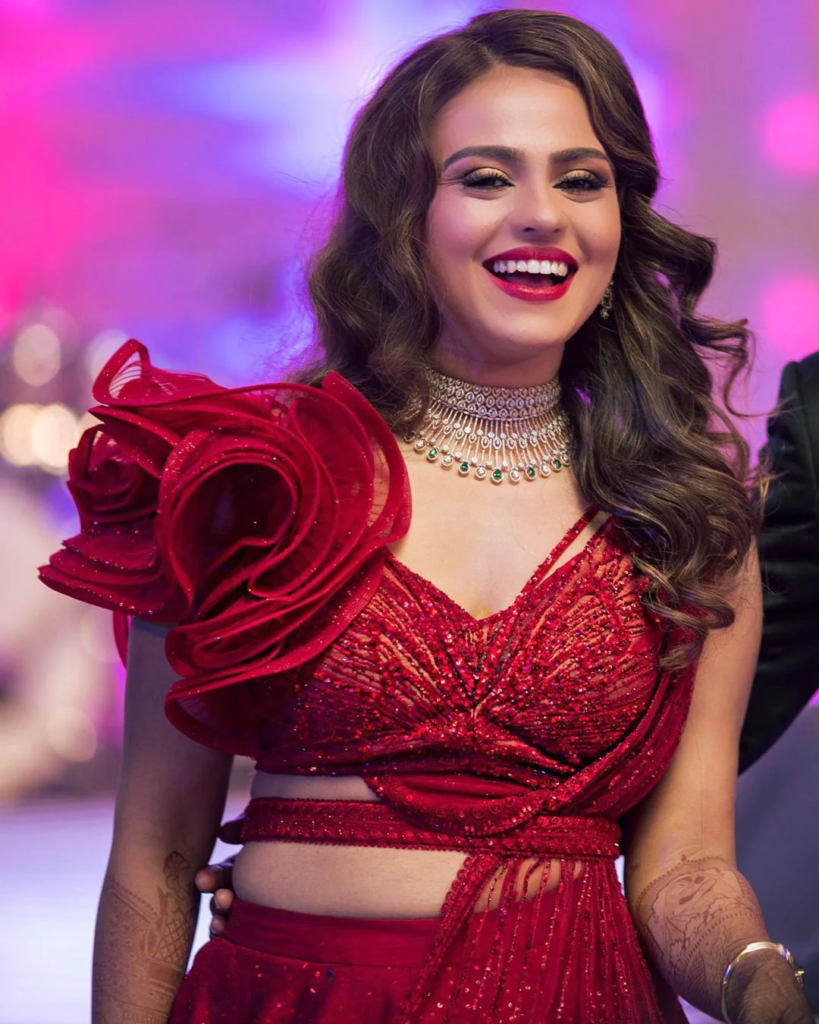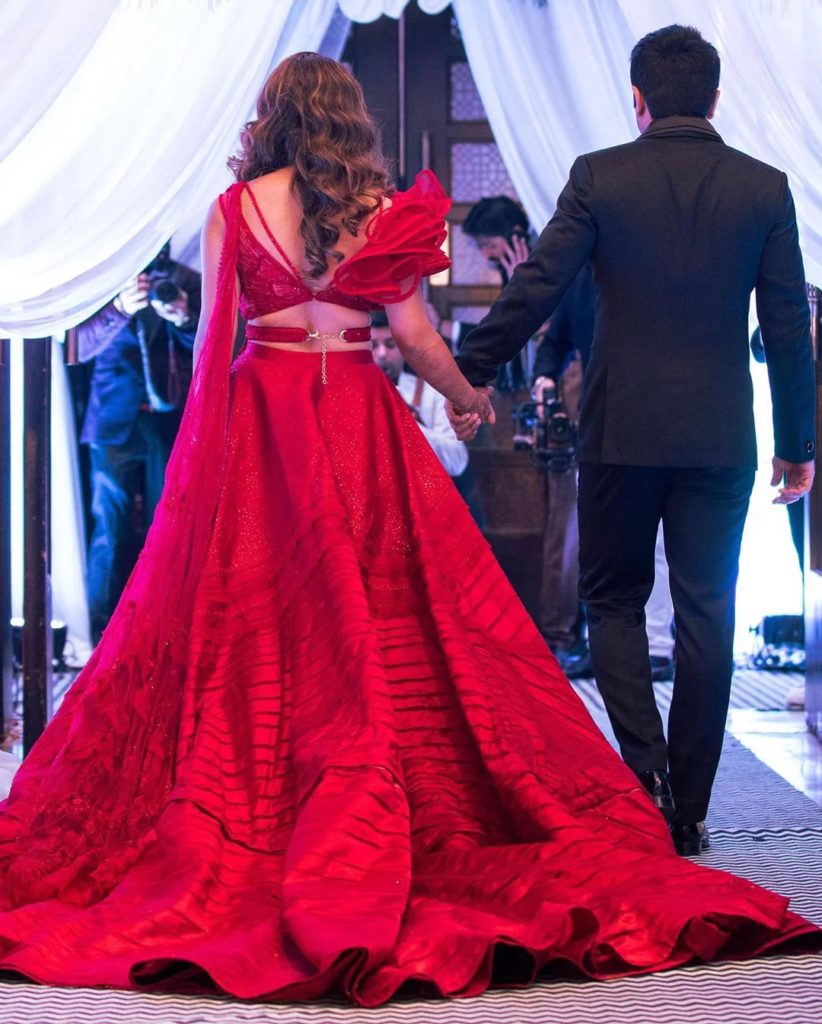 Via @solteebysulakshanamonga, @ashwiniajain, Varsha Gidwani
#33 If you get anxious at trying out funky blouse designs but still want it to be different, just get the hem of the blouse scalloped and you're good to go! Zhoosh it up with a fancy latkan and picture how attractive it will look as you walk down the aisle. *Splendid, huh?*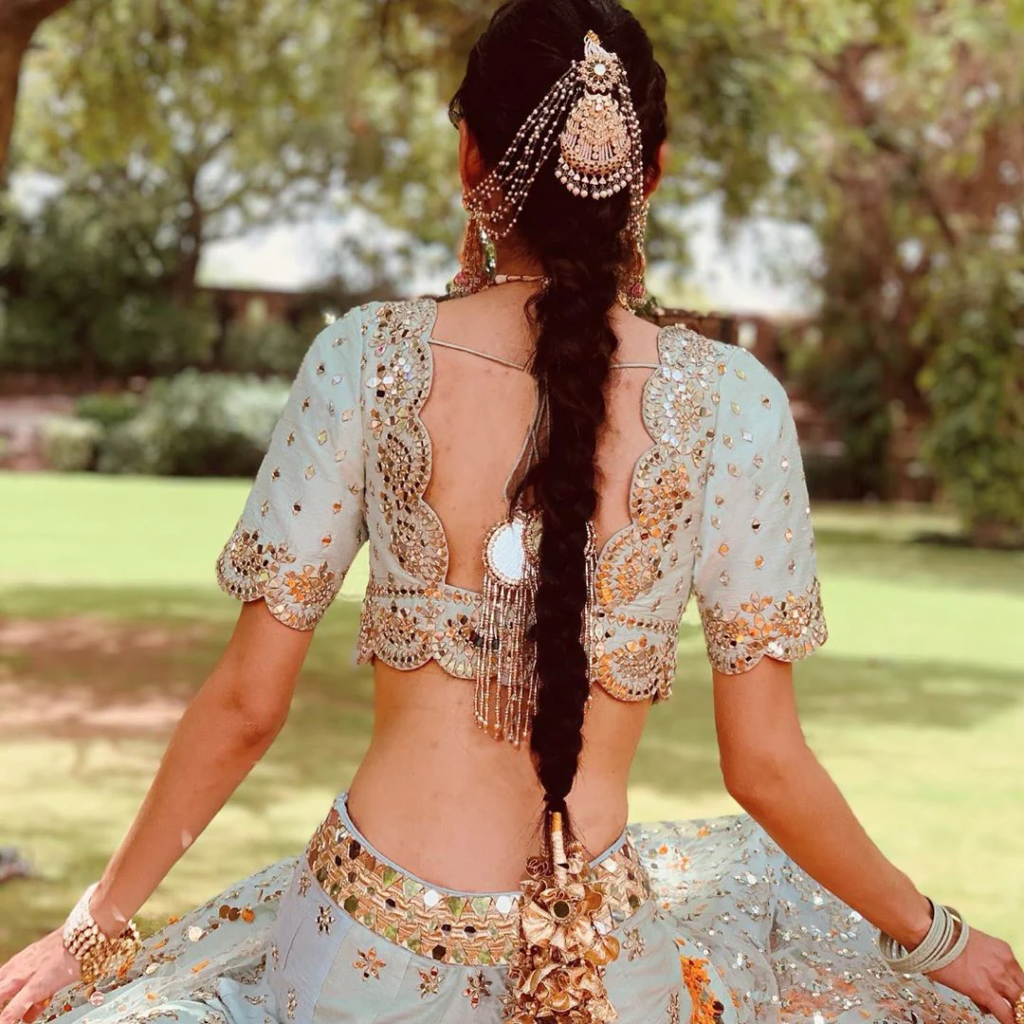 Via Abhinav Mishra
#34 And for our simplistic brides out there, here is a lehenga blouse design to resonate with your style. To add a little oomph, you can go for a fancy blouse back cutting, like the next one!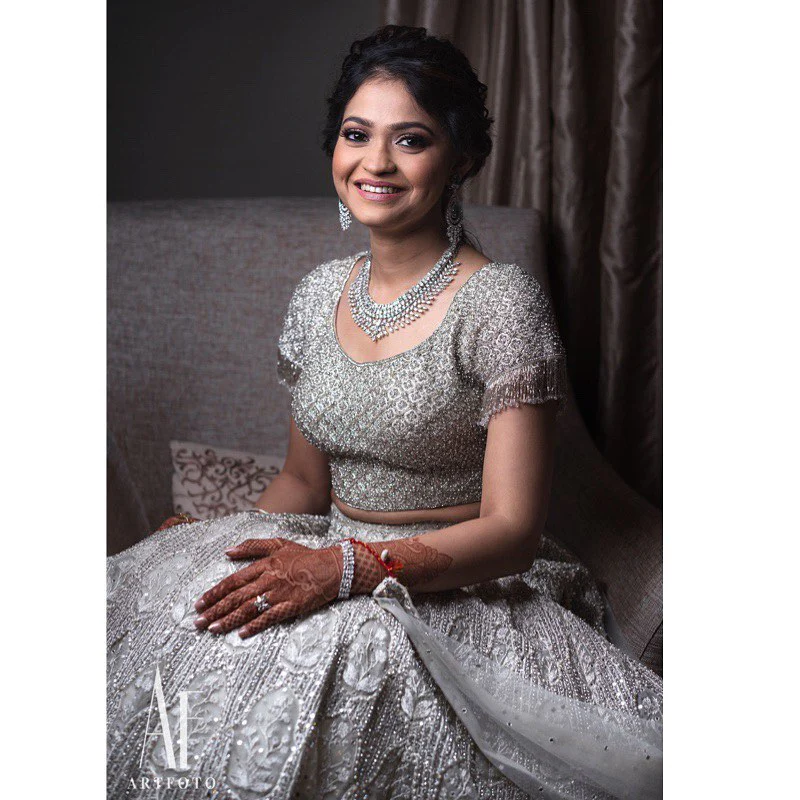 Via @artfotostudios
#35 Not only does Abhinav Mishra floors us with his glorious lehengas, but his blouse cutting designs are also another feature that amazes us. Perfect when you want to spruce up your otherwise traditional blouse design.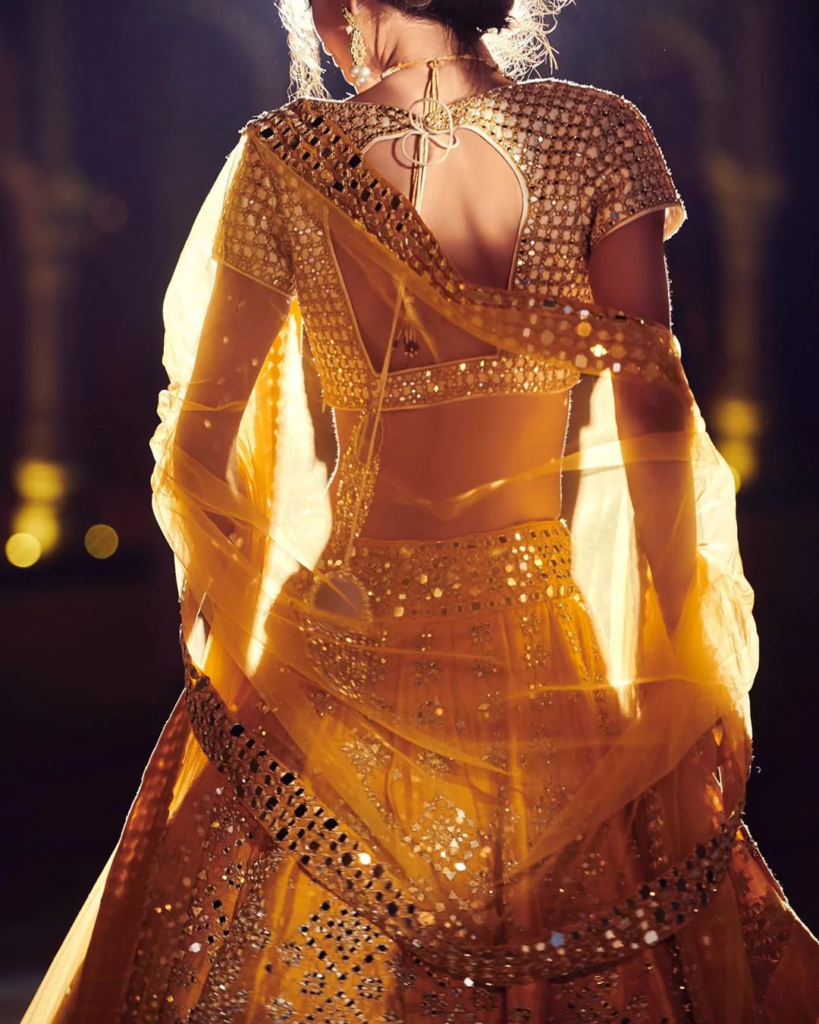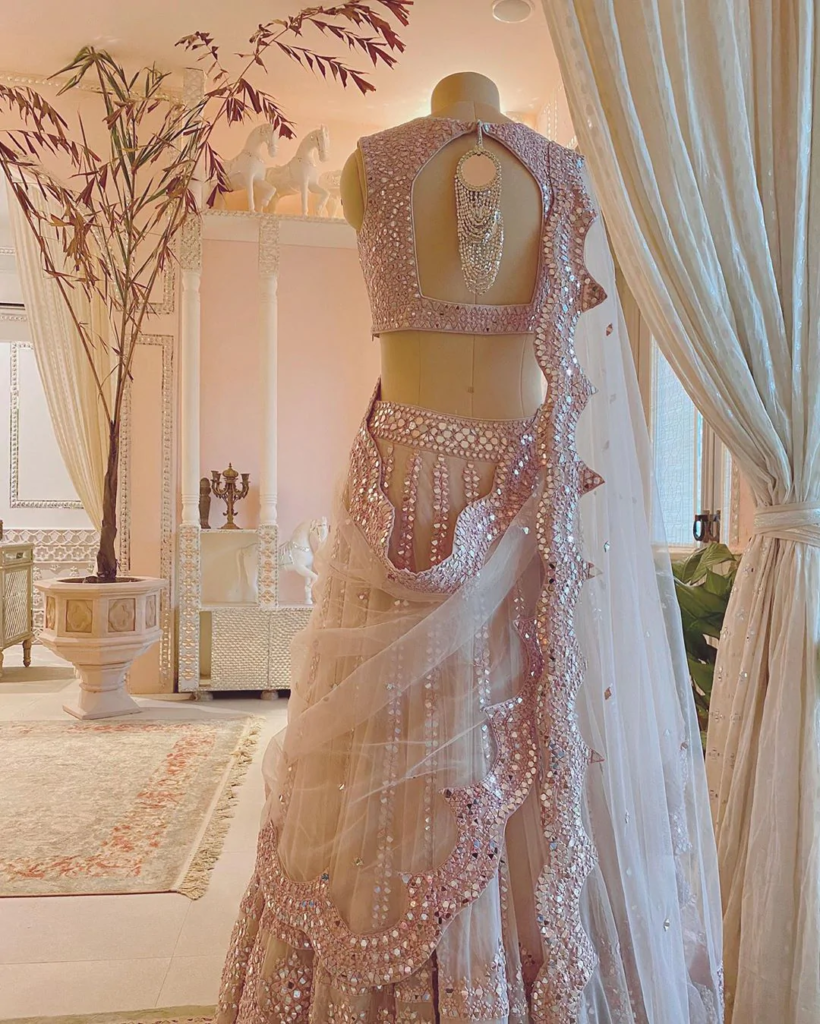 Via Abhinav Mishra
#36 This bride shows you how to make your simple lehenga blouse design interesting by adding ruffled pieces all over the top hem of your blouse. Make it even more statement worthy with a Gota Patti border and such charming jewelry pieces.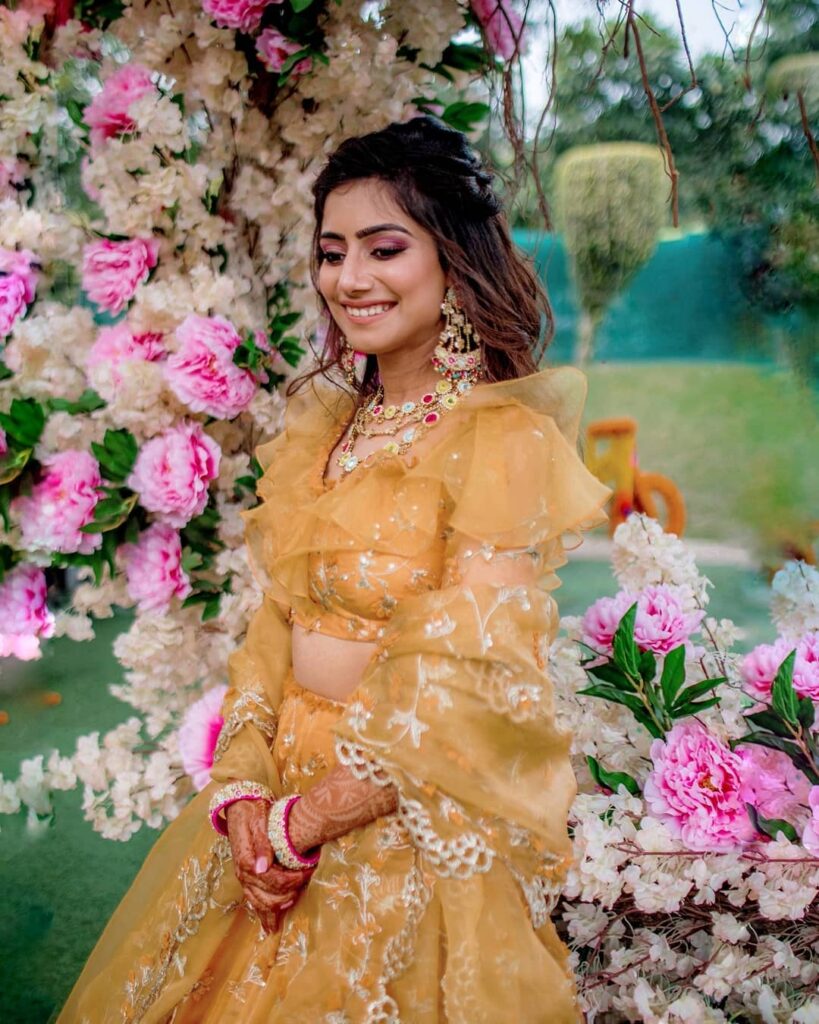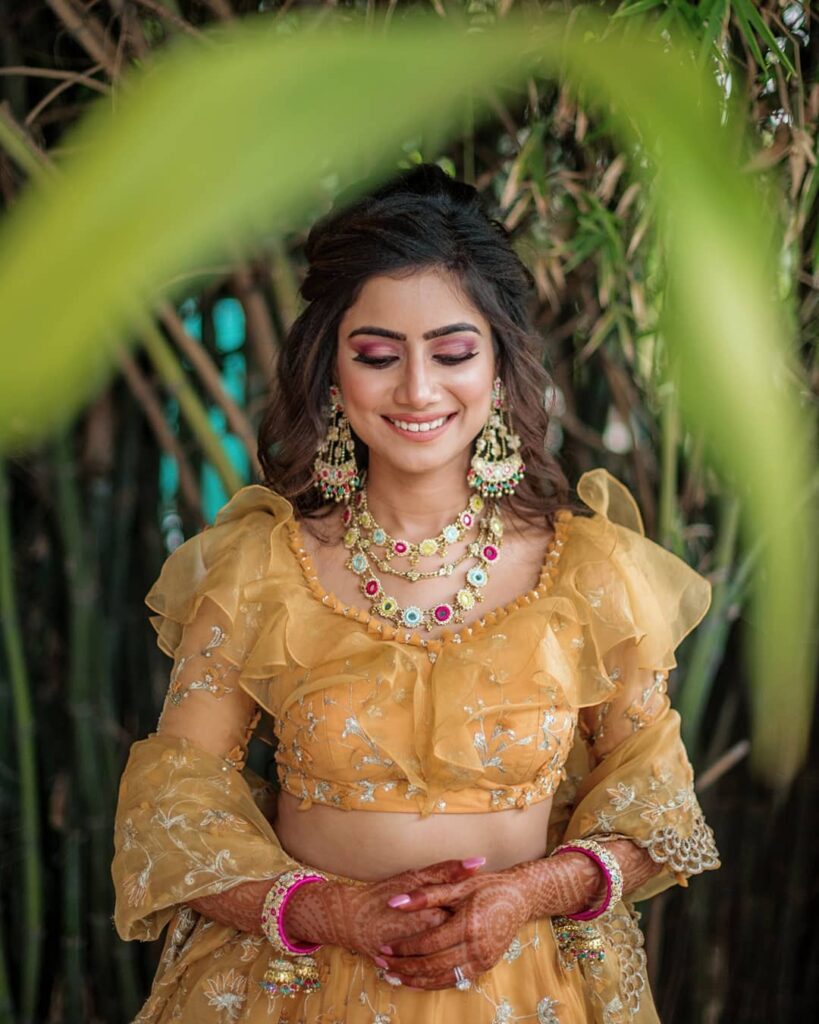 Photo: @youbypoonamkotecha, @meenal.narula
#37 We can always trust Sabyasachi to give us breathtakingly beautiful blouse design inspiration. This real bride donned one of his latest creations, which we know will be replicated by brides-to-be during the upcoming wedding season & we can't wait to swoon over all those pictures.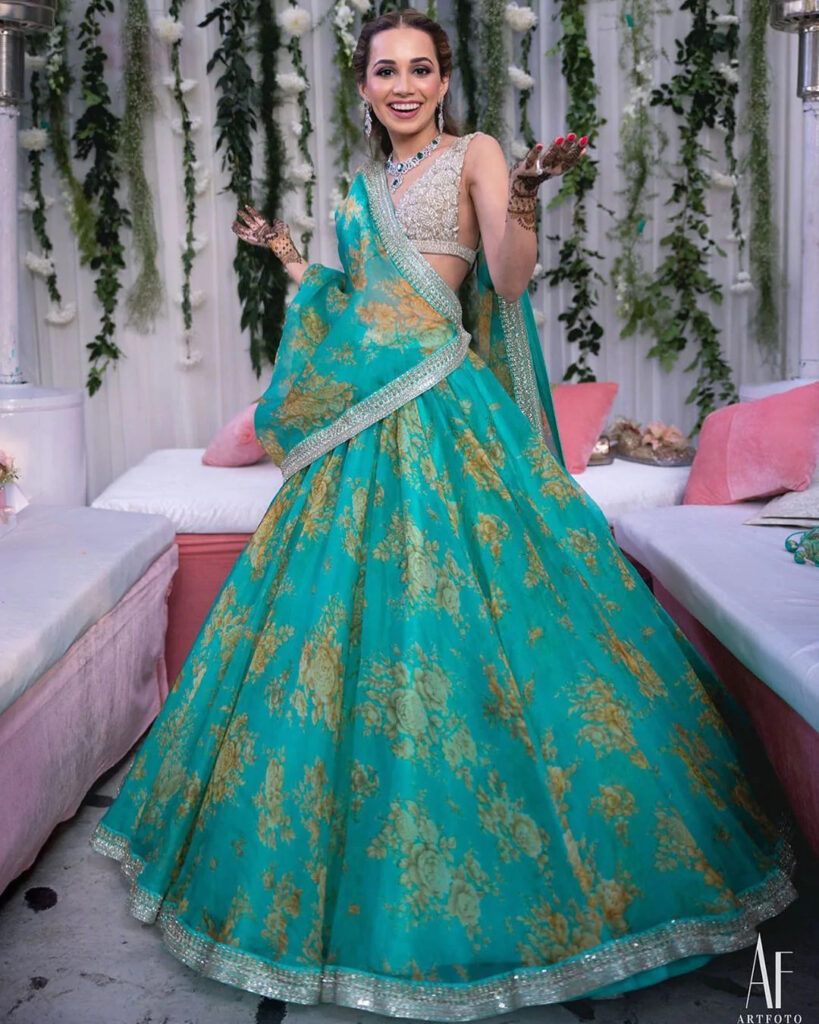 Via @artfotostudios
#38 Saving the best one for the last! We featured this bride on our social media for multiple reasons – from her shimmery pink lehenga, splendid jewels, endearing smile to the modish lehenga blouse design, all the details caught our eyes. A heart-shaped neckline with dainty sleeves is a perfect way to combine boldness with prettiness.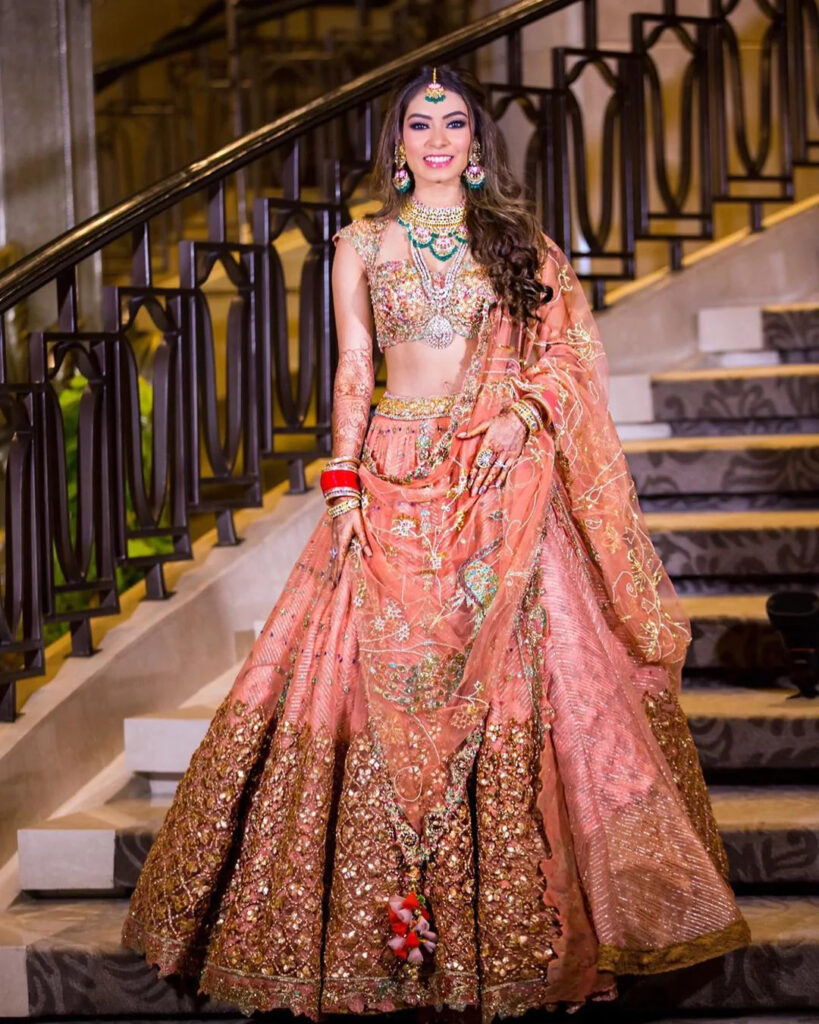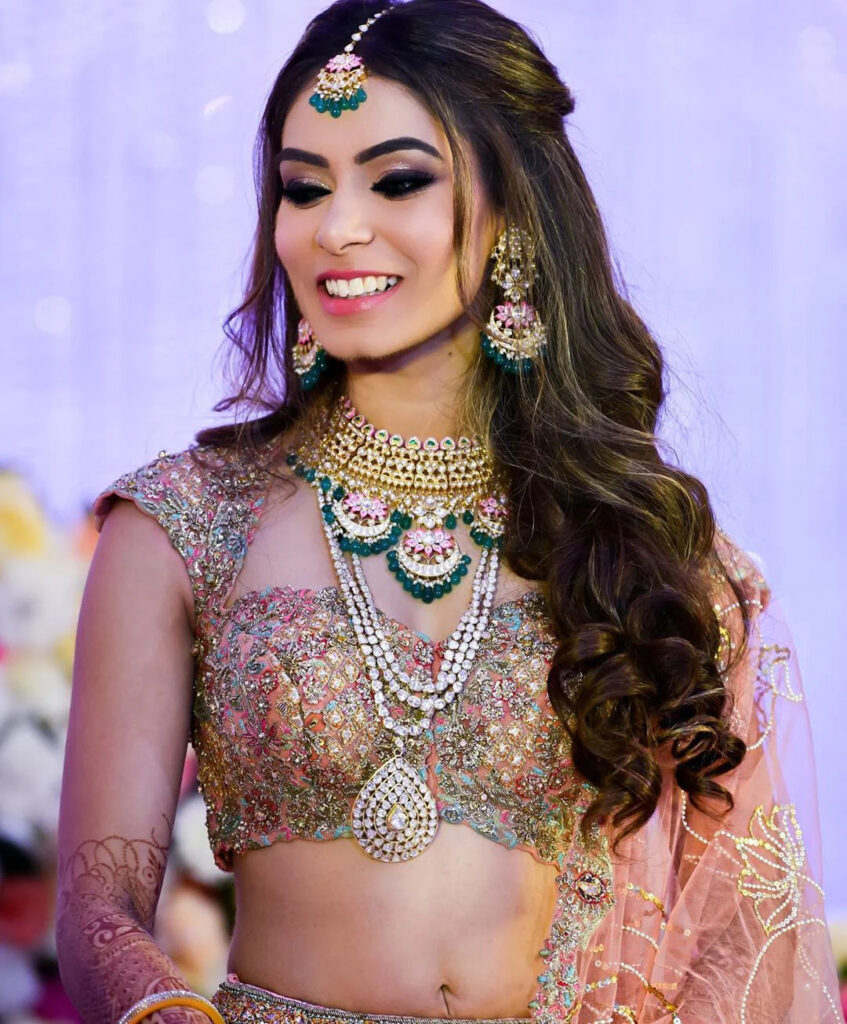 Via @rimpleandharpreet, @dramaeinbaaz
#39 This long blouse design for lehenga is perfect in so many ways. It features a classic round-back cut followed by handwork in sequins for a stunning look. For the upcoming winter season, these blouse designs with additional cloth on the inside (you can also use a cotton-wool blend for warmth) can keep you warm and cozy without compromising on the style.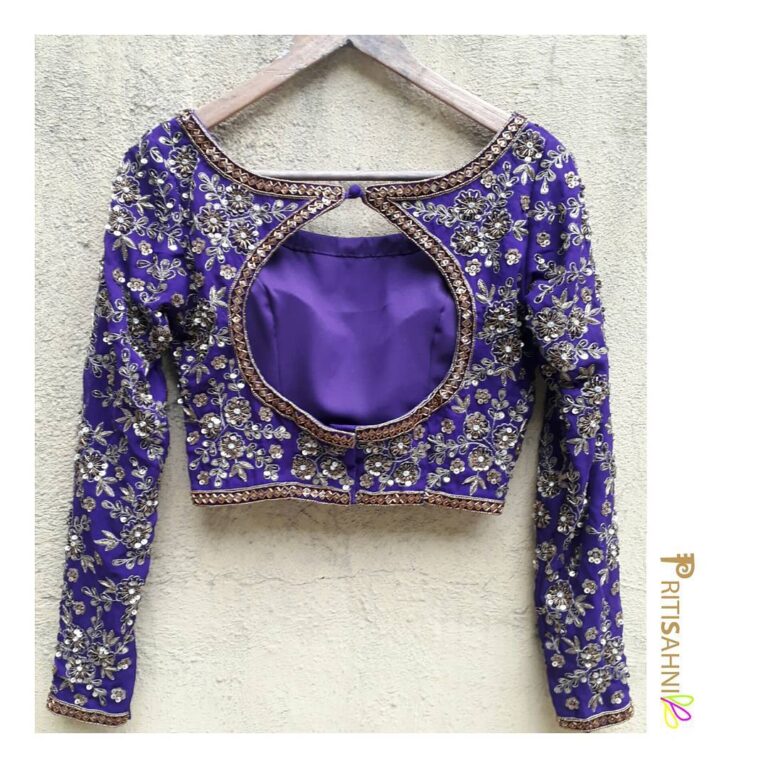 #40 Anavi Kalia's engagement and mehendi look went viral on social media and are still relevant today. For those who'd like to stay ahead of the trend, we'd like you to know that lavender will be huge in the coming year of 2023 and you can happily opt for it in your wedding couture. Pair the beautifully-hued color with a blouse that's vintage and stylish in so many ways and you're sure to be proud of the bridal look you've created for yourself.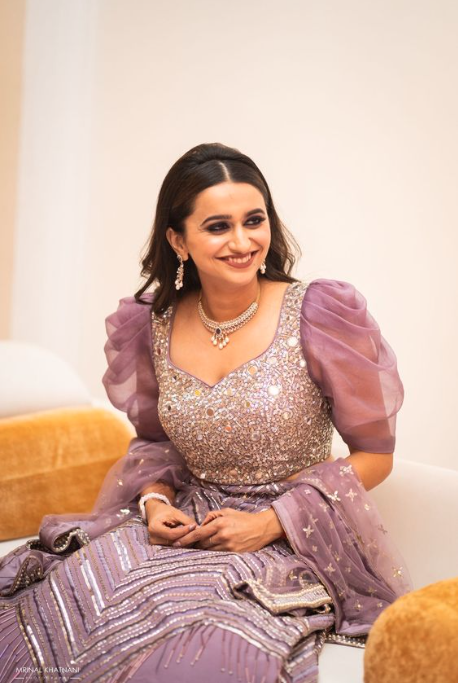 #41 For those who want a traditional look that's a little on the conservative side and yet exudes chic vibes, opt for this triangular cut lehenga blouse design with statement tassels on the back. This can be worn by the bride or any bridesmaids, and will only add to the glamor of your outfit.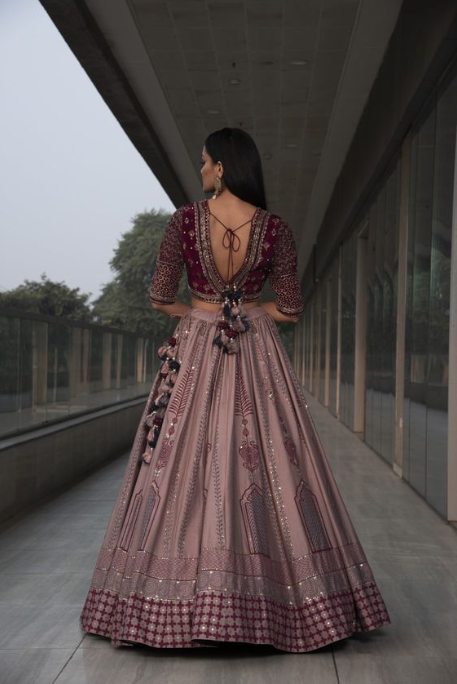 #42 Peplums are officially back in style and this time they have entered Indian wear beautifully. Peplum blouse designs for lehenga are superb options for brides who want to hide a thicker middle section and give their bodies a perfect hourglass shape look. These peplum blouses can be designed in a variety of ways to add a modish touch to your look. From frills to the net, the options are endless.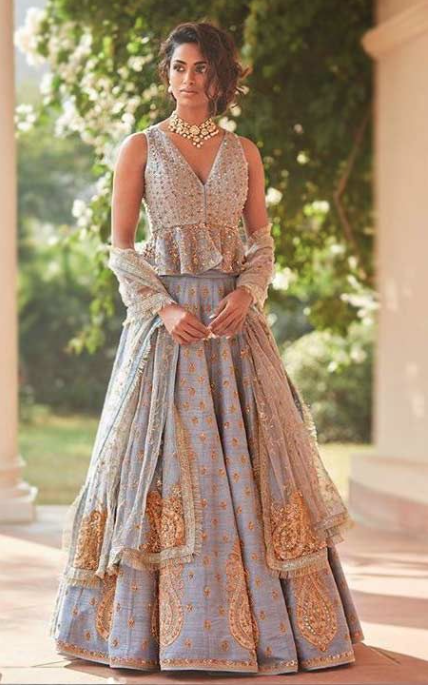 #43 If you're looking for lehenga blouse hand designs, then opting for these puff-sleeved blouses is a great option. For brides who want a distinctive look on their wedding day, oping for this balanced vintage and contemporary look can make you stand out and give your bridal look a stunning twist.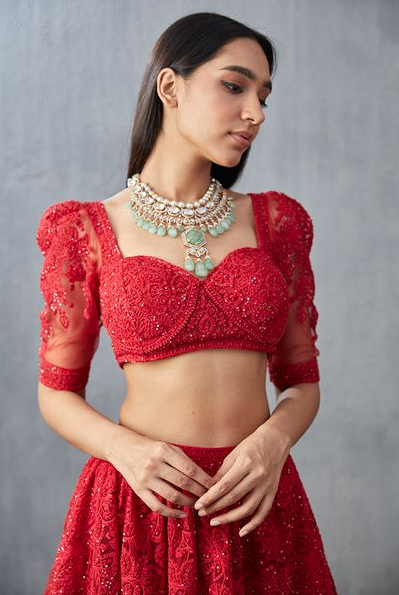 #44 One-Shoulder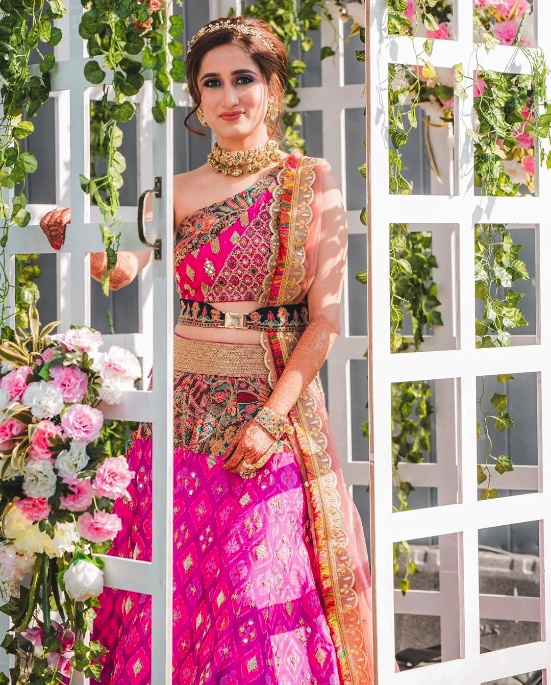 We know you have the eyes on her entire outfit & styling (we do too!), but we specifically love how she is able to carry an off-shoulder blouse design in a traditional outfit and strike a perfect balance between modernism and conventional standards. Don't you think?
#45 Beautiful Cut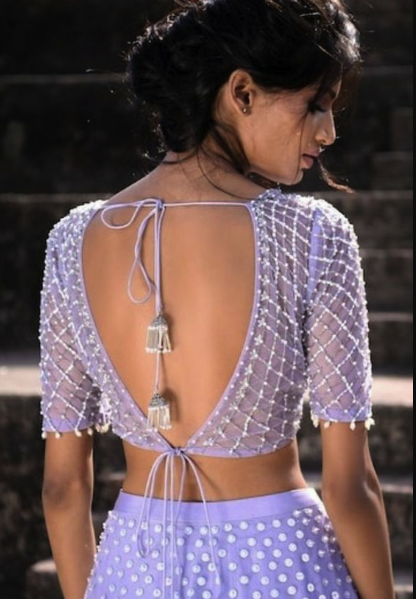 The double-Dori blouse design with a beautiful V-cut that meets the lower dori just at the joint. You can totally customize the cut to your own preferences and make it more narrow or broad depending on your comfort and occasion.  
#46 Unique Detailing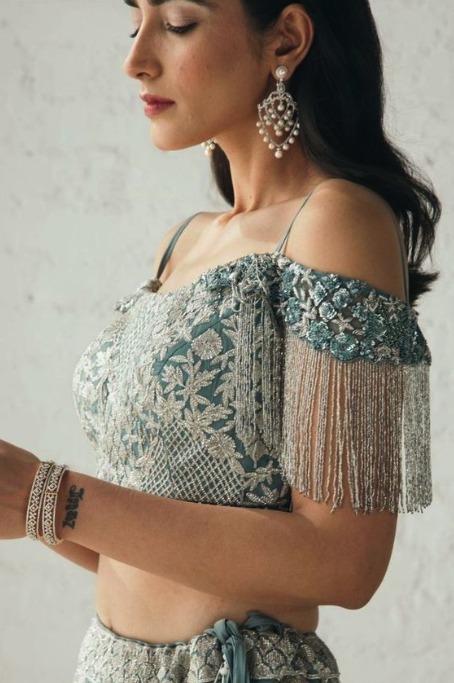 We are loving this off-shoulder blouse design for more reasons than we can explain. It's one of those lehenga blouse designs that's extremely versatile and can fit into a bridal wardrobe, but also a bridesmaid's wardrobe. The fringes can be omitted, but we'd definitely recommend them if you're looking for lehenga blouse designs for a special occasion. 
#47 Subtle Revealing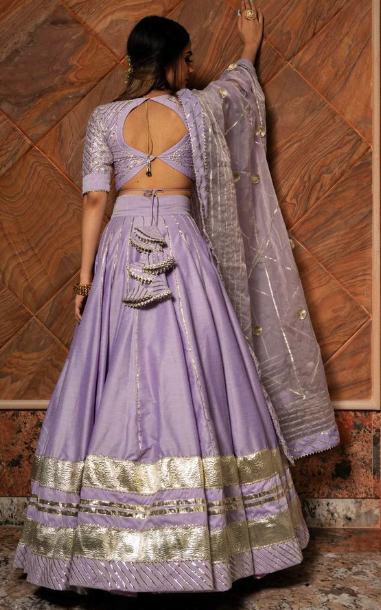 Playing with the favored and popular double-dori lehenga blouse design backside, this idea takes the creativity of the design a notch above and includes yet another joint below for an aesthetic design that's subtly revealing and utterly gorgeous!  
#48 Halter-Neck For The Win
One of the simple lehenga blouse designs to try is the halter neck blouse! It quickly adds a graceful and elegant look to your lehenga and is a design that will surely stay relevant for years to come. 
#49 Such A Feminine Choice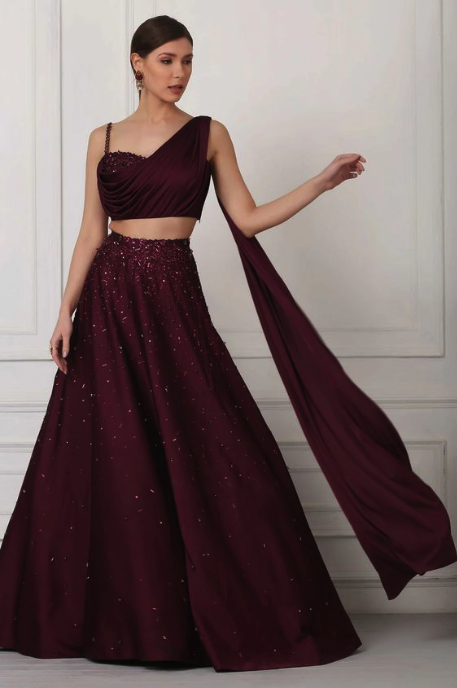 For those who want a feminine and modern lehenga blouse design, here's an inspiration to go straight to your Pinterest board. It features a scalloped tube blouse with a dupatta attached on one side to save you the hassle and make this a modish yet convenient outfit to choose for any special occasion. 
#50 The Beauty Of Dori Tassels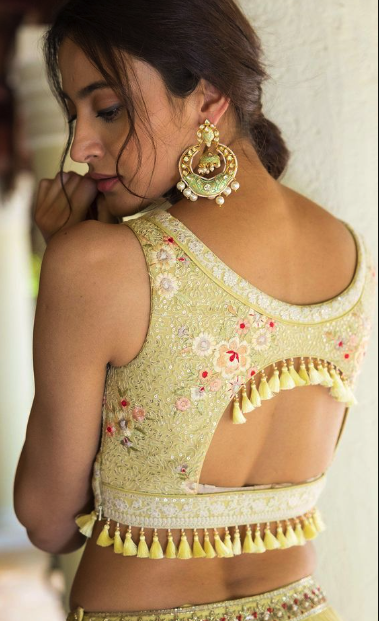 Sometimes tassels can make all the difference in the look of the blouse and how amazingly it's able to elevate your traditional dress. You can play with the tassels placement and chose to include them on not just the ends of the blouse, but also the ends of the cut.  
#51 Double-Dori Lehenga Blouse Design With Twist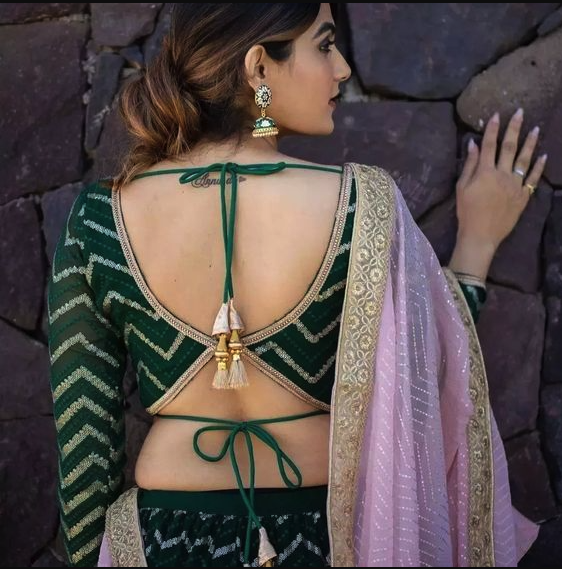 Infusing creativity in the popular and timeless double-dori back blouse design is using a hook in the middle to connect the blouse sides and separate the doris on both sides of this joint. It's a nice alternative to the revealing style and is also a fun way to try it! 
#52 A Unique Cut Stylish Lehenga Blouse Design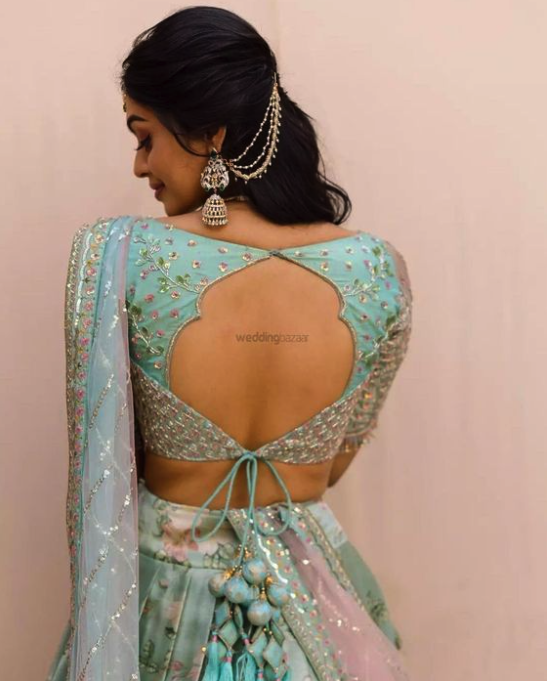 When it comes to the lehenga blouse design back side, one surefire way to elevate its design is by experimenting with the cut while keeping the dori design alive! You can try the scallop cut as portrayed here, or any other design for an eye-catching look. 
#53 Bollywood-Inspired Trendy Lehenga Blouse Design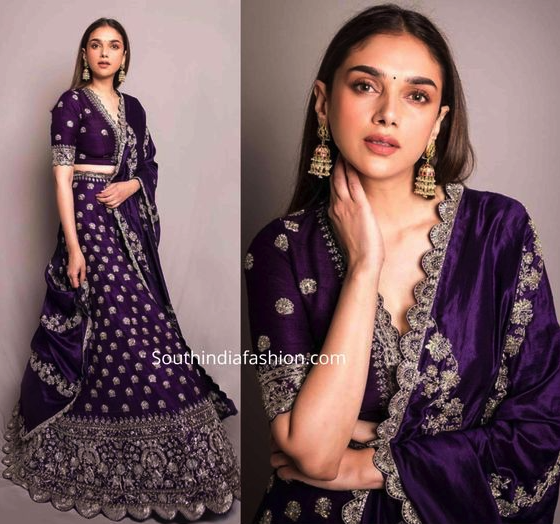 It's safe to say that Aditi Rao Hydari always slays in Indian wear and she has always been a top choice of many traditional luxury Indian designers to showcase their collections. Here, the actress is seen in a stunning purple creation by Jayanti Reddy, styled to perfection! 
#54 V-Cut, But Make It Modest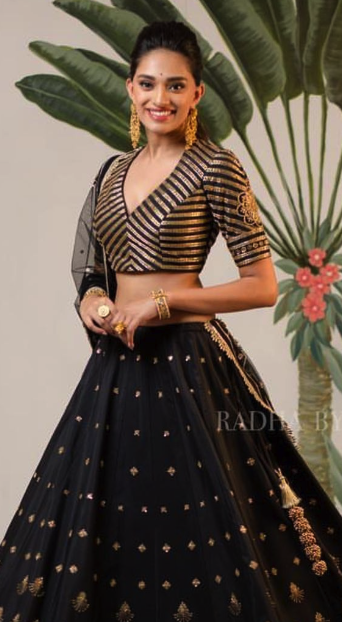 V-Cut front blouse designs have taken a major upwards trend lately, thanks to many coveted designers including them in their collections and making them look aesthetic on social media. Though, if you want to try this latest lehenga blouse design idea without revealing much, the next one is made for you and your Pinterest board. 
#55 Those Gorgeous Ruffle Net Sleeves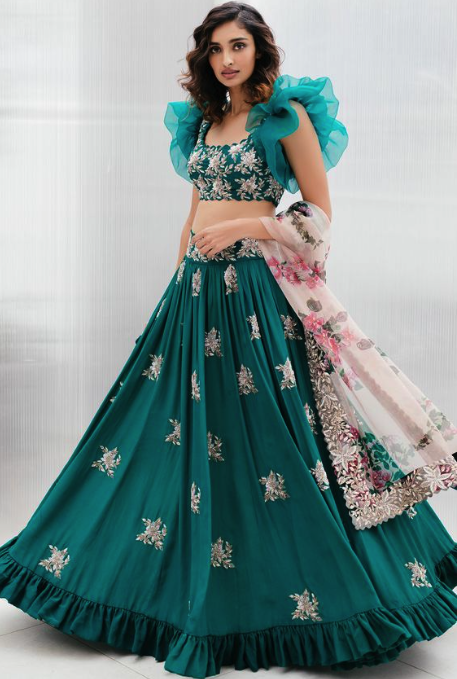 One unique way to elevate your blouse design is to play with the sleeve styles. It's also the best-suited lehenga design for girls who want their look to radiate feminity without going overboard! 
#56 Modest & Elegant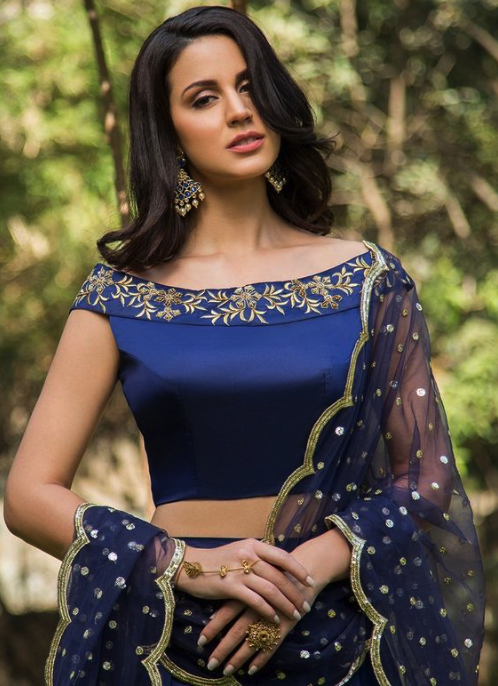 A boat-neck blouse design can be a modest and graceful option for any type of lehenga really! And it's also the one that will stay relevant for years to come so you can go for it without thinking twice. 
#57 Long Lehenga Blouse Designs!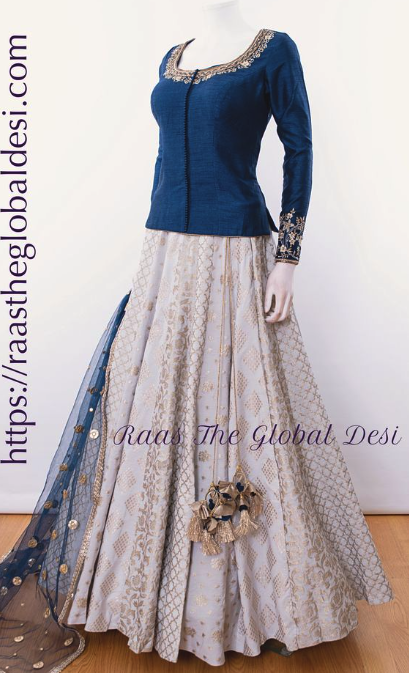 For those looking for long lehenga blouse designs (and our research tells us many of you are!), the one portrayed below will surely impress you. You can experiment with the sleeve's length for a more personalized look. 
#58 Golden Princess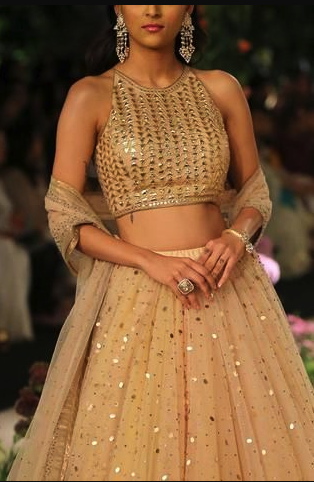 When it comes to mirror-work lehenga blouses, a halter neck can go nicely to show off the intricate work while retaining the elegance of the dress. Also, wearing the dupatta on your hands is a great way to wear it when you want all your attention to be on the blouse design. 
#59 Statement Sleeves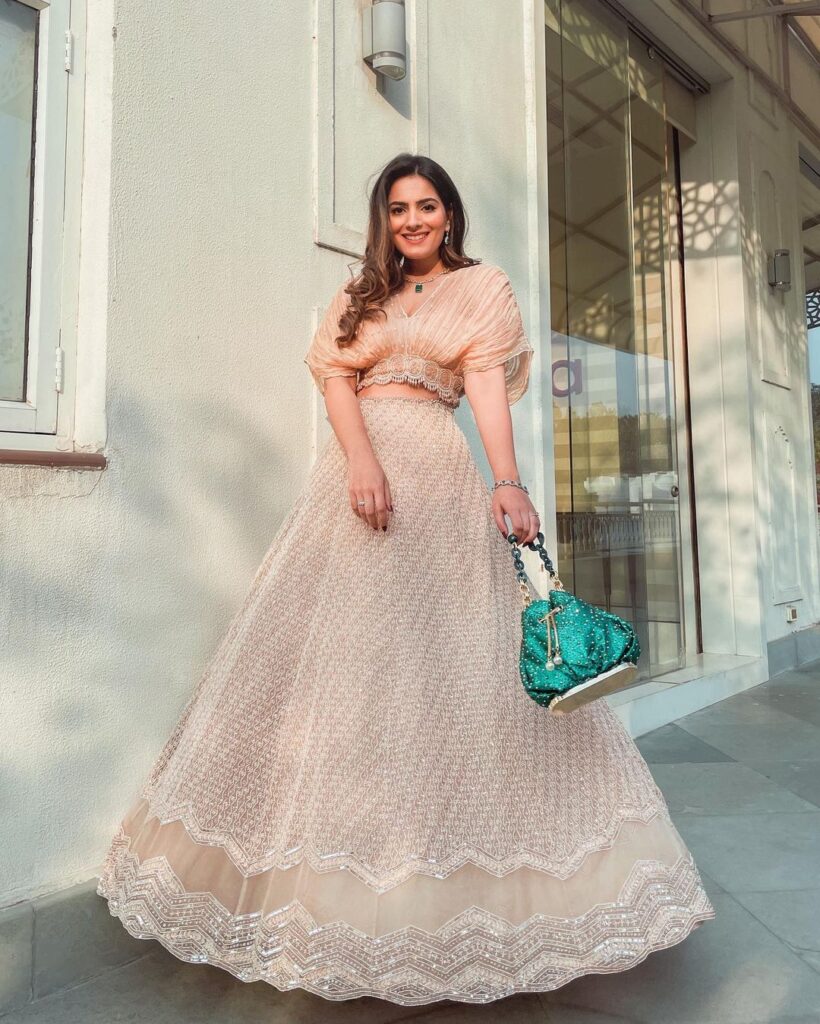 When you want to make a statement, opt for statement sleeves! You don't even need a dupatta when you opt for a modern lehenga blouse like this one. Just subtle accessories and beauty look can complete your avatar for the event. 
#60 Upside Triangle Cut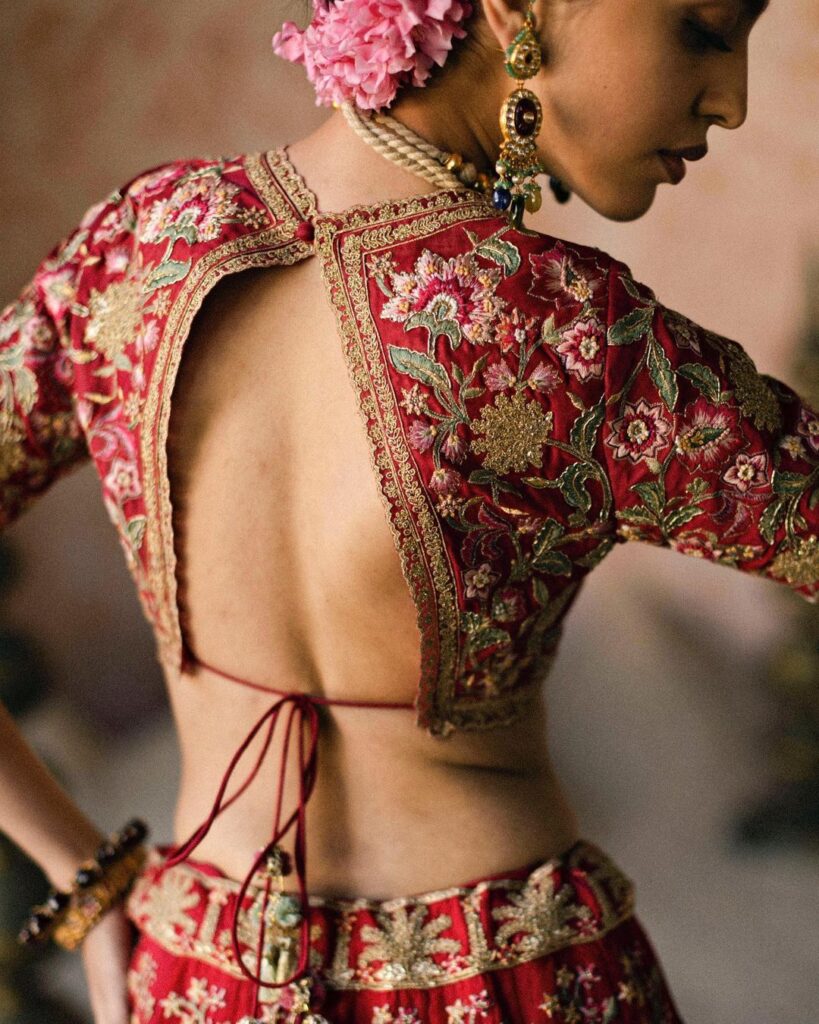 This upside triangle cut blouse has already garnered much attention on social media and just had to be a part of our lehenga blouse designs list! Especially for ones looking for bridal lehenga blouse inspiration. 
#61 Unique Lehenga Blouse Design Back Side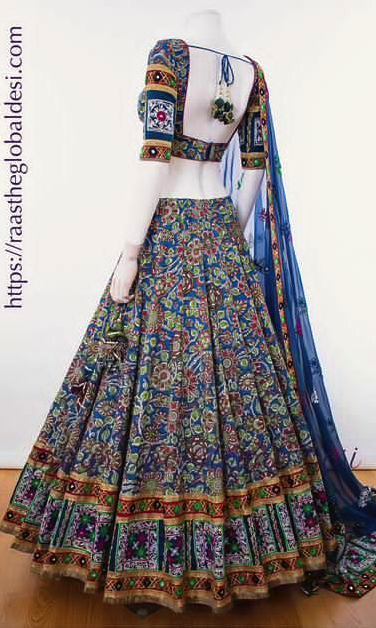 Try this sharp square-cut lehenga blouse design for an impressive statement at your next function. You can elevate the look with exquisite tassels matching your dress for an aesthetic look. 
#62 Stunning One To Try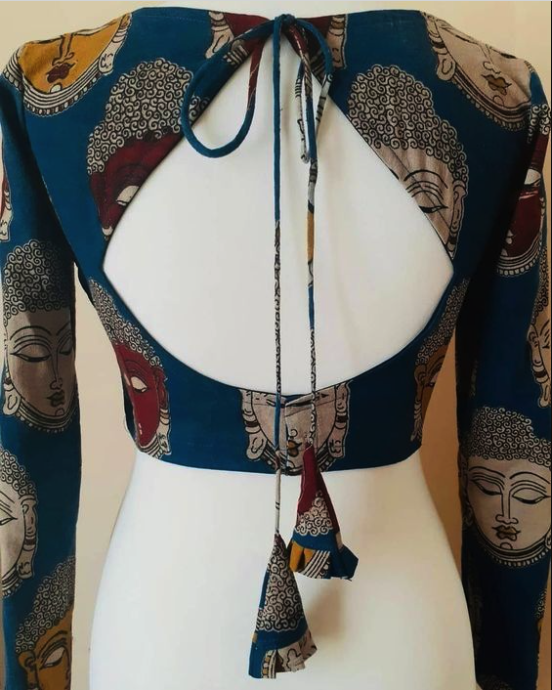 We love long-sleeve blouse designs! They suit almost everyone, and infuse a subtle elegance in any traditional dress, lehenga, or saree! Take inspiration from this one for your next full-sleeved lehenga blouse design. 
#63 A Beautiful Bridal Lehenga Blouse Design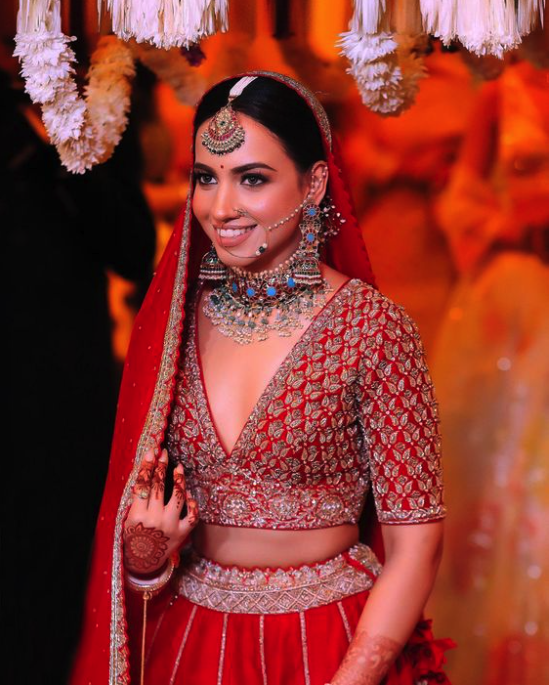 A V-neck blouse design is a wonderful option for brides looking to infuse some vogue in their traditional lehenga blouse design. We also love how the bride ditched the double dupatta so her blouse design shines on the main day! 
#64 One Of The Stylish Lehenga Blouse Designs!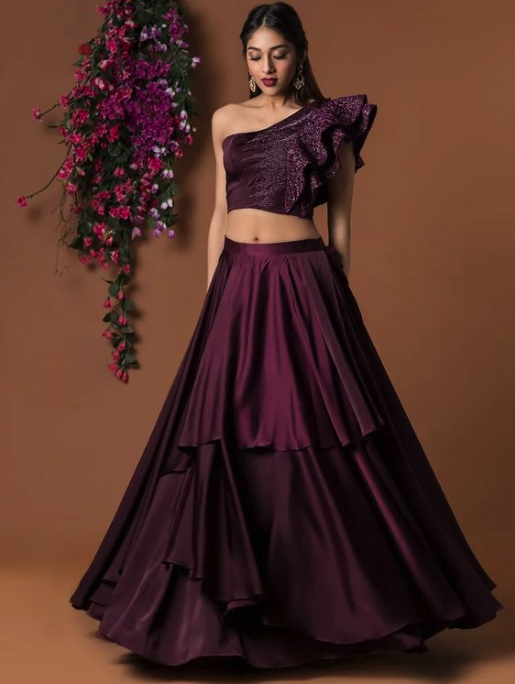 Turn heads in this statement lehenga blouse design that's trendy, modern, and yet modest enough for someone from a traditional family! It can serve as an inspiration for brides for their events like sangeet or cocktail, but can also be a superb blouse design idea for bridesmaids! 
#65 Lehenga Blouse Design Back & Front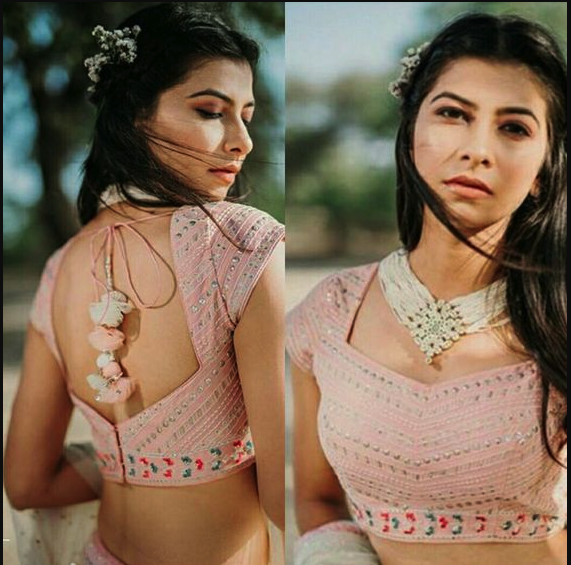 While most blouse inspiration focuses just on the front or the back, this one gives you ideas for a lehenga blouse design backside and frontside for a complete look. 
#67 Just The Perfect Lehenga Blouse Design Inspiration For You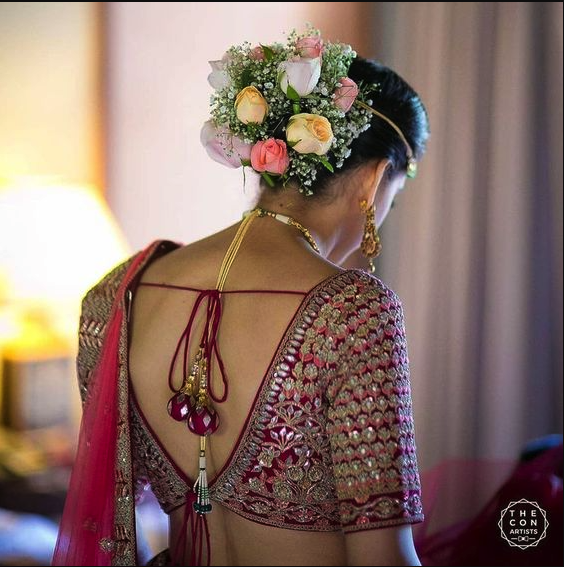 If you're looking for bridal lehenga blouse designs inspiration for your special day, here's one that will impress you. It features a modest V-cut and tassels for a timeless and modest look. 
#68 A Noteworthy Detail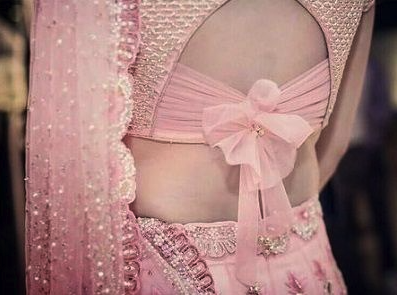 Sometimes it's just one noteworthy detail that can make your design a hit or a miss! Here, it's the gathered tie-up with a floral detail that makes this simple lehenga blouse design noteworthy and absolutely eye-catching!  
#69 Ditch The Basics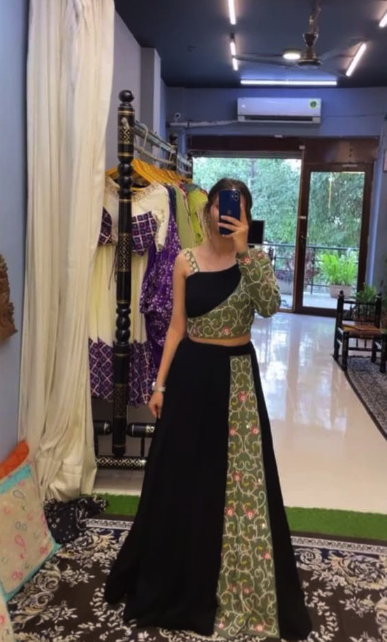 This latest lehenga blouse designs features a strap on one side and full sleeves on the other side for a modern and unique look that will surely turn heads and garner you tons of compliments. 
#70 Dupatta-Affixed Stylish Lehenga Blouse Designs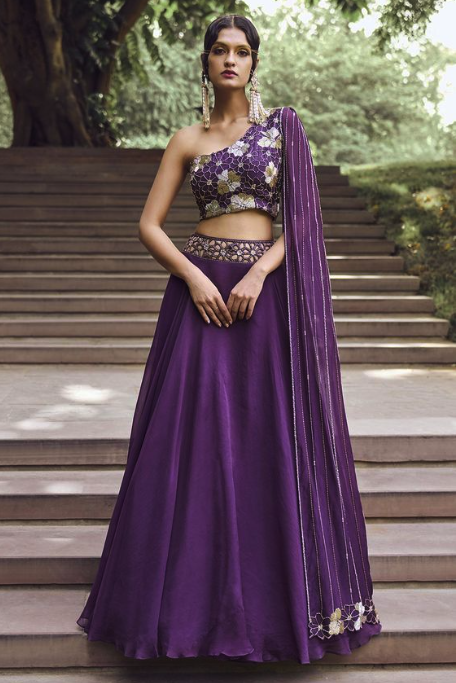 One-shoulder attached dupatta blouse design is popular because of the modish look, but also for the comfort it lends to the traditional outfit. It's also easy to wear as you don't have to rely on anyone to firmly affix the dupatta or worry about the dupatta slipping especially if it's a dance-filled event like sangeet! 
#71 Net Lehenga Blouse Designs Can Never Disappoint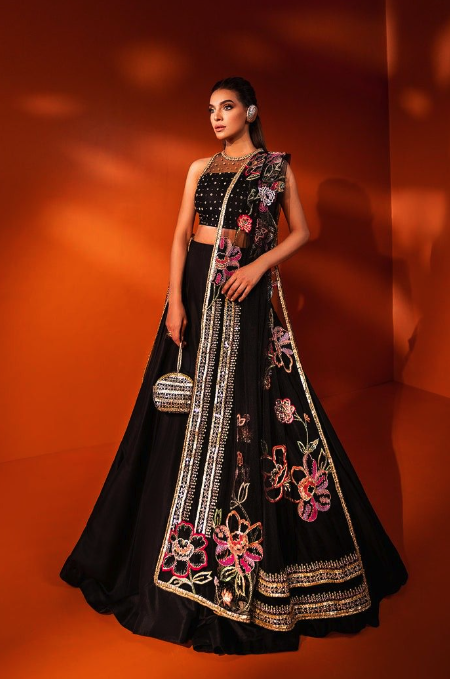 We're loving this net lehenga blouse design front side bedecked with sequins and looking glamorous as ever! When opting for a net lehenga blouse, do make sure the net is of good quality so it doesn't cause any itchiness when you wear it. 
#72 Gentle & Refined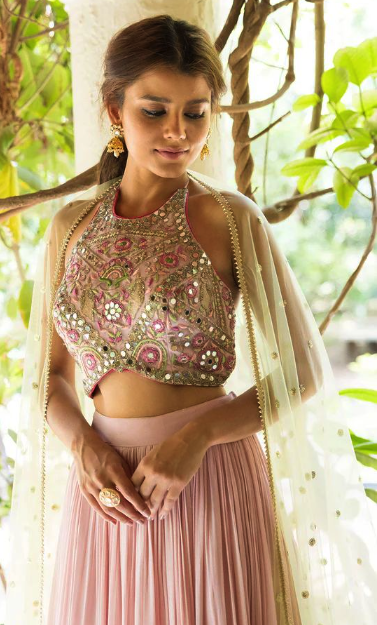 Bridesmaids and sisters-of-the-bride or groom, this is the trendy lehenga blouse design you're looking for on this list. The blouse itself has intricate mirrorwork which enhances the appeal of the piece itself, but the halter-neck cut does make it look more elegant and delicate.   
#73 Such A Unique Silhouette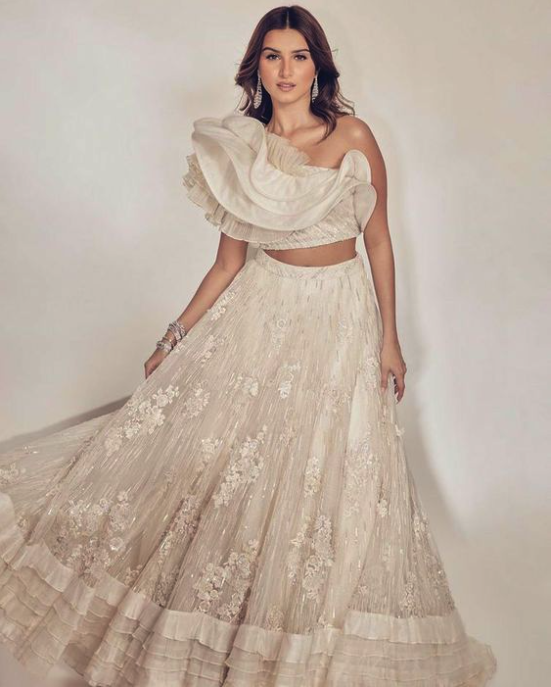 You can always trust Tara Sutaria to give us some major goals when it comes to Indian wear! Here she shows us how to turn heads by just opting for a designer blouse with your simple lehenga set and we're totally convinced with the styling. 
#74 Play With Sleeves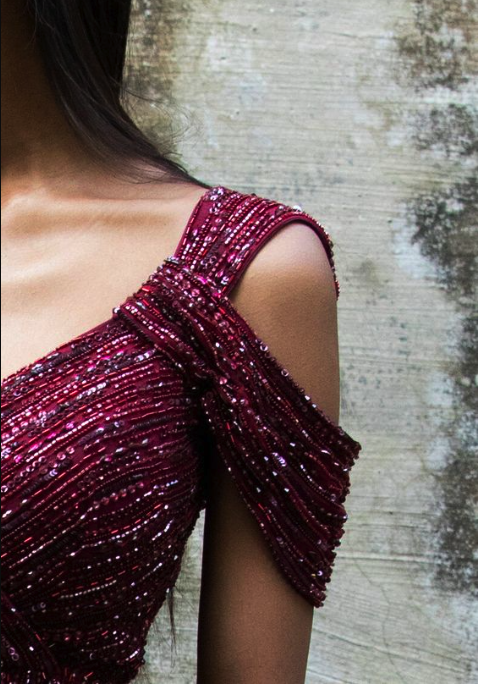 One of the ways to elevate the look of your lehenga blouse designs is to play with the sleeves and let the rest of your design stay basic. You can opt for this open sleeve to experiment or there are many other ideas like puff sleeves, batwing sleeves, or slit sleeves. 
#75 Scalloped Net Lehenga Blouse Design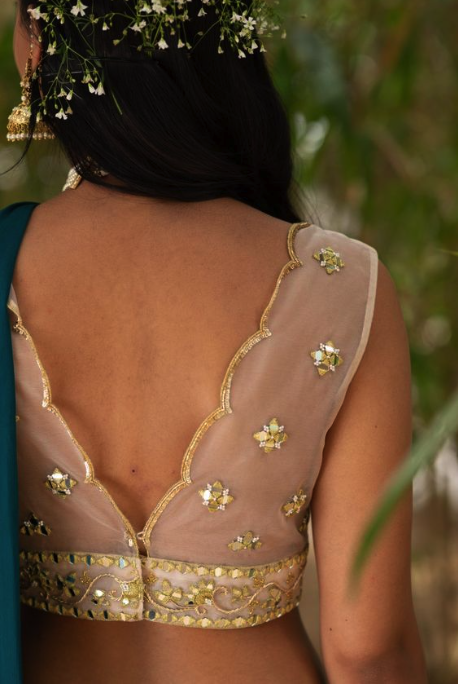 Try this net lehenga blouse design for the back which completely bares the backside while keeping it stylish and trendy! Using the net for the lehenga blouse design back side is also perfect for those who want to bare the back – but subtly!
We hope you have saved your favorite ones! Stay tuned for more such detailed inspirational blogs.