Solar energy has become more accessible to the general population in recent years. Most people want to reduce their carbon footprint and save money on electricity bills, and solar panels allow you to do both. However, the installation is pricey and people obviously want the best solar panels in India so they can reap the benefits after spending their money. To assist you in the process, we have researched dozens of solar panel companies in India to compile a list of the best solar panels in India 2023. Our analysis is based on efficiency, customer reviews, warranty, brand trust, and price. 
Price Comparison List For Best Solar Panels In India
#1 LOOM Solar Panel 50 Watts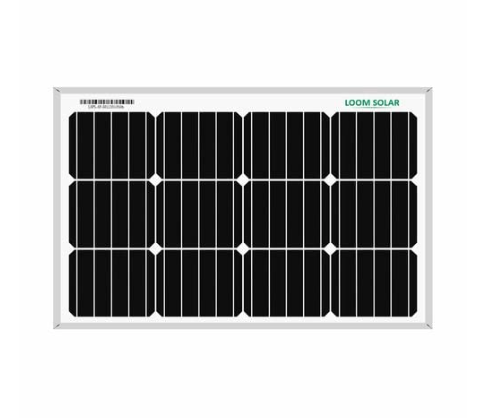 LOOM solar panels is a start-up company. They primarily manufacture solar panels and lithium batteries based out of Faridabad, Haryana. Even though it launched in 2018, they have several recognitions and breakthroughs up its sleeve. They're ISO 9001 – 2015 certified, recognized by the Indian government, and already serve in over 500 districts with 3500 resellers, 100 employees, 2 offices, and 1 manufacturing unit. They have also won the Golden Bridge award, Amazon Sambhav Award, and Energy Business of the Year Award. Amazon, they have the best and the highest customer reviews for their solar panels in India. That's why not just one – but two of their products are ranked on this list. And we think if you're planning to buy solar panels online, LOOM is one of the best solar panel brands in India to trust. 
Technical Specifications & How It Compares To Others:
The LOOM 50 Watts Solar Panel has an efficiency of 22%, weighs 3 kilograms, and has dimensions of 43 X 66.5 X 3.5 centimeters. It's priced at Rs.2897/- at the time of the upload of this article. Made from the highest grade materials consisting of MONO Perc A+ grade cells, a strong frame, IP 68 junction box (water-proof), and 3.2 mm unbreakable glass, you can be assured of the reliability and longevity of this one of the solar panels in India. 
Monocrystalline solar panels are a type of solar panels which last the longest and have the highest efficiency among all other types of solar panels. Further, PERC (Passivated Emitter & Rear Cell) is an innovation in mono and poly solar cells. The technology uses dielectric passivation film as opposed to the black coating on the rear side of the usual solar panels. Thus, the PERC technology allows for sunlight absorption on the front surface and absorption of scattered or reflected light on the rear surface, maximizing the light absorption and hence, energy conversion. Both the best technologies are used for LOOM 50 Watts solar plate in India, making it one of the best in this price range in the market. 
"Much better than expected! As soon as I received the solar panel, I unboxed everything and put it below the Sun to check it. The installation is fairly easy and doesn't require anything apart from good support. Although, that's only for one panel. If you want multiple panels installed, you will need the help of professionals. The panel started working instantly and starts to draw energy as early as 6 AM the morning. Even in the rainy season, it stands nice and tall and powers your house with energy. I took a plunge with this new company and they didn't disappoint. I will be purchasing more for a full installation on our roof!" writes one of the reviewers on Amazon. 
#2 Luminous Solar Panel – Pack of 2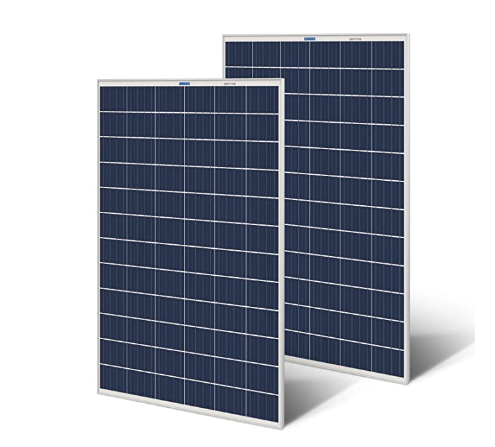 Luminous India is yet another solar panel company in India whose name pops up at the top when you search for "solar panels India" on Google. The company is one of the leading power solutions companies in India and produces all types of solar products like panels, batteries, inverters, solar calculators, and more. Besides, they are also one of the leading companies in India for inverters and auto batteries and also manufacture home electrical products like fans and switches. Starting in 1988, the company became a part of Schneider Electric in 2011 and was awarded Superbrand status for the third time in 5 years in 2016. Find a complete review of their 165 Watts panel below: 
Technical Specifications & How It Compares To Others:
The Luminous 160 Watts solar panel has an efficiency of 16.64%, weight of 44 kilograms, and dimensions of 1480 X 670 X 34 centimeters. One panel will acquire a space of 20 square feet approx. and cables & connectors of 1000 mm length for a reliable connection. The panels are designed with a silver anodized high-tech aluminum frame that easily withstands higher wind and snow loads of 5400 pa ensuring durability. 
The Luminous solar panel comes equipped with superior technology. It has Grade A solar cells – prime flawless solar cells with no visible defects, and PID-resistant technology. PID is potential-induced performance degradation in crystalline photovoltaic cells which affects the power of the module, reducing it consistently over time. The anti-PID reverses this effect and hence, ensures your solar panel works well as new over the years. There's also a warranty of 5 years on the product and 25 years on the performance. 
"After using it for a month, I can say this is one of the best solar panel brands in India to trust. The delivery was timely and the customer care agents at Luminous were helpful in explaining all about the product. The product is solid, produces the ideal power mentioned on the product, and is also well-priced. Couldn't have asked for more!" writes one of the reviewers on Amazon. 
#3 LOOM Solar Panel – 445 Watts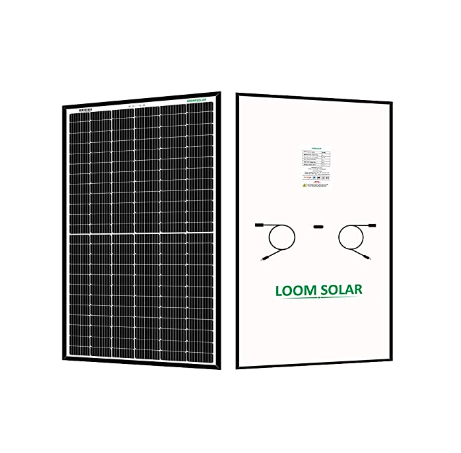 LOOM is undoubtedly one of the best solar panel companies in India. The way they have grown to be considered one of the best solar panel companies in India in just a span of 4 years shows a lot about their reliability and efficiency of the products. Some of their esteemed employees include Larsen & Turbo, World Health Organization, Nexleaf Analytics, Ecopia, and Distronix. Another mark of their efforts towards R&D is they won gold and silver awards at the Golden Bridge Business & Innovation Awards in the USA within just one year of their establishment. Besides their affordable products, the company also makes higher-wattage solar panels which require smaller space but produces a lot of electricity. Like their 445 Watts solar panel, reviewed below. 
Technical Specifications & How It Compares To Others:
The LOOM solar panel 445 Watts has an efficiency of 20% and dimensions of 210 X 105 X 4 centimeters with a weight of 9 kilograms. The panels come in a pack of 2, instead of the usual three, reducing the cost of installation like the cost of wire, stand, connector, civil work, etc. The panel also has a good wattage and can help you around 50% on your electricity bills for just a price of 39k. If you don't know how the wattage of a solar panel system in India is decided, it means it generates 445 Wattage of electricity per square meter when exposed to full sunlight.  
Another interesting feature of the solar panel is the reduced shadow impact from 33% to 16.5%. The shadowing effect occurs when the panel is partially covered by shadow and the cells which receive less electricity start absorbing power instead of producing it, drastically lowering the efficiency of the panel. Having a feature that protects the efficiency of this solar panel by navigating this inevitable problem is definitely a plus! More salient features include a super-strong aluminum frame for a sturdy exterior and PERC cell arrangement for optimum sunrays absorption and hence, efficiency. 
"Sturdy and good voltage. I was looking to get some solar power for my home for reduced energy bills and it's also good for the environment. This 2-panel system is amazing and on a good Sun day, it easily runs 2 fans, 1 AC, 1 fridge, and 1 washing machine, besides small charging devices at home. Also, tech support from Loom was courteous and explained the usage aspects well. For the price and quality, this is one of the best solar panels in India," writes one of the reviewers in India. 
#4 Microtek Polycrystalline Solar PV Module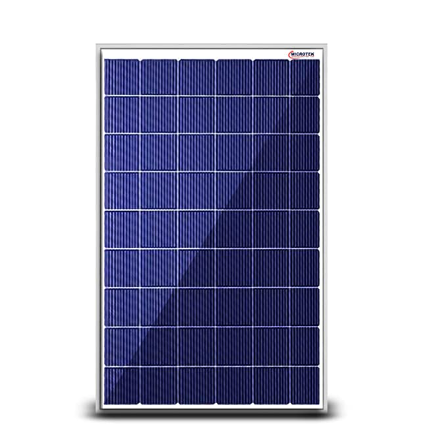 Microtek is a leading power product marker in the Indian market and holds 40% of the shares in the inverter and home UPS in India. The company has also diversified into many other segments over the years with its strong R&D and secure reliability in the minds of consumers. Here, we review one of their best-rated solar panels in India – the Microtek Polycrystalline Solar PV Module with 150 Watts of electricity generation per square meter when exposed to sunlight. It's reasonably priced and provides a warranty of over 25 years on the product. Find a complete review of this best solar panel in India for home below: 
Technical Specifications & How It Compares To Others:
The Microtek solar panels are polycrystalline solar panels giving 150 Watts of energy per square meter in full sunlight. They weigh 11.1 kilograms in weight and have dimensions of 66.5 X 77.5 X 3.5 centimeters. Polycrystalline cells have lower efficiency than monocrystalline cells but they do have the advantage of lower prices as well. They also last as long as monocrystalline cells, ensuring durability. 
Other salient features of the Microtek Polycrystalline solar panel manufacturing company in India include 100% EL tested so there are no cracks before or after the lamination, highly classified A-grade solar cells for efficient energy conversion, and lesser degradation. It's also PID resistant and has an anti-reflective coating glass for longer-term reliability.  
"These are some really well-made panels. The product arrived quickly and safely, and the performance is just wow. It produces enough energy for the price and does help us save on electricity bills. I only write reviews when I feel strongly about a product and felt it deserved it. I am confident these panels will work great for a good amount of years as they look sturdy and efficient. You will love this solar panel manufacturer in India. Definitely give it a try!" says one of the reviewers on Amazon. 
#5 Bluebird 395 Watts Solar Panel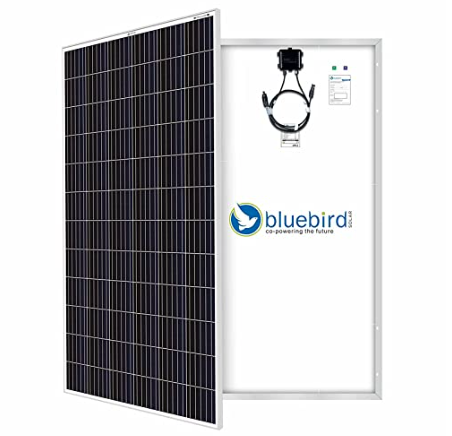 Bluebird Solar is one of the leading solar manufacturers in India with over 40 years of experience in the industry. Their state-of-the-art facility, commitment to India's Green Movement, and superior products are paving the way toward a cleaner and greener future. Besides providing solar panels online, the company also works towards helping develop complete solar panel solutions for your home or your office. Their packaged services include project development, design and engineering, product procurement, the balance of system optimization, and project construction management through operations and maintenance. You can try their solar panels and then, call them for a complete installation if you're satisfied. Below, find a review of their 395 Watts solar panel. 
Technical Specifications & How It Compares To Others:
The Bluebird 395 Watts solar panel is a monocrystalline PERC solar panel, so it produces 395 Watts of energy in one square foot where there is full sunshine. The weight of this one of the solar panels in India is 20.5 kgs and it has dimensions of 199 X 102 X 6 centimeters. Inside the box, you will find a solar panel module with a junction box and cable. The technology of the solar panel – both monocrystalline which points towards the highest quality of silicon used to add to energy output and PERC which means there's an additional layer on the back of solar cells so even the diffused rays are used to collect energy – certifies towards the optimum efficiency of one of the best rooftop solar panels in India.
This solar panel also has AR-coated tempered PV grade glass for better light absorption and anti-glare properties. It is further built with 5BB A+ grade solar cells – one of the latest technology in the solar cell industry. 5BB cells have a higher number of busbars, which decreases internal resistance loss, and impacts of microcracks, thus increasing the overall performance of the cells.  
"These are amazing and one of the best I've purchased in the last few months as I was trying out different solar panel systems in India. This is delivering more amps and I've decided to complete a full installation with Bluebird solar for my home. It's also BIS-certified – a great plus! From my experience, it's great – just go for it!" writes one of the reviewers on Amazon. 
#6 Tata Power Solar Panel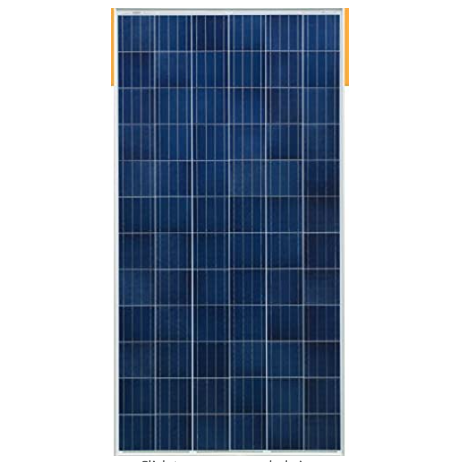 A company that needs no introduction. Their name is enough to sell anything because such is their continued effort to preserve brand trust and quality for their consumers. Tata Power Solar Systems Ltd. was established in 1991 and currently manufactures solar modules, and solar cells, and provides EPC services for solar power projects. Their services for solar power installation have been used by the government for their Green India initiative and many big conglomerate companies like Dell. They became the first Indian company to ship 1 GW solar modules worldwide. Their manufacturing facility in Bangalore has the capacity to produce 400 MW of modules and 300 MW of cells. Find a complete review of their best-selling 325 Watts solar panel below: 
Technical Specifications & How It Compares To Others:
Tata's polycrystalline solar panels have a capacity of 325 Watts and are made of 72 polycrystalline cells. Polycrystalline cells give lower efficiency than monocrystalline cells, but they are as durable as them and also economical for those looking for a budget option or looking for bulk scale projects for their home or office. There's a warranty of 10 years on the product and 25 years on the performance. A progressive power warranty guarantees 80.2% of rated power at 25 years. 
These Tata solar panels come in a pack of 2 and have dimensions of 195.5 X 99.2 X 3.8 centimeters with a weight of 24 kgs. They are designed using a silver anodized high-tech aluminum frame to withstand higher winds and snow loads. Further, to improve energy conversion efficiency, the panel has a high fill factor and the cells are sorted by power and current to minimize mismatch losses. 
"You get completely what you pay for! After researching a number of solar panels in India, I decided to go for TATA solar panels mainly because of the brand name. These panels are amazing and have been working efficiently despite the heavy rainy season for a few weeks. They have a sturdy appearance and are quite heavy, so I'd recommend having a professional install them. There's lifetime tech support and 25 years warranty – a huge BONUS! Love the product," writes one of the reviewers on Amazon. 
#7 Genus Polycrystalline Solar Panel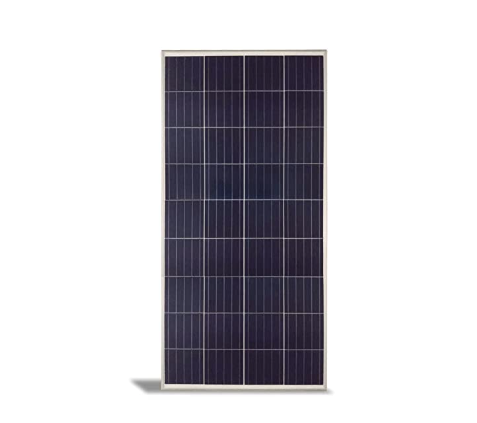 Genus Innovation is part of the Kailash Group worth USD 400 million and manufactures solar panels, solar inverters, solar power conditioning units, and more. They have state-of-the-art facilities in Haridwar and Jaipur and a vast network of 2000 distributors and 7000 dealers to help reach their quality products to the common public. They mostly manufacture high-quality polycrystalline solar panels, but also have one range of monocrystalline panels under their array of products. Polycrystalline solar panels are more economical than monocrystalline panels, but they do also have slightly lower efficiency than them. Below, we are reviewing Genus' 165 Watts polycrystalline solar panels in India: 
Technical Specifications & How It Compares To Others:
The Genus Polycrystalline Solar Panel is priced at Rs.7750/- at the time of the upload of this article and it's dimensions are 149 X 66 X 3.5 centimeters. Genus manufactures all its products in-house with only the best raw materials. That's the thing about solar panels as well, the making is simple, it's the raw materials that matter! The cells used are those with the best efficiency in the polycrystalline realm, there's durable low iron tempered glass with anti-reflective coating and enhances UV EVA encapsulation for good durability and performance. There's also a sturdy and lightweight aluminum alloy frame for longevity. 
These solar panels in India also come with surge protection. As the country's heat wave can be quite strong, too high temperatures can compromise efficiency. Thus, surge protection ensures there's no compromise with the productivity of solar panels during the hotter months of the season. To further bolster your belief in this solar panel manufacturer in India, they have certifications like ISO 9001, 14001, 50001, TUV, BIS, IEC, UL, and CMMI Level 3. 
"Quality at a reasonable cost! After a good amount of research, I bought this panel and it's amazing. It doesn't need any additional help in installation and starts working almost instantly. Till now, we have saved around 10% on our electricity bills with just this one panel. We're planning to install more on our roof. Well above the expectations and 10/10 recommend!" writes one reviewer on Amazon. 
#8 USHA Solar Panel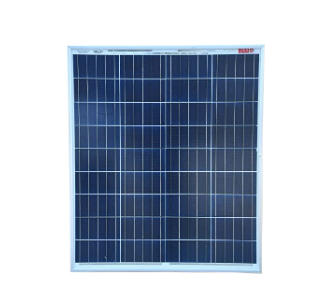 USHA Shriram Enterprises was established in 1983 and is popular in India for its fans, cookware, and sewing machines. However, their range has grown to accommodate a wide variety of appliances now ranging from lighting, air purifiers, mattresses, chimneys, wall shelves, and of course, solar panels. They have, in fact, launched a completely new e-commerce vertical for their solar panels called USHA Solar India, where they use advanced technologies and diverse resources to build sustainable energy resources for businesses and residents across the country. In fact, their experienced experts will be able to provide you with 360 degrees solutions to your power needs and will give a seamless service even after the installation. Below, find a review of their 400 Watts monocrystalline solar panels. 
Technical Specifications & How It Compares To Others:
USHA's monocrystalline solar panels are certified through MNRE and are of world-class quality as they follow the European manufacturing process and use panel cells of the highest quality. They come with 25 years of performance warranty with a minimum of 90% performance after 10 years and 80.2% performance after 25 years. The cells are A-grade and PID-free to remove any factors which can possibly affect the efficiency of the solar panel in any way. They also use ARC-coated glass to maintain the sturdiness of the glass panel and maintain its reliability and strength over the years. 
"Excellent quality and very easy setup! It's a little heavy but considering it gives very good efficiency and power generation, that's okay. We have installed 4 of these panels on our roof and our electricity bills have come down considerably. Since they're monocrystalline panels with high efficiency, they're pricey but worth the output and quality though! The quality of all materials is AA+. We ordered directly from the USHA website and the professionals were amazing throughout. They also called to ask about any problems later on. I will definitely recommend it," writes one of the reviewers of USHA solar panels in India 2023. 
#9 Solar Universe India 40 Watts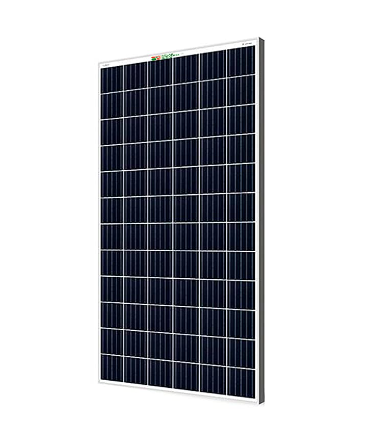 Established in 2003 with a simple range of solar garden lights, Solar Universe has quickly reached the top of the solar panel market in India with its positive feedback on the first line of products and every other one, subsequently. Based in Delhi, they currently export products to other countries as well like Asia, Africa, and some oceanic countries. They have a wide array of products like off-grid PV kits, solar pumps, solar fencing, etc. to cater to their aim for energy conservation and sustainable energy. Reviewing below, their 40-Watt 12-Volt solar panel for home lighting. You can also connect with them directly for a 360 degrees solution to your solar panel needs, which includes design, setup, installation, and maintenance. 
Technical Specifications & How It Compares To Others:
The Solar Universe solar panels in India are the ideal pick for homeowners who don't want to invest much into the solar panel system, but still want to offload some of their energy bills onto the solar panel system. This panel produces energy of 40 Watts per square meter when it receives full sunlight. It's a polycrystalline panel so the efficiency of 16.2% is quite good for these types of solar panels in India. It has 5BB cells, which means there are a higher number of bus bars, decreasing the internal resistance loss and hence, increasing the overall performance of cells. There are also anti-PID cells that reduce potential-induced performance degradation in crystalline photovoltaic cells. 
The panel price is Rs.2181/- at the time of the upload of this article. It weighs 4.65 kilograms and has dimensions of 45 X 68 X 6 centimeters. The high-quality toughened glass ensures cell safety in the long term because of weather conditions. There are 25 years of performance warranty on the product and 5 years on manufacturing defects. 
"After being a little skeptical of solar panels, I decided to give this one a try. It's economical and gives a decent output of energy. Been using it for a month, and I've had no complaints so far. It does help in reducing our energy bills and I am planning to install 4 more in the house for greater savings. It's cost-efficient and does the job! Overall a very good product," writes one reviewer on Amazon. 
#10 The Sun Factory Polycrystalline Solar Panel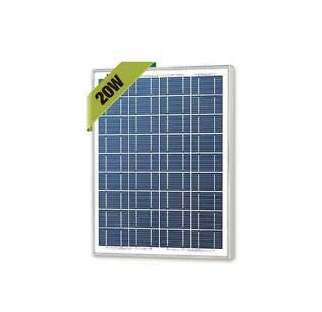 If you're looking for portable, lightweight solar panels with a good life, then look no further than the Sun Factory Polycrystalline solar panels which are economical, efficient, and provide good output exactly what you're looking for. The Sun Factory is an Australian brand known to provide renewable energy to help consumers save on energy bills. They have just recently launched in India and started selling some of their best products. One of them is their polycrystalline 20 Watts solar panel. Find a complete review of the product below: 
Technical Specifications & How It Compares To Others:
The Sun Factory Polycrystalline solar panels weigh a mere 1 kg and give 20 Watts of power per square foot in good sunlight. It's made of polycrystalline technology and yet gives an efficiency of over 16% which is quite amazing for polycrystalline solar panels and shows that the company is only using the highest quality of products for their panels. Other advantages of polycrystalline solar panels in India are their durability and low cost, making them available to the general public easily and giving them access to renewable energy.
"I decided to buy this Sun Factory Polycrystalline Solar panel after finally finding a low-budget panel on Amazon yet efficient and meeting regular energy needs. I had very high expectations of this brand and they didn't disappoint. The installation was easy and the energy was produced almost immediately. As usual, 'you get what you pay for'. Thanks to the Sun Factory for your quality product. I really love it!"
Types Of Solar Panels
Monocrystalline Solar Panels:
Monocrystalline solar panels are the oldest yet the most developed solar panels of all. There are currently three types of solar panels: monocrystalline, polycrystalline, and thin-film solar panels. As the name suggests, the panel is made from a single (mono) but the purest form of silicon. Because of the high purity, these panels are more expensive and also have a higher efficiency of 15% to 25%. They also tend to last longer than other types of solar panels in India (upto 30 years), have greater heat resistance, and occupy lesser space. 
Monocrystalline solar panels are manufactured using something called the Czochralski process. In this method, a silicon crystal is set into a molten vat of pure silicon at a very high temperature. From there, the crystal is extracted slowly and carefully so the molten silicon hardens into single crystal shells called the ingot. These ingots are then sliced into thin silicon wafers which are then made into solar modules. 
During this process, the cell edges are cut off, smoothened, and rounded to help the crystal produce more electricity. This also causes more wastage though, shooting up the cost of this type of solar panel. Although, this extra silicon is then used to create polycrystalline solar panels. You can easily recognize monocrystalline solar panels because of their uniform, darker look, and rounded edges. 
Monocrystalline panels are a great pick if you have the budget and want a long-lasting, efficient option. But they are not a good choice for cold-weather places as the snowfall can cause damage to the solar cells. 
Polycrystalline Solar Panels:
As their name suggests, polycrystalline solar panels are created from multiple smaller fragments rather than a single, pure silicon crystal. They are the most popular kind of solar panels because of their low cost, and efficiency – which can be increased by adding more panels. You will find them often in large-scale installations. 
To create polycrystalline solar panels, fragments of silicon crystals are melted together and placed into a vat of molten silicon to create wafers. Instead of extracting the crystal, the material is left to fragment and cool. Once cooled, the silicon is sliced into wafers which are then made into polycrystalline solar panels. Unlike monocrystalline panels, the four sides of the wafer need not be cut before assembling. This is better for the environment as it generates less waste. The manufacturing process is also faster and cheaper this way. 
You can visually distinguish between monocrystalline and polycrystalline solar panels. When the light falls on them, the former appears black in color while the latter will give a bluish tinge. Monocrystalline also has smoother edges. On the other hand, polycrystalline solar panels appear perfectly square in shape and devoid of gaps. Their frames and sheets will appear similar though. 
These type of solar panels in India are durable, long-lasting, produces less wastage (better for the environment), and has an economical cost. But they do come with their own disadvantages like lesser efficiency and grabbing more space than monocrystalline panels. 
Thin-Film Solar Panels:
The least efficient and expensive type of solar panel in India, but the most flexible and portable, is the thin-film solar panel. As the name suggests, these panels are almost 350 times thinner than those that use silicon wafers. Although, these types of solar panels can use silicon – but it's not the same solid silicon wafer but rather a non-crystalline type of silicon. 
Thin-film solar panels are manufactured by placing one or more films of photovoltaic material onto a substrate like glass. Some of these photovoltaic substances include cadmium telluride, amorphous silicon, and copper indium gallium selenide. Each material creates a different type of solar panel, but all come under thin film solar cell umbrellas. The semiconductor layer is placed between transparent conducting layers, with a layer of glass on top to capture sunlight. 
You can easily recognize these panels because of their thinner appearance. But their fine nature is often masked by larger frames. The color can be black or blue depending on the type of material used. 
With an efficiency of around 11%, these solar panels require much more roof space to generate the same amount of electricity. Homeowners who want to stay in their homes for a shorter time often opt for thin-film solar panels as they don't have longer durability – around 11 years or so. They're also a preferred option for RVs and camping. 
Benefits Of Installing Solar Panels
#1 It's A Great Source Of Renewable Energy
Even though fossil-fuel-generated electricity seems convenient, it's disastrous for the environment. Installing solar panels helps combat greenhouse gas emissions, reduces your carbon footprint, and brings down our collective dependence on fossil fuels. Renewable energy also improves public health as coal and natural gas plants cause air and water pollution which can harm human health. Solar power also works great during drought or heat waves whereas coal needs a large amount of water to cool (which destroys water resources as well). Further, solar power creates jobs in clean energy changing the landscape to move to renewables.
#2 Saves Money
That's a given. Installing solar panels starts reducing your energy costs almost immediately. How much you save depends on the type of solar panels you install, how many are there, and the amount of energy usage in your home. In general, most homeowners start saving around 75% to 95% on their electricity bill from the first month itself. Further, if you own a commercial property this can make a significant difference in your business costs and reduces your monthly utility bills. Since electricity prices keep on fluctuating, you're often not able to estimate the cost of your electricity amount, solar energy is different. You can calculate the cost of electricity generation for another 10 years. In this way, it's also a secure investment. 
#3 Increases Home Value
A solar energy system is considered an upgrade for your property value, kind of like a renovated kitchen or finished garden, but more valuable. If you're planning to sell your property after a while, installing solar panels will save energy now, and also help give you a better price on the property in the future. If statistics are to be believed, installing solar panels can up the valuation of your home by as much as 10 lakhs. So when you sell your property, you will not only regain the initial cost of your solar system but will also make a return on your investment. 
#4 Low Maintenance Costs
The primary factor which accentuates the importance of solar panels is they require lesser maintenance. You only need to keep them clean and just cleaning once or twice a month will do the job. You can always rely on special cleaning services to do this for you too. Most reliable solar panels in India (like the ones we have mentioned on this list) all come with a warranty of 20 to 25 years, and they will easily work for that life span when maintained properly. Also, they are fixed in their places so there's no wear and tear of movement. The inverter, which supplies the solar energy power as electricity to your home, might need some maintenance and repair work though! 
#5 Suitable For Indian Households
India is home to sunshine for at least 300 days a year. There's also no snowfall in the majority of regions, and snowfall does cause some deterioration to the solar panel, especially the monocrystalline solar panels. Therefore, in Indian households, solar panels can work with maximum efficiency and can work well in almost all regions. Further, the panels can be installed on any kind of roof and don't require any pre-preparation for installation, giving it the versatility to work on many types of homes. 
#6 Support From Government
Since it's a source of green energy, the government wants to encourage people to adopt solar energy in their homes and offices. The Indian government offers tax credits to those who install rooftop solar panels – in any of their residential or commercial properties. As per the Ministry of New & Renewable Energy, the government pays 30% of the installation cost as a subsidy to the installer. 
FAQ's
Do Solar Panels Require Maintenance?
One of the most common questions homeowners have does solar panels require maintenance. Luckily, solar panels require very little maintenance throughout the many, many years they will be serving your house with electricity. It just needs to be clean as clean solar panels often give the maximum energy output. Cleaning the solar panels is a simple procedure. You can use a simple washcloth to clear off the dirt. It's recommended to install the solar panel in a diagonal direction so the rains are able to ward off the debris and accumulation of dirt is also minimal diagonally. 
Frequently, you can monitor the inverter display to ensure it's working properly and the system is working at maximum efficiency. Keep a record of the system's output so you know when it needs some maintenance by a professional. Quarterly solar panel maintenance is to check the entire system is working correctly. You can call a professional to do the check. Annually, you can do a general performance check, see if the solar panels have any scratches, ensure the junction boxes and mounting hardware is in good condition, and inspect inverters to assess any damage and efficiency. 
How Many Solar Panels Does It Take To Run A House? 
The number of solar panels needed to power a house depends on several factors, including the size of the house, the amount of electricity it consumes, the location and climate, and the efficiency of the solar panels themselves. As a rough estimate, a typical household in India consumes around 10,000 to 12,000 kilowatt-hours (kWh) of electricity per year. To generate this amount of electricity from solar panels, a system with a capacity of around 5 kilowatts (kW) would be needed.
The number of solar panels required for a 5 kW system can vary depending on the efficiency of the panels, but on average, it would require around 15-20 solar panels. However, the exact number of panels needed will depend on factors such as geographic location, roof orientation and shading, and energy consumption patterns. It is important to note that investing in solar panels is not just about the number of panels, but also about the quality and efficiency of the system. Working with a reputable solar installer or contractor can help determine the best system size and number of panels for your specific needs and location.
Which Is The Best Solar Company In India?
Loom, TATA, and Luminous are some of the highly-rated solar companies in India. All of them are good for both commercial and home use. However, you do need a trusted contractor to install the device so it's efficiency is optimised.
What Impacts Solar Panel Performance?
There are some factors that can impact the performance of your solar panel:
Shade:

Keep in mind that any shade can hamper the efficiency of your solar panel. If you have a tall tree, either don't put a panel there or get it trimmed from time to time. 

Orientation:

When the expert installs the solar panel, it's necessary they place them in a way that they receive the maximum of the Sun's rays and hence, produce the energy. If the orientation is not proper, it can compromise the efficiency of your solar panel. 

Extreme Weather Conditions:

Extreme weather conditions like snow, wind, rain, or hail can affect the solar panel's efficiency. Snow accumulates on the surface so the Sun rays can't reach the panel, rain clouds can affect how much Sun reaches the panels, and hail poses the same effect. Though, neither one can cause any damage to the solar panels as they have been tested to withstand these conditions. 

Cleanliness:

Even though solar panels need very low maintenance, over a period of time, they are bound to have some dust and grime build-up, especially in the aftermath of an intense sand storm or fall when falling leaves can gather on top of the solar panel. When panels are covered with anything, they may not be able able to absorb as much sunlight causing a lapse in their efficiency. 
How Long Do Solar Panels Last?
Solar panels have an average lifespan of 25 to 30 years, but most will function for a good 50 years when they are maintained properly. And by maintenance, cleanliness is the only factor that matters. Inverters though do need to be changed in 10 years or so, but panels themselves can function well for a good 30 years. 
How Many Solar Panels Are Needed To Run A House?
It depends on your power consumption. Based on the average statistics for an Indian household, around 20 to 25 solar panels with around 100 Watts of power will do the job. Commercial properties will need more. 
Do Solar Panels Need To Be Tilted?
Tilting of the panels is super important because panels produce maximum energy when the Sun is directly perpendicular to them. You will see that maximum solar panels in India are tilted to the South so they get direct rays of the Sun when it's the strongest. Solar panels work at all angles, a slight tilt will be done by the technician though for optimum efficiency.
What Is The Best Direction For Solar Panels In India To Face?
In India, as anywhere in the Northern hemisphere, the solar panels should face to the South as they receive the most sunlight in this direction. West and East are also preferred in some cases, but avoid facing the panels to the North. 
What To Consider When Purchasing Solar Panels?
Here are some essential factors to consider when choosing solar panels: 
#1 Efficiency
That's the basic thing for which you buy solar panels – to reduce energy, and therefore, you want to look for solar panels which can give you the best efficiency for the price you can afford. If you install solar panels with lower power generation, you'd need more panels. Despite the power generation though, we'd recommend investing in a solar power system that has good quality and will perform efficiently for a longer time.  
#2 Warranty 
Solar panel warranties protect the panel and its performance. At the bare minimum, your panels should provide a warranty of at least 10 years, although some of the best and most expensive products on the market can provide a warranty of 25 years. The typical lifespan of a solar panel is 20 years, with many running upto 40 to 50 years properly. 
#3 Durability
Because solar panels are exposed to weather conditions daily, it is essential to consider their durability. Panels that are made of high quality material, have a good temperature coefficient, and can withstand extreme weather conditions will always work at near-optimal levels. If you live in an area that receives snowfall during the winter season, look for a solar panel that can support the weight of several inches of snowfall.
#4 Price 
The price of solar panels can vary a lot depending on what type of solar panel and how many you opt for. The most expensive ones are the monocrystalline panels, but they also have higher efficiency and durability, so you wouldn't need many panels to produce the same amount of electricity. Although, if you're looking for a cheaper alternative, go for polycrystalline panels instead. 
Conclusion & Winner: 
Solar panels are clearly an efficient and easy way of energy generation for both residential and commercial properties. In the monocrystalline category, the winner is the LOOM Solar Panel pack of 2, which produces a power generation of 445 Watts.
In the polycrystalline category, the winner is the Microtek Solar PV module, which produces energy of 150 Watts.