These cute nails and cute nail designs are ideal for women looking for endearing nail art to grace their fingers. From hearts to geometric patterns and gel-based motifs, below you will find many variations to pick the one that will win your heart. 
#1 These cute acrylic nails are the perfect square-shaped and are done in a subtle pink shade with artistic accents on the middle two nails. Pink, itself, is a very romantic and playful shade – making it a great color for cute nail designs. Besides the shade though, we love the star motif and the glazing pattern on the ring finger to add allure to an otherwise basic design. If you aren't someone who likes a designer pattern on every nail, a subtle one on just one or two is perfect to make your fingers stand out and experiment with a new pattern.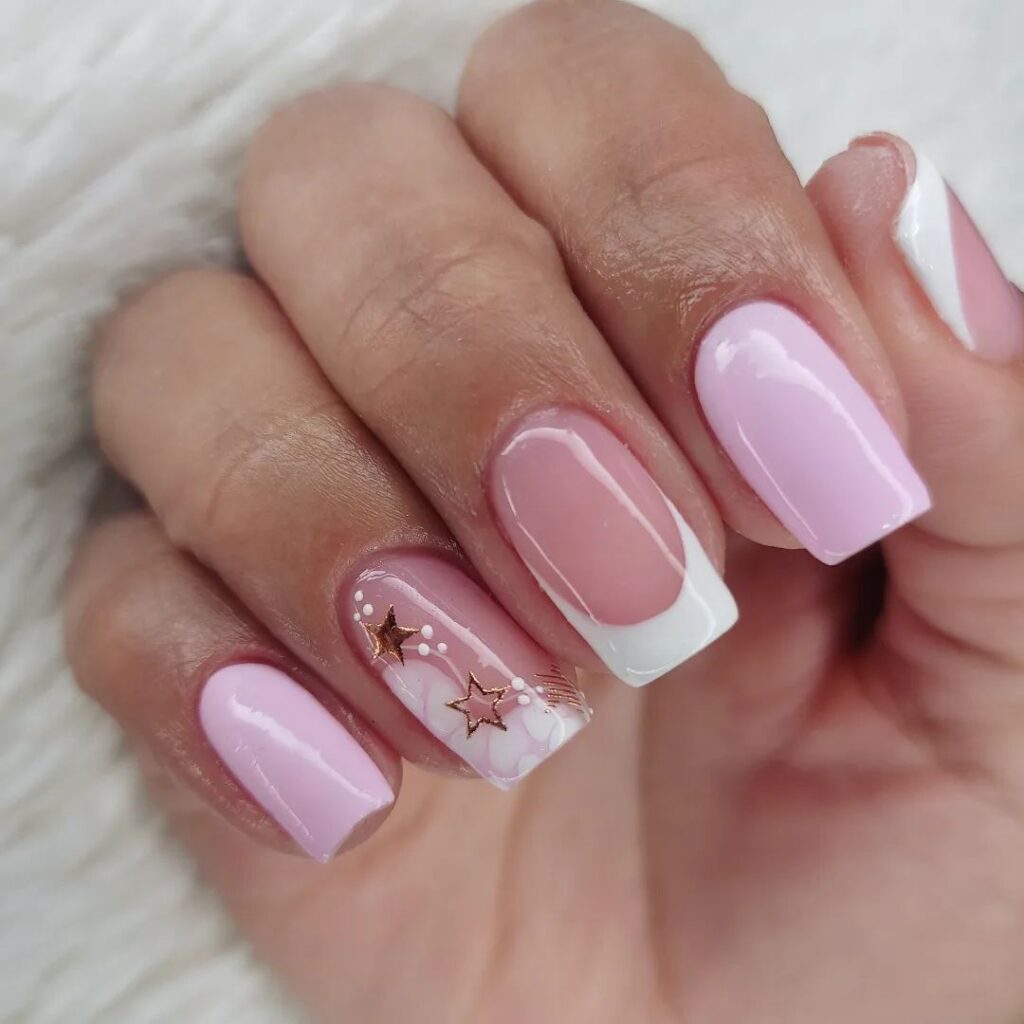 #2 You don't have to opt for long nails to make a statement with your nail art. There are many designs on this list that are a portrayal of cute short nails for women who are intimidated by long nails or think it's not practical to have them in your routine life. In the next design, the middle two nails reflect an ombre pattern in sea-green color done with marble effect while the rest of the nails are done in block colors. A versatile art for all seasons and occasions, except when it's your own wedding and you want something subtle.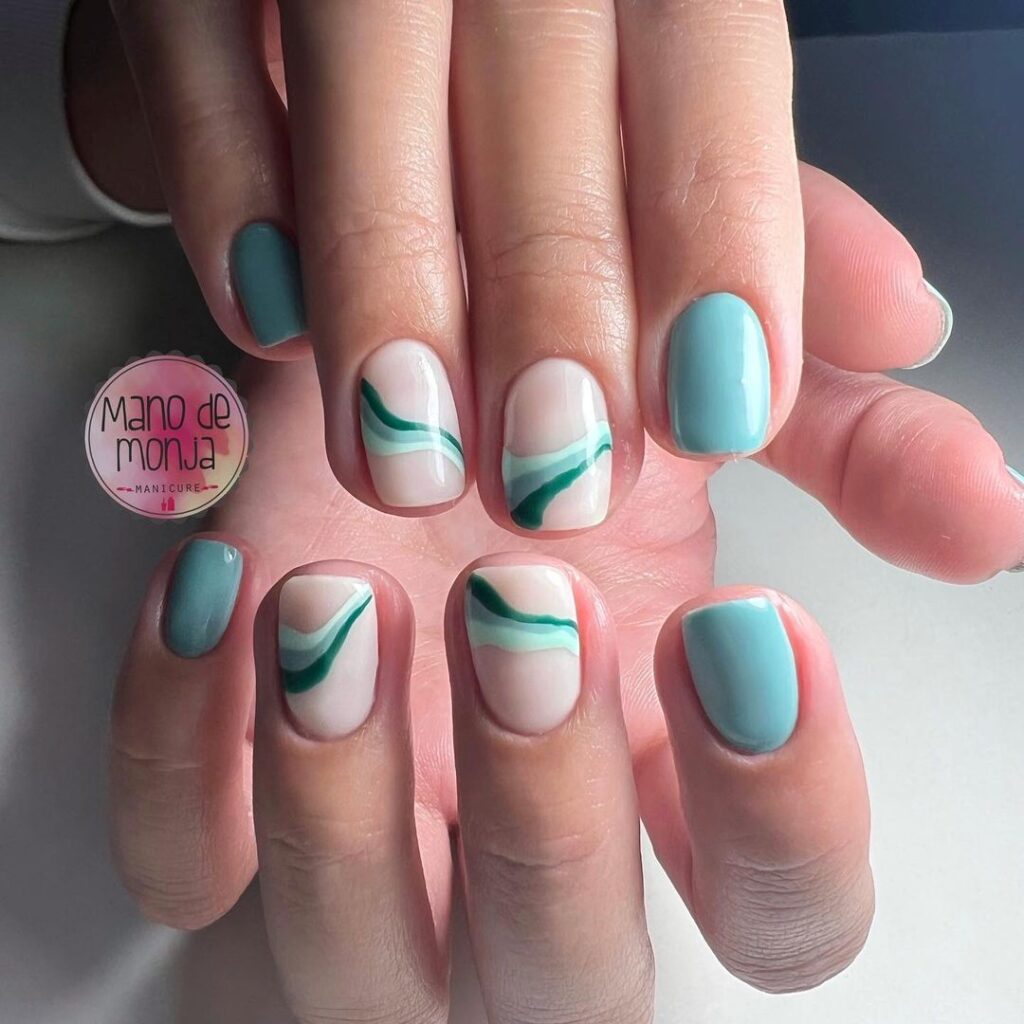 #3 Now, we're talking. Utah-based licensed nail technician Katie Haskins Madsen created an aesthetic mix of colors and patterns for an eye-catching nail idea. The mix of orange, blue, black, and white is unique and stunning. On the other hand, the patterns in checks, smileys, and Chinese yin-yang is a standalone combination as well. The Chinese yin-yang is representative of dark-bright or positive-negative. Basically, an expression of the idea that two opposite forces are complementary, rather than contradictory. You can include this powerful symbol as a sign of spirituality in your nails.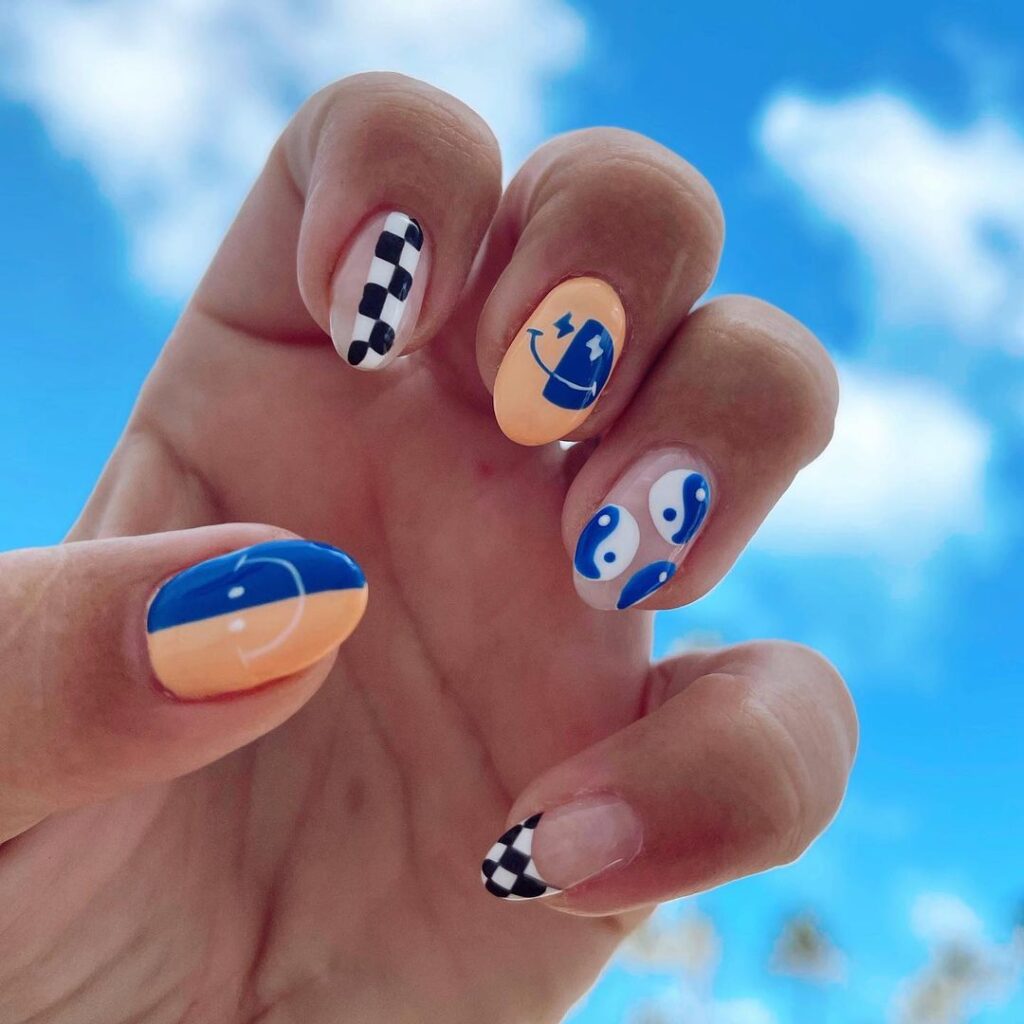 #4 These cute toenails and fingernails are done in a hot pink shade with a gloss finish so it looks extra shiny and attractive in the Sun. Sometimes, cute nail designs don't have to be complicated, they can be a solid color in a playful shade. These can be easily done at home as well! You just need to make sure the nails are in perfect shape before painting them.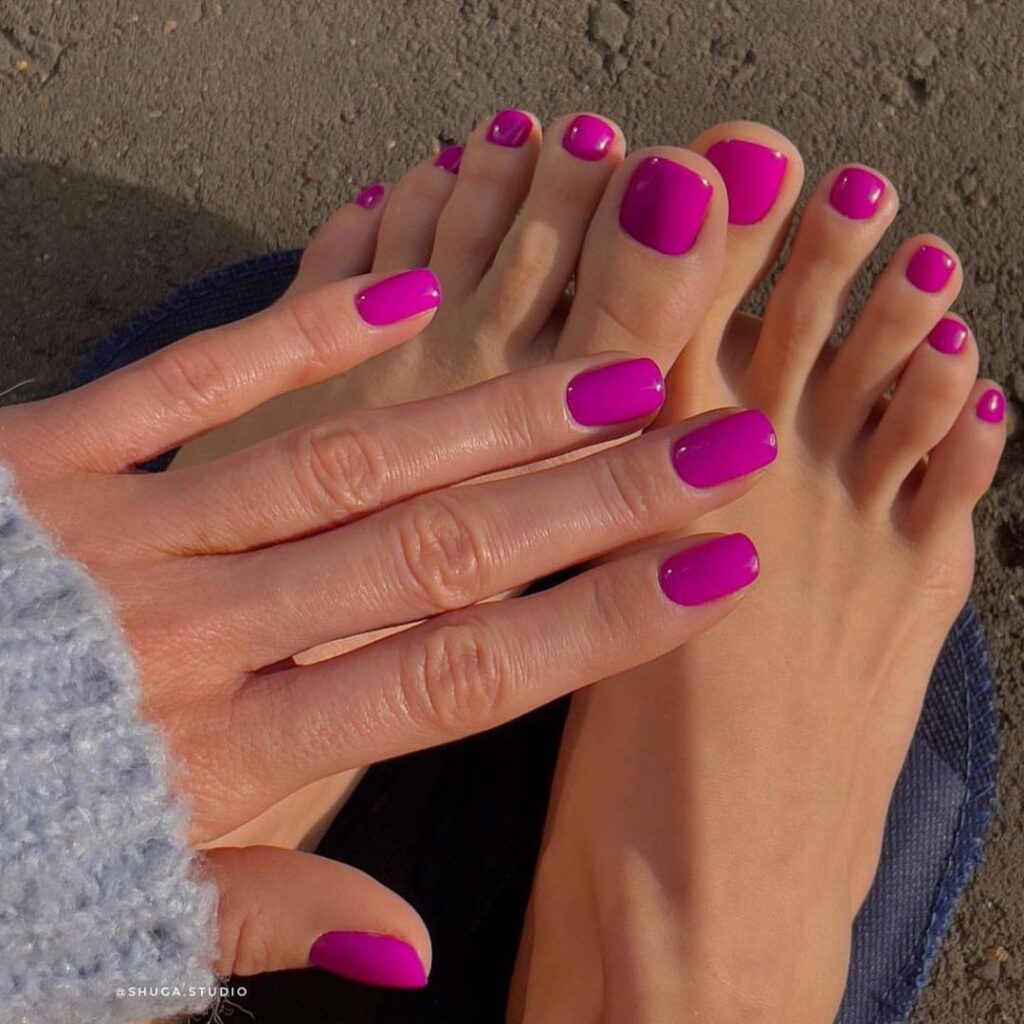 Via Shuga Studio
#5 Ombre nails are one of the prettiest and highly popular nail trends in 2023. Search #ombrenails on Instagram and you will find over 6 million pictures of nail ideas done in a smooth gradient of colors or ombre pattern. This is a cute simple nail design in ombre and can be done in any color besides blue, like pink, green, or even yellow. Start by shaping and filing your nails in your chosen nail shape and start painting your nails. Use a glossy top coat to finish.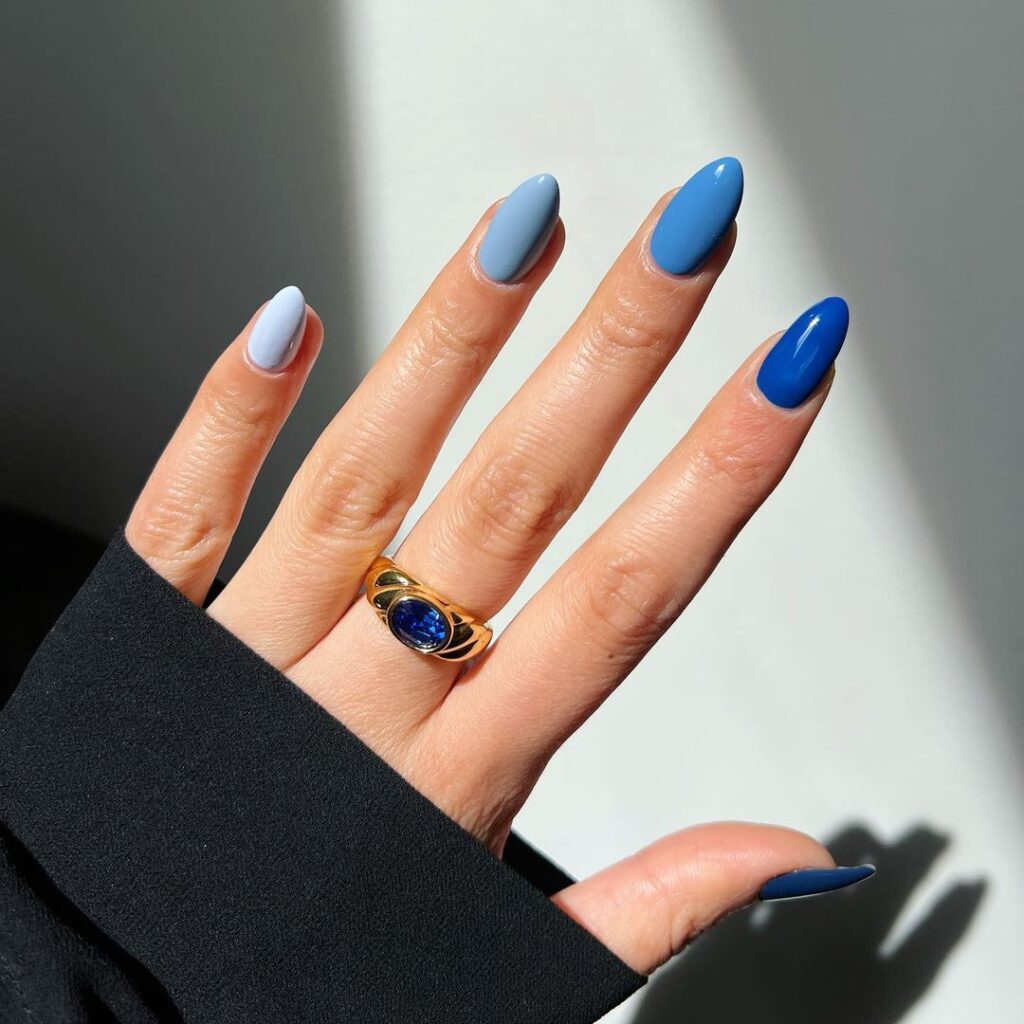 Via UNT Global
#6 Is there anything cuter than unicorns? Or a unicorn nail color? The next one of the cute nail designs answers this rhetorical question perfectly. Done in big, pointy nails, this matte unicorn nail color is gorgeous and attention-worthy at the same time. Plus, it's great for any season – from colorful spring to calming winters, the colors fit every season's palette.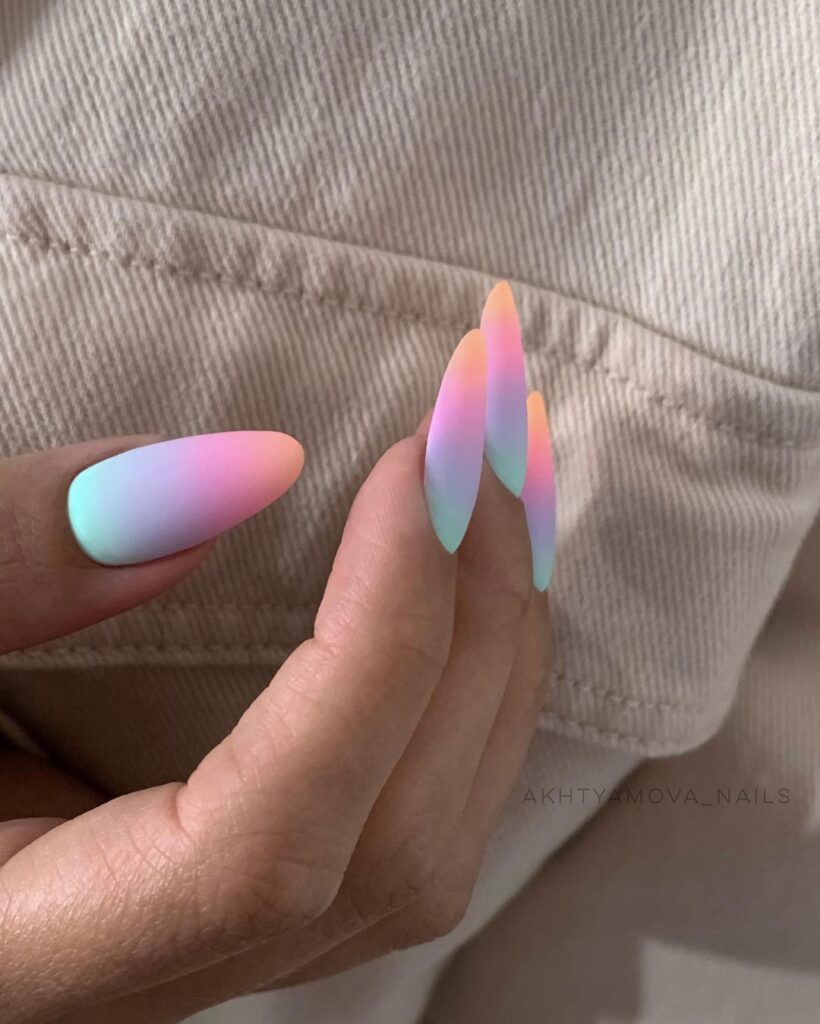 #7 There's nothing that makes your nail art pop out and stands out more than 3-D nail art. And although with 3-D nail art you might be picturing studs, pearls, bows, and other rhinestones or gems, it can also be done with colors rather than embellishments. All you need is a nail art brush and of course, unique creativity skills to draw a pattern like this. Or you can trust a professional to recreate the design for you! Nonetheless, these are great cute nails to try from this list.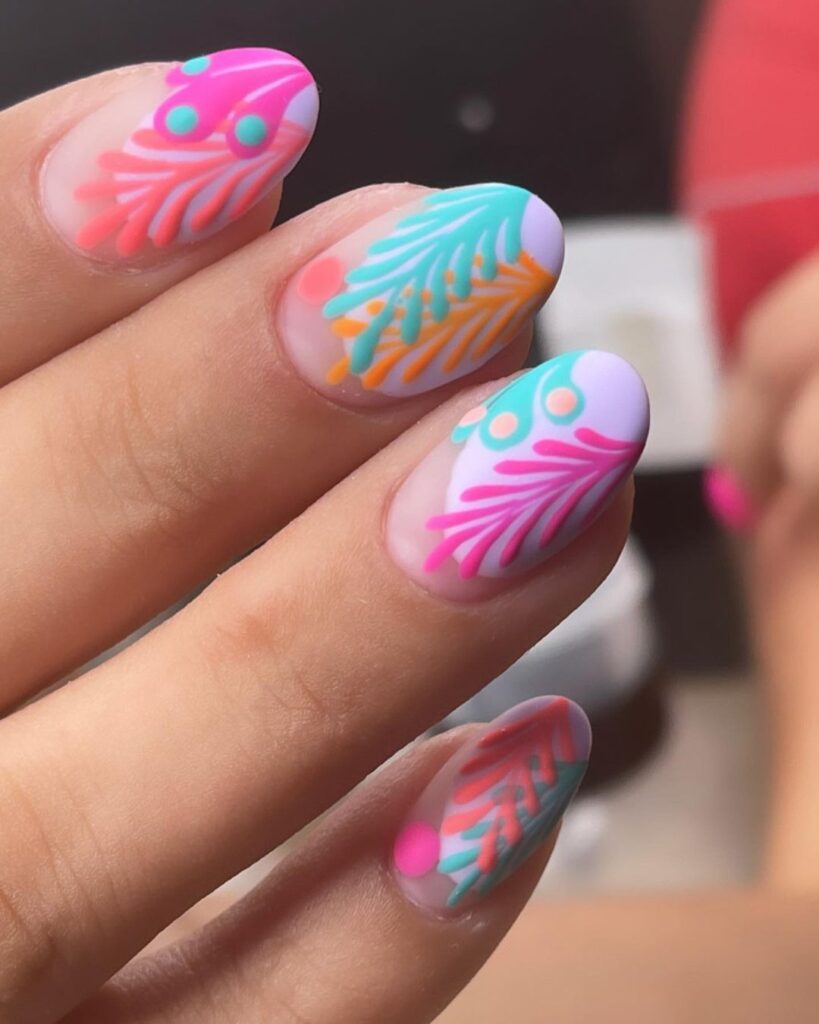 Via Mianel Manicure
#8 What a cute Halloween nail idea! Don't you think? Halloween nails don't always have to be spooky, they can be an amalgamation of endearing and spooky instead. We love how these nails incorporate a skeleton with pumpkin heads dancing and vibing to the music. Manicurist and nail technician Katie Haskins Madsen has done a great job doodling these figures with intricacy on the middle two nails. It definitely does take time so make sure you've got time on your hand when you're wanting to recreate this.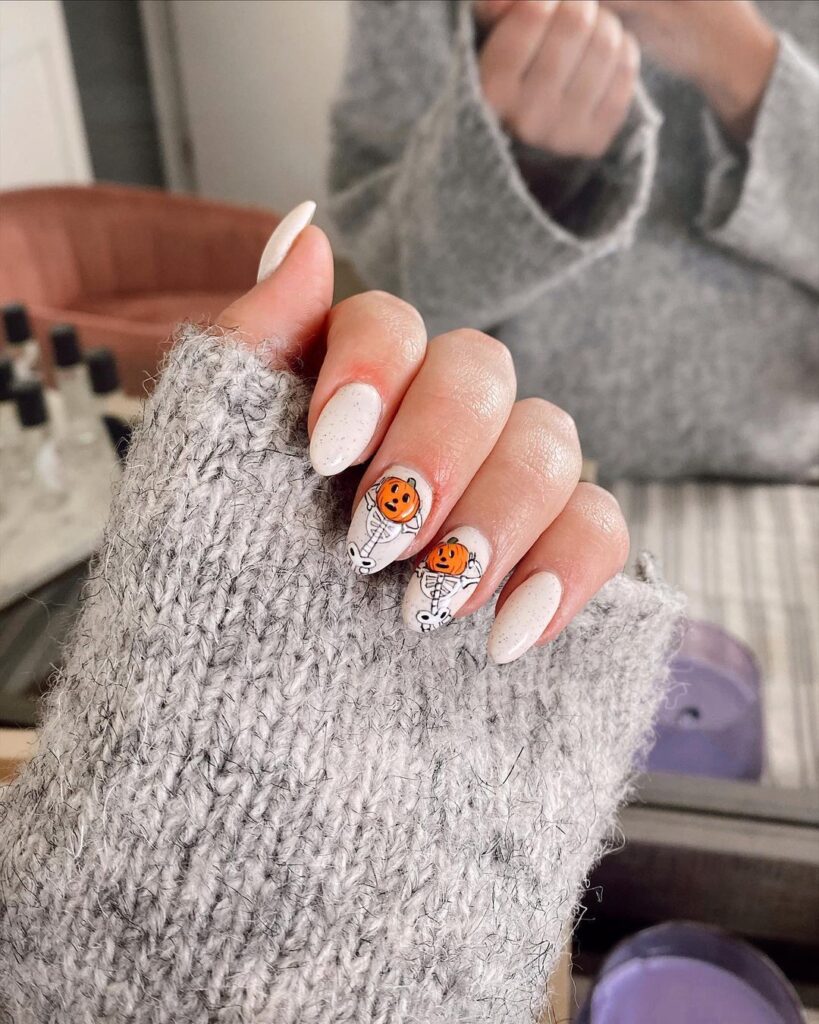 #9 Chile-based @musartista expertly crafted these designer nails with different patterns on each nail dominated by lavender as the main hue. The fingernail has a wavy pattern, the middle one has a cute heart bedecked with a cow print, the thumb and ring nails have star-shaped sketches, and the pinky one has a cow print done with black accents all over. When opting for different designs on different fingers, it's important that you complement each other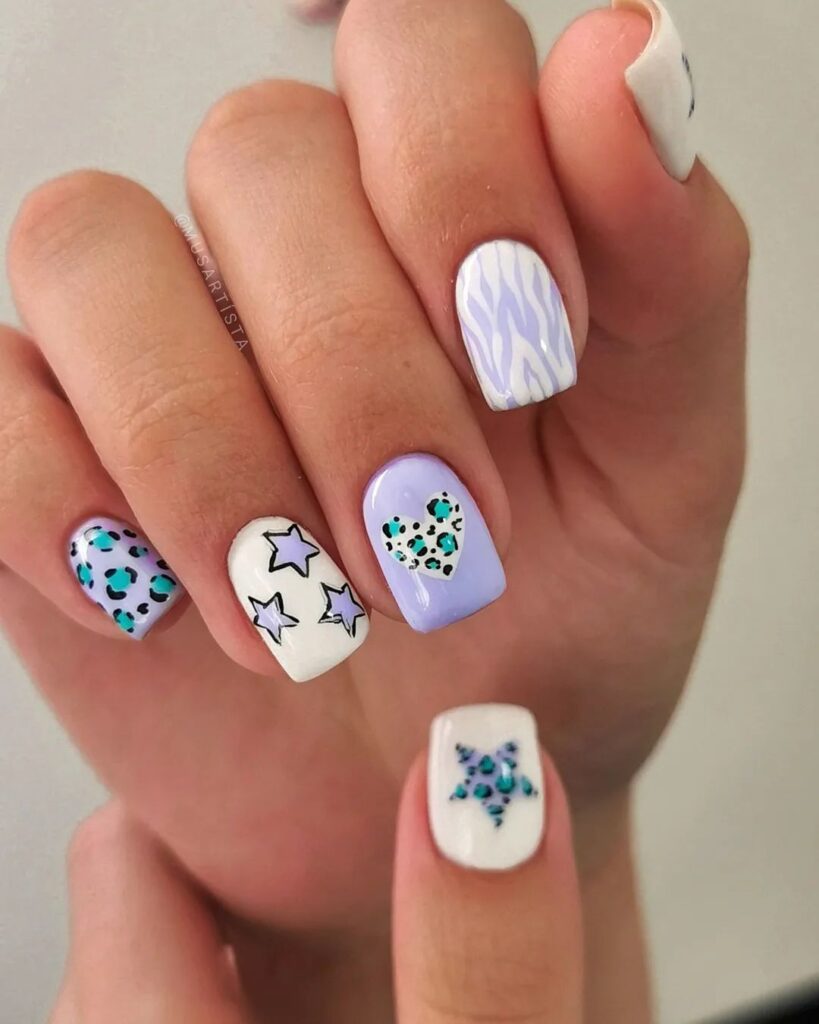 #10 Unicorn colors in nails are definitely big! But if you aren't a fan of too many fancy colors on your nails, opt for this mellow version of unicorn nails instead. Only the middle of the two fingers is painted in colors, while the rest are left in a block white shade for a completed look. The addition of gold foil on the top adds some subtle glam without taking away from the minimalistic theme of the nails.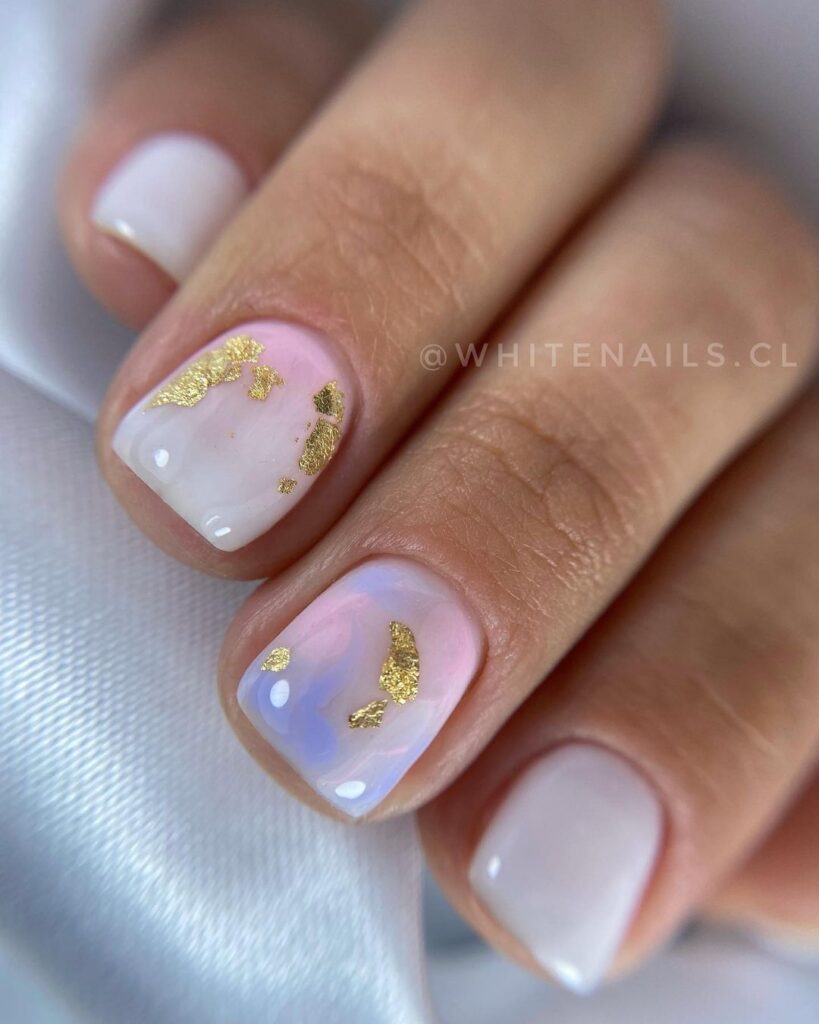 Courtesy: @whitenails.cl
#11 These are some really cute nails for the summer or spring season. The Utah-based nail artist Tayler Webb created these nails in vivid colors with different patterns on each nail. There are clouds, blooming florals, shining Sun, and polka dots to give a nod to the summer palette and seasonal elements. Though all of them are stunning, we think our favorite might just be the clouds one. It's also super-easy to do at home and you can, in fact, paint all your nails in the clouds pattern for a beautiful cute nail design.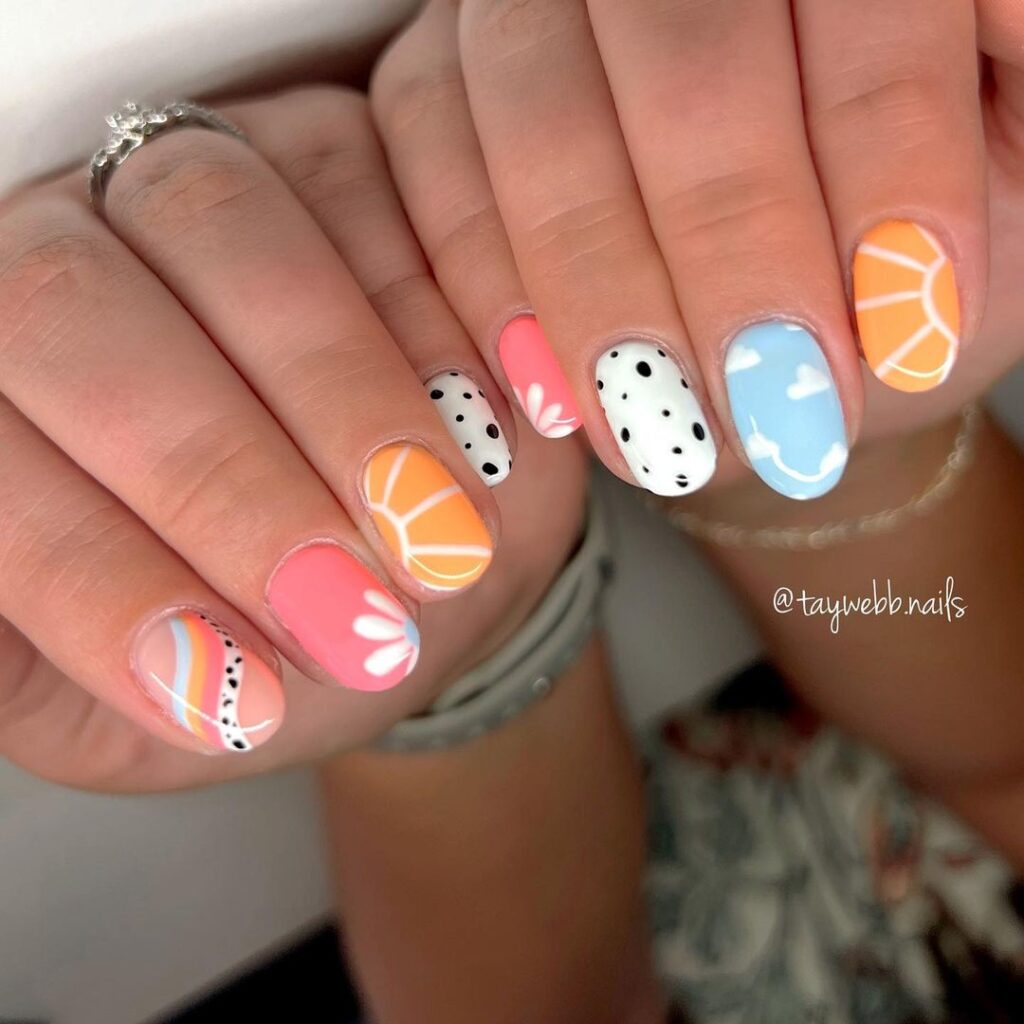 #12 Minsk-based nail technician @katen_nogtiki_minsk
infused eye-catching creativity into this one of the cute nail designs with a stunning combination of colors. Sometimes, it's not the design but the palette which can make all the difference in a nail design. Here, the shades of purple are combined with green, pink, and white in a neat wavy pattern followed by little dots on top for a cookie effect. When you're not a fan of colors yet want to try something different, go for a unique color combination instead.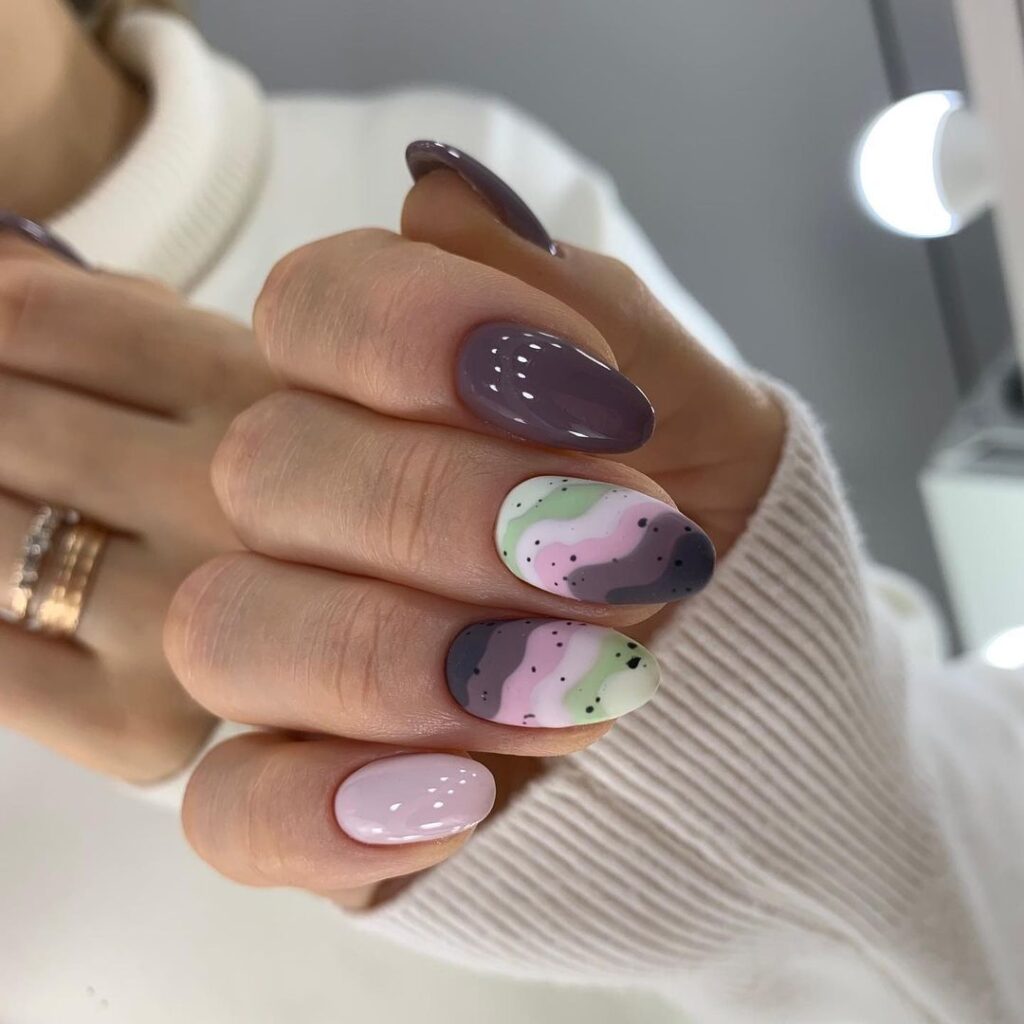 #13 These are such cute acrylic nails. First off, they are cut in such a clean and neat square shape with each nail almost coming to the same size. Second, the nails are painted a gorgeous nude color that's a beautiful amalgamation of pink and brown. And lastly, they are topped off by red hearts – such an easy way to add an endearing twist to an otherwise basic nail idea.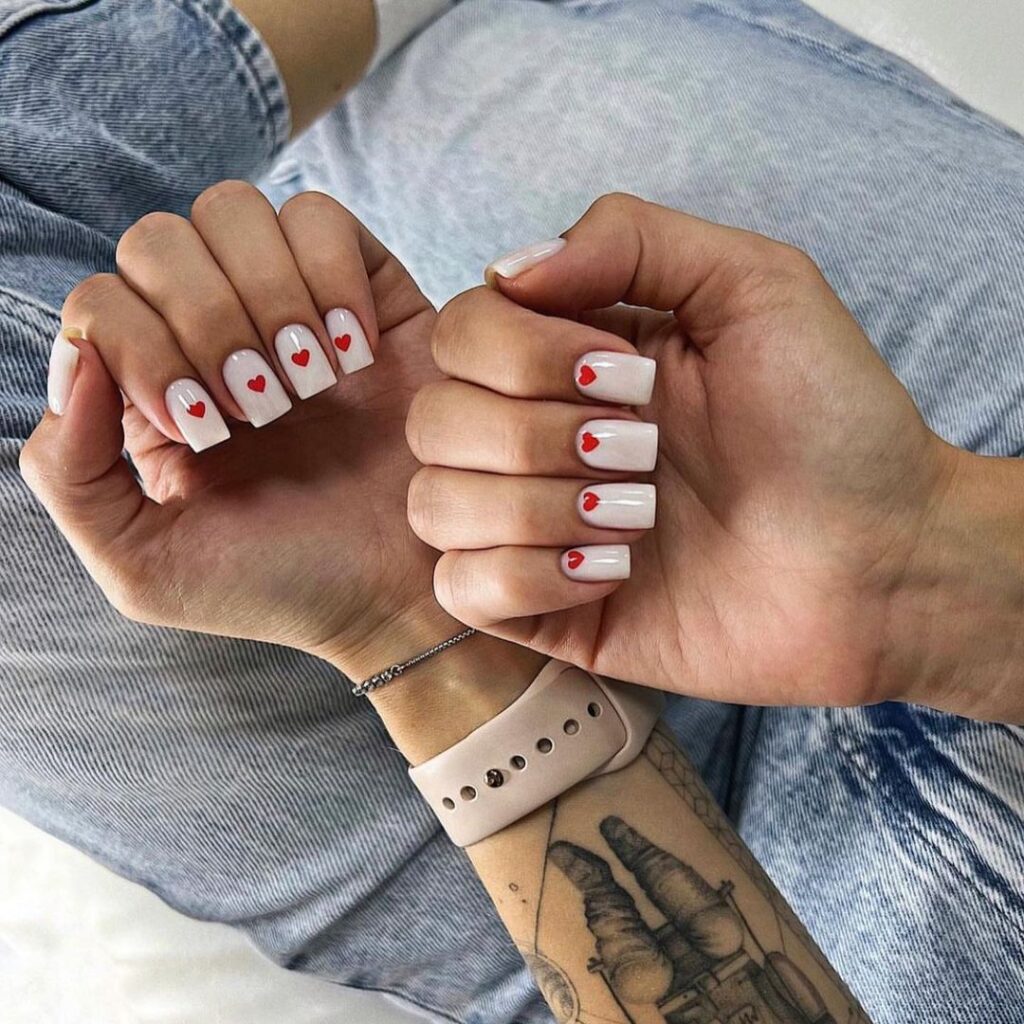 Via @prokrasotu_
#14 Pink & blue are one of the most searched color combinations for nail designs. The reason is simple. The tranquility of the blue calms the heat emanating from the red of the pink, and the rosie look of pink is complemented well by the contrasting cool factor of blue. Not just in nails, they're a gorgeous combination in clothes and vibrant furniture settings as well. Here, this lovely synergy is manifested in an attractive pattern for a cute nail idea in 2023.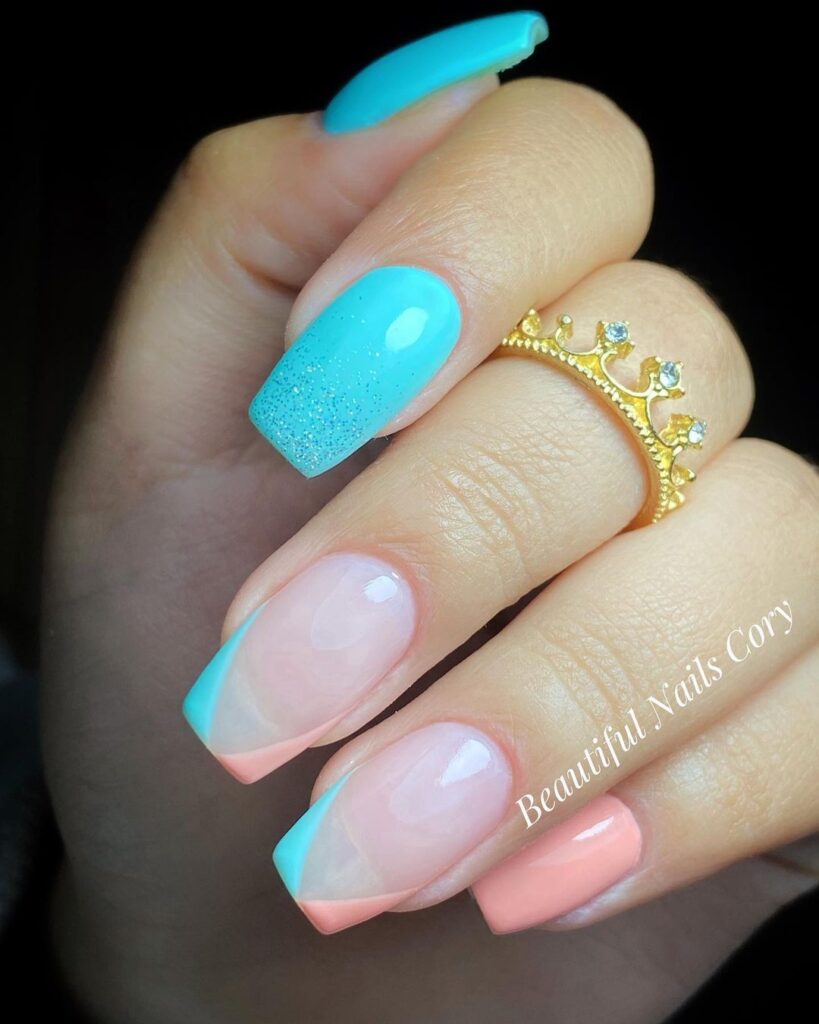 #15 Channelise your inner Queen by painting a figure as strong & powerful as a tiger on your nails. Though in different cultures tigers can symbolize many things, they are often considered a symbol of courage and ferocity. They're also a symbol of good luck and fortune. We love how the tiger figure is done in pink to symbolize the feminine energy and complemented with glitter and florals for a unique aesthetic.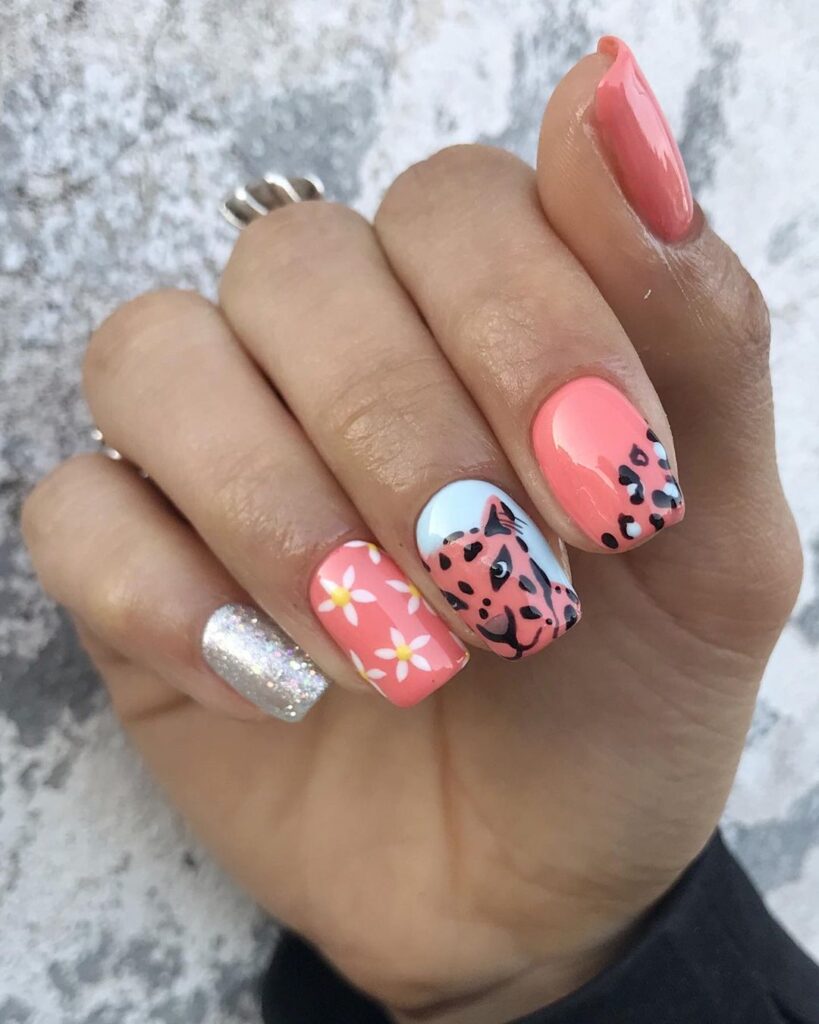 Design by Kira Centro de Estetica
#16 On this Halloween, opt for these spooky cute nails portraying a cute ghost alongside pumpkins in a rusty orange color keeping up with the whole theme of the fall season. While these are cute short nail designs, you can totally rock this design in a longer nail shape like almond or coffin nails. If you also have a steady hand at drawing, this is good nail art to DIY at home as it just involves simple lines in one color and minimal drawing inside the figure. 
Cute Nail Designs by Kambria Lunt 
#17 Amongst the many trendy nail designs, cookie designs have certainly taken the Internet by storm. It's undeniable that they're cute and we love how they can manage to look playful and elegant at the same time. They're so popular that many major companies have launched nail paints that can give you the cookie aesthetic instantly. Or, you can choose to make it graphic by infusing a different pattern in the middle like the one shown below.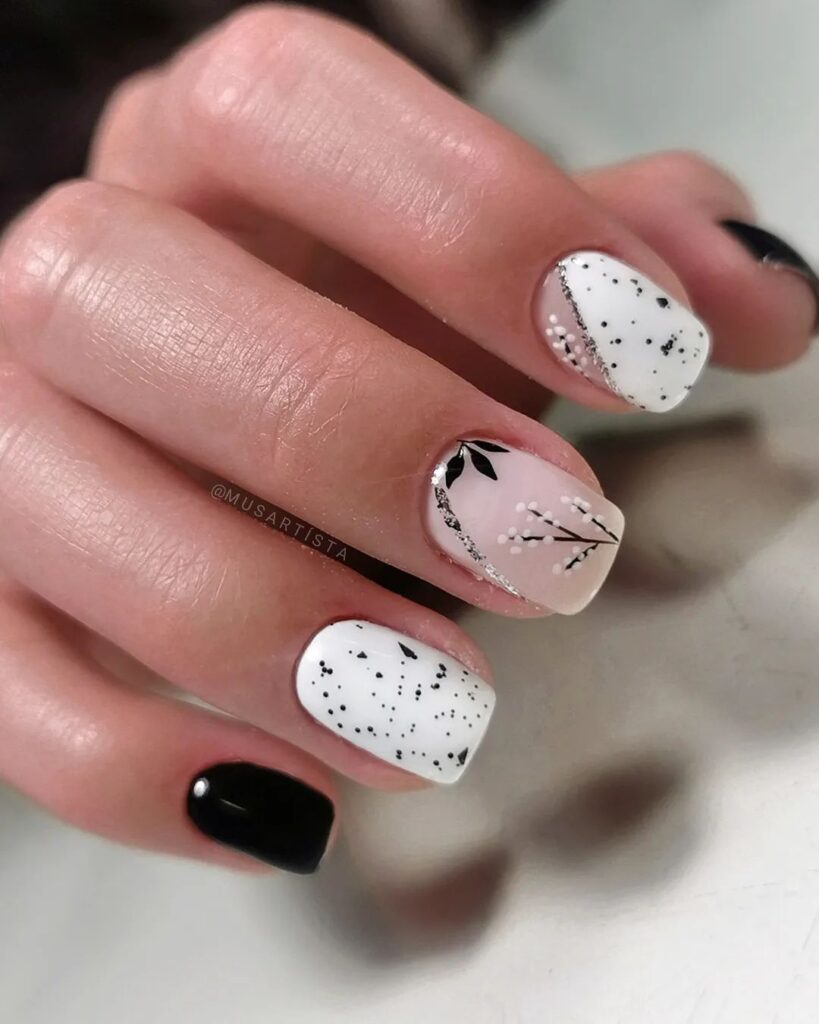 Via @musartista
#18 Sometimes cute nail designs are all about pairing colors in a way that they look distinctive yet complementary at the same time. These cute short nails employ purple, white, red, orange, and yellow, but for the yellow color, it uses the zebra pattern so as to add a bit of creativity to the otherwise block color design. You totally don't have to do that though to recreate a cute nail idea like this one at home. If you have the colors, just create the block pattern instead.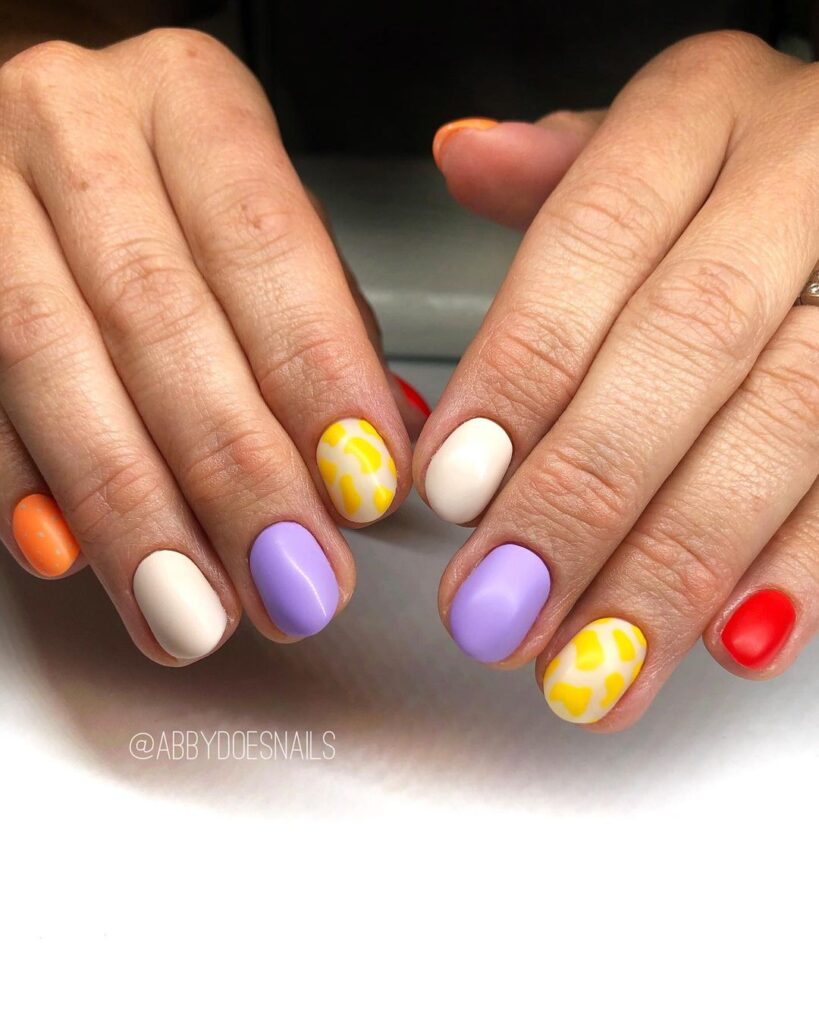 Via Abby Johnson
#19 These geometric nails with minimal accents of colors are super-cute but have to be done with intricacy so as to retain the sophistication and allure of the design. Having said that, you can do them at home if you have some experience creating nail art and a steady hand with the dotting tool. Before starting, shape your nails properly and secure them with a top coat for a perfect nail makeover.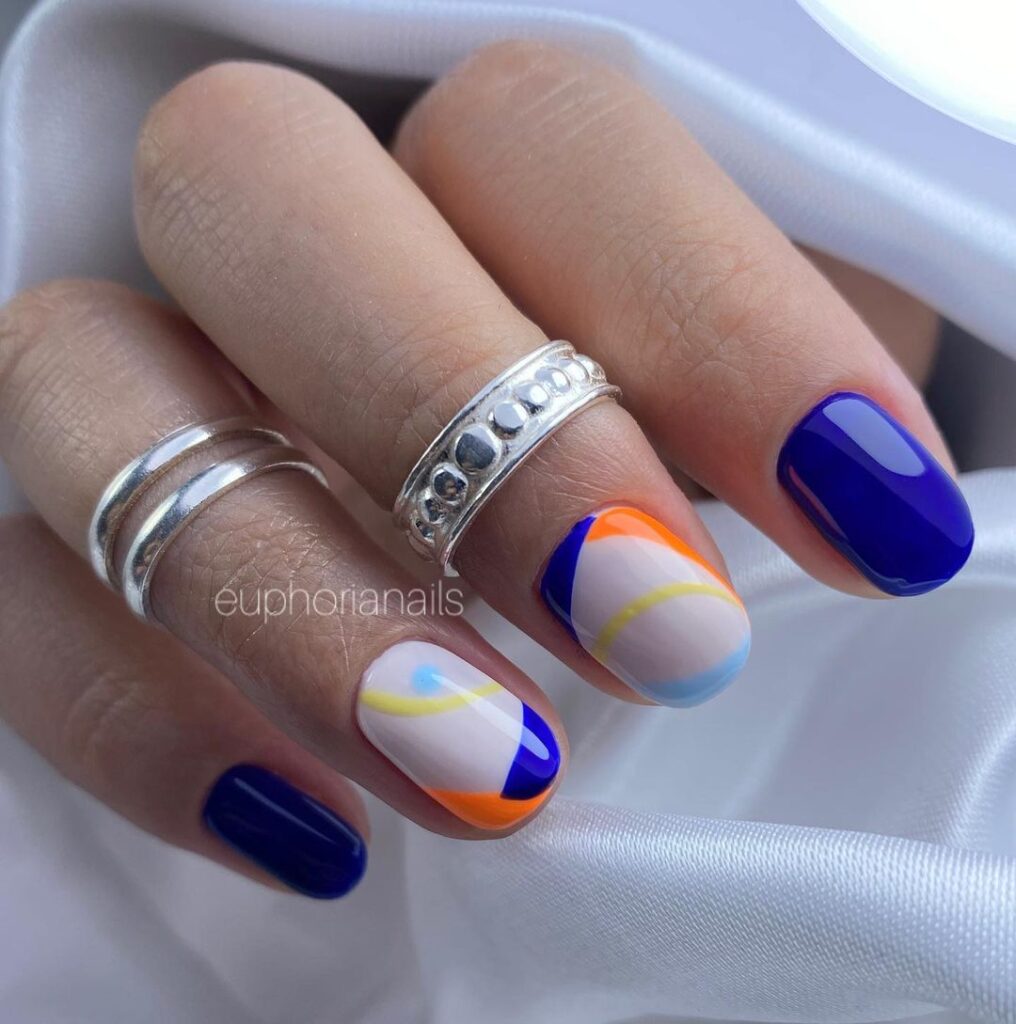 Courtesy: @__euphorianails__
#20 Now, this is a work of art! To have a nail design that leaves you spellbound every time you steal a glance and would get you tons of compliments is the dream, right? And only a professional nail artist can help you achieve the same. Though we do recommend DIY-ing many designs on this list, only a few are out of bounds for DIY and this is one of them. Its gripping attribute can only be recreated by an expert in the field, so trust them if you want to sport a cute nail design like this one.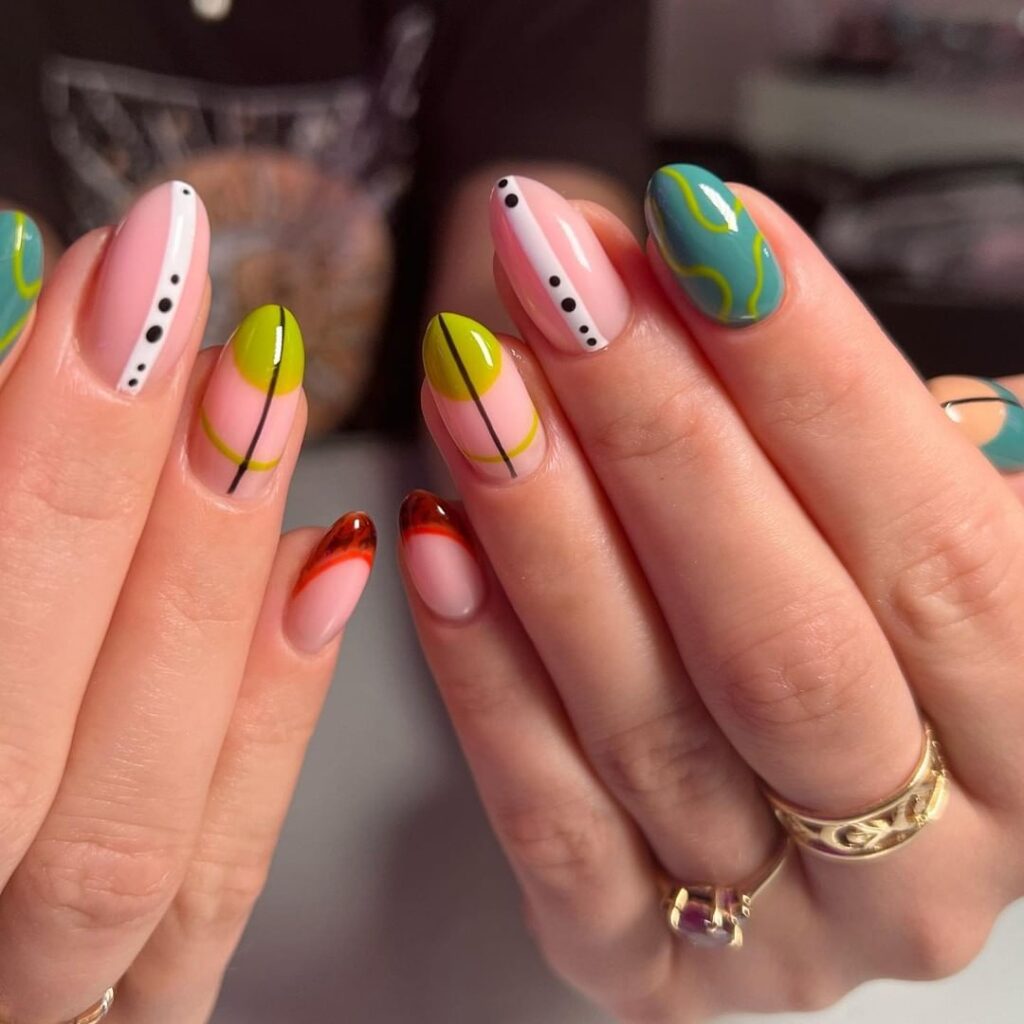 Design by Luminary Nail Systems
#21 If you are on the hunt for cute nail design ideas, then ombre nails might just be the one for you. The ombre palette involves a gradient effect where colors flow from darker to lighter shades. It has become so popular that you can see it everywhere from hair color to fashion trends and wall paintings. Its visual appeal leaves everyone in awe, and you can also use the effect in your nails to make them look modish and appealing. You can opt for your favorite color and elevate it with polka dots and foil print.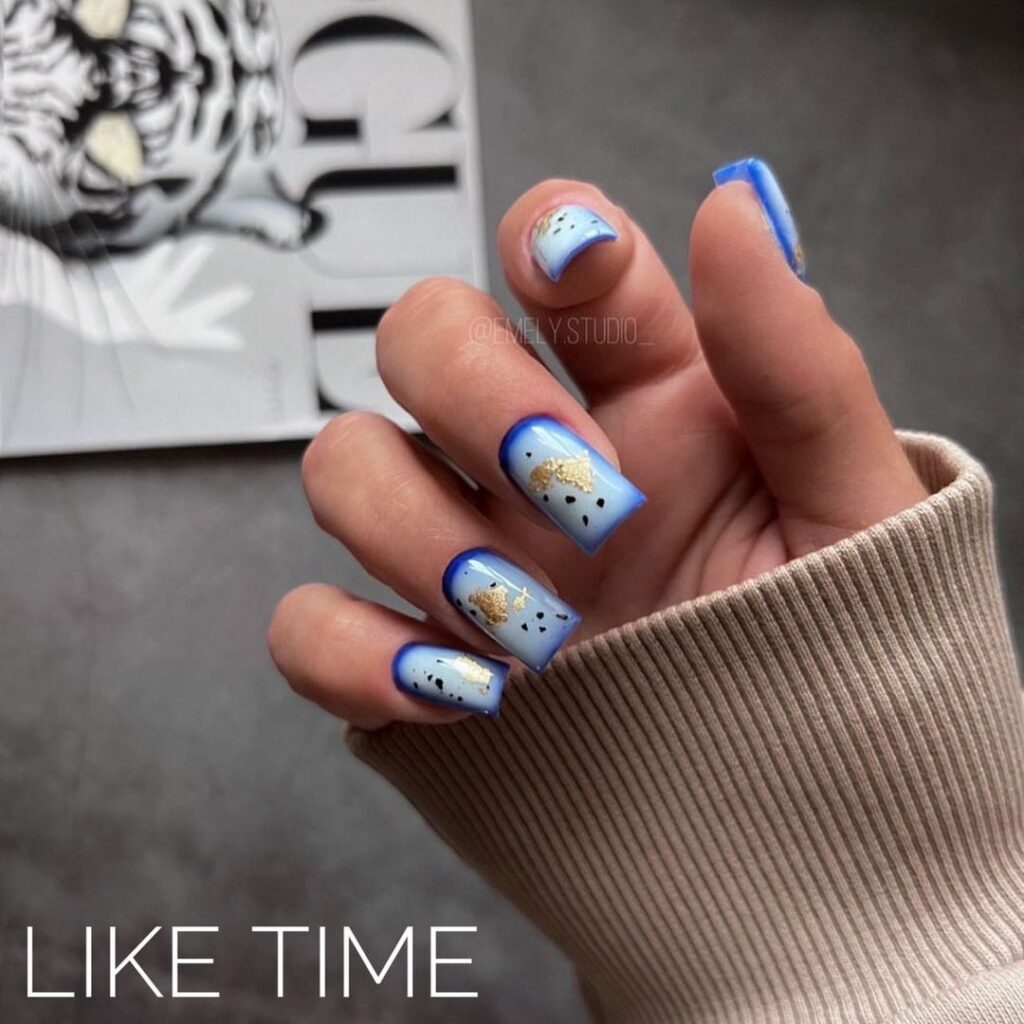 Courtesy: @emely.studio_
#22 There are people who like mountains, there are people who like beaches, and there's a certain section of people who find peace in the pleasant refuge of the desert. If you're the third kind, channel your inner love for desert landscape with this cute graphic nail design portraying desert terrain and cactus alongside the warm orange palette of the desert.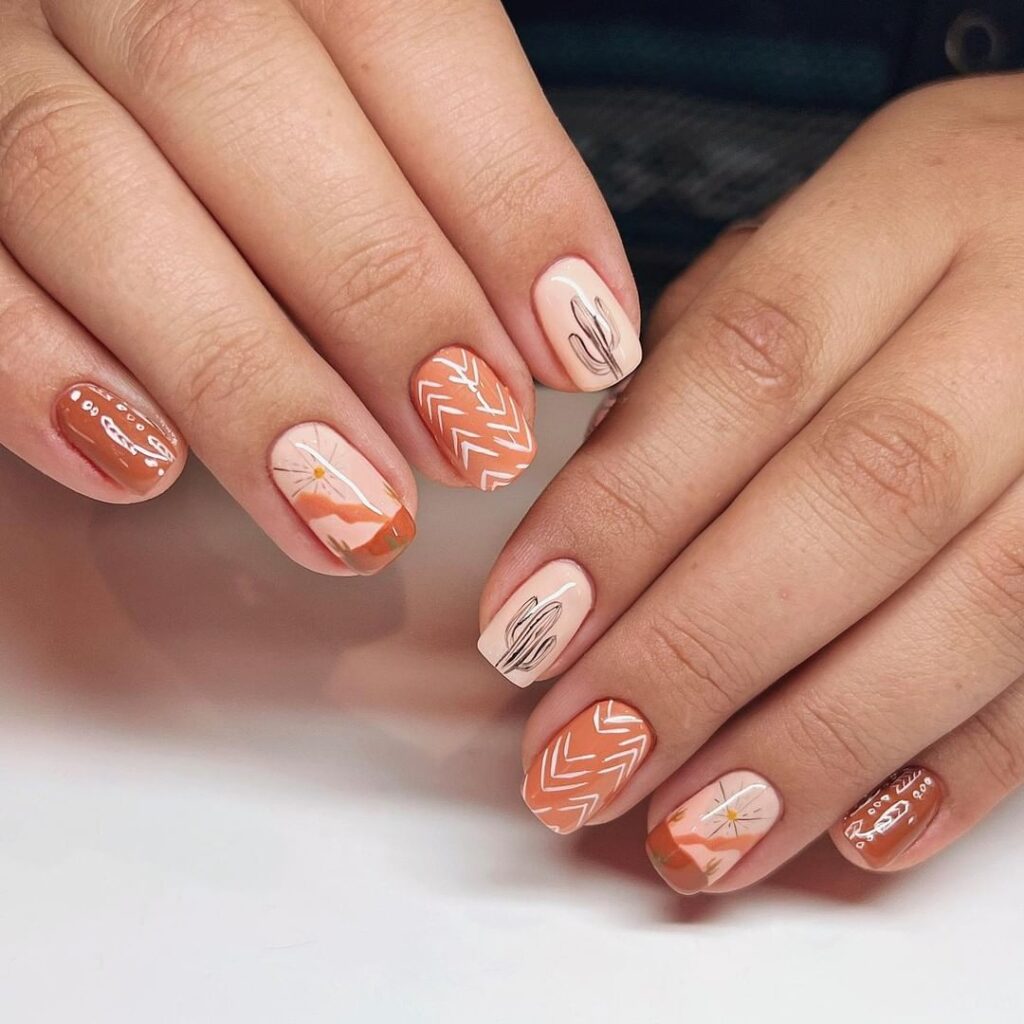 Courtesy: Loka Polka Nails 
#23 A gorgeous manifestation of the gradient of the ombre effect, this one of the cute nail designs uses two colors to create a smooth transition between the two. The gradation is accented by stars and studs for a complete nail makeover.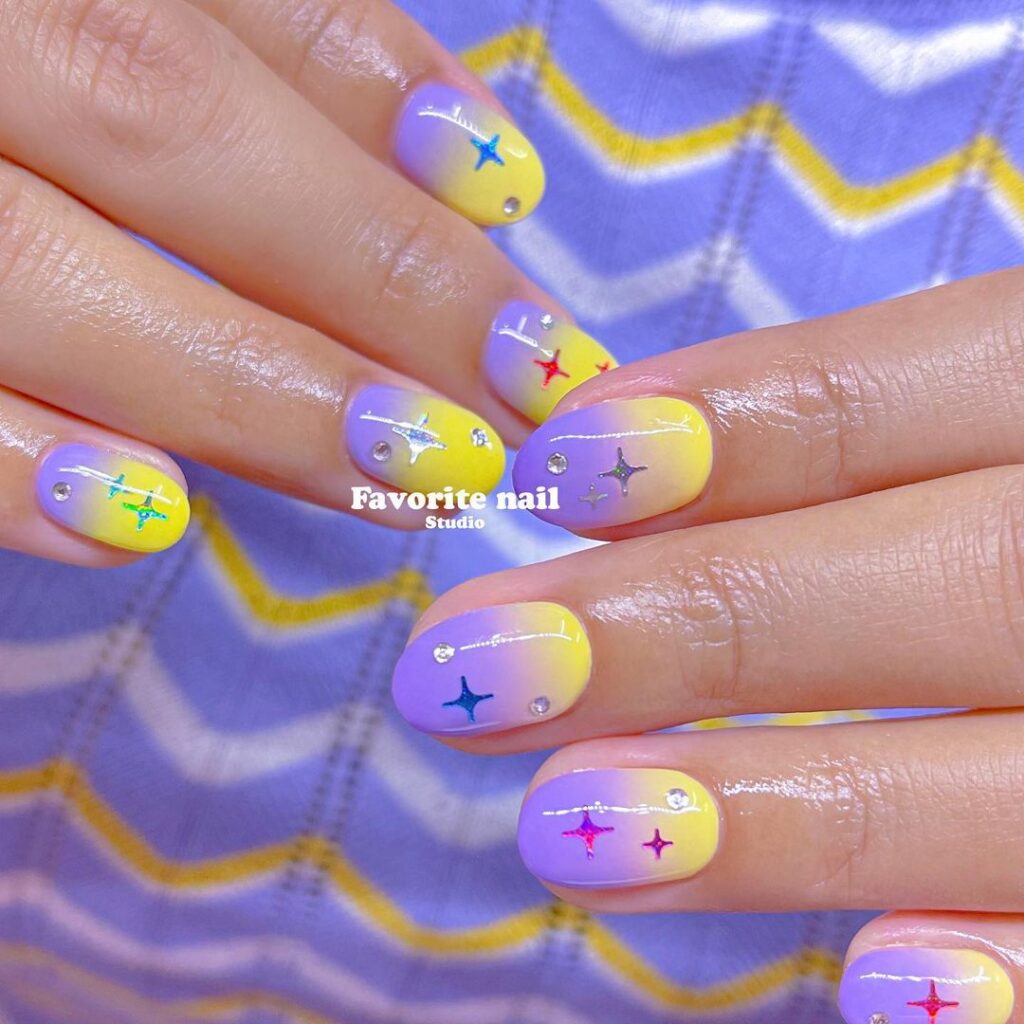 Design by Favorite Nail Studio
#24 Pastel hues are an endearing option for all seasons and occasions. Plus, they'd be just apt for when you're traveling as they'd go with a variety of dresses and give both glamorous and elegant vibes. You can easily do this design at home if you have all the colors available and this is one design you won't get bored with so you can try it multiple times. Go for it with your favorite nail shape and it will still look as gorgeous as the pictures.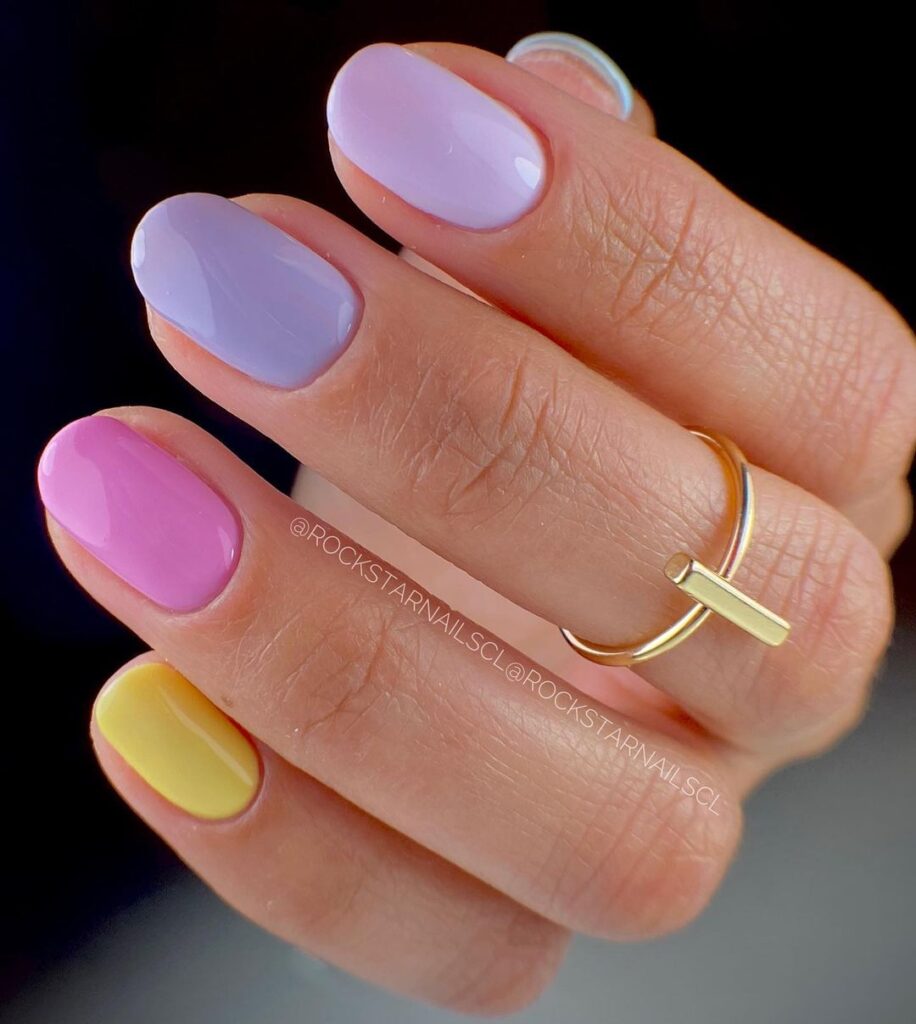 Courtesy: @rockstarnailscl
#25 Black is a color that brings attention to your nails, no matter what type of black nail design you choose. One of the easiest ways to make black nails pop out more is by bedecking them with 3-D nail art. Any 3-D design looks gorgeous on a black or white background because you get a universal base that goes with every shade or design. Try your favorite one and we promise it won't disappoint. 
Courtesy: @fer.cutenails
#26 We love how this cute nail art is chic, refined, and stylish all at the same time. Start by shaping and filing your nails. Apply a base coat especially if nail paints tend to wear off easily. Let it dry and apply the specific colors on each nail. For the ring finger, you'd need a lining tool to draw the lines. Let them dry completely before filling them in. Top them all with a gloss coat, leaving out the glitter nail. This type of nail design that gives some extra attention to your ring finger is perfect for engagement nails when you want that finger to be the center of focus.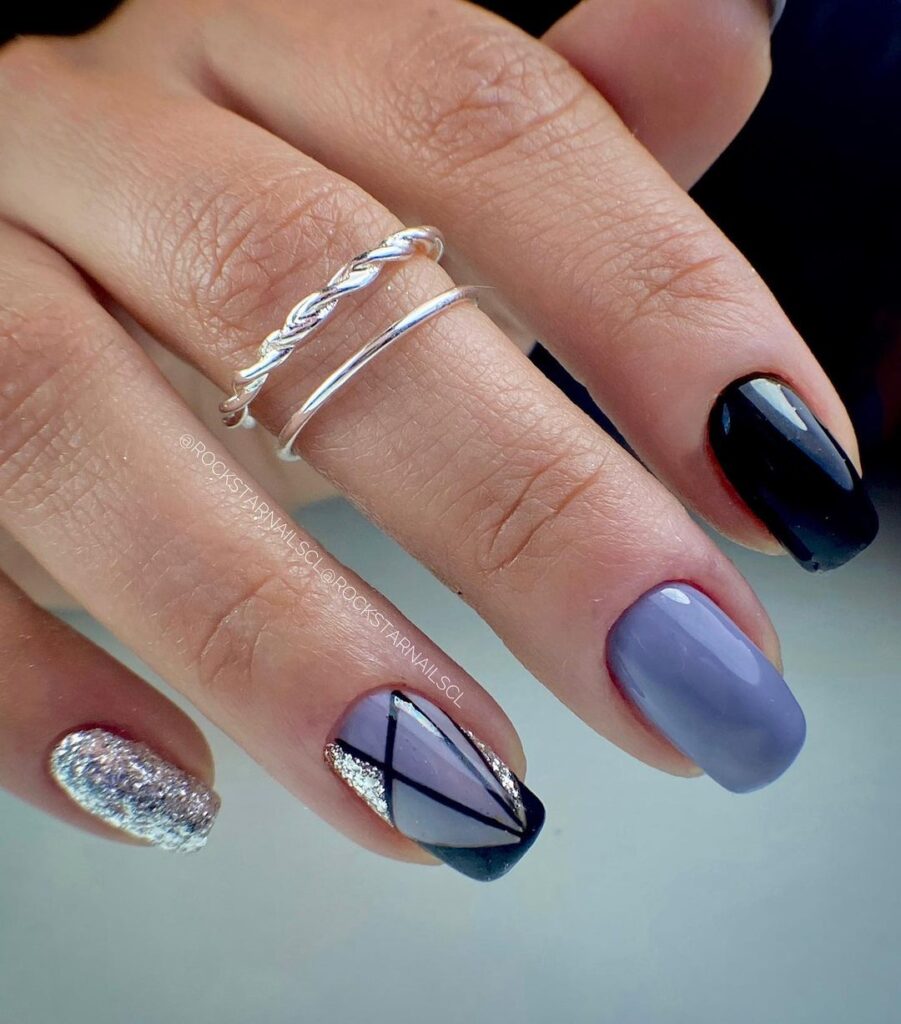 Nail Design by @rockstarnailscl
#28 Checked patterns don't just look stylish, they are also very easy to make. They might look intimidating to do yourself, but they really are one of the easiest pattern designs you can recreate. Of course, you need to have all these colors before starting. Begin by applying any one of the colors as a base coat. Next, use a tape to carefully section parts out and fill them up with the other color. You can also use nail art tools if you want to, but the tape method is much easier for beginners. Once done, you can leave it as it is or coat them with gloss for extra shine.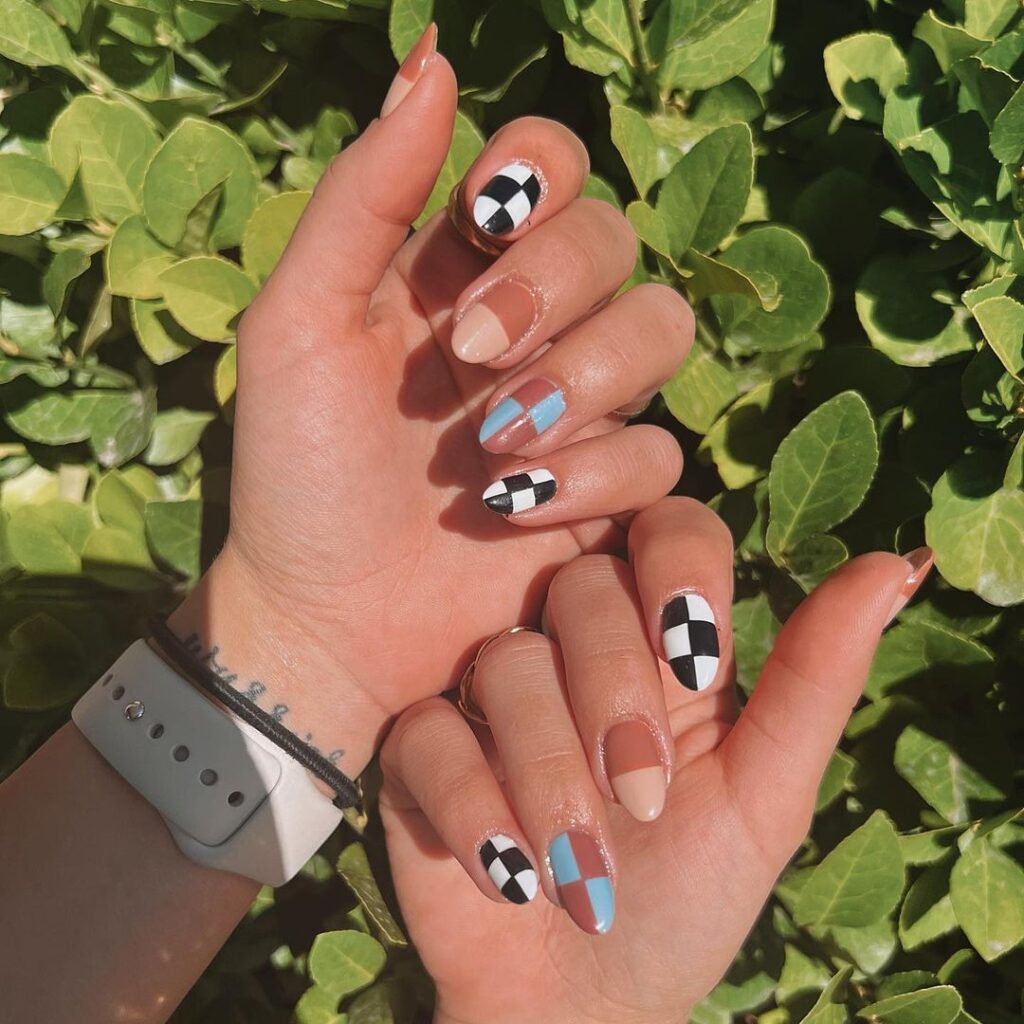 Courtesy: Mikaela Frost
#29 There's nothing better than a cute manicure that practically takes no effort to do. Created by Chile-based Constanza Gutierrez, this one of the cute nail designs uses white polish as the base for all nails except the pinky finger, which is painted in blue glitter polish. The ring finger is divided into two halves with one part covered in swirl designs and the thumb has scattered glitter all over to give the coolest twist to your mani.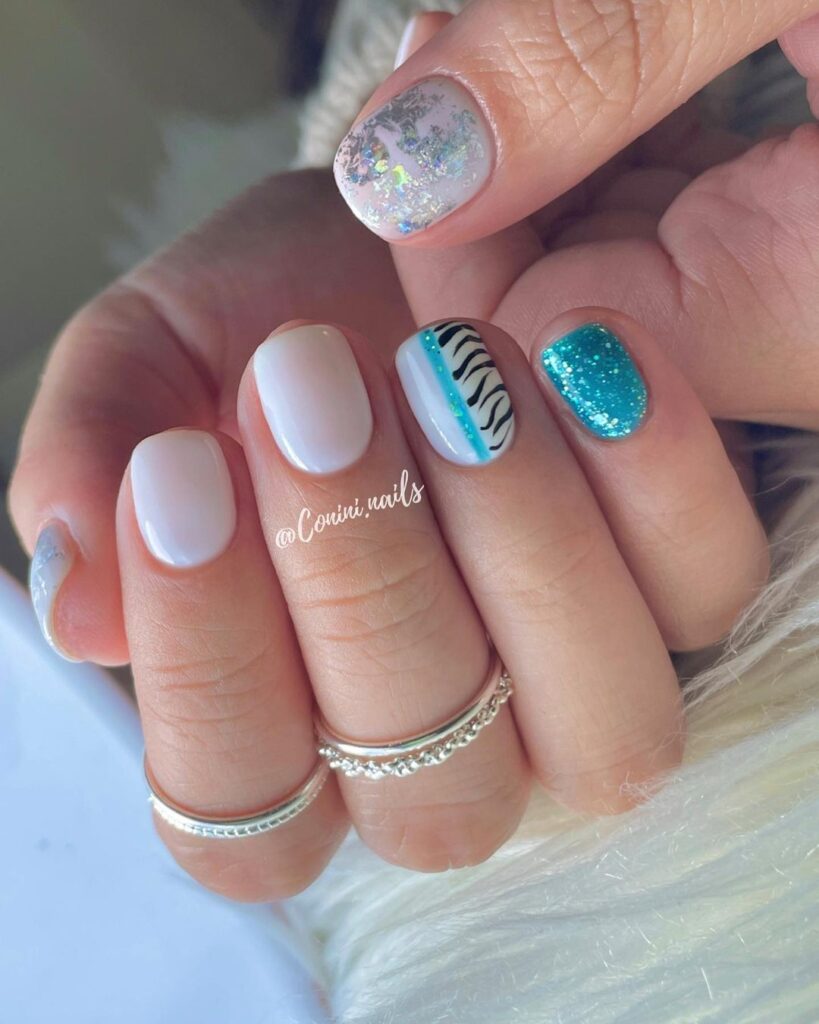 #30 Chile-based manicurist @valefraan created these cute acrylic nails on a set of short nails; let's face it, shorter nails are easier to maintain than bigger ones. Each nail is set in its own pattern with only the pinky finger done in a simple one-polish hue. On the ring finger, there's a line geometric pattern. On the middle finger, we have a heart with an abstract design and the index finger has a cow-printed design.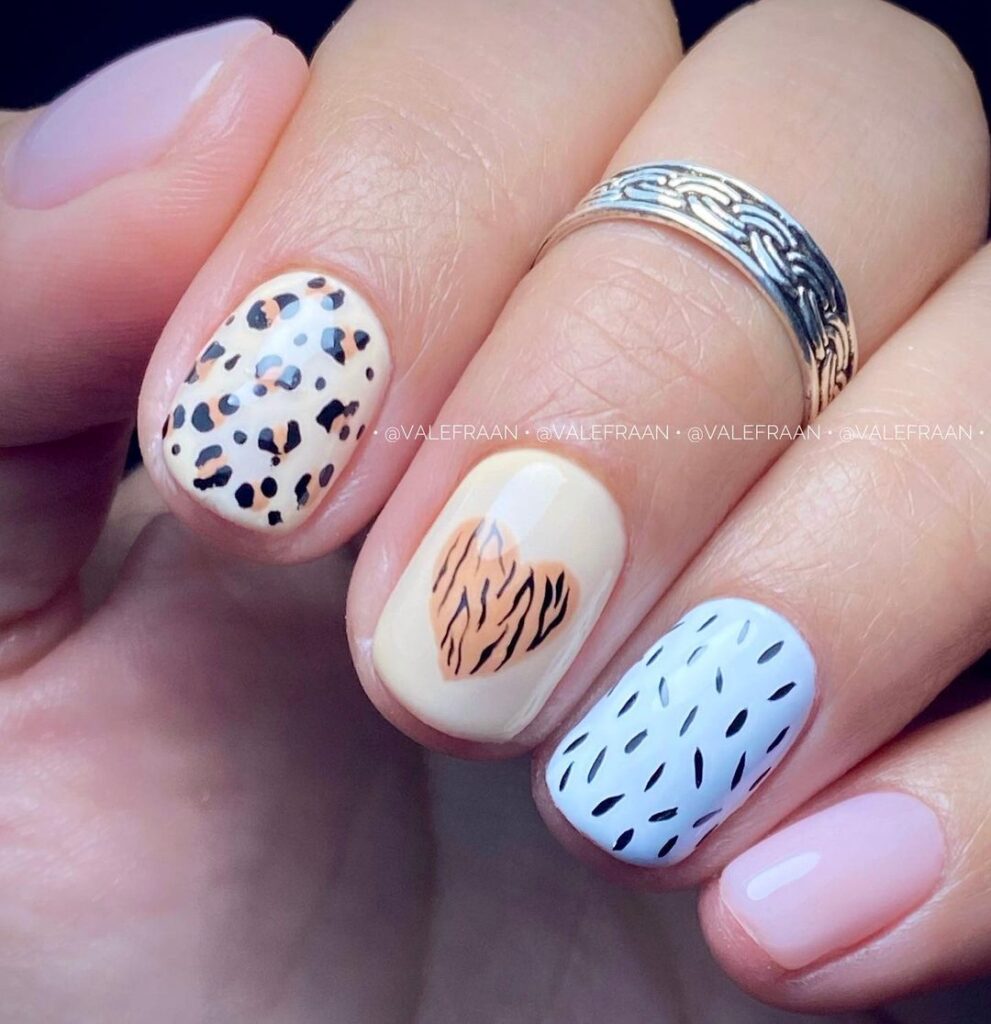 #31 The next one of the cute nail designs is a playful option for your manicure. They employ pretty pastel shades that pair well with everything and have a very feminine appearance. You can stick to the same exact shades or you can pick your favorite color combination depending on how mellow or how bold you want your nail art to look. Though, they will go best only with a square nail shape because almonds or coffins don't give an even line for the swirl to start.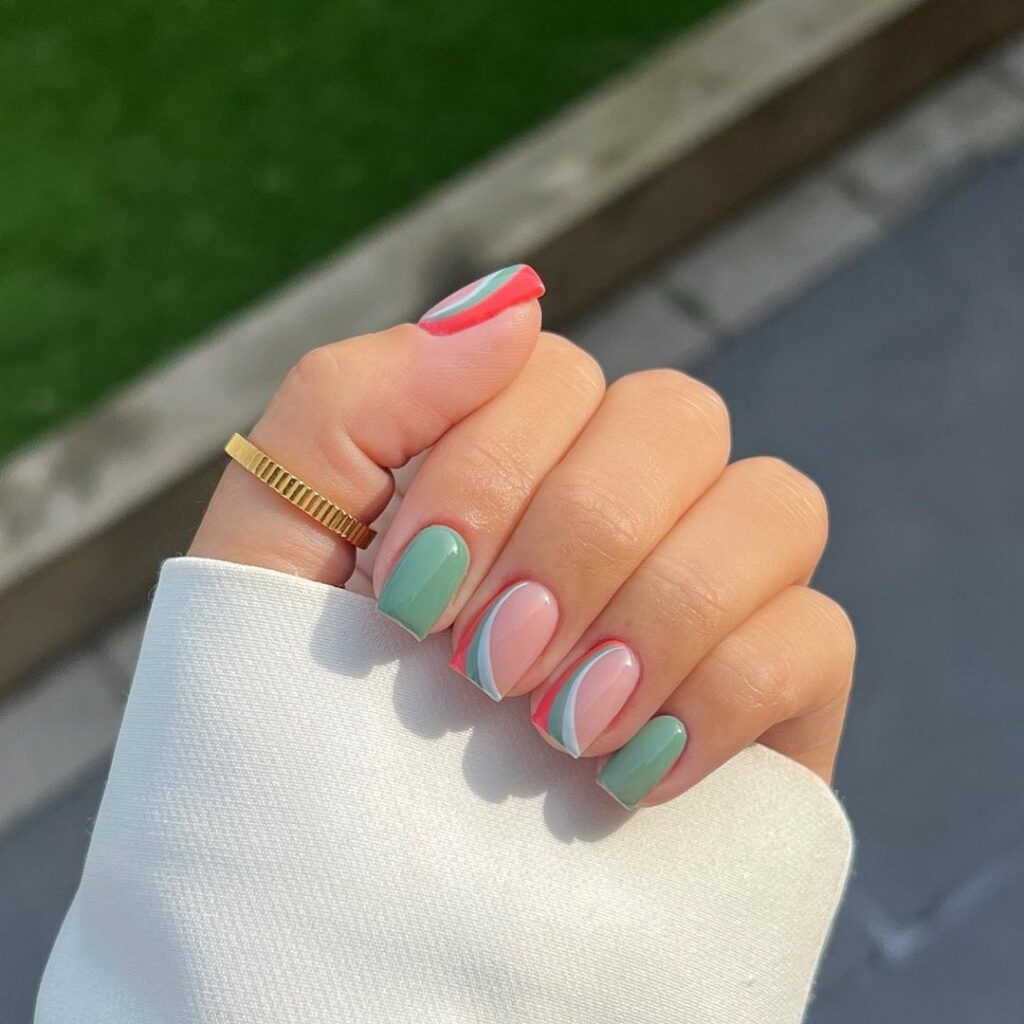 Via @_nailsbybethany
#32 This one of the cute short nails designs has the classic French manicure but experiments with the artistic pattern on the index and ring finger. We love how minimal yet classy it looks. It's definitely perfect for any occasion, including your wedding, especially if the location or theme coincides with nature like a forest wedding or a garden-themed nuptials. The addition of subtle glitter adds much-needed glam to this minimalistic manicure.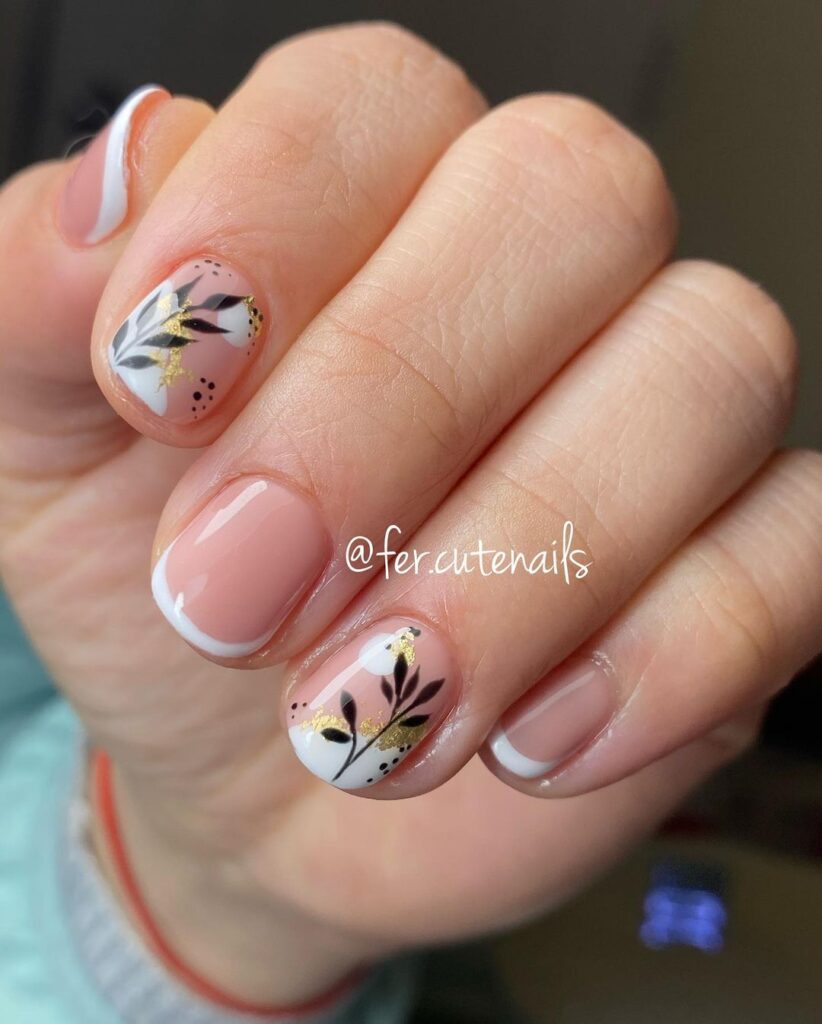 Via @fer.cutenails
#33 You just can't sport these cute acrylic nail designs and not draw tons of compliments. The vivid art with radiant colors is done on longer nails so they attract more attention than usual. These are also just the ideal cute summer nails because of the bold palette, of course, but also because of the symbolism of clouds and ripe fruits that further makes them summer-perfect. There's nothing we don't love about these cute nail designs! Perfect in every sense. 
Via @nailsbyyagal
#34 Looking for cute nail ideas for fall? Here's one to set a statement. Done on almond-shaped nails, this manicure incorporates the rustic orange fall color and combines it with the emerald green for a soothing effect. The first two nails have leaf paintings for a visually appealing design, and the rest are done in a gloss finish for a completed look. Those leaves are best left to professional hands as they need intricacy and a creative mind to complete.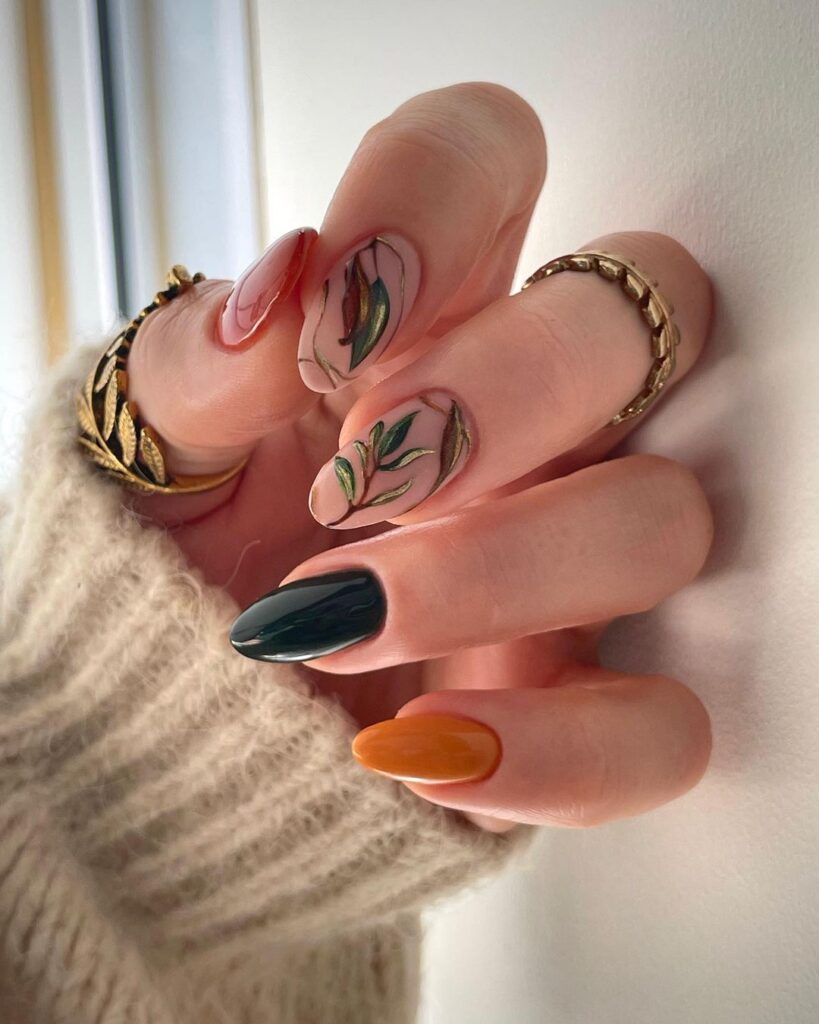 Via @paiwaloves
#35 Trend forecast agency WGSN has predicted the trendiest color of 2023 will be lavender. It will take up both the fashion industry and interior decor by storm. The color signifies a sense of stability and calmness that so many people have sought after the pandemic. Stay ahead of the trend and rock this upcoming trending shade on your nails and make it more modish by adding another trending nail art, the cookie crumble, on some nails for accents.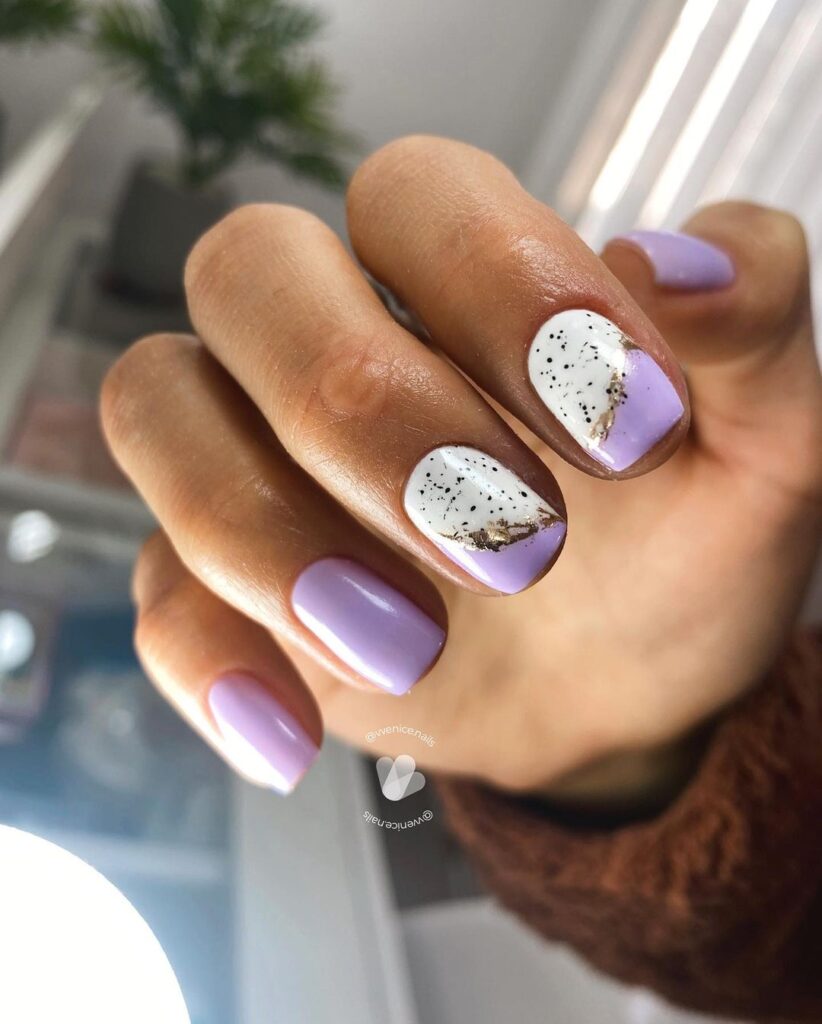 Via @vvenice.nails
#36 When it comes to artistic yet elegant cute nail art, the key is to go easy on the geometric patterns while keeping the colors a mix of vivid and mellow. In the next nail design, the index finger is covered in rustic orange color as the pinky finger balances the vividness by being doused in light pink. As for patterns, the ring and middle finger are covered in florals and stripes respectively. A cute fall nail design to try as the festive season starts.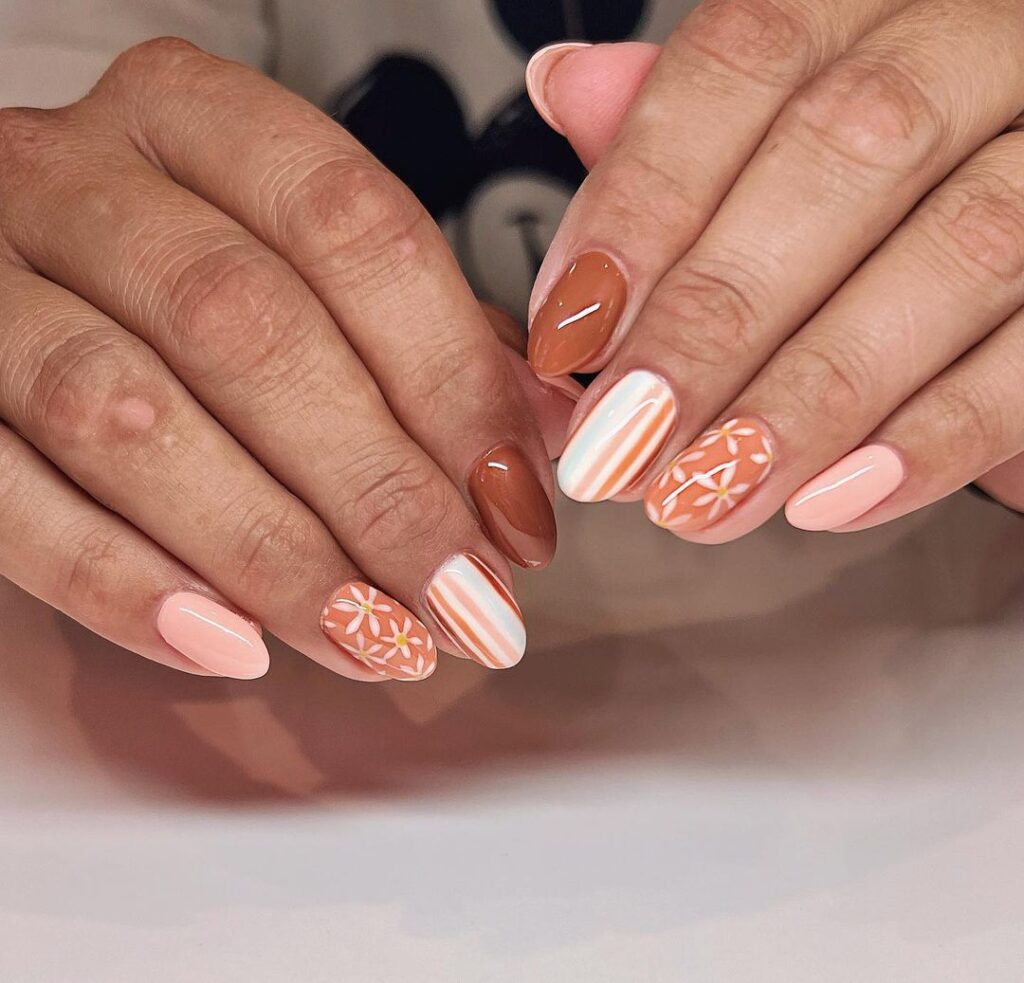 #37 We hardly have to make a case for neon nails when our favorite celebrities are all in for the neon nails trend already. From Jennifer Lopez to Cardi B and Gigi Hadid and Kylie Jenner, everyone's making a strong case for neon nails. In order to recreate this look, you can opt for all neon nails manicures or can opt for geometric accents like the one shown below for an eye-catching element in your manicure.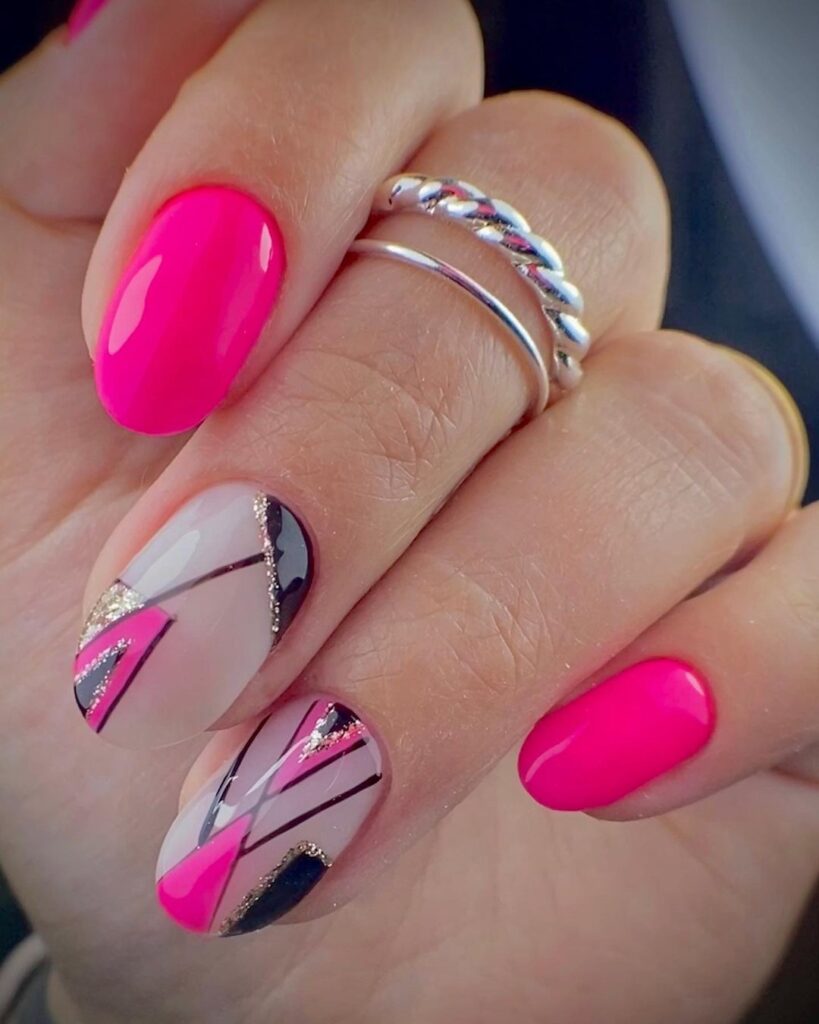 Via @rockstarnailscl
#38 Do cute nail designs get better than this? We don't think so! The best part? You don't need acrylic nails to create these cute short nail designs. These can be done on your natural nails as well. Obviously, they are better done by a professional because it incorporates many polish shades and artwork, best left to the hands of an expert. Though the design doesn't make an appropriate one for a formal setting, for everyday informal gatherings, it makes for a stunning pick among these cute nail designs 2023 list.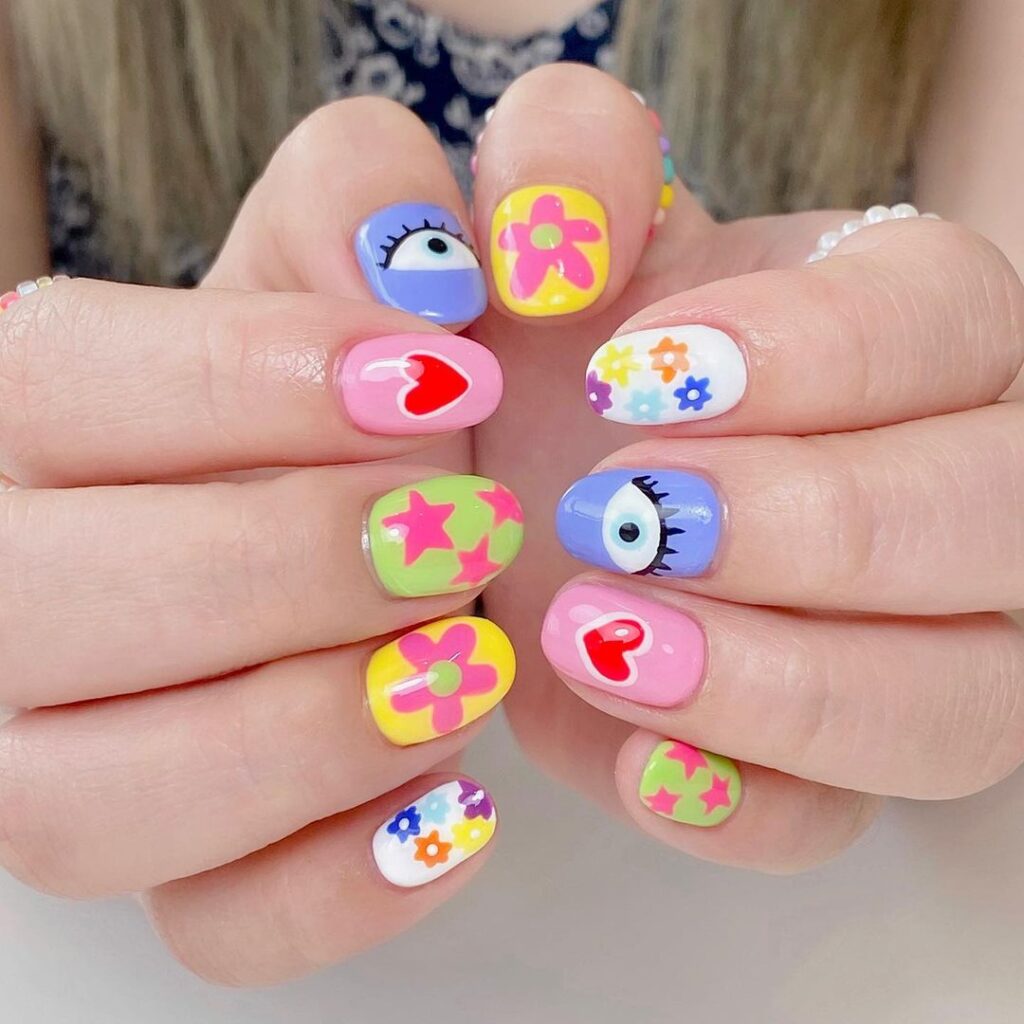 Courtesy @nailtystudio
#39 White nails can never disappoint. All-white nails with some accents are a favorite among brides and newly-engaged women as it goes with their subtle aesthetic and doesn't take away attention from the bauble. Those accents can be a lavender nail with cute hearts or if it's Halloween season, then probably a cute ghost outline with a smiley in the middle. Anyhow, these cute short nails make for a great idea for all these special occasions.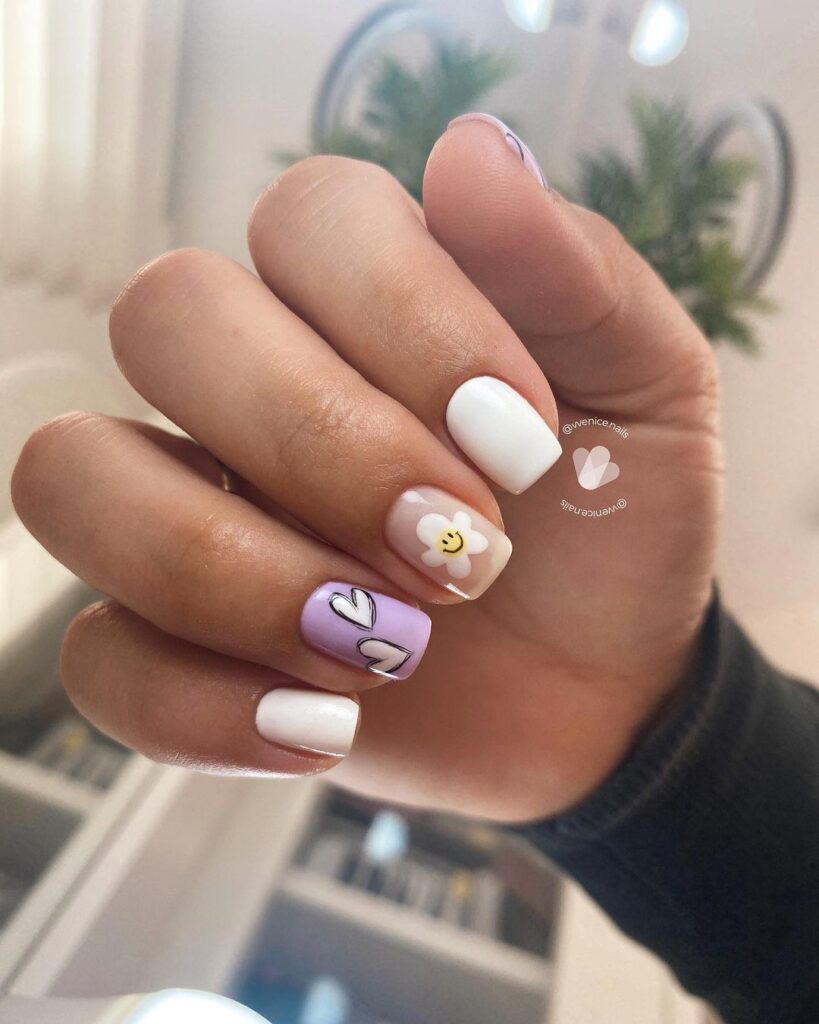 Via @vvenice.nails
#40 Painting all your nails in the same color is so yesterday. Nowadays, women love to play with colors in their manicures and opt for different shades on all nails. They have become so popular that they now have a term of their own – rainbow nails. And pastels are one of the best choices for rainbow nails, as you will also see when you search for the term on Google. Here's one combination of pastel nails in rainbow manicures to try next and hop on this trend!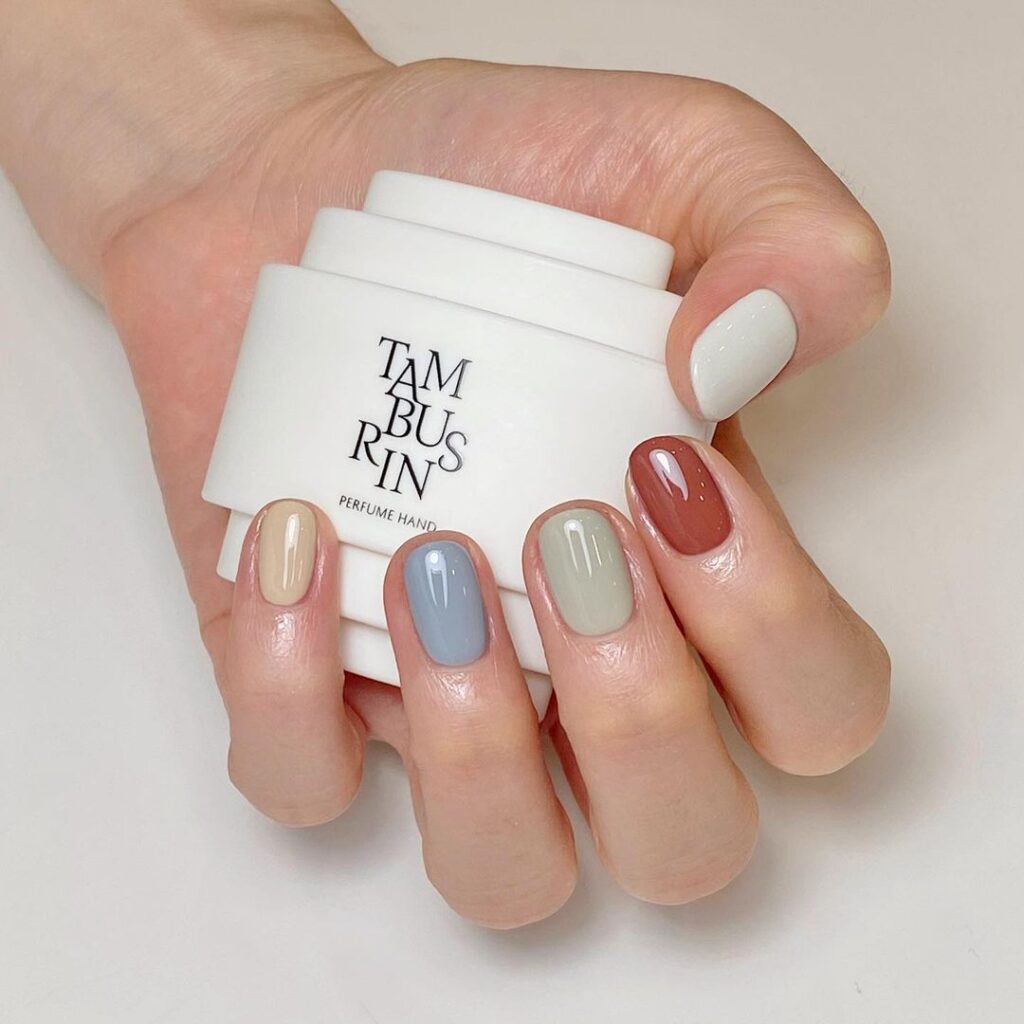 Via @nailtystudio
#41 These gorgeous cute nails 2023 involve the 60's inspired nail art with an almost psychedelic finish – a swirl-pattern manicure. These swirls can be done in many different ways to suit any season or occasion. For a glamorous everyday look, try these nude & glitter combination swirls at your next mani appointment.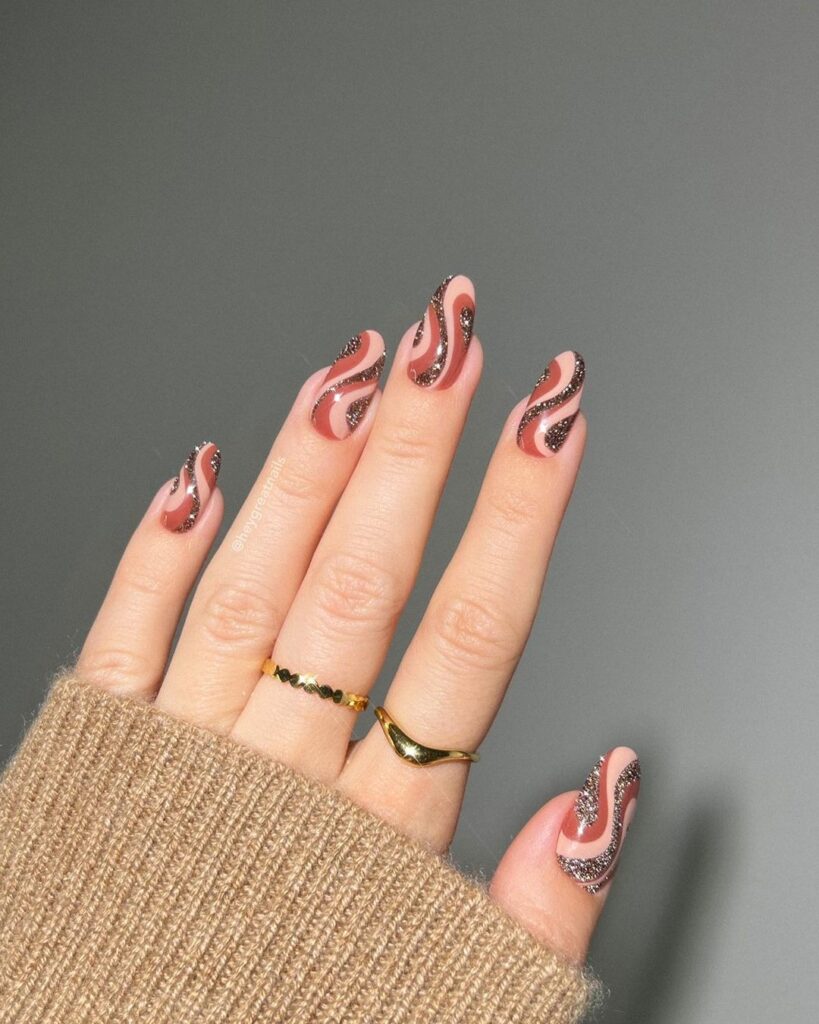 Courtesy: @heygreatnails
#42 Animal prints are exciting and fun! Cow prints, zebra prints, and leopard prints are all spotted on nails. You can also combine any of your favorite prints with your favorite nail color for a stunning nail design.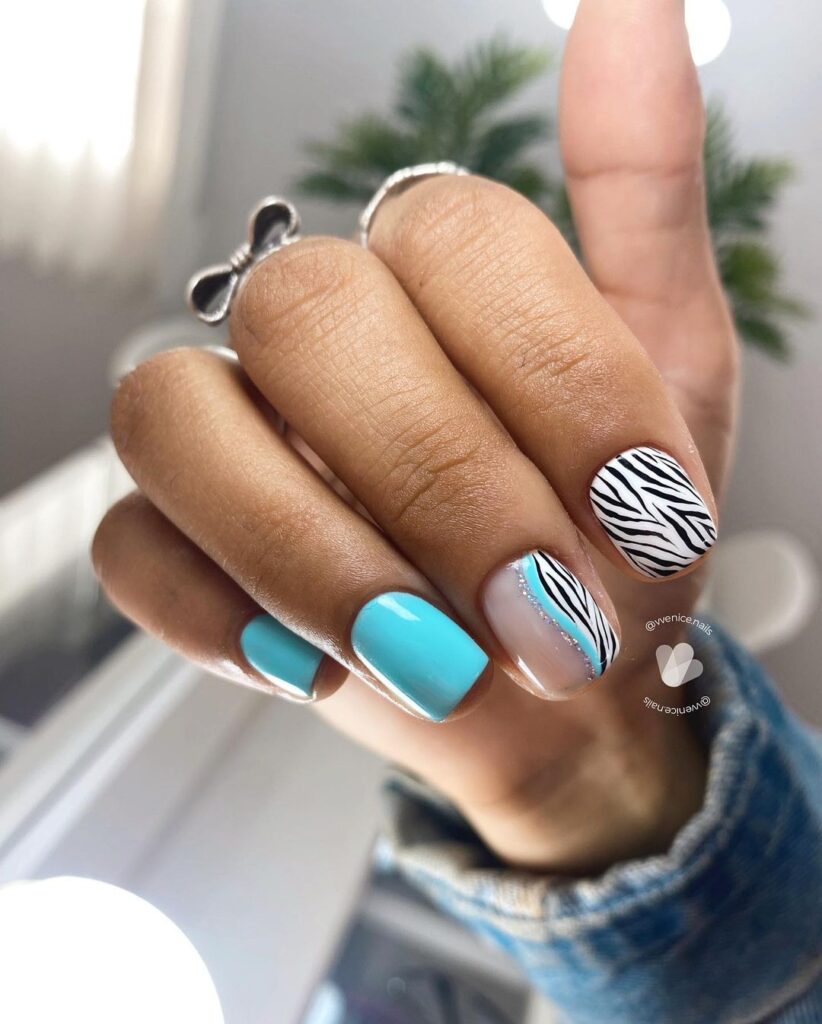 Courtesy: Venice & Co
#43 While social media can make you believe only lengthy nails can give a statement-worthy manicure, this cute nail designs list might restore your faith in the gorgeousness of the cute nail designs for short nails. Here's another done in shades of pink with easy creative patterns for a splendid manicure.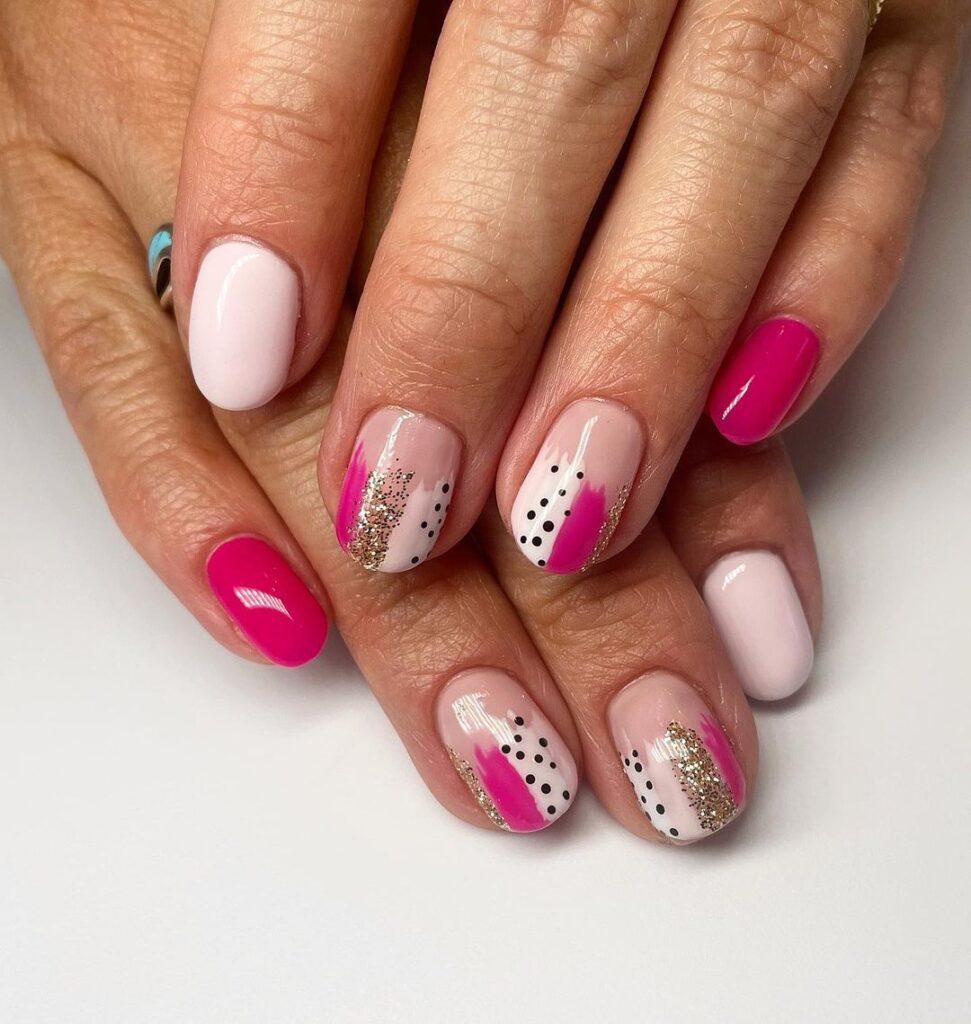 Courtesy: Sonya Low
#44 Some manicures truly feel like a work of art and say a lot about the professionalism and passion of a nail tech, and this is one of them! One of the cute nails for summer, this design has leaves, beautiful colors, and negative spaces to make it look both subtle and alluring at the same time.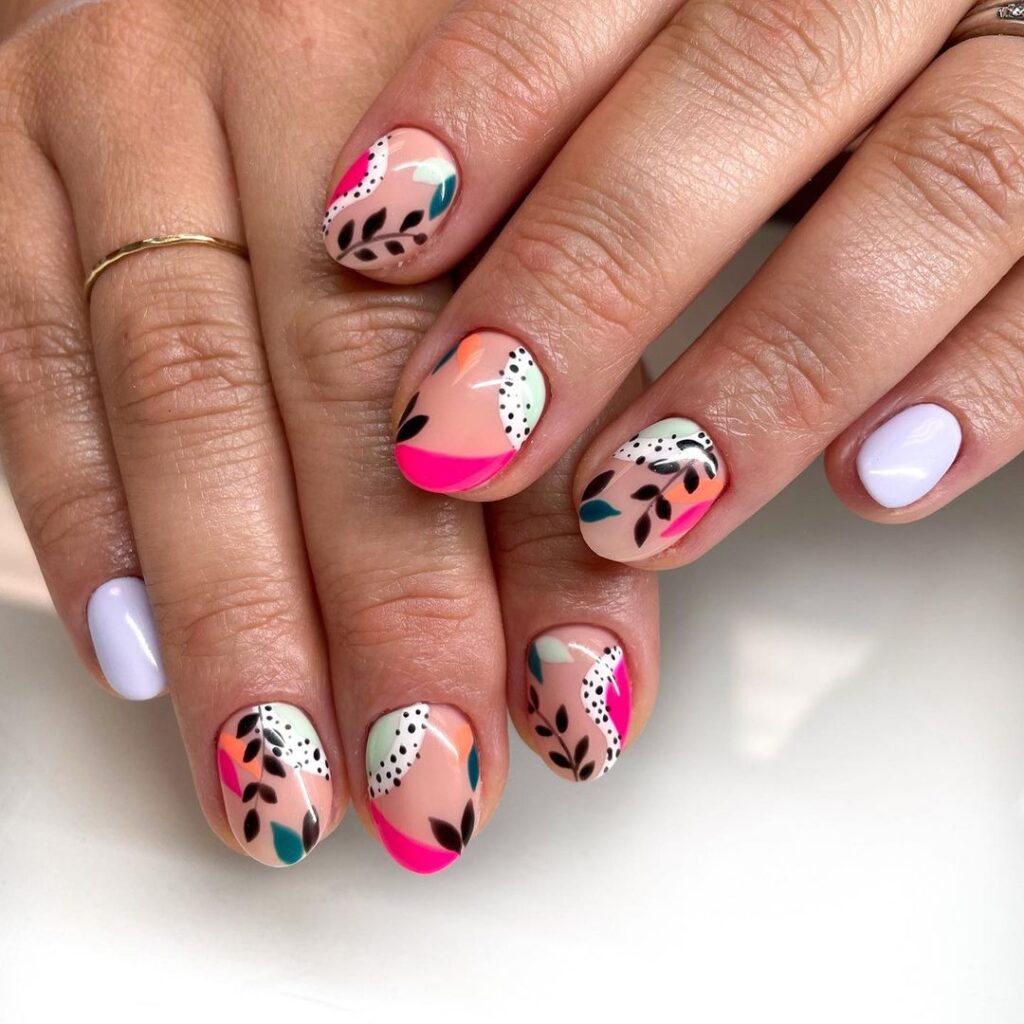 Courtesy: Liz
#45 Flaunt your love for the crashing waves of the beach with this gorgeous manicure in sea green. If you're going for a beach vacation to celebrate your recent engagement, this is a great way to add an accent nail and show some extra love to your ring finger.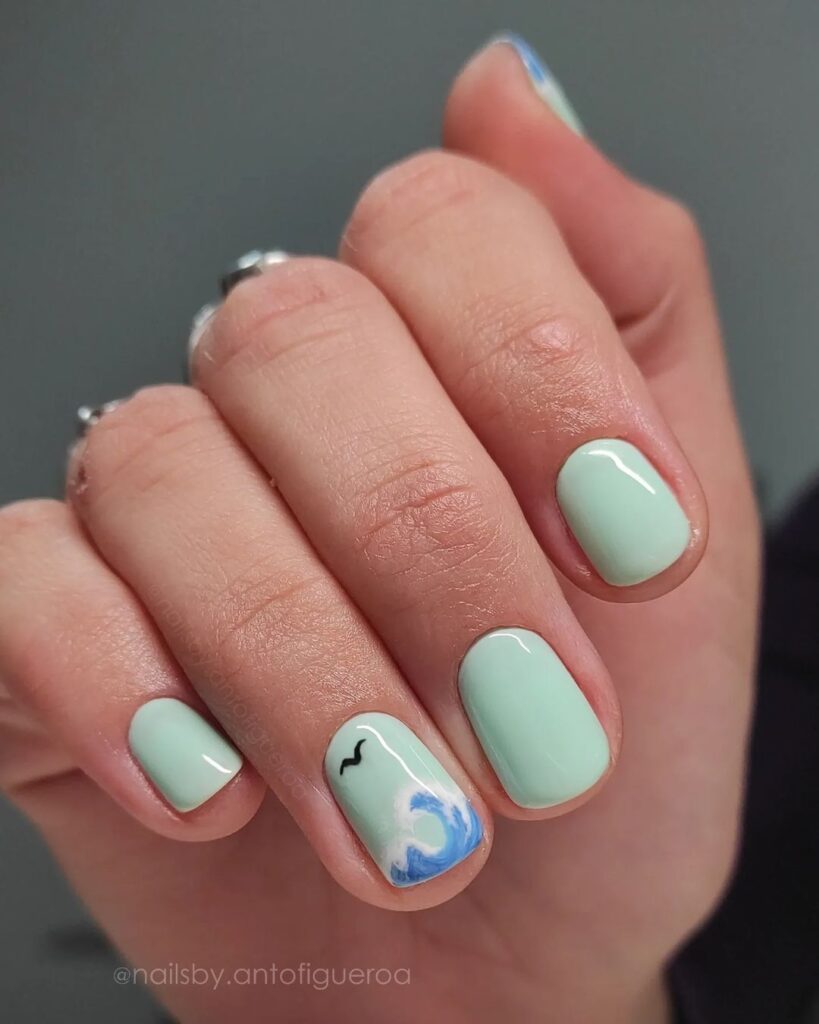 Courtesy: Nails by Anto
#46 Why have one nail polish shade on one finger when you can have two? Try this aesthetic combination of blue & pink with swirls in the same color palette for a visually appealing cute manicure.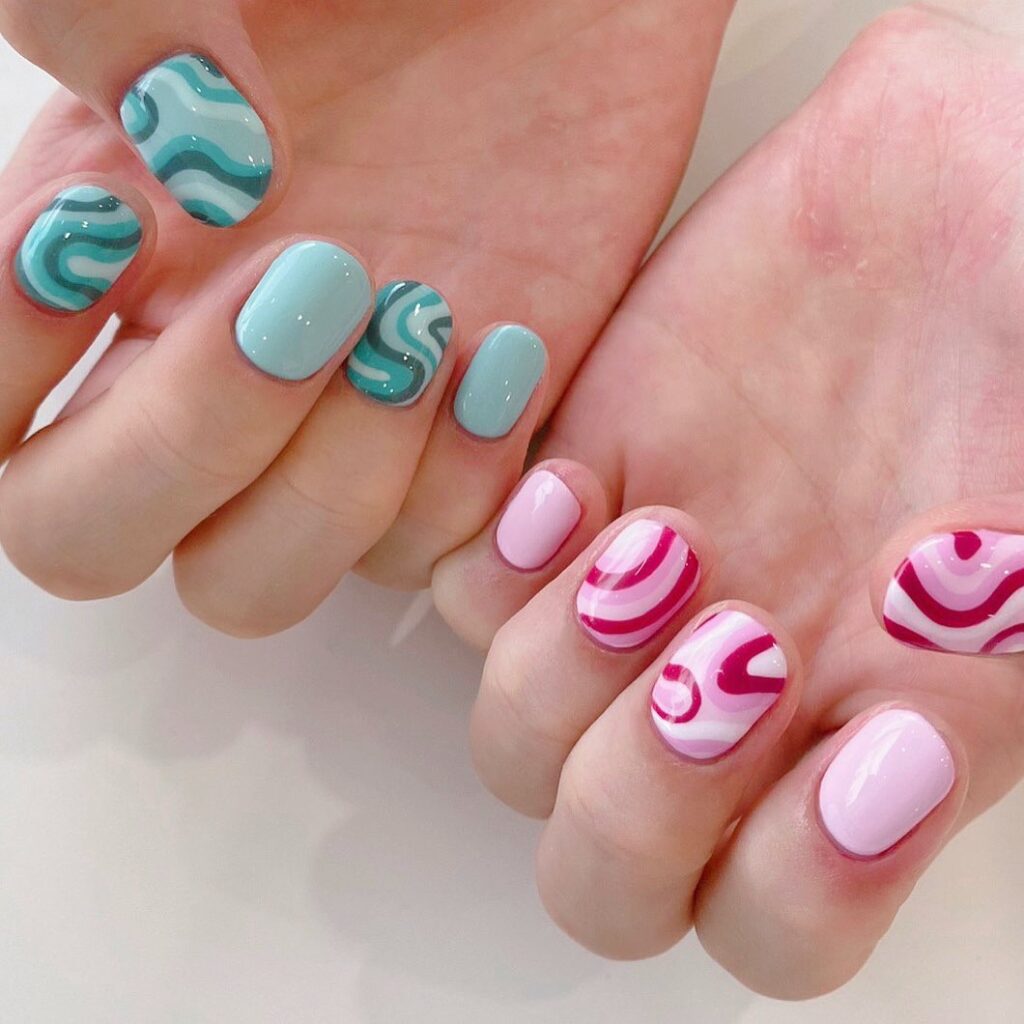 Courtesy: @nailtystudio
#47 Smiley faces and yellow are one of the most cheerful combinations in your nail art. If you're looking to add positive elements to your manicure, these two are the best ones. They will give you happy vibes every time you look at them and who doesn't want that, right?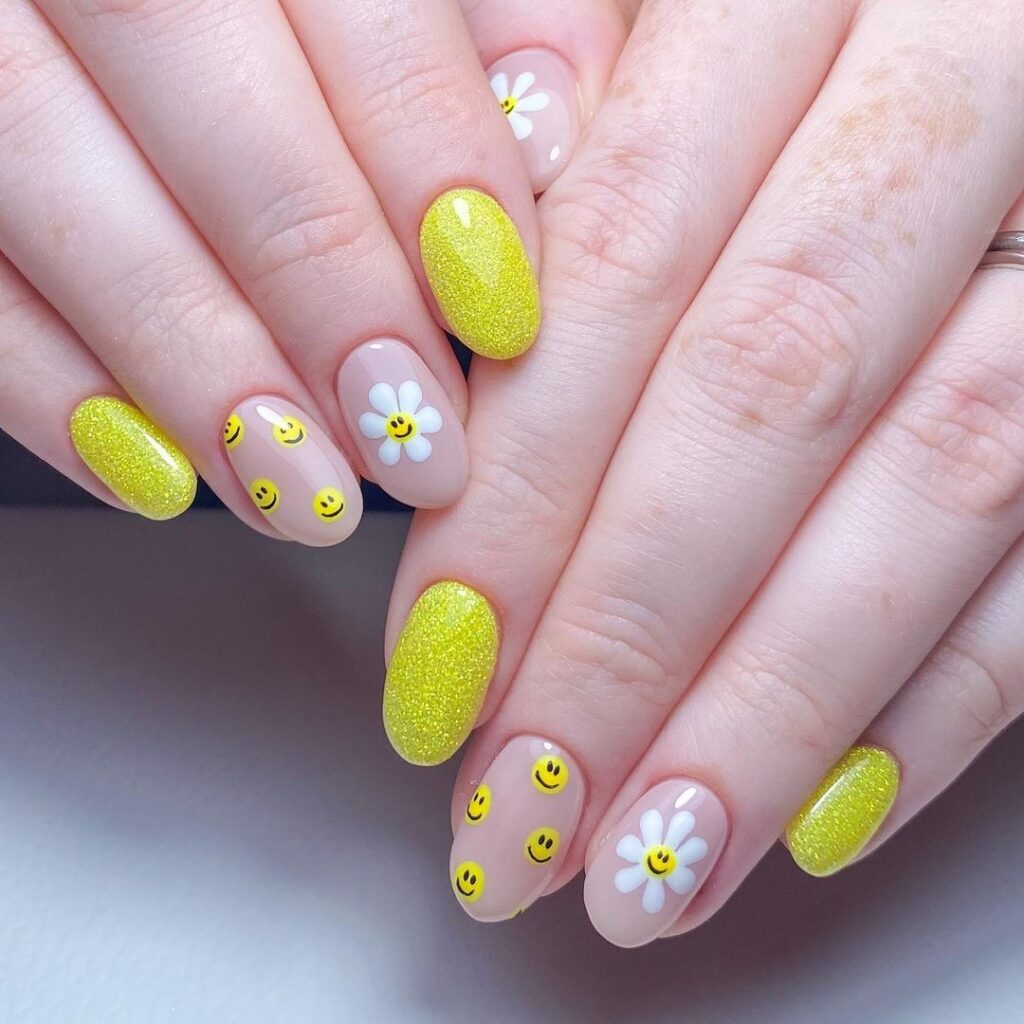 Courtesy: Magpie Beauty
#48 Polka dots have been around forever! They're still relevant and you can rock them on your nail design for a cute everyday manicure. Here, the nail technician plays with the size of polka dots for an artistic nail art look.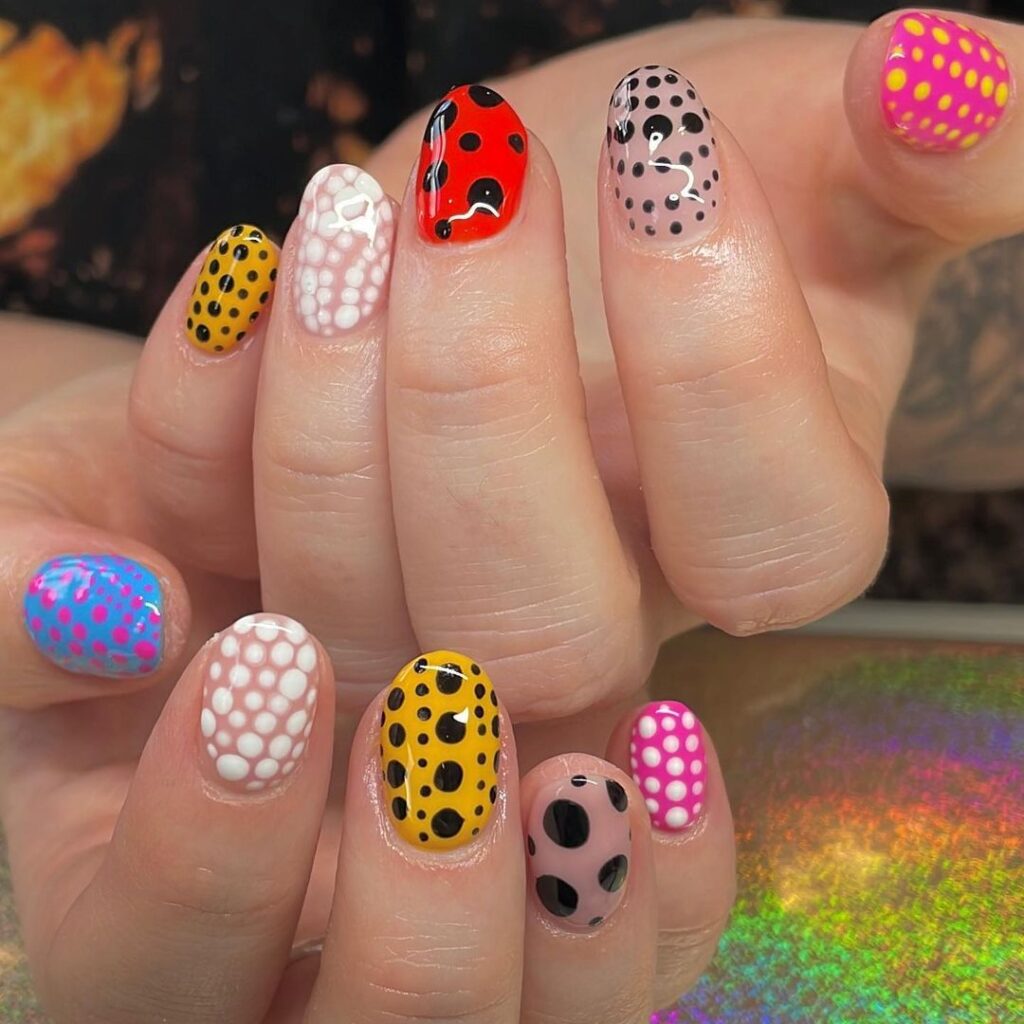 Courtesy: @thats.handy
#49 If you're unaware, painting one nail differently than others is a trend that's called accent nails. Here, one of the nails has a separate manicure to help you add some personality to the manicure and is favored among brides-to-be to help them subtly show off their ring. You can try the one below or choose any other from this list of accent nails.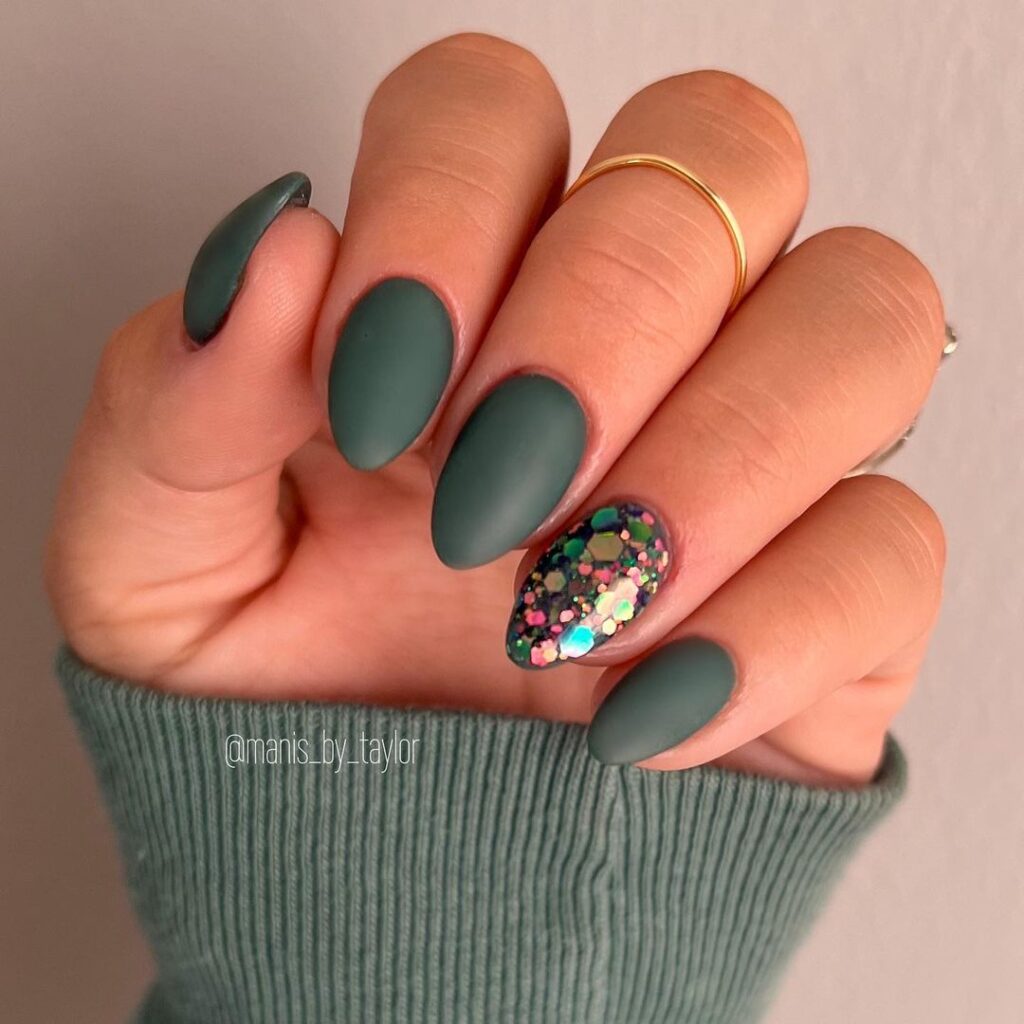 Courtesy: Taylor
#50 If you love interesting patterns but don't want them to look vivid, opt for darker shades on the palette that complement each other. Like here, dark green and brown dominate the color palette while accents on white help this cute gel nail design pop out.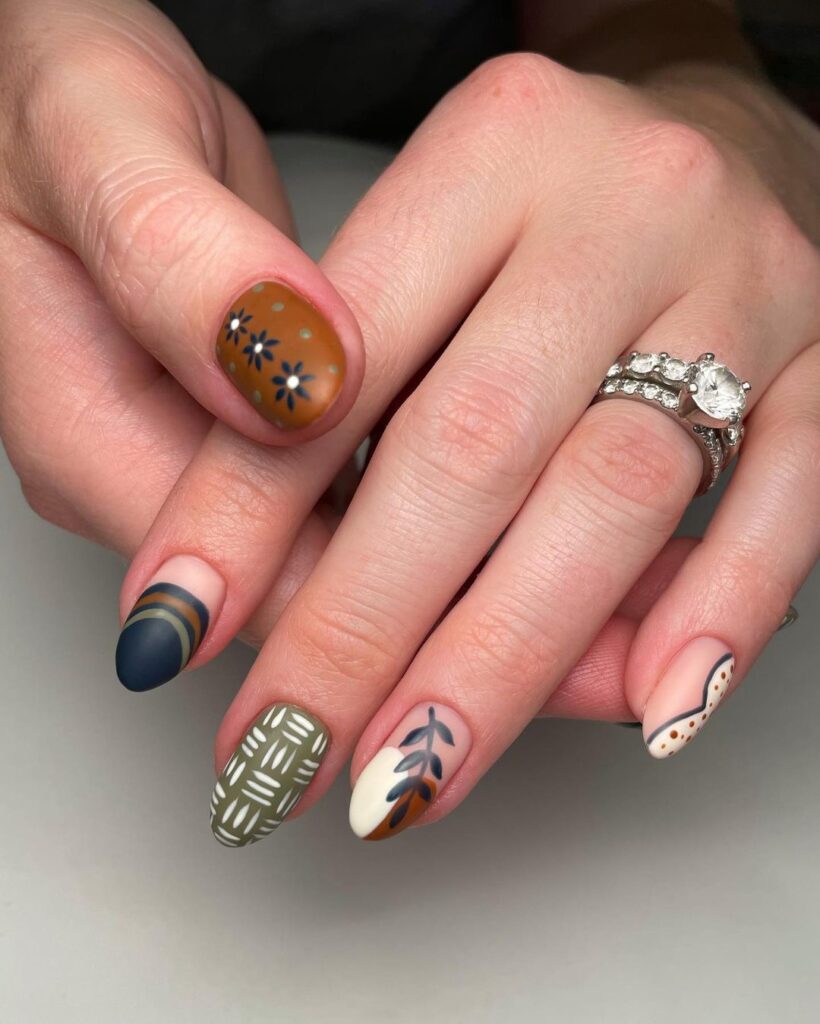 Courtesy: Myranda
#51 Do cute nail designs get better than this? We hardly think so! These cute nails incorporate French manicures with bright colors and florals on alternate nails. They are painted over by a gloss coat which is further elevated by twinkling stars. This is definitely one of the most feminine and cute nails to try on the list.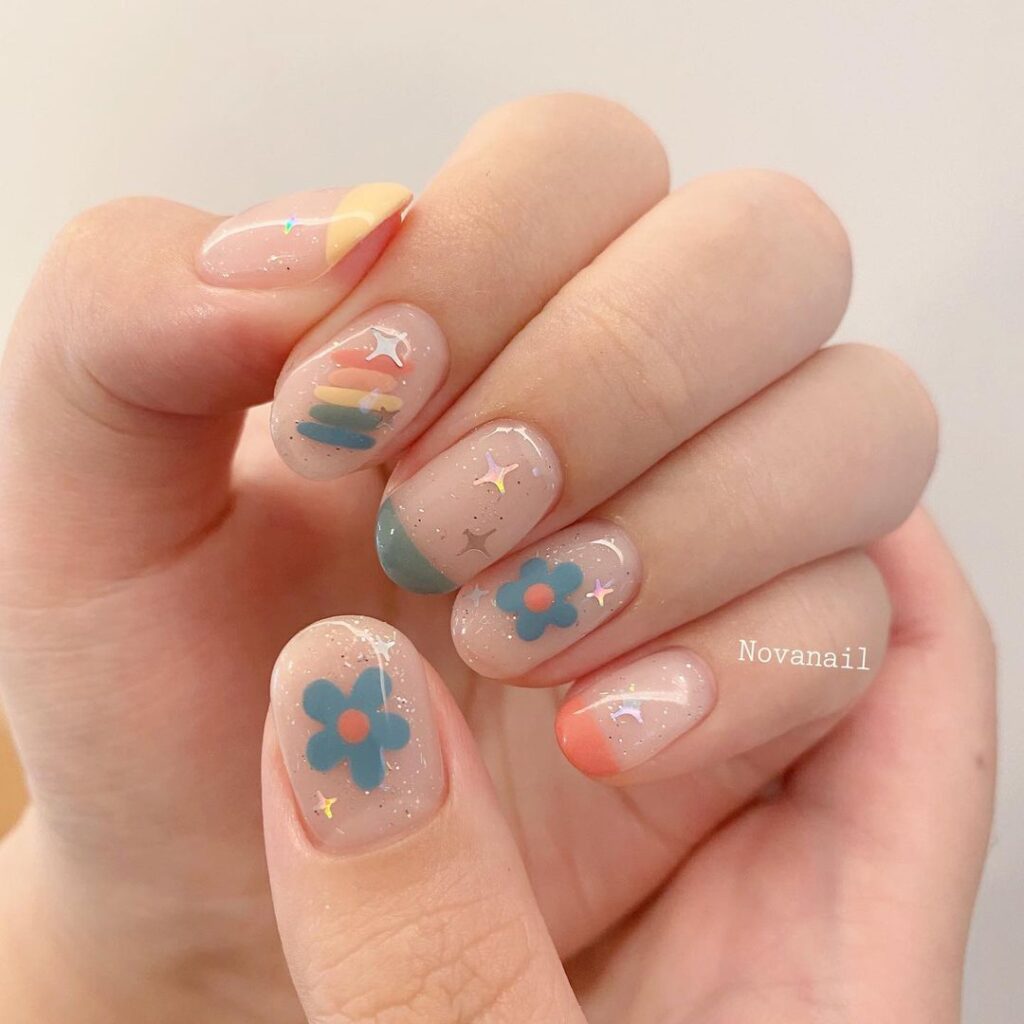 Courtesy: @novanail_
#52 Swirly nails are big in 2023! They're actually a part of another nail trend – abstract nails, which women can't get enough of! Part of their popularity lies in how adaptive and versatile they are, and how you can just pick two of your favorite colors to create this design. We will give you a kickstart of two complementary colors – hazelwood and white, to try this cute acrylic nail idea.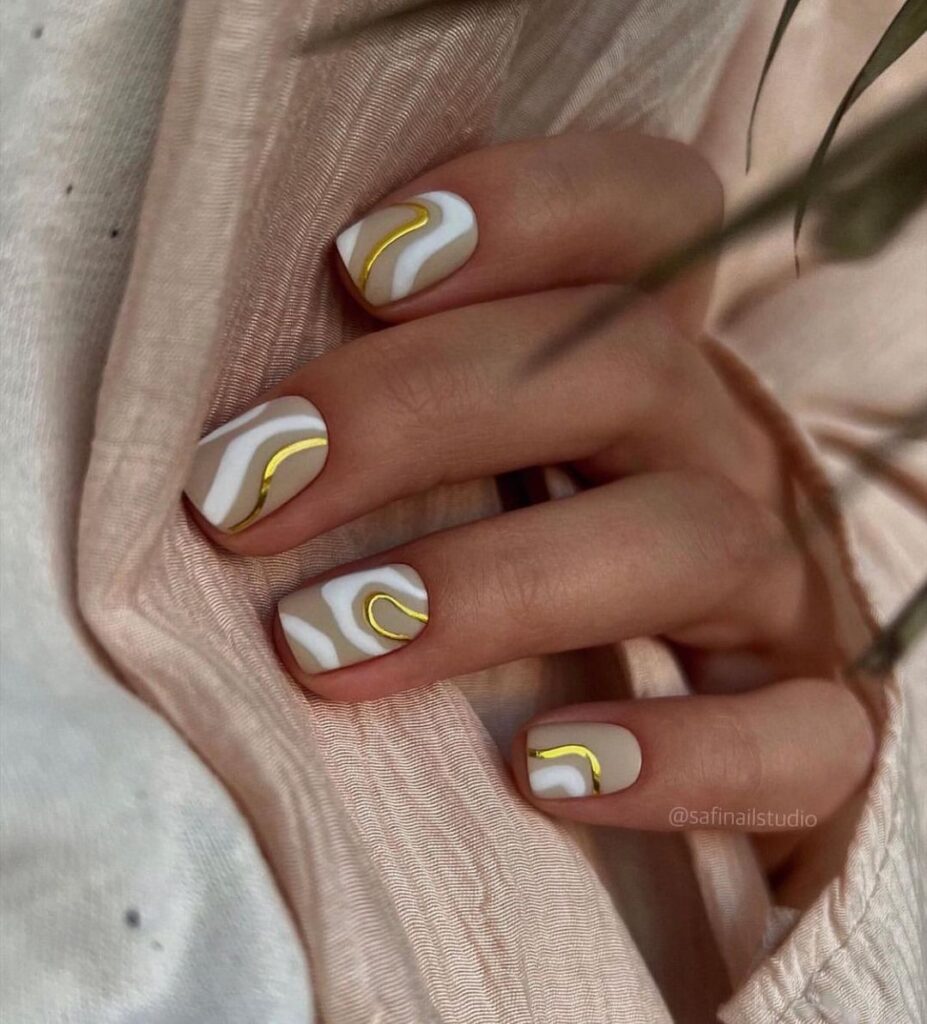 Courtesy: Studio by Elvira Safina
#53 We love the 3-D nail art design, especially the one that's done so artistically and involves many different colors. For cute nails like these, we'd recommend you only trust an expert. That's the only way to bring out the similar appeal of the cute short nail design like this one.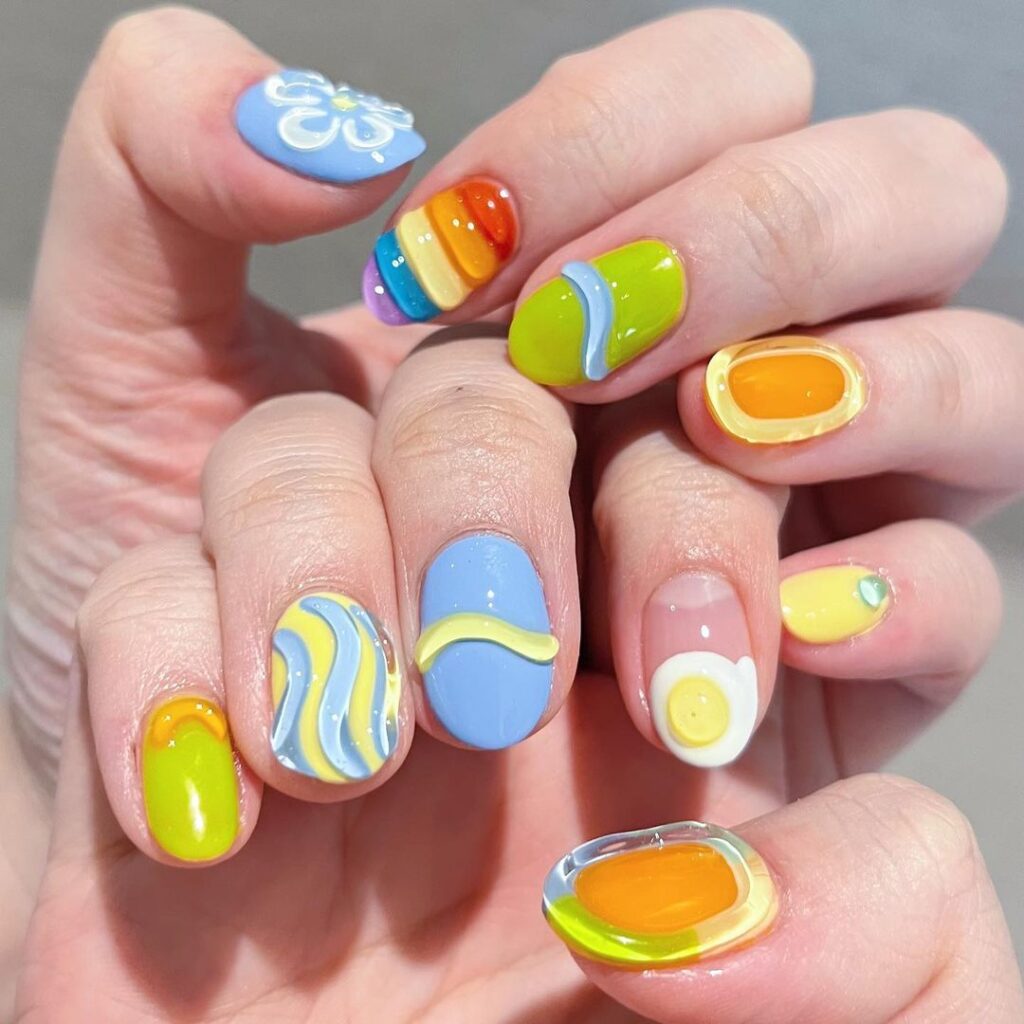 Courtesy: Willow Nails
#54 A nail idea that resembles the night sky? Count us in! They're also very easy to do at home. Just paint a darker color base coat and follow it up with a shimmering coat. You can add an accent nail by painting that nail French manicure style and you have a cute DIY nail idea right here.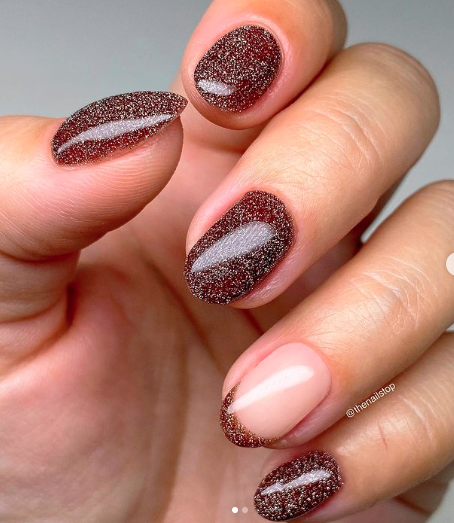 Courtesy: @thenail.stop
#55 There's just something so gorgeous about the fall palette. The colors are rich, warm, and so cozy! I'm in love with it. Embodying the beautiful fall colors is the next one of the cute fall nail designs with lush leaves and artistic patterns for an engrossing aesthetic.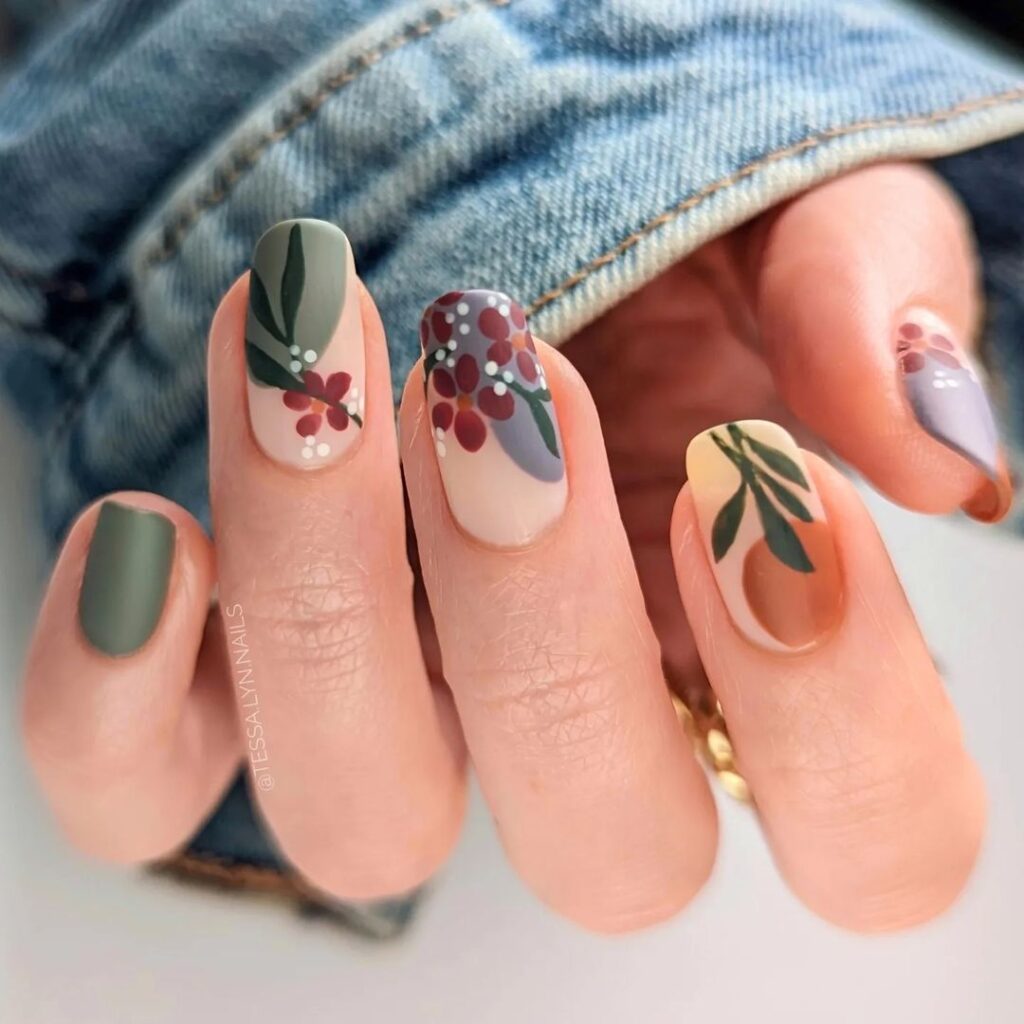 Courtesy: @tessa.lyn.nails
#56 Well, haven't we found a cute summer nail idea for you? It has a warm blue base followed by leaves pattern on top for a nod to the lush foliage in the season. You can totally DIY this design using a dotting tool, just be extra careful when rounding the edges for leaves as they do need to be very neat to radiate the same allure.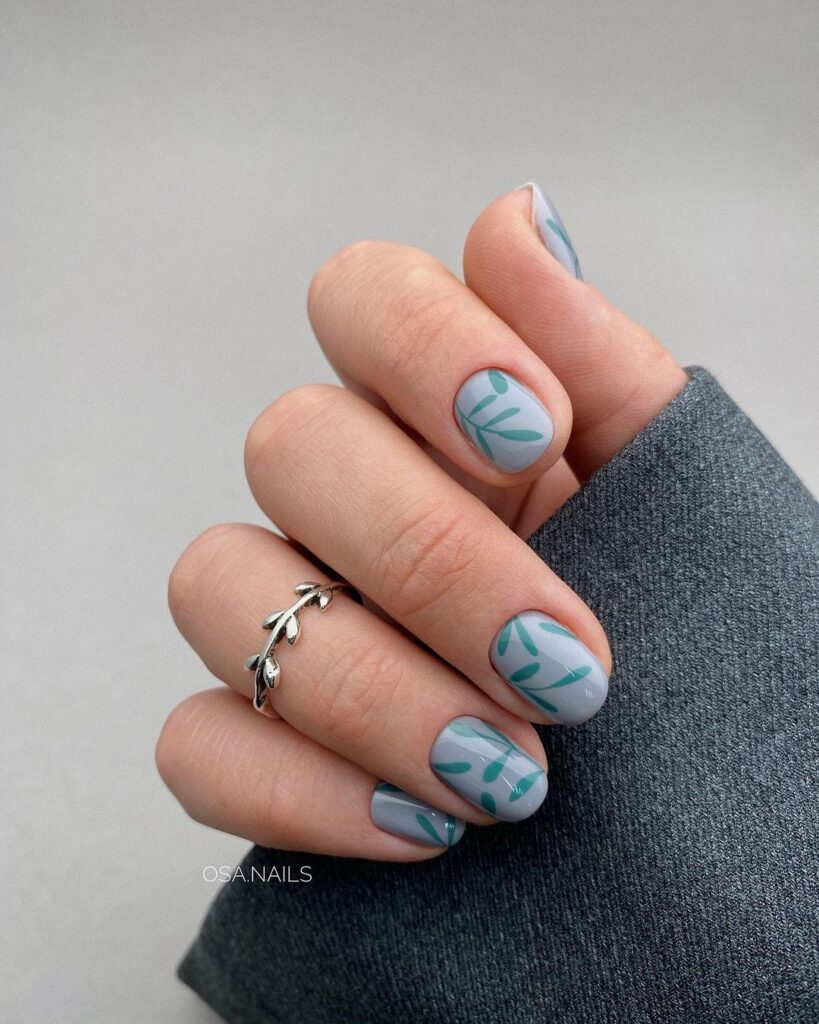 Courtesy: @osa.nails
#57 Going through this list, you will very well know that you don't need long nails to rock an aesthetic design. There are many cute nail designs for short nails here! Like the next one portrays some ingenious patterns using a brown palette elevated by white polish. These cute short nails can be worn for any season or occasion.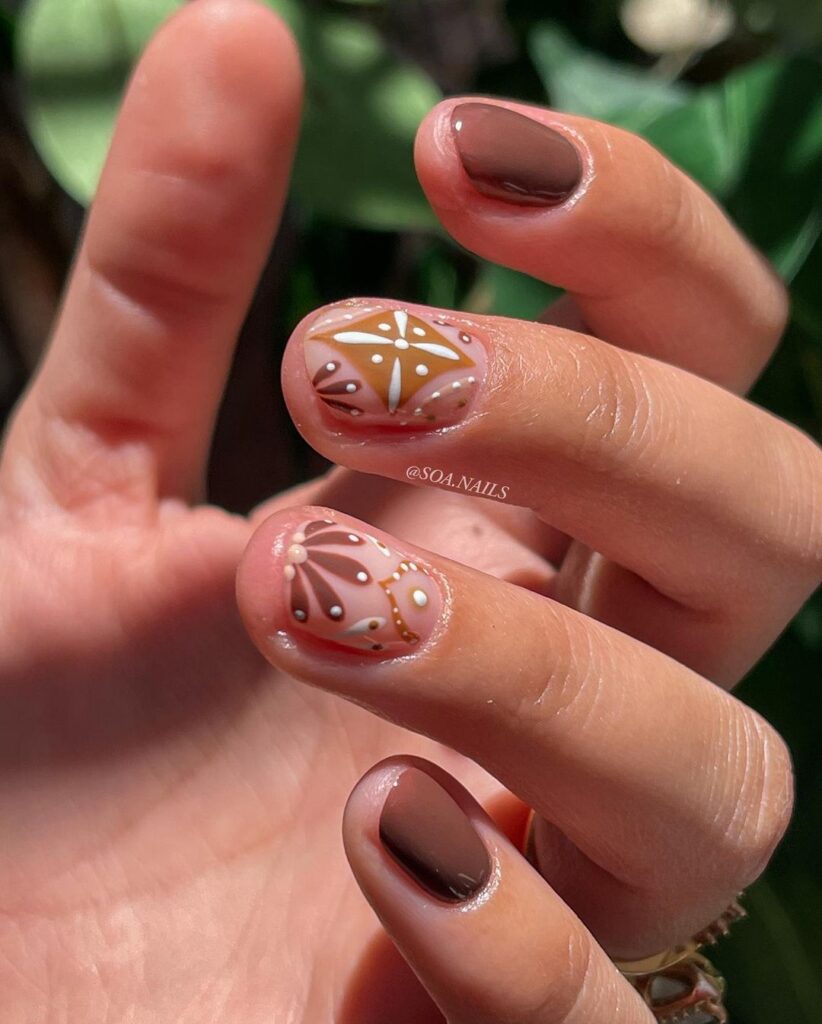 Courtesy: @soa.nails
#58 These cute acrylic nails are worth a stare and are just perfect for summer or spring nail designs. It uses a playful combination of orange and blue with some accents of white, which is a common color to elevate any cute nail idea. We'd only recommend you DIY this nail design if you can intricately create the three-layer French tips, otherwise leave it to a professional nail technician to recreate it for you. 
#59 This cute nail ideas list just keeps getting better & better. The next one of the cute nail designs is done predominantly in charcoal grey with brown and white in the mix as well. Its rustic palette makes it ideal for the fall season, don't you think?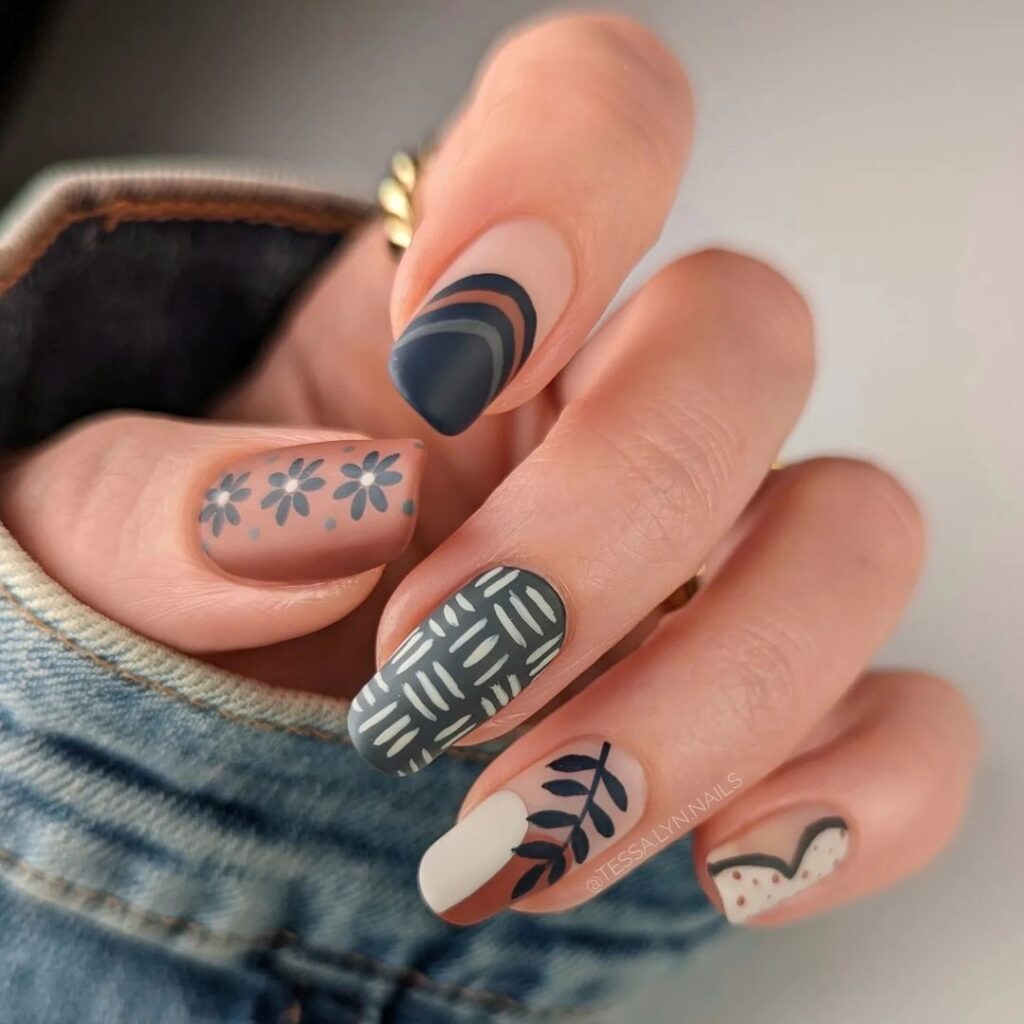 Courtesy: @tessa.lyn.nails
#60 When you're wanting to try cute acrylic nails yet want to keep it simple, try this one with a hot pink color and an accent nail done in a zebra pattern. It's done in acrylics, but you can do it with gel nails as well. Gel nails are better for those who want a more natural feel and they are also lesser damaging than acrylics.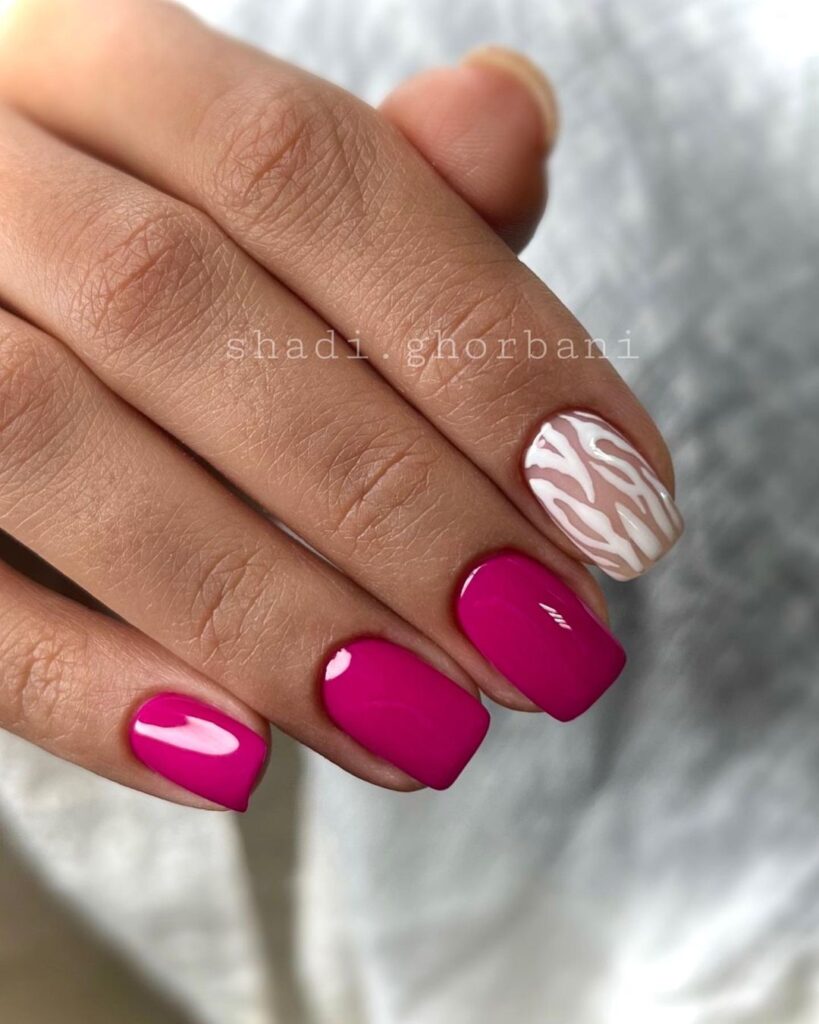 Courtesy: Instagram
#61 Glitter nail designs are popular, there's no denying that. They're also very versatile and you will find so many options that there's absolutely no problem finding one as per your preferences or style. Here's one done in a tasteful combination of pink and purple and doused in glitter particles of varying sizes.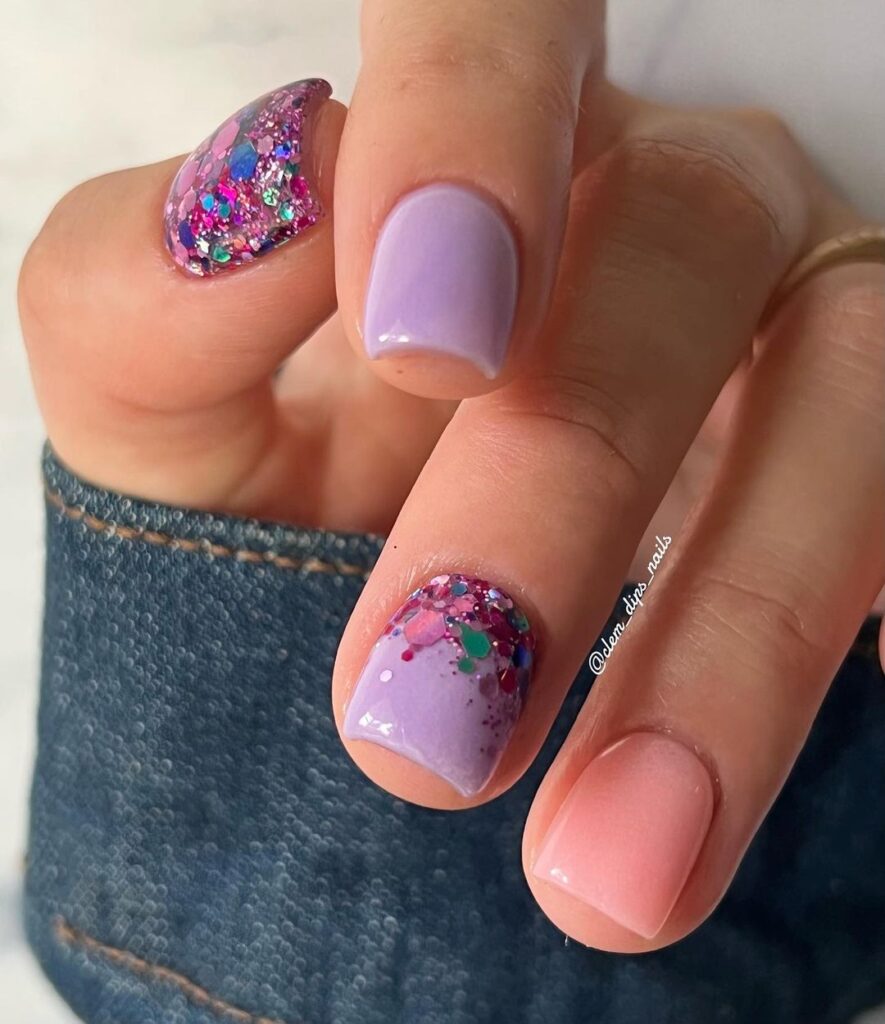 Courtesy: @clem_dip_nails
#62 For women who want cute nail designs in acrylics, but don't prefer the artificial feel of acrylic nails, opt for shorter nails instead. Bedeck those short nails in a stunning manicure like this and you're sure to garner tons of compliments for your nail design.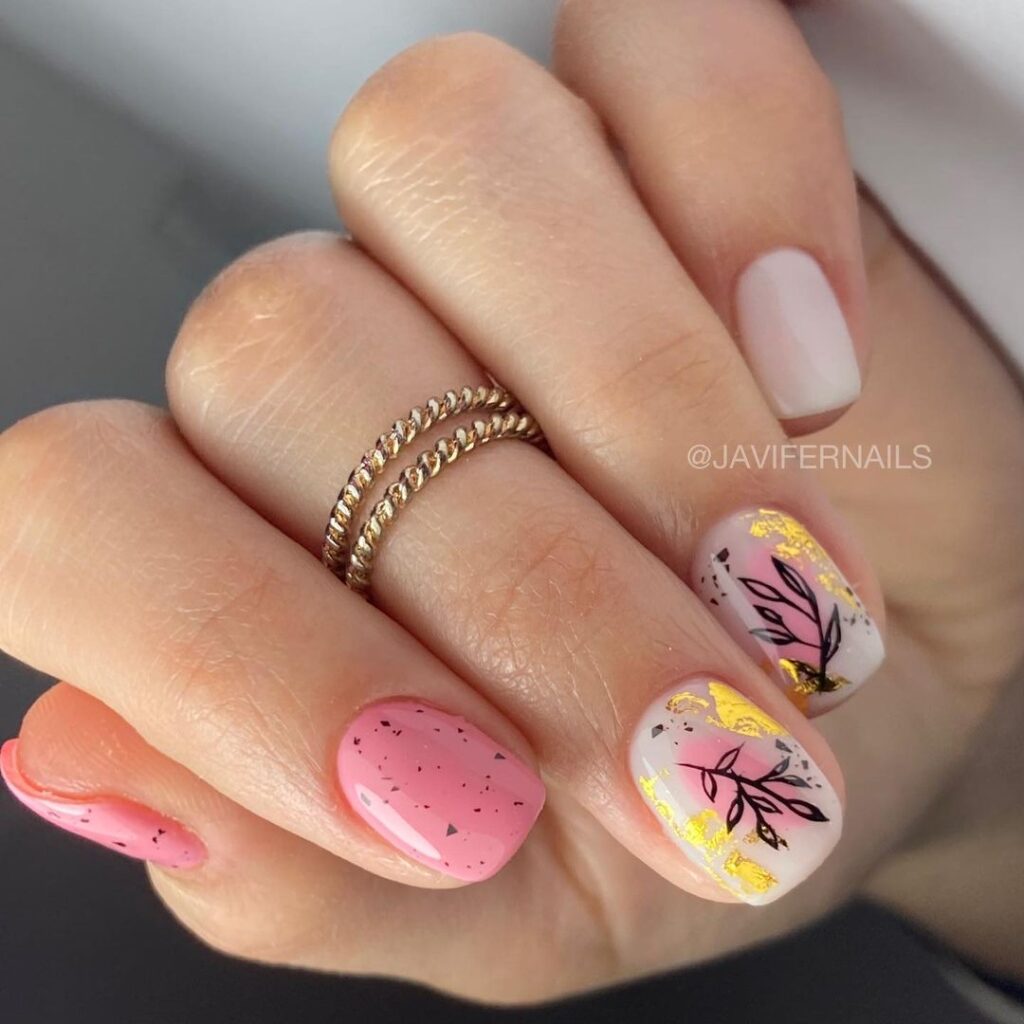 Courtesy: @javifernails
#63 Sometimes for a statement manicure, all you need is a different shade of color, like this gorgeous mint green in matte. It's further embellished by petals here & there for a romantic and whimsical element in the manicure. This of cute nail designs can be DIY-ed easily using a dotting tool.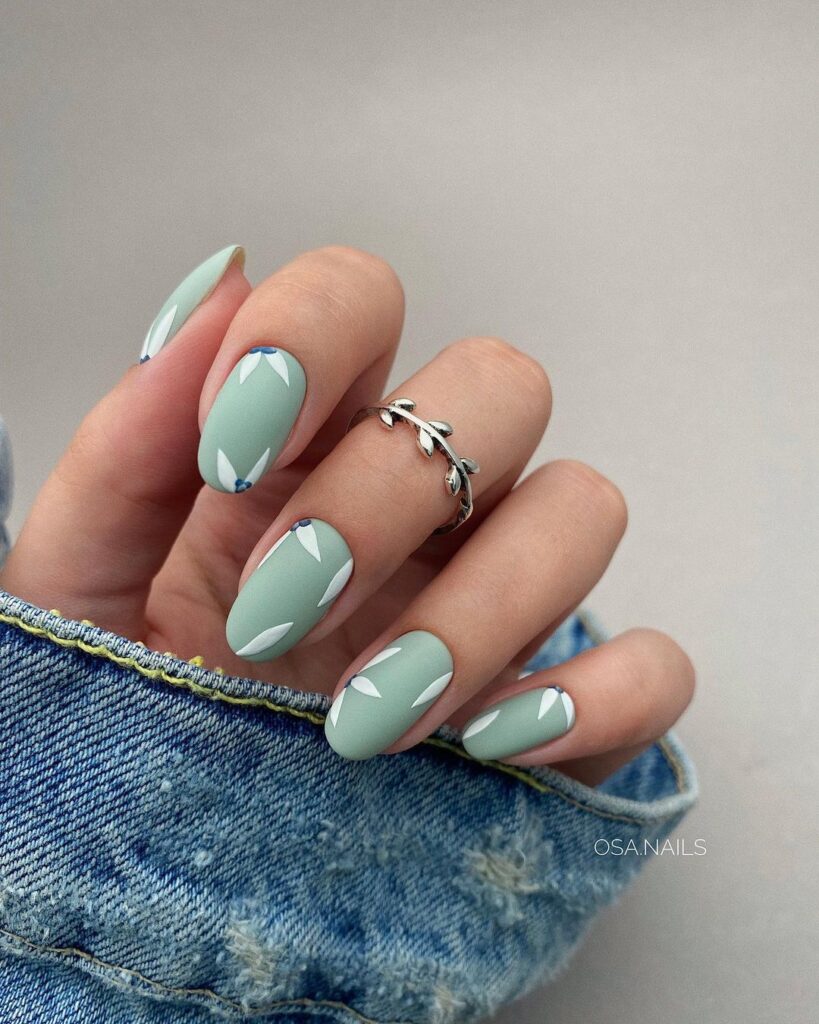 Courtesy: @osa.nails
#64 A safe way to complement two colors in a manicure is to opt for two colors of the same shade. You can further add glamour to your manicure by painting one nail with clustered lines in black. While here rose dust pink is used, you can opt for any of your favorite colors like lavender or brown, or grey.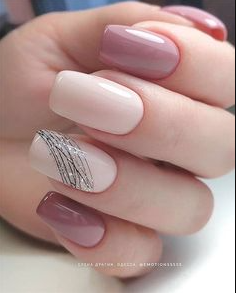 Courtesy: Pinterest
#65 Why opt for one pattern on all nails when you can opt for a different one on all nails? Experiment with different colors as well for truly playful and visually stunning cute nail designs.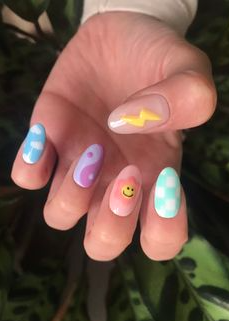 Courtesy: Pinterest
#66 Checkered patterns are an amazing option for a trendy and cute nails idea. They're also easy to do and all you need is tape to create sections. Another benefit is they can be done with a variety of color combinations and will go with the maximum number of things you own. Talk about versatility and the checkered patterns will not fail you.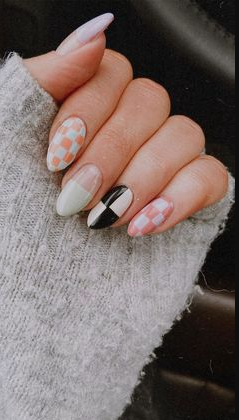 Courtesy: Pinterest
#67 This is another one of the cute nail designs with a distinctive color combination, hard to imagine for a non-creative mind. If you have these colors available at the moment, you can totally DIY these cute short nails in almond shape because even the flowers in the middle are beginner-level and very easy to draw.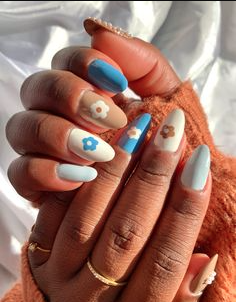 Courtesy: Pinterest
#68 These are other easy DIY cute nail designs. All you need is these different color nail polishes and white tape to section out the nails. Start by painting the nails with white polish, let them dry, and then cover the section of the nail diagonally which is supposed to remain white. Now, paint the rest of the nail with the colored polish, let it dry, and you're done!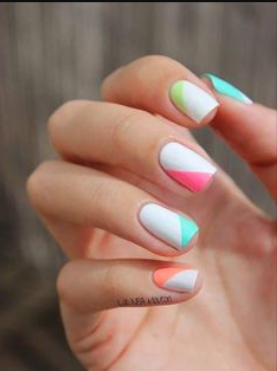 Courtesy: Pinterest
#69 When you want to radiate some self-love or have got a special occasion coming up like Valentine's Day or an anniversary, these cute acrylic nails will serve the event well.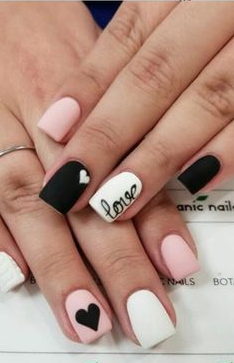 Courtesy: Pinterest
#71 A black nail bedecked by daisy flowers is such a cute nail idea! Daisy is considered to be a sacred flower and is often associated with love, beauty, and fertility. So, besides being visually appealing, the flower is also symbolic and makes for a great addition to your nail art design. 
Courtesy: Pinterest
#72 Those cute coffin nails in matte pink with 3-D hearts are love at first sight! The coffin nail shape has been popularised by the Kardashian-Jenner clan and is one of the most favored nail shapes for long nails. You can give it a go if you fancy long nails for your next manicure appointment.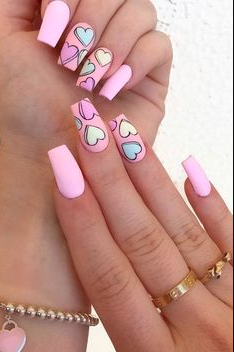 Courtesy: Pinterest
#73 These are such cute Halloween nails with ghost patterns on alternative nails and the rest of the nails are done in block white color. The pointed almond shape gives the manicure an elegant and chic vibe. Add a few of your favorite rings to really draw attention to your hands.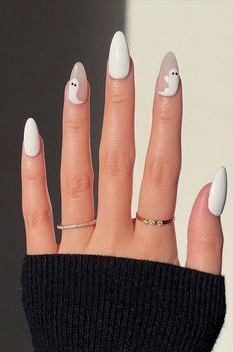 Courtesy: Pinterest
#74 As we approach the end of this cute nail designs list, we want to leave some of the best for the last, like the next one on the cute nails ideas.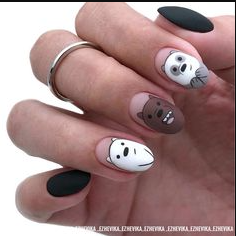 Courtesy: Pinterest
#75 There are many color combinations on this list, but there are definitely some impressive attributes to the monochromatic trend. The next manicure idea is the perfect cute nail idea for summer or spring, owing to the beautiful green color and you add further charm with a cute heart on the ring finger.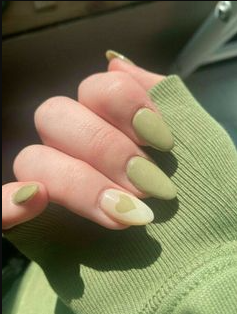 Courtesy: Pinterest