When you want a versatile, elegant, and pretty manicure, you can't go wrong with nude nails. They go with any season, occasion, and outfit, and there are so many nude nail designs to choose from that it's difficult to get bored of them even if they become your go-to! Ahead, find inspiration for your perfect set of nude nails. 
#1 Love the full nude trend? We're eyeing this particular one of the nude nail designs for those who want all-nude nails to sport! Nude nails in almond shapes are popular because the shape just adds to the classic and timeless look you're aiming for with the neutral shades.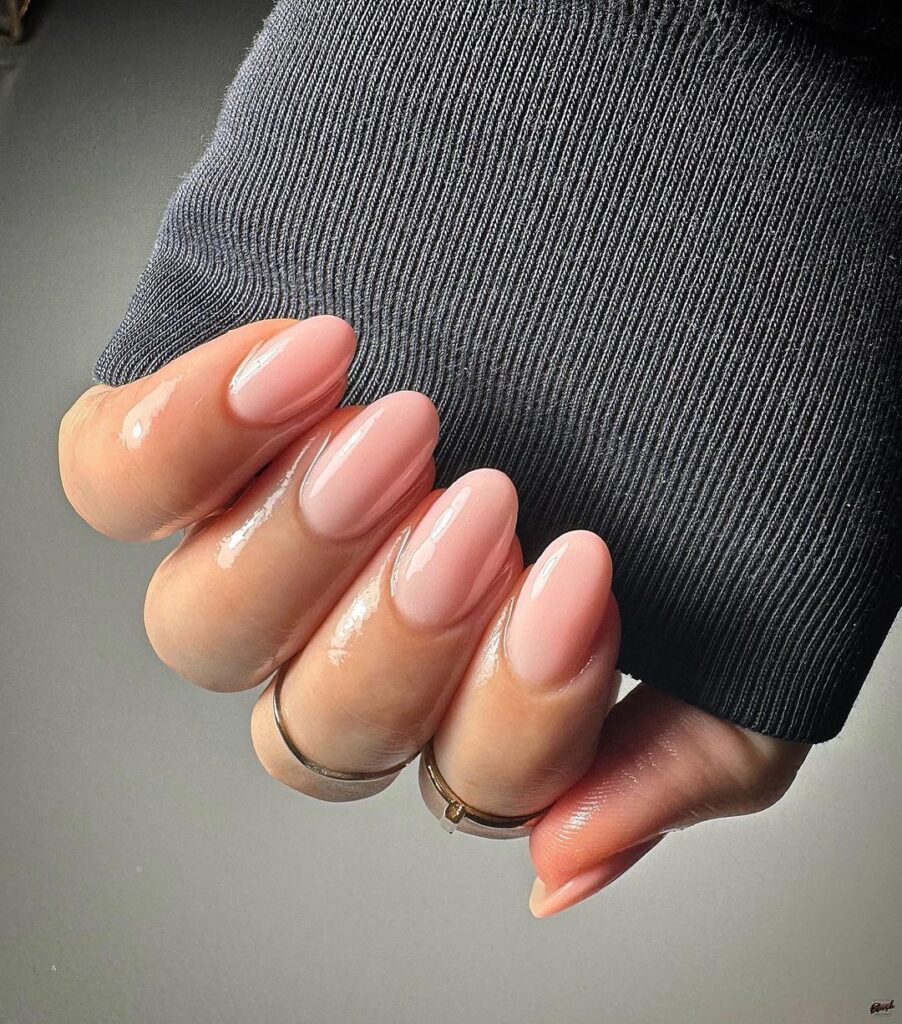 Courtesy: Tanya
#2 You will be loving the creative nude nail designs on the list. Women often think nudes will be basic and dull, but there have been many iterations featured that tell us the exact opposite. The next one comprises the leaves' color as they change along with a swirl pattern to amp up the artistic appeal of the manicure.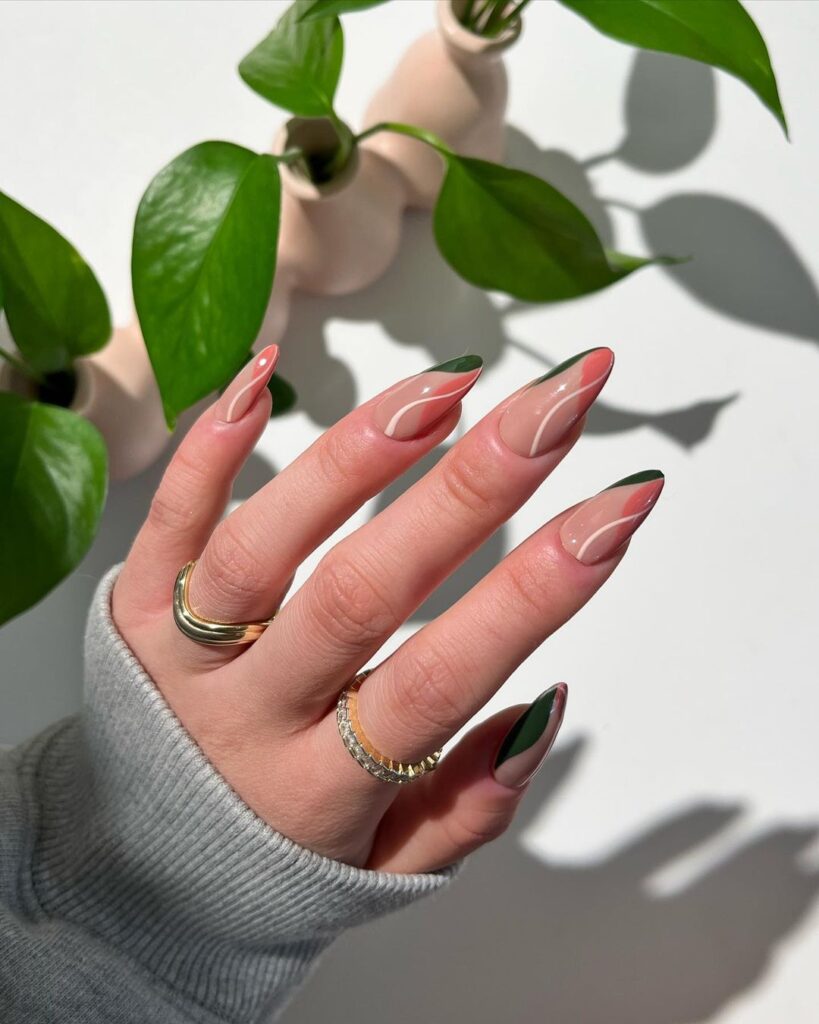 Courtesy: @cleangirlnails
#3 Glitter nude nails are yet another popular trend in this genre. Here, these short nude nail designs are painted in white with a splash of glitter on two nails on each hand for a look that's equal parts glamorous and elegant.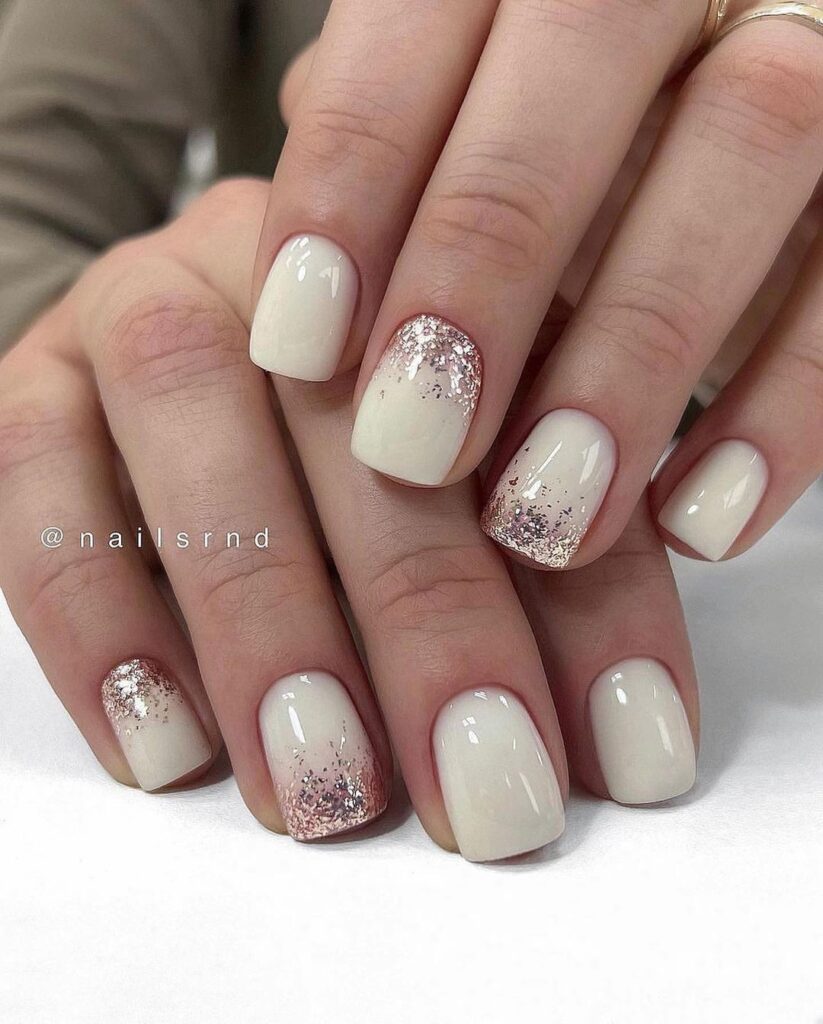 Courtesy: @nogti.best
#4 When short nude nail designs aren't your thing, opt for acrylic nude nails covered in a light pink base and followed by glitter accents for a striking manicure design. When you want long nails, it's best to get them either in acrylics or gels to prevent them from breaking and making the manicure last longer.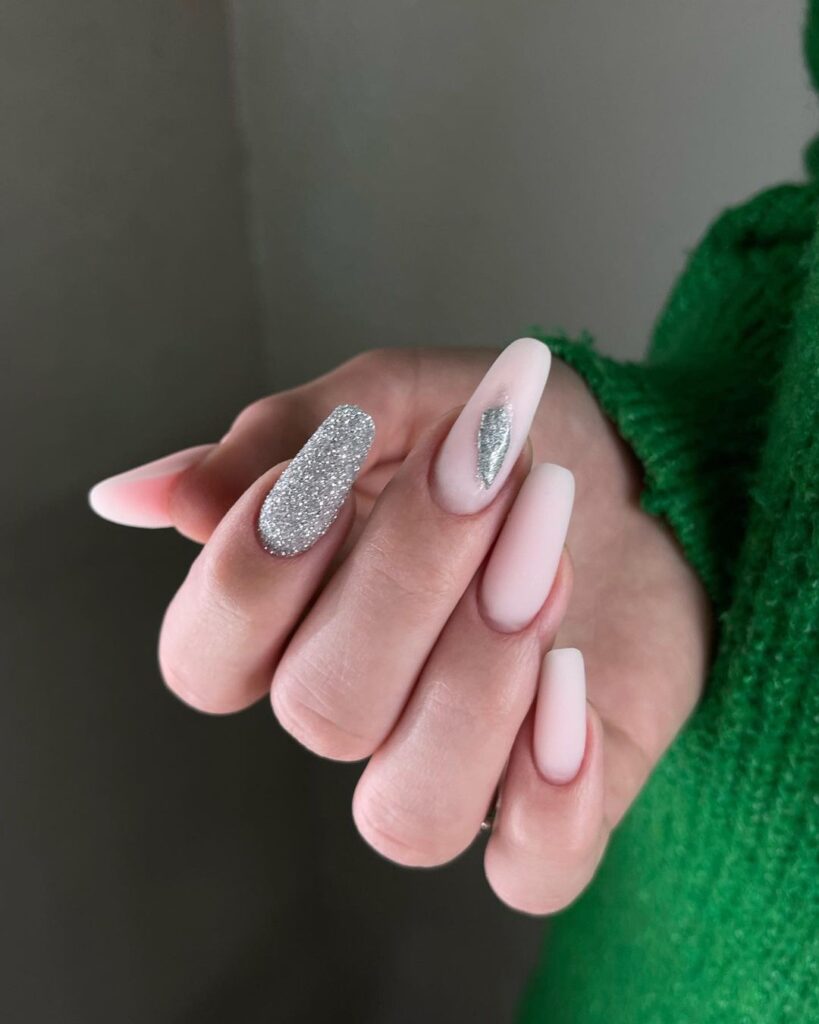 Courtesy: @alexandratipter
#5 These square nude nails are a beauty in themselves! While the nude nails can look demure on their own, add a line of white on the outline for a subtle yet edgy manicure that will look good with any outfit.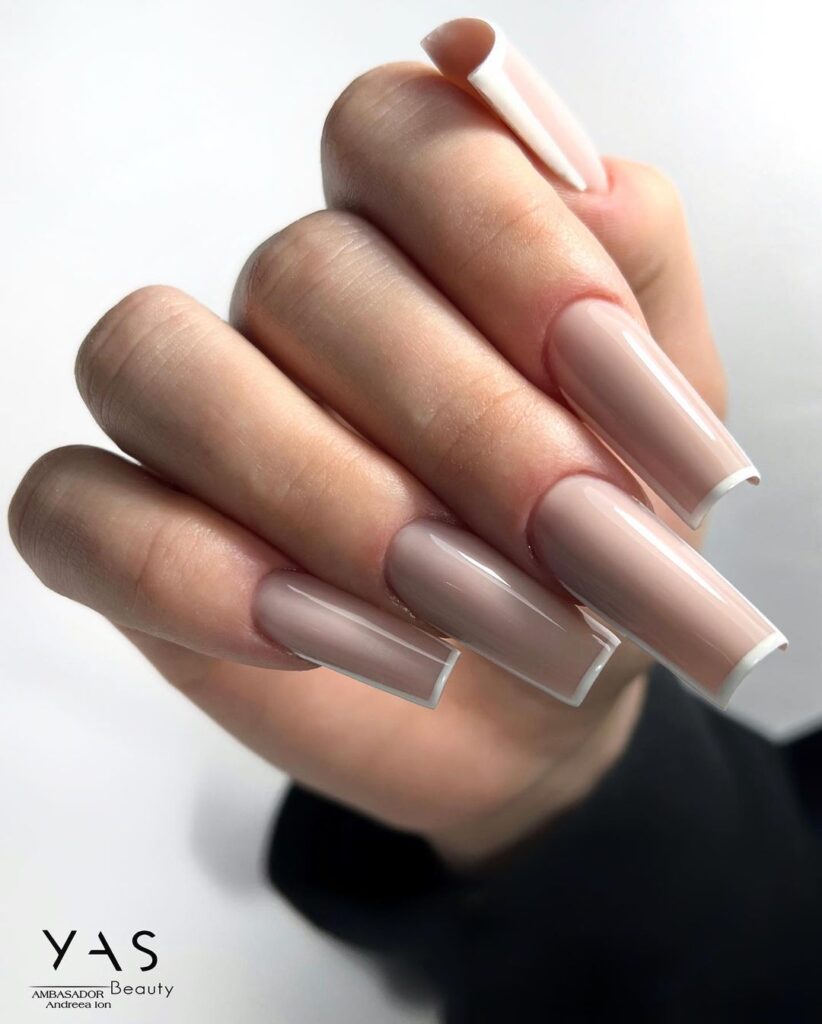 Courtesy: @andreeaion.nailtech
#6 Yet another nude nail designs in almond shape to give you an idea of why this is a favorite combination. Almond nails are known for their sophisticated look and give an impression of longer nails and fingers. The femininity aligns well with the whole idea of nude nail designs, making them a killer combination.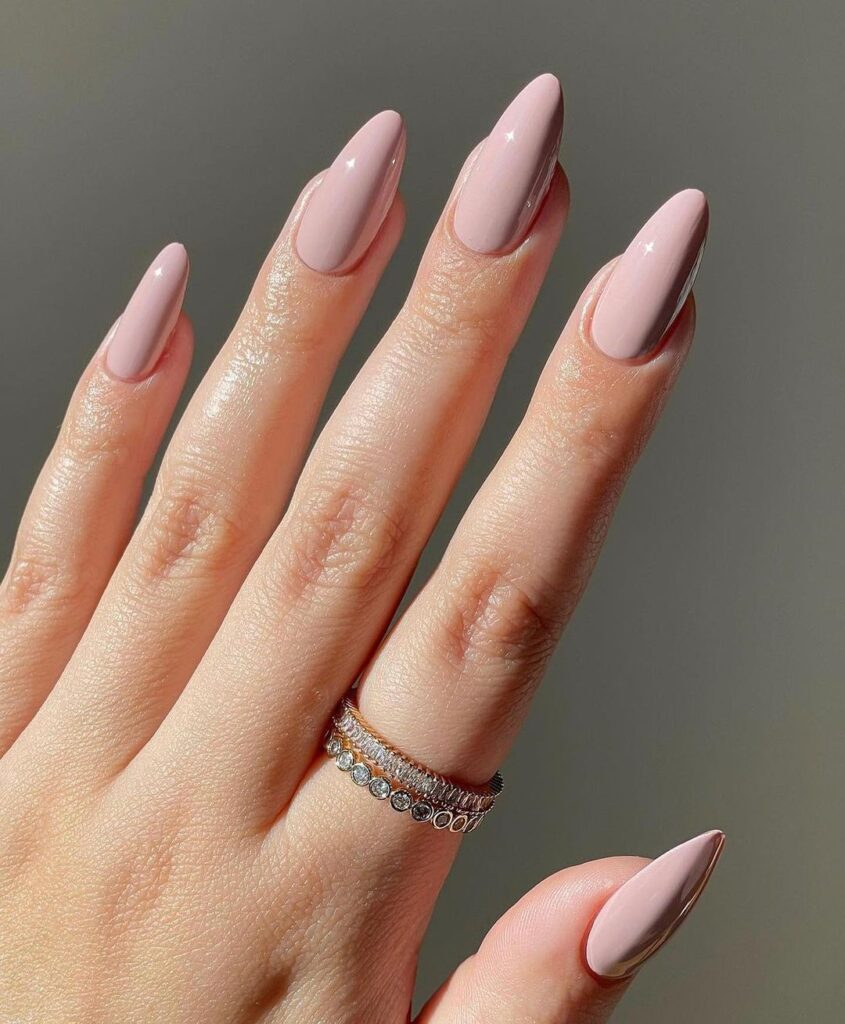 Courtesy: Anahi Victoria
#7 When you want to ooze a romantic and playful style with your nails, heart motifs are great symbols to opt for in your manicure. Here, the nude pink is beautifully engraved with heart motifs, but the motifs will go with other neutral colors as well like brown or gray.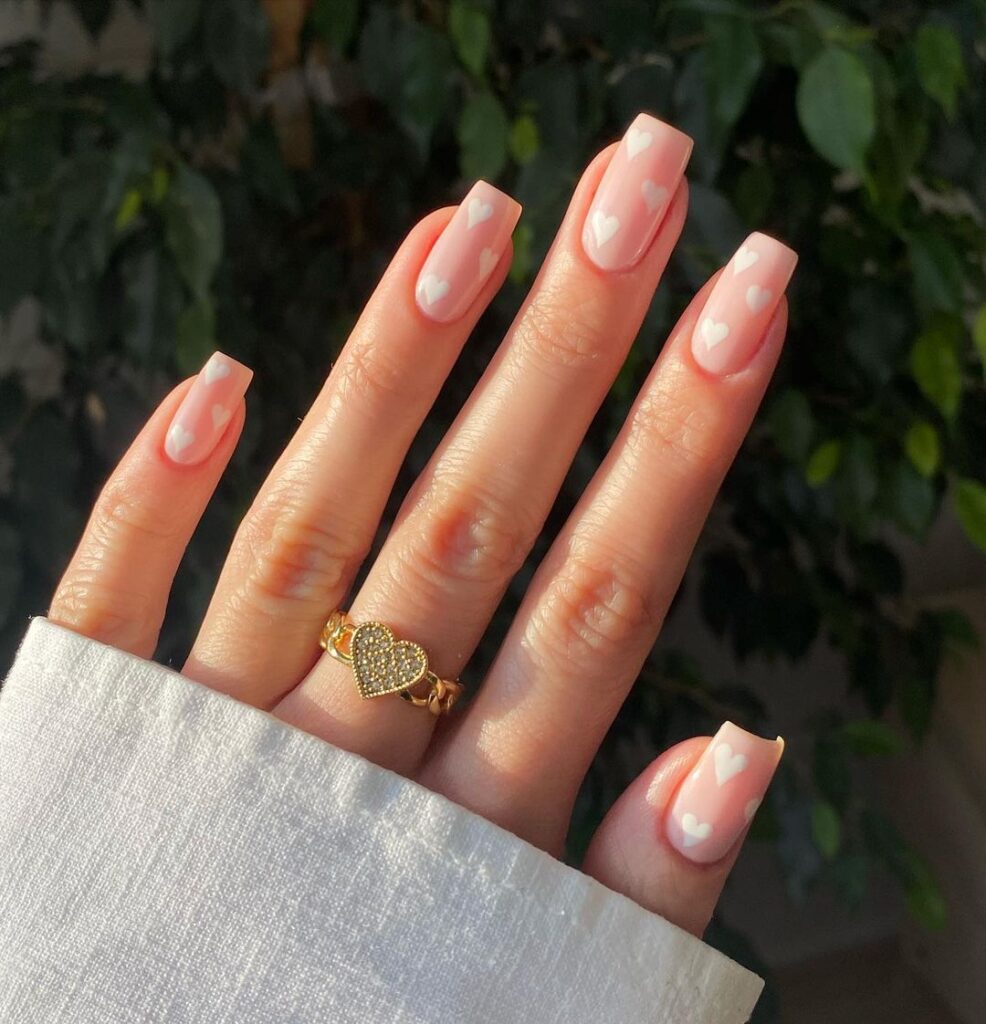 Courtesy: @fs.nailart
#8 These nude nails with black accents define elegance and beauty. The black is added in just the apt way for an artistically-curated nail that will grab attention wherever you go!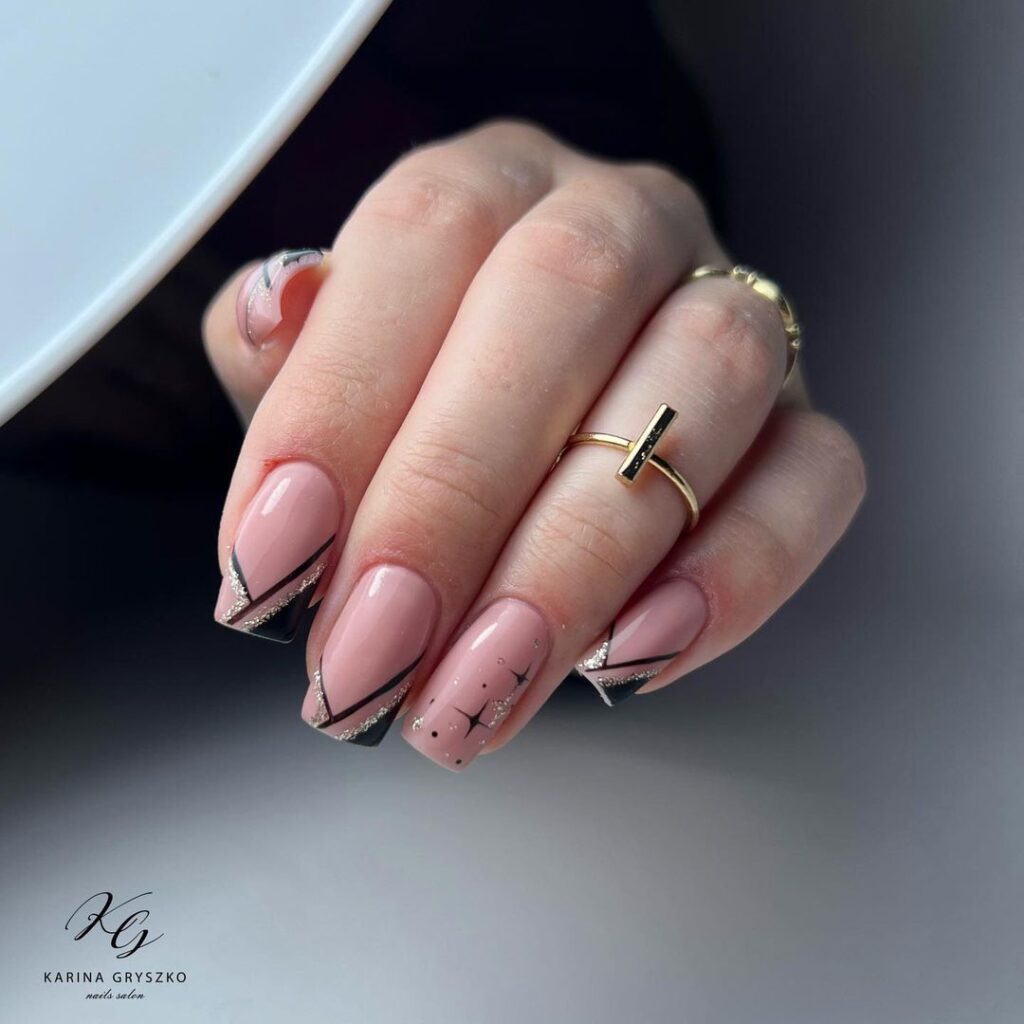 Courtesy: @karina_nails_salon_
#9 What's so amazing about nude nails is that they can be done in subtle shades of many color palettes. From pink to brown to grey, there is a neutral shade for your favorite color. Here, the grey nude nails are portrayed in glistening sunlight. Bedeck your fingers with the statement rings to amp up the appearance of your manicure. 
Courtesy: @ddaily_nails
#10 Shine bright like a diamond with these stunning nude nails adorned with golden foil glitter. Perfect for a night out or a special occasion, these nails will elevate any look. Another variation can be applying the glitter to only one accent nail – can be the ring finger if you just got engaged!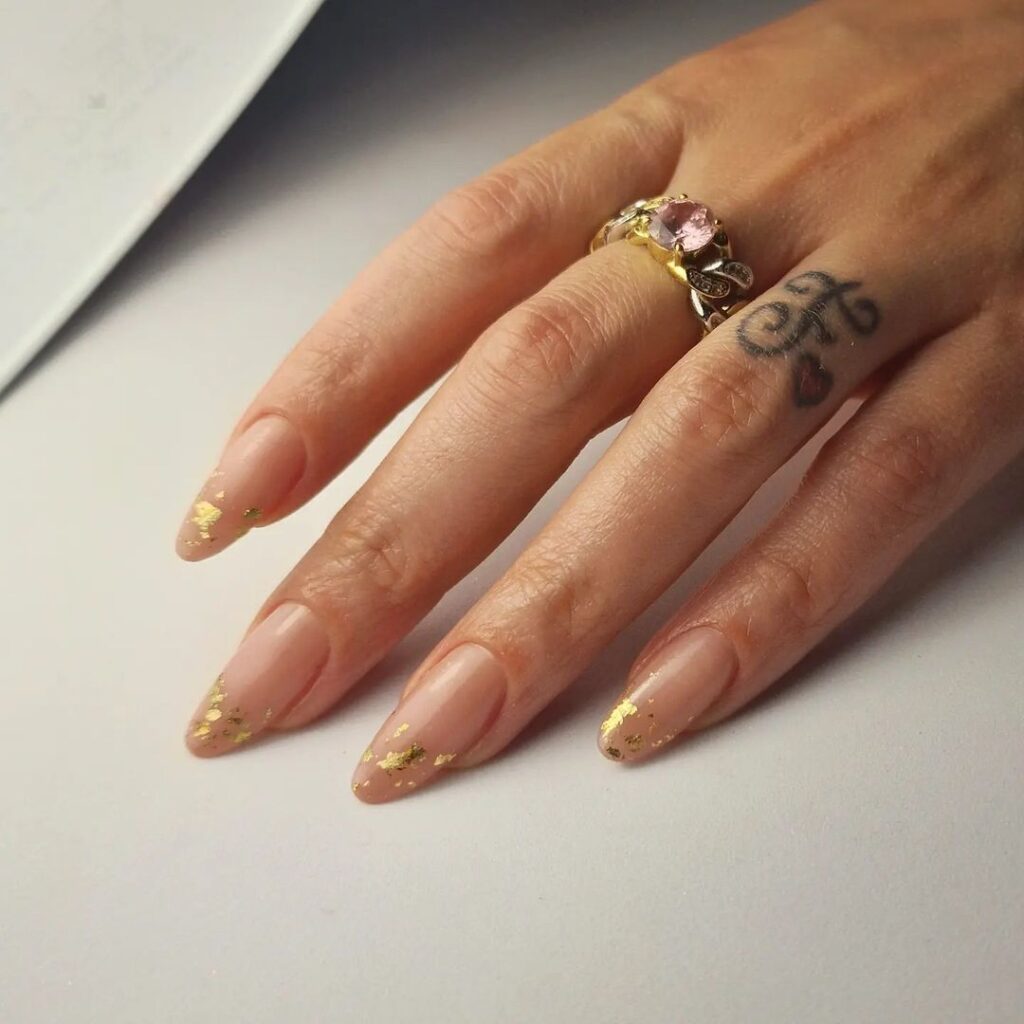 Courtesy: @norina_ponaccio
#11 We're loving the acrylic nude nail designs featured on this list. The next one keeps things simple with the light pink base but adds appeal with white marble swirls on the inside. Marble nails are popular, and can be created in any one of your chosen manicures. This style is considered modish and can add a trendy attribute to your nude nails.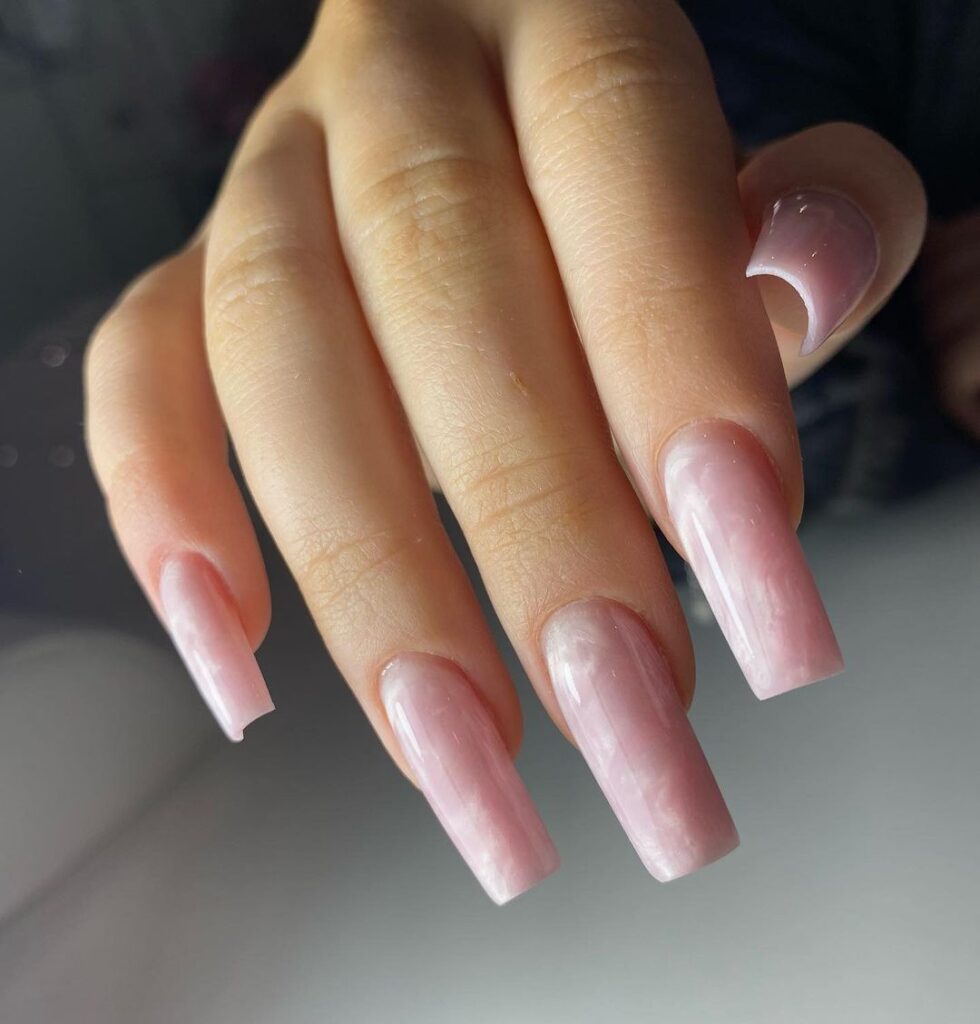 Courtesy: @dominika_wazna
#12 A surefire way to add some personality to your basic nude nails is to make the accent nail ooze with creativity and artistic expression. The same idea is applied here to give you a spectacular manicure design. For creative looks like this, it's best you trust only an expert artist for recreating.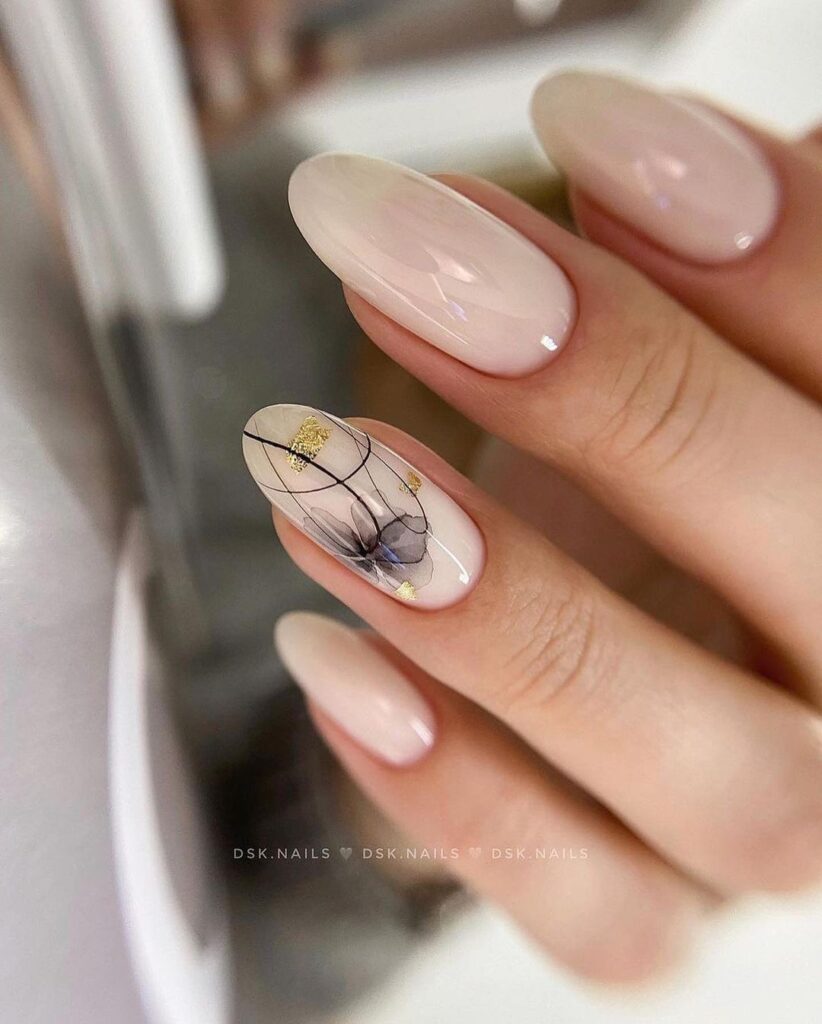 Courtesy: @dsk.nails
#13 Short nude nail designs are often our favorite, especially because they can also be DIY-ed at home. For the next one, all you need is a neutral shade, a subtle glitter coat, a top coat, and nail stickers. Start by shaping and buffing your nails and then apply your favorite neutral nail paint. Follow it with a glitter coat and let it dry. Next, apply the stickers (you can also draw the symbols if you are confident) and cover it all with a top coat to finish.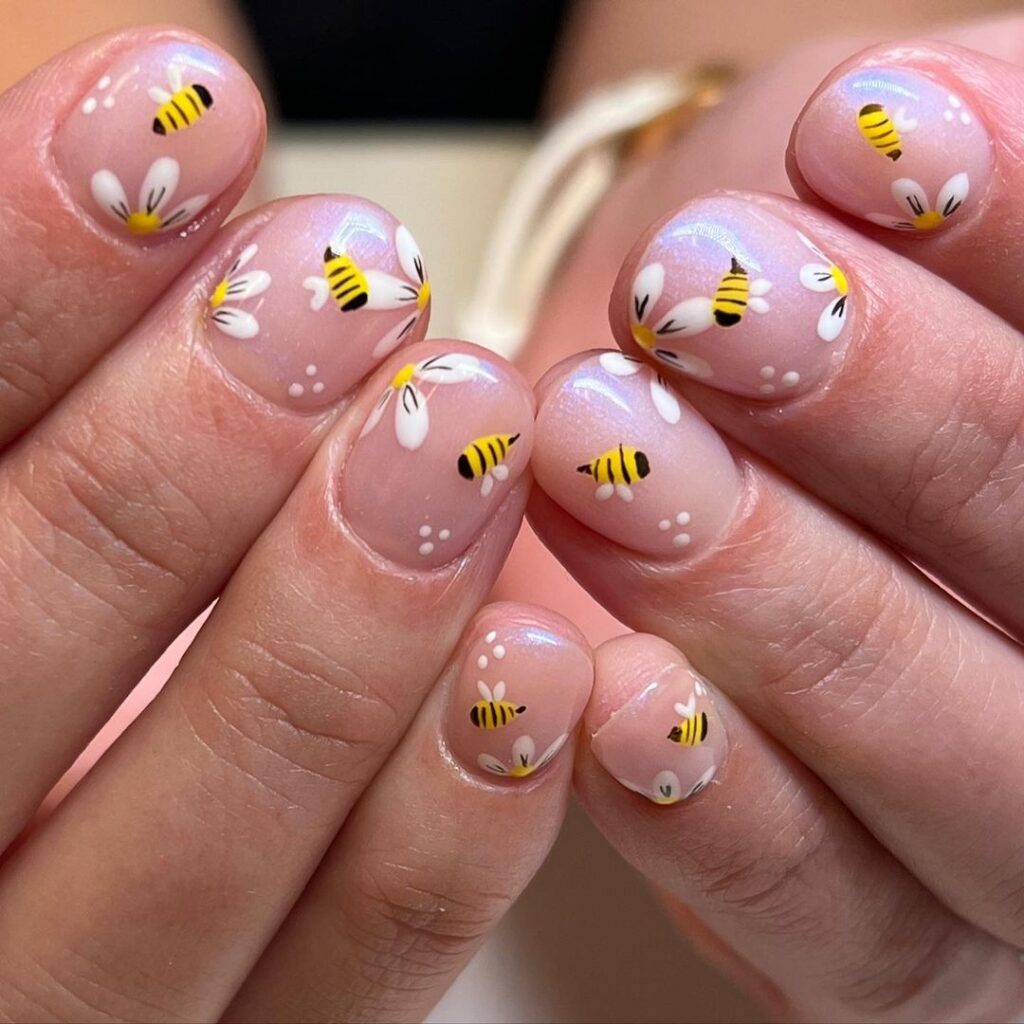 Courtesy: @emmadoesnails
#14 There's utter beauty in simplicity. We love how these short square nails are bedecked with a golden heart for a smooth finish. Placing them in a random order is what gives this design an edgy look different from others.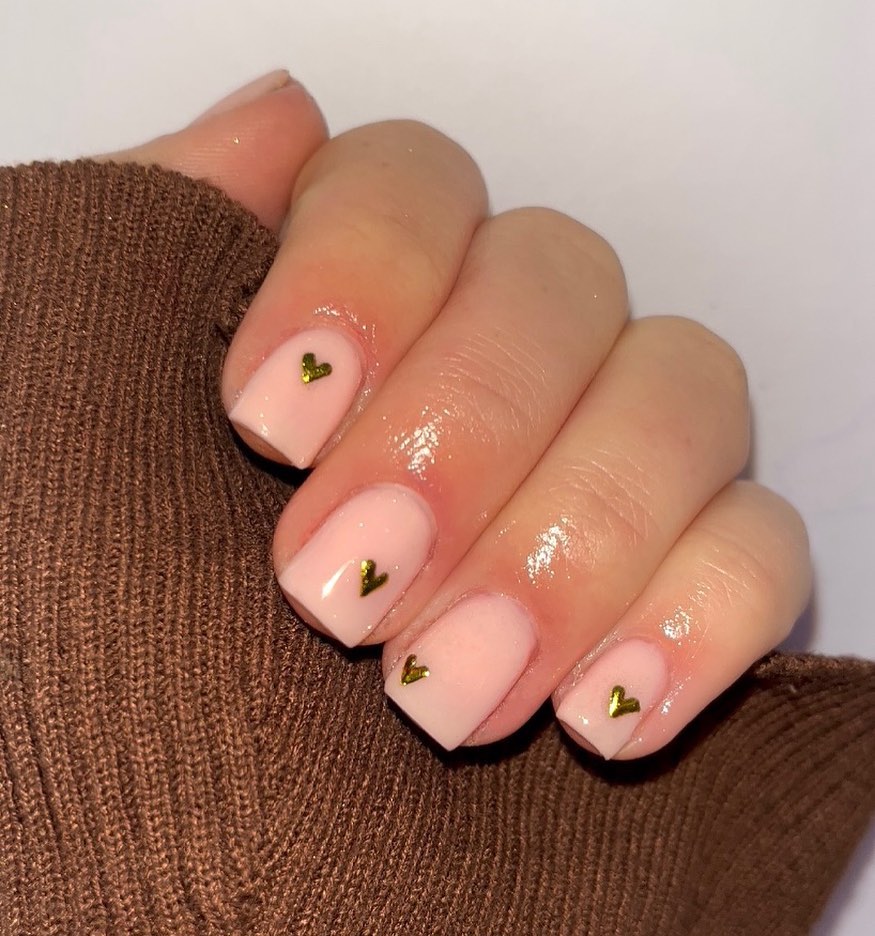 Courtesy: @nailsbycarriex
#15 The next of the nude nail design 2023 is done in a sweater nails pattern, wherein the nail design mimics the look of knit or woven fabric, typically with a textured or raised pattern. Sweater nails are a popular winter-time trend, as they evoke feelings of warmth and coziness.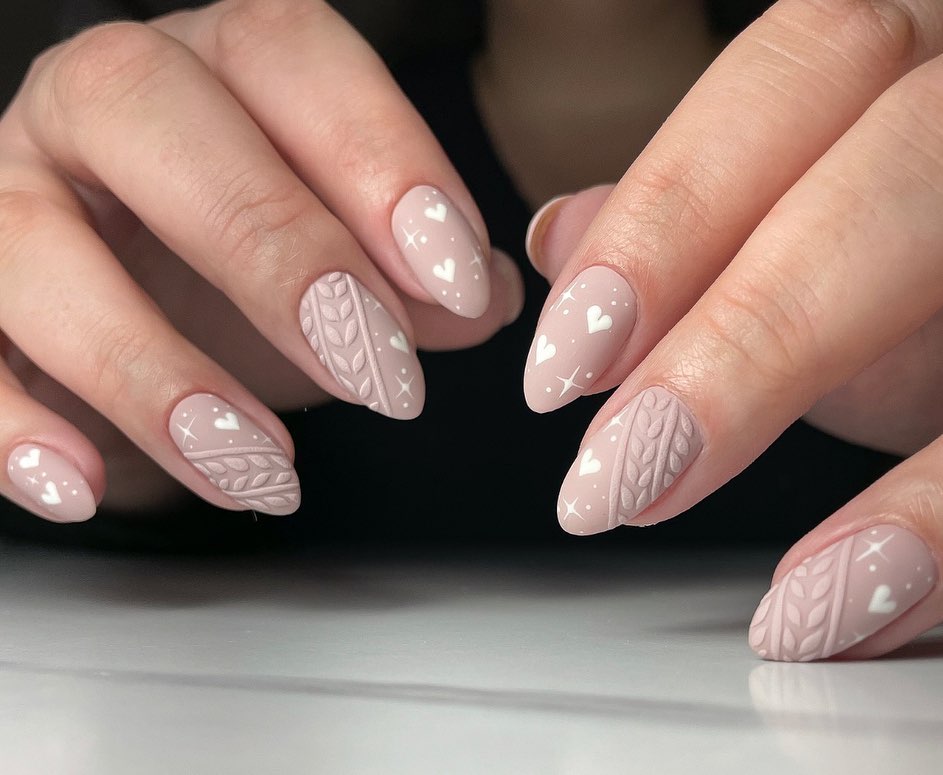 Courtesy: @topcoat_tonic
#16 These starry nude nail design is mixed with purple here & there for a charming manicure design. Since this involves swaying, random lines, you can also DIY the design at home, and for stars and polka dots, you can trust stickers to make the recreating easier for you!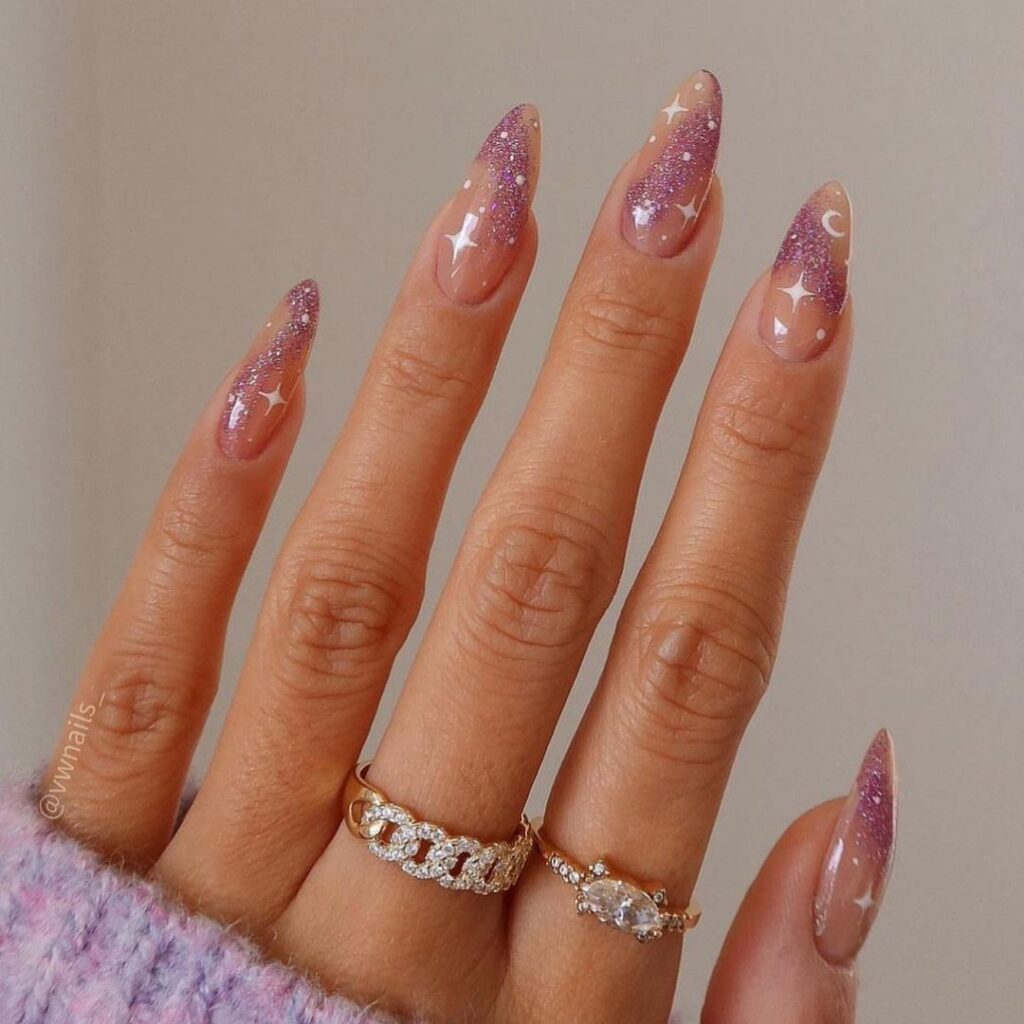 Courtesy: @betterwithjew
#17 When you just can't decide what neutral color to opt for, choose a combination of different ones on each nail and the result, as you can see, is just impressive. For someone who is a fan of nude color nail designs, finding 5 shades in their vanity won't be a task!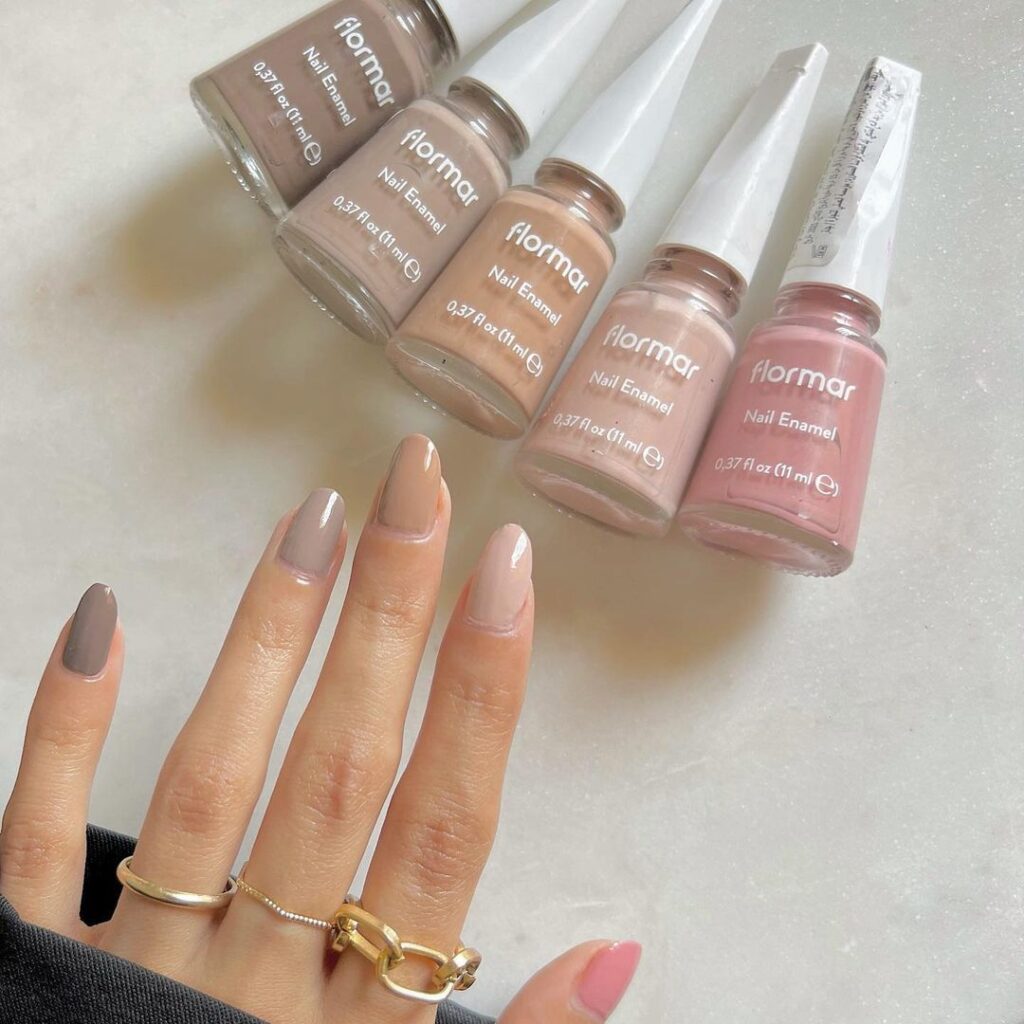 Courtesy: @tahani.tn
#18 The next nude nails design combines the elegance of neutral colors with the charm of galaxy nails. Galaxy nails are a popular nail art design that features a space-themed look, with colors and patterns reminiscent of stars, planets, and galaxies. They are often considered to be edgy, unique, and eye-catching, and can be a great combination to pair with your classy nude nails.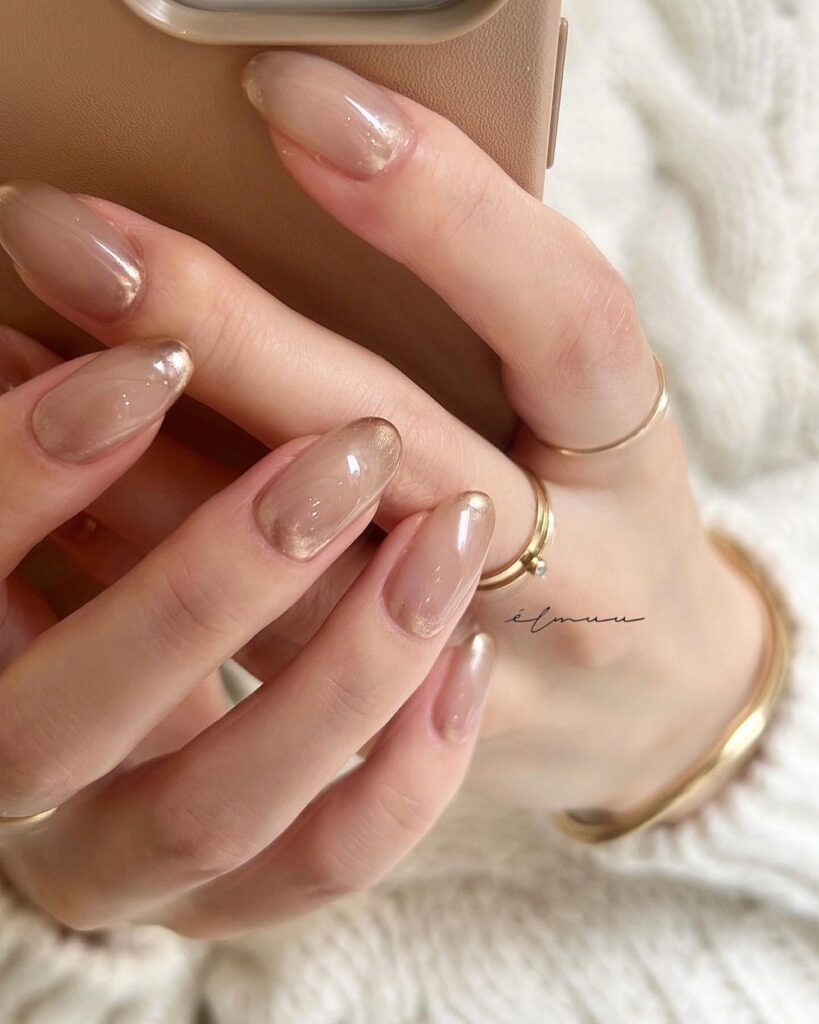 Courtesy: @elmu_official_
#19 Pink is one of the most-opted nude nail colors. To amp up the beauty of the manicure, silver glitter is used as swirl lines on one of the accent nails. You can create these tidy lines using white tape if you're DIY-ing this manicure art at home.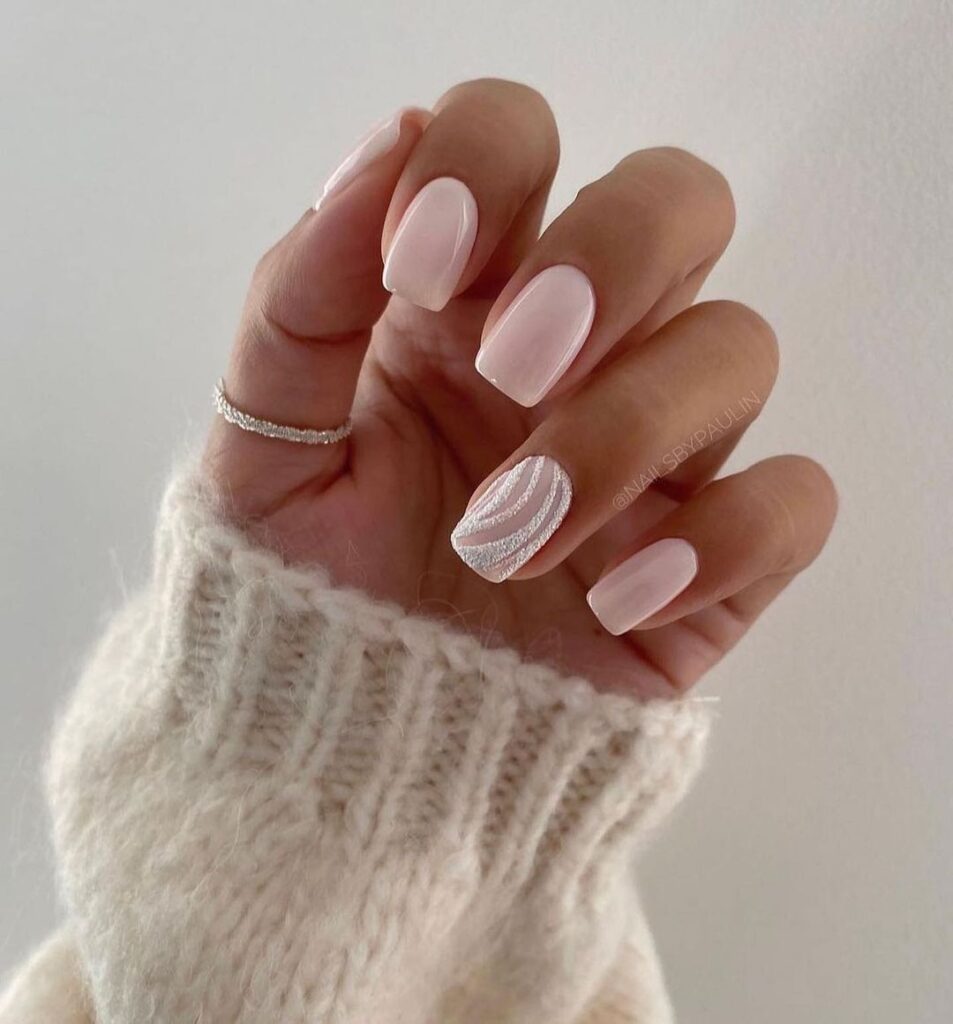 Courtesy: @nailsbypaulin
#20 These short nude nails are just gorgeous! With white nail polish as the base, and golden foil glitter randomly placed to bedeck the design, we're loving the subtle artistic appeal of this manicure. The leaf motif is optional, but when you're looking to add some distinctive touch, it's a great addition for sure!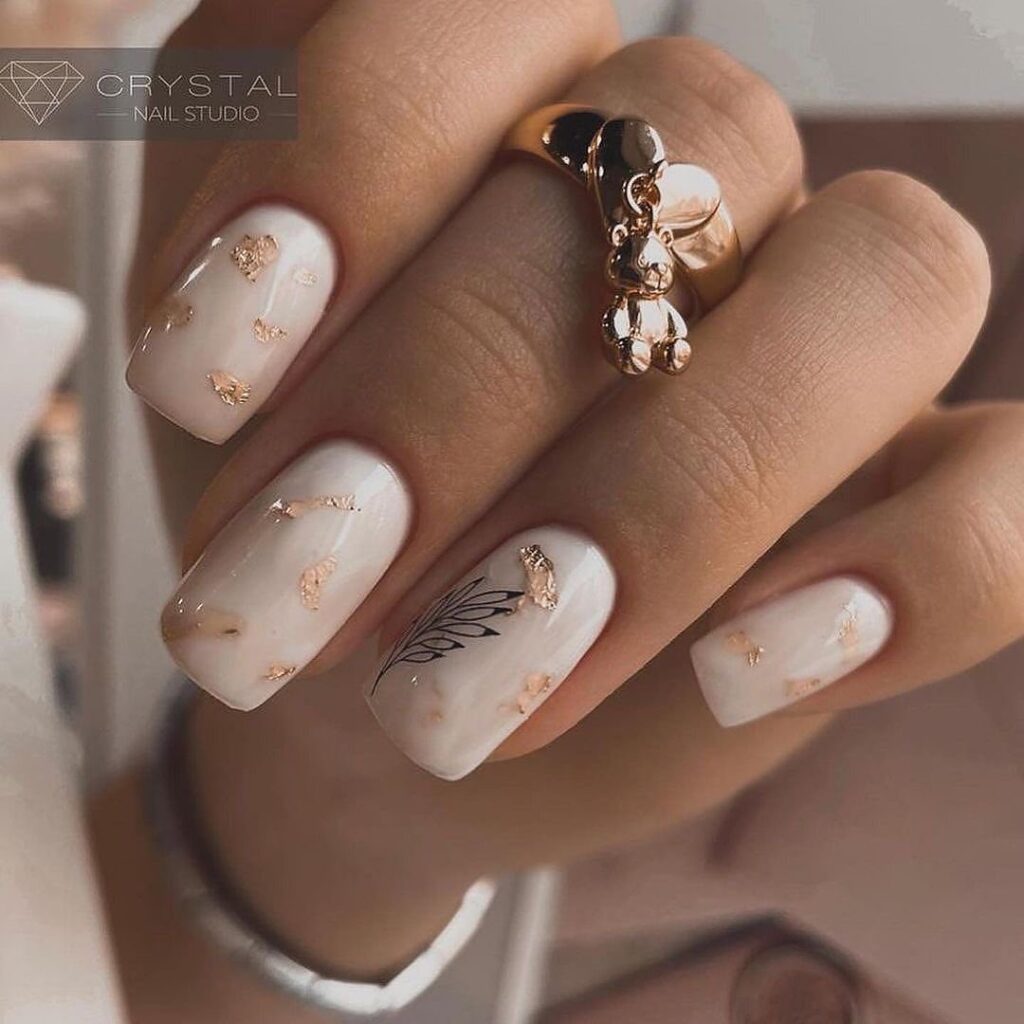 Courtesy: @nogti_krasota1
#21 Nude never looked so good! These timeless and sophisticated pink nude nails are the perfect way to add a touch of elegance to your everyday look. Not to forget how easy they're to recreate at home. Just remember to add a gloss coat for a smooth finish.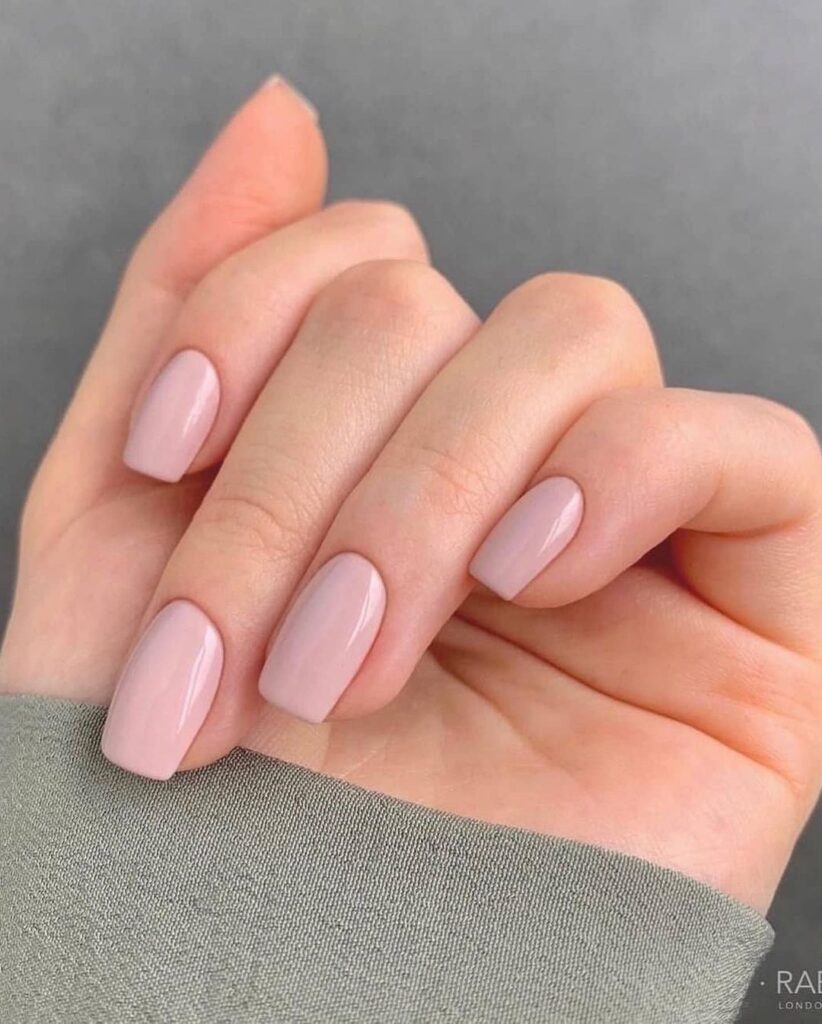 Courtesy: Pinterest
#22 We fell in love with these nude nails the minute we saw them! The pinkish nude color is complemented with ombre purple shades, but the cherry-on-the-top are the compact black lines on the accent nail, which just makes the design distinctive and eye-catching.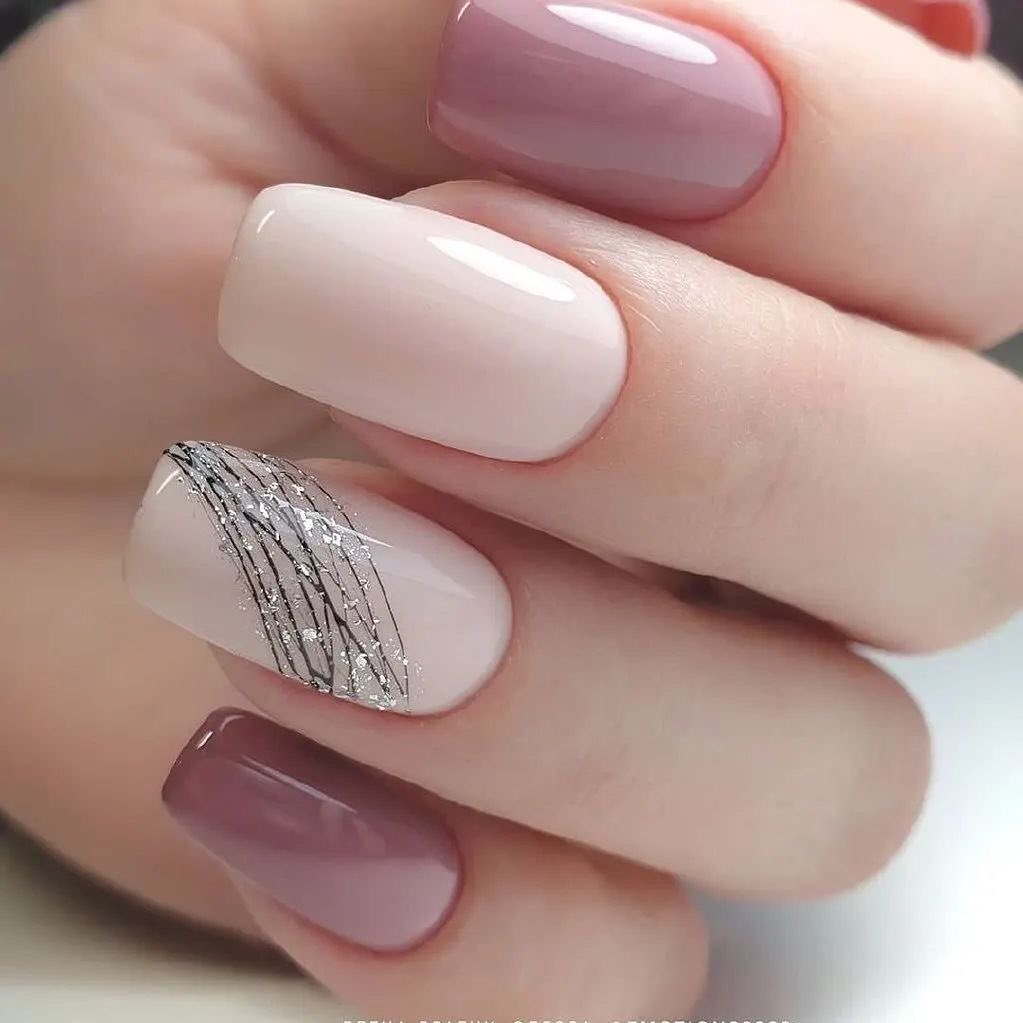 Courtesy: Pinterest
#23 Why opt for one nude color when you can for multiple shades for your mani? Here, the brown color is used in an ombre pattern, with the lighter to darker-transition happening with each nail. The glistening gloss coat on top makes the design quite gorgeous!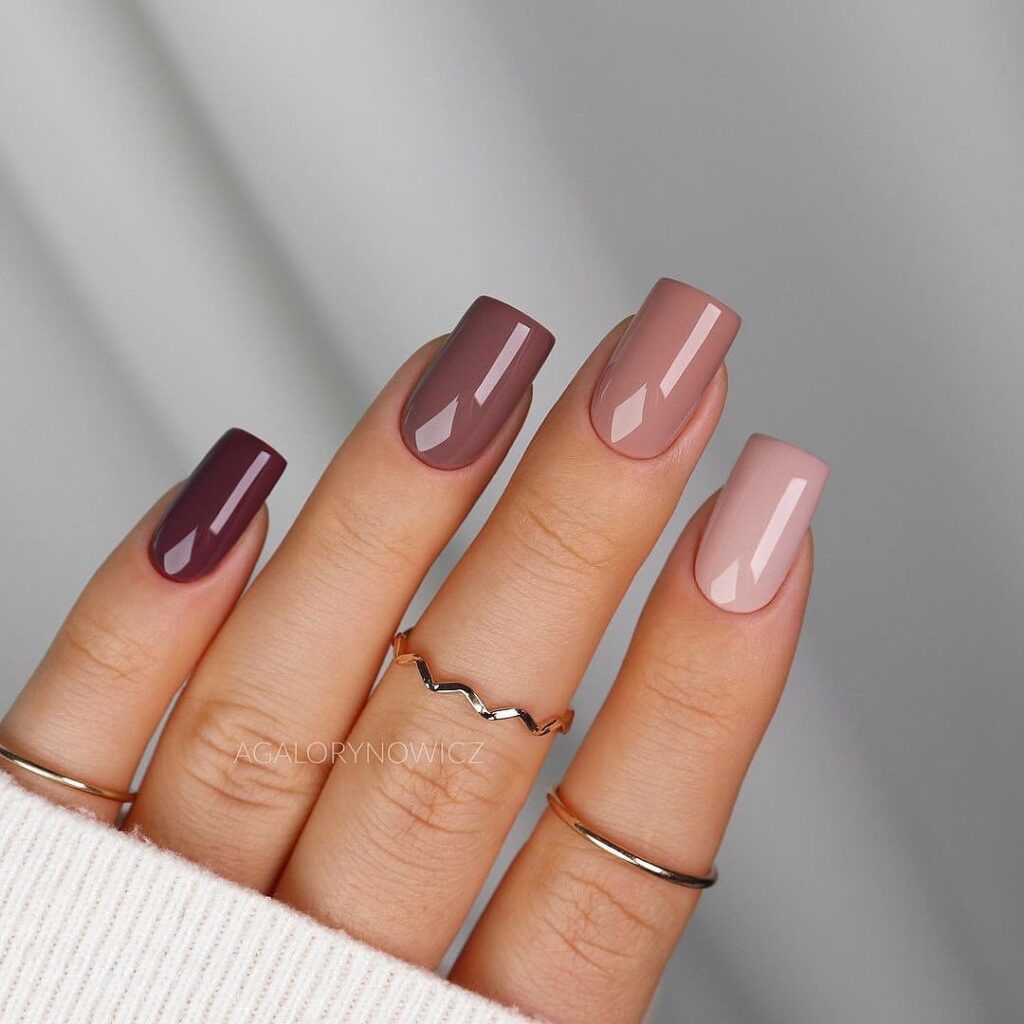 Courtesy: @agalorynowicz
#24 This nude and white nail design features an abstract pattern on accent nails for a winsome appeal. Abstract nails are a type of nail design that features bold, non-representational patterns and shapes. They are a popular choice for those who want to express their creativity and individuality through their nail art.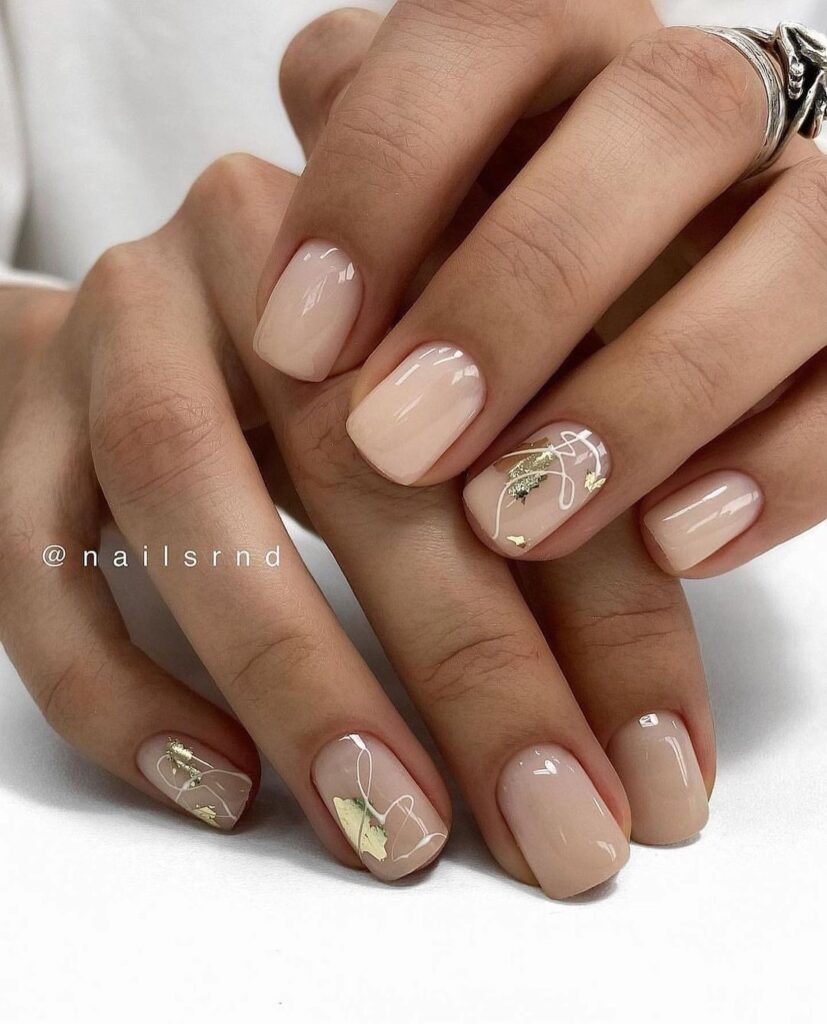 Courtesy: @nailsrnd
#25 These nude nails with gold swirl line art on each nail looks elegant and exquisite. If you're blessed with strong nails, you can DIY the design. But when you want your manicure to last longer, it's advisable to get them done professionally.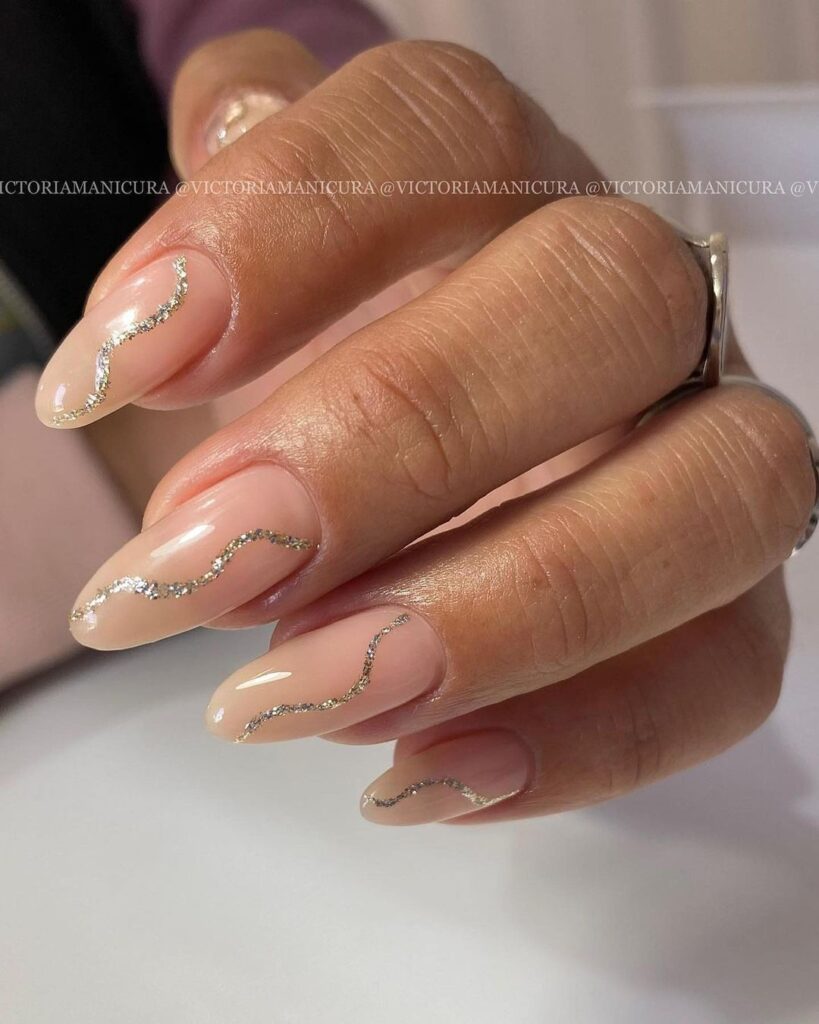 Courtesy: @victoriamanicura
#26 The next manicure is done in the same pattern but instead of a nudish pink color, a white shade is used as the base to recreate the look. And instead of golden glitter, silver glitter polish is used for the accent.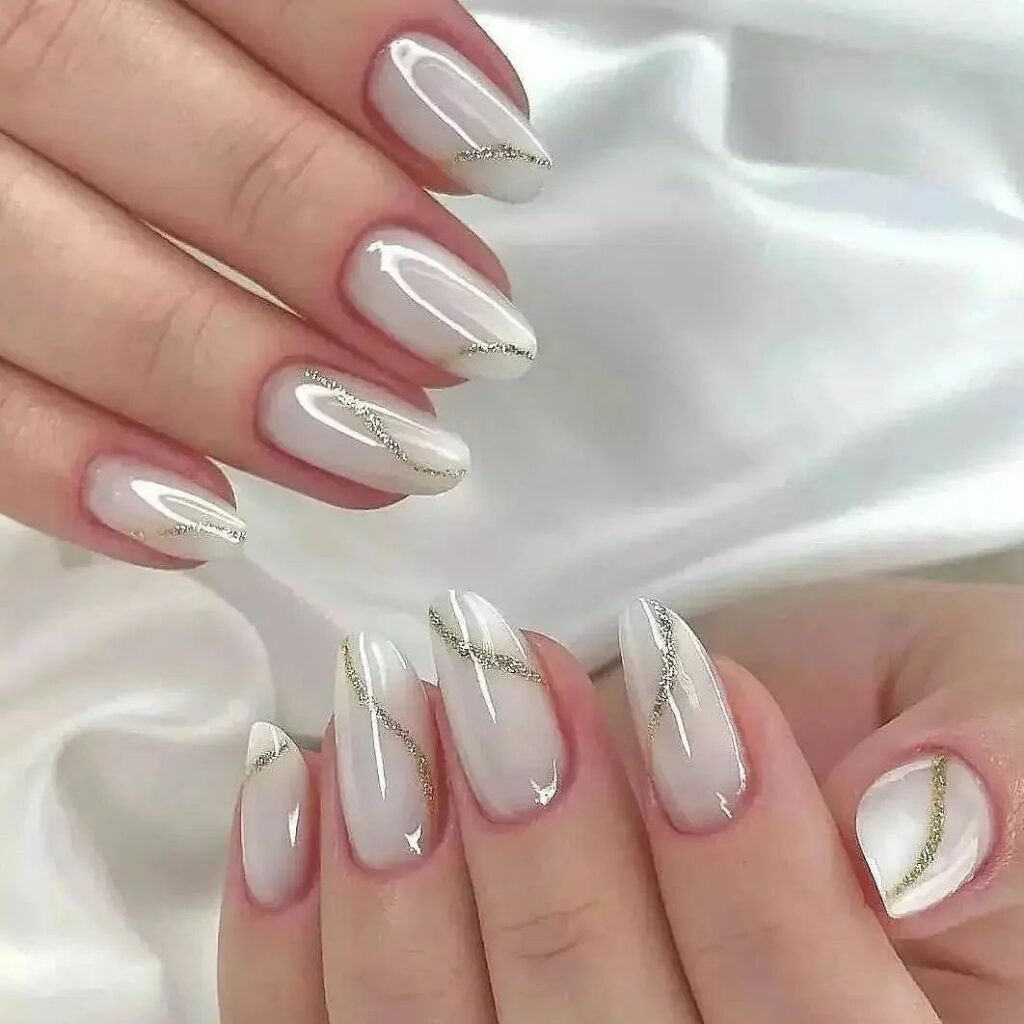 Courtesy: Pinterest
#27 Nude nails with glitter and studs is a fun and fashionable nail design that combines classic elegance with a touch of edge. The neutral, flesh-toned base provides a clean canvas for glitter and stud accents, which can add sparkle and shine to the nails. The studs can be placed in a variety of patterns and arrangements for a customized look. This style is a great choice for those who want to add some personality and glamour to their nails, and it can be dressed up or down depending on the occasion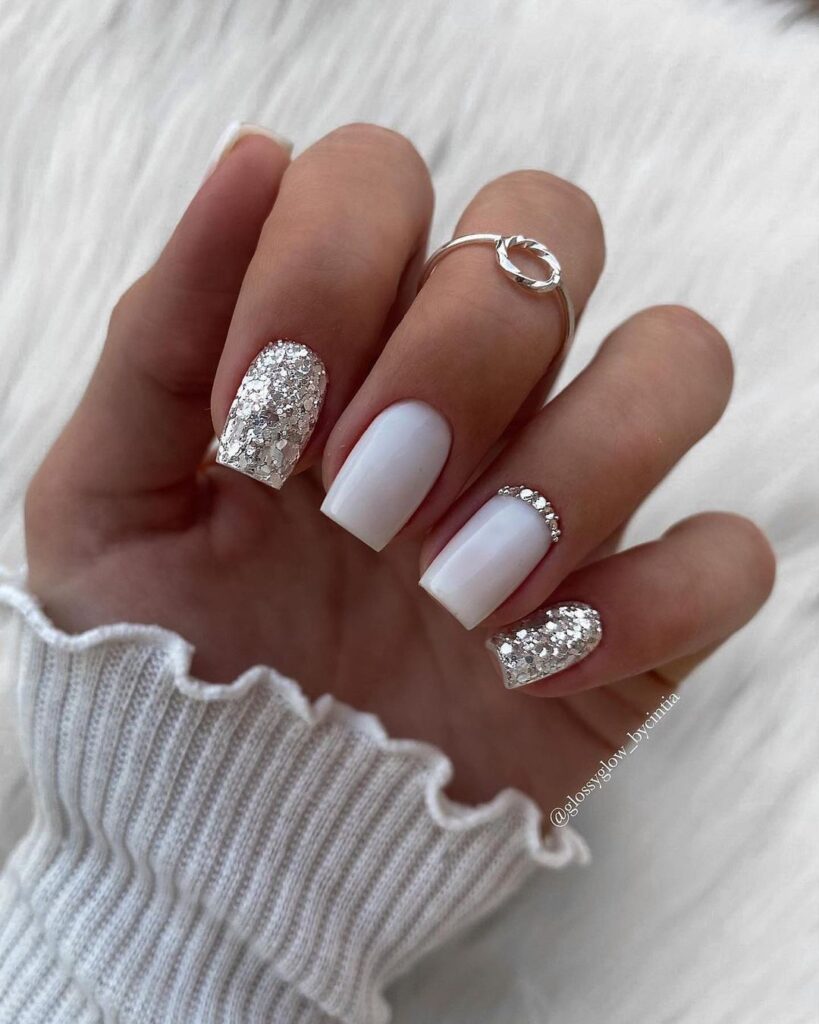 Courtesy: @glossyglow_bycintia
#28 Nude nails with glitter are quite popular, mainly because they create a visually-appealing contrast. The addition of glitter to nude nails creates a look that is both classic and modern and can help to enhance the overall style and appearance of the nails.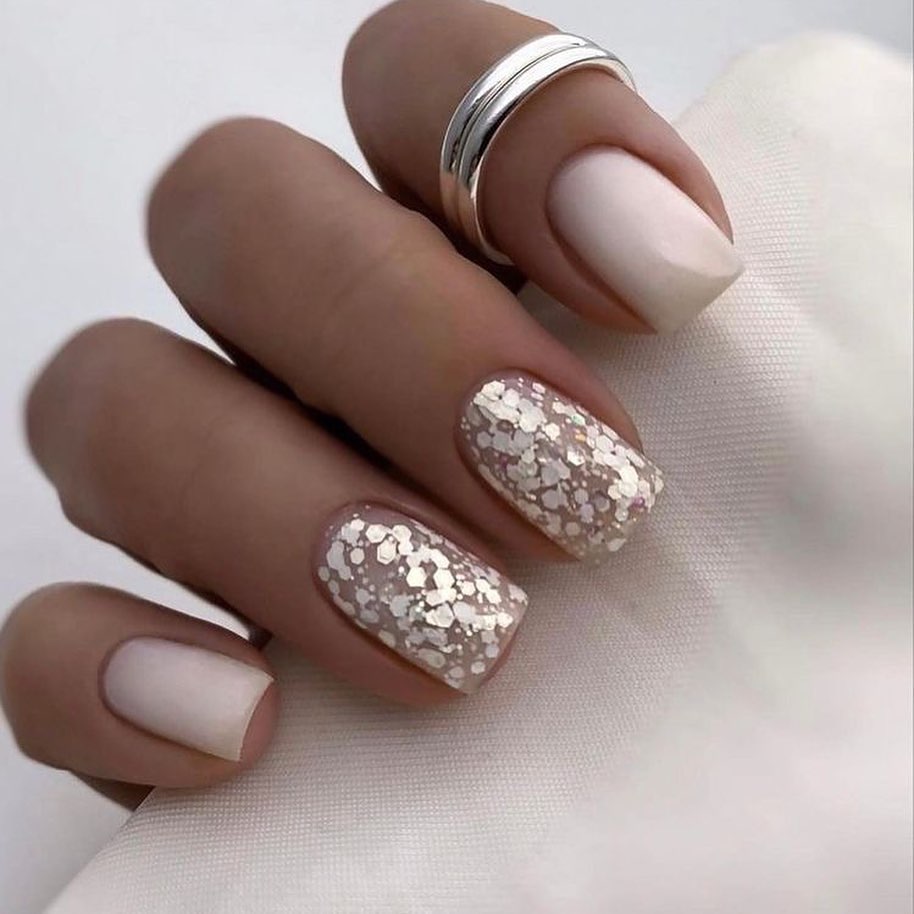 Courtesy: Pinterest
#29 These nude nails with gloss coats feature an accent nail coated in glitter for an iridescent appeal. You can also try this design with any of your favorite nude nail colors like brown or gray. Do add a gloss coat on top for a glimmering finish.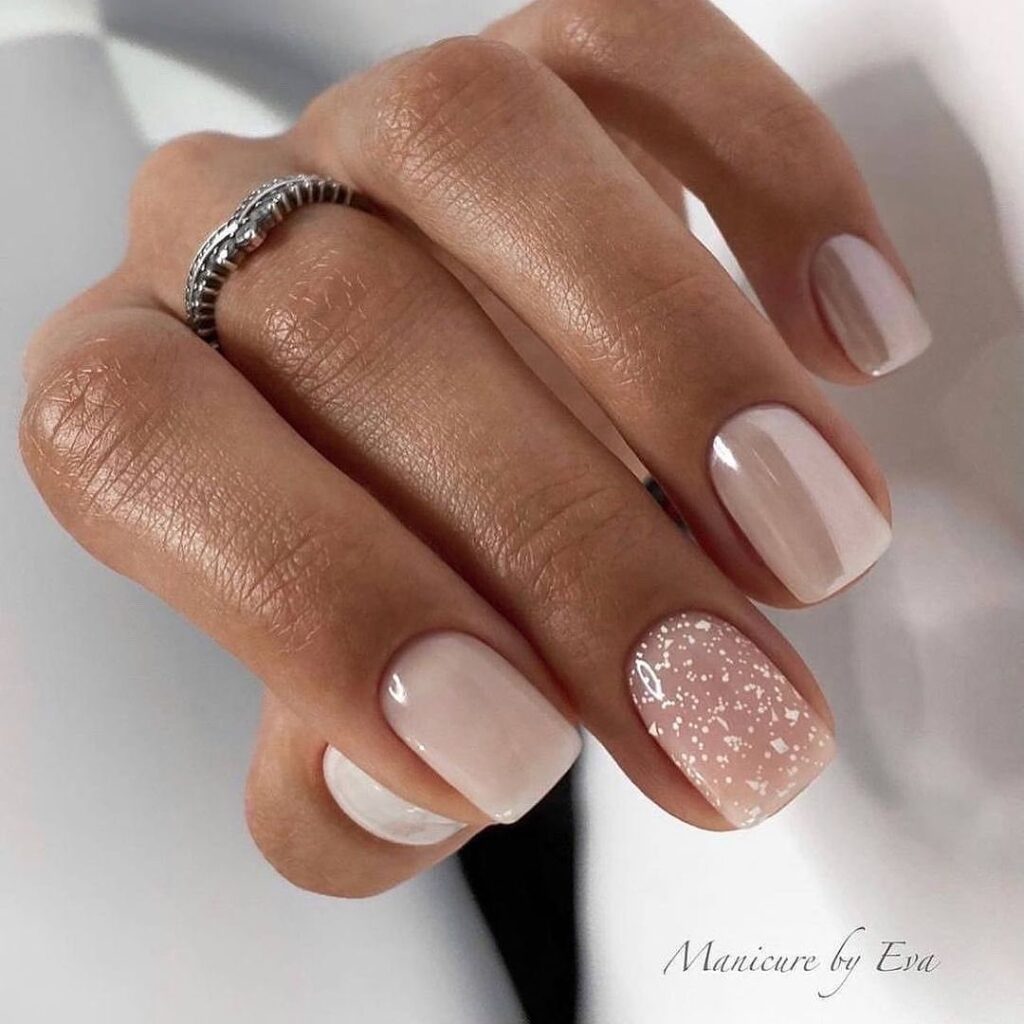 Courtesy: Manicure by Eva
#30 We love how simple yet elegant these short nude nails look! If you want to be convinced further of their sophistication, these short light pink nails are often sported by Kate Middleton, and her style is surely one of the most elegant and discerning in the world.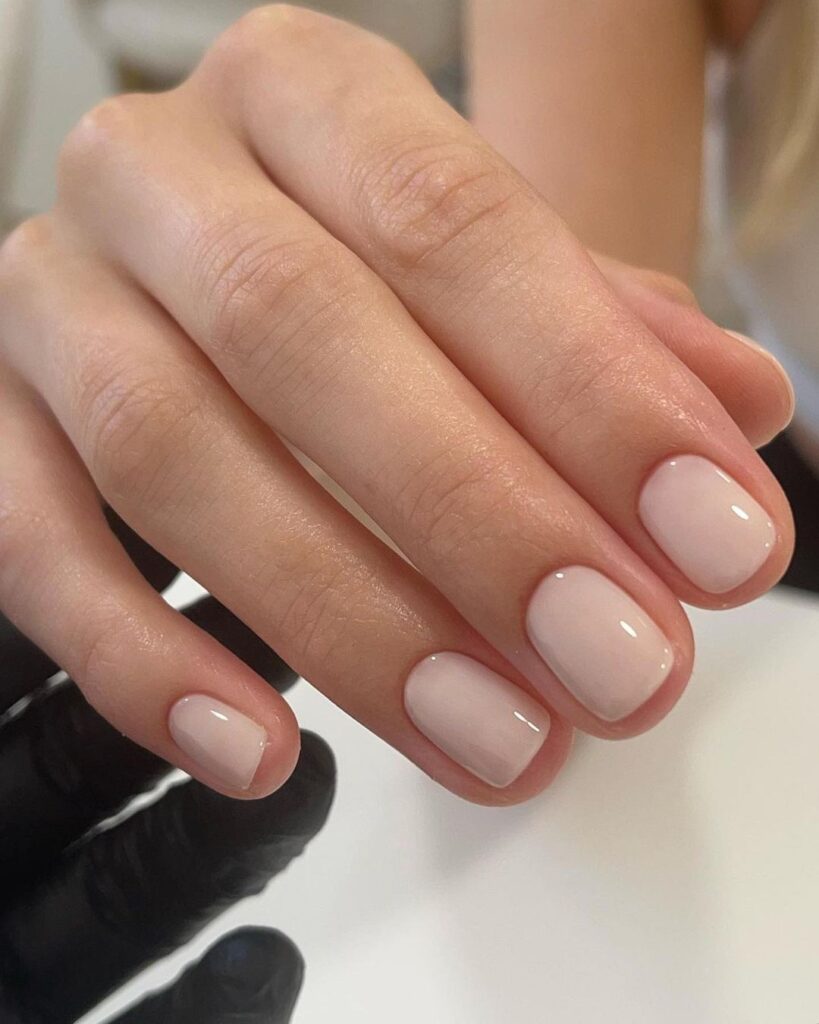 Courtesy: Pinterest
#31 Black and nude nail designs are a popular combination and rightfully so! The neutral palette gives the perfect base for the bold and dramatic accents of black color, creating a chic and modern look. This style can be achieved in a variety of ways, such as with black stripes or polka dots, negative space designs, or with black and nude glitter or metallic accents. Black and nude nail designs are versatile and can be dressed up or down depending on the occasion, making them a popular choice for many different styles and moods.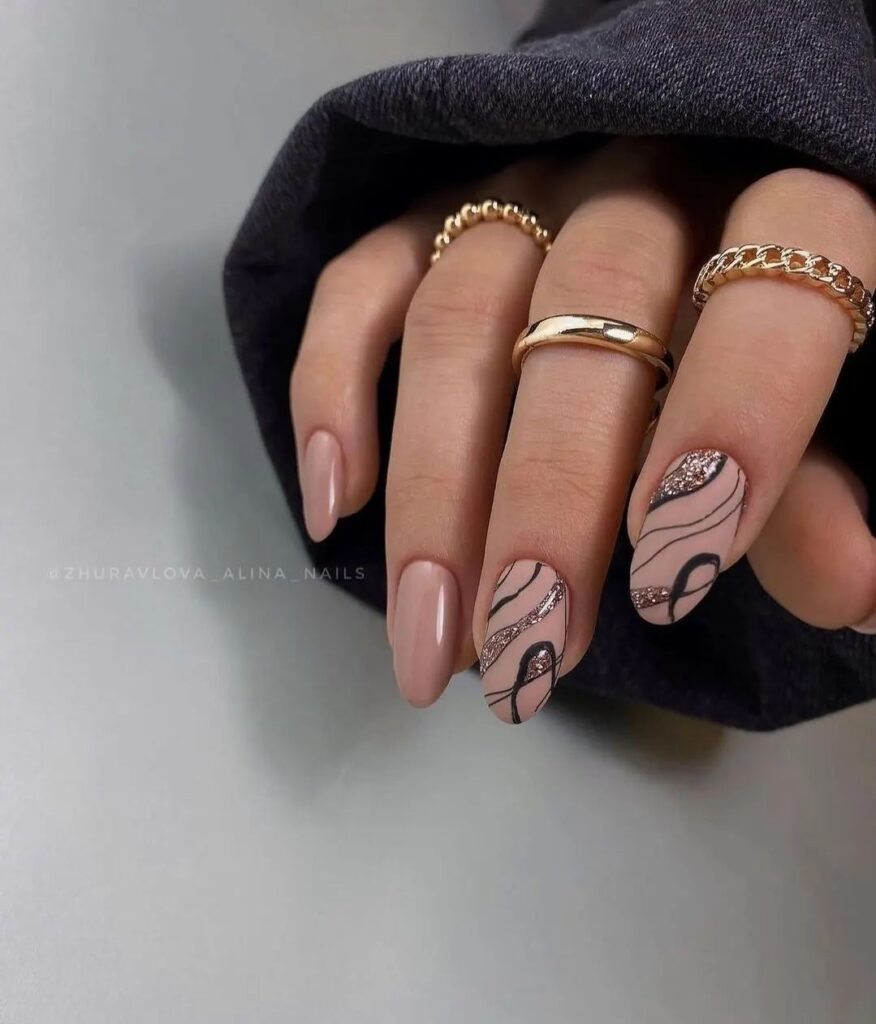 Courtesy: @nogti_krasota
#32 You can create a stylish nude manicure with a gray coat embellished with studs. To make sure the studs stay on your manicure, it's important to use glue that makes the studs adhere better and longer. Note: If you're having trouble with the studs falling off, try using a thicker topcoat or allowing the glue to dry for longer before adding the topcoat.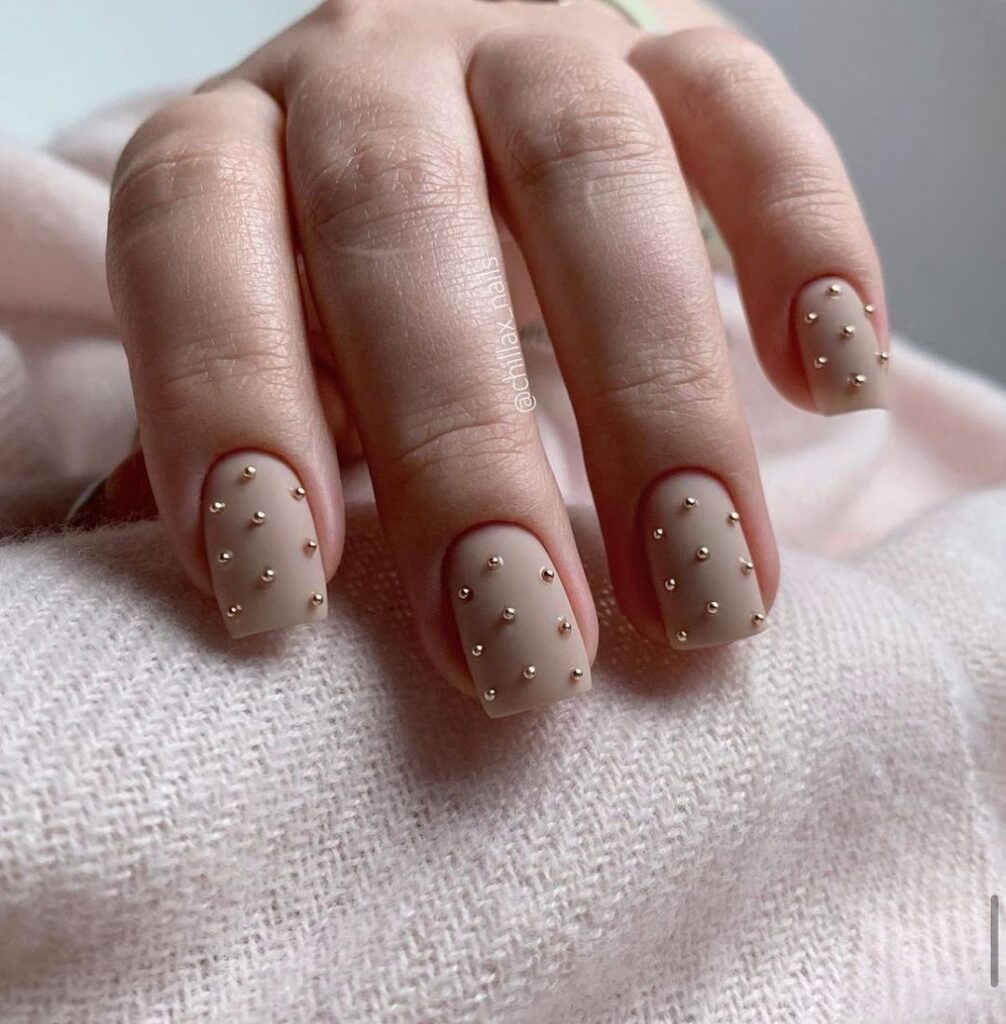 Courtesy: @chillax_nails
#33 The next nude nails are coated in white and are elevated by studs and zebra stripe with a short saying on the top. This manicure idea will also look good with other nail shapes, especially when you're looking for ideas for coffin nude nails.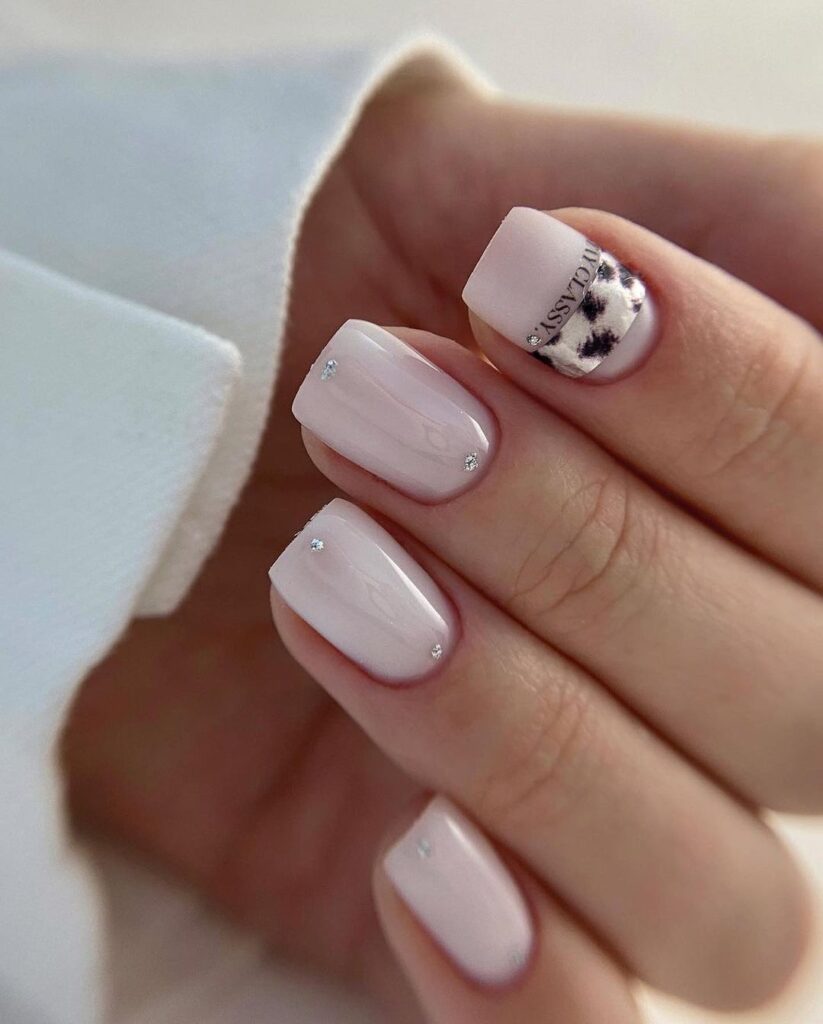 Courtesy: @nogtibest
#34 When you're a neutral color fanatic, express your passion with the many shades of nude nail colors lying on your vanity. Just pick one for each nail and you have a gorgeous manicure ready for your next event!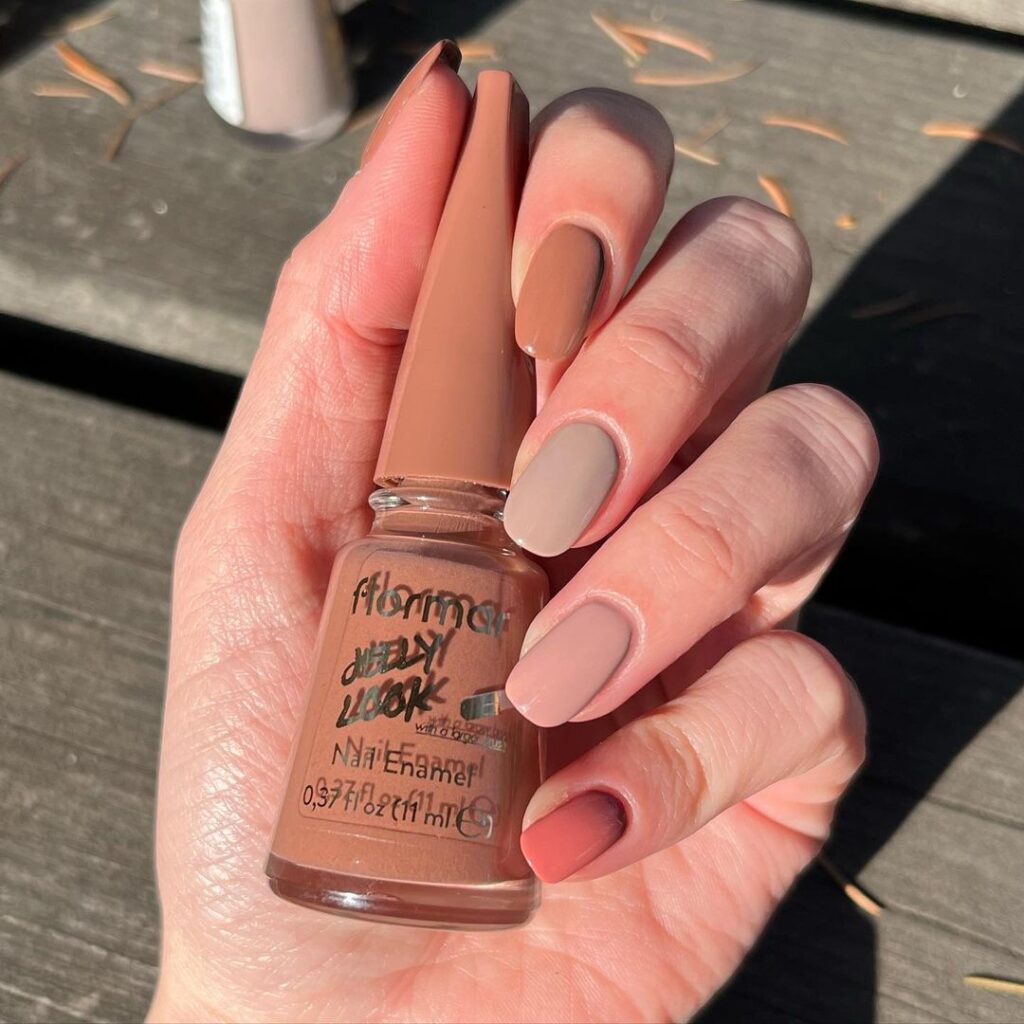 Courtesy: Flormar Turkiye
#35 We're loving nude nail designs coated in a gloss finish to give you a lovely manicure with no extra effort. If gloss coats aren't your thing, even a matte coat will do the job! That's the thing about nude nail ideas, they look good with almost anything and everything you have in your mind.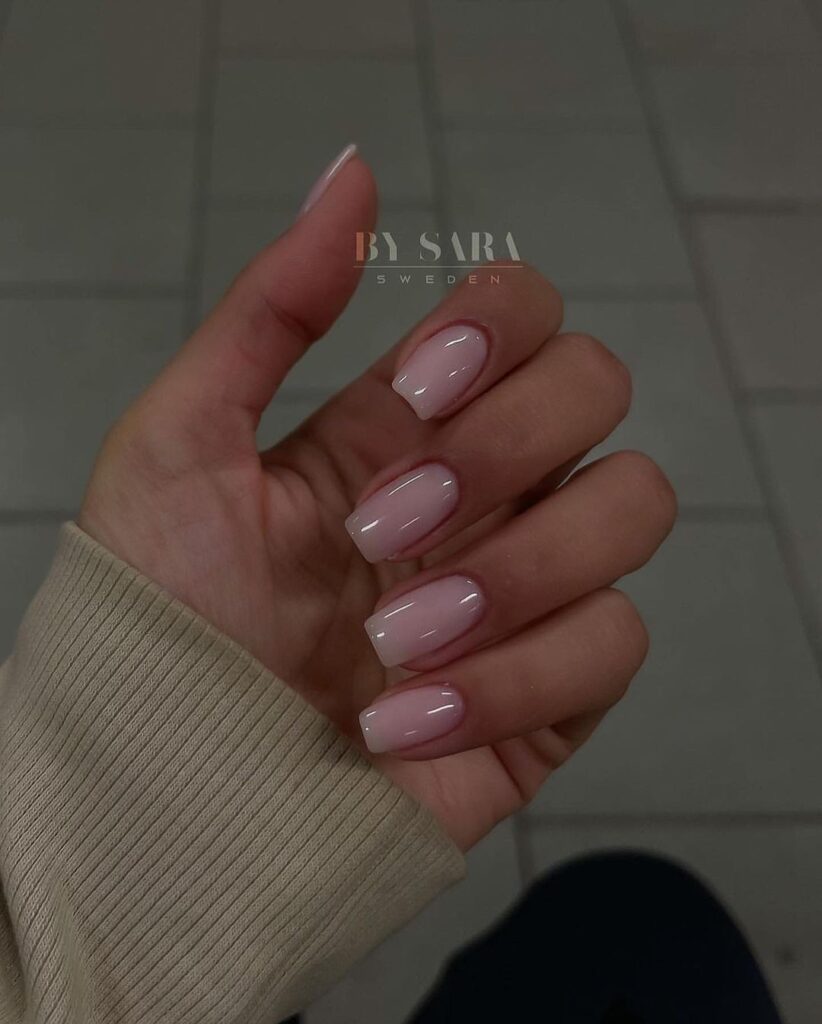 Courtesy: @bysarasweden
#36 These nude nails with gold accents were love at first sight! While nude alone can make a statement, this design idea takes it up a notch by adding golden glitter to every nail. Instead of gold, you can also try the design with silver glitter and it will still look as charming as this picture.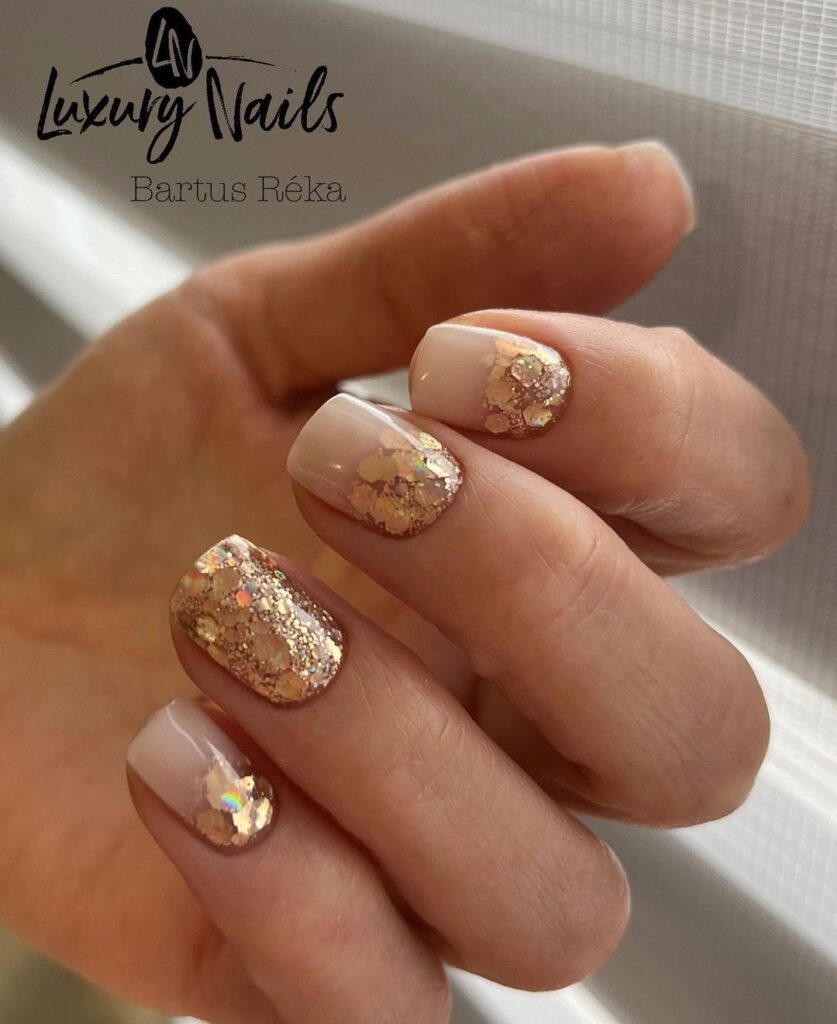 Courtesy: Hegedus Reka
#37 Featured below is a nude ombre nail in purple coated with small glitter particles for a subtle and refined look. The square nails further add femininity to the manicure, but you can also choose to go forward with the manicure with other nail shapes or a shorter round cut for those who want a practical manicure.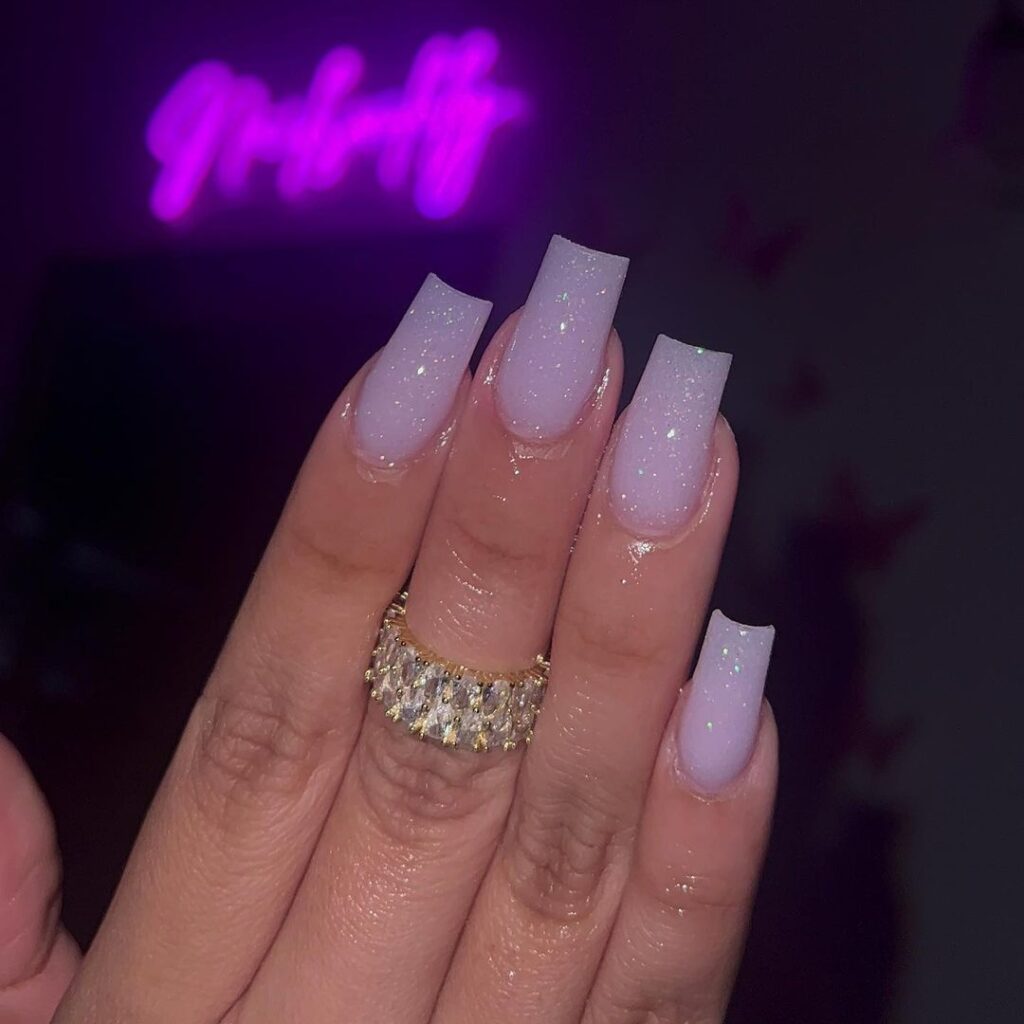 Courtesy: @nailsxolily
#38 The next one of nude nail designs isn't anything basic, but for women out there who want to ooze glamour and a voguish appeal with their manicures. When you're opting for long nails, do remember that longer nails are harder to maintain and will require some time and commitment from your side to keep them looking healthy and flawless.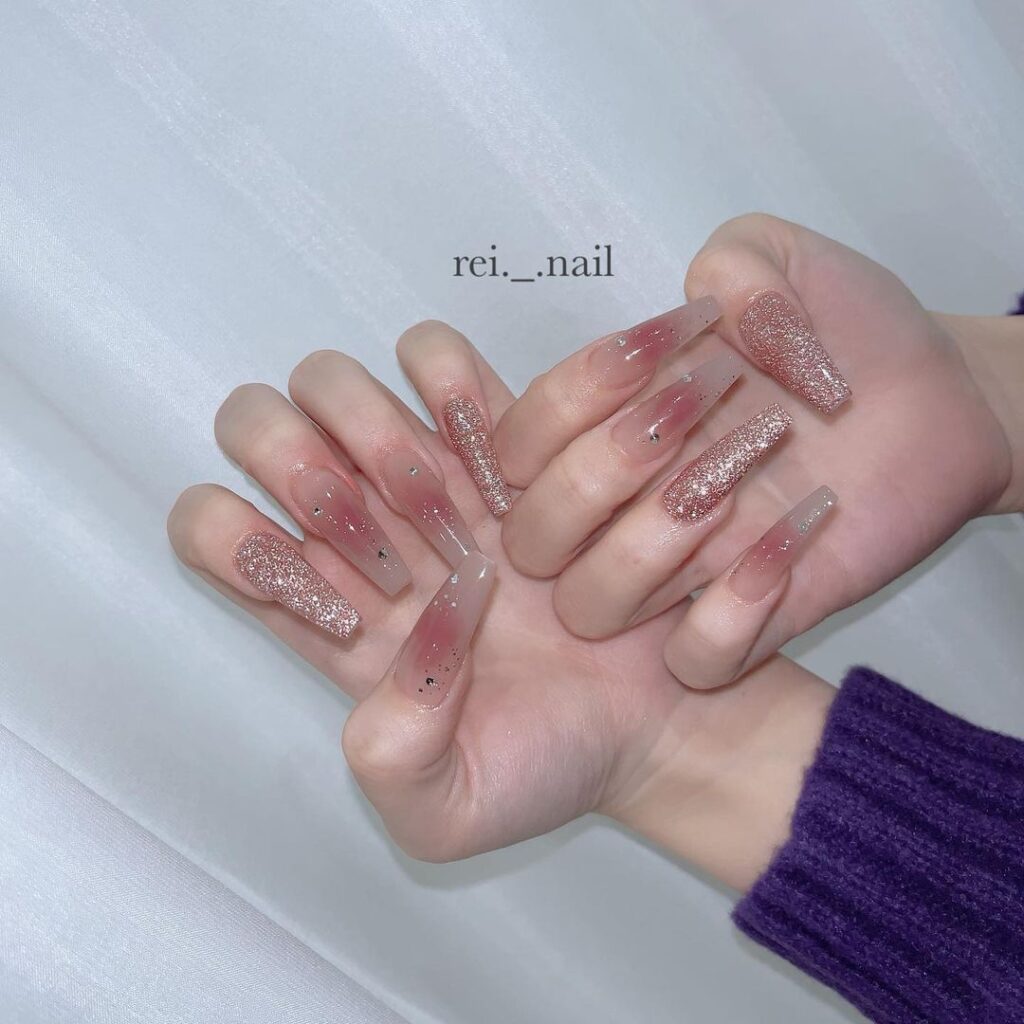 Courtesy: @rei._.nails
#39 When you love glossy finish in nail paints, why not opt for a nail paint that already has a gloss attribute in its color? They will be a perfect pick when you don't have time to apply two coats and are in a hurry to get ready for a special occasion.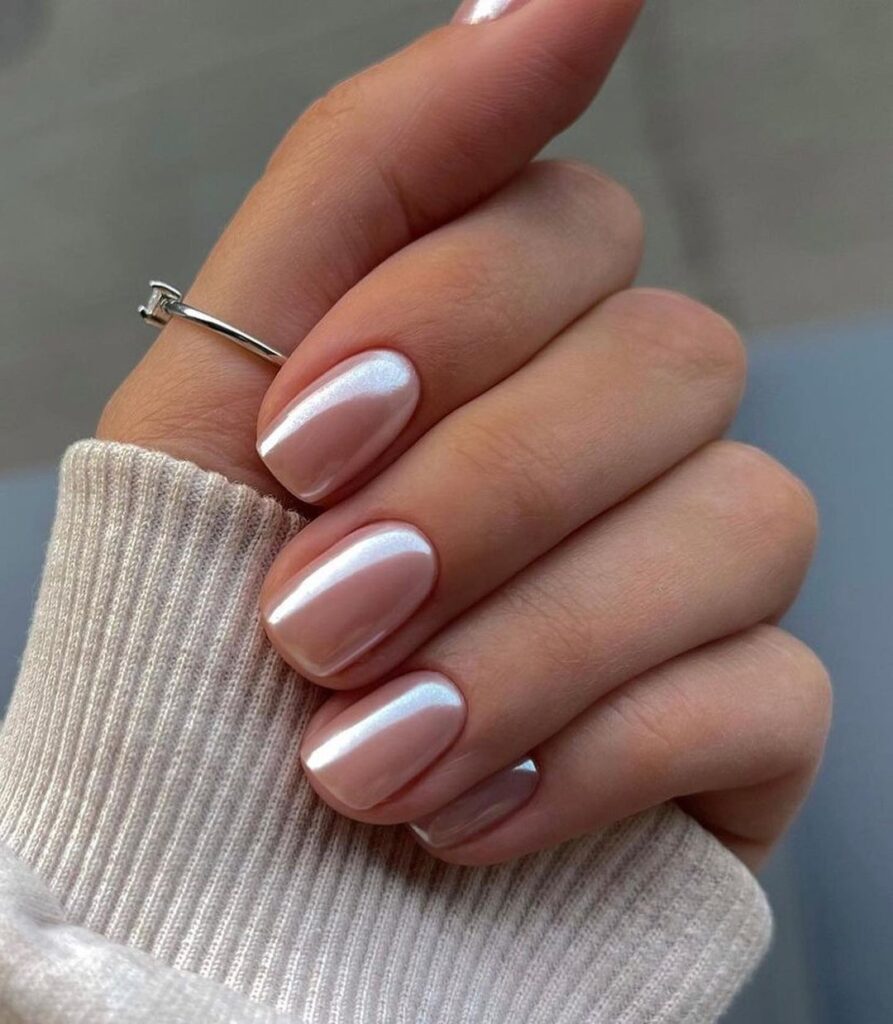 Courtesy: @team.clio
#40 Nude nail designs with gold accents are quite popular, and they can make a superb pick for any occasion, including the most special day of your life – your wedding day. Many women opt for neutrals on their wedding to go with their white dress and this is just another manicure option to pick from!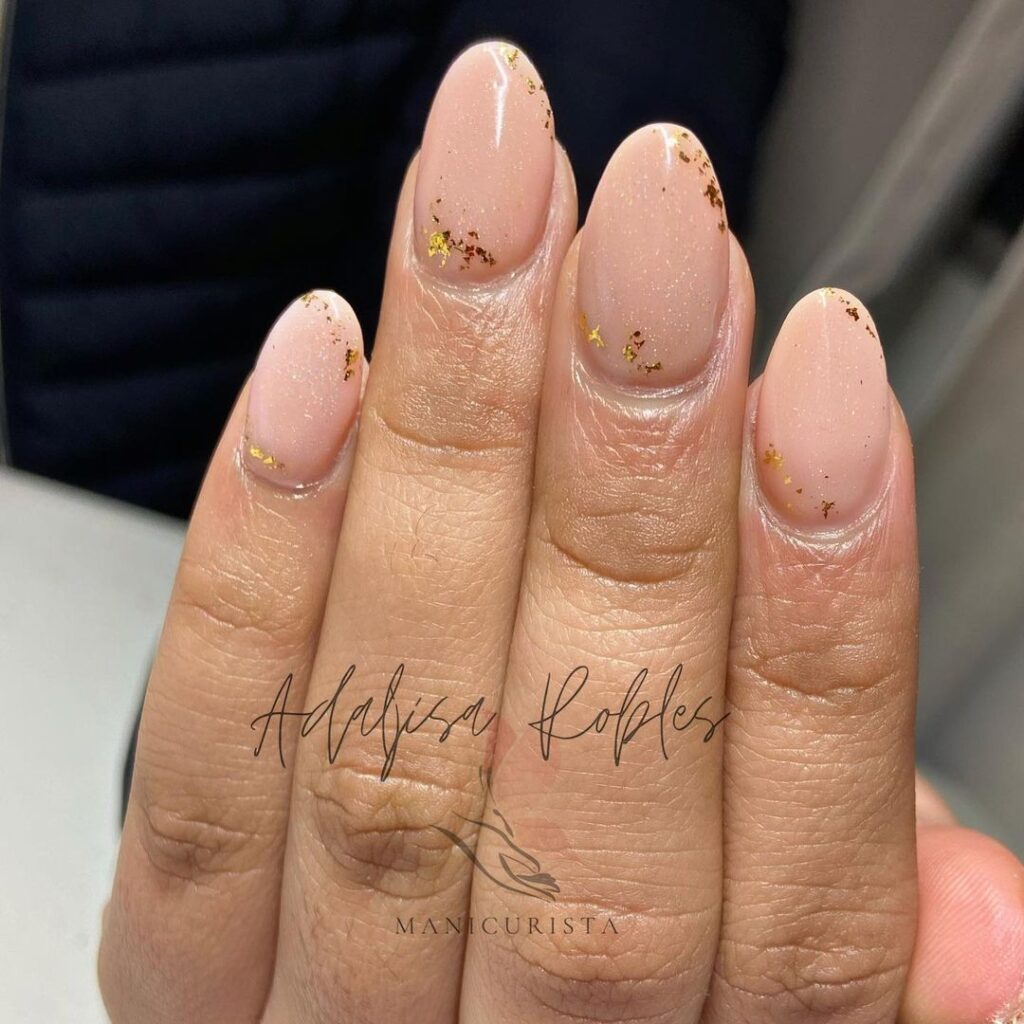 Courtesy: @nailsbyrobles
#41 There are so many shades of nude nail colors in the market that you can practically never get bored with nude nail designs. Here's a nude nail polish in a whitish-gray shade applied flawlessly for an intricate appeal. Of course, we love when someone also posts the product along with their manicure, so we don't have to keep looking for the product in the market.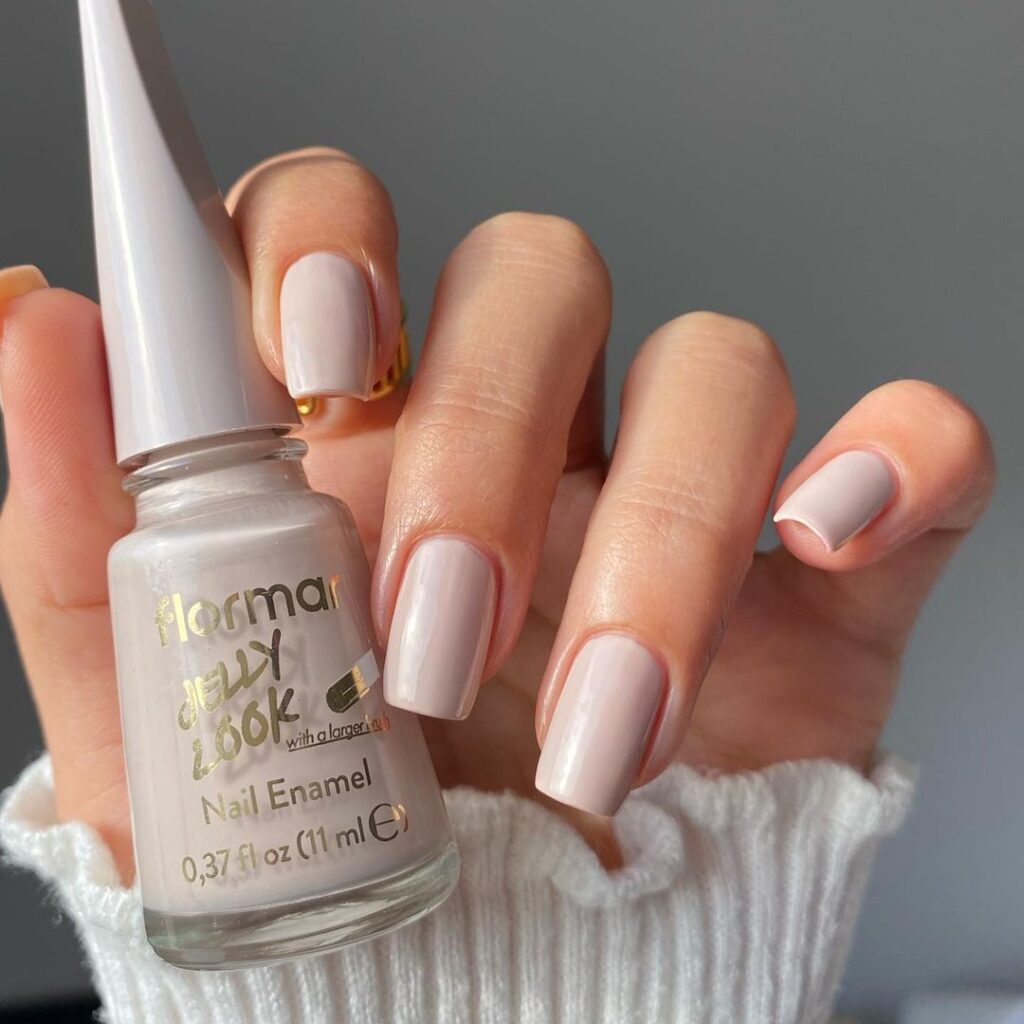 Courtesy: Flormar Turkiye
#42 In the next nude pink nail, two nails feature a gloss finish while the other two have a matte finish and are further bedecked with leaf motifs. The symbols are reminiscent of the spring and summer season and can make for an ideal pick for both summer nails and spring nail designs.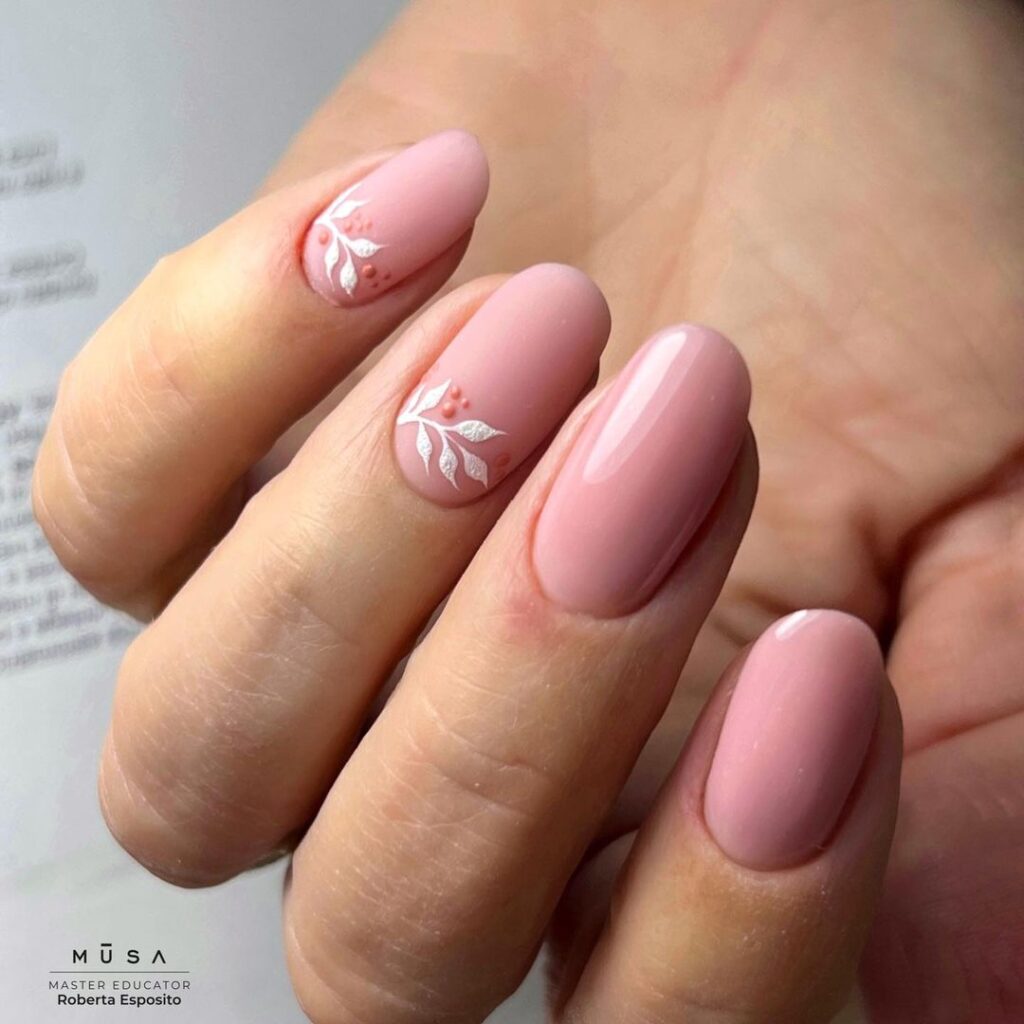 Courtesy: Roberta Esposito
#43 Nude pink nails are revered for their simplicity and elegance, and the next manicure portrays the same attributes. You can add a bit of style by making one of the accent nails in a marble pattern for subtly artistic appeal.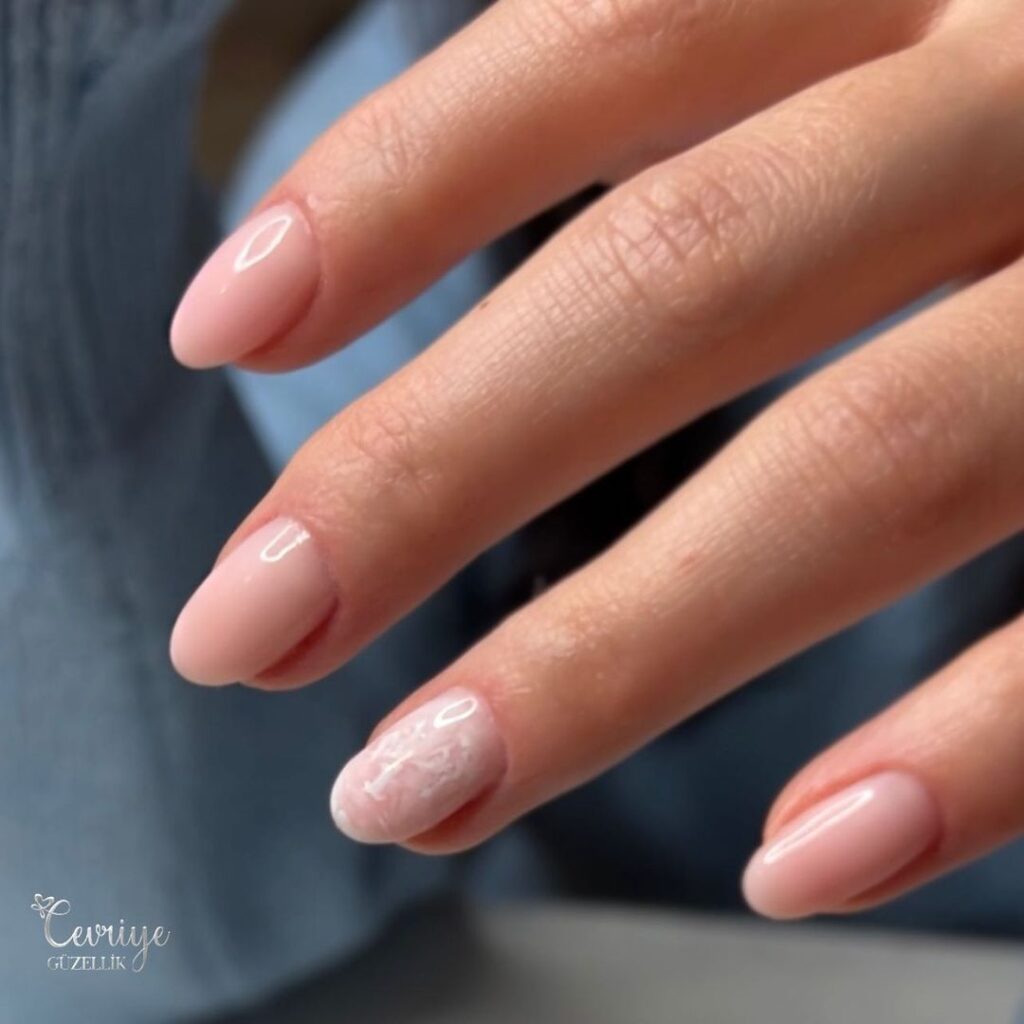 Courtesy: Cevriye Ozer
#44 These nude pink nail design is done in half marble pattern and half simple gloss style for an ingenious manicure. For those looking to set a statement with their nail design, this nail art can be the perfect pick for them. It's both elegant and creative, so you can wear them as an everyday style, but they will also look amazing for any cool parties you have to attend.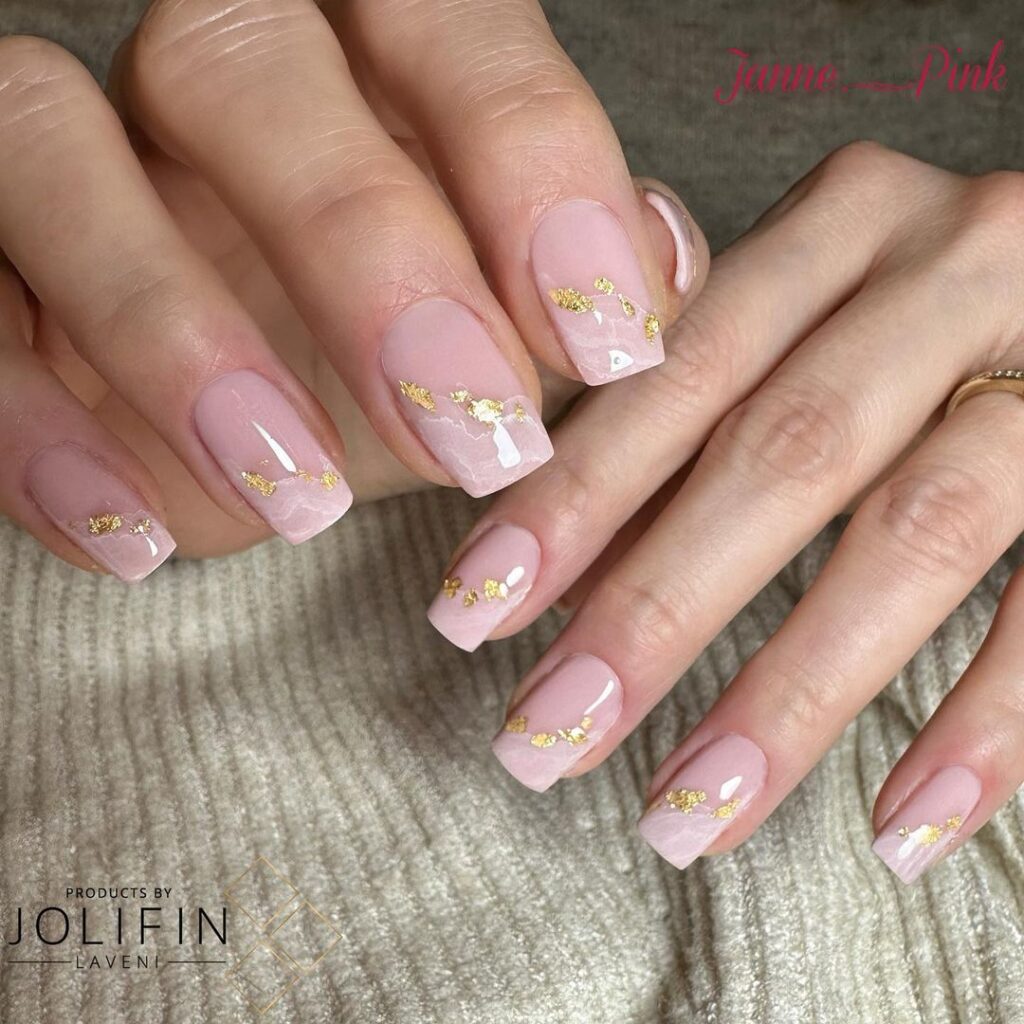 Courtesy: @nailartist_janne_pink
#45 If you're a fan of short nails, but also want to give your nails and fingers a longer and slimmer appearance, the almond nail shape is just the right nail shape for you! Paint it with your favorite manicure idea, and you're good to go!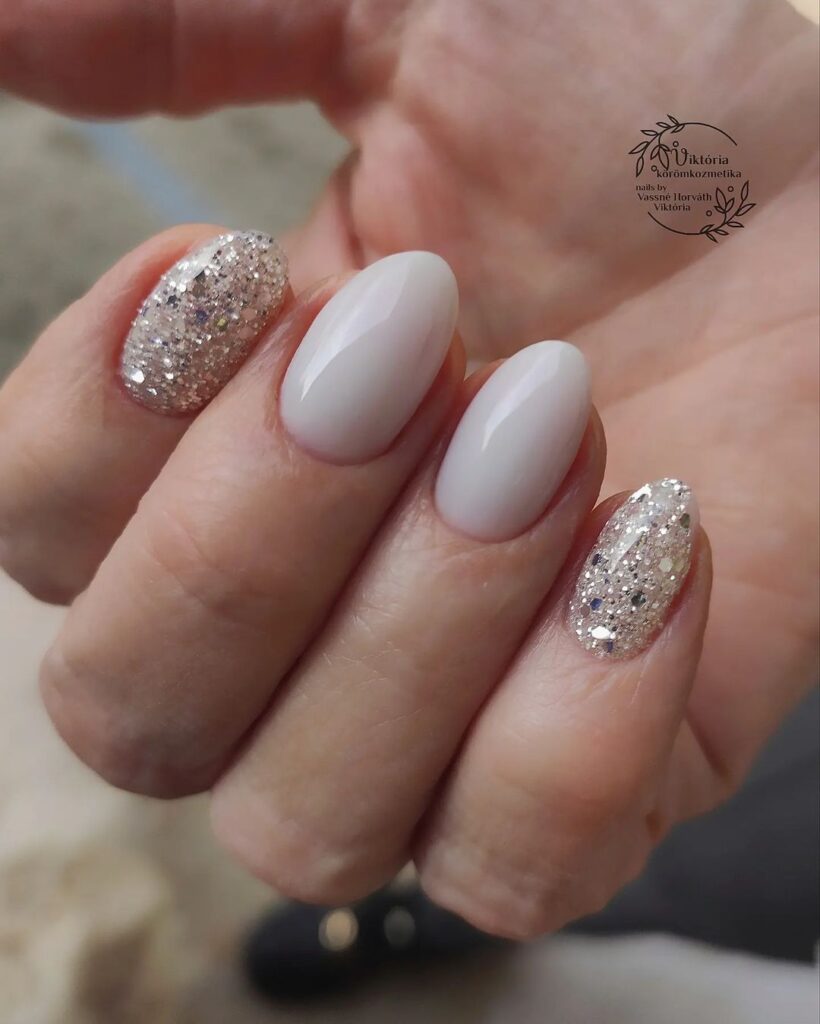 Courtesy: @viktoriakoromkozmetika
#46 Press-ons are having a moment, and with so many women relying on these easy fixes at home to give you a professional manicure, the most common design – one color with a glitter accent nail – will be very easy to find! You can choose from your favorite shape, but do make sure to read the reviews before ordering as some of them are made with cheaper quality and that can show when applied to your nails.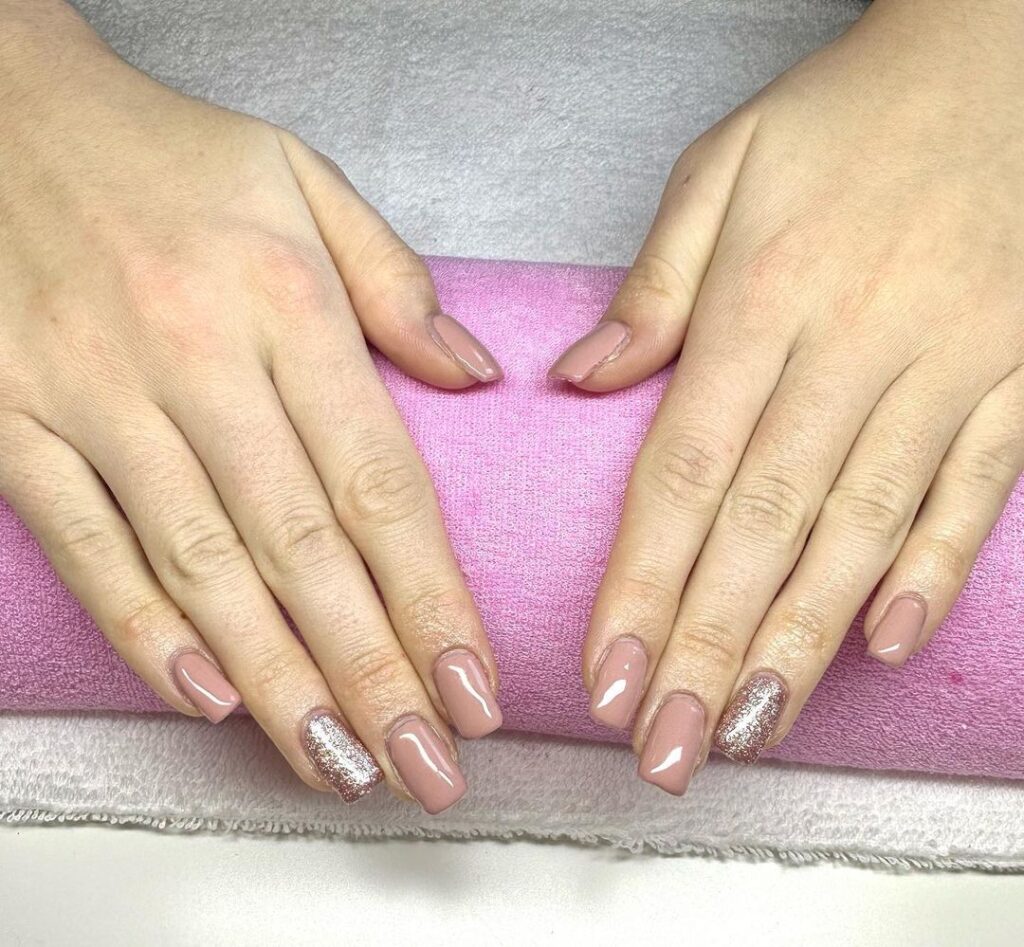 Courtesy: @instantregardetongles
#47 With various shades of brown, these nude and white nail design consists of florals, different colors from the same palette, and stud embellishments for a truly spectacular manicure. Just wait for the compliments to pour in when you sport a design like this on your hands.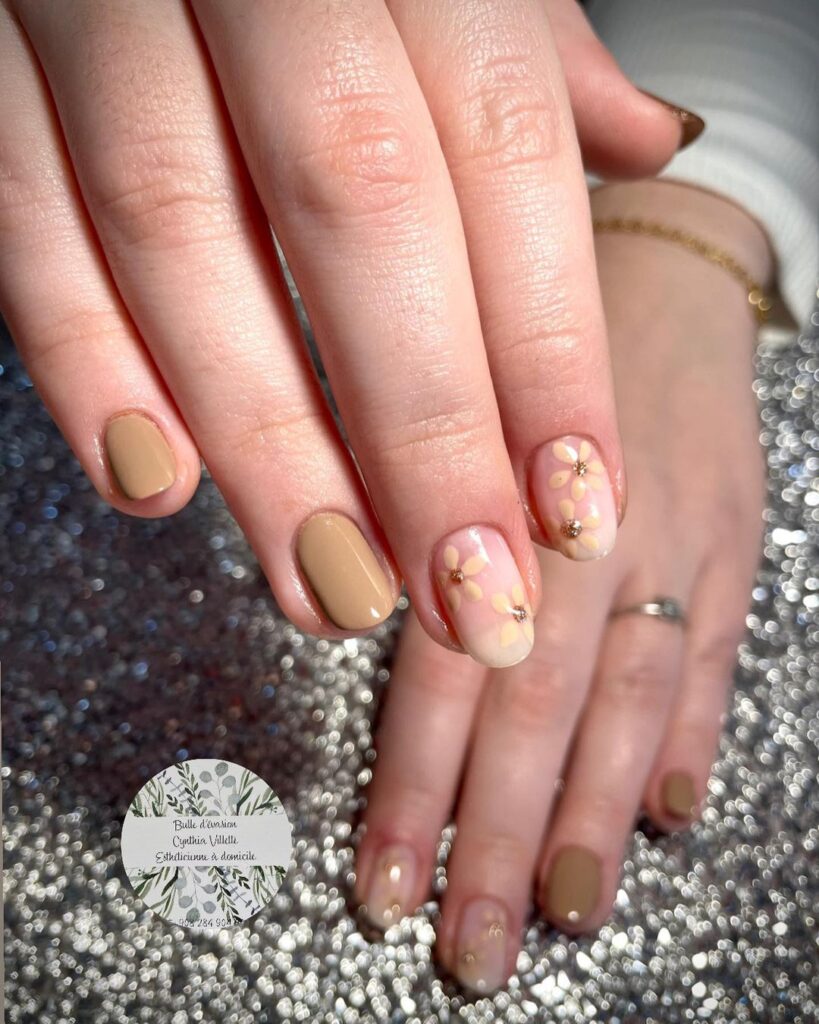 Courtesy: Bulle D'evasion
#48 These nude ombre nails with diamond studs are utterly gorgeous and quite versatile for all seasons and occasions. You can also DIY them at home, just make sure when you apply the studs, the application is smooth and intricate to keep the appeal of the manicure alive.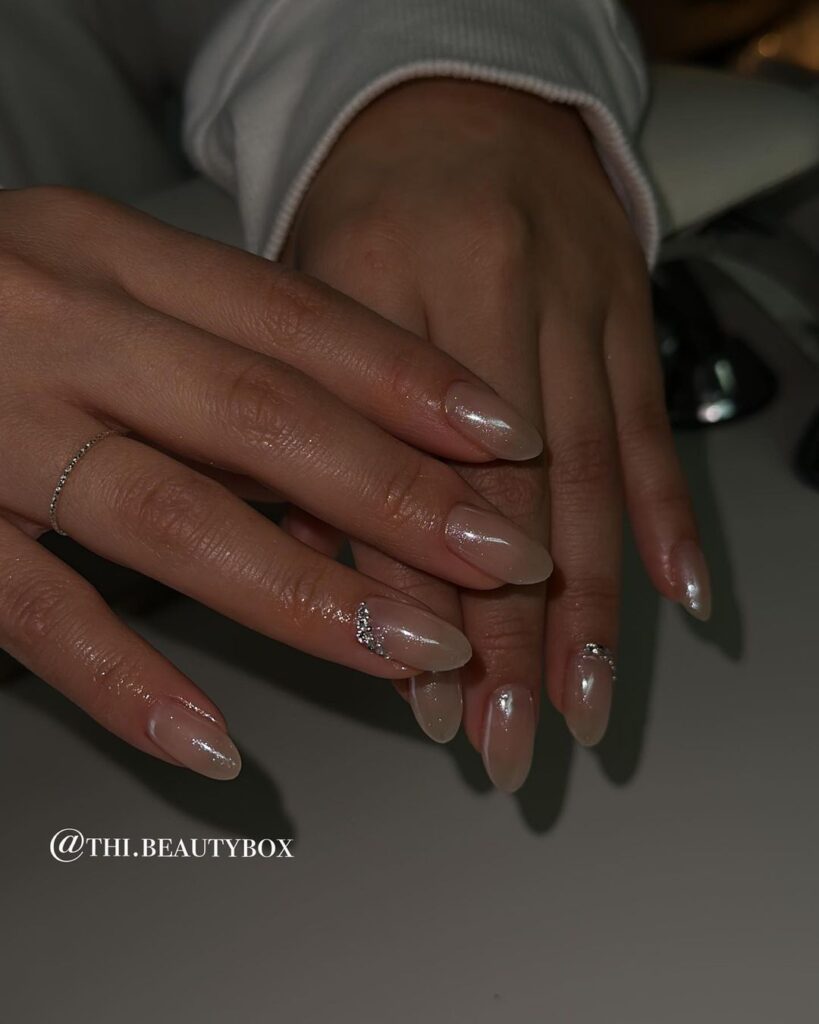 Courtesy: @thi.beautybox
#49 Nude nails with glitter are a match made in heaven, and there are many nude nail designs in this category on this list. Ask your stylist to add some punch to your nails by adding glitter. Look for this glitter dusted on the nails as inspiration for the style.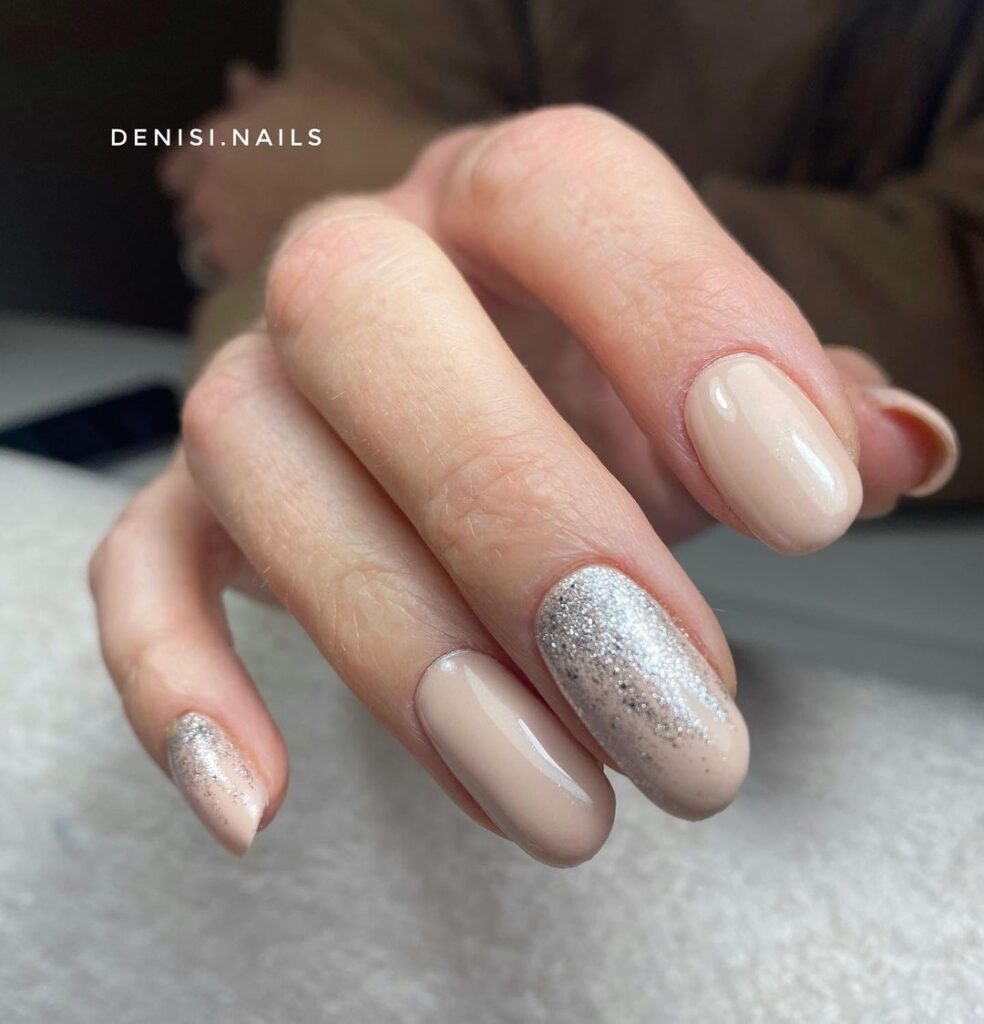 Courtesy: @lenisi.nails
#50 Let your nails roar with wild style! These nude nails with a pop of leopard print are the perfect way to make a statement and show off your adventurous side. Leopard print can be added to the nails using a variety of techniques, such as stamping, decals, or freehand drawing, and can be combined with other elements, such as glitter or studs, for an even more eye-catching look.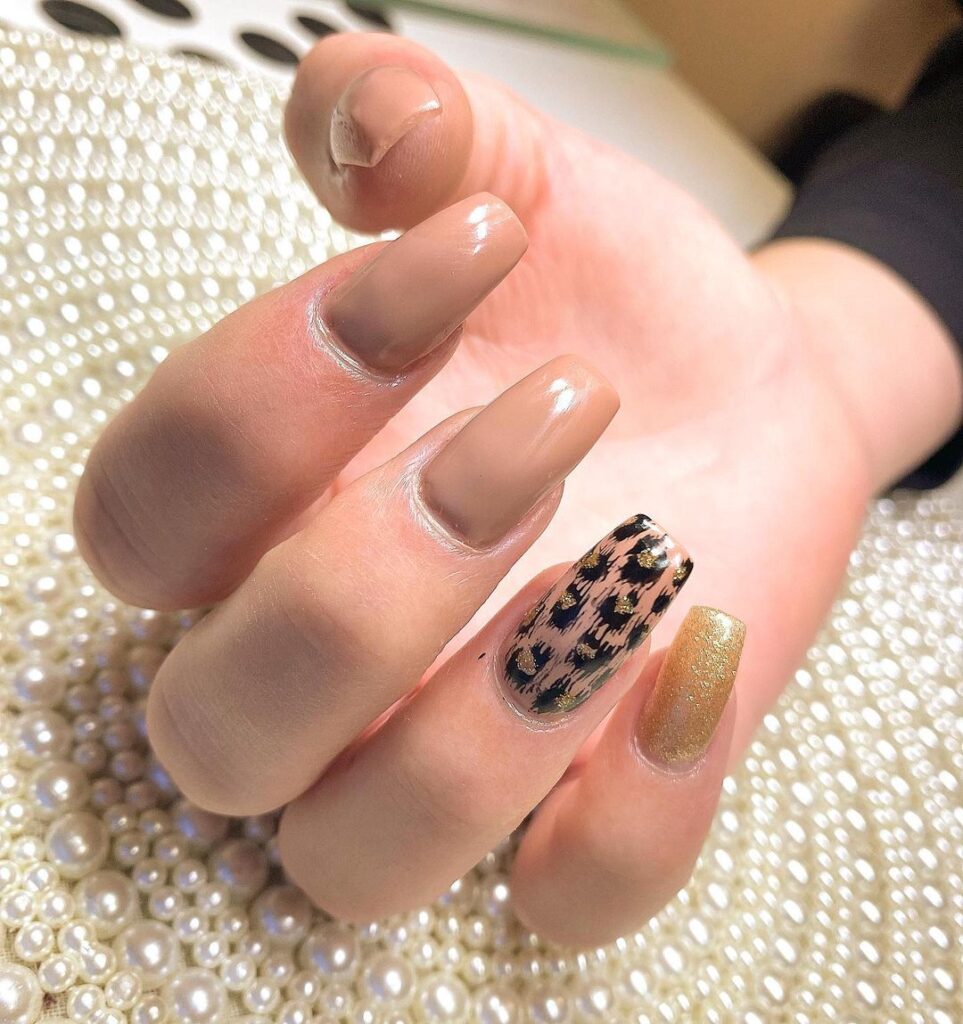 Courtesy: @nailatelier_ by_romy
#51 Yet another manicure design with a catchy marble patterned accent nail! Accent nails are a popular and surefire way to elevate the appearance of any manicure and draw attention to your hands. If you think nude nails are a bit too basic for your style, add statement accent nails for that extra appeal.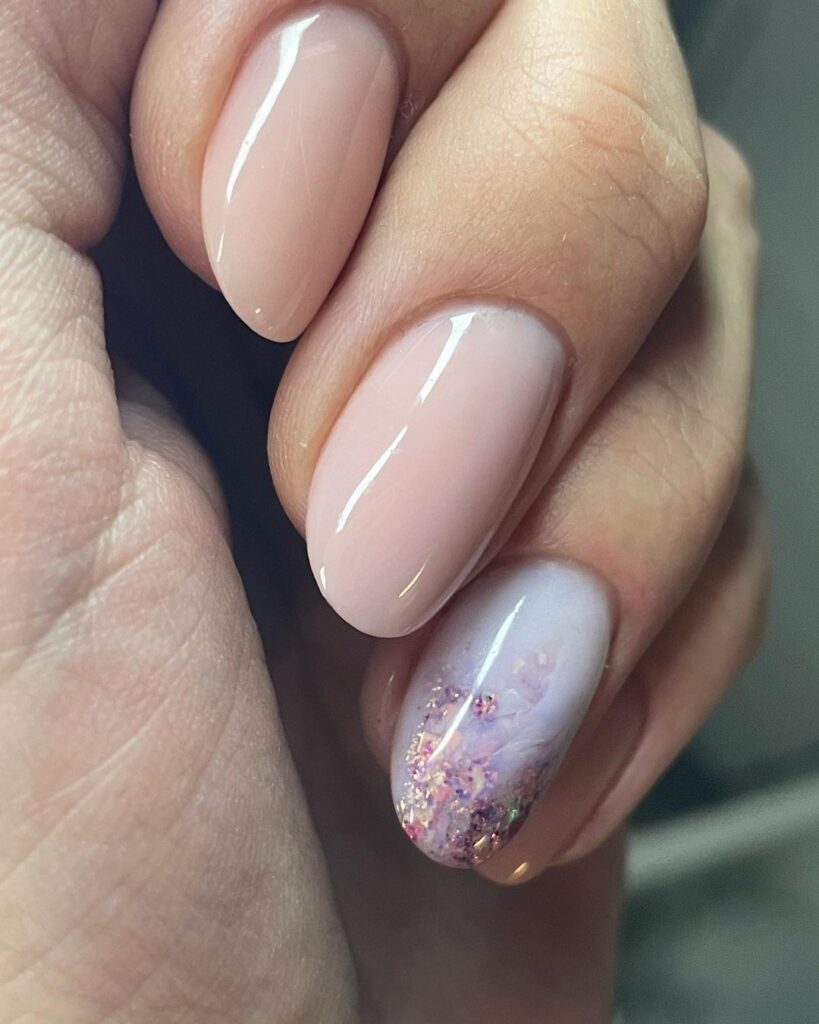 Courtesy: @nj_beautify
#52 When you want to go nude (for your manicure) for Valentine's Day, just add a touch of love with a cute heart motif in one of the nails. This is the perfect Valentine's Day nails 2023 to try!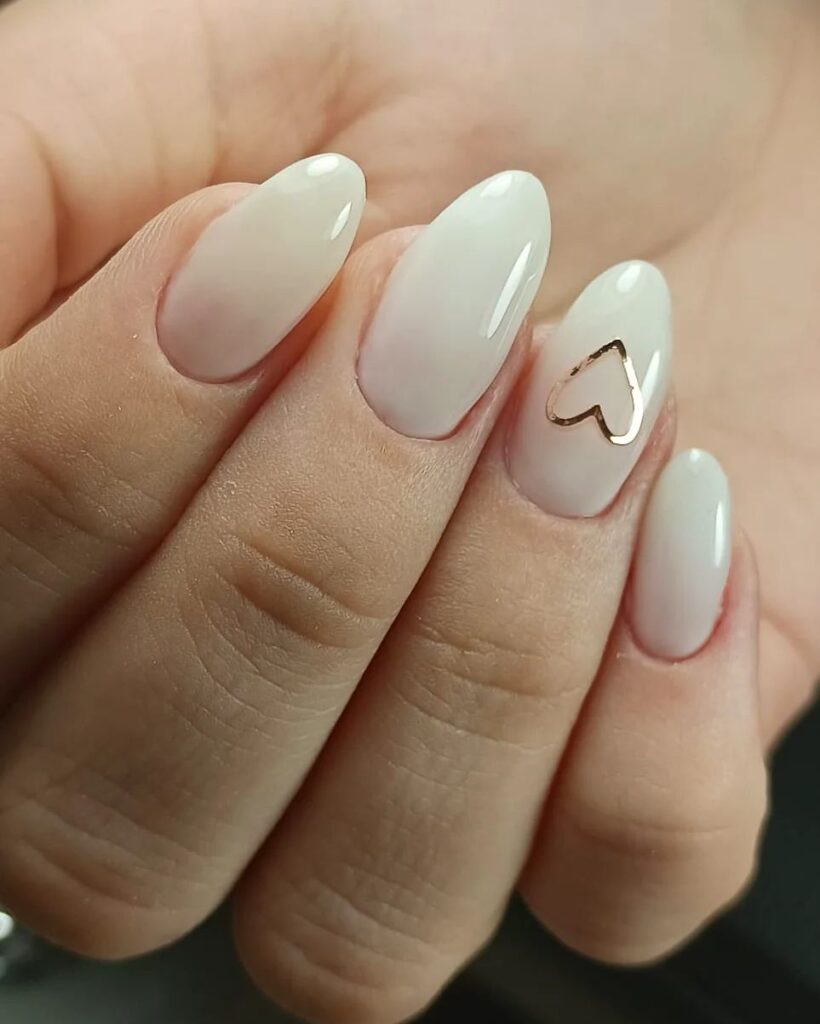 Courtesy: Holabonita
#53 Bedeck your nude nails with cloud-shaped motifs and golden studs for a mesmerizing manicure style. These nails representative of a clear spring sky are perfect for the upcoming spring season, and might as well become the inspiration for your next manicure.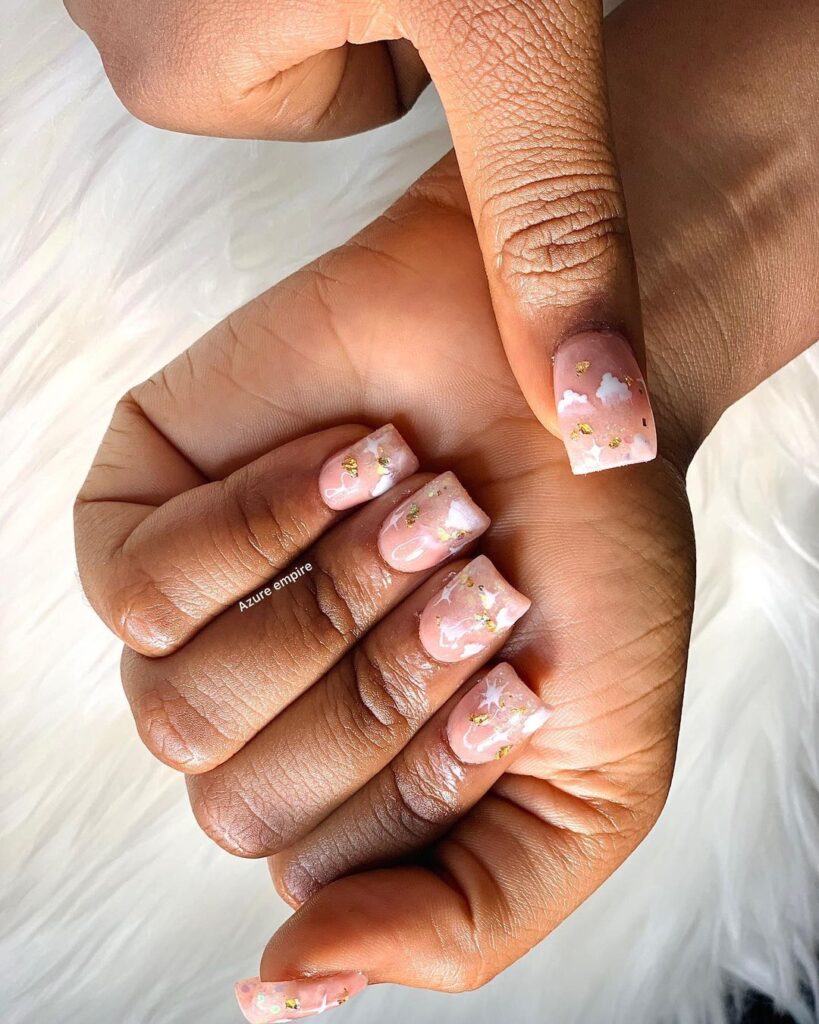 Courtesy: @azureempire
#54 There are so many shades of nude that you will practically never be bored of the nude color nails. Here's one in light purple done on nude acrylic nails to make them last for at least 3 to 5 weeks without any wear or tear.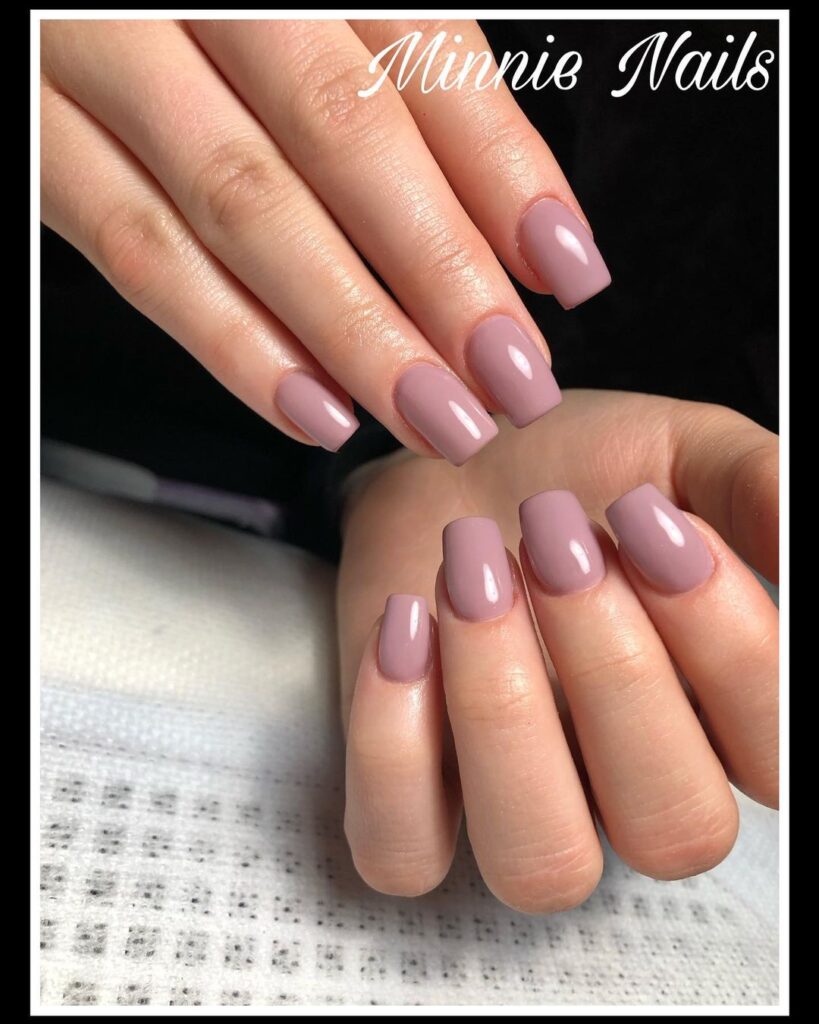 Courtesy: Minnie Nails
#55 We're swooning over these artistic nude nails done with two shades of a neutral palette. The two colors are done in a half-half style on each nail and are separated by geometric art in the middle for truly unique and classy nude nails.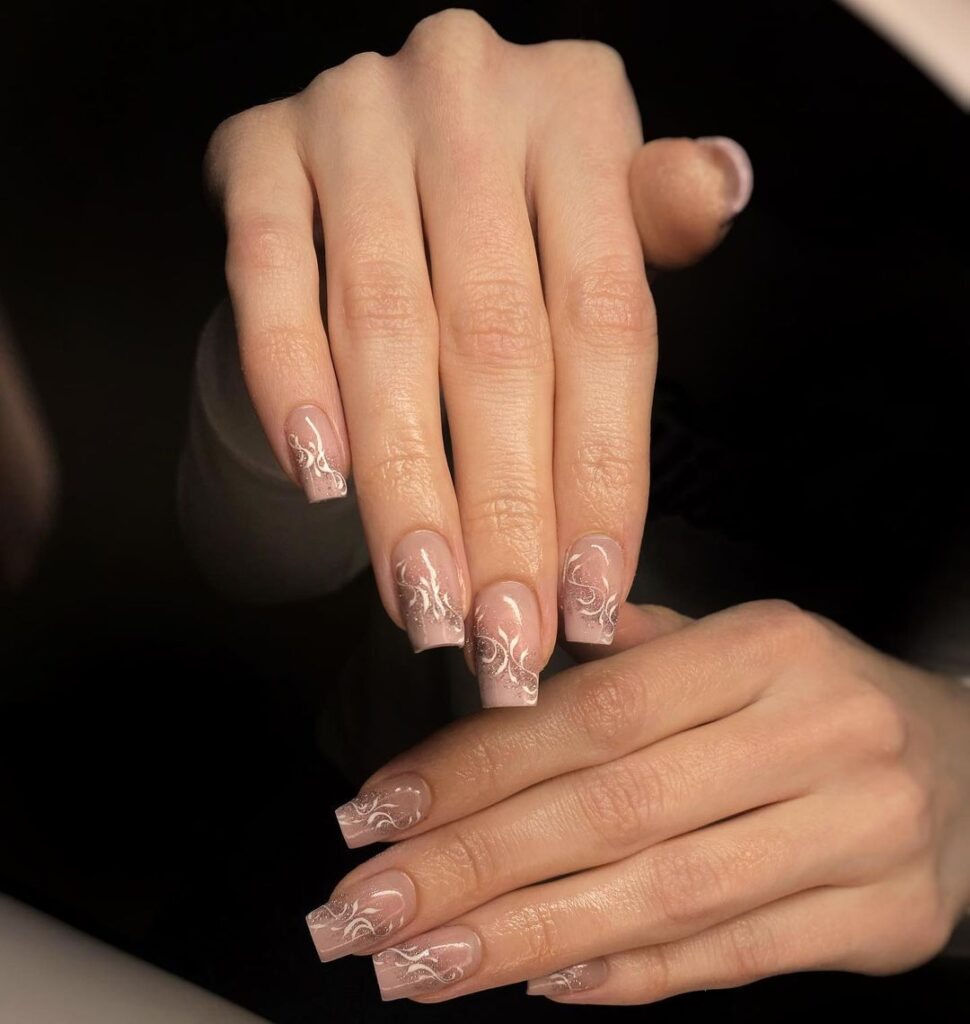 Courtesy: Sera Yilmaz
#56 Featured next on the list is a light nude manicure done in a French tip nails design. Besides white, you can also recreate the French manicure style nude nails with white tips as well. The white tips look with any & every nude color, so you can try this combination with your favorite shade. 
Courtesy: @nikamatusiak
#57 Bring a touch of luxury to your fingertips with these stunning nude nails bedecked in gold foil accents. The warm, neutral shade serves as the perfect backdrop for the shimmering gold foil, making your fingers sparkle and shine. Perfect for adding a bit of glamour to any occasion, this manicure is the epitome of elegance and sophistication.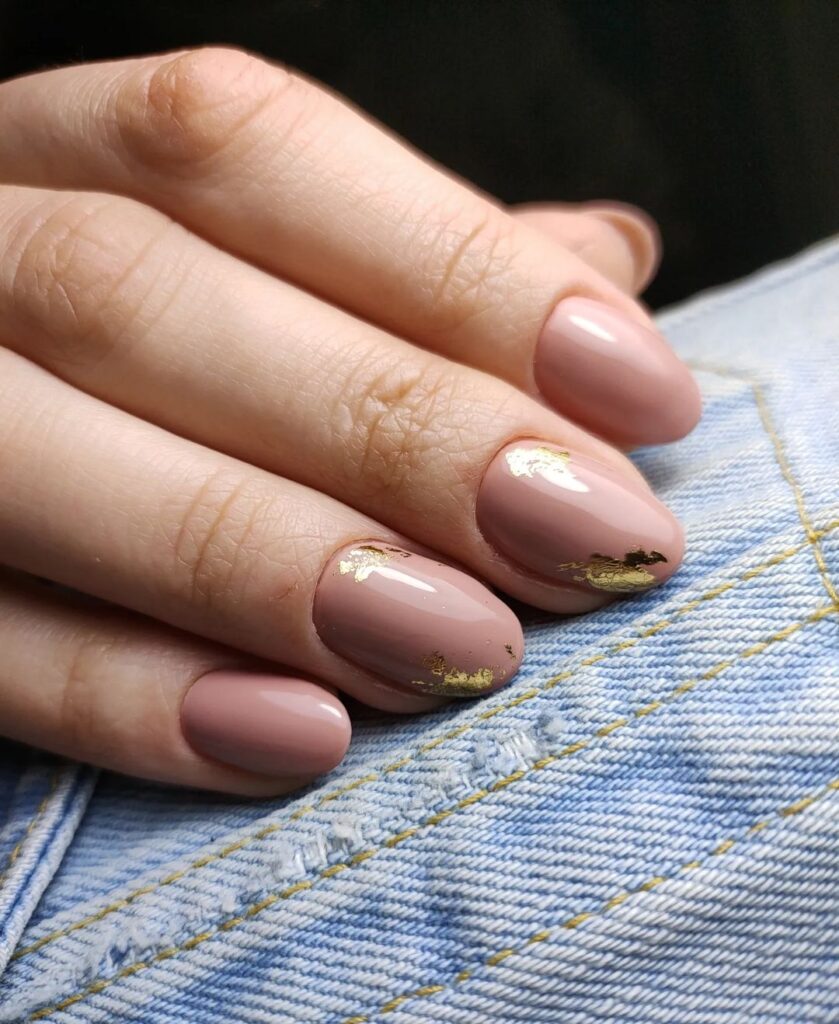 Courtesy: @indigonails
#58 One of the best ways to elevate your neutral manicure is to add some rhinestones to it! These nude nails with rhinestones can be created either by adding some embellishments on the bottom of one nail or by adding them to other nails as well!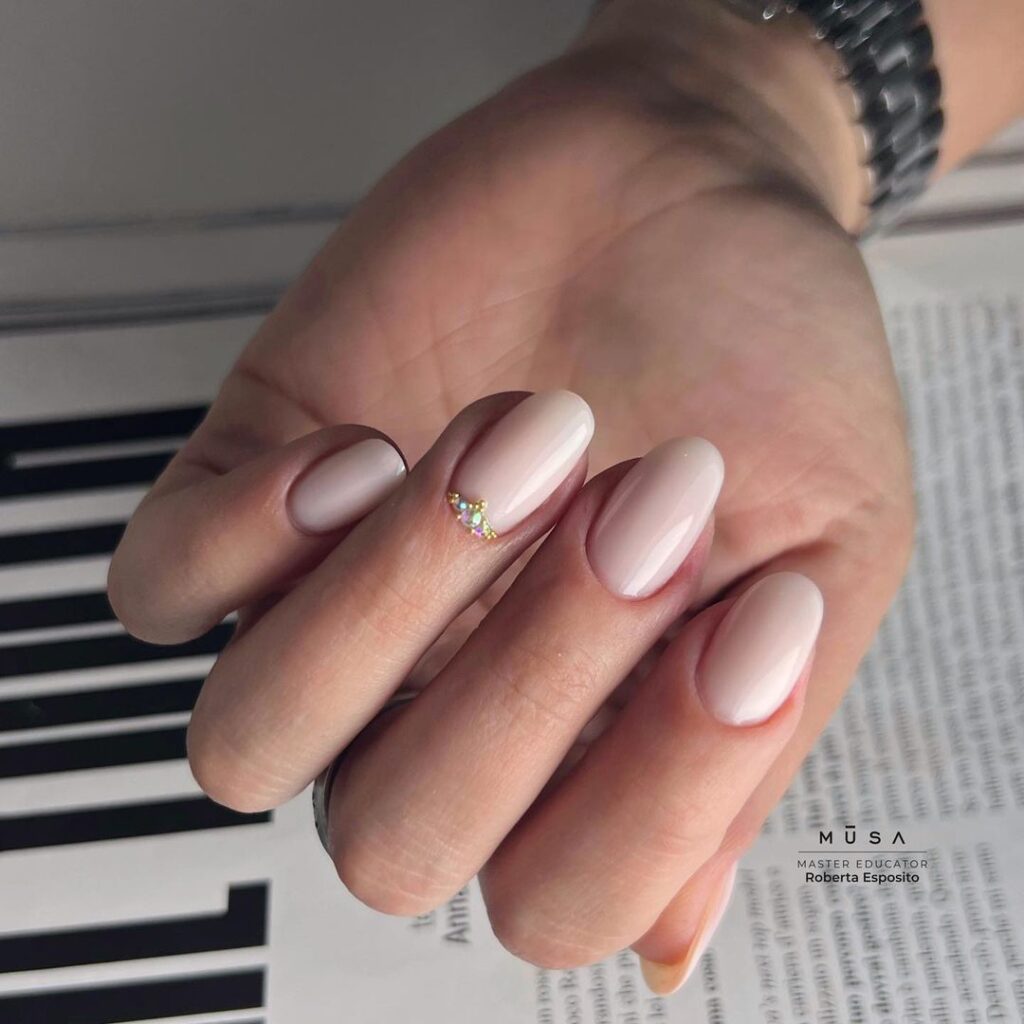 Courtesy: Roberta Esposito
#59 Nude nail designs work for any season. But when you're specifically looking for an idea to try in winter, trust this one with a bit of shimmer, snow motifs, and sweater patterns for a complete winter-relevant look.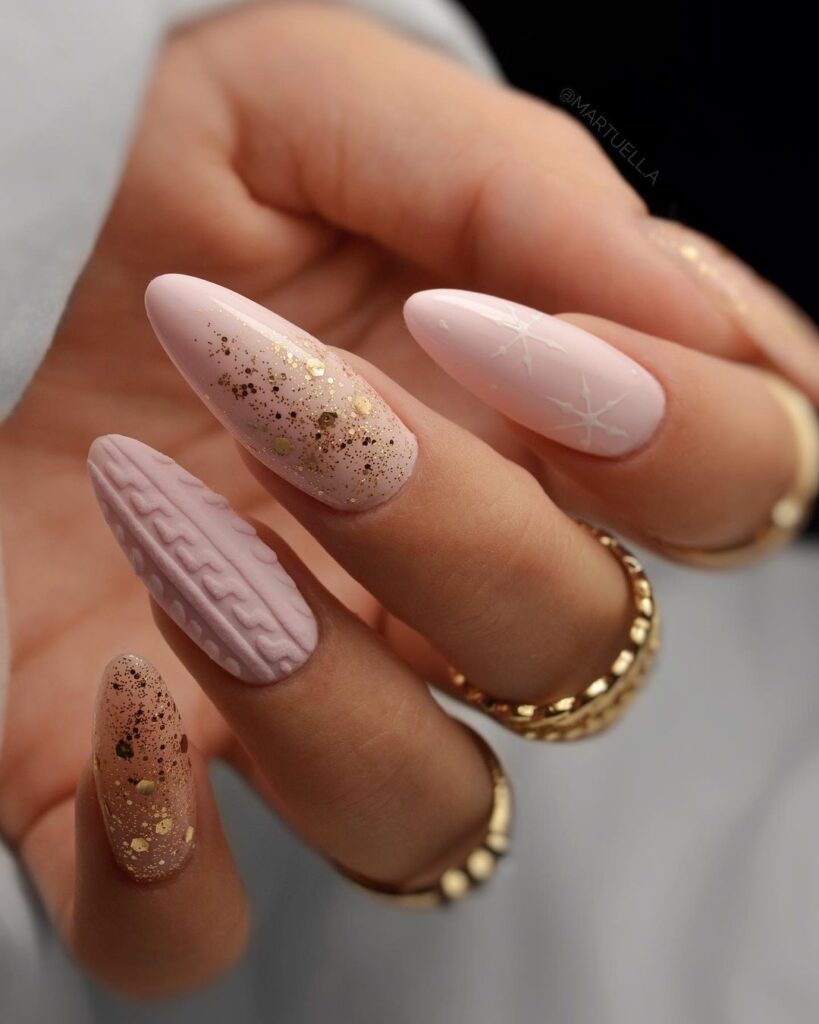 Courtesy: Martuella
#60 Fascinated by this charming manicure? You can also DIY this at home. Start with a light pink base and use white tape to create sections just like the one shown in the image and paint the one that's bare. Let it dry and then paint the other section, and then the last one. Let it all dry and leave it as it is or paint it all with a gloss coat to finish.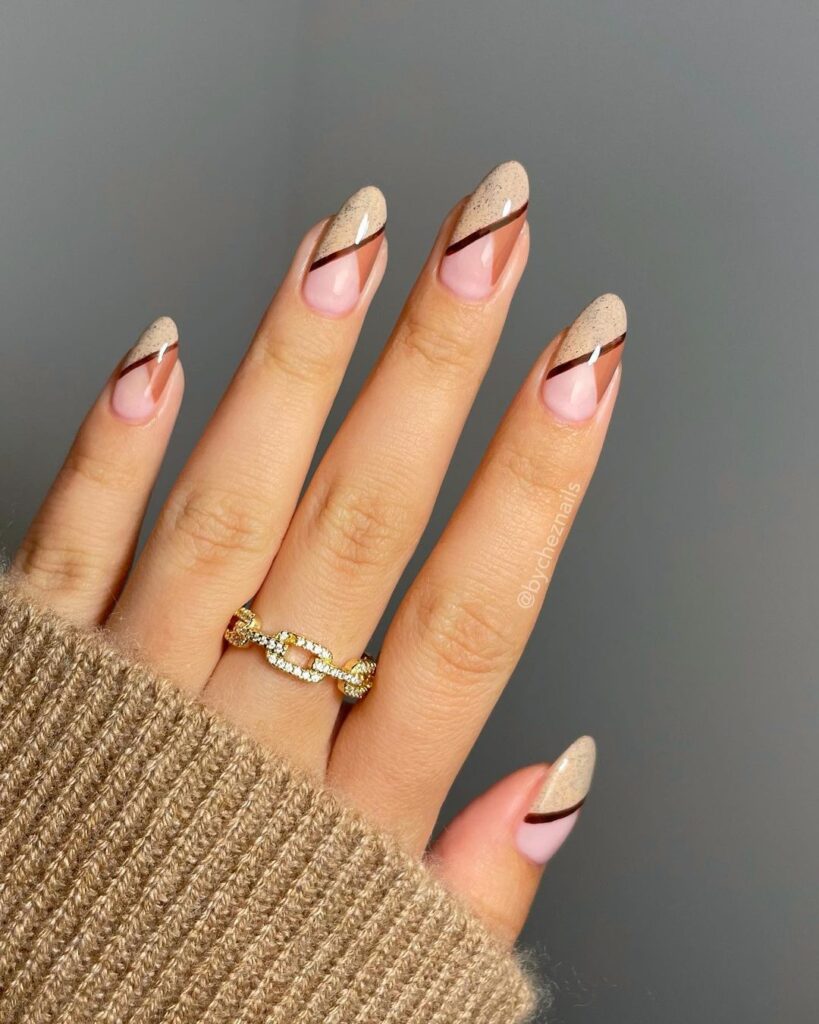 Courtesy: @bycheznails
#61 While the middle or ring finger often takes attention as an accent nail, you can shower your thumb with some extra love by making it the accent nail and painting it with a heart motif. Since the lines are blurred, you can also DIY the outline of the motif easily!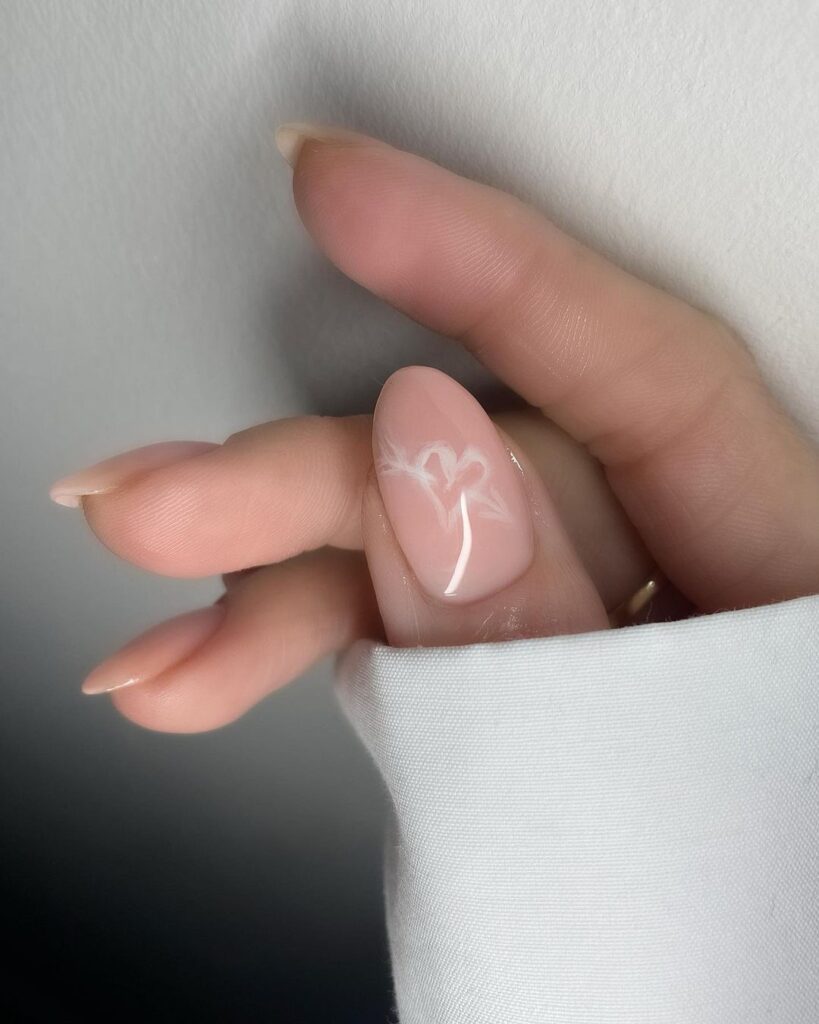 Courtesy: @_abigails_nails_
#62 These short coffin nude nails are all about the gorgeous fall season with the leaves portrayed in the autumn colors with a nude base to make the colors all come out! Do bedeck your fingers with some statement rings to elevate the manicure and give your hands an appealing style!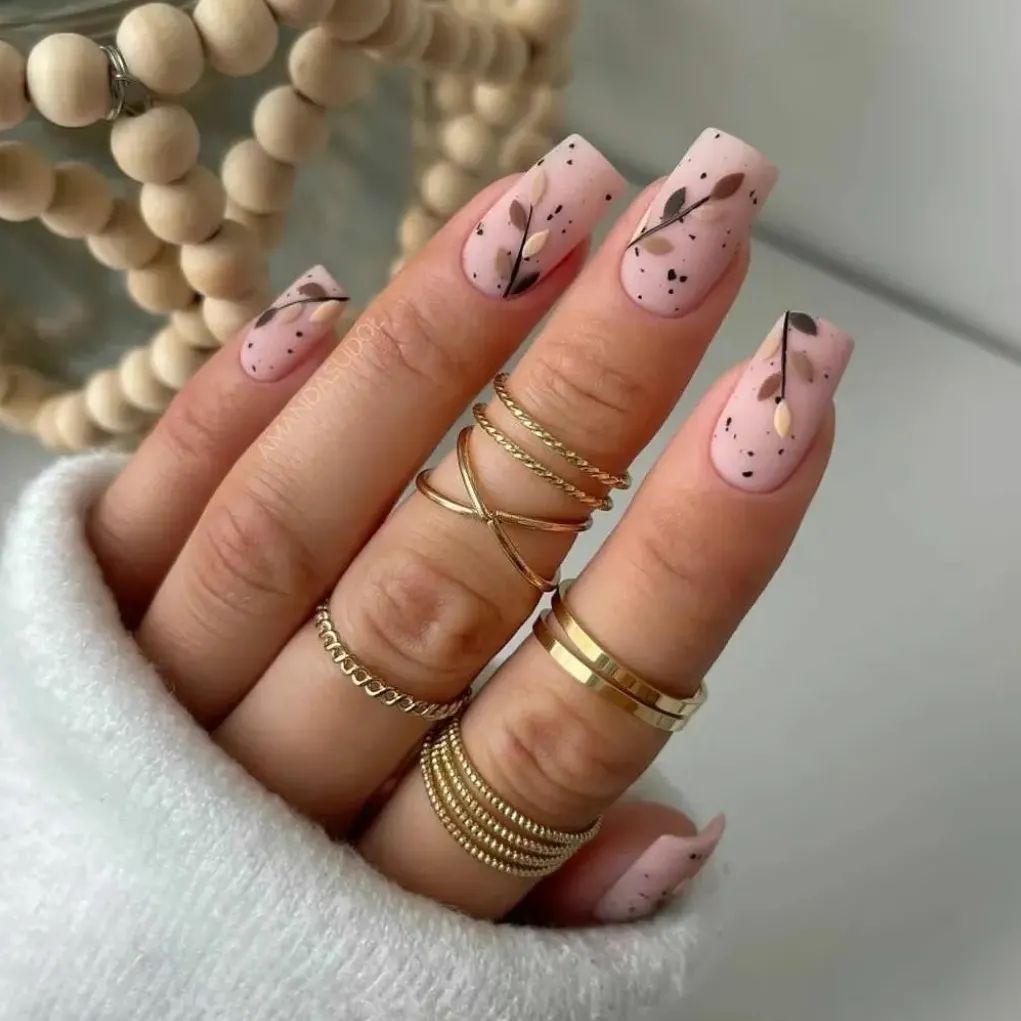 Courtesy: @beautiful_nails.2021
#63 This short nude nail design is all about simplicity and is given some personality with the leaf motif. Leaves motifs can be added to one or more nails for a subtle touch of nature or can be used to create a full set of nature-inspired nails. This design is perfect for those who love nature, and botanical prints, or want to add a touch of fresh and natural beauty to their nails.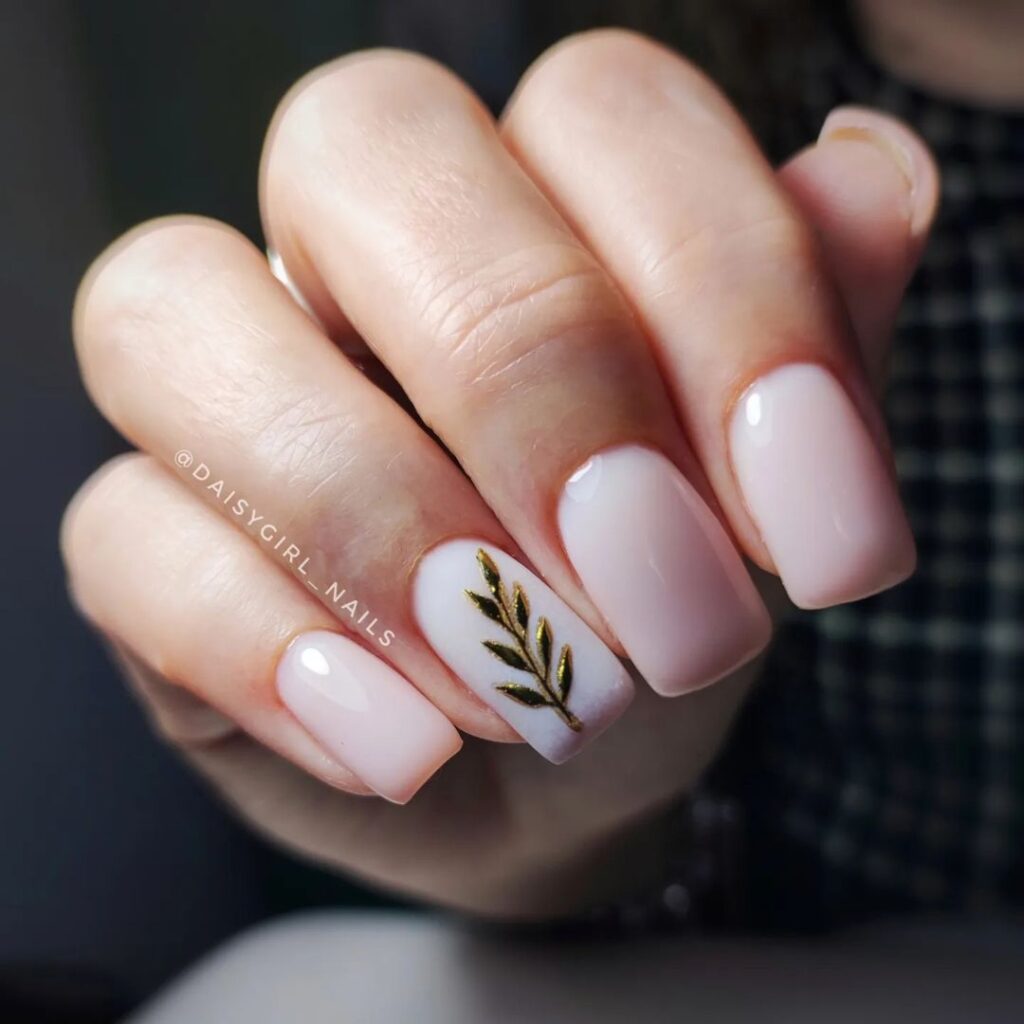 Courtesy: @daisygirl_nails
#64 Bring a touch of glamour and sophistication to your fingertips with these glossy nude nails. The neutral shade and high-shine finish make this manicure a chic and timeless choice for any occasion. Further, gloss coats work for any nude nail color you choose, so you can recreate the style with any of your favorite neutral shades.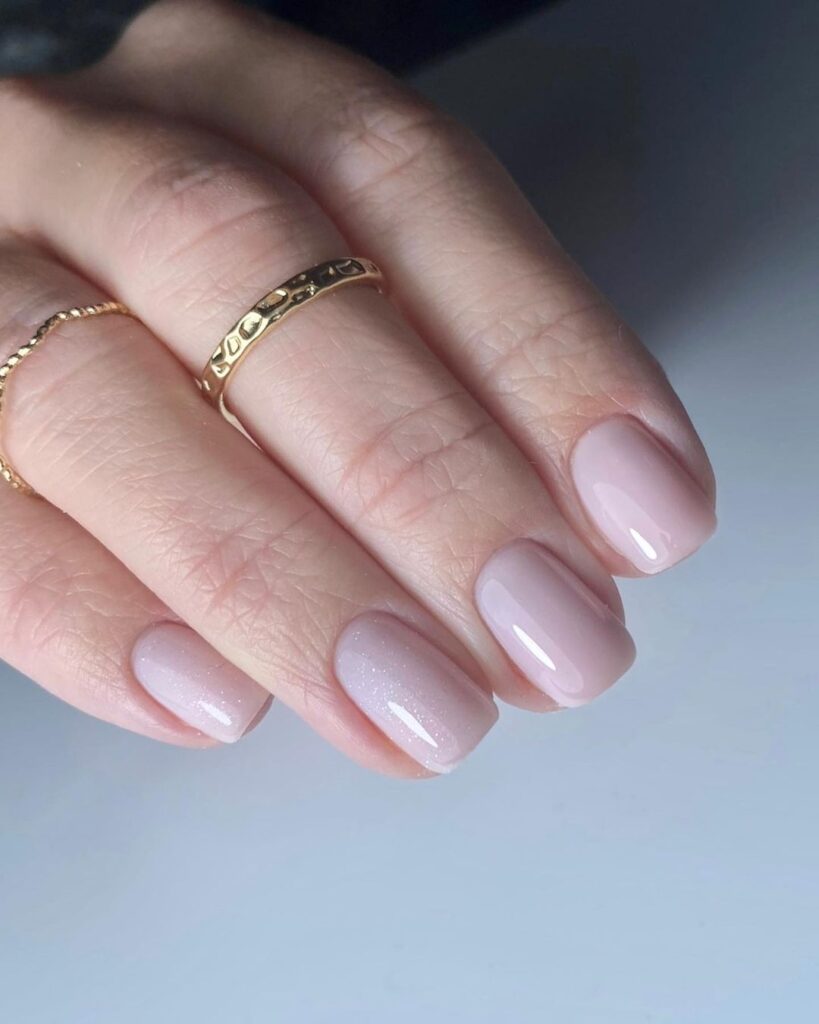 Courtesy: @ola_manifaktura
#65 The next nude nail design on the list comprises a white nail base with brown shade swirls making it a unique and eye-catching manicure that combines the crispness of white with the warmth of brown. This design is perfect for those who love earthy, natural tones or want to add a touch of texture and dimension to their nails.
Courtesy: @ldc.institut
#66 Here's a star manicure idea to consider if neutral nails are your choice. With just two nails half-painted in the marble pattern, it gives some dimension to the design without taking away the simplicity and elegance of the nails.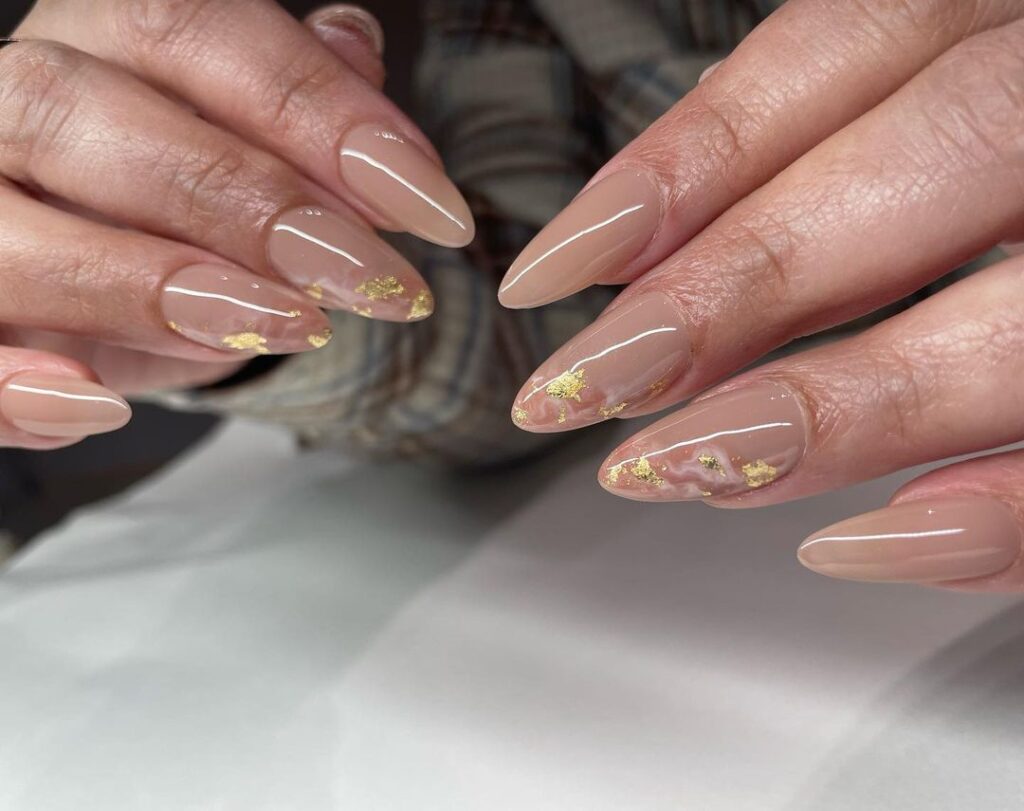 Courtesy: Ardelys Nails
#67 Have a cool party to go to and your nails aren't ready yet! Take some nail art tools and stickers, and create this design in minutes. Start by shaping and buffing your nails. Apply the polish and a top coat once the base is dried. Use a dotting brush to create the heart and dot. Cover again with a gloss coat to finish it all! Voila! Salon-style manicure in just a few minutes.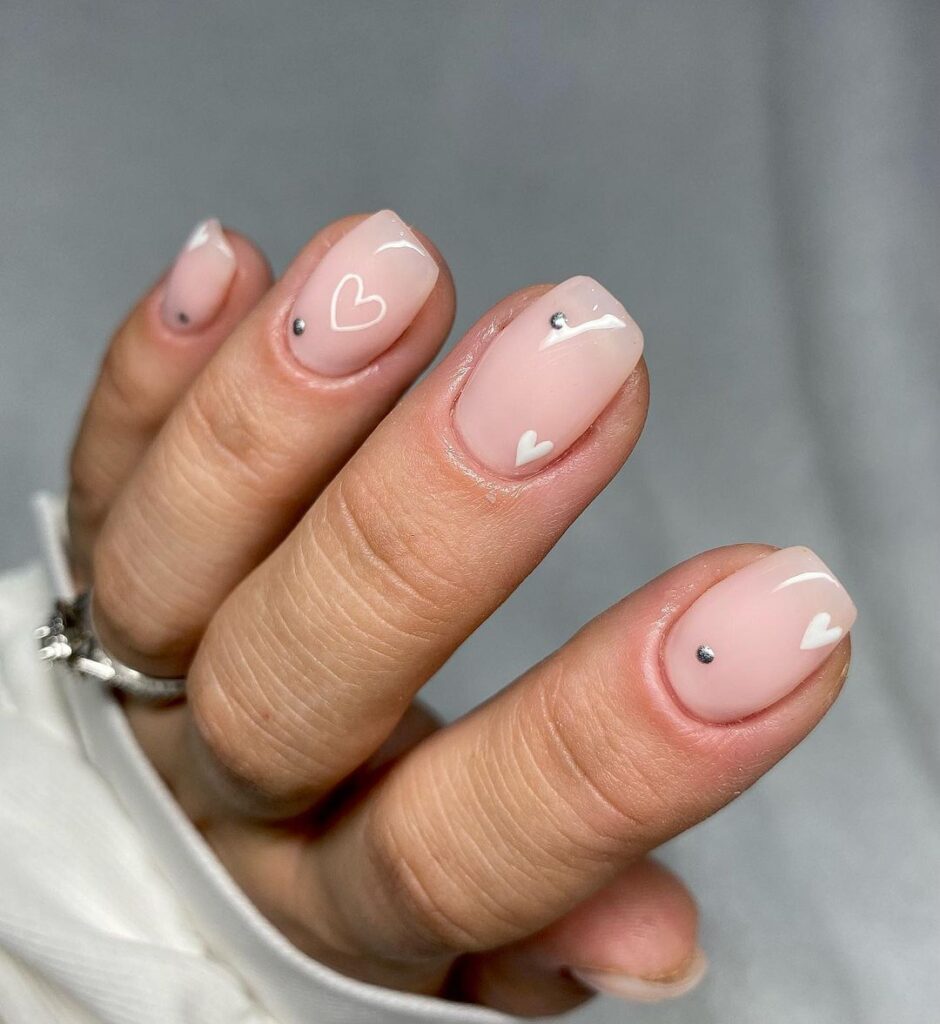 Courtesy: @beautique_kent
#68 Black and nude nail designs have a separate fan base altogether, and it can be styled in a number of ways with a range of looks. For example, here the nude pink nails are bedecked in black heart and polka dots with glitter dusting for a ravishing appeal.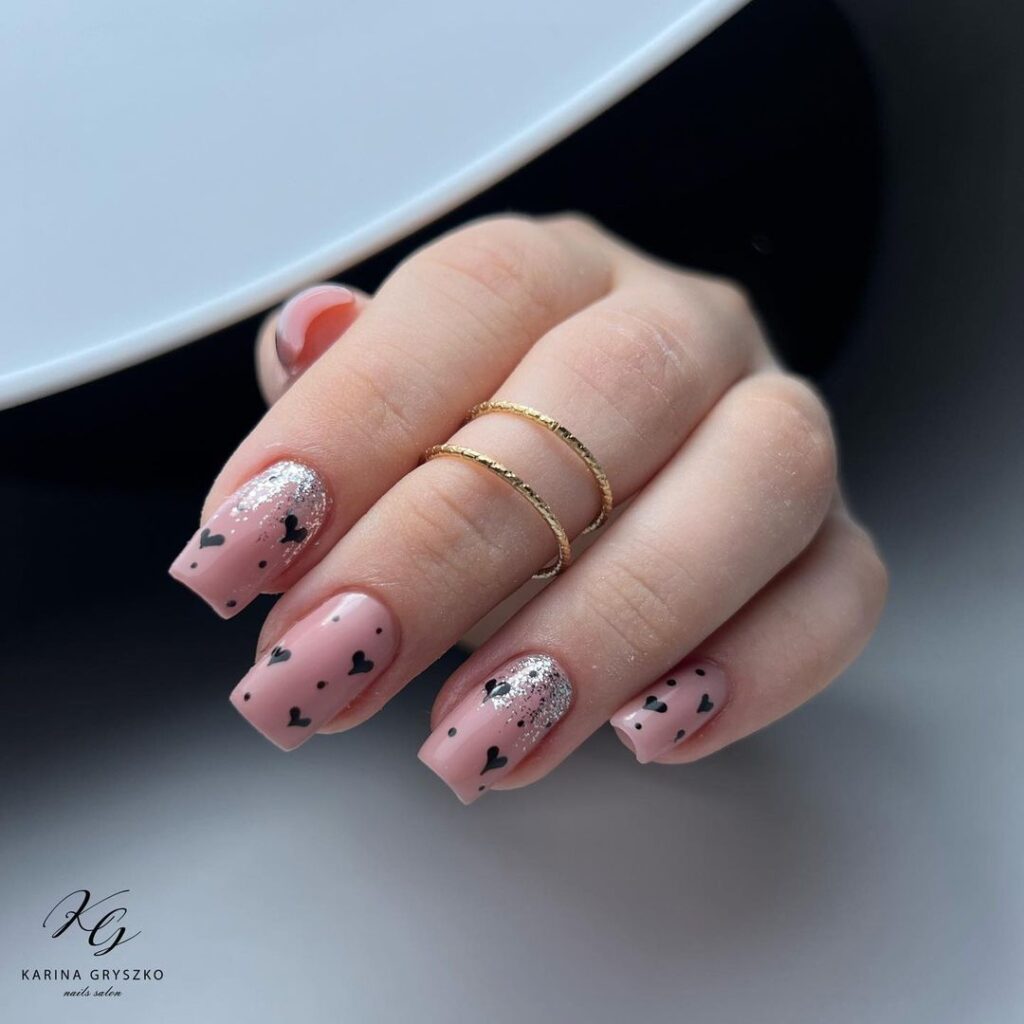 Courtesy: Karina Nails Salon
#69 Nude nail designs are also popular for weddings as they offer a timeless and sophisticated look that complements a wide range of styles and skin tones. They can also be a great idea for your honeymoon – no matter if it's a beachy destination or one enriched with culture.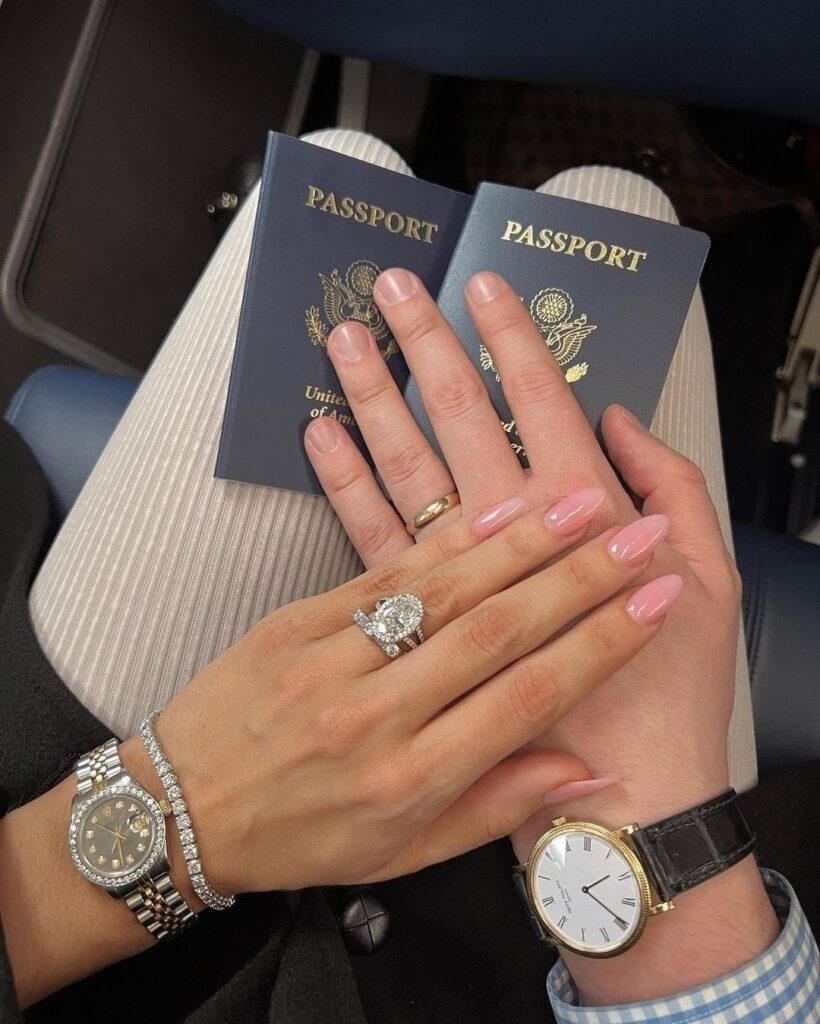 Courtesy: Campbell Puckett
#70 Take flight with these stunning nude coffin nails featuring butterfly accents. The chic and timeless look of nude nails combined with playful and whimsical butterfly designs creates a manicure that is both beautiful and unique.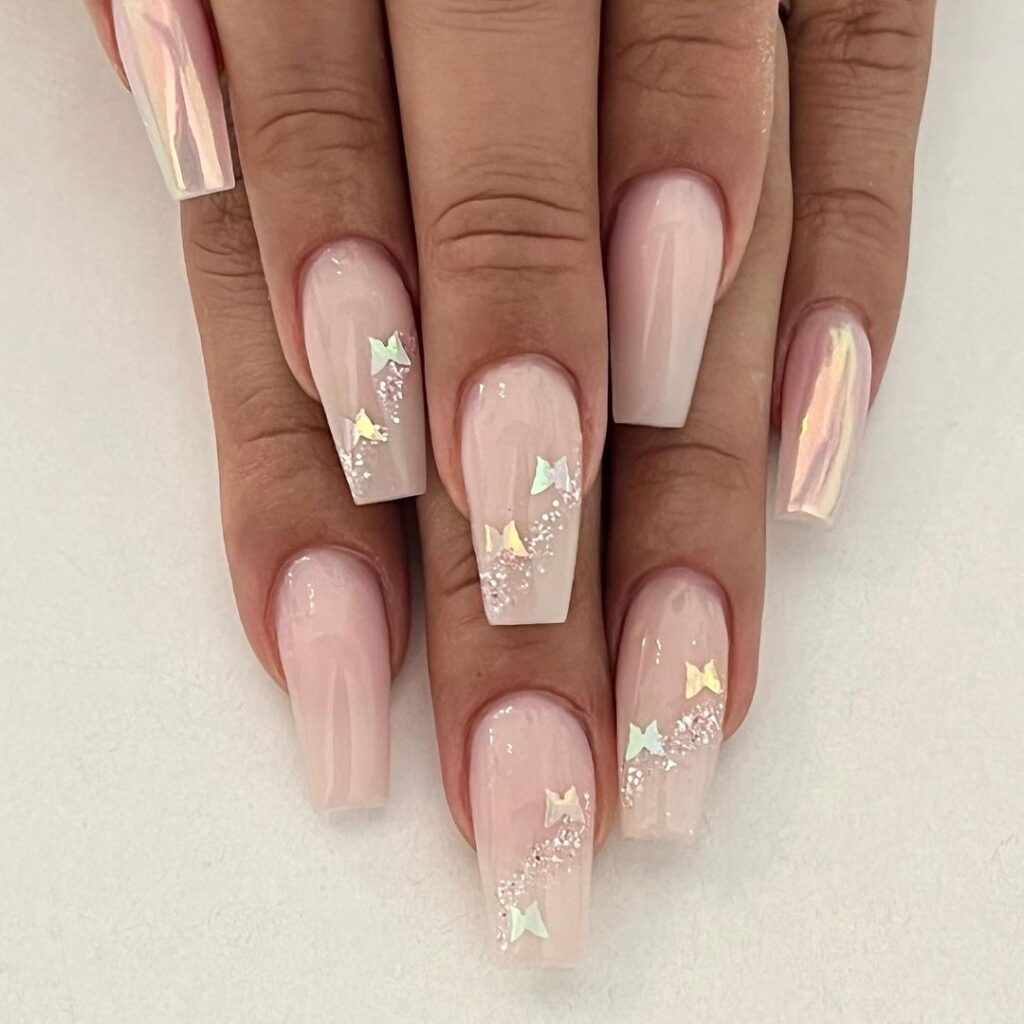 Courtesy: @nailsbywk
#71 Elevate your style with these gorgeous and sophisticated nude gray almond nails. The combination of a neutral shade and a trendy gray hue creates a manicure that is both timeless and modern, making it the perfect choice for everyday wear but also for special occasions like a birthday party or a wedding.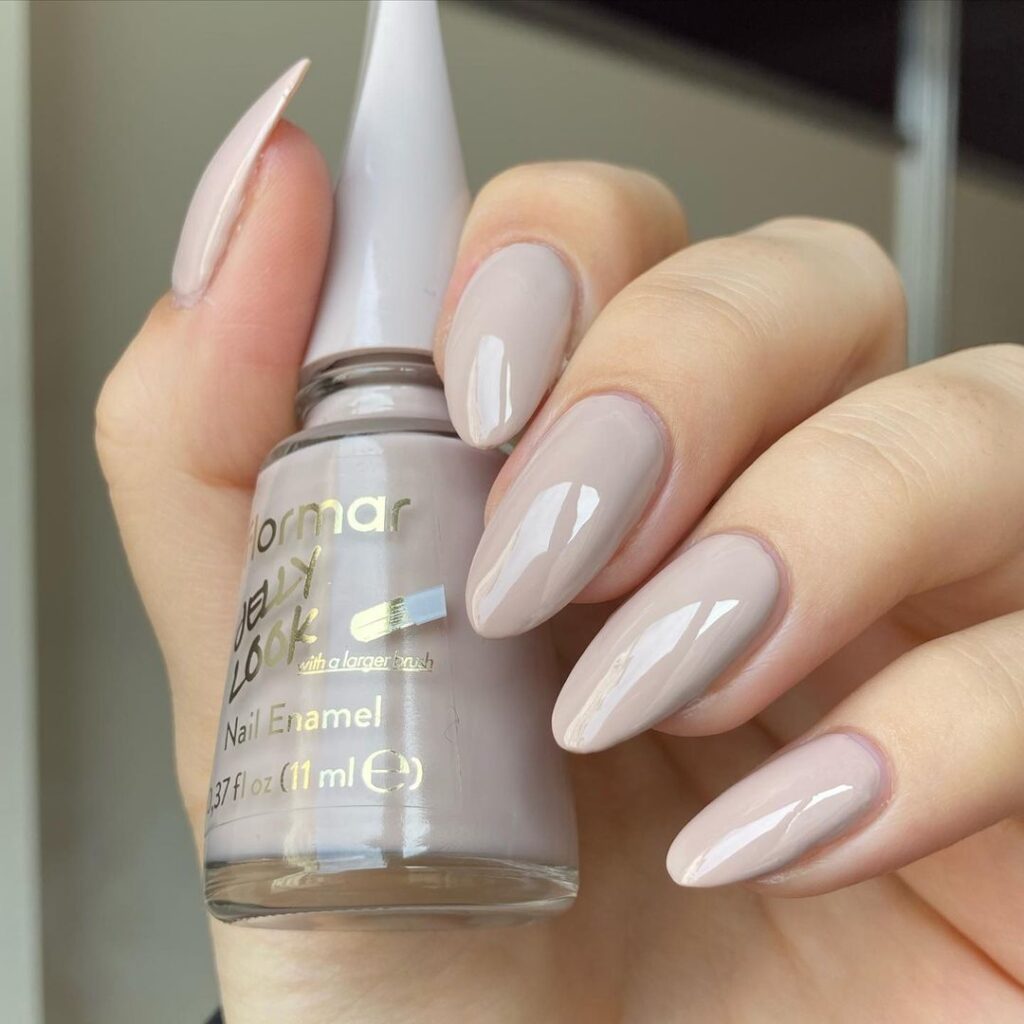 Courtesy: Eda
#73 With a purple nude color as the base, a layer of silver glitter in an abstract pattern gives us some really intricate art. You can DIY this at home, but if you want a more long-lasting manicure, pick a professional manicurist to do the job!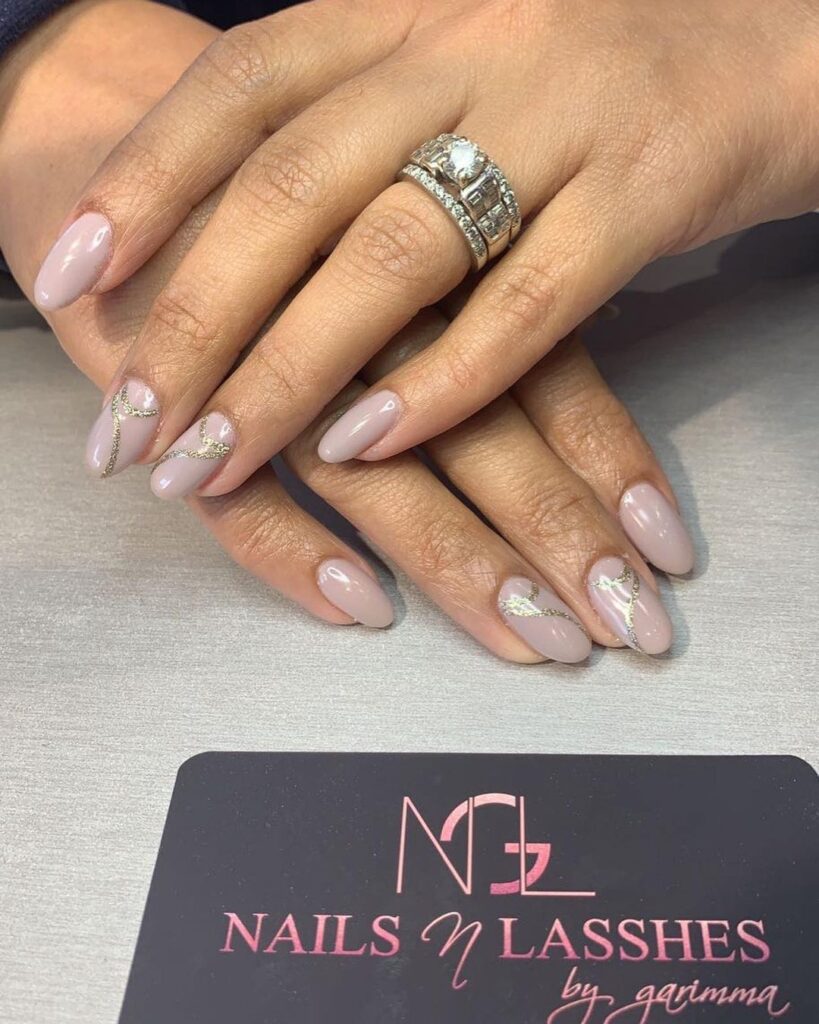 Courtesy: Nails n Lasshes by Garimma
#74 These nude nails with white tips merge the elegance of neutral nails with a French manicure. What's more! This manicure idea works with any nude nail color you choose and can make for a beautiful and timeless choice.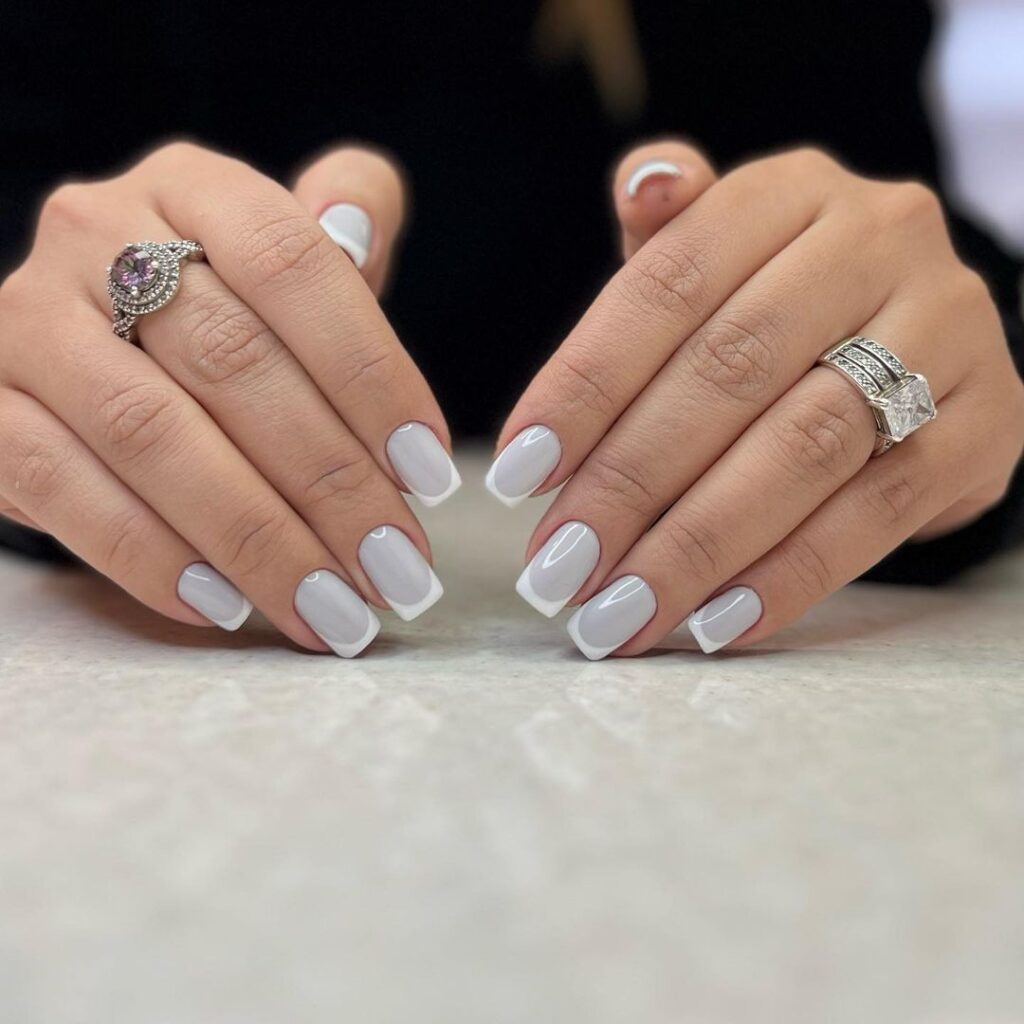 Courtesy: @nastaran.beauty.studio
#75  We're adoring these nude ombre nails elevated by a cute heart motif on the ring finger. If you're recently engaged and want to shower some extra love on your ring finger, this is a nude manicure idea to save for inspiration.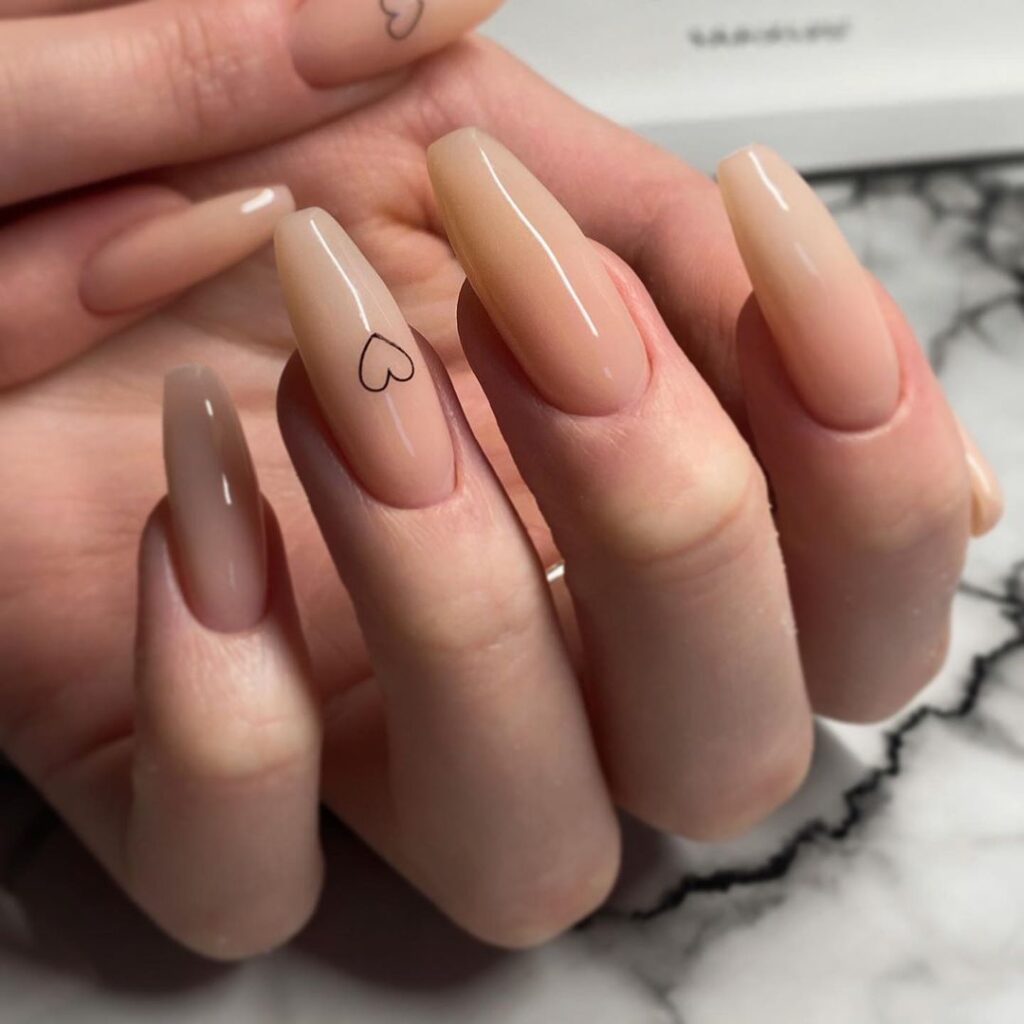 Courtesy: @_natali.manicure_
#76 Here's a nude nail design that's anything but boring. It features glitter foil on two nails, a sweater pattern on the ring finger, and a heart motif on the index finger to give us an incredibly pretty look. If you're DIY-ing them at home, you can totally skip the sweater pattern and the manicure will still look as stunning as portrayed in the picture.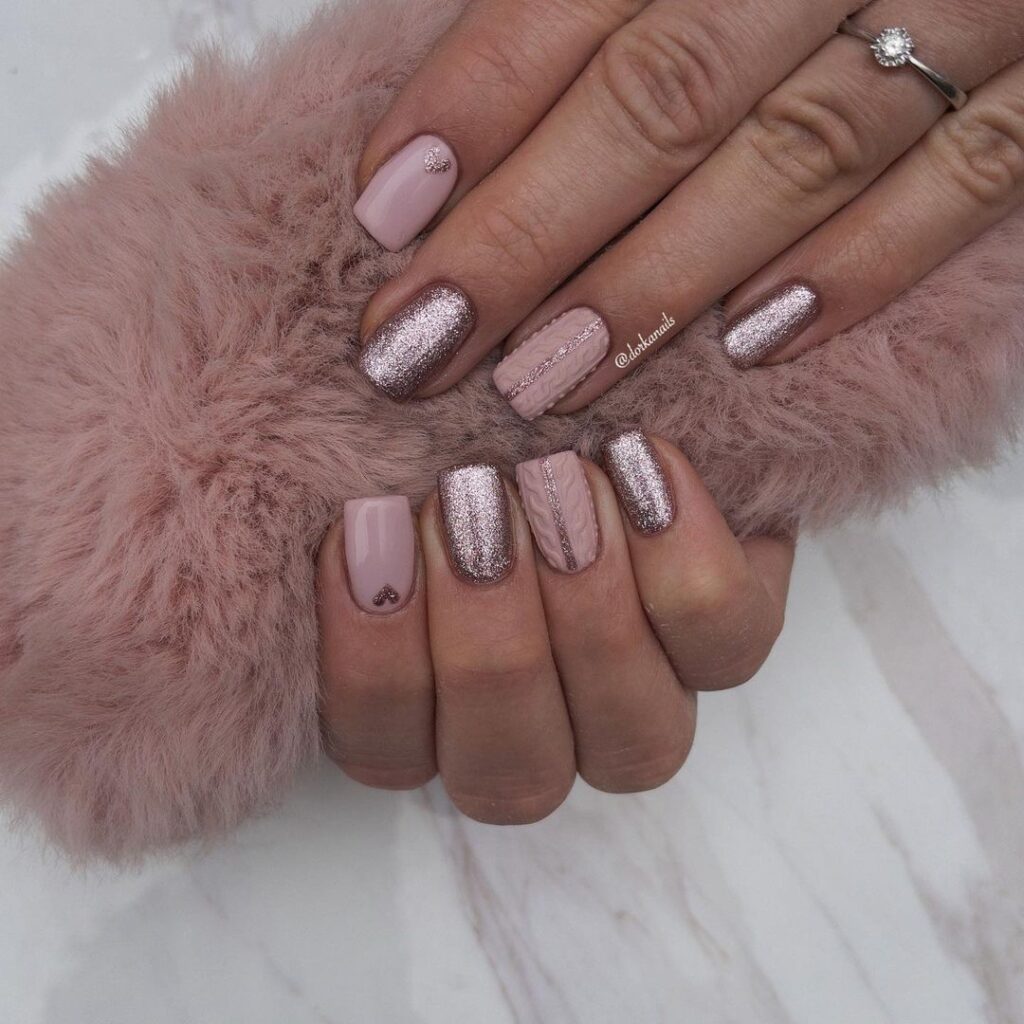 Courtesy: @dorkanails
#77 If you haven't heard, reverse French manicures are a trending manicure idea. It's a simple trend. You just take your French manicure style and flip it. Here, the reverse French manicure is applied to the nude nails with a golden stripe on the bed of each nail for a stunning twist to the classic French mani.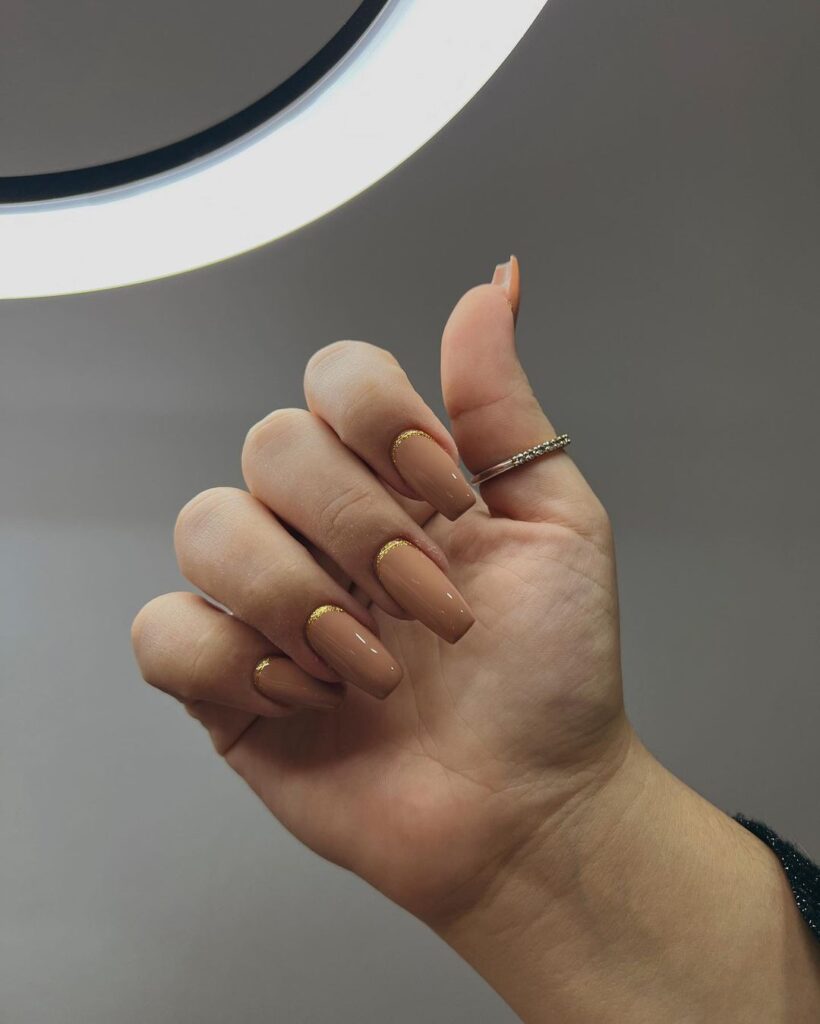 Courtesy: @nailsby.krisli
#78 These small dotted patterns in a flawless nude color are reminiscent of the fall season, but you can make them specific for any season with the relevant colors. Like green and red for Christmas nails and orange & yellow for summer nails, etc.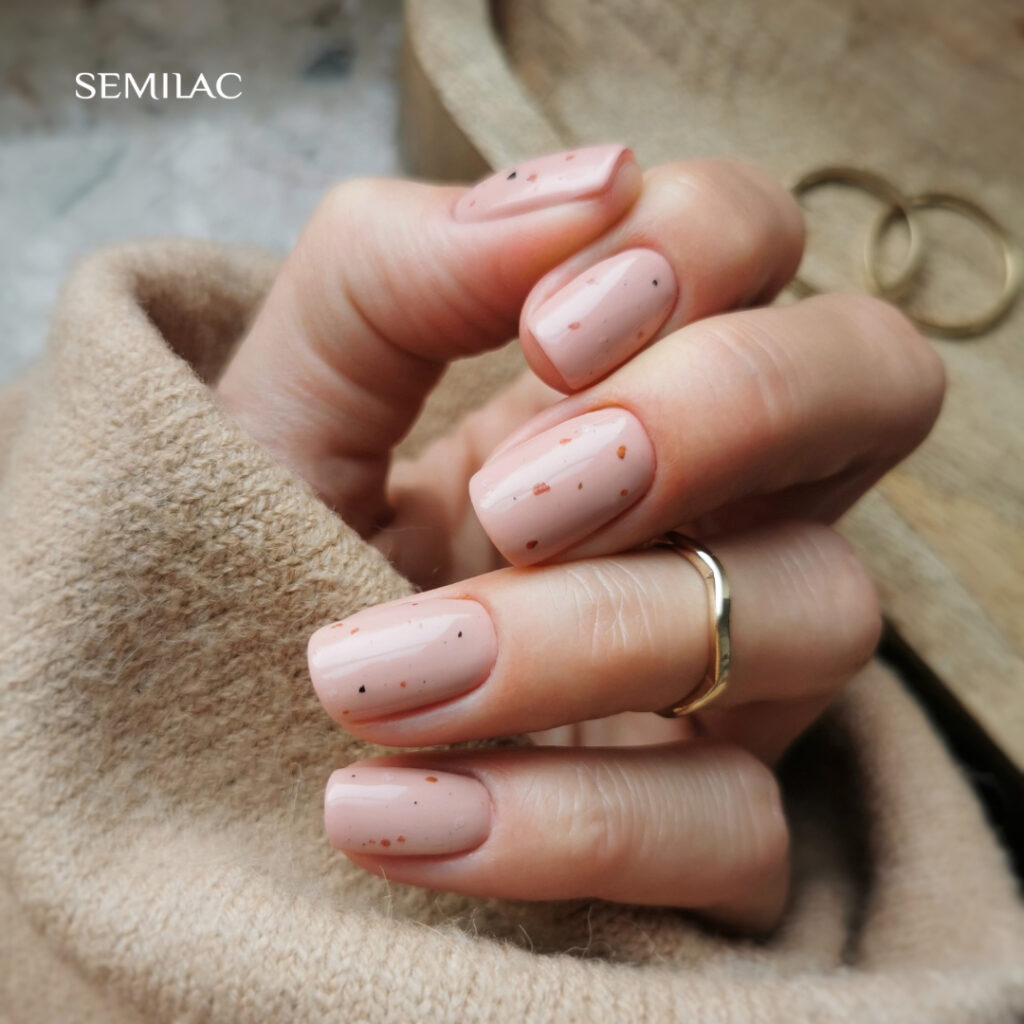 Courtesy: @semilac
#79 For those wanting long nude nails for their manicure, then these square nails with pointed edges are exactly what you're looking for! The flowers on the ring finger break the monotony of the design, and the addition of rhinestones amps up the personality of the manicure.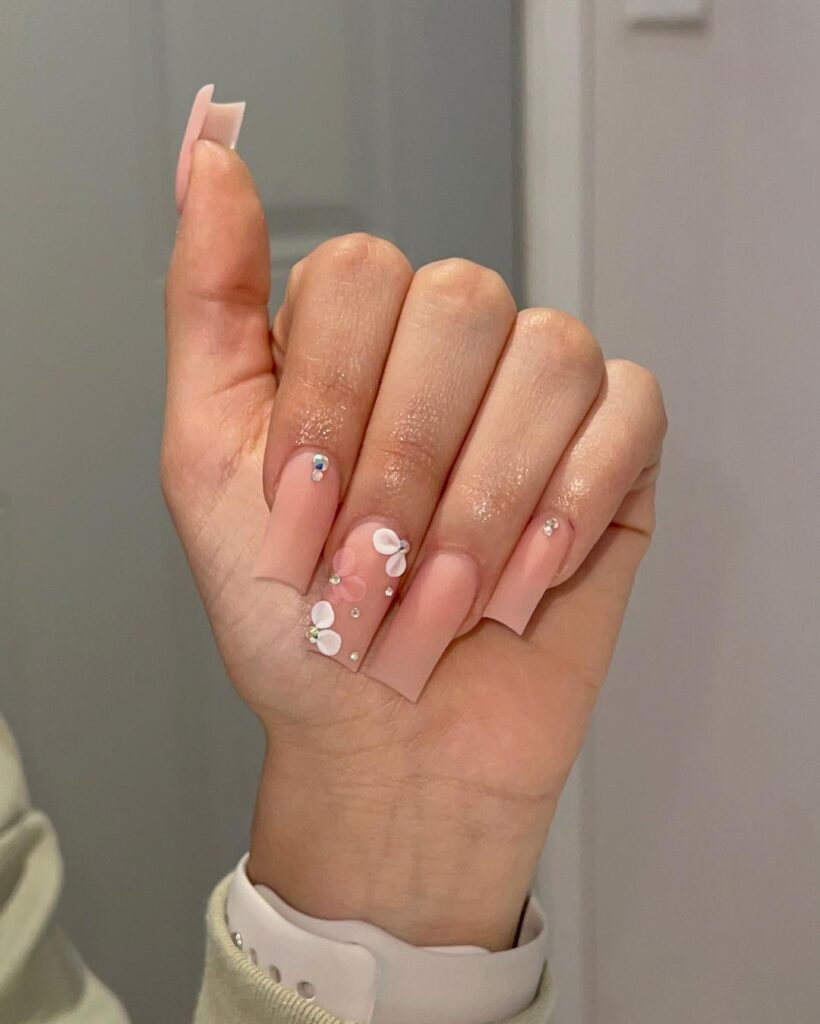 Courtesy: @naailssbysteph
#80 For Women who have an active lifestyle or have kids, it makes sense to opt for short nude acrylic nails. Know, that even shorter nails can be used to infuse creativity into your manicure. Here, for example, the neutral manicure is enhanced by the abstract pattern on the ring finger for an interesting and beautiful look.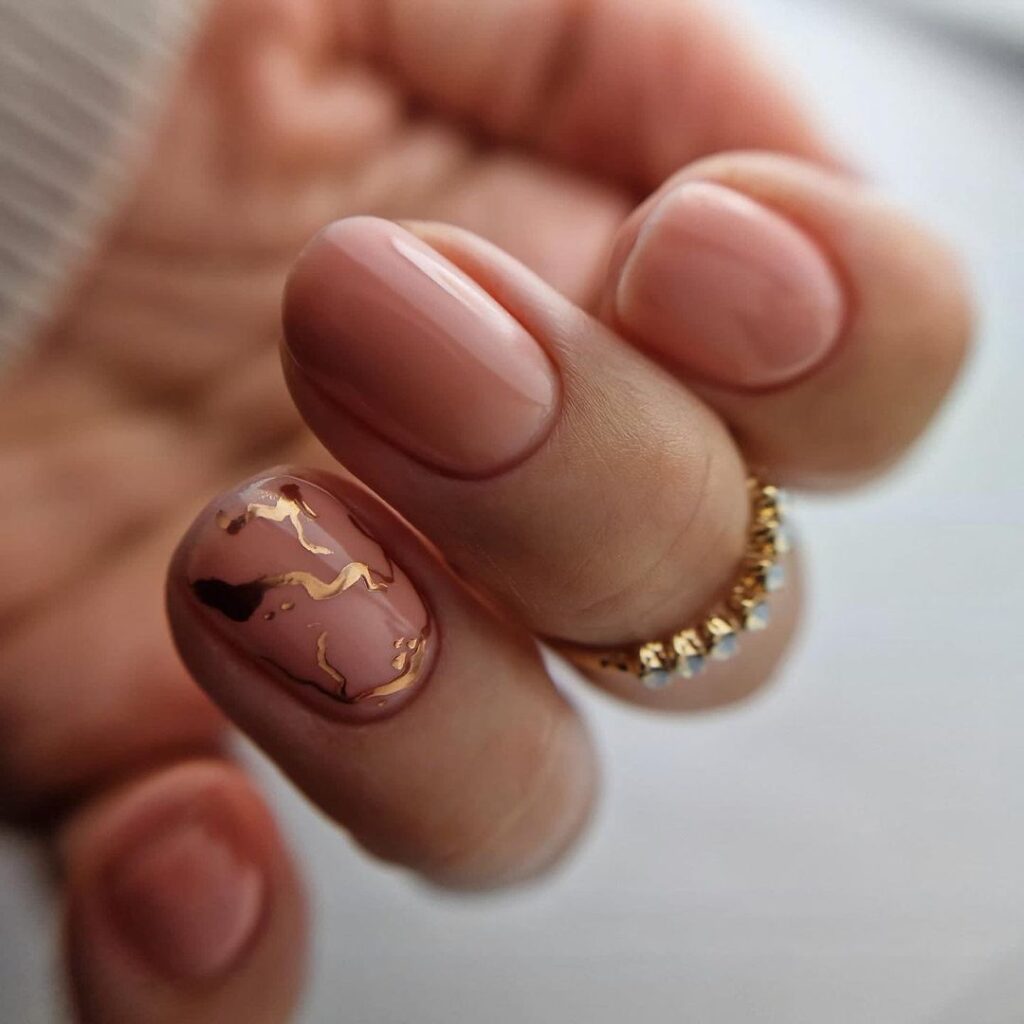 Courtesy: @byfyn.nail
#81 You might have thought nude nail designs will be basic and demure with no room for daring and creative art. Well, the next design proves the neutral manicure can do both! These nude nails with rhinestones and glitter are ideal for someone looking to make a bold statement with their manicure choice.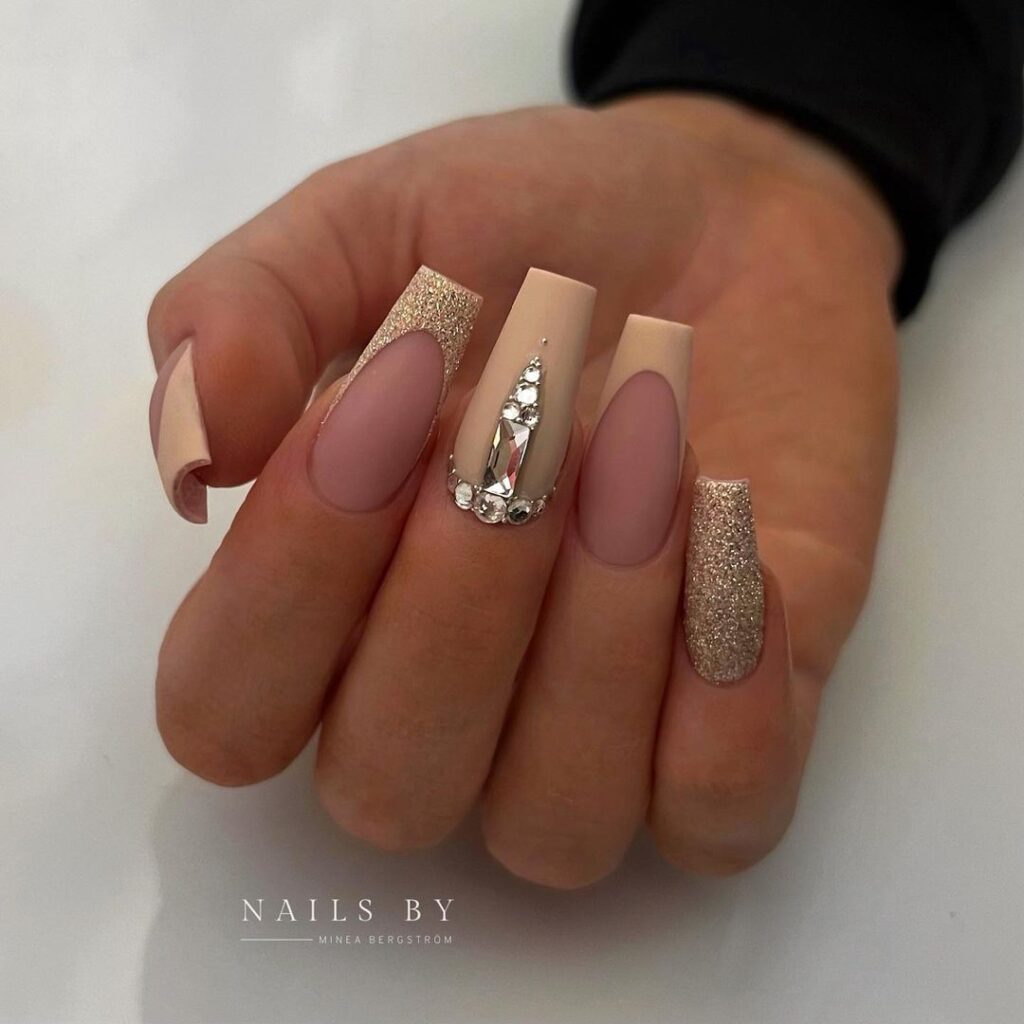 Courtesy: @minea.nails
#82 These pink nude nails are dainty and ethereal, making us swoon with their simplicity. They are also quite versatile and flatter any outfit you choose. If you notice, the nails are bedecked in subtle marble patterns (not glitter) and coated with a gloss coat for a smooth finish.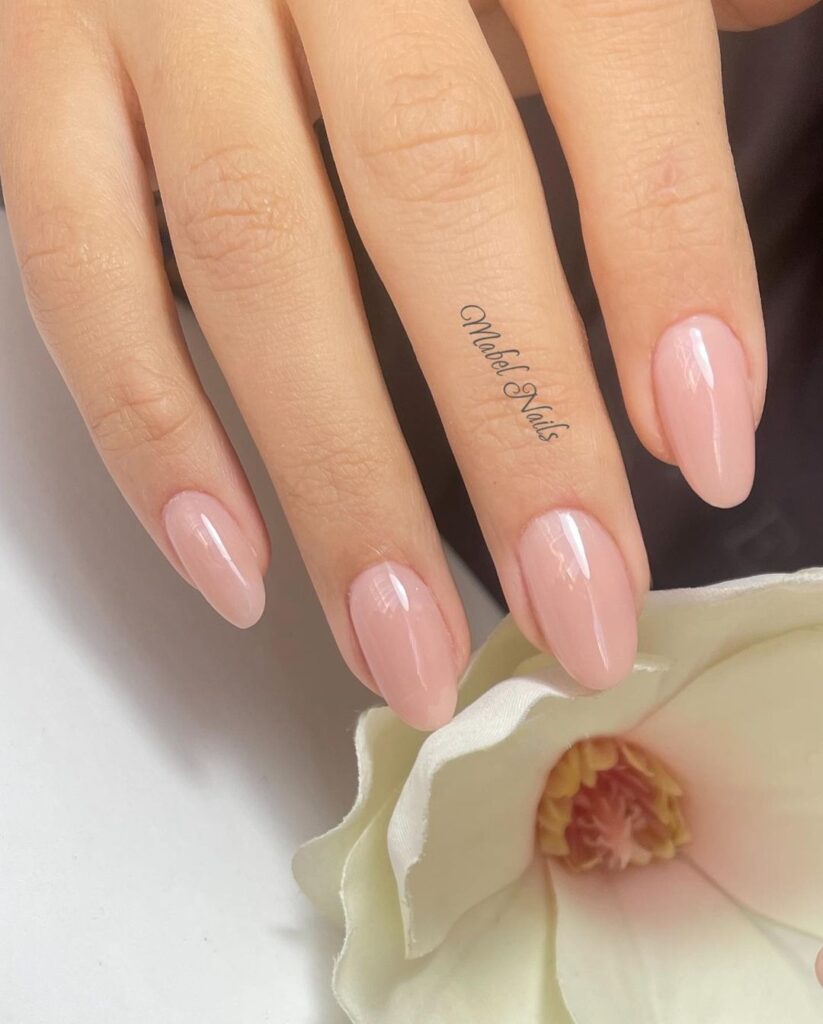 Courtesy: @mabelnails_studio
#83 When you're looking for an easy rendition of the design portrayed above, here's one that's done with subtle glitter coating on the top. You can also get press-ons for this stunning look!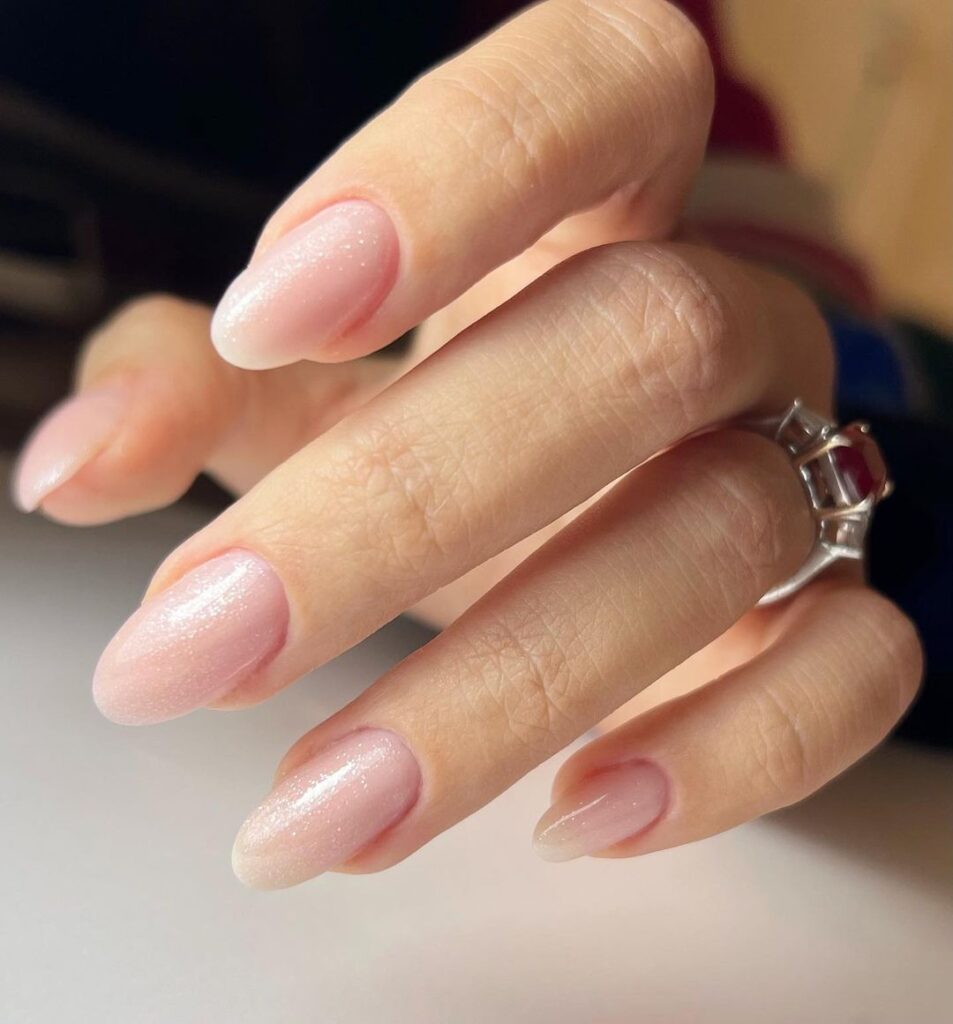 Courtesy: @by_marie_nailsacademy
#84 We don't know about you, but we're stumped by this modest yet artistic nude nail designs 2023. You can also DIY them by using a dotted brush. Just be extra careful with the lines to ensure the intricacy.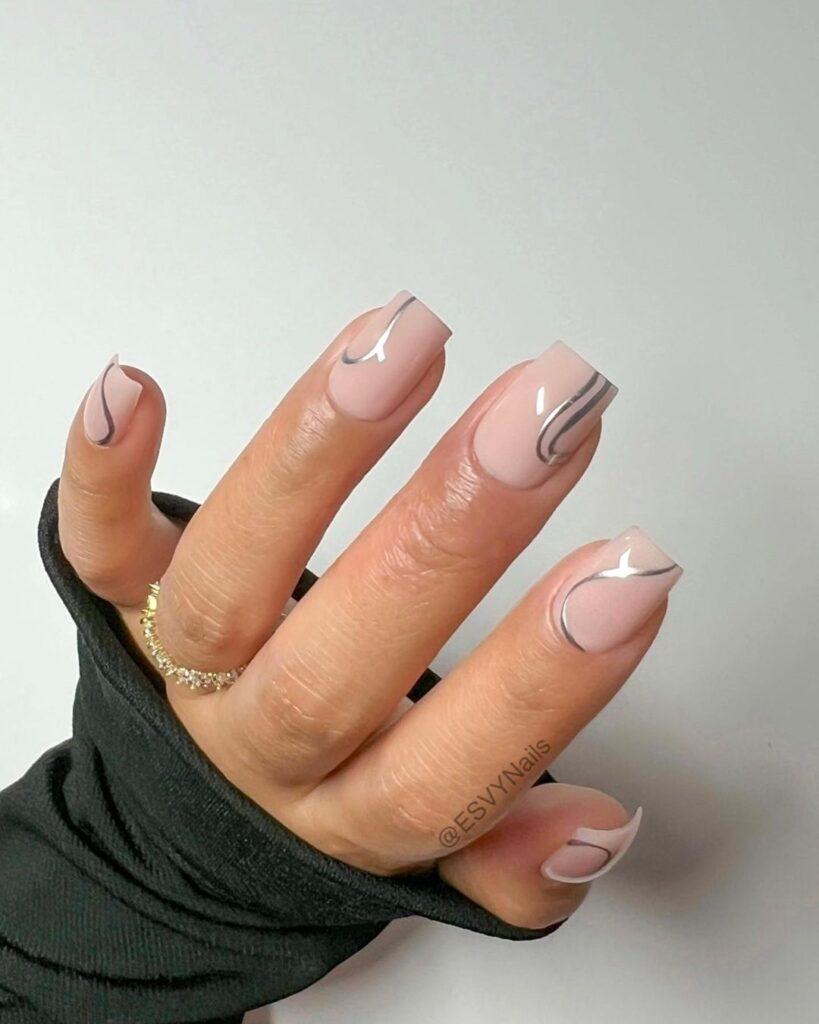 Courtesy: @esvynails
#85 Shine with your nails by adding a pop of sparkle to your neutral manicure. The golden foil covers the majority of the accent nail while others are also dusted with gold glitter to give a harmonizing look.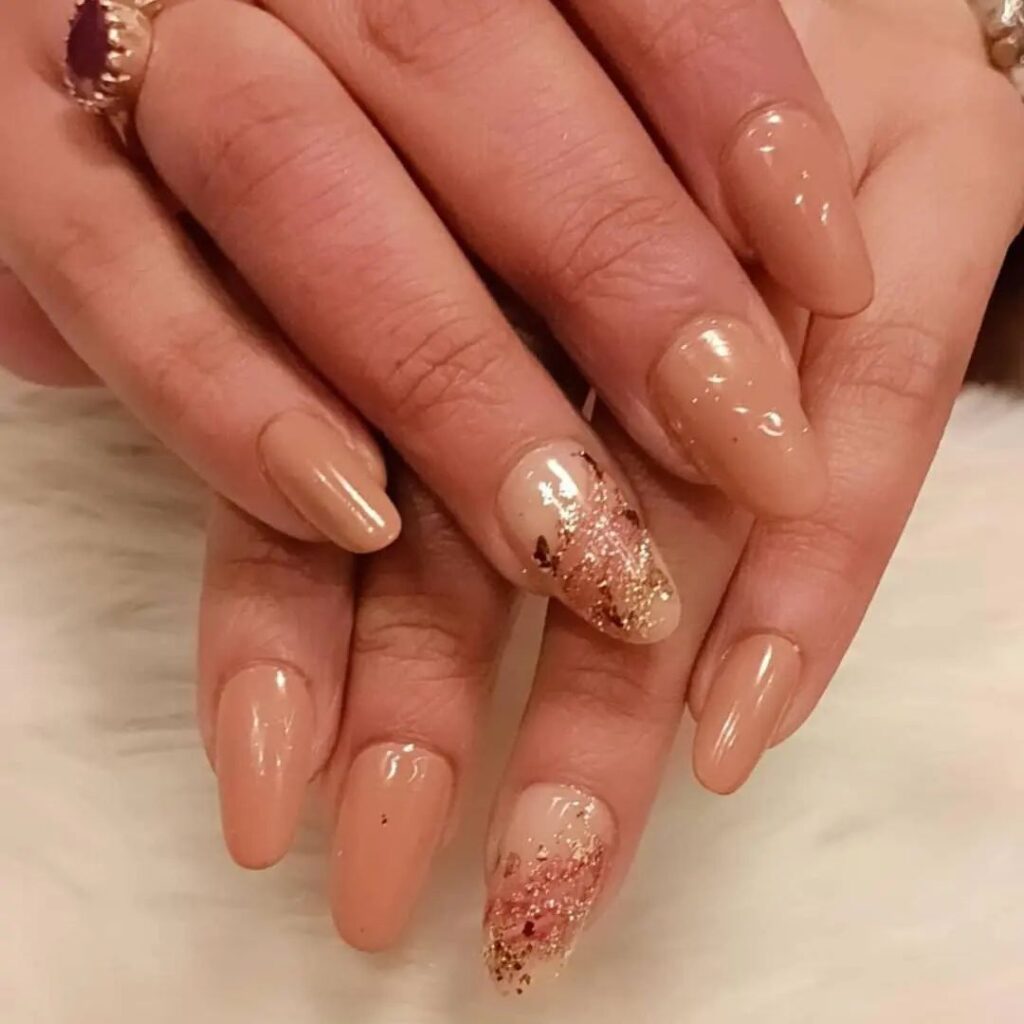 Courtesy: Lotus Makkar
#86 A gloss coat is a superb way to elevate the glam of any manicure. Be it single-color nails, French tip nails, or nude nails. So if you have a top glossy coat lying around in your vanity and a fun party to go to, just apply it on top of your existing nail polish and you're good to go!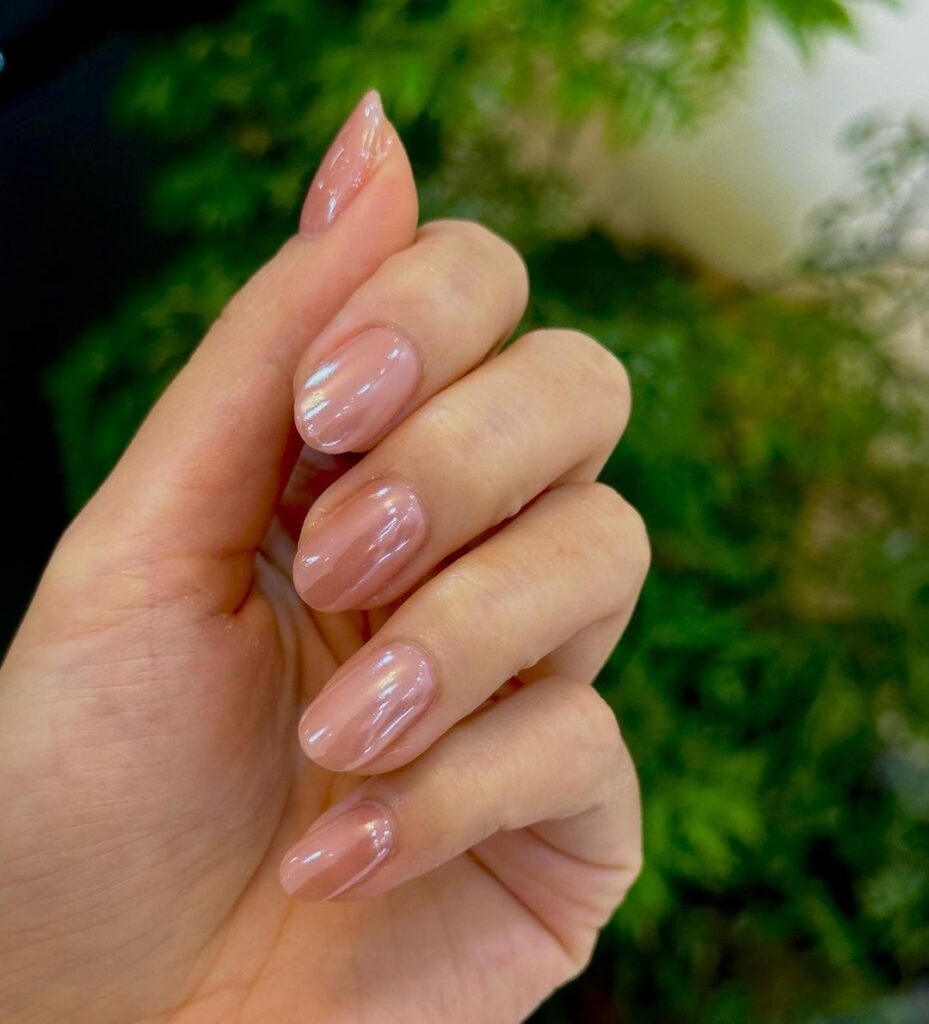 Courtesy: Jasmine Nails
#87 We love the contrast of this nude manicure. The brown nude nails are contrasted by white and glitter for a ravishing appearance, hard to be ignore by anyone who lays eyes on your hands.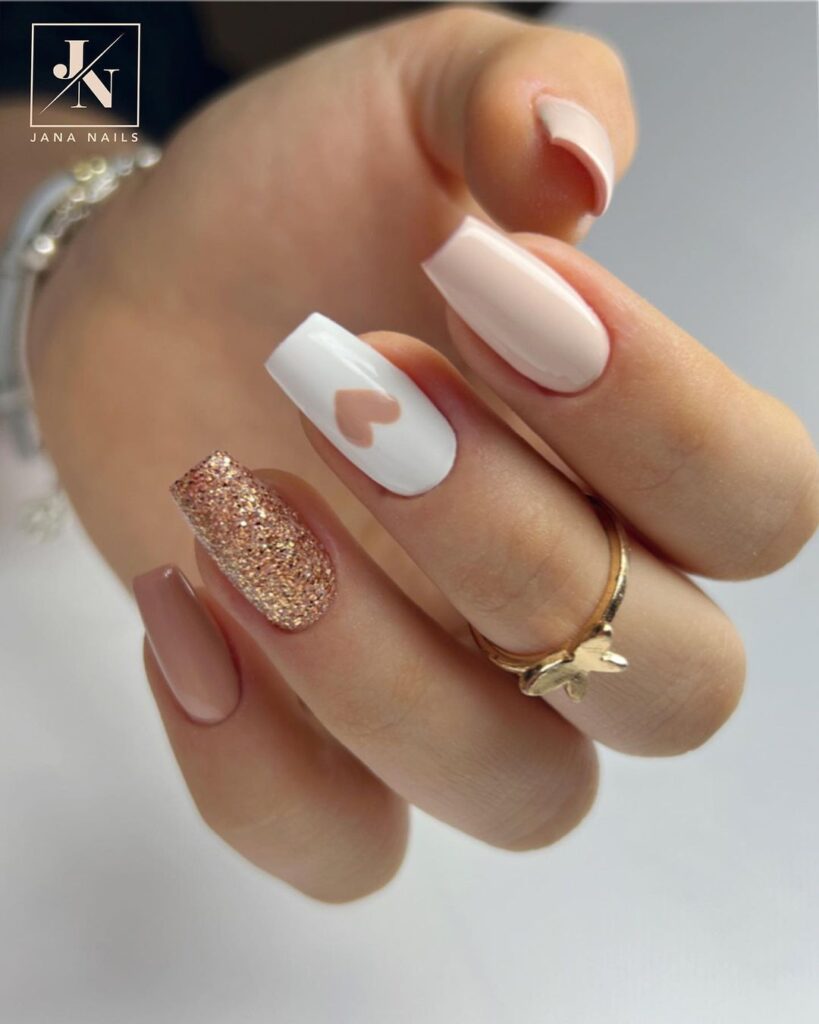 Courtesy: Jasmine Nails
#88 If you prefer a shorter nail design that you can DIY at home, here's an aesthetic one to try. It just requires one neutral color and a glitter coat to finish! Do precede with a base coat to make the polish last longer.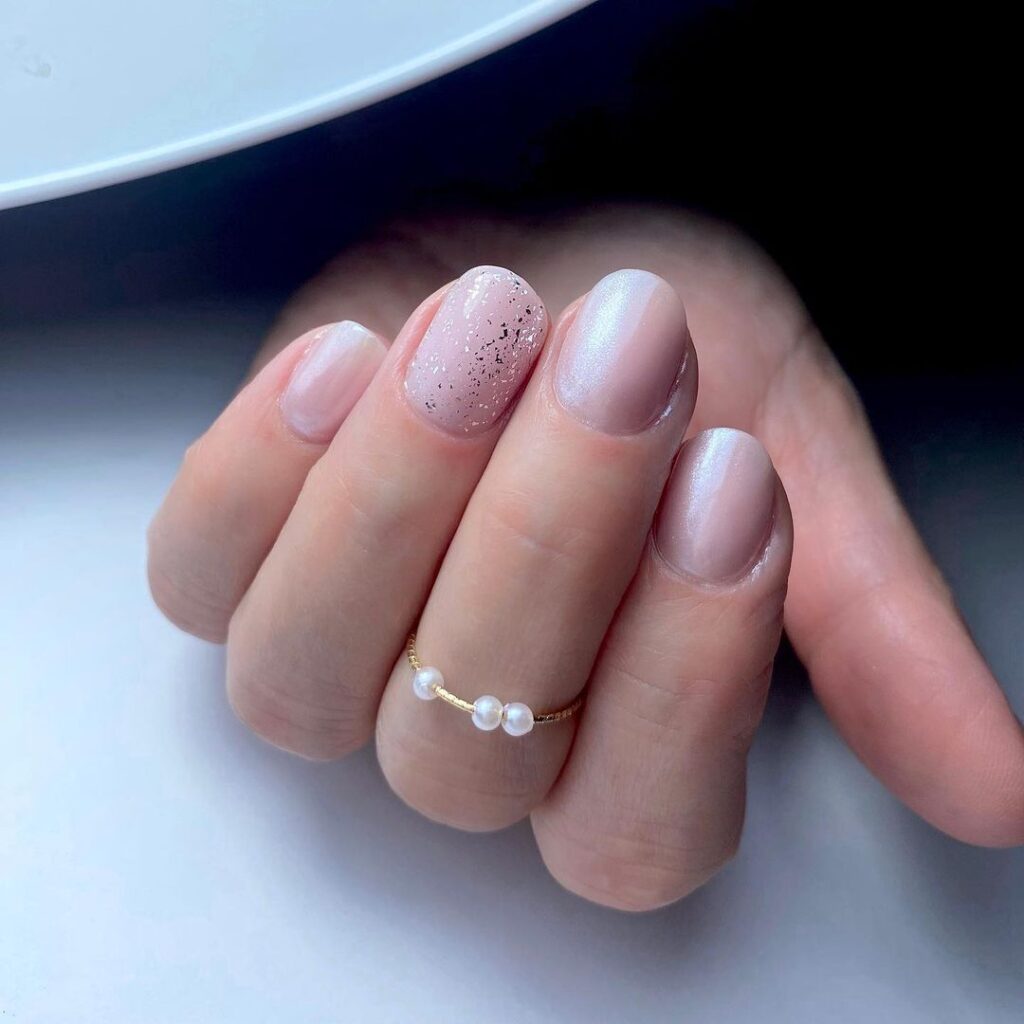 Courtesy: @znana_stylistka
#89 These brick pink nails with rhinestones are outlined with brown glitter for a fun appeal. Just know that this particular manicure will require a steady hand to create.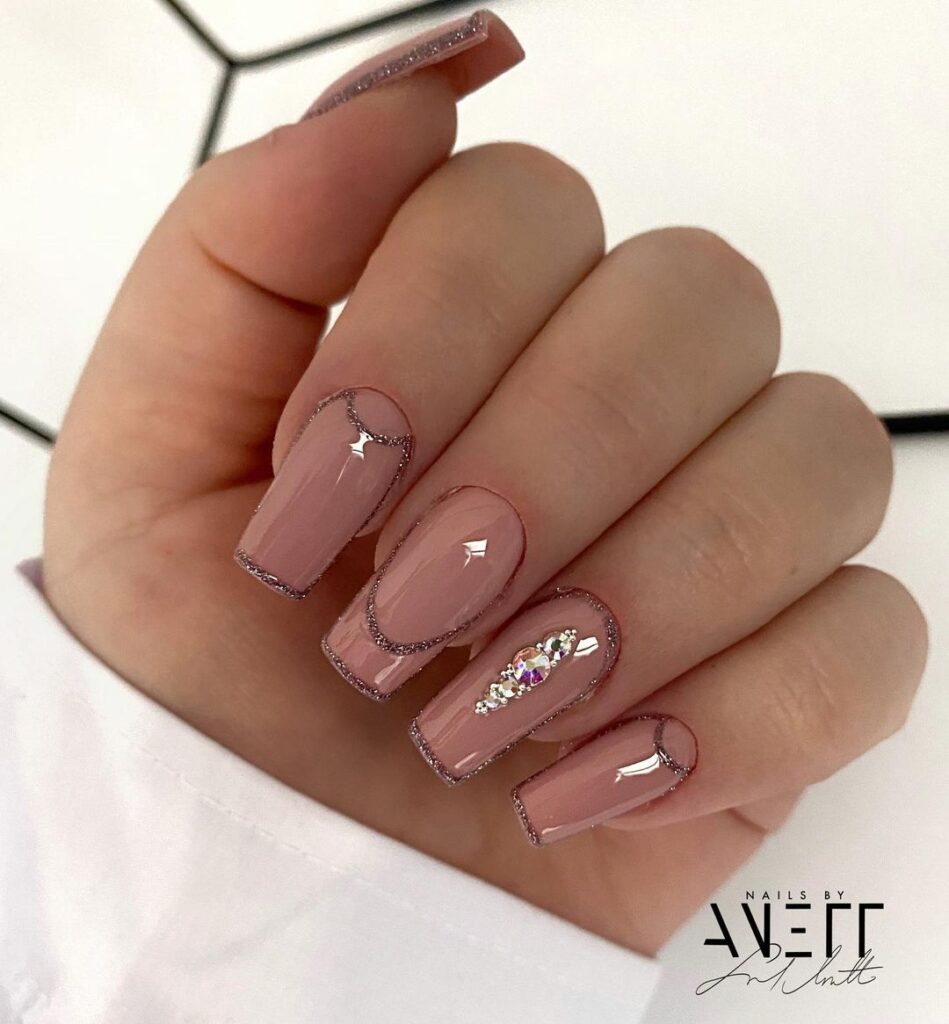 Courtesy: @l.anett.nails
#90 While sweater patterns in manicures are common in winter, you can still carry them in other seasons if you love the cozy feelings it evokes. Make it the accent nail to keep things understated and elegant at the same time.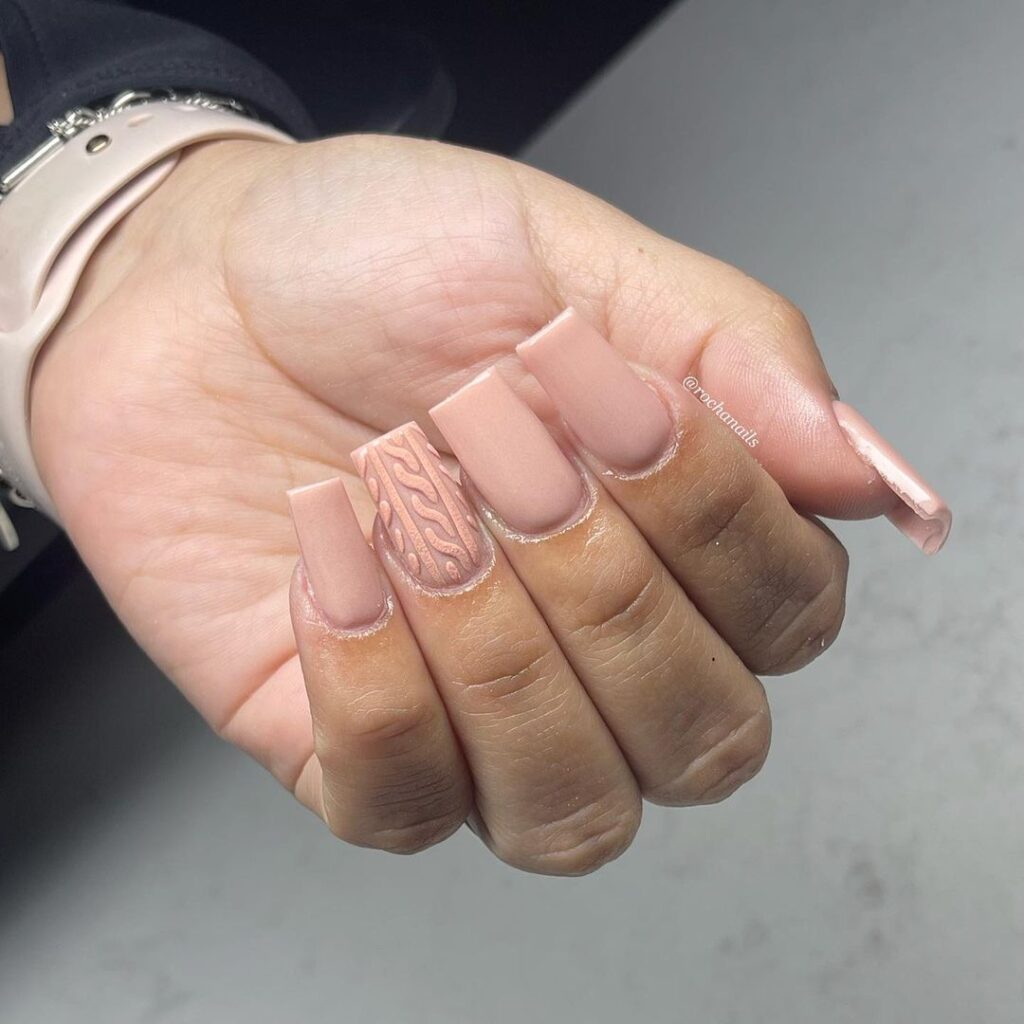 Courtesy: @rochanails
#91 Nude ombre nails don't necessarily have to be created with the same color palette. It can also be created with a neutral color and glitter. In the next featured design, the ombre glitter is done on two nails while the others have just one color for a cool, seamless look.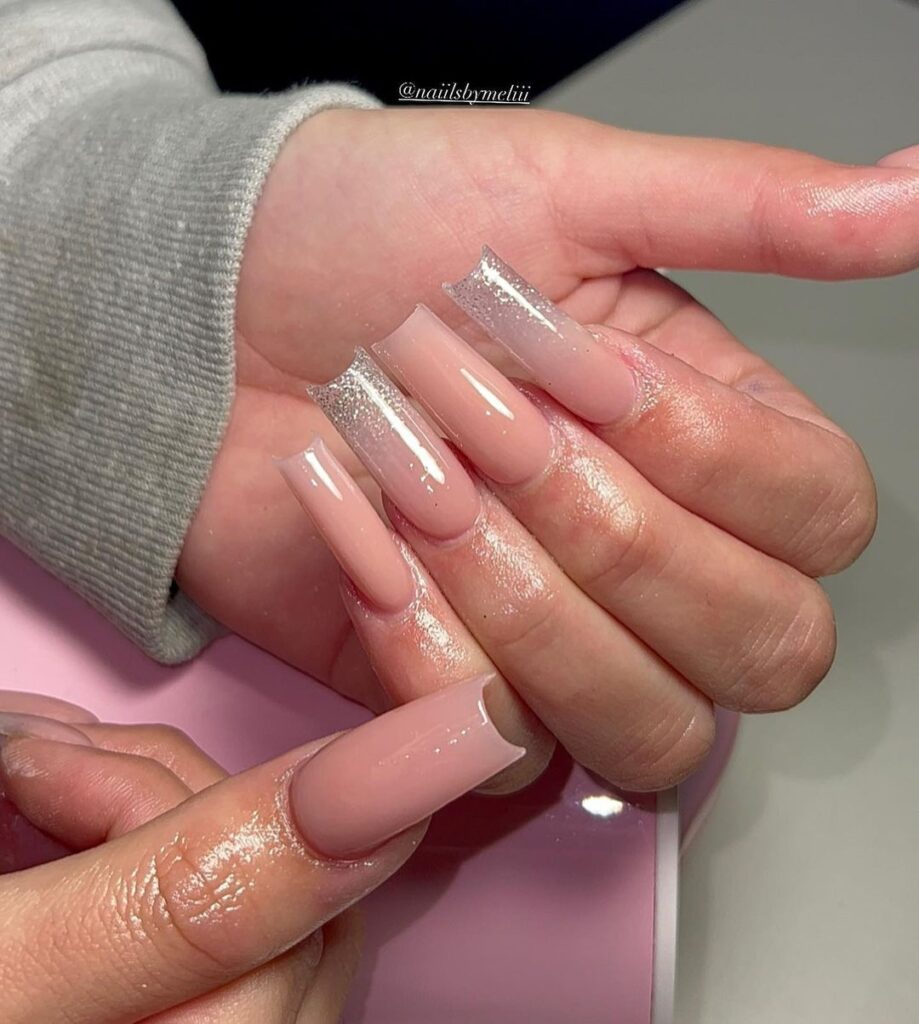 Courtesy: Nails by Meli
#92 Going bare with your nails? Amp them up with a stud and a heart motif on each nail for an interesting and beautiful look. You can also pick other motifs like flowers for the spring season, or clouds for the summer nail design.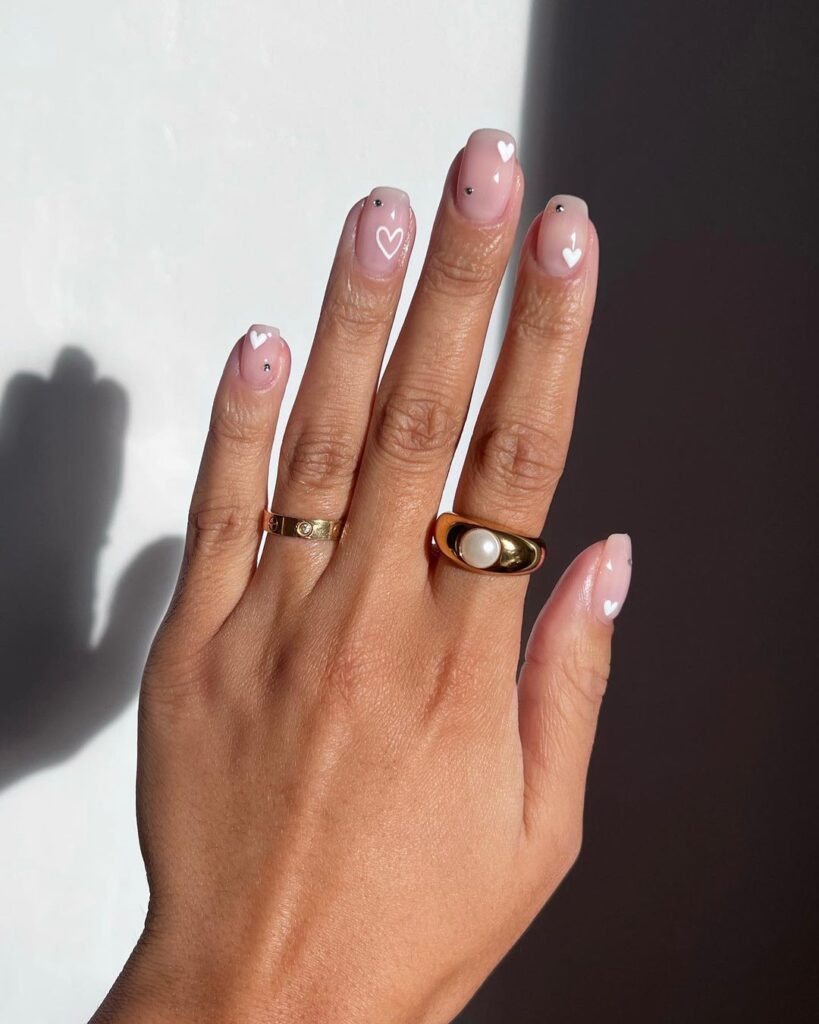 Courtesy: Iram Shelton
#93 Nude coffin nails are trendy, chic, and sophisticated. They go with every type of outfit and complements all occasions. When you're looking for a refined and simple look, you can't go wrong with nude coffin nails.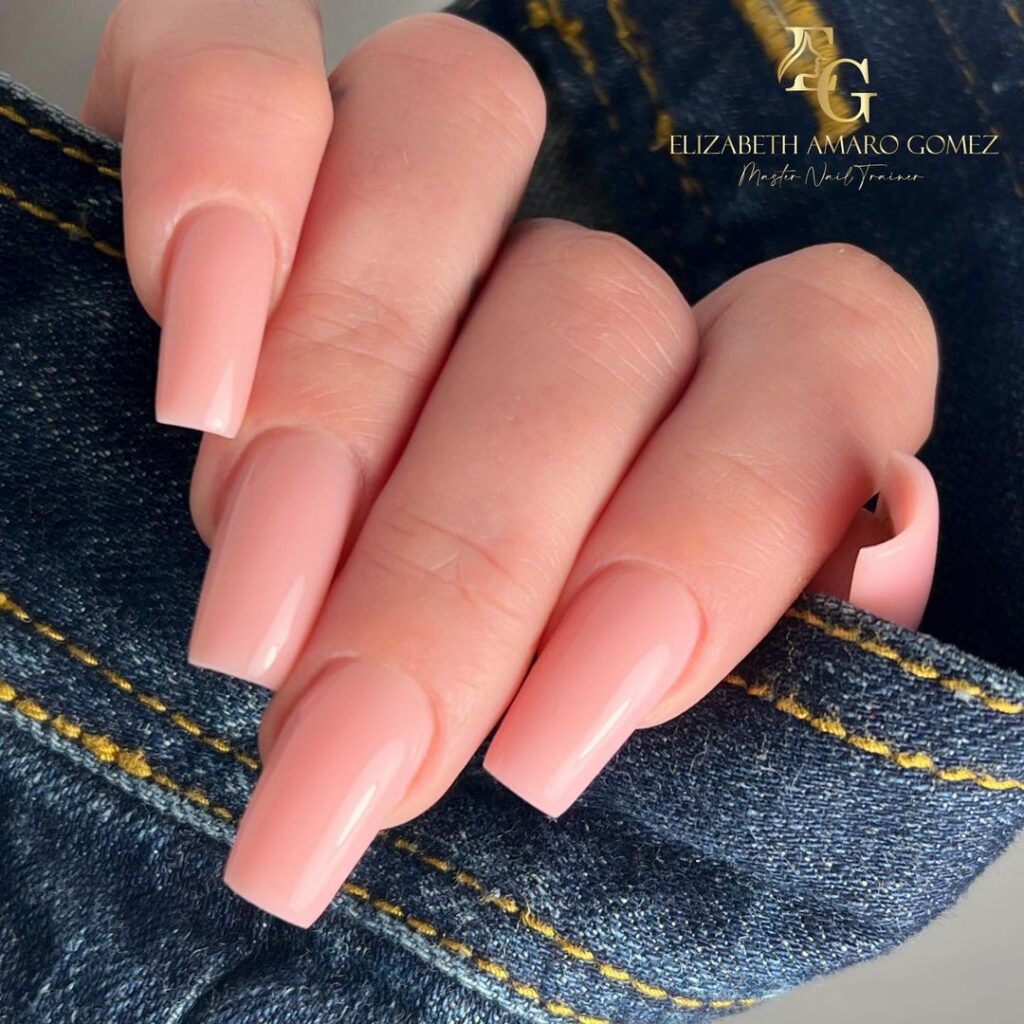 Courtesy: Elizabeth Amaro
#94 If you're in search of a monotone color that possesses the elegant attributes of nude and the glamorous appeal of gloss coat, there are nail polishes that do both, making your work easier during application.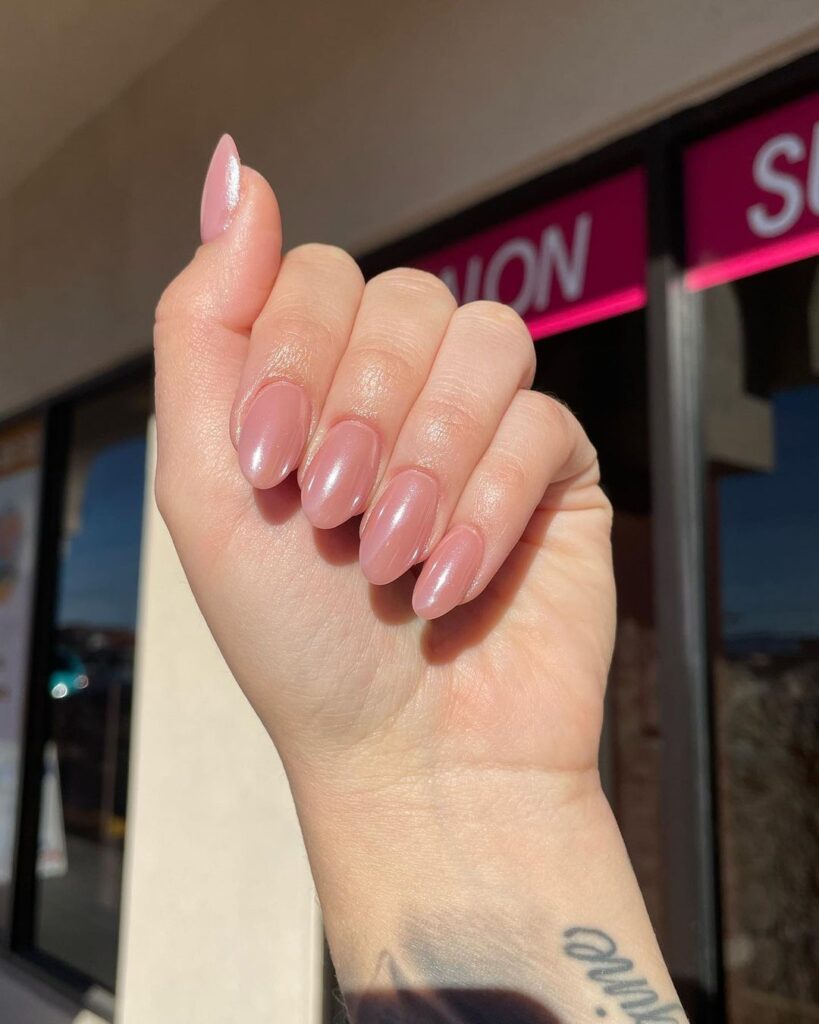 Courtesy: @laurasnailsspot
#95 You don't have to dive super into artistic manicures to create a nude nail design that grabs attention. Just start with your favorite nude base and use a dotting tool to draw lines with golden glitter polish. 
Courtesy: @candynails.warsaw
#96 If you're a fan of the basic nude manicure, then grab your favorite neutral color and apply to your hands. Do apply a base coat and a top coat if you want the polish to last longer.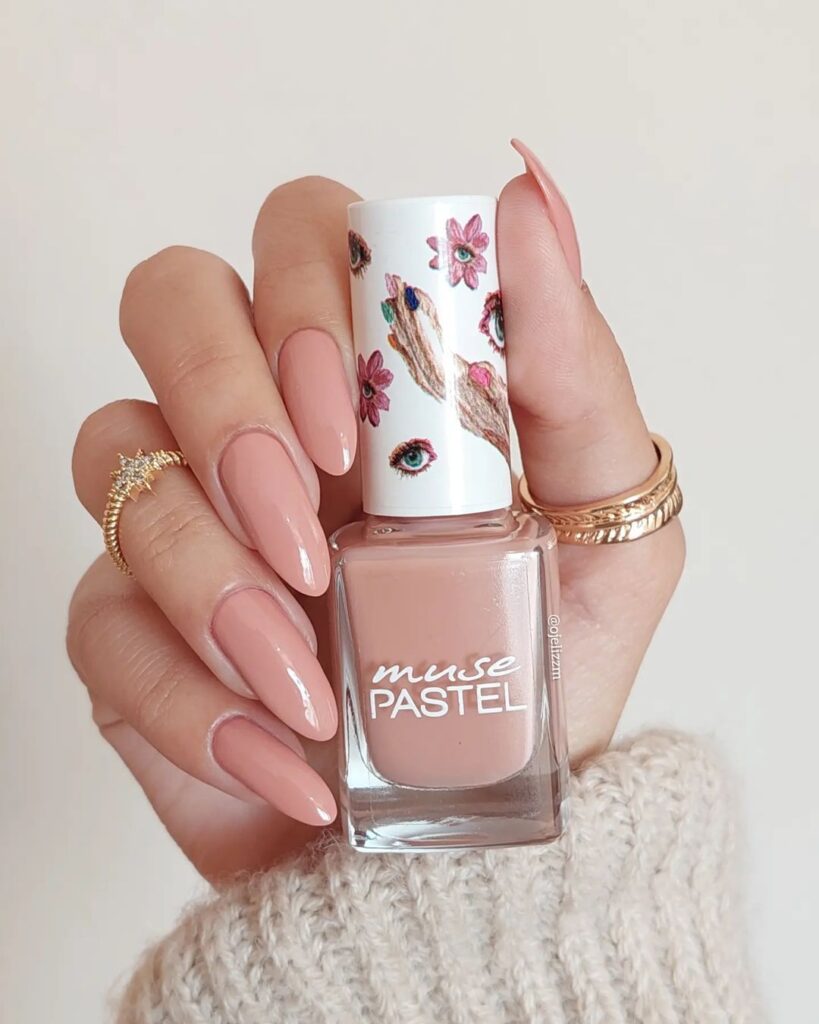 Courtesy: @ojelizzm
#97 These nude nails with white tips are enhanced by glitter and heart motifs for a truly interesting manicure. Know that these nails require intricacy and expert hands, so only trust a professional nail artist to recreate them for you!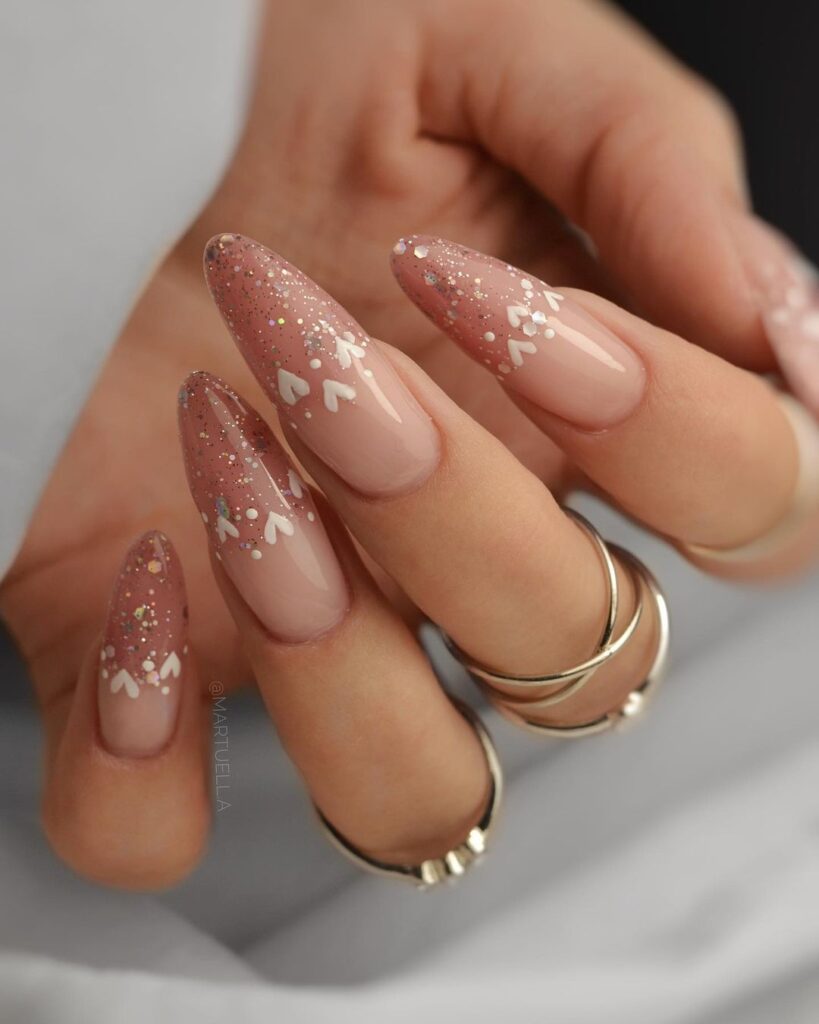 Courtesy: NC Nails Company
#98 These colored dots and stars remind us of confetti, and what's not to love about the fun memories of confetti? For this look, keep the base nude and carefully apply the embellishments on top.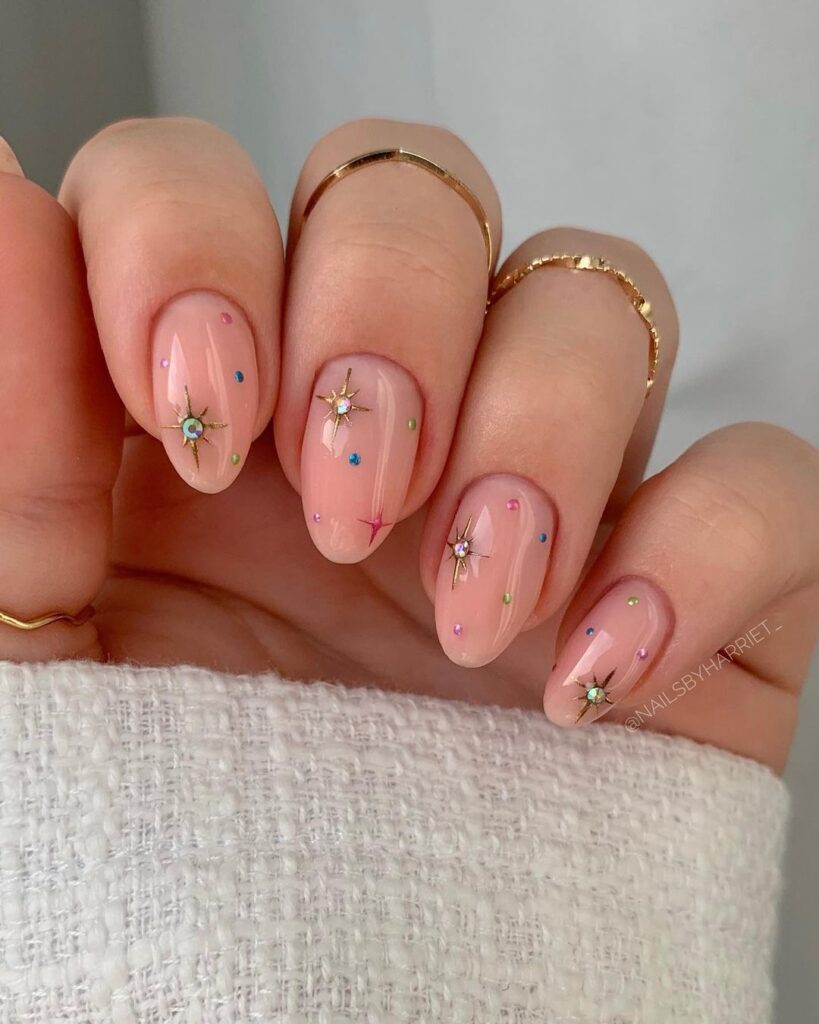 Courtesy: Nails by Harriet
#99 We love how this nail polish is shown just after being applied to the hands! To remove the extra polish from the sides, just dip an earbud in acetone and run it on the sides of the nails.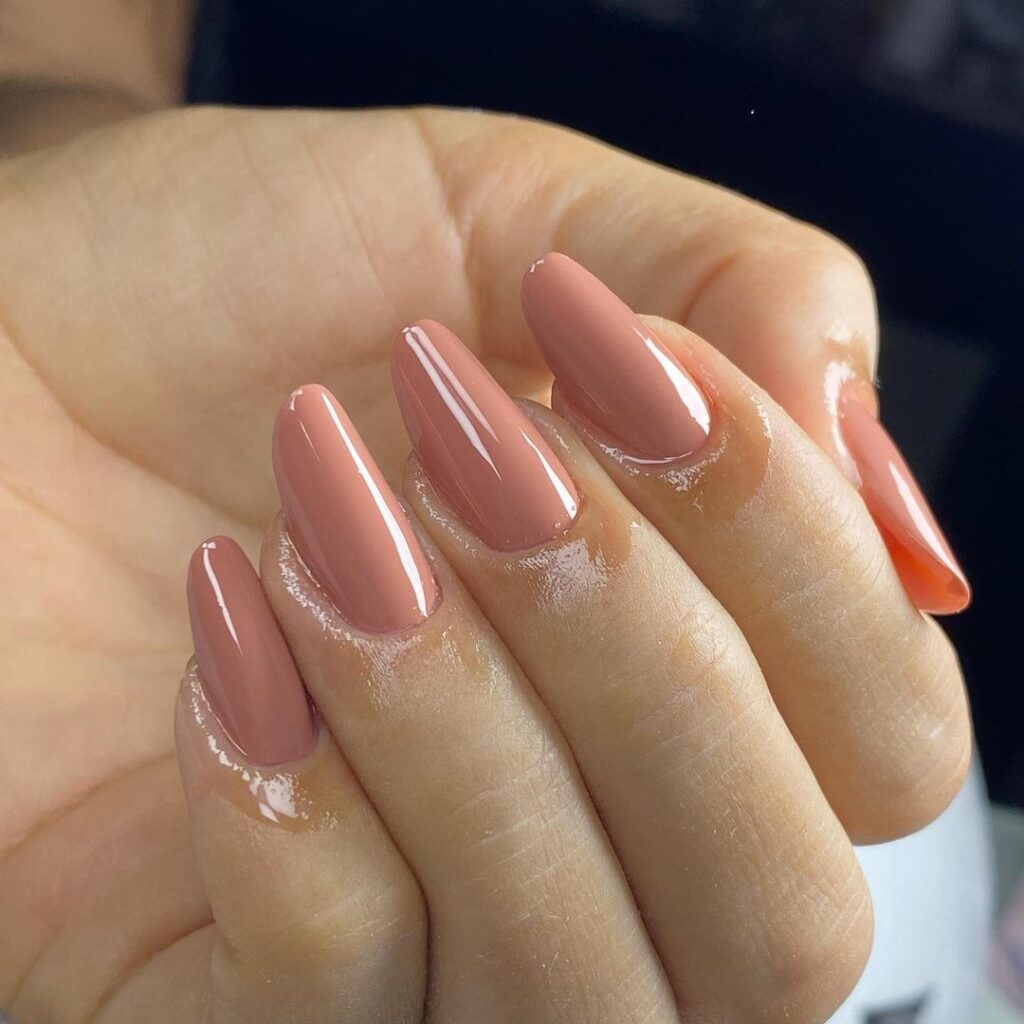 Courtesy: Duda Liima
#100 Add a touch of sophistication to your manicure with these gorgeous gloss nude pink nails. The neutral shade and high-shine finish create a timeless look that's easy to create and is versatile with any outfit choice.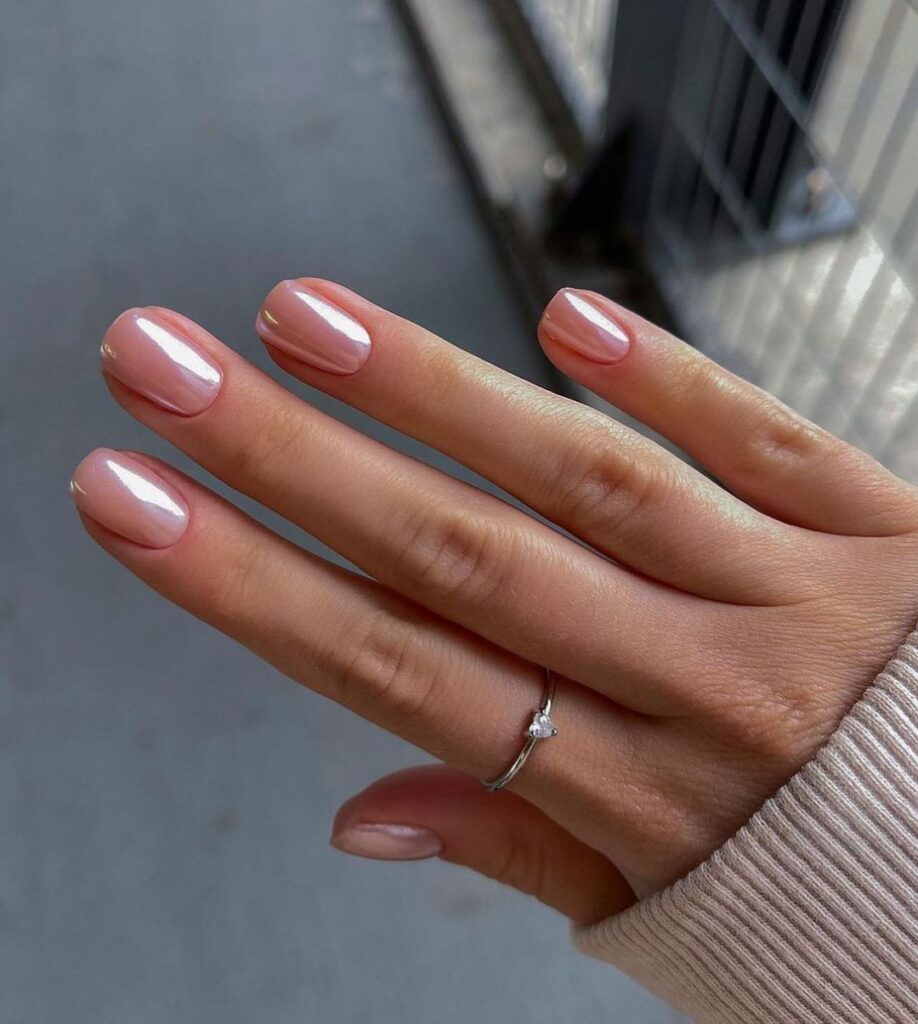 Courtesy: Noor Nail Bar LA
#101 Here we have a beautiful example of nude ombre nails in a square shape for a head-turning manicure. When you're looking for a simple and stylish look, this is the inspiration to bookmark!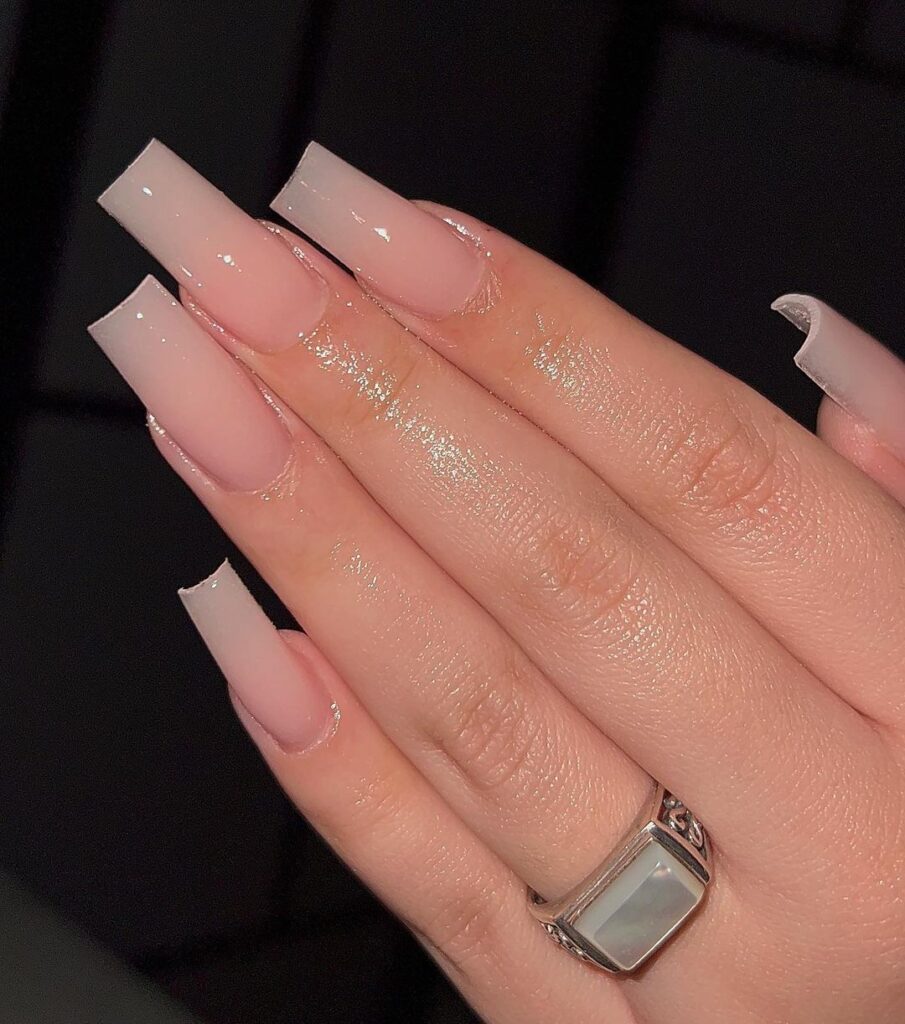 Courtesy: Nails by Lily
#102 Keep it gorgeous and artistic with these stunning nude acrylic nails, featuring patterned lines, glitter, and strategic color combination.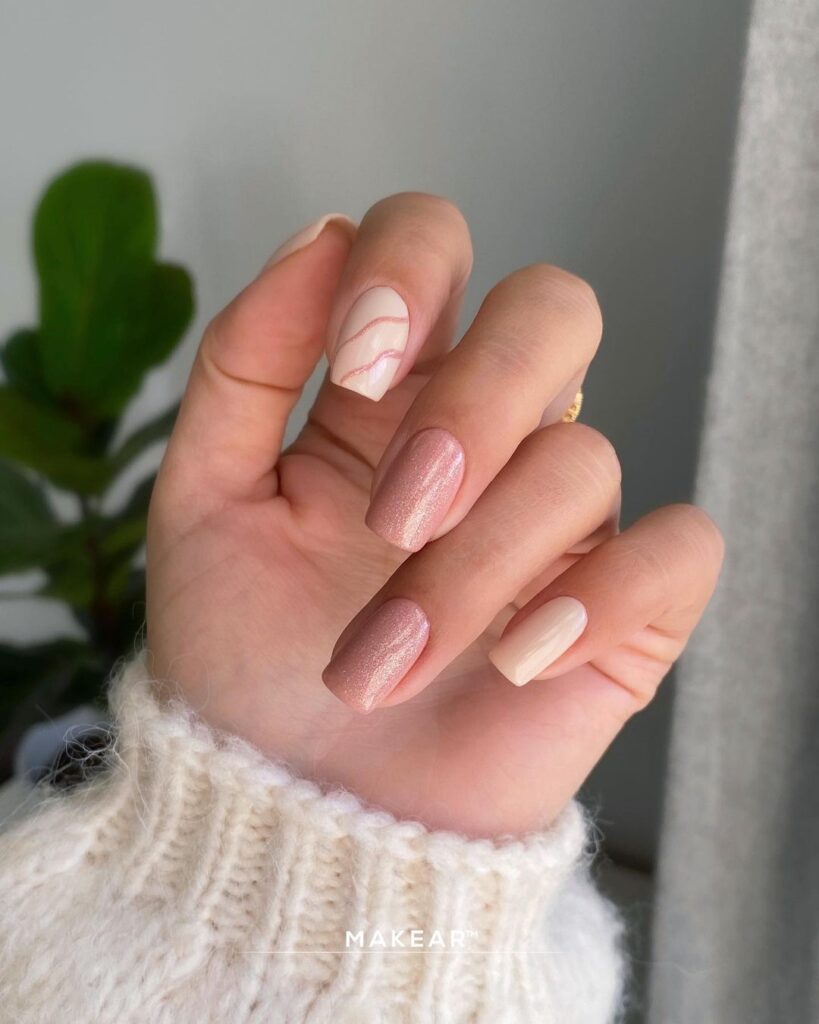 Courtesy: @nailsbypaulin
#103 Elevate your nail game by painting each one of your nails with a different neutral from the same color palette. While these are a set of brown nude nails, you can recreate them with pink hues as well.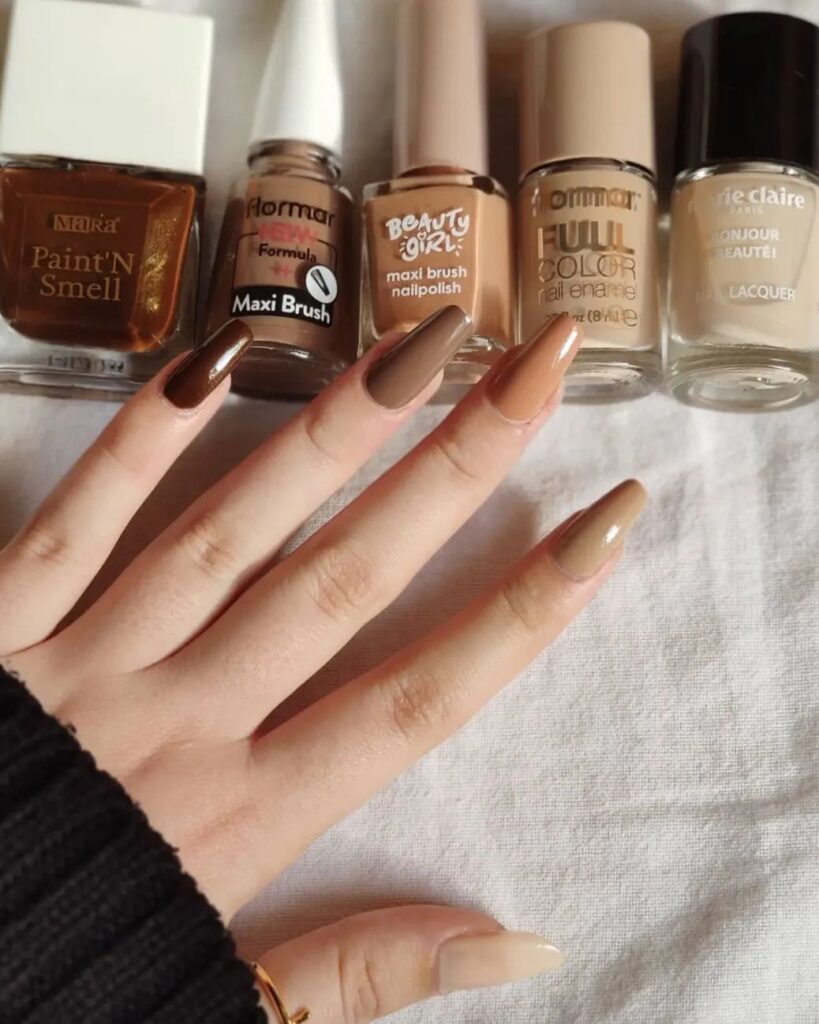 Courtesy: @iremc.nails
#104 The next one of the nude nail designs features a baby French manicure where a smaller, more subtle white tip is used. This creates a soft, refined look that's perfect for a more understated style.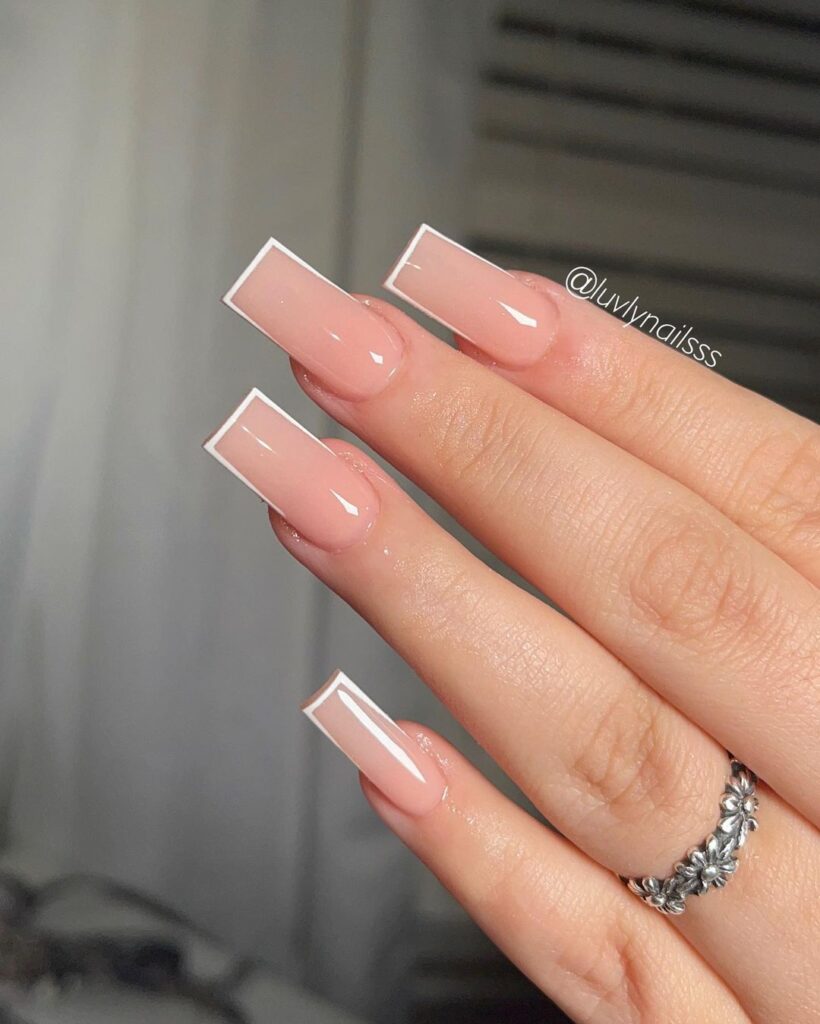 Courtesy: @luvlynailsss
#105 Achieve an elegant yet statement-worthy look with nude almond nails elevated by glitter and heart motifs. Just the ideal design for those looking to draw attention to their nails without an overpowering manicure. 
Courtesy: Martuella
#106 These nude nails with white tips are done in the V-tip French manicure, which is another cool variation to the classic French tip nails design.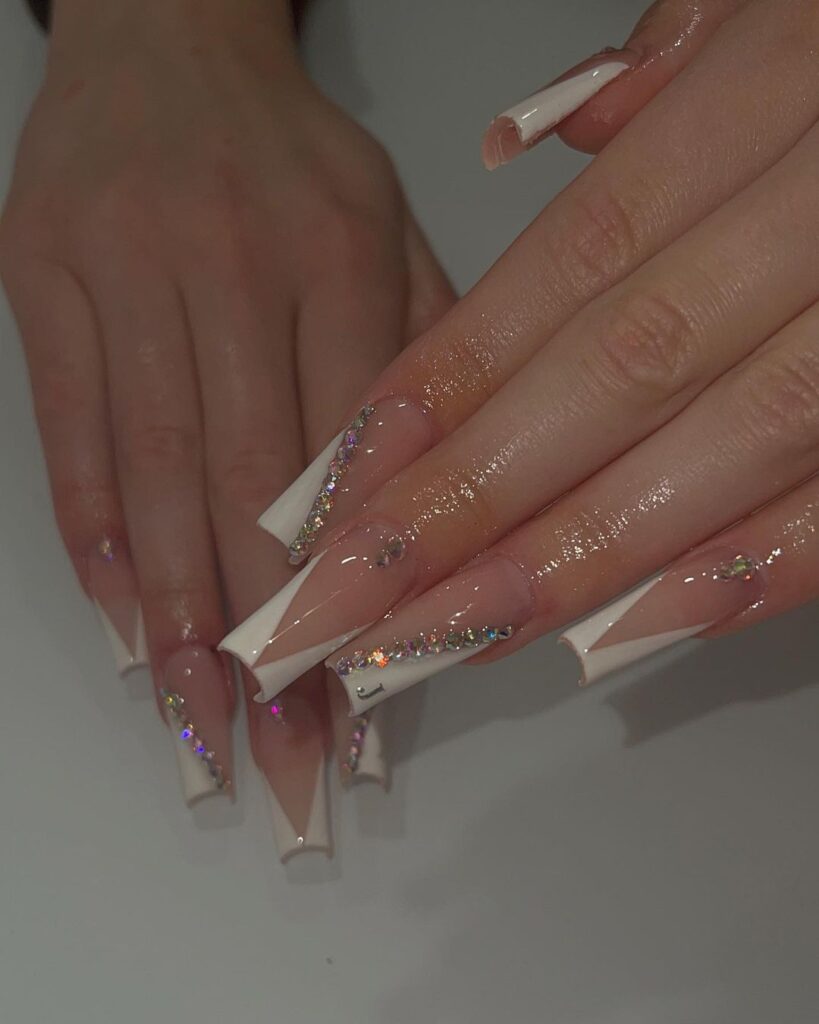 Courtesy:
#107 We're swooning over the minimalist nature of this nude nail idea. The small nails are bedecked with almost-bare pink nail polish and followed up by a glitter coat to finish.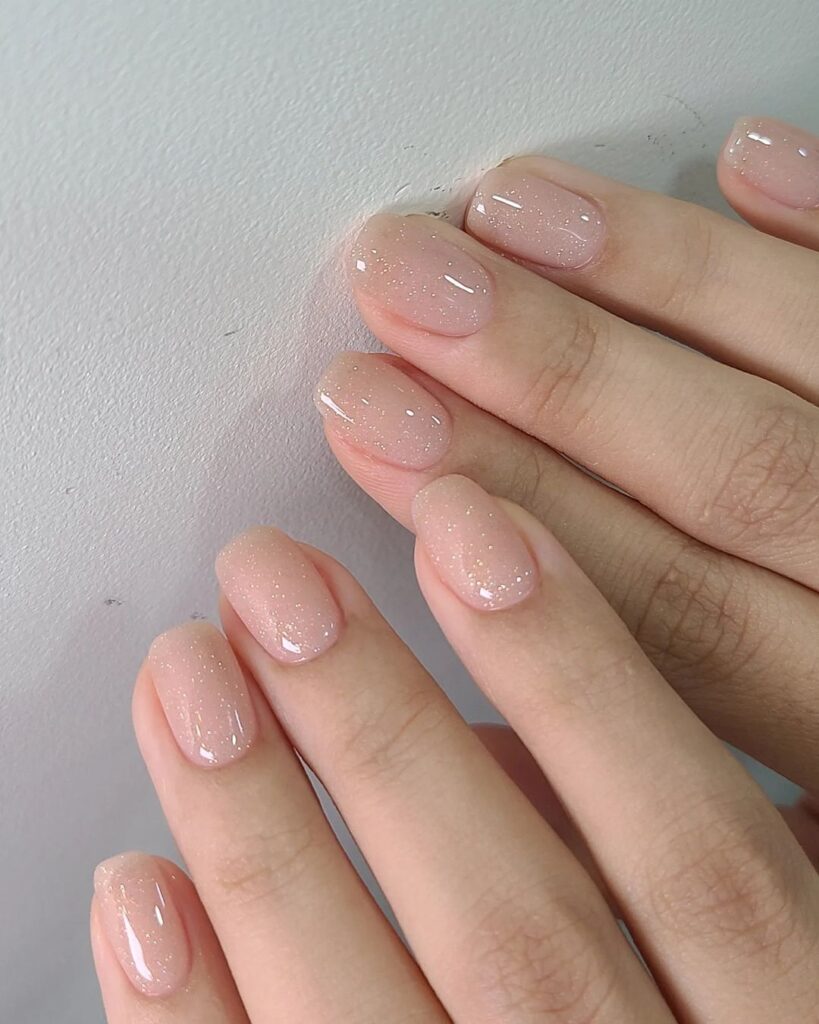 Courtesy:
#108 Who says you can have only one manicure style on both hands when you can clearly rock two? Having two different manicure styles on both hands is also a fun and creative way to express your personal style and add some excitement to your nail game.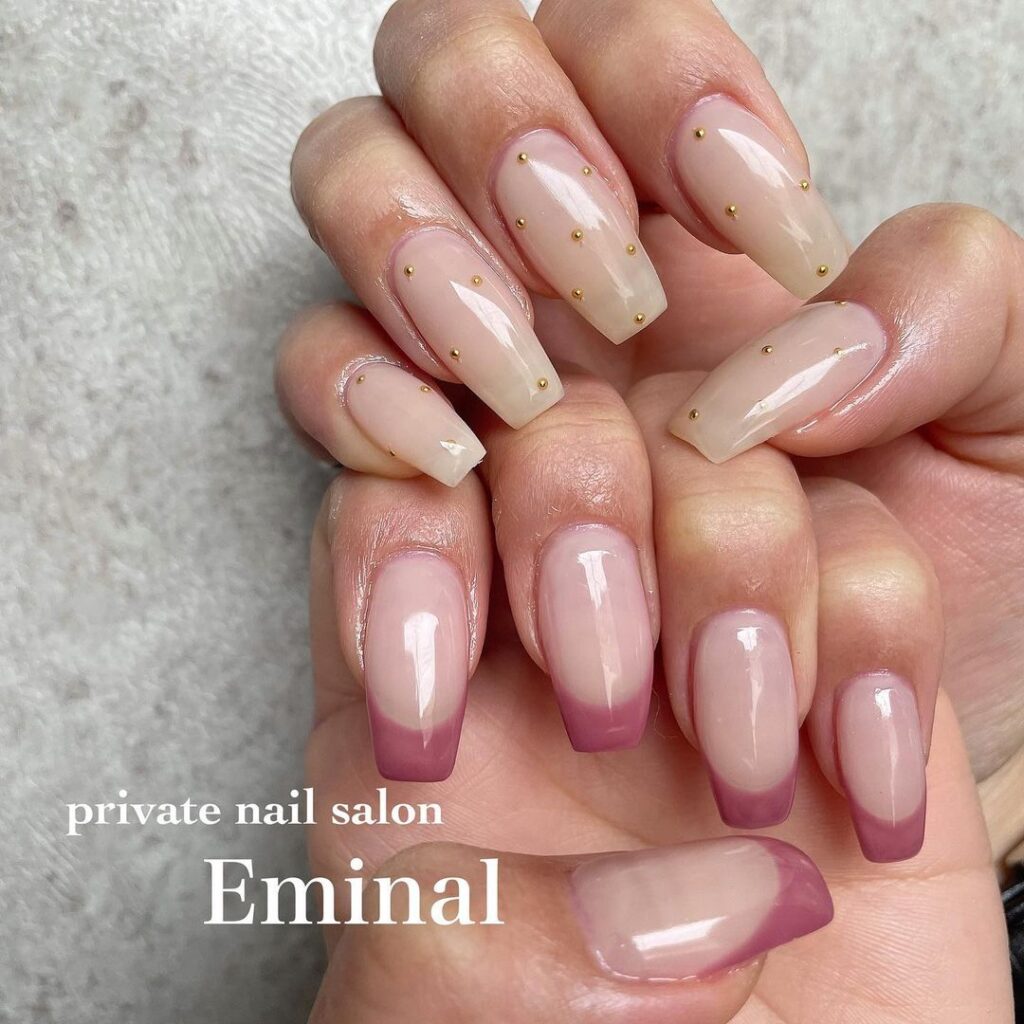 Courtesy:
#109 These nude acrylic nails prove why this elegant and sophisticated manicure style is so popular! Replicating the look when minimal and refined is your idea of nails at the moment.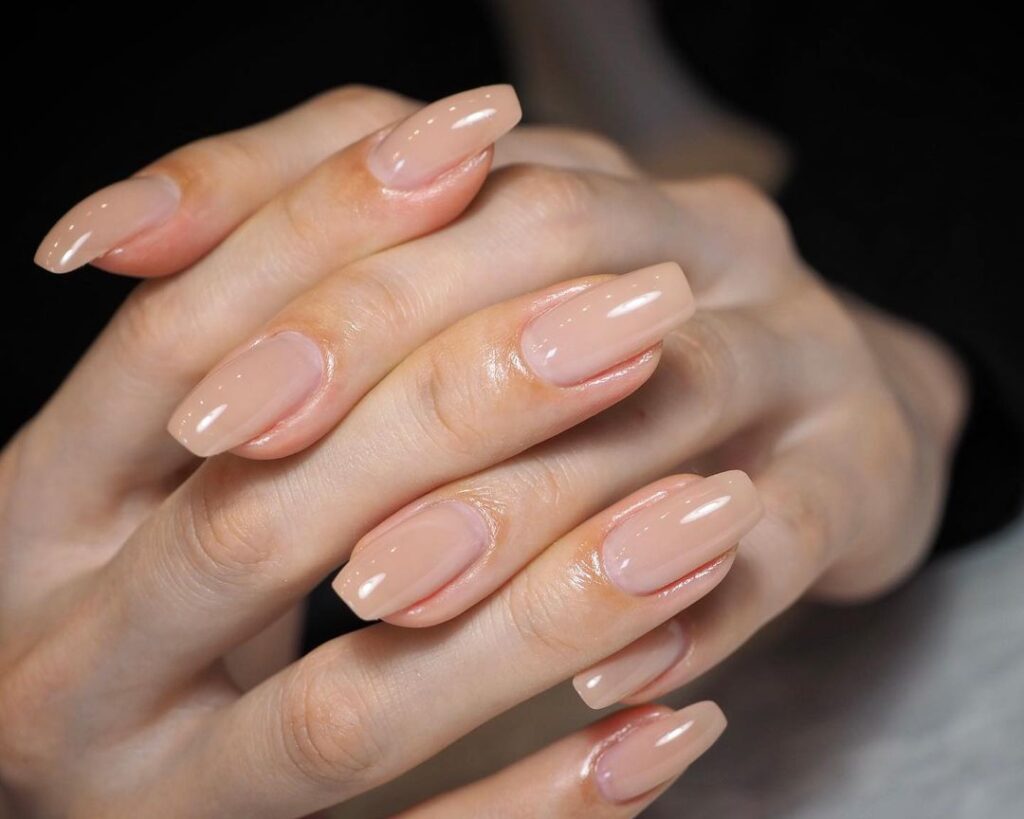 Courtesy:
#110 Here's another rendition of the glossy nude nails to radiate your minimal and elegant style. Get them in acrylics or gels so they last you for around 3 weeks at least.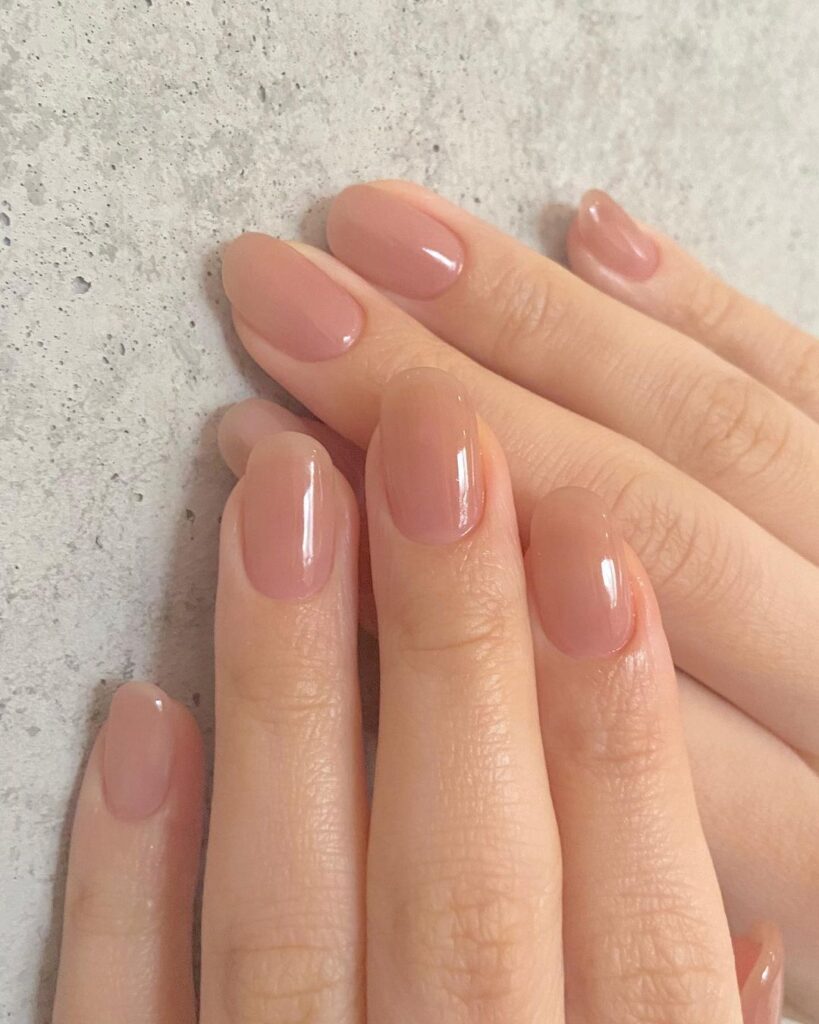 Courtesy: @nailsbyhachi
#111 And when you want your glossy nude nails to shine extra, apply a shimmery golden glitter coat above them. In fact, you can also add the coating over your acrylics.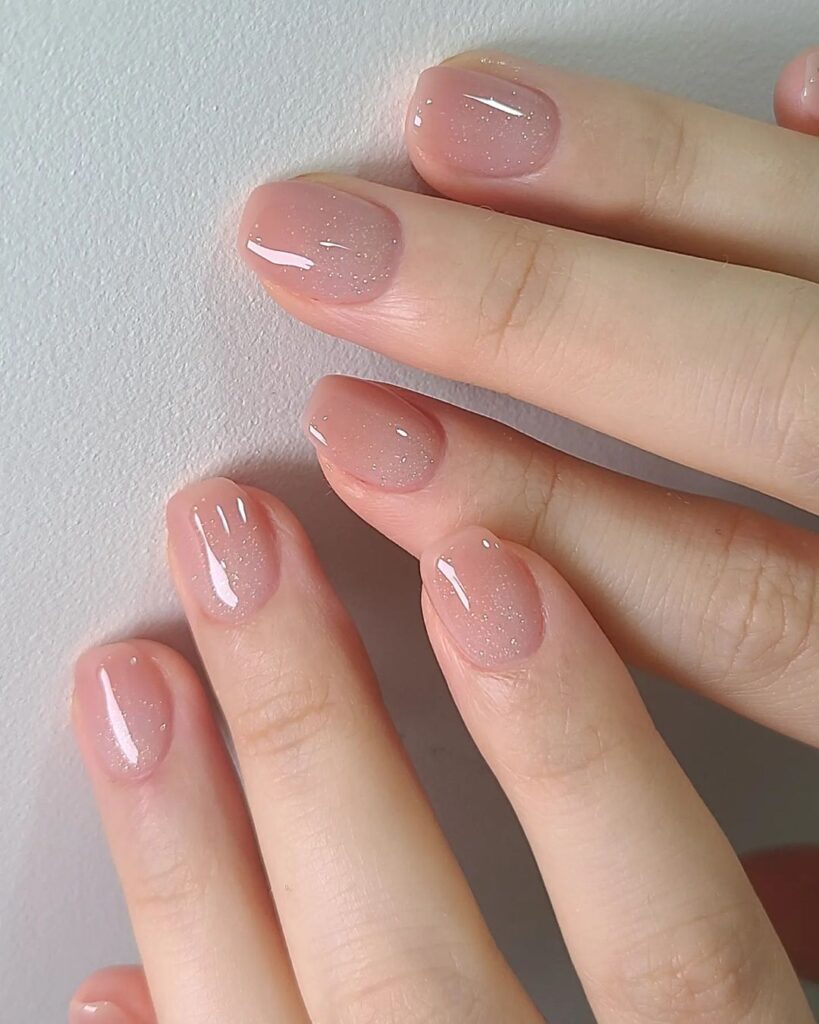 Courtesy: @invely_nail
#112 Step up your French manicure game with this chic and sophisticated brown French tip design. The warm, earthy shade adds a touch of sophistication to your nails and pairs perfectly with any outfit.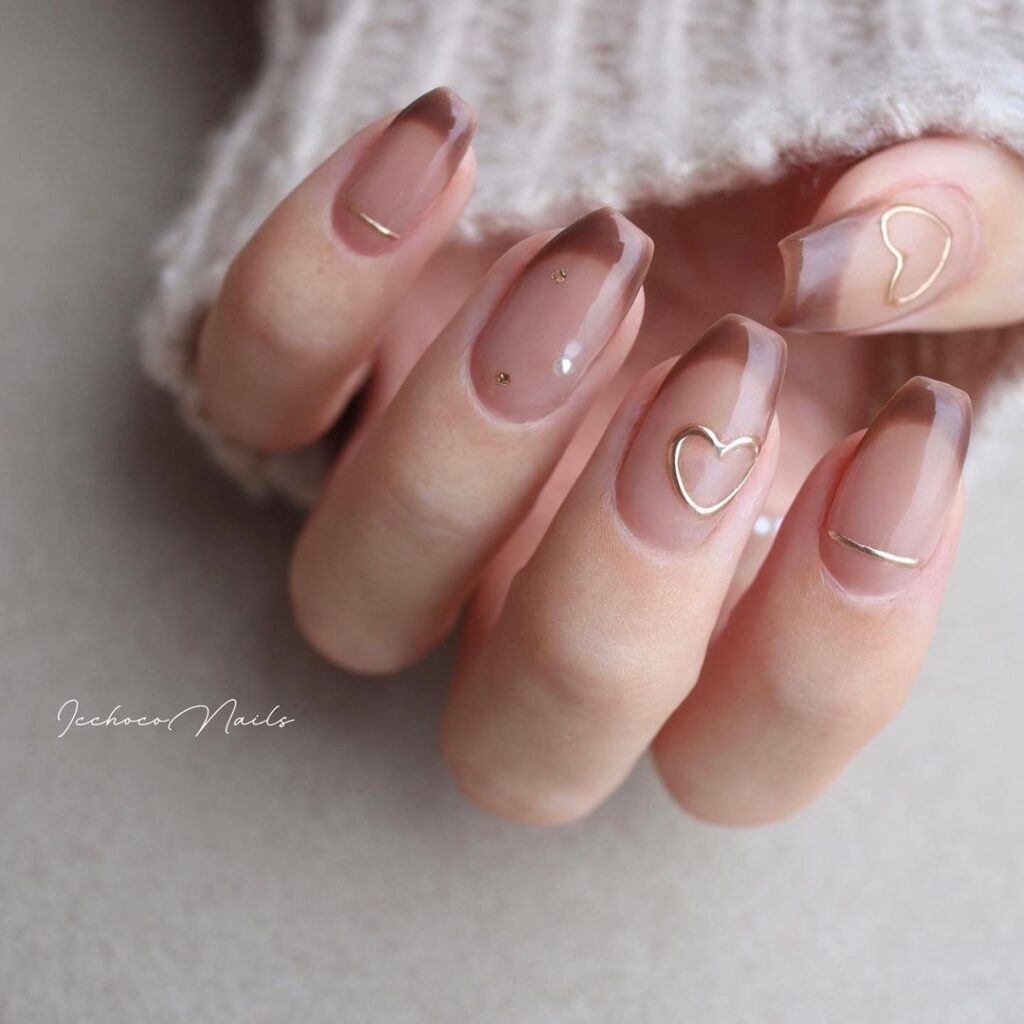 Courtesy: @icchoco_nails
#113 If you're a cat-lover and want to express your love for them through your manicure, here's an inspirational idea to bookmark and show to your manicurist before getting the nails done!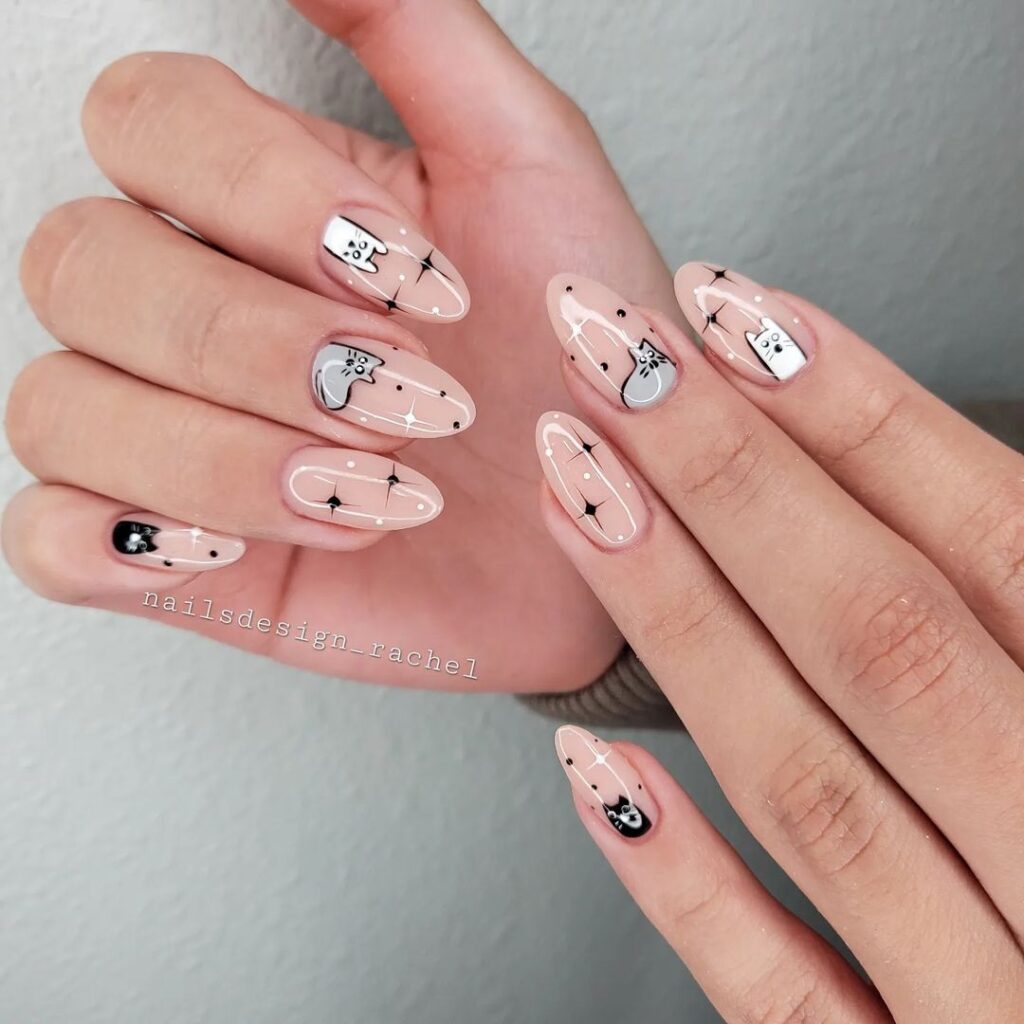 Courtesy: Rachel Le
#114 For all the celestial vibes, bedeck your nails with charming glitter coating and other motifs of celestial objects. They are super glitzy and sure to garner you a lot of compliments.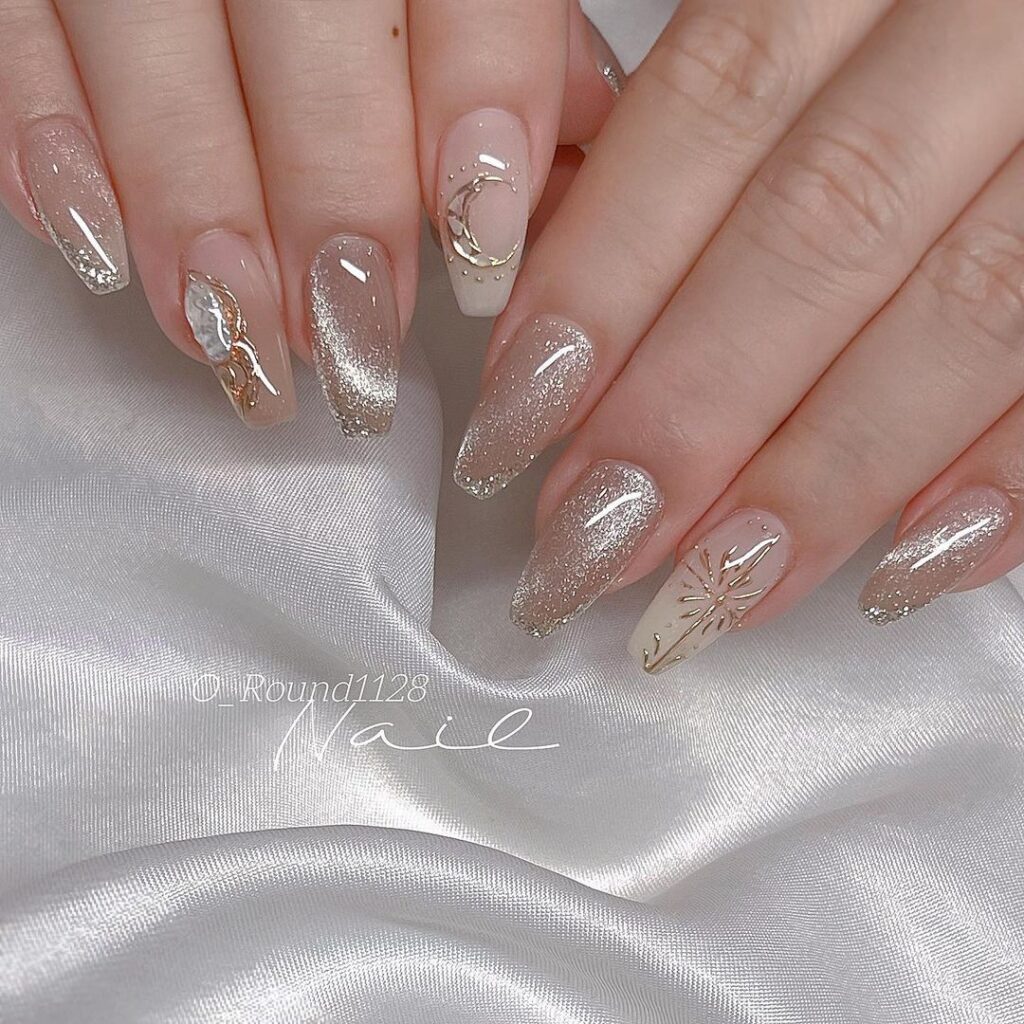 Courtesy: @o_round1128
#115 You can up the elegance of your nude nails by making them in the French tip nails style. The base color is a soft, muted shade of nude or beige that flatters all skin tones, and the tips are accentuated with a darker shade so the colors perfectly complement each other.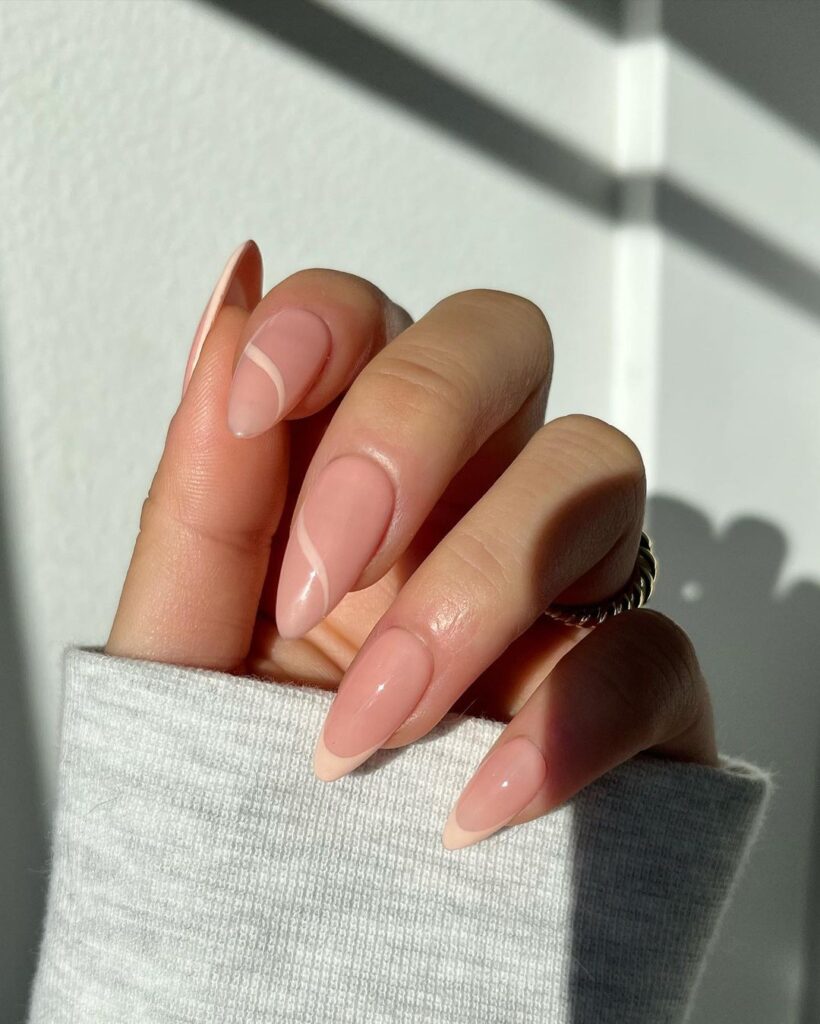 Courtesy: @esvynails
#116 Smaller nails look just as perfect and feminine as longer nails. There are many designs to back our statement and the next one is just another one of them!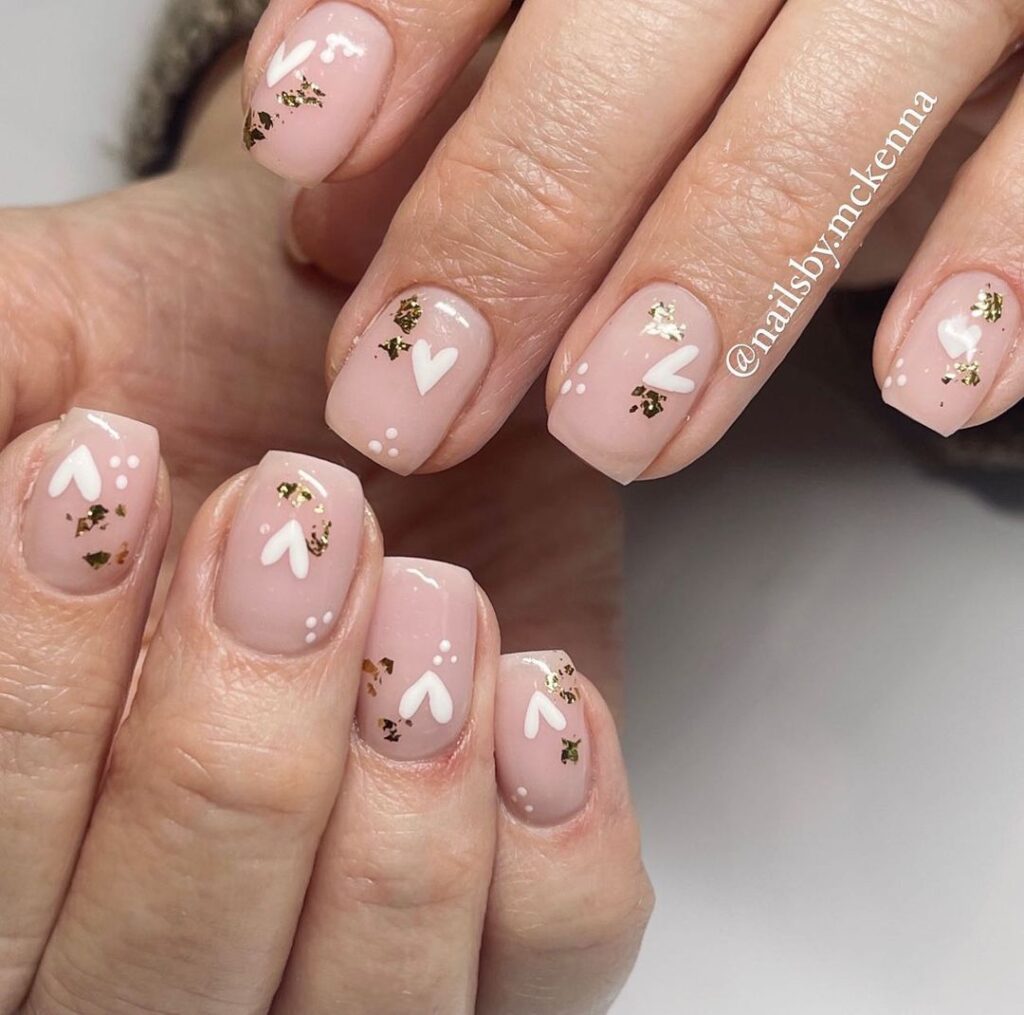 Courtesy: @nailsby.mckenna
#117 This nude gloss effect is achieved through acrylics as the transparent tips are achieved through an acrylic nail base only. Do make sure your technician knows the kind of gloss effect you're looking for so she can prepare the base as per your expectations.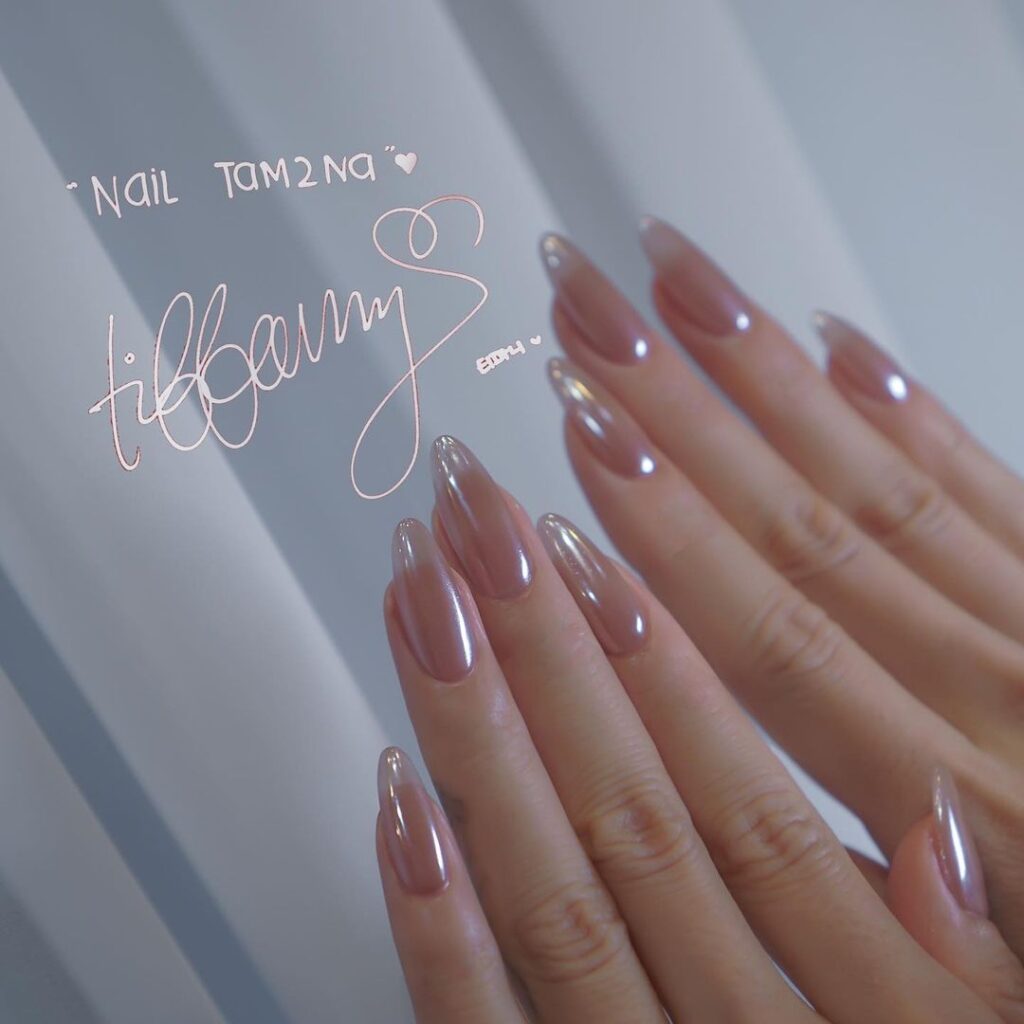 Courtesy: @nailtam2na
#118 Shine bright like a star with this playful and glamorous nude nail design. The neutral base color provides the perfect canvas for the glittering star motifs, making this look perfect for any occasion.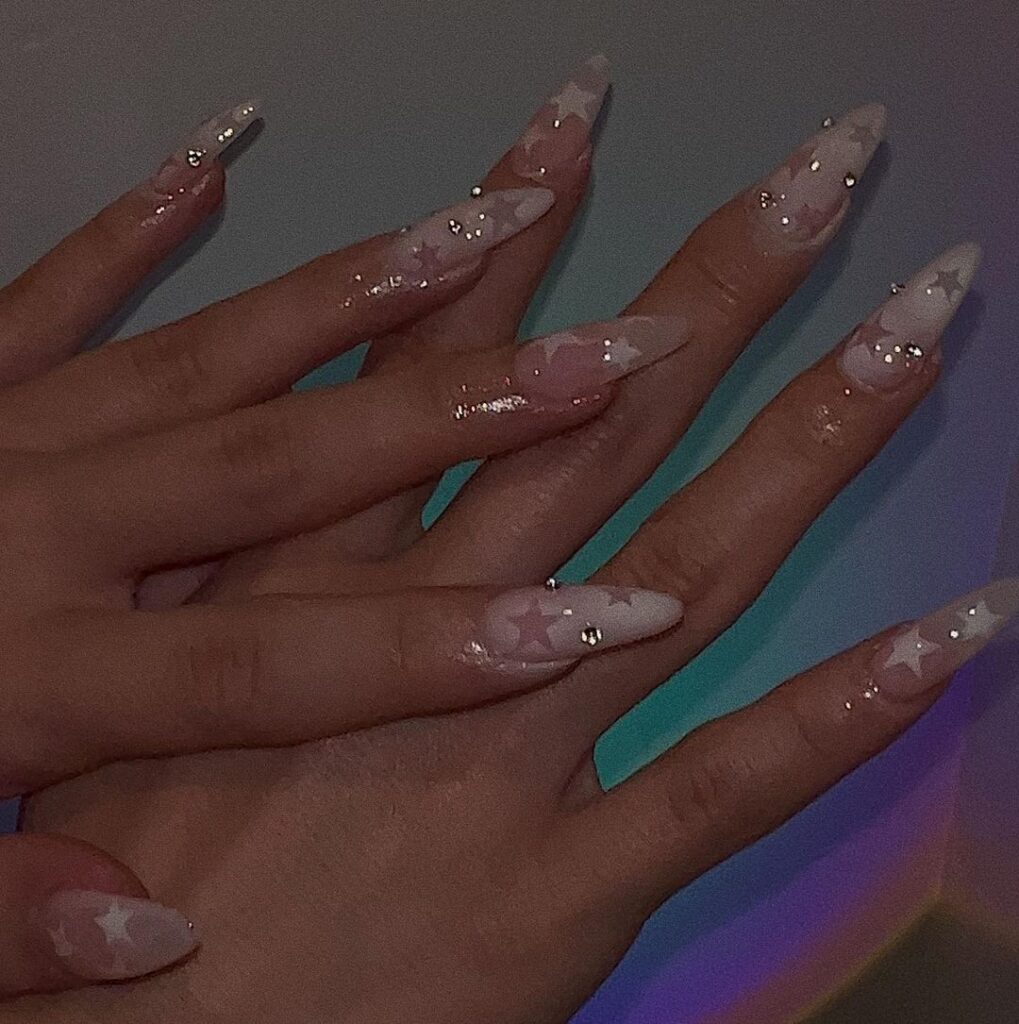 Courtesy: @apresnailofficial
#119 ​​Keep it classic with this timeless and elegant nude pink manicure. The soft, neutral hue adds a touch of sophistication to any look.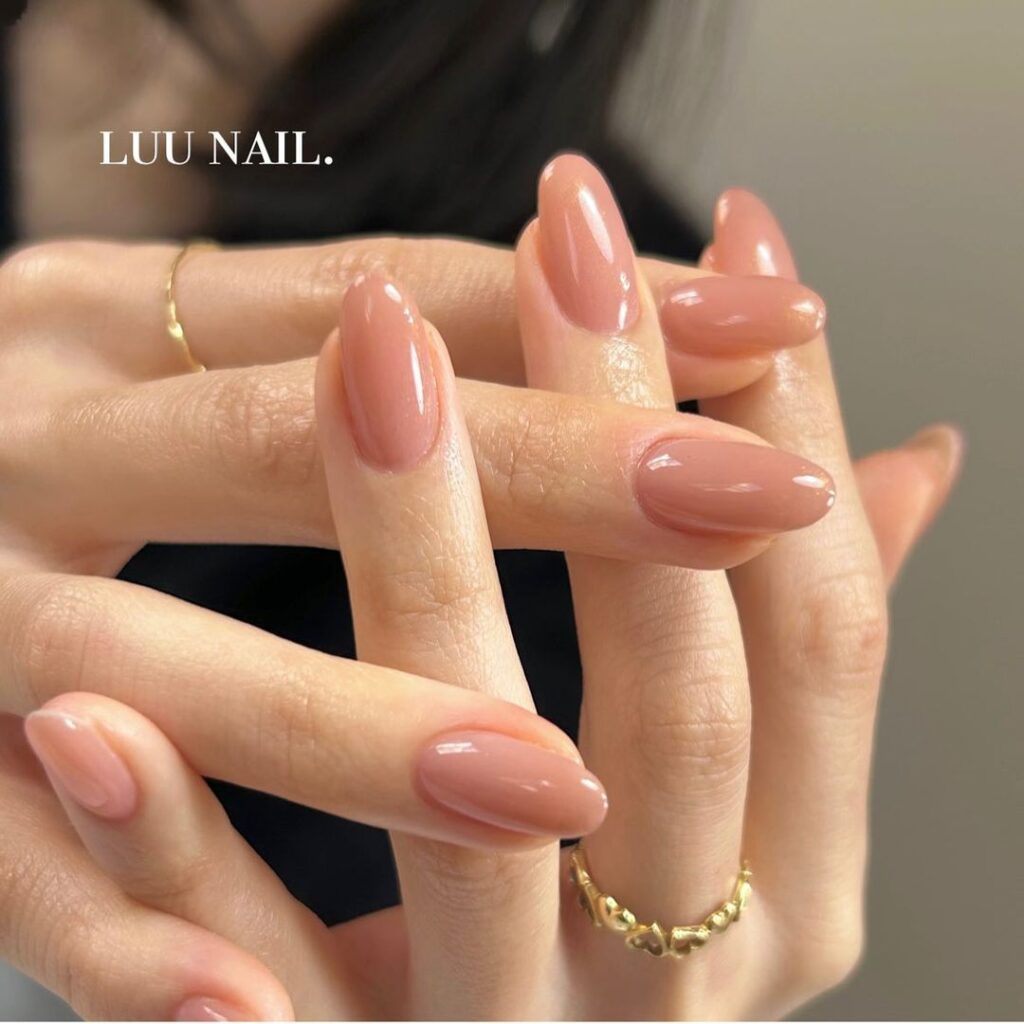 Courtesy: @luu.nail
#120 Our next nude nail idea is easy to create and adds enough sparkle without overpowering the design.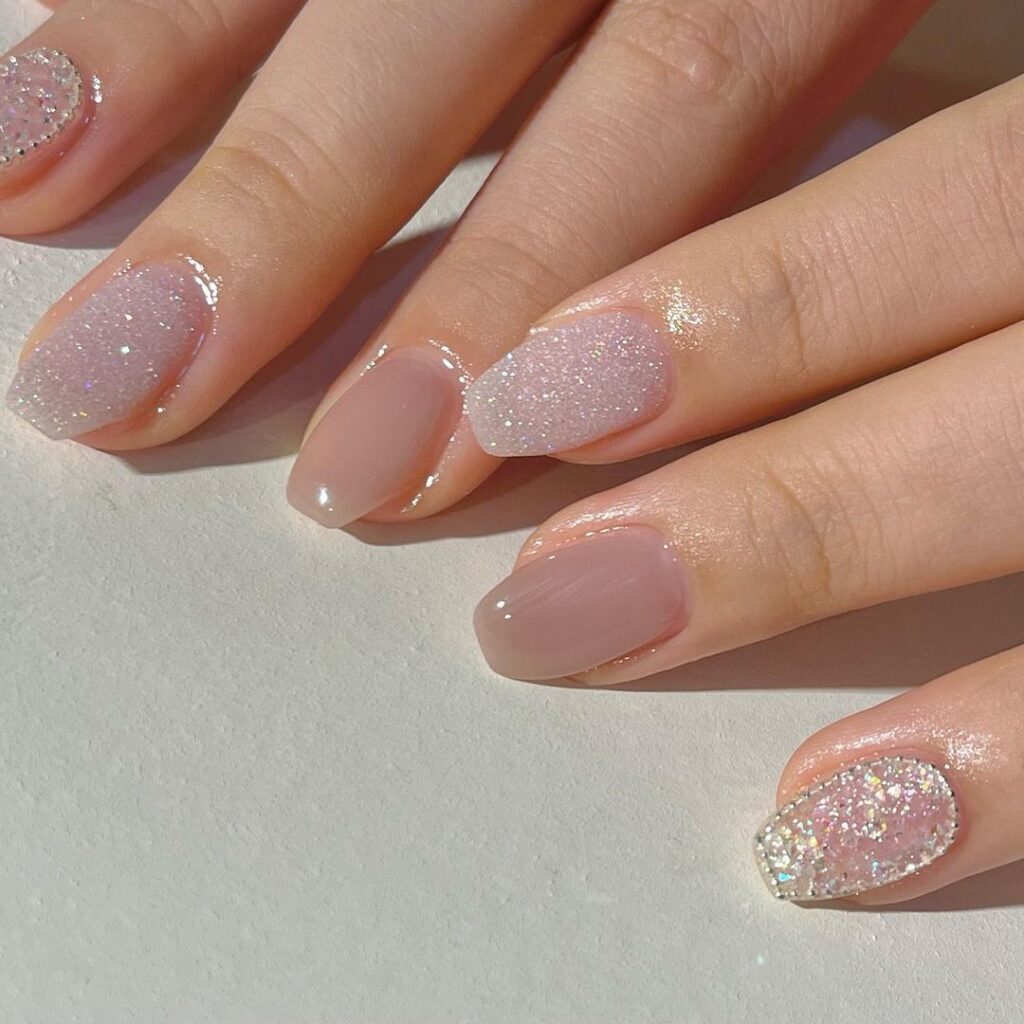 Courtesy: @calmly_nail
#121 When you want to turn your neutral manicure into a glamorous one, try adding a gloss coat on top. It's an easy way to add the glamor attribute without doing too much.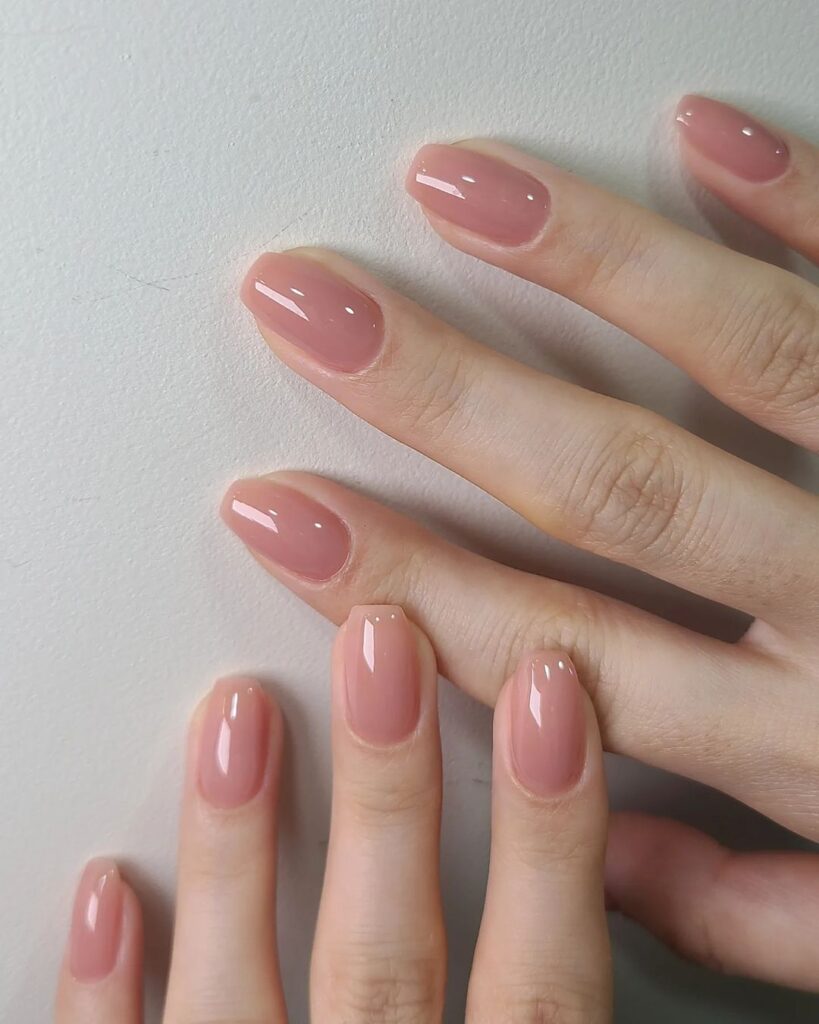 Courtesy: @invely_nail
#122 Add a pop of color to your nude nail designs by adding your favorite array of colors in side-by-side lines. You can pick your preferred combination to recreate this look. 
Courtesy: @nailss_go
#123 These black and nude nails are done in the double-tip French manicure style and the almond shape sure brings out the style well!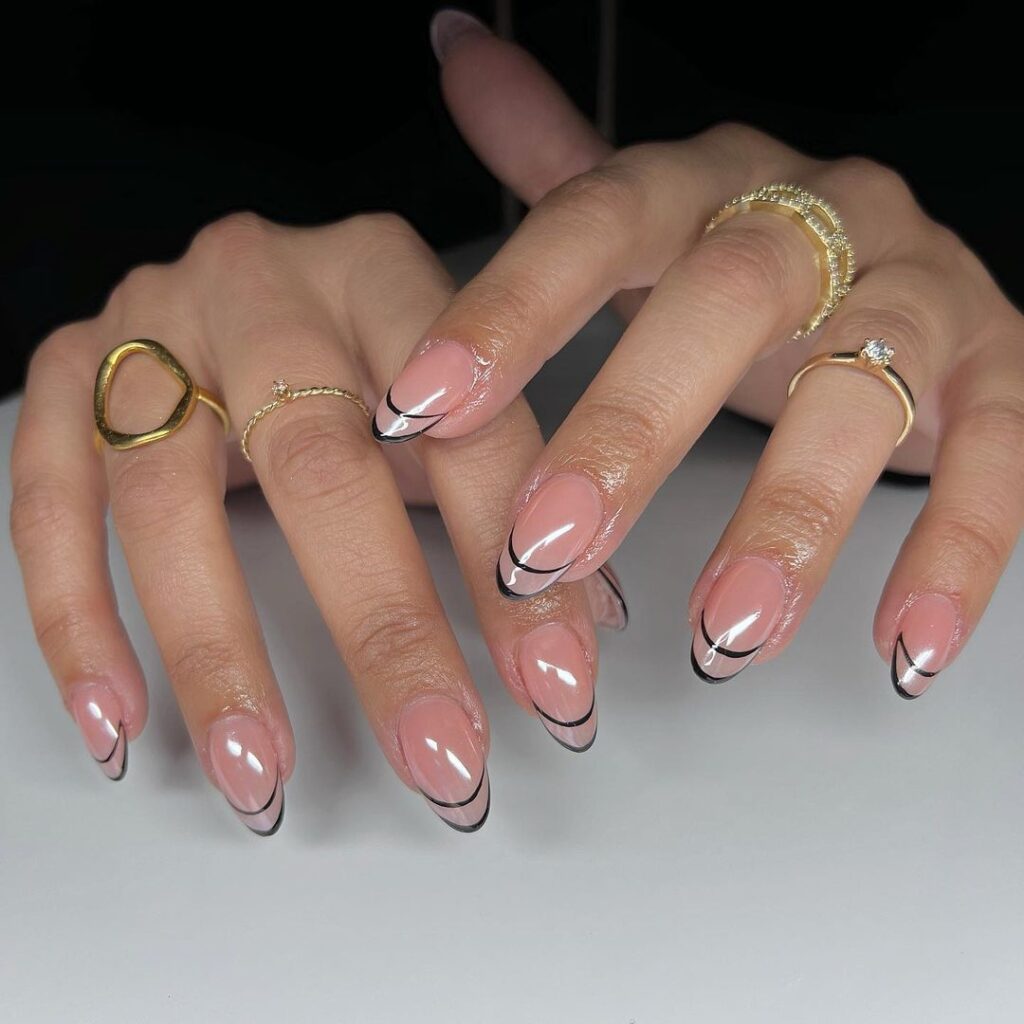 Courtesy: Nail Bunny
#124 These nude nails with white glitter tips break the monotony by adding a heart and abstract pattern on the middle and thumb finger respectively.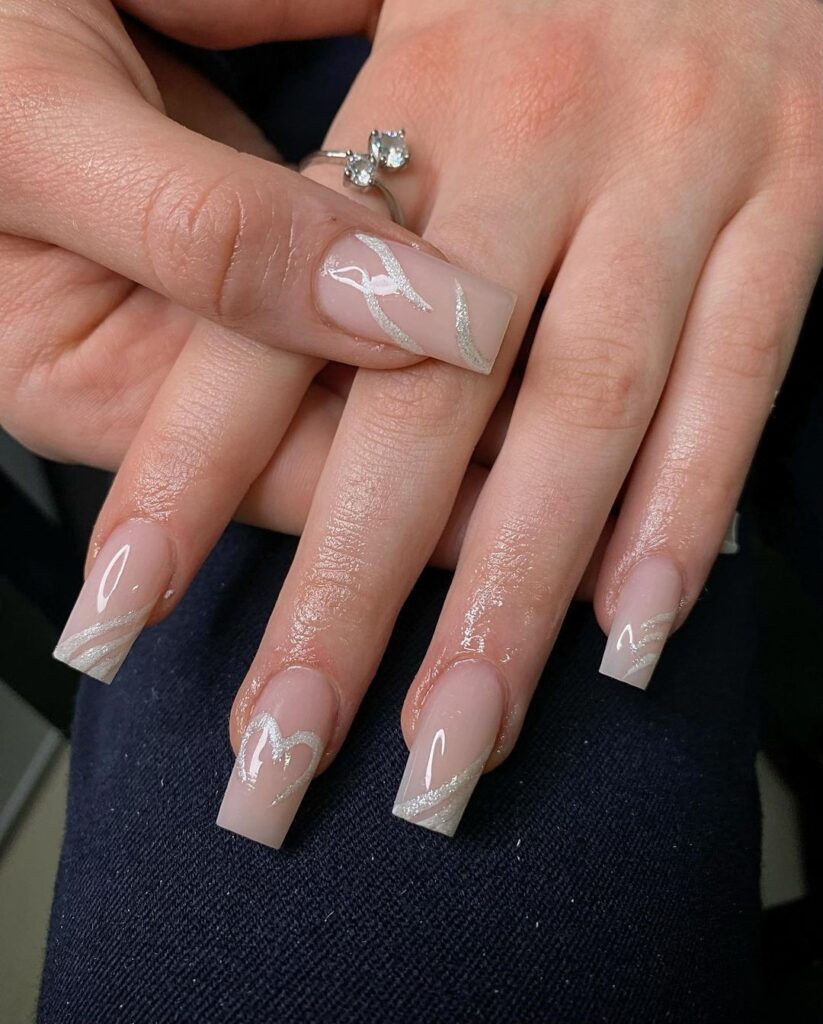 Courtesy: @lenna__nails
#125 Elevate your nude nails with a pop of color on the edge of each nail. This nail design is perfect for those who want to make a statement without going over the top.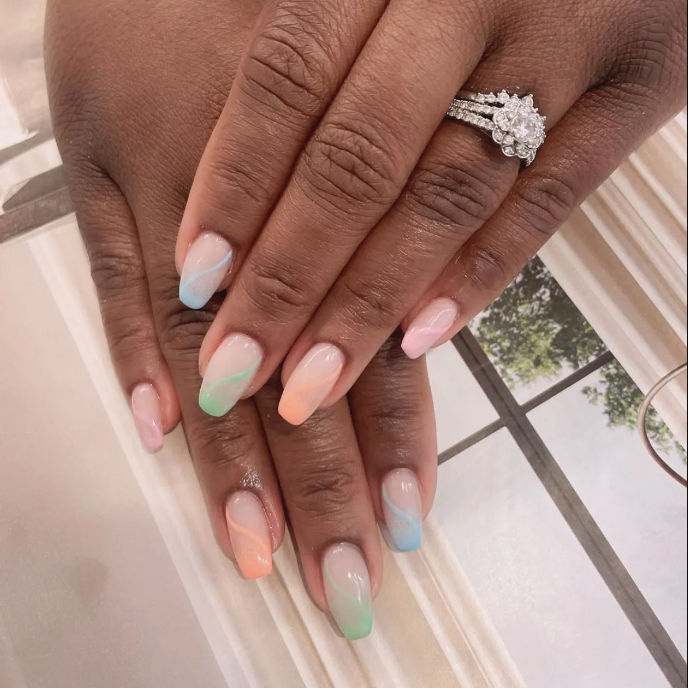 Courtesy: Pinterest