There are plenty of justified reasons why you should replace your trusted whey protein powder with a vegan version. Maybe you recently discovered you're lactose intolerant. Maybe you want to decrease your carbon footprint. Maybe you're moving towards a sustainable lifestyle. Or maybe you just watched a vegan documentary and are traumatized by what animals are going through. Whatever the case, I'm here to help you out pick the best vegan/ plant protein powder in India. Refer to the list below for a quick swift-through and then, scroll more for detailed reviews.  
Price Comparison:
#1 PRO2FIT Vegan Plant Protein Powder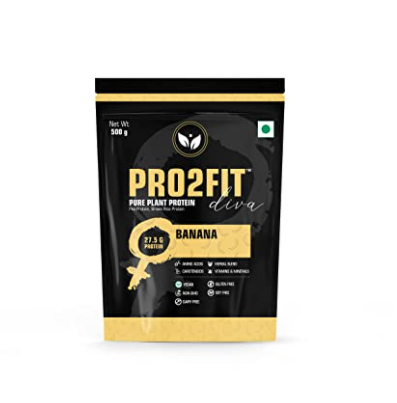 The PRO2FIT Plant Protein Powder is one of the best plant protein powder in India that has a separate version for men and women. The men's one comes in three flavors: minty chocolate, mango, and vanilla, alongside one unflavored version of the protein powder. And the women's one comes in two flavors: coffee mocha and banana. The foundation of the entire company lies in making vegan supplements more readily available to people so as to reduce animal agriculture and produce a more sustainable environment overall. If you're someone who aligns with this vision, it can be one more reason to pick this vegan protein powder in India. 
Physical Attributes & Quantitative Measurements: 
The PRO2FIT Vegan Plant Protein Powder comes in pouch-style packaging and has 27.5 grams of protein in one scoop (highest amongst all the other protein powders listed in this list). One 500 grams pouch offers 15 servings and hence, will last for about 15 days if you take the protein powder daily. 
Benefits & How It Compares To Others:
The best thing we like about PRO2FIT Vegan Protein Powder is how it comes in a different version for both men and women. Women's version does not have both EAA and BCAA – two supplements that promote muscle building, muscle growth, and an increase in protein synthesis. Since women don't want huge muscle growth, they will likely benefit from the reduction of these supplements. 
Women's version of the protein supplement contains an ayurvedic herb blend, carotenoid blend, and vitamins & minerals blend. The ayurvedic herbs are meant to increase metabolism, reduce inflammation, and benefit the beauty goals of women. Carotenoids are strong antioxidants and help to boost immune function by fighting free radicals inside the body. Further, the essential vitamins & minerals blend ensure this vegan protein powder in India for women is the only supplement you require in your cabinet. 
The men's supplement includes 6.5 grams of BCAA and 14.2 grams of EAA. BCAA stands for branched-chain amino acids and EAA stands for essential amino acids. Both of these supplements aid in protein synthesis inside the body and result in a muscle-building (anabolic) state to aid in muscle repair and muscle growth. For bodybuilders, these two supplements can be a game-changer in their training. 
Made without any preservatives, dairy, gluten, or antibiotics, we definitely recommend this vegan protein powder for men and women. I'd rate this product a 9.5/10.
Get Men's Version Here/ Women's Version Here 
#2 Harvego Plant Protein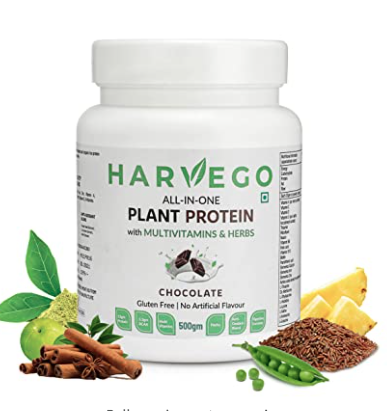 The Harvego Plant Protein Powder is one-of-a-kind. Not only is it a completely vegan powder with a delectable chocolate flavor, but also contains some ayurvedic herbs known to boost metabolism and aid in muscle growth. The product has some amazing reviews on Amazon and you'd be impressed by what people have to say. From bodybuilders to women looking to supplement for hair, everyone is finding good use of this protein. Find the complete review and ingredient breakdown of this product below: 
Physical Attributes & Quantitative Measurements: 
The Harvego vegan protein powder in India contains 23 grams of protein per serving (1 scoop) and 1 pack of 500 grams (~ Rs.899/-) will give you 15 servings. The entire box is white in color with the detailing of the product mentioned in black and green. You'll find the exact nutritional information on the back of the powder and can refer to it at any time. 
Benefits & How It Compares To Others:
The Harvego Plant protein powder is a completely organic product. The protein sources are both organic, and they are peas and brown rice. This combination is common in many protein powders, all because they combine to form the essential amino acids in full. It's always advised to pick a vegan protein powder that has protein derived from more than two sources to ensure all amino acids are present. 
Here's a breakdown of other ingredients: 
BCAA for a complete amino-acid profile aiding in muscle growth, lean body mass, and muscle reparation. 

Essential vitamins and minerals like zinc, biotin, Vitamin A, Vitamin C, and others support complete nutrition and beauty needs

Extracts of green tea, cinnamon, and amla to boost your metabolism. 

Ayurvedic extracts of amla, tulsi, and curcumin to negate any oxidation effects on the body

The digestive blend of papain and bromelain breaks down any proteins and ease the digestive process

Sucralose added for sweetness
"This is by far one of the best plant protein powder in India I've tried. I'm a bodybuilder so having adequate protein in the diet is essential. This one also has other multivitamins and ayurvedic herbs, so I don't take any other supplement besides this. I've really seen a difference and will recommend you to buy without any second thoughts," writes one of the reviewers. "Great taste, mixes easily, and all boxes are ticked," writes another one. 
Overall Rating: 9/10 
Purchase here. 
#3 Mypro Sports Nutrition Plant Protein Powder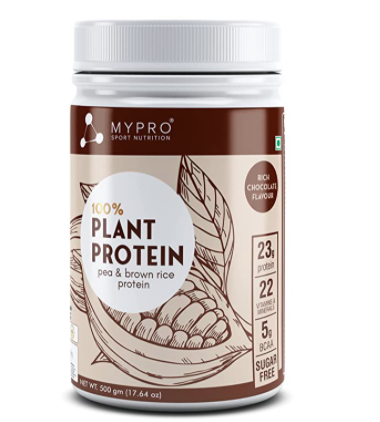 The MyPro Sports Nutrition Plant Protein Powder is a completely vegan, non-GMO, keto-friendly, low calorie, and sustainably sourced (both ingredients & packaging) product designed to deliver the stated benefits and improve your training results. They produce everything in-house to maintain the quality standards and also reduce any third-party costing to provide the best cost to their consumers. Below, find a complete review of this organic plant-based protein powder. 
Physical Attributes & Quantitative Measurements: 
The MyPro Plant Protein powder comes in long tub-style packaging and has brown and white color packaging. The details of the product are mentioned on the labeling, including the ingredients, expiry/ manufacturing date, nutrition information, and quality standards tags. There are 23 grams of protein in 3 scoops, along with 5 grams of BCAA. You will get around 16 servings in a 500-gram pack costing ~ Rs.749/-. 
Benefits & How It Compares To Others:
Each scoop of MyPro protein powder benefits your body by providing it with 23 grams of protein, which is around 25% of the protein requirements for anyone who's focused on body-building. Even when you don't want to build muscles and ensure that the optimum protein requirement is met, the amount of protein is a balancing number for your nutritional needs. 
The protein powder also contains BCAA or branched-chained amino acids. The three BCAA's are leucine, isoleucine, and valine. BCAA's have numerous benefits for athletes, all research-backed. The supplementation is shown to improve exercise performance by improving energy metabolism. Further, it also helps in promoting lean body mass, preventing muscle damage, and improving muscle growth. 
Besides the protein and BCAA, this product also has various vitamins to support the body's health and antioxidants to prevent any inflammation that occurs right after exercise. There's also a mix of digestive enzymes to ensure there's no digestive distress from protein powder and absorption of the supplementation is better. Here's what one of the reviews say:
"I used to have whey isolate earlier; right after workouts. But I prefer to have this plant-based protein now. The reason for the switch is gut issues and fear for liver health. This one's a good product in every way. It tastes like bourbon biscuit, priced nicely, and has the right amount of protein." 
Overall Rating: 9/10
Purchase here. 
#5 Boldfit Plant Protein Powder For Men & Women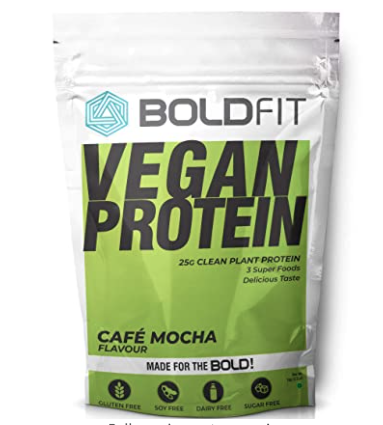 The Boldfit Plant Protein Powder is created to provide high-quality nutrition to anyone who's serious about their health and fitness routine. The company has launched a variety of nutrition supplements and accessories to keep your fitness game in full swing. Read to see the review of their vegan protein powder for women and men. 
Physical Attributes & Quantitative Measurements: 
The Boldfit Plant Protein Powder comes in pouch-style packaging with a seal. There's a scoop inside to measure the exact amount of one serving. You'll get 25 grams of protein in one serving and 30 servings in 1 kg of the product, costing around Rs.1900/-. The packaging has a green and white color while the powder itself is a light cream shade. The pouch packet does make the protein powder convenient to take with you to the gym. 
Benefits & How It Compares To Others:
The Boldfit Plant Protein Powder for men and women sources it's protein from two vegan sources: rice and pea. Rice protein, alongside pea protein, has been shown to stimulate muscle growth mass as much as whey protein, as reported by Harvard Health. Another study concluded that rice protein supplementation over a period of 8 weeks delivered similar results (if not better) on muscle mass and fat loss as whey protein. So, you don't have to think even twice about vegan protein not working as well as whey for your fitness goals. Besides quality protein, this product contains many other impressive ingredients which are listed below:
Turmeric extract – one of the best nutritional supplements in existence. This amazing ingredient can reduce inflammation right after working out and it's medicinal properties can support muscle recovery. 

Piperine, which is naturally found in high amounts in black pepper, is a strong dietary alkaloid that can improve digestion and promote the absorption of beneficial compounds. 

Pink salt helps in replenishing electrolytes your body loses while working out. 

There's also a digestive enzyme blend of bromelain and papain to break down the proteins and help them absorb better in your body. 
This versatile protein powder is GMO-free, sugar-free, gluten-free, and GMP-certified to basically check all the boxes of a good protein powder. "This is the best vegan protein powder in India. I have tried 2 other brands before and experienced gastric and mixability issues. They were also not palpable. This one is different though. It's good in taste and I feel so much better after workouts when I drink this. It's been a month and I'm starting to see some results. I'd surely recommend." 
I'd absolutely rate this product a 10/10. 
#6 WOW Life Science Plant Protein Powder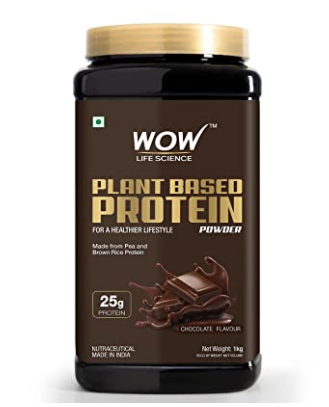 The WOW Life Sciences is an Indian brand that's grown to immense popularity in the past few years. Their research-backed, natural products have solved many beauty problems of men and women. Just recently, they have ventured into the market of protein powders, and not-so-surprisingly, people have taken an immense liking towards their products. Given their dedication to curating chemical-free, sustainable products, they have come out with plant protein powders, good for the environment, amazing in taste, and perfect for your health needs. 
Physical Attributes & Quantitative Measurements: 
The WOW Life Science vegan protein powder in India has protein derived from pea protein and brown rice. There's 25 grams of protein in one serving, and one 1kg tub ( for ~ Rs.1800/-) will provide 29 servings or last for around a month. This plant protein powder comes in an elongated tub with a tight seal on top. There's a scoop inside for easier measurement and use. The complete packaging is done in brown color to signify the chocolate-flavored version of the protein powder. Given the sturdy packaging, you can be ensured a safe online delivery. 
Benefits & How It Compares To Others:
The GMO-free, ISO, and GMP Certified blend of vegan protein powder in India take one of the best picks for conscious consumers. It offers 25 grams of protein per scoop, which is great to serve any of your protein requirements. The protein powder is safe for both men & women, and most likely pregnant women. But anyone pregnant should take a nod from their doctor before trying anything. 
Here's a breakdown of the key ingredients in this protein powder. 
Pea protein and brown rice protein complete the essential amino acid profile well. When it comes to vegan protein, it's always recommended to pick a protein powder that has two or more kinds of protein sources. 

Papain, a key enzyme to unlock the "amino acids" in protein and hence, promoting better absorption of protein powder inside the body. 

Pumpkin seed extract and grape seed extract are powerful antioxidants. They can aid in wound-healing and scavenge free radicals in the body. Possibly help in better muscle repair after the workout. 

Inulin is a dietary fiber found naturally in whole wheat and some kinds of fruits and vegetables, like garlic and banana. 

Lycopene powder is also likely added as a natural antioxidant and enhances the amount of beta-carotene and Vitamin E in many food products. 
The high protein blend is allergy-friendly and is free of all soy, gluten, and dairy. It's a little sweet, but not overly sweet to overpower your favorite beverage. Currently, there's only one flavor available for this amazing product. 
I'd definitely rate this product a 9.5/10. The high-protein content, impressive ingredient blend, and palpable flavor make it one of the best vegan soy-free protein powders in India. 
Purchase here.
#7 Kapiva Men's Vegan Protein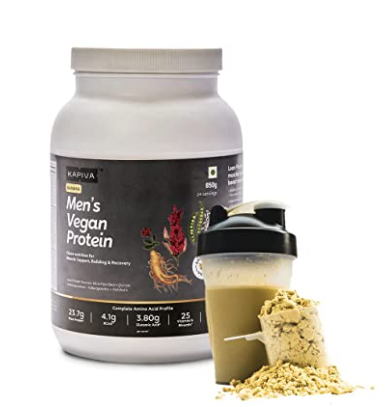 If you're looking for a high-quality protein source that's affordable and has plenty of outstanding ingredients for an overall health benefit, then go no further than Kapiva Men's Vegan Protein Powder. This multi-sourced vegan protein powder in India is excellent for general health purposes, but also for body-building and toning the muscle. Find a review of this supplement below: 
Physical Attributes & Quantitative Measurements: 
The Kapiva Vegan Protein Powder comes in white tub packaging and black labeling. There is 23.7 grams of protein in every serving and 850 grams of the product (~ Rs.1500/-) gives you 24 servings in one batch. The protein powder is creamy in color and dissolves well in a shaker. You can also blend it with some banana, peanut butter, and nut milk for a flavorful smoothie. 
Benefits & How It Compares To Others:
The Kapiva Men's Vegan Protein Powder in India contains protein derived from 4 sources: rice, pea, bean, and quinoa. The combination ensures you get all the essential amino acids through a dietary source and switch to vegan without any compromise. Here's a list of other key ingredients in the products. 
Banana powder for flavor and rich fiber content to ensure better digestion of protein powder. 

Fiber blend of inulin and oats to support the gut and prevent any digestive issues due to an increase in the amount of protein in the body. 

Papain and bromelain as digestive enzymes to initiate the breakdown of essential amino acids in protein and faster absorption. 

Mineral & Vitamin Mix to give you all-round muscle strength and improve overall health. 

Ayurvedic herbs ashwagandha and ginseng. Ashwagandha is a well-known herb to increases muscle resilience, reduces swelling, and relieves any stress. Ginseng, on the other hand, supports protein absorption by muscles and fights fatigue. 

Lastly, each serving of Kapiva Men's Vegan Protein gives 4.1 gram of BCAA, a

research-backed

supplement to increase muscle growth, shred body fat, and reduce any exercise fatigue or muscle soreness. 
One of the reviewers of the protein powder writes: "I bought this product from Amazon for my husband after reading several positive reviews. After trying several brands, my husband stopped all due to digestive issues and a bad aftertaste. He's a sports player and being a vegetarian lacks protein in his diet. After using the Kapiva protein powder for over 3 weeks, he's quite satisfied. There's no bloating or any other digestive issue. Highly recommend and no doubt, one of the best vegan protein in India for bodybuilding." 
Cons: This protein powder contains sucralose. While this sweetener is particularly safe and is added to many of our products, some people are totally against the consumption. It's likely because the sweetener may cause a sudden spike in insulin when consumed and cause some digestive distress. Research is mixed and it's not necessary that this artificial sweetener will give everyone the same reaction. 
Overall Rating: 9/10 
FAQ's 
Is Vegan Protein Powder Better Than Whey?
In some ways, yes. A vegan protein powder is easier to digest than whey protein powders. Whey protein powder directly comes from milk, and in lactose intolerant people, this powder can cause an unpleasant reaction. Even in normal people though, dairy products can cause some kind of digestive distress. Vegan options are also more sustainable and better for the environment because global temperatures and sea levels are at a terrifying peak now. Further, whey protein often comes mixed with many artificial flavors and sweeteners, but vegan protein powders are naturally palpable and don't require much tampering from the original stage. Lastly, animal proteins are acidic in nature and can wreak havoc on the body's pH levels. This can result in serious ailments and inferior bone health. Plant proteins are, however, alkaline in nature and maintain a healthy pH balance when consumed. 
Can You Build Muscle Better Using A Vegan Protein Powder?
You can build muscle using both vegan and whey protein powders. Muscle building is about getting adequate protein, among other things like working out, eating healthy, and proper sleep, and it doesn't matter what the protein source is, given it's high-quality and has a good amino-acid profile.  
What Is The Difference Between Vegan Vs Whey Protein Powder?
Vegan protein powders are made from plant-based sources, which are lactose-free and derived sustainably. In contrast, whey protein powders are made from whey, the watery portion of milk that separates from curd cheese is made. Both plant-based and whey protein powders are flavored so as to increase their palpability and are rich sources of protein. 
A key difference between vegan and whey protein powder is the high amount of fats and carbs in the latter. Since vegan protein comes from milk, both saturated fats and carbs come into the product alongside protein. This can't be good for someone who's looking to tone their body and lose weight. Being made from plant-based sources, vegan protein powders are low on both fats and carbs, but high on protein content. 
Moreover, since whey protein powders are made from dairy, it's not suitable for individuals with lactose intolerance. Dairy can cause some sort of digestive issues in anyone. Plant proteins are also more sustainable. This is because they require less land and resources to produce. Whereas, whey protein also involves putting animals through unlivable conditions. If you care about the environment and animals, it's best to switch to these best vegan protein powders in India. 
Does Vegan Protein Powder Make You Gain Weight?
Not at all! In fact, consuming 0.5-1 gram of protein per kg of body weight is beneficial for weight loss and can actually help you lose those stubborn kilos. Here's how:
Proteins in foods promote a feeling of satiety better than it's brothers, fats, and carbohydrates. To explain further, whenever we eat a meal and it reaches our small intestine, the organ releases satiety hormones that signal the brain to stop eating. This release of hormones is stronger when a meal contains a greater amount of protein. Moreover, this feeling of satiety isn't fleeting and can last for as long as 24 hours after consumption of food. So, you will eat less over the course of the day. 

Proteins are also known to increase the thermic effect of food. What this means is increasing calorie consumption when the body breaks down the food by a process called thermogenesis. Protein consumes more calories during digestion than carbs. This can help you boost your metabolism and aid in fat loss. Moreover, protein increases the number of calories you burn during sleep, and throughout the day.

(1)

(2)

(3)

(4)
Is A Vegan Protein Powder Bad For Your Kidneys? 
No, a vegan protein powder is not bad for your kidneys. Some studies have suggested that supplementation with any kind of protein powder can be detrimental to kidneys. Practically, protein consumption does change the regular functioning of kidneys by increasing urinary volume, urinary calcium secretion, and plasma urea content. But, this is only when you consume more than or equal to 1.5 g/kg/day. Anything lesser than this amount is less likely to have any detrimental effect on any normal functioning of your organs. Even if there are protein-induced changes, they're likely normal adaptive mechanisms to dietary habits by the kidneys. 
A literature review of studies concluding the effect of protein powder consumption on kidneys concluded protein intake isn't related to the initiation or progression of renal disease in healthy individuals. For those with pre-existing kidney conditions or any other sort of health problem, it's always advised to consult your physician before starting any supplements. While both vegan and whey protein powder don't cause any advent of kidney diseases, it has been proven in a research study that plant protein powder is associated with a reduced mortality rate in chronic kidney disease patients. 
Should You Take A Protein Shake Before or After The Workout?
Short answer, it really doesn't matter. Having enough protein is what's considered most important to build muscle mass and time hardly makes a difference. In fact, if you're consuming a protein shake before or after the workout, but not meeting the caloric requirements throughout the day, any benefits from the protein shake are rendered useless. Having said that, taking a protein shake both before and after the workout have their own benefits and similar effects on muscular adaptations. Research backs this statement.  
When you drink a protein shake before the workout, the body starts muscle protein synthesis (the process of using protein to build muscle). Because this synthesis lasts for about 3 hours, you can benefit from muscle gain and an increase in elevated blood amino acids during, and after, your workout. Additionally, taking some carbohydrates before the workout increases your energy and gives you enough fuel for strength-training exercises. And when you take a protein shake after the workout (which is the gold standard of drinking it), the fast-absorbing proteins deliver proteins to exactly the places where you need them the most, which is the parts you worked out. If you feel too heavy to workout after having a protein shake, take it afterward. 
Again, research work suggests that muscle protein synthesis happens best when you consume moderate amounts of protein – around 20 grams per meal – three to four times in a day rather than all at once – let's say dinner. So, you can take your protein shake when another protein-rich meal will not be consumed soon for better benefits. 
What Are The Signs Of Too Much Protein?
Consuming too much protein can cause a variety of symptoms and health problems. Some signs that you may be consuming too much protein include:
Dehydration: Eating a high-protein diet can lead to dehydration as protein requires more water for digestion. Symptoms may include dry mouth, thirst, and infrequent urination.
Digestive issues: Consuming excessive protein can cause constipation, bloating, and diarrhea due to the body's difficulty in digesting and absorbing large amounts of protein.
Kidney problems: Eating too much protein can put a strain on the kidneys, leading to kidney damage or kidney stones. Symptoms may include pain in the lower back or side, frequent urination, and blood in the urine.
Bad breath: Consuming excessive amounts of protein can lead to a buildup of ketones in the body, causing bad breath or a fruity smell.
Weight gain: Eating too much protein can cause weight gain due to an excess of calories. Protein is a high-calorie nutrient, and if you consume more calories than you burn, you will gain weight
Conclusion & Overall Best Plant Protein Powder In India
In conclusion, vegan protein powders are equally good in their benefits and enhancing muscle mass as whey protein. There's no reason why you shouldn't give them a try, considering they're also environment-friendly and sustainable options. Overall, we think MyPro Plant Protein Powder is the winner of the best vegan/ plant protein powder in India. It has no questionable additives and provides complete protein by combining rice and pea protein. With 23 grams of protein per serving, it really is a steal at Rs.748/- for 16 servings.