Protein Powder shopping can be daunting. If you're searching for the best protein powder in India, the options can be endless and confusing. For beginners, this hunt can be no less than overwhelming. But protein has become a vital supplement to add to anyone's routine. Especially for those who do resistance and weight training as it helps in building lean body mass, increases muscle strength, and promotes faster recovery. To make your purchase easier, we have highlighted the best from the rest by taking into account user ratings, company profile, ingredient quality, and the quality of protein. 
Find below a list of the best protein powders in India for different preferences, a detailed review of each, and then, a buying guide. 
P.S.: Some of the links included in this blog might be affiliate. This means we may earn a commission on sales made from them. All the products are selected independently by our editors, keeping in mind reviews, popularity, and efficacy of the brand. Thank you for your constant support and love. We appreciate each and every one of you.
Further Read: 7 Best Plant/ Vegan Protein Powders In India || 11 Best Protein Bars In India
Product List
Best Whey Protein Powder In India
Best Plant Protein Powder In India
Best Protein Powder For Weight Gain
Best Protein Powder For Women In India
#1 MuscleBlaze Biozyme Performance Whey Protein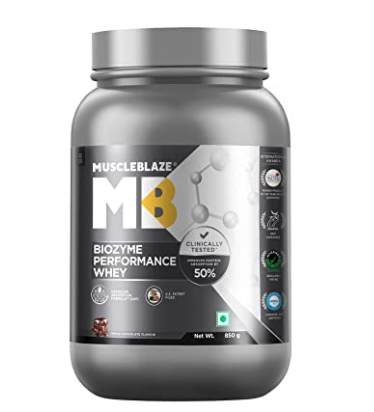 MuscleBlaze is one of the most known brands of whey protein powder in India. Established in 2012, it quickly rose to prominence for its quality products and on-point customer satisfaction. Their Biozyme Performance whey protein with 25 grams of protein each scoop and a complete amino acid profile is an ideal whey protein for beginners and muscle gain. Since no added supplements are present except whey, it can be used by women practicing functional training and trying to build lean body mass as well.  
Physical Attributes & Quantitative Measurements:
The protein comes in a bulky yet elegant gray packaging with all the product information mentioned on the inner box itself. This makes it easier to refer to nutrition statistics anytime you want. Given their award-winning packaging style, the protein powder has a scoop holder right on the top, so you don't have to dig inside the protein powder to find yours. After retrieving the scoop, you can remove the holder and use the product without any hassle. For a price of Rs.1949/-, you will get 850 grams of product offering 22 servings with 25 grams of protein each serving. 
Benefits & How It Compares To Others:
The first clear benefit is the minimal ingredients added. There's just something about a short & sweet list of ingredients on any product. It just makes you trust the brand more and gives an assurance of the product being genuine. The MuscleBlaze Whey protein powder for muscle building has whey protein concentrate, sweeteners, flavoring agents, and MB enzyme pro. 
The MB enzyme pro is a unique patent-pending and clinically studied enzyme absorption formula added to the product. It helps in 50% higher protein absorption and 60% superior BCAA absorption. The proprietary formulation also reduces any digestive distress caused due to protein powder. 
The protein powder and the state-of-the-art facility of the Muscleblaze have also been certified by some of the best organizations in the industry. The manufacturing facility has been certified by FSSAI and HACCP. And the product is certified by Labdoor and is regularly tested and certified by Informed Choice, UK. Both are highly reputed programs to test the quality of ingredients in the products. 
Another great advantage of this protein powder in India is the amazing flavor it comes in. Whey in itself isn't as palpable, so the company has added a triple chocolate flavor to the product. You won't be skipping your supplements this way, instead will be looking forward to taking them. 
Cons: The product contains sucralose. An artificial sweetener added to many food products, sucralose is 600 times sweeter than sugar. This means only a small amount goes inside the body with each serving. Still, for some people, sucralose can cause an instant insulin spike and cause digestive issues. If you're sensitive to sucralose, it's best to look for other alternatives for protein powder for men in India.
Get here. 1949/-
#2 GNC Pro Performance 100% Whey Protein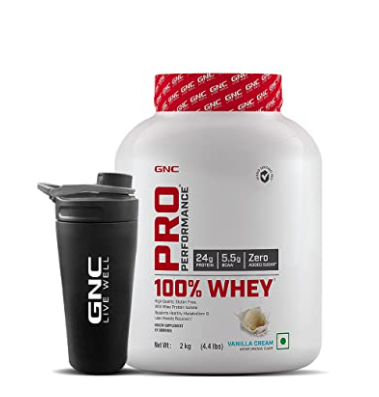 General Nutrition Centers, a US-based brand, is a global health & nutrition products company and has trusted consumers all over the world. Their supplements – from protein powders to vitamins – are quite popular in India for their high quality and effectiveness. All of their workout supplements are well-favored and sold the most among their arsenal of products. Surely, their whey protein powder in India is ranked as one of the best protein powders in India for muscle gain and weight loss. See the complete review below: 
Physical Attributes & Quantitative Measurements:
The GNC Whey Protein Powder comes in white tub-style packaging and also comes with a free shaker. There's a scoop inside that delivers 35 grams of protein powder per scoop and 24 grams of protein. The scoop can get lost during delivery but can be easily retrieved from the box. For ~ Rs.5589/-, you receive 2 kgs of product, which offers 57 servings and 24 grams of protein with each serving. 
Benefits & How It Compares To Others:
GNC whey protein powder is a blend of two whey proteins: whey protein concentrate and whey protein isolate. The former contains very low levels of fat and carbs and the latter removes all fat and lactose. This makes protein absorption easier inside the body. 
This protein powder for daily use in India is 20% of your daily requirement of calcium, 11% of iron, and 4% of calcium, along with 40% of the protein requirement with each scoop. 
The one we have linked comes in a vanilla cream flavor – a delicious appetizing palate to relish your taste buds while feeding your body with nutritious food. It also comes in another flavor like chocolate, but this one is highly favored in the market owing to the different and delectable experience.  
Ingredient breakdown: Besides whey protein, this protein powder in India contains maltodextrin and artificial sweeteners. Maltodextrin is a safe and widely-used ingredient in packaged food. It is a type of carbohydrate derived from plant-based sources. It's added to food products as a thickener, to improve their shelf life, and prevent grainy texture. In sports drinks, the ingredient helps the product quickly dissolve in water and since it has a high GI, the body quickly regains the energy. Thus, you will feel energized after taking this protein powder. Though widely safe, the ingredient does have a few side effects like altering the gut line and high GI means it's not the best for those with high sugar. 
Artificial sweeteners added are INS 955 and INS 950. INS 955 is the number code for sucralose and INS 950 is acesulfame potassium. Sucralose, as stated in the last section, is an artificial sweetener and widely (and we mean it! Check labels in your pantry) used. It's 600 times sweeter than sugar and only a small amount is needed to add the necessary sweetness to the product. A select few people can have digestive issues because of this sweetener though. 
INS 950 is acesulfame potassium. Again, any artificial sweetener has a much higher sweetness (this one is 200 times sweeter than sugar) for a small quantity. Therefore, you will be ingesting just a small amount each time. Any side effects only result when you have a product in higher quantities, which is highly unlikely, given you're maintaining a healthy diet besides the protein shake. 
Buy here. 5589/-
FYI: I know there are many fake complaints about the product. Keeping the same in mind, the one we have listed is sold by GNC India, global GNC's own chain in India, and not any other seller. This ensures you get a genuine product. If you're looking to purchase any other GNC product, go for GNC India's storefront on Amazon. Their store is also very responsive to any user complaints and you can be assured of a positive experience. 
#3 Dr.Morepen Muscle Food Raw Protein Powder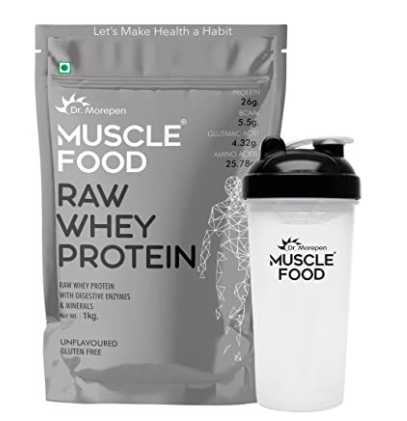 If you're looking for an unflavored protein powder with no added sugar and no unnecessary preservatives, then Dr.Morepen Muscle Raw Protein Powder is your ideal product. Each scoop gives 26 grams of protein, which is definitely on the higher side when compared to other products on this list of best protein powders in India. The brand Dr.Morepen is owned by Morepen Laboratories, the fastest-growing pharmaceutical company in India that was established in 1984. They have extensive R&D facilities meant to provide consumers with high-quality ingredients and products. 
Physical Attributes & Quantitative Measurements:
Dr.Morepen's protein powder comes in either a tub or packet. The tub one is around ~ Rs.500/- expensive than the packet one, so if you're looking for a pocket-friendly version, then buy the one in the tub. The branding colors are brick grey and you get all the information about the product on the packet itself. Inside, there's one scoop and if you pay around 60 to 70 rupees extra you also get a free shaker with the product. For a price of ~ Rs.1600/-, you will get 1 kg of product with 30 servings and 26 grams of protein with each serving. 
Benefits & How It Compares To Others:
An unflavored version of raw protein, this product omits out the apprehension of flavoring agents and sweeteners in the product. The only ingredients are whey protein concentrate and digenzymes. The latter is basically a mix of digestive enzymes like amylase, protease, lactase, lipase, and cellulase to enhance the absorption of vitamins and minerals inside the body. This helps with better protein digestion and faster recovery. 
Some doctors also suggest whey protein powder during pregnancy. (Please don't take whey unless your gynecologist recommends the same). Since this is an unflavored version with no sweeteners and additives, it can be a safer option than others in the market. 
Each scoop of the protein powder gives a complete amino acid profile with 5.5 grams of branched-chain amino acids (BCAA) and 11.7 grams of essential amino acids (EAA). A complete AA profile is important for muscle repair and building lean muscle mass after a workout. 
Here's what one of the reviewers wrote, "This is the first time I have got hands-on whey protein. Actually got it for my husband but I also started using it. The best part is that it's unflavored and can be mixed with smoothies and shakes as per your choice. It mixes well and we often use it as a breakfast replacement because our mornings are quite busy. Overall I am quite satisfied with the product."
"I love this raw whey. Previously I was only flavored ones because I was scared to try the raw whey and worried if it didn't taste good, I wouldn't be able to finish it. But this one didn't disappoint. Raw whey doesn't taste that bad and I can easily mix it with some fruits & milk after the workout. No bloating issues as well. Love this one," writes another reviewer. 
Get here. 1685/-
#4 Muscle Asylum Whey Protein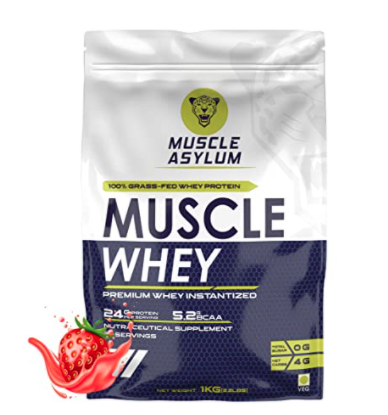 If you're looking for a delicious and effective alternative to your whey protein, trust Muscle Asylum – a new whey protein powder brand in India to hook you up. Their simple, effective, and most importantly, cost-effective solutions have won the hearts of many. With over 500+ positive reviews, and 4.5+ ratings, you can surely trust the brand to give you your dose of protein healthily and powerfully. Scroll to see the review of this new and fast-growing protein powder brand in the market. 
Physical Attributes & Quantitative Measurements:
The Muscle Asylum protein powder comes in a packet-style container and the brand colors are classic white and black with neon colors to enhance the brand logo and USP of the product. There are a total of 6 flavors of this protein powder: chocolate, cookies & cream, kulfi, mango, salted caramel, and strawberry. 
Benefits & How It Compares To Others:
The Muscle Asylum protein powder delivers 24 grams of protein with each serving and a complete amino acid profile with all 13 essential amino acids and 5.29 grams of BCAA. Whey protein is a blend of whey protein concentrate and whey protein isolate. Whey concentrate is a raw form of whey that contains fat and carbohydrates but also a lot of other nutrients. Whey isolate takes the whey protein a step further and removes the majority of fat and sugar from the product.  
Since the protein powder comes in 6 flavors, you can conveniently find the one that suits your taste buds. A flavored protein powder is an ideal option for consumers who don't have a lot of time on hand to create a full protein shake and enhance the flavor. Since it's already flavored, all you need is to shake the protein with water or milk to create a tasty and healthy drink.  
Ingredient Breakdown: The product contains a variety of digestive enzymes to increase protein absorption in the body. Even the flavor enhancer INS 1101 added is the form of enzyme derived from natural sources that increase the absorption of protein inside the body and hence, reduce any digestive distress caused by protein powders. 
This whey protein powder in India also has maltodextrin – a type of food additive and flavor enhancer. This ingredient is added to protein powders to make the protein mix easier and since it has a good GI, it also helps in replenishing energy after a workout. It also contains INS 955 – Sucralose as a sweetener and INS 415 – Xanthan Gum as an emulsifier. Both are considered to be safe ingredients to be added to food products. 
Besides protein powder, Muscle Asylum has various other supplements for gym-goers. Check them out here. 
Purchase here. 1200/-
#5 Abbzorb Whey Isolate Chocolate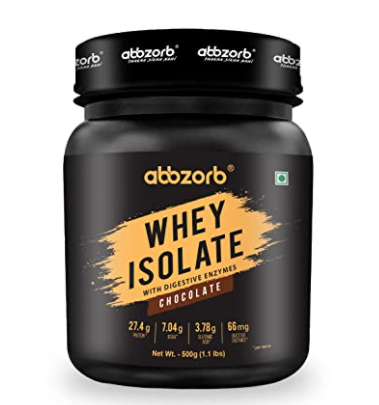 Launched just three years ago in 2021, the Abbzorb Nutrition focuses primarily on men's nutrition supplements to support muscle gain, lean body mass, and support recovery after a workout. One of their primary product is the whey protein powder which you can find in many variants as per your needs. Visit their store here. We're reviewing the most-favored one in the market in this section. 
Physical Attributes & Quantitative Measurements:
The Abbzorb whey isolate chocolate comes in black tube packaging. The outer packaging is slightly matte giving it an elegant appearance. The branding and main headings are done in yellow and the flavor is done in whatever color the particular taste is resembled by the most; so for chocolate, it's brown. You can find all the nutritional information on the tub. For a price of Rs.1299/-, you will receive 500 grams of the product. There will be 15 servings in each tub and each serving contains 27.4 grams of protein. 
Benefits & How It Compares To Others:
The Abbzorb whey isolate contains 27.4 grams of protein each scoop, a number on a much higher side when compared to other protein powders in India. The entire whey protein is whey protein isolate. The company imports this isolate from internationally recognized plants for an effective, high-quality ingredient in their product. The way their protein powders have soared in popularity is obviously a testament to the best quality and potent ingredients in their protein powder. A whey protein isolate also ensures there's less fat and carbohydrates in the supplement, something a lot of people are looking for in their protein powder for weight loss and muscle gain. 
Another USP of this product is the presence of 66 mg of digestive enzymes in each scoop. The company surely doesn't play with their name and adds enzymes so the protein powder is easily digested by the body faster. This also means if you have digestive distress because of whey protein, this product might be the one you're looking for. 
Ingredient Breakdown: Besides whey protein isolate and digestive enzymes, the supplement also has cocoa powder, thickener INS 415 (xanthan gum), sucralose, and acesulfame potassium. The last two are both sweeteners and have 600 times and 200 times the sweetness of sugar respectively. This means you get the same taste as sugar in a much lesser amount. Both of them are safe to use and are widely used in food products. Some side effects of both have been reported, but we'd say if you're following a healthy diet and don't have any health concerns, they are both quite safe to consume. 
Get here. 1299/-
#6 Protinex Health & Nutrition Mix Protein Powder For Weight Gain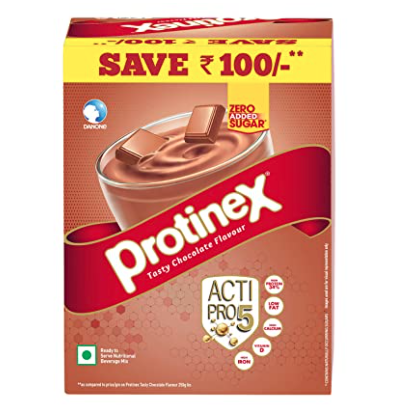 Protinex is one of the widely advertised protein supplements in India. With over 60 years of legacy and 10,000+ positive reviews for just this one product of their brand, the Protinex is an affordable, healthy, and beneficial solution for those looking to add protein to their diet. And this is just one variation. They also have other variations in different flavors, high fiber, pregnancy-safe, and diabetic care. We're reviewing the general version in this section, but you can check the other products here. 
Physical Attributes & Quantitative Measurements:
The Protinex comes in a box or tin – which are also environment-friendly versions of packaging. The product is mostly bought in 400 grams and 750 grams packaging. You can find the entire nutritional information of the product on the packet. Each serve has 12 grams of protein and a variety of other minerals and a 750-gram packet will give you around 21 servings. The price is also convenient at ~ Rs.900/- for 750 grams of the product.  
Benefits & How It Compares To Others:
This is one of the best protein powder in India for women and men alike. In fact, it is one of the few protein powders that can be taken by anyone – no matter what your exercise routine is like. This protein powder is also one of the few protein powders to have hydrolyzed protein. It's said that hydrolyzed protein has many benefits like increased & faster availability of amino acids, enhancing the activity of insulin (a greater insulin response means contributes to muscle protein anabolism), faster recovery, and also works well for the elder population. 
Besides protein, the supplement has many other vitamins and minerals like Vitamin B1, B2, C, E, B12, folic acid, zinc, sodium, potassium, biotin, iron, magnesium, phosphorus, etc. This supports the overall health of the individual by boosting metabolism, supporting immunity, maintaining healthier bones, and promoting blood formation. 
There's also zero added sugar in the product to keep in line with your health goals. 
"Protinex surely equals a healthier lifestyle. This doesn't have the high protein which can damage your liver and you might not even require it if you don't train. There's a perfect balance suitable for everyone. All my family members consume this, including my parents. Zero added sugar is a good advantage. Definitely recommended if you're looking for a good protein powder in India for women and men," writes one of the reviewers. 
Purchase here. 894/- 
#7 QNT Zero Carb Whey Protein Powder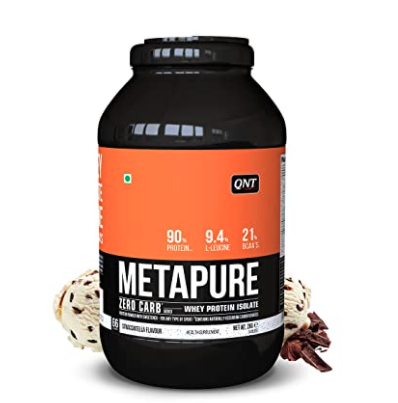 90% Protein, zero carbs, and zero sugar, the QNT Metapure whey isolate powder is built for those serious about muscle gain and wanting to see changes in their body quickly. Established in 1991 in Belgium, the company now has more than 300 products and sells them in over 60 countries. While the main office and state-of-the-art facility still remain in Europe, the company has an office in 5 more countries: the US, UK, Netherlands, Brazil, and India. 
Physical Attributes & Quantitative Measurements:
The QNT whey protein powder in India comes in its classic black and orange packaging. The main USPs like 90% protein and zero carbs are mentioned in bold. You have a total of five flavors to choose from: chocolate, red candy, stracciatella, strawberry banana, and tiramisu. Stracciatella is a unique gelato flavor you might enjoy as a deviation from other flavors available in the Indian protein powder market. There's a scoop inside to measure the serving. For a price of ~ Rs.7450/-, you get 2 kg of product with a total of 66 servings and 27 grams of protein in each serving. 
Benefits & How It Compares To Others:
First of all the product has no carbohydrates and sugar. This can be ideal for those looking for protein powder on a keto diet, where carbs intake should be less than 50 grams per day. Although, you do need carbs to build muscle (yes, it's true and important to know), carbs from certain sources contribute to muscle building better than carbs obtained from dairy. So, the no carbs attribute can easily contribute to your muscle gain goals. Plus, there's also no sugar – which we all know has no health benefits. 
The amount of protein delivered is also the highest out of all the protein powders on this list. The protein is derived from 90% whey protein isolate – which means most of the fat, sugar, and carbs are removed from the raw whey obtained as a by-product. Other additions include cocoa powder and sucralose as a sweetener. 
The unique flavor to try in this protein powder is stracciatella. It's okay if you don't know what it is. It's not known in India. Basically, stracciatella is an Italian dish, a type of gelato that contains vanilla ice cream with fine, irregular shavings of chocolate. It's popular all over Europe and since QNT is a Belgium brand, no wonder they have infused a local flavor into their product. If you're bored of the usual chocolate, mango, vanilla flavors, etc. This protein powder can be a delectable alternative to those flavors.
Besides whey protein, the company has many other products perfect for anyone aiming to build muscles, reduce fat, and build a healthy lifestyle. Some of our other favorites include QNT daily vitamins, QNT CLA fat burner capsules, and vegan protein supplements. 
Get here. 7450/-
#8 Mypro Plant Protein Powder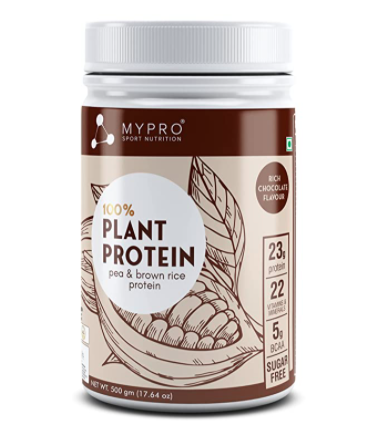 There are many reasons why you're planning to switch to vegan protein powder and let go of whey. It's good for digestion and it's way (way!) better for the environment. The environmental damage associated with the dairy industry is known by all and choosing a plant-based alternative, which also doesn't compromise with your muscle gains or body goals is a great pick. The MyPro plant protein powder in India for men and women offers 23 grams of protein per serving, is competitively priced, and has 400+ positive reviews on Amazon. Read on to see the full review. 
P.S.: If you're worried about the incomplete EAA profile plant protein, there are some pretty easy ways to work around it. One is to opt for plant proteins that derive the nutrient from two sources, like in this one. For more details, please jump straight to our section Vegan protein vs Plant Protein for muscle growth using the *table of contents* tab.
Physical Attributes & Quantitative Measurements:
The MyPro Plant Protein powder comes in long tub-style packaging and has brown and white color packaging. The details of the product are mentioned on the labeling, including the ingredients, expiry/ manufacturing date, nutrition information, and quality standards tags. There are 23 grams of protein in 3 scoops, along with 5 grams of BCAA. You will get around 16 servings in a 500-gram pack costing ~ Rs.650/-. 
Benefits & How It Compares To Others:
Each scoop of MyPro protein powder benefits your body by providing it with 23 grams of protein, which is around 25% of the protein requirements for anyone who's focused on body-building. Even when you don't want to build muscles and ensure that the optimum protein requirement is met, this amount of protein is a balancing number for your nutritional needs. 
The protein powder also contains BCAA or branched-chained amino acids. The three BCAA's are leucine, isoleucine, and valine. BCAA's have numerous benefits for athletes, all research-backed. The supplementation is shown to improve exercise performance by improving energy metabolism. Further, it also helps in promoting lean body mass, preventing muscle damage, and improving muscle growth. 
Besides the protein and BCAA, this product also has various vitamins to support the body's health and antioxidants to prevent any inflammation that occurs right after exercise. There's also a mix of digestive enzymes to ensure there's no digestive distress from protein powder and absorption of the supplementation is better. Here's what one of the reviews say:
Here's what one of the reviews says: "I used to have whey isolate earlier; right after workouts. But I prefer to have this plant-based protein now. The reason for the switch is gut issues and fear for liver health. This one's a good product in every way. It tastes like bourbon biscuit, priced nicely, and has the right amount of protein." 
Get here. 650/- 
#9 andMe Women's Protein Powder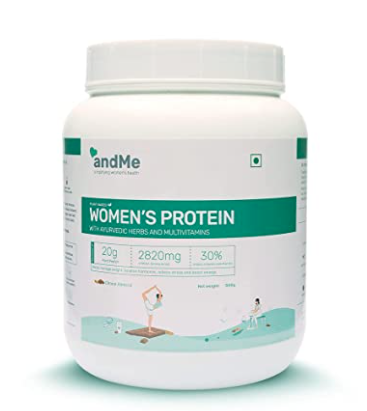 If you're specifically looking for women's protein powder in India, then try the andME women's plant protein powder. Infused with a variety of vitamins, minerals, and ayurvedic herbs, the protein powder supports the overall health of women. It also supports healthy skin and hair health and thus, gives an overall health improvement to women. Read on for a full review. 
Physical Attributes & Quantitative Measurements:
The andME plant protein powder comes in a chic white packaging with all the details mentioned in green. The powder comes in two flavors: choco almond and mango cardamom. There are 20 grams of protein in each scoop and a 500 grams product, costing ~ Rs.930/-, gives you 15 servings. 
Benefits & How It Compares To Others:
The plant protein powder is a healthier alternative option for women than whey protein. Several studies have found a link between dairy and breast cancer. (1) (2) One even goes as far as saying that even small quantities of milk on a daily basis can increase breast cancer chances by as much as 30%. Since whey is a by-product of the dairy industry, it's best to lower the consumption of it and instead look to other vegan sources of protein and calcium. 
This protein powder derives the protein from pea – which is considered to be a complete protein, as good as meat protein sources. So, don't worry about having the essential amino acids in your profile. Besides the protein, the supplement has 14 vitamins and 7 minerals, all meeting the 30% daily requirement of women. Besides them, the protein powder also has ayurvedic herb extracts, many of them like ashwagandha and Shatavari are known for their impressive benefits to balance women's hormones. 
It also has moringa which is an ayurvedic compound that replenishes the body's energy levels and reduces the lactic acid buildup right after a workout. Black pepper, ginger, and turmeric are natural compounds that speed up metabolism and aid in weight loss. Plus, there are also Gotu Kala and giloy – powerful antioxidants to promote weight loss and stimulate fat breakdown. 
Buy here. 935/-
#10 Nack Plant Protein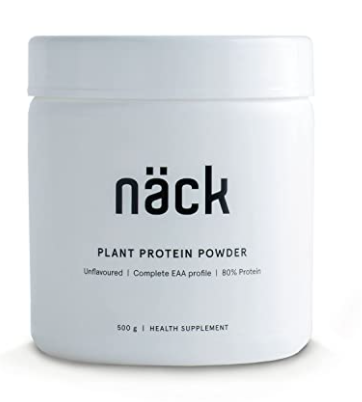 Yet another option of vegan/ plant-based protein powder in India is the Nack Plant Protein Powder. A new product on the market but nonetheless, quite impressive. You will love that we found this for you. This protein powder in India has only TWO ingredients (that's right!). No additives, no sweeteners, no flavors, just pure, high-quality protein from pea and rice – sourced from genuine sources. Scroll to see the full review. 
Physical Attributes & Quantitative Measurements:
The Nack Plant Protein Powder in India comes in a clean white tub packaging with details & information about the product mentioned in black. There are 24 grams of protein in each serving and you will get around 17 servings in each container of 500 grams costing about Rs.1600/-. 
Benefits & How It Compares To Others:
There are many benefits of this plant protein powder in India. First is their clean and two-ingredient supplement with no additives whatsoever. The company is created by a bunch of health enthusiasts from Sweden, Turkey, and India with the goal to provide clean nutrition in this complex world of supplements. The word "Nack" is a Swedish term for nakedness to signify the clean and straightforward protein powder without any false claims or odd ingredients. 
The protein is a blend of 90% pea protein and 10% rice protein. The former is derived from Belgium and the latter from Vietnam. The combination of two sources of protein completes the essential amino acid profile of the protein. They also have nutrition and mental health expert on board for a quick consultation for your health needs. Go to their website nack.life to book. 
Besides protein powder, they only sell one more supplement – astaxanthin. Astaxanthin is a strong antioxidant and is 1000 times stronger than Vitamin C, 800 times stronger than CoQ 10, 550 times stronger than green tea's catechins, and 75 times stronger than alpha-lipoic acid. Besides, it's anti-inflammatory and potent immune-boosting properties, the supplement can help you lose weight. Several studies have backed astaxanthin's benefits of increased lipid metabolism, thermogenesis, and fat utilization. These benefits were greatest with exercise. 
Buy astaxanthin here. 
Get here. 1600/-
Whey Protein vs Plant Protein For Muscle Growth
We will get straight to the point. When it comes to muscle growth, you need a good amino acid profile in your protein, which some people believe is an issue in plan protein powder. And it's true to a level. Animal-based protein contains an EAA profile in protein exactly as humans need them. The plant-based protein lacks just one EAA to complete the profile: Lysine. (See this plant protein vs whey Reddit thread to know more.)
However, there are some easy ways to work around this problem. 
First, if you want a good EAA profile, consider plant protein which derives the nutrient from different sources, like a mix of protein sources, hemp + pea + brown rice, or rice + pea, etc. You must have heard that rice + dal/ beans complete the EAA profile in the meals and that's why they're often recommended to be eaten together. Add a bit of ghee and you get a dose of butyric acid and medium-chain triglycerides which mobilize stubborn body fat and help in getting rid of it. Hence, anyone following a vegetarian diet should mix their protein sources for a complete EAA profile. 
Second, the only essential amino acid which the plants lack (a bit, not a lot) is lysine. As you can see in the chart below, lysine is the only plant-based EAA that is low in all kinds of protein-based foods. But, include beans in your diet and you can even counteract that.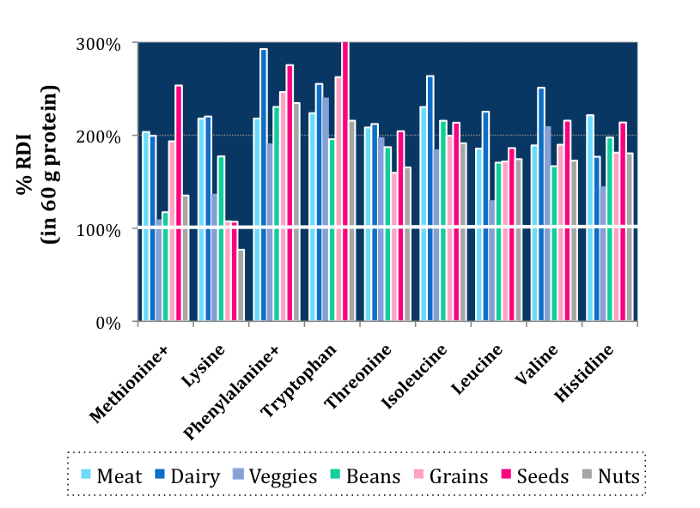 Source: Medium.Tenderly.Com
Lastly, it's important to understand, when you're on the journey of muscle growth, building lean mass, or just following a healthy lifestyle, you aren't just getting protein from supplements. At least we hope you aren't. If you're a vegan/ vegetarian, make sure you eat food rich in protein every day. This includes pulses, nuts, seeds, and beans. Especially beans since they are rich in lysine. 
Also, just eat more protein in general. Not just from protein powder, but food sources as well. Eating more protein naturally assures you are having more lysine and all the other EAA in proteins. 
Rest assured, you should know plants don't lack behind in any way in the essential amino acids. Any source that backs the myth of incomplete plant proteins has definitely missed the basics of biology:
1) Plants use the same essential amino acids as animals to build their proteins. 
2) Animals derive their protein profile from plants. Whether an animal is herbivore, carnivore, or omnivore, they are directly or indirectly deriving their EAA profile in protein from plants only. 
So, it's senseless to label all plant-based protein as incomplete protein. There can be some lack of essential amino acids, but they can be easily worked around by including a variety of food, or supplementation. Although, the latter is only recommended to be ingested after consulting a good trainer or your health service provider. 
What Is A Complete Protein Source?
Any food (or combination of foods) that provides all 9 essential amino acids (EAA) is called a complete protein. There are a total of 20 amino acids, out of which 11 are considered non-essential because your body can produce them. The essential ones have to be taken by food to complete the muscle synthesis inside the body that requires all EAA. 
While animal-based foods are complete on their own, plant-based foods need to be combined with others to form a complete source of protein. That's ONLY when we're talking about ONE specific meal. If you're eating a variety of meals in a vegan diet regularly, then you're getting all EAA in proper portions. 
This is also the reason why it isn't right to label a food as a complete or incomplete protein because you don't know what that person is pairing the food with and what their everyday diet is like. Any adult is getting their EAA over the course of the day from a varied diet. Even if those calories come from plant-based food only, they should be able to get an adequate amount of essential amino acids in a 24-hour period. Your liver stores this EAA over the course of a day and releases it whenever the body needs the same. So you don't have to worry about incomplete protein or lacking in any essential amino acid if you're eating a healthy, varied diet. 
Here are the key differences between whey protein and plant protein:
Nutritional Content
While whey protein has all the essential amino acids in its natural form, plant sources need to join hands to make them a complete source of EAA. Yet again, it's a mistake to think plant-based proteins are not a source of good protein with all essential amino acids. Soy, quinoa, hemp, chia, and sunflower protein all are complete proteins on their own. More so, it matters more of what protein-rich sources you're eating beside the protein shake. A varied vegan diet ensures you have an adequate supply of EAA on hand needed to support muscle growth. 
Plant Protein also has an upper hand in the variety of essential vitamins, nutrients, and antioxidants that any plant-based food naturally has. Whey, on the other hand, only has protein, carbs, and fats, and is just a straight fire shot of protein, especially whey protein isolate.  
How They're Produced
Whey protein is the by-product of the cheese-making process. It's the remaining liquid after we have strained and curdled the milk. It's also the watery substance you see on the top of curd at home or in the yogurt cups found in the market. For many years, this by-product of making cheese was discarded and fed to pigs until its true value was realized. Since then whey protein has only seen an upward curve in production and has been produced intensively in the manufacturing industry to heed to the demands of consumers. 
Plant Proteins manufacturing requires a few industrial processes like solvent extraction, ultrafiltration, and enzymatic extraction to remove the protein from carbohydrates and fats in the source. The result is the isolated protein components, which are then mixed with stabilizers and flavor agents, to make them into the final product. 
Environmental Factors
The effect of dairy and meat on the environment is widely known. Whey protein is a direct by-product of the dairy industry and hence, adds to the problem of greenhouse gas emissions and acquiring Earth's natural resources unnecessarily. Plant-based foods have 10 to 50 times fewer emissions than animal-based foods. It also saves land and water and helps massively reduce an individual's carbon footprint. In short, a vegan diet can save the planet faster than any other available method. 
Flavor
Both protein powders will take some time to adjust for taste if you're a beginner. Whey protein has a slightly chalky taste and plant protein has an earthy flavor. The good news is both can be made palpable by adding ingredients like bananas, nuts, and seeds to make into a nutritious smoothie. Protein powders are quite a versatile product anyway. 
Digestion Considerations
More than 60% of the world is lactose intolerant to some extent. If you already suffer from some sort of digestive distress then whey protein can add to the problem. Not to say that plant protein can't have digestive problems. But plants on their own don't cause digestive issues. It's only by the addition of unhealthy additives like maltodextrin, sucralose, or aspartame that a plant-based protein can cause digestion issues. Look out for unhealthy sweeteners, stabilizers, and thickeners in a protein powder. See a list of ingredients that should never be in a protein powder. 
So, Which One Is Better: Plant Protein or Whey Protein? For Muscle Gain or Weight Loss?
Numerous studies over the years have proven both protein powders have a similar effect on muscle mass, lean body mass, and general health benefits. A 2019 study examined the effects of pea protein and whey protein after 8-weeks of high-intensity functional training. Both of them produced similar results in muscle thickness, body composition, performance, and strength. Another 2015 study comparing 25 grams of pea protein with whey protein over 12-weeks in males from 18 to 35 years of age showed an equal increase in the bicep muscle thickness after the completion of 12 weeks of resistance training on upper limb muscles. Muscle strength was also equal in both groups. Even though the single source of plant protein is said to have less of some EAA, the results were the same, probably because the overall varied diet delivered the rest of the EAA. 
Hence, both plant protein and whey protein are equally good for muscle gain and building lean body mass.
Which One Should I Choose?
In terms of whatever results you're expecting out of a protein powder, both whey and plant-based proteins can work equally well. Which one you choose among them depends solely on your personal preferences and dietary allergies. Another thing to look out for in a protein powder – any kind – is the ingredient list. Try to avoid any protein powder that has a lot of additives that you might find confusing or questionable. Go through the reviews and order a small box before investing in a bigger package of the product. 
What Is Whey Protein & How Is It Made Into Powder?
Whey is one of the most common protein supplements and for all the good reasons. It has a good amino acid profile, provides a good dose of protein, and the powdered form is versatile and can be easily mixed with shakes or just plain water. 
Whey is basically a component of milk. Milk is made of two types of proteins: casein (80%) and whey (20%). During the cheesemaking process, enzymes are added to separate the curd (which has all the casein), leaving whey protein as a nutrient-dense, almost translucent liquid. You also see this whey protein liquid on top of your settled yogurt and curd.  
The whey is then pasteurized and purified to send to manufacturers or if the same manufacturing facility makes the whey, then the liquid is turned into powder using spray drying. The unflavored whey is then mixed with additives, flavors, and digestive enzymes before it's packed and ready to be shipped for consumers. 
What Are The Types Of Whey Protein?
Whey Protein Concentrate
Now that you know the basics of how a protein powder is made, whey protein concentrate is the most basic form of by-product obtained from the dairy industry. Besides protein, this also has fat, carbohydrates, and sugar. Interestingly, the fat in dairy isn't all bad and has anticarcinogenic activity, and even contains butyric acid, known to aid in stubborn fat loss. 
Whey Protein Isolate
When whey is processed to remove sugars and carbohydrates from it, then the resulting product is a whey protein isolate. The amount of sugar and carbohydrates removed can vary from product to product. Naturally, the presence of whey protein isolate increases the amount of protein per scoop, but the extra work in manufacturing also drives up the cost. 
Whey Protein Hydrolysate
Some companies use heat, enzymes, or a combination of both of these or other processes to completely break down the amino acids and hence, it's rapidly absorbed by the body. Honestly, this isn't necessary. Most whey protein comes with digestive enzymes that anyways enhance the absorption of protein and all the processing also makes this type of protein quite costly. The processing also makes the end product bitter and it needs to be mixed with flavors and additives to make them taste better. 
When Should You Have Protein Shake?
Most trainers recommend consuming a protein shake within 30 minutes of the workout session. Some people say that this is what's called an "anabolic window" and since muscles need repair right after a workout, protein consumed during this time will help the muscles repair and grow. However, recent studies have found that the anabolic window is for a longer time (~ 2 hours) and it's basically just a myth.
Sure, you will need to consume the protein for building muscle mass, but it doesn't necessarily have to be within 2 hours. Some adults prefer to consume protein shake before the workout as it fuels them with energy for what's to come. And some studies have backed that pre-and post-workout protein consumption has a similar effect on muscle adaptations. Another study has shown there's no difference in muscle mass when whey was consumed before the workout or after 1 hour of the training session. 
While that's the case for muscle gain, for weight loss, use the protein shake as a snack or consume it during breakfast. You can even make a smoothie with fruits, protein powder, and healthy liquid like milk or coconut water as a breakfast replacement shake. One research study proved that those who consume high-protein snacks consume 100 calories less for dinner, compared to those who ate crackers or a chocolate snack at lunch offering the same calories. 
Does Protein Powder Damage Your Liver?
No. If you're physically active then protein powders can work as a great supplement to boost your health. By physically active, we just don't mean weight training, but even if you walk or have an active lifestyle, then whey protein doesn't cause any side effects or damage to the liver. Just make sure you increase your intake of fiber and water so the digestion becomes easier. If you're also not into intensive workouts, then don't take the full scoop of protein powder and just take half daily. Try to increase the amount of protein through other food sources. 
Having said that, there's one kind of protein powder that does damage the liver – the one whose protein is derived from soy protein isolate. Popular Youtuber and author Dr. Eric Berg tell us in this video why you should avoid soy protein isolate supplements or in general, soy. Since 95% of the soy is genetically modified and estrogen-producing, it can cause a huge load on the liver. For women, this extra estrogen can cause an imbalance in their hormones since they are already quite estrogen dominant. 
How To Enhance Taste Of Protein Powder?
Whey protein isn't the tastiest food product you will eat. But there are ways to make it delectable for your taste buds. Try these 5 protein shake recipes:
#1 Dark Chocolate Protein Shake
Ingredients: 1 scoop protein powder, 1 tbsp dark unsweetened cocoa or you can even use molten dark chocolate, peanut butter, milk of choice, you can add 1 tsp vanilla essence for taste
#2 Banana Protein Shake
Ingredients: 1 serving of protein powder, 1 banana, ground cinnamon, milk of choice
#3 Strawberry Protein Shake
Ingredients: Protein Powder, a handful of strawberries (you can also add other berries), milk of choice, greek yogurt, honey to taste
#4 Coffee Protein Shake
Ingredients: 1 scoop protein powder, cold-brewed coffee, unsweetened cocoa milk, cacao nibs
#5 Chia Seeds Protein Shake
Ingredients: Protein powder, 1 tbsp chia seeds (soaked for 10 minutes so they are activated), coconut water, banana, 1 tbsp almond butter, ½ tbsp flax meal, ice (optional)
How Much Protein Does An Adult Need?
A sedentary adult needs 0.8 grams of protein per kilogram of body weight. You will need 1 gram of protein per kilogram of body weight if you're active. For wedding training and building muscle, you will need ~ 1.2 grams of protein per kilogram of body weight. 
Natural Sources Of Protein
In addition to consuming protein in the form of supplements, take a diet that's naturally high in protein. 
Non-Vegetarian Protein Sources:
Chicken (100 grams has 25 grams of protein)

Mutton (100 grams has 25 grams of protein)

Fish (100 grams has 22 grams of protein)

Beef (100 grams has 26 grams of protein)

Egg (1 hard-boiled has 6 grams of protein)
Vegetarian Protein Sources:
Cottage Cheese or Paneer (1 cup has 28 grams of protein)

Homemade Curd (11 grams protein in a cup)

Milk (8 grams protein in a cup)

Peanut Butter (7 grams in 2 tbsp)

Pasta (6 grams in 1 cup cooked penne)

Lentils (18 grams protein in 1 cup cooked lentils – includes all dals, chickpeas, and lobia. Out of dals, masoor has the maximum protein)
Bottom Line:
When choosing a protein powder, define your goals. For someone who wants to use protein powder as a normal supplement will have to choose a different one from someone who wants to use it for muscle gain. Based on user reviews our top pick is GNC Whey Protein and QNT Zero Carb protein for the best whey protein powder in India. If you want a protein powder in India for women, go ahead and pick andMe Plant Powder, and if you're looking for vegan protein, choose any one mentioned on the list: Mypro or Nack Plant Protein. Also, see the best plant protein powders in India.