Protein bars are a convenient, portable way to meet your protein needs and prevent unhealthy snacking. With so many varieties and delicious flavors, they satisfy your taste buds too. But are all protein bars made the same? Unfortunately, no. The truth is most of these bars are high in sugar, fats, and some don't even have enough protein to be called a protein bar (lesser than 2 grams). However, if you're on the lookout for the best protein bars in India, this list solves your buyer problems and gives you the healthiest options in the market. But, first, let's talk about what makes protein bars healthy. 
Criteria For a Good Protein Bar: 
7 Grams or Higher Protein Content:

If you're having a protein bar snack, it should at least fulfill 7 grams or higher of your protein needs. Depending on how much protein you're getting from other sources, aim for an amount that fits your nutrient need. 

Less than 10 grams Sugar:

Protein bar manufacturers add sugar in the form of honey, cane sugar, and fruit sugars. These sugars aren't bad for your health but should be restricted to no more than 10 grams. 

3 grams minimum Fiber Content:

A good protein bar should have a healthy nutrient balance, which includes fiber that's 3 grams or higher. 

Good quality protein sources:

The best sources for protein to check for is whey protein, nuts, seeds, multi-grains, and seeds. 

No Artificial Sweeteners, including sugar alcohols:

Say no to all artificial sweeteners and sugar alcohols like mannitol, sorbitol, lactitol, isomalt, and xylitol. 

Healthy Fats:

Fats nourish your body, boost nutrient absorption, and keeps you full longer. Aim for protein bars that have good fat content from nuts and seeds rather than from vegetable oil. 
You don't have to go out and research for the best protein bars in India, because we have done it! Please find below 11 high-protein, low-sugar bars that deserve a spot in your pantry. 
Full List:
(Please skip directly to the review of your favorite protein bar using the table of contents section. This is a lengthy blog.)
P.S.: Some of the links included in this blog might be affiliate. This means we may earn a commission on sales made from them. All the products are selected independently by our editors, keeping in mind reviews, popularity, and efficacy of the brand. Thank you for your constant support and love. We appreciate each and every one of you.
1. Yogabar Protein Bars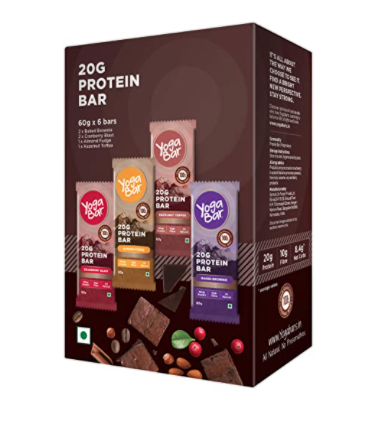 If you are searching for a company that has a protein bar for your every mood, Yogabar might be it! With so many delectable flavors – vanilla almond, chocolate brownie, apple cinnamon, yogurt berry, peanut butter, etc. – your favorite one is there somewhere, I promise. The company's philosophy is simple – making nutrition simple and easily accessible. All the ingredients added are of high quality and don't harm the body in any way. 
Physical Attributes & Quantitative Measurements:
The bars come in little packets weighing 50-60 grams. One box has 6, 10, or 12 bars packed, and they can all be of one flavor or you can purchase one of their assorted varieties – which offers numerous flavors in one box. 
The protein is derived from natural sources like nuts, seeds, and whole grains like oats, millets, quinoa, and brown rice. They also have whey protein bars which derive their protein from whey protein concentrate. While the former ones can have a protein content of around 8 grams, the whey protein ones have a whopping 20 grams of protein in one bar. 
Please note that the prices also differ depending on the protein content – the bars with 5-12 grams of protein are priced around Rs.250 for 6 pieces and those with 20 grams are priced Rs.600/- for the same quantity. 
The packaging offers all the information for your perusal. 
Main Features & Benefits:
All the Yogabars have an amazing nutrition balance, meaning a good ratio of protein, fiber, and carbohydrates. A balanced nutrient level ensures proper absorption in the body and a wholesome meal. 
Next, all their protein bars don't have any added white sugar, and the sugar content doesn't exceed 10 grams in any of the bars. Ensuring they aren't candy bars in disguise. 
An amazing unique attribute of their product is the addition of prebiotic fiber as an ingredient. Prebiotic fiber feeds the *friendly* bacteria in your gut and helps them produce nutrients that enhance the digestive process. This aids in the assimilation of protein into the body. 
Overall, there's no drawback to the product. With so many varieties and amazing nutritive components, these protein bars in India are a must-try. Just pick one and you won't regret it. My favorites are their breakfast apricot fig and chocolate brownie flavors. 
Here are some of their user reviews: 
"Great taste. I use them as my breakfast meal. Keeps me full, energetic, and satiated for a longer time." 
"So yummy. Came across these chocolate brownie bars while exploring Amazon and love the taste. This fulfills my sweet tooth craving without being unhealthy – what more do you want!" 
2. The Whole Truth Protein Bars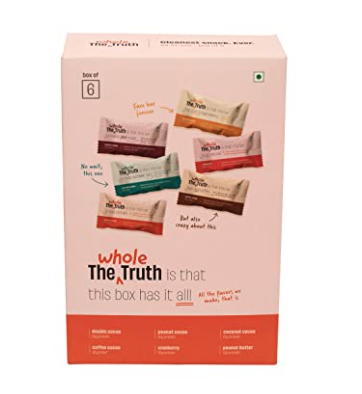 So being a coffee lover, I couldn't resist myself from The Whole Truth's Coffee Cocoa flavored protein bars, and OMG! YUM! The bar packs 13 grams of protein – derived from cashews, almonds, and whey protein. Plus, there's no added sugar. The sweet taste is because of dates – a common addition as a sweetener in all their protein bars. With effortless ingredient declaration and high protein content – this company can become your go-to protein bar in India. 
Physical Attributes & Quantitative Measurements
The bars come in two sizes – mini versions (27 grams) and normal sizes (53 grams). They generally come in packets of 6, 8, 10, and 24. The packaging is simple yet impactful. It catches your attention (not in a flashy way) and gives you all the information you need to assess the product. The price range starts from Rs.396/- where you can purchase their mini-bars pack of 8. Then, there's an Rs.500/- range offering regular versions in a pack of 6. The bigger packages with high product quantities can go till Rs.1100/-. 
Main Features & Benefits
I love that they offer mini versions of the bars. A unique attribute none other protein bars in India have. If you don't like a flavor, it will be finished soon and you don't have to worry about gulping down the whole just because you spent your money on it. Besides, the mini packets can fit right into your pocket, making it a nice portable snack you won't forget in your bag. 
I also adore the endearing branding of their products. Transparency on-point!  
Additionally, they add the goody ingredient date as a sweetener. Dates, in appropriate amounts, are extremely nutritious and have loads of benefits like promoting brain health, nervous system well-being, improving hair thickness, and boosting the antioxidant levels in the body.
Another great feature of this product line is the presence of whey protein. There are some health scientists who claim that getting your whey protein from a bar is better than getting it from a shake. And the amount isn't much to make you ponder if high whey protein content is good for you or not. It makes for just 17% of the product – the rest of protein is derived from nuts (cashews, almonds, and peanuts). 
A drawback can be the higher price range. Even though the cost is justified – given the handmade bars, it can be a pricier option for those on a budget. 
See what one reviewer wrote: 
"Great taste, healthy, and very clean. Doesn't feel heavy on the stomach but rather filling, unlike most other protein bars in the market."
3. Rite Bite Protein Bars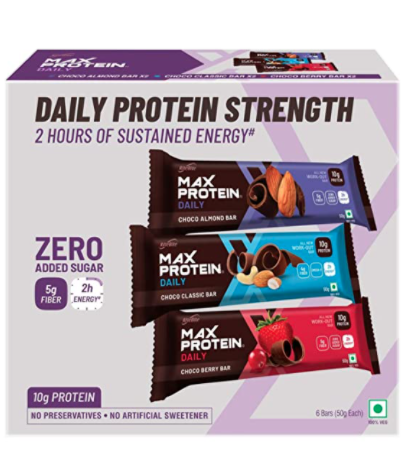 If you're on the lookout for protein bars in India with the highest protein content – your search ends with Rite Bite Max Protein bars with 30 grams of protein each serving. They procure their protein from concentrates, like whey protein concentrate, soy concentrate, soy nuggets, calcium caseinate, etc. Besides the protein bars, they've other healthy, protein-rich snacks like cookies, chips in different flavors – Peri-Peri is my absolute favorite, I'm on my 20th box I think. (smiley) Keep reading for a detailed review. 
Physical Attributes & Quantitative Measurements
Rite Bars come in a variety of flavors – choco almond, choco fudge, green coffee beans, peanut butter, fruits & nuts, etc. You can buy packs of 6, 10, 12, and 24. The bars in these packs weigh differently too – 35, 50, 75, or 100 grams. The ones on the higher end have more protein content – 20 to 30 grams, and those on the lower end have 10 grams or lower protein content. With so many assorted varieties and boxes, a careful reading of the label is recommended. 
The price range starts from Rs.300/- for boxes containing 6 bars containing 10 grams of protein each. Their assorted nutrition bar range has 3-4 grams protein per bar – so please take that into consideration before purchase. The prices increase with the number of bars and protein content, reaching as high as Rs.1248/- for some packages. 
Main Features & Benefits
The Rite Bite Protein bars make for a complete, nutritious meal because apart from protein and fiber, it packs in 21 essential vitamins and minerals like Vitamin A, C, D, E, B groups, zinc, magnesium, potassium, biotin, Omega-3, and the list goes on. That's why it's recommended alongside a light breakfast, evening snack, or binge on while traveling. 
These protein bars also pack in a good quantity of fiber, 30 grams protein with 10 grams of fiber (33% of DAV). Combining protein and fiber together has many benefits – it keeps you full for longer, promotes fat loss, and is a great way to feed your muscles. 
Moreover, the bars come packed with many healthy ingredients like flaxseeds, cashews, almonds, raisins, and consciously sourced dark chocolate. So, you can indulge in them without any guilt trip. 
A drawback could be a long list of ingredients that can be deterring to some buyers. 
Read some of their product reviews: 
"Have been consuming these bars as evening snack replacement for 15 days and they're working quite well. Will be purchasing more for long-term usage."
"The protein bars in India have the highest protein content, which is great! I have tried many flavors, but don't like the chocolate flavors at all. My favorites are berry ones." 
4. HYP Sugarfree Protein Bar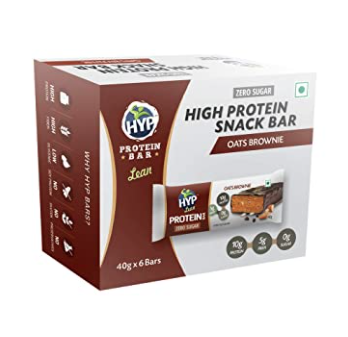 The company Hyprote is the latest addition to protein snacks in India. Their main product is the sugar-free protein bars, which the company claims can also be used as a meal replacement. We can attest that with naturally sourced ingredients, high protein and fiber, low carbs, and no additives – they can become a go-to snack for the health-conscious Indian. 
Physical Attributes & Quantitative Measurements
The HYP protein bars come in two varieties – a regular version and the whey protein meal replacement bars. The former boasts of 10 grams protein with 40 grams bars and the latter offers 20 grams of protein with a weight of 60 grams. The bars come in a pack of 6, with 10g protein version costing ~ Rs.250/- and 20g versions costing ~ Rs.550/-.
They have many exciting and new flavors in the market like mint chocolate, cookies and cream, espresso, coconut almond, berry burst, and oats brownie. I haven't had a chance to try any yet but I know my first pick will be cookies and cream. 
Main Features & Benefits
The first main feature is their *meal replacement*. We're often worried if the protein bars consumption is a wholesome snack in itself, and this one promises to be one! 
Their protein blend is derived from high-quality milk and whey protein. Further, these bars also contain prebiotic fiber which enhances gut health and boosts protein absorption in the body. 
Lastly, I love their unique flavors which none other protein bars in India are offering. 
Please note that due to the company's no-preservative policy, the bar's shelf life is 60 days, 90 if you refrigerate the bars. Don't buy quantities that you can't consume in this set number of days. 
A drawback of HYP protein bars is their low popularity. Even though the products are good, other companies are able to pump more into the marketing. Since the reviews are sparse too, the buyer might not be able to do an absolute perusal of the product. 
"I love the Salted Caramel n Cookies & Cream version of their bars. Seems like good quality, nice taste, and filling. For nutrition freaks like me, there's no better option out there." – says one reviewer. 
5. Muscleblaze Energy Bars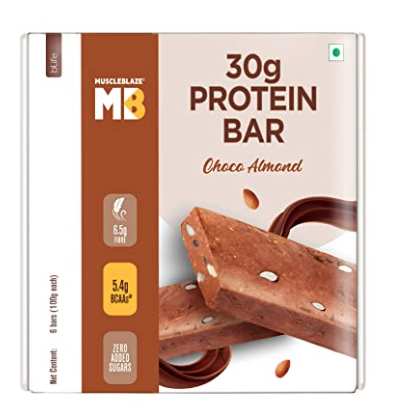 Muscleblaze is one of the most popular companies in India and their whey protein is consumed and trusted by many Indians. The whey isolate in all their products is Labdoor USA certified, fast-digesting, and micro-filtered to feed the muscles instantly. The most popular product on their aisle is a protein powder, but they have recently added energy protein bars to complement the growing user demand of them in the line. Here's a full review of the Musclebaze protein bar. 
Physical Attributes & Quantitative Measurements
The Muscleblaze energy bars come in many protein variations – 8 grams, 10 grams, 20 grams, and 30 grams. They come in a pack of 6 and the price range starts from Rs.300/- for 8-gram bars and goes to Rs.800/- for 30-gram bars. Packs of 12 are also available if you want to stock up. The weight of the bars can go from 35 grams to 100 grams, and the caloric value ranges from 115 calories (8 grams protein) to 368 calories (30 grams protein bar). They only come in limited flavors: choco delight, choco almond, choco fudge, choco classic, and nutty delight. 
Main Features & Benefits
If you want to feel like you're savoring the nutritious whey protein in the purest form, you've met your match with the Muscleblaze Energy bars. They employ their whey protein isolate in the bars to make it easier for you to grab your protein if you don't have time or energy to mix the shake. 
The fat content and carbohydrates are low so the snacking is purely healthy and nutritious. There's no added sugar in the bars. They do add natural sweetener though to enhance the taste. 
Additionally, the Muscleblaze protein bars also pack some 27 essential vitamins and minerals, making them an ideal snack option for evening, mid-morning, or during traveling.  
A drawback of Muscleblaze protein bars is their mixed reviews. While their other products seem to perform high in customer's eyes, the reviewers aren't as excited about the energy bars. The complaint, although, is mostly related to taste and not health or product-related issues. 
"Throughout my gym routine, I've only trusted Muscleblaze products. From their cereal, whey protein, and peanut butter – I love them all. This energy bar is great too but I am not a fan of the flavor. Will be skipping it next time." – writes one user reviewer. 
6. Abbzorb Xtreme Protein Bar
100% vegetarian and made with delish chocolate flavor, these protein bars won't just maintain your dream body, but will also help crush those dessert cravings in a healthy way. The company is popular for their whey protein blend to be used right after workouts but recently came out with bars as a portable, go-to option to consume protein. Read on for a complete review of these protein bars in India. 
Physical Attributes & Quantitative Measurements
The Abbzorb Protein bars come in a pack of 6 and offer three flavors – choco-almond, choco-cranberry, and choco-bliss. The choco-almond one has 11 grams of protein and each bar weighs 50 grams. The rest two bars contain 20 grams of protein and weigh 60 grams each. The price is Rs.299/- for choco almond and Rs.399/- for choco-cranberry and choco-bliss. 
Main Features & Benefits
For the price of Rs.400/-, Abbzorb bars are a budget-friendly option in the market. Most 20-gram protein bars do cost more than Rs.400/-.
The bars have no added sugar, no artificial sweetener, and no artificial flavors. Being 100% natural, you can consume them guilt-free as a breakfast replacement, evening snack, after a workout session, and during travel. 
The protein in these bars is derived from three different sources. One of them is the company's certified whey isolate which gets absorbed into the body better and mimics protein from natural sources. Don't you just love high-quality protein snacks? 
A potential drawback is their use of isomalt as a sweetener and anti-caking agent. Isomalt is made from beets and is safe to use but it isn't completely absorbed by the small intestine. This can cause flatulence and loose stools in some people. 
See some of their user reviews: 
"If you want to try something smooth and tasty to satisfy your cravings while meeting the protein requirements, try this one out." reviews an Amazon user for Choco Cranberry combo
"Amazing taste, amazing aroma, and great taste. Never had anything like this before. For 20 grams protein, the price is very good too." – writes another reviewer on the e-commerce website. 
7. Rine Bars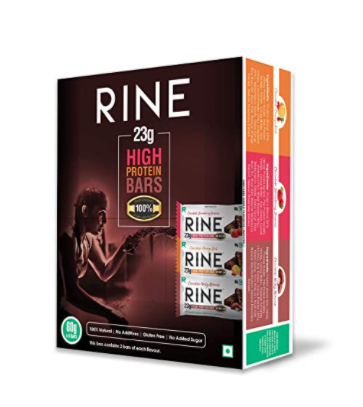 If you're hungry for a delicious protein boost with no added sugars, GMO-free ingredients, and some extra goodness of nutrients, Rine Bars will become your go-to! The company specializes in manufacturing only nutrition bars, namely granola ones and protein. To read the full review of the latter, keep scrolling. 
Physical Attributes & Quantitative Measurements
Rine Bars come in 4 flavors – mighty chocolate, chocolate nutty almond, chocolate strawberry surprise, and chocolate orange kick. Yes, that's right, all chocolate. The company got it right – there's probably anyone who doesn't love chocolate and won't be attracted to trying these yum bars. Only one of these flavors – mighty chocolate has 13 grams of protein (50 grams weight), rest all have 23 grams of protein (60 grams weight). Each has its own branded colors and all the nutritional info is clearly mentioned on the stickers.
Main Features & Benefits
What we love the most about these protein bars is their commitment to source only the highest quality products. From cranberries to seeds and nuts, everything is carefully picked by the makers before it makes its way into your tummy. 
In addition to protein and fibers, the Rine protein bars also contain iron and zinc. Both these macronutrients are essential for muscle growth, development, tissue regeneration, and healthy blood flow. This is the reason why it's recommended to devour on them within half an hour of your workout session. 
Further, all the bars contain natural flavor enhancers like vanilla extract, orange extract, and rosemary extract which enhances the appetizing aspect of the bar. 
Some buyers aren't fond of the taste of the bars. Nonetheless, they are appreciating the company's efforts in curating a protein bar that's a completely healthy, no-guilt option. 
"I have consumed many protein bars but none keeps me as energetic as Rine Bars. They taste yum and the best part is they have branch chain amino acids that help recover muscle fast. For all gym-goers, this is a must-have." – writes one reviewer. 
"Price is great, but the taste is greater." – shares another user. 
8. Unibic Protein Bars – Choco Cardamom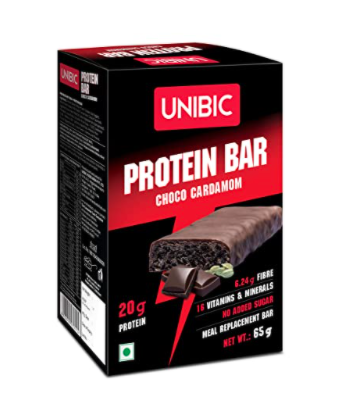 If you're a big fan of Unibic cookies, then here's another mouth-watering product from their collection that also satisfies your protein needs. With their reputation of creating items that soothe your taste bud, you can be sure of the flavourful taste of their protein bars and enjoy them as a nice dessert or an evening meal.  
Physical Attributes & Quantitative Measurements
Unibic Protein Bars come in just one flavor – Choco Cardamom. These thin bars with a chocolate coating and a cake-like inside weigh 65 grams and contains 20 grams of protein and 6 grams of fiber. They come in a pack of 6 and are priced at Rs.375/-.
Main Features & Benefits
Unibic protein bars are a budget buy. These are the most affordable 20 grams protein bars available in the market. So, for anyone looking for an economical protein bar in India, Unibic is your ideal pick. 
Another main feature of this protein bar is they come with added vitamins and minerals. While you're gulping them down for protein, they're fulfilling your body's other nutritional requirements too. Isn't that just amazing? 
Plus, since these bars are made by Unibic, you can be assured of them tasting great. An attribute many amazing, protein-rich bars lack. 
A drawback is they use a high amount of polyols – the most commonly used sugar-free sweeteners. For some people, polyols can cause excess gas and loose stools in some people. Because it isn't properly digested by the body, you can experience some intestinal discomfort after using it.  
9. Proathlix Protein Bar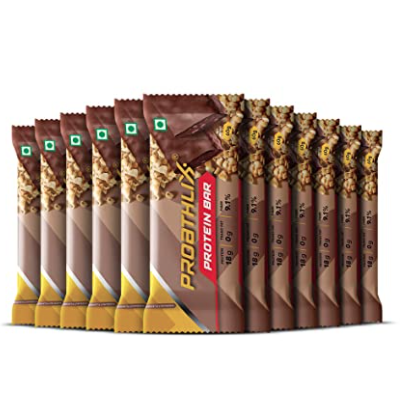 Proathlix protein bars pack 18 grams of protein per 60 grams of the bar. With their balanced nutritive profile, potent ayurvedic ingredients, and addition of essential vitamins – this makes for one of the best protein bars in India. I've tried their coffee protein bars and they're delicious and leaves you feeling light yet full. If you've ever had a good, healthy meal, you can probably relate. Word of advice though: if you're sensitive to caffeine, don't consume this flavor late at night or it can compromise the quality of your sleep. Read on for the full review of these bars. 
Physical Attributes & Quantitative Measurements
Proalthix bars come in 3 flavors – hazelnut, coffee, and fruit & nut. Each one of them weighs 60 grams and packs 18 grams of protein, 236 calories, 6 grams of sugar, and 8 grams of fat. Besides, these bars also have many vitamins and minerals like Vitamin E, C, B6, Folic acid, calcium, and a herbal blend containing ashwagandha, spirulina, and moringa. The protein bars come in a quantity of 12, and are priced at Rs.624/-. 
Main Features & Benefits
A great feature of this protein bar is the presence of vitamins, so you know you're feeding your body a well-balanced nutritious meal. You can have them as a complete snack during the evening, or beside a light breakfast option to feel fuller for a long time. 
Additionally, it contains potent ayurvedic ingredients like ashwagandha and moringa. Ashwagandha is known to increase muscle mass, and also helps in building immunity, lowering stress levels, and improving the function of the nervous system. Moringa, on the other hand, is a potent herb that is high in antioxidants and reduces inflammation in the body (see other benefits). 
The amazing protein bar also has lactobacillus acidophilus and prebiotic fiber. Both these additives promote gut health and enhance the digestive process to absorb the nutrients better. 
A potential drawback is it contains polyols as sweeteners which might produce intestinal gas in a few people. 
10. Novkafit – Low Sugar, High Protein Bars In India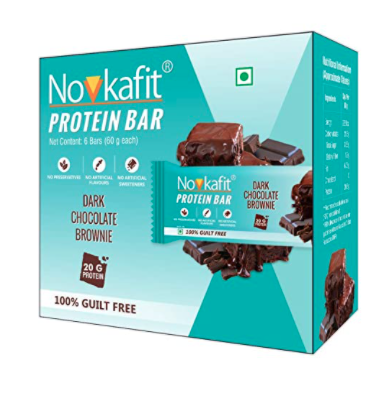 Having a straightforward, simple ingredient bar in your bag makes it easier to avoid impulse grab of junk food. Novkafit bars pack 20 grams of protein each and have sugar derived from organic honey making them great for post-workout recovery. Read to know why they make an amazing anytime-anywhere snack. 
Physical Attributes & Quantitative Measurements
Novkafit bars come in 4 flavors – dark chocolate brownie, cookies & cream, red berries in white chocolate, and chocolate. Each has its own color branding and all the ingredient and nutrient details are mentioned clearly on the package. One bar packs around 200 to 250 calories, 20 grams of protein, and 6 grams of sugar. Grouped in packages of 6, the cost of each packet can range from Rs.450/- to Rs.600/-. 
Main Features & Benefits
Novkafit protein bars are relatively on the lower price end for 20 grams protein bars. For those on budget, this might be an amazing option. The nutritional profile ensures you'll be satiated and energetic for a longer time. 
Also, they've recently come out with a chocolate flavor that has a herbal blend of moringa, ashwagandha, spirulina, flaxseeds, and alfalfa in it. All these potent ingredients have science-backed health benefits and they're the only company including them in the protein bars. 
Moreover, we loved that they have decadent chocolate flavors and so are a great replacement for your dessert or sweet-tooth cravings. 
A notable drawback of these bars is the low fiber content. 
"Among the best protein bars in India. Relatively affordable as protein bars go." – writes one reviewer. 
"These are the most affordable 20 grams protein bars on Amazon. My only issue is they're sometimes not available on Amazon, probably due to the pandemic. Anyways, love them!" – writes another one.  
11. Monkey Bar – 10 grams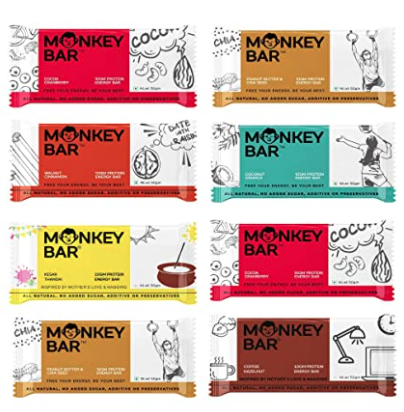 A couple decided to DIY their protein bars at home to satiate their work hunger pangs, and their colleagues loved them too. Soon, they decided to make them full-time and that's how Monkey Bar was born. Handmade, protein-rich, and consciously sourced ingredients are at the core of the brand, and you can definitely feel the quality with each bite. Here's a complete review: 
Physical Attributes & Quantitative Measurements
Monkey Bars come in packets of 6 and 8, each bar weighs 50 grams. There are a total of 8 flavors – Kesar thandhai, pistachio cardamom, coffee hazelnut, coconut crunch, peanut butter chia seed, walnut cinnamon, and cocoa cranberry. The price range for a bunch of 6 or 8 starts from Rs.400/- and goes till Rs.500/-. 
Main Features & Benefits
Well, I guess one of the best standalone features is they are hand-made and customized as per Indian flavors. There's a flavor called Kesar Thandai where one of the ingredients is Thandhai mix. For this hot, humid weather, there's nothing like savoring a thandhai with a side of protein. 
The packaging is just too adorable and transparent. There is a maximum of 5 or 6 ingredients in each bar. No sugar, additive, or preservatives are added, so consume them within a month or two. They derive the sweetness in the product using dates – an amazing substitute for white sugar. And the protein is derived from nuts, oats, seeds, and natural whey protein.  
We also love the budget price tag on this one! For Rs.500/-, you can purchase 8 protein bars with 10 grams protein each and 50 grams of weight. 
A drawback of this product is its low protein quantity. For those looking to bulk up and wanting a good protein amount from their snack, this might not be the best option. Rest, there are no cons to these amazing curated bars. 
"Simple ingredients, awesome taste, and awesome packing. Loved it." – writes one reviewer. 
FAQ's About Protein Bars In India
What is the average price of protein bars in India?
Most protein bars in India come in a pack of 6 and are priced between Rs.250 to Rs.800. The ones in the higher price range often have a higher protein content, like Yoga Bar Baked Brownie with 20 grams protein, priced at Rs.600/- and Rite Bite Choco Almond with 30 grams protein priced at Rs.800/-. 
Are protein bars healthy?
YES! When chosen consciously, you can pick a healthy protein bar that fits into your dietary needs well. The ones we have listed above meet the health criteria – high in protein, low sugar, good fiber, no artificial sweeteners, and healthy fat content. If you want to try any other of your favorites, just check for the nutrient list and follow the standard mentioned at the start of the blog. 
Protein has plenty of benefits. It helps transport molecules throughout the body, builds and repairs cells, ensures proper growth and development, builds immunity, supports weight loss, and reduces cravings. 
Can we eat a protein bar every day? If yes, how many?
You can certainly snack on a protein bar every day. We'd recommend chewing on 1, but you can chomp on 2-3 if you want. On days when you feel you've had enough protein through dietary sources, skip on them completely! And during those busy days, when meal planning seems tough, snacking on a protein bar can help you keep your nutrient needs on track. The crux is it all depends on your physical activity, dietary requirements, and body goals. Let's say if you're trying to build muscles, a good protein bar is a perfect way to feed those muscles. On the other hand, if you aren't physically active, having a protein bar daily isn't necessary. You can easily get all the protein from your diet, and consider the bar as a portable snack to savor from time to time. Check how much protein you need here. 
Which protein bars in India are highest in protein?
Here are 4 protein bars in India with the highest amount of protein: 
Do bodybuilders eat protein bars?
Everyone can benefit from a protein bar, especially bodybuilders. They've higher than usual protein needs, and what's better than a portable snack to feed the muscle mass. If your meal planning lacks a few grams of protein, rely on a good high-protein bar to meet your daily protein needs. However, keep in mind that bodybuilding requires a strict diet plan, and not all protein bars are made equal. We'd suggest picking one that has low fat, low carbs, and a high source of protein. Like 
Can women have protein bars?
Gender has nothing to do with your love and preference for protein bars. Both men and women can benefit equally from them. We all have busy lives, and sometimes getting enough protein from 3 meals feels impossible. This is where the quick and convenient option of having a protein bar pops in as a savior. Depending on your physical activity levels and body weight, you can snack on a protein bar every day or a few times a week. All the protein bars in India are made to suit women's bodies and dietary needs as well. So, don't ponder before picking any of the options from above. 
Conclusion & Our Best Picks For Protein Bars In India
Protein bars are the best, on-the-go snack to keep in your bag. They are the answer to your nutritional needs on those busy days and a great portable snack for traveling. While there are benefits to each bar lifted above, if we had to pick our favorites – it would be Yogabars and Rite Bite and for all-natural options (although low-protein) – The Whole Truth and Monkey Bars are great picks!
If you have any other questions about protein bars, please let us know in the comments section. We'd answer them sooner than you think. 
Other Review Blogs To Check Out