There's no city like Vegas on this planet. A honeymoon spent here will be one of the most versatile experiences of your life. Yes, there's more to Sin City than gambling, partying, and the bustling nightlife. Think indulging in luxury shopping, experiencing the recreated versions of Times Square, Venice's gondola rides, Eiffel Tower, and voyaging nature's beauty through desert tours and helicopter rides. Else, if a quaint, relaxing vacation is on your mind, Vegas honeymoon suites are quite popular for their opulent & romantic vibe and can serve as the perfect setting for honeymooners. A good hotel room, anyways, forms the backdrop of your romantic getaway. So, doesn't matter what type of vacation you're going for, here's a list of top 10 Vegas honeymoon suites with a jacuzzi to make your vacation even more special. 
Caesars Palace, A 5-Star Luxury Hotel With Jetted Tubs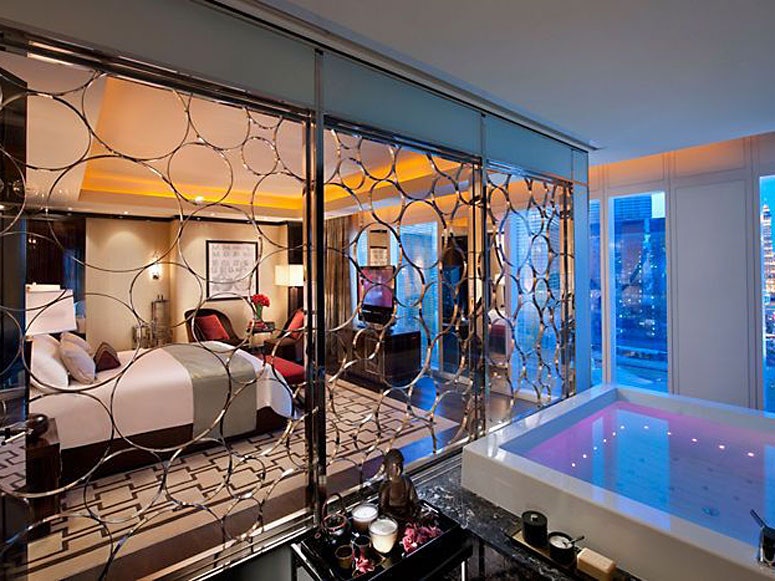 One of the most popular and grand hotels in Las Vegas is the Caesars Palace. With 6 towers and more than 3900 rooms, the hotel is located on the popular Vegas strip and has a ton of pleasure-filled experiences inside their premises. Created to give its guests a sense of life of the Roman empire, the hotel houses a Colosseum-inspired theatre, also named the Colosseum, and some iconic statues like that of Augustus Caesar on the entrance. For honeymooners, the newly-constructed Augustus tower is the best one! That's because it's located far away from the bustling action of the casino and has some much-needed privacy for the newlyweds. 
The hotel is also known to bestow on honeymooners their best facilities at convenient prices. These include limo transfers from the airport, sumptuous dining dates, and priority check-ins. Once you're done getting a thrill out of your room, step outside to the Roman bath experiences of the hotel's spa and celebrity-chef curated restaurants, 22 of them to be exact. Out of all the Vega hotels with jacuzzi, this might be the most comfortable and opulent. 
Find current ratings & reviews here.  
Bellagio Las Vegas Honeymoon Suites With Jacuzzi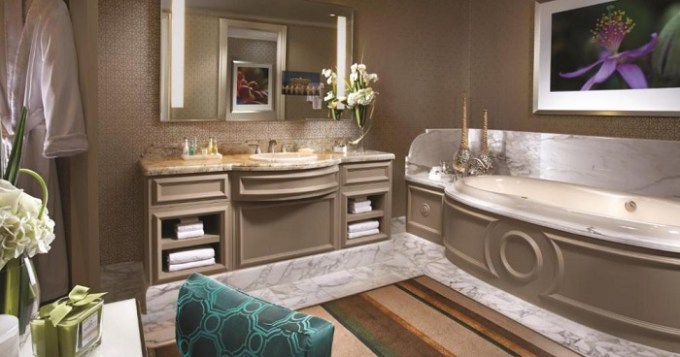 As the hotel's iconic Bellagio fountains take the spot of one of the must-do things in Las Vegas, the property's revered name in the Vegas' best hotel only skyrocketed. You can pick your jacuzzi Vegas honeymoon suite either overlooking the serene mountains or the Vegas strip or better, divide your stay between the two. Expect to be mesmerized by the design of the rooms. The hotel has been recently remodeled and even the same kind of rooms can offer a different experience. With an epic ceiling height, elegant interiors, and quality design, you can have the ultimate private experience as you embark upon married life together. 
Besides the grand rooms and a lavish suite experience, the Bellagio has more to add to your honeymoon than you could have imagined. Consider their many in-house restaurants, several Michelin-starred and curated by renowned chefs, for an indulgent dining experience. Step into their casinos and ravishing courtyards which have also been backdrops for many movies, like Oceans 11. Else, feast your eyes on the hotel's 14,000 square-foot conservatory and botanical garden. If you want to go all out, book the Bellagio's Penthouse suite with such affluent interiors and panoramic views, you will just not want to leave your hotel room. 
Find current ratings & reviews here.  
Aria Resort & Casinos, An Entertaining Hotel With Hot Tubs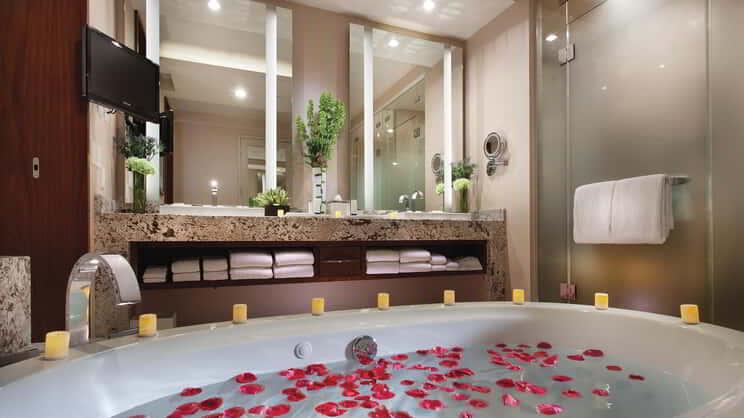 There are the typical and classic Las Vegas hotels like the Caesars and Bellagio, and then there's the romantic and chic Aria Resort & Casinos. This is one of the Vegas honeymoon suites with a jacuzzi that won't break the bank and yet offer you the luxury and opulence of a romantic honeymoon. Located on the Vegas strip as well, the hotel has a casino, nine restaurants, and three outdoor pools for an all-rounded experience. 
If you want an upgrade, opt for the Aria Sky Suites – a penthouse with AAA's Five Diamond ratings and amenities like luxury transfer from the airport, private waiting lounge, preferred dinner reservations, personal concierge, and much more. Although, many other room types offer marble jacuzzi tubs and steam showers for a sexy touch to your special vacation. Also, if you care about the environment, this is the only hotel in Vegas that has worked to reduce its energy consumption and earned a LEED certification. Adding to the many amenities, the hotel is also connected via a walkway to Park MGM, another revered hotel in the Vegas strip, so you can directly access their dining and casinos too!   
Find current ratings & reviews here.  
Four Seasons Las Vegas Hotel With In-Room Whirlpool Tubs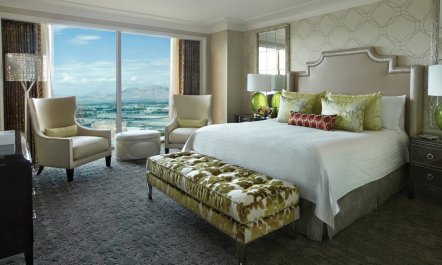 One of the very few non-gaming and non-smoking hotels in Vegas, Four Seasons gives you a quaint, serene Vegas honeymoon suite experience. However, it doesn't take you far away from the quintessential bustling nightlife. It's located on the Vegas Strip, but on the Southernmost side to offer a serene atmosphere without compromising on the visitor's wish to be close to the bustle of the city. Four Seasons really does offer the best of both worlds and top this off with the world-class services the hotel chain is popular for – and you've got yourself a memorable honeymoon trip to cherish down the married life forever. 
The hotel has 5 accommodation types, each one accompanied by the stylish neutral decor, marble bathrooms, and a striking design. All the rooms offer sweeping views of either the valley or the strip. Additionally, the hotel has many indulgent activities. These include a helicopter ride to get a bird's eye view of Grand Canyon & Hoover Dam, a private Cabana staycation, and (our favorite) an interactive session in the hotel's bar lounge where the bartender will go in-depth into the foundations of spirits and flavors and in the end, you can concoct your own beverage, among many others. The prices of rooms start from $500 a night. 
Find current ratings & reviews here.  
Hilton Grand Vacations on the Las Vegas Strip, Another Good Vegas Jacuzzi Suites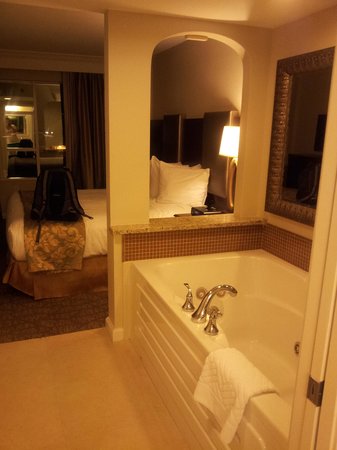 Located on the Nothern end of the Las Vegas strip, this timeshare resort has several locations in the top hotels of the bustling city region. These are the Boulevard, Flamingo, Paradise, Trump International Hotel, and Elara. You can pick any of the hotels available and each has a section of rooms & suites that guarantee the relaxing Hilton experience and the assurance of AAA best of Housekeeping. Every one of these peaceful non-gaming, non-smoking oasis has rooms equipped with jacuzzi, kitchenette, coffee makers, and other convenient amenities. And if you want to step out, both the convention center and sight-seeing spots like Hoover Dam, Lake Mead, etc, are located at a short distance. Rest assured, you're promised a fun-filled and destressing honeymoon trip here! 
Find current ratings & reviews here.  
JW Marriott Las Vegas Resort & Spa, A Quaint Hotel With Jacuzzi Tubs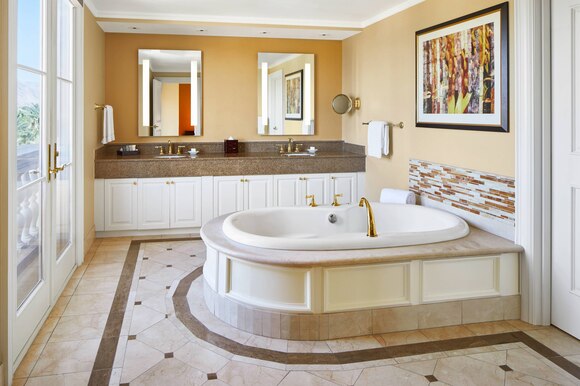 If you're looking for Vegas honeymoon suites with a jacuzzi, then check out the 50-acre oasis that is JW Marriott resort. Located at a 10-minute car ride away from the Vegas strip, this resort lets you experience the excitement of Sin City without all the hubbub. The hotel has a 50,000 square-foot casino on-site and a 40,000 square foot spa to relax and unwind after the tiring wedding ceremony. There are two kinds of suites in the hotel and both are equipped with a whirlpool bathtub for a titillating honeymoon experience. 
For those looking to explore nature, the Grand Canyon and Hoover Dam are located just 10 miles from the hotel. In addition, the hotel staff is always at your service, no matter if you want to go to the Strip for the true Vegas experience or downtown Summerlin for quaint shopping and dining. There's also a gym, volleyball court, and golf course on the premises. Here's what one of the recent reviews says, "We stayed at the JW for three days. The experience was perfect. The staff is friendly and professional. The rooms are clean and the beds are quite comfy. It's really a superior property in all aspects."
Find current ratings & reviews here.  
Tahiti Villages Resort, An Island-Inspired Elegant Hotel With Hot Tub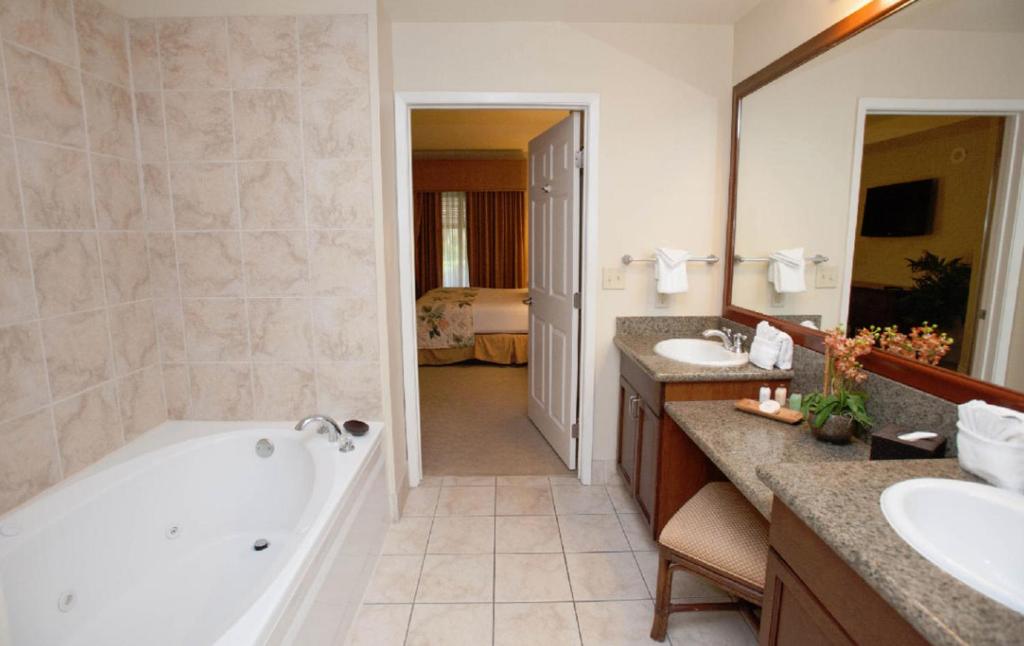 Experience the lazy beach days in the heart of Vegas at the Tahiti Villages resort. One of the unique things about Vegas is how they have recreated some of the most popular places and venues in the world. Be it the Venetian gondola rides, NY's Times Square, vibes of ancient Rome in Caesar's palace, or the Eiffel Tower. You can experience a slice of the magic of these places here! And the Tahiti Village resorts aims at bringing paradise island indulgence to the heart of Vegas. Located just 5 miles from the strip, the resort has spacious suites – ranging from 580 square feet to 1500 square feet, and island-themed amenities like a sand beach entry to the pool and long Lazy River. 
All the honeymoon suites in this Vegas resort are equipped with a jacuzzi hot pool, elegant interiors, and a complete kitchenette. Plus, if you want to go out, there's a shuttle service that operates every 15 minutes from the hotel. That's one of the many reasons why guests are loving their stay. See one of their reviews – "My husband and I stayed at Tahiti Village in Vegas for 7 night for our honeymoon and loved it! We wanted a Vegas honeymoon suite with Jacuzzi and this resort fit into our criteria nicely. The tub is big and works wonders. The resort has some great amenities as well: from the pool to the hot tub and even the restaurant. They also have a very convenient shuttle every 20 to 30 minutes to the strip, which saved a lot of money on Uber. If we ever go back, this is where we will stay!"
Find current ratings & reviews here.  
The Palazzo at the Venetian Resort, Italian Luxury-Inspired Hotel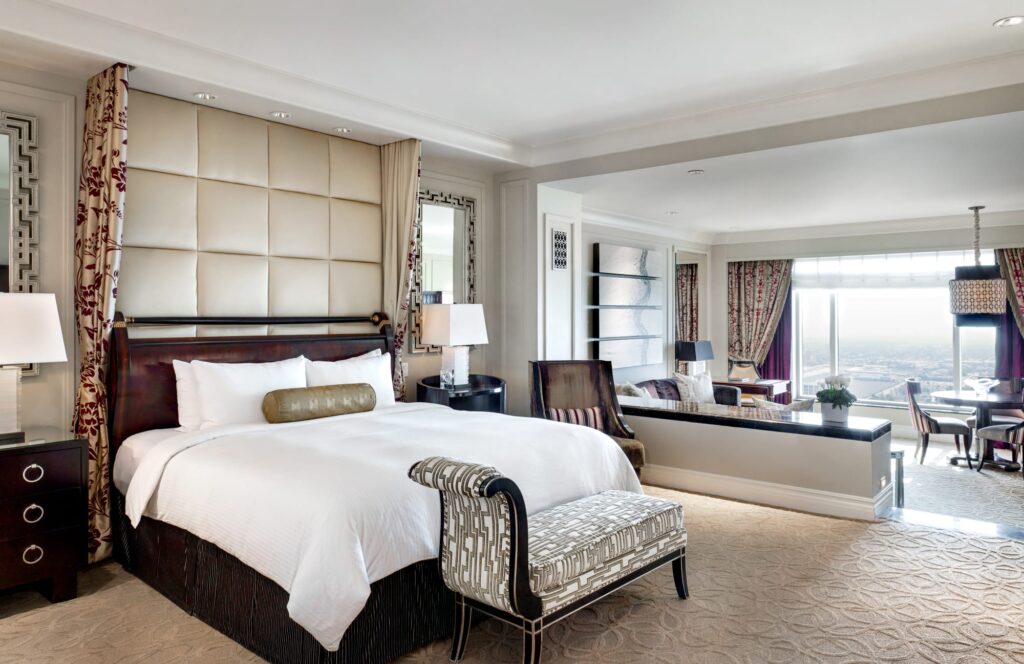 As we mentioned above, Vegas has created some of the most popular places and experiences quite nicely in the city. And if you're looking to relish in some of the romantic Venetian charm, then the Palazzo is the place to be! The luxury hotel and casino resort is one of the tallest buildings in Nevada and the second-largest hotel complex in the World. It's also known to offer the largest standard accommodations on the Las Vegas Strip at 720 square feet. With a vibe of true Italian renaissance dripped in luxury, you will have a memorable honeymoon experience here. 
When you're done being captivated by your honeymoon suite, step outside to gamble at their two sprawling casinos, dine at over 60 restaurants, or take advantage of the 10 grand pools. Else, treat yourself to a luxurious shopping experience at the Grand Canal Shoppes featuring boutique stores from brands like Chloe, Jimmy Choo, Ralph Lauren, Fendi, Bulgari, Burberry, Christian Louboutin, etc. For an exclusive experience, book their Penthouse or Chairman suites for an ultra-luxury and private stay. 
Find current ratings & reviews here.  
The Signature at MGM Grand, 5-Star Luxury Hotel At Vegas Strip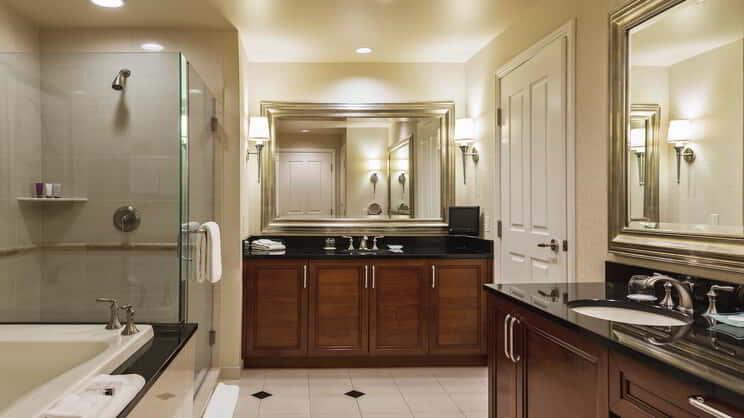 The Signature is known to deliver a dedicated, personalized experience to its guests, and isn't that all you'd want on your honeymoon? It offers everything – from fine dining to a private poolside cabana and a pleasure-filled nightlife. Lastly, when it's time to relax and come back to your Vegas honeymoon suite with a jacuzzi, MGM's spacious bathtubs don't disappoint. Plus, they also have balcony rooms to give you a majestic view of the Vegas Strip's nightlife or the sweeping landscape views on the other side of the hotel. All in all, you can be assured of a cherishable Vegas honeymoon in this resort. 
Find current ratings & reviews here.  
Waldorf Astoria Hotel Las Vegas Honeymoon Suites With Jacuzzi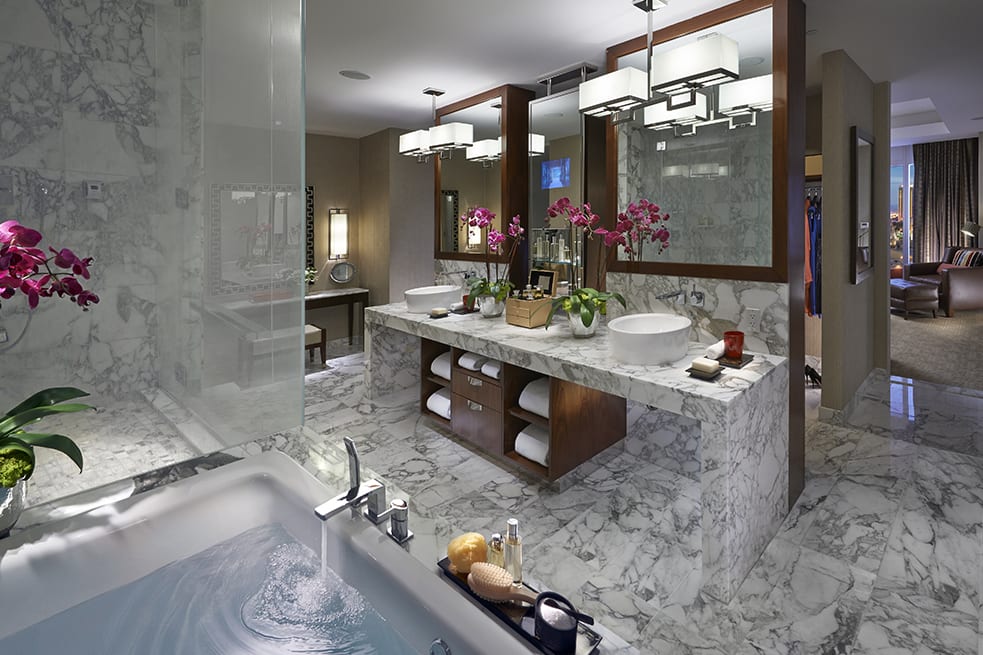 There's one thing that Waldorf Astoria is synonymous with – and that's an unmatchable luxury and impeccable service. Located right on the Strip, the hotel's rooms and suites are regarded highly by the guests. With all featuring king beds, large baths with whirlpool hot tubs, opulent interiors, floor-to-ceiling windows, and on-calls services. Move a little up on the suite scale and you'll find presidential and penthouse suites that will mesmerize you in the first look. 
Adding to your experiences, there are multiple dining options in the hotel, including a rooftop bar (reserve soon as the tables get filled up fast). Further, there is a spa offering signature couple massages like the karmic happiness ritual and state of equilibrium ranging from 2 to 3 hours to truly connect you as a couple and build on the romance further. There's no dearth of experiences inside the hotel, and of course, if you want to step out, the Strip is right there! Astoria really offers the best of both worlds. 
Find current ratings & reviews here.  
Further Read: