Glitter nail designs is one of the most searched nail art designs, probably because of its versatility and appeal. With glitter, you can exude as much sophistication and as much glamor as you'd like! Plus, it's suitable for almost any occasion – from the holiday season to a date night to everyday French glitter nails. There's an option for everyone. And we have included them all on this list. Scroll through the gallery of 100+ glitter nail design ideas to bookmark. 
#1 A very subtle ombre glitter nails are our first pick to include in this aesthetic gallery. While the index and the pinky finger have the same design, it's the other two fingers that add the eye-catching attribute to these glitter acrylic nails. That tiny butterfly certainly is a work of art!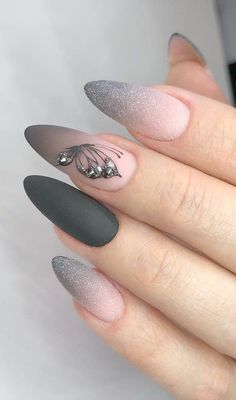 Via Pinterest
#2 Red Glitter Nail Designs are a popular option among women who want to include the "color of love" in their nail aesthetic. These nails are a cute idea for a date night or can also make for a superb pick for the holiday season. If you want you can go for all glitter nails by opting for red sparkle on all nails or can skip the middle two fingers for a simplistic touch.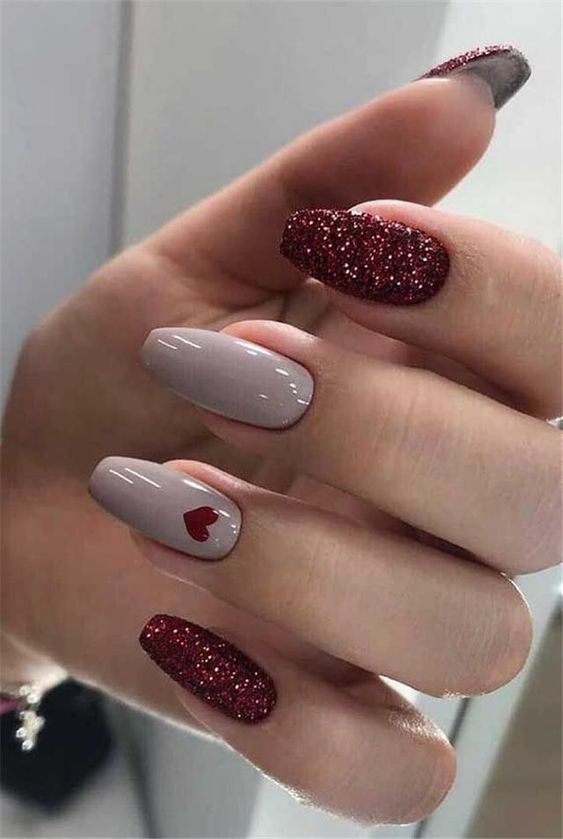 Via Pinterest
#3 Looking for glitter wedding nails? Your search ends here! Most brides want to resonate with a modest and sophisticated vibe on their special day. Given the versatility of glitter nails, you certainly can match those attributes. With just some fingers pressed with sparkle, these nude glitter nails are an amazing idea for your wedding.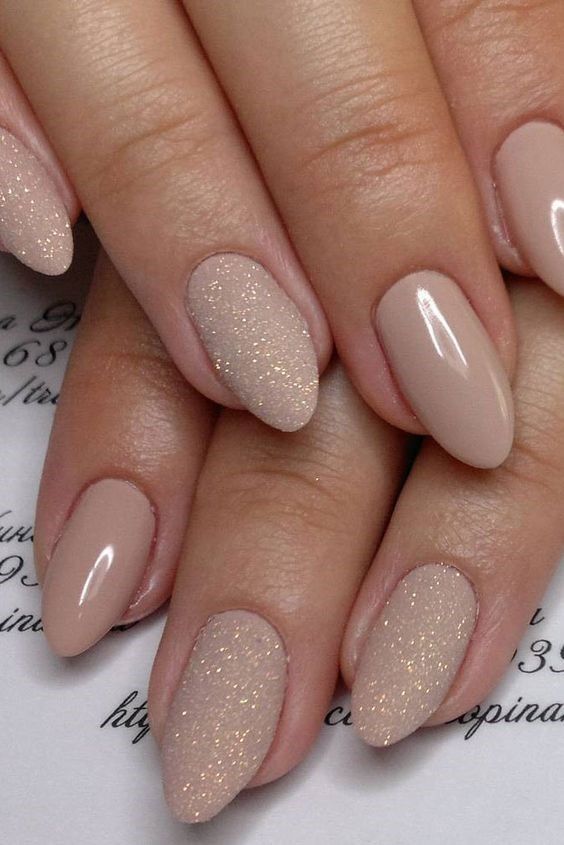 Via Pinterest
#4 Drawing a thin line between subtle and bold, these latest glitter nails 2022 design is perfect for nail addicts who're looking for the best of both worlds. Not just blue, this glitter nail design will look just as stunning with any soft and neutral color.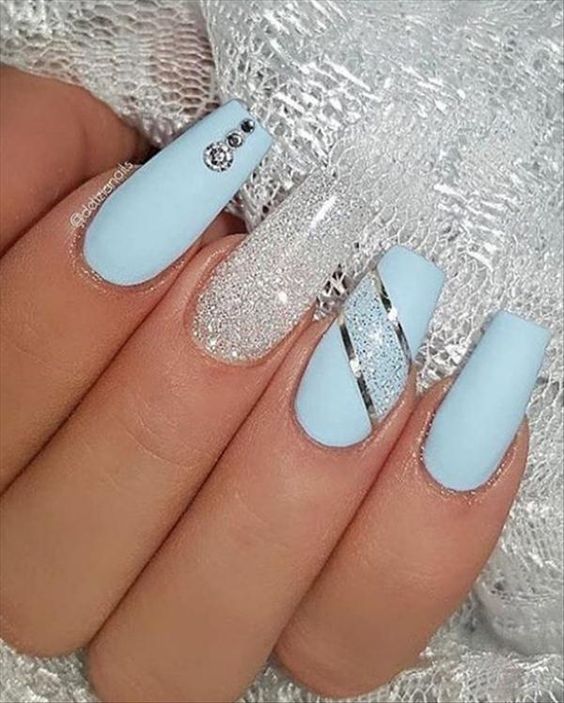 Via Pinterest
#5 Nails resembling the night sky? Count us in! The deep blue color looks gorgeous and so does the shimmery gold on top. It's a super easy glitter nail look to recreate as well. You just need the right nail paint shades.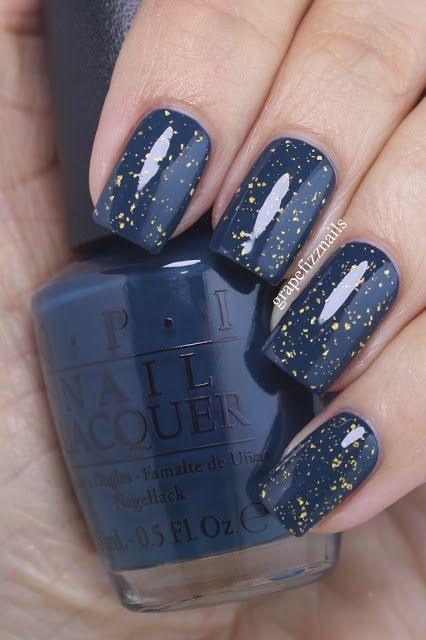 Via GrapeFizzNails
#6 When searching for pink glitter nails, you'll find almost all shades of the hue employed to create some gorgeous design. This one's just another example. The dark nude pink glossy nails alternate beautifully for an exquisite effect.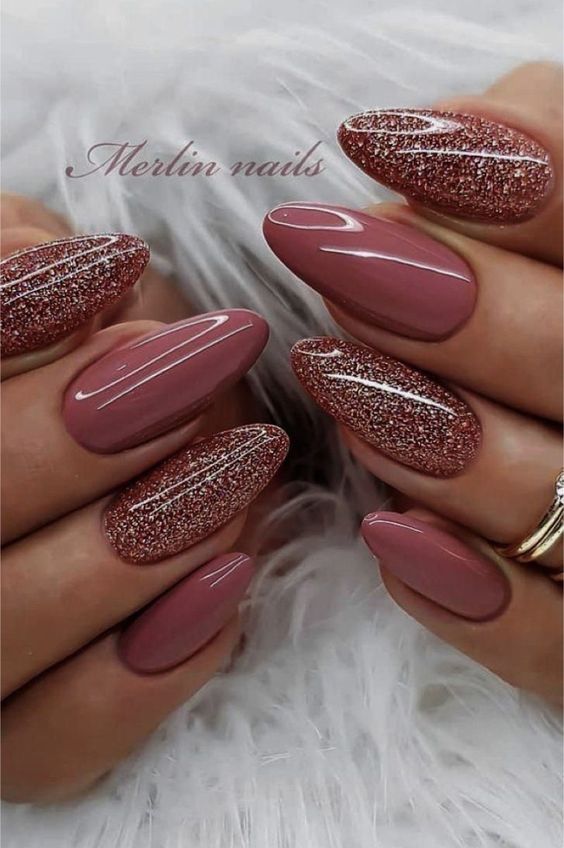 Courtesy: Merlin Nails
#7 Make glitter your BFF when you want to add just a touch of oomph factor to otherwise simple matte nails. A white nail complements the gray in a contrasting manner, while full glitter nail designs just amp up the entire look.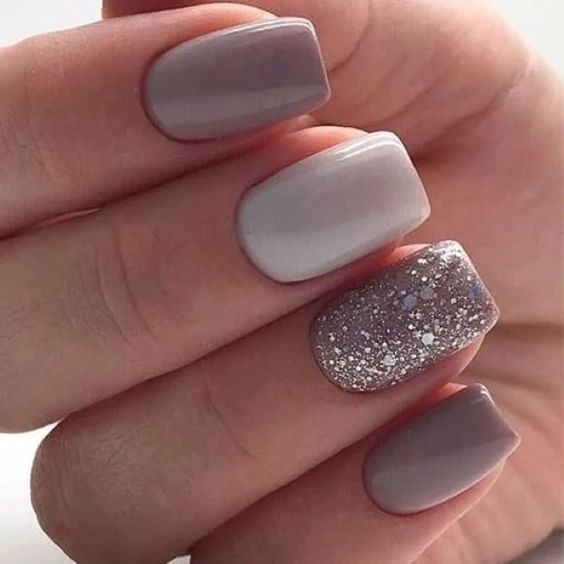 Via Pinterest
#8 Gray really does complement white well – especially in nails. Besides the above example, here's another one that proves the statement. With one nail replete with glitter and another one in geometric art, these white glitter nails are utterly gorgeous to not Pin right away!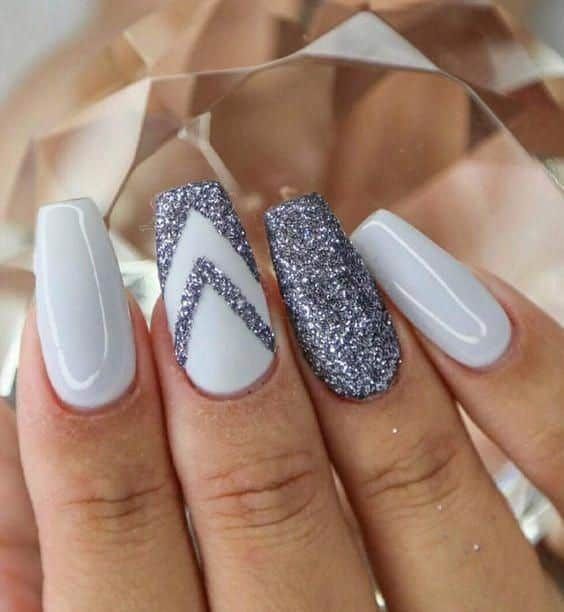 Via Pinterest
#9 Glitter Ombre Nails are gaining a lot of momentum lately. Ombre is seamlessly blending of one color with other but is majorly referred to the combination of light and dark tones of just one shade. Here, that shade is purple, and some hints of glitter for an added drama.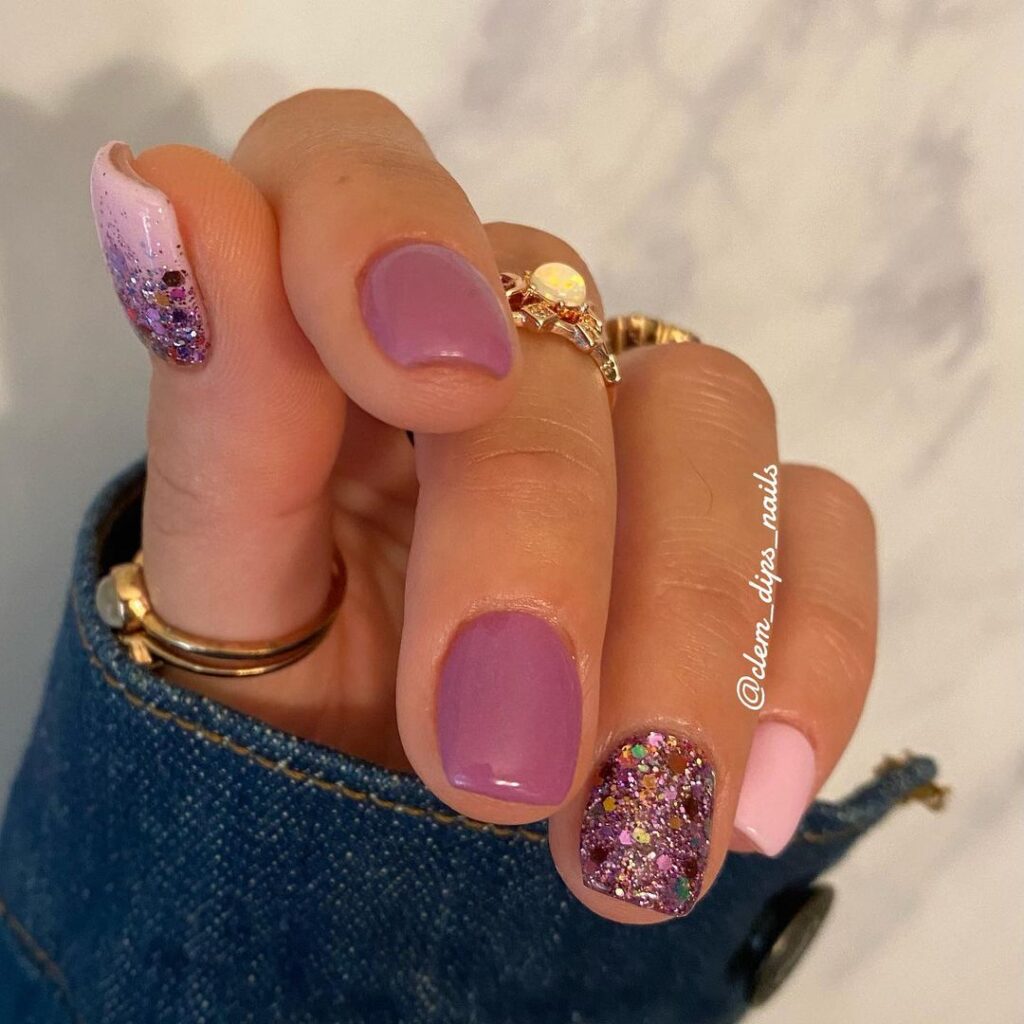 Via @clem_dips_nails
#10 This short glitter nail idea is romantic and artistic. We love how the artist played with pink glitter and nude pink on the majority of nails whilst keeping one complete matte white for a unique effect. This one of the glitter nail designs is easy to recreate as well.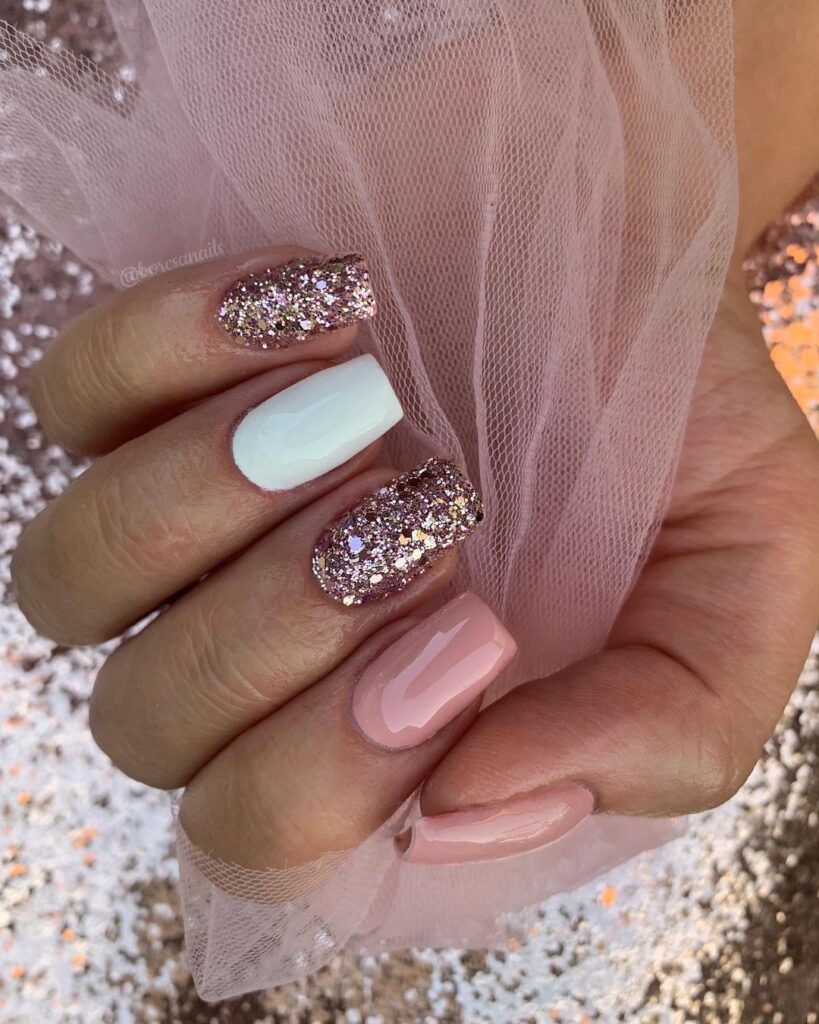 Courtesy: @borcsanails
#11 Marble Nails with glitter on the side, please? Marble nails are one of the fanciest nail designs at the moment. However, they're not as easy to do as Youtube videos might have made them appear. Trust a professional to recreate this design or someone who has skilled the DIY nail design art (like really!).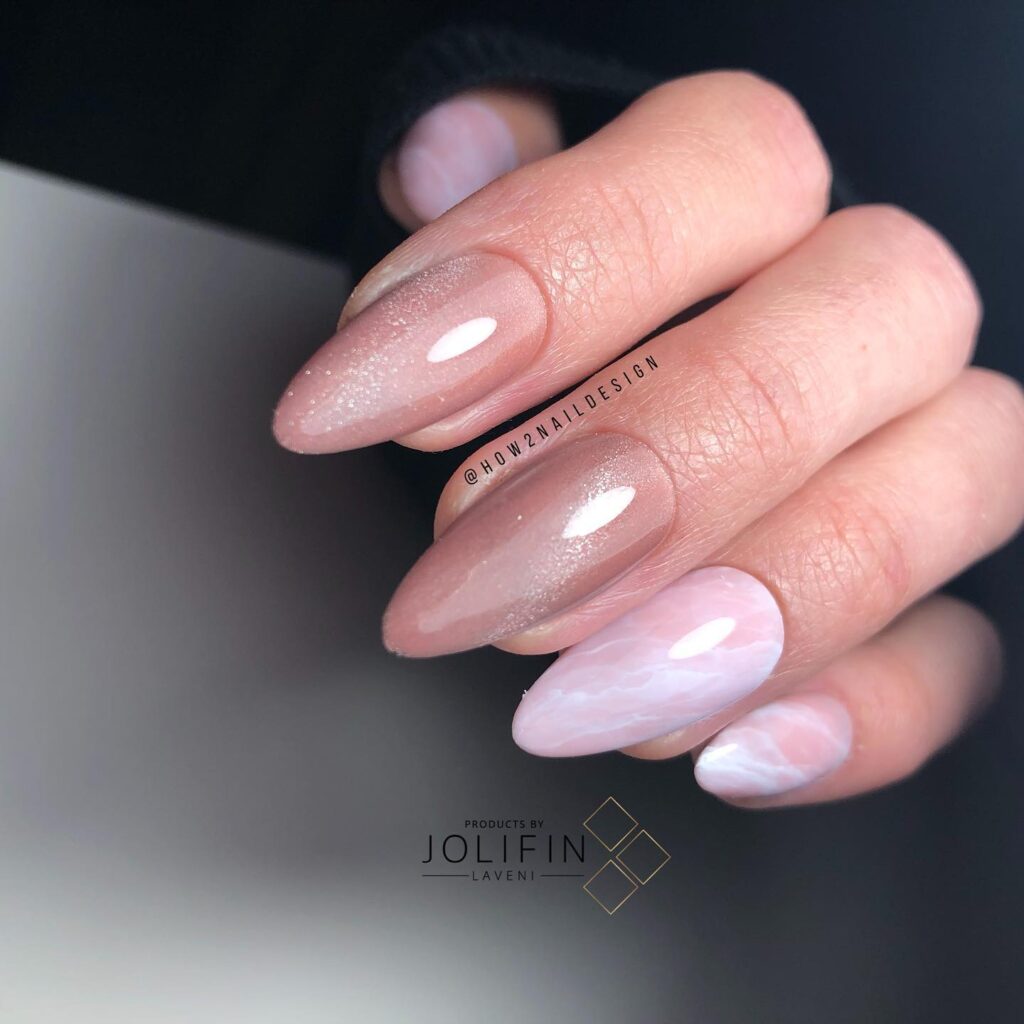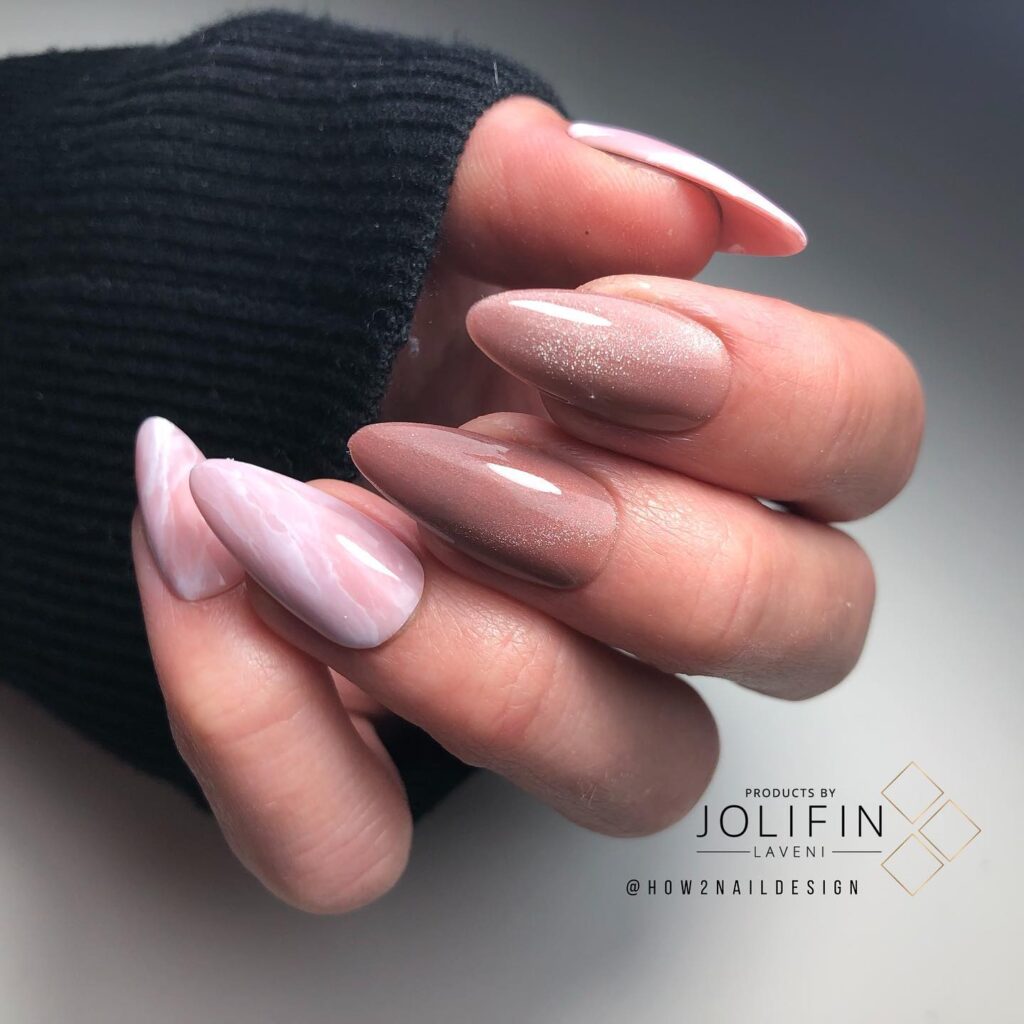 Via @how2naildesign
#12 Alternate between dark nude gloss nails and glitter with small shimmer for cute nail art! The length of the nails is also convenient – so you can wear it for both work and play. Those cute studs are a great addition to the otherwise familiar pattern though!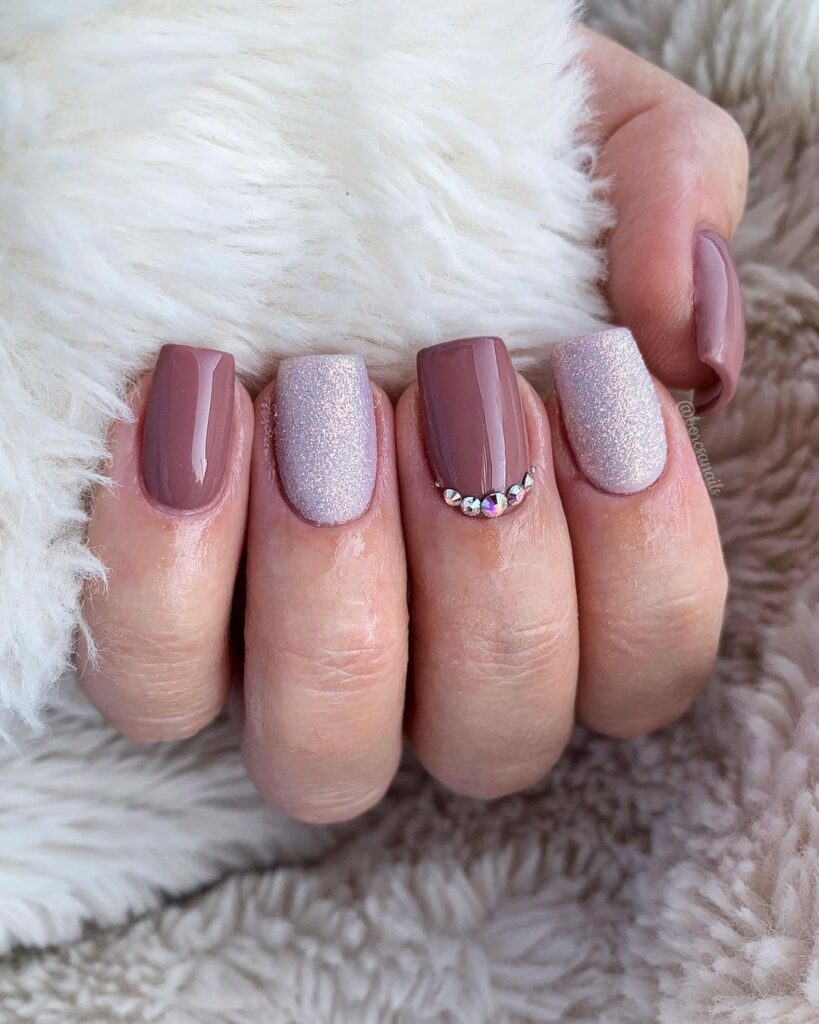 Courtesy: @borcsanails
#13 Talk about gorgeous ombre glitter nails that also resemble a night sky twinkling with stars and it's a reality! Some things are not too good to be true, and this nail design is just one of them.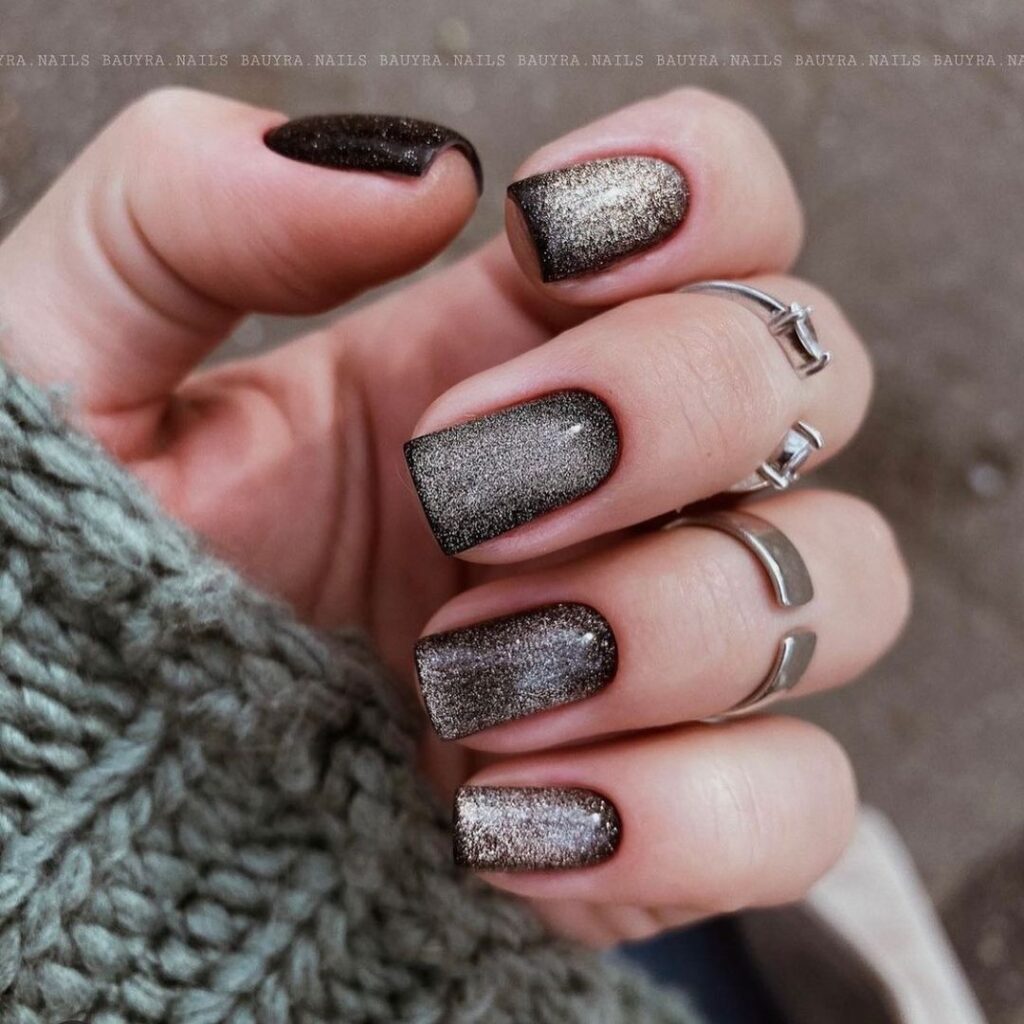 Courtesy: Bauyra Nails
#14 Are you a fan of both black glitter nails and pink glitter nails? Then, here's an exquisite combination of both. The fan-out of silver glitter on just a portion of clear pink nails is stunning, to say the least. Subtle, unique, and elegant are the perfect words to describe this brilliant nail art.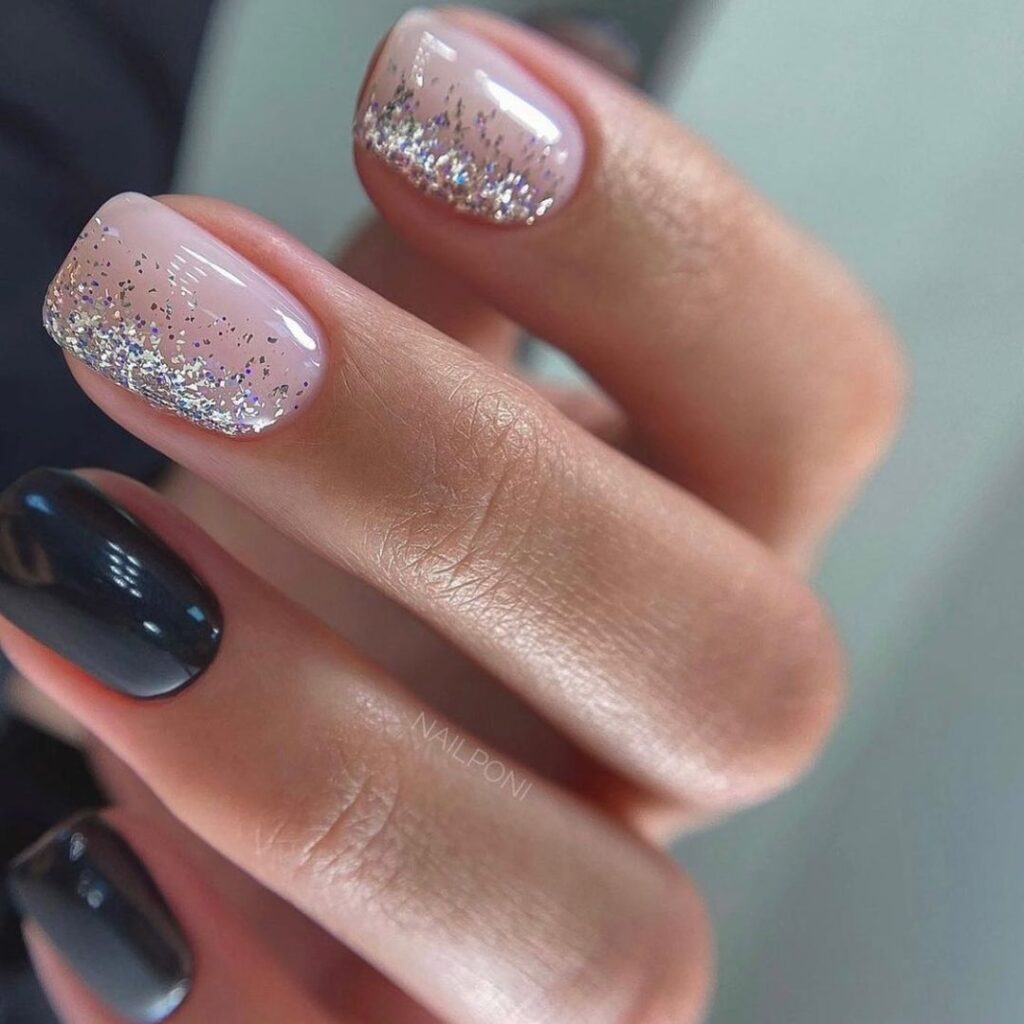 Courtesy: Nail Poni
#15 Purple, pink, and tonnes of glitter make the aesthetic of this glitter nail art eye-catching and notable. All glitter nails with big glitter particles are pretty popular for glamorous nail designs, but add some gloss single-color nails and you have yourself glamor and delicate in one frame – just like here.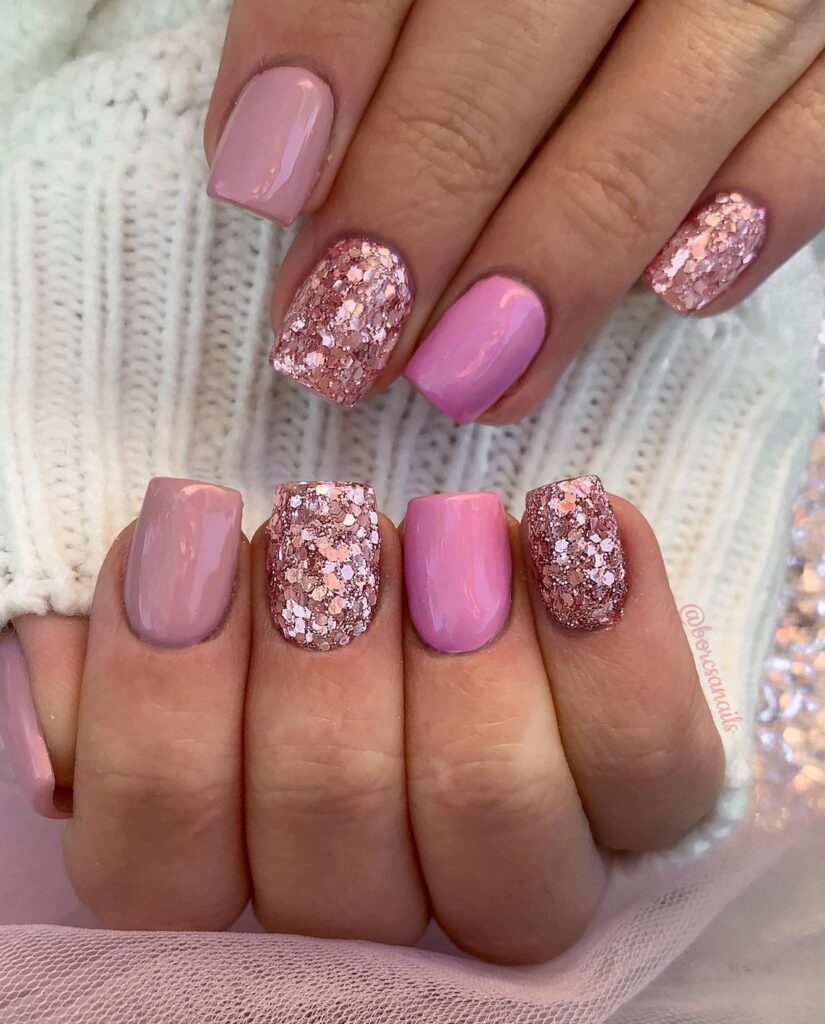 Courtesy: @borcsanails
#16 White glitter nails look polished and clean. They're aesthetically pleasing, elegant, and can go well with any occasion or outfit you're wearing. The look is also super-easy to recreate. All you need is white matte nail polish, clear glitter polish, and a gloss polish on the top to finish. Do prep your nails well before starting to do the nails though! It ensures a smoother application and a longer stay.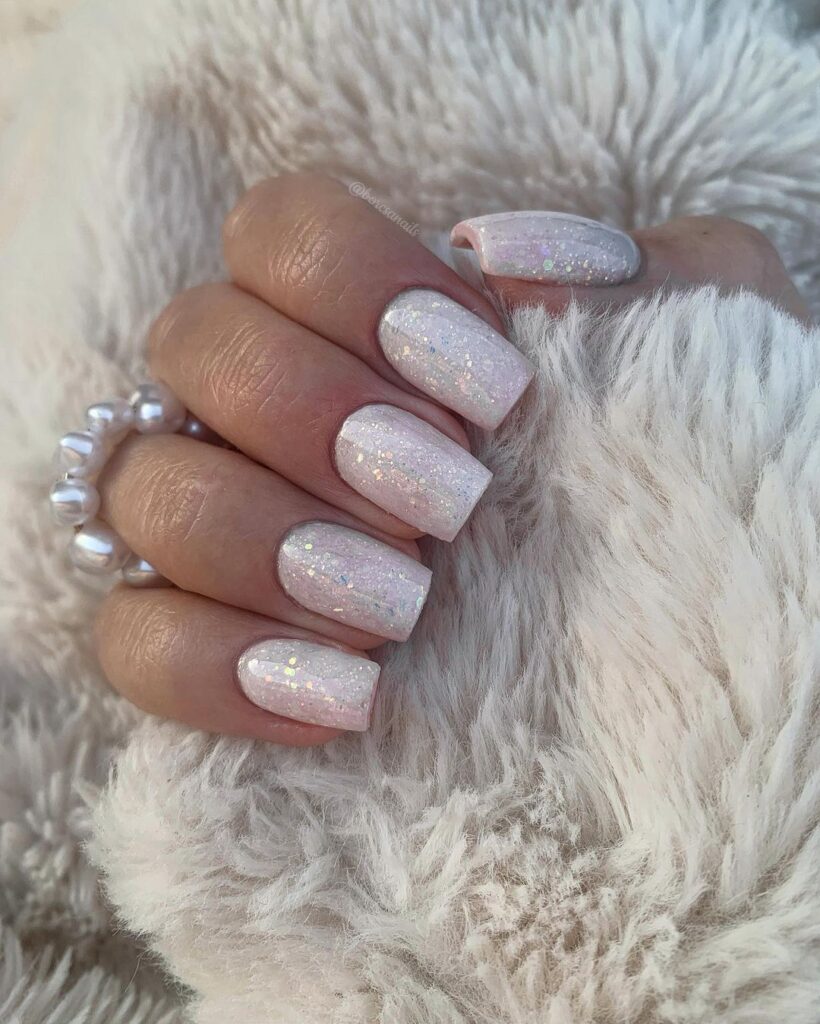 Courtesy: @borcsanails
#17 Red Glitter Nails that double up as holiday nails design as well! With an ombre style on the three nails, it's the middle two ones that garner the attention. Studs make for a good addition to any kind of glitter nails and the geometric pattern on the ring finger gives an artful appeal.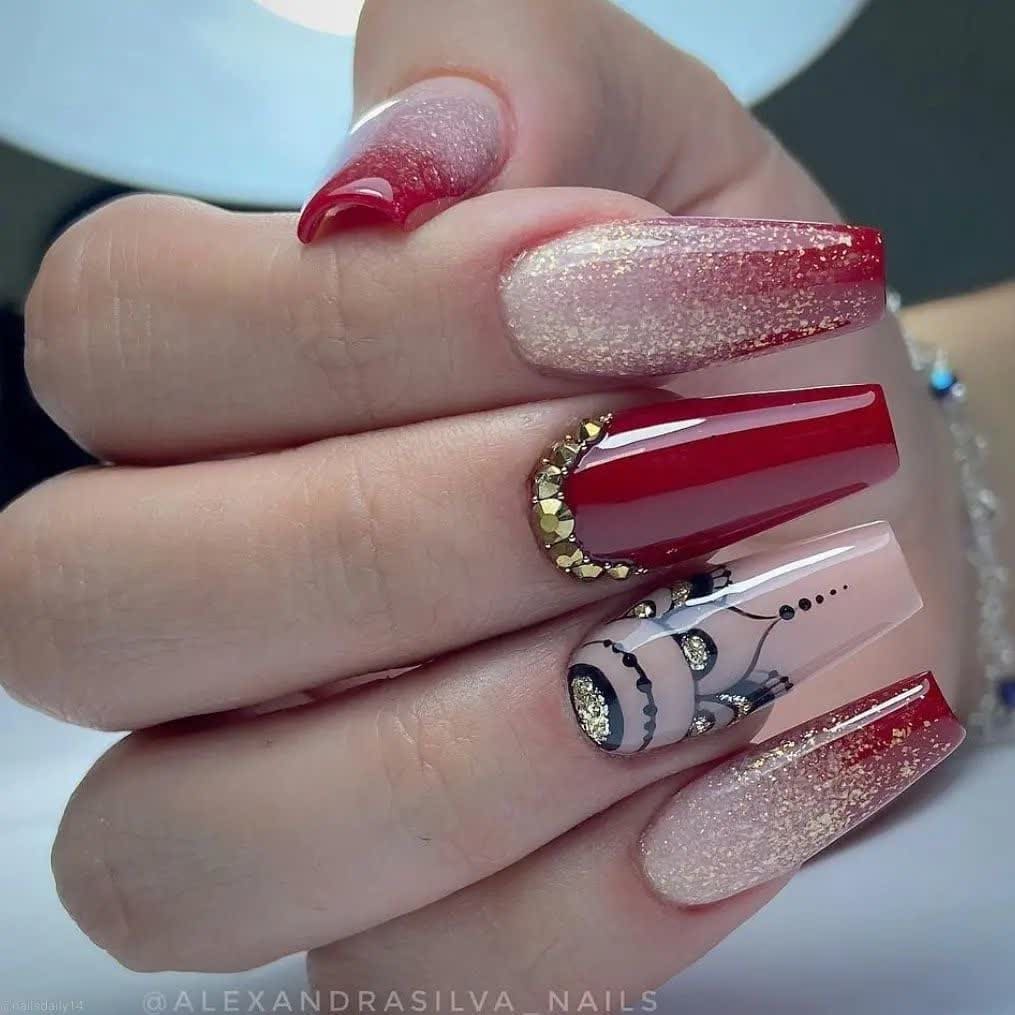 Courtesy: @alexandrasilvanails
#18 Glitter nail designs for weddings aren't as popular because glitter is often associated with minimalist glamor. However, that's not always the case though! Glitter when infused sparsely and strategically can radiate a minimalistic charm – aligning well with white weddings. Here's an example of nude glitter nails to try on your wedding.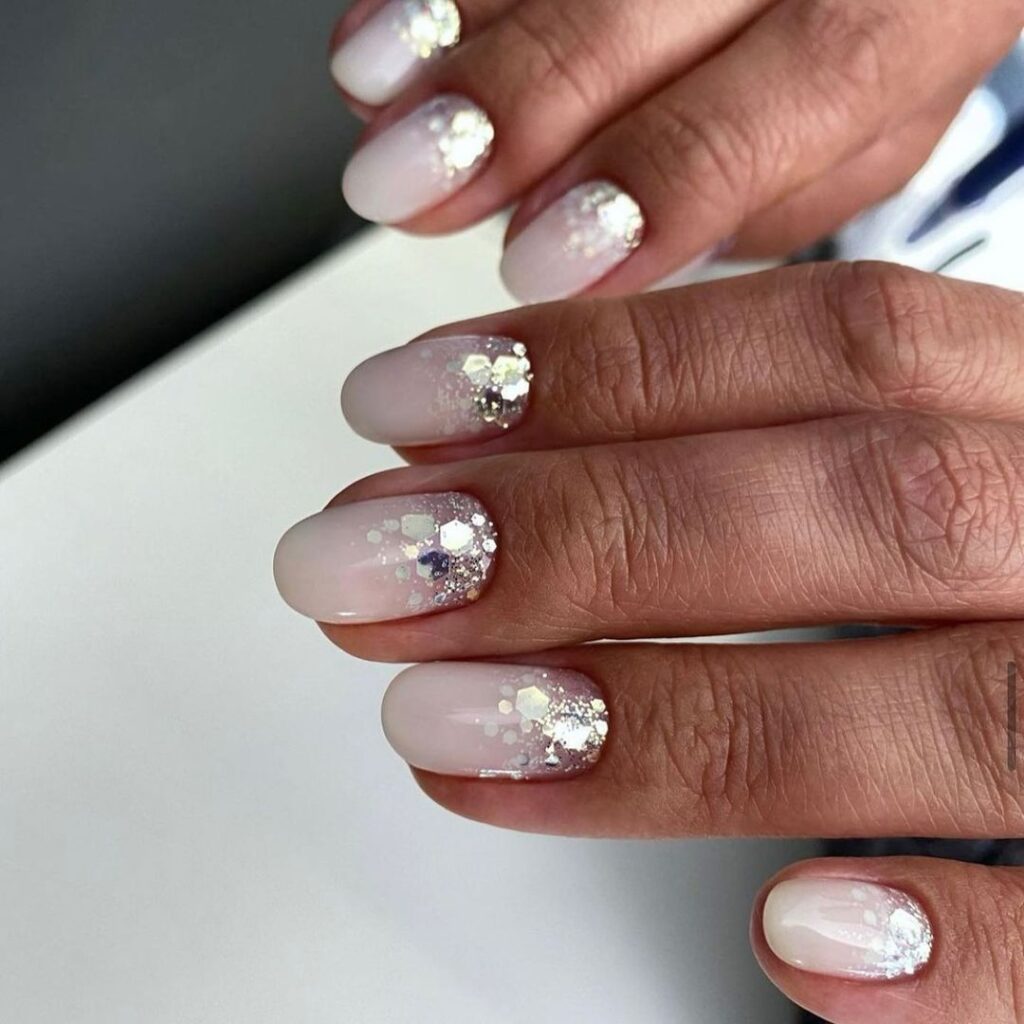 Courtesy: @nail_idea3
#19 Those little hearts have our hearts! Simple pink French nails were made anything but basic with the addition of an all glitter nail and pretty heart patterns. Trust only an artistic expert to recreate this look because getting such perfect lines is professional work to the tee!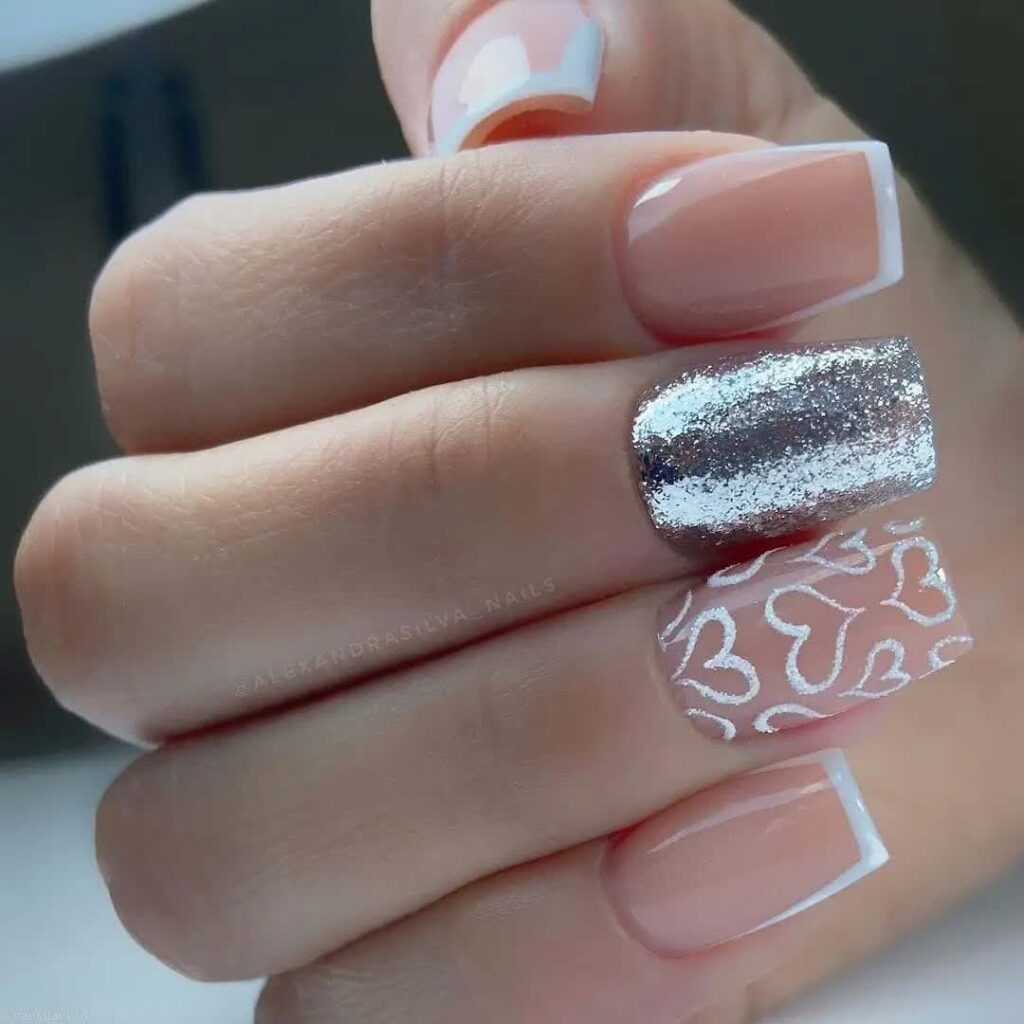 Via @nailsandrolls
#20 Another example of how your basic French nail designs can turn glamorous. The right amount of glitter and studs can make any modest nail design stylish though! Just give it a try.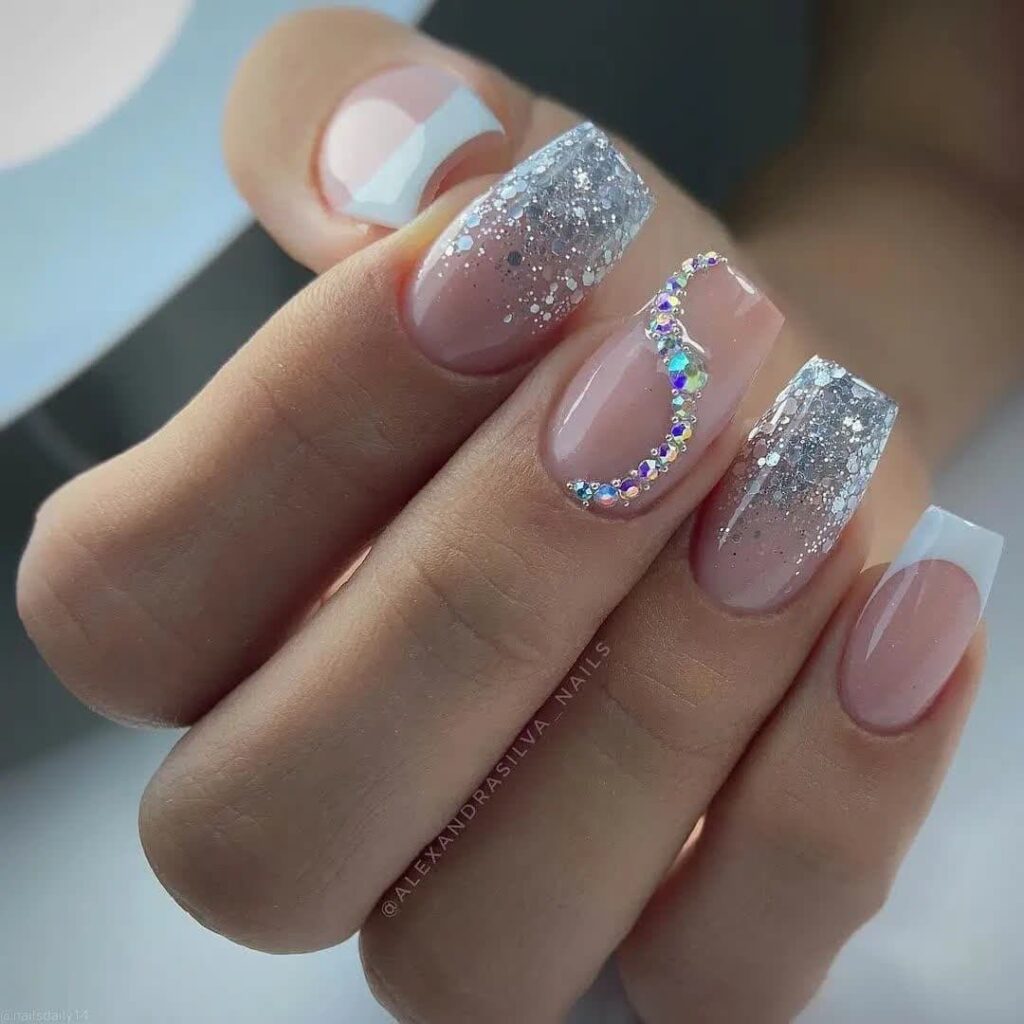 Courtesy: @alexandrasilvanails
#21 These gorgeous black glitter nails are absolutely bewitching. Black nail polish is often too good to resist. Add on it a glitter coat like this and you have nail art that's amazing and eye-pleasing. Try it at home! Take your favorite black nail paint, apply a glitter layer, and apply a top coat and it's done!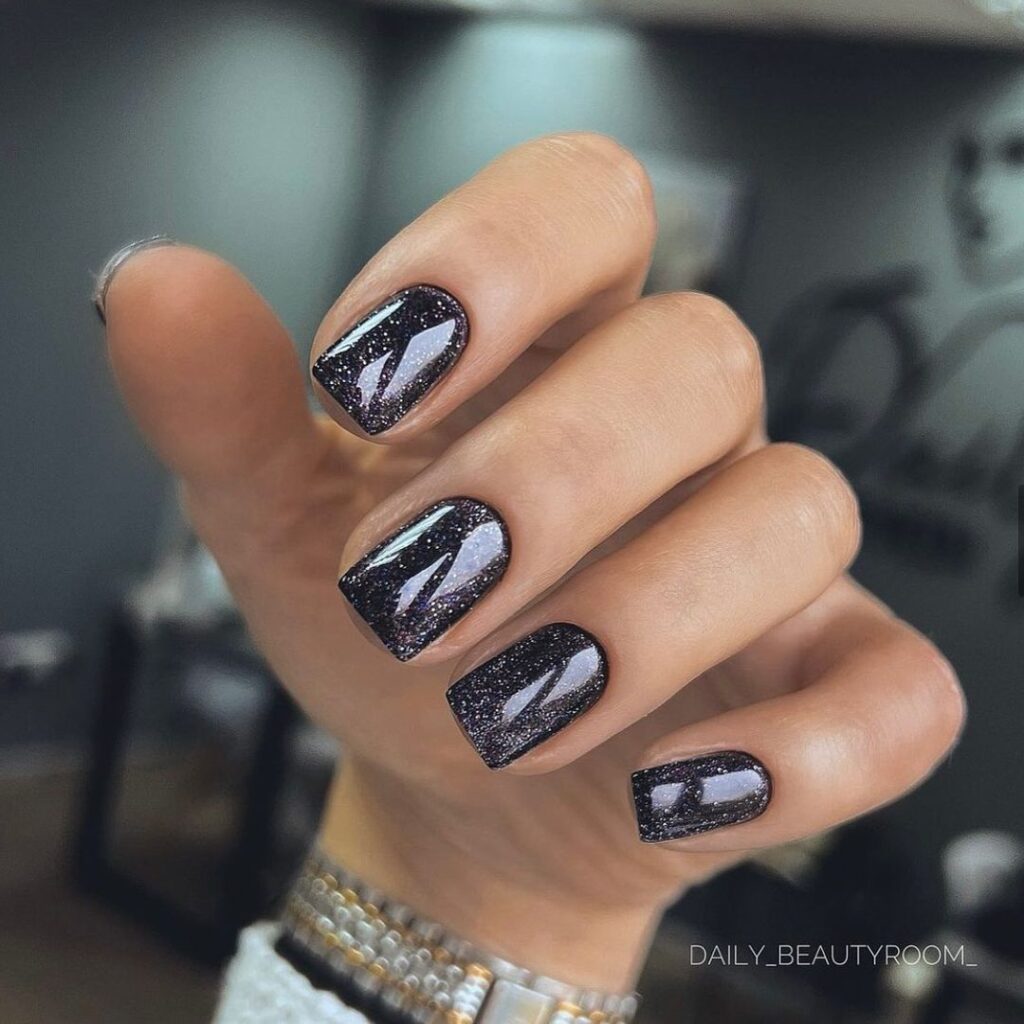 #22 Long glitter nails look utterly gorgeous and are a chance to show off your appealing nail art. We love how the glitter with significantly sized particles is used to make it look like the fingers are dipped in glitter. A high-shine coat really makes it all come out for a seductive effect.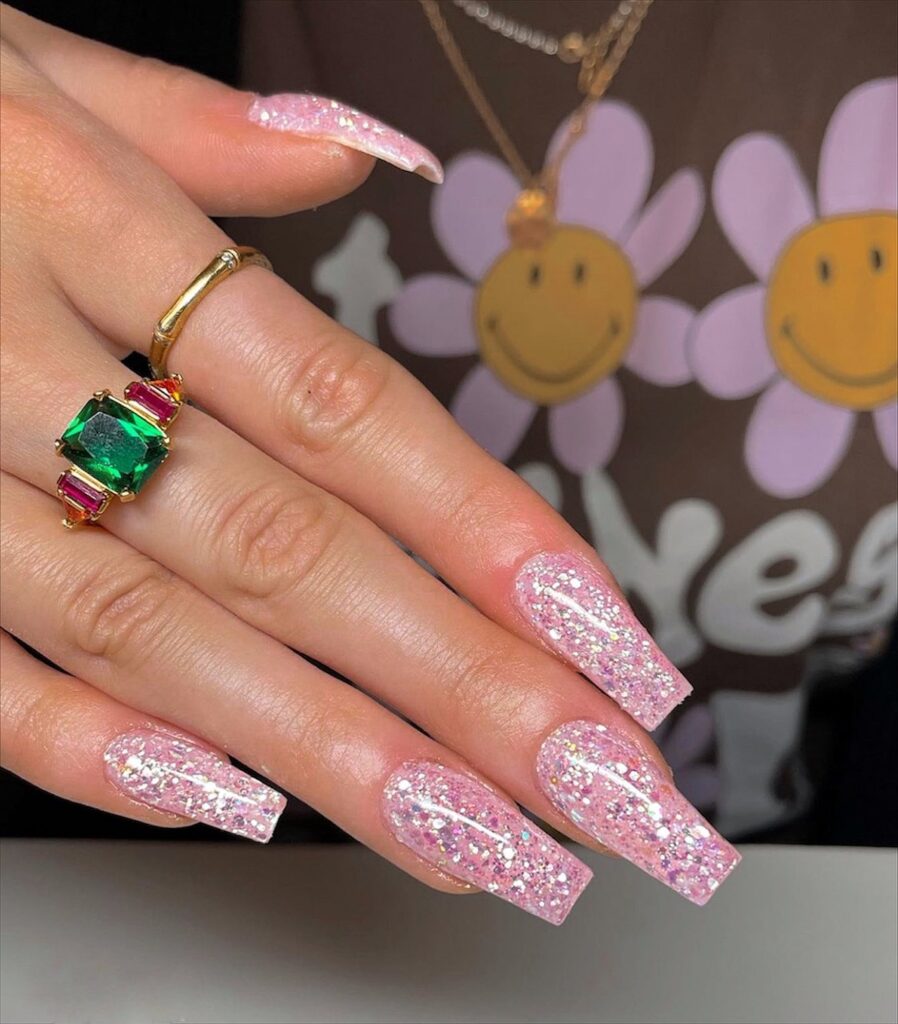 Via Joana Covita
#23 Glitter ombre nails don't just have to be done by changing colors on one nail. It can be done progressively over all the nails. Like here light blue and sapphire blue are used for the transition in different nails. Addition of silver all glitter nails accents the nail art further.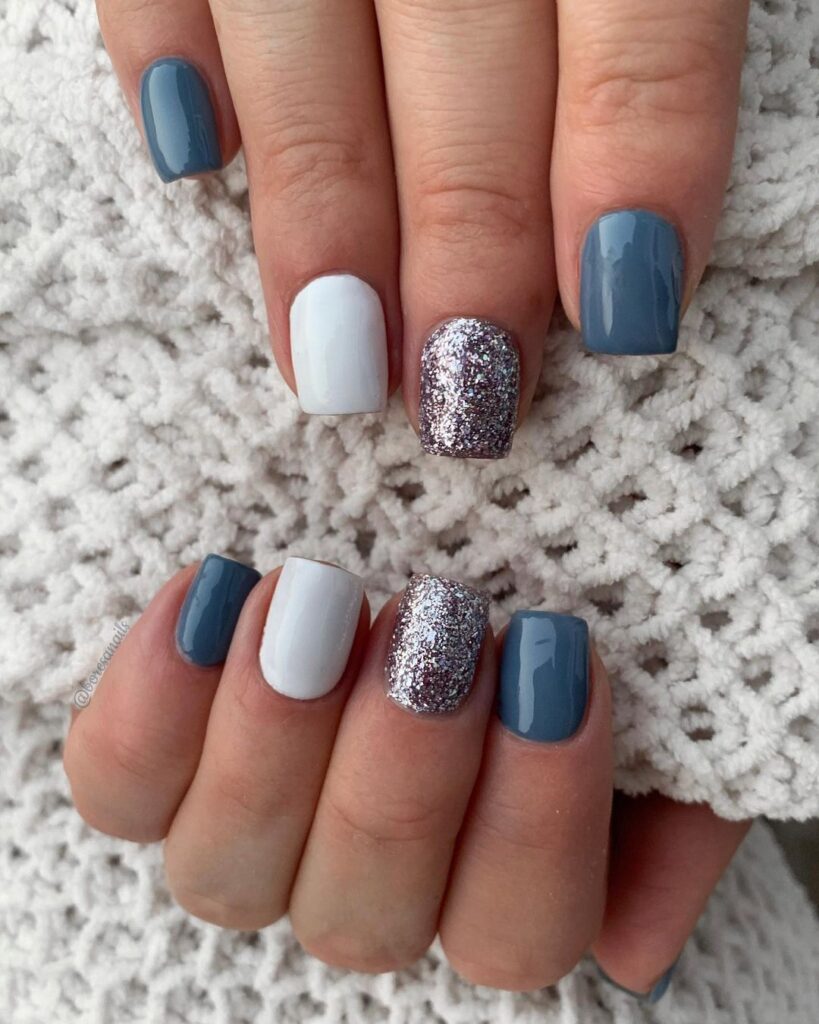 Courtesy: @borcsanails
#24 Long nails, but make them a little more extra-long, please! Thanks to some celebrities super-long nails are in style and we want to get those at least once, right? Or more (if we like them!). Here's a long nail glitter design to bookmark for when you do want to do that. You'd need tons of inspiration, so Pin right away!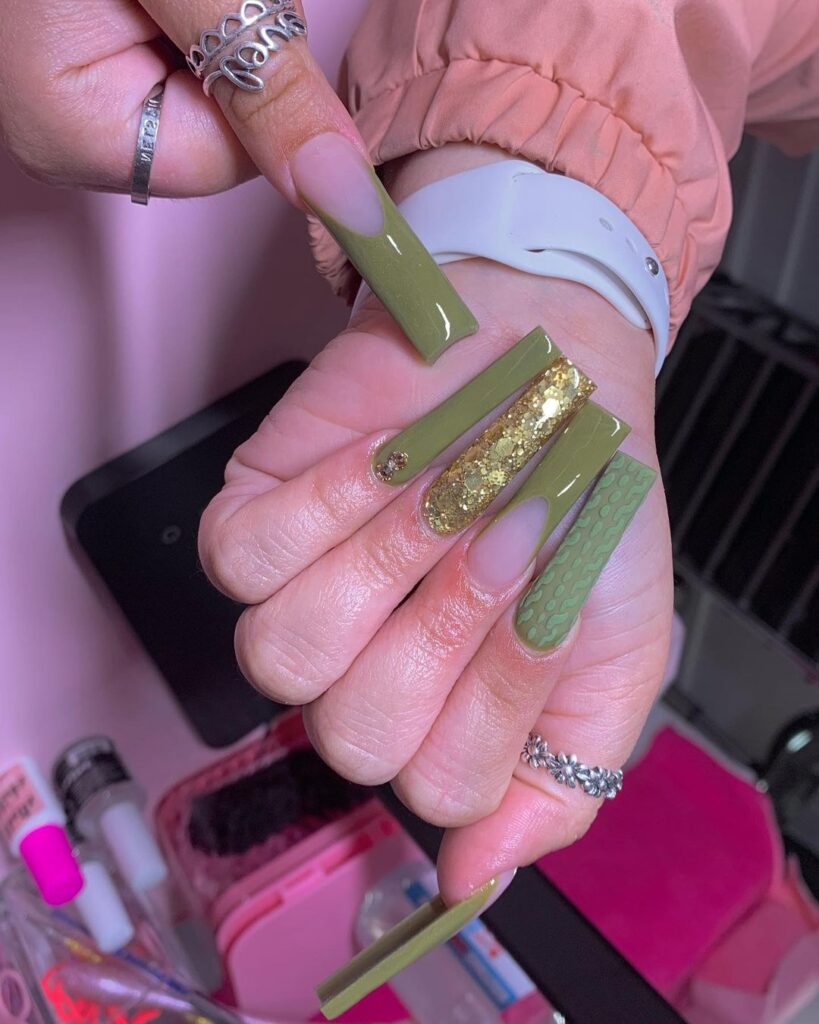 #25 White glitter nails are gorgeous, elegant, and modest, and can make an amazing part of any occasion or style statement. And a simple way to upgrade the usual white nails is to add some stripes of glitter around. We love how each one is oriented the same, which totally adds synchronicity to the nail art.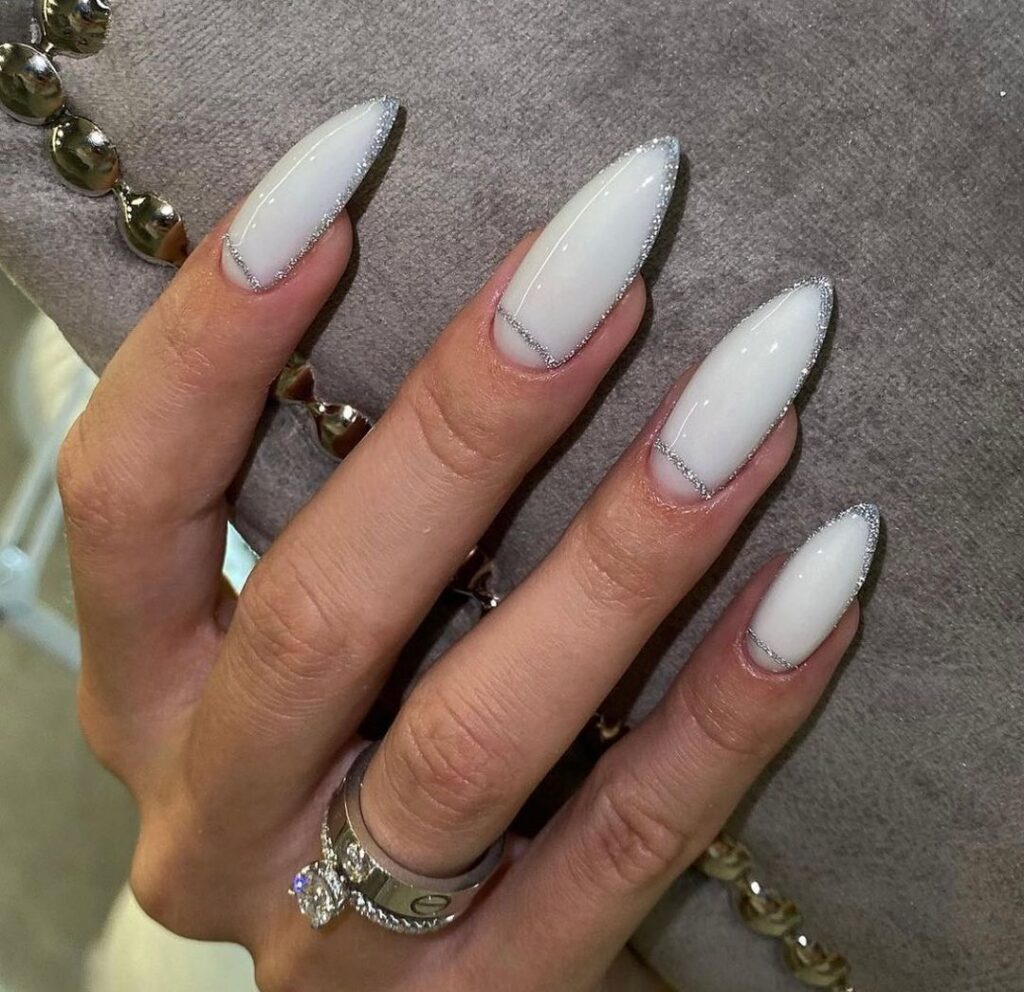 Courtesy: @nail_idea3
#26 French nails can make you party-ready too! You just have to add some glitter to the mix. This long nail design starts with shaped nails so make sure that's done first. Do the classic French nails on all nails except the index and pinky finger. On those two nails though, use substantially-sized glitter particles and finish off with a high-shine coat.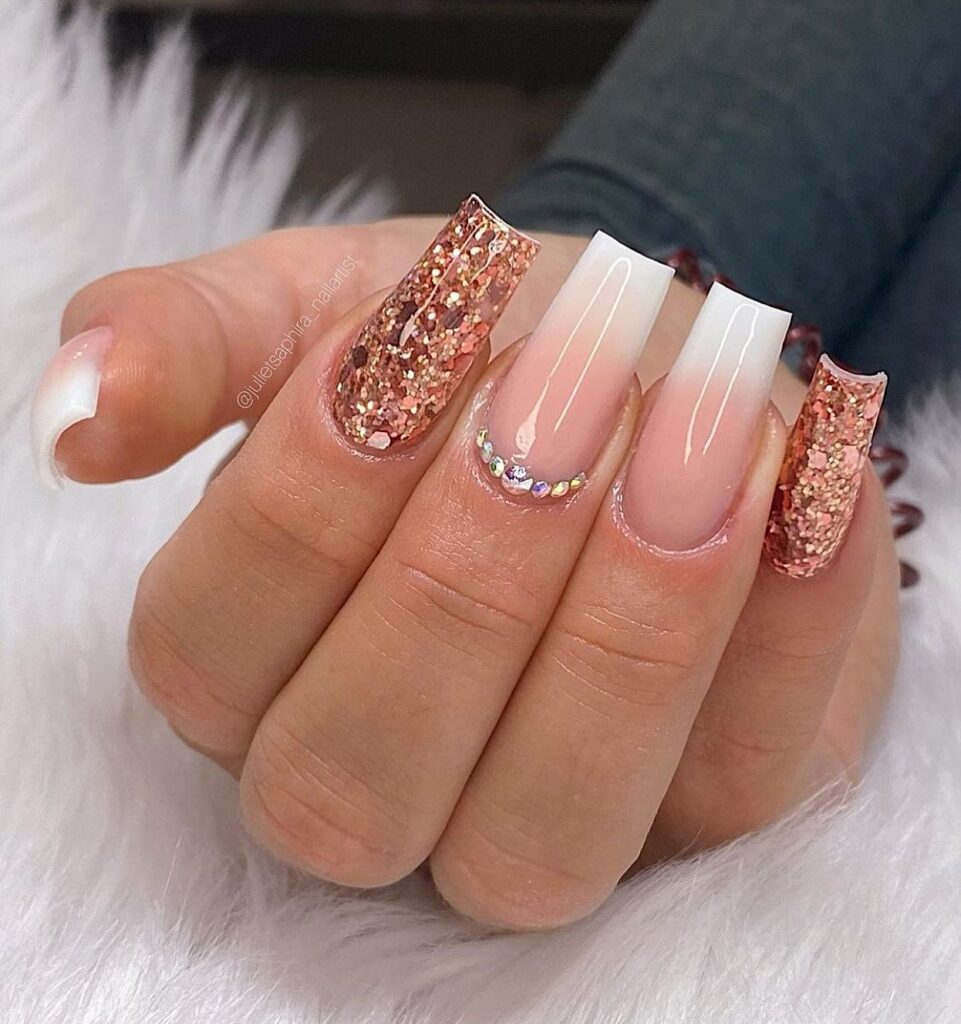 #27 A charcoal gray nail paint accentuated with closely interspersed glitter particles on top is all that's needed to achieve this short glitter nails design. Easy-peasy and fun!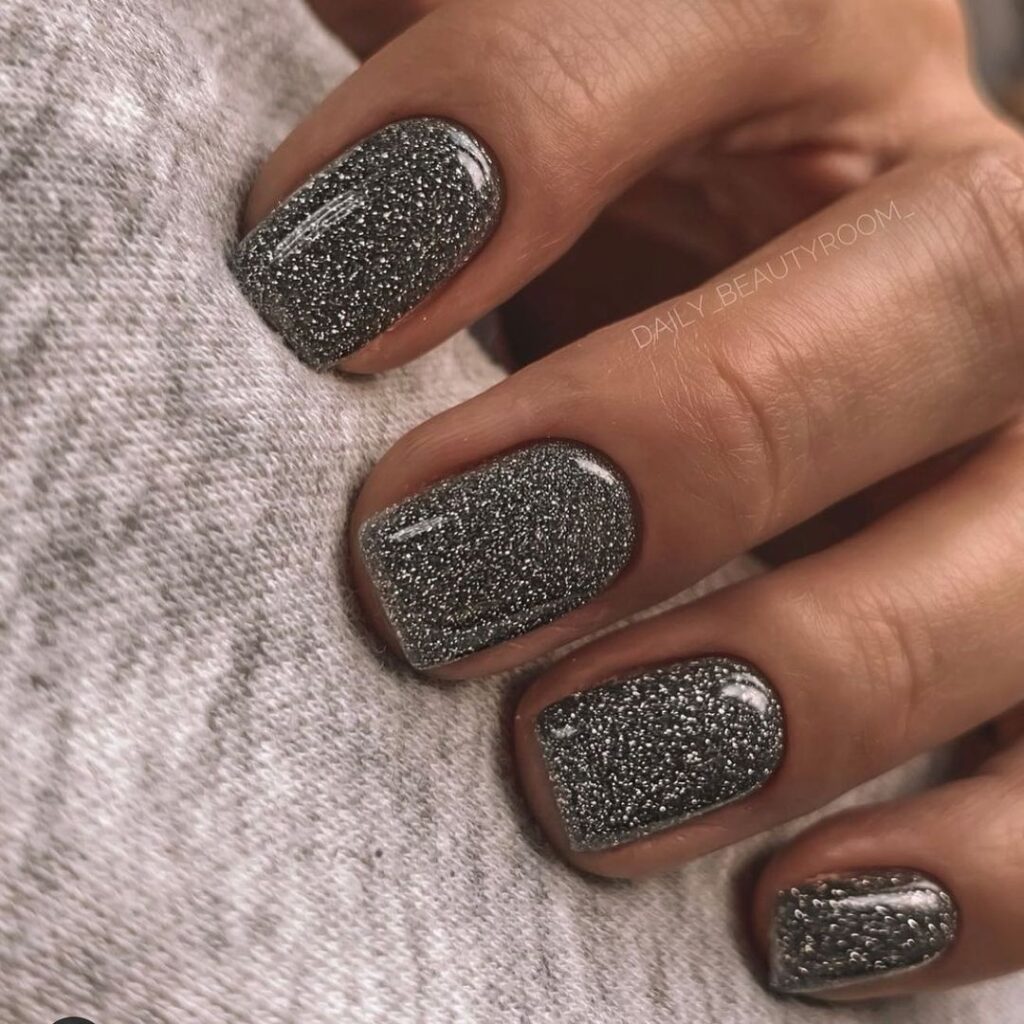 Via Pinterest
#28 White glitter nails can be done in many varied ways. Here's another one of them. The stars on the ring finger go well with the dream written on the middle finger. Definitely, a unique design that will garner you a number of compliments – both online and offline.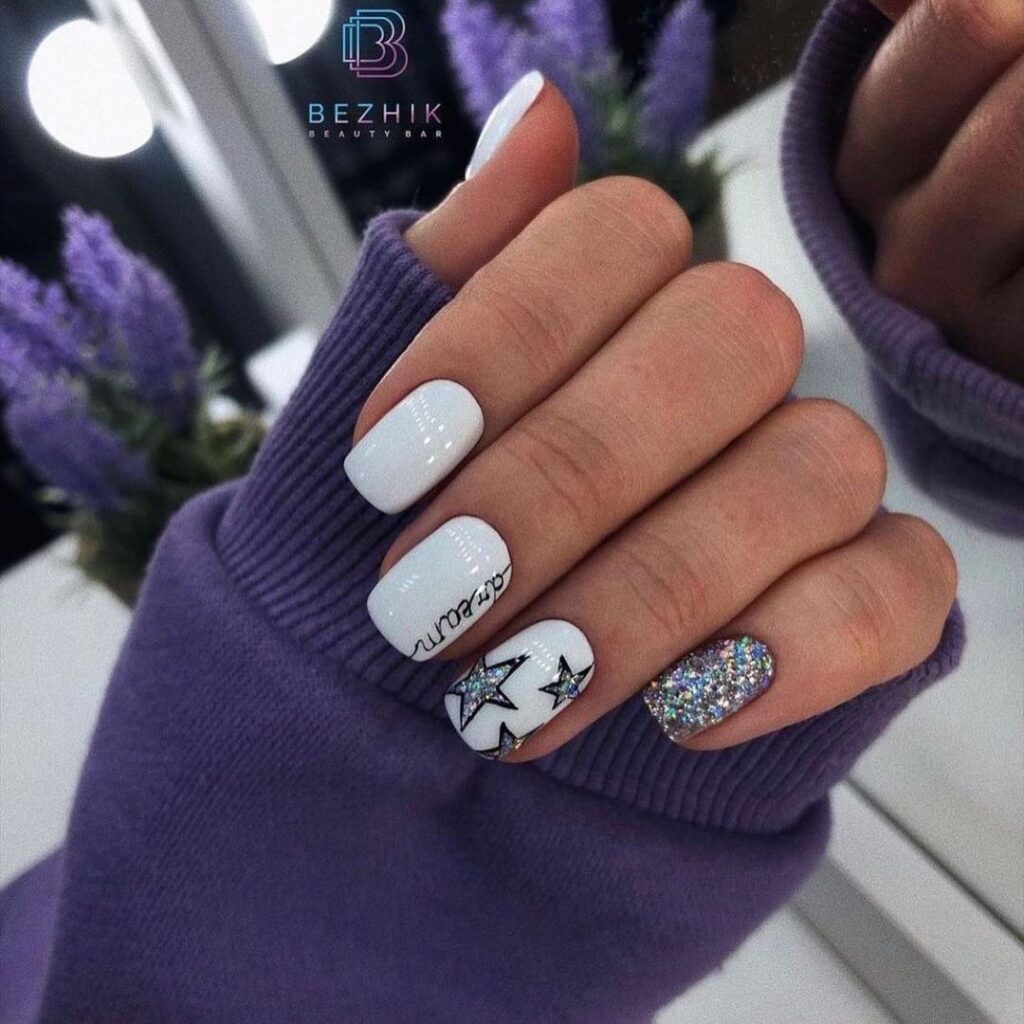 Courtesy: Bezhik Beautybar
#29 Rose gold has become a favorite of women. It's romantic, elegant, and oozes a luxurious look. Even in glitter nails, it's a preferred color and we just can't deny the appeal. The small glitter particles are packed on the rose nails, making them look like it's dripping with the glitter. So cute!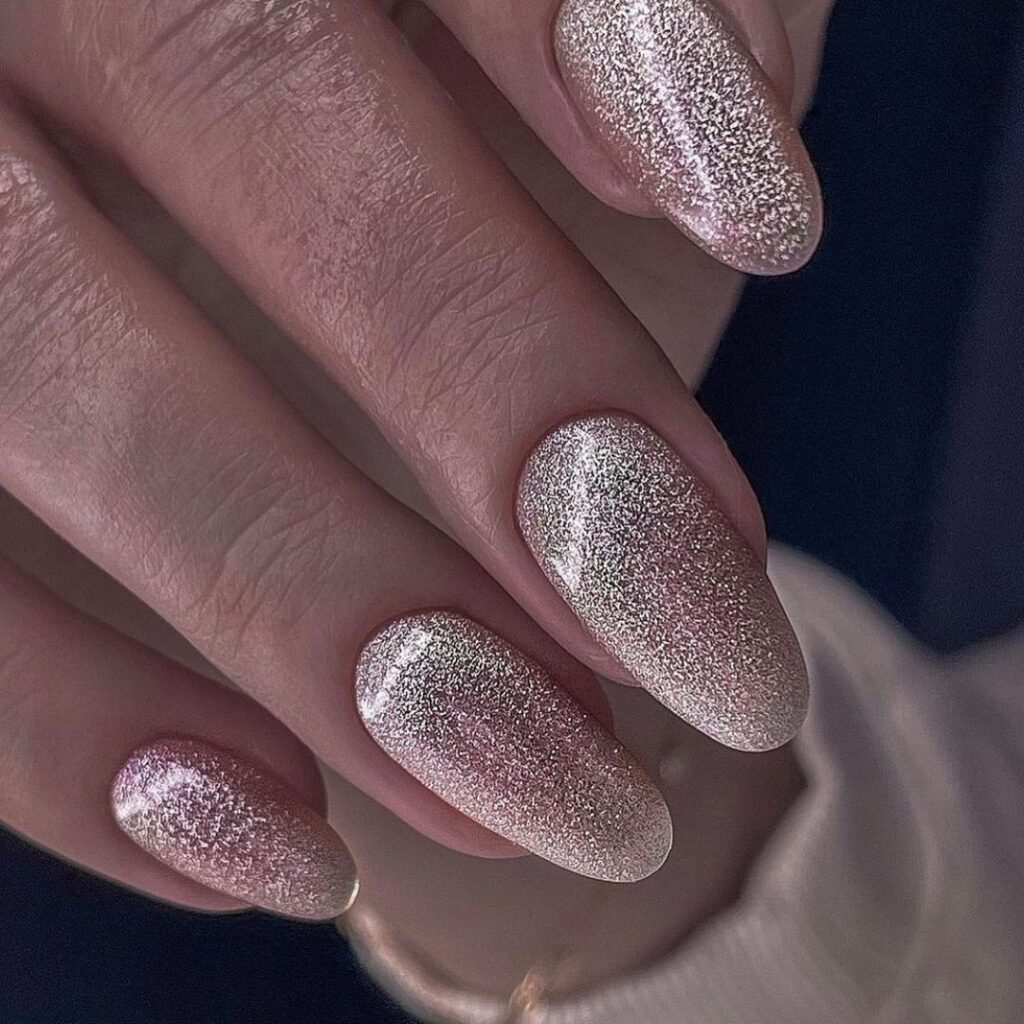 Via Pinterest
#30 Red glitter nails are ideal for V-Day or Christmas as well. However, these red glitter nails aren't done using glitter on the red color, as is the usual way. Instead, the glitter is used on the other two nails in a very minimalist manner.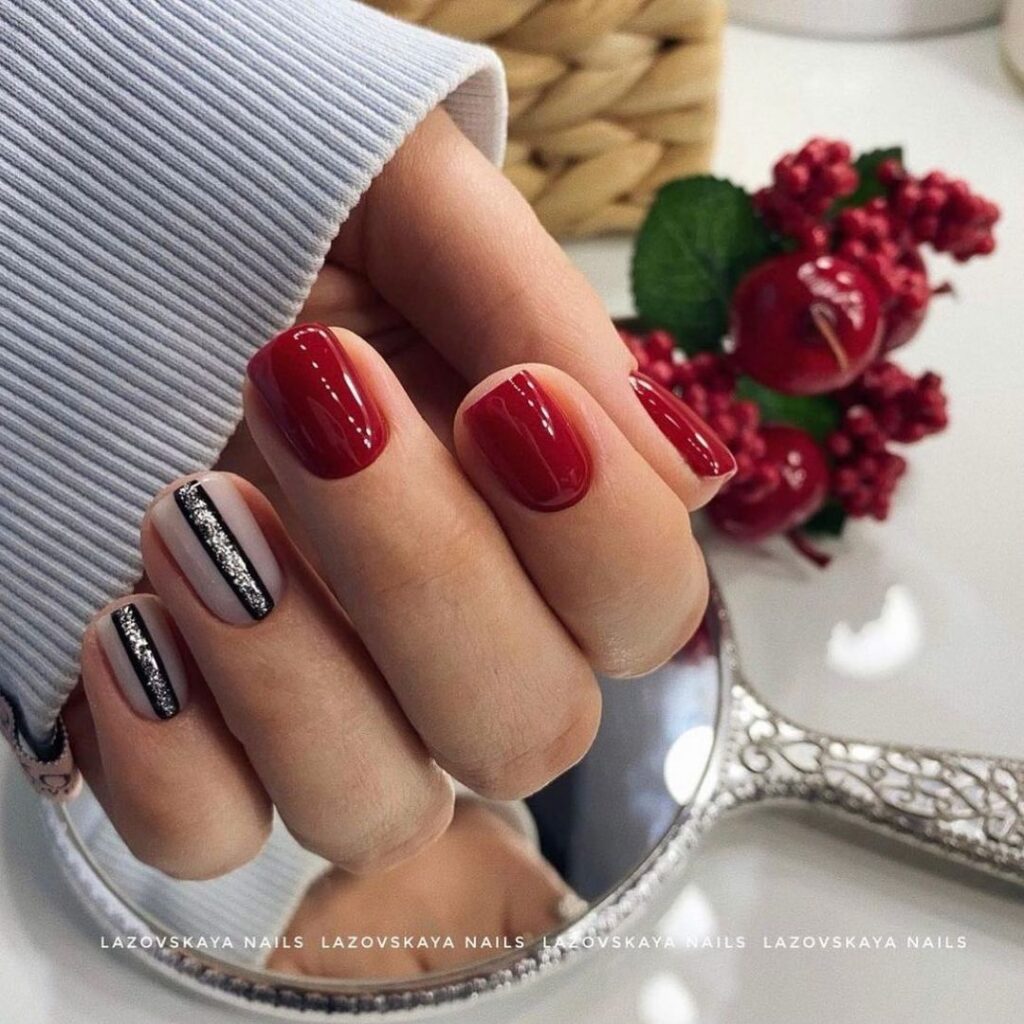 Courtesy: @lazovskaya.nails
#31 Galaxy nails are absolutely gorgeous but you can add a twist to them by adding white nail polish to the mix. That sort of line precision though is only to be trusted to be done by a professional. So, we'd advise you to recreate the look via a trusted nail artist to maintain the appeal and beauty of the nail design.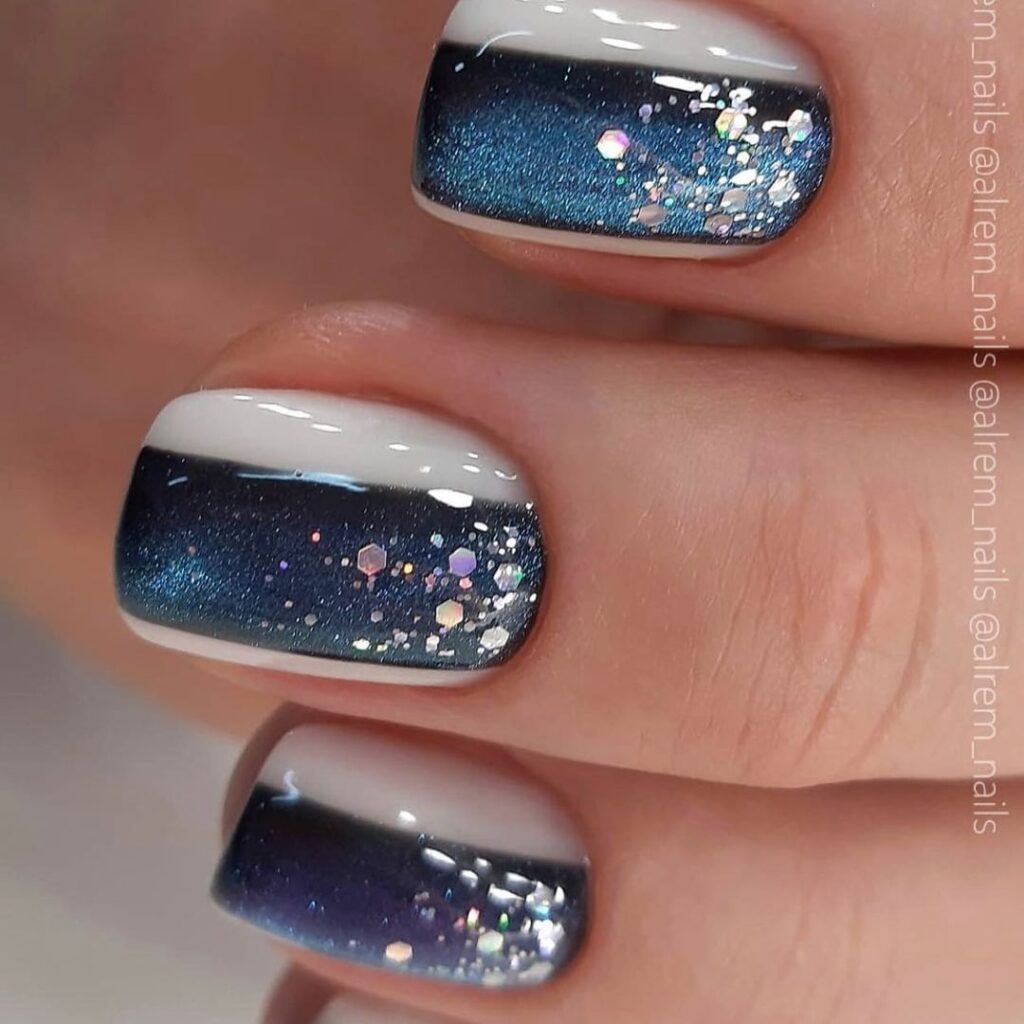 Courtesy: @alrem_nails
#32 It's wonderful to see how two shades of nail paint can complement so well. You will have to try and mix different shades in the vanity and we're sure you can find a pleasing combination. While the artist has made the single shades gloss, you can make them matte as well. They'd look gorgeous both ways.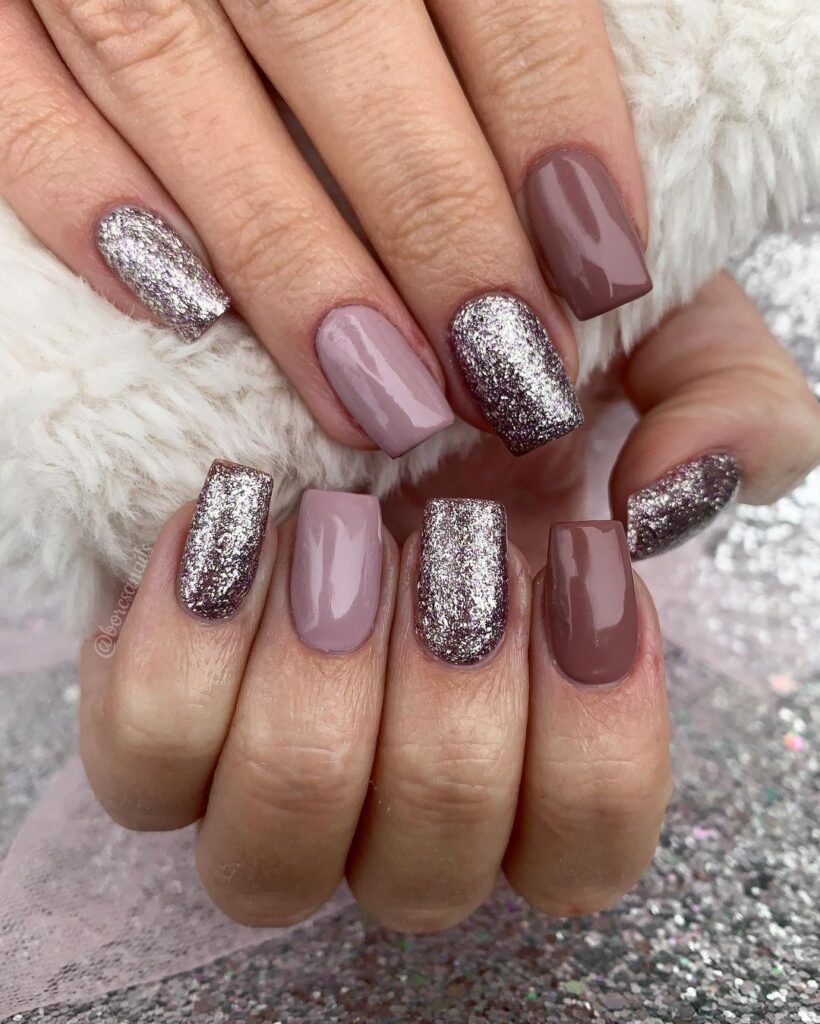 Courtesy: @borcsanails
#33 A simple, DIY glitter golden nails idea. Get a nude shade with a hint of pink and apply a coat of gold foil polish on top of it. Top off with gloss nail paint and you're done!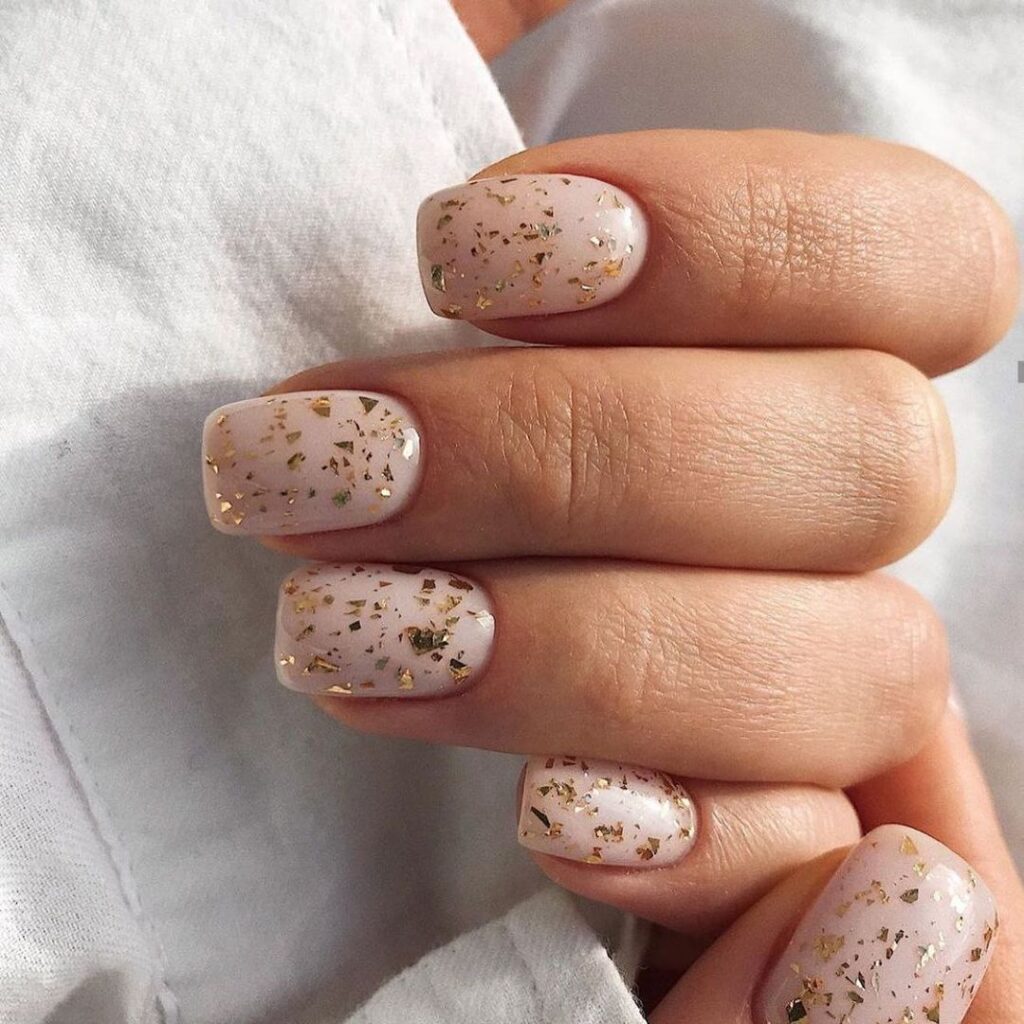 Courtesy: @nail_idea3
#34 Love this glitter nail design idea so much! All nude glitter nails are done the usual way except for a touch of blue glitter on the bottom that seamlessly blends into the rest of the polish.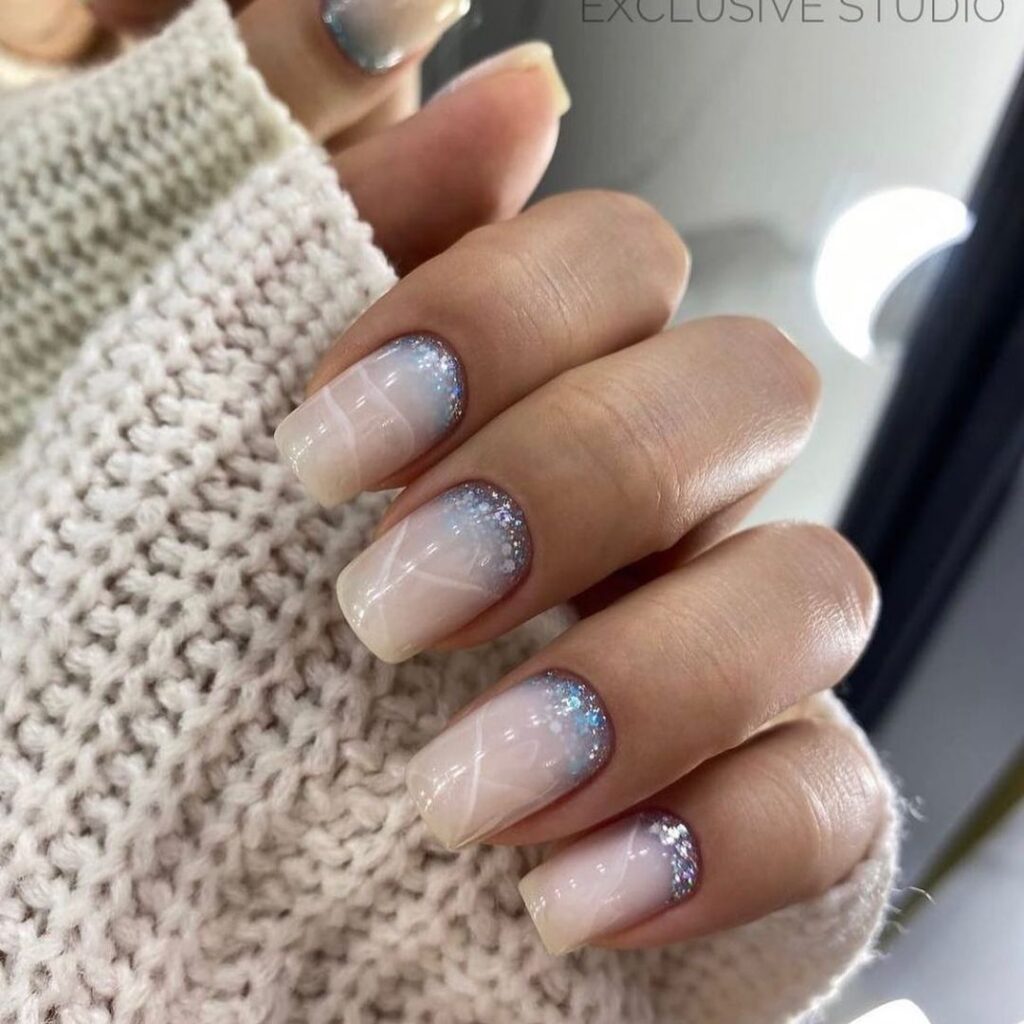 Courtesy: @_exclusive_studio
#35 Looking for a glitter Christmas nails idea? Then, your search ends here. The cute reindeer is endearing, to say the least. The combination of pink and white is usual and a safe bet if you don't want to try a different combination.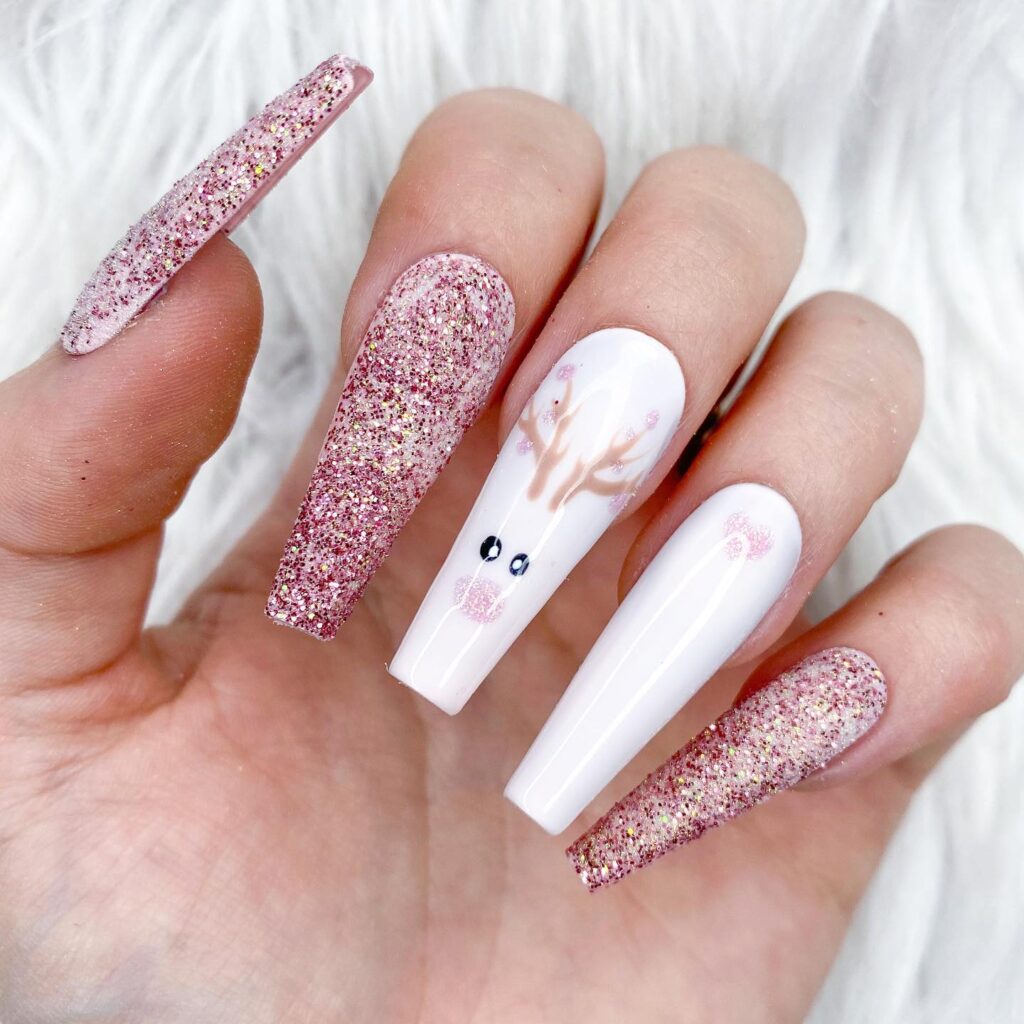 Courtesy: @nailsof.jlm
#36 Now this is what we call party nails done well! If you have a club party to attend soon and a nail appointment as well, then opt for this dark neon glitter nail design. The champagne glass is a noteworthy accent to these acrylics' design.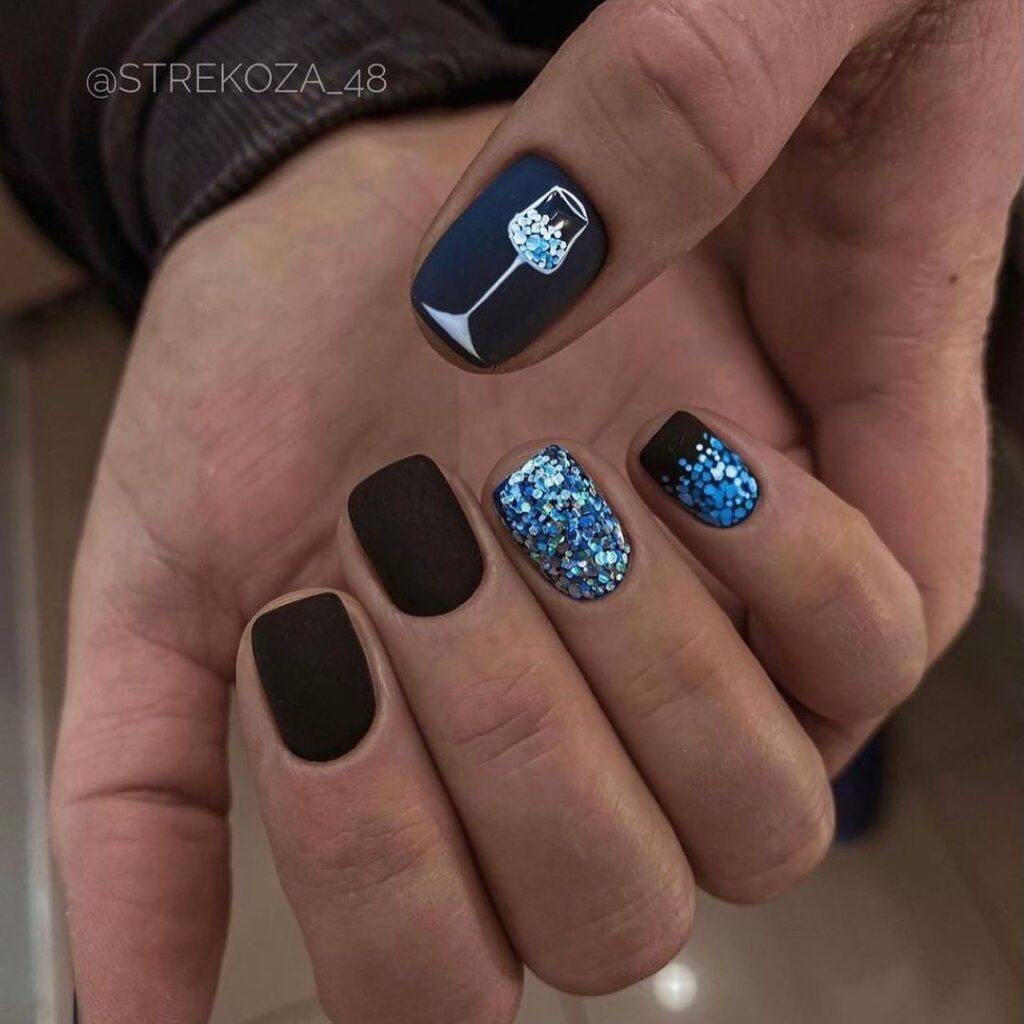 Courtesy: @strekoza_48
#37 Just another gorgeous DIY nail idea to do at home! Have someone artistic to do those little hearts though! Because they really are the heart of this nail design.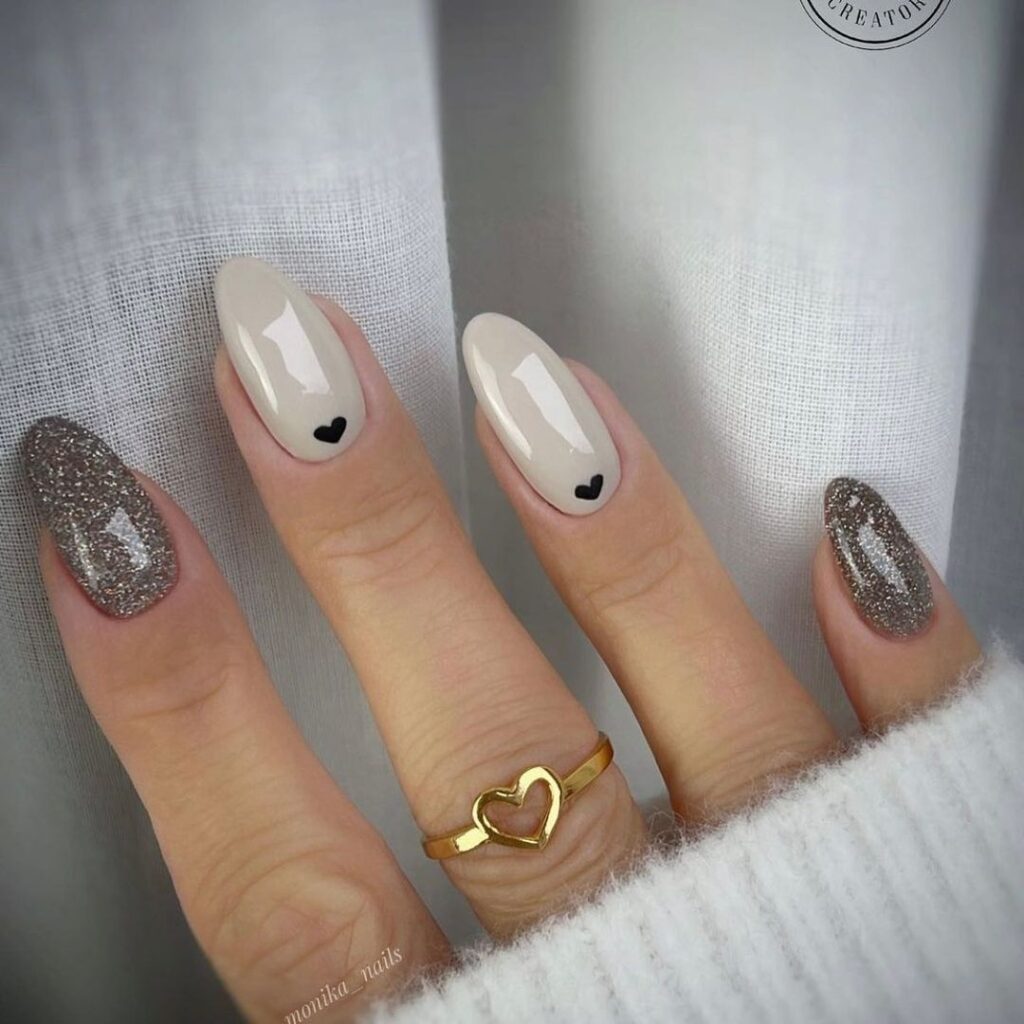 Courtesy: @monika_nails
#38 All glitter nails in golden just never fail to impress. They're easily doable at home as well. Either use a good nail polish that can create this look with two coats or first use a base coat in golden color and then proceed with the glitter for a polished nail design.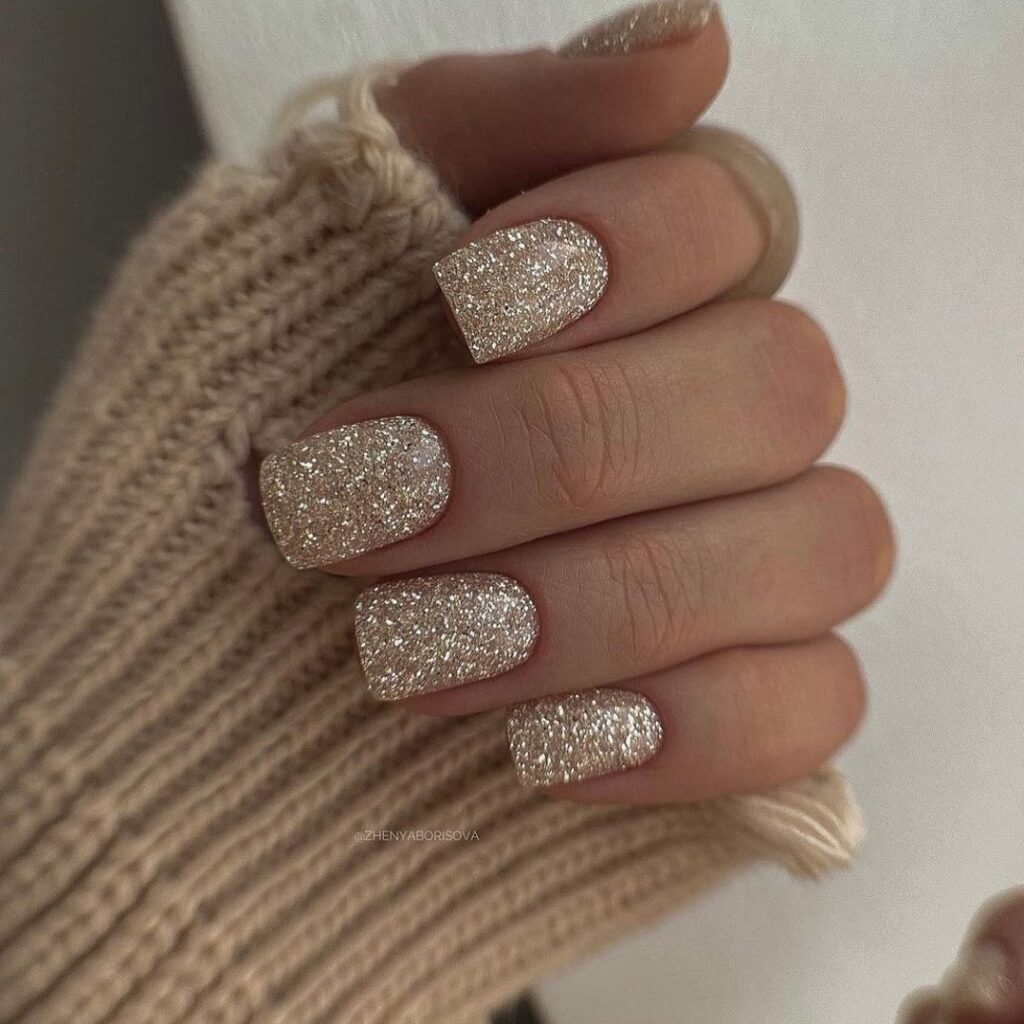 Courtesy: @zhenya__borisova
#39 Simple, sophisticated, and neat. The soft pink color is subtly bought to life with a golden clear polish with loosely dispersed glitter particles. Ideal for a romantic date, a wedding you have to attend, or even an important party. This glitter nail design is truly versatile.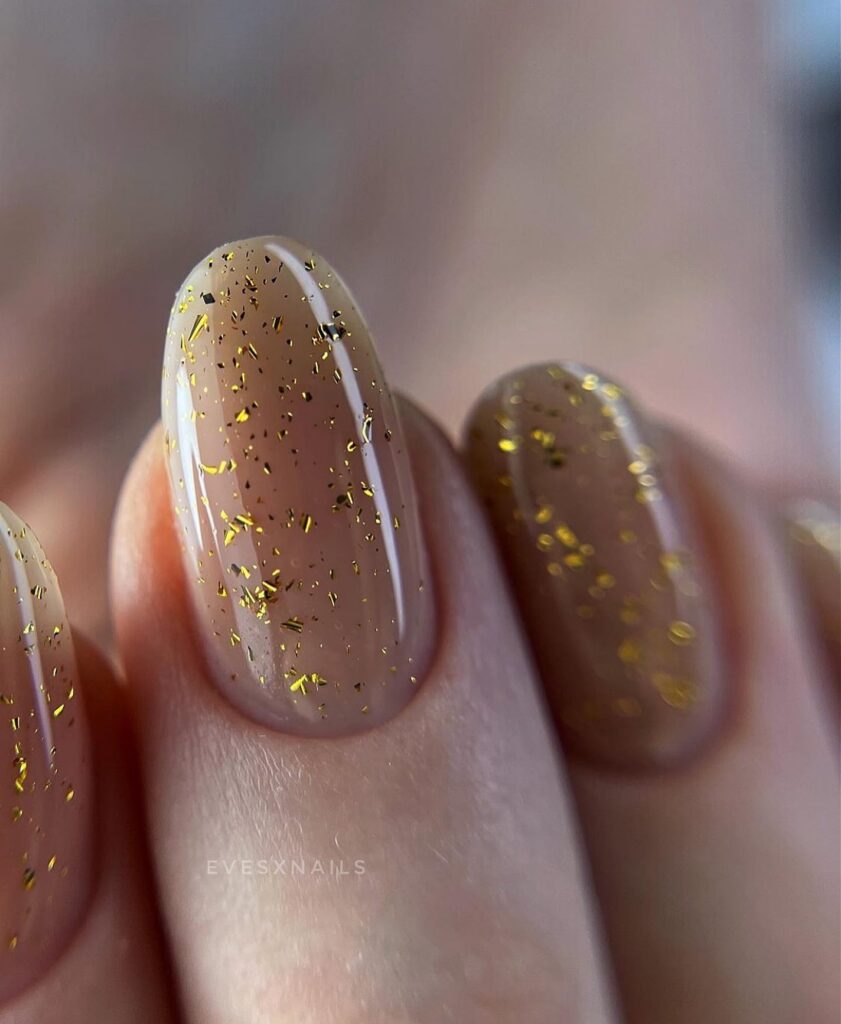 Courtesy: @evesxnails
#40 White nail polish is a versatile color in nail paint and can be paired with many different colors. Here, that color is blue. While the majority of nails are covered in matte style, one is covered in complete glitter and the other one has an ombre glitter effect, which looked so gorgeous we had to include a different picture of it.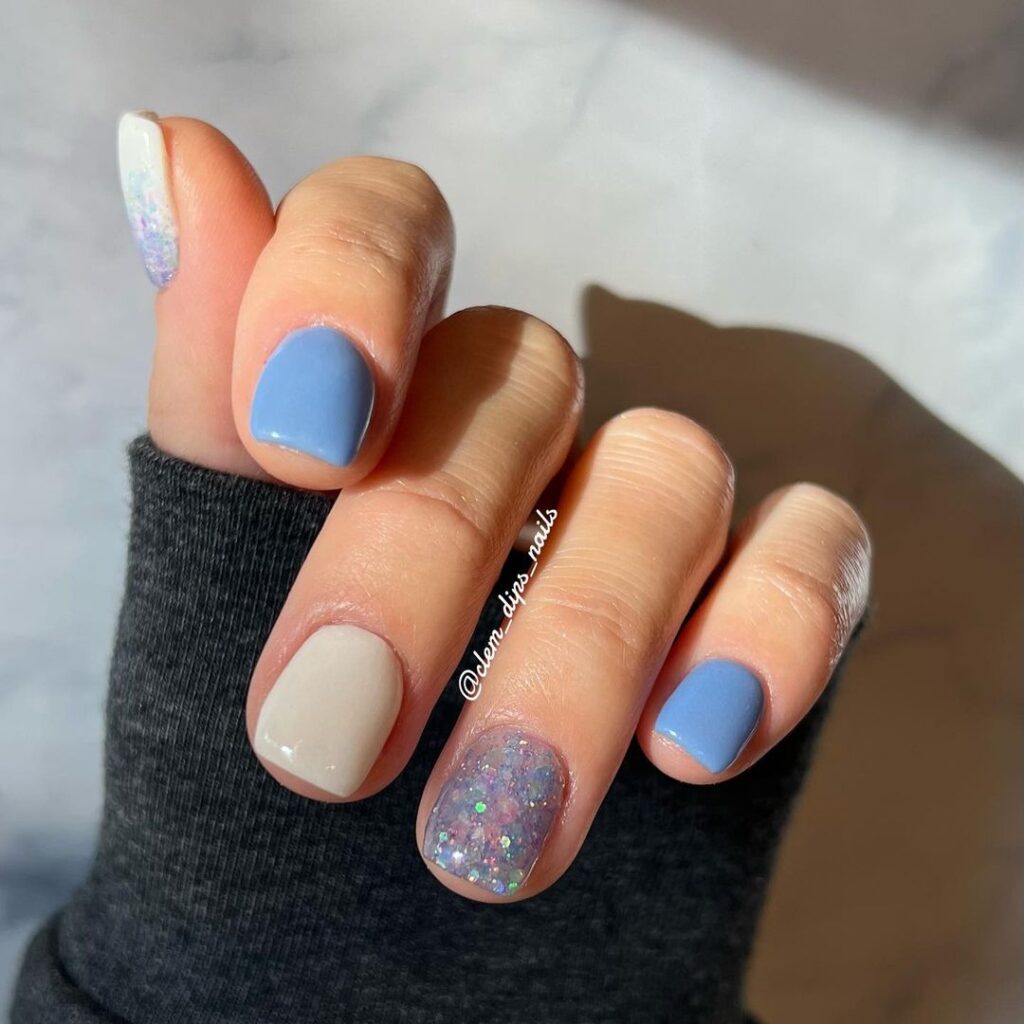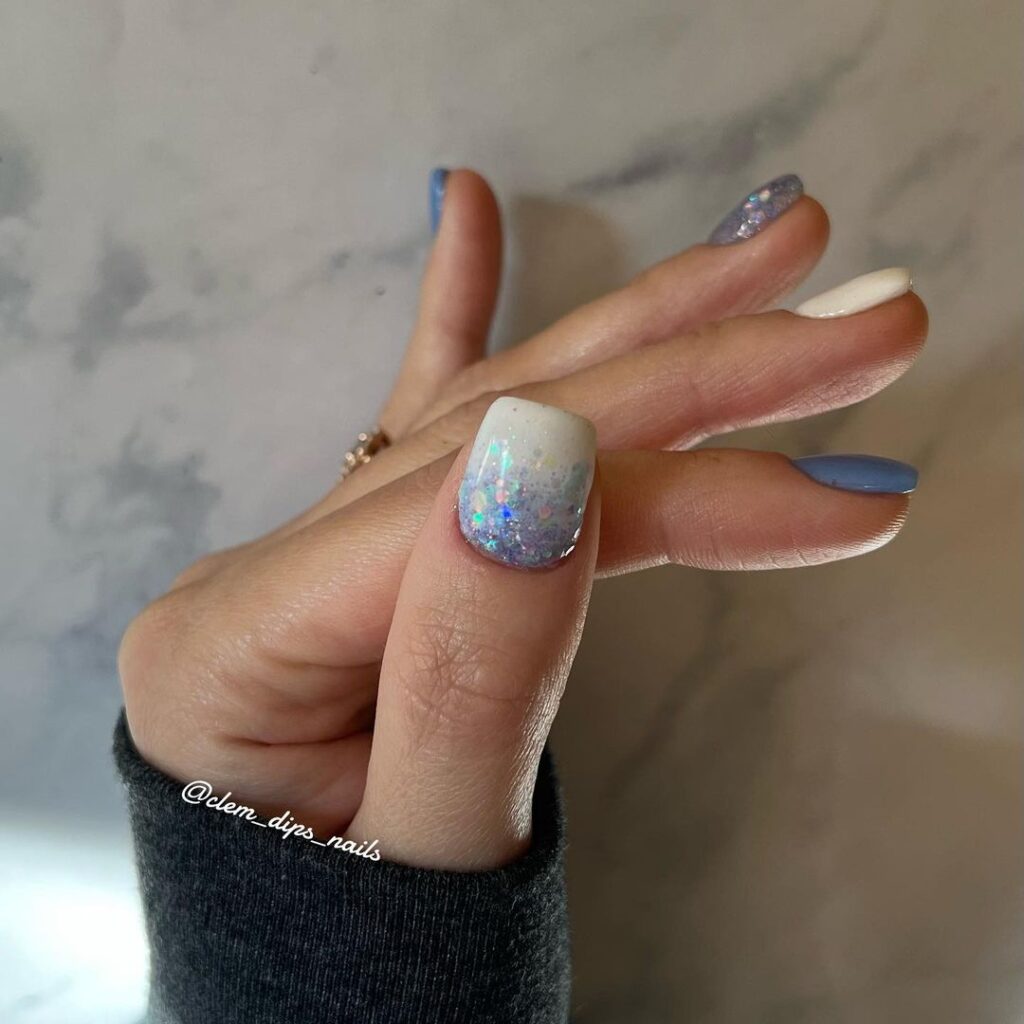 Courtesy: @clems_dips_nails
#41 Your usual French nails can get an oomph of glitter for that extra allure. You don't necessarily need to have super long nails to rock this design though. Medium-sized nails would do as well. Similarly, small nails with just a hint of glitter around will look gorgeous too.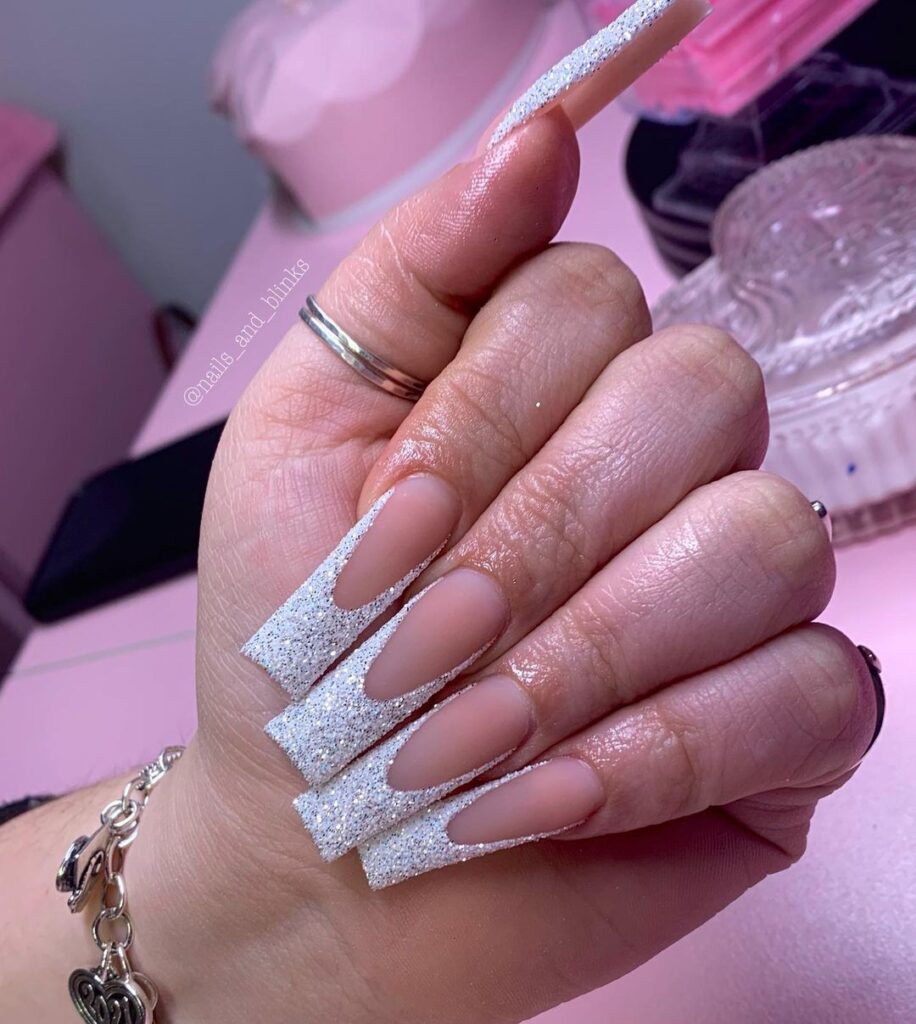 Courtesy: @nails_and_blinks
#42 Those leaves say one thing and one thing only? Spring Nails! Yes, for those looking to sport glitter nails during springtime while also honoring the time of the season, here's your perfect nail idea to Pin.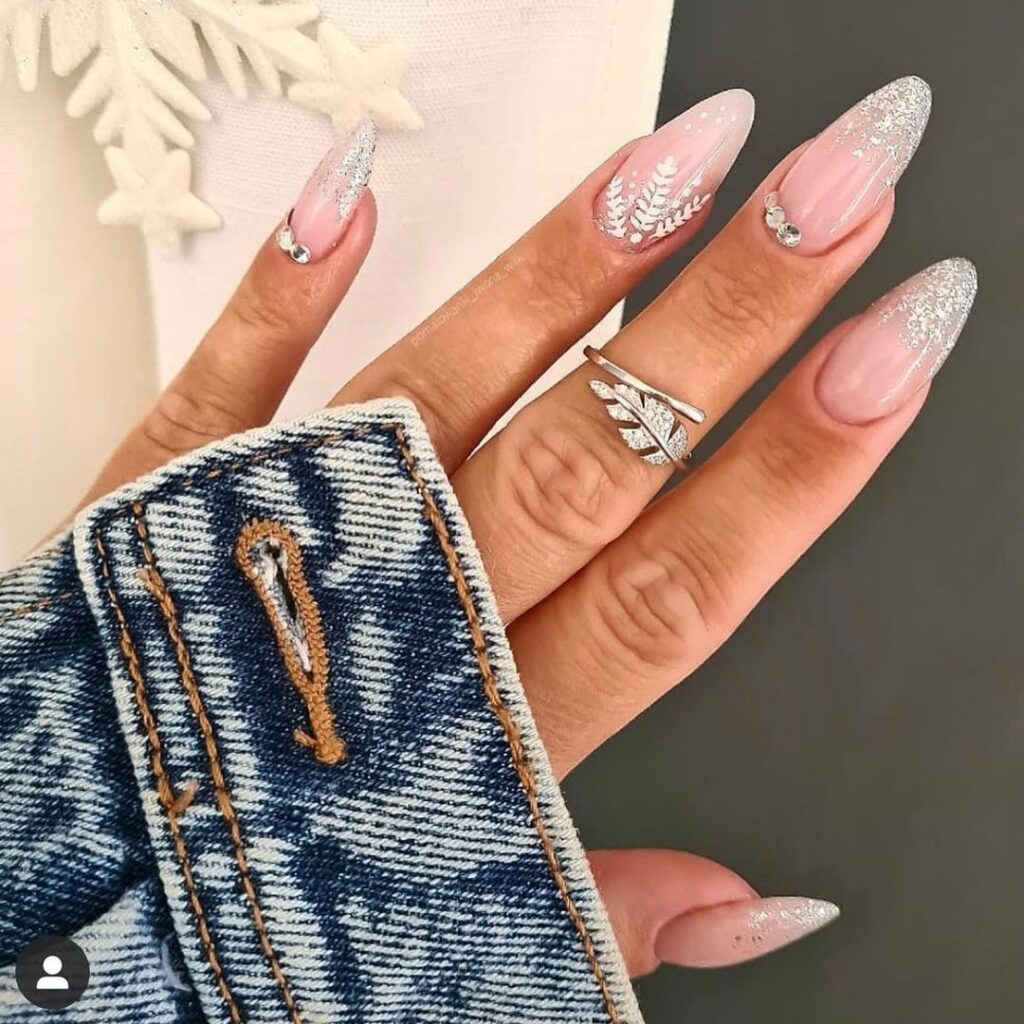 Courtesy: Instagram
#43 Dripping with golden shade on the tips followed by loosely dispersed glitter on the rest of the nail bed, this all-similar nail design has a uniqueness and beauty hard to take eyes off!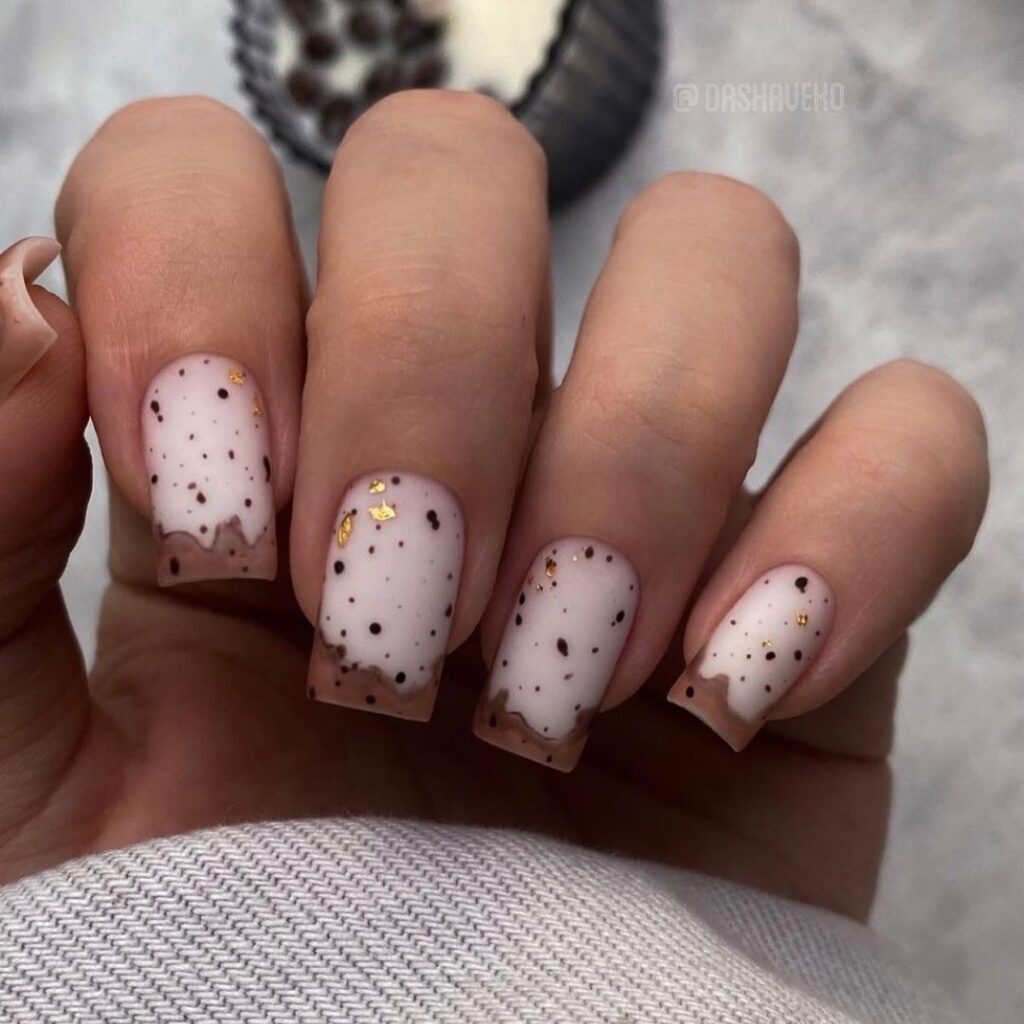 Courtesy: Instagram
#44 Ah! The pleasing combination of pink and light blue. These two are often used as Princess outfit colors and doesn't this nail design represent the same ethereal nature of Princesses? A truly artistic design and that ombre effect on some nails add an interesting touch.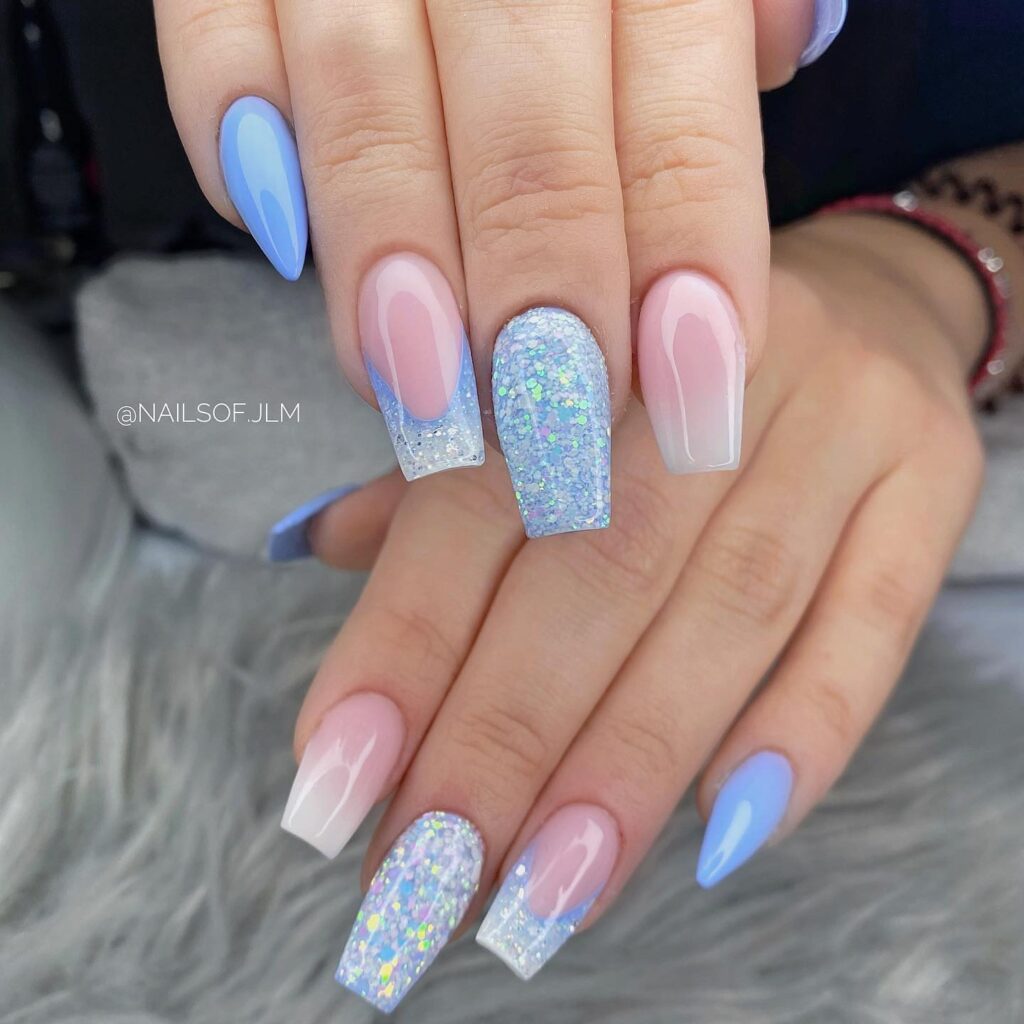 Courtesy: @nailsofjlm
#45 This one has only subtle glitter in the mix, only at the ends of two nails. We were so impressed with the stunning emerald color though that not including this picture on this list was no longer an option. The accents on the tips are done beautifully and make the lovely color worth it.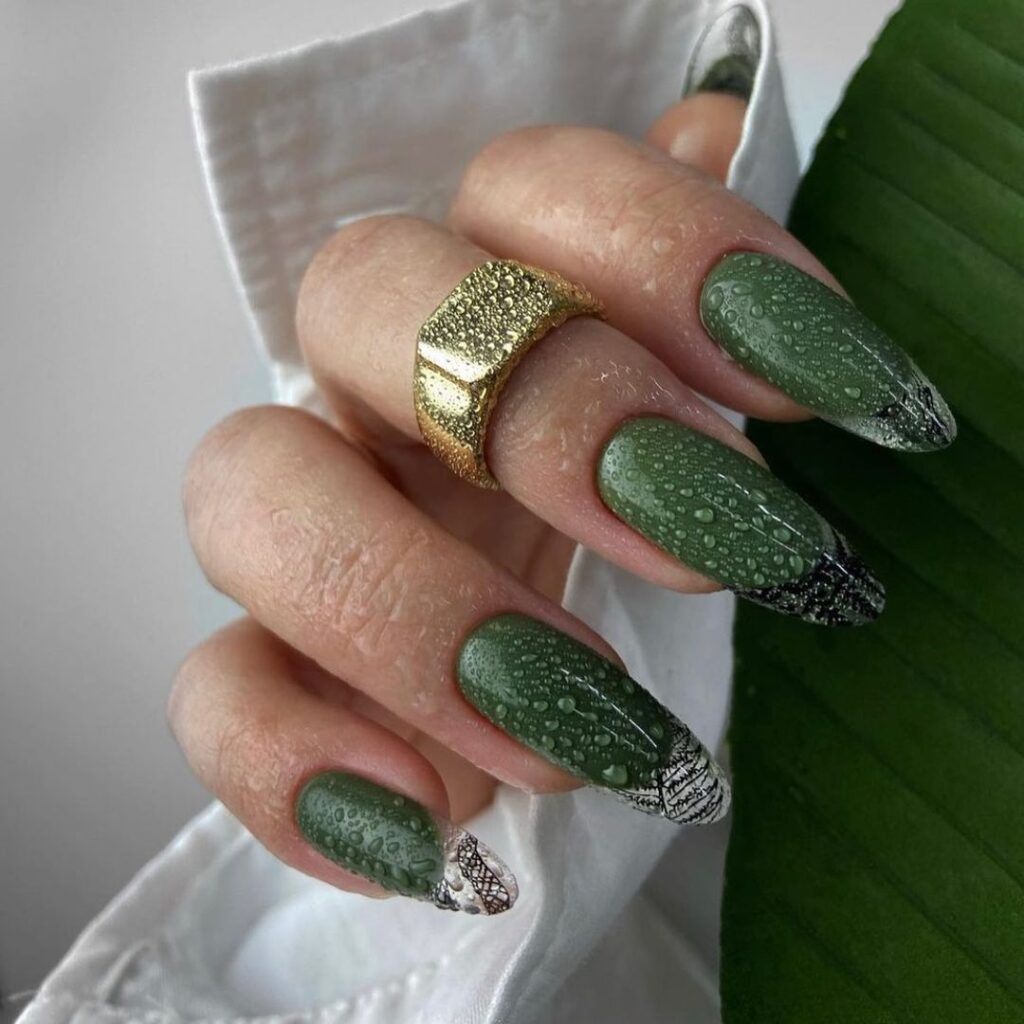 Courtesy: Pinterest
#46 The foil print is a good alternative to glitter nail design, despite having the same ethereal sparkly nature. The clear pink nails look elegant as a base as the artist draws on top using foil print. The golden leaves are reminiscent of autumn and these can look great in the fall season.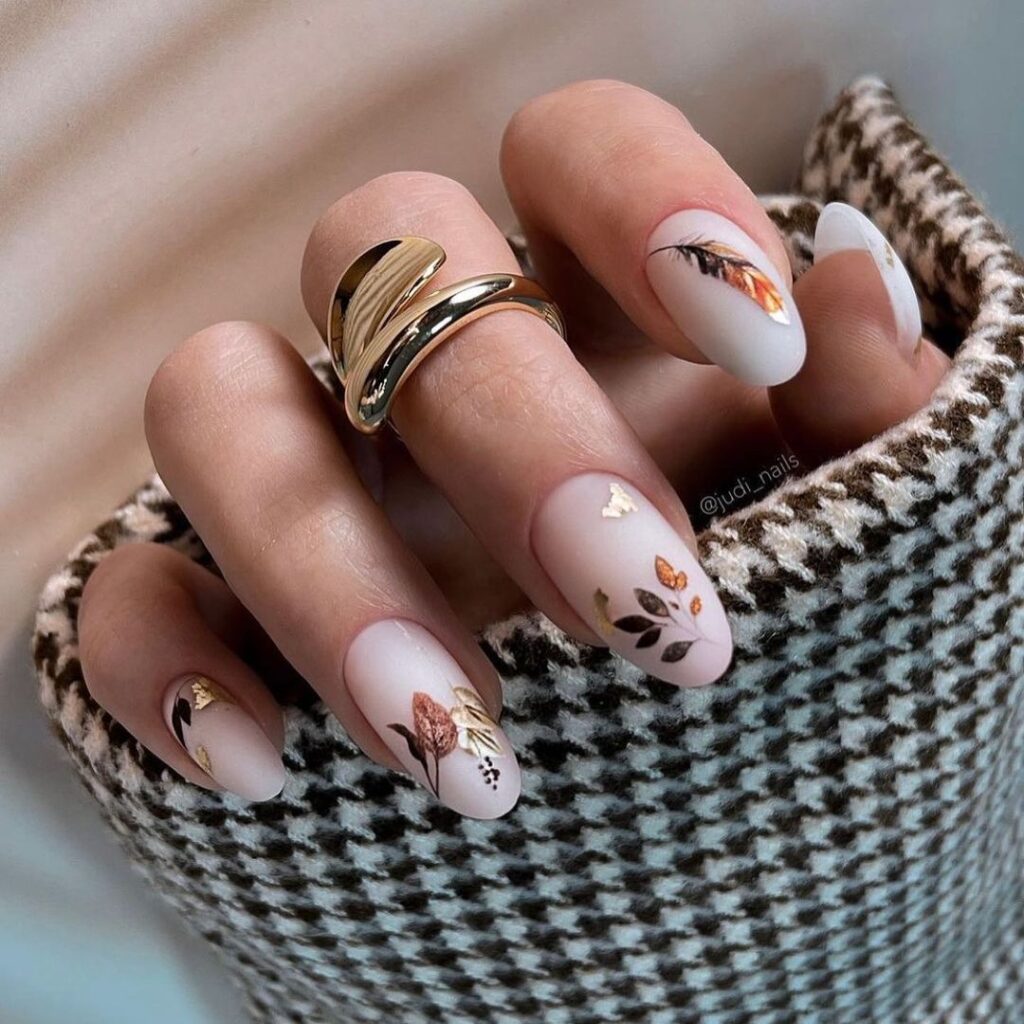 Courtesy: Pinterest
#47 Sometimes you can add an interesting touch to the usual nails by varying just one nail with a different design. Here, that design is differentiated using marble art. Although, if you're trying this at home, you can just leave the nails as it is and they'd still look as attractive.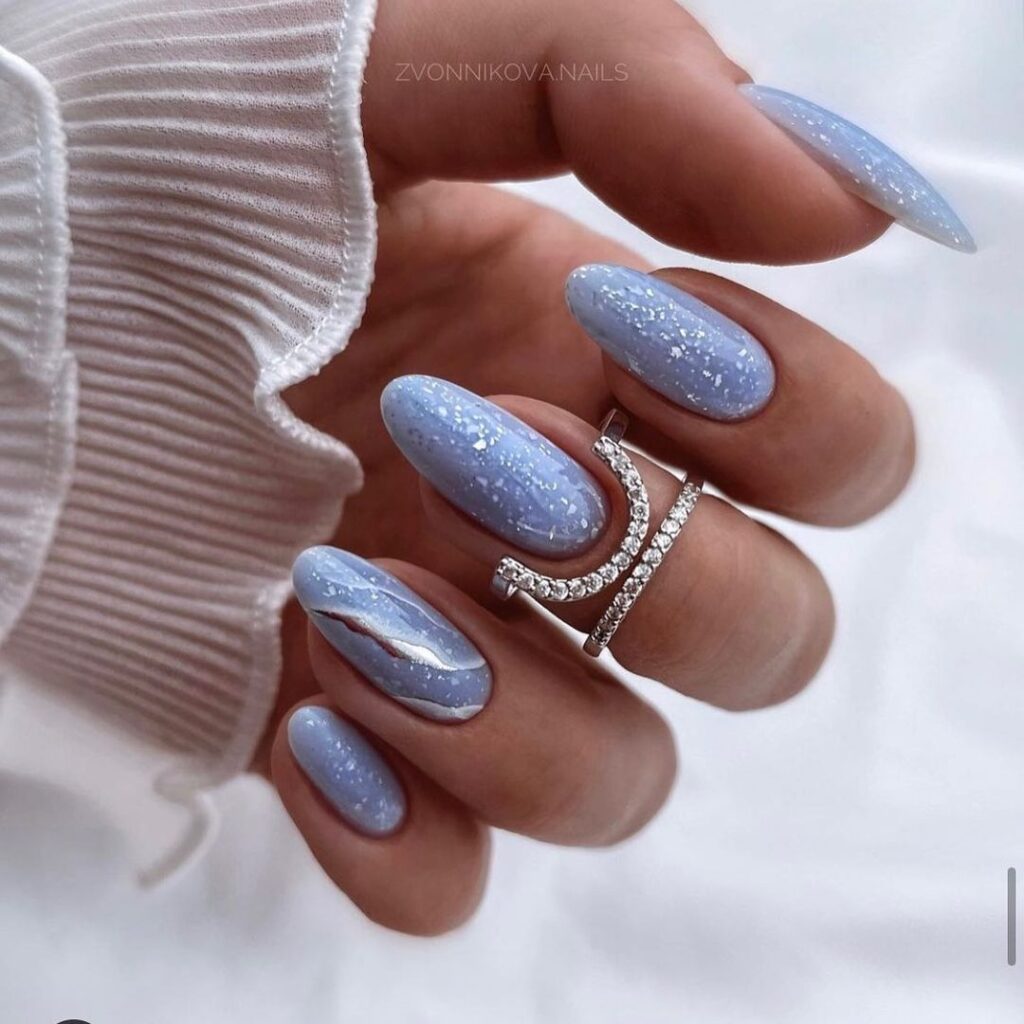 Courtesy: @zvonnikova.nails
#48 Instead of doing the usual French nails in white, you can add a decorative attribute by making the tips in different colors. In this case, that will be pink and red.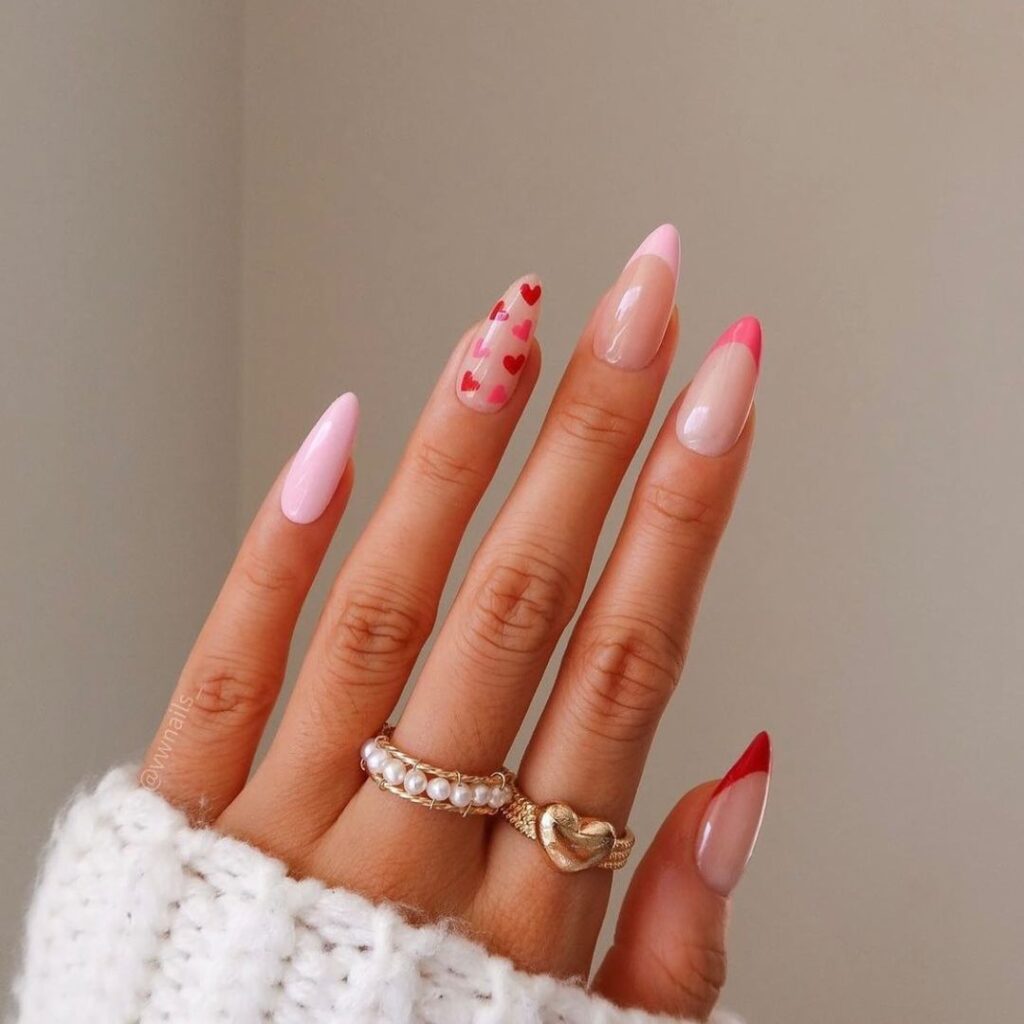 Courtesy: Pinterest
#49 Galaxy nails are a work of art and we'd recommend an expert artist to trust for recreating this glitter nail design idea. But until that happens, save it on your phone or Pinterest for reference.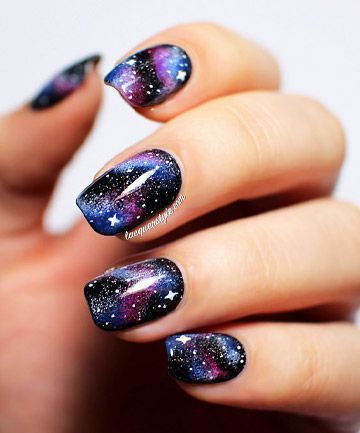 #50 Again, an easily doable DIY glitter nail art. Start with buffing and preparing your nails for the polish. Apply a thin layer of pink nail paint. You can also apply another layer. Top off with a glitter nail coat and finish off with a glossy coat, but that's an optional step though!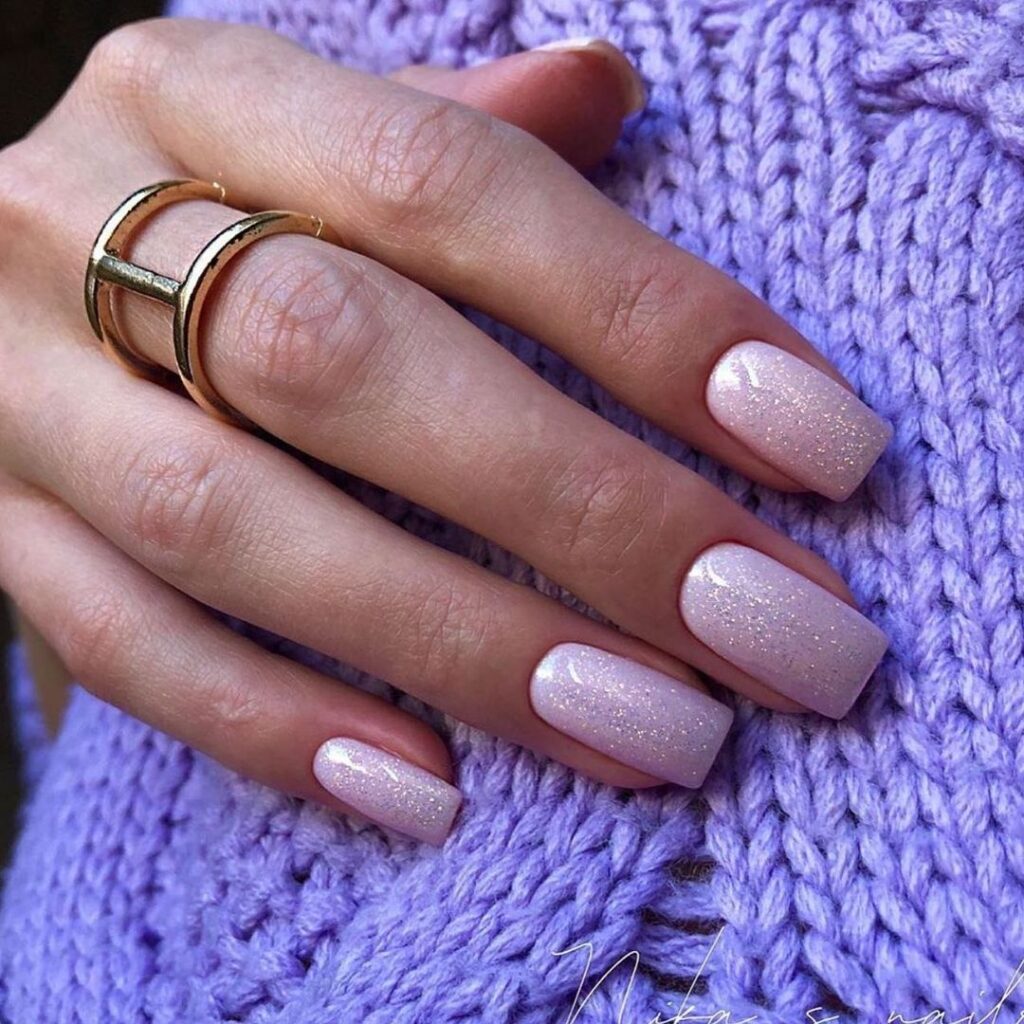 Courtesy: Pinterest
#51 Amp up your white gloss nails with a dramatic glitter on the sides of just two nails. These short glitter nails are a great idea for any event or any time of the year.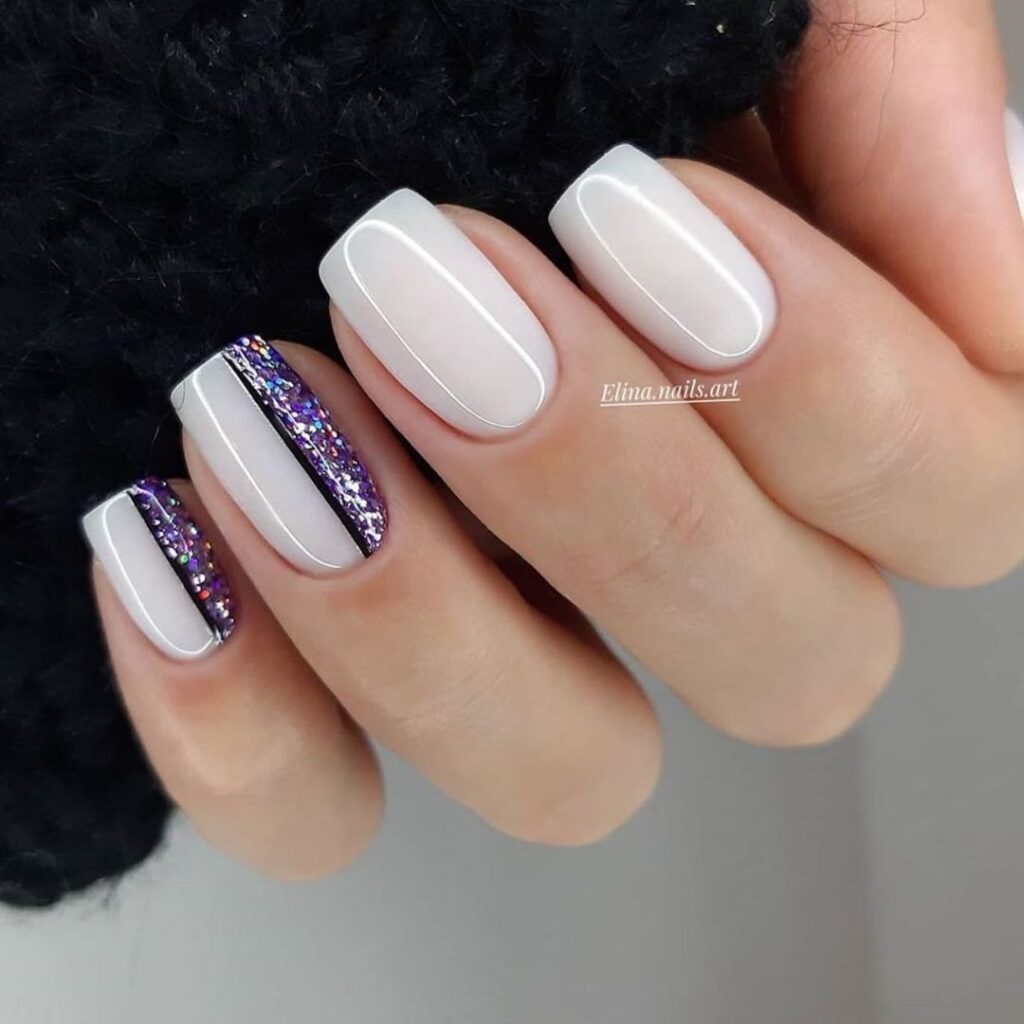 Courtesy:
#52 Yet another way to accentuate your usual nude nails is to add some glitter to the tips and make your modest nail design a bit glamorous. 
Courtesy:
#53 While the ring finger is completely dipped in glitter, the other nails are kept in gloss pink with little hearts on them. This glitter nail design could make for an ideal pick when you're just engaged and want to show your ring finger extra love whilst picking a design that's romantic and alluring.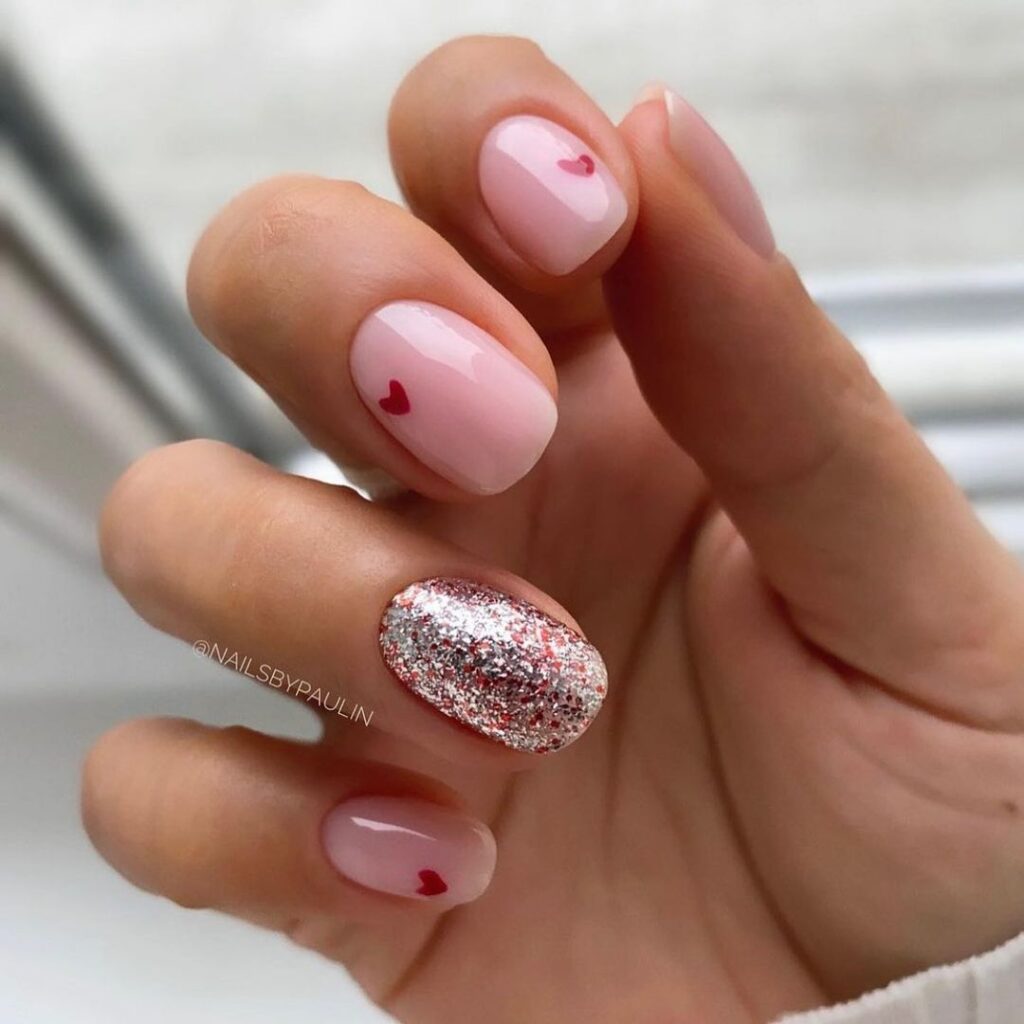 Courtesy: @nailsbypaulin
#54 This next nail design is glitter is done in soft pastel colors with substantially-sized glitter particles enhancing the appeal in the right way. The geometric small divisions on some nails are a good balance between dramatic and modest. Love that it looks charming without looking overdone.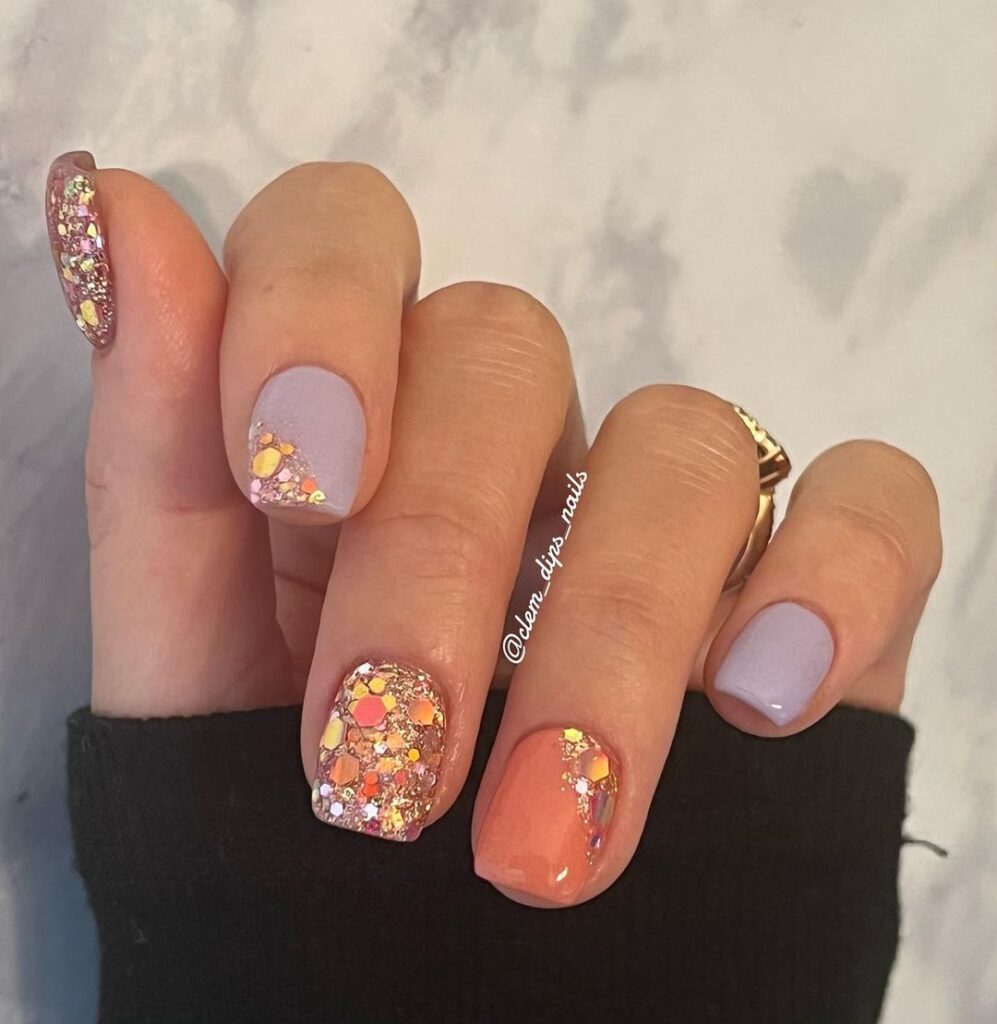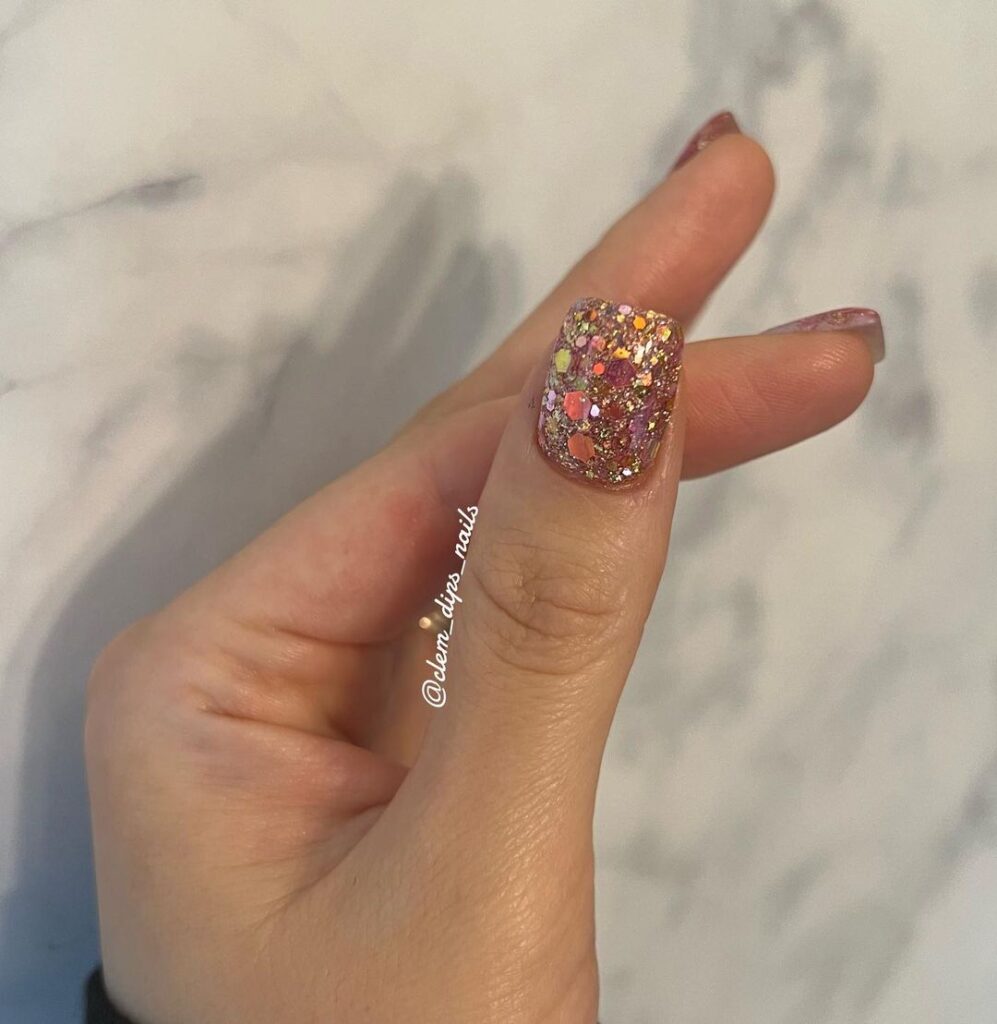 Via @clem_dips_nails
#55 Glitter nail designs stand out most when they're against bare-looking nail beds. These nude pink nails are enhanced with a white line on the side and a silver thicker one on the other. White spots all over the polish further amps up the entire design.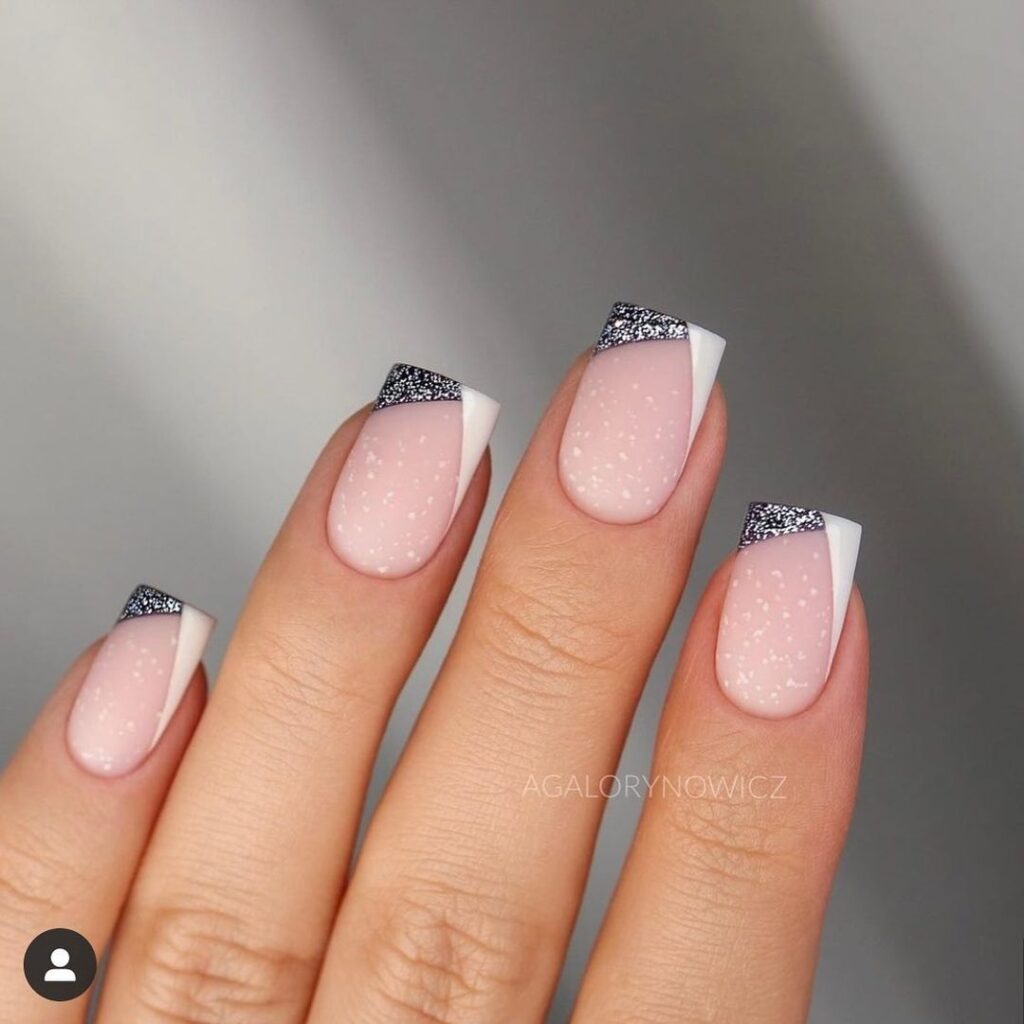 Courtesy: @agalorynowicz
#56 Fine glitter is gorgeous, but look at what chunky glitter particles can do with their allure! The chunky glitter makes for the backdrop for one nail while the pink finger is done in glitter in an ombre effect. The ring and index finger are in ivory with a tinge of pink. And the former is also bedecked with a little heart on the end for a whimsical nail design.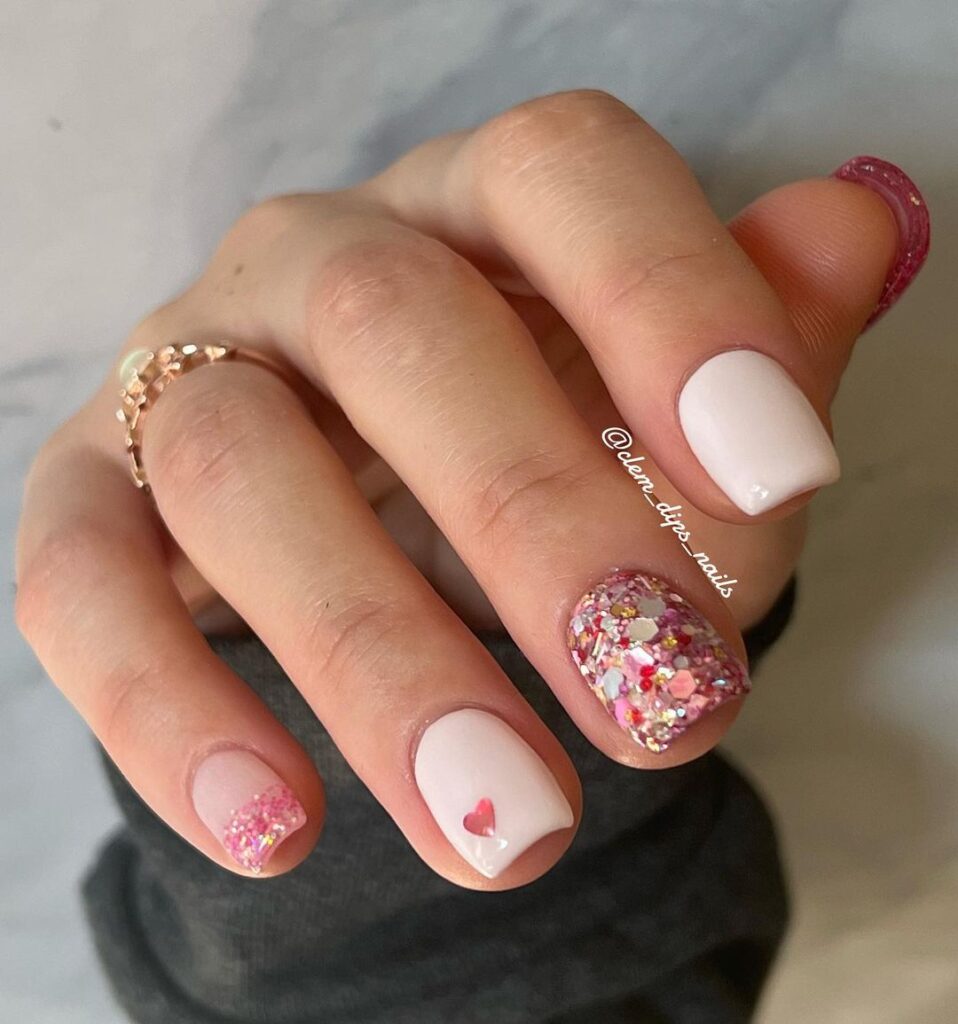 Via @clem_dips_nails
#57 A cute heart really does make an appearance often in nail designs. Their romantic and ethereal nature sure makes them a good addition though. These white glitter nails are, however, enhanced by a silver nail as well. It's a nice everyday nail design to get.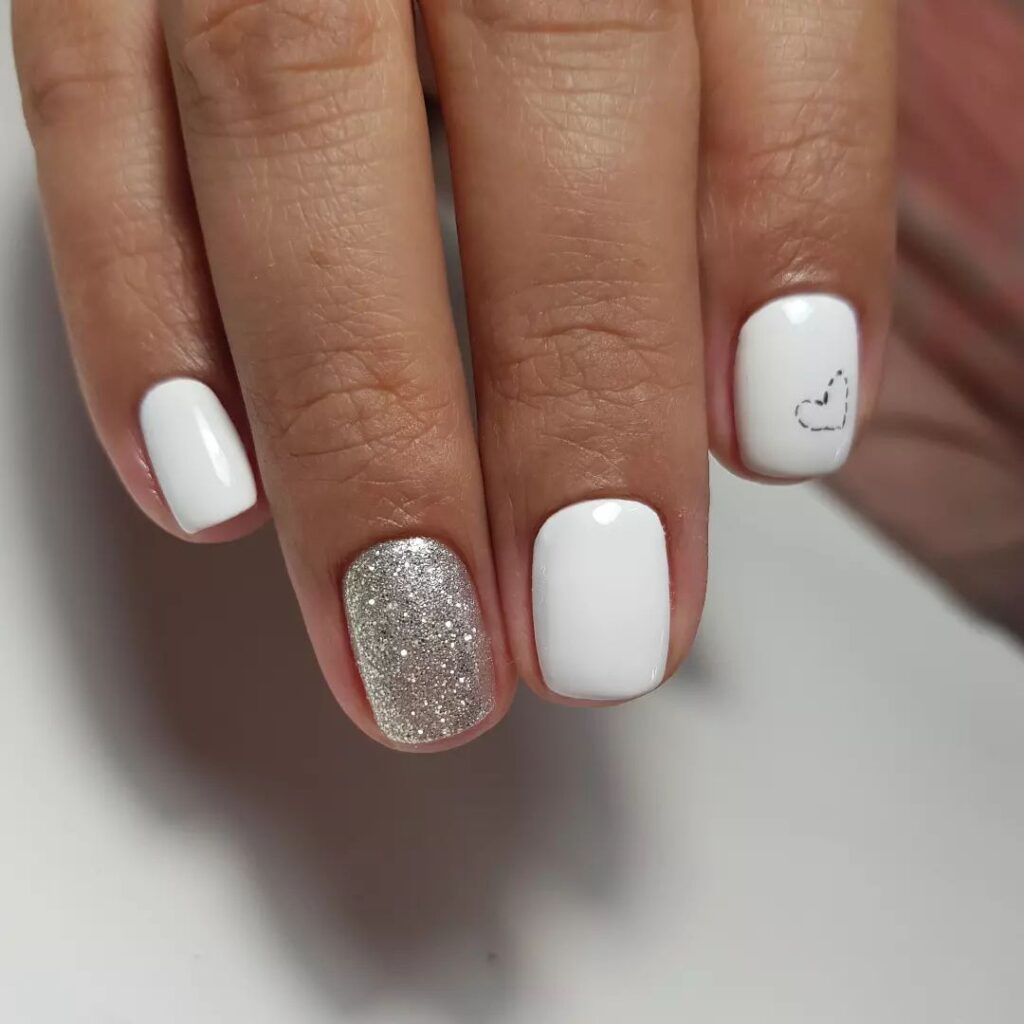 Courtesy: @coolunitas1
#58 With the nail shape being short and square, these mauve-pink nails can be easily done at home. Make sure you have the glitter coat in almost the same shade though and you'll be good to go!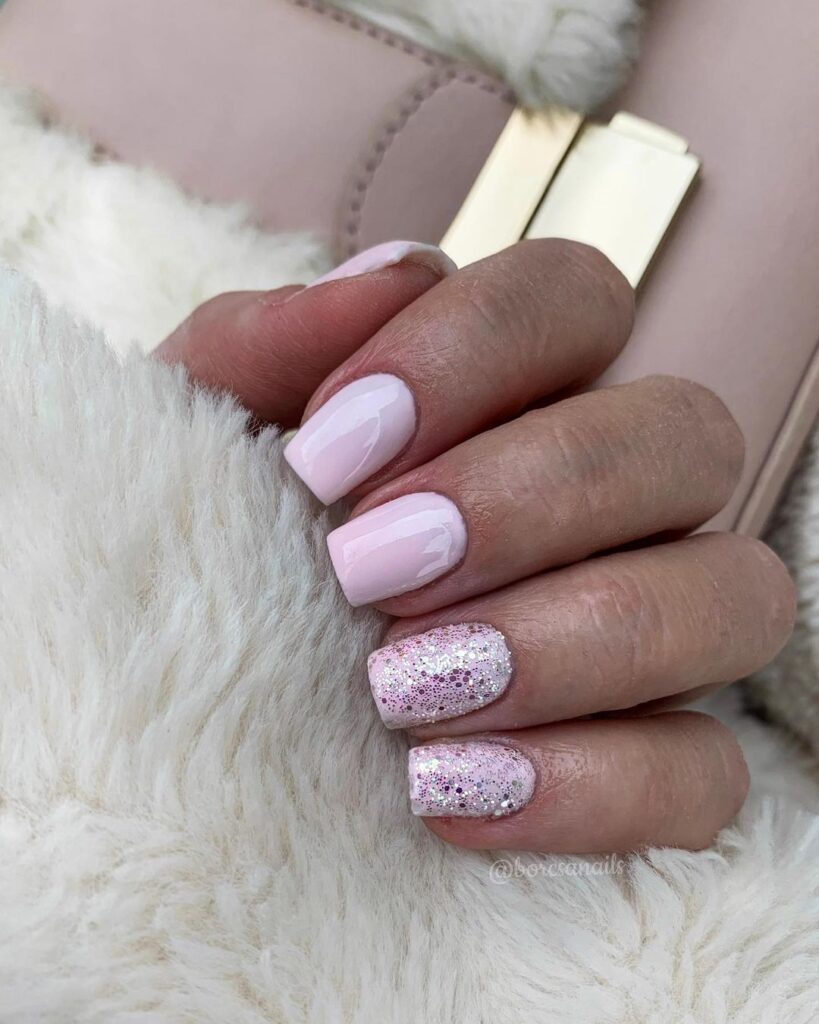 Courtesy: @borcsanails
#59 Alternating with chunky glitter particles in the same shade is yet another way to curate an appealing glitter nail design.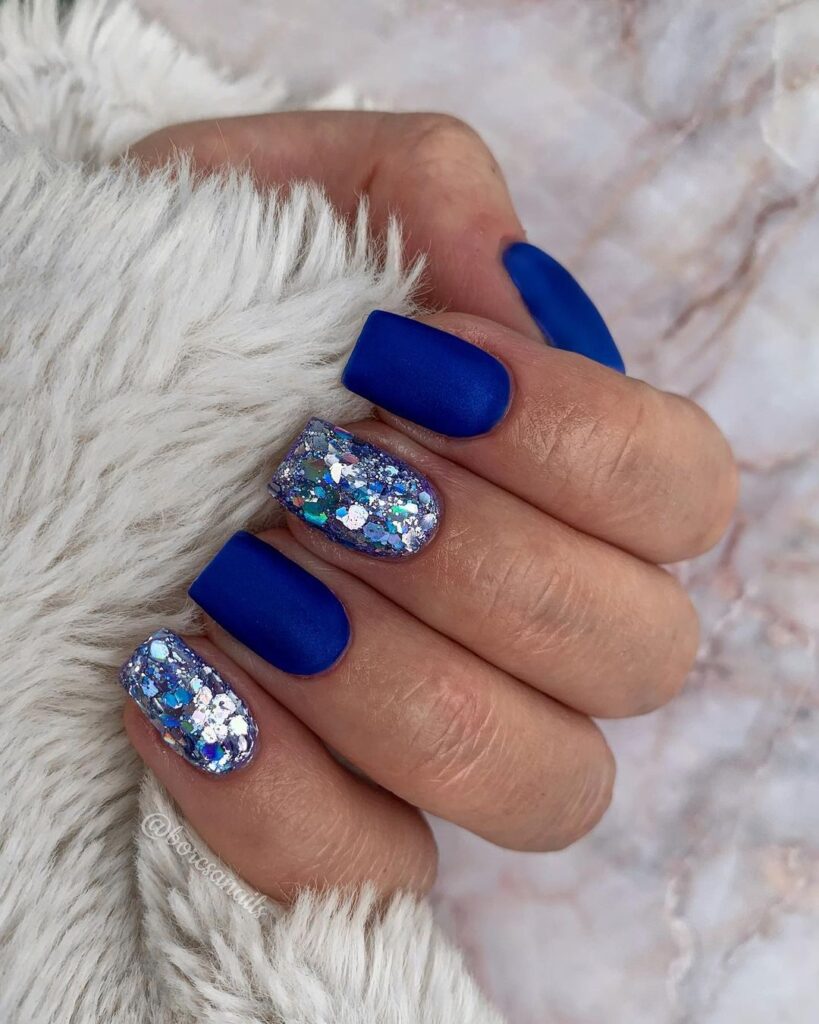 Courtesy: @borcsanails
#60 A pink and purple ombre on the index and ring finger, and a full purple glitter on the middle finger, followed by an artistic nail art on the pinky finger makes this nail art a riveting one! Long nails do give a lot of space for professionals to experiment and if you don't mind them, then go for them without any hesitation. A creative nail artist will do wonders with long nails and you won't stop staring at them.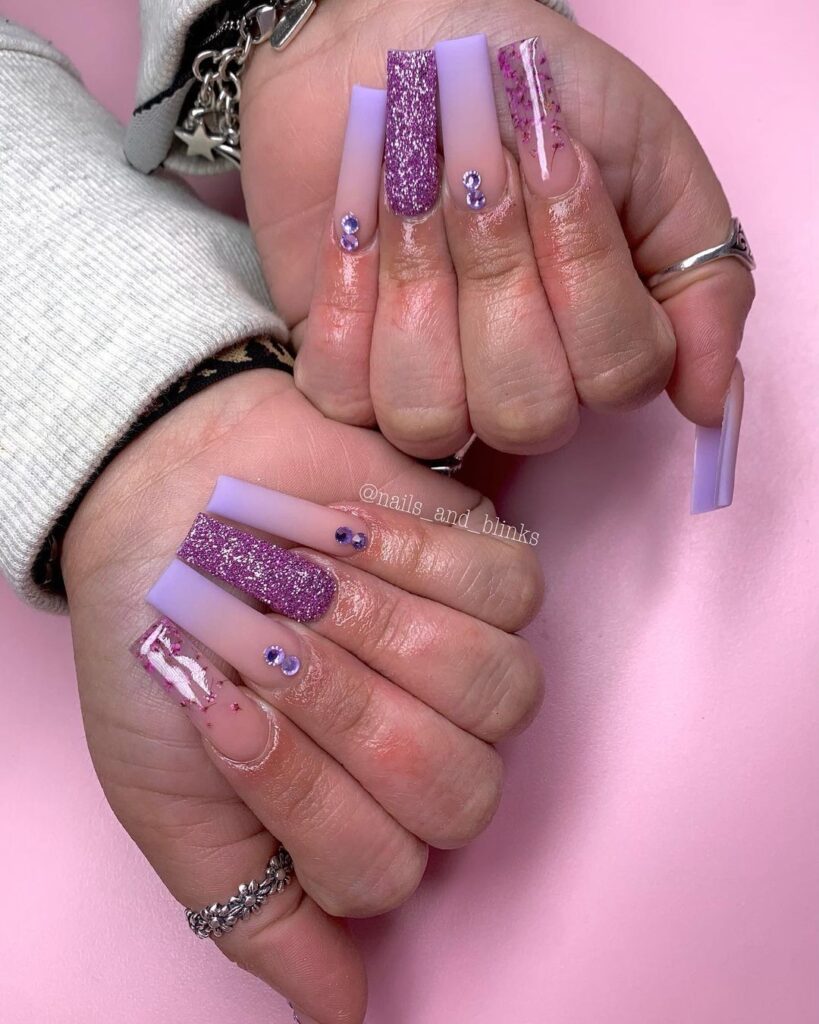 Courtesy: @nails_and_blinks
#61 Clear glitter nails, but make them extra long and extra glossy. It's impressive how the little details can make a difference. The white tips really bring out the gripping nail color.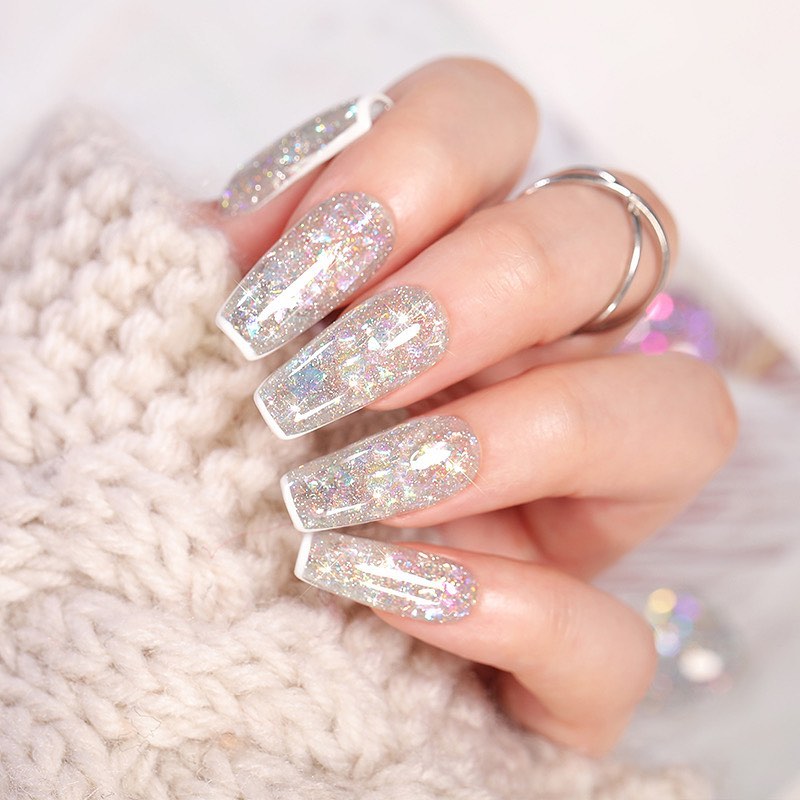 Courtesy: @bornprettyofficial
#62 Another fall nail design idea with emerald green being at the center stage of the fascinating art. A foil accent on one nail does go well with the glitter, and you shouldn't be skeptical of accommodating both in the art. 
Courtesy: @radyuk_alena
#63 Gorgeous green in another shade making its way into this list once again and beautifully too!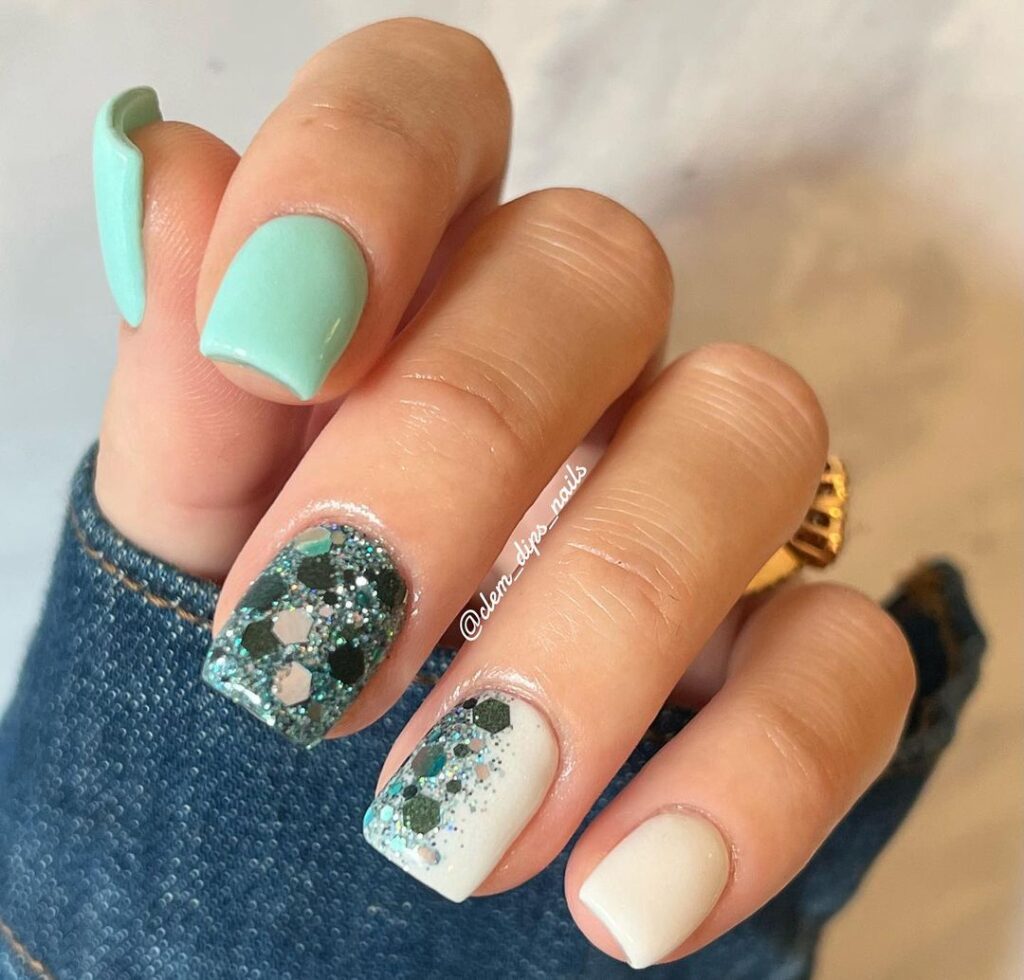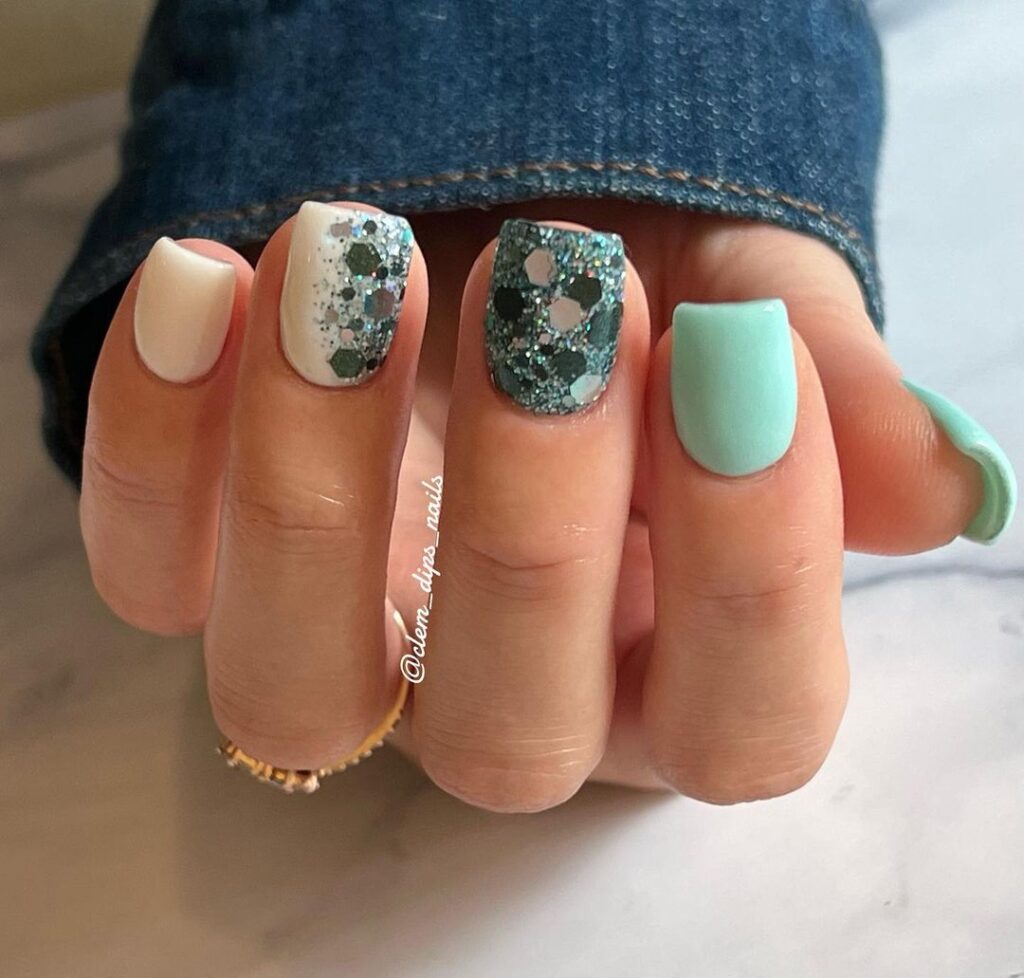 Via @clem_dips_nails
#64 Pastel nails are captivating, but you need to pick the right combination of colors for an arresting look. Here, these two colors are light pink and cobalt blue and look how beautifully they blend in the ombre glitter nail done on the thumb. Take some ideas online or use your own aesthetic creativity when you blend two shades.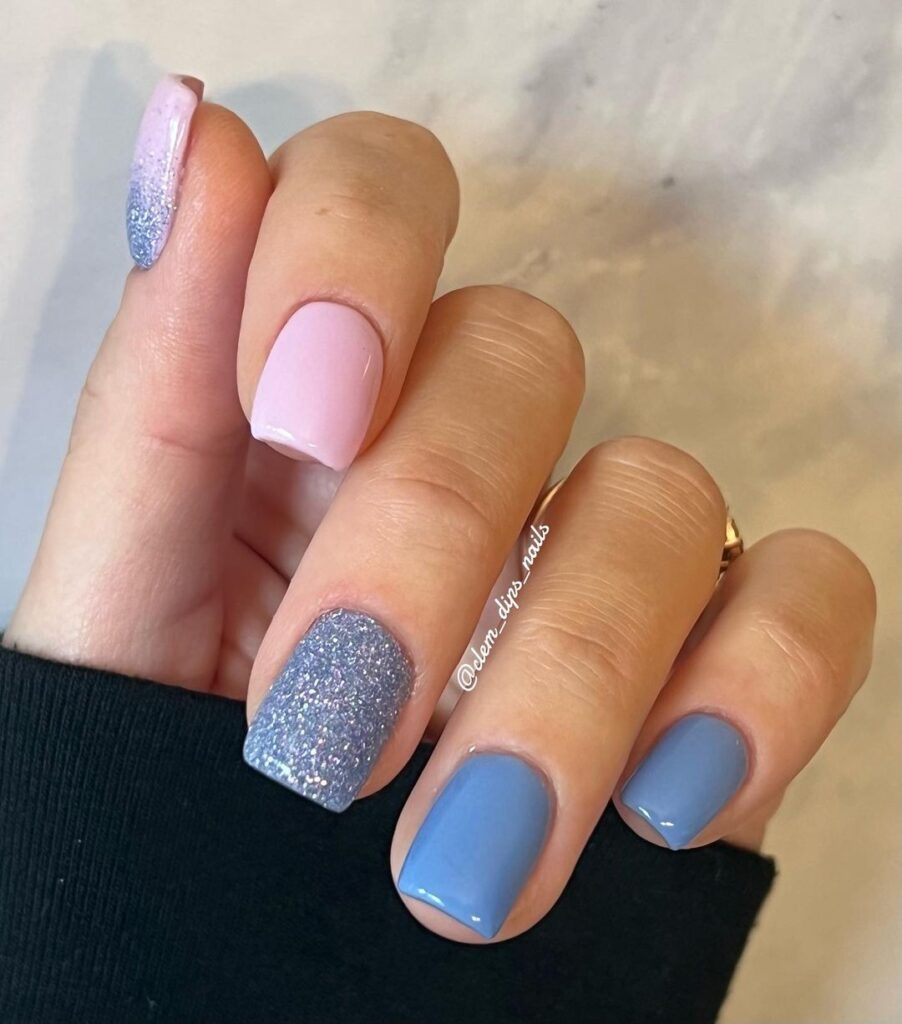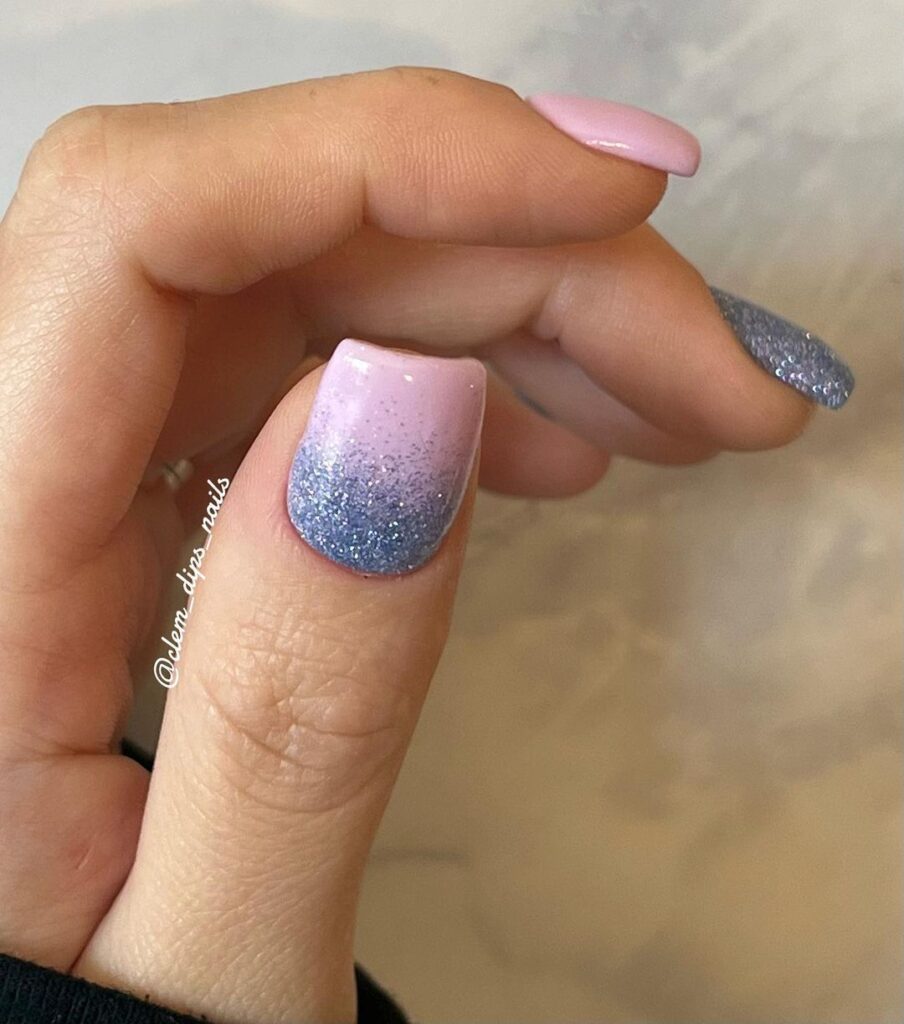 Via @clem_dips_nails
#65 Tell me you're not in love with these nails and we won't believe you! These classic nude nails were given a twist with neat glitter lines on the tips and it's just such a simple idea oozing with elegance and sophistication. Also, a great pick for wedding glitter nails. Don't you think?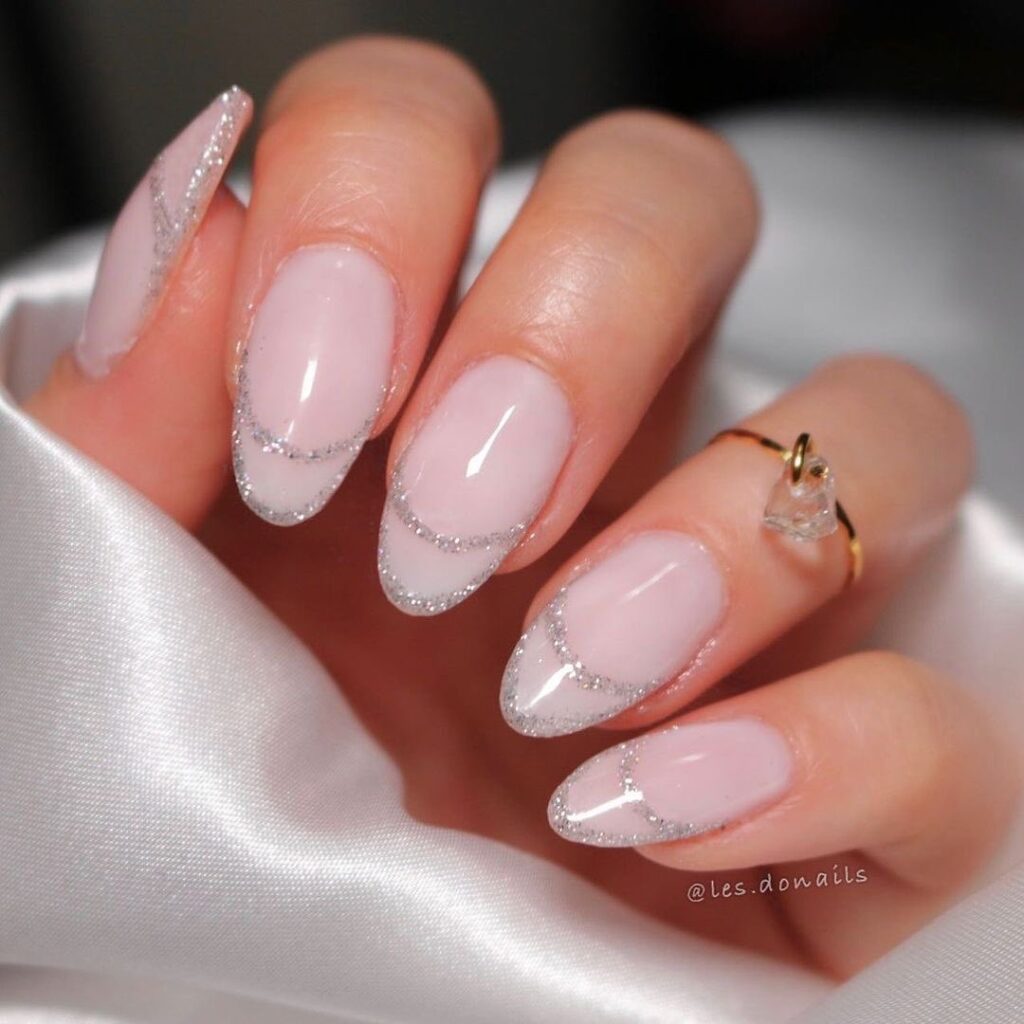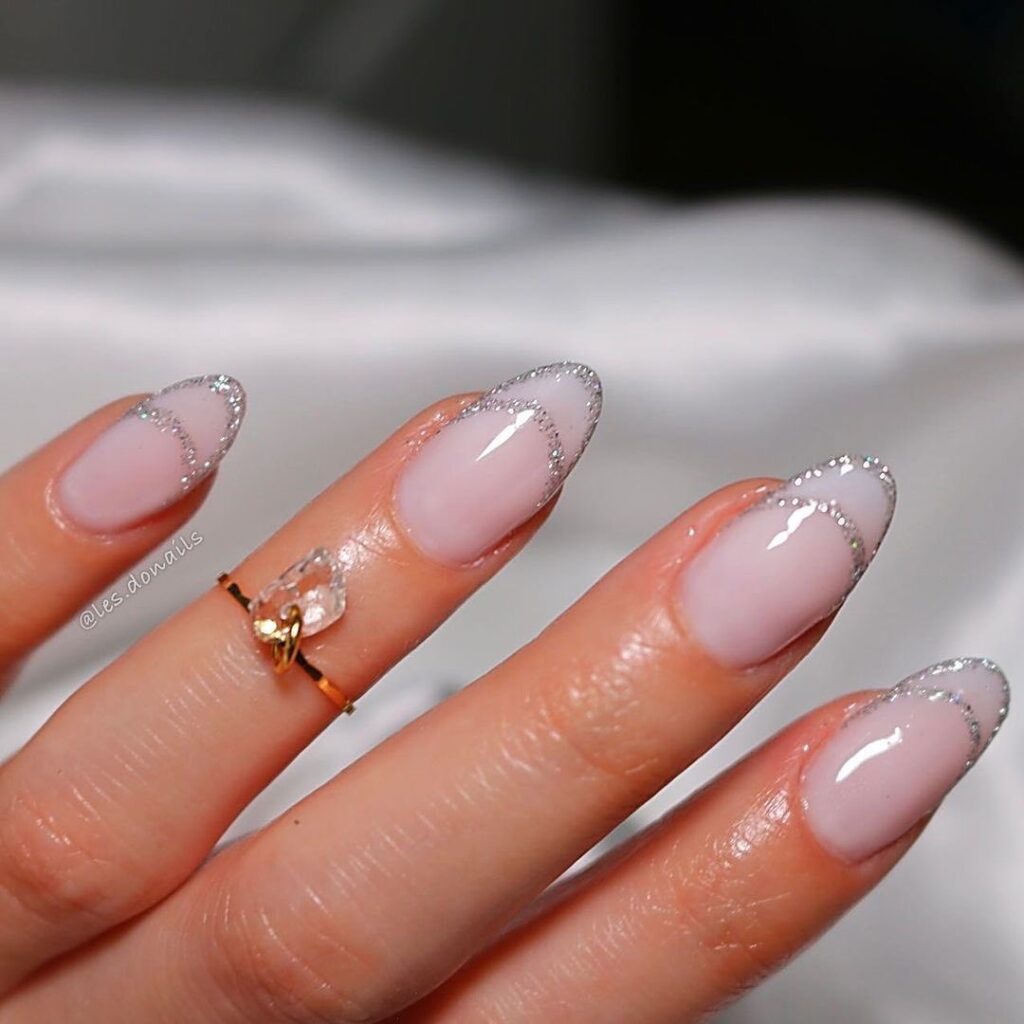 Courtesy: @les.donails
#66 Yes, those are little clouds on the middle finger surrounded by small drops and studs. We're sometimes left stunned by the creativity of nail artists. They really outdo themselves with every design and it's spellbinding to see the results.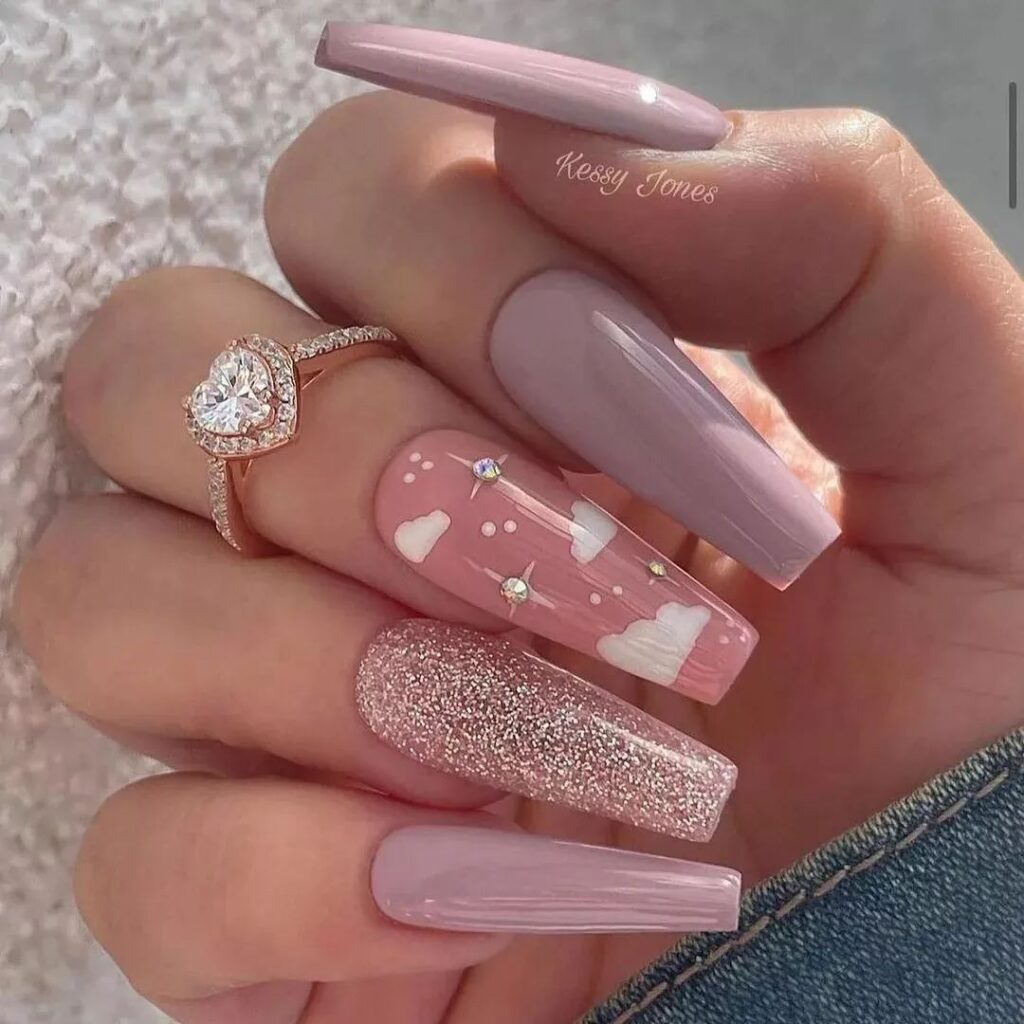 Courtesy: @kessyjones
#67 Inspired by the sea life, this is another work of art by the amazing nail artists who're leaving us stunned with their creativity. The fish fins on the middle finger and sea life on the thumb are exquisite and make the overall design just spectacular.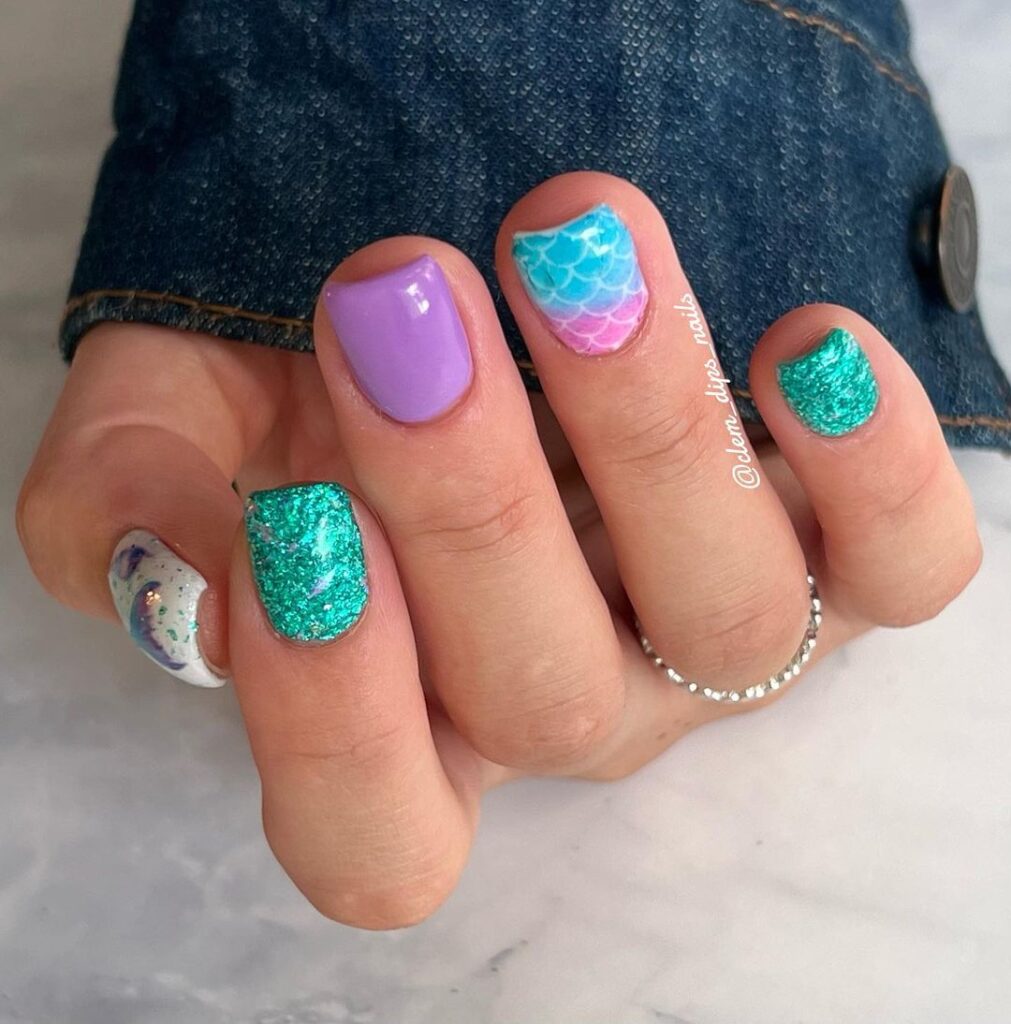 Via @clem_dips_nails
#68 You don't have to go all gloss or matte when it comes to nails. You can even combine them. Here, the white nails are in gloss, while the pink one where the half is covered in glitter is matte. And it looks utterly ravishing, doesn't it?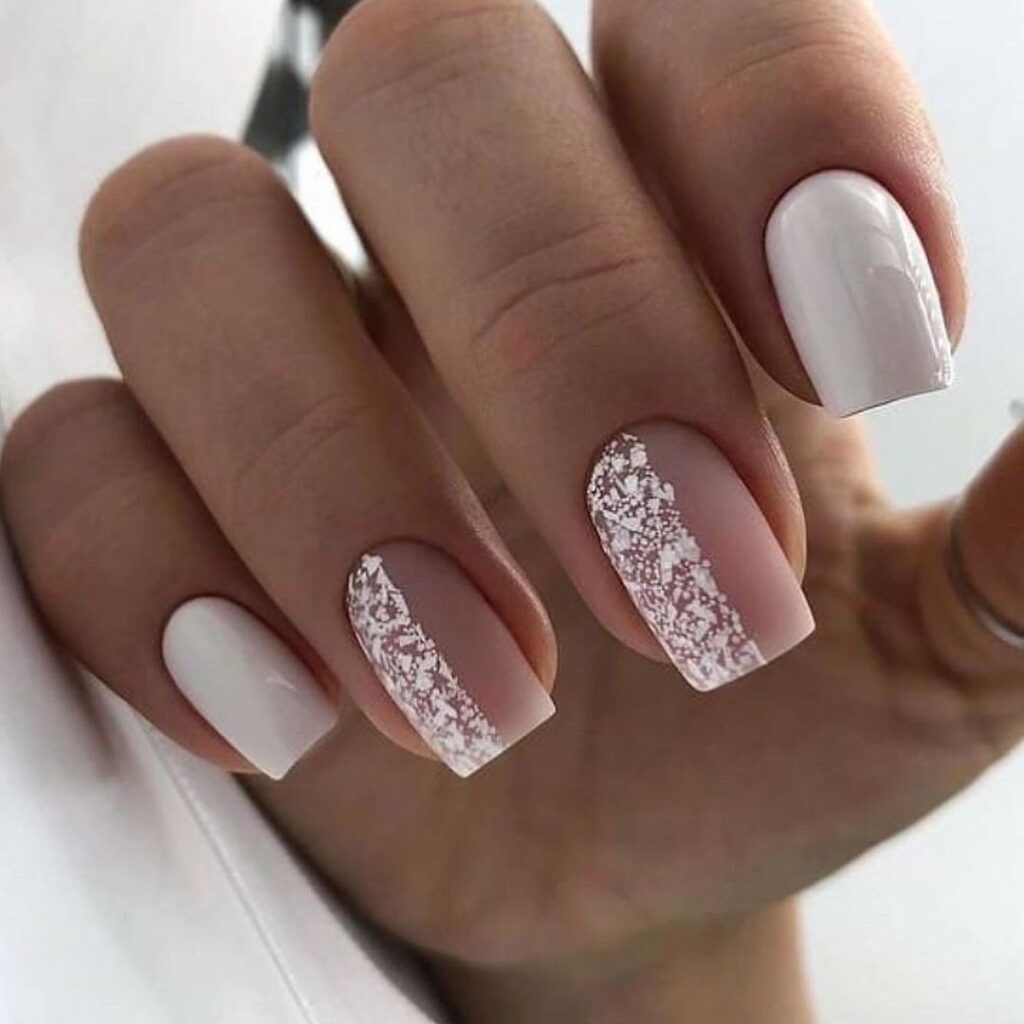 Courtesy: Pinterest
#69 White glitter nails that look like the white mani are really dripped in the ocean of silver glitter. Again, the perfect pick for any time of the year or occasion, including your wedding day!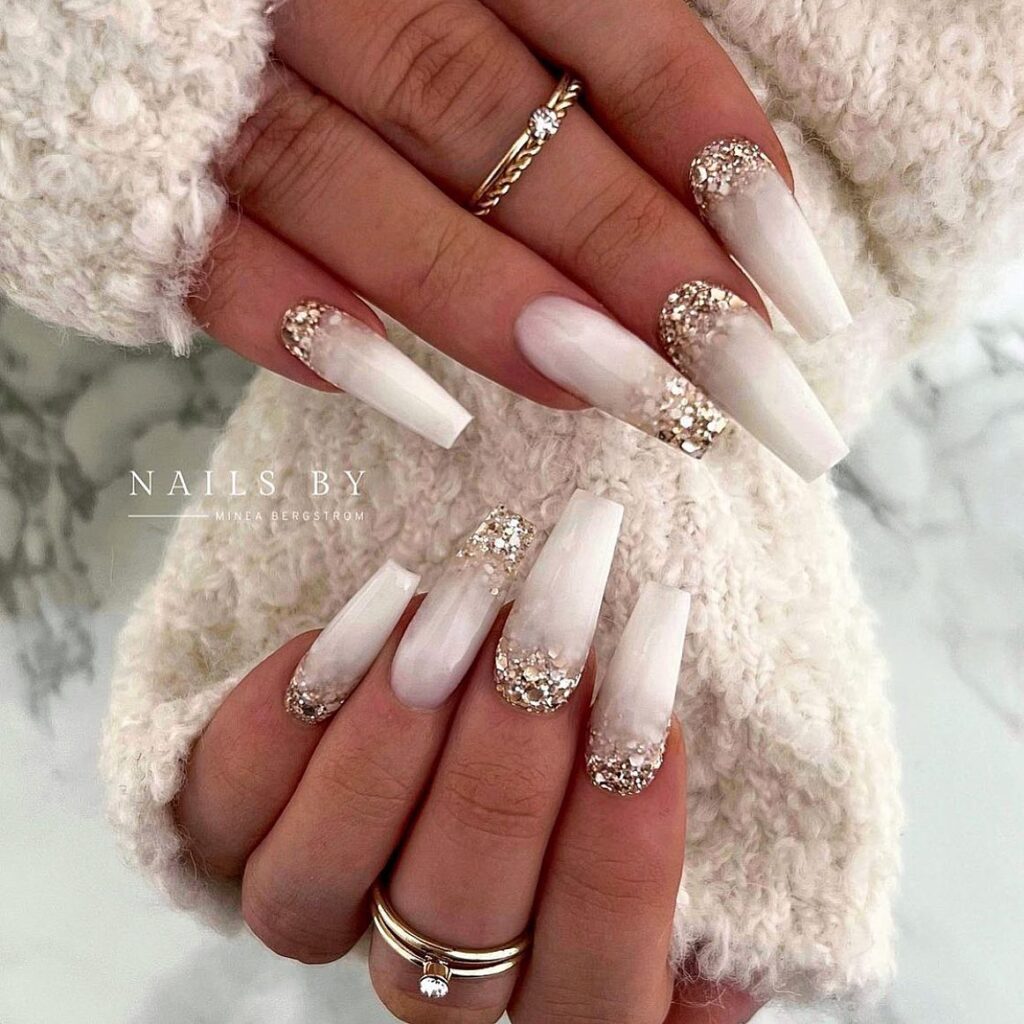 Courtesy: M Nails Designs
#70 Silver glitter nail art that's easily doable at home. All you need are the right products and that's it!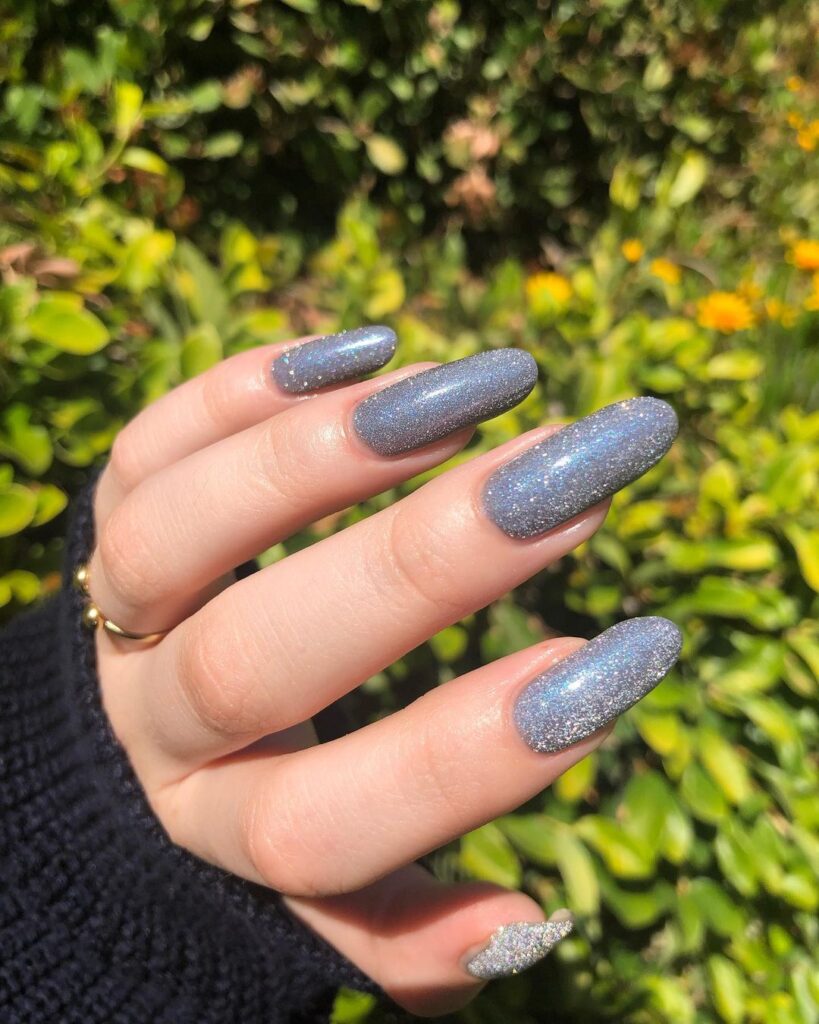 Courtesy: @casual_lacquer
#71 Black glitter nails, where the black nail paint is covered in gloss, while the middle and ring finger makes all the difference by adding art to the otherwise usual style.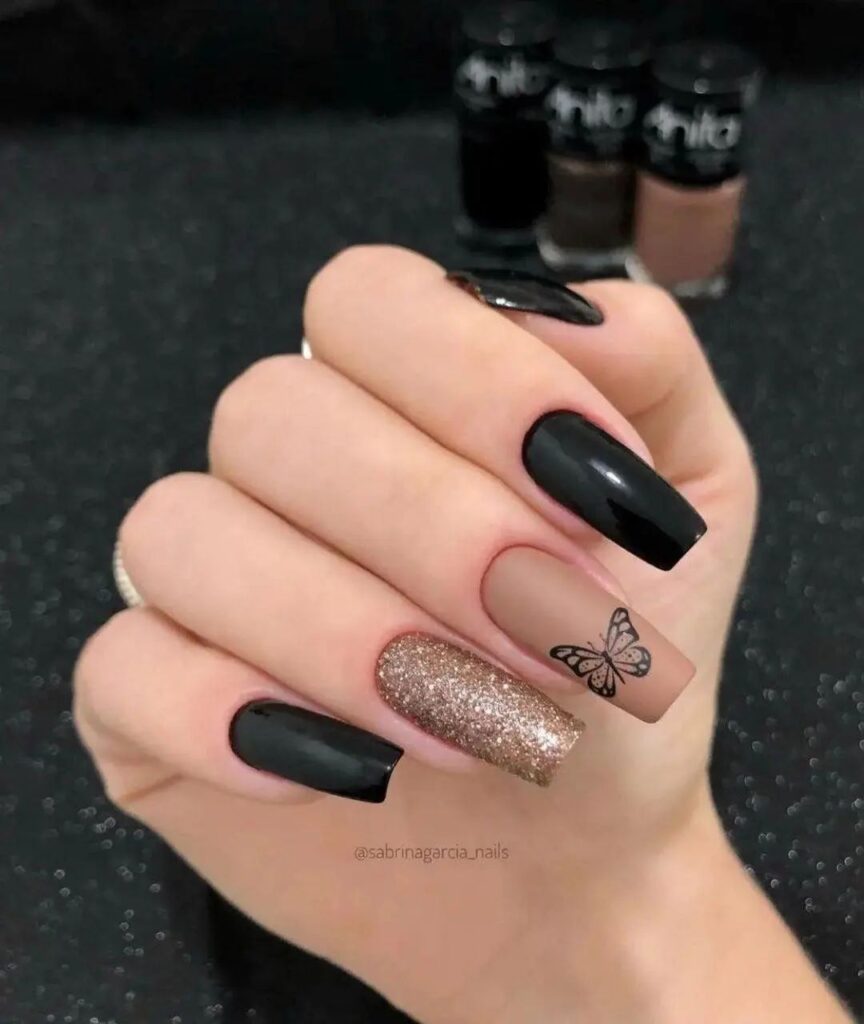 Courtesy: @sabrinagarcia_nails
#72 A set of glitter black nails are popular and gives an elegant yet glamorous look. Love how this artist drew swirls of black polish on the silver glitter to lend an artistic attribute to the design.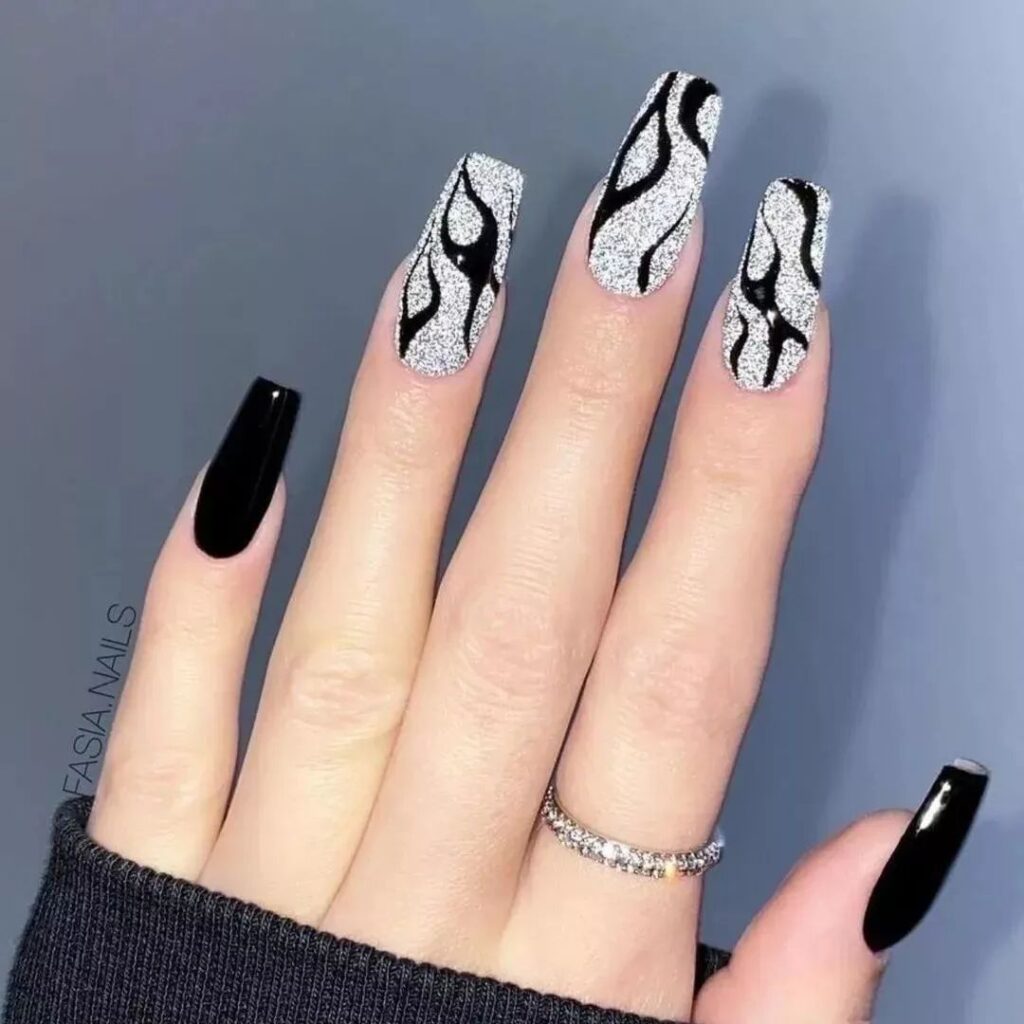 Courtesy: @fasia.nails
#73 Matte navy blue, gloss navy blue, and glitter navy blue – all join forces to give us this spellbinding nail art.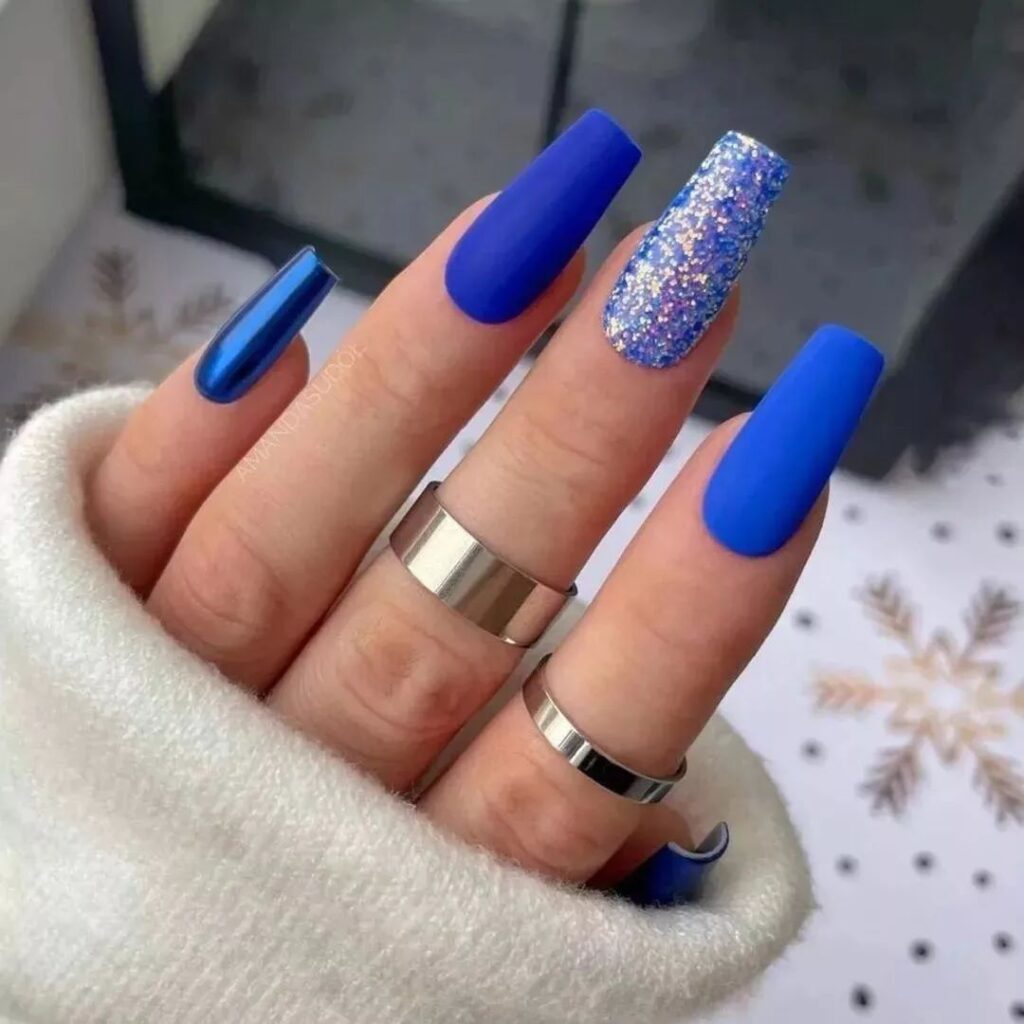 Courtesy: Instagram
#74 All nude glitter nail designs are gorgeous, modest, and sophisticated. A good pick when you're looking for a simplistic design for your wedding or for an everyday look.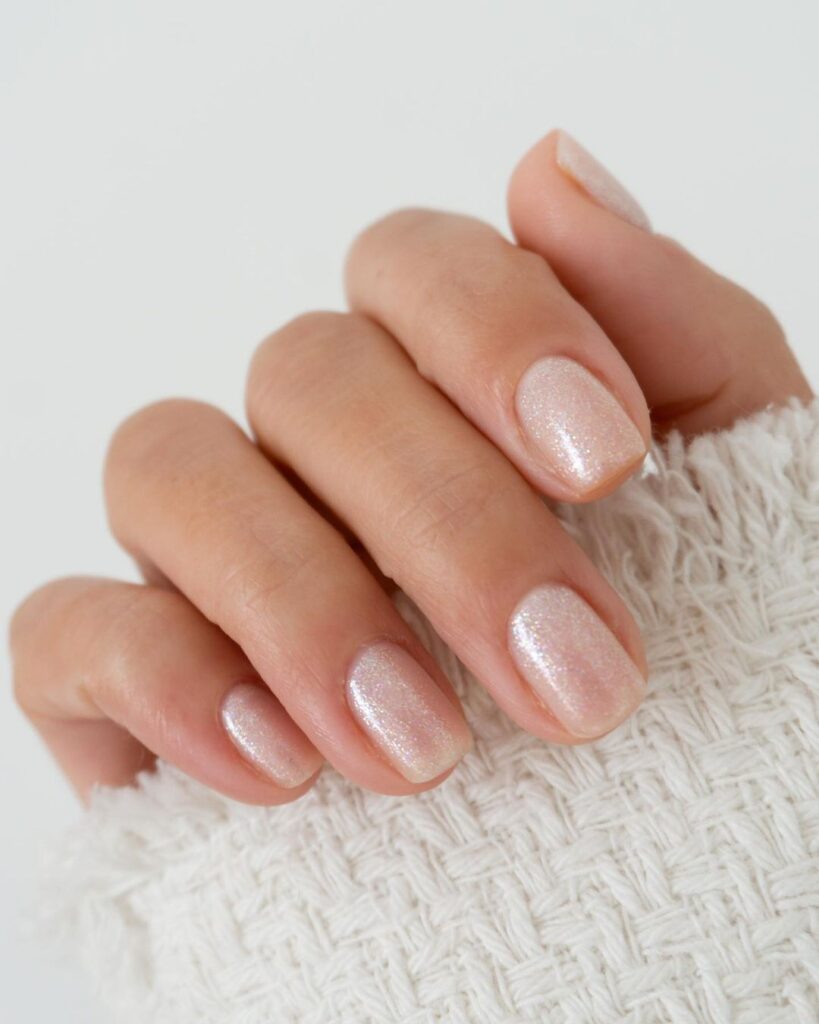 Courtesy: @m.o.n.a.j
#75 If a modern-day Disney princess got a manicure, this would probably be it. The glistening colors look modern and classy while still being playful.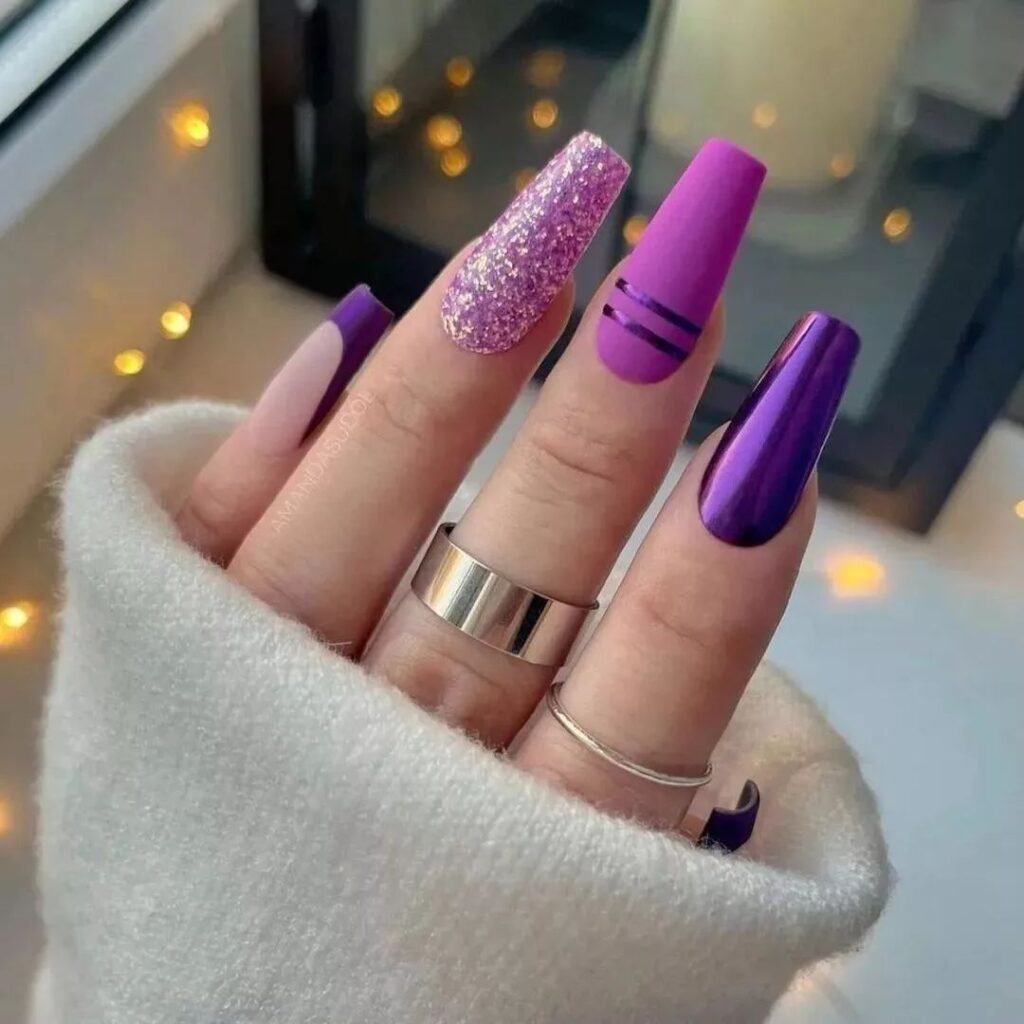 Courtesy: Instagram
#76 What's the point of spending hours on splendid nail art when you don't even have a picture to show it off! Now, this is an easy DIY nail art to recreate, but it takes time to buff and shape the nails, wait for the layer beneath to dry so you can apply the layer above, carefully placing the studs. The result is wonderful though and worth documenting.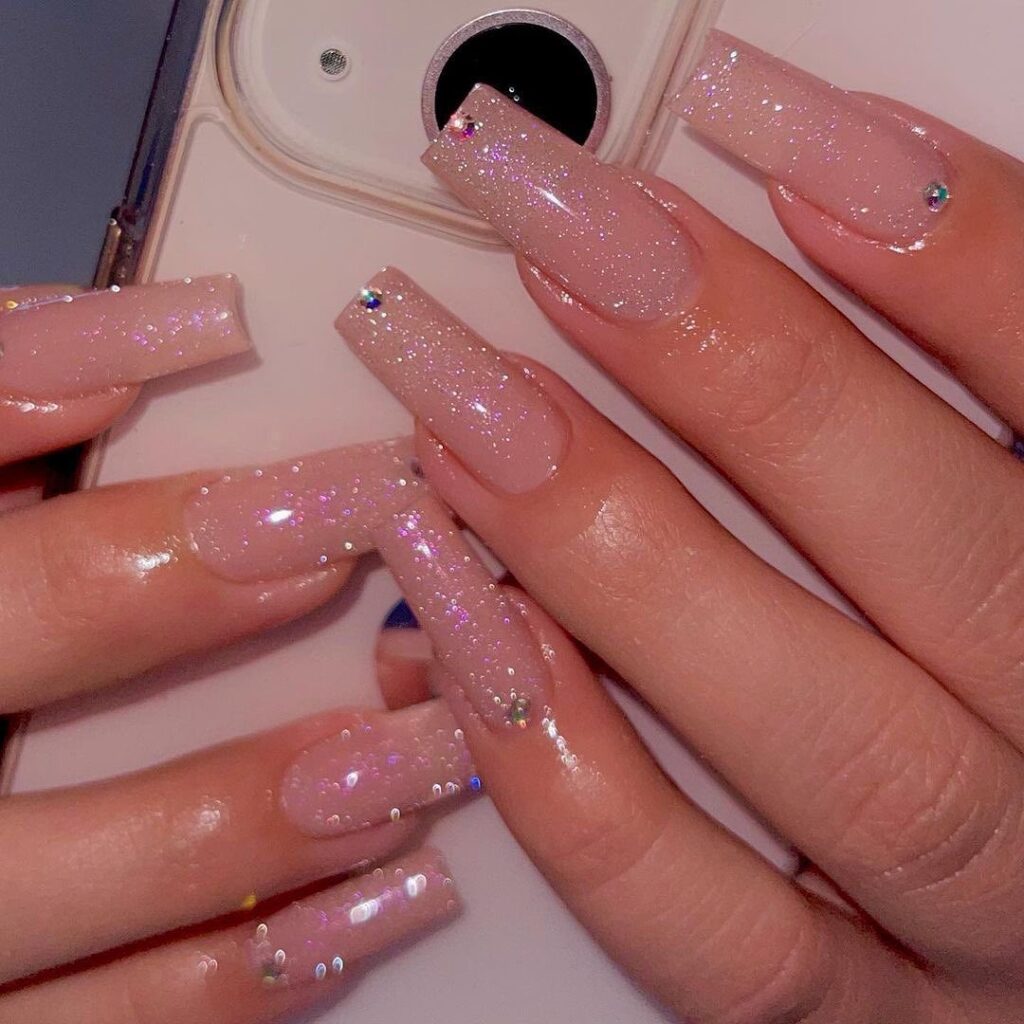 Courtesy: Pinterest
#77 This glitter design on nails is proof that more is definitely more and absolutely worth the effort. All the nails are covered in iridescent golden glitter and it turns out to be a total show stopper! Serious bling!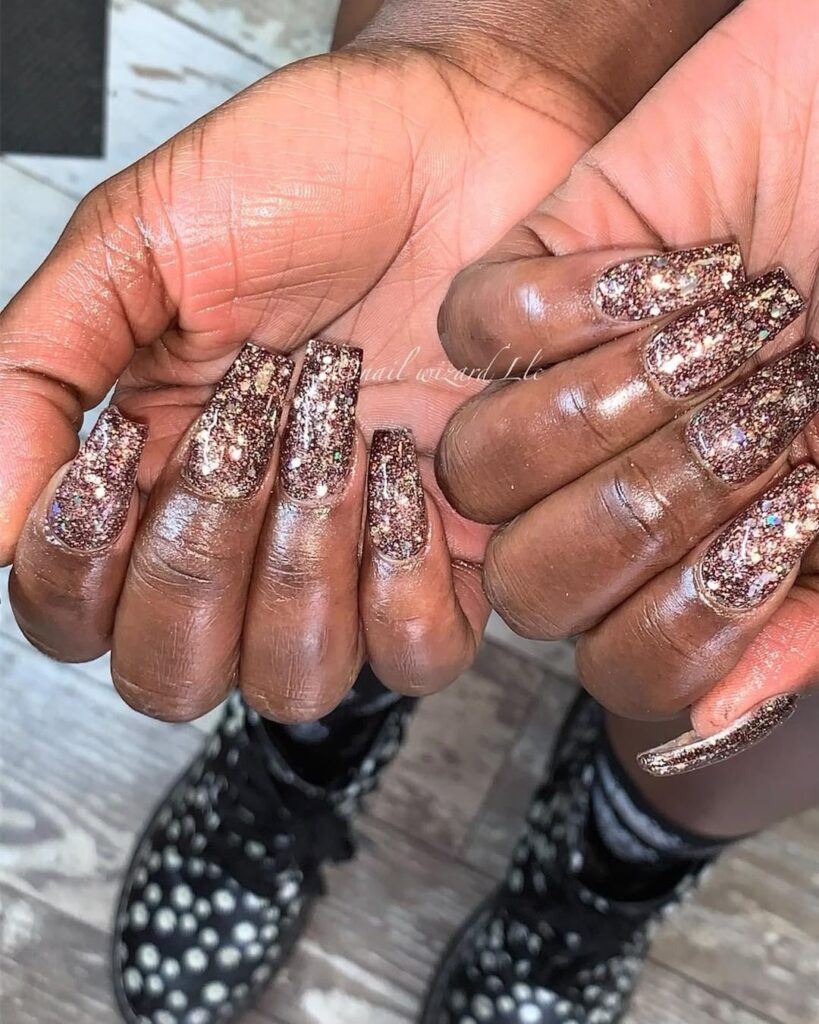 Courtesy: @coranailsit
#78 Here's another example of nails dripping in glitter and looking absolutely winsome.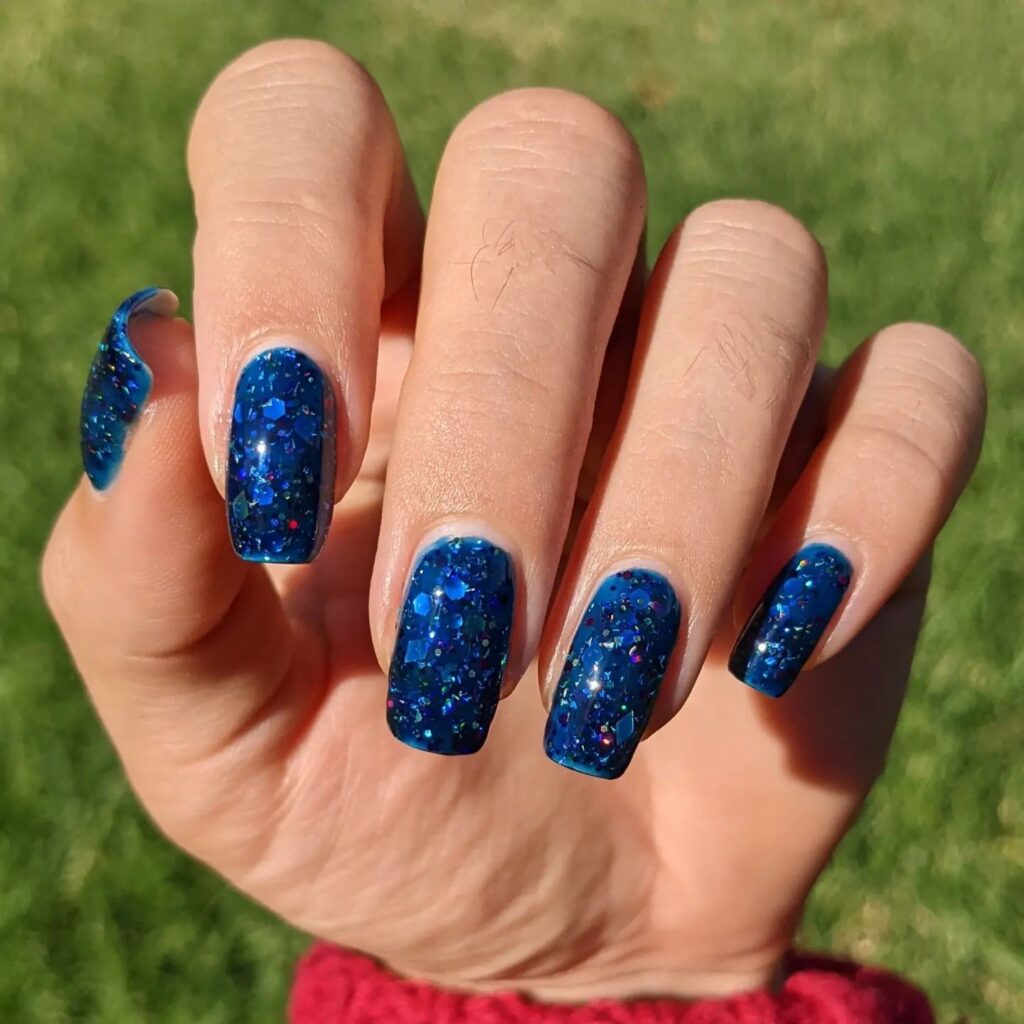 Courtesy: @sabinemil_nails
#79 Short glitter nail designs that are a nod to the springtime with blooming flowers tidily sketched on the ring finger.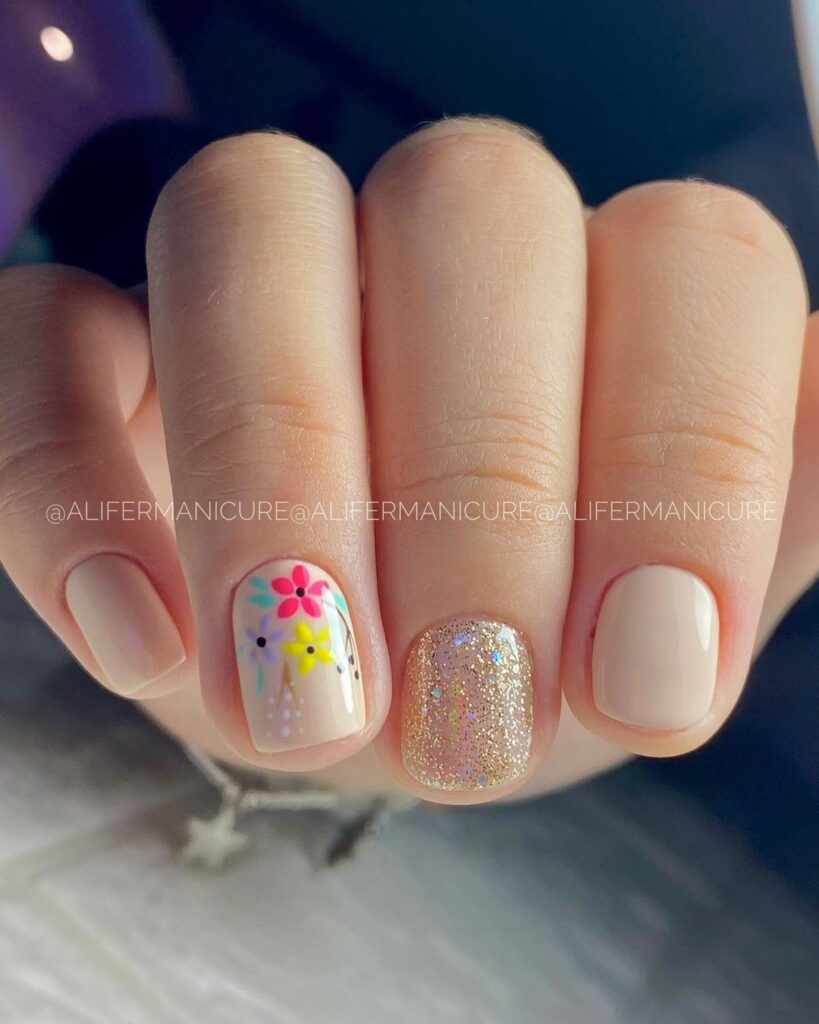 Courtesy: @alifermanicure
#80 If you're someone who barely knows how to get their hands steady with a nail polish brush, consider a DIY nail paint that's less ambitious, but no less eye-catching. Nude pink glitter nail designs with simple fine glitter on the last two nails is a design you'd have no problem nailing impeccably.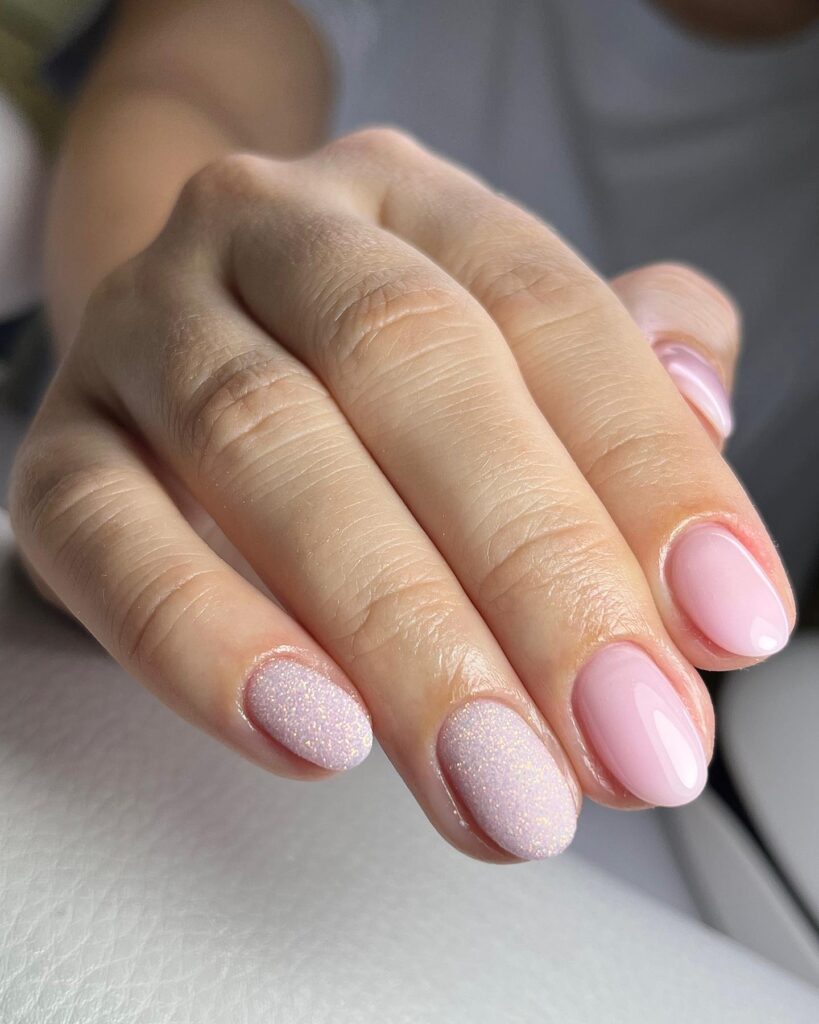 Courtesy: @_lucanails
#81 Infuse glitter ever-so-slightly into your matte nails by making one nail accent with glitter and clear polish.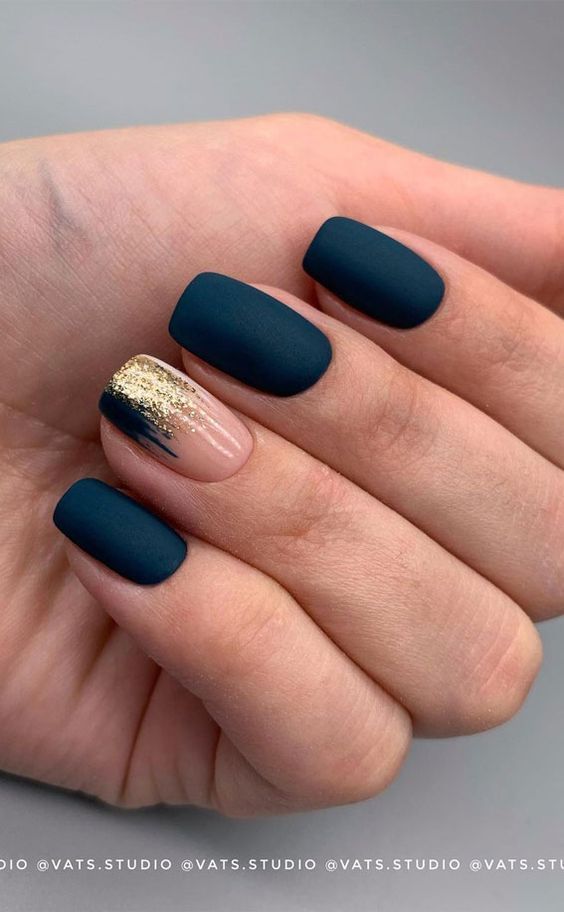 Courtesy: Pinterest
#82 Glitter ombre nails with a combination of black and emerald are enchanting and perfect party nails for the sport.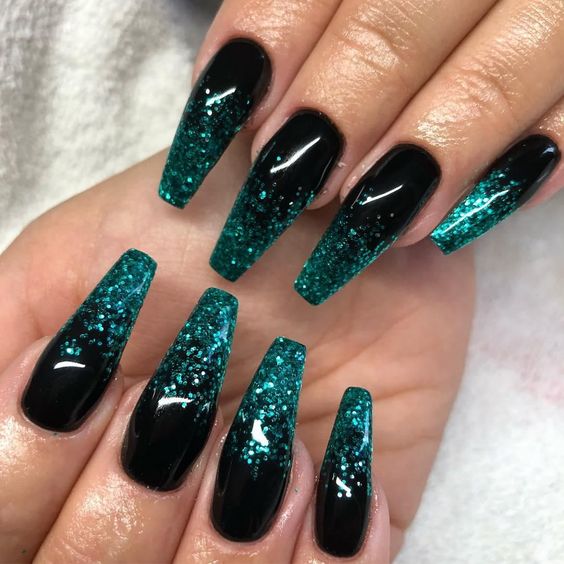 Courtesy:
#83 Simple and sophisticated. This nail art used the alternate pattern flawlessly and paints beautiful flowers on pink base and fine gold glitter in rotation. The result is versatile nail art that looks fabulous.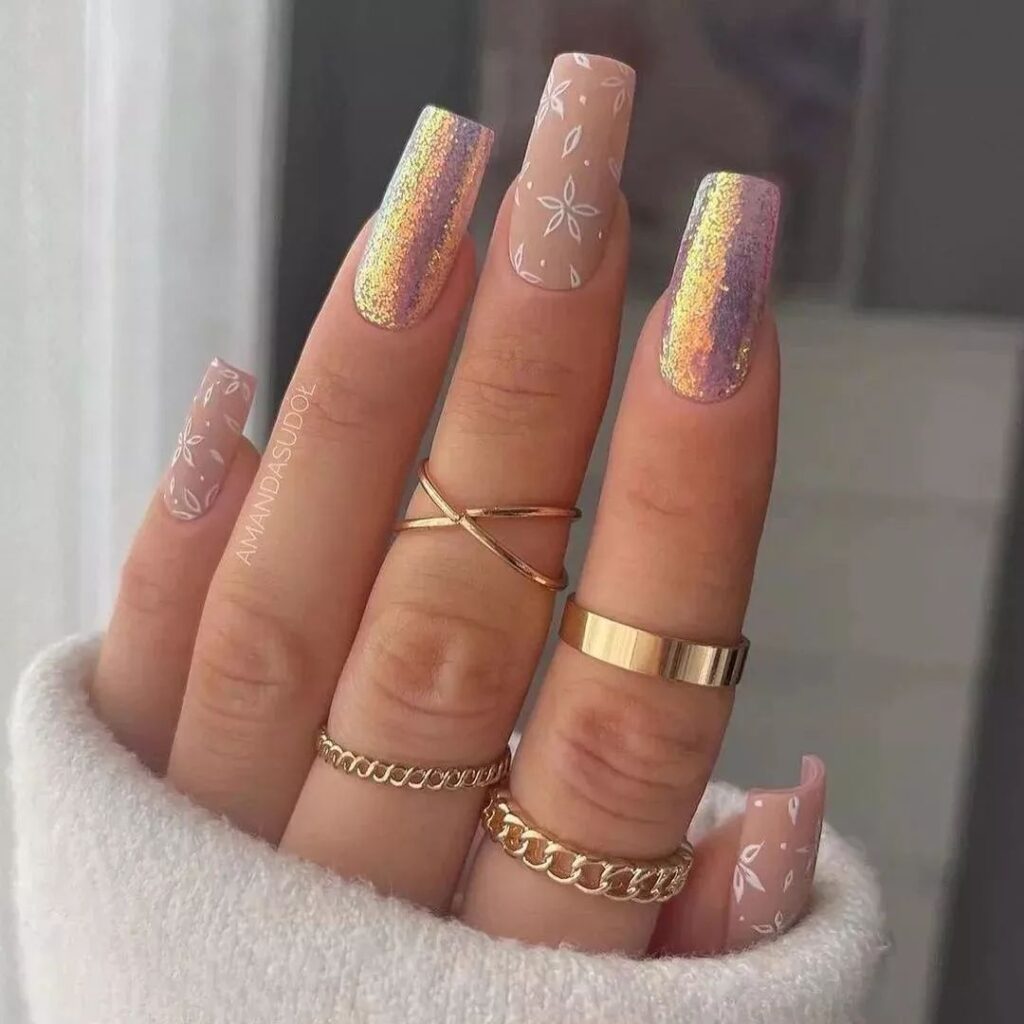 Courtesy: Instagram
#84 Different colors on all nails with a similar glitter design on each for an extraordinary look. Of course, you can go for different colors than these, but make sure they contrast well. Trust someone creative (that can be you as well!) to make the call.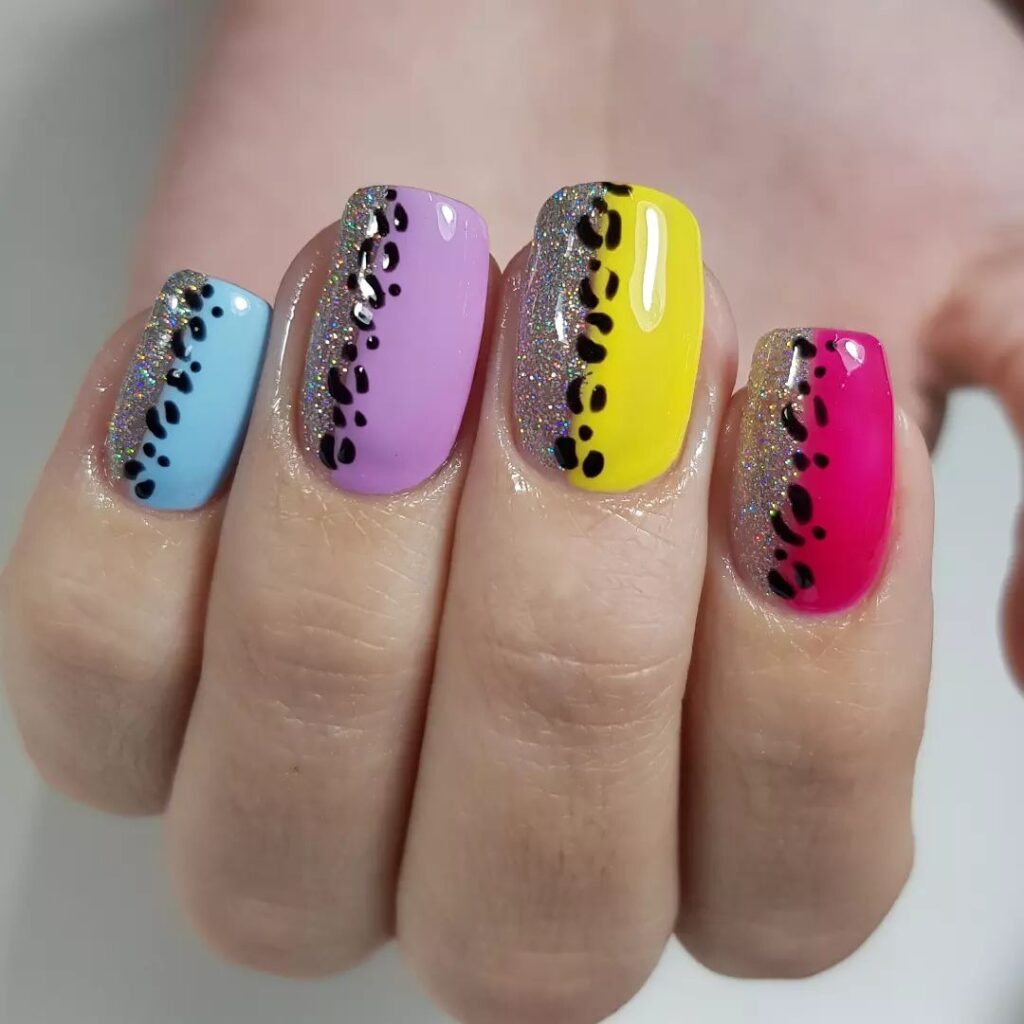 Courtesy:
#85 Nude nail art with marble design, glitter, and geometric pattern all incorporated into one.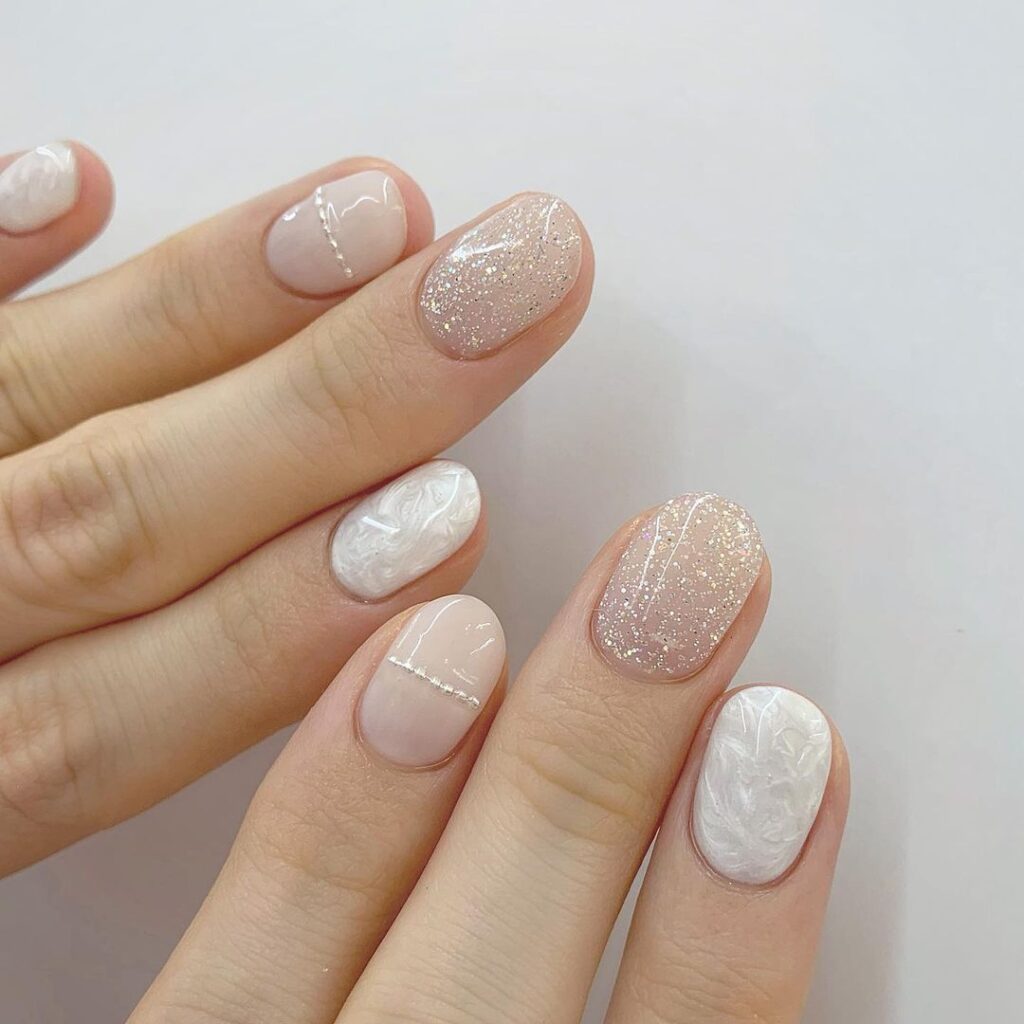 Courtesy:
#86 French nail art with a classic twist of glitter into the mix. While the index and pinky fingers are replete with glistening glitter, the rest are kept in classic French style with just the side of the ring finger loaded with glitter as well.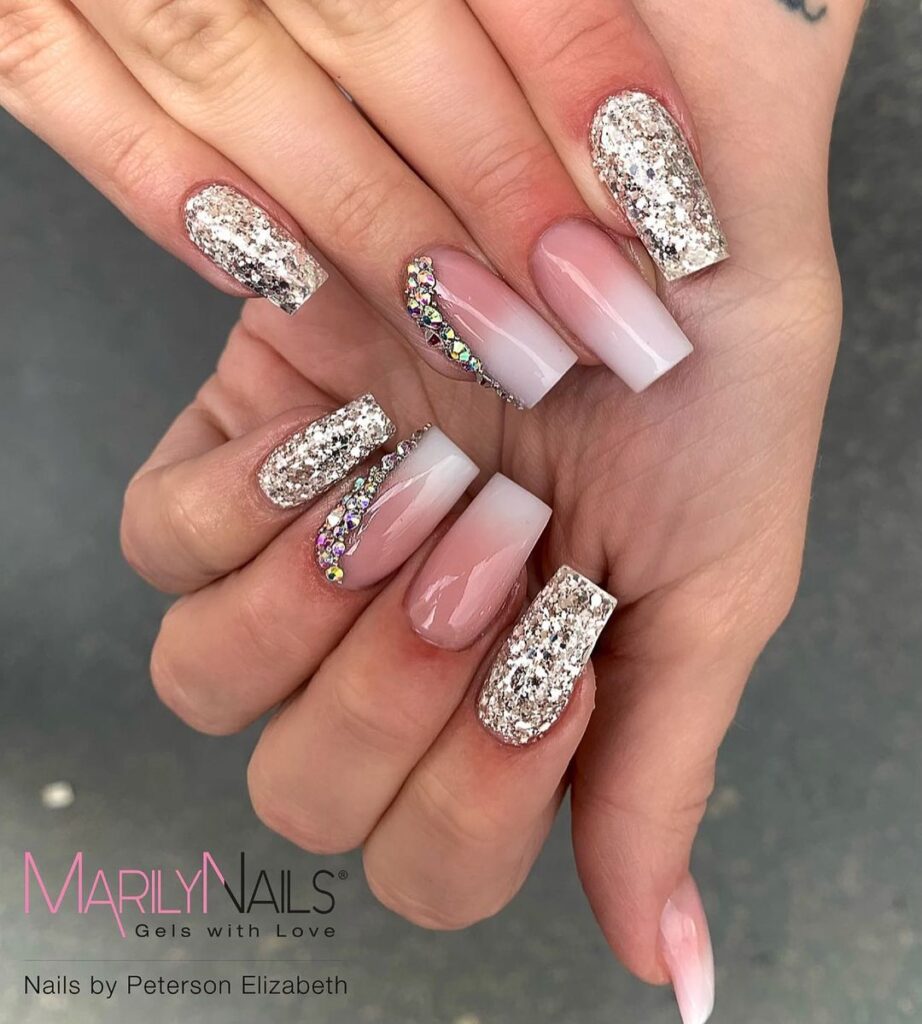 Courtesy: Marily Nails
#87 All-silver glitter nail design with each one done differently. The index finger has some serious glitter, while others are done lightly, and the middle one is left matte with no glitter. You can do the same with other colors and it will still look appealing.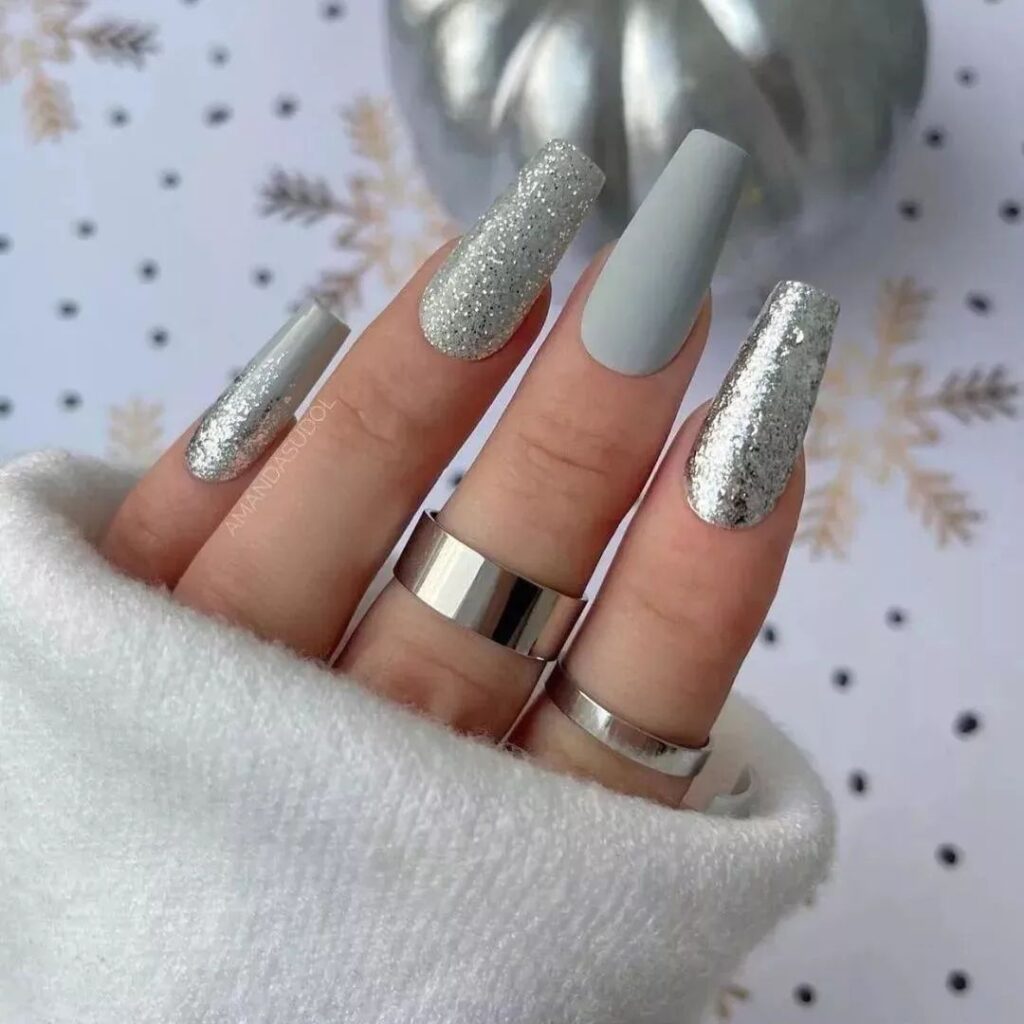 Courtesy: Instagram
#88 Another rendition of one color was used to create a fabulous nail art design.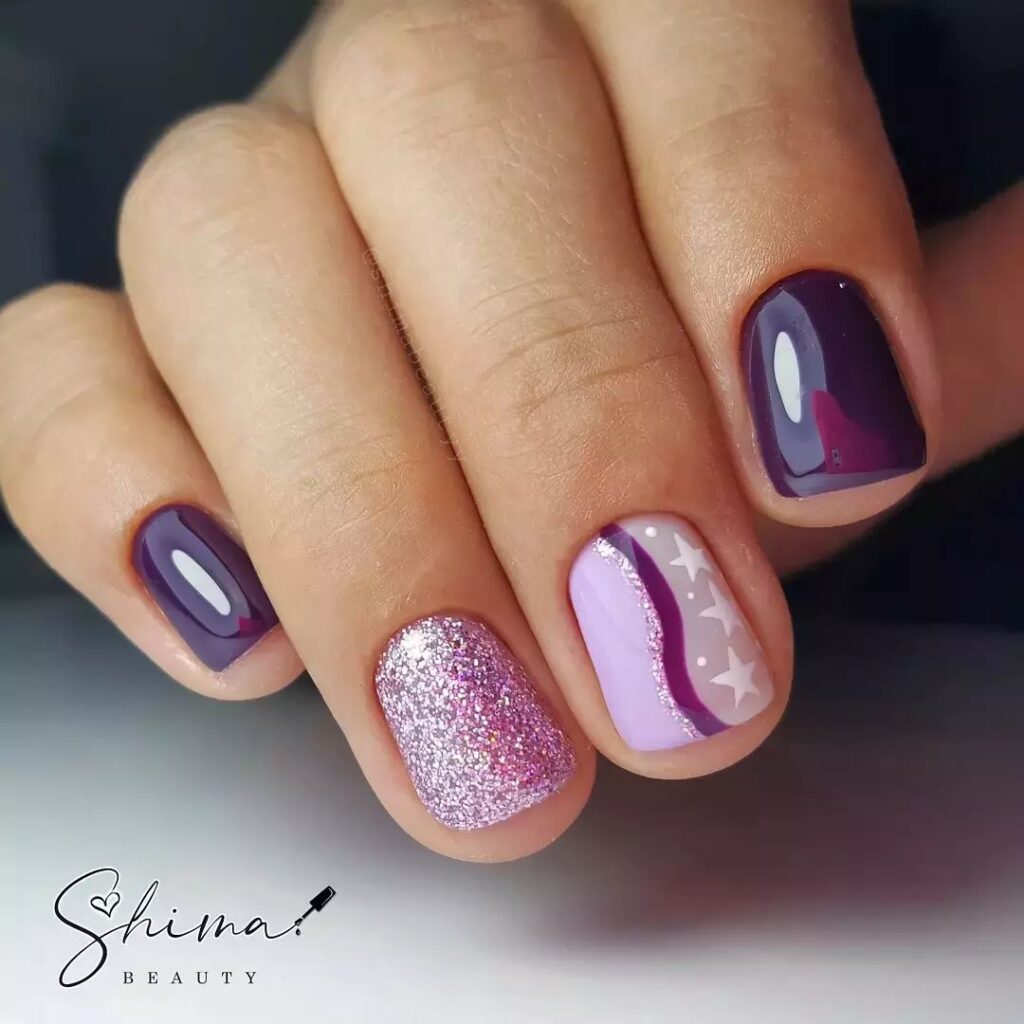 Courtesy: Shima Beauty
#89 These purple nails are beautiful to the tee! The flowers on the ring finger are ethereal and amp up the design quite fabulously.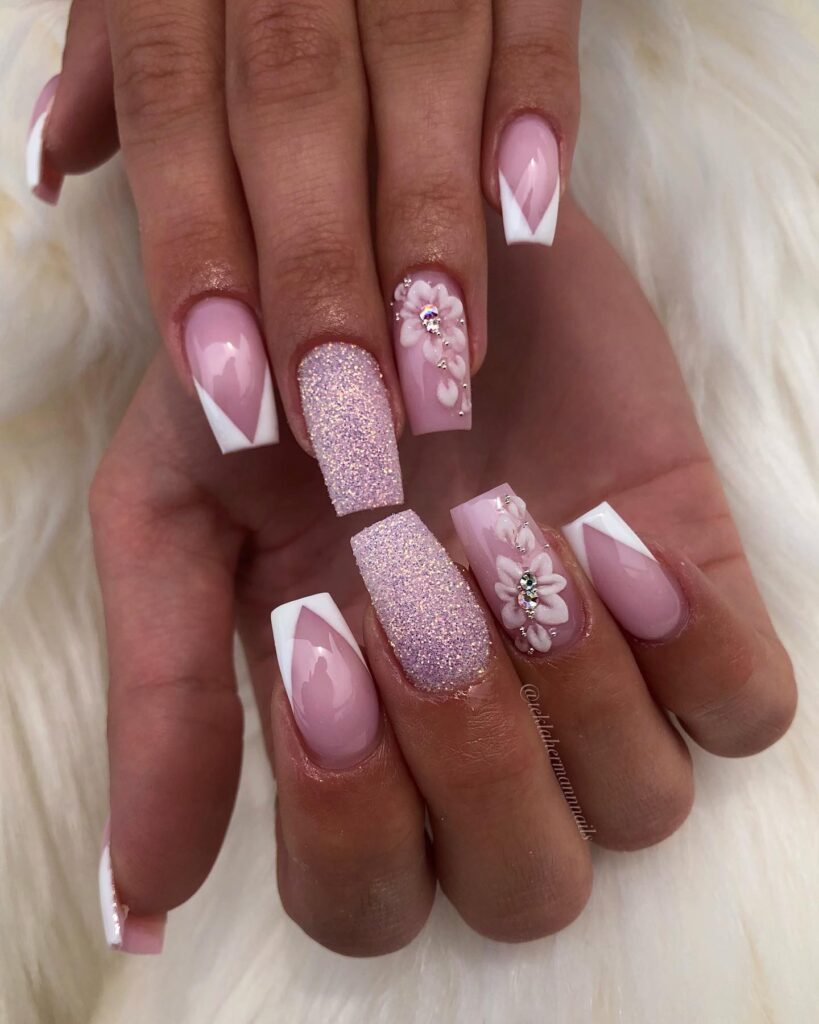 Courtesy: Pinterest
#90 Getting married? Congratulations! Here's a wedding nail art ideal for the big day! It's subtle, elegant, and eye-pleasing with just a hint of glitter for added glamour. The perfect pick for a white wedding dress!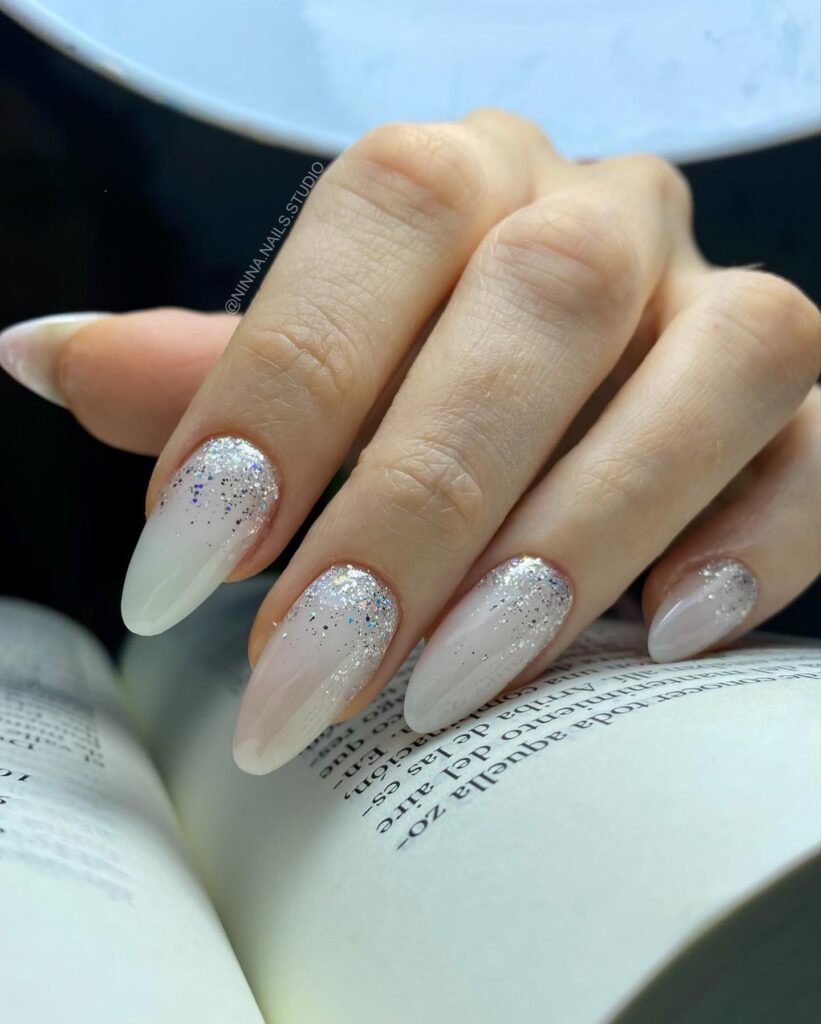 Courtesy: Ninna Nails Studio
#91 These glitter nails are an easy DIY. You just need the glitter and the nail polish in the same shade, and that's it!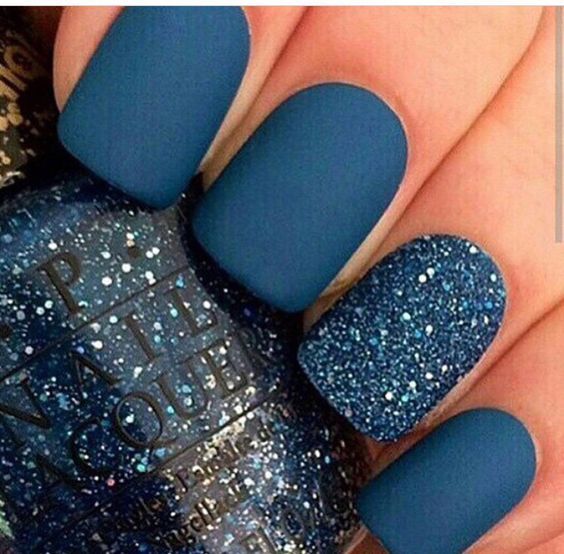 Courtesy: Pinterest
#92 Pink glitter nail designs and just so pleasing to the eyes! You can do the design in the same manner or even alternate between gloss and glitter. It will look good either ways.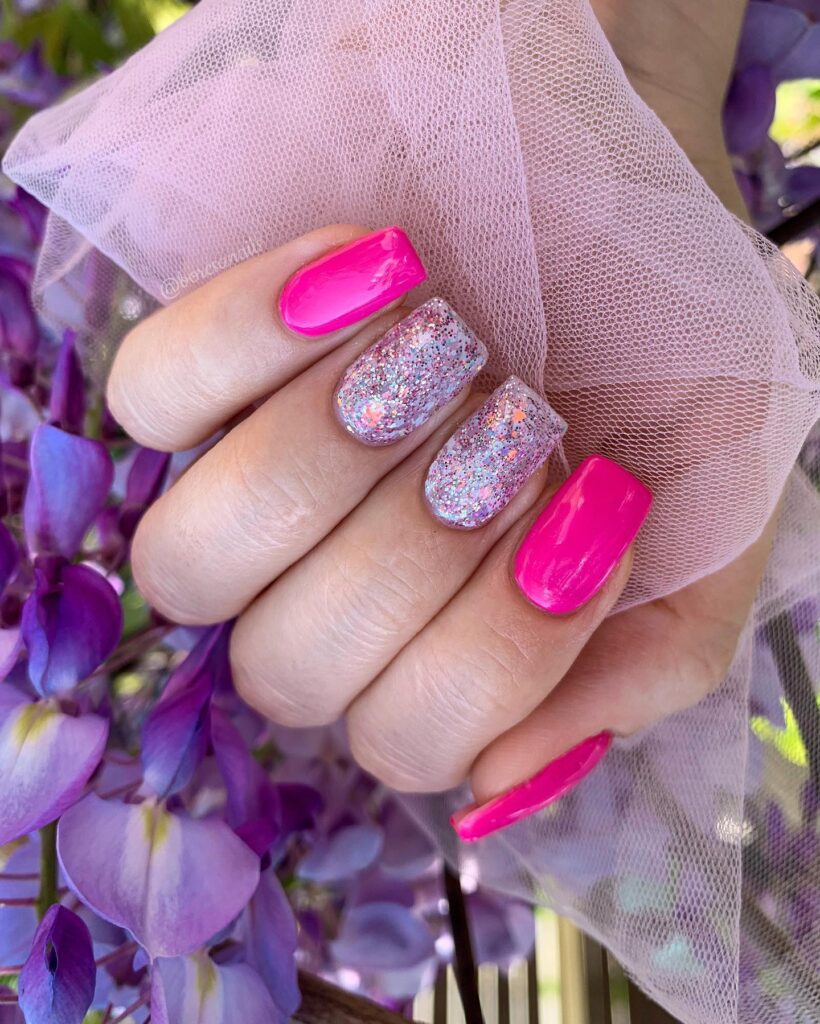 Courtesy: @borcsanails
#93 Combining colors smartly is a great way to enhance the aesthetic appeal of your glitter nail designs. Here's a nail art to demonstrate how to do that well!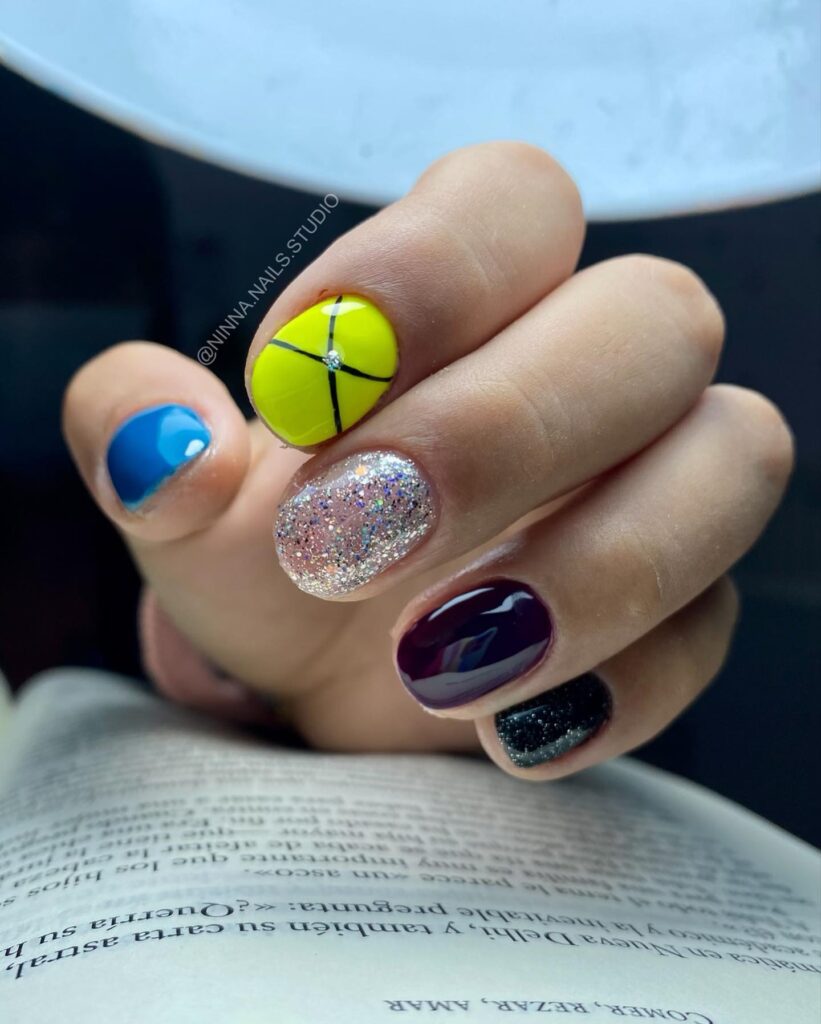 Courtesy: Pinterest
#94 Nude pink and nude brown in glitter are employed in this nail design for an artistic look. We love how the artist didn't paint the ring finger with glitter in the usual French style but instead played with her creativity and did some swirls. This is what makes the design stand out!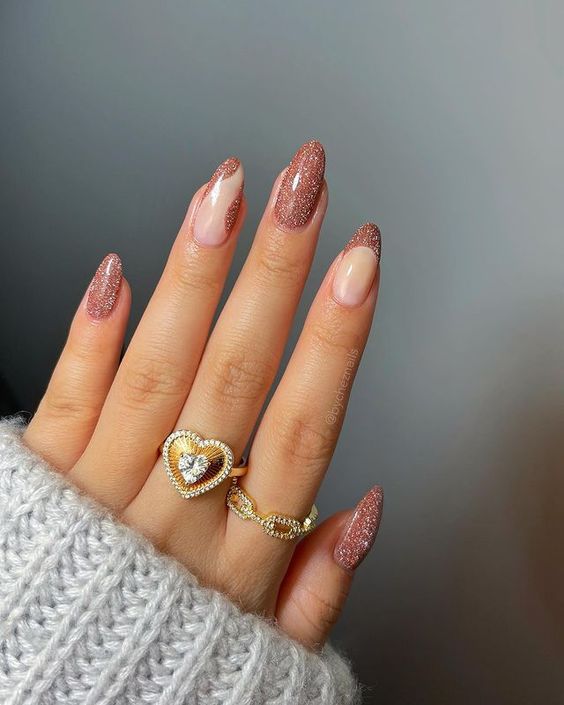 Courtesy: Pinterest
#96 Gray nails but with a hint of glitter and marble pattern for a ravishing design.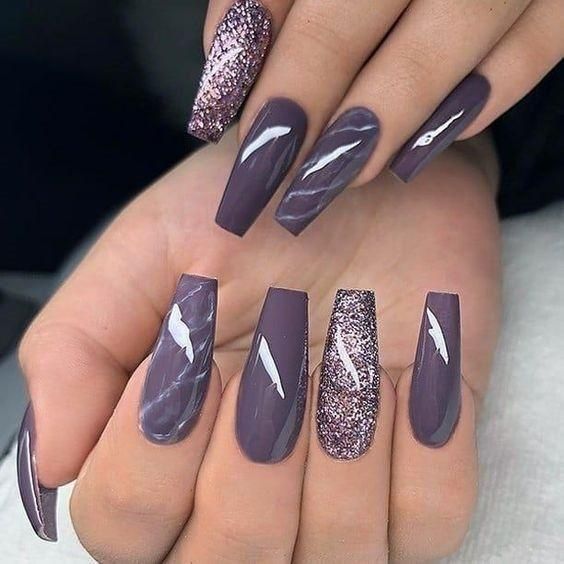 Courtesy: Pinterest
#97 This is a cool way to add some quirkiness to the otherwise one-shade pattern. Pick a contrasting and complementing color and put that on one of the nails.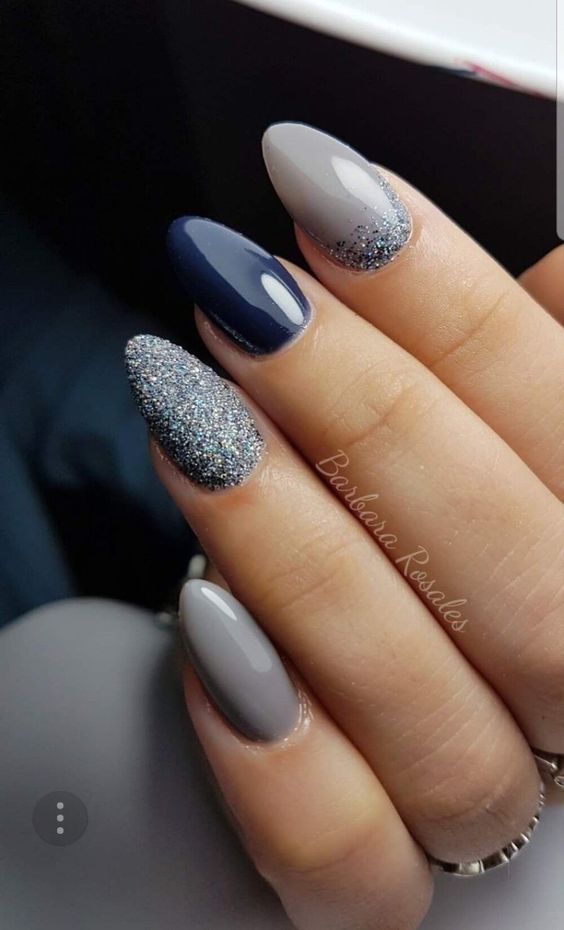 Courtesy: Barbara Rosales
#98 There's nothing that says summertime nails like yellow. Add some glitter on it and it will shine in the summer Sun oh-so-beautifully!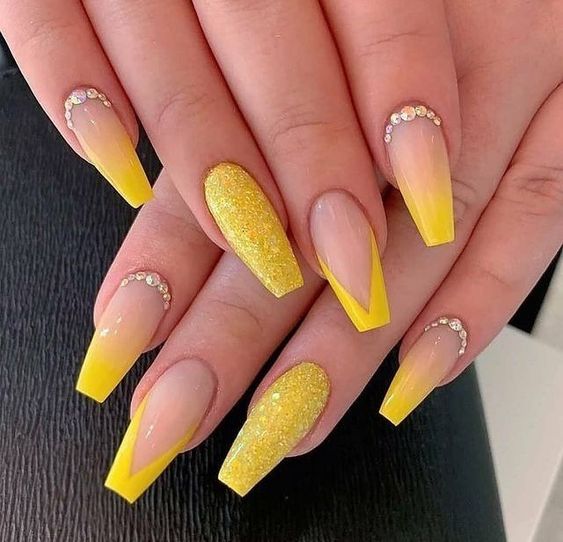 Courtesy: Pinterest
#99 Ombre glitter nail designs are spectacular and here's another design that proves it.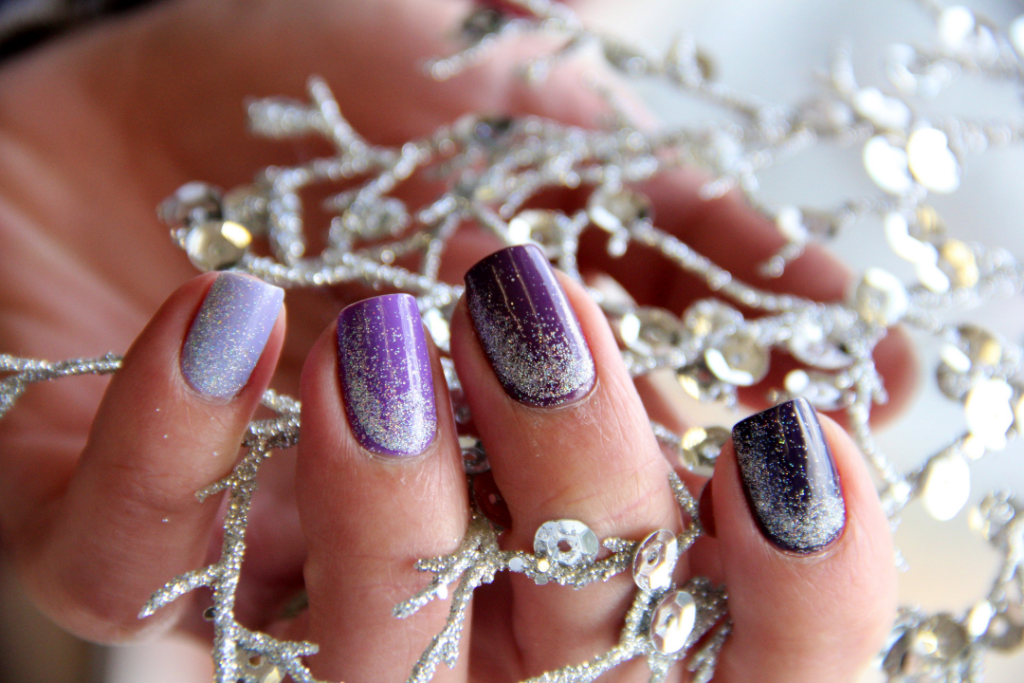 Courtesy: Pinterest
#100 These white glitter nails are just bewitching. And we will just leave it there.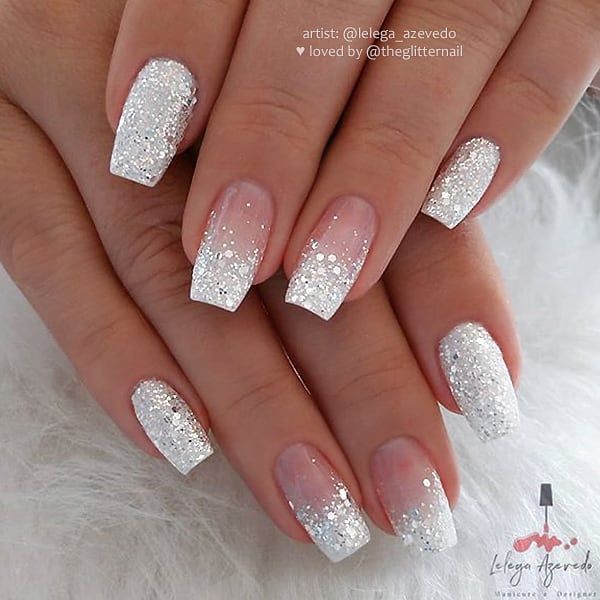 Courtesy: Lelega Azevedo
#101 Yet another example of glitter nail design in ombre and why you need to try this pattern at least once. Bookmark for ideas.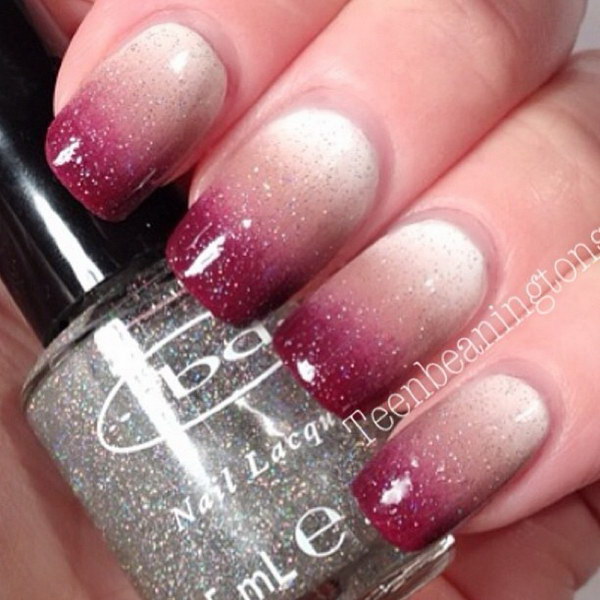 Courtesy: Pinterest
Including a video on how to do glitter nail designs for beginners: