Dreaming of the perfect skin for your wedding? The journey isn't as easy, but it can become fulfilling when you use the right products and consult a proper professional. Bride Komal, who recently went viral for her ethereal bridal look in a pale pink lehenga with intricate work by Khadijah Shah of Elan Official, is someone who struggled with rosacea but tamed it well to reveal a clear, gorgeous skin by the time of her hill station wedding. 
"My proposal came as a surprise to me, which meant that I hadn't paid attention to the condition of my skin or tried preparing it for what was coming. Not that it mattered too much then, I was on cloud nine and was going to marry the love of my life soon, sooner than I had expected," says Komal.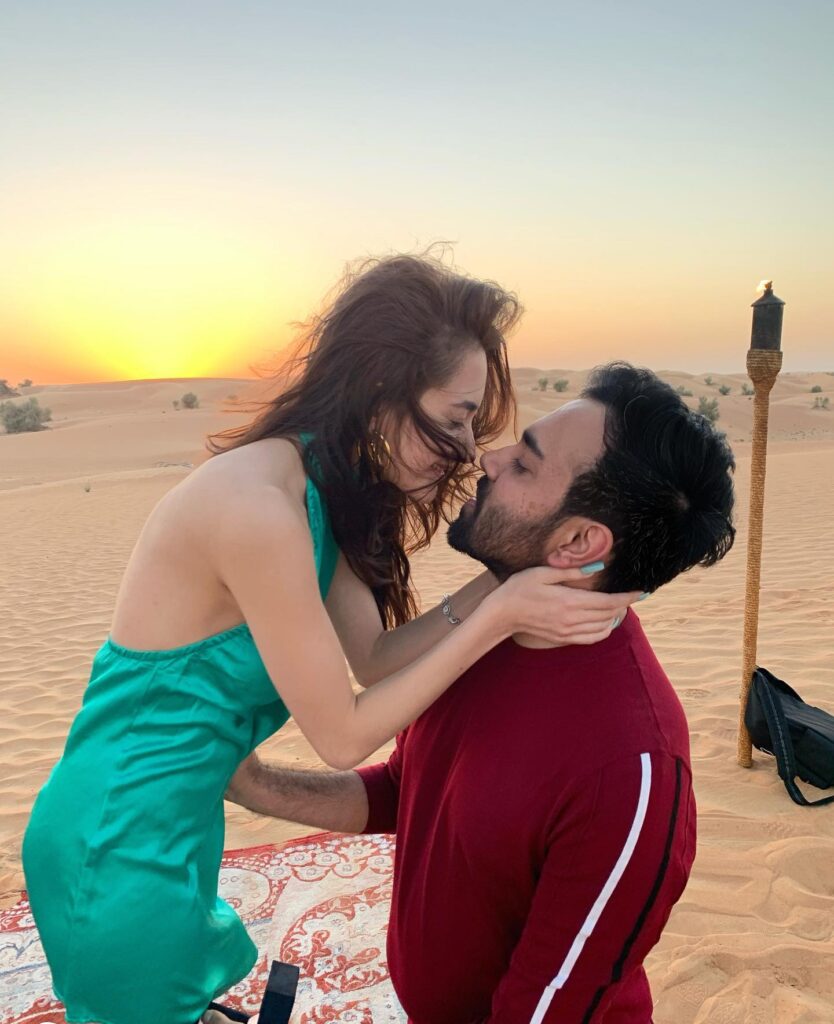 "At the time the announcement was made, I was battling with acne which was further aggravated by my extremely moody Rosacea. I had red bumps all over my face and whatever I applied to my face just made it worse. No makeup would sit well on my skin, obviously, the paints only work when the canvas is smooth. I switched 3 Dermats, very well-known & reputed ones who'd done wonders on my friend's skins but for some reason wasn't working for me. I gave it my one last shot with a new dermatologist and it changed my face completely," she adds.
For those wondering, here are the products she used.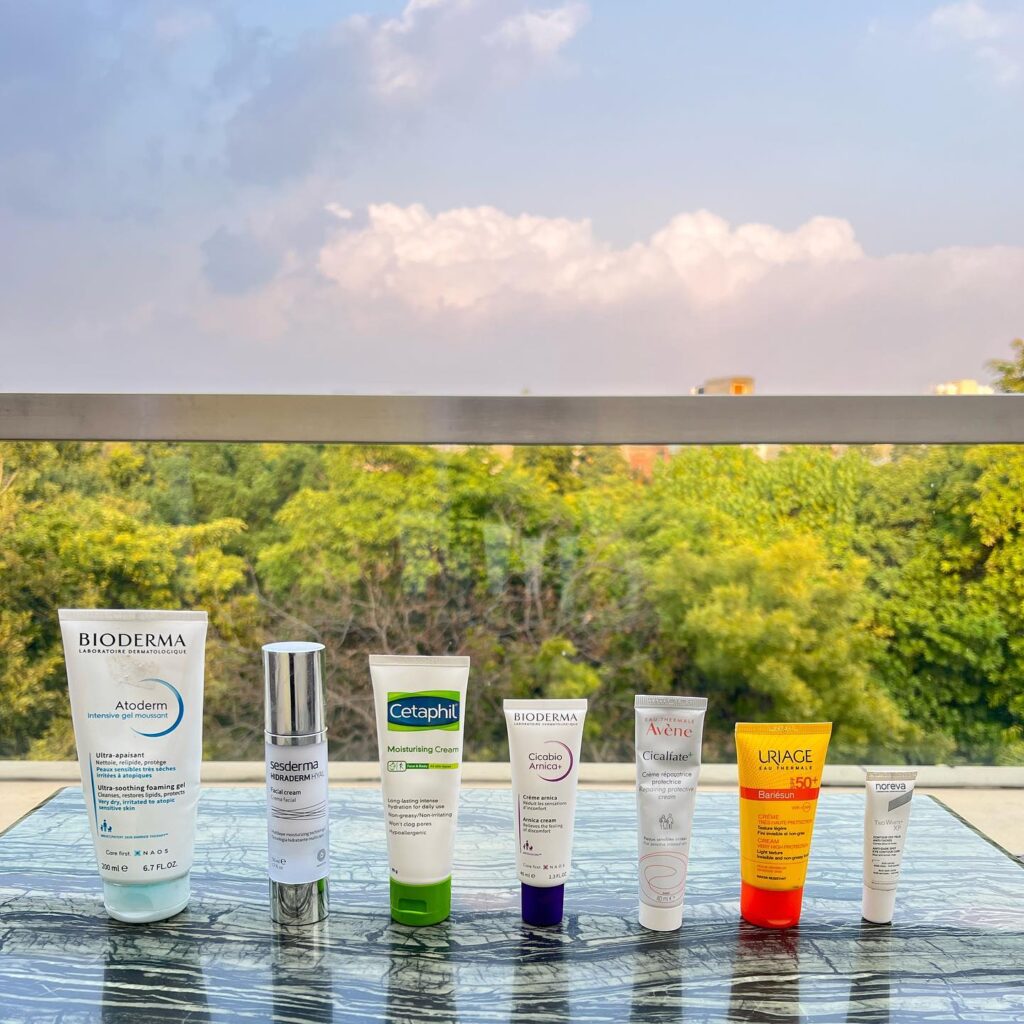 ☀️ AM Routine
Step 1 – Bioderma Atoderm Intensive Gel Moussant – "Cleanser for dry & sensitive skin"
A soap-free, fragrance-free cleansing base that respects the skin's pH, protects the skin's barrier, and moisturizes with its combination of coco glucoside and glyceryl oleate. It's best for those who have dry skin as it doesn't take away any moisturization or natural hydration from the face. It also combats the proliferation of micro-organisms to combat any acne-causing bacteria. 
Step 2 – Sesderma Hidraderm Hyal Facial Cream – "Super lightweight & moisturizing"
With 3 types of hyaluronic acid, this moisturizing cream facilitates multi-level hydration and is a great product for sensitive skin. It's often recommended for people suffering from eczema and rosacea. 
Step 3 – Avene Cicalfate Repairing protective Cream – "can't live without this one"
The Avene Cicalfate protective cream repairs, purifies, and soothes your irritated skin. Sucralfate repairs the epidermis layer, a combination of copper sulfate and zinc sulfate reduces the risk of bacterial proliferation, and Avene thermal spring water soothes the sensitive skin. In a study done on 401 children with skin lesions, 85% noticed an improvement within 15 days of using Avene Cicalfate protective cream. 
Step 4 – Noreva Trio White Xp – "this eye cream has a little tint, so it acts like a light coverage concealer – for freshness."
A depigmentation cream that reduces the production of melanin and eliminates cells loaded with melanin to reveal a brighter, lighten skin tone around the eyes. Moisturizing agents and powerful actives ensure the penetration of ingredients and make the sensitive eye supple and elastic with time. 
Step 5 – Uriage Bariesun SPF 50 – "lightweight and non-sticky, moisturizing and it doesn't leave a white cast"
Infused with Uriage Thermal Water from the Alps mountain in France, the Uriage sunscreen is a tinted, high-protection formula that melts into the skin and leaves a dry touch texture. It enhances the skin with a healthy glow and is completely non-greasy, making it perfect for sensitive skin. 
🌙 PM Routine
Step 1 – Bioderma Atoderm Intensive Gel Moussant – "Same as the morning, I cleanse twice a day with this one."
Step 2 – Avene Cicalfate Repairing Protective Cream – "This too, same as the morning."
Step 3 – Cetaphil Moisturising Cream & Bioderma Cicabio Arnica
"I alternate between Cetaphil Moisturising Cream (when my skin is feeling extra dry and needs a burst of hydration) and Bioderma Cicabio Arnica (when it's feeling sensitive). On good skin days, I skip this altogether."
Step 4 – Noreva Trio White Xp – "as eye cream"
But still, we'd recommend you consult your own dermatologist to see what skincare regimen works for you. As Komal mentioned, just because something works for someone else's skin, it doesn't mean it will work for you too. There can be many factors at play that only a professional can decipher. 
Komal further adds some of the key takeaways from her acne/ rosacea journey: 
I stopped all the harsh serums.

Gave my skin a break from all the skincare first, only stuck to a cleanser, moisturizer, and sunblock.

ONLY took my dermatologist's advice and what he prescribed. 

Drank lots of water and added electrolytes cause my water intake was very less which resulted in parched skin.

I started noticing the things that triggered my skin issues and the biggest factor was Stress. So I stopped stressing over things I had no control over like the endless wedding lists and the stress of planning a covid wedding. 






Stuck to a simple skincare routine prescribed by my dermatologist

Dr. Pankaj Chaturvedi

. 

Once my skin started to clear, I went in for a few not very harsh "facials"

I went for the IPL laser which targeted my Rosacea & Acne along with Hydra facials for hydration all under the supervision of my dermatologist.

I made sure all my Make up artists used fresh brushes and sponges and I mentioned beforehand that I have extremely sensitive, dry skin so carry appropriate makeup.
Her advice for all brides-to-be:
If you're not seeing any results with your current dermatologist, don't be afraid to make a switch.

Only use the products and treatments your dermatologist thinks fit.

Double your water intake and cut down on alcohol. It makes your skin look really dull and puffy.

Get bridal treatments and medicated facials only. I don't think a salon fruit cleanup or the harsh scrubs is a good idea.






Don't stress! Stress is not good for the skin. Stay happy, it'll show through your skin.

Try avoiding any at-home DIY facials. 

Go see your dermatologist even when your skin is happy. The goal is to achieve good skin and maintain it.