With a whole range of styles, designs, and cuts available for wedding dresses for girls, it becomes daunting to choose the one in a flurry of choices. But when you have a curated list of the best wedding dresses of girls, the task seems easier than you had imagined. We've been in this industry for 4 years, and as a wedding blog for 2 years, giving us the edge of knowing ins and outs of the latest fashion trends for Indian wedding dresses and helping you pick the one that your heart desires – no matter what that might be! So, if you're ready to scroll through a list of the best marriage function dresses for women, you have come to the right place. Don't forget to bookmark for any future reference and inspiration. 
#1 Chic & Gorgeous
If you want to scour the best of wedding trends inspiration, trust fashion bloggers to serve it on the plate for you. Fashion blogger Anavi Kalia's feed is replete with Indian wedding dresses for girls' inspiration and you don't want to miss checking out if you're a bride-to-be or have got a wedding to attend soon. From simple saree looks to chic minimalistic looks and OTT bridal looks, she has inspiration for all personalities and styles. Although it was hard to choose, we loved this simple lehenga look on her. The bubble sleeves of the blouse and the complete commission of the dupatta add a voguish touch, while the smart choice of silver jewelry added to the femininity of the entire avatar. This can be a perfect bridesmaid look to carry!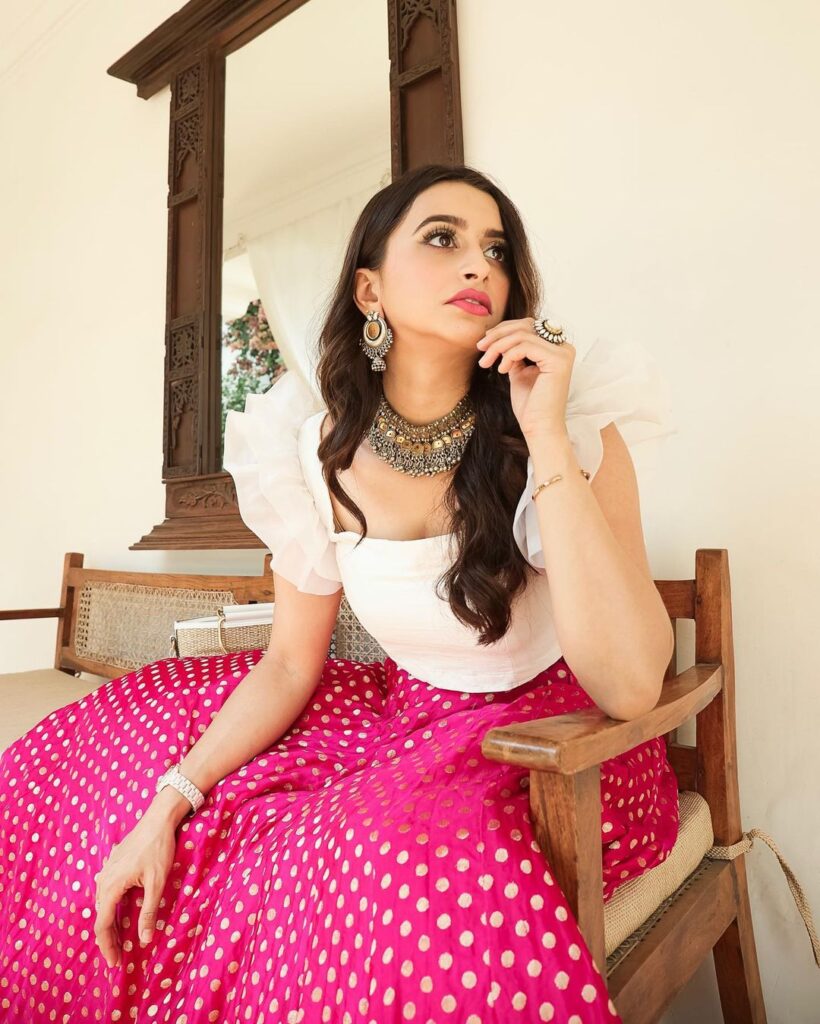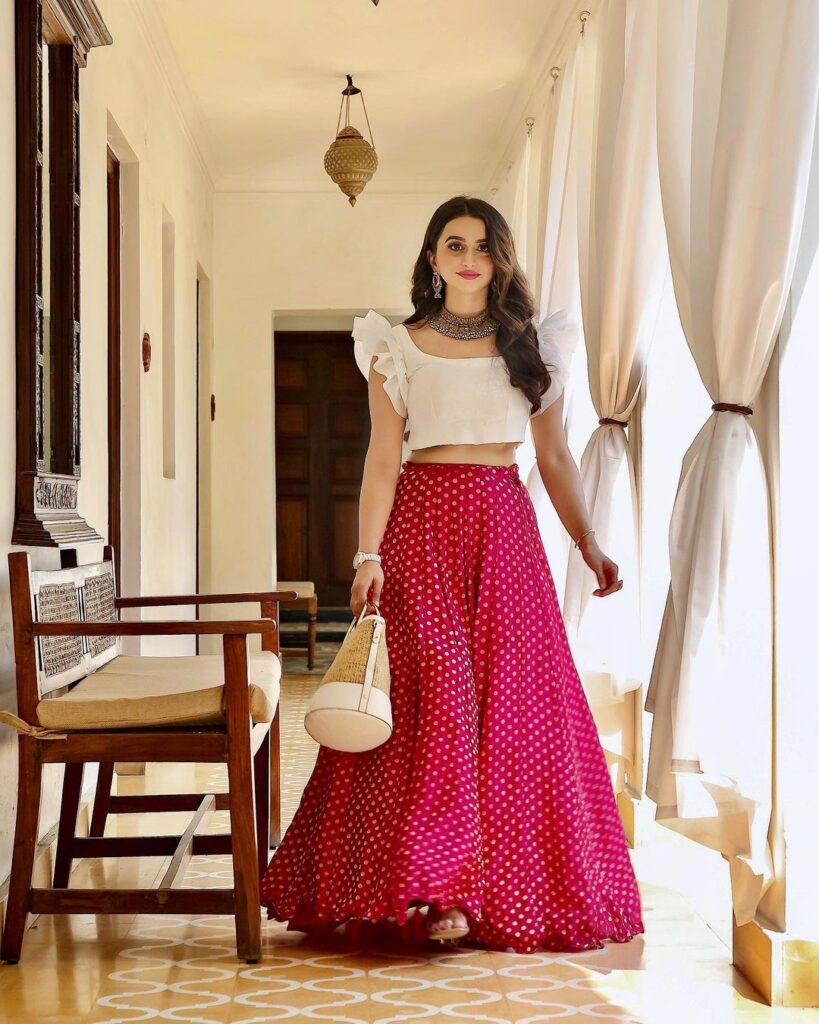 #2 Indo-Western Yet Sober
We often equate indo-western wear to something that would be too showy or stylish that a lot of girls don't feel comfortable with at family events. However, that's not always the case. Indo-western dresses have so much flair and designs to them that you can find an ensemble aligning to your comfort and taste. Anju Modi's timeless collection has a touch of artisanship and unique designs to woo anyone looking for traditional wear. She created Bajirao Mastani's costumes and that itself says a lot about her exquisite talent. Here is one of our favorite pieces from her recent collection, which you can purchase here for Rs.1,70,000/-.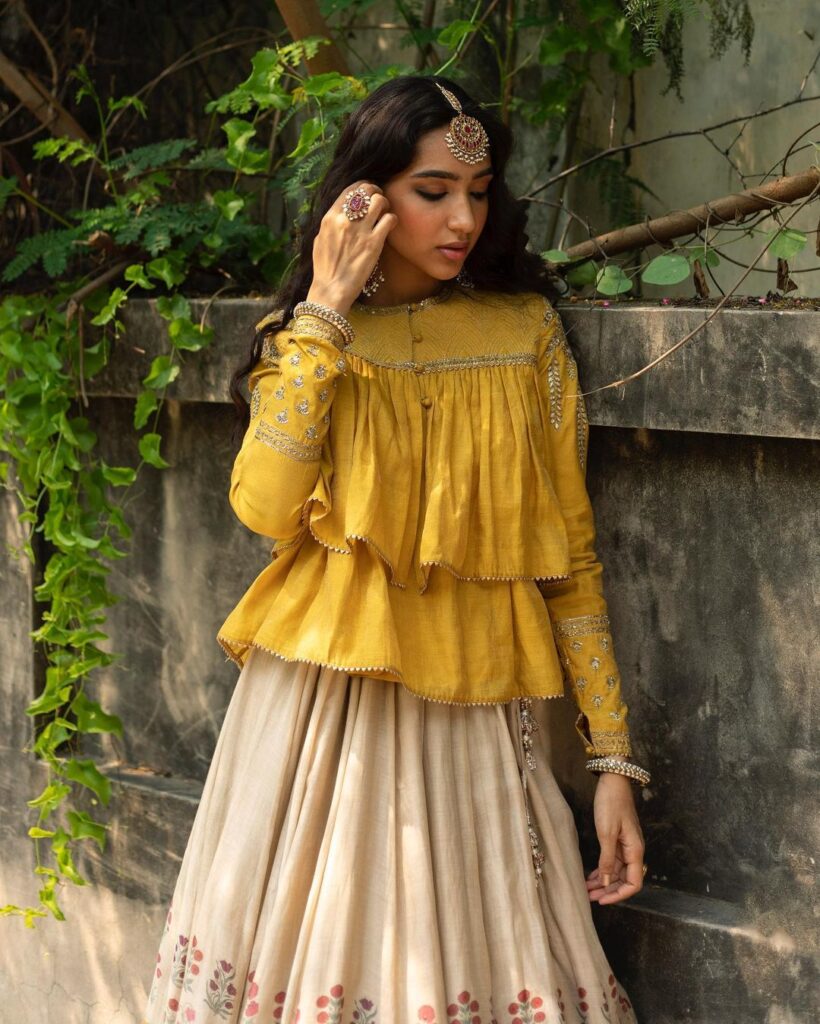 #3 Another One From Anju Modi's Epic Collection 
Whilst scouring through her collection, it was hard to get eyes off this gorgeous peplum blouse-lehenga set in beautiful neutral and pastel colors to make heads-turn – no matter how you style it. The lehenga has such light fabrics, making it easier to carry through the long pre-wedding functions. You can easily wear it on your haldi ceremony, when you'll need a functional piece to charm as well giving the freeness of movement. Even bridesmaids or a wedding guest can include this ensemble in their trousseau. Rest assured, this is the kind of piece you can easily splurge on – because it makes sense to re-wear it on multiple occasions.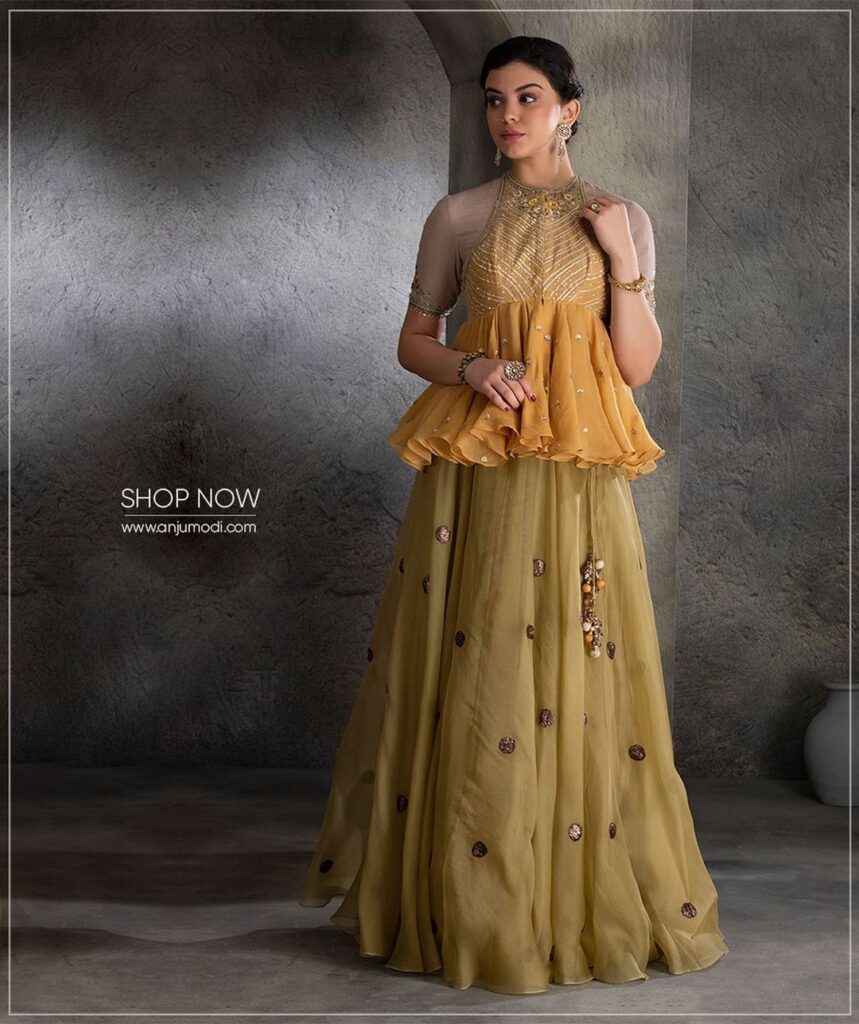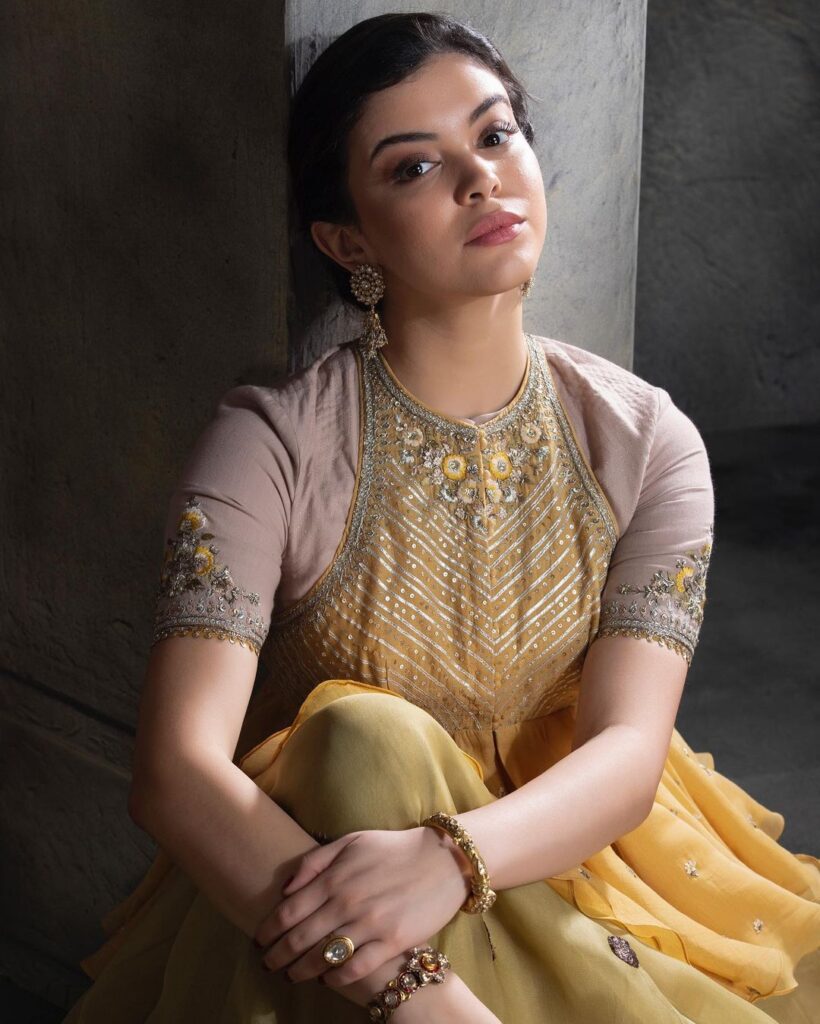 #4 Pink Never Fails To Impress
When you want a simple dress that doesn't bog you down whilst assuring the allure of marriage function dress is maintained, opt for a bright or bold color. Here, vlogger Somya Gupta used the same hack to create an ensemble that's stunning yet easy-to-wear. She even revealed to have created this piece for only Rs.3750/-, in which the material cost Rs.1750/- and the rest was stitching. You can watch the reel here. It's always cost-effective to get the lehenga stitched because the ready-made ones also pay for the storage charges and other profits, whilst those made from scratch only have material and stitching charges involved.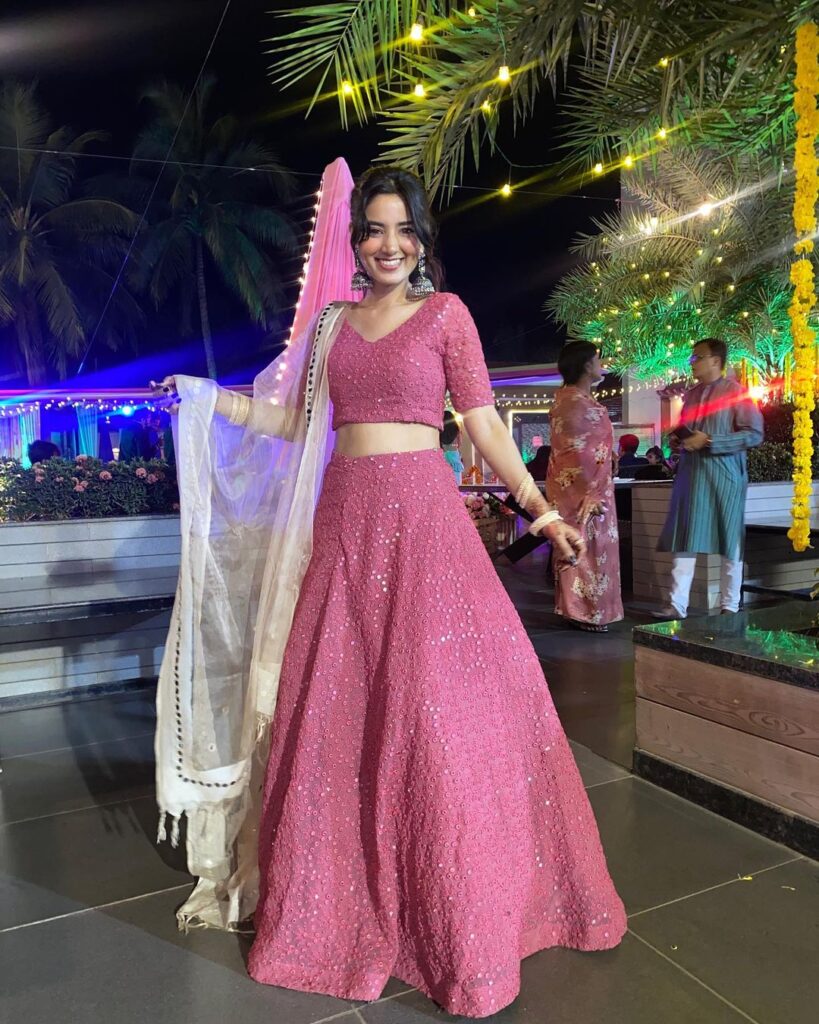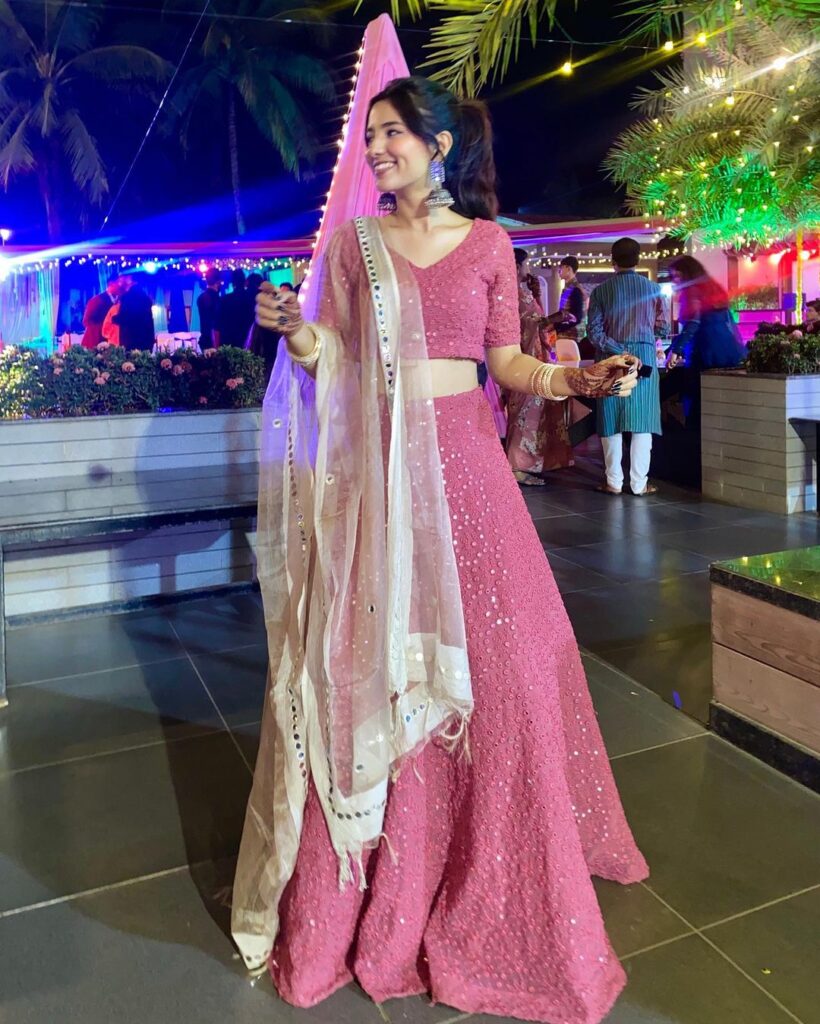 #5 Printed Lehengas Are Latest Trend In Wedding Dresses For Girls
For those always looking out for the latest trend so their fashion game stays on-point, in wedding dresses for girls, it's the printed lehengas. Given the pandemic situation and intimate weddings, brides have increasingly deviated towards minimal pieces. By minimal we mean functions and not ones less on the stunning side; no bride compromises with their bridal charm on the wedding revelries. So, naturally, the printed lehengas were favored a lot in the last few wedding seasons. Bride Radhika Kapur further upped the voguish element in the ensemble by draping the dupatta in a cape-style fashion.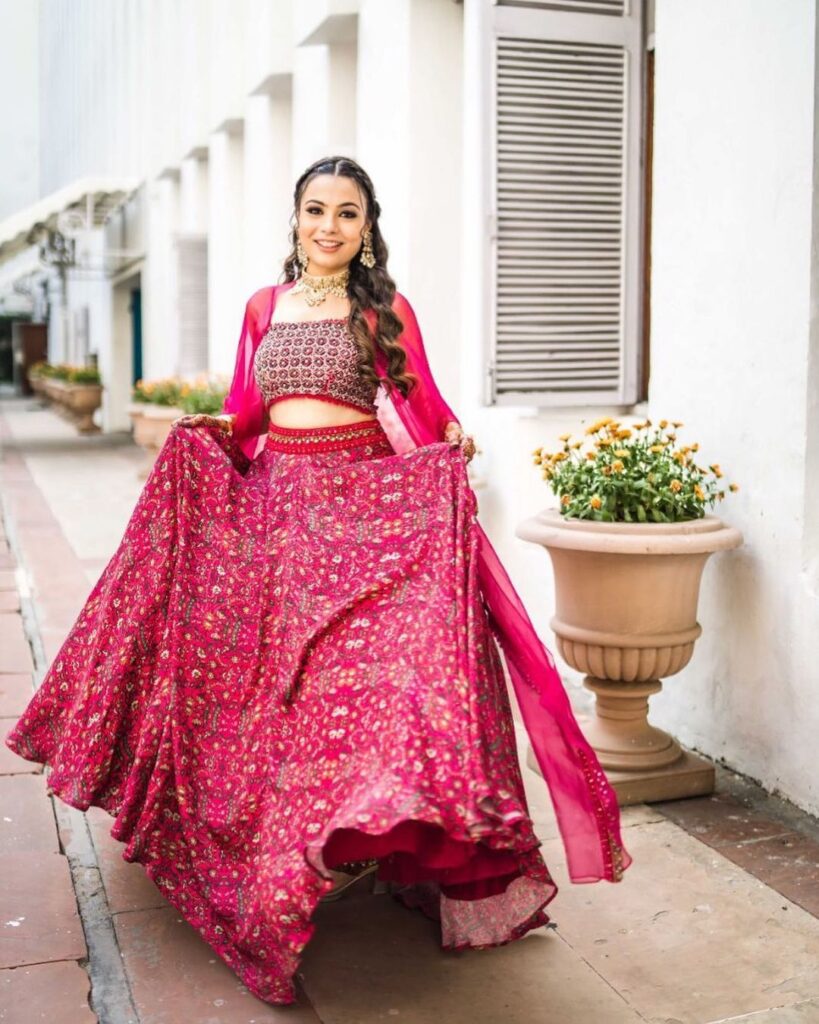 Courtesy: Happy Frames
#6 The Romantic Vibes Of This Lehenga & Snap Is Mind-Blowing
The sky-blue lehenga is gorgeous ensemble color, in our opinion. Although, we don't see a lot of it in Indian wear – but whenever we do, we are completely mesmerized. This bride's monochrome blue lehenga bedecked with a shimmery silver layer of sequins and embroidery had our complete attention in one glance. We loved how she further enhanced the gorgeous glam of the look with smoked-out eyes in shades of midnight blue, a diamond necklace set, and a captivating bridal bangle design. If you want to safely stand out of the crowd, opt for a monochromatic sky-blue lehenga and style it with sophistication and a majestic charm.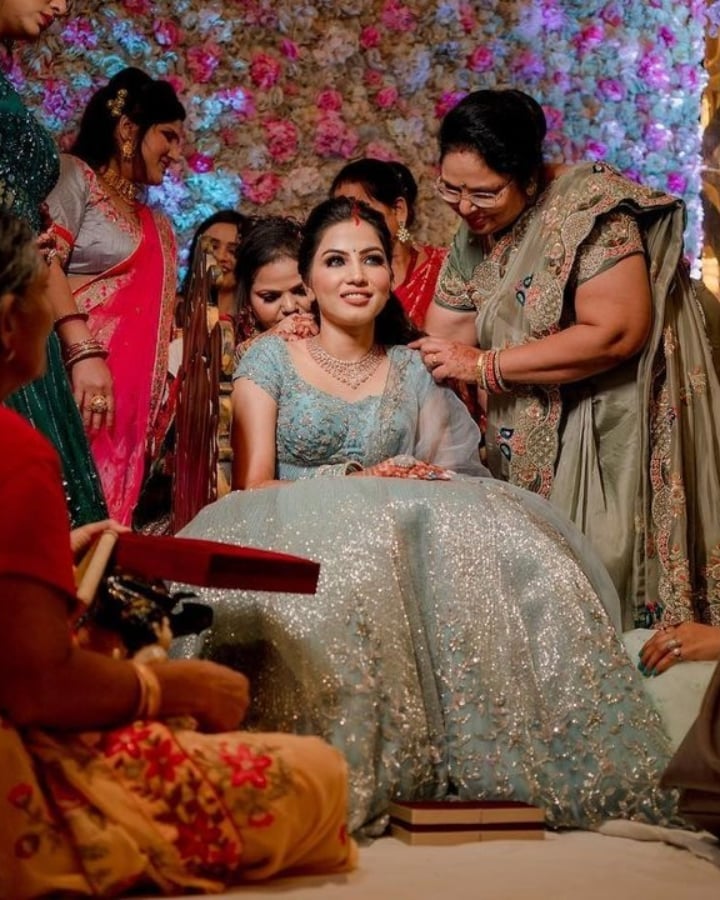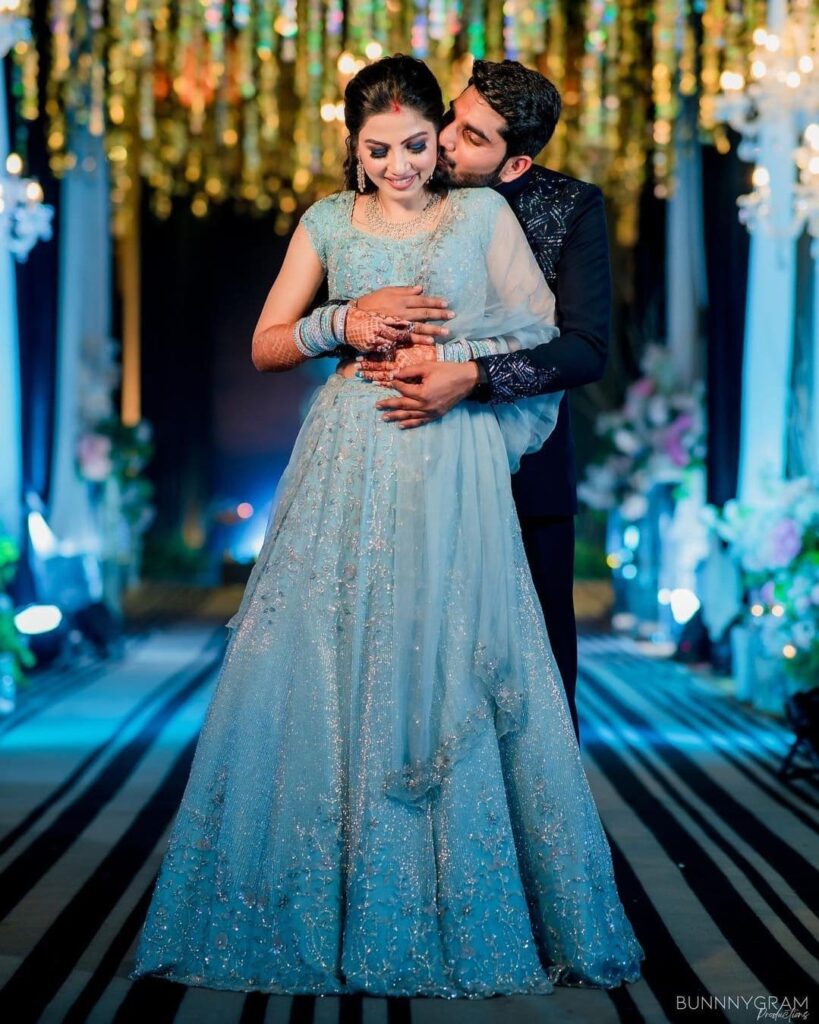 Courtesy: Bunny Bhatia || Ultraviolet Official
#7 The Six Yard Of Gorgeousness
Neha Rajpoot's saree looks have always broken the Internet. Whether it was her black saree ensemble with minimal beauty look, red lips, and stunning choker, which you can re-create in budget by taking cues from this blog here by the way, or the single-color red saree look which again went viral to this golden-saree look with glimmering perfection that absolutely stole our hearts. If you want to create a statement in this 6-yards of grace, take inspiration from Neha's saree ensembles on how to nail this basic style and look drop-dead gorgeous.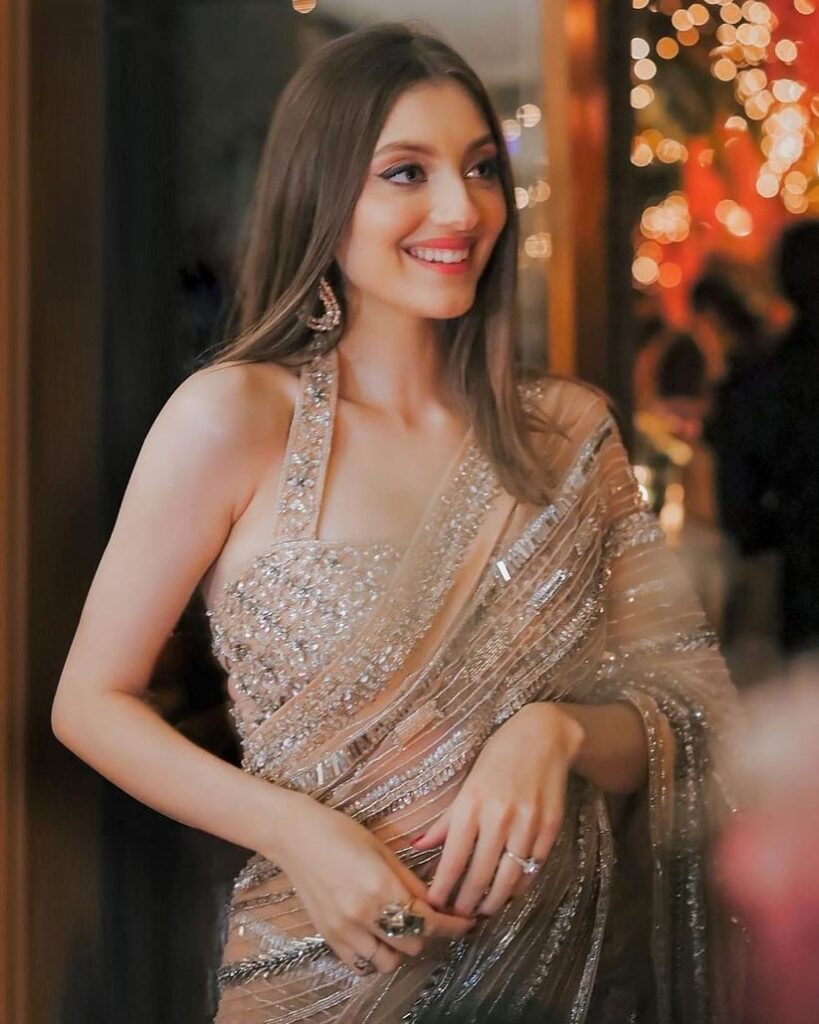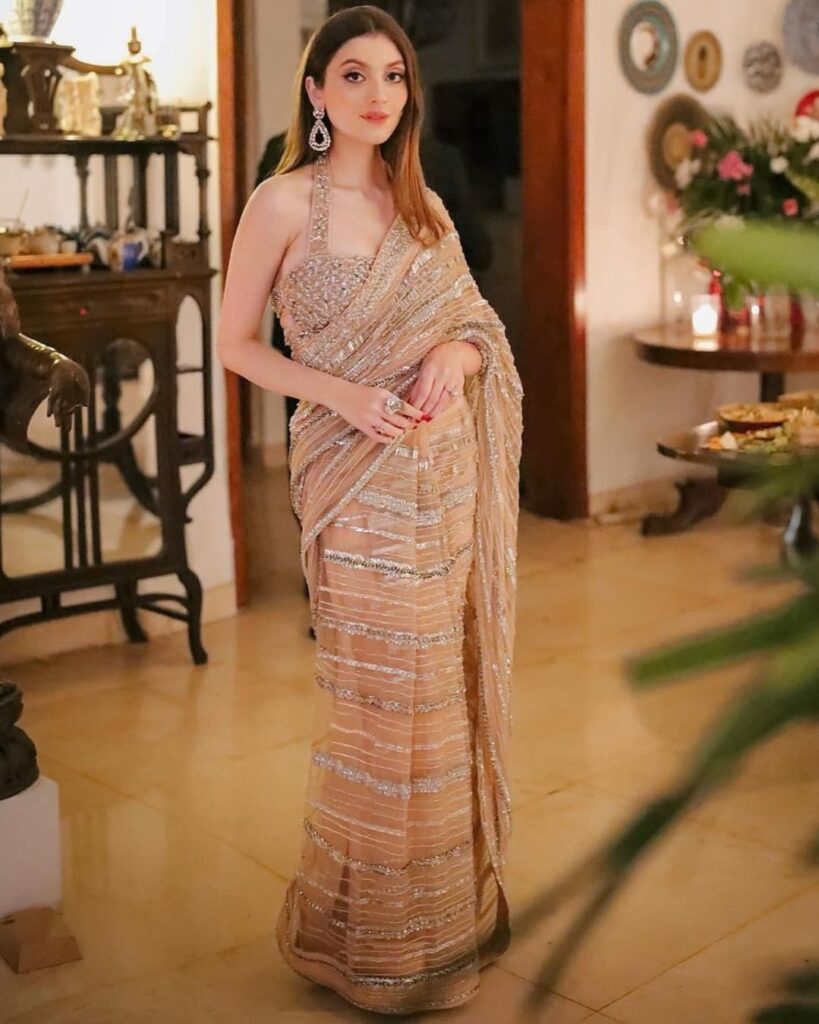 #8 Indo-Western Wedding Dresses For Girls At The Finest
The uniqueness in the outfits which can come from the clothes designed from a local boutique is unmatched by even the most popular of the designers. Here, you can see how an Indo-western look is created with such grace and beauty. Not only does this flatter the body shape, which is an added advantage of the customization of the clothing, but it's also made with utmost precision and good-quality material as is apparent by the picture. In some cases, boutique clothing can cost a bit more, owing to the personalized benefit, but the end result does pay off. When it comes to wedding dresses for girls, we'd suggest you opt for boutique clothing if you like your clothes to be one-of-a-kind.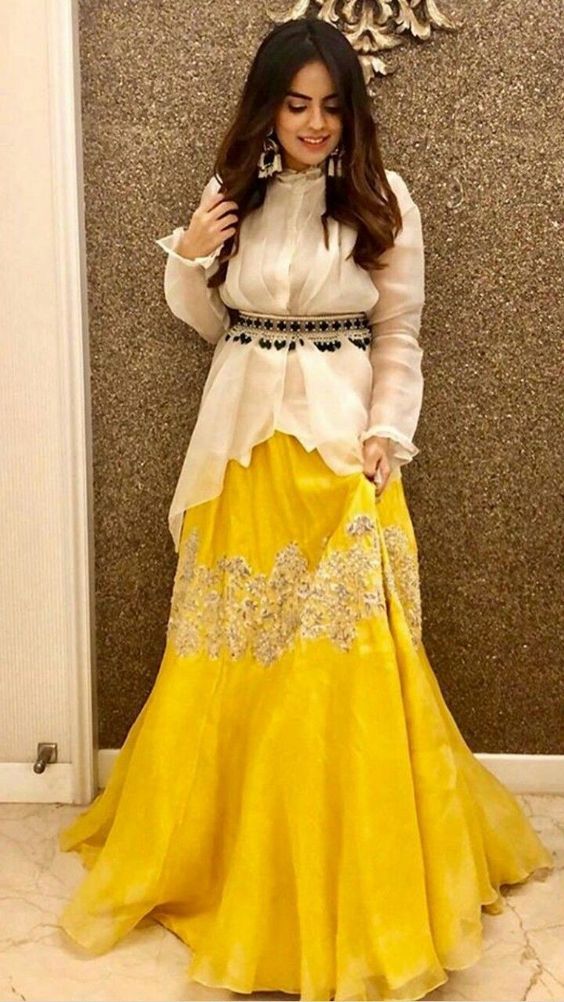 #9 A Gorgeous Gown For Wedding Celebrations
A wedding gown for girls is a perfect pick when you want to feel and exude those princess vibes through the outfit. Gowns are a bride's preferred option for their roka and sangeet celebrations. And here the bride opts for a stunning beige-colored gown with a golden embellished upper part for a ravishing effect. The ball gown lays the ideal ground to give her the attention she deserves as a bride and makes the look extraordinary in its own right. Further, she paired the look with a voluminous faux-ponytail hairstyle with a headband to let the princess element of her beauty stand out in prominence.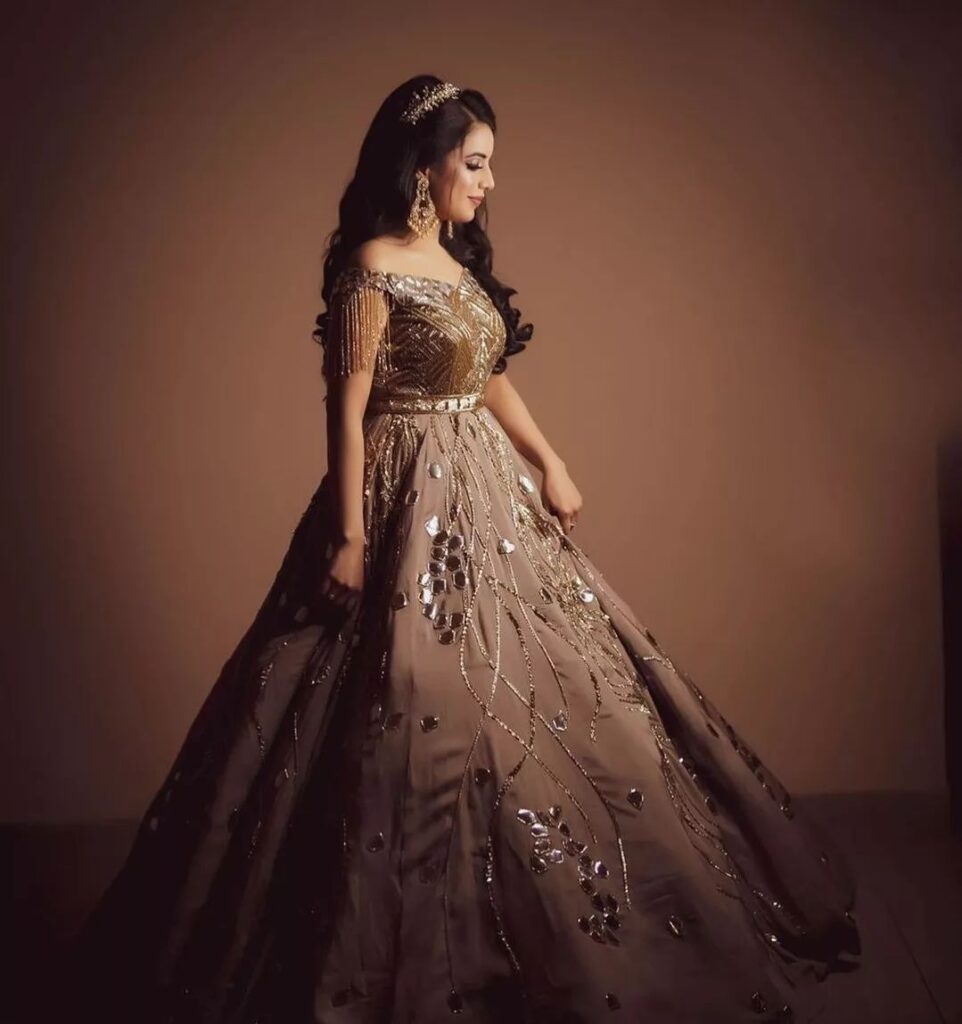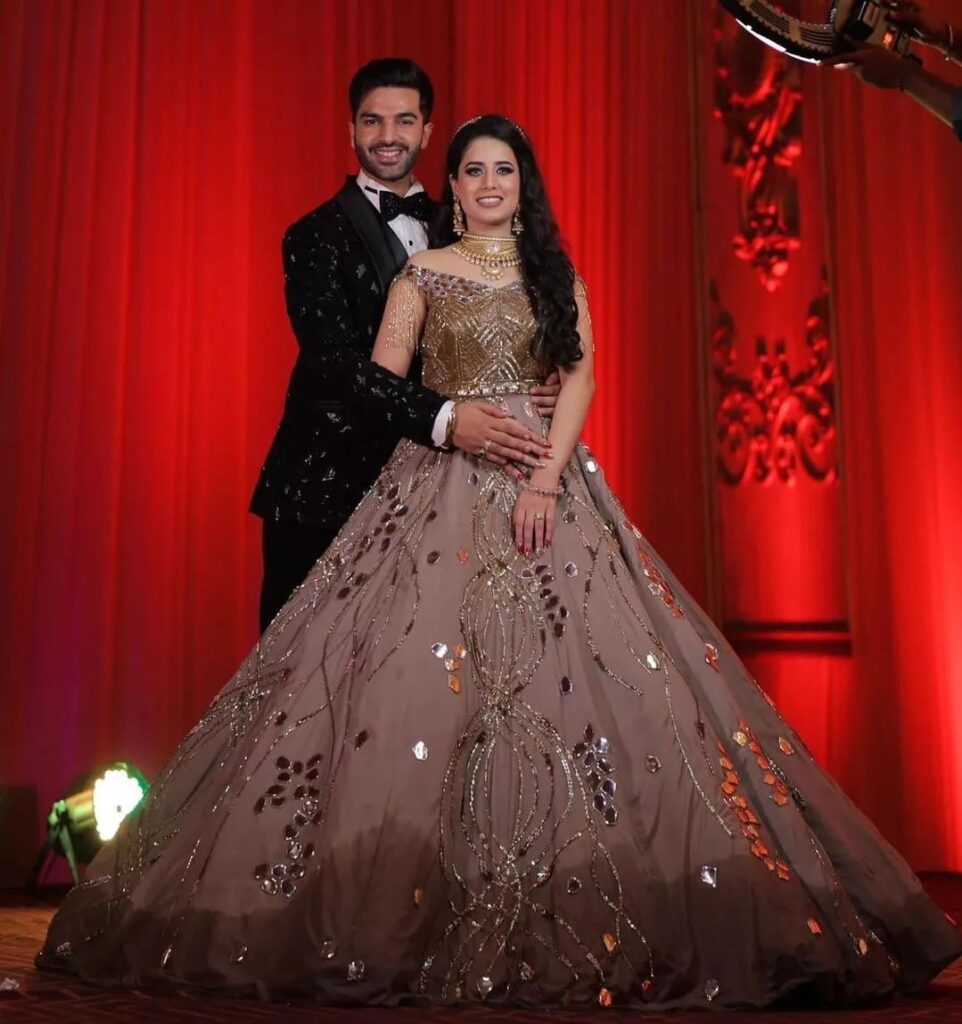 #10 The Perfect Bridesmaids
Katrina Kaif & Vicky Kaushal's wedding created headlines and remained the top news of the country for a few days. Till now, any details of their wedding released are widely reported. So when Isal Kaif posted her bridesmaid looks from Katrina's haldi ceremony, we stood in awe, like others. All the gorgeous sisters were dressed in yellow and ivory in outfits by Punit Balana and looked like a happy bunch of bridesmaids. In a wedding post uploaded by Katrina, the actress praised her sisters for their constant support through life and also broke the stereotype by having them carry her phoolon ki chaadar for her bridal entry.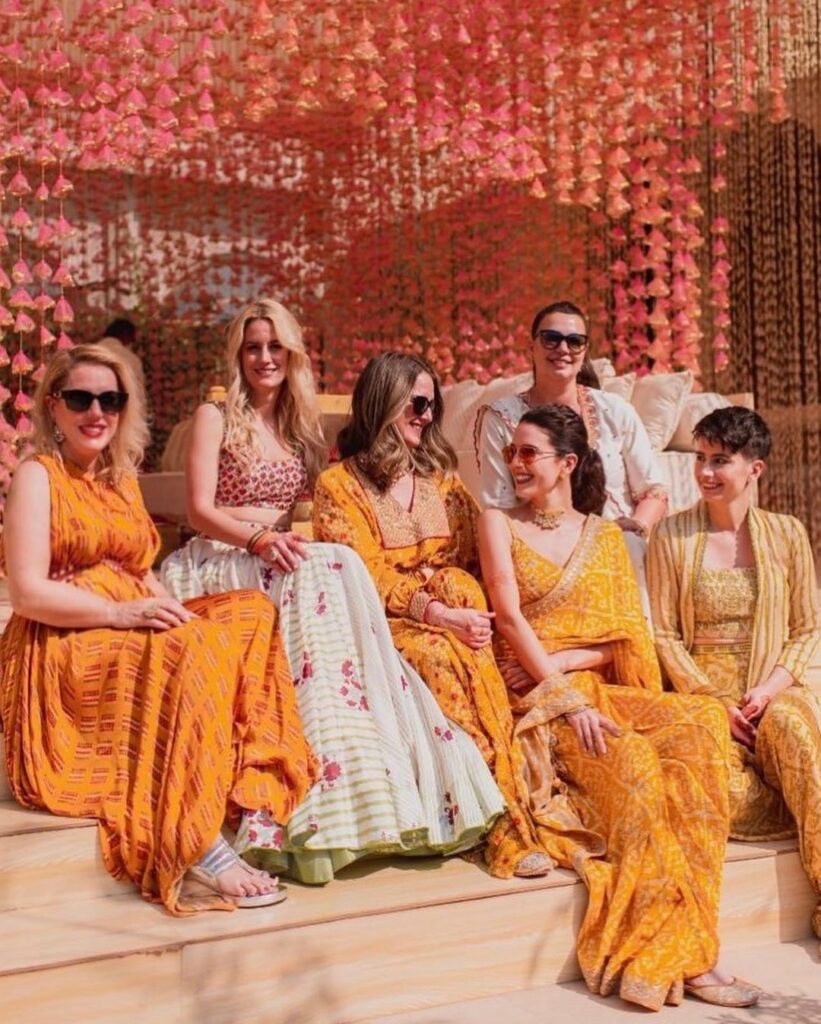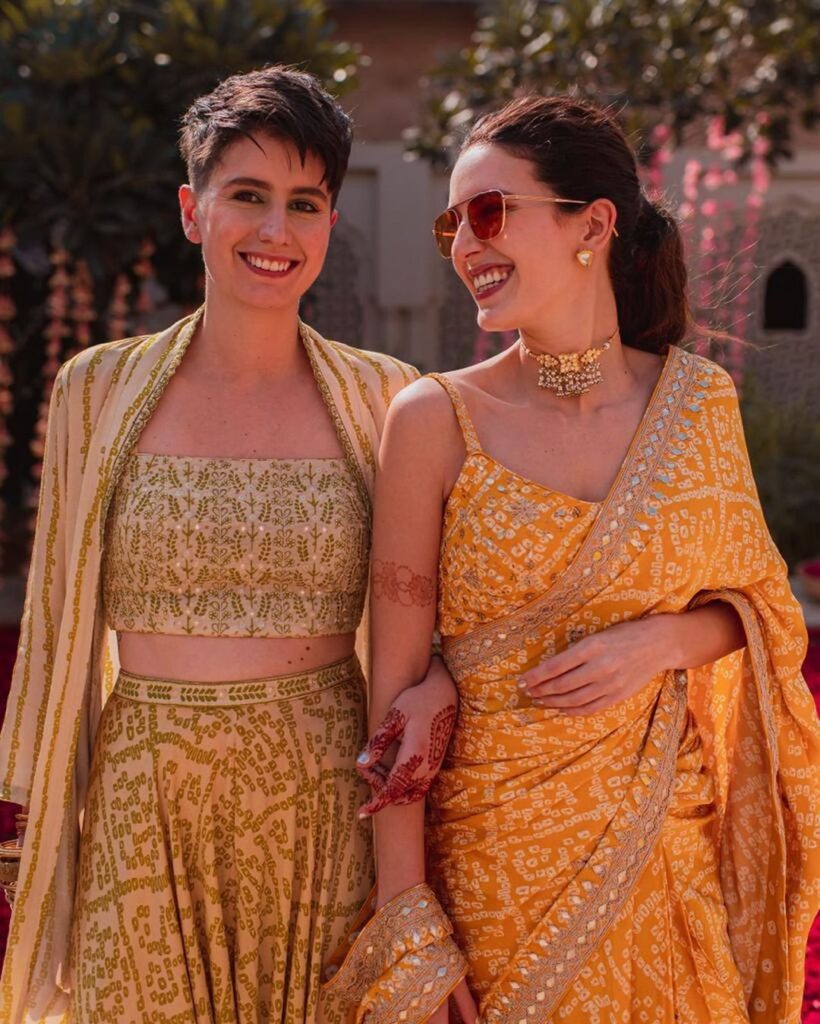 #11 Twinning & Winning
Twinning with your sister is the best! Sure, you fought a lot when the other borrowed the clothes without asking, but getting the same set of styles for both of you so you can coordinate (inadvertently putting the fighting to rest) is another set of happiness hard to put into words, especially on the wedding day. In the next set of wedding dresses of girls, two sisters coordinate in shades of purple lehengas by Anushree Reddy. While the bride stays in a traditional style, the sister ups her voguish quotient by switching the dupatta with an embroidered jacket. This way there's a subtle mismatch without compromising the complementing style of the two.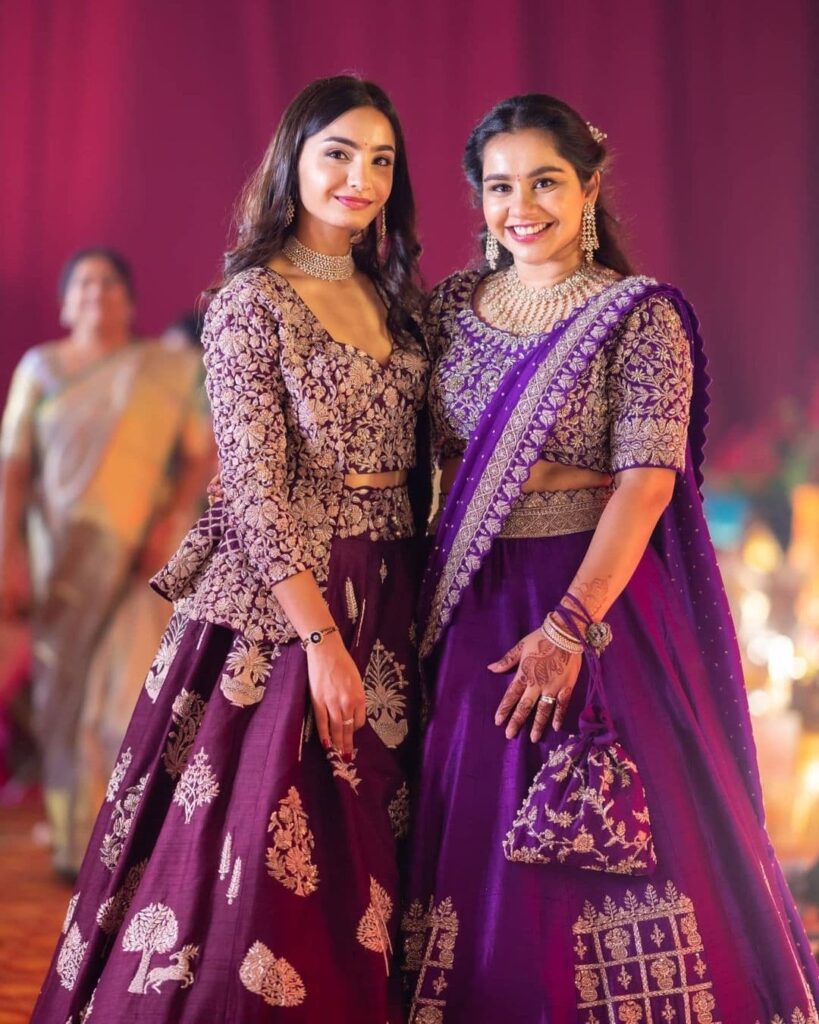 #12 Ivory With A Tinge Of Red
Times are changing and Indians are accommodating more color options in their weddings than ever before, even white is now considered acceptable. Not just acceptable actually, but ethereal. Brides are donning gorgeous white lehengas at their weddings and giving us all a reason to re-think our trousseau choices. Here, bride Mansi Grover ditched the normal norm of styling a wedding lehenga and went for a single-color ivory lehenga with sequin work and paired the ensemble with a red veil with a trail for a dramatic bridal entry. She further included red in her choora and stones in the necklace for a subtle compliment to the veil.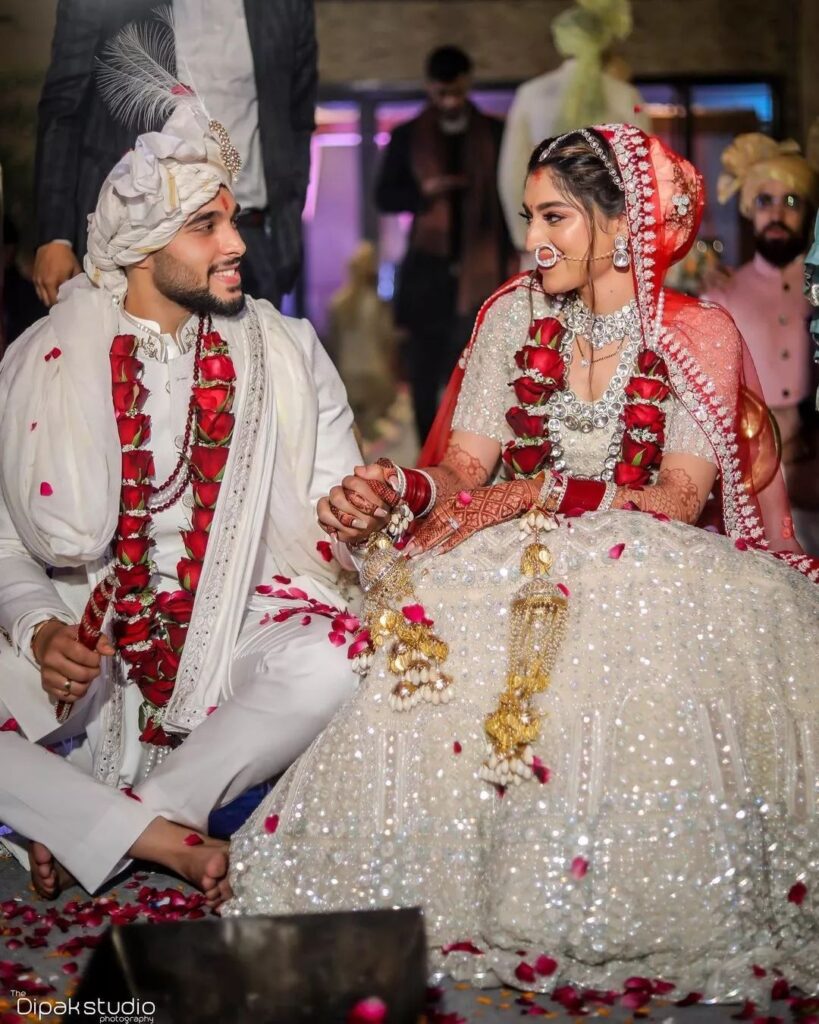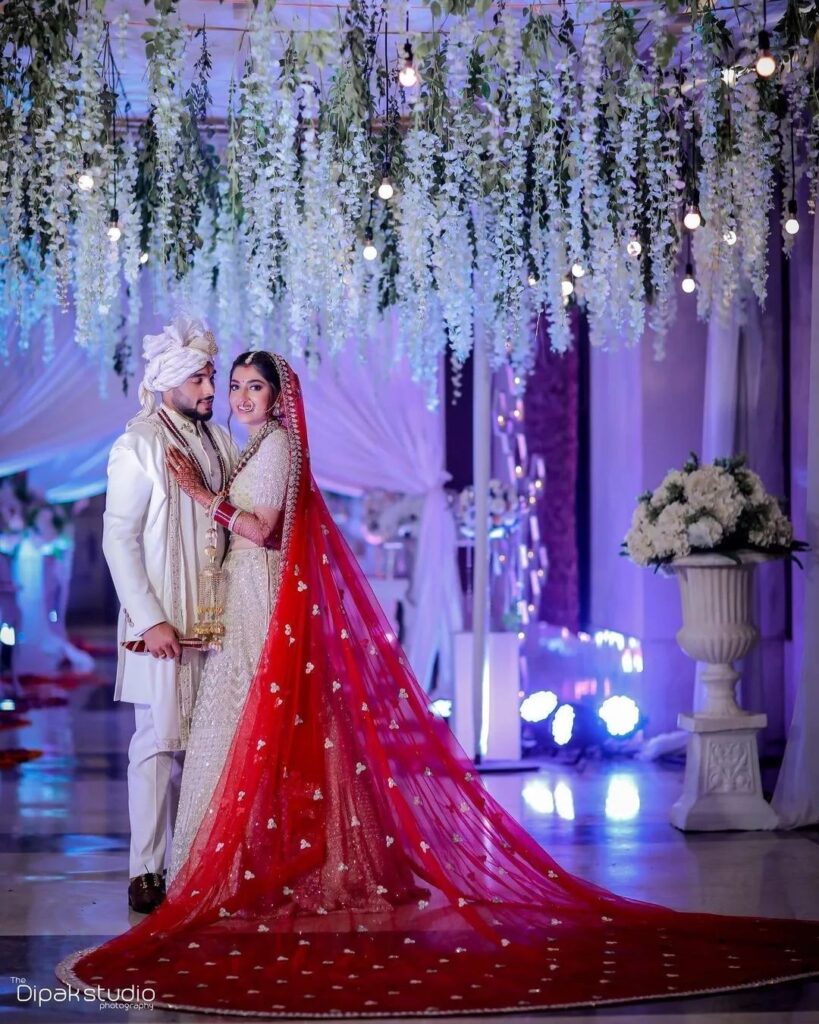 #13 A Stylist's Take On Wedding Dresses For Girls
If you're a fan of Deepika's gracious style, then the woman behind planning her ensembles, Shaleena Nathani, will surely be a guide to the best wedding dresses of girls which you will love! Here you can see the designer donning a pant-style dress with a jacket by Mumbai-based designer Ritika Mirchandani. The same style has also been worn by Kiara Advani, and just recently also by Alia Bhatt for a friend's wedding.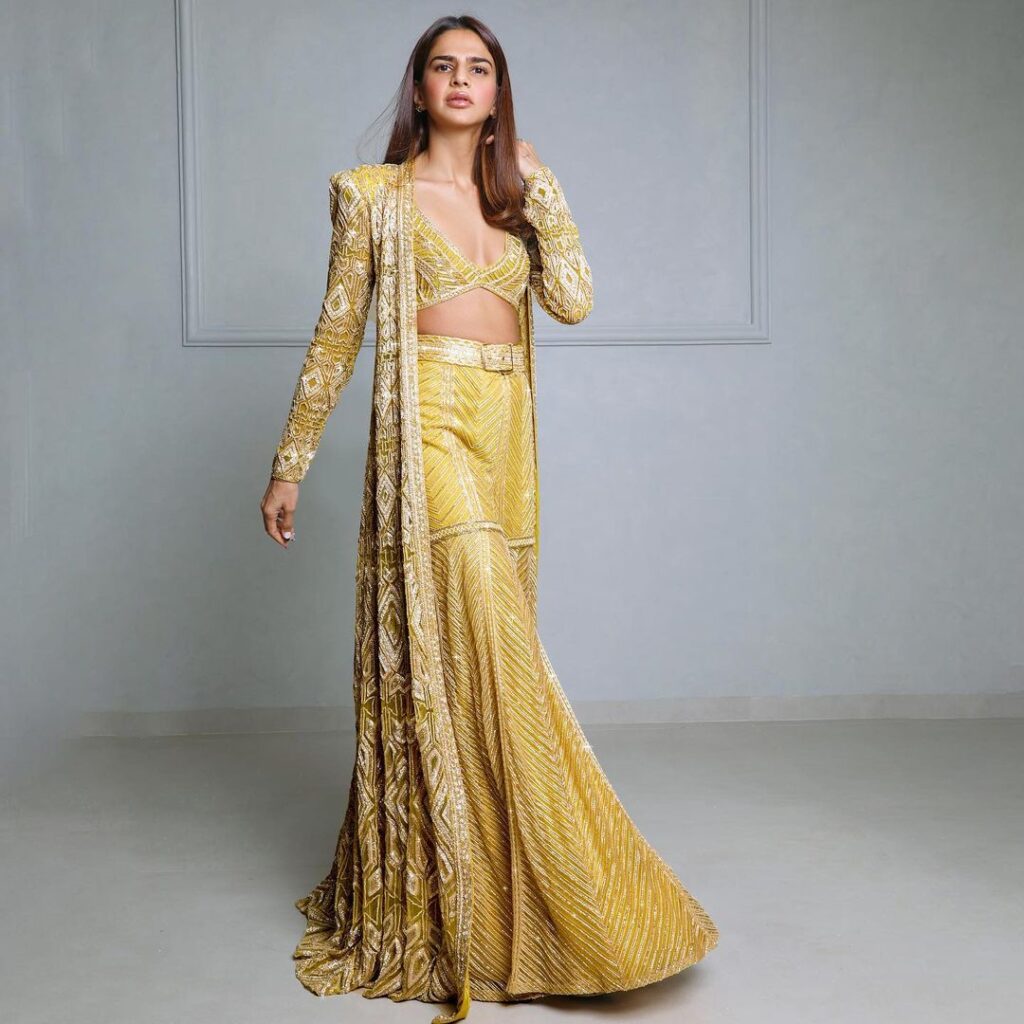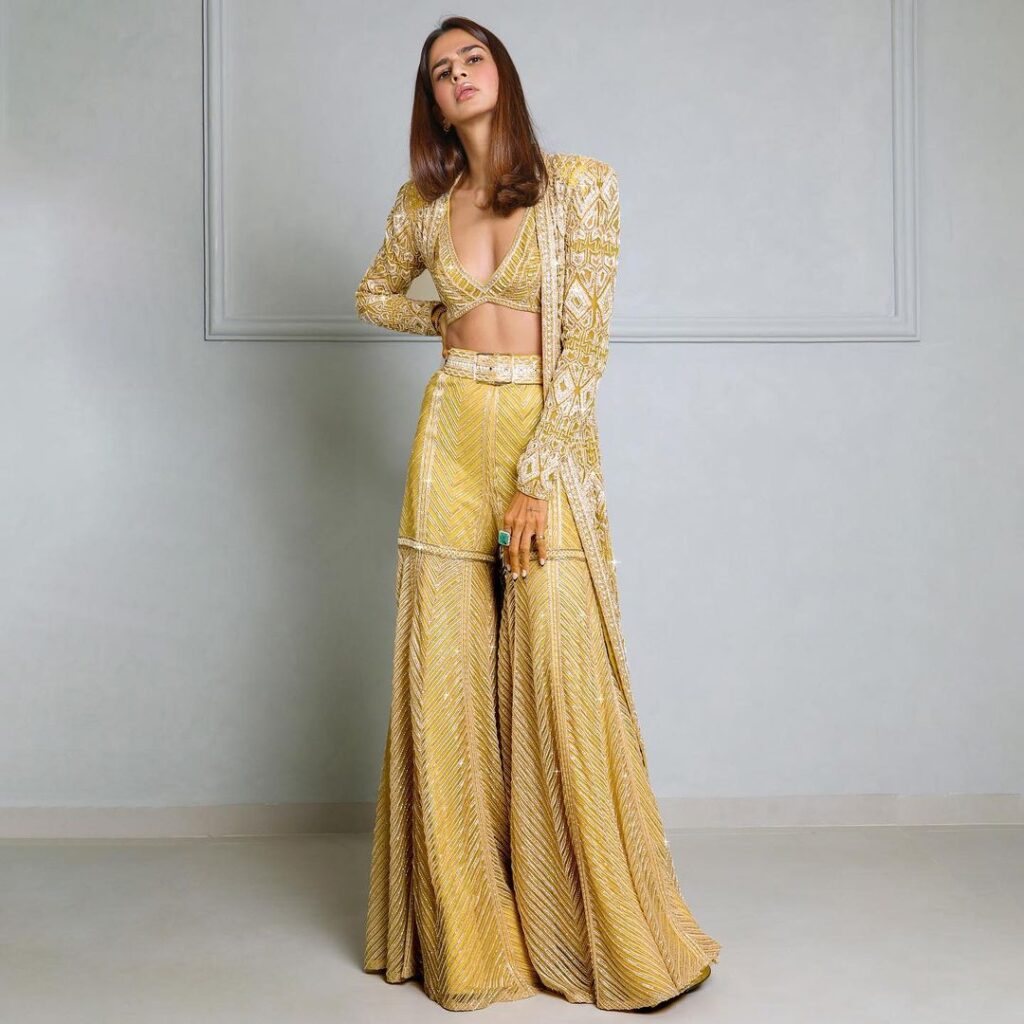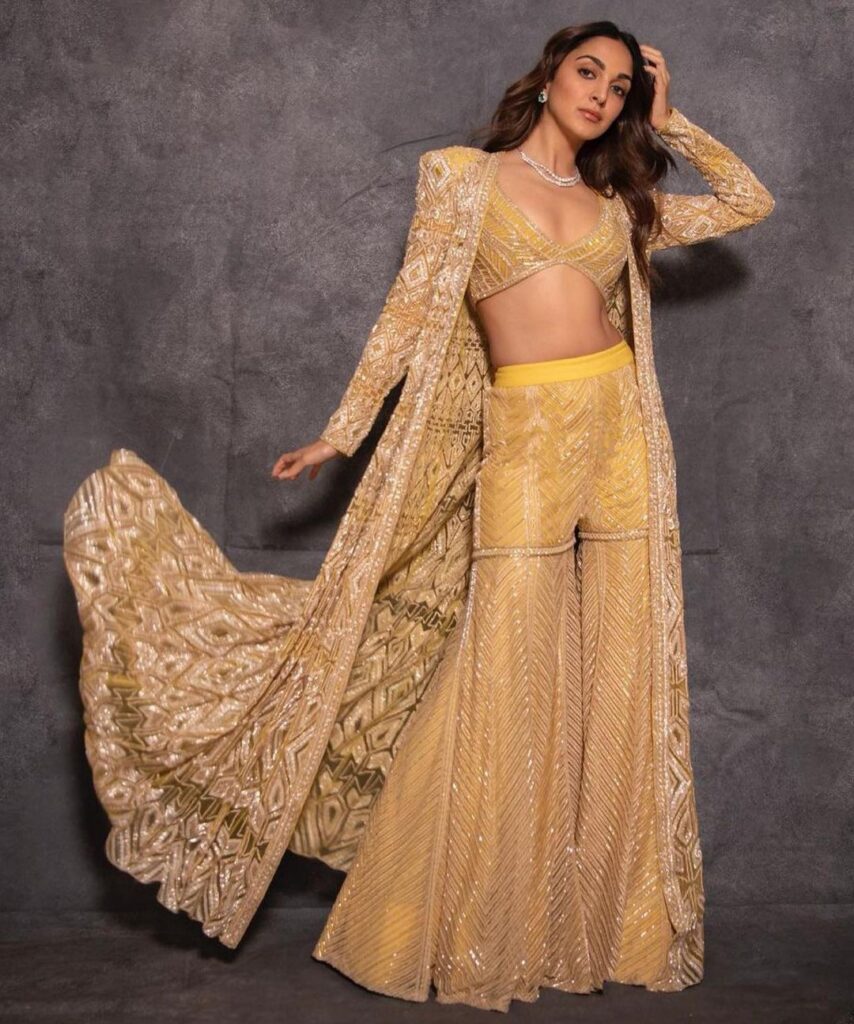 #14 A Budget Designer Red Saree
A red saree is a must-have in the bridal trousseau. They can make an ideal pick for your reception, but also for the first few days as a newly-wed when you'd want to flaunt the status through your sartorial choices. Exactly what bride Komal did. For a wedding she had to attend, Komal wore a gorgeous red saree by Masaba and styled it with chunky jewels by Hazoorilal Legacy. You can buy the saree here for just Rs.12,000/-.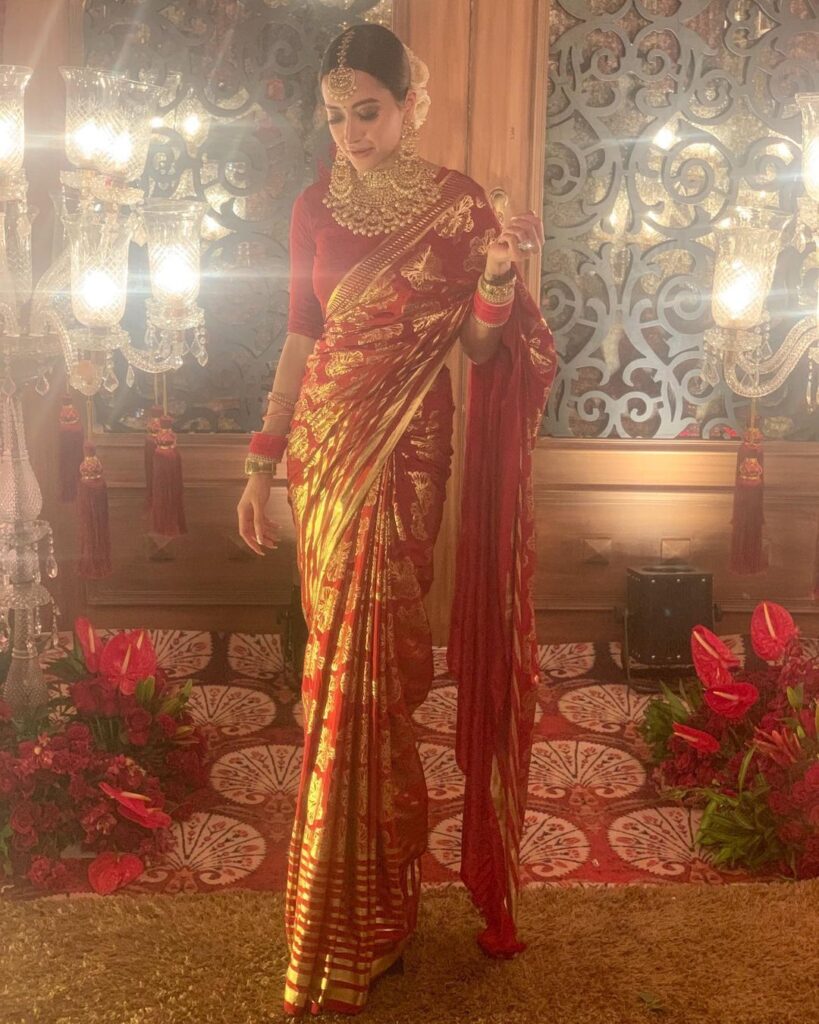 #15 Fuss-Free Jacket Lehenga Style
While Arjun Kapoor's younger sister Anshula Kapoor stays out of the limelight and focuses on her career outside the acting industry, she is quite active on Instagram and gives us a sneak-peek into her life every now and then. Recently, she attended her friend's wedding at Suryagarh Jaisalmer and posted her gorgeous bridesmaid looks from the revelries. One of the looks included a lehenga set with a jacket by Arpita Mehta, a designer she often prefers for her Indian wear. We loved how the dress is easy to carry yet doesn't take away from the glam quotient you'd want to put forward at a wedding.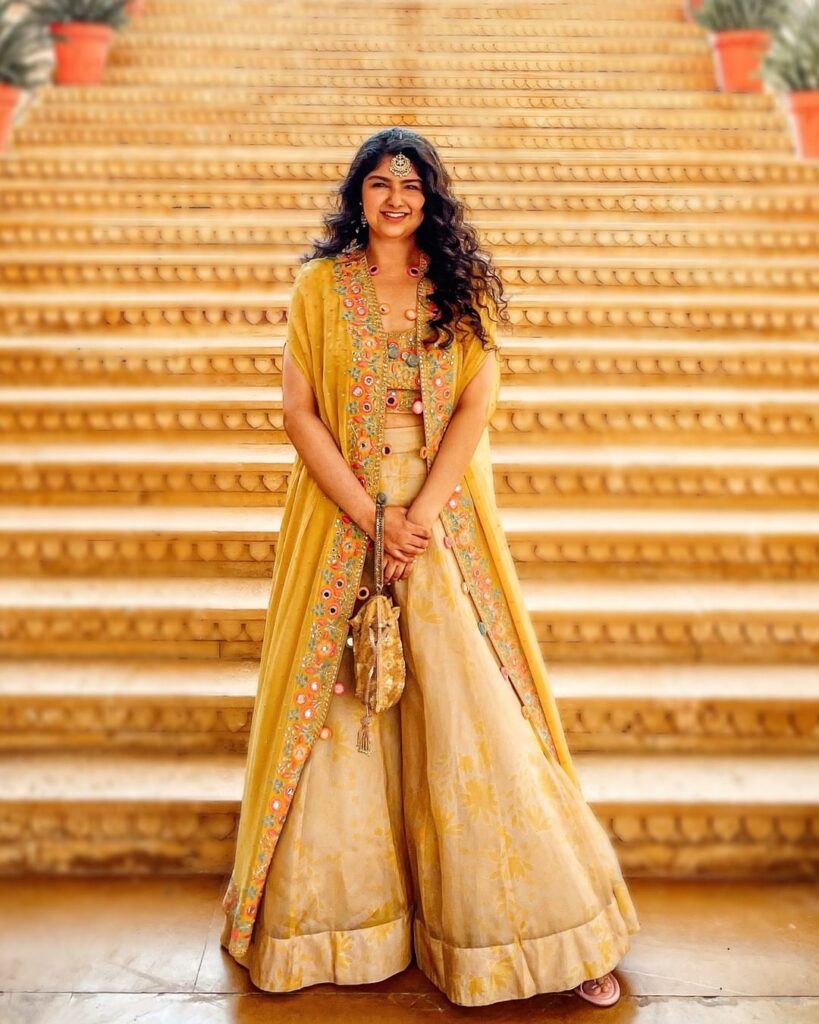 #16 A Whimsical Lavender Lehenga For Your Marriage Function Dress
Lehenga trails are often reserved for the wedding, but they can make for a whimsical choice even on the mehendi say – as shown here! The bride opts for a stunning lavender shade lehenga on her mehendi day with the skirt in a pure organza flowy style with a minimally embellished trail. What amps up the bridal quotient is the adorned dupatta and blouse that completes the look and offers ease in movement through the lengthy mehendi application.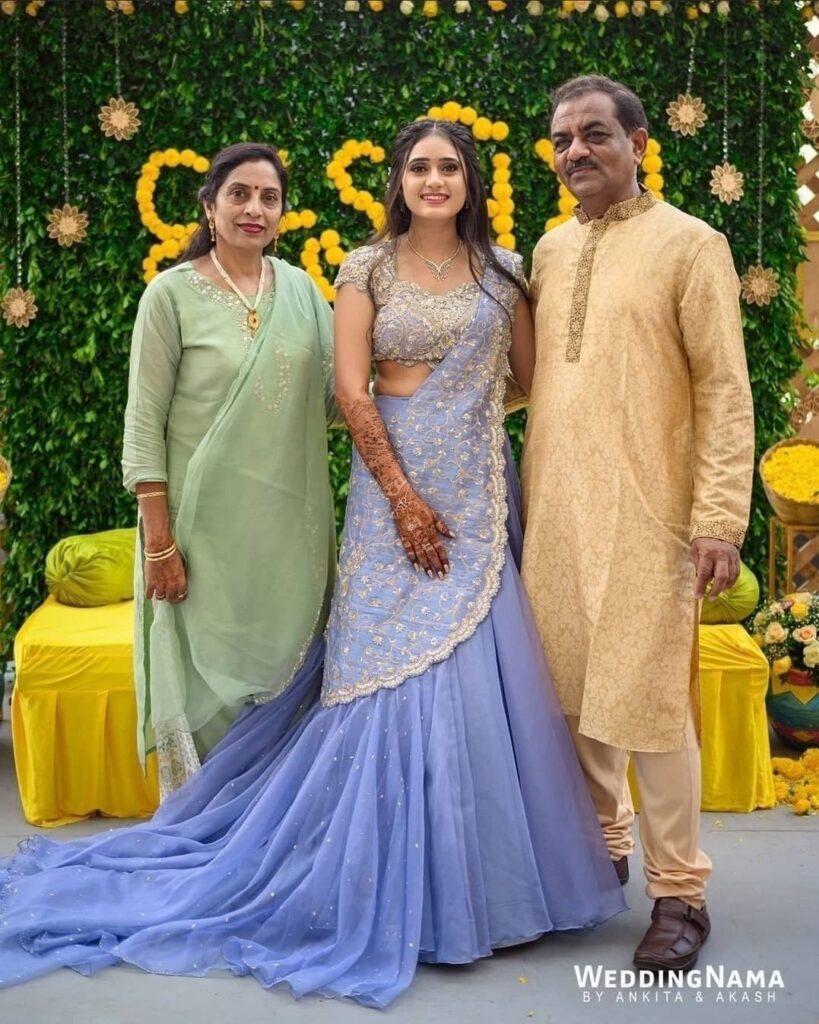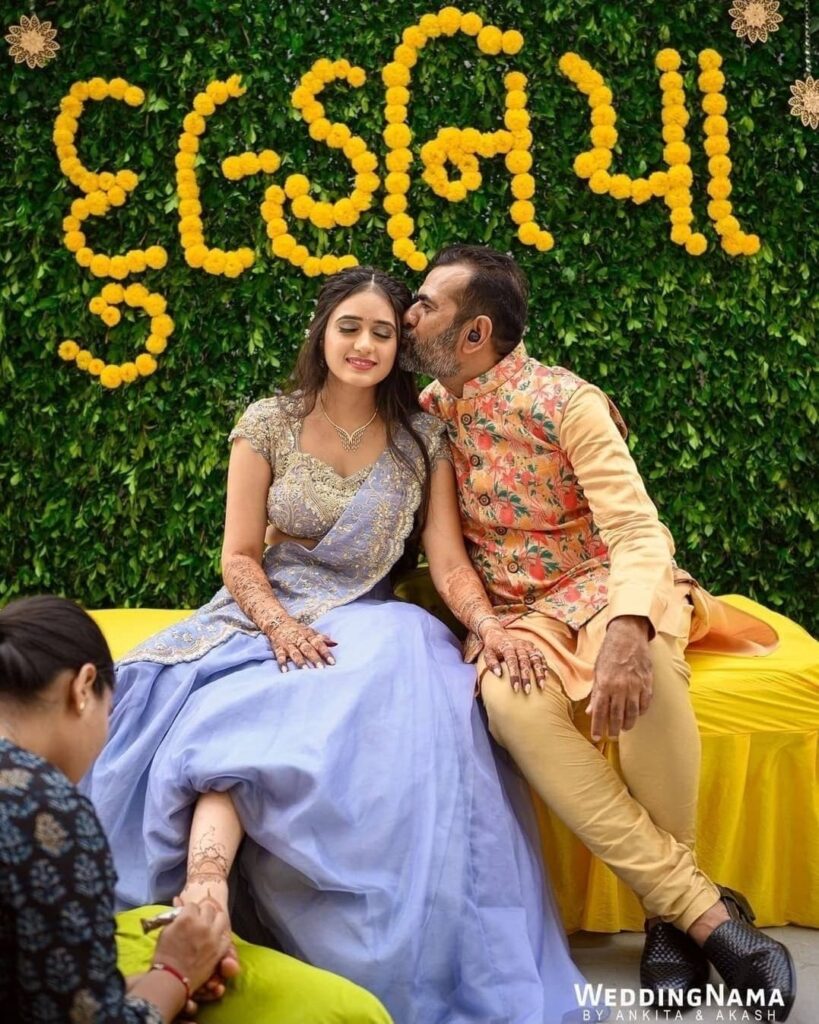 Courtesy: Wedding Nama
#17 The T-Shirt Style Never Gets Old
A T-shirt with a lehenga is a safe, elegant, and celebrity-approved choice for wedding dresses for girls. While this chic look was popularised by Anushka Sharma as Alizeh in Ae Dil Hai Mushkil, it had been doing rounds on media by being donned by many celebrities like Malaika Arora, Kajol, and Aditi Rao Hyadri. You can see all the looks in the link here. If you're looking for an Indo-western latest style marriage dress, then this sartorial flair is sure to impress you. Take cues on fashion blogger Ananvi Kalia to inspire your own look.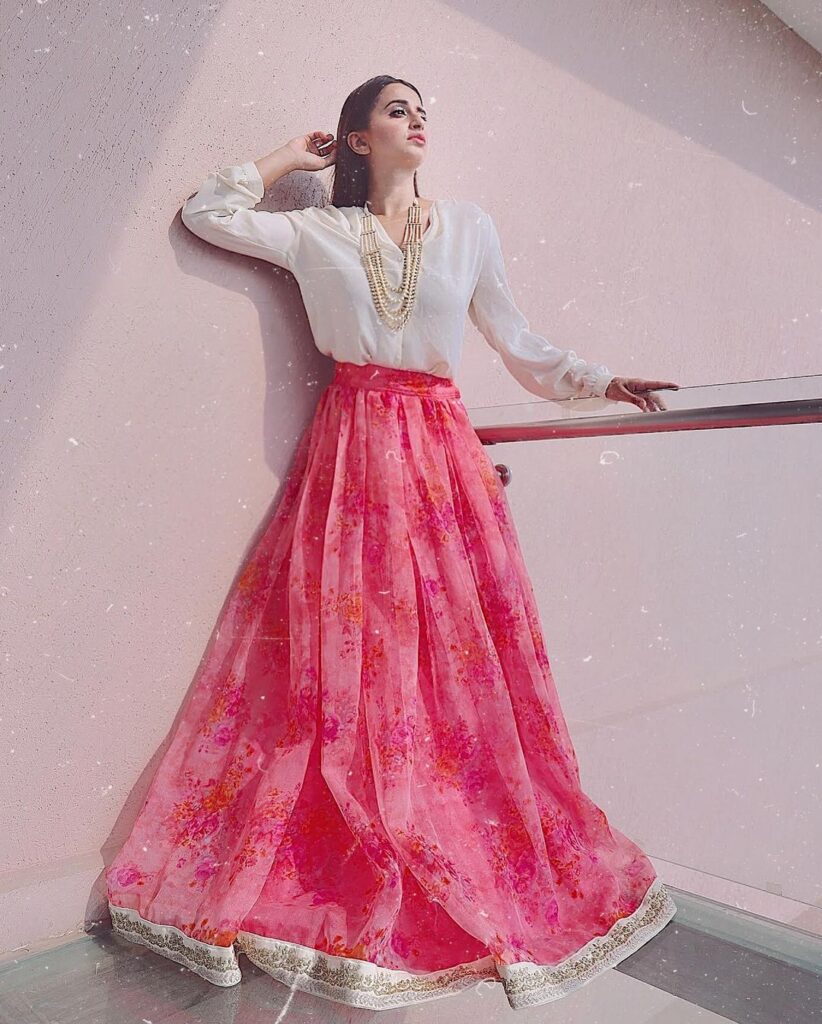 #18 A Modish Saree Adorned By A Modish Blogger
Yet another fashion blogger you can take inspiration from for your Indian wear styles is Juhi Godambe. While she also posts about her travel, Western wear, and beauty, a chunk of her Instagram is also filled with traditional styling inspiration. While it was hard to choose a look to showcase on our curated list of wedding dresses for girls, we loved this choice of organza saree which can be worn when you're the bride, down the line for weddings, and even on a simple night out. Just change the styling to accommodate the event.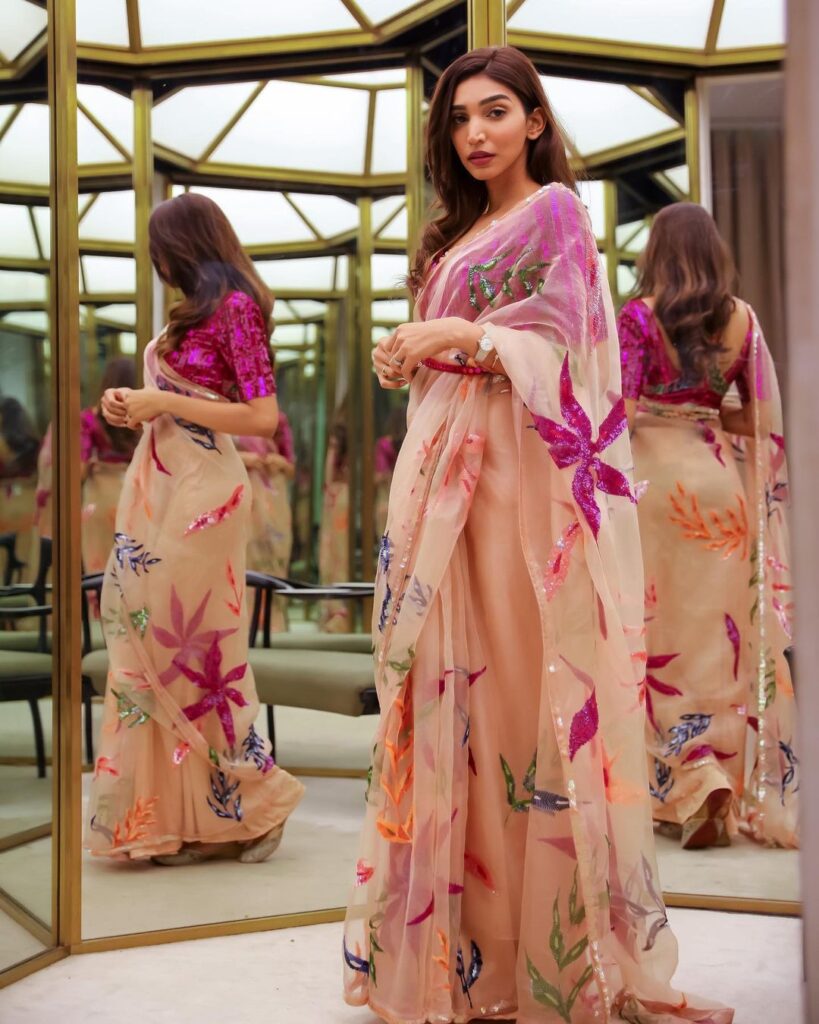 Purchase this saree here for ~ Rs.44,000/-
#19 That Gorgeous Anarkali Though! 
If you've been a fan of intricate embroidery in Indian clothes, then you must have been a fan of Pakistani designers who always adorn their clothes using such impeccable embroidery – no matter what the kind of work is! Here's a ravishing Anarkali set in gray by one of the popular designers in Pakistan – Deena Rahman. Shot by Sara Idrees, the portraits sure make the beauty of the entire outfit come out and does justice to the utter beauty it exudes on the wearer.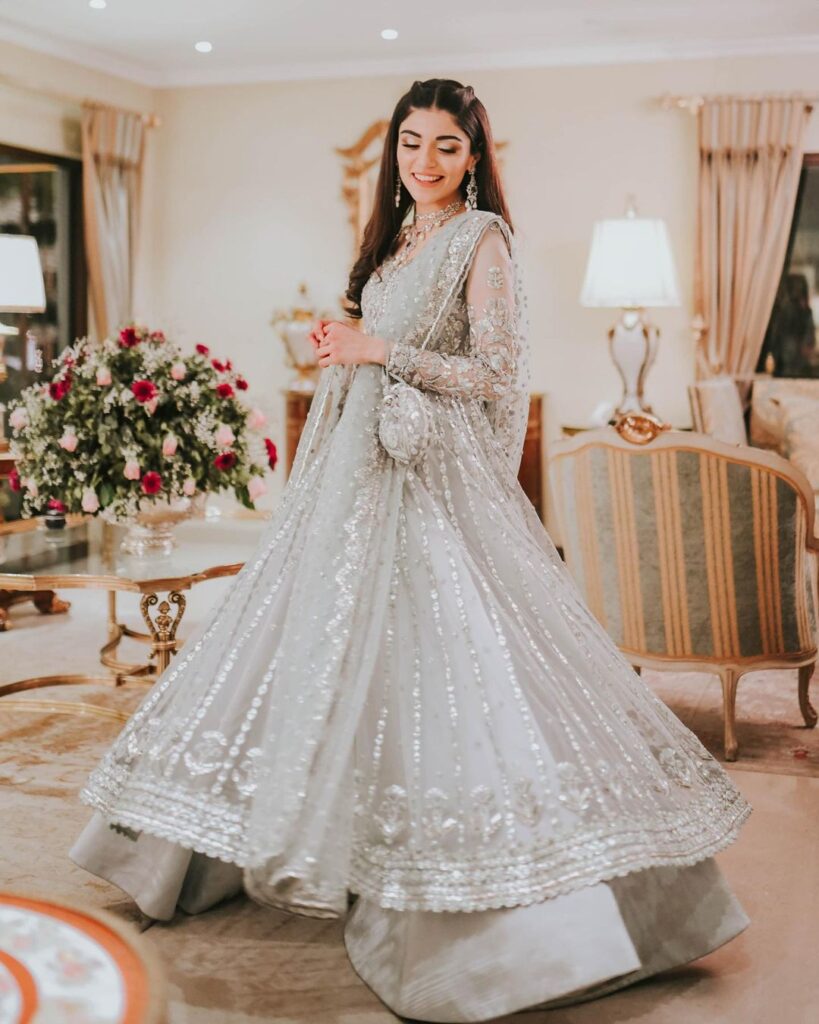 #20 Elegance Of Banarasi
Banarasi handloom has swept the way into Indian women's hearts with its timeless elegance and sheer grace. Another reason for the popularity is the comfort it offers to the wearer without compromising with the alluring element of the dress. Many brides are even opting for benarasi sarees for their wedding day or as a reception dress owing to its comfort and luxury. But you don't have to only stick to benarasi sarees, even benarasi suits should make a place in your trousseau for smaller events or just when you want to dress up in Indian wear.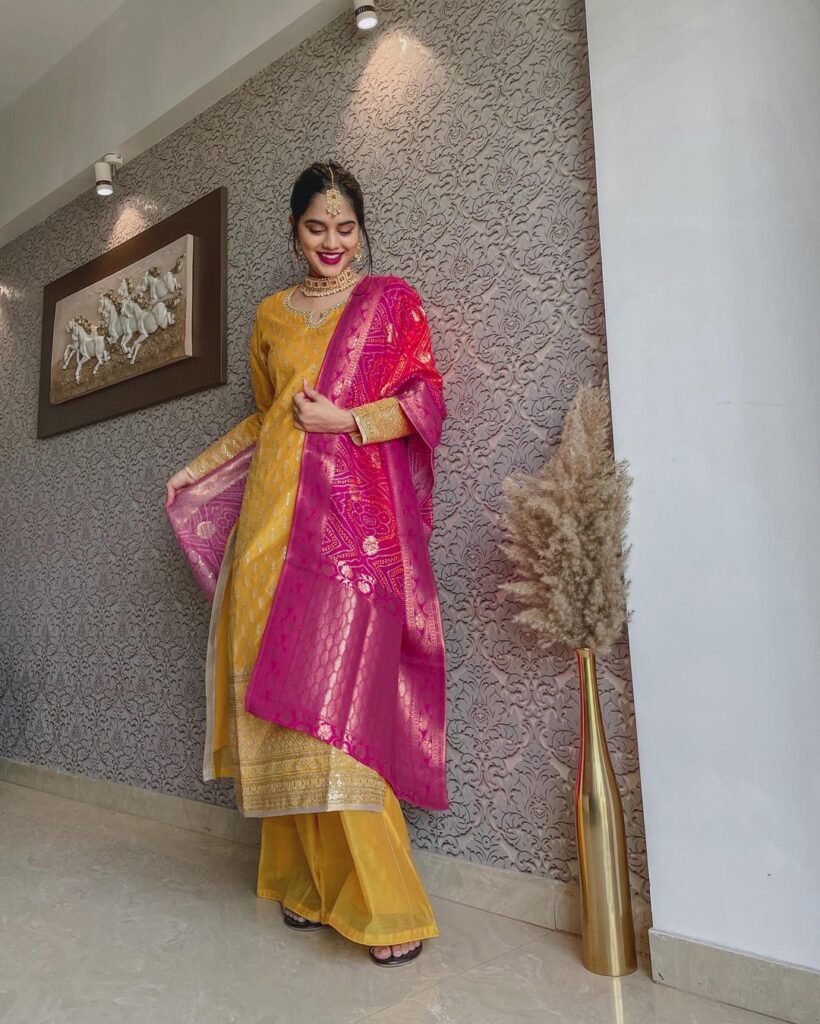 #21 The Off-Shoulder Flair! 
In our opinion, the best city to tour for your wedding trousseau at the moment for budget options is Surat. Chandni Chowk lehengas, we feel, are losing their unique touch and glamor, and so many things are mass-produced and sold at a very high price. Not to disempower their status as the lehenga hub, but we think we have found another place that offers unique designs, flattering stitching, and budget options for brides – Surat. This is just one of the lehengas from a popular store in their city – Vastra Designer – just to give you a glimpse into what we're talking about.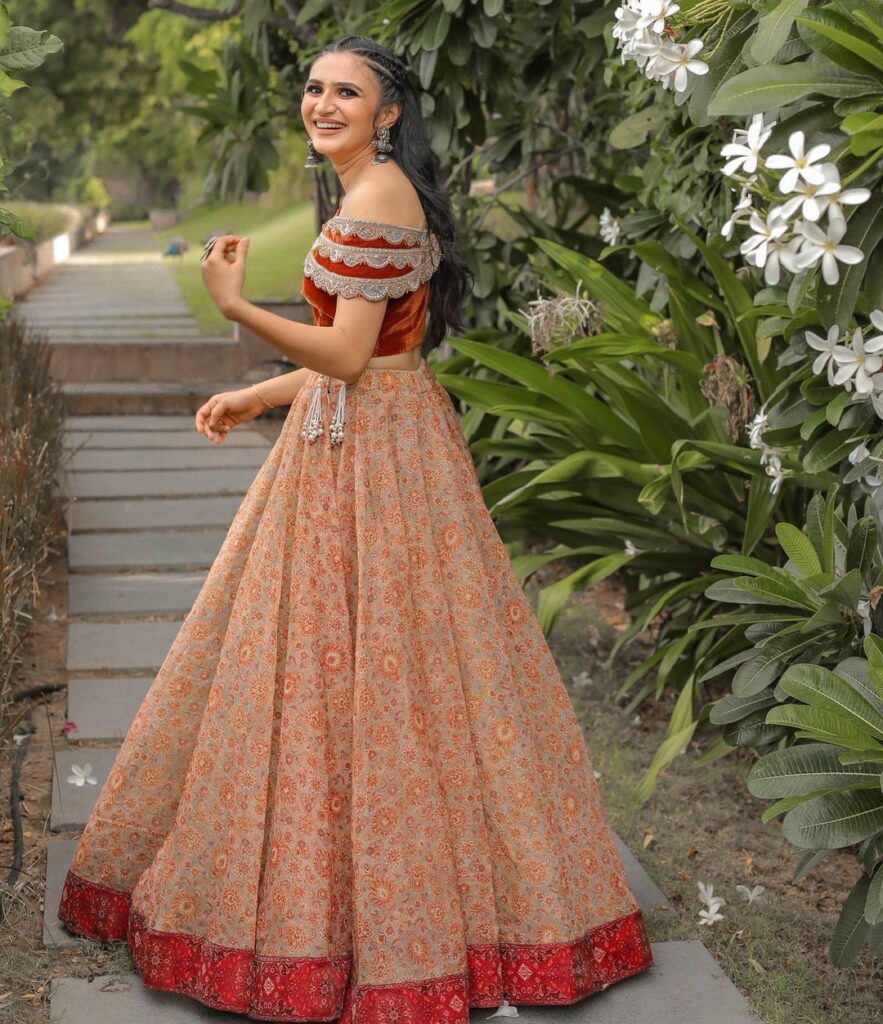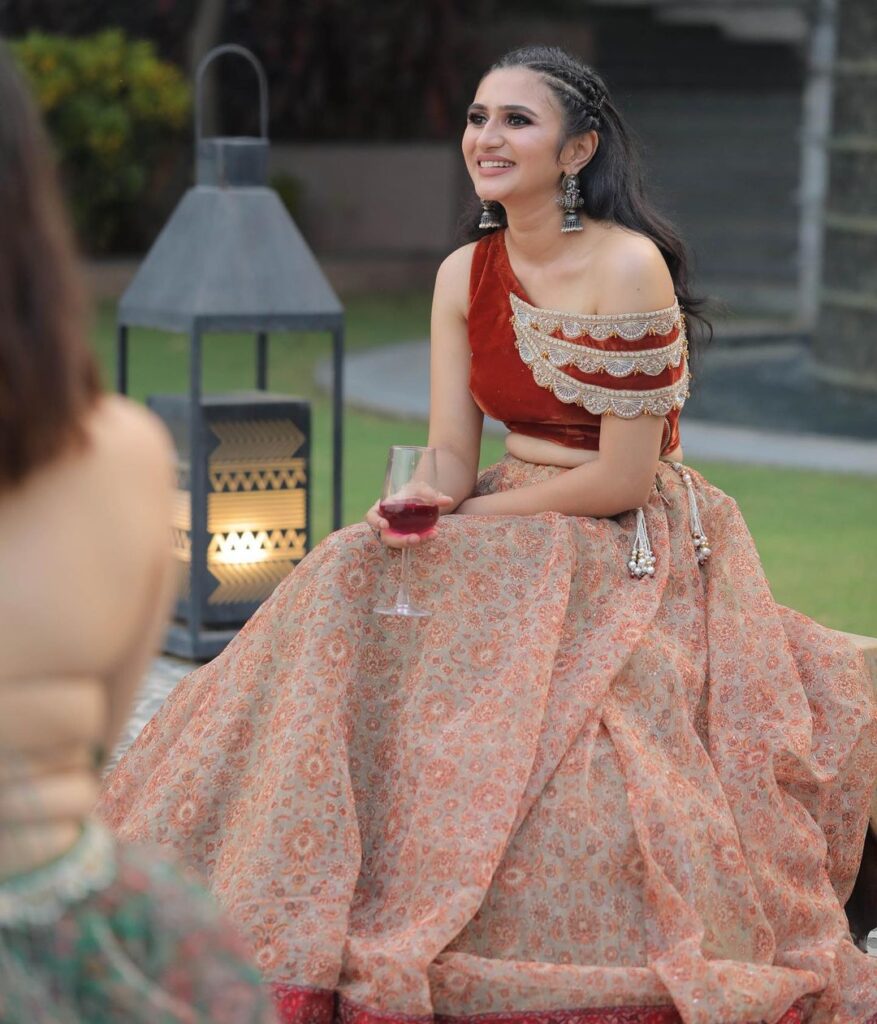 #22 A Gorgeous Gown For Girls
When it comes to shopping for Indian wear, we'd suggest stepping down into the market for sifting through and purchasing the perfect dress. Some stores have a solid online presence but might disappoint in reality or charge a lot for all the money that's going into online marketing, while others have a good collection and are more focused on offline clientele satisfaction. Abhilasha Bharal is one such designer in Delhi who creates magnificent gowns for girls to make them feel like a princess at any event they have to attend! Here's one piece from her spectacular collection, but don't forget to check out he Instagram page for more and visit when hunting for gowns as wedding dresses for girls. 
#23 Simple Wedding Dreses For Girls
Some brides like to keep it simple, relaxing, and authentic. I mean there are two sets of brides really. One who'd go all out on their marriage outfits with trails and chunky trinkets and glamorous makeup looks, other who want to keep it minimalistic, realistic, and relaxing over everything else. We're meeting the latter bride here in this blue Anarkali dress for girls which has a gorgeous royal color and mirror-work to add an appealing element to the bridal dress. For coordination, the groom's wedding dress is a black color with a trending cut to complement the bride's block, royal shade while not looking too matchy.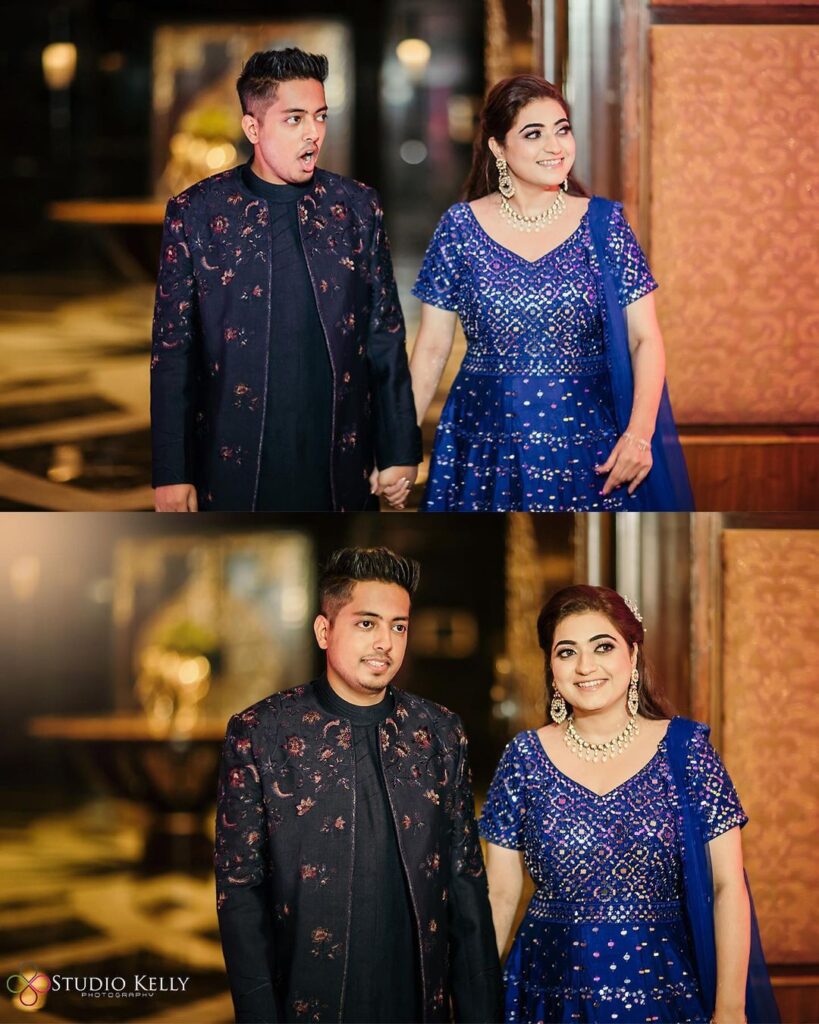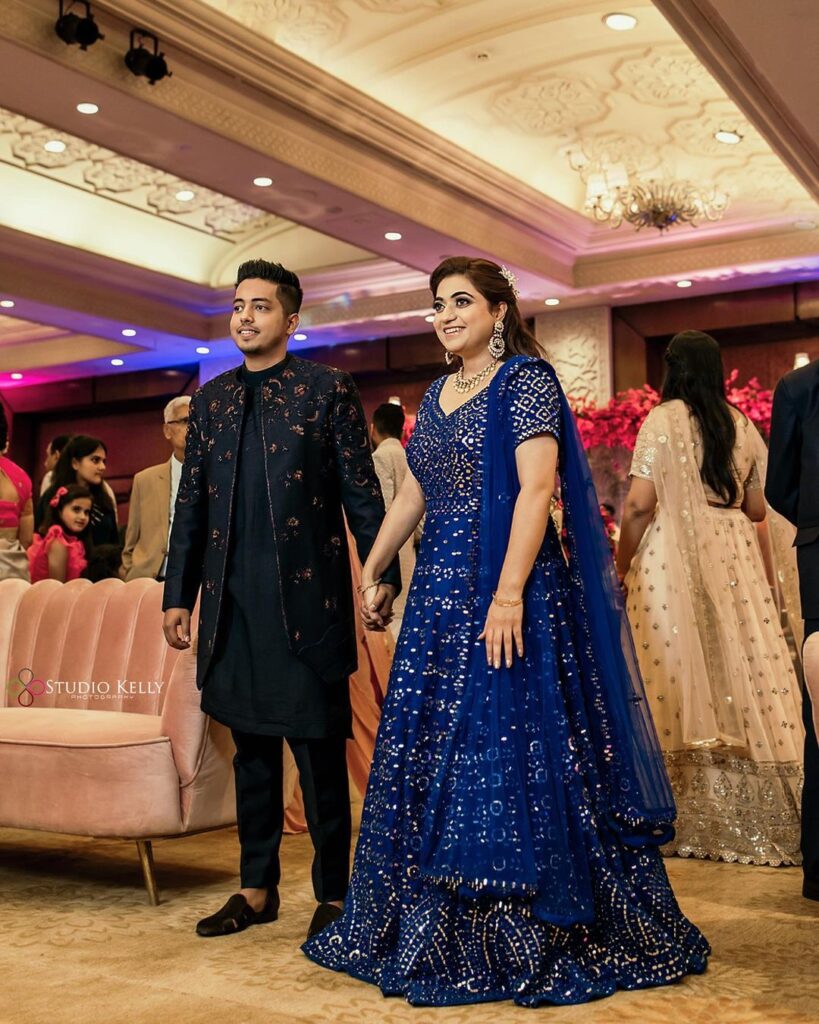 #24 Re-Wear Your Wedding Lehenga In Style
After spending lakhs on a designer red wedding lehenga, you wouldn't want it to bite the dust and let all the effort and money go into vain. A good idea is to re-style the wedding lehenga and wear it again on a special occasion. One of those occasions can be the first Karvachauth or wedding of a sibling or an understated style for a friend's wedding. Here MUA Meghan Aroda paired her beautifully embellished Sabyasachi lehenga with a designer lehenga blouse with puffy sleeves for a modish traditional look.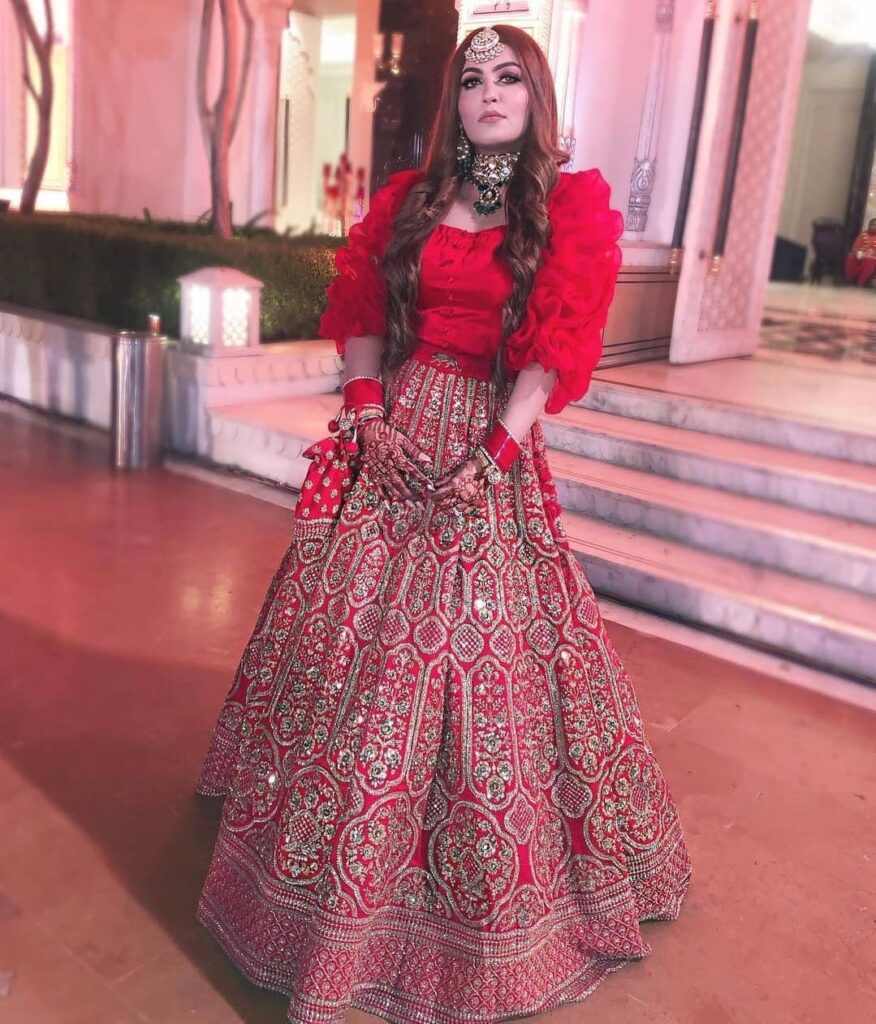 #25 The Royal Blue
As we said, if you're in a mood to wear something comforting as a marriage dress, then go for a loud color instead of neutrals to make a glamorous statement without compromising the functionality of the dress. Here, the bride wears a royal blue lehenga with stunning print, a V-neck blouse, and a bandhani dupatta. To further amp up the voguish style, she paired the outfit with silver jewelry, instead of the usual kundan-polki, diamonds, or gold jewelry. If you're looking for a unique touch to your bridal attire, surely take this traditional outfit as inspiration.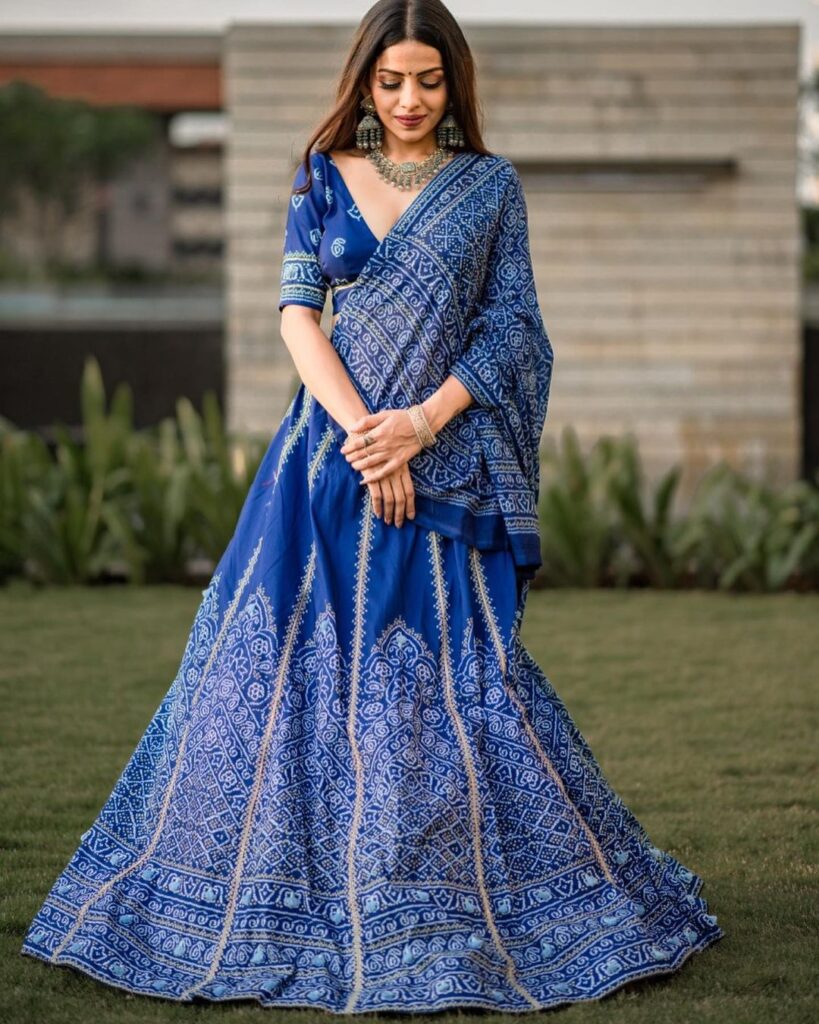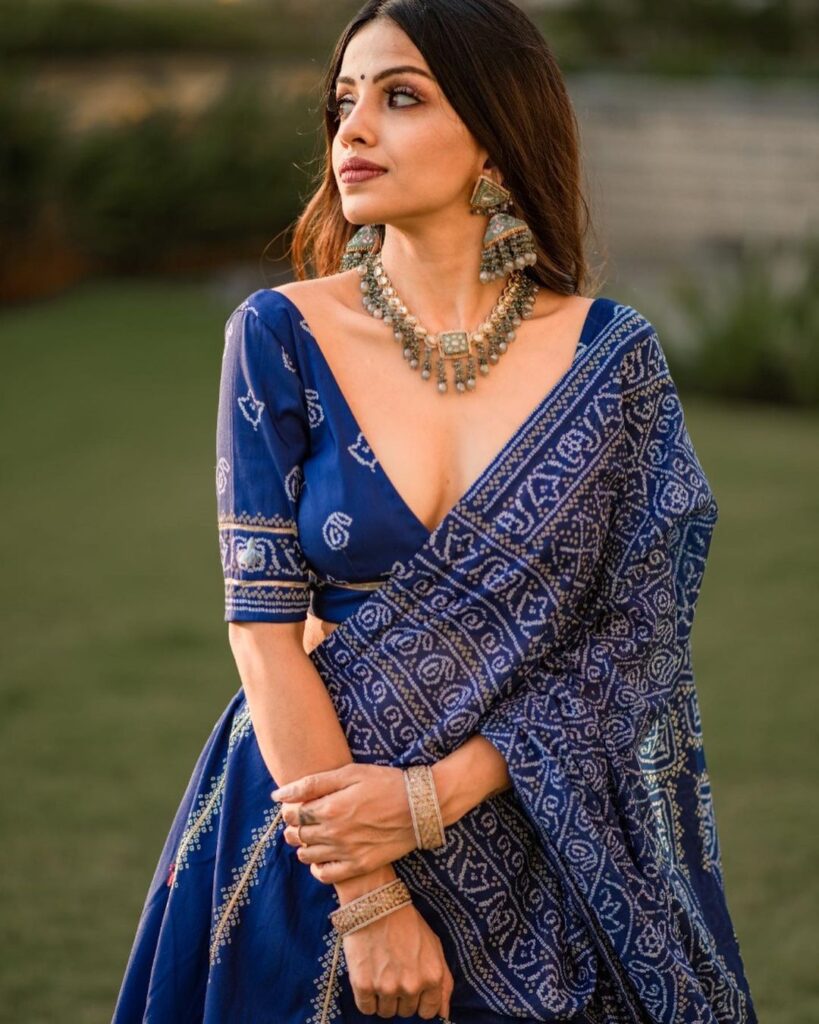 #26 For The Traditional Yet Chic Brides
Well, another Anju Modi creation coming your way. You must have guessed we're a big fan of her work now. And she does deserve the recognition of Sabyasachi, Manish Malhotra, and Anita Dongre in the wedding realm. We haven't been paid to say this, it's all genuine. Her utter understanding of Indian craftsmanship, a flair for Avant-grande outfits without compromising on traditions, and eye for detailing are unique in their own right and that's why her outfits grab attention. Here are two stunning ensembles from her latest collection. The stunning ivory, admirable silhouettes, and timeless craftsmanship make them a stylish option for wedding dresses for girls.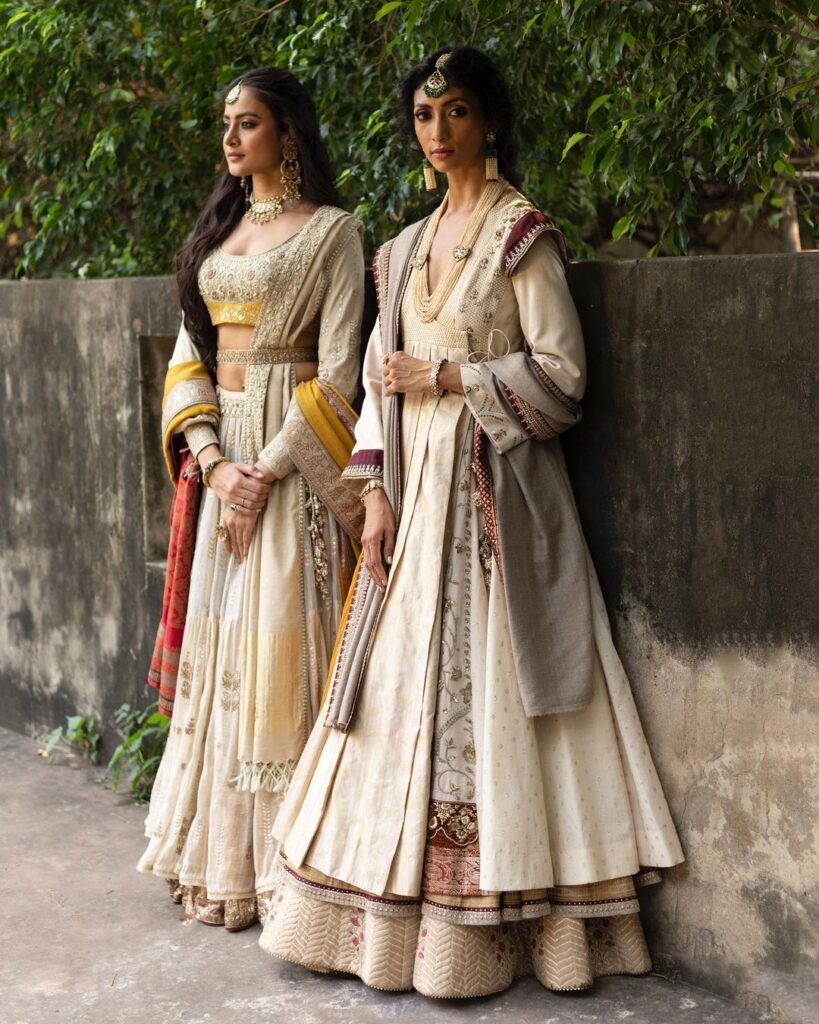 #27 Ivory For The Win! 
Influencer and Youtuber Somya Gupta played perfect bridesmaid to her friend Pooja Mundhra's wedding in an ivory lehenga set with a halter-neck blouse slightly embellished in silver. She smartly paired the modish lehenga set with golden-white bangles, a kundan necklace set, and glowing makeup look. Ivory is one of those colors which can make for a perfect addition to a bride's trousseau or bridesmaids. The pristine shade has a feminine touch that looks great on everybody – no matter the personality, style, or event.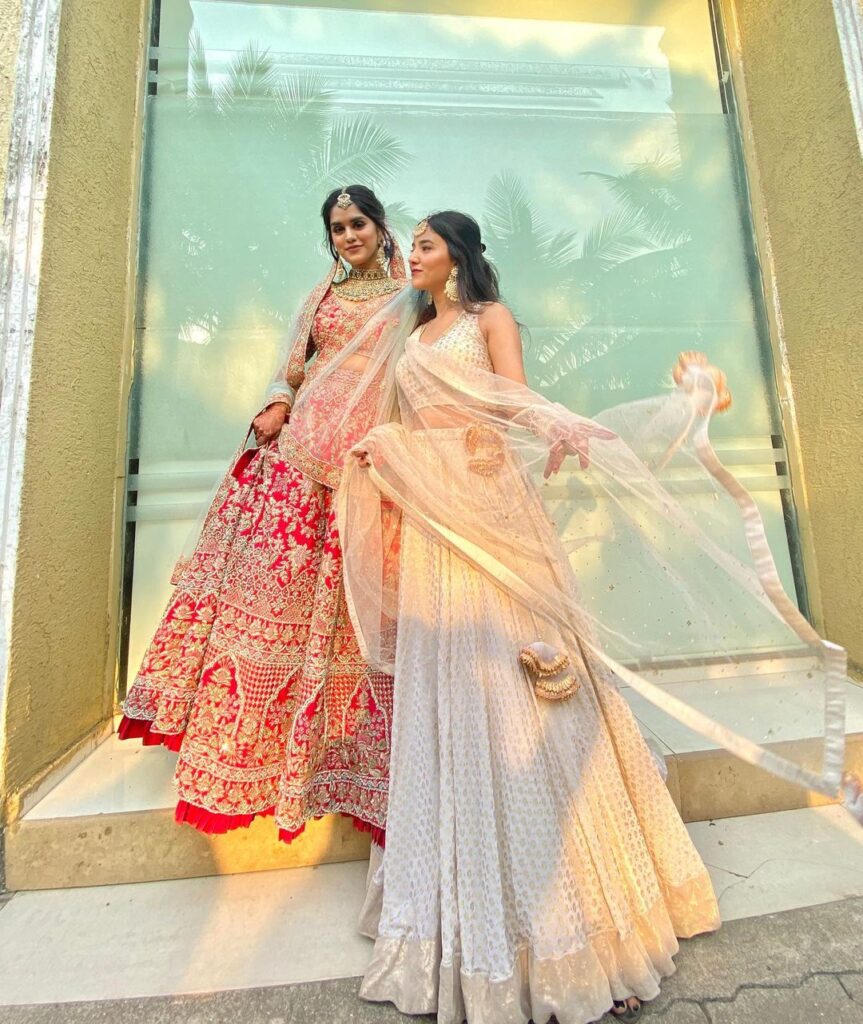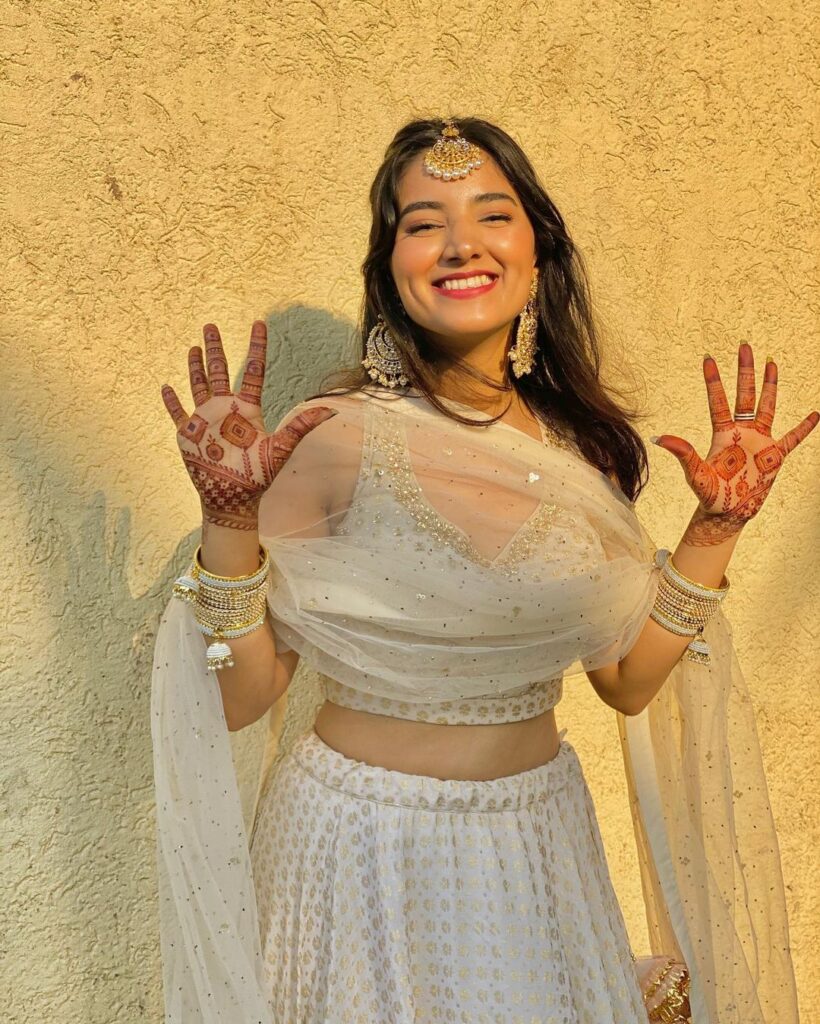 #28 The Multi-Colored Goodness For Marriage Function Dress
Multi-color lehengas are truly gorgeous. Indian weddings are all about beautiful, bold, and bright colors. But when these colors are combined in any outfit to perfection, they become truly picturesque. Also, for brides who have a hard time deciding the color of their outfits, multicolor puts their indecisive soul to rest and gives them an ensemble they can enjoy wearing and flaunting. The lehenga featured here has an authentic Lucknowi chikankari outfit and is made in shades of yellow, blue, and pink. The blouse also has mirrorwork, further adding to the fusion touch of the outfit.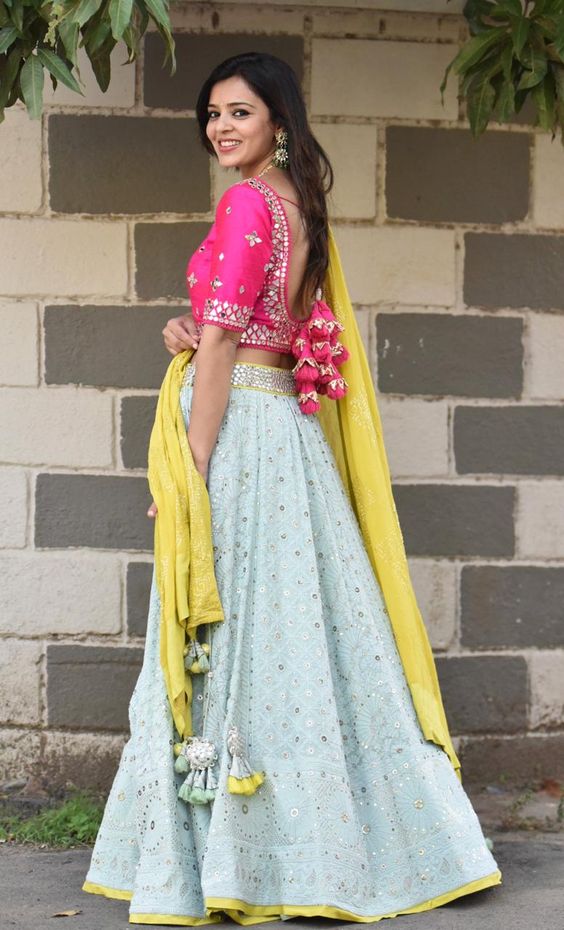 #29 Concept Sarees Are Red Hot At The Moment
Gone are the days when sarees were a worrisome option (albeit graceful) because of the question of pleating it perfectly and still somehow giving a restricted movement. Now, there are the option of concept sarees that are completely functional and have a throw-on-and-go appeal attached to them. On those days when you have less time to be dressed and still want to explore the charm of Indian wear, concept sarees are definitely an ideal pick. And there are multiple options – there's ruffle saree, pants saree, or even the pre-draped saree that gives the traditional saree look without any hassle of draping. Include such pieces in your bridal trousseau for an easier getting ready approach.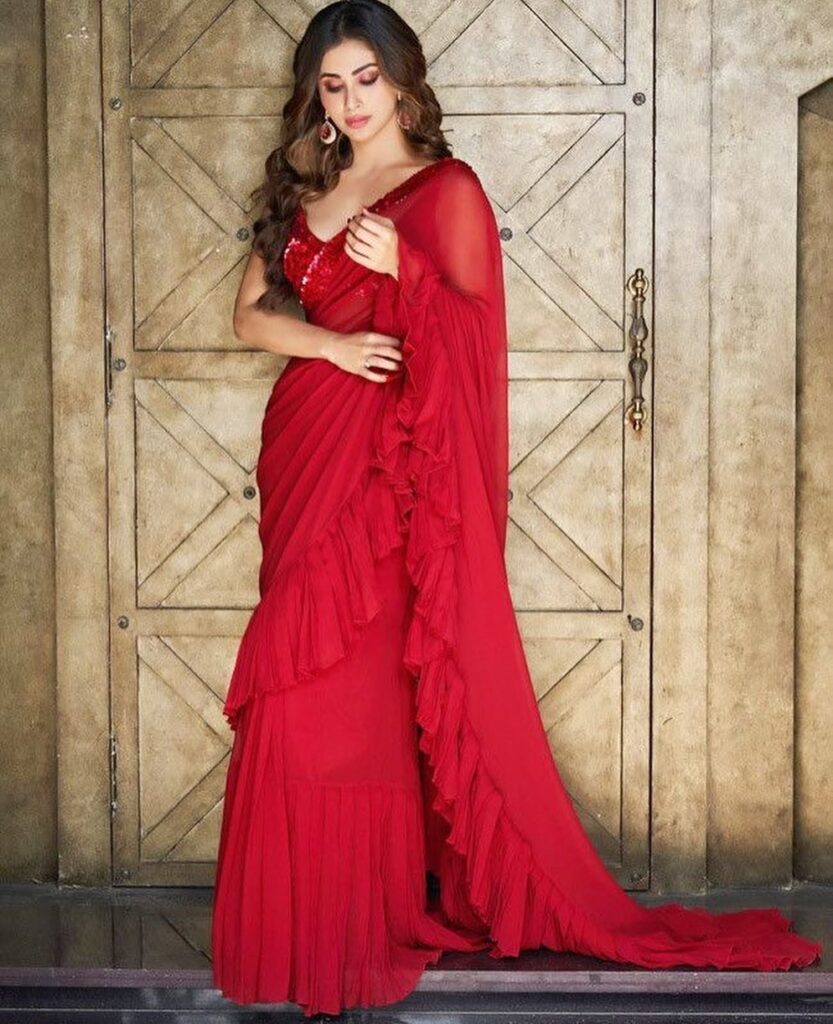 #30 The 3-D Touch
For those looking for the designers who care for the environment as much as the environmentalist in you – Amit Aggarwal's lehengas made from recycled plastic are the way to go! He's probably the only luxury designer at the moment who is pre-determined at curating clothing lines that's a subtle nod to our natural resources without compromising on the opulent feels of the outfit. The lehenga is replete with the designer's signature 3-D threadwork and metallic cording and has a beautiful green color that's perfect for an evening event like a cocktail or sangeet. Bridesmaids or sisters of the bride/ groom can also find inspiration from this outfit.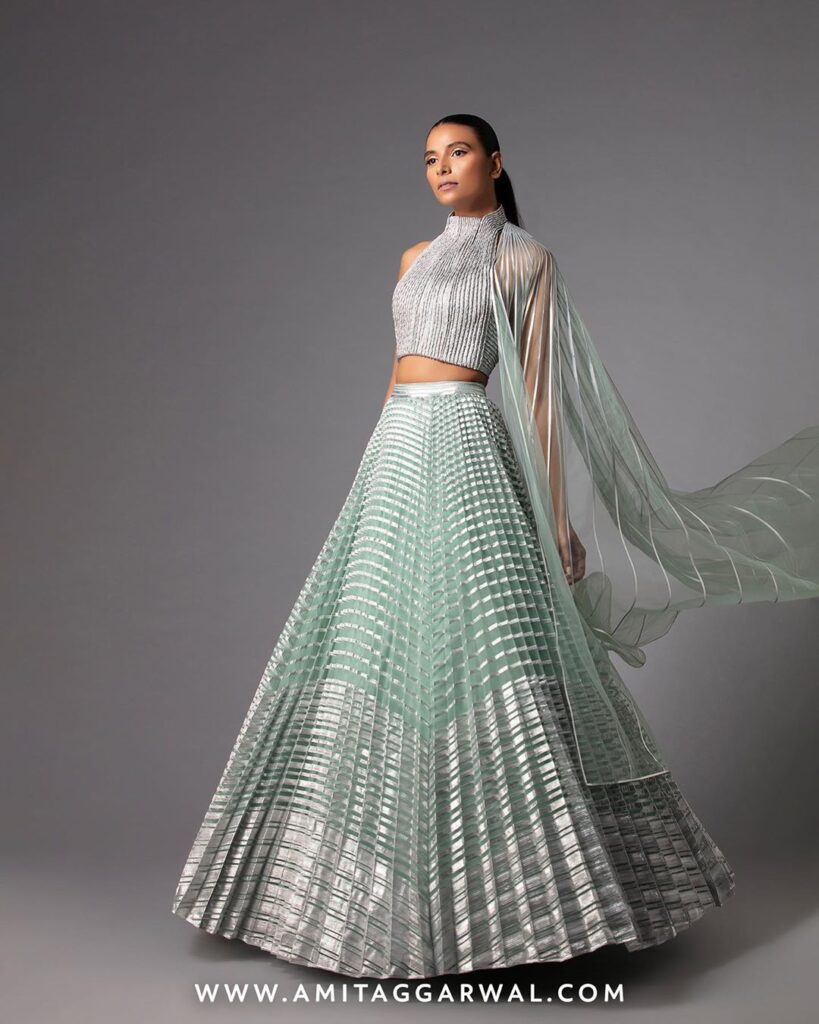 Purchase this lehenga here for Rs.1,65,000/-.
#31 It's All About The Draping
Designer and influencer Vanshika Gaba wore this gorgeous half-half silk saree from Meena Bazaar in a South-Indian draping style and paired it with her Payal Keyal wedding lehenga blouse for a unique look. Sometimes all you need to create a fashion statement is to mismatch the few pieces from your own wardrobe and play with the draping and silhouette style. Who knew a simple saree with a heavy blouse can give such a trendy look. Pairing it with golden jewelry further enhanced the traditional elegance of the entire marriage function dress.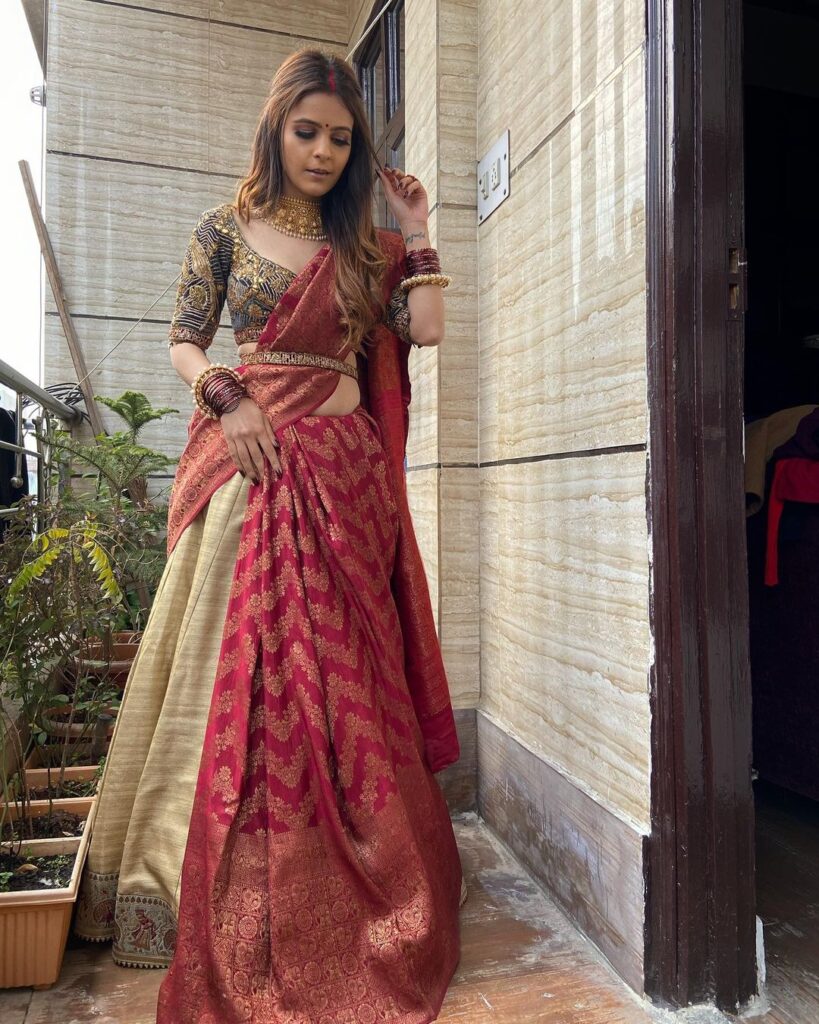 #32 The Love For Sarees Is Real
Concept sarees are really ruling the fashion world at the moment and here's another one to inspire your own trousseau choices. Influencer Surbhi Sethi wears this stunning purple color satin saree for a night event and pairs it with diamond jewelry for an elegant look. Beauty-wise, she kept things simple and only went for a smoked-out effect on the eyes to complement the exquisite saree. What we further admire about the ensemble is the voguish sleeves of the bride. While one side has full net sleeves, another one is sleeveless to let the pallu of the saree take the center stage in the design.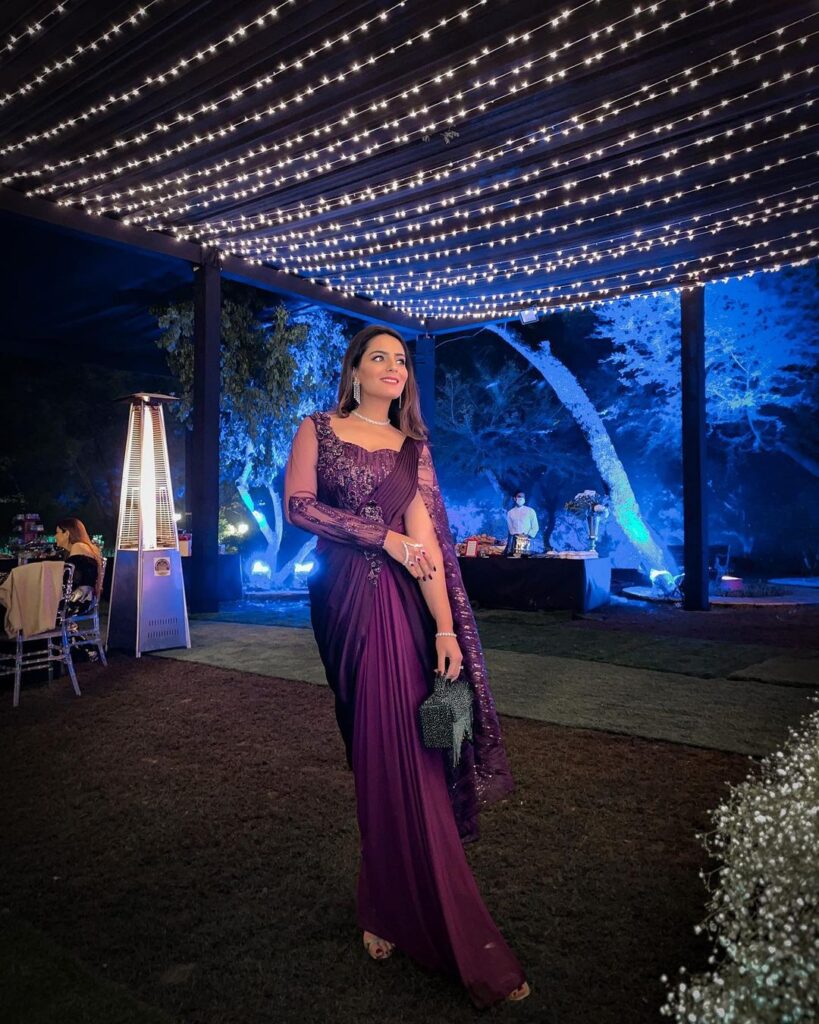 Saree by Kamaali Couture
#33 Gorgeous Women In One Frame
When the founder of Indian Ethnic Co. got married, she sure exuded her love for Indian artisanship in her clothing, which is also what her brand stands for. Founded by mother-daughter duo Hetal and Lekhinee Desai, the entire collection is an ode to Indian handloom with a contemporary twist. So, for the mehendi event, Lekhinee, her mother, and her sister all stood for the same basic elements in the outfits designed by them. We absolutely love the beautiful monochromatic colors and relaxed silhouette of their outfits.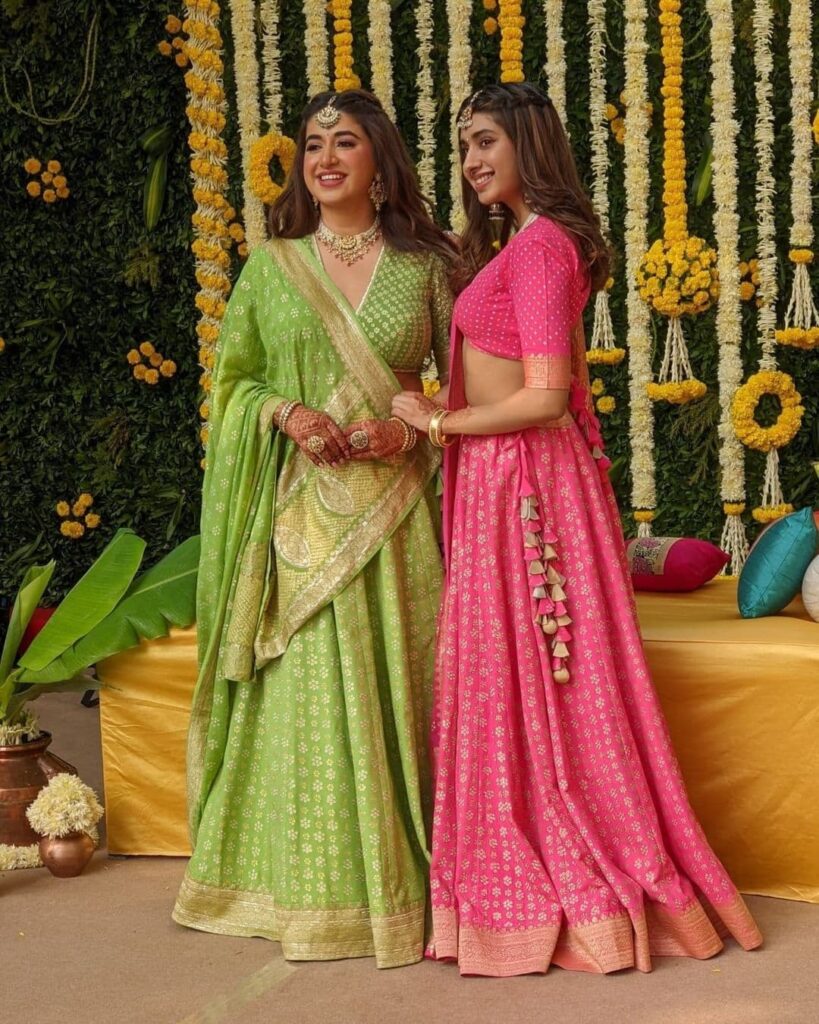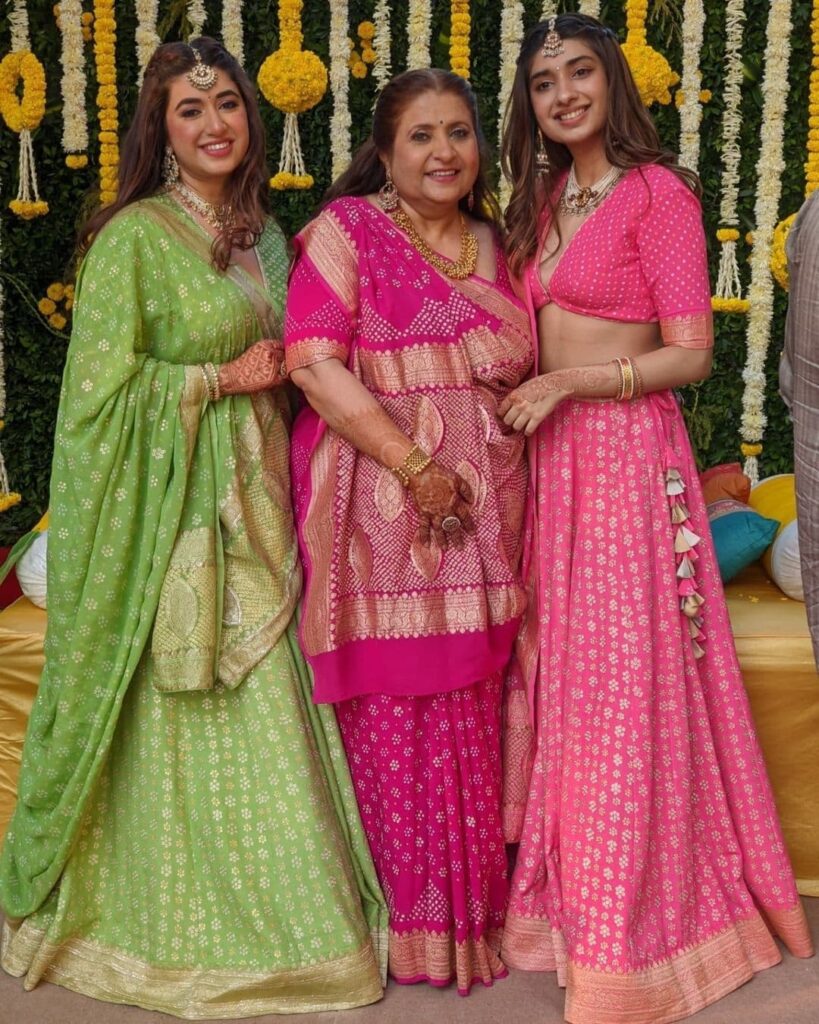 #34 Sabyasachi Wedding Dress
Sabyasachi lehengas are one of the most sought-after wedding dresses for girls, so we had to include his piece in this curated blog. Here, the brother of the groom, Ayushi Tyagi dons a velvet blue Sabyasachi lehenga for her brother's big day and styles it minimalistically for the occasion. To complement the V-neckline, she just wore a kundan necklace set, opted for a natural makeup look, and kept her tresses in voluminous waves for a feminine avatar.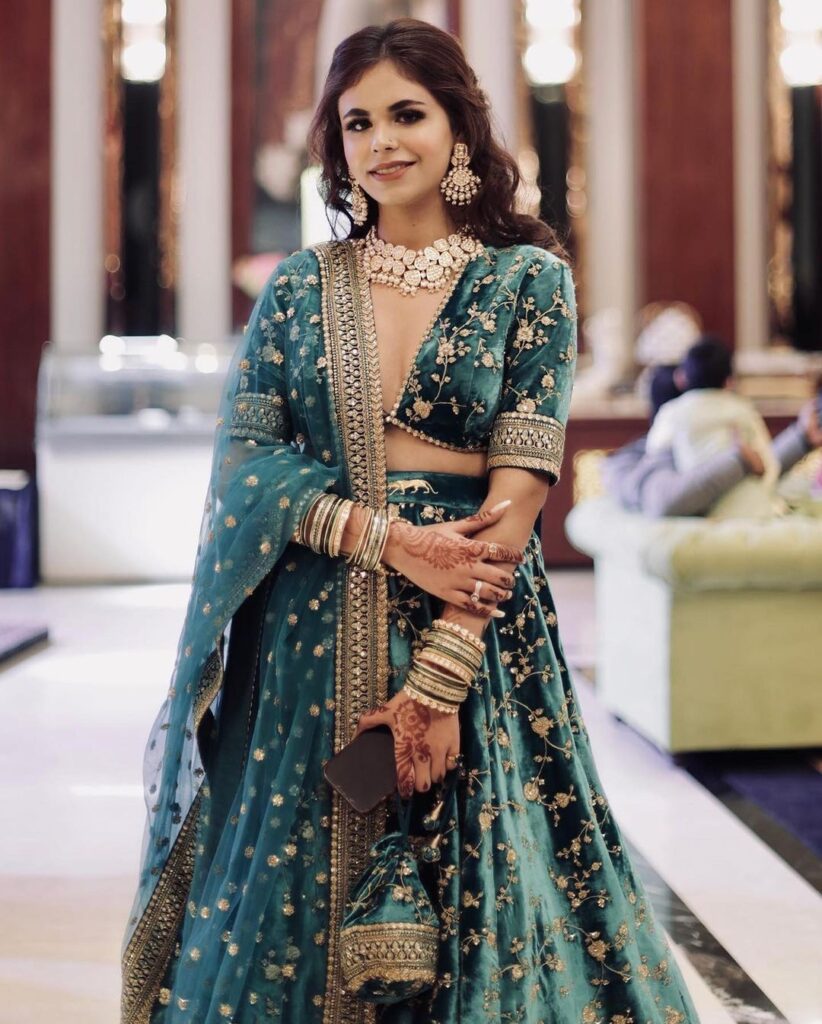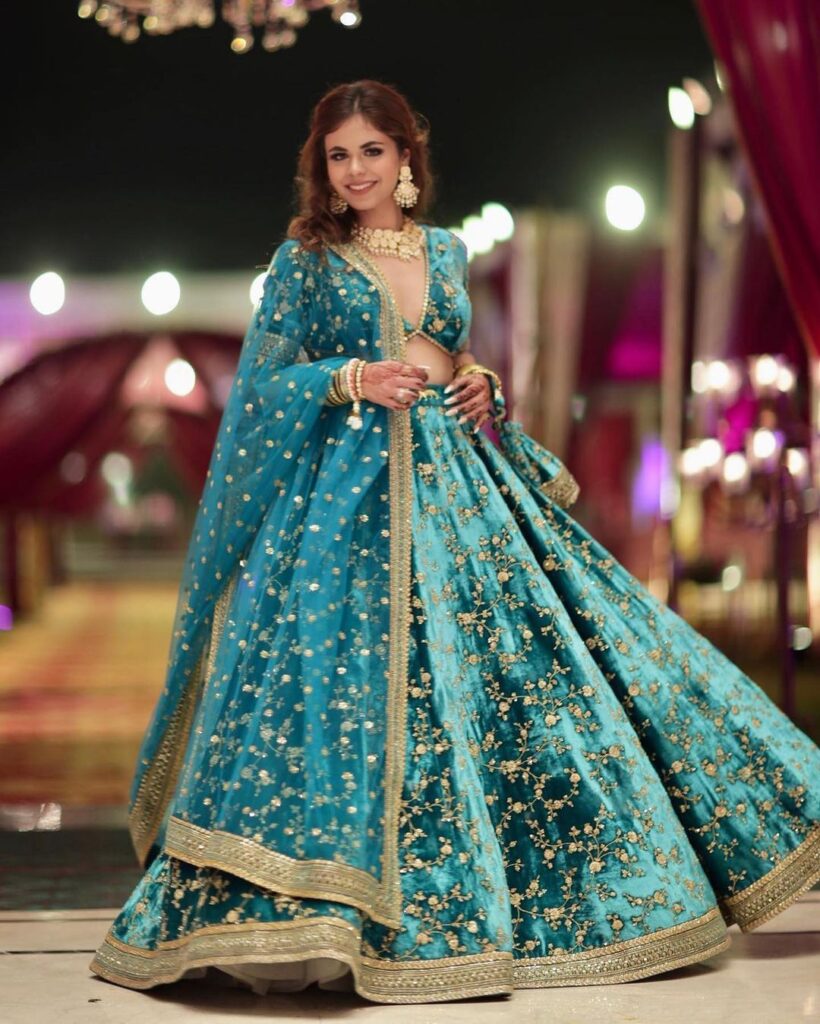 #35 Sophisticated Yet Statement
Payal Khandwala is the recent designer to make headlines after Bollywood's leading ladies Deepika Padukone and Alia Bhatt wore her outfits for separate events in the past few months. The modernistic touch and the effortless silhouettes are ideal for the women of today and also fit in the budget of brides quite well. This lehenga, for example, can make a great pick for a cocktail party or for sisters of the bride/ groom. By playing with the styling, you can exude any scale of glam you want with this lehenga set.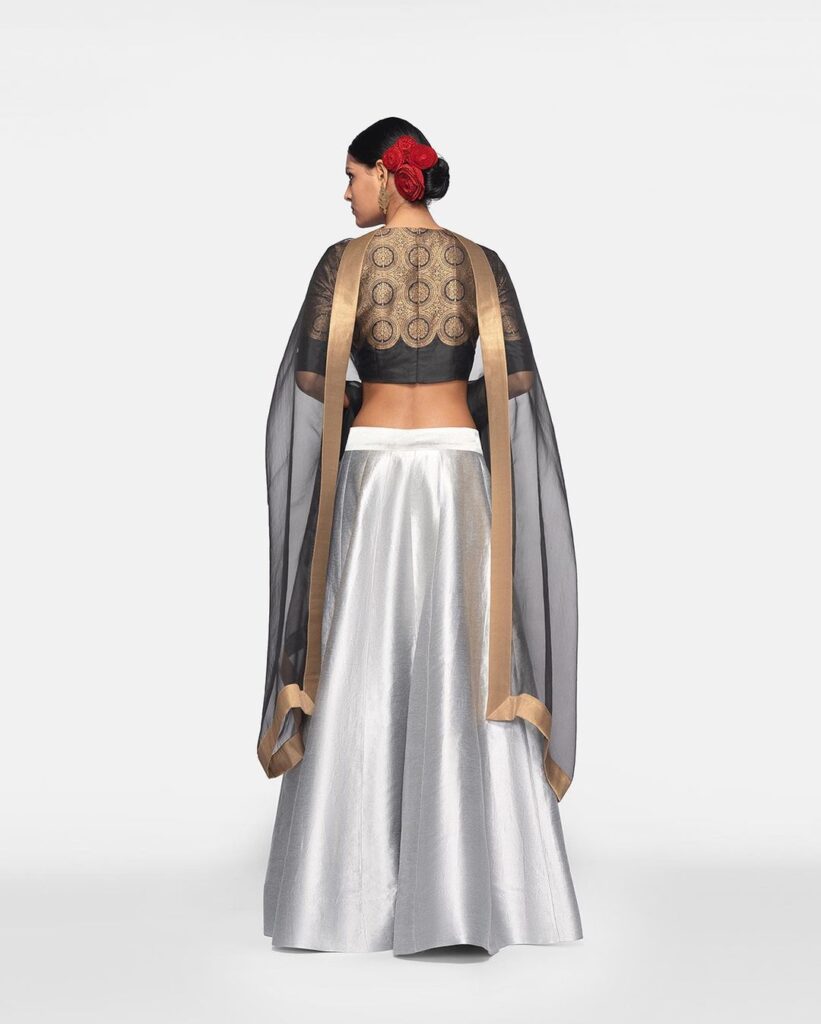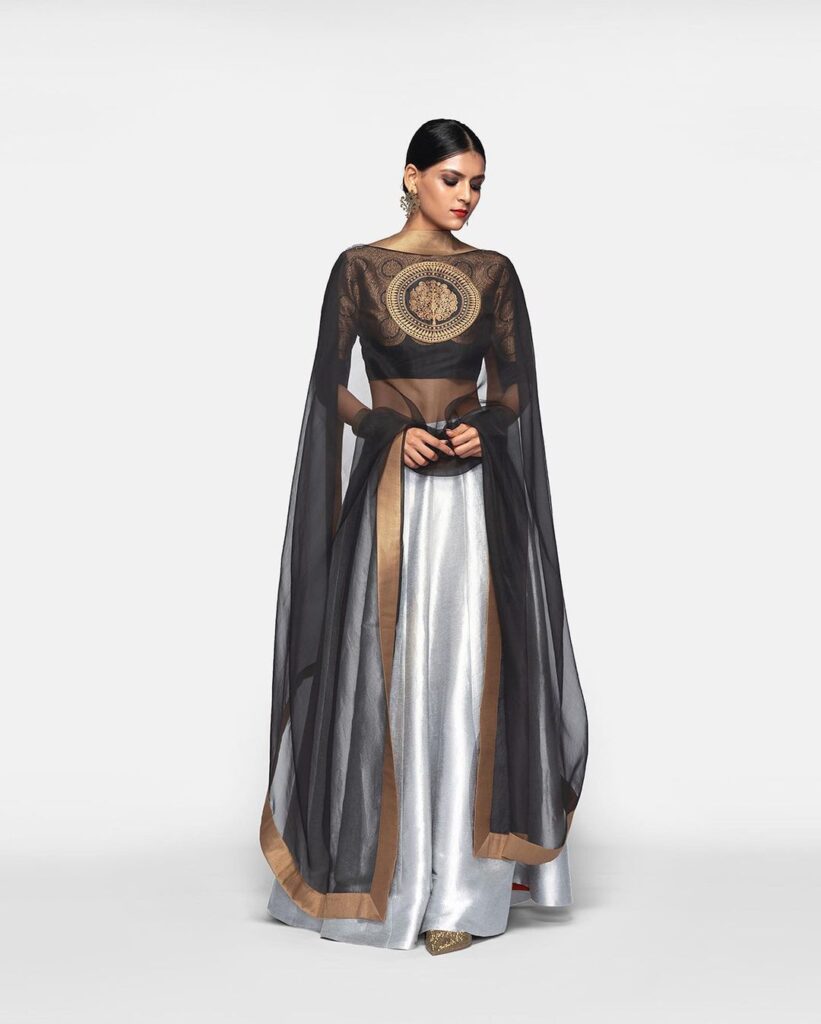 You can buy this lehenga here for Rs.55,000/- 
#36 A Unique Shade Of Wedding Lehenga Colors
Reds, pastels, and pinks are big on the wedding lehenga colors, but opt for a unique hue and you're sure to mesmerize everyone with your choice. A deep brown lehenga with such intricate zardozi embroidery looks gorgeous to wear on the big day. The bride surely drew a line between safe and experimentation by going for a noteworthy lehenga hue but work on it that's common and aesthetic. 
#37 Sharara Sets Are Big At The Moment
Shararas have definitely stolen the protagonist spotlight in the past few years. Celebrities are sporting the style, real brides are donning them, and even fashion influencers are giving them a big nod on their Instagram. Comfortable and considerable, there are a number of styles in this silhouette for you to explore. Here, influencer Karishma Yadav Bhalla wears a printed blue set by Sukriti and Aakriti, ideal for your pre-wedding revelries and can be worn down the line for multiple occasions.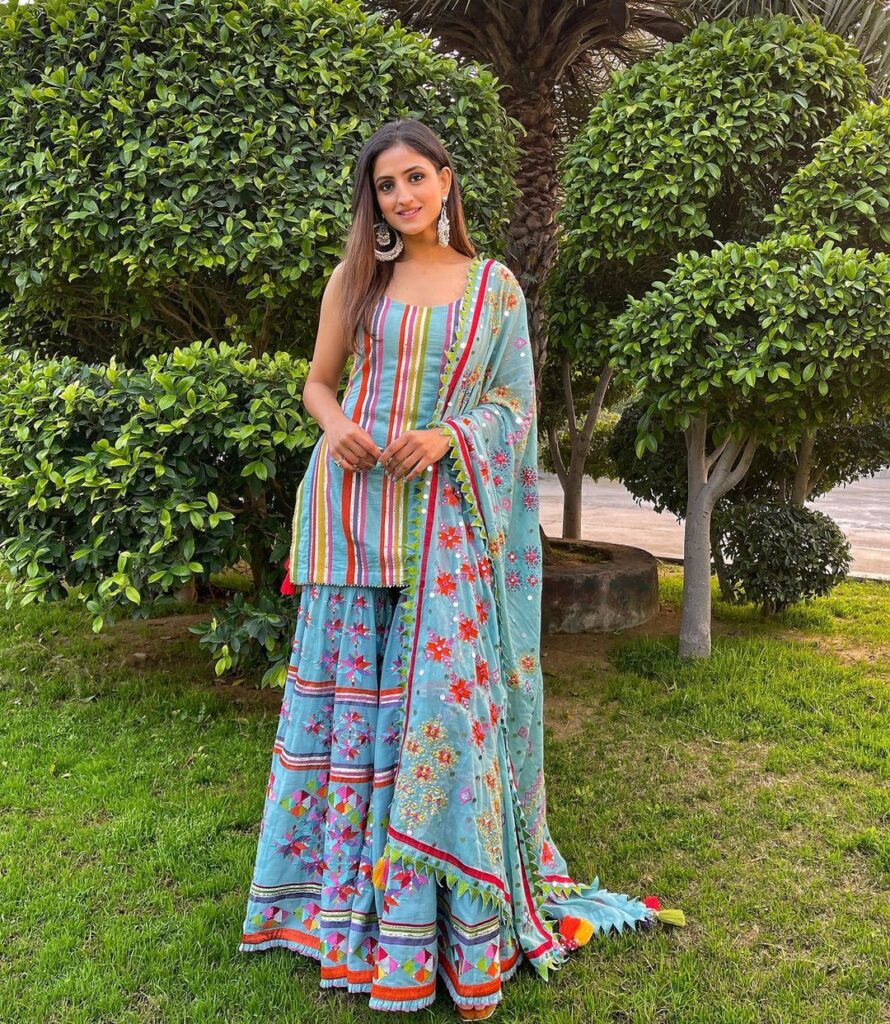 #38 Silk Saree Love
Aditi Rao Hyadri's ethereal beauty in Indian wear makes her a favorite of Indian designers for their magazine shoots and collaborations. Recently, she wore an organza silk saree by Punit Balana channeling the ethereal romanticism of the bygone era. The highlight of the saree was the golden dori work on the borders and on the strappy blouse. She paired the sari with a choker set and a floral bun for a crisp and posh look. We'd say this saree will make for a perfect pick for your mehendi event if you're looking for an easy wear option for the lengthy mehendi application.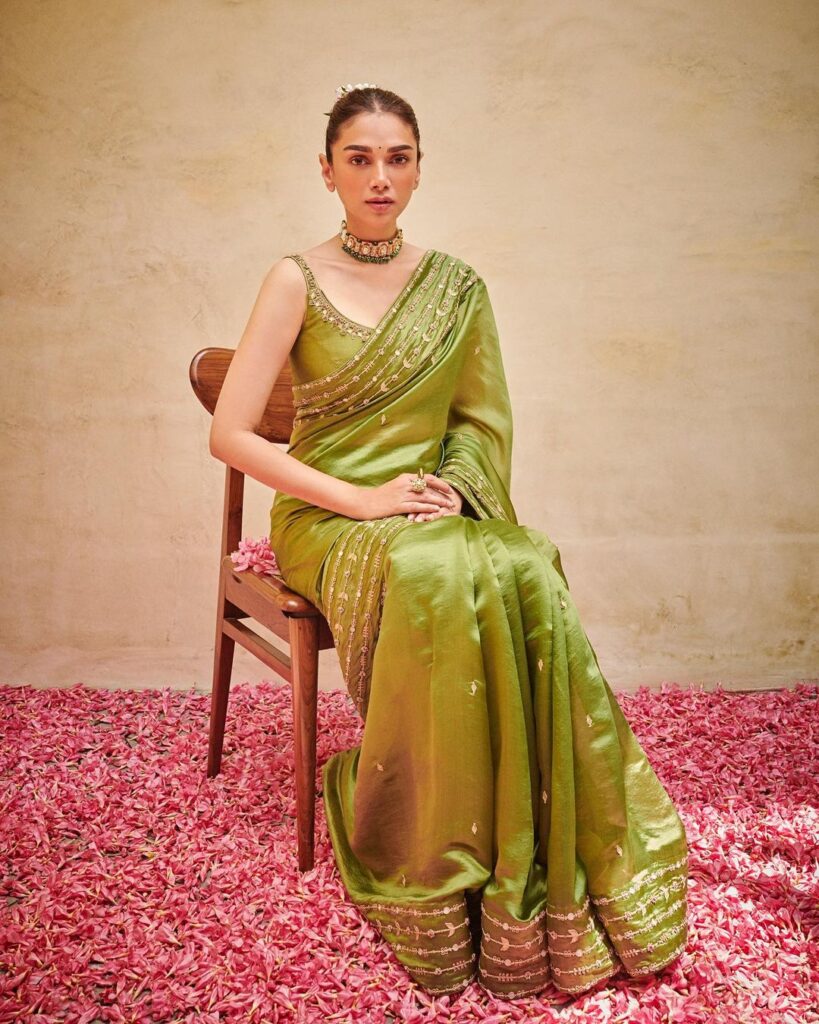 Purchase this saree here for Rs.45,000/-
#39 Move Away From Sarees & Lehengas
If you're bored of the usual sarees and lehengas when you go out for Indian wear shopping, there's another silhouette in town that offers the glam and charm of these outfits without compromising with the comfort quotient of a party wear dress for girls. Here, the net peplum top on top of sharara pants is a gorgeous wedding look to carry as a bride for the pre-wedding revelries or as a bridesmaid for a close friend's wedding. We also love how the modish outfit is styled with a pulled-back ponytail and glowing make-up for a neat, elegant overall look.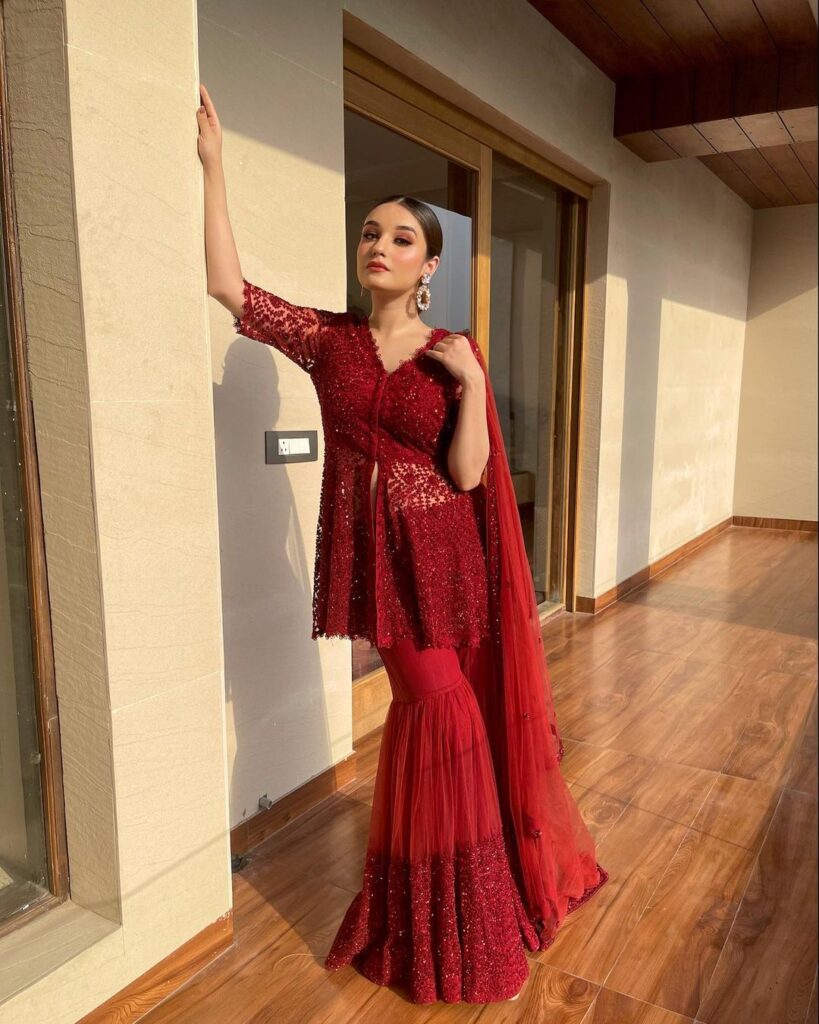 @whattanyawore in Kylee by Ruchi Jain 
#40 The Soft Pink Magic
Manish Malhotra's lehengas are absolutely OTT and drop-dead gorgeous. His wedding lehengas are specially infused with so much opulence and glamorous, and most importantly, the uniqueness that it's hard to not stare at them when you come across them. Unlike other designers, Manish's designs are fresh and can be trusted to not be replicated a lot by other brides. Here, you can see bride Shivangi donning a pink bridal lehenga from his collection for a mesmerizing wedding look.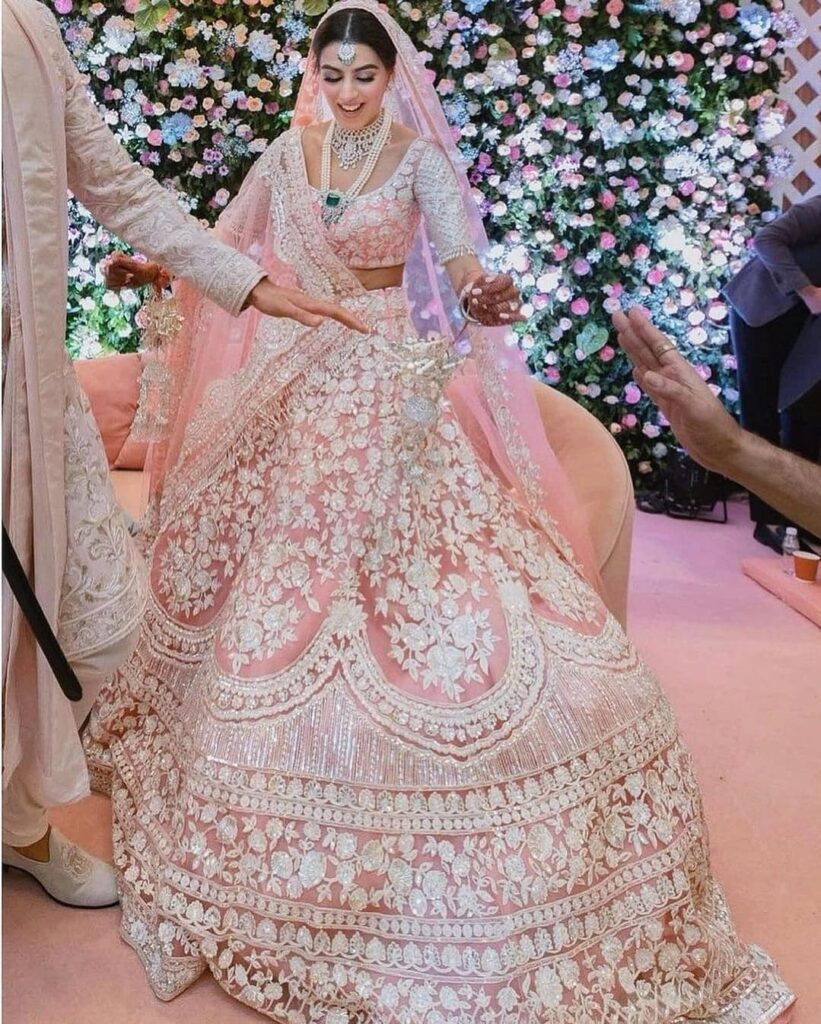 #41 Yet Another Gorgeous Saree Design
A black saree, just like a little black dress, is a must-have in any woman's wardrobe. Bride Tanu Nehra here wears a black saree here with white thread embroidery for pre-wedding revelries. Unlike the benarasi and cotton sarees popularizing at the moment, the bride-to-be instead wore the saree in satin silk and paired it with a sweetheart neckline blouse. She kept the makeup subtle glam and let her hair loose in chunky waves for a feminine and chic look for her pre-wedding photo shoot. For trinkets, just a simple diamond necklace and bangles were needed to complete the look.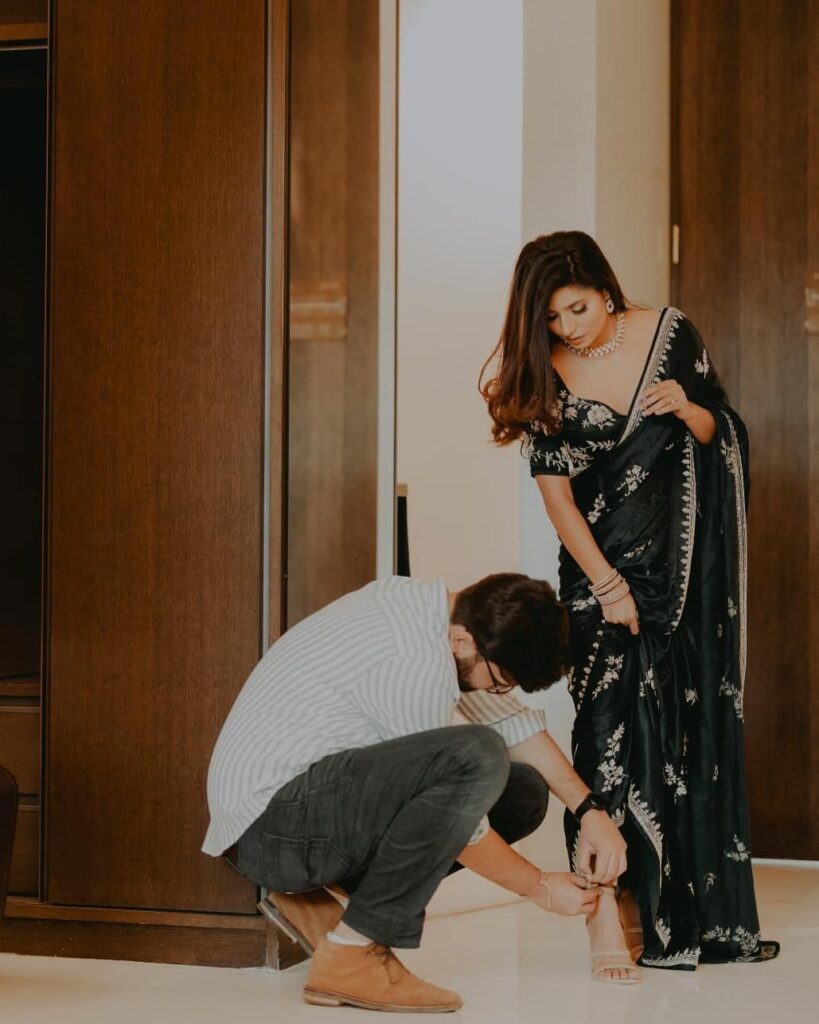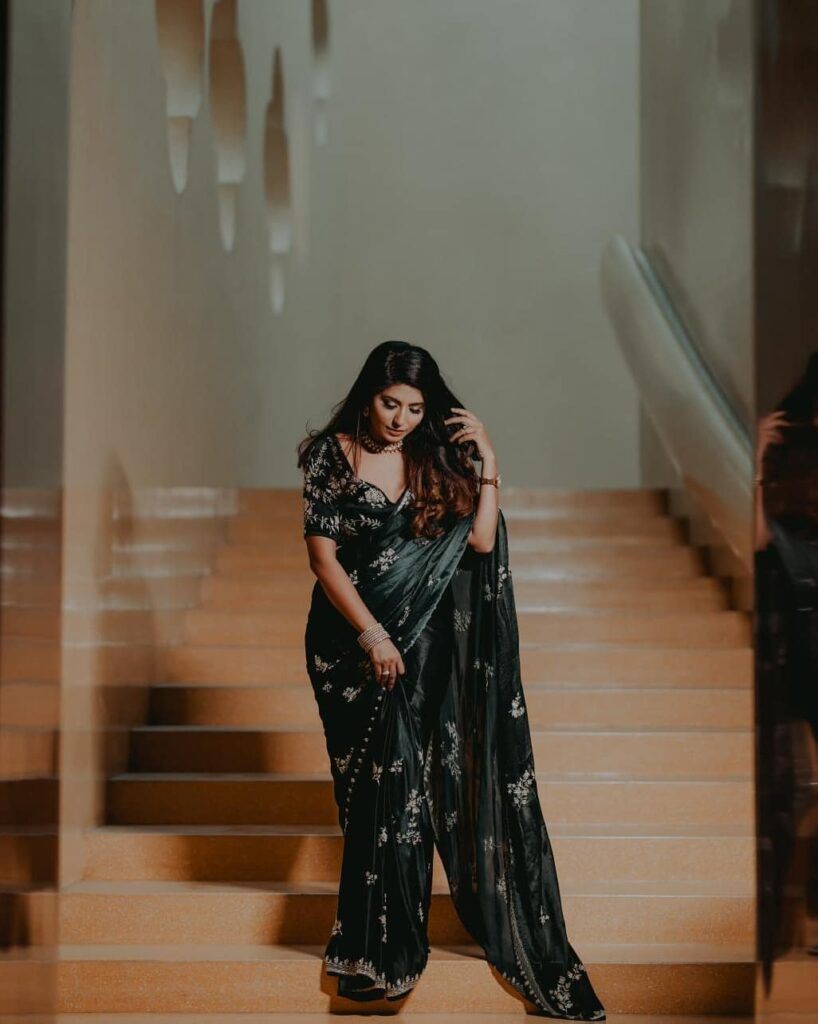 #42 Yellow Lehenga With Golden Blouse!
Sources say Khushi Kapoor is all set to make her debut, but movie actress or not, Kapoor makes headlines day in and out for her sartorial choices. During the wedding season, she was spotted wearing a canary yellow lehenga by Arpita Mehta which we feel is the perfect contemporary and daring lehenga set for the millennial generation who don't want to look relic with their outfit picks.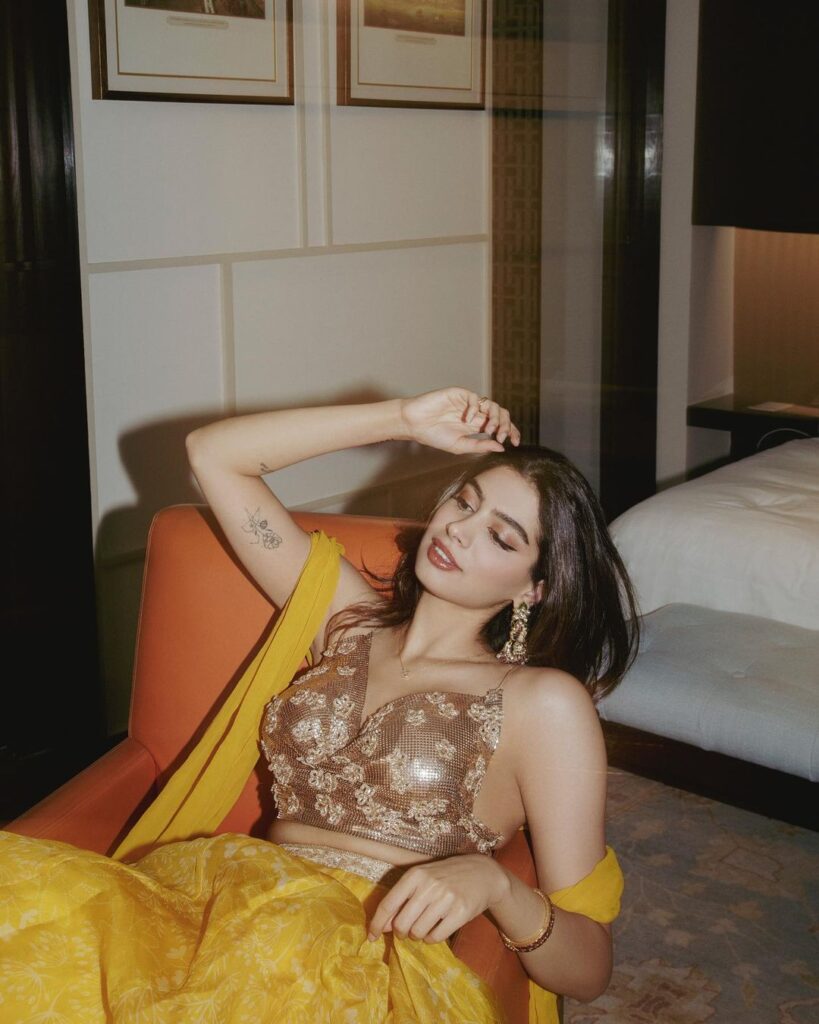 #43 Dia Mirza's Pure Handloom Banarasi Silk Saree
If you're planning to say "I do" in an intimate ceremony soon, then Dia Mirza's banarasi silk saree is one to take inspiration from. The actress tied the knot with businessman Vaibhav Rekhi in an intimate ceremony in Mumbai last year. For the nuptials, she picked a classic red benarasi saree and styled it with traditional bridal trinkets and elements to complete the look. In the post put up to announce the wedding, Mirza stated her choices to be in line with her sustainable causes and respect to revive the traditional Indian handlooms.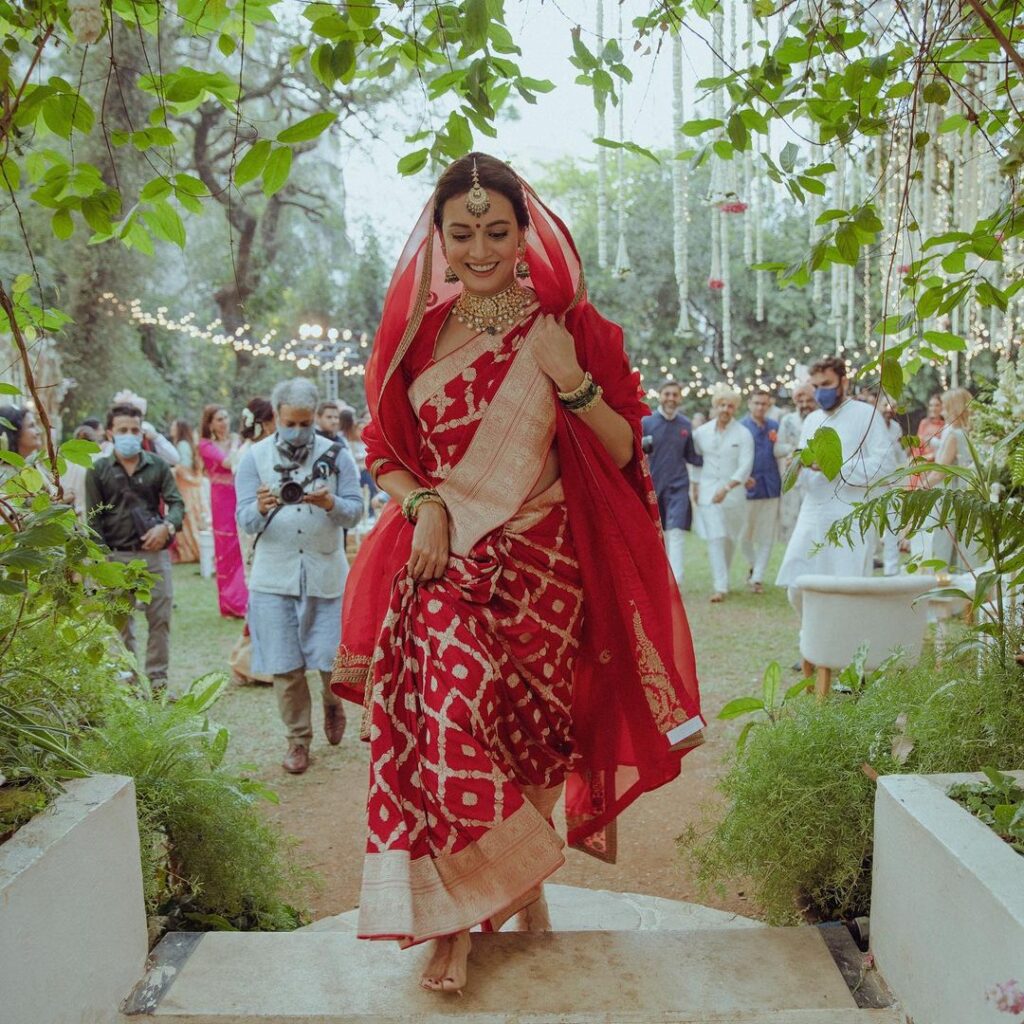 #44 A Ravishing Lehenga With Impeccable Work
We have said it before if you're a lover of intricate, impeccable work, then you'll love the pieces curated by Pakistani designers. Their attention to detail is quite impressive and here's another example of their eye-catching work and design. The bride looks absolutely stunning in an ivory-grey lehenga set with such unique embellishments and handwork. She further upped the oomph factor of the lehenga by pairing it with chunky baubles, a high bun, dewy makeup, and dramatic lashes for a glamorous element.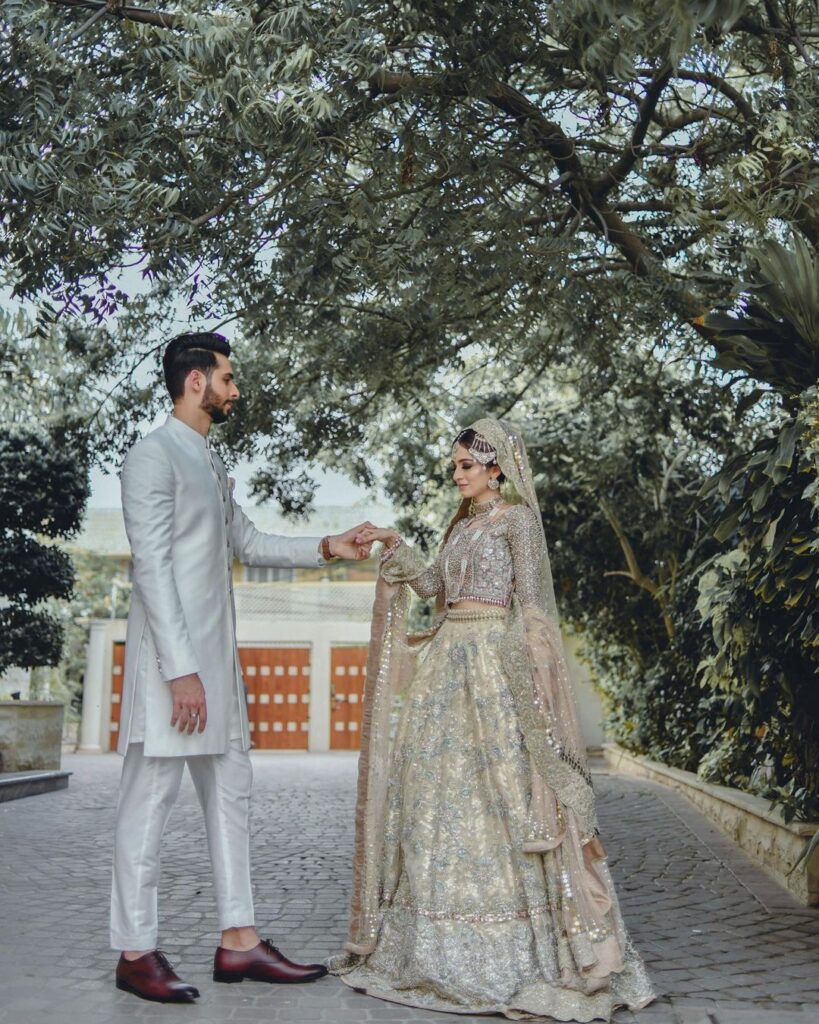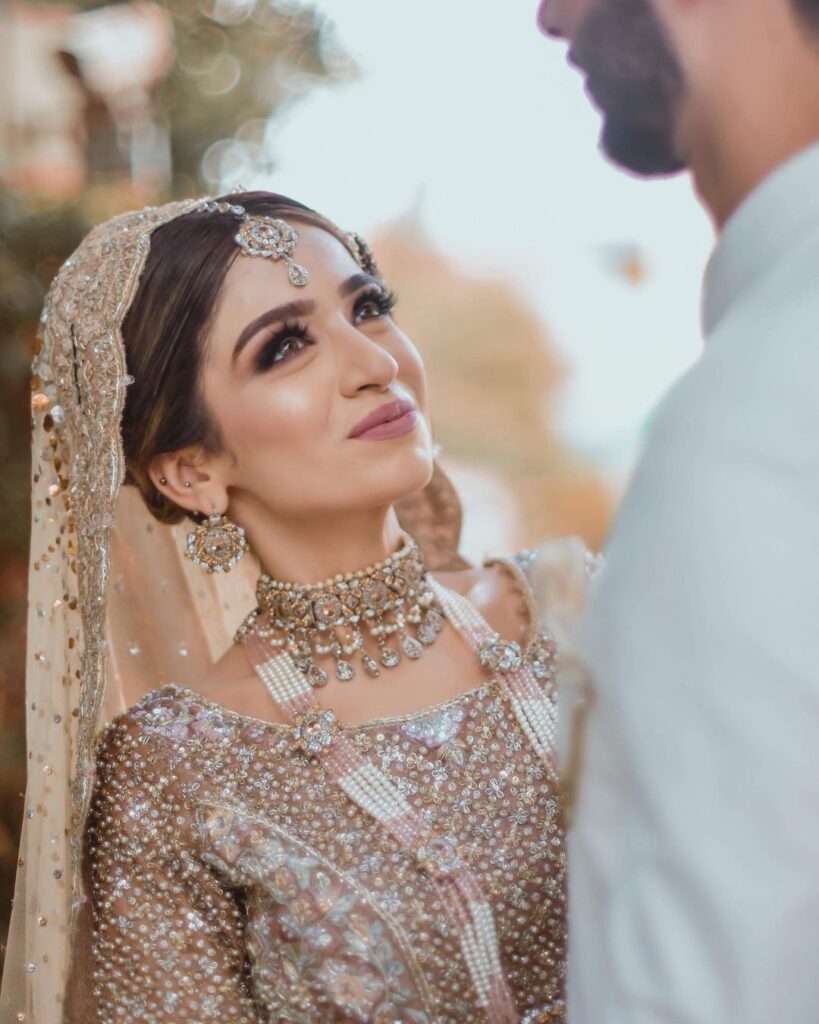 Courtesy: Fatima Tariq Photography
#45 A Gorgeous Silk Saree!
A benarasi silk saree should be in the trousseau of every bride. It's a timeless piece that can be worn no matter how fast fashion changes and can be passed on generation after generation.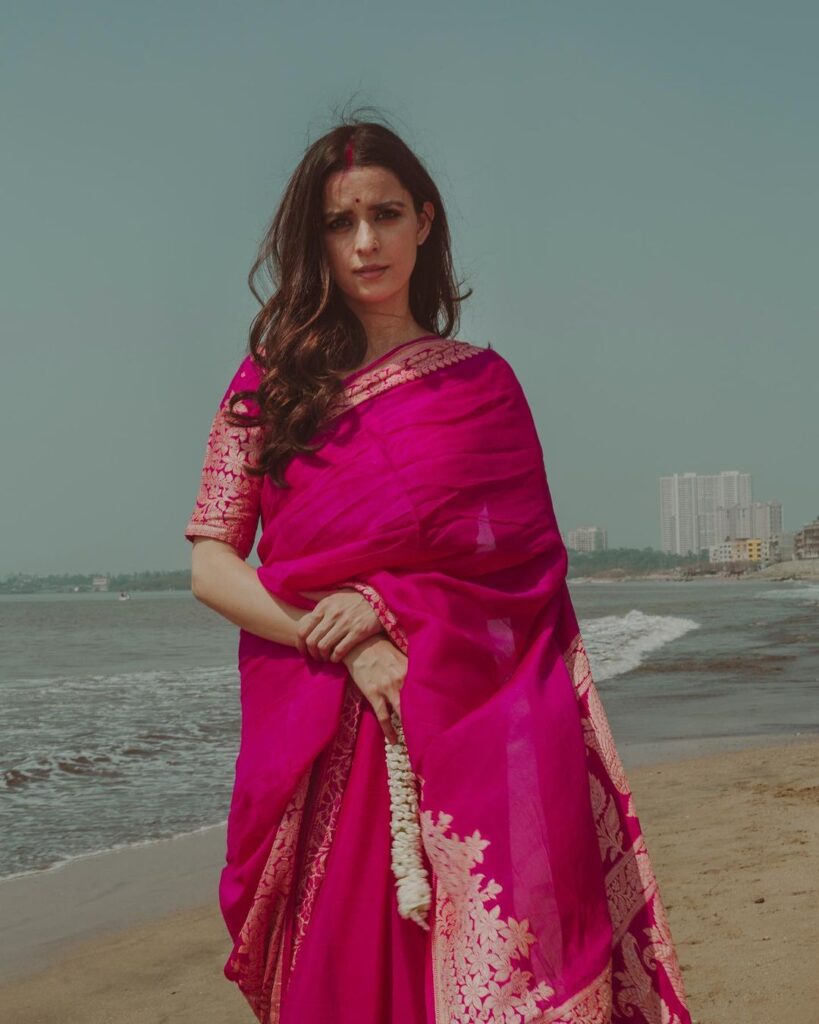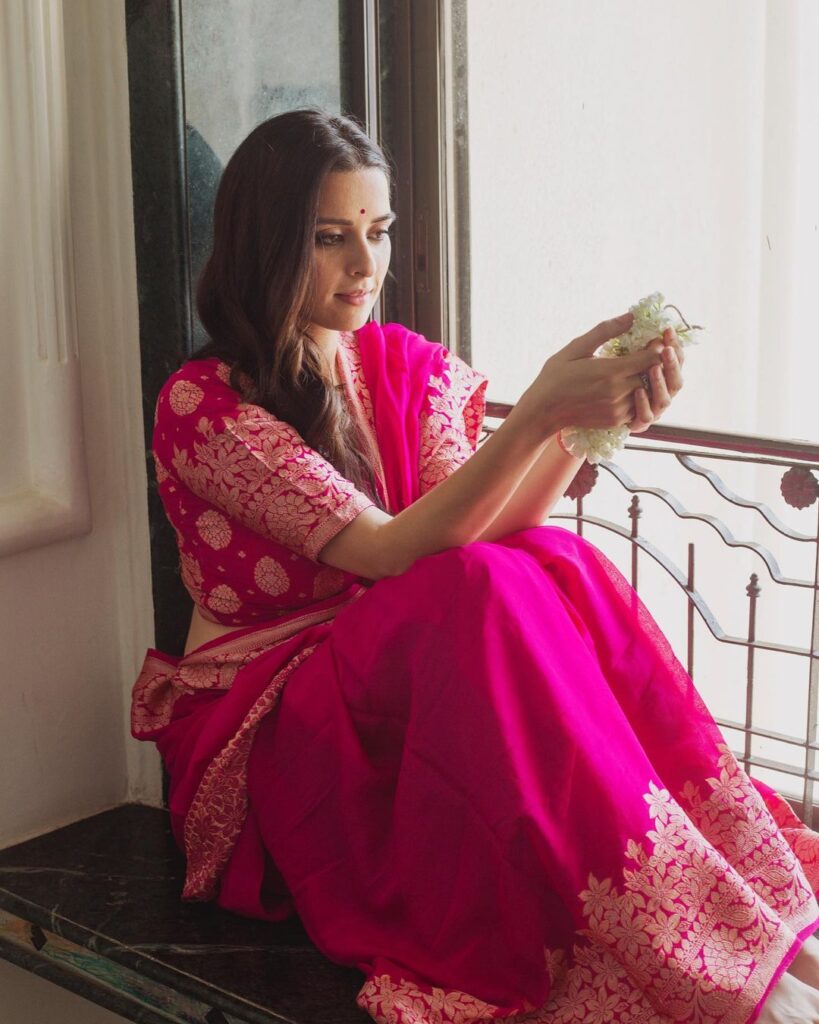 #46 Sexy & Stylish
Playing the perfect bridesmaid for her school friend Meghan Goyal's wedding, Alia Bhatt wore a pastel sharara set for the D-Day, which also went with the minimal, modernistic, and stylish theme of the wedding, where even the bride wore a ruffle saree for the pheras. The pastel sharara by couturier Faraz Manan came with sharara pants, a bralette top, and an ornate cape-style dupatta with sequin embellishments. Whether you're looking for a wedding dress for women to wear at a friend's wedding or just want something stylish and sexy for the trousseau, Faraz Manan needs to go on your must-have list.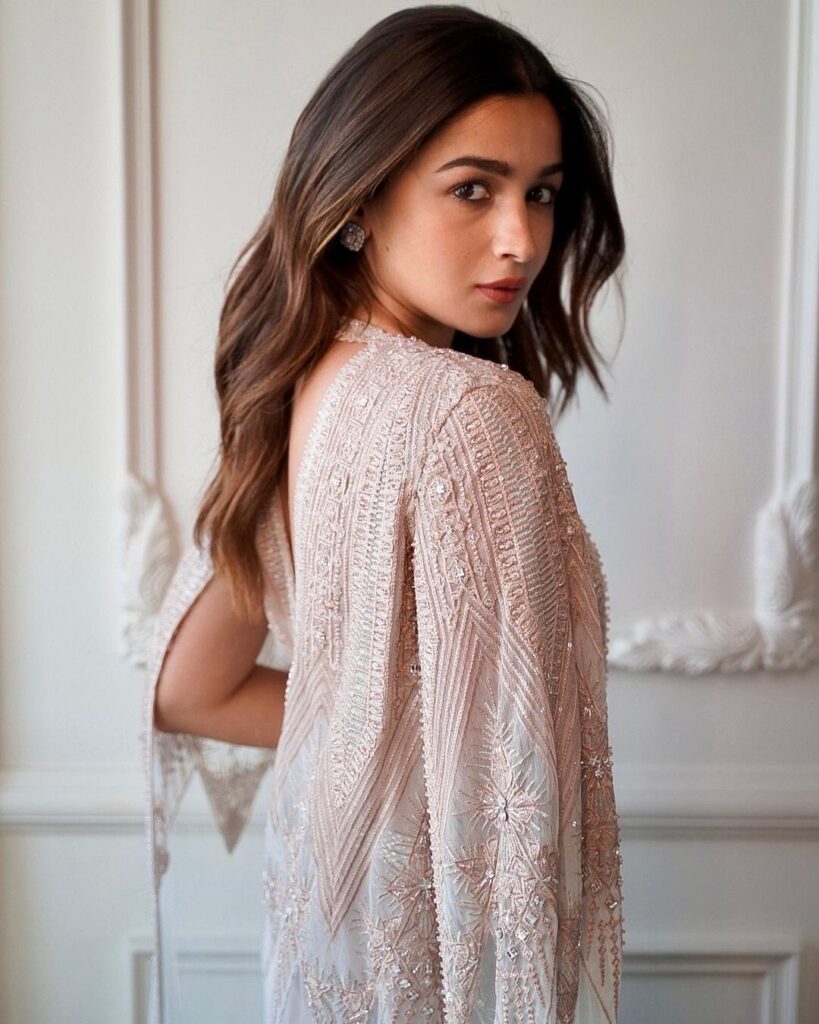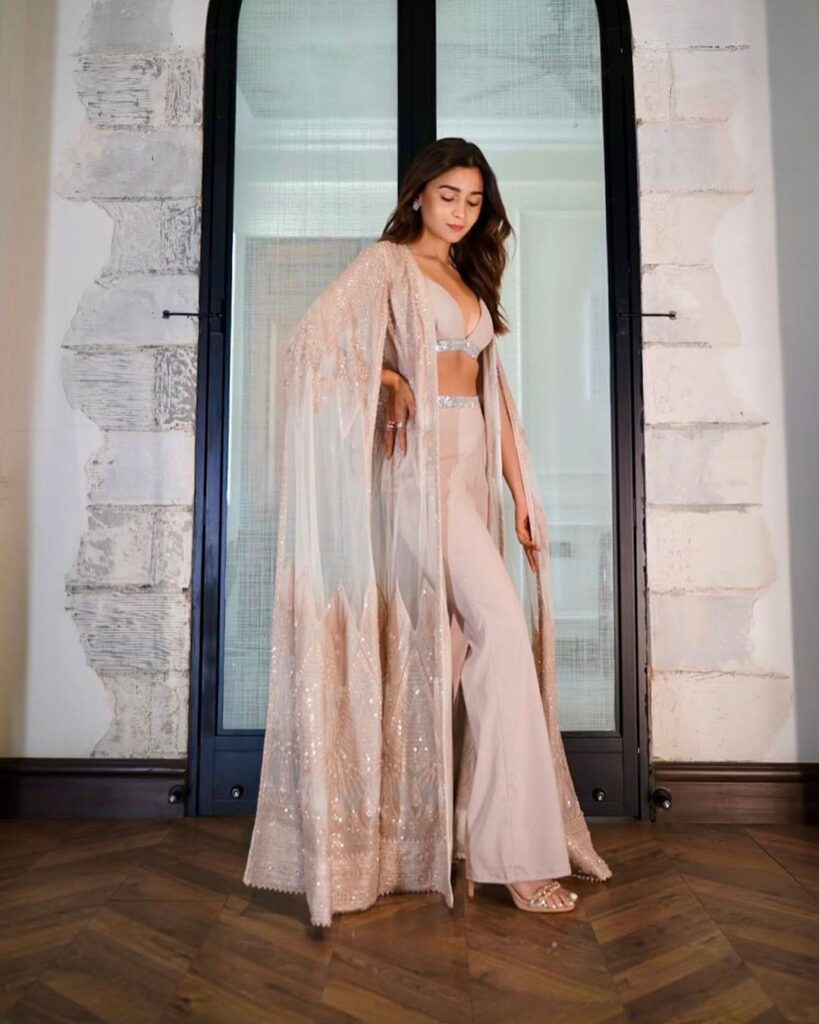 #47 Coordinated Wedding Dresses For Girls
We love when sisters coordinate their wedding dress subtly. Here, the sisters wear similar style dress in the same cloth, but in different colors and prints. This makes sure you don't completely match with the bride but complements her beautifully so as to keep your sister-of-the-bride status flaunting through the ceremony. Don't forget to get such endearing snaps clicked so as to preserve these memories forever.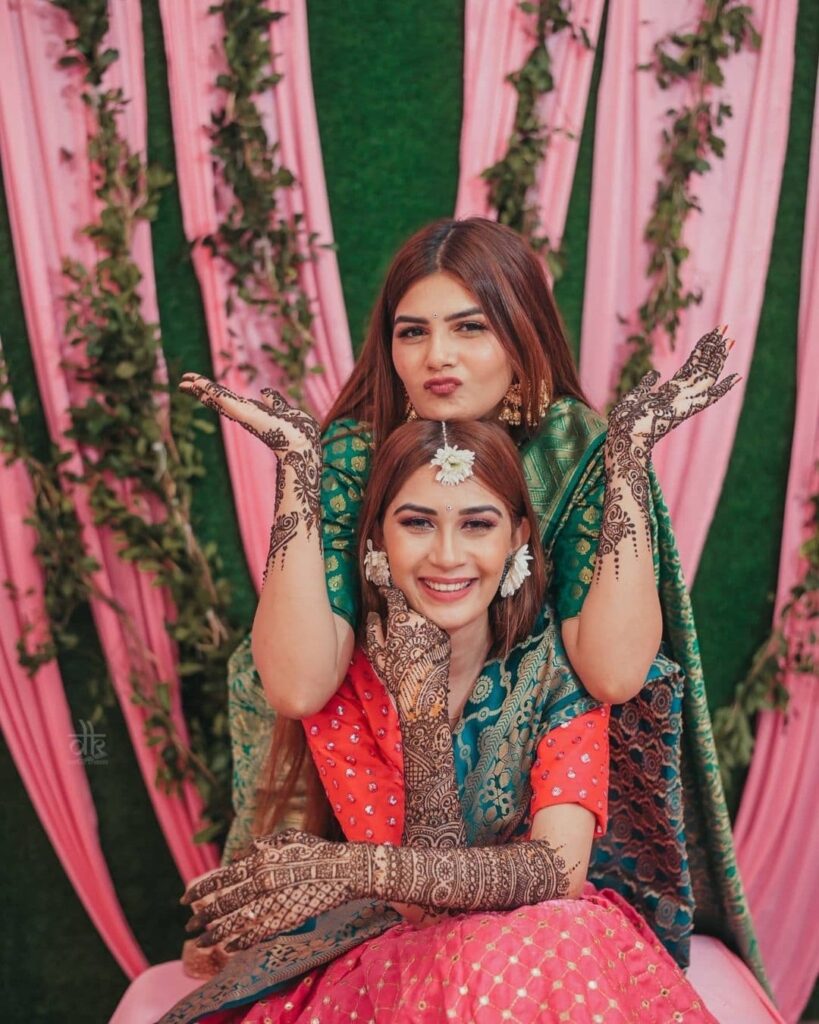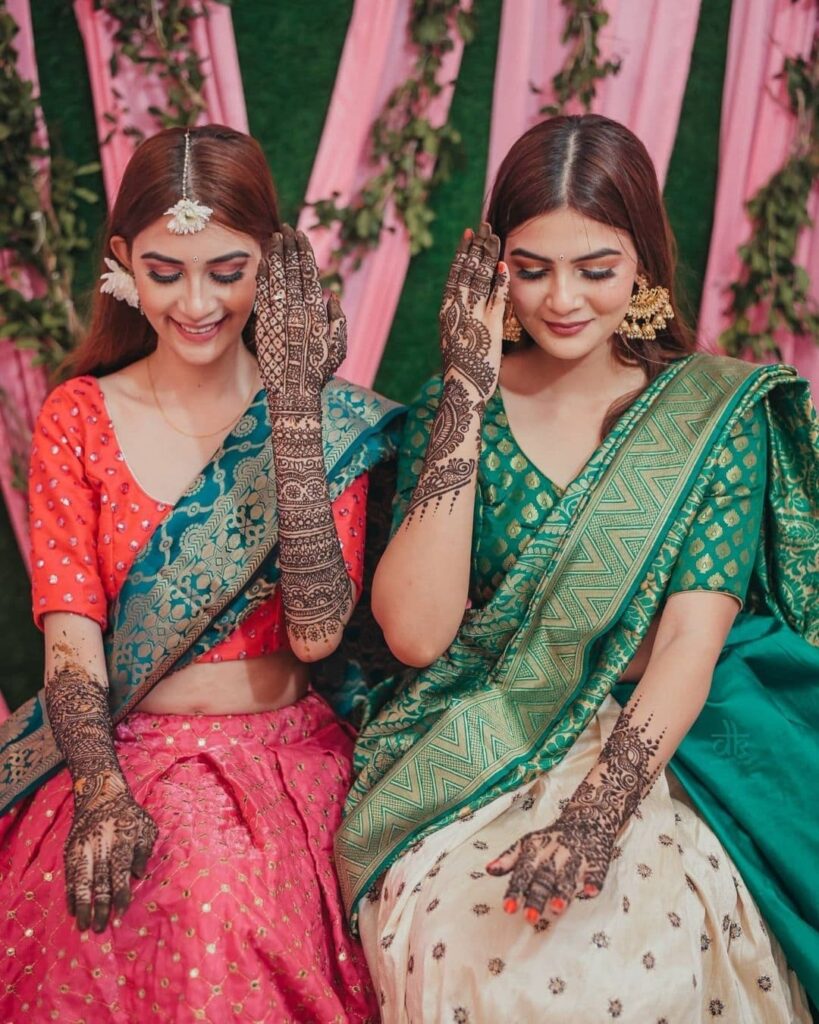 Courtesy: Deekad Studios
#48 Katrina's White Ruffle Saree
When Katrina Kaif and Vicky Kaushal's wedding rumors were doing rounds, Katrina Kaif stepped in a gorgeous white ruffle saree for attending a pre-wedding event at Vicky Kaushal's home. The unfussy, simple saree is a good pick for brides to keep their comfortable before the wedding revelries start and they have to be in heavy, traditional wear all the time. Kaif paired the look with a strappy blouse and statement earrings. But we think her best accessory was the bridal glow she was beaming with. So, no matter what you choose, if you've been keeping up with the pre-wedding beauty routine, the end result will definitely pay off.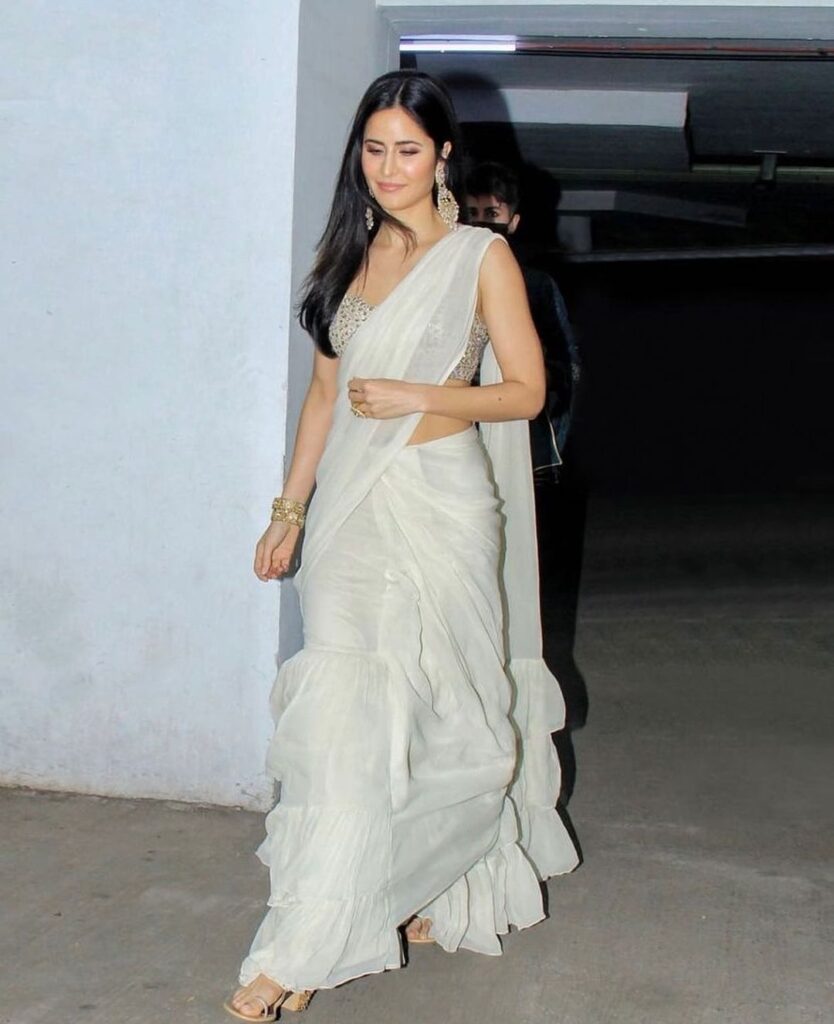 #49 Alia Bhatt's Nude Anarkali With A Deep Back
Until Omicron sent Mumbai into restrictions, Alia Bhatt was busy promoting her movie RRR while putting her best fashion foot forward. While attending promotions for a reality show, Bhatt picked a nude Anarkali set by Manish Malhotra with no embellishments whatsoever, just a sexy, completely-open back. She paired the outfit with a sleek ponytail, fresh face makeup, jhumka earrings, and a tiny bindi. If you do decide to carry such bold outfits, we'd recommend you carry it with utmost confidence. The lightweight piece is perfect to dance the night away in.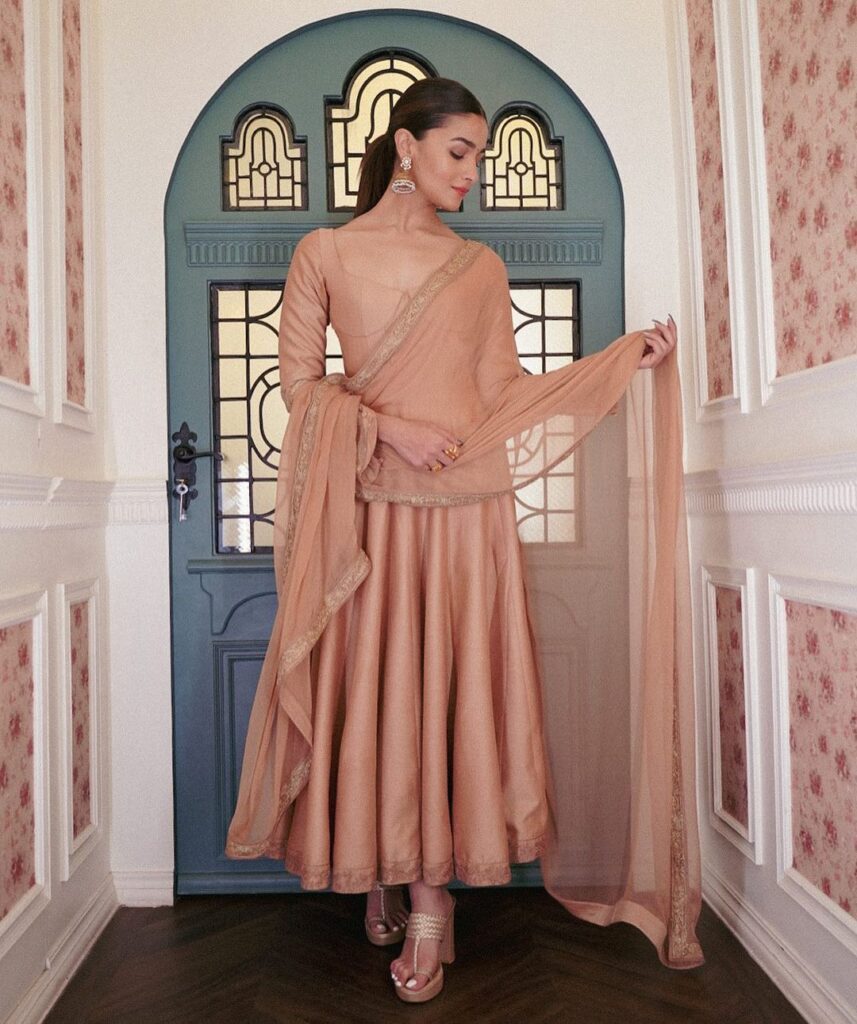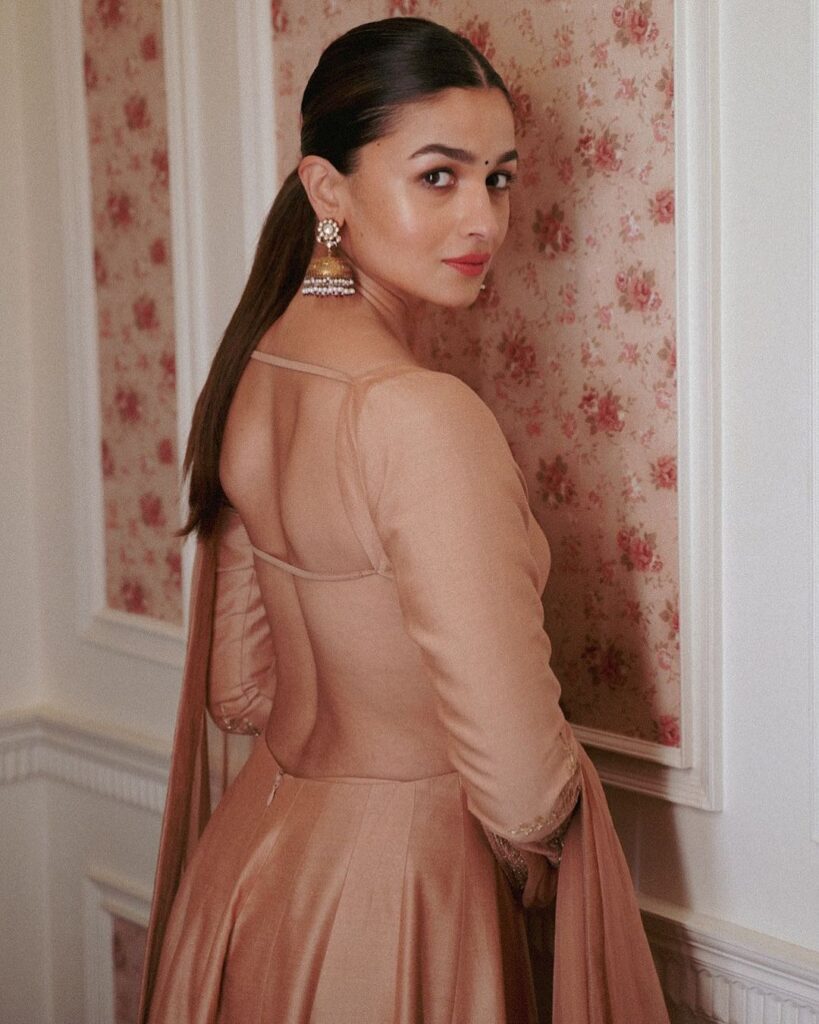 #50 Hot Pink Lehenga With A Sexy Blouse
Delhi-based content creator Kriti Dhir wore a gorgeous hot pink lehenga for a wedding recently and the look quickly went viral on Instagram. The lehenga catches the eye with its impeccable white embroidery, but we also love how Dhir paired the outfit with a bright lip without making it look too much. By keeping the jewelry and hair simple, she kept it all balanced. Another thing that caught attention was her bold choice of blouse – an off-shoulder style with sleeves starting mid-arm. While this is a quite popular style in Western wedding dresses, we were yet to see it in Indian wear. Dhir welcomed this flair into Indian wear gorgeous though!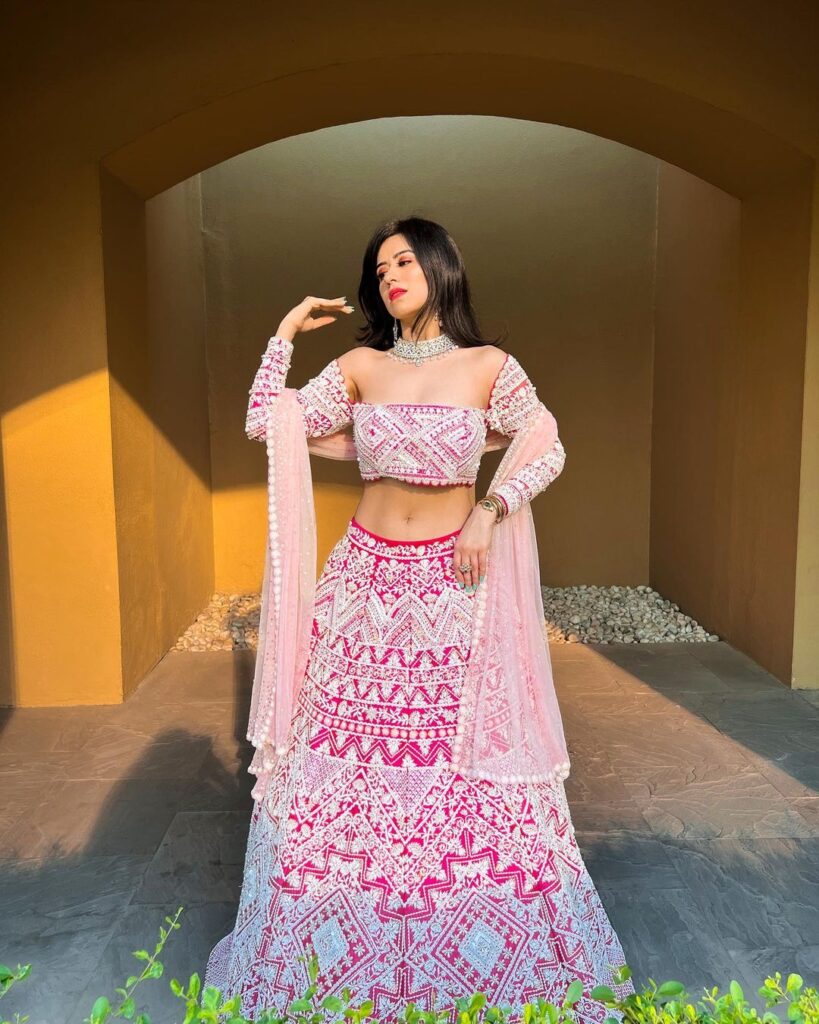 #51 The Classic Red Lehenga
We told you! If you're looking for unique designs, flattering cuts, and budget ethnic wear, then Surat is the place to visit right now for wedding shopping. Here's another gorgeous lehenga from one of their popular stores Jiviva to give you a glimpse into their stunning collection.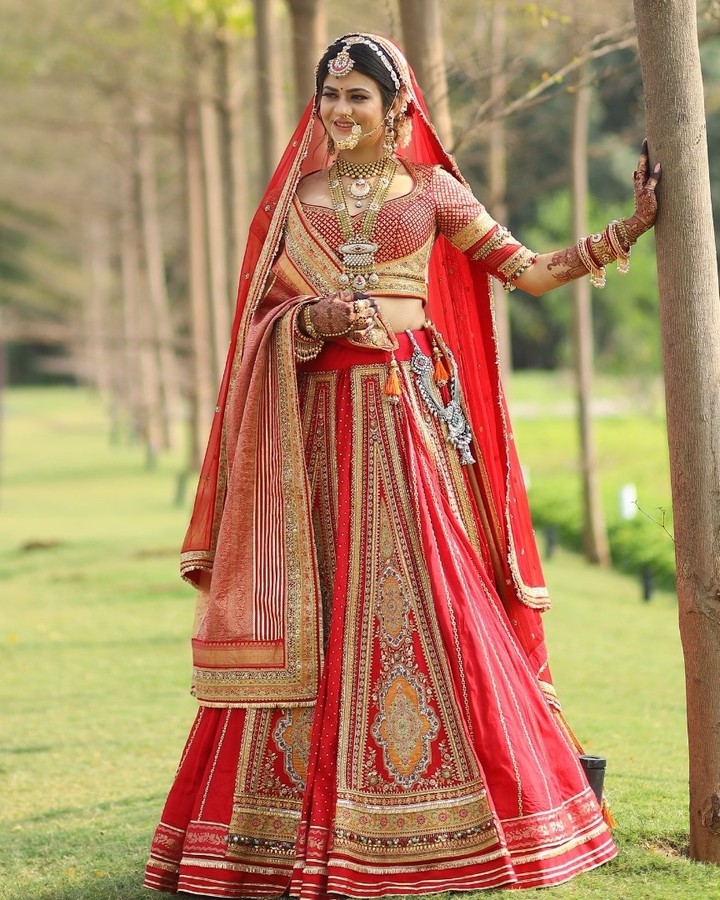 #52 Avant-Garde & Gorgeous
Komal Kapoor's wedding won hearts on social media and now, the founder of Koko Glam gives us Indian wear inspiration on her Instagram every now and then.  Recently, she wore a geometric print lehenga with a sequin strappy blouse and we loved the modish and standalone vibes of the ensemble. She ditched the dupatta completely and just paired her attire with a diamond jewelry set, choora, and a headband hairstyle to align with the a la mode theme of the ensemble.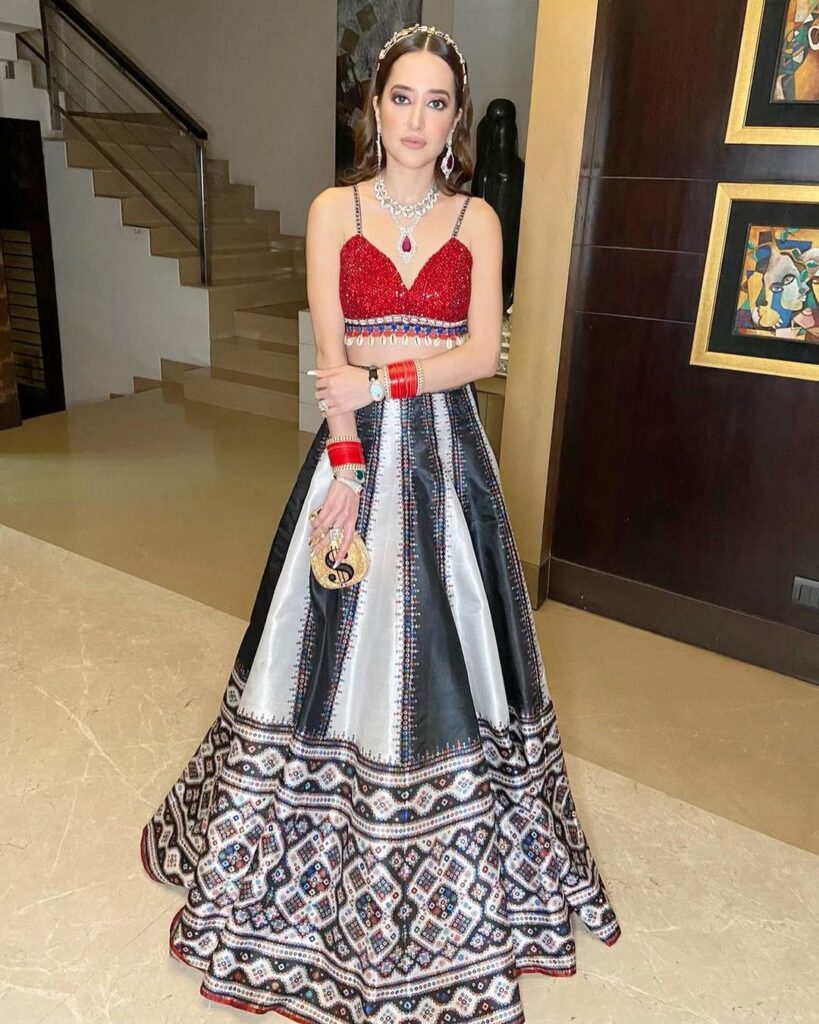 #53 Celeb-Approved Sharara Set
The naturally beautiful Yami Gautam might have gone the simplistic way for weddings, but when it comes to movies and events, she makes her glamorous choices clear. While filming for the movie Ginny Weds Sunny on Netflix, Gautam was spotted in some striking Indian wear by Papa Don't Preach by Shubhika. While the movie didn't impress the fans much, her dresses sure went viral and stayed in the wedding boards of many brides. Featured next is a sharara set which we think is a comfortable and contemporary pick for Indian brides. 
#54 A Ravishing Golden Reception Dress
The husband-wife designer duo Falguni Shane Peacock is known for lehengas with such grand flare and ball-gown cut that it just seems like a perfect dress designer for the bride, who also wants to make their status clear at the wedding event. Here, the bride wears a captivating golden lehenga in intricate embellishments of threadwork, sequins, and beads. To amp up the alluring element, she wears the dupatta over the head and pairs the deep neckline with a chunky necklace set. Finishing her eye-catching reception dress are newly-wed elements: sindoor, a red lip, and choora.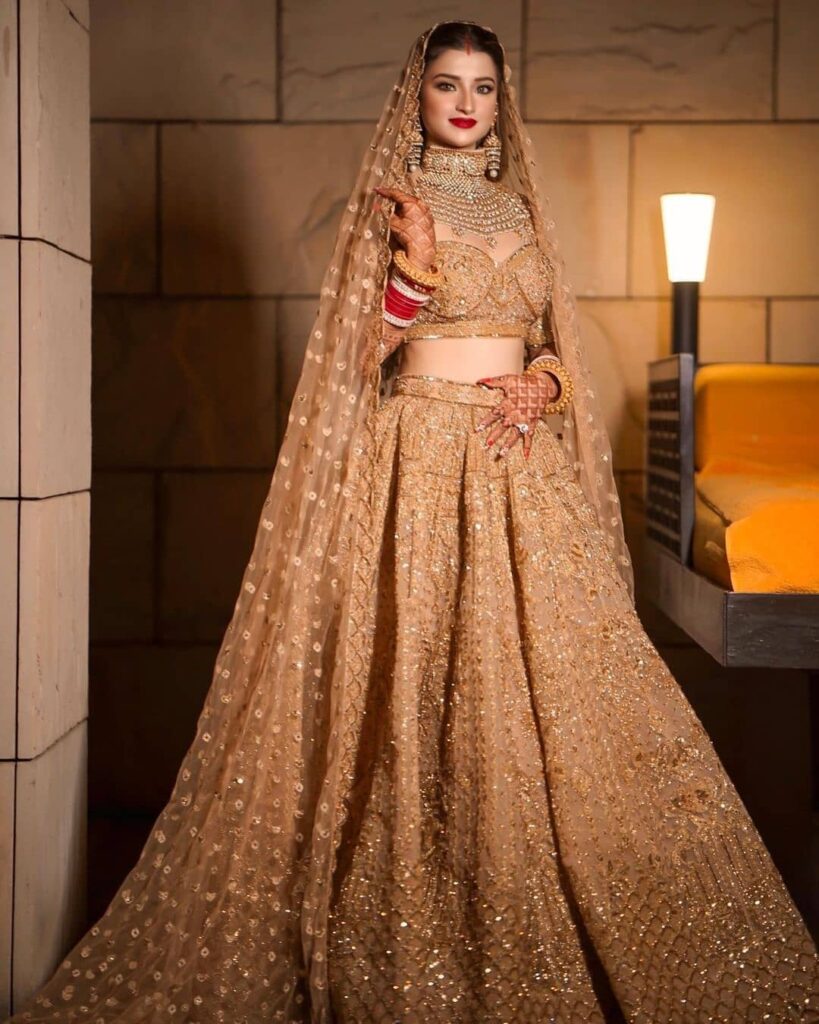 Courtesy: Sahil Malhotra
#55 Bridal Wedding Dresses For Girls
If you're looking for luxury red bridal lehengas that are not as common as Sabyasachi's and Anita Dongre's but still exude those traditional feels and regality, then Tarun Tahiliani is your go-to designer. His work has always been standalone despite the popularity of other well-known ethnic wear couturiers. Combining exquisite Indian handwork and craftsmanship with contemporary designs is something he has done flawlessly over the years. So, if you have the budget, we'd definitely recommend you check out his collection during wedding shopping.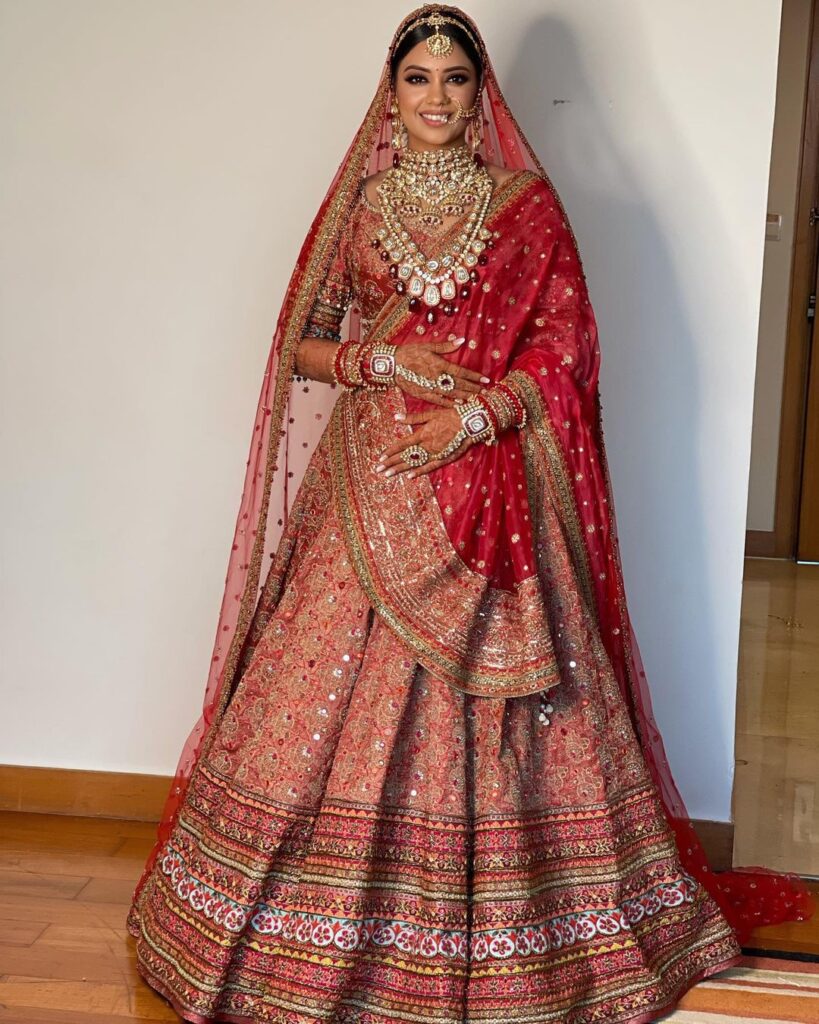 Purchase this lehenga here for Rs.6,99,900/-. Picture by @makeupbyspeastland
#56 A Glimmering Marriage Function Dress For Sister Of The Groom!
After the bride, sisters of the bride/ groom are the ones everyone has eyes for at the wedding. Naturally, you would want to nail your look, not just to make the attention worth it, but also because you're the happiest to welcome a new member into the family and see your sibling living their "happily ever after". Singer Rupali Jagga wears Falguni Shane Peacock lehenga for her brother's wedding and poses with pride and sheer happiness alongside him on D-Day.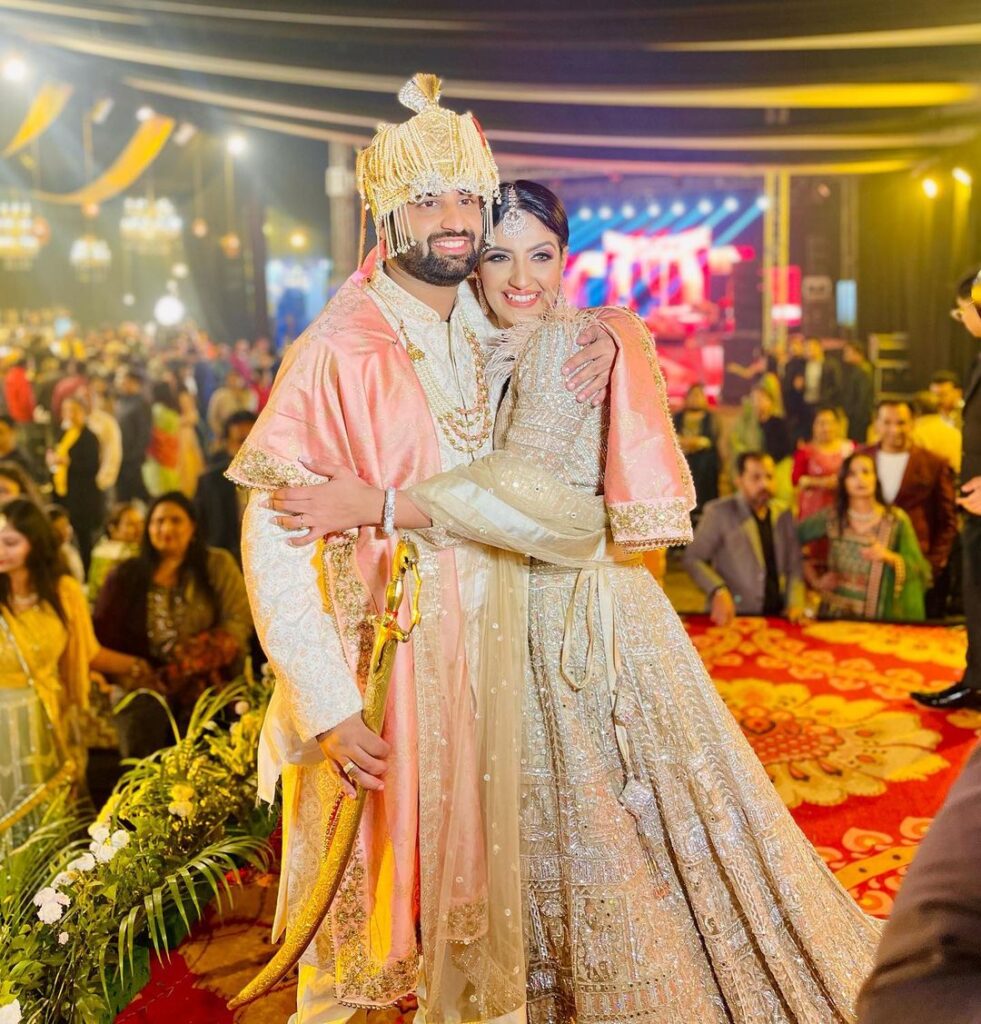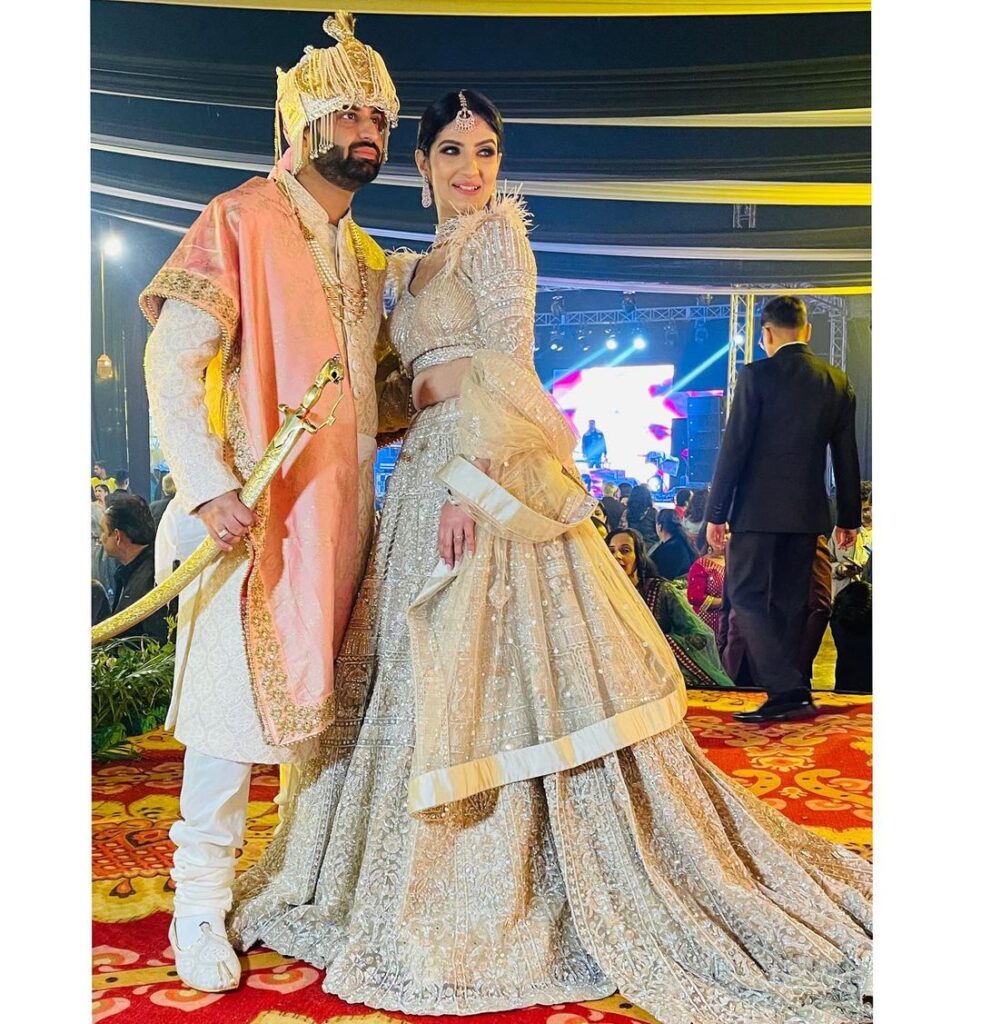 #57 Such An Aesthetic Blend Of Colors
Haldi's celebration calls for an outfit that's as lively as the event itself. So, when it comes to haldi dresses, go all out in bright colors and pick an outfit that truly represents the exuberance of this cheery event. Bride Shaina Verma surely made a statement with her yellow lehenga paired with a blouse that has colorful embroidery. However, what caught the attention most was her whimsical choice of dupatta in the form of a floral garland. Clearly took the floral jewelry trend up a notch.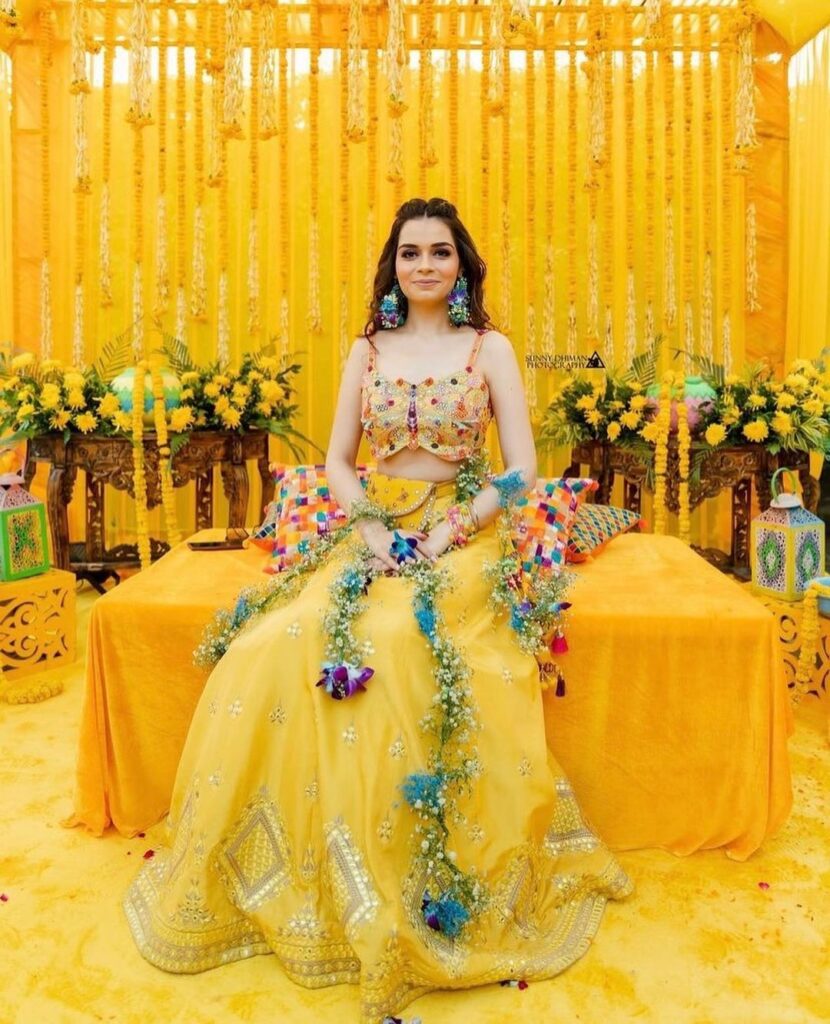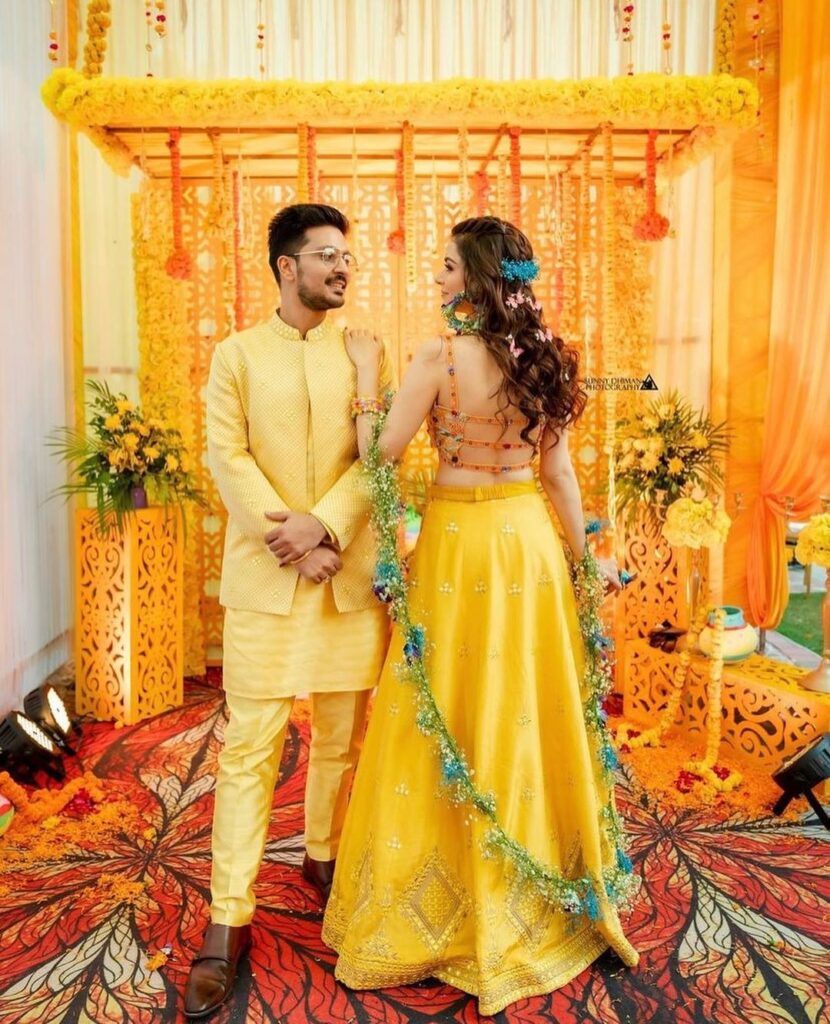 Courtesy: Sunny Dhiman Photography
#58 The Banarasi Elegance
It's hard to put into words how much elegance and grace come from a benarasi saree. No wonder we have included them multiple times on this list of wedding dresses for girls. It truly deserves recognition. And it isn't just the deep, monochrome styles that stage well on the wedding fashion front, but also the color-blocked and dual chrome styles that can enhance the beauty of Benaras, like pink and lime green shown here with gorgeous booti work on both saree and blouse. Paired with a classic mogra bun, we love the conventional and sophisticated styling of this entire saree wedding dress look.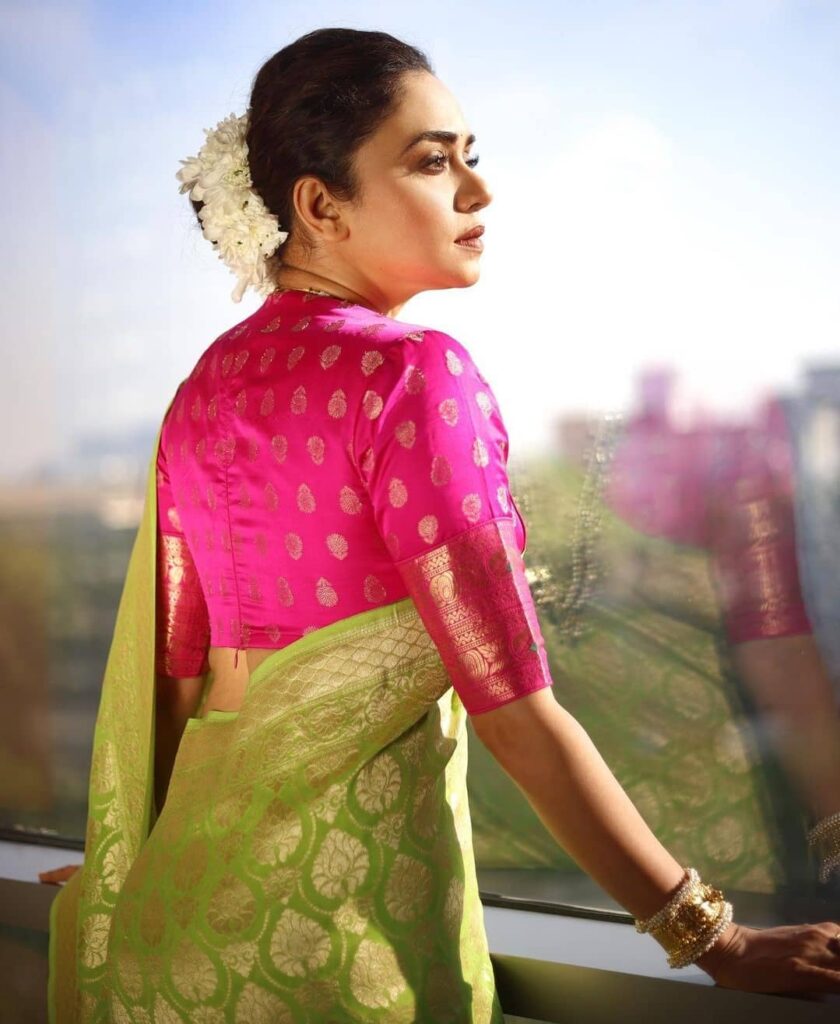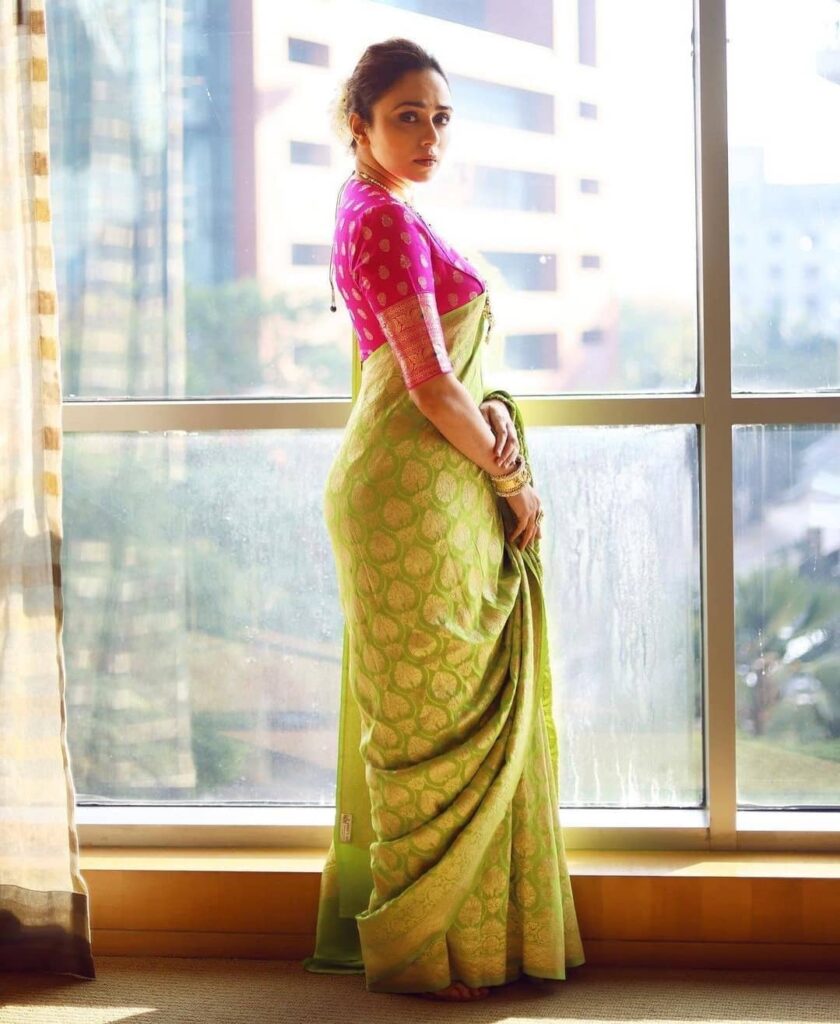 Amruta Khanvilkar in Warp n Weft by Sagrika Rai
#59 Masoom Minawala Statement Traditional Flair
Masoom Minawala is one of the foremost fashion influencers in India who has now gained a following of over 1 million on Instagram. Despite starting her career abroad, she has focused most of her content on traditional wear and introduces us to some of the best brands in India on a daily basis – not just luxury, but even budget brands and those who's doing amazing work but yet to gain any online recognition. This passion of her to provide us with the best of fashion inspiration has inspired millions of women to look at her looks when planning their own ensembles. And we're here with one such contemporary look of hers. Here, she wears a bottle green lehenga set with a multicolor blouse and jacket by Aliyana by Meena Bazaar – happily twirling as she flaunts her captivating attire and styling.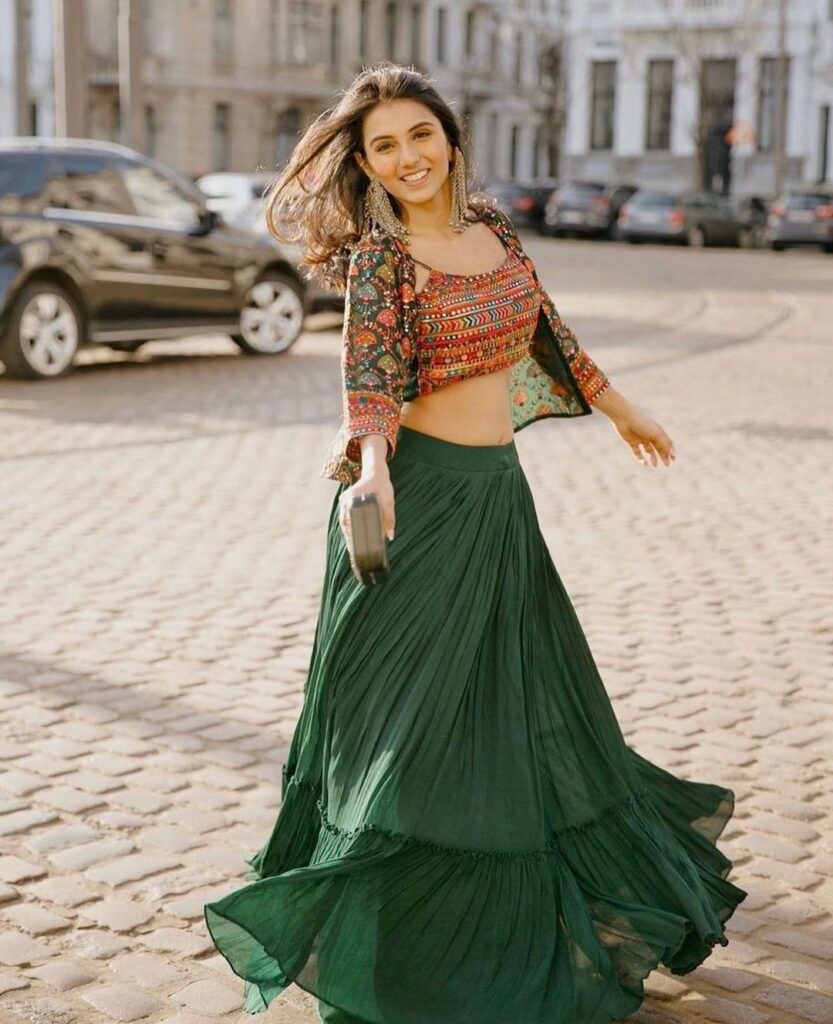 #60 An Organza Saree Wedding Outfit
There are countless reasons why women have drifted towards soft, breathable fabric organza as their wedding wear choice. One reason is the other option of ornate traditional outfits are quite cumbersome and don't always fit into the packed schedule of you hopping from one event to another. Organza, on the other hand, is lightweight, can be embellished, and has been reimagined as the ornate traditional wear by celebrities and designers. So, go and flaunt this trending new fabric in your next event. While sarees are hugely popular in this space, an organza lehenga can also serve the purpose right for your easy-to-wear yet elaborate wedding dress.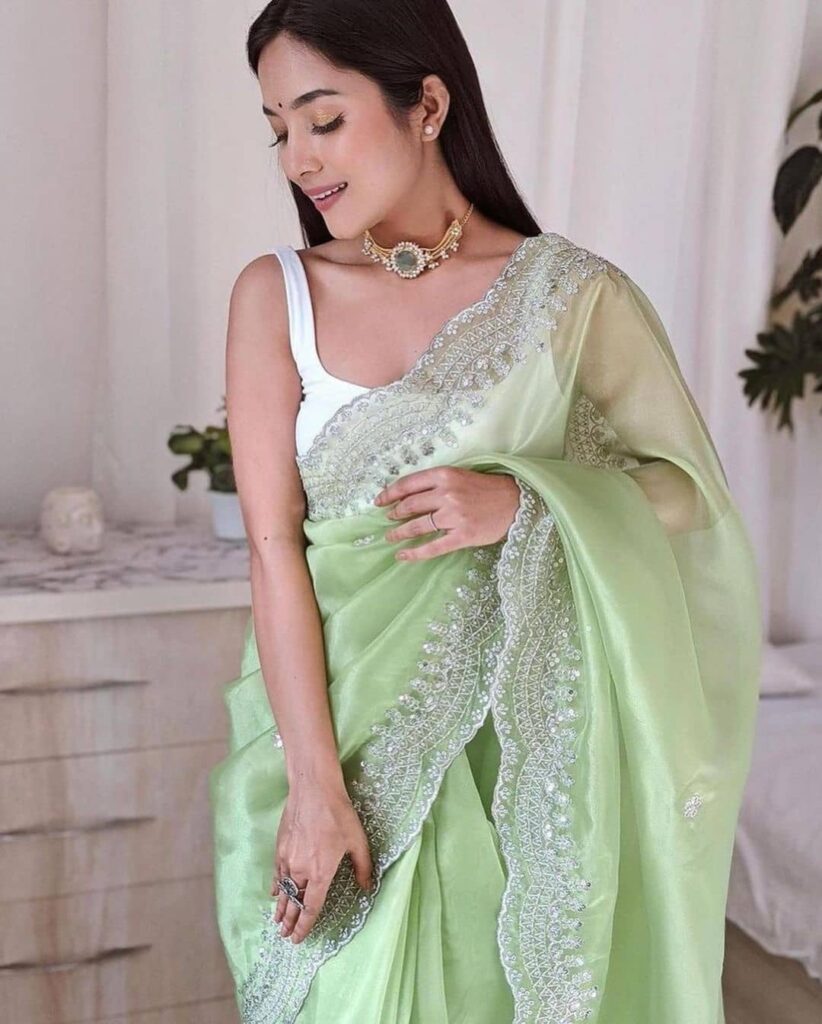 #61 A Different Minimalistic Style
If you have got a good boutique that you can trust recreating with the same allure as the saved design, then this dress is surely one to replicate for a special event. It's stylish and has a relaxed silhouette at the same time.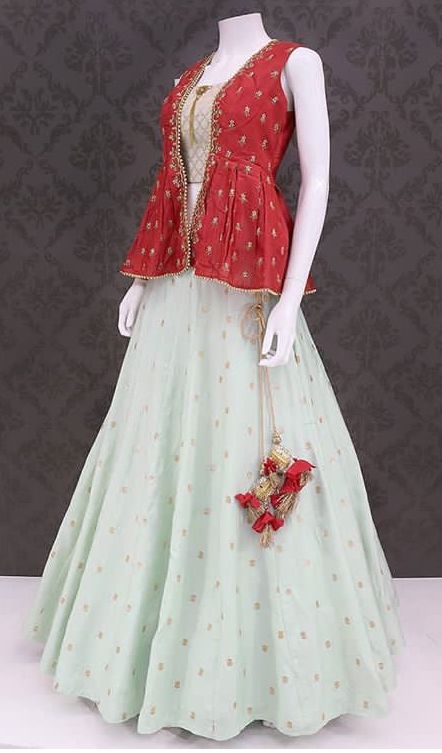 #62 Just Another Lovely Concept Saree 
Offbeat, minimalist, comfortable yet ornate enough for a wedding event or any Indian festival, we love this saree option to include in your wardrobe. Definitely one of the most unfussy yet striking outfits of this wedding dresses for girls list.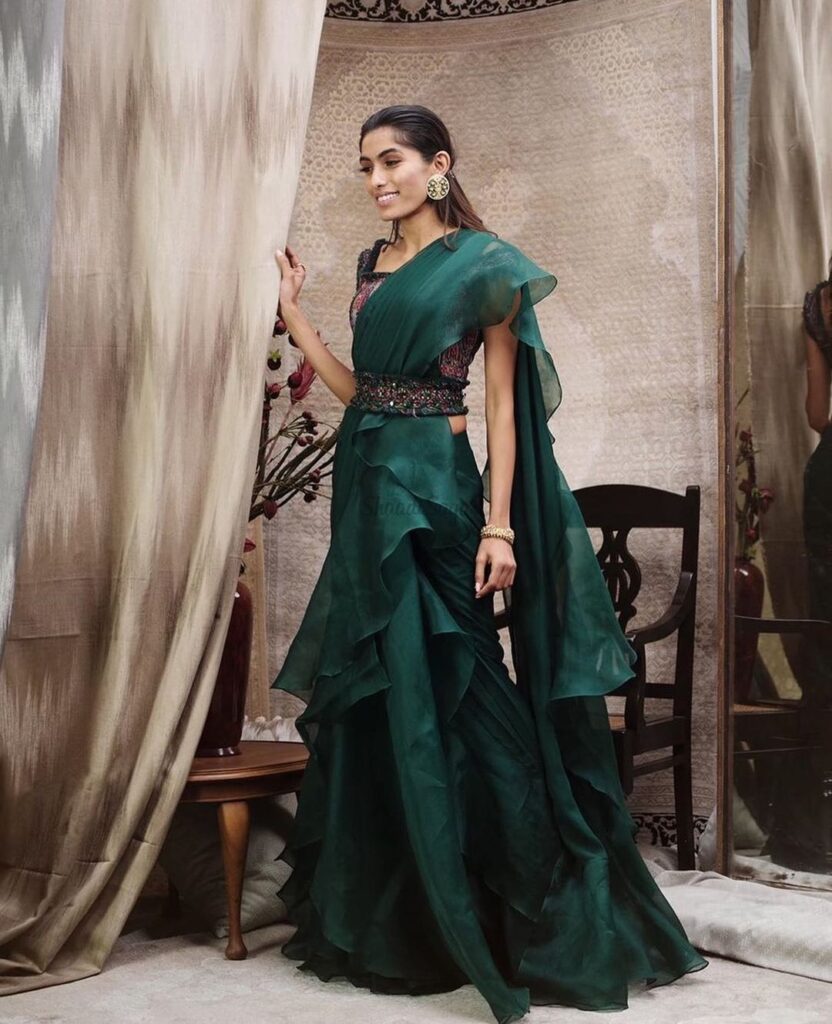 #63 Alia Bhatt's Charming Ethnic Wear Look in Sabyasachi
Alia Bhatt wore a maxi dress by Sabyasachi for her movie promotions in 2021 and we were completely in awe of her cool and feminine style. The brown color maxi dress was cinched in the middle with a Sabya belt and for jewelry, the star only relied on chandbali earrings to complete the look.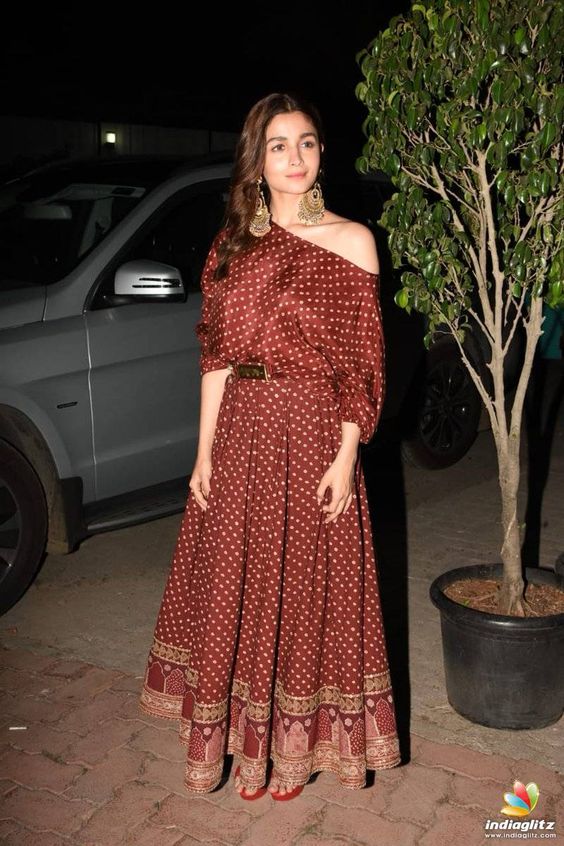 #64 Pristine White
Pristine and gorgeous, that's all we have to say here.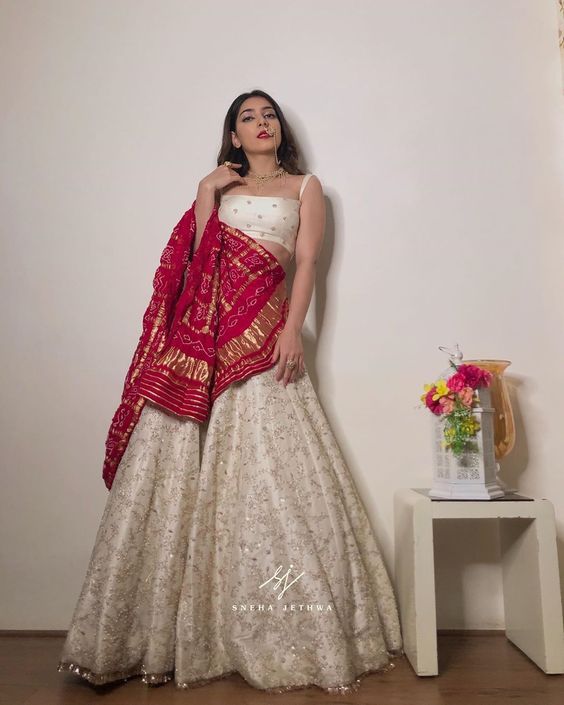 #65 Feminine & Eye-Catching
Divya Khosla Kumar often makes headlines for her gorgeous ethnic wear looks and this time we found a not-so-popular one on the Internet. Here, you can see her posing in a bespoke gray lehenga by Reyna Taandon, styled with sleek hair and a double-layered necklace.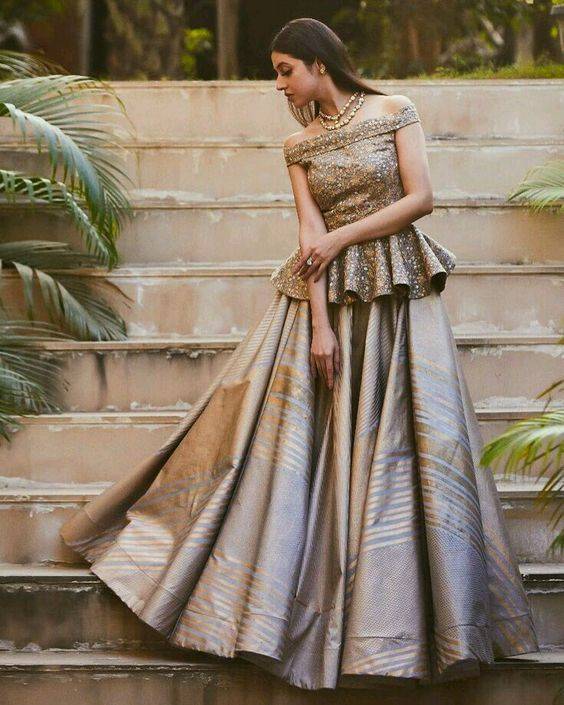 Divya Khosla Kumar in Reynu Tandoon
#66 Simple & Affordable Wedding Dresses For Girls
You can trust Indya for being your go-to for simple, affordable, yet statement and trending marriage function dresses for women. Here's a gorgeous olive green sharara set with a blouse and long jacket for a stylish pick for a wedding you have to attend or trousseau.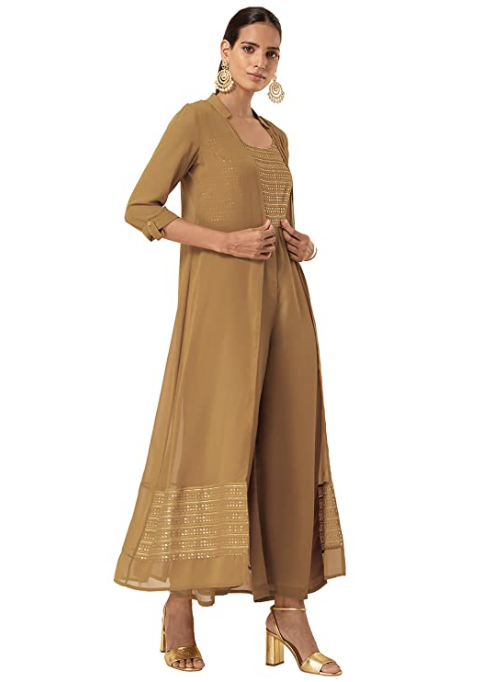 Purchase here for Rs.1720/-.
#67 Perfect Haldi Dress
If you're looking for a simple haldi dress to wear at your own wedding or for someone else's wedding, here's a comfortable sharara set to invest in. Minimally embellished, it looks ornate when you don the dress and can be comfortably paired with floral or kundan jewelry to complete the look.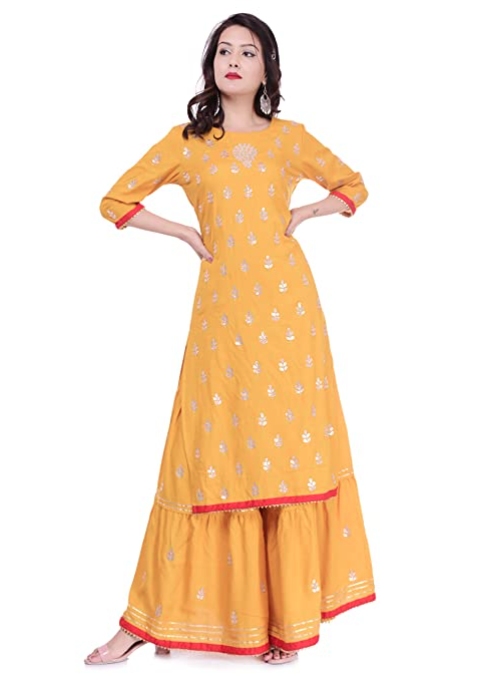 Purchase here for Rs.729/-.
#68 Designer Wear In Budget
Sabyasachi has become synonymous with bridal wear in the wedding market. No wonders many clothing stores have taken out a Sabyasachi replica so as to woo the brides and present them a budget option for their favorite designs. Here's a pink lehenga from the collection which you can buy for just 6k from Amazon.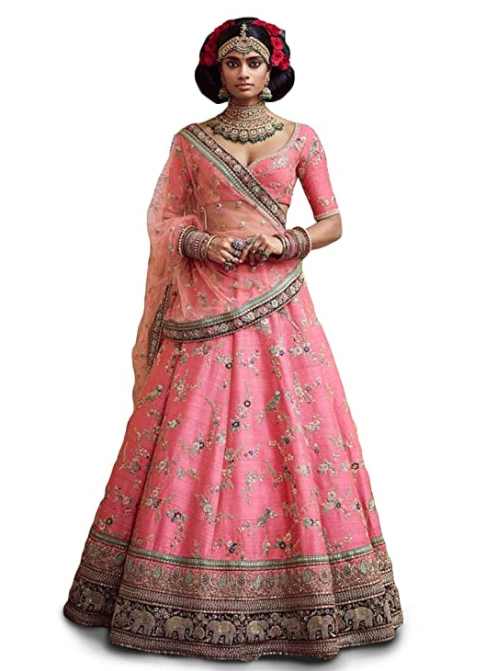 Purchase here for Rs.5999/-.
#69 The Ravishing Yellow! 
A simplistic lehenga at a budget price is perfect as a haldi dress or when you need to have a reasonably priced outfit for an important event without worrying too much about whether it will look good. Plus, in haldi, if you're sure that your friends and family will be lathering you like bread pakora, it makes sense to pick an outfit which won't bother you money-wide even after getting spoilt.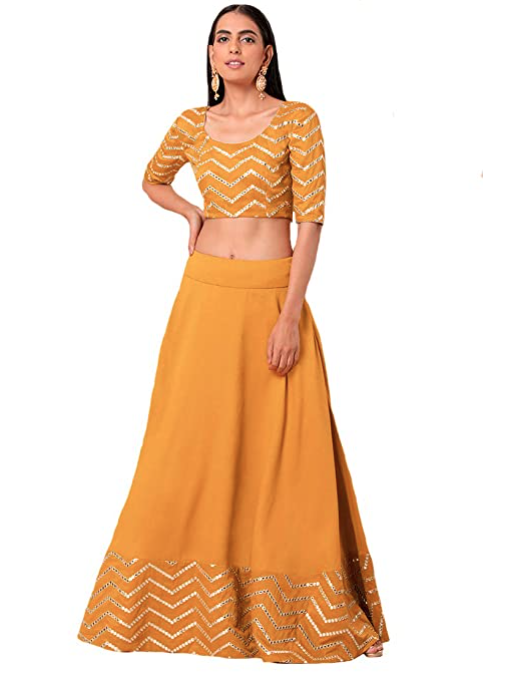 Purchase here for Rs.1299/-.
#70 Voguish Yet Comfortable
Here's another gorgeous dress from Masoom Minawala's ethnic wear looks. Lehenga with asymmetrical flares, blouse with one shoulder, and a styling that's contemporary in every sense.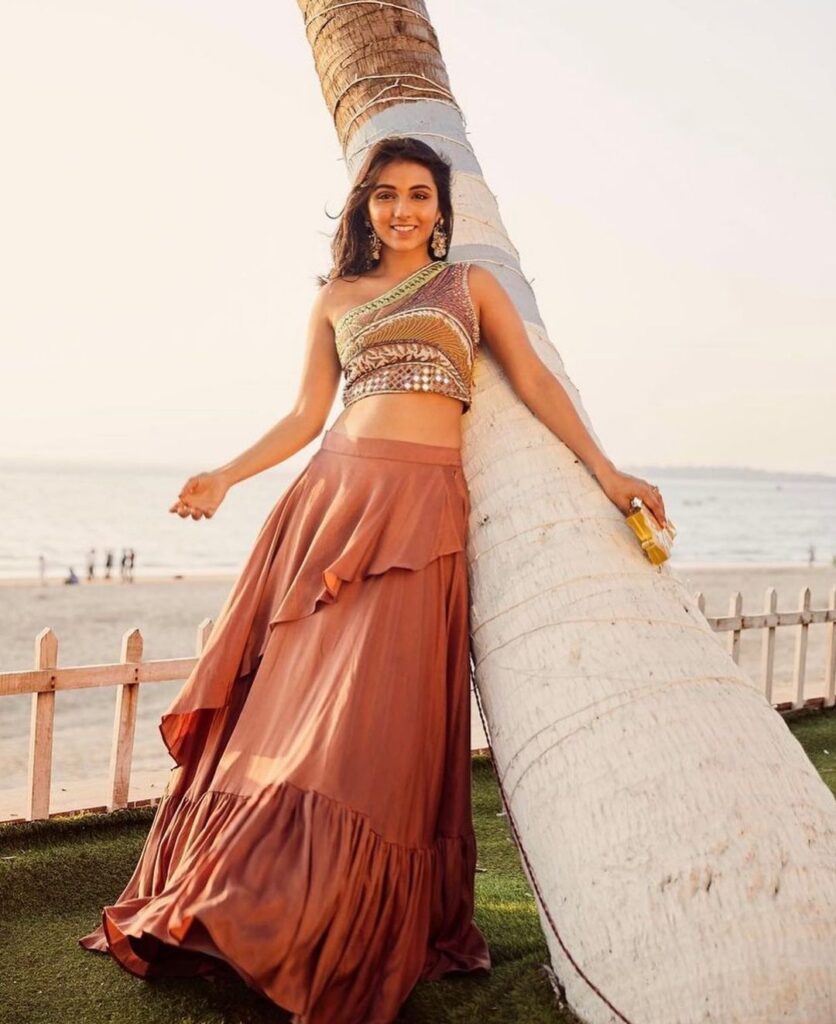 #71 Just The Popular Wedding Dress You Need
I remember seeing this outfit a few years ago and being completely mesmerized by the simplicity, femininity, and authenticity. The good part is these elements still remain and the outfit still remains relevant and trending on Pinterest. So if you're looking for something timeless yet chic, here's your inspiration. 
#72 Sizzling In Red! 
Shivani Bafna's wedding has been doing rounds lately on the Internet, with pictures from each function being shared widely by every wedding page. For her Sangeet, Bafna wore a red FSP lehenga and made sure the color doesn't skip the trousseau as she wore a pink lehenga for her wedding.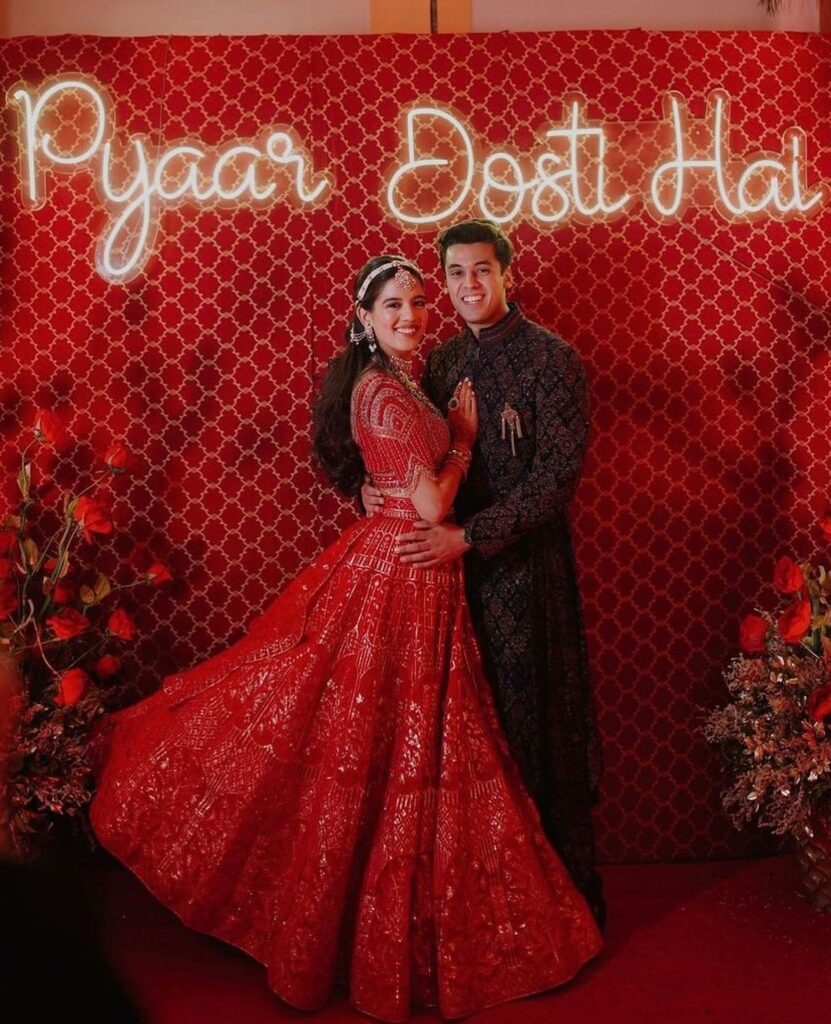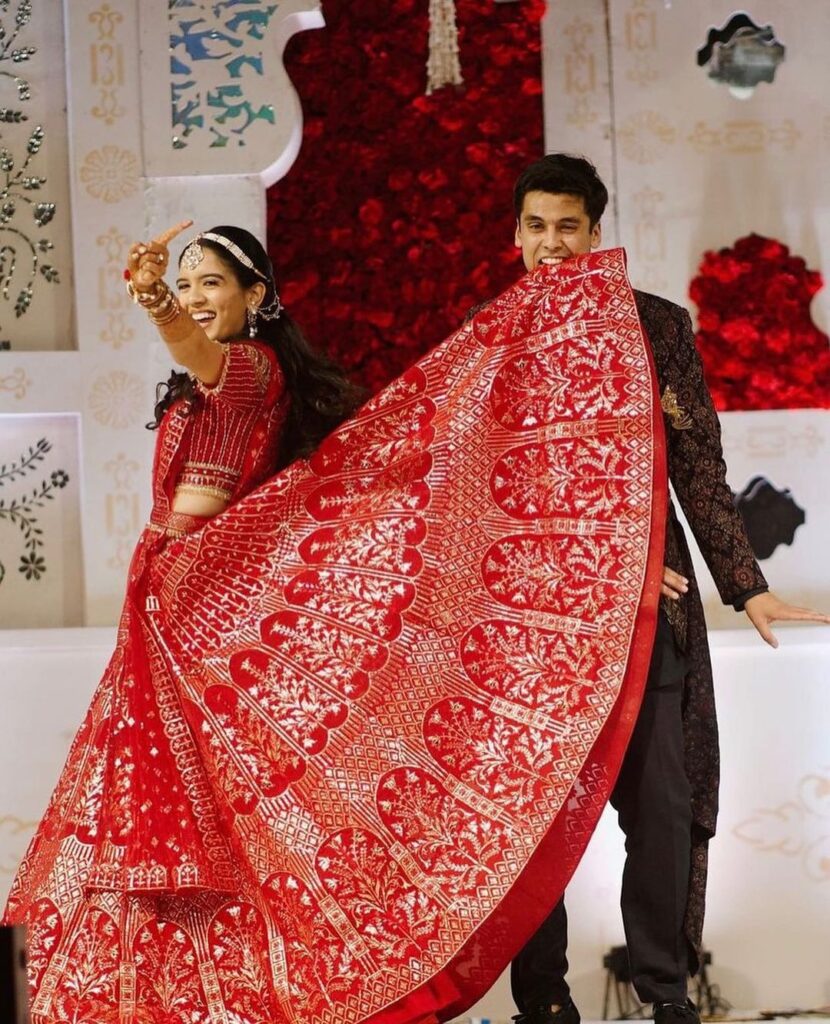 #73 Such Romantic Vibes
ASAL, a luxury fashion label from the House of Abu Jani Sandeep Khosla, has some contemporary pieces for brides to don on their big day. Here's a gorgeous one in ivory and sky blue with a statement blouse with puffy sleeves and an off-shoulder silhouette. We love the romantic vibes of this one of the wedding dresses for girls.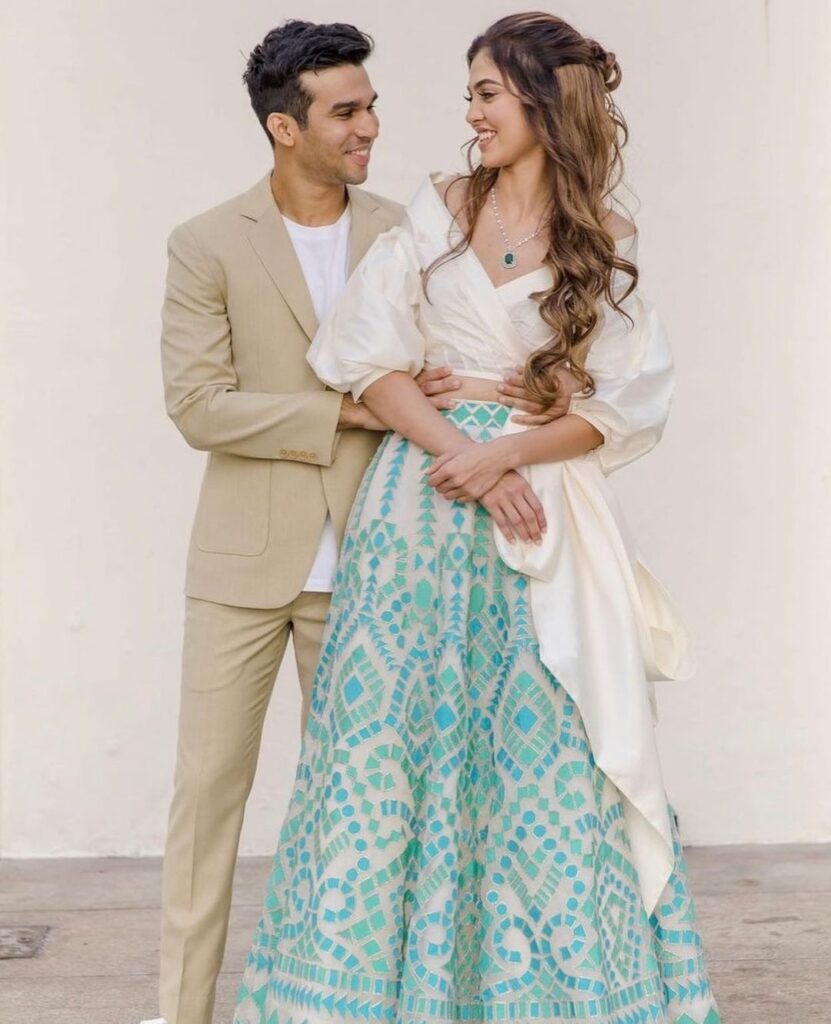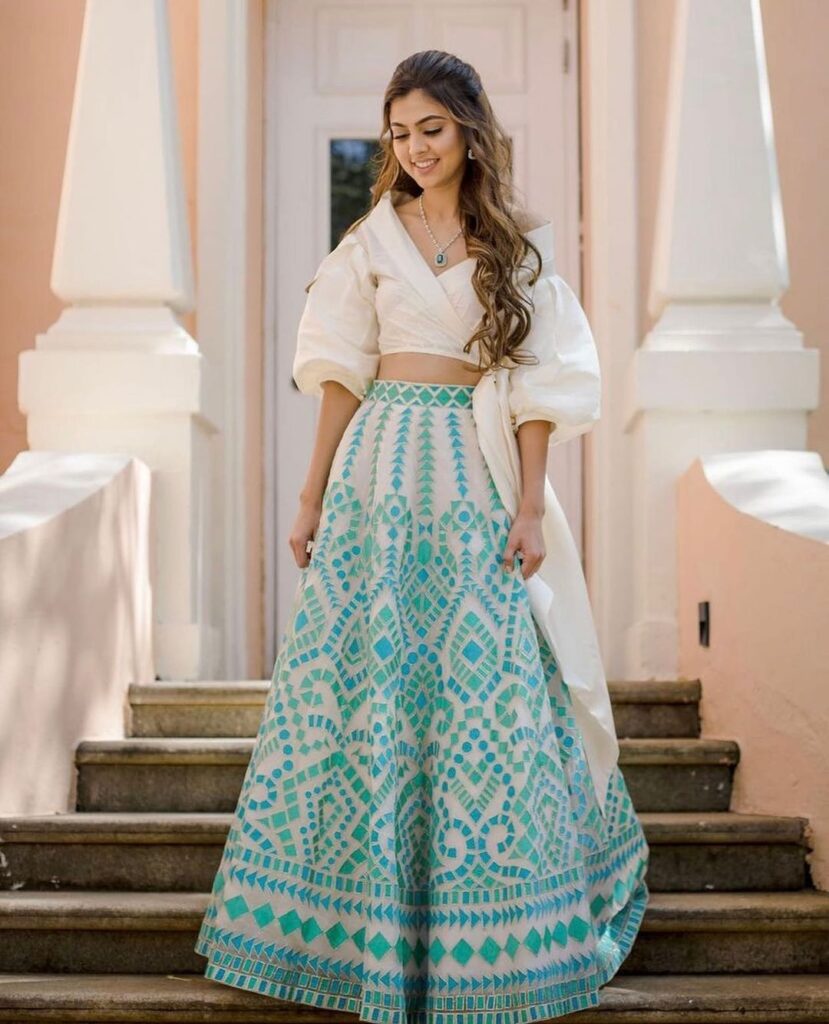 #74 Dripping With Royalty
If you want to exude royalty on your big day in a comfortable budget lower than that of luxury designers, then look no further than investing in a piece from the Asiana Couture/ Payal Keyal branch. Their heavily adorned lehenga sets in flared styles are just the aesthetic you need to exude royalty in your bridal look.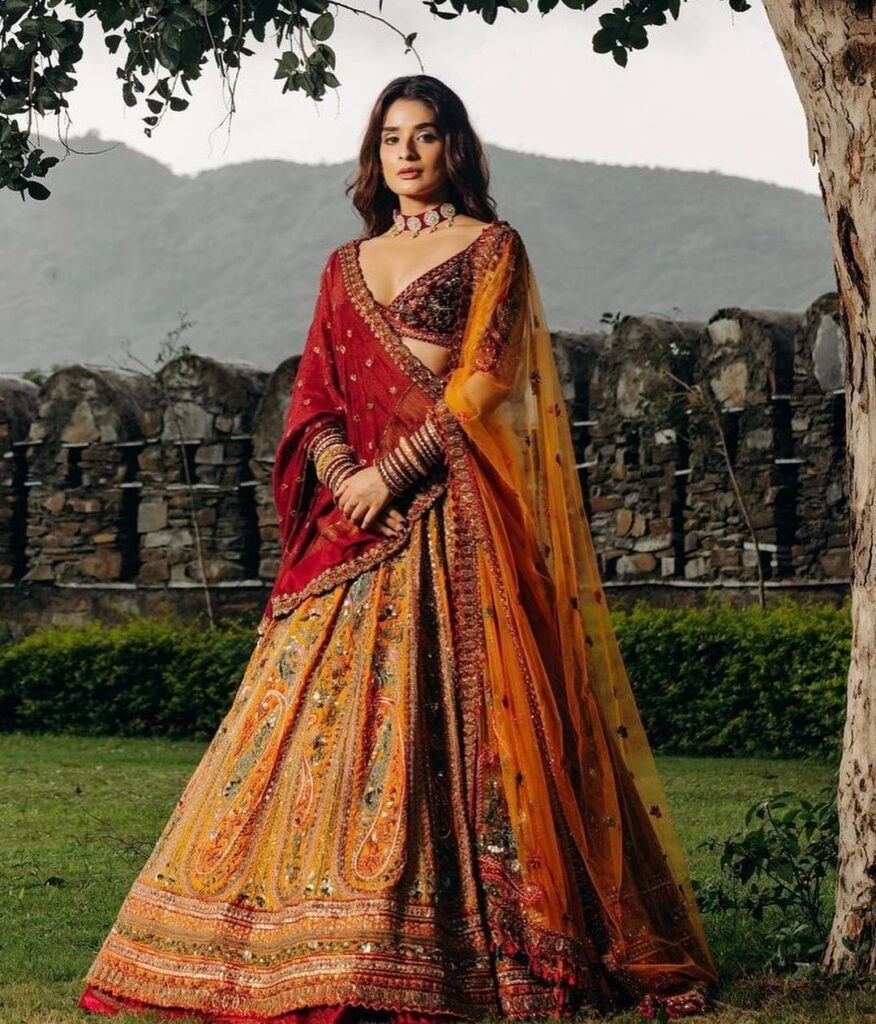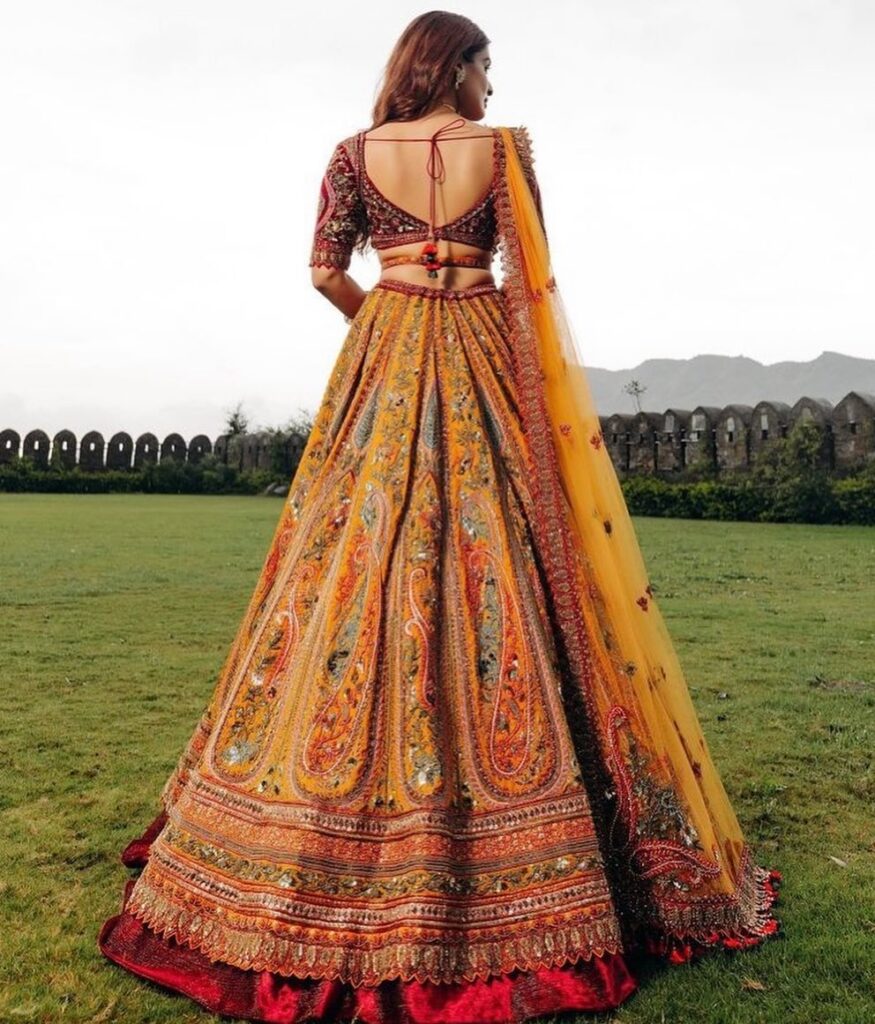 #75 The Seashell Charm! 
Mouni Roy recently tied the knot with Suraj Nambiar in an intimate Goa wedding surrounded by her nearest & dearest. Starting her wedding revelries with a mehandi event, Roy donned a bespoke Payal Singhal creation comprising of a minimally embellished lehenga and a blouse with striking seashell and tassel detailing. You can buy the lehenga here for Rs.59,500/-.