Brides have a certain kind of attachment with their big day lehenga that's hard to put into words. In fact, all the details pertaining to a wedding day have been a dream she's been holding onto since her childhood. That's what makes the wedding, and the days leading up to it, extra special for a woman. There's nothing like this she'll experience in her life and so we always advise you to cherish as many moments during this time as possible. From wedding planning to wedding shopping, all the ideas and decisions will come to fruition on your D-Day – including your dream bridal look! Speaking of the same, are you someone planning on sticking to the traditional reds or intent on opting out of it completely? If you're on the latter side, we've got a perfect alternative color to don on your big day – a PINK BRIDAL LEHENGA!!
A hot pink bridal lehenga exudes the radiance a bride-to-be needs and suits amazingly well on Indian skin tones. Pastels are a little bit on the mellow side and not all brides would find them as a suitable option. A superb pick in that case is a hot pink lehenga color! To bolster our opinion, we have got some dazzling brides in hot pink lehengas who'd definitely make you rethink your trousseau choices. 
Pink Bridal Lehenga Designs
#1 Sequined Pink Sabyasachi Lehenga
When it comes to glitter, there's no such thing as a lot of it. Bride Sonali stuck to this saying and chose a glimmering pink Sabyasachi lehenga for her big day and paired it with a heavily sequined blouse! Our eyes just get stuck on her beauty each time we come across her pictures and I guess just this first bride inspired you well enough to at least consider dark pink as your lehenga hue, didn't she?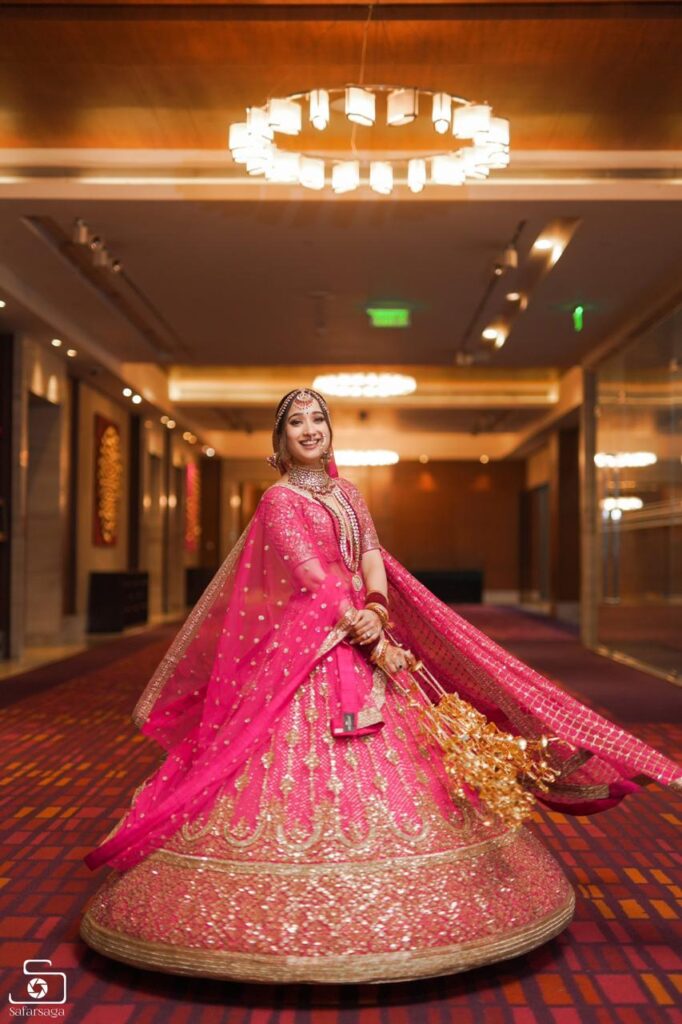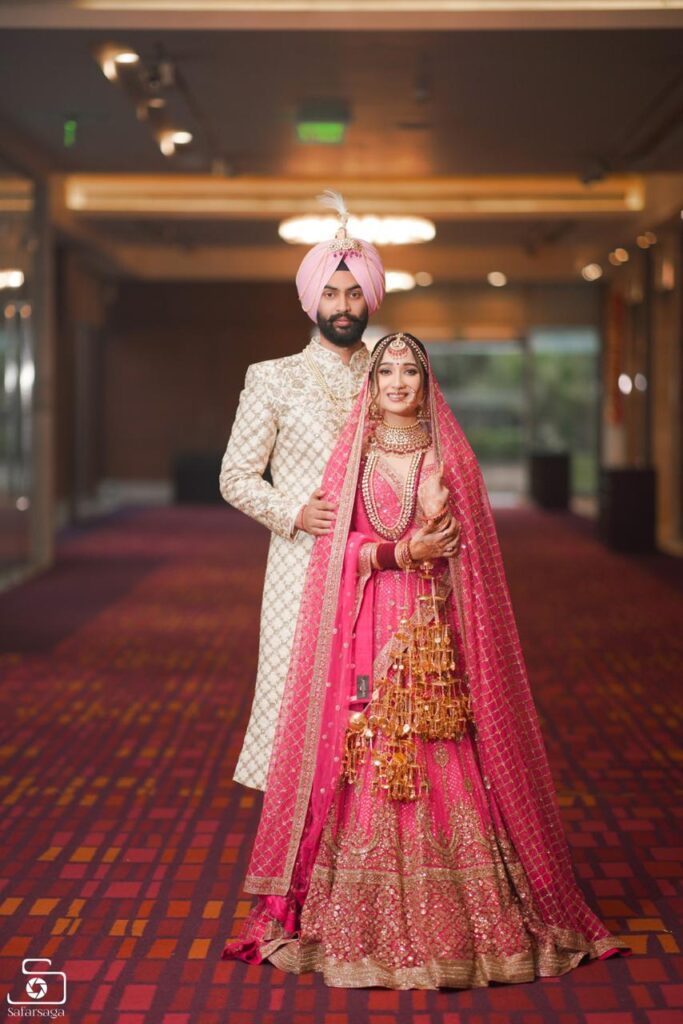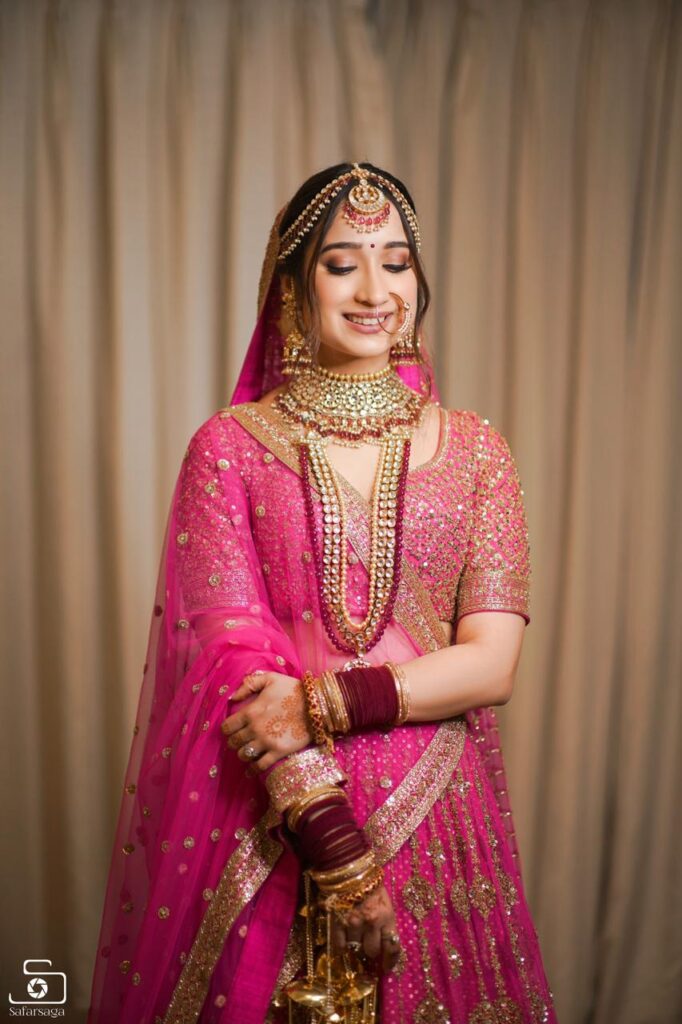 Check out her wedding blog here. 
#2 Zari Work Pink Bridal Lehenga
Isha's destination wedding in Jaipur had some swoon-worthy wedding inspiration. We absolutely love her heavily worked on lehenga that's oozing exceptional bridal charm. Even her sister chose a pink velvet lehenga as her outfit and aren't these two giving us ultimate sister goals?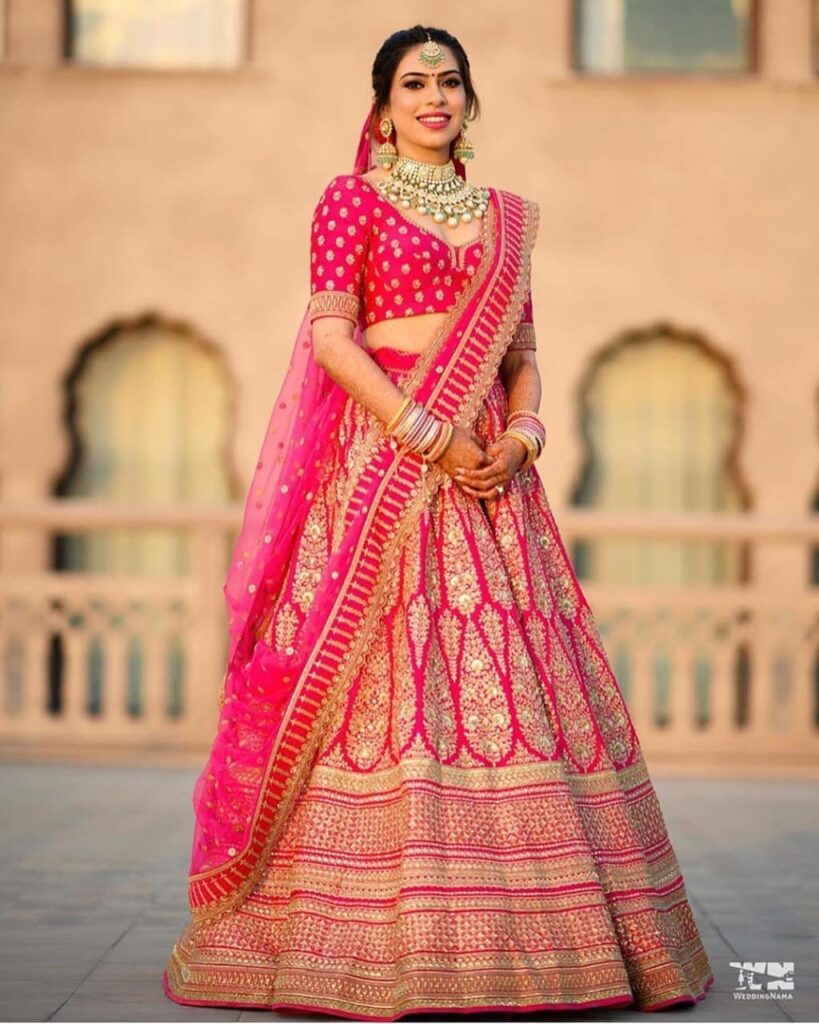 Via @biancalouzado
#3 Beautiful Pink Lehenga Combination 
Silky's pink lehenga combination look went viral. She got married around 2 years ago, and brides still continue to draw inspiration from her outfits. Her multicolor mehendi look is definitely our favorite!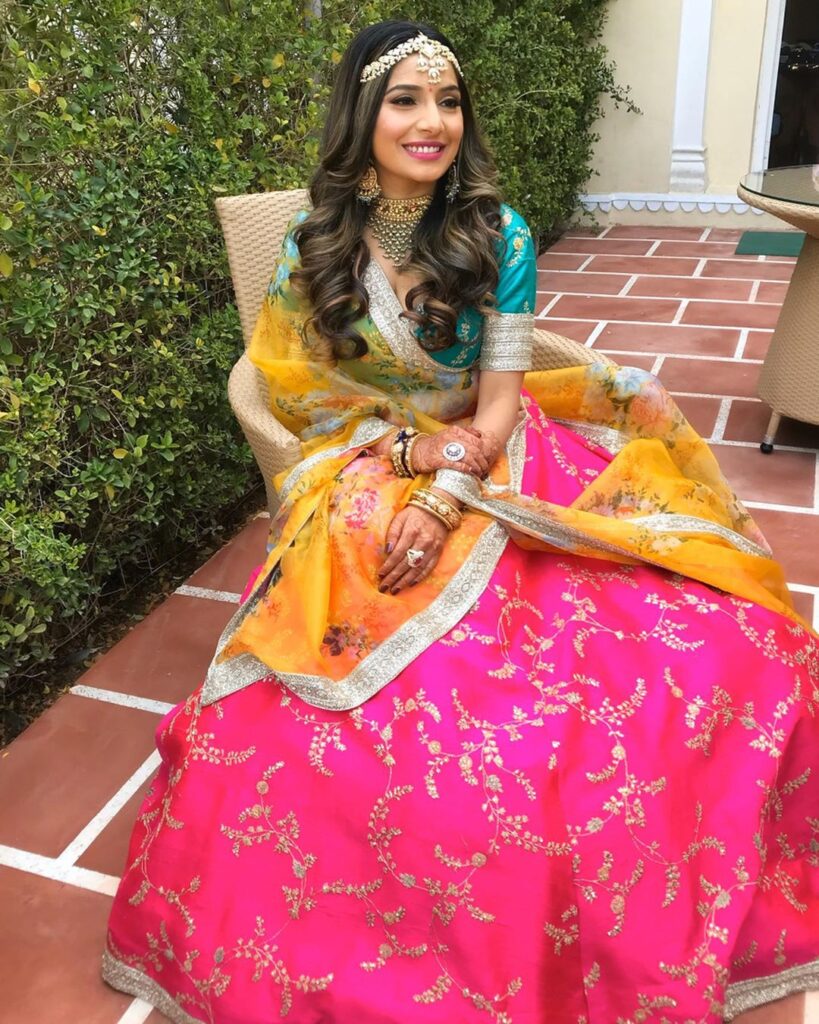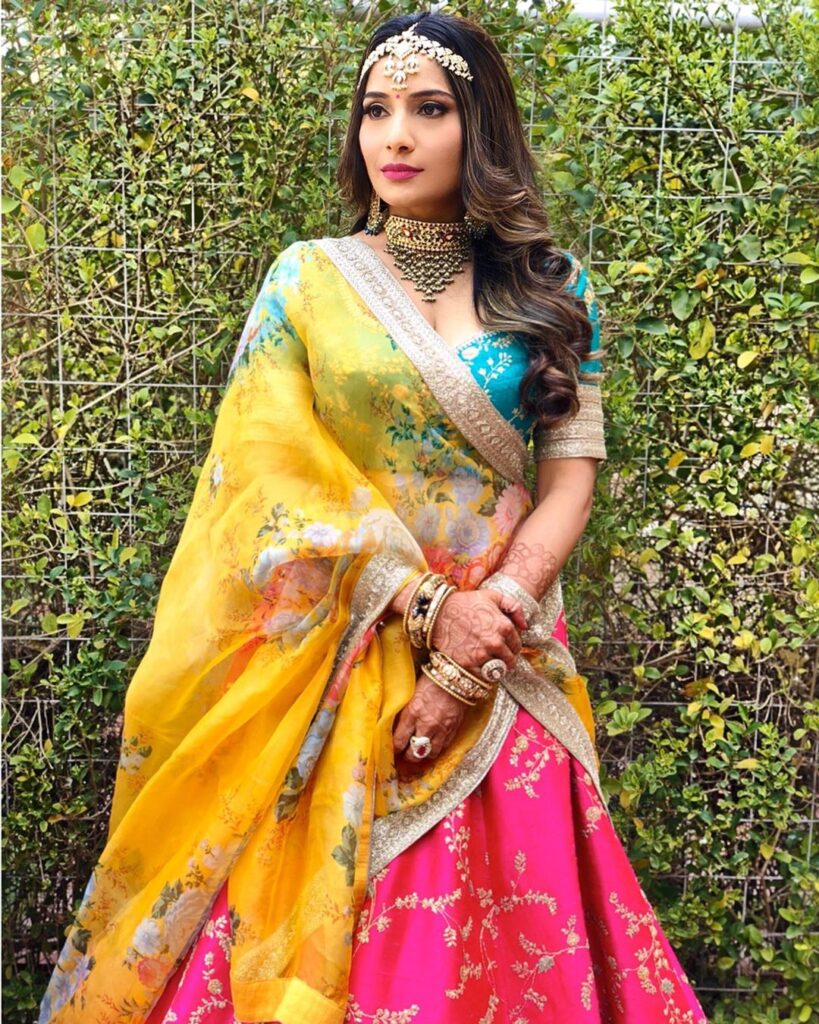 #4 Simple Pink Lehenga For Brides
All of Amaya outfits reflected simplicity and grace. For her big day, she picked a simple dark pink lehenga from Sabya and took our breath away! If your style is also all about effortless elegance, bookmark Amaya's bridal look right away!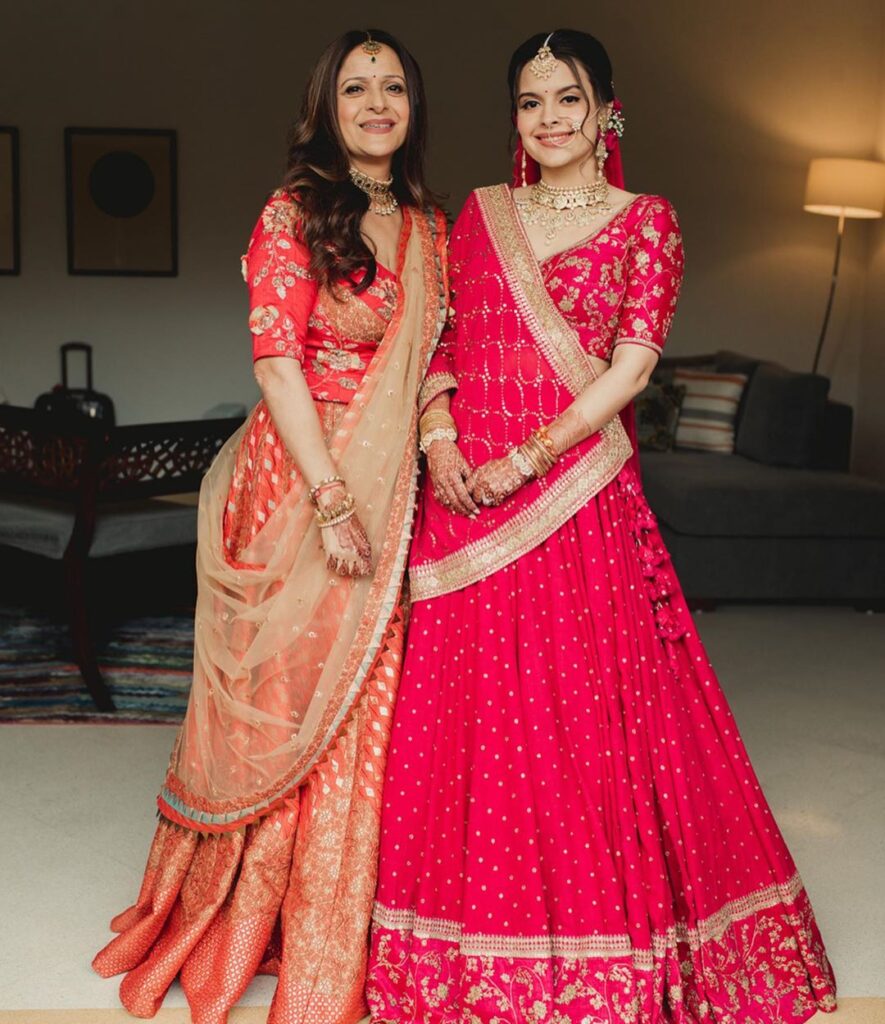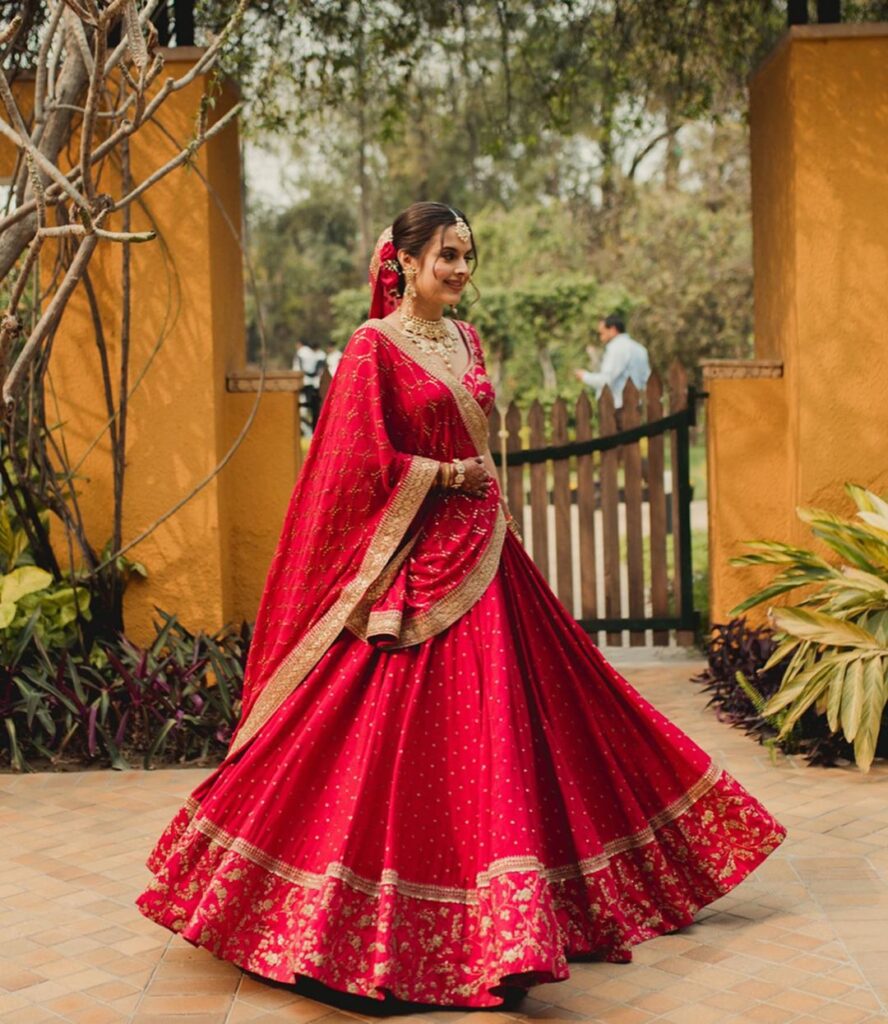 #5 Striking Pink Lehenga Design
For our OTT brides out there, this gorgeous lehenga replete with spectacular work will surely inspire you. We love how she balanced out her heavy lehenga set with simple jewelry pieces and minimal makeup look.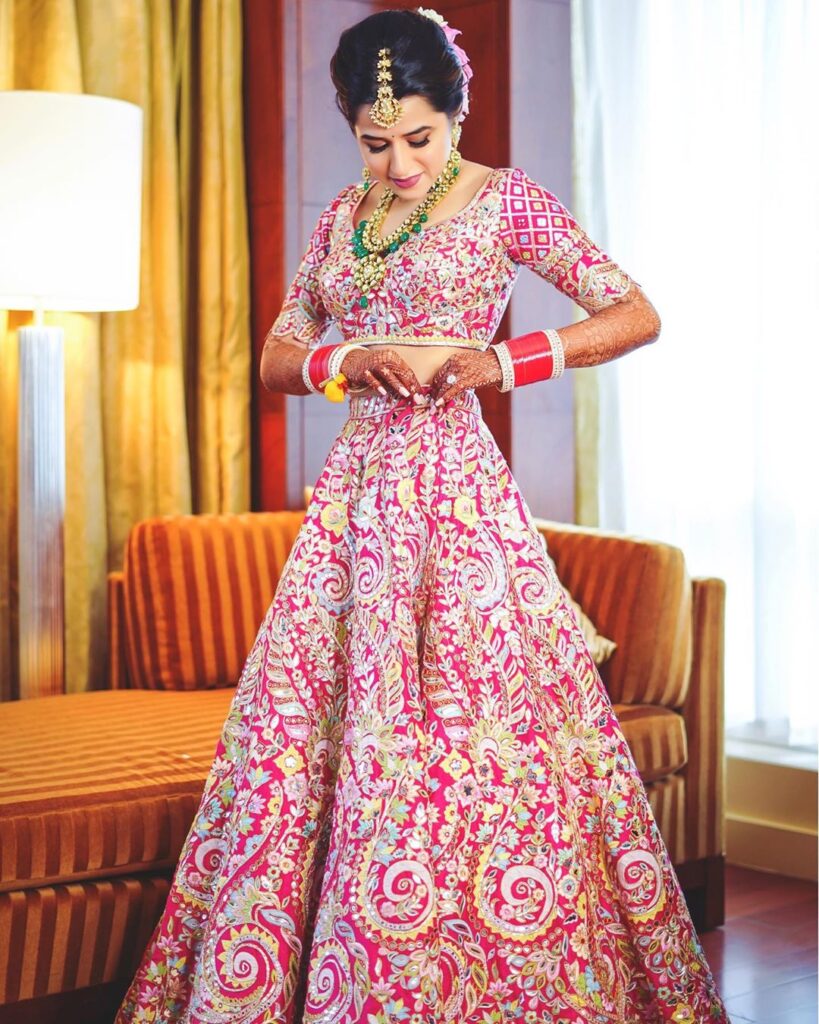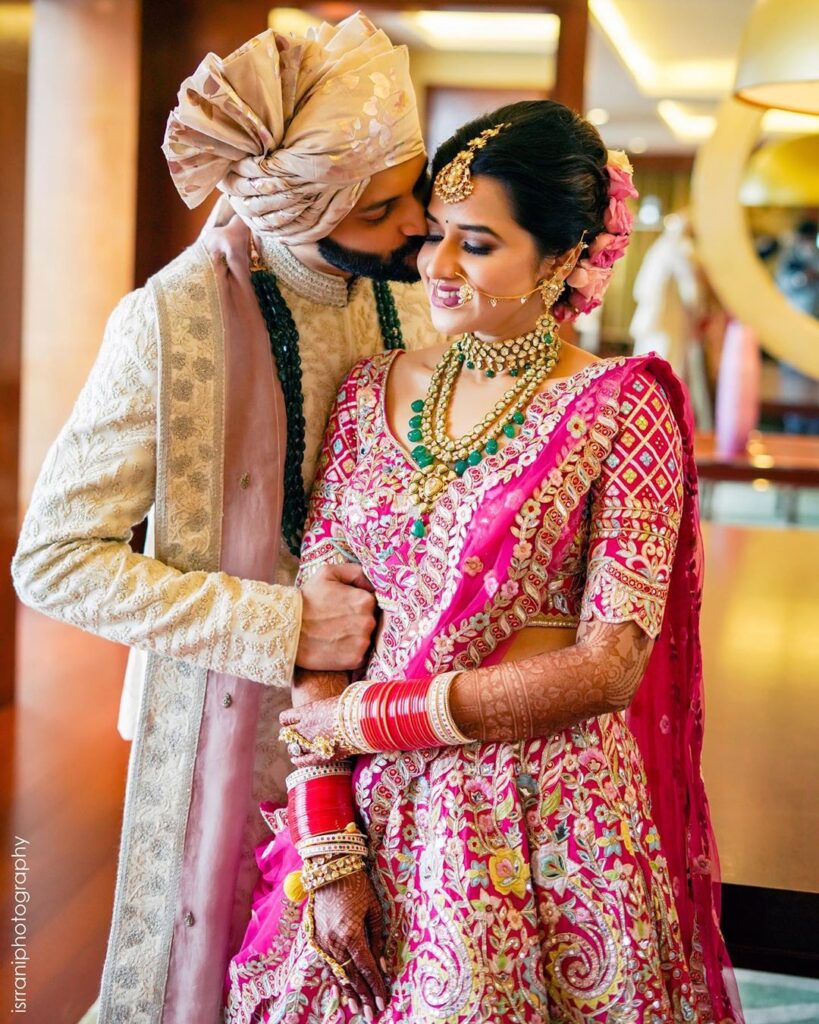 Via @israniphotography, @dollyouup_bys
#6 Bride Who Self-Designed Her Pink Bridal Lehenga Choli
Sagarika is our recent viral bride, whose reception, wedding, and honeymoon shoot were all adored by you all! She designed her wedding lehenga herself and just look at those details, hints of blue, scalloped hem, and apt can-can. She surely nailed her big day look like a pro!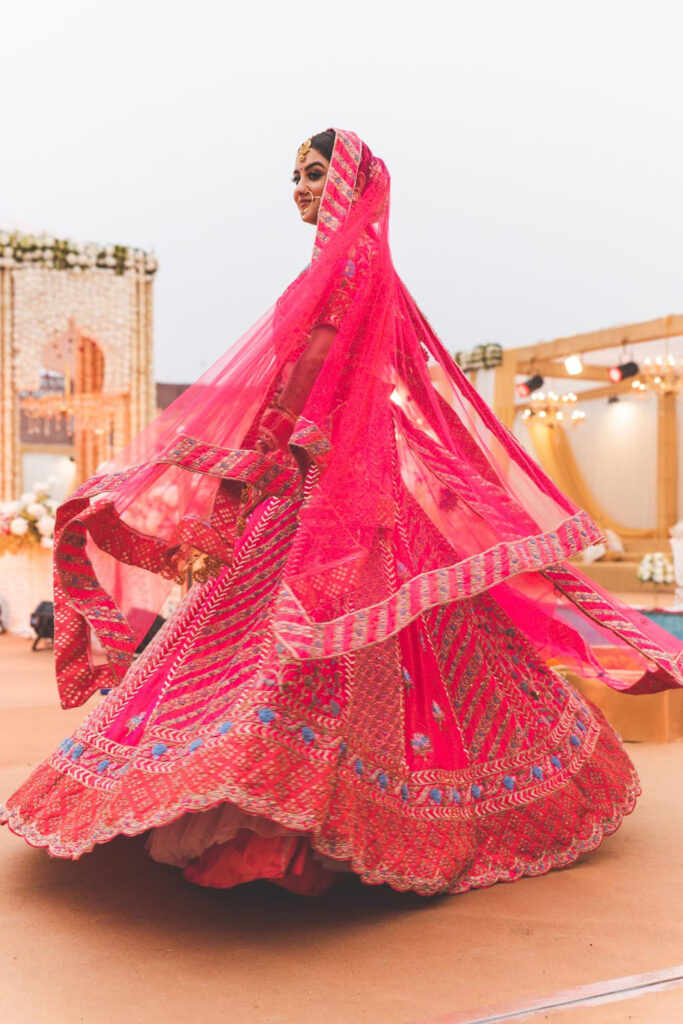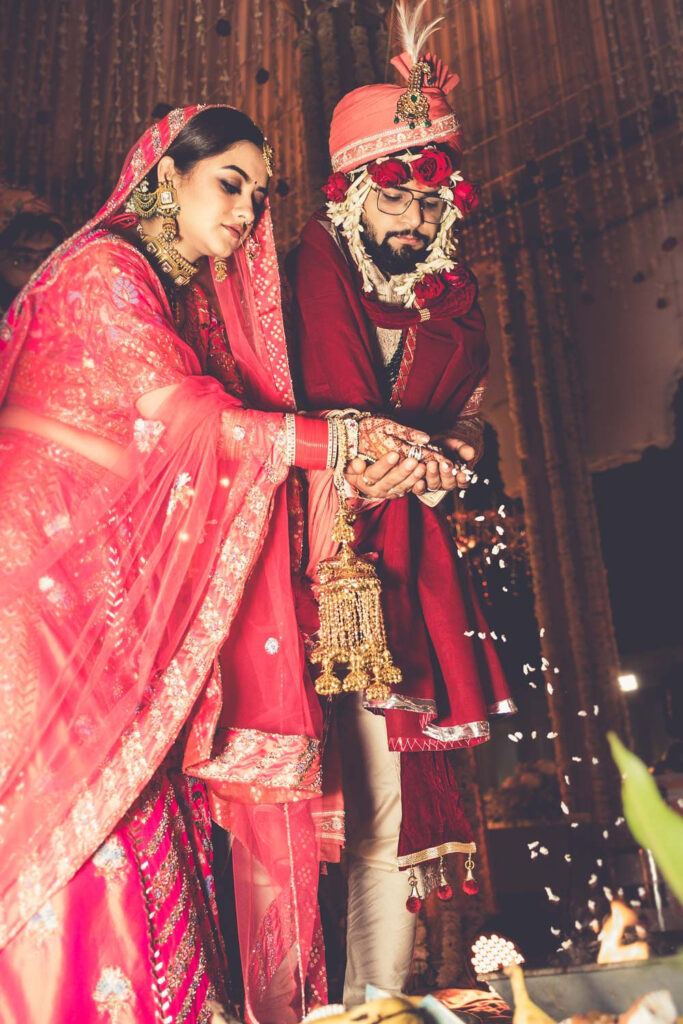 Check out Sagarika's wedding blog here. 

#7 Nothing Can Beat Anita Dongre's Pink Hues!
Just like Sabyasachi's reds, there's Anita Dongre's pinks! She is one of the best high-end designers in India to purchase pink lehenga from. Just how splendid this bride looks in one of her creations. Turns out, pink makes for a fitting lehenga color for day weddings as well.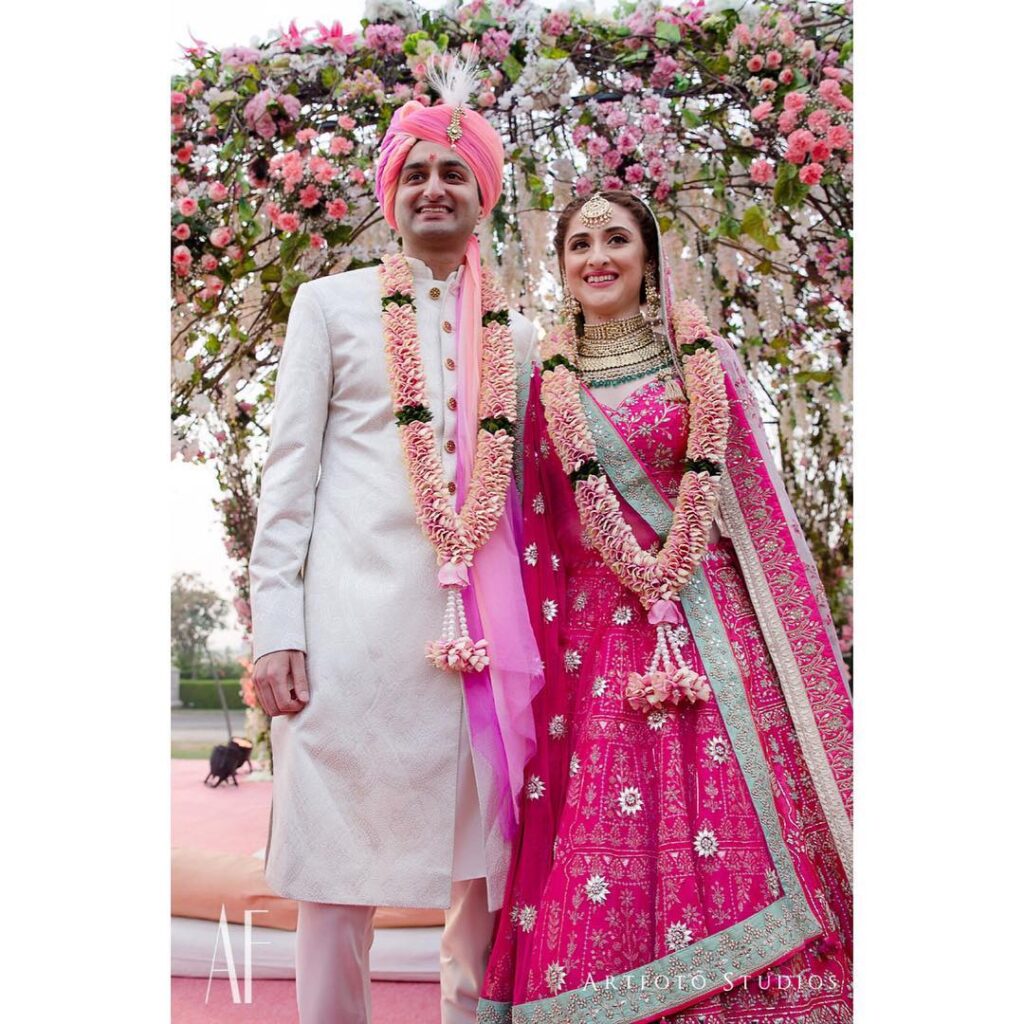 Via @artfotostudios, @anitadongre
#8 A Hot Pink Bridal Lehenga We Can't Stop Staring
Her magenta pink lehenga brimming with magnificent zari work is such a feast to the eyes! And she styled it flawlessly with a choker set, dewy makeup, and nudish pink lip. The scalloped double dupatta design is yet another unique idea to steal from her bridal avatar.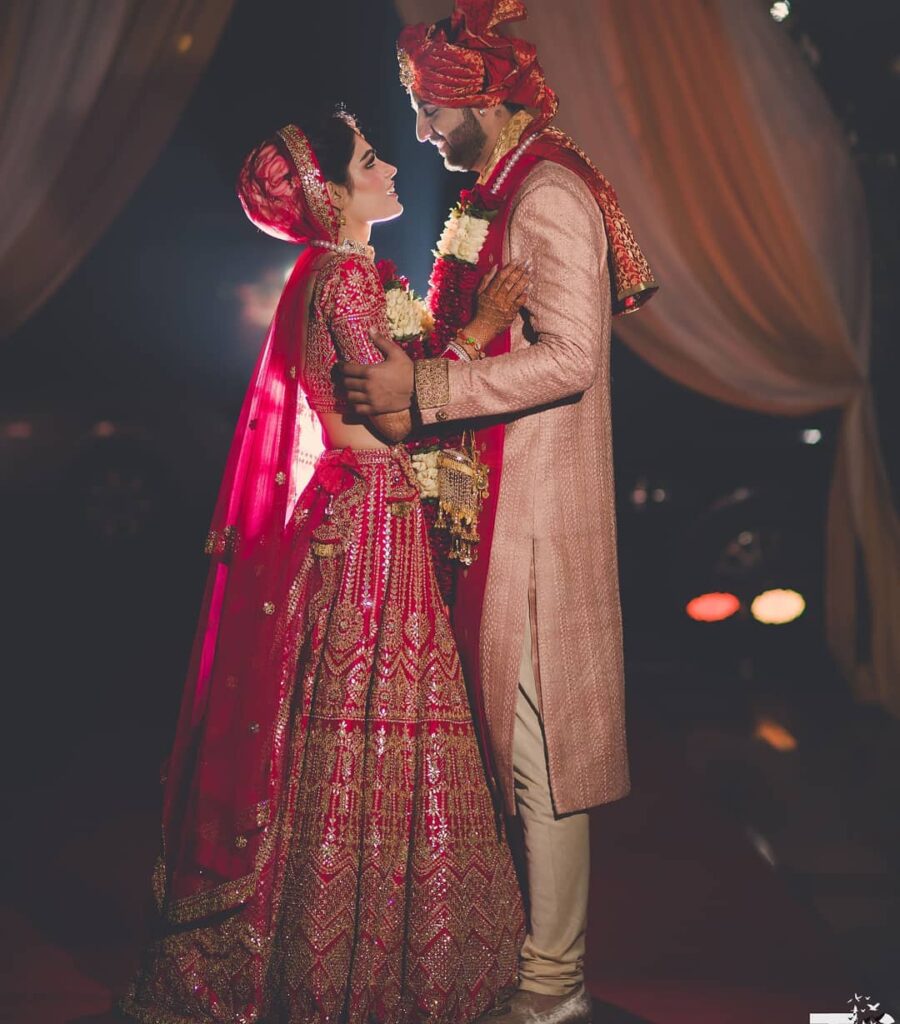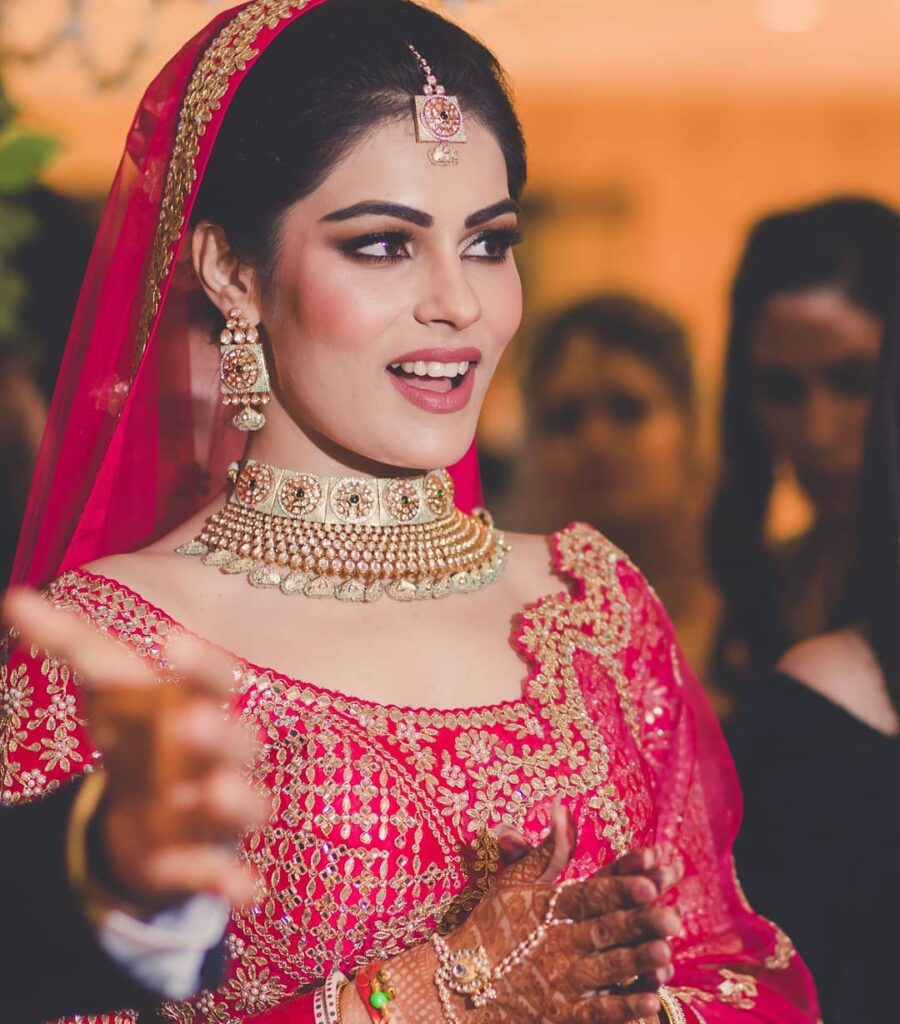 Via @timeshutterz, @frontierraas
#9 It's Also An Ideal Hue For Your Home Wedding!
Are you planning an intimate home wedding amidst Covid-19? Pink makes for an ideal color for your intimate wedding celebrations as well. Mehak had a beautiful ceremony at the very place where she spent her childhood, how special is that!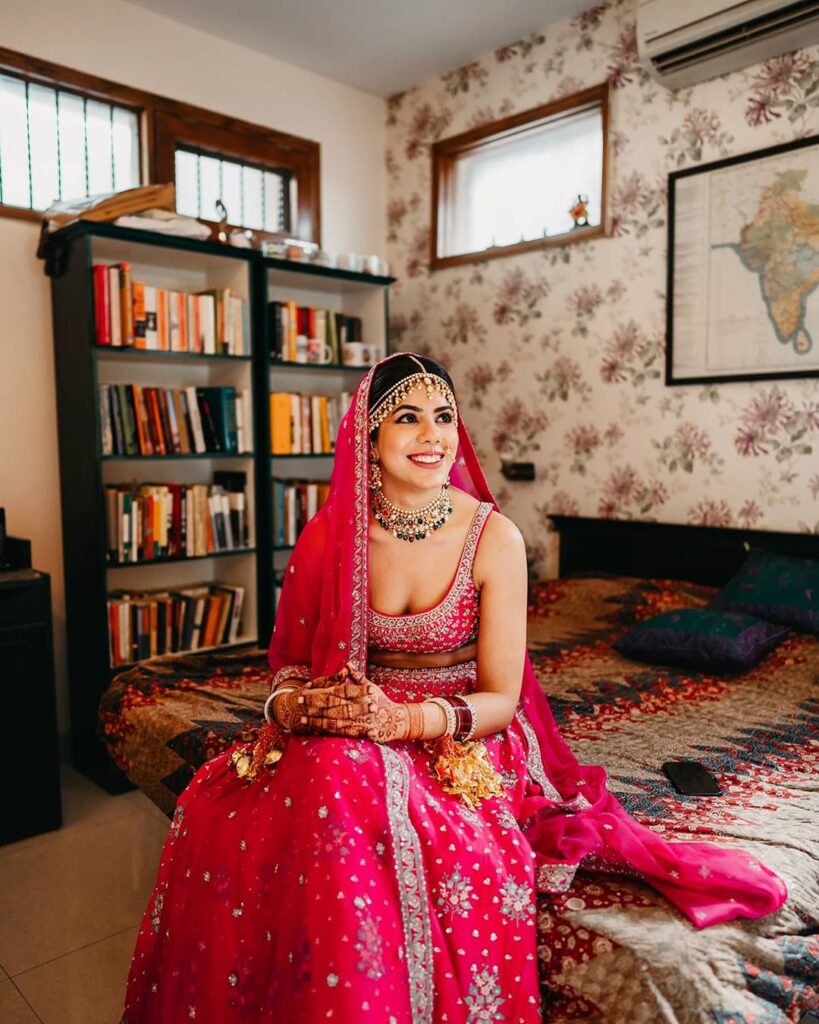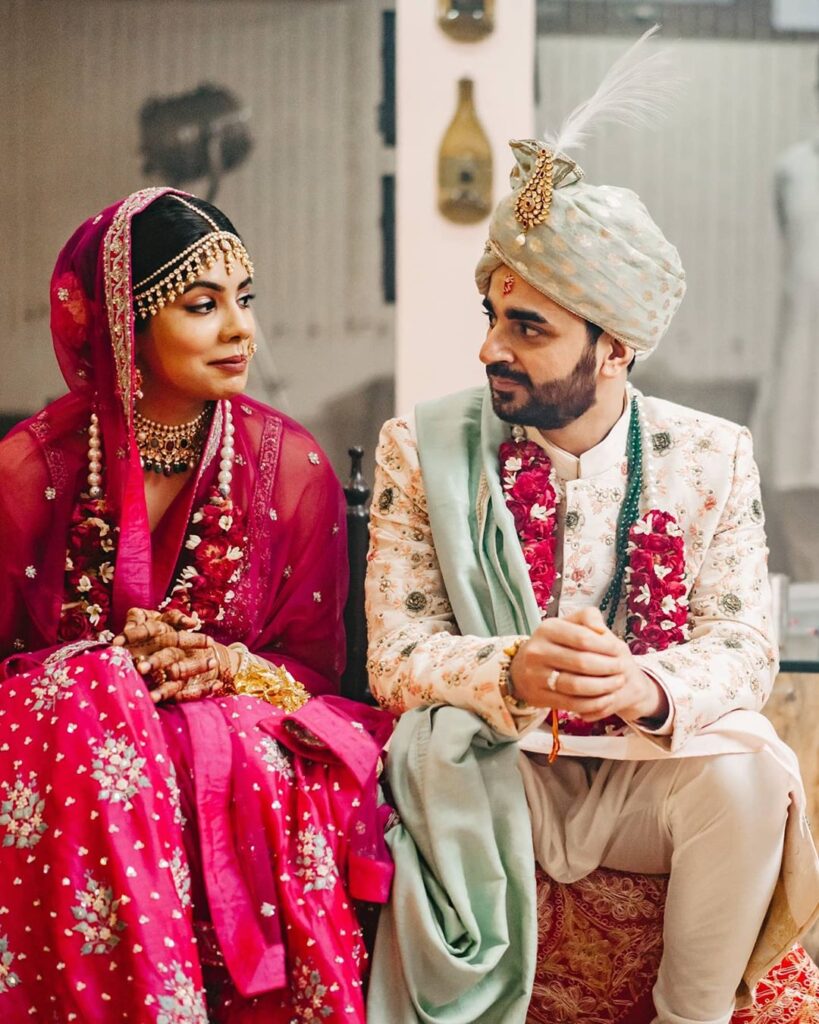 #10 Pink Bridal Lehenga With A Huge Trail!
Deepika walked down the aisle like a royal queen, clad in a magenta pink lehenga with a dupatta featuring a huge trail. Isn't it an amazing way to add some oomph to your otherwise normal bridal attire? She paired it up with an exquisite necklace set and looked absolutely resplendent on her big day!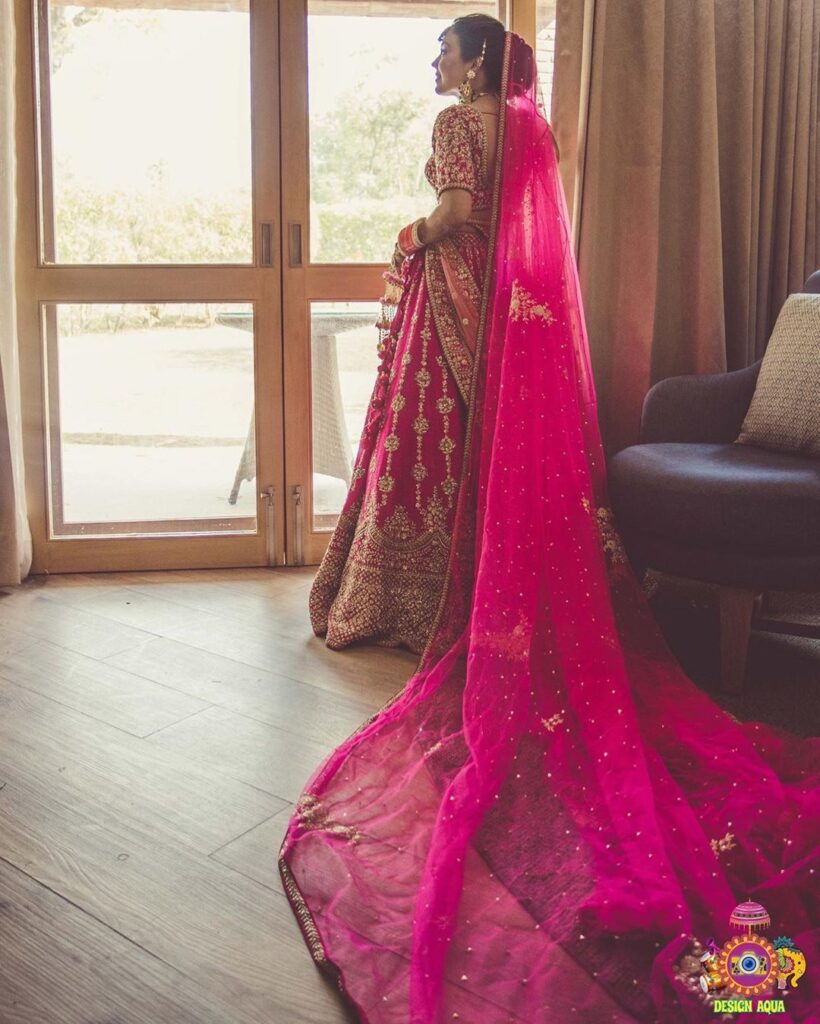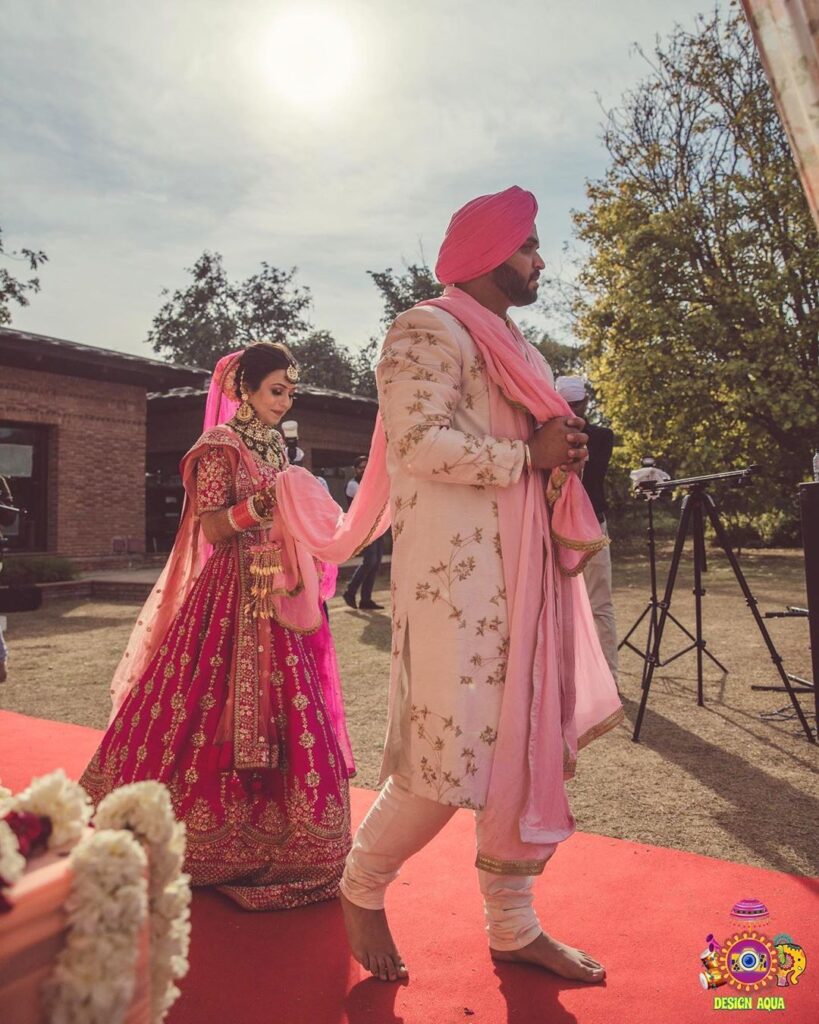 #11 Simple Pink Bridal Lehenga 
Meet Sonali, a viral Kashmiri bride whose pictures were widely circulated on the Internet, owing to her stunning looks! Not only did she wear a light pink Sabya lehenga for the wedding day, she also picked a hot pink lehenga by the same designer for her mehendi event. Pairing it up with a regal zero neck blouse, light choker set, and natural makeup look, we can't stop gawking at her pictures.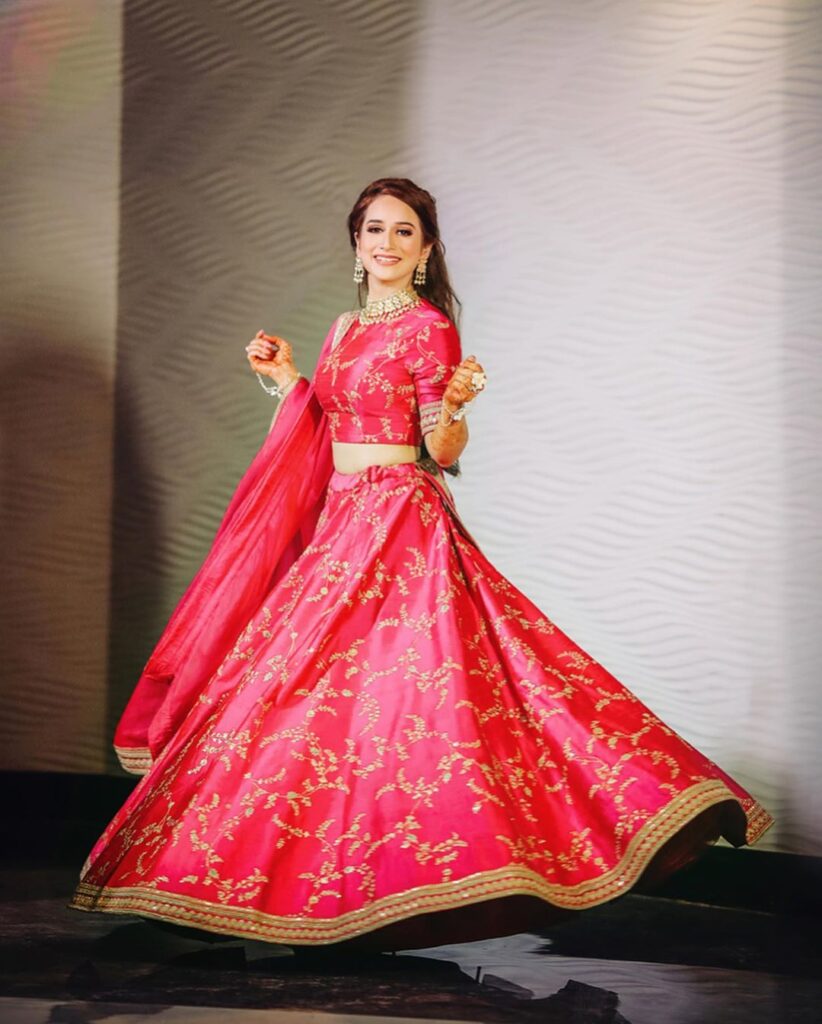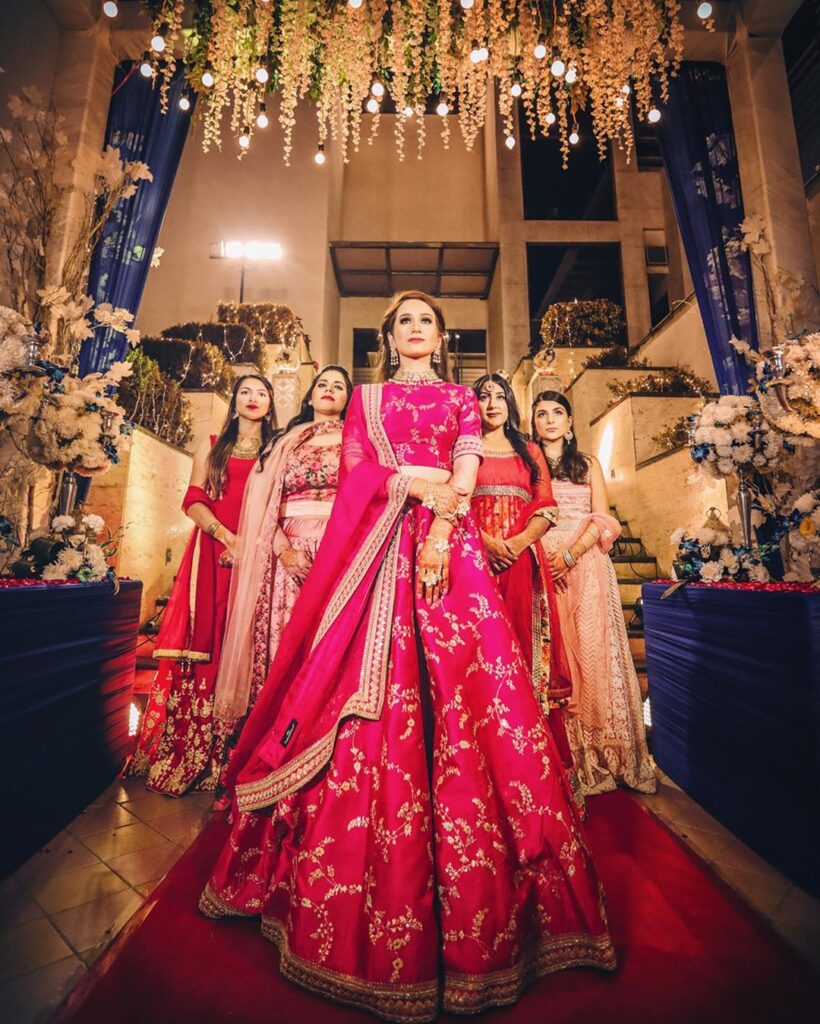 Via @dipak_studios
#12 Another Bride In Rani Pink For Her Mehendi!
Esha made a scintillating bride in her rani pink lehenga, replete with gota patti work, for her mehendi ceremony. To add an edge to her pink lehenga, she combined it with an orange dupatta, which made her outfit look really unique!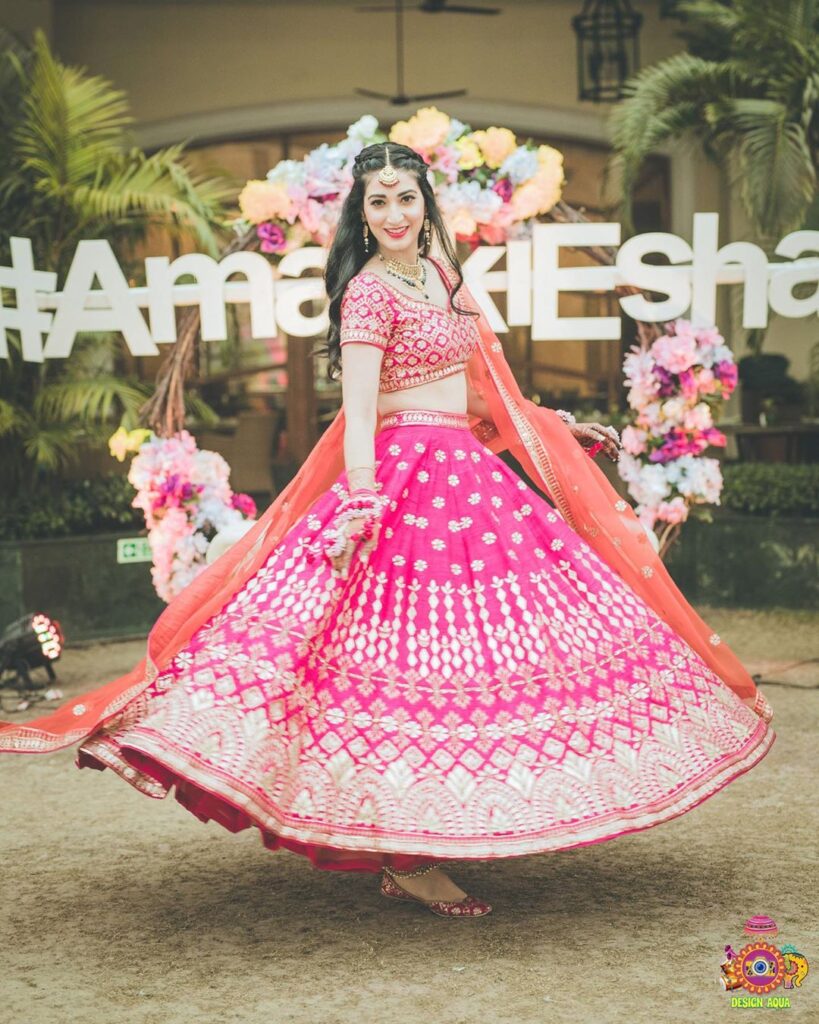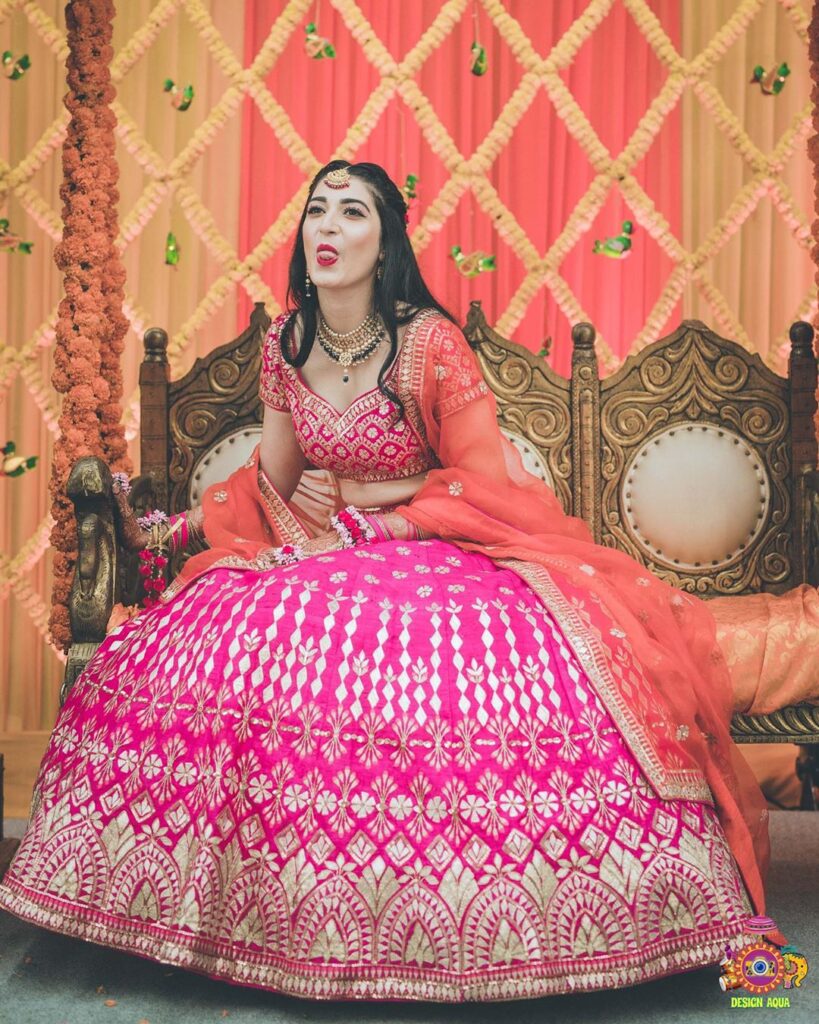 #13 Evneet's Dazzling Bridal Pink Lehenga!
Evneet Kaur had a destination wedding in Bali just months before lockdown, and all details of her beautiful wedding are worth gushing over! We wish we could include all her pictures but picked out the best from the lot. So here they are. She picked a Sabyasachi 2020 collection lehenga for her nuptials and isn't it such a perfect piece to wear amidst the lush surroundings of Bali? We think so!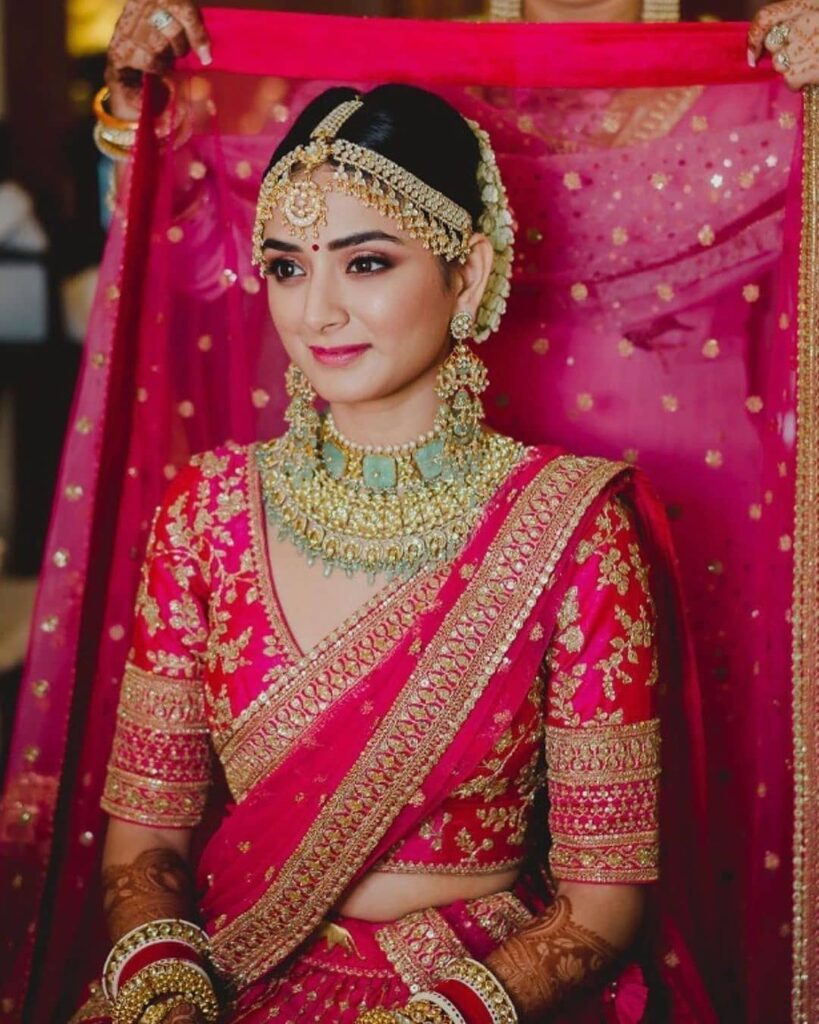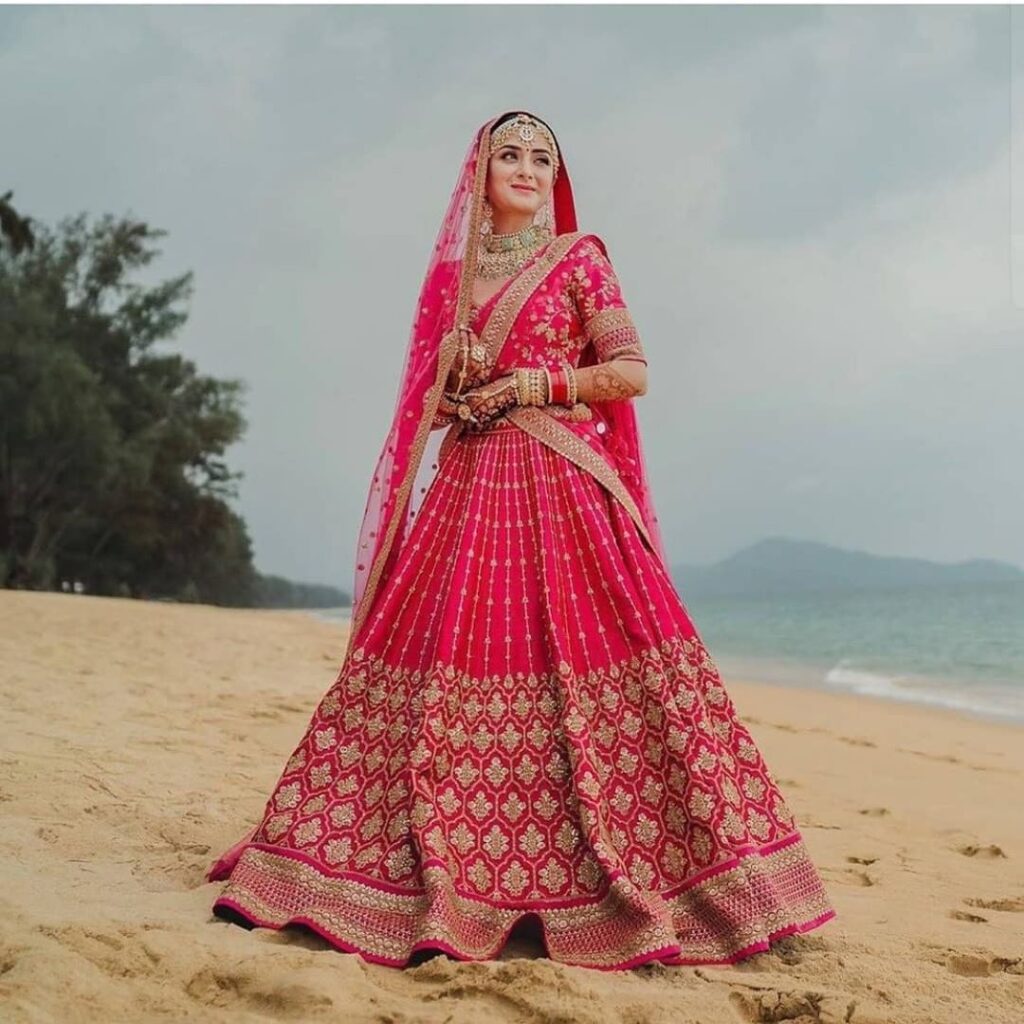 Via @evneetkaur
#14 A Simple Pink Lehenga For Brides
When a makeup artist becomes a bride, you can be assured she'd rock her outfit & styling to perfection. Here's Aakriti from @makeupbyaakritisaxena looking fab at her roka function in a simple pink lehenga, giving ideal inspiration for our simplistic brides.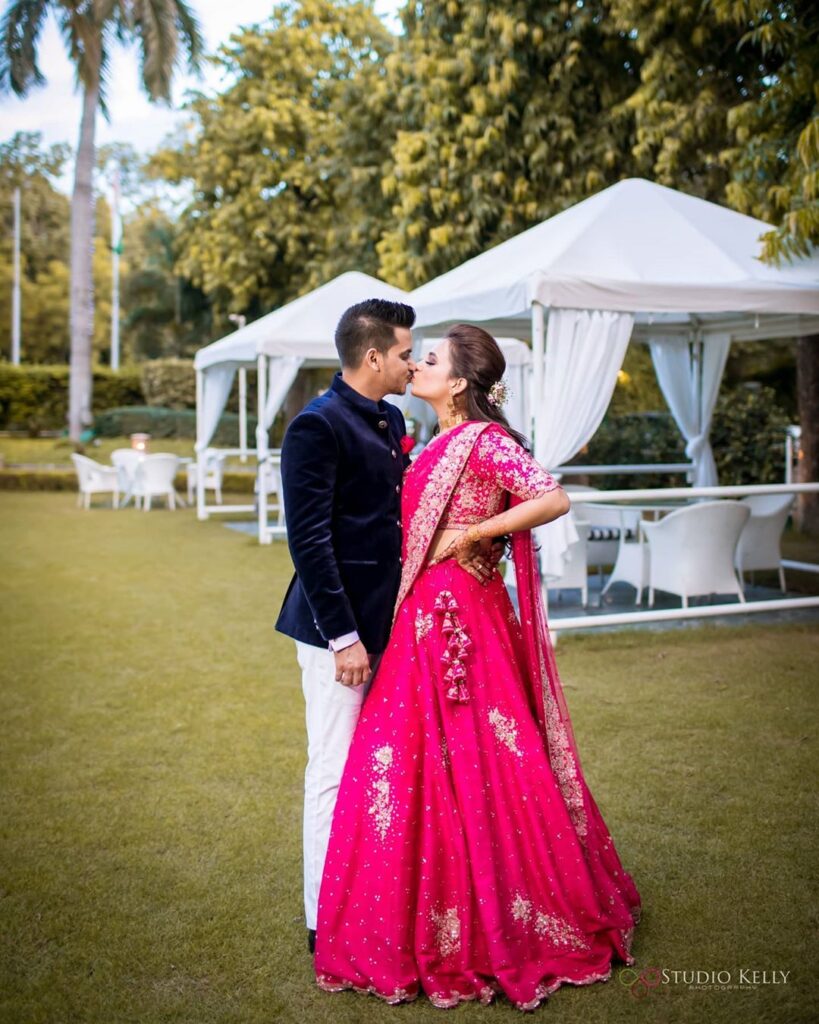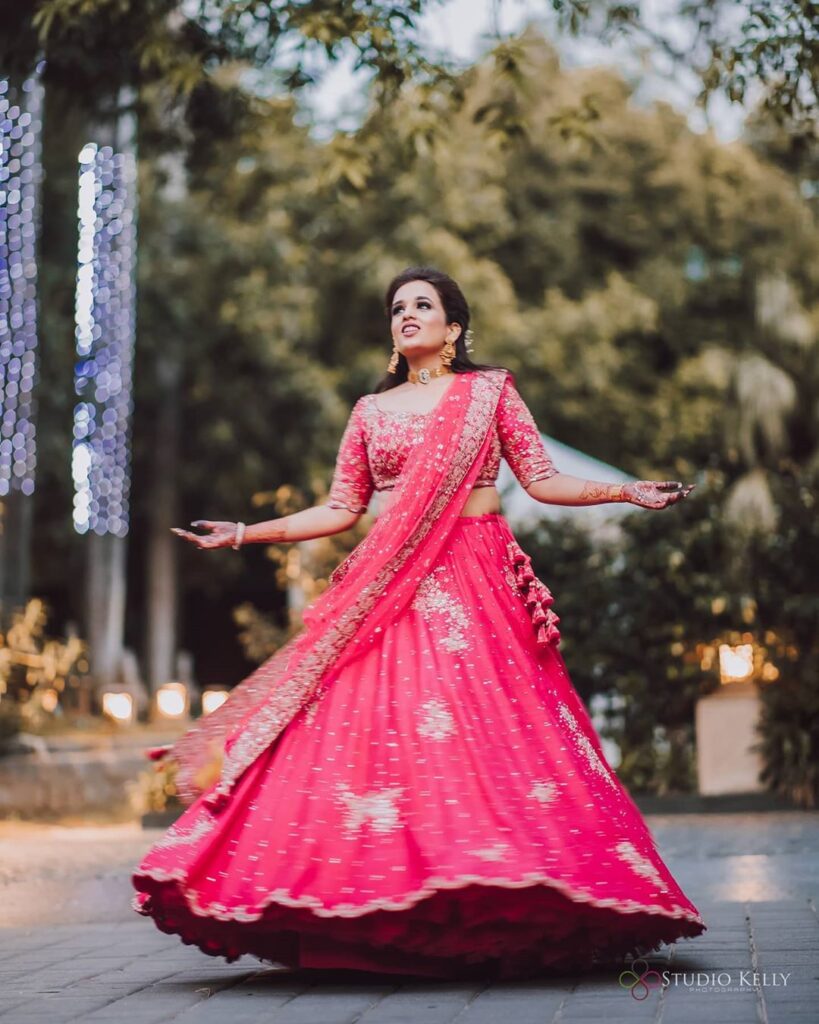 #15 Banarasi Pink Bridal Lehenga
Banarasi weaves are known for their royalty and grace. We love them! And we love brides who make full use of this benarasi poise on their big day. All our charming brides, this pink banarasi lehenga is a sure shot win for a refined wedding day look.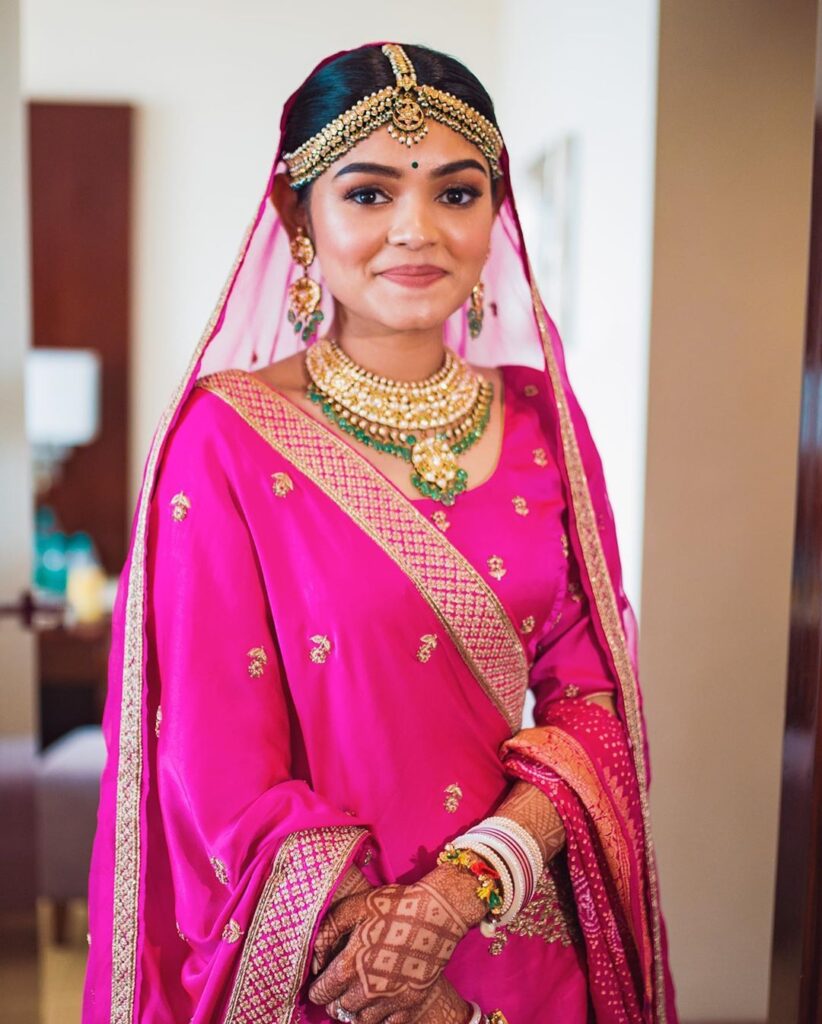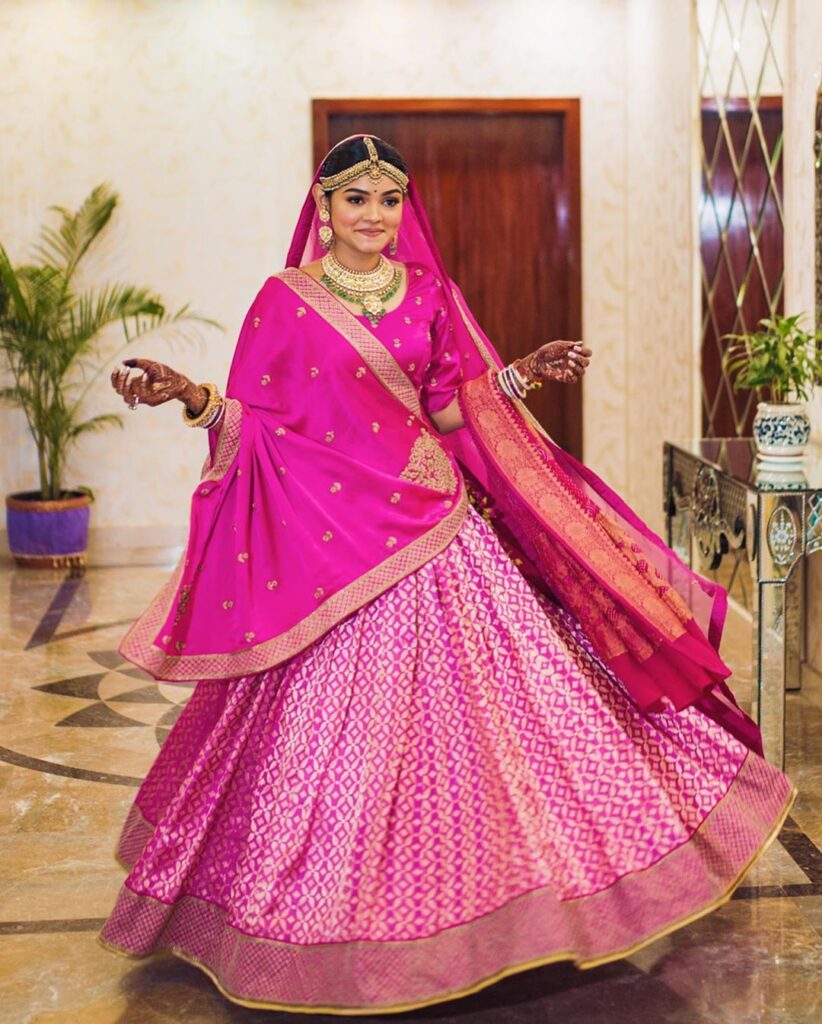 Via @dollyouupby_s
#16 An Impressive Pink Bridal Lehenga Combination!
One of the best ways to jazz up your bridal outfit is to add a contrasting double dupatta. Take cues from this bride on how to add a sky blue dupatta to your pink bridal lehenga like a pro! She looks lovely, doesn't she?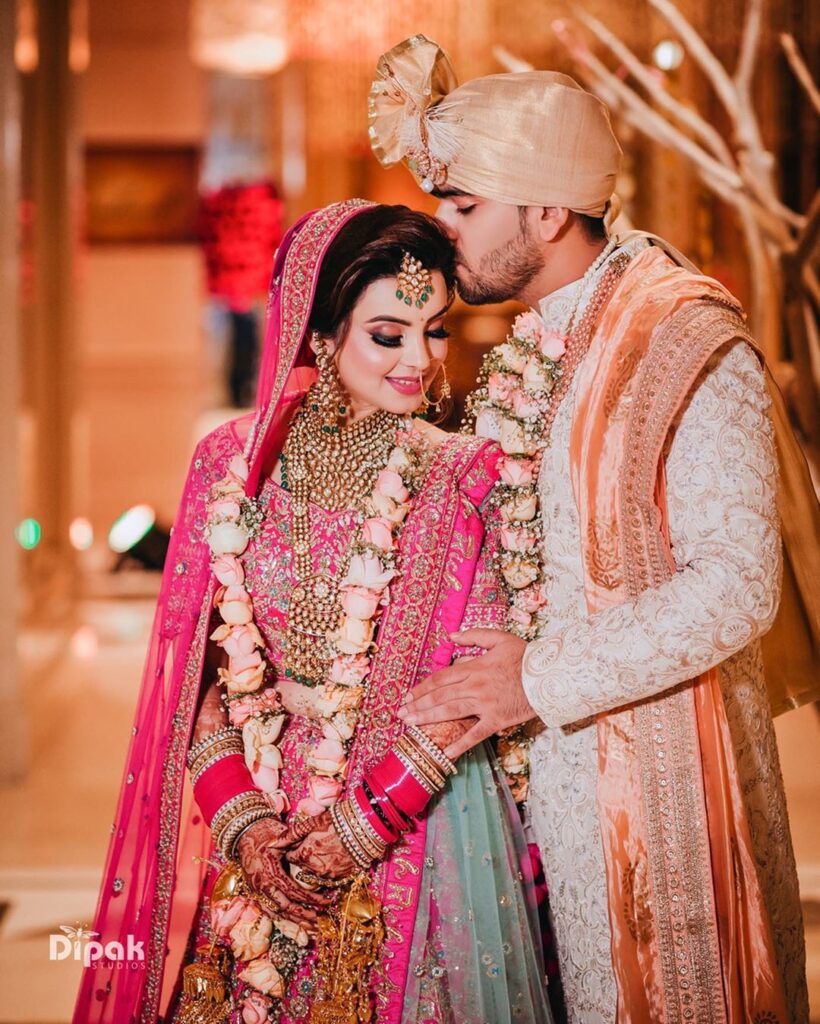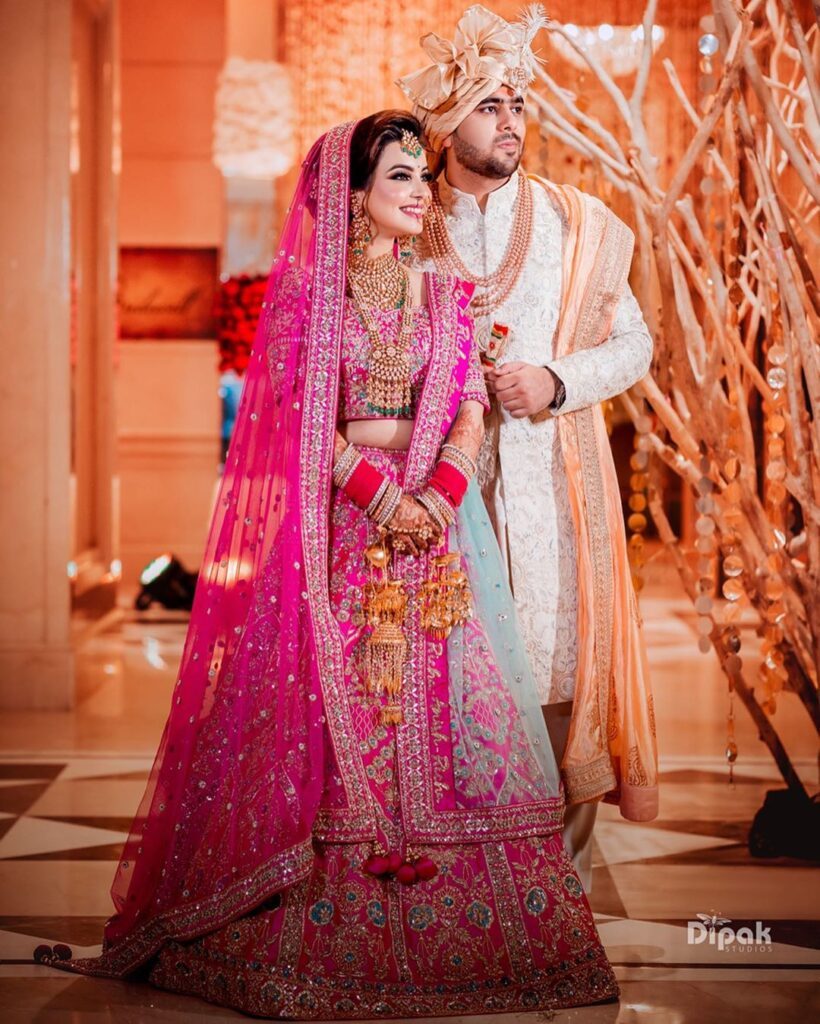 Via @dipak_studios
#17 Pink With A Hint Of Sea Green
There are no doubt double dupattas that add up a considerable charm to your bridal lehenga, and a simple way to make them stand out, even more, is to have them in a contrasting shade. This bride wore an Anita Dongre pink lehenga and enriched its beauty with a sea green double dupatta. Isn't it such a remarkable pink lehenga combination for brides?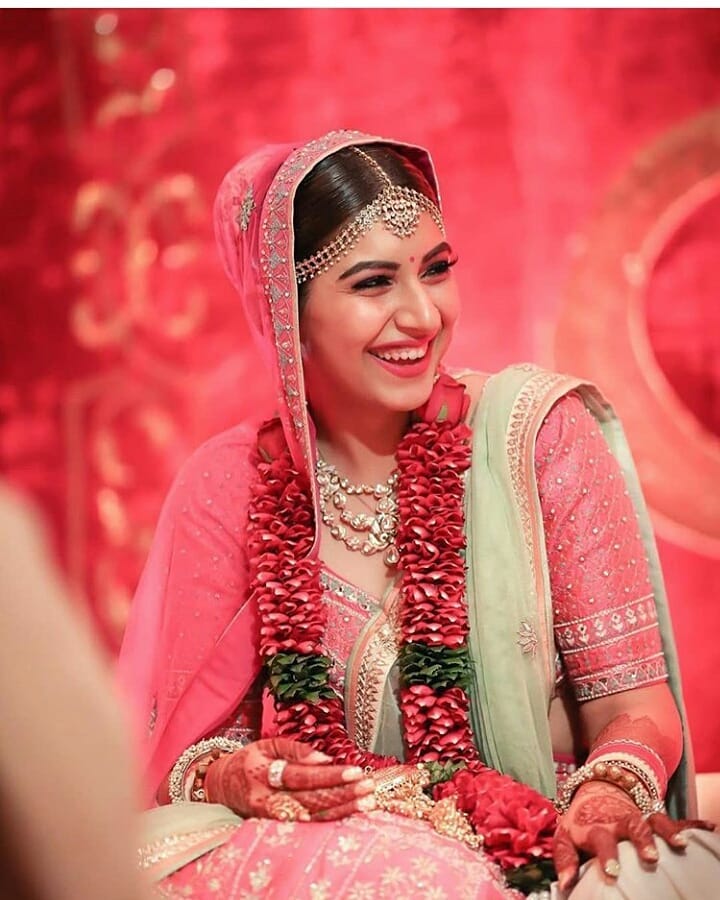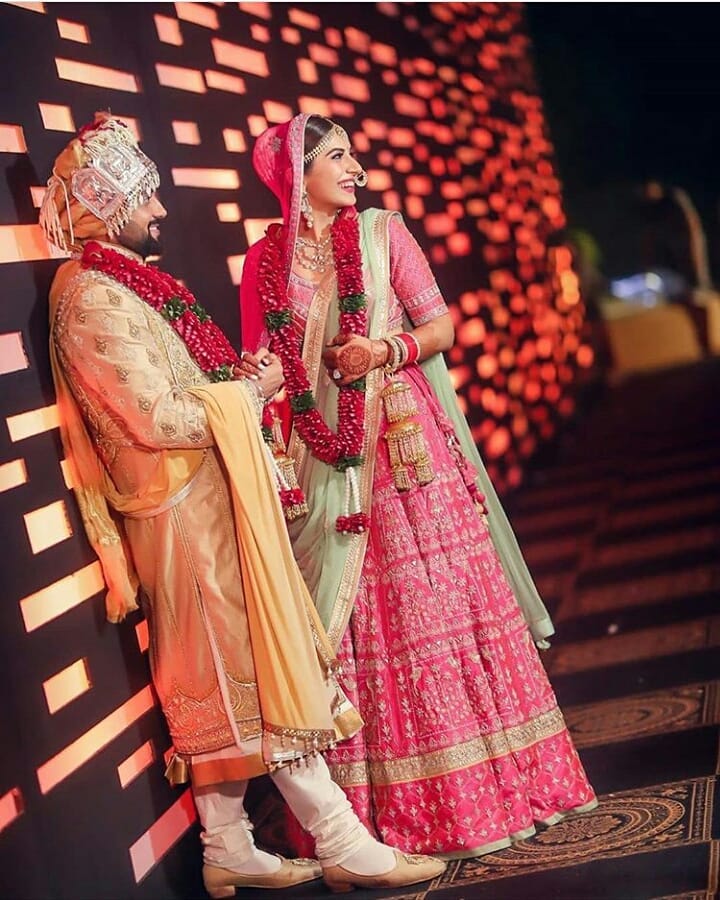 #18 For Our Modish Brides
When Pranati got married, her Sangeet pictures took over social media in no time. She picked such a modish and contemporary outfit for her Sangeet, everyone's eyes were stuck on her instantly. Take a look and you'd be super-glued to the screen as well.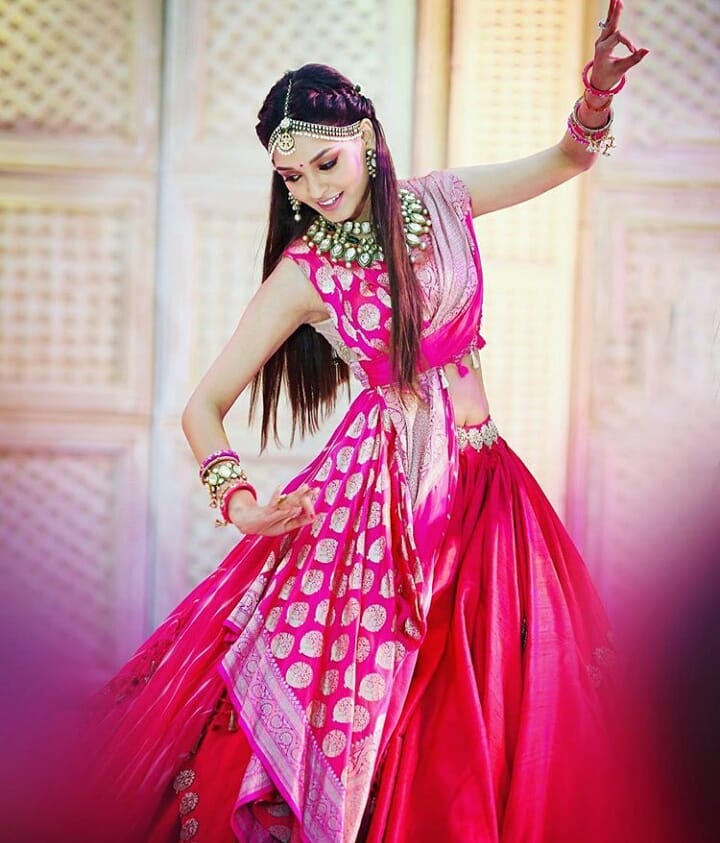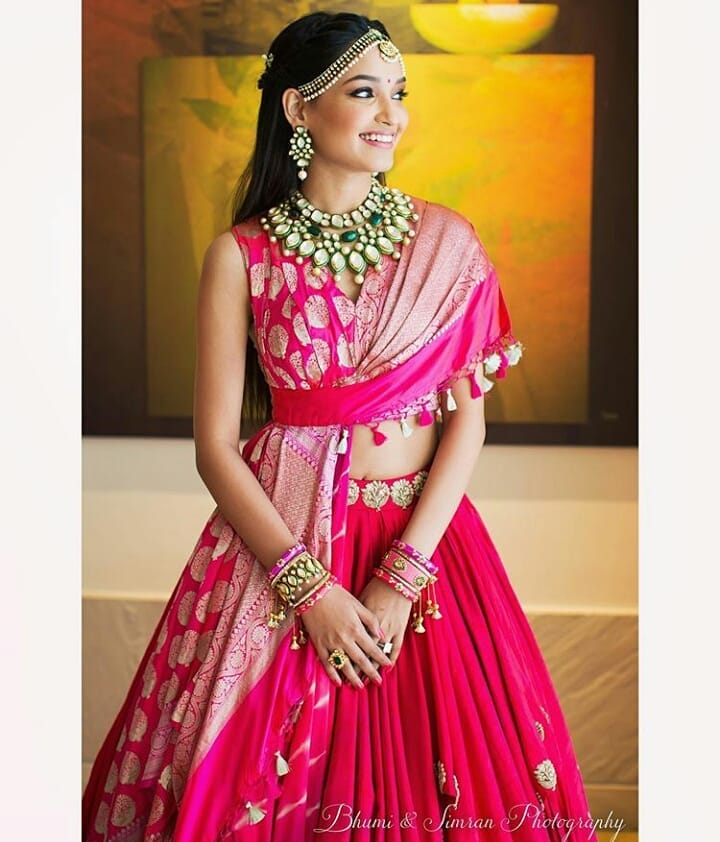 Via @bhumiandsimran, @shantanuandnikhil
#19 Custom-Made Sabyasachi Pink Bridal Lehenga For Your D-Day? Yes, please!
Make way for one of the prettiest brides we've spotted in a pink lehenga! She got her outfit custom-made from Sabyasachi and the details on it are just breath-taking. *Bookmarking right away*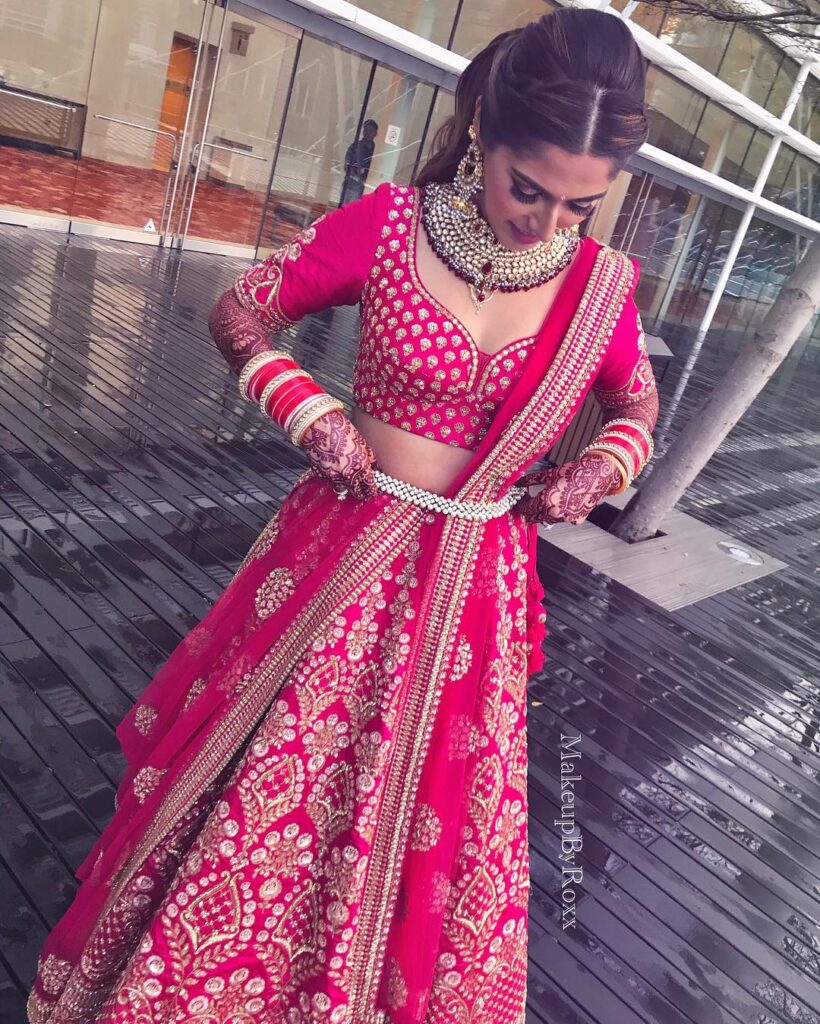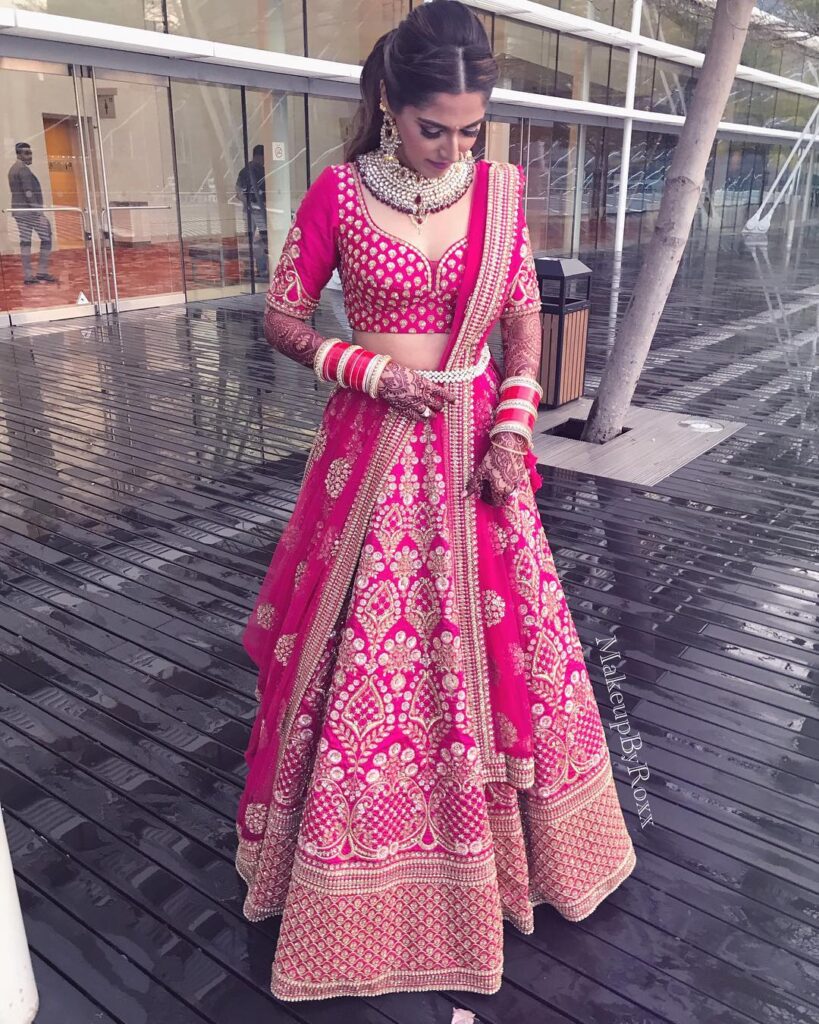 Via @makeupbyroxx
#20 Simplicity is Perfection! 
The last one on the list is a perfect pick for a bridesmaid. It's rich pink hue with the slightest shimmer makes it look utterly charming yet effortless to carry.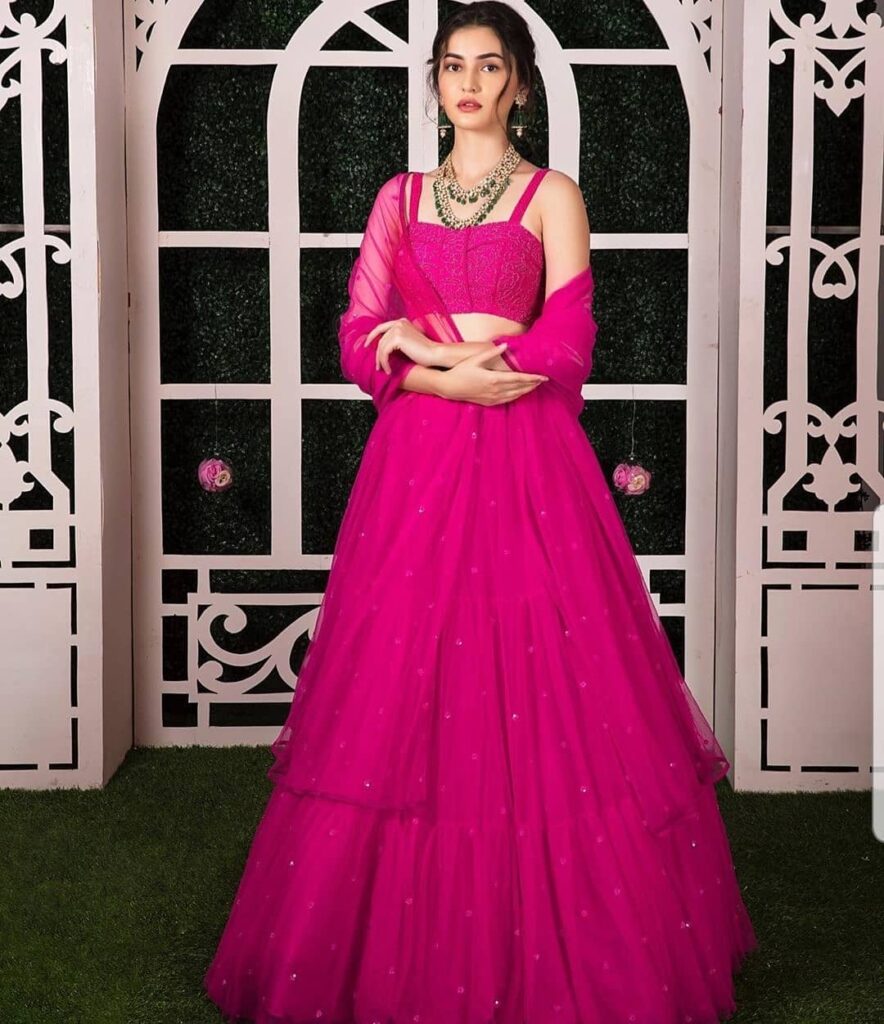 Via @geethikakanumilli_official
Pink Bridal Lehenga (Updated List)
#21 Bedecked in soft mirror work glimmering in the sunshine and a soft romantic ombre pink palette make this pink bridal lehenga an utterly gorgeous one to don for a day event. Keep your hair loose and in curls and pair them with smokey eyes and a dewy face for a perfect day's wedding look. Accessorize minimally with just a pair of bangles.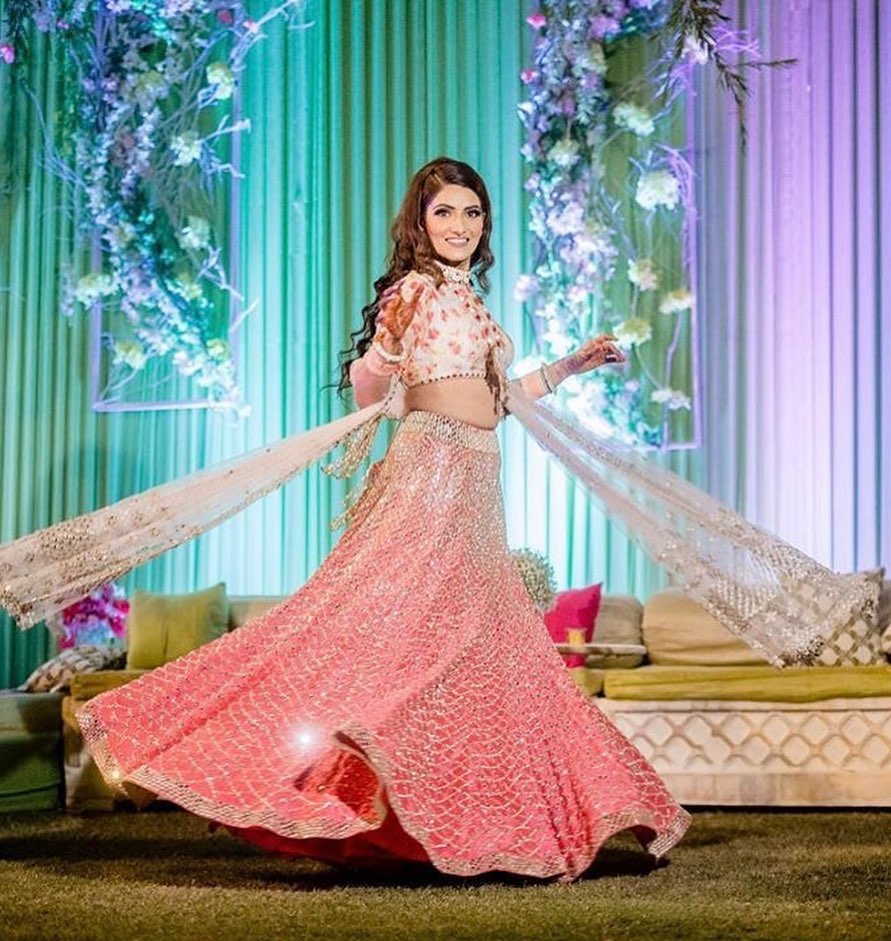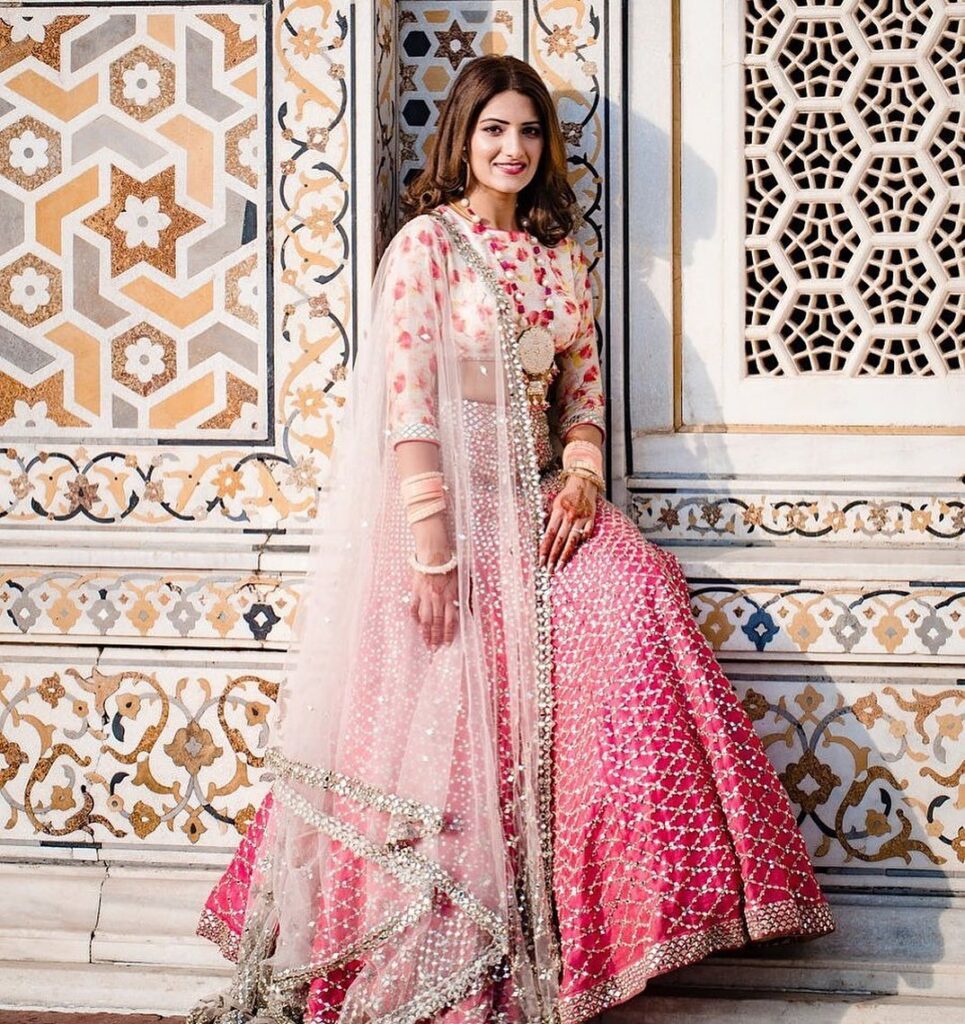 #22 What could be more playful than this appliqued lehenga in a colorful palette. Not only do the bright shades of blue, pink, and yellow add a charm to her bridal look, but they also go well with the multicolor affair, that is, Indian weddings. Keeping the pink bridal lehenga jewelry combination simple, this bride truly nailed the styling of her mehendi ensemble.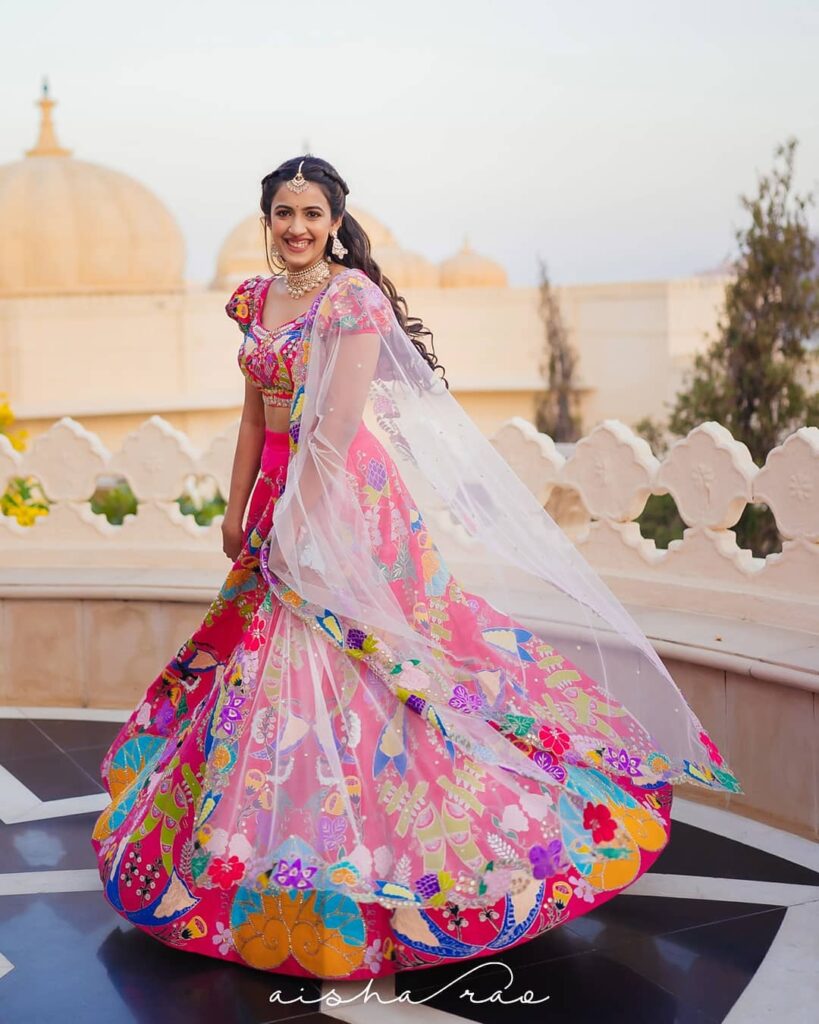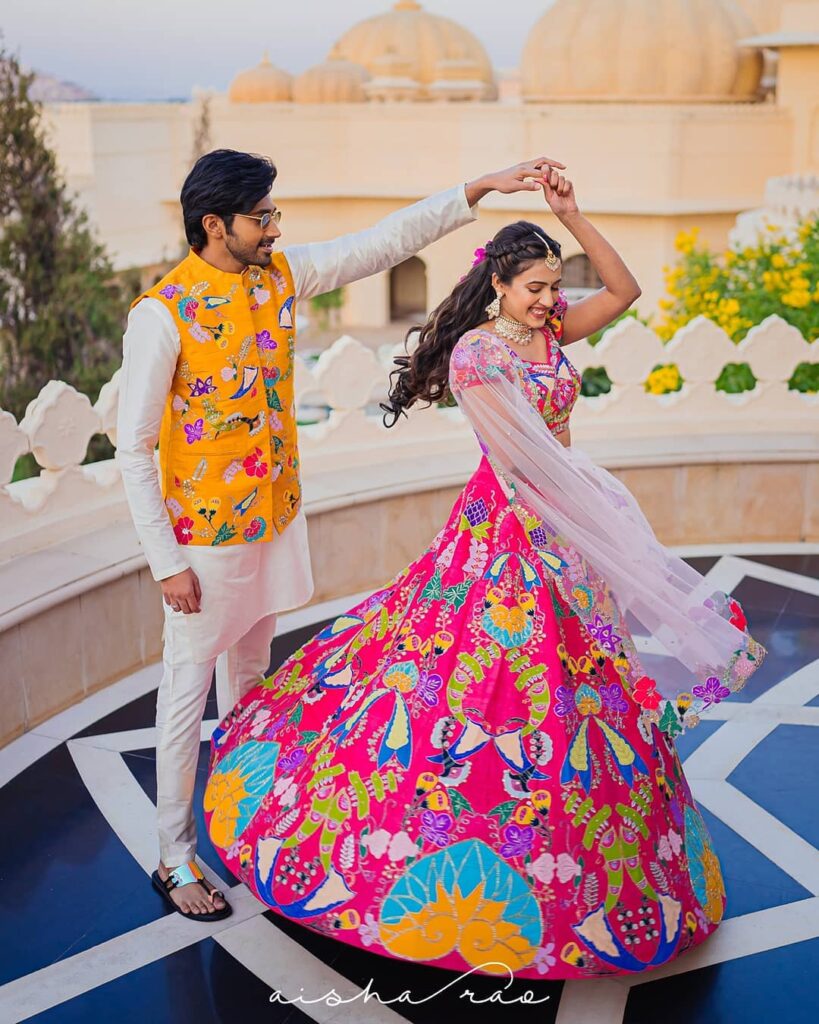 #23 A fuschia pink bridal lehenga is a great alternative for brides who want to draw a fine line between opting out of wearing red and choosing a bright hue for their special day. Paired with impeccable elements, this bride's look is an inspiration for those looking for royalty in their wedding day styling.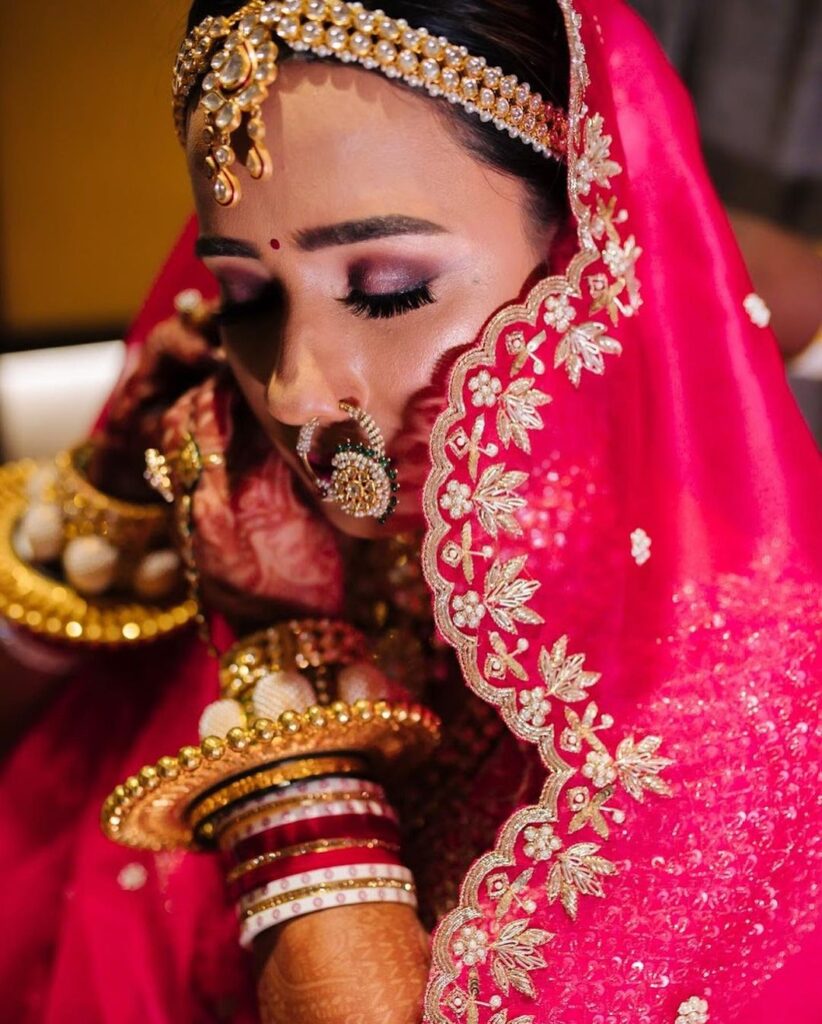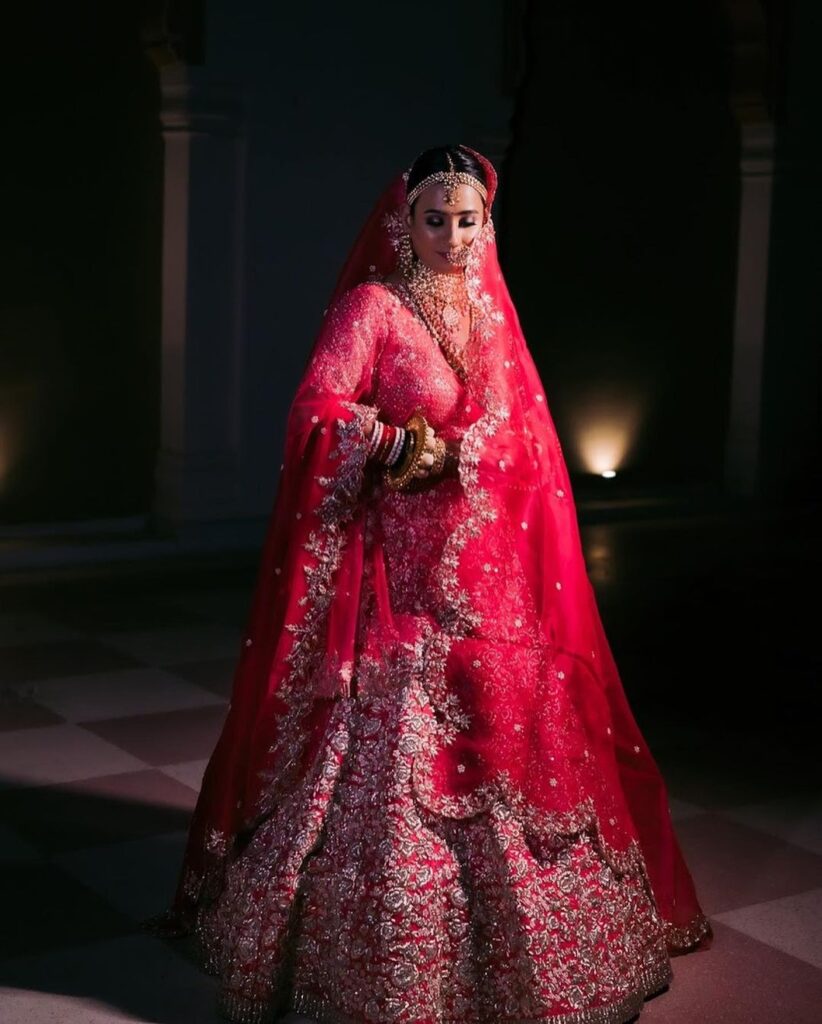 #24 A trendy dress doesn't have to be extra dramatic. The blouse that has a lace net attached to it with gorgeous embroidery goes all the way over her pink lehenga that already has an appealing flare. The many shades in her pink bridal lehenga combination definitely make the outfit a standout and must-have for brides looking for an eye-catching outfit in their trousseau.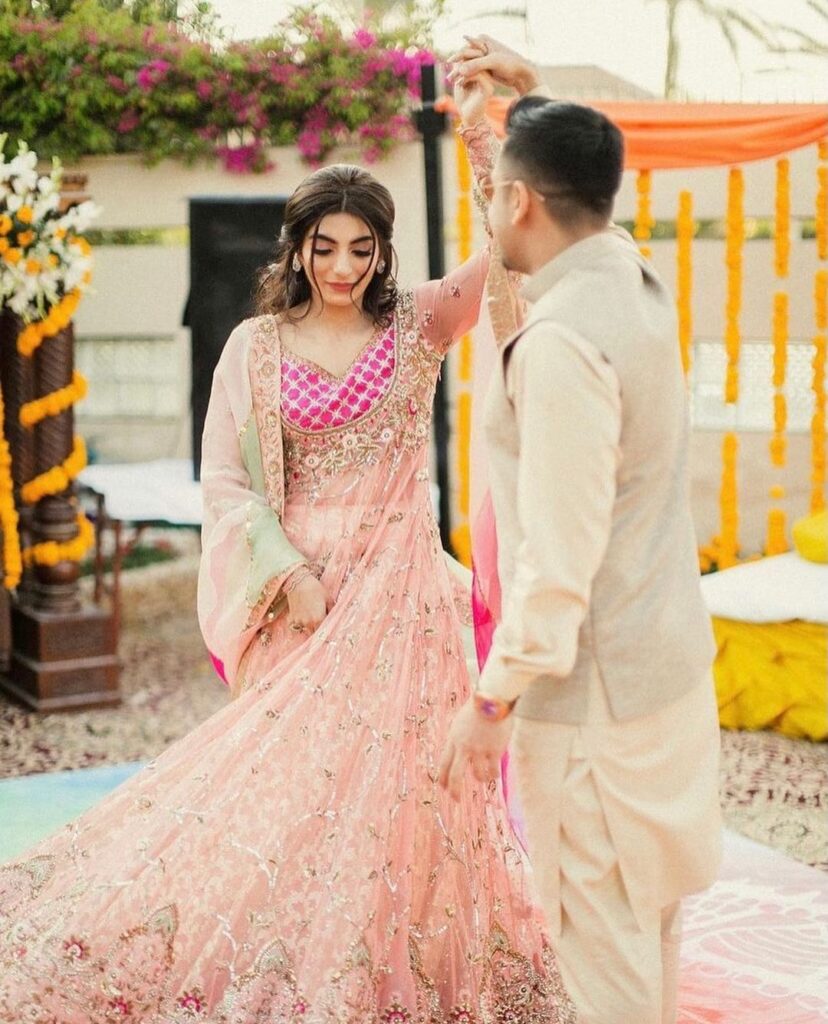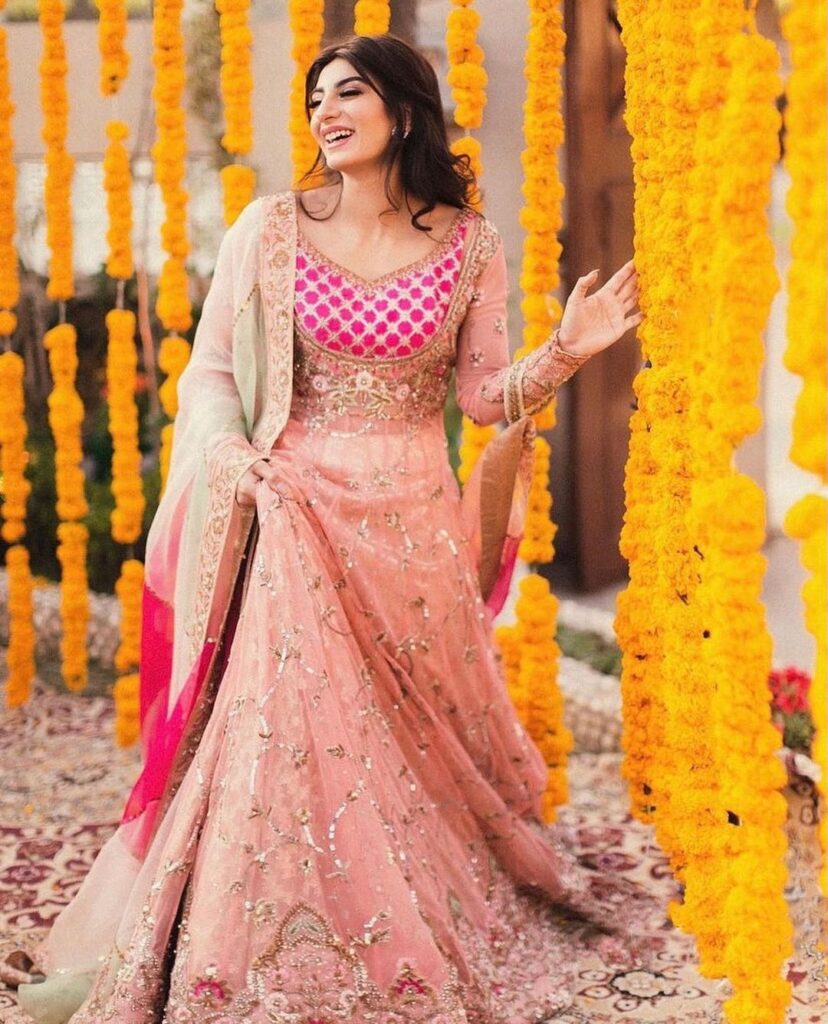 #25 Not just the stunning Anushka Sharma-inspired lehenga is attracting us to the image, but the amazing pink lehenga jewelry combination is also an exceptional element in this bride's wedding look. While grooms generally don't opt for pink on their wedding day, the best way to coordinate in that case is to match his stole to your outfit palette. Opt for such luscious floral garlands to amp up the couple's portraits on your special day!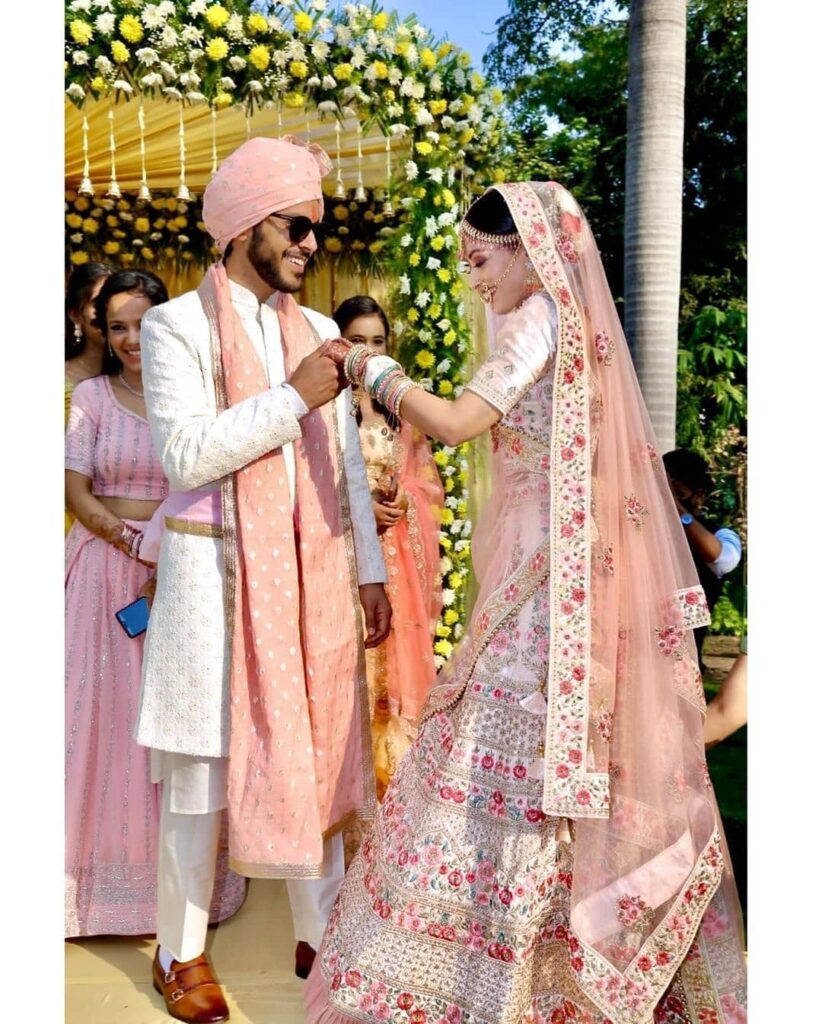 #26 A base that's baby pink, but elevated with multi-color shades through embroidery and has a double dupatta in a dark pink shade creating a beautiful combination for D-Day. The lovely dress is complemented by a meenakari kundan jewelry set to subtly match the embroidery in the lehenga skirt.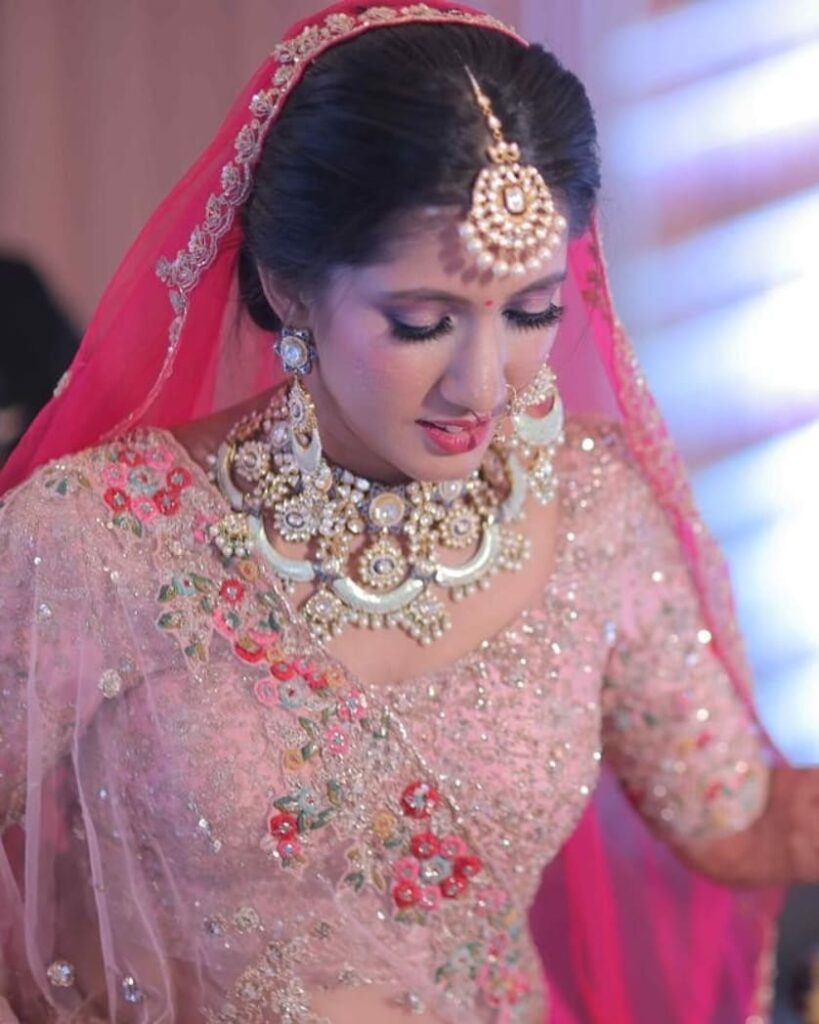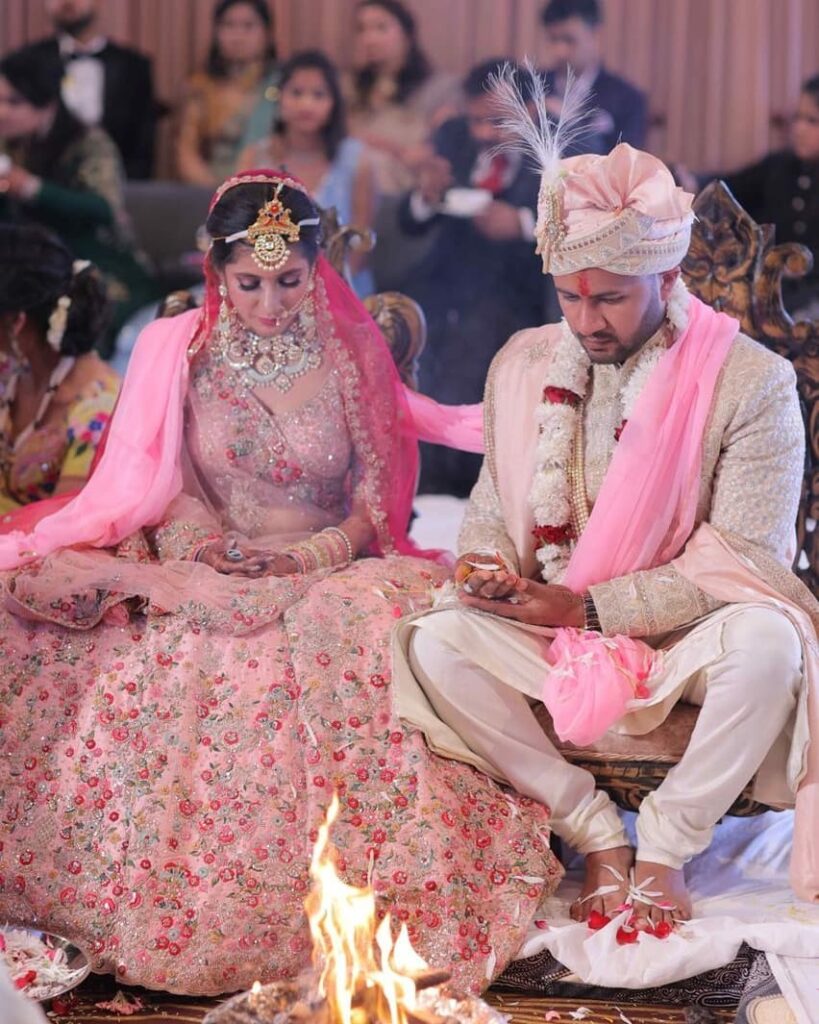 #27 While pink lehengas for weddings are often complemented with goldwork, prints, and embroidery, this one has impeccable silver art that creates a dainty glimmering effect on the ensemble. It was definitely a well-suited color for the couple's day Sikh wedding ceremony. If you're planning day nuptials, there's no doubt that pastels can make for a superb color pick.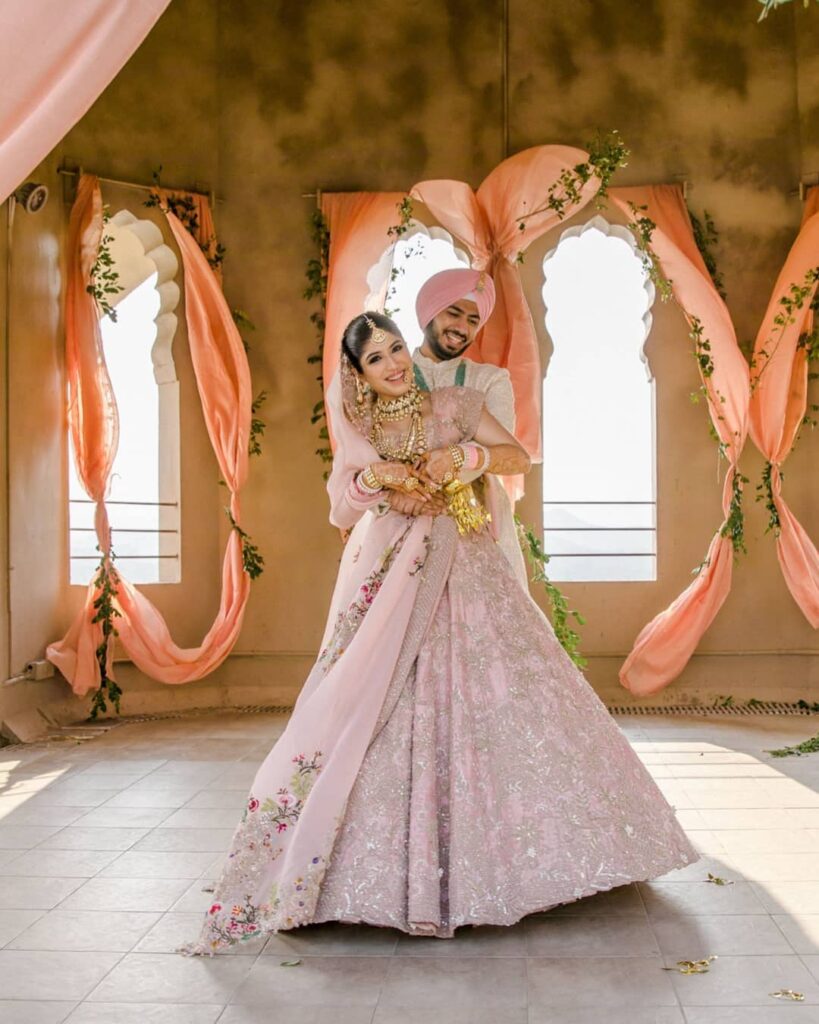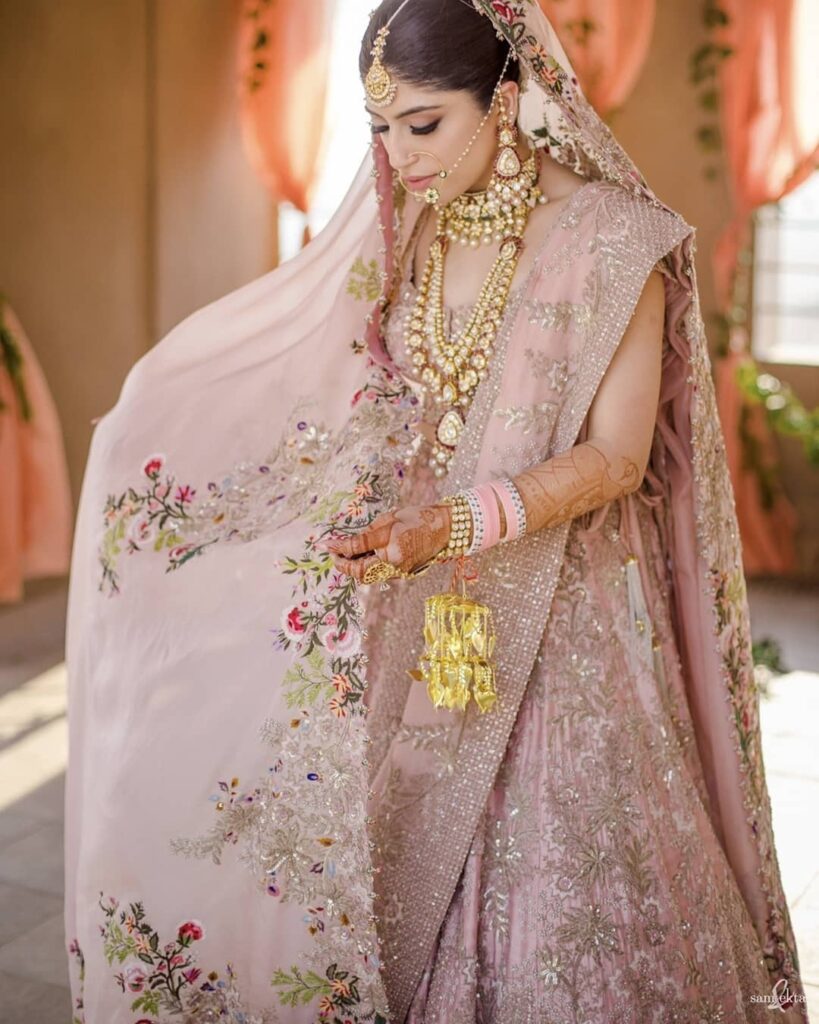 #28 For brides looking for a lighter lehenga in their trousseau that offers the convenience of movement without compromising with their bridal glam, opt for a color that's bright and you're good to go! For her mehndi, she picked a rani pink bridal lehenga and complimented the outfit using green kundan jewelry. The side-swept hair and dewy makeup make the perfect styling for minimalistic brides.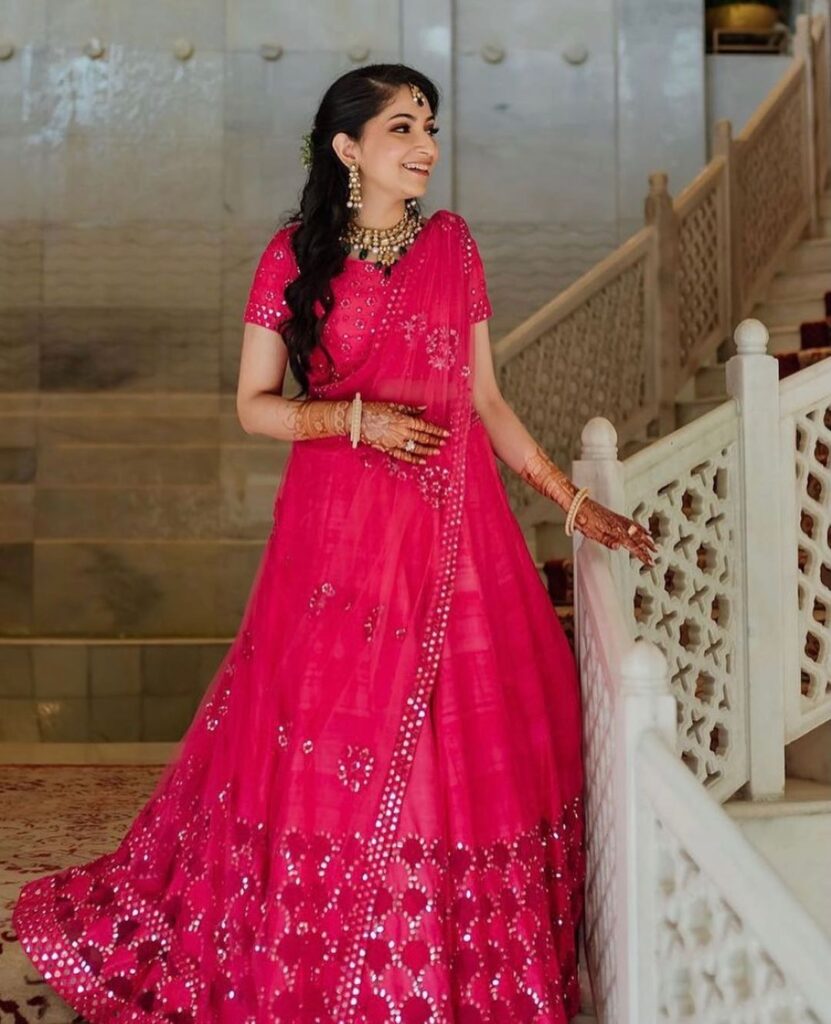 #29 The oh-so-trending pastel pink lehenga is here to stay and with good reason! One of the grounds why this still rules the hearts of brides is how versatile the color is when it comes to embroidery. Threadwork, applique, prints, mirror-work, etc. – all looks good on this hue. Find here yet another flawlessly created lehenga in pink to serve as the ideal inspiration for your special day.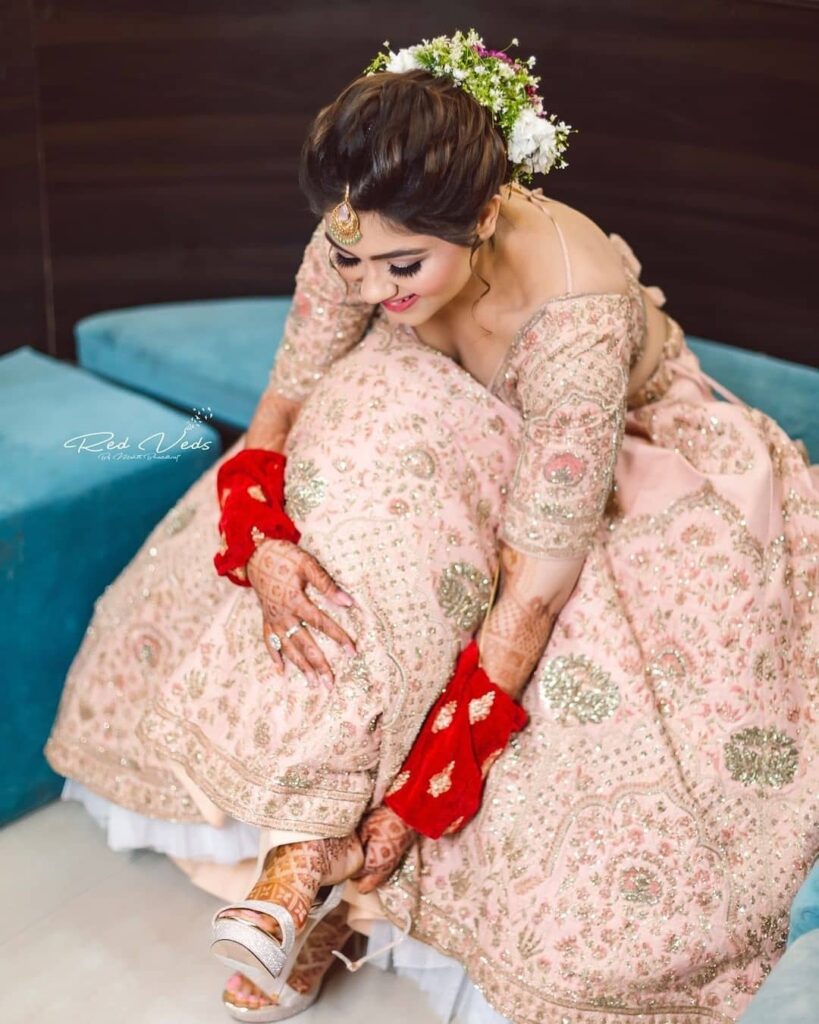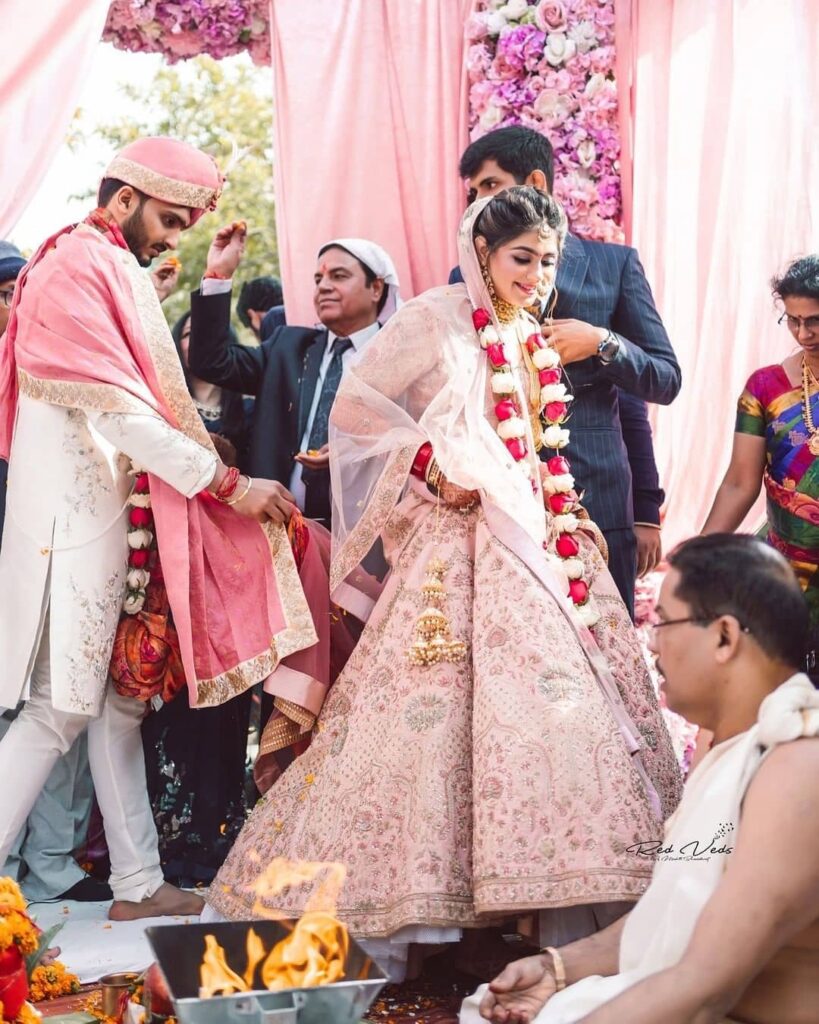 #30 Created on satin silk – there are more reasons we love this outfit than we can write it down here. But number one is the impeccable work on the entire flare of the skirt. The golden jewelry and the portrait shot in Sun further enhance the allure of the entire ensemble.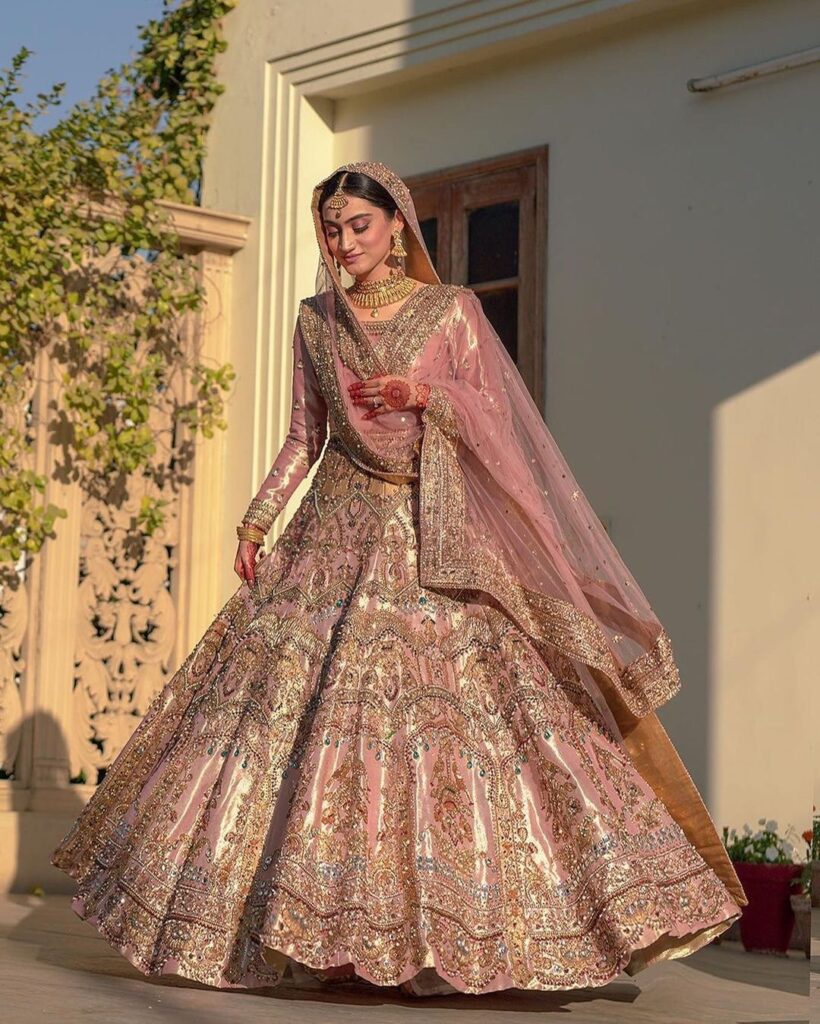 #31 Yet another pastel pink bridal lehenga with green jewelry that's radiating love & happiness on all levels. While the lehenga's hue creates a soft, romantic touch, the bride's kundan-polki jewels with soft green emeralds add an idyllic element to her wedding ensemble. Add a delicate floral sheath in your floral bun for prairie vibes.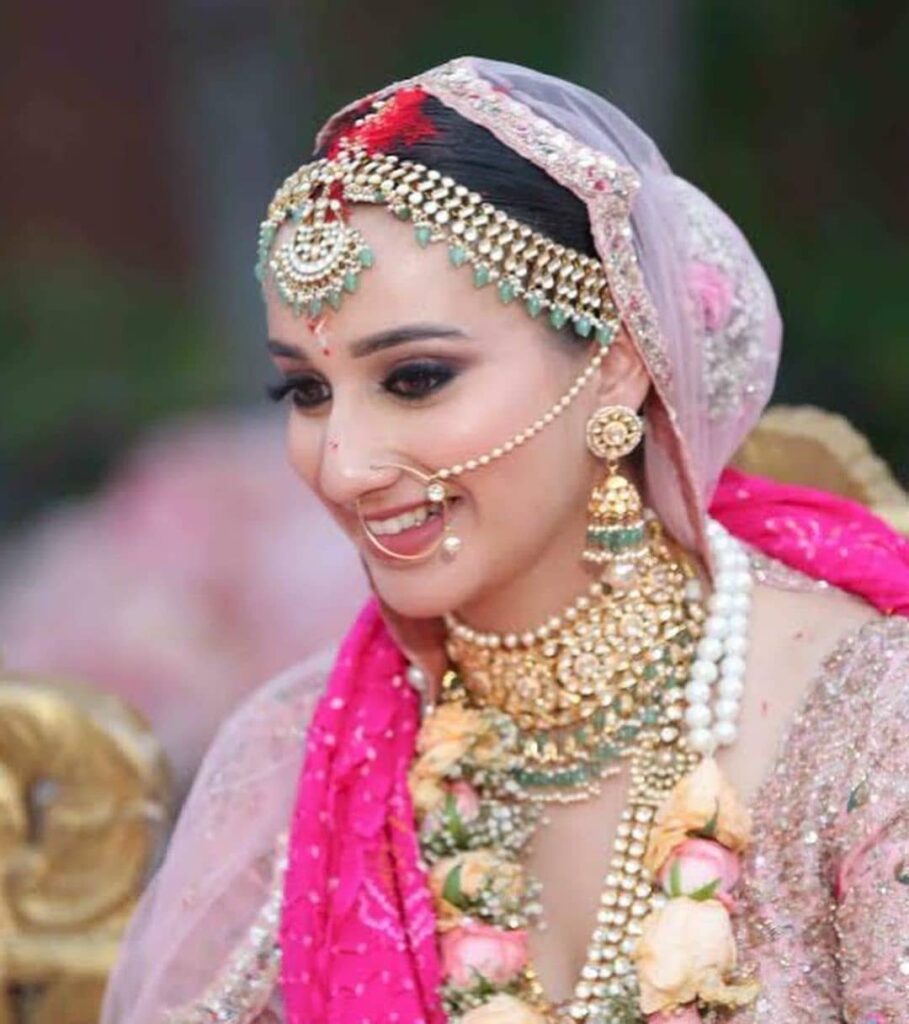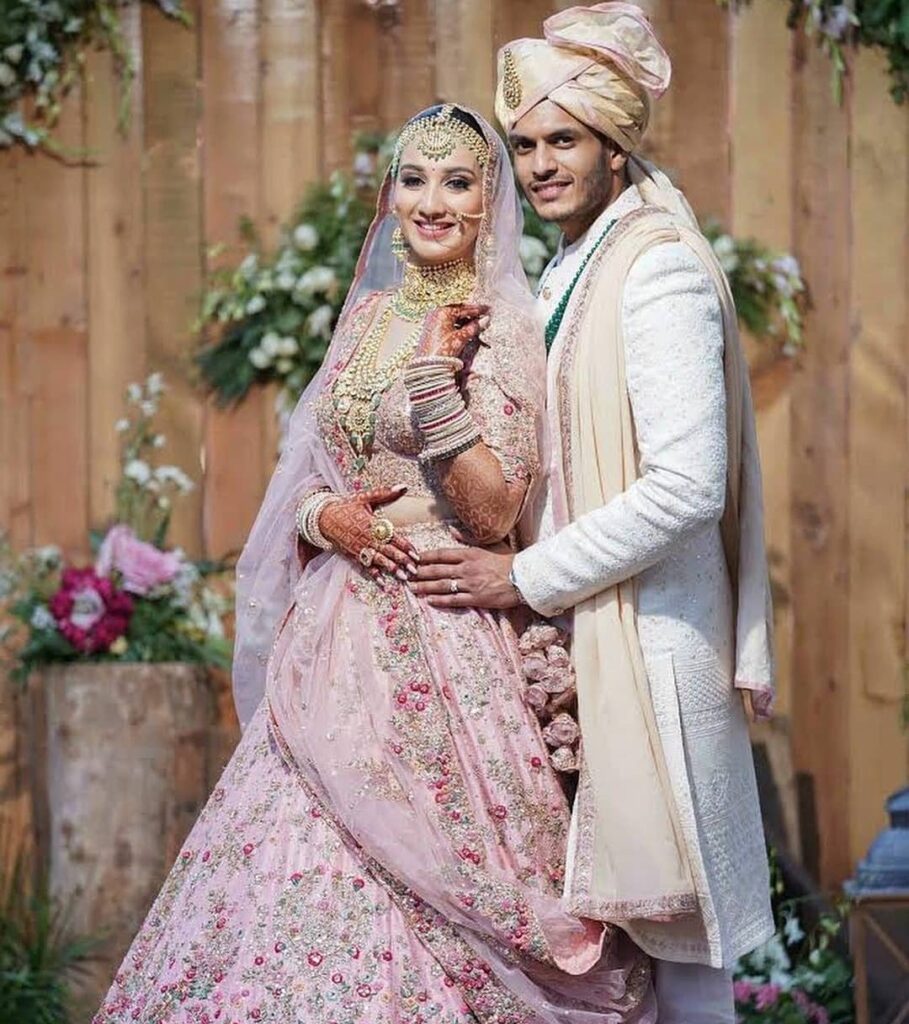 #32 Timeless beauty meets modern elegance with this pink bridal lehenga with golden choli. The alluring bootis in the lehenga gives it a traditional touch and enhances the bride's conventional ensemble. A customary bridal portrait or a voguish one – you'll be sure to stun at all angles in this ethereal lehenga.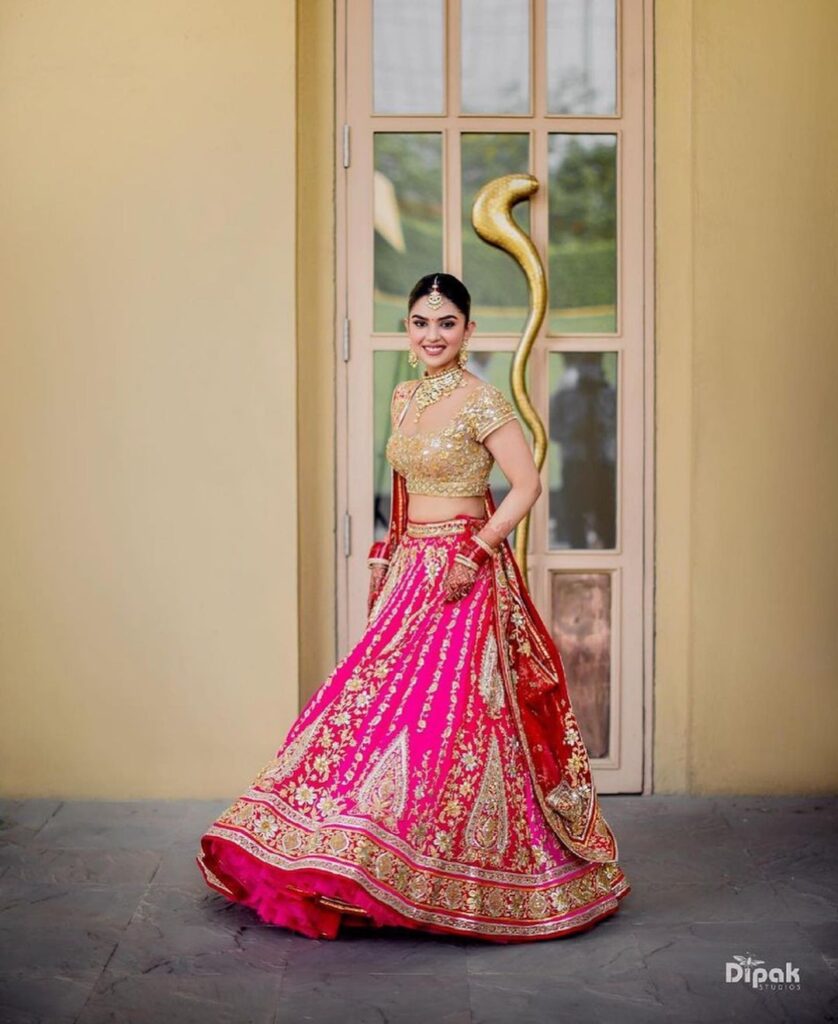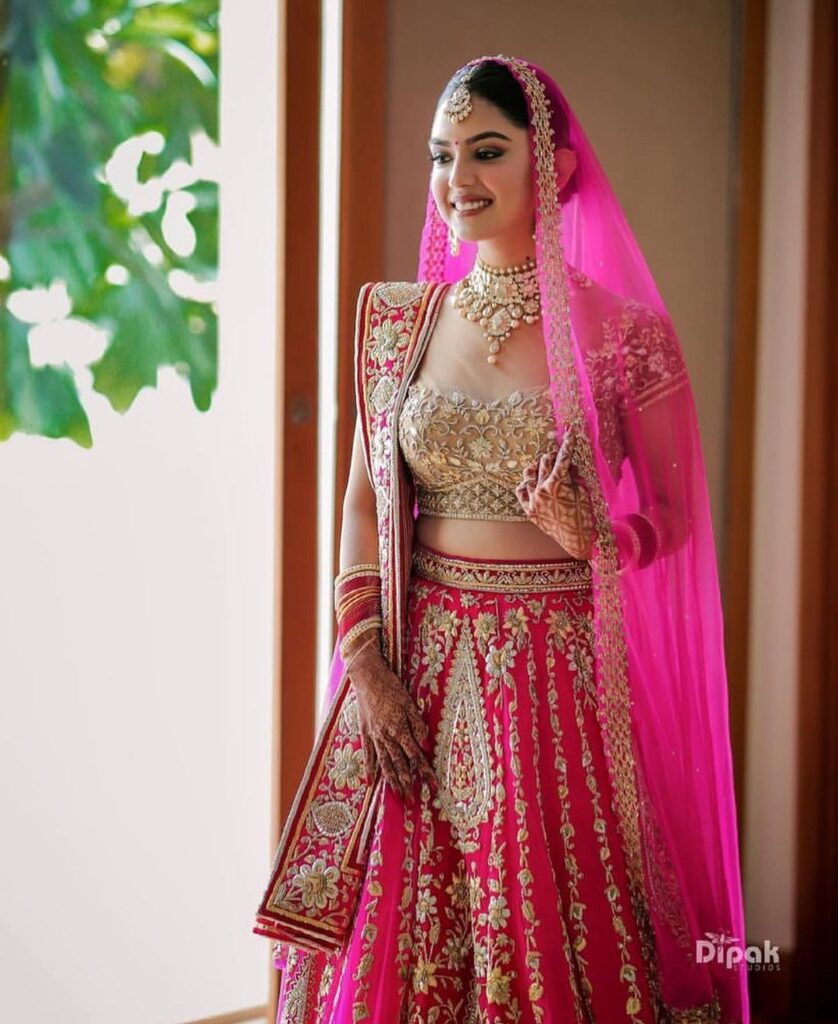 #33 From brides to bridesmaids and sisters of the bride/ groom, this soft pink lehenga bedecked heftily in shimmering mirror work will make heads turn at any function you attend! The flare of this attire is enough to grab attention, but the choker set and the bun further elevate the elegance and add a glamorous drama.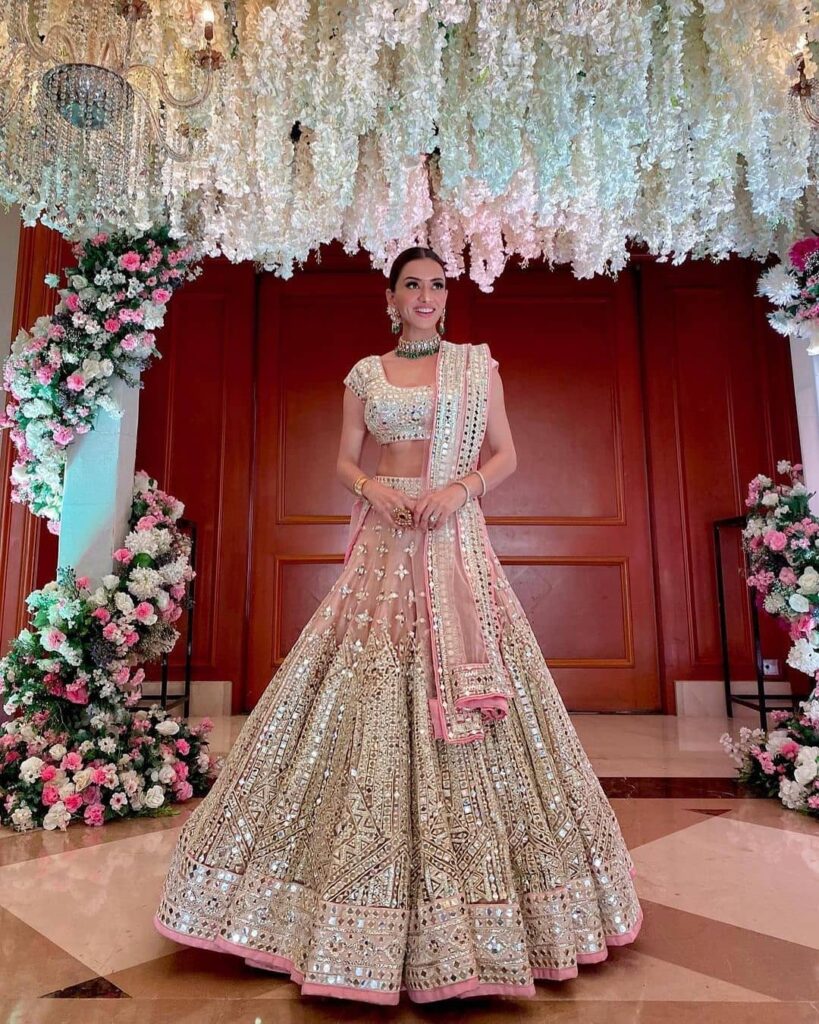 #34 The blouse is what makes a lehenga or a saree come together and adds a funky charm to a traditional outfit. Plus, the front of the blouse matters as much as the front of the blouse. Don a gorgeous outfit like this and you're sure to stun in every angle of the photo.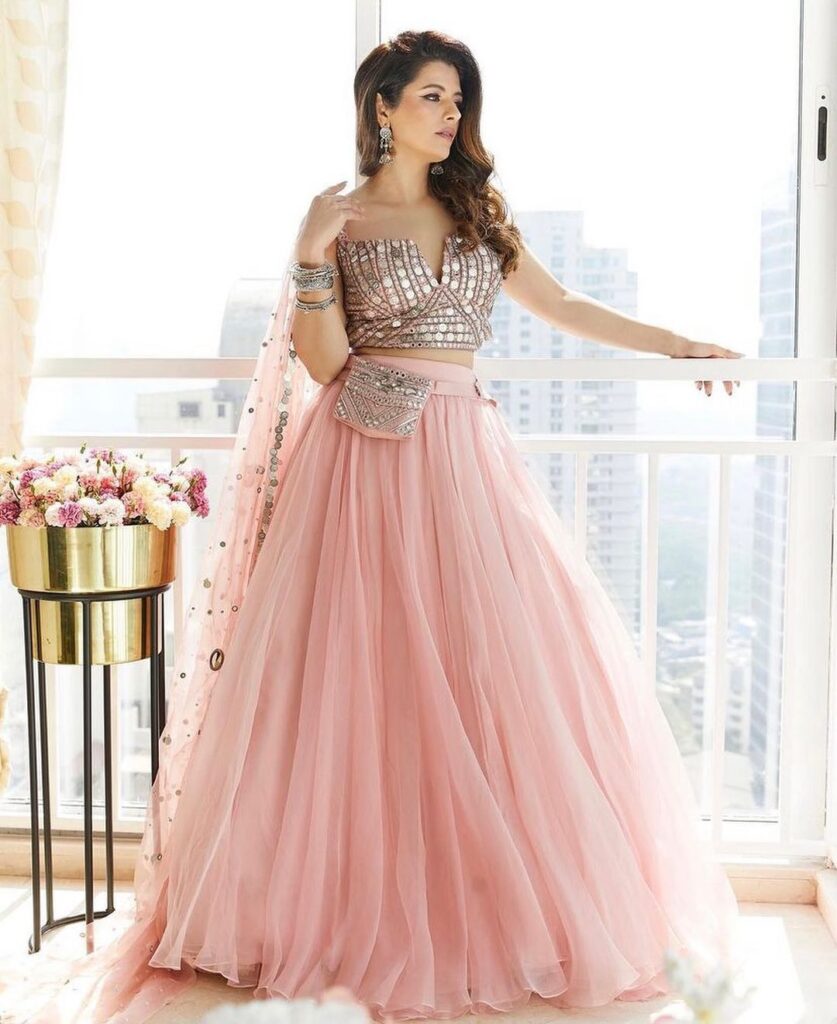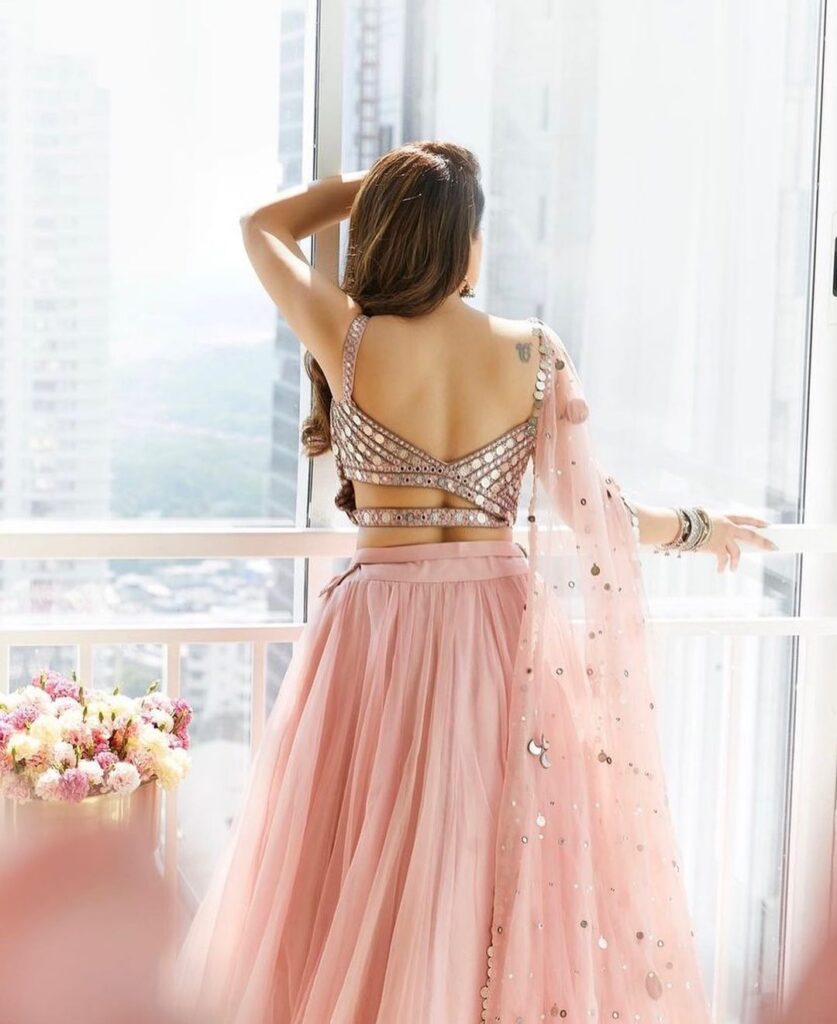 #35 If you've come across Abu Jani Sandeep Khosla's outfit, the one other kind of work they love in traditional wear (besides the flawless, intricate chikankari) is the mirror-work. And it's a very distinctive, applique kind of mirror work that's hard to find in any other designer's collection. Given our obsession with the wedding world, we can spot AJSK's impeccable work anywhere! Here, find both bride & groom coordinated in their unequaled attires and looking their best selves on their wedding day.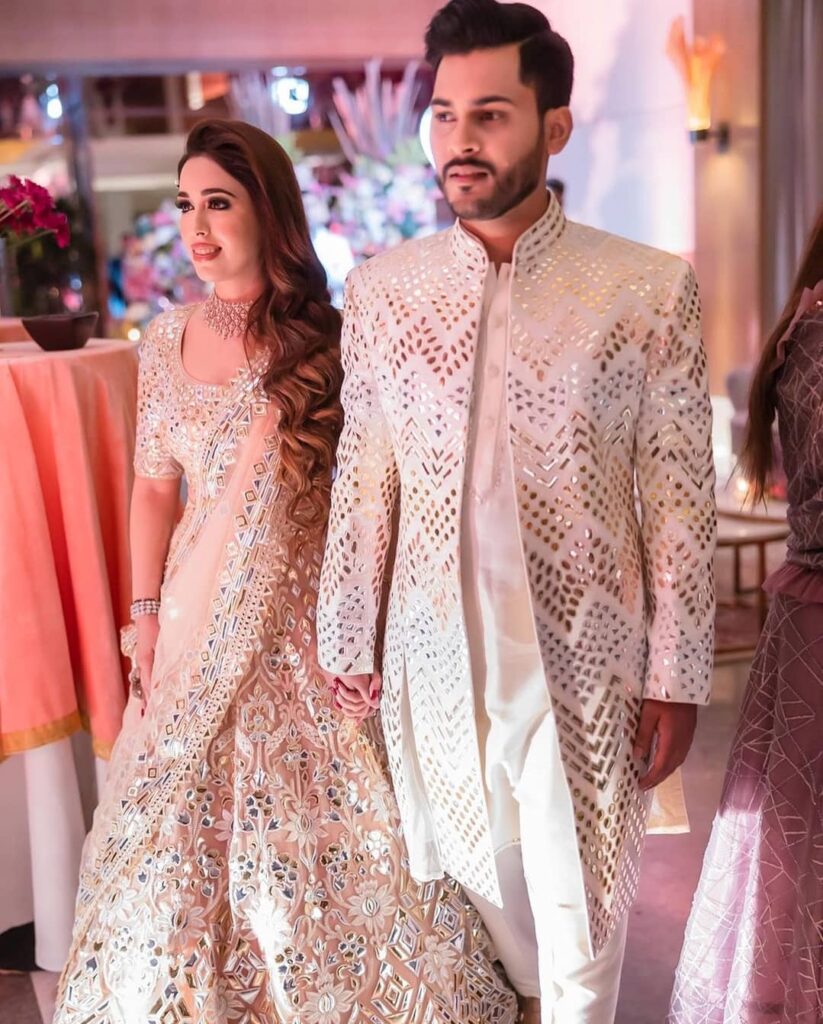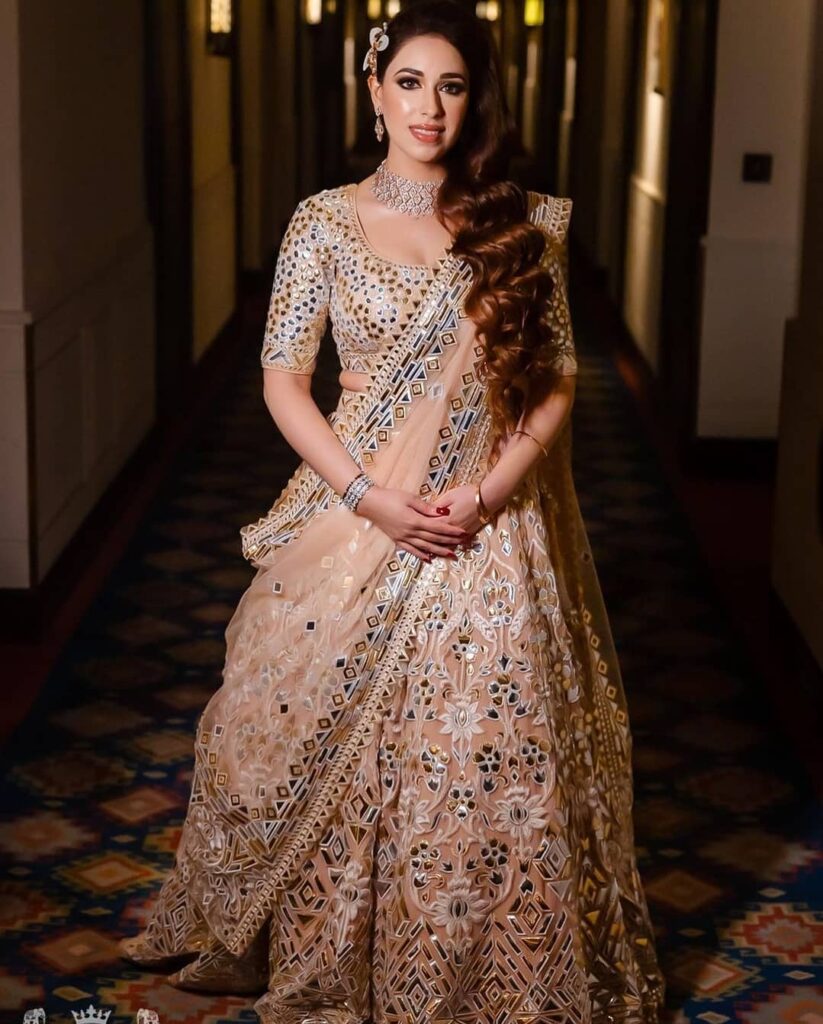 #36 A fuschia pink bridal lehenga with red dupatta radiates the charm & grace at all angles. Certainly, this bride's attire is unmatched with anyone on the list or with the many (many) brides we have come across. The pristine embroidery on the lehenga skirt, superb color combination, and jewels coordinated in pearls, golden, and kundan makes her bridal look unique and whimsical.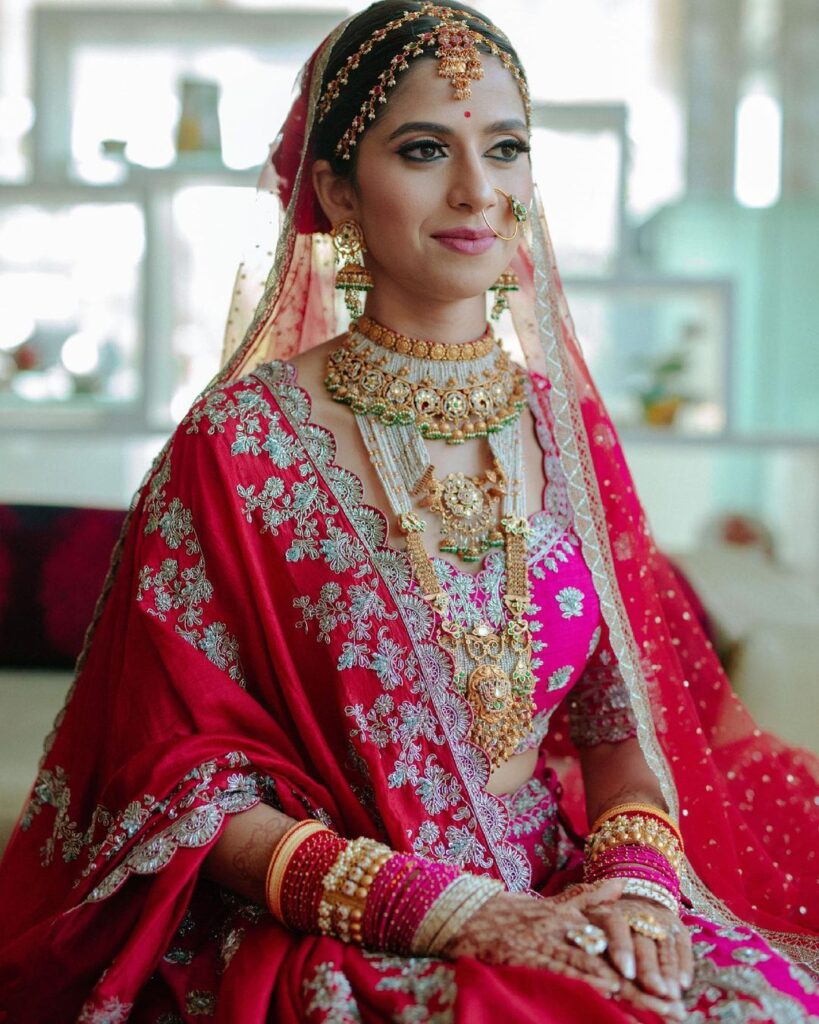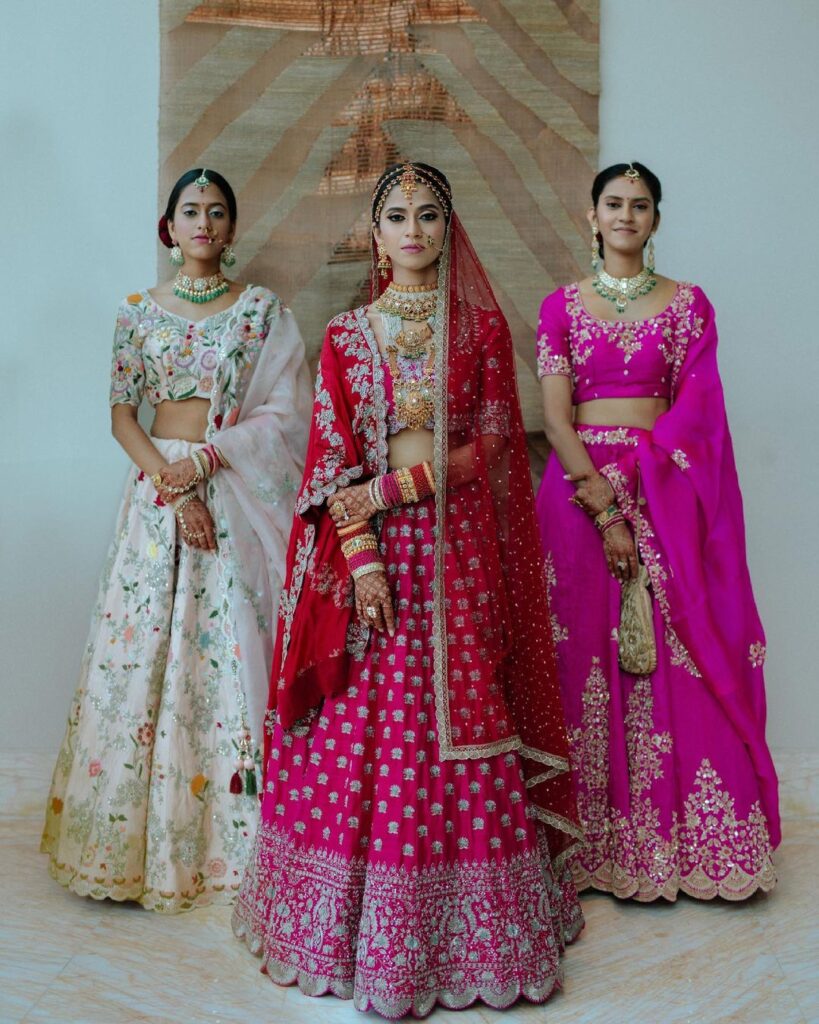 #37 A delight for the standout brides, this ethereal lehenga created by none other than Abu Jani Sandeep Khosla exudes a stop-and-stare look, just what you'd like on your wedding day! With a flowing skirt and on-point styling, this AJSK dress will suit any bride and any wedding theme with perfection.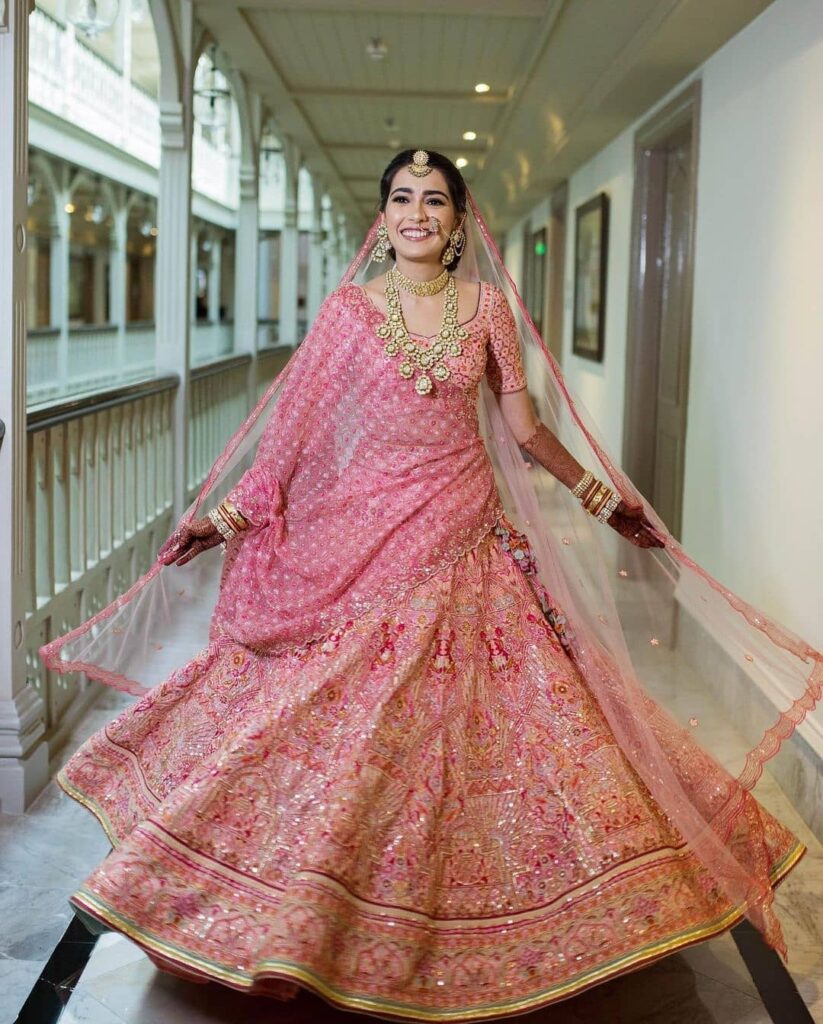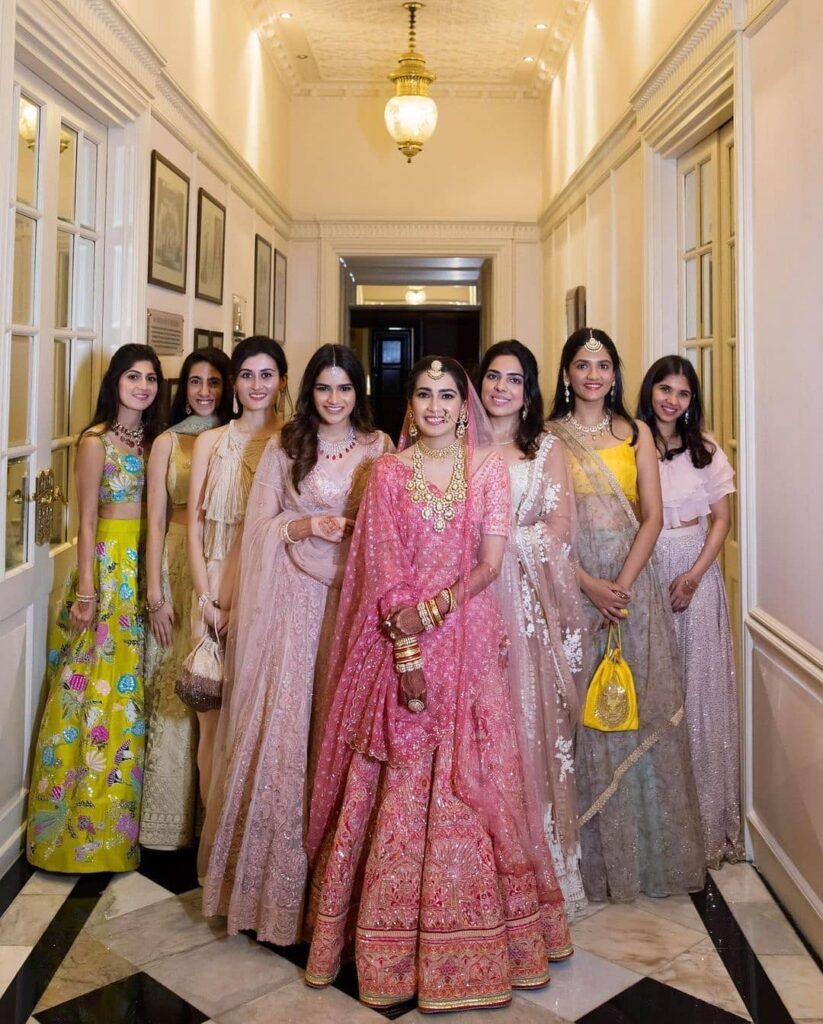 #38 A baby pink lehenga with sheer golden work on the net, we love how gorgeously this bride's portrait enhances her ensemble pick, which probably took months to plan. Her duo chromatic blouse with rani pink adds a vivid glam to her outfit and makes her the center of attention at the event, just like she should be!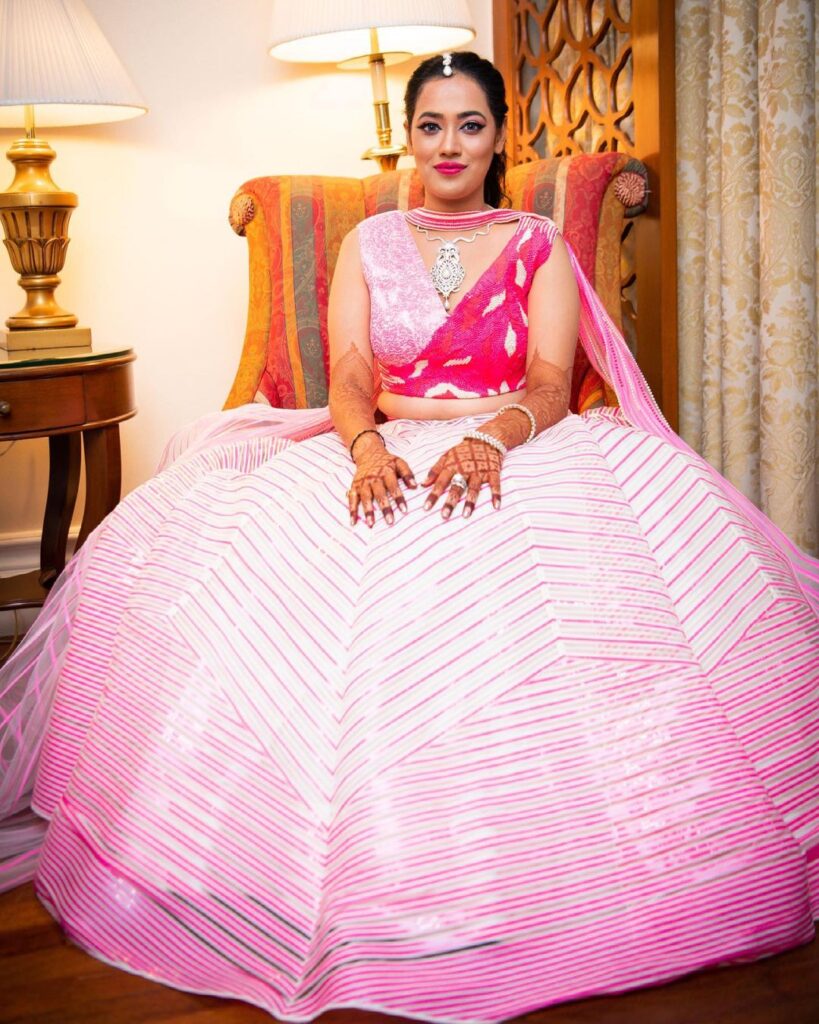 #39 Bored of pastel and bright pink palettes in Indian wear, here's a dusty pink bridal wear that'd impress you the most! Paired with silver elements in the embroidery, dupatta, and belt, this lehenga color combination is the latest one to enthrall everyone on social media and woo brides-to-be.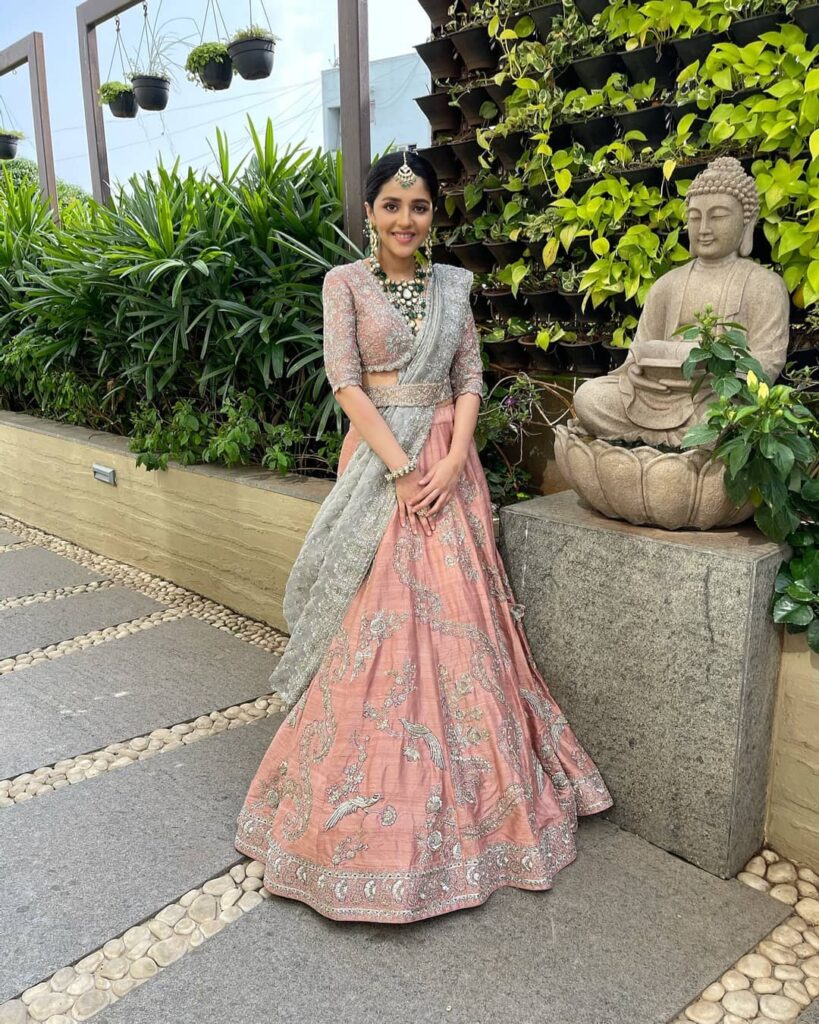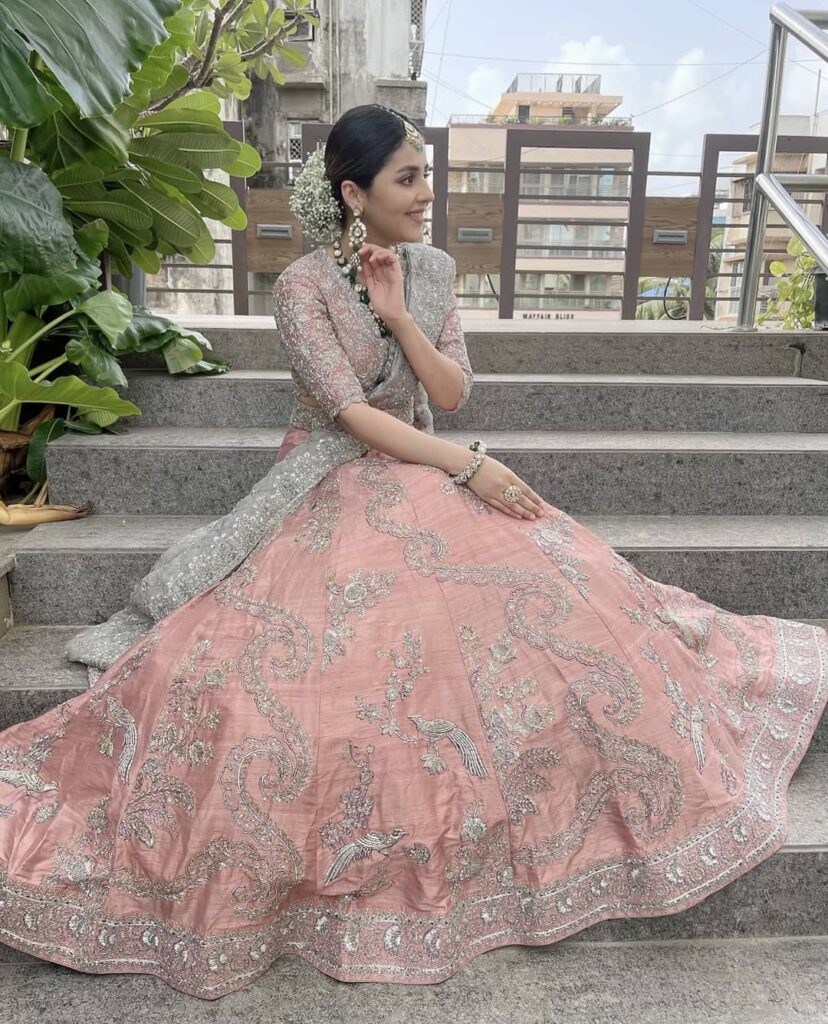 #40 The trend of intimate weddings hasn't yet bogged down, in fact, if anything, they have taken an upsurge, for good. While earlier, it was because of safety, now, the ease of planning, convenience, serenity, and budget-saving are the major factors why small weddings are still going big! If you're looking for ensemble ideas for your intimate wedding, here's an elegant and timeless bride in a baby pink lehenga and minimal jewelry to inspire you.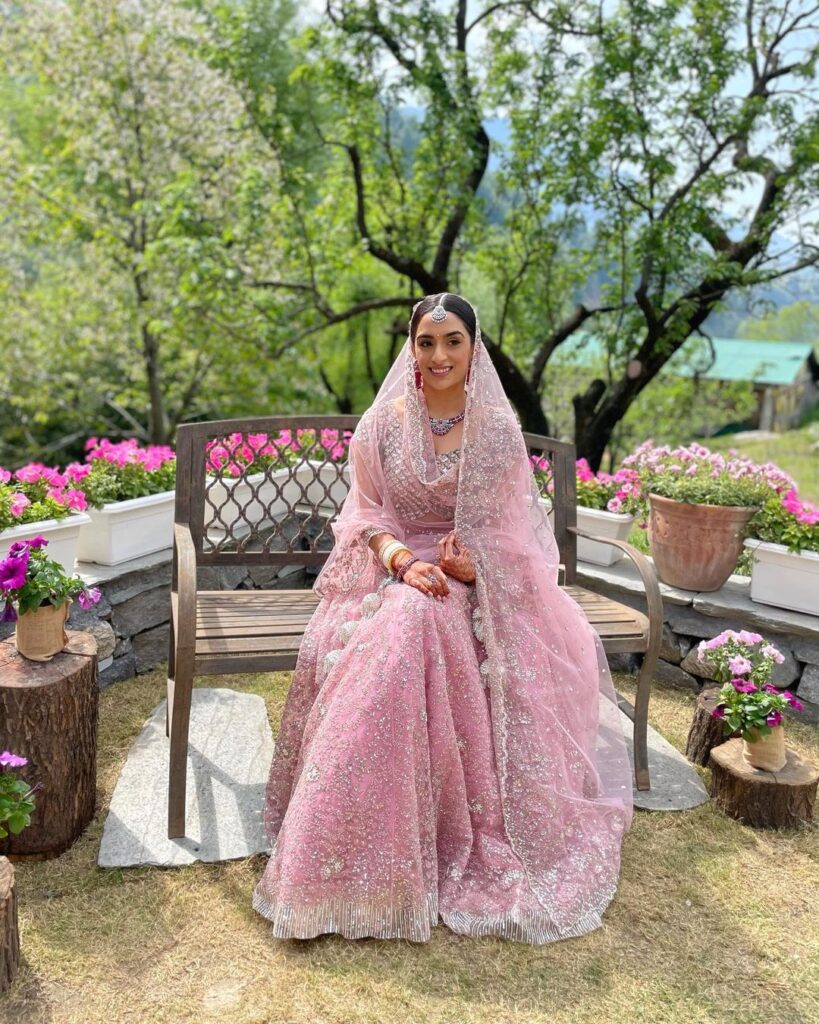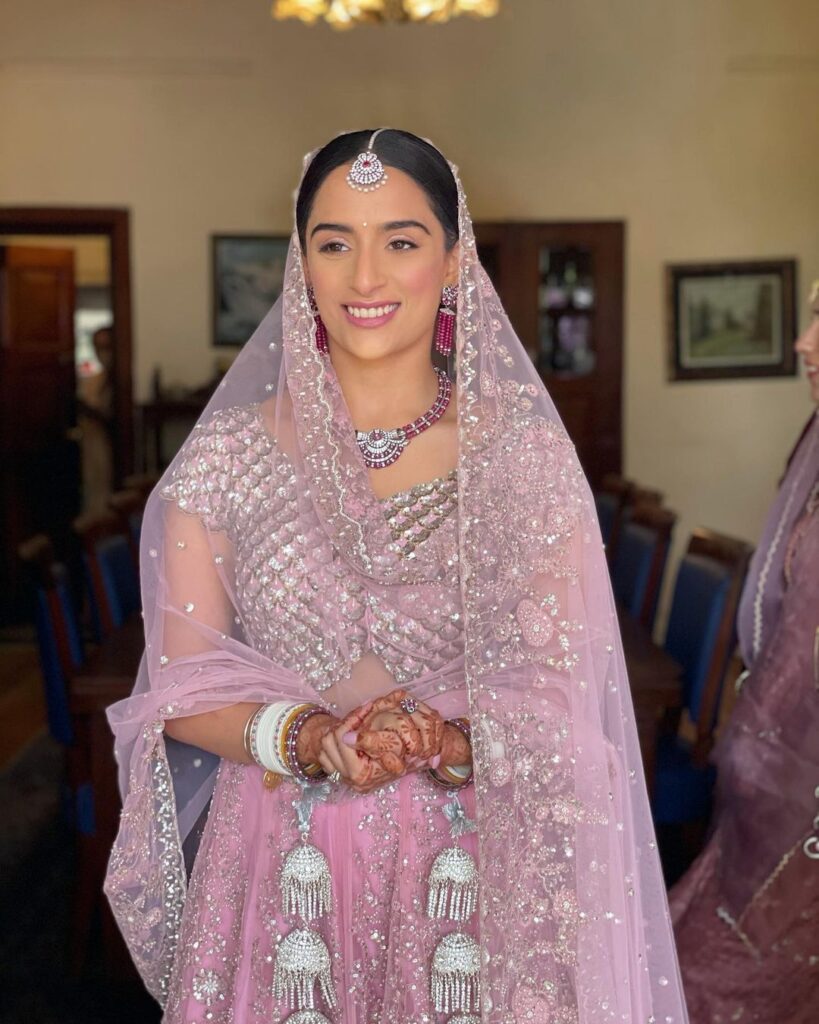 #41 For her pastel & ivory-themed wedding in soft colors, bride Rachel opted for a baby pink lehenga adorned in threadwork in shades of dark pink, green, and golden. She went all out with jewelery and wore a big kundan choker necklace with green emerald for the wedding. The ensemble looks OTT but simple at the same time, a good balance for brides wanting to embrace the drama on their big day!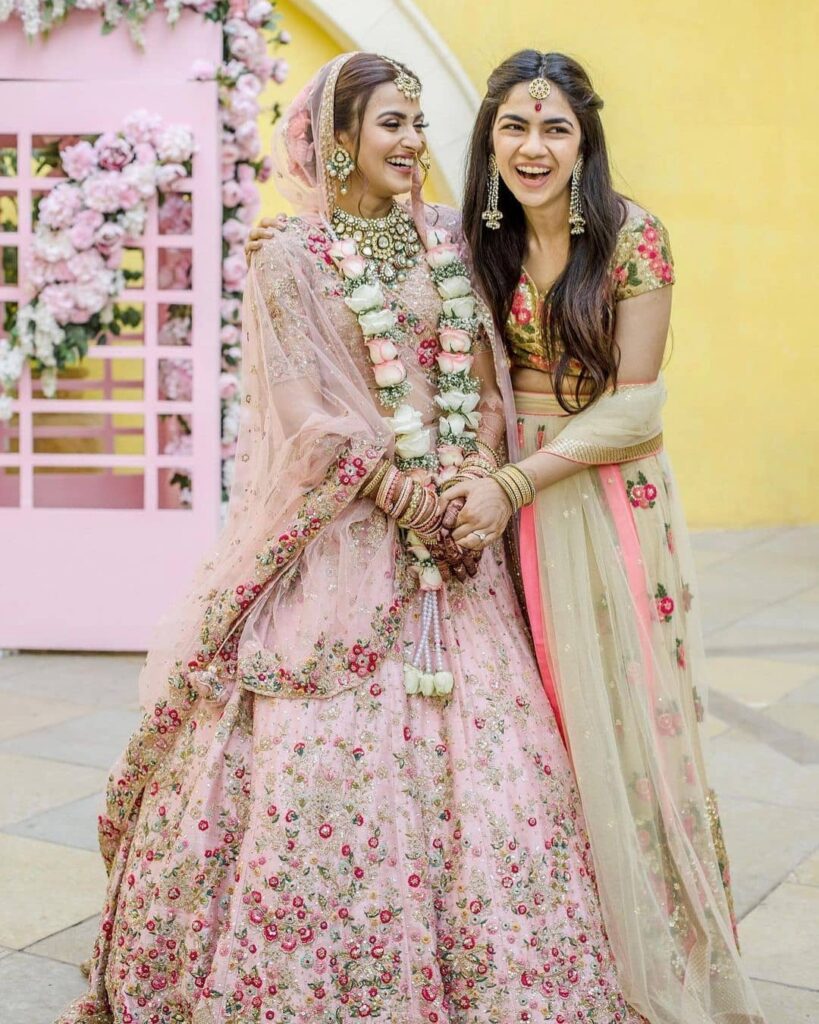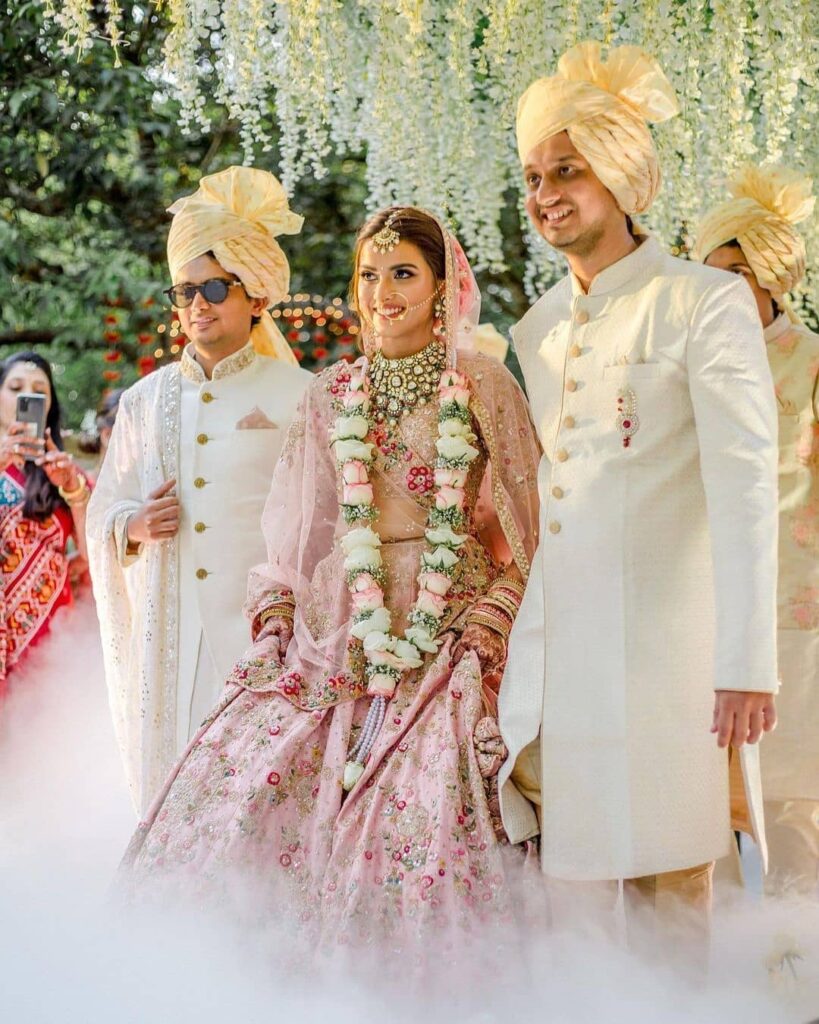 #42 If you're confused with what shade of pink you'd like to wear on the wedding day, opt for an ombre hue lehenga that's embellished with such appealing silver embroidery. With open hair, silver jewels, and a pretty smile on her face, bride Zeena nailed her bridal styling to a tee!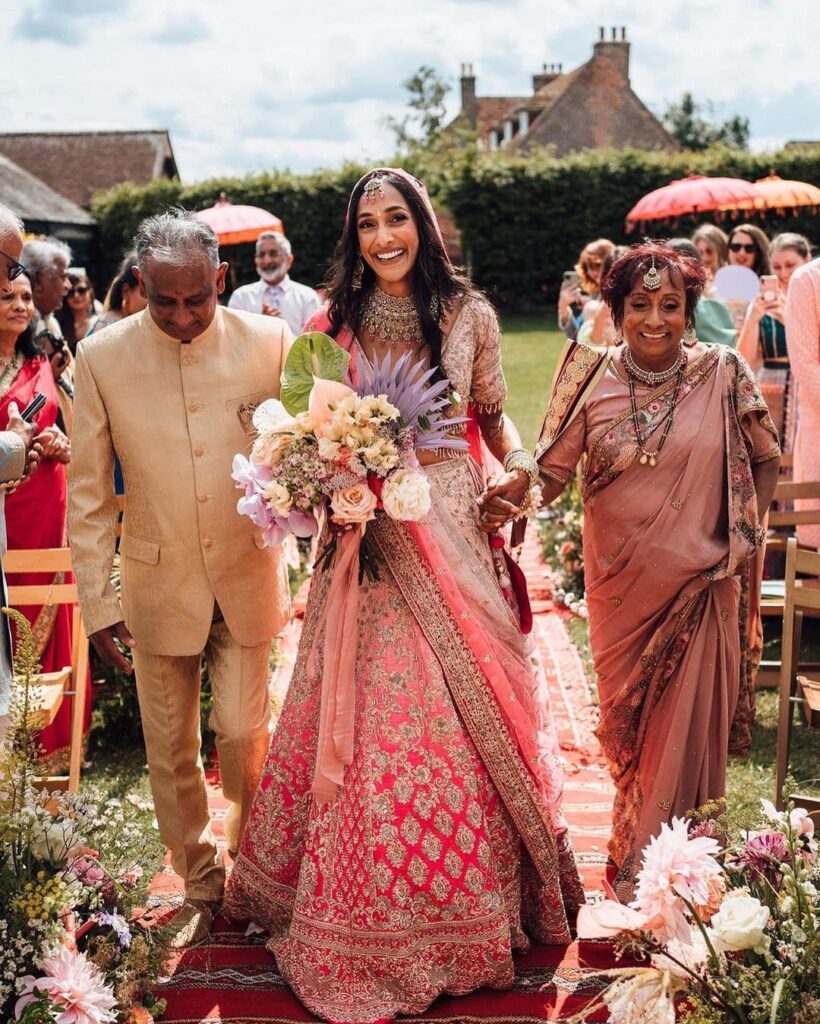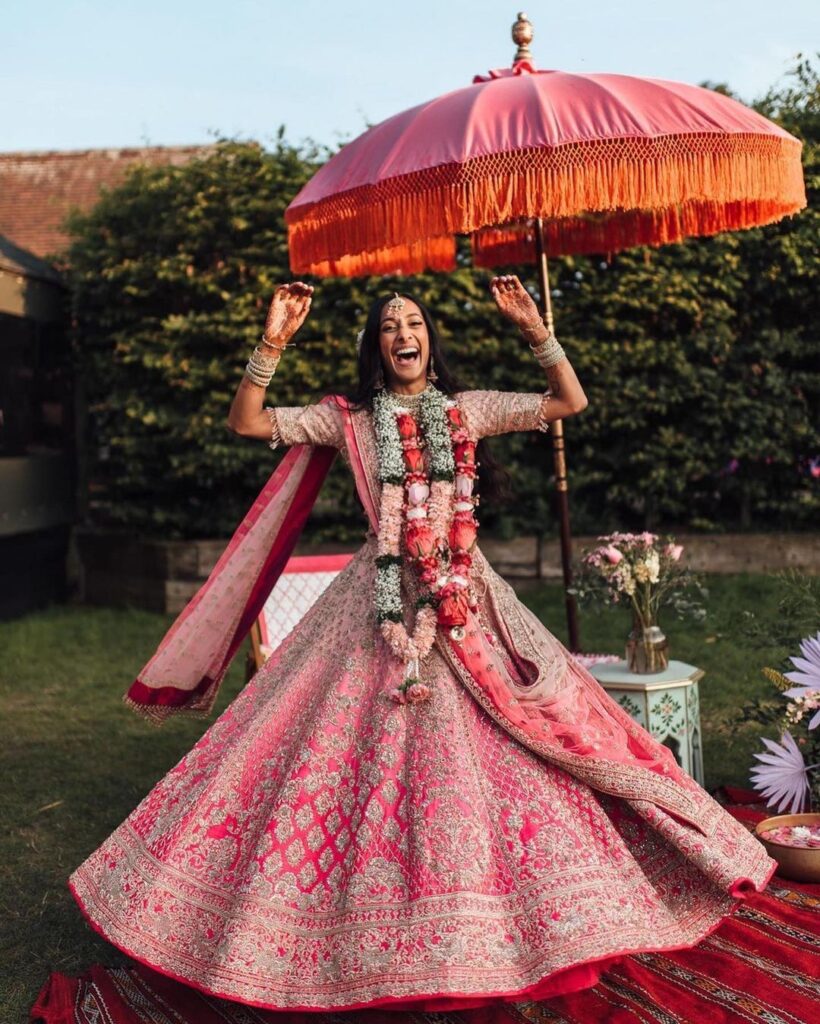 #43 Pink is the one customary color of Indian weddings that fit any function – from roka, sangeet to mehendi and the wedding day! This pink lehenga choli, topped with such shimmering sequin work, is a whimsical option for your magical day. The bride added a gorgeous modish touch by pairing the attire with open wavy hair, around the waist dupatta style, and statement jewelry pieces.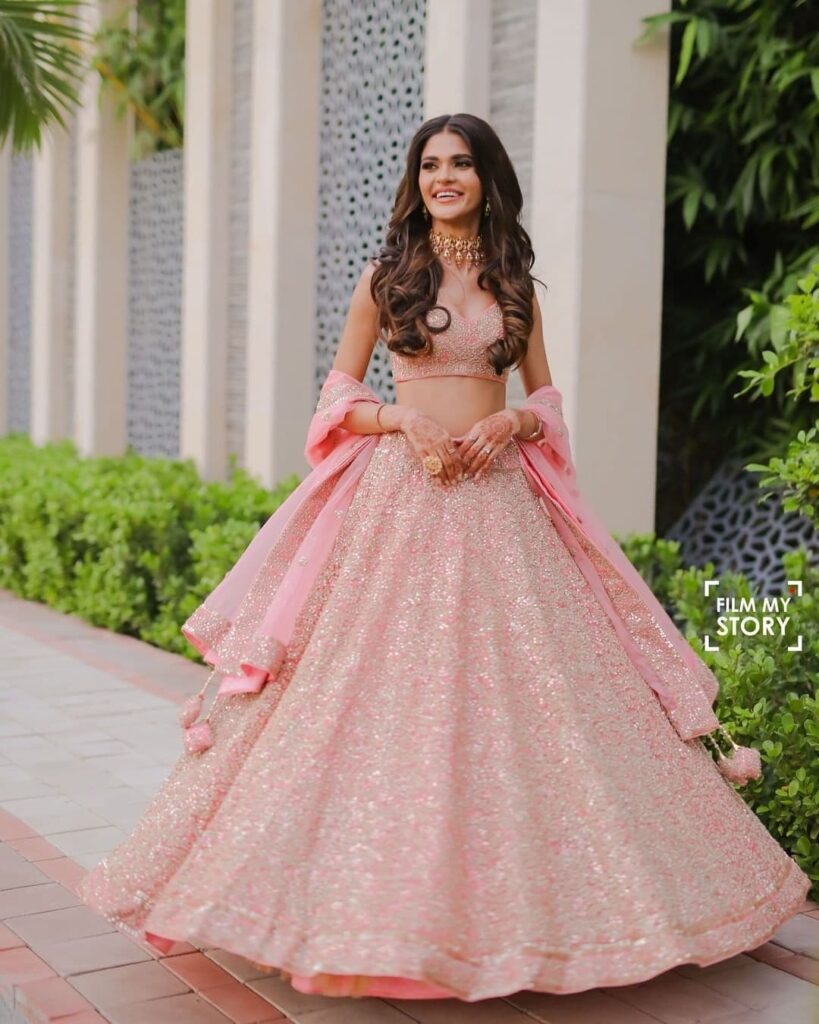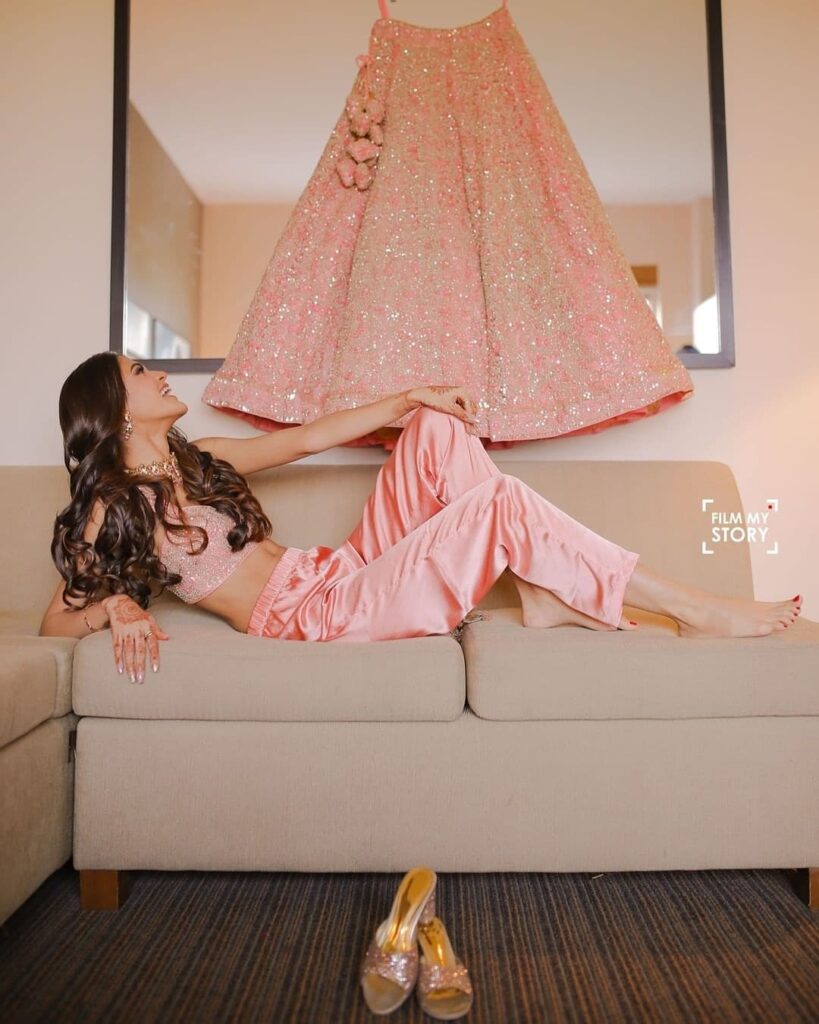 #44 A minimalistic option for our simplistic brides. If you're all about minimalism and elegance on the wedding revelries or want at least one of your looks to radiate the same, bride Akanksha's (@himalayan.girl) effortless and easy to put together look should impress you the most. The daintily embellished pink lehenga with a low bun and simple jewels is ideal for your roka, home mehendi, or even intimate sangeet night.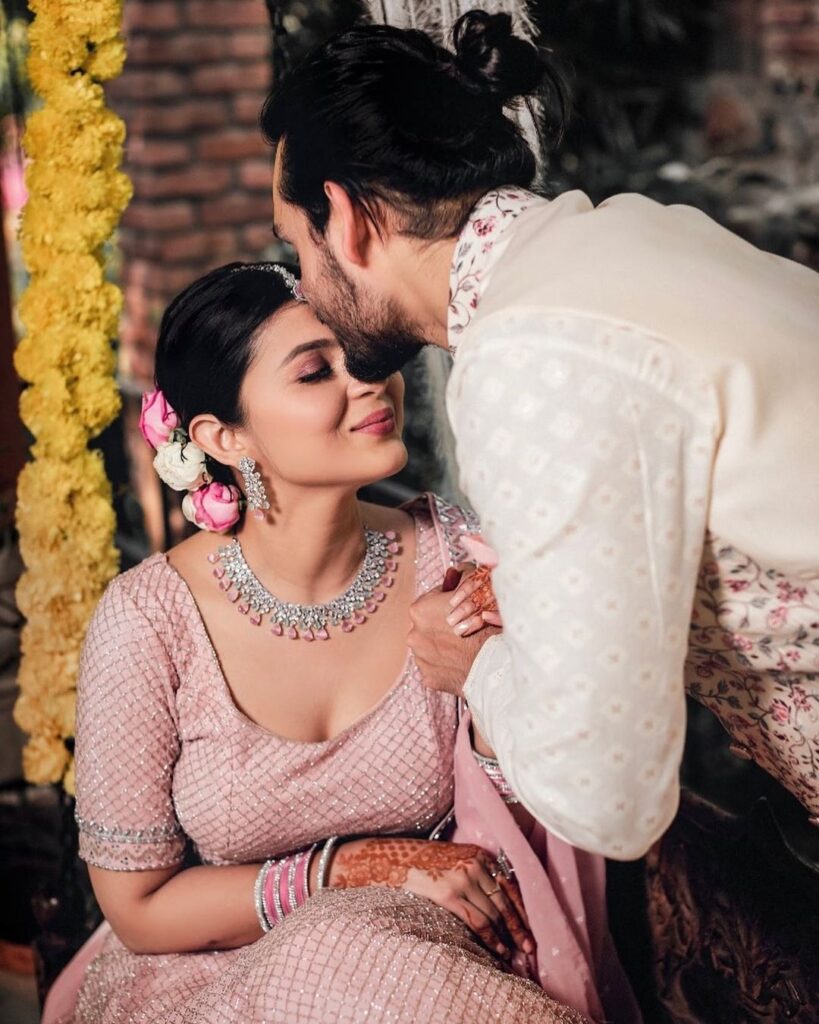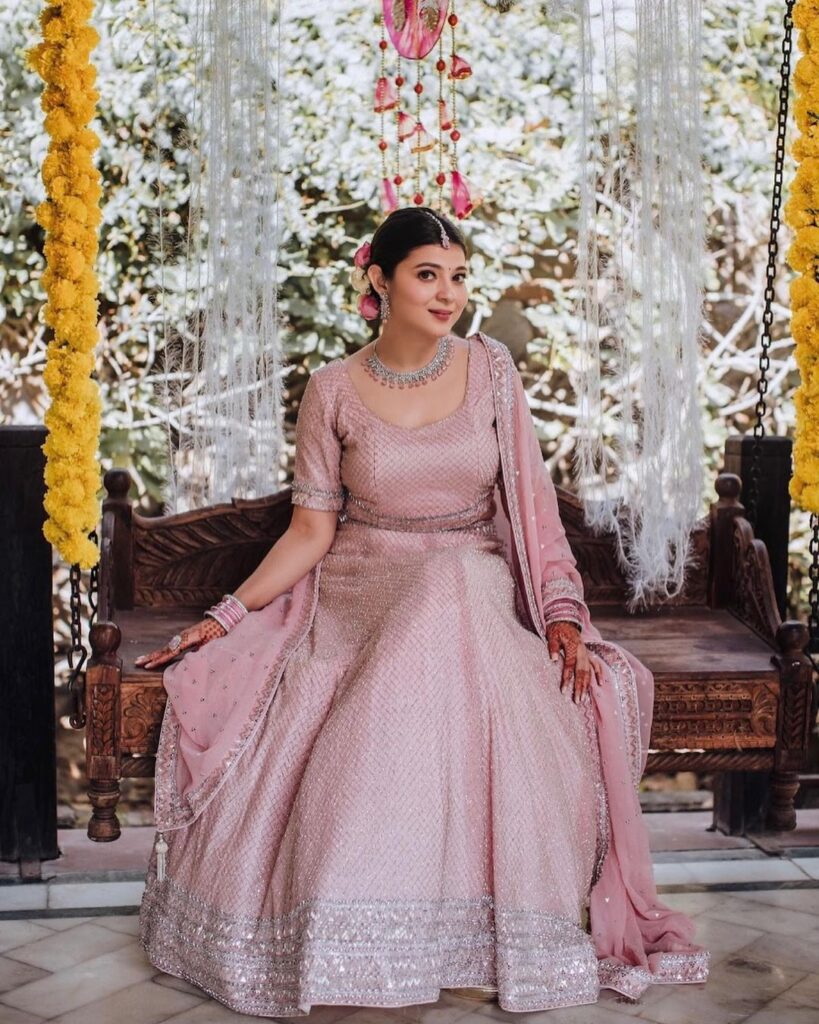 #45 For brides who want to exude the princess vibes on their wedding day, opting for a lehenga that has a trail is a perfect pick. Bride Shivangi opted for a beautifully curated pink bridal lehenga by Manish Malhotra for her wedding day. Embellished with white thread work all over the dress, Shivangi coordinated her dress with diamond & pearl jewels and dewy makeup look to finish her princess-themed look.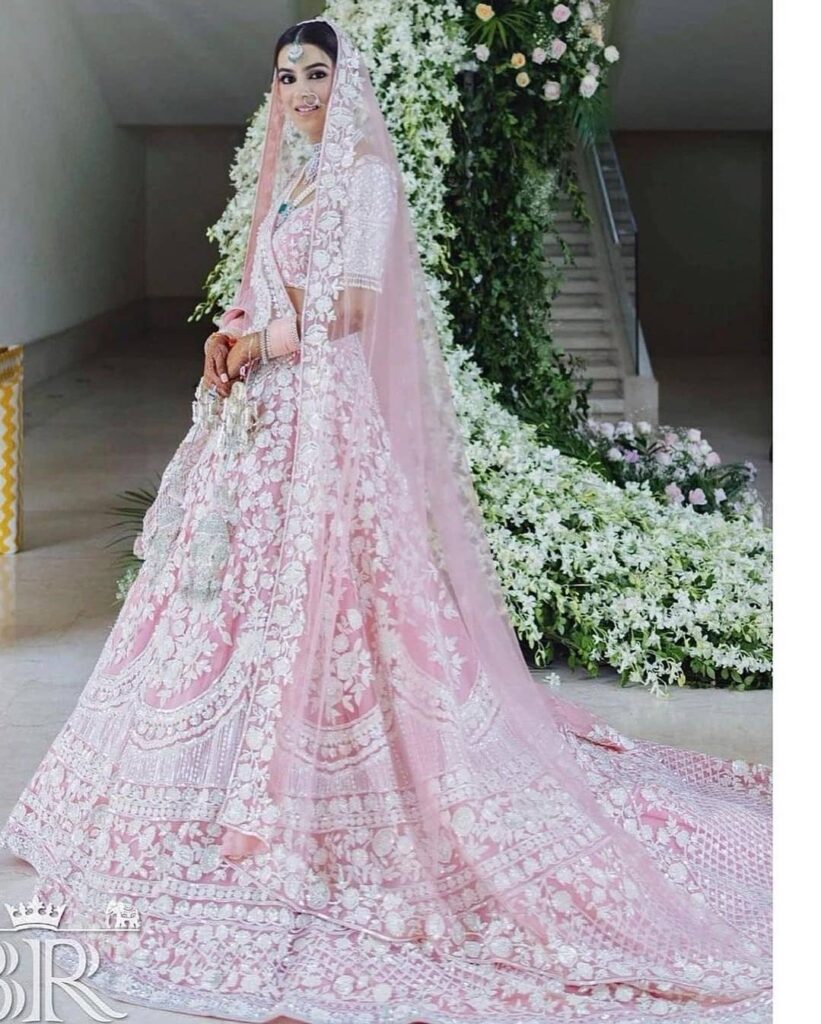 #46 If there's one person that the bride doesn't mind stealing a bit of her limelight, it's her sisters. Here, the bride is dressed in a captivating pink bridal lehenga with double dupatta, and the sister is coordinated in the same vivid palette in purple. The dresses are sure an inspiration, but also the pose is worth bookmarking.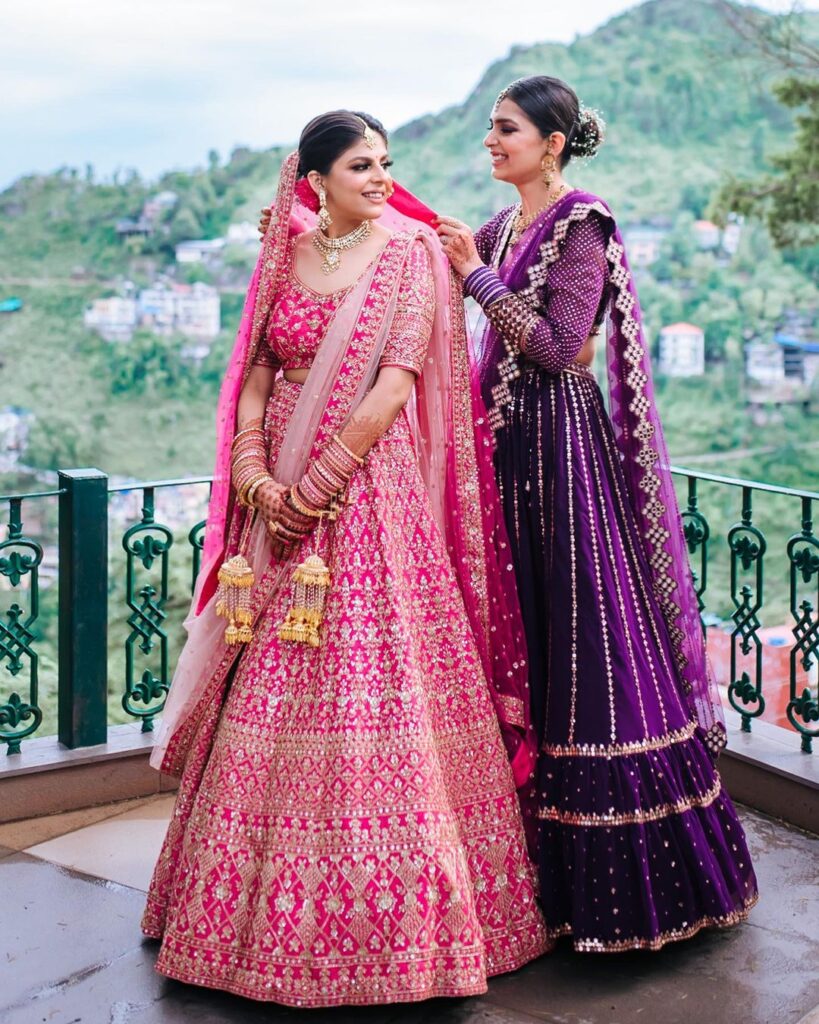 #47 This ombre pink lehenga with a bandeau lehenga blouse can make for an ideal outfit for a bridesmaid or even a bride for their small events. For a more traditional look, you can coordinate the lehenga with heavy jewelry and a bedecked updo.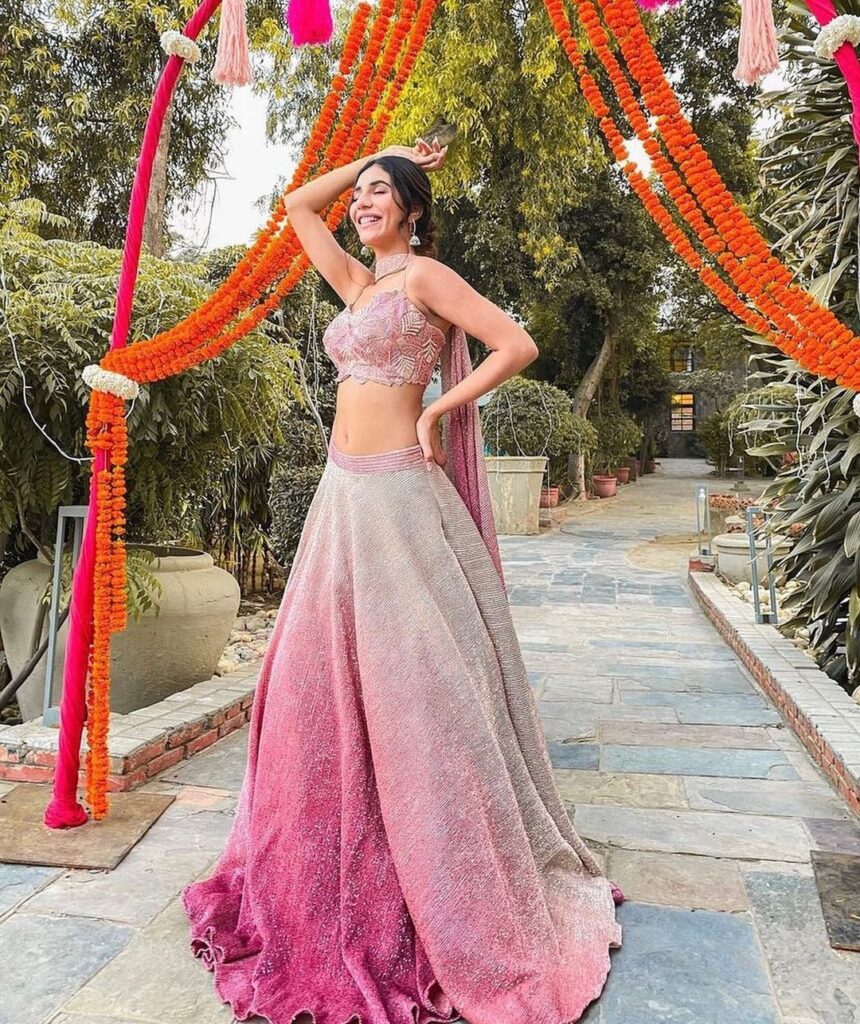 #48 Deepika's "sada saubhagyavati bhavah" dupatta was the highlight of her wedding dress and the one trend from her wedding that caught the utmost attention. It's still incorporated by brides in their trousseau. Here's a bride who wore a pink lehenga combination dupatta in a brick red hue to create a truly unique outfit for her D-Day.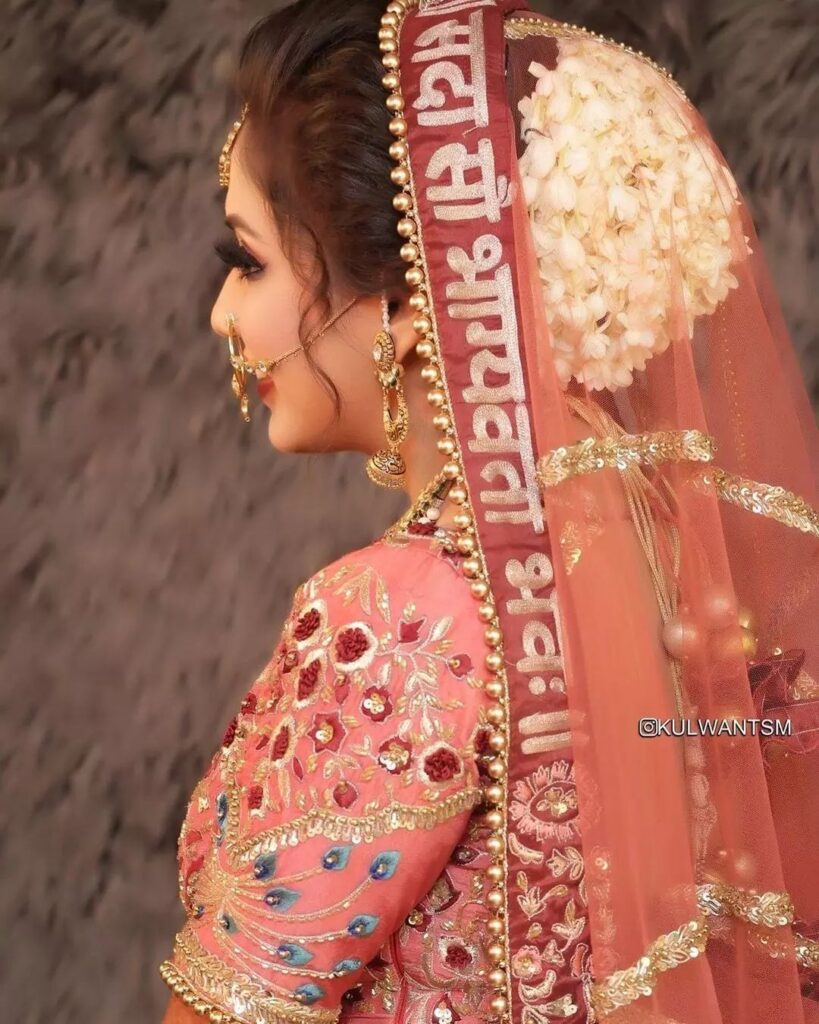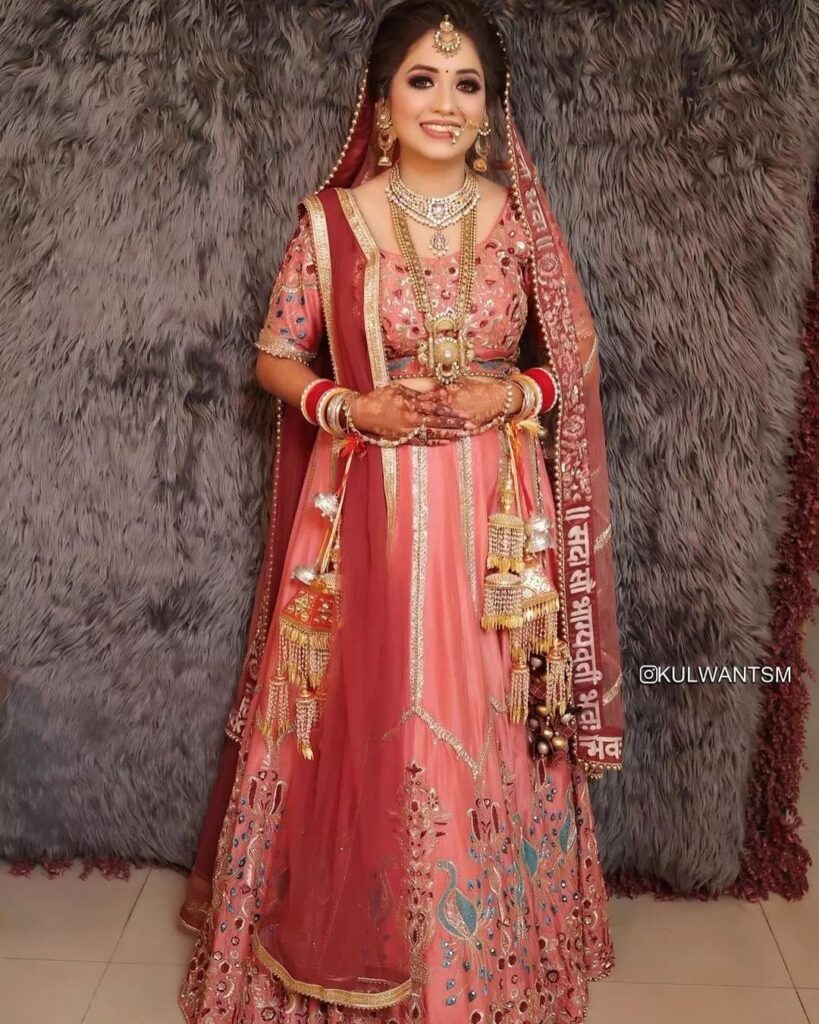 #49 A combination of light & dark shades of the same palette to create a beautiful pink lehenga design. Paired with a wet hair look, soft glam makeup, and a choker set creates an alluring style, hard to not look up to for your own styling. The dulhaniya board on top coordinates with her lehenga palette while the other bright shades on the back also add vivacity to the entire event.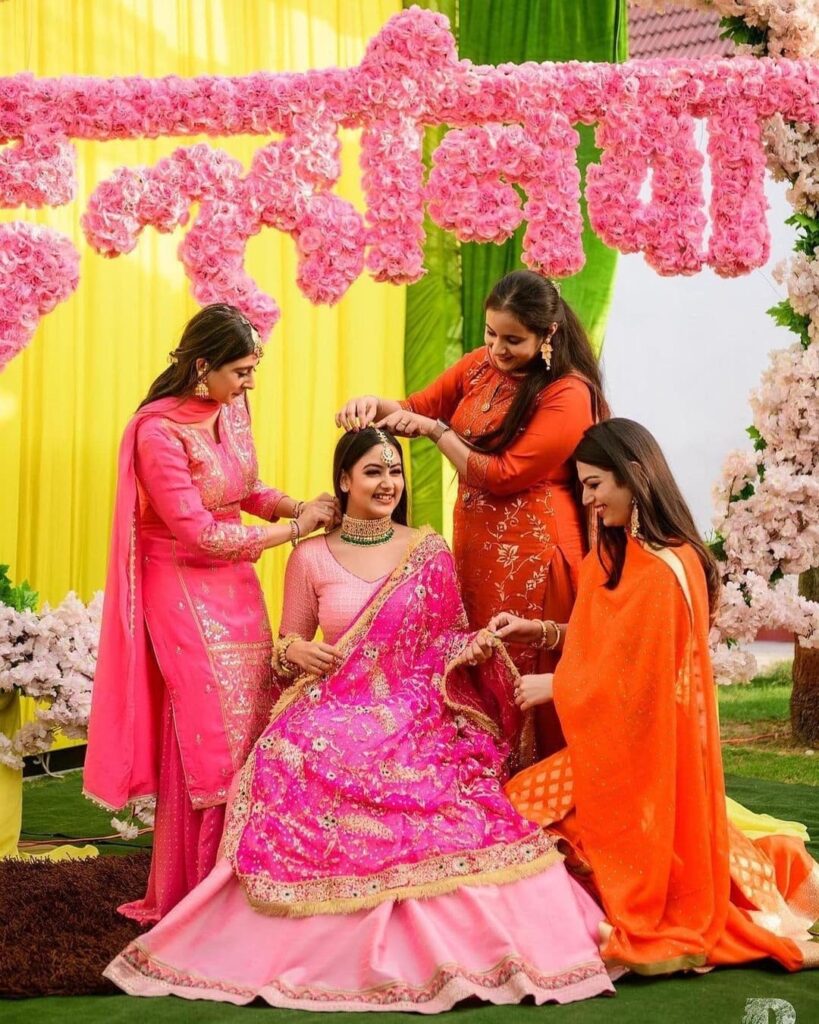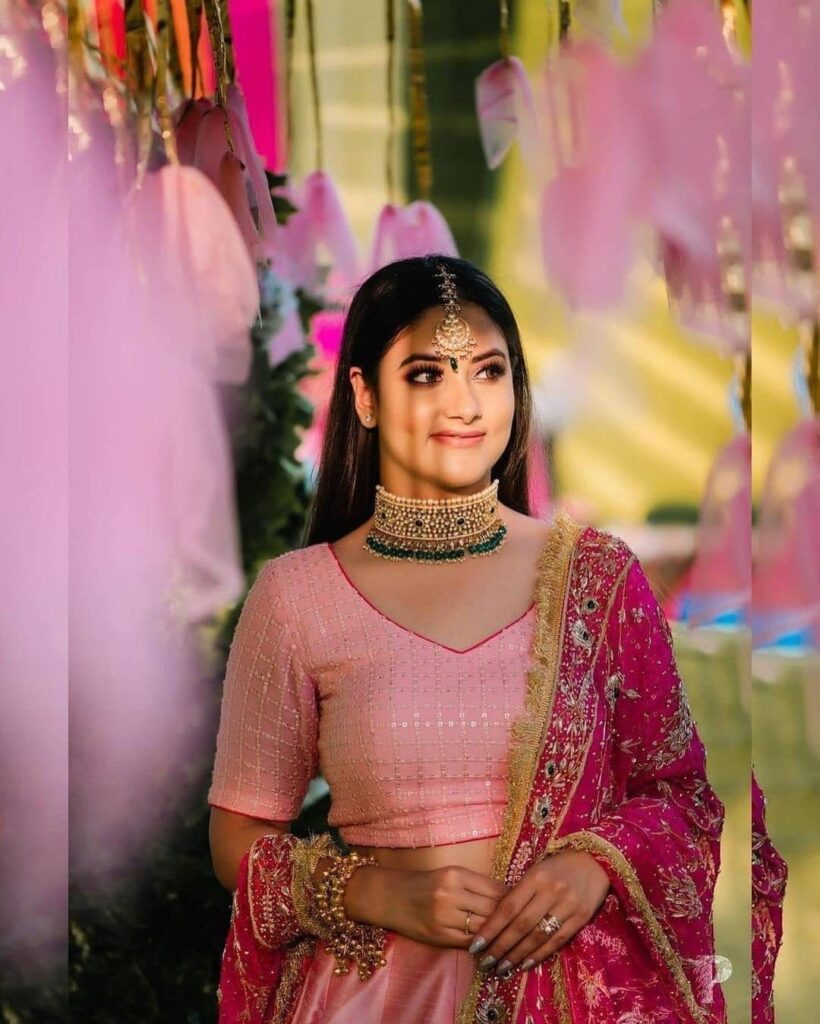 #50 Her pink bridal lehenga stands out from the crowd, all thanks to the noteworthy applique and thread work on it. By coordinating different colors in the work, the pastel pink lehenga gave a stunning vibrant look to the entire attire and thus, the bride. We love how the bride coordinated the dress with charming waves and colorful jewelry for a beautiful look.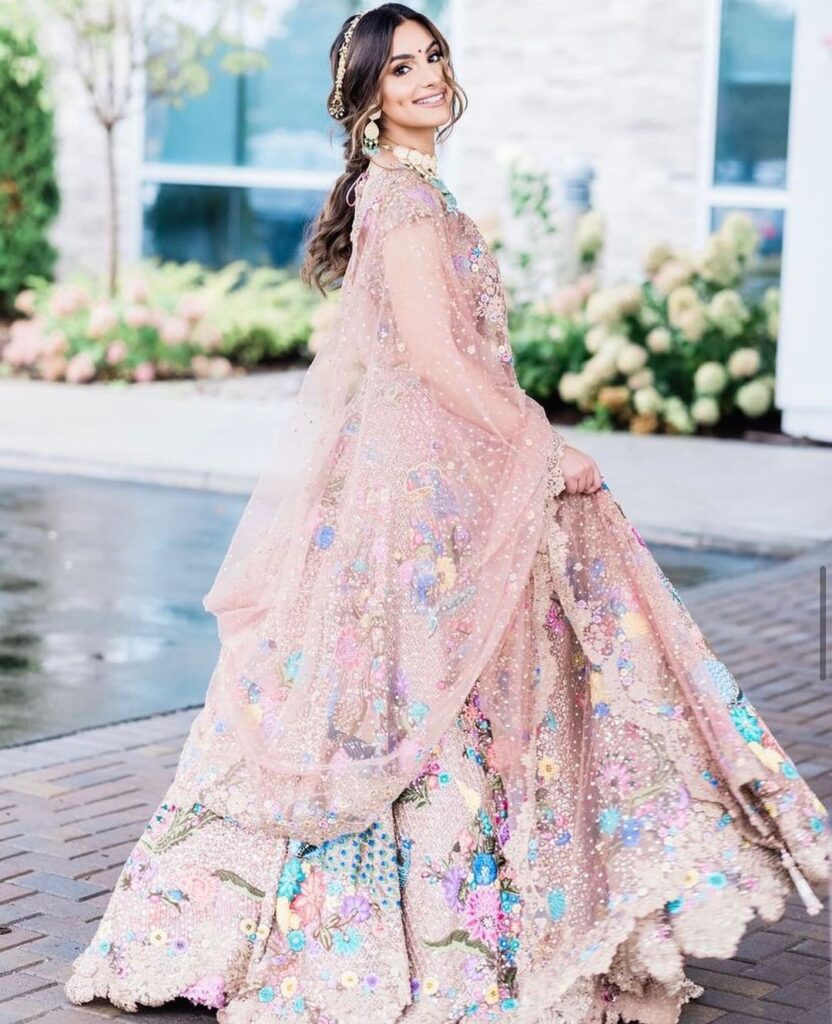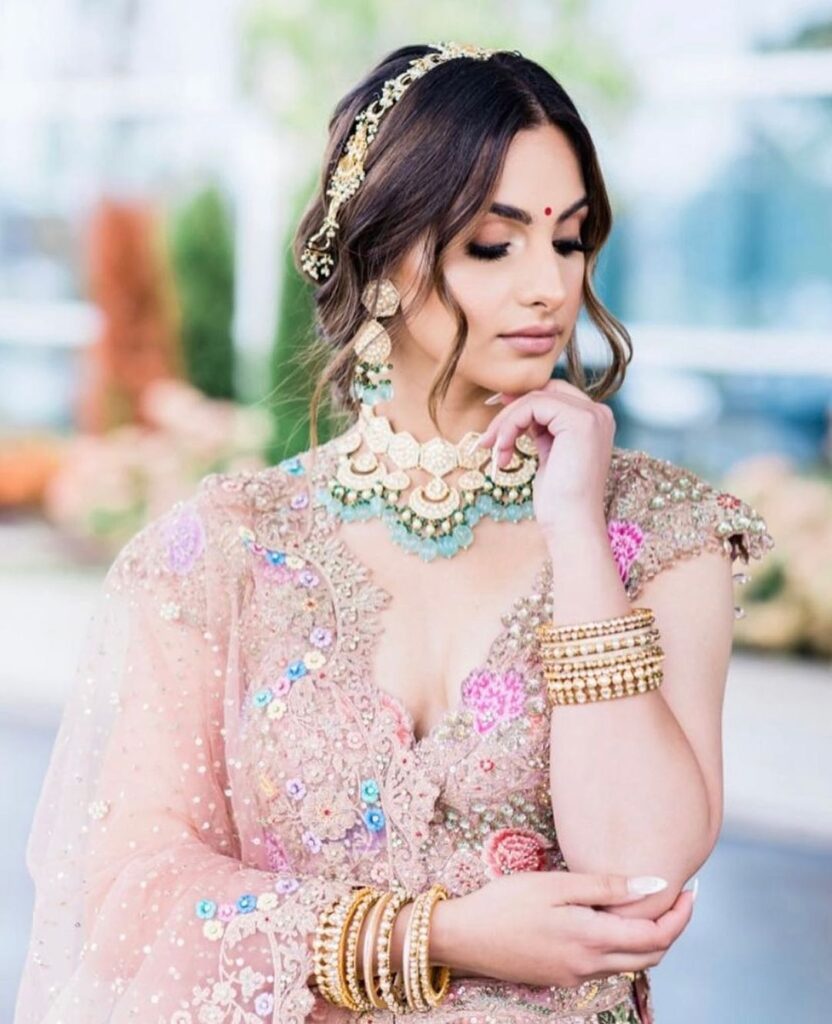 #51 Only Falguni Shane Peacock lehengas can create such stunning color block combinations with such perfection. Who'd have thought that fuschia pink, gray, and light blue could coordinate so well? Our advice is if you're opting for such a ravishing lehenga color combination then show off completely by twirling and posing in it, just like this bride.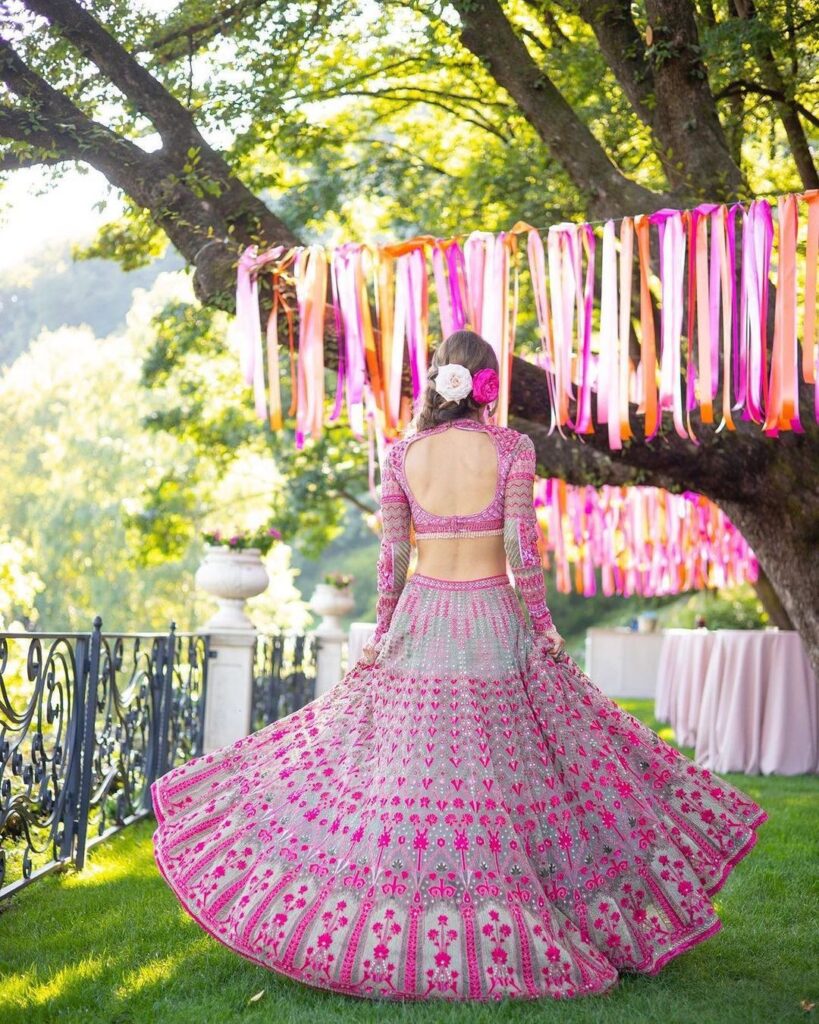 Was this list convincing enough to consider hot pink for your big day? Let us know in the comments below!