Brides are experimenting with their lehenga colors like crazy! Right from multicolor outfits to a bright hue and gorgeous lehenga color combinations, we've spotted brides in some uniquely fresh lehenga colors that are an inspiration for all brides-to-be out there. If you're bored of the usual reds, pastels, and pinks in Indian outfits, this blog is made just for you! 
That being said, not all brides would like to experiment with their bridal lehenga color. There's just something attractive and traditional about a bride in RED, it becomes hard to ditch that hue. For these brides, we'd advise wearing a fresh color on some other wedding function like your mehendi or sangeet! This will create a perfect balance between playing safe and testing the waters. 
Let's dig straight into this whimsical blog. 
New Lehenga Colors For The 2020/2021 Brides: 
Tea Green:
An appealing mix of mint and aquamarine, if we were wearing this beautiful shade, we'd be twirling and posing too. Ideal color for your day's wedding functions.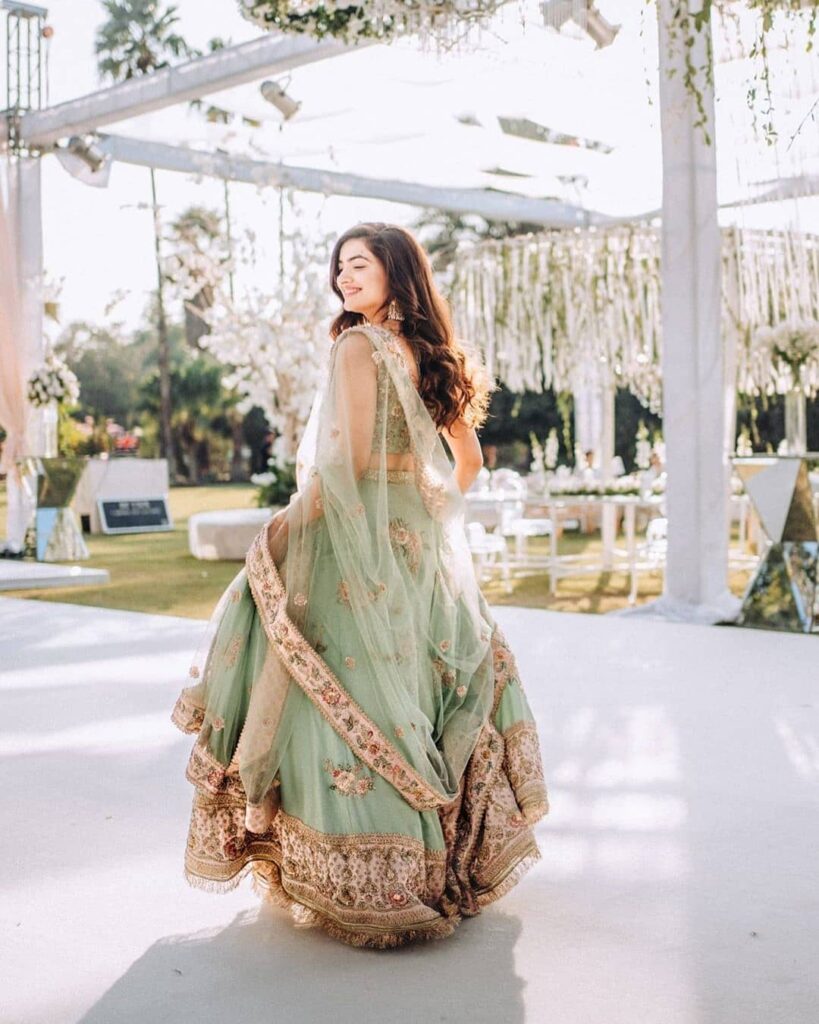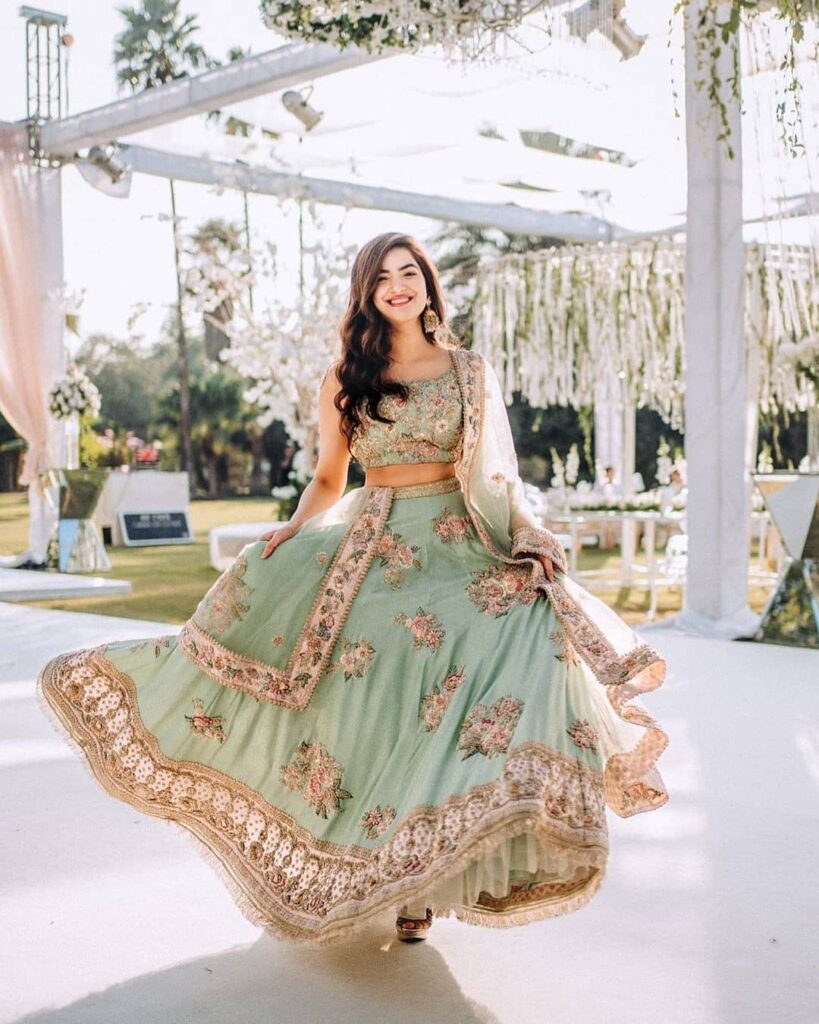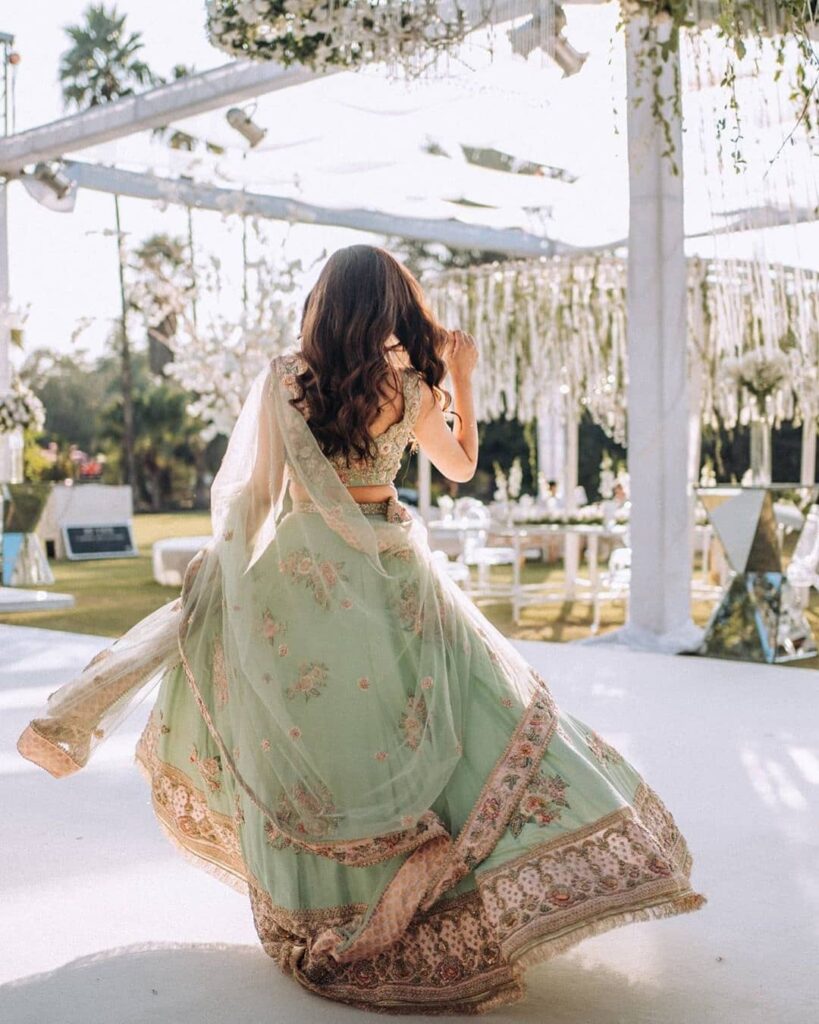 Via @omrose.pk, @yrattamedia
Screamin Green:
Another unique green lehenga color that will turn heads as you enter the room. Can't help but notice the subtle couple coordination.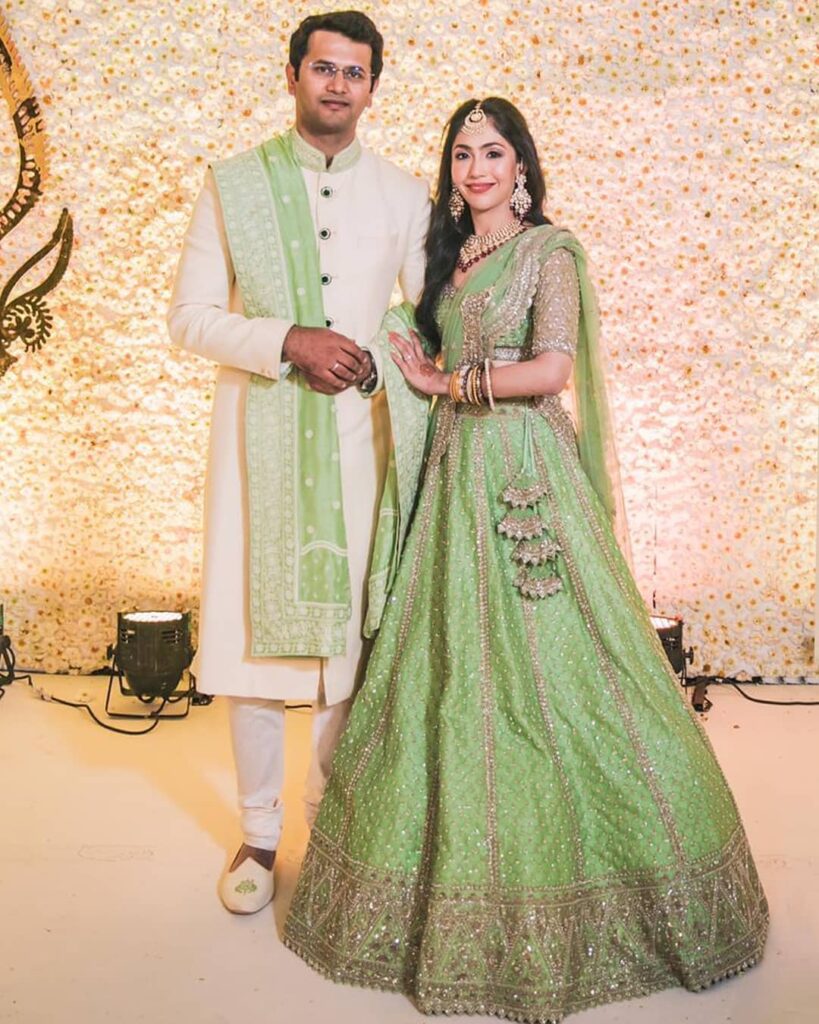 Via Anushree Reddy
Turkish Rose:
Imagine walking down the aisle wearing this stunning Sabyasachi lehenga! *Dreamy* The designer's outfits are mainly in red, yellow, or blue, sometimes he does come out with a fresh new lehenga color we just can't get enough of!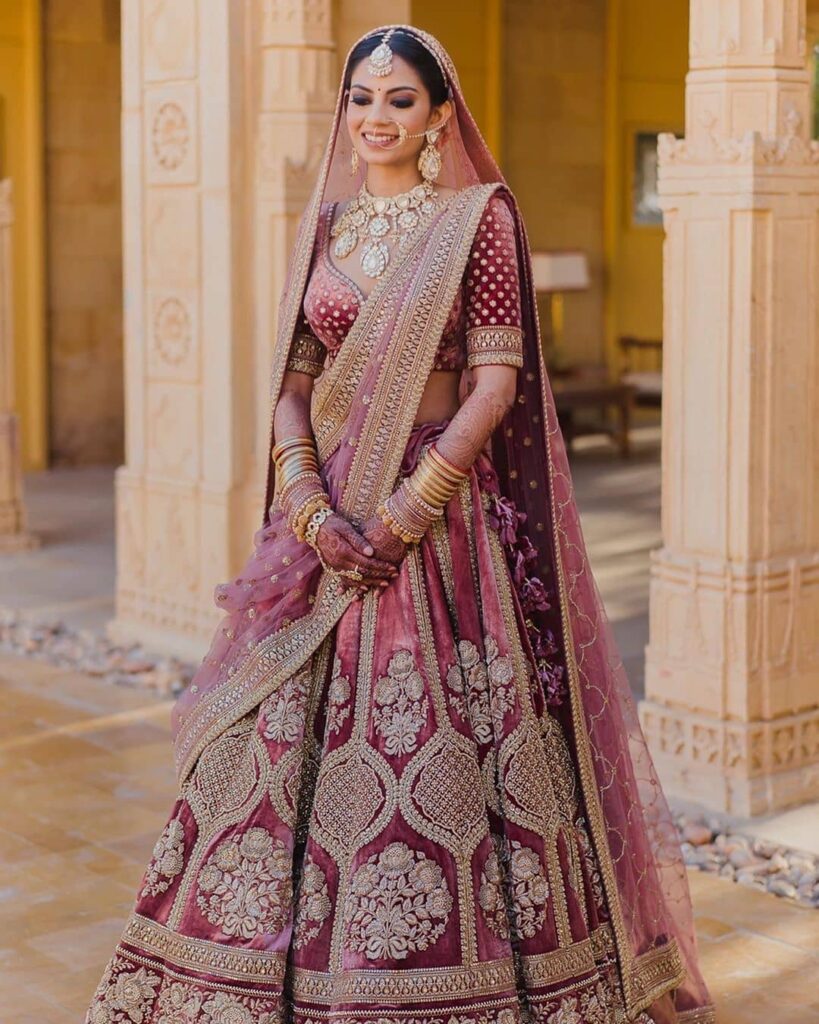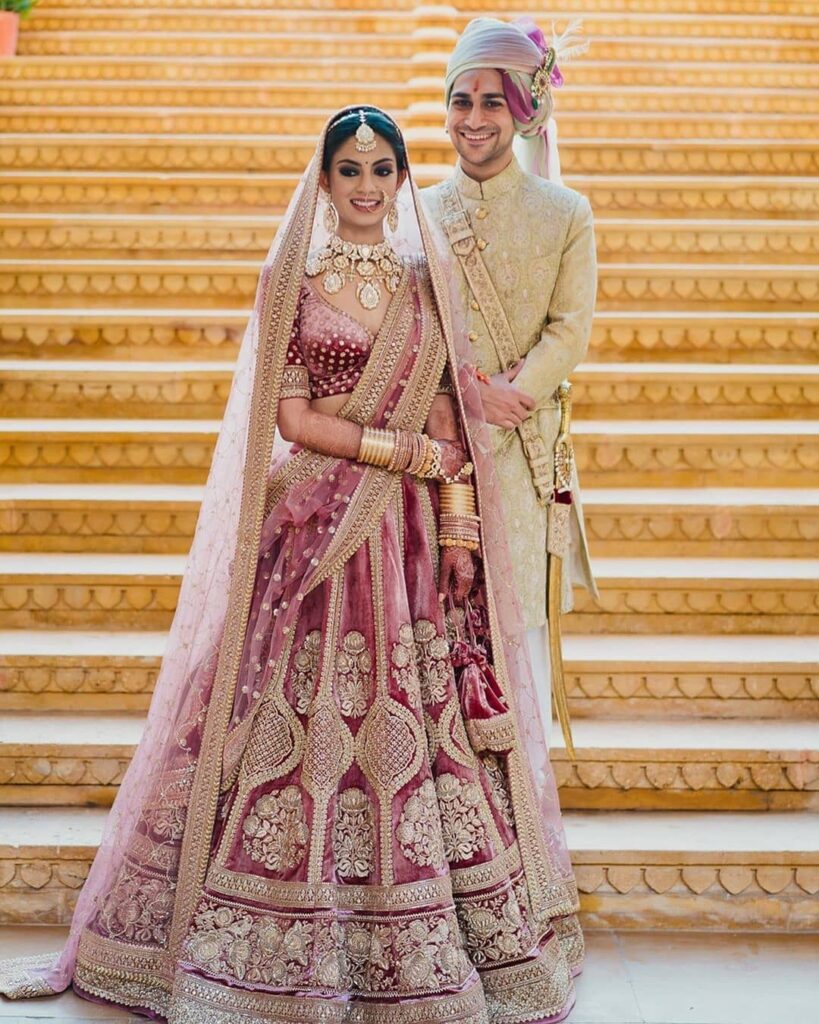 Via @israniphotography, @dollyouup_bys
Paneled Multi-Color Lehengas:
First spotted on Anushka Sharma, this panelled Sabyasachi lehenga has become a favorite for brides to wear on their wedding. It's priced at ~ 6 lakhs, which is quite expensive. Alternatively, you can do what bride Chasham did. Opt for a first copy that's every bit as good as Sabyasachi. She got her lehenga from @roopkala_ludhiana, one of the most reputed stores in the city.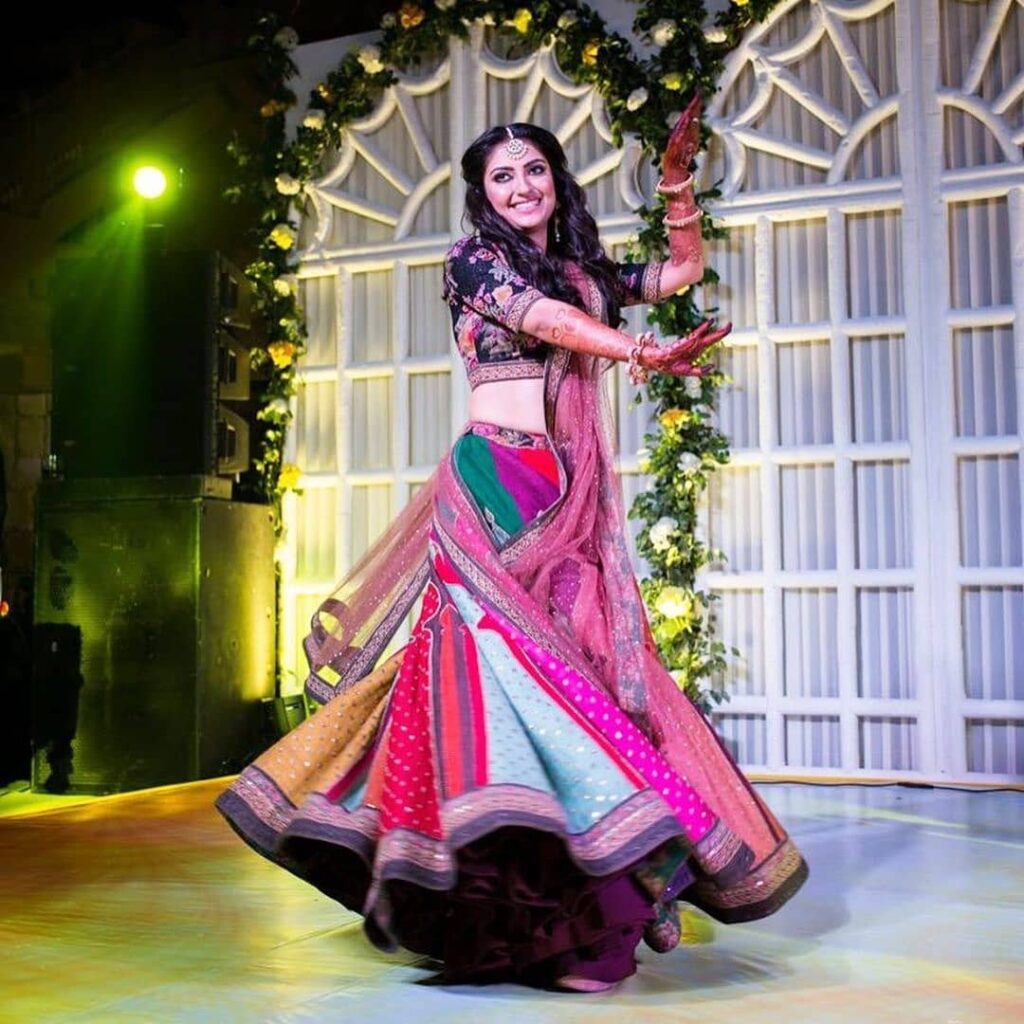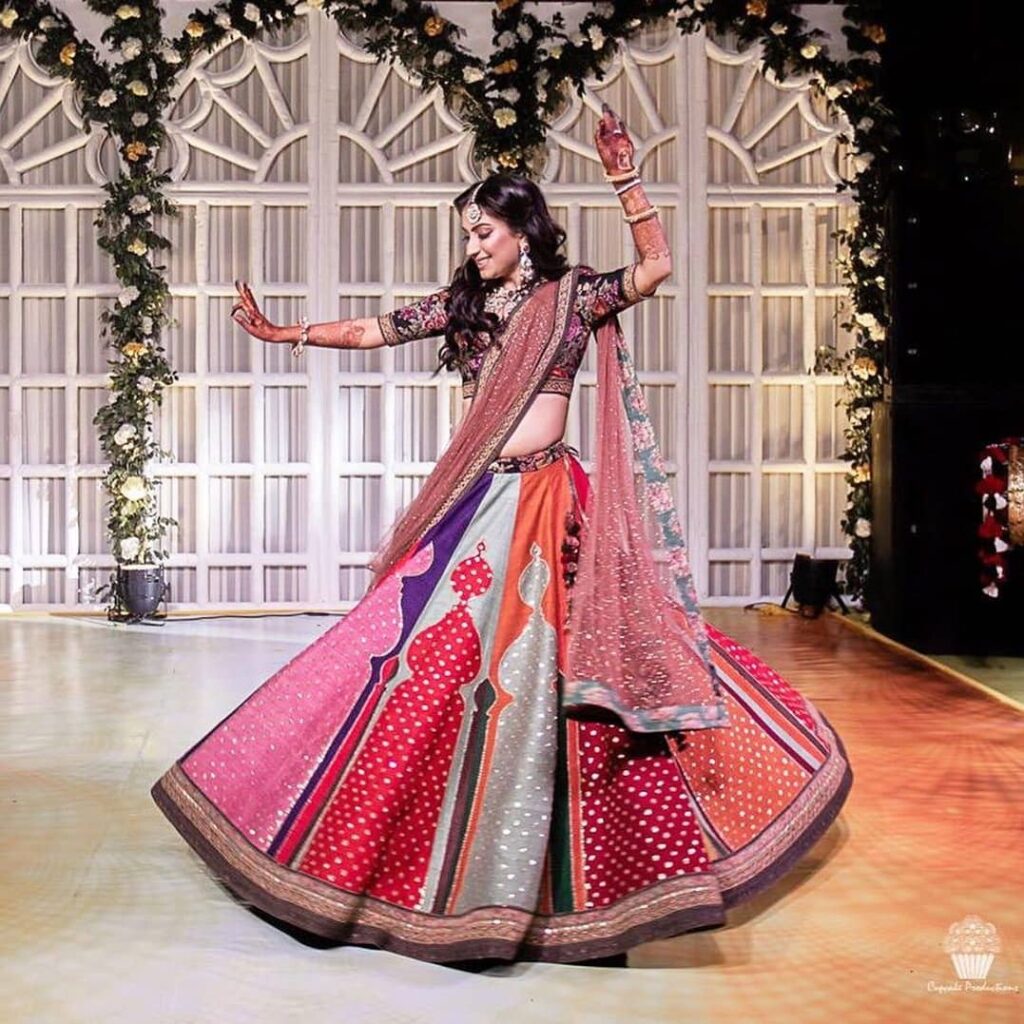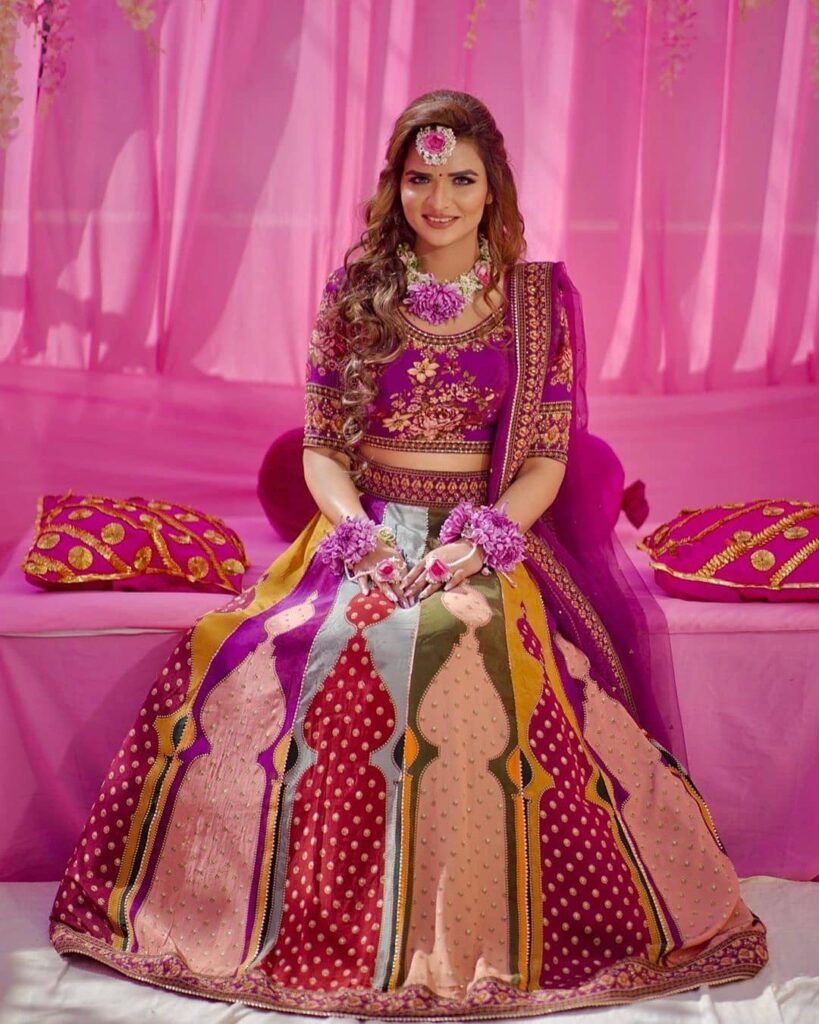 Via @ysdcweddingchoreography (First Bride), @roopkala_ludhiana
Powder Bluish Gray: 
Alright, that's not a real color name! *Guilty* But it sure is a statement color. Anj is one of our recent viral brides whose stylish wedding looks won the hearts of all. Check out her complete wedding blog here.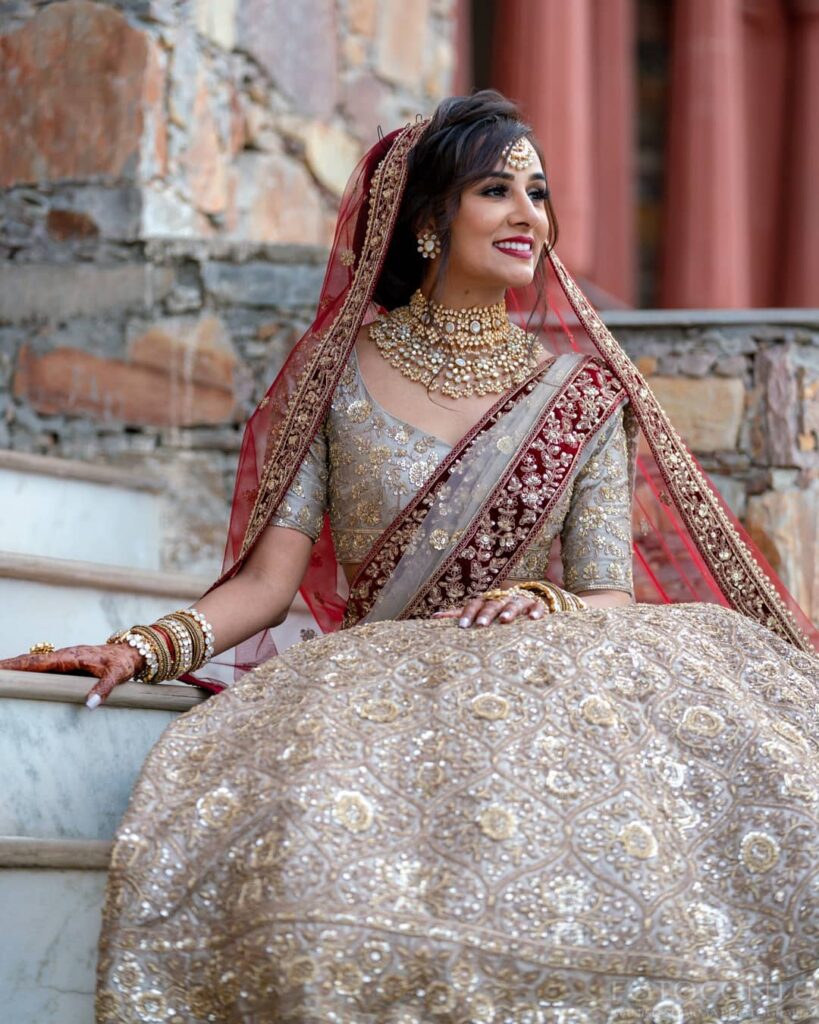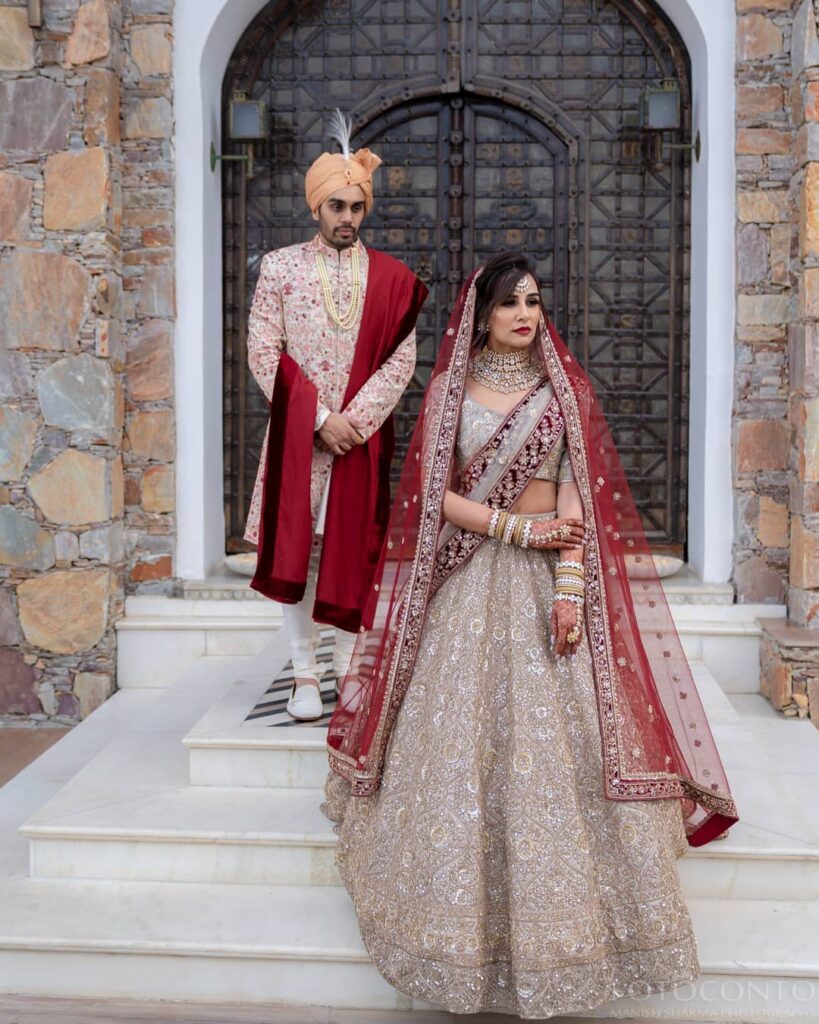 Via @anjandpri
Recent RAH Lehenga Color Combinations!
Our obsession with Rimple & Harpreet couture is thriving with each passing day. We love how they flawlessly blend colors in their lehenga, making them look traditional yet giving brides an outfit they can cherish forever. This red one with a pop of green & mint green with a hint of pinks and reds are our current favorites.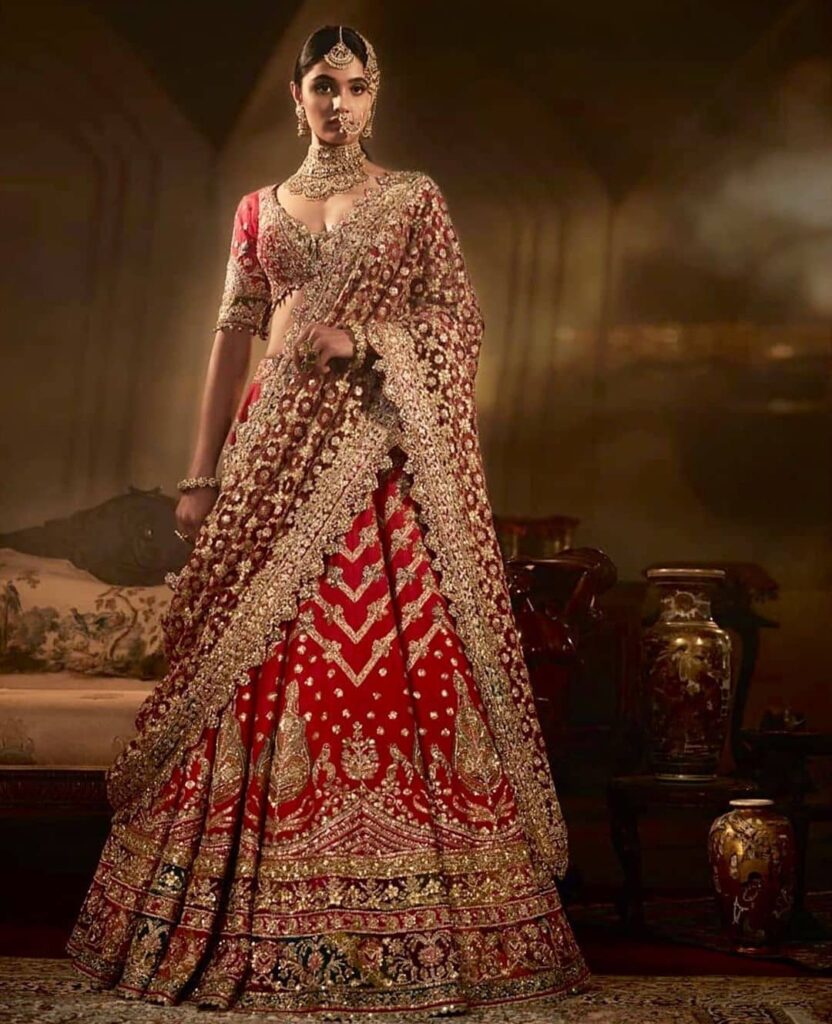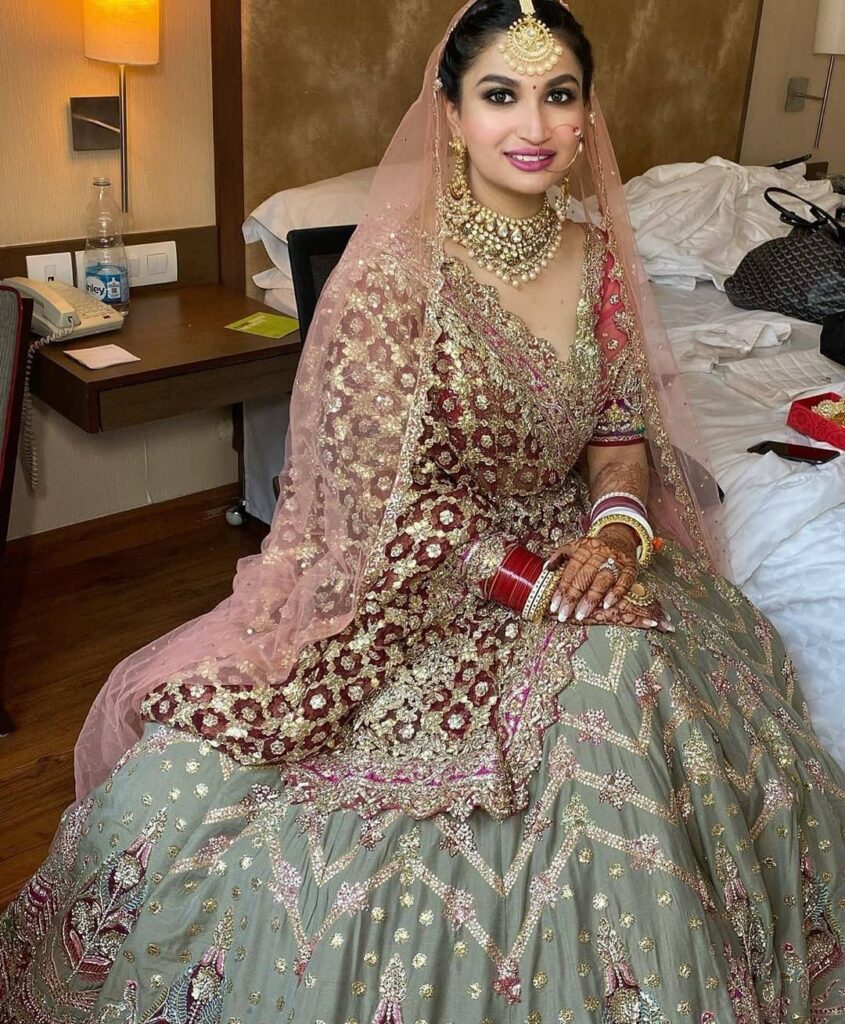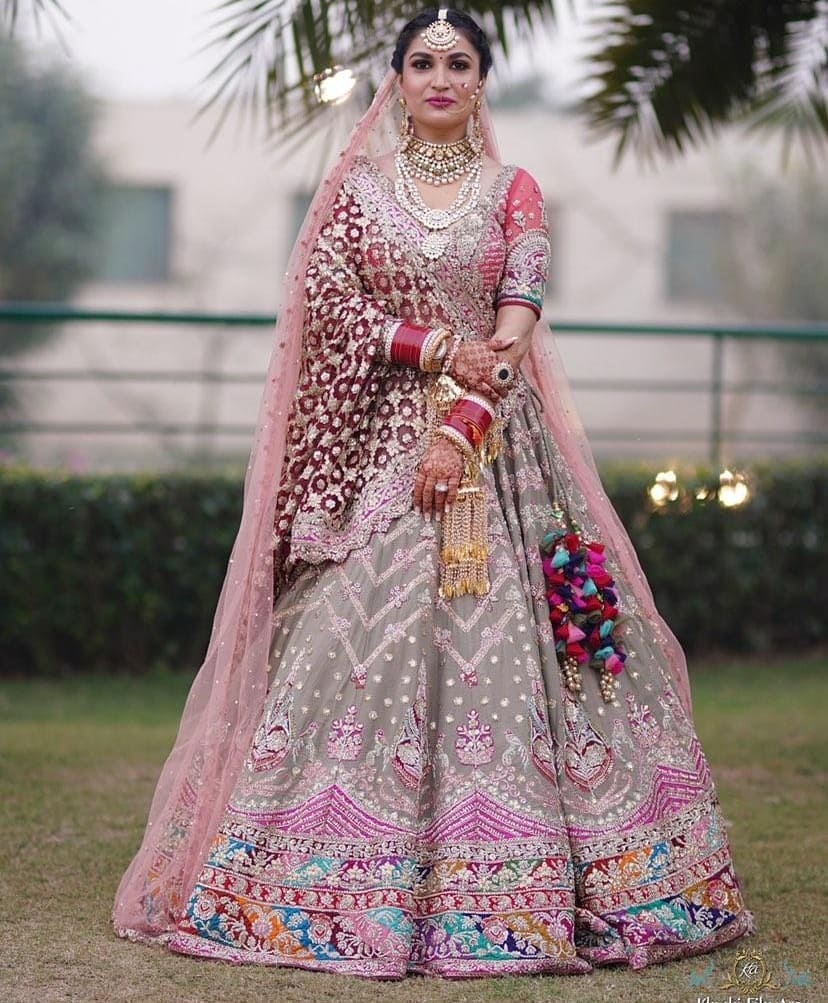 Pastel Pink With Lots Of Shimmer
Sure we've seen a lot of pastel lehengas, but generally with embroidered or zardozi work. This silver sparkle one is one of a kind and will earn you lots of compliments. It's by @aakarshanbtqandqueens.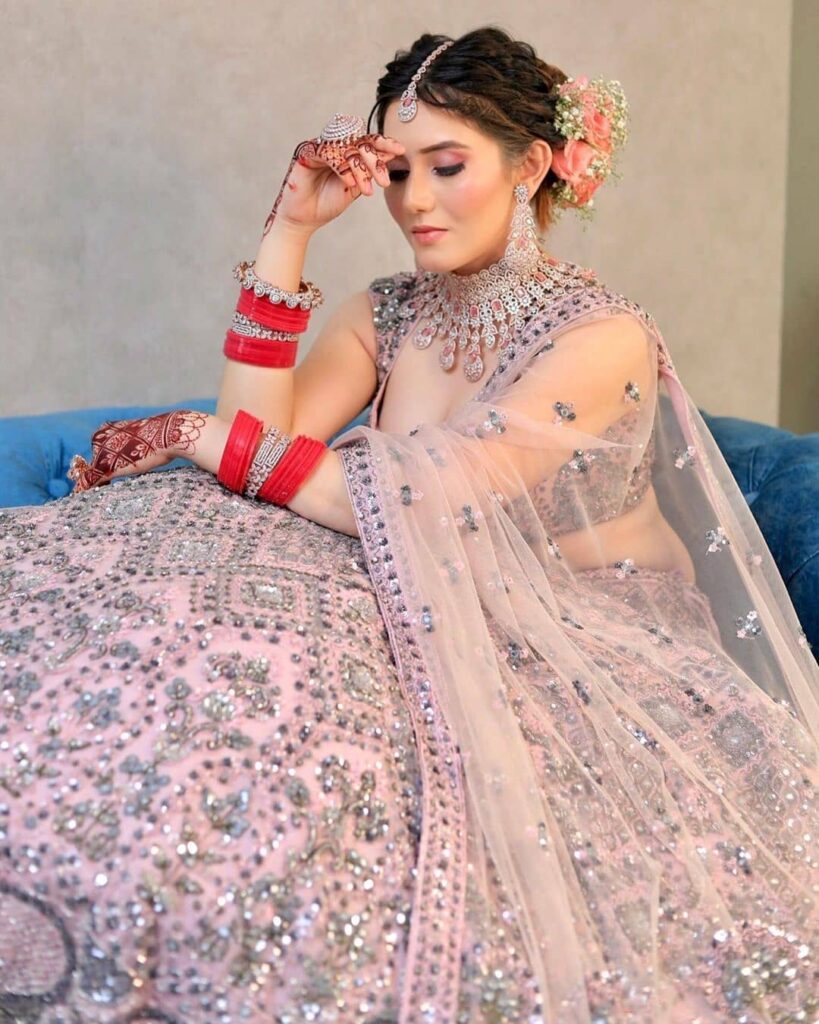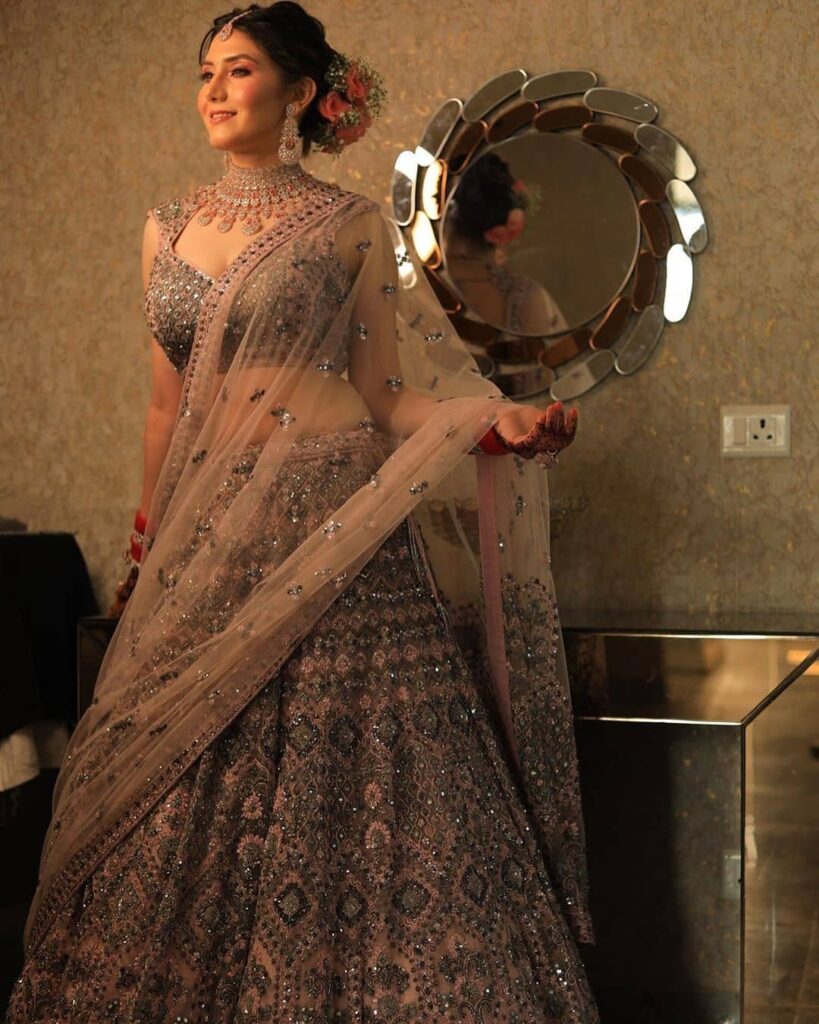 Via @preeti_rekha.mua, @annubhati_official
New Purple Lehenga Shades
Purple has made an entry into lehenga colors within the past 2 years and here are its newest shades real brides wore. Both of them wore it for their big day and it's such a nice lehenga color of day wedding.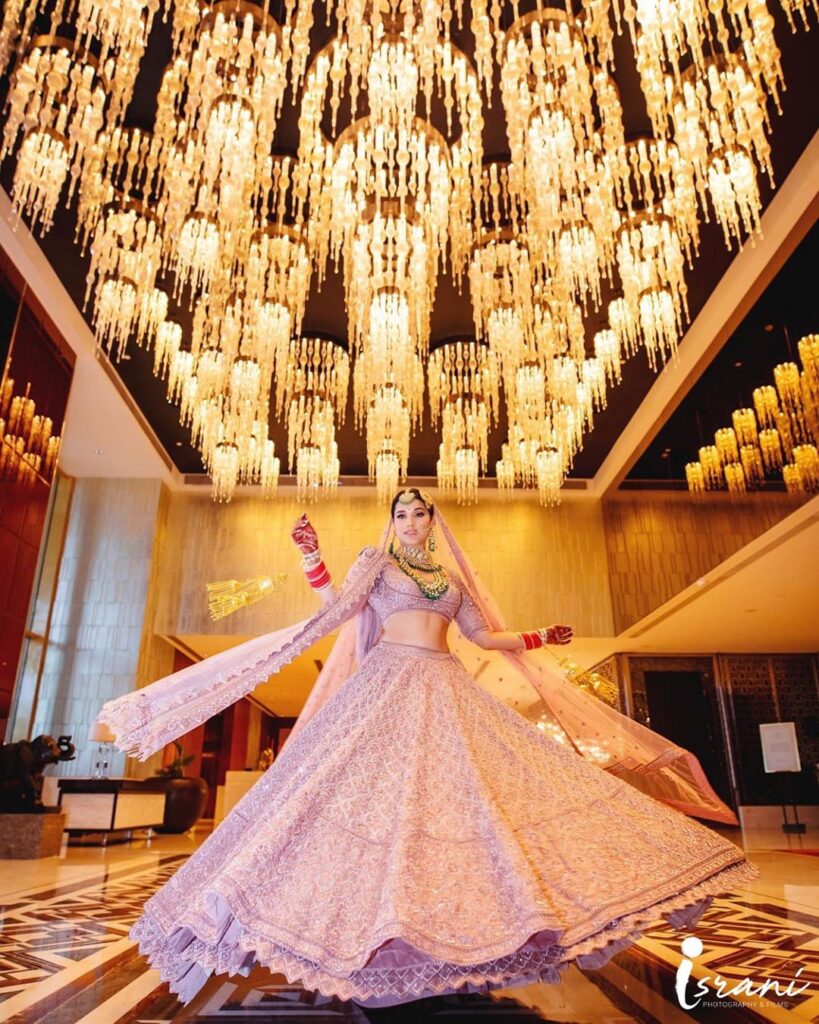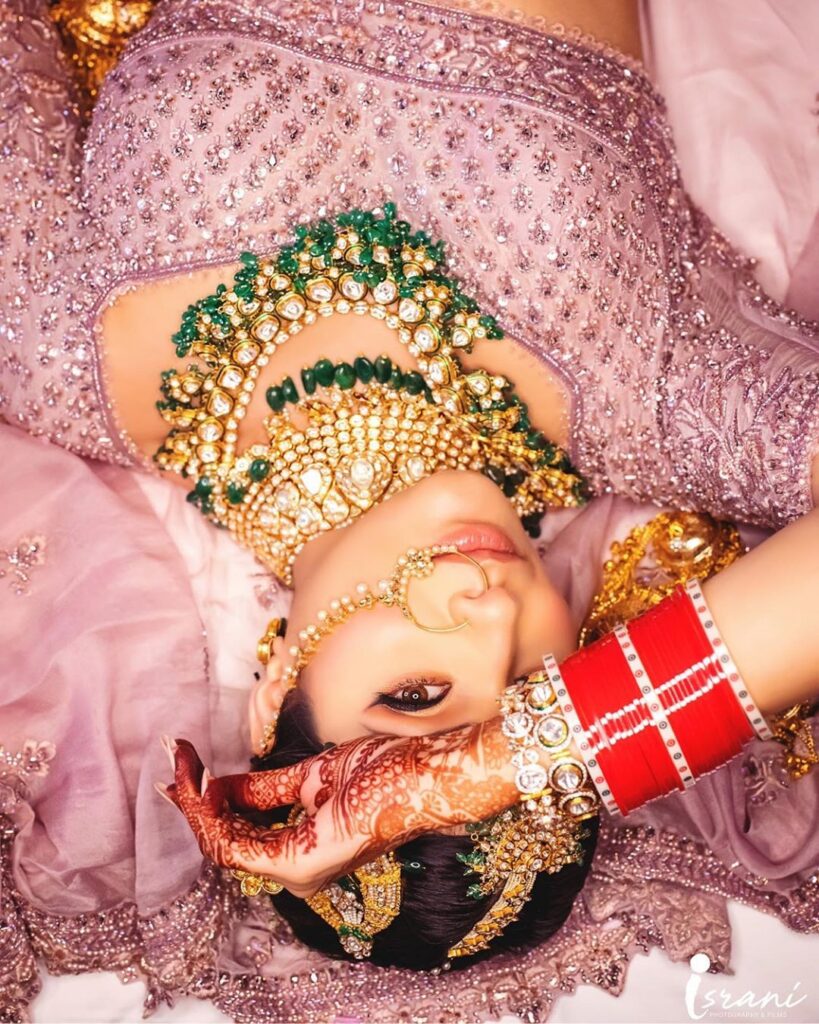 Via @dollyyouup_bys, @israniphotography, @anmoljewellers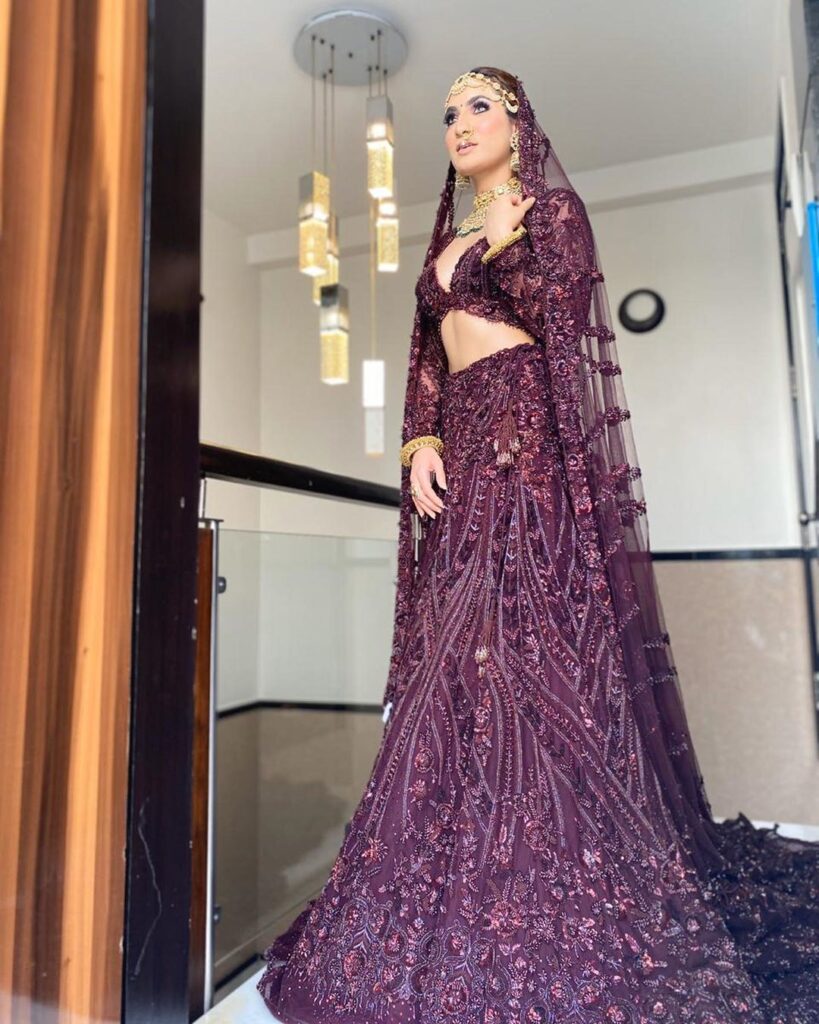 Via @makeupbypritikakeswani, @payalkeyal
Sparkly Bronze:
Sakshi stepped out in a shimmery lehenga for her Sangeet night leaving everyone in awe of her. Her mesmerising outfit definitely added an idyllic setting to the soiree.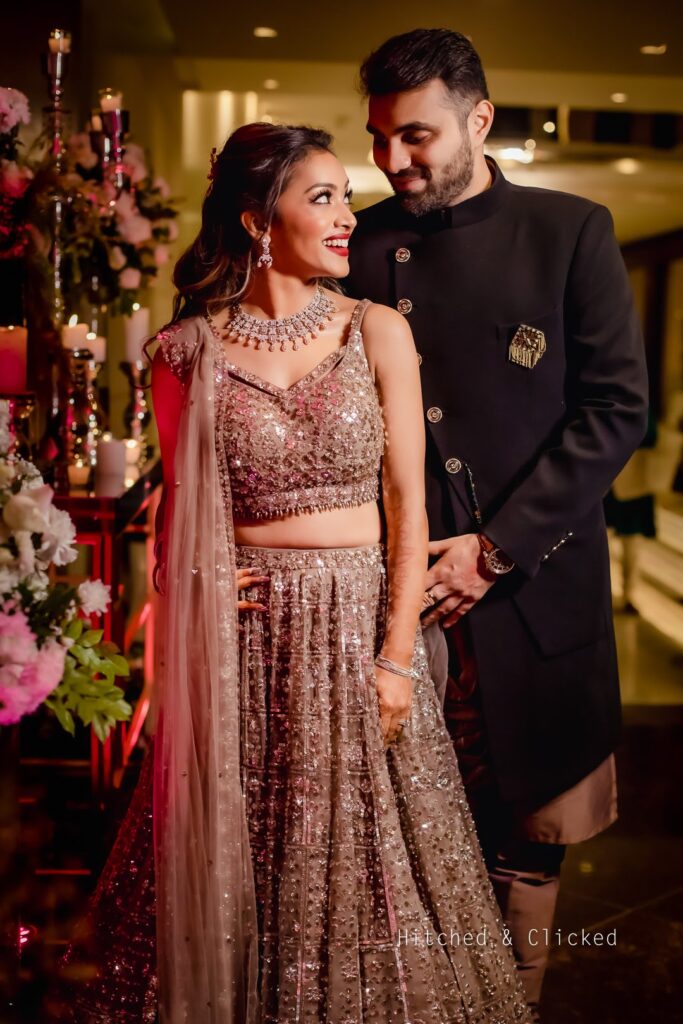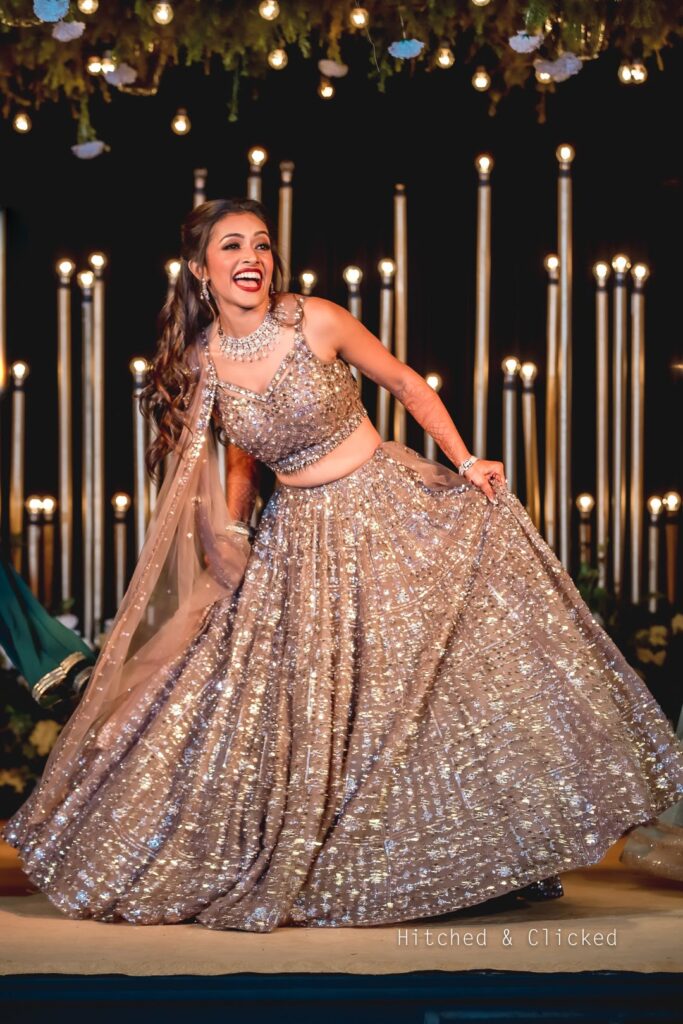 Tarun Tahiliani's Multi-Color Lehengas: 
Tarun Tahilian's Pieces Of You collection made our hearts skip a beat! Our favorites from the collection are these multicolor lehenga designs that speak directly to the millennial brides.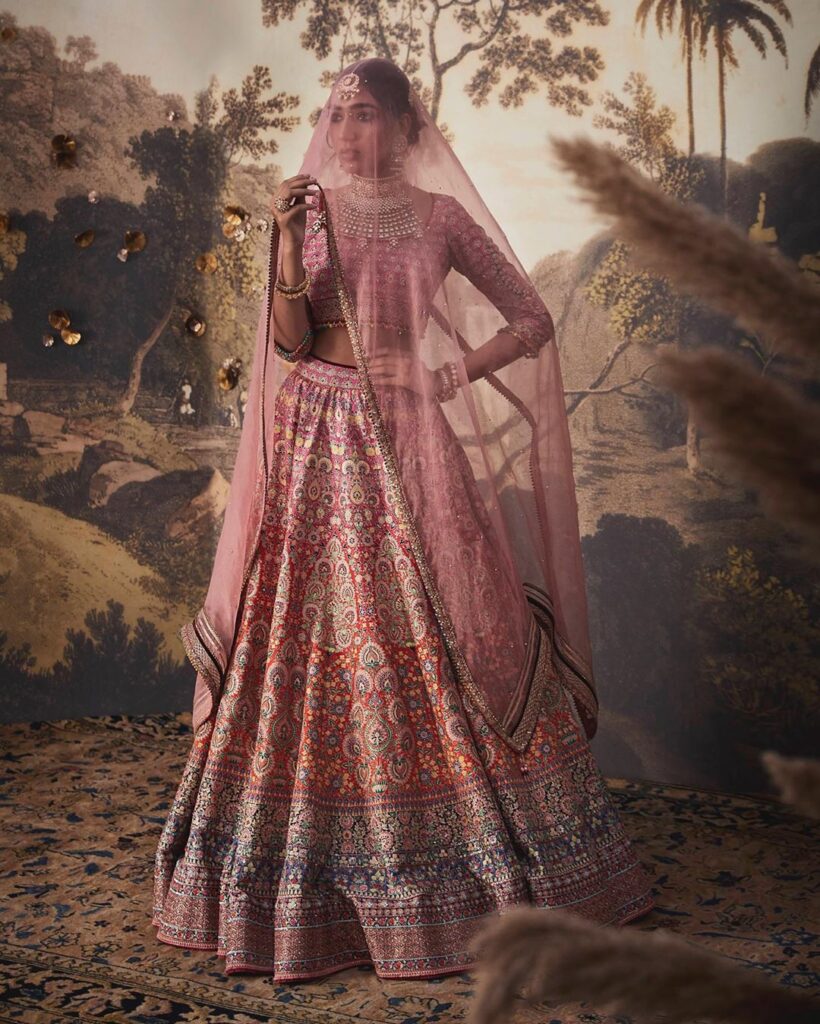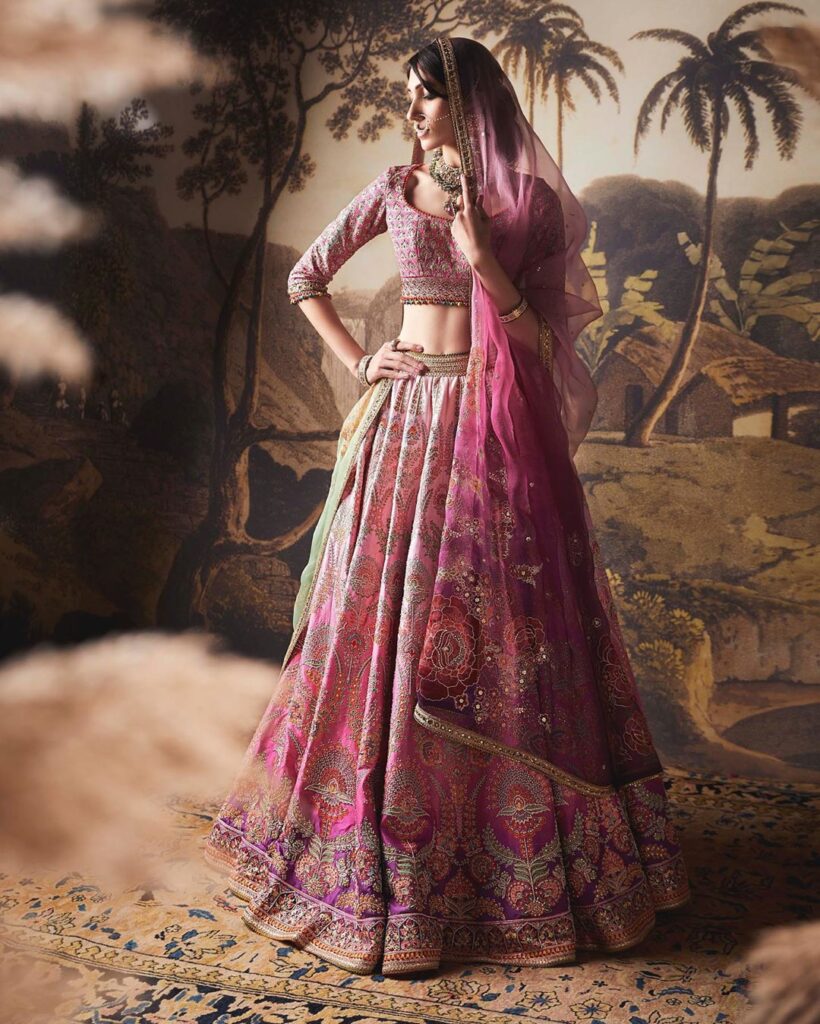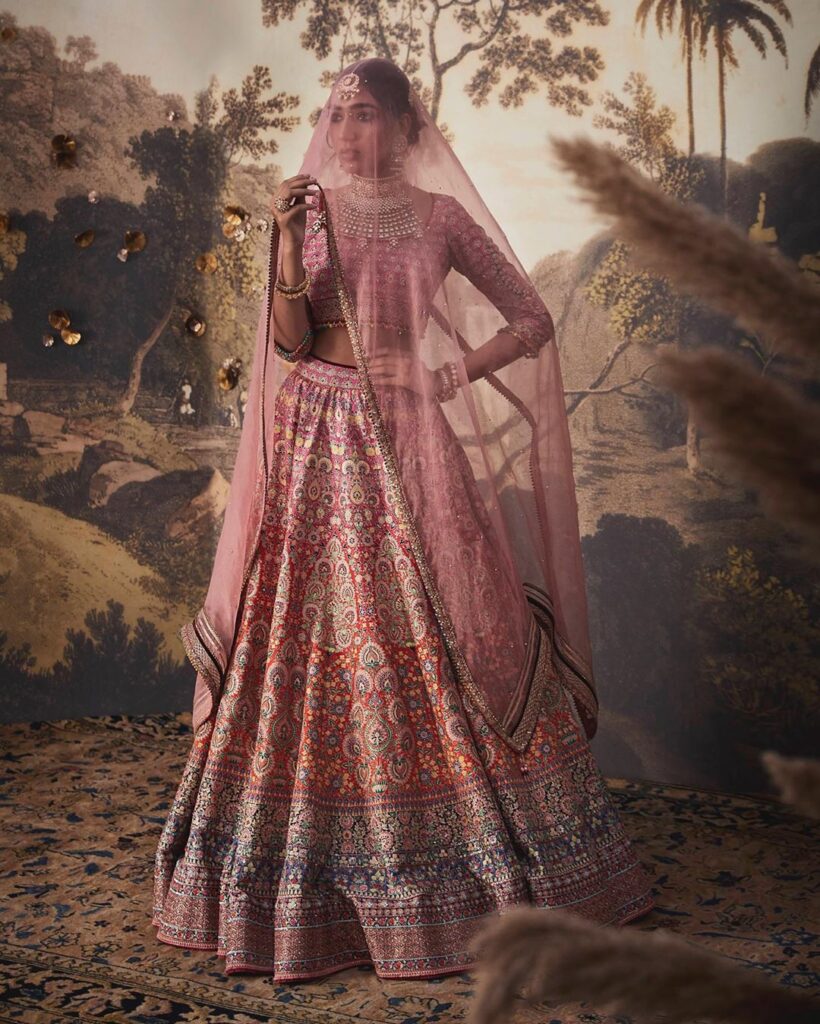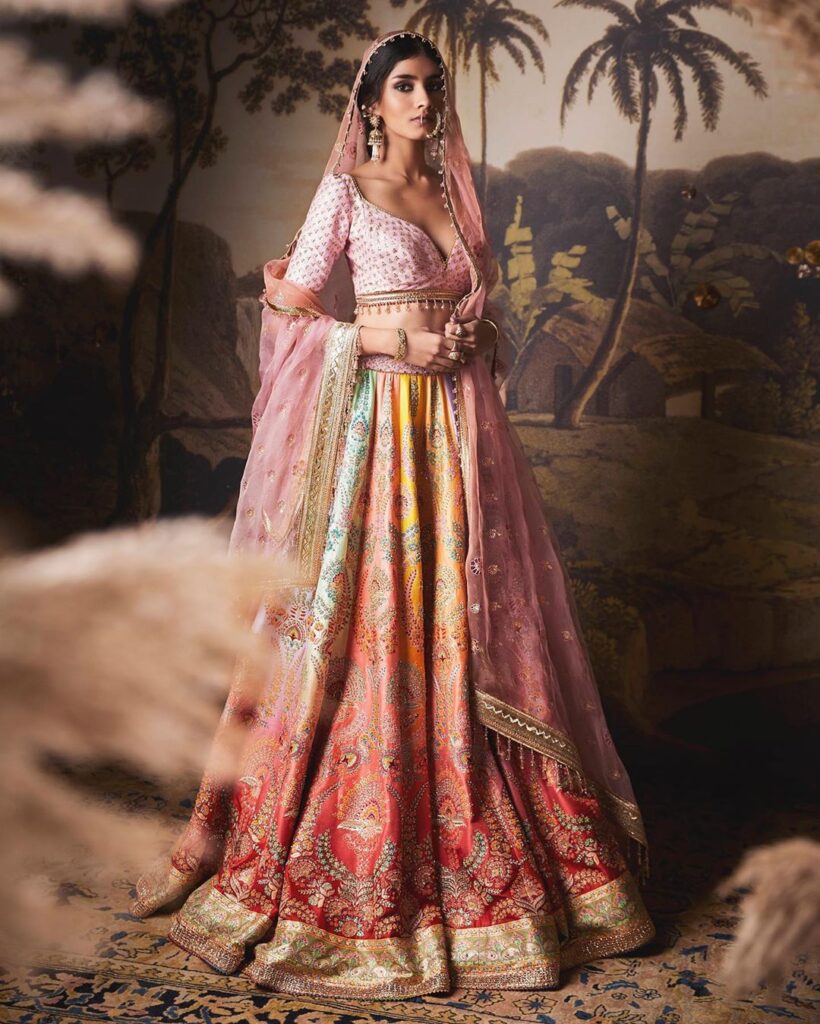 Gradient Pink: 
Bored of monochrome color in your lehenga? Opt for these stunning pink gradient lehengas that are a stunning pick for day wedding or night time pheras.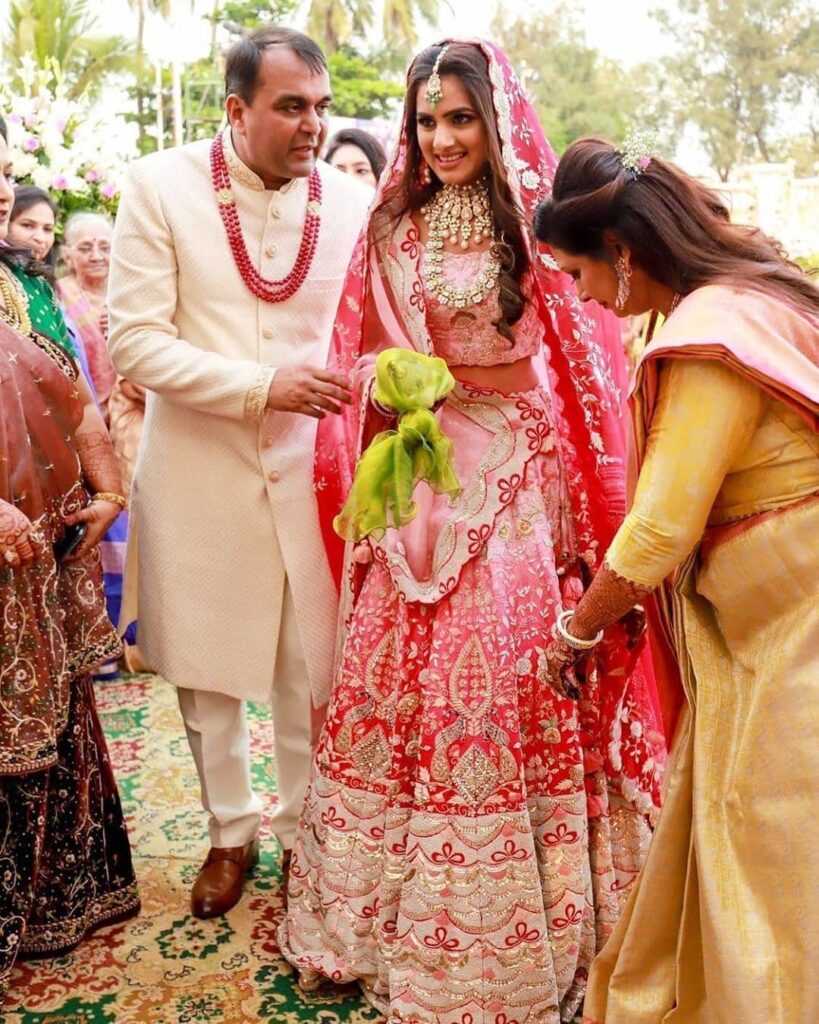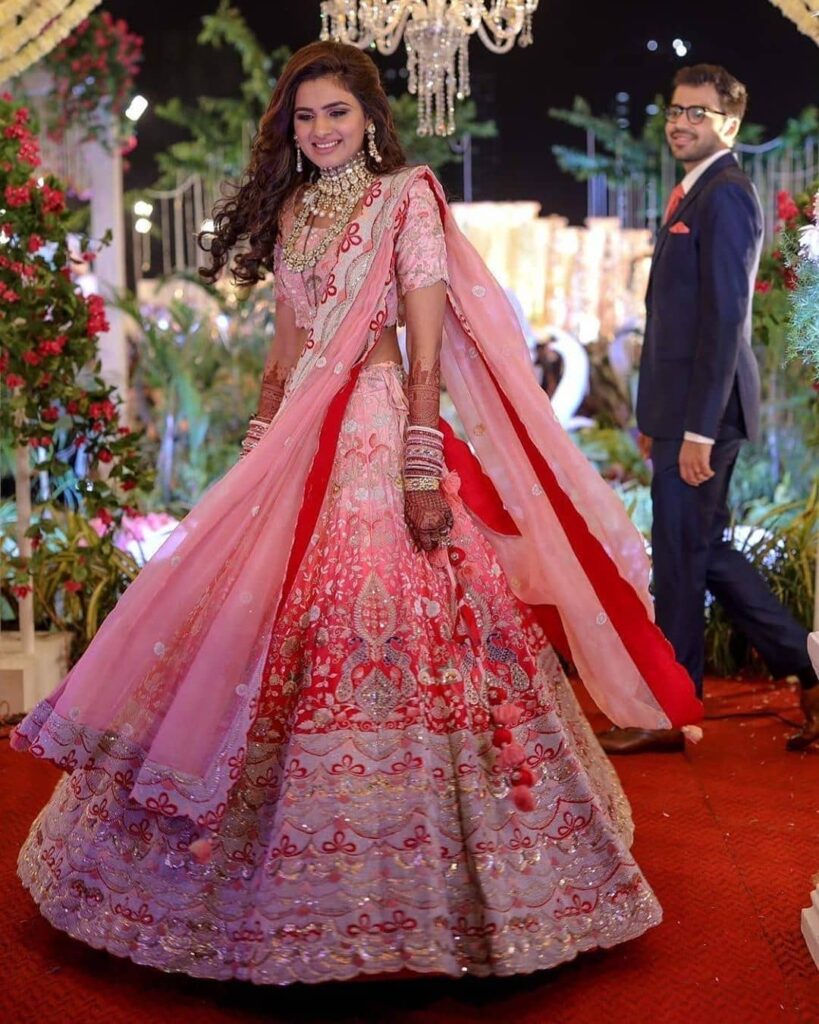 Via @vidhichheda.95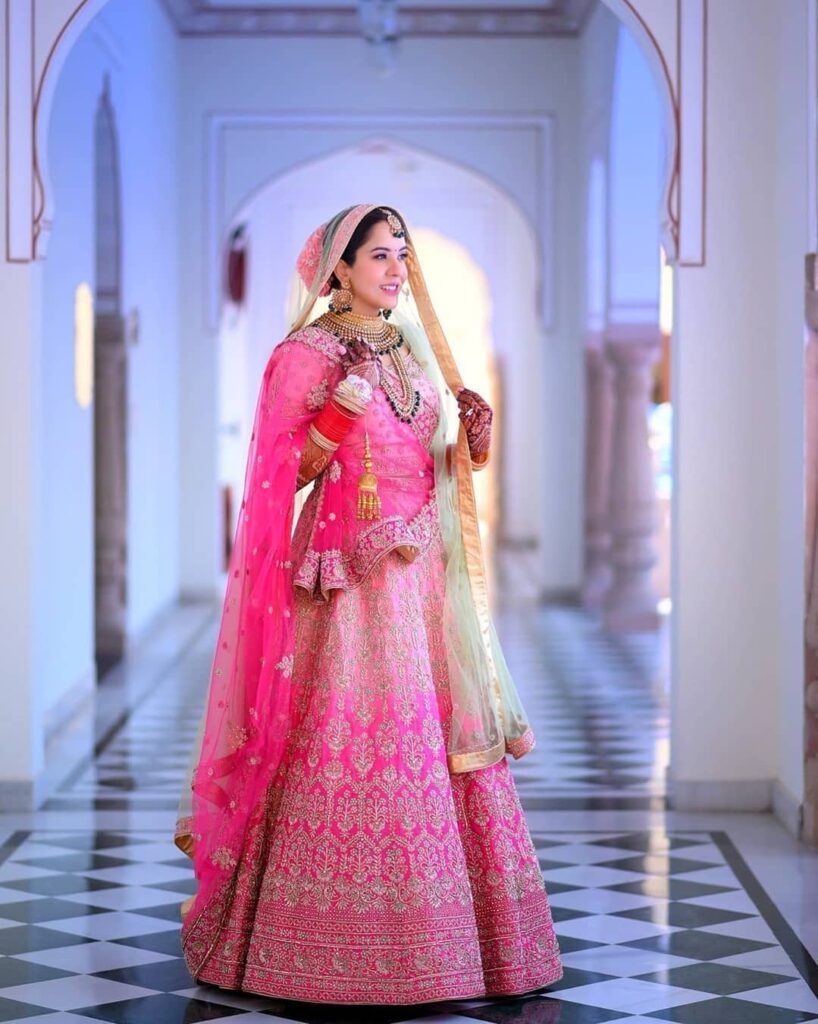 Via @makeoverbyindu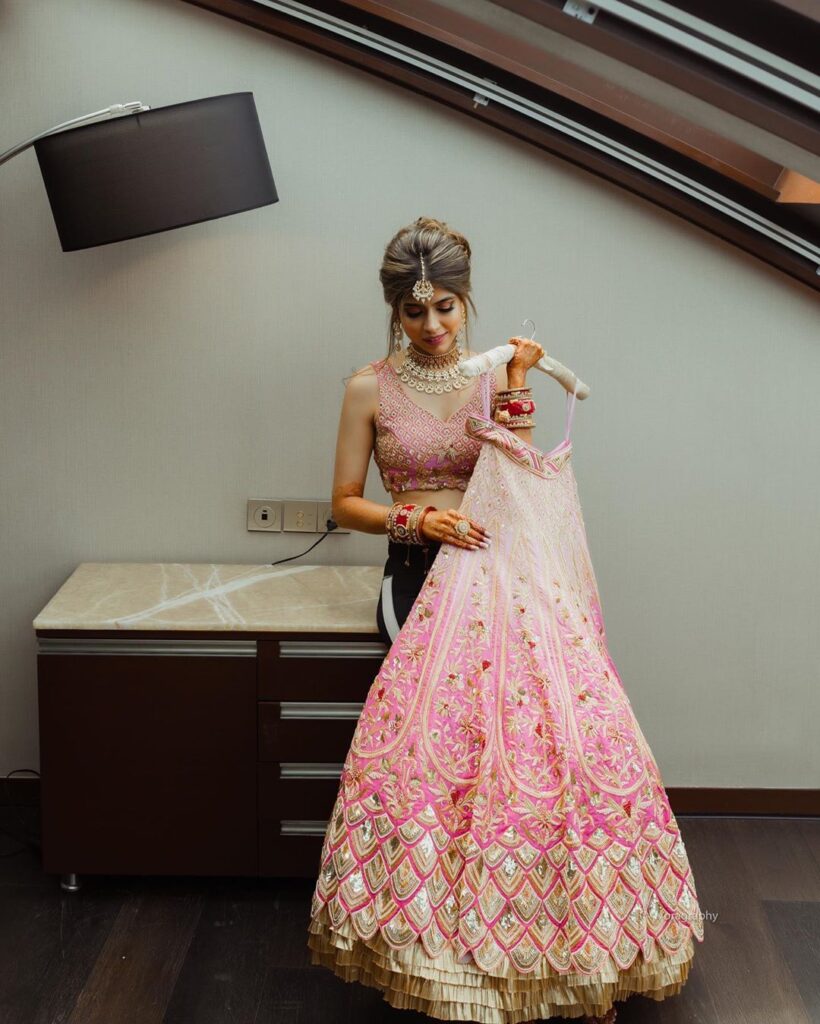 Via @oragraphy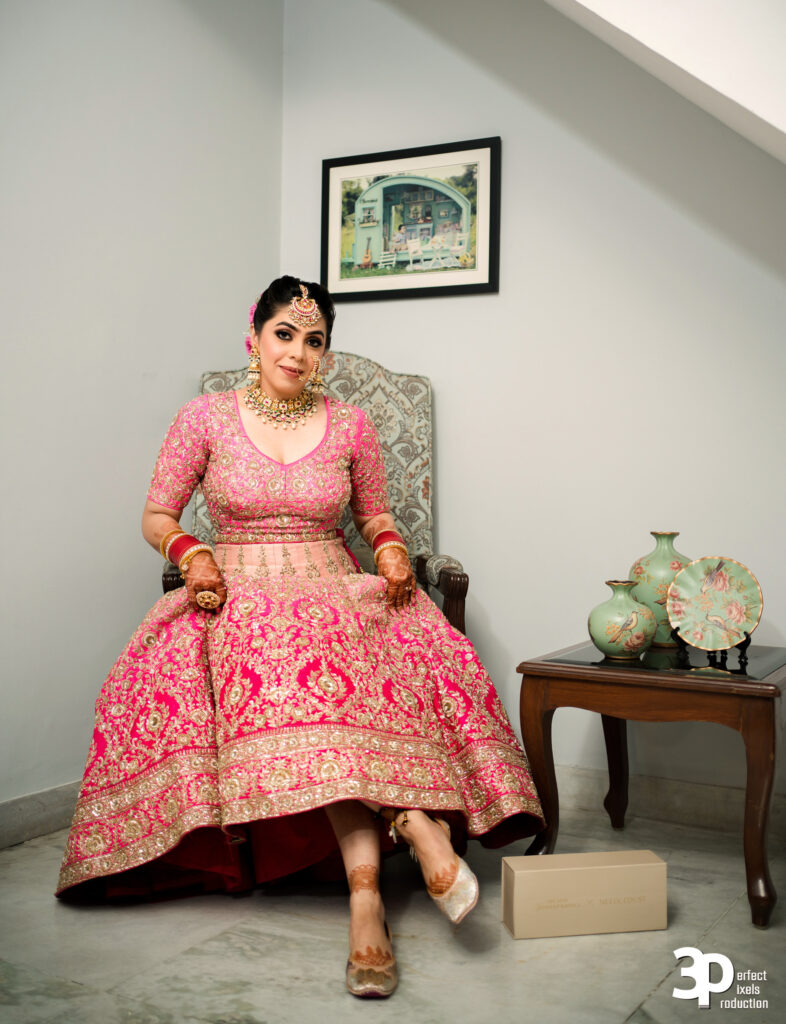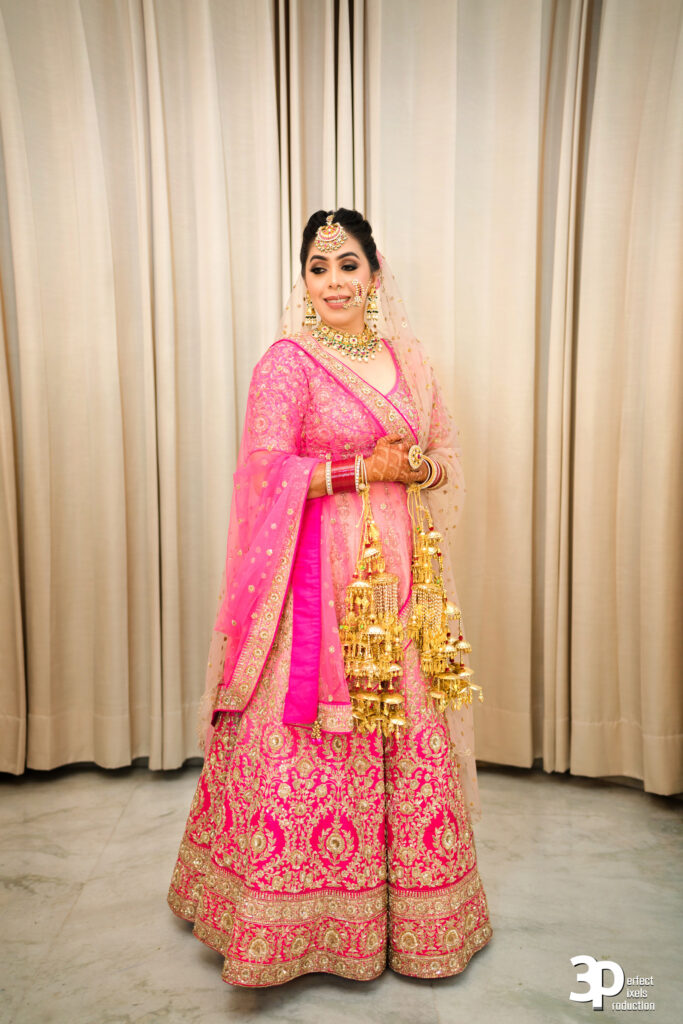 Via @rupaljhanji
Teal Blue: 
Outshine everyone in the room with these enthralling teal blue lehengas. Such a dreamy hue for our voguish brides.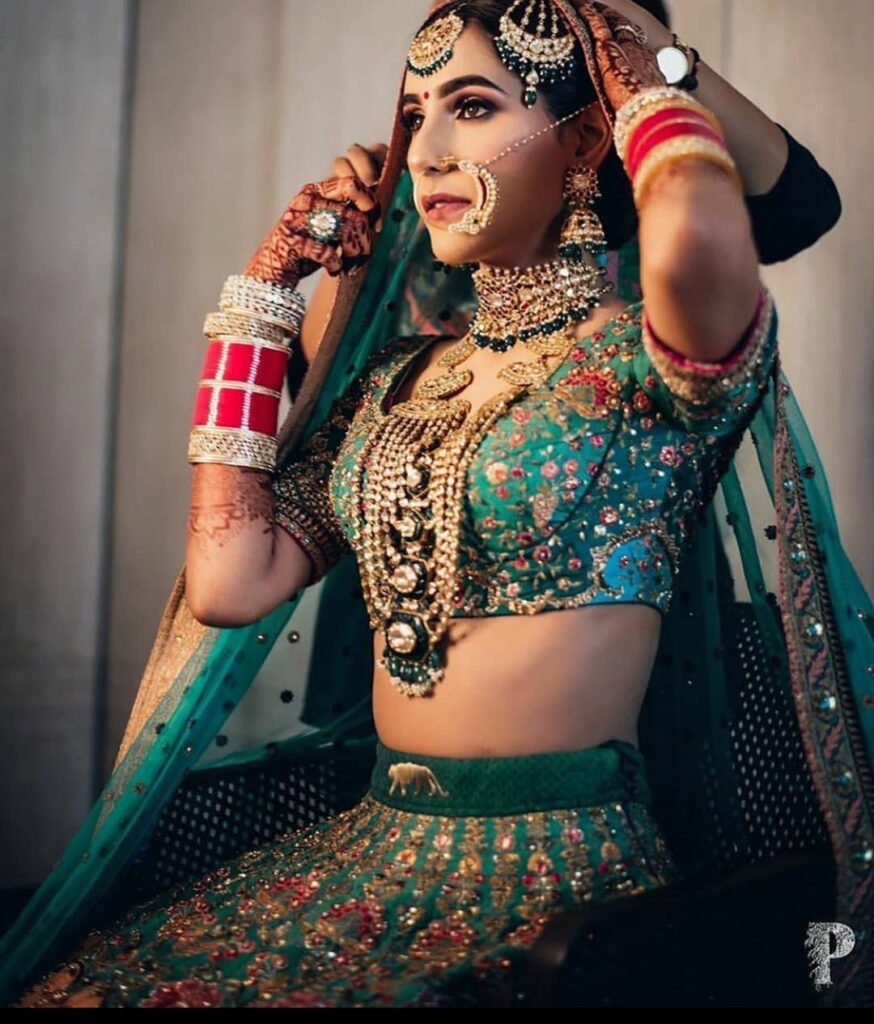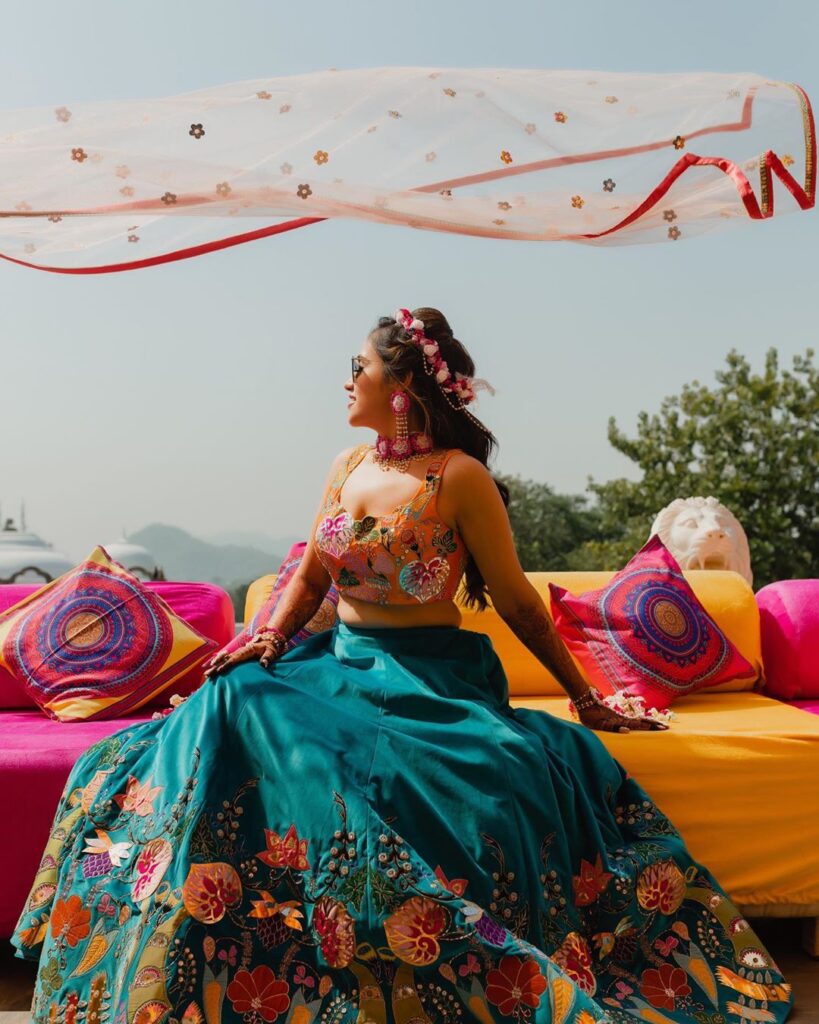 Via @oragraphy

Metallic Hues
A rather offbeat lehenga, but equally fascinating. We love how unique these brides look in their metallic lehenga color combination.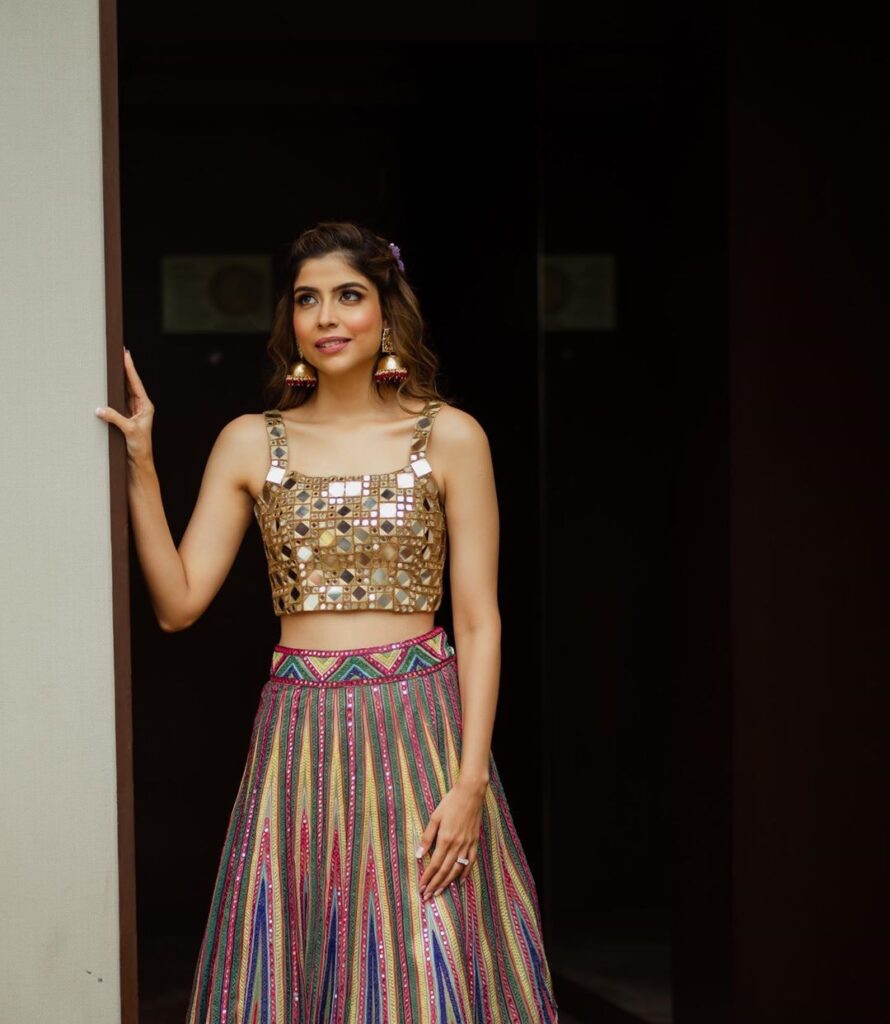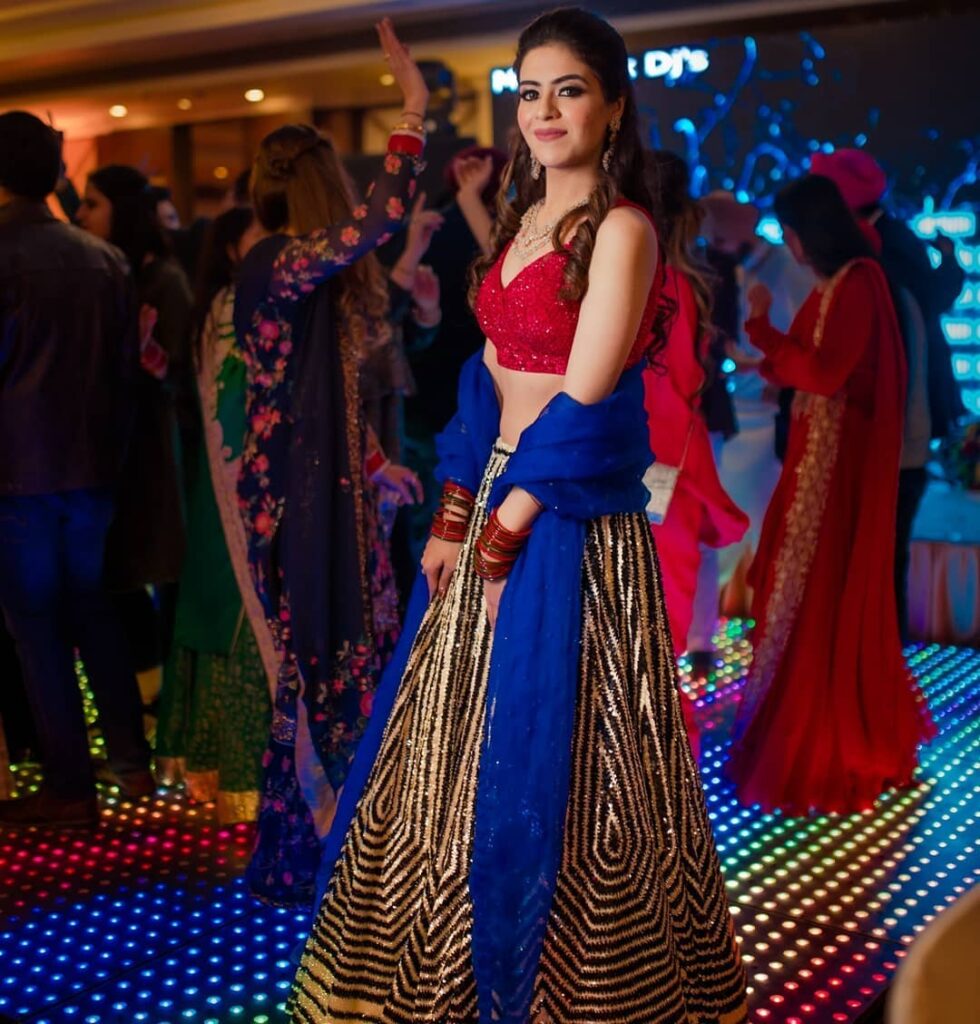 Via @oragraphy (First Bride), @simarstar1101 (Second Bride)

Tie-Dye
We're hearting this tie-dye lehenga by Akanksha Gajria. She makes more such color combinations, check it out here.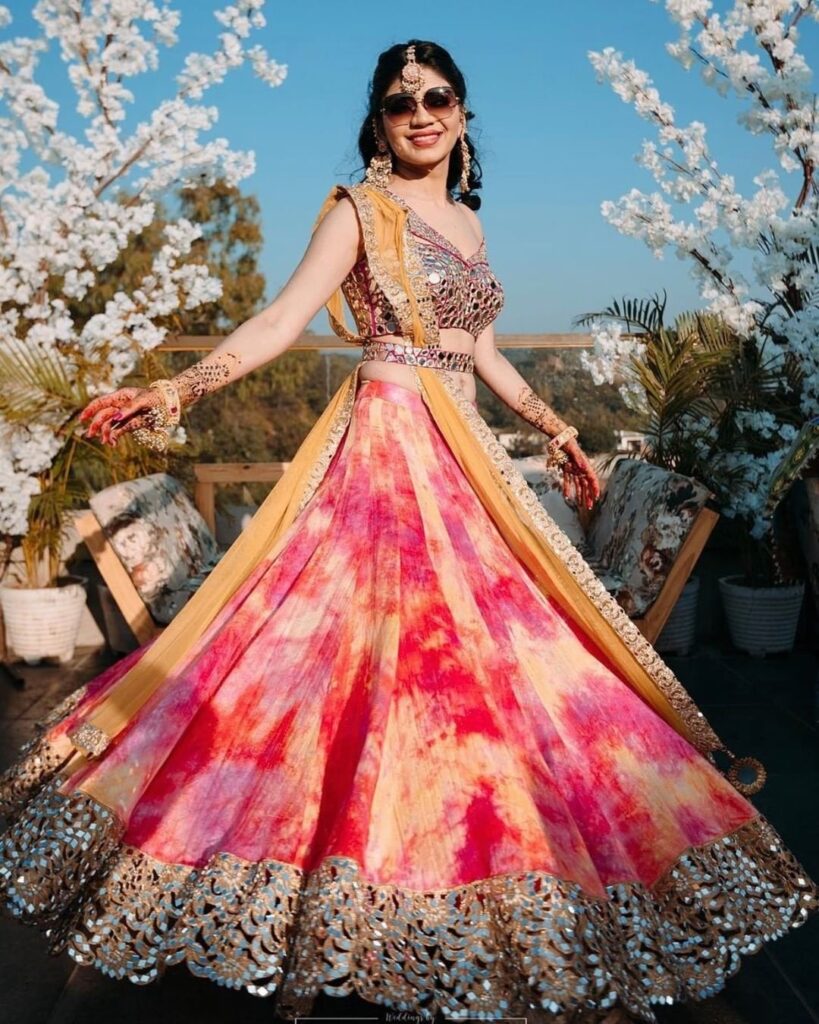 Ivory With A Pop Of Yellow + Purple
While ivory lehengas are heavily opted, rarely are they merged with these two colors. It's perfect for a bride who loves to be playful and peppy with their outfit choices.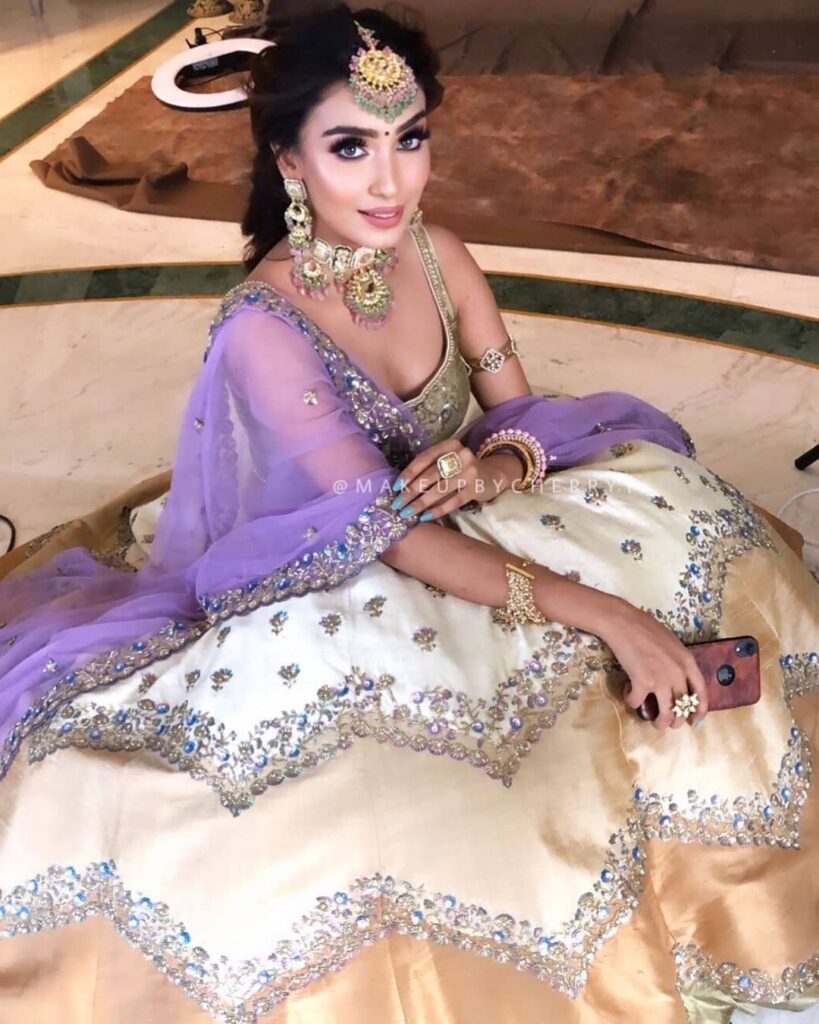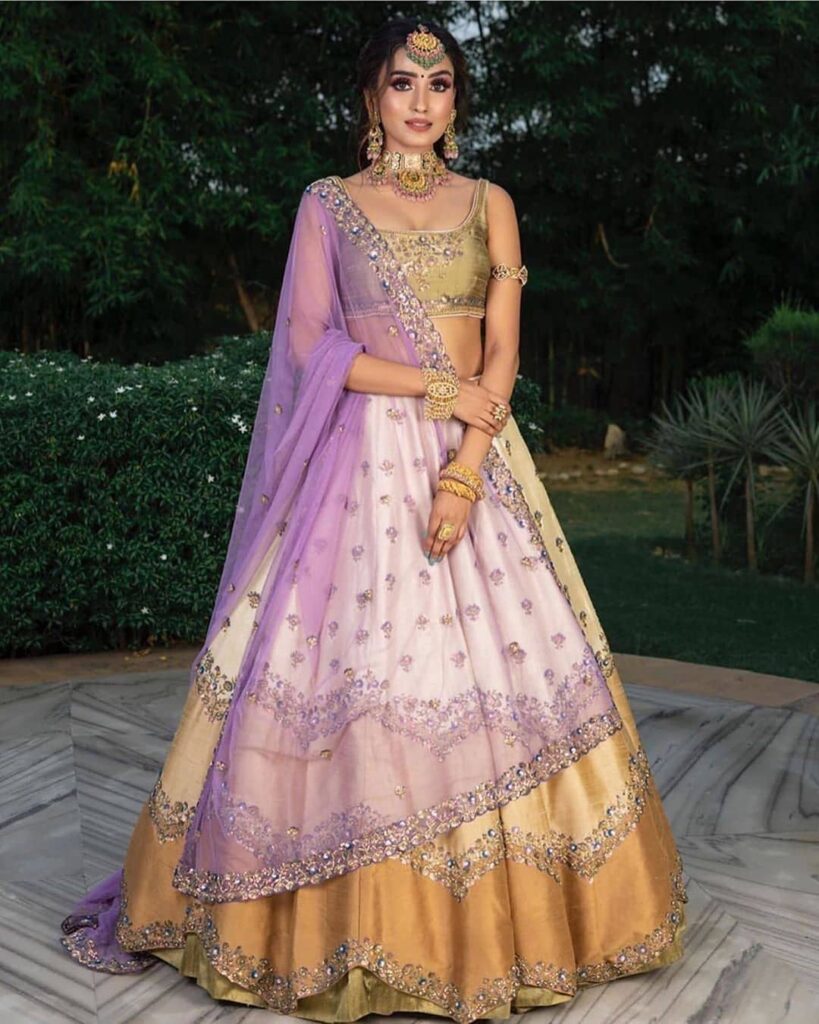 Via @riantasofficial
Lime Green
What a radiant lehenga! We love this bride's bright lehenga color that she matched with a face mask, keeping her safe while making her look stylish.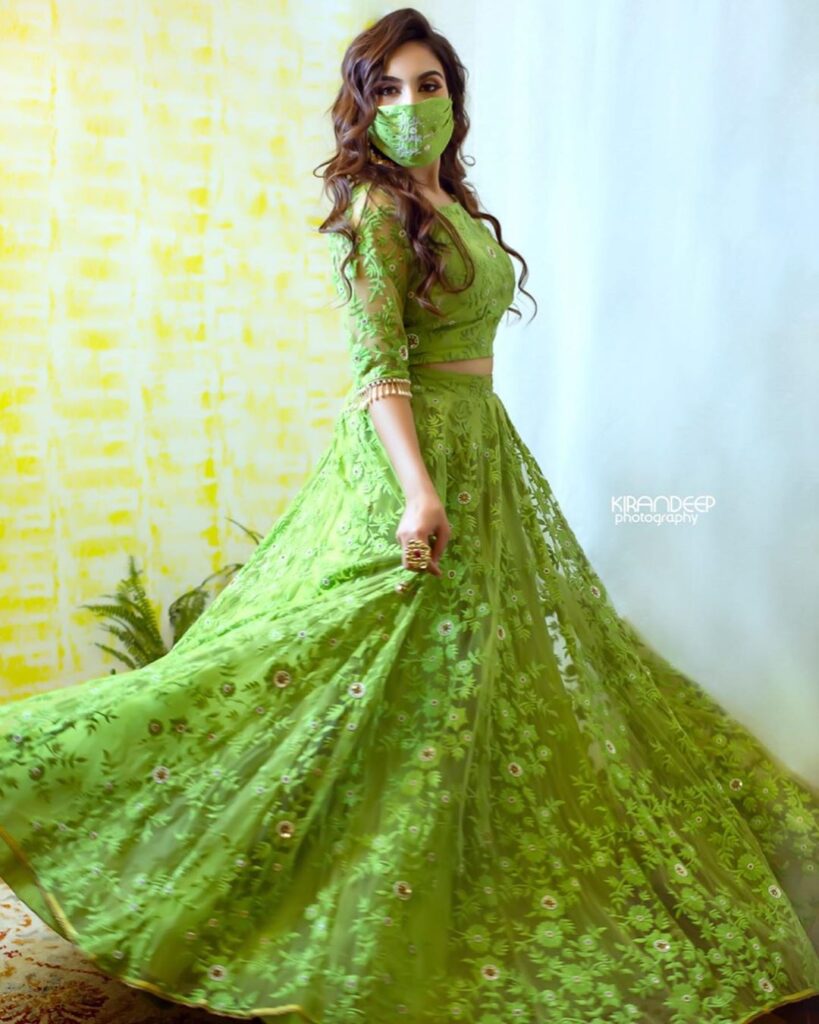 Ivory With Intricate Hand Embroidery
We've seen many ivory lehengas but none matches the charm of this gorgeous one by Rahul Mishra. The remarkable embroidery is just magical.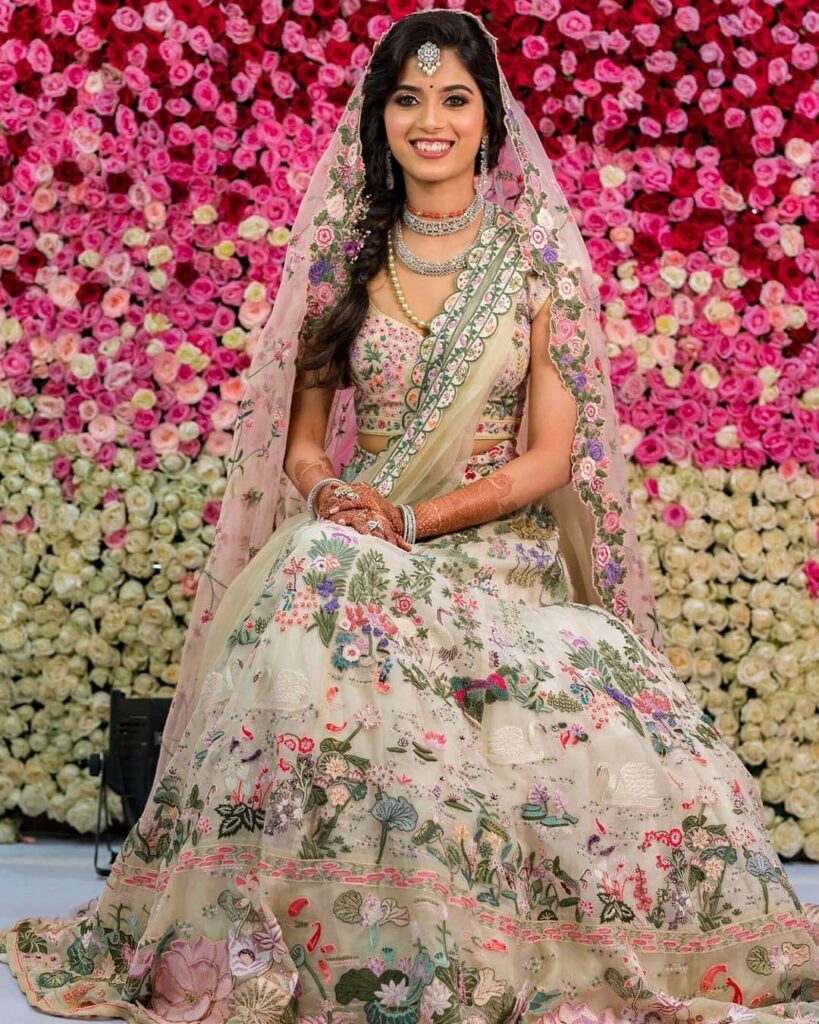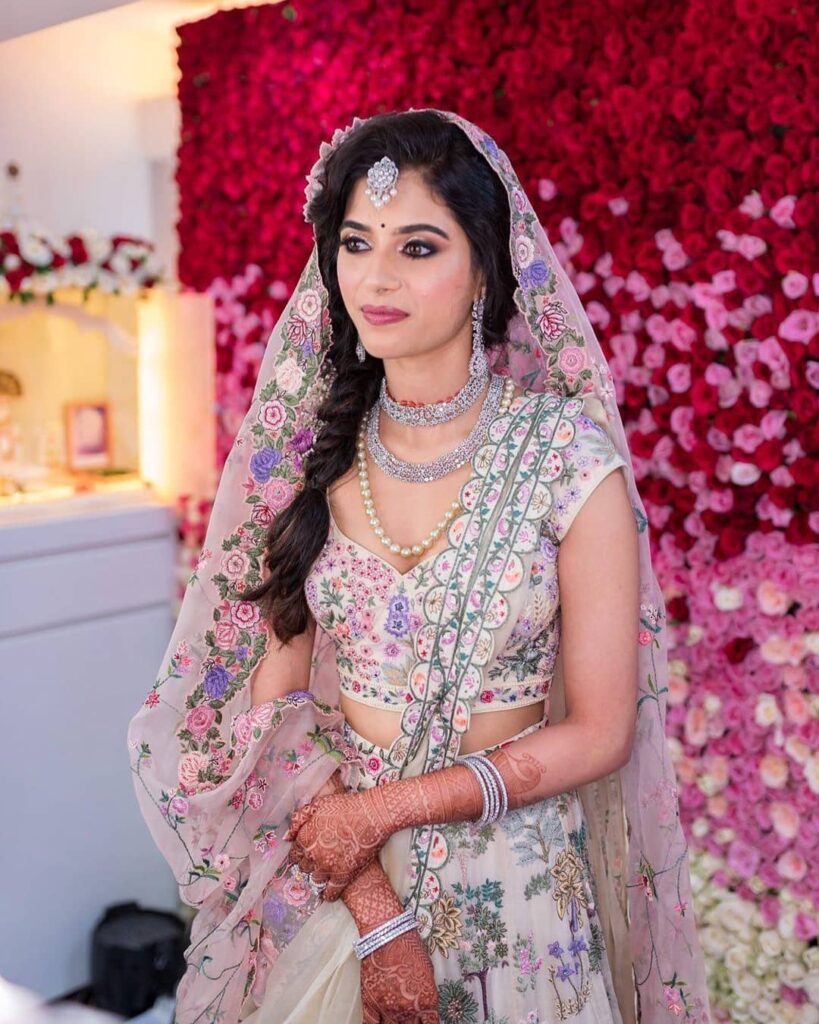 Metallic Sage Green:
Sanjana walked down the aisle clad in this opulent sage green lehenga by Sabyasachi. Whenever the designer strays away from his usual outfit colors, he makes sure he adds his elegance to it anyways. That's what he did here & mesmerised us all, yet again!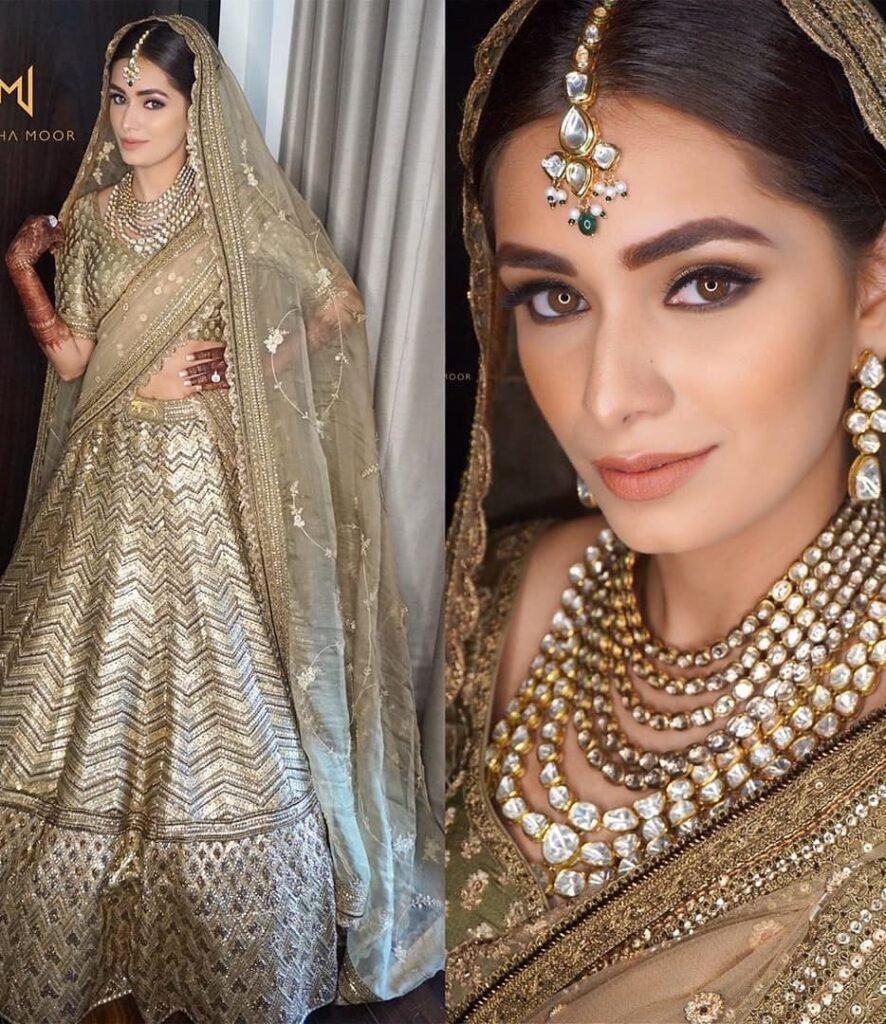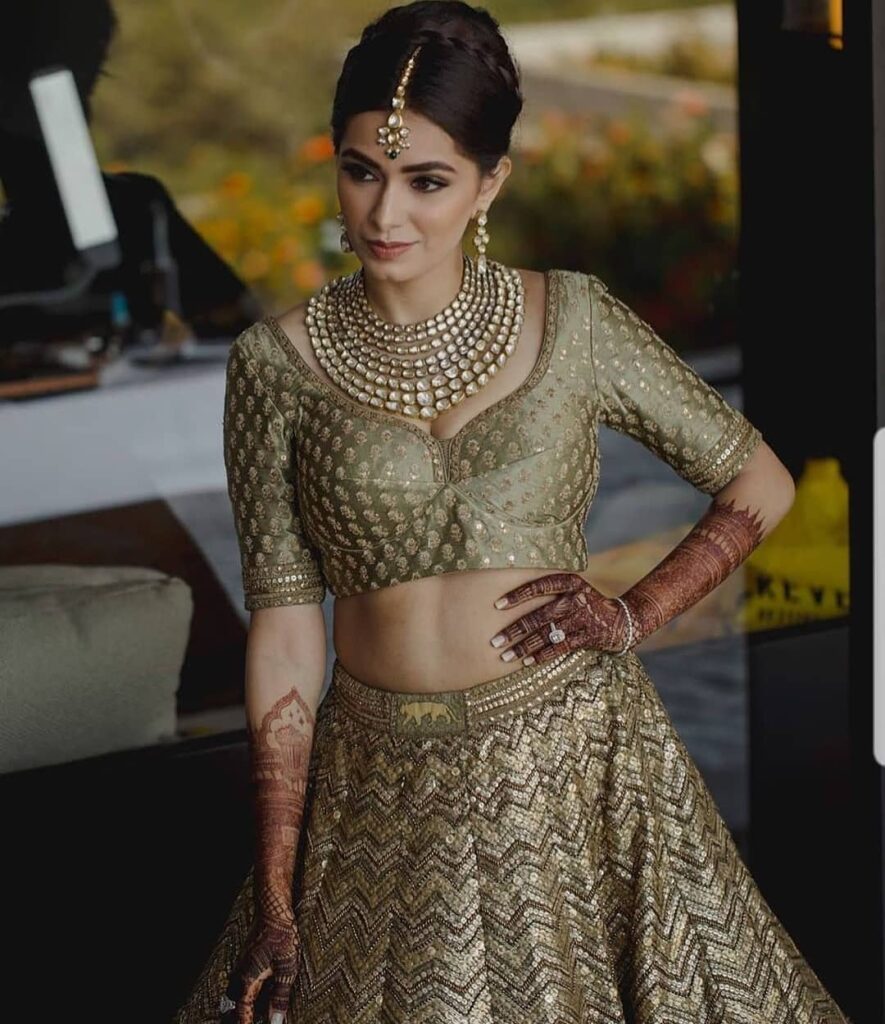 Via @natasha.moor
Bottle Green + Yellow
This lehenga color combination is the most distinctive one on this list. Not only did this bride wear yellow on her big day, but she also teamed it up with bottle green. Such a rare yet remarkable lehenga color combination!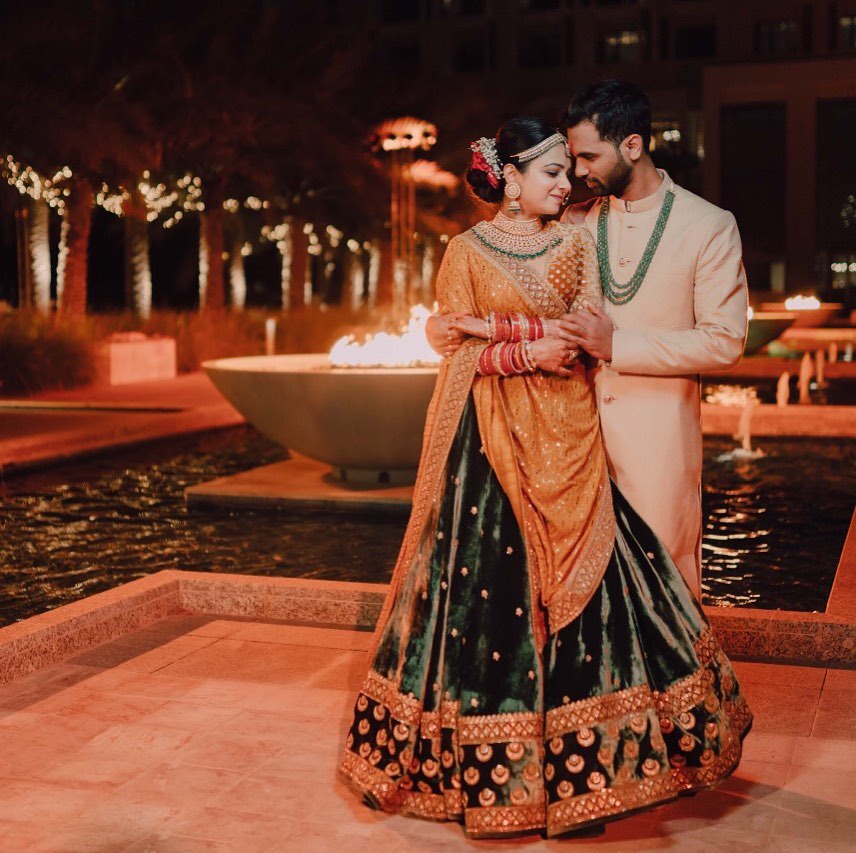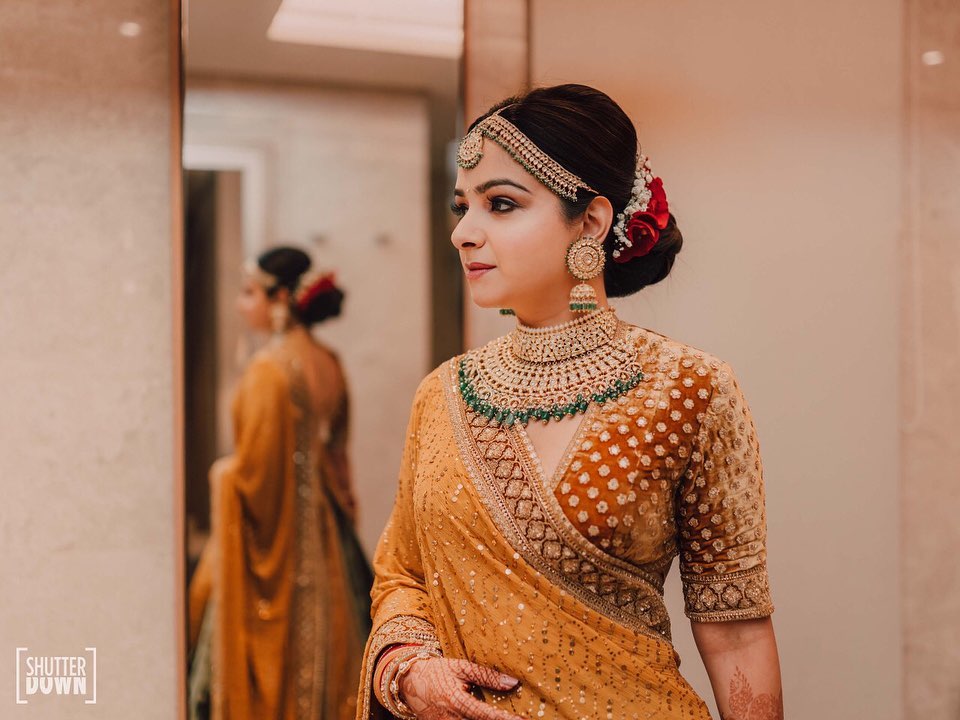 Via @mrighnakukreja, @dinshaghnada
Champagne Blue 
Blues are common at weddings, although this champagne blue color is not! Laden with glistening work and paired with statement polki jewellery, we are loving the lehenga color as well as the overall styling.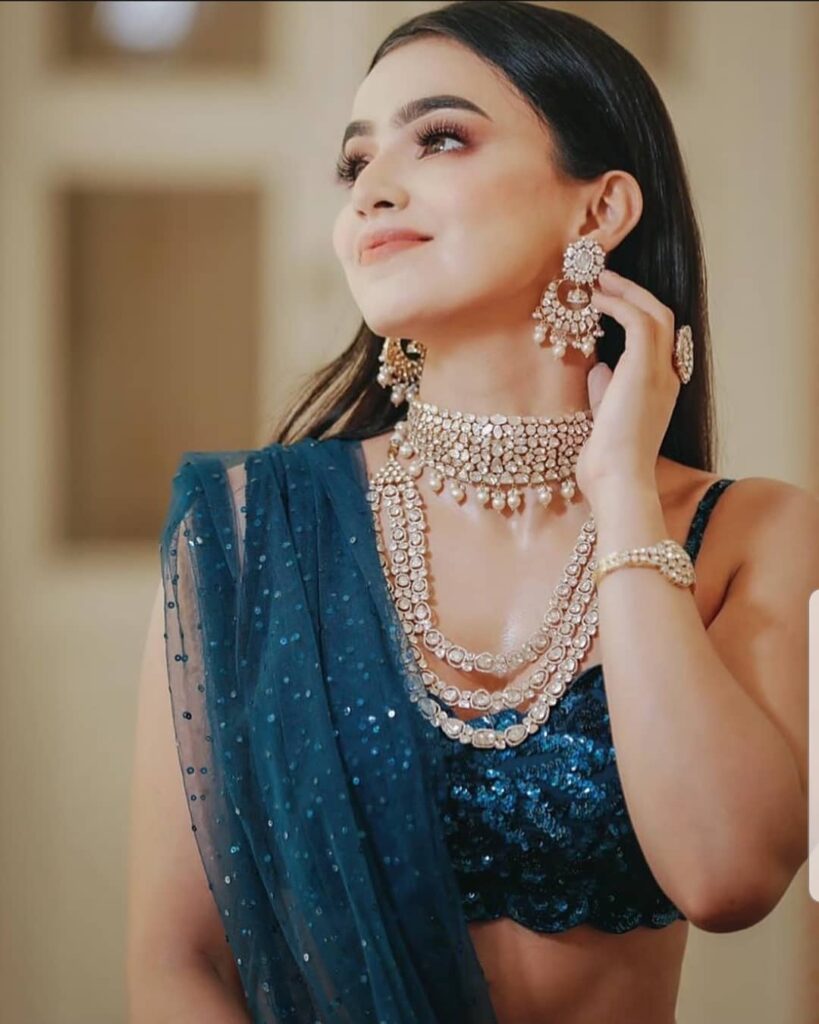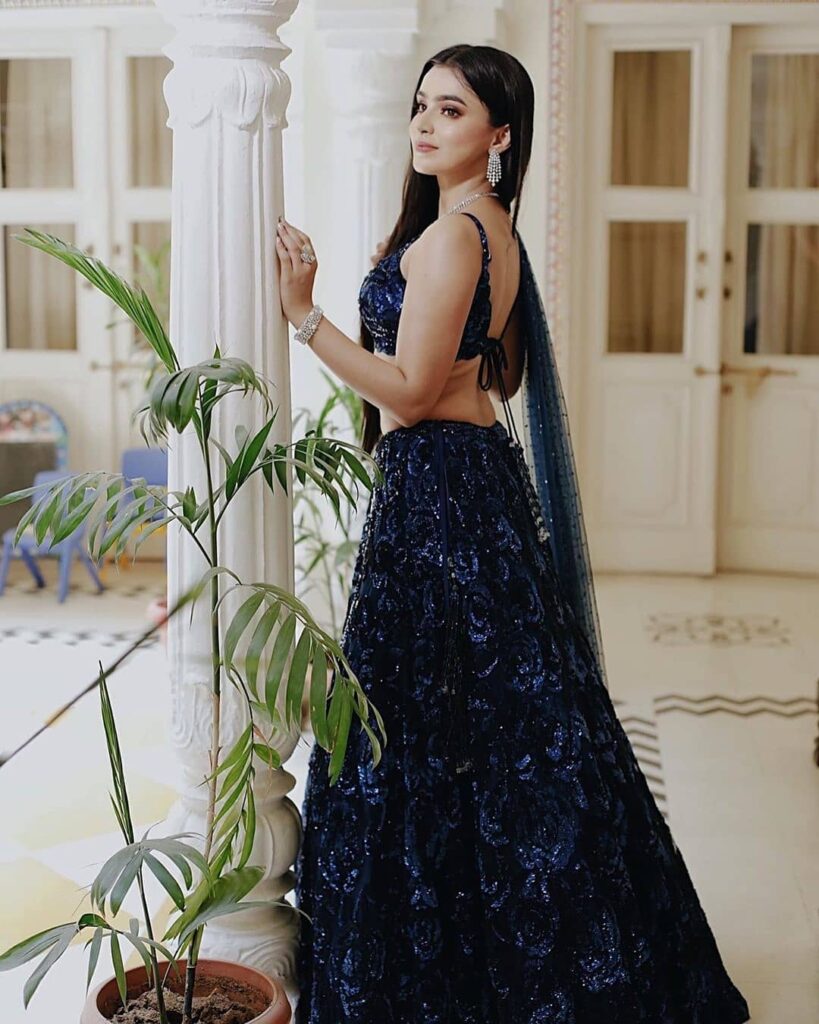 Via @deepikasdeepclicks, @arenejewellers
Color Blocks: 
Color Blocks are essentially colors that are made from opposite sides of color wheels and will be a refreshing take from monochrome in the upcoming 2022 wedding season.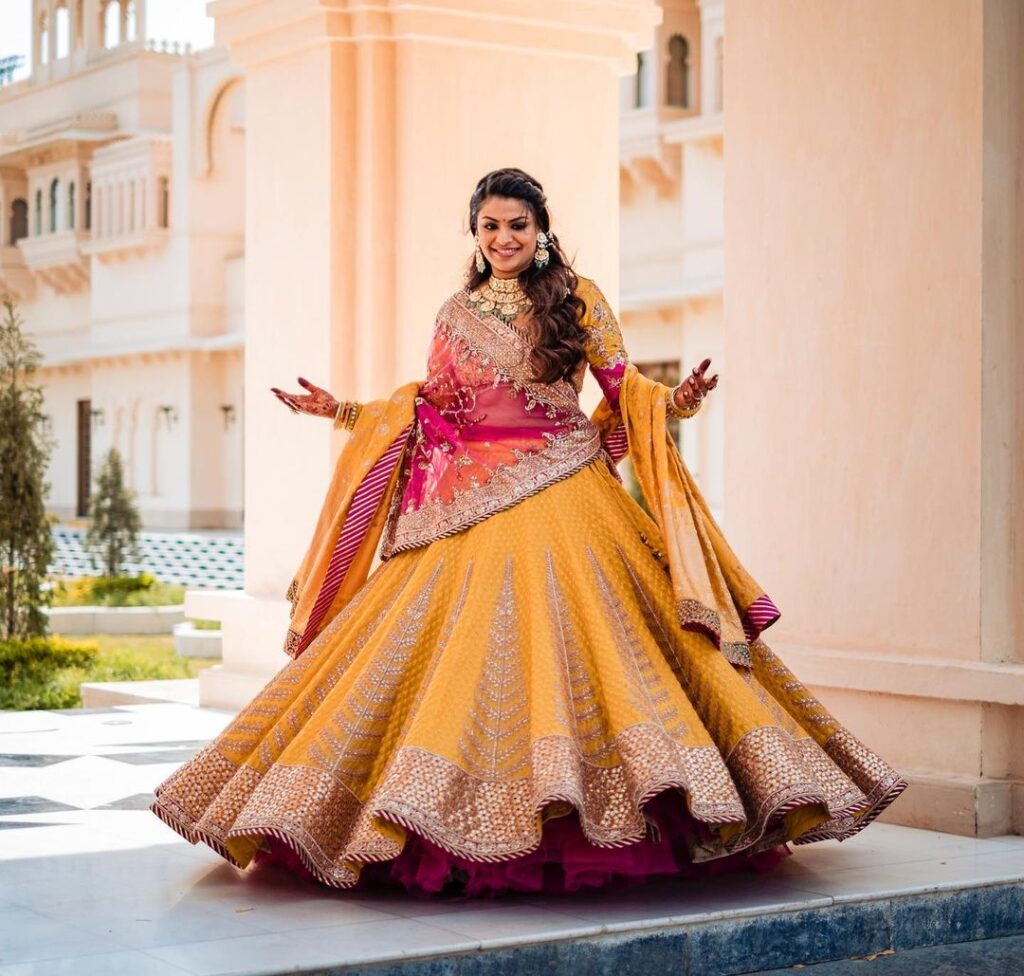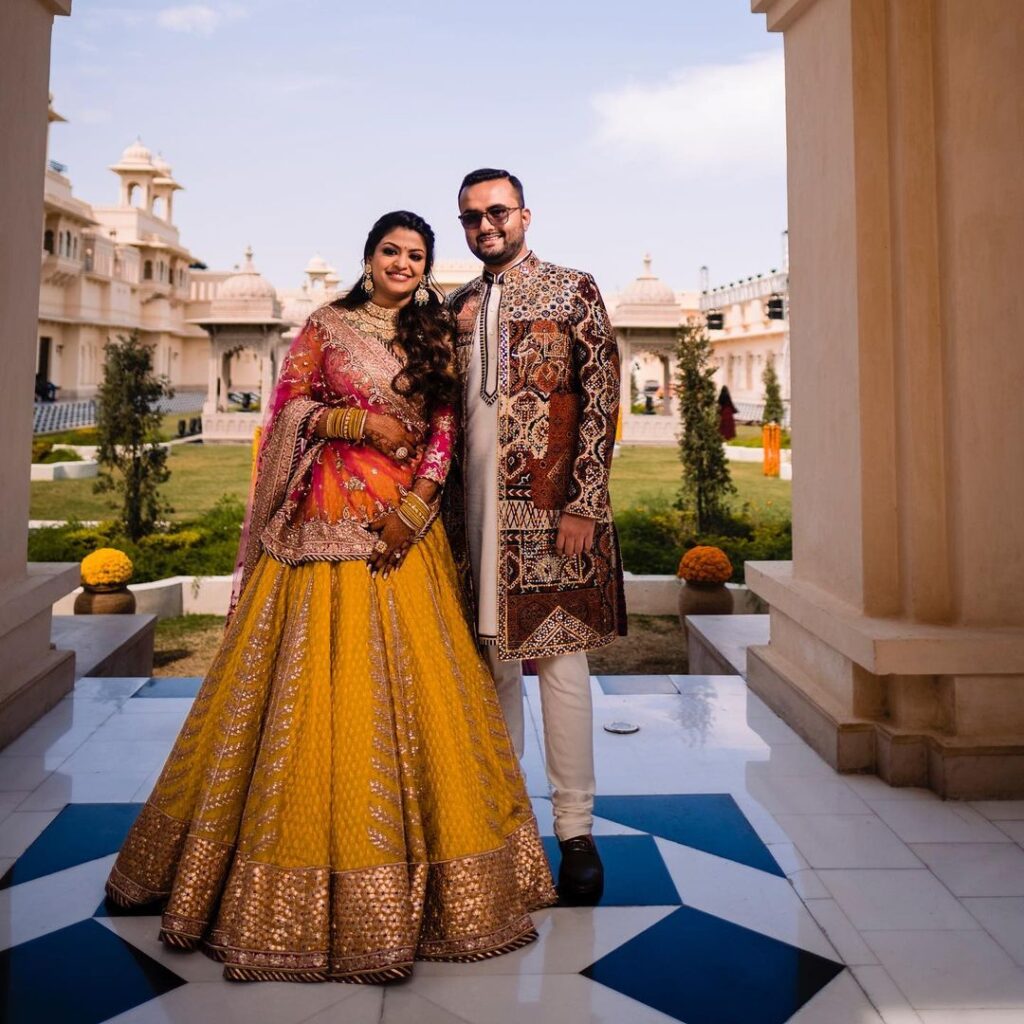 Which of these lehenga colors are you planning on trying out? Let us know in the comments below.