Smiley face nail design or happy face nails are a great idea for a little pick-me-up manicure and with the number of versatile styles out there, you can never get bored of them! There's always a smiley face nail design waiting for you to try and get inspired. According to Pinterest's 2021 Trends report, smiley face nails were at the top and given that celebrities like Harry Styles and Dua Lipa were also seen endorsing them, their charm & popularity seems justified. If you're looking to hop in the trend, here are some of the best smiley face nail designs we found online so you can find one that matches your mood and preferences! Scroll to see!
#1 Such A Gorgeous Mix Of Colors! 
Enhance the perkiness of your smiley face manicure by choosing a lively contrast of colors to draw them. The pastel shades are just perfect for spring and summer, and can definitely elevate your entire look without doing much.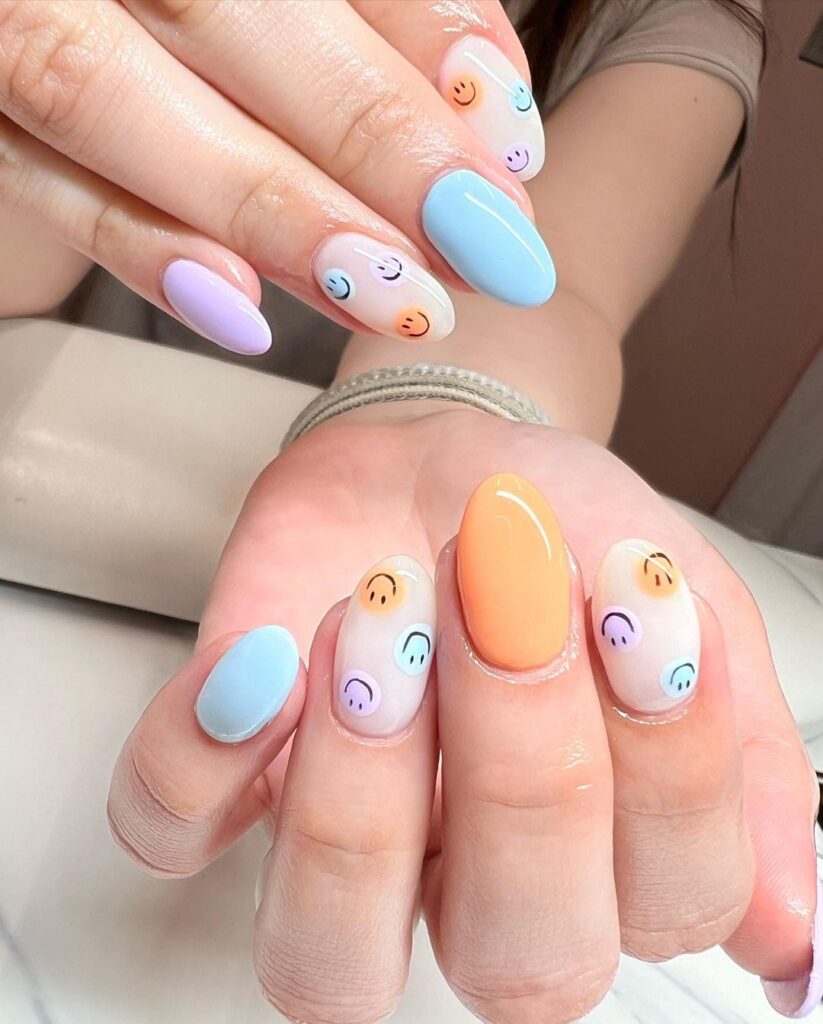 Courtesy: @lexi.love.nails
#2 Floral Beauty
We love this daisy-style manicure with a smiley face in place of the seeds part. For those who love florals in their manicure, this can be an amazing nail design to try.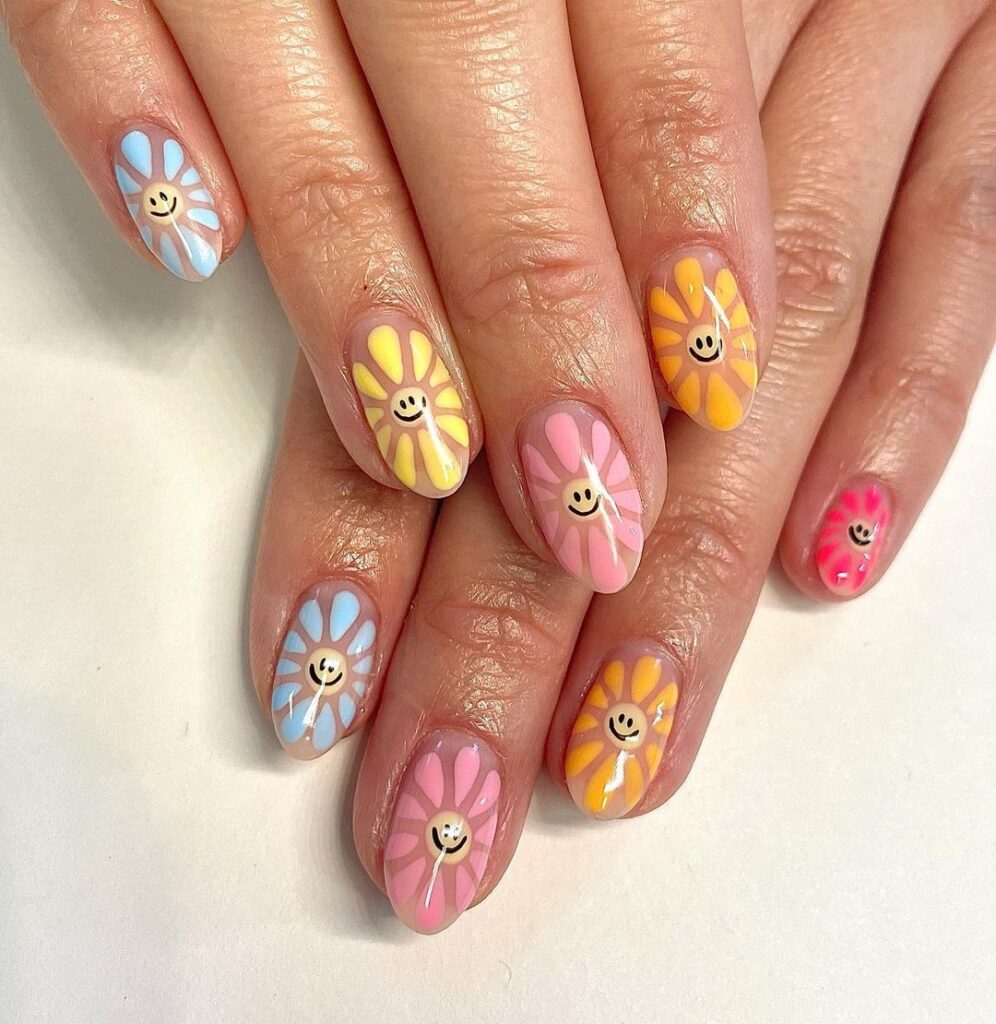 Courtesy: Allison
#3 Multicolored Smileys
These different colors in the smiley are nothing short of the vibrant design you want in a smiley face nail design. If you're doing this manicure at home, you can use any different set of colors as per your liking. The horizontal line on the end of the smile amps up the detailing, but you can skip it if you're DIY-ing them at home.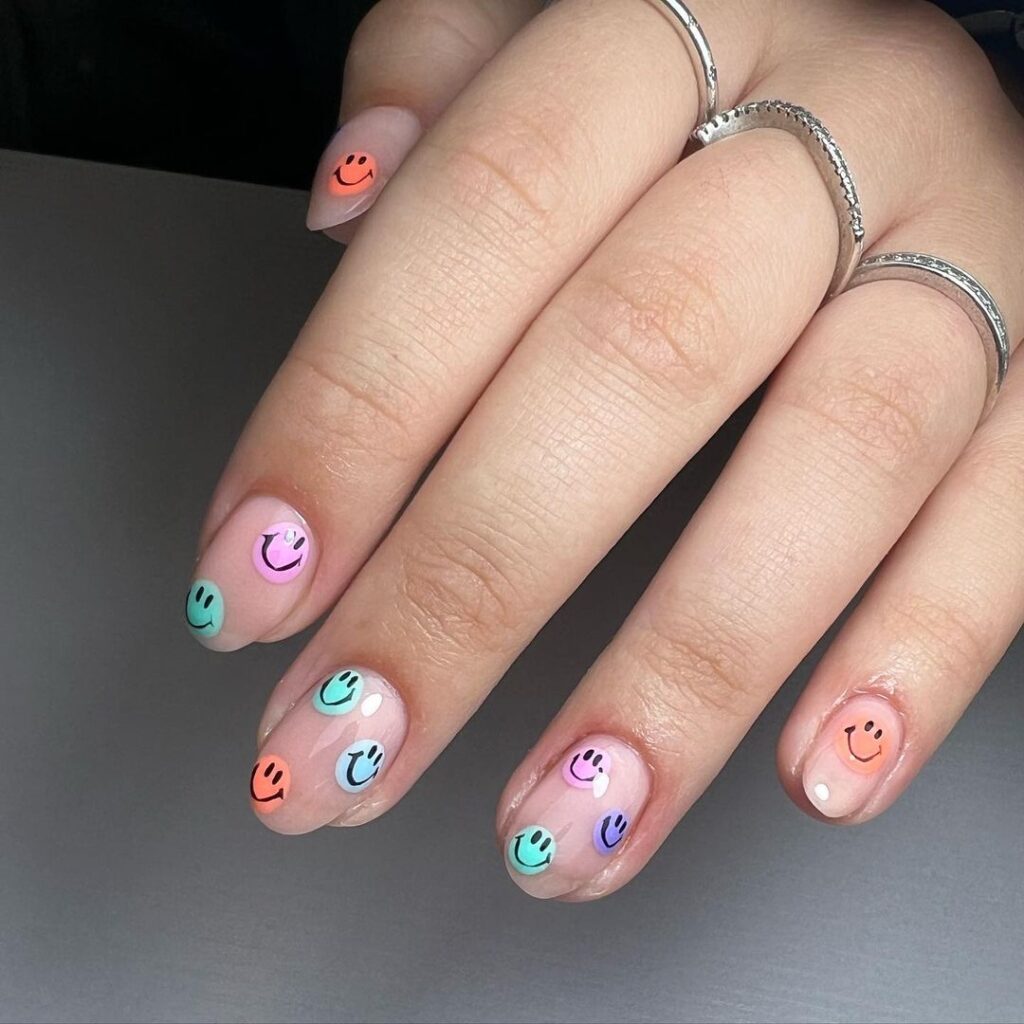 Courtesy: @nailsandbeautybymia
#4 Pink Is Always In!
Another nail design with a smiley face to capture your heart! Besides the smiling emoji, the manicure uses swirl lines and different shades of pink to give it an edgy appearance, and is pleasant to look at!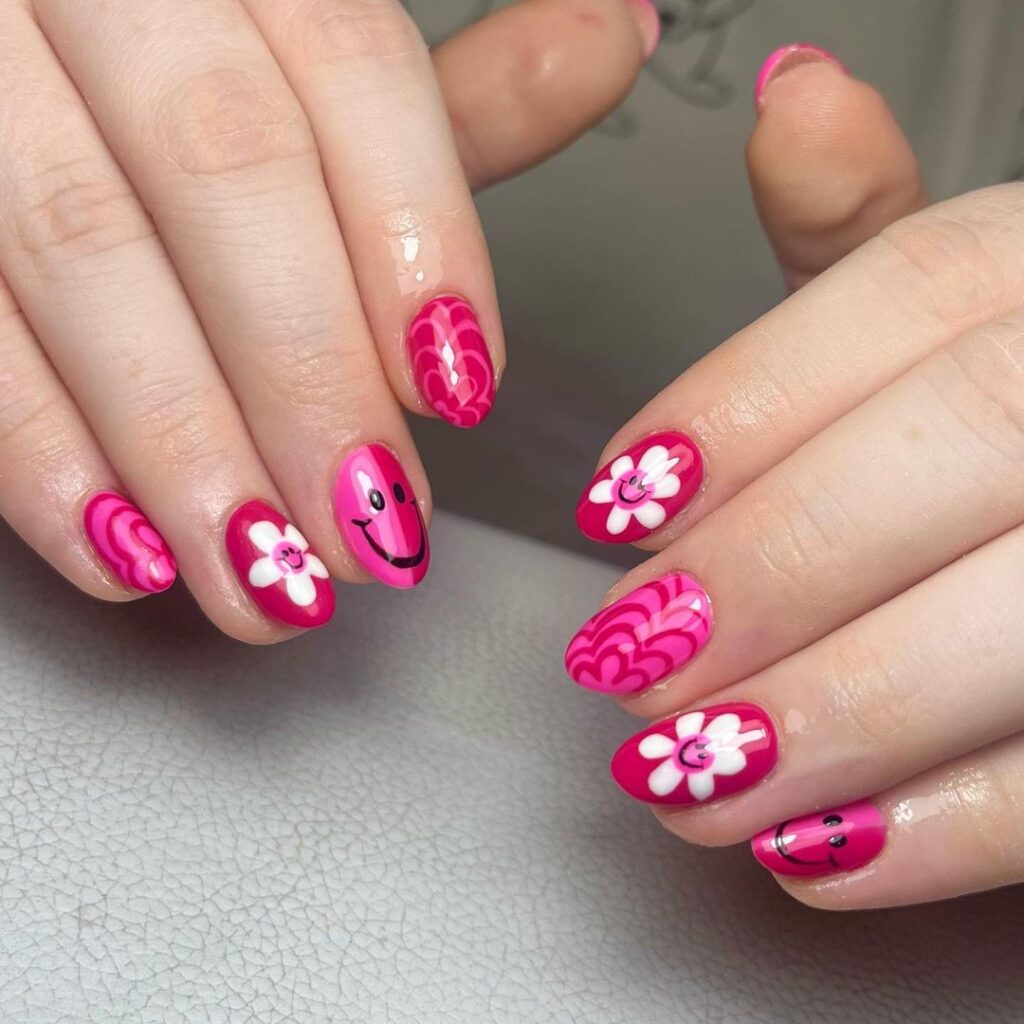 Courtesy: @thenailpeach
#5 Trippy Smiley Face Nails
Get groovy with your nail game and rock some trippy smiley face nails! These psychedelic designs will have you grinning from ear to ear, adding a pop of color and personality to any outfit. Spread some good vibes with this fun and funky trend!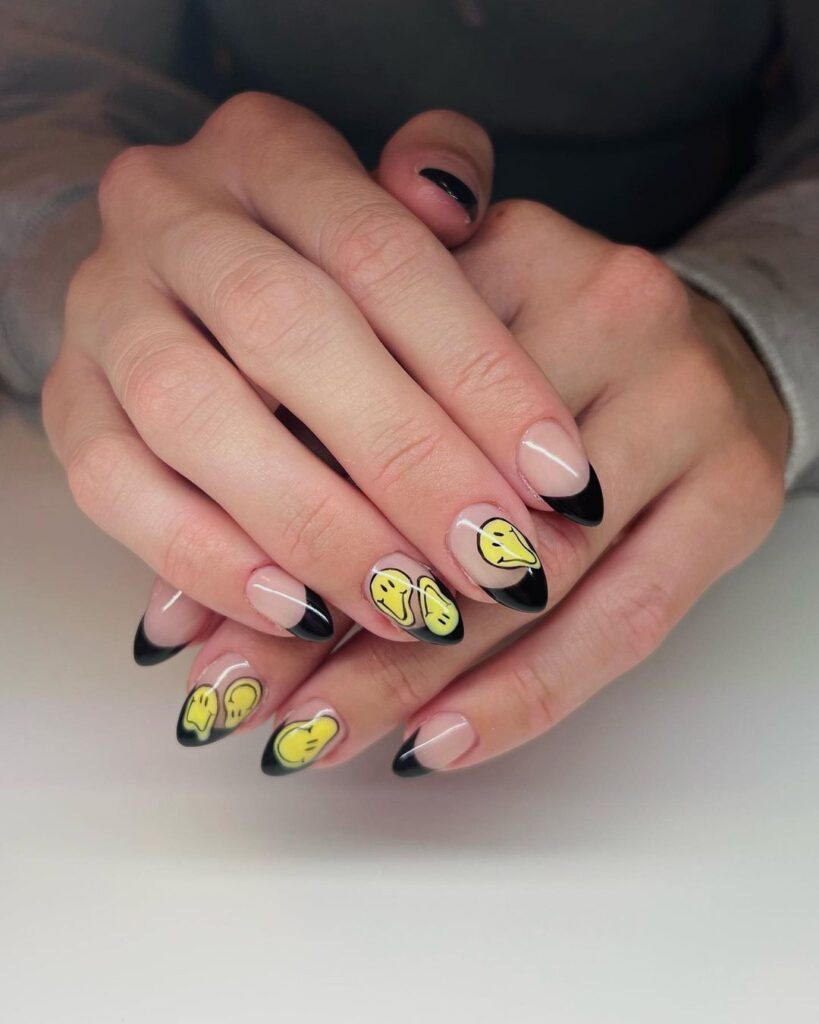 Courtesy: @mynailgirl_emily
#6 Subtle Colors & Geometric Patterns
Besides a cute smiley face nail featured on one of the fingers, this manicure also uses checks and swirls for an eye-catching pattern. The mint pairs well with the black and white smiley face nails, but you can also use any other of your favorite shades like purple or red to recreate.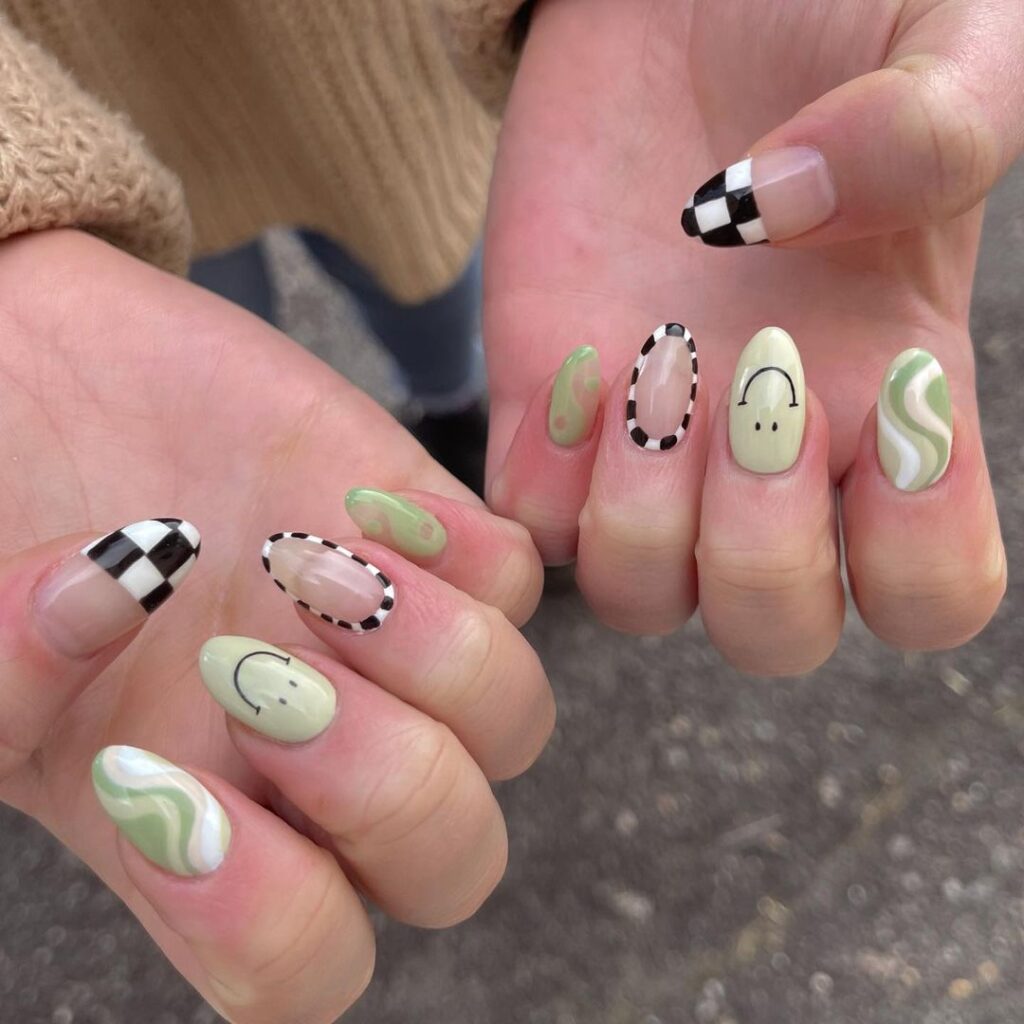 Courtesy: Tamami Page
#7 Trippy Smiley Acrylic Nails In A Unique Design
Tripply smiley face nails are great to add a fun and unique twist to this normal manicure idea! While this kind is much more suited to the Halloween month, you can sport it any other time of the year for a quirky twist as well.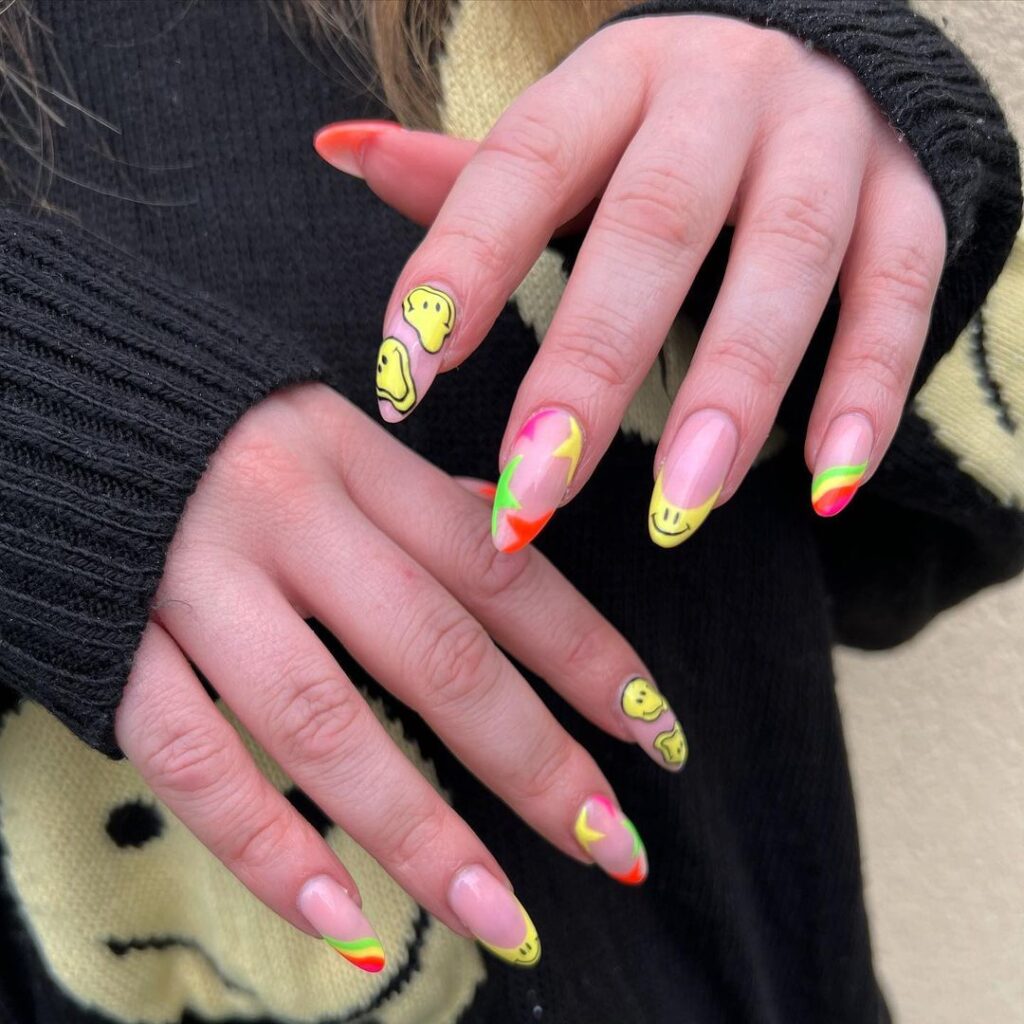 Courtesy: @daniellemariabeauty
#8 Colorful Smiley Face Nail Design
We were in love with these short nails with smiley faces since we saw them. They feature a gorgeous emerald green color with accent nails done in a colorful palette and the standard yellow smiley face motif for a visually appealing yet elegant look.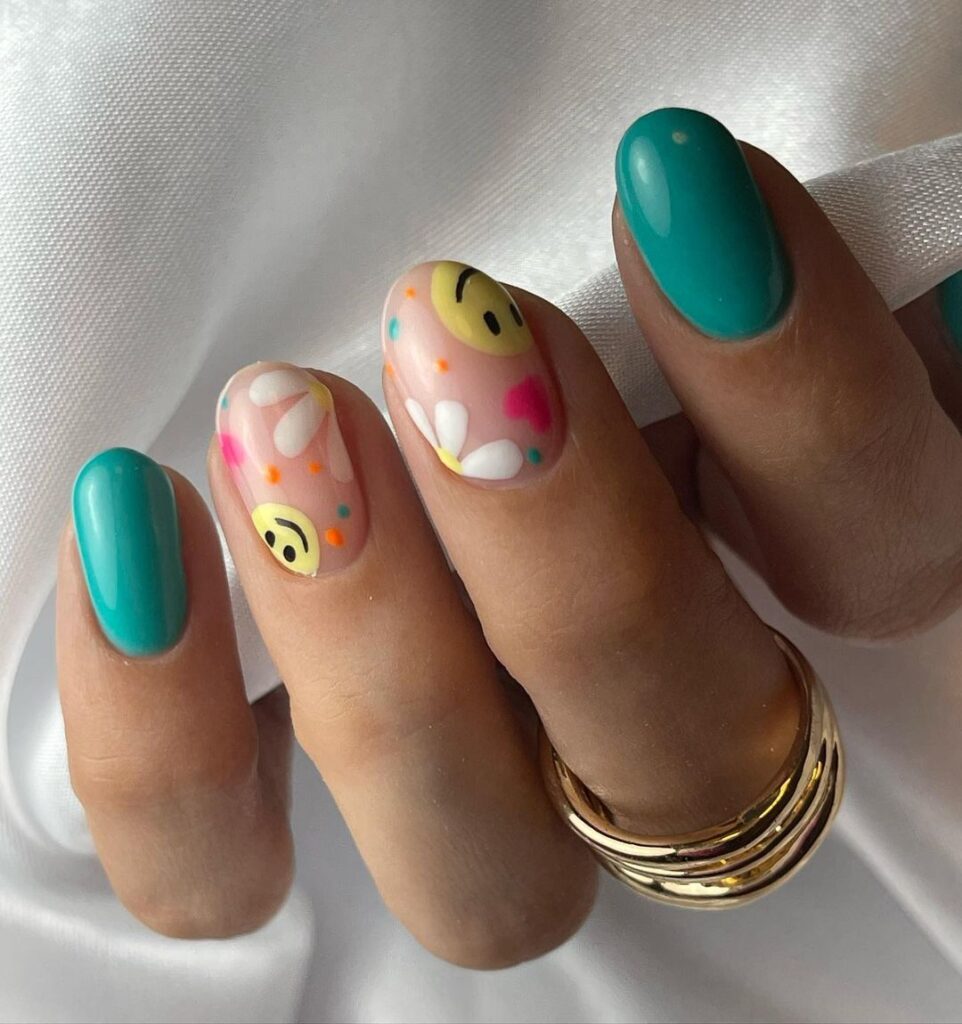 Courtesy: YS Studio
#9 Pink & Yellow Smiley Face Nails Design
When you're wondering what color should you pair your yellow smiley faces with, then pink can be a delightful pick. You can use any shade of pink, but lighter shades surely do make the yellow pop out more.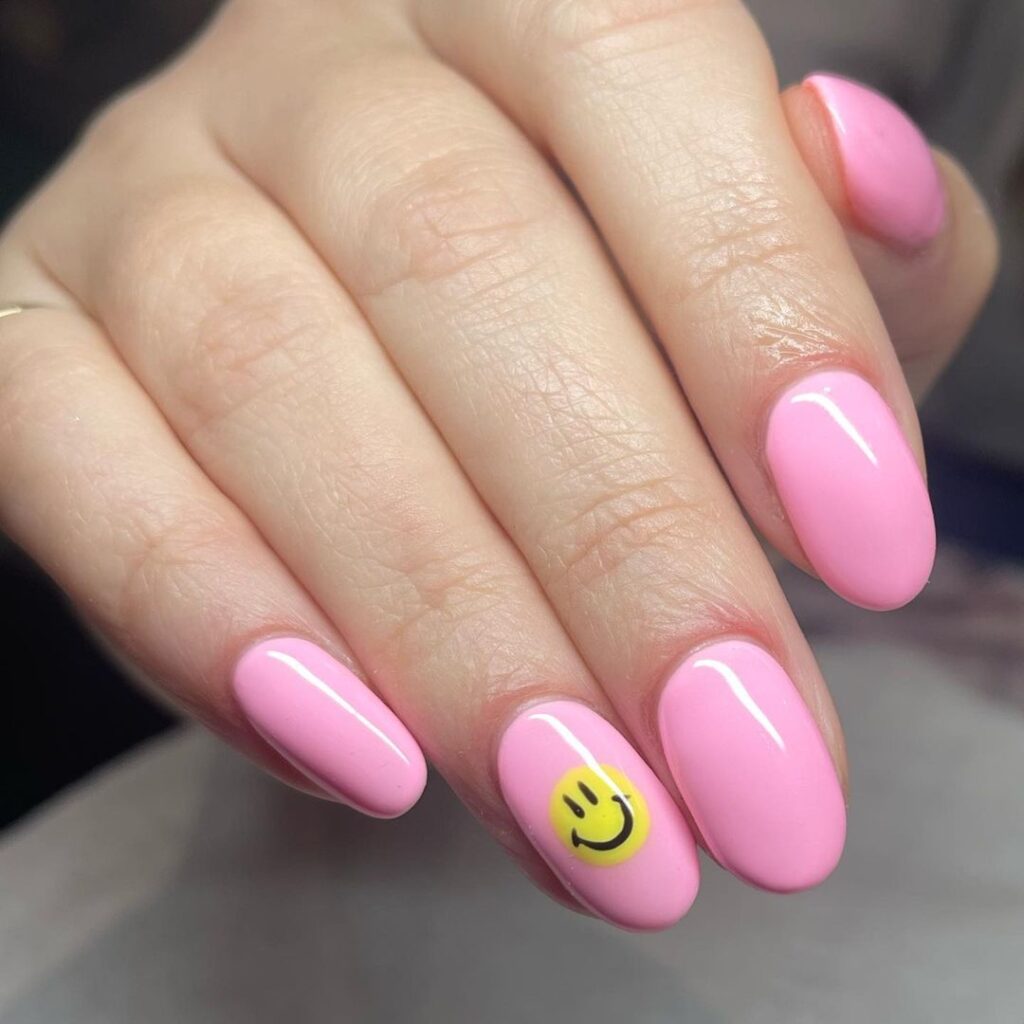 Courtesy: Ruby Wilson
#10 Charm Of Glossy Nails 
The next one of the nails with a smiley face consists of only the motifs with a glossy transparent coat on the top. Now the motifs can be drawn by you, but you can also use stickers to recreate this design. Just make sure they are firmly placed so the design looks like it's professionally done.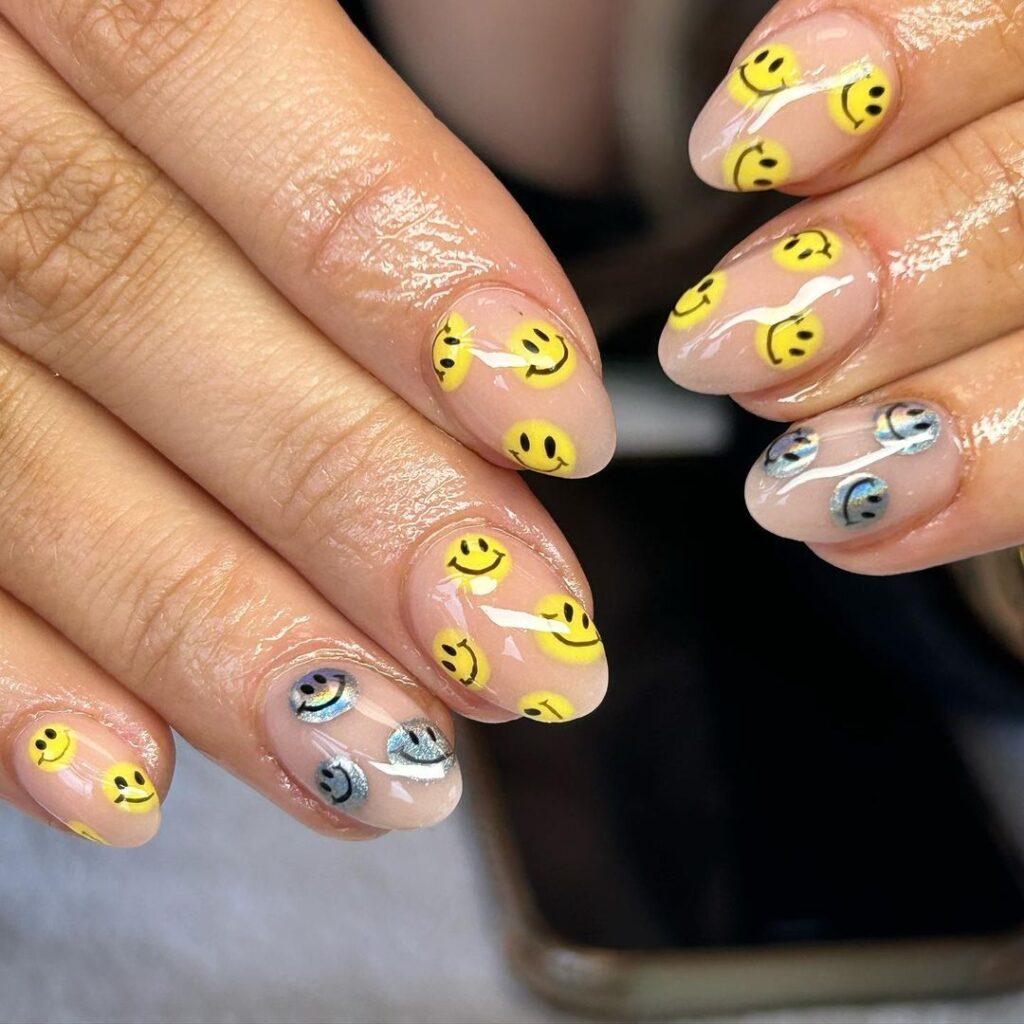 Courtesy: @nails_by_liberty
#11 Trippy Smiley Face Nails For Halloween
These trippy smiley face nails are just the perfect idea for Halloween and have an extraordinary blend of colors for an appealing look. For those who want their Halloween nails to be on the cuter side rather than on the scarier side, this funky nail art idea is all they need!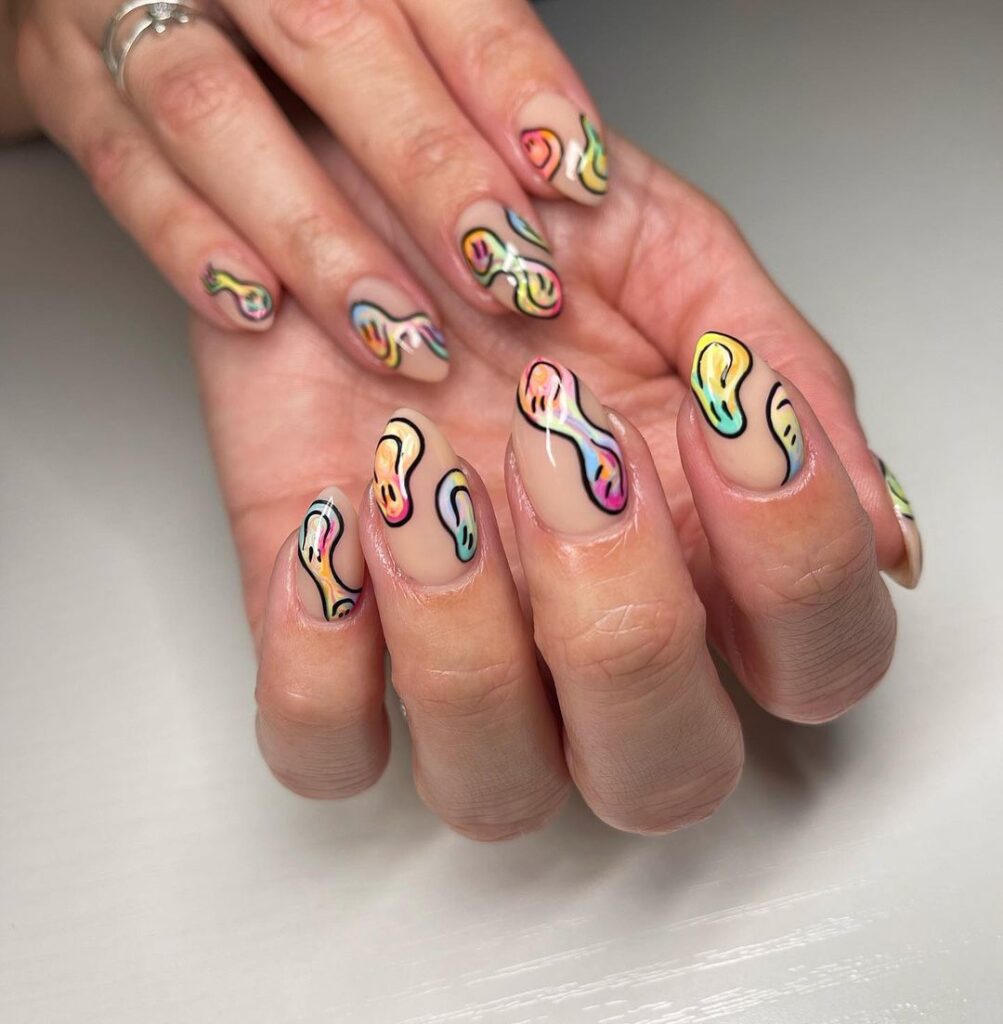 Courtesy: Shannon Petermann
#12 X Smiley Face Nails In A Swirly Pattern
These X smiley face nails are done in the standard yellow color and pair the emojis with a swirly pattern in a darker color palette. The swirls look good on their own but the addition of a smiley face adds personality to the manicure idea and gives them a noteworthy edge.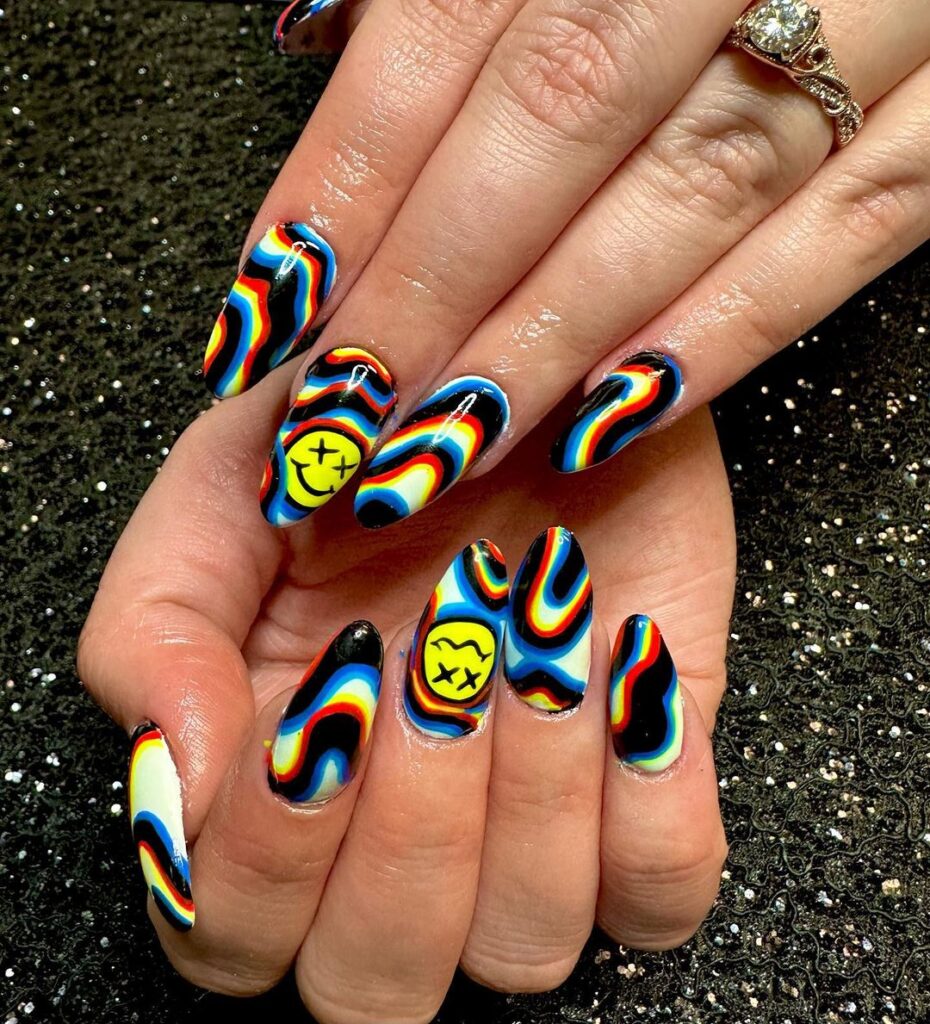 Courtesy: BrieAnna Chambers
#13 Trippy Smile Manicure On A White Base
Trippy smile face nails are clearly popular in the emoji nail world. Their funky look and unique design make them striking and a must-have in every nail idea board. These are done on a pearly white base for a sharper and alluring appearance.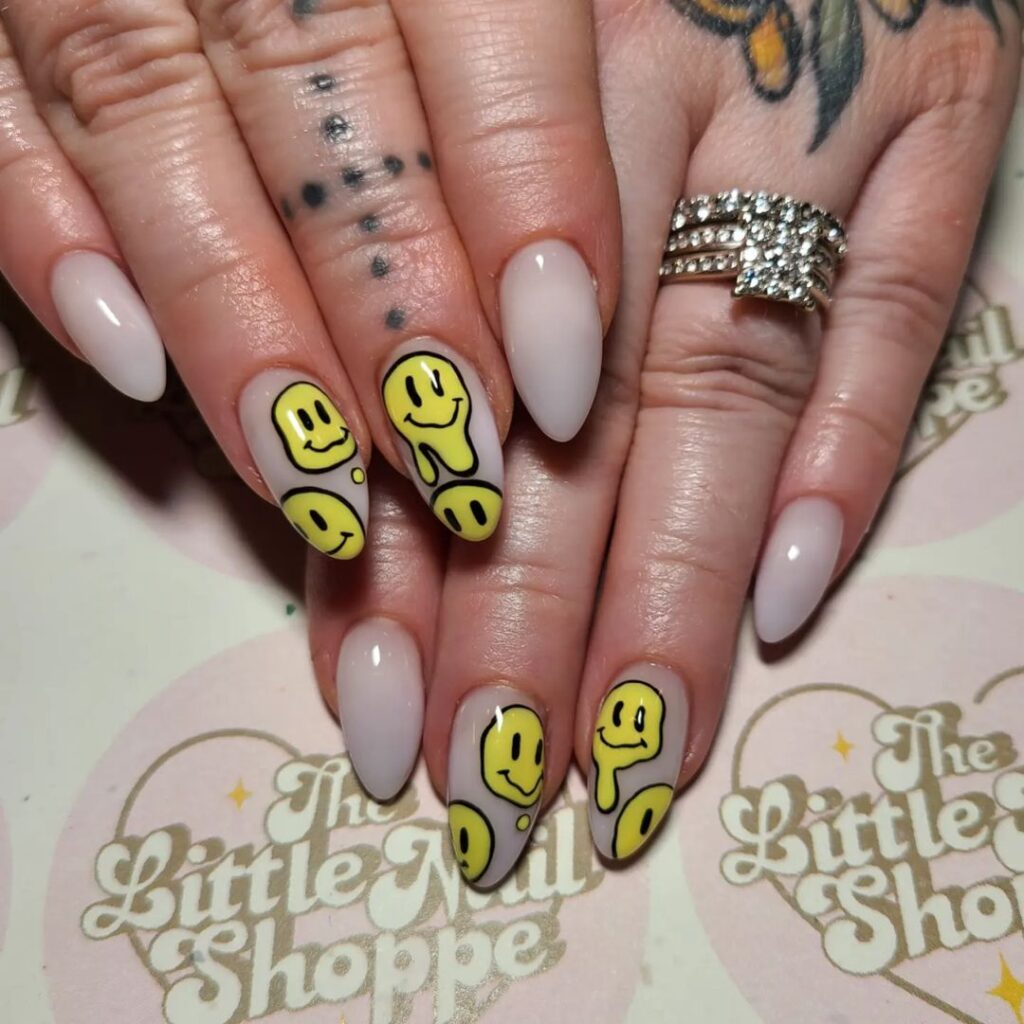 Courtesy: Nails by Madison
#14 Just The Right Kind Of Halloween Nails!
Just another trippy smile face nails, because we just can't get enough! They are an ideal pick for your Halloween acrylic nail design and also feature check patterns in a psychedelic art form. The addition of florals makes them whimsical yet scary enough for the occasion.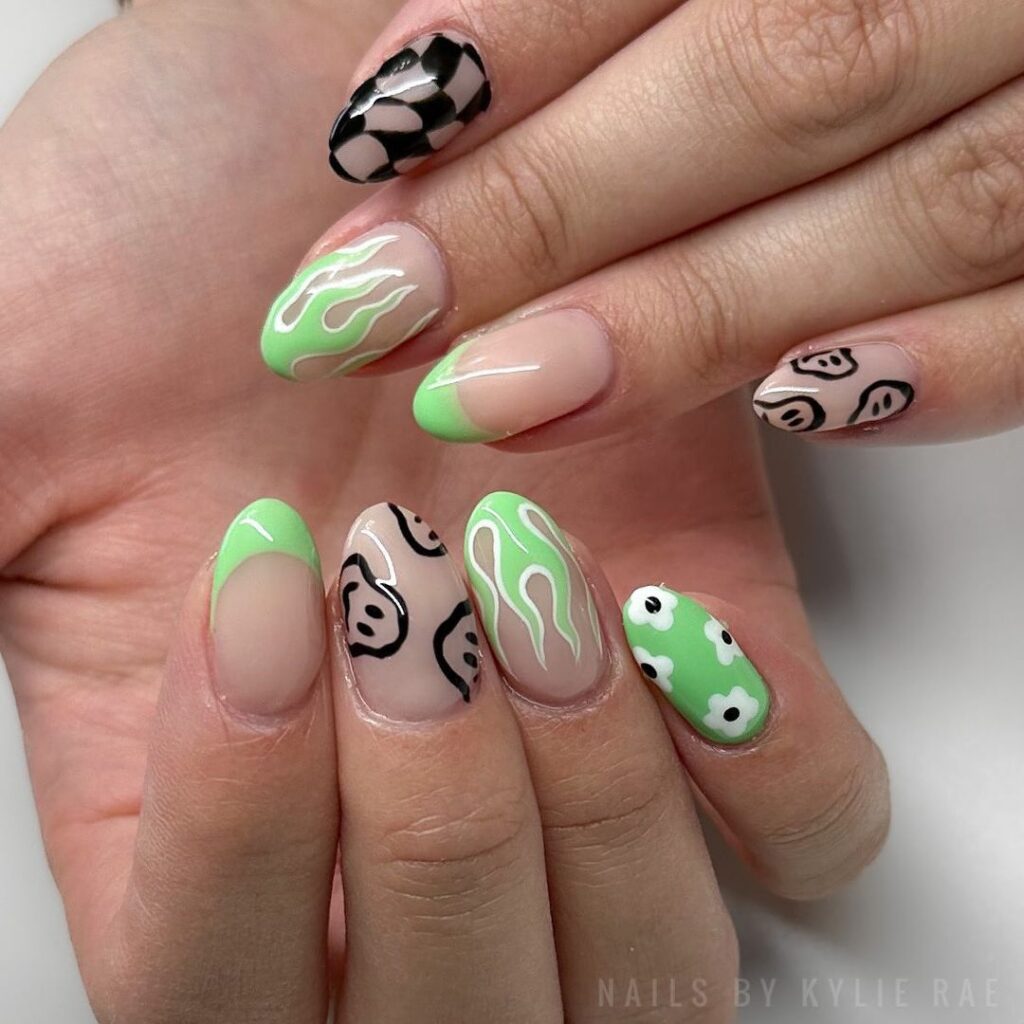 Courtesy: Kylie Dare
#15 These Beautiful Nails Are Treat To The Eyes! 
You can never go wrong with a pastel color combination. Plus, the stars, flowers, and smiley face emoji? We are calling them the ultimate recipe for happiness, powerful to put a soft smile on your face each time you look at your hands.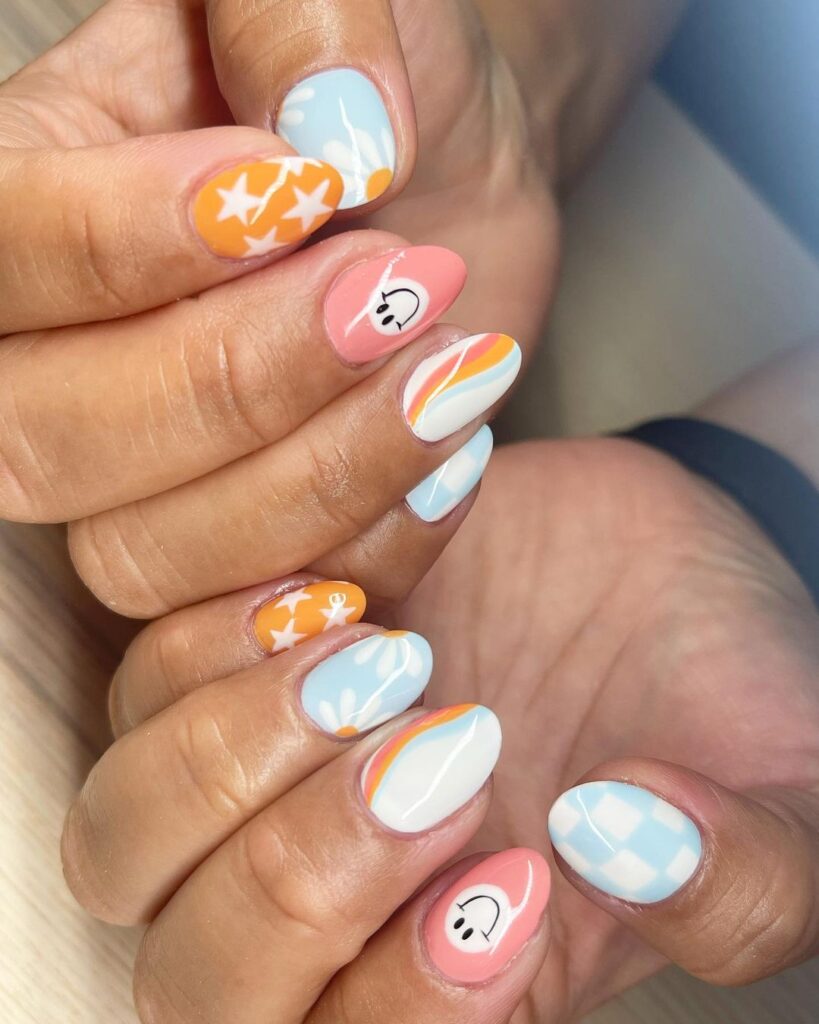 Courtesy: @thenaill_room
#16 Different Designs On Each Nail
Just the ideal way to pay tribute to the happier summer season. It isn't just in your mind, research has concluded that people are happier in summers than in winters because of a boost in serotonin levels caused by Sun's beaming rays. It only feels fair to include the elements of summer in your manicure and keep experiencing a boost in happy hormones by reminiscing about the warm season every time you look at your hands.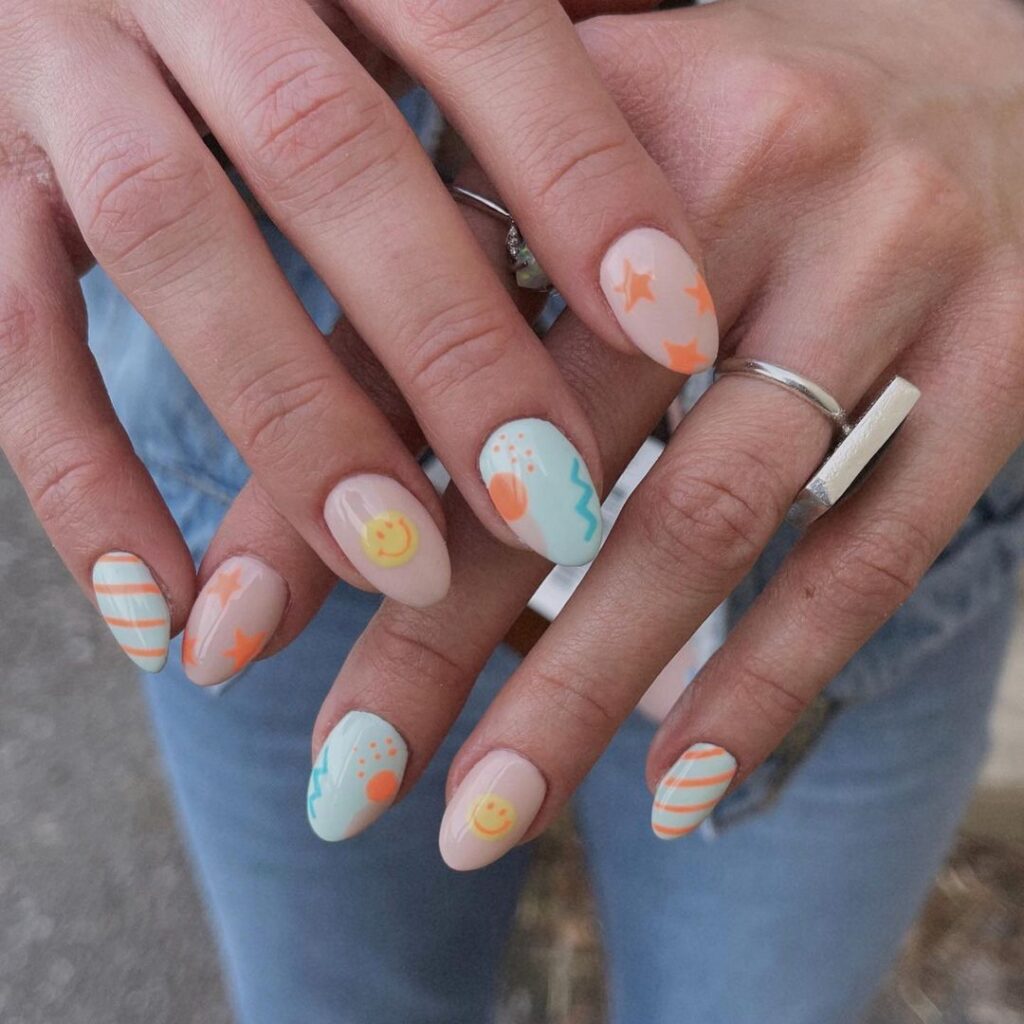 Courtesy: Tamami Page
#17 Smiley Face Acrylic Nail With Perfect Green
Taking a break from the yellow and black smiley face emoji, this smiley face nail design instead uses a bolder white outline and pairs it with a fluorescent green for a stunning manicure idea. The Sun motif depicting it's coming out of the mountains completes this spring-perfect nail idea.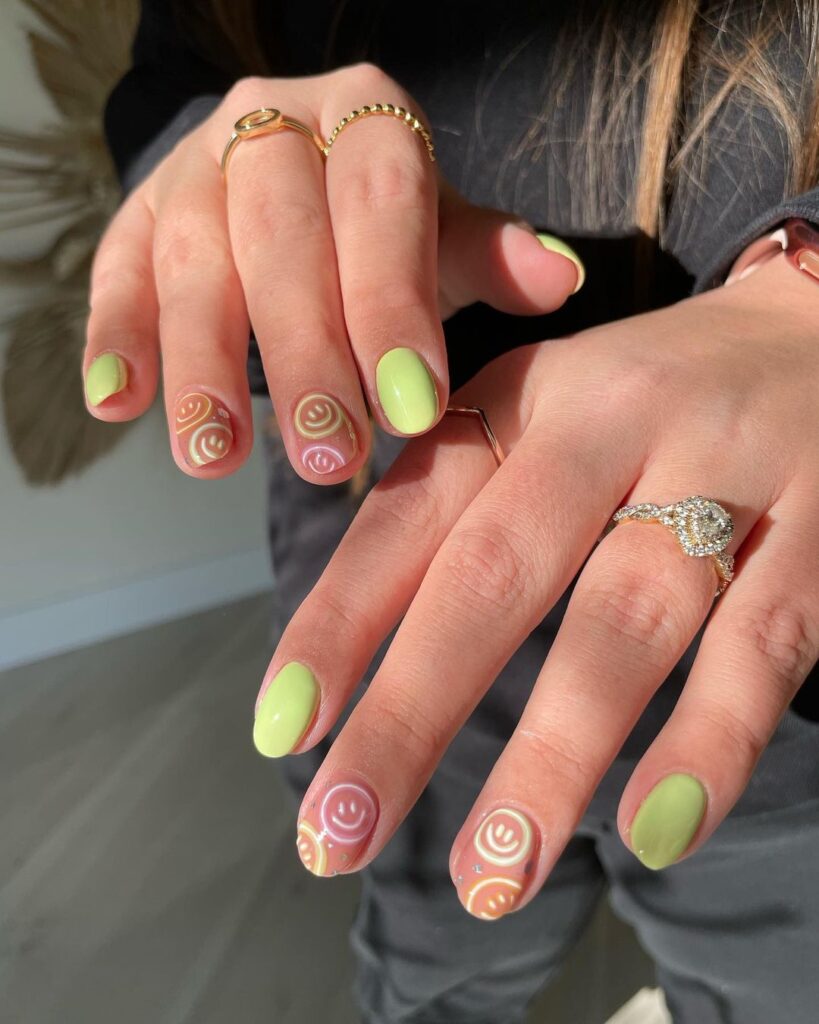 Courtesy: Kady
#18 An Easy Twist To Smiley Face Nail Design
The horizontal-line eyes with a curved smile are an easier version of the circular emojis and ideal for beginners to DIY smiley face nails with ease. This is one of those manicure ideas that's easy to do at home but looks like they're professionally done. Just use the right colors and a steady hand, and you will have this design ready with as much charm as portrayed below.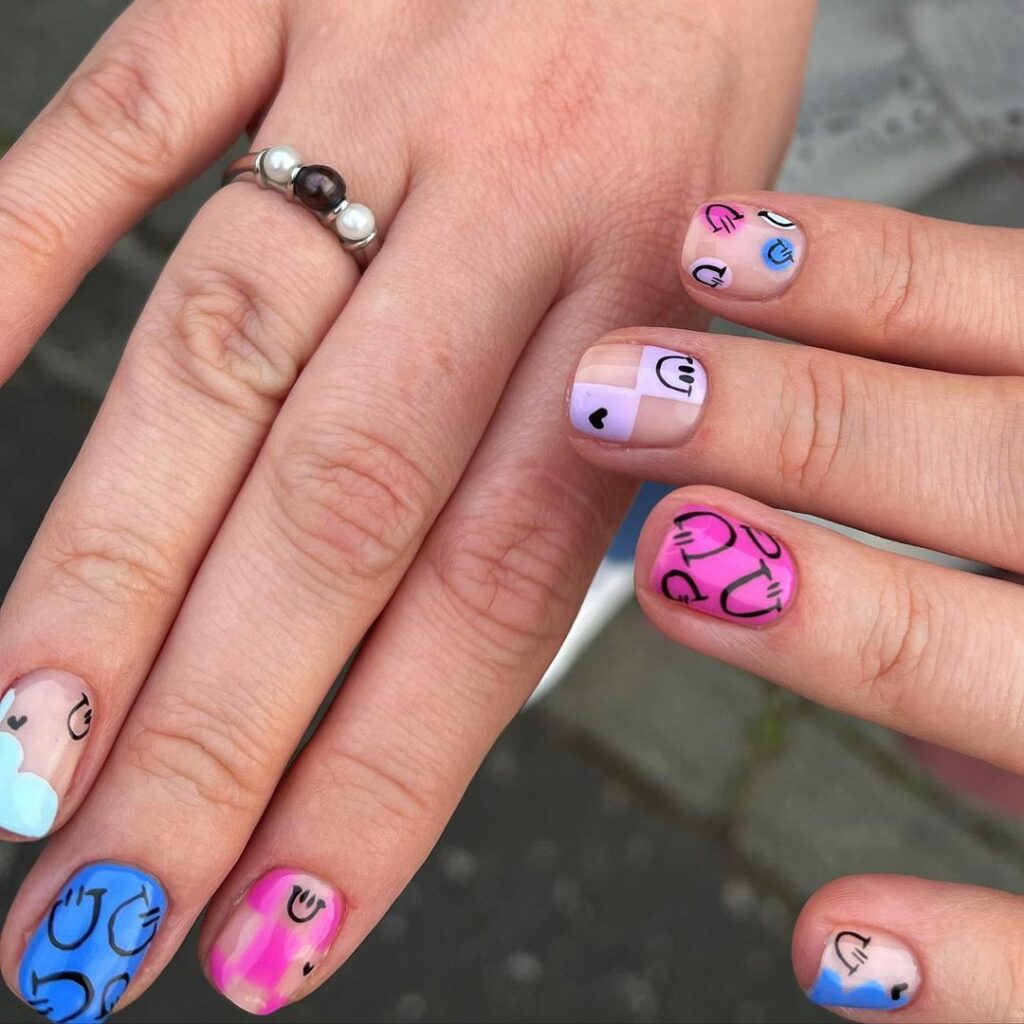 Courtesy: @itsgrlnails
#19 Bold Outlines & Compact Design
These compact tippy smiley face nails put a smile on our faces. For those who prefer longer nails for their manicure, here's an idea to save for inspiration in this category.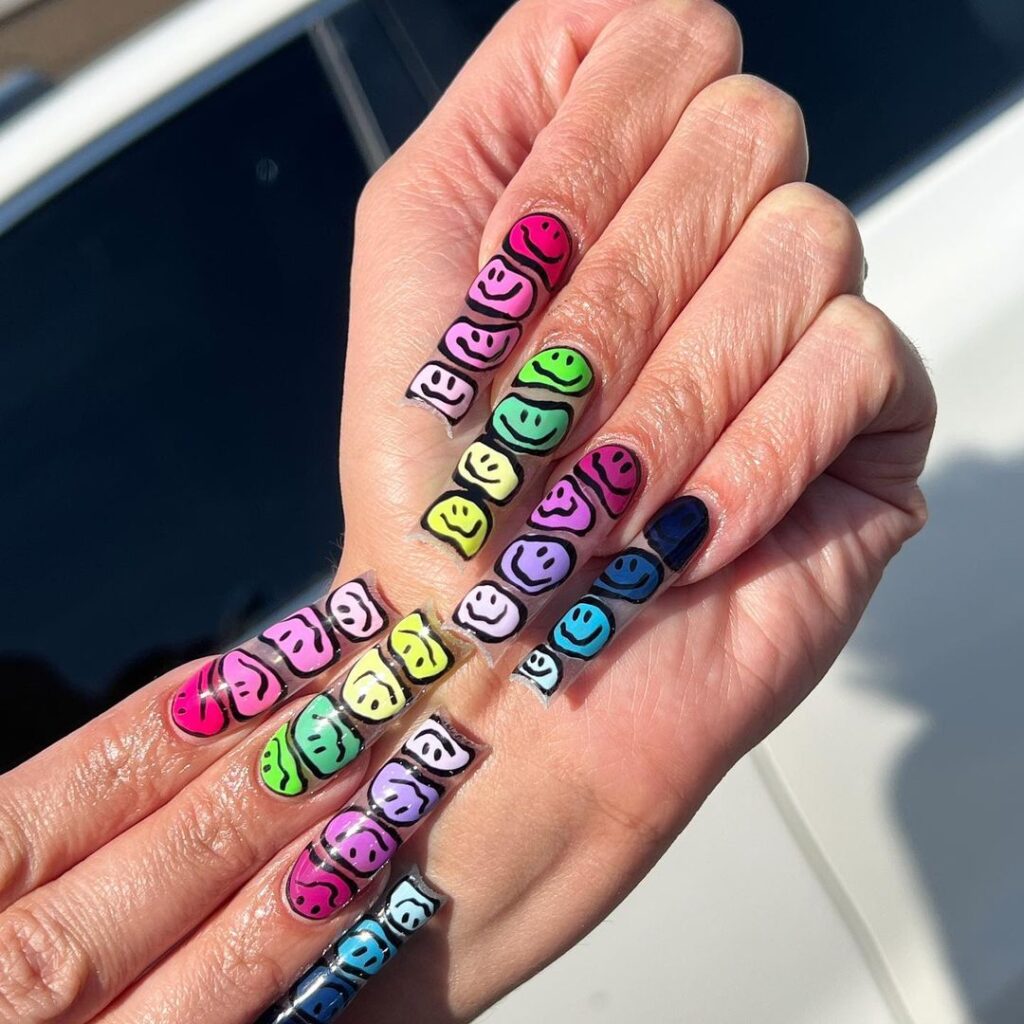 Courtesy: @veronailtips_
#21 Cute Almond Nails
Opt for these daisy-style almond nails with a smiley face in the middle for a cool and stylish manicure. You can opt for different color combinations as per your preference and style to recreate this nail idea.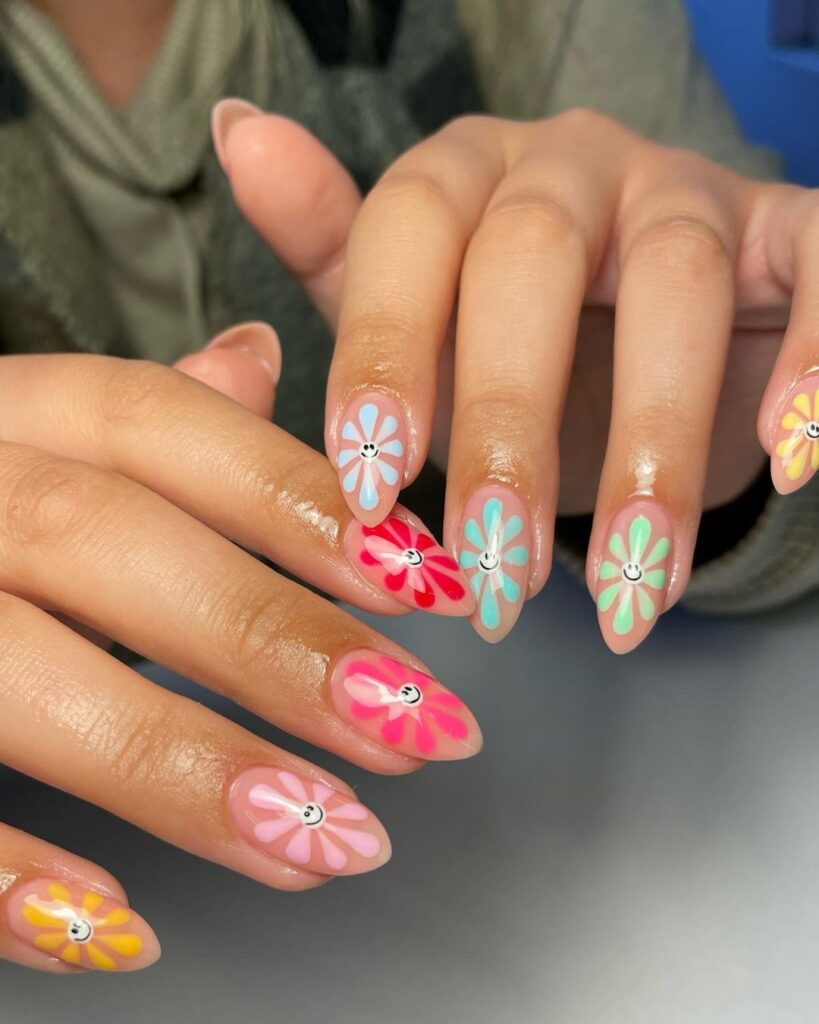 Courtesy: @thenailtechorg
#22 A Different Pattern On Each Nail
Who said shorter nails can't be a gateway to your artistic expression? With each nail representing a different set of patterns, this ingenuous manicure can just be the eye-catching aspect of your wardrobe for the next few weeks.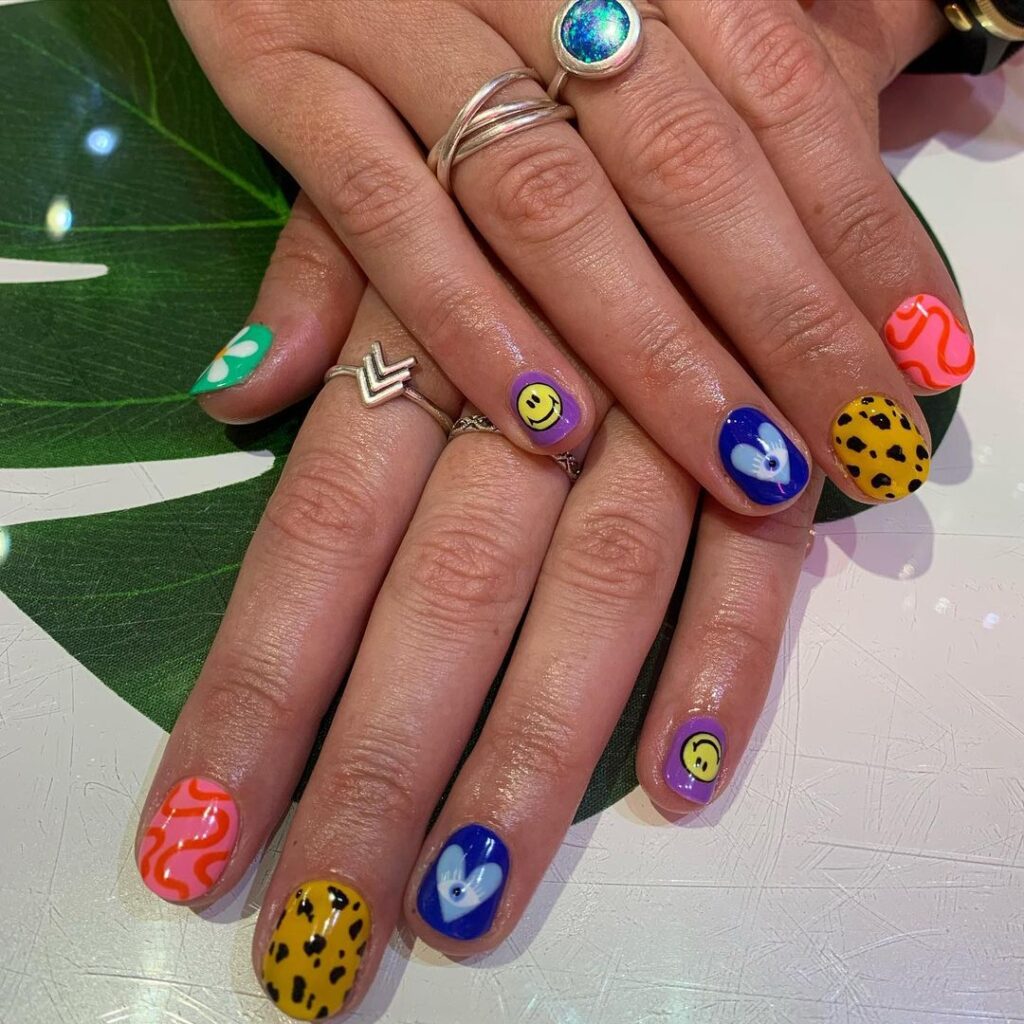 Courtesy: Brighton Nail Art
#23 Black And White Smiley Face Nails
This black and white smiley face nail design is a basic approach to this versatile manicure idea. If you find stickers in this color combination, a DIY of this design is just the easiest manicure ever!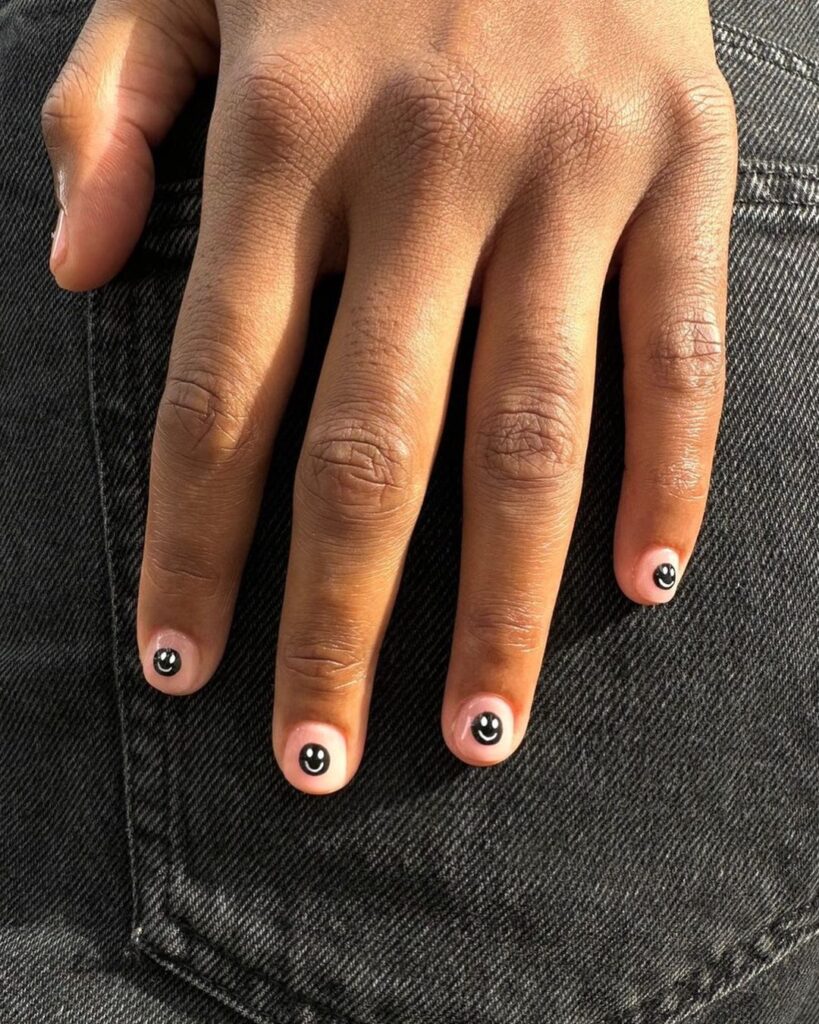 Courtesy: Still London
#24 What A Unique Palette
The combination of orange, blue, and purple in the next nails with a smiley face is distinctive and sure to turn heads. The soft almond shape elevates the look of the design further.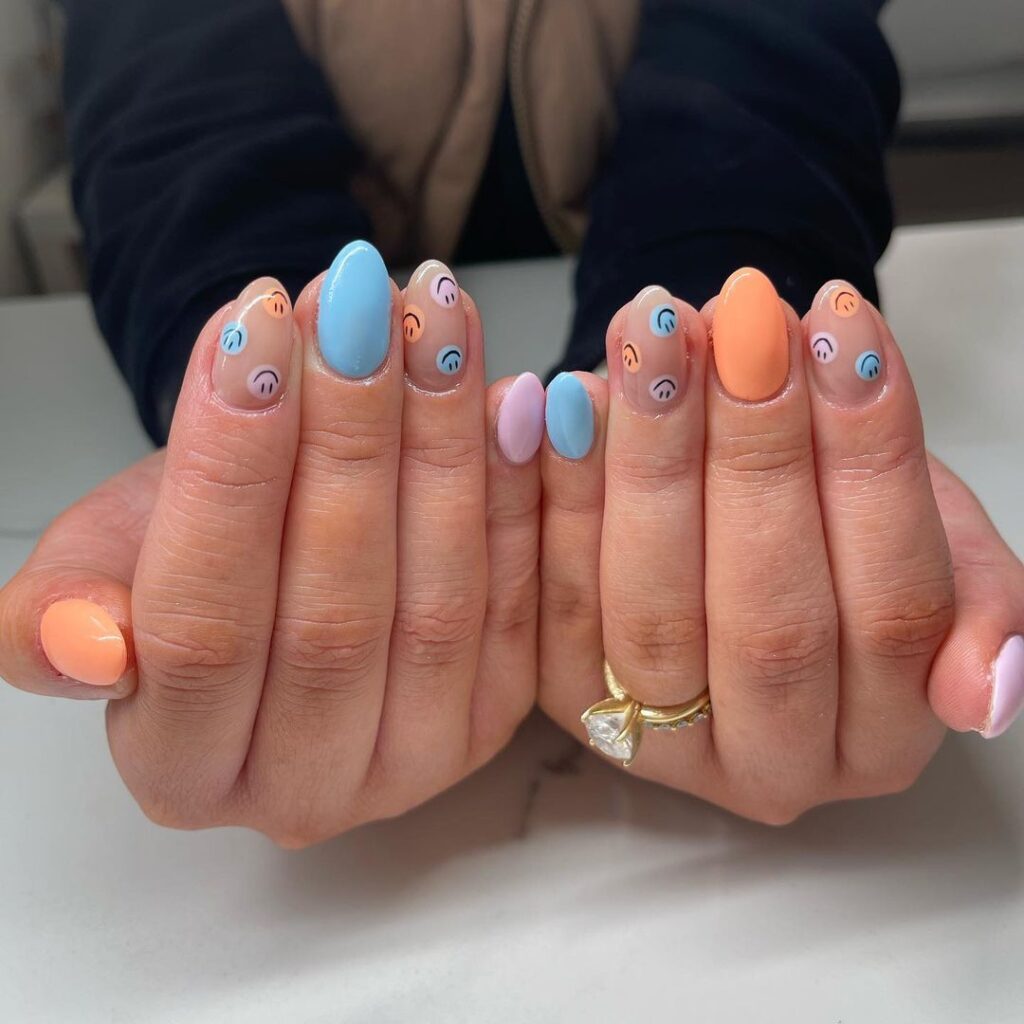 Courtesy: Payton Meyers
#25 An Easy DIY Happy Face Nails
These see-through glossy nails are replete with smiley emojis in glitter and we are feeling happy just looking at them. Aren't you?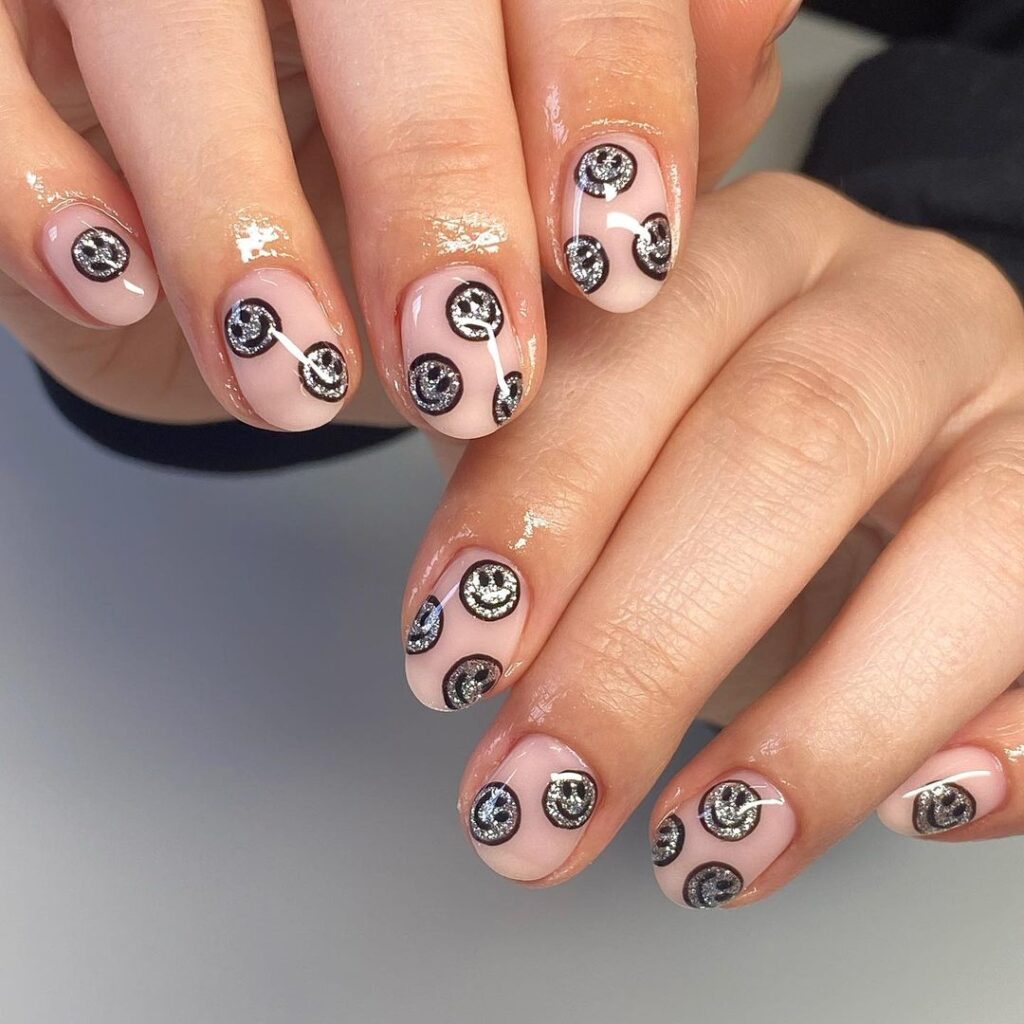 Courtesy: LKnails
#26 Short Yet Aesthetic
This smiley face nail design has a different color emoji on each nail with a transparent base. You can use your own favorite shade of colors to recreate these cute smiley face nails.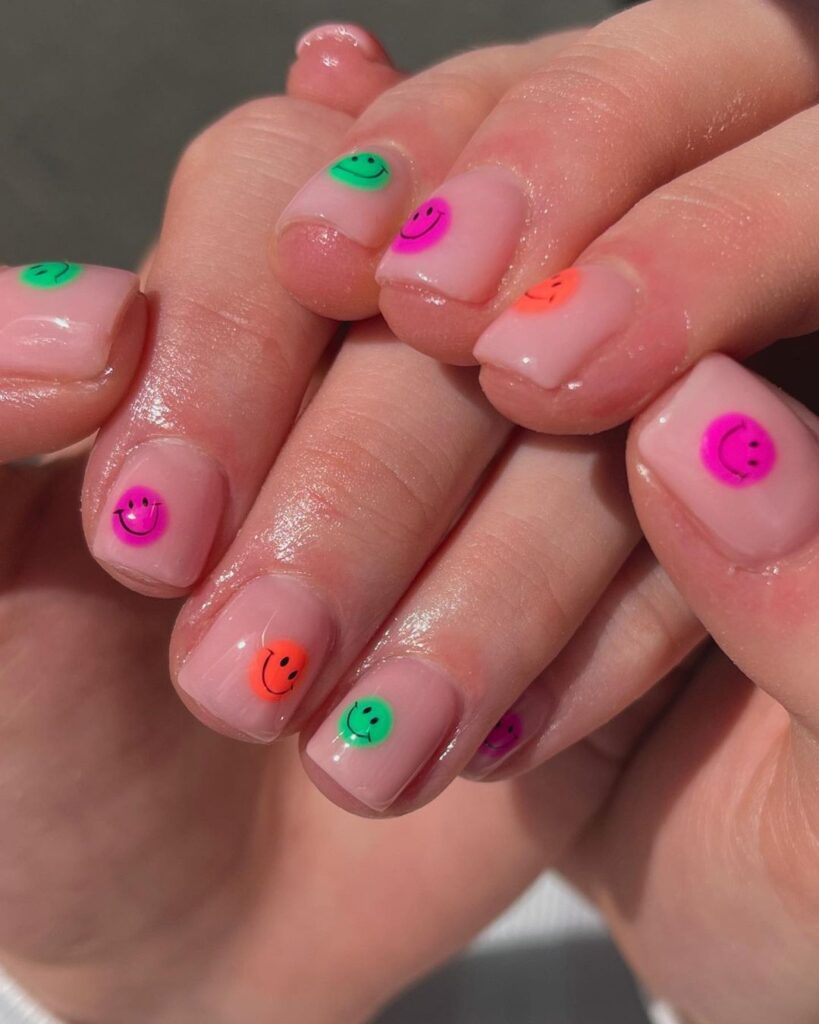 Courtesy: @manisbyannie
#27 The Color Choice Clearly Makes All The Difference
It's evident that what colors you choose for the manicure make all the difference. This butterscotch and tea green color combination with smiley emojis looks resplendent as ever!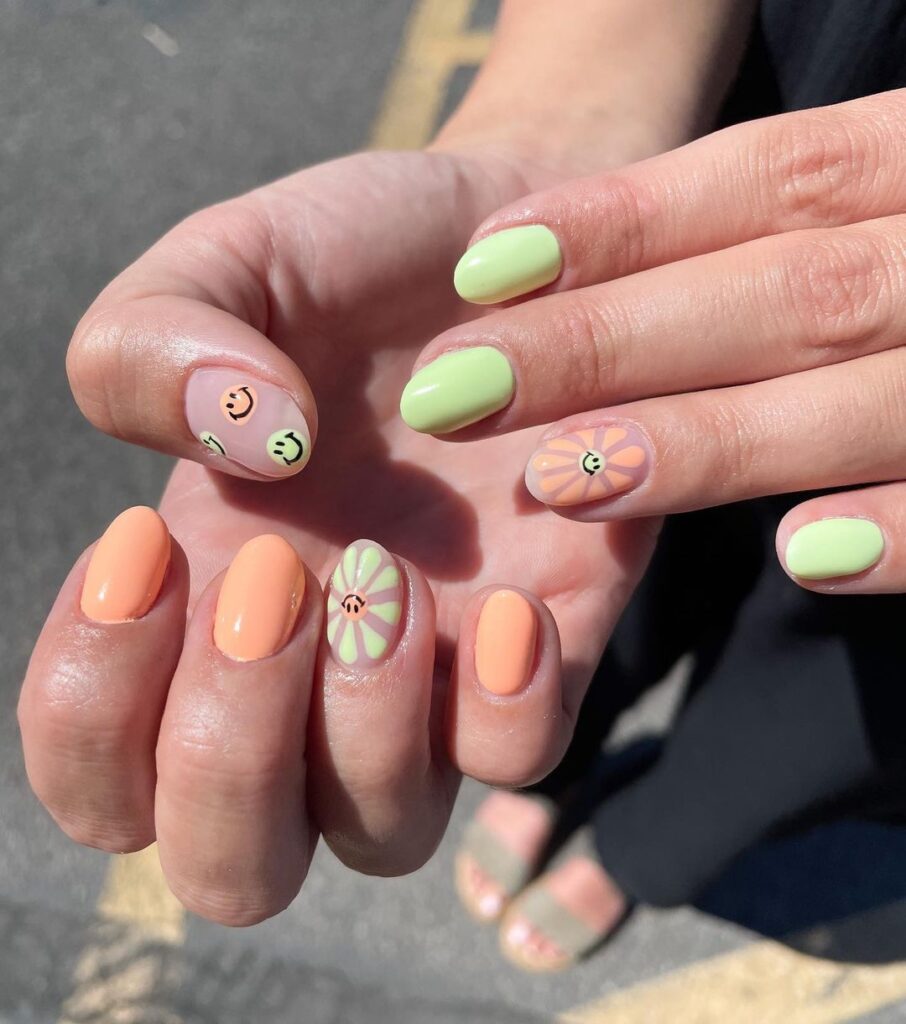 Courtesy: Hannah Leong
#28 Love The Minimalistic Vibe
Minimalism never fails to capture hearts – no matter where it's used. The all-pink nails are elevated by a smiley face on the accent nails for an easy yet appealing manicure.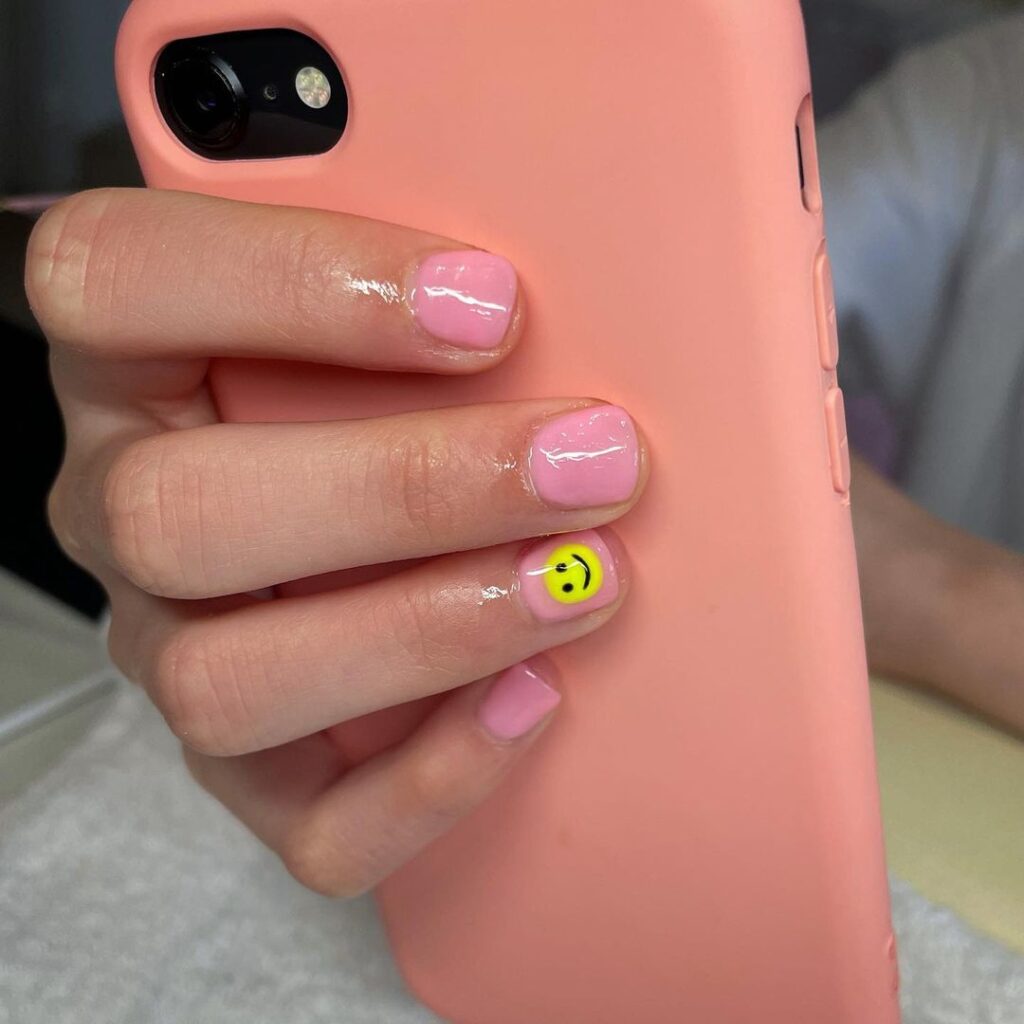 Courtesy: LBL Brows
#29 A Winsome Smiley Face Nail Design
With all fingers covered in distinct patterns, these nails with smiley faces are creative yet don't look too loud for everyday wear. The candy cane makes them a perfect pick for holiday nails design.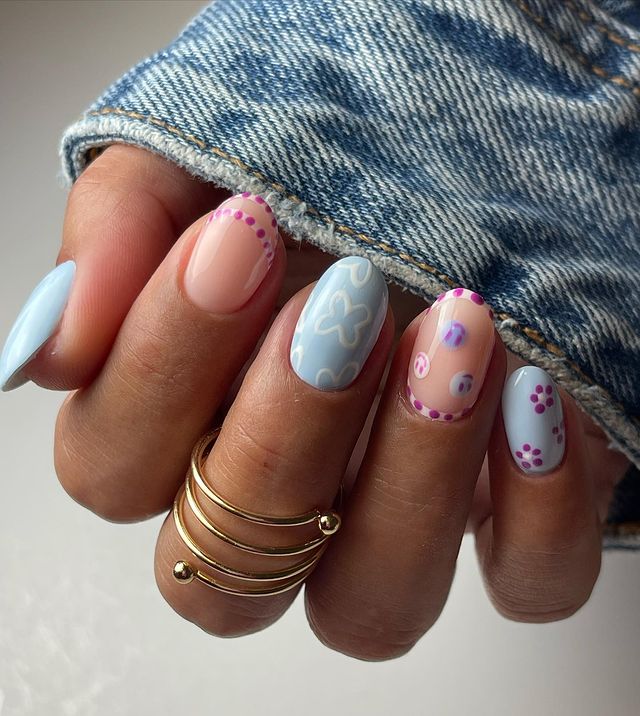 Courtesy: YS Studio The Nail Artist
#30 Stiletto Smiley Face Nails 
The stiletto-shaped nails give more room for the patterns and the inclusion of multiple patterns is an amazing idea for artistic expression through your manicure. You might want to get these smiley face acrylic nails professionally as longer nails are more prone to chipping.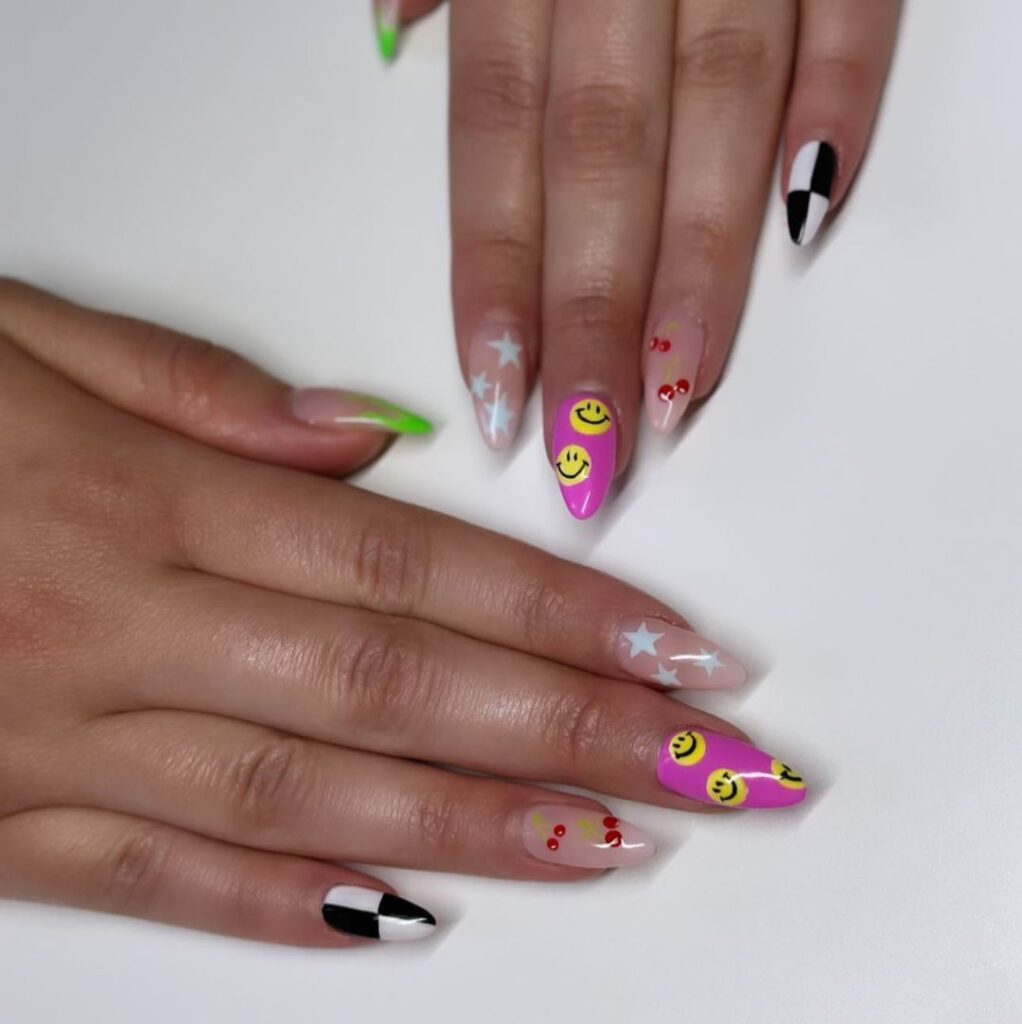 Courtesy: @polishedbycarrissa
#31 The Basic Smiley Face Nail Design
Minimal, elegant, and downright charming, this smiley face nail design is simple and lovely. You can do them at home with stickers but if you've got a hang of the toothbrush, these can easily be drawn too!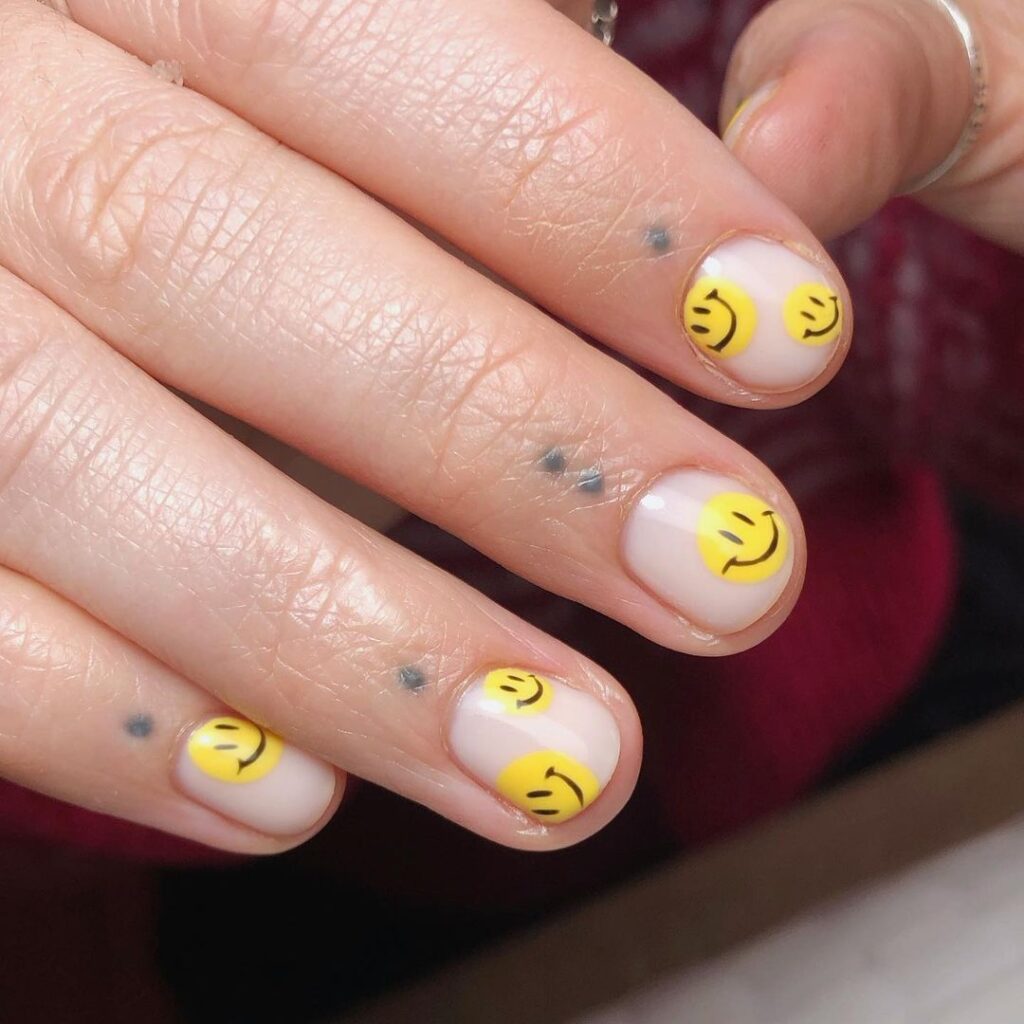 Courtesy: @luckycow.nails
#32 Vibrant & Beautiful
With an orange hue, smiley emoji, and flower motif, this is just the ideal summer nail design for those who're looking for nails with a smiley face.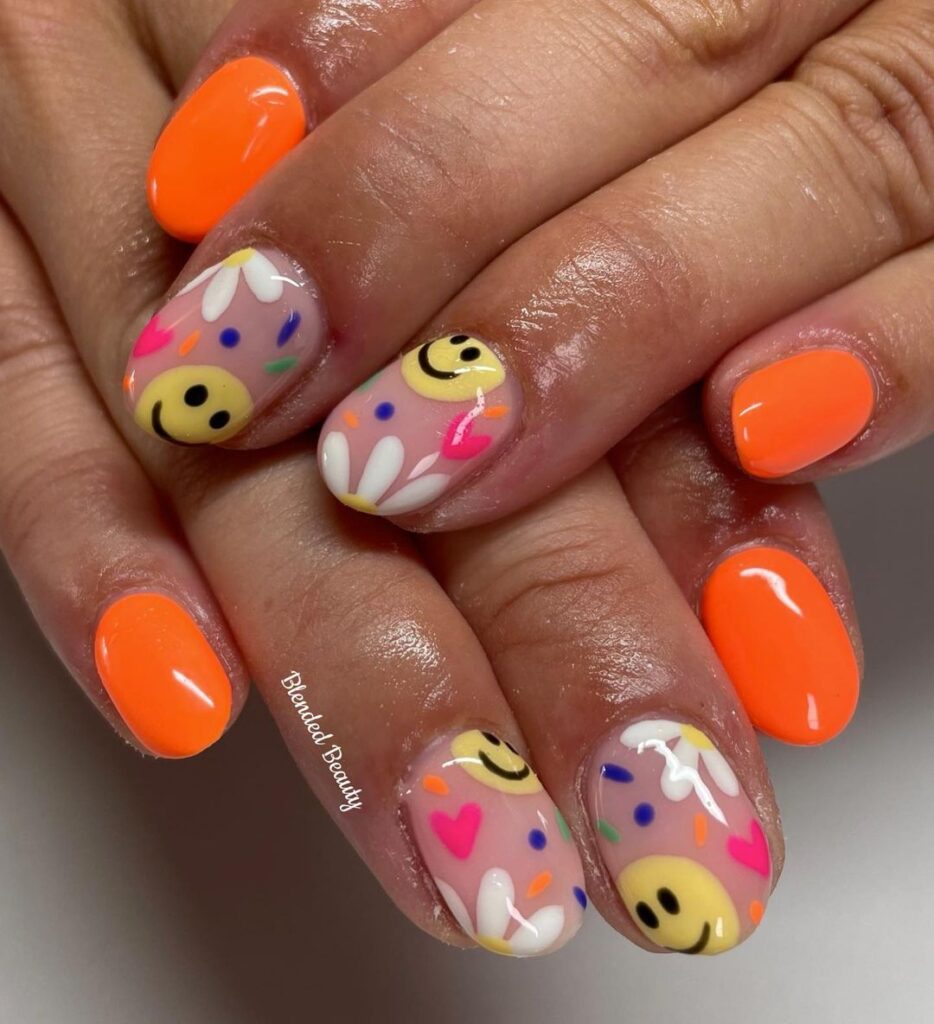 Courtesy: Blended Beauty
#33 Simley Emojis – But In Different Avatars
If you want even more colors and creativity in your manicure, use a different color on each nail and make sure the smiley emoji on each one is done differently. You can add 5 more different colors on the other hand for a truly vibrant nail idea.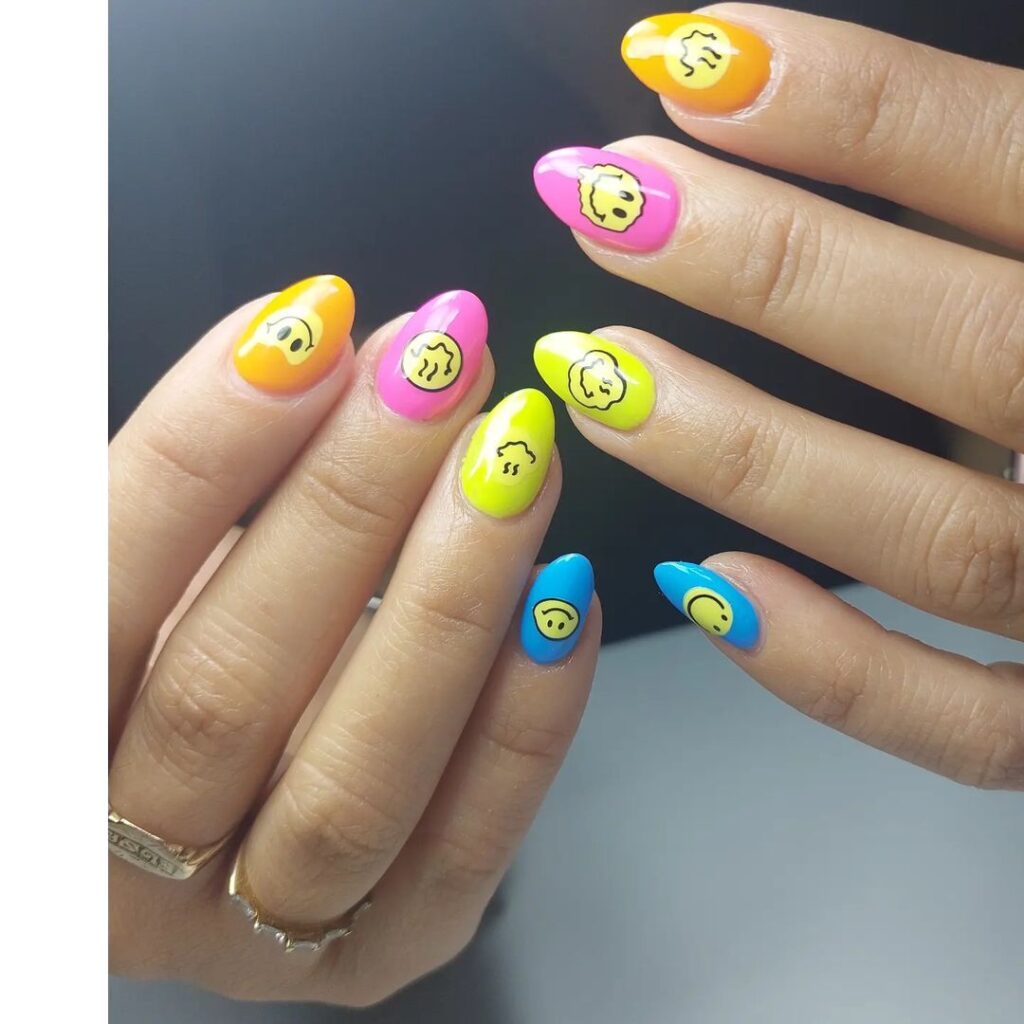 Courtesy: @laurawoo.studio
#34 Quirky One
Now this smiley face nail art is for women & men who appreciate some personality and distinctive touch in their manicures. It's not exactly the cute smiley face nail design you're looking for, but it definitely is a quirky one that will add some character to your nails!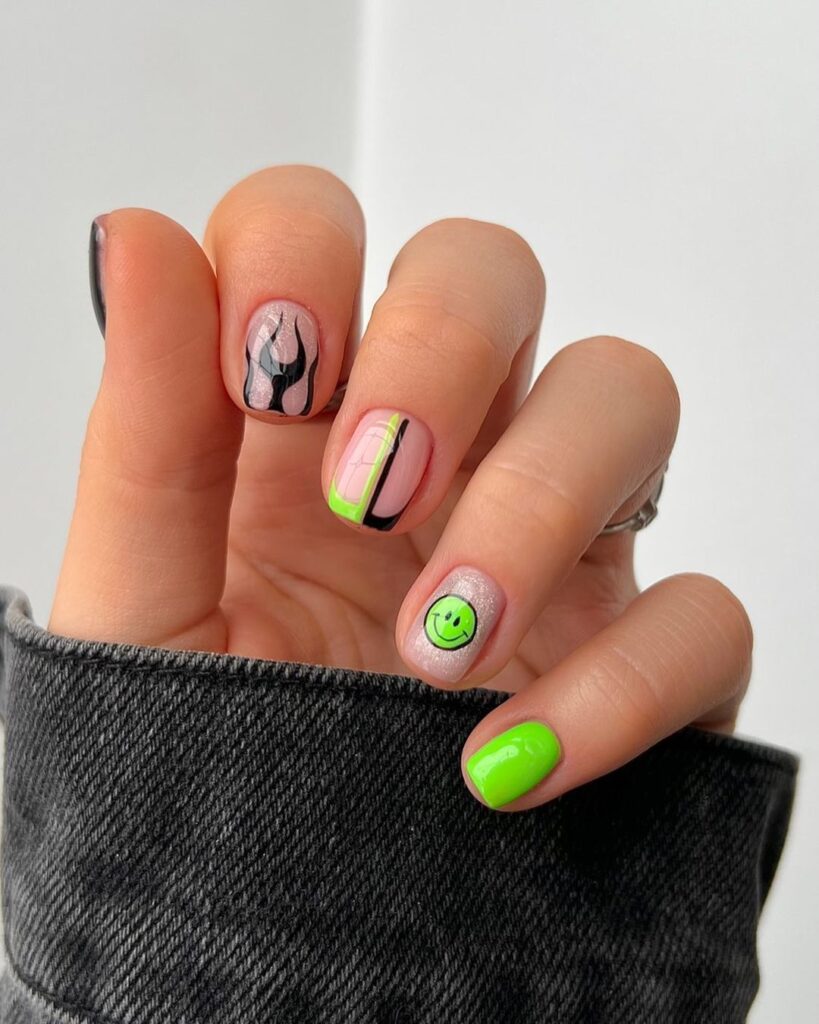 Courtesy: Leanne
#35 Happy Face Nails At Its Best
The aesthetic of this picture is visually appealing and surely the nail design in the smiley face acts as the center of attention in the image.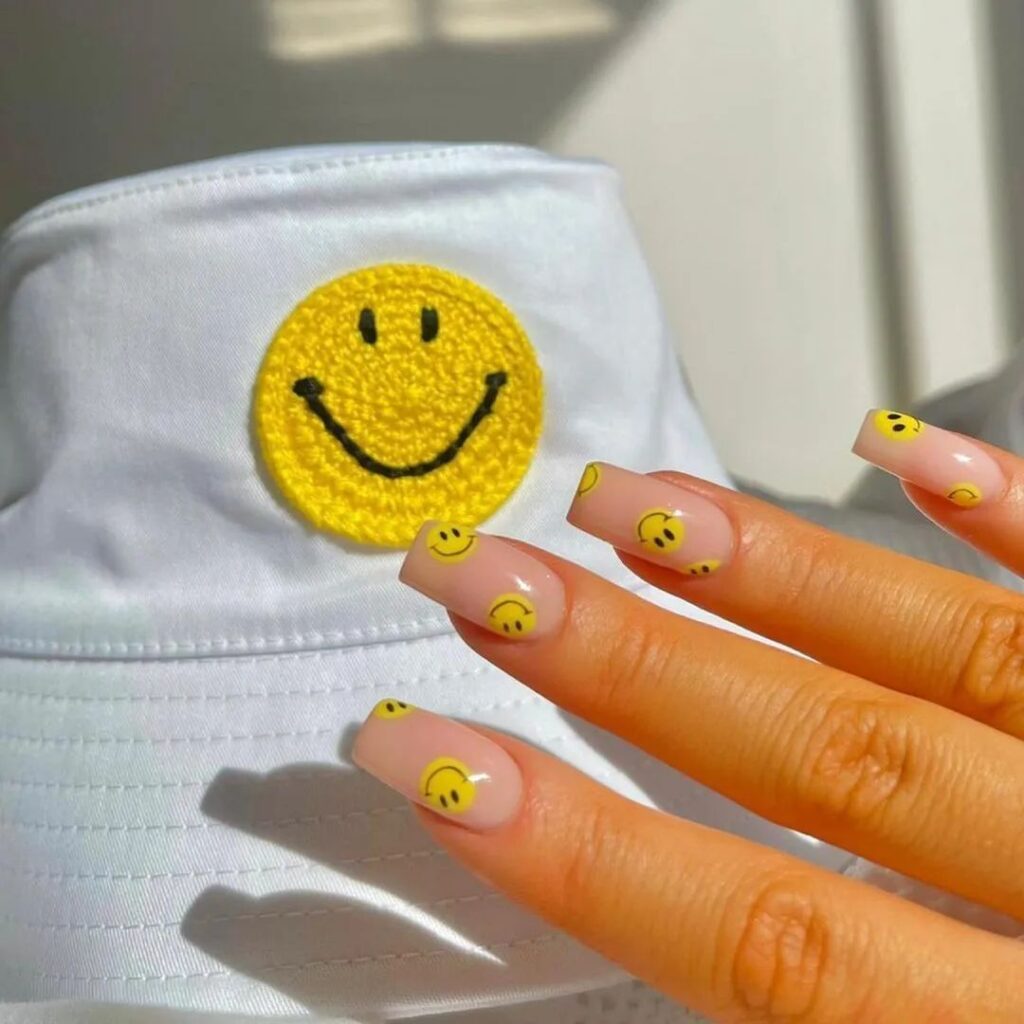 Courtesy: @gettipsy_nails
#36 Such A Gorgeous Burst Of Colors! 
Such artistic nail design says a lot about the expertise of the manicurist. When you're looking for a unique manicure, look for such designs on your chosen expert's Instagram. They will be the ones who'd give you a manicure as per your preference.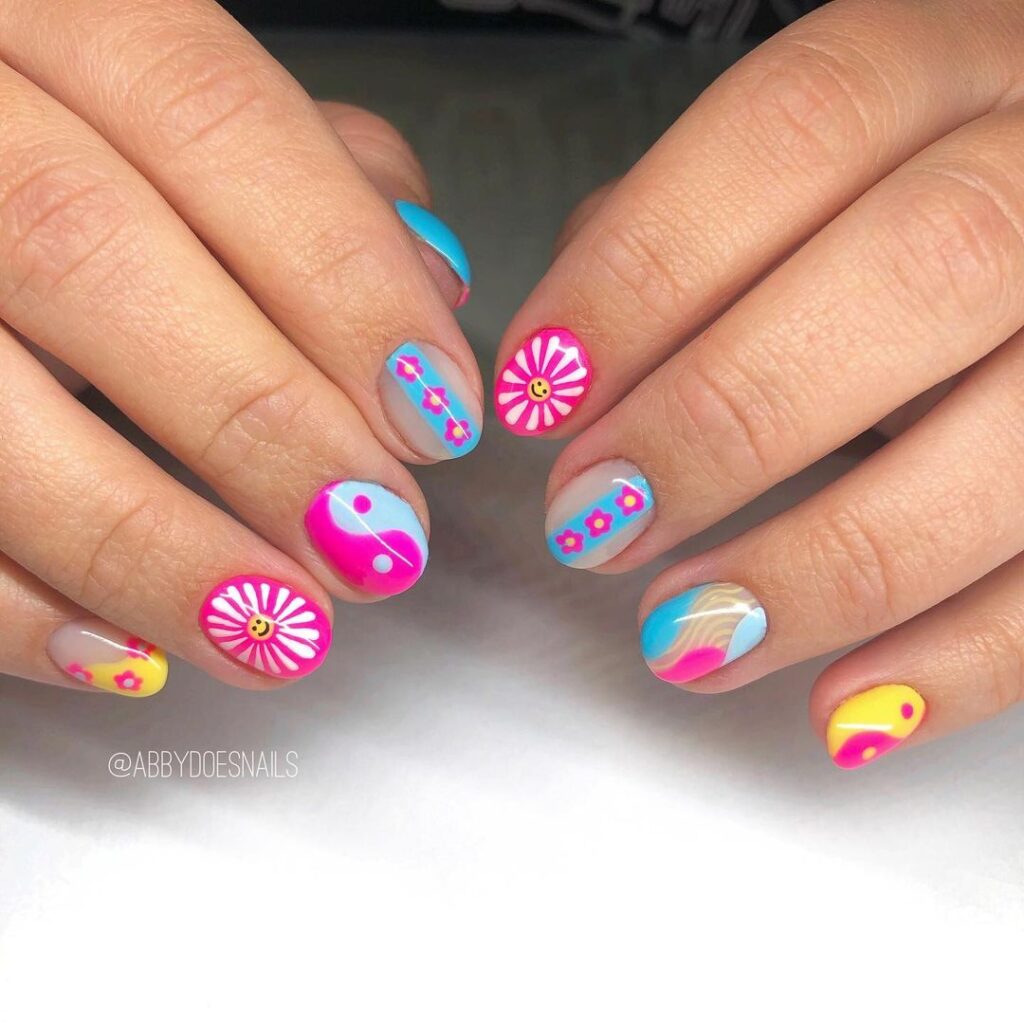 Courtesy: @abbydoesnails
#37 Perfect One To Boost Your Mood
A transparent base with simple patterns on each nail, including a heart smiley face, and strawberries, is just what you need to boost your mood during a phase when you're feeling more blue than usual.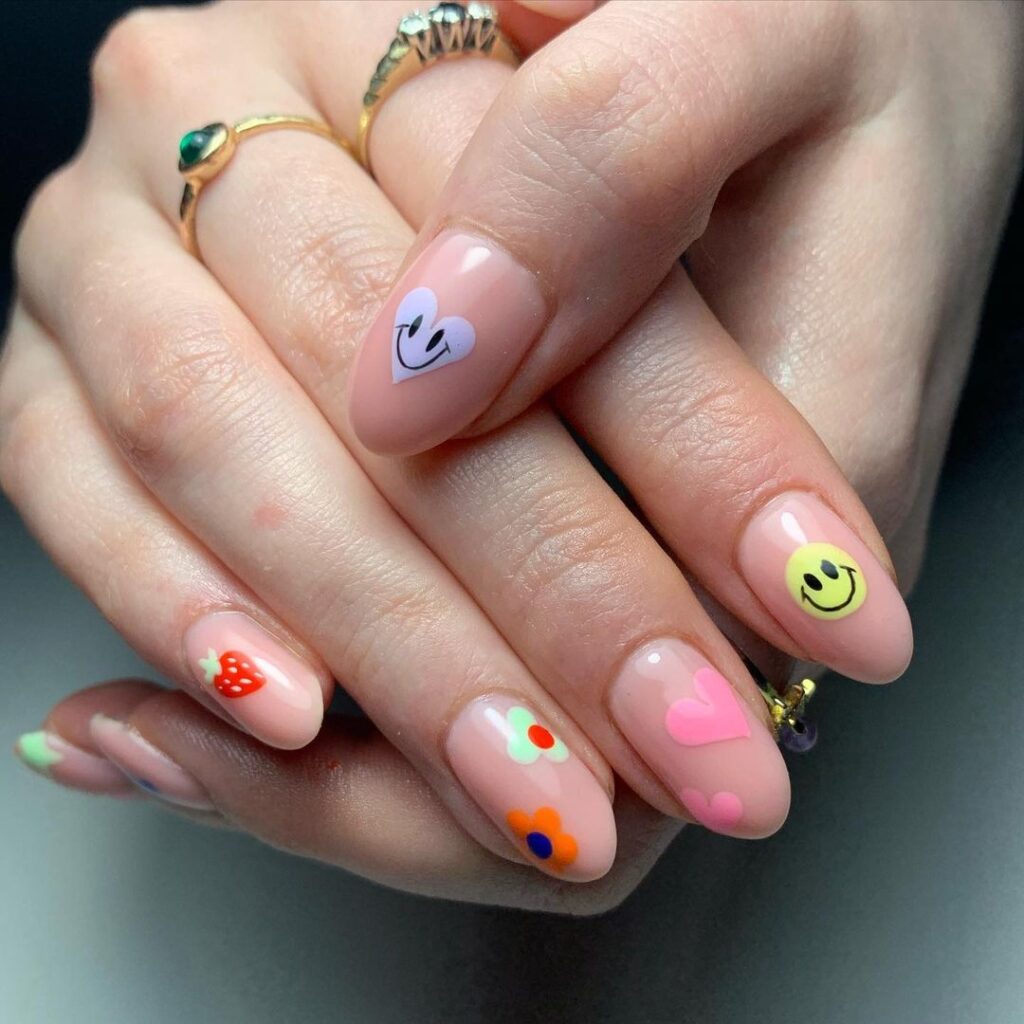 Courtesy: @catcreatesnails
#38 A Winsome Set Of Nails With Smiley Face 
This smiley face acrylic nail design is done in a square shape and multiple colors for a simple yet aesthetic manicure idea.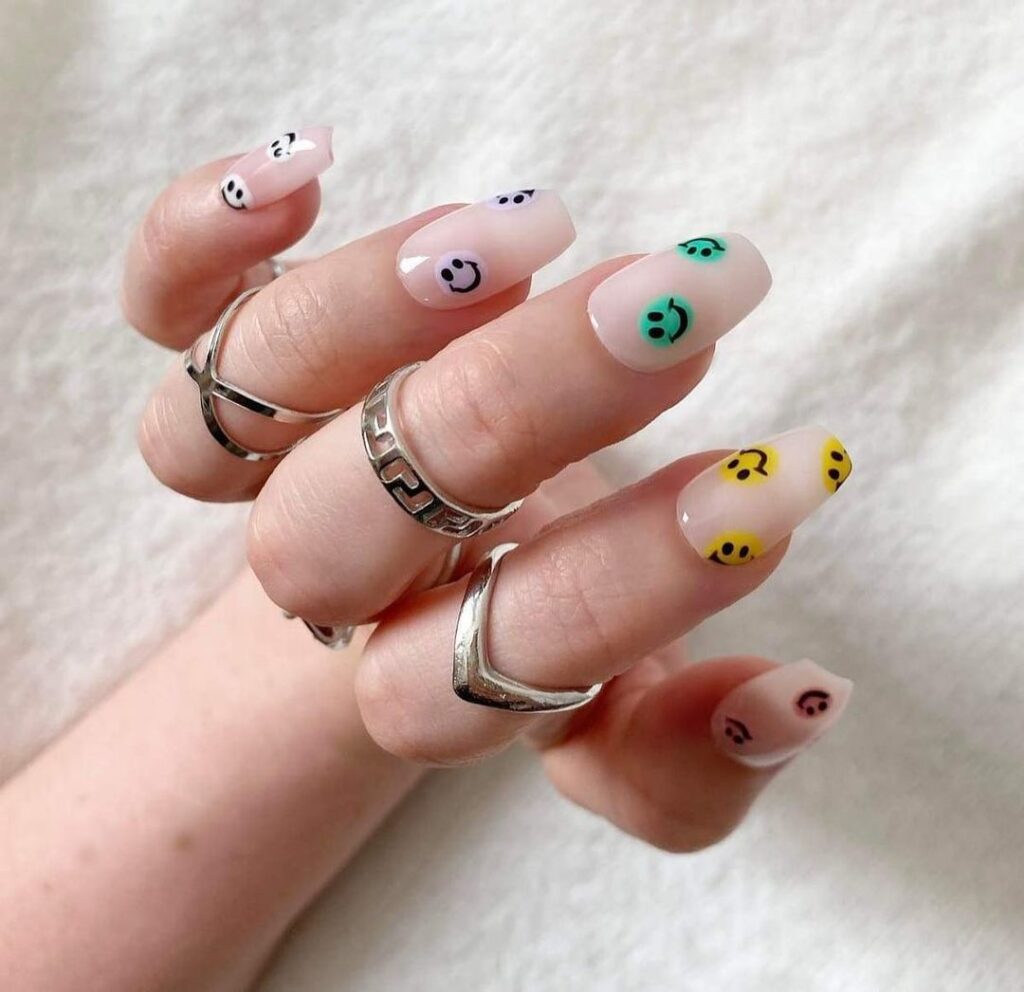 Courtesy: @illuminate_by_liana
#39 The Classic Yellow Smiley Face Nail Design
The classic yellow smiley face nail art can be done easily at home! Start by shaping your nails and either draw the smiley or you can also use stickers for the same. Top off with a glossy top coat and let it dry! You can make this nail design last for a longer time by just redoing the top coat again & again.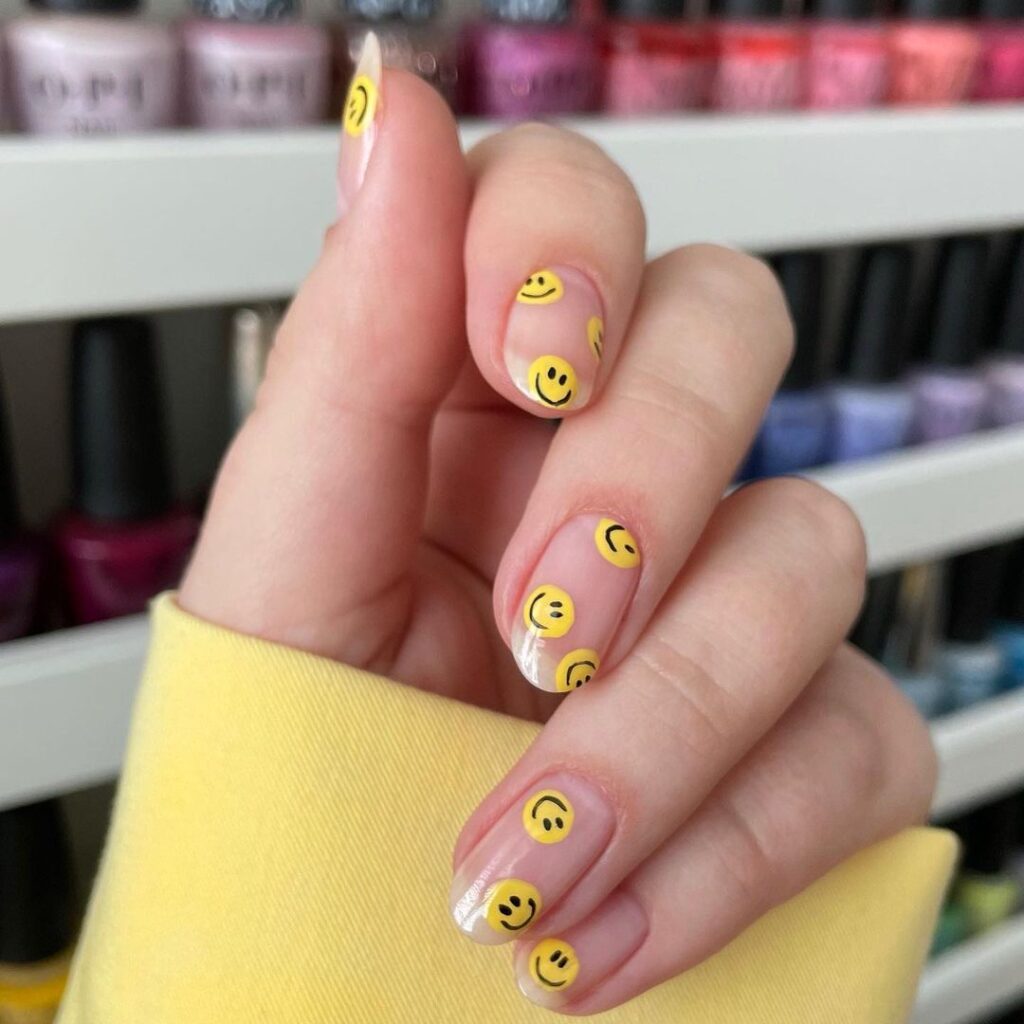 Courtesy: Aleksandra
#40 Beautiful Combination Of Pink & Orange
For your summer beach days, opt for a combination of pink and orange nails, a spirited color fusion best that can give a fun and playful look to any manicure. With multiple styles and intricate lines, this manicure just might require the help of a professional to recreate.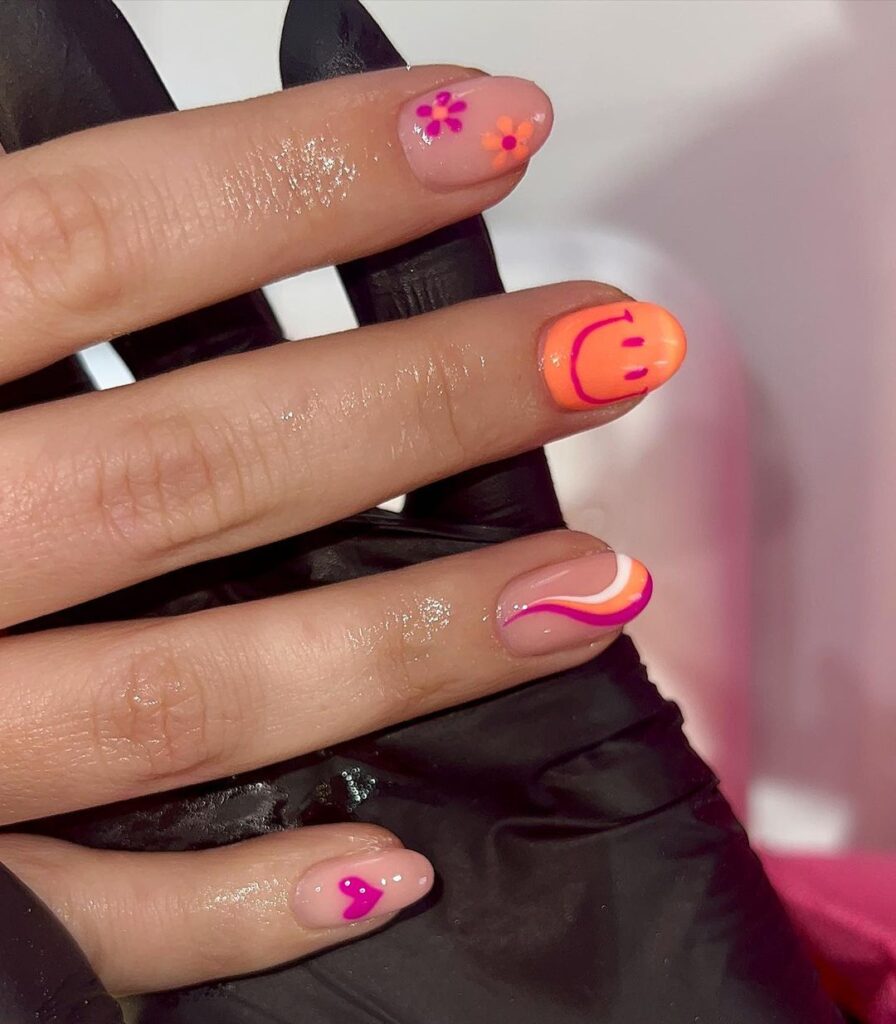 Courtesy: Antonia Nail Artistry
#41 Smiley Face Nails In French Manicure 
Elevate your French manicure game by putting some smiley stickers and stars on the clean base for bewitching nail art. Instead of mint green, you can swap the tip for any other color of your choice.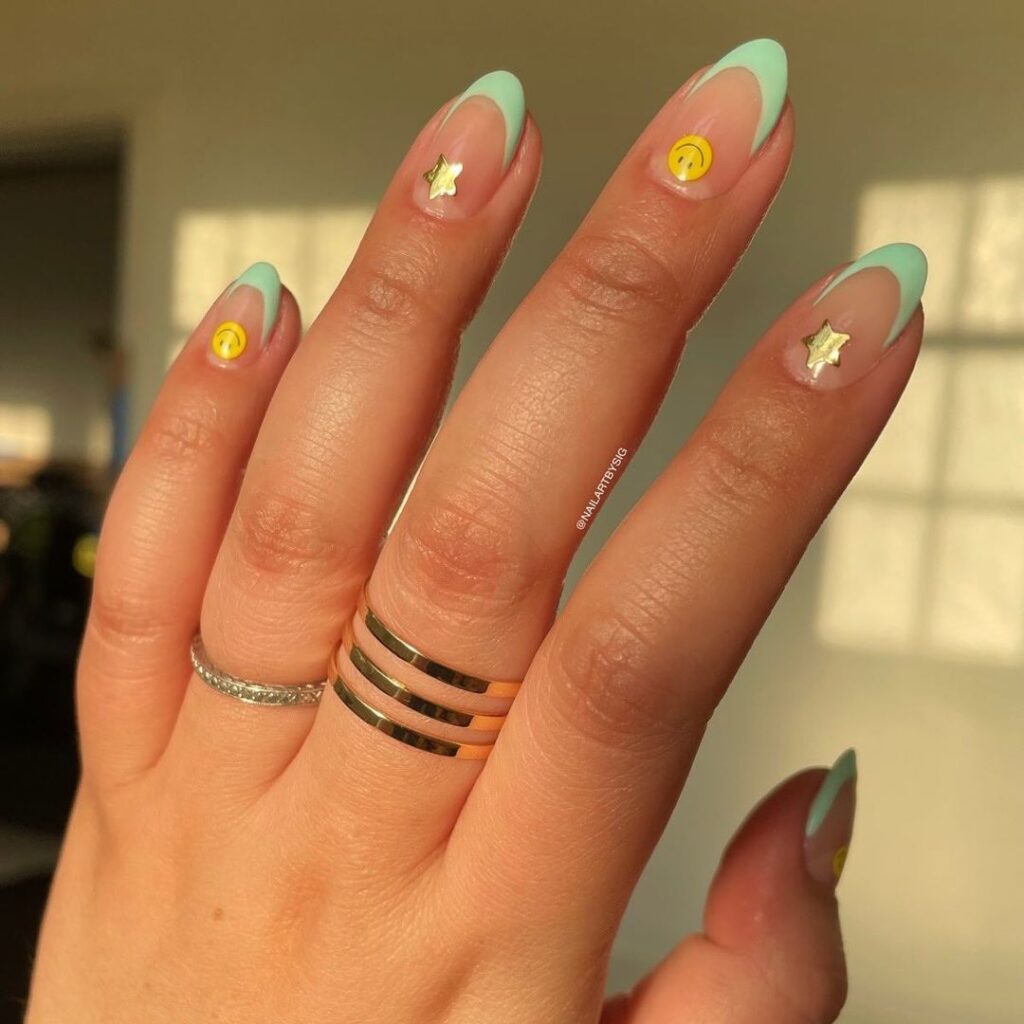 Courtesy: @nailartbysig
#42 If Sunshine Was Captured In A Manicure 
Radiate sunshine with your manicure by recreating this nail art consisting of florals, vibrant colors, and smiling emojis. The almond nails enhance the beauty of this design further.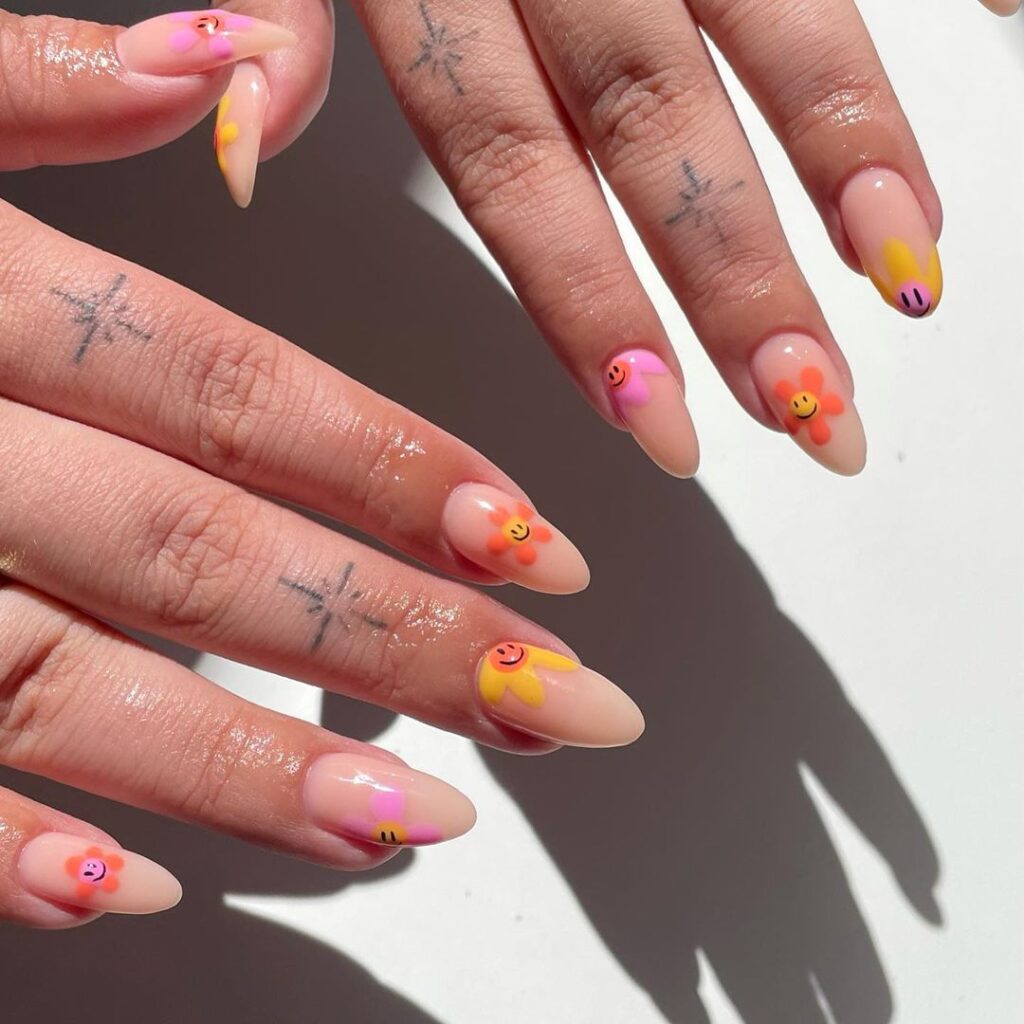 Courtesy: @millyandjin
#43 Gorgeous Smiley Face Acrylic Nails
This purple French tip nail design is elevated by smiley and florals on the tips themselves giving someone with minimal style a chance to sport the happy face nail art!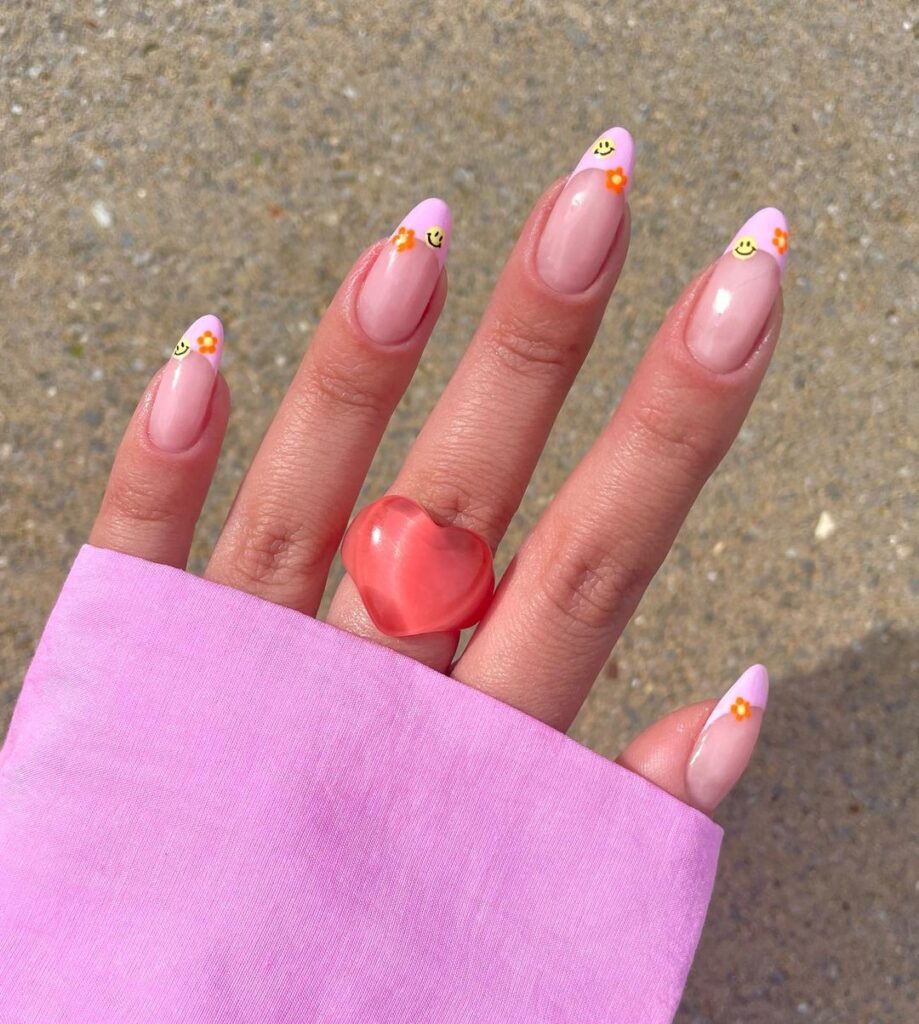 Courtesy: @naileditbeauty
#44 Smiley Face Nails Black And White 
These smiley face nails black and white are accentuated by a red hat making them an ideal pick for Christmas nails design. Clearly, smiley face nails are versatile and can be altered to fit every occasion and preference. 
Courtesy: @speakeasynails
#45 Multiple Emotions Smiley Face Nails Design
Life gives us reasons to portray an array of emotions. It's not always a smile. Sometimes it's frowning, sometimes it's annoyed, sometimes it's blah! Depicting these sentiments is the multiple emotions of smiley face nail art.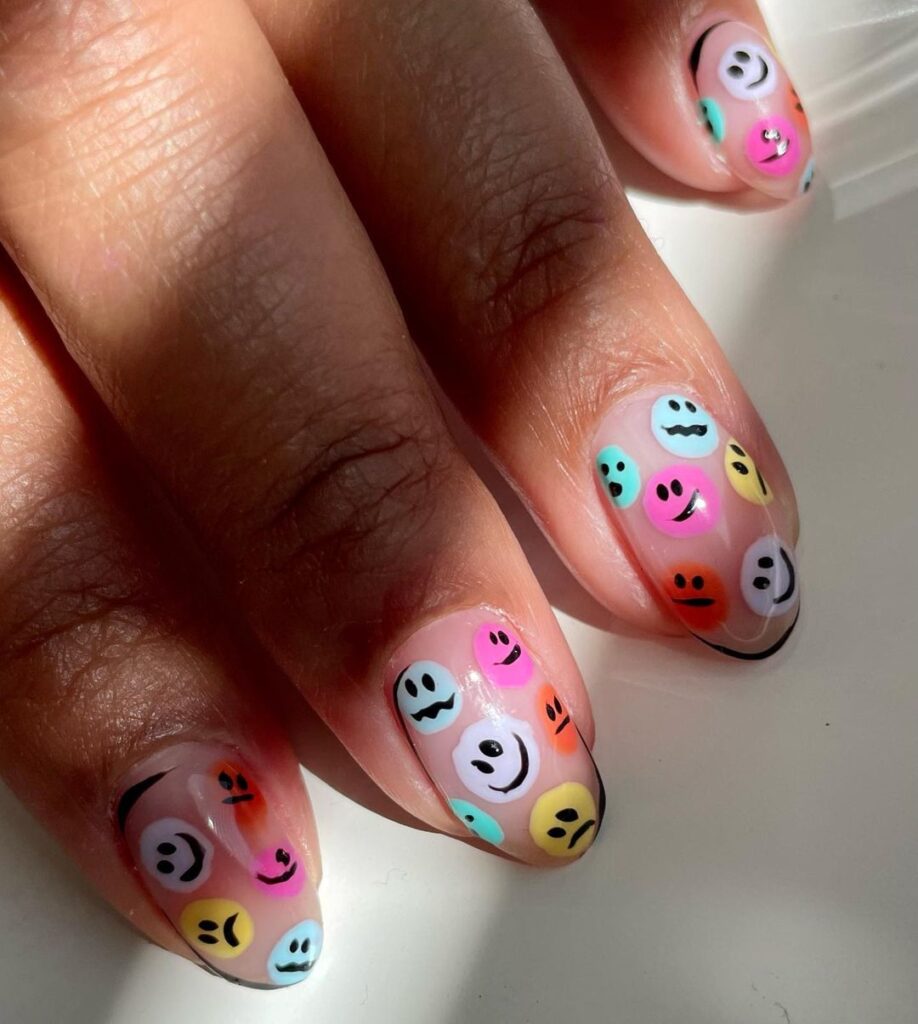 Courtesy: Dashia Golden
#46 Just The Gorgeous Aesthetic Of Colors 
This smiley face nail art is done in many colors for an aesthetic mix of colors and ingenious design. Given the use of many emojis, this smiley face acrylic nail design can be created using only stickers and coating with a transparent gloss coat.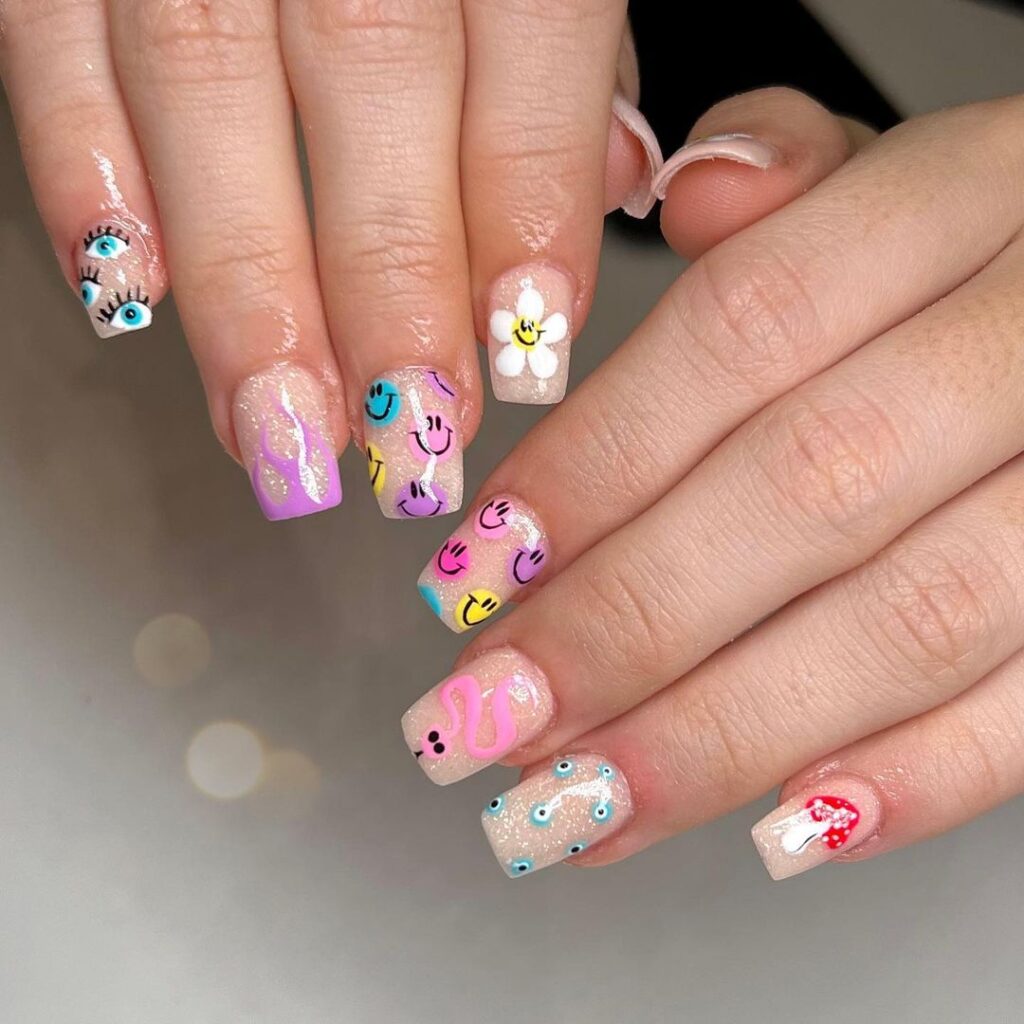 Courtesy: Beth Lewis
#47 Hearts + Smiles + Florals = Extraordinary
Including all the delightful elements of a manicure in one style for a truly light-hearted nail design. Purple and white are anyways a great combination for manicure as it makes for an eye-pleasing and elegant combination.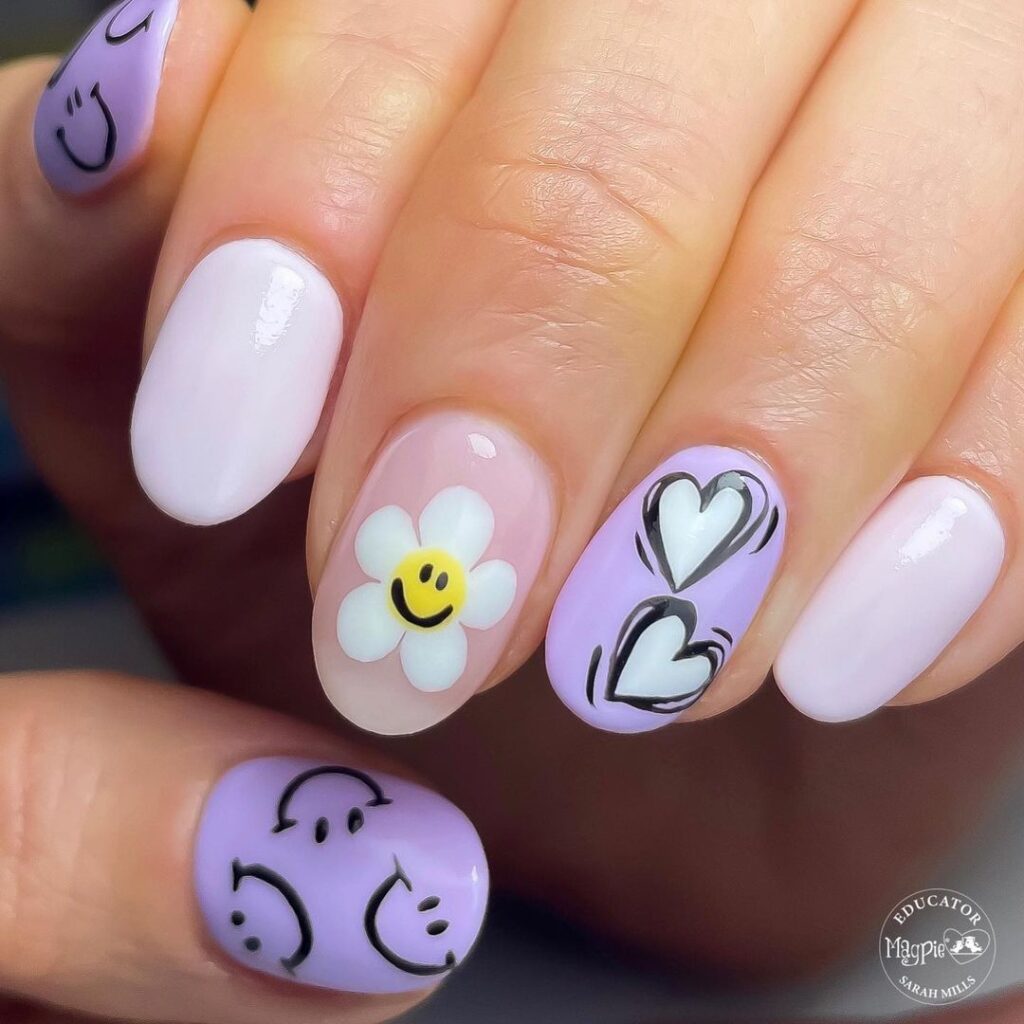 Courtesy: By Sarah
#48 Pink French Manicure With Smile Accents
Bring a smile to your nails with this cheery twist to the classic French manicure. With the tips done in pink, smiley face stickers are added here & there for a playful twist to this timeless manicure style.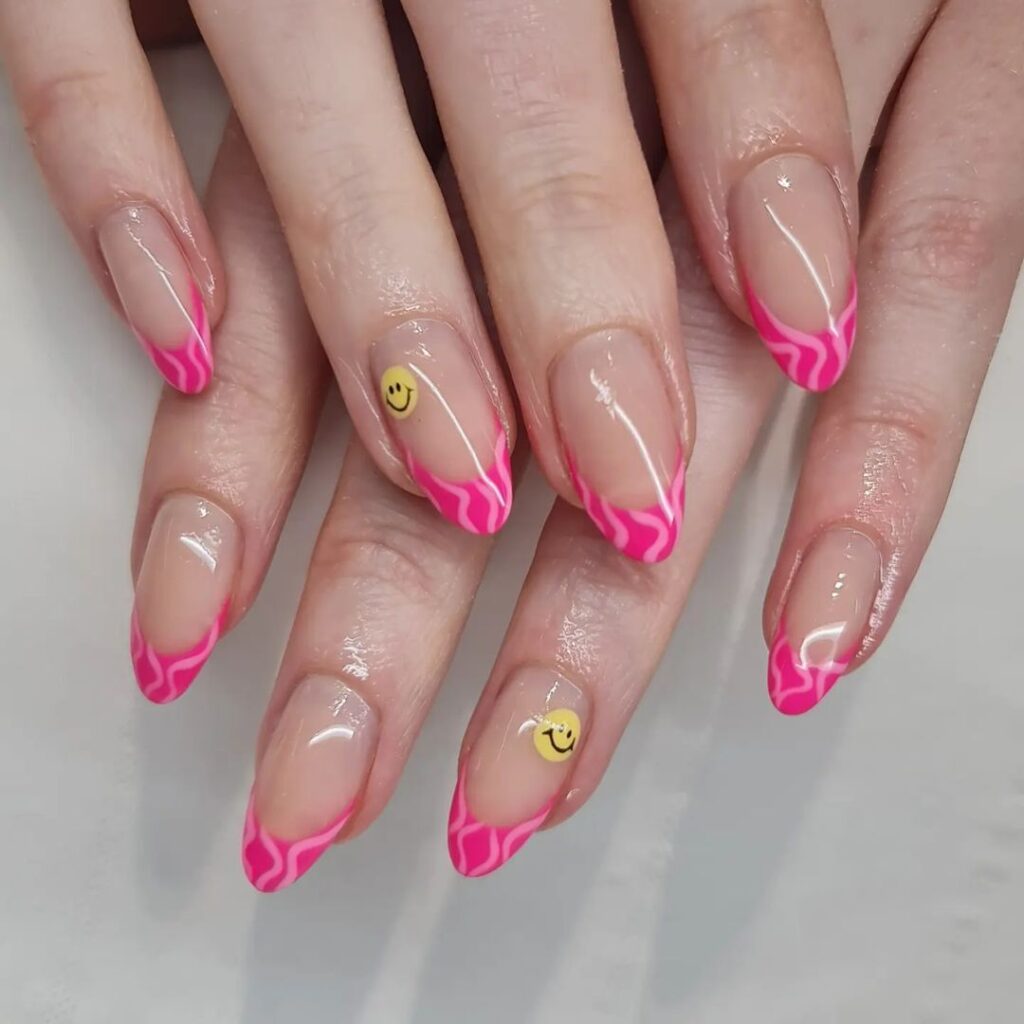 Courtesy: @genevieve_beauty
#49 The Stunning Pastels! 
Pastels just never fail to impress. And while they are a classic in the summer and spring seasons, they have now become a versatile palette for other seasons as well. So you can wear this all-around nail design with a smiley face throughout the year.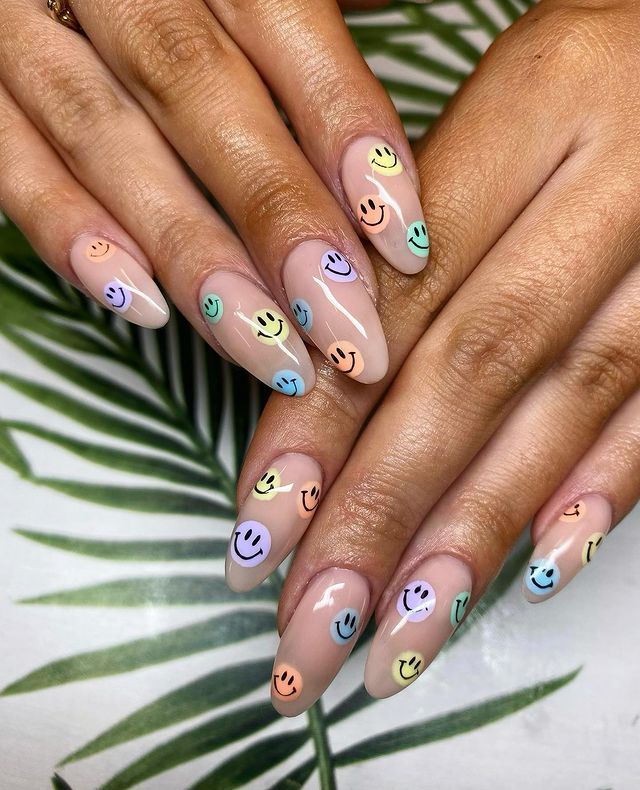 Courtesy: Artistic Nail Design
#50 The Cute Smiley Face Nail Design You Were Looking For 
You can create an eye-catching smiley face nail design without having to include smiley emoji on each finger. Here, the smiley only bedecks one nail while others are painted in multi-colored nail paints for a balanced look.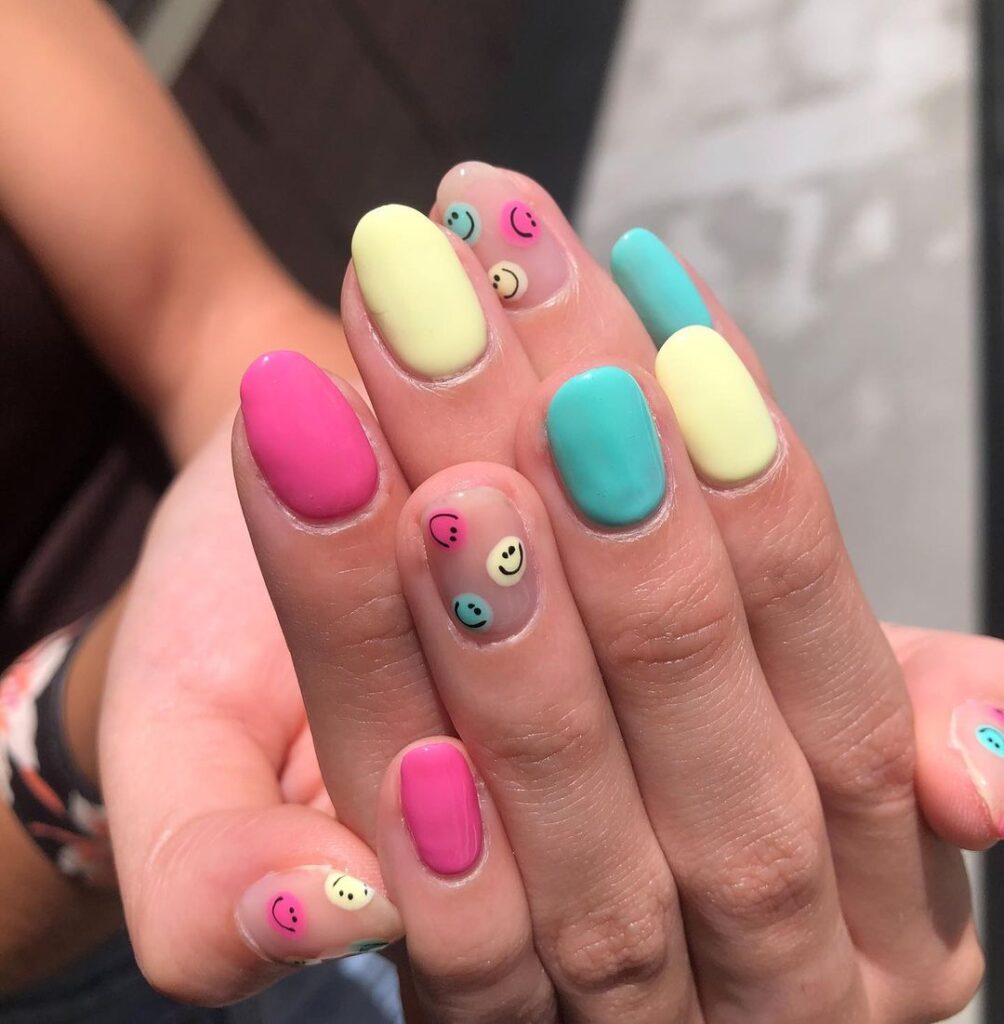 Courtesy: Noelle Fuyu Nails
#51 Simple smiles With Soft Colors 
Using soft shades and different motifs on each nail, this smiley face nail design is winning our hearts. We'd recommend sticking to similar shades when recreating this manicure so as to keep its ingenuity and charm alive.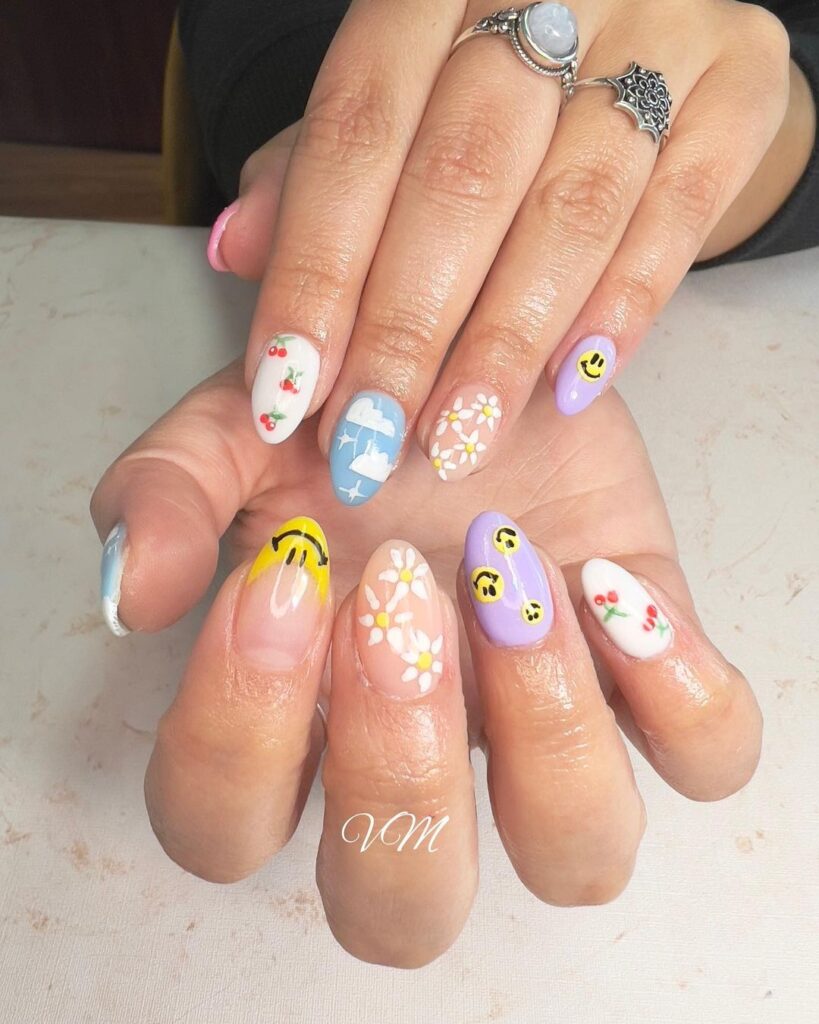 Courtesy: @veromerciernails
#52 Smileys In Cloud Motifs 
Ditch the usual round face smiley and instead use clouds motif for the smiley face for a playful yet winsome twist to the standard happy face nails!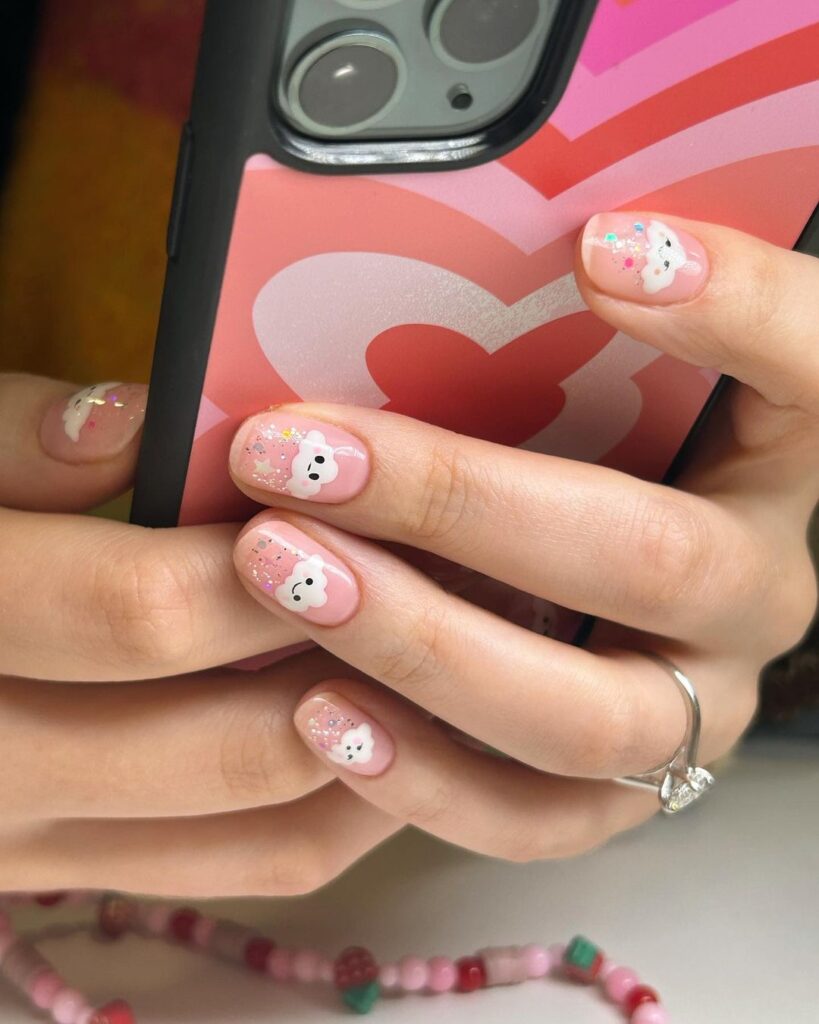 Courtesy: @by_millimac
#53 French Nails With A Twist 
This mani uses the classic French manicure pattern and pairs it with the yellow smiley face emojis for an endearing look! Go ahead, and try this with other colors as well.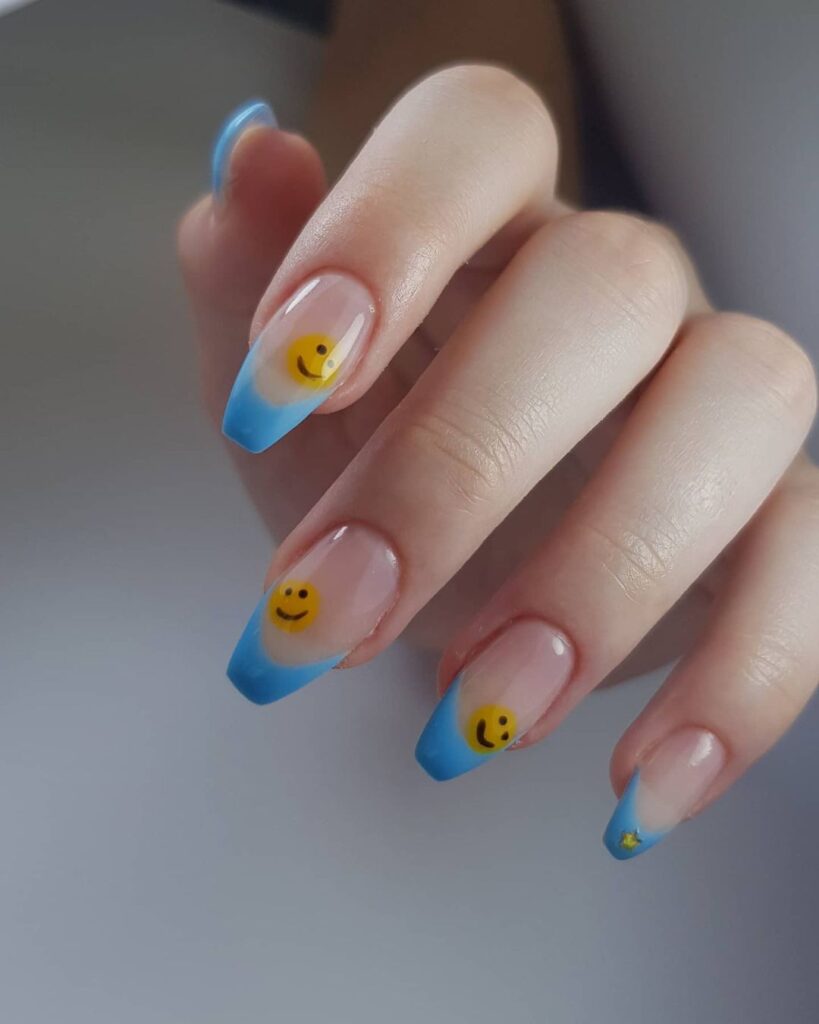 Courtesy: Marija Stojcheva
#54 Such Unique Motifs 
How fun is this unique manicure idea with distinctive motifs? The cow print, half-moon, and lightning bolt are all unique motifs to include in your next professional manicure.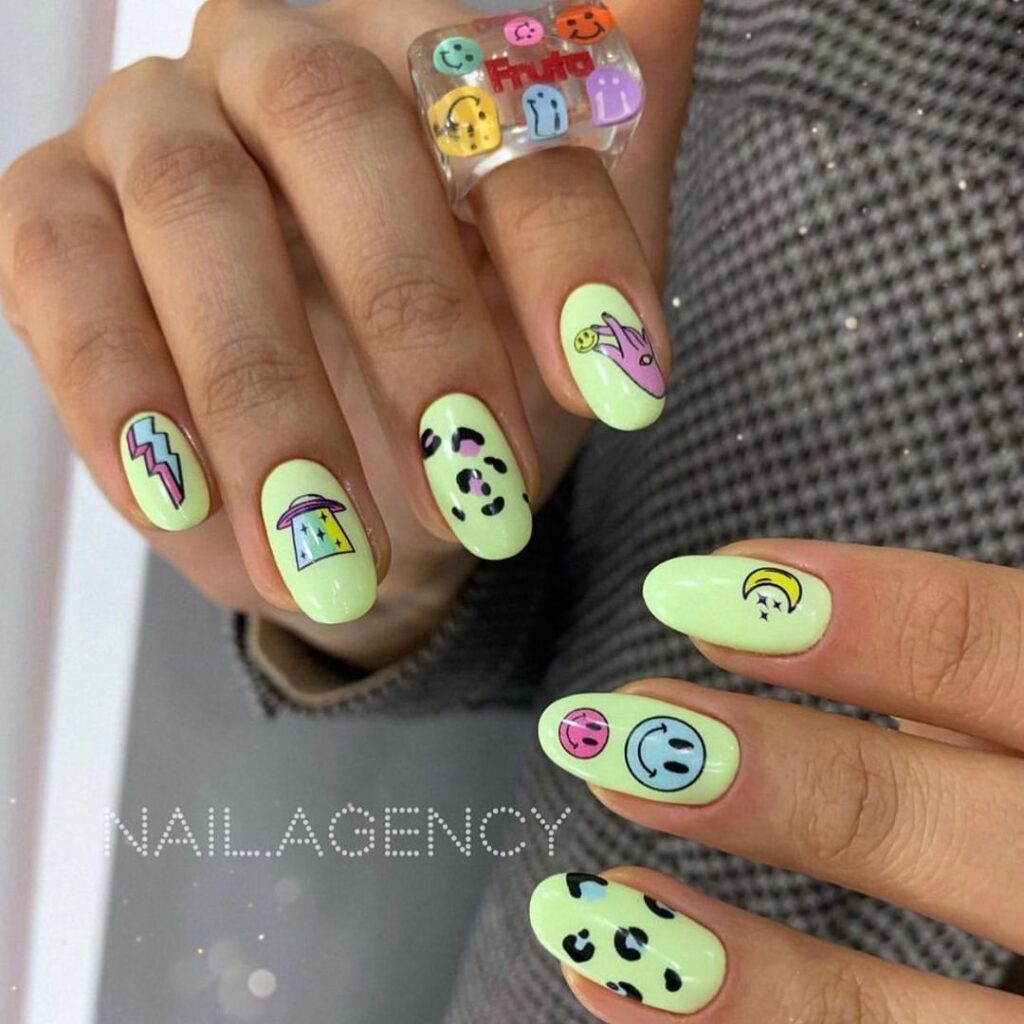 Courtesy: @odinenails
#55 A Cute Nail Design With Smiley Face
Sky blue and yellow go amazingly together, and the next smiley face nail design with a clouds background and emojis on the top proves just that!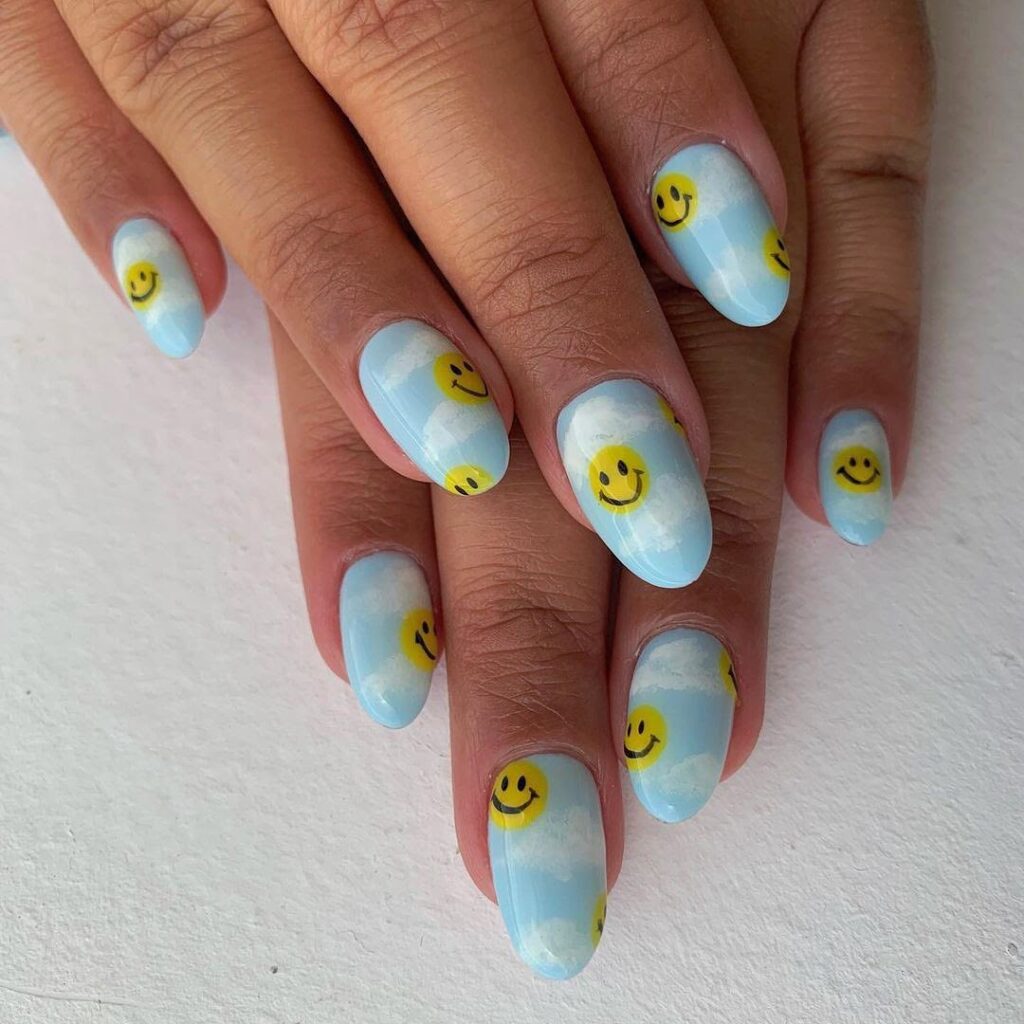 Courtesy: @springwithfriends
#56 Smiley Face Nails In Black & White 
These smiley face acrylic nails incorporate different patterns on each nail for an extraordinary and eye-catching design.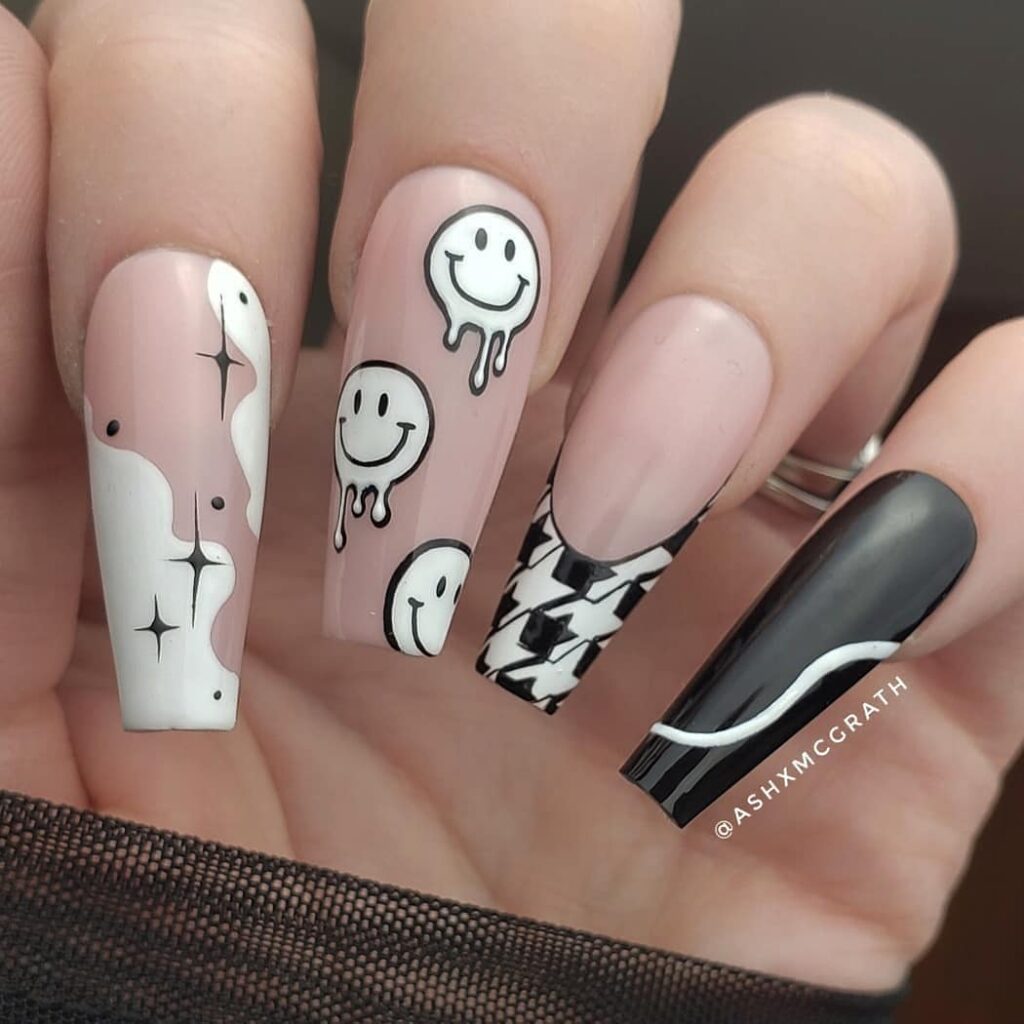 Courtesy: @ashxmcgrath
#57 A Simple Smiley Face Nail Art
While the smile emoji is simple, the seamless transition of colors on the base requires the help of a professional and this is definitely something you should get done at a salon!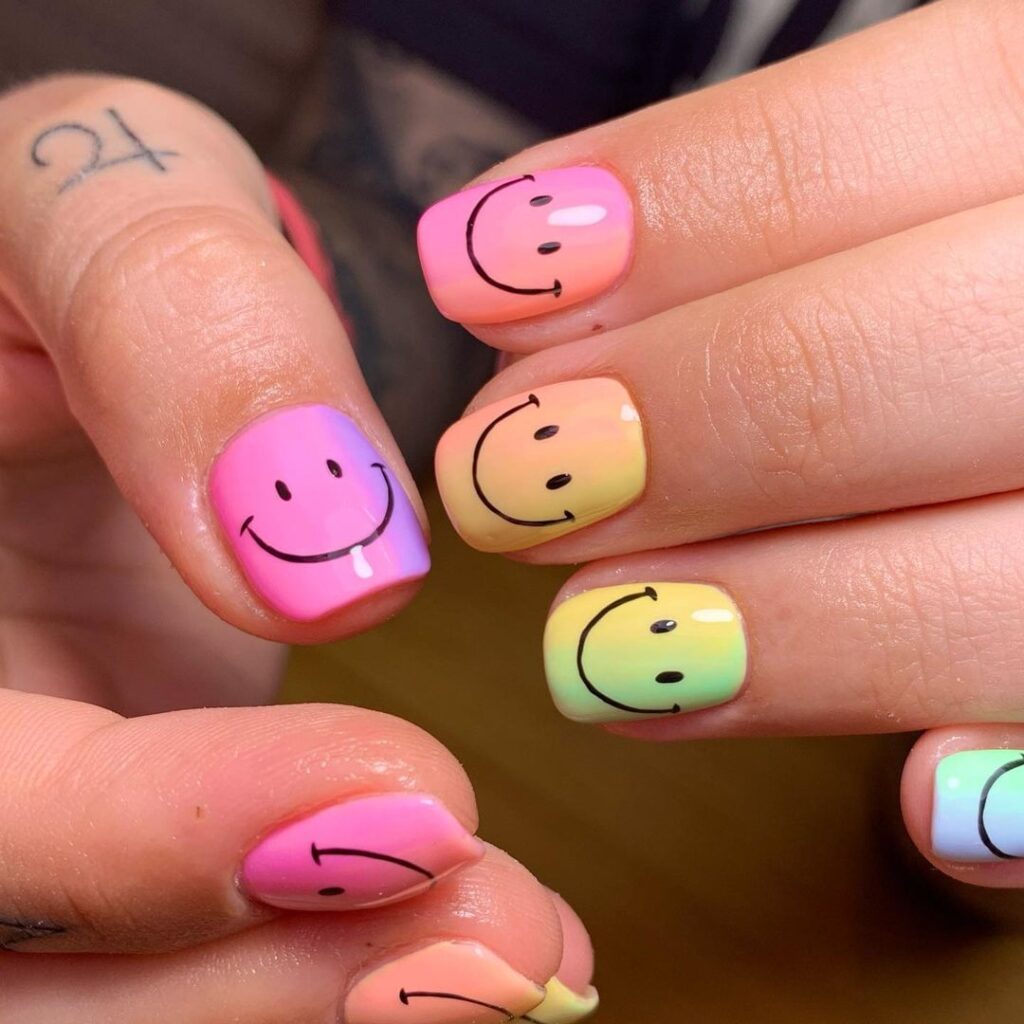 Courtesy: @scratchmagazine
#58 For The Love Of Colors 
For those who love a burst of bright colors in their mani, here's a smiley face nail art that employs a vibrant shade of every hue with smiley face motifs for a wonderful design.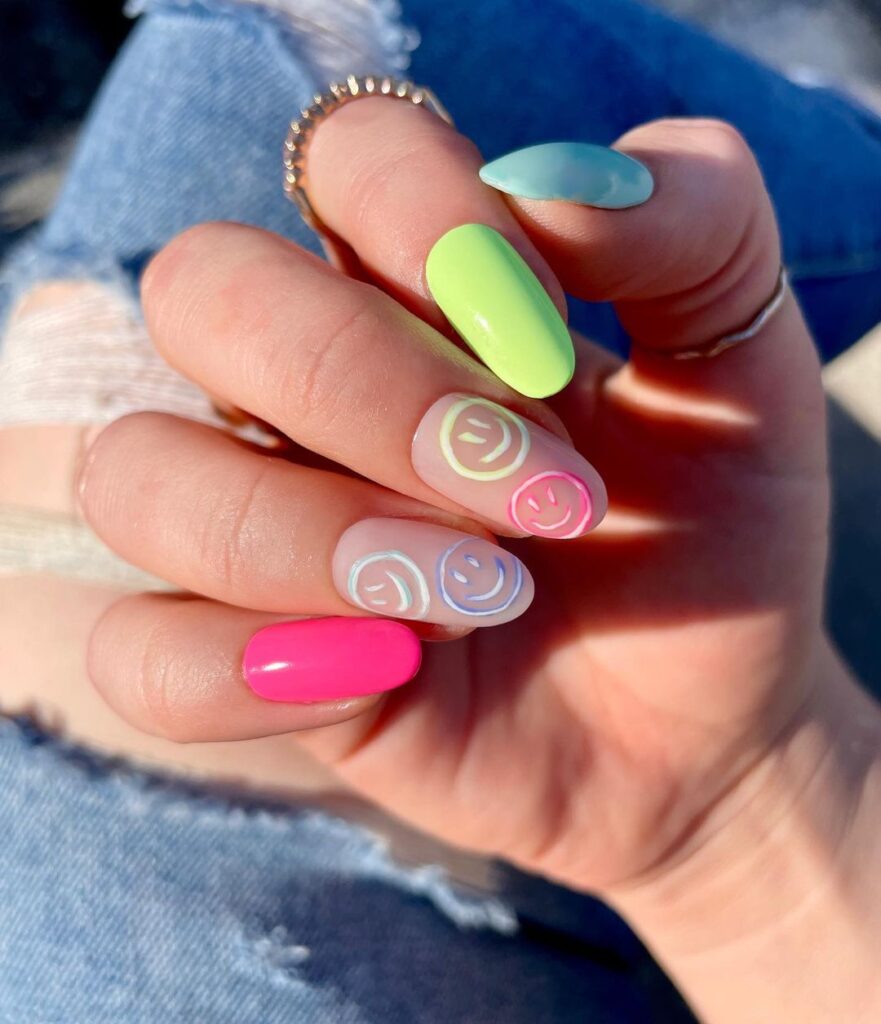 Courtesy: Anna Bahn
#59 Charming Pastels 
Excuse us while we appreciate the elegance and charm of this mani! It's one for the books and needs to be tried for sure.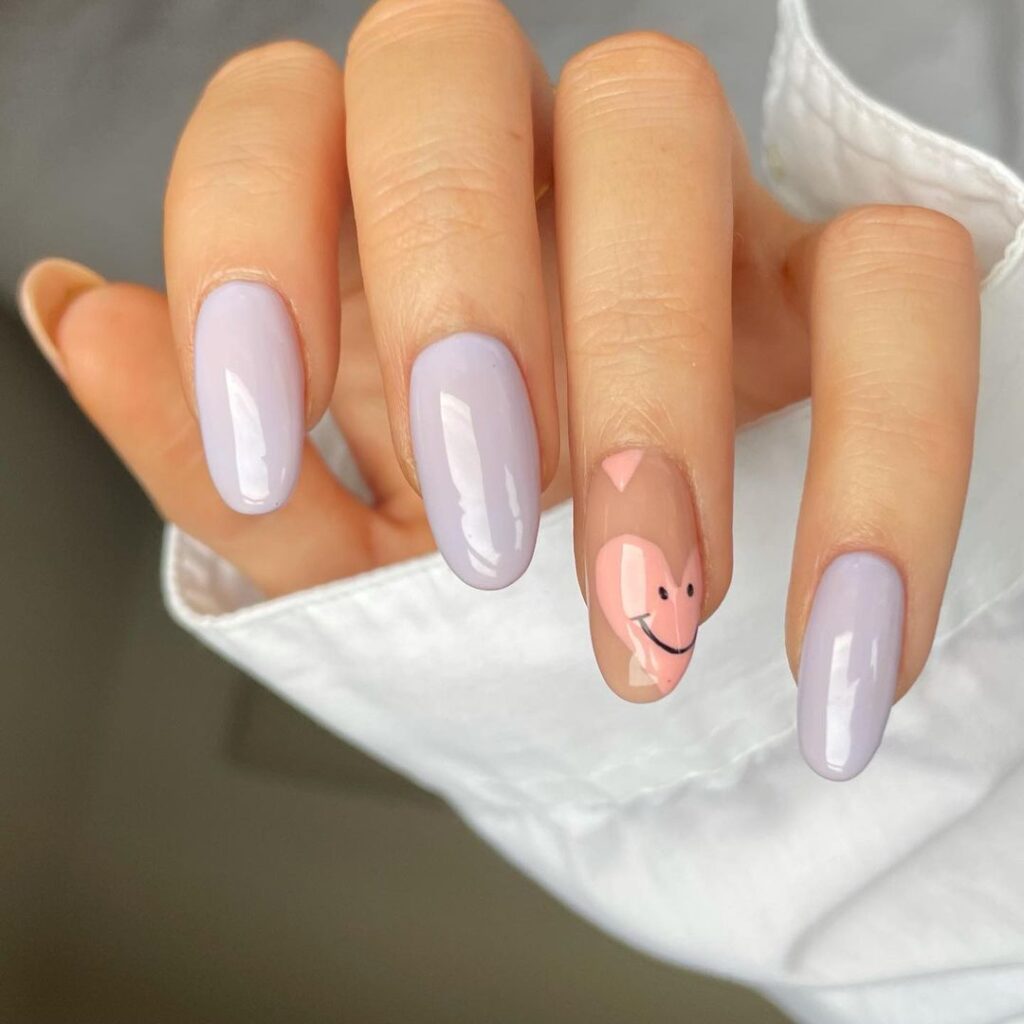 Courtesy: @brushedbyleah_
#60 Basic Nails With Smiley Face
If you prefer classic white nails and want to adorn them with the smiley face emoji, then the standard yellow can work perfectly.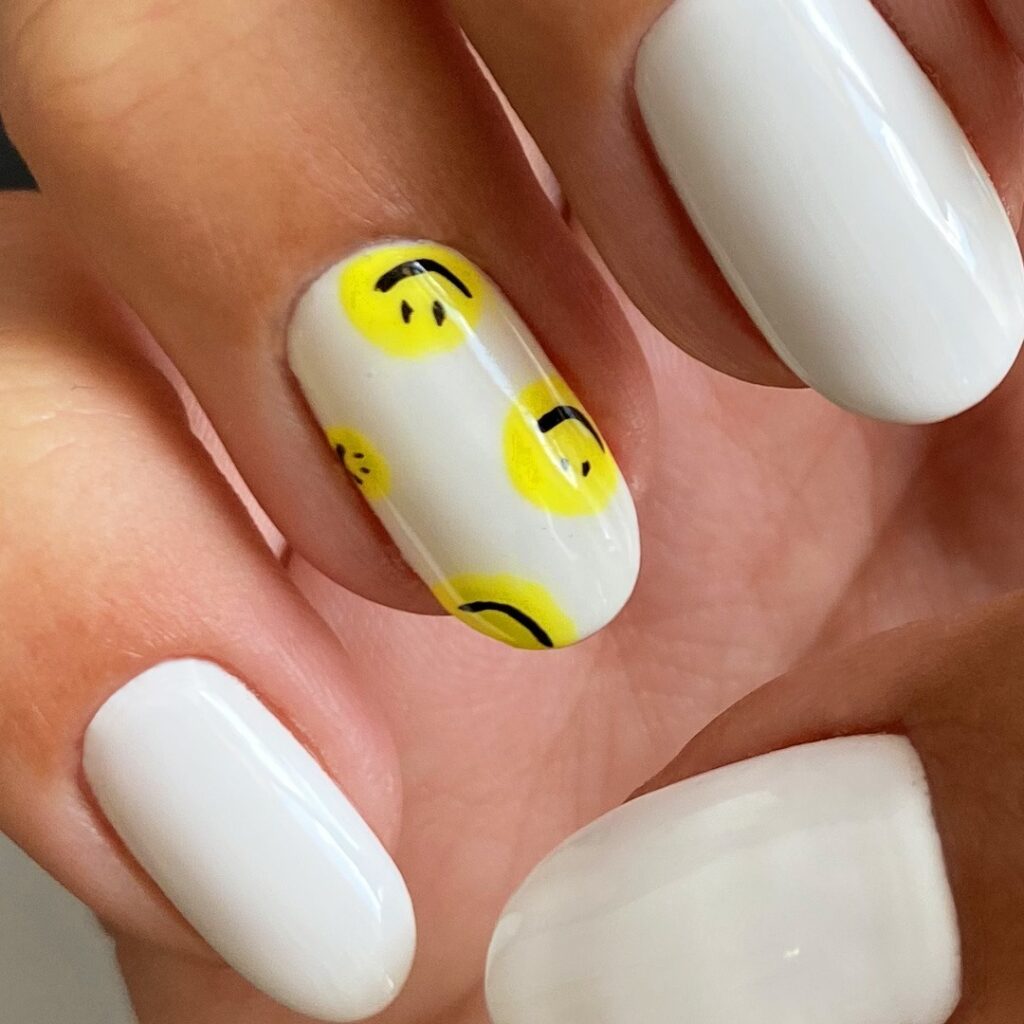 Courtesy: Glowy Beauty Bar
#61 Just Bedecking The Accent Nail With Smiley Face Nail Art 
For those who want to hop on the trend of smiley emojis without bedecking all the nails, here's an idea of adorning just the accent nail with the emoji and still giving this trend a fair chance!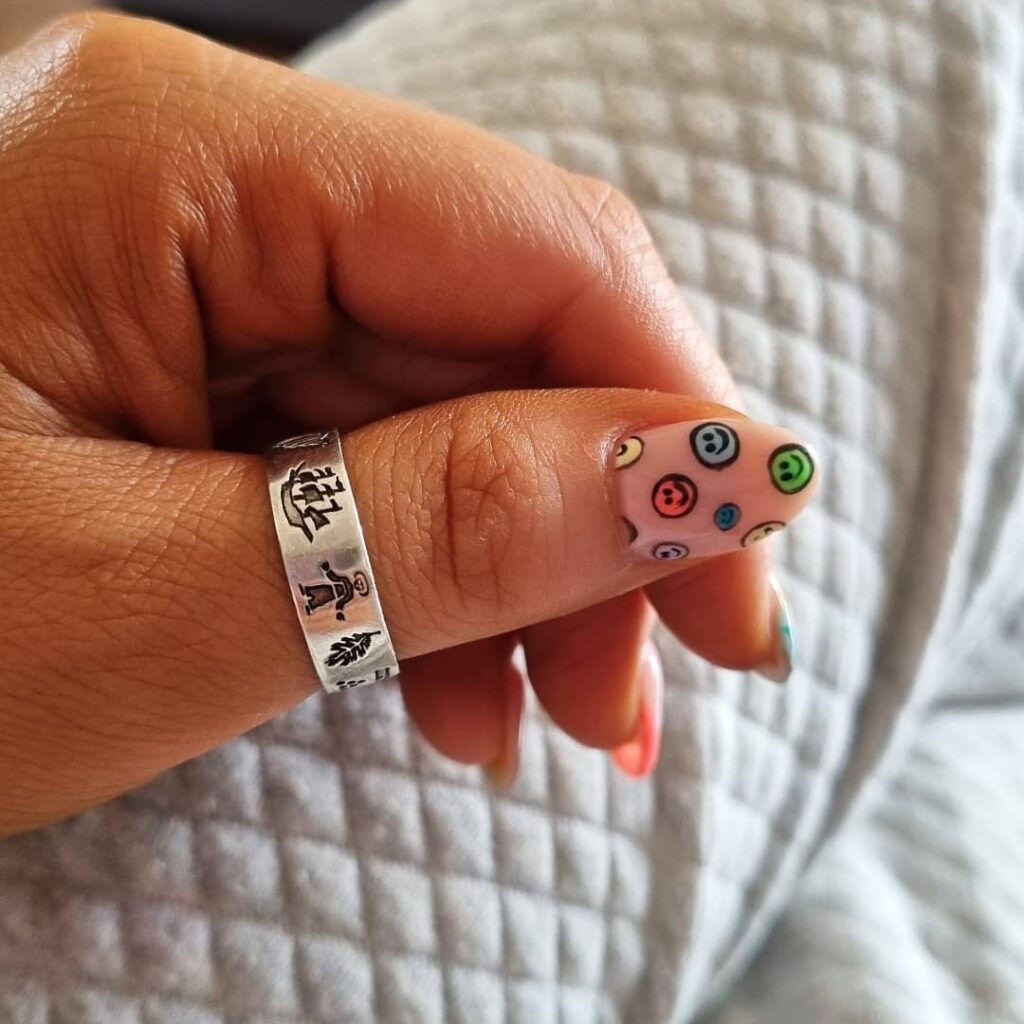 Courtesy: Nails by Gemma
#62 Mint Love 
Mint green looks just amazing in a manicure. It's a soft shade that's pleasing on the eyes, goes with a variety of outfits, and looks like a modish hue to try in nail art. Incorporate this fresh shade with the endearing attribute of smiley emojis with a design like this.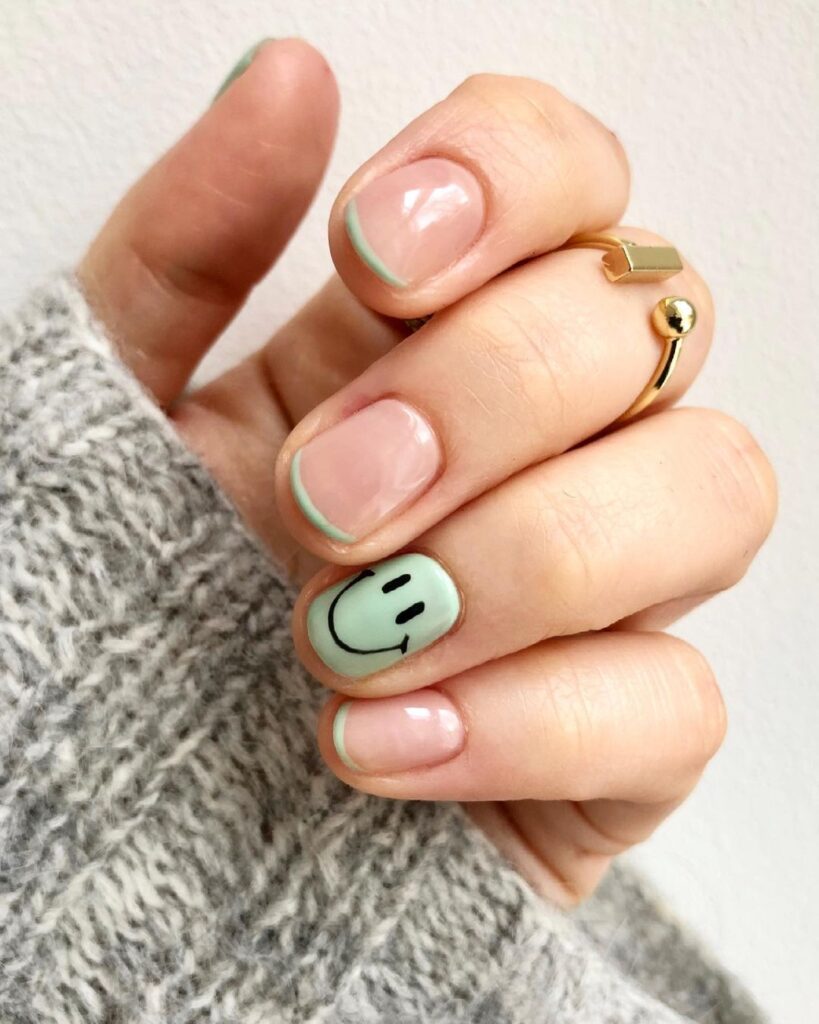 Courtesy: Jen Seales
#63 Taking It Up A Notch
You can create a seriously cheery mani without putting smiley emoji on each nail. Just look at how these smiley face nails use primarily geometric art and lines and incorporate other elements slightly but still manage to evoke feelings of happiness each time you look at them!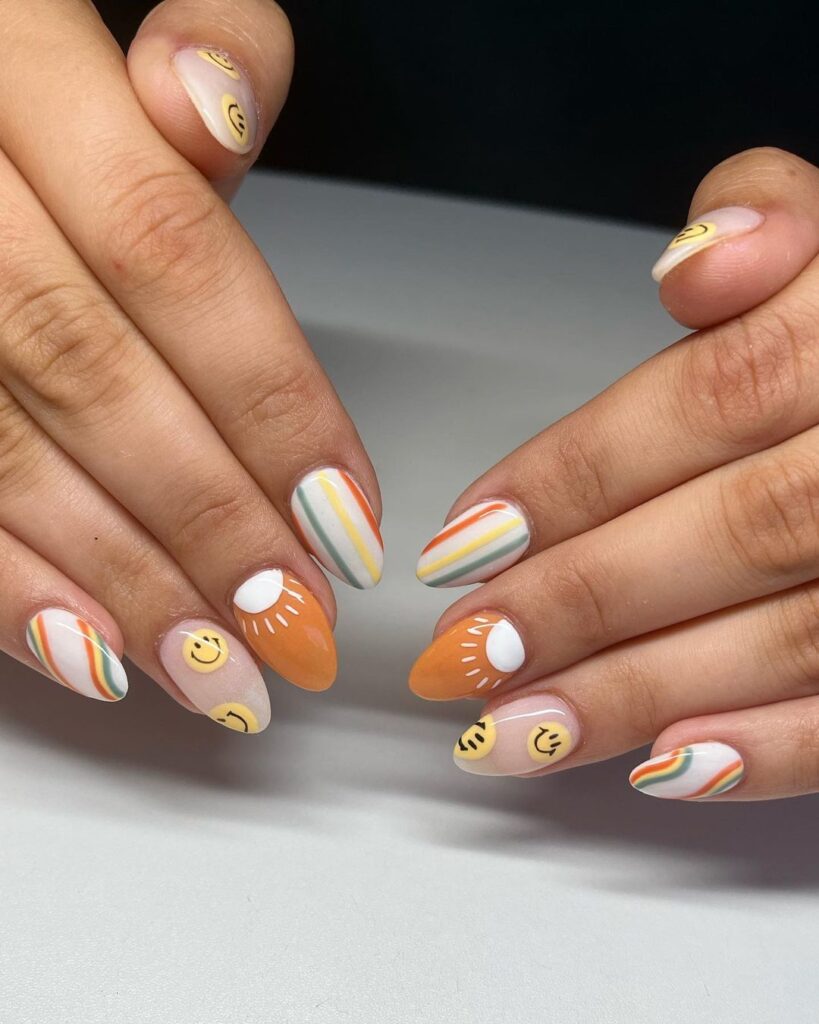 Courtesy: Nail Nook by Murrysville
#64 Gorgeous Colors Of Rainbow 
Incorporating rainbow colors in your nail art can be a great way to amp up the optimism and buoyant attribute of a smiley face acrylic nail design. With minimal motifs and tons of hues, this cute smiley face nail design is completely out of the world.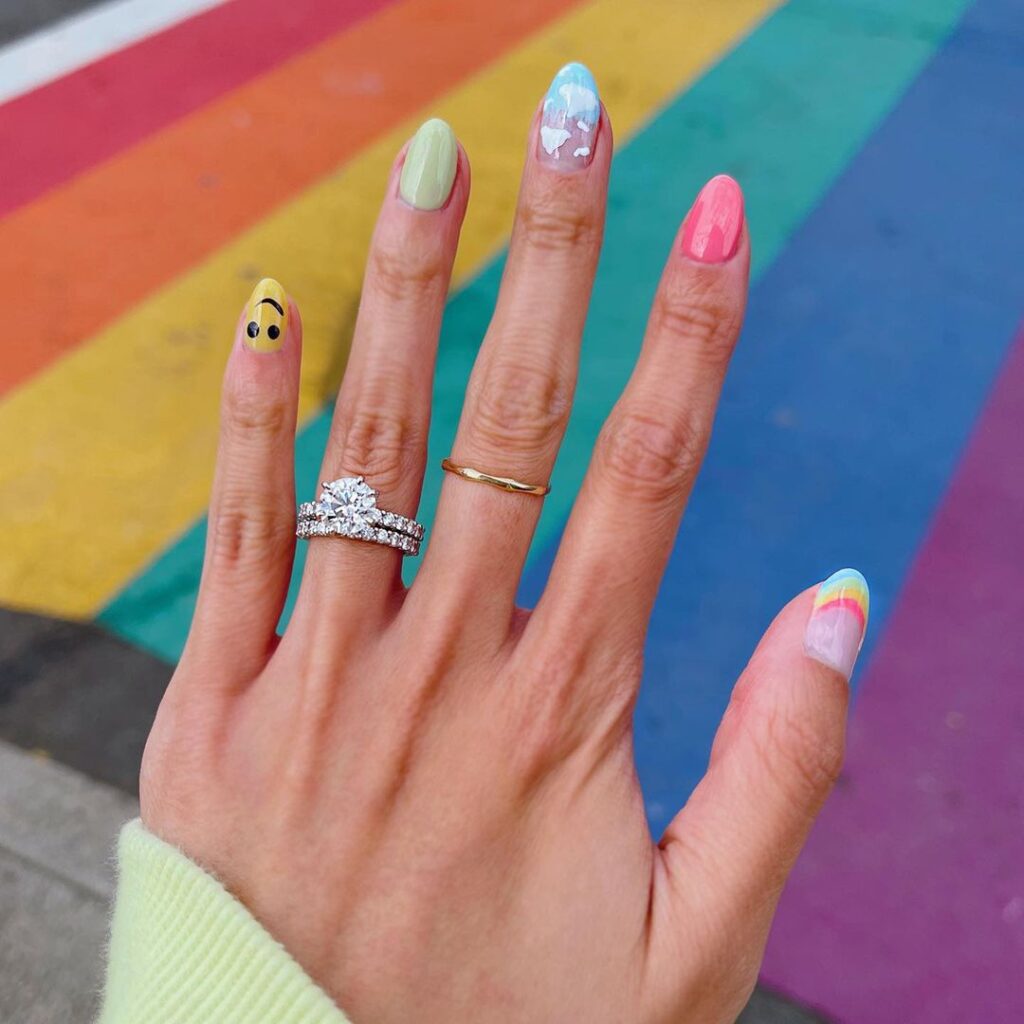 Courtesy: Carolyn Yuen Marino
#65 Cute Smiley Face Nails 
Elevate the game of your colored French manicure by adding simple smiley face nails on each one of the tips. Just choose any of your favorite 5 colors (make sure they have some kind of synergy) and use a dotting tool to draw the smiley on each of them. Cover them all with a top coat to finish.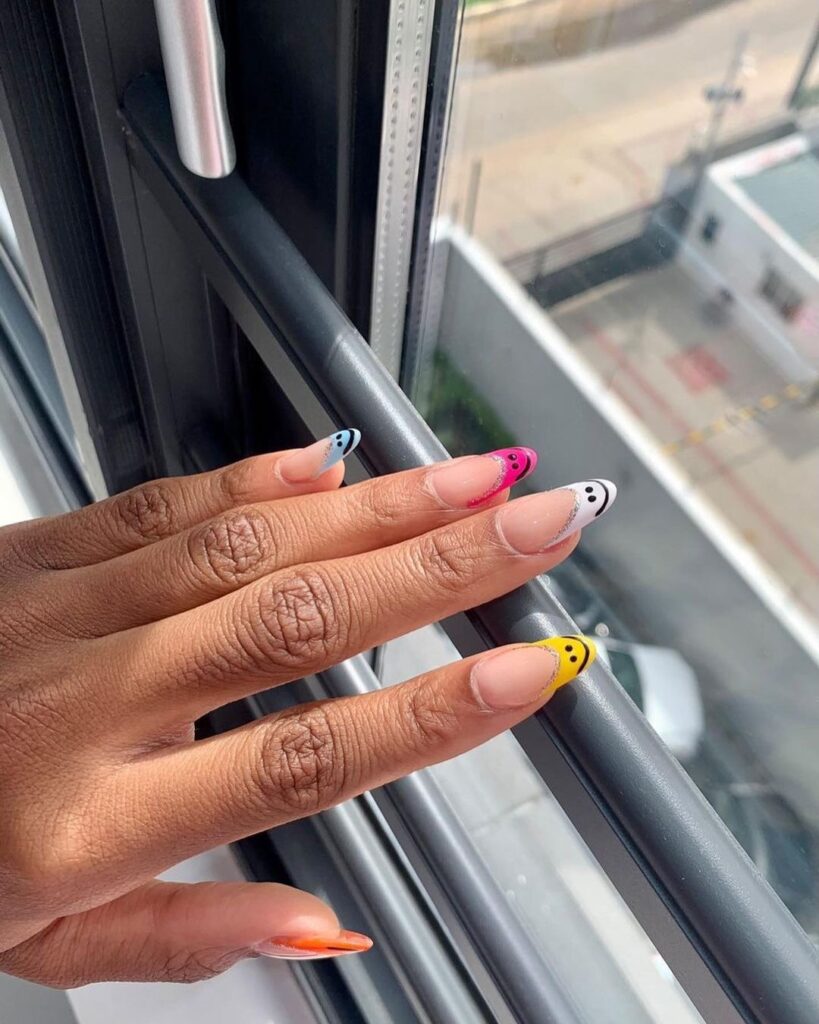 Courtesy: @ocean_nailz_
#66 The Winsome Combination Of Mint Green & Yellow
No one said your smiley face nails can only be done in vibrant shades. Even mellow shades like mint green can complement the yellow emojis motif. Other shades to try are lilac, peach, light grey, lavender, pale yellow, and pale pink.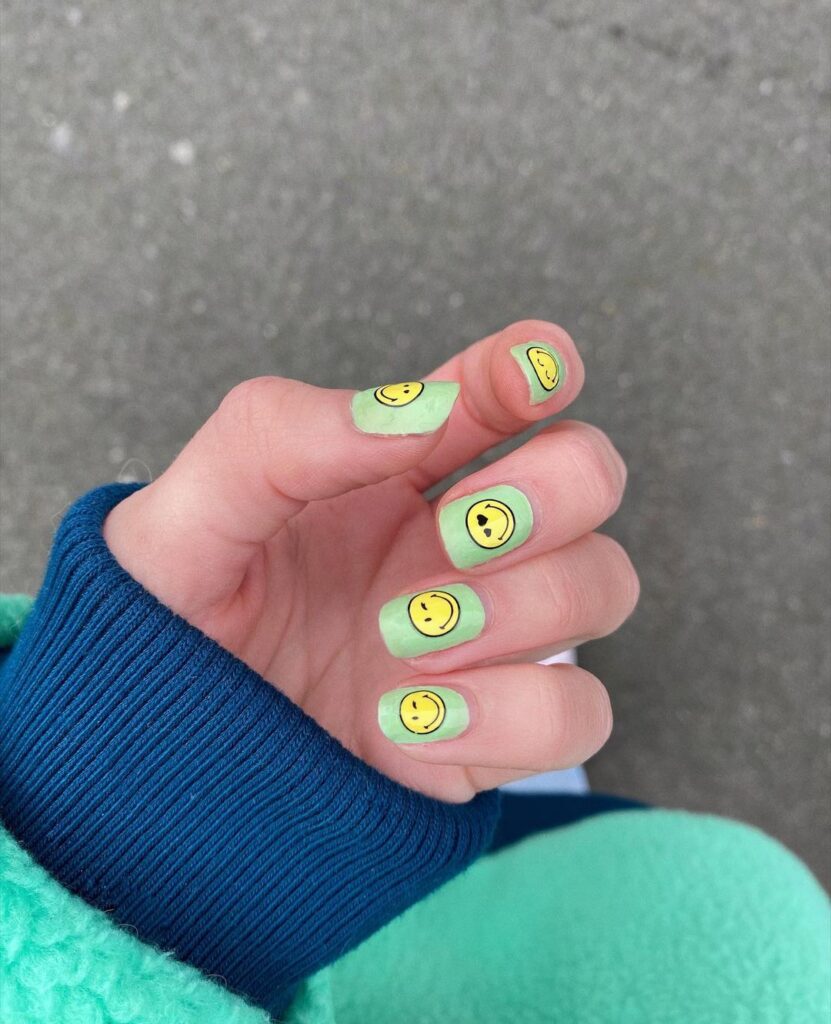 Courtesy: @oliviabynature
#67 Let Your Feet Do The Talking As Well! 
Why only experiment with this manicure on your hands when there are perfectly good designs available for your feet as well? We adore this 3-D nail art with a smiley face on the thumbnail and simple polish on others for a remarkable manicure.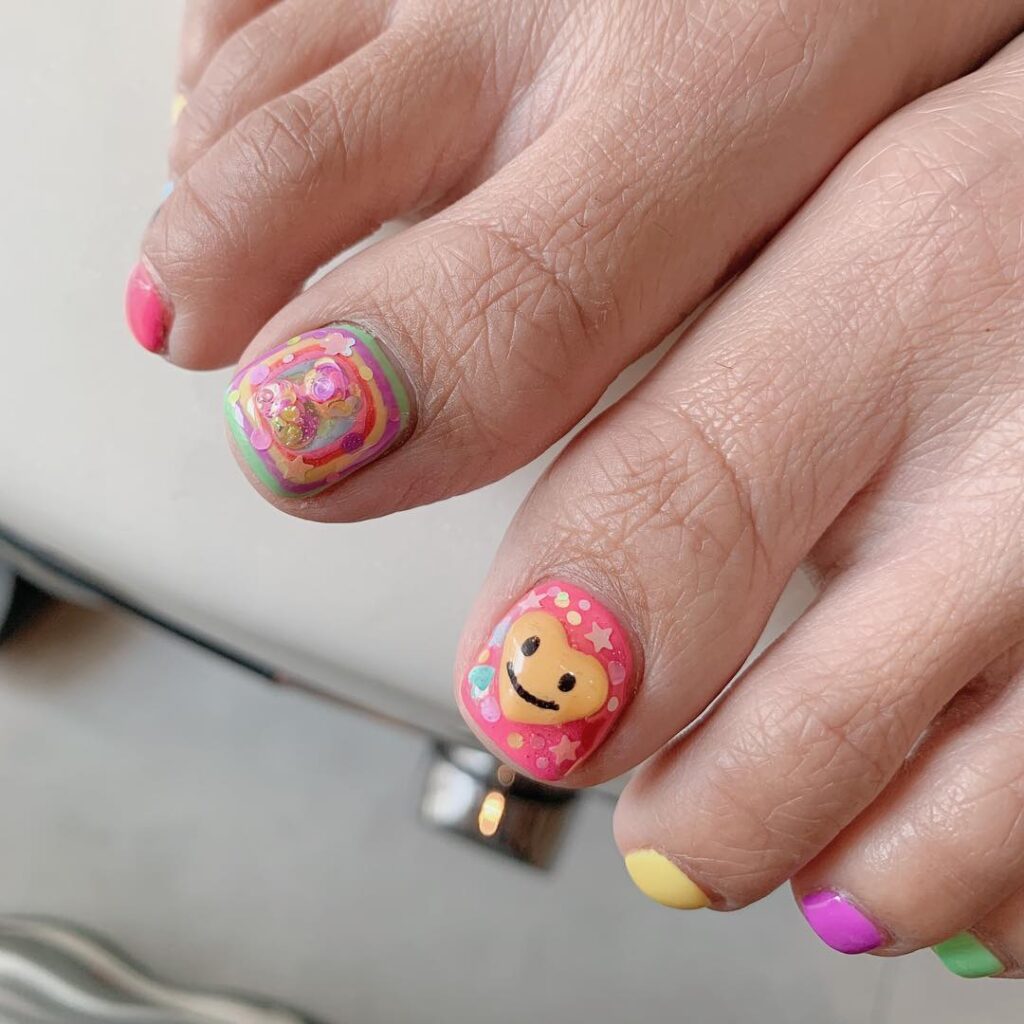 Courtesy: @treatbkk
#68 Holographic Smiley Nails! 
These ombre glitter nails make for the perfect holographic background for the standard yellow smiley nails and give them a superb base to shine bright! Ombre glitter nails are anyways on the trend and when you pair them with smiley emojis, you have an ingenious manicure all ready to flaunt!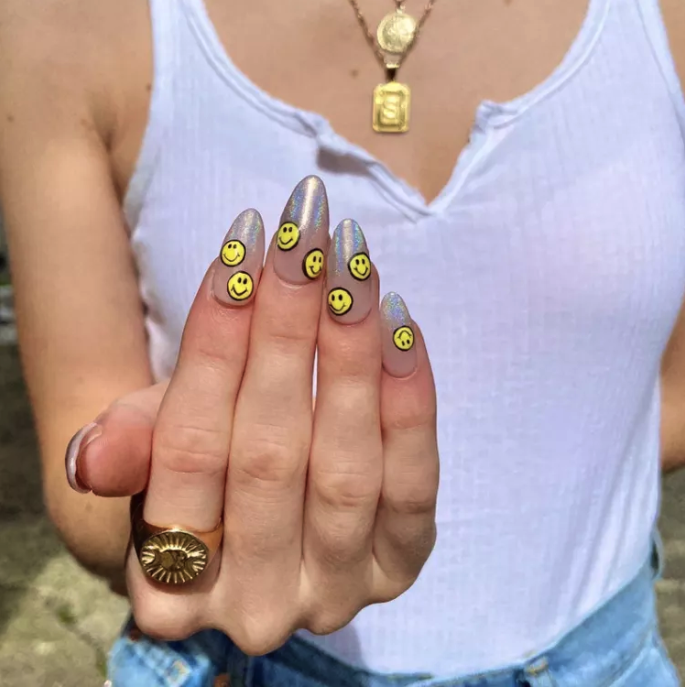 #69 Smiley Face Nail Art On Nude Nails
This nude nail design is done in an almond shape for a feminine look with an illusion of bigger nails than usual and employs soft colors so as to ensure synergy with the nude base. To further simplify the design, you can skip the flower motif completely and only do the colorful smileys!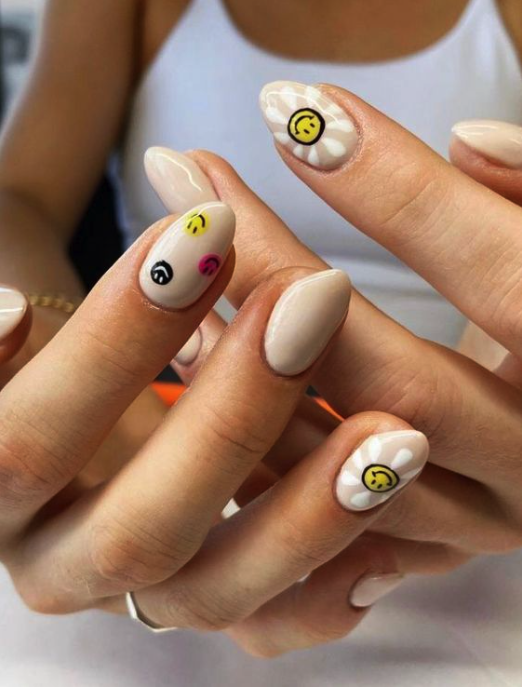 #70 Happy-Sad Nails 
It's not all happiness and sunshine! Sometimes it's gloomy and unpredictable, and that's okay. Depicting the happy, sad phases of life is this happy-sad smiley face nail art.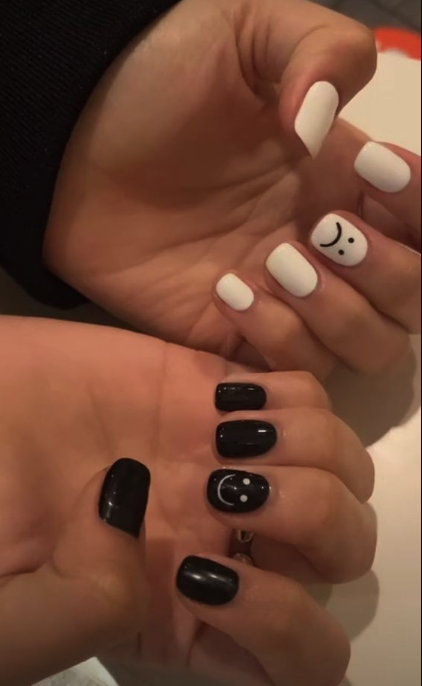 #71 The Ushering Of Spring
Signifying the usher of spring is the next one of the nails set with a smiley face depicting juicy mangoes and strawberries along with florals, clouds, and of course, a smiley face on one of the fingers for a beautiful aesthetic.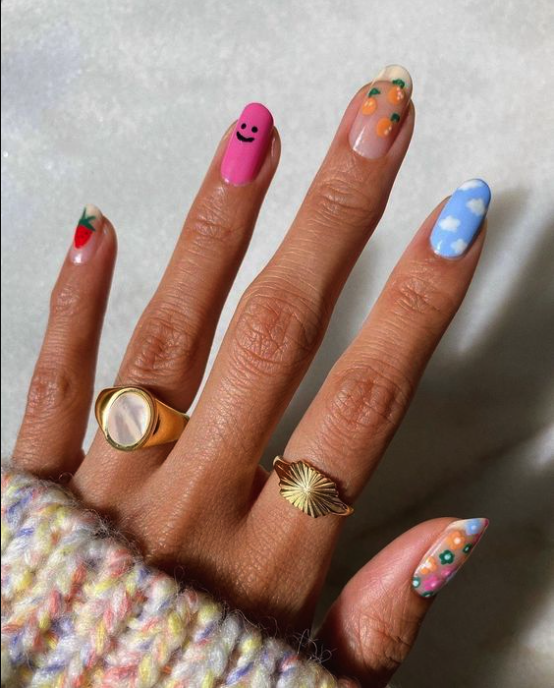 #72 Gorgeous Nails With Smiley Face For Feet 
Why should only your hands radiate the happiness associated with happy-face nails? Take your love for this cheery manicure further and paint your feet with a smiley face nail design like this for a jovial look.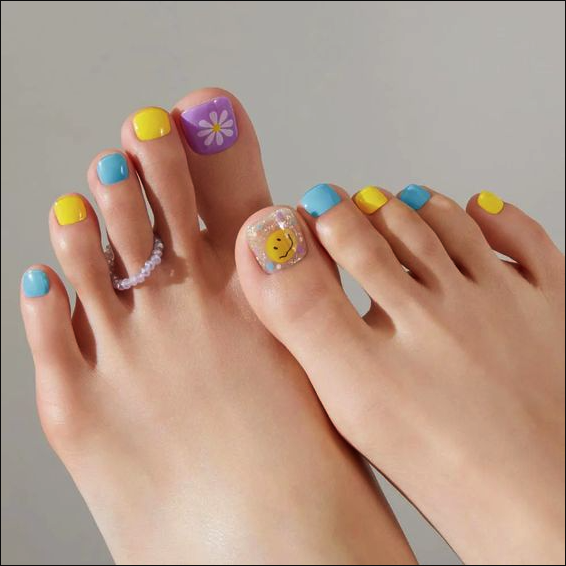 #73 Minimal & Elegant 
Keep your nail game chic and understated with short almond nails in a nude polish, but add a touch of fun with a smiley face accent nail! This minimalist and trendy look is perfect for anyone who wants a subtle yet playful touch on their nails.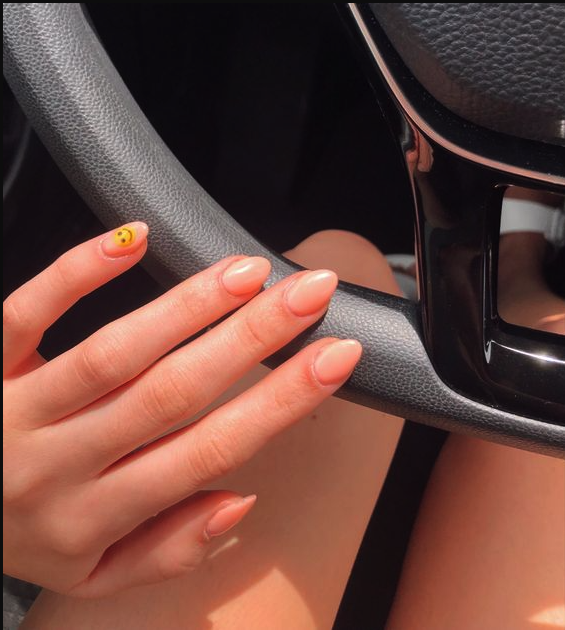 #74 Love At First Sight 
We aren't kidding. We fell in love with this smiley face nail design the minute we saw them! They are basic, easy to do at home, minimal, and quite versatile. Another good part of this nail design with a smiley face is that it will look good with all types of nail shapes and choices – no matter what's your preference.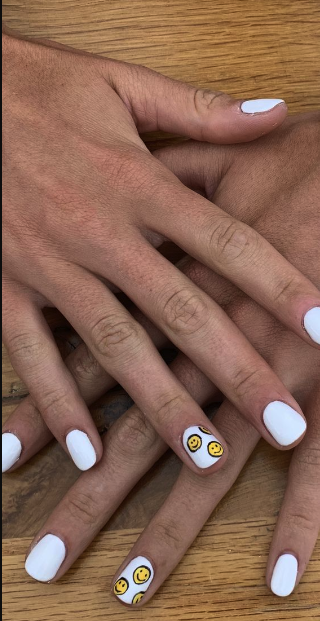 #75 X Smiley Face Nails
The X smiley face nails are an easier twist to the classic smiley face nails and adds a quirk to the standard manicure art. You can easily DIY them at home and use a combination of any two colors to recreate them!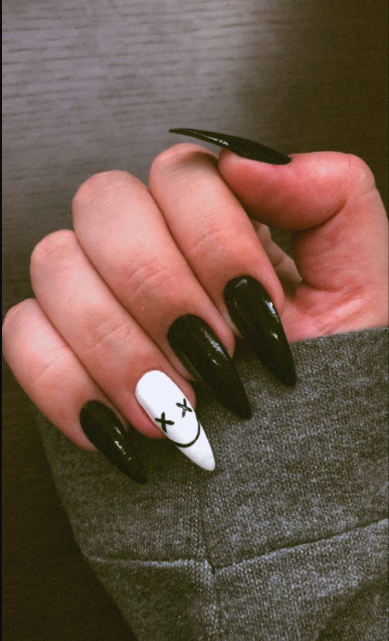 FAQ's
How To Do A Smiley Face Nails?
Step 1: Choose A Design
The first step to any manicure is to pick a design you love and want to sport for the next few weeks. Our blog is a great inspiration for smiley face nail design and we have several other nail design blogs for reference, but you can also look for inspiration on Pinterest. For beginners, we'd suggest choosing a minimal design with few colors and patterns. 
Step 2: Gather Your Materials & Nail Colors
Once you have chosen the manicure idea, go ahead and grab your nail polishes and tools. For drawing a smiley face, you'd need a dotting tool and a fine liner brush. Other tools to grab are nail filers, cuticle pushback tools, nail cutters, base coats, and top coats.
Step 3: Prep Your Nails
After having all the necessary tools in place, start by removing any old nail polish for a clean base. Cut the nails in your desired shape, remove any excess cuticles, and file the nails for a smooth base. You can also apply cuticle oil but make sure it's all dried up before starting with the design. 
Step 4: Apply A Basecoat
The next step is to apply a basecoat. This is an important step because a good base coat can help the polish adhere better whilst also protecting the natural nail from staining and discoloration. If you have a sensitive nail bed that is already prone to breakage and discoloration, this step is a must!  
Step 5: Start With The Design
If your manicure idea includes a base coat, you can start with that and let it dry before moving forward with drawing patterns and smiley faces. If you're lacking the confidence to draw a smiley face, try and draw them on the paper first and then sketch them on your nail. Take it slow and steady and clean up anything with nail polish remover. 
Step 6: Seal With A Topcoat 
Once you are satisfied with the design of your manicure, seal everything with a top coat. A topcoat acts as a protective coating to seal your manicure in place, protect it from damage and chipping, and enhance the longevity of the manicure. A top coat can also give a glossy or matte finish to the nail design and gives it a polished look.  
You can buy a basecoat + topcoat set here. 
How To Draw A Smiley Face Nails?
To draw smiley face nails, you need to have expertise in basic nail art skills, especially drawing a circle. If you aren't confident about the circle, draw a smiley face without the outer circle and instead draw eyes with two parallel horizontal lines and a small curve on the bottom. For those who'd want to DIY smiley face nail design still, the best option is to use a sticker. But do pick ones with good quality and cover them with a top coat so they stay longer.