Intricate, mesmerizing, and steeped in cultural tradition, mehndi designs have been adorning hands and feet for centuries. While grand and elaborate mehndi patterns have their allure, there is a rising trend in embracing the beauty of small mehndi designs. These delicate creations, with their subtle elegance and intricate details, have captured the hearts of both traditionalists and contemporary enthusiasts alike. Whether you're seeking a touch of refinement or simply looking to experiment with a more minimalist approach, small mehndi designs offer a captivating canvas for self-expression. In this article, we delve into the enchanting world of small mehndi designs, exploring their charm, versatility, and the creative possibilities they present. Get ready to be inspired by the understated beauty that lies within these petite works of art. 
#1 Deity Small Mehndi Designs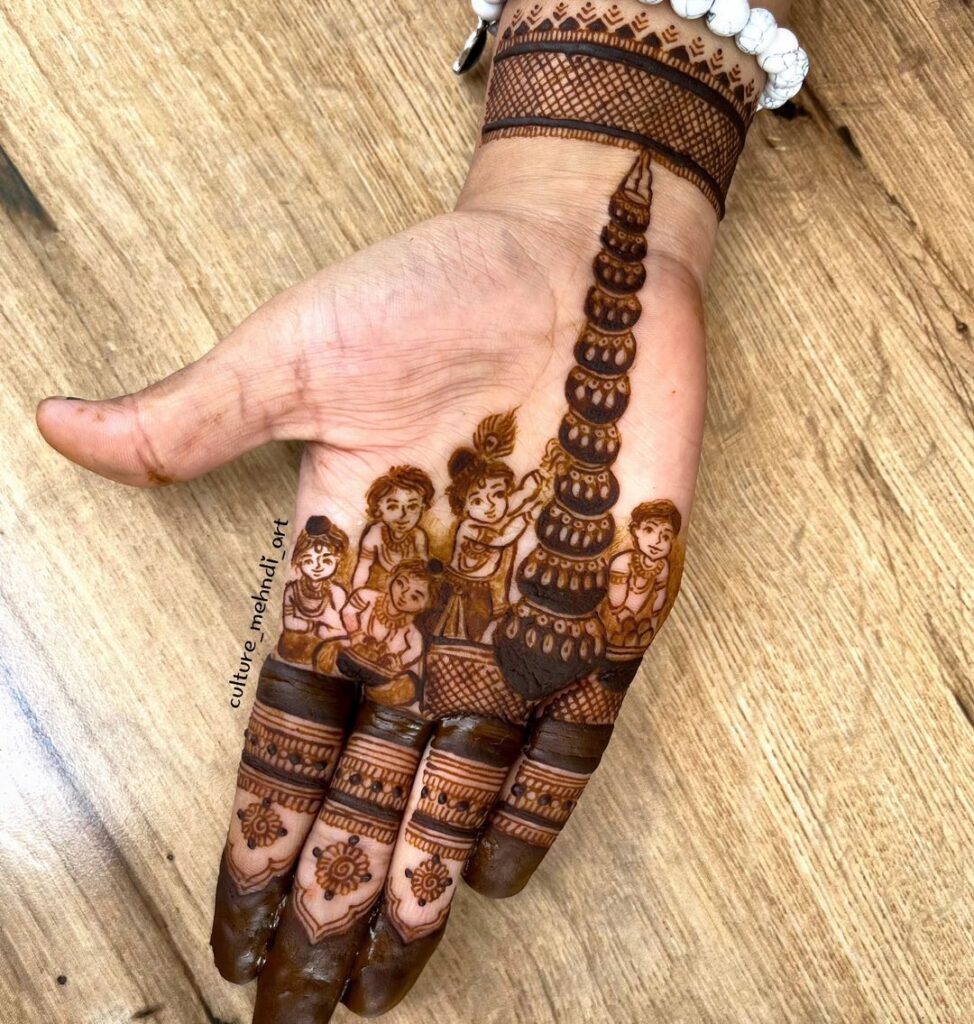 Courtesy: Ruchi Naman Borda
This deity figure small mehndi design is a work of art! Some henna artists definitely have magic in their hands. I mean just look at the sheer creativity of this one! 
#2 Peacock Motif Small Mehendi!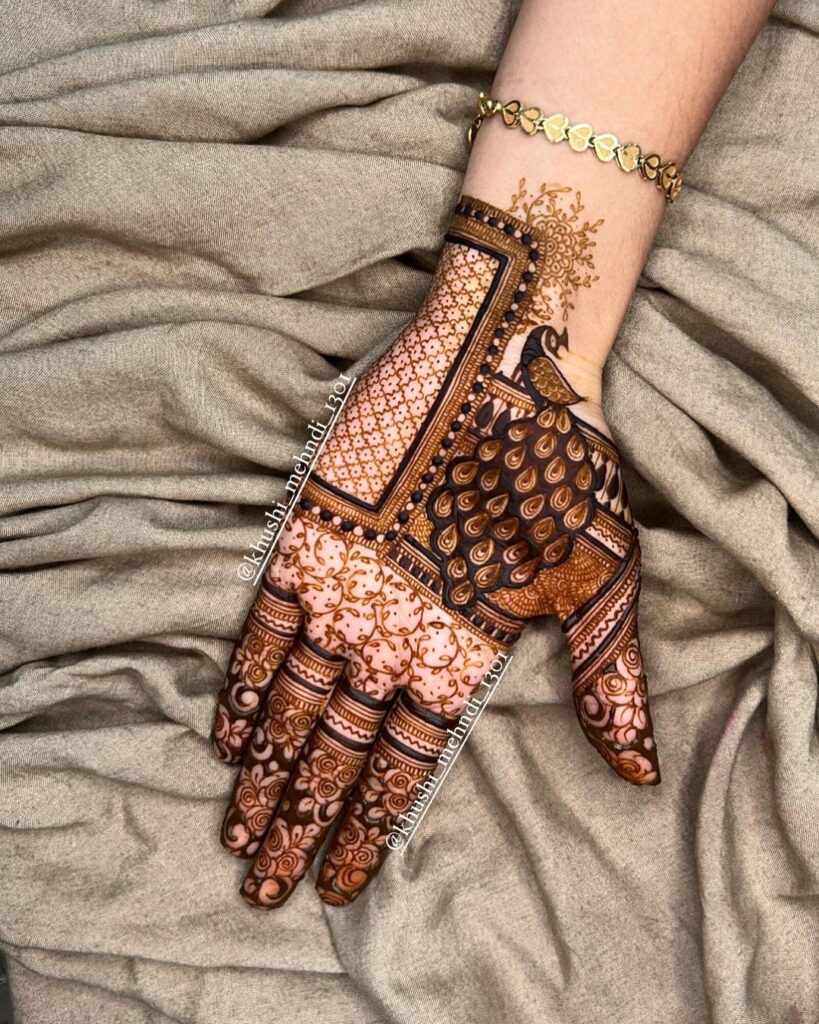 Courtesy: Khushi Navadiya
Peacock mehendi designs always manage to enchant with their regal elegance and allure. Here, the peacock motif takes centerstage occupying a good section of the palm to showcase their artistic finesse. Surely, you need a professional to recreate an intricate design like this! 
#3 Replete With Lotuses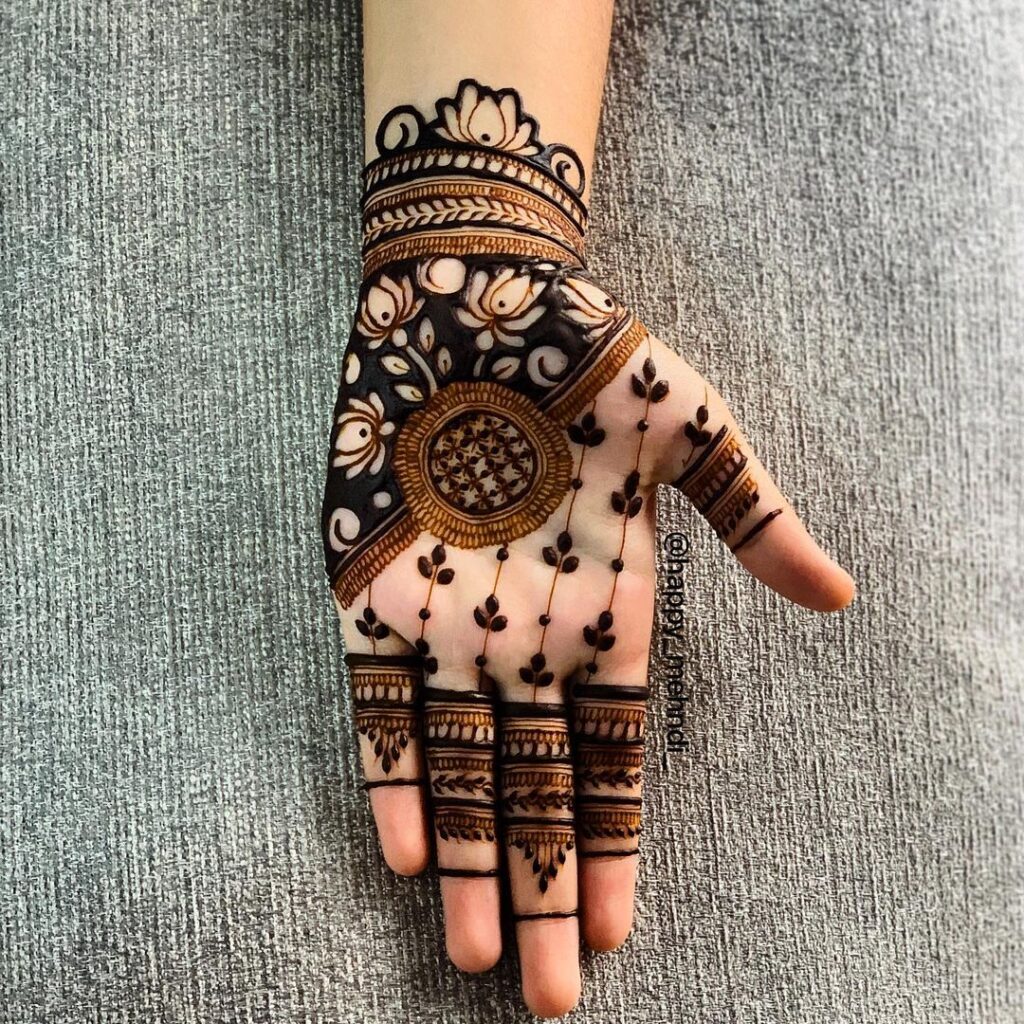 Courtesy: Happy Sabhadiya
This lotus-enriched mehendi design is all about using this modish element in a graceful manner in your henna tattoo! This small mehndi design tattoo is perfect for anyone who just wants to apply henna to their palm area and is looking for a unique look. 
#4 Using Empty Spaces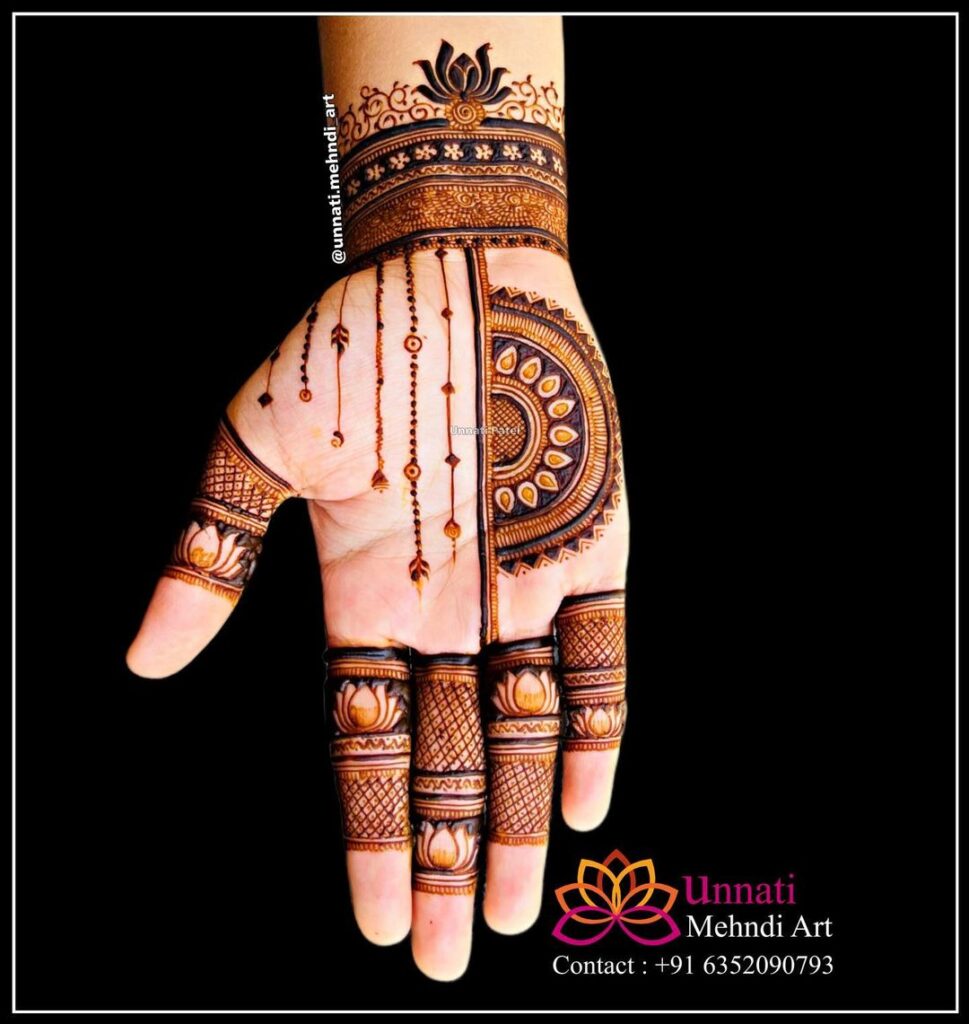 Courtesy: Unnati Patel
The semi-circle on the side, lotus scattered throughout, and dropping garlands make this design an exquisite one to try from the list. While this might look good on small kids, it's perfect for women of all ages to sport on any occasion. 
#5 Just One Finger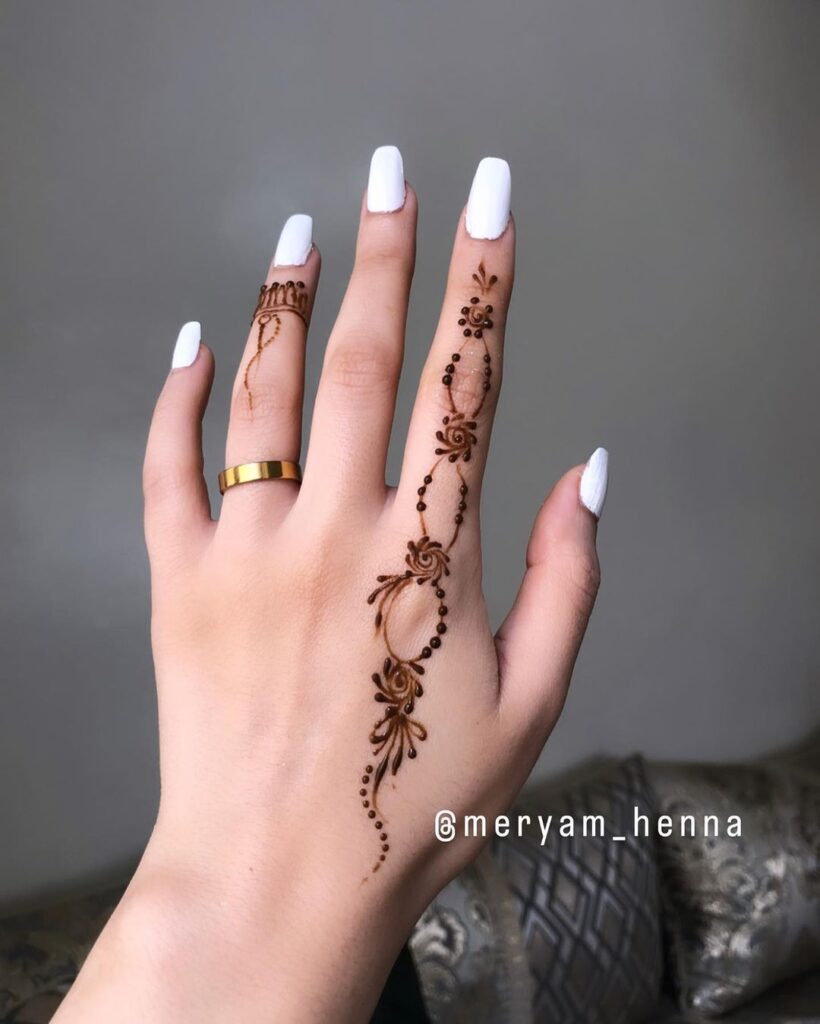 Courtesy: Meryam Henna
This easy and beautiful small mehndi design covers just one finger and yet somehow manages to mesmerize us with minimalistic charm! It also covers just one more finger with subtle henna and you can choose to cover them all as well! 
#6 Hand Jewelry Love!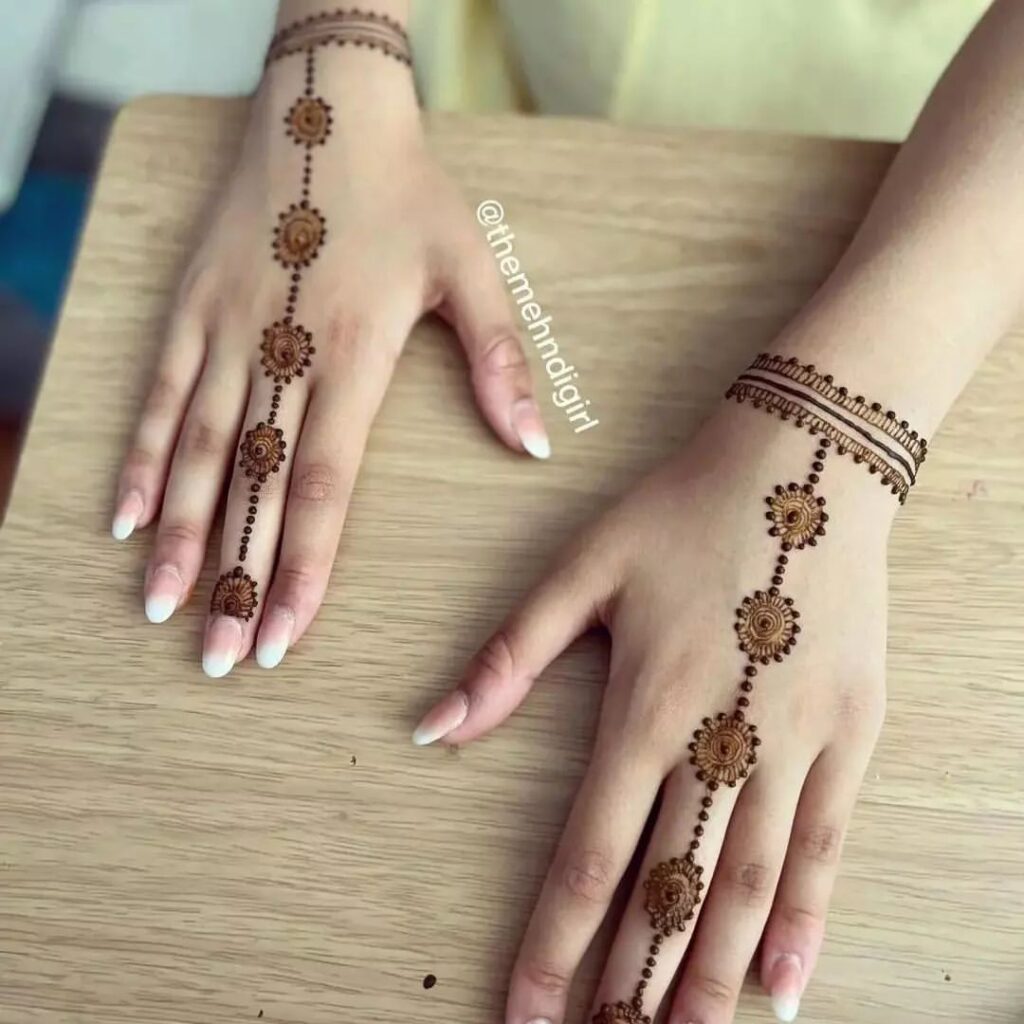 Courtesy: @themehndigirl
Why wear a real hathphool when you can create such a mesmerizing hathphool design with your henna? It's going to look incredible after staining and allows you to skip hand jewelry completely so you don't have to worry about an additional piece of trinket! 
#7 Small Mehndi Designs For Back Hand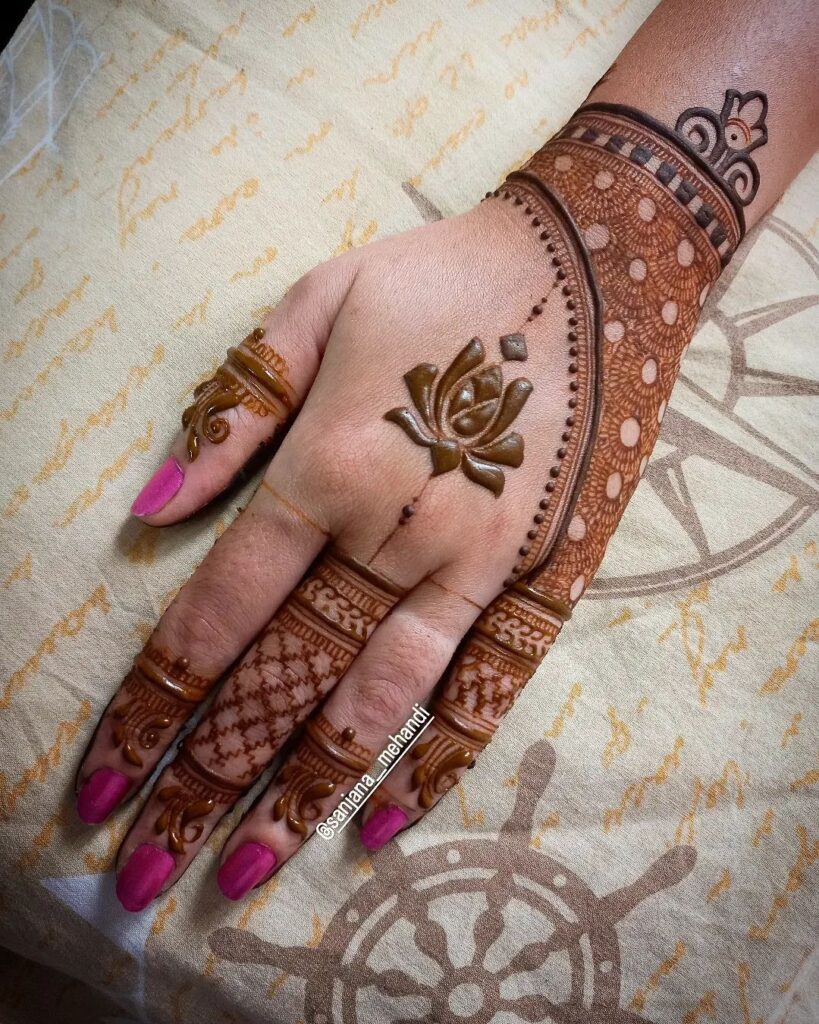 Courtesy: Sanjana Bavasiya
This small mehndi design for the backhand features a lotus in the middle with a jaal pattern on the sectioned side of the lower hand and simple finger mehndi designs for a finished look.  
#8 Eid-Inspired Henna!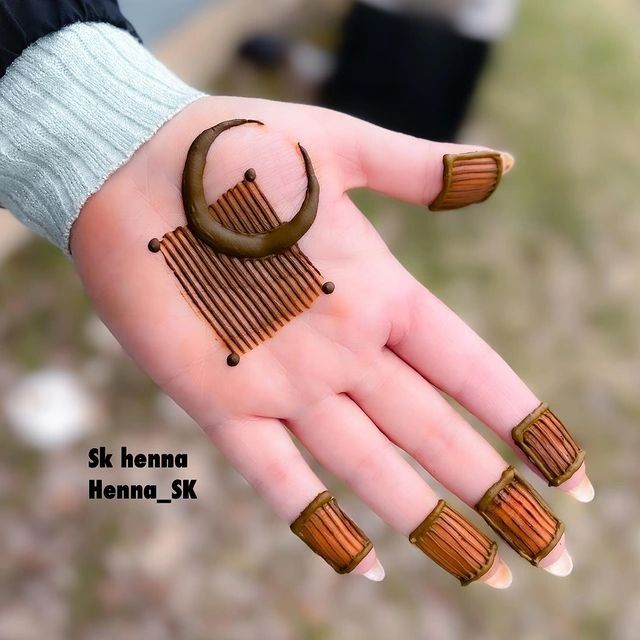 Courtesy: @shama_mehndi89
An ideal small mehndi design for Eid, this henna features a crescent moon alongside vertical lines for a charming design. 
#9 An Exquisite One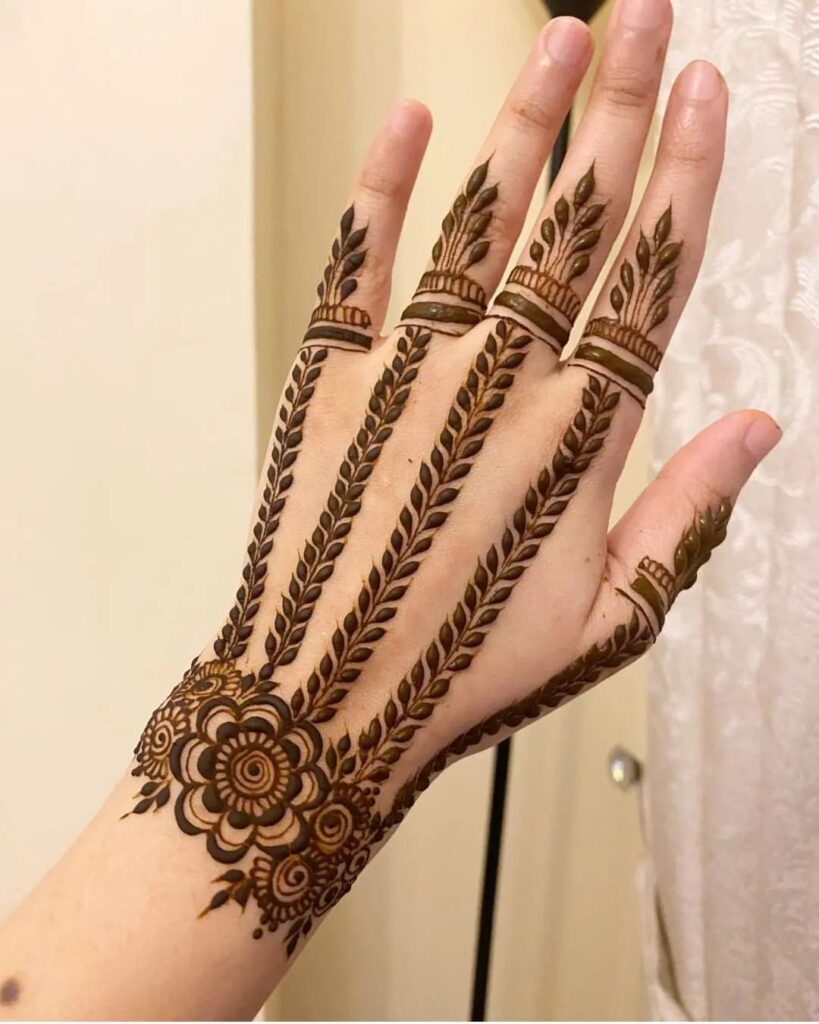 Courtesy: @shama_mehndi89
This one of the small mehndi designs is done like hathphool to give you a natural hand jewelry look! You can surely alter the design to make it more minimal by opting for just one line going from the wrist to the middle finger – which can be a good idea for mehndi design for small girls. 
#10 Whimsical Florals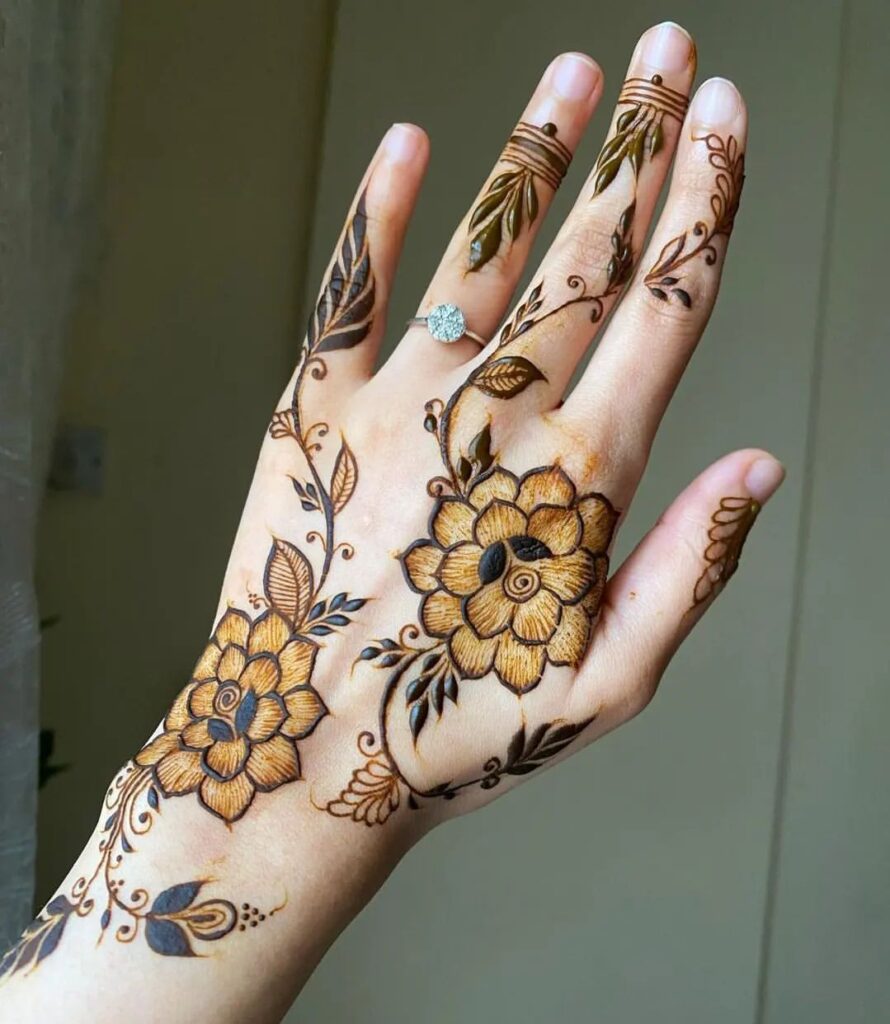 Courtesy: @shama_mehndi89
We love how the chunky florals and leaves patterns give us such a mesmerizing henna pattern. We'd recommend using a similar kind of foliage and floral pattern on the other hand and the front side for a coordinating henna design! 
#11 Small Flower Mehndi Design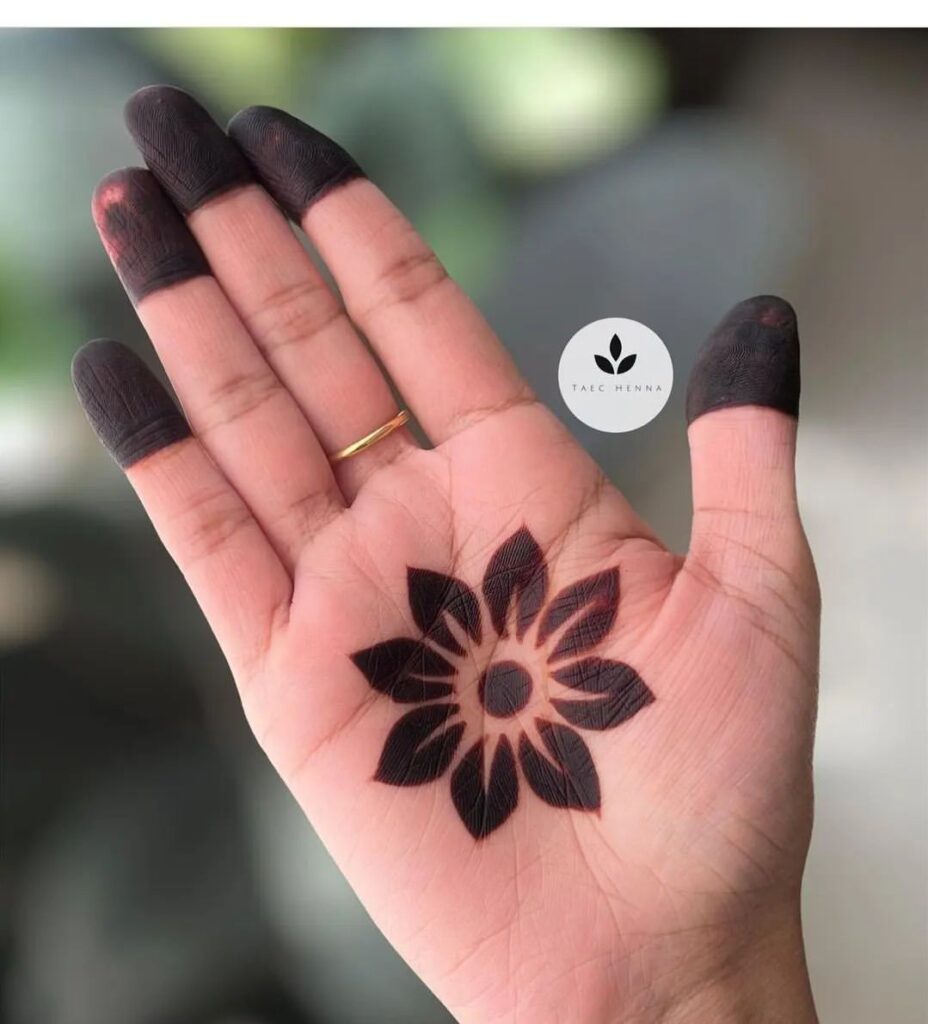 Courtesy: Taec Henna
A small flower mehendi design is well-suited for all occasions. For the wedding, for a religious festival, or for just when you're in the mood for a henna tattoo! Here's an easy small mehndi design to explore and consider for the next occasion.  
#12 Leafy Goodness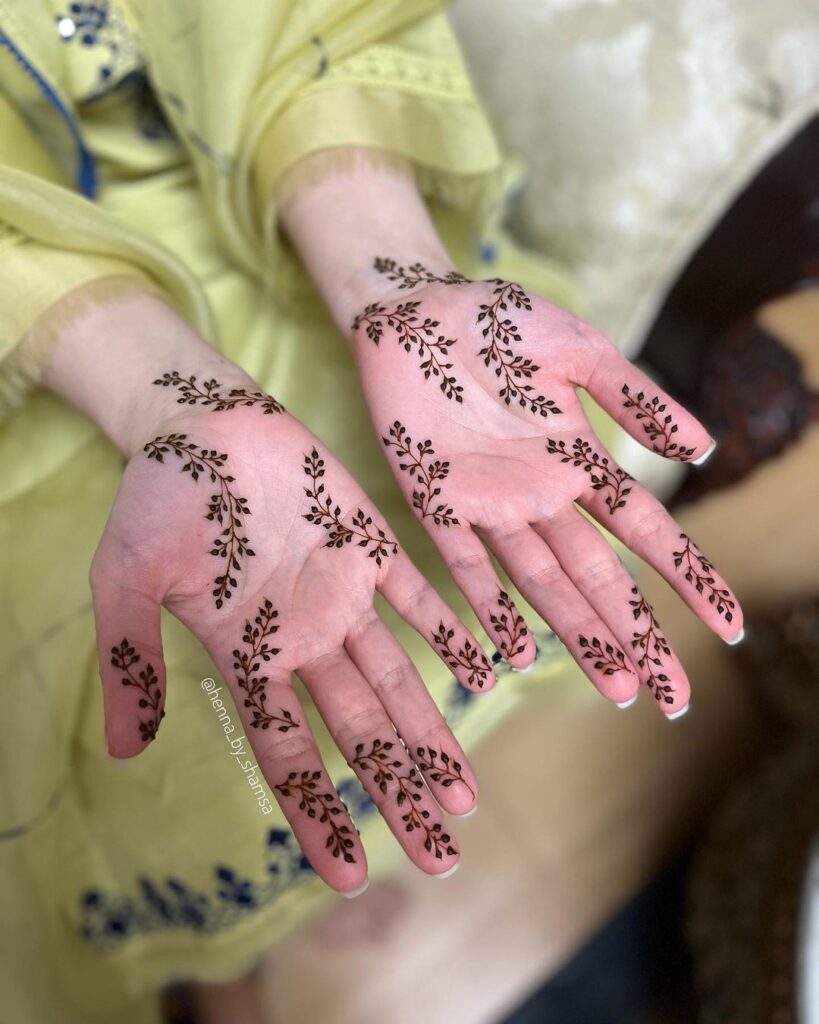 Courtesy: Sara's Henna
Florals have their own fan base, but so do leaf patterns! This mehndi design for small hands uses only leaves to create a simple small henna but one that creates a striking visual impact nonetheless. 
#13 Classic Mandala Pattern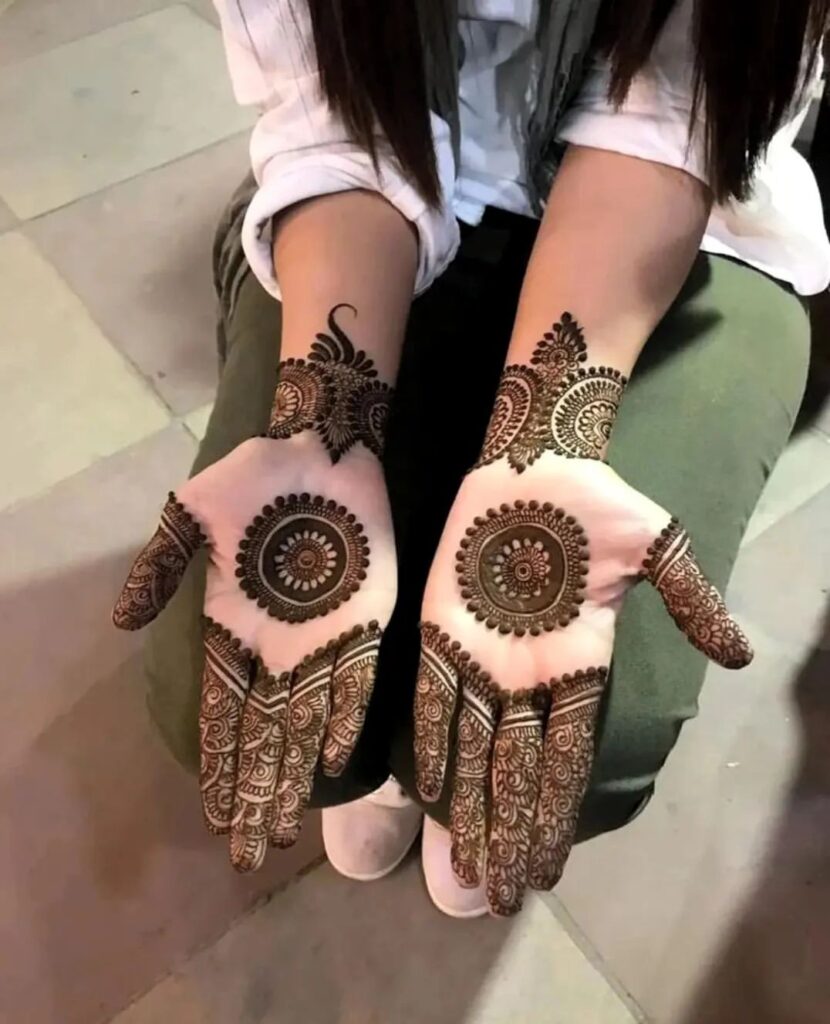 Courtesy: @no.1mehndidesigns
In the realm of small mandala patterns, intricate concentric circles and delicate symmetrical motifs merge harmoniously. These mesmerizing designs, often adorned with floral elements and mesmerizing details, exude a sense of tranquility and grace. The small scale allows for a refined elegance that effortlessly captures attention and showcases the intricacy of the mandala art form.
#14 For Minimal Brides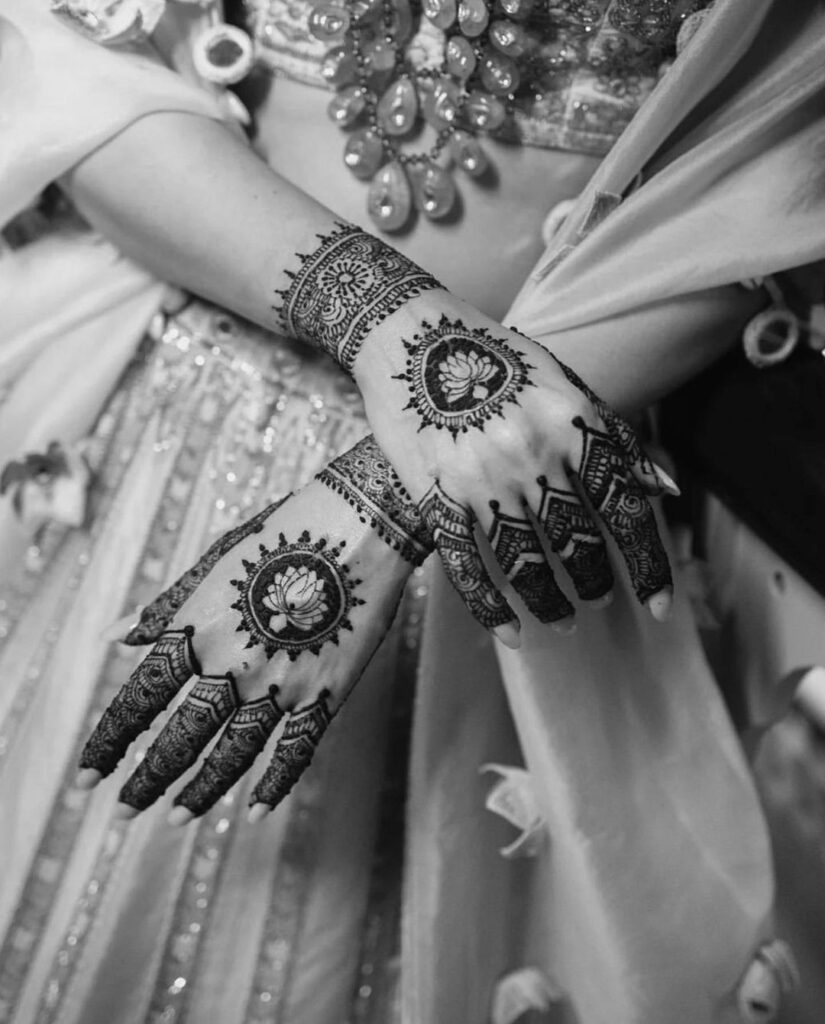 Recent celebrity brides like Arpita Mehta, Kiara Advani, and Alia Bhatt, have all sported minimal mehendi on their wedding day even though all of them had a different kind of celebration! If minimal henna matches your preferences too, here's one to bookmark and save in your wedding Pinterest board. 
#15 Inspiration For Both Hands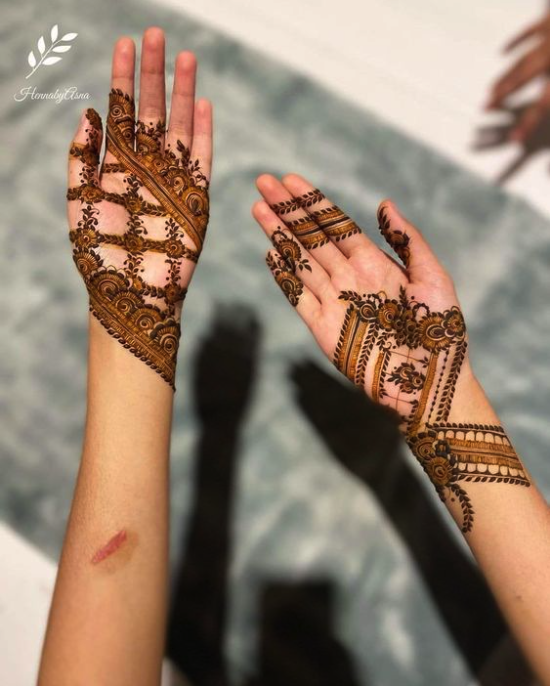 Courtesy: @hennabyasna
While most henna designs often only include mehendi inspiration for one hand, this one gives us inspiration for both hands so you have a perfectly complementary design that is not completely alike but rather harmonizes with each other. 
#16 Stop & Stare Type Of Mehndi Design For Small Hands!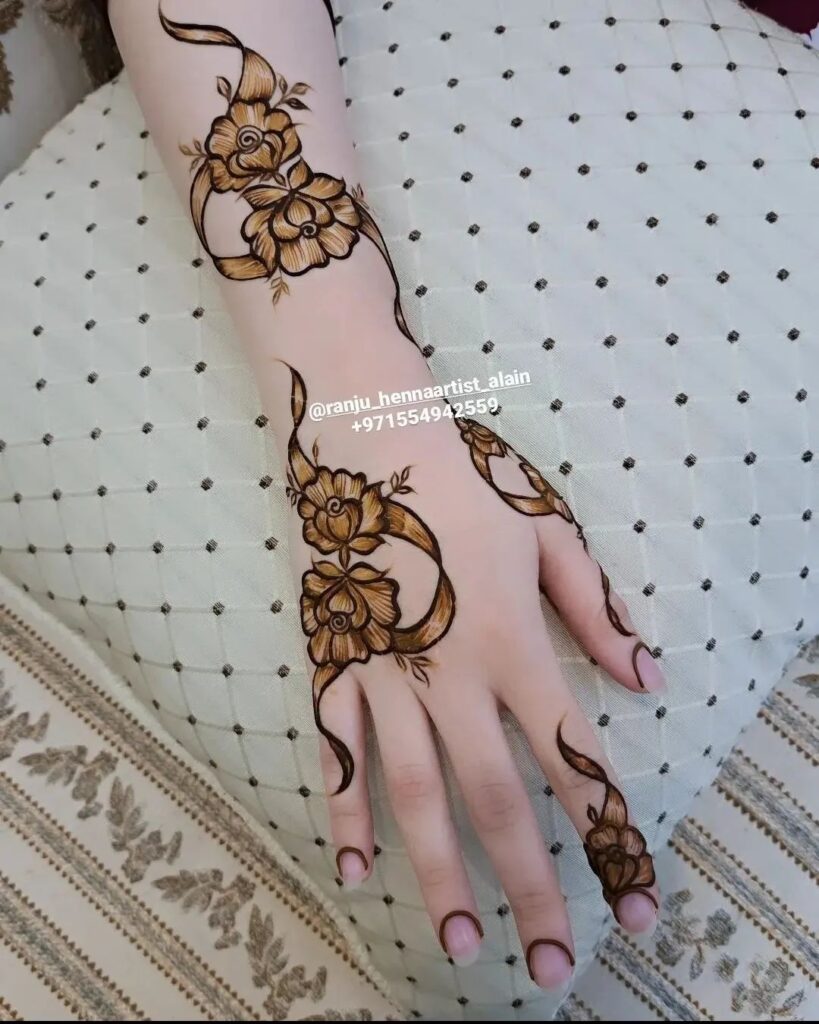 Courtesy: @ranju_hennaartist_alain
The cluster of roses laced together gives us a feminine and chic mehndi design that's as good for women as it is as a small mehndi design for kids! The clusters can be drawn on the front side as well for a complementary henna pattern. 
#17 Perfect For Full-Sleeve Dresses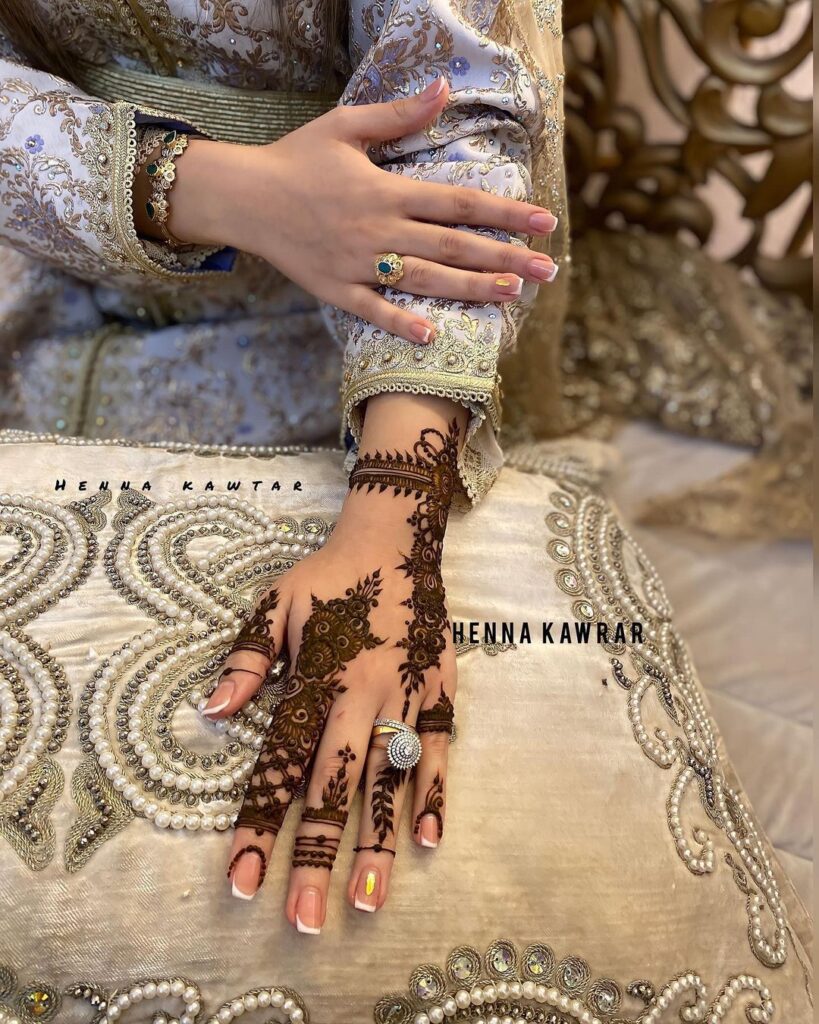 Courtesy: @henna_kawtar
For winter weddings, we often choose full-sleeved wedding dresses and this small mehndi design for the front hand is just perfect for that! Don't you think? 
#18 Intricate & Neat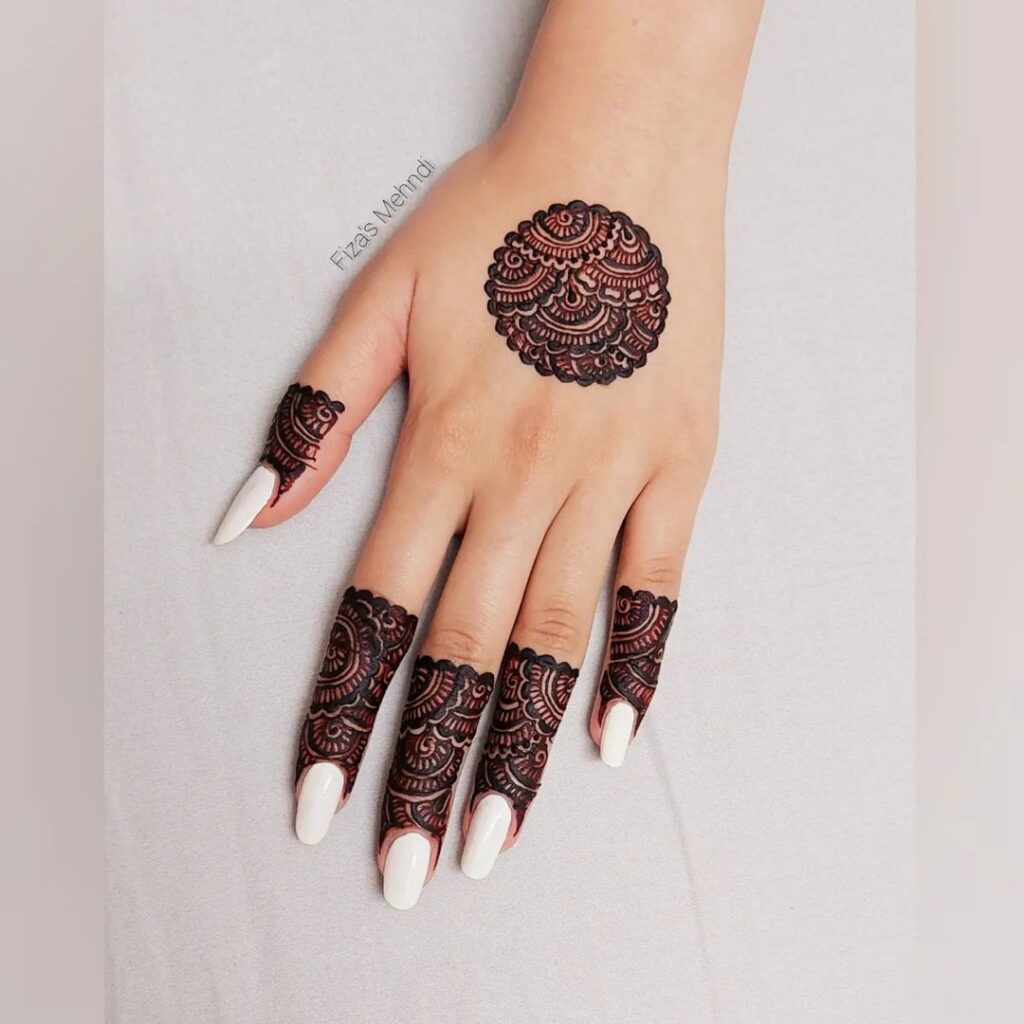 Courtesy: @fiza_mehndi_
For those who love intricate and minimal patterns, the next one of the easy small mehndi designs can be your pick from the list. It's also easy to draw and you can alter the filling at your convenience.  
#19 Neat Elephants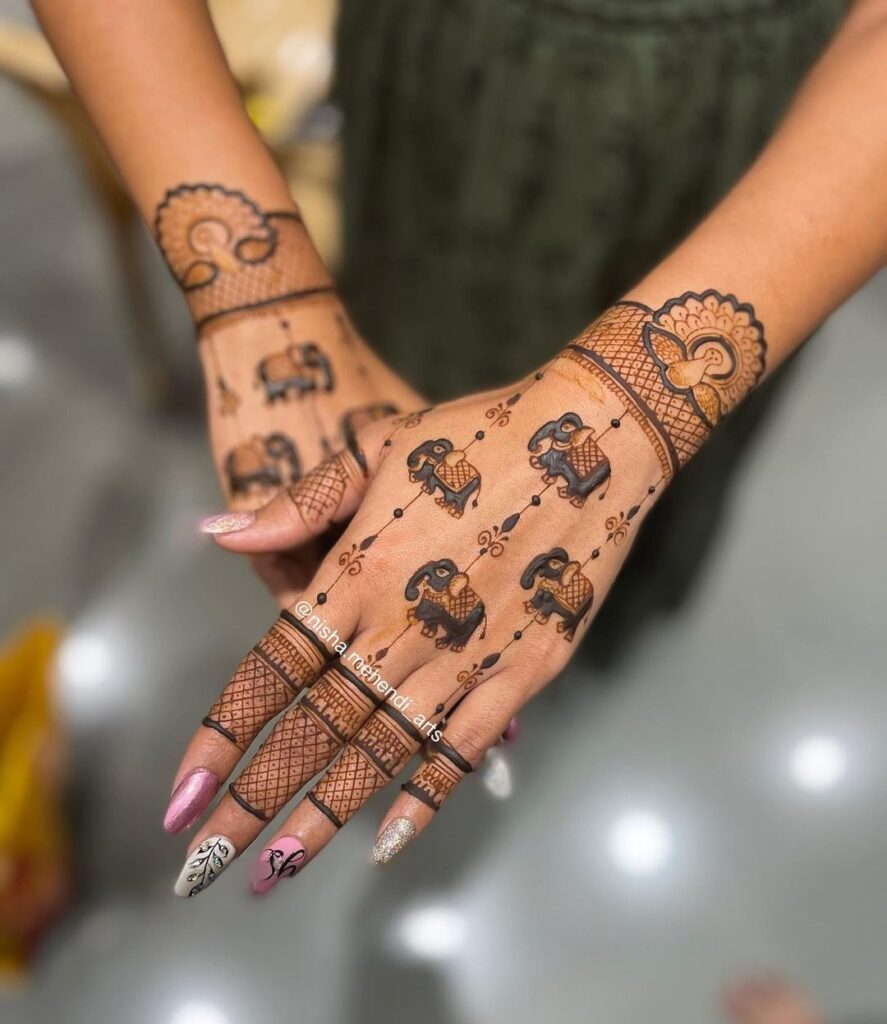 Courtesy: @nishaa.mehandi
Elephants are yet another modern yet symbolic motif to include in your henna design. Dominated by these trending motifs is the next one of our small mehndi designs for the backhand comprising chunky elephants and a jaal pattern. 
#20 Such Gorgeous Motifs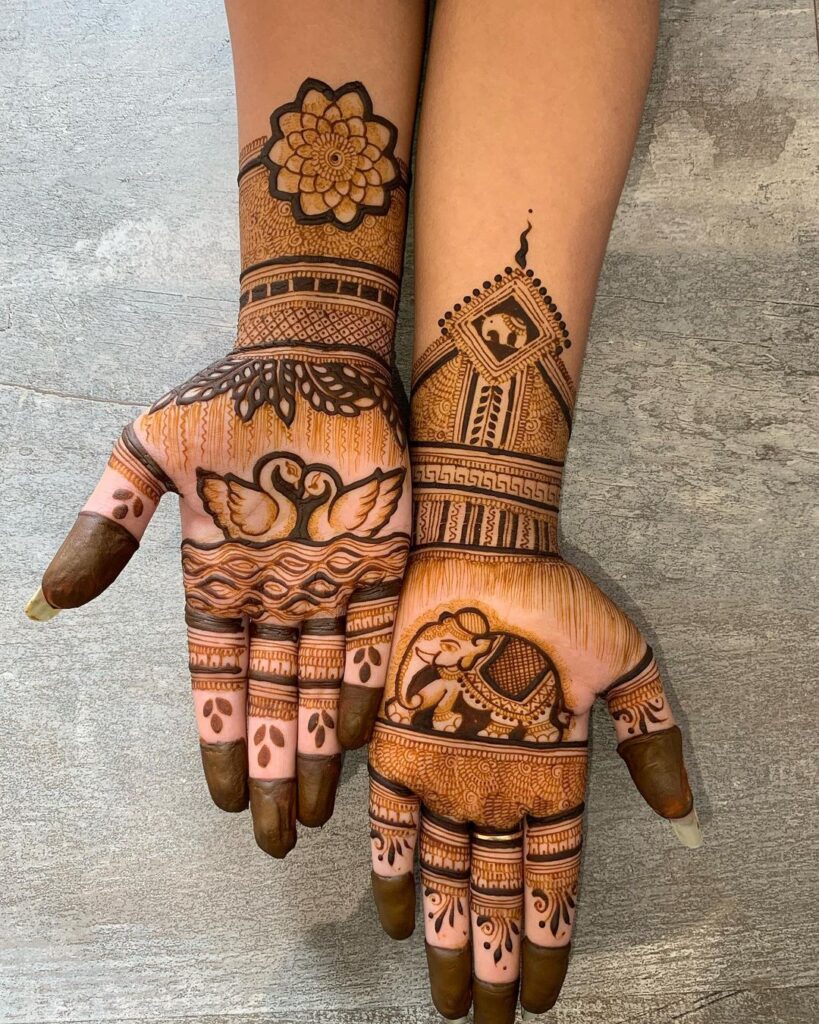 Courtesy: Kiran Mehndi
This one of the small mehndi designs is all about making a statement. It has a swan motif – the symbol of love, along with an elephant, a concentric spiral petal pattern motif, and thin fillings for an exquisite look. 
#21 A Charming & Cute Small Mehndi Design!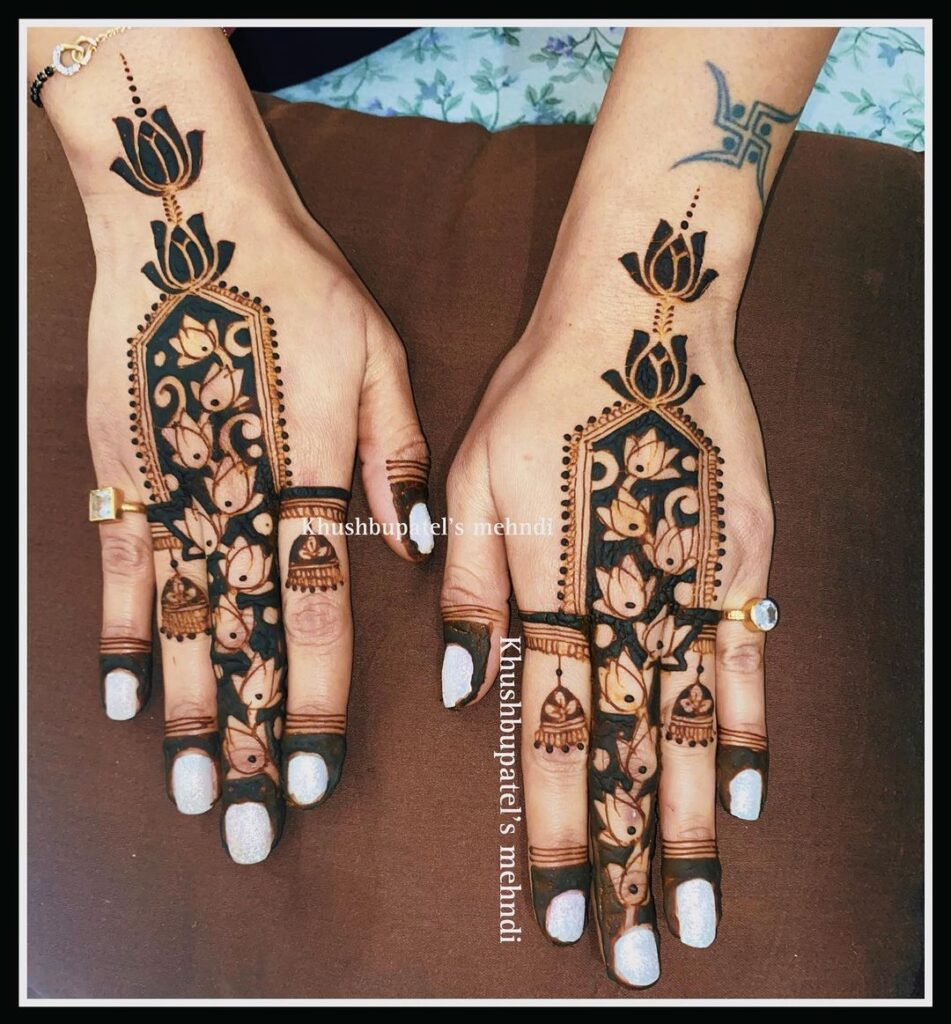 Courtesy: Kiran Mehndi
The lotus symbolizes purity and beauty, and therefore, is often seen in Indian weddings. They have also become a common part of mehendi designs, and if you want to explore them by getting a small mehndi design for the next occasion, then here's a picture to save for inspiration! 
#22 Bold Lines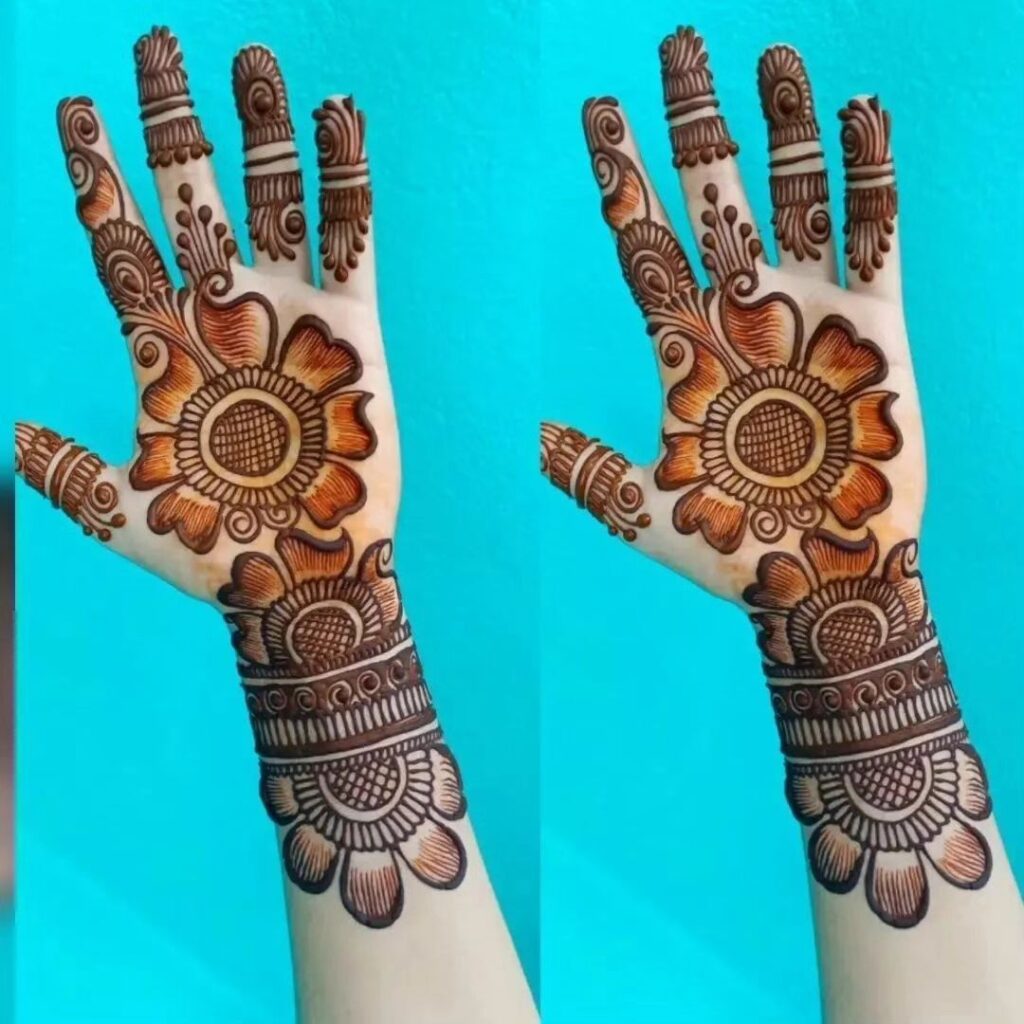 Courtesy: @mehndi_designs_tutorial
There's something enchanting about bold-outlined mehendi which amplifies the beauty of the artwork, resulting in amplifying patterns that captivate the eyes. 
#23 An Endearing Mehndi Design For Small Girls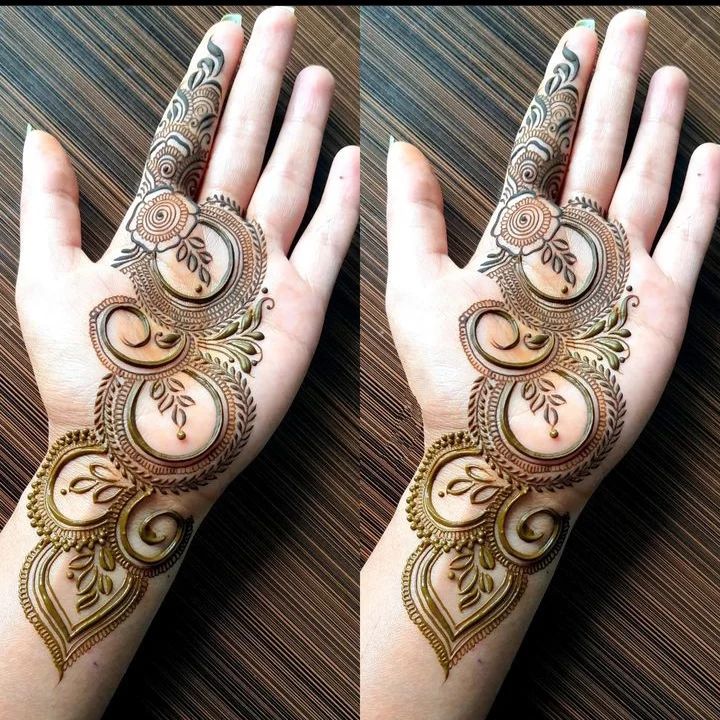 Courtesy: Neha's Creation
With just the concentric circles and no filling in the middle, this mehndi design is beautifully created for a minimal design that does cover some part of your hand though! 
#24 Just The Palm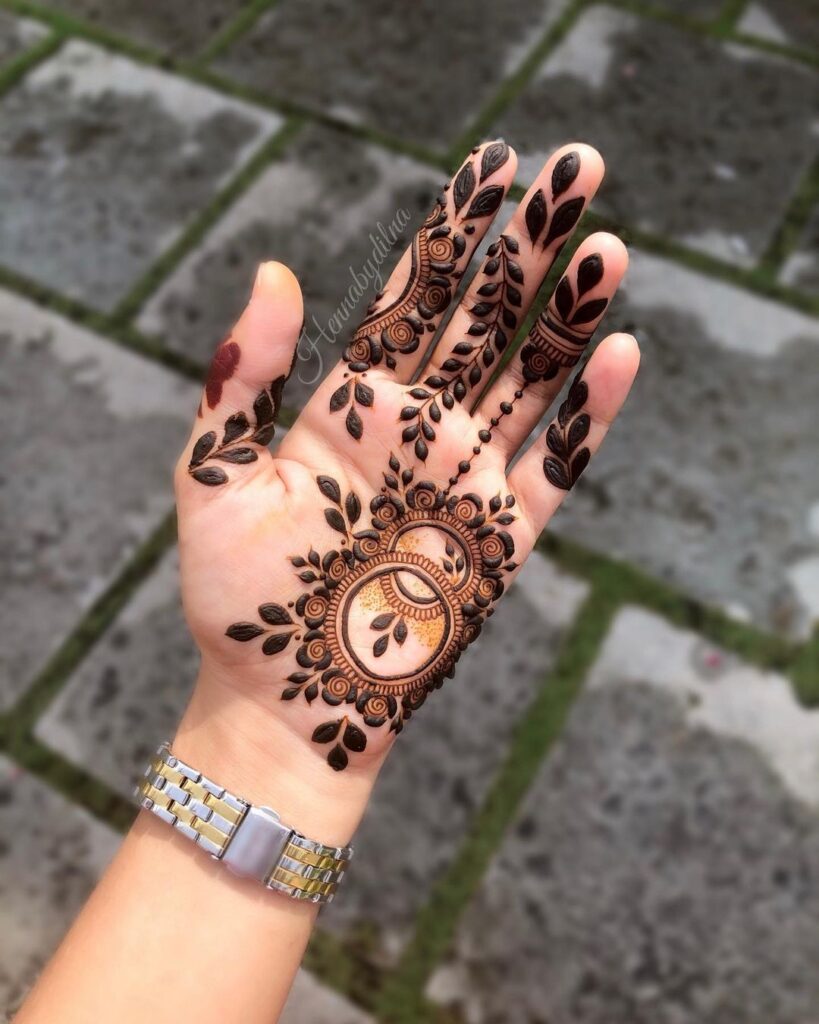 Courtesy: Aysha Dilna
This mehndi design for small hands uses just two elements – concentric circles and leaves – to create a visually appealing pattern. It says a lot about the creativity of the artist, doesn't it? 
#25 Bharwa Fingers, Minimal Pattern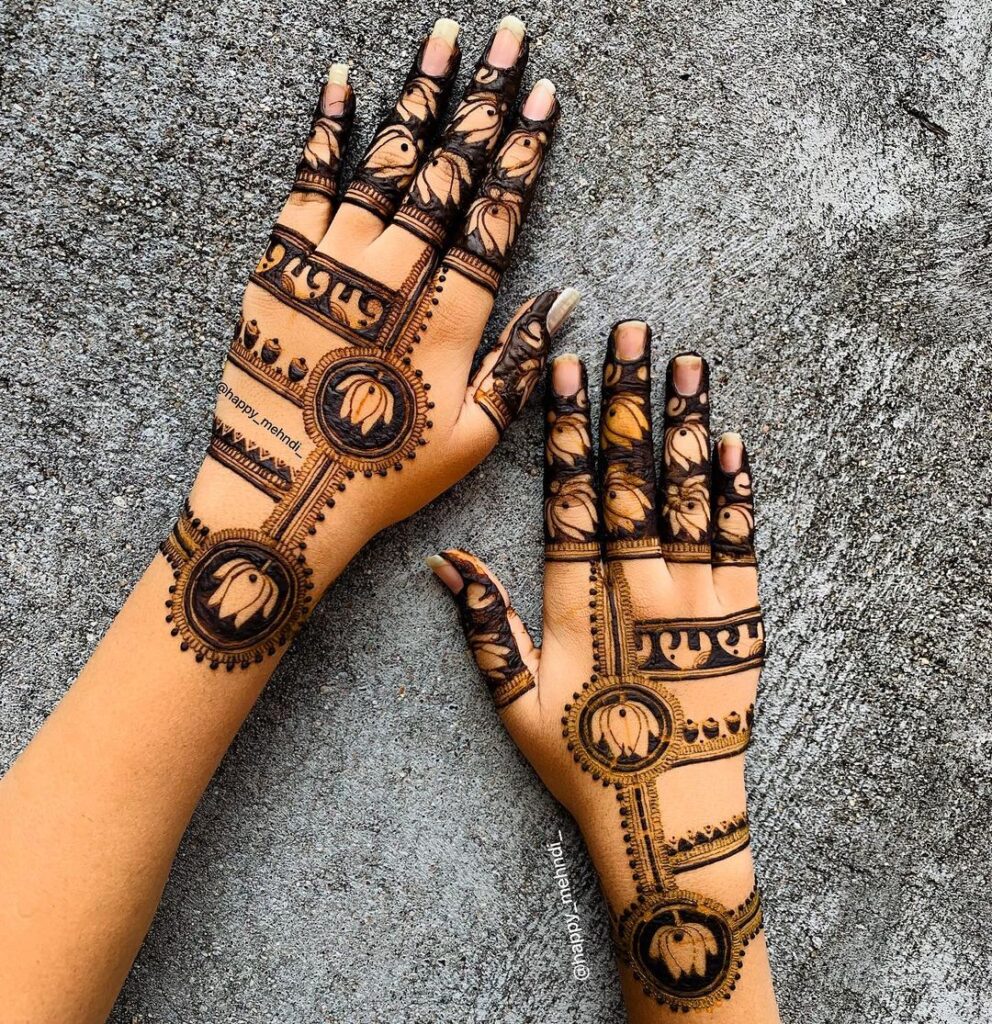 Courtesy: @happy_mehndi_
This lotus-dominated mehendi design uses this contemporary motif beautifully for an exquisite pattern. This small mehndi design for the backside is ideal for women and kids alike. 
#26 An Easy Small Mehndi Design For Beginners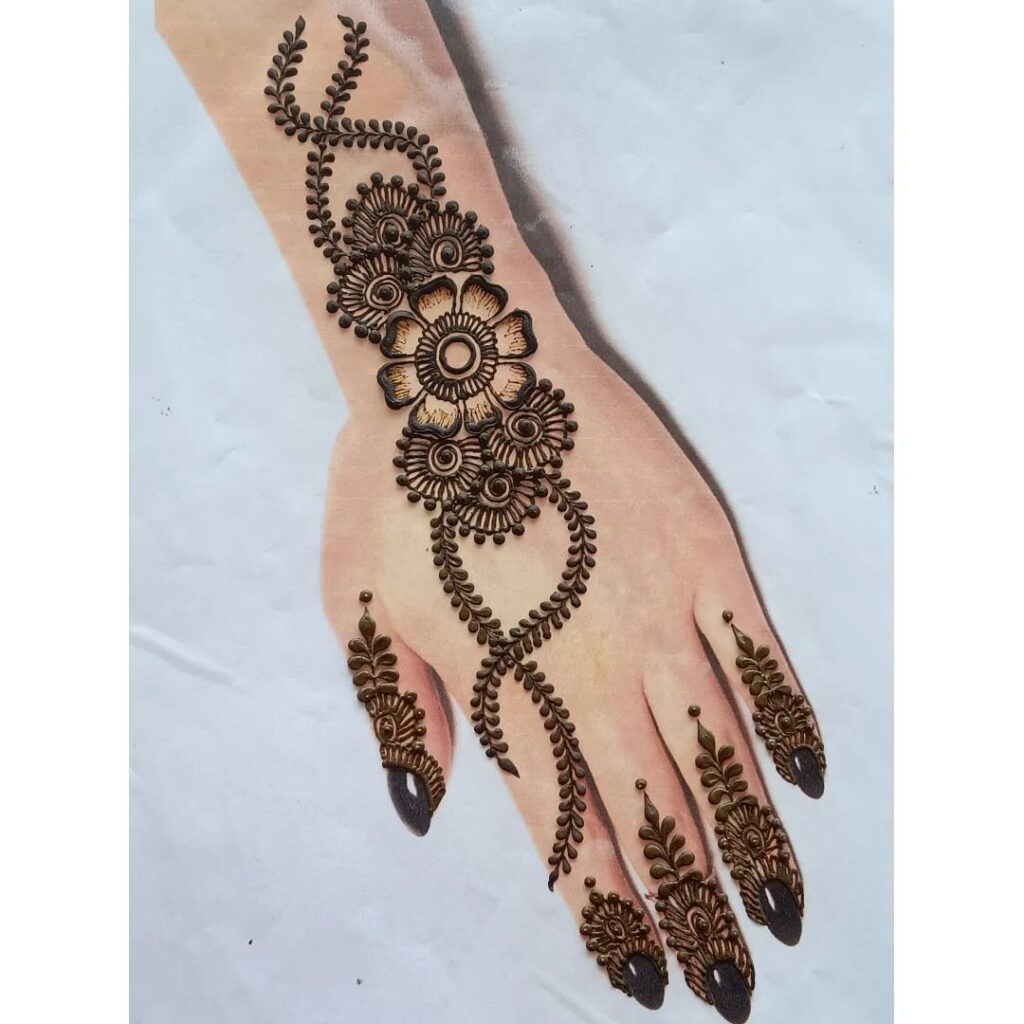 Courtesy: @mehndi_designs_tutorial
This is a simple small mehndi design for beginners that can be easily done by anyone who is confident with drawing the basic elements of henna! A similar bel-style mehendi can be drawn on the front side to perfectly coordinate it all! 
#27 A Unique Parrot Small Mehndi Design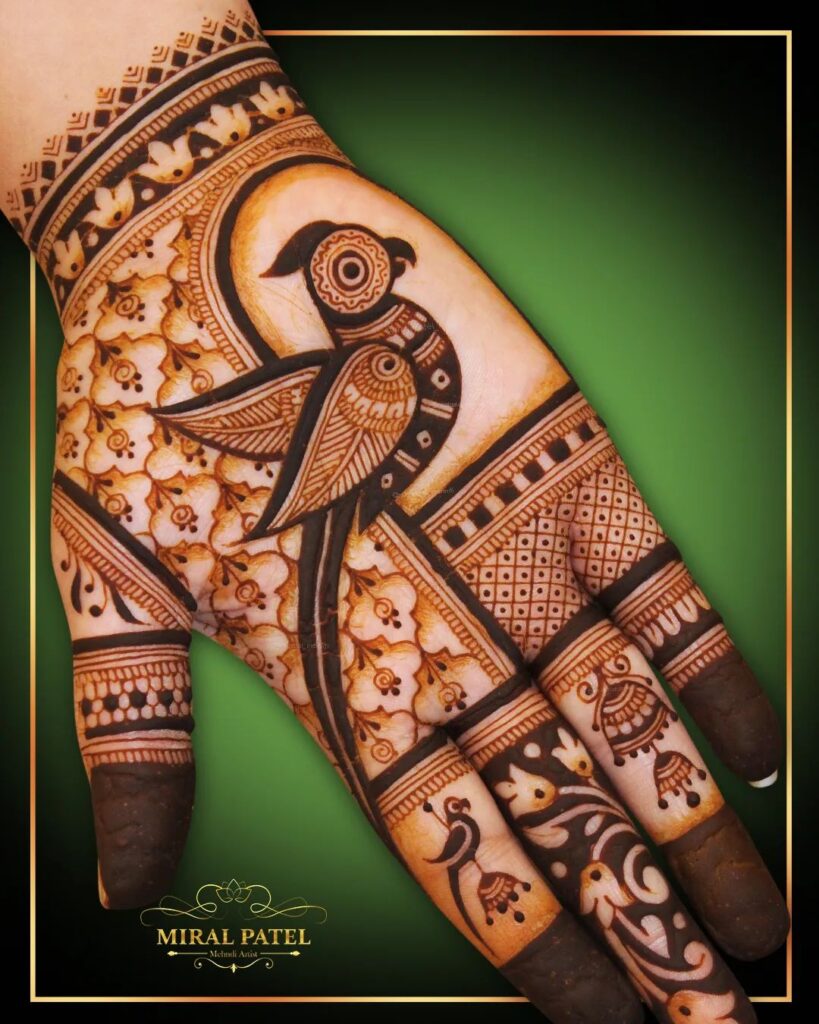 Courtesy: @miralpatel_mehndi
While peacocks and swans are often spotted in henna designs, it's the parrot that we seldom see but looks graceful in the henna though. With the parrot motif making the center of attention of this small mehndi design on the palm, the rest of the elements are strategically placed to elevate its look without taking away any attention. 
#28 Timeless & Elegant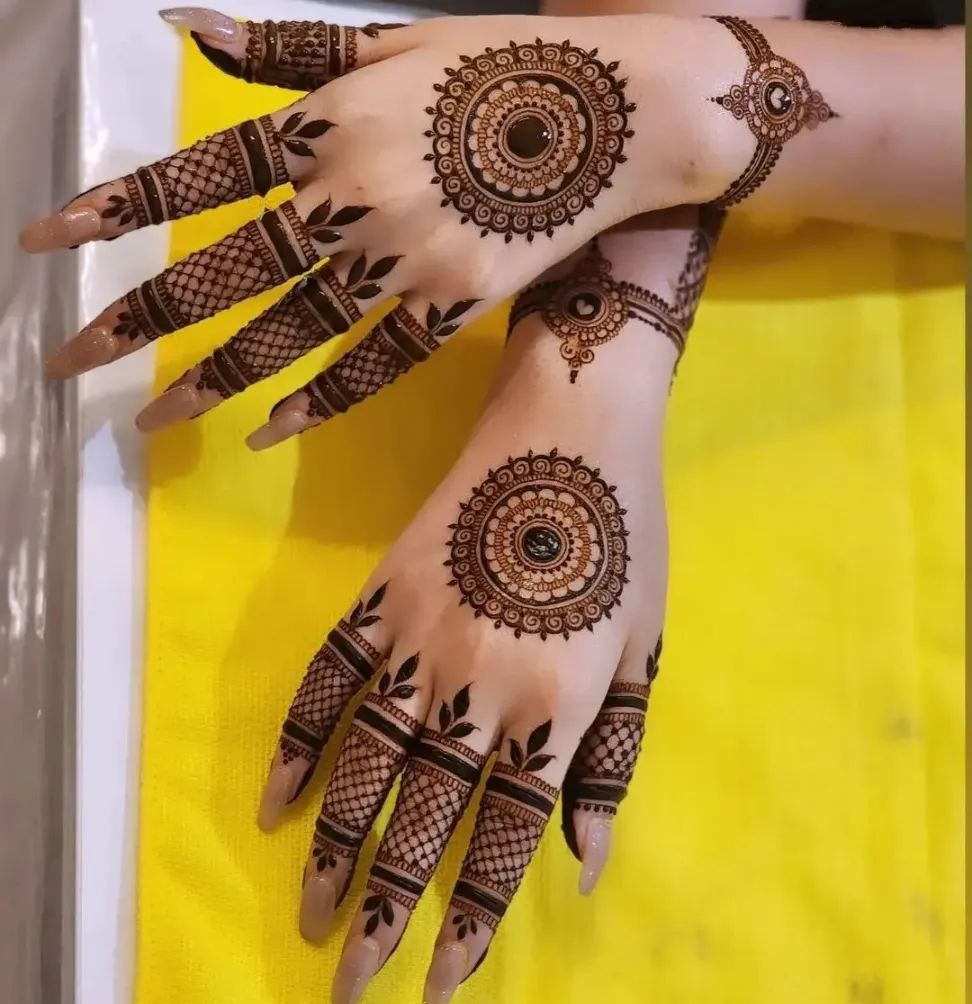 Courtesy: Neha Herbals
Mandala patterns are timeless. Their circular shape represents the Universe in Hindu and Buddhist traditions, and hence this pattern also has a spiritual significance besides the aesthetic beauty!
#29 Chunky Florals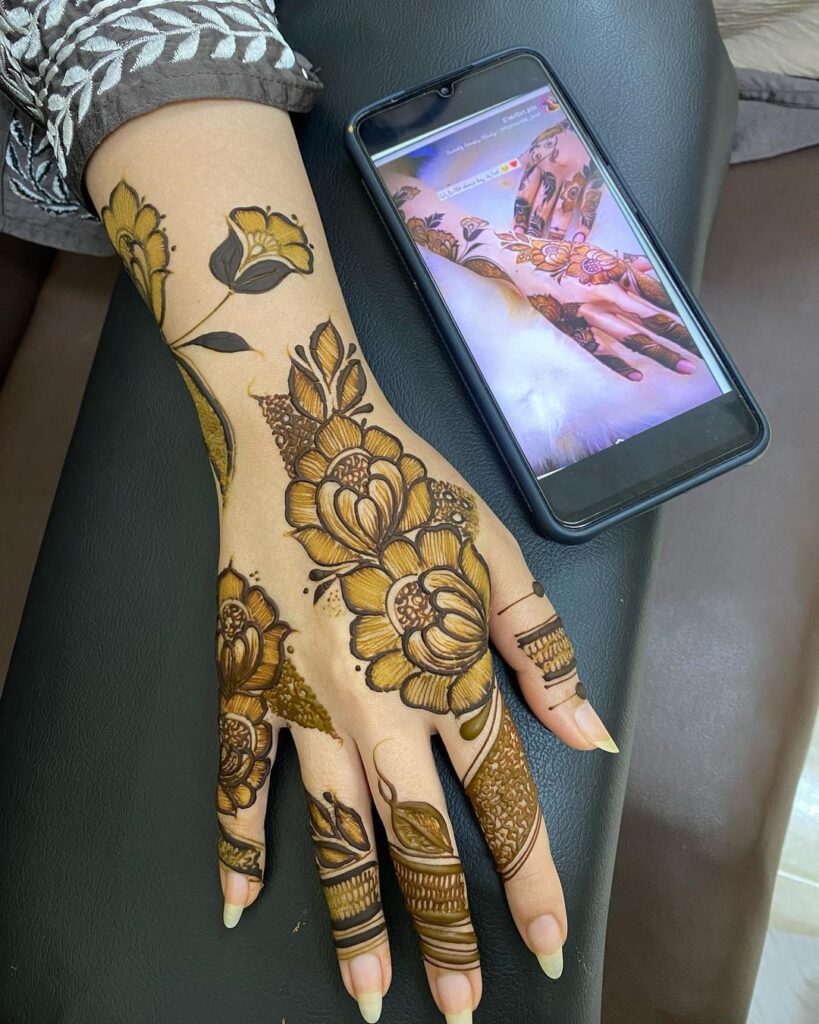 Courtesy: Hiba Khan
We love the chunky florals in the next one of the small mehndi designs. The shaded patterns will look remarkable after staining. Another benefit of this design is it can be done quickly – especially by a professional mehendi artist. 
#30 An Intricate One Of The Small Mehndi Designs!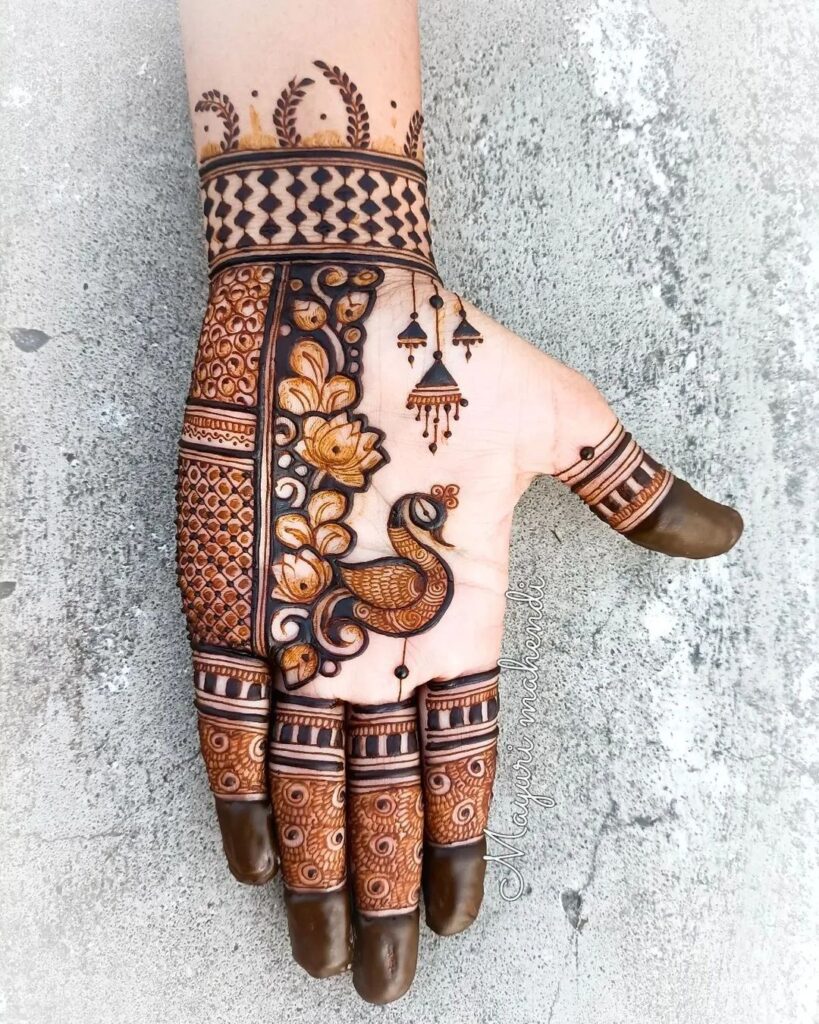 Courtesy: @mahendi_arts_by_mayuri
3-D lotuses, intricate fillings, bold strokes, and a bird motif – all the elements of this henna come together to give us a stunning design for inspiration. Know that even though this is a small henna, the intricate patterns will take some time to draw! So have patience when you choose an elaborate design like this! 
#31 Write His Name!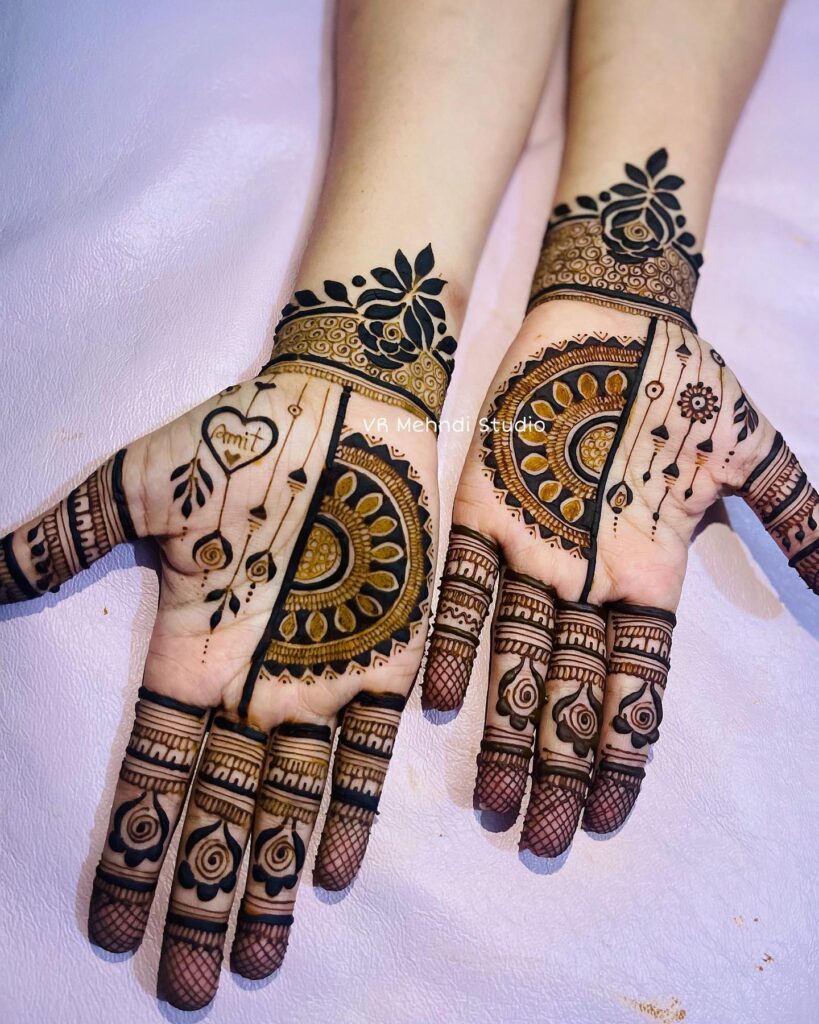 Courtesy: Vibhuti Ronak Vekariya
Most married and betrothed women in India love writing their partner's name on their henna, and this mehndi gives you an idea of how to include it in the design beautifully! For brides who want minimal henna on their wedding, this can be a superb pick to save for inspiration. 
#32 Perfect Small Mehndi Design For Small Hands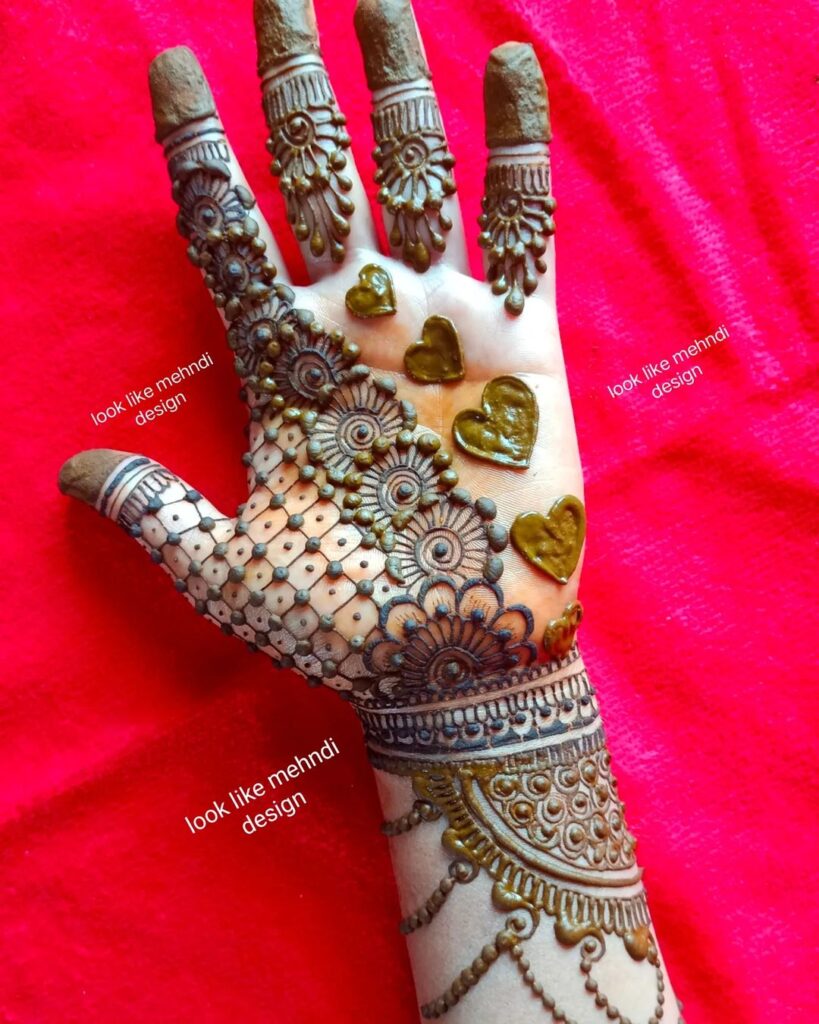 Courtesy: Nisha
This is an easy small mehndi design for beginners as it uses just the basic henna motifs and bold strokes with almost no fillings! You can make it easier by starting with concentric lines on the bottom and skipping the jaal pattern on the left side completely so there's more space between the hearts and the circle pattern! The fingers can be left as they are! 
#33 Ideal For Those Special Occasions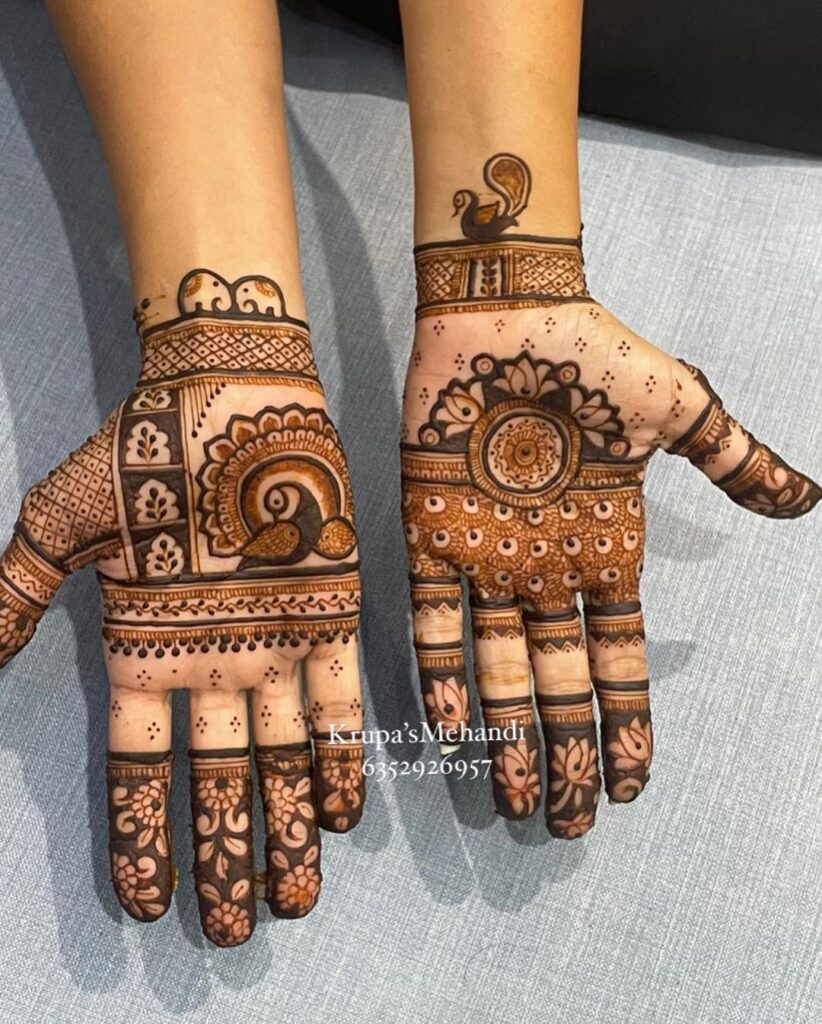 Courtesy: Krupa Taware
The peacock motifs are common in henna, but motifs of peacocks with wings spread are uncommon. This design employs this charismatic motif along with other henna elements for a ravishing design. 
#34 Bharwa Mehndi Design For Small Kids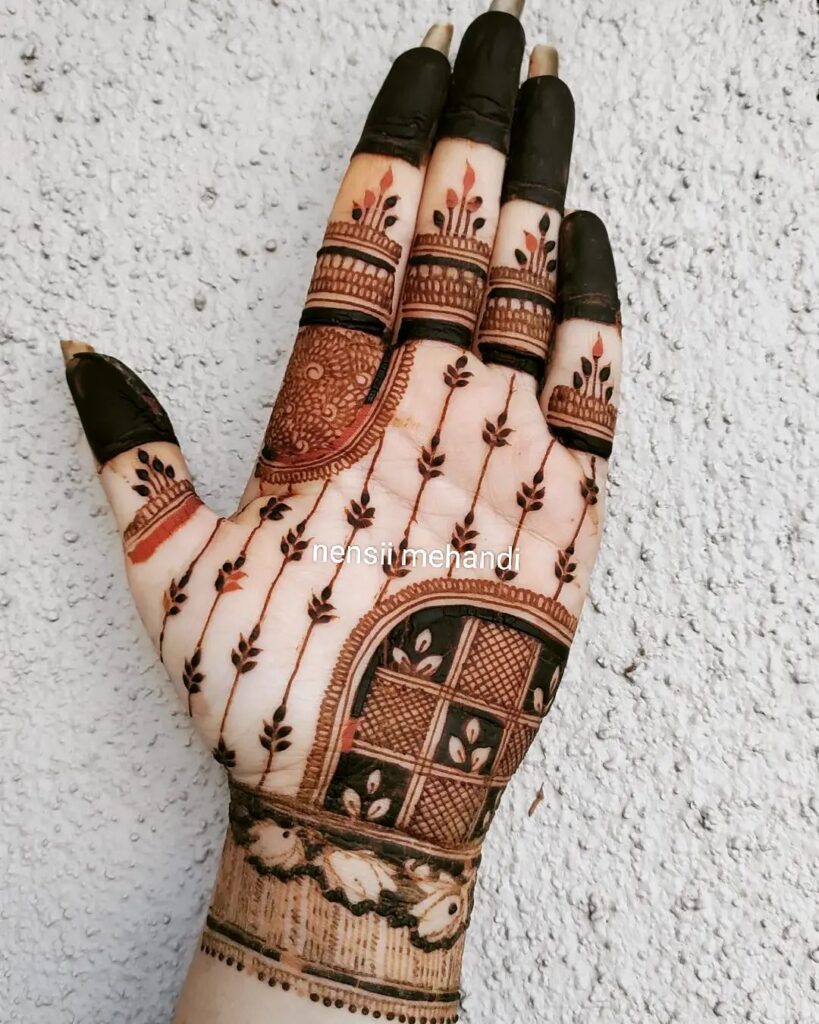 Courtesy: Nensi Donda
This small mehndi design for kids is ideal for those special occasions! It's also a bharwa pattern but has a contemporary touch so their henna has that edge without losing the innocence. 
#35 Striking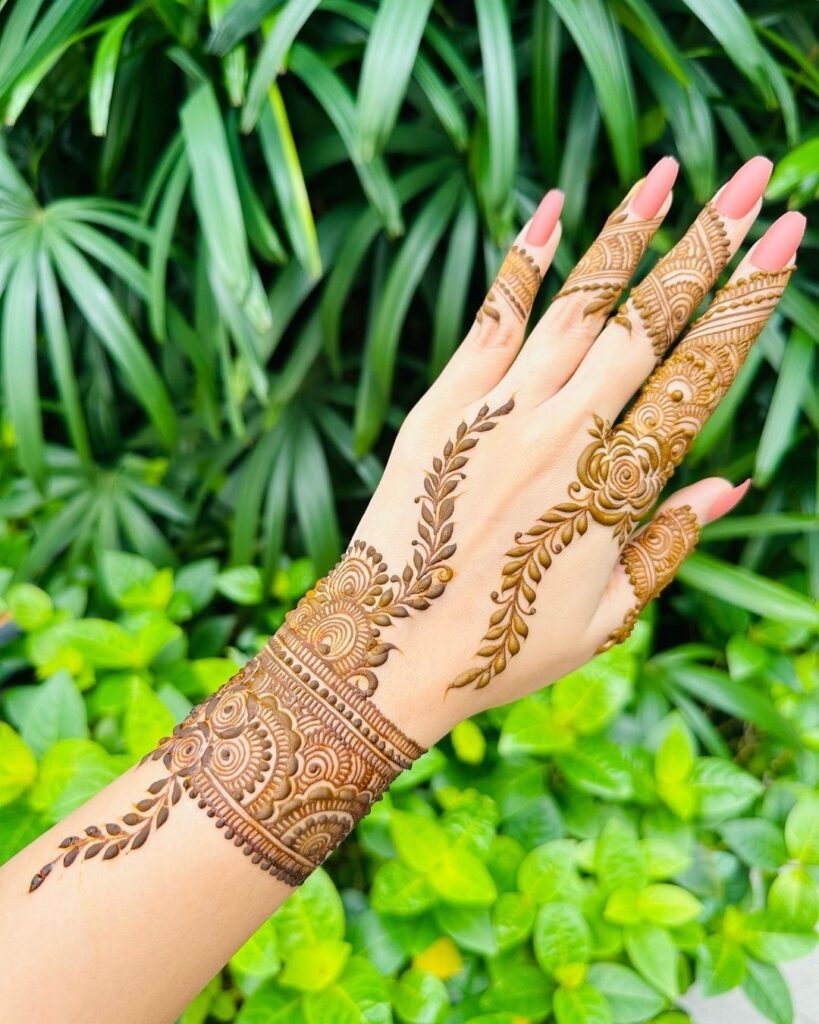 Courtesy: Rukhsar
Not only does this one of the small mehndi designs uses empty spaces to create a subtle mehndi design, but it also shows why well-done nails are necessary to elevate the look of your henna! You can choose any color or pattern, but a nice manicure also enhances your professional henna for sure! 
#36 Stealing All The Attention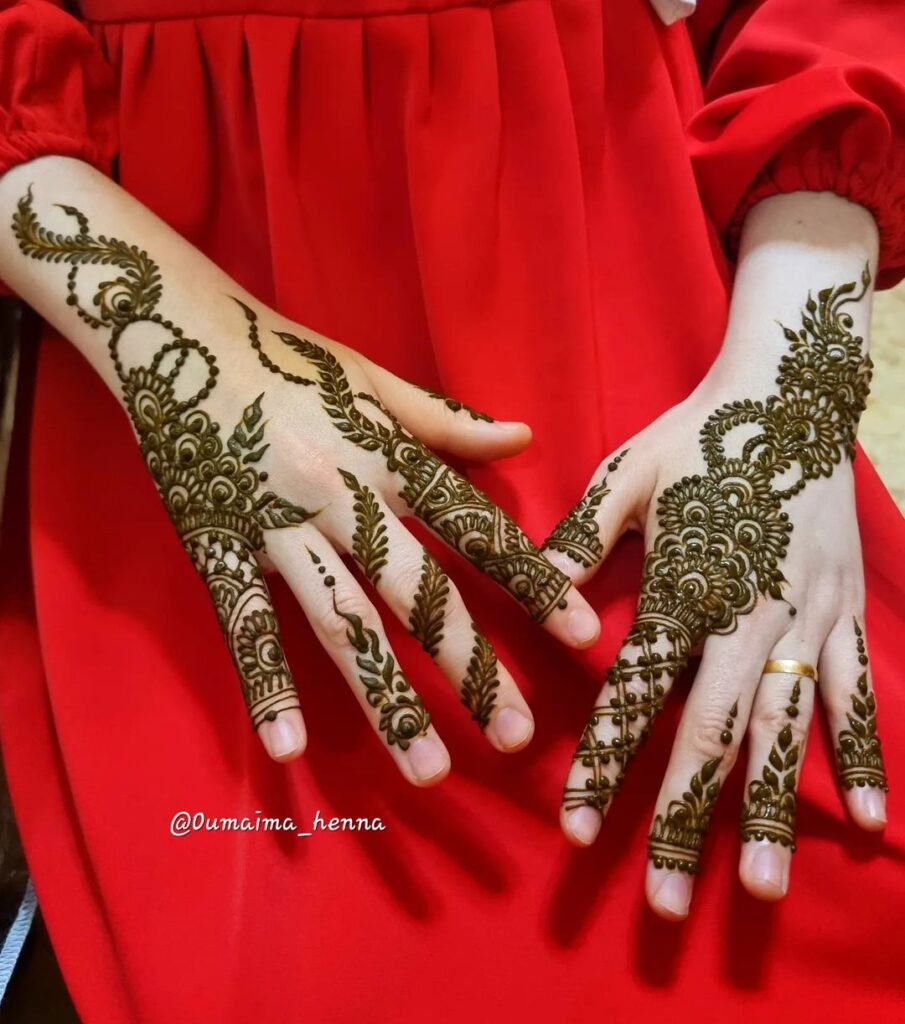 Courtesy: @oumaima_henna
If you're on the lookout for unique and eye-catching small mehndi designs, you will absolutely love the next one on the list. It uses lots of curved lines and patterns for an ingenious pattern that will instantly become a hit wherever you go! 
#37 The Ever-Enchanting Jaal Pattern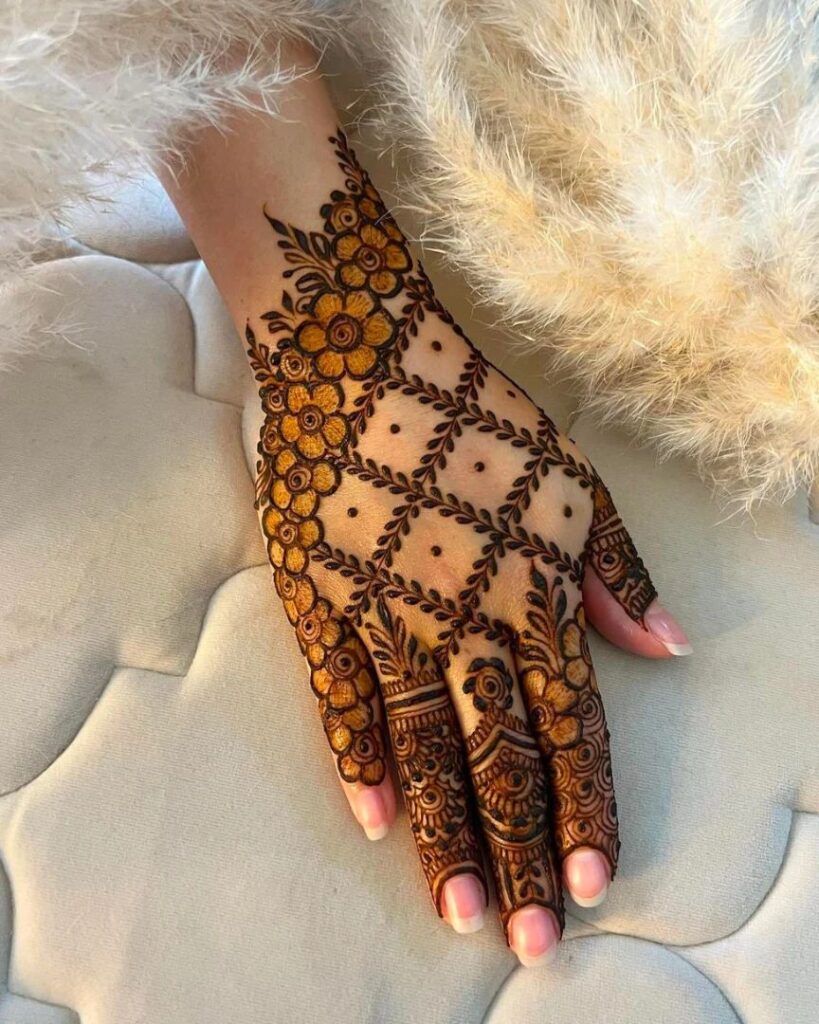 Courtesy: Farah Sayeed
There's just something about jaal patterns, they always catch your eye. Besides, they also look aesthetic after staining, and thus, in pictures. No wonder, it's a favorite among brides. If you're on the hunt for mehndi designs for small girls, this can make the cut for that as well! 
#38 Small Mehndi Designs For Front Hand!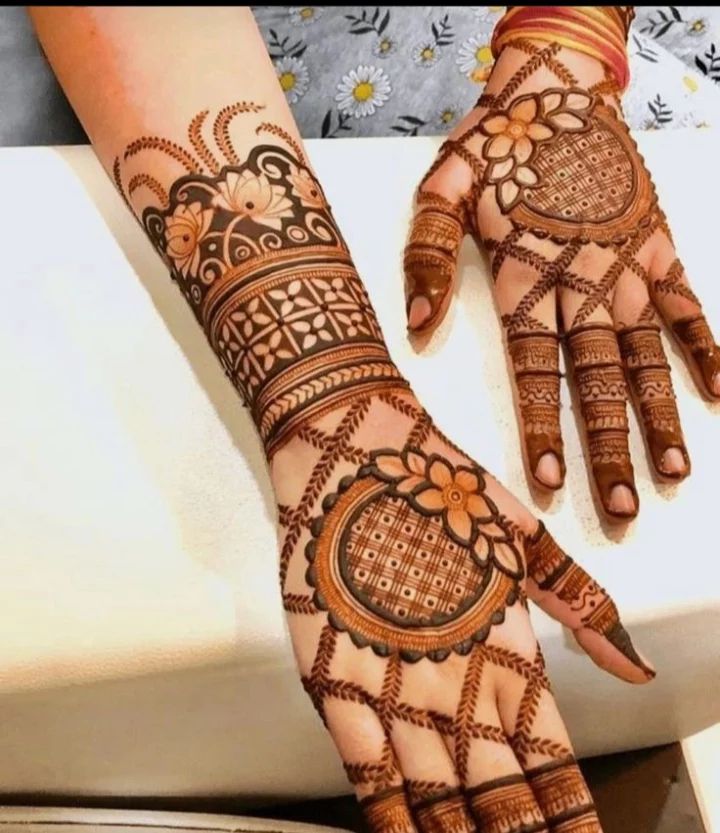 Courtesy: Mehndi Bureau
This small mehndi design for the backhand can also be recreated on the front hand for a mehndi design that will be truly spectacular and matching to the T! 
#39 Adoring The Foliage!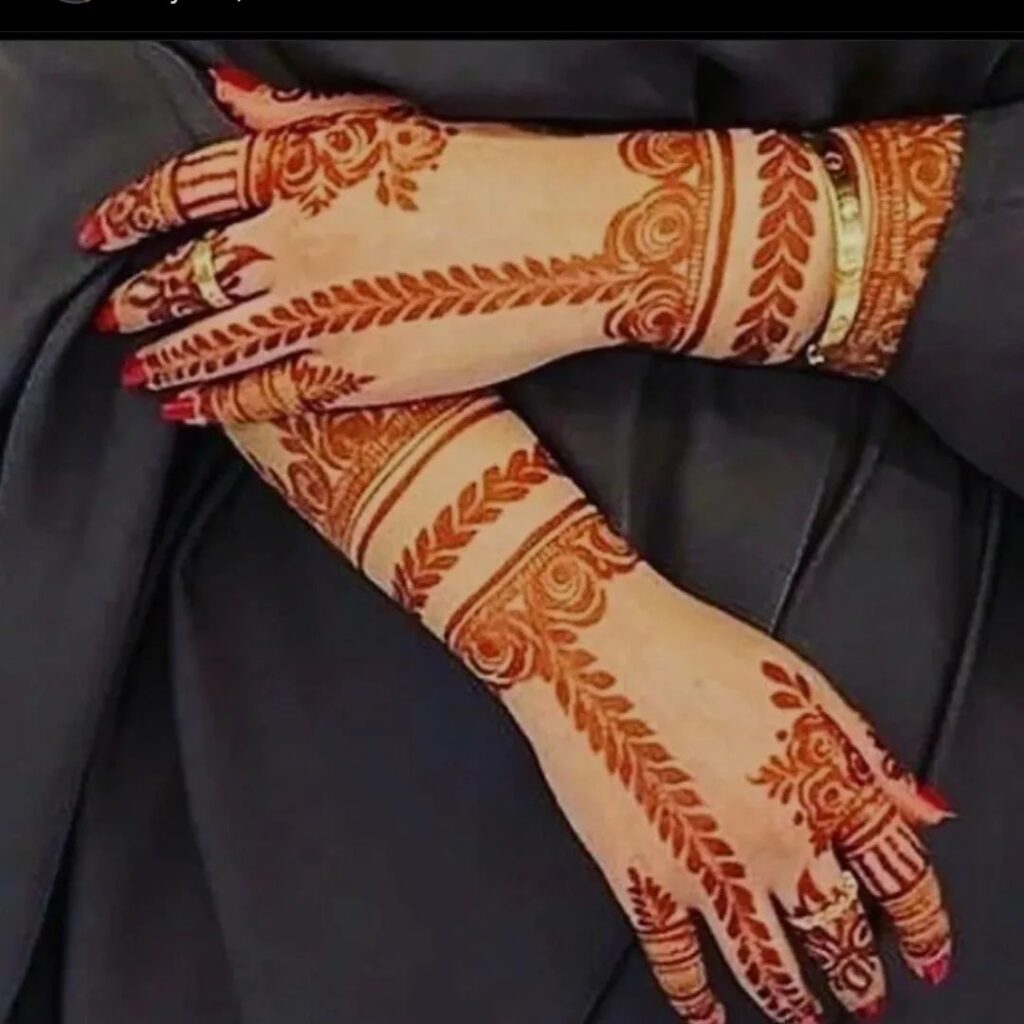 Courtesy: @homescienceskills_mehendi
The flowers and leaves come together to give us an enchanting and cute small mehndi design that's perfect for every occasion! 
#40 A Captivating Small Mehndi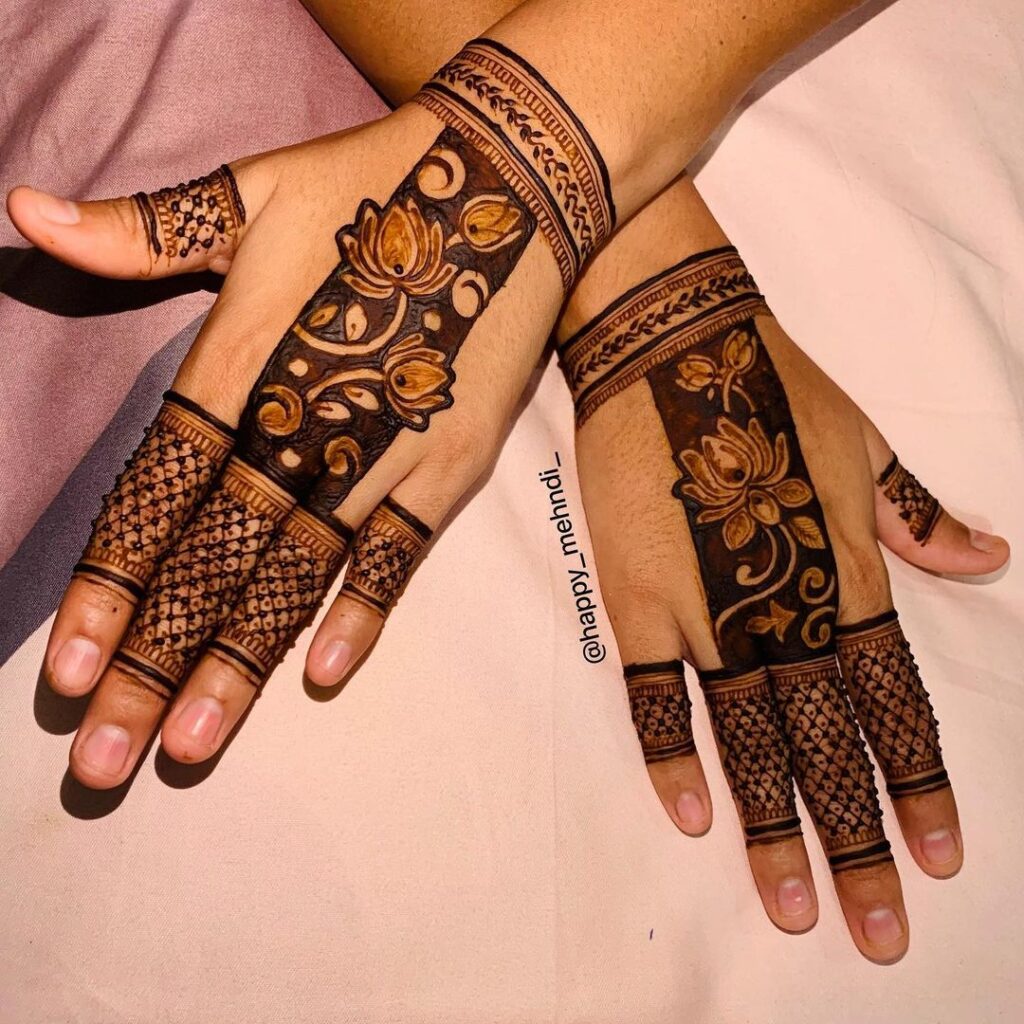 Courtesy: @happy_mehndi_
This one of the small mehndi designs is replete with 3-D lotuses just in the middle section of the palm leaving the sides bare for a minimal look! Fingers are bedecked in a jaal pattern to complete the design.
#41 Covering The Whole Hands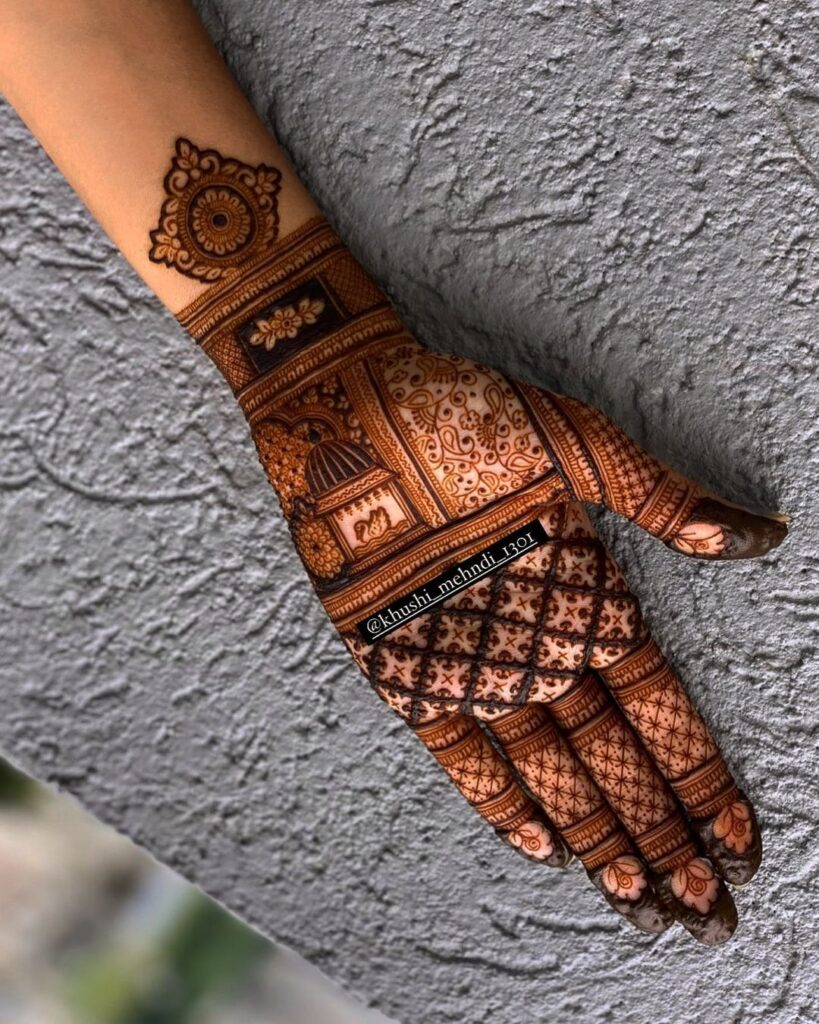 Courtesy: Khushi Navadiya
This small mehndi design for the front hand is all about adorning the hand with intricate patterns and motifs, beautifully filling and embellishing the space. These types of designs showcase the traditional artistry and craftsmanship of mehndi whilst creating a stunning visual statement. 
#42 Employing The Use Of Negative Spaces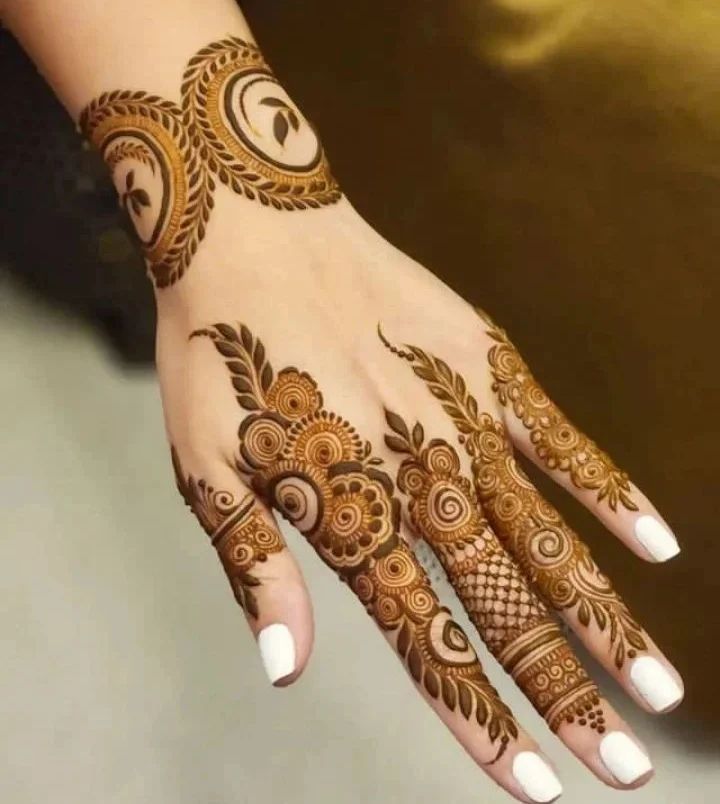 Bedecked fingers, empty palm, and a cluster of henna tattoos on the wrists make this easy and small mehndi design spacious yet stunning! Perfect for those who want an eye-catching design without overdoing the henna patterns on their hands. 
#43 That Exquisite Small Mehndi Design For Front Hand!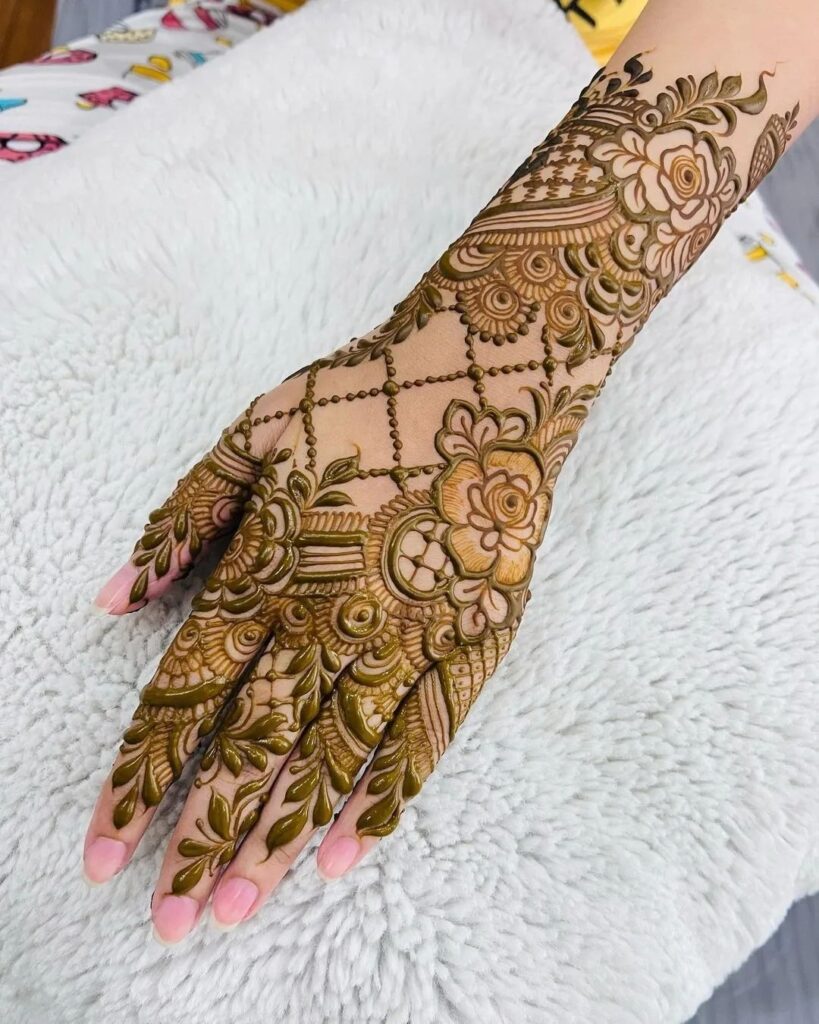 Courtesy: @mehedi_by_jahan
This exquisite small mehndi design for the backhand is love at first sight! It isn't that neat but still manages to capture the attention of whosoever lays eyes on it. Pair it with manicured nails to elevate the visual impact further. 
#44 Small Flower Mehndi Design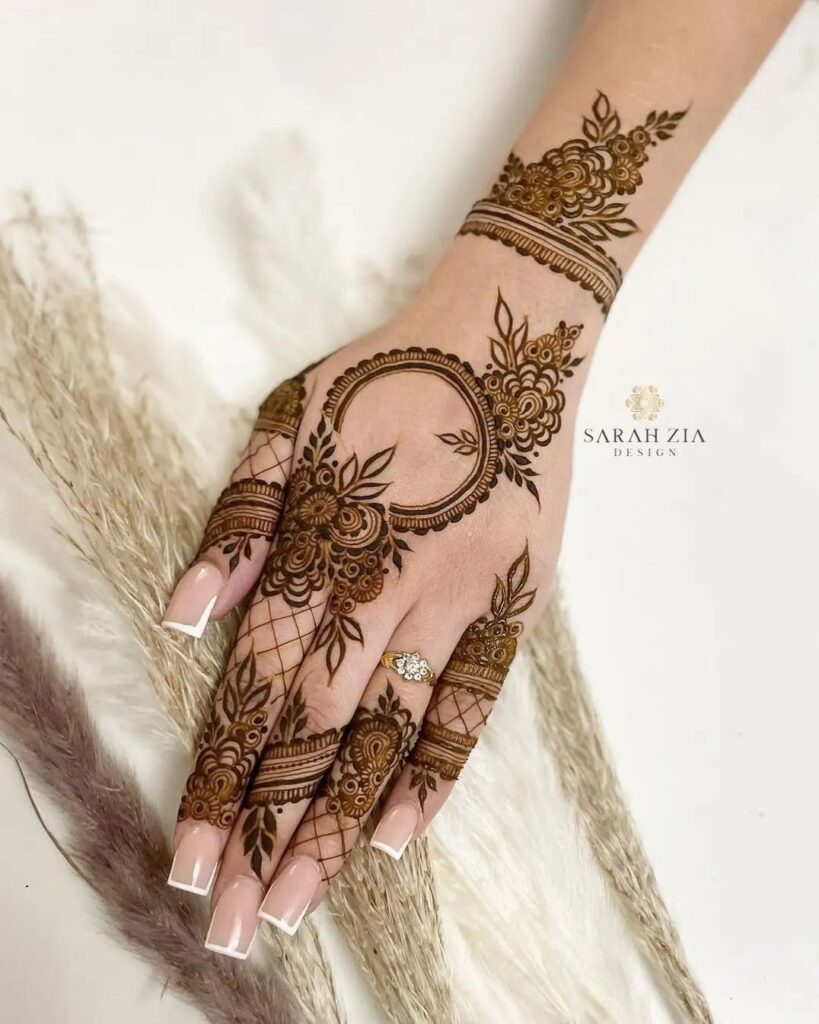 Courtesy: Sarah Zia Design
Create a mesmerizing henna tattoo by combining the timeless beauty of blooming flowers with the enchanting allure of circular motifs. Delicate petals and intricate circles intertwine, creating a mesmerizing pattern that captures the essence of nature and showcases the beauty of henna adornment. 
#45 Playing With Geometry
Courtesy: @n9ache_imane_
Playing with square shape patterns, this mehndi design small is all about creativity done with a slight twist to simple geometric patterns in henna! When you want to maximize your impact with simplicity, this design should be your pick. 
#46 Small Mehndi Designs For Palm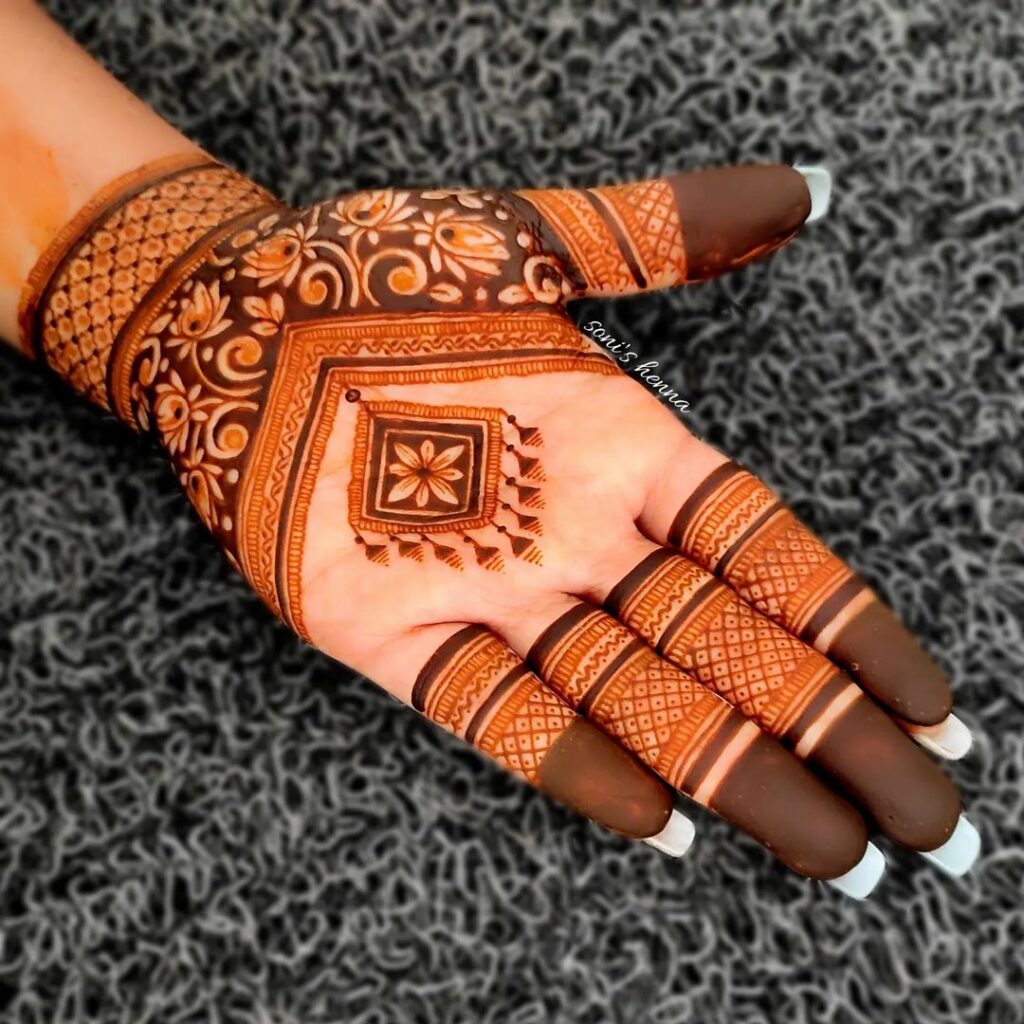 Courtesy: @sonis_henna
The next one of the small mehndi design for the palm showcases delicate artistry with thin strokes and 3-D motifs that are intricately crafted for an eye-catching design. 
#47 Simple Small Mehndi Design!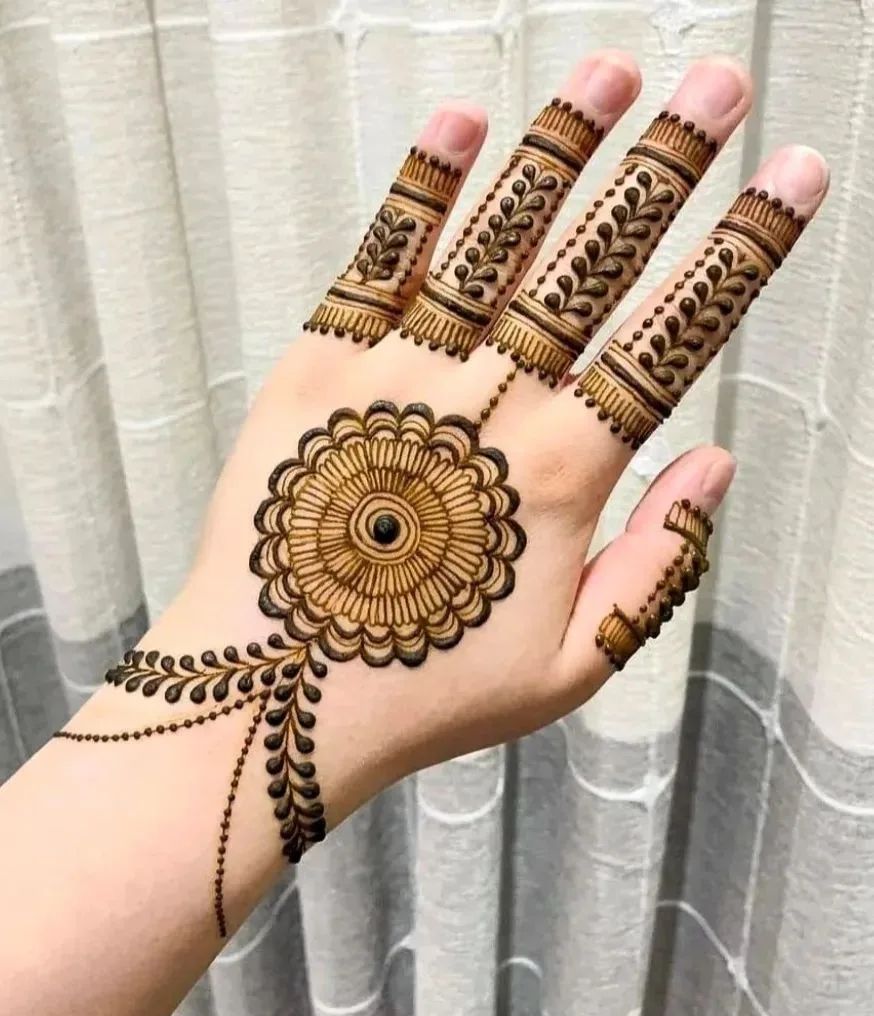 Courtesy: @_mehndi.hafsa_
We're adoring this small mehndi design for the backhand for its simplicity and beauty. It's an easy small mehndi for beginners to recreate and just requires some attention on the leaves to maintain the intricacy. 
#48 Mirror Image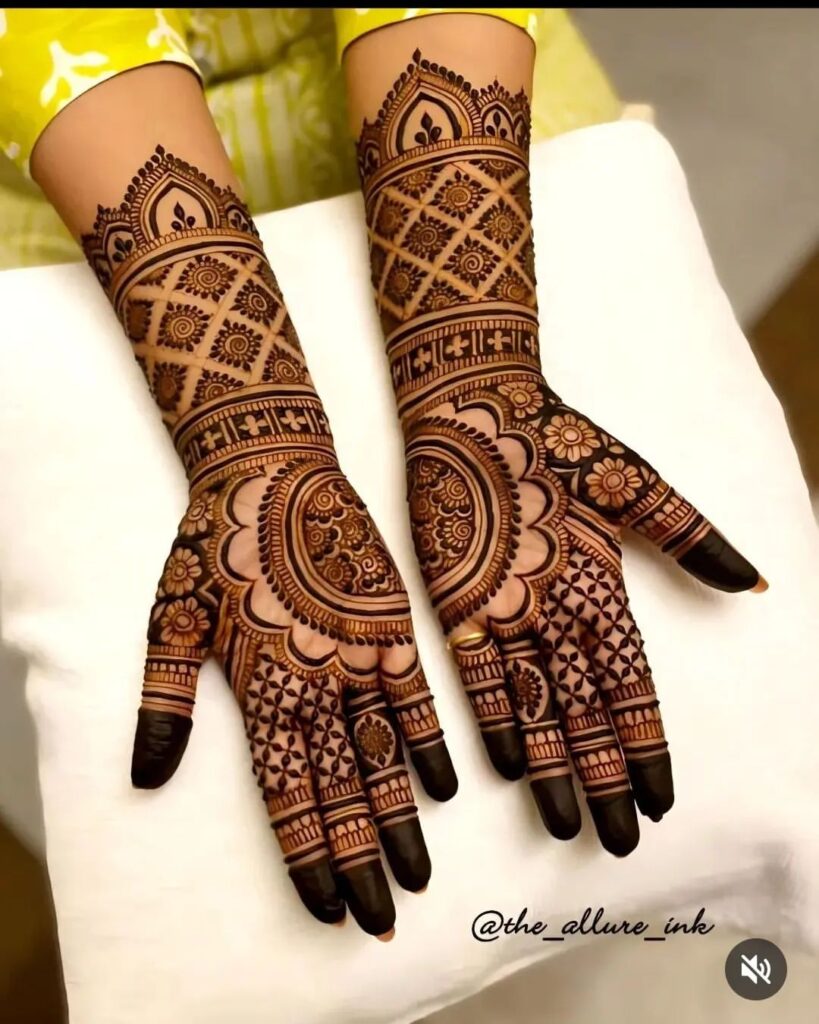 Courtesy: @the_allure_ink
Mirror image mehndi designs create a stunning symmetrical effect and give a harmonious display of artistry and precision. You can maneuver the design as you please to give it as simple or as elaborate a look as you'd like. 
#49 A Perfect Small Mehndi Design For Beginners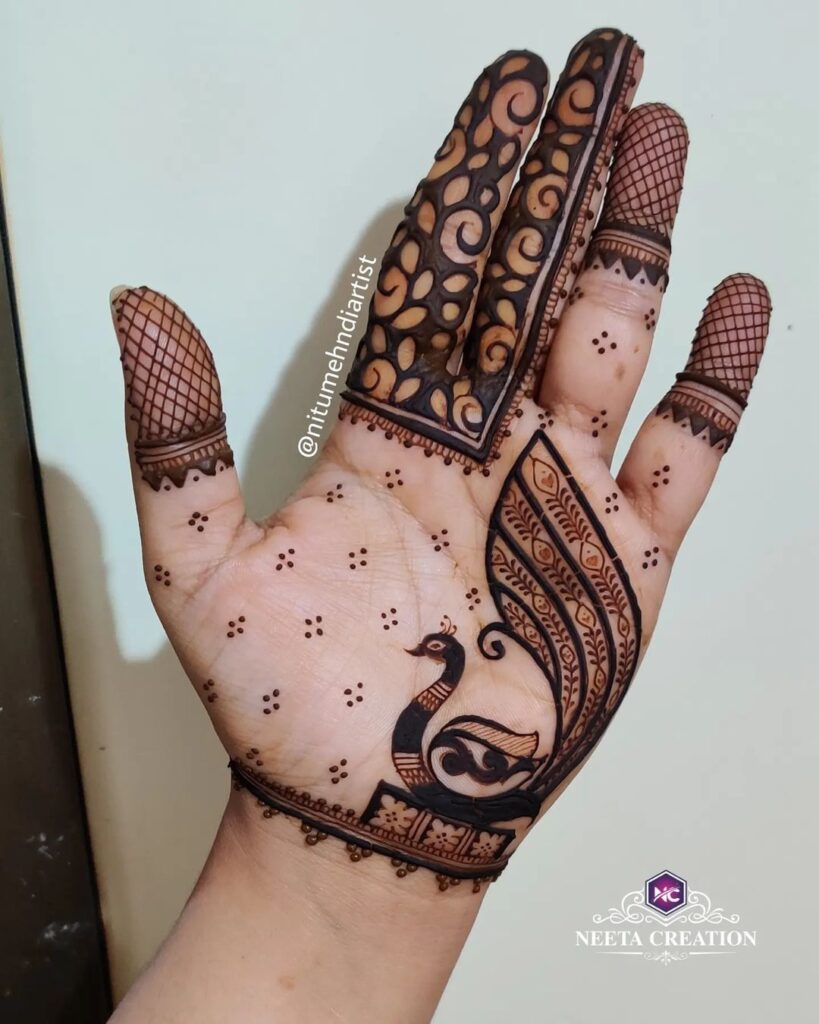 Courtesy: Neeta Patel
This one is a cute small mehndi design featuring a basic peacock motif as the center of attention and simple finger mehndi & intricate 3-D florals to complete the design! 
#50 Replete With Elephants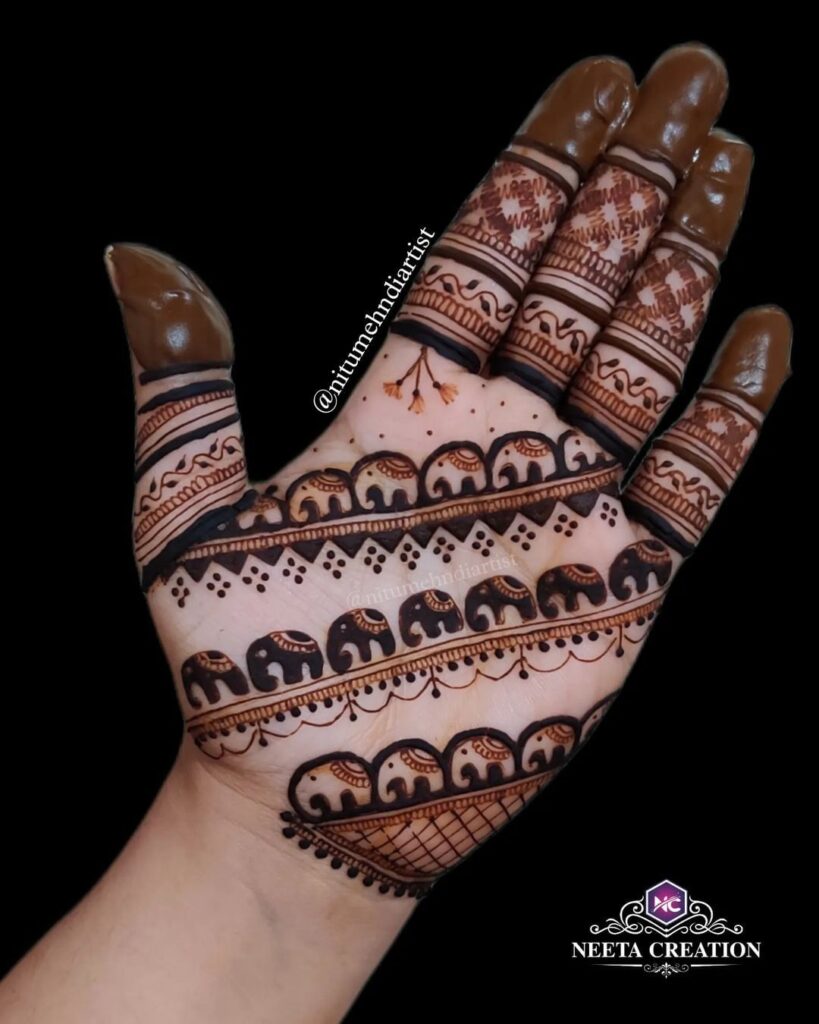 Courtesy: Neeta Patel
Enriched with the charm of elephants, this small mehndi design consists of intricately adorned pachyderms. The motifs enhance the grace of henna art with the majesty of elephants that are known to symbolize strength, beauty, and wisdom!  
#51 Garlands Galore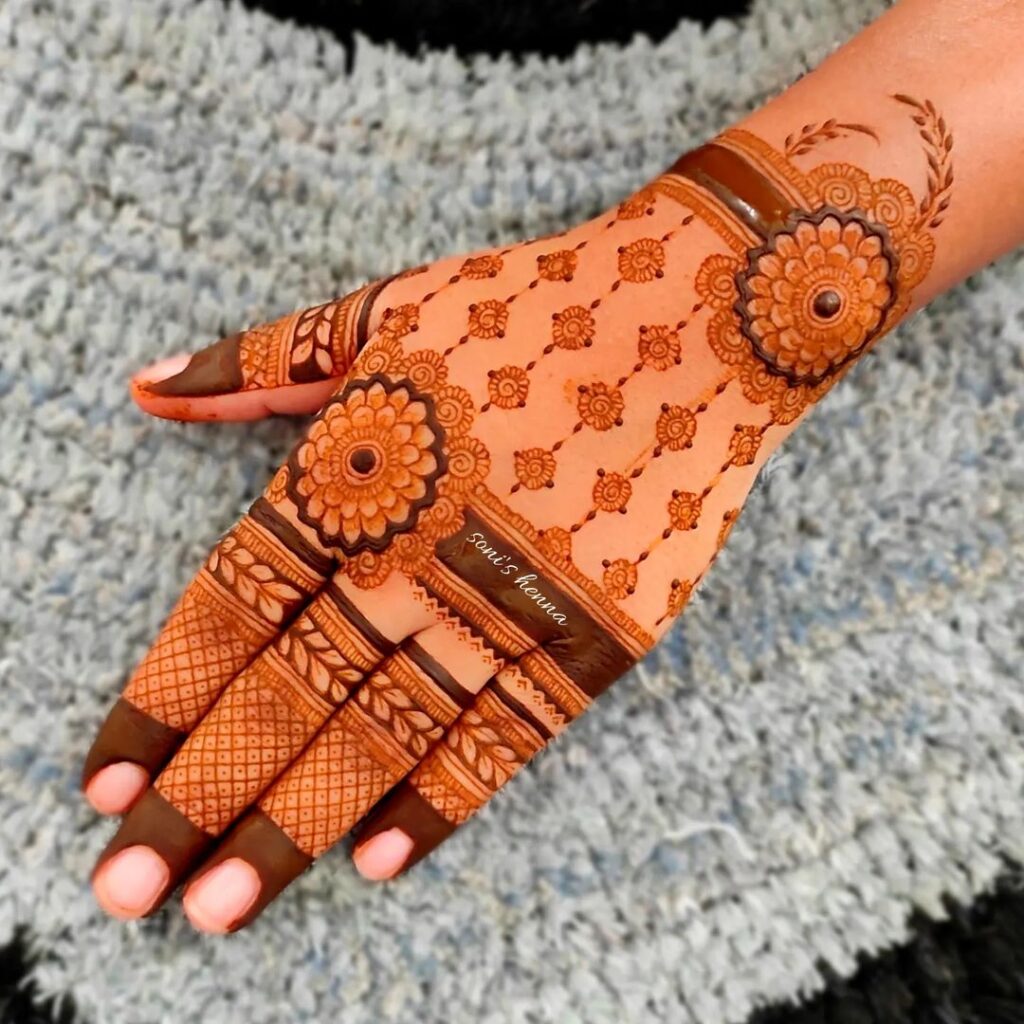 Courtesy: @sonis_henna
With thin strokes done such intricately, it's a no-brainer that this mehndi requires the patience of both the artist and the one who is getting it done! Thin lines will only do justice to this design, so make sure you hire someone who is skilled and patient with their henna art. 
#52 Small Mehndi Designs Front & Back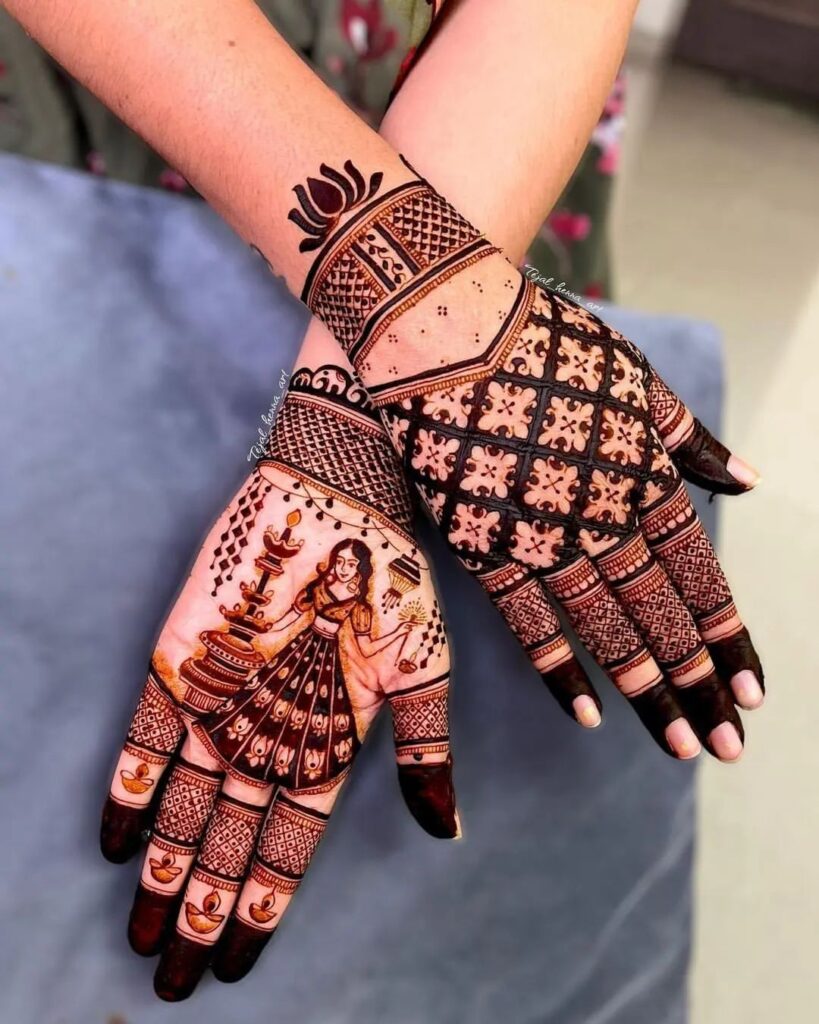 Courtesy: Tejal Mehendi Artist
Mehendi with figures does take time to draw, but the results are mesmerizing – as you can see. If you have got your heart set on this henna, do hire an artist who is skilled at drawing figures. Take a look at their portfolio before booking them! 
#53 Small Mehndi Designs For Front Hand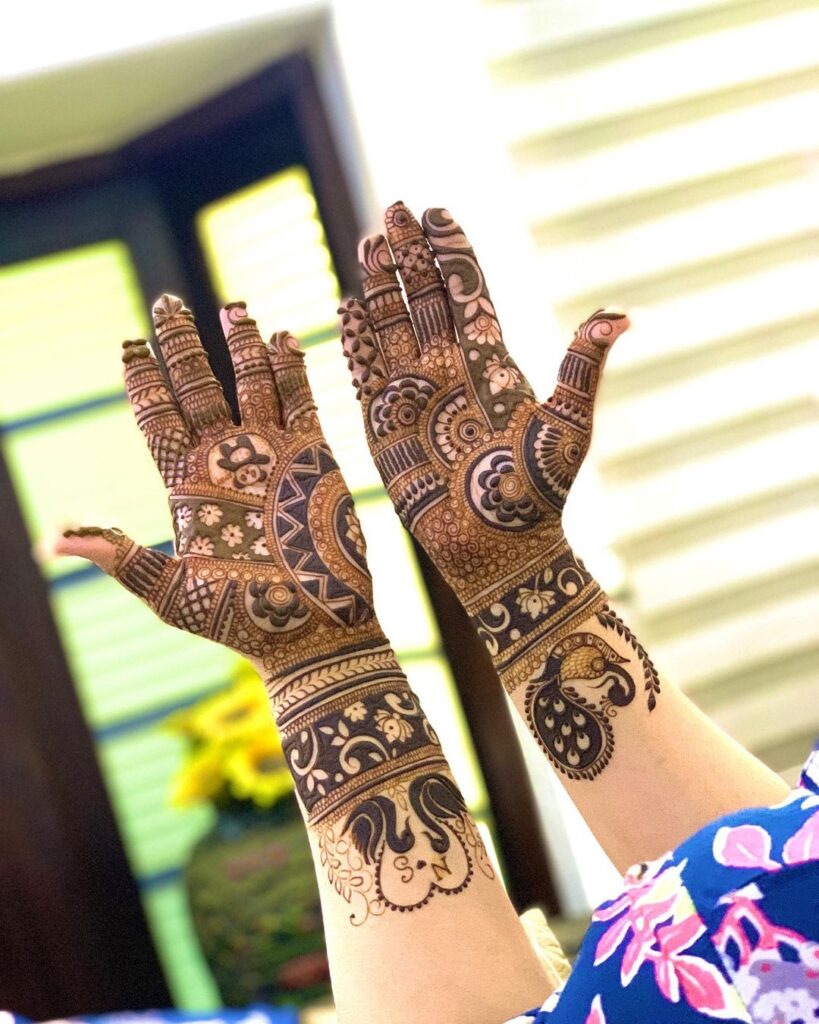 Courtesy: Mayank
A bharwa half-hand mehndi design featuring intricate motifs like swans, peacocks, and 3-D florals resulting in a captivating and mesmerizing adornment. 
#54 Thin Strokes With 3-D Effect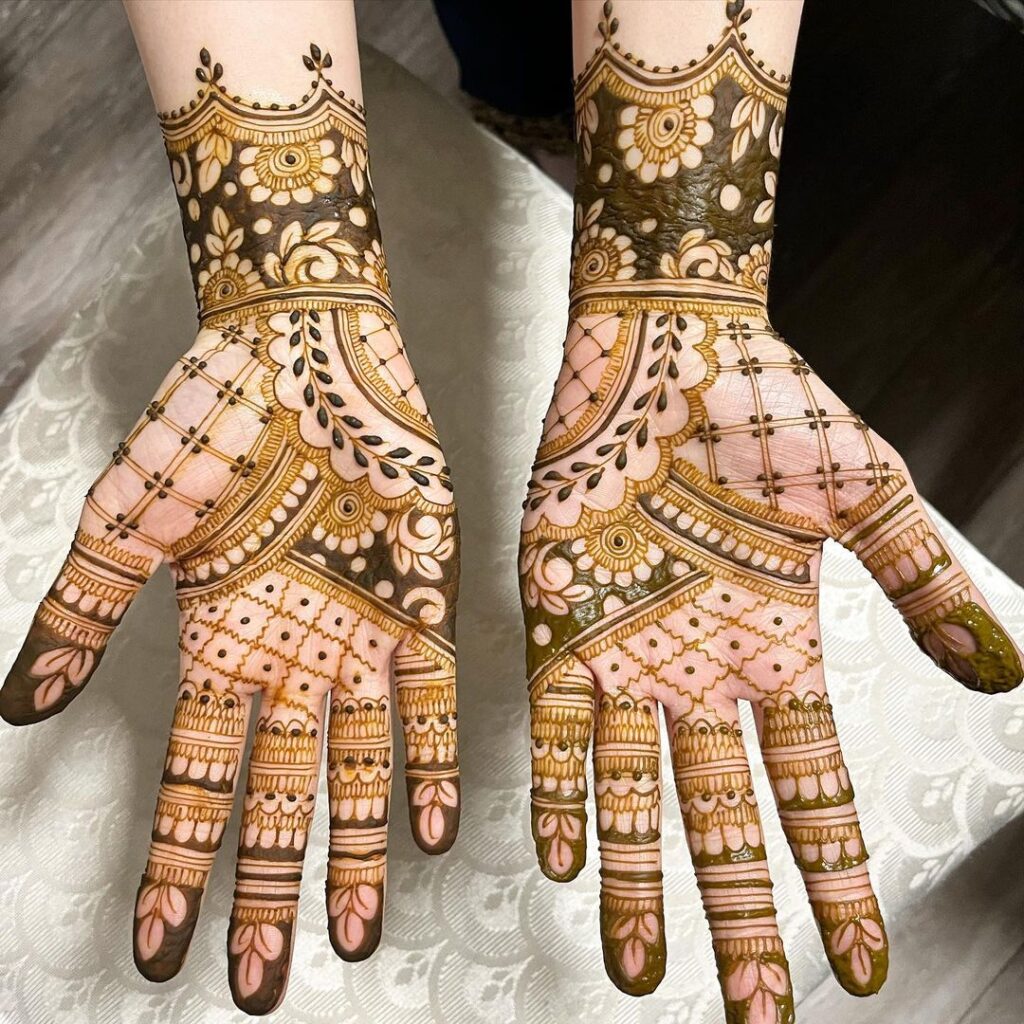 Courtesy: @alhanahenna
This one of the small mehndi designs for the front hand plays with thin strokes interrelated with a 3-D pattern for a unique combination that will look as good when drawn as it will after staining!
#55 Love For Leaves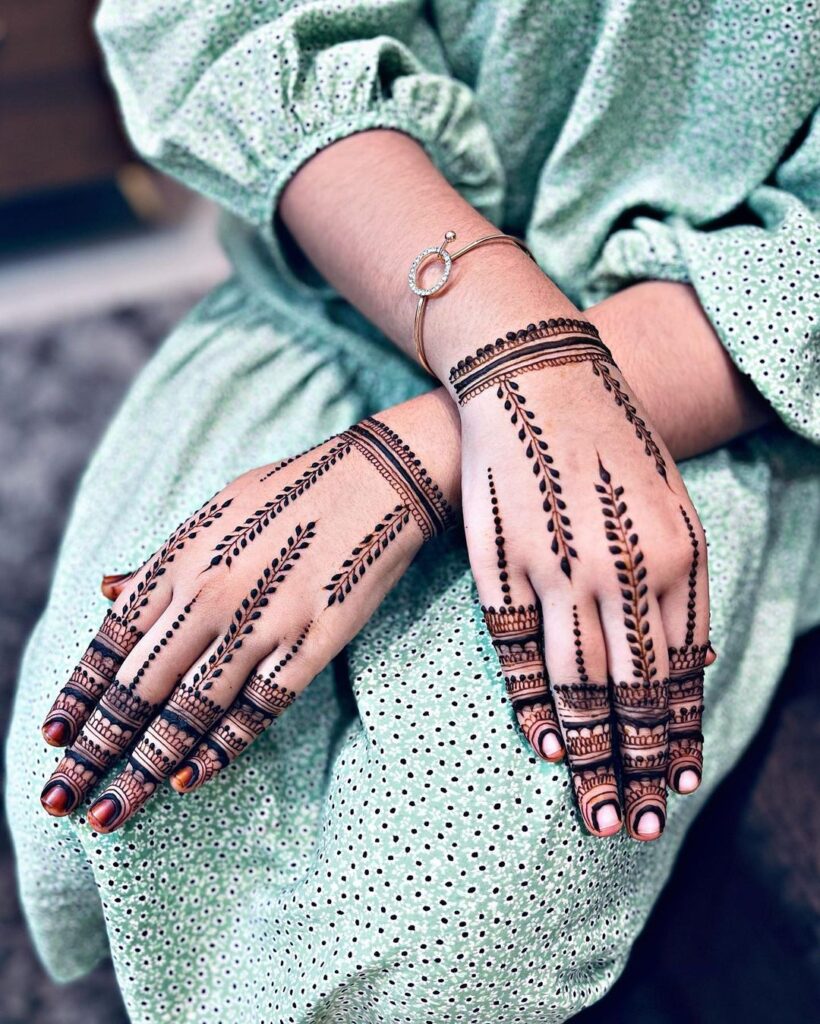 Courtesy: @henna.by.lubna
With bharwa fingers and spacious palm mehndi, this henna design is replete with foliage for a fresh and stunning mehendi that will look amazing after staining! 
#56 An Ingenious Small Mehndi Design Tattoo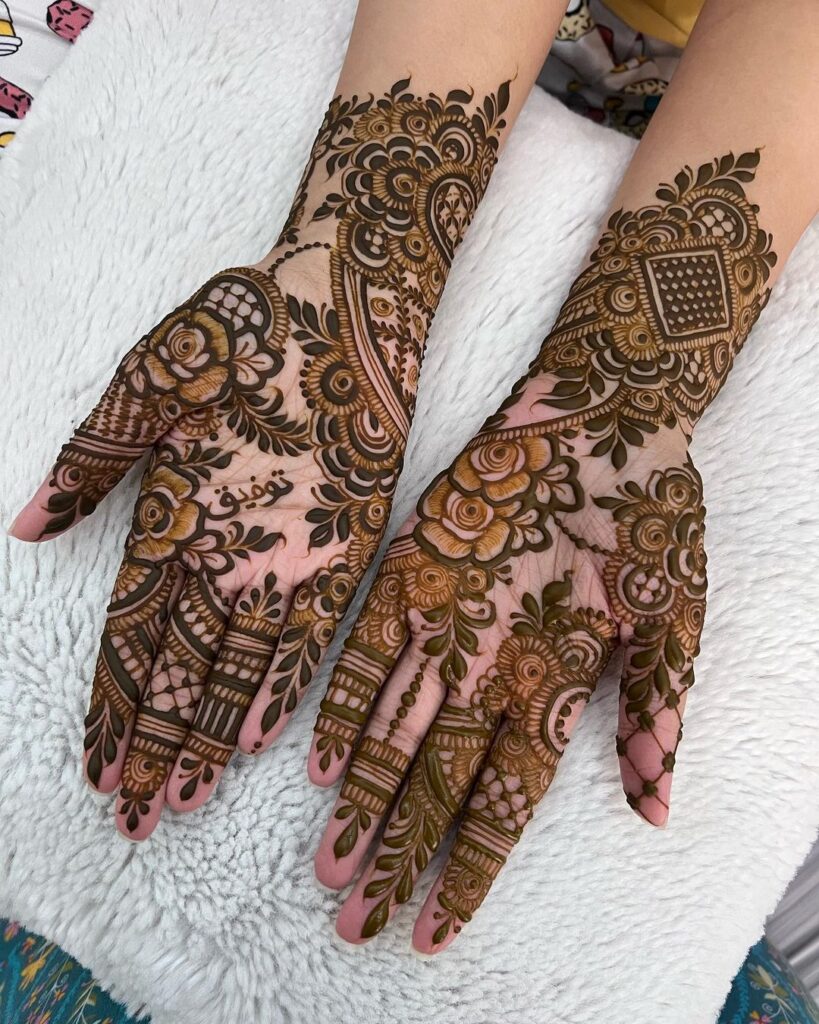 Courtesy: @mehedi_by_jahan
Bold outline, thin filling mehndi designs creates a captivating contrast. With striking outlines and delicate fillings, these designs showcase the perfect balance of boldness and intricacy, resulting in a visually stunning and unique artwork.
#57 Charming Florals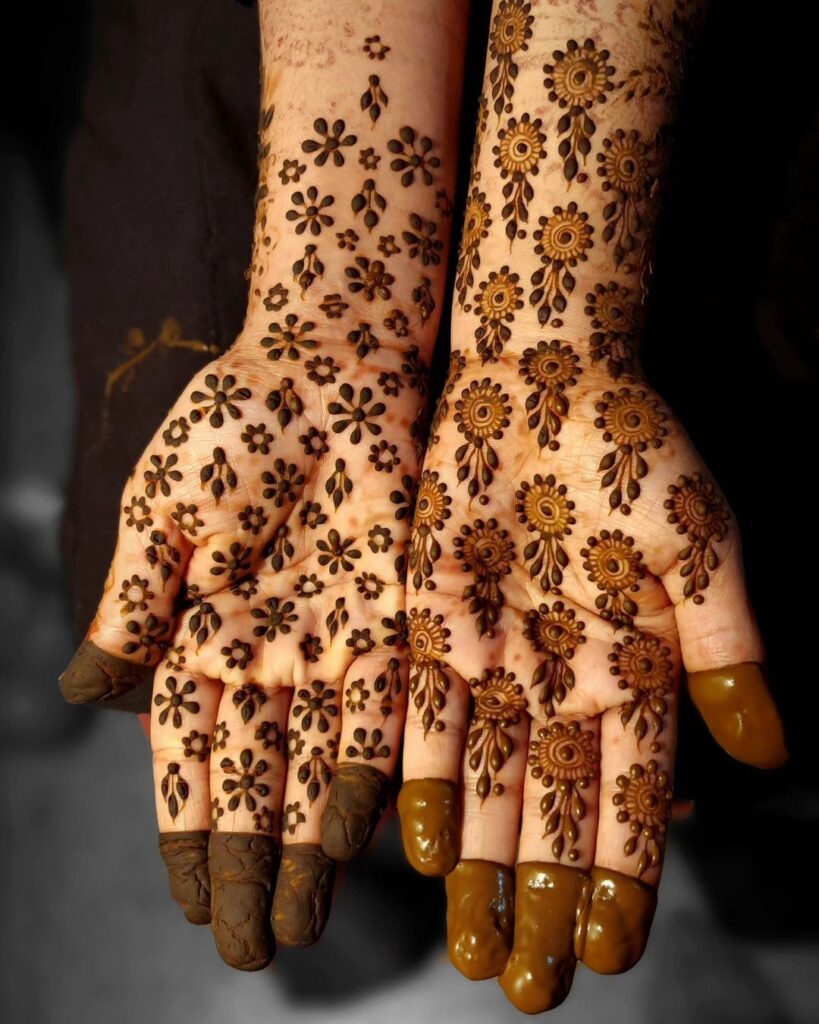 Courtesy: @focus_on_henna
You don't always have to explore intricate patterns to make your henna tattoo striking and eye-catching. Even simple elements arranged smartly can have the same visual impact. 
#58 Traditional One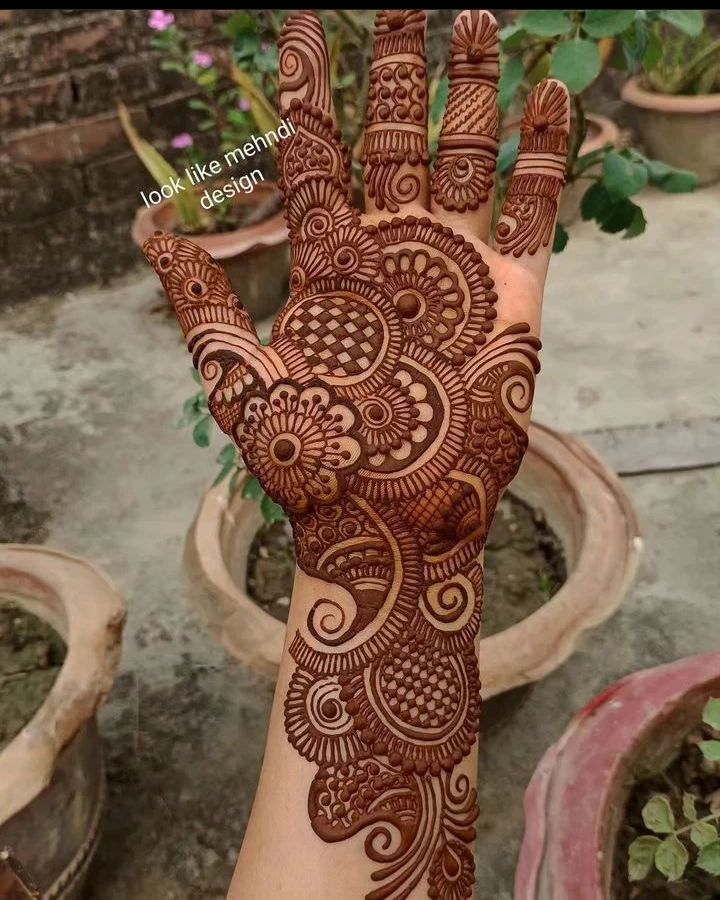 This is one of the traditional mehndi designs which captures the essence of cultural heritage with timeless motifs, intricate patterns, and flawless finish. It pays homage to the cultural heritage and artistry of the mehndi adornment. 
#60 Keeping It Flawless & Elegant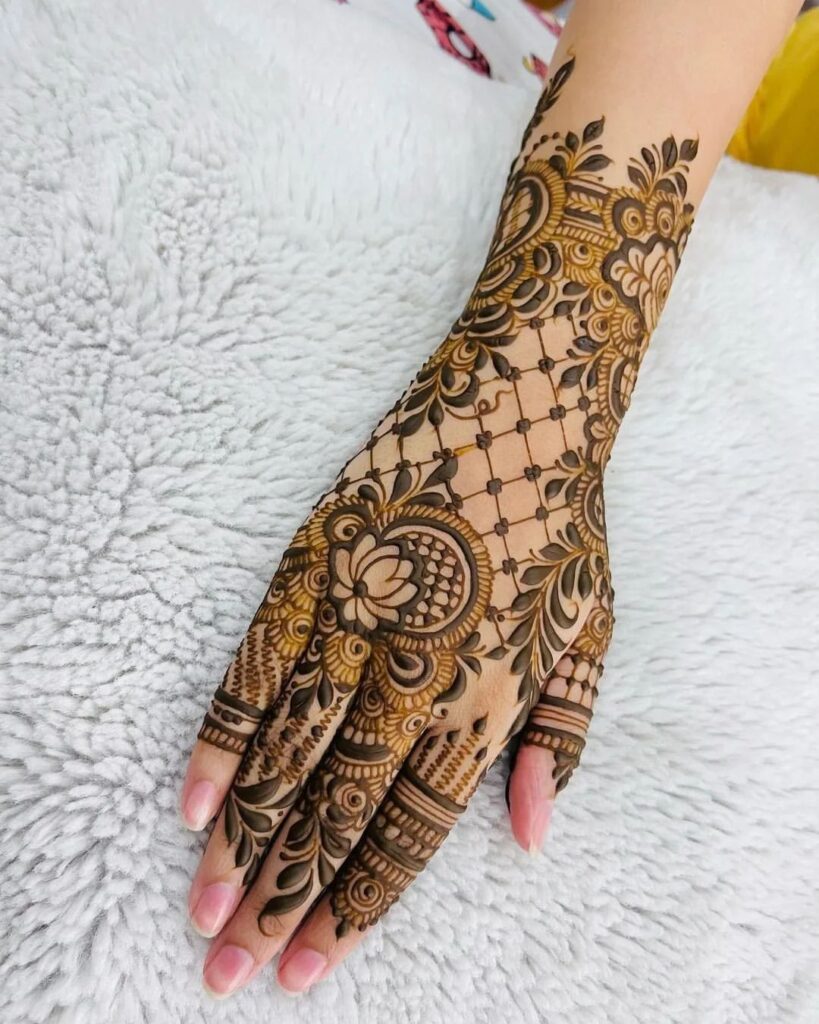 This mehndi design plays with the bold strokes not just as an outline but also with their strategic placement so as to give a 3-D effect upon staining. Something only a creative and professional artist can recreate for you! 
#61 Mesmerised!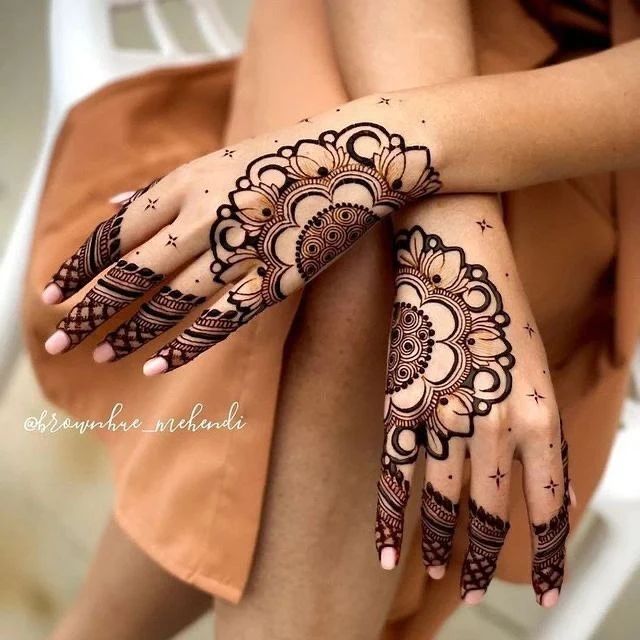 Courtesy: @brownhue_mehndi
Now this is one of those mehndi designs that you should get at least once in your lifetime! It's minimal, elegant, and perfect for any and all occasions – including your wedding! 
#62 Stylish One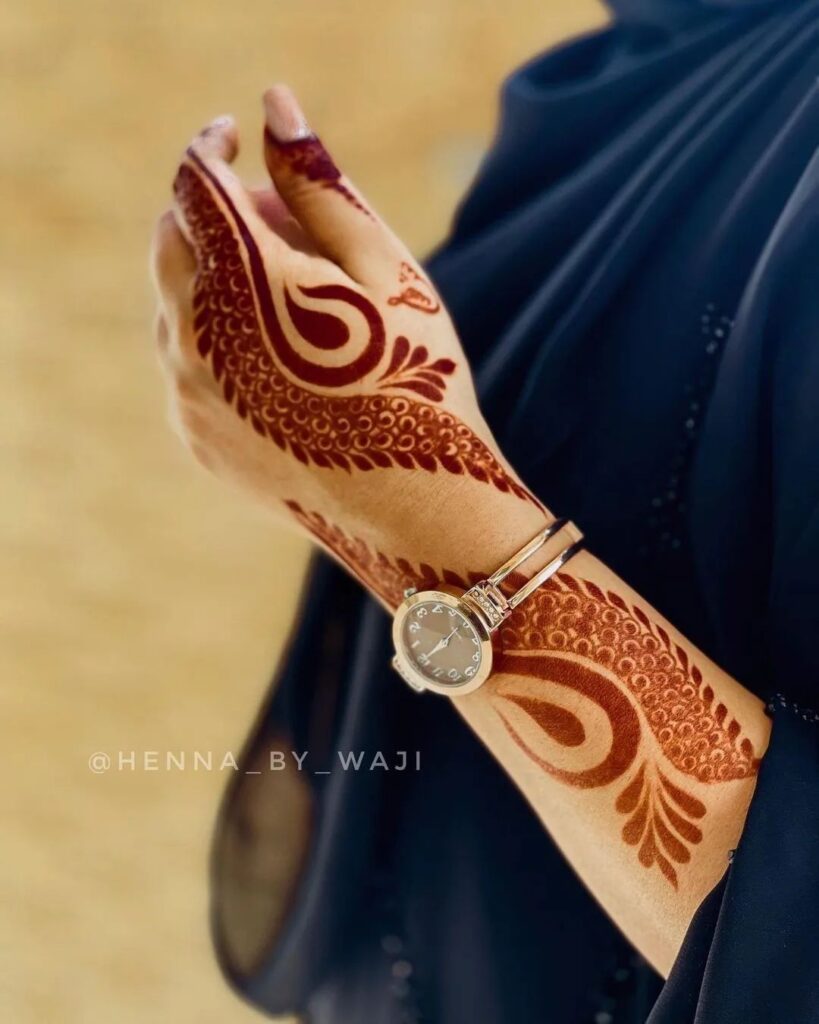 Courtesy: Wajida Shahid
If you're someone who wants their mehndi design to be all about modernism and grace, then choose this one of the chic mehndi design from the list which makes an impact without taking too much time to complete. 
#63 Chunky Florals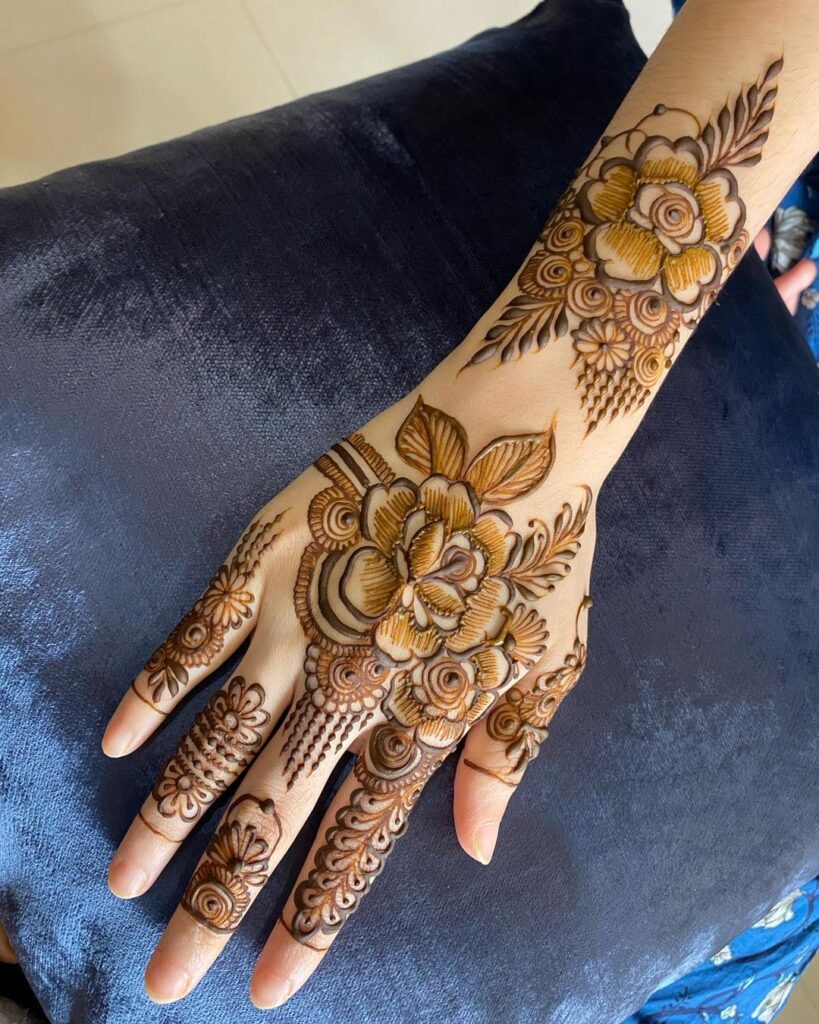 Courtesy: @sarahmehndi_artist
These chunky florals in half-hand mehndi designs boast bold, oversized flowers with thick outlines and intricate details. These eye-catching patterns offer a modern twist to traditional floral motifs, creating a striking and captivating look.
#64 Just The Side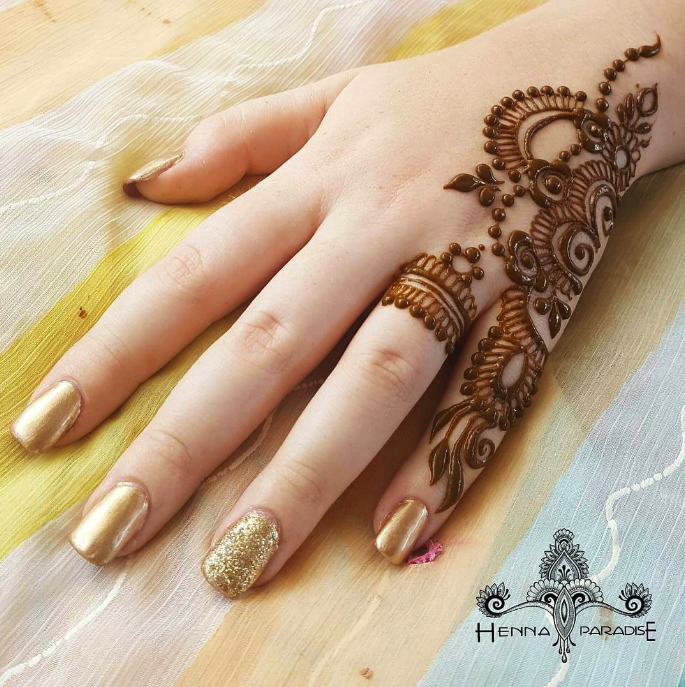 Occupying just the side of the palm, this one of the small mehndi designs for the back side looks amazing on its own but can also be drawn on the other hand for a namaste mehndi design. 
#65 Connected Through Dots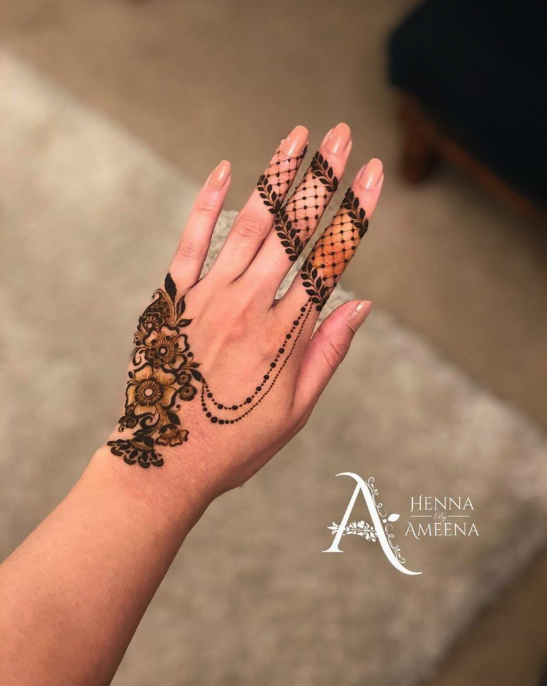 With fancy geometric patterns on fingers and a cluster of florals & foliage on the sides, this mehndi pattern is a blend of modernism and traditionalism in perfect proportions. 
#66 Mehndi Design For Small Hands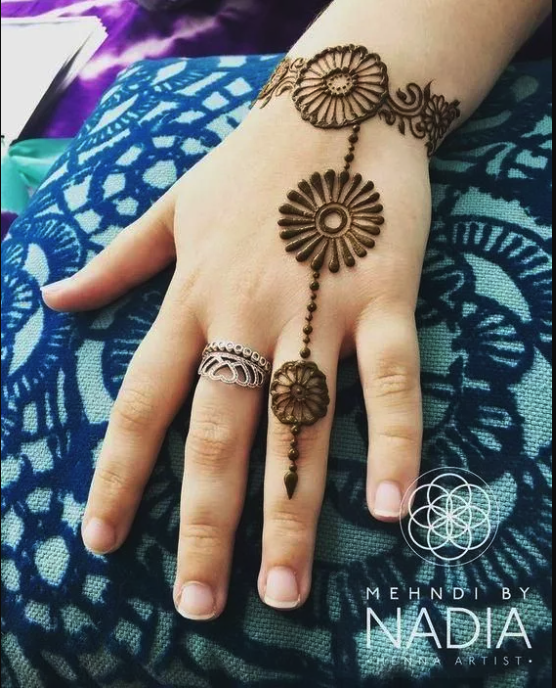 This mehndi design for small hands is neat, simple, and eye-catching! It also has a certain innocence, which is ideal for those cutesy small hands! 
#67 Mehndi Design For Small Girls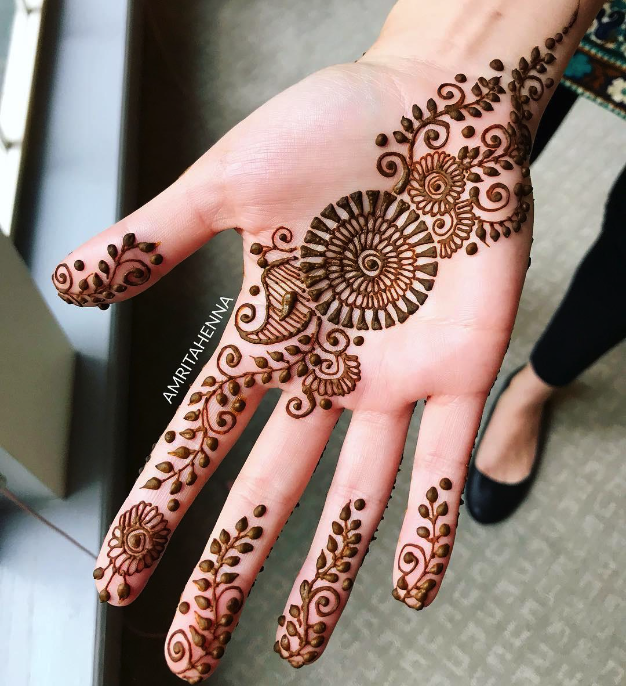 Kids often don't have the patience to sit at a stretch for an exquisite mehndi design. Therefore, a simple yet beautiful small mehndi design like this can work just perfectly for them! 
#68 Lotus Flower Small Mehndi Design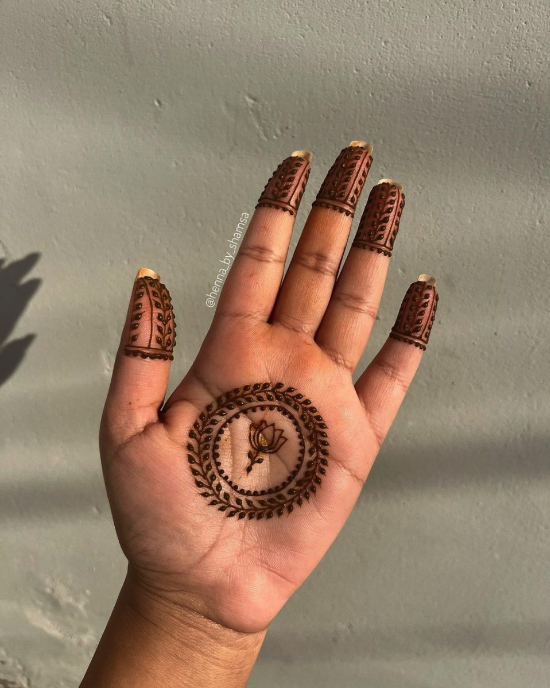 This is the kind of small mehndi design for small girls and women that can have an impact on almost any occasion. It has a neatly-drawn lotus in the middle followed by a mandala pattern mehndi in intricate lines as well to give us a flawless design that strikes with its minimalism. 
#69 An Easy Small Mehndi Design For Beginners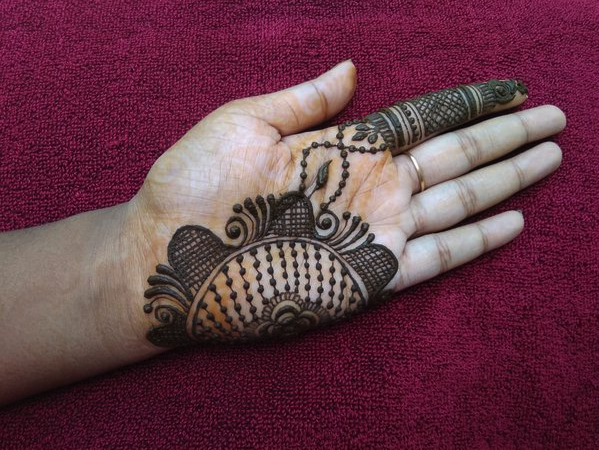 Just the perfect small mehndi design for beginners featuring thicker outlines and easy fillings, so it can be done quickly and still manages to impress the crowds! 
#70 Taking Minimal Mehndi Design To the Next Level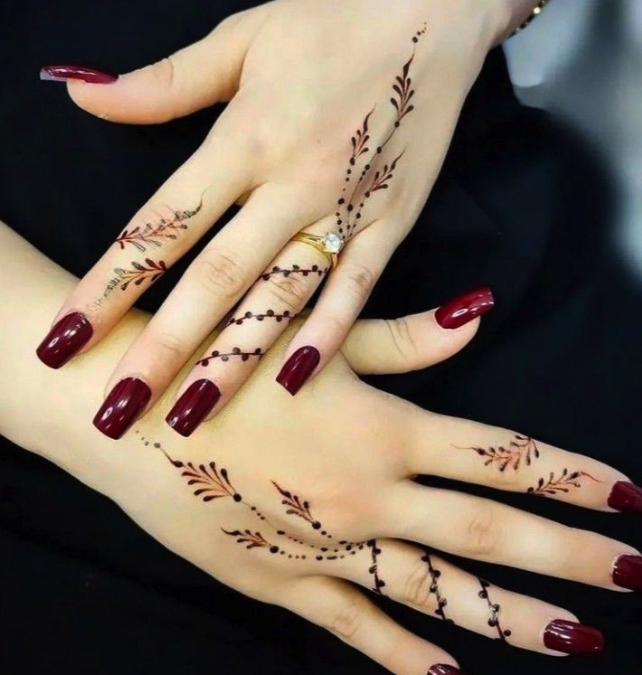 Featuring clean lines with subtle dots and minimal patterns, this elegant and simple mehndi design exudes an understated charm and gives meaning to the "simplicity is elegance" quote! 
#71 A Small Tattoo!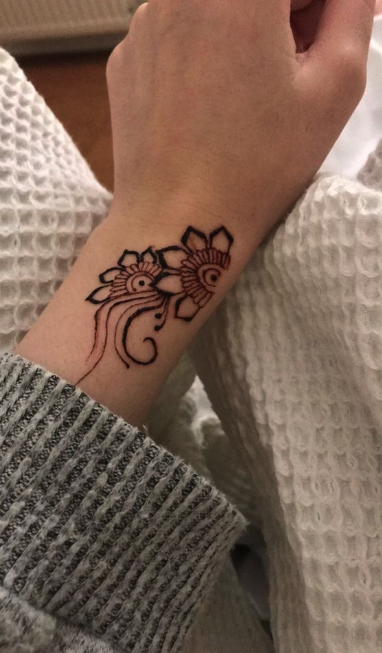 A small mehndi design tattoo doesn't get any better than this! To increase the mehndi, you can draw another cluster on the side of your pinky finger and just bedeck with some simple finger mehndi designs!
#72 Cute & Simple Small Mehndi Design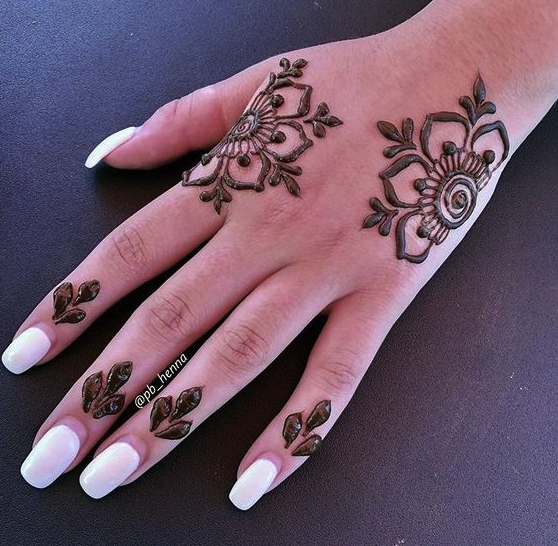 For those who're looking for easy small mehndi designs for a quick DIY at home, try this one. It uses bold strokes – and only just a few of them – so it also won't take a lot of your time! 
#73 Just The Peacock
Delicate and intricate, the next one of the small mehndi designs on the palm depicts the majestic beauty of peacock figures in mehndi with utter grace. Leaving the fingers bare, lets the motif stand out and captures the regal essence on a royal canvas. 
#74 Lotus In Circles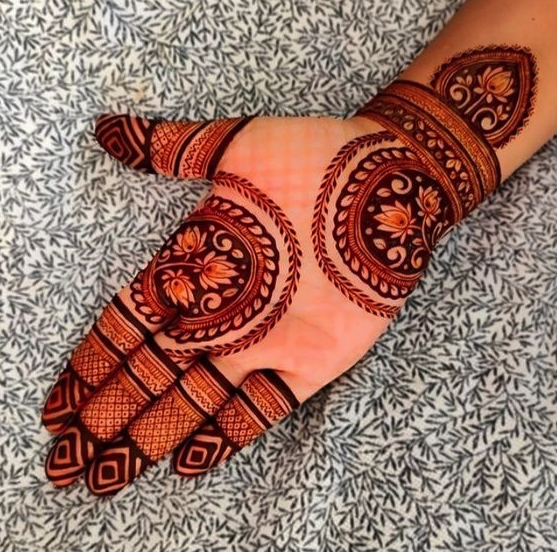 With two circles on opposite ends, this henna design plays with thin and bold strokes for a solid visual impact and an aesthetically pleasing mehndi pattern. 
#75 The Aesthetic 3-D Mehndi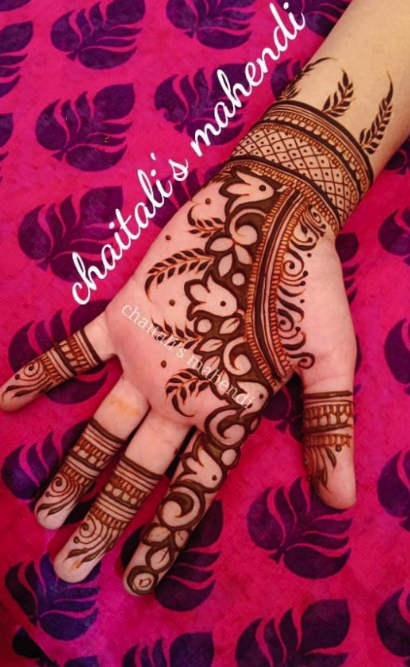 These bold strokes might look easy to DIY, but the 3-D mehndi requires certain expertise and should only be trusted to be recreated by professional henna artists!