There are absolutely no Indian festivities that are complete without mehendi application! Over the years, mehendi designs have gained an artistic edge that just makes us admire them even more. Each element of your henna plays a role in its fruition, including finger mehndi designs. Whether it's bridal mehndi design, kids mehndi design, or mehendi design for wedding guests, finger henna can add to the charm of your overall design. And that's why it's best that you choose it wisely.
From elaborate to minimal, there's something for every kind of woman on this list. Keep scrolling and save your favorites as you go along.
Purchase herbal henna powder here, and oil to darken your mehendi here.
65 Finger Mehndi Designs
#1 Neatly Done Jaal Pattern
Jaal pattern mehndi always looks pretty and attractive. Whether it's done on the hands or as a finger mehndi design, their allure can work anywhere. The best part is you don't even have to work hard to bring the rest of the design to life, just painting on your fingers is enough.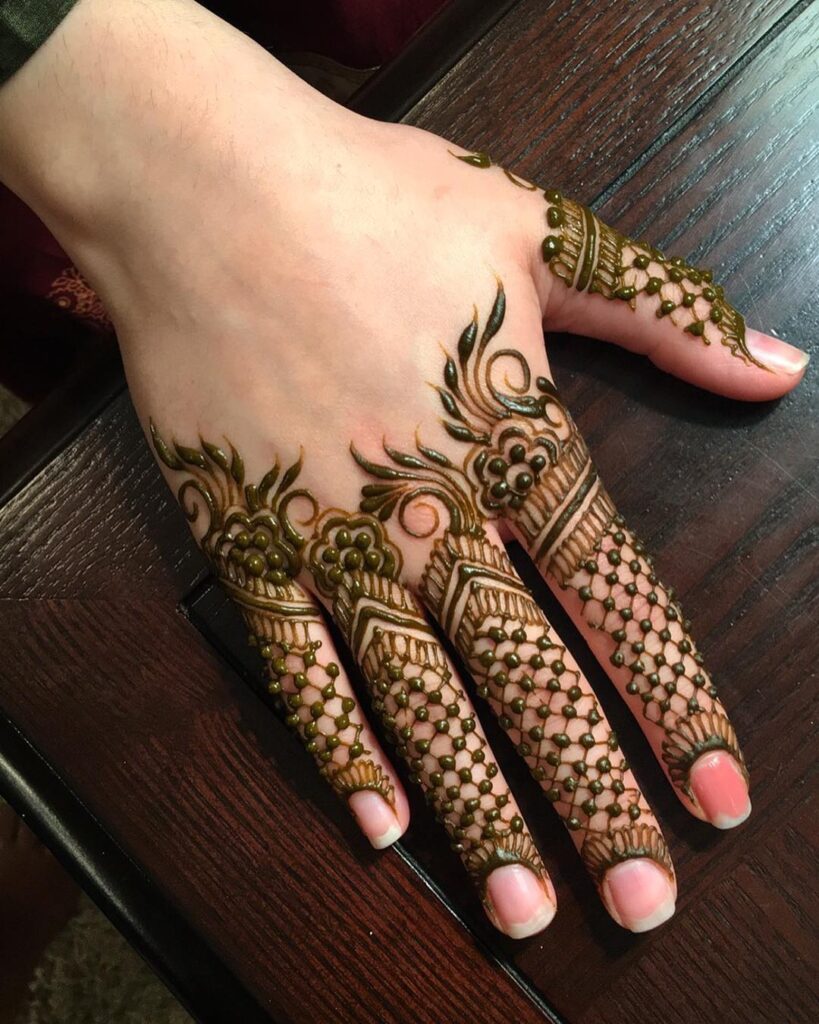 Via @mehndidesign2021
#2 Leafy Pattern Finger Mehndi Design
Done using traditional mehndi elements – leaves and florals, this one's is easy and beautiful at the same time. Yet again, just the finger mehendi would work amazingly as your entire back henna.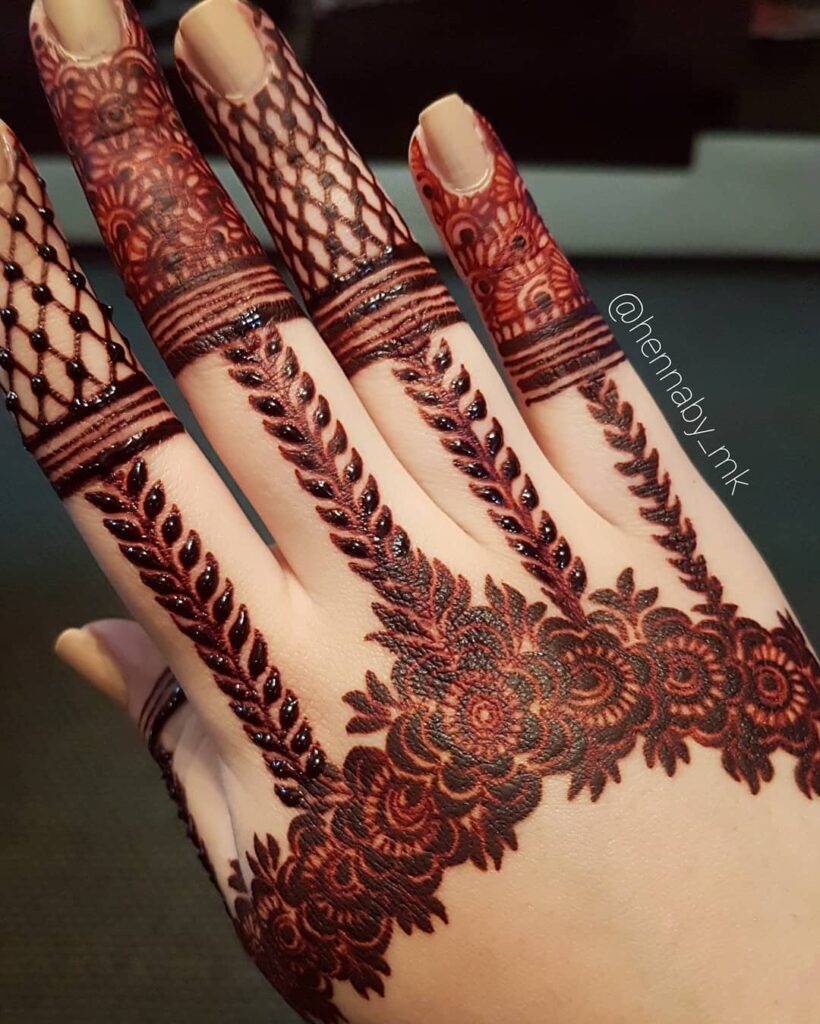 Via @hennaby_mk
#3 Finger Mehndi For The Minimal Brides!
Intimate weddings call for minimalistic ideas! So if you're looking for a minimal yet appealing mehndi design, the search ends here. Pair it with a nude nail paint and floral jewellery for a lovely look.

Via @hennaforallny
#4 Leafy Affair
The leaf motifs are such a trendy way to adorn your fingers with henna. Team it with a bharwa mehendi to strike a perfect balance between traditionalism and modernism.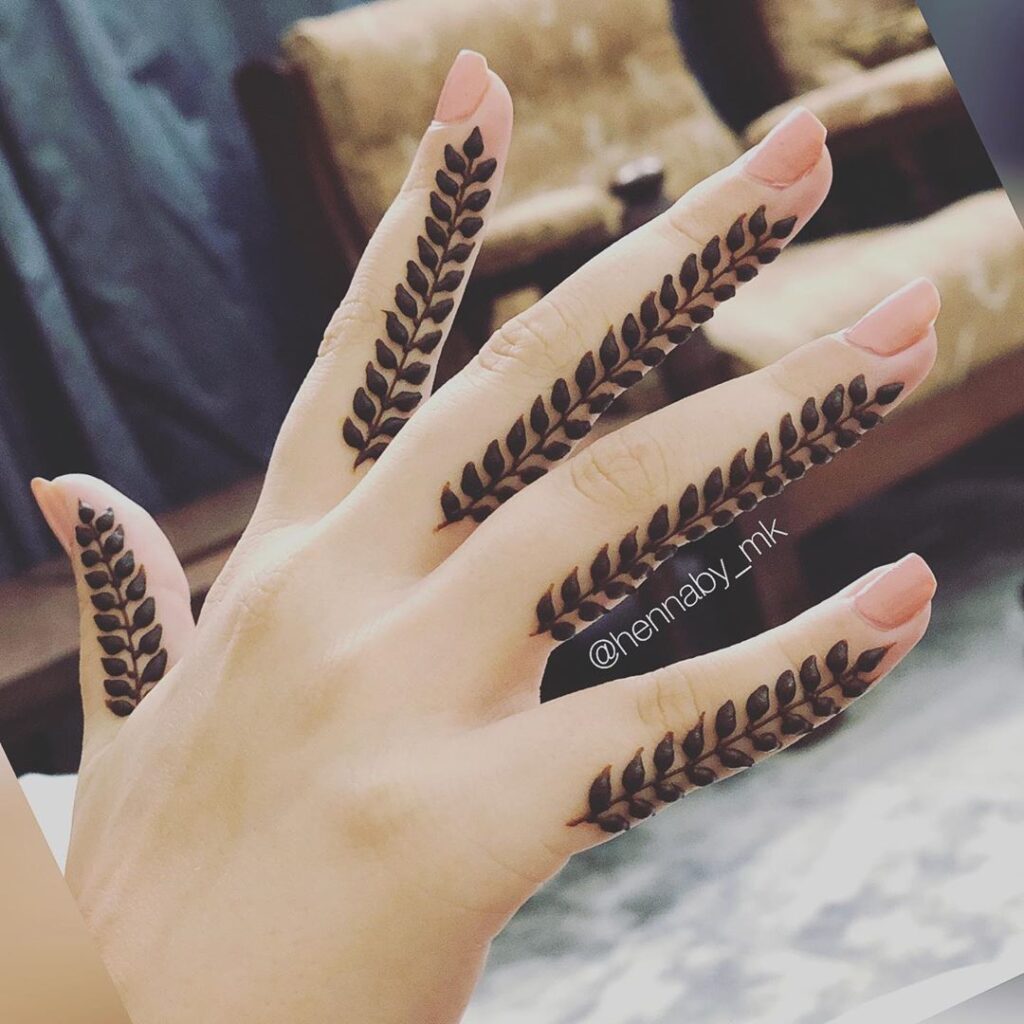 Via @hennaby_mk
#5 Easy Jaal Pattern Finger Mehndi Design
"I don't like jaal pattern mehendi," said no woman ever. It's only the prettiest and appealing mehendi design that exists. Although it needs to be drawn neatly, otherwise it will lose all it's the charm. If you're a pro at it, do your fingers with this design and keep flaunting your pretty hands.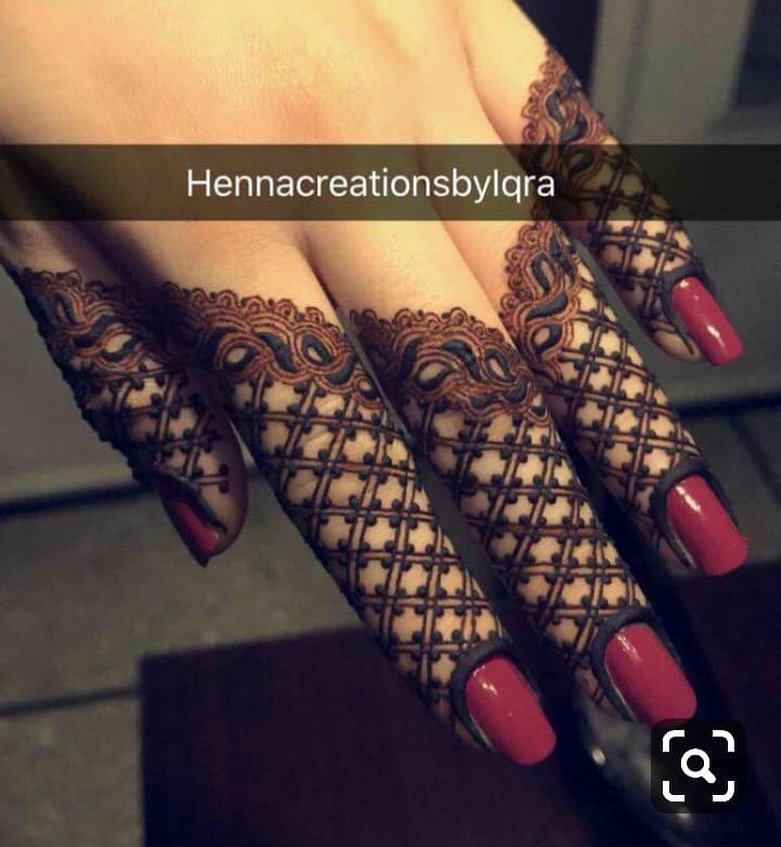 Via @hennacreationsbyiqra
#6 Traditional Arabic Mehndi Design
A breathable pattern that exudes modish vibes. It's also easy to make for a beginner. Pair it up with a bright nail paint and add a few rings to enhance it's glamour. This mehendi design would look great on traditional wear as well as Indo-western outfits.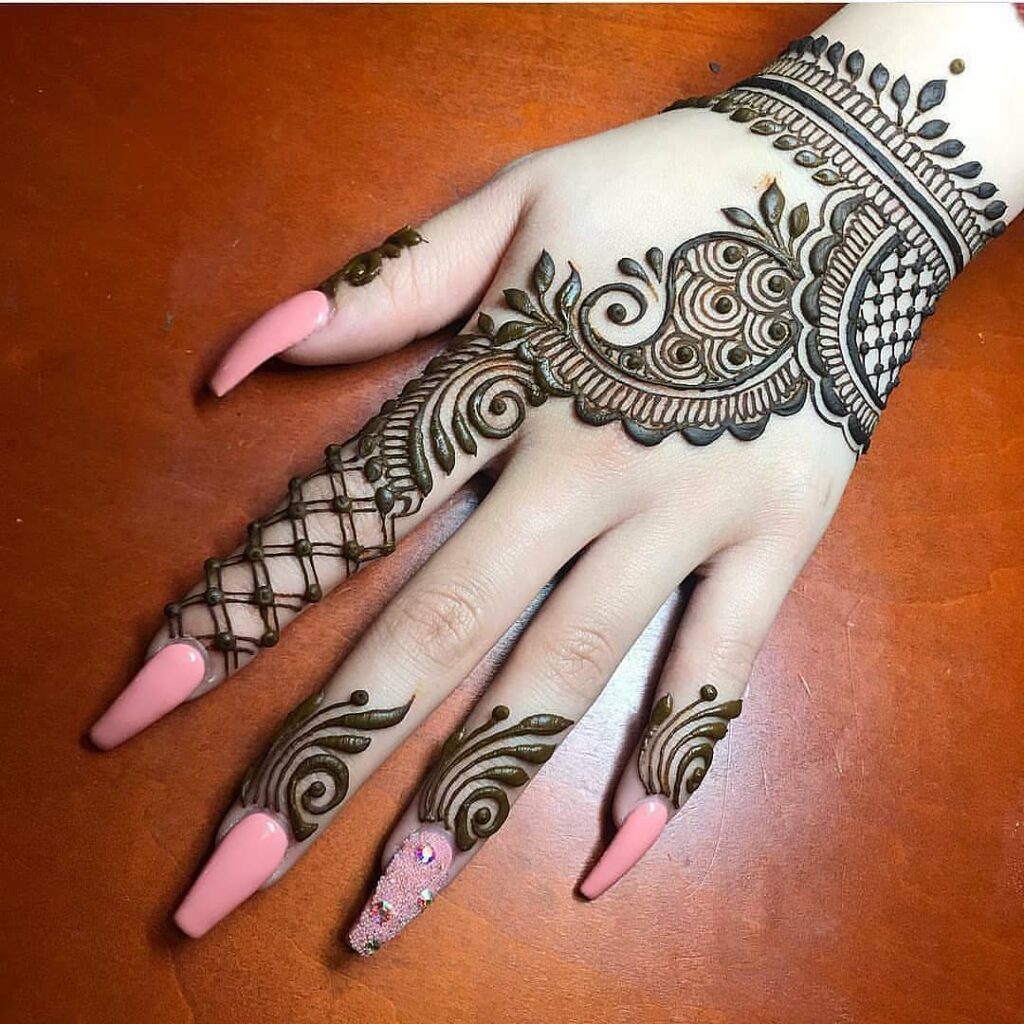 Via @sanas_henna_design
#7 Tips Finger Mehndi Design
For women who are always on their toes, this mehndi design is a perfect pick. Created with easy yet stylish leaf patterns, it won't take a lot of time. You can draw a simple mandala to further amp up the look.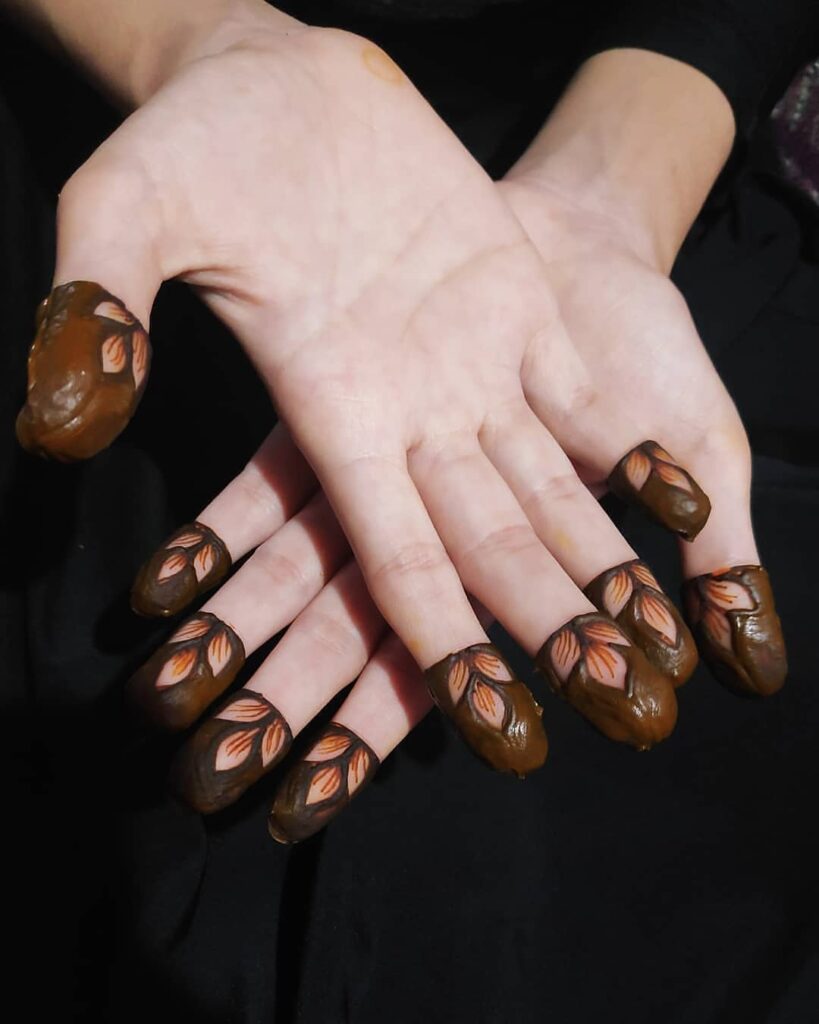 Via @aayat_mehndi_designer
#8 Simplicity at its best!
Another simple finger mehndi design that can be recreated with no effort. Do make sure you don't cut the front of the cone too much, because the design requires thin strokes. The glossy nail paint makes it look even more desirable.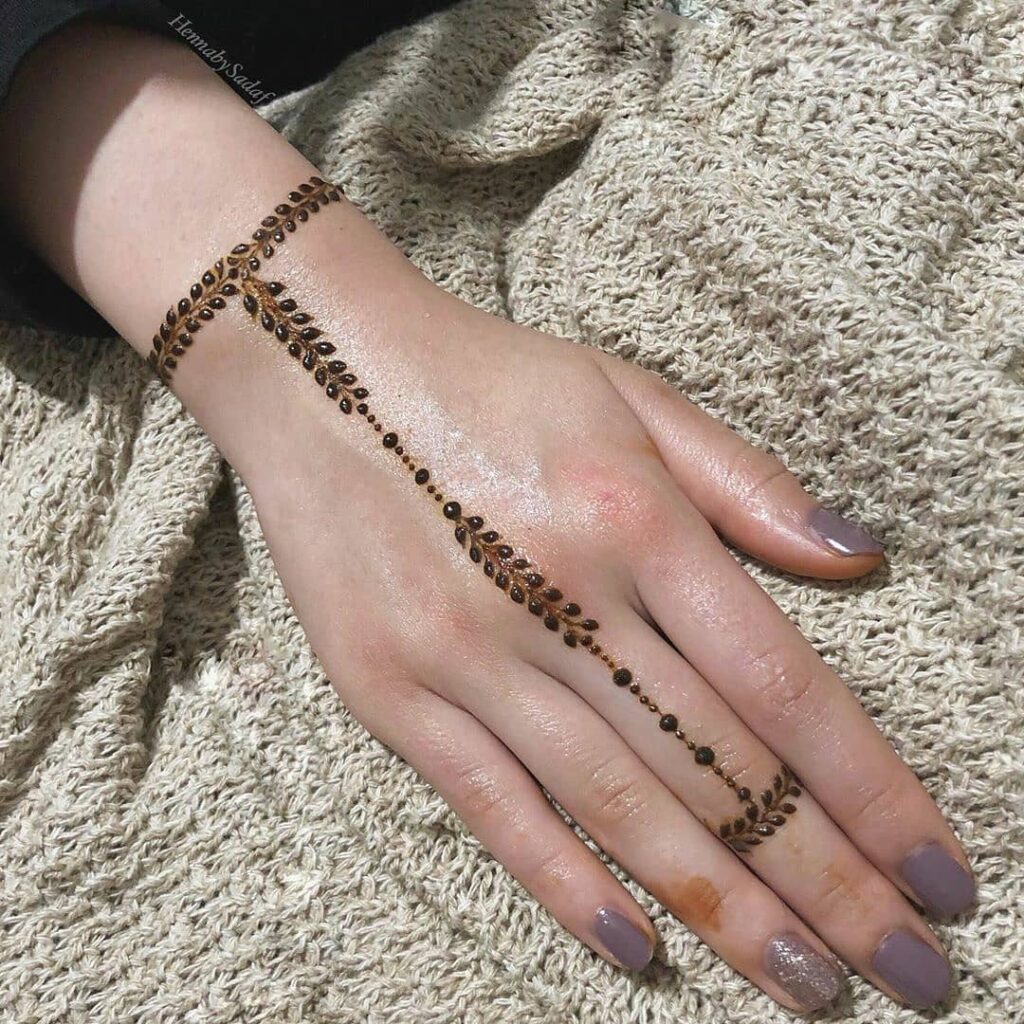 Via @hennabysadaf
#9 Best One For The Bridesmaids
Keep your henna game strong bridesmaids. Clad your pretty hands with these unique henna patterns that complement each other so well. Done using only flowers and lines, this one will surely grab you tons of compliments.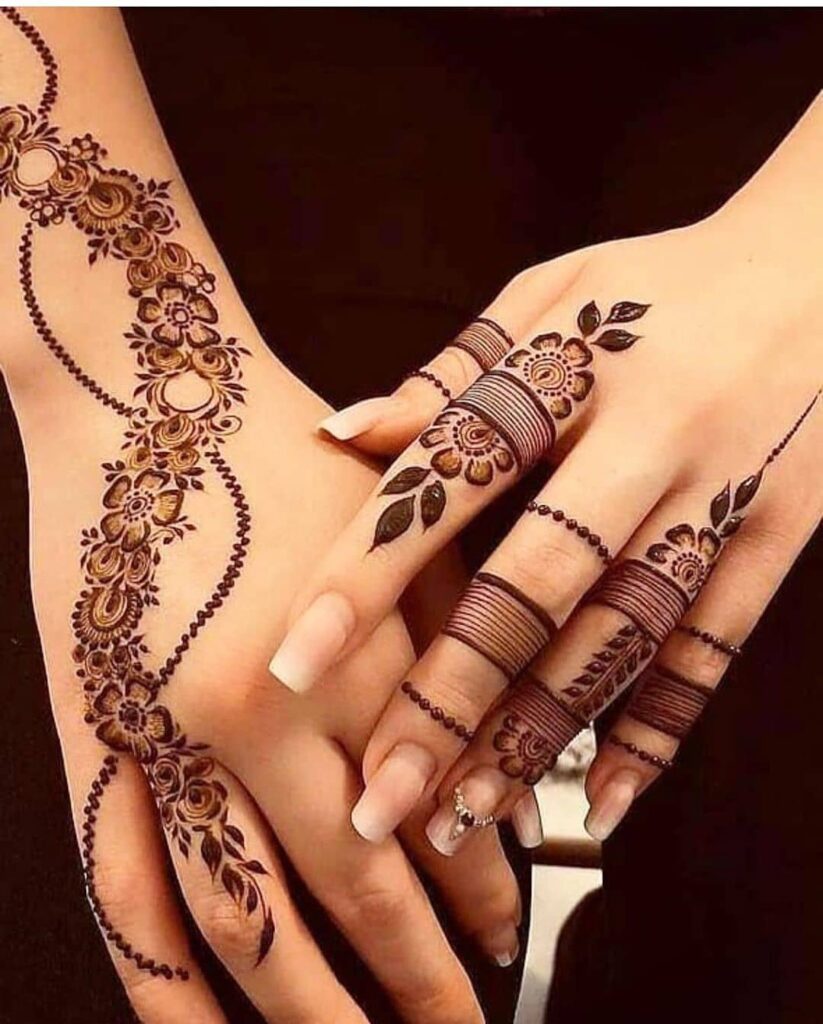 Via @nurahshenna
#10 Dreamy Finger Mehndi Design
Crafted using usual henna elements, this finger mehndi design is modish and grabs attention. It also makes your fingers look longer. For anyone who wants to show off their ring and other hand accessories, painting just the tips with henna – like this one – is a superb idea.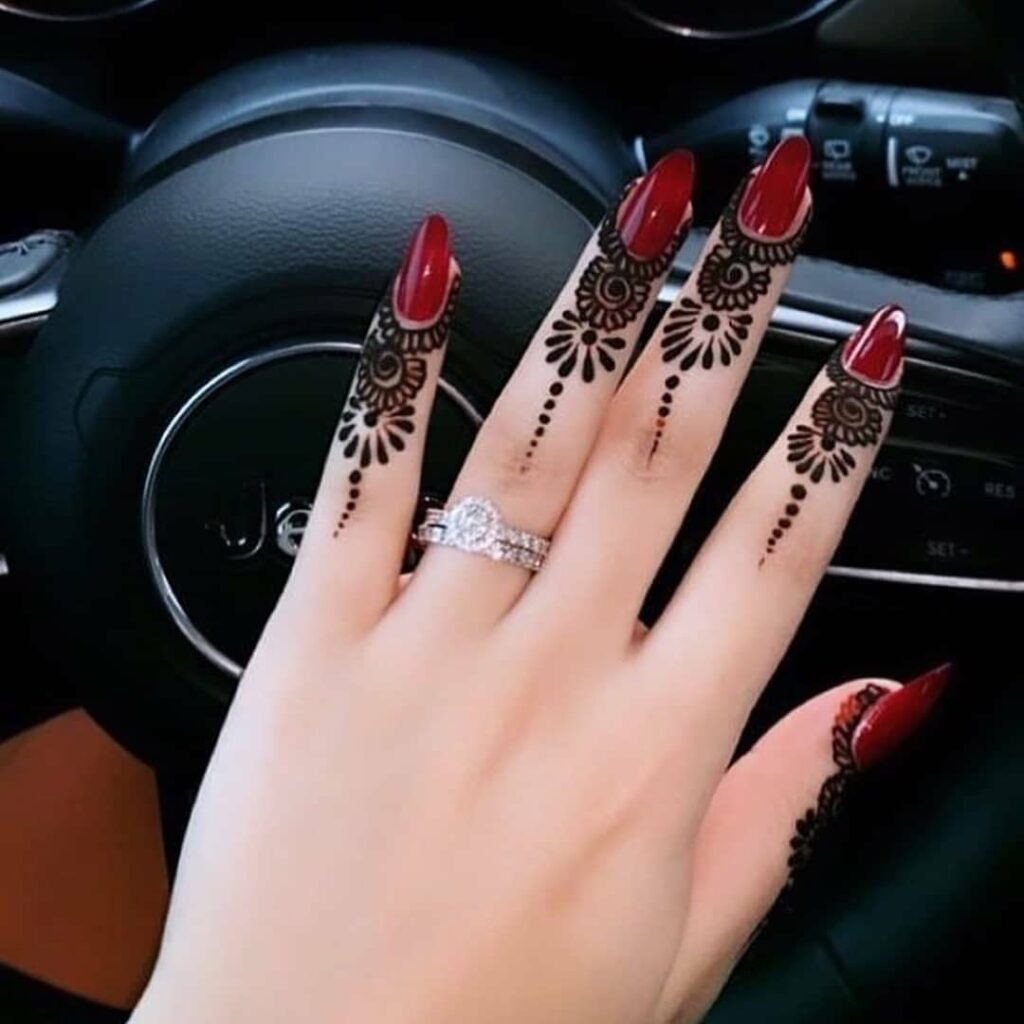 Via Pinterest
#11 How Spectacular!
We have seen many leaf-dominated henna patterns before, but this crafty one is the most creative and attractive of all. Love how just one pattern covers all of the back hand and gives such a surreal look.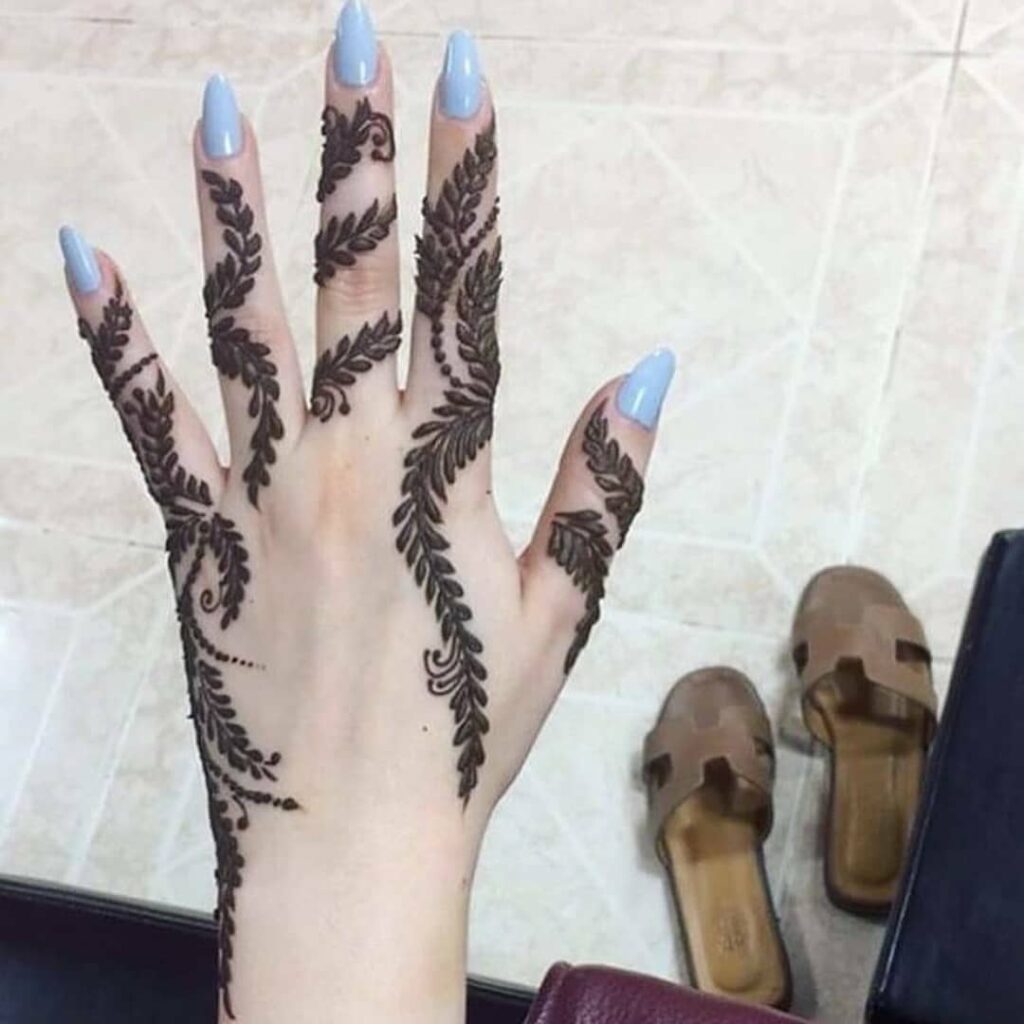 Via @hennablogger_2
#12 Jaal Finger Mehndi Design With A Twist!
Do you have a 4 letter name? Then get this uber cool mehndi design done on your hands by the artist. The cute personalization definitely makes it one of our favorites from the list.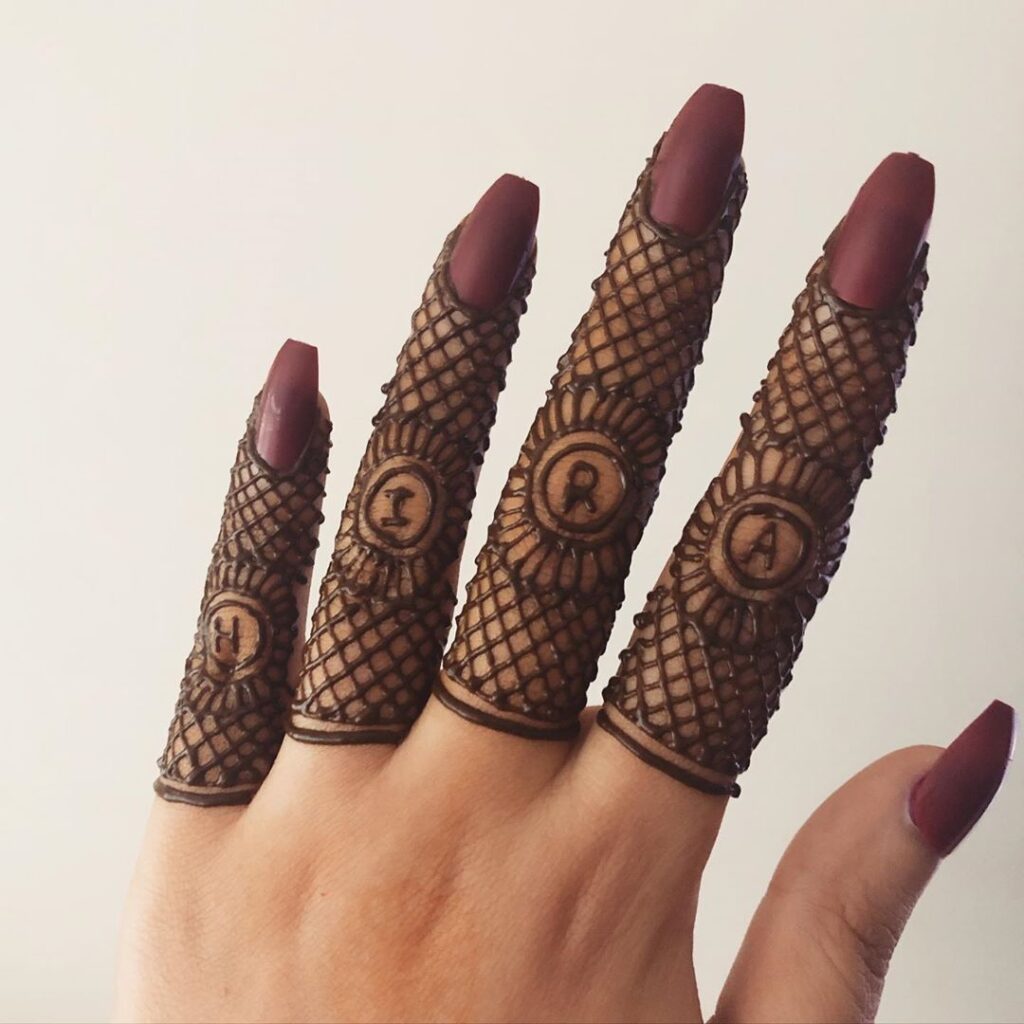 Via @mehndiartist_hira
#13 Mandala Inspired Finger Mehndi Design
Mandalas are utterly traditional yet give a very chic look. They are an ideal design for anyone who doesn't want a full-on bharwa design but still wants their hands to look fully laden with henna. You can wear it on any of your pre-wedding or post-wedding functions.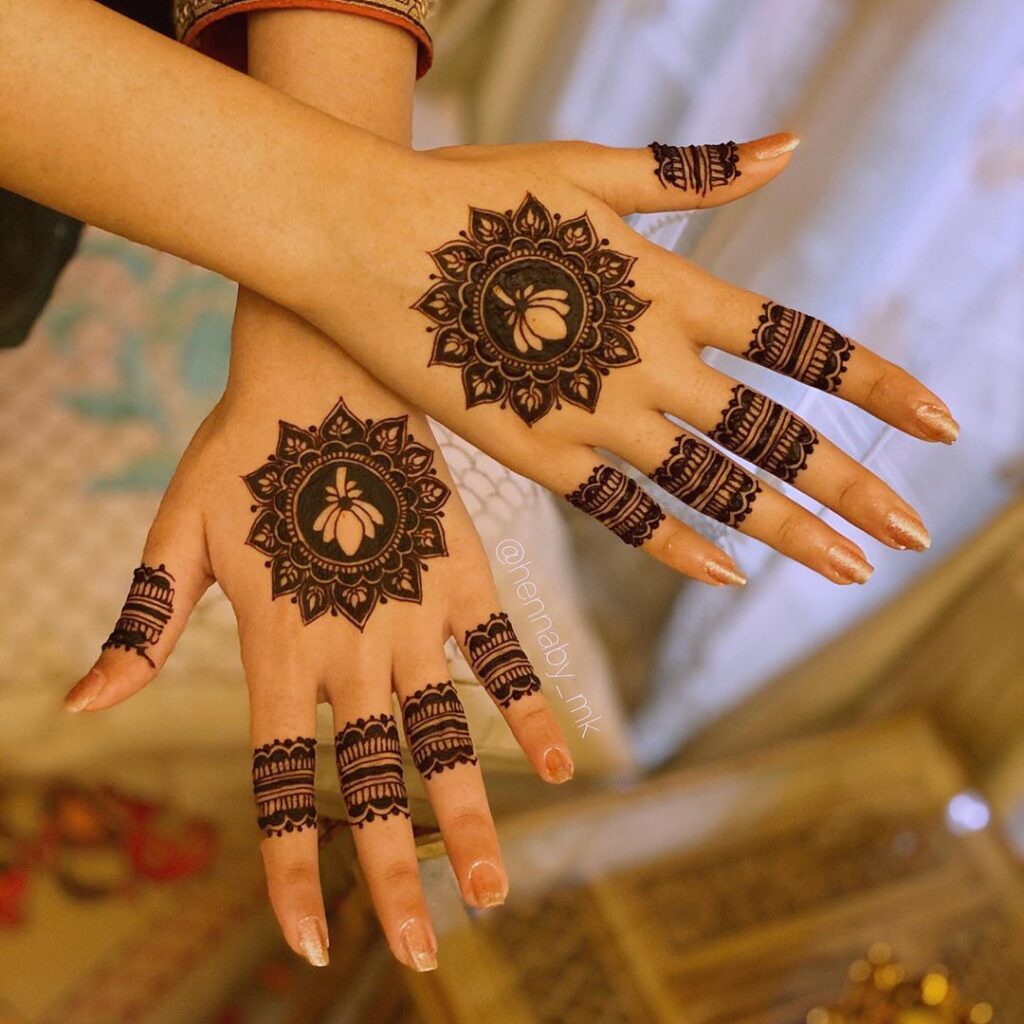 Via @hennaby_mk
#14 One Finger Mehendi Design
The elaborate line design followed by cutesy hearts is such a unique pattern for our experimental brides. A simple application of red glossy nail pain further jazzed up its modish vibe.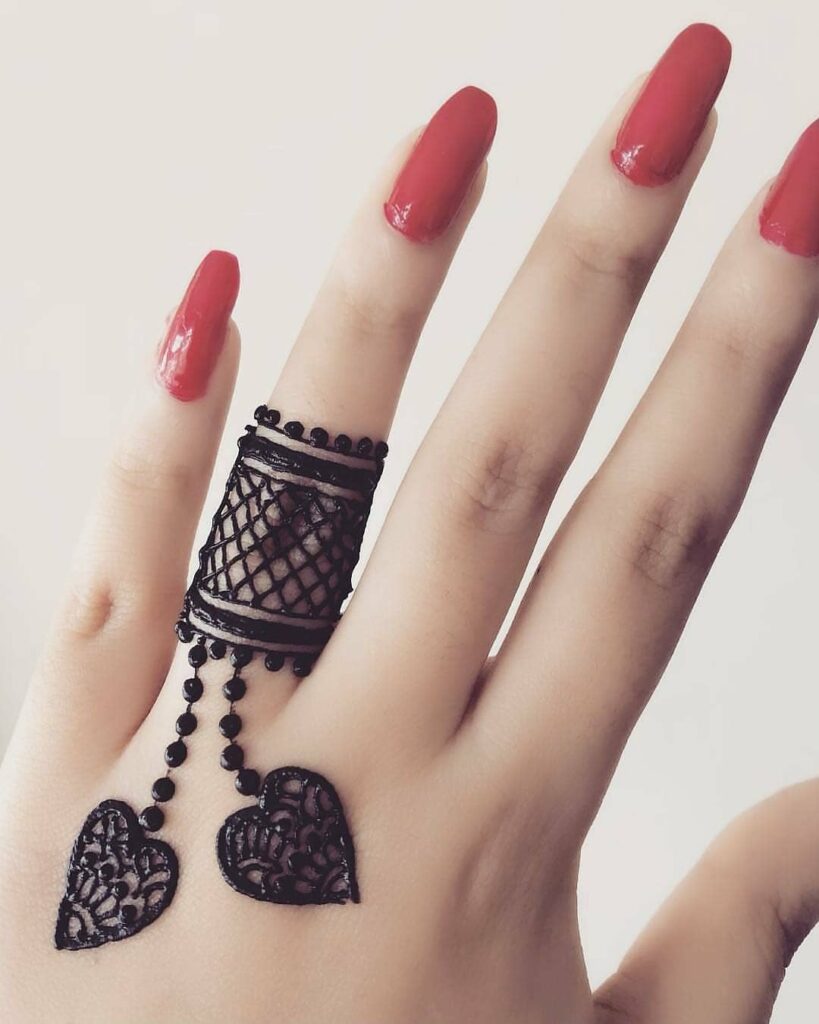 Via @mehndiartist_hira
#15 Hathphool Inspired Finger Mehndi Design
Mehndi artist Hira has done an amazing job with these hathphool inspired designs. They might look complicated, but if you look closely, they are drawn using simple henna elements only. The bold strokes also makes it a quick design to make. She definitely made us go 'wow' with these designs.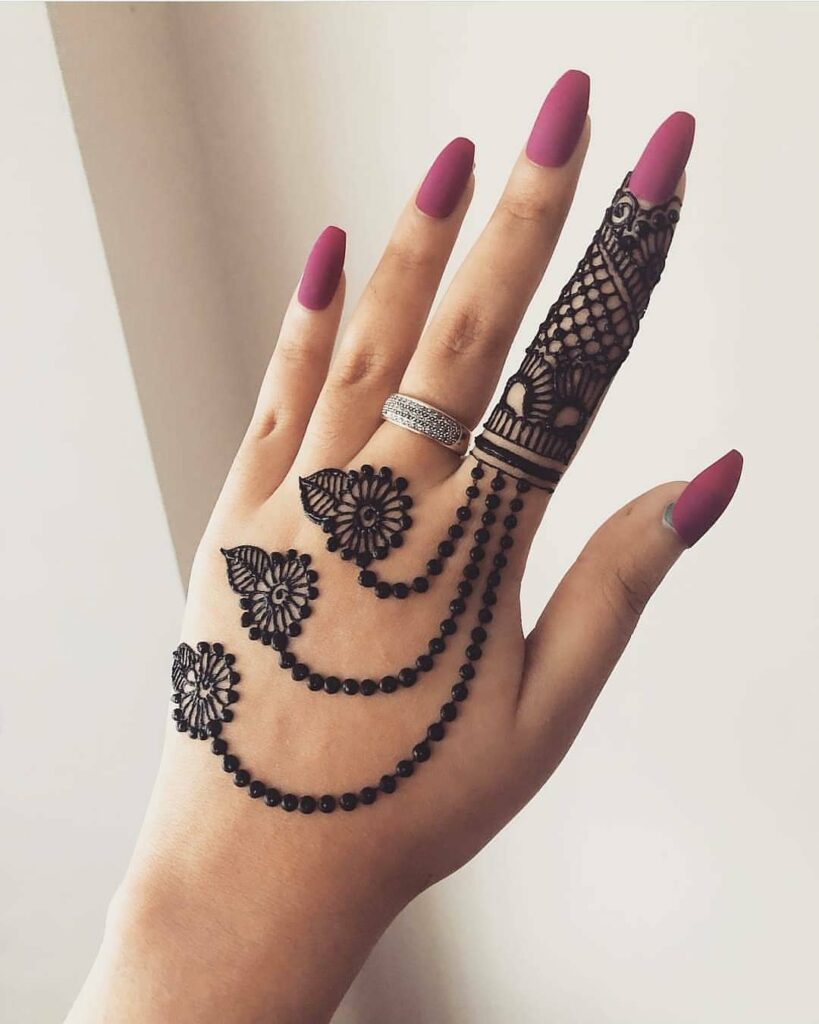 #16 Mandala Design
Mandalas are the most trending mehendi design of all. Pair it up with such elaborate finger mehndi design to create a unique look.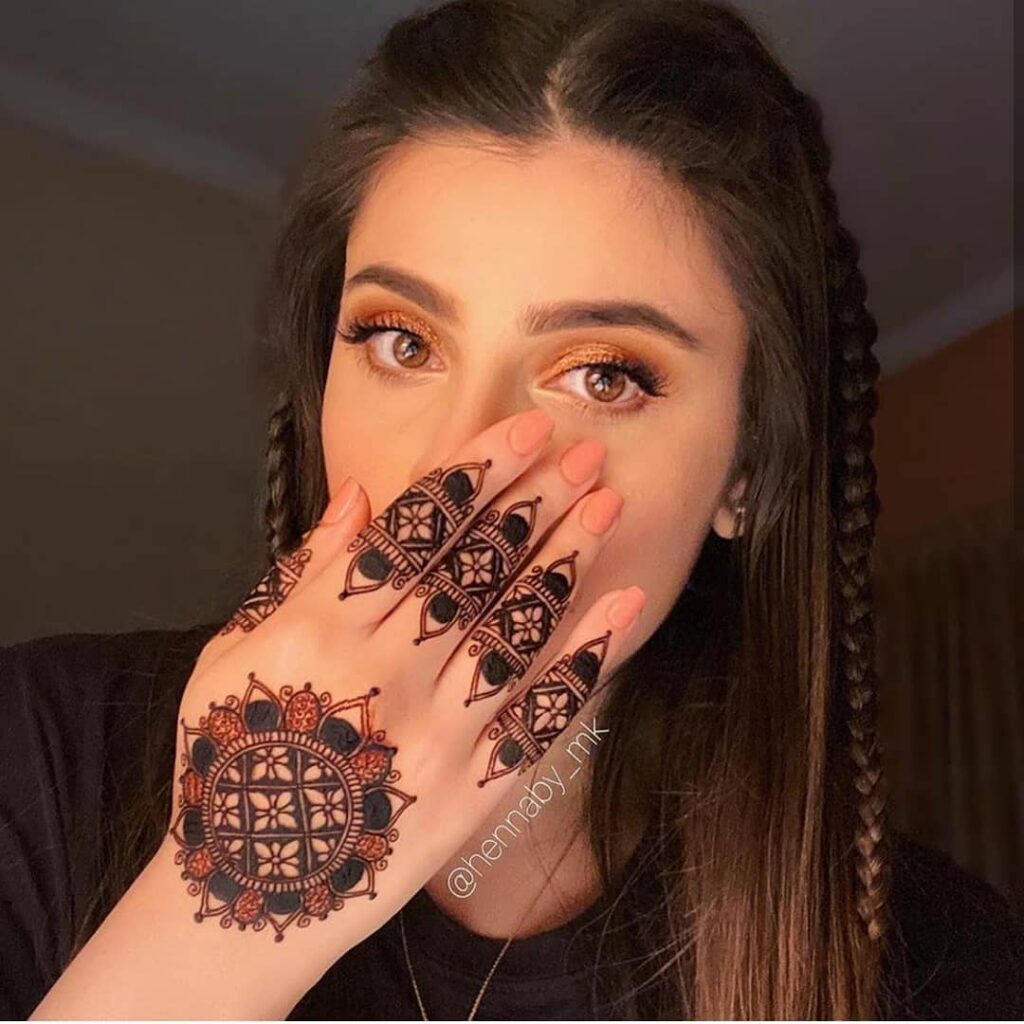 Via @hennaby_mk
#17 Elegant & Amazing Finger Mehndi Design
Spirals, florals and leaves all paired up with such aesthetically pleasing finger mehndi design. The design is not for beginners to try thought. It's quite exquisite, and you better leave it to trained mehndi artists only.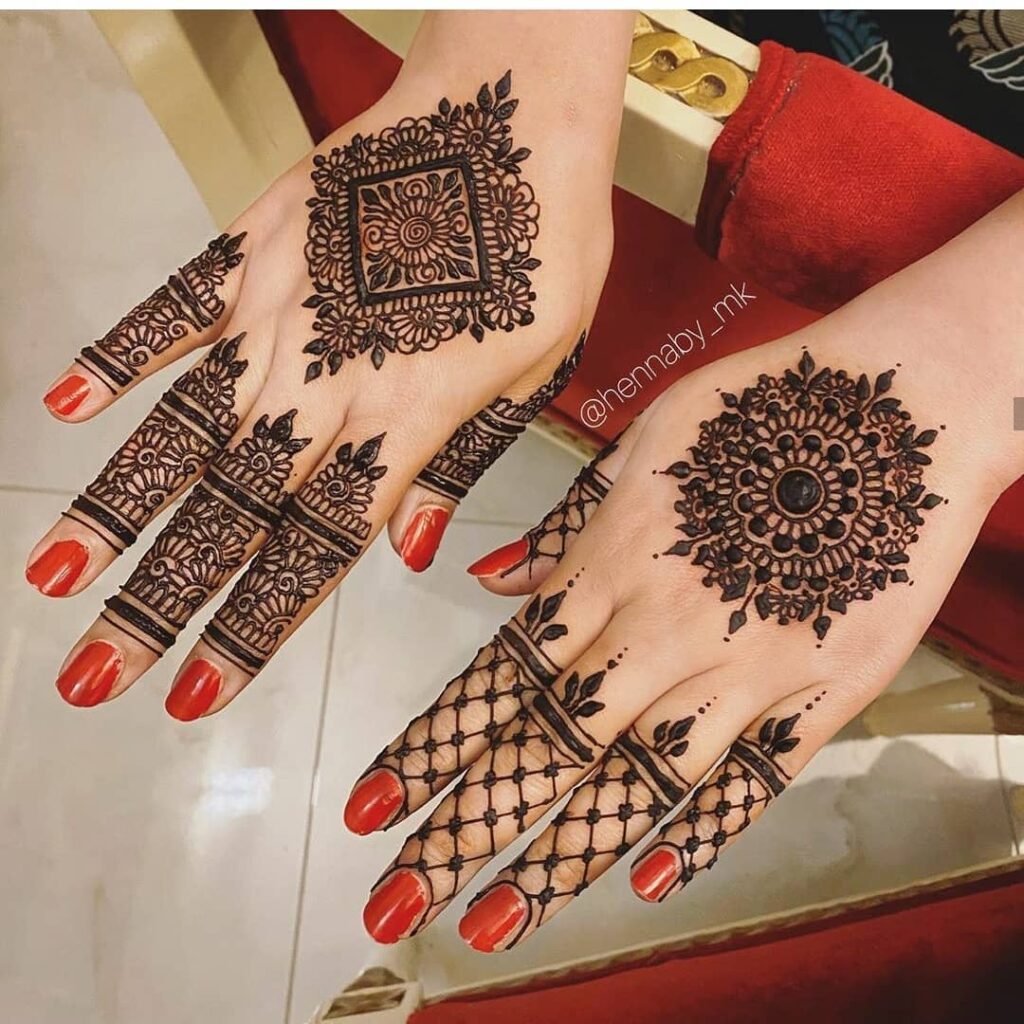 Via @hennaby_mk

#18 Lines & Dots Finger Mehndi Design
There's just something very appealing about geometric mehndi designs. The identical finger designs grab attention instantly and looks amazing in pictures as well.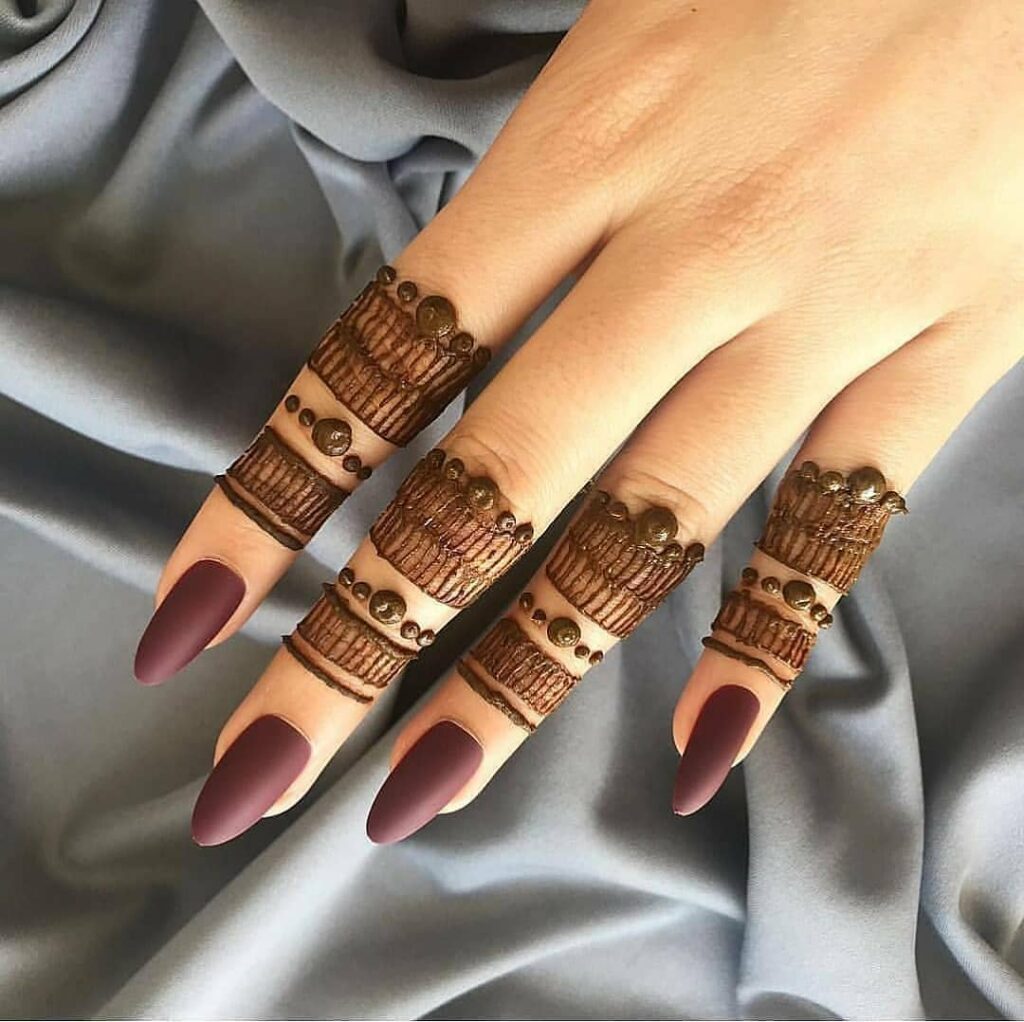 Via @hinda_henna
#19 Simple Finger Mehndi Design For Front Hands!
Prepping for your first festival as a newlywed and haven't got much time to paint your hand with henna? Put on this striking tips finger mehndi and pair it up with a red bridal bangle stack to fetch maximum compliments.

Via @aayat_mehndi_designer
#20 Easy & Beautiful Finger Mehndi Design
Lines and swirly patterns are the easiest henna elements. And that's all it takes to adorn your hands with this beautiful finger mehndi design. You can draw it yourself on festivals as a newlywed. Pair up with a chic nail paint and some bangles to amplify its charm.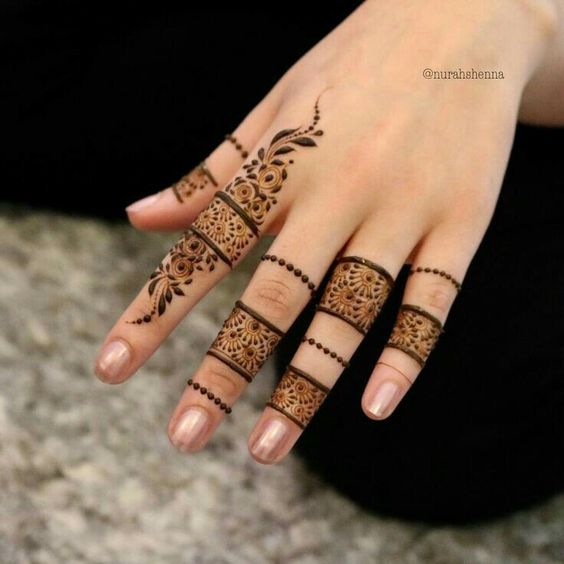 Via @nurahshenna
#21 Ring Finger Mehndi Design
A pretty yet minimal design is sometimes all we are looking for! This one is perfect for all occasions and you can easily couple it up with arabic mehndi design. Bookmark this one right away.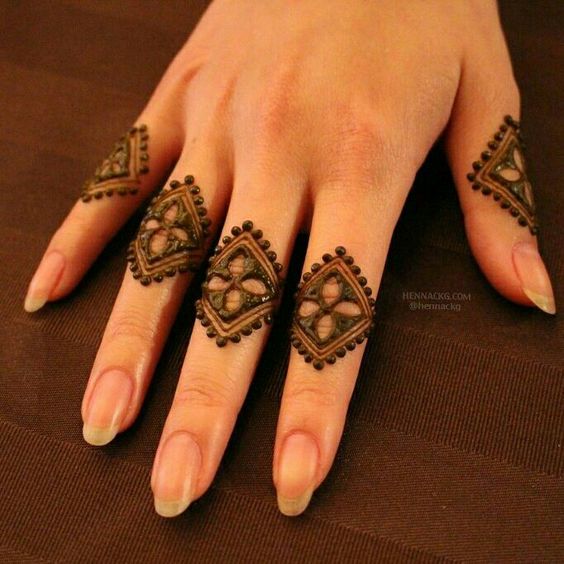 Via @hennackg
#22 Beautiful Finger Tips Mehndi Designs
A creative and attractive mehndi design that stands out from the rest. This one requires minimal effort to make and looks amazing even without any jewellery on. It will look good with a saree or even kurta sets.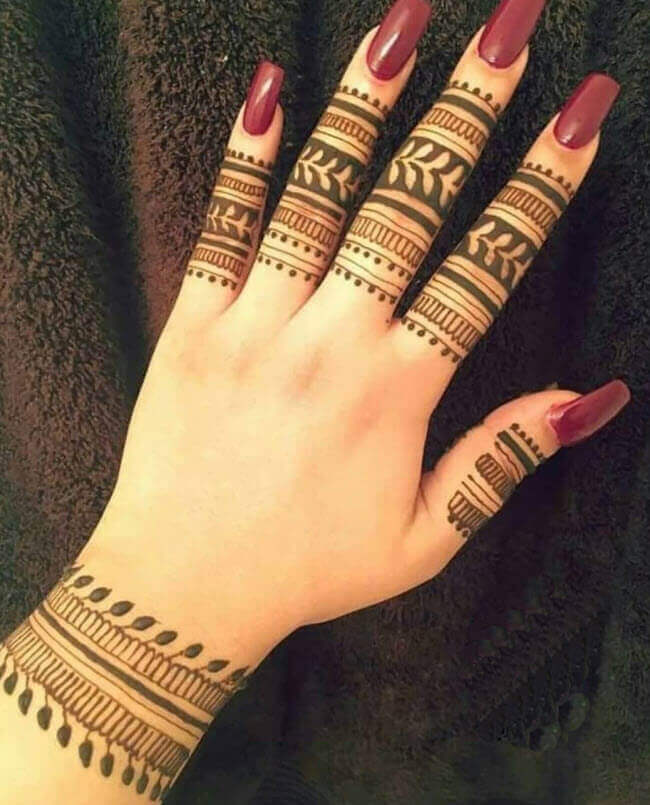 Via Pinterest
#23 Latest Finger Mehndi Designs
What an eye-catching finger mehndi design! Finger bands done with a leafy trail and dots is such an elaborate design. Make sure it's done extra neatly though! We say you leave it to mehendi artists only.

Via @henna_by_taj
#24 Quick & Easy Finger Mehndi Designs
Minimalism can never go wrong, can it? A simple leafy trail done in the form of rings here and there looks so majestic on her long fingers. If you're blessed with long fingers too, you need to bookmark this one right now.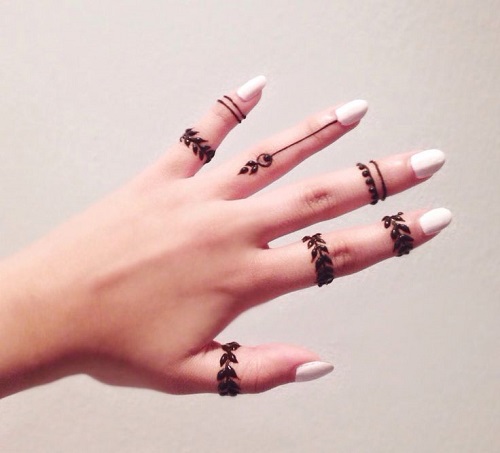 Via Pinterest
#25 Bridal Finger Mehndi Design
When it comes to traditional & bharwa finger mehndi design, there's no better pick from this list than the one pictured below. It's so beautifully detailed and has literally hasn't left our mind since we first saw it on social media.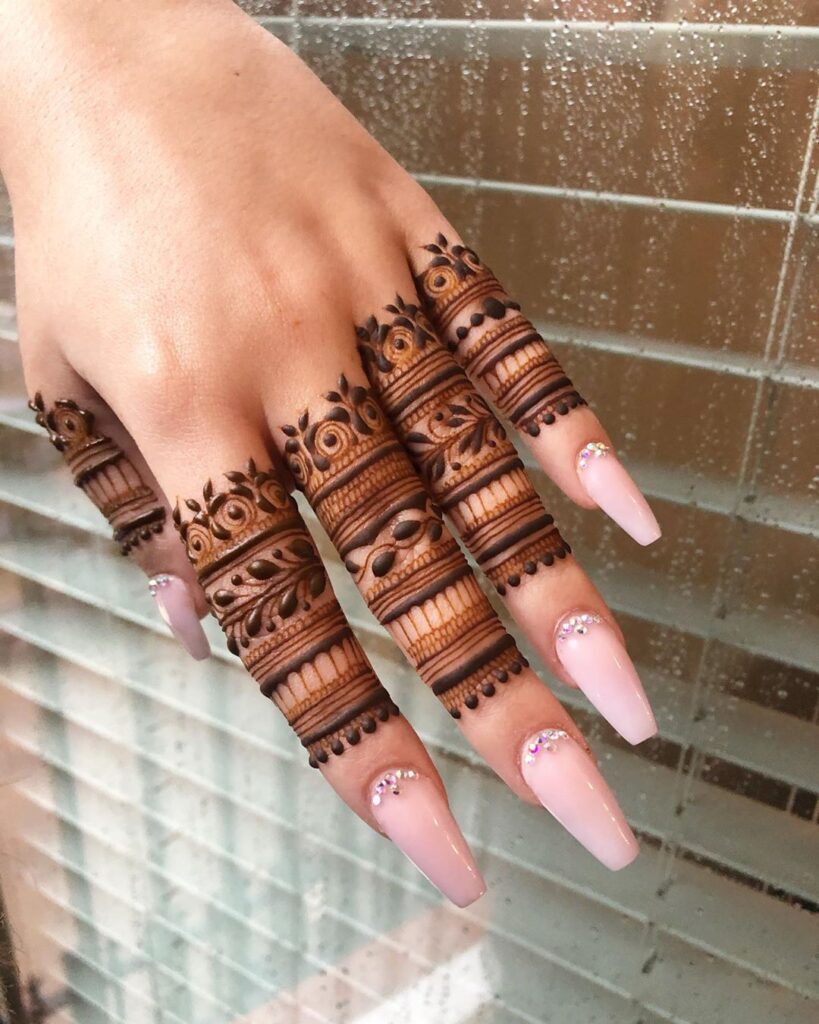 Via @mehndiartsit_hira
#26 Only One Finger Mehndi Design
This mehndi design might have come across your Instagram explore at a certain time. It's created by Hira, who is like a pro at finger mehndi designs or all henna designs, in general. Here's one of her dazzling creations that'll leave you in awe!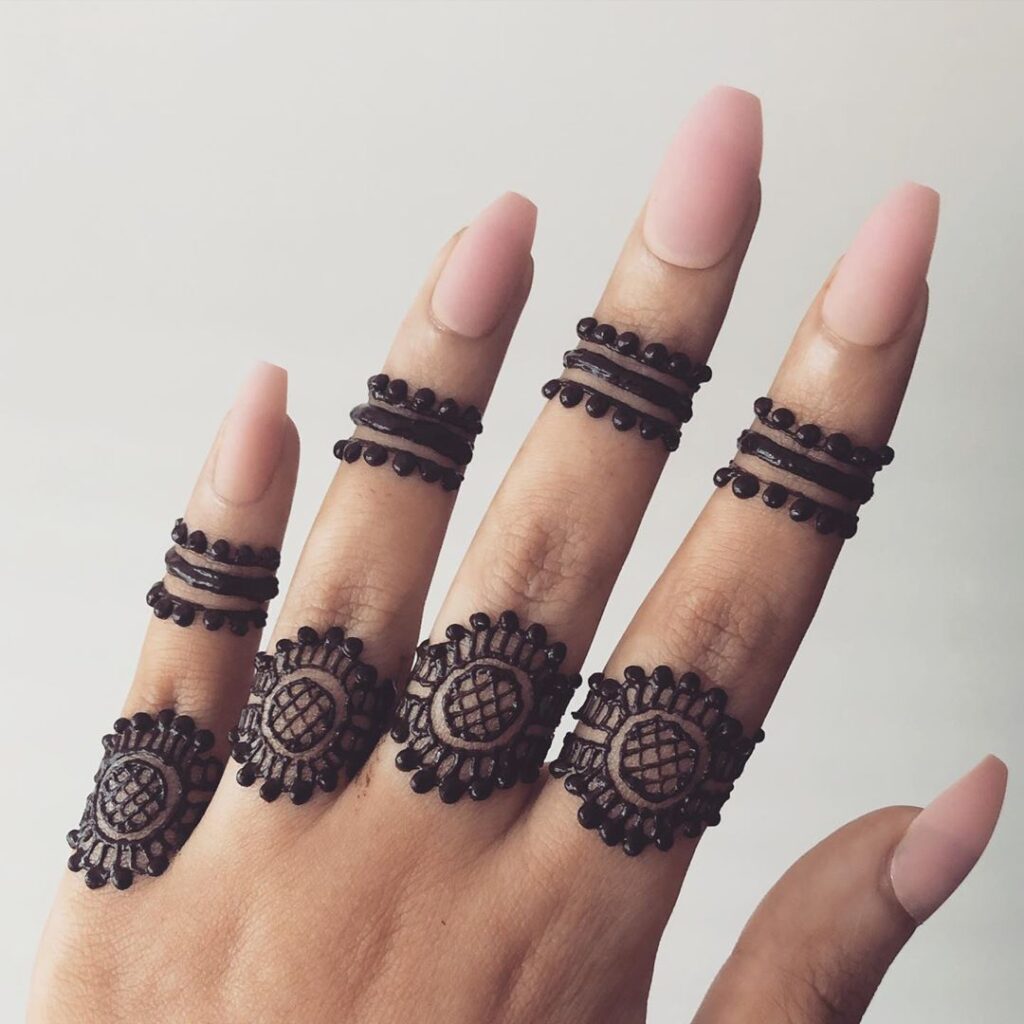 Via @mehndiartist_hira
#27 Elaborate Finger Mehndi Design
When we stumbled on this picture, we knew it had to be included in the list. It's such a universal finger henna design and so perfectly drawn with lines & curves. We bet anyone you show this to will love it.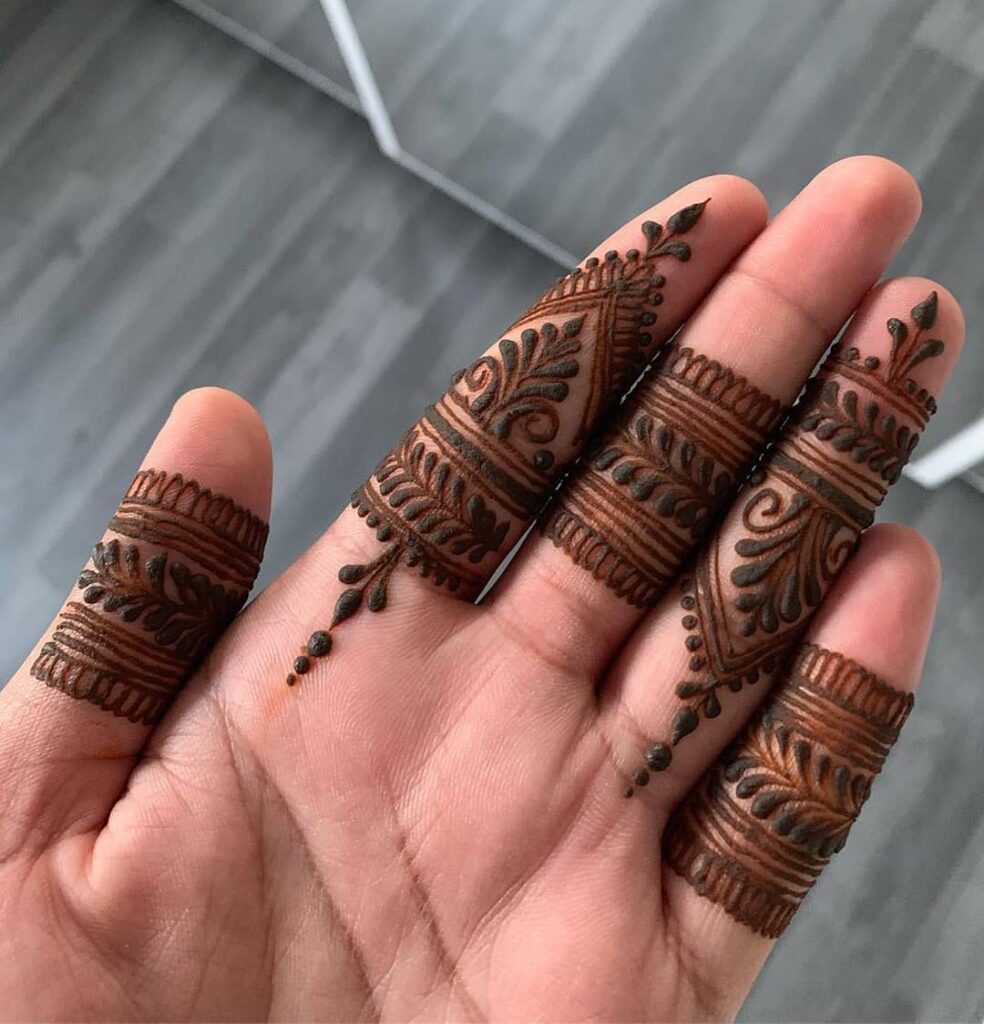 Via @hennabyaaron
#28 Tips Finger Mehndi Design
An amazing choice for any occasion and would fetch gobs of praises. It's perfectly coupled with easy elements to give it an appealing and fashionable look.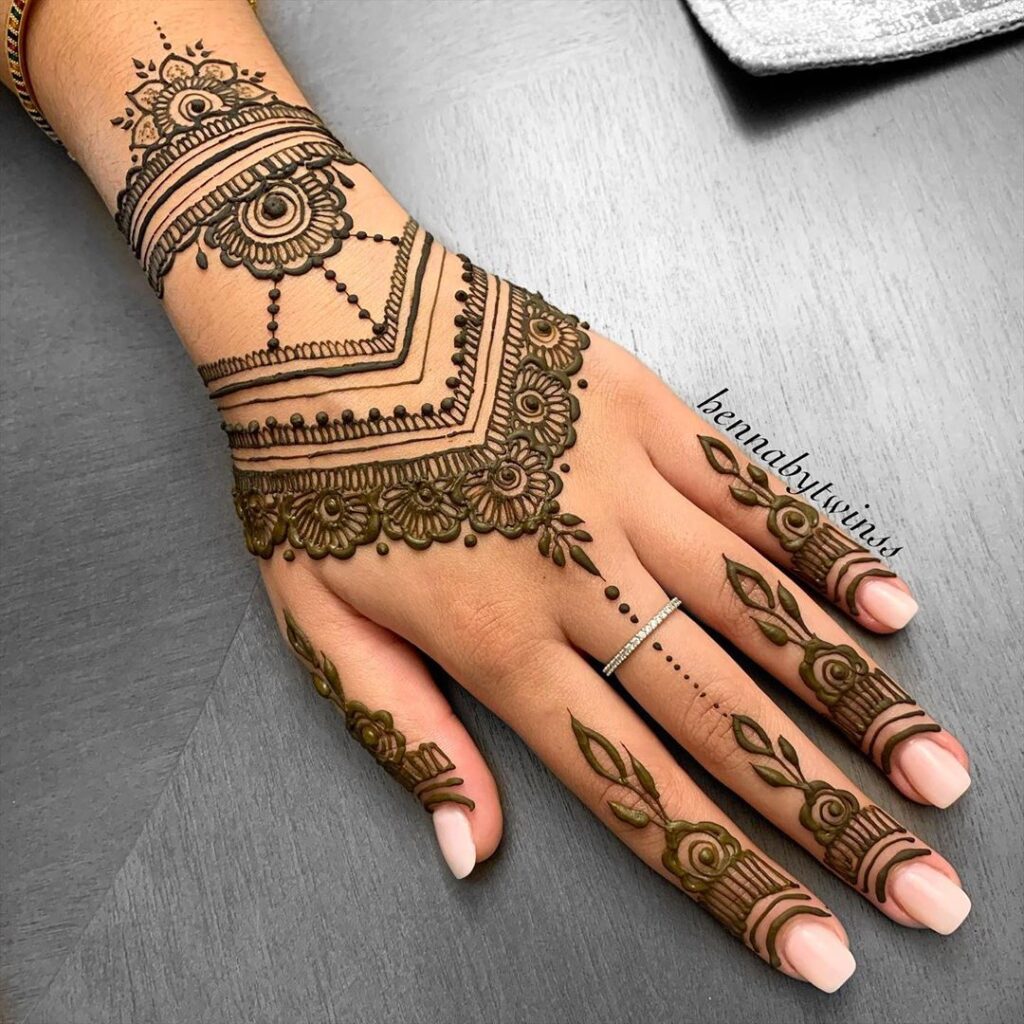 Via @hennabywinss
#29 Uniquely Patterned & Aesthetically Pleasing
We are swooning over this gorgeous mehndi design that includes lovely finger henna along with lotus motifs and choodi henna pattern. The definitive edge will surely lend you a statement look at any event you attend.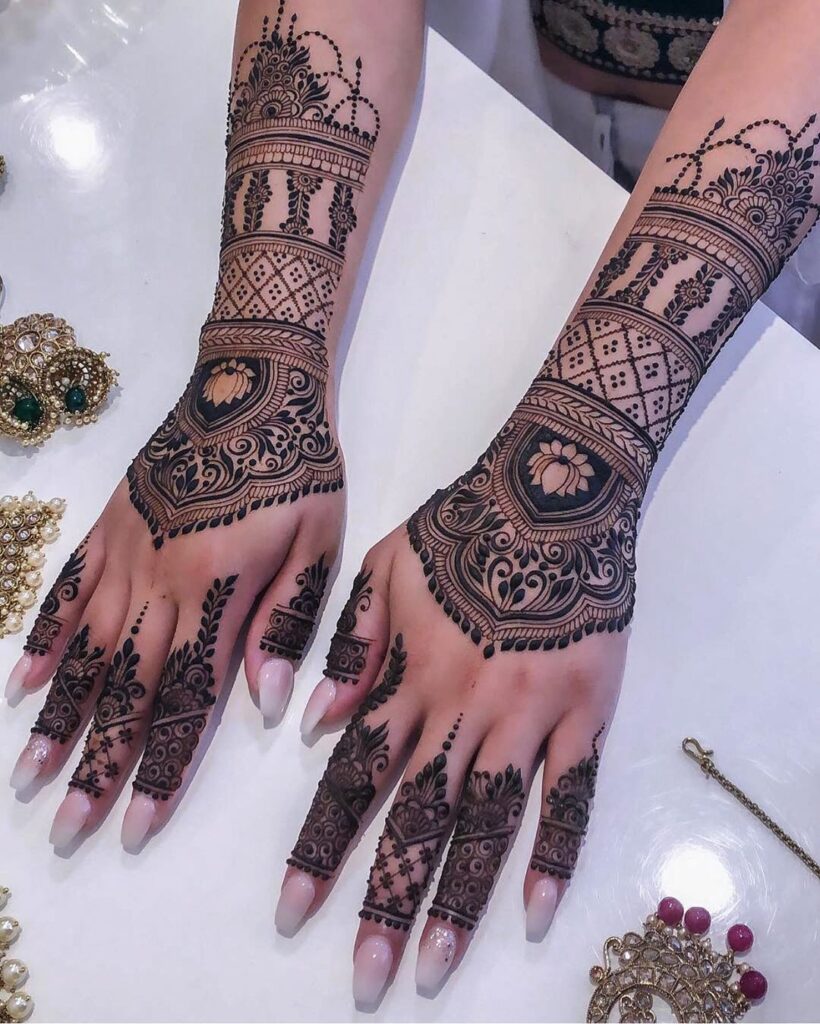 Via @arora_mehendi
#30 Easy Finger Mehndi Design
Classy and beautiful! That's how we would label this easy finger mehndi design. It covers just the tips and has several designs at apt space to create a scintillating design for henna lovers.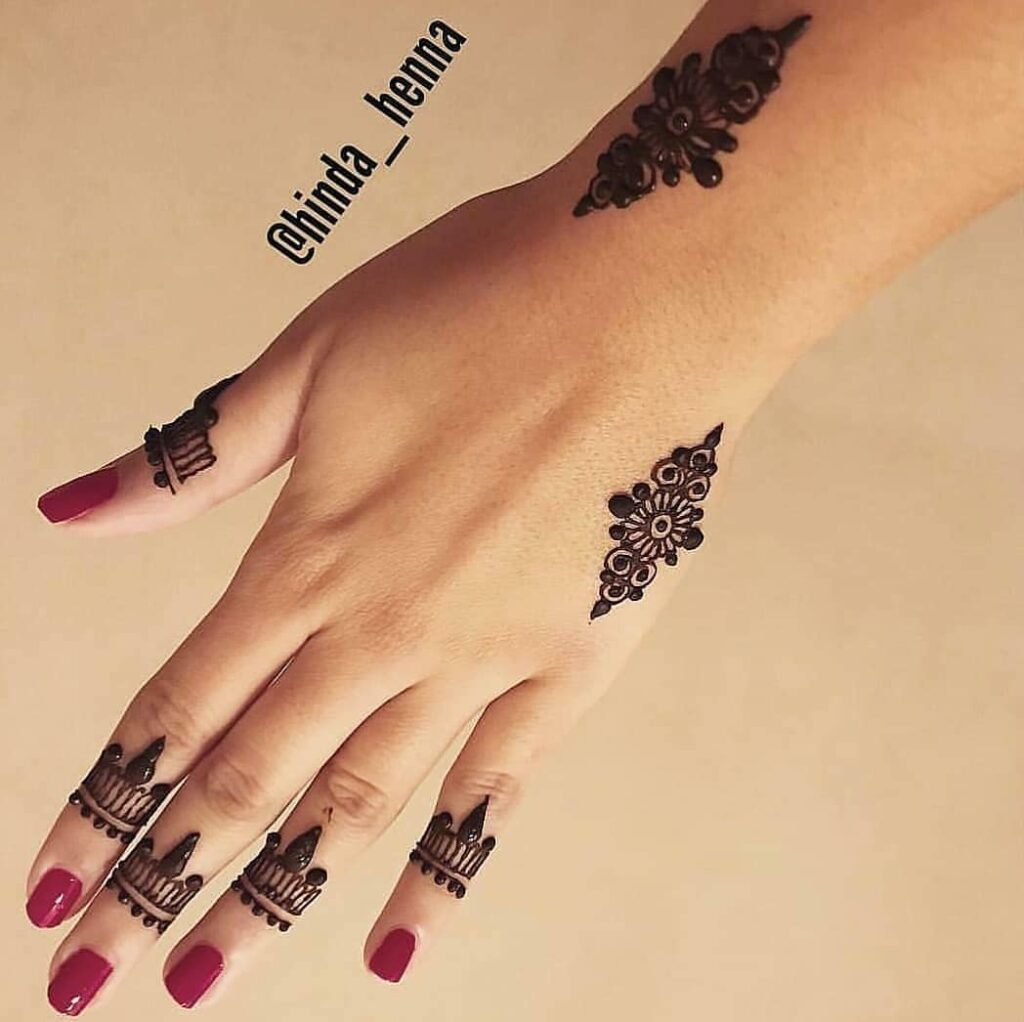 Via @hinda_henna

#31 Bharwa Finger Mehndi Design
If you're someone who loves to go all in with her mehendi, this elaborate finger mehndi design will have your attention. You can add an Arabic bel to extend the design, but that's it. No further accessorization is needed, you're all set to rock the party.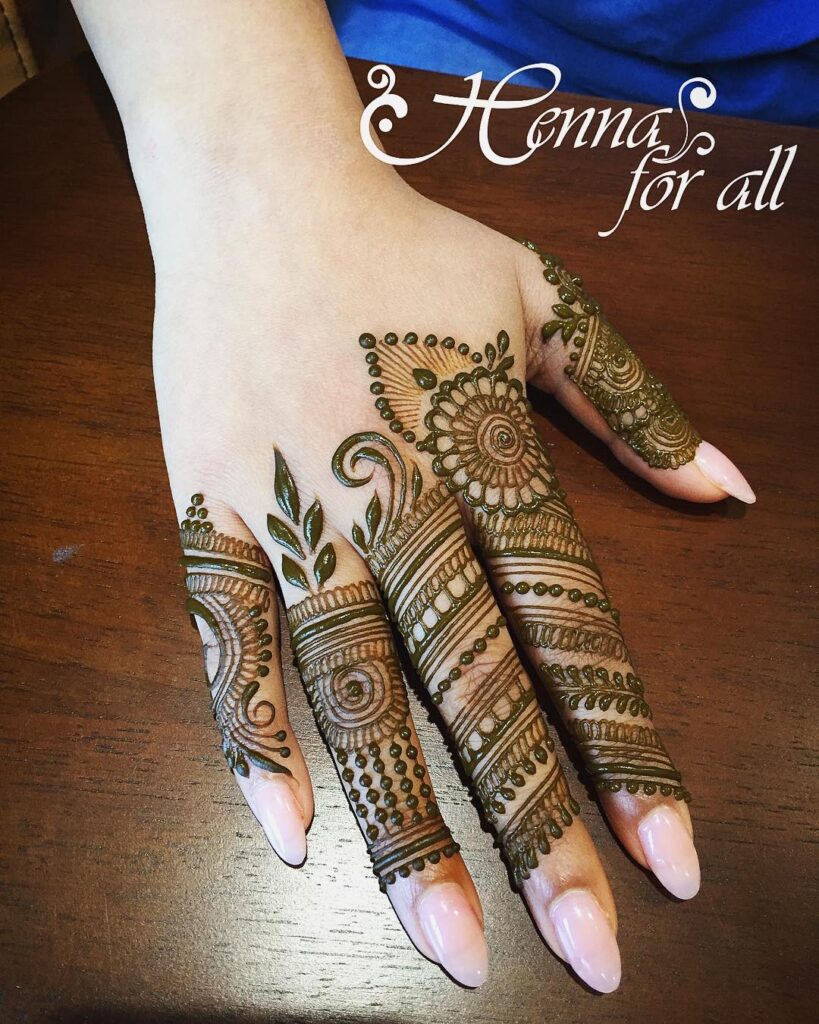 Via @hennaforallny
#32 Leafy Trail Finger Mehndi Design
We told you Hira is a pro at finger mehndi designs, here's another one from her Instagram archives. I don't think you'll come across any list which doesn't mention her, and we have featured her several times on here, including the next one.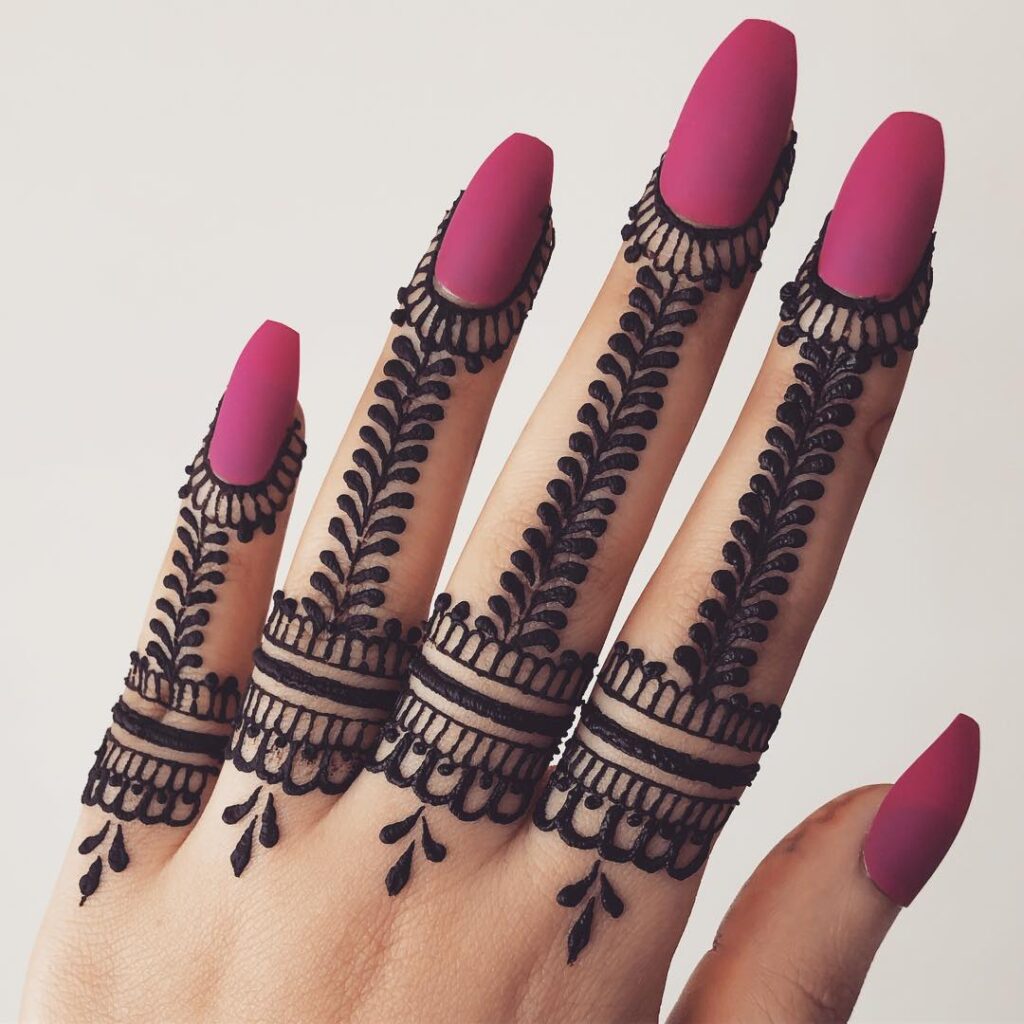 #33 Ring Inspired Finger Mehndi
Leafy trails drawn in the form of rings is like creativity at its best! Mehendi artists don't fail to raise the standards high with each design they create, and this one just soared the standards to a whole new level.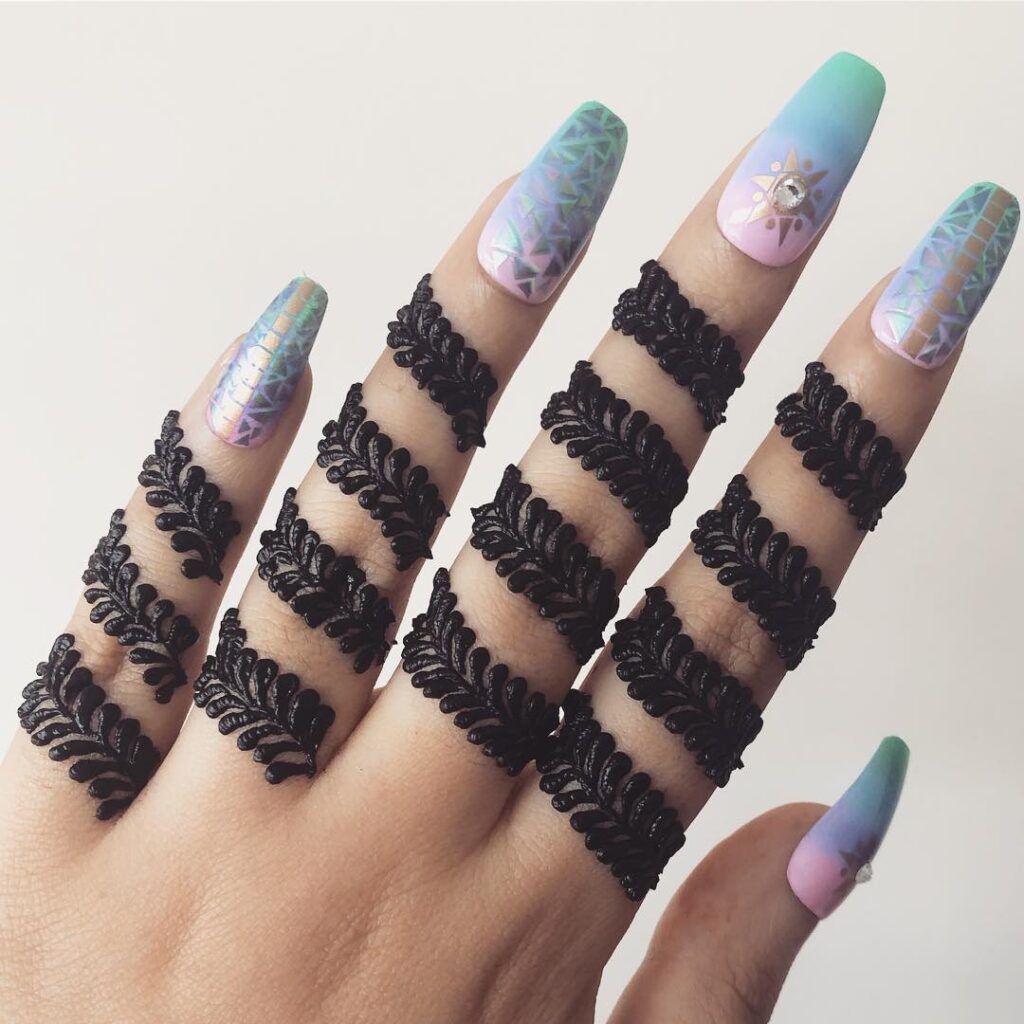 #34 Bohemian Finger Henna Pattern
From simple tips mehndi design on the ring and index finger to elaborate ones on the other two, which is further joined by a dotted hathphool pattern – can henna art get any better than this? Such a winsome and stylish design.

Via @mehndiartist_hira
#35 One Finger Mehndi Design
The next two designs feature expertly made one finger mehndi designs. Apt for someone who likes minimal sophistication.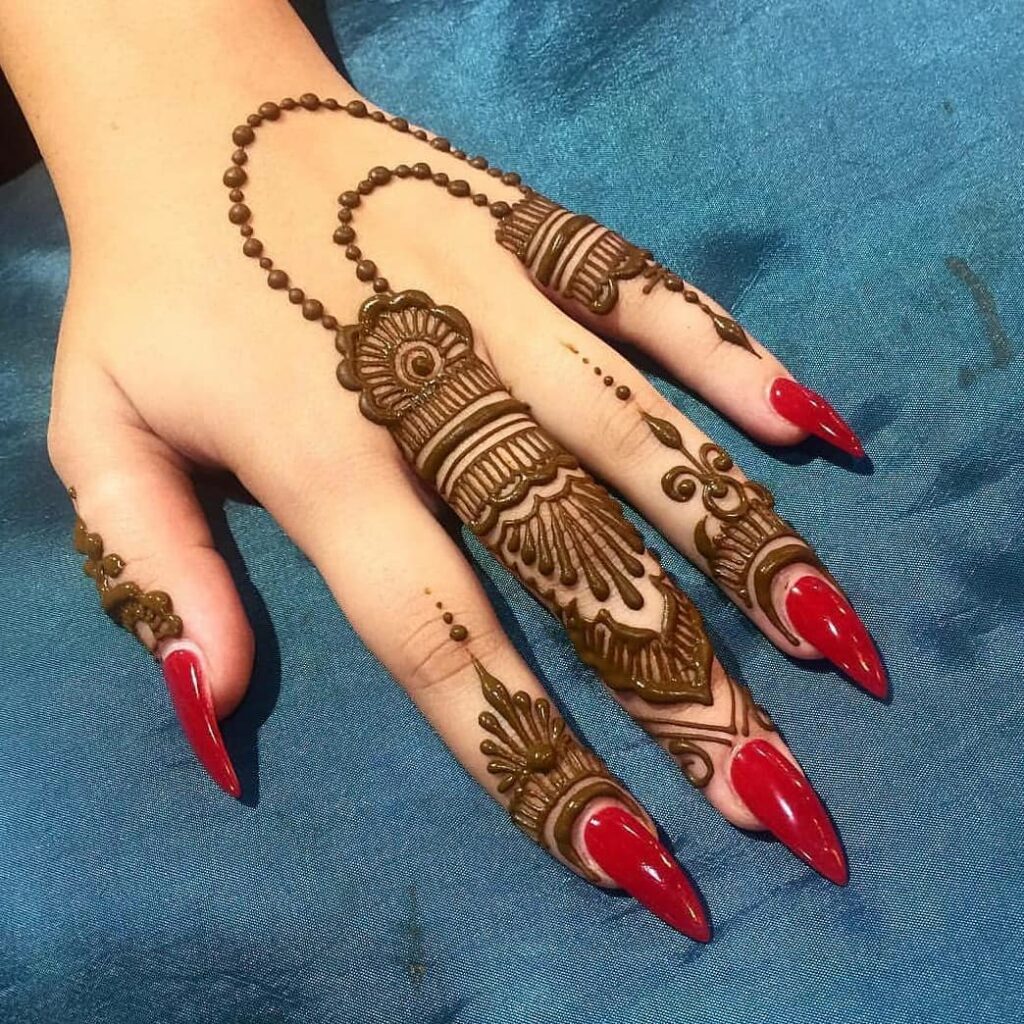 Via @alisa_parveen
#36 Thumb Finger Mehndi Design
Another one finger henna art that doesn't look too much or too little. It looks chic and owing to the line patterns, it can be done quickly. The end result will be this GORG design!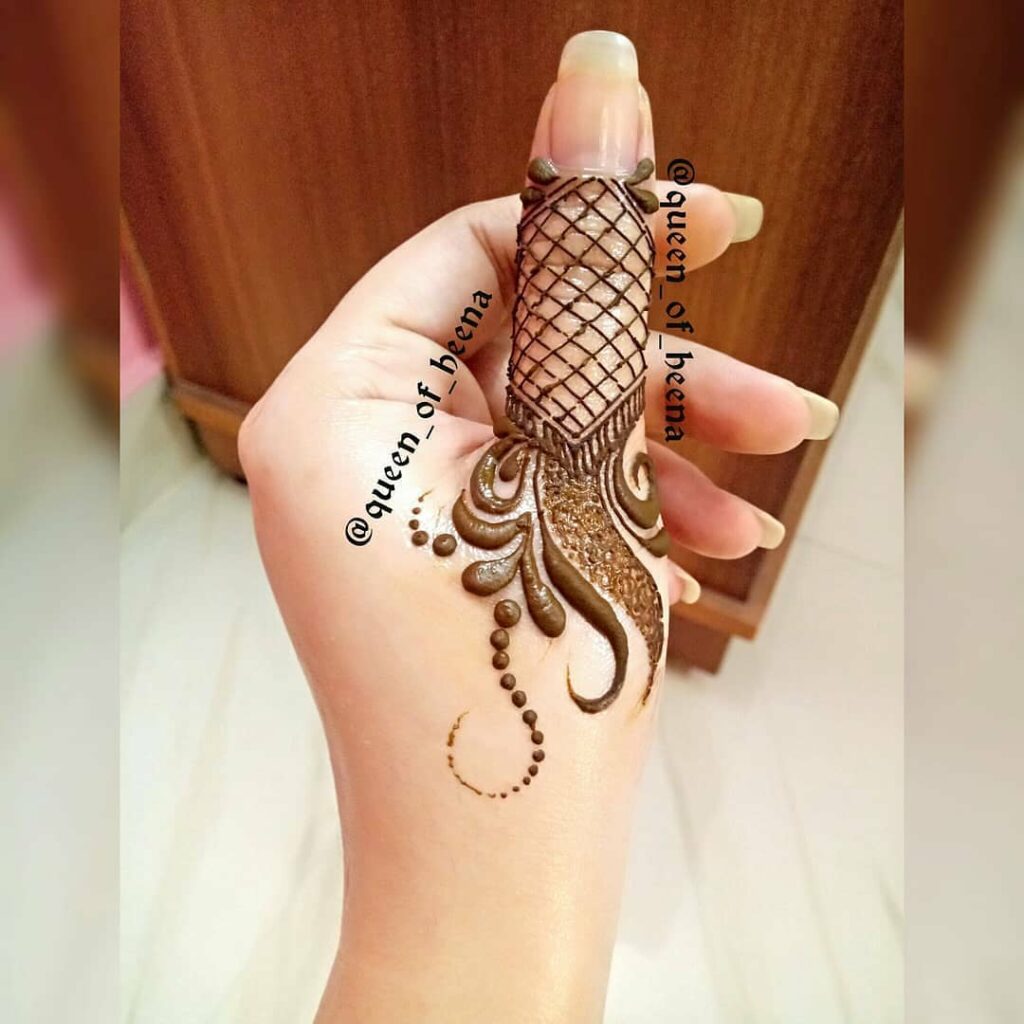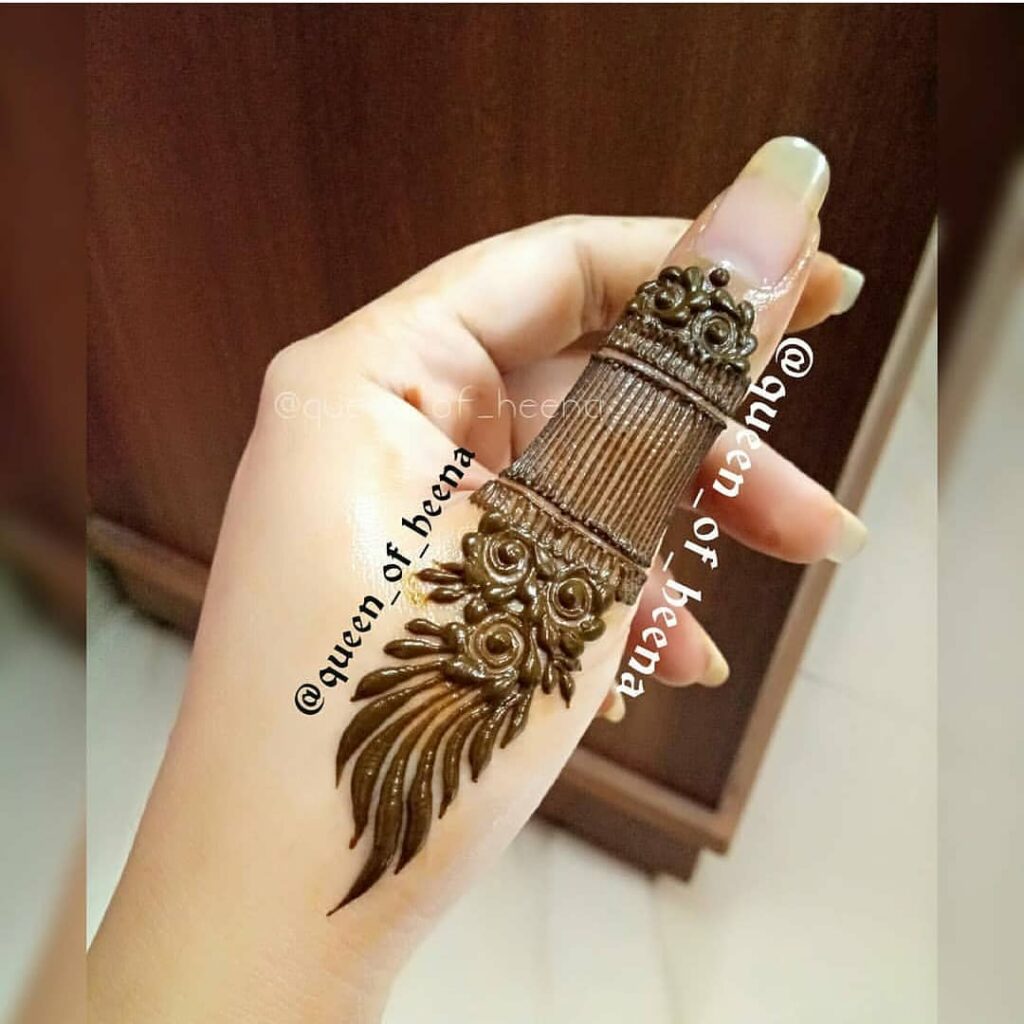 #37 Winsome Art!
When you love the idea of less is more, this design should go to your Pinterest board asap. Most finger henna patterns are dominated by leafy trails, and so is this one. Love the creative curls that give it a fuller look.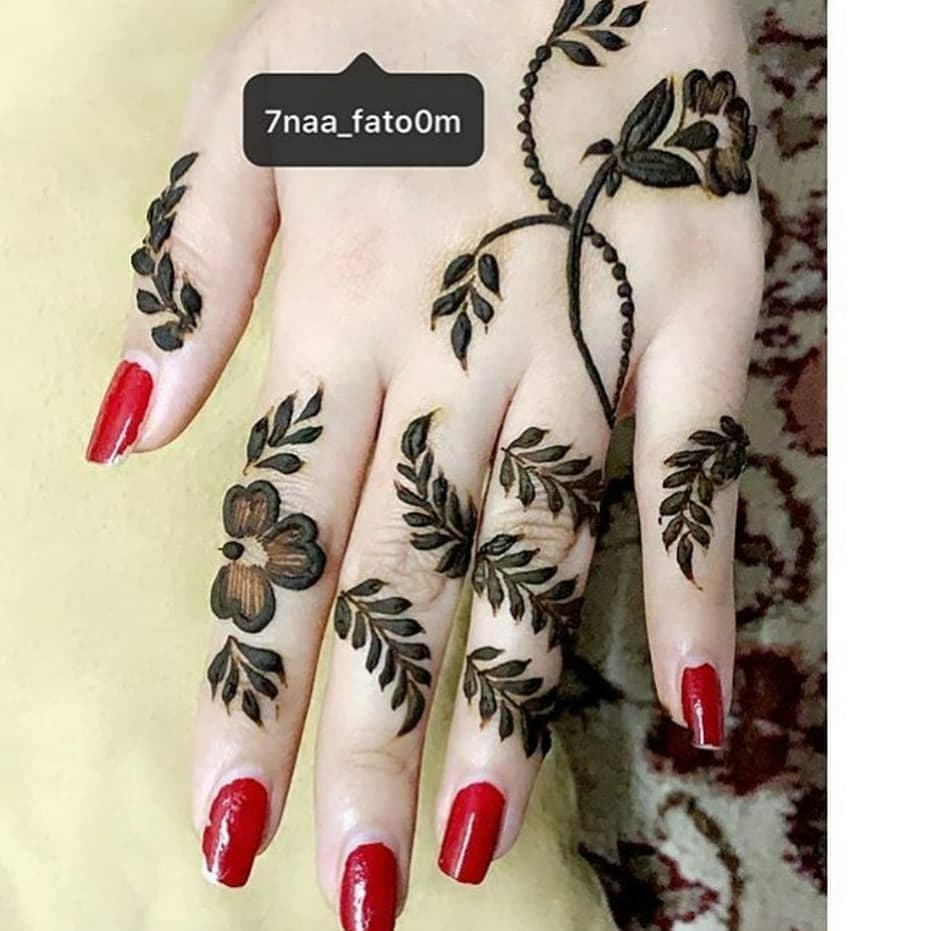 Via @7naa_fatoom
#38 Stunning Pick For Your Intimate Wedding
For safety reasons, if you don't want to call mehendi artists to your wedding venue, then this quick and super-easy mehendi design will lend you all the bridal charm for your D-Day. Bookmark it if you are planning an intimate wedding soon.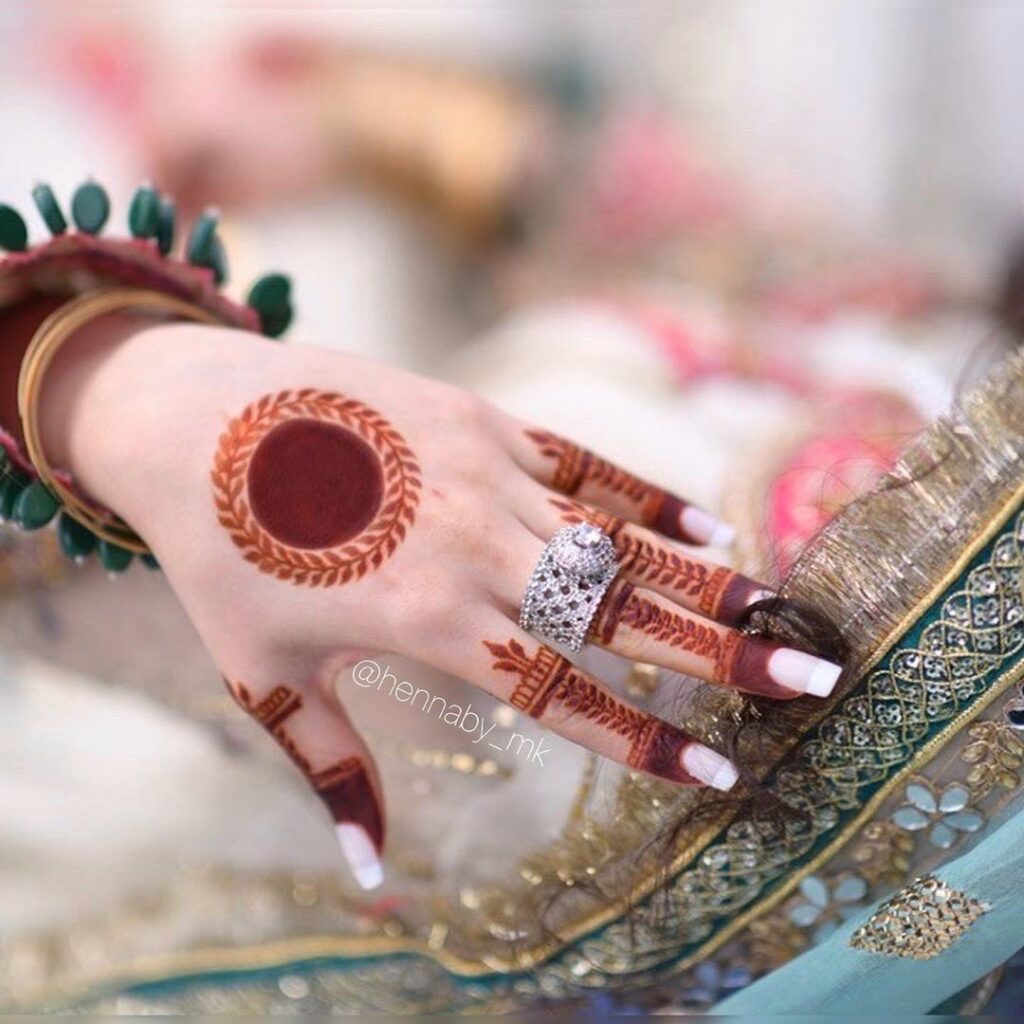 Via @hennaby_mk
#39 Trendy Finger Mehndi Design 2020
The latest addition to henna elements are pinjaras. We have spotted some amazing designs incorporating them. The following creative patterns, extending all the way to fingers, are absolute stunners!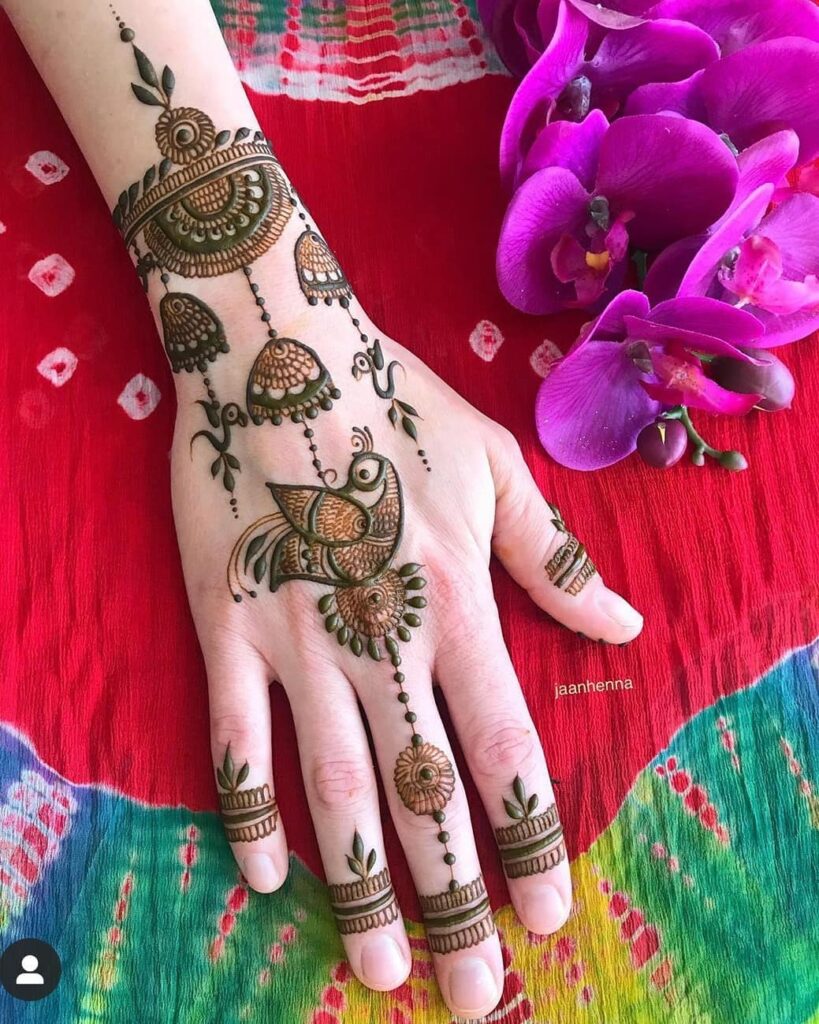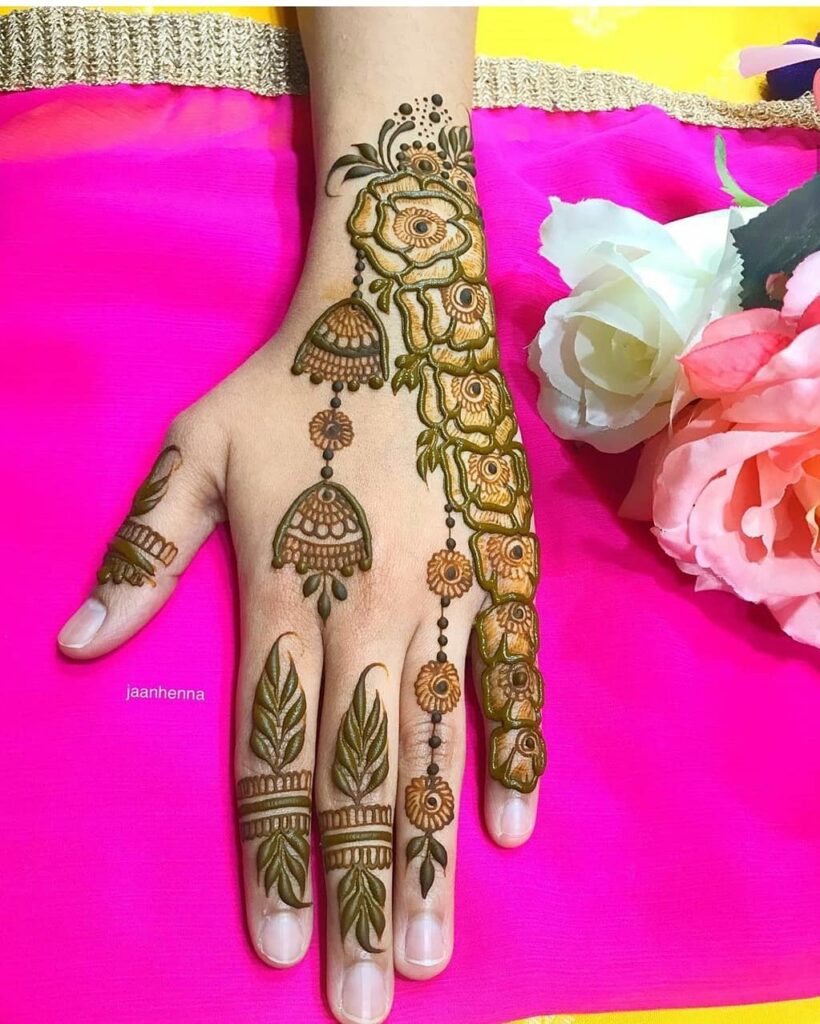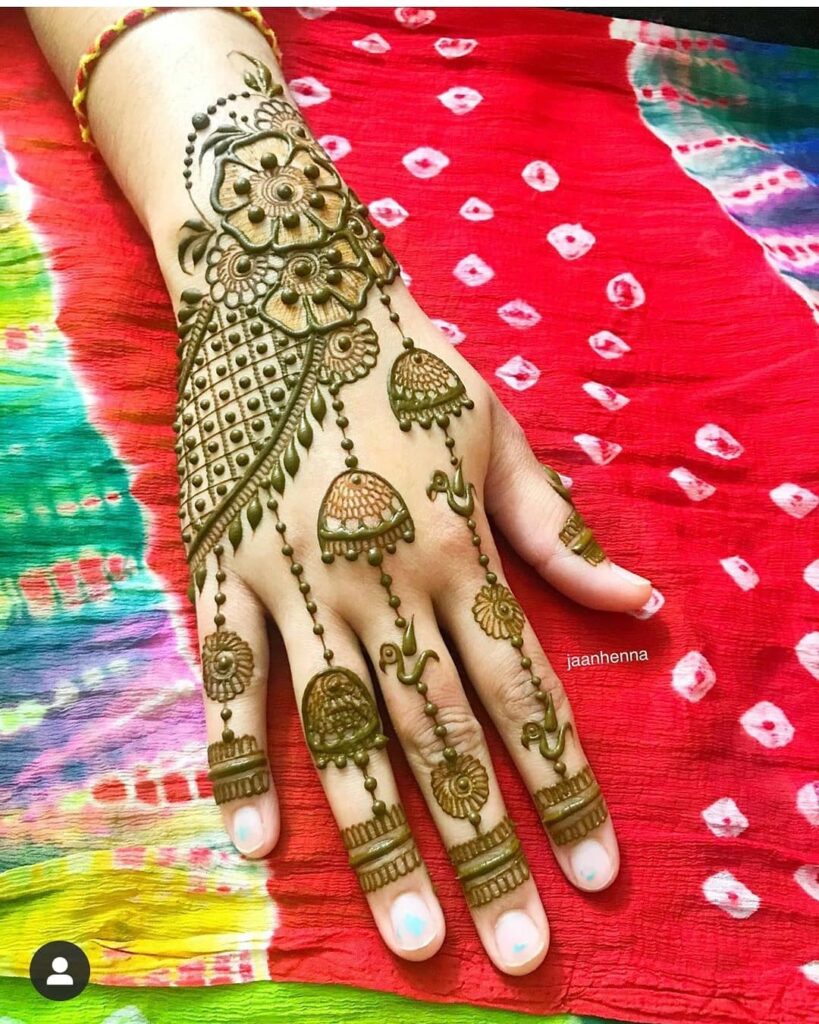 Via @jaanhenna
#40 Quarter Finger Mehndi!
These quarter-finger mehndi designs teamed up with a creative mandala are endearing in every sense. It is ideal for brides, bridesmaids, wedding guests and goes with any outfit. Add glitter nail paint to further amplify its grace.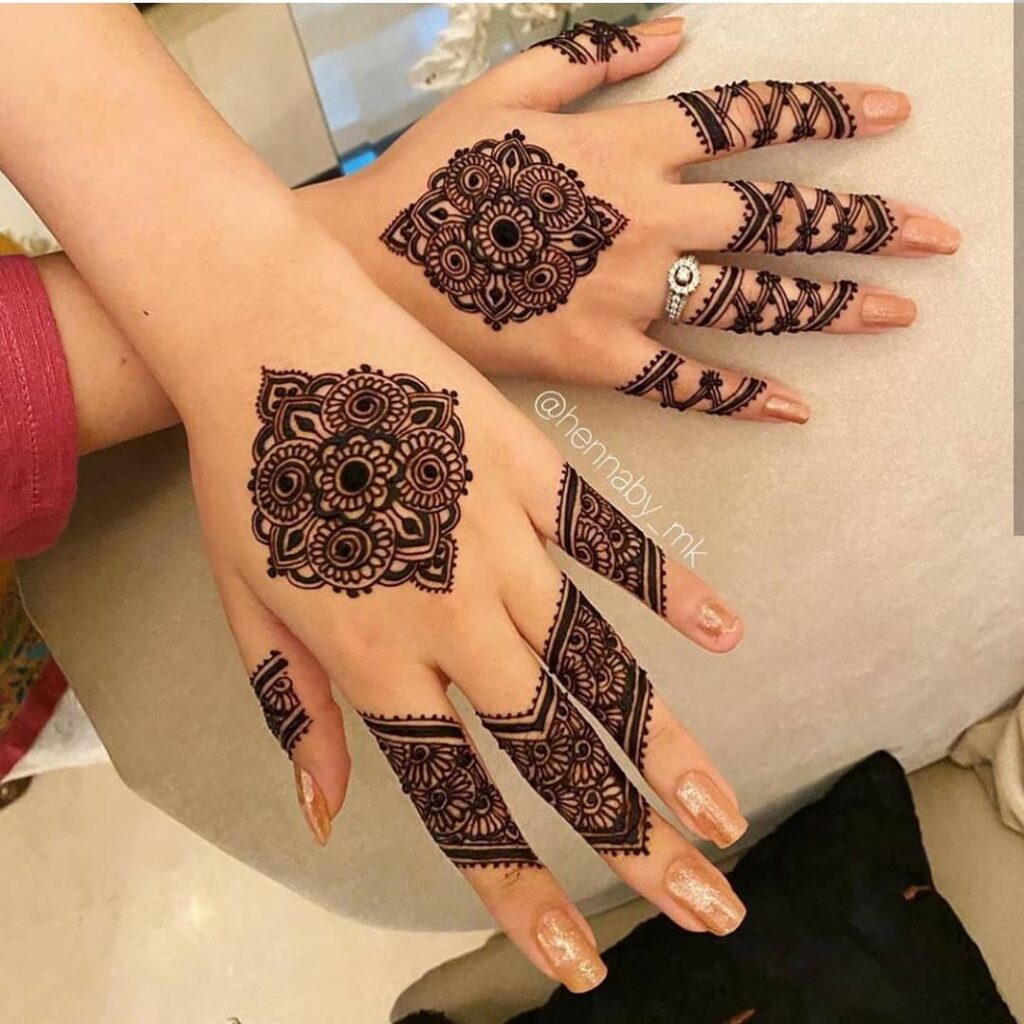 Via @hennaby_mk
#41 Simple & Beautiful Finger Mehndi Design
Cover your fingers with a splendid line pattern like this and add a simple wrist design, that's all it takes to create this crisp and chic finger henna. Personally, I'm obsessed with this design and would definitely try it on this Diwali.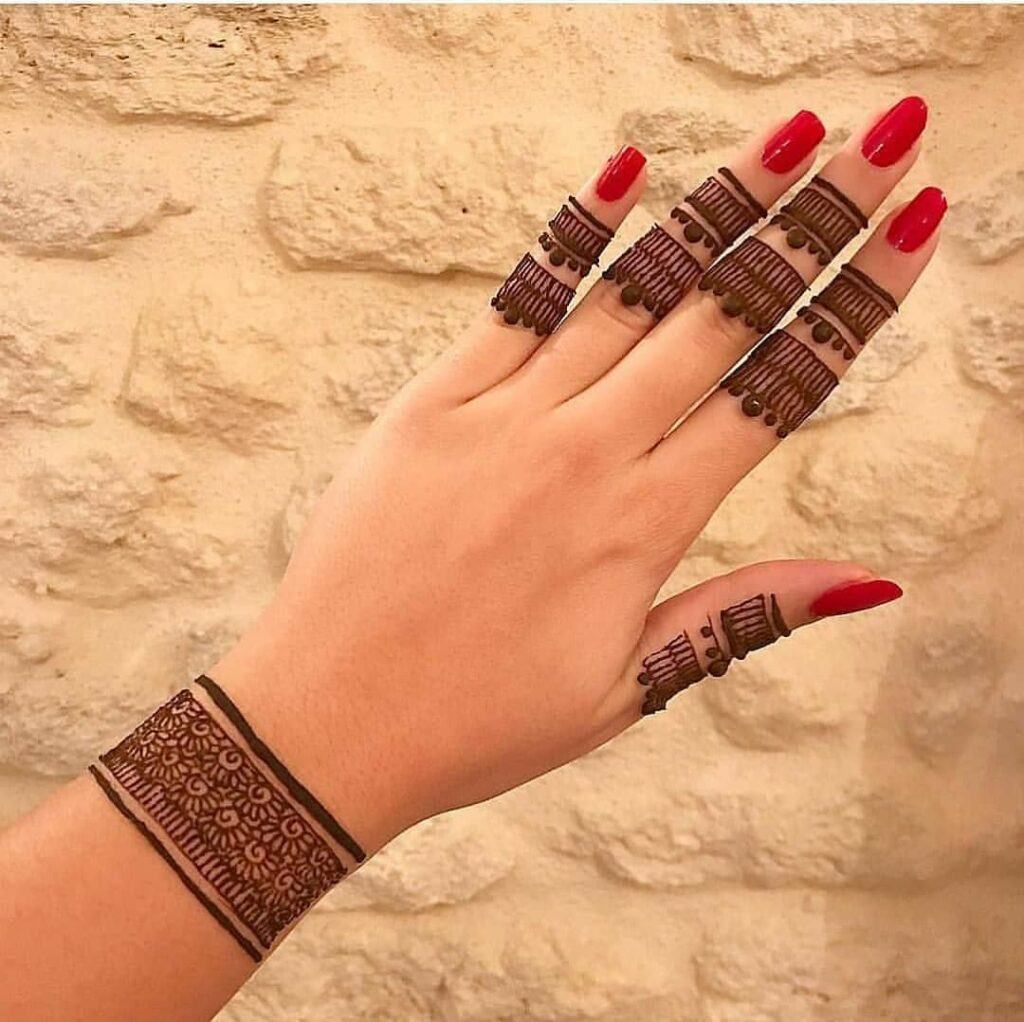 Via Pinterest
#42 Arabic Finger Mehndi Design
Indian women have been extremely fond of Arabic mehndi designs, since forever. Florals, paisleys that cover the hand and curvy trails, line patterns that cover fingers, this design has got it all! Amazing inspiration for all occasions.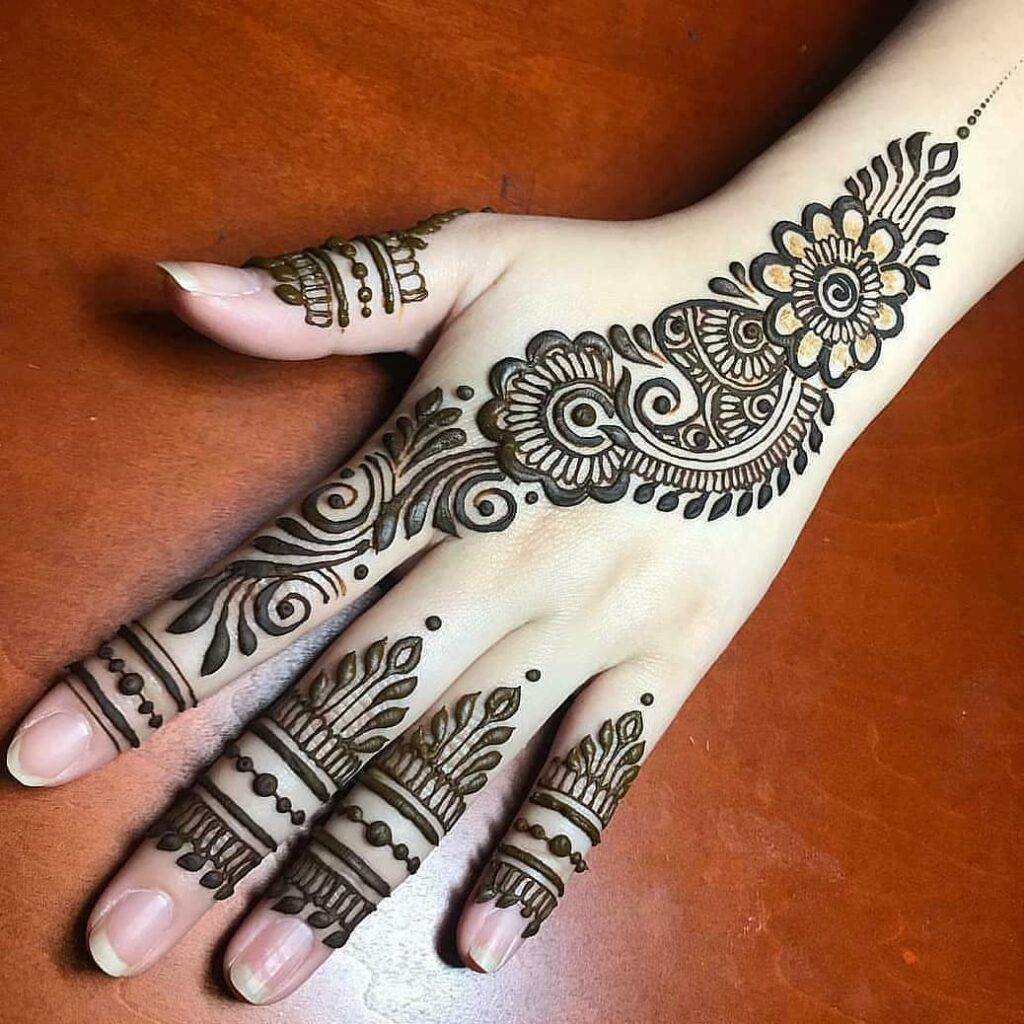 Via @sanas_henna_designs
#43 Beauty Of Trails!
This trail mehndi design stands out from the crowd. The bold strokes in the trail ooze nothing but elegance through the pattern. The creative curves and amazing ring patterns add a unique and modern touch to the design.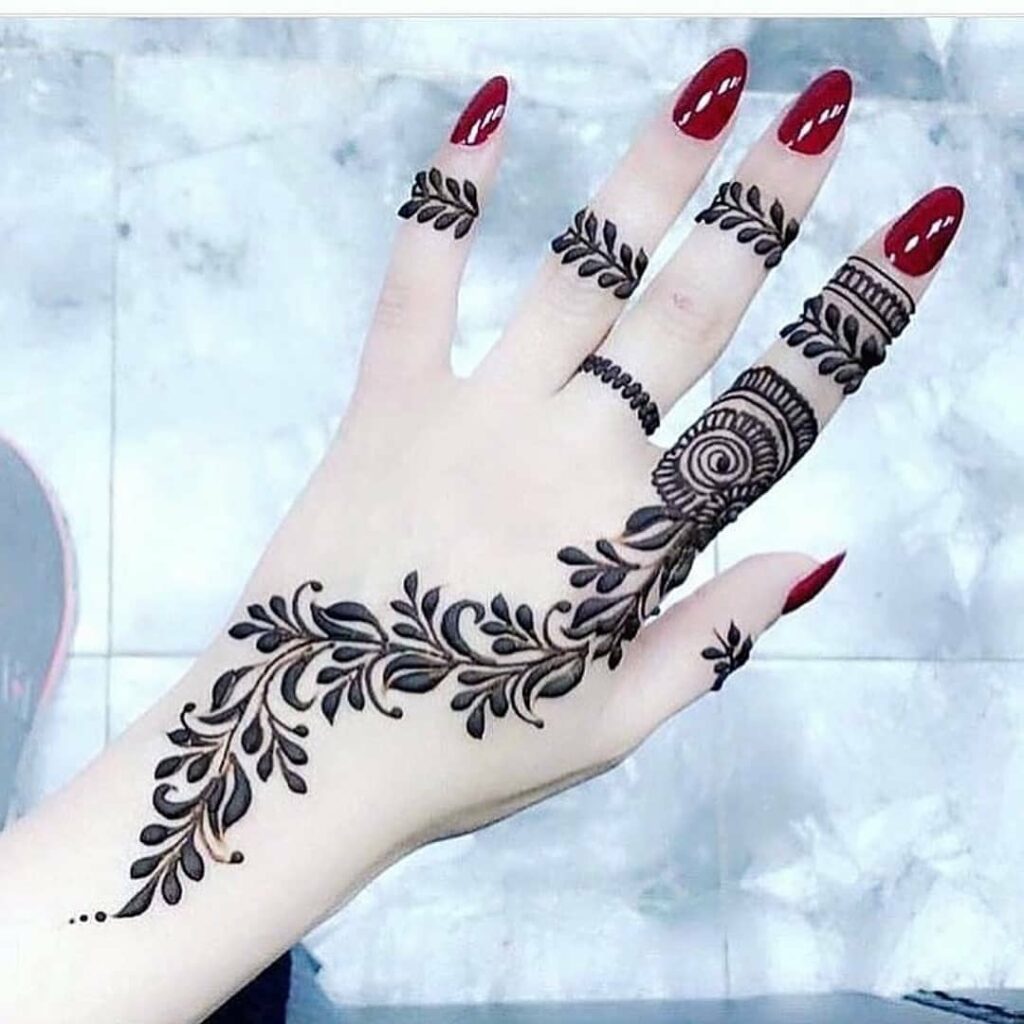 Via @henna_blogger2
#44 Swirl Patterns Are Just Beautifying This Finger Mehndi Design
We are swooning over this precisely done swirly patterns as finger mehndi designs. Beautiful and enchanting!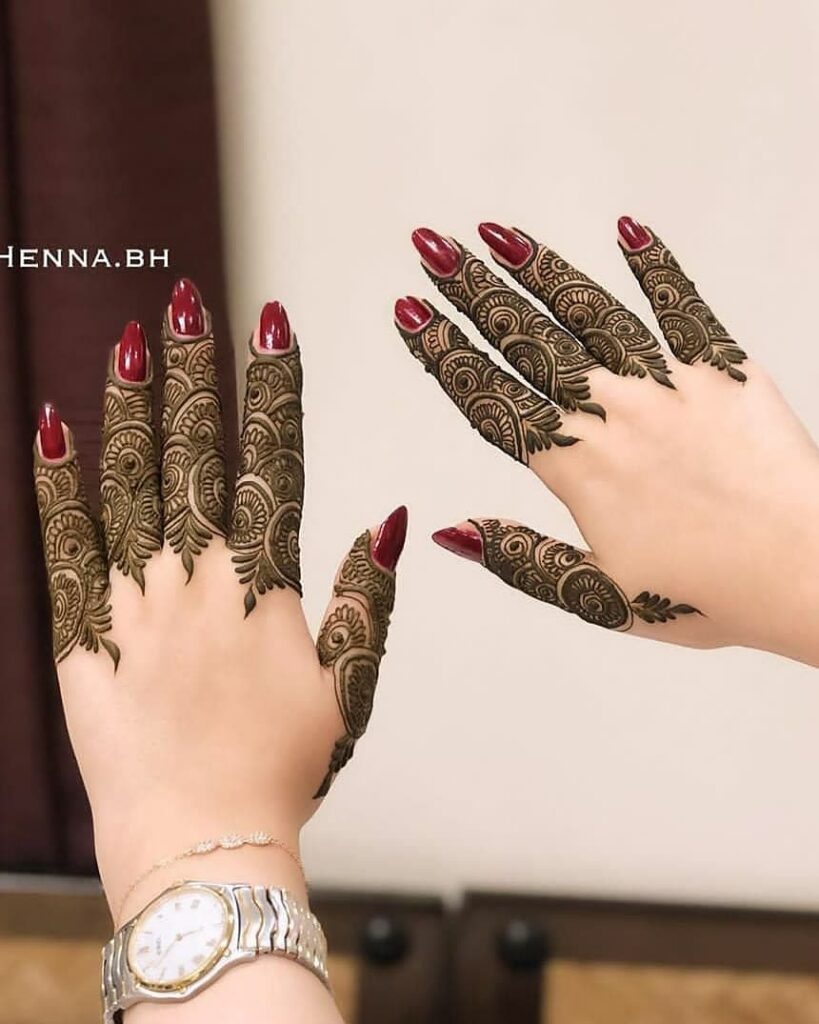 Via @henna.bh
#45 Mesh Pattern Finger Henna!
Mesh mehendi design, when done neatly, always looks surreal. The designer has given such special attention to fine details and her efforts are absolutely commendable.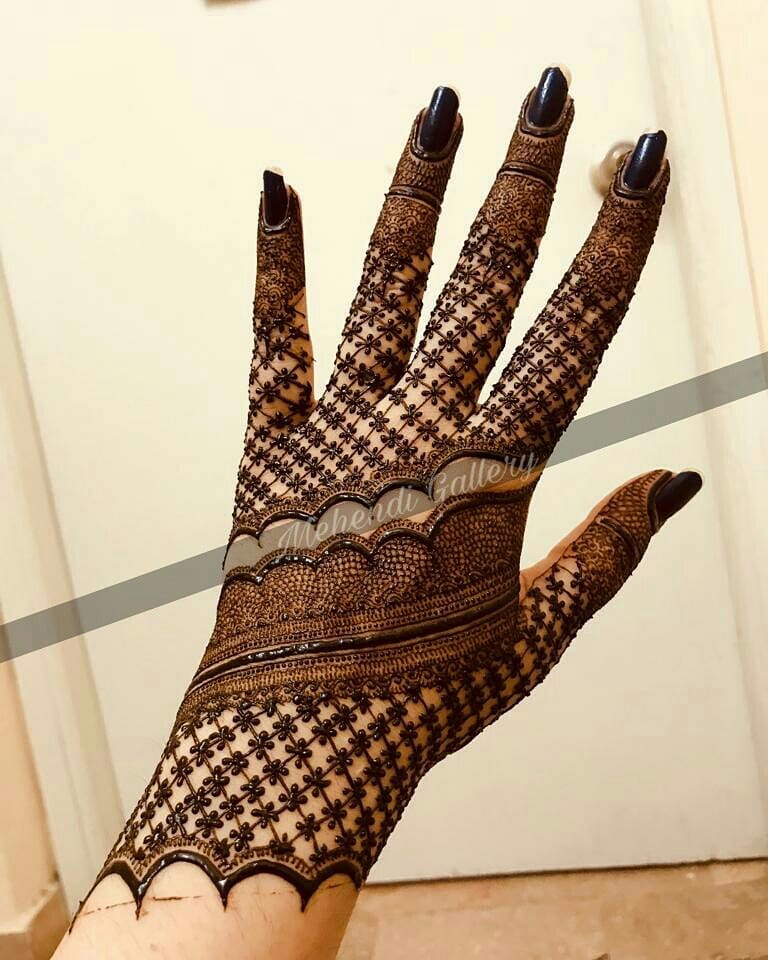 Via Pinterest
#46 New Finger Mehndi Design Idea
The patterns of this henna design are mind-blowing and definitely something out of the box. It definitely stands alone and doesn't require any more work. In fact, we think any extra addition would hamper its beauty. Let this one shine on its own!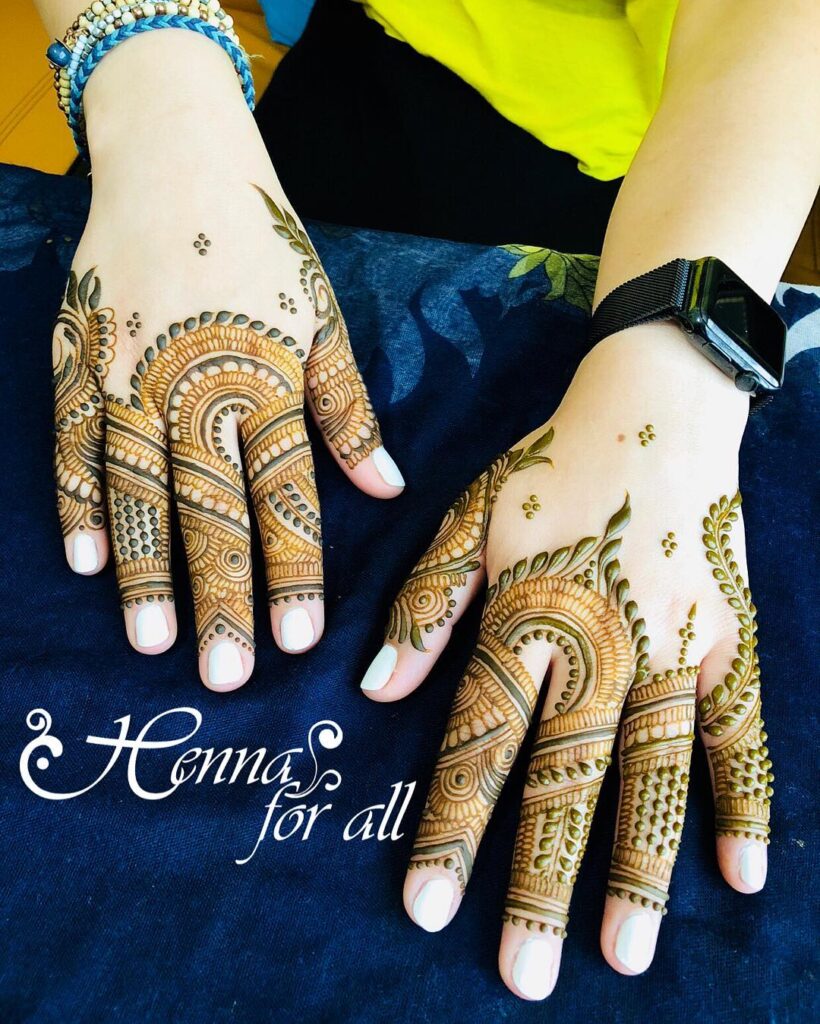 Via @hennaforallny
#47 Simple One Finger Mehndi Designs!
We often see mehndi artists etching the same pattern on all the fingers. But Hira went out of the box and drew a unique pattern over all fingers. It does require imagination though, so all the patterns can complement each other wonderfully like over here.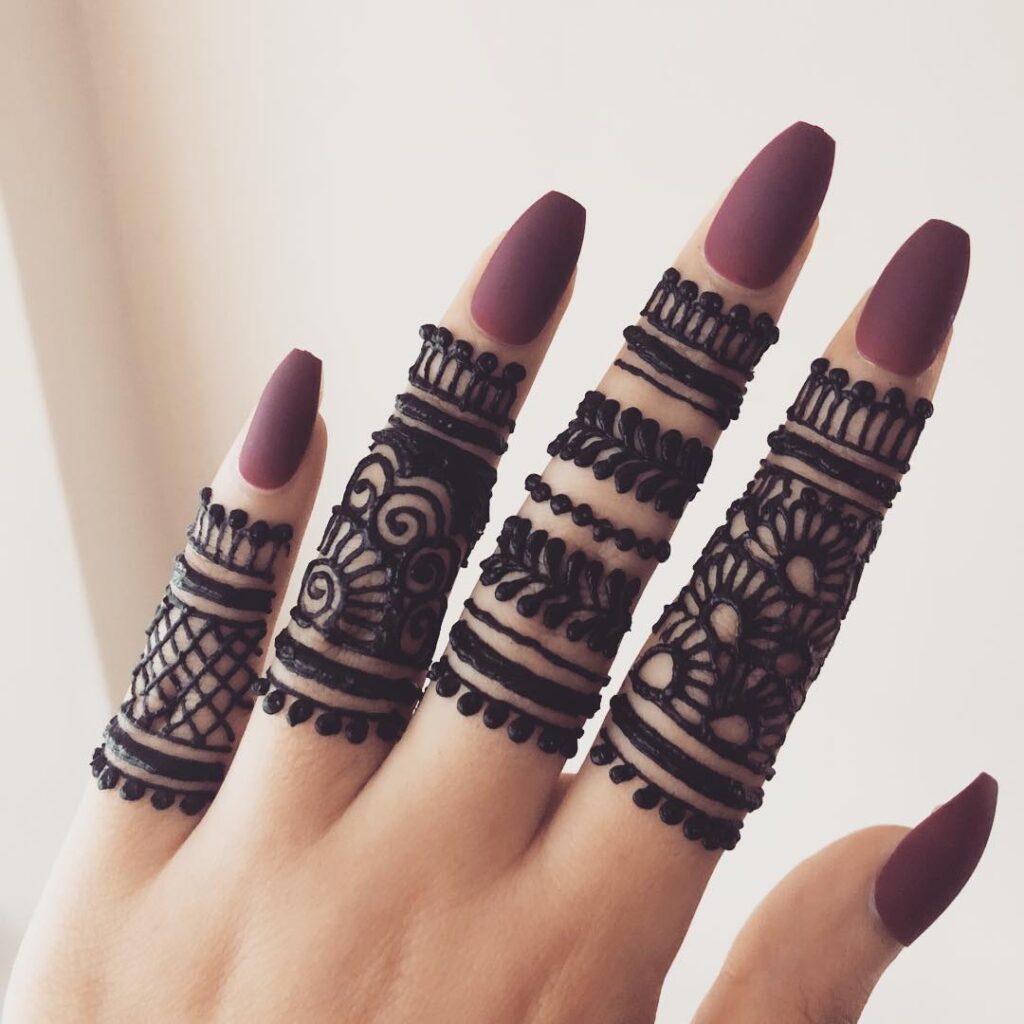 #48 Half Finger Mehndi Design
Easy and gorgeous finger mehendi doesn't get any better than this. You just have to make sure the bold and thin strokes match the ones like here in this picture and the design will turn out as captivating as pictured.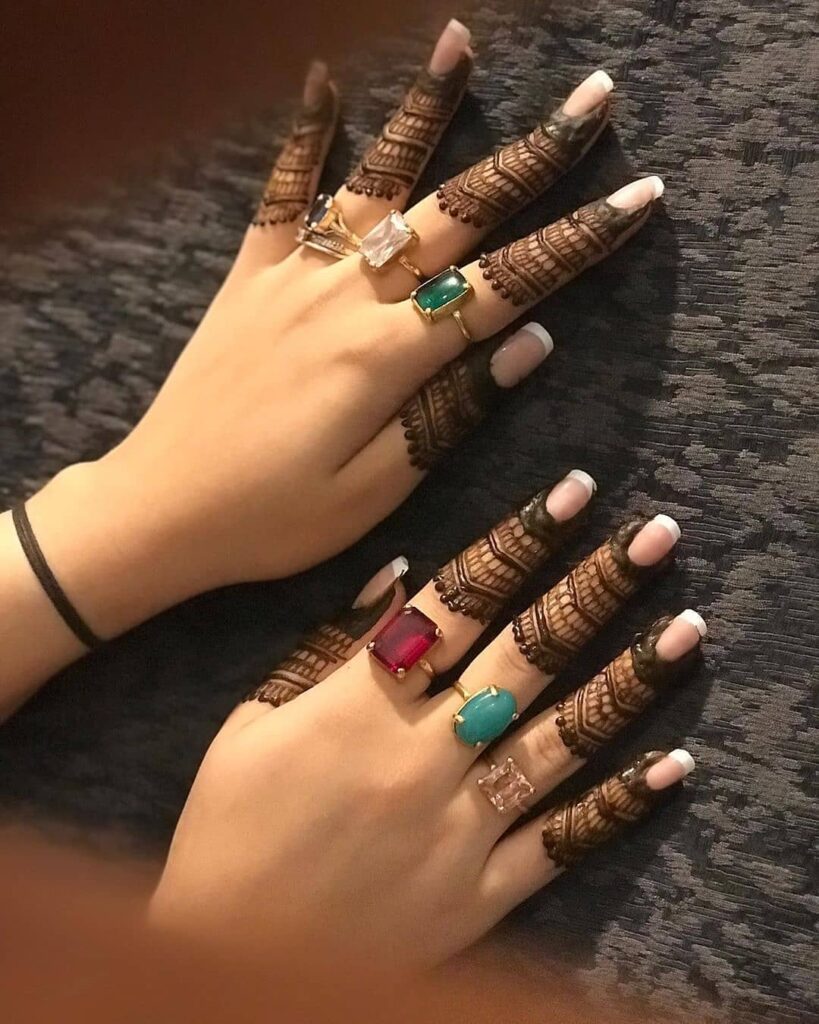 Via @nizanmehandidesigns
#49 One Finger Mehndi Design
With one finger adorned with such pretty henna patterns and florals, concentric circles making it outshine, we want to get some henna done on our hands RN!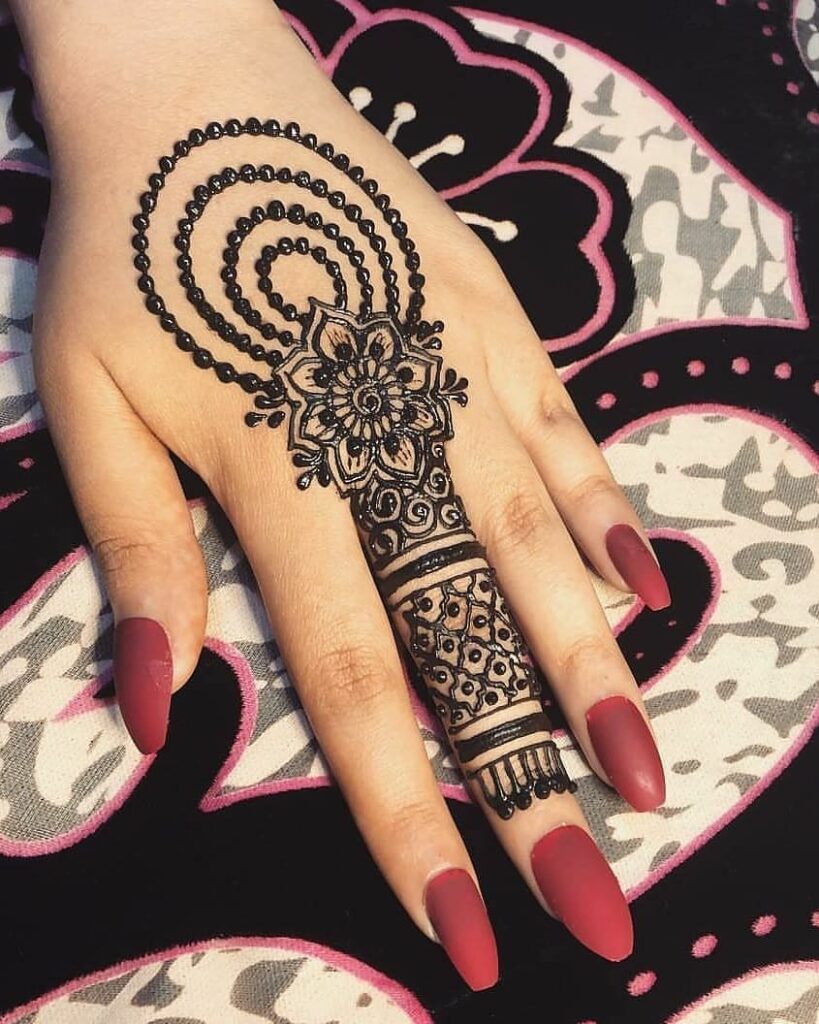 #50 Magic Of Bold Strokes!
This is one of our favorites from the lot. We love the bold strokes in the ring pattern and the swirls and lines that are outlined so nicely. The latest finger mehndi has us bewitched.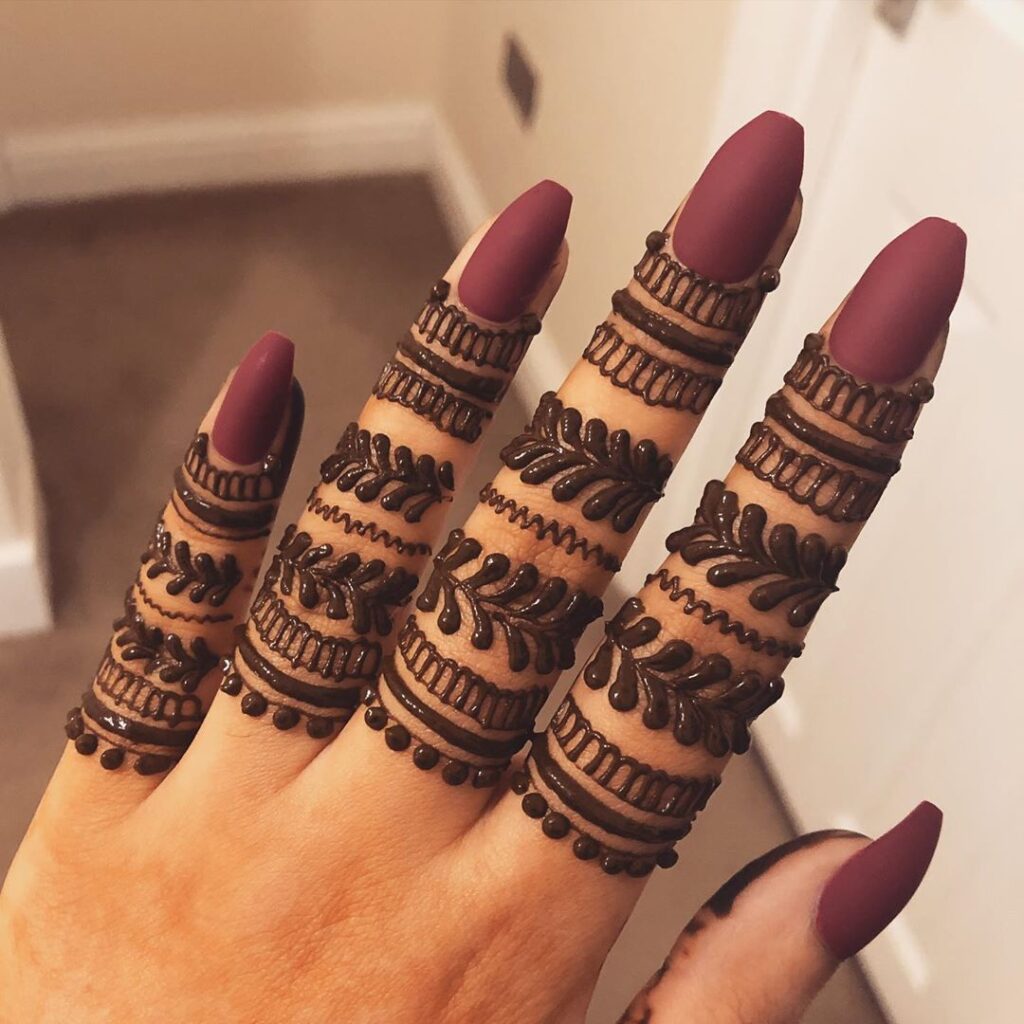 Via @mehndiartist_hira
#51 Spellbound
We saved the best one for the last. Some henna artists really have magic in their hands. I mean just look at the sheer creativity in this one. There's definitely nothing like this design on the list and if you want to stand out with your henna, this is the ideal pick. Bookmark right away!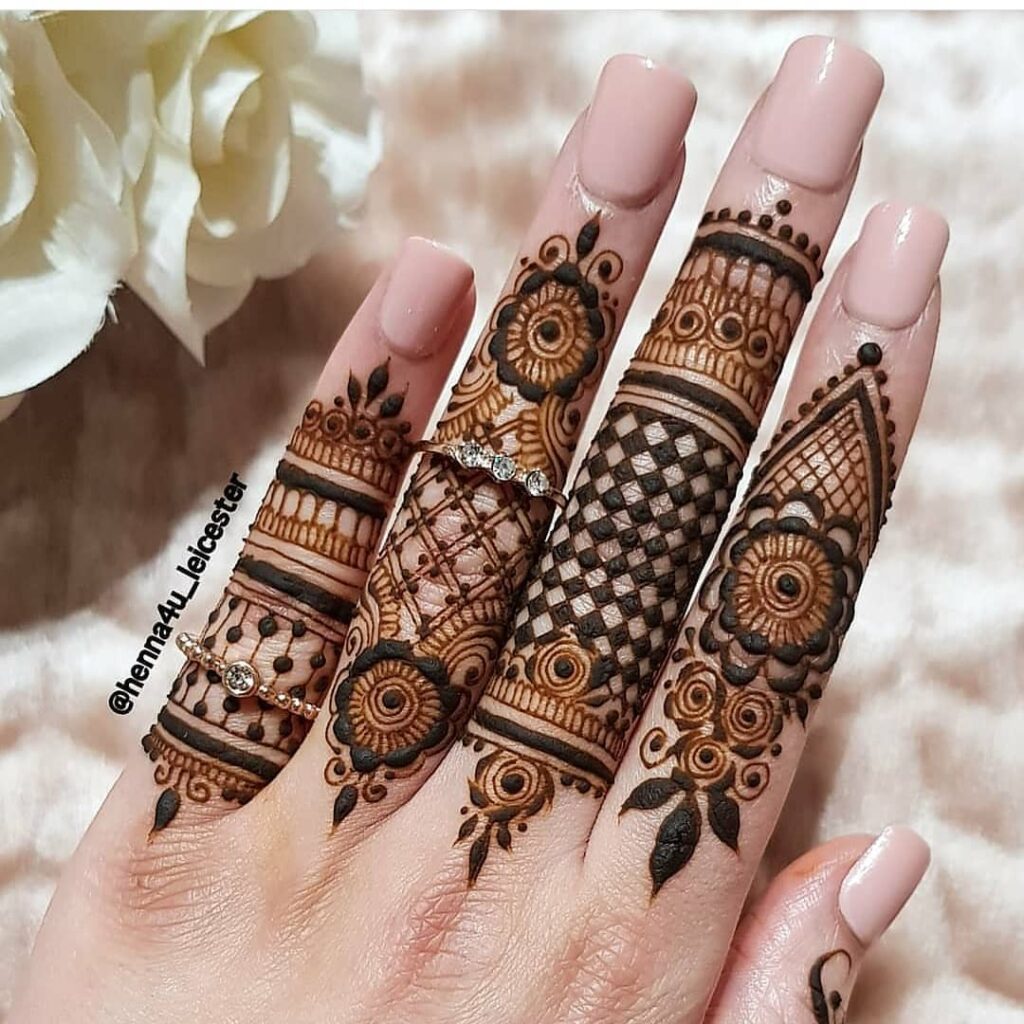 Via @henna4u_leicester
#52 A Simplistic Pattern
There's elegance in simplicity. A statement we have said over and over again, and here's proof that it always stands true. Pair this minimalistic henna with gorgeous nail art for an aesthetic look.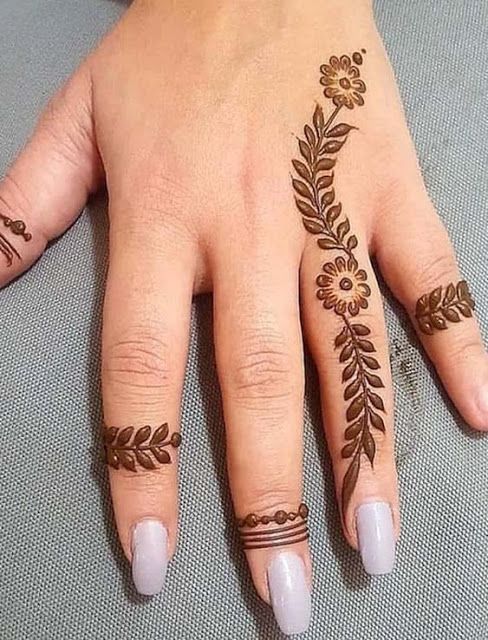 Courtesy: Unknown
#53 The One With Endearing Hearts!
Those hearts in the mehendi design have stolen our hearts too. The leafy swirly patterns on one finger and a jaal and concentric patterns on other fingers look different yet complimentary. Also, we always advise brides to deliberate well for their back hand henna design because that will show more than the front one. Here's one to woo you and catch the attention of anyone who looks at it.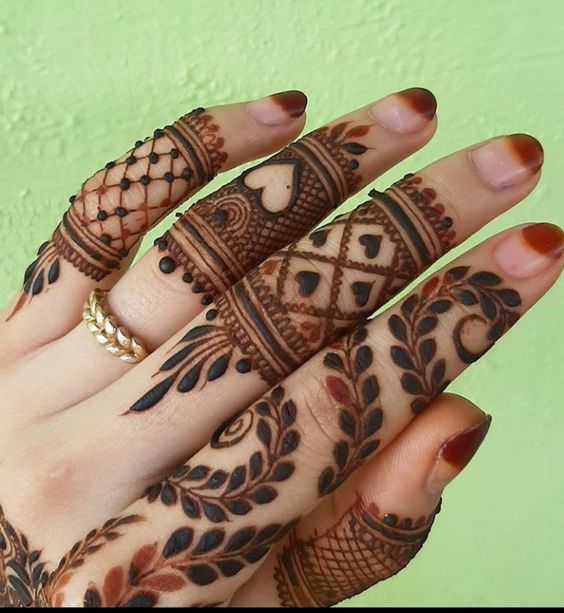 Courtesy: Unknown
#54 Bharwa Finger Henna Design
While simple mehndi designs have their own appeal, so do bharwa finger mehndi designs. However, the pattern itself is easy to create though. All you have to ensure is to maintain a steady hand while drawing the lines. Otherwise, there are only basic henna elements in the patterns, and can be quite easy to draw even for a beginner.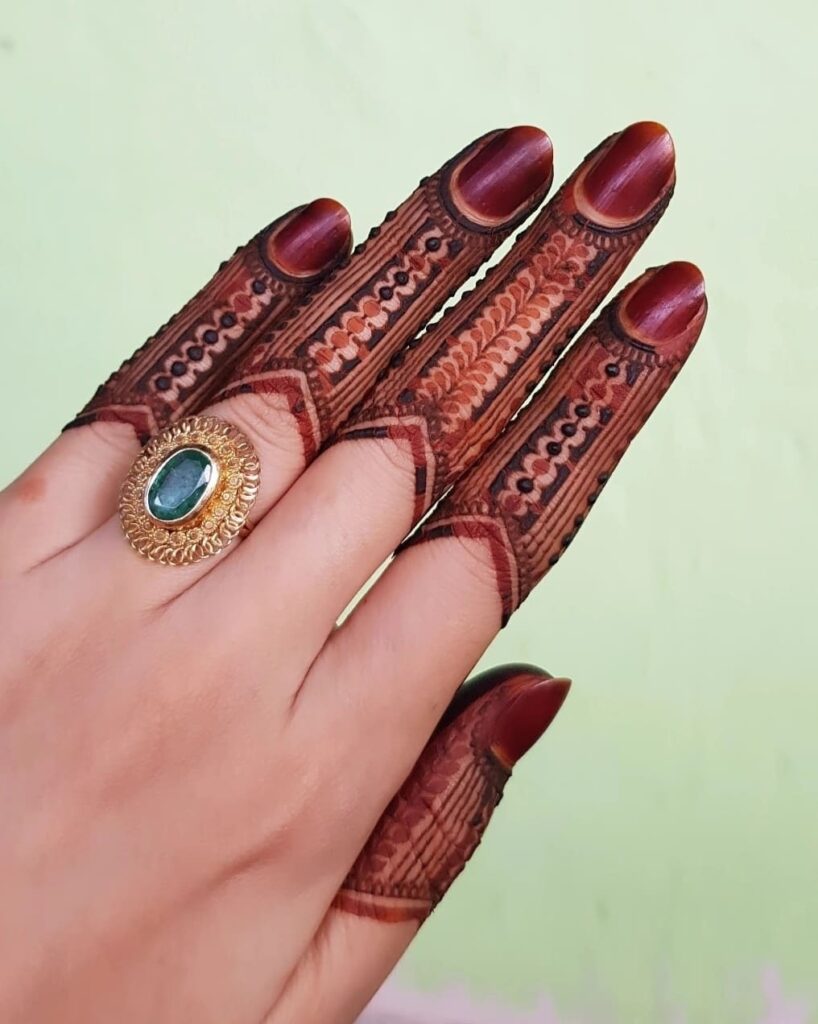 Courtesy: Mehndi by Hayat
#55 Back Hand Finger Mehndi Design
This is an alluring back hand finger mehndi design on the list. With flowers, hearts, lines, and leaves, this henna combines the most traditional and basic mehendi elements for a striking framework. You can stretch this pattern using the choodi style mehndi design or an arabic mehendi design for an elaborate pattern.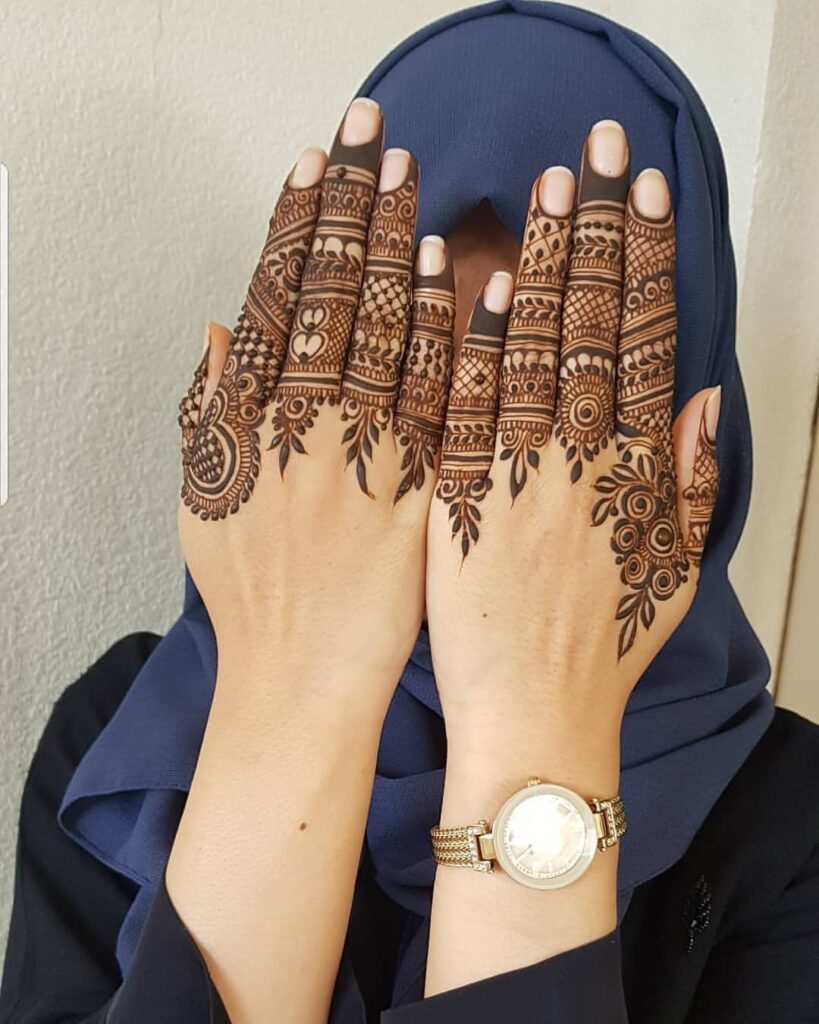 Courtesy: Mehndi by Hayat
#56 A Spacious Pattern
Not only does this henna design bless us with a remarkable pattern for the complete hands, but it also gives us ideas for the latest finger mehndi design. We love how multiple bel patterns come out of the side fingers and join other slanting patterns for a unique look. Save this one for the next occasion on the list. 
Courtesy: NS Mehendi Artist
#57 Loving The Intricacy!
Sometimes, for a backhand mehndi design, you don't have to do much. Just adorn the fingers with intricate henna patterns and that's it. Of course, that's only the case if you only have the palms covered. You can easily extend this design though with some traditional bel or choodi patterns for a bharwa look.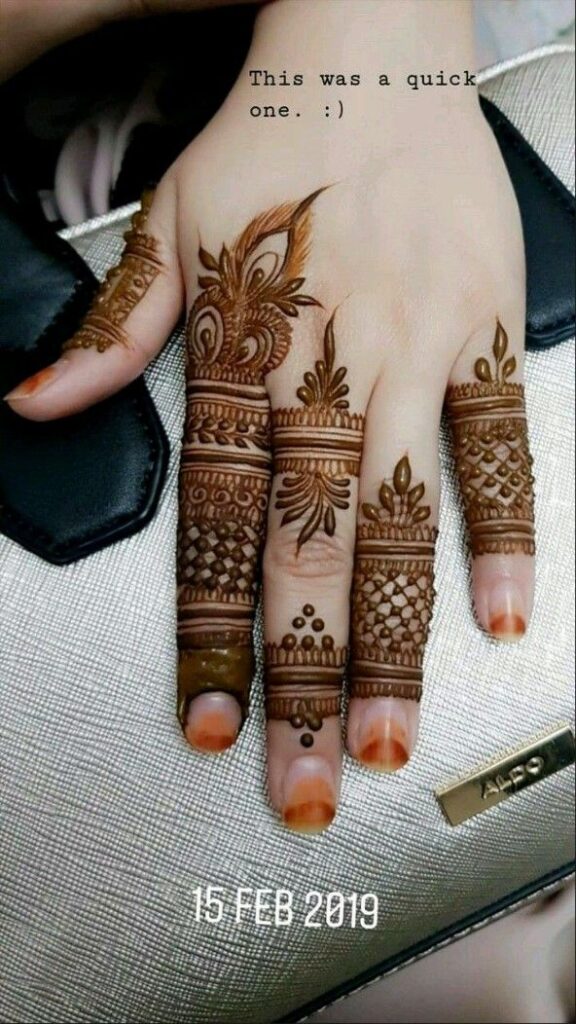 Courtesy: Unknown
#58 A Stylish Finger Mehndi Design
Matching the mehendi design with your fingers is a foolproof way to make your henna look stylish and noteworthy. The next design on our list presents the mandala mehndi design with utter intricacy. For the minimalistic brides or for small auspicious occasions, you can totally trust this henna to complete your ethnic ensemble.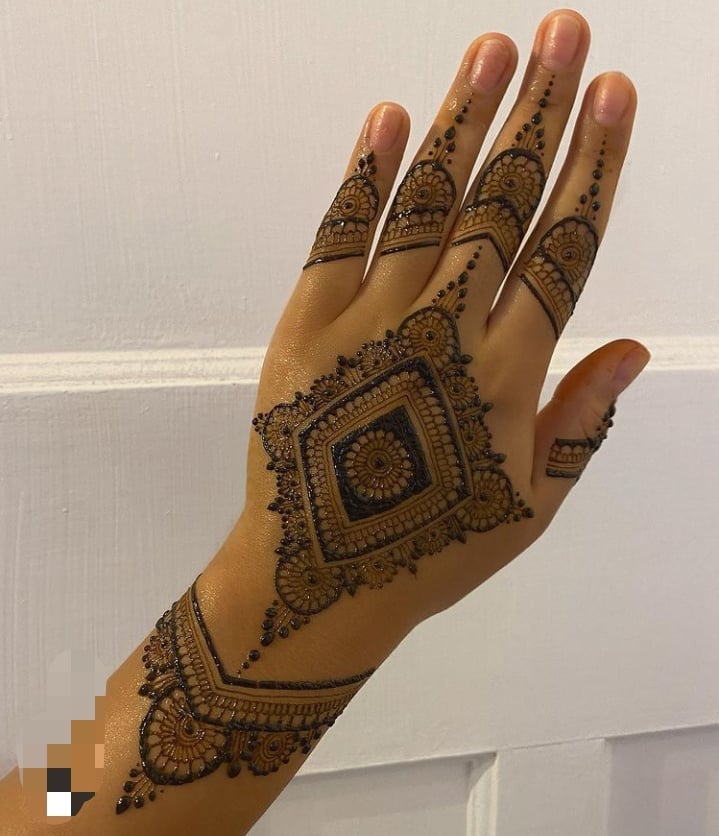 Courtesy: Mehndi by Ami
#59 Lines & Swirls
For a simple finger mehndi design that looks artistic nonetheless, play with the thin and thick line art of the henna patterns. The henna artist here starts with the line play of bold and thin lines and adds an ethereal element by adding some concentric semi-circles on the bottom. No doubt, this simple front hand finger mehndi design can go with bharwa or a spacious style.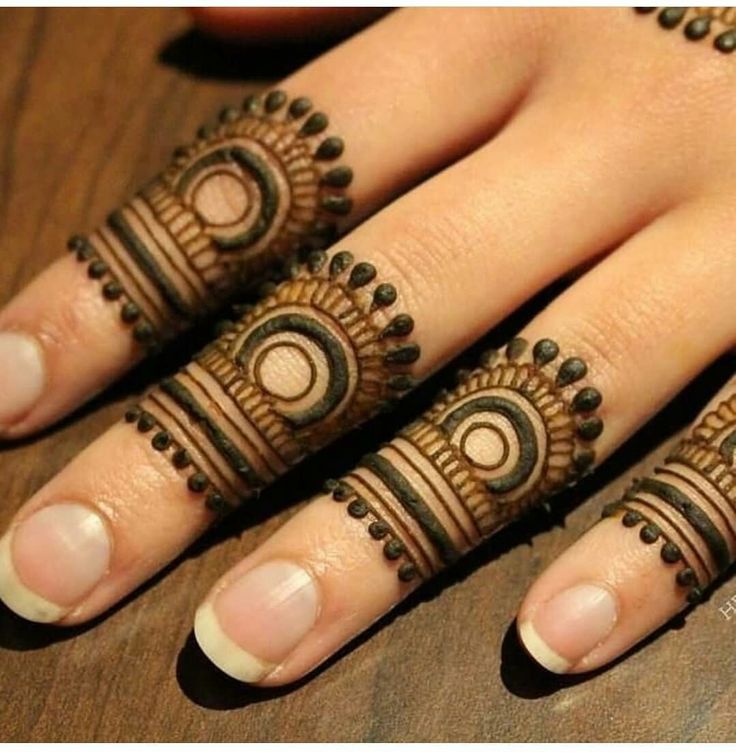 Courtesy: Unknown
#60 The Allure Of Net Pattern
Net patterns are gaining momentum as back hand henna design and for all good reasons. They look amazing when they're stained and look gorgeous with any kind of henna style – be it Arabic, minimalism, or traditional. Etching them on even on your fingers can help in utilizing the charm of this design. Take cues on how to nail the art properly.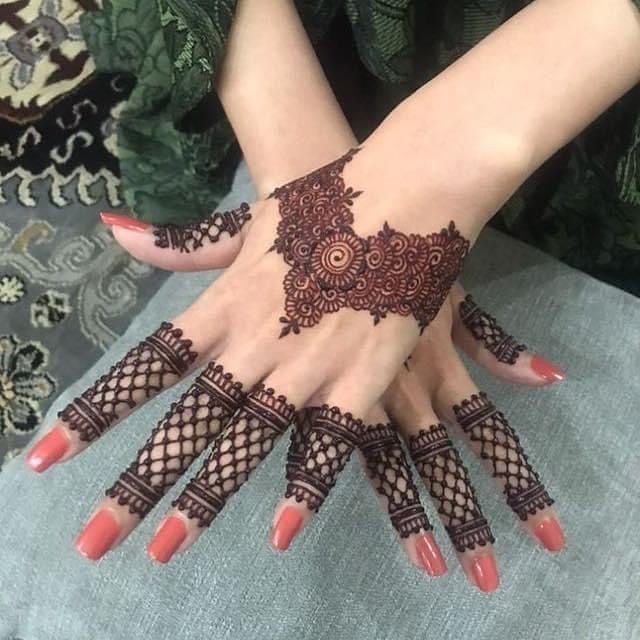 Courtesy: Pinterest
#61 Just The Tips Finger Henna
If you're in a hurry and want a simple henna pattern for an auspicious occasion, just create an artistic and gorgeous tip henna pattern like this one. Done using bold strokes, even someone who hasn't applied mehendi in their lifetime can create this pattern. So, if you aren't confident at all about your design skills, go forward with this finger mehendi design for a gorgeous look.  
Courtesy: Pinterest
#62 The Sheer Beauty! 
This complimentary back hand henna design with basic geometrical elements is noteworthy and unparalleled. You don't always have to rely on artistic elements to make your henna design stand out. Even the most basic of elements arranged creatively can do the magic. This design is here is proof of the same.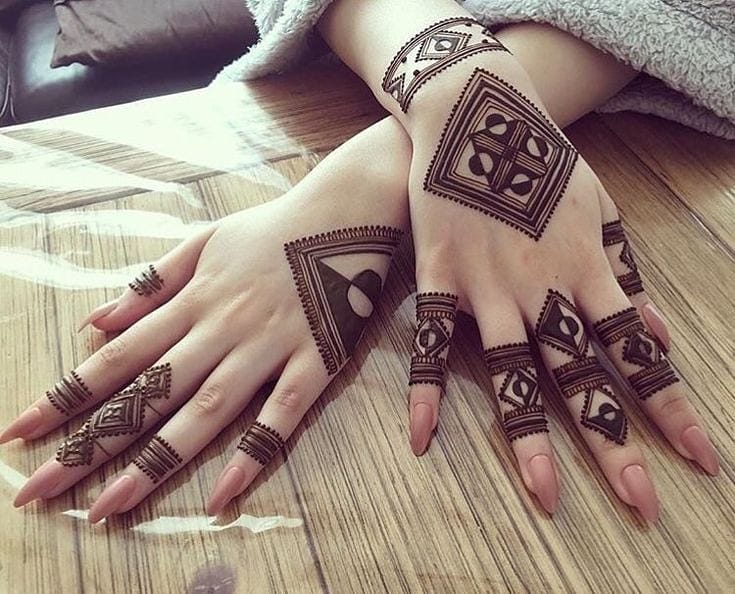 Courtesy: Instagram
#63 Minimalism Never Disappoints
Minimalism, when done with elegant elements, can look whimsical and aesthetic. Although, minimalism doesn't always mean that the decision-making process of your wedding look will be easier. Instead, it requires as much deliberation for the ensemble to come together and radiate the simplistic poise. Here's us serving you the ideal henna inspiration for your minimalistic look.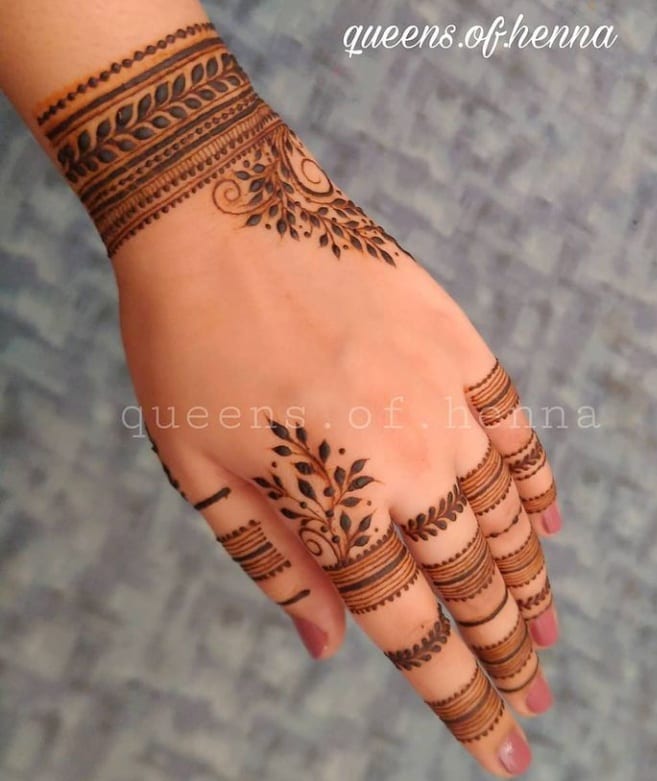 Courtesy: Queens of Henna
#64 Beautiful Thumb Finger Mehndi 
Thumb finger mehndi design is often ignored but it can certainly make the whole mehndi look more put together. If you're searching for a basic and easy thumb mehandi for your entire henna, then you'd love to re-create this endearing framework. Done using florals, 3-D, and lines, this design can easily be done by a mehndi art novice as well.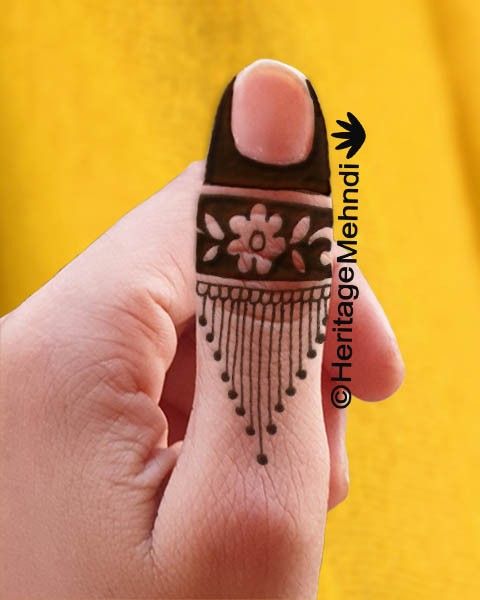 Courtesy: Heritage Mehndi
#65 Rooting For The Gorgeousness! 
With endearing florals on the fingers and a spacious yet alluring mehendi on the entire hand, this henna pattern deserves to be on your bookmarked list for more reasons than we can list. There's a touch of femininity in this design alongside a touch of grace and style. What's even more impressive is how you don't have to spend much time while getting this design done. The spaces and easy elements make this a time-savior pattern for henna artists and the one that won't require you to sit like a statue for a long time.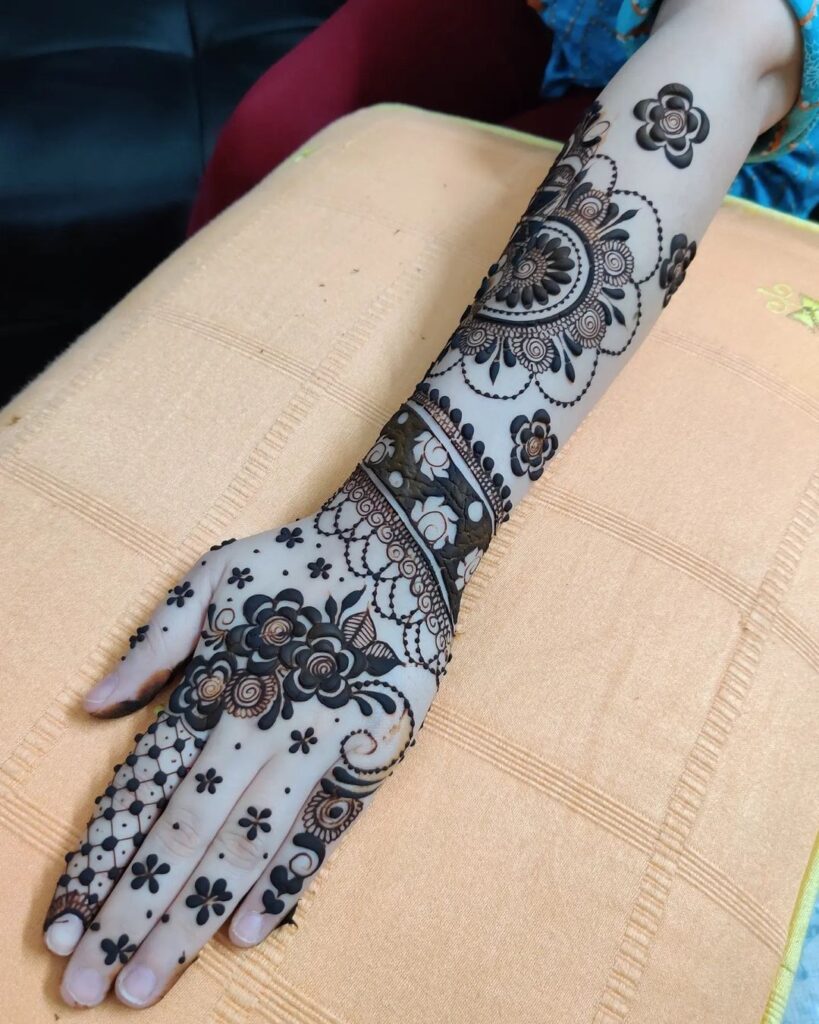 Courtesy: Unknown
We hope you've saved your favorite one! Next up on our mehndi blogs is Karva Chauth designs, are you excited? 😏