When it comes to zeroing in on your mehndi design, we'd say sorting and sifting through back hand mehndi designs inspiration is more important than the front-hand mehndi designs. After all, the backhand mehndi is going to show a lot more than the front hand – in real life and in pictures. So, whether you're a bride, a bridesmaid, or looking to adorn henna for a special festival, you can find back hand henna inspiration for everyone on this blog. We've sorted this into 4 sub-sections for an easier look-through. 
Simple Back Hand Mehndi Designs
A simple back hand mehndi design can work for any occasion. For a minimal bridal henna design, for a bridesmaid, or for the events when you're in no mood (or got no time!) for an intricate mehndi application. Simple backhand henna can also work for occasions when you have to draw quick henna on your own hands for shagun. The designs featured below can be made easily by anyone who's a little skilled at drawing, so you can use their expertise for creating these patterns as well. Flip through our gallery below to find the best simple back hand mehndi designs for brides, bridesmaids, and other wedding guests. 
~ A mehendi design that will look much more beautiful after staining than during the wet stage. The magnificent sway of leaves and florals from the fingers looks unique and gorgeous. Pair the design with stunning nail art and we promise you'll be caught staring at your hands often.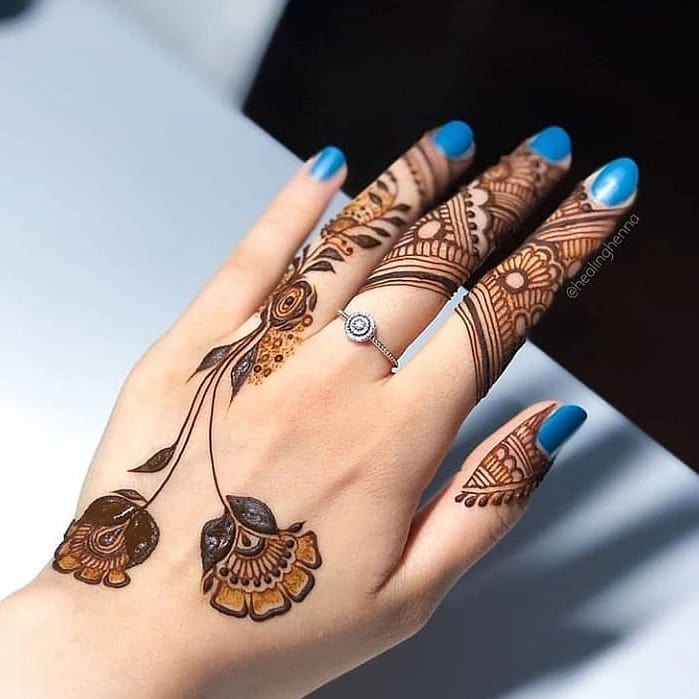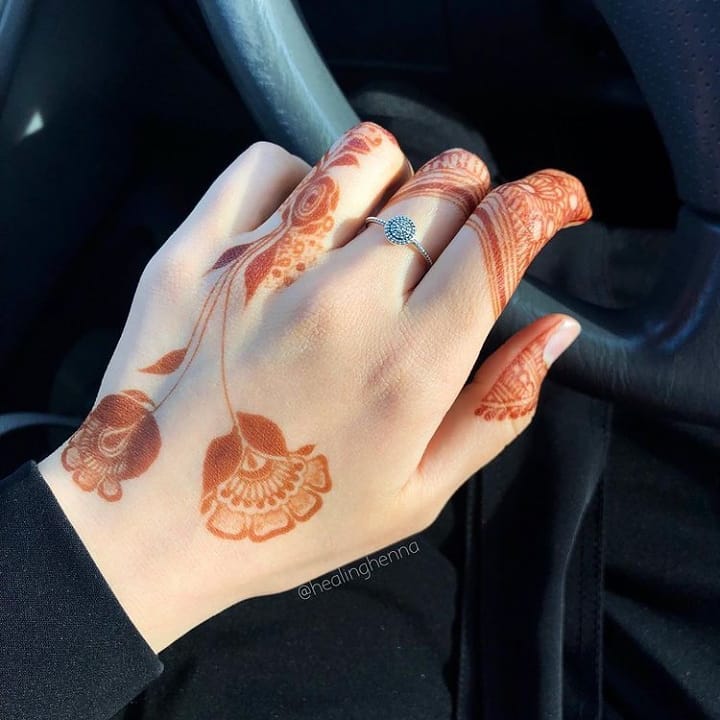 Courtesy: Healing Henna
~ Bharwa mehndi designs can make for simple back hand mehndi designs too! Here, the jaals are spaced out and only filled alternately so as to make it easier for anyone to draw and also take less time. You can complete the wrist with florals or choodi-style mehndi patterns incorporating easy-peasy fillings.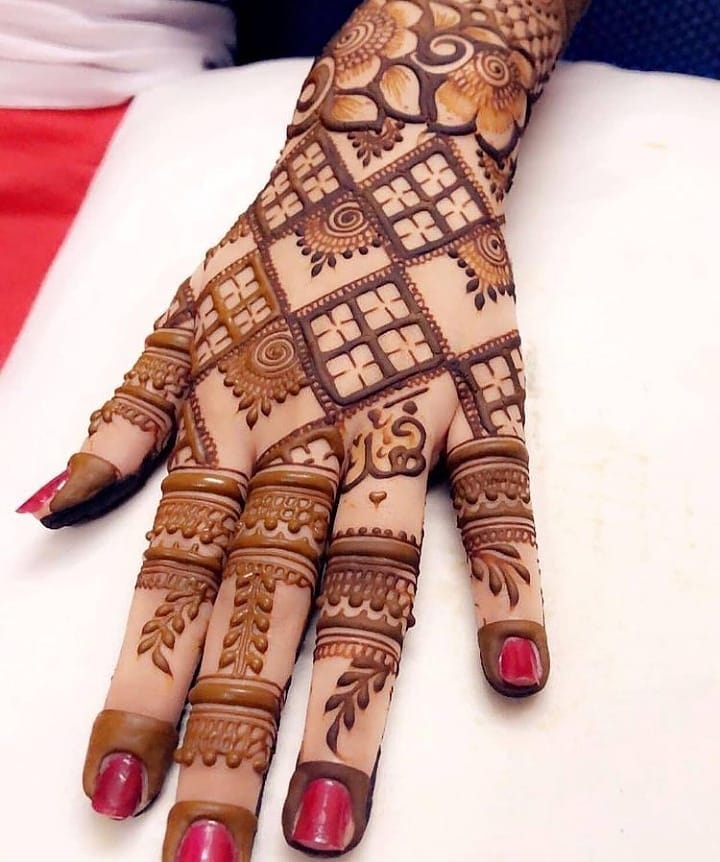 Courtesy: Unknown
~ Those little hearts stole our heart too! The thing about simple henna designs is to make proper use of negative spaces. In this pattern, the artist half-fills three fingers and completes the rest while etching a basic pattern on one side. This makes it perfect for women who favor minimalism.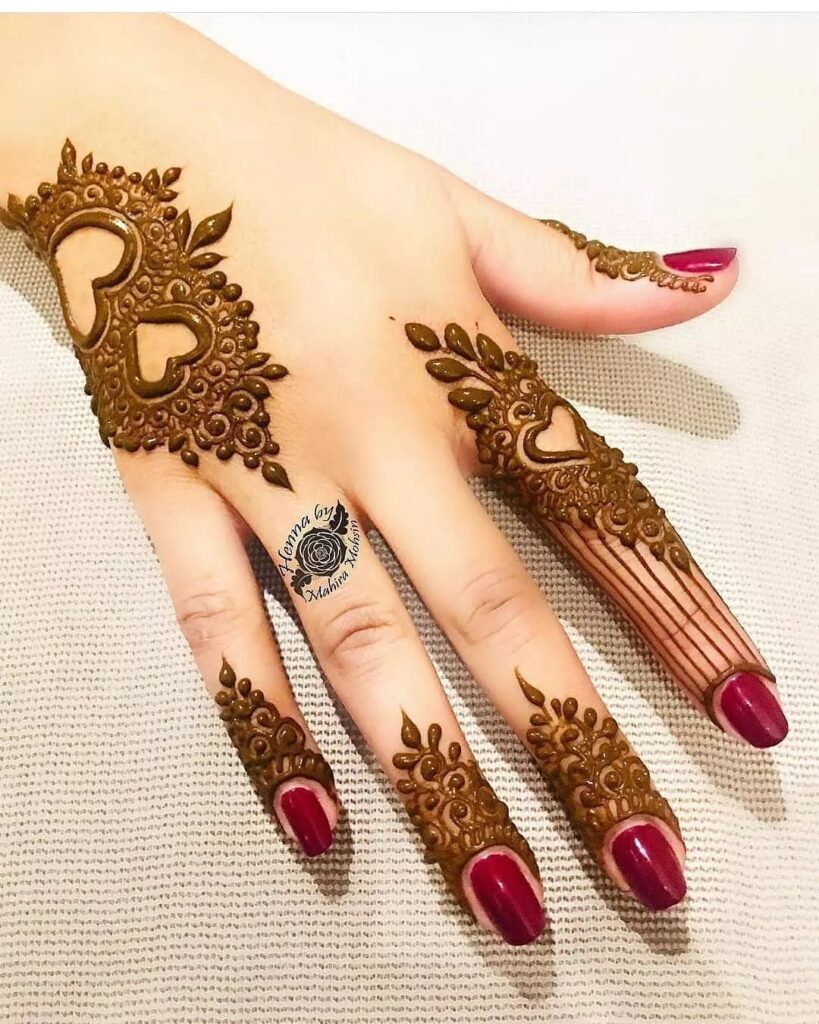 Courtesy: Mahira Mohsin
~ The common thing you will notice among simple back hand mehndi designs is the usage of tonnes of open spaces and creating noteworthy patterns in the places you do fill the hands. The henna artist fills the two corners using concentric circles and fills themes in standalone shapes. Though simple, it does require a certain level of patience and intricacy. Go forward with another design if you're low on both these elements.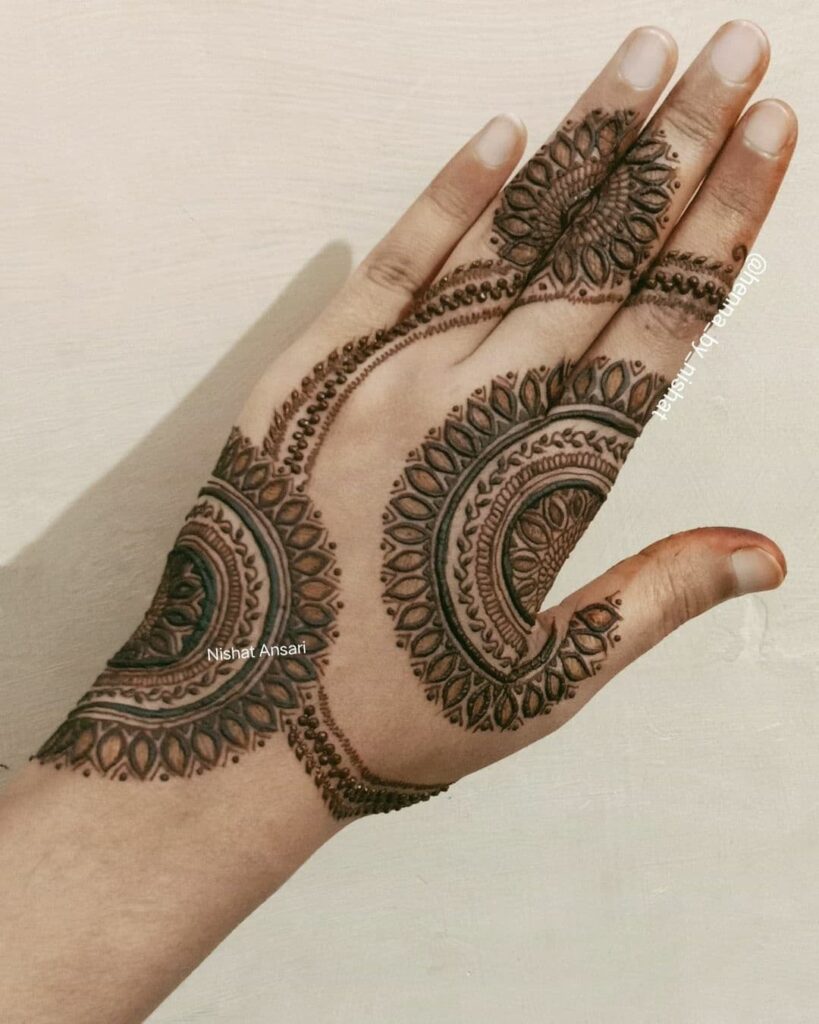 Courtesy: Henna by Nishat
~ Just how flawlessly pretty! We often fall back on words whilst describing these majestic henna patterns. The mehendi artists have definitely upped their game recently and continue to mesmerize us more with time. In this design, the artist plays with florals, leaves, and line motifs to curate this incredible pattern.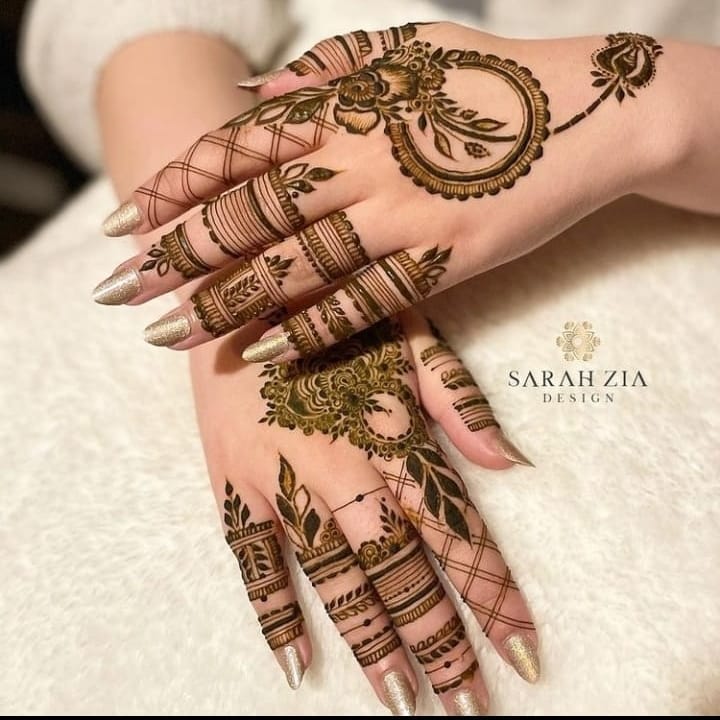 Courtesy: Sarah Zia Design
~ Alright, we're guilty of putting this into the section of simple back hand mehndi designs, we know it's not easy for most women, but for henna artists, this is a piece of cake. The next design is for the time when you have a henna artist to draw a design, but don't have much time yourself. This design has the classic jaal pattern, big florals, and pinjaras to combine the allure of traditionalism and modernism in one design, Plus, one design looks good on both hands, as you can see.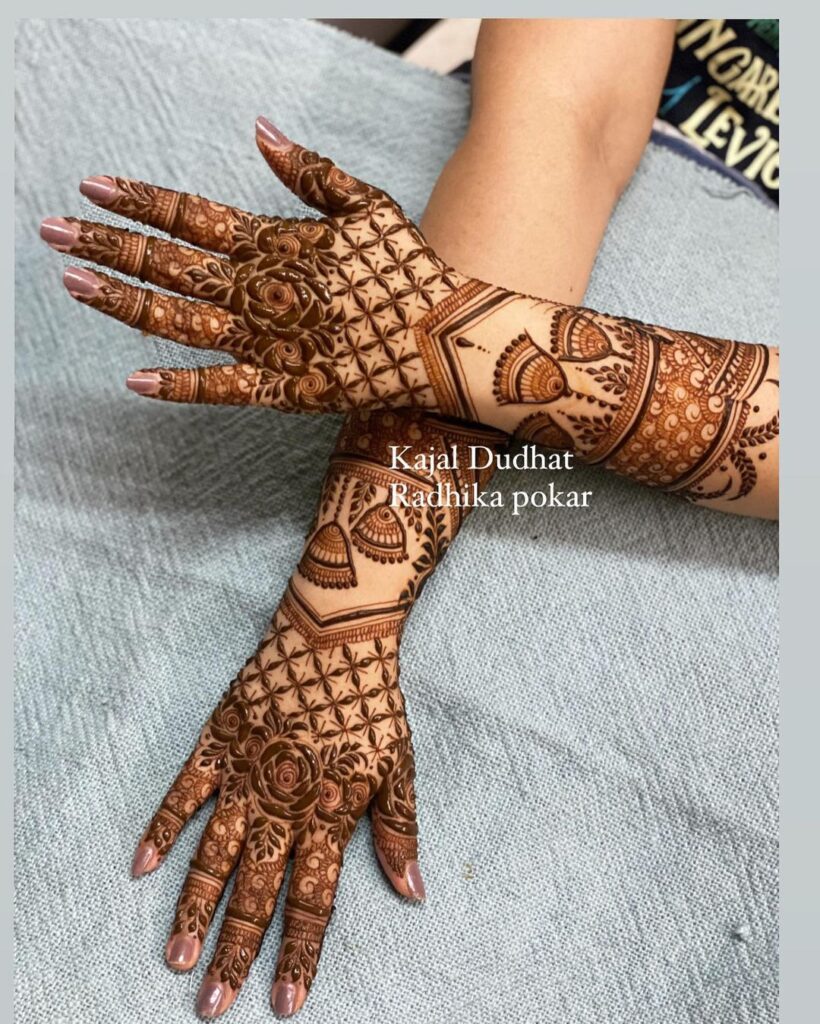 Courtesy: Kajal Dudhat
~ Again, this is an easy backhand mehndi design for girls who'd want something quick and stylish for their henna pattern. If the shaded patterns look too difficult for you to draw, just eliminate them completely. The design would keep the allure alive nonetheless, so don't worry.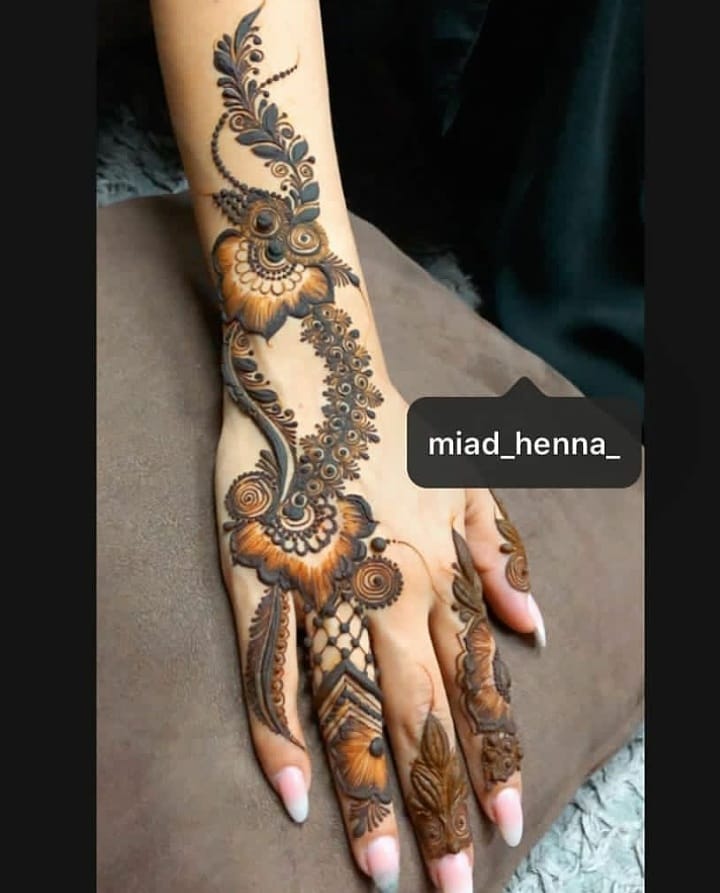 Courtesy: Miad Henna
~ A jaal back hand mehndi design looks ethereal and is absolutely easy to draw. Start with the lotus on the bottom and complete the flowers and 3-D pattern of the lower part before starting to build the jaal design. Next, start filling the jaal with a beautiful leaves pattern and try to keep the hand steady. Jaal is one pattern that looks great when done in a complementary way on both hands. So, draw the same design on both hands.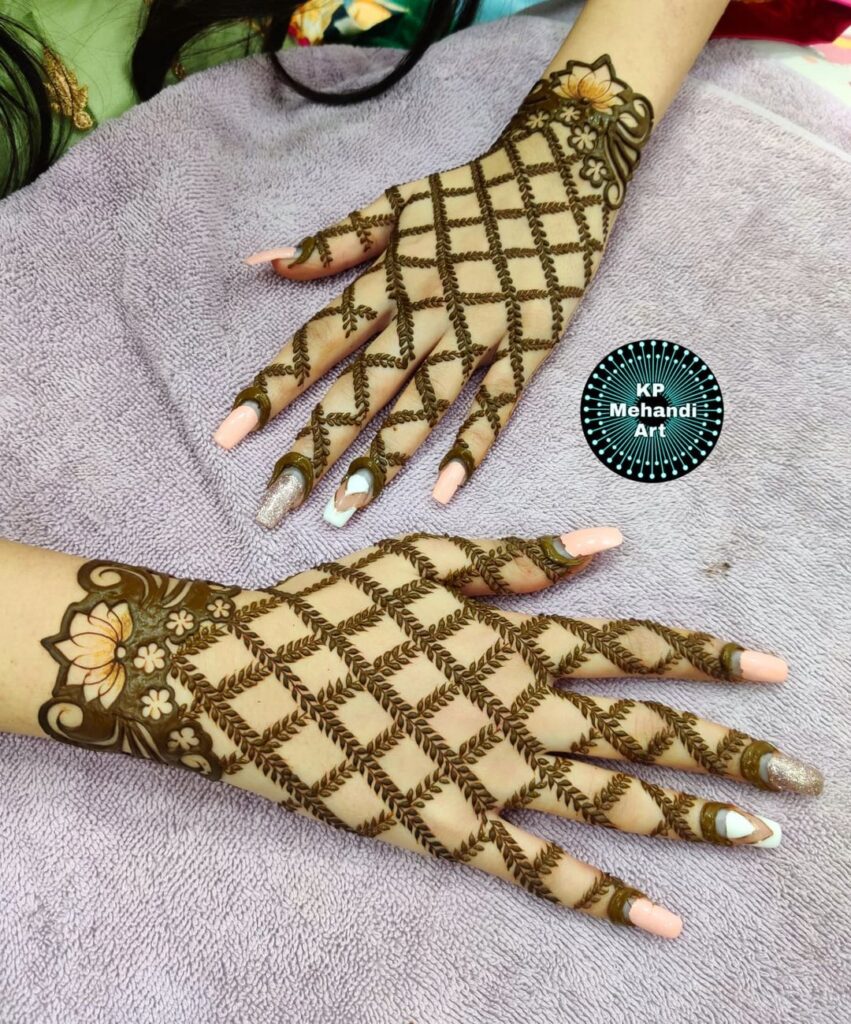 Courtesy: KP Mehandi Art
~ Florals and leaves are such classic addition to any mehndi design. And sometimes, all you need to make a statement henna pattern is to only use these two motifs and experiment using the creative skills. Thankfully, you won't have to use those creative muscles today, because we have already found an artistic design for you using only the flowers and leaves motif. Bookmark it for future preferences.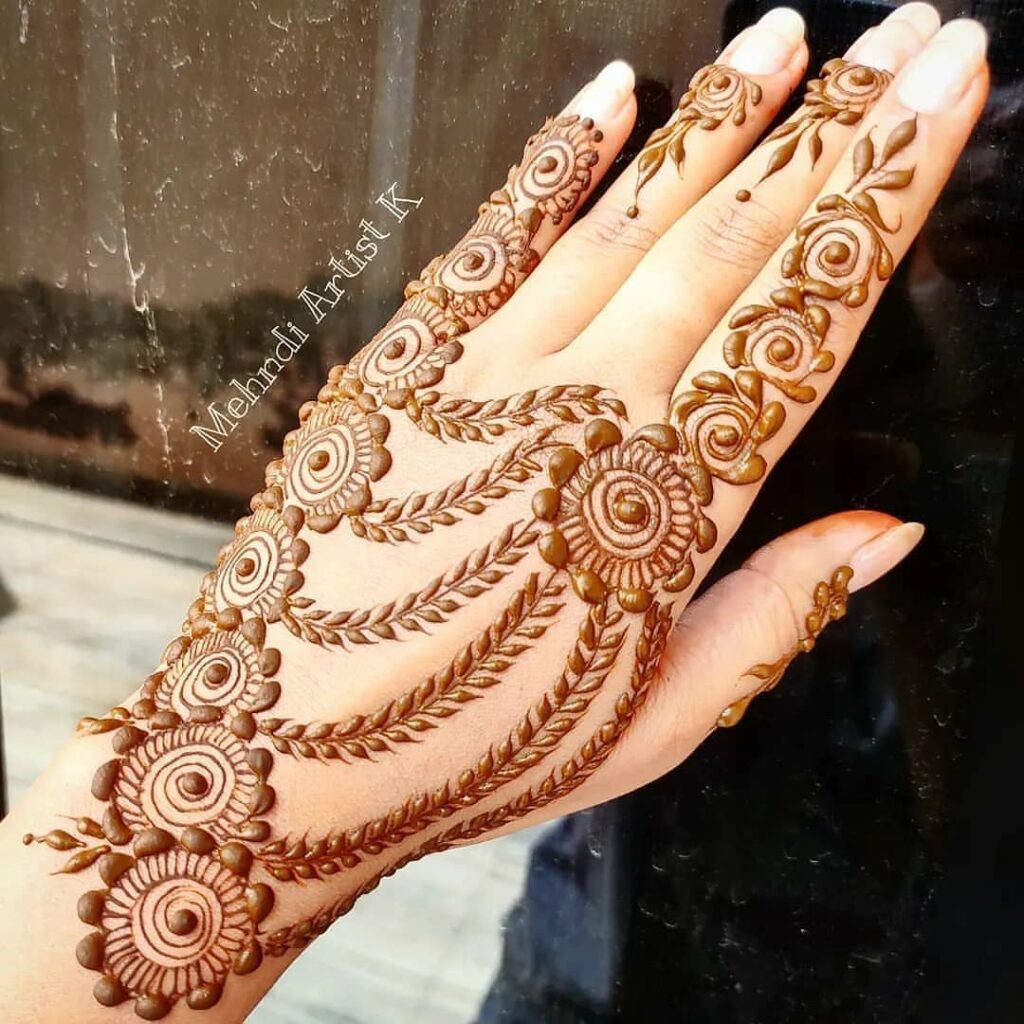 Courtesy: Mehndi Artist Komal
Bridal Back Hand Mehndi Designs
Getting henna etched when you're a bride is a greater deal than any other time in your life. While other times you have the carte blanche to experiment with anything, on your wedding day, a deliberate thinking process is needed for all decisions. To make your verdict easier, we have curated a list of bridal back hand mehndi designs for inspiration. Again, the backhand henna matters much more than the front henna as it will show more in pictures and in reality, so choose wisely. 
~ There's utter beauty in this bridal backhand mehndi design. The auspicious and traditional symbol of the lotus takes center stage in the henna while jaal details and geometric patterns plug the gaps for an intricate artwork. While brides often prefer a motif, if you want a non-motif yet statement design, this one will definitely woo you.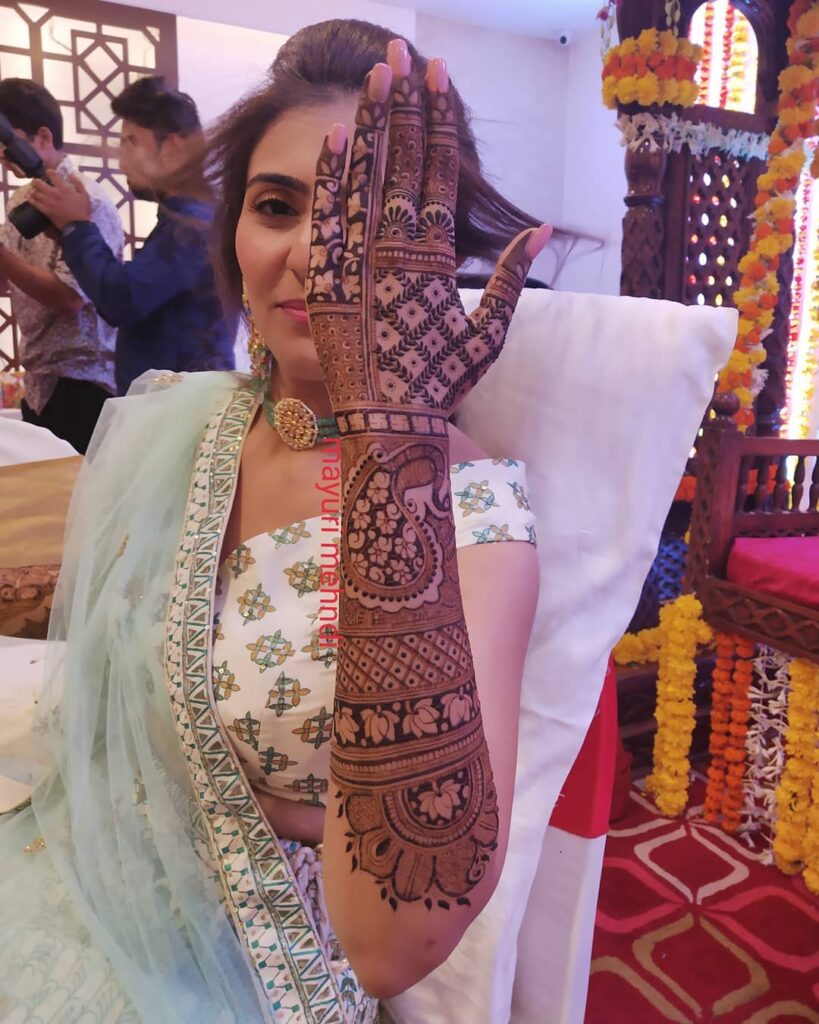 Courtesy: Mayuri Mehndi Artist
~ This is a classic complimentary bridal back hand mehndi design that has already gone viral on social media but remains relevant to date. For brides wanting to have a timeless mehndi design, then go for this one surely. Even after a few years, the patterns look ravishing and elegant. Further, it will go amazingly well with any bridal style you're sporting, so don't think twice if you want to re-create this design for your wedding day.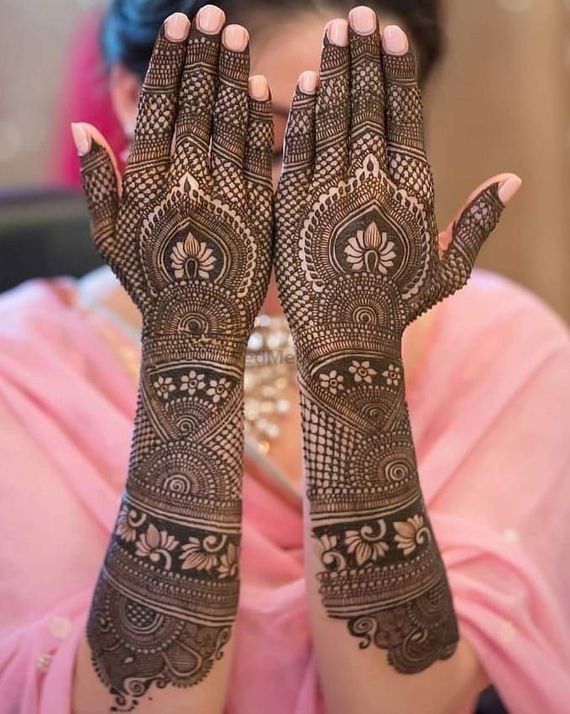 Courtesy: Makeup by Fateh
~ With an endearing gatbandhan motif on the top and a choodi-style mehndi style on the entire wrist, we love everything about this captivating bridal henna design. It's traditional, intricate, and yet radiates the modish touch for millennial brides. That's why you should pick a henna artist that matches your bridal style as well. Go through their profile and portfolio to see if they're a good match.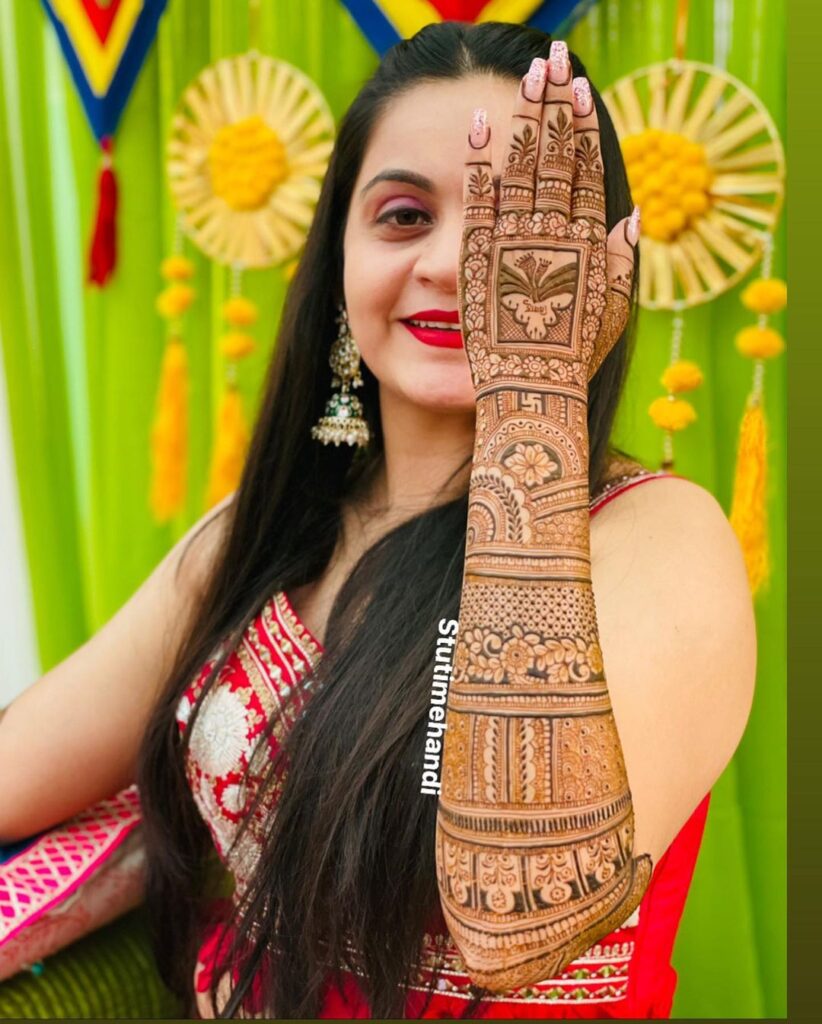 Courtesy: Stuti Mehandi
~ A good mehendi artist can make even the simplest of motifs better with their artistic skills. In this next henna design, you will not see any special or voguish motifs like pinjara, birds, or even lotus. The entire framework uses the basic motifs of flowers, leaves, geometrical lines, and circles, and yet manages to win our hearts with the inventive structure. Impressive, right?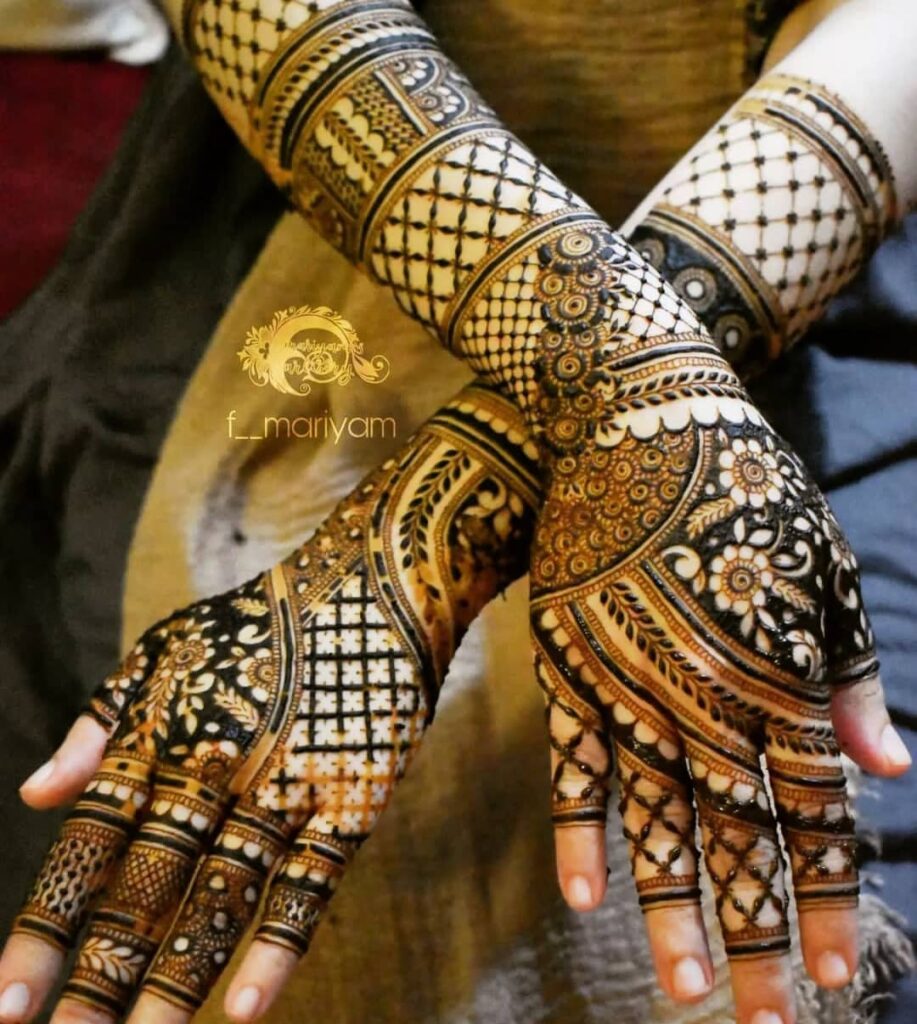 Courtesy: Mariyam's Artistry
~ This one's for the figure lovers. While the jaal and exquisitely stenciled patterns have taken over the backhand henna, and the figures have been reserved for the front hand, you can definitely change that. Here, the bride sports the king & queen mehndi design on her backhand, and the snap went viral almost instantly. If you're taking the pain & shelling out the bucks of hiring a henna artist who can make this impressive figure, then don't forget to get it snapped well. You'll want to flaunt it on social media and keep it to remember during the years down the memory lane.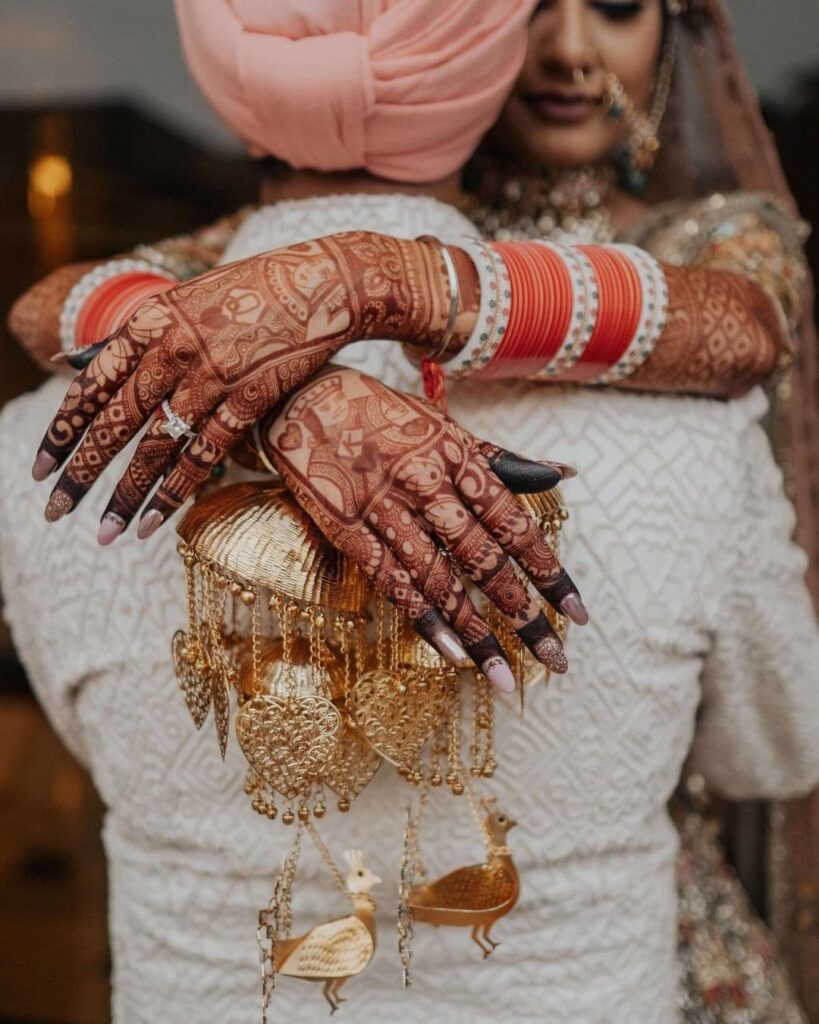 Courtesy: Payal Kapoor
~ 3-D jaal motifs with a twist! We love how the henna artist here makes the jaal design ingenious by making floral designs on the cross-section and filling the rest in with the henna. This design looks gorgeous when wet, but will look drop-dead gorgeous when stained. Go for it without thinking twice.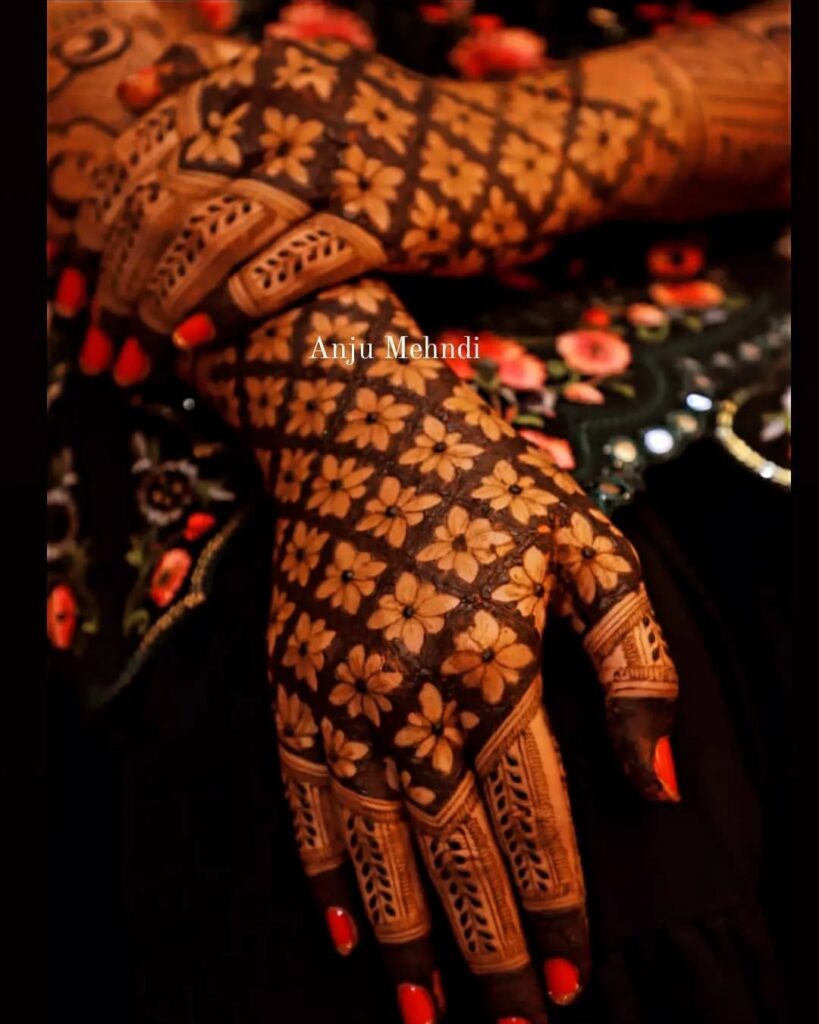 Courtesy: Anju Hingna
~ Some henna artists really take time to do the fillings and also have an innate art for the designs. Just like this one. Incorporating lotus motifs and a statement peacock sketch in the middle, the artist personalized the pattern by writing the groom's name on the back. You can get the same design on the other hand and make the peacock turn in the other direction for an aesthetic complementary look.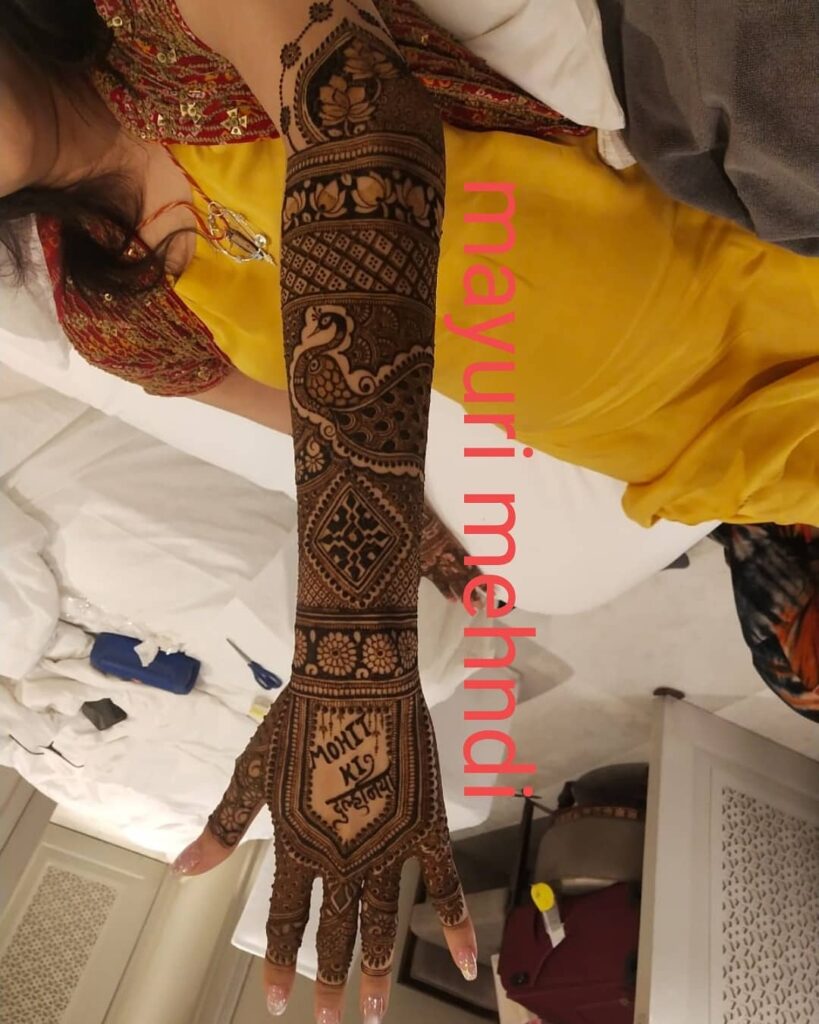 Courtesy: Mayuri Mehendi Artist
~ This design is the pure definition of pure elegance. As we said, a jaal mehndi design is taking over the bridal back hand mehndi designs. How this artist differentiated the pattern from others is by using the elephant motifs on the sides. Elephants are considered to be very auspicious in India and embody strength, protection, wisdom, and good luck. It's a great way to invite positive energies into your wedding day.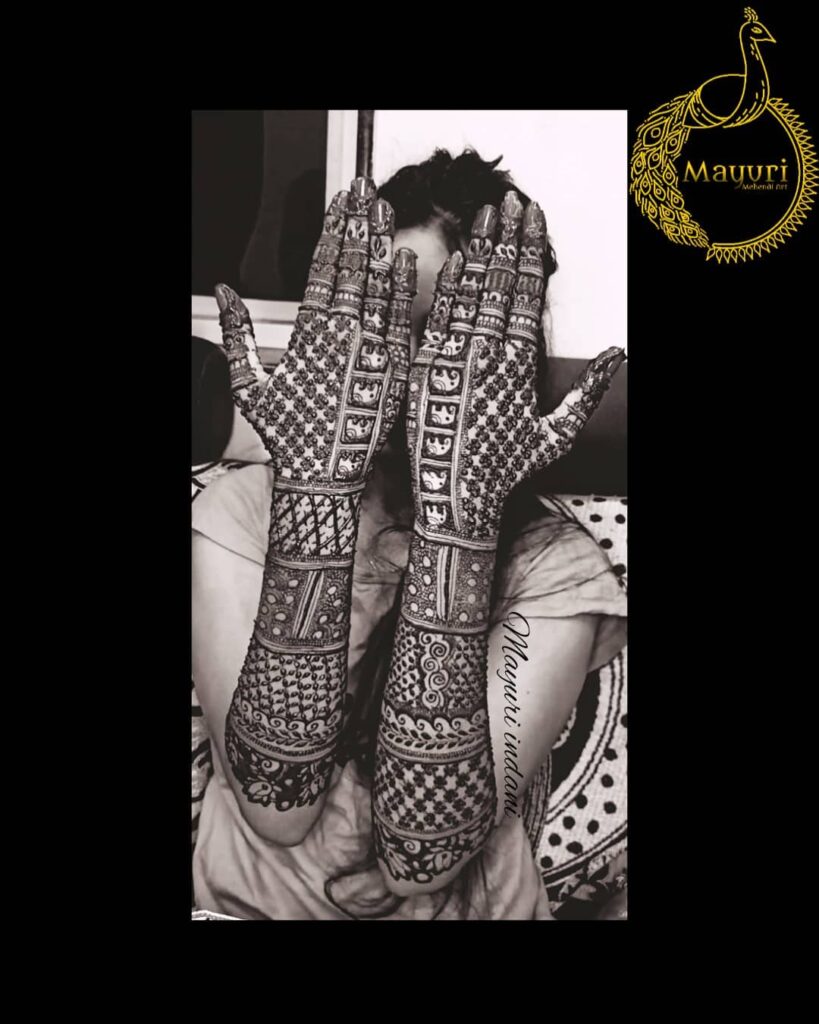 Courtesy: Mayuri Indani Mehndi Art
~ For the minimalist brides who're looking for a lovely yet simple pattern for their D-Day, then look no further than this gorgeous bridal back hand henna pattern. Done integrating the classic mandala motif with a modish twist of lotus and 3-D spaces, this design is aesthetic, beautiful, and just perfect for a bride's special day.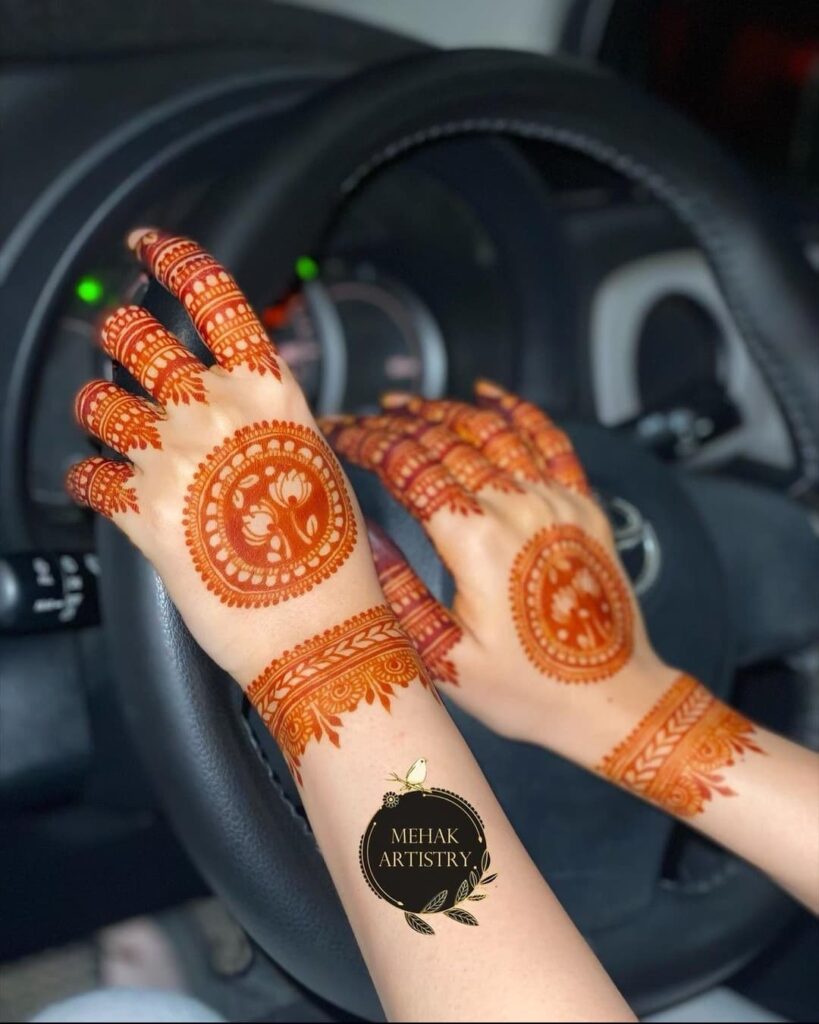 Courtesy: Henna by Mehak Nasir
~ For brides who want to opt for a bharwa mehndi design, but still want empty spaces in their henna, here's a back hand mehndi design ideal for you! Incorporating geometrical patterns, the classic lotus motifs, leaves, and concentric circles in a traditional choodi design, we're swooning over this appealing design, and we're sure, so are you!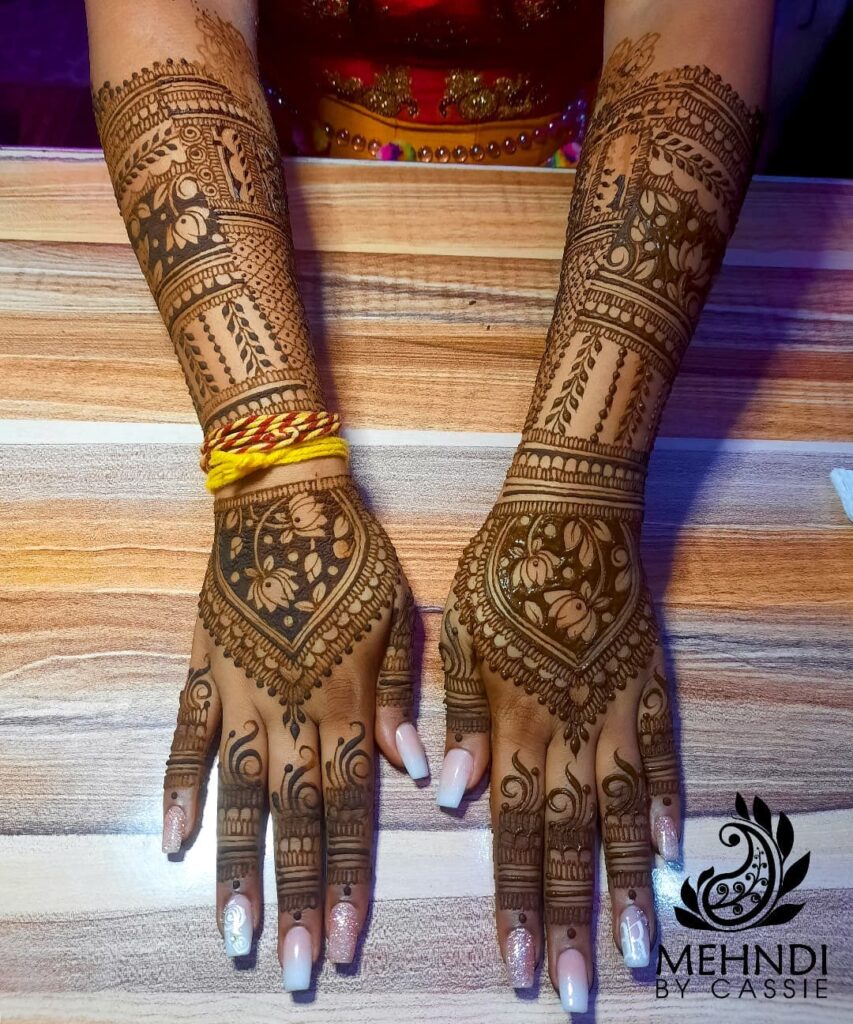 Courtesy: Mehndi by Cassie
~ These two consecutive back hand mehndi designs are ideal for brides wanting some empty spaces in their henna while desiring the henna to stretch till their wrist. This one, however, is a little artistic than the last one and has a swirly framework hard to find in the majority of mehendi designs.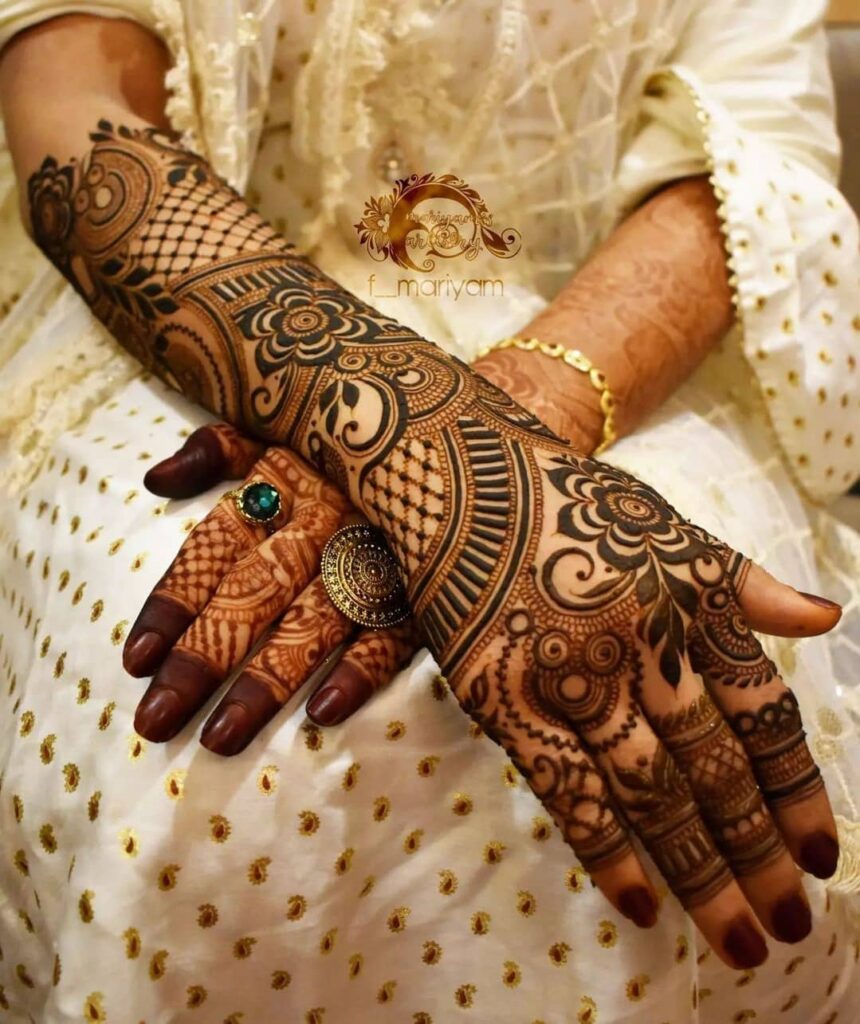 Courtesy: Mariyam's Artistry
~ Trust us, the henna looks appealing when wet, but it would look spectacular in your bridal snaps and even better in the pictures. You won't regret for a second getting this henna. Just ensure that you have a skillful mehendi artist on board to recreate this though. It's important that the lotus motifs are all of the same sizes and distanced skilfully. It's also important that the filling is done with utmost intricacy. Once these two are done, just for the henna to stain and enjoy the beauty of this pattern.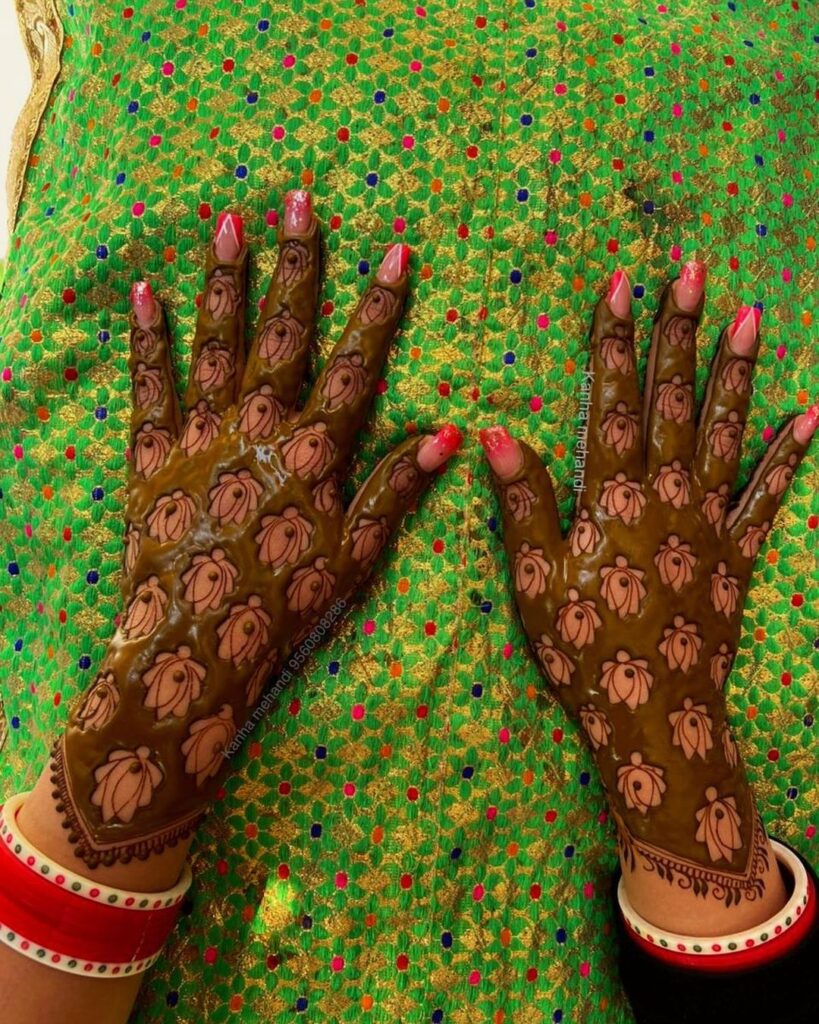 Courtesy: Kanha Mehandi Art
~ The 3-D lotus motifs on the sides and the jaal pattern on one side is popular backhand henna design for brides at the moment. The best part is any good henna designer can curate this pattern for you. So, if you have got your heart stuck on the pattern, then don't sway away from taking full inspiration from this design.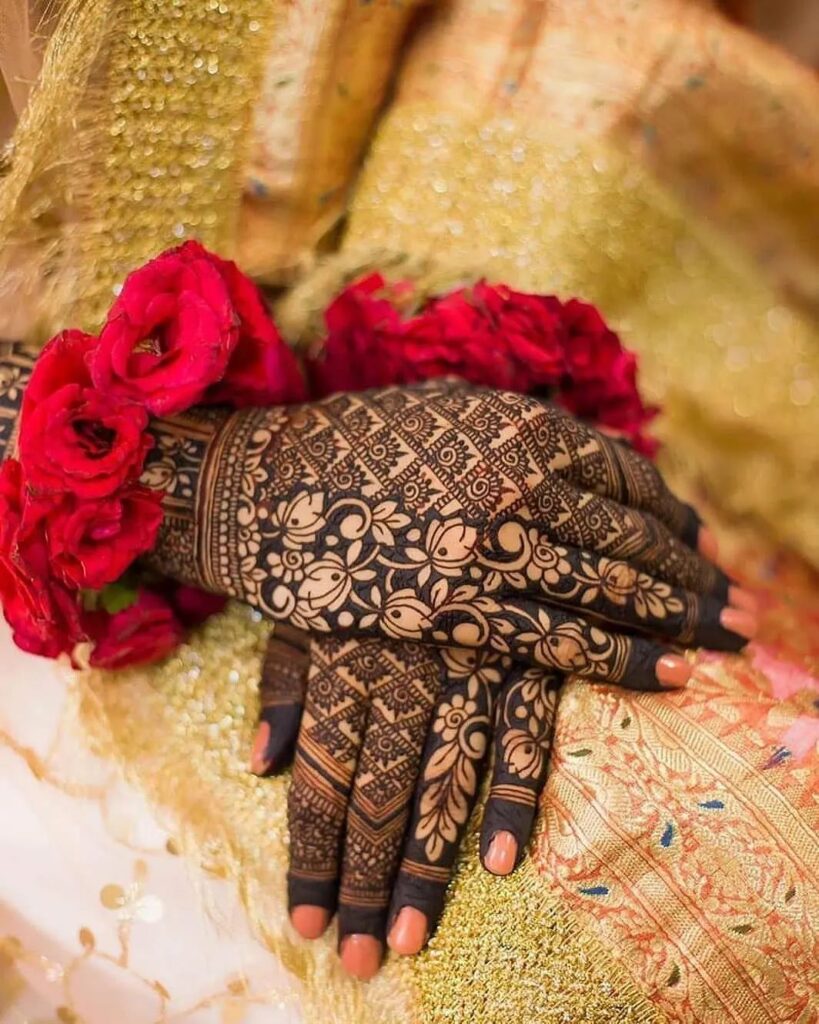 Courtesy: Henna by Ridma
~ Flowers, bells, concentric circles, lines, and leaves are all incorporated into this whimsical henna art.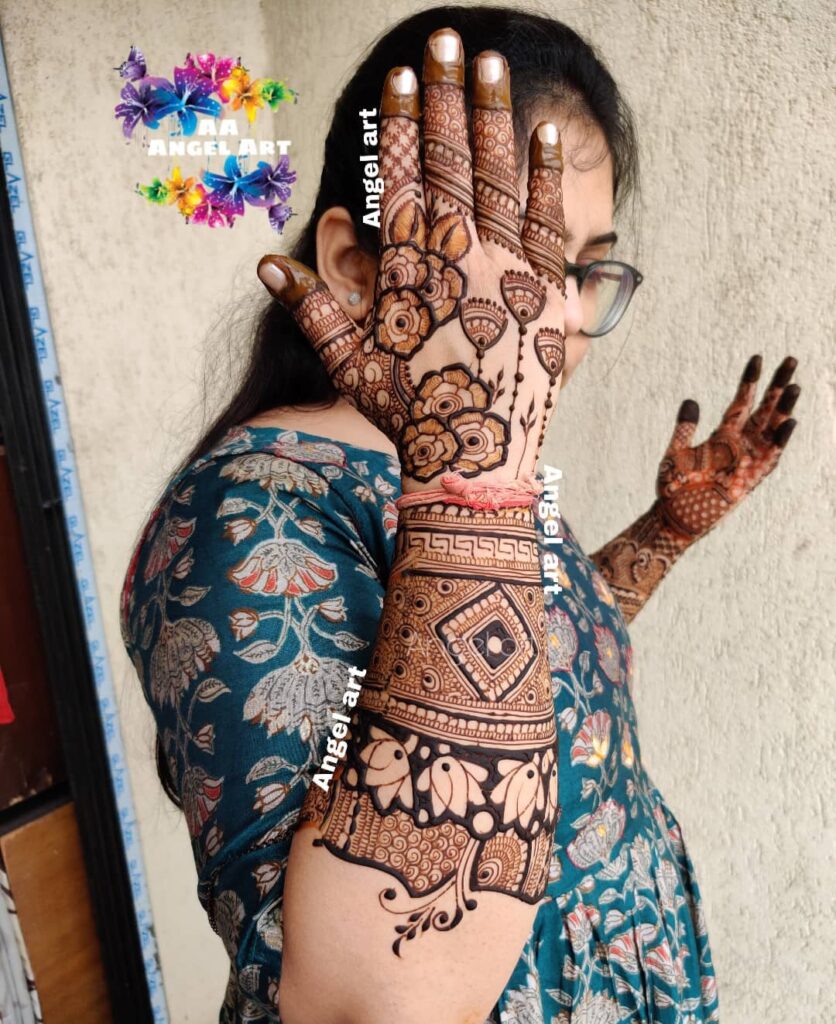 Courtesy: Anjali Agrawal
Stylish Back Hand Mehndi Designs
~ There's just something about stained mehendi designs. They catch your attention instantly. No wonders women spend so much effort in darkening their henna. The real allure of the design comes out when it's stained. Just like in our next henna art. The design covers the upper part of the hand, including the entire fingers, and the wrist while leaving the middle, making it the perfect pick for minimalistic brides & bridesmaids.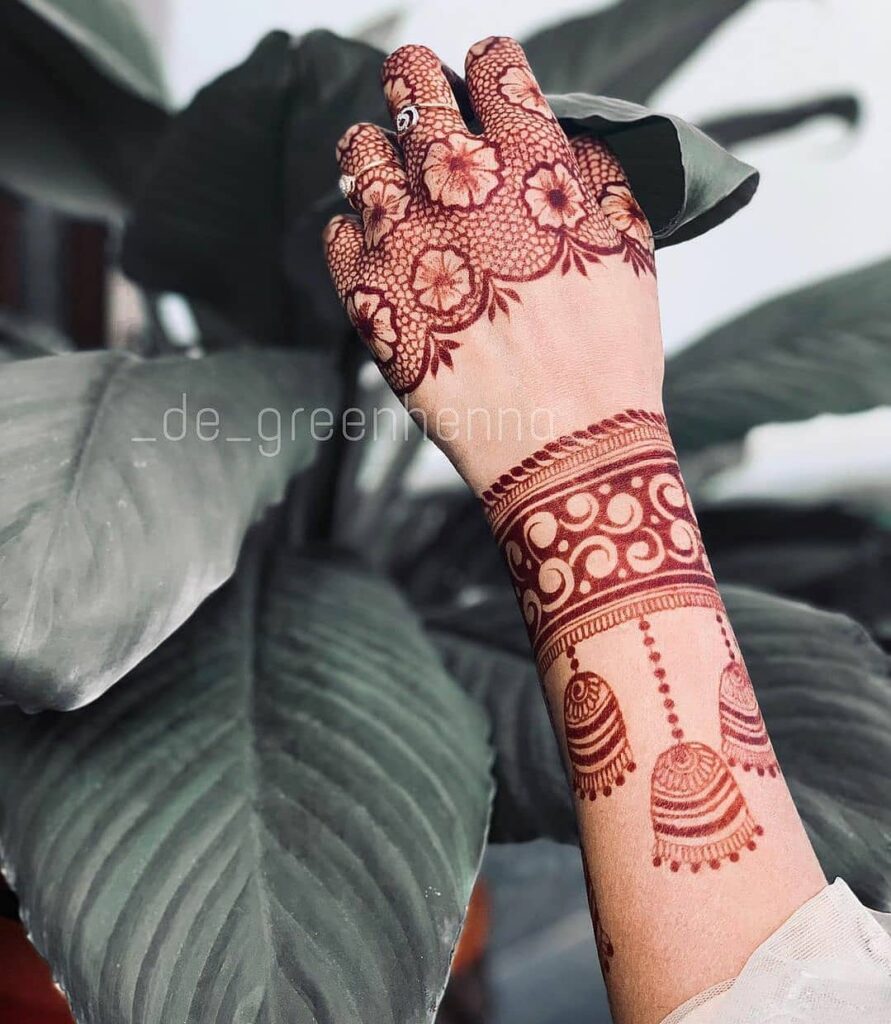 Courtesy: Risha Shukoor
~ Instead of the jaal designs, stylish back hand mehndi designs can comprise of drop lotus flowers like this one. It's a different pattern and framework to woo everyone from brides to bridesmaids and wedding guests.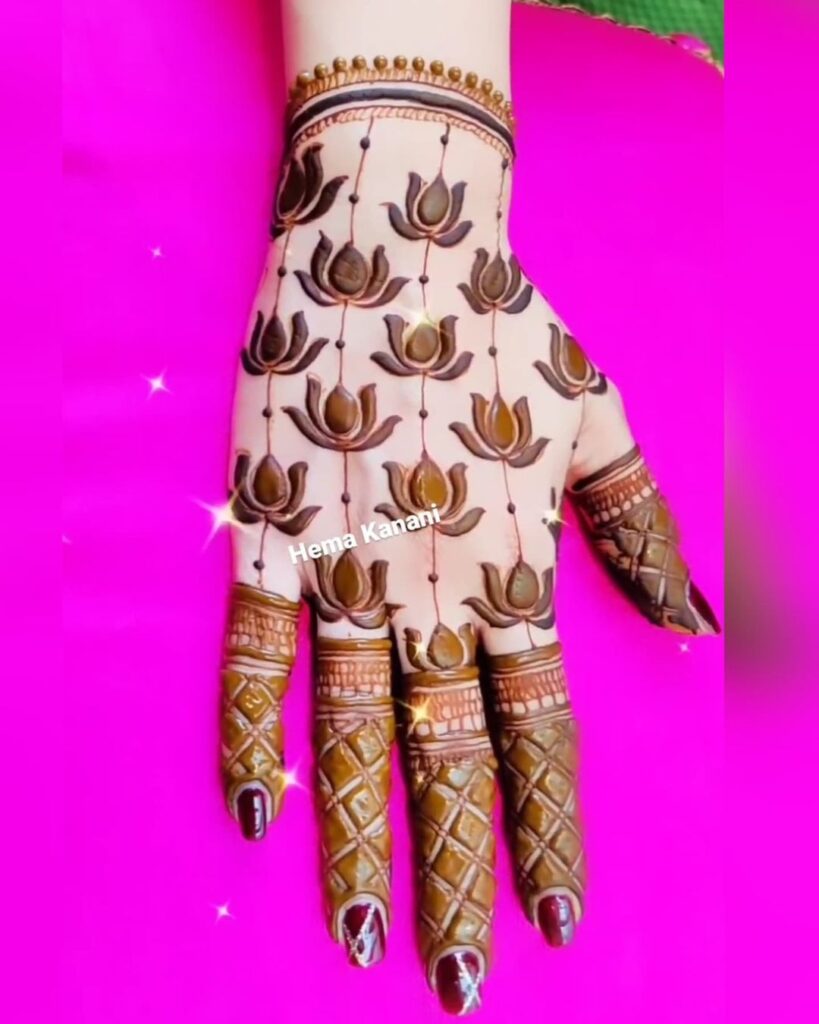 Courtesy: Hema Kanani
~ This henna pattern also utilizes the drop floral pattern like the one featured above and incorporates both jaali and 3-D patterns for a differentiating touch. The gorgeously done nails make the aesthetic a lot better. And we'd recommend adding good nail art to your henna for an ethereal touch.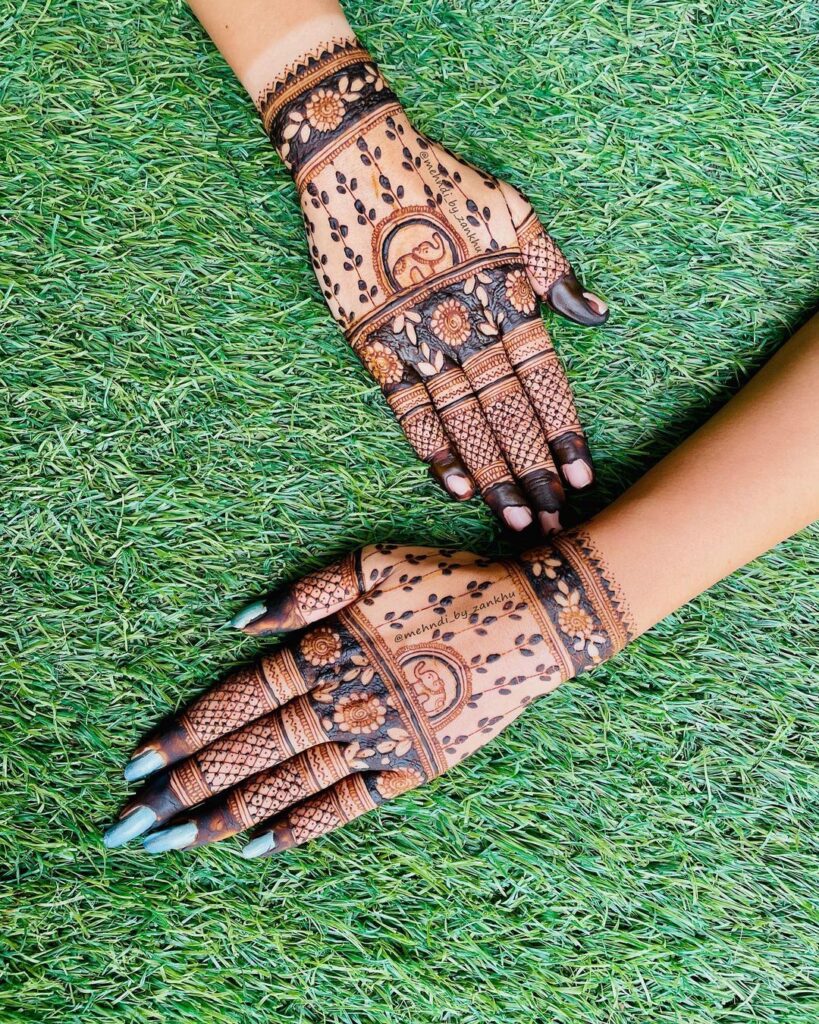 Courtesy: Mehndi by Zankhu
~ If you're keen on covering the entire back hand with henna designs but still want it to look stylish, you'll be impressed by the next design on the list. The neat florals at the start of the nail bed and two other prominent ones elevate the look of the garland style. Extend it by adding some swirly choodi mehendi pattern or a trending Arabic henna pattern.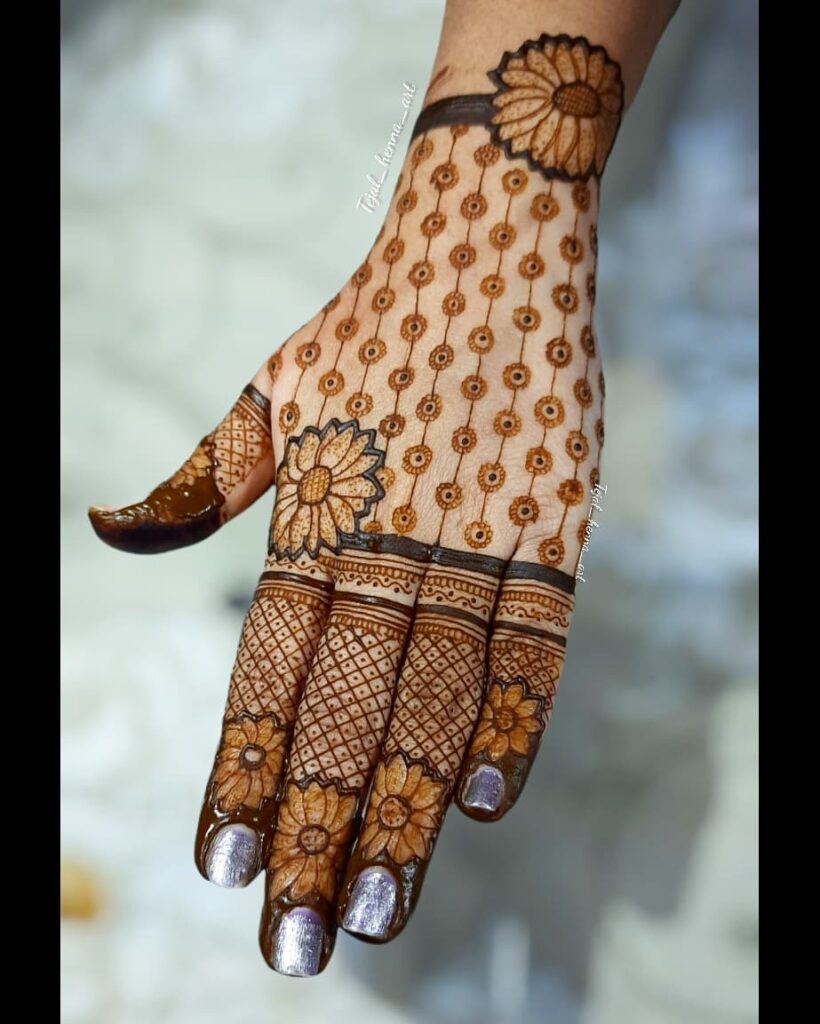 Courtesy: Tejal Henna Art
~ Complementary back hand mehndi designs don't have to always match. They can have different designs and still look in perfect harmony with each other. Here the artist draws 3-D floral motifs on the sides while playing with jaali patterns and concentric lines for a supplementary henna pattern.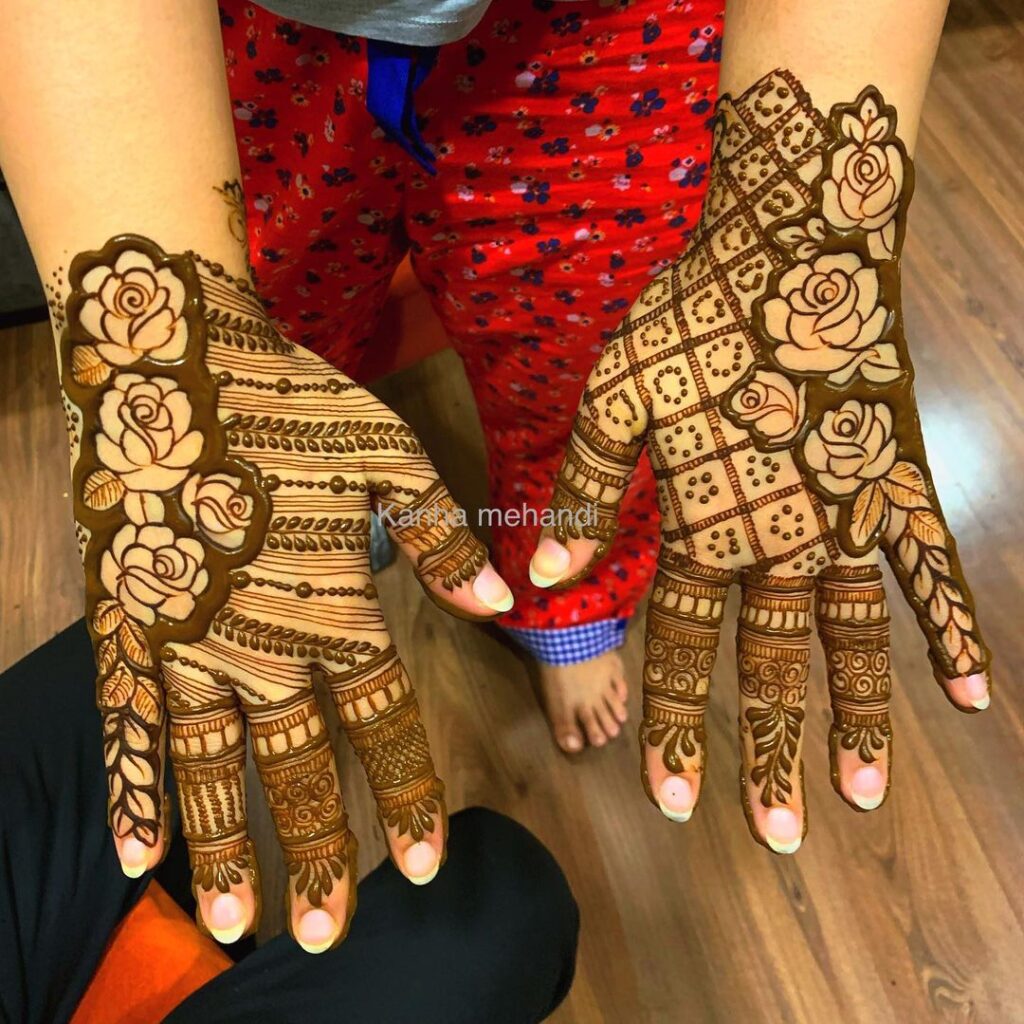 Courtesy: Kanha Mehandi Art
~ If you're looking for a bharwa yet stylish back hand mehndi design, here's one for you. There's literally every trending element in this mehndi. From flowers, jaali patterns, to concentric circles, leaves, and lines, all merged to curate an artistic design.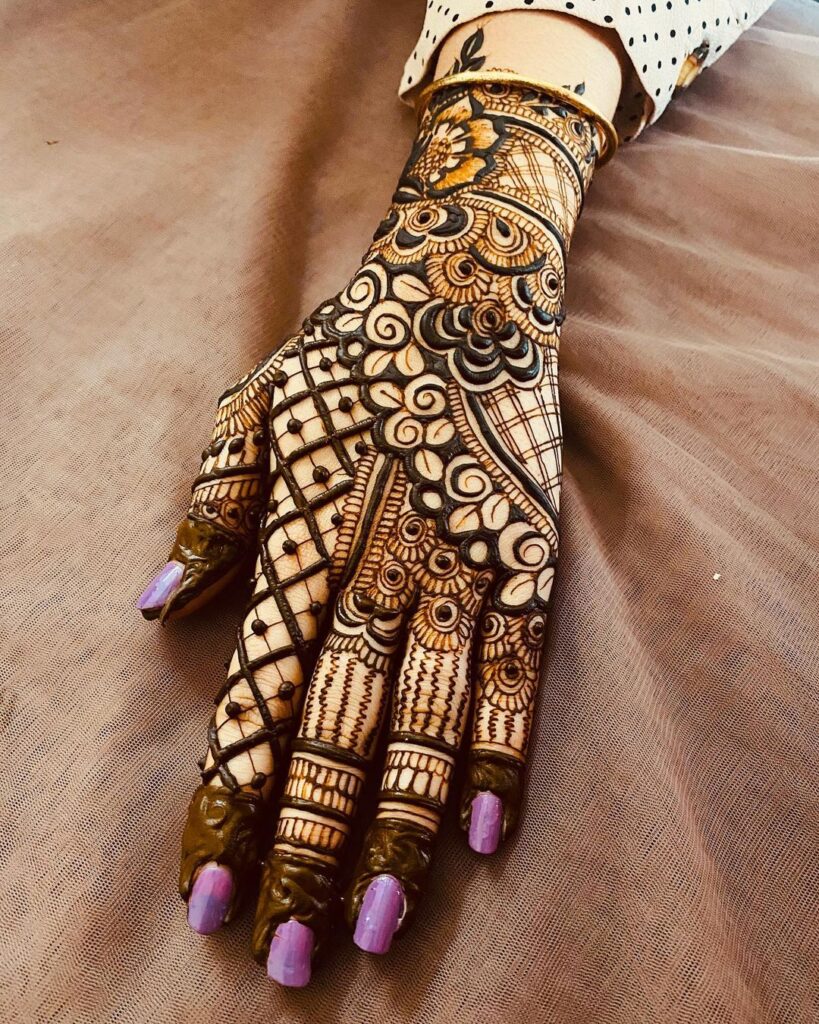 Courtesy: @henna_soul_by_sn
~ With a line of lotus motif in the middle and jaali pattern on the side, this back hand mehndi is stylish and appealing at the same time. Also, simple for experienced henna artists and won't take much of your time to finish.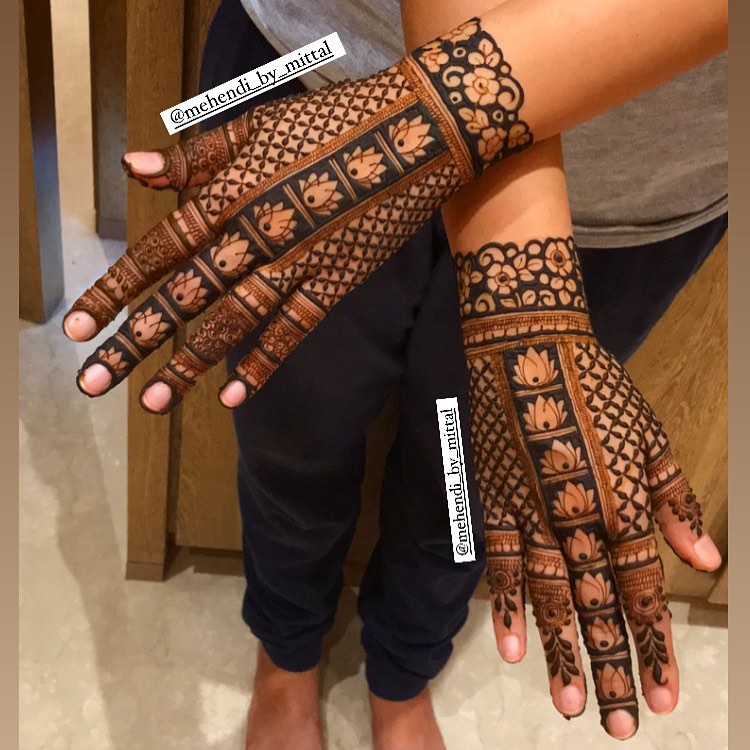 Courtesy: Mittal Bhanushali
~ There are so many versions of the usual net pattern henna design that you literally can't get bored of them. Their appeal has certainly impressed women of all styles and ages. Find another trending and new version in the henna featured below and save it for inspiration.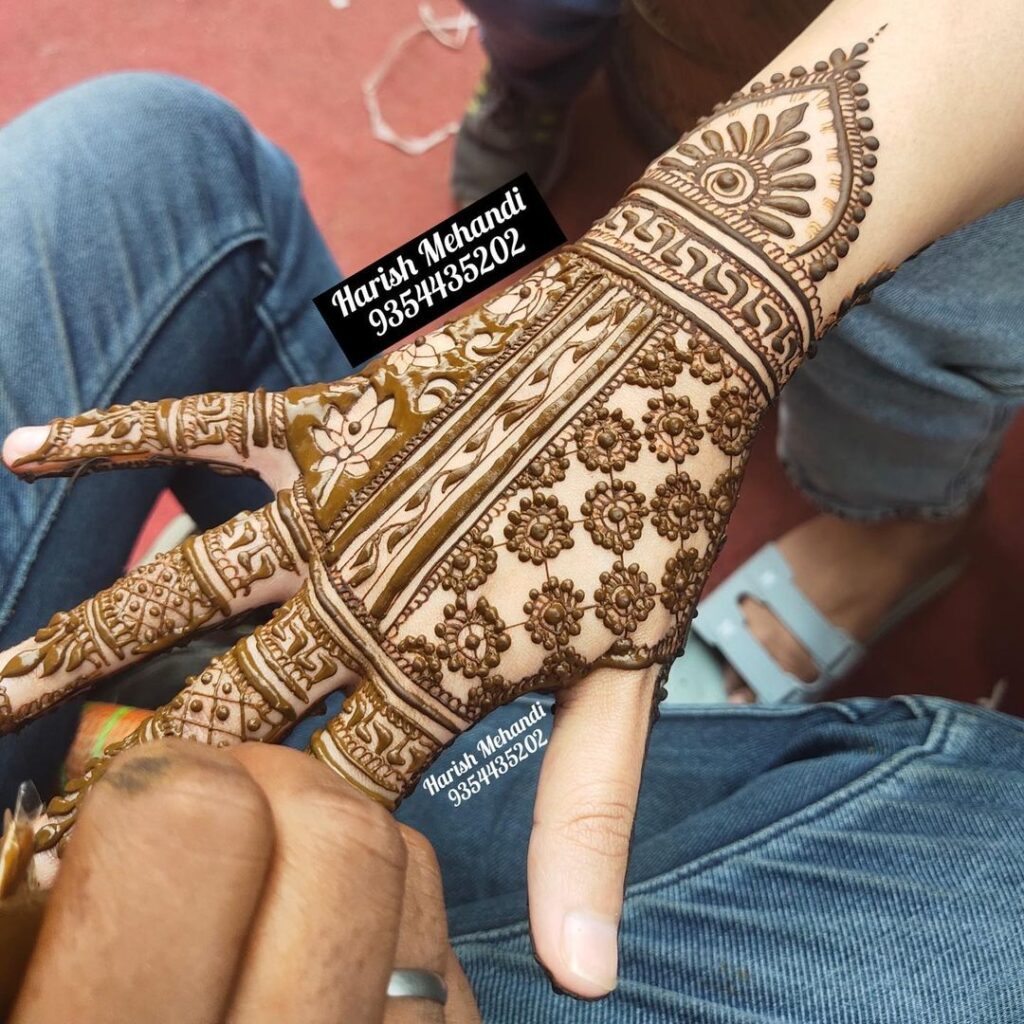 Courtesy: Harish Mehandi Artist
~ A stylish back hand mehndi design that you can even DIY when you've got no time to hire a mehndi artist. The flower on the bottom just elevates the entire allure of the design. 
Courtesy: Mehendi Art by Bushra
~ Our usual mandala back hand mehndi designs with a twist. The patterns are a playful melange of many elements, but particularly lotus motifs. Lotuses are considered quite auspicious in many religions and is a symbol of good luck, inner peace, good energy, and truth. It's no wonder that incorporating this element will send good wishes on the new path you're embarking on.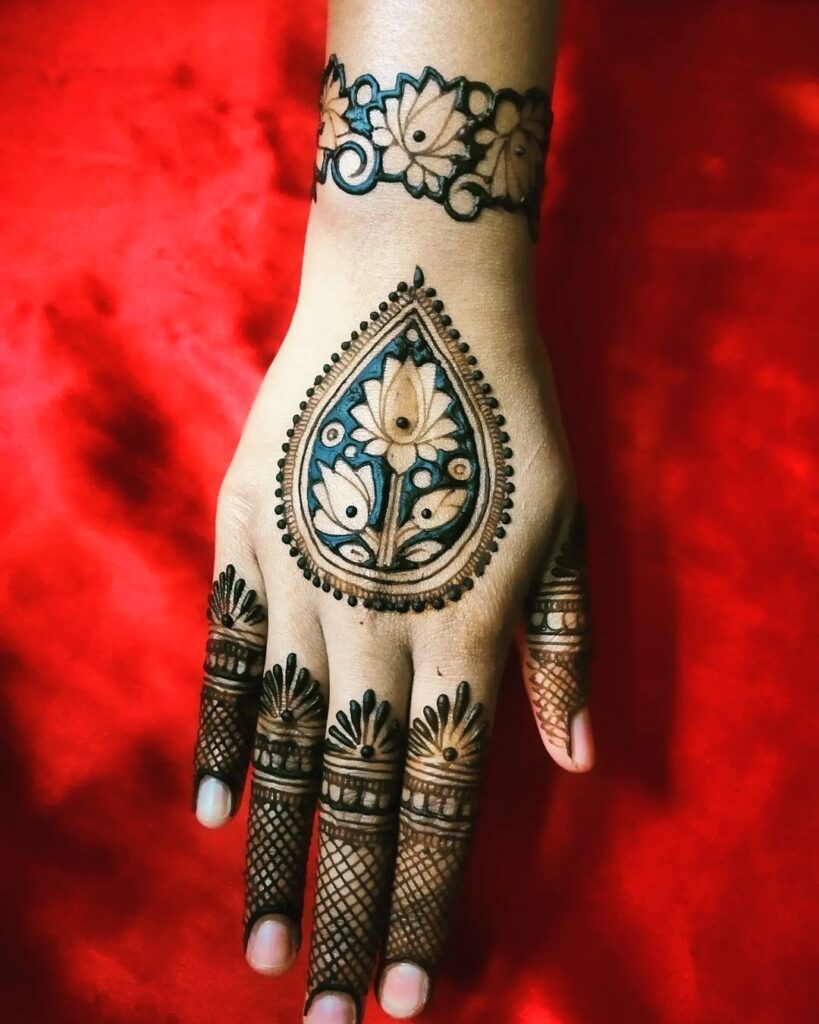 Courtesy: Sarika Mehendi
~ If you're the spiritual kind and have been impressed by the symbolism of lotuses described above, here's a henna design to woo you. The 3-D lotus patterns are flawlessly done and without a doubt, you'd need an expert if you want to re-create this.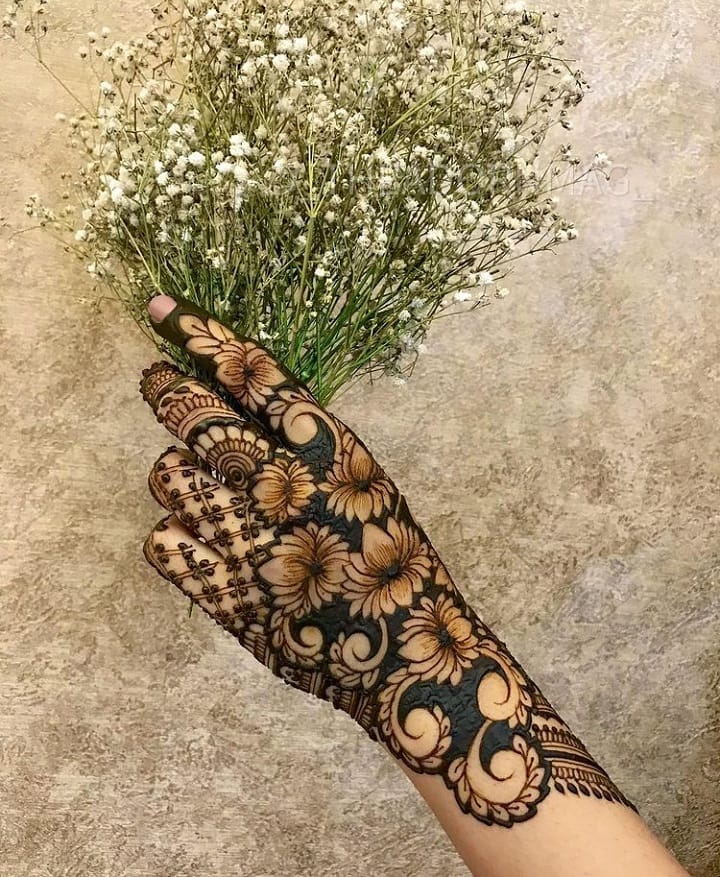 Courtesy: Unknown
~ For the minimalistic brides, this one is for you!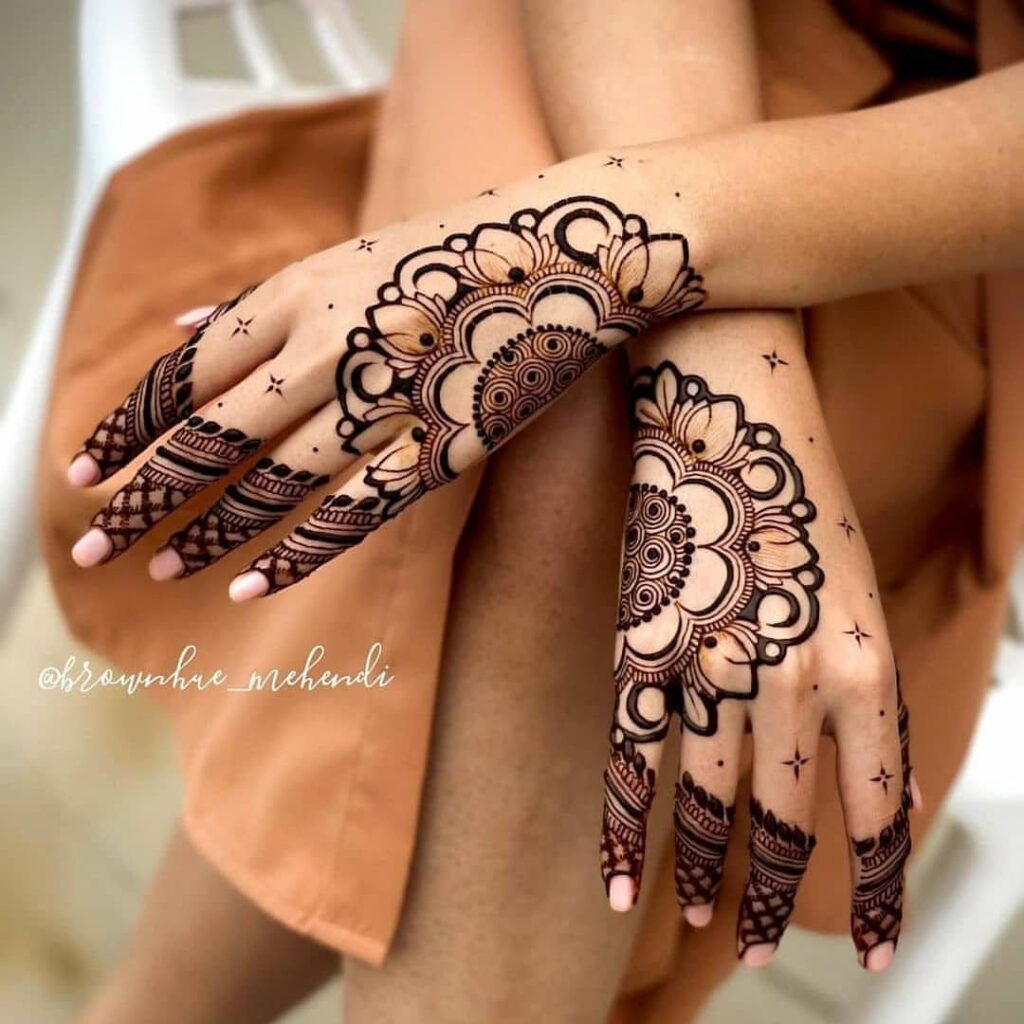 Courtesy: Mishma Kamal
Arabic Back Hand Mehndi Designs
~ An easy back hand mehendi design for when you've no time. All you need to ensure is to make those florals around the swirly line in equal dimensions. Rest, the gorgeous design will take care of itself.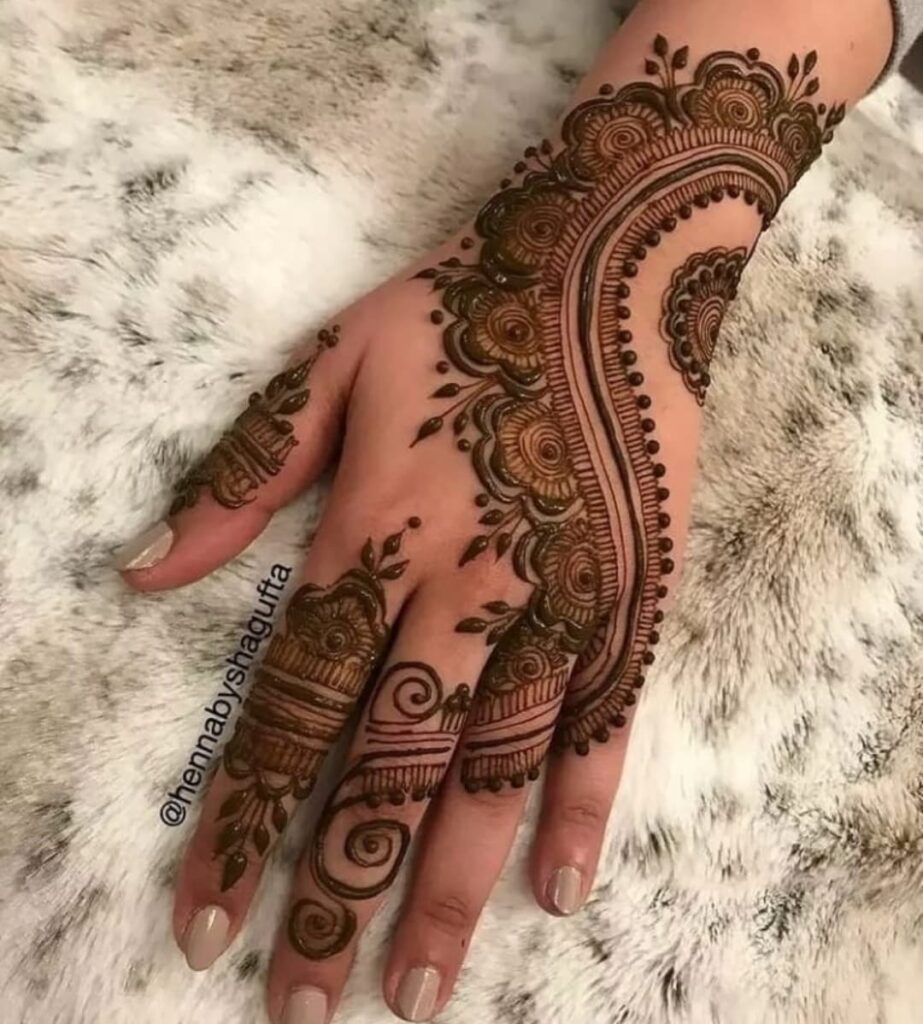 Courtesy: Shagufta
~ Florals have been used in mehendi design for as long as anyone can remember. Their ethereal charm sure adds a touch of charm in any part of wedding element, from decor to attire to your mehendi. Here's one of the Arabic back hand mehndi designs that take full use of this floral charm.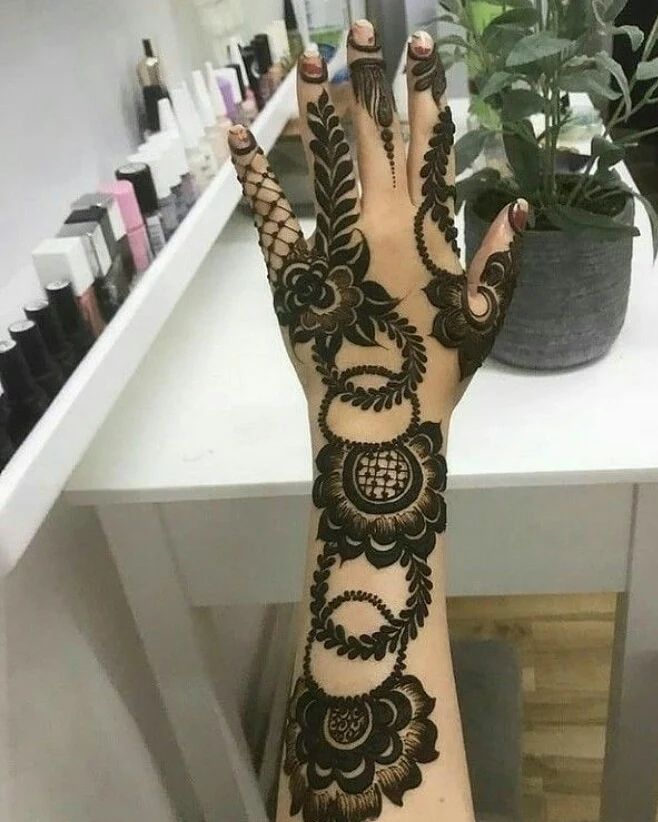 Courtesy: Unknown
~ Another design centered around blooming florals combined alongside leaves and jhumka elements for a captivating result.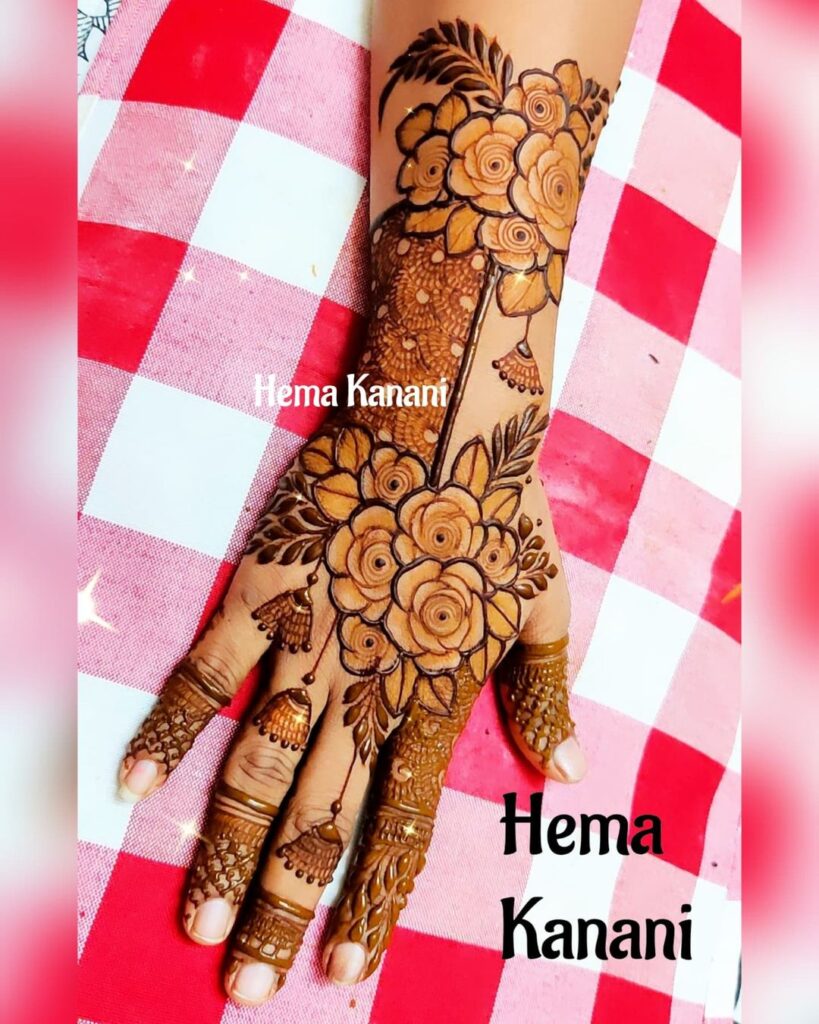 Courtesy: Hema Kanani
~ For brides or even sisters of the bride/ groom who're looking for a spacious full hand mehndi pattern, look no further than this trending bold strokes henna pattern. The best part about back hand mehndi designs is how they can look good no matter how you combine the elements. Of course, a creative henna artist is required to get the desired result.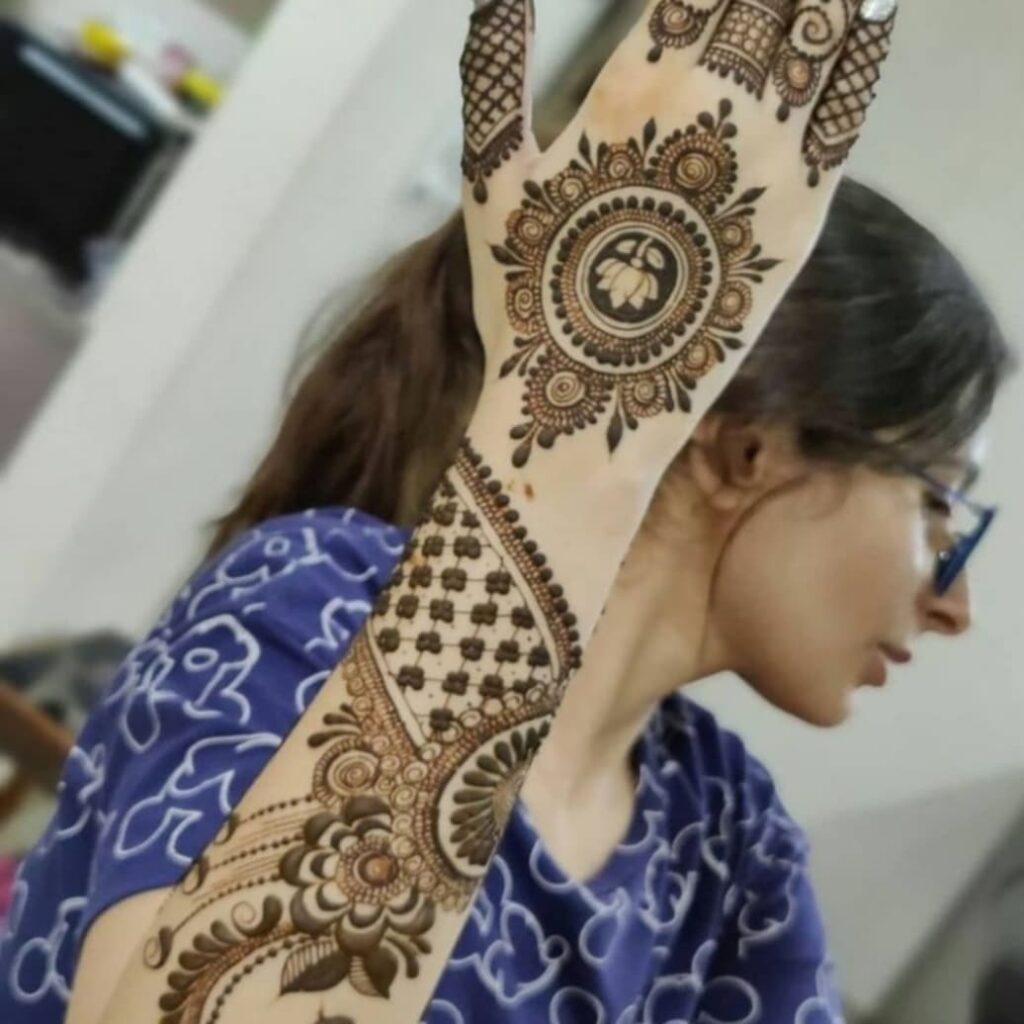 Courtesy: RB Chennai Mehandi Artist
~ A bel pattern that covers only one side of the hand and employs florals and paisleys as the center element is the classic definition of an arabic mehendi pattern. We adore the small leaves drawn on each finger to subtly complete the design.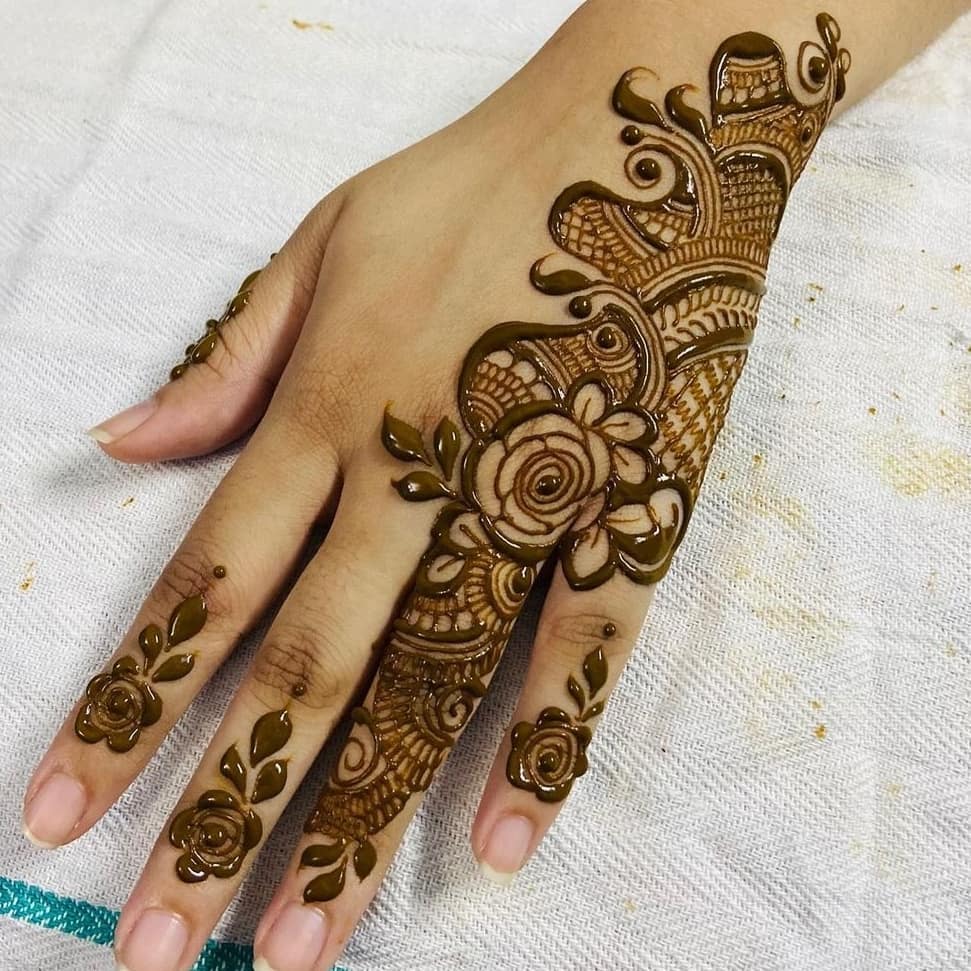 Courtesy: Shahariar's Mehendi
~ With bold outline and thin filling, this back hand henna uses the classic way to create a strong framework for an alluring design. The gorgeous paisleys represent fertility, luck, and happiness, so include them in your mehndi design with open heart.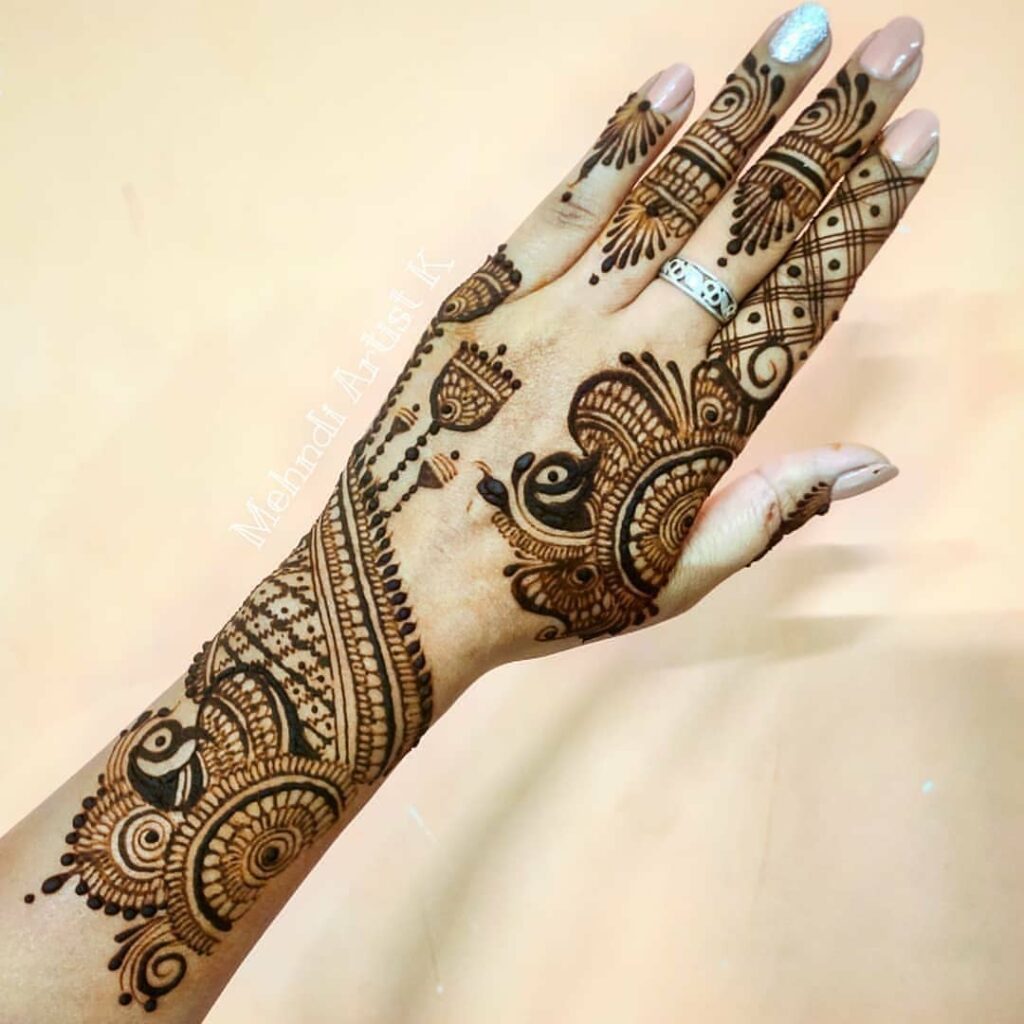 Courtesy: Unknown
~ The jhumkas are really taking over the mehendi designs these days. And as with everything, the creative henna artists have infused their artistic style in them as well. Here's a jhumka-inspired back hand mehndi design if you're crushing on this new element.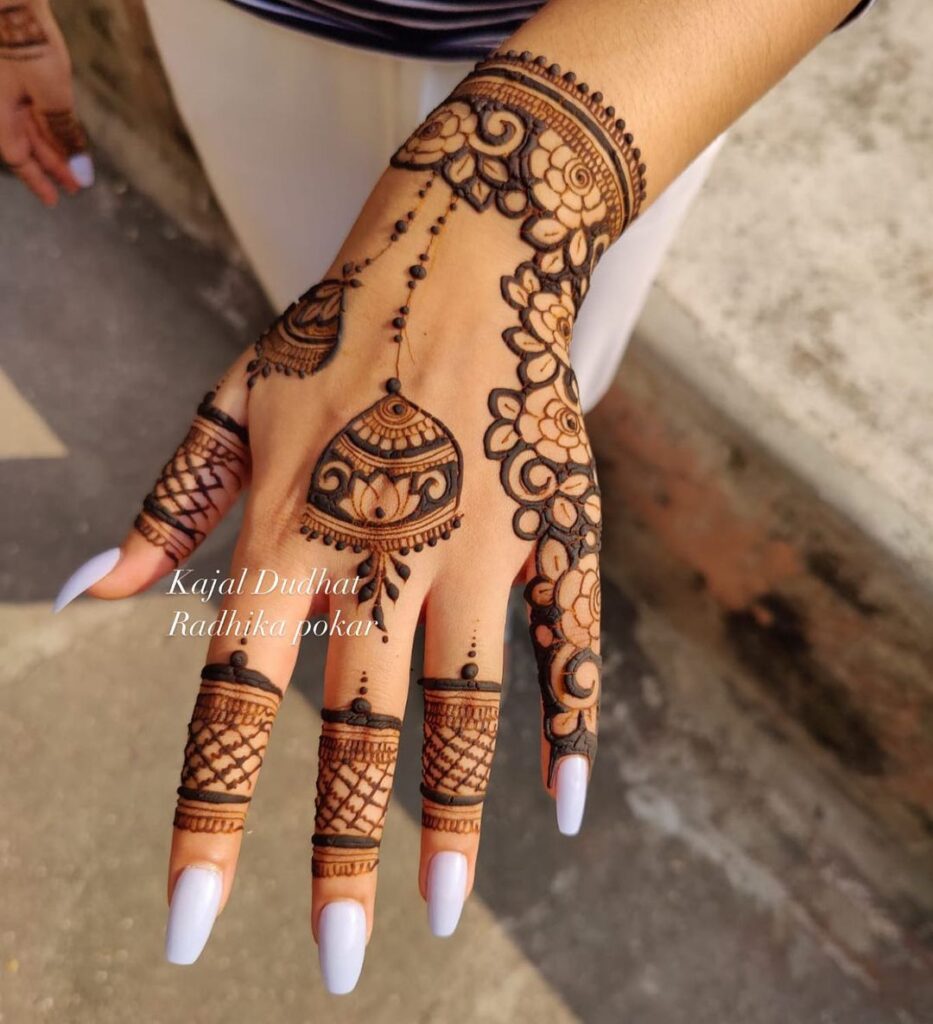 Courtesy: Kajal Dudhat
~ An arabic back hand mehndi design is no more a boring feat. There are so many variations of these usual paisleys, floral, and foliage elements that you're drawn towards them again & again. Find below an alluring one for your next event.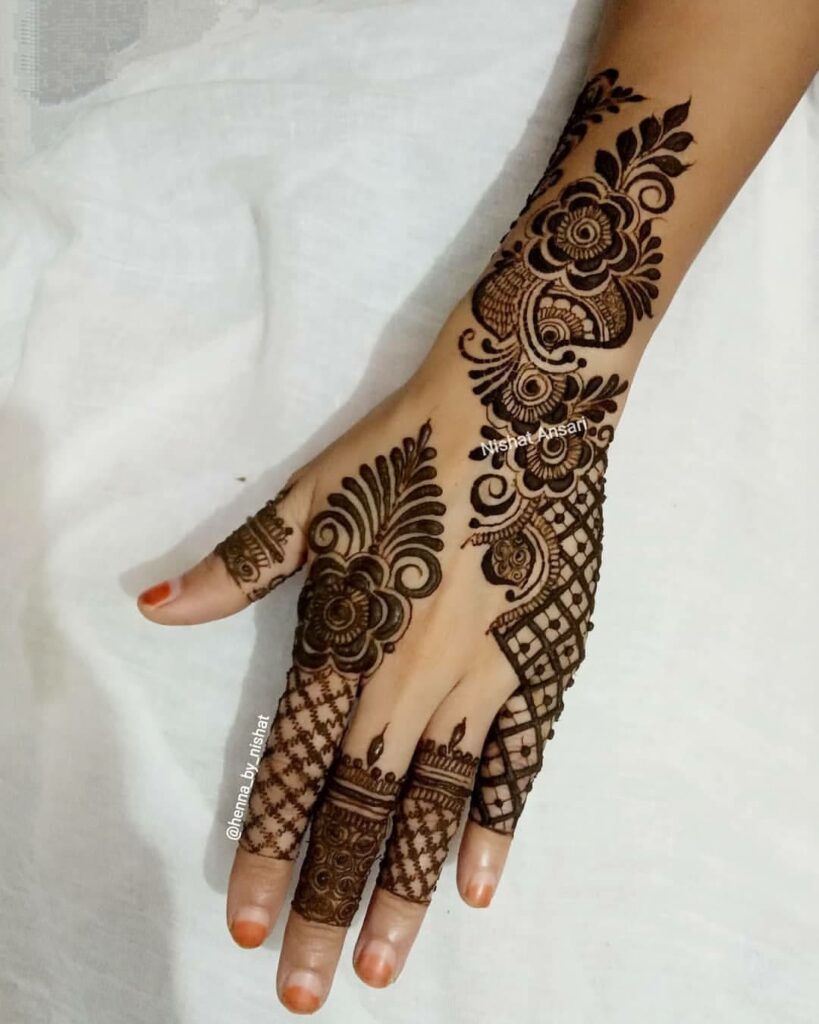 Courtesy: Henna by Nishat
~ Getting the same mirror backhand henna is yet another way to make your mehendi aesthetic. Find here a gorgeously complimenting mehendi pattern, which will look as good in real life as in the pictures.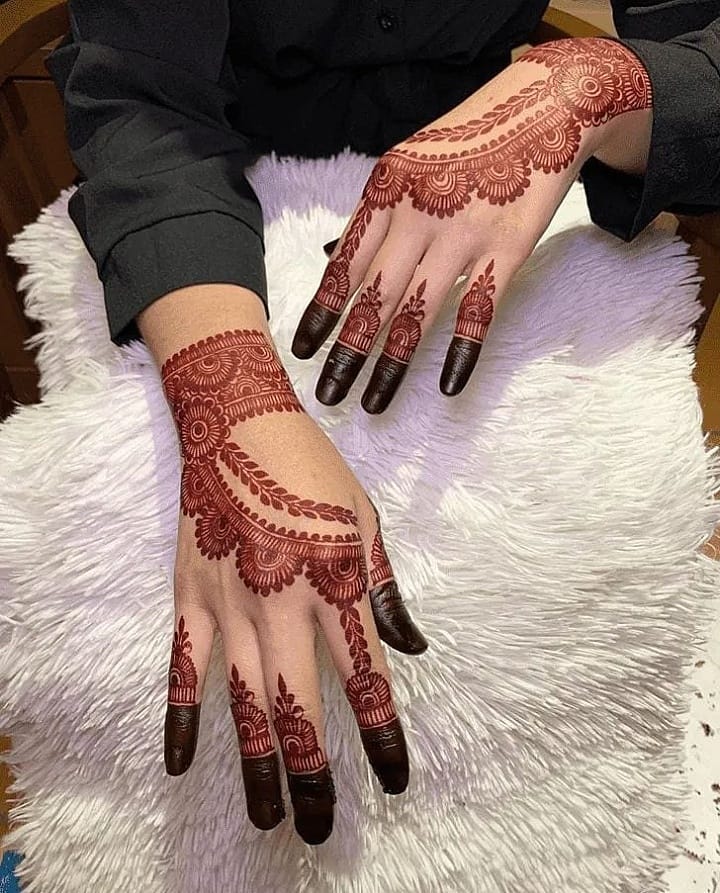 Courtesy: Unknown
~ Flowers represent joy, happiness, and a spiritual type of beauty. Leaves are symbolic of devotion and vitality. No wonder they've been used intensively in Indian wedding celebrations. Incorporate them in your henna for aesthetic as well as symbolic feels.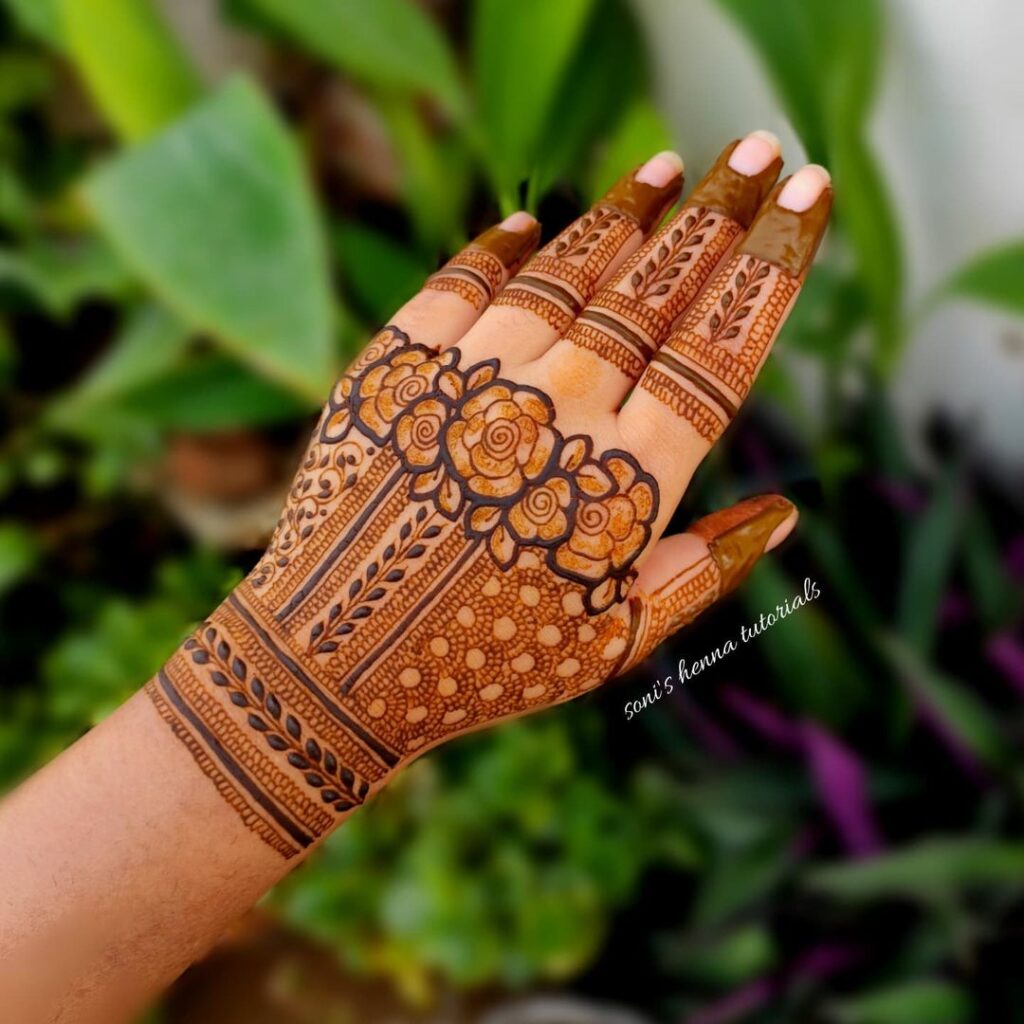 Courtesy: Soni Khan
~ This is an absolutely pin-worthy design. No doubts here.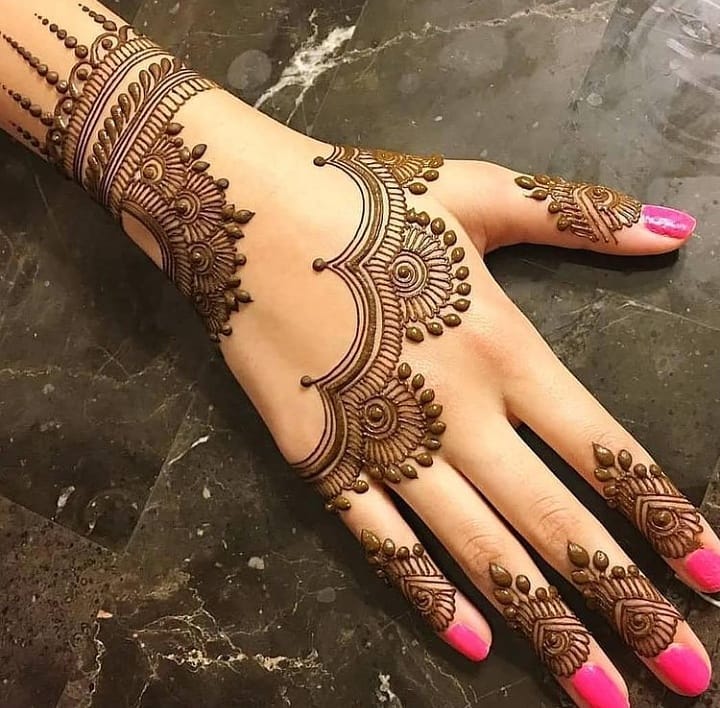 Courtesy: Brooklyn Henna
~ Just a beautiful jaal pattern done on one side and accentuated with florals. While the fully covered net mehndi is practically everywhere, this half-hand mehndi sure adds feminity and remarkability to the trend.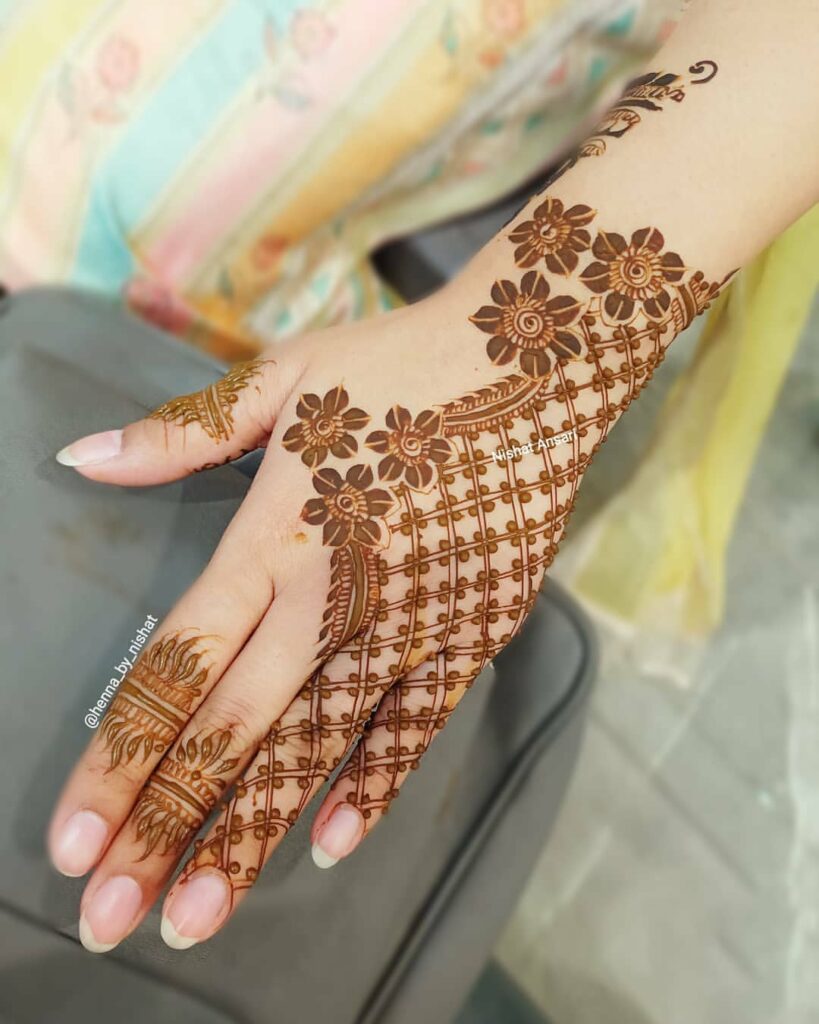 Courtesy: Henna by Nishat
~ The swirly line bedecked with henna elements is a unique pattern to try and as you can see, the results are captivating. Surely, the best way to amp up your back hand mehndi designs is to pair them with magnificent nail art. Just like what's done here.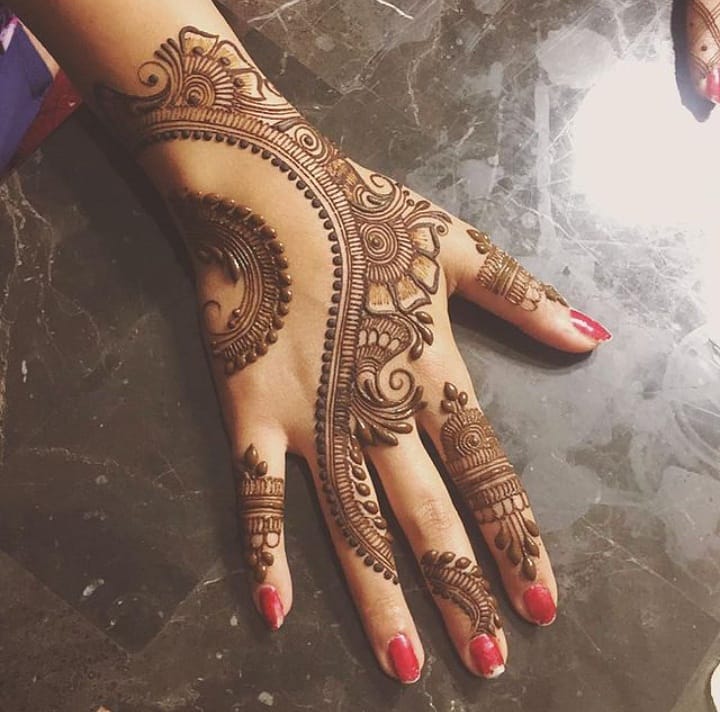 Courtesy: Brooklyn Henna
~ This spacious jaal mehndi design looks easy, but the florals are a work of art. Take inspiration, but only trust an experienced individual to draw it for you. Rest assured, it will look absolutely gorgeous in real life, and in pictures.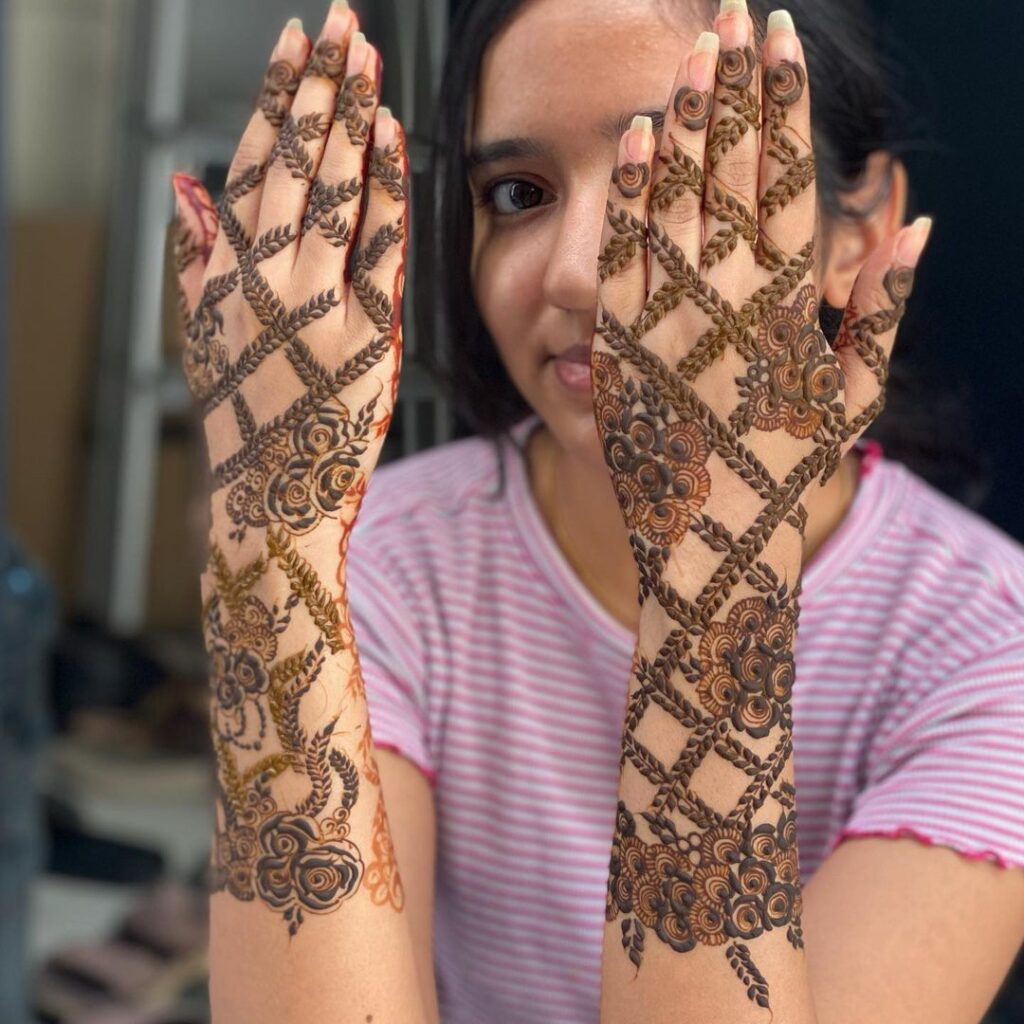 Courtesy: Mehendi by Heena Nivi
~ An easy back hand Arabic mehendi pattern which you can easily re-create at home. Save it for all the times when you need to etch henna but haven't got time to DIY or hire a mehendi artist.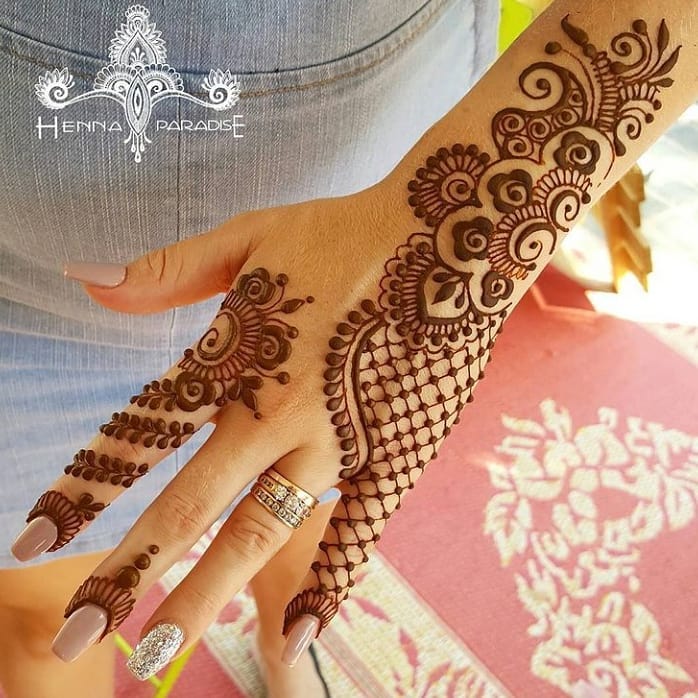 Courtesy: Henna Paradise
~ This mehndi design is basic, but the florals on either sides require an experienced henna artist. So, we'd recommend to recreate this only with their help. You can definitely stretch it further by drawing another stack of foliage on the wrist.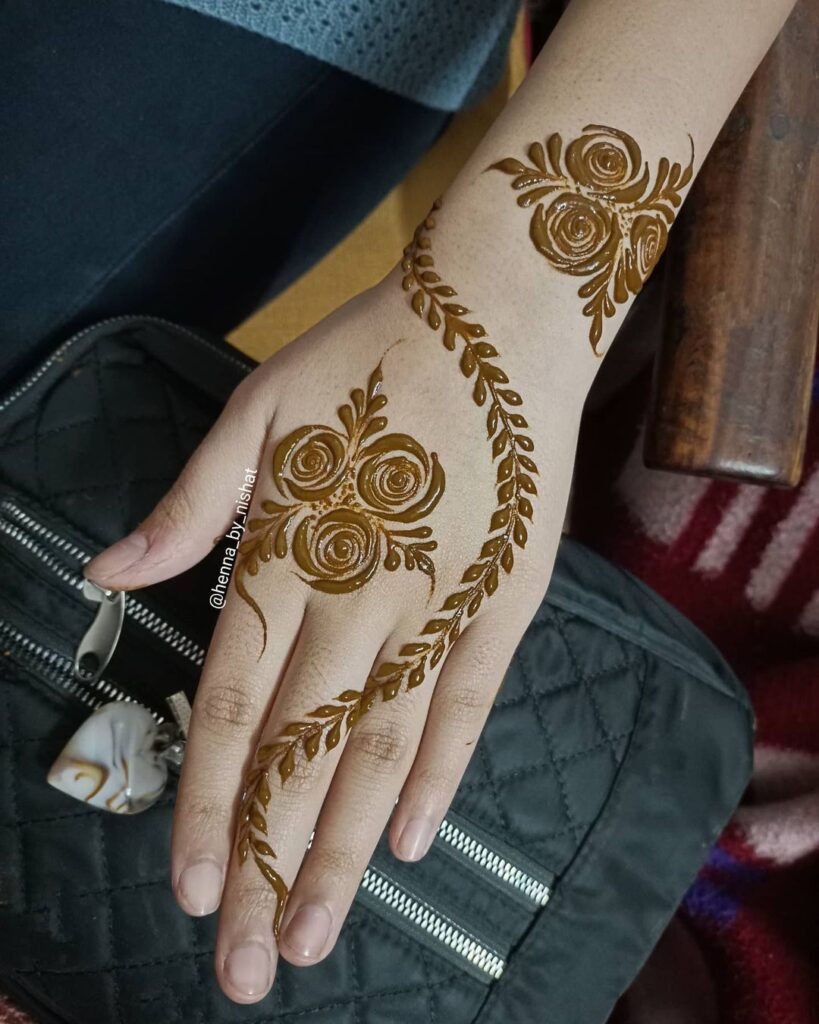 Courtesy: Henna by Nishat
~ With one semi-circle on either side and bold strokes, this mehndi design is great for beginners and perfect for times when you want a minimalistically gorgeous henna.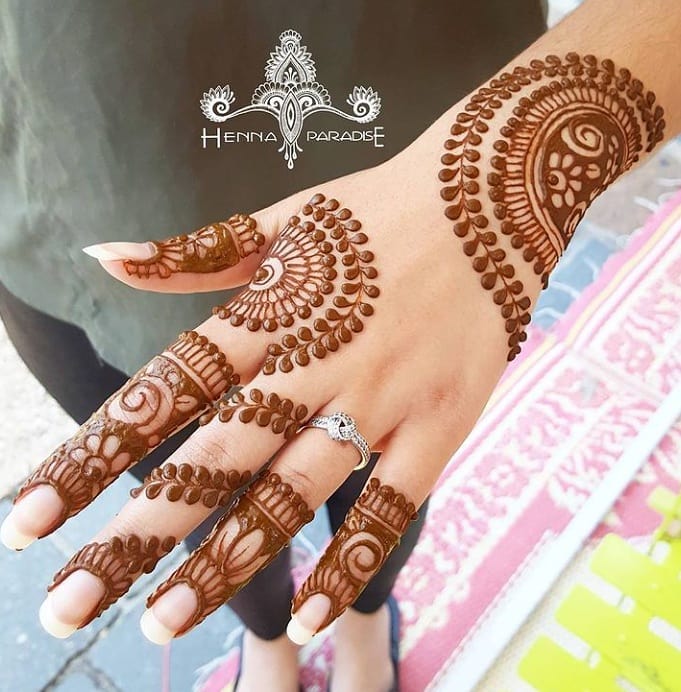 Courtesy: Henna Paradise
Modern Back Hand Mehndi Design
#56 Charm of Florals 
A floral back hand mehndi design is a tapestry of nature's beauty on your skin. Intricately crafted blossoms and vines intertwine, creating a garden of elegance and tradition. This art form celebrates the eternal charm of flowers, symbolizing love, beauty, and the fleeting moments of life's exquisite bloom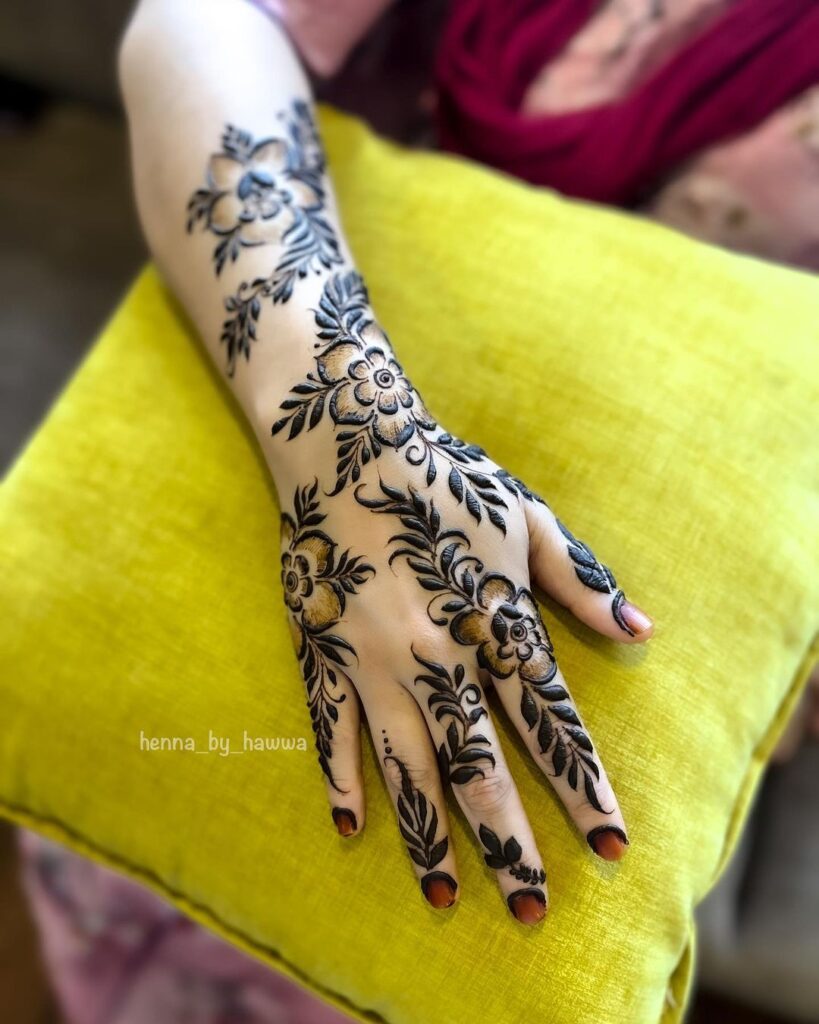 #57 The Striking Play Of Bold & Think Strokes 
This full back hand mehndi design is just perfect for the brides and takes a break from figures and yet creates a dazzling design. Even though figures are trending, including them automatically makes the henna expensive. Opting for an exquisite pattern like this will save you both time and money on the bridal mehndi design.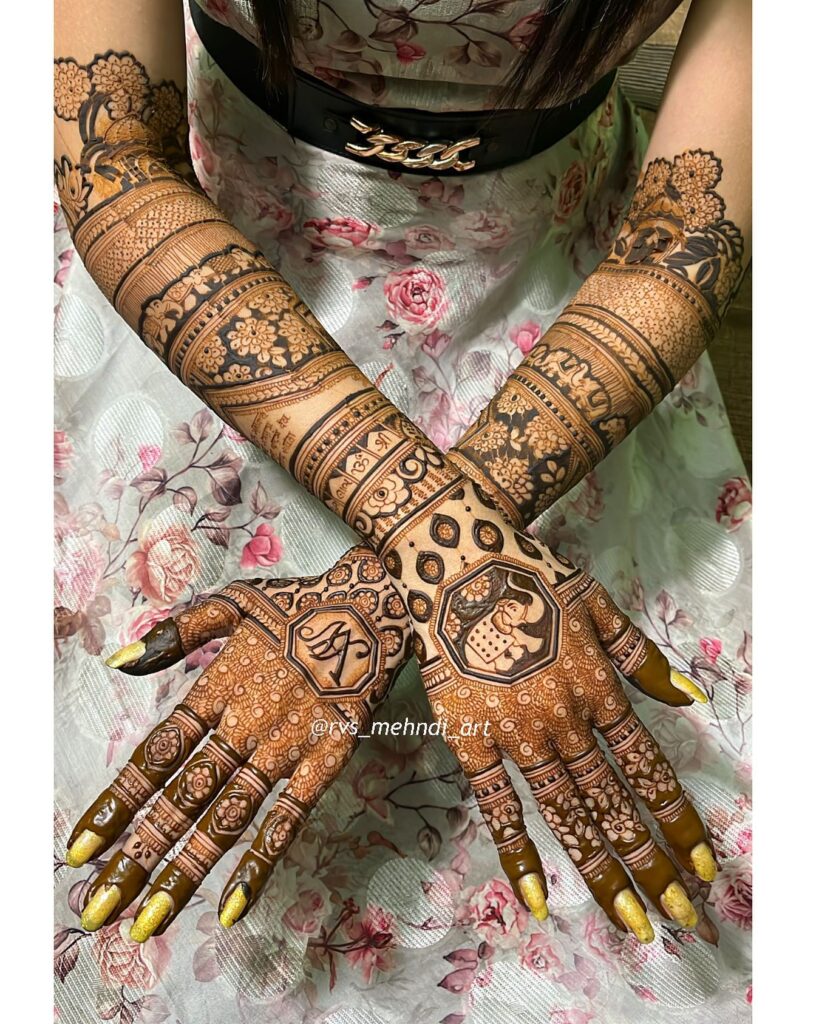 #58 Spacious 
Mehndi designs with strategic spaces add a spectacular element to the henna. An expert henna artist can visualize in her mind where to give these spaces and where to draw the design, which will give an impressive appearance when it all comes together.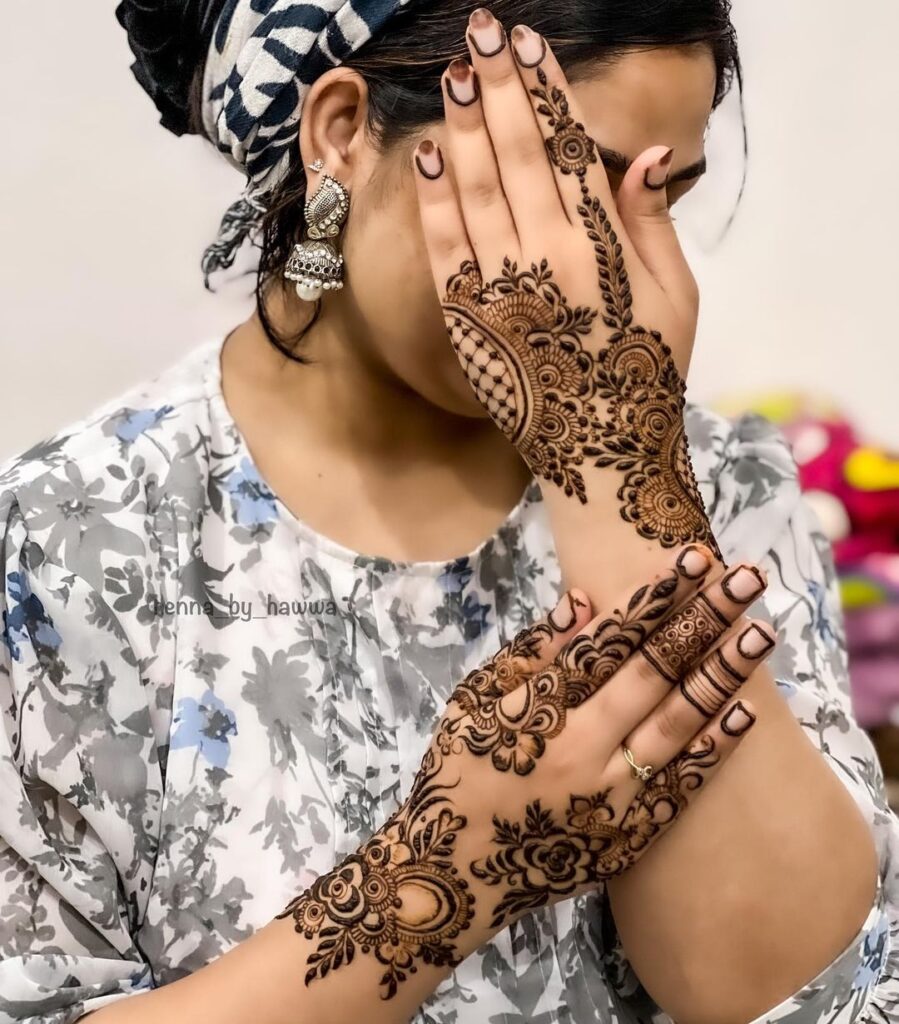 #59 One For All 
This is one of those simple and stylish back hand mehndi design that anyone can sport. From the wedding guests to the bridesmaids, it will look good on women of all ages and will complement any front hand mehendi that you have chosen.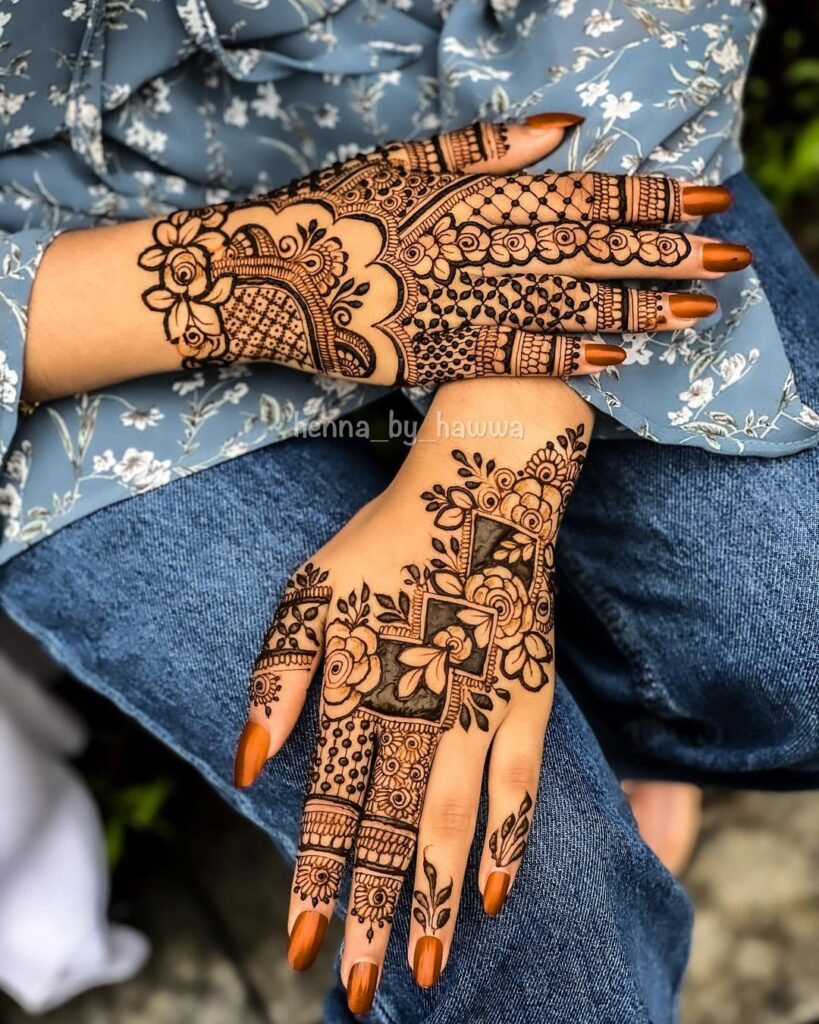 #60 Exquisite Circle Mehendi 
Celebrate simplicity with circle mehndi – where elegance meets minimalism. Delicate henna circles adorn the palms creating a subtle yet captivating art form that whispers of timeless grace. The fingers and the wrists are graced minimally so the mandala comes together for an easy back hand mehndi!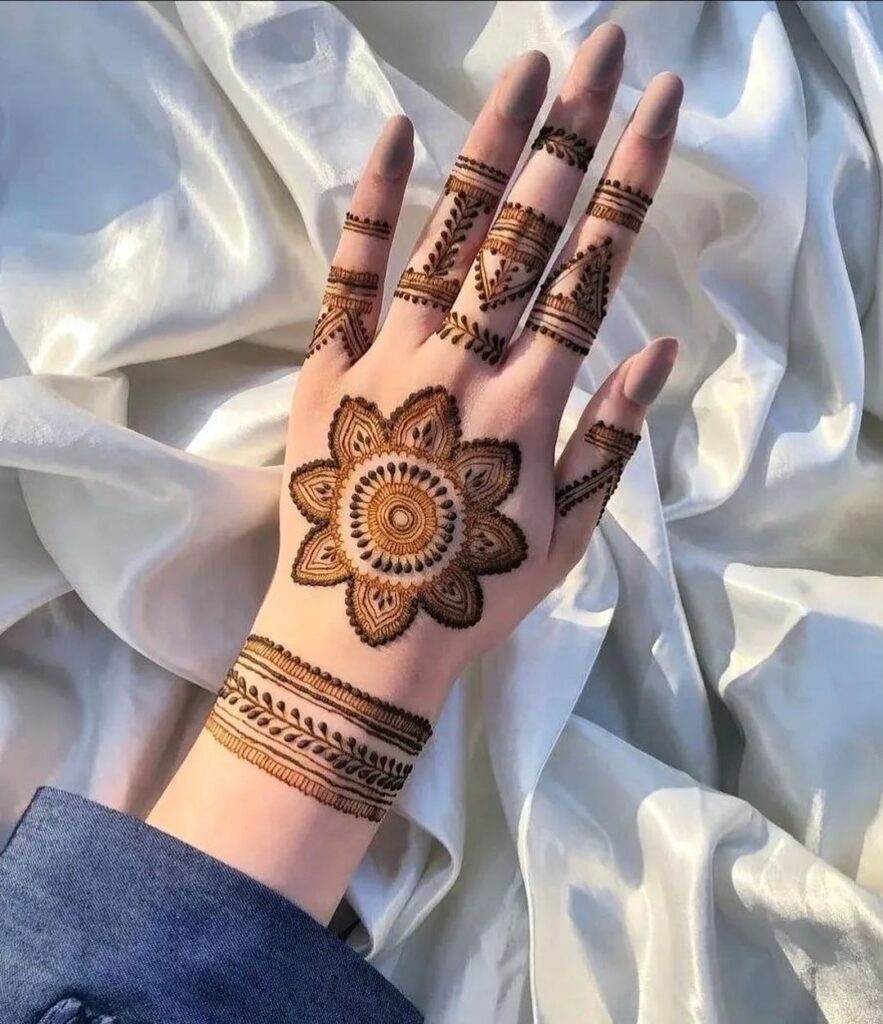 #61 Horizontal Sections
Starting with a peacock on the side, this henna uses the spaces carefully to create a gorgeous henna mehndi design. It also includes a line of elephants in the middle, which we think is a great addition to elevate any mehendi and you can add it anywhere – from the wrists to the fingers to the end of the length of the henna.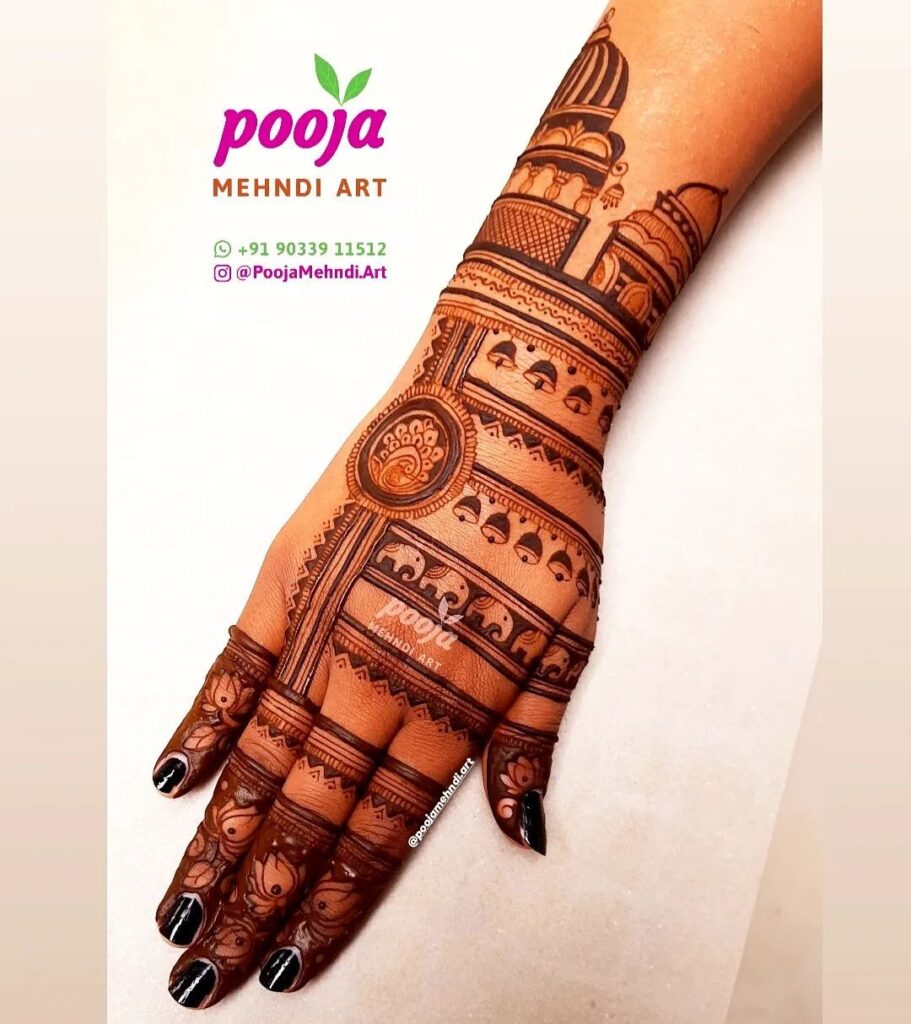 #62 An Eye-Catching Design
Even though this one of the back hand mehndi designs isn't done as neatly, it still is able to enrapture us with its beauty. Imagine when you choose intricacy with this henna, how spectacular it will look then! A great choice for the mother of the bride or the sister of the bride/ groom.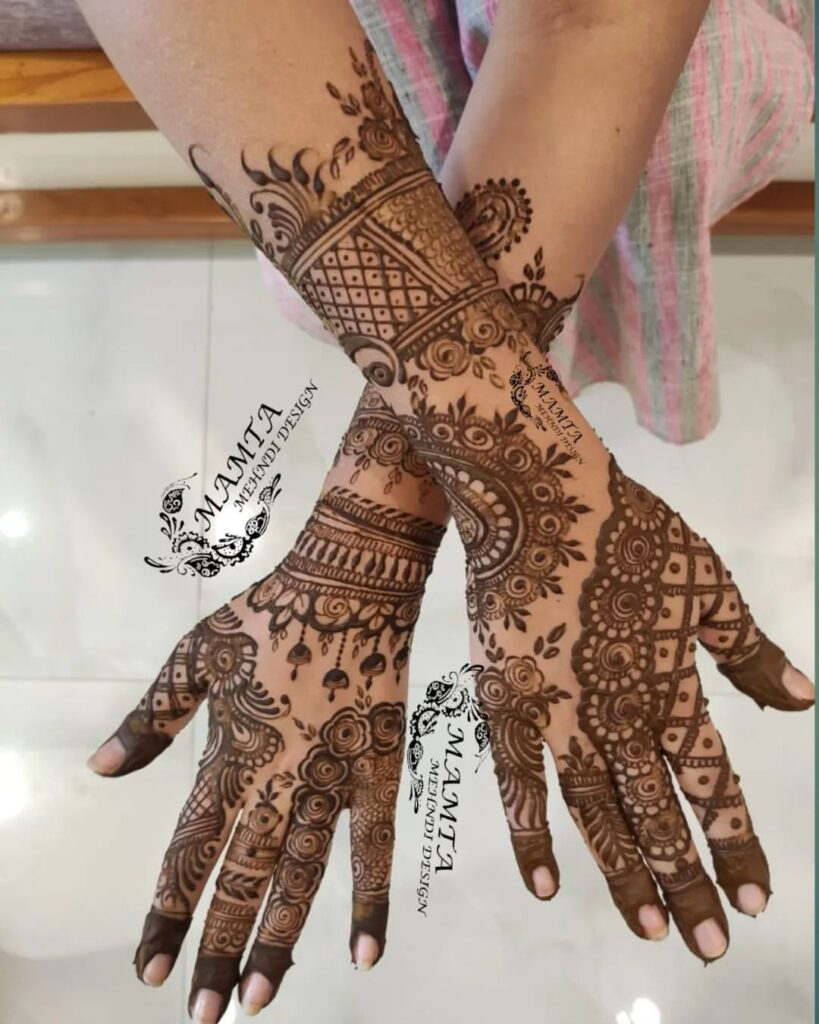 #63 Crisp! 
Ganesh ji, lotus, and Swastik – this henna is a true representation of someone who has religious and spiritual beliefs and wants to express them through their henna. Together, these symbols come together to bless the bride in her new beginnings, impart her enlightenment as starts her marital life, and give her strength to face any challenges.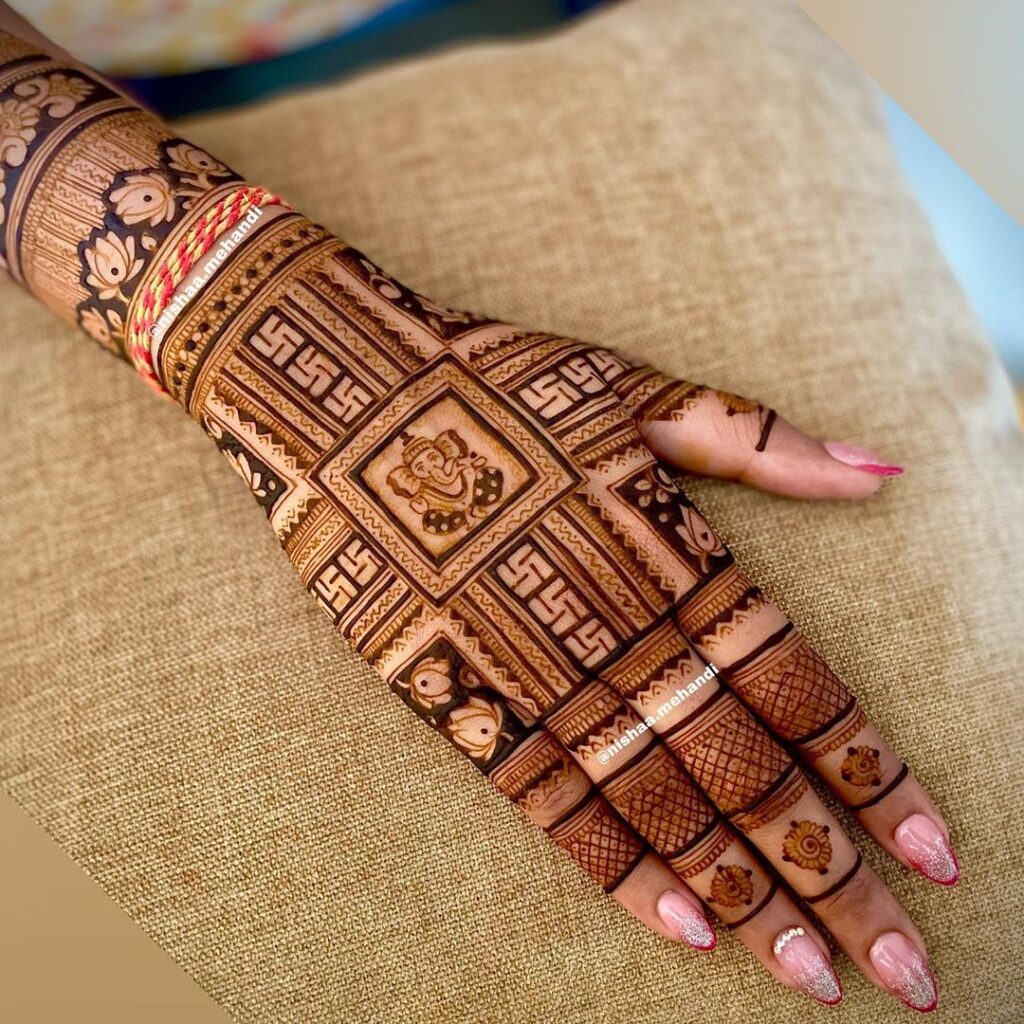 #64 The Spiritual Lotus
Lotus and peacocks grace this stylish back hand mehndi designs. In mehndi art, the lotus symbolizes purity, enlightenment, and spiritual growth, reflecting the journey of life. The peacock represents beauty, grace, and new beginnings. Together, they create a powerful combination, signifying the transformation from adversity to beauty, representing the emergence of one's inner self in its most splendid form.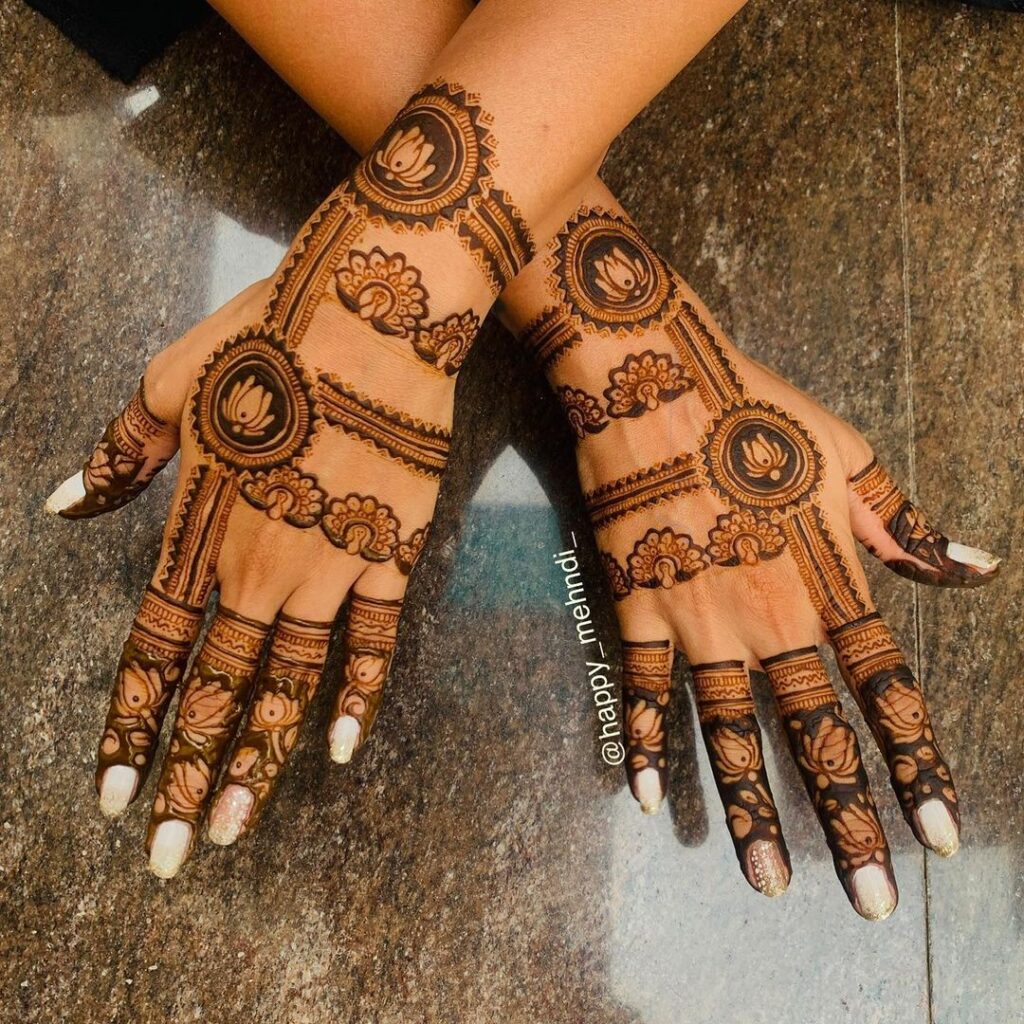 #65 Jaal Mehndi With 3-D
We always say back hand mehndi designs matter more than the front hand because it's much more visible in pictures! Opting for an intricate design featuring jaal patterns will surely garner tons of compliments. It does require time and expertise but will look amazing after staining. Trust me, you won't be able to stop staring at your own hands.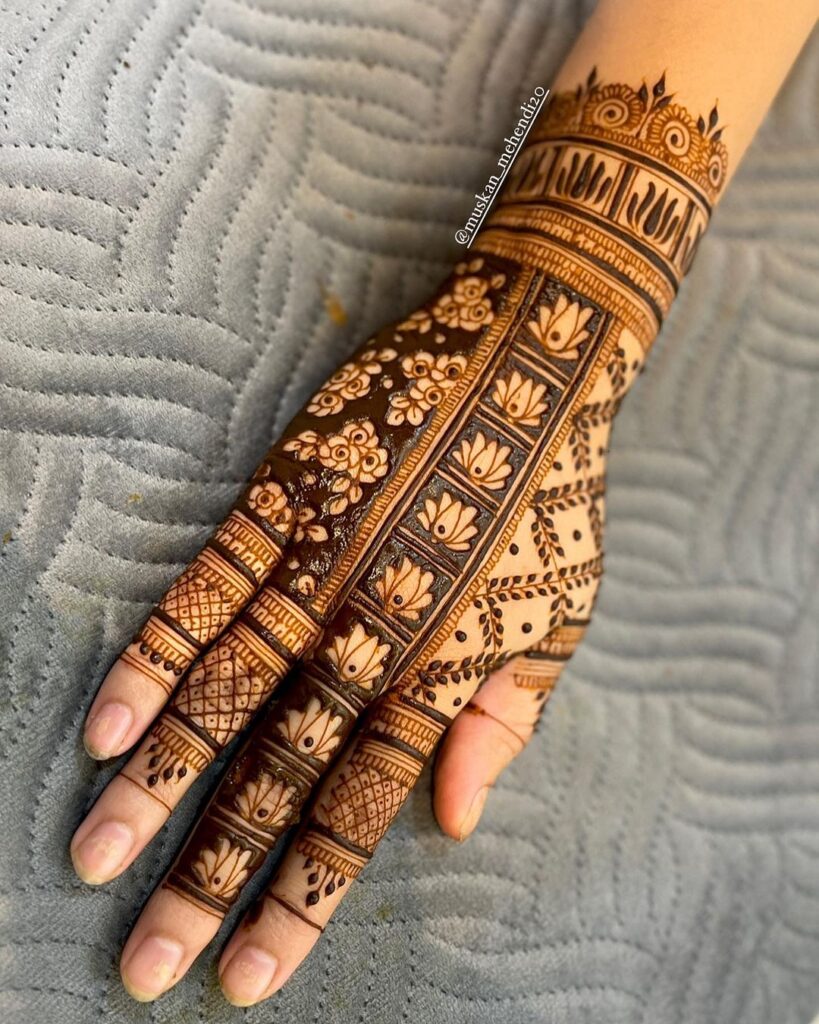 #66 Simple Back Hand Mehndi Design
If you're looking for easy and simple back hand mehndi design for beginners, your search ends here. You just need basic drawing skills to recreate this pattern. Make sure to keep a steady hand to maintain the neatness of this pattern though!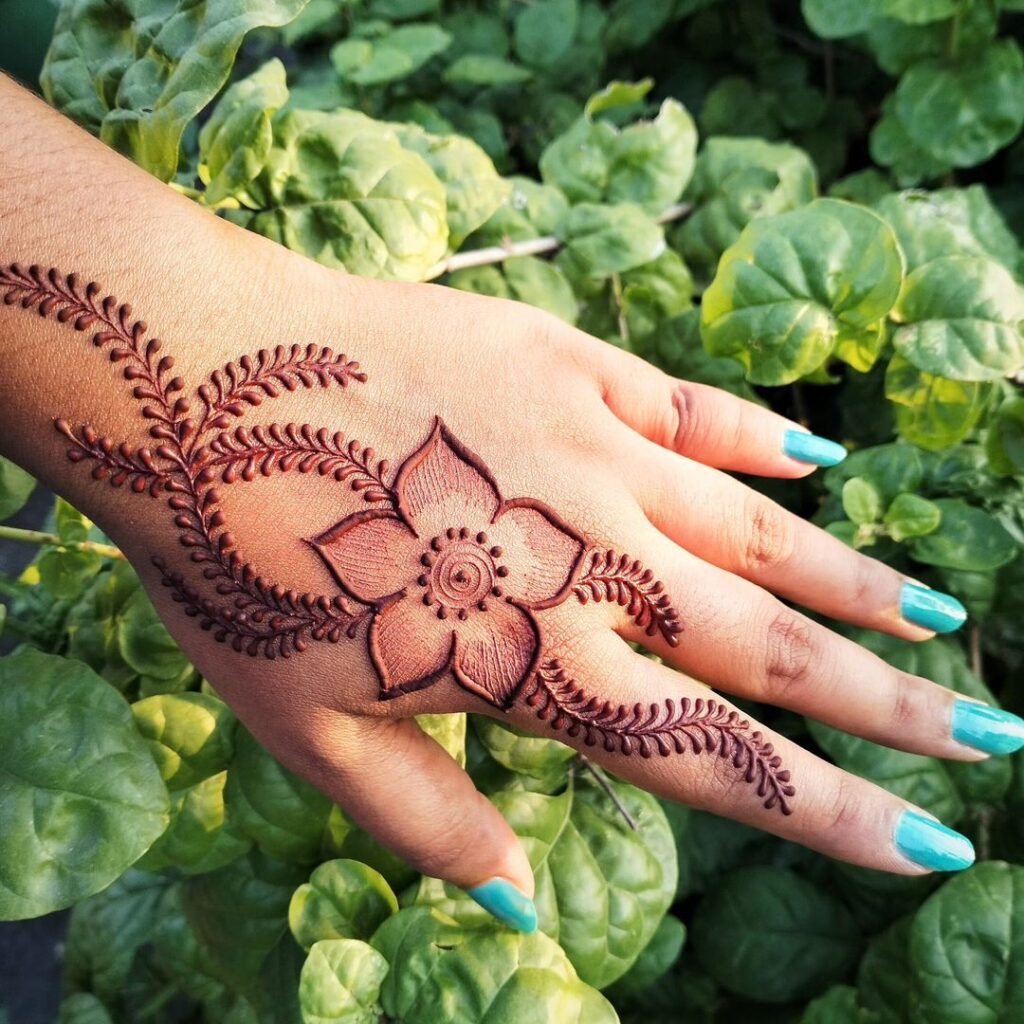 #67 Stylish Back Hand Mehndi Design! 
This arabic back hand mehndi design is all about the classic elements in this genre of henna. It has chunky paisleys, semi-circles, check pattern – all done neatly and with one width of the line for a beautiful and impressive pattern.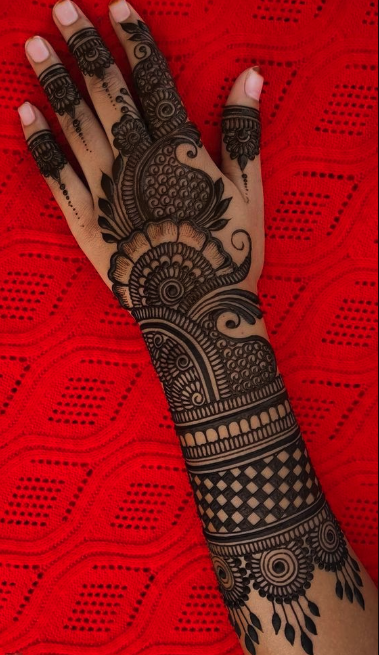 #68 Back Hand Mehndi Design For Beginners
A minimalist back hand mehndi design features elegant circles, delicately drawn with henna. These circles create a subtle and timeless adornment, exuding simplicity and charm. This minimalistic style highlights the natural beauty of the hand, making it perfect for those who prefer understated yet captivating mehndi art.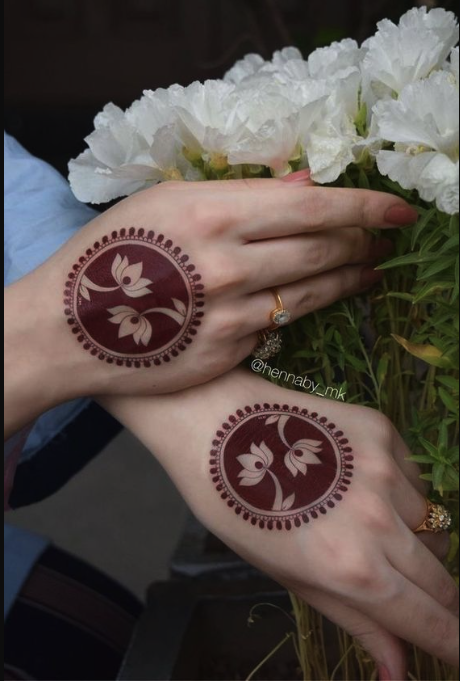 #69 Bridal Back Hand Henna
An elaborate bridal henna that isn't done in neat sections and yet looks well-executed and well-crafted! This also portrays the true expertise of the henna artist and also gives you the motivation to spend some more on your wedding henna! This one of the modern back hand mehndi designs will surely win everyone's hearts!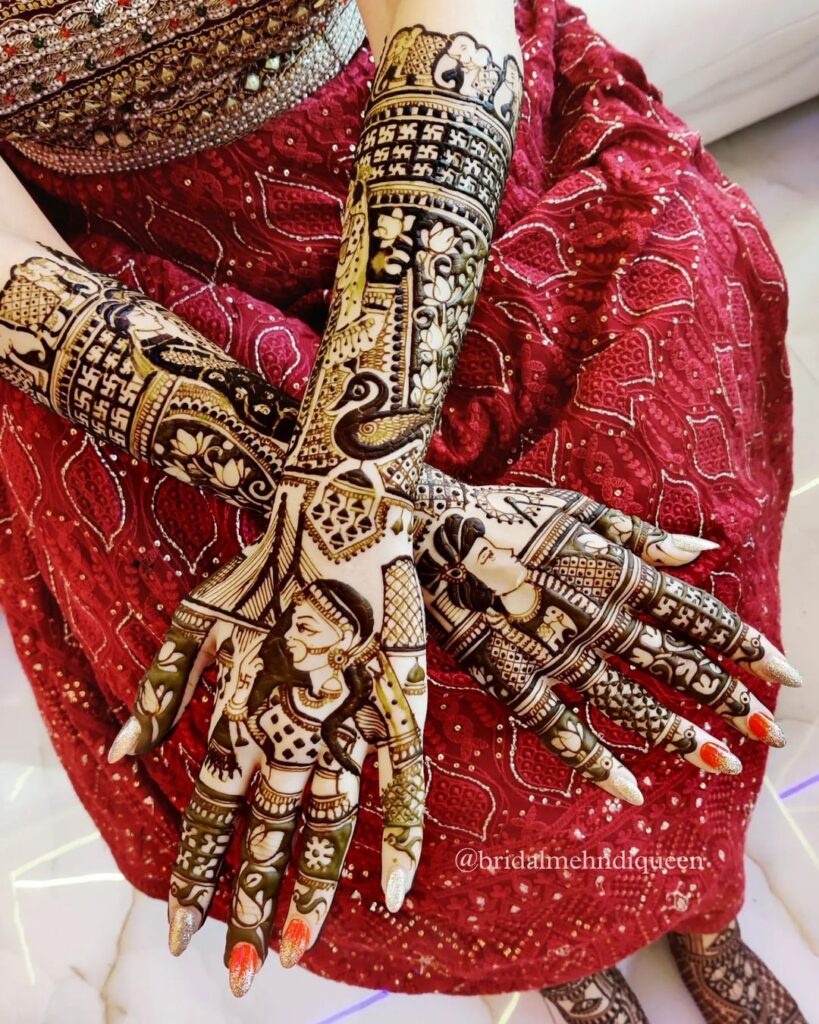 #70 Innovative Way To Add His Name
It's always a special feeling to add your partner's name to your mehndi, but do you why we do it? Adding the name of your husband to your mehndi is supposed to ward off the evil spirits from the couple's bond and promote happiness and prosperity in the marital bond. It's also considered a good luck charm!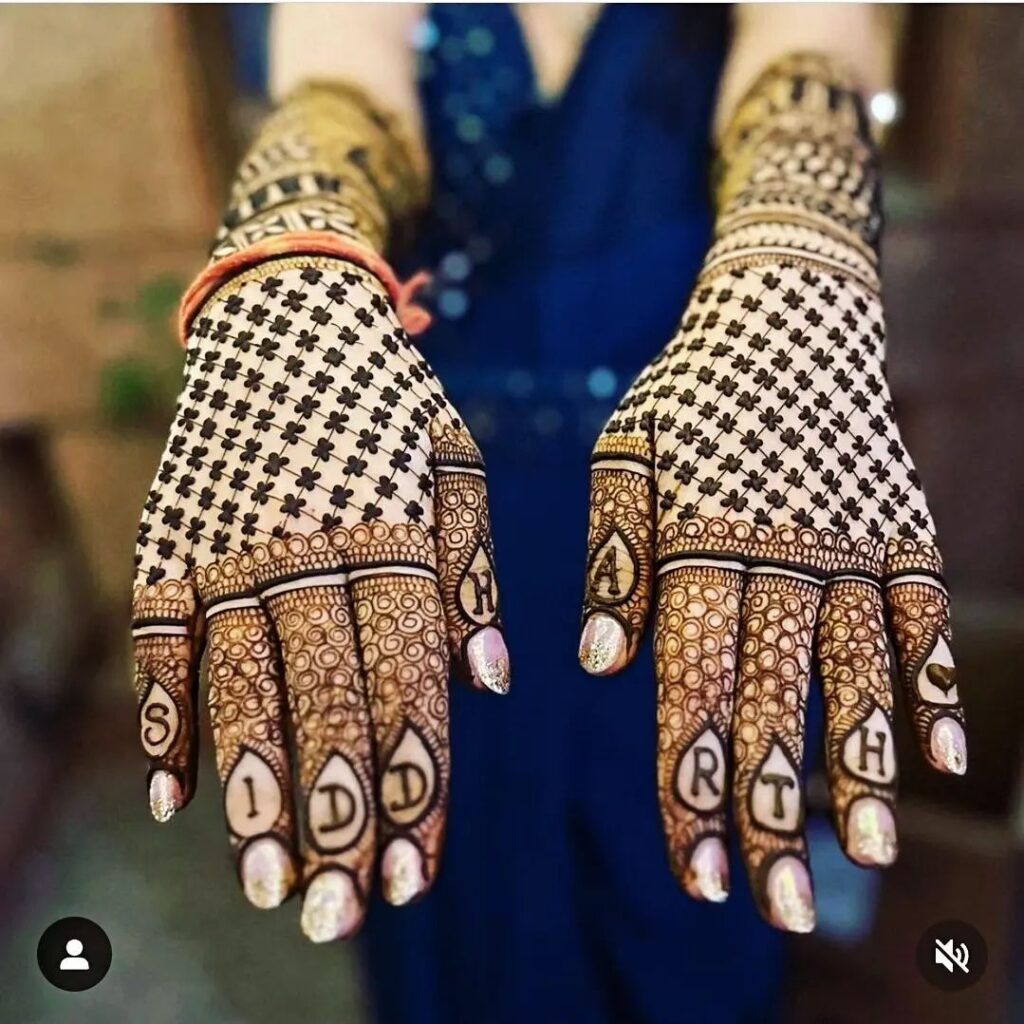 #71 Not For Everyone
The laces are a notable feature of this one of the back hand mehndi designs, but it doesn't mean that everyone will like this bold choice in henna where people often strive towards traditional customs and standards. Though, if you are someone who likes to break rules and cherish your individualistic style, go for this simple and easy back hand mehndi design.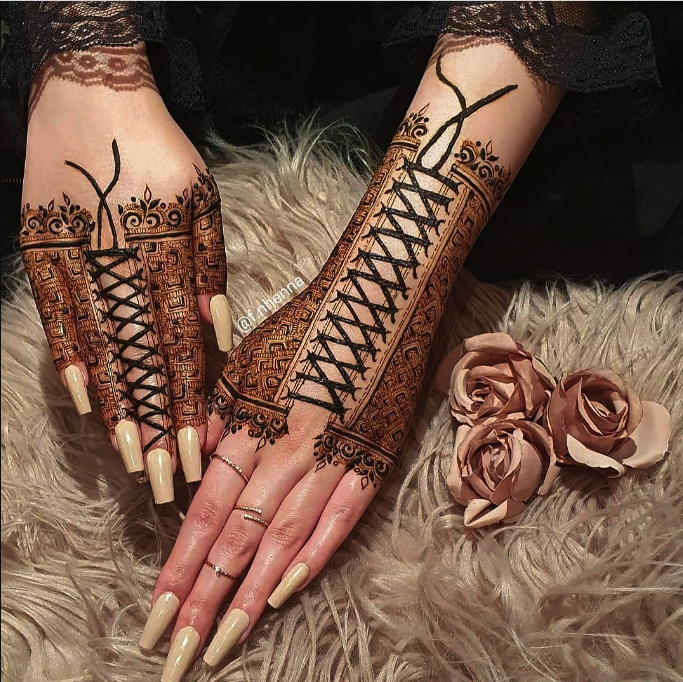 #72 Arabic Back Hand Mehndi Design
You don't have to fill your hands completely to create a modern back hand mehndi design. Even smaller patterns with ingenious design can do the trick. We do love the 3-D florals and if you are recreating this with an expert, then it will take just around 15 minutes to recreate this pattern.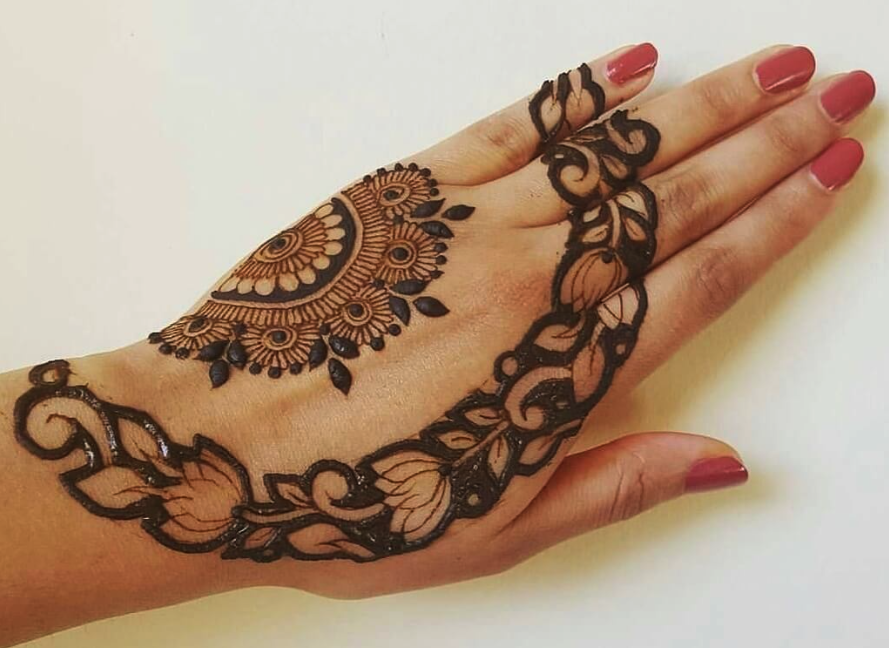 #73 The Classic Choodi Pattern
Choodi pattern – the one where the wrists are divided into sections and then filled with patterns – is one of the classic mehndi designs. This one draws a twist and a parallel between this traditional by making the sections diagonal and leaving some spaces in the middle. If you want a bharwa pattern, you can fill the left-out sections with crafty motifs for a splendid henna.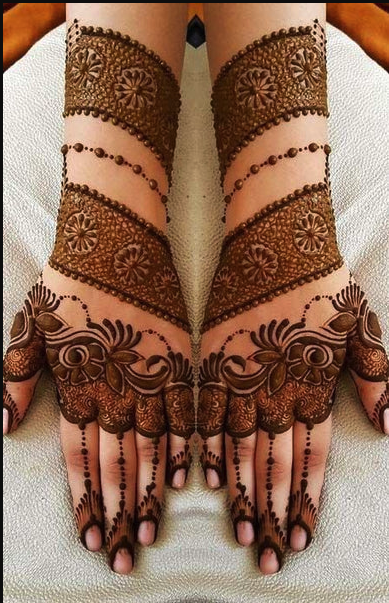 #74 Alluring Florals
3-D florals are trending and we are all convinced for their rage. They look stunning after the mehndi gives its colors and lends a whimsical look to the henna. Though, know that all 3-D designs have to be trusted for recreation by professionals only. When not done wisely, they can lose their charm quickly.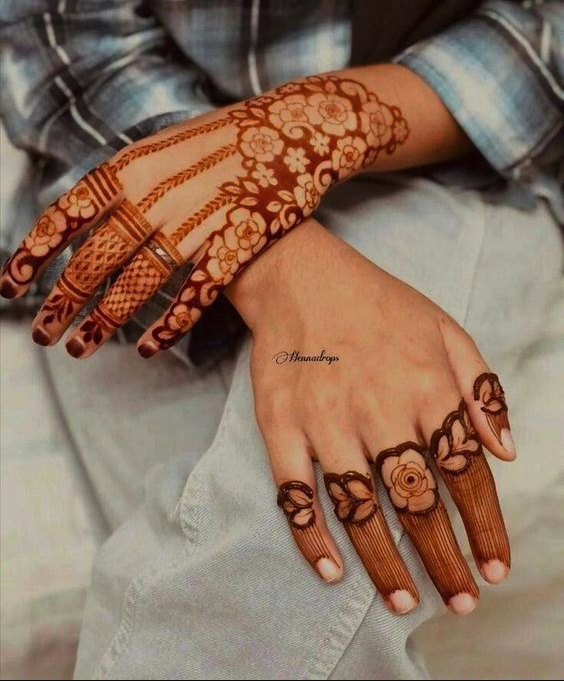 #75 Complementary Details
Why take the stress of choosing two different patterns for both hands when you can easily choose the mirror image of the same pattern and create a striking design? The pinjara pattern in the middle followed by bharwa fingers and hands, this henna is just what the brides crave for! Though, it's exquisite sketch is able to exude modern vibes to appeal to today's brides.