Are you engaged and starting to plan your wedding day? The first step to planning the wedding of your dreams is getting the right people on board. But what are the different types of the wedding vendors and who do you actually need? Well, that's a billion-dollar question, which we are answering in this blog today. Find out 10 types of wedding vendors you need and 4 of them that you can skip out! 
#1 Wedding Photographer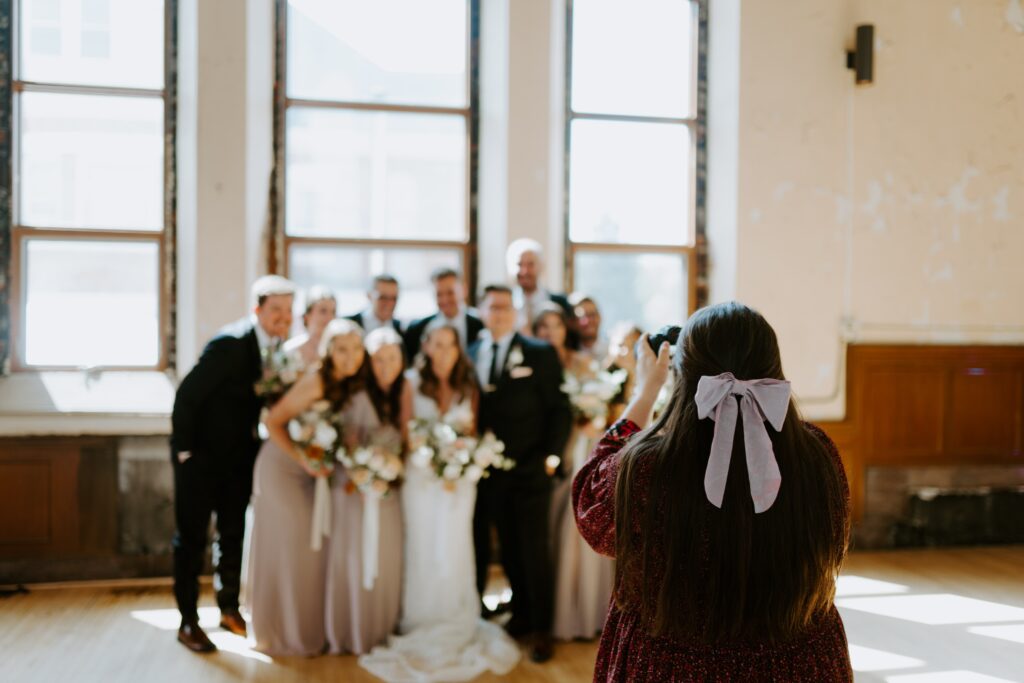 Among the types of wedding vendors, the first one is definitely a wedding photographer. The one who seizes your memory in time and gives you hearty glimpses of your special day to cherish forever! When you have started planning the wedding, one of the first vendors to book is the wedding photographer. Some couples are so hell-bent on this type of wedding vendor that they first see the photographer's availability and then decide on their date. Generally, most photographers will need an advance booking at least 6 months in advance. Some popular ones might need a booking at least a year prior to the selected date. 
Duties Of A Wedding Photographer: 
To provide a thorough consultation and discuss the vision of the couple. 

To capture every moment of the wedding day without fail!

To make sure the editing and retouching are done as per the style of the couple. 

To deliver the images and videos on time!

To provide a backup plan in case of any unforeseen circumstances like bad weather and equipment failure. 
Tips To Book A Photographer:
Know your budget constraints and narrow down the list based on how much you can pay. 

Pick someone who will do your style of photography. It can be vintage, romantic, or bright with tons of saturated colors. 

Take some time out to read the reviews and go through their portfolio. 

Discuss the timeline of deliverables and payment schedules.

Trust your instincts and book someone you connect with and feel comfortable around. 
#2 Venue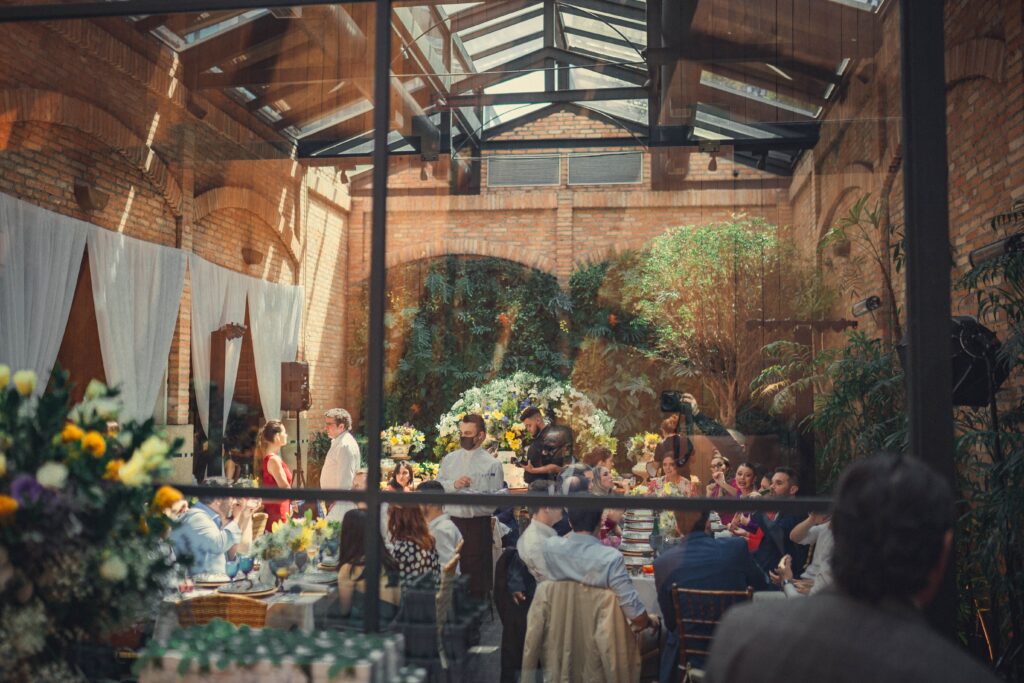 Among the list of types of wedding vendors, the first one you should book is the venue. Where you're getting married and when you're getting married are the first questions every other type of vendor for a wedding will ask! And the venue also allows them to figure out the logistics and gives them an idea of the type of wedding day you want! A beach location can signal something dreamy and romantic, an indoor ballroom signals a formal affair while a barn location signals that the nuptials will be all about the rustic charm. You should try and book the venue 9 to 12 months in advance. 
Duties Of A Wedding Venue:
Making sure the space is clean and available on the day of booking. 

Coordinating with other vendors so everything runs smoothly. 

Providing safe parking for the guests.

Arrange for any accommodations listed in the agreement like rentals or extra power. 

Helping the logistics on the day so all the planners and guests aren't confused about the layout of the place.  
Tips For Booking Your Wedding Venue:
Book weekdays instead of weekends as the latter are more expensive.

Take a good look at the contract and check the date & time of the ceremony and reception properly.

Check for any hidden fees like gratuities, cleaning fees, etc. 

See if they offer any all-inclusive packages which include catering, rentals, or lighting. 

Make sure the coordinator is friendly as your planner, florist, and DJ will need to collaborate with them.

Look for any restrictions for decorations like how much power the venue can handle, what items they don't allow, etc. 

Ask them for a backup plan for weather changes, in case you have an outdoor venue.  
#3 Makeup & Hair Artist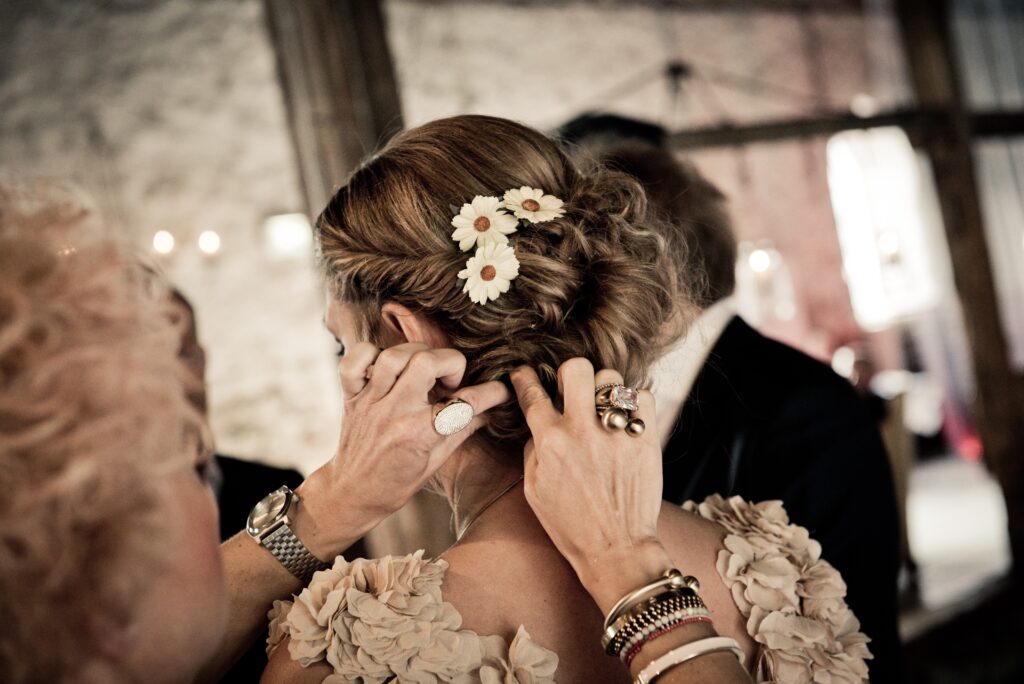 Who'd make you look like a million bucks on your wedding day? Your HMUA. It's important to take some time to zero in on this wedding vendor because she will have the final reins on how your bridal look turns out! Makeup and hair artists are generally booked 6 to 9 months in advance. Some popular ones are booked even a year in advance. Your HMUA comes under the types of wedding vendors that are a must-have and some even book them for their bridal party & close family. (See who pays for bridesmaid hair & makeup?)
Duties Of A Makeup & Hair Artist:
Provide consultation so they are able to get an in-depth understanding of the bride's vision. 

Arrange for any trial runs so the bride can be assured the final look meets her expectations. 

Arrive on time on the day of the wedding and begin setting up their station so the timeline doesn't get compromised.

Provide touch-ups throughout the day or guide the bride or any bridesmaid on how to keep the makeup fresh all day long. 

Give recommendations on how the bride can improve her skin and hair health before the big day. 
Tips For Booking Your Makeup & Hair Artist:
Get some referrals from your recent friends & family who got married. This is the most reliable way to secure your makeup artist. 

Know how you want to look at your wedding. Send the pictures you have saved for inspiration and see how confident the vendor seems at recreating them.

Agree on a price schedule and don't give the entire amount in advance.

See the contract for any hidden fees like cost per hour if they work overtime.

Get a trial before booking. 
#4 Wedding Planner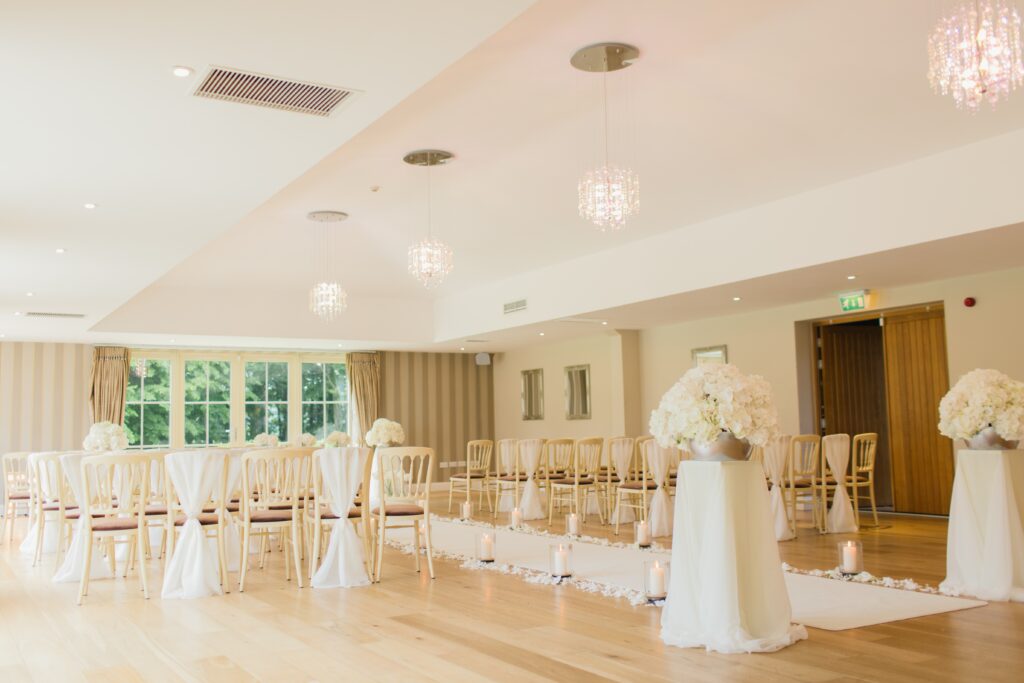 One of the essential types of wedding vendors is a wedding planner. Their services are invaluable to the couple. They have expertise in all things related to weddings and know everything from the latest trends to helpful tips and the best vendors in the city. In addition, they can also help manage your budget so the couple stays within the financial constraints. Hire them as soon as possible to have a stress-free and unforgettable wedding planning experience and of course, a smooth-running wedding day. 
Duties Of A Wedding Planner:
Meeting with the couple every now & then and help them with everything that was pre-decided in the contract.

Help couples in selecting vendors based on their preferences and budget. 

Negotiate any deals with the vendors and collaborate with them so everyone stays on the same page.

Creating a timeline for the wedding day including the ceremony, reception, and other events, to ensure that everything runs smoothly.

Handle on-site management on the big day to oversee everything and make sure things run as planned. 
Tips For Booking Your Wedding Planner:
Find someone you connect with. You will have the most interaction with your wedding planner and having someone friendly and empathetic on board is necessary. 

Ask the wedding planner for references from past clients to get an idea of their work and level of professionalism

Understand your budget and the services you need. This will help to draw a contract that's feasible for both parties.

Review the contract carefully and ask any questions you may have before signing. 
#5 Florist 
A wedding isn't complete without some whimsical floral arrangements. From your bridal bouquet, and aisle decor, to table and chair decorations, flowers will be everywhere, and you need to have a florist who will take care of them. Finding someone who understands your theme and style is important as the flowers and how they're arranged will set the mood of both the ceremony & the reception. You will need to book this one of the vendors at least 9 months in advance. (See: How Much Do Wedding Flowers Cost?) 
Duties Of A Florist:
Understand the mood you want to set with the flowers and suggest possible arrangements for the same whilst taking care of the financial constraints.

Recommending the best flowers or alternative florals for the color and theme you have decided.

Source and order the flowers, and arrange for storage so they look fresh on the main day.

Coordinate with the venue coordinator and get enough team members so the arrangements are finished before the ceremony starts. 

Arrange for a breakdown at the end of the night. 
Tips For Booking Your Florist:
Start your search early so you have plenty of time to research, meet with potential florists, and make a decision.

Check out the wedding florist's portfolio to see examples of their work and make sure that their style matches your vision for the wedding.

Ask if they can work within your budget.

Draw up and review the contract to see what's included and what's not included with the services (some hidden fees examples are rentals, breakdown, etc.)

Have someone who is responsive and easy to get in touch with so your planning process becomes easier.  
#6 DJ & Music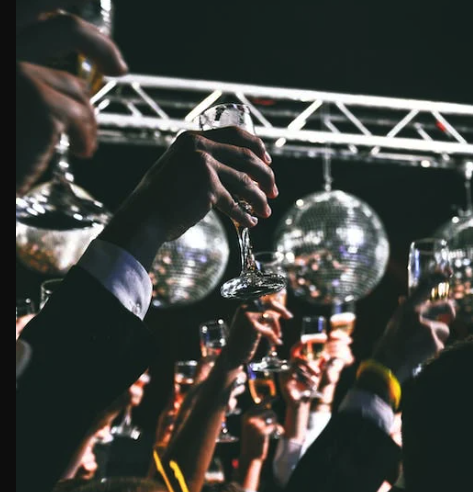 DJ & Music are important types of wedding vendors as they can set the tone and atmosphere for the entire event. They are responsible for providing the right kind of music at the right time, which can help create the desired mood and energy for different parts of the wedding, such as the ceremony, cocktail hour, and reception. These vendors help create a fun and memorable experience for you & your guests and should be booked at least 6 months in advance! 
Duties Of A Wedding DJ & Music:
Creating a customized playlist that reflects the couple's tastes and preferences while also considering the overall vibe of the wedding.

Helps you choose special songs and can also create mashups and do song cuts whenever required. 

Enforcing the day of the timeline and coordinating with the planner to ensure the right music plays at the right time.

Serving as Emcee of the wedding so your guests are aware of what happens next. 

Possessing the equipment and expertise to handle any technical issues that may arise. 
Tips For Booking Your Wedding DJ & Music:
Try to book a DJ who you have already seen performing or attend a live event where you can see them in action. 

Go through their reviews and see a video of a wedding that they have done before.

Meet with the potential DJs and see who is able to better understand your music taste and give appropriate suggestions.

Ask about their equipment, expertise, and backup plans. It doesn't matter if you don't understand them. The confidence when they're answering the question will say a lot!

Review the contract carefully and check for the start and end time, any additional fees for overtime, or any other hidden costs. 
#7 Stationery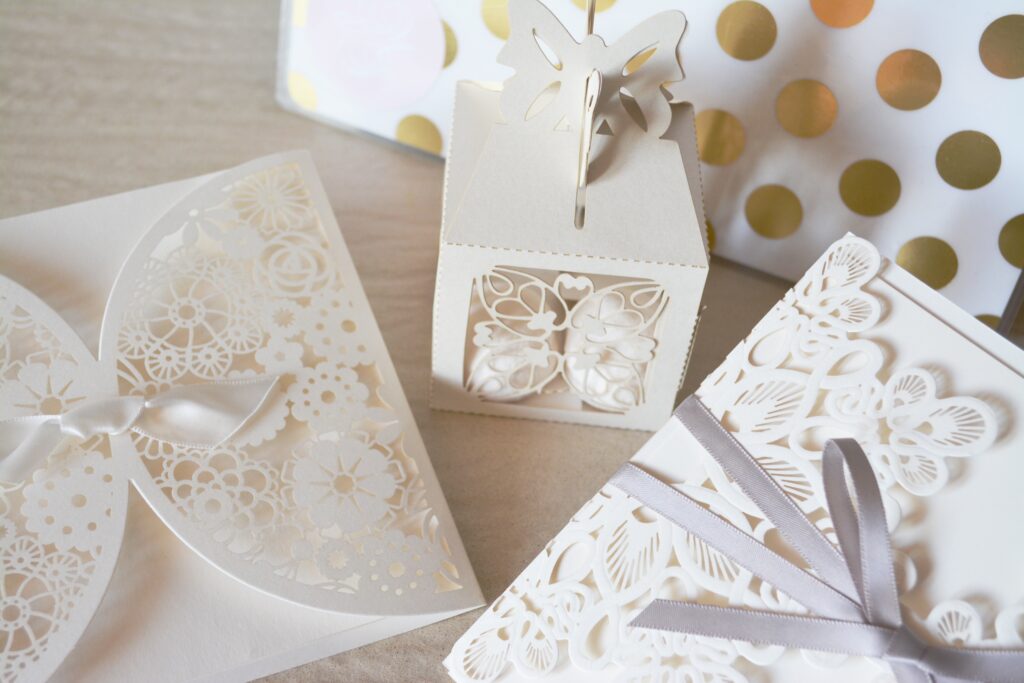 Engagement party invitations, save-the-date cards, bridal shower invitations & thank-you cards, etc. are just some of the many things that your wedding stationer will handle. They work closely with the couple to design all the wedding stationery to create a cohesive look while also providing guidance on etiquette and ensuring that everything is completed and sent out in a timely manner. They are the types of wedding vendors that don't come to mind as soon as you get engaged but they're an essential part of the group. You can book the stationer 3 to 6 months in advance. 
Duties Of A Stationery Expert:
Work with the couple to understand their vision and help them create a cohesive design for all wedding stationery.

Oversee the printing and production process of all wedding stationery, ensuring that the finished products are of high quality and meet the couple's expectations.

Keep track of timelines and deadlines so that all stationery is completed and sent out in a timely manner.

Provide guidance on proper etiquette and wording for wedding stationery so the cards are both beautiful and respectful.
Tips For Booking Your Stationery Expert:
Carefully see their portfolio and social media to review their experience in designing wedding stationery.

Consider your budget as stationery experts vary greatly in price, sometimes for the same product.

Choose an expert who is responsive as you will need continuous to-and-fro communication to ensure the final product reflects your style.

Ask them about their printing and production options. What type of materials do they use? Do they have an in-house production? How do they make sure everything is assembled on time?

Have a stationery expert who you think will stay true to deadlines. Test them by asking for samples and see if they're able to deliver on time. 
#8 Officiant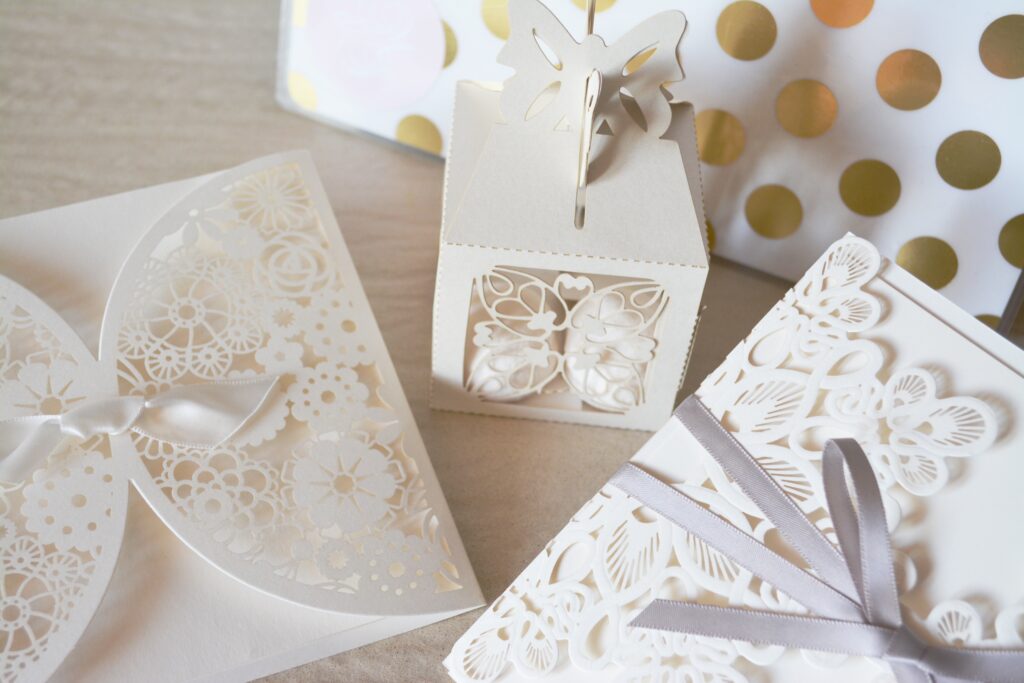 Without an officiant, you won't actually be married. So this is one of the types of wedding vendors that is absolutely required for you to have on board! Now, some venues provide a pastor, rabbi, or priest to officiate the ceremony. But you can choose to have someone else as your officiant too! If you have a religious ceremony, you will want someone who is affiliated with a religious organization, but if you want a civil ceremony, then you can have anyone officiate the wedding – including a dear friend or family member of yours. They will need to be ordained to perform the ceremony and may also have to register with the court. You can speak to your local marriage-governed bureau about all the legalities your friend needs to do before officiating the ceremony. 
Duties Of A Officiant:
Meet with the couple and understand any preferences for the ceremony or any special requests they may have.

Creating a draft of the ceremony script and getting it approved by the couple. Accommodating any elements requested by them.

Perform the ceremony seamlessly and lead the couple through vows and exchanging of the rings.

Sign the marriage license and handle any legal issues related to the ceremony, such as ensuring that all necessary permits are obtained.

Provide guidance to the couple on issues related to the ceremony, such as the order of events or appropriate attire.
Tips For Booking Your Officiant:
Decide whether you're looking for a religious or a secular officiant. The former can be someone from your place of religious visits or a recommendation from a friend. The latter can be done by anyone ordained, including a close friend or family.

Get in touch with the shortlisted officiants and meet them in person to understand their restrictions (for example some won't allow songs during the ceremony) and style.

See if they are confident enough to speak in front of the crowd and will be able to make everyone feel welcome and comfortable.

Check their qualifications and see if they're licensed in the state of your ceremony. If your friend or family is performing the ceremony, double-check to see if they are ordained and have got all the other legalities sorted as well. 

Make sure their values line up with yours, especially if it's a religious ceremony. 
#9 Videographer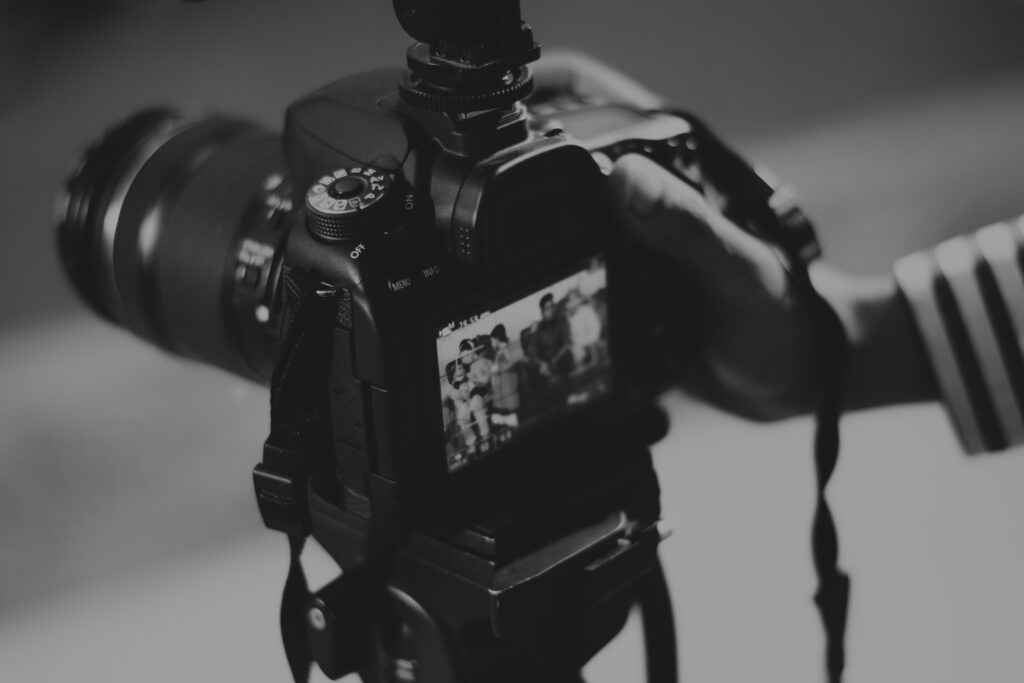 A wedding videographer is another one among the types of wedding vendors that we highly recommend! Photos capture the moment in time, but videos, capture the emotions in time and make you relive them over and over again. A good videographer will capture your wedding day beautifully and give you a video that sums up the essence of your special day and freezes it in time. Having said that, you should know wedding videos are among the list of the types of wedding vendors that require high expertise and comes at a cost. The average wedding videographer charges about $1800, as reported by a study done by The Knot. 
Duties Of A Videographer:
Be responsive to the couple's meeting requests and take out time to meet with them to discuss their preferences, styles, and how they're envisioning the final video to be!

Be on time on the wedding day and capture all the important moments from the couple getting ready to their reception exit. 

Editing the footage to reflect the best of the couple's wedding day and adding elements like music or effects to make it worthy of evoking emotions and memories.

Deliver the final video on time and make any changes, if required.

Provide guidance to the couple because sometimes they don't know how to pose or stand so the video gets captured perfectly! 
Tips For Booking Your Videographer:
Ask for recommendations from your friends or family members who have just gotten married. Personal recommendations are the best when it comes to wedding videographers.

Search thoroughly for the portfolio of wedding videographers and shortlist the ones whose style resonates with yours.

Have a virtual or a physical meeting with the shortlisted vendors and see if you're able to vibe with them and if their expertise is something they're confident about.

Ask them for references from the most recent couples they have worked for!

Discuss the payment method and have a videographer that doesn't take more than 50% at the time of the booking. 

See what's included in their price. In the social media world, many couples want a reel for Instagram as well. See if that kind of edit incurs any additional charges. 
#10 Catering 
Last but not the least, in this list of types of wedding vendors, is a wedding caterer. Food and drinks form a major part of any celebration and can leave the guests with a memorable experience at your wedding. In general, wedding venues often provide caterers or the choice of caterers. But if you have someone in mind, you can book them for your wedding too! In general, a caterer is an important type of wedding vendor because they elevate the guest experience through their menu offerings, while also providing a memorable culinary experience for guests. 
Duties Of A Wedding Caterer: 
Working with the couple to plan a customized menu that reflects their tastes, preferences, and dietary restrictions.

Preparing the food with the highest-quality ingredients and making sure everything is cooked to perfection.

Presenting the food in a way that it's visually appealing to guests and consistent with the theme of the wedding.

Serving the food to guests in a timely and professional manner, whether it's a sit-down meal or buffet-style service.

Removing all catering-related items from the venue, including any leftover food or beverages, dishes, utensils, linens, and decor.
Tips For Booking Your Wedding Caterer:
Start by deciding your budget. There are many wedding caterers in the market and each one provides a different rate, so you can easily find one in your budget.

Research, shortlist, and meet with the caterers to know their offerings, and visual presentations, and ask for references for the couples they have recently worked with.

Ask for the liquor prices. Some caterers have a higher liquor price despite a comfortable catering budget. In that case, you can arrange the liquor from elsewhere.

Pay attention to the communication of the caterer. You need someone who is friendly in their approach as it reflects how they handle the team as well and good servicing by caterers is important for a pleasant experience for your guests.

Inquire about what all they provide and see if that's mentioned in the contract. Some things to look for are the number of staff members, clean-up, gratuities, any additional fees, etc. 

Before signing, ask the caterer if they have any other weddings on the same day. If they are understaffed, it's best to not book them for your special day as that can compromise the quality of the food served. 
(Types Of Wedding Vendors You Can Do Without!)
#1 Transportation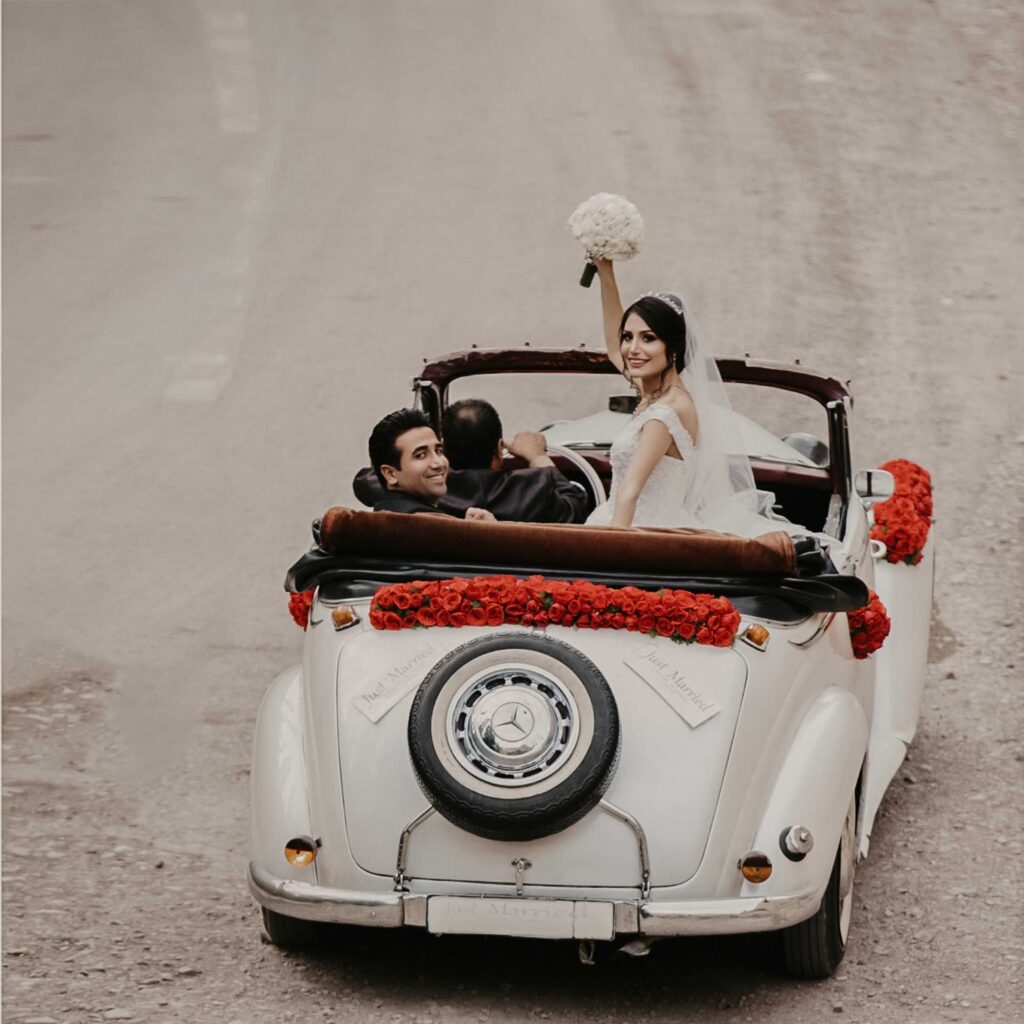 Wedding transportation involves arranging for vehicles for guests, the wedding party, and also any transportation for your wedding exit, if you're planning to make the exit in a vintage car. Some couples also plan their reception exit or the wedding ceremony exit on a horse carriage ride and that comes under the wedding transportation services too! While others might want themselves and their wedding party to be treated with ultimate luxury and arrive in a limousine at the venue. But, having said that, wedding transportation isn't always necessary.
See wedding transportation makes sense if your hotel is far away from the location or you have chosen a location quite far away from the city and want your guests to comfortably reach in a shuttle bus! But in most cases, many couples arrange for accommodation for out-of-town guests nearby or in the same hotel so transportation isn't necessary. Moreover, those who live in the same town or a close city often bring their own transportation. The couple also has their own vehicles to get them to the venue. So this one's the types of wedding vendor that completely depends on the whereabouts of your ceremony and isn't necessary for everyone to hire! 
#2 Lighting Designer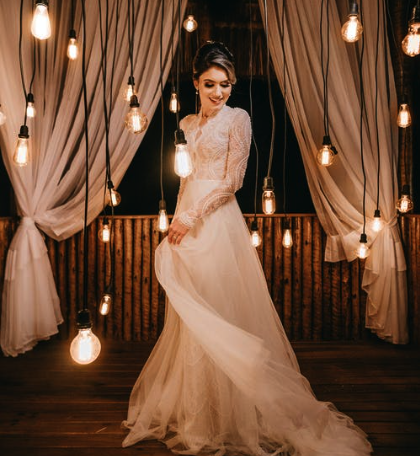 Lighting can change the whole vibe and set a memorable ambiance for your wedding day. It can make a significant impact in outdoor locations where the lighting can be arranged as per your theme and preferences. A lighting designer is the type of vendor for a wedding who creates a lighting plan for the venue, coordinates with other vendors, installs the fixtures on the final day, and is responsible for breakdown at the end of the night. 
While the lighting designer seems like a perfect option for those who are very particular about every part of their wedding day, these types of wedding vendors can be skipped for those who trust their venue coordinators and planners to do these arrangements. 
Also, lighting designers can be expensive because they require creative skill which doesn't come at a lower price. Moreover, many venues already have lighting fixtures and plans in place to accommodate different themes for different clients which can completely eliminate the need for this type of vendor for weddings. Ultimately, the decision to hire a lighting designer for a wedding is a personal one, based on the couple's preferences, budget, and the specific needs of their wedding celebration. 
#3 Rentals Company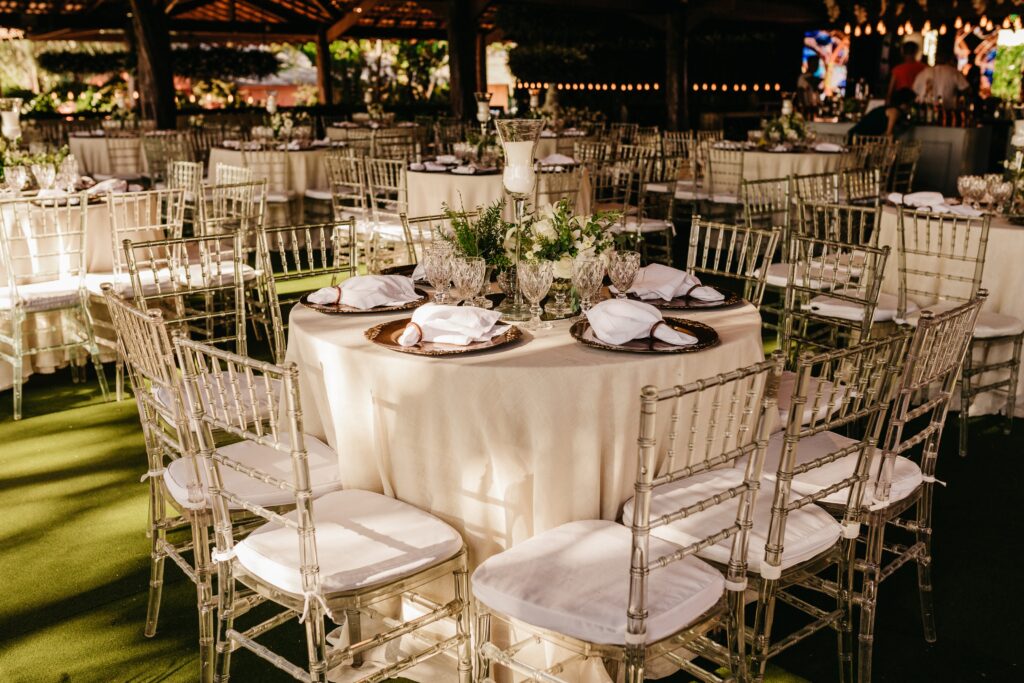 A rental vendor provides a wide range of items and equipment for use in a wedding celebration, such as tables, chairs, linens, decor, lighting, and audio-visual equipment. They work closely with the wedding planner and florist to provide the equipment for the wedding and reception and create a customized package for the couple. They offer delivery, assist in setup, and offer pickup services at the end of the night to make the process as stress-free as possible. 
A rental vendor is surely a necessary and important part of the celebration, but they can be rendered unnecessary if your florist or venue coordinator can take up these responsibilities, which they most often do! In fact, the florists have arrangements with various rental companies so they can get you the equipment at a lower price than when you hire a rental company separately. However, you will need to check and see if the rentals are also included in the price of a florist because that can sometimes be an additional cost which you are made aware of later! 
Some couples can feel that the rental vendor hiring makes sense, especially when they need a range of equipment to hire like lighting, vases, linens, audio-visual equipment, etc. For them, hiring a one-stop shop makes more sense and is cheaper than trusting some other types of wedding vendors. If that's you, a rental vendor can make for a smart choice. 
#4 Favors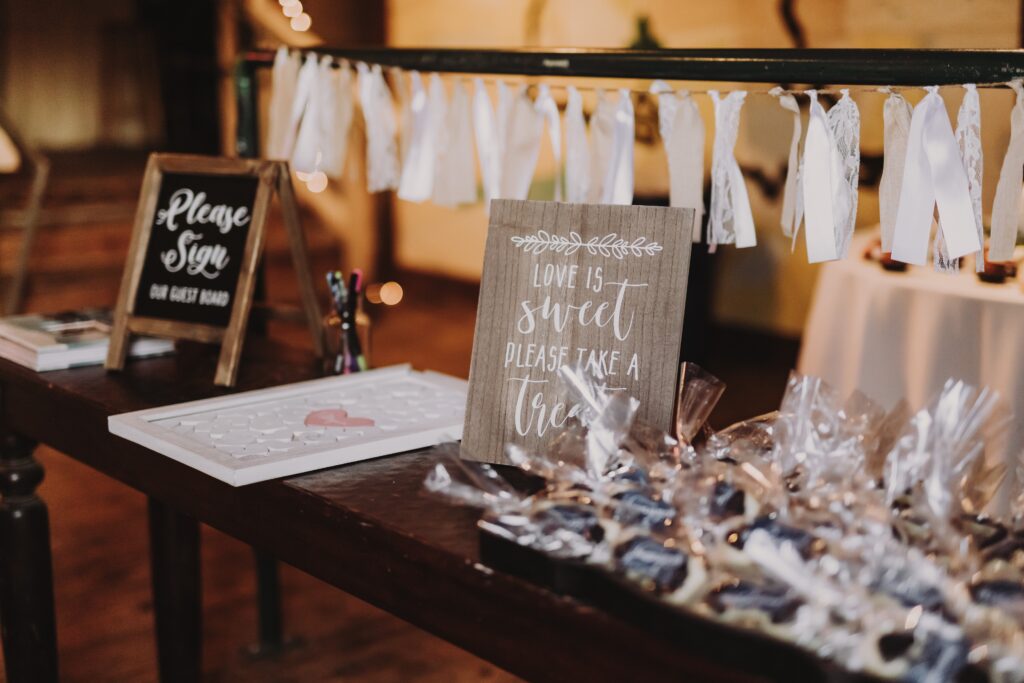 The types of wedding vendors list also includes someone who takes care of their wedding favors. Deciding on favors can seem like another thing to check off your to-do list! That's why many couples decide to employ wedding favor vendors who take care of everything. From designing and customizing wedding favors to providing different options for each event and delivering the favors well before time. The favors are not necessary but can be offered after a bridal shower, engagement party, bachelorette, and wedding! 
Wedding favors are certainly a nice gesture, but they are not a necessary component of a wedding celebration. Couples can choose to forego wedding favors if they prefer to focus their budget on other aspects of the wedding, such as catering or decor. Alternatively, they may choose to create their own DIY favors or purchase pre-made favors from a retail store, rather than working with a specialized wedding favor vendor. Ultimately, the decision to include wedding favors in a wedding celebration is a personal one, based on the couple's preferences and budget. While favors can be a nice touch, they are not essential to the success of a wedding celebration.