Flowers, flowers, everywhere. A dreamy wedding isn't complete without the perfect floral arrangements. From wedding arch decoration to chairs, statement centerpieces, and bridal bouquets, boutonnieres, corsages, and flowers frame an important aspect of many important attributes of your wedding day. Clearly, they will take up a substantial proportion of your wedding budget. Below, we break down the answer to "how much do wedding flowers cost?", where exactly are wedding flowers included, and some cost-saving tips for wedding flowers and picking your wedding florist. 
How Much Do Wedding Flowers Cost?
On average, wedding flowers cost in 2022 is between $1000 to $1500. This price range includes everything from the bride's bouquet to aisle decor and table centerpieces. If you're doing DIY flowers for your wedding, then the cost can be cut down to almost half. But if you're hiring a florist, expect their starting packages to be somewhere around this range. The reason is that wedding florists charge almost twice to thrice the value of the wholesale value of every stem. It seems ludicrous but when you consider the labor costs of designing the aesthetic, acquiring the florals, and preserving and installing them, it feels justified. 
Know that florists will be able to work with your own budget as well – all they need is you're clear from the start about how much you're comfortable spending. Once your vendor knows your earmarked number, they would be able to work something beautiful within that number. Some factors that can affect your wedding flowers' cost are location, your wedding date (February sees the highest flowers cost due to Valentine's Day), and how elaborate flower arrangements you desire for your celebrations. 
Wedding Flowers Breakdown: Every Arrangement & Bouquet To Plan For
Personal Flowers
#1 Bridal Bouquet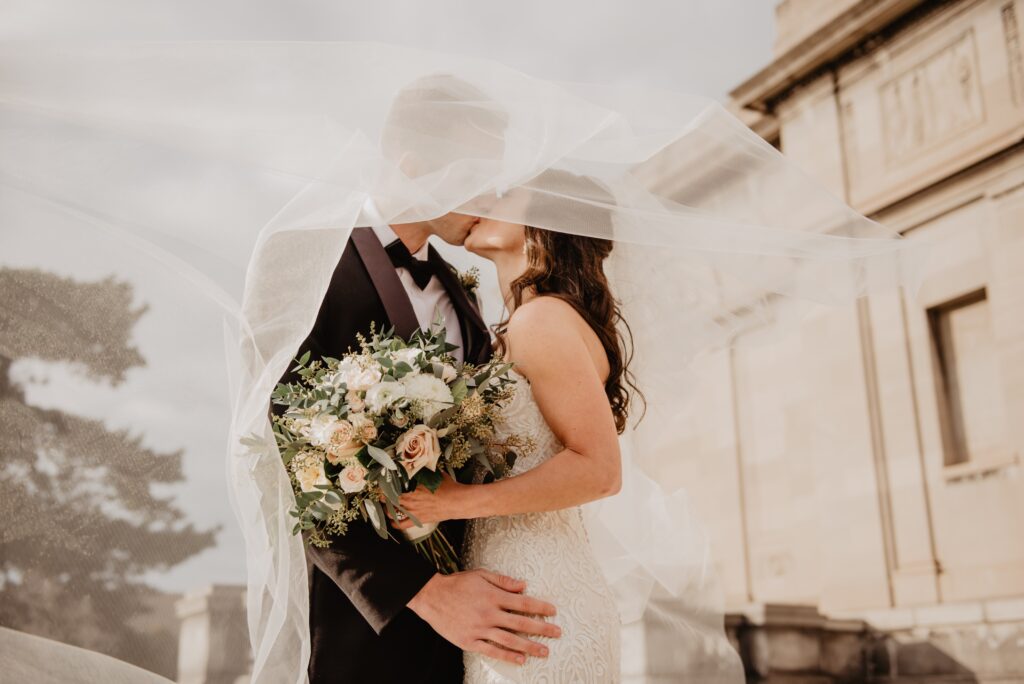 Your bridal bouquet is a focal point of your big-day look and the one that will not go unnoticed by the guests. More than just something which keeps a bride's hands busy as she walks down the aisle, a bridal bouquet brings the entire wedding aesthetic together and not to forget, adds a touch of tradition to modern-day celebrations. A good floral arrangement will complement and complete your bridal look. Your florist will have ideas on the arrangement, but if you have any ideas saved, let them know at the beginning so they can come up with bouquet layouts aligning with your vision. 
Estimated Cost Of A Bridal Bouquet: $250
This is the average cost though! You don't have to spend this money if that seems ludicrous to you. A good bouquet can be made for just ~ $125 or so. To lower the price, pick your favorite flowers and surround them with cheaper alternatives like lush greens, daisies, and hydrangeas. 
#2 Bridesmaids Bouquet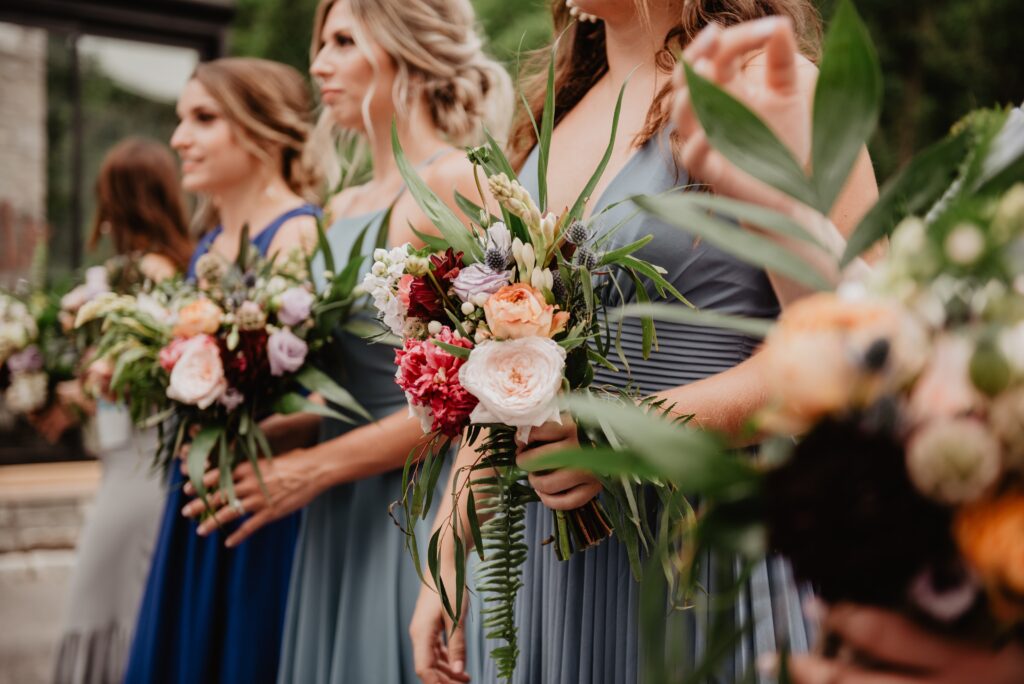 A bridesmaid's bouquet should complement the bridal bouquet but should be smaller than hers. The estimated price for wedding flowers for bridesmaids' bouquets is $80, but if you think this is too expensive, don't worry – a good arrangement can be done for as low of a price as $25. Plus, if you have a craftsy bridesmaid at your wedding party, you can give her the bridesmaids' duty to DIY the bouquets. You'd still have to source the flowers though, but it will still be cheaper than having your florist do it. 
Estimated Cost Of A Bridesmaids Bouquet: $80
#3 Corsages & Boutonniere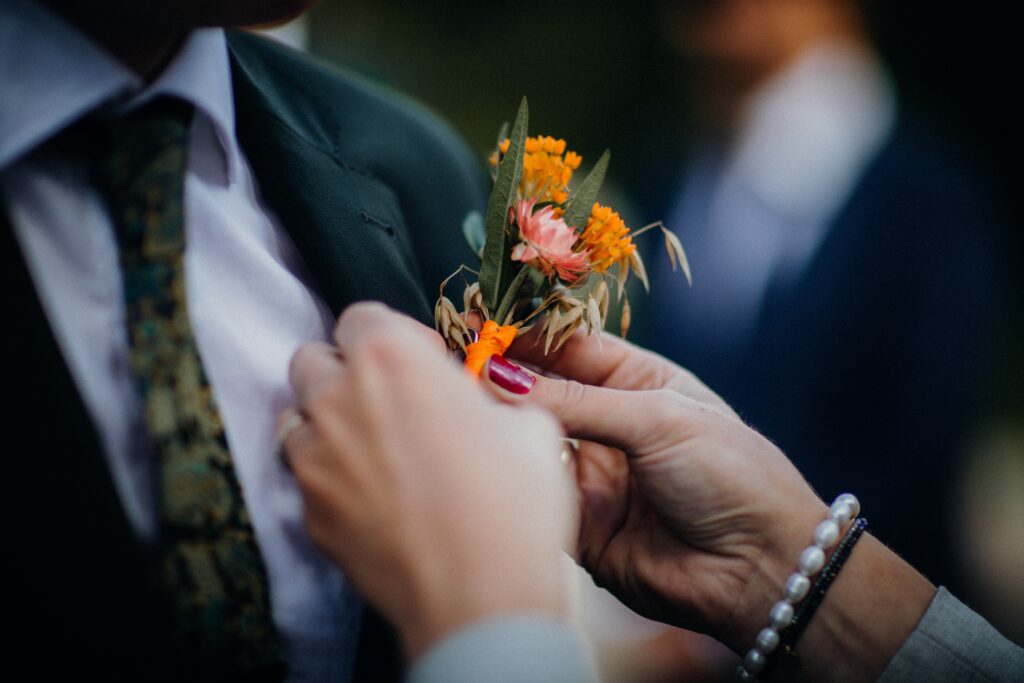 Some wedding parties let go of the bridesmaid's bouquet so the bride only has that special aspect in her entire look, and instead opt for wrist corsages made of beautifully-stacked flowers. It's also a great way to keep hands free throughout the wedding ceremony, and for brides on a budget, these are the cheaper alternatives than the bouquet. As with the bouquet, bridesmaids' corsages should complement the bride's bouquet and the overall design aesthetic of a wedding. Corsages can also be given to the mother of the bride/ groom and little flower girls to keep their hands free!
A boutonniere, on the other hand, is a small flower or a cluster of florets worn by the groom, groomsmen, and other important members of the family like the father of the bride, granddads, etc. Boutonnieres don't need much designing, which means they can also be done as DIY wedding flowers. Just ensure the color of the blooms match the bride's and the bridesmaids' bouquets or corsages or both. 
Estimated Cost Of Corsages & Boutonniere: $20 each
#4 Bride's Hair Flowers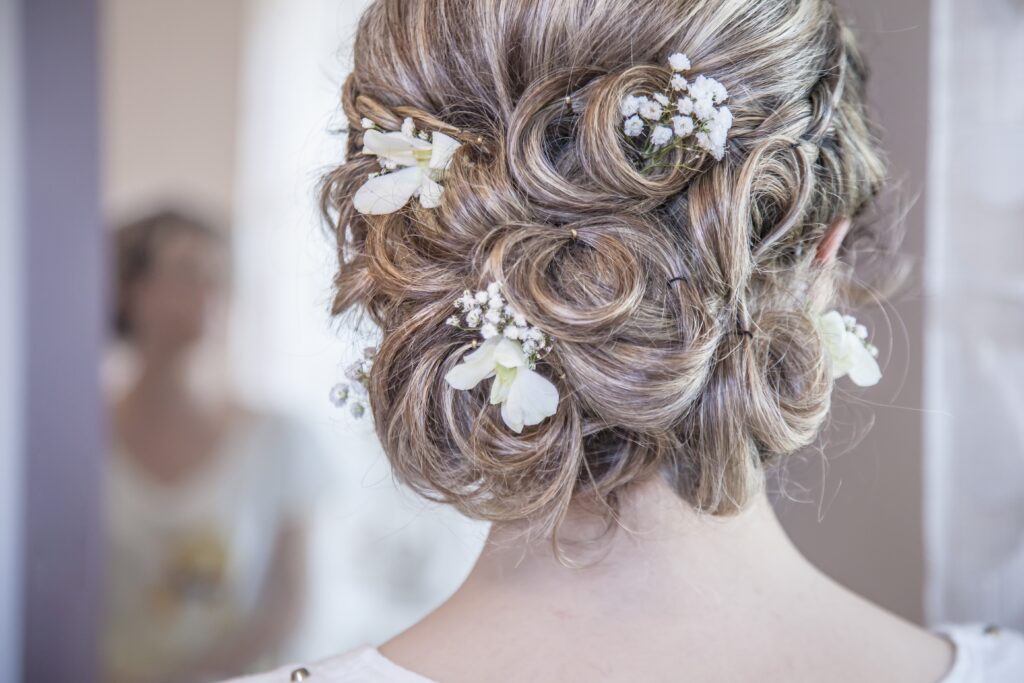 Flowers add a certain romance and appeal to your bridal hairstyle that's hard to match with any other hair accessory. Therefore, many brides opt for gorgeous florets in their hairdo – further because they go with any type of hairstyle you want, from bun to wavy locks to a braid. The refreshing accessory can be an arrangement of flowers or loose flowers placed strategically in your bun. Nonetheless, you'd need to plan for them with your florist so they are available fresh & blooming on the morning of D-Day. 
Estimated Cost Of Bride's Hair Flowers: $20
#5 Flower Girls' Arrangements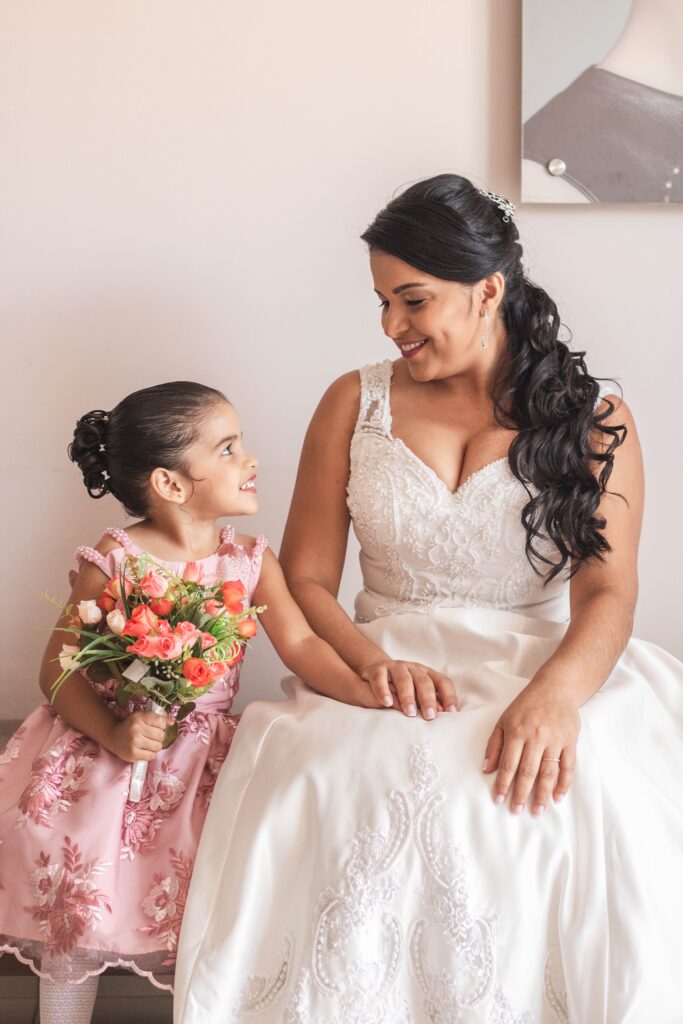 Flower girls' are generally the youngest member of your wedding party and precedes the bride as they walk down the aisle. If you aren't planning to skip this adorable tradition, there are chances you'd want to plan for the flower girls' flowers like a floral tiara or the petal beforehand. The color of the petals she throws will line your path and in turn, complement your wedding aesthetic. Typically, the flower girls' arrangements aren't pricey because their tiara would be both small and cute, and the petals will take just 3 to 4 stems of your chosen floret utmost. 
Estimated Cost Of A Flower Girls' Arrangements: $25
Ceremony Flowers
#1 Entry Way Arrangements & Ceremony Structures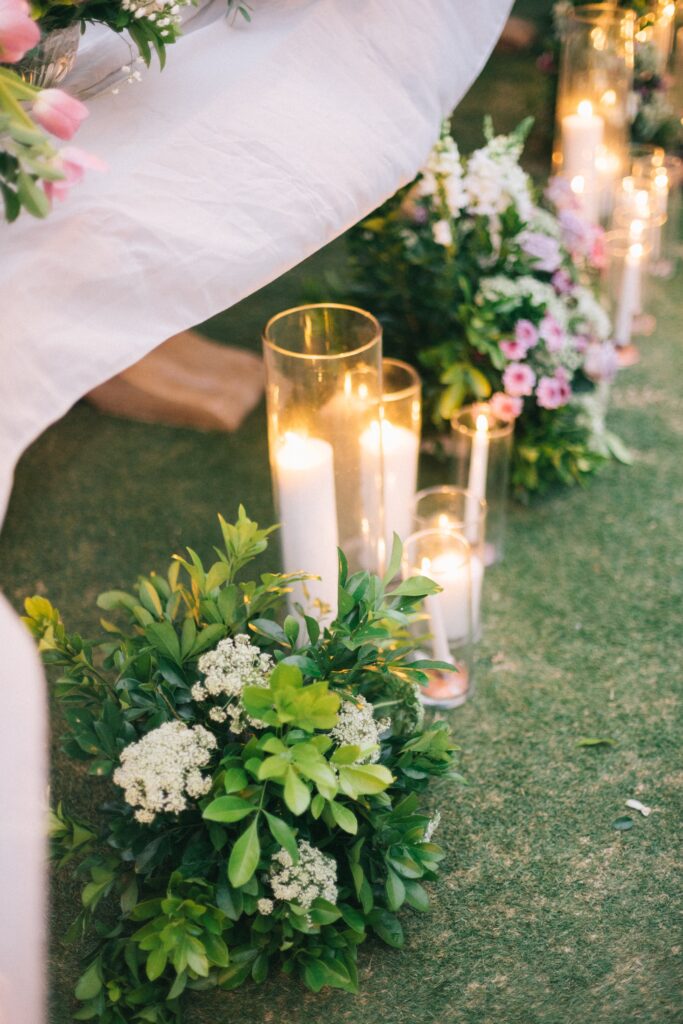 Depending on your venue, the entrance will require decoration depending on the entire decor theme. Plus, you'd also want some ceremony structures installed here & there to enhance the entire venue. The structures don't necessarily have to be all floral, but can rather consist of some accents. It all depends on the theme you're going for, your wedding budget, and the creativity of your chosen florist. 
Estimated Cost Of Entry Way Arrangements & Ceremony Structures: $1000
#2 Aisle Decorations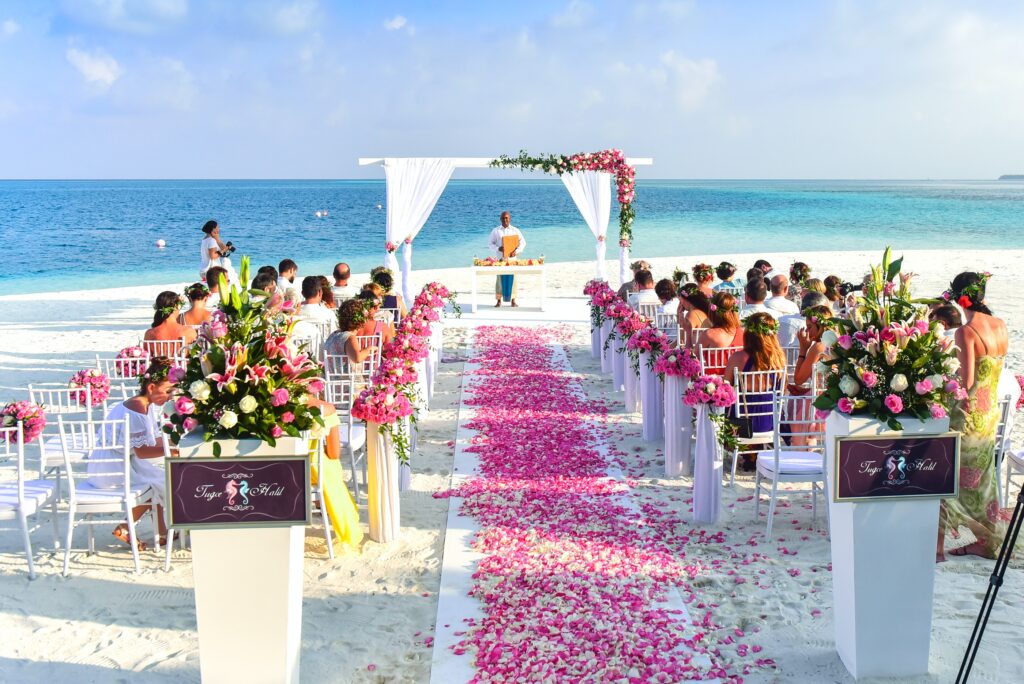 An aisle is the highlight of your wedding. This is where you will be making your grand entrance, AND your grand exit, marking the last moment of your bachelorette life and the first moment of your married life. Given the importance of it, you'd want to give some thought to the aisle decor. Whether you want it to be lined with some lush greenery and lanterns, petals and some geometric structures, or think white blooms and blush pink too with the elegant vibe of your morning wedding. Whatever it may be you zero down on, the pricing has to be taken into account in the entire wedding flowers cost. Clearly, if you choose just petals, then the flowers won't be costing as much, $300 is just an average price that couples spend on their aisle decorations. 
Estimated Cost Of Aisle Decorations: $300
#3 Altar Decorations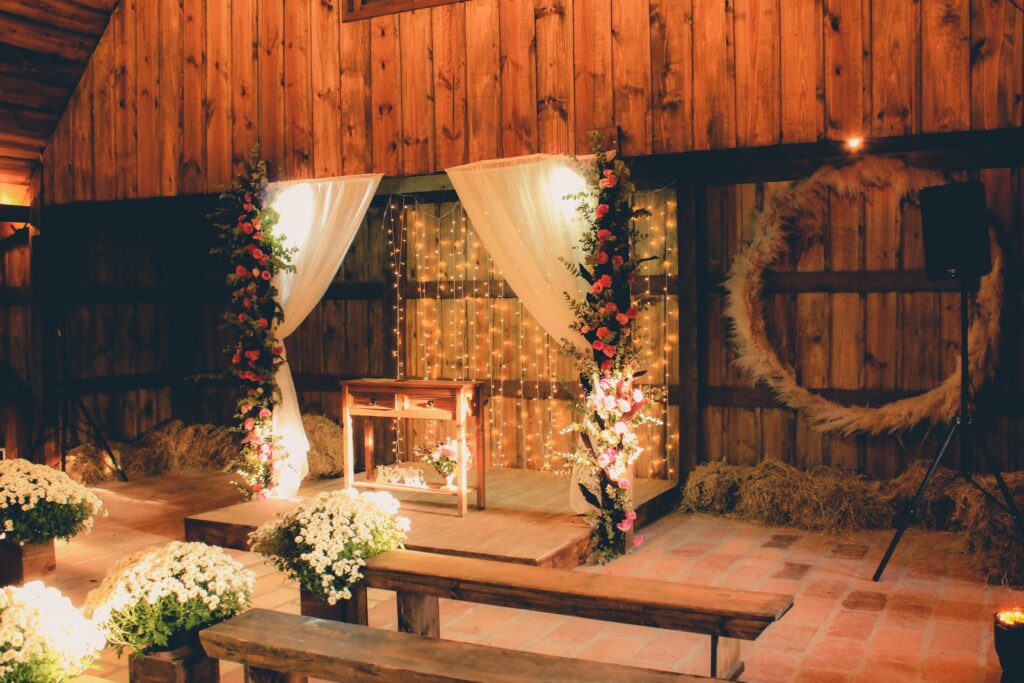 Between exchanging those first glances, saying "I Do's", putting on the wedding rings, and being pronounced husband & wife, there's a lot that happens at the altar. Certainly, it will be the most significant (and most photographed) part of your big day! To design a beautiful wedding backdrop, you'd want to take your wedding theme into consideration and make sure you're looking at all the design elements when choosing your altar. With that being said, not all couples would want a detailed floral design for their altar. Some might have a naturally beautiful backdrop and would want only minimal embellishments, while others will choose just a dainty arch for their minimalistic wedding. Depending on your choices, the price can vary anywhere from $100 to an average spend of $300 or above.  
Estimated Cost Of Altar Decorations: $300
#4 Chair Decorations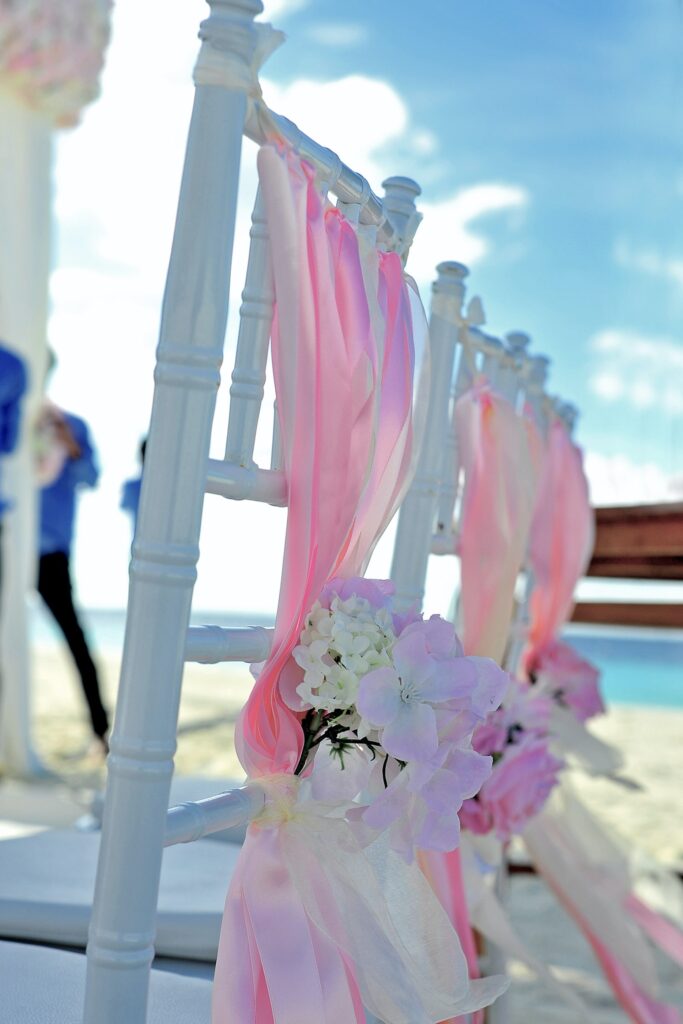 Your choice of chair sashes and decor can have a massive visual impact on the surroundings of your wedding day. Think brown, wooden chairs with eucalyptus leaves and blooming roses for a rustic vine or massive peony blooms for a casual, cozy garden wedding. You don't necessarily have to include elaborate floret layouts for the chairs, even a smaller one will do! Let your florist work out the details depending on the vibe you'd want for your ceremony. They will surely come up with something amazing in your budget. 
Estimated Cost Of Chair Decorations: $400 
Reception Flowers
#1 Cake Flowers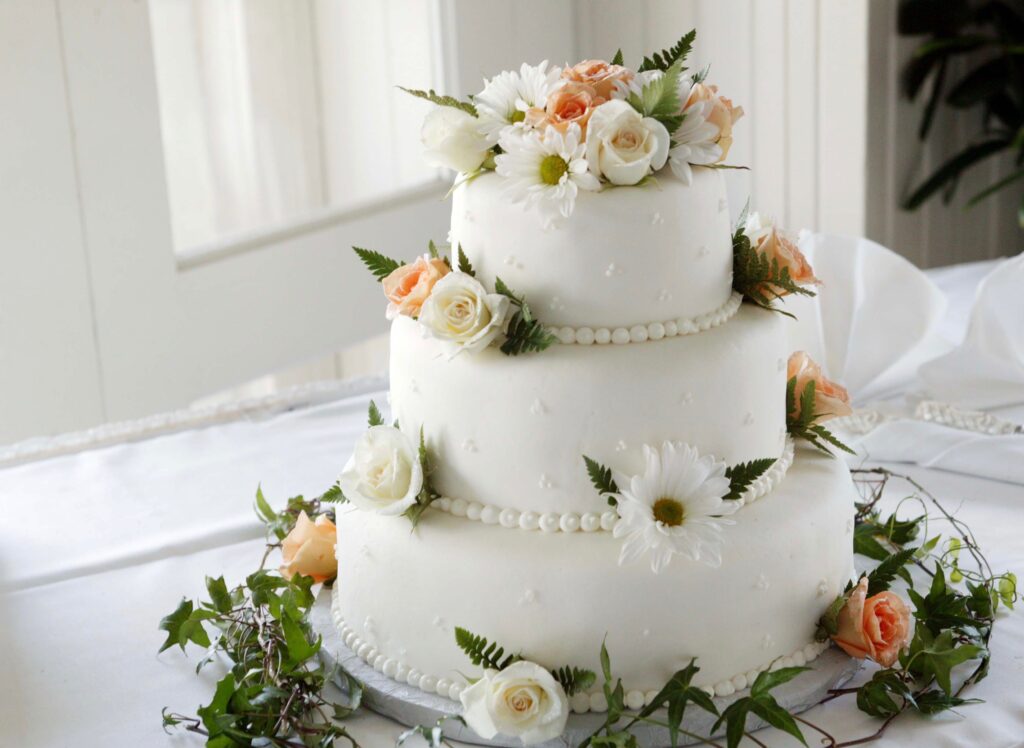 If you want a bedecked floral cake on your wedding day, then you should know that sugar flowers cost more than fresh ones. They're also a cheaper alternative to other decorative techniques like fondant or hand-cut details. So, pretty blooms aren't just a budget choice but they also add vibrancy and romance to your wedding cake like no other. And there are plenty of options to match your envisioned cake aesthetic. From lush greenery for a forest vibe to sizeable blooms for a show-stopping & classic vibe and white florals for elegance, the options are endless. Just make sure your florist talks to your cake artist to discuss the blooms & the timing when they're delivered before anything is finalized. 
Estimated Cost Of Cake Flowers: $150 
#2 Cocktail Table Arrangements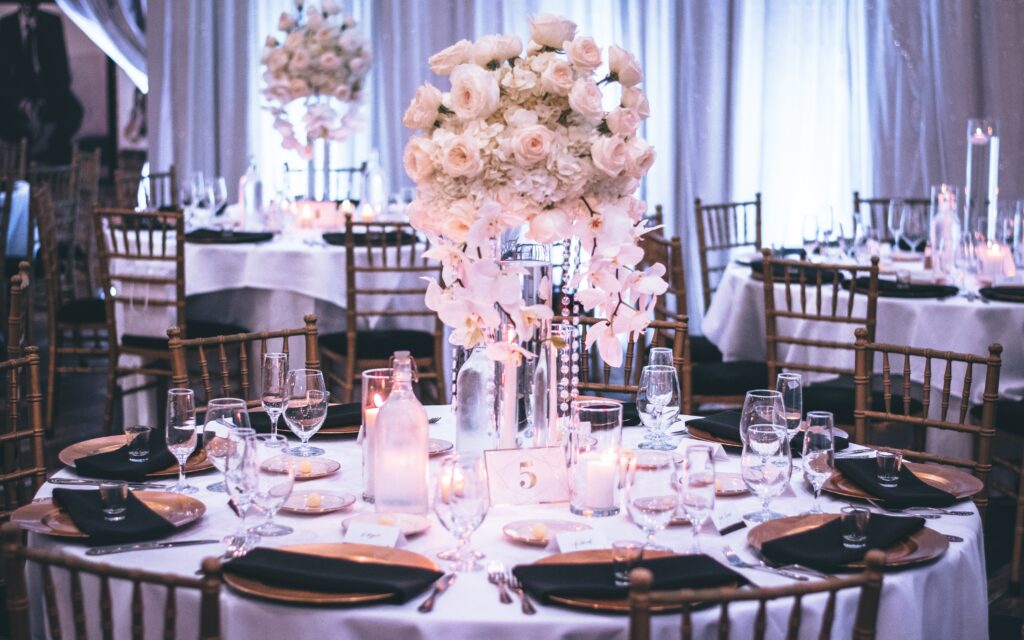 Wedding cocktail tables are a great accent to your indoor or outdoor wedding reception. These tables don't require many florals because they're mainly decorated with drapes, candle holders, and other structures. The florets are generally placed in the vases in the center or on the bows below. The arrangements are part of design layouts done by your florist and will be discussed with other wedding decorations. 
Estimated Cost Of Cocktail Table Arrangements: $100
#3 Bar Decorations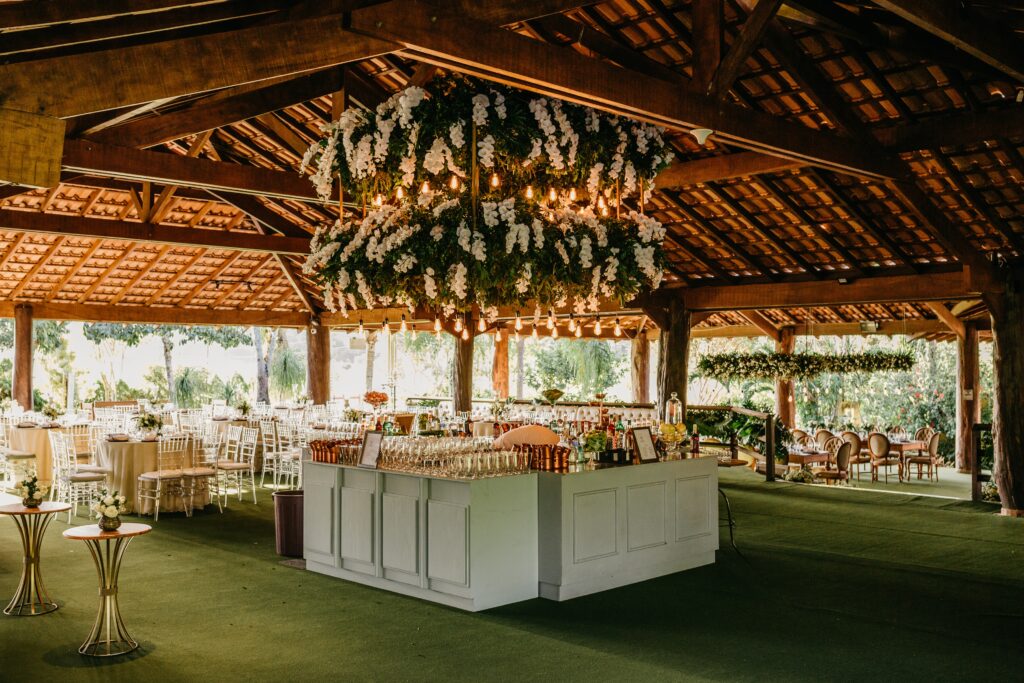 The bar can be decorated with ornate floral arrangements like a floral wall or ceiling floral hangings or the flowers can have a minimal role and the lighting & fun signage can take over. Depending on your chosen bar aesthetic, the wedding floral cost of the bar can be as low as $25 and as high as $500 or more. Before choosing your bar decor though, keep in mind the venue theme. You wouldn't want a dark background for a garden reception or rustic wooden decor for a ballroom event. This is something you should plan with your wedding planner, designer, and florist together. 
Estimated Cost Of Bar Decorations: $100
#4 Powder Room Decorations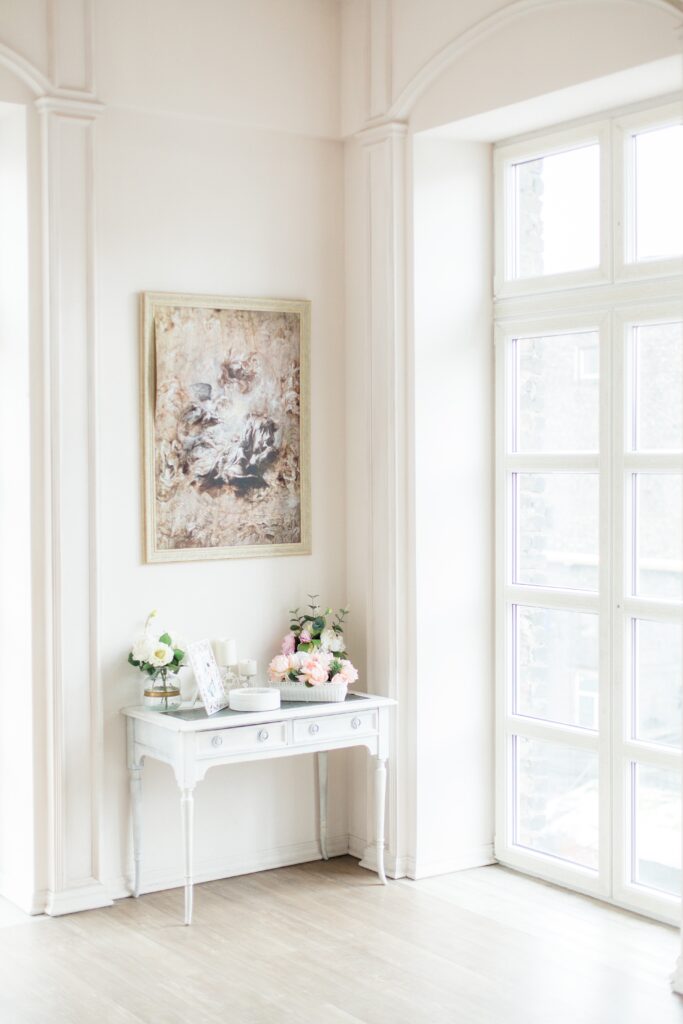 No one gives much thought to powder room decor, but a small vase or statement structure there would definitely wow your guests with attention to detail. That being said, powder room decoration doesn't take much time and a simple vase with blooming florals will add visual appeal while keeping the powder rooms smelling fresh the entire time. 
Estimated Cost Of Powder Room Decorations: $50
#5 Lounge Area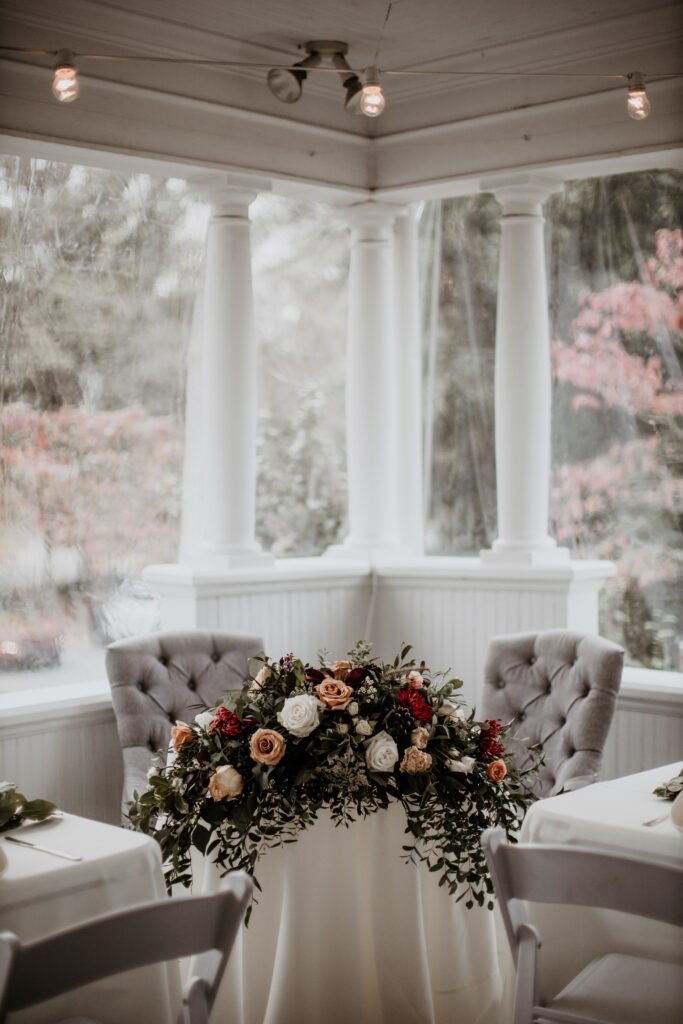 A lounge area is a designated area at your reception with comfortable sofas for your guests to sit back, relax, and mingle during the festivities. It doesn't have to be a single area – but 2 or 3 separate areas in different corners as well – depending on your seating arrangements. For a cohesive design, you will have to choose a theme and florals aligning well with your color palette. Both lush florals and greenery can be incorporated into the wedding lounge area to elevate your celebrations' aesthetic – as minimally and maximally as you'd want. 
Estimated Cost Of Lounge Area: $100
#6 Getaway Car Arrangements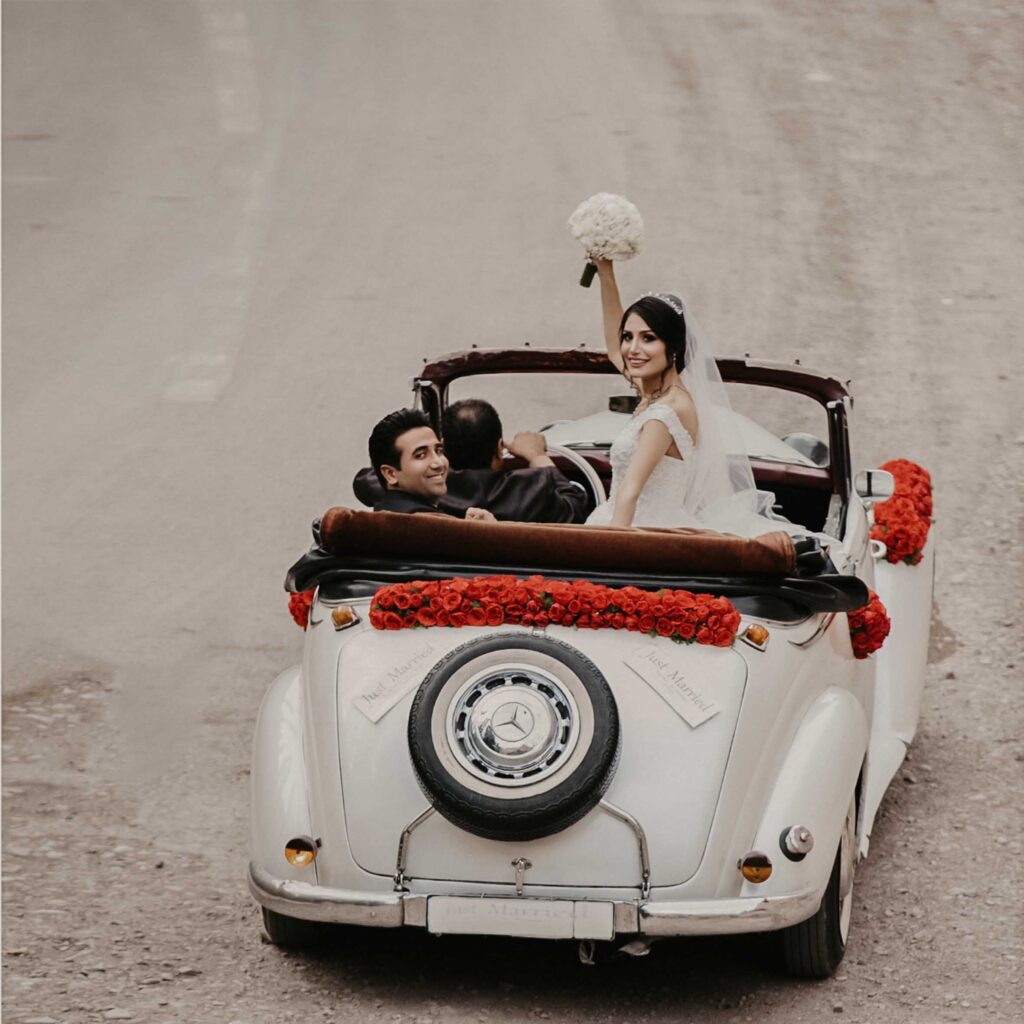 An epic wedding getaway car is a must because it will mark your grand exit, it will be photographed, and all your guests will be there to cheer & wave as you & your spouse embark on this new chapter of life. Usually, a getaway car is decorated with a chunky bouquet followed by smaller ones on the sides. These bouquets can cost anywhere between $50 to $300 depending on the blooms you choose for the task. To cut on the cost, you can also add lush greens – which are big as wedding getaway car arrangements anyways. 
Estimated Cost Of Getaway Car Arrangements: $100
How To Cut Down On Wedding Flowers Cost?
Now that you've set realistic expectations of wedding flowers, here are some ways to make them more affordable. 
#1 Discuss Your Budget With Your Florist
Be upfront with your florist about your budget. Give them an honest number and tell them you can't exceed this budget. Give them guidelines but don't restrict them too much as their creativity can be hampered by too many rules. Try and make suggestions depending on your desired color palette and style, and leave the final decision for the aesthetic to your florist. 
#2 Choose In-Season Blooms
Going seasonal and local isn't only good for the environment, but it also can help you save some huge bucks on your wedding flowers cost too. There's another benefit. Seasonal blooms are fresher and look more lively than off-season blooms. Even if you have an off-season flower delivered, there's a chance that the quality might be poor, adding to their expense as well. Trust your florist's advice on which flowers are available in the region and in the season you're getting married. We can't stress this enough – off-season flowers are never a good choice. They are expensive and unreliable, and they may even unexpectedly become unavailable for your wedding. To keep your budget in check, consider some flowers which are available year-round like carnations, tea roses, mums, or tulips. 
#3 Consider Alternatives
If you want to include a specific flower for how it looks or because of its shape, there are chances a cheaper alternative is available for the same. Also, a bigger alternative can work as well, because you'd need a lesser quantity for a bigger bloom to make a statement. For example, garden roses and peonies are both voluminous and give an elegant, luxurious vibe. Similarly, carnations and baby's breath add a timeless, romantic vibe on a budget. Switching an expensive floret for an inexpensive one will help you get more out of your budget and creates the same aesthetic display. 
#4 Avoid February
If there's one month you should avoid if you want to go big on flowers, then surely avoid February. Not only are there fewer flowers in the season, but flower prices are at the highest in the month due to Valentine's Day. 
#5 Use Less Expensive Flowers For Arrangements Seen From Afar 
Save the expensive blooms for the arrangements that will be seen up close like the bridal bouquets, table decorations, and corsages. For the far-off decor like that of wedding arches or corners of the hall or the garden, stick to inexpensive blooms because the arrangement won't even be noticed by most people. Spend your money where it matters. You can also pick bigger blooms for arrangements seen from afar because no one is going to notice the subtle details anyway. 
#6 Reduce, Reuse
Stretch your wedding flower budget by using ceremony flowers for the reception flowers. While your guests are getting ready to enjoy the reception, sneak in the altar arrangement and chair florals to the reception tables, cake table, and stage boundaries. Paying your florist to transfer the arrangement is a lower-cost alternative than paying them to do the entire floral arrangements for the reception party. 
#7 Use Petals Rather Than Flowers For Cake
Fresh flowers are generally more expensive to use than the petals themselves. For petals, you'd need fewer flowers than if you use whole flowers for cake decorations. Plus, petal arrangements can be done quickly and by an untrained volunteer as well, saving money for floral decor on the cake as well. All you need to do is sprinkle some petals on the cake strategically and evenly though. This can help you achieve an elegant look at a fraction of the cost. 
#8 Add Lots Of Greenery To Arrangements
Large ferns and leaves are a bit cheaper than fresh blooms. They also cover less space than fresh blooms so you'd need fewer of them to decorate the same space than when you use natural flowers. Let your florist know that you're okay with accommodating greens into your floral arrangements. They will come up with many creative & aesthetic ways to include lush greens in your celebration. You might consider adding greenery to your table decor, as altar decor, or incorporating a few rich foliages into your bouquet or corsages. 
#9 Don't Immediately Count Out A Flower
As much as you'd want to stick to your Pinterest board and ideas of what you do & don't like on your wedding day, we'd still recommend you keep an open mind. You might not like the idea of roses or carnations for your florals, but you don't know how many varieties of one flower exist. Be open to your florist's suggestions and let them give you visual examples of what they're explaining and how it's a perfect match to your wedding aesthetic. Chances are, you'd end up loving (or better, saving) on the blooms options they picked for you & you didn't particularly like at the start. 
What Is The Average Cost Of Flowers For A Wedding?
The average cost of wedding flowers in 2022 is ~ $2,300, according to a survey done by Knot. The price can vary depending on how elaborate arrangements you want for the wedding. Some couples want the entire aisle and the surroundings to be bedecked by flowers, which can easily escalate the cost of wedding flowers above $2300. Similarly, if you have big expectations from the wedding decor and flowers are a huge part of it, then the wedding flowers cost can easily go upwards of $2300. The cost also shoots up when you go for some of the most expensive wedding flowers like hydrangeas, peonies, gardenia, Casablanca lilies, and lily of the valley. But if fresh blooms aren't on the top of your wedding must-have list, then you can use some other arrangements to adorn your venue without going overboard on your wedding floral budget. 
How Much Does DIY Wedding Flowers Cost?
Given the average cost of wedding flowers is anywhere between $1000 to $5000, it's a given that some couples would want to explore the arena of DIY florals to save some bucks on wedding planning. Even if you want to leave some arrangements for the wedding florist like the wedding arch or aisle decorations, you can do some wedding flowers yourself like the bridal bouquet, bridesmaids' corsages, table centerpieces, etc. On average, DIY wedding flowers cost 50% lower than the average spend when you delegate those services. For example, the average cost of a bridal bouquet is $250, but the average cost of a DIY bridal bouquet is $76. Similarly, the average cost of the ceremony structures and centerpieces when you delegate is $1500-$4000 and $120-$600 each respectively. This cost comes down to $300 for wedding arch flowers and $40 each for DIY centerpieces. 
Do You Have To Tip Your Wedding Florist?
In many wedding contracts, service fees (equivalent to tipping) are bound by the contract, so you don't have to tip. But if you're impressed by the vendor's services or they have gone above & beyond to bring your dream wedding into reality, you can surely add a tip. The recommended tip for a wedding florist is $50 to $100. If the florist also has assistants, you can tip them at ~ $20 each. 
How Much Do Wedding Florists Charge?
The cost of hiring a wedding florist is on average $500 to $1200. This doesn't include the wedding flowers cost and you might have to pay extra depending on the type of blooms you want for your wedding day. The wedding florist's cost only includes their payment for the man work done for the celebrations and efforts put into sourcing & arranging the flowers. 
When To Hire A Wedding Florist?
We recommend starting your search for the wedding florist as soon as your wedding date is selected and the wedding venue is booked. It should be right about the time when you're looking for an HMUA, planner, and photographer – around 9 to 11 months in advance. You should sign the contract about 9 months before the wedding and no later than 4 months before the wedding. Given the current wedding boom, the vendors get booked faster than usual so the earlier you secure a florist, the better.
What Should You Ask Your Wedding Florist?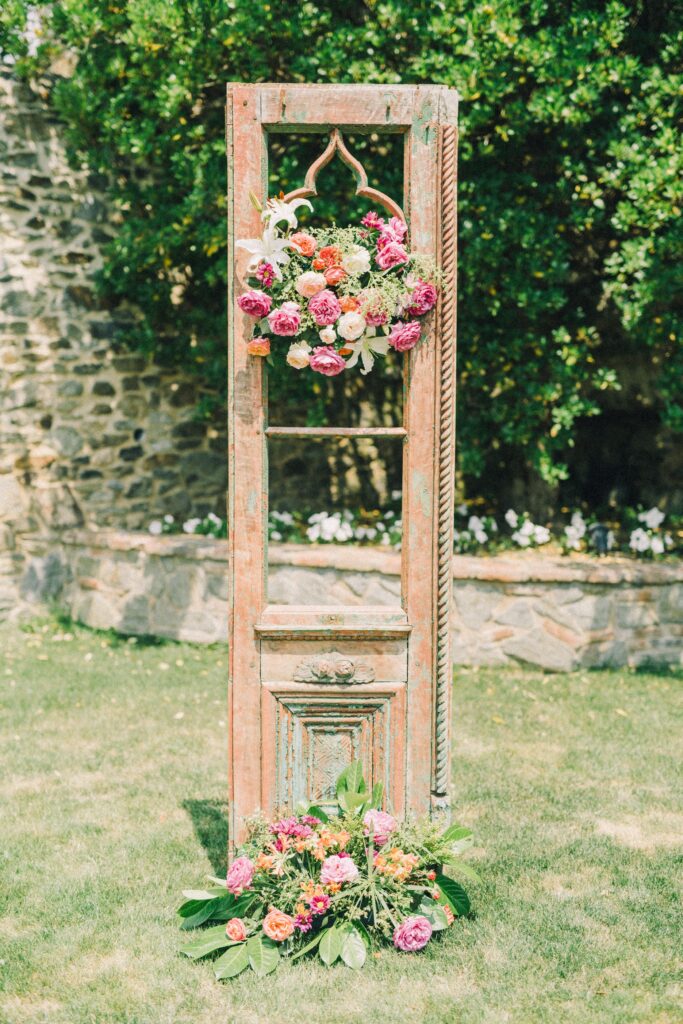 Flowers clearly form a major aspect of your dream wedding vision. From the decor to your personalized look, they will be everywhere, so choosing a wedding florist is an important decision. For starters, interview ones who match your style preferences for D-Day, because every wedding vendor has their own. Here are 9 other questions to ask your wedding florist so you know they are the right fit for your celebration:
#1 Are you available on my wedding date?
This might seem like a basic question, but it's super important. You don't want to set your heart on a particular vendor only for them to be not available on your wedding date. If your favorite wedding florist is not available on your date, then ask for their recommendations for other floral pros who have a similar style. 
#2 For how long have you been a floral designer?
There's no right or wrong answer to this question. Sometimes, florists with 10 years of experience have done fewer weddings than those with 5 years of experience. But you do want a florist who knows their stuff and worked with enough couples to execute designs for your celebration. Also, ask how many weddings they have done till now and in what seasons they've worked. A seasoned wedding pro has likely handled situations in that particular season well and will know what are the best kind of flowers for arrangements during that season. 
#3 How would you describe your design aesthetic?
This is the ideal time to know what design style your floral designer accommodates. Many florists work with a number of clients with a number of styles. But many others have a specific style and they work in a specialized floral design like a minimal, vivid, English garden, etc. To know if their design style matches yours, jot down a few words that describe the floral aesthetic you want for your wedding and see if their description matches yours. Although, don't discount a designer just because their style feels different from yours. Just see their confidence in the style you want and what changes they'd make to create your aesthetic. 
#4 Can I see some examples of your past work?
Chance are, that you're interviewing a vendor because you've been admiring their work on social media and online. That's amazing. But at the same time, you'd want to see their entire portfolio for a wedding and know how did they work through the process to create the arrangements for a celebration. Not everything is included online. This will give you a chance to see their real-time work and also know their working methods. We'd also recommend going through the online reviews or asking for contact for past couples to directly take the feedback. 
#5 Can you work on our wedding budget? Are there any additional fees involved?
A wedding florist's price doesn't work like that of a makeup artist or a DJ. They don't have any set prices or packages and the final amount often depends upon the number & types of arrangements you'd want for your celebration. That's why it's recommended to contact a wedding florist with a wedding flowers cost estimate in mind as well as some other information for your wedding like the number of guests, size of wedding venue, style of wedding arrangements, etc. Most wedding florists will be able to work within the average cost of wedding flowers in 2022. If they do offer packages, make sure to see what's included and what's not. 
Don't worry if your chosen blooms are way out of your budget. That's what florists are here for! They know the cheaper alternatives to the desired florets which will give the same aesthetic at a low price. Just be upfront about your budget and let them know what are the best ways to make the most of it. Whilst on the subject, ask them about any additional charges as they can add up quickly. Some hidden fees can include transportation fees, preservation charges, breakage costs, etc. Seeking clarity on these issues will avoid any misunderstandings and bad feelings. 
#6 What flowers/decorations do you recommend for our wedding?
Even when you have particular flowers and arrangement structures in your mind, it's helpful and recommended to take your florist's ideas into consideration. Maybe the flowers you want aren't available in the season you're getting married or they have to be sourced increasing the entire wedding flowers cost – these things can only be deciphered by an expert. Better yet, they might have an alternative floral setup in mind which will cost less but will give the same aesthetic sense as you'd want. Their answers will help you understand their level of expertise and how much they get your wedding vision. 
P.S.: This is the perfect time to break down your Pinterest board and tell the florist any designs you'd like them to recreate. Also, let them know what arrangements you're expecting out of them – like cake flowers and bridesmaids' corsages. In the case of the former, the florist will have to work with the cake designer to ensure smooth delivery of flowers when the cake is all ready. Be sure to express their expectations of them and understand how much they can deliver of them. Know that you don't have to choose your exact arrangements in the very first meeting, but this will help sort out the priorities and any other specifications can be worked out later. 
#7 Do you have any other weddings on the weekend of my wedding date?
If you're working with a big floral company, it's likely they're working on other weddings on/ close to the date of your wedding. That's okay though! Because they've many people who're working for them and they also have experience working with multiple weddings. But when you've hired an independent floral designer who has a small team, it can raise some red flags. And if they also have less experience in the field, we'd suggest you take this pointer seriously before booking them for your special day. 
#8 What's your process of working with the clients?
Everyone has a different way of working with clients. Some couples prefer vendors who are more involved in every step of the way while others would like vendors who can work independently with minimal involvement. Also, ask how they generally collaborate with other wedding vendors or if they've collaborated with any of your wedding vendors before. The way a wedding florist works together with you and other vendors will determine their ability to seamlessly bring your envisioned celebration to reality. Another question to add here is if the florist creates a mock-up for you to review or if the sample arrangements are done at an additional cost. 
#9 Do you handle breakdown at the end of the night?
At the end of your wedding reception, the venue owner will want to have the site exactly as before. And florals and rentals can make a huge part of the change of the venue aesthetic. Does your wedding florist handle the breakdown of the decoration at the end of the night? Is that included in the package? Or will they charge extra? Include these questions in your first interview with the wedding florist.