There's probably nothing as exciting in the wedding planning journey as picking out your wedding dress. Going from salon to salon with your bridesmaids, having fun, being treated like the most important person in the room (which you are, because you are the bride), standing on that round table to see yourself in that princess dress, living the vision you've been dreaming of since childhood and many more things make wedding dress shopping a thrilling experience for brides. But it does leave you with some logical questions. Like when to buy wedding dress if losing weight?
Most brides do lose some weight before the wedding. But it's not drastic and can be easily accommodated during fittings. Plus, many cope with stress through eating, so their weight-loss journey during wedding planning will not go as planned. So, what's the first step in deciding when to buy a wedding dress if losing weight – it is to set realistic goals? 
Know how much you can exercise and how much you can have control over your diet. These two form the backbone of your weight-loss journey. Considering you will have many commitments between the engagement and wedding, setting a realistic exercise routine is also necessary. Of course, then there's the willpower. In the end, we do mention some easy weight-loss tips for brides-to-be. Now, after setting realistic goals, let's answer the million-dollar question: when to buy wedding dress if losing weight?
When To Buy Wedding Dress If Losing Weight?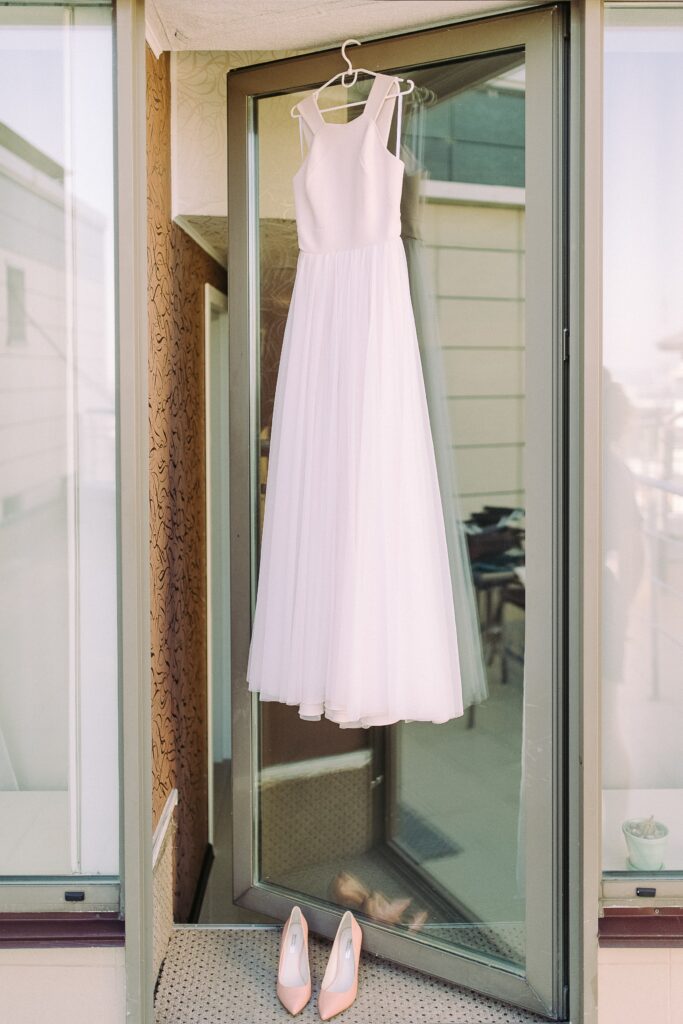 After deciding on the amount of weight you can realistically lose, here are three weight loss brackets that can help you decide:
5 to 15 pounds
Most bridal dress designers and store attendants are prepared for brides to lose weight and hence, consider any alterations that come along the way because of the same. 5 to 15 pounds is a nominal weight loss and the most common weight loss bracket for brides. Start shopping for the wedding dress at least 9 months before D-Day. 5 to 15 pounds of weight loss means you will be going down 2 dress sizes, and most alterations can easily accommodate that given the alterations begin 2 months before the wedding. 
15 to 30 pounds
If you fall into this category, then we'd suggest waiting to order a wedding dress unless you have 20 pounds to go. This means you will just have to wait around a month and a half or two to purchase your wedding dress if you aim for a weight loss of 30 pounds. Once you're anywhere between 15 to 20 pounds more to go, you can purchase your wedding dress. You'd be on a time crunch if your wedding day is only 9 to 12 months away, and you'd be purchasing a dress around 7 months before. Do start shopping earlier so you have a clear what you want to pick, but don't buy the dress until you're only 20 pounds away. Many salons and designers will be happy to expedite the process for you. 
30+ pounds
This is quite a drastic change in your body type and size, and it's recommended that you only buy a wedding dress when you have around 20 pounds more to go. This way you will be able to select which dress style flatters your body type the most and any changes can be accommodated as well. Since you'd need to wait, there will be limited options especially if you're going for a custom dress since it requires more attention to detail. 
An ideal option when you're planning to lose more than 30+ pounds is to choose an off-the-rack wedding dress or a buying a sample dress. If you don't know exactly what these two dresses categories mean, here's an explanation for two: 
Off-The-Rack Wedding Dress:
Off-The-Rack wedding dresses can be bought even a month before the big day, making it a superb option if you're planning to shed more than 30+ pounds before the wedding. Deciding on an off-the-rack wedding dress will make your wedding gown shopping much easier. For those who're wondering what an off-the-rack wedding dress means, it's a to-go wedding dress, where you try some gowns you like and take it home, that very day. These dresses can be the sample dresses (the ones brides try on before they put their order for made-to-measure/ made-to-order dresses, which are made from scratch for them), ones bought in bulk from some other designer, or discontinued inventory from a reputed store. Some salons can take into consideration minimal alterations of sizing and any other tweaks, but they can be charged highly as off-the-rack gowns are made to be taken just as they are. 
This type of wedding dress is cheaper, doesn't require any downtime (you can take your dream dress the same day), and doesn't require any alterations. If you're the type of bride who has a hard time visualizing the looks and want to know from the start how you'd look in a dress, this is a perfect option. 
Sample Wedding Dress: 
Now the words sample wedding dress also means a sample sale wedding dress and can sometimes be used interchangeably. A sample wedding dress is when a designer or boutique offers an end-of-season sale where the dresses are offered at a rate of upto 70% of their original price. This is the perfect option for those who have a shorter engagement, want to save money of the dress, are on a time crunch, or already have a dress in mind from the designer that they want to wear on the wedding day. These sample dresses are often the attires that the brides try on so as to decide which design they like and give their orders so their own dress is made from scratch. Some designers though launch a complete new collection for sample sales based on what brides are preferring the most at the moment and make some money out of the opportunity. 
This is a good option for brides who want to pick a wedding dress after losing a lot of weight, as they can be shopped for even a month before the wedding. You can surely get some changes done from a known seamstress for a few extra bucks. 
Expect a sample sale shopping experience to be different from the usual. There will be no one-on-one consultations or champagne/ hors d'oeuvres served for you. Expect to find other brides looking for their dress and an aura of competition as everyone wants to get hold of your dream dress before someone else does. A few things to know before buying a sample wedding dress:
Don't enter blindly into a sample sale store. Know the designer and their style so you have an idea if they fit your wedding vision. 

Call the store to ask if they need an appointment for sample sales shopping. Some designers' sales appointments are booked weeks in advance, so act fast.

Have just one or two bridesmaids with your when shopping. You'd need them for advice on fittings and look. 

Do dress shopping beforehand so you have an idea of what kind of dresses will be available in sample sales. 

Shop on a weekday, as weekend sample sales are much more crowded. 
Here's a walk-through of other types of wedding dresses, based on their alterations and custom-designing offered to the bride: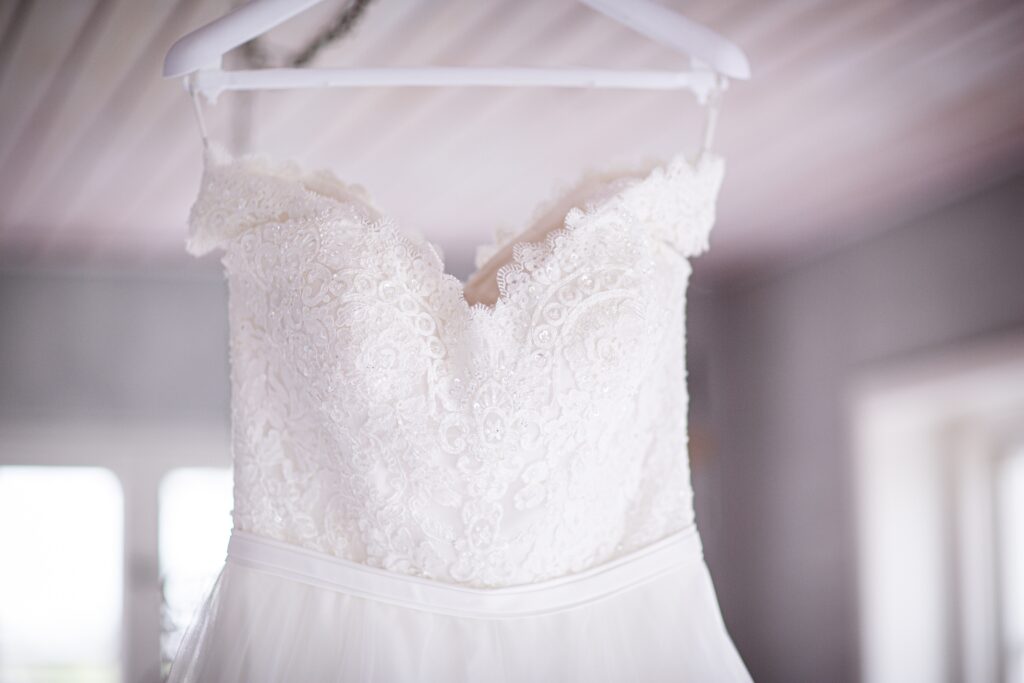 Made To Measure:
Made-to-measure wedding dresses refer to an entire wedding gown constructed so it exactly fits your measurements. Unlike the expensive options like couture, custom, or made-to-order, these wedding dresses are made from scratch on a sample design you decided upon; so it's custom in only size and not the design. This makes brides feel they're wearing something that was made for them and also falls into the budget. Since made-to-order gowns are made from scratch, the salons will need an ample amount of time – anywhere between 6 months to 8 months – to complete the gown. You can have two to three fittings once the gown is ready so the dress goes on you just perfectly. 
Made To Order:
Made-To-Order wedding dresses almost work on the same principle as a made-to-measure wedding dress. You try some of the sample styles from the made-to-order collection of the bridal boutique, and you select a design you like. The salon will create the same gown for you from scratch which will have a custom fit but can also accommodate some other custom changes for you like neckline or sleeves design. This is a cheaper option than bespoke wedding dresses as you don't change the entire design, but you can still enjoy some tweaks in the gown as per your preferences. 
At this point, you might feel like made-to-measure and made-to-order wedding dresses might seem like the same thing, and sometimes, they are used interchangeably. However, the main difference between them is while made-to-measure only caters to the size alterations, made-to-order can cater to more specifications from the brides than made-to-measure, which only caters to sizing. Made-to-order can also take into account sleeve style or back design alterations. In a way, it can be considered a milder version of the custom dresses where the entire dress is designed for the bride instead of just some parts catered to the bride's needs. These dresses can take anywhere between 6 months to 9 months to complete. 
Custom/ Bespoke:
Custom or bespoke wedding dresses are basically custom-made wedding dresses. The process involves creating a new design based on your unique requirements. But if you're someone who likes to work from a sample style, then the salon attendants can suggest many different styles from their existing collection or work on a design based on something you have in mind or saved on your Pinterest board. Since this requires lots of time and effort from the designer, this tends to be an expensive option. 
Brides who go for bespoke wedding dresses generally know what they want, desire to wear something unique on their special day, can't find anything they like in the existing market or have a bigger budget so they can enjoy the luxury of a custom-designed bridal gown. Prices for a bespoke wedding dress generally go upwards of $2000 and the price can vary per the details. The dress can be made anywhere between 8 months to a year, depending on the dress design and couturier.  
Couture/ Haute Couture: 
A couture wedding dress signifies the exclusivity of the design. Custom or bespoke wedding gowns also create a completely new design and gown for the bride, but couture or haute couture emphasizes the exclusivity of designs, work, and detail-oriented approach hard to find in any other style of wedding gown. Whenever a designer names collection couture or haute couture, it basically means that they are one-of-a-kind gowns and have only limited availability, which means you have a dress that's completely your own and won't spot on any other bride (ever!). 
They are definitely priced higher than all the other types of wedding dresses mentioned on this list because of their details and quality, like expensive fabrics, beads, and threads. Know that couture and haute couture dresses will take at least 8 to 12 months to be finished. This is because most of the elements are sourced from various parts of the world where they're manufactured the best like Swiss laces, French beads, Chinese silk, etc. That's why high-end designers are priced relatively more because all their collections come under couture or Haute couture. 
Although, some bridal boutiques name a part of their collection as couture/ haute couture signifying superior quality and exclusivity of that set of collections, which also gives them a chance to cater to different target markets. If you're lusting after a designer couture wedding gown, then it's important to research what kind of styles they offer. Having a personal recommendation is also a great way to know if a designer will work for you as well. The beauty of a couture collection is that you will get a wedding dress that's entirely your own, great quality, and custom to your body. 
Know that this terminology can change for each designer. Some designers use bespoke and couture interchangeably as for them it basically means a custom-designed dress. Others use them differently as couture can signify something more exclusive and detailed than a bespoke dress. Others can also use made-to-order and made-to-measure in the same way because they offer the same alterations for both. 
FAQ's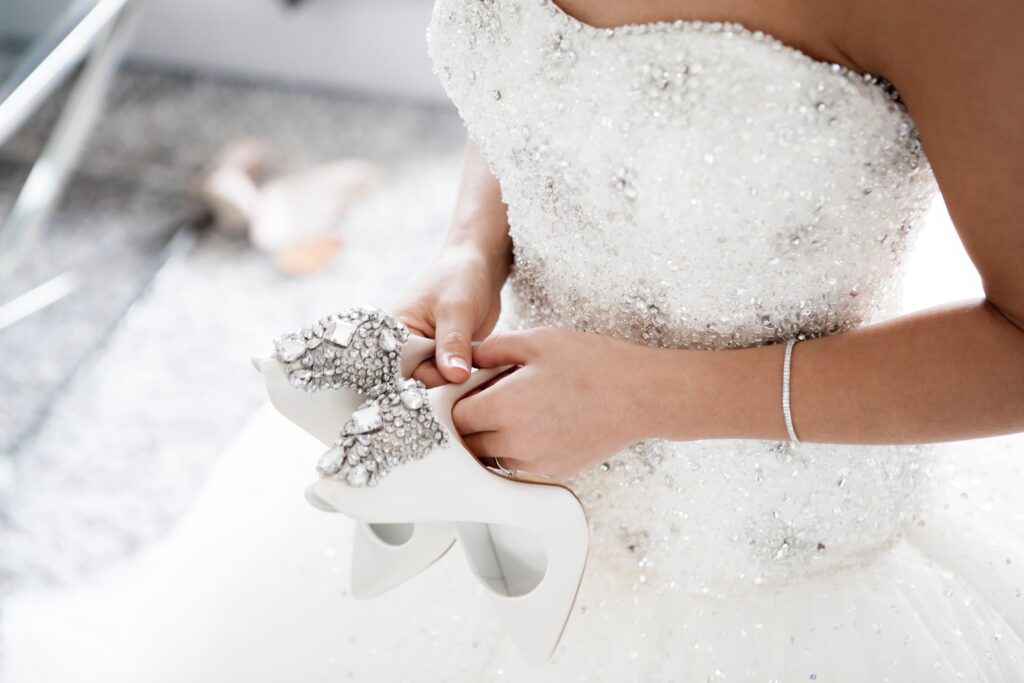 How Many/ What Alterations Can Be Done In A Wedding Dress?
When you order the dress, which is recommended to be around 9 months in advance, buy the dress based on your current measurements. This is also what your salon attendant and seamstress will also recommend. It's a lot easier to take material out of the dress than to add it back in if you don't lose as much weight for the wedding. Most designers can easily accommodate any alterations when you drop two sizes. It does get complicated when you drop any more weight, but it can be done given that your dress details have been set that way. The price of fitting can also increase if your dress has lots of beading, embroidery, and lace, which is harder to accommodate and need tons of man-hours. 
Know that 5 to 10 pounds weight loss can make you drop a dress size easily. Two dress sizes mean you're losing around 20 pounds, which is a lot to lose and requires a ton of work in itself. Whatever the case, get your alterations started at least 2 months before the wedding, So your seamstress is able to fit you in just in time. Also, communicate your weight loss goals so the appointments are scheduled accordingly. 
Further, consider the dress details when you're planning to lose a considerable amount of weight before D-Day. Plunge neckline, V-necks, princess, and fit-and-flare dresses are more difficult to accommodate size changes than other wedding dress styles like sweetheart necklines, boat necklines, A-line dresses, and ball gown styles. Bridal store attendants will be able to give you advice on what dress styles will be better if you're planning on a drastic weight loss. We also recommend having the seamstress on board during the discussion as she has more expert knowledge on fittings and what changes can be made at the last moment. 
When Should You Stop Losing Weight Before The Wedding?
A typical question that runs through a bride's mind while wondering "when to buy wedding dress if losing weight" is when should you stop losing weight. Don't lose any more weight after your last fitting, which is around 2 to 3 weeks before the wedding day. You can still continue your workout and diet routine, but to stay healthy and fit, rather than lose any more weight. 
How Do Some Brides Lose Weight Fast?
Everyone has a different metabolism for starters. We know you hate people who can eat whatever you want and still stay the same weight, but that's just how some people are. And if you aren't that person, stop comparing yourself. As the wedding date is fixed, brides start focusing more on their body structure, analyzing each and every part, from the collarbones to the butt shape. Honestly, this is a good time to break that negative self-talk cycle about your body. So when you catch yourself in disapproval of any part of your body, stop the talk, practice some positive affirmations, and feel compassion. 
Though, if you do want to lose weight fast, it's best to consider a diet and workout professional who can lead you through the regimen based on your goals. Don't go on crash diets as it can severely affect your health and also, ruin your skin and hair, which we know you'd want to behave the best on your D-Day. 
Do Most Brides Lose Weight Before Wedding?
Yes! According to a review by Treadmill, surveying nearly 3,500 brides, grooms, and bridal party members, 62.2% of the brides and 60.8% of the grooms stated they want to lose some weight before the wedding. 61.2% of the brides did achieve some level of success when it came to shedding for the wedding, while 18% of them hit or exceeded their goal. On average, brides were 10.6 pounds away from the target weight they wanted to lose before D-Day. Most brides started losing weight at an average of 4.4 months before the wedding. Another interesting conclusion of the study is that 48% of the brides & grooms who weren't successful at losing weight for their wedding stated it didn't impact their happiness on the wedding day. 
Is It Okay To Lose Weight After Buying Wedding Dress?
Yes, it's completely okay to lose weight after buying a wedding dress. Most seamstresses are prepared to alter the gowns one to two sizes down from the original size. This means around 5 to 20 pounds of weight loss. Any bigger than two sizes can also be accommodated, but it might pose some struggle. Anyhow, do inform your seamstress and designer that you're losing weight so they can prepare for the fittings accordingly. 
Weight-Loss Tips For Brides-To-Be: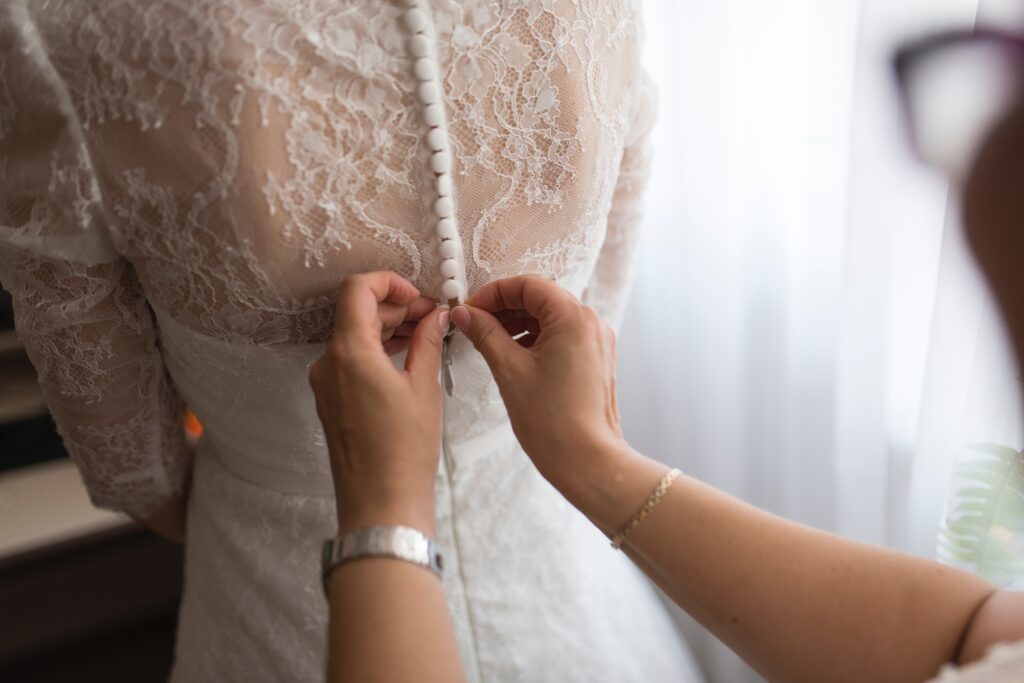 #1 No Crash/ Detox Diets
Many temporary diets promote quick weight loss and they will have you eat 800 to 1200 calories a day, which is not healthy or sustainable and will leave lasting negative effects on your health. It can also heighten your risk of infection and can sometimes cause permanent organ damage. Instead, try to eat clean and if you do want a diet plan, stick to a trained nutritionist to devise one for you. 
#2 Take Account Into What You're Eating
See if you're having enough protein, carbs, and healthy fats in your diet. Don't cut any food groups out. You need everything in the right proportion. Also, focus on eating only when you're hungry and not out of boredom or stress. Listen to your body when it comes to how much you should eat. As a good rule of thumb, stop when you feel 80% full. 
#3 Go Easy On Sugar
Sugar is all empty calories. That doesn't mean you swap sugar for other artificial sweeteners. You can add honey though, but know even 1 tbsp has 64 calories and more than that can add 100 to 200 calories to your food item. Not the best option when you're trying to cut 300 to 400 calories from your diet daily. Limit your sugar intake or if it's possible, cut it out completely, at least till your wedding. 
#4 Limit Alcohol Intake
Just like sugar, alcohol can add to the caloric intake quickly. We know a glass of wine might feel like the ultimate comfort food after a long day of wedding planning, but it's not good for your weight loss goals. Instead, leave the alcohol intake for the weekends or when you go out. So, just 3 to 4 servings per week. 
#5 Set A Realistic Workout Plan
If you haven't ever worked out before or stayed consistent on a workout plan, then don't suddenly decide to go to the gym for an hour or more – on all days. Instead, set a realistic schedule, where you decide to go to the gym at least 4 to 5 times a week. This way you will be able to stick to the plan and not feel guilty about not adhering to the set goals. You can up the workout when you have stuck to the plan for around 3 weeks or so. 
#6 Don't Aim For Drastic Weight Loss
At this point, when you also want shiny, bouncy hair and glowing, flawless skin, it's not advisable to aim for a weight loss of more than one pound in a week. Also, remember that everyone's metabolism is different, and some people lose more weight with the same workout and diet plan. So, don't compare yourself. Instead, stick to your journey. 
#7 Keep Healthy Snacks Handy
As a bride, you'd be on your toes a lot. The key to weight loss is not to go hungry for a long time and eating every 3 to 4 hours. So, keep some healthy snacks handy at all times like fruit or roasted dry fruits and seeds, etc. 
#8 Limit Salt Intake
According to health experts, salt intake can cause water retention and hold a lot of water weight while limited salt intake can help flush toxins out of the body, which will further fuel the glow on your skin. 
#9 Swap Cheat Day With Cheat Meal
Following a strict diet for a while can make you let go of the diet one day and indulge in a lot of junk straight away. This is never good and can cause a lot of guilt later. Instead, try to include a cheat meal every 4 to 5 days and devour your favorite junk food at that time. 
#10 Hydrate 
This is advice you'd have heard in abundance, but it's still worth a reminder. Drinking water helps flush out toxins, reduces the extra water weight, and eases digestion. All of this can lead to weight loss and glowing skin. Have your water in the form of smoothies and coconut water. And try herb-infused water for sipping on throughout the day. 
Here's a general timeline of when to buy a wedding dress: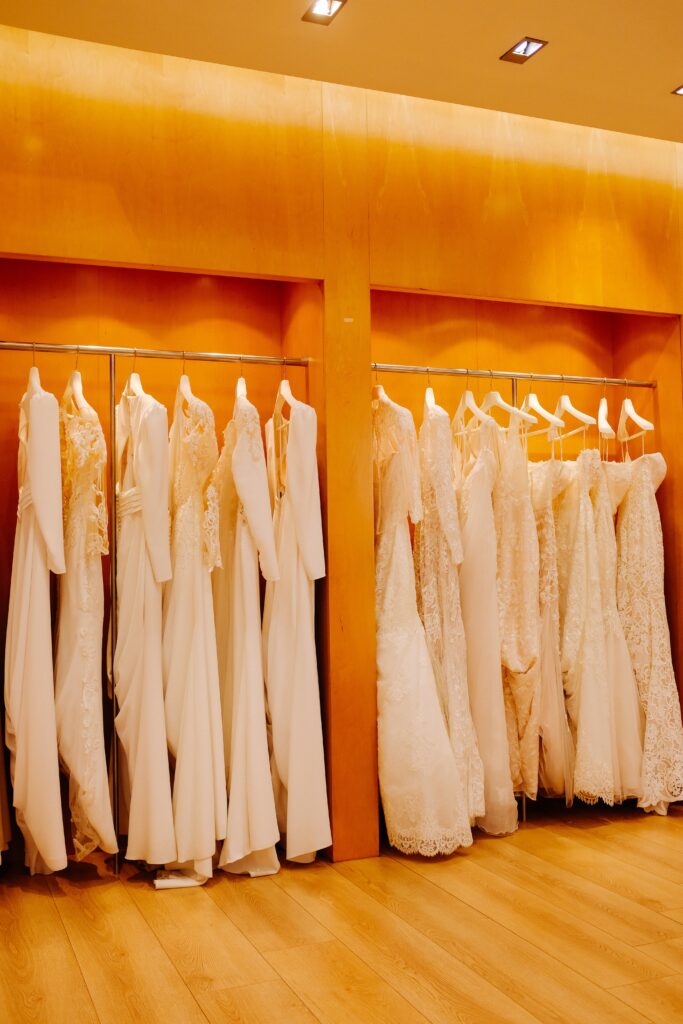 12 Months Before The Wedding:
Pick Your Venue:
It's important to set your venue before wedding dress shopping as it will set the tone and style of your gown (a beach wedding and a ball gown will not go well). 
Set Your Wedding Dress Budget:
Know how much you're willing to spend on a wedding gown so you don't go overboard and mess up your entire budget. Whilst setting the budget for the gown, also take into consideration alterations and shipping. You should also budget for accessories like your wedding shoes and jewelry. 
Research Different Styles:
Know what styles you like. You don't need to fixate on a specific one, but having some knowledge about your preferences can make shopping so much easier. Your bridal attendant will also be able to help you quickly if they have something to work with from the start. 
Book Your Salon Appointment:
After narrowing on the kind of styles you want, zero in on the bridal salons which speak to your taste. You'd be able to cover around 4 to 5 salons in a day, that's the case when you take the whole day off for bridal shopping only. 
9 Months Before The Wedding:
Buy Your Wedding Dress:
After trying on several styles (we don't recommend more than 20), finalize a wedding dress and pay the deposit. Before you sign the contract, make sure all the details in the contra
5 Months Before The Wedding:
Find A Seamstress:
Most bridal salons will have a seamstress in-house (who will charge extra for fittings) but if you have someone else in mind, this is the time to secure them for the alterations. 
Shop For Other Accessories:
Before the wedding dress arrives and before the first alterations, it's a good rule of thumb to finalize your wedding accessories like jewelry, shoes, and veil, so you can try them on with the wedding dress and see how the finale look will be like.  
3 Months Before The Wedding:
Your Wedding Dress Arrives:
The wait is finally over. You can go to the salon to have a first look. Take a bridesmaid or two with you as this will be the time you will be trying the dress for the first time and you'll need some honest reviews. The salon will also expect to pay you the rest of the amount at this time, based on your contract. 
First Alterations Begin:
3 months before the wedding might seem like too early to have your fittings especially if you're shedding for the wedding. You can surely just try on the dress, and give it for alterations at 2 months – no later than that as some alterations take time and you also need time for some additional dress fittings. 
Shop For Wedding Dress Undergarments:
After your first fitting, you will know what kind of undergarments the dress needs. The right kind can make all the difference in the comfort you feel on your special day, so pick wisely. 
6 to 8 Weeks Before The Wedding:
Second Fitting
Have additional dress fittings. If you have lost any more weight, your seamstress can easily accommodate that at this point. Try to keep your weight stable at this point, but don't worry if you lose any more since you have one more fitting to go! 
3 Weeks Before The Wedding:
Third & Final Fitting
This is the last and final fitting. Some brides are satisfied at the second fitting itself, and if you're one of them, you can take your dress home after the second fitting only. Do last-minute inspections to make sure everything is flawless and wear your entire wedding ensemble for a sappy (even emotional) first look. 
Conclusion: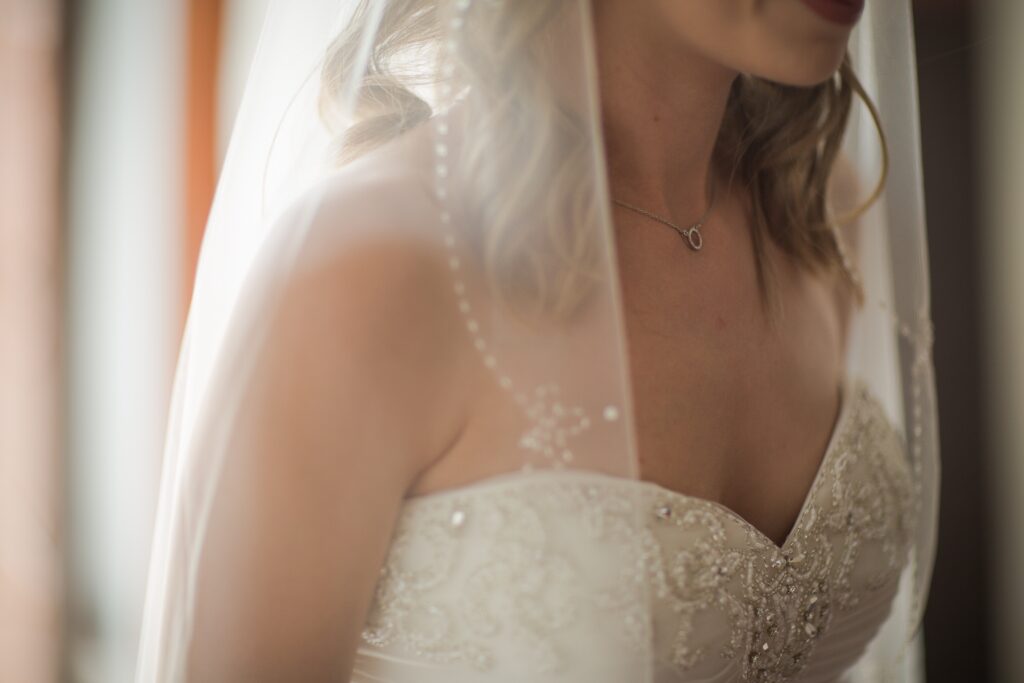 The standard answer to "when to buy wedding dress if losing weight?" is 6 to 8 months before the wedding. If you decide to go for an "off-the-rack" or "sample sale", you can purchase a dress as late as a month before the wedding. Remember, setting realistic weight loss expectations is recommended so you don't end up buying a dress that you think will look good after you lose weight. Get a gown that looks good nonetheless. Also, don't compare your bridal figure to the ones you see on social media. Everyone's body is different and every bride is different. Stay confident and enjoy the best day of your life, because it will be over sooner than you will know.