An induction cooktop uses a magnetic current for heating and about 90% of the heated energy goes to the metal cookware. It's energy-efficient and convenient, just what the consumers need today. But finding the best induction cooktop in India can be a challenge given an array of options available in the market. We've put together a guide to the best induction cooktops below to help you make a wise decision. Use the table of contents section to jump to your preferred part, this is a lengthy blog. 
Price Comparison List For Best Induction Cooktop In India:
#1 Philips Viva Collection 2100-Watt Induction Cooktop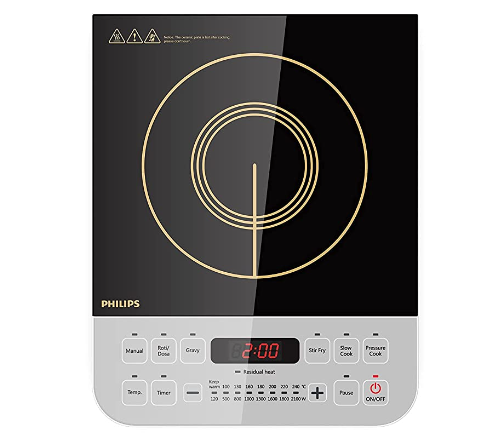 Philips is one of the best-known electronic appliances brands in India. With 130 years of history, the company is headquartered in Eindhoven but has multiple offices in India itself. Their quest for innovation and customer service has helped them pave the way for the best electronic brands in the market. And now they are using their innovative technology to create better healthcare sector products as well. Given the quality, Philips' Induction Cooktop is one of the best to invest in the market. With its ease of use, multiple functions, and sleek design, this induction cooktop in India is worth the price, economical, and durable. Find a complete review of the product below: 
Physical Attributes: 
The Philips Viva Collection 2100-Watt Induction comes in a silver & black color. The heating cooktop is black while the area where the buttons are placed is in a silver shade. There's a digital display that portrays the timer. There are three buttons on either side of the display, both above and below. The On/ Off button is clearly mentioned in red shade. It's conveniently sized at 35.6 X 28.1 X 6.5 centimeters and weighs 2.61 kilograms. The timer can be set for upto 3 hours. You can put cookware and content weight upto 8 kgs on the product. The price of the product is Rs.3,299/-. 
Features & How It Compares To Others:
I personally have memories of this induction cooktop. I used it excessively in college for Maggi and other products like instant packaged food, and it worked amazingly all the time. We also made chilla and gravy foods at times and it was always just perfect. Given the bland mess of food, the induction cooktop was used quite frequently and we never faced any issues with it. The functioning was easy and the operation was always smooth for all 4 years. We ordered it online and never faced any issues with delivery or performance. 
One of the best parts of this induction cooktop in India is the multiple functions it can achieve. Whether you want to cook the gravy, slow cook, stir fry, or pressure cook, there are options for all things. You can also set the function to roti/ dosa which sets the ideal temperature and settings for many things like chapatis, chillas, and dosas. The manual setting lets you set the time & temperature for yourself. You can set the wattage to 2100 Watts for a faster cooking experience. 
"Best Rs.3000/- I have ever spent on my kitchen in years. This induction performed wonderfully. It's easy to control and set the functions. I've made several products since it arrived, from noodles to rotis and gravies, there's a lot that can be achieved with this cooktop. There's not much sound with the operation and the cooking is quicker than normal gas cooking. Plus, the cleanup is so easy! So happy with this purchase," writes one of the customer reviews. 
(To make sure you get an original product, we have included an Amazon link that's mentioned by Philips India's website for Amazon purchases of induction cooktops as it's their verified retailer.)
#2 iBell Induction Cooktop – 2000 Watt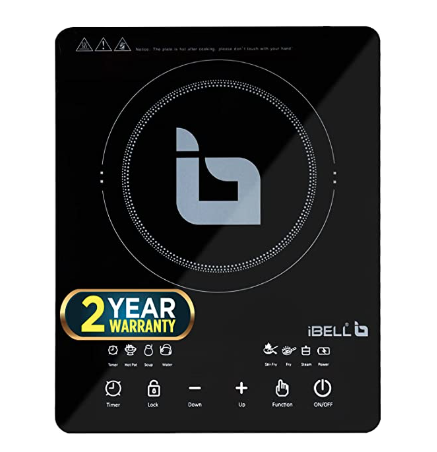 iBell is an Indian company, headquartered in Kerala, and aims to become one of the most preferred electronics, electrical, and home appliances industries in 25 years. iBell focuses on home appliances and electronic goods with launches of innovative products that provide customers with a never-before-pleasing experience. One of the best induction cooktop in India under 2000 is the iBell Induction Cooktop 2000 Watt, which is one of their best-selling induction among many varieties. Even the other varieties are rated high, but this one had the best reviews. All are economical and can work well for people who want a budget induction stove in India. 
Physical Attributes: 
The iBell Induction cooktop – 2000 Watts comes in jet black color with touch buttons as opposed to pushing buttons. There's a digital display that helps you with seeing both time and temperature settings. There are multiple options available in the induction like fry, stir fry, hot pot, soup, steam, etc. to support multiple functions. The size of the product is 28 X 35 X 6 centimeters and the weight is 2 kgs. That's quite light as compared to other products on this list, making it convenient to store and easily portable. Inside, there's a user manual and the machine. At the time of the writing of this article, the price of the induction cooktop is Rs.2,137/-. 
Features & How It Compares To Others:
This induction cooktop in India is manufactured by iBell keeping the economical mindset of Indian consumers in India. It's easy-to-use functions with a quick user manual make the work easier for many. Some of the unique features of the product is the high-quality crystal polish glass certified by the Bureau of Indian standards. We all know how tough it's to see your electronic product get a scratch and since you will be putting all sorts of cookware on this induction cooktop in India, it's recommended that it has a good glass that is scratch-resistance and holds a good amount of weight. 
Besides the good quality and salient features, the iBell induction cooktop also comes with a 2-year warranty. Despite the popularity of induction cooktops, not many come with a warranty, even if they come, 2 years warranty in small home appliances is often rare. You will receive the additional 1-year warranty upon registration. This product also has over 100 positive reviews on Amazon and people praise it for its convenience, smooth operation, and sleek look. 
"Impressive for the price! I didn't want to invest much into an induction cooktop because I had never used one before and wasn't sure if I will get used to it. Given the sky-rocketed prices of LPG, we decided to use induction for some purposes and this one had good reviews. This is just mind-blowing for the price. It's incredibly fast and we use it to cook gravies mostly. The efficiency is amazing. I don't care if this thing blows up in a year (it's already been 5 months since I'm using it and it works just as new) – I'll buy it again. It has a very nice, sleek profile and I'm very happy with the purchase," writes one of the reviewers on Amazon. 
#3 USHA Cook Joy 1600 Watt Induction Cooktop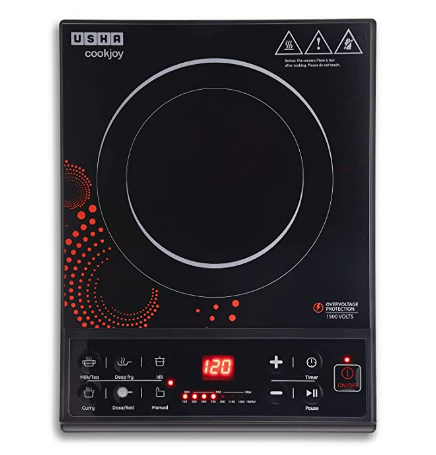 USHA is an Indian company established in 1934 and is most popular for its fans and sewing machines. Not just in India, their sewing machines are popular worldwide with exports starting in 1941 itself. Besides two of their famed products, USHA has come up with many other product lines that include home lighting, pressure cookers, mattresses, induction cooktops, television, and other everyday gadgets & appliances. They are the first company to be awarded ISO 9001: 2000 certification, which is awarded to companies that consistently control quality management and safety regulatory requirements for their products. Amongst their wide array of products, we're reviewing their 1600 Watt induction, one of the best-selling induction cooktop in India. 
Physical Attributes: 
USHA Induction cooktop comes in a jet black color with interesting abstract designs in red on the sides. The buttons are all included below and are push-down buttons. In the middle, there's a digital display that gives you detail about both time and temperature. The On/Off button is slightly bigger than the others in size and has red text. The temperature is lit at whatever point it is set on, which is a striking feature as compared to other induction stoves in India. This product has a size of 35.5 X 27 X 6.5 centimeters and weighs 2.75 kgs. Inside the box, you will find the induction stove, warranty card, and an instruction manual. The price of the product at the time of upload of the article is Rs.2390/-.  
Features & How It Compares To Others:
The USHA Cookjoy Induction comes with an auto-switching mode so it prevents overheating of the food. It also has a unique pan-sensor technology that only heats the area in direct contact with the cookware. This results in precise, high, and instant heat application. It also reduces power wastage, which is quite common in gas stoves. In opposition to gas stoves, the induction also poses no fire hazards, which means your kids or anyone who is a little inexperienced can use it safely. The glass top also remains cool ensuring there are no burnt fingers. 
Other salient features of the device include a built-in timer with an automatic shut-off and pause function which helps you multitask while cooking. You can also cook a versatile Indian menu with this cheap & best induction cooktop in India. It has 5 pre-set menus inclusive of idlis, dosas/ rotis, milk/ tea, curry, and deep fry. You also have a manual control option to set the settings to whatever you want to cook. A flexible power cord of 1.2 feet allows for easier movement and anti-skid feet prevent any movement of the utensils. 
"I took a chance and it didn't disappoint. I was undergoing a kitchen renovation and was looking for an induction cooktop in India. I may very well be keeping this permanently on my countertop now. It's a magnetic induction and is far more efficient and quicker than gas cooking. It's lighter than you think so the portability is easy. Plus, it cools down quickly. I have had no complaints in the last month of usage! As someone who truly enjoys cooking, this was a great find! You will not be disappointed," writes one of the reviews on Amazon. 
#4 Preethi 1600-Watt Induction Cooktop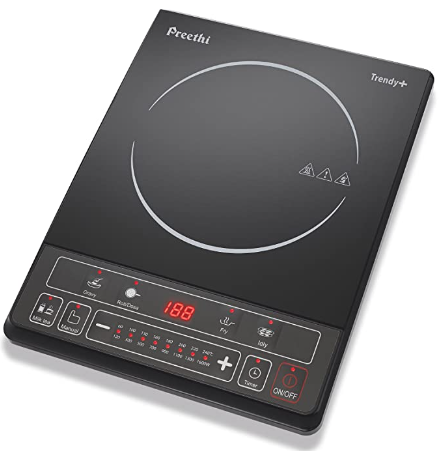 Preethi is yet another known brand in India, with its headquarters in Chennai and roots tracing back to 1976. It was started by the first cousin of TTK industries (owners of popular brand "Prestige") and is currently a market leader in home appliances, especially mixer-grinders in India, induction cooktops, kettles, irons, and coffee makers. They have a network of over 7000 dealers and 750 service centers in the country currently and have set up 2 more plants in recent years. Given its top-notch technology and strong brand presence, the Preethi Induction cooktop is one of the best induction cooktop in India under 3000. Read on for a complete review of the appliance. 
Physical Attributes: 
The Preethi 1600 Watts Induction Cooktop comes in a sleek black color with white enhancements in the form of writing instructions. It has a usual rectangle shape and push-down buttons with 5 set options for cooking and 1 manual option. The digital display shows the time & temperature settings. And the temperature setting takes the maximum space on the induction cooktop. Inside the packet, you will find the induction cooktop and user manual. The size of the product is 10.5 X 31 X 40.5 centimeters and the weight of the product is 2.6 kgs. This product is priced at Rs.2524/- at the time of upload of this article. 
Features & How It Compares To Others:
The Preethi Induction Cooktop has quite efficient heat transfer so the heat generated using magnetic coils is only transferred to the surface of the pan and is not released elsewhere. This saves upto 4 times as much energy as compared to a traditional stove oven. It also has a large heating base so you can accommodate large vessels easily. Plus, there's a high-quality ceramic plate on the top which can withstand very high temperatures, making the product very durable. 
This induction stove in India also comes with pre-set menus that allow you to cook the most common Indian dishes like tea/ coffee, roti/ dosa, fry, idli, and gravy, without worrying about setting the proper temperature and time. But there's also the manual setting for temperature and timer where you can select the settings as per need. Besides the functional benefits, there's also 1 year of warranty on the product, but you get a lifetime of free service for the product. This appliance comes with a user manual which makes the usage easier for newbies. With more than 600+ positive reviews, you can trust this to be one of the 5 best induction cooktops in India. 
"An outstanding product for the price. I saw a review on here which said you get what you pay for! I bought a cooktop, more expensive but that doesn't mean it will work better. This one's conveniently priced and works as it should. The controls are very easy-to-use and I got them in the first use itself. I was a little hesitant about the cleaning the glass cooktop, but it's very easy and the glass is spotless and I've used it some 30 times at least. So if you're looking for a 5-star induction cooktop in India that is easy to use, this one's for you!" 
#5 Bajaj 2100-Watt Induction Cooktop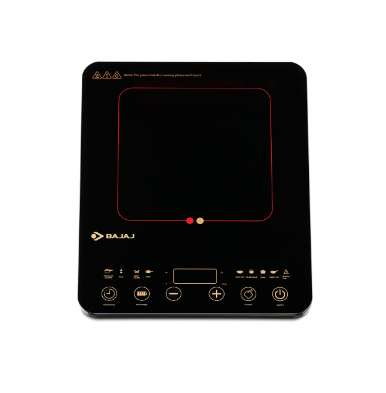 Bajaj Electricals Ltd was established in 1938 as Radio Lamp Works Ltd and this 80-year-old Indian company leads the way in the Indian consumer industry for motorcycles, three-wheelers, luminaries, fans, and home appliances. They have a strong connection of over 1000 distributors and over 4000 authorized retailers in India. They also have 19 branch offices located in different parts of the country. In their years, they have led the way in engineering innovations, helping customers own products that will ease their everyday life and last for a long time. One of these products is their induction cooktop, which is one of the best induction cooktop in India 2000 Watts. Read on for a full review of the product below: 
Physical Attributes: 
The Bajaj Induction Cooktop in India 2100 Watts has a jet black color. It has color enhancements in cream and red, with the former used to write instructions on the buttons and other important instructions in writing. The material is acrylonitrile butadiene styrene, which is heat-resistant, durable, and very strong. The buttons are feather touch and not push-down giving you the convenience of usage. A wide digital display shows you the time and temperature for the induction. The size of the product is 33 X 10 X 41 centimeters and the weight is 3.4 kgs. Inside the box, you will find an induction cooktop, a user manual, and a warranty card. The price of the oven at the time of the upload of this article is Rs.3599/-. 
Features & How It Compares To Others:
The Bajaj Majesty-Slim Induction Cooktop comes in acrylonitrile butadiene styrene, a very strong and durable material. The product is also BIS certified, third-party certification as a guarantee of quality, safety, and reliability of products. With its good size, the product has an optimum surface area for heating which can accommodate large vessels. Plus, there's a pan sensor technology that only radiates heat to the surface of the vessel without wasting any energy. The feather-touch controls give the device an aesthetic and classy appeal for modern homes. 
One of the interesting features of the product is the "keep warm" function which allows you to keep the gravy or anything else you heat warm after it's cooked. This is particularly helpful when you're preparing something to serve later. It also comes with 8 pre-set menus for daily Indian cooking and includes a pressure cooker, milk, roti, stir fry, dal, vegetable, and deep fry. You can also select the settings manually when you're making something else than the mentioned dishes. The induction cooktop also comes with a warranty so you have the peace of mind of using the product and trusting the brand. 
"It's such a convenient masterpiece. It's quick, has simple functions, and is portable. I didn't receive good packaging the very first time and had to order a replacement. The customer service and seller were very prompt with the request and we got the product almost immediately. I love the touch controls on the product, they are so classy. So far we have cooked chicken gravies and dosas, and all turned out absolutely fine. The "keep warm" function is very practical to keep the food warm till we eat. Overall, a great product by Bajaj!" 
#6 Crompton Instaserve 1500-Watt Induction Cooktop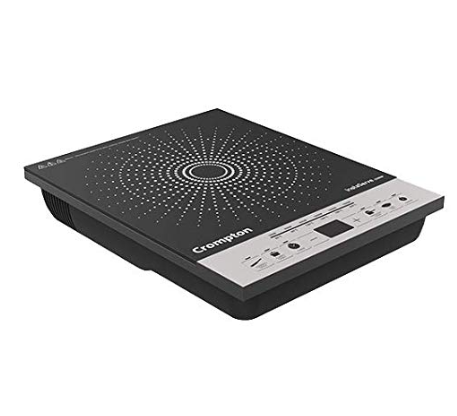 Founded in 1937, Crompton is an Indian consumer electrical company based in Mumbai, India. The brand sells LED lighting, fans, pumps, household appliances like air conditioners and water heaters, and kitchen appliances. The company is a market leader in the fans business with a 26% market share in India. Their durable, quality and economical products have given them a leading edge in many of the products they sell. And their cooktop is one of the best induction cooktop in India under 2500. Find a complete review of the product below: 
Physical Attributes: 
The Crompton Instaserve 1500 Watts Induction cooktop comes in a black and silver color, with black occupying the heating area and silver occupying the area where you control the settings. There's a digital display in the middle and you can find 4 push-down buttons on either side of the display. A temperature line helps you know the temperature of the cooking. The size of the product is 30 X 30 X 10 centimeters and the weight is 2 kilograms, which is lighter than its competitors. The price of the product at the time of upload of this article is Rs.2345/-. 
Features & How It Compares To Others:
The Crompton Instaserve 1500 Watts Induction Cooktop comes in alloy steel and has a copper coil that enhances durability and a copper wire that's resistant to corrosion. Another feature that helps with the durability of the product is the overheat protection where the temperature is maintained by the thermostat. Overheat protection is very important in electronic devices as it prevents internal damage to the components over the course of time. Other salient features include an easy-to-clean surface, which makes the after-cleaning of cooking easier. 
In terms of cooking, the induction comes with 4 pre-set Indian cooking menus allowing you to cover many dishes like chapatis, dosas, curries, dals, rice, and much more. The manual control allows you to set 6 temperature levels from 60 degrees Celsius to 200 degrees Celsius as per requirement. Another benefit of induction is that it prevents milk spillage, which is quite a common thing in an Indian household. You can keep the temperature steady and the milk will not spill. Lastly, the portable design makes it convenient for handling and storage. 
"Great value! I bought this cooktop because of the lack of space in my studio apartment and it's ideal size yet cooks almost everything. I am using it daily for cooking for the last 2 months and have faced no issues since then. Although, I don't think it can handle deep-fry – I don't deep-fry myself anyway so not an issue. This induction cooktop in India under 2500 is also very compact which helps in movement and storage. The price is an amazing plus point." 
#7 V-Guard VIC 15 Induction Cooktop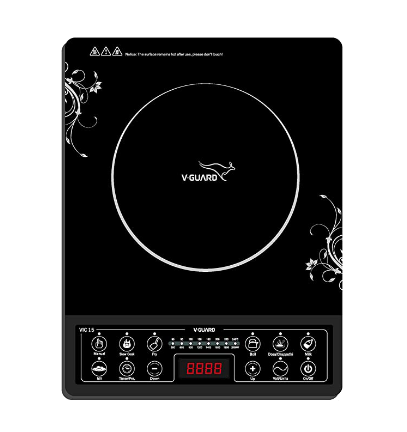 Besides Philips, all the other best induction cooktop brands in India are Indian, like V-Guard. V-Guard is an electrical appliances company headquartered in Kochi and founded in 1977 as a small voltage stabilizer manufacturing unit. The company currently has many diversified public offerings, from domestic goods to industrial and manufacturing goods. Their continuous quest to understand customers' needs coupled with high-quality standards and innovation has captured the hearts of people across the country. Their induction cooktops have gained quite a popularity in recent times, and we include a review of the 2000 Watts Induction stove in India below: 
Physical Attributes: 
The V-Guard induction stove comes in a sleek black color and has white enhancements in the form of instructions. The buttons are push-down, and there are 6 buttons on either side of the digital display which give you the reading of time and temperature settings. This induction stove in India has crystal glass material, which is much harder to break and is capable of withstanding high temperatures. The item dimensions are 36 X 28 X 6.4 centimeters and the weight is 2 kgs. Inside, you can find an induction cooktop and a user manual. The price of the product at the time of the upload of the article is Rs.2660/-. 
Features & How It Compares To Others:
The V-Guard induction stove is sturdy and has a high-grade crystalline glass that can withstand temperatures of upto 600 degrees Celsius. It also ensures no oil, grease, or other food particles stick to the surface, hence, ensuring easy cleaning and no scratches. The induction stove also comes with seven preset cooking options of dosa, chapati, idli, etc. for a wide range of cooking. There's also an option of slow cooking because sometimes you need it for gravies to keep the taste to a particular palate. There are also manual control options where you can set the temperature from 80 to 240 degrees Celsius and the timer to upto 4 hours. 
This induction stove in India also comes with built-in commendable safety measures to prevent you and your property from getting harmed. The safety measures also prevent overheating and hence, enhance the durability of the product. The usage of copper in the coil also amps up the durability of the electrical appliance. Moreover, the VIC 15 induction stove also has a larger heating area so you put larger utensils on it and cook larger volumes of meals. 
"This is a good commercial grade induction cooktop in India. I have tried a personal use one and it doesn't work well over time. This one, however, looks better than many retail-grade models I have seen. Our kitchen is remodeled so I am using it almost every day. It's convenient and quickly cooks for a family of 5. I have also tried deep-frying where oil does splatter, and I must say cleaning was an absolute breeze. Our experience has been overwhelmingly positive and I can confidently recommend this. It has been a very good, dependable cooktop," writes one of the reviewers on Amazon. 
FAQ's 
What Are The Pros & Cons Of An Induction Cooktop?
Here are the pros of an induction cooktop:
#1 It's Safe
Since there's no flame, there's no risk of burning. There's no worry of gas fumes as well. Every year there are multiple instances of gas leaks and burns. Even in our homes, we sometimes burn our hands due to the flames. There's no such problem with induction though! Your children can use it safely as well. And if you don't want them to use at all, some induction stoves in India have child-lock features. Newer innovations also have sensors that switch off the stove when the induction is left on for a longer time without any manual touch. 
#2 It's Environment-Friendly
With gas, a lot of energy is lost in the surroundings. But in induction, only the place where the pan touches the induction is heated, saving any unnecessary loss of energy. It's said that 90% of the induction reaches your food. This data far exceeds the heat that reaches in a traditional gas oven. Natural gas also creates an air population and harmful gases which can affect the environment and can be harmful to those who breathe in the air. Plus, it's unrelated to the point, but the fumes also heat up the environment causing unnecessary warmth in the kitchen. There's no such problem to be faced with induction cooking. 
#3 It's Faster
Because of the rapid electromagnetic cycle, induction cooktops save a lot of time in cooking. Induction works instantly while a traditional stove takes time because the elements need to heat up before the food is cooked. You can boil a small pot of water in less than two minutes which is far faster than any other form of heating method. 
#4 It's Precise
Induction cooktops are a favorite among chefs precisely because of this reason. Controlling the temperature is one of the key factors behind controlling the consistency, quality, and taste of food. This can be done easily in an induction cooktop in India. The appliance allows you to set the temperature to your desired value at any time. In a traditional cooktop, you can only turn up or turn down the heat leaving the temperature control to guesswork. Plus, when you turn off the induction, the transfer of heat stops immediately, so there are fewer chances of food boiling over or overcooking. 
Here are the cons of an induction cooktop: 
#1 It Requires Specific Cookware
While some of the cookware you have in your home can be compatible with induction, sometimes they aren't the proper size or the material to work on the induction. The surface of an induction stove in India is also prone to scratches, so you need to have cookware that goes on smoothly on top. You may need to do some research to find induction-safe cookware and you also need to see the same mentioned on the utensils you purchase. 
#2 It Requires Adjustment
If your kitchen is made to adjust the traditional gas stove, then the induction stove might require some changing and adjustment in the kitchen. Plus, there's a learning curve involved with the induction stove in India. You will need to adjust to the temperature settings, quicker heating (no chopping vegetables as the oil heats, you will have to do the prep work yourself), learn the basic controls, etc. 
#3 It Involves Costly Repair
Since an induction stove is a new technology, it might require costly repairs and some surprising maintenance issues to keep it new and maintain smooth functioning. Any damage can be costly as induction stove service centers aren't as common as the traditional stove, so the company will compensate the charges for the unpopularity of induction cooking. 
Why Are Induction Cooktops Not Popular?
One of the reasons why induction stoves in India weren't as popular was because of the pricing. But now, with the soaring LPG prices, the best induction cooktops in India are cheaper than their stove counterparts. Another reason why induction cooktops aren't popular is because of the unfamiliarity and reluctance to adopt new cooking technology. Induction takes some time to get used to as the functions and feel of the appliance are new. 
To give you an idea of hesitance, the double induction stoves were so unpopular in India that they were discontinued by many known induction brands like Prestige and Bosch. However, the trend is changing. With many cooking influencers using induction to demonstrate their cooking, people are seeing the convenience of induction stoves in India and are adopting them into their day-to-day lives. 
Are Induction Cooktops Worth It?
Induction cooktops are definitely worth it! They're better than gas stoves for a number of reasons like an efficient use of energy, easier clean-up, faster heating, better temperature controls, etc. they're not as popular because people tend to adopt slowly to new products – it was the case for a microwave oven as well. They were invented just after World War II, but it wasn't until the late 2000's that they were adopted by consumers. And now, they have a staple in every household. Once the learning curve for cooktops is reached, induction will become common in households worldwide as well. 
Do Chefs Prefer Induction Or Gas?
An induction cooktop is preferred by chefs over gas, and most think that gas stoves are overrated anyway. In cooking, a set temperature is quite important to deliver a specific taste, quality, and consistency. This can be done easily using an induction stove, but when it comes to gas, this can be tricky, with high to low temperatures also varying for different gas stoves. Other reasons why chefs prefer induction cooking is because of the fast heating and less wastage of heat in the surrounding temperature keeping the kitchen cool. They're also far easier to clean and promote efficient use of energy, which is the need of the hour. 
Find a delicious oats chilla recipe by Aarti Madan below: 
What Cookware Should You Use For Induction?
There's a good chance that the cookware you own is already induction-friendly and you don't have to buy different cookware to use for your induction cooktop in India. To see if your induction cooktop is suitable for the appliance, all you have to do is conduct a simple magnet test. Induction uses magnetic current to generate heat from the surface of the appliance to the cookware. So, in order for it to heat the appliance, the cookware should have ferromagnetic materials. Either it contains iron or a layer with magnetic properties. You can hold a magnet to check if your existing pots will work with the induction cooktop. 
Here are some of the most compatible materials with an induction stove in India:
Stainless Steel:

Pots and pans made of stainless steel are great choices for induction cookware as they're durable and easy to clean. However, not stainless steel is magnetic depending on the coating done on them. You will have to hold a magnet to find out if the material is compatible with the induction. 

Cast Iron:

This is also an amazing option for induction cookware. It retains the heat well, although it's slow to heat up, but maintains the temperature after a particular degree is reached. However, make sure your cast iron pans don't have a rough surface, or else, they can scratch the cooktop. 

Porcelain Enamel on Metal:

This material is quite strong and durable and hence, preferred favorably by consumers. The cookware is made of metal that's coated with a glass called porcelain enamel, so the heating characteristics can vary. We'd recommend doing a magnet test to make sure they're compatible. 
Try these induction base cookware sets here: Option 1/ Option 2 
Conclusion & Winner:
From faster cooking to convenience to economical in the long run, there are many solid reasons why an induction deserves a spot in your kitchen. Amongst these top 7 induction stoves in India, if you're looking for the best one, then it's Bajaj 2100-Watt Induction cooktop. A trusted brand, amazing product, and salient features make this our top choice for induction stoves in India.