The wedding day comes closer and the anticipation of how it will all go down snowballs as well.  You will need to start putting up a schedule so you can get dressed up on time, get some photographs in the process, take some time out to soak in the moments, spend some time with your guests, and most importantly, have the ceremony & reception on time. To put the schedule, you will need to know how long does bridal hair and makeup take so you can prepare the timeline accordingly. In this blog, we're answering this million-dollar question. 
How Long Does Bridal Hair And Makeup Take?
The bridal hair and makeup take about 60 to 90 minutes, which includes makeup and hairstyling. If you have scheduled any other add-ons like eyebrow plucking or waxing, then you might want to schedule some extra time. Some brides also include manicures & pedicures on their wedding day, adding more time to their getting-ready schedule. The time can also extend depending on the type of makeup you want. If the bride wants a dramatic look or an intricate updo over a simple hairstyle with waves, they will have to schedule more time for their hair and makeup. To have a better idea, talk to your makeup artists and hairstylist about how much time they will need to get your desired makeup look. 
Bridesmaids' hair & makeup can take around 30 minutes for each bridesmaid. That's a rough estimate though and the time will depend on how intricate the bridesmaids' hair & makeup is! If they are DIY-ing their own makeup & hair, then the time can vary as well depending on who is taking the charge and how much time they will need. 
When scheduling your hair & makeup, you also need to take into account when you, as a bride, want to get ready in case you have booked the same hair or makeup artists for you & the wedding party. Some brides get ready early so they have time for the bridal portraits, first look, and couple portraits, and in the end, get some touch-ups to have fresh makeup when they walk down the aisle. Others, however, think it's better for brides to get ready at the start so the artists don't have to rush on their makeup or hair even if they are running a tad bit late (which they usually will!). Having the hair & makeup done at the end also ensures the makeup looks it's best and freshest when you walk down the aisle. 
If you need some bridal solo shots and some other pictures with your wedding party, consider adding 30 to 45 minutes more to the wedding schedule. So, for example, if your wedding ceremony is scheduled for 4 PM, you need to start getting ready by 1 PM so you get ready by around 2:30 PM or so, get some good shots, and still have some time in the middle to soak the moment in and have good laughs with your nearest & dearest. With some time left, you can also schedule your first looks during this time gap. 
10 Tips For Your Bridal Hair & Makeup
#1 Skin Prep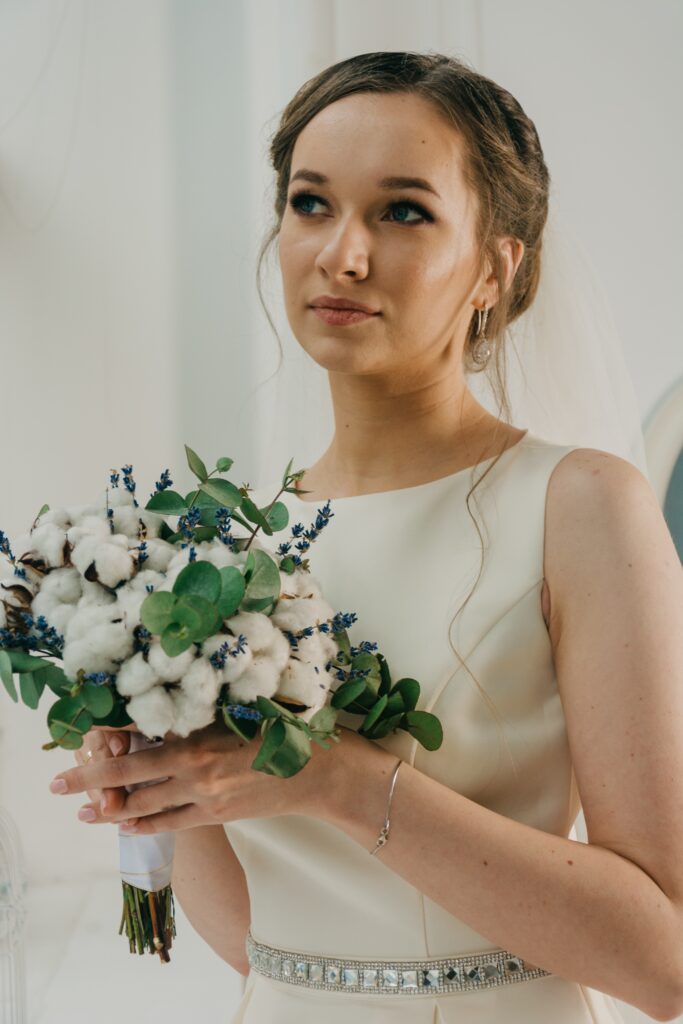 You need to prepare your skin before the bridal makeup. Sure, you're indulging in those bridal treatments and that will show the full effect on D-Day, but you also need to put some effort on the wedding day itself to help your makeup sit well and last longer. The majority of MUAs will already start advising you on your skincare and will probably give some tips on how to prepare your skin before wedding makeup. Since they work with different skin types day in, and day out, they will understand your skin needs and will know the best products to work on your skin type. 
Most artists will require you to cleanse the skin properly, exfoliate, and follow up with a mask. Some also recommend icing before makeup as it helps close the pores and freshens the skin, hence, allowing for an even makeup application, reduced smudging, and longer-lasting makeup. However, many artists do the skin prep themselves. They will cleanse the skin, exfoliate, and even apply a beauty mask – which is all done for no extra cost. Get this cleared early on so you don't waste your time prepping the skin when it's already included in the cost of their services.  
#2 Hair Prep 
While you're tempted to wash the hair on the day of your wedding, most professional hair artists will love to work with 1-day old hair instead. That's because freshly washed hair is more slippery than 1 or 2-day-old hair. The natural oils help to shape the hair better and keep them in place. Ask your hairstylist hen does she want to wash your hair though as some might want to work with fresh, cleaner hair washed on the same day. Finally, however, the artist is comfortable, communicating the needs to the bridesmaids so they are aware of when to wash their hair as well. 
#3 Assign Where Everyone Is Getting Ready!
Assign a specific place where everyone is getting ready. Some bridesmaids' can get ready in the bridal suite as the bride needs one or two people around. This can be the maid-of-honor, or you can assign the maid-of-honor to some other room so they can make sure everything is going on smoothly and the wedding party will get ready on time. Deciding where everyone is getting ready avoids the commotion in the end with all the members being stuffed in the room, hence making the experience uncomfortable for everyone. It's best to assign two rooms besides your bridal suite to get everyone ready. 
If you aren't getting ready in the hotel itself and instead choose your home or the salon to get ready, make sure the place is ready to accommodate everyone. The place can also be split when the ceremony venue has just two or three rooms and the bride & groom occupies both. In case, the bridesmaids' are getting somewhere else – make sure that the venue is closed. It can be a motel nearby or someone's home – anyplace that's comfortable for all. 
#4 Prepare Things For Your Bridal MUA & Hair Artist As Well
Your hair stylist will probably need a comfortable chair, a small table to put her belongings on, and an easily accessible power point that extends to the bride's getting-ready chair. Keeping an extension cord handy is also recommended so the last point doesn't become an issue. Most hair artists do carry their own extension cord but I'd still recommend asking any of the bridesmaids to keep one with her. 
Your makeup artist, on the other hand, will need you to be seated somewhere where there's some good natural light. In-room lighting often doesn't work for a natural flawless makeup application. A small table to put all the makeup products on. A chair where she can sit during work. A seating experience also helps them in keeping their hands steady during some makeup elements like liner, lashes, lip liner, etc. Some MUAs do get their own chair, but it's always good to have one to save your back. If she is doing airbrush makeup, she'd also need an easily accessible power point. 
#5 Discuss Who's Paying For Bridesmaids' Makeup & Hair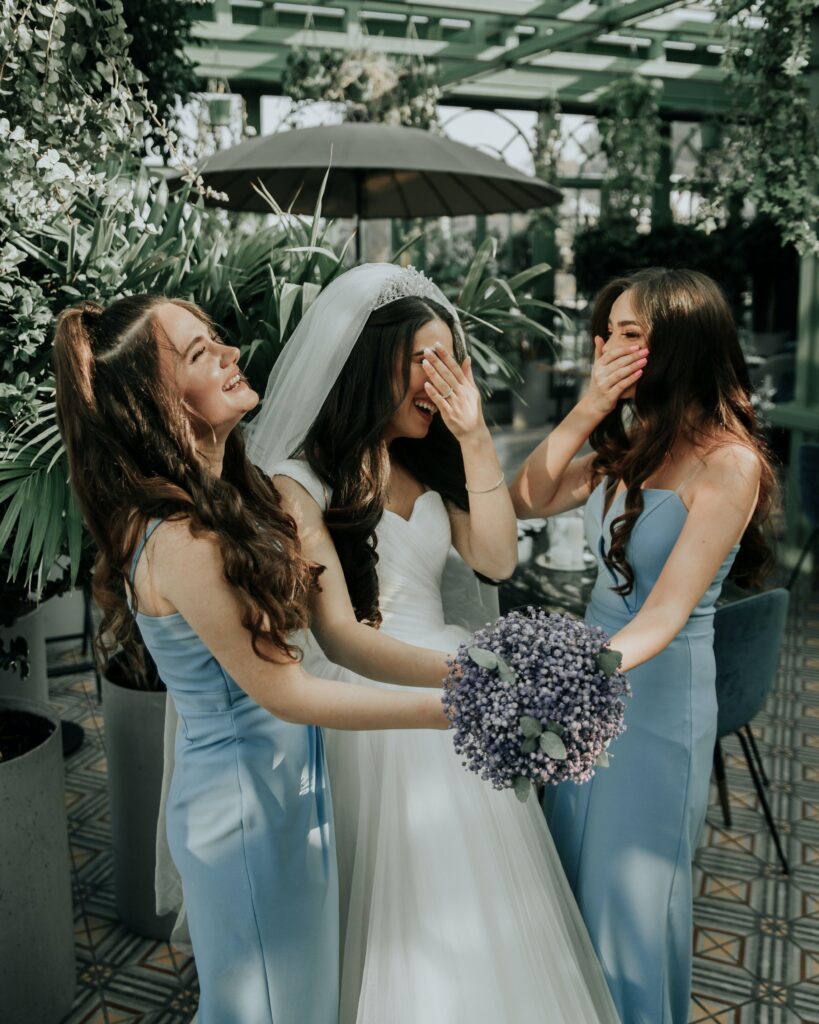 We have already done a separate blog completely deciphering the scenario of who pays for bridesmaids' makeup & hair. Here's a gist of the same. Brides usually pay for the bridesmaids' makeup & hair in the following cases: when she has the budget, when she is willing to, when she knows the bridesmaids' have spent a lot on their duties like the bachelorette, bridesmaid dresses, etc., and she wants to return the favor, when she wants her bridesmaids' to look a certain way and when it's a destination wedding and the bridesmaids' are paying for their flights & accommodation. 
The bride can also offer to cover for some members of the wedding party like the maid of honor and any other bridesmaid(s) who have been a huge help to her during the wedding planning or someone who is currently struggling financially. This can be done in a hush-hush way so as to not avoid hurting the feelings of other bridesmaids' in the process. The bride can also cover the cost of either hair & makeup, and the bridesmaids' can cover the other costs. Sometimes the bridesmaids' can decide to DIY their own makeup or hair or both, and in that case, if the bride wants them to have it done professionally, she might have to pay for those services as well. 
The bridesmaids' can cover the cost of their own makeup & hair when they want to cover costs and don't want the bride to have any more financial burden, when the bride has been quite generous throughout the wedding planning (favors, paying for accommodation, etc.) and the bridesmaids' want to return the favor, when the same has been expected by the bride from the start and she hasn't bound anyone to get a specific hair & makeup look or even get it done professionally. 
#6 You're Allowed To Change Your Look Anytime
If you're unhappy with your makeup or hair, don't panic. If you've hired a reputable hair artist and makeup artist, they will be more than happy to accommodate any changes even if that means they have to go back a few steps in their makeup or styling routine. They take pride in seeing their clients happy and they will not be offended by any changes you want to make – and in extreme cases, doing it all over again, considering the time permits. However, if you're not happy, speak earlier so you save yourself time and awkwardness later. If you have a reference picture, tell them how it's not similar and how you'd want it to look. Just keep your tone polite at all times! 
Though, to make sure this awkward and daunting experience is avoided, make sure of these few things. First, pick a makeup and hair artist who aligns with your vision. Go through their work profile and see if their makeup style matches what you want on your wedding day. Some brides need dramatic eye makeup, so look for artists who create some aesthetic makeup looks. Others specialize in a dewy, natural makeup look, and if that's your wedding vision, then choose a vendor whose signature makeup aligns with your needs. Secondly, schedule a call with them and see how they react to your preferences. Are they willing to consider them? That can say a lot about how comfortable you will be with them.
Third, schedule a trial run. Many makeup & hair artists offer a trial to their brides for a menial cost so you get more idea of how it will all go down on their wedding day. Don't expect a second trial for free though. That's a bit rude and not ethical. If things don't go well in the first trial, kindly part ways. Lastly, send them the inspirational pictures you have saved on your phone. This will help with drawing references on the final day – avoiding any unhappiness or dissatisfaction from the final look. 
#7 Don't Forget The Tip
Tipping wedding vendors is recommended especially when the vendor has done an incredible job that matches or has surpassed your expectations. If they have reduced your worries in half, that's all the more reason why tipping them is considered a good gesture. For makeup and hair artists, a tip of around 10% to 20% of their service is recommended. For the bridesmaids' makeup & hair, the tip can be paid by the bridesmaids themselves or by the bride – depending on their mutual expectations, good gesture, or what was commonly decided at the start. If you've decided to tip your hairstylist and MUA, do it right before they are about to leave the venue or include them with the rest of the amount you're yet to pay for the services. Assign a bridesmaid to do the task if you think you will be busy somewhere else when they will be leaving. 
#8 Dress Afterwards
Getting-ready robes aren't just cute party favor or dress to get some photos clicked in, they are a practical garb to wear when your bridal hair and makeup are getting done. They will catch any product fallout or accidental spillage from the alcohol or coffee you might be drinking while getting ready. Bridesmaids should also stick to slipping into their dresses after getting ready so their clothes don't get spoiled during all the getting-ready fun. The dresses are also quite easy to slip on from the bottom so you don't have to worry about ruining your hair & makeup when putting them on. 
#9 Nail Down A Schedule 
Put together a backward timeline. Know the time when you want to walk out the door and what needs to be done before that and nail down a schedule. Discuss the specifics with your MUA, hairstylist, and photographer. On the wedding morning, you will need some time for the following: a little me-time to pamper yourself, getting ready, spending time with your bridesmaids and family, getting pictures – which include bridal portraits, family portraits, pictures with bridesmaids', solo pictures, first look, and if possible, some couple pictures as well. If you need some pictures before getting ready as well, then you need to inform the photographer accordingly. Make sure you also include time for your mother and flower girls to get ready for the event. Even though the latter won't take more than 15 minutes, it's always best to include it in the timeline. 
Here's a sample wedding day timeline when the ceremony is supposed to start at 5:45 PM. 
Noon: Hair & Makeup Artists Arrive; Bride & The Bridesmaids Start Getting Ready
2 to 2:30 PM: Photographer Arrives, Brides & Bridesmaids' Hair & Makeup Is Also Ready Around The Same Time
2:30 PM: Bride Gets Dressed (in the process, some intimate moments are clicked like your sister or  bridesmaid zipping your dress)
2:45 PM: Bridal Portraits
3:10 PM to 3:30 PM: Bridesmaids' Photos & Pictures With Bridesmaids
3:30 PM: First Look
4:00 PM to 4:30 PM: Family Photos & Pictures With Other Family Members
4:30 to 5:20 PM: Couple Portraits
5:30 PM: Getting Ready To Walk Down The Aisle
5:45 PM: Ceremony Starts
#10 Make The Process Fun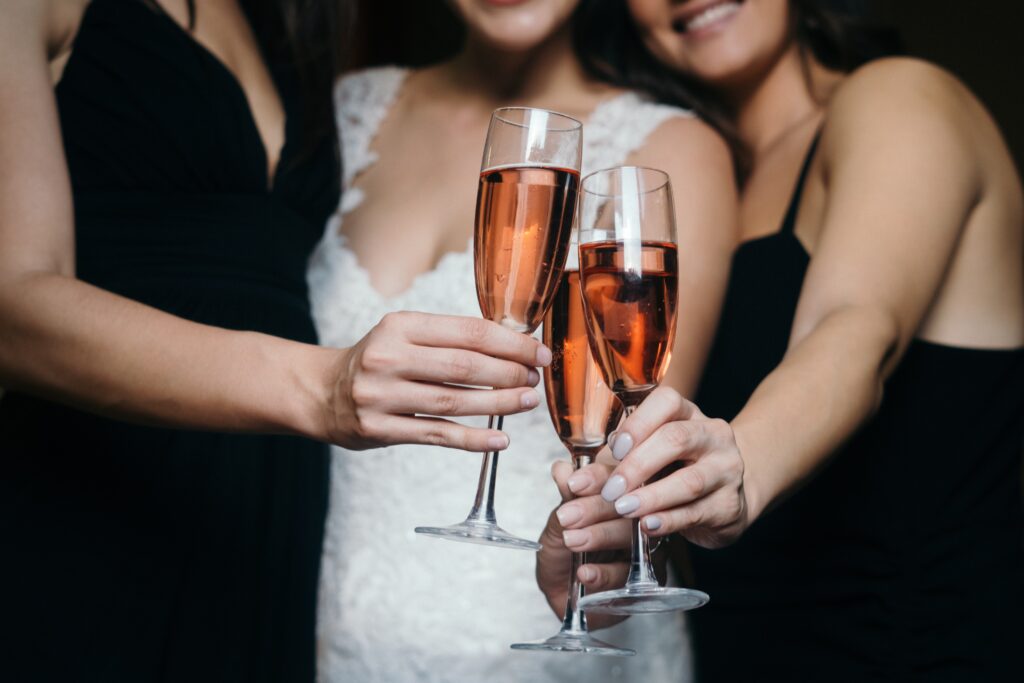 To have fun on your wedding day and let the small moments count, you really have to make an effort. Things can get stressful and emotional quickly, and you will have to look at the bigger picture and make the happiest day of your life literally mean the same. That's not to say, when you're getting emotional, you should hide it. Instead, emotional pictures make for some of the fondest memories to cherish afterward. We just mean to not them cover the happy moments. The getting-ready time is the best time to make it a celebration because you're with your nearest and dearest. So, pop champagne, serve some hors d'oeuvres, click some fun selfies, and play your favorite tunes. 
Do You Need To Supply Bridal Hair & Makeup Vendors With Food?
It all depends on when your wedding day is scheduled. You don't have to offer them a complete meal if you're inviting them around lunchtime and they have already had their lunch before coming. But try to keep some nibbles around and arrange for some tea/ coffee. Similarly, if you have only one or two hair & makeup artists for the bride and the wedding party, then it's likely they will be there for 8 to 9 hours and constantly working to get your schedule on time. This means they will arrive at breakfast and will stay way past lunchtime. In that case, offering lunch is a good gesture but you might want to schedule it after the makeup and hair are done to avoid any delays in the process. 
Coming to how long hair & makeup take, it's around 90 minutes but can extend depending on how intricate your hairstyle is and what kind of makeup look you want. For bridesmaids and mother-of-the-bride, the makeup can take around 30 minutes or so. Do talk to your vendors as they will be able to guide you better on how long does bridal hair and makeup take and design a wedding timeline accordingly.