Mehendi designs are a staple in Indian celebrations. Naturally, they hold prime importance in the big fat Indian weddings. From traditional paisleys, ghewars, and bel designs, mehendi has now taken an utter transformation into personalised figures, and lotus 3-D patterns worth swooning over. However, one thing that has stayed predominant is a jaal mehndi design or jaali mehendi design, as some people call it. 
A jaal mehendi design constitutes a symmetrical criss-cross line pattern that is further enhanced with florals, leaves, ghewars, elaborate designs, etc. We come across so many brides on a daily basis, and spot a beautiful jaal pattern as a part of their backhand mehndi. Another alluring attribute of this henna type is how amazing it looks in photos. No doubt brides are loving it so much. Who doesn't want their solo mehendi portraits to be picturesque and look back with sheer awe? Today, we have rounded up more than 27 jaal mehndi design to inspire your next mehendi session, whenever that might be!
1. A Soulful Jaal Mehendi Infused With Faith
You can combine your faith and traditions into your bridal mehndi with this beautiful way of inscribing Hindu religious symbols between your design. She chose Om, Shree & Swastik, but you can infuse any symbols you want. The pattern is unique, edgy, and is a lovely ode to your holy matrimony.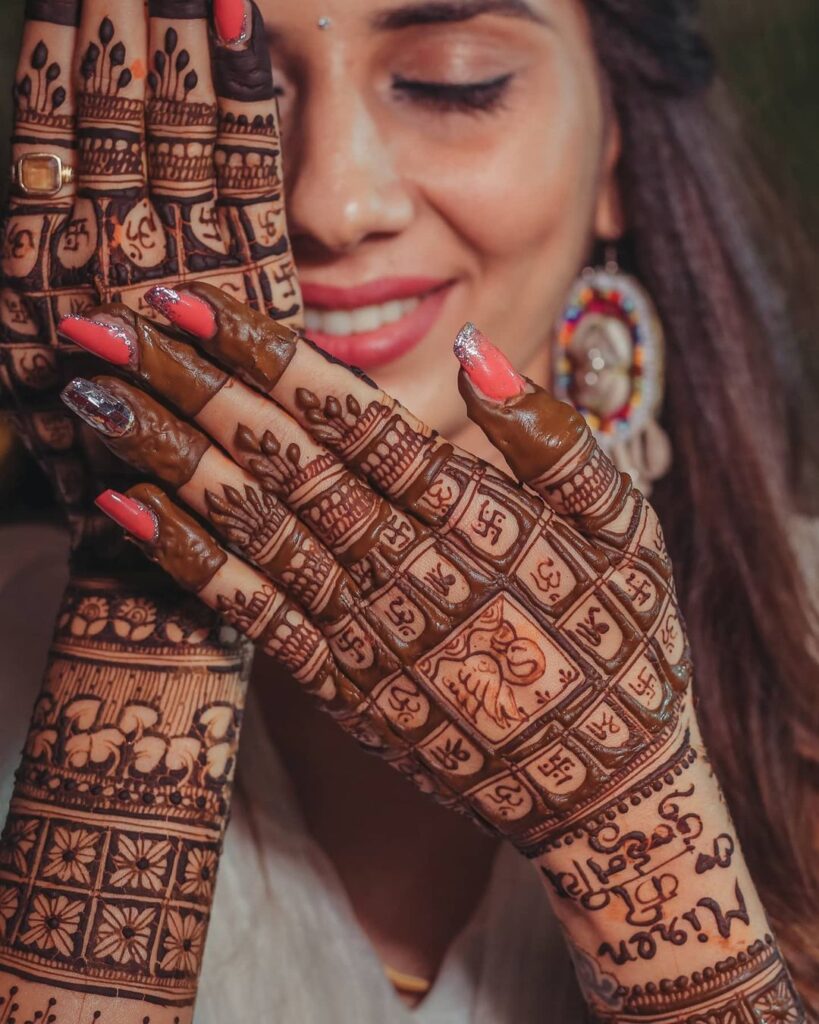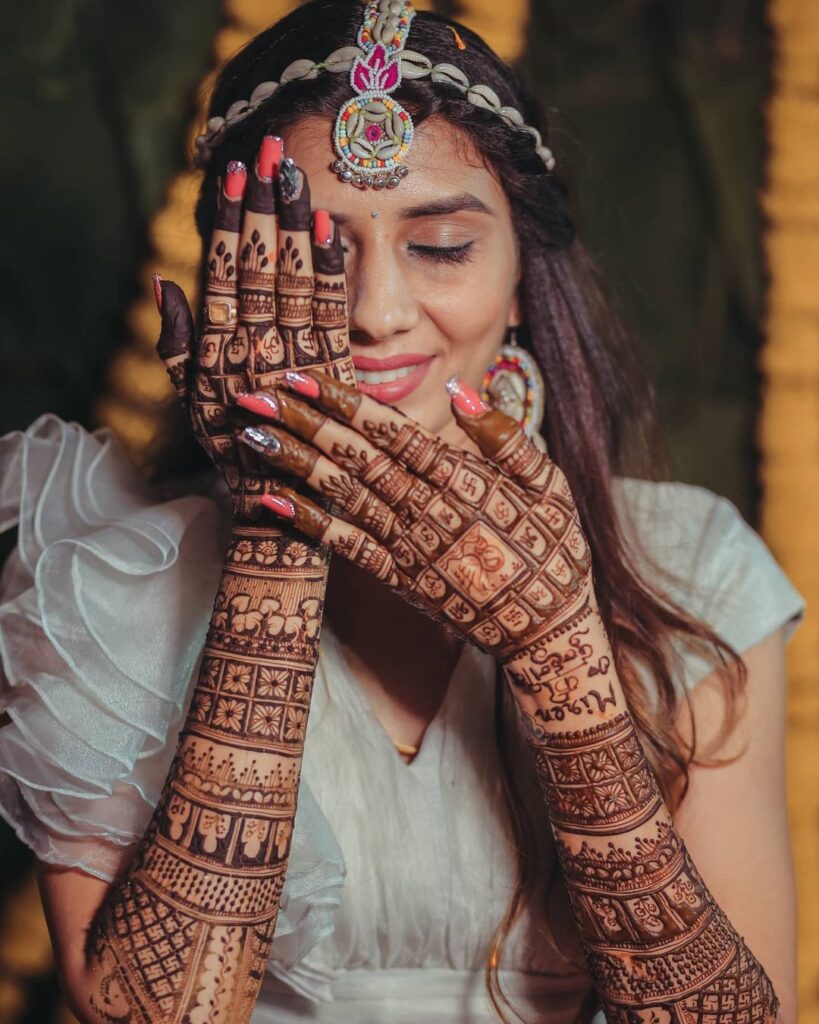 2. Gorgeous Intricate Jaal Merged With Ethereal 3-D Florals
Want to add a winsome twist to your jaal mehendi? Take cues from this striking pattern with 3-D florals that look impressive after henna has stained and is a lovely modification to the same old jaal designs.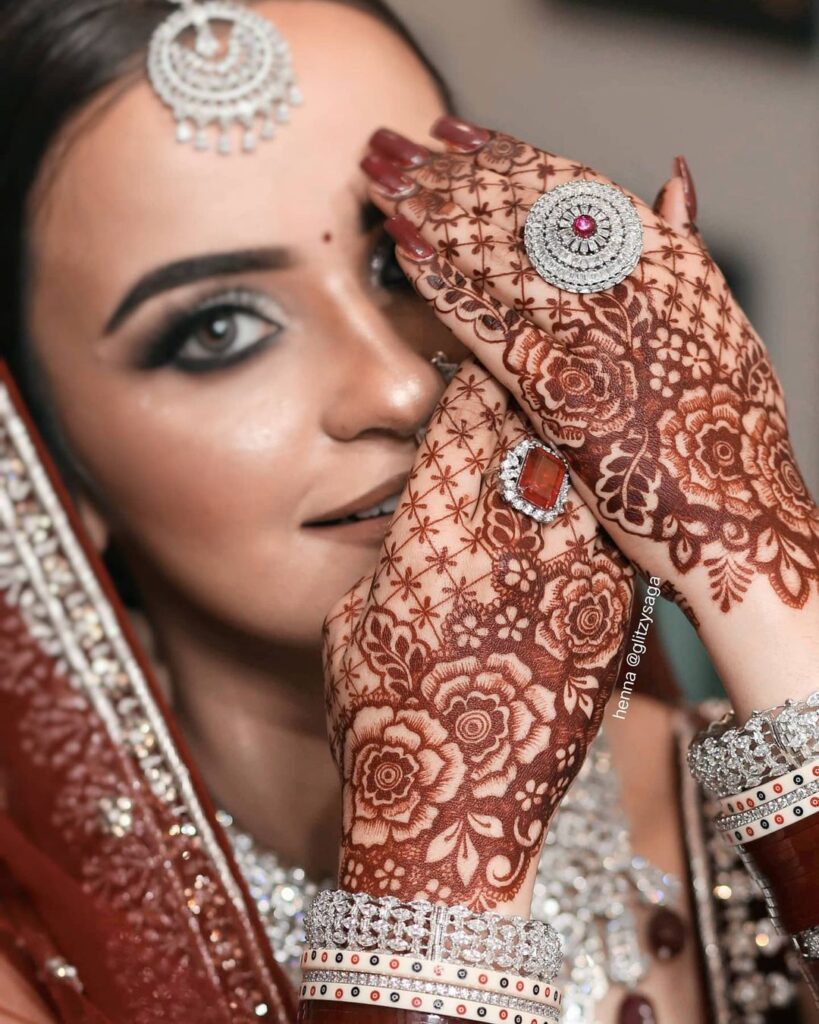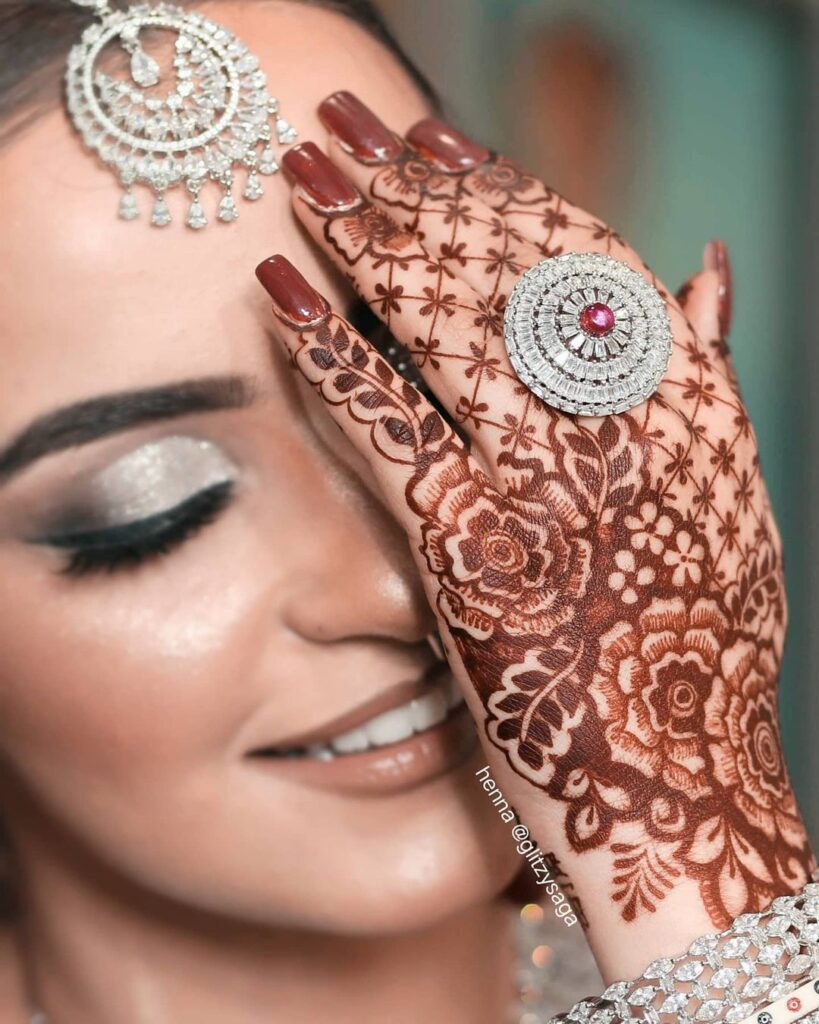 3. The Endearing Elephant Motifs
Elephants are considered sacred animal in Indian marriage. That's why you can often spot them in varied wedding elements, like decor, favours, and sometimes, they're the groom's customary ride in the baraat procession. We absolutely love how this pattern incorporated elephants in the back hand mehendi beautifully. Scroll to see more pictures of the bride – we added them because we knew you'd be tempted to see her whole look.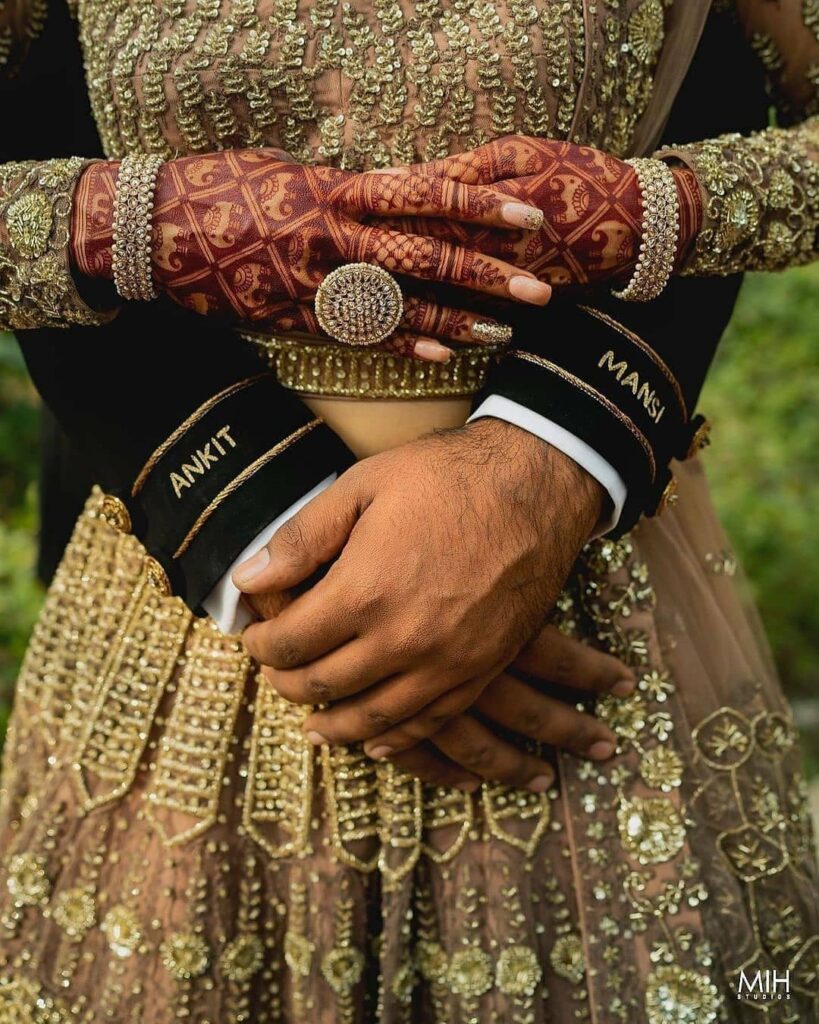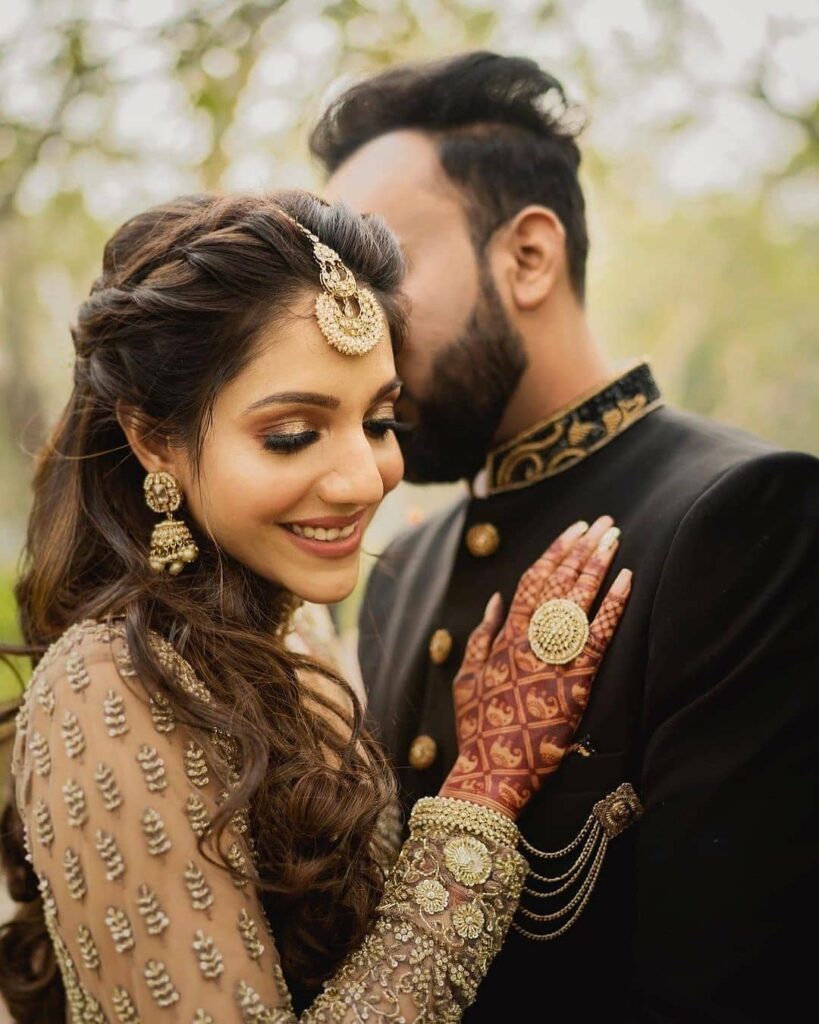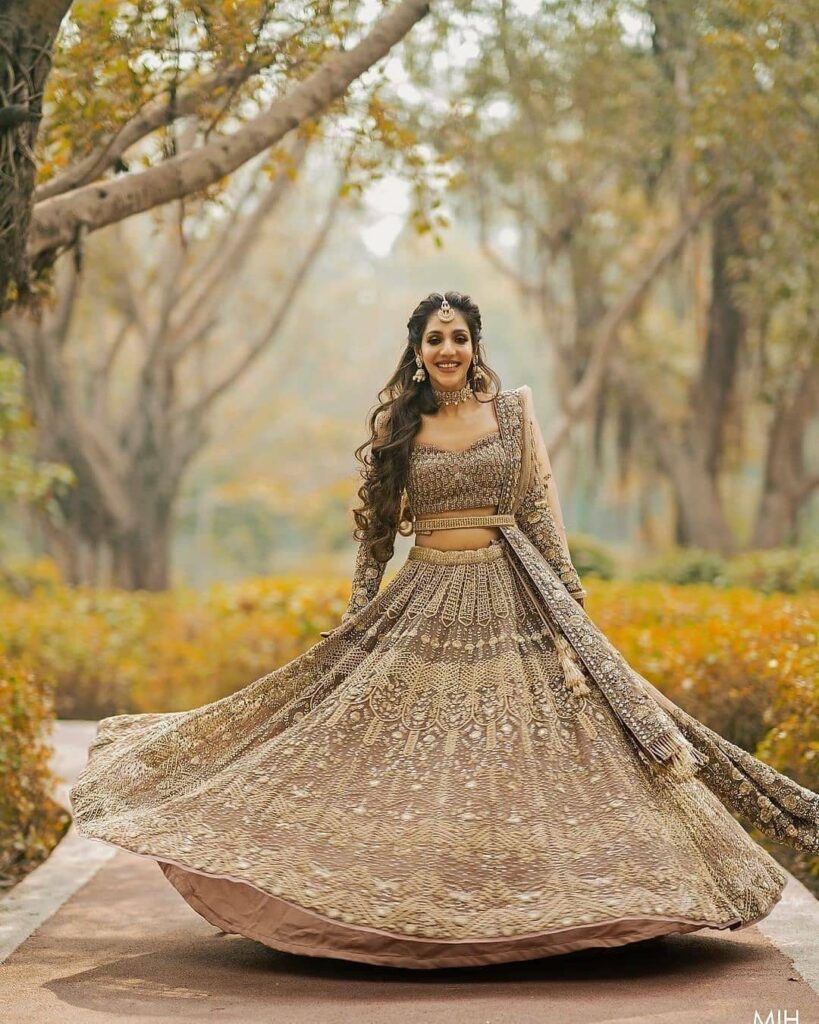 4. These Cute Little Hearts Have Our Heart!
Who said a jaal mehndi is only meant for back hands? You can totally get it done on your foot and it will look just as charming as a foot mehndi design too! Do you see how her toes have a jaal pattern too? This one's an easy variation and if you're good with drawing mehendi, you can replicate the pattern at home!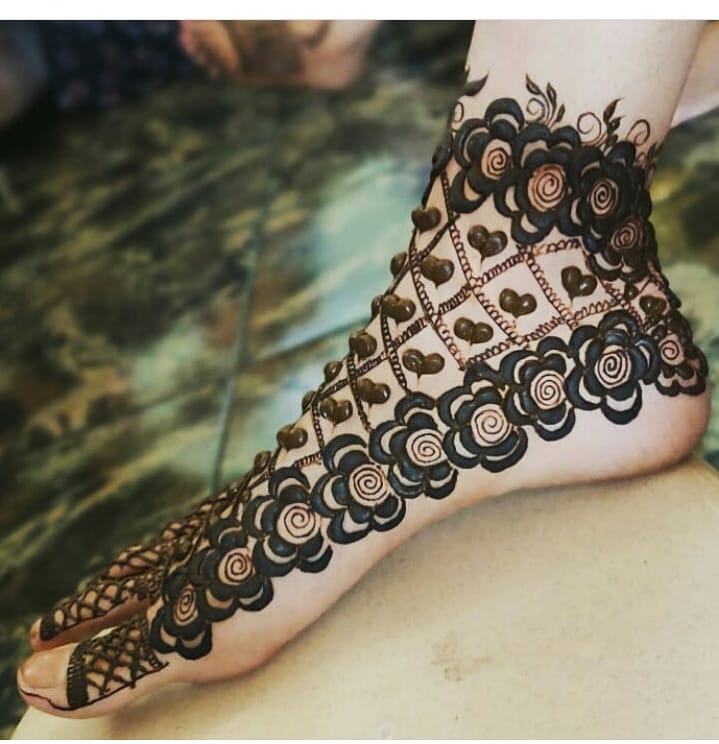 Credits: Unknown
5. Minimalism At Its Best
For brides who want to keep it minimal yet classy, here's a jaal mehndi design aligned with your taste and preferences. Made with spaciousness and neatness in mind, we love the intricacy of this eye-catching pattern.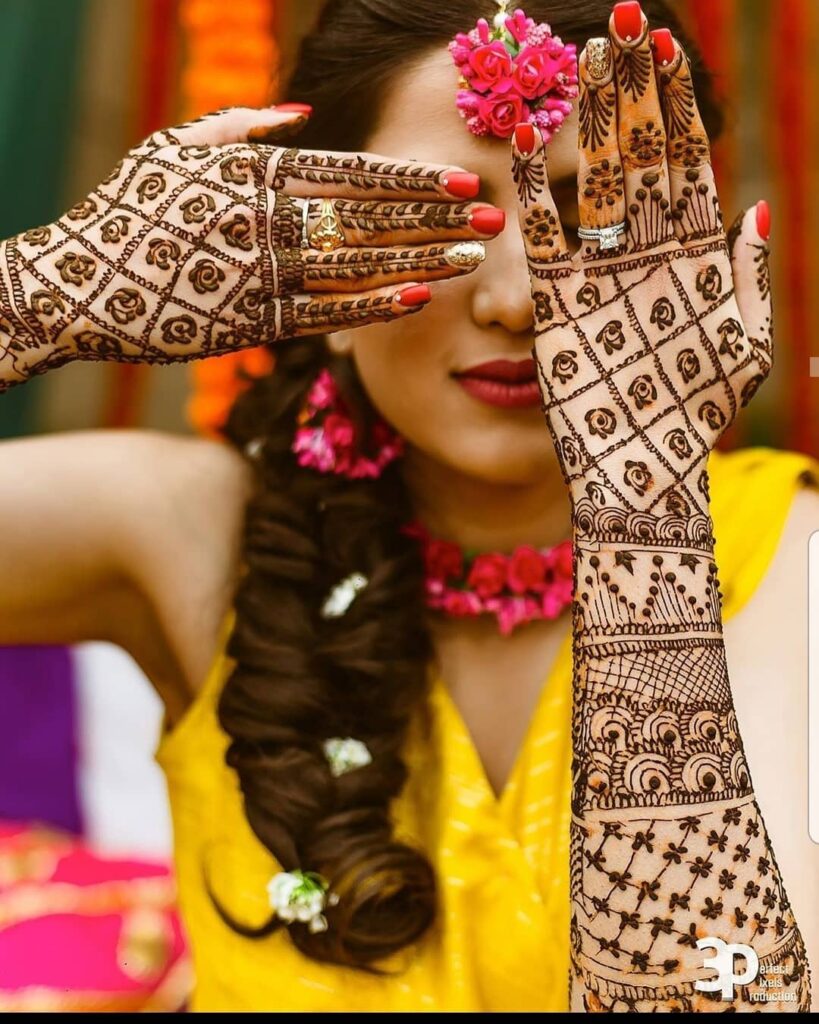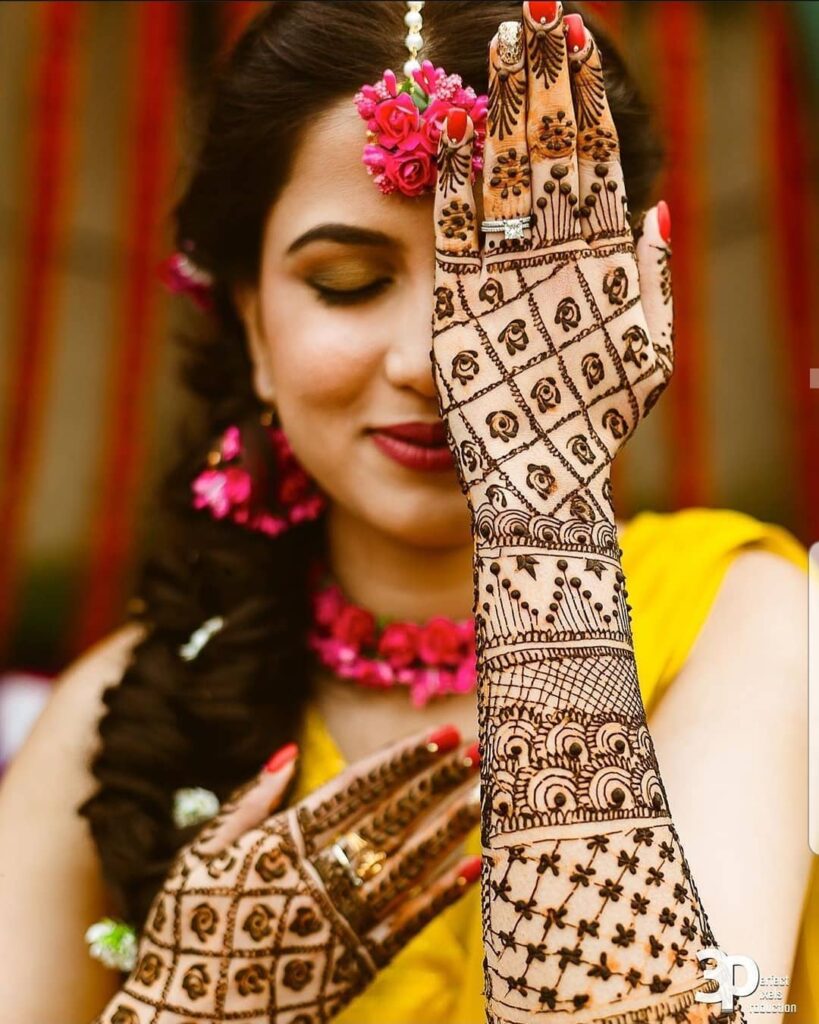 6. Ghewar Combined With A Jaal Mehndi Design For The Win! 
A ghewar and jaal mehndi are conventional patterns for a bride. Combine them both? And what do you get? A spectacular duo that's equal parts traditional and contemporary, and without a doubt, utterly striking. Also, if you love the ethnic effect, a choodi mehendi on the elbow will always stay in trend.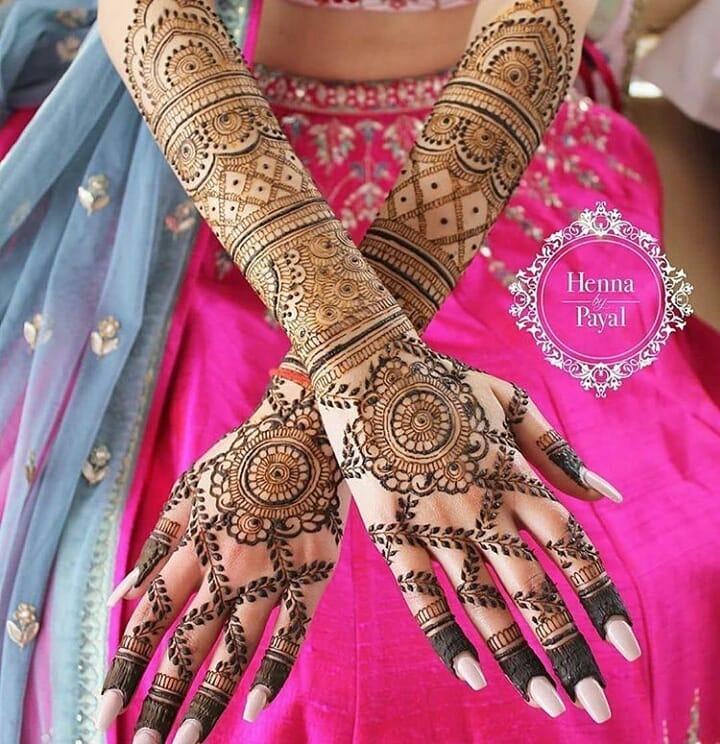 7. For Those Who Can't Get Enough Of Jaal Mehendi
No wonder there's a lot to play around with when it comes to a jaal mehndi design, but those who have a fetish for it don't look beyond that this gorgeous one! For an occasion as special as a wedding, going all out on your favourites always pays off. Bookmark this one if you're a little too much in love with this pattern too!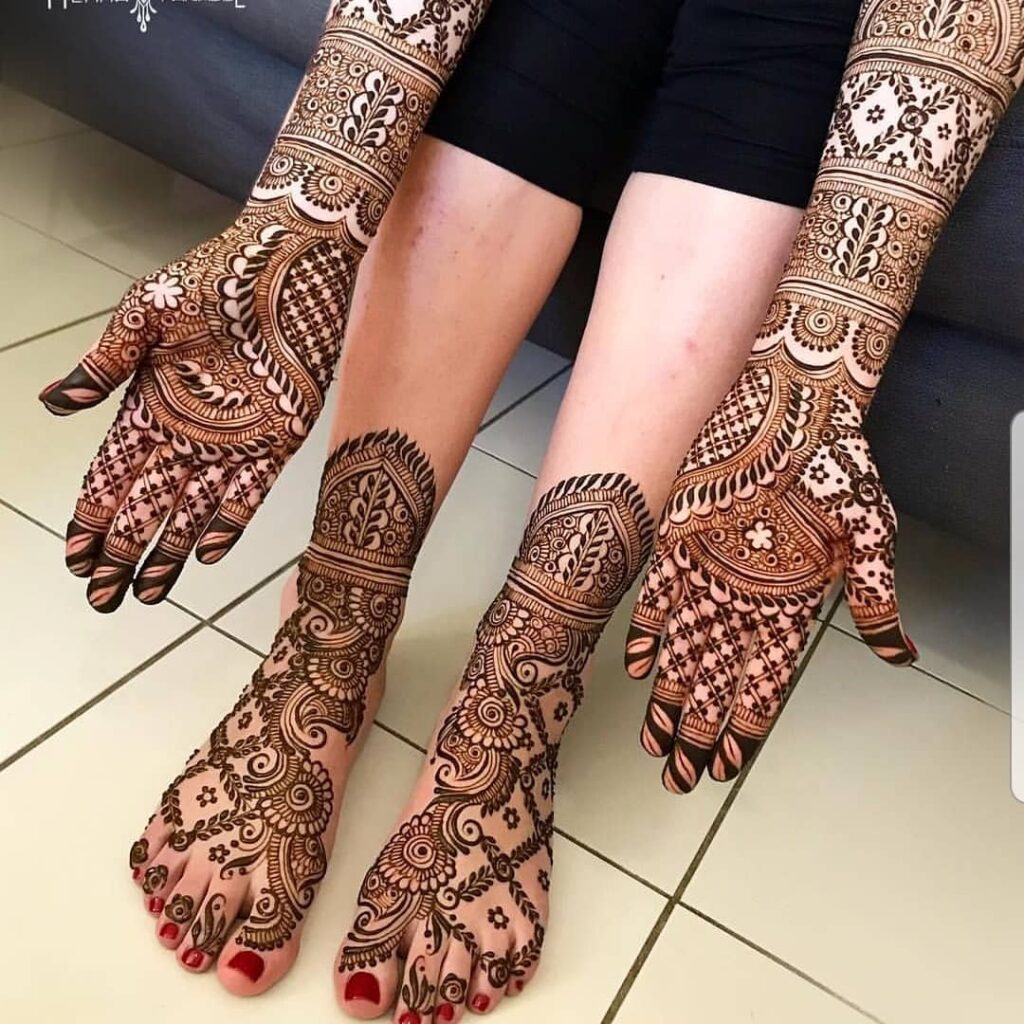 8. Oodles Of Inspiration In One Picture!
Everything about this picture is pure love! The white chura, the pleasing stain, the pretty pinks in the background and of course, a half-half jaal mehendi in the front. If you had an impression that a jaal mehendi is only for backhands, here's an aesthetic snap to prove you wrong.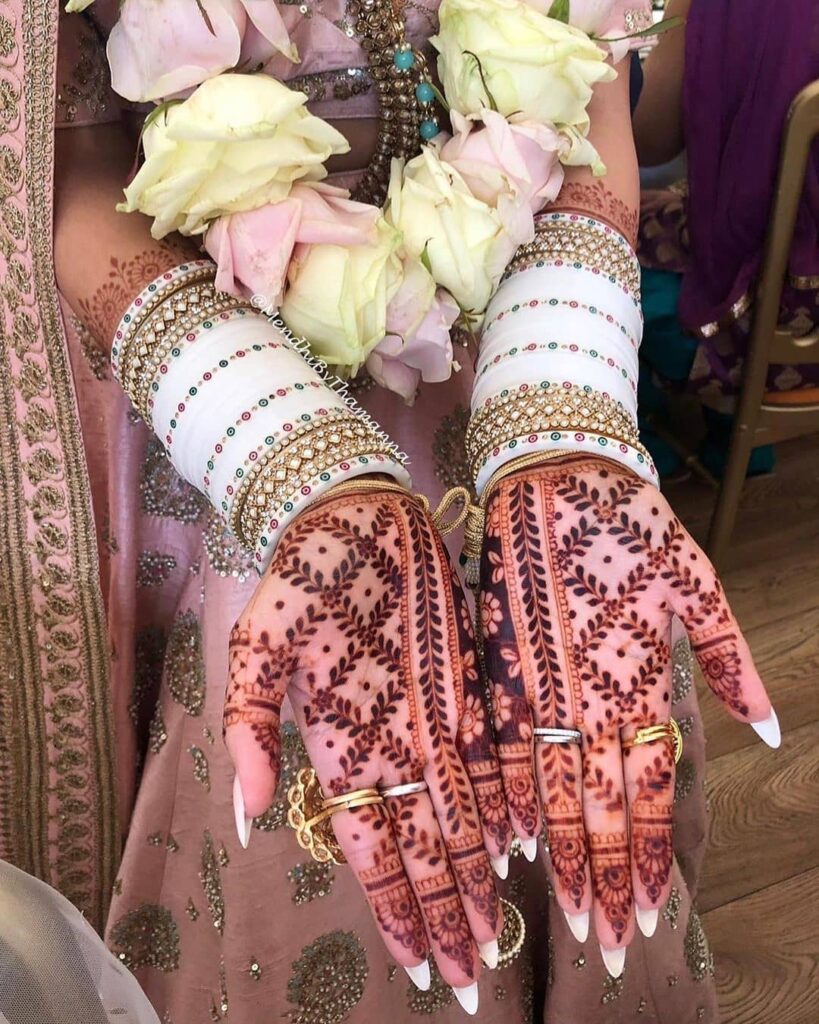 9. The Real Show Stealer
This bridal inspiration shoot went viral on the Internet and for all the right reasons. The gorgeous pink lehenga with silver work (as opposed to the usual golden), the striking golden jewellery, perfect hair and makeup, and the charming backhand jaal mehndi. Exquisitely designed with spacious and filled shades in mind, and made with precision to offer symmetry, this pattern is pure finesse and grace!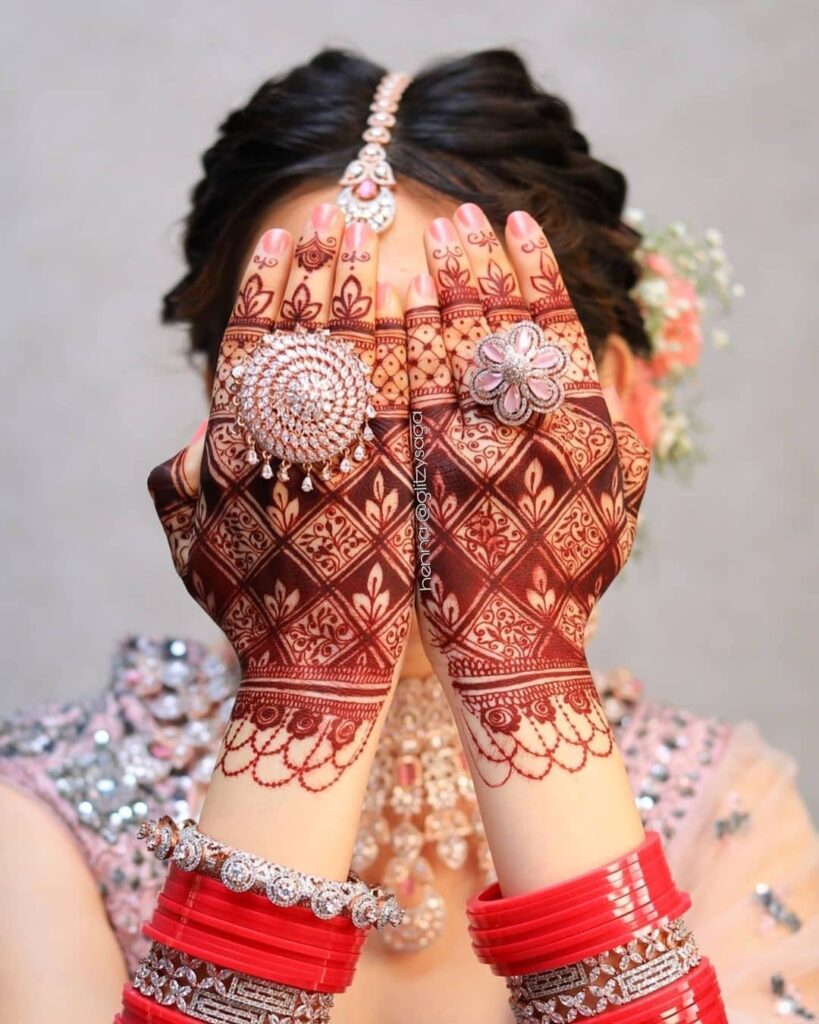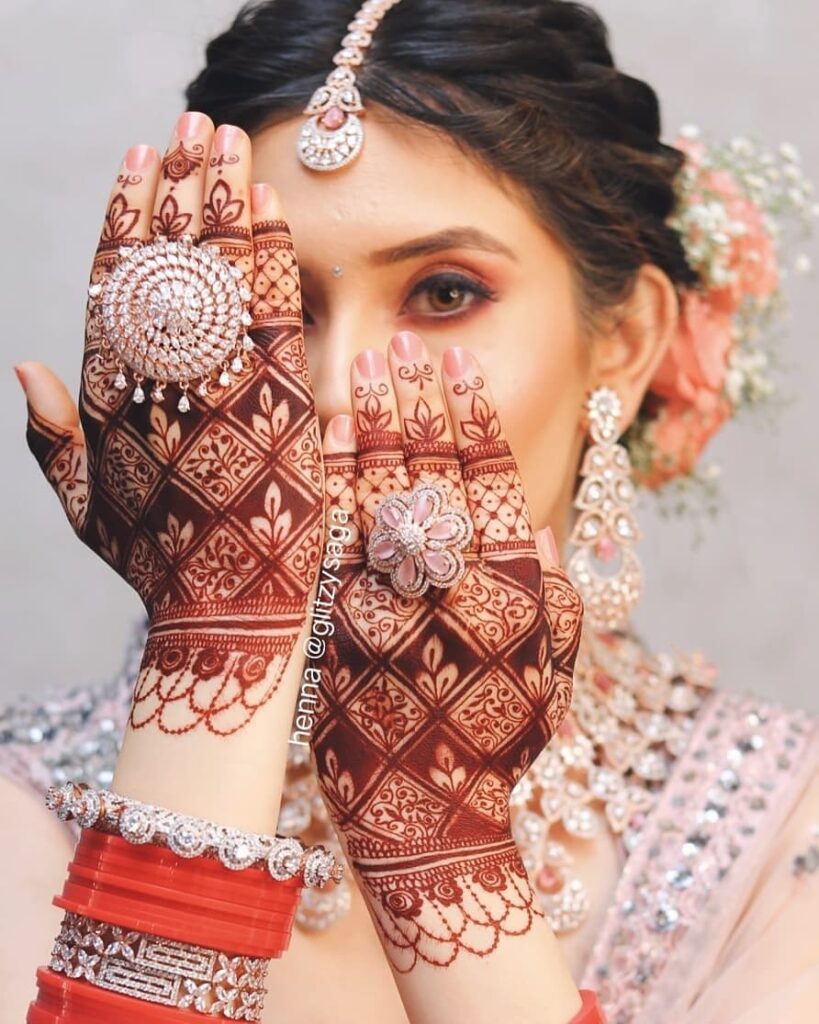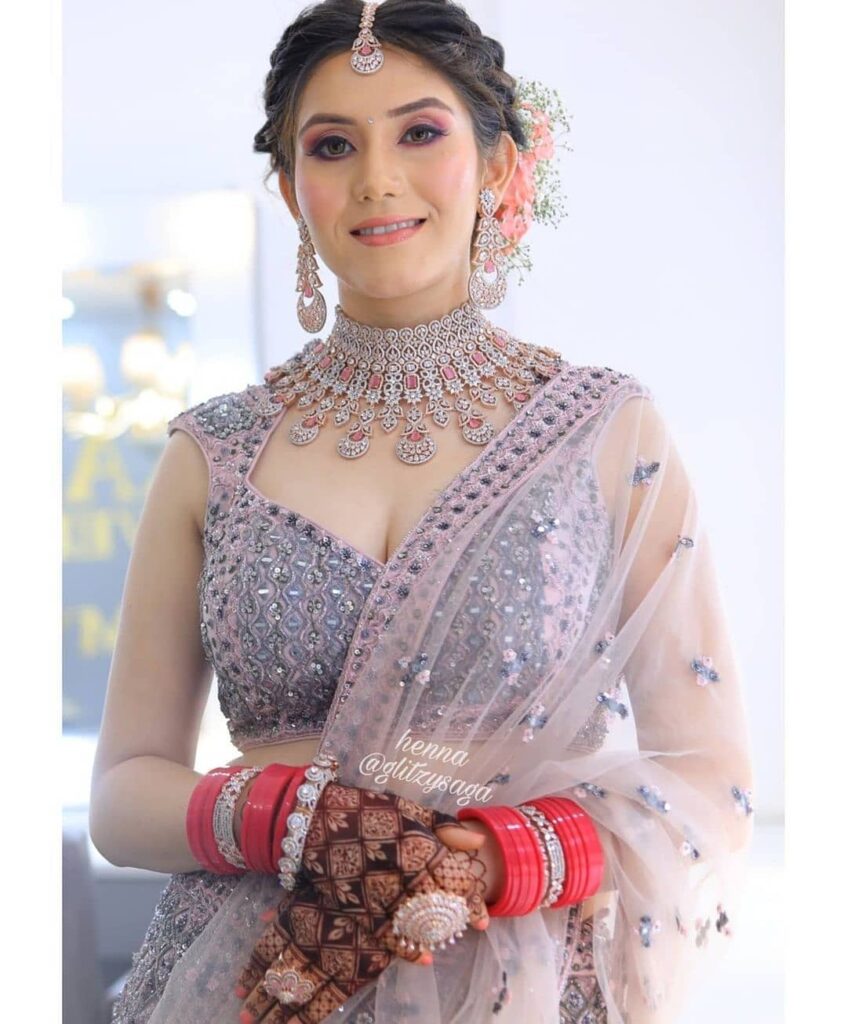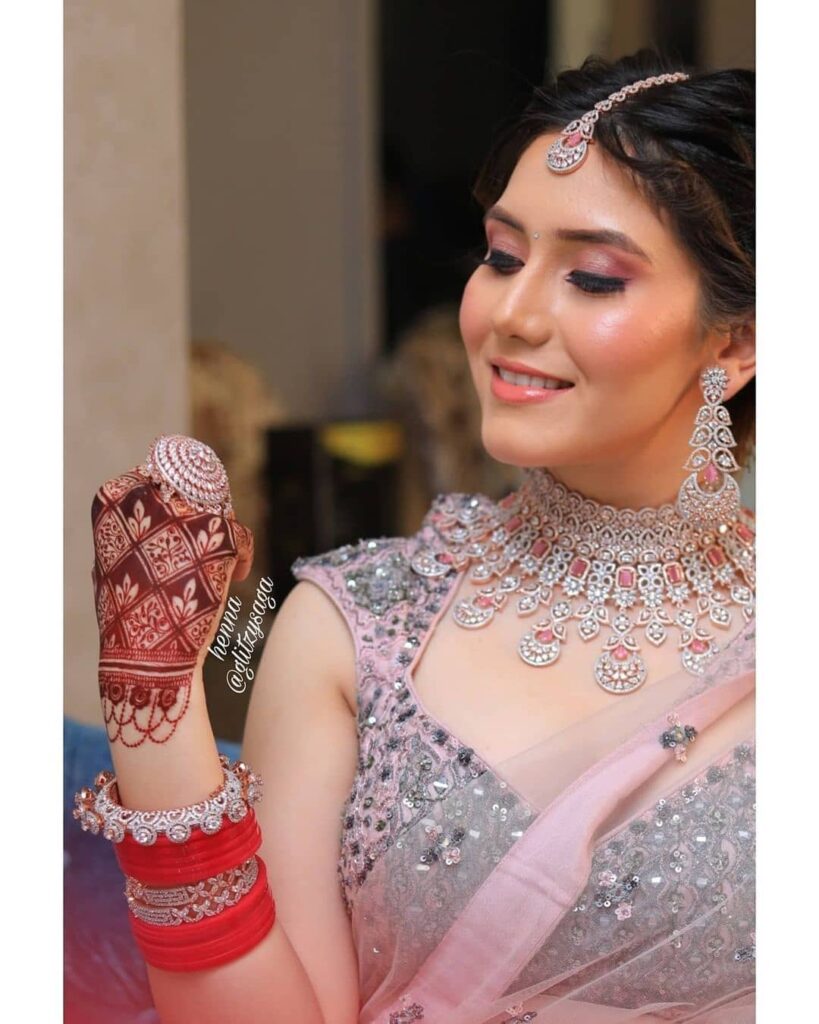 10. Seal It With Initials!
While it's customary for the bride to hide groom's name in the henna, if you want to seal the love with his initials, here's how to nail it down. The way Sonam smartly played with the flowers to add an allure is impressive and certainly a work of an experienced artist.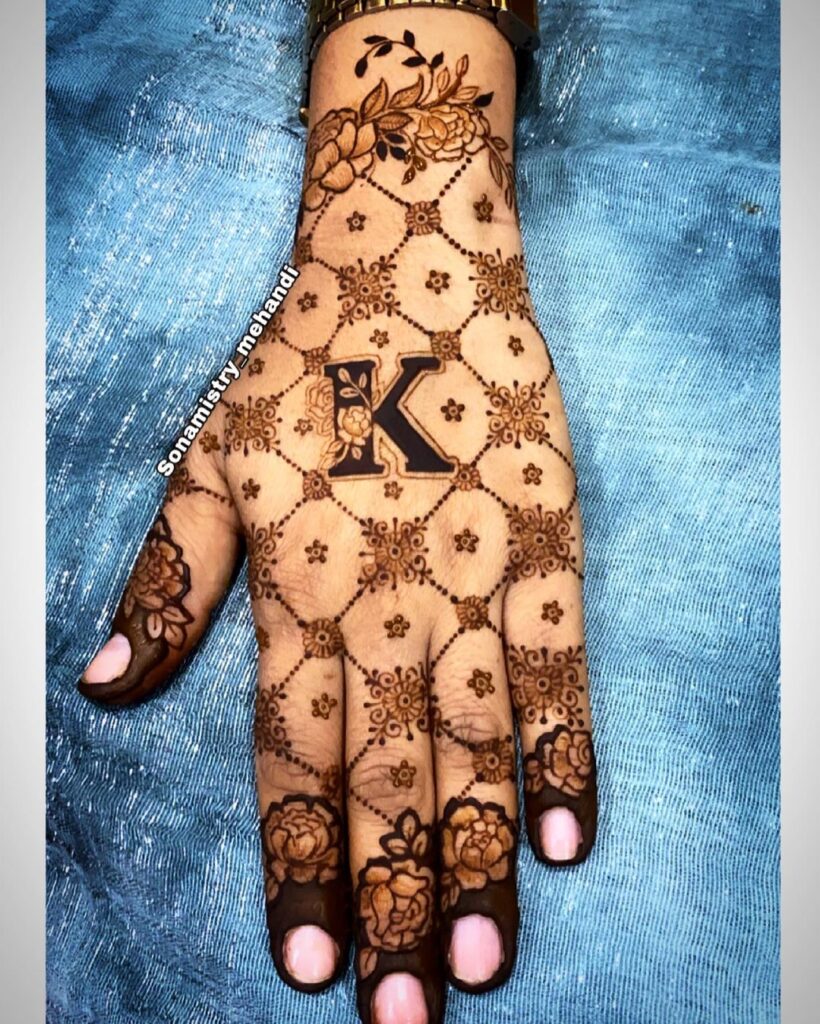 11. If You Love Jaal Mehendi On Feet… 
Then this appealing one will capture your heart. Packed with amazing ornate details and utter intricacy, you'll definitely make a statement with this foot jaal mehendi design. Don't forget to get it captured in all its glory just like this bride though!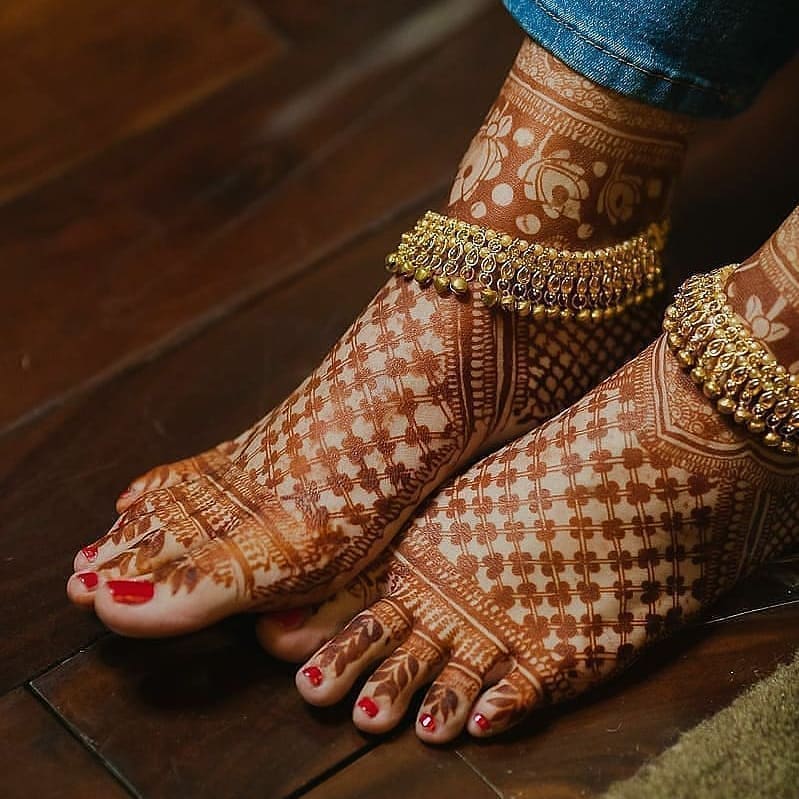 12. Oh! The Sheer Gorgeousness
If you're a bride who wants a bharwa feet mehendi but also wants to keep it simple, this jaal mehndi with artistic filling is a perfect pick. Also, the silver Payal design is another inspiration to take from this snap.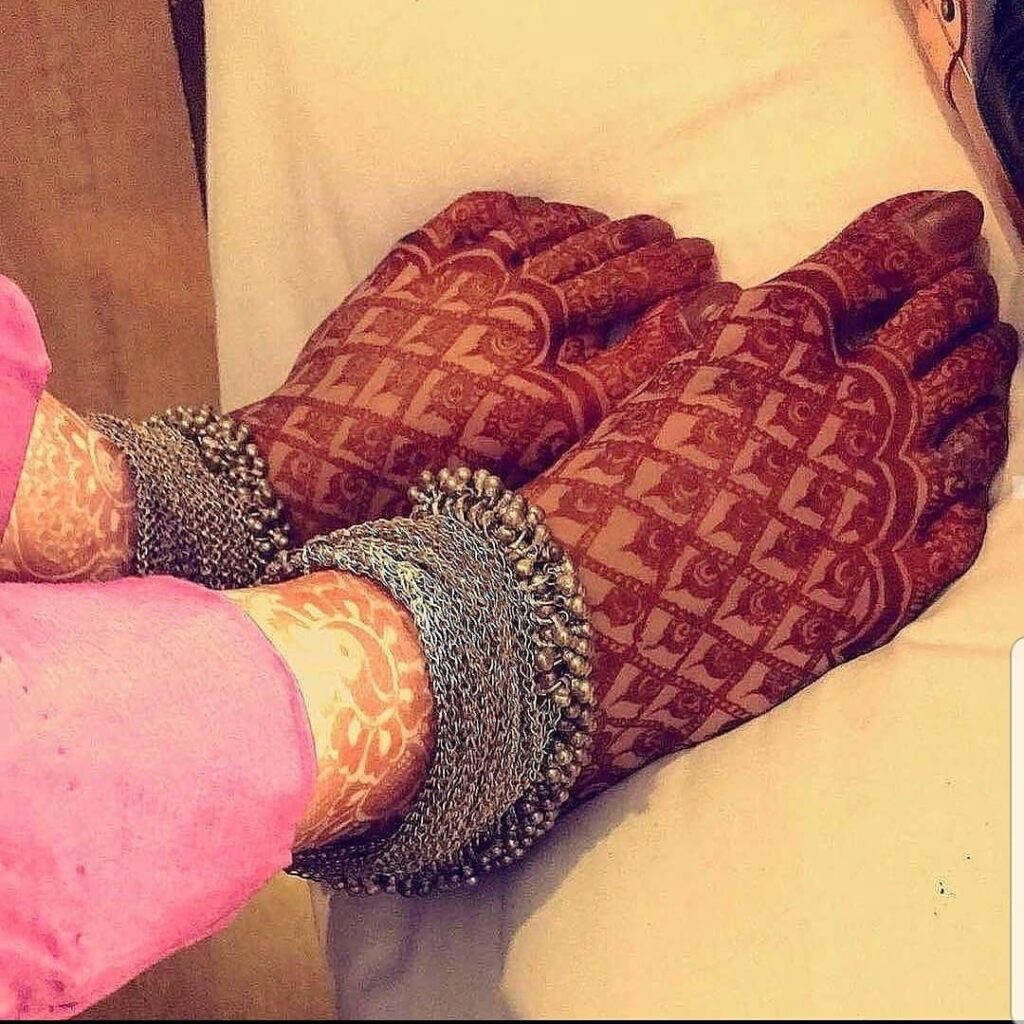 13. Love At First Sight!
It's true. We've been irrevocably in love with this henna pattern since the first time we saw it. Frankly, it looks like you guys have been to! We have posted this permanent picture in our gallery a number of times on our social media, and it seems like a timeless bridal inspiration. So, here's including this alluring one again on our blog.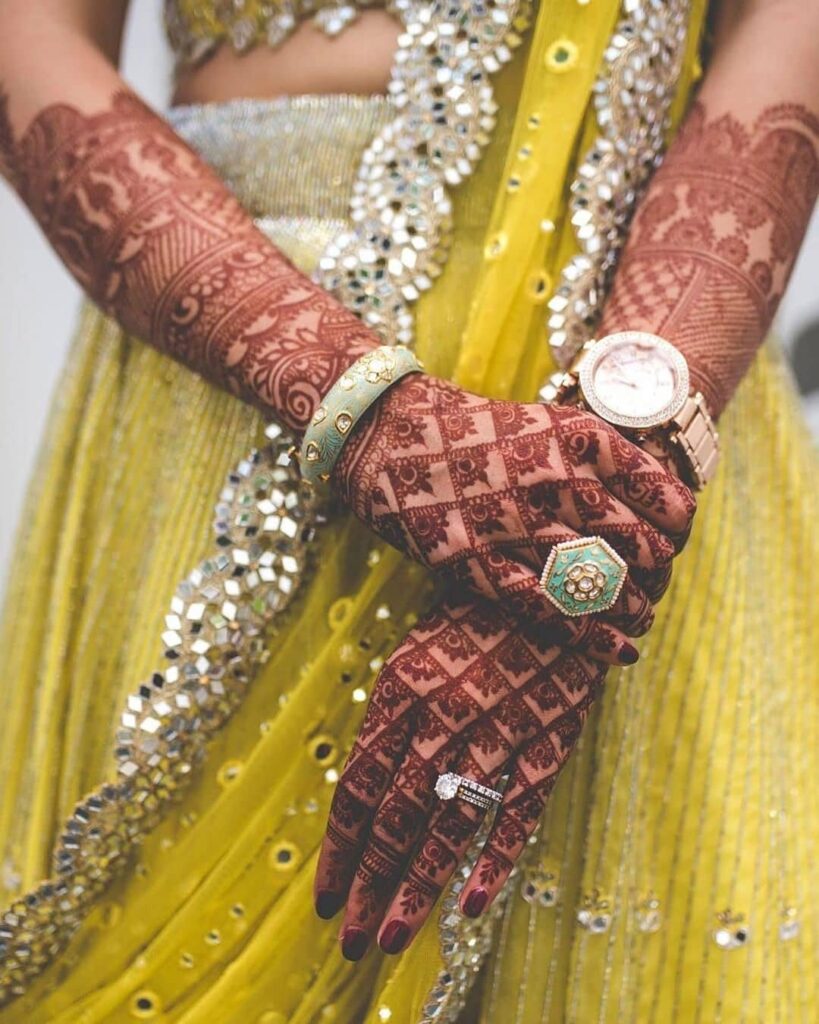 14. A Tribute To Your Parents
Want to show your gratitude towards your parents before you bid adieu to their abode? Here's a thoughtful way to do the same. If you want symmetric henna though, ask the mehendi artist to write maa on one hand and paa on the other.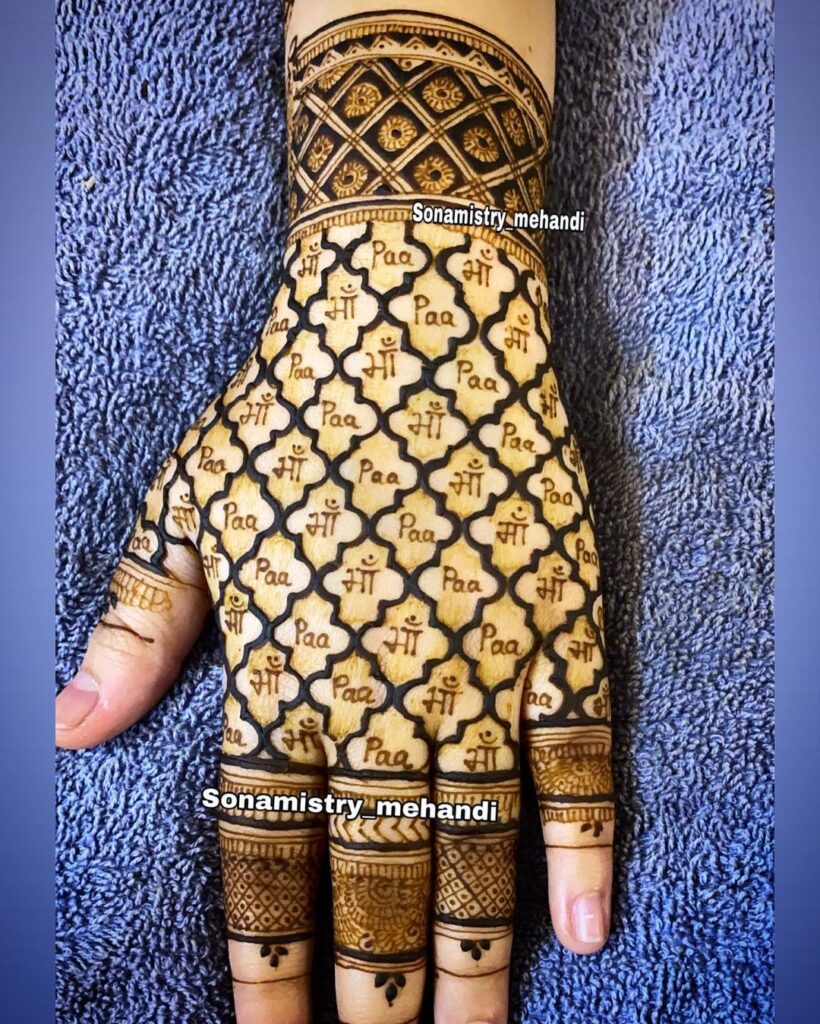 15. Creativity On Whole Another Level!
Every day we are mesmerised by the level of creativity skills mehendi artists infuse in their henna. It's admirable and awe-inspiring. Here's a jaali mehendi design made with thin strokes and fine patterns to make it look neat and prominently gorgeous.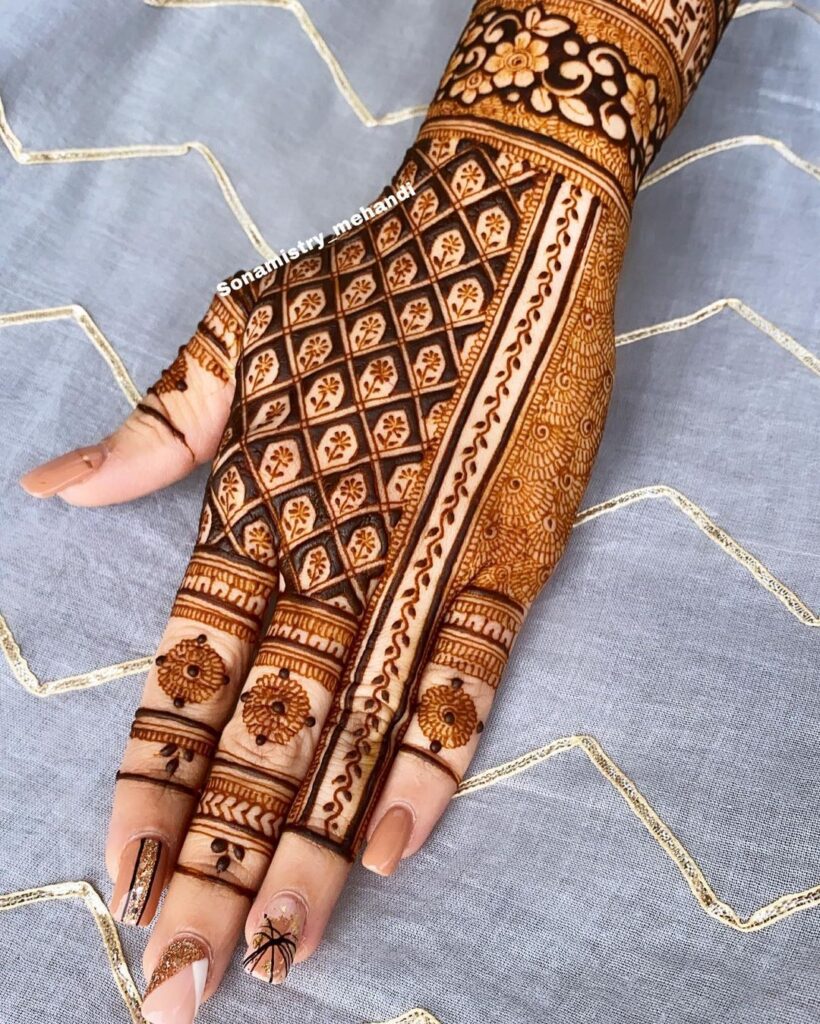 16. 3-D Florals With Jaali Mehendi For The Win
A favourite among brides is this spacious jaal mehendi design fused with a line of 3-D florals in the end. Follow it up with a magnificent choodi design to boost the appeal of the whole henna even further.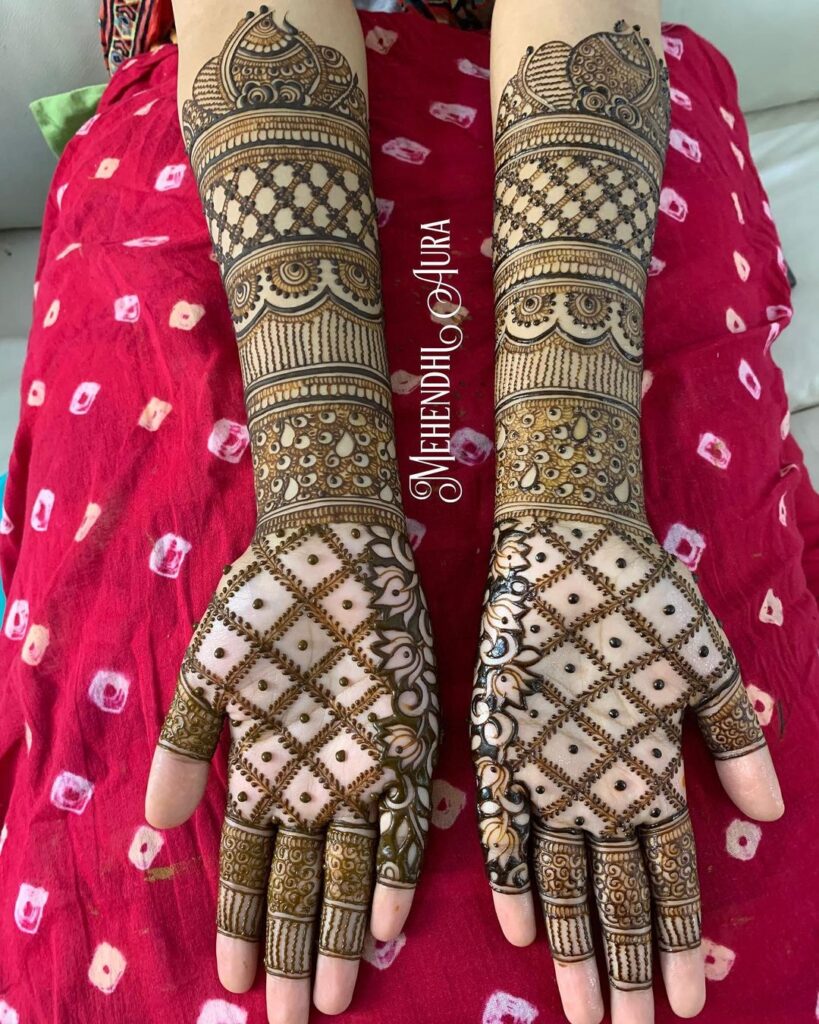 17. When Intricacy Trumps Over Everything
Evenly spaced out jaalis with detailed patterns inside is what gives this picture an appealing and graceful look. The best part about this henna design is how captivating it will look in the pictures and after staining. If it appeals to you, go for it without thinking twice.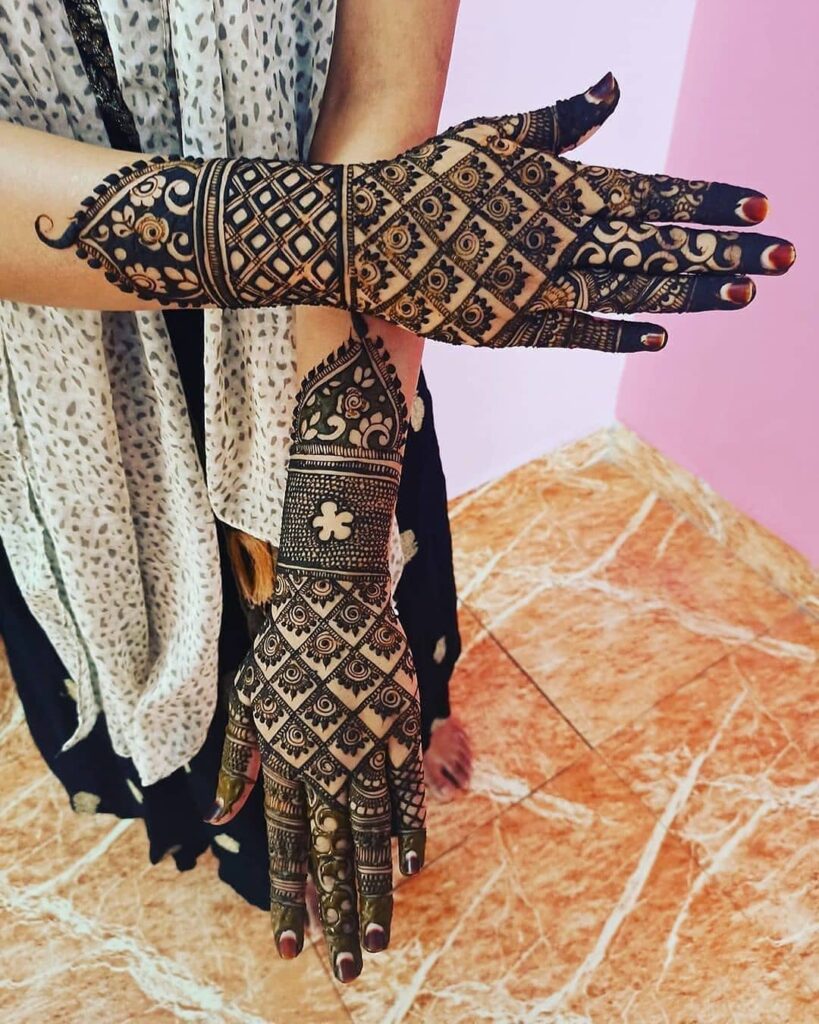 Source: Unknown
18. The Charm Of Thin Strokes
While some women prefer the charm of thin & bold strokes, there are others who still rely on the former for their henna design. This artistic jaal mehndi design on the backhand, combined with traditional paisley, leaves, and flower patterns is a pretty one to come abode your mehendi Pinterest board.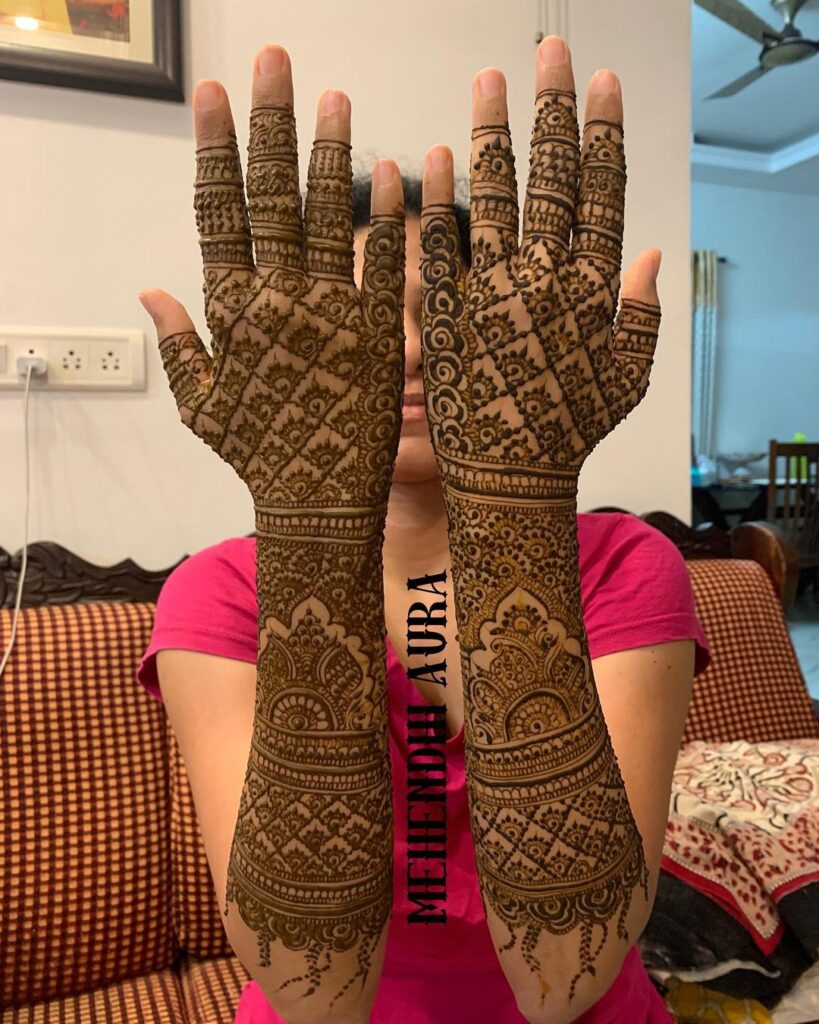 19. A Bridal Portrait Full Of Inspiration
We know there are lots of things to admire in this one image, and we aren't asking you to choose. It's a tough decision. However, keeping in line with this blog topic, we can't help but admire the quirky yet pretty twist to the jaali mehendi design. For brides wanting to set a statement with their mehendi, this floral-infused design is the superb pick to opt for.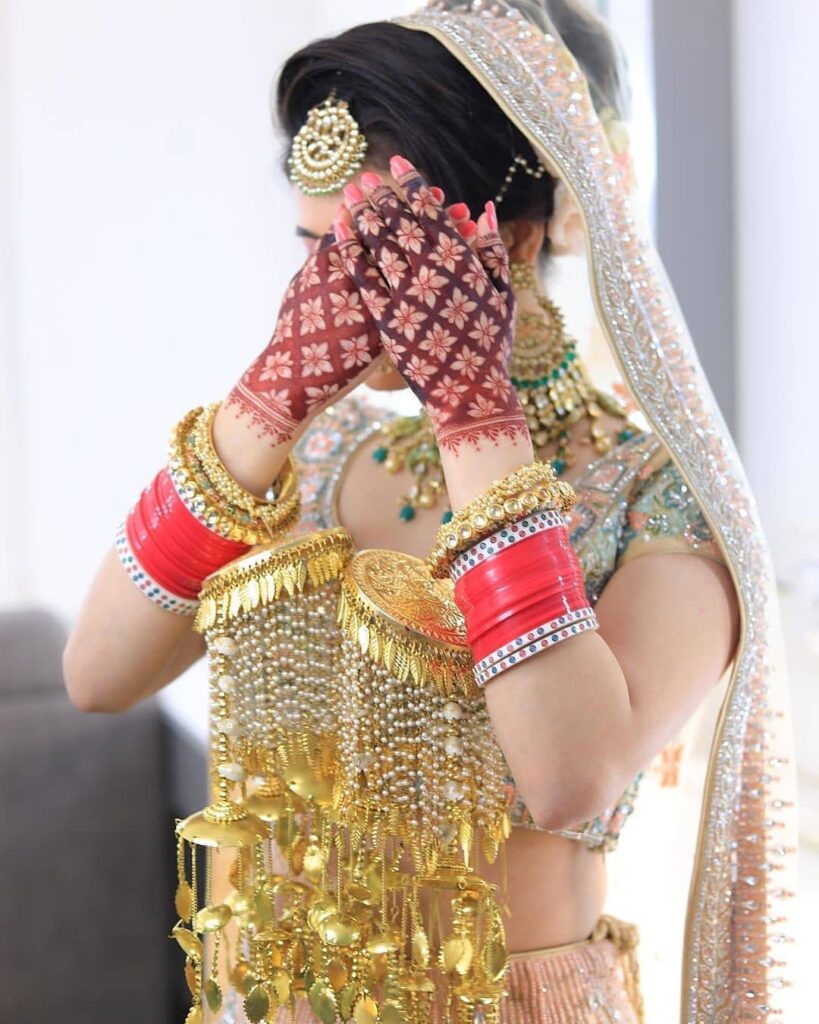 20. Simplistic, Graceful & Gorgeous
Hey bride-to-be, does your style choices align with something that's simple, aesthetic yet elegant at the same time? Then, here's a henna pattern to become a part of your Pinterest mood board. The intimate weddings also call for minimal choices as a part of your bridal look, and this one's definitely a top-notch design for the same.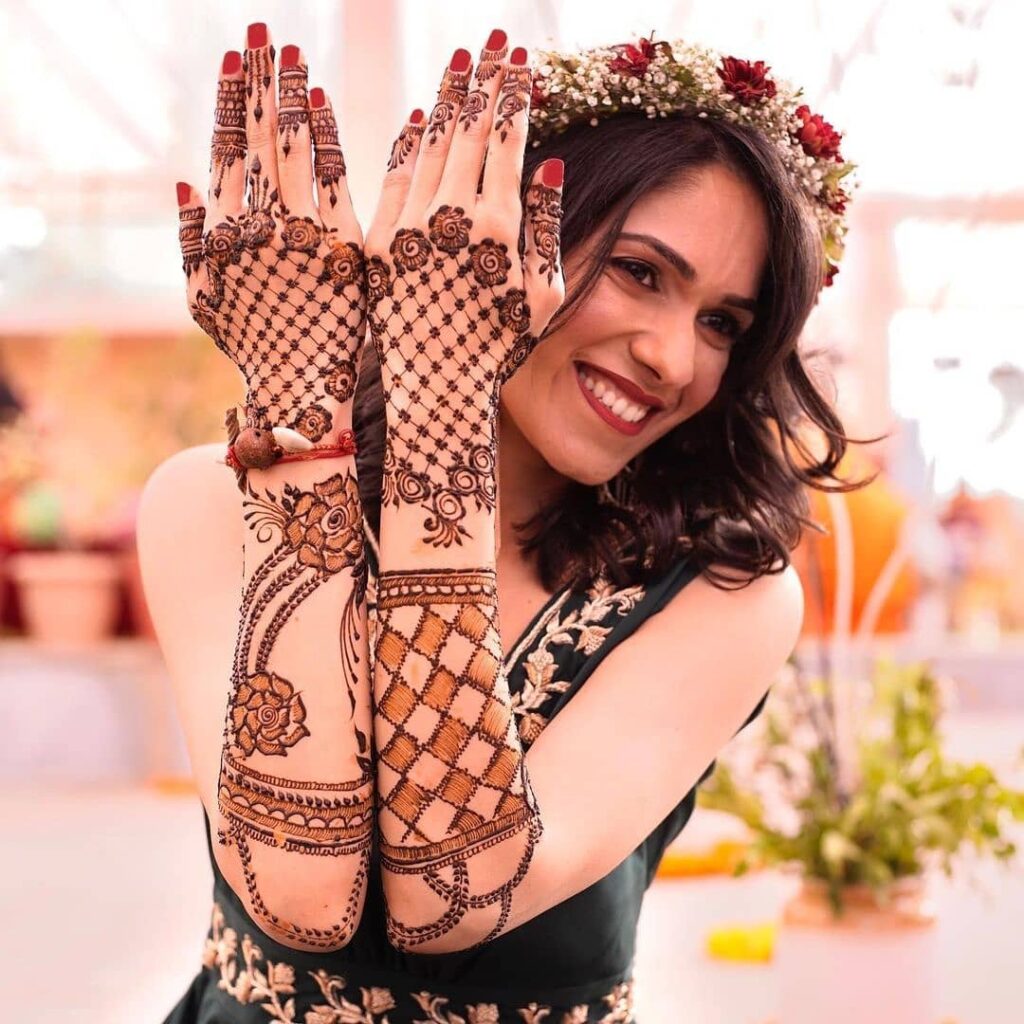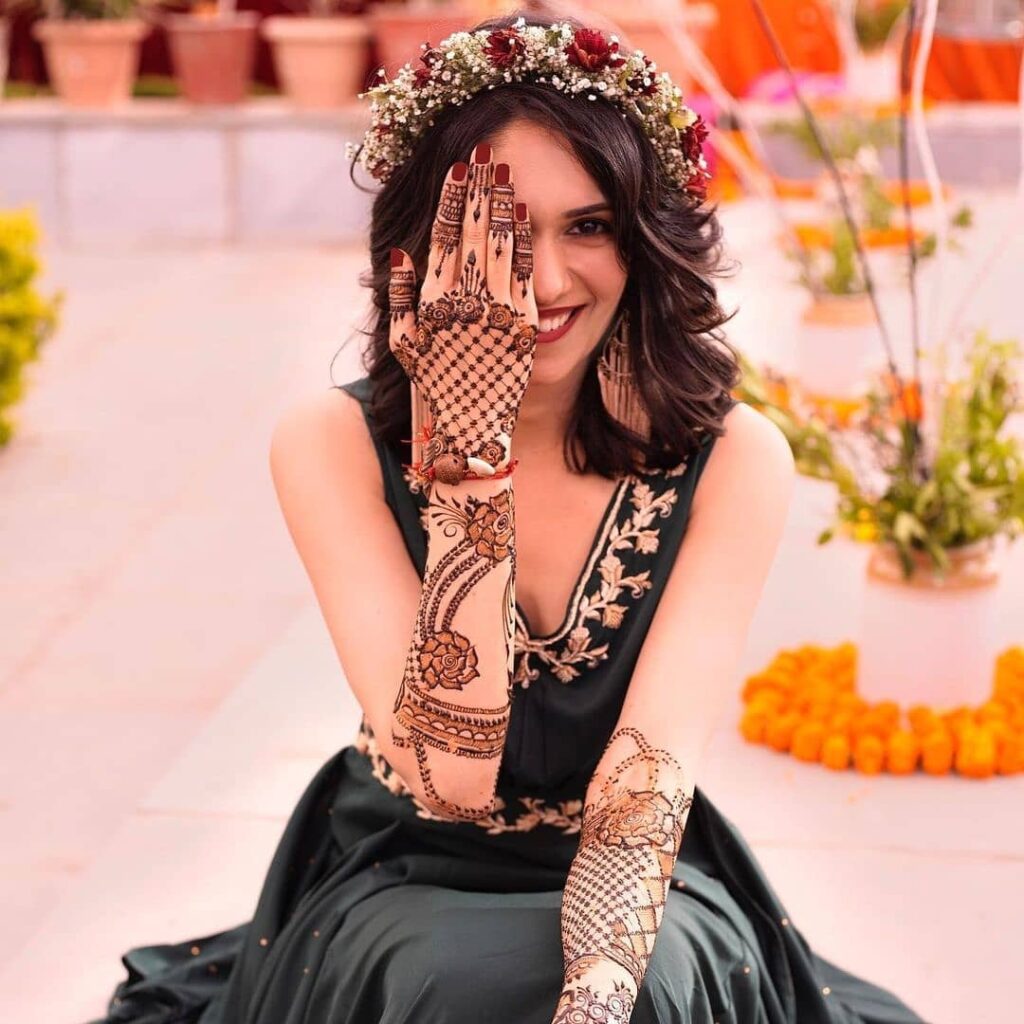 21. When Less Is More!
This standalone mehndi design is perfect for brides & bridesmaids alike. We love how the leaves are all so matched and aligned with each other. Needless to say, you need utter experience in your hands to recreate this one; even if it looks easy to replicate.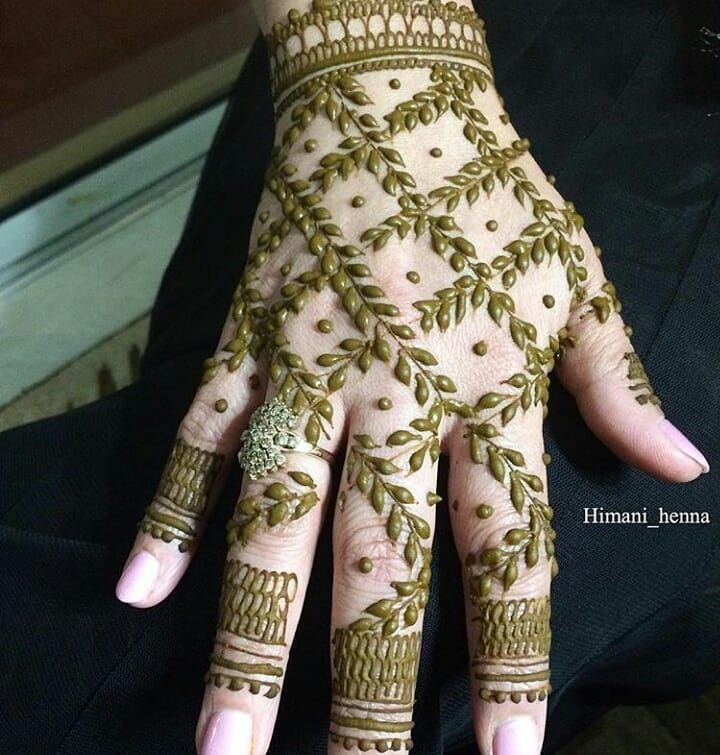 22. What's Not To Love Here, Really?
That was a rhetorical question. We love how the mehendi artist subtly created a floral partitioning and neatly filled the space with a compact jaal pattern to give it a modish look without debunking the traditions completely. Besides the bride, this mehendi design also works well for the sister of the bride or groom. Also see: Mehendi Designs For Sister For The Groom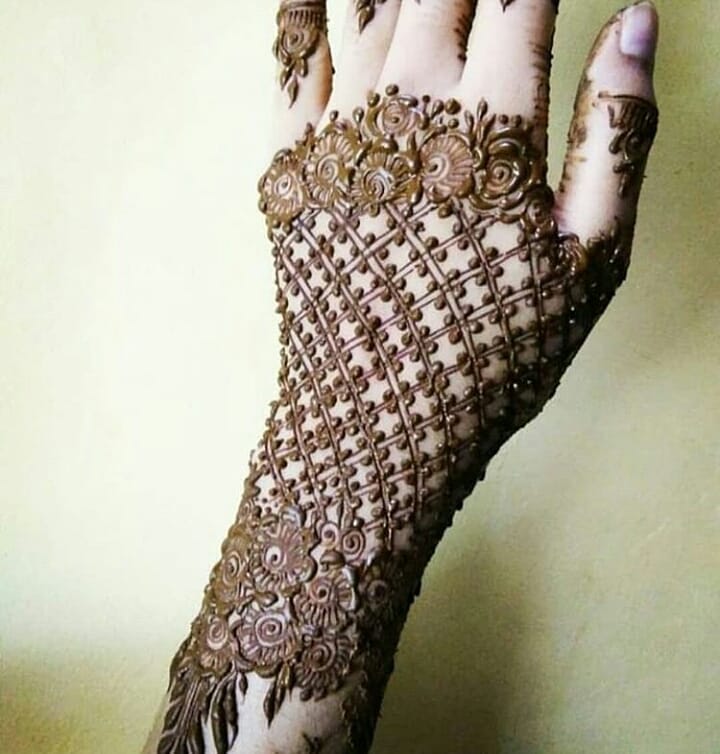 Unknown Credits
23. Floral & Mesh Finesse
The beautiful play of florals and mesh in this mehendi design and the finesse details till elbow makes this snap one of our favorites from the whole list. The notable florals in the intersection of the design is no less than a work of art to enhance the trending jaal layout.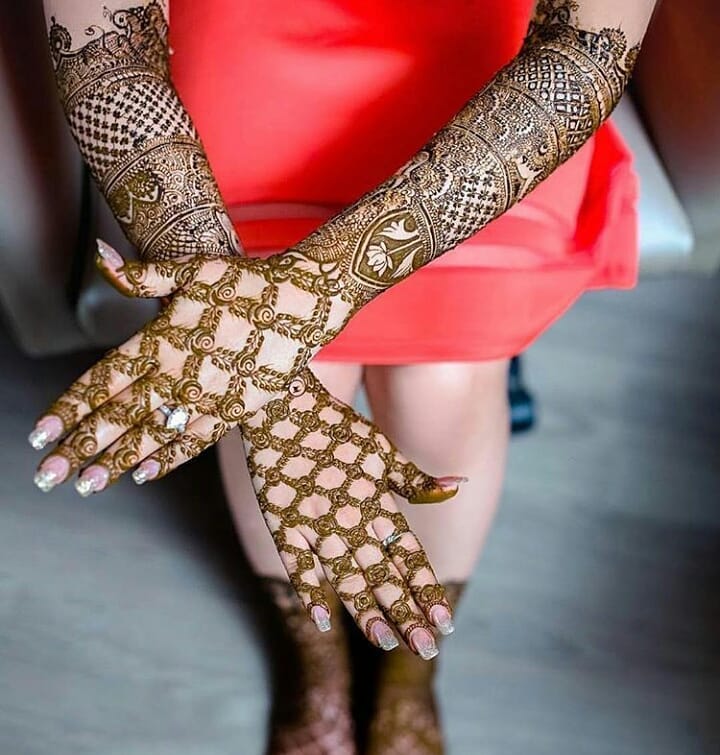 Credits: Unknown
24. The Beauty Of This One Is Unmatchable
The details of this mehendi design beat all on the list. The mesh pattern is accentuated with little leaves alongside the lines and the dots in the middle. Further, the 3-D lotuses add charm and a voguish look. The well-made sectioned patterns till the elbow makes this bharwa mehendi one of our favourites for the brides.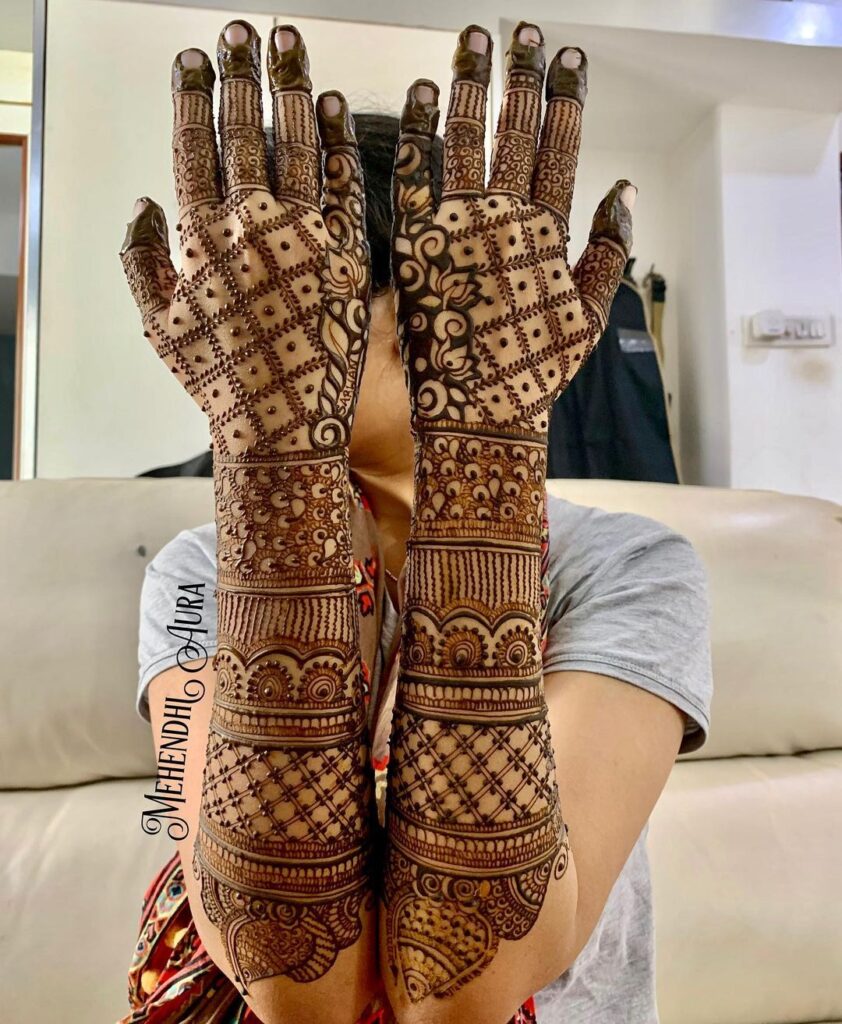 25. Conventional Mehendi Art Will Always Win!
If you thought that bharwa mehendi designs are too compact, and can fill your hands without giving a tidy look, here's a pattern that will change your mind. Featuring the beautiful mesh design, and sectioned henna with traditional fillings inside, this amazing henna is winning our hearts.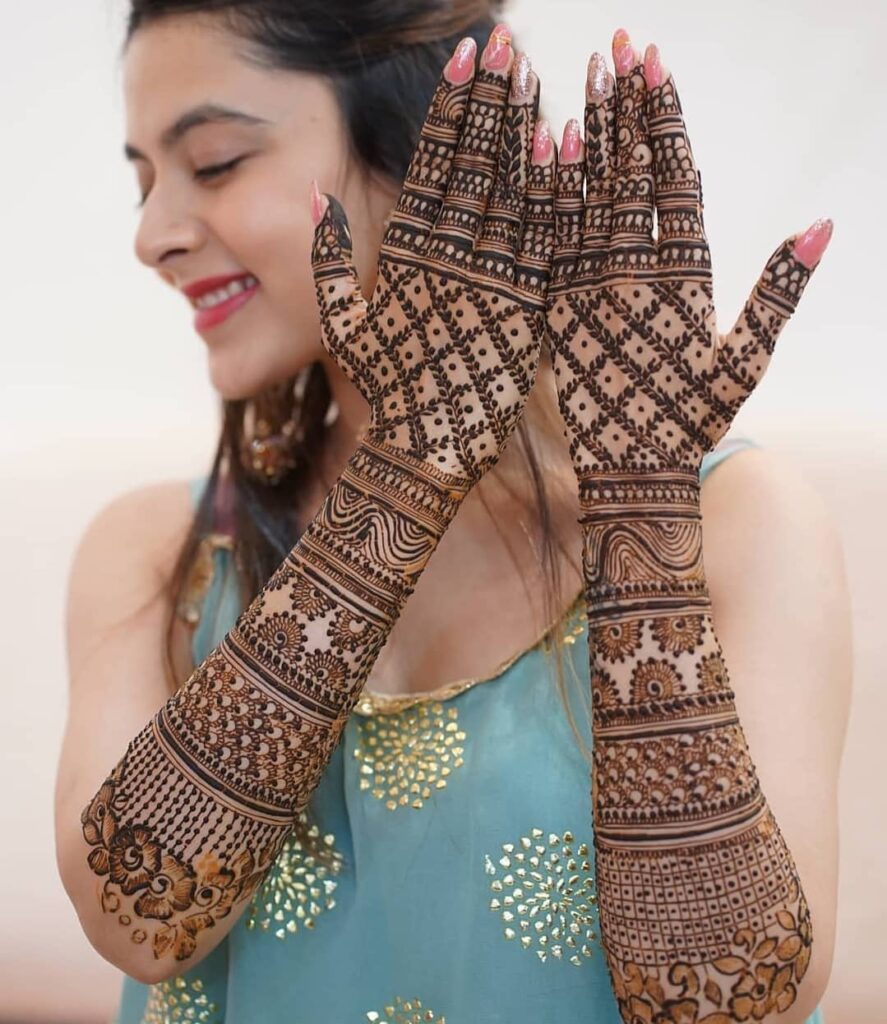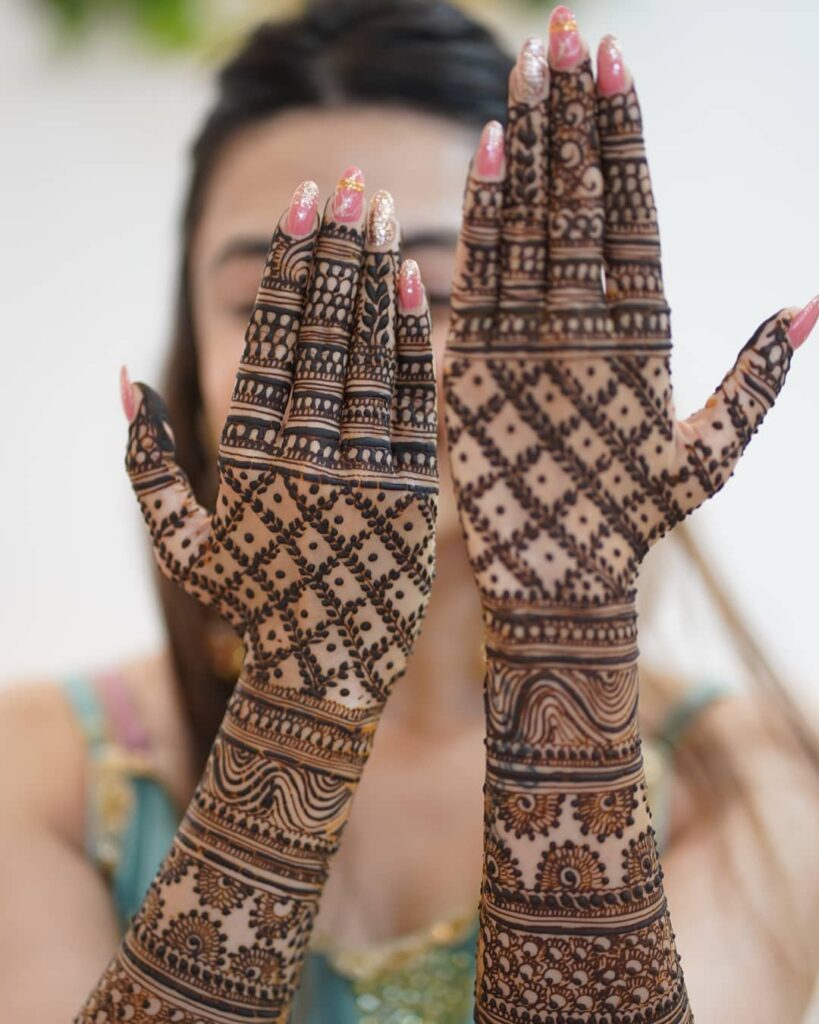 26. Minimalism At Its Best!
For all minimalist women out there who don't want decked-up henna on their designs. Instead, looking for something that leaves ample spaces while looking artistic and ravishing, do consider this one. The bold strokes are what makes all the difference to make this design a picturesque one to stare at!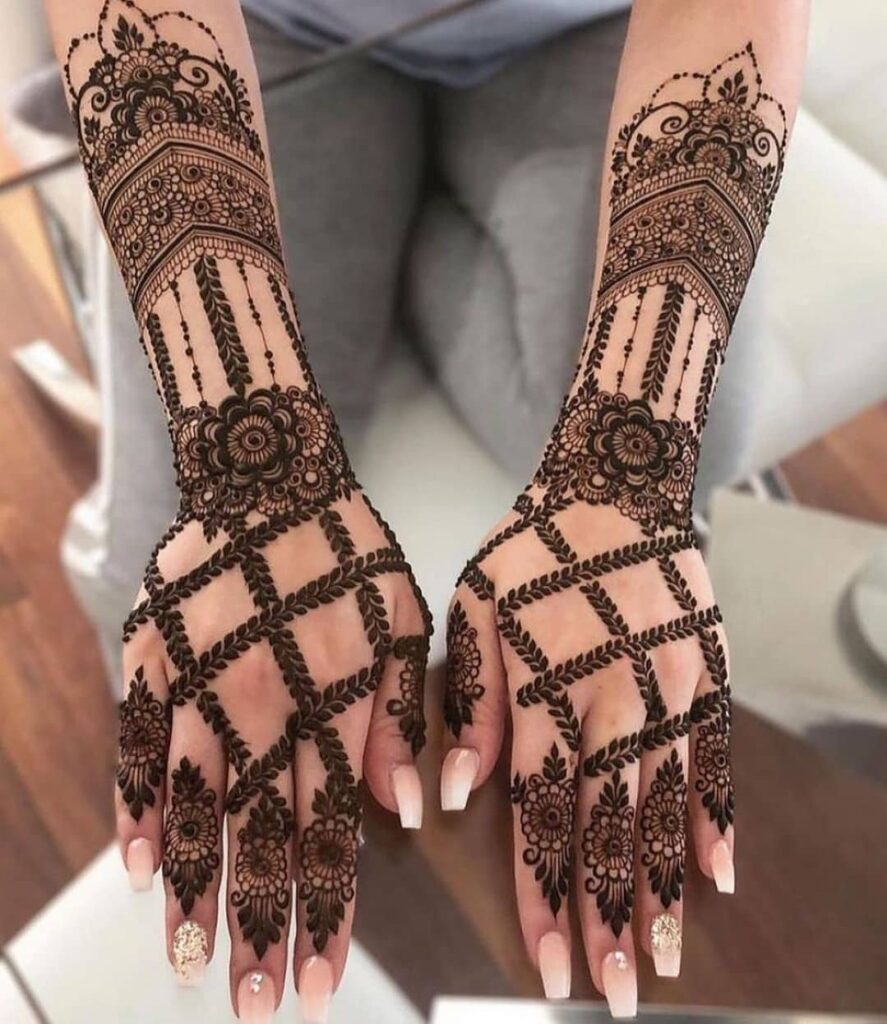 Source: Unknown
27. Statement-Worthy Jaal Mehendi Design
This one's a unique one on the list. There are others who resemble each other, but this one is a noteworthy and extraordinary one that will make your henna statement worthy! Don't forget to take a shot like this to flaunt it on social media and send it to us as well. xD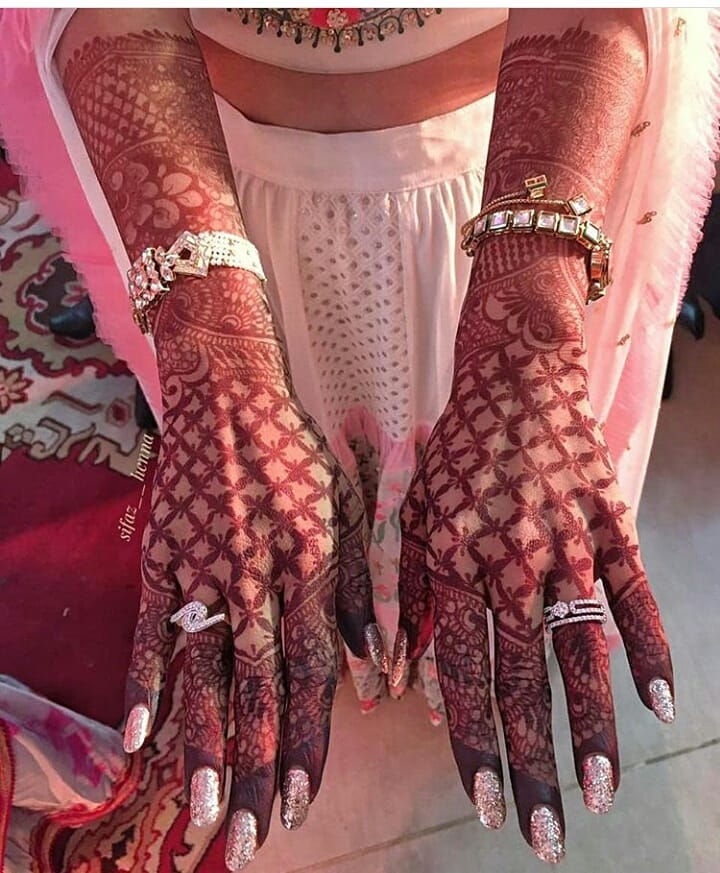 28. Jaal Mehndi = Always Beautiful!
Jaal mehendi design always looks beautiful – when it's applied, when it's in the process of staining, and when it's left a pretty red stain. This jaal pattern has quite thin lines but it's the leafy effect that brings it to life. We're also eyeing the endearing florals inside the design too!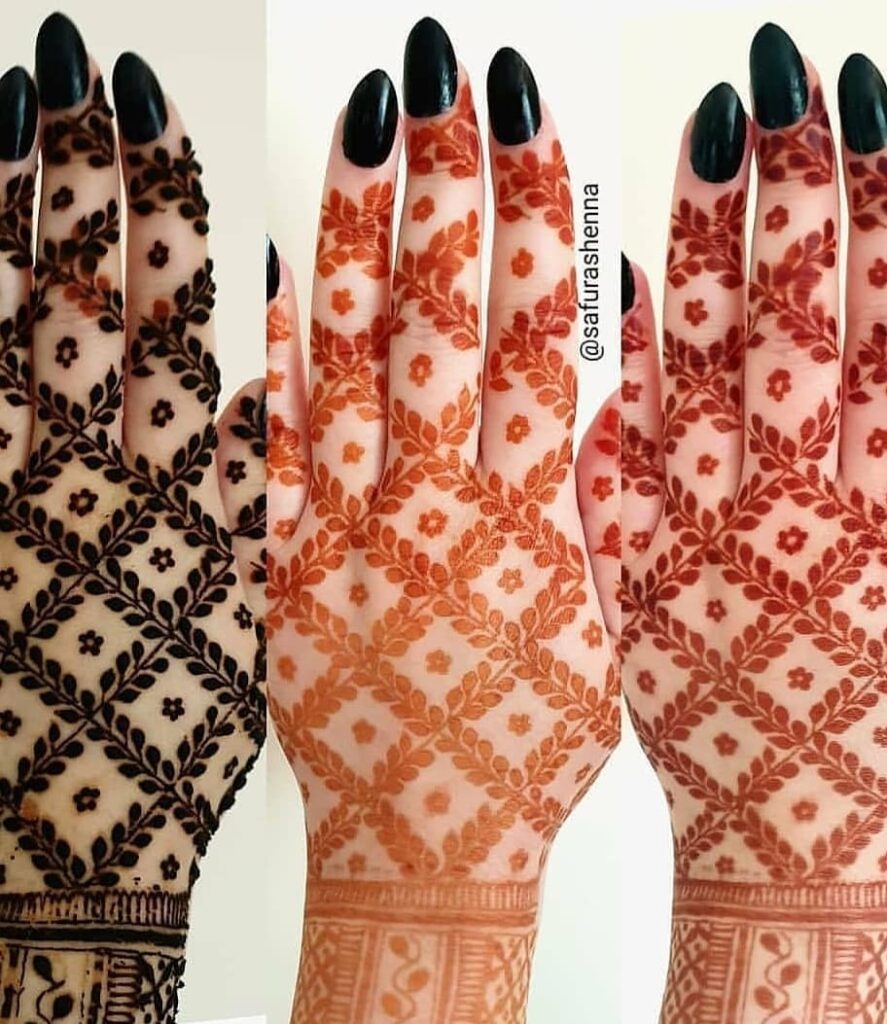 Safuras Henna
29. Mesh Pattern With A Twist
Ending this detailed blog with an edgy and straightforward for brides who want a fuss-free back hand mehendi design. They can go for this simple mehendi design with mesh pattern and a sem-circular design on the side. This way they can have a charming design and also enjoy their desire for a straightforward mehndi design.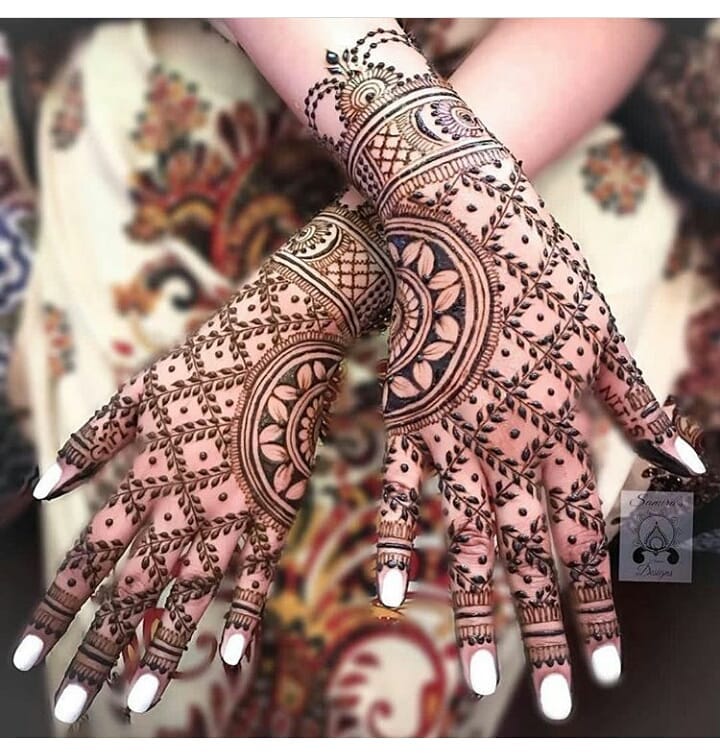 Source: Unknown