Tavleen Dhingra, a fashion designer and pass out from London College Of Fashion, was crystal clear on her love for designer outfits and wanting to don the same for her wedding. "Being from a fashion background, my life has always been about fashion and love for exquisite, unique designs. I was very clear that I wanted something standalone and grand to wear at my wedding revelries," describes Ms Dhingra of her wedding vision. To satiate this desire, she only opted for designers whose sartorial designs exuded a distinctive branding and styling, so Sulakshana Monga, Amit Aggarwal, Rimple & Harpreet, and Gaurav Gupta made way to bride's trousseau. 
"I had my looks for each function hooked in my mind from the very beginning so it was very easy on deciding what I want. However, I wanted to be out of a box bride, so my wedding lehenga had dramatic bell sleeves. My mehendi outfit had a very funky look and I, obviously, made sure the whole decor coordinated well with my outfits," says Tavleen.
And to Tavleen's absolute pleasure, the universe brought her a man that shared her love for fashion, among other things she's passionate about, namely gyming and sheer perfection in any task that comes along the way. Their love story started at the gym. It's like the stars were aligned to get these two love birds together. 
"I and my husband first saw each other at the gym. We were both attracted to each other's height – honestly – I am 5.8' and he's 6.2'. We started talking, and from that very first chat formed a connection like no other. We didn't wait long, and decided to seal the deal," says Tavleen. 
For their wedding, our perfectionist couple hired a wedding planner who shared their vision and made their dream wedding a success. "We couldn't rely on anyone as we were very particular with everything we wanted for the wedding. We shortlisted Pulse events like our wedding planners and they were just amazing. Each function was designed by me and my husband. We were quite particular about each detail. And our planners understood our taste and it was a perfect 3-day destination wedding."
Pre-Wedding:
An elegant, retro, and timeless pre-wedding shoot was an ideal representation of the couple's relationship. We loved their outfit choices too, and if you have got a prewedding shoot coming soon don't forget to bookmark this blog.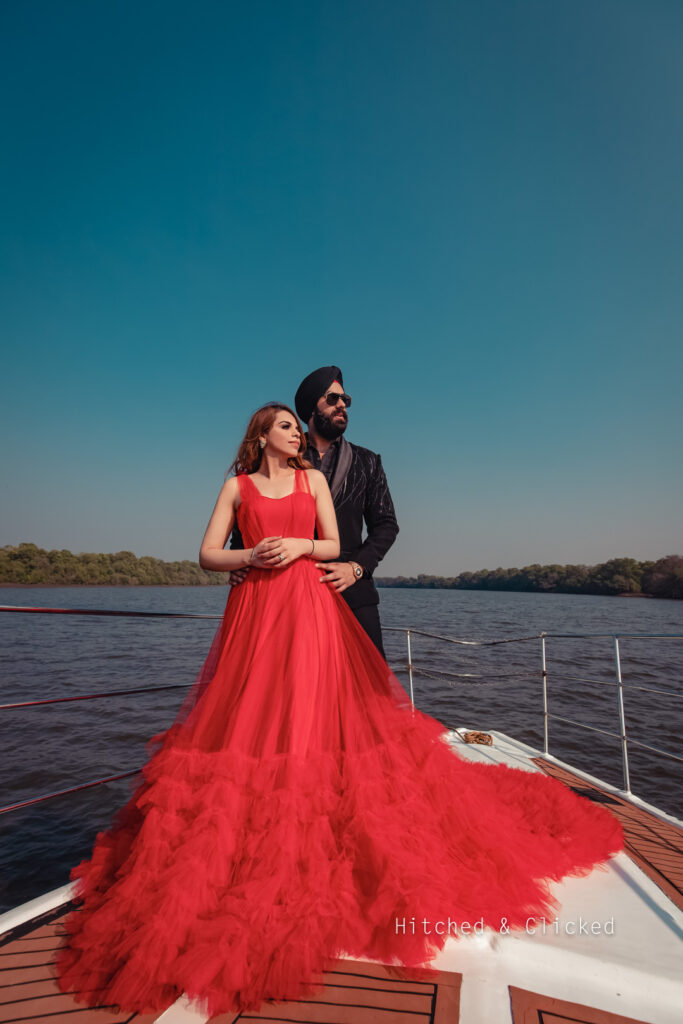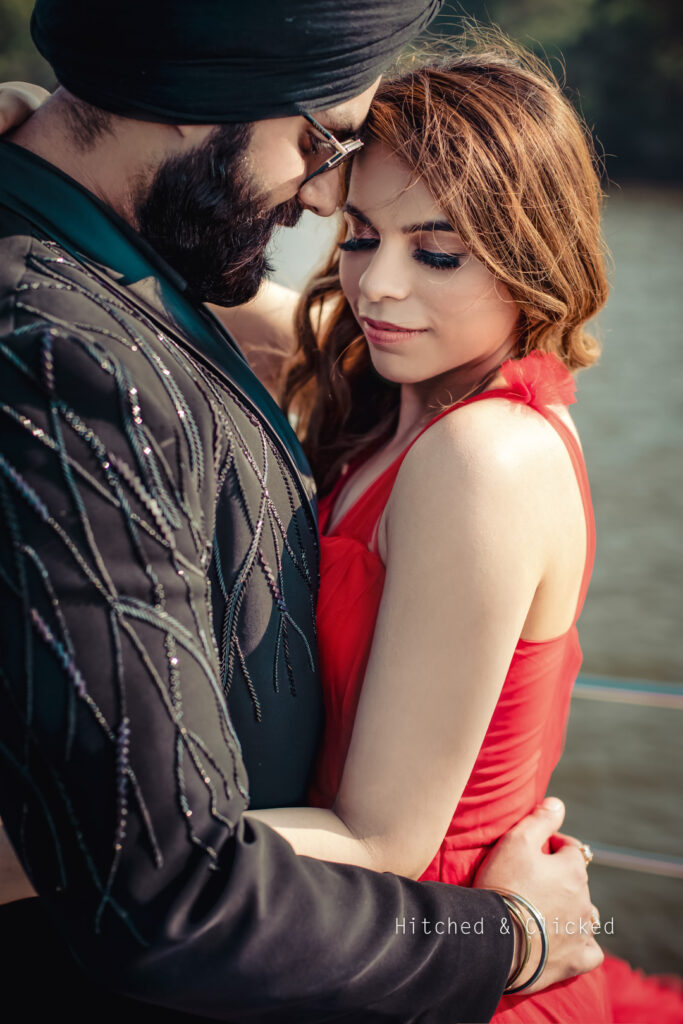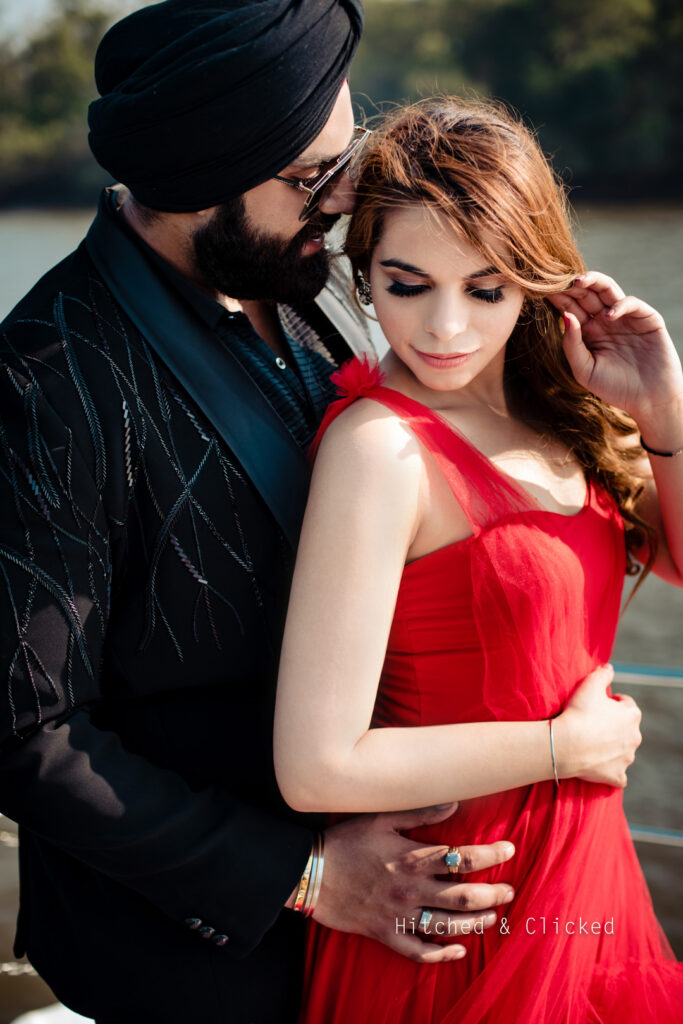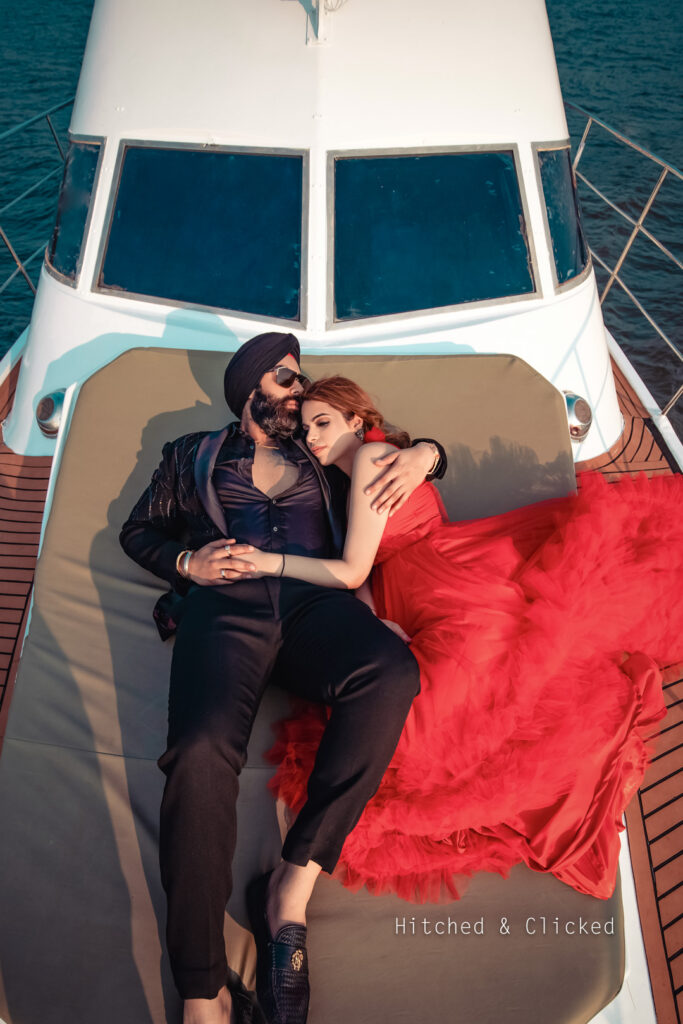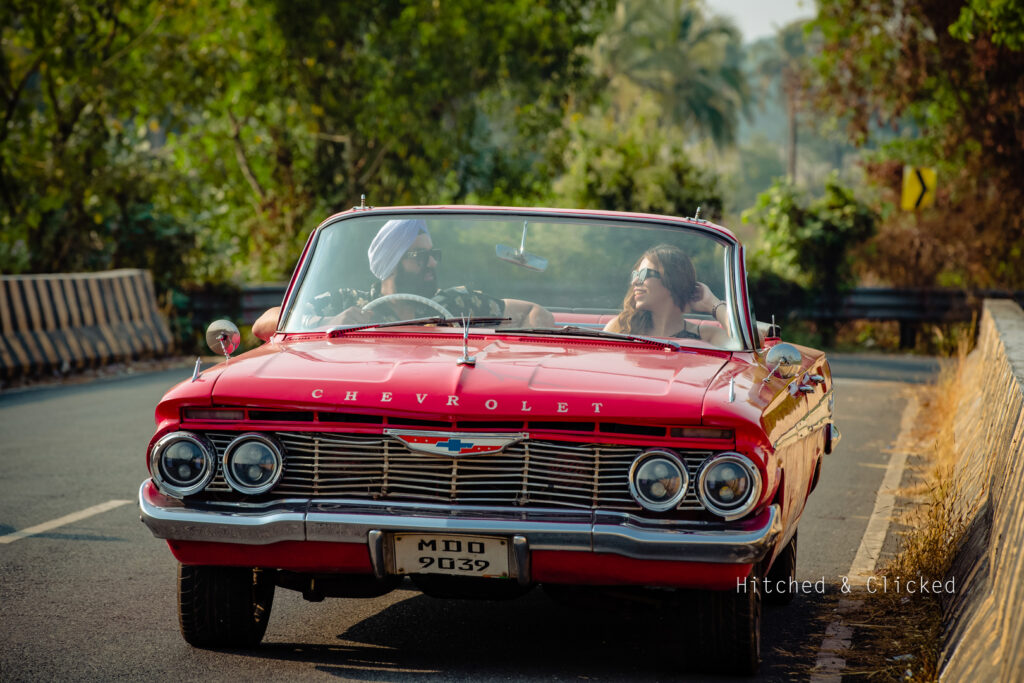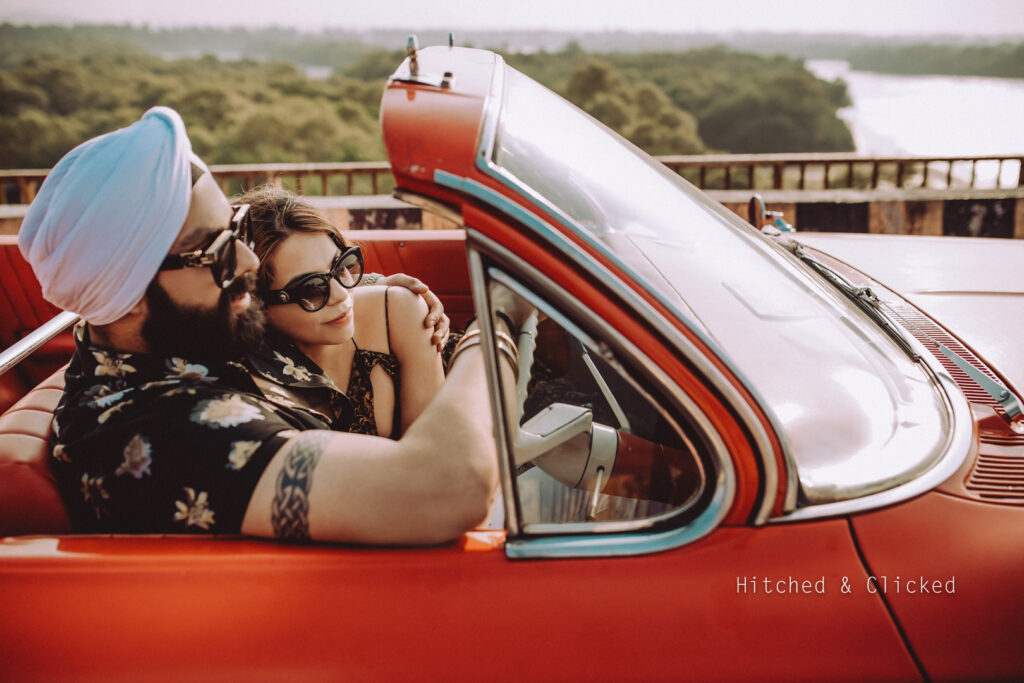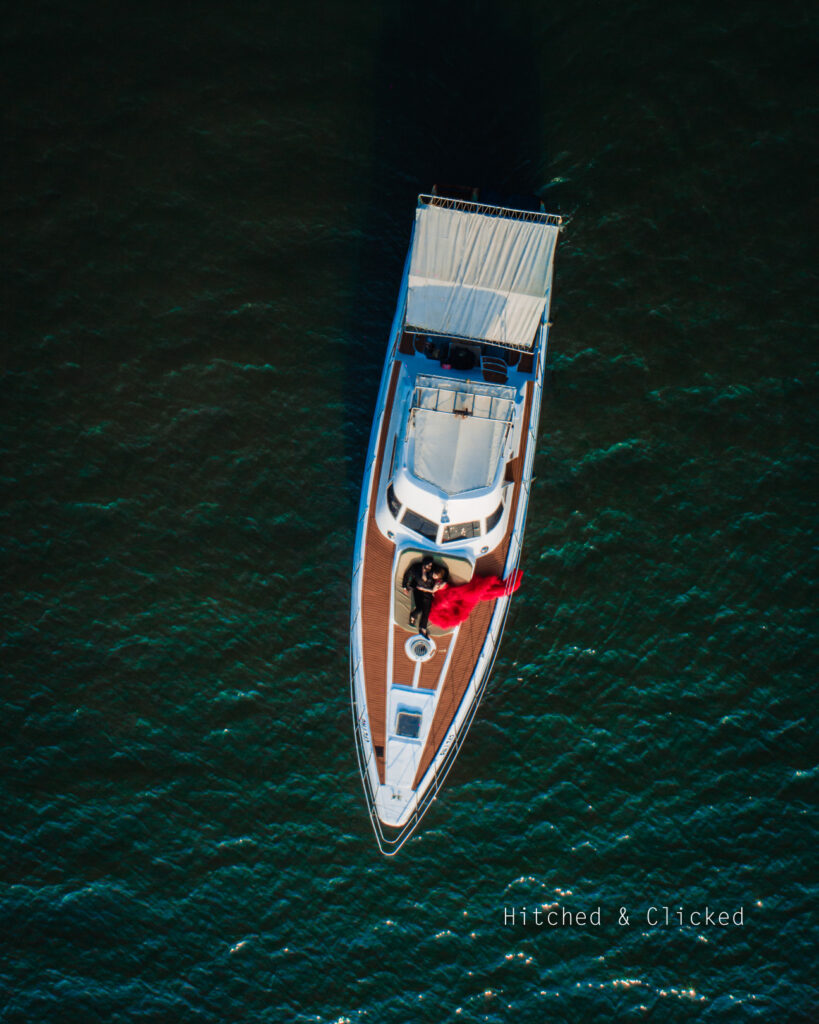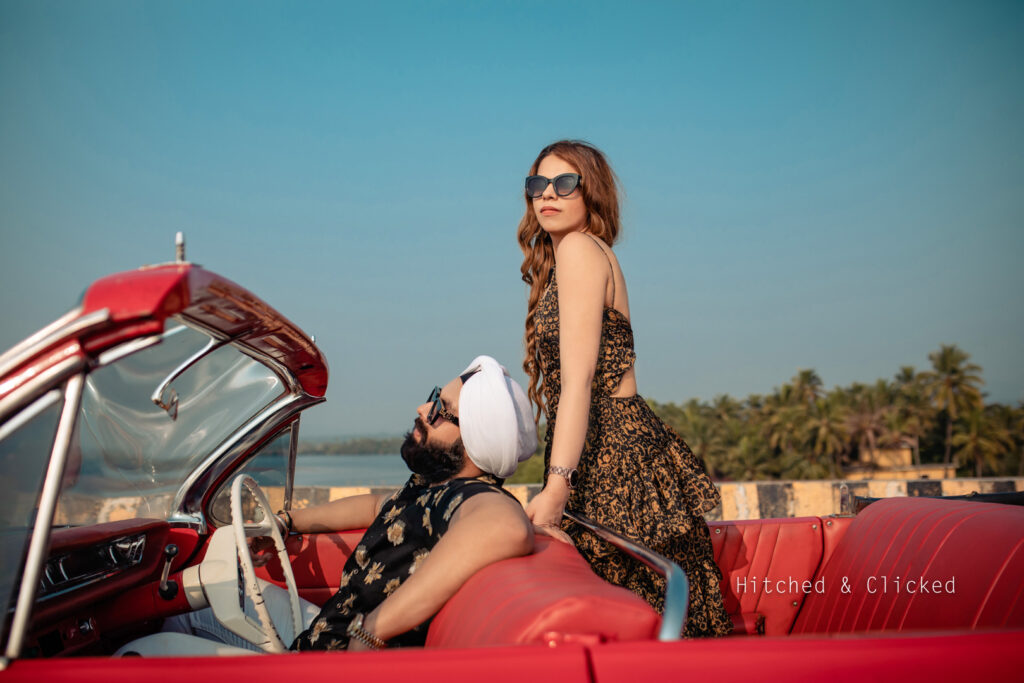 Mehendi:
Tavleen & Mandy's destination wedding celebrations started with a colourful mehendi affair. Tavleen picked a mellow yellow outfit for the event, with distinctive details on the bottom of the lehenga and the blouse. She left her hair open and went for a chunky kundan necklace to go with her outfit. Mandy, on the other hand, wore a black kurta-pyjama set to complement rather than match his bride. Don't miss out on the round floral backdrop for the bride's seating arena.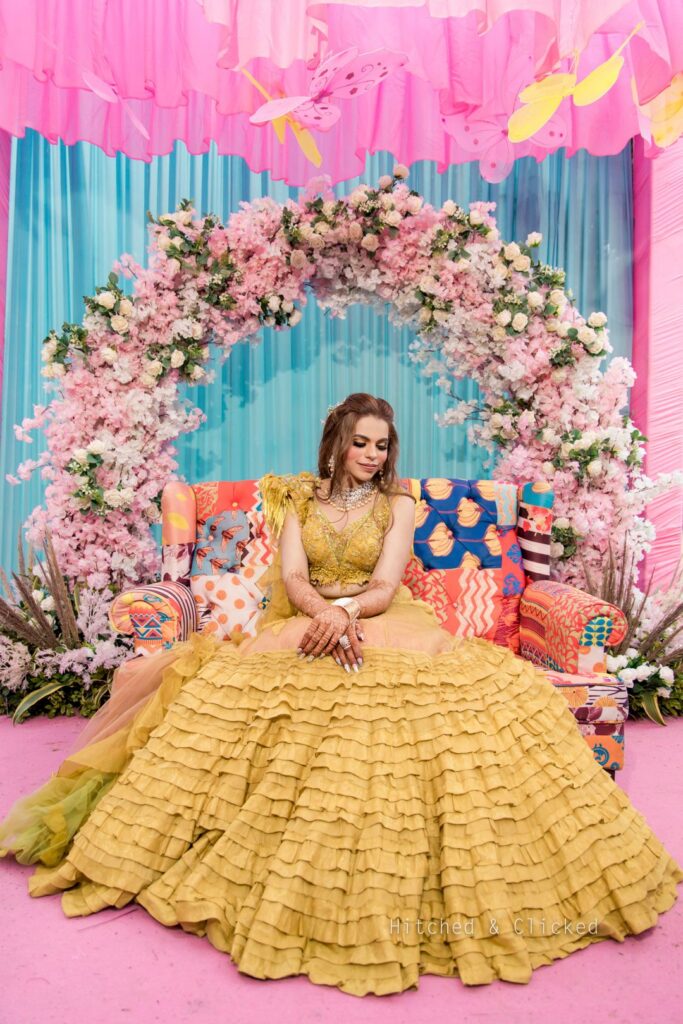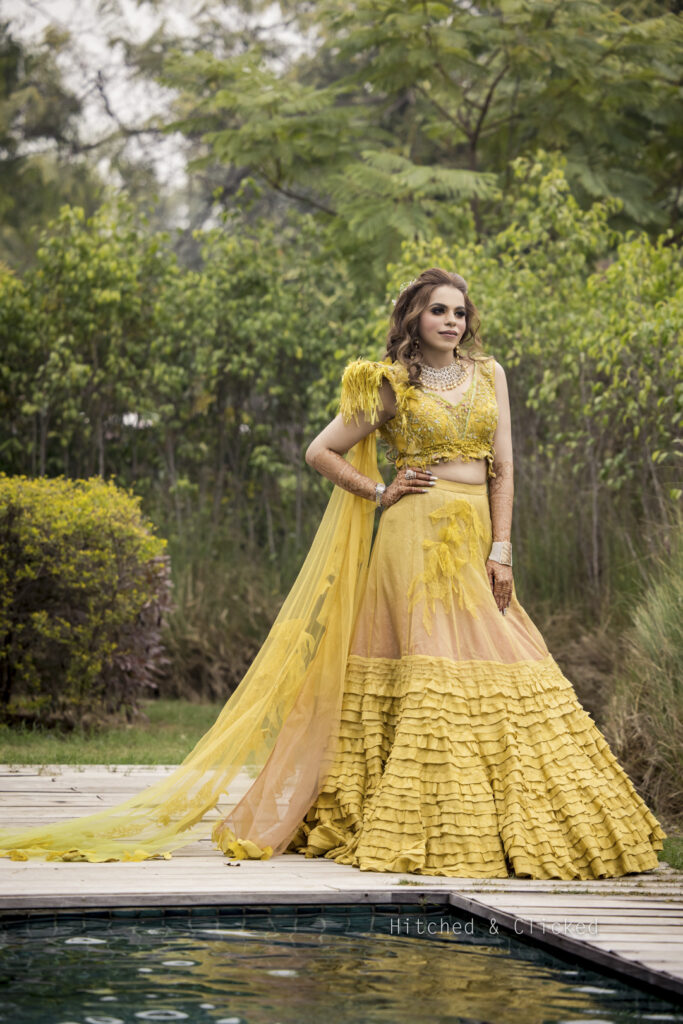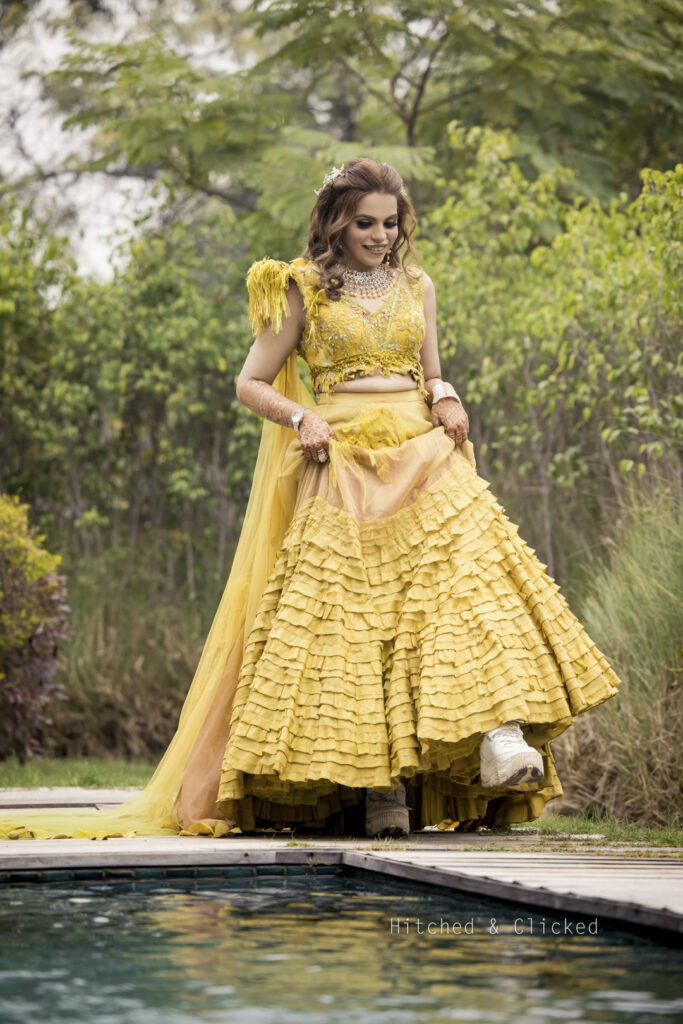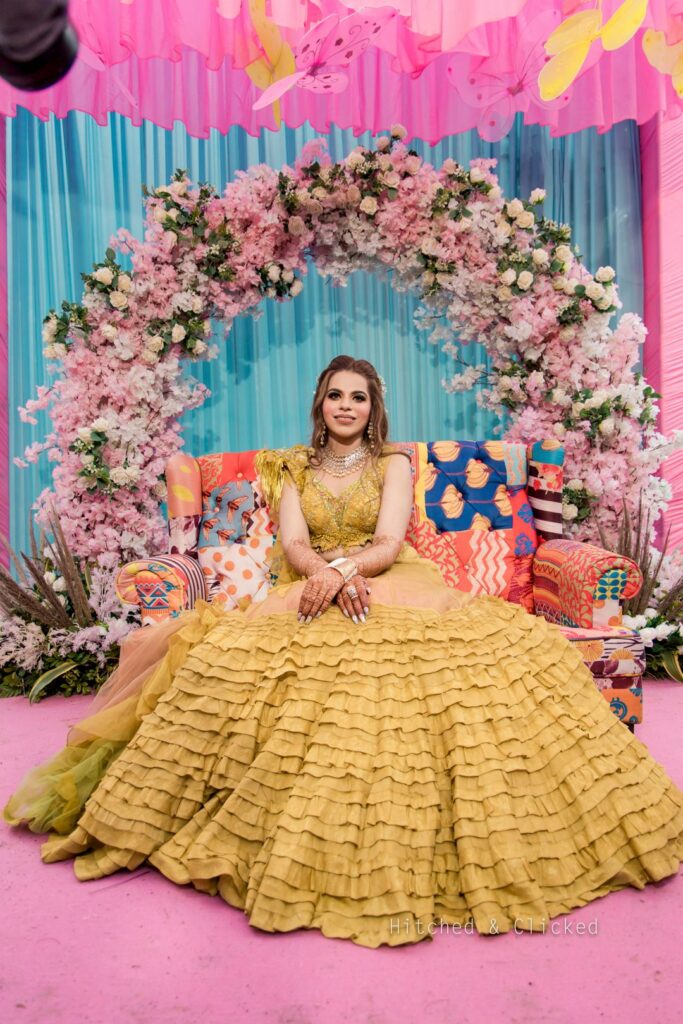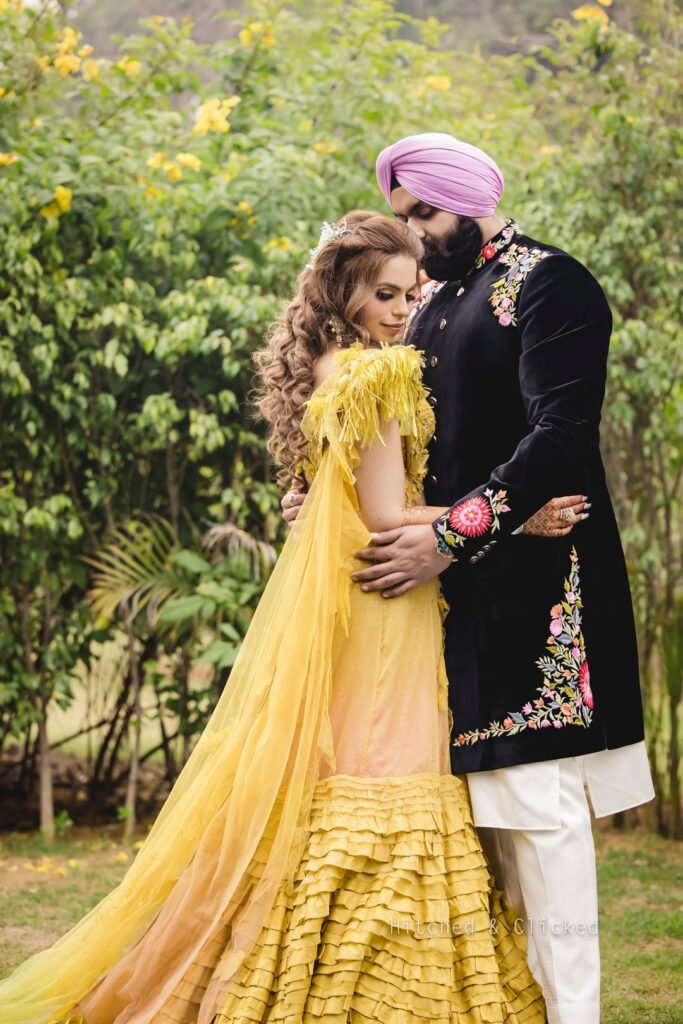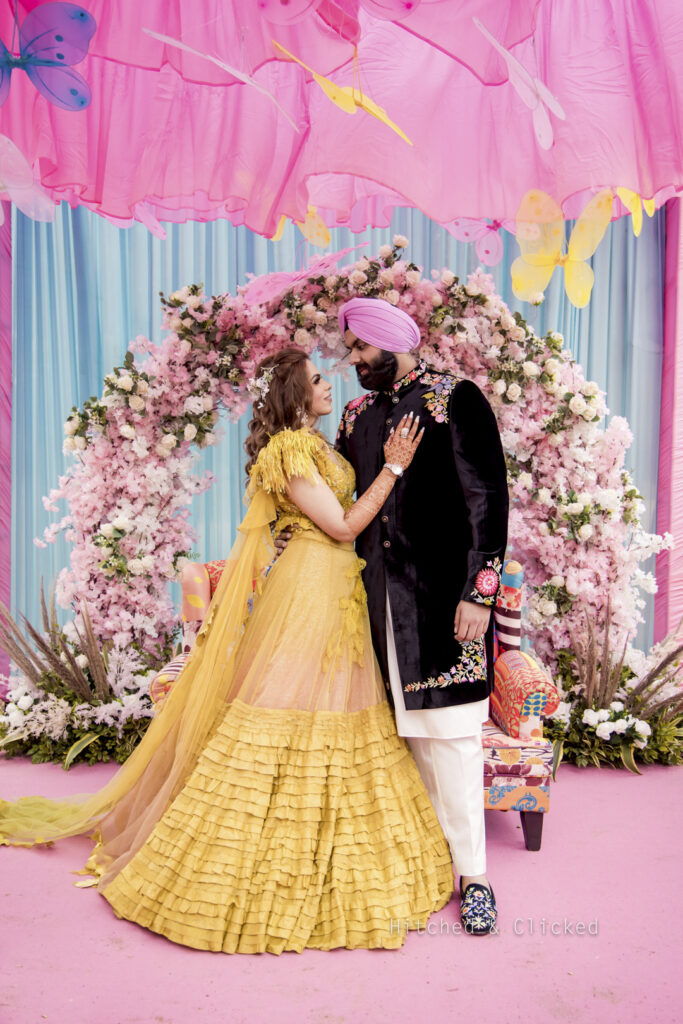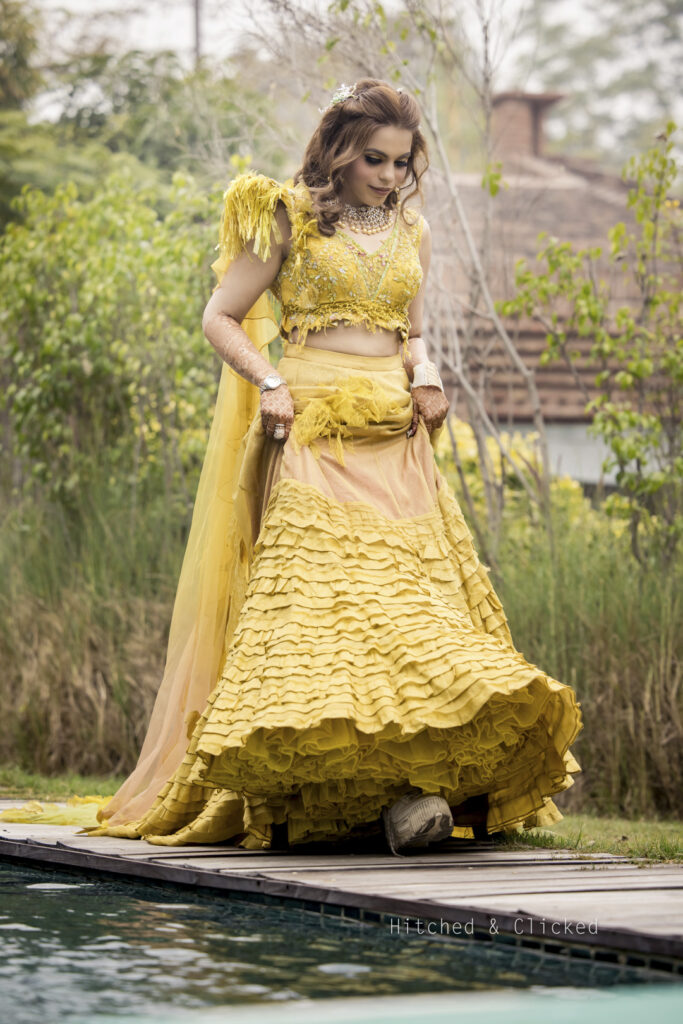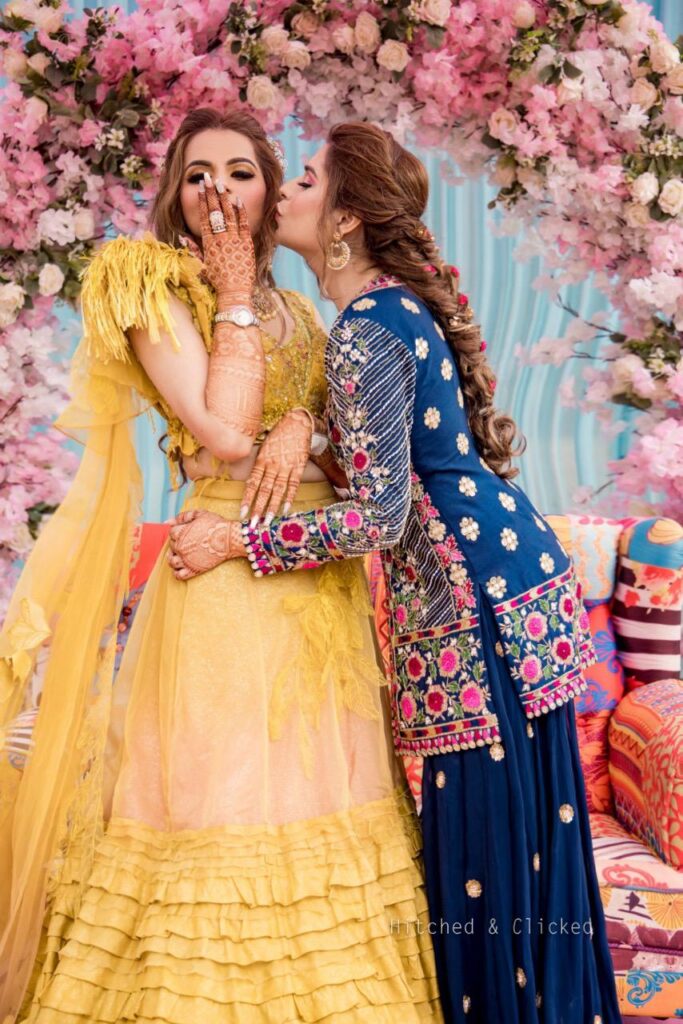 Sangeet:
Mehendi was followed by a sangeet soiree, with Tavleen dressed in a stunning silver lehenga set by Amit Aggarwal. Although, what stole our attention the most was her bridal entry that was straight out of a picturesque fairytale. Scroll to see pictures.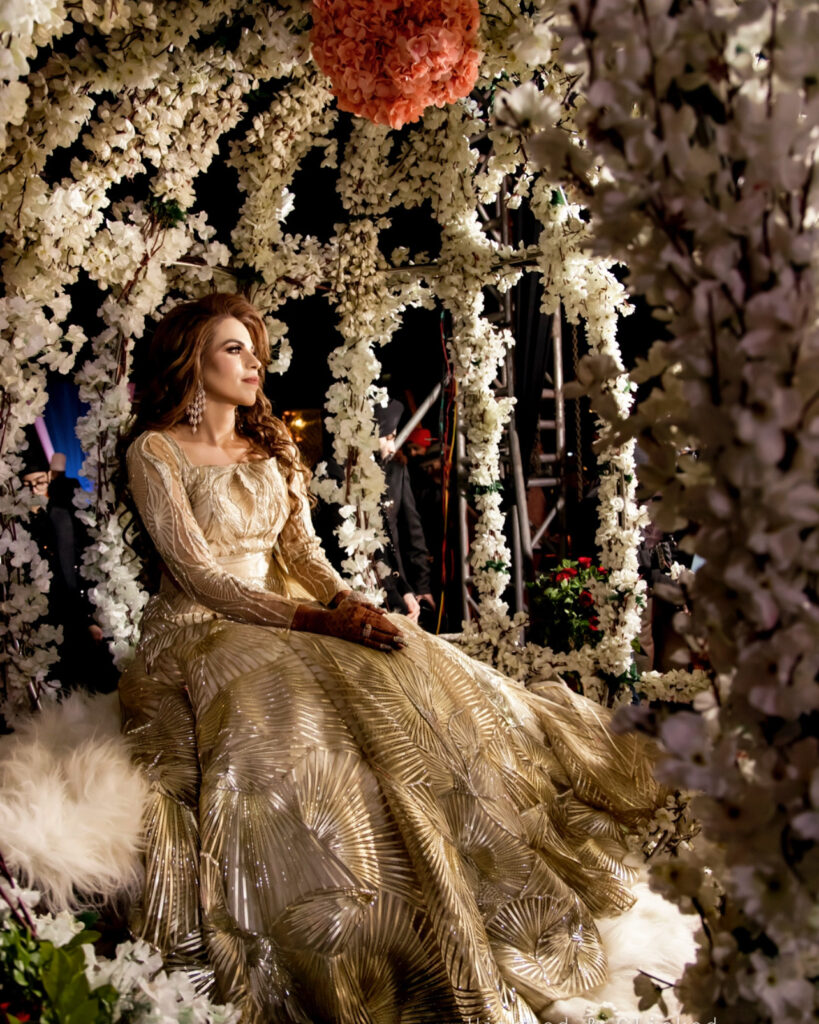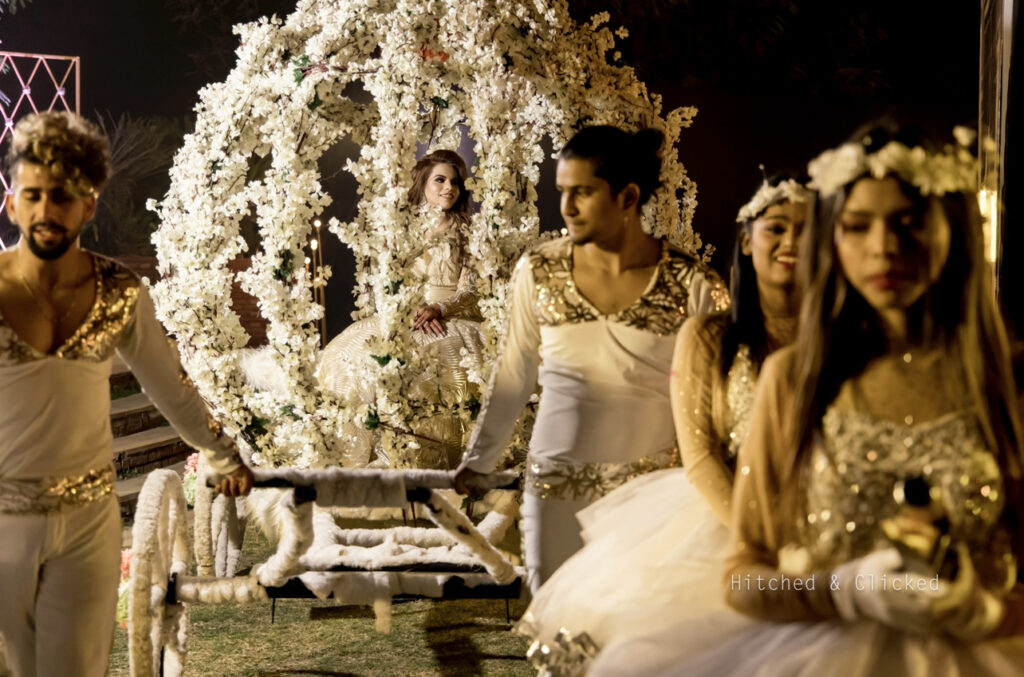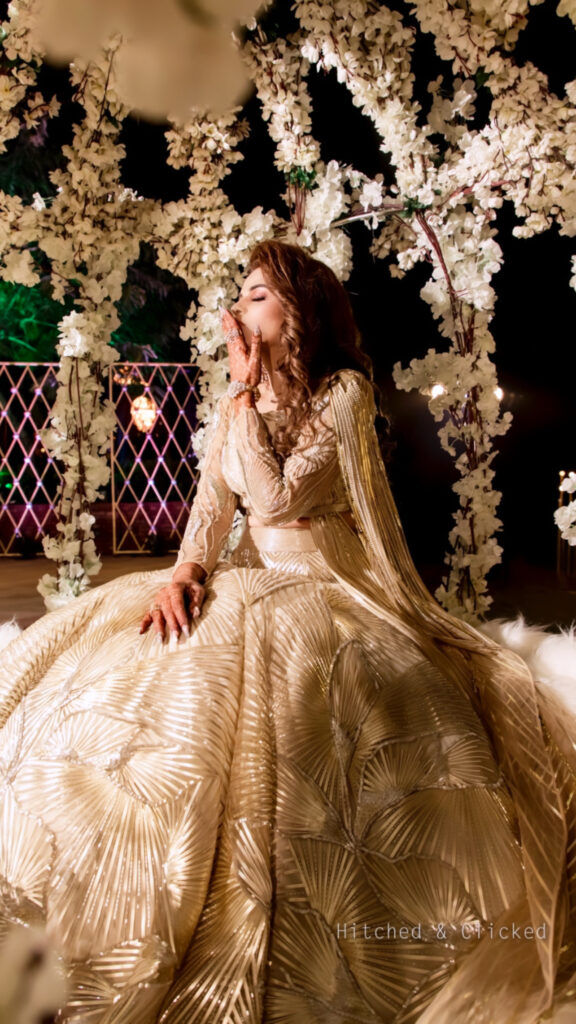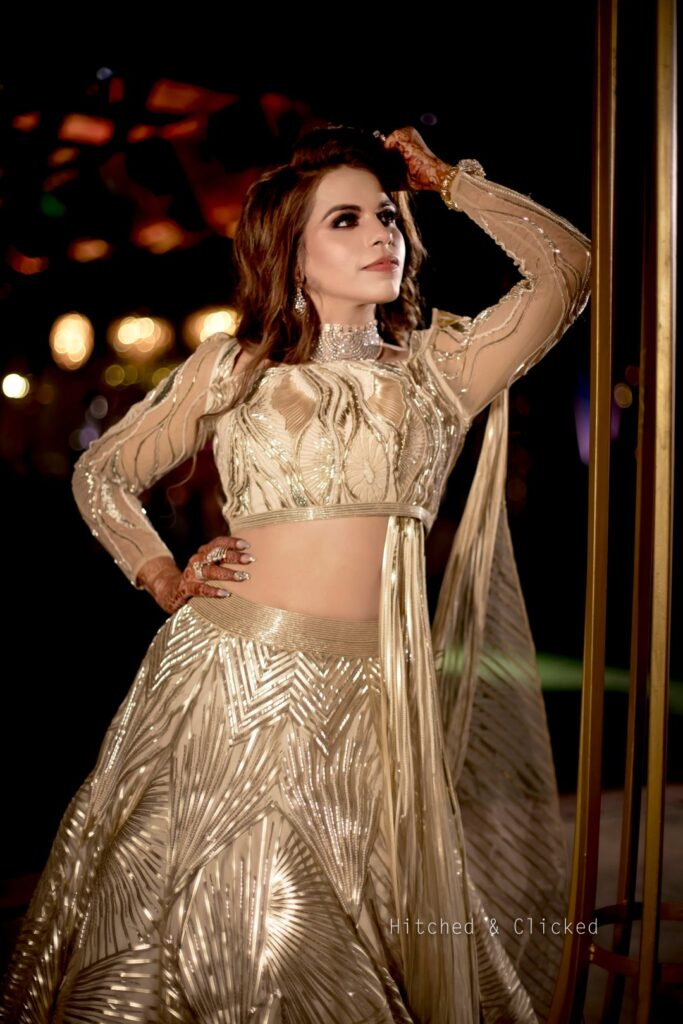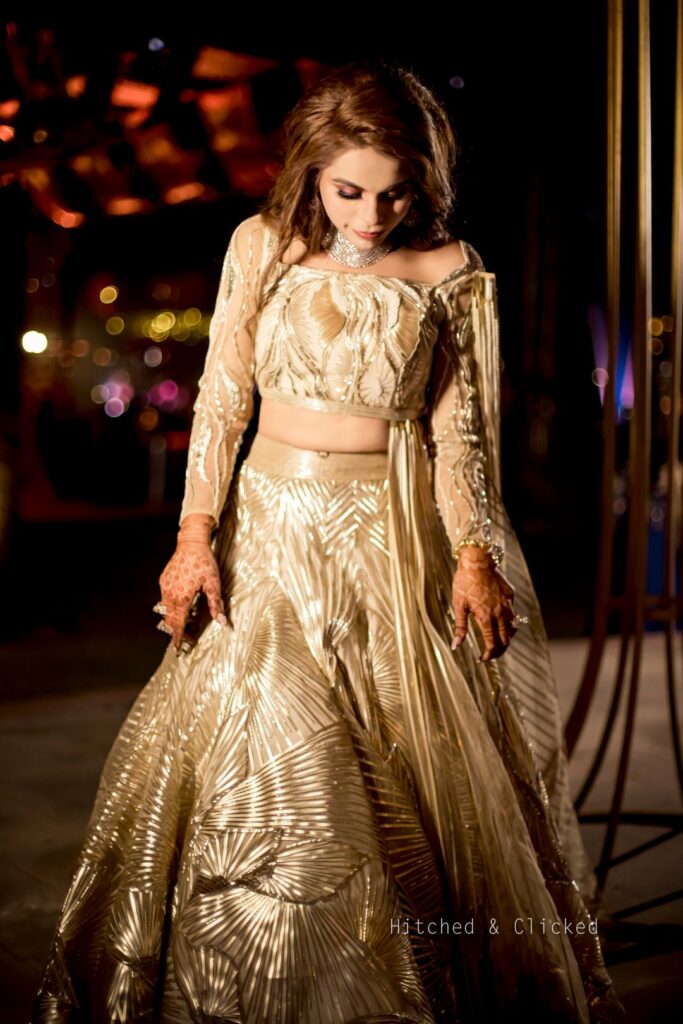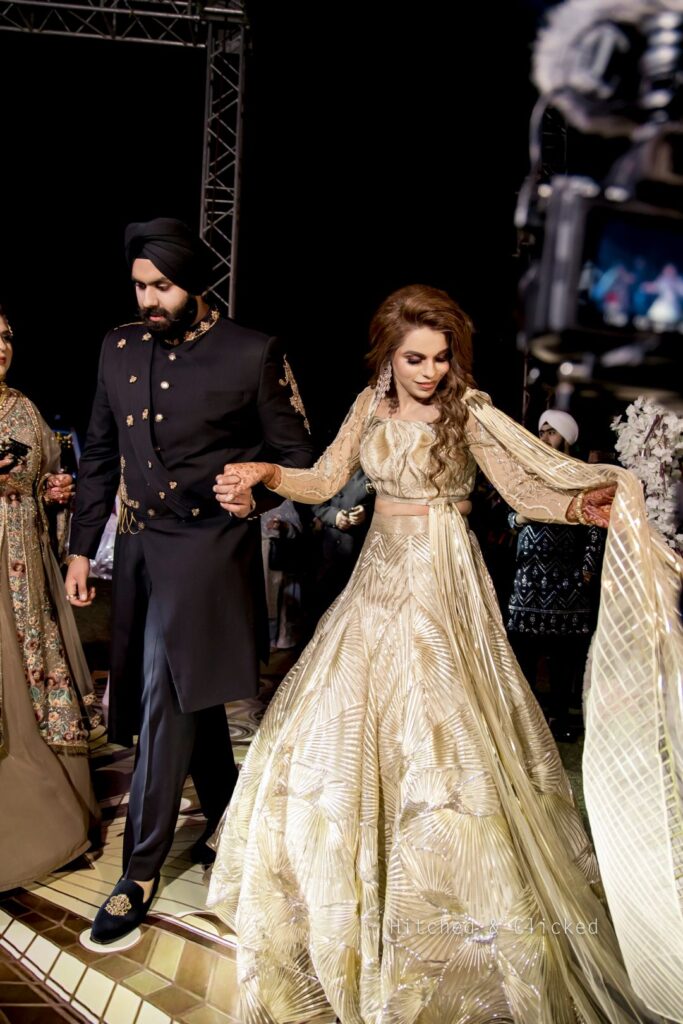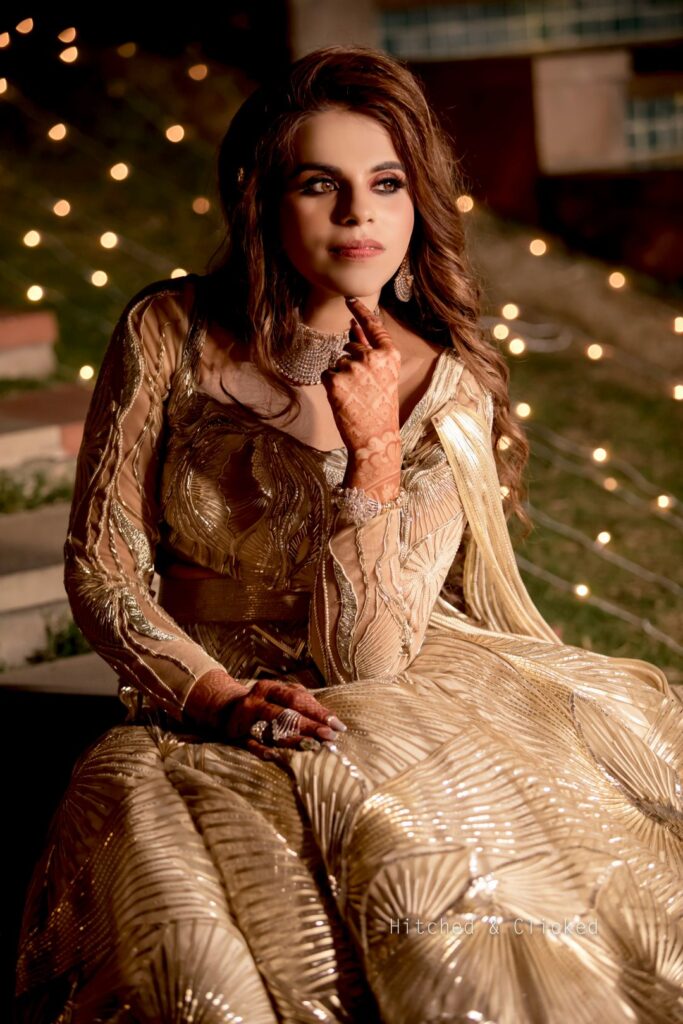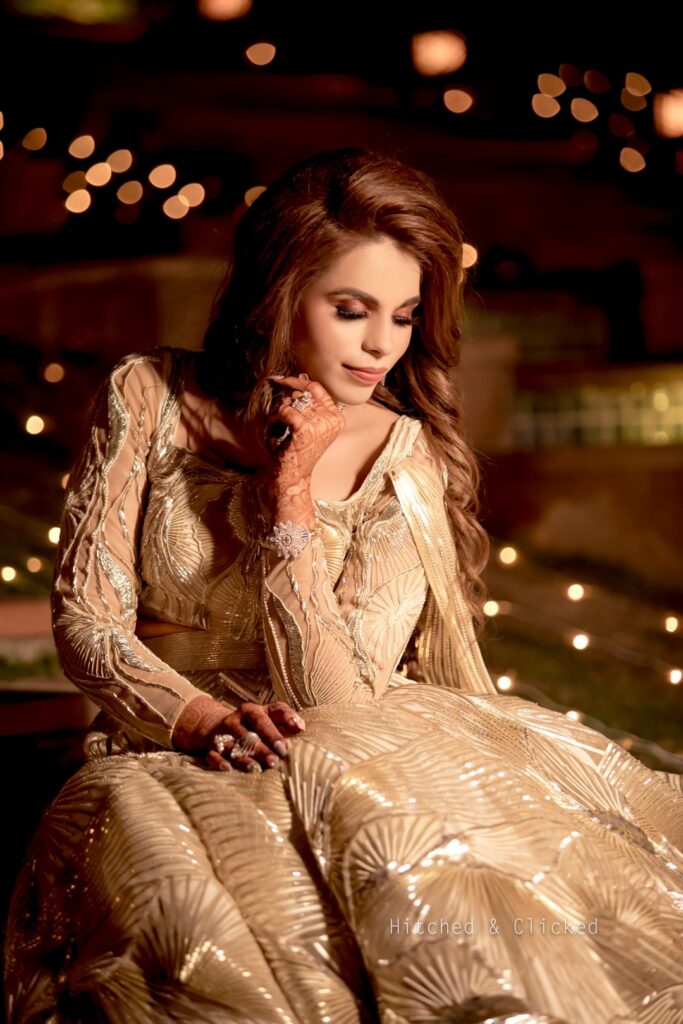 Wedding:
For the big day, our gorgeous bride opted for an exquisite lehenga by Rimple & Harpreet, and you know how much we adore their collection. What makes them stand out among other high-end designers is their extraordinary layout and patterns, which makes every lehenga a solo star yet lends the brand's exclusive touch. See the pictures of yet another majestic RAH creation and how beautifully Tavleen styled the outfit to perfection and elegance.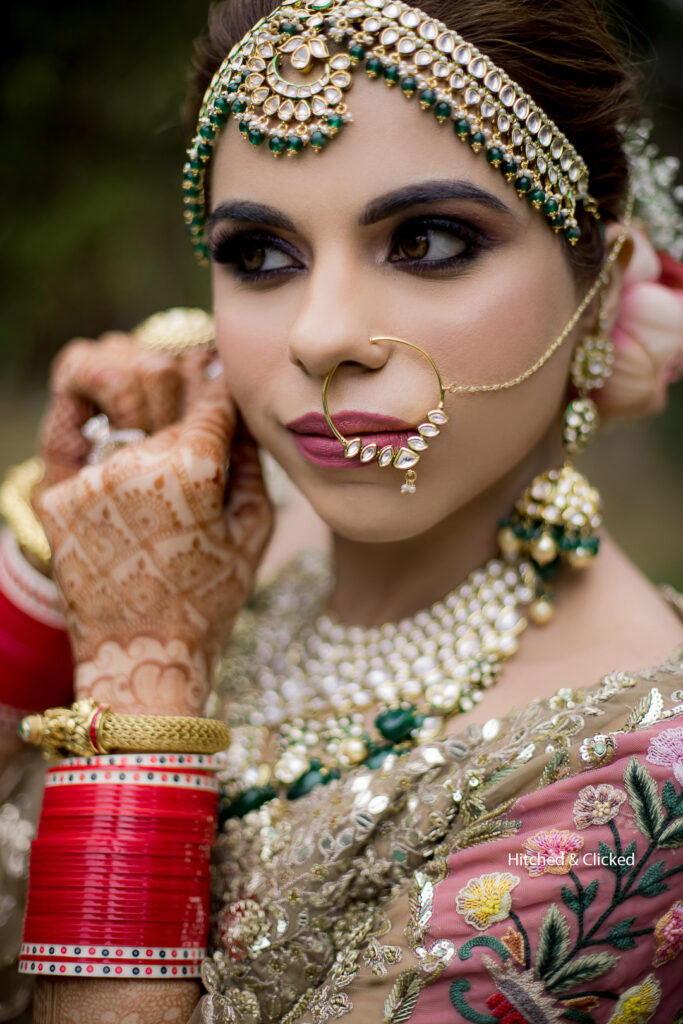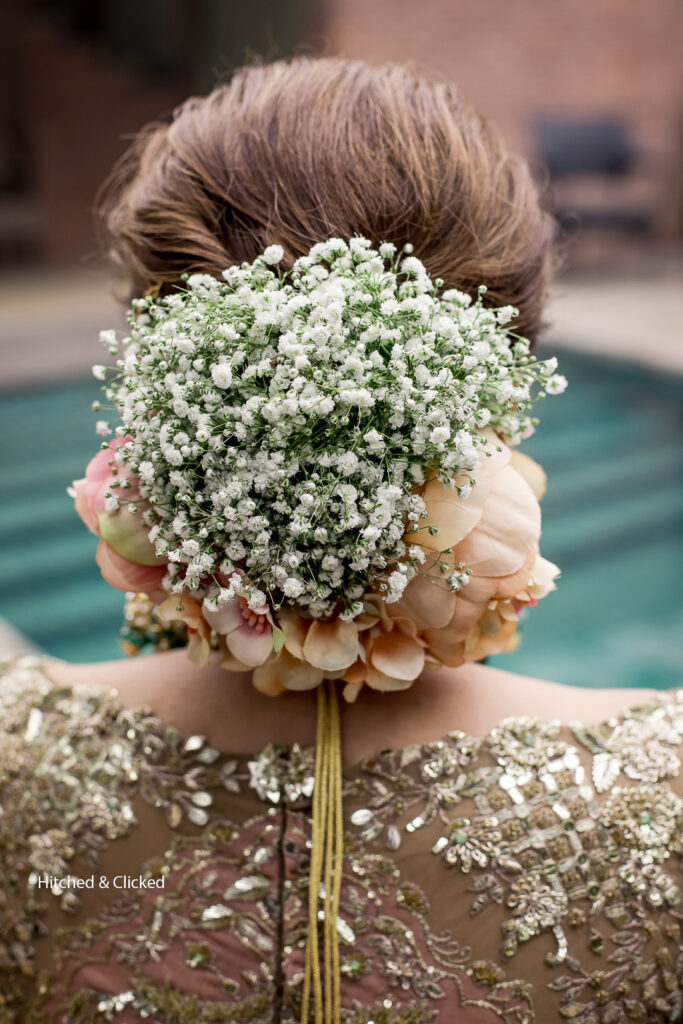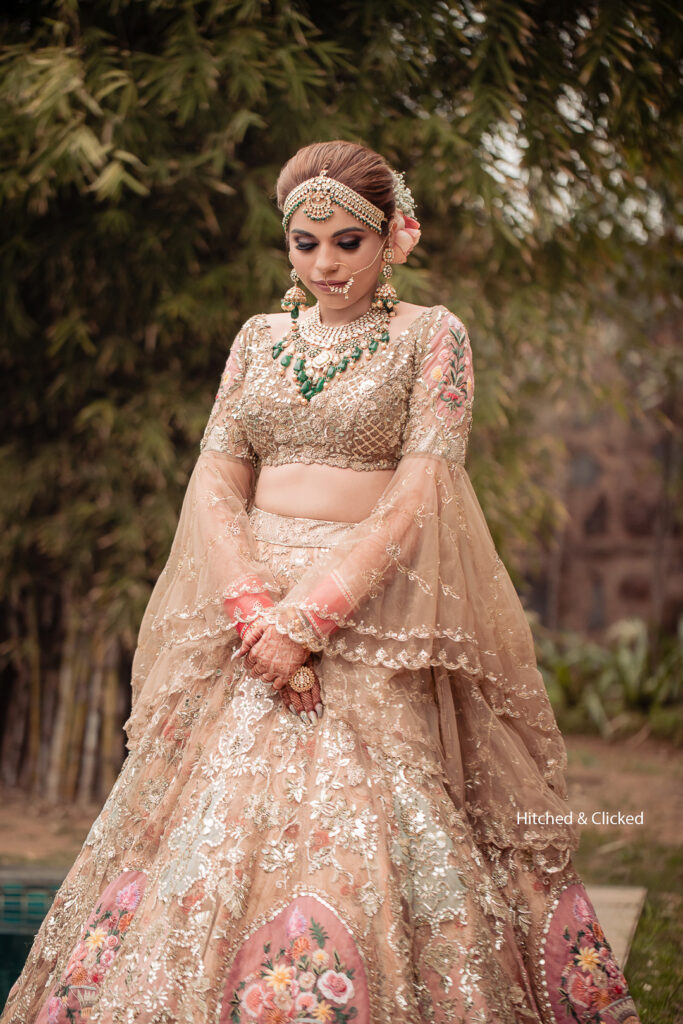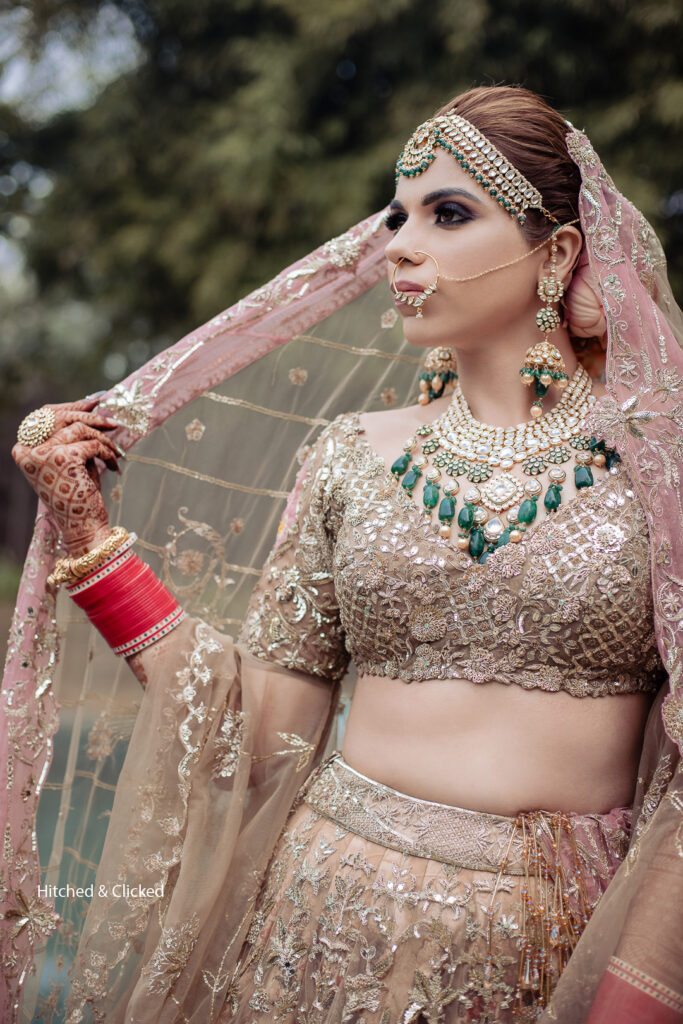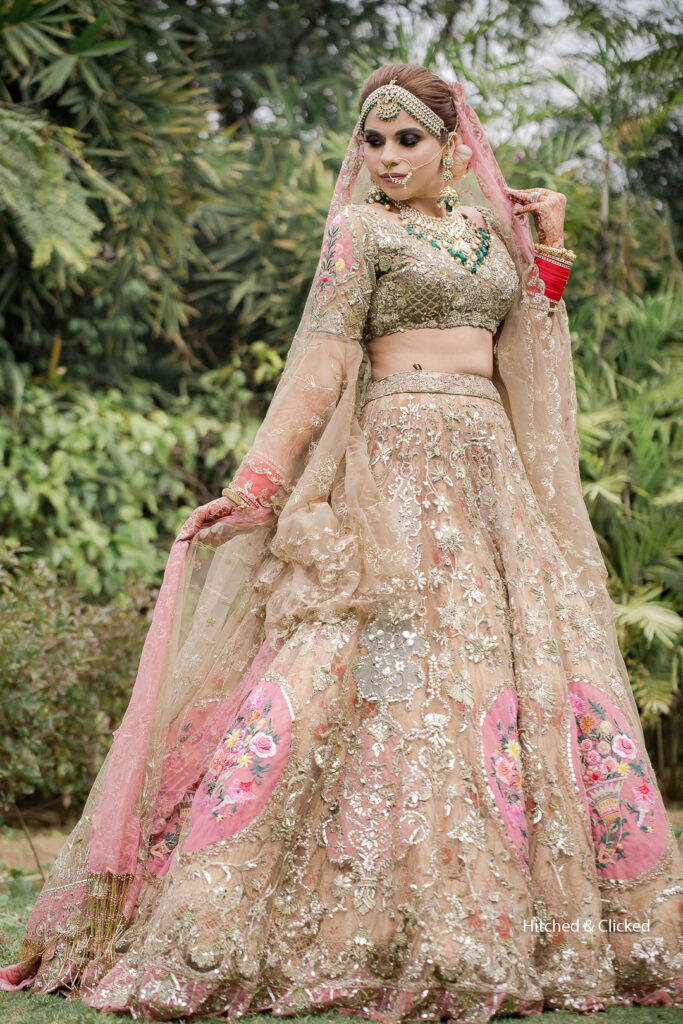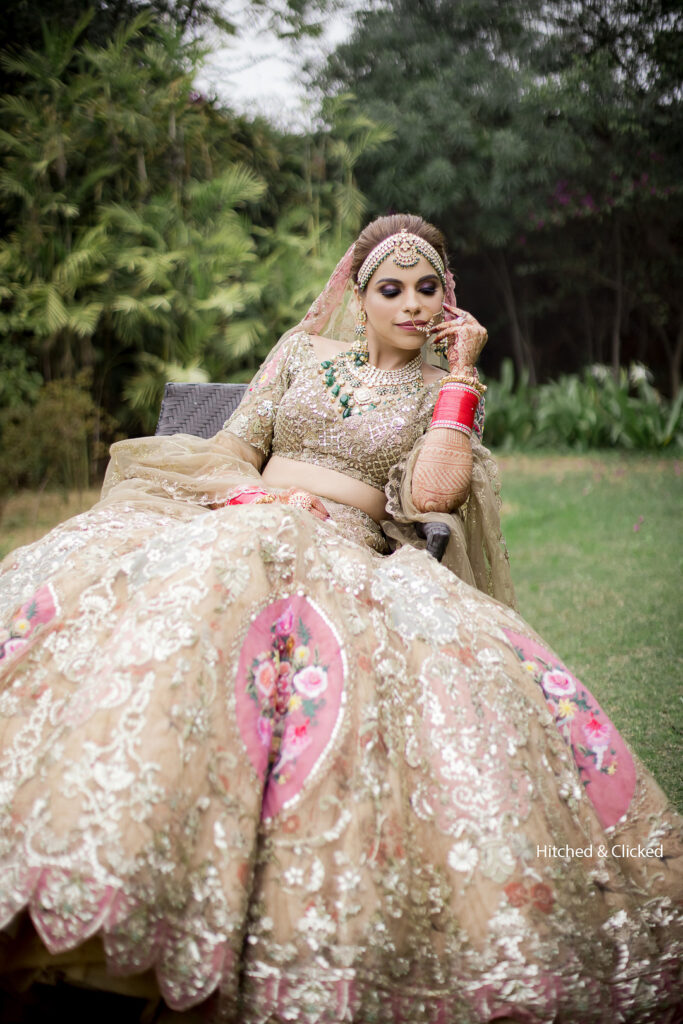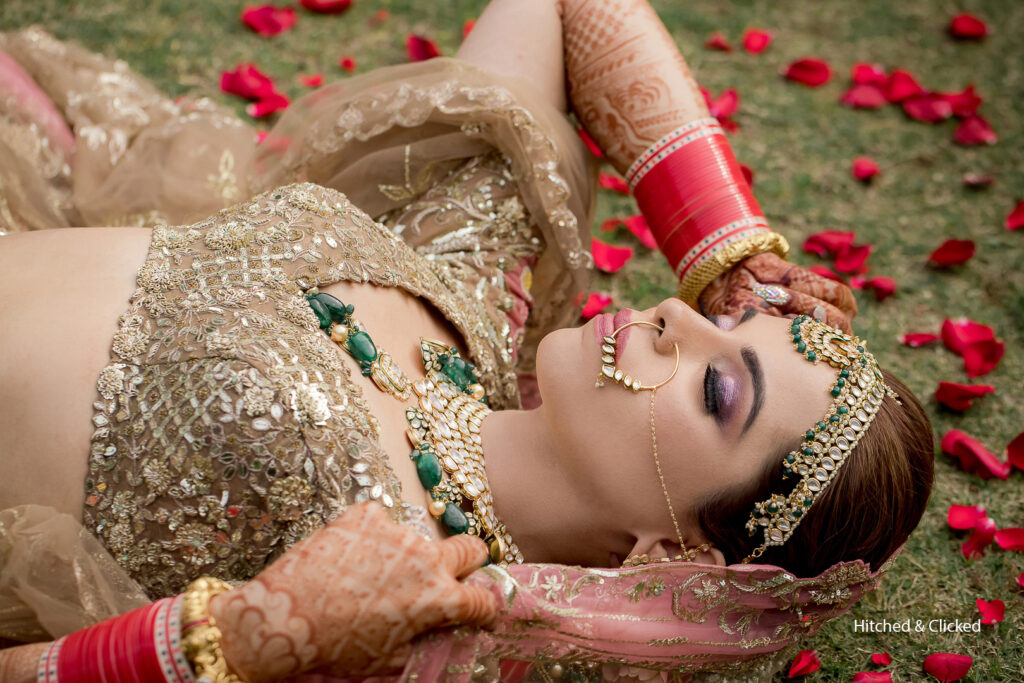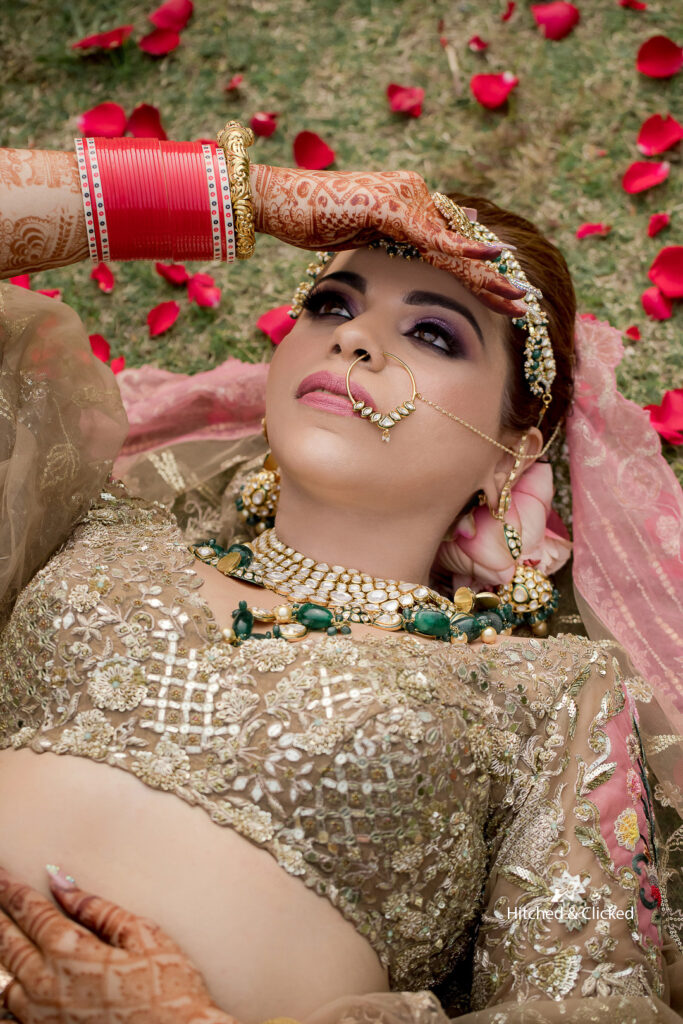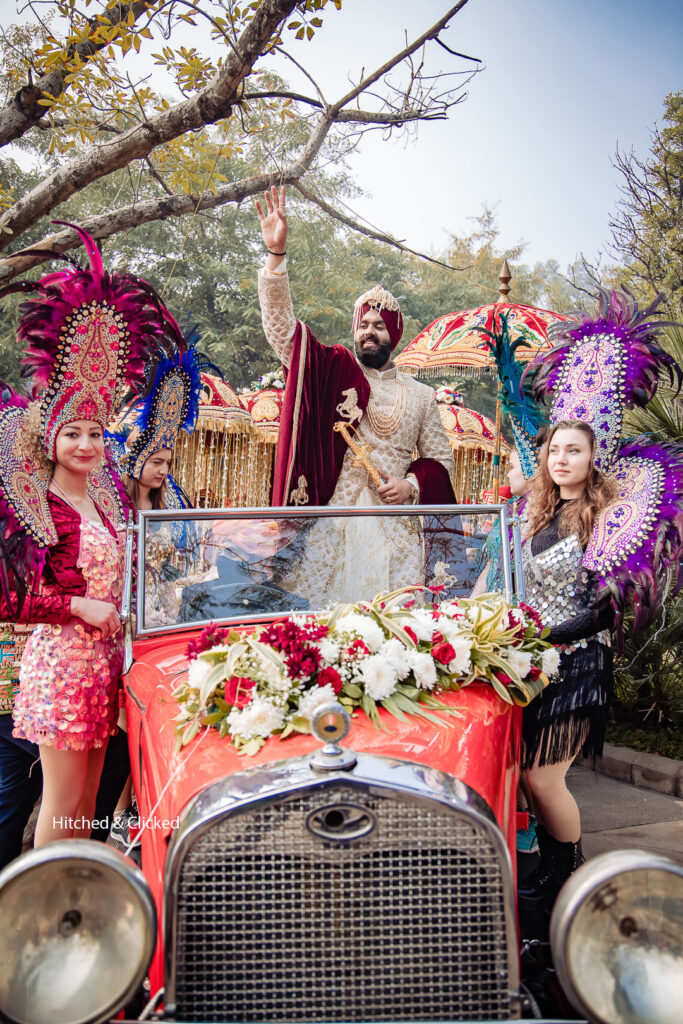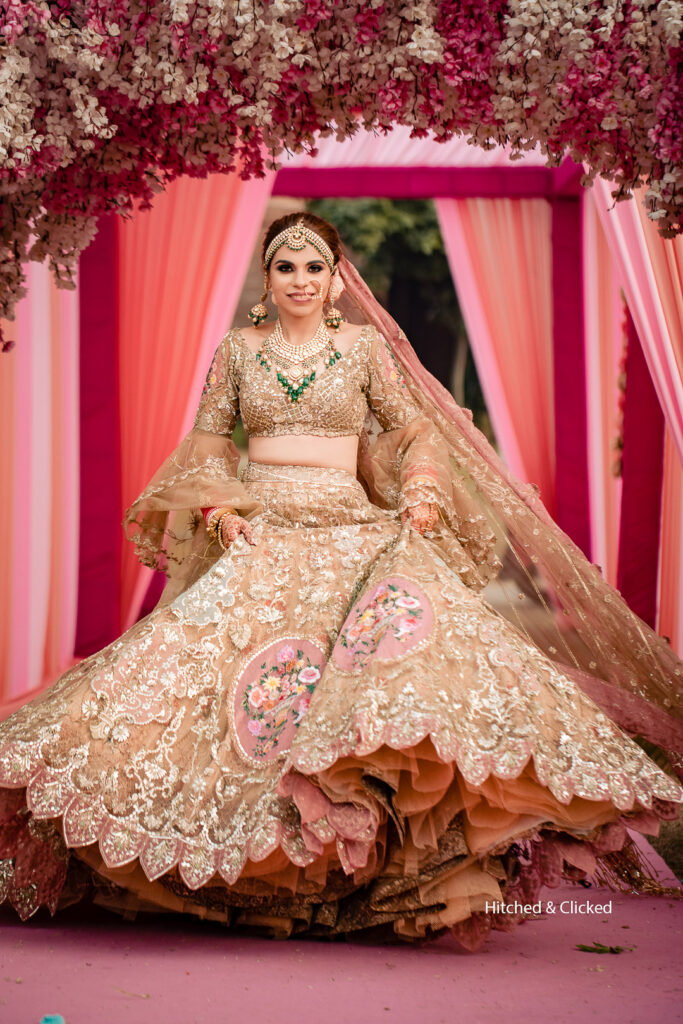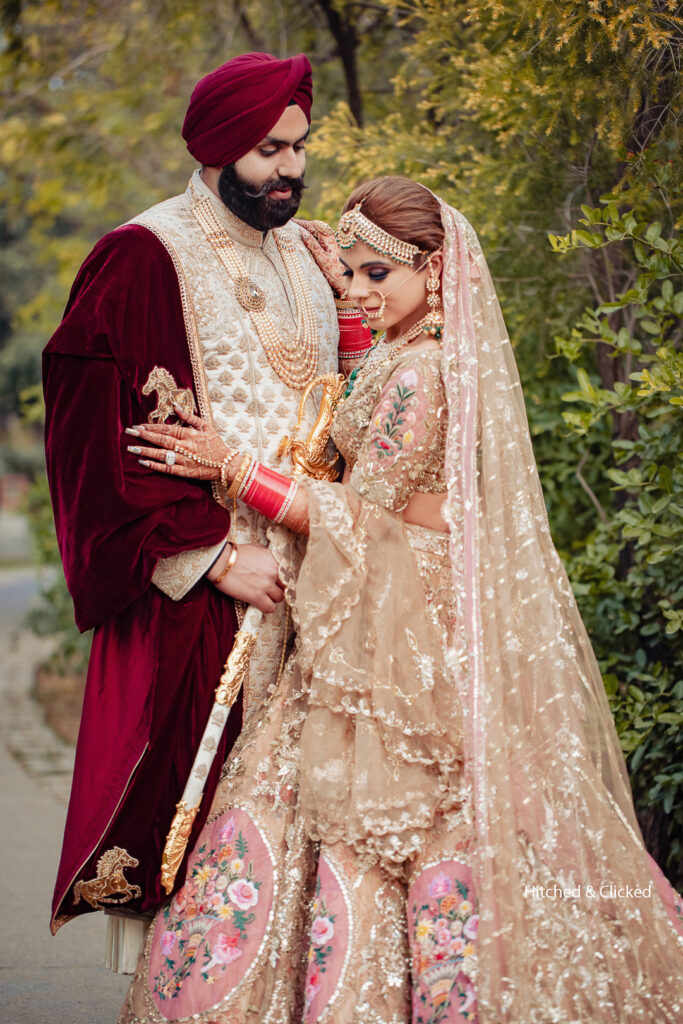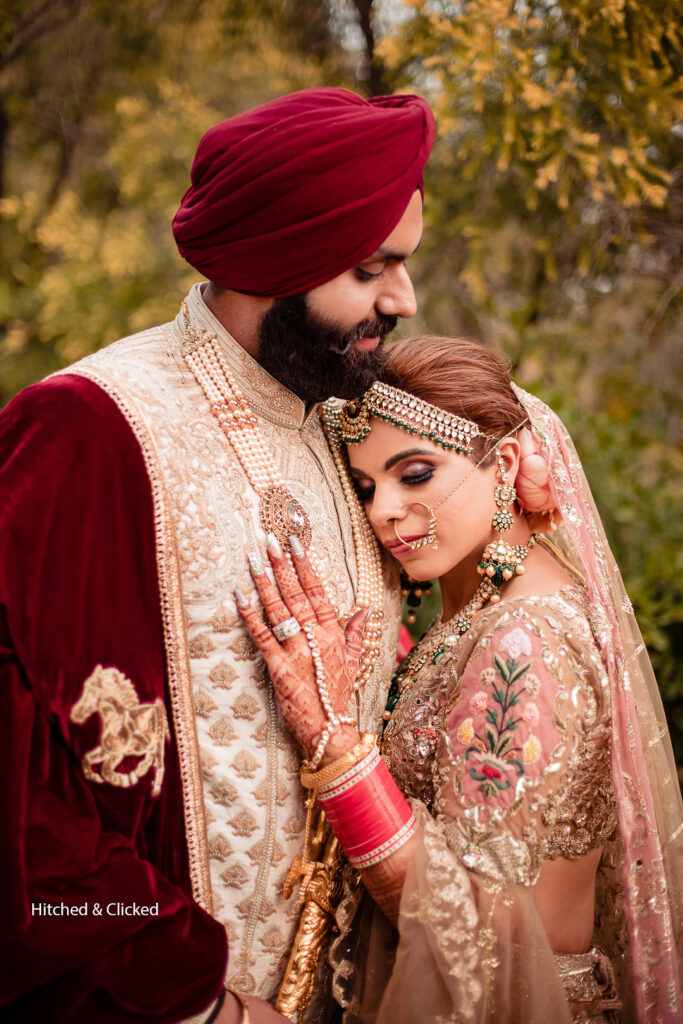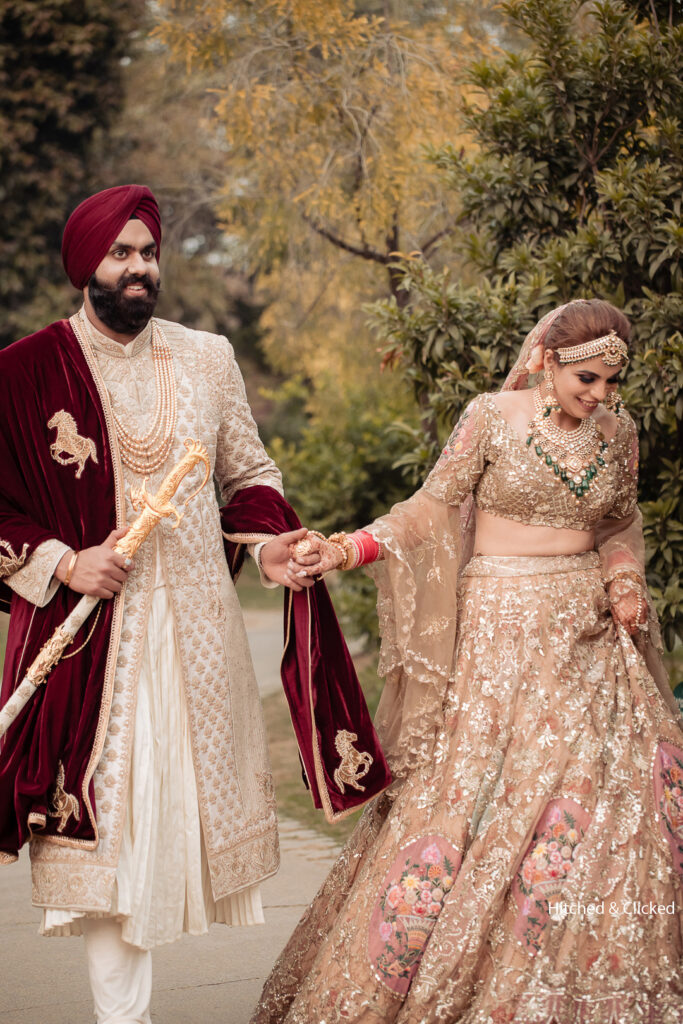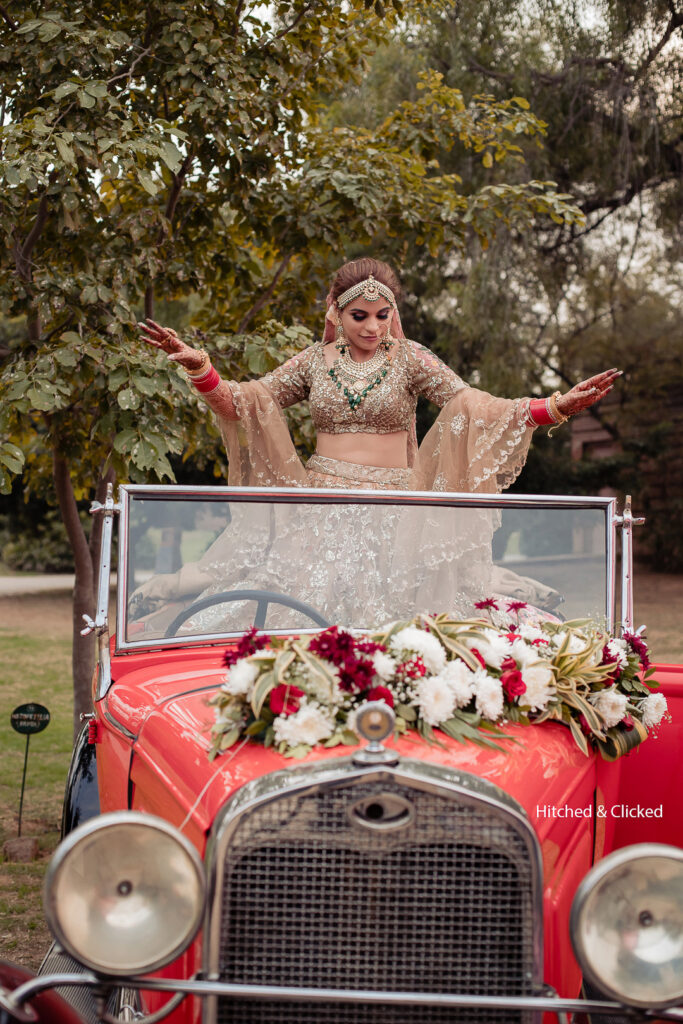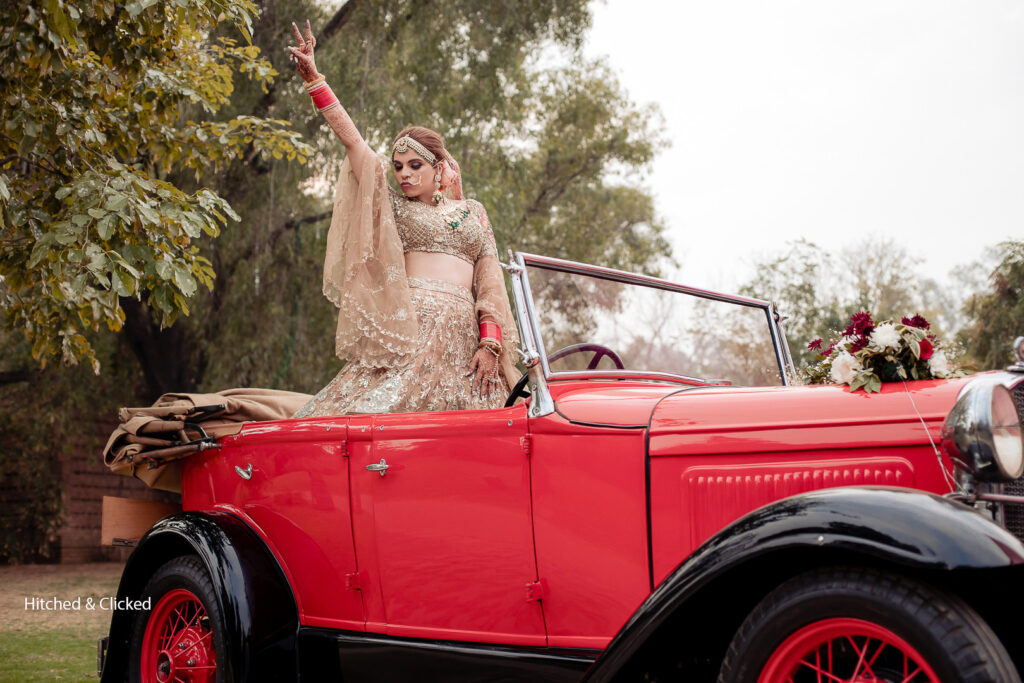 Reception:
Then came the starry reception night for which the couple donned stylish outfits by couturier Gaurav Gupta. The bride was glowing in her deep red skinny silhouette gown, while the groom donned a classy 3-piece suit set for the event.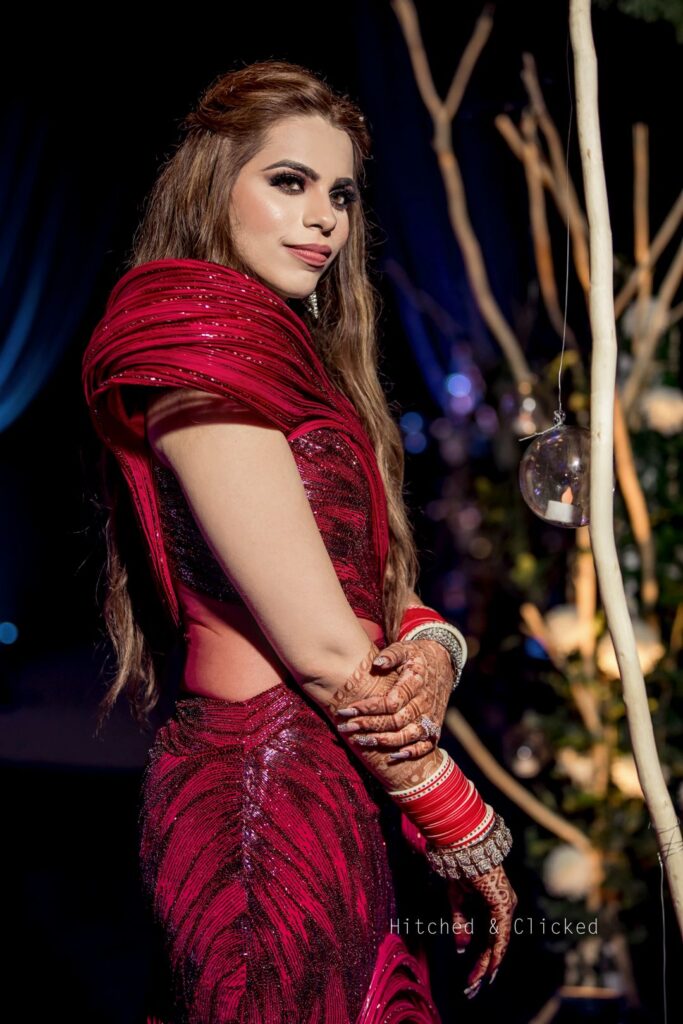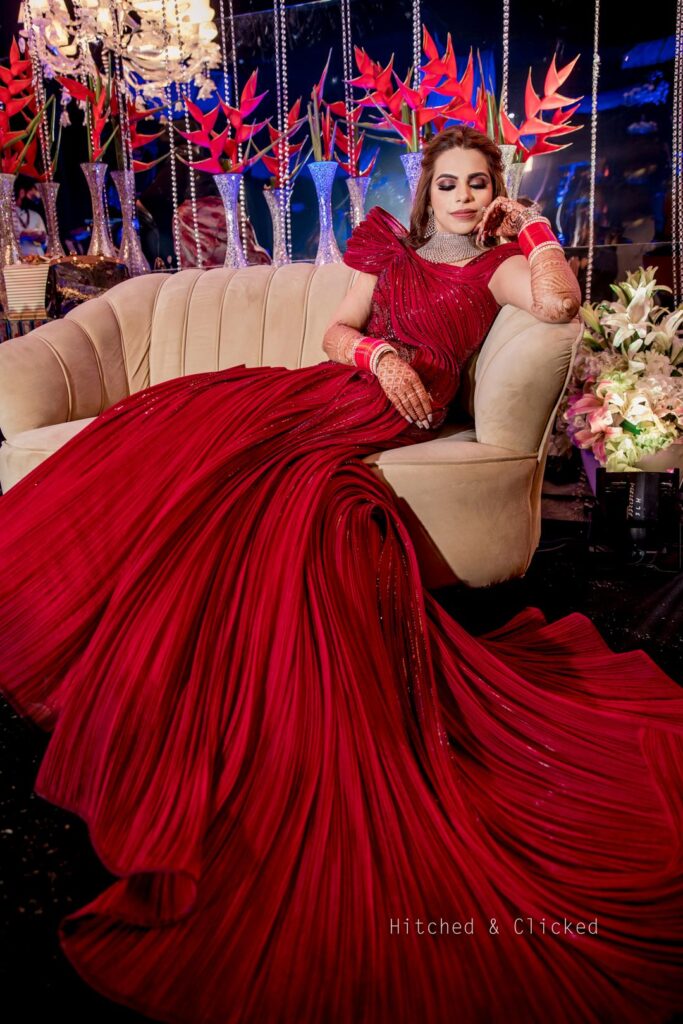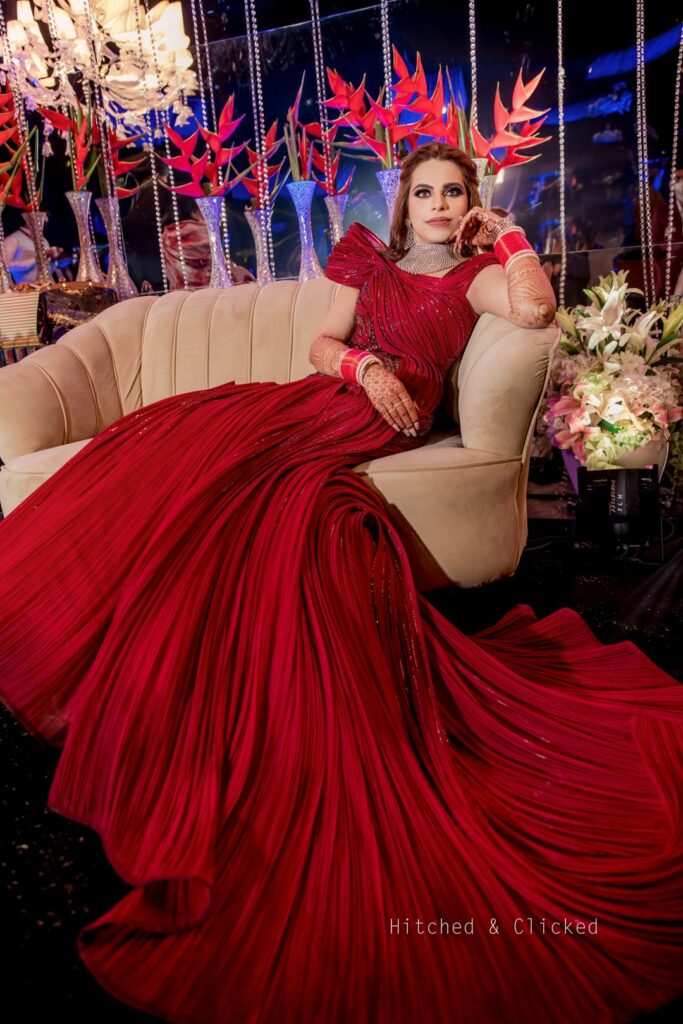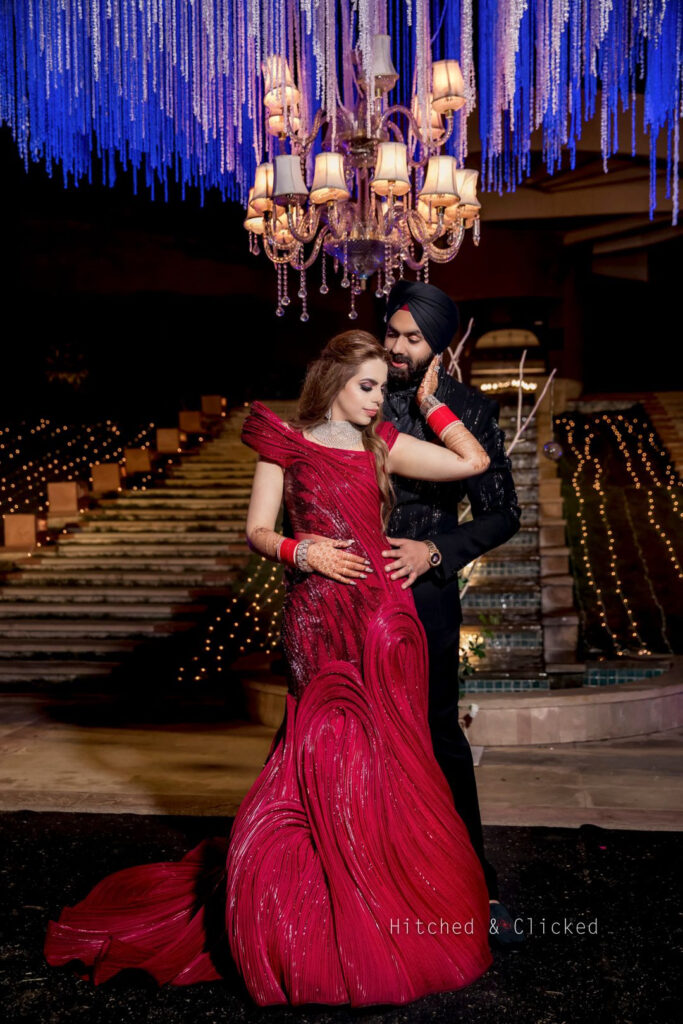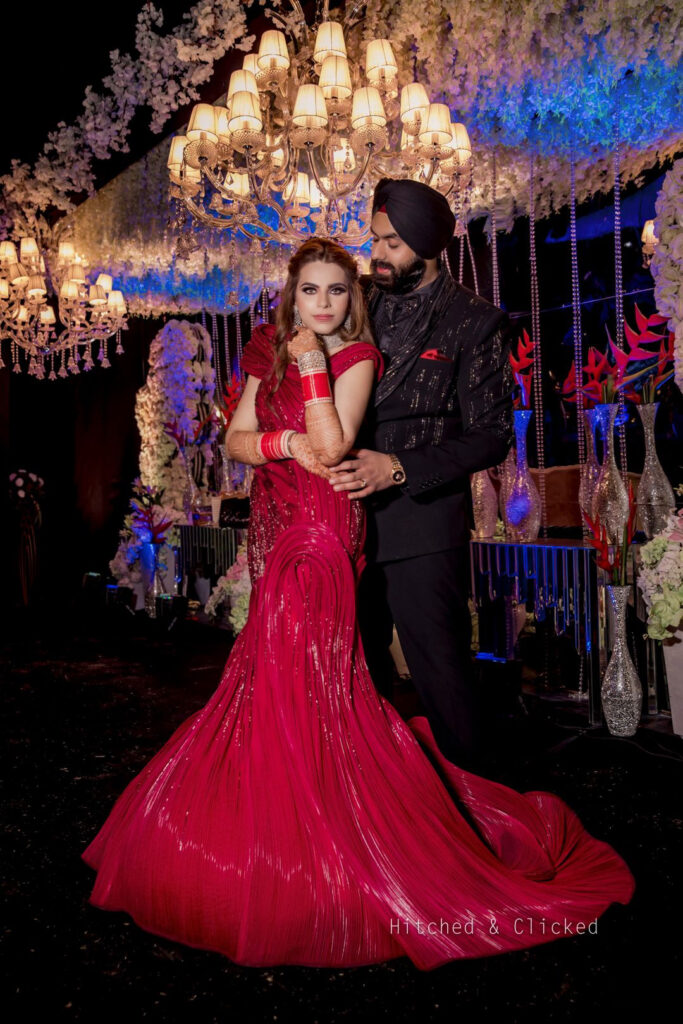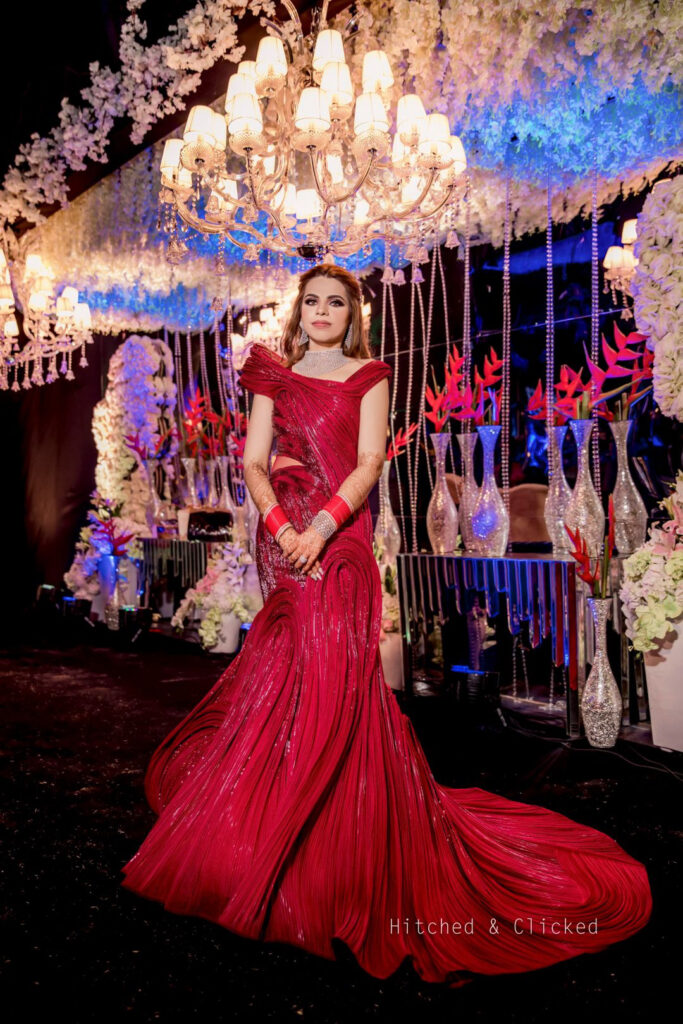 Bride: Tavleen Dhingra || Outfit: Sulakshana Monga, Amit Aggarwal, Rimple & Harpreet, Gaurav Gupta ||
Photography: Hitched & Clicked || Wedding Planning: Pulse Events