Covid-19 has changed the world we live in. And it has most certainly reshaped the Indian wedding industry for a while. The big fat Indian weddings have been put on hold as we appreciate the winsome intimate weddings. As brides move away from undue wedding planning stress, they can now put more time on ideating their bridal look! This means bookmarking more of lehenga inspiration, makeup ideas, jewelry trends, and of course, bridal mehndi designs. Like always, we are here to present these fads to you as they meet our eye!
A woman adorns her hands with mehndi a number of times in her life, but the bridal mehendi is done only once. It definitely needs some careful consideration. Brides are experimenting with their henna a lot nowadays. One of the cutest ways they have been doing that is by personalizing their mehndi design. Adding bride-groom motifs, their long-distance relationship story, favorite food & wedding hashtags, they are doing it all!
Here are some of the latest bridal mehndi designs for full hands we have spotted for our 2020 brides! Mind you, these are all for brides who want to go all-in and opt for bharwa mehndi design on their big day, if you are a minimalistic bride, please check our simple mehndi designs blog!
Purchase herbal henna powder here, and oil to darken your mehendi here.
Latest Bridal Mehndi Designs For Full Hands
Marking the start of happily ever after!
We love this half-half mehndi design that looks so pretty when brides put both their hands together. Absolutely adore the engagement portrait, which also makes it a perfect choice for your engagement mehndi!
An elaborate bridal mehndi design
Make your bridal mehndi ultra-traditional with motifs of jaimala ceremony, elephants, kalash, and trumpets to signify the beauty of this heavenly union.
The 'Miss-to-Mrs.' moment!
Maang Bharai is the official moment that makes you Mrs. and this one so perfectly depicts it. Kudos to the smart play of lotus motifs in the rest of the design.
Via @fiftyshadesofsin, @candidweddingstories
A scintillating design with intricate bride-groom motifs
A mehndi design captures the instant when the bride & groom see each other for the first time. Don't miss that lovely palki portrait on the wrist though.
The one that covers the whole bridal experience
From sketching the jaimala ceremony to when the bride enters her new home, performs Kalash tilting ceremony, and leaves behind her kumkum footprints on the floor – this bridal mehndi design is fresh and unique.
For all the F.R.I.E.N.D.S fans out there!
If you have found your Chandler, etch it in your mehndi design. Love this minimally personalised bridal mehndi design bedecked with the usual henna patterns made so intricately.
Via @nsmehendiartist
A piece of art
We are totally sold by this elaborate mehndi design. Such a flawless creation by Mayuri & definitely one of our absolute favorites from this list.
For your 2-state love story!
The bride & groom were from Jaipur and Mumbai respectively, so Akansha got the skylines of both cities sketched on her mehndi. Adorable, isn't it?
The immense beauty of neat designs
Not a big fan of personalization & wedding motifs? Here is an amazing mehndi design that features new age mehndi motifs like pinjara along with the traditional peacock and paisley patterns.
Paisleys, lotus motif, and the couple!
This beauteous full hand bridal mehndi features a small bride-groom caricature along with paisleys, whimsical lotus motifs and lush leaves. A big fan of this artistic mehndi design.
Via @himani_henna
Simplicity is elegance
For brides who prefer spacious full hand mehndi designs, here is the one with oversized lotus motifs, charming symmetry, and whimsical peacock patterns!
Via @himani_henna
Neat & Chic!
We love how artistic this mehndi design is! Even though the patterns on both hands are different, it complements each other perfectly.
Via @himani_henna
For the millennial bride
We are obsessing over this exquisite bridal mehndi design that plays with traditional elements but with a modern touch! However, it requires patience from both the artist and the bride, so make sure you are ready before getting this piece of perfection etched on your hands.
Gripping in every sense
This bridal mehndi design comprises lush leaves, captivating florals, and gorgeous paisley patterns with a surprising twist. Absolutely swooning over its charm.
A scintillating one with bold strokes
A brilliant mehndi design that spreads so beautifully across the bride's arms with bold & intricate strokes. It has a trendsetting appeal attached to it which is what makes it look so extraordinary.
Symmetry at it's best!
The work of this mehndi artist is really commendable. Absolutely adore the creativity and intricacy in this mehndi design – something that forms the basis of a captivating mehndi design.
Setting a style statement
Here's a spacious yet elaborate mehndi design that will catch your attention instantly.
Via Pinterest
Personalisation On-Point!
Yet another bridal mehndi design that is stocked with personalised elements. Our personal favorite has to be the McDonalds meal. If you are marrying a foodie, get his favorite meal sketched into your mehndi too!
Let your henna portray your love story
In awe of how this bride painted her entire love story with cutesy doodles in her henna. Relationships take work to reach to the point of marriage, so why not flaunt it at every chance you get!
Breath-taking!
We cannot stop ogling this one. How beautifully has the artist illustrated the start of a beautiful relationship & stepping onto the happily ever after!
Via @theweddingcrasherofficial
Some captivating Dulhan figures to incorporate in your bridal mehndi
Sindoor Moment
Just how heavenly is this mehndi design incorporating the soulful sindoor moment along with a romantic couple portrait.
Because proposals are special
The most trending Dulhan figure is this proposal one and it's just so apt! After all this is the moment when you finally decided on forever. It deserves the attention on your bridal mehndi.
Via @glimmerfilms
For our Sikh brides!
The evergreen bride & groom motifs with cultural personalisation. We can't help swoon over the neat finish and keen detailing of this bridal mehndi design.
Via @morviimages
Sentimental Vidaai motif
The emotional vidaai ritual exemplified so beautifully in this dulhan's mehndi!
Giddy Bridal Entry motif
Let's take a moment to admire how flawlessly this motif captures the most admired bridal entry of them all!
Via @tulsimehandi
Divine Varmala moment
A simplistic varmala motif like this can amp up the beauty of your complete bridal mehndi. We love this one created with utter intricacy.
Via @morviimages

Already planned out your henna figures & looking for wrist mehndi inspiration, here you go!
Those alluring bold strokes!
Amazing intricacy

Compact yet elaborate mehndi design that is sketched with expertise
A literal treat to the eyes!
Via
@himani_henna
It's hard to not bookmark this spectacular bridal mehndi design!
This bride's mehndi is giving us major inspiration on how to smartly use the spaces in your design to create such a masterpiece.
How endearing are these symmetrical elephant motifs
An eye-pleasing pattern with multidirectional segments
Via
@himani_henna
Bridal Mehndi Designs For Back Hands!
For the royal couple
A king and queen mehndi design for the power couple! This one is the latest addition to bridal henna galore & has already won many hearts – including ours.
Via @khushmag, @jaya_mehndi_artist
Via @recall_pictures
Intricate choodi mehndi design
A choodi mehndi design always looks super elegant and this one with unique silhouette detailing has us smitten.
Always a fan of quirky details!
Going the unusual way, this bride opted for descending bird motifs for her back hand bridal henna. Adding to the detailing are lotus motifs, jaal patterns and concentric circles, which makes this mehndi further pleasing to the eyes!
Via @mayuri_mehndi_artist, @morviimages
Oh, those whimsical lotus motifs!
Considered a sacred flower, lotus motifs are being widely used in bridal henna for their auspicious nature. This bride's mehendi dominated by it is literally all we want.
Via @hussainmaaz, @weddingdocumentary
The immense beauty of choodi mehndi design!
This beauteous mehndi design boasts of gorgeous lotus motifs along with the appeal of choodi mehndi design!
Modish Jaal Mehndi!
We are sold by this arresting jaal mehndi design that's modish and will look great in your photography shots!
Via @theweddingcrasherofficial
There's no beating a traditional design
Can we all take a moment to appreciate this traditional design. Made neatly with chequered patterns, leafy trails, neat horizontal lines, and beguiling florals!
Via @safurashenna
Aesthetically pleasing!
Another backhand mehndi design with jaal pattern and choodi henna art that looks super ethereal!
Via @nsmehendiartist
Bewitching paisleys with florals
Opt for an extravagant design like this one to set a style statement with your bridal henna. Enchanting paisley in the middle combined with lotus motifs, florals and jaal patterns looks so graceful.
What a beauty!
It's pretty clear that brides love bangle mehndi design on their big day & it surely deserves all the affection. Take a look at another one that's so aesthetically pleasing, we bet you are pinning it right away!
Via @fiftyshadesofsin, @candidweddingstories
An intriguing arabic bel design
An arabic bel pattern is always appealing but never thought it could look so arresting until we saw this bridal mehndi design. Look at that floral extravaganza though, perfect for our contemporary brides!
Via Pinterest
A bridal mehndi design that's enriched with beautiful figures and significant sayings to make it visually appealing yet meaningful. There's beauty in how the two hands are created with a symmetry that's quite subtle by matching the figures on the same part of the hands. Like the elephants on the same part; elephants, btw, symbolize longevity, wisdom, and loyalty – all the qualities of a good marriage. Kalash on the right hand is also a great symbol to include as it signifies the mother goddess or Devi and is a container of fertility – the Earth and the womb, which nurtures and nourishes life. 
If you're a fan of minimalistic mehndi design and yet want to explore the full hand mehndi design associated with bridal looks, then opt for a spacious pattern that uses empty spaces strategically and honors your initials as well. The rest of the mehndi design is characteristic of simple figurines and traditional henna patterns like jaal design, concentric circles, etc. Not to miss the endearing mention of the love on the wrist with the "O" representing the ring and becoming one of the notable elements of this henna.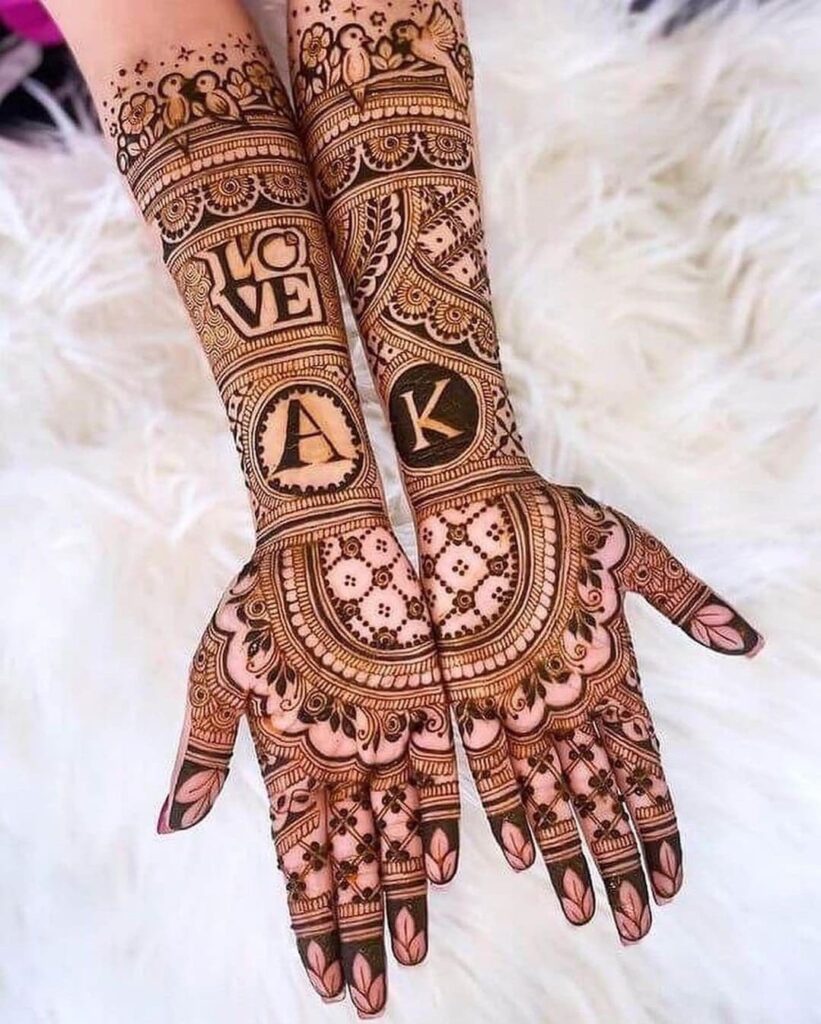 Katrina Kaif's mehndi is representative of the conventional bridal henna designs which have a bharwa design on the palm and a choodi style mehendi design on the wrist with the customary filling patterns of henna like jaal design, florals, concentric circles, and paisleys. It wasn't surprising to see the classic henna design pick of Katrina though, given that most of her wedding elements reflected the same attribute. See other details of Vicky & Katrina's wedding here.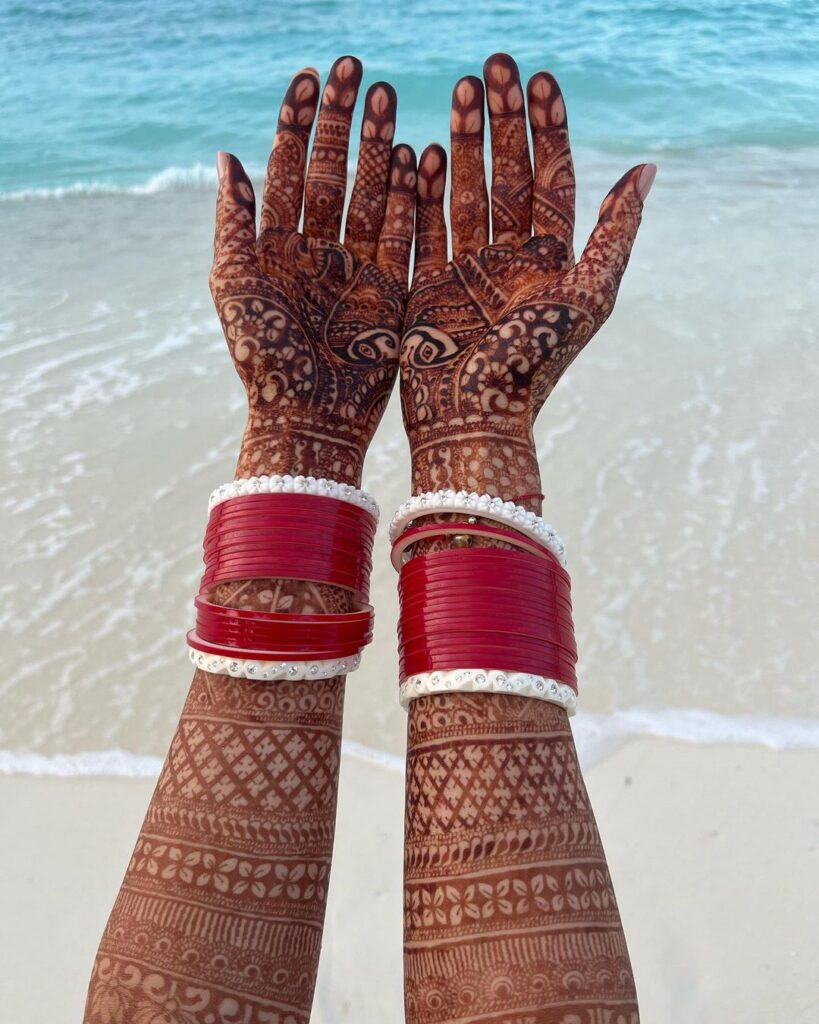 Replete with stunning voluminous caricatures and figures, we absolutely love the intricacy of this bridal henna pattern for hands. There's a peacock on the left hand which covers almost half of the left hand. Peacocks symbolize beauty, good luck, renewal, holiness, guidance, and protection and are often used in Indian weddings for the same reason. The Ganesh Ji and the mantra on the right hand are symbolic of new beginnings, clearing of obstacles, wisdom, and understanding.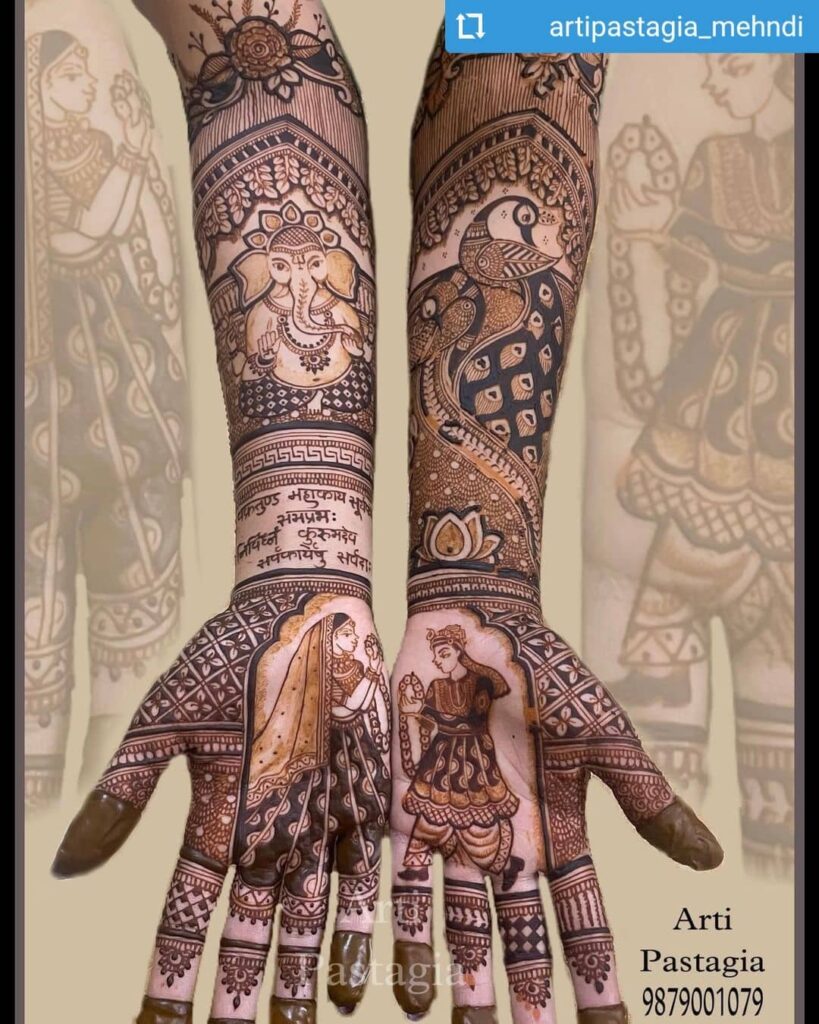 For brides who want their henna to just be on their feet and not extend to the legs, this is a great option. The classic jaal mehndi design is accentuated with a huge circle in the middle and lotuses here & there. Lotuses in Indian weddings are symbolic of strength, resilience, and healing. We also admire how beautifully the henna is captured and you can surely use it as an inspiration for your bridal portraits.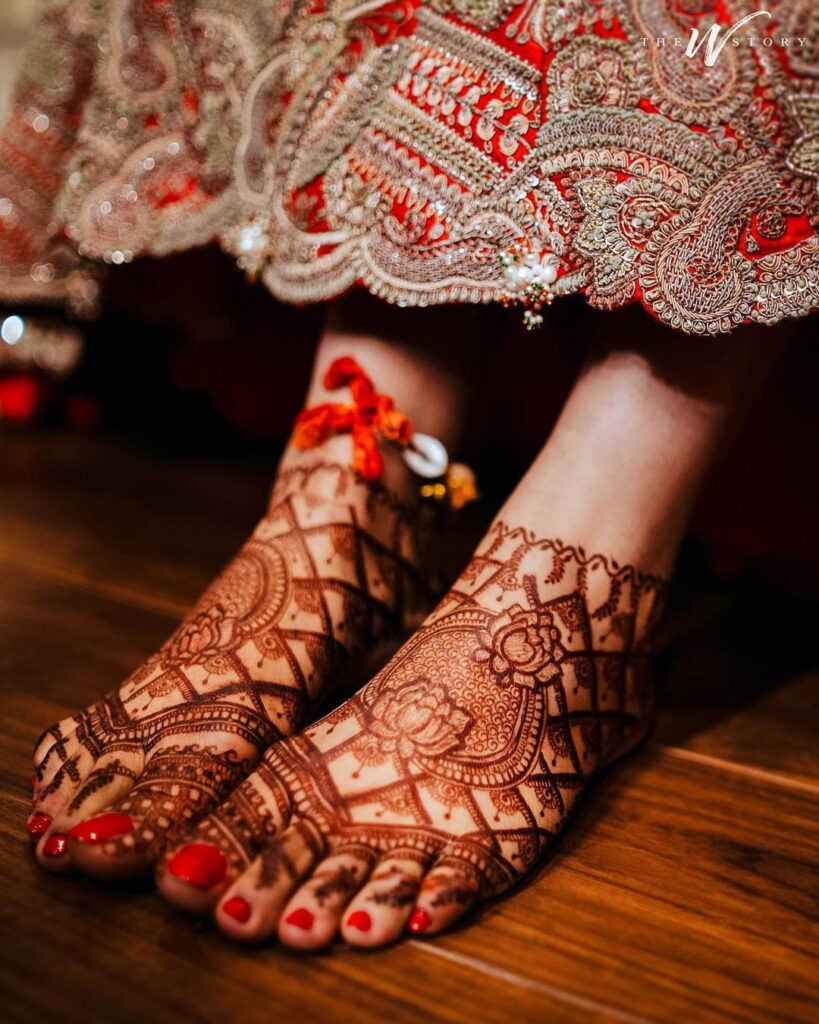 Brides who are a fan of minimal henna patterns will love this intricate and captivating henna on their legs for the special day. Some brides also don't have the patience to sit for the long hours to get the bharwa mehndi design done on their legs, especially if they have already spent hours getting the same done on their hands. Not just for brides though, this henna pattern can be a great pick for sisters-of-the-bride and other close family members as well.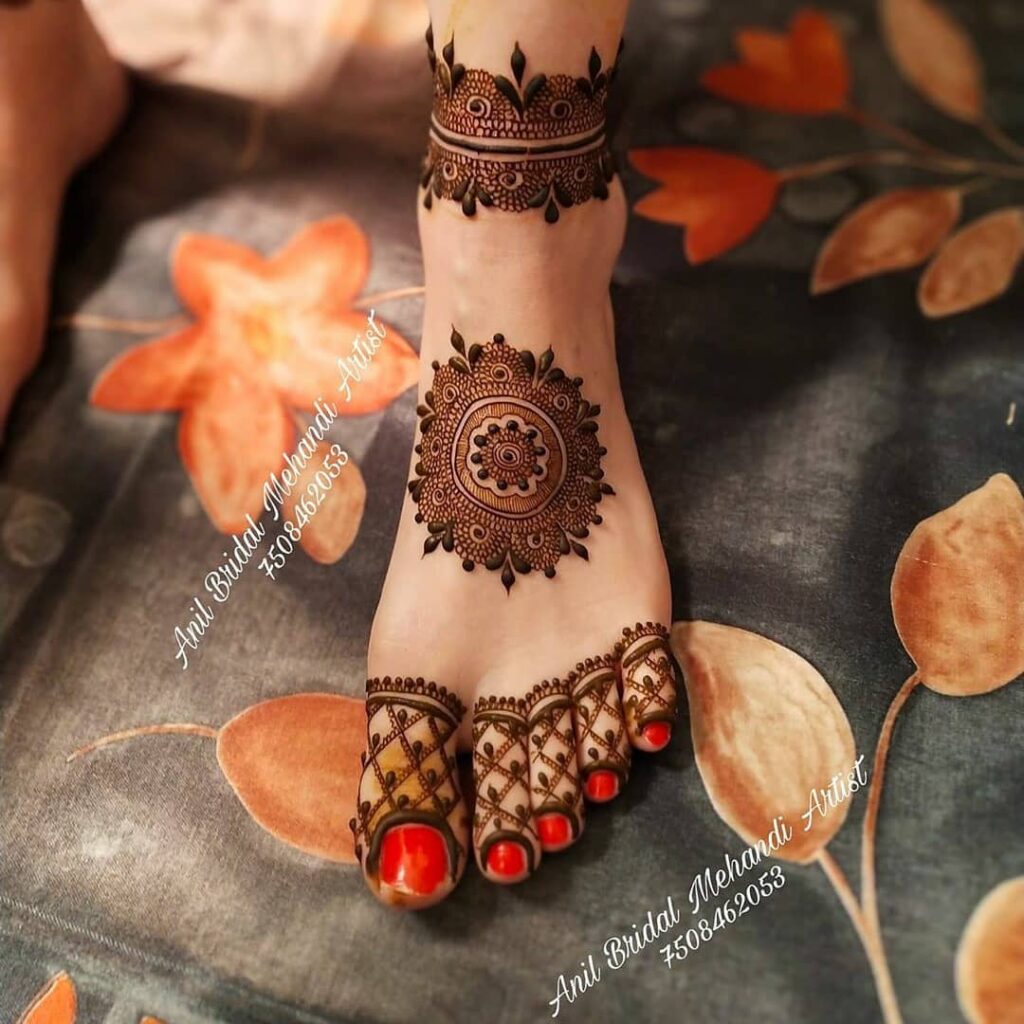 Jaal mehndi design is a popular pick for both hands and feet. We absolutely love how the classic pattern has been amplified with such elongated dots and it's extended gorgeously a bit with such visually appealing patterns and detailed fillings. The 3-D pattern of the feet bridal mehndi further accentuates the allure of the mehndi further.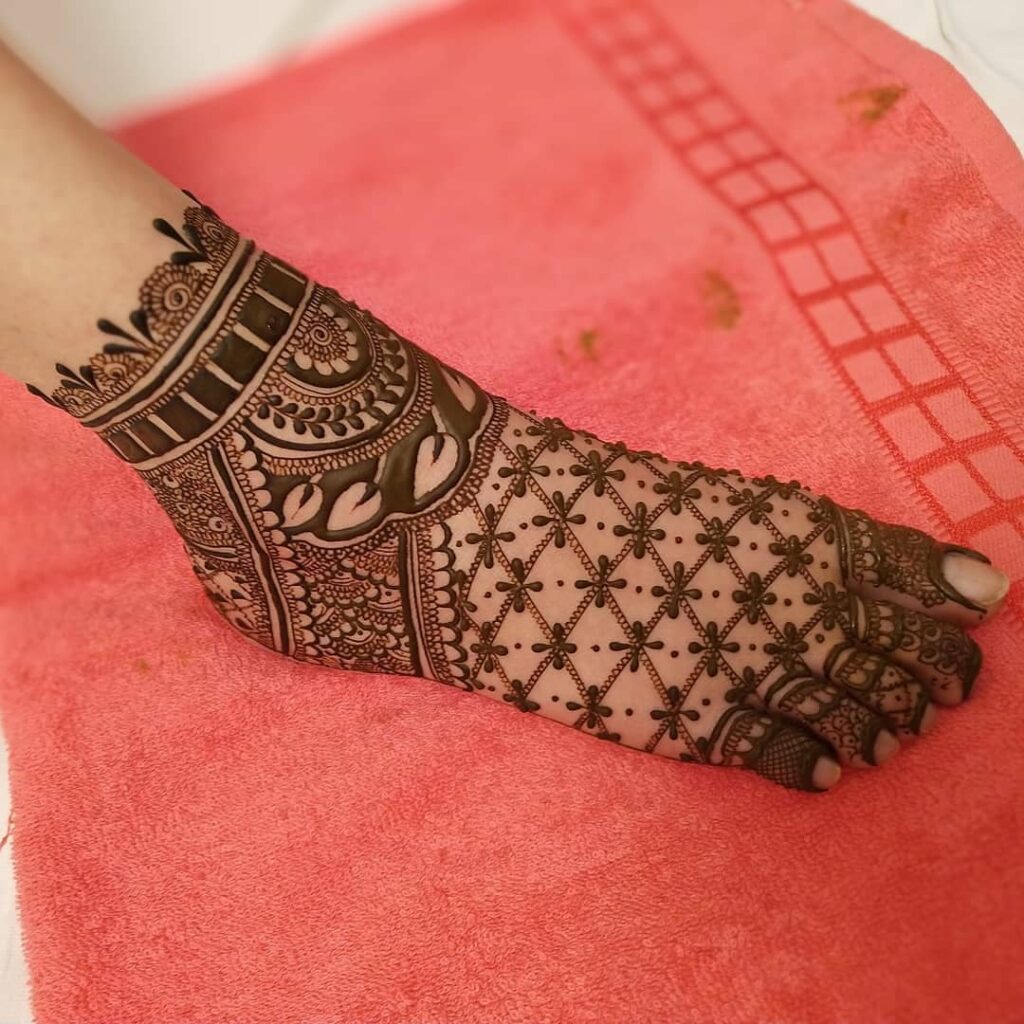 Yes, the jaal mehndi is that popular and once you start searching for feet mehndi designs for brides or for any other occasion, they will show up multiple times in the search. Thankfully though, for the bridal mehndi design, we have done the search for you. Find below another ravishing bridal henna showing off this classic design with a gorgeous circle in the middle to bring the whole henna together.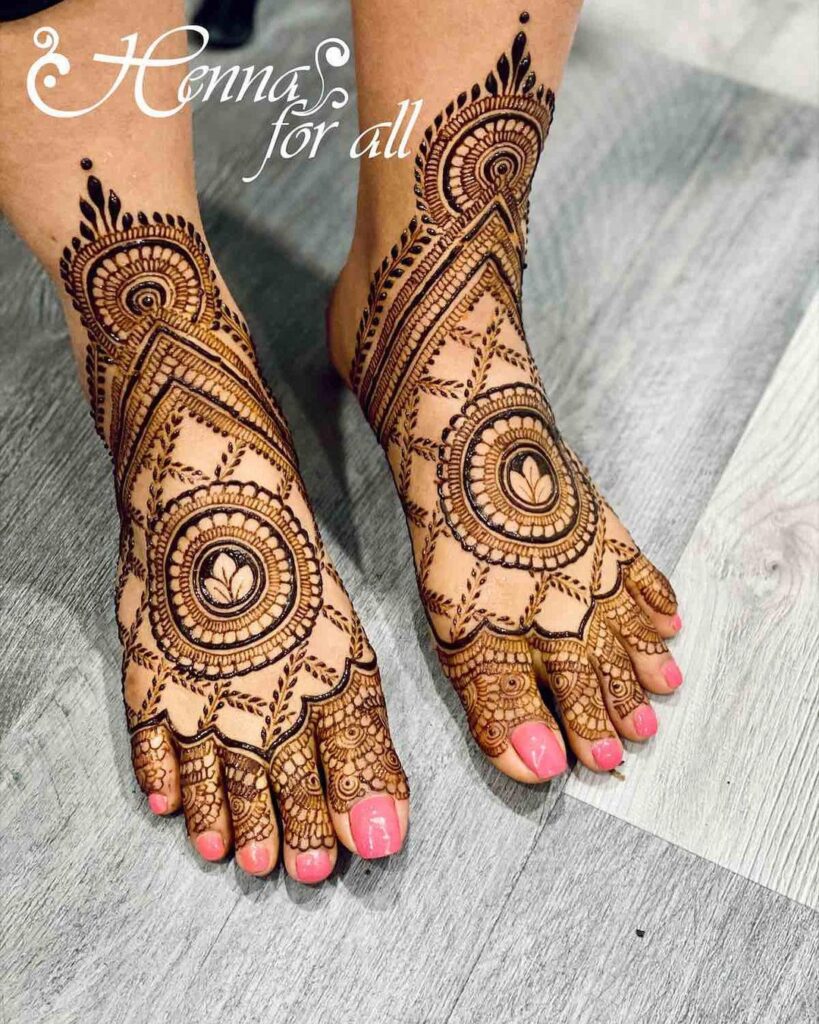 Bells are new elements that are added to the henna design. They are a part of almost all modish henna patterns and if you want to radiate contemporary attributes with your conventional henna then surely try to include them in your mehendi. Besides bells, the mehendi also has appealing peacock designs and birds in the mix, further accentuating the pattern.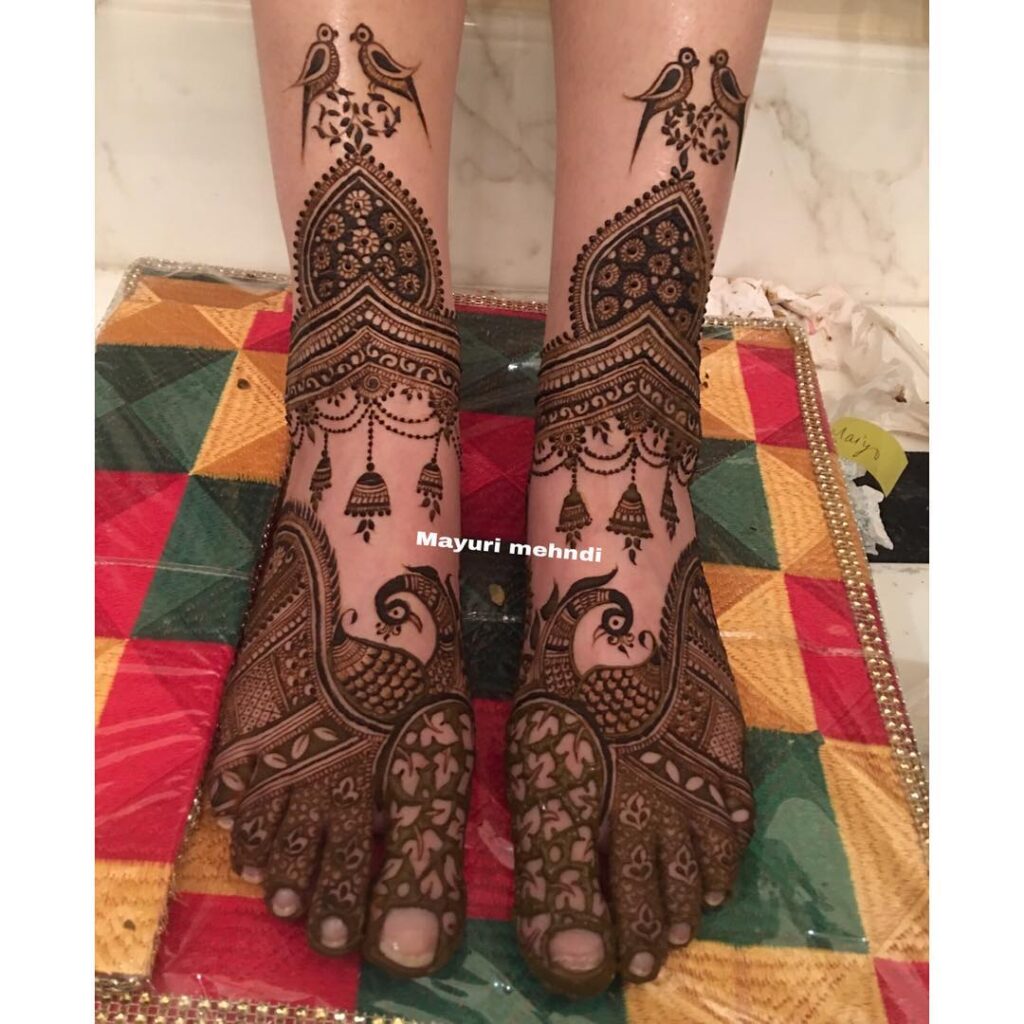 Choosing a bridal mehndi requires patience and effort. We hope this blog ended your search for it! Which one will you opt for? Let us know in the comments below!