Indian weddings are a celebration! They span out for 3 days (at least!) and the functions held throughout that time all hold significance in the couple's upcoming married life. One of them is the mehendi function. The first big event leading up to the nuptials and characterized by henna application on the hands & feet of the bride, groom, and their close family members. The traditional saying is the darker the color of the henna, the more is the love of their partner for them. Rest, the day is replete with cheery dance performances, fun banter, and delectable food. There's one important decision making to do though – for both the bride and other family members. What kind of mehndi design would they like for the special occasion? With the option of traditional mehndi, bharwa mehndi, arabic mehndi designs, minimalist henna designs, etc. the choices are confusing. We have uploaded blogs on other henna designs to make the decision easier (check them here), here's one that includes 71 latest Arabic mehndi designs so you can bookmark the ones you love the most! 
What is an Arabic mehndi design & how does it differ from other traditional mehndi designs?
An Arabic mehndi design is simply characterized by more free-flowing patterns and the inclusion of classic mehndi elements like paisleys, florals, and leaves in a modish way. Unlike the traditional wedding mehndi patterns, Arabic mehndi is more scattered and leaves spaces on your hands. It originated in Persia and is common in Arab countries like Qatar, UAE, Bahrain, and Oman, therefore, the name Arabic mehndi design. 
Find below the most popular and beautiful Arabic mehndi designs for inspiration. 
Arabic Mehndi Designs For Front Hand
#1 Not a lot of spaces and patterns are required to create stunning Arabic mehndi designs. All you need is a wee bit of creativity, flowing patterns, and traditional motifs. One of the best Instagram account to turn to for oozing henna design creativity is Amrita Henna. She is truly a creative genius when it comes to connecting mehndi motifs neatly and aesthetically. Here's an example of the exquisite art we're talking about. But this won't be the only one on the list. She has created some appealing Arabic mehndi designs and we've chosen the best of them for this list.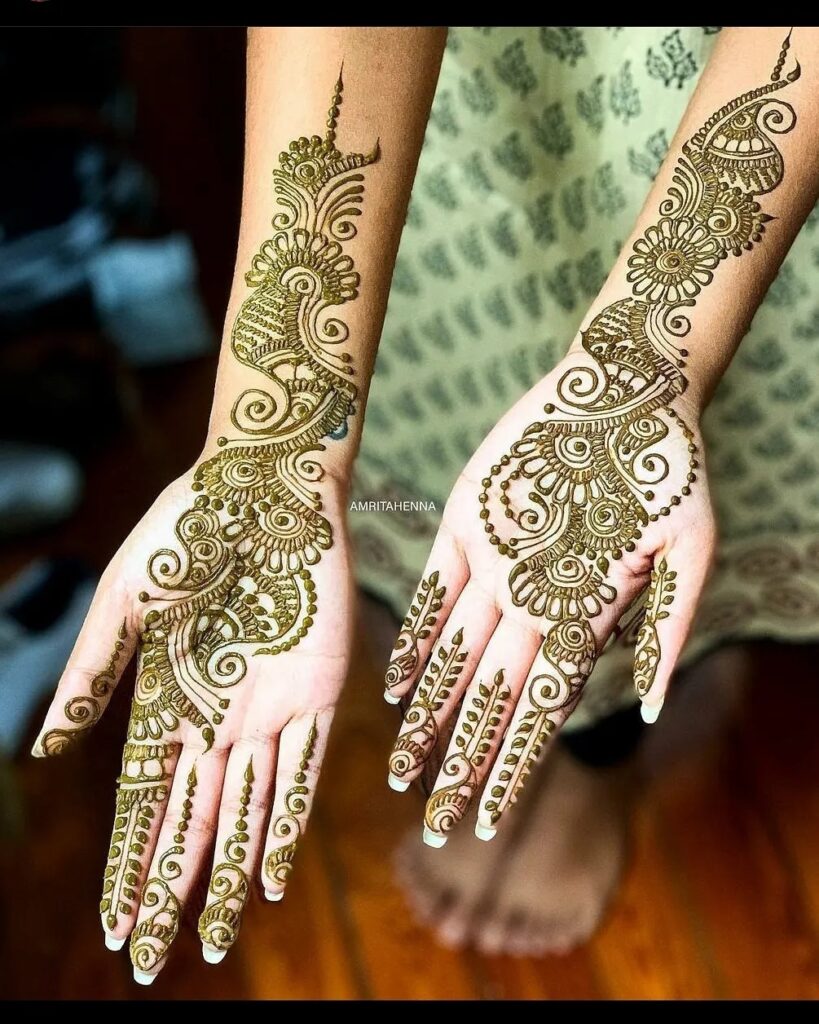 #2 Here's yet another gem from the appealing designs created by Amrita Henna. Instead of playing with bold and thin strokes, she keeps them all the same thickness to make it easier for you to recreate as well. Additionally, there are enough spaces in the hand to make your henna look beautifully open and gorgeous. A perfect Arabic mehndi design for bridesmaids and sisters of the bride/ groom, who're looking for a minimalistic alternative to bharwa mehndi.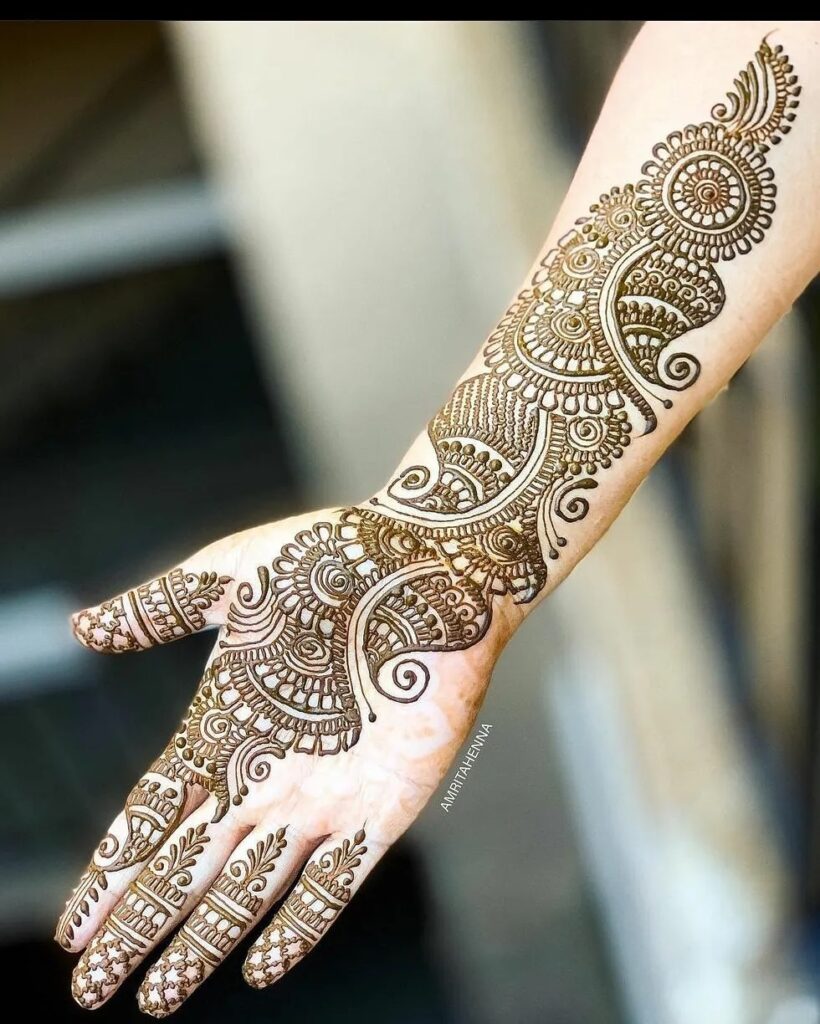 #3 This one's an easy arabic mehndi design for the front hand. Anyone who has good artistic skill with the henna tubes can sketch this at home. Besides the easy nature of this henna pattern, the big and bold motifs ensure it won't take as much time to draw this one. And if an important function is coming up and you've got no time, you know these easy and beautiful simple mehndi designs will be your savior. So save them right away!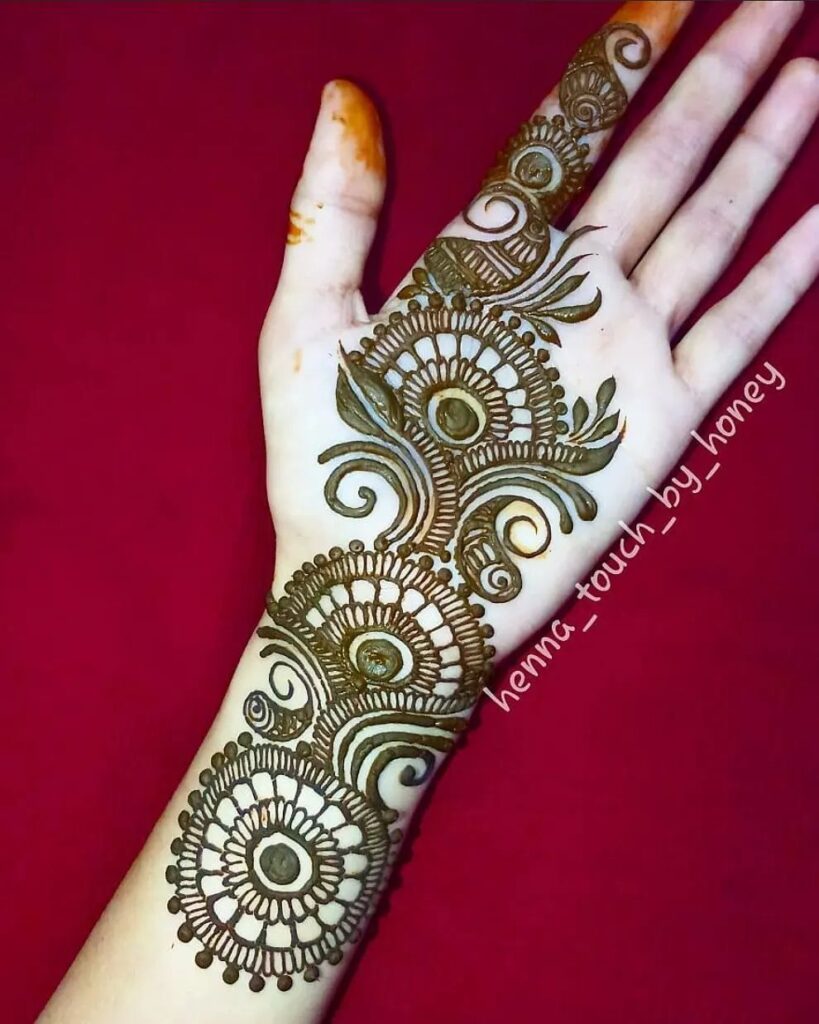 #4 Not all Arabic mehndi designs have to be about bel patterns, some can be drawn like bharwa mehndi but still employ the USP of the spacious and creative element of the Arabic henna patterns. We love how Amrita Henna uses the bold strokes here to create an impressive pattern and leave some space in the middle so as to give a simplistic vibe. The beauty of paisleys just hits different in this one.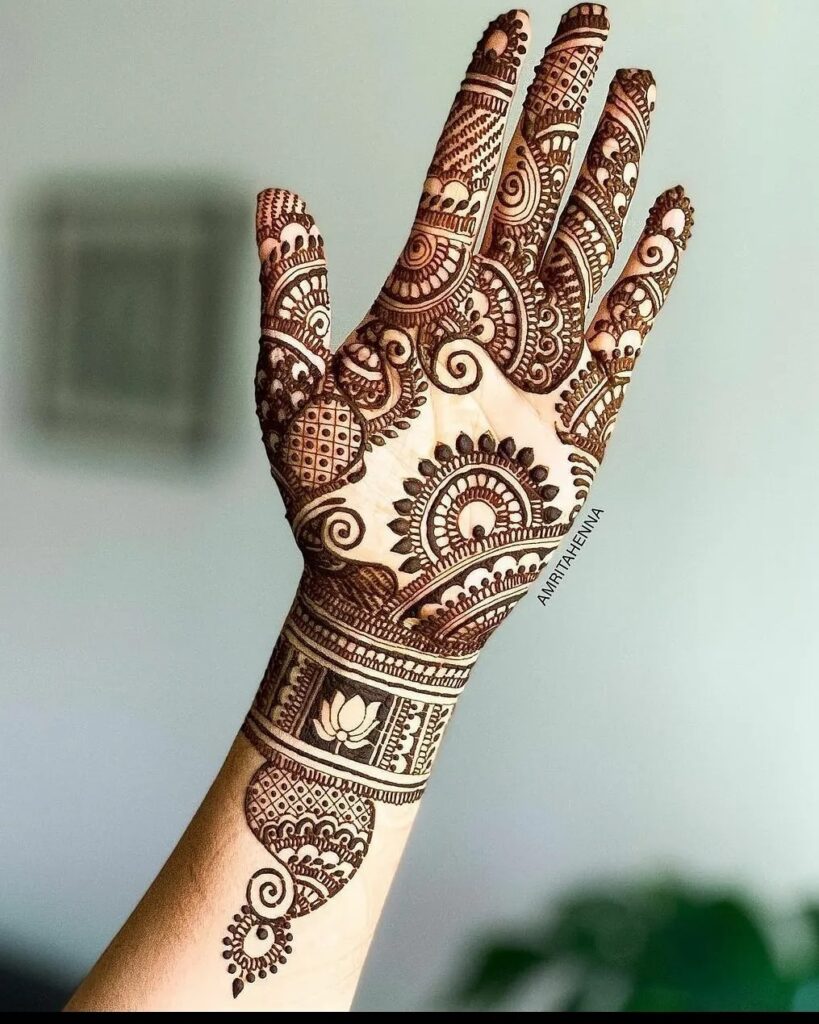 #5 For those looking for simple and beautiful paisley pattern Arabic mehndi designs, here's one that should top your list. Covering only the palm of hands and employing the free-flowing structure of the Arabic mehndi, we love how neat and phenomenal this design looks without any extra dramatic elements. For bridesmaids or even brides looking for a minimalistic henna pattern, here's one to go to your Pinterest board straight away.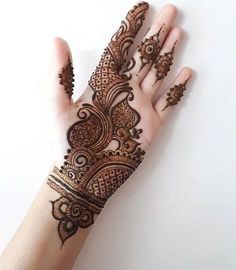 #6 Honestly, this takes me back to my childhood days of the '90s and 2000's when Arabic mehndi designs were all the rage and these bel patterns with paisleys and semi-circular figures were the trending elements in Arabic henna. Beautifully done and reminiscent of our childhood memories, there's more allure to this henna than the pictures do the justice. Also, if you're someone who's skilled at artwork, this one's also an easy and beautiful Arabic mehndi design 2023 to try.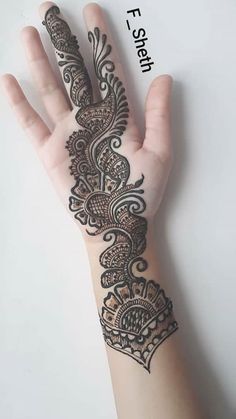 #7 This is a stop-and-stare kind of henna design! When you look closely, you realize that none of the paisley motifs resemble others, which is what makes this design attractive in one look. The way the florals, paisleys, and semi-circular patterns have been arranged is artistic and can make for a stunning design for a bride looking for an exclusive and unmatched pattern for her wedding day. The fingertips covered in mehndi further complete the henna design and add a gorgeous allure.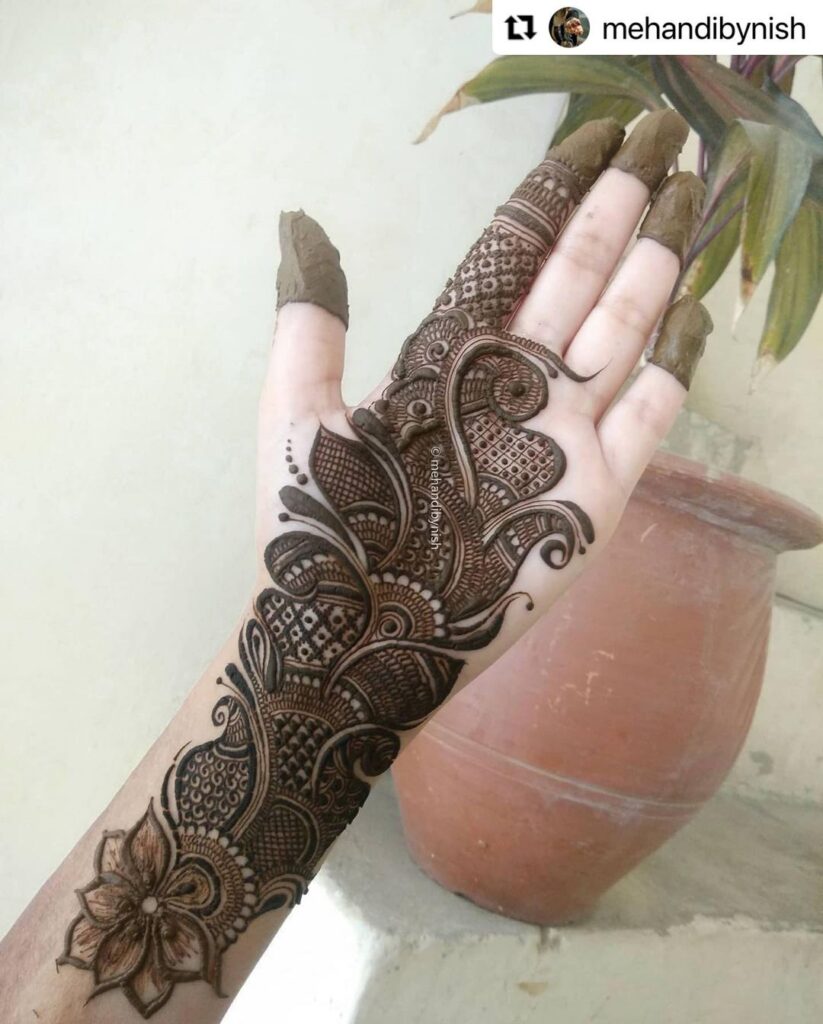 #8 For an Arabic henna design for palm, here's one that's enchanting, to say the least. The play of thick and thin strokes is what makes this design super charming and attractive. Having said that, it's the work of an expert and very difficult to be nailed down by a novice. The appeal of this design will be lost if you don't take care of the expert element here. And if you really want to recreate this design, look for an expert that knows how to play with bold strokes in henna. Not everyone does that and without this certain element, the ethereal charm of this design will be lost.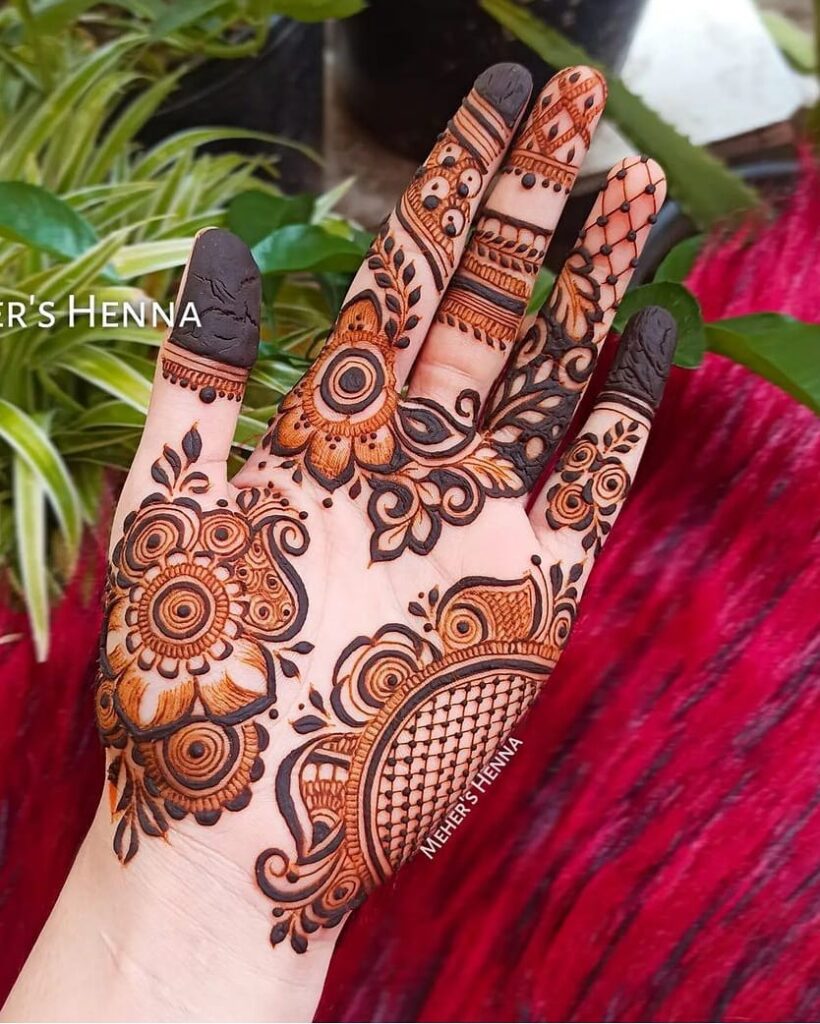 #9 Bharwa arabic mehndi designs are yet another variation of the classic henna patterns, ideal for brides or close family members of the couple who want spacious henna yet one that gives them the glamour of the important event coming up. We'd have to appreciate the mind-blowing creativity of henna artists these days. They've got a knack for using age-old motifs and enhancing them to create a voguish pattern. All this without any effort and such perfection. This one here is surely a work of art.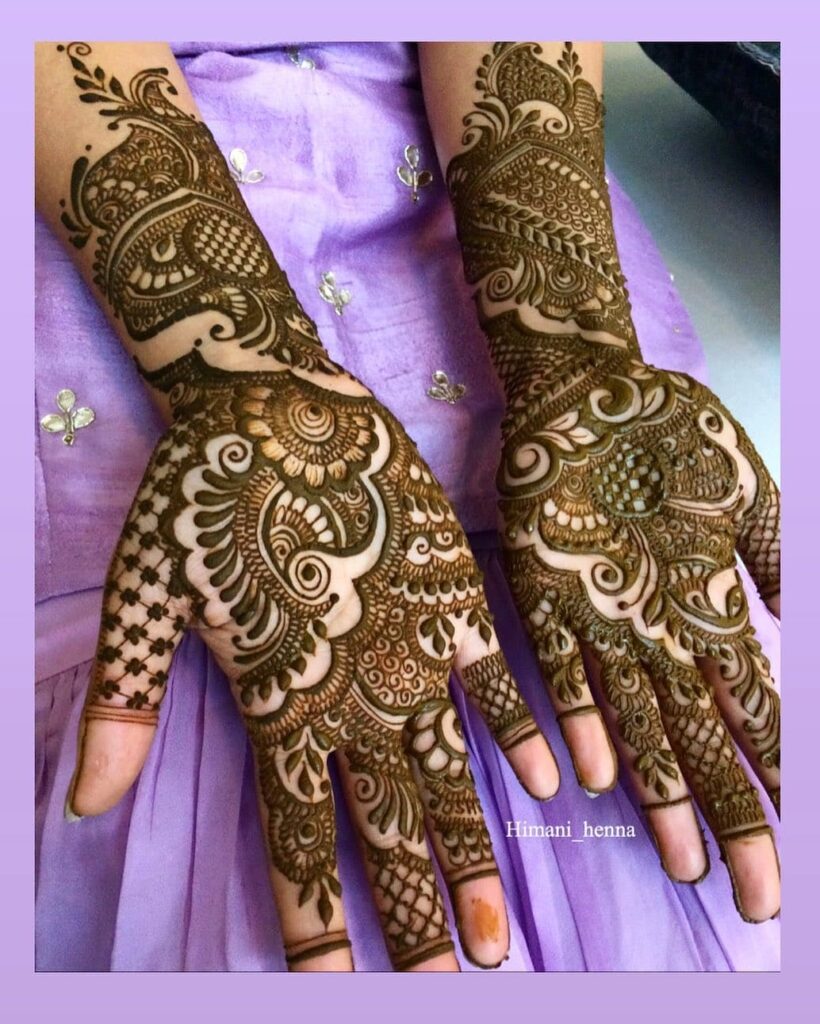 #10 Yet another Arabic mehandi design just for the palm of hands and done using basic henna motifs. All we can see are leaves and florals, not even a sign of paisleys. As we said, henna artists are really outdoing themselves these days. It's no less than creative magic that this pattern looks so whimsical with no sign of paisley or any other dramatic motifs. Again, even though the outline is easy, the filling takes very swift hands and we'd suggest you trust only a professional to do this for you!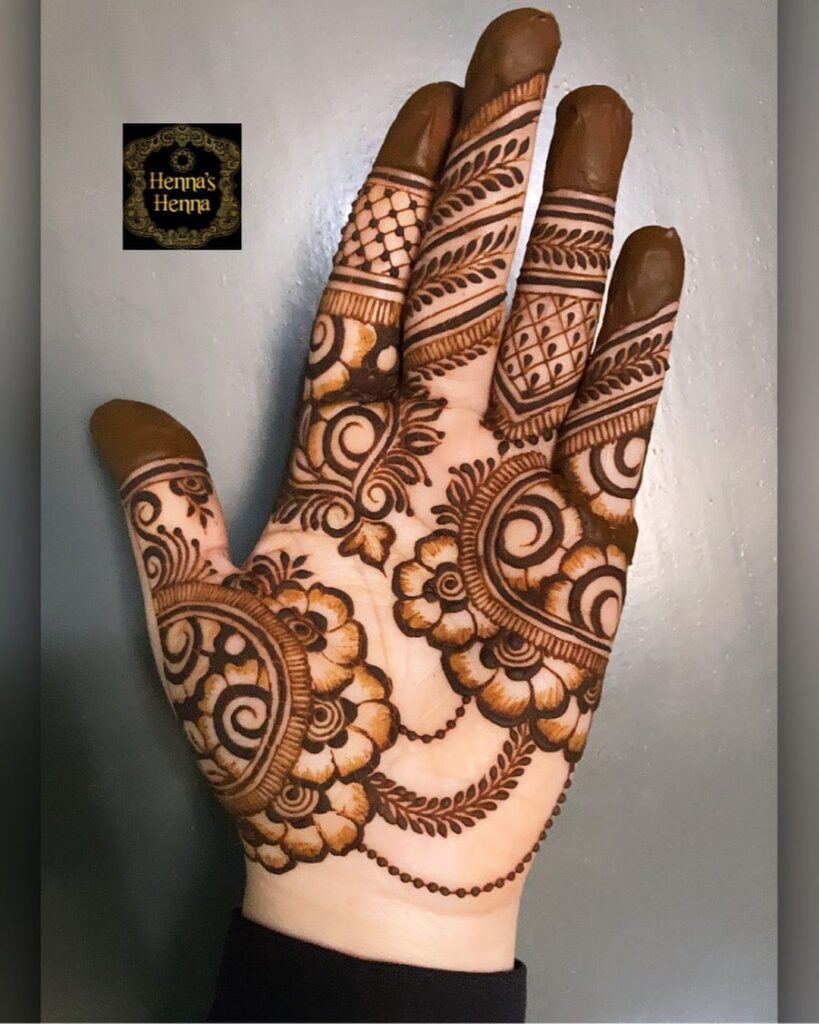 #11 What a gorgeous display of Arabic mehndi design for full hands! If you're a bride who loves the whimsical nature of the arabic patterns and would want to wear that on your wedding day, then here's a design just for you! Although, even the sister of the bride or even the respective mother of the bride & groom can take advantage of this gorgeous arabic henna pattern. While there are several great things about this design, what we love is the spacious nature of this henna more than anything. It just gives such a simplistic element to this bharwa arabic henna. Truly a standalone design of all!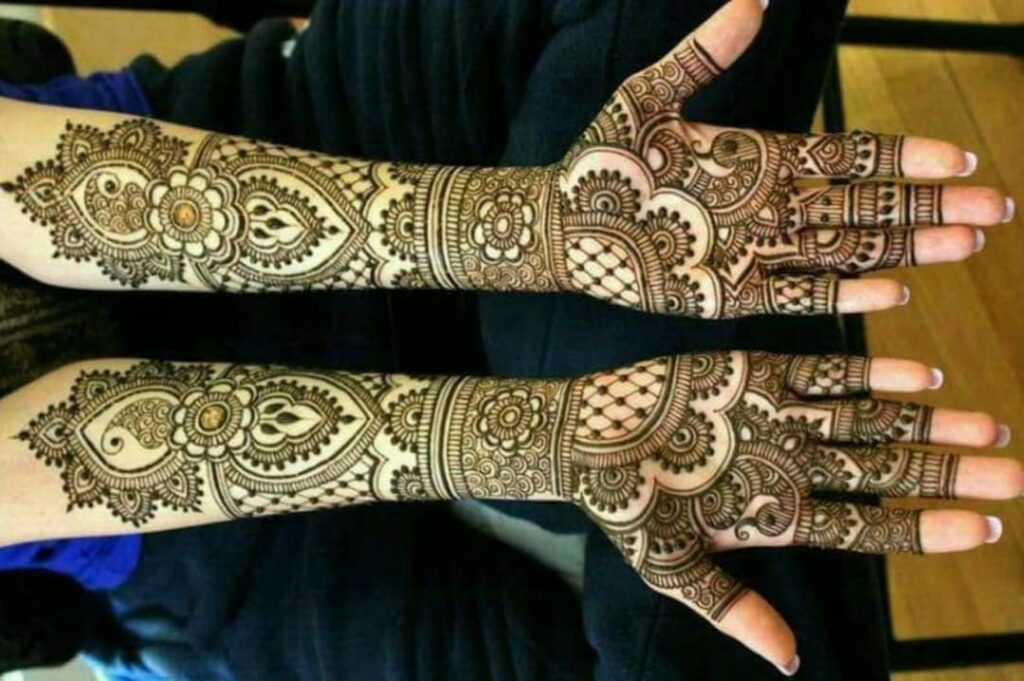 #12 Another full hand arabic mehandi design to impress you. This one's a little more stylish than the one presented above and also, best done by a professional. The neatly done florals and lines create a phenomenal layout on the side and the filling is done rather intricately to enhance the full exquisiteness of the design. If you're a bride-to-be who wants a stylish arabic mehndi on their wedding day, this one surely wins.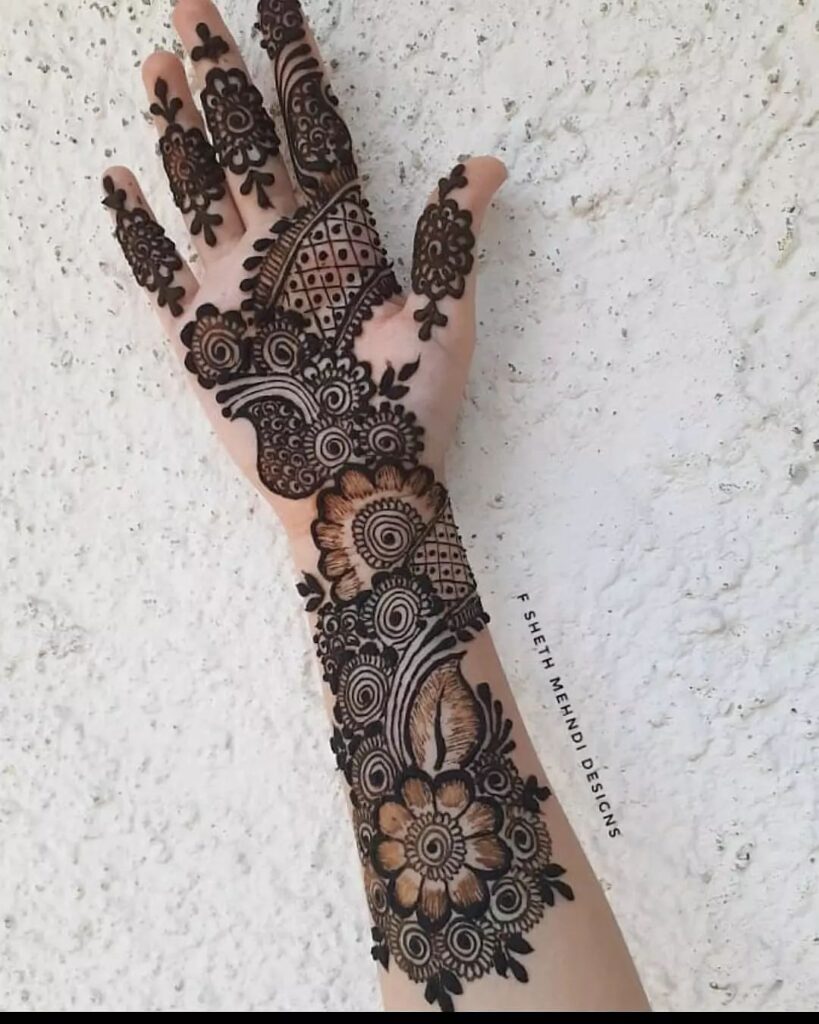 #13 A coordinated pattern on both hands creates a beautiful arabic henna design that will look gorgeous in real life as well as the pictures. We adore the 3D flower in the midst of the design that adds an edge to the whole pattern and brings about an oomph factor in the usual arabic elements. The immaculate filling inside the henna design completes the entire pattern with utter perfection.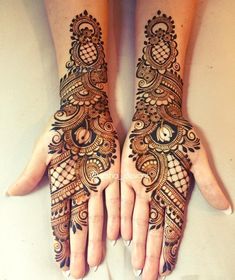 Arabic Mehndi Designs For Back Hand
#14 A stylish arabic mehndi design that will catch the attention of anyone who lays eyes on it. Another advantage is that it's relatively easy to recreate than any other arabic mehndi designs 2023 on this list. All you need to take care of is the innovative outlines and make sure that they're as bold and free-flowing as the ones depicted. Rest, both the fillings and patterns are easier to draw. Rest assured, you can easily build the magic of this design at home with the help of someone who has a good skill set in the drawing.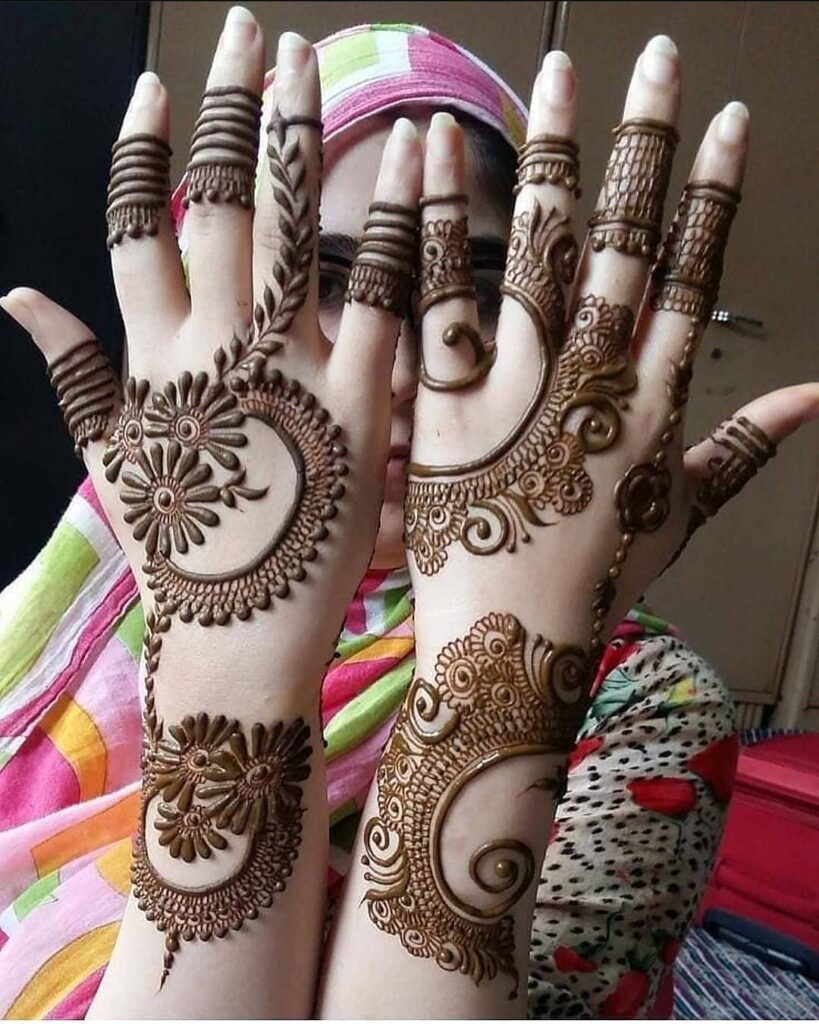 #15 There's just something alluring about the bold strokes. When done intricately and swiftly, they lend a whimsical charm to the mehndi design, and here's another depiction of why we love them so much. Done with strategically placed lines, leaves, and florals, this mehndi design can be easily curated at home. Just make sure the inside of the filling of the flower designs is done with thin strokes to add further charm to your mehendi pattern.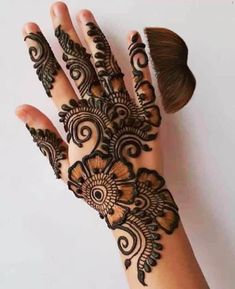 #16 A fusion of jaal mehndi design, arabic henna patterns, and 3D motifs gives this backhand arabic mehndi such a majestic allure that it's hard to put into words. The spellbound creativity sure is worthy of praise and not all artists can create a fusion stylish henna design like this. Giving the touch of allure and completion of the design are the fully painted tips of the mehendi. If you want the same stunning element of this arabic mehndi for backhand, we'd advise you to cover the tips of your mehendi pattern too.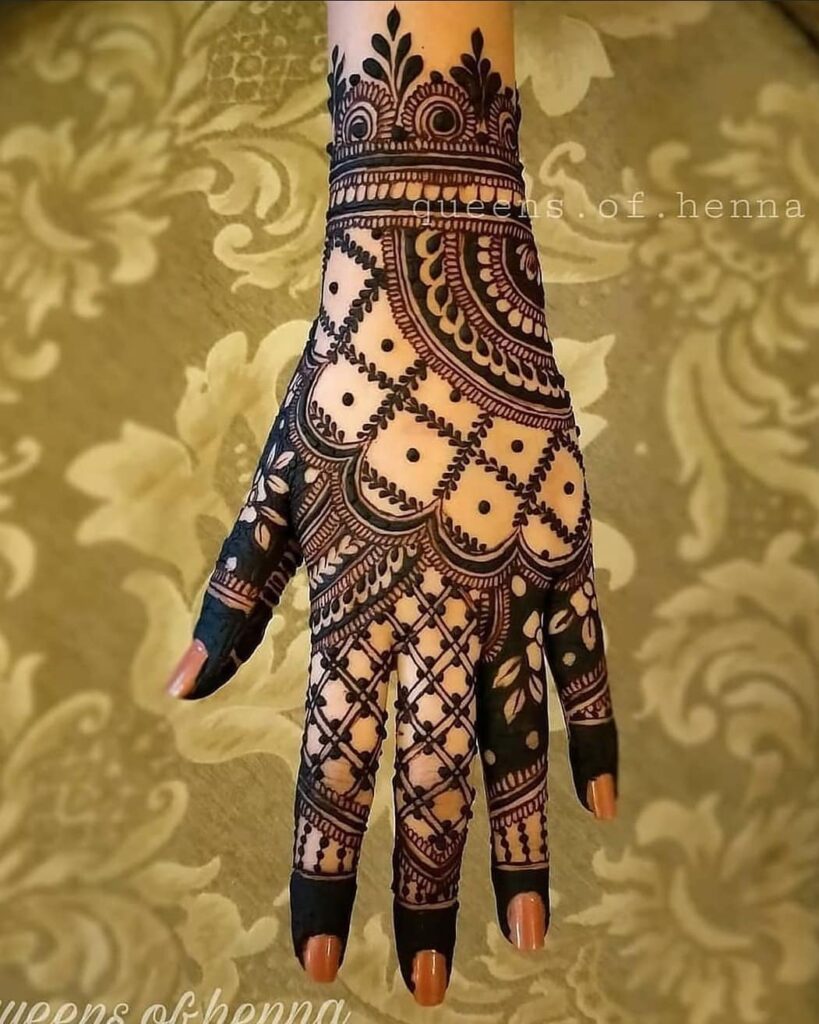 #17 Jaal patterns are trending in henna designs. They're the favorite of brides, sure, but even the bridesmaids and the close family members of the couple love this design. It definitely suits women of all ages and serves the purpose of both being voguish and traditional. We love how this arabic bel pattern constitutes a jaal mehndi and fuses the allure of both arabic & jaal in one. Definitely, a new, stylish mehndi design to try!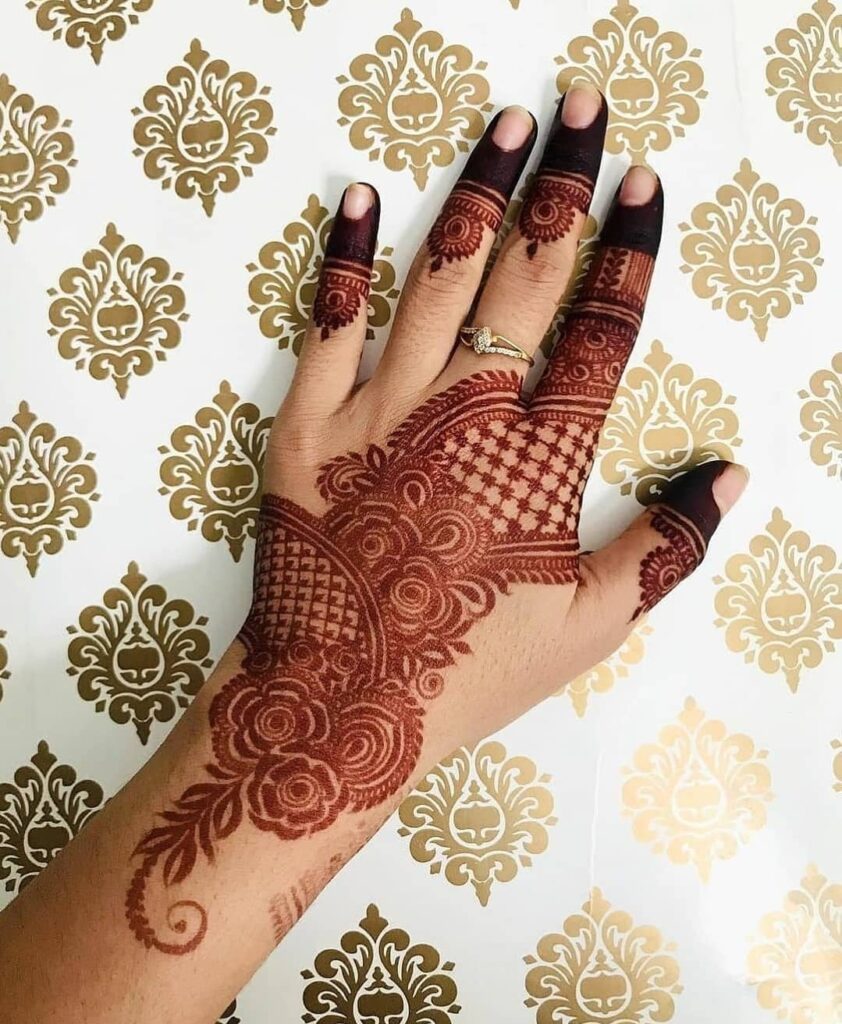 #18 A gorgeous break between the two designs creates such a stunning pattern in this arabic backhand henna design. Florals always add a whimsical charm to any wedding element, from decor to dresses and mehndi. In this henna, bold florals take the center of attention as the leaves, geometrical patterns, and a few paisleys adorn them from varying sides. The placement of dots on either side creates such lovely detailing.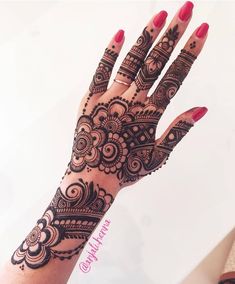 #19 When you think of minimalistic arabic mehndi designs, it often conjures up an image of henna that's too simple for a wedding and the one that might not help you create a statement. This one, however, is a gorgeous exception to the lot. We love how this henna design covers the whole hand and yet doesn't minimize the spacious feels of the arabic mehndi. Using just the leaves and floral elements, this beautiful arabic mehndi design is minimalistic yet appeals to anyone who lays eyes on it.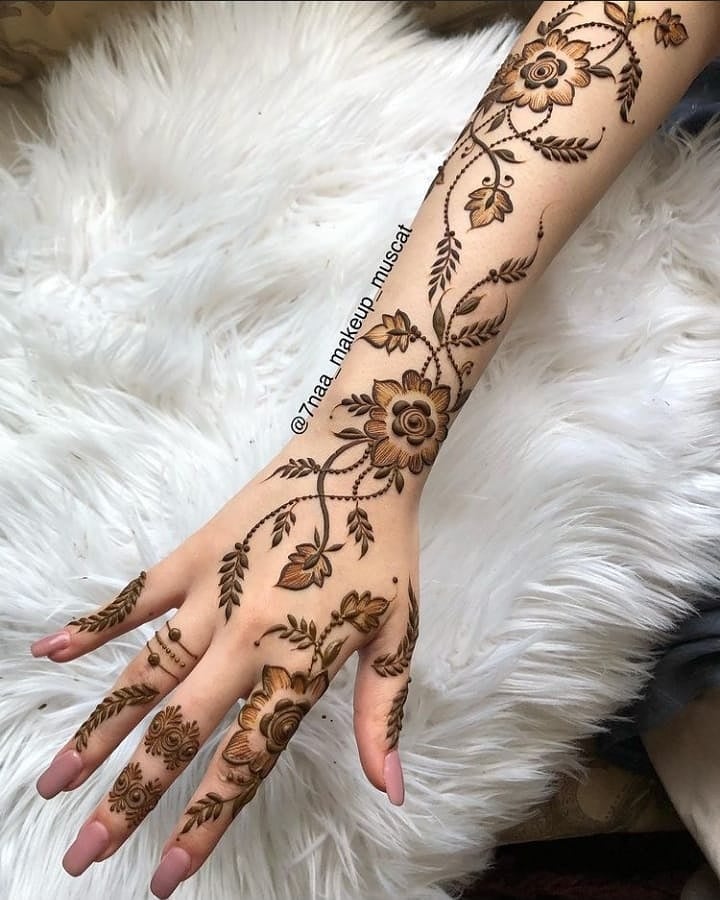 #20 The charm of paisleys is unmatchable. This backhand easy arabic henna design employs the use of just this endearing element of Arabic mehndi. It's also a simple henna design to recreate at home when you want to apply that quick shagun mehendi for an upcoming festival or wedding. To enhance the beauty, just cover the tips of your fingers completely.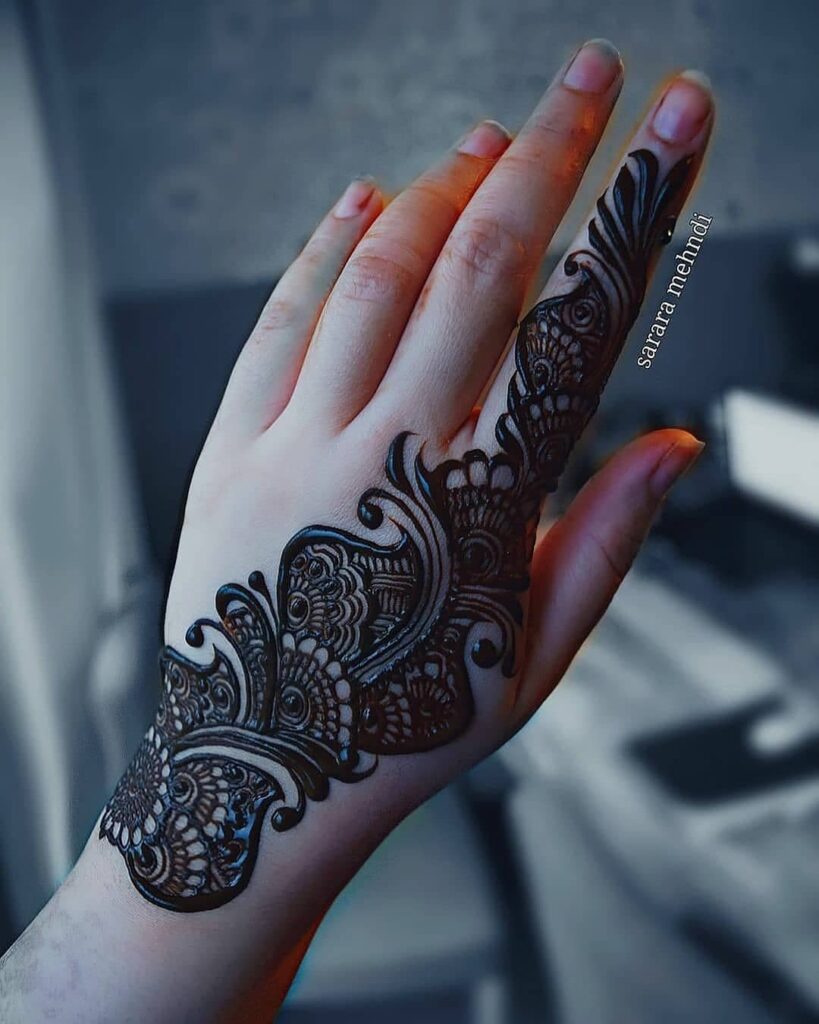 #21 These kinds of arabic mehndi designs give the illusion of a bharwa mehndi design without compromising on your wish of sporting a spacious arabic pattern. Instead of just having a bel pattern from one end to another, it starts from the middle and covers both sides with bold strokes and traditional motifs. On the other hand, where the bel is made, the finger mehndi design is extended to cover the entire hand. We also love how similar elements are used for patterns on both hands to make them look complimentary and aesthetically pleasing.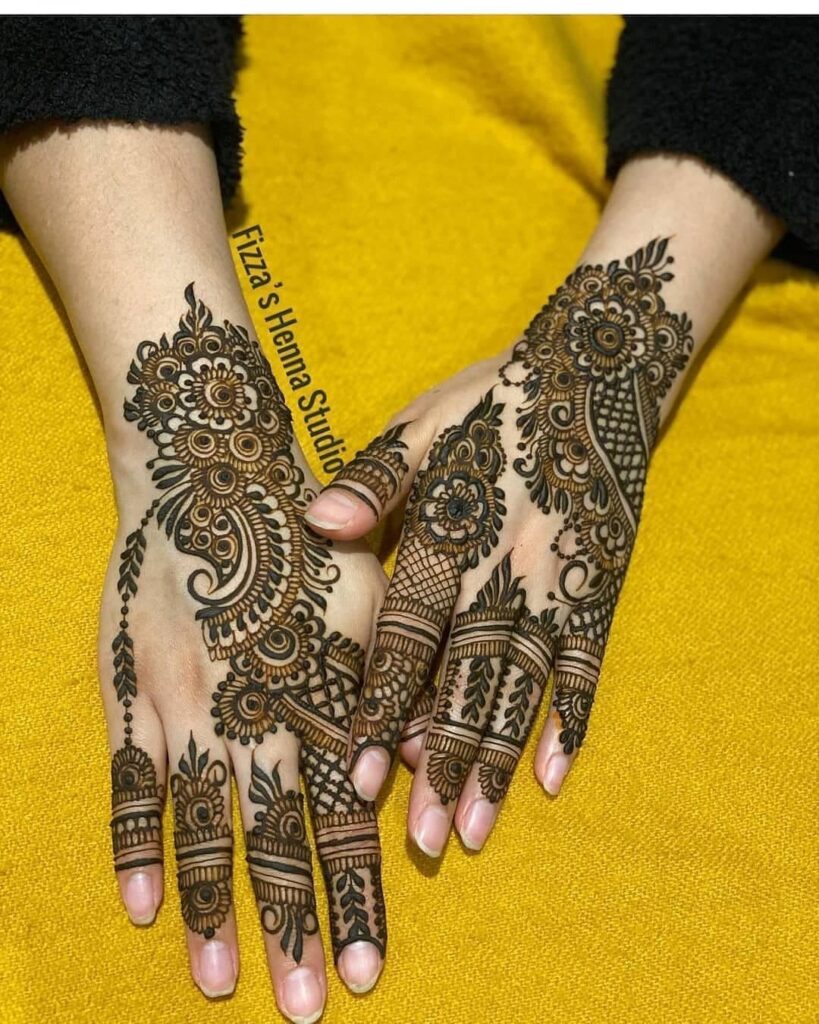 #22 If you're looking for a complimentary arabic mehndi for both hands, here's another one to bookmark to your board. The bold strokes in the design are striking and the minimal filling breathes space & simplicity into the design while covering the whole hand at the same time. For times when you just can't let go of the elders' expectation of having a full hand mehndi design yet don't want a bharwa pattern, saved designs like these will be your savior.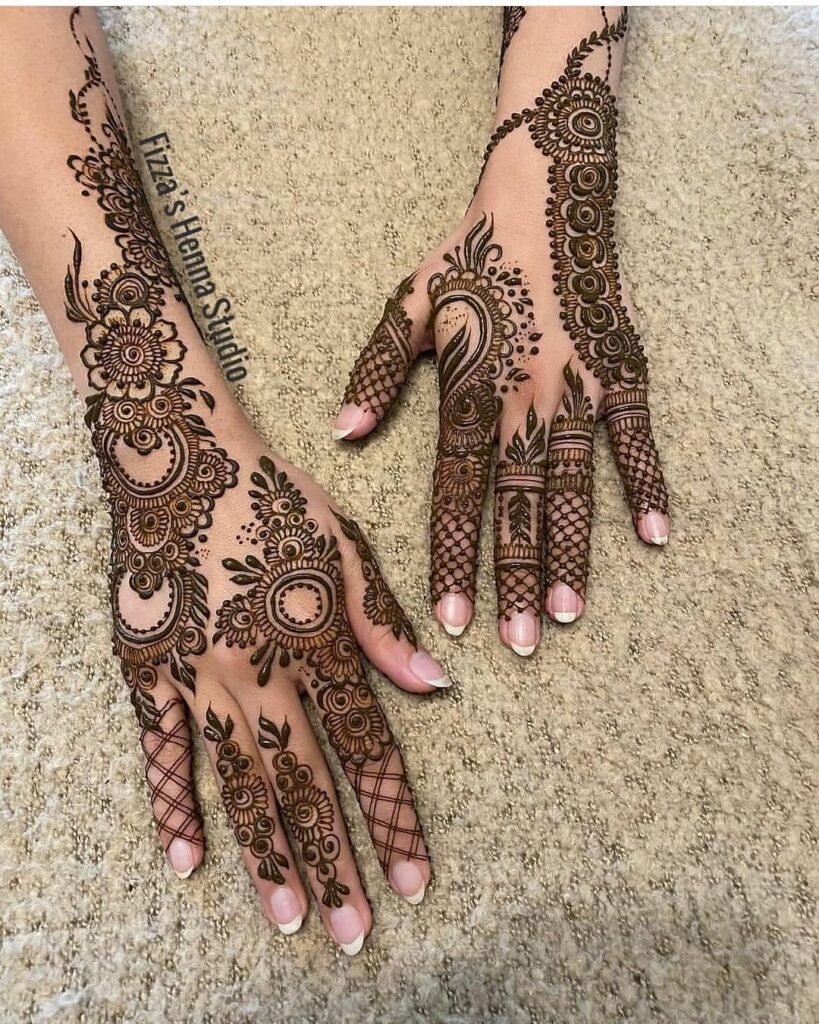 #23 The 3-D patterns in these designs are visually appealing, and so are the thin and neat strokes. The way the two end-to-end patterns are arranged creates a choodi style mehndi design in fusion with the arabic elements. If you're recreating this mehendi, we'd suggest you take help from a professional. Such intricate filling isn't easy and takes time too. So, only use this as an inspiration if you have time on your hands.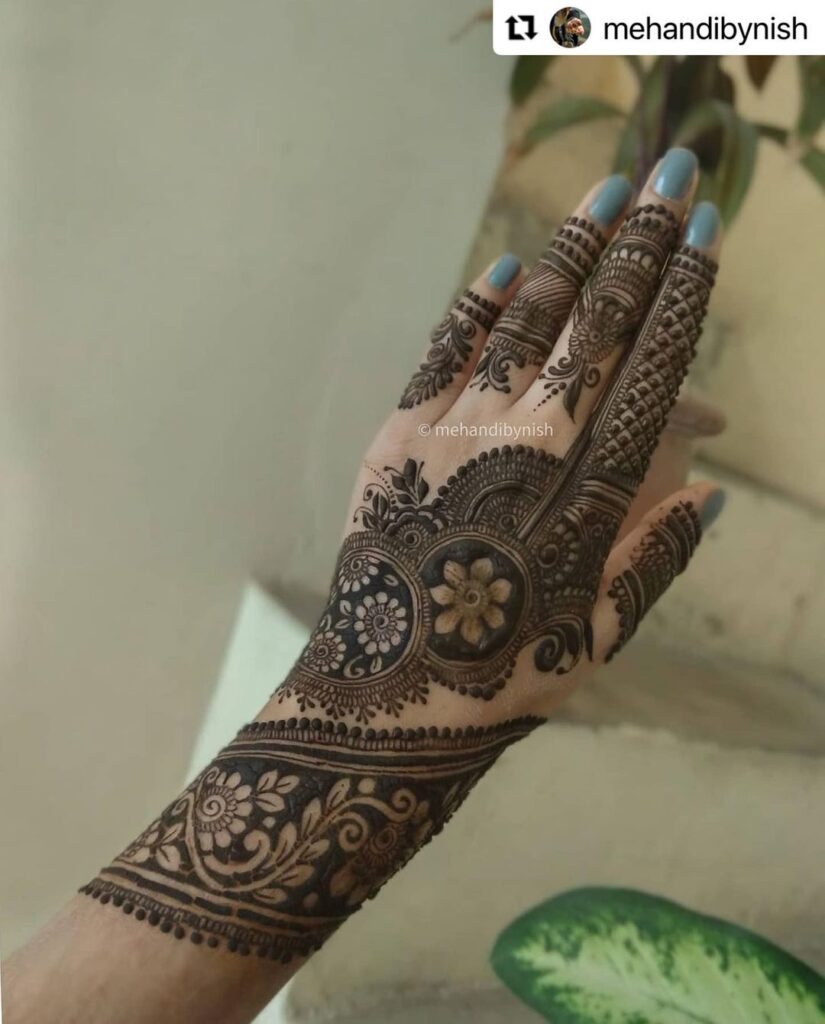 #24 A free-flowing pattern is the most basic and common form of arabic mehndi designs. This one right here can be created on the front hand as well. It uses the basic elements of arabic henna and doesn't take a lot of time to design. It's also easy and can be done by someone with steady hands with the henna tube. Just make sure you create the outline just as shown to keep the allure of this alive.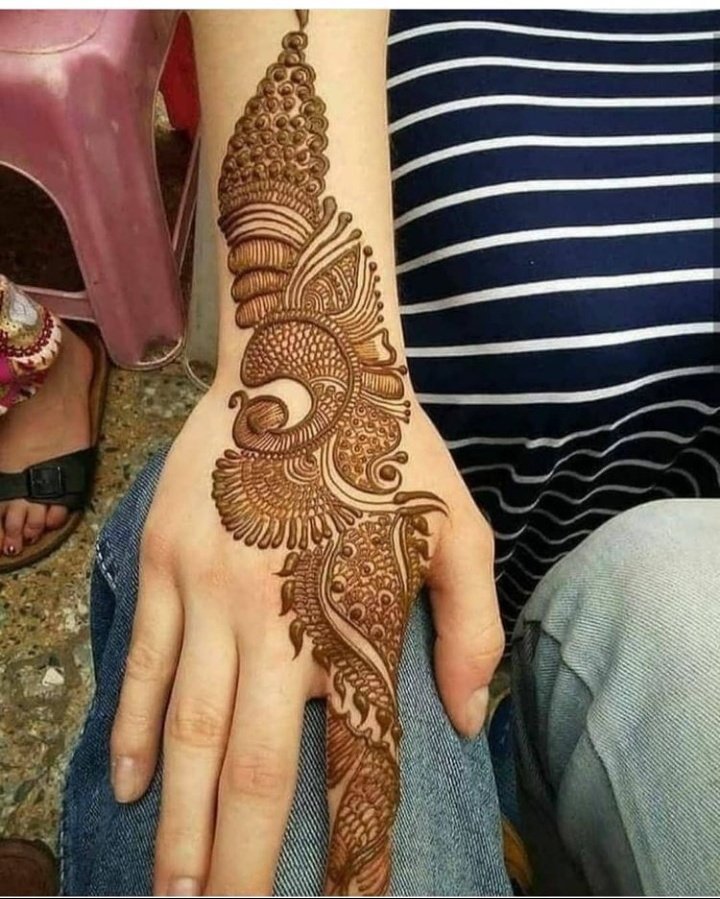 #25 The charm of florals and spaces in one arabic mehndi design! It's hard not to stare at the beauty of this design and admire the creativity oozing out like anything. The bold strokes also make it for an easy arabic mehndi pattern to design at home. Just make sure the circles come in around the flower as impeccably as shown in the pictures. Rest everything will fall into place!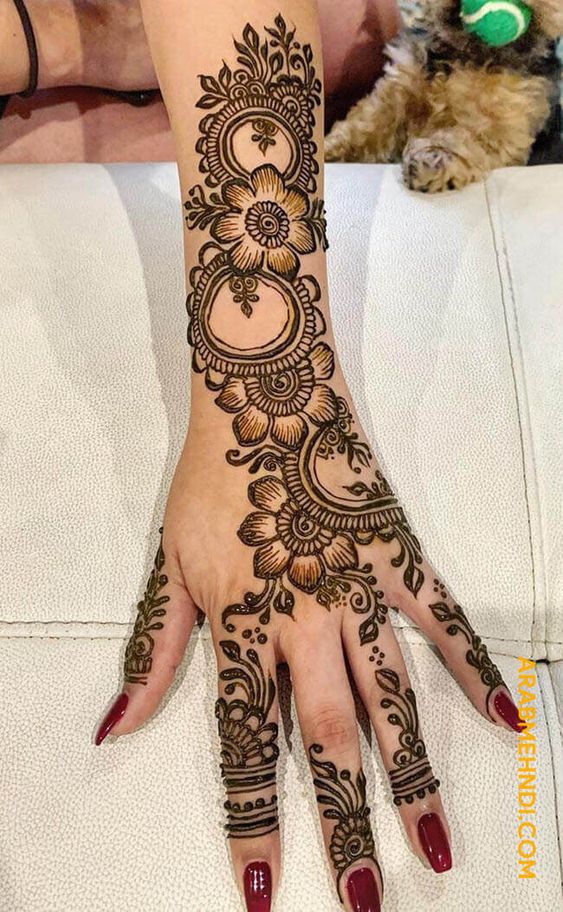 #26 There's so much beauty in this one of the arabic mehndi designs that it's hard to put into words. The paisleys are done in their own style, the geometrical patterns making a way in their own stunning version, and the exquisite filling that's bringing it all together. A work of a profession or an expert at mehndi art, I'd say!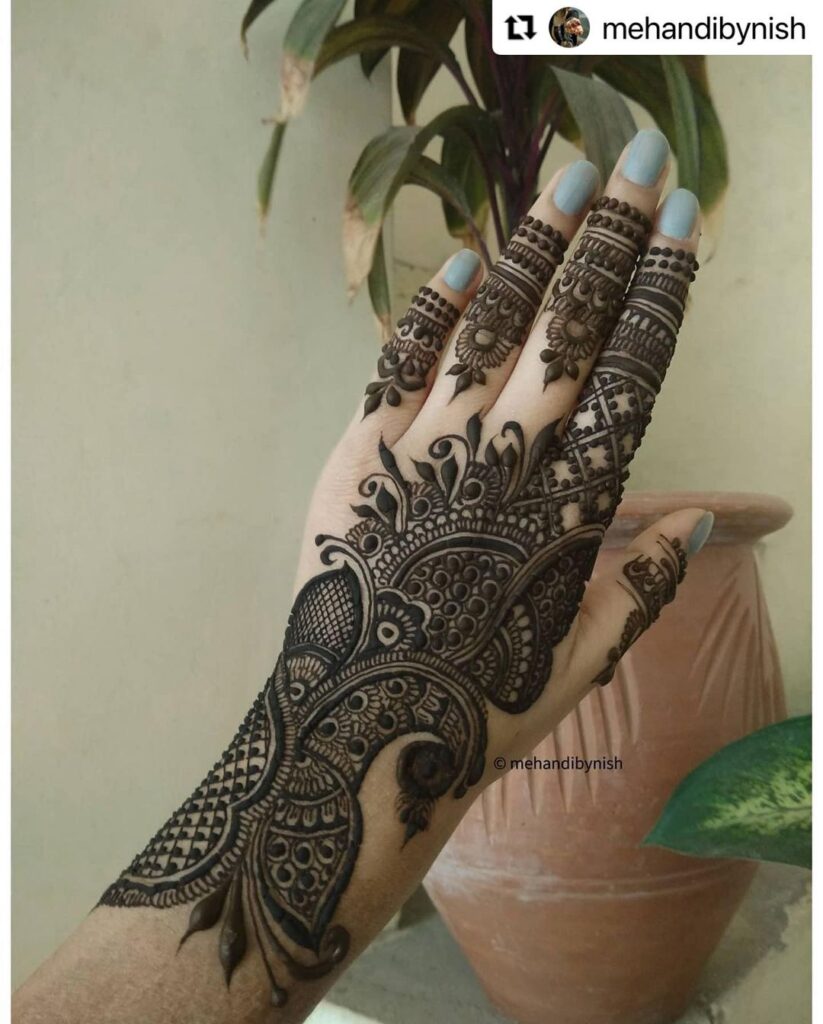 Arabic Mehndi Designs For Full Hand
#27 This full hand arabic mehndi design spills an ethereal charm on the bride's hands and can be a perfect pick for winter brides-to-be 2023. The distinct flowers in the henna are elegant and the same one can be replicated on the other hand for a gorgeous flattering mehendi design. Not only the bride, but the sisters and other close family members can also sport this gorgeous and trendy arabic mehndi design.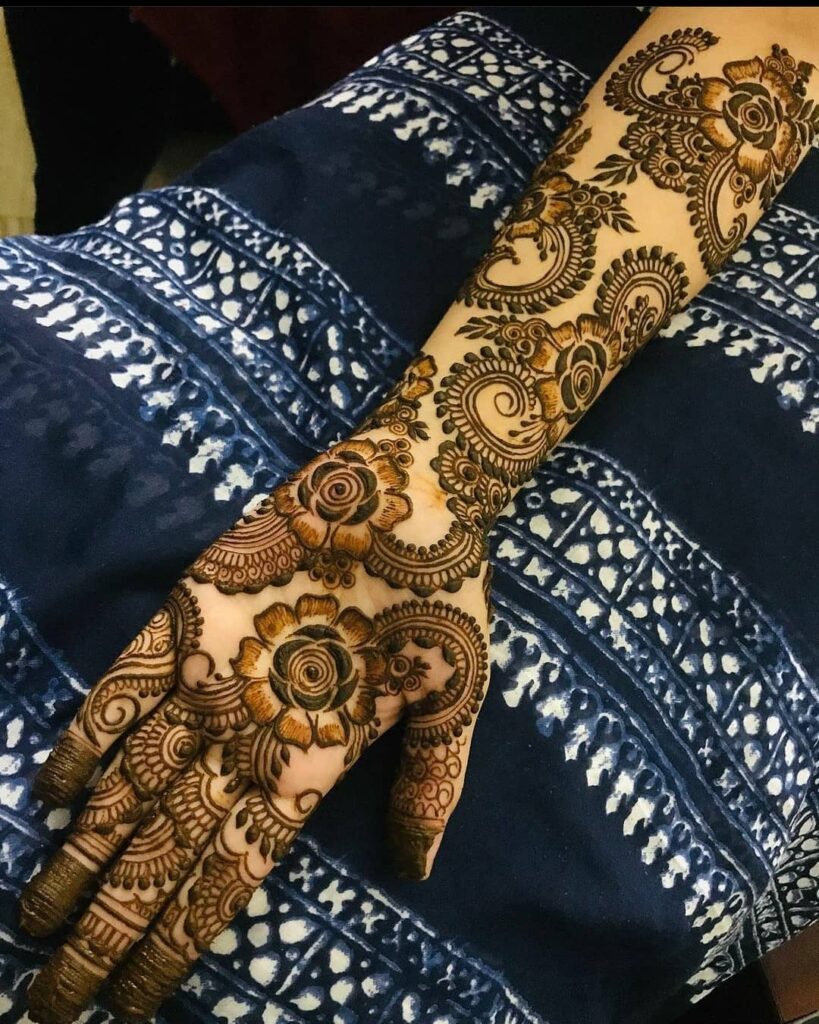 #28 A classic and traditional arabic mehndi design for full hands, this henna uses the charm of bold strokes and neat filling to catch the attention. Done using the usual way of starting with a big floral pattern on the base and then, building on with paisleys and semi-circular patterns, we love this free-flowing pattern a bit too much. This elegant and easy arabic pattern can work equally well for bridesmaids who want a traditional pattern with a bit of modish element.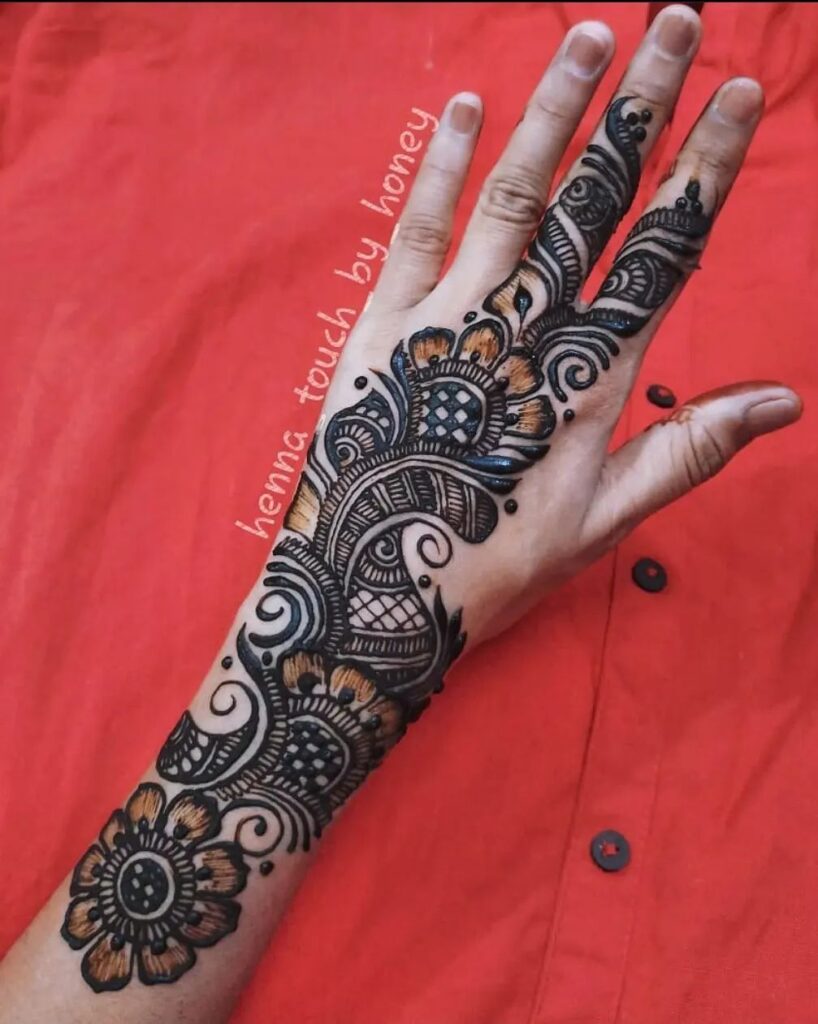 #29 Employing the charming element of many henna elements like the spacious appeal, paisleys, 3-D spaces, dotted designs, and time-honoured lotuses, etc. we love how the henna artist merges them all to create a unique mehndi design. This can be a stunning pick for the bride, but also for the mothers and other female close family members who'd want a traditional design for the special occasion.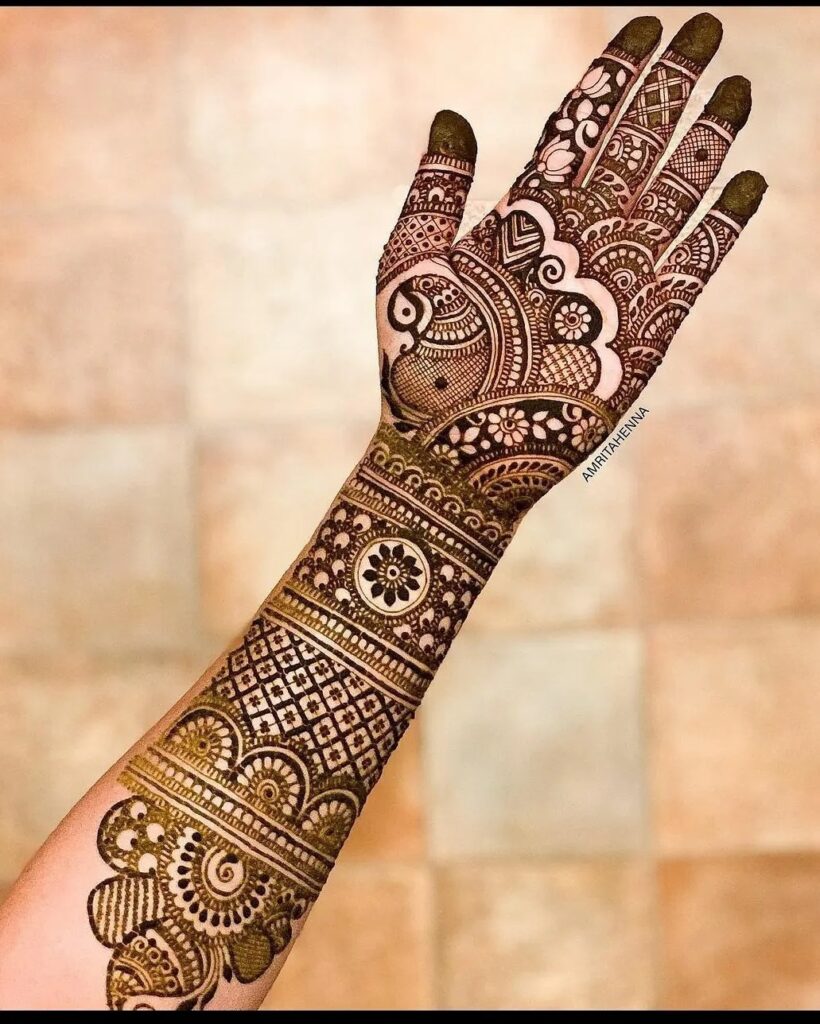 #30 There's so much beauty in this full hand arabic mehndi design. While this isn't a time-consuming pattern, it's definitely a work of an expert. The swift outline of the flowers and leaves, alongside the thin & neat filling inside is a professional's play. So, for those looking for a minimal yet striking patten, here's one to save to your wedding board right away!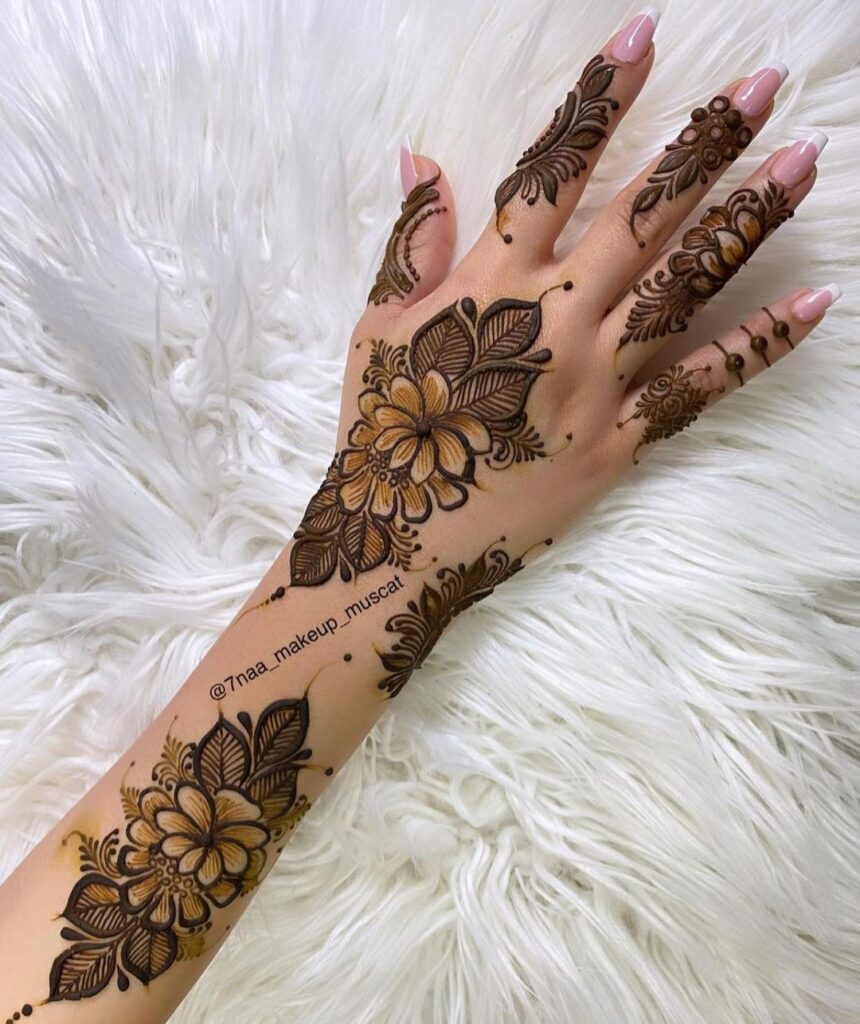 #31 We could literally go on & on about why arabic mehndi designs make for a trendsetting pattern for any occasion. But I guess these stunning pictures are doing the work for us. Find below another mesmerizing pattern that's made with varied versions of paisleys and utilizes the charm of thin & bold strokes style for a gorgeous effect. The tiny dots at well-thought-out places adds an ethereal element while the leaf patterns on the fingers complete the entire design flawlessly.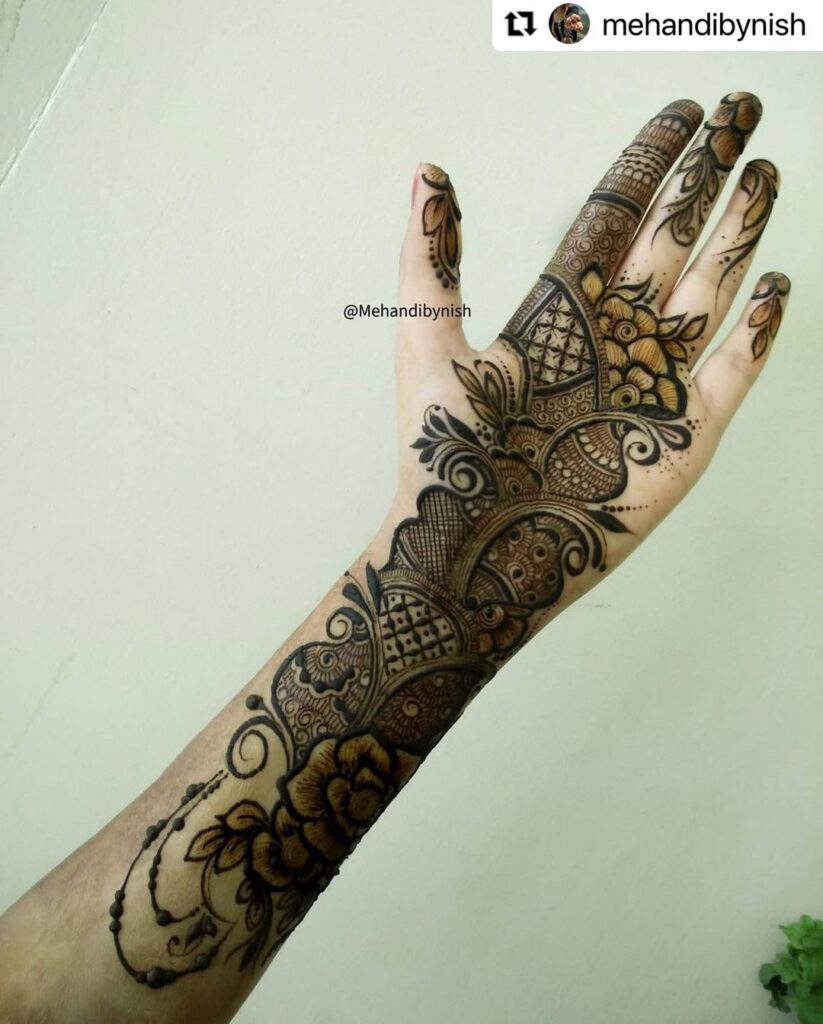 #32 When you think of bharwa arabic mehndi designs, it feels hard to imagine whether it's really possible to mix 2 of these elements together. But turns out, it is. Just look at these complimentary henna designs for both hands replete with traditional geometrical motifs with line and dotted fillings, 3-D patterns, and florals that are no less than a work of art. What's unique about this design is how they're so different from each other and yet make the perfect companion for each other.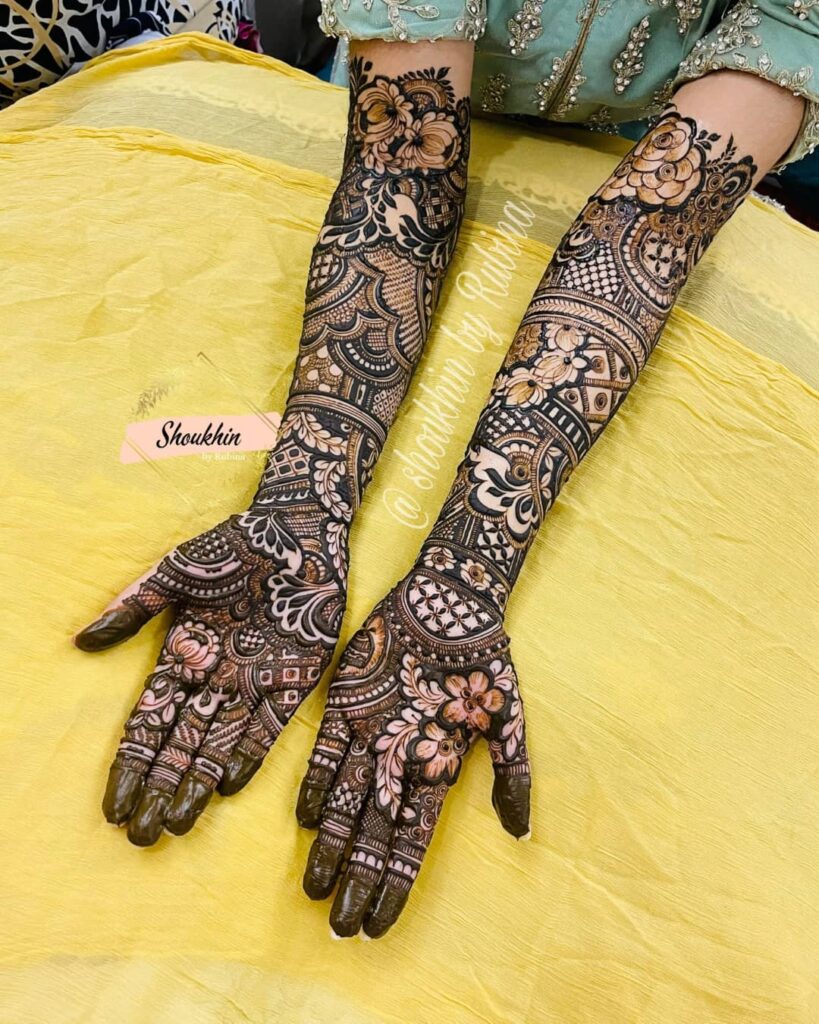 #33 Starting off with a giant floral base and moving on with concentric circles, paisleys, and dotted patterns, this henna is a true definition of what arabic mehndi designs are! Owing to the bold outlines and fillings of the patterns, you can not only design this pattern at home, but it's also less time-consuming than others on the list. When you're in urgent need of a full hand arabic mehndi, look no further than this one.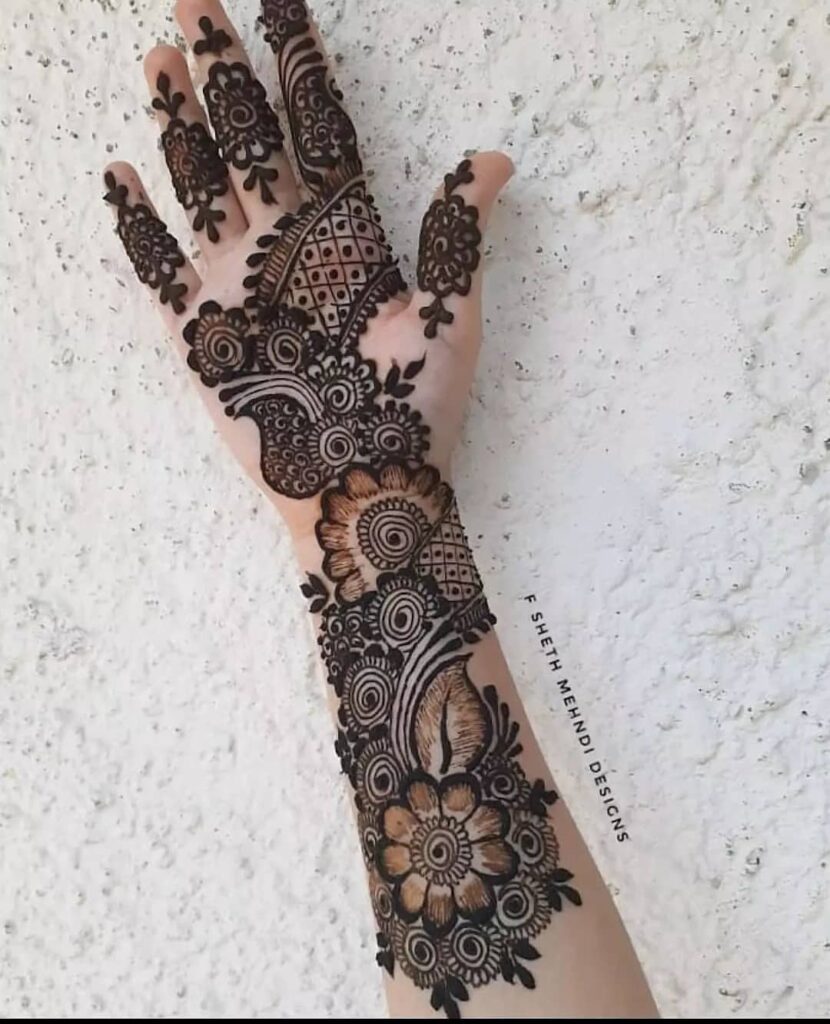 #34 We've said it before and here we go again. The allure & appeal of florals in a mehandi design is hard to match. No matter what style of henna pattern you're going for, the bold & beautiful florals can always take the center stage. Here's a design that takes the charm of flower motifs in henna to another level. Surely one of a kind!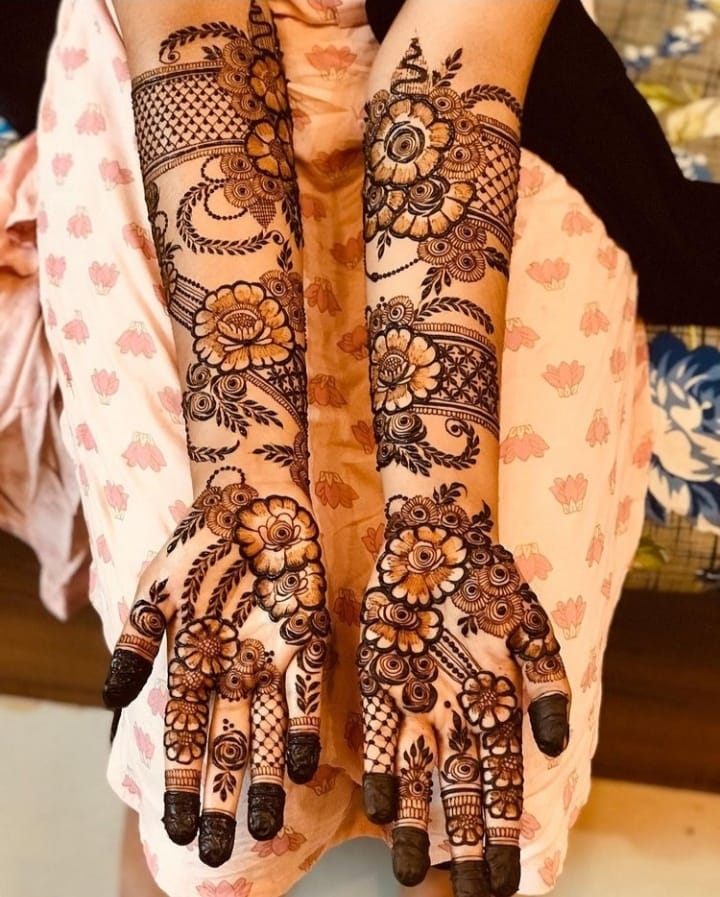 #35 For an arabic mehndi design to look fuller and bharwa, it's important to strategically leave the spaces and draw the traditional elements around. If you want a modish twist, 3-D patterns are your pick, and let a creative mehndi genius bestow on your best henna pattern yet! For inspiration, look no further than this eye-catching pattern below.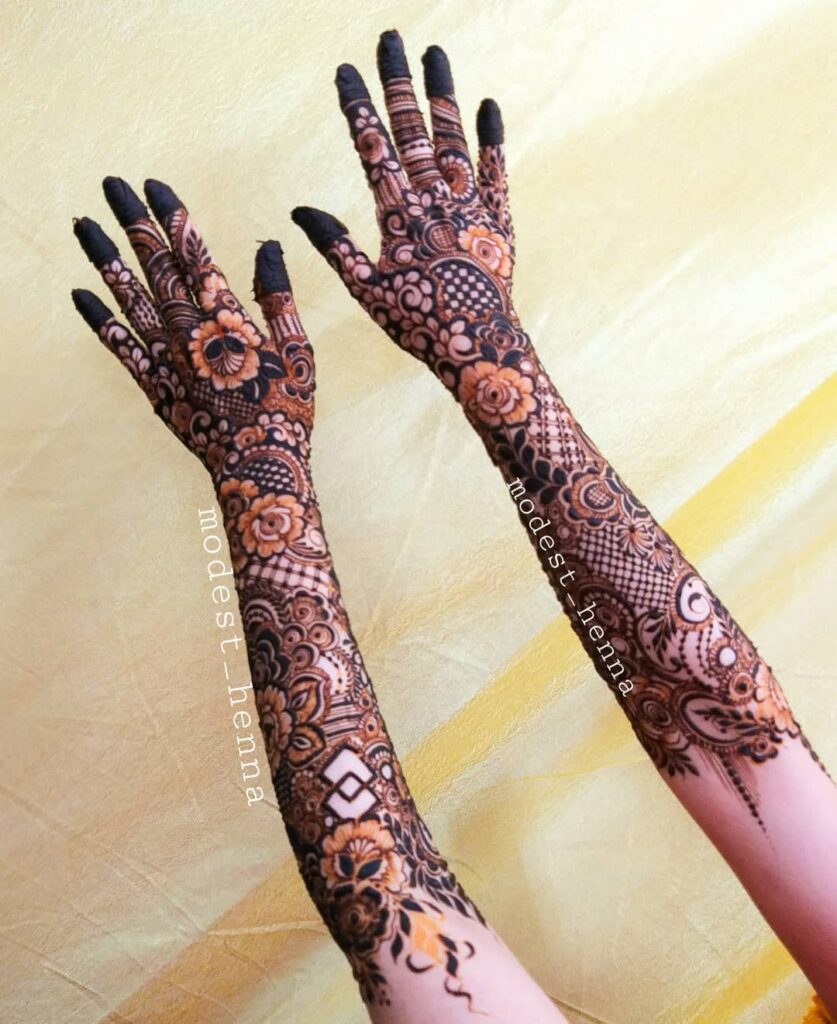 #36 Another complementary arabic henna pattern is perfect for the brides, but also for close family members and friends who want traditional patterns on this celebratory occasion. Done using varied jaal patterns, paisleys, florals, and leaves, there's so much gorgeousness in this mehandi and it's sure to ooze out of your entire ensemble.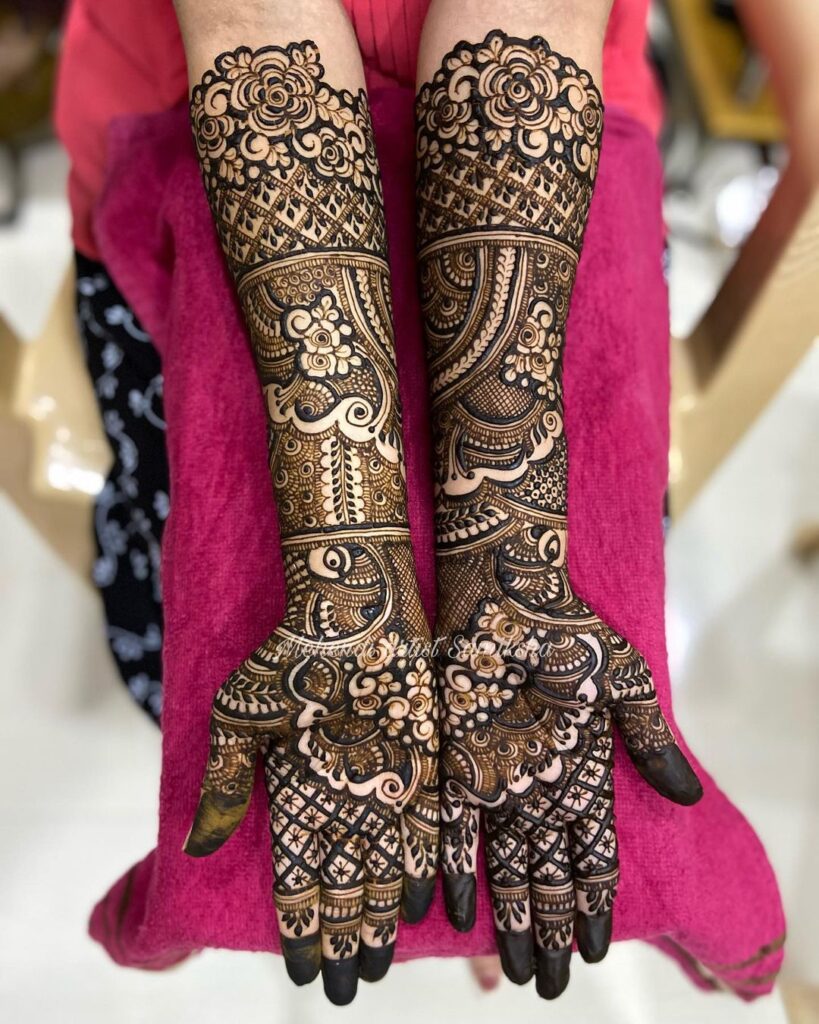 Simple & Easy Arabic Mehndi Designs
#37 In this section, we're listing some easy and basic arabic mehndi designs, which you can easily draw at home and they won't take much of your time either. Starting off with this basic backhand mehndi pattern that leaves tonnes of spaces in the middle yet makes a statement with the pattern wherever possible. 
#38 A step-by-step Arabic mehndi design pattern that even a novice can recreate. What's noticeable about this henna design is how they've shown which parts of the outline to darken so as to create the same stunning effect. When creating dotting patterns and other fillings, make sure you keep the hands steady. This can also be an easy mehandi pattern for the left hand.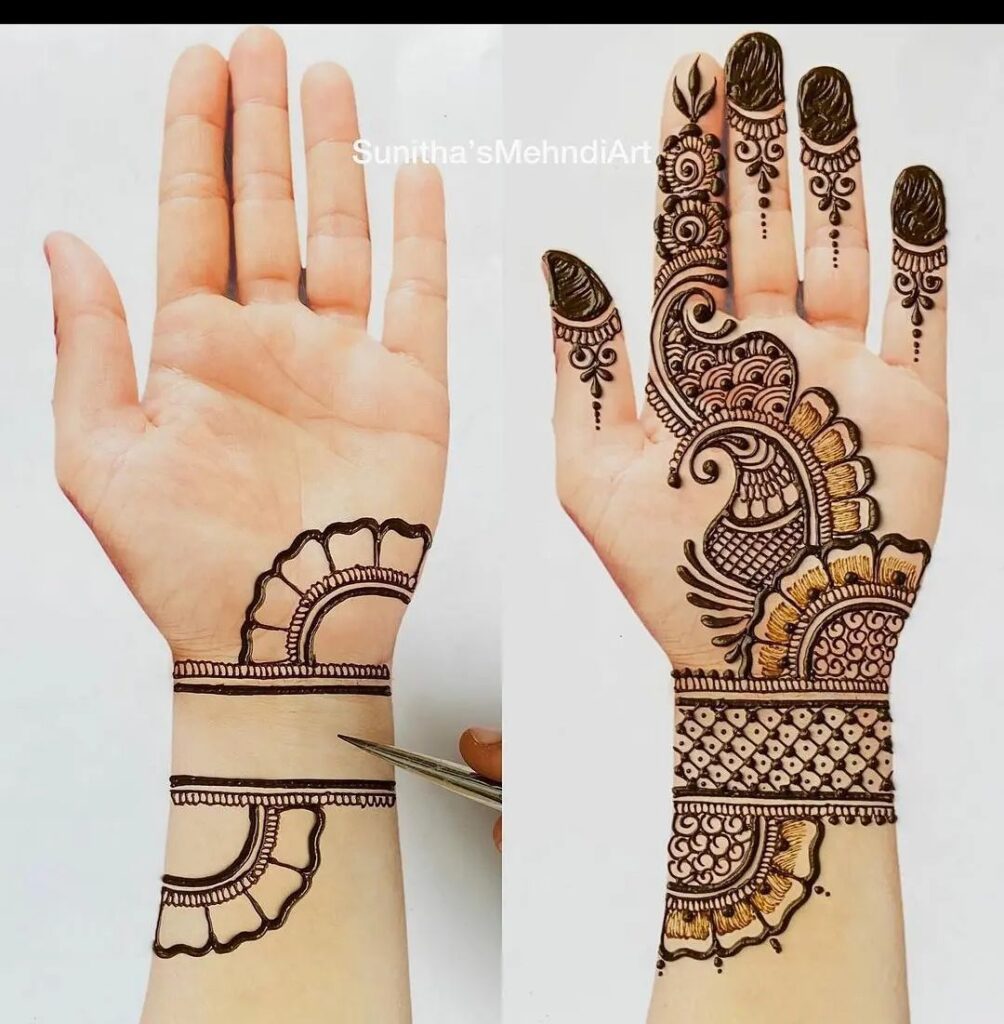 #39 To start recreating this stylish arabic mehandi design 2023, start by outlining the bold strokes you can see clearly on the henna. And start from the lower part than the upper. If those tiny flowers seem like the difficult part, simply replace them with a semi-circular pattern with petals. Rest assured, if you have a good practice of henna, you can get the phenomenal element of this design at home.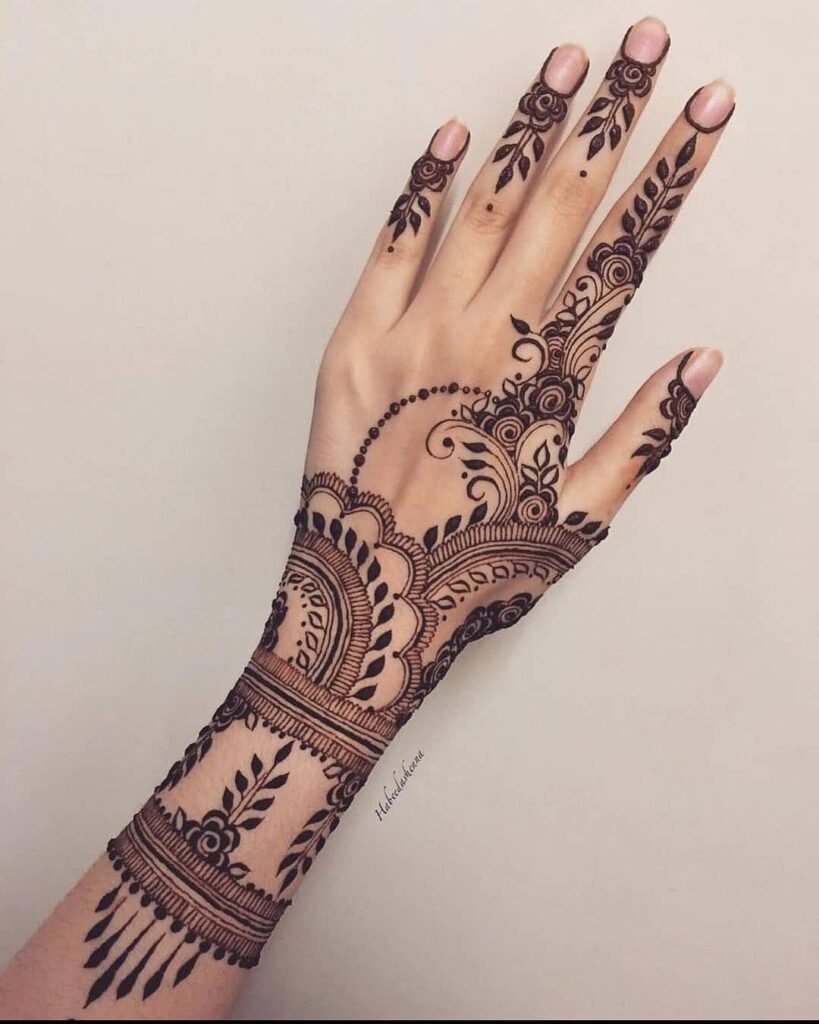 #40 Don't be fooled by the fact that easy & beautiful arabic mehndi designs are always about minimalism. Here's proof that a full hand arabic mehandi can be just as easily created as a bel pattern. Sure, if you haven't frequently applied henna, this might take time, but the motifs and bold strokes do make the drawing easier. Save it to draw on those first-year traditional festivals!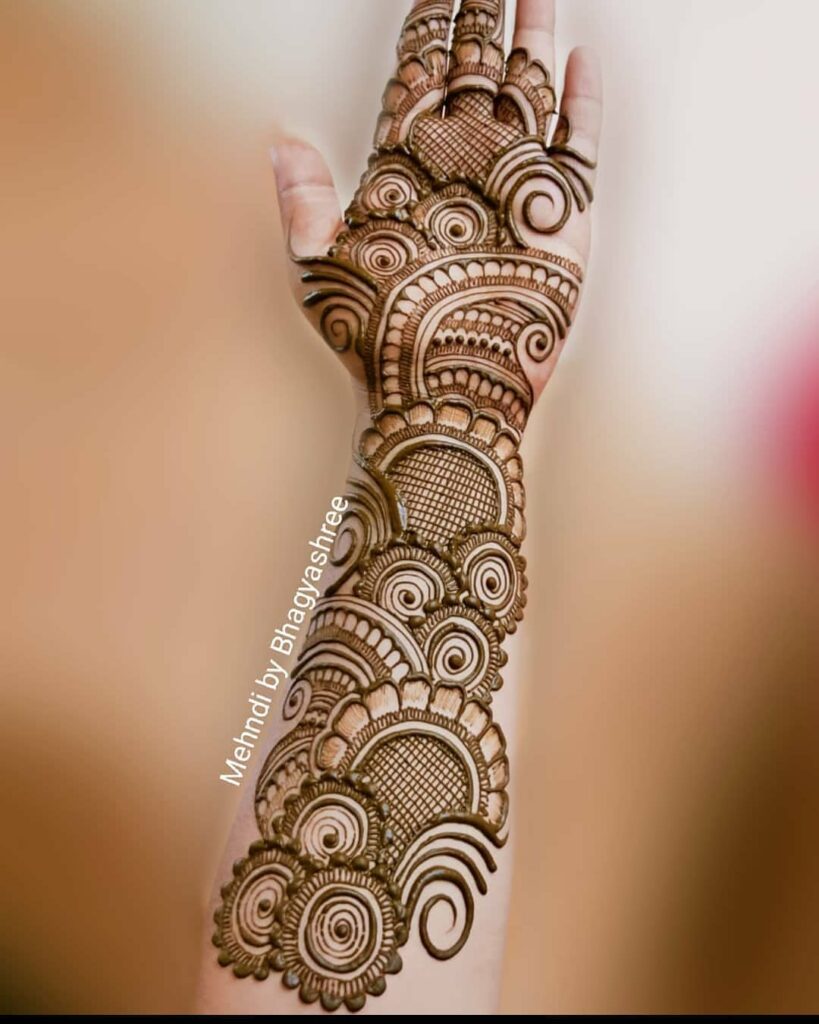 #41 This traditionally done Arabic mehandi design is a testament that the usual arabic patterns are still as alive as they were before and look gorgeous on hands! For this, you'd need two mehendi cones – one cut a little wider and another one thinner for filling. As usual, start from the bottom and work your way up as you draw.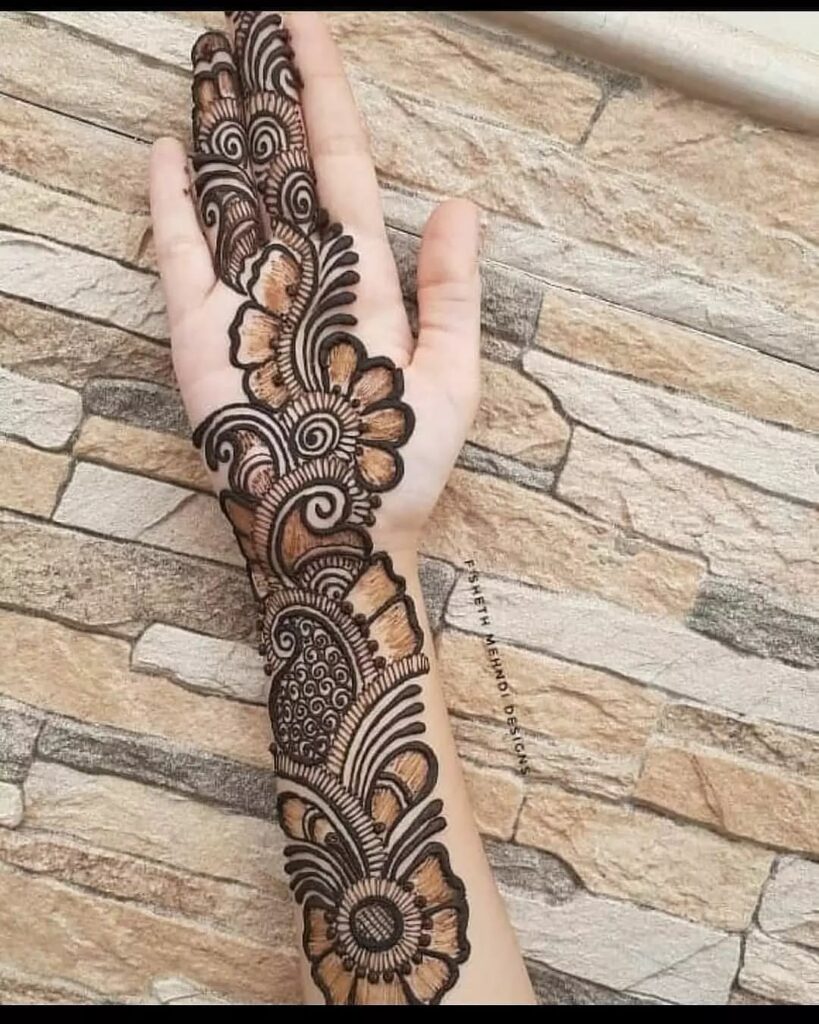 #42 If you're bored of the usual bel patterns in Arabic henna, this creative design will have your heart. It is easy to make and eye-catching as well. What more could a woman ask for?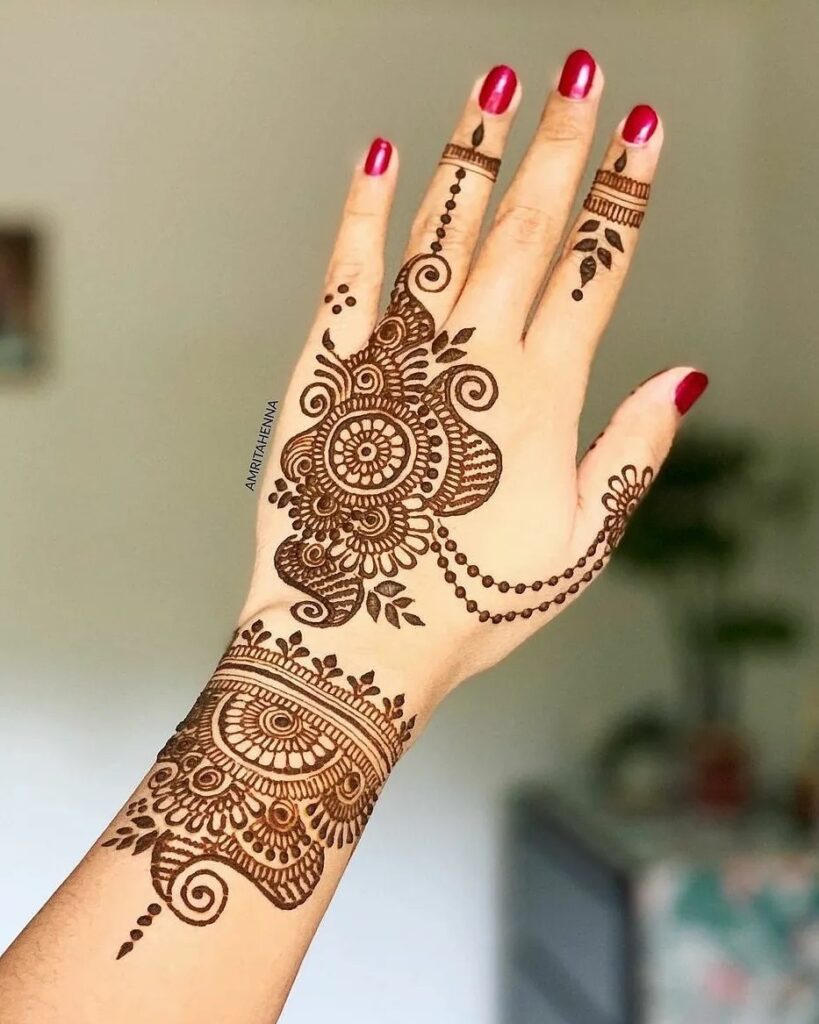 #43 This is really one of the most basic arabic mehandi designs you'll ever come across. Just some simple paisley and floral outlines are needed to pick up the base of this pattern and the filling is all done similarly. If you want to enhance the beauty of this design though, we'd recommend you opt for different filling types in each motif for a glamorous look. 
#44 The play of thin and bold strokes in this mehendi design is mind-blowing. Paisleys, also known as the mango design, is one of the most common and classic motifs used in henna. They're one of the most spotted motifs even today, and here's a design that depicts that you can create epic henna patterns only paisleys! Try it at home, you won't be disappointed.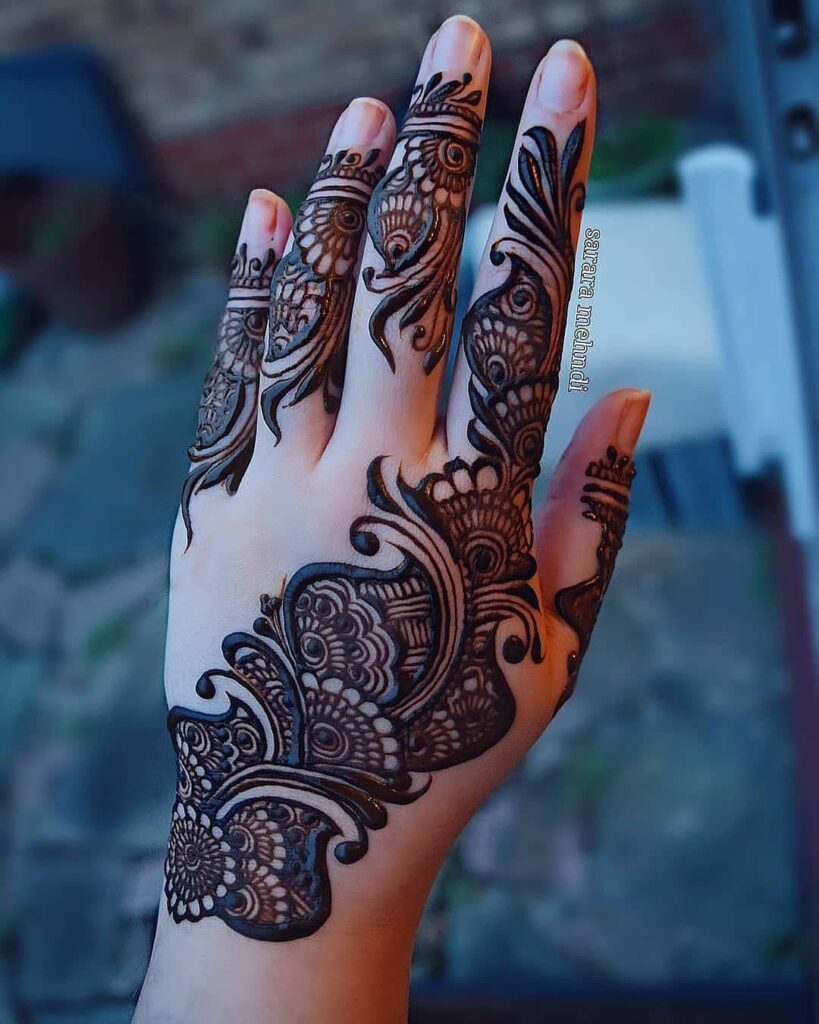 #45 Hate filling the henna motifs? Or just got no time? Try this stunning mehendi pattern that requires absolutely no filling at all! Done using swirly patterns, bold florals, and a few stylish elements, this henna will sure elevate the look of your entire ensemble and people will be stunned by the uniqueness of it too!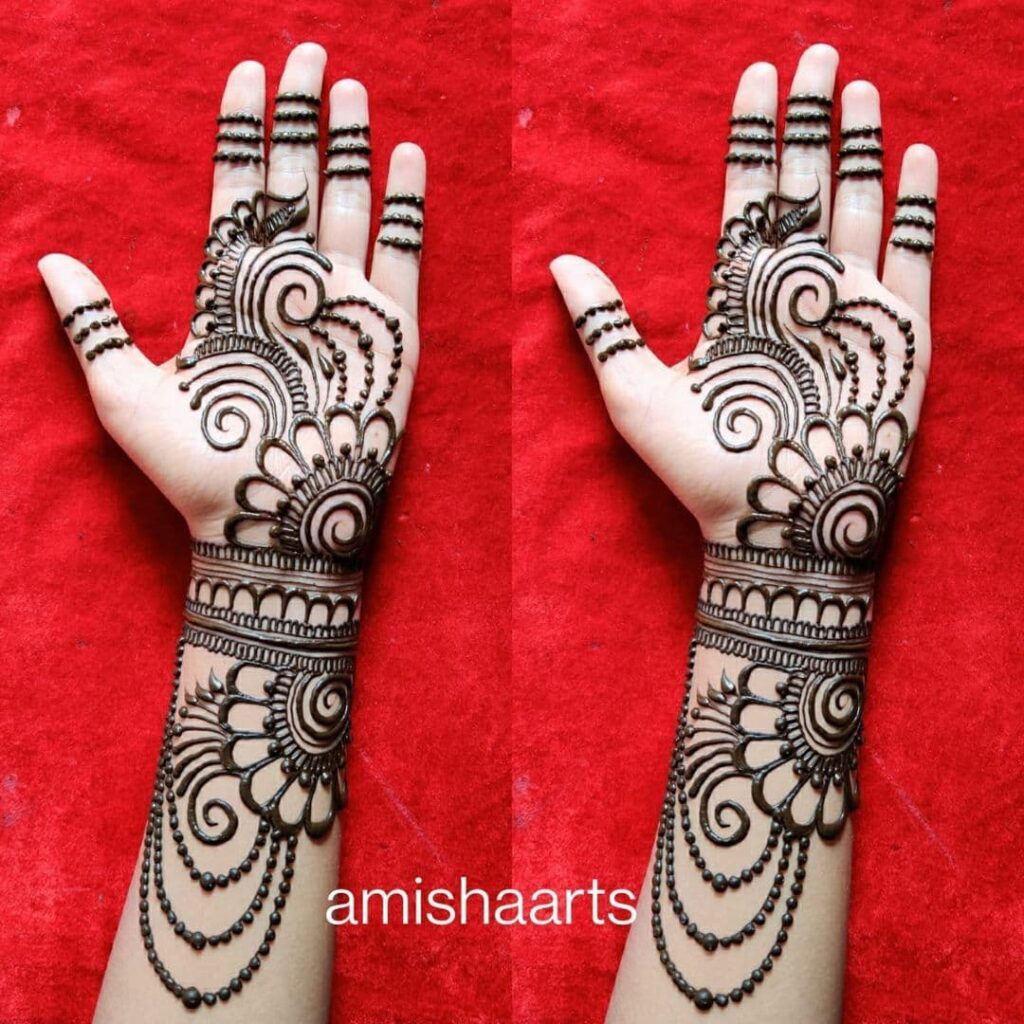 #46 Just like every other mehendi design, arabic mehndi designs have taken a modish version of their own kind too! While the bel patterns and free-flow are still trending and look gorgeous, mehendi artists have created their own version of arabic mehndi designs with spaces and classic motifs. This one here works on the sides of the hands and leaves ample space in the middle for a modish and stylish finish.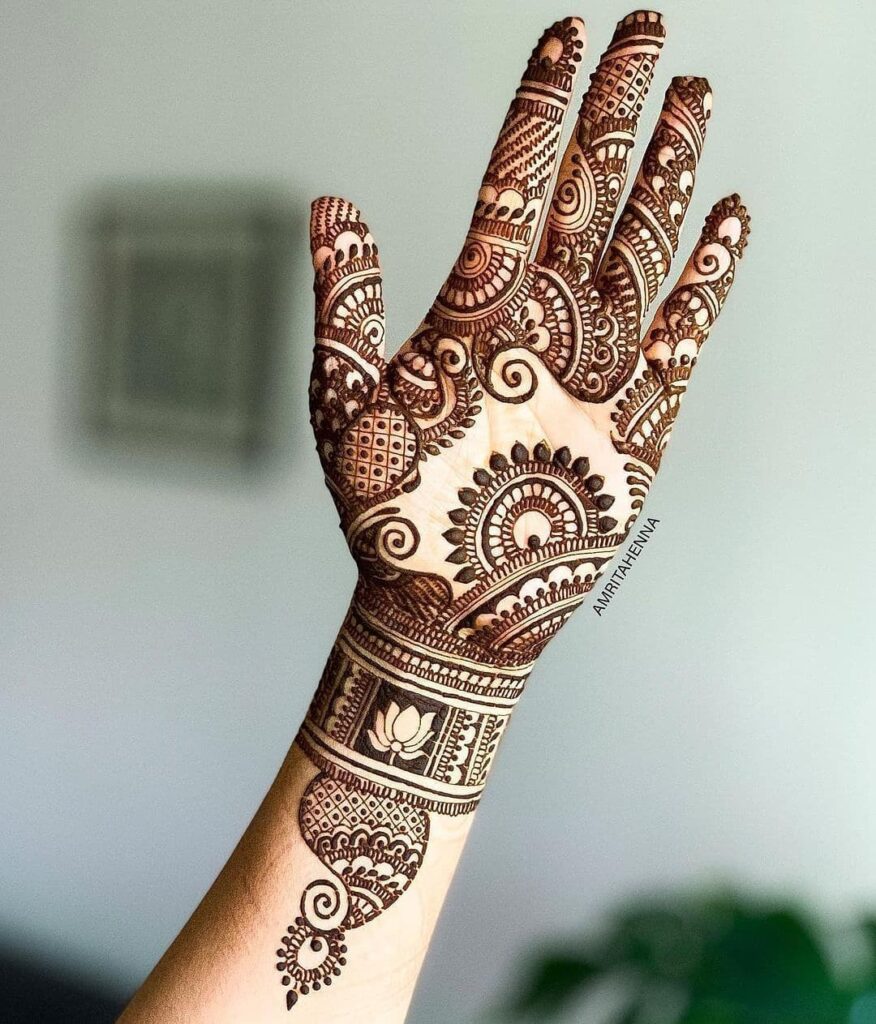 #47 Yet another simple & easy arabic mehndi design to take inspiration from! While the palm mehndi is a simple one, what enhanced the henna pattern is the gorgeously done finger mehndi designs. If you want to amp up your mehndi design too, we'd suggest you take some time to bedeck your fingers as they really do more for the allure of your henna than you imagine.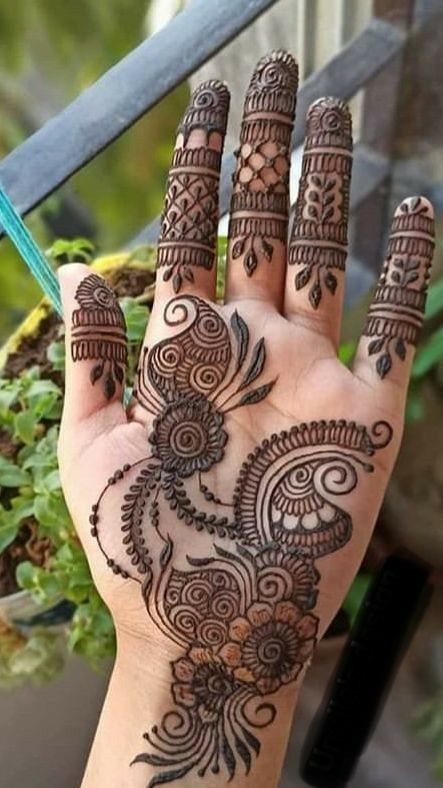 #48 We love this sweet & simple arabic mehndi design. It's done using just basic motifs and thick strokes, so you can quite easily draw in no time. While this is done on the backhand, you can easily recreate this on the front hand as well!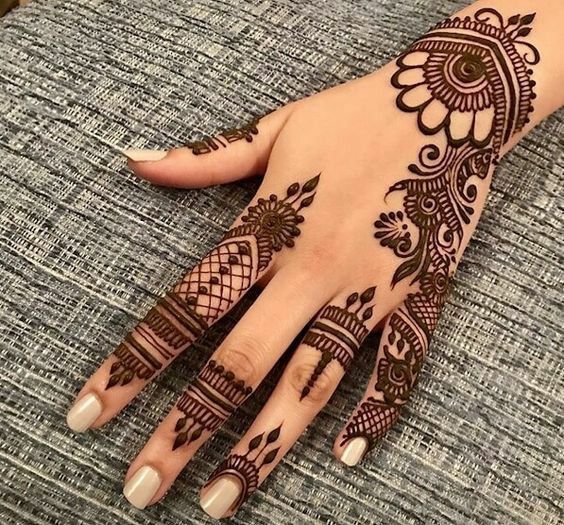 Latest Stylish Arabic Mehndi Patterns 2023
#49 For those looking for a stylish arabic mehndi design that takes the best of arabic henna and merges it into the voguish elements of today, this is it! Both the hands employ the bel pattern of the arabic designs well and add a chudi pattern mehndi design on the wrists to complete the look. Create some striking patterns on the fingers as well and fill the tips with henna for a further appealing design.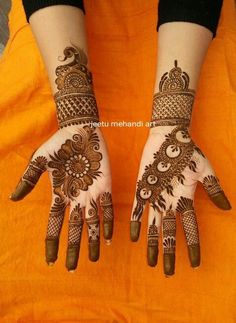 #50 There's utter beauty in complementary henna patterns. Complementary things are often aesthetically pleasing to the eyes and the same in mehndi is sure attractive as well. In this design, the palm of the henna is covered with spectacular creativity, but the fingers are laden with majestic designs too! And that's what enhances the allure of the entire henna.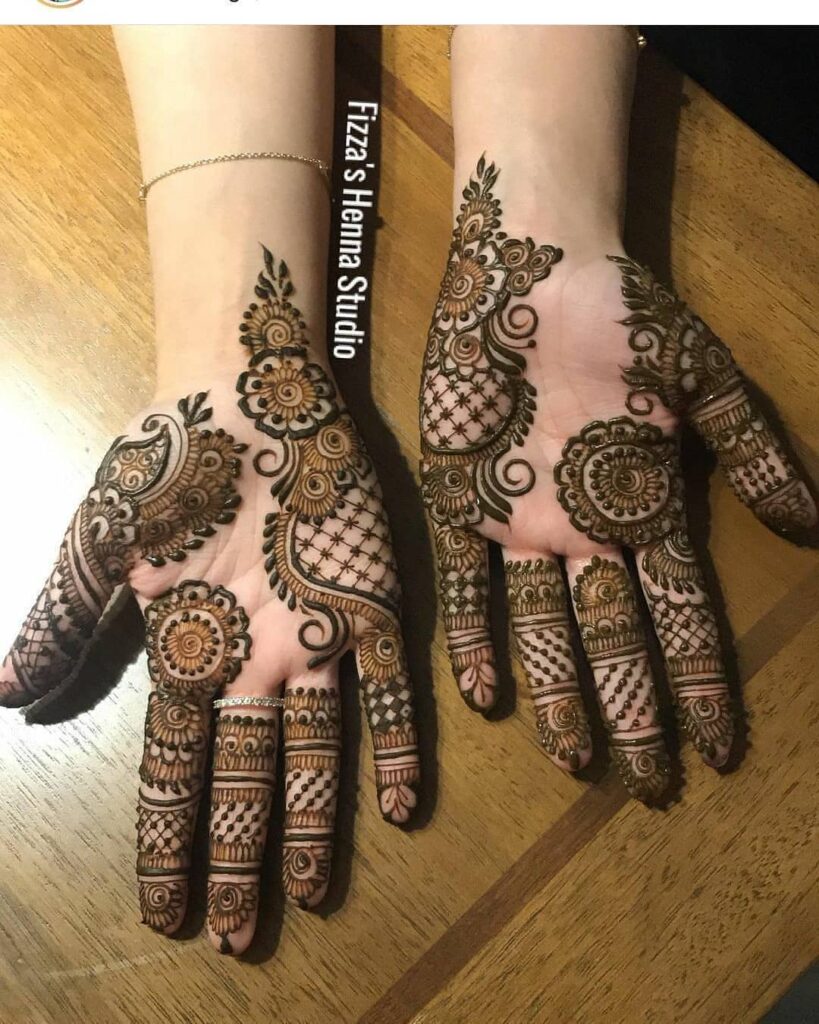 #52 Talk about a statement, elegant, and simple arabic mehndi design and our hearts immediately go to this one. We love how the paisleys are arranged around beautifully for a captivating effect. The bold outlines are another factor that enhances the attractiveness of this henna. Surely one that's minimalistically gorgeous and can fit into your style statement well.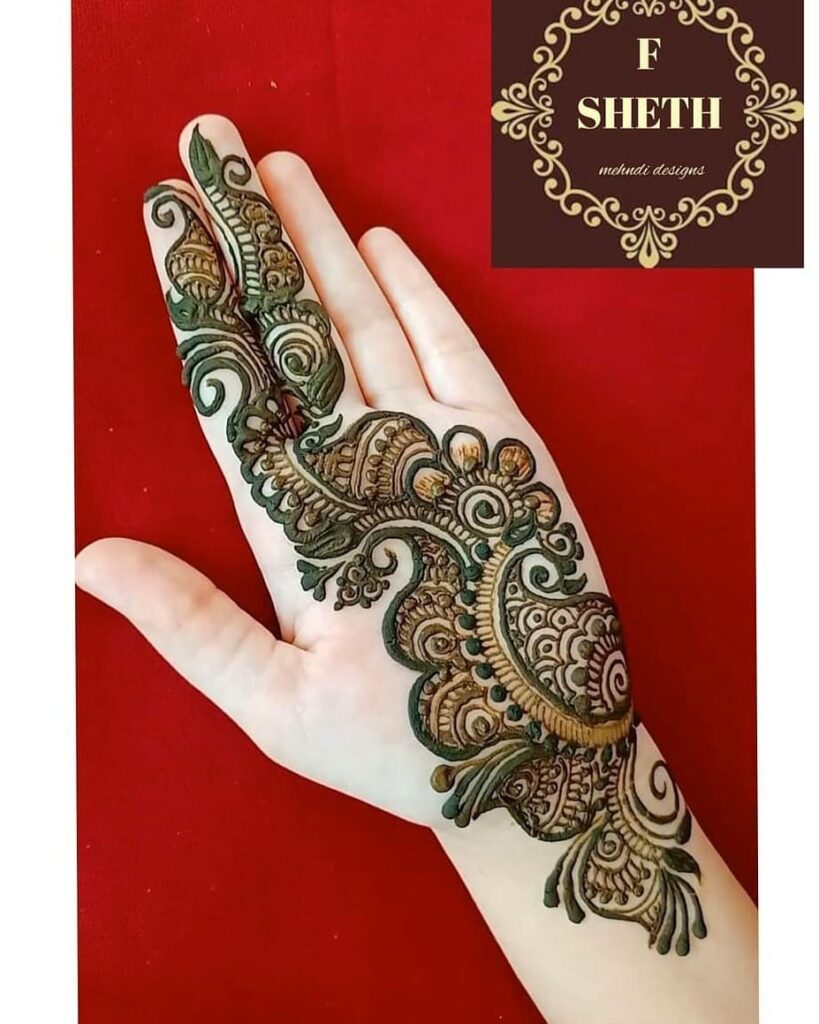 #53 The magic of florals once again is employed to create a spellbinding mehndi design. The bold blooms surrounded by geometrical patterns, leaves, and jaali designs come together to mesmerize anyone who lays eyes on this henna. If you've got time and have a professional with you, get this arabic mehndi design for sure! You will love seeing the stylish element of this design in your ensemble as well.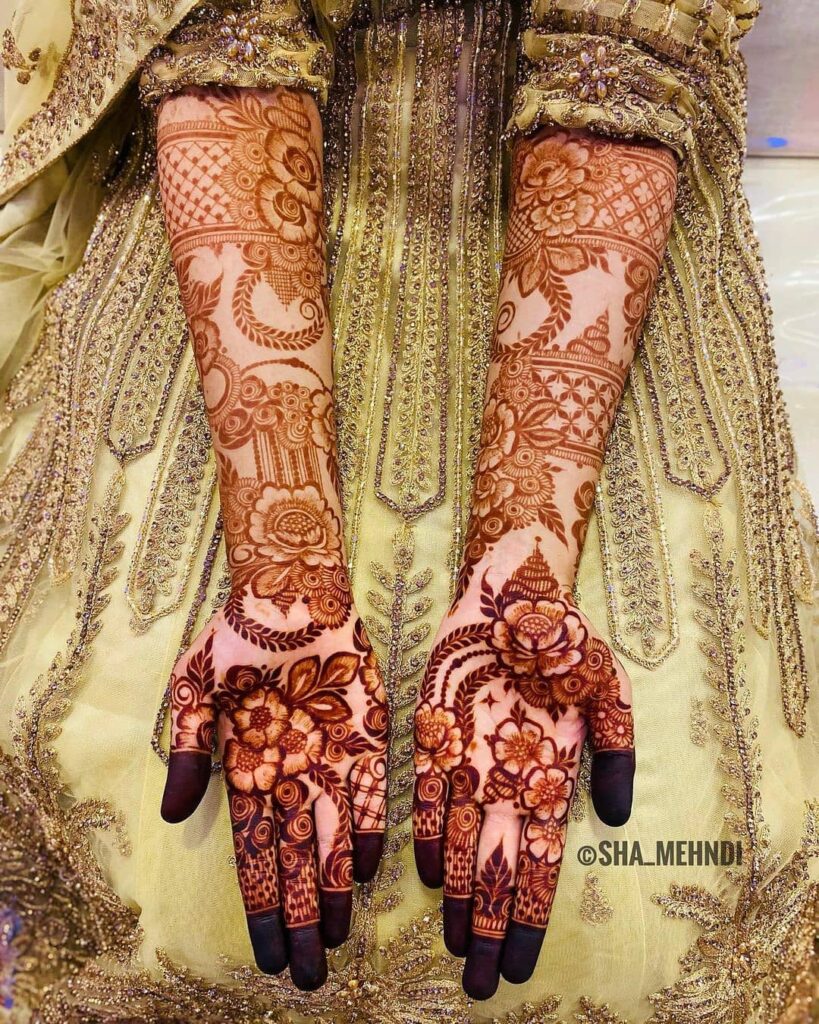 #54 Arabic mehndi designs without the paisleys? The idea might seem like it won't work, but the next henna design on the list is here to prove you (and us) wrong! It employs the fashionable lotus motifs and the leaf patterns in such an artistic way that we were stunned by it the first time we saw the design. We knew it had to be a part of one of our listicles so you guys can have it forever bookmarked too!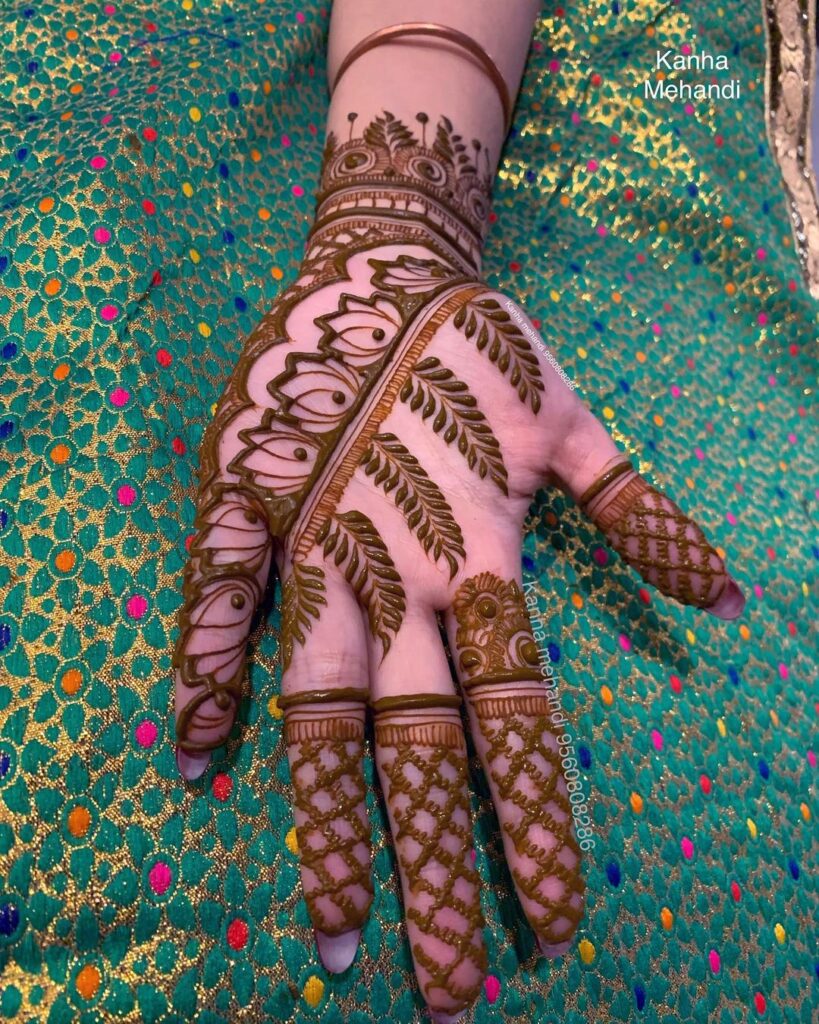 #55 While this seems like an easy design to look at, it's really not! In fact, the beauty of this design lies in the fact that it's done neatly and with steady hands – something that can only be achieved by a professional. If you're utterly pleased by this design, save it for the time when you have an expert to paint the henna on your hands.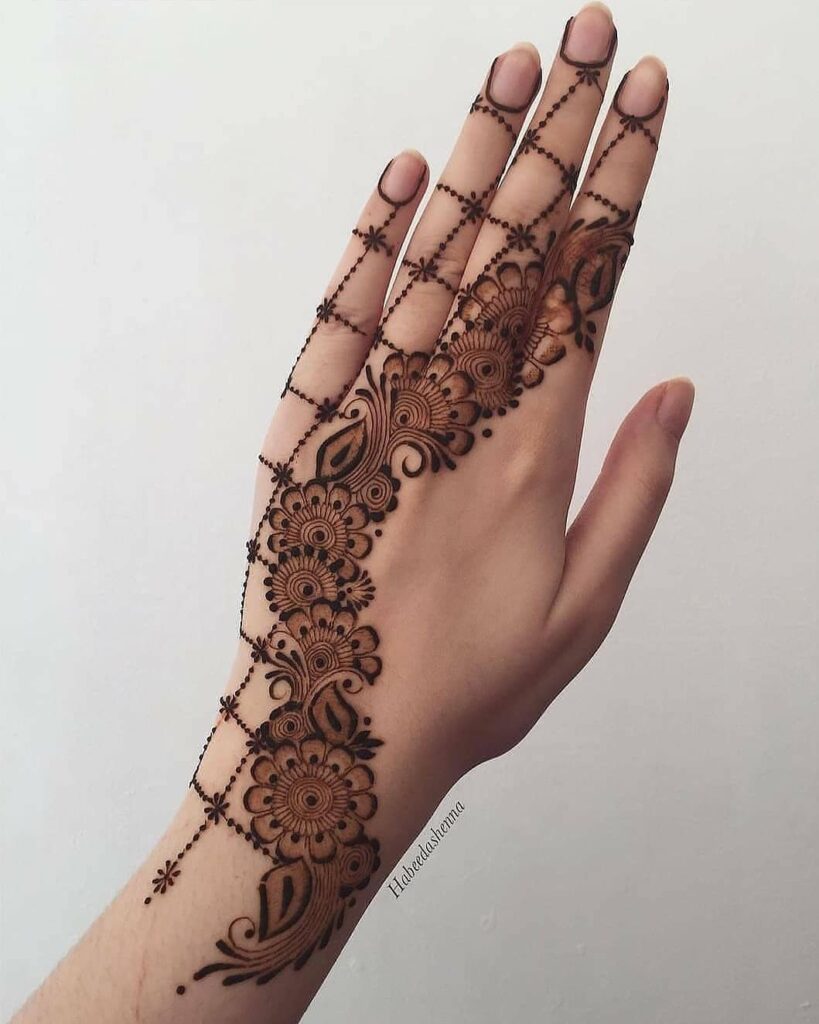 #56 Sometimes all it takes to create a fascinating mehndi design is using the classic patterns in an artistic way. This mehndi design only employs semi-circular and jaal patterns to create an exquisite mehndi design. You can also easily recreate this at home for any festival or event you have to go to! For the wedding, this can make for a gorgeous bridal henna design for women whose wedding ensemble will be all about minimalism.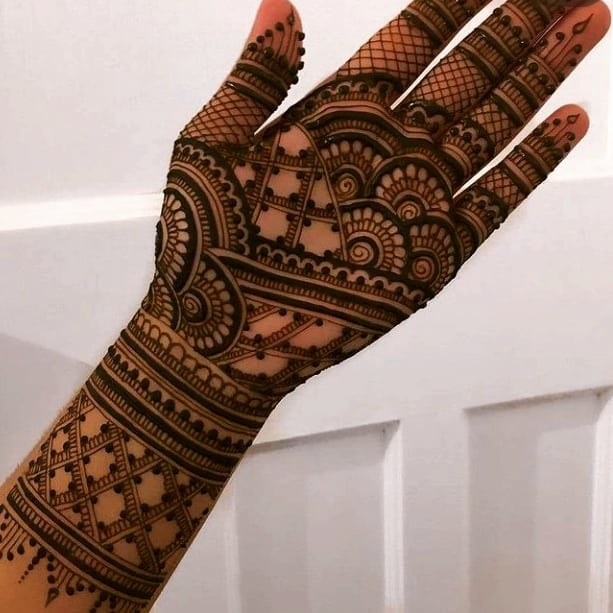 #57 A gripping complimentary mehndi design that takes the charm of bold strokes to next level. Henna artists these days have really upped their game. They're literally creative geniuses and this design here is further proof of their ingenious skills. If you're having an intimate wedding ceremony, this can be the ideal henna for you! Although bridesmaids who want statement and small arabic mehndi designs, this can serve you well as well.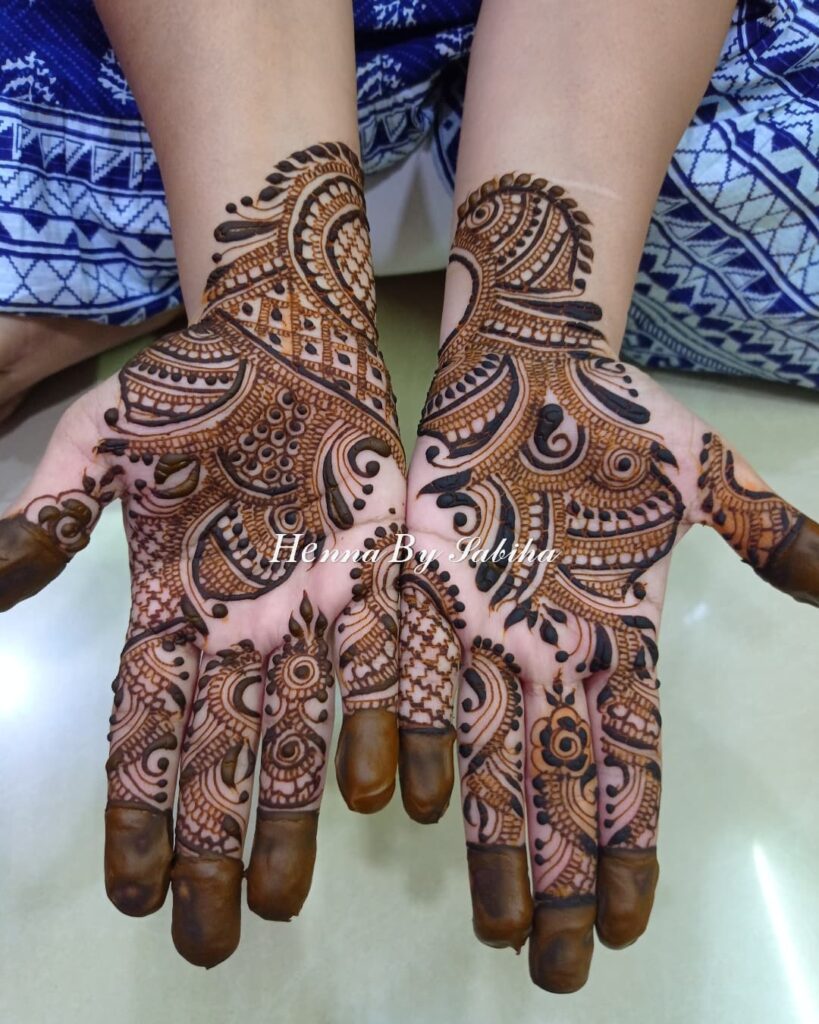 #58 There's no dearth of stylish mehndi designs these days. From arabic to bharwa and traditional, mehndi artists can do it all! Look at this gripping bel henna pattern with leaves and flowers to make a statement. For close family members who want their mehendi to be quick yet mesmerizing, this latest arabic mehndi design 2023 is surely for you!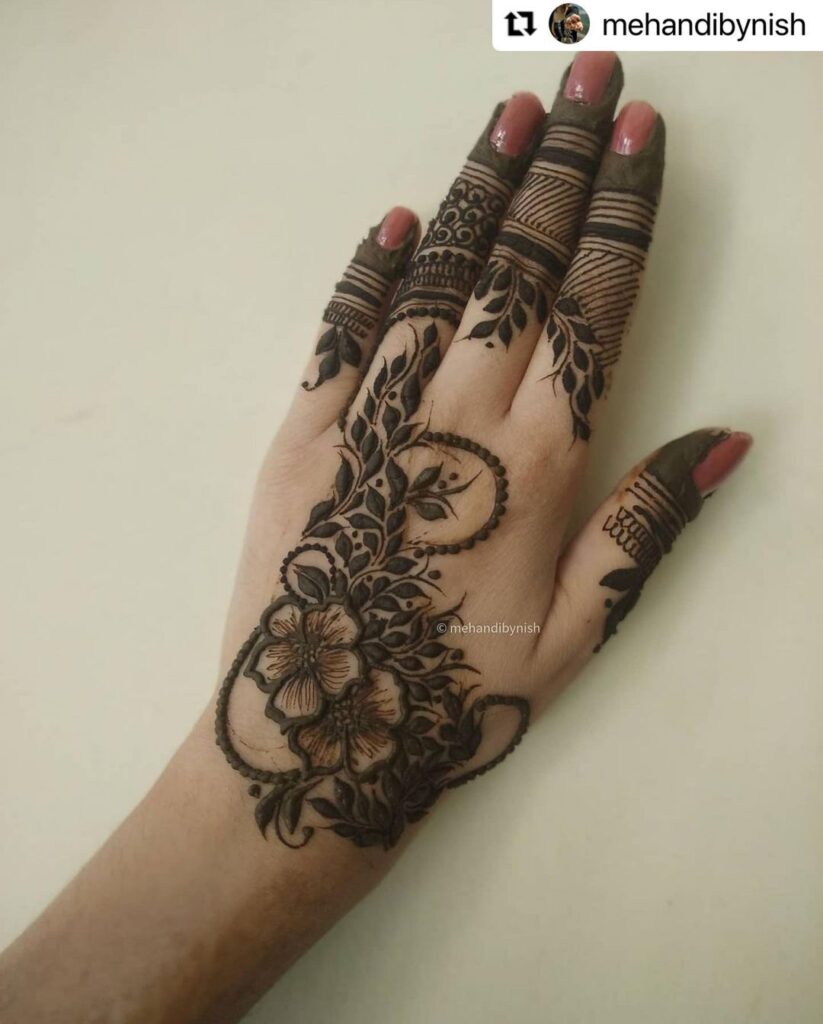 #59 This captivating mehndi design with bold, big peacock and flower motifs is nothing less than a work of art! It covers the whole hand and yet looks spacious in its prime. From brides to bridesmaids, everyone can find this design appealing for a special day!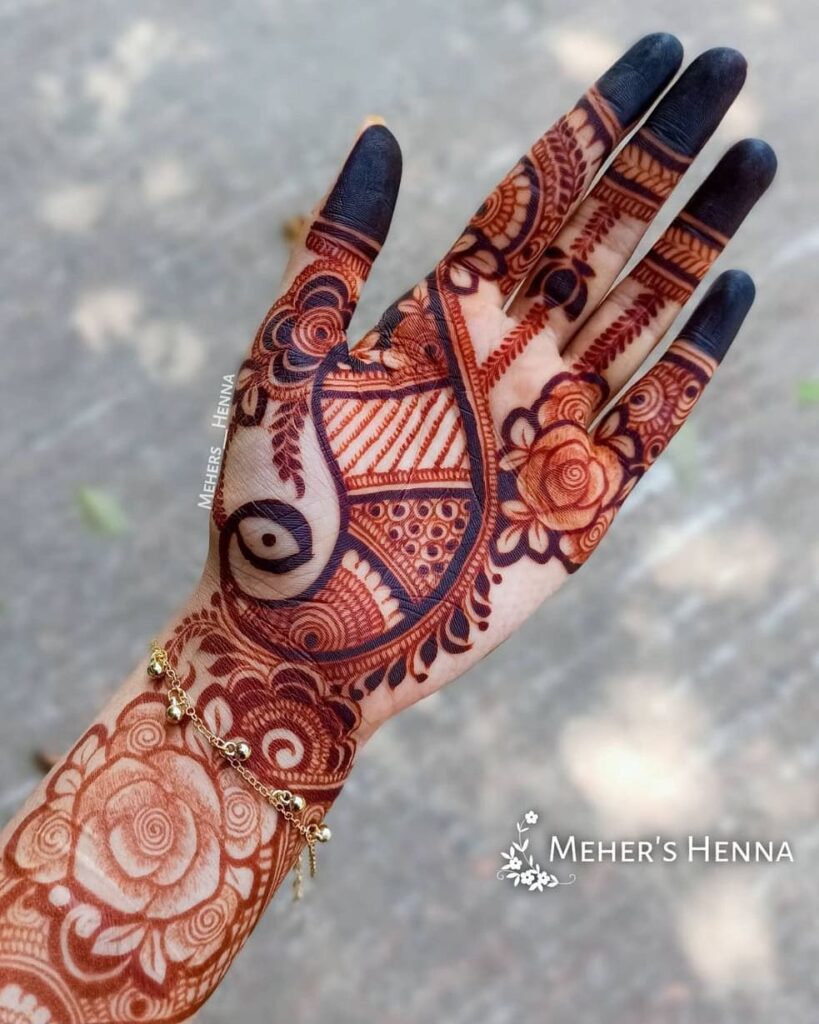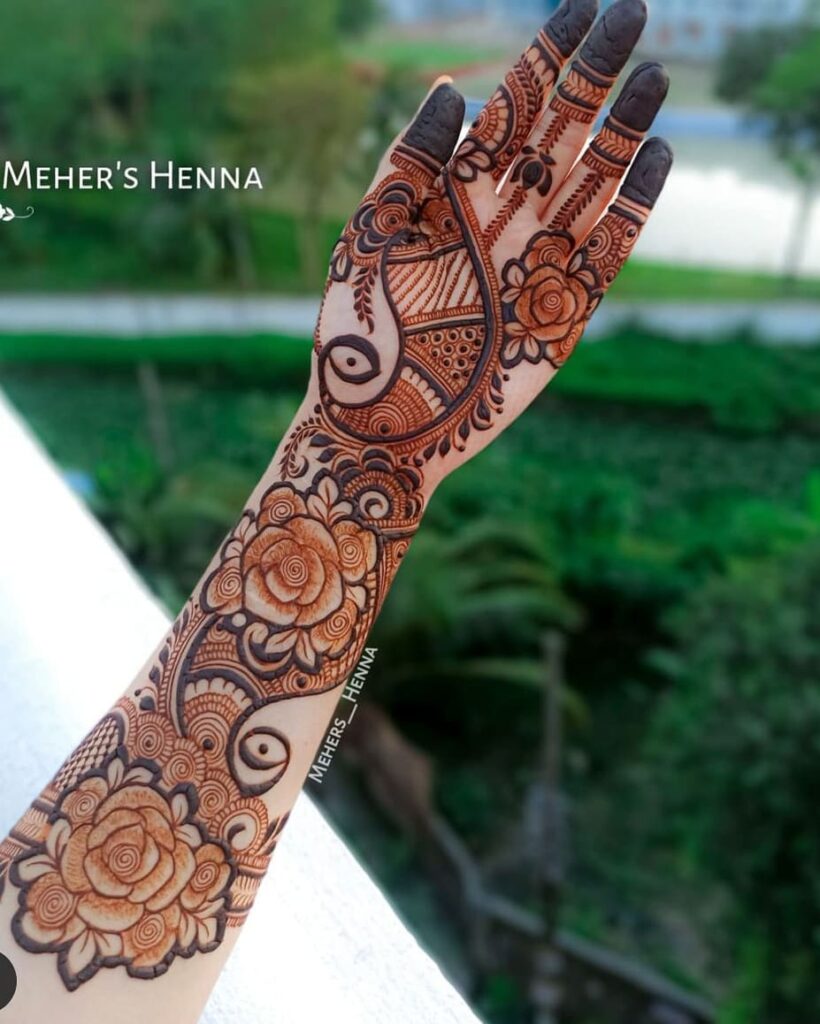 #60 Paisleys, peacocks, and leaves, there's something gorgeously flawless about this arabic mehndi design. We love how all of them are merged together closely on the palm and yet don't look bogged down together. While the palm is covered with traditional motifs, the fingers are laden with jaal patterns and the wrist has a beautiful leaf pattern to complete the design.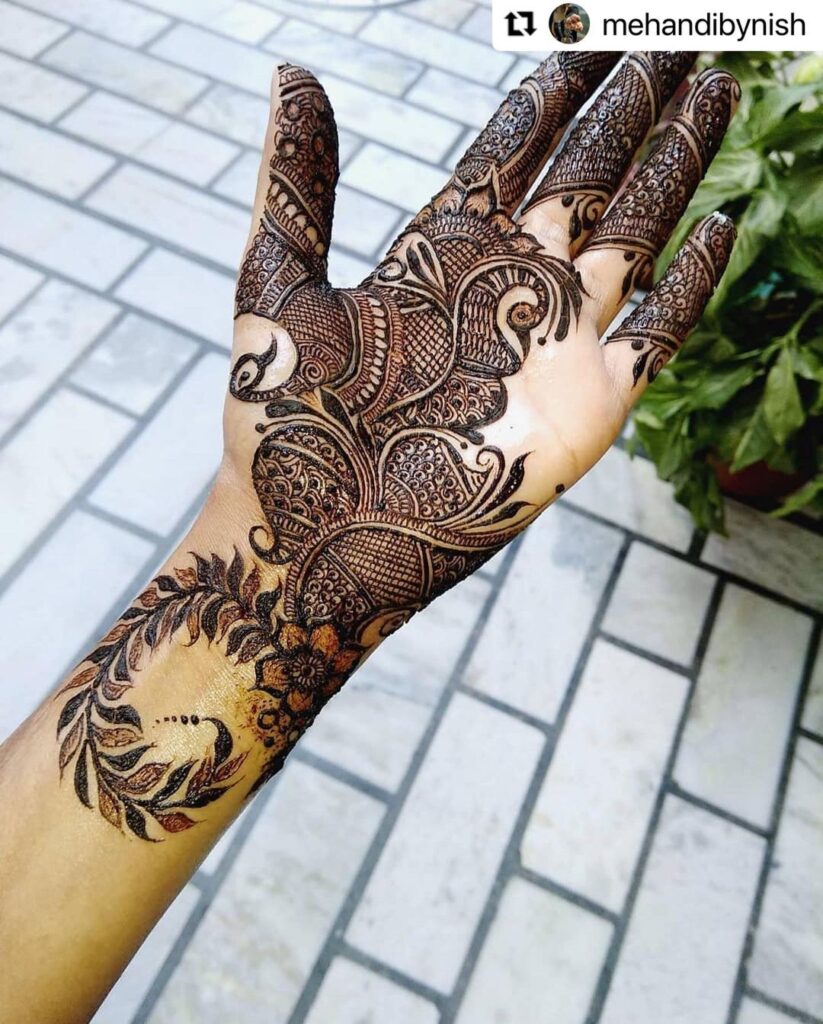 #61 This one's surely an easy arabic mehandi design to those looking to draw a design themselves or have less time on hand to even get one done by a professional. There's always someone in the wedding party who's handling everything and has rarely got time to apply mehndi, this can be an ideal option for them as well!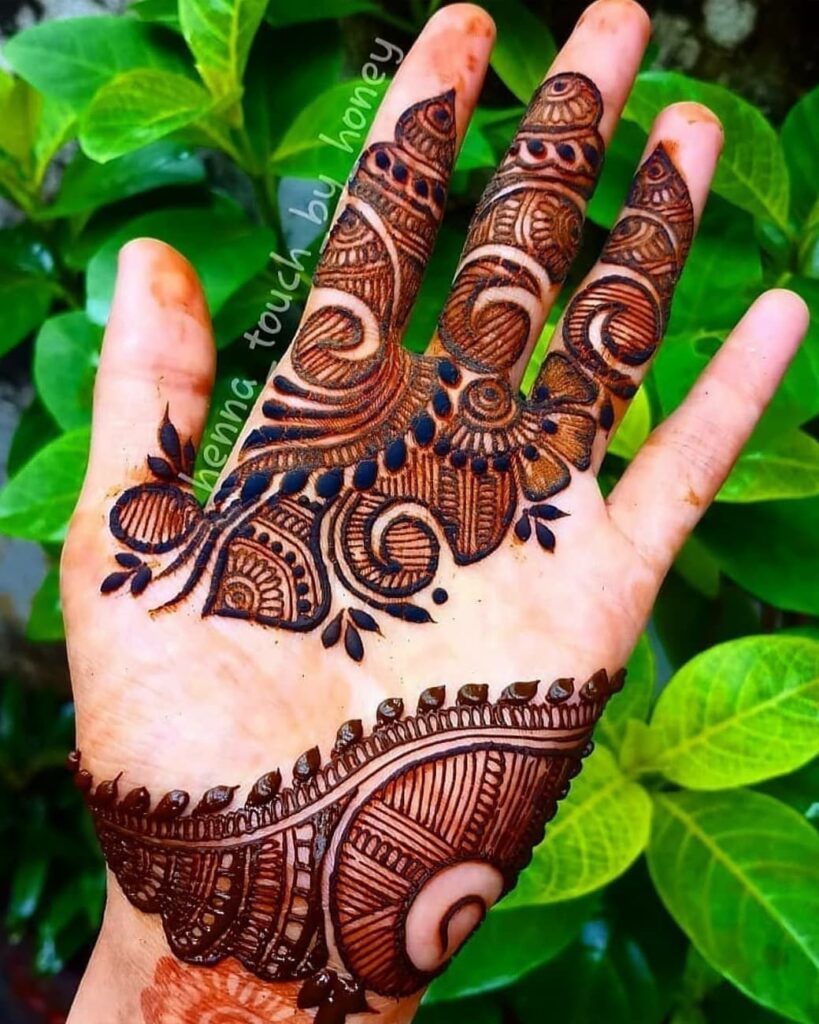 Arabic Henna For Feet
#62 A bharwa arabic mehndi design for feet to enrapture you and the guests. It's just perfect for brides-to-be!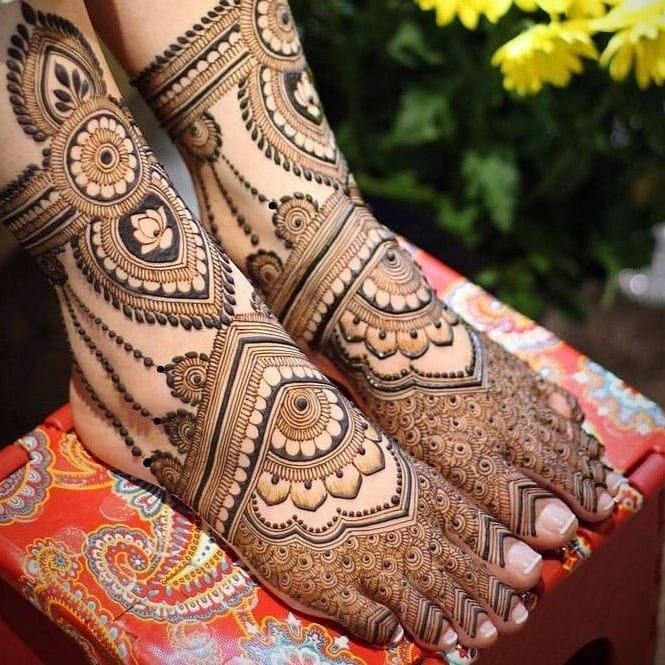 #63 If you're all about the minimal mehndi art on your feet and still want to mesmerize your guests, here's a stylish arabic mehndi design for you!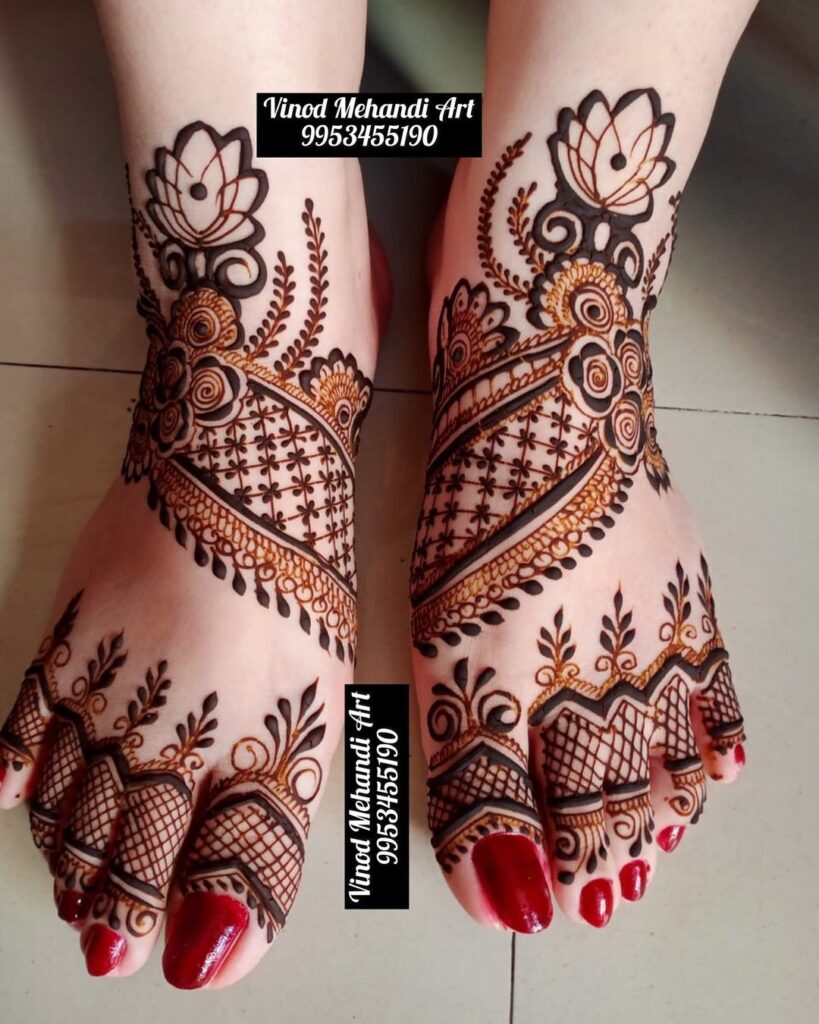 #64 Sometimes a small bel arabic design on the side is all you need to create a mesmerizing design. Adorn the fingers of your feet with the henna designs too for a beautiful effect.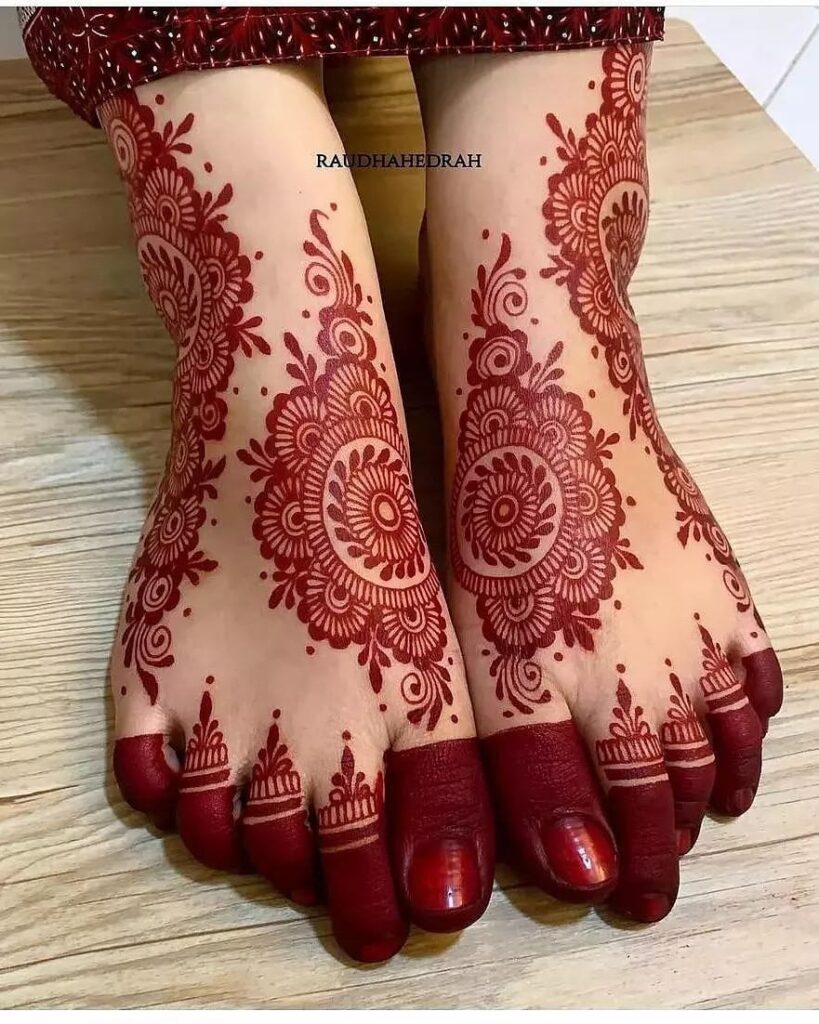 #65 A complimentary henna pattern always looks good! Even on the legs. Ending this list with an aesthetically pleasing and gorgeous mehndi design.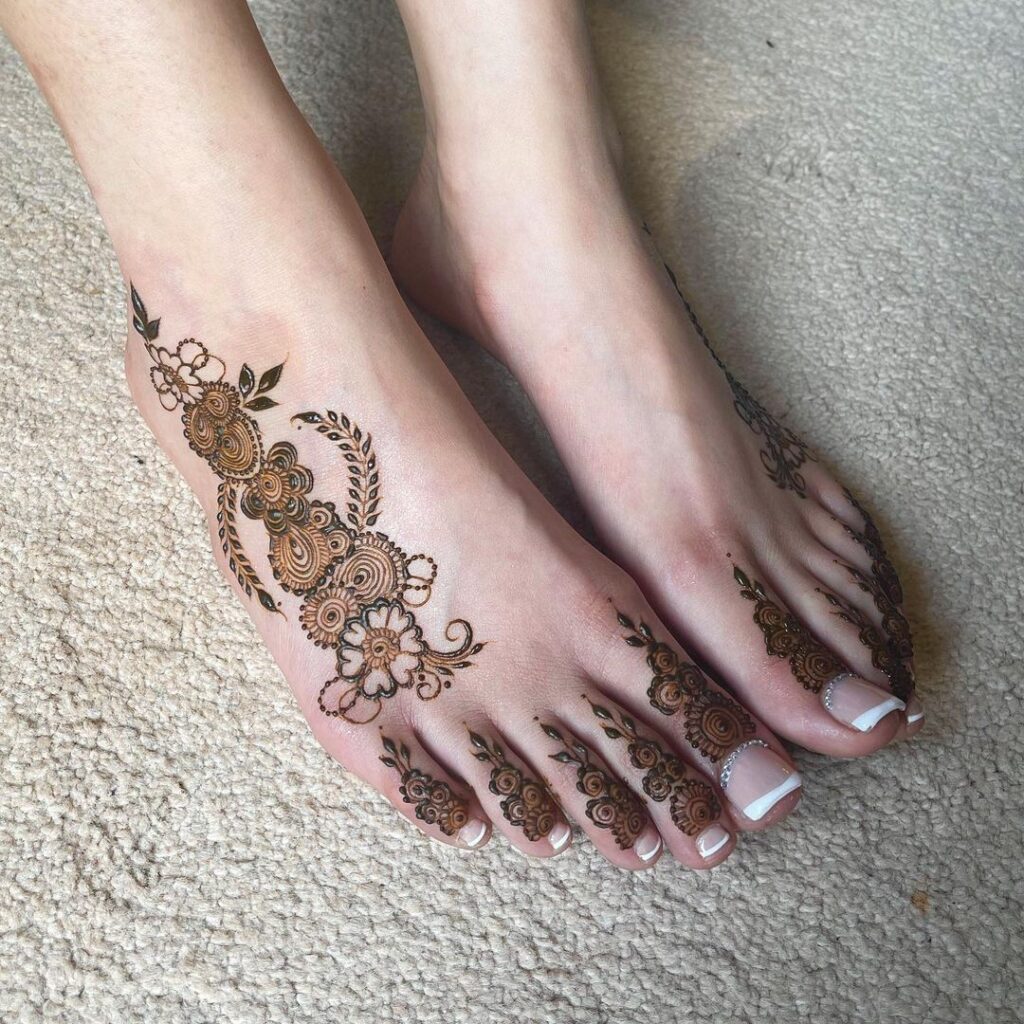 New Arabic Mehndi Design
#1 This pretty arabic henna consists of only paisleys, florals, and some leafy patterns for a truly spectacular mehndi design. It is a very simple arabic pattern and it's only the way the elements are arranged that makes it aesthetically appealing.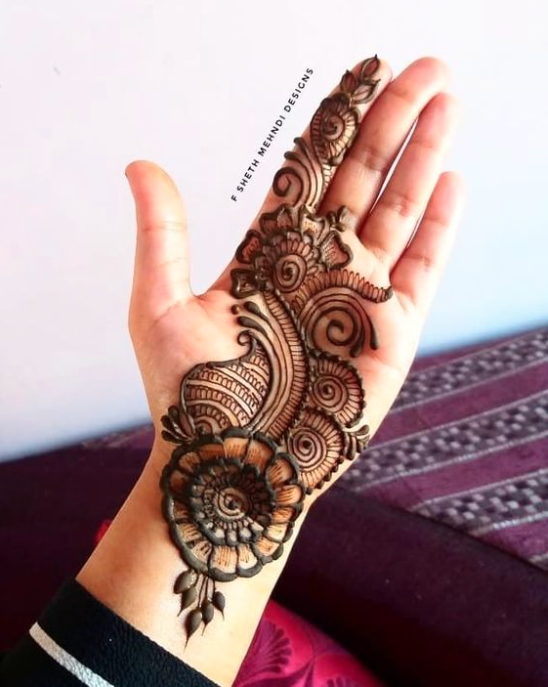 #2 We absolutely love bold outlines paired with thinner fillings. It gives such a graceful finish to the mehndi pattern and adds a creative streak to the pattern without doing much. I particularly love how the white spaces are covered with leaves for a subtle yet stunning addition to the existing design.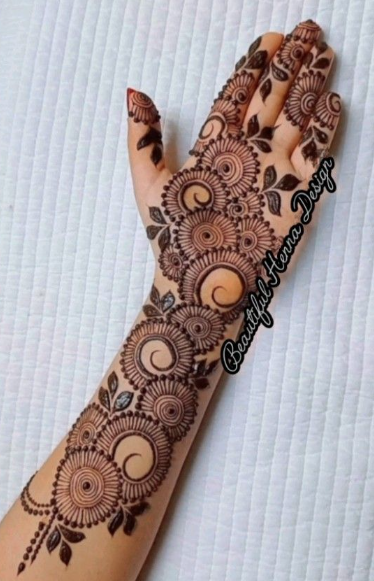 #3 There's beauty in this intricate arabic mehndi pattern. It's done in an elaborate manner so the design will take time to finish and should be only trusted to be done by a professional. It's also bharwa so even brides who don't like figure mehndi can go for this.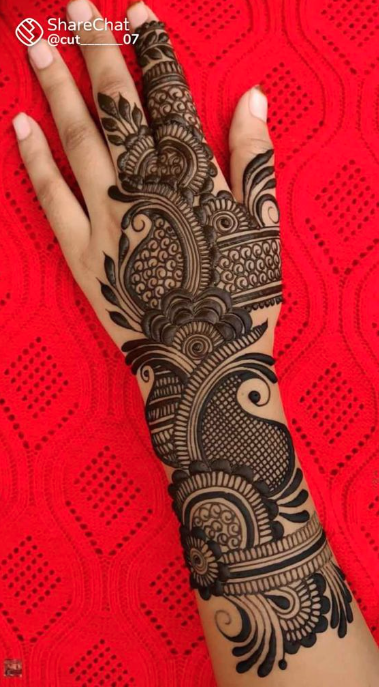 #4 How gorgeous! The shaded henna is one of those designs which always catches your eye and wins your heart. Plus, it looks absolutely phenomenal when it stains. Even though it's bharwa, the pattern is simple, it's the shaded filling that requires some professional work in the space before putting it to practice.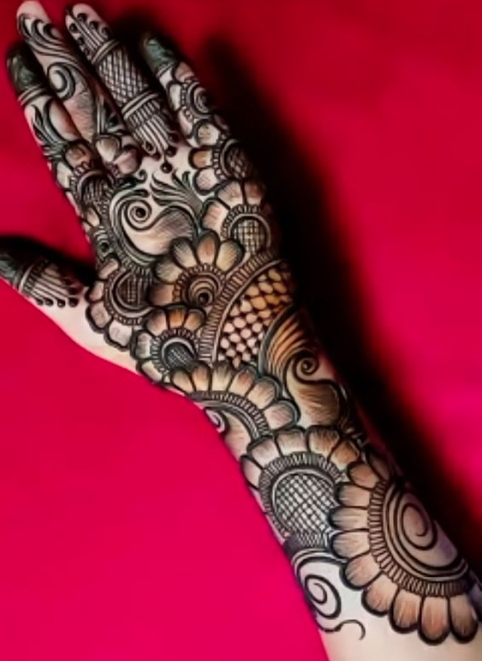 #5 For those who don't want classic arabic henna, but rather an amalgamation of modern and traditional, the next arabic mehndi design on the list is made for you. It only employs the Arabic henna elements on the side and a basic pattern on the right for a voguish look.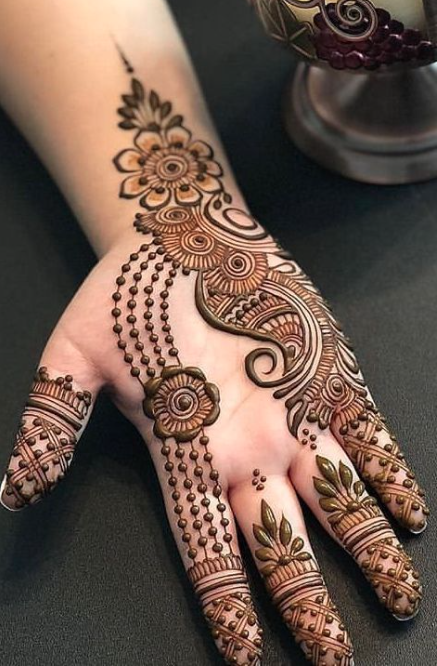 #6 Simply stunning! Simplicity and modesty are two of the main reasons why people love arabic henna. This design incorporates some basic wrist patterns followed by paisleys and flowers to create a design that's soothing to the eyes. We'd recommend keeping the rest of the fingers bare for a neat look.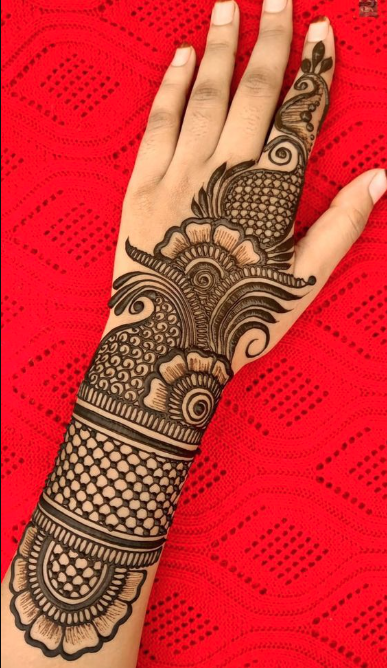 #7 For those who want the best of both worlds by merging arabic mehndi with bharwa, the next mehndi pattern on the list will be their pick. It consists of bharwa finger mehndi design with spacious palm henna for gracious and eye-catching henna.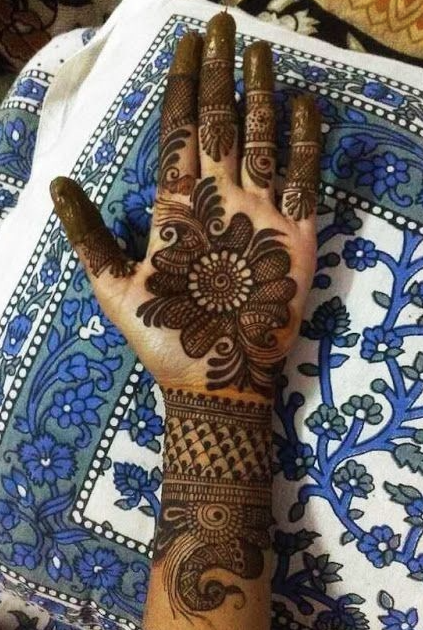 #8 For beginners looking to etch their hands with henna, this is an easy DIY mehndi design. We love how the entire design is done in a classic bel pattern that goes down to the wrist. Right at the end, there's a line that I think is the highlight of this entire piece.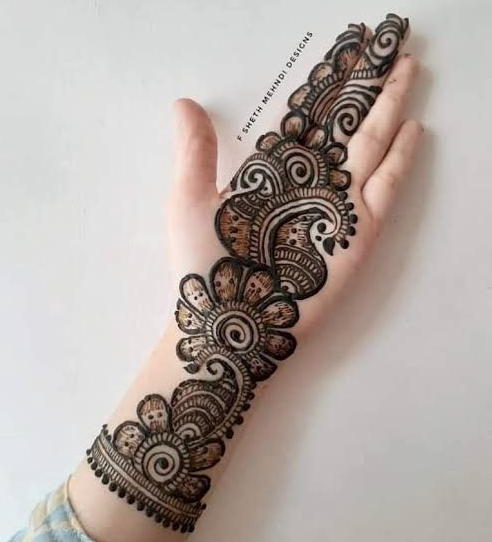 #9 If you don't like to sit for hours to get a bharwa mehndi done, then opt for chunky elements in your mehndi with a spacious filling. And if you're imagining a tacky image in your mind, this gorgeous henna pattern on the list breaks the imagery to create an impressive picture.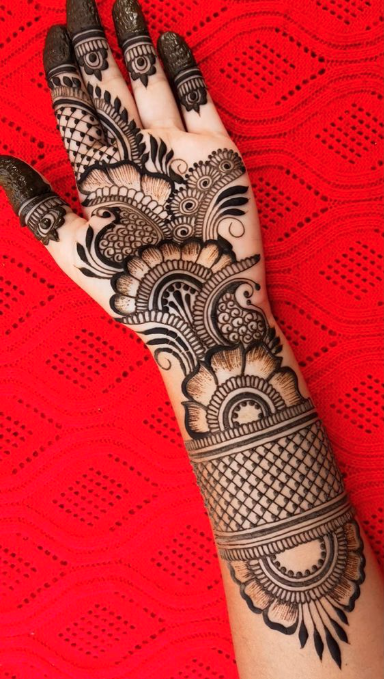 #10 One of the main elements on arabic mehndi designs is definitely paisleys. Use them abundantly in your mehndi and see the charm of this age-old henn style come alive.