Want to keep your floors clean without any effort? Some of the best robot vacuum cleaner in India offer this luxury. Robot vacuums have gained immense momentum given the pandemic and the tech-driven market. These amazing products are worth the attention though! They lighten your daily chore load, don't get distracted or lazy, and do their job with minimal intervention. Given the popularity, many versions of robot vacuums in India have made their way into the market. You can find a home cleaning robot in India in all price ranges and some impressive features. 
However, given the multitude of options, the "one" for you can be difficult to choose. This list will be your savior then. We've rounded up the 7 best robot vacuum cleaner in India in all price ranges so you can pick the best one for yourself. 
Price Comparison List:
#1 Eureka Forbes Robo iVac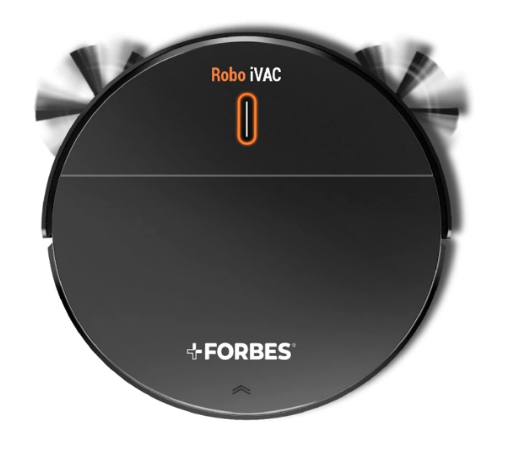 Eureka Forbes – is a company and a brand that has built an undeniable presence in the Indian market when it comes to water purifiers and vacuum cleaners. After more than 40 years in the market, they have built its brand on the basis of quality products and good customer service afterward. They have some of the best regular vacuum cleaners and just recently launched their robot vacuum cleaners that have already garnered more than 1500+ positive reviews on social media. Here's a review of their vacuum. 
Physical Attributes & Technical Specifications:
The Eureka Forbes Robo iVac is 3 inches in height and comes with a charging dock, remote control, and a user manual. (You receive a free online demo of the product after the purchase.) It weighs 2.9 kilograms. With a 600 pa, dust capacity of 275 ml, 2600 mAh lithium battery, 90 to 110 minutes run time, and 3 to 4 hours full charging time, the technical specifications are competitive at the price of Rs.15,999/-. 
Features & How It Compares To Others:
The first feature of this robot vacuum is it offers both wet and dry features. And that's why it's often cited as one of the best dry and wet vacuum cleaners in India. The compact machine comes with a dry vacuum feature to clear dry dirt and debris off the floor and the wet vacuum mops away wet spills with an ultra-premium microfiber cloth. 
This vacuum cleaner comes with a remote which you can use to give cleaning commands, direct to a room, or even schedule when to clean. So if you want the cleaning to be done before you wake up or in the shower, you can set the timer for the same. It also comes equipped with multiple smart sensors to dodge the walls, furniture, or any other obstacles. An anti-fall sensor on the product also prevents it from falling off the stairs. 
Another smart feature of the product is automatic charging. After you install the charging dock at any place in the house, the robot vacuum automatically detects the charging station and returns to the charging station to refuel the battery. After the charging is completed, it resumes from the same place where it left off the cleaning. 
The Eureka Forbes Robo iVac has 5 cleaning modes. The first one is auto cleaning where the vacuum adjusts itself and the suction power depending on the surface it's running on. This is the mode for those busy days when you don't have much time to change the settings. The second one is spiral cleaning. In this mode, the vacuum starts making circles in a reducing fashion and making its way towards the center for deeper cleaning. The next one is spot cleaning where the vacuum moves repeatedly in one spot to remove tougher stains. The fourth one is edge cleaning where the cleaner moves along the edges to clean those dust accumulating spots. And the last one is the zig-zag cleansing to clean all particles spread in a room. No matter what you want to clean on your floor, this vacuum will be your best partner to achieve the same. 
#2 Ecovacs DEEBOT Ozmo T8 Robotic Vacuum Cleaner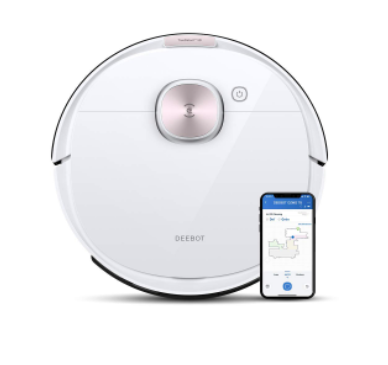 A Chinese technology company, Ecovacs Robotics has more than 23 years of work in "Smart Home" robotics and has customers in more than 60 countries. It held more than 60% of the Chinese market for robots in 2013 and is primarily a manufacturer of robotic devices that assist in home cleaning. They have launched a few of their robotic vacuum cleaners in India and have already garnered many positive reviews from customers across the country. Here's a review of their Deebot T8 2-in-1 robotic vacuum cleaner. 
Physical Attributes:
The Ecovacs Deebot Ozmo T8 cleaner is 3 inches in height and 33 cm in circumference. It comes with a charging dock, 4 side brushes, a cleaning mop, a high-efficiency filter, and 1 cleaning tool. It's weight in total is 5.6 kg. It has a suction power of 1800 pa and has 3 levels of suction so you can choose a higher setting when you want more thorough cleaning. It has a battery of 5200 mAh and a run time of 175 minutes and a full charge time of around 5 hours. The price of Ecovacs Deebot Ozmo T8 robotic vacuum cleaner is Rs.44,990/-. 
Features & How It Compares To Others:
This vacuum cleaner is equipped with dToF navigation – the only robot vacuum cleaner in India with this navigation technology, others use LDS navigation. dToF navigation is the most advanced navigation that exists now and is used in the aviation field. This smart technology ensures that your robot vacuum doesn't bump or collide (ever!) with any obstacles and detects the obstacle from much farther away so as to navigate the direction accordingly. 
Besides dToF, the Ecovacs Deebot T8 dry and wet vacuum cleaner in India also has true mapping 3D technology. Again, it's a unique technology not found in any other robot vacuum cleaners in India. This mapping technology ensures the product detects items as small as 1 mm in distance and 4.5 cm in size. This includes toys, cables, shoes, etc, and there are fewer chances the robot gets stuck or tangle any of these items. A 3-D mapping also maps the home with 2X the coverage and 4X the accuracy.
Besides these smart technologies, there's also Ozmo mopping technology in the product – which is a high-frequency mopping that evenly distributes water when mopping. With a 240 ml water tank capacity, it can easily cover 2000 sq ft of home in one go. It also automatically avoids carpet when mopping to avoid getting that wet. 
Other impressive features include voice controls where you can easily connect the device to Alexa or Google Assistant, automatic suction change for floor and carpet, able to establish virtual boundaries on the app, and forbidden areas where you don't want the robot to clean. 
(Besides the T8 model, there's also the T8 AIVI model which is priced at Rs.1,02,801/-, and has 3+ hours of run time, auto-empty station, and high-precision mapping for a complete automated experience for the customer.)
#3 SmartAI Robot Vacuum Cleaner
A new brand in the market, the SmartAI Robot vacuum cleaner in India offers some amazing features at a very competitive price. Despite fewer reviews than other brands, people have left only positive comments on their purchase and praised the company for its innovative design at such an affordable price. Find below the review of the SmartAI robot vacuum cleaner:
Physical Attributes:
The SmartAI robot vacuum cleaner is 3 inches tall and has a compact circumference of 31.5 cm. It has a suction power of 800 to 1500 pa, which is the lowest and the highest power of the three settings included with the product. The machine has a dust collecting capacity of 510 ml (which is quite good when compared to other robot vacuum cleaners) and a noise level of 55 dB. This product weighs a total of 1.6 kg and comes with a battery. The entire product is priced at Rs.11,900/-. 
Features & How It Compares To Others:
There are many impressive features of the SmartAI robot vacuum cleaner, especially for the price tag. First is three suction levels of the product, which also have different noise levels. You can run on the lowest 800 pa which also has a very minimal noise or the highest 1500 pa level which has a higher noise but cleans quite level given the suction. It will run for a total of 90 minutes before it will automatically head to its charging station for refueling the battery. It can run for a bit longer if you are not using it on the highest setting. 
The product is inbuilt with FreeMove Technology 2.0 which has anti-collision infrared sensors to detect the obstacles and adjust the cleaning path automatically. It also prevents the device from falling down the stairs. You can control the vacuum robot with their app wherein you can also schedule the cleaning or connect the device to Alexa & Google Assistant, so you can make the device start and stop through voice commands. You also receive a 1-year warranty for the product which can be availed for any of the parts that need replacement. 
Here's what one of the reviewers wrote about the product, "Such a mind-blowing product at this price. It has great suction power. I can feel the floor clean when I walk barefoot on it. Mopping is hardly a concern after the vacuum is run around my home. The dustbin size is quite big and I only need to clean it once a week, which is the opposite of 2 to 3 times a week for other robot vacuum cleaner in India. Navigation is good enough and it requires just minimal intervention. For the price, it's a great product to invest in!"
The one we have included only has a dry cleaning feature, but the company also has 2 other models where they have included the mopping feature. That one has mixed reviews though so we decided to skip it, you can definitely check it out here. 
#4 Eufy by Anker BoostIQ RoboVac 35C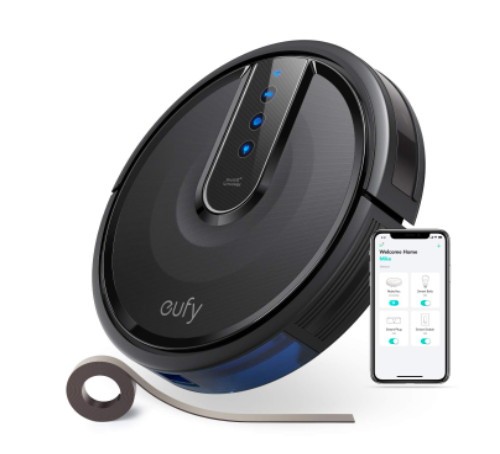 Eufy is a part of Anker Innovations, a Chinese robotics company that sells home innovation products through one of their sub-brand Eufy, which is based in the US. The company launched its BoostIQ RoboVac 35C in July 2021, which is a moderately-priced product with quite a lot of impressive features like voice control, forbidden areas, 100 minutes of run time, and less noise like that of a microwave, etc. While there are many other Eufy models available in the market, this one has the best reviews of them all. Read on to know more about the product. 
Physical Attributes:
The Eufy by Anker BoostIQ RoboVac 35C has a slim black body with 2.85 inches in height and 32.5 cm of circumference. It's weight is 2.7 kg which makes it easier for anyone to carry it anywhere around the home when needed. The robot vacuum runs on three settings, with the max setting offering a 1500 pa. Inside the box, you will find the vacuum cleaner, charger, remote control, cleaning tool, replacement side brush set, replacement filter set, and cable ties boundary strip. The entire product is currently priced at Rs.16,999/-. 
Features & How It Compares To Others:
The Eufy by Anker BoostIQ RoboVac 35C is incorporated with many practical features to make home cleaning easier. First is the BoostIQ feature which changes the suction level automatically on some surfaces like carpets and hard-to-clean messes. There are three settings for suction power. First is a lower setting for daily cleaning, then the BoostIQ, and a maximum setting of 1500 pa. You can even control settings by remote control or connect the device to Amazon Alexa or Google Assistant for voice control so you can do your cleaning with minimum effort. 
Underneath the robot vacuum, there's a 3-point cleaning system wherein the vacuum uses three brushes and strong suction power to loosen, extract, and suck the dirt or any other impurities from the floor. It has a triple-layer filter system – a dual-layer filter and one high-performance filter to achieve a superior cleaning. A large dust box of 0.6 L also ensures you don't have to repeatedly empty the box. On a full charge, the product works for 100 minutes on standard mode and 60 minutes on BoostIQ mode. The full charge takes around 5 to 6 hours and you will have to plug the device for charging. 
Another great feature of this robot vacuum is the 6 feet boundary strips accompanied by the product. These boundary strips can be laid down across the floor and the robot vacuum will only clean the area within that boundary. This is especially helpful for times when you need to vacuum only a particular area in your home – like your kitchen or living room where it tends to get dirtier. Or you can also use it when you want a certain room to not be cleaned. However, you don't need to use these strips for preventing the product from falling down. Because of its infrared sensors, it detects not only obstacles but also stairs and avoids them completely. 
#5 IBELL Robot Vacuum Cleaner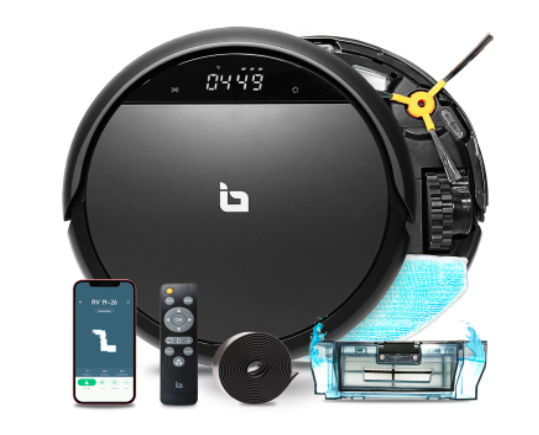 The most affordable dry and wet robot vacuum cleaner in India, IBELL is an Indian brand headquartered in Kochi, Kerala, and is one of the leading manufacturers of home appliances in the country. Their products are known to be affordable so even the middle-class families can enjoy the technological innovation in the market. And their IBELL robot vacuum cleaner with both sweeping and mopping is no different. With all the impressive features of a high-end home cleaning robot in India, here's the complete review of one of the best robot mops in India. 
Physical Attributes:
The IBELL robot vacuum cleaner has a height of 3.88 inches and around 40 cm in length and breadth. The product weighs 4.22 kg, which can be heavy to lift, but given that it includes both dust and mop, the weight is understandable. The product comes with the following components: a robotic vacuum, 4 mops, a pair of side brushes, a charging station, remote, warranty card, and user manual. It has a normal suction level and dynamic suction levels for deeper cleaning which is 1300 pa. The entire vacuum cleaner is priced at Rs.12,490/-. Since it's an Indian product, you can be assured of spare parts being available to you easily. 
Features & How It Compares To Others:
The product has two side brushes and one roller brush for deeper cleaning. The dynamic suction is the level you should select when you want a deep clean, let's say in a kitchen or when something is spilled on the floor. You can easily connect the device to Wi-Fi for app control, wherein you can check the mapping status, schedule the cleaning, and select different modes for cleaning. This robot vacuum cleaner also has voice control and you can send instructions via Alexa or Google Assistant. 
There's a magnetic strip provided with the product which you can use to prevent the product from going into restricted areas like balconies, stairs, or an area that doesn't clean on that particular day. Although this floor cleaning and mopping robot in India has anti-fall sensors, it's recommended by the company to use the magnetic strip where the stairs start. In addition, this robot mop in India also has auto-charging where it automatically returns to the charging station by intelligent sensing. Whilst we're talking about charging, the vacuum takes 3 hours to fully charge and runs for 90 to 120 minutes. 
The vacuum has a 0.25 liters of dust box and 0.15 ml of the water box. There are many cleaning modes to achieve a spotless floor in no time. There's an auto-cleaning mode where the vacuum automatically adjusts itself to the actual home environment. Then, there's the edge cleaning mode where the cleaner runs around the perimeters of the walls, and the last one is spot cleaning where the robot spirals towards the center – a helpful feature when you spill something and want to clean it quickly. Overall, the product has everything you need in a robot vacuum cleaner in India without breaking the bank. 
#6 Milagrow Seagull Joy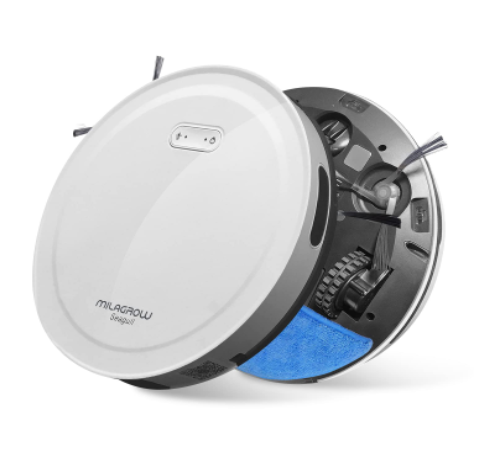 Milagrow HumanTech is a robotic company headquartered in Gurgaon, India, that launched its home cleaning robots in 2012. With a dry and wet robot vacuum cleaner in every range, the Milagrow Seagull Joy has a product for every type of customer preference. We will be reviewing the 1500 pa auto boost suction vacuum cleaner due to its economical price and many good reviews. Read all about it in the next sections. 
Physical Attributes:
The Milagrow Seagull Joy 1500 pa Auto boost Suction Vacuum has a 2.8 inches height and 31.2 cm of circumference. It weighs 2 kilograms, which is lighter than all the other products listed here, also fulfilling the company's claims of India's slimmest robotic vacuum cleaner. Along with the robot vacuum, the other components in the box include a charging dock, rechargeable battery pack, charger, main dustbin, user manual, side brush, HEPA filter, and micro-fiber mop. There's 5 years warranty on the suction motor and a 1-year warranty on a robot vacuum cleaner. The run time of the device is around 1 to 1 and a half hours and it takes 4 hours to charge it completely. The complete price of the product is Rs.11,490/-. 
Features & How It Compares To Others:
The Milagrow Seagull Joy 1500 pa Auto boost Suction Vacuum comes with gyro mapping technology that maps the area of your home including obstacles, inclinations, etc. to move without bumping into any obstacles and clean through its unique long S patterns without losing any orientation. It has different suction levels, and the lowest one is the 800 Pa. 
When the vacuum cleaner detects extra dirt like hair or accumulated dirt, it automatically increases the suction power to the highest setting, which is 1500 pa. There's a large dustbin attached to the vacuum cleaner inside, 0.65 L, so you don't have to clean it frequently. The mopping in the vacuum cleaner is water-free using a micro-fiber cloth that has 8 times more water than body weight. Some users in the comments section suggest splattering some water on the floor for a good mopping experience. 
The device has a robotic 6th sense to truly mimic the human cleaning by avoiding obstacles, cleaning with good suction where necessary, and virtual mapping. There are three cleaning modes: AUTO mode for regular cleaning, EDGE mode for around the walls, and SPOT cleaning for a spiral movement in one area. You can choose the cleaning modes and scheduling time in the app. When you purchase the product, you receive a free demo from the Milagrow team for installation and usage. 
Another great feature of the product is the HEPA filter, originally developed by the US Atomic Energy Commission to capture radioactive dust pollen, the filter traps most particulate matter and bacteria, and viruses to give cleaner air in any air that passes through! 
#7 ILIFE V5s Pro, 2-in-1 Robotic Vacuum Cleaner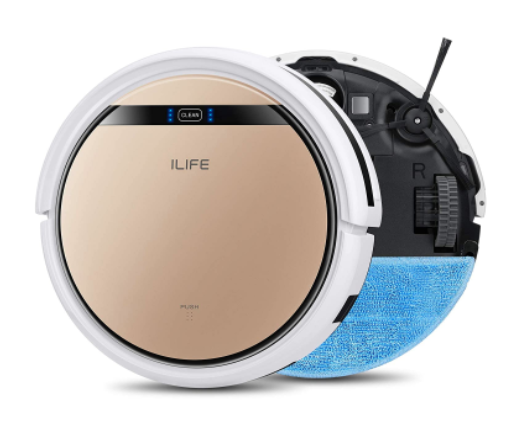 An Indian company based in Bangalore, ILIFE primarily manufactures vacuum cleaners, mainly robotic vacuum cleaners and a small range of cordless vacuum cleaners in India. In just a short span of 5 years, they have become a leading seller of vacuum cleaners in India. Their robot vacuum cleaners are particularly known for their efficiency, durability, and economical price. With over 8,500+ positive reviews on Amazin, their ILIFE V5s Pro 2-in-1 robotic vacuum cleaner and water mopping are one of their best-selling floor cleaning robots. Find the full review in the next sections. 
Physical Attributes:
ILIFE V5s Pro 2-in-1 robotic vacuum cleaner has a height of 3 inches and a circumference of 29.97 cm. It's weight is 2.22 kg – a lighter weight option that makes it easy to lift by anyone. Along with the robot vacuum, the product comes with a charging dock, AC adaptor, reusable wet mop pad holder, re-usable wet mopping cloth, 2 HEPA filters, water tank, dust tank, side brush pair, cleaning brush, remote control, user manual, and a warranty card. The suction power is 800 to 1000 pa for the two modes – normal mode and max mode. Both the dust and water tanks have a capacity of 0.3 L. The run time is approx. 110 minutes and it takes 4 hours to fully charge the device. This vacuum cleaner has a sound level of 50 DB, which is equal to someone having a normal conversation in the home. 
Features & How It Compares To Others:
The ILIFE V5s Pro is specially designed for Indian homes where the accumulation of dust is a general problem. It has powerful suction with an enhanced motor that is quieter but quickly and efficiently collects dust and debris from the floors. It's mopping system is equipped with intelligent i-Dropping technology where the water tank dispenses the water to its micro-fiber cloth for mopping. However, the water tank doesn't drop the water when the mopping mode is off preventing the device from mechanical overload and floor damage. 
You can schedule the cleaning through the remote in this robot vacuum cleaner as well. Or choose one of 4 modes for cleaning – Auto mode for regular day-to-day cleaning, Spot mode for intense cleaning a specific area, Edge mode to clean the corners of the walls, and Schedule mode where the robot cleaner cleans a specific time of the day. Overall, it's an affordable robot vacuum cleaner in India. 
Robot Vacuum Cleaner In India: Buying Guide
There are several things to consider when shopping for a robot vacuum cleaner:
Price: Robot vacuums can range in price from Rs.20,000/- to Rs.50,000/-. Determine your budget and look for a model that fits within it.
Size and shape: Measure your home to make sure the robot vacuum will be able to fit under furniture and into tight spaces.
Battery life: Consider how long the vacuum can run on a single charge and how long it takes to fully charge the battery.
Suction power: Look for a model with strong suction power to ensure it can effectively pick up dirt and debris from your floors.
Navigation: Some robot vacuums have advanced navigation systems that allow them to map out your home and clean it in a more efficient manner.
Features: Look for a vacuum with features that are important to you, such as the ability to schedule cleanings, automatically return to a charging station, or connect to a smartphone app for remote control.
Brand reputation: Research different brands and read customer reviews to get a sense of the reliability and customer service of the company.
Maintenance: Consider how often the vacuum will need to be emptied and the availability of replacement parts.
Compatibility with your home: Some vacuums are not suitable for use on certain floor types, such as high-pile carpets or dark-colored floors. Make sure the model you choose is compatible with the floors in your home.
FAQ's 
What is the best vacuum and mopping robot in India?
Here are the best vacuum and mopping robots in India
Eureka Forbes Robo iVAC: Rs.15,999/- (Purchase here)

Ecovacs DEEBOT Ozmo T8 Robotic Vacuum Cleaner: Rs.44,900/- (Purchase here)

IBELL Robot Vacuum Cleaner: Rs.12,490/- (Purchase here)
Are robot vacuums good for Indian homes?
Robot vacuums are quite useful in Indian homes. In India, most homes have hardwood floors with limited carpet area ensuring there is quite a good floor area to clean and mop. A robot vacuum also saves money on bai and saves you from any uncalled leaves. These vacuums can clean your home with minimum intervention. Many vacuums also come with mapping technology that recognizes your home and becomes better at cleaning the whole home without leaving any surfaces. Due to the pandemic, many Indian buyers have moved to robot vacuums for cleaning their homes and are loving the idea. 
How to choose the best robot vacuum cleaner in India? (Buying Guide)
Before you're swayed away by the sheer convenience of a floor-cleaning robot in India, there are some key features to consider. You'd want to pick a product suited to your needs. Here are some important factors to take into account when you purchase robot vacuum cleaners in India:
Scanning Efficiency & Virtual mapping
One of the key and most important features of a robot vacuum cleaner is its ability to move well in your home, avoiding obstacles, cleaning nooks and crannies, and mapping the area for an even clean. For the same, the home cleaning robot needs to have sensors that prevent them from bumping into things. The more advanced the mopping robot in India, the more sensory features they will have like laser-guided scanners or cameras so they map out the room well and clean each part of it – without repeating or missing any of them. These high-end robot vacuum cleaner in India also have dirt sensors so they know which part of the room they need to cover again or haven't yet covered. 
Battery Life Is Important
You should know that robot vacuum cleaners don't have very good battery life and take more time to charge than the time they would function. According to our research, robot vacuum cleaner in India has an operating time of 1 to 2 hours (in which they can easily cover an average-sized home) and a charging time of 4 to 8 hours. Many will automatically go to their charging station when the battery is low, so you don't have to worry about that. You should pick a robot mop in India depending on the area of your home. If you have a big home, you'd likely need a product that has higher battery life. 
Suction Power 
You can find the suction power of a robot vacuum cleaner mentioned in one of their highlighted USPs. The unit in which it's measured is pascal pressure unit or pa. Most robot vacuum cleaners in India will have a pa between 500 to 2500. More pa means that the vacuum will have strong suction power and will be better equipped to clean harsh stains. The suction power, however, doesn't matter much if other aspects of the cleaner like sensory touches or mopping aren't as good. Higher suction power is only useful for strong stains. In normal daily cleaning, the average suction power is good enough. 
Ability To Clean All Kinds Of Surfaces
A robot vacuum cleaner should be able to navigate all kinds of surfaces themselves so you don't have to manually arrange for anything – because then what's the point of going automatic anyway? A good vacuum cleaner will be able to cover many surfaces like carpets, and mats, and will be able to change the suction to clean these surfaces properly. Some places like the hall might have a thicker carpet and that's why it's necessary to choose a cleaner with larger and good navigation so they're able to get over these surfaces and clean them properly. 
Corner Cleaning Effectiveness 
Corner cleaning is one of the main attributes to look for in a robot vacuum cleaner in India. Corners often accumulate more dust as compared to other regions. So having a home cleaning robot that navigates these difficult regions well and cleans them is of utmost importance. 
Lastly, consider your budget. A robot vacuum is been added every week in the market. This means technology is advancing and you can get basic features for a better price. We have included some budget vacuum cleaner in India on this list, which have a price range from 10,000 to 15,000 and do their job effectively. 
Are robot vacuums better than regular vacuums?
Robot vacuums are definitely worth the price as they reduce your everyday efforts to a bare minimum and help in the maintenance of floors and tiles. For deep cleaning though, you might have to take out your regular vacuum twice a month. A floor cleaning robot in India especially comes in handy when you have pets who constantly shed hair on the floor. 
Here are some pros and cons of robot vacuums
Pro Number 1: Reduces Daily Cleaning Hassle
In most Indian homes, we clean daily because of the dust and pollution. A robot vacuum ensures you don't have to waste your time carrying a regular one and manually cleaning the home. You just have to switch it on and it will get the job done. In some models, there's also a scheduling option where you can schedule when the robot vacuum cleans the home, which can also be when you leave home for work and you come back to a nice, tidy flooring. 
Pro Number 2: Double-Duty As A Mop
Some robot vacuum cleaners also contain a mopping feature where they use a washcloth installed to do the mopping of the floors. Even if we get around vacuuming with a regular vacuum, mopping is kind of a hassle. Surely, hand mopping will be better than some versions of mopping robots, but something is better than nothing! 
Pro Number 3: They Are Compact & Easy To Use
Vacuuming with a regular vacuum on tough spots like underneath your furniture requires all kinds of physical movements so the furniture isn't damaged and you get a cleaner surface as well. Robot vacuums are different. They are compact and can easily get under furniture surfaces for proper cleaning. These vacuums are also generally smaller in size and will take lesser space in your home as compared to the regular vacuum. 
Pro Number 4: Doesn't Make As Much Noise 
If there's someone who doesn't like the noise of a regular vacuum, which can be a lot in most cases, then you'd most likely prefer robot vacuums. They aren't as noisy and in some products, there's a scheduled cleaning option where you can let the vacuum cleaner when you're not even at home. 
Con Number 1: You Have To Vacuum Safe The House
You will have to remove the small things on the floor before you let the robot vacuum run around the house. Robot vacuums are feisty and can even nibble on shoelaces and cords. If you have kids, they have little toys like legos or board games which have small units that can get sucked by the cleaner. Socks, toys, etc. can all get stuck. So you will have to do the job of picking all these things off the ground when you are using a robot vacuum for cleaning and mopping. 
Con Number 2: The Dust Collection Boxes Aren't Large
You can go weeks without emptying the dust box of a regular vacuum, but that isn't the case with a robot vacuum. Given their ability to fit in tight spaces and good battery life, their dust boxes tend to be tiny. In general, you will have to empty the dust boxes twice a week – more if you have more people around the house or pets. There are some versions of robot vacuums that empty themselves in the bin. These versions are (you guessed it right!) also more expensive than those which require manual cleaning. 
Con Number 3: They Can Get Stuck
Robot vacuums are known for their ability to avoid obstacles, get into small spaces to clean, and find their way without any hassles. That's not always the case though! No matter how expensive of a model you purchase, a robot vacuum cleaner in India can get stuck in the same place, do the same area multiple times while leaving the other unclean, or rotate in the same place. You will have to identify the weak spots of your robot vacuum cleaner before letting it loose in the house. 
Con Number 4: Low Battery Life
The most robot vacuum cleaner in India have a battery life of anywhere around 2 hours. Their charging can take anywhere between 4 to 8 hours though, which means they will spend more time in the charging station than cleaning your house. If you have a big house, there are chances the vacuum won't even finish cleaning before they are discharged. This isn't a big con in itself but something you should be aware of before purchasing a home cleaning robot in India. 
Do robot vacuums fall down the stairs?
Robot vacuums don't fall down the stairs because they're equipped with downward facing sensors which stop them from falling down the stairs and completely avoid that area when detected. Even if by mistake the robot does fall down the stairs, it's likely that nothing would happen to them. All cleaning robots in India are highly resilient and built to survive falling down the stairs. Here's a video that shows a cleaning robot taking the fall down the stairs without affecting it in any way. 
Conclusion & Winner
There's no doubt that robot vacuum cleaners can make your job easier and save money in the longer run. While all the vacuum cleaners listed here have their own benefits, the one that stands out as one of the best robot vacuum cleaners wet and dry in India is the Eureka Forbes LVac suction, which has some salient features and amazing reviews. Eureka Forbes also has a good brand name and their appliances are widely regarded as durable, and efficient working, and the company is also known for its quick customer service.