Karva Chauth 2022 is almost here! And if you're looking for some gorgeous mehndi designs for Karwa Chauth to etch your hands on this auspicious occasion, we have included 75 of them in the list below. Scroll to see the 75 best Karva Chauth mehndi designs photos: 
Simple & Easy Karwa Chauth Mehndi Designs
#1 Starting the easy mehndi design for Karwa Chauth with this Arabic-style mehndi design that's easy to do and looks beautiful beyond dreams.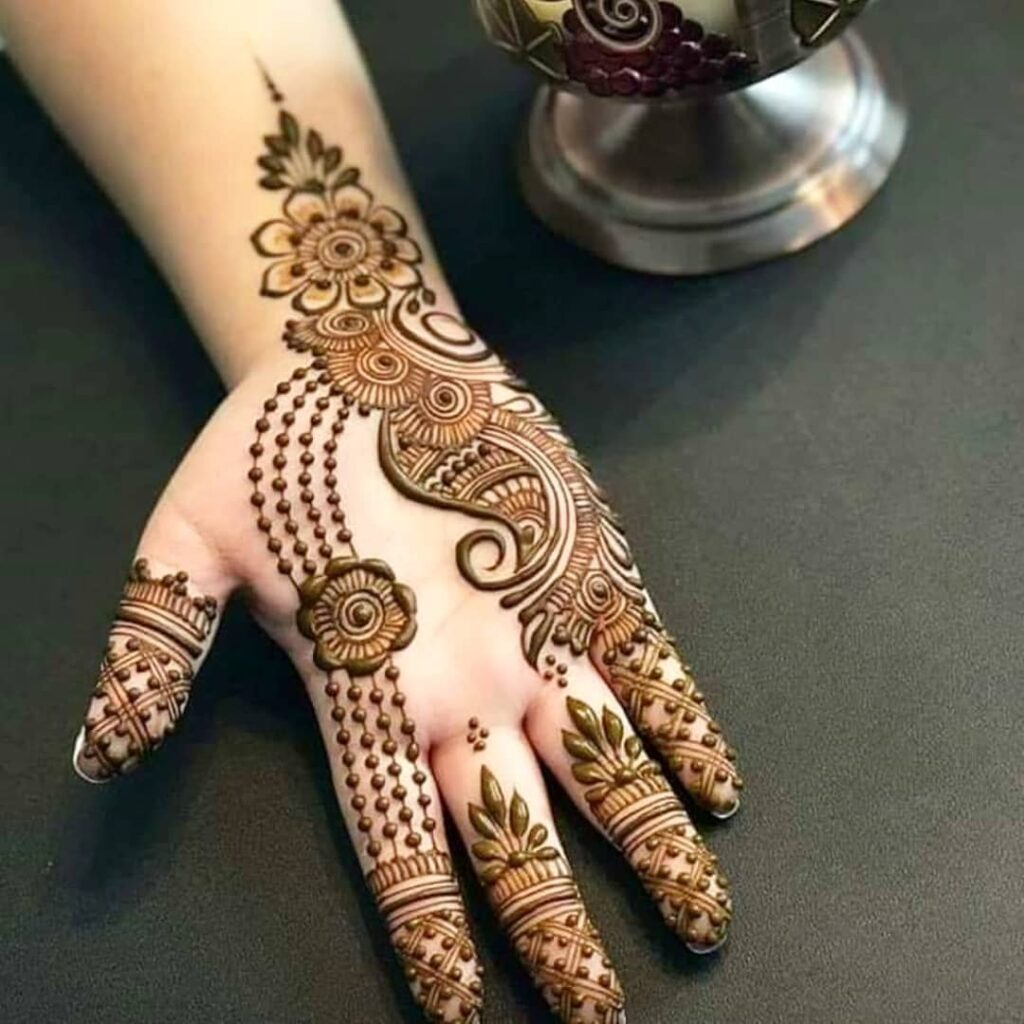 #2 Thought that an easy mehndi design can't cover the whole palm, then the next featured Karvachauth mehndi photo is here to break your illusion. It beautifully covers the entire palm and the image also includes the backhand mehndi pattern so you don't have to launch a search for it separately.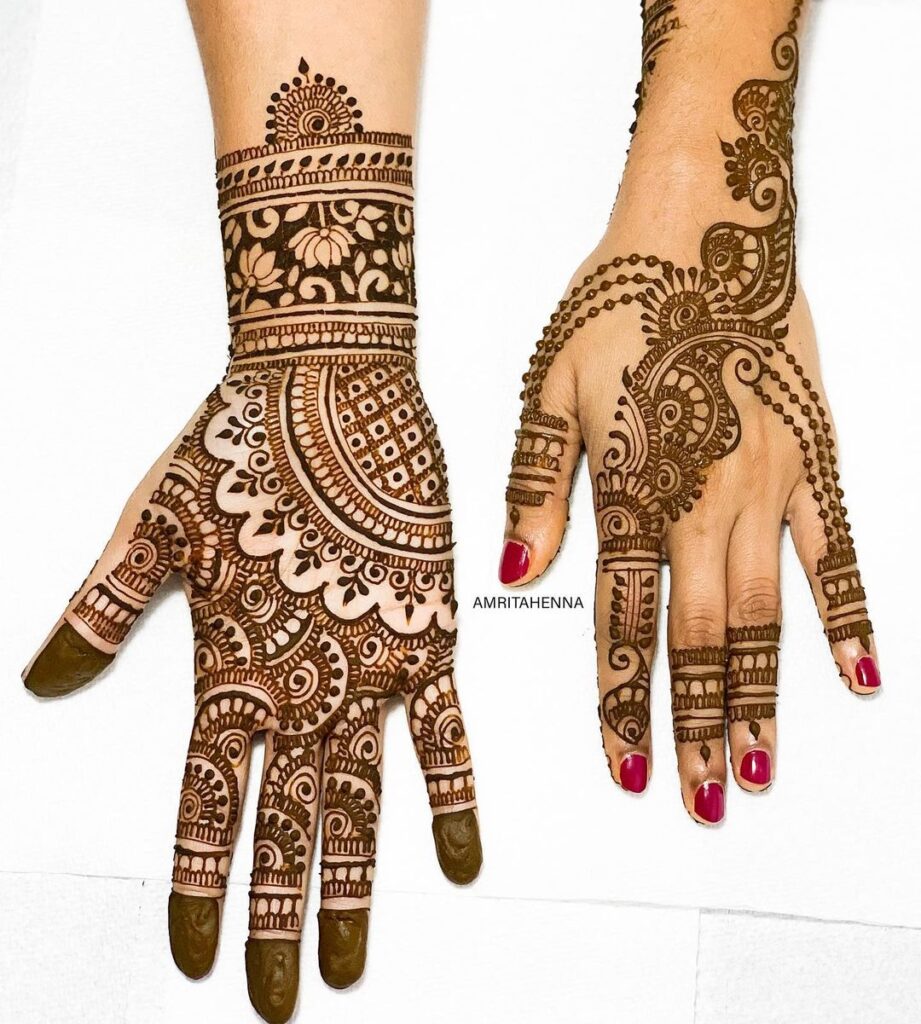 #3 When you're looking for the latest mehndi designs for Karwa Chauth, you will come across many versions of mandala patterns. They're classic and elegant, and never fail to impress – as you can see for yourself.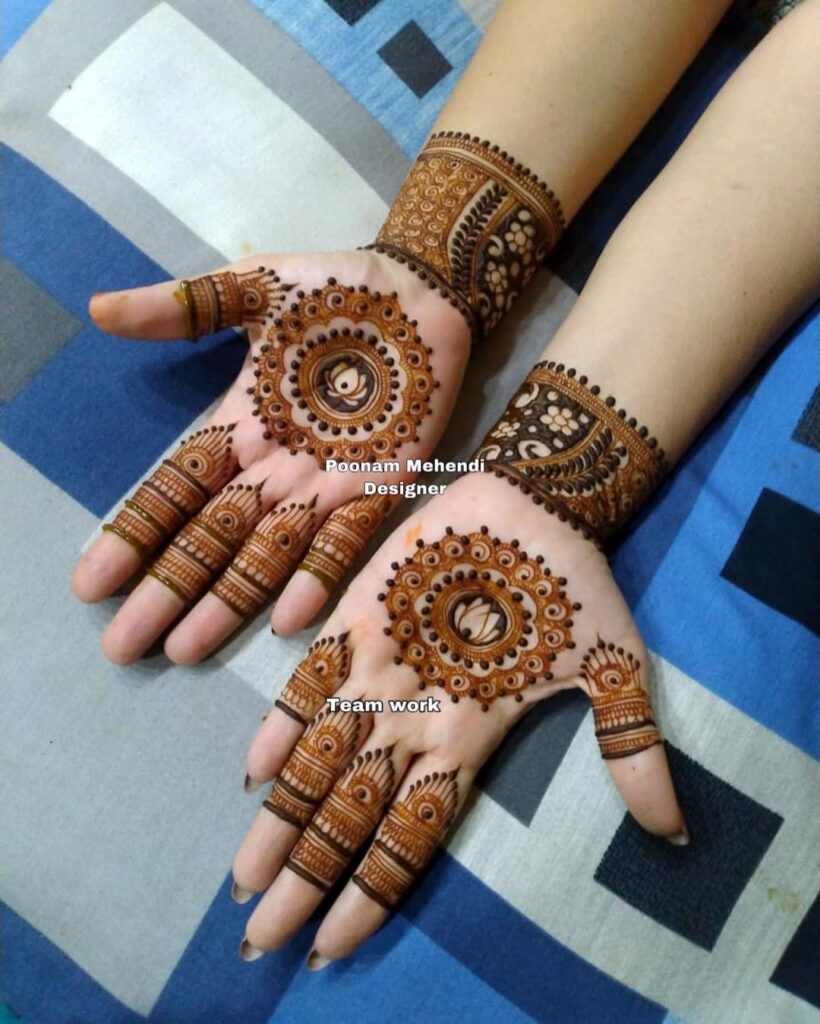 Courtesy: Poonam Mehendi Designer
#4 Get on the festival mehndi design bandwagon with this exquisite henna consisting of 3-D florals and jaal patterns perfectly sectioned for captivating Karwa Chauth mehndi art.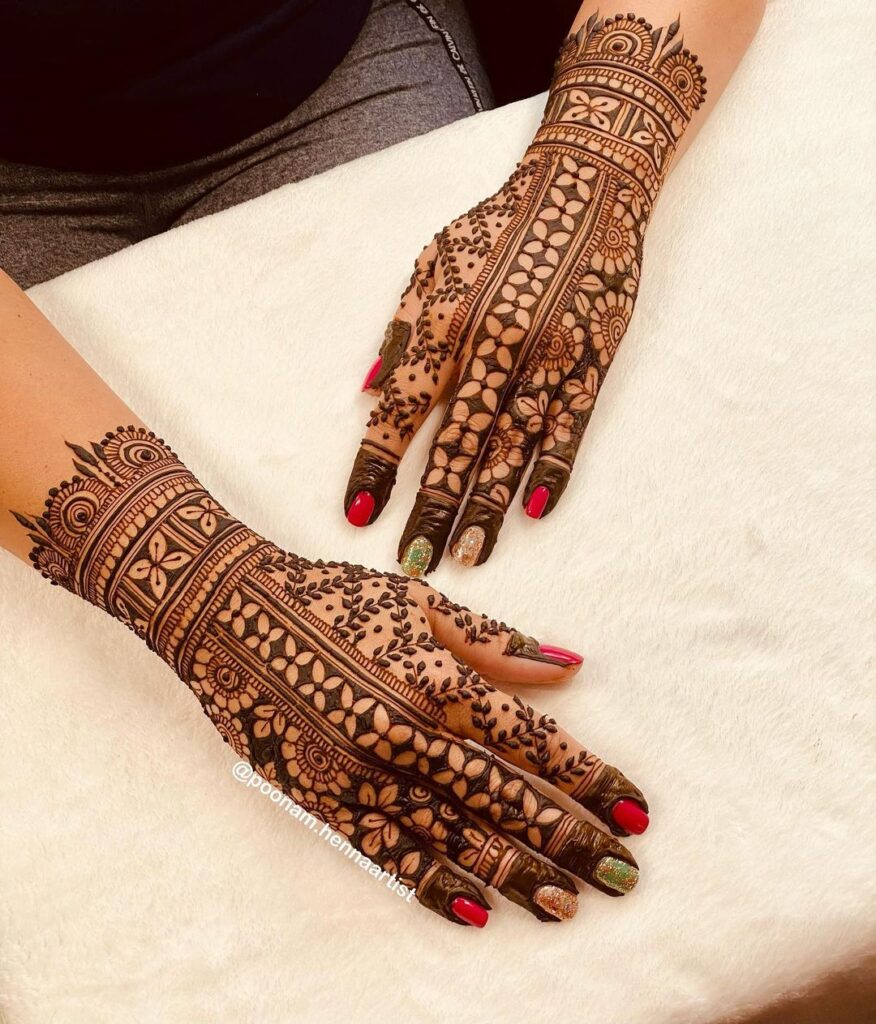 #5 An Arabic mehndi design works for all occasions, especially if you're craving minimalism in your mehndi design. This one combines the usual florals and paisleys for a minimal yet timeless henna pattern.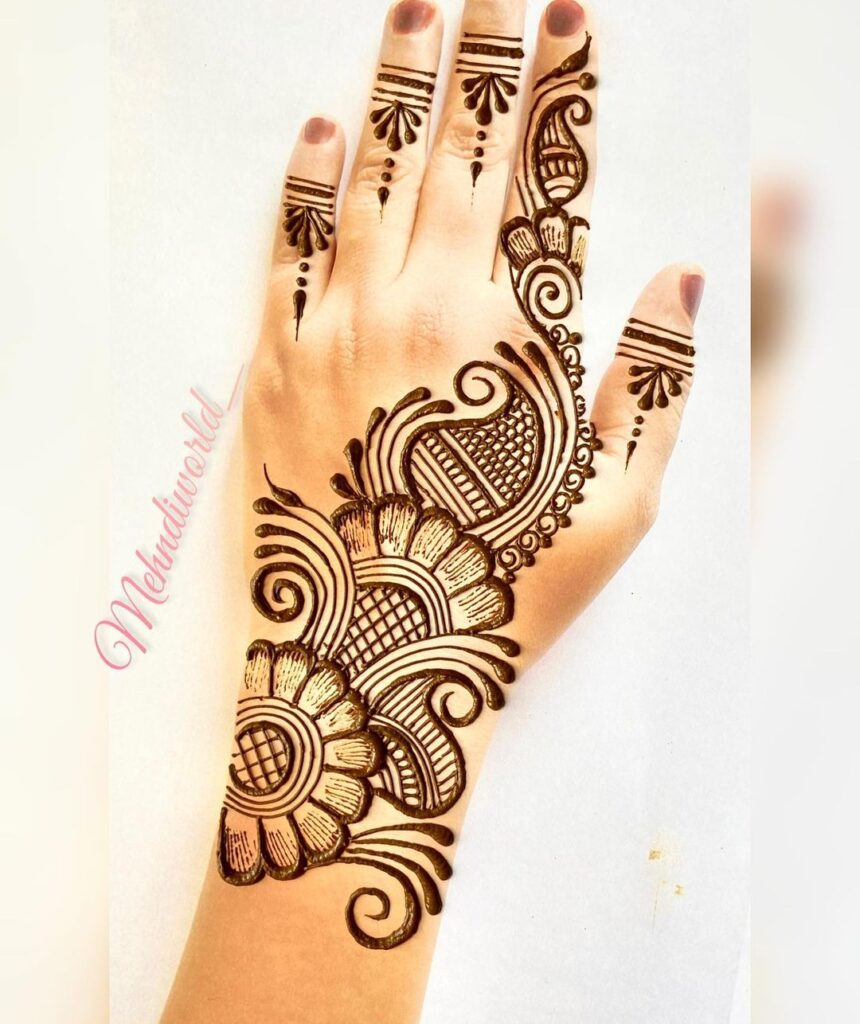 #6 Replete with semi-circles, this henna design shows how you can use just one mehndi element creatively for an appealing look.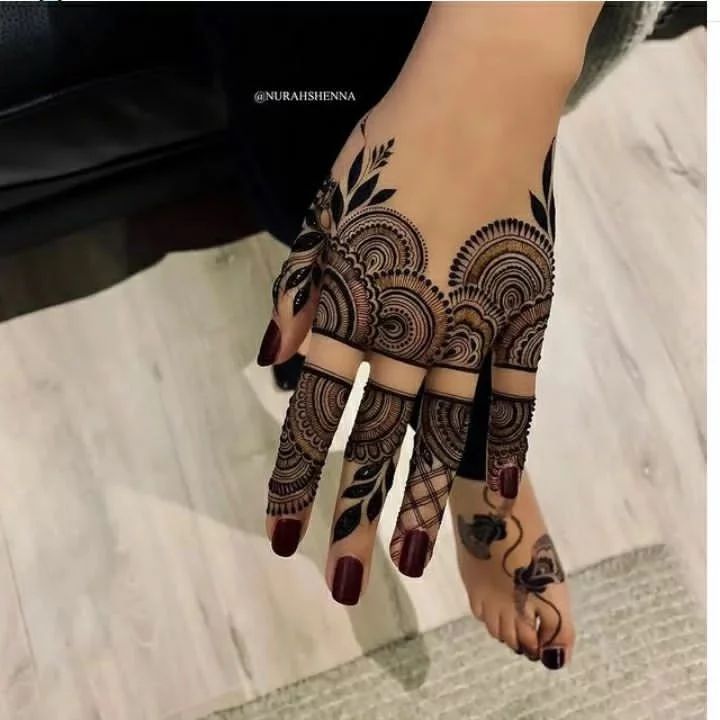 #7 This jaal mehndi pattern is a gorgeous variation of the usual ones. It involves thin lines to separate the blocks sp it's the filling that takes all the attention. The wrist and fingers follow the same pattern but their neatness is what sets them apart from the rest.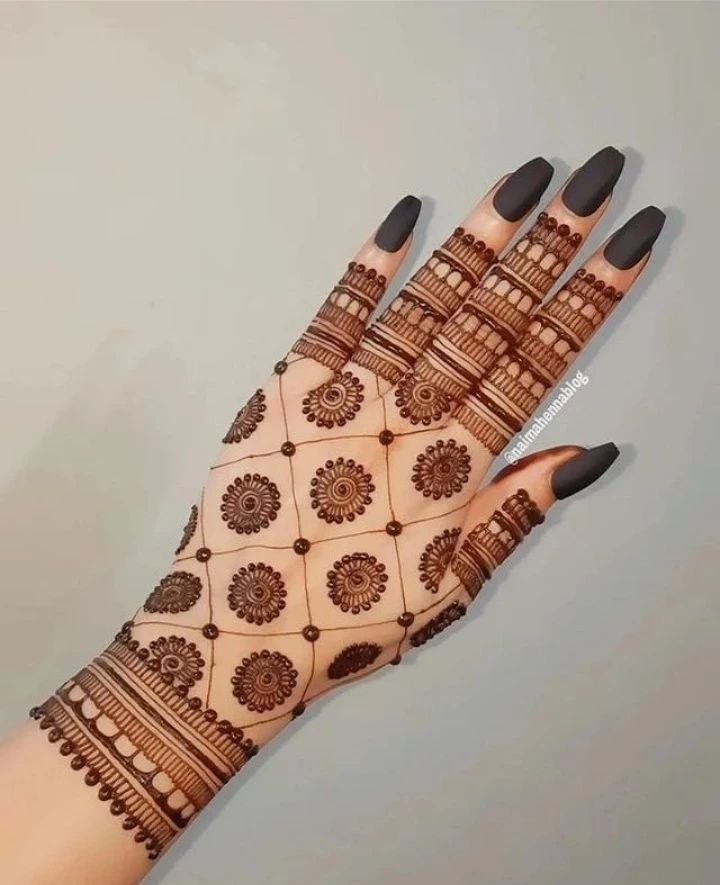 #8 If you're someone who can nail the simple mehndi elements, then this is an easy DIY karva chauth mehndi design to try. It involves simple elements merged in an artistic manner for a captivating look.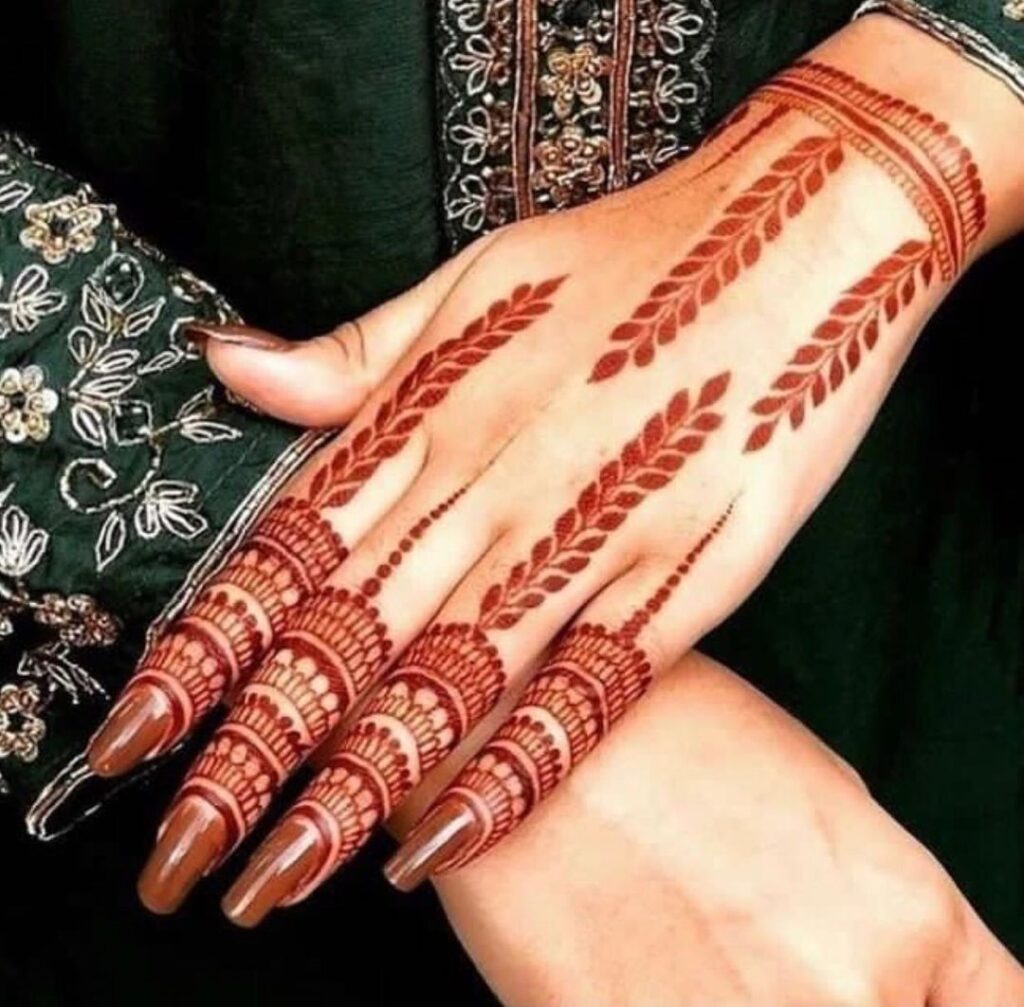 #9 There's so much beauty in simplicity, and the next one of the easy Karva Chauth mehndi designs on the list proves the same. You can draw the same circle on the corner of the other hand so it becomes one and looks beautifully symmetrical when you click a picture together.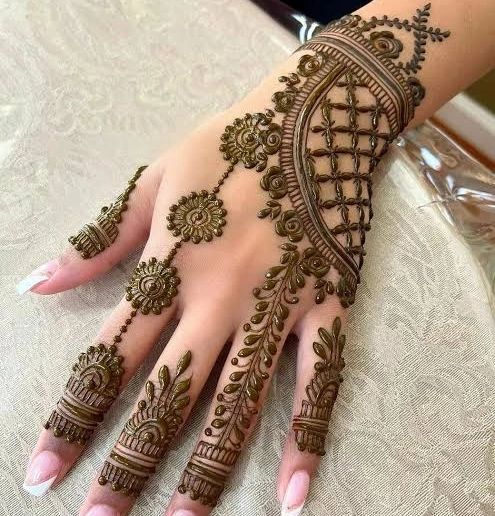 #10 Ah! How we are gushing over this majestic mehndi design! We do recommend keeping the backhand mehndi and the other hand also replete with these 3-D elements so they flawlessly complement each other and give you a statement mehndi design for Karva Chauth.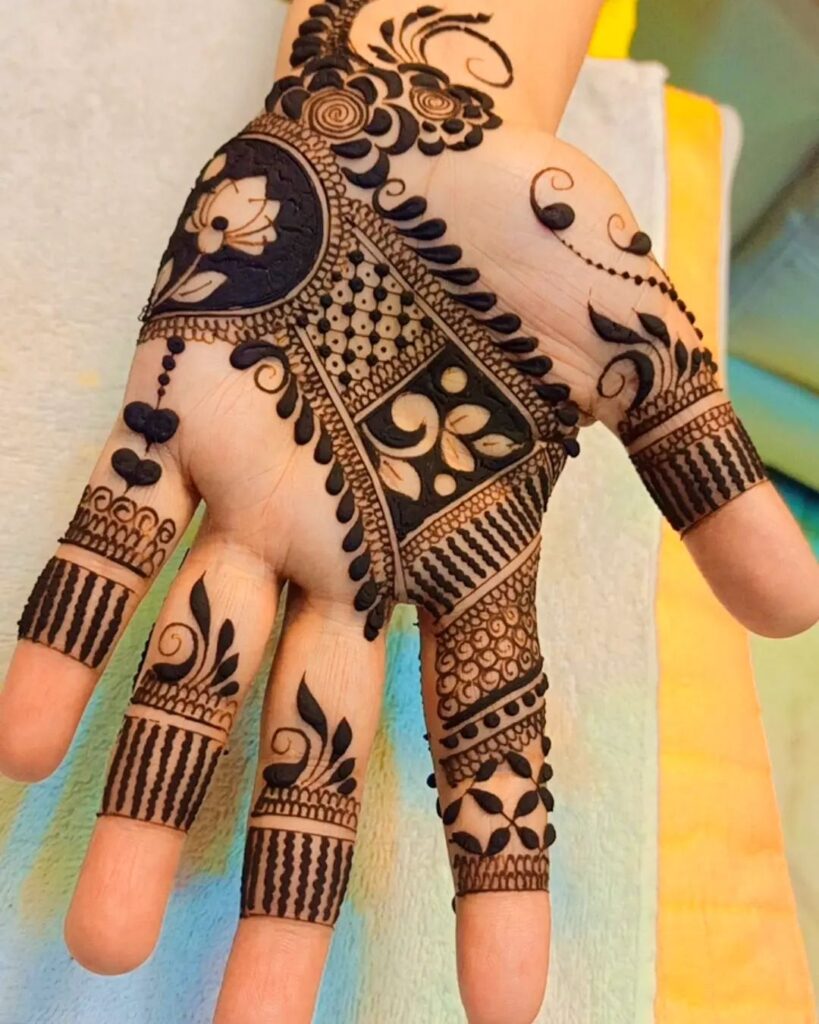 #11 Mehendi designs are getting more creative than ever before, and that applies to the latest Karva Chauth mehndi designs as well. We love how this design is so neat and includes ample space to give you a roomy and pretty mehndi design.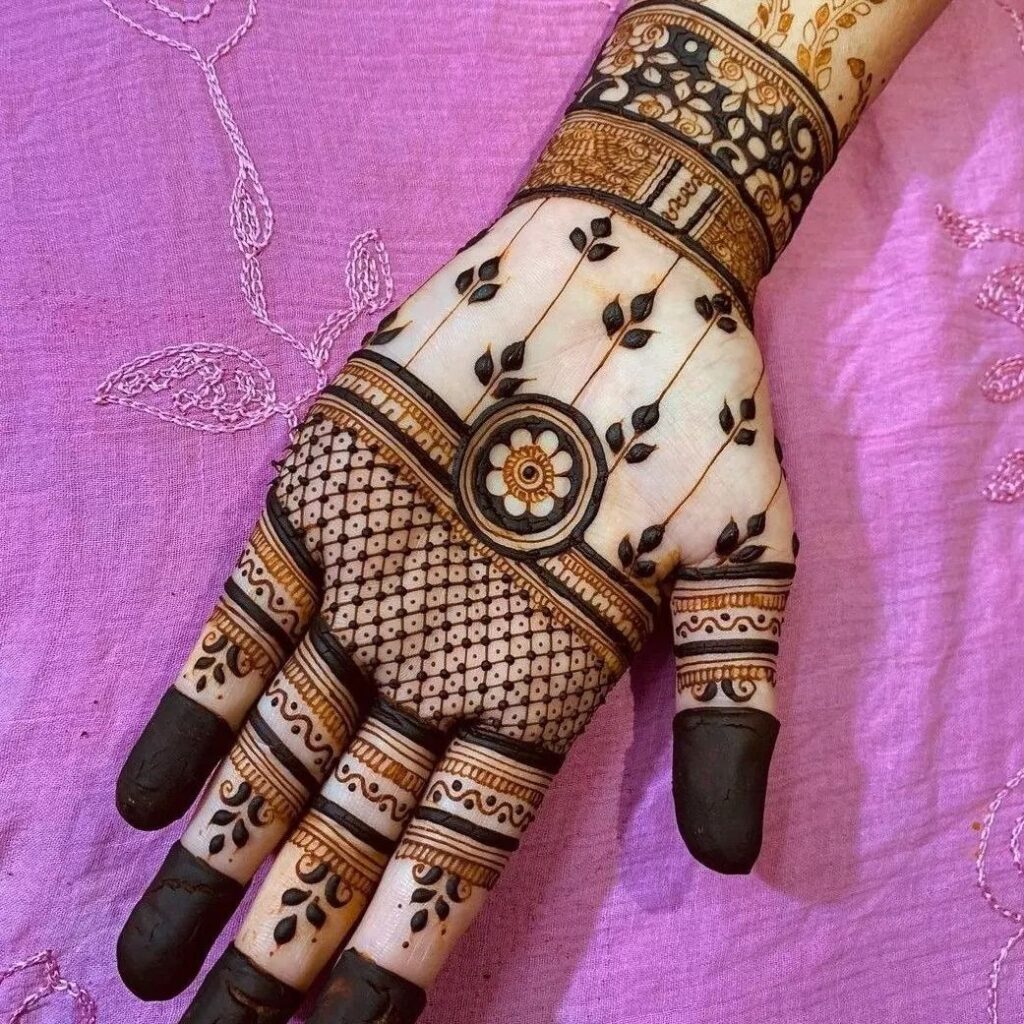 #12 This simple Karwachauth mehndi design is especially beautiful for the light and dark strokes, which gives the cluster of florals a 3-D effect. It certainly stands out from the crowd and will win your mehndi design tons of compliments.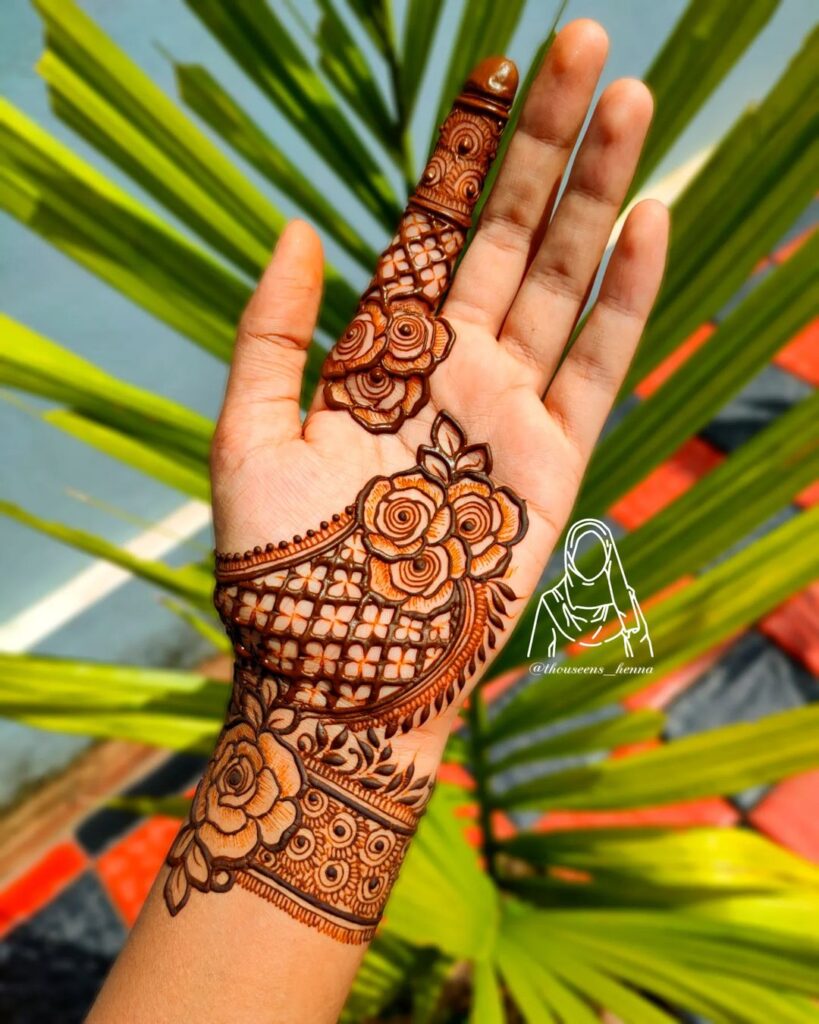 #13 Dominating just the center part of the palm of hands, this mehendi is ideal for women who want a small yet statement pattern for their Karva Chauth.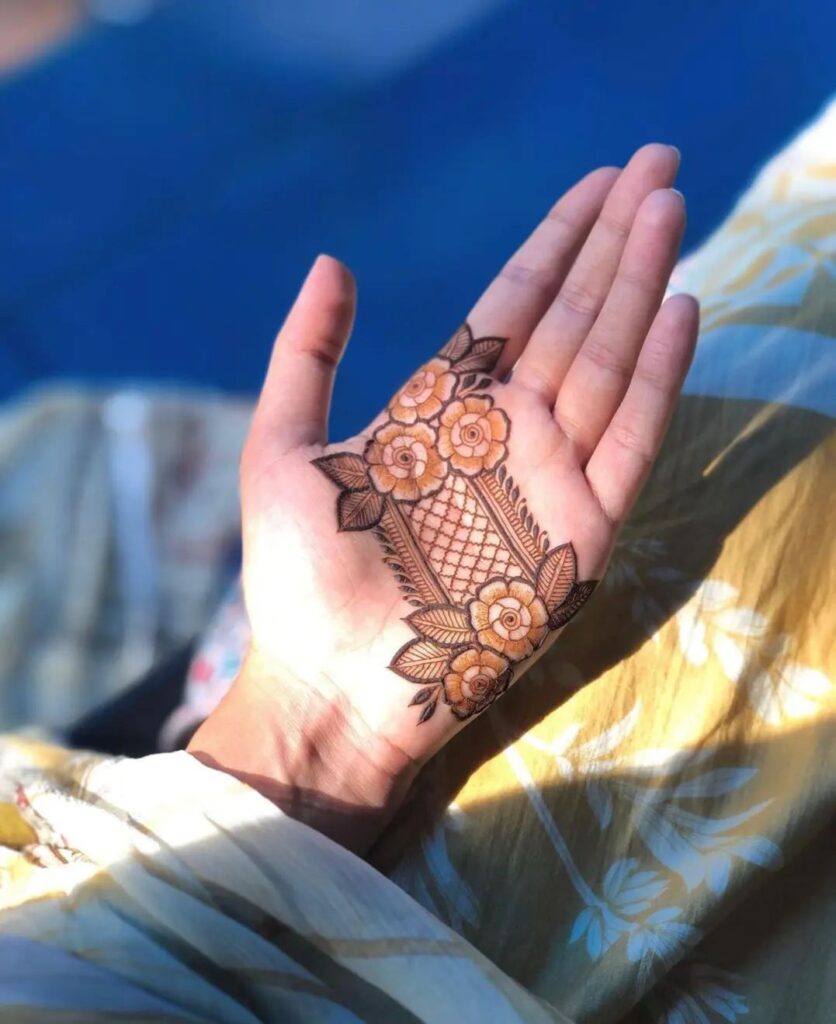 #14 Butterflies have long been revered in the mehendi designs, and they make for a beautiful standalone henna for this auspicious occasion too.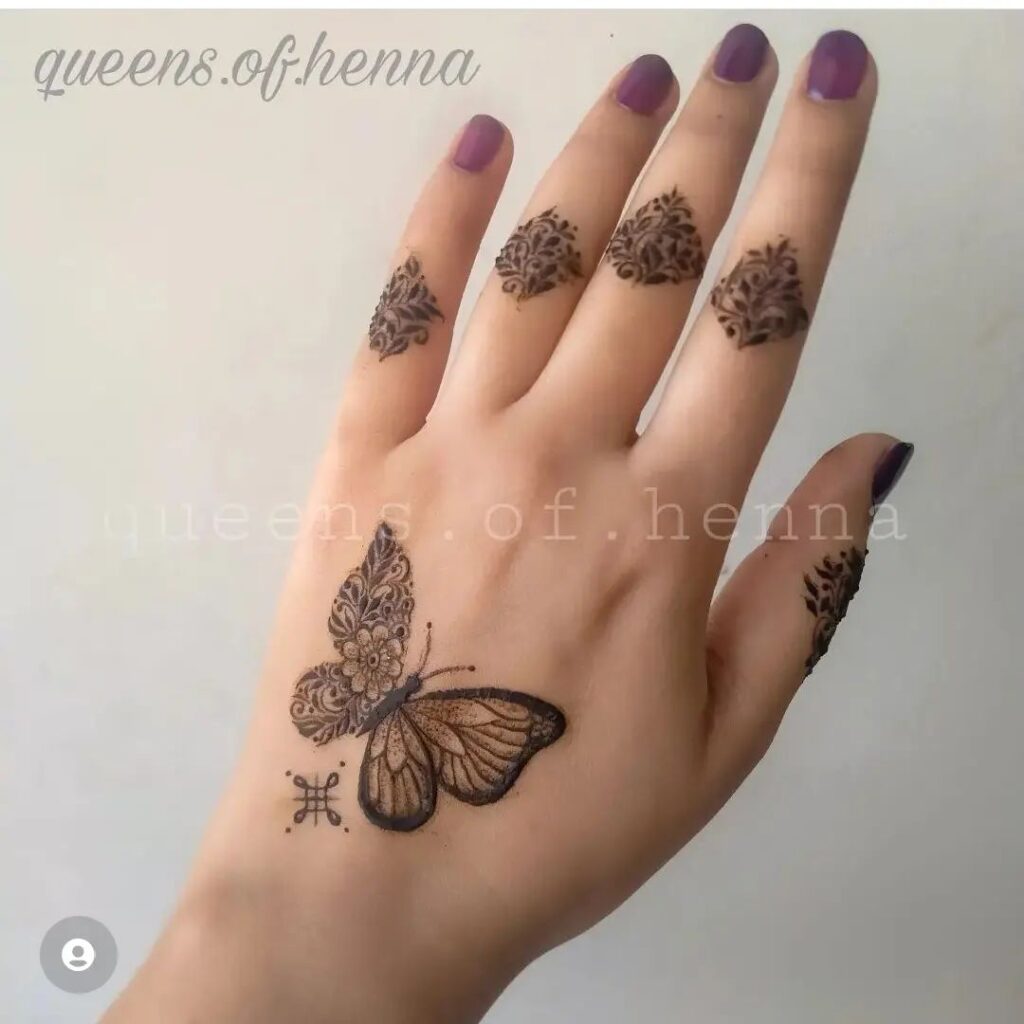 #15 There's nothing like a mandala for a minimal and elegant henna pattern. To make it more spacious, the wrist pattern starts from a little below and the finger design only covers the top portion of the finger. It's a very good choice for the perfect balance between modern and traditional.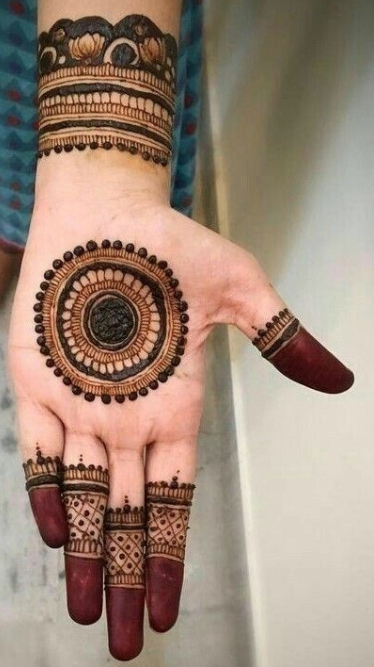 #16 Dominated by chunky florals, this mehndi design has won our hearts with intricate work and bold strokes.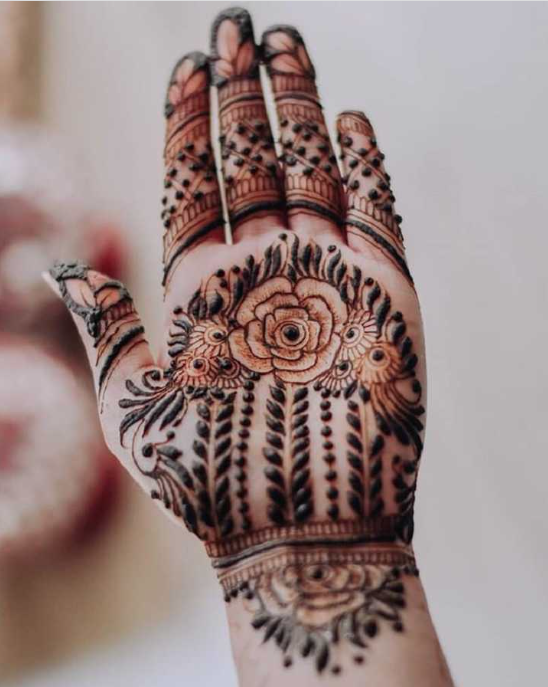 #17 This backhand new mehndi design for Karvachauth combines two types of jaal pattern for an ethereal look. 
#18 If you want a quick and easy option for Karva Chauth Mehndi designs without compromising creativity, you will love the next design on the list. Its bold strokes and no-filling approach also ensure it'd drawn quickly.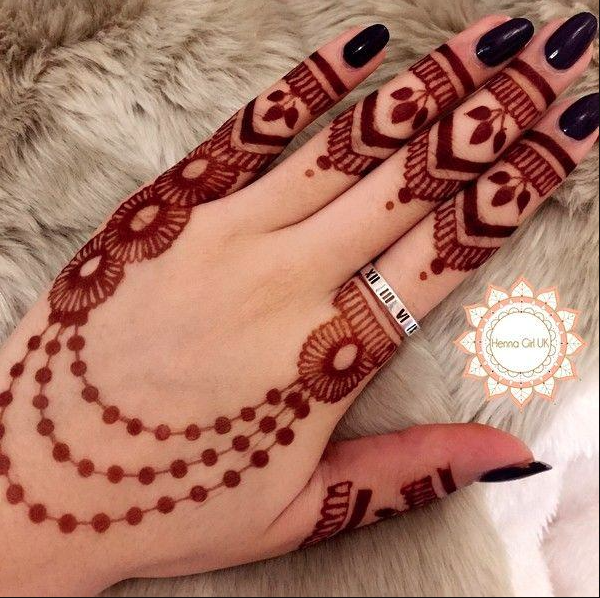 #19 Minimal filling, more outlines, less of a complicated layout, and yet manages to awe us with its beauty – the next mehndi design for Karwa Chauth speaks for itself.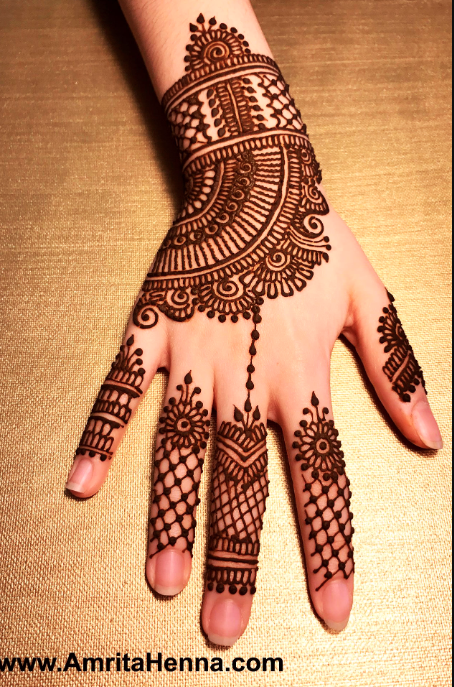 #20 Covering just the side and middle portion of the backhand and keeping the fingers bare, this henna is the perfect example of modern mehndi designs that exude creativity and stylishness.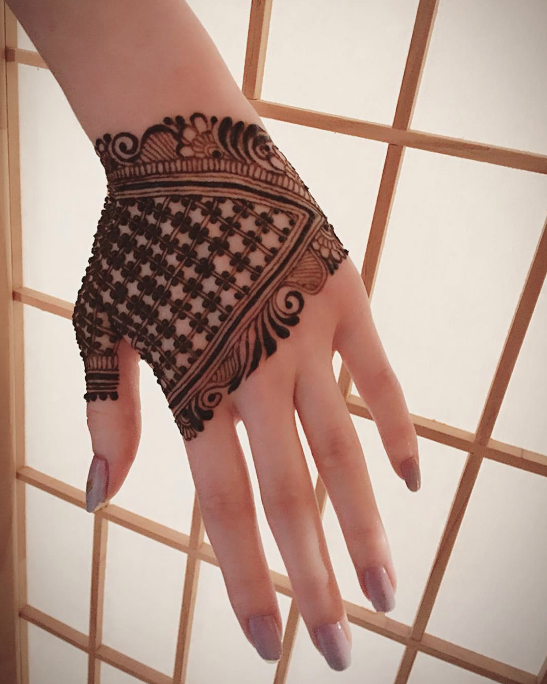 Latest Mehndi Designs For Karwa Chauth
#1 Shaded henna patterns not just look good when drawn, but they also look quite bewitching after staining. Here, the shaded pattern is used to demonstrate a significant moment of the Karva Chauth fast; when the woman sees the moon for the first time.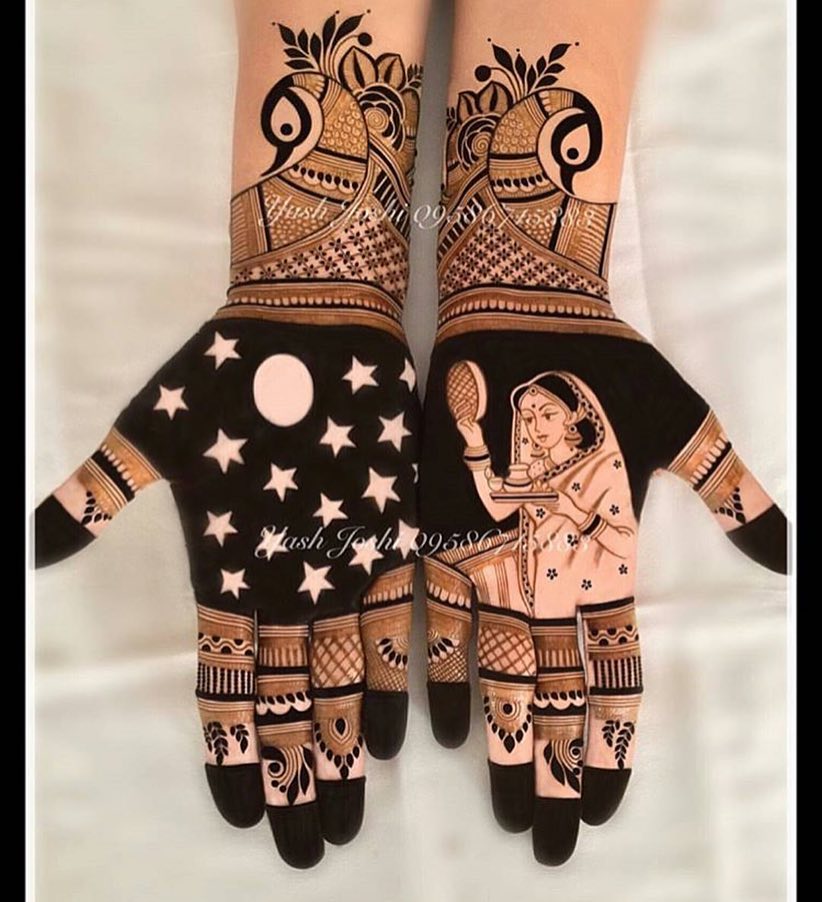 #2 Forget about dainty and small henna patterns, this Karva Chauth 2023 will be all about maximalism with women dressing up in the best of their clothes & jewelry, and choosing henna that resonates with the same style. Despite covering the whole hand, the pattern won't take a long time because of the bigger elements and spacious look.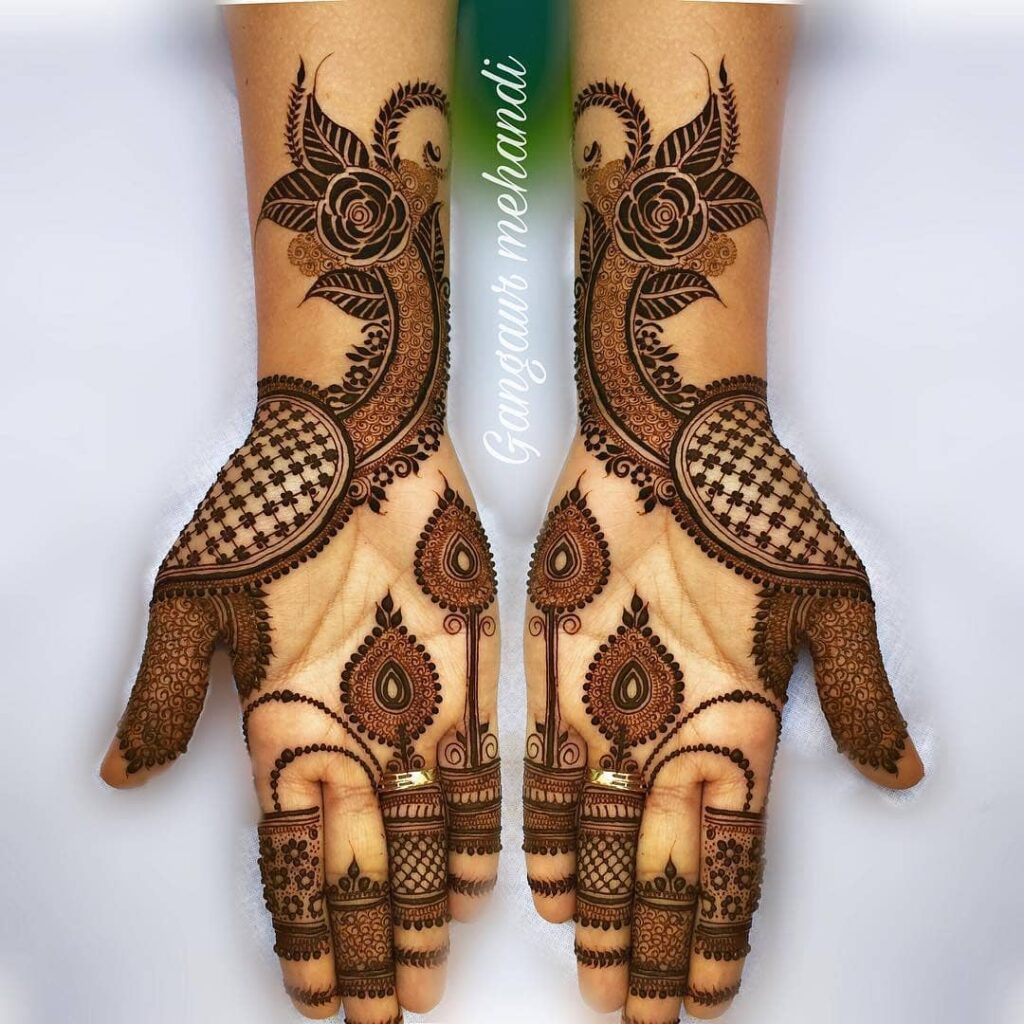 #3 If this is your first Karva Chauth then you'd surely want your henna to represent the same. After all, there's nothing like the year of firsts.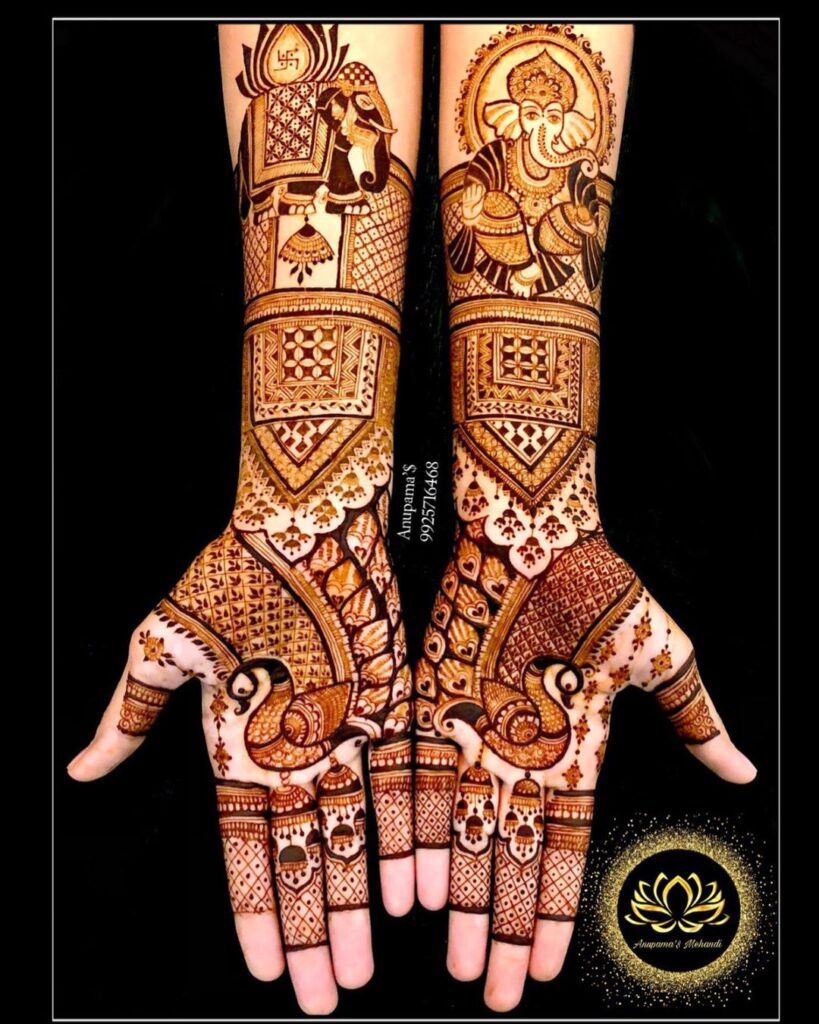 #4 The next one of the easy and simple mehndi designs for Karwa Chauth also depicts the sieve moment, but it's the lehenga that takes all the attention. If you're short on time and yet want a statement KC henna, this design will serve you well. It only covers the palm and the figure also doesn't have many details. Any expert henna artist will complete this within an hour.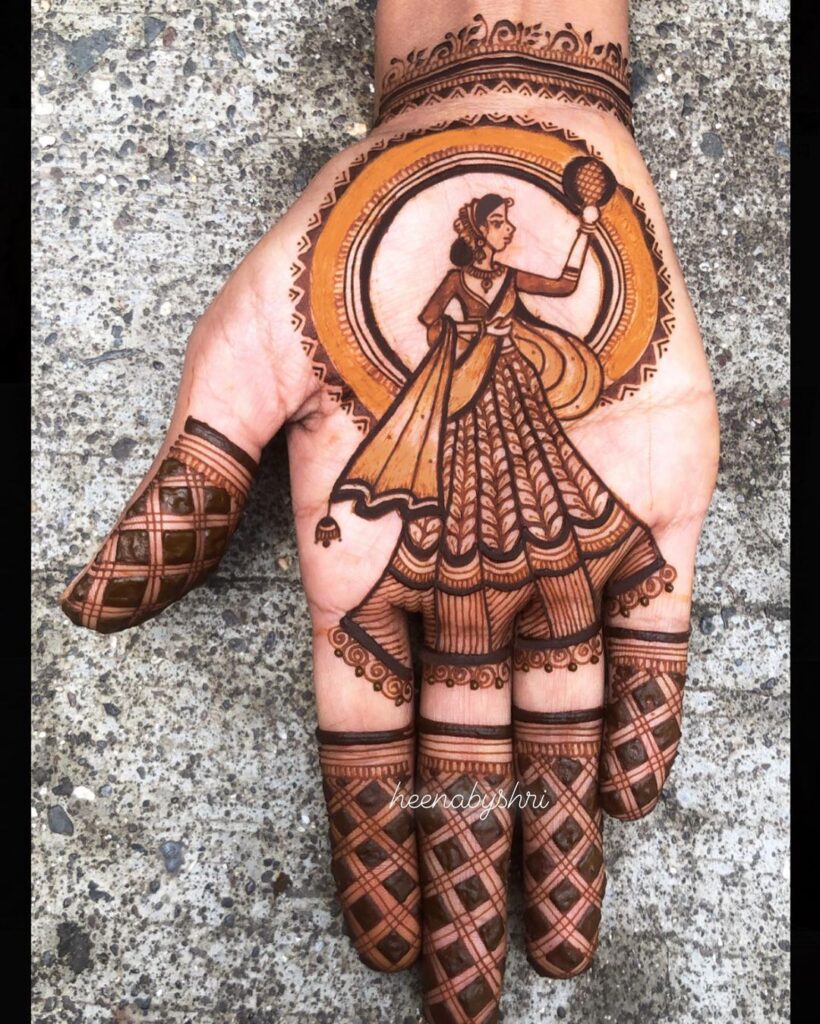 #5 The peacock is not just the National bird of India, it's also the most auspicious animal in Hindu mysticism. Their feathers are often kept at home as it's known to bring luck and prosperity. They are a part of many Indian festivals, and also make for a stunning addition to your henna design. So, let their beauty be the center stage of your Karwachauth mehndi design.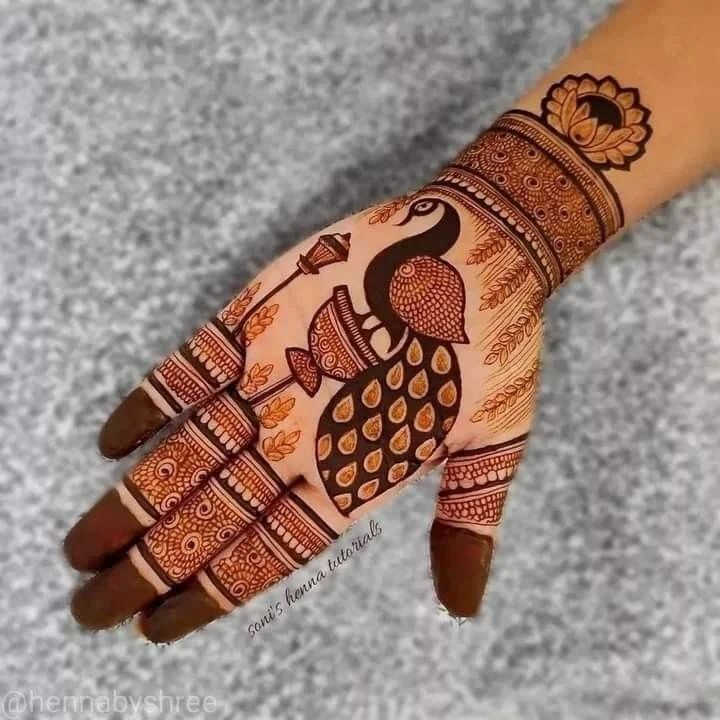 #6 Another modern & gorgeous simple mehndi design for Karwa Chauth that only covers the palm of the hands. The design uses the creative play of bold & thin strokes for a visually appealing pattern. You can increase it till the elbow, but make sure the modern style of the rest of the mehndi is maintained.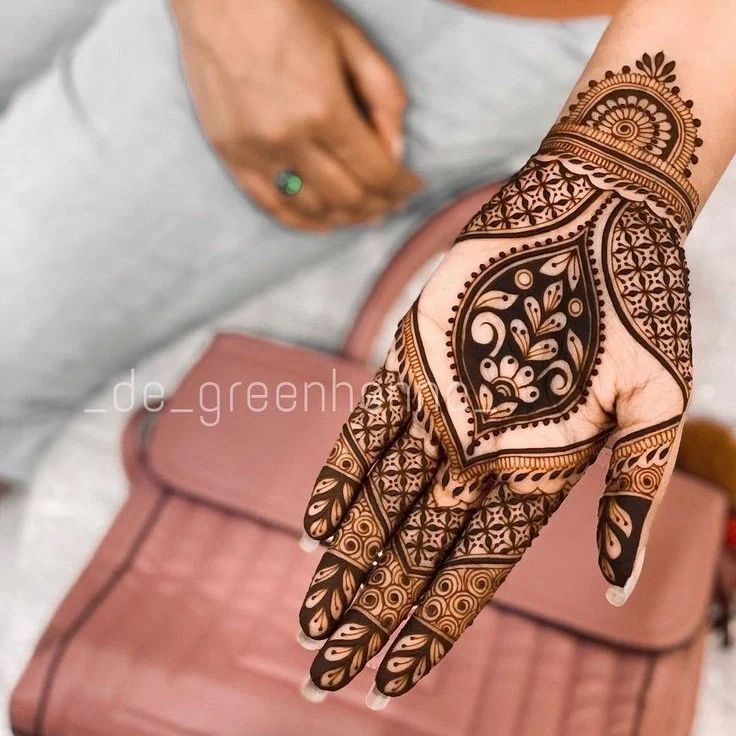 #7 Relatives pestering you for a full-hand mehndi design on your first Karva Chauth, but you don't want your hands to appear full? Try this 3-D henna art instead that uses open spaces and trending elements – so you're happy and the relatives are happy as well!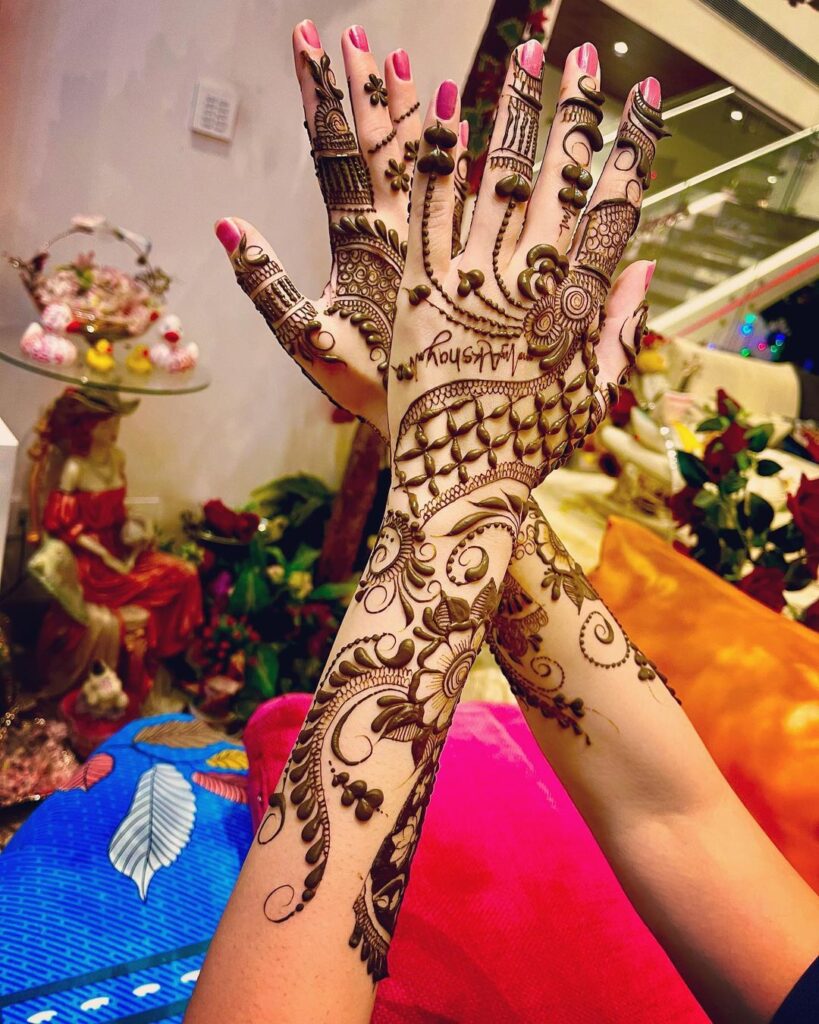 #8 We love the impeccable intricacy of this mehndi design. When opting for such elaborate henna patterns, know that they take time even though they have empty spaces. The ornate filling takes attention to detail and the artist will often spend a good amount of time to make sure the flawlessness you want stays.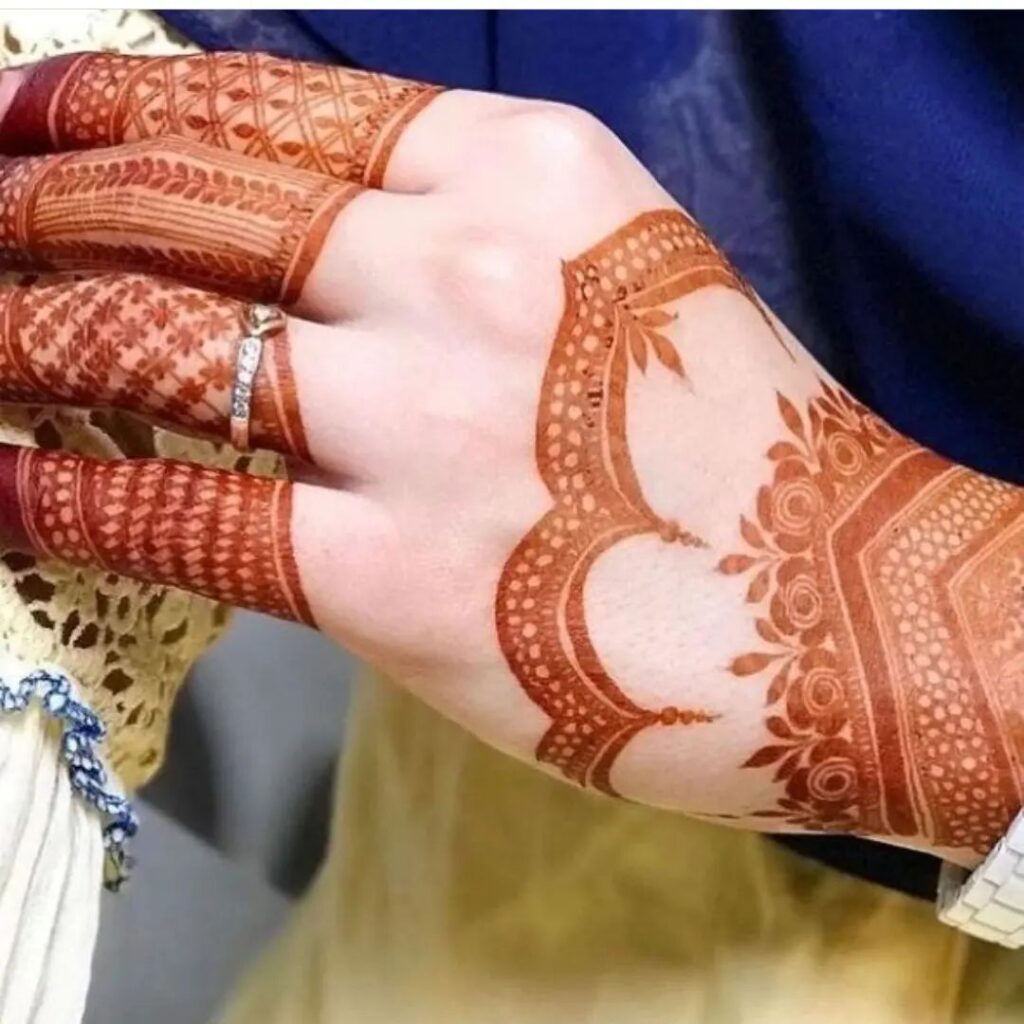 #9 This is one of our favorite latest mehndi designs for Karwa Chauth. It involves no filling whatsoever and still manages to catch the attention of the viewer. Without a doubt, your mehndi artist should be skilled with 3-D art to recreate this. Otherwise, it will lose all its charm. Make sure you ask them the same and go through their samples before booking them for Karva Chauth.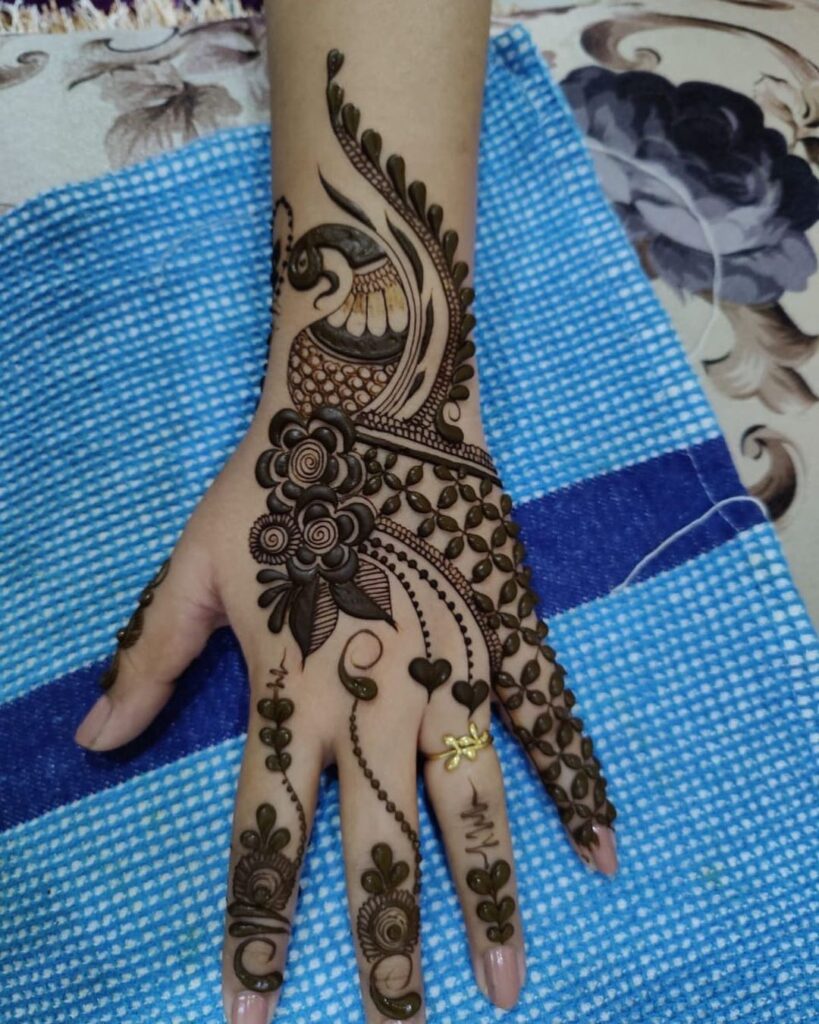 #10 This mandala design starts with a cute elephant as the focal point of this mehndi pattern. It's followed by the usual elements of the mandala mehndi, a wrist pattern in choodi, and intricate finger mehndi. Elephants are yet another element used in mehndi because of their symbolic nature representing luck, prosperity, and remover of obstacles.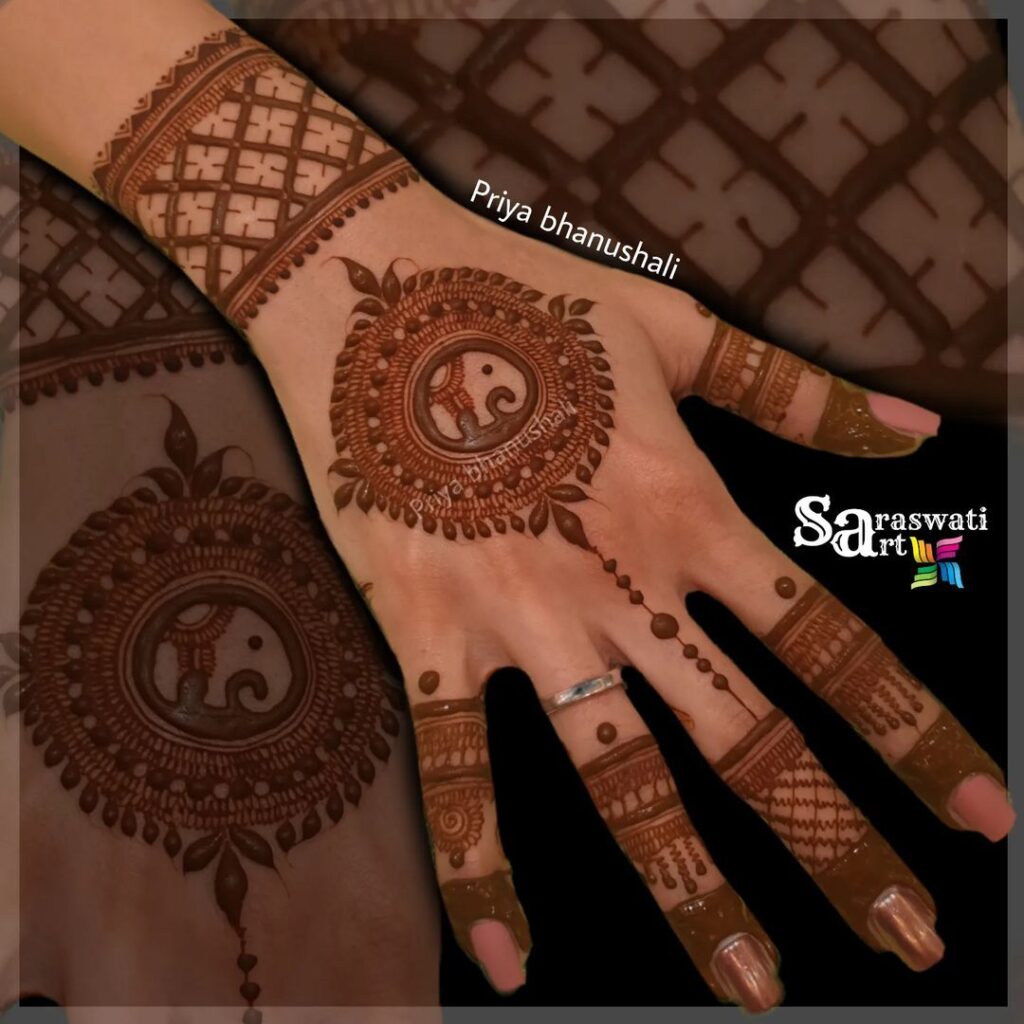 #11 For backhand mehndi design, a jaal pattern is one of the most popular because of its sheer beauty and how gorgeous it looks after staining! So if you want your Karva Chauth henna to include the jaal pattern mehndi, then here's a ravishing one to consider.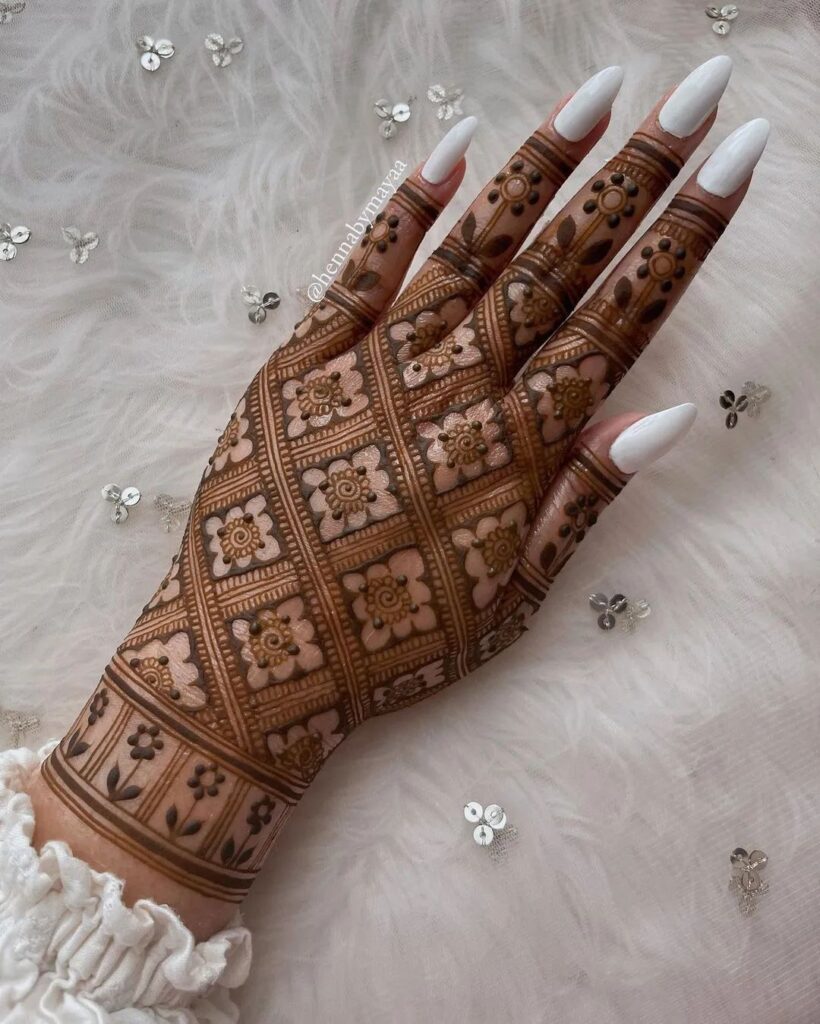 #12 What's the fun in mehndi designs for Karwa Chauth if they don't go beyond the wrist till the forearms? We love how this henna combines the magic of Arabic and bharwa mehndi patterns to create such a fascinating mehndi design. You can choose to cover the tips or let them be an extension of the design – this pattern will look good both ways.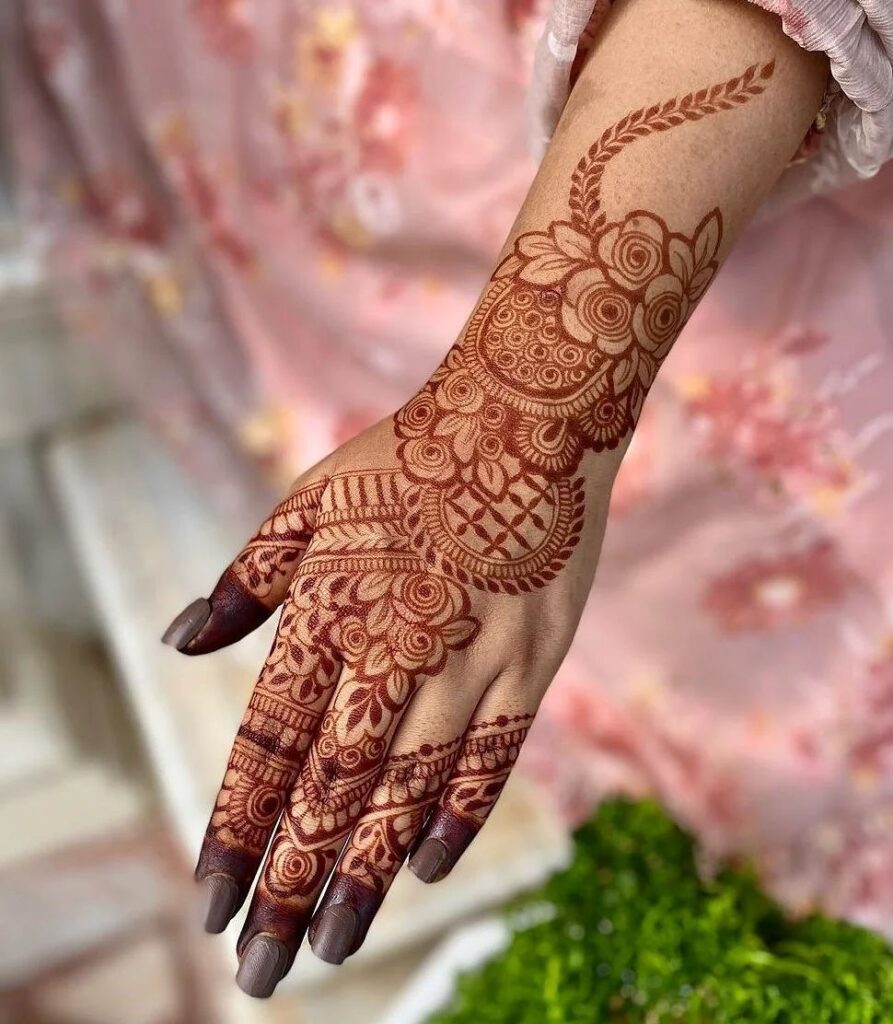 #13 Empty spaces & florals – these are the two elements that define this one of the Karva Chauth special mehndi designs. Florals add a certain romance and charm to anything they become a part of! In this case, it's this henna that exudes just allure and beauty all at once.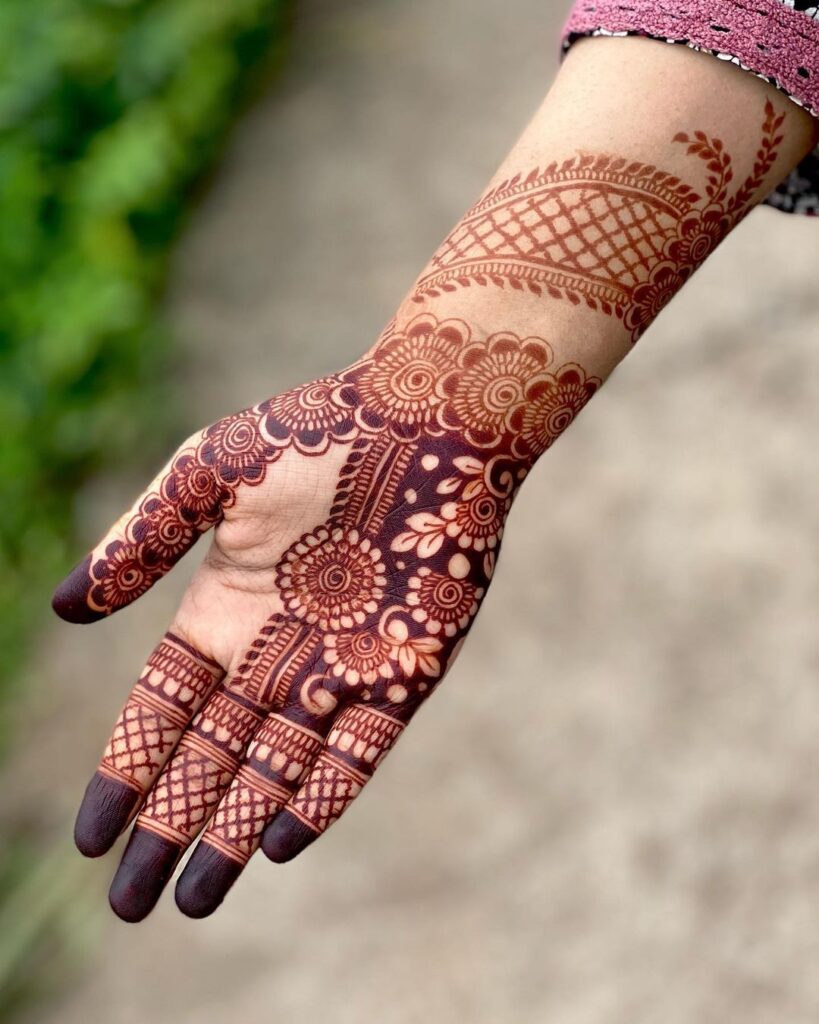 #14 When it comes to thinking of Karvachauth songs, there's one that comes to everyone's mind – "Chand Chupa Badal Mein". Taking the lyrics from this iconic song, this Karva Chauth mehndi is absolutely stunning. When painting the front hands with mehndi figures, make sure the back hand mehndi design for Karwa Chauth also has some statement elements to keep the general theme of the henna design alive everywhere.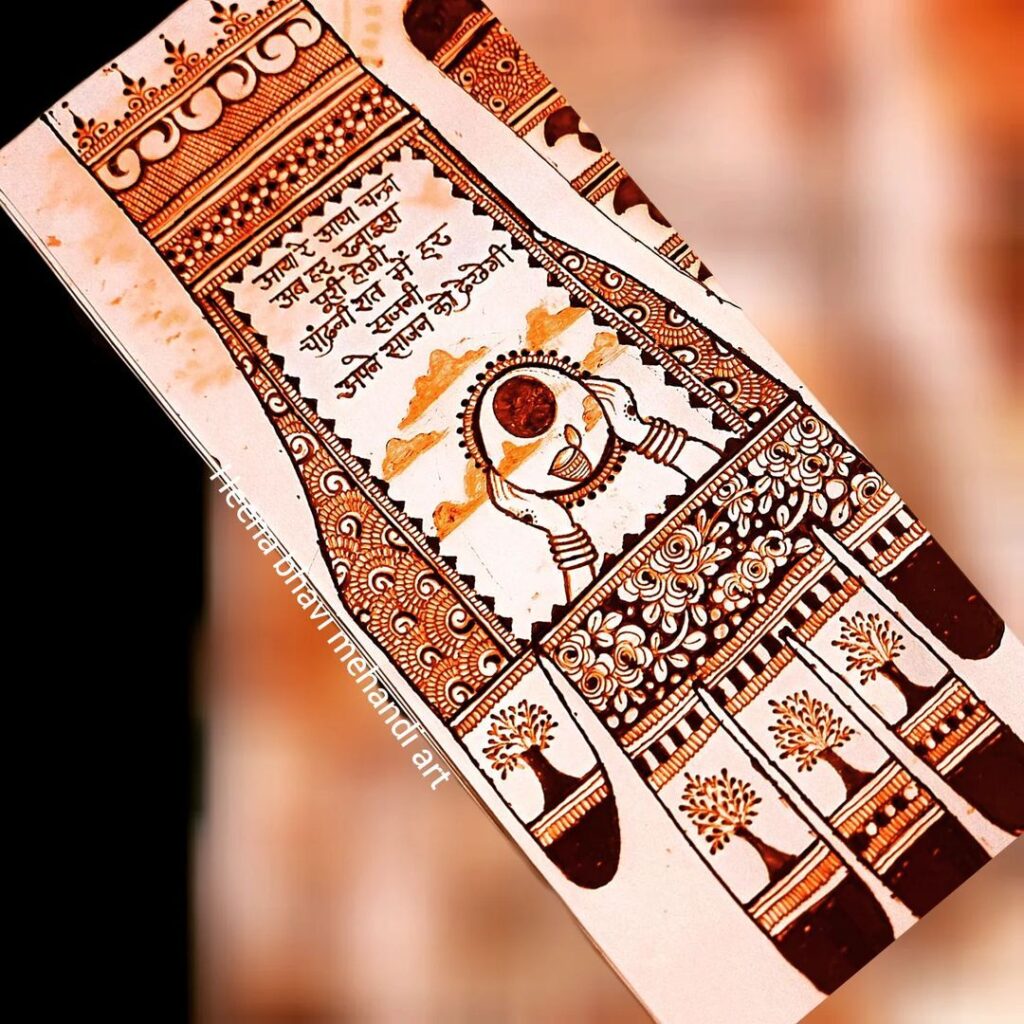 #15 Making the symbolic Hinduism elements, lotus, and peacock, as the center of attention, this one of the mehndi designs for Karwa Chauth uses bold strokes, traditional designs, and intricate filling to create a mehendi that's perfect for many occasions – from your wedding to Karva Chauth to Teej festivals. The lotus 3-D art is truly mesmerizing and should be done with care to recreate a similar charm as shown in the picture.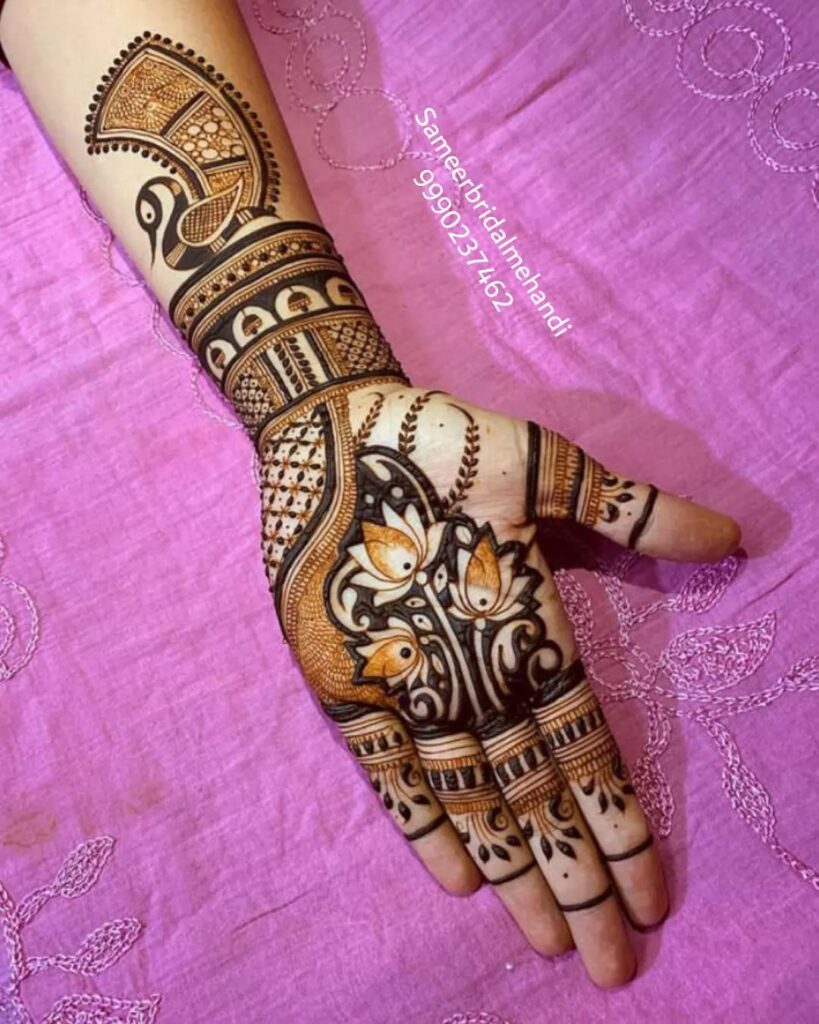 #16 If you're planning to wear a saree for your Karva Chauth dress, rather than a lehenga, then this endearing mehndi figure will have you swooned. The subtle details like the pot on the terrace's balcony and stars in the sky further embolden the expertise of the henna artist and why you need to hire a professional if you want a special Karwa Chauth mehndi design like this as well.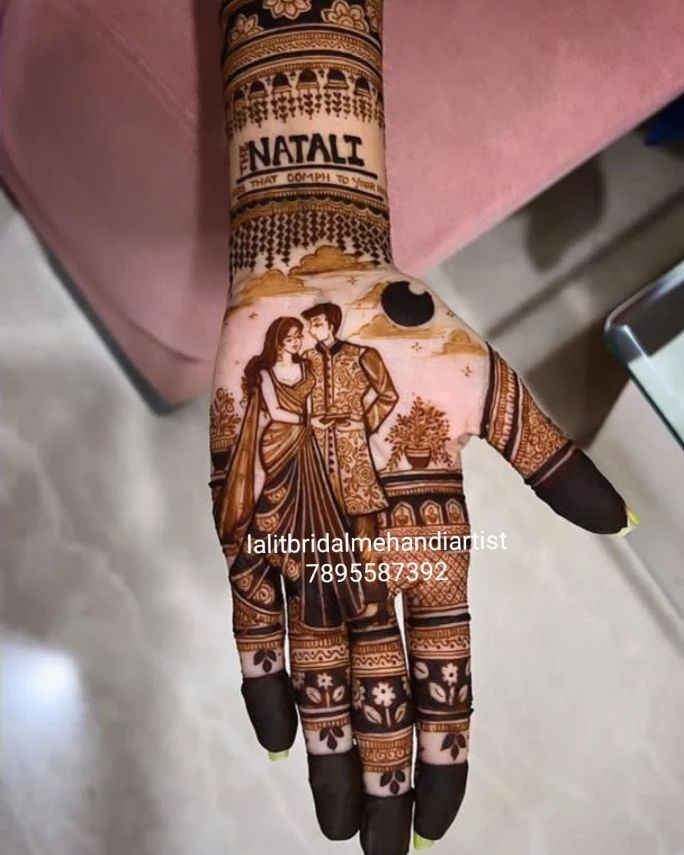 #17 While this is a roka mehndi design, you can certainly recreate it on your Karva Chauth 2022 as well. Replace the rings with a normal circle or a diya to keep in line with the theme of the KC.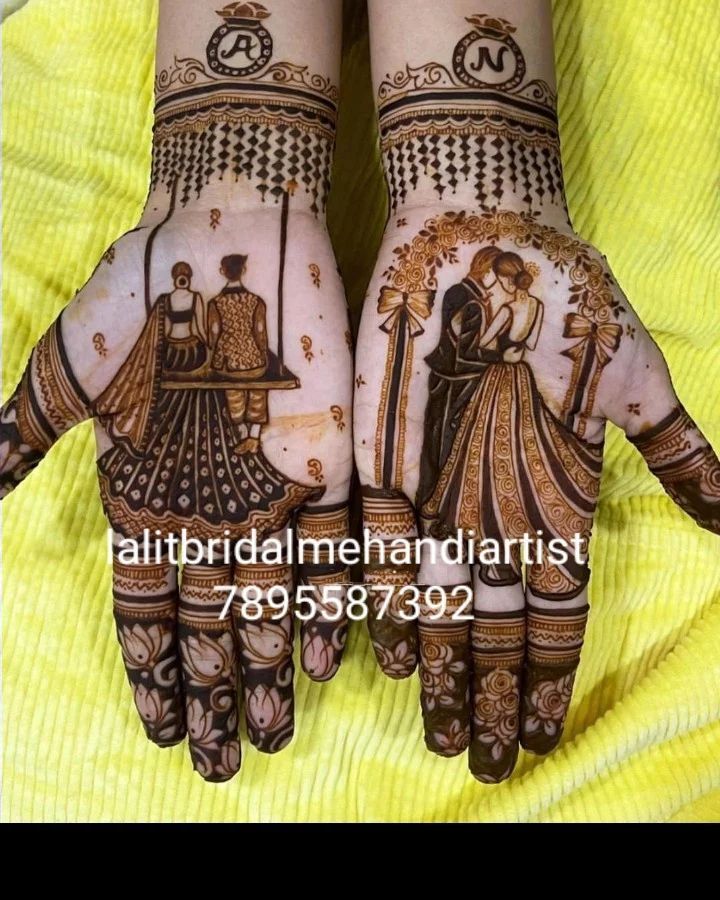 #18 It's clear that a peacock design in your mehendi can elevate its look, so if you're looking for one to add to your chosen Karva Chauth mehndi, then TA-DA, we heard you! This one can be drawn on the wrist or on the palms as well.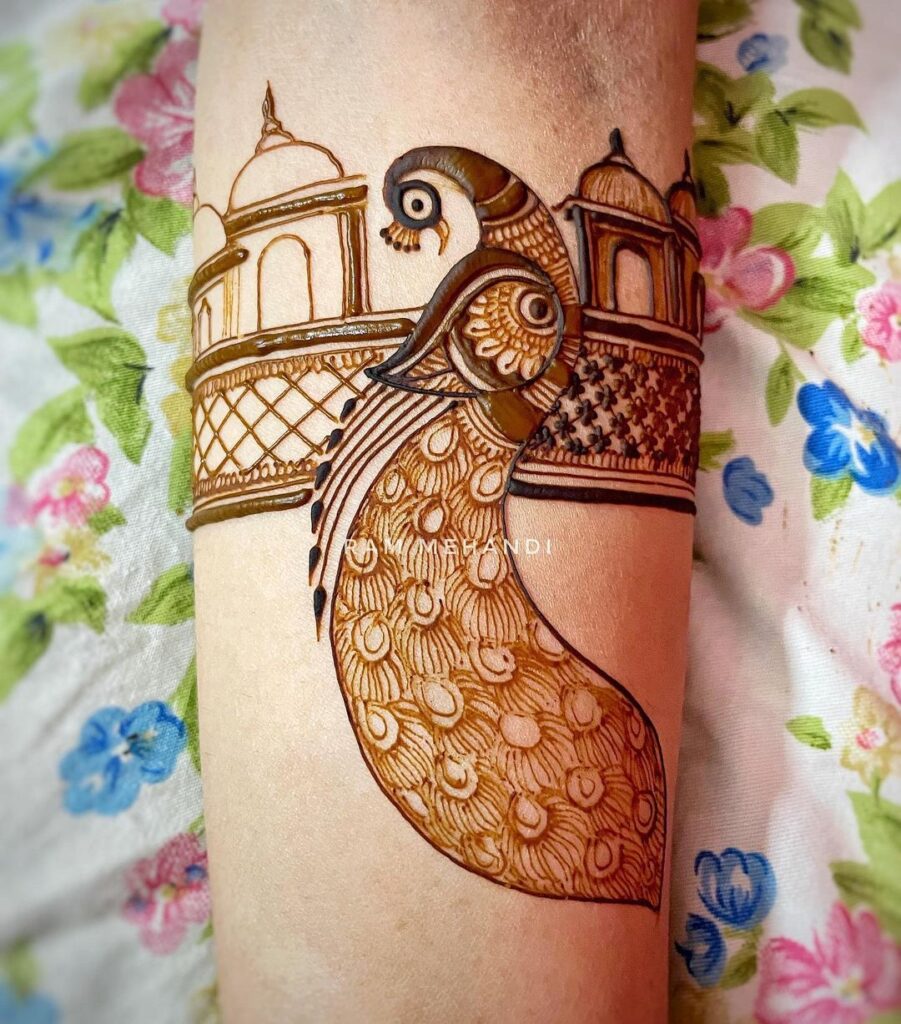 #19 Clearly, mehendi designs are getting more creative than ever before. Shunning the normal layout of the henna, this one uses just squares to create the outline and yet, makes it look fancy and gorgeous. Besides KC, you can use this mehndi design inspiration for other events as well like bridesmaid mehndi or Teej festival.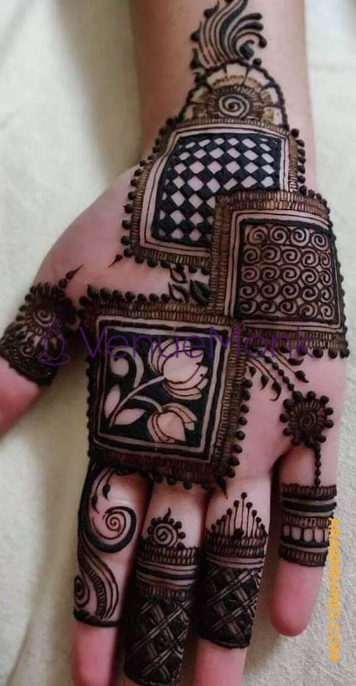 #20 As we said, 3-D patterns in henna are big at the moment. Although they don't take much time, they do require a degree of expertise that only a few henna artists possess. If you want a mehndi design like this, make sure the vendor you book is skilled at it, otherwise, you might not be able to recreate the same allure this design has.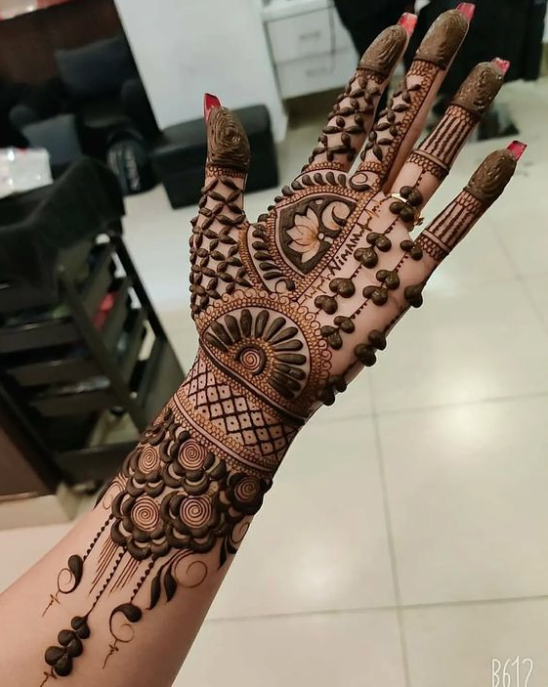 #21 Filling the jaal with hearts is not usual, but it's definitely gorgeous. Combined with peacocks and paisleys, this new mehndi design for Karwa Chauth looks like the perfect one for the occasion.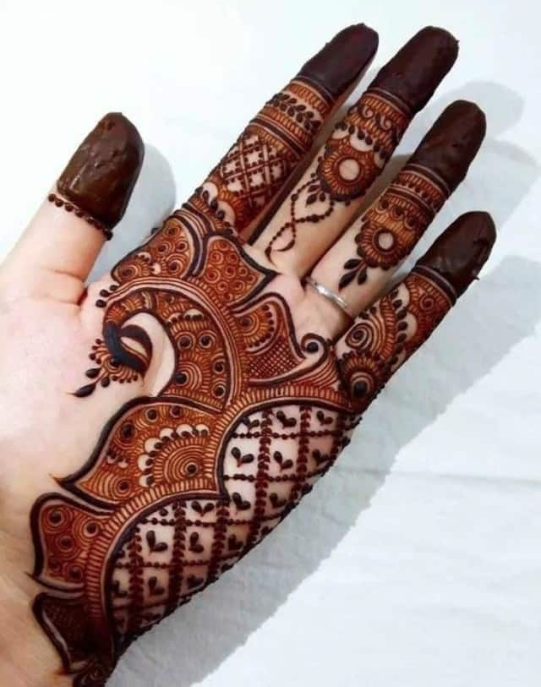 #22 If you're looking for the latest mehndi designs for Karwa Chauth, we think we have found the right one for you. It has modern elements, romanticism, and ample space all in one! Something women of this age adore and admire.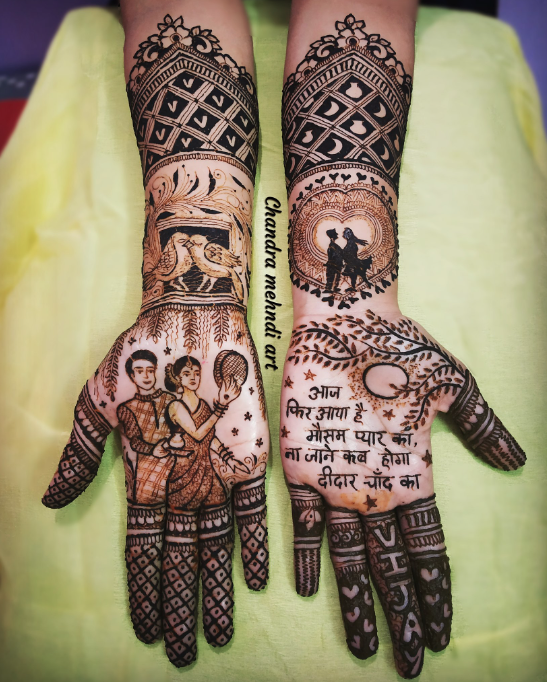 #23 From the figure to the entire pattern, this whole mehndi design is done in 3-D. If you're wondering why 3-D mehendi is so popular, it's because it looks amazing after staining as well. Just try and see!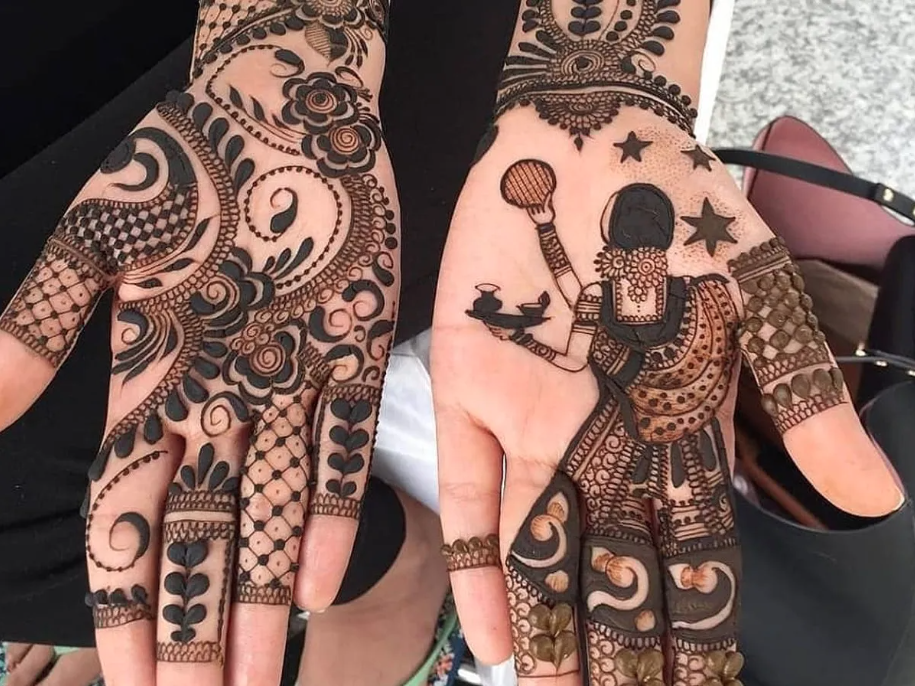 #24 This full-hand mehndi design for Karwa Chauth is on another level! We admire everything about it. Don't you?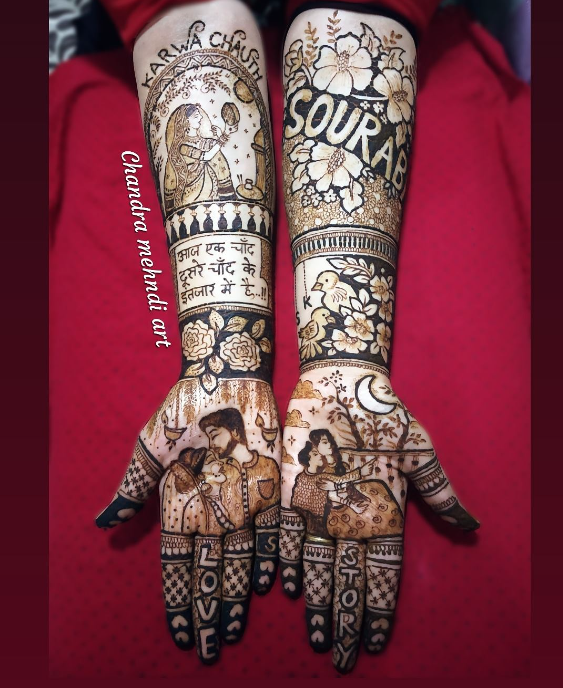 Bridal Mehndi Designs For Karwa Chauth
#1 There's nothing more beautiful than a bharwa Karva Chauth special mehndi design. The one featured below covers the whole hand in modern mehndi elements like jaal, 3-D florals, etc. as the center of attention followed by traditional components like semi-circles and lines for a time-honored design that looks stylish as well.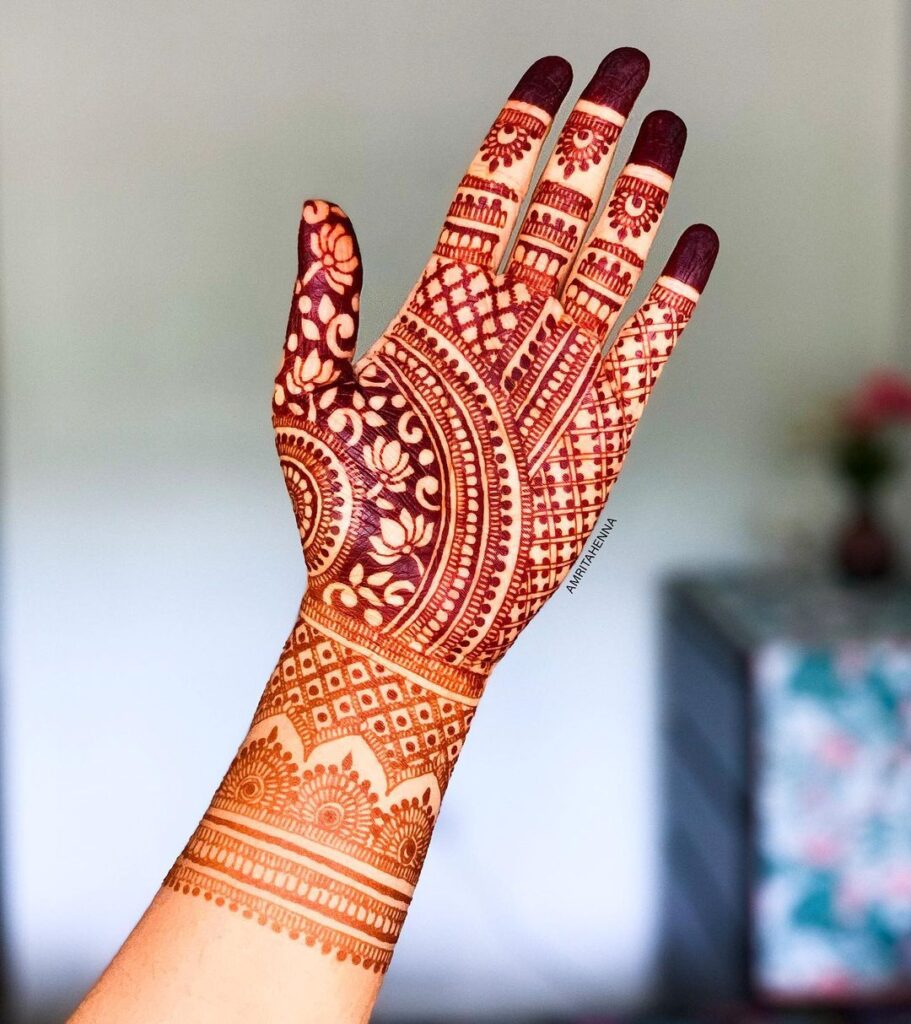 #2 Mehendi figures are big at the moment! And you can find a mehndi figure resonating with your occasion easily. Here's one representing Karvachauth's most highlighting moment of them all – when the woman sees the moon through the sieve, marking the breaking of her fast. You can just paint the palm of your hands or pair it with wrist henna as well for a completed look.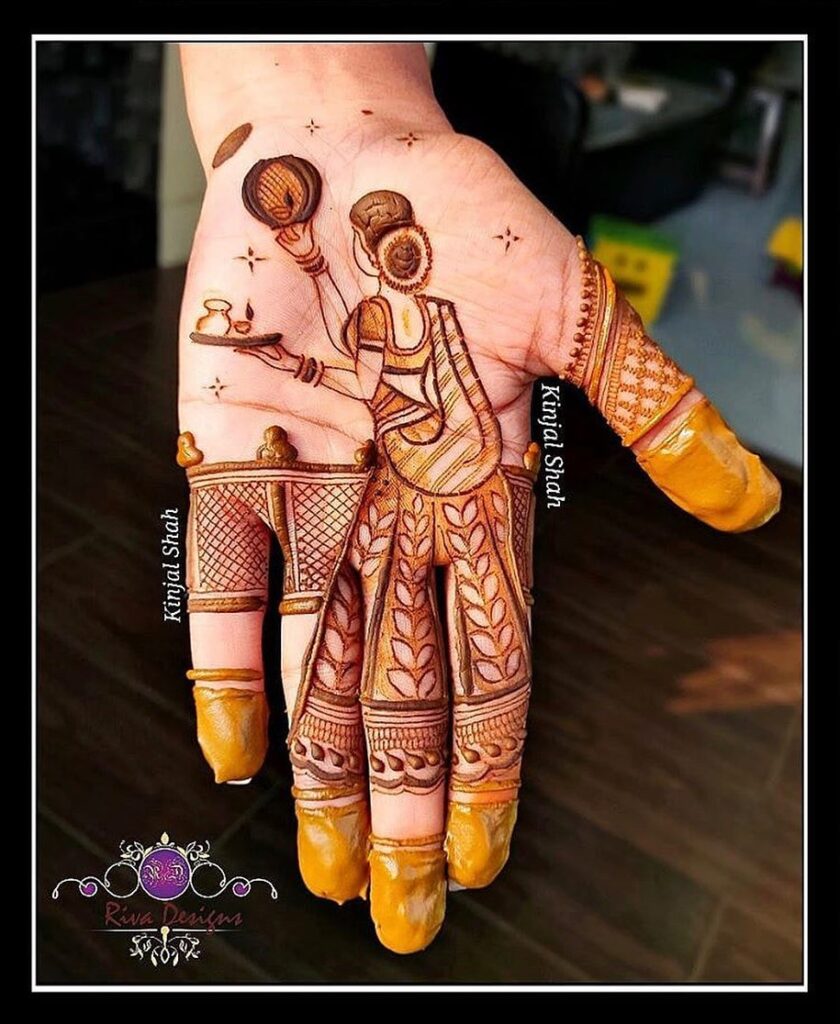 #3 Yet another mehendi design where the pivotal moment of a KC celebration is shown. When you search for mehndi figures, this will be one of the most common moments depicted because of its significance. Here's another gorgeous rendition of the same.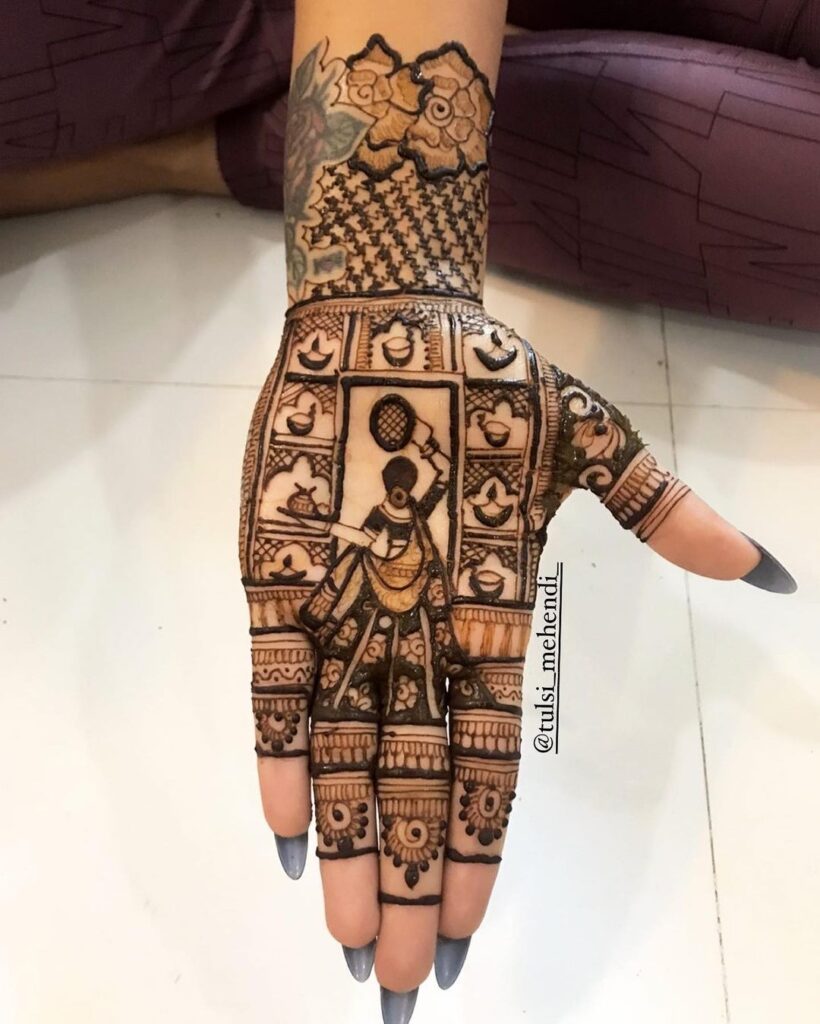 #4 Taking the significant moon-spotting moment to the next step, one of the Karva Chauth mehndi designs shows the bride seeing her husband's face through the sieve. If you look closely, you will see a moon in the clouds as well and it's this kind of attention to detail that makes us fall in love with the creativity of the mehndi artists these days.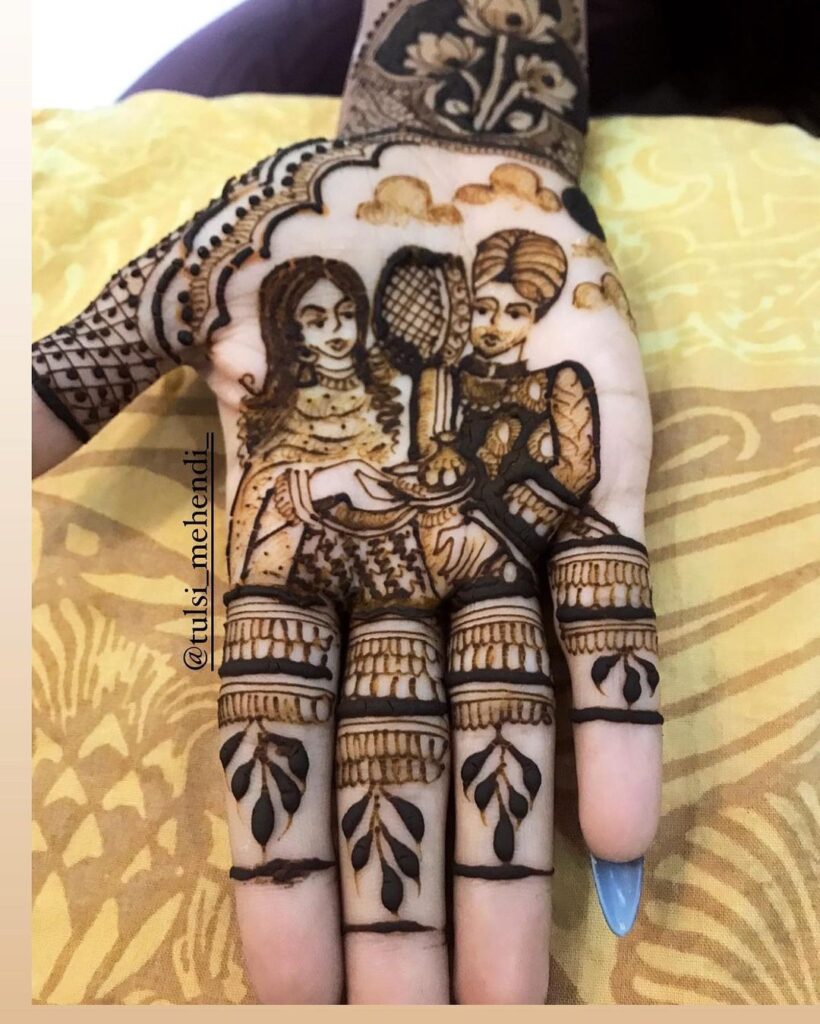 #5 One of the exciting parts of Karva Chauth's celebrations is the getting-ready part where you can don the finest of your Indian wear & jewelry to prepare for the final part of the occasion. Some women also hire makeup artists to get them ready, especially if it's their first Karva Chauth. Portraying the women in all their glory is the next one of the Karva Chauth mehndi designs in 2022.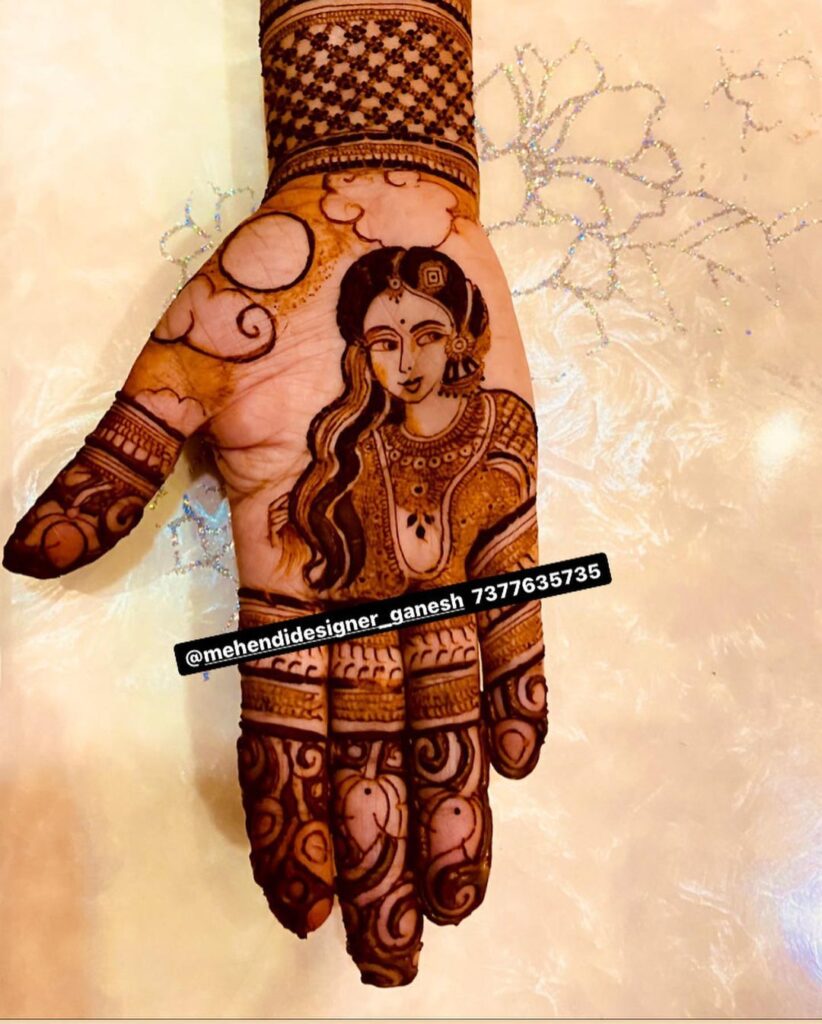 #6 If you're looking for other Karva Chauth mehndi figures besides the sieve one, here's one that depicts a husband feeding his wife water after breaking the fast. Besides water, you can also picture your husband feeding sweets, etc. We love how the henna is completed with the jaal pattern for a very modern Karva Chauth mehndi design look.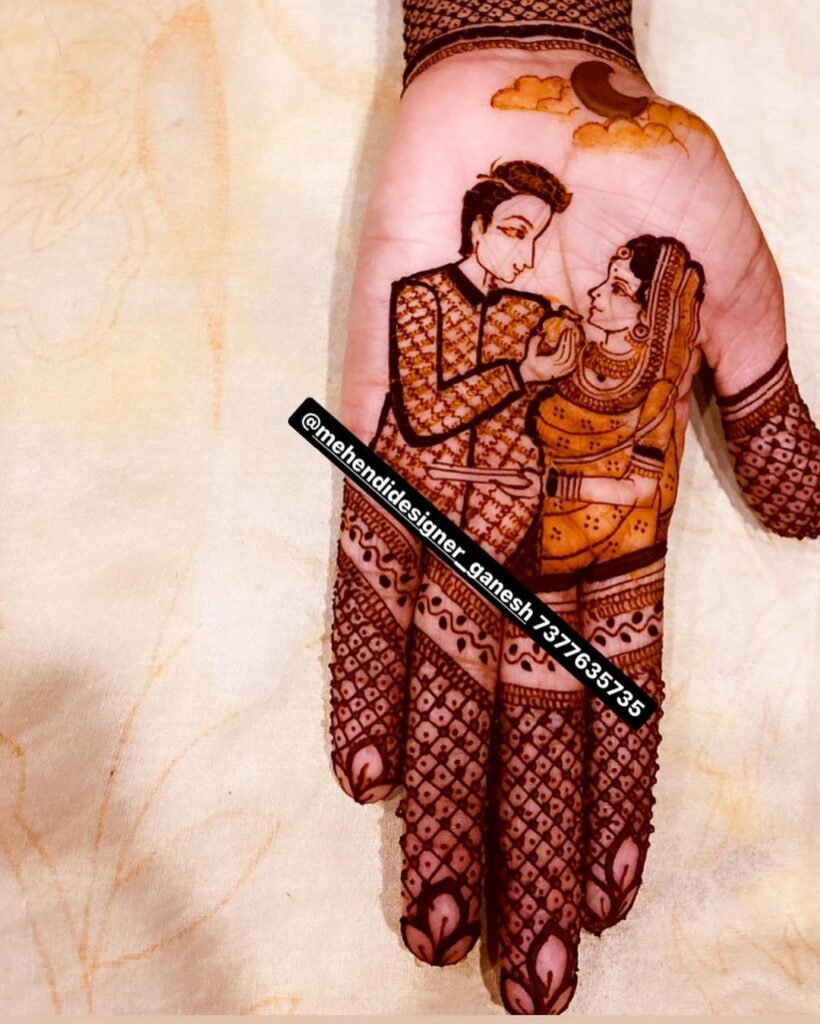 #7 Leave all the traditional customs behind and instead draw your own figurine in all its glory for a modern Karva Chauth mehndi designs 2022. Here the woman is pictured in her solah sringar waiting for the moon to come. You can also draw some clouds on the top for a finished look.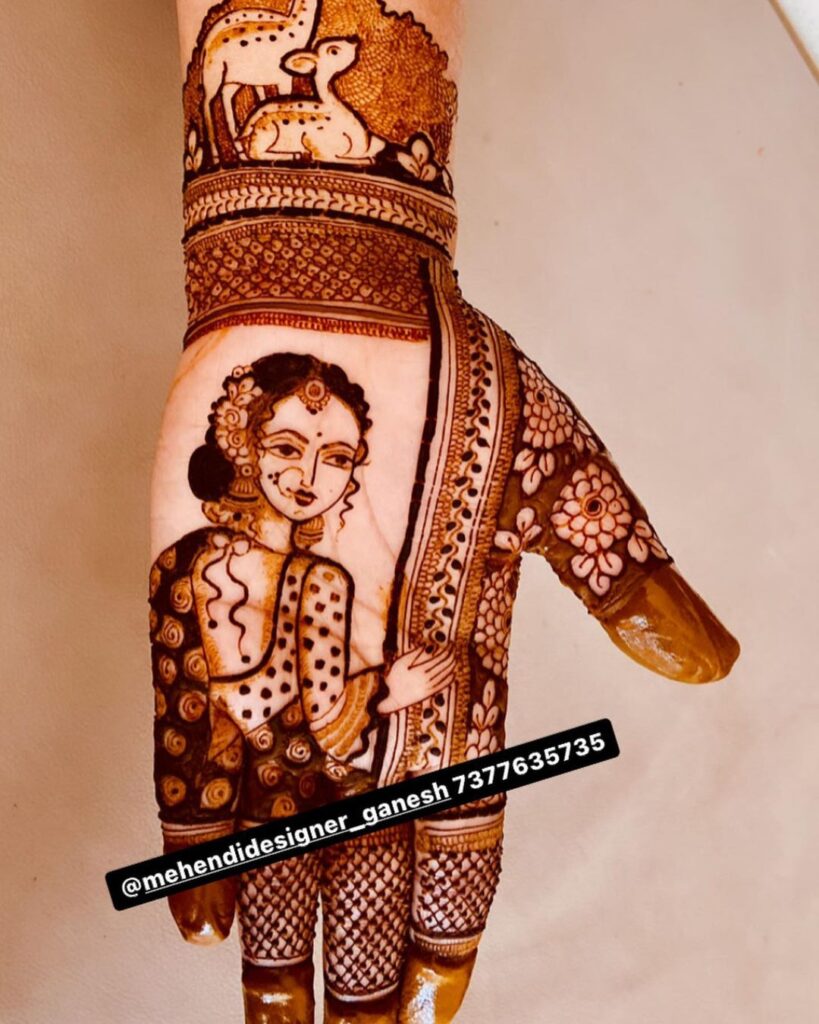 #8 Bring out the romantic in you by etching this endearing husband-wife picture on your henna. This can also be a pleasant surprise for your man as he'd be pleased to see such an affectionate couple picture on your Karwa Chauth mehendi. 
#9 Instead of pointing the sieve to the moon, this one figure among the other Karva Chauth mehndi designs stands out by posing with the sieve instead. You know when you're waiting for the moon, you'd want anything to distract your mind off the hunger. So, indulge in a photo session at this point and let your man become the photographer for you.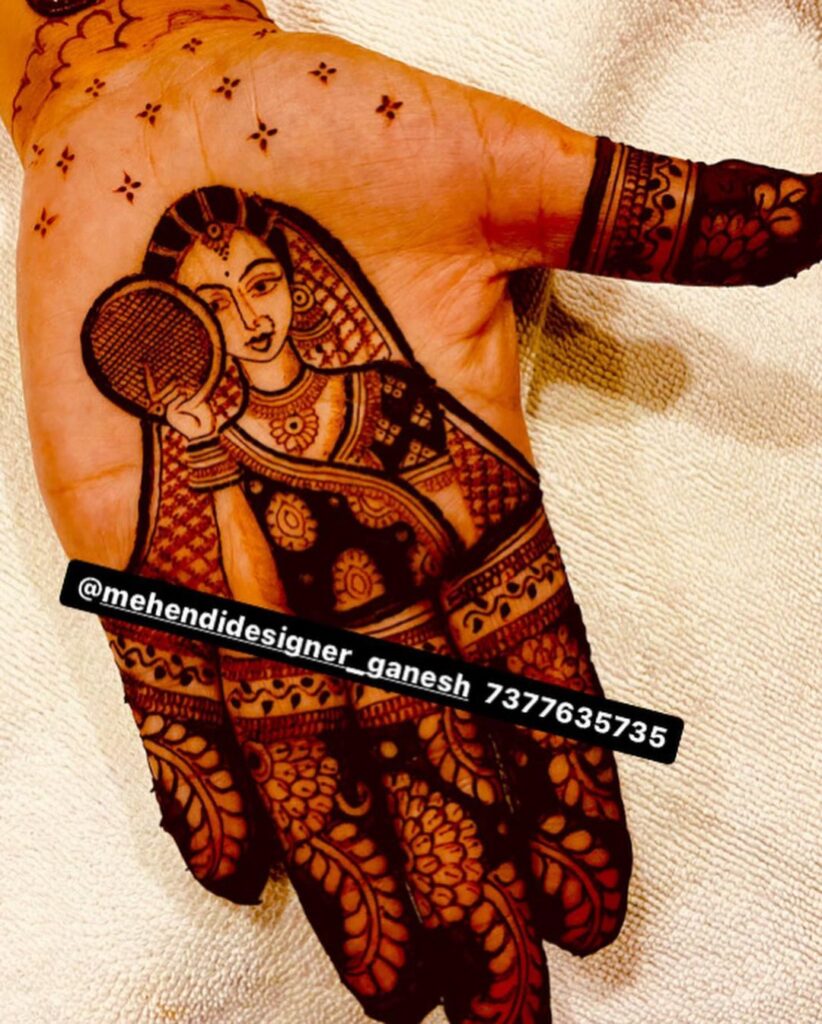 #10 For those who don't resonate with Karva Chauth mehndi designs that have figures yet want a bharwa haath for their KC celebrations, the next one is for you. Featuring a dark outline and light filling, this henna is eye-catching because of both stunning design and flawless intricacy.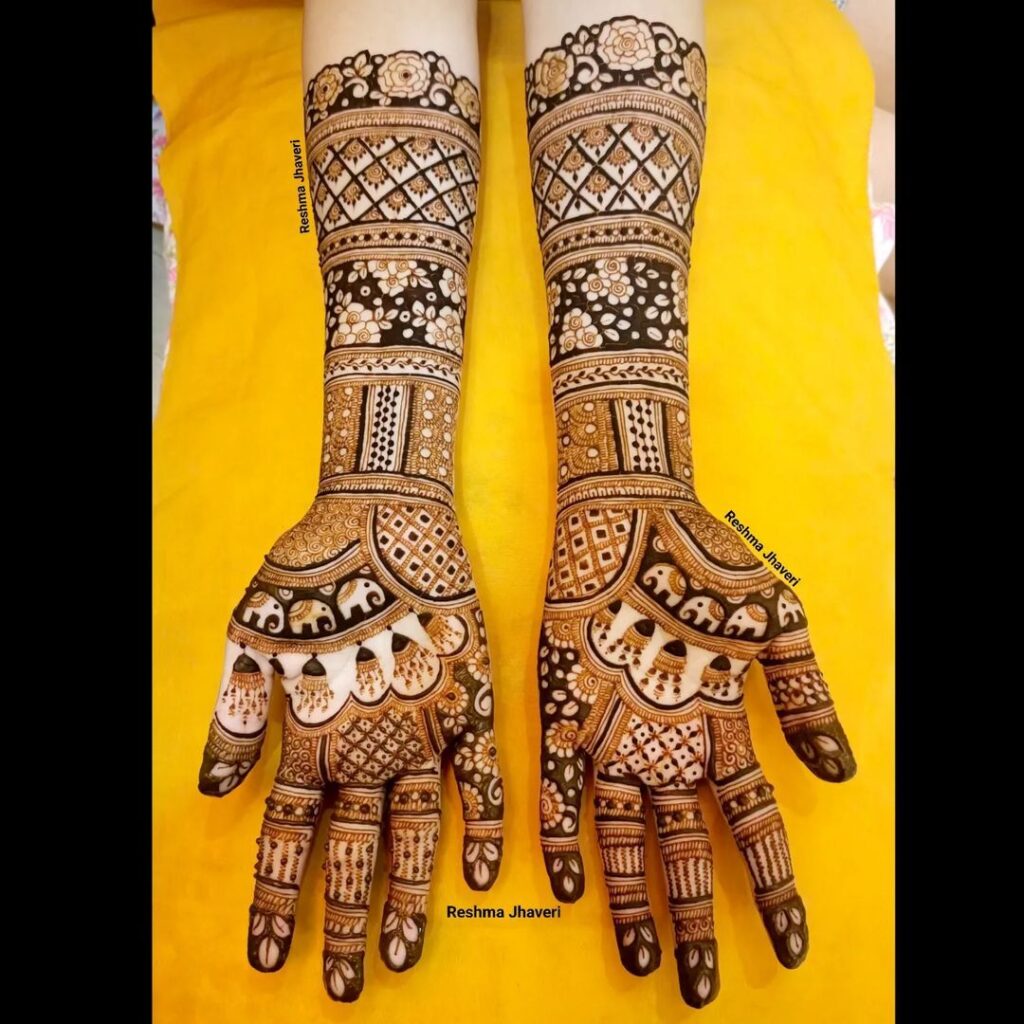 #11 Women about to celebrate Karva Chauth and looking for a modish element in their henna, the next one of the Karva Chauth mehndi designs is just for you. It has gorgeous concentric semi-circles bedecked by 3-D florals and leaves, followed by bharwa finger mehndi that's spacious yet modern.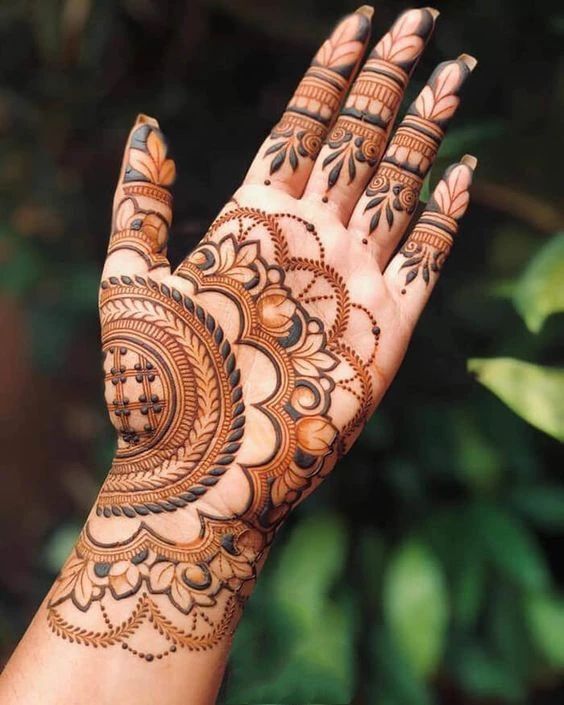 #12 This is such a beautiful rendition of the sieve figure of the bride. We love how the artist has taken the time to draw this significant moment of the night. The railing, tree, and moon, followed by intricate filling and bold outlines give such a 3-D effect to the mehendi. For an eye-catching and attention-to-detail Karva Chauth special mehndi, opt for this one.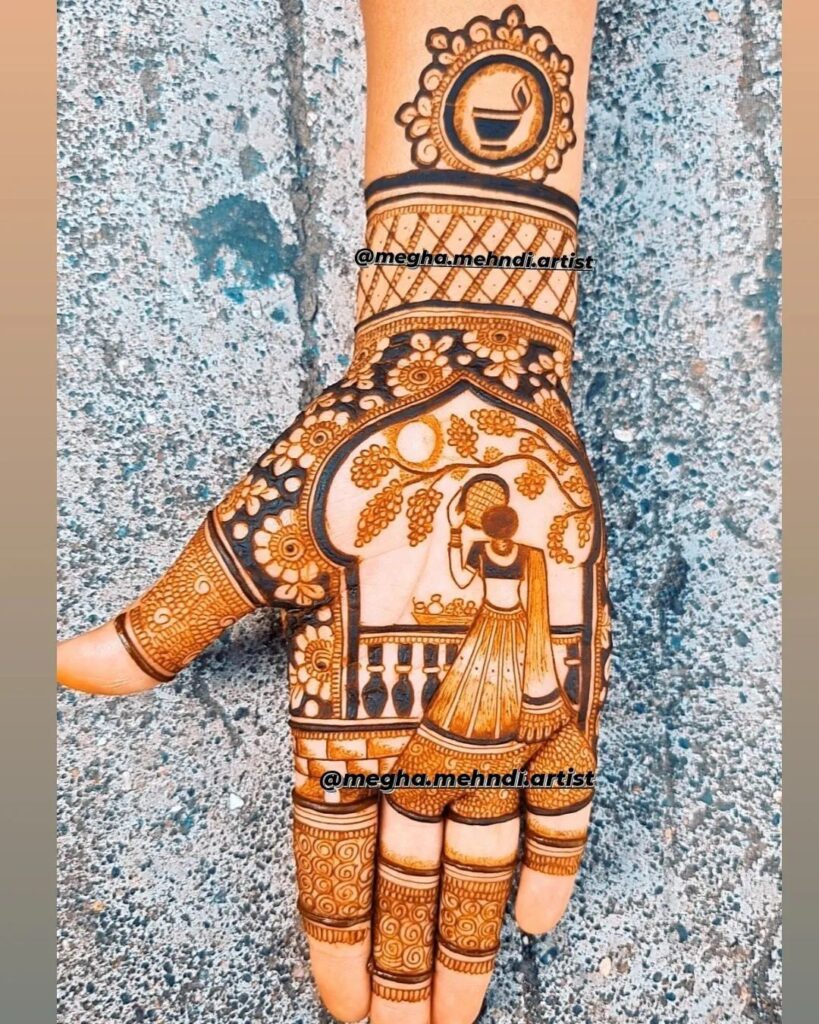 #13 The next Karva Chauth bridal mehndi is bharwa and yet doesn't take the traditional route. It has an artistic pattern and the traditional elements like leaves and concentric circles filling is sprinkled here & there as an honorable nod to the age-old festival. The bold motifs on the wrist are certainly the highlight of this henna pattern.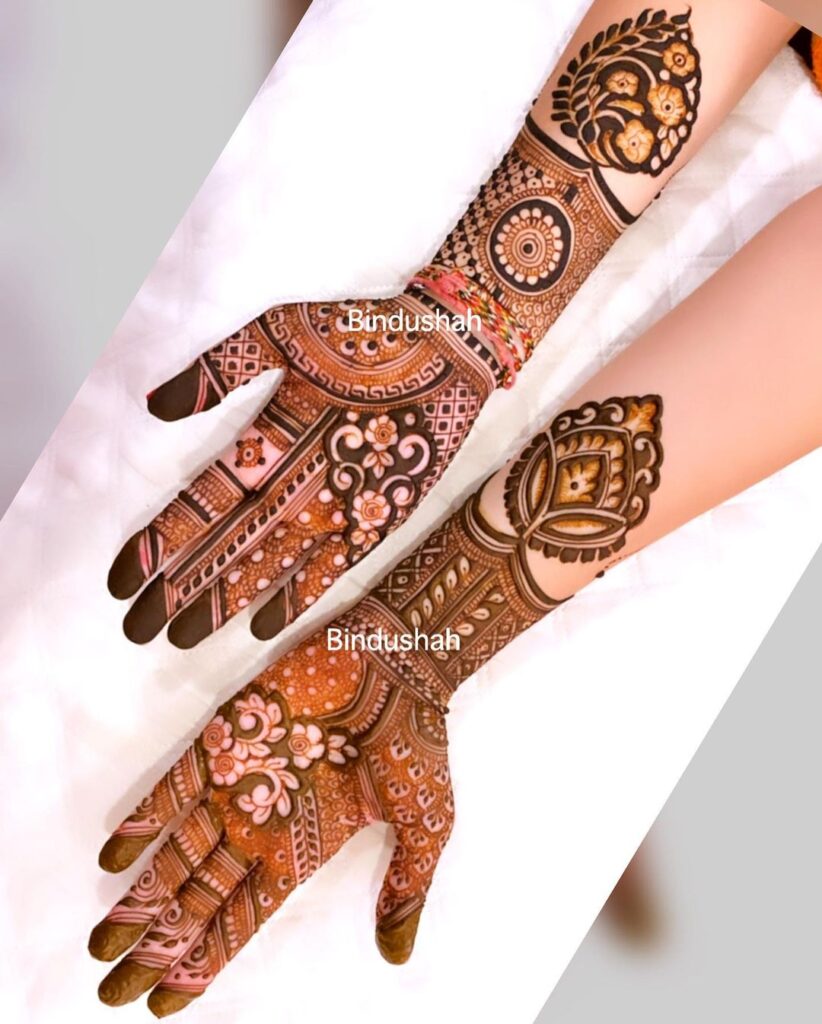 #14 Yet another version of the figure where a woman is holding the sieve while looking at the moon. We love how every variation has something of its own to add. This one, for example, includes a complete landscape of the terrace and a lush tree and lotus on the sides. In Hinduism, the lotus symbolizes spirituality, fertility, beauty, and prosperity and is often seen on various auspicious occasions like Diwali and Durga Pooja.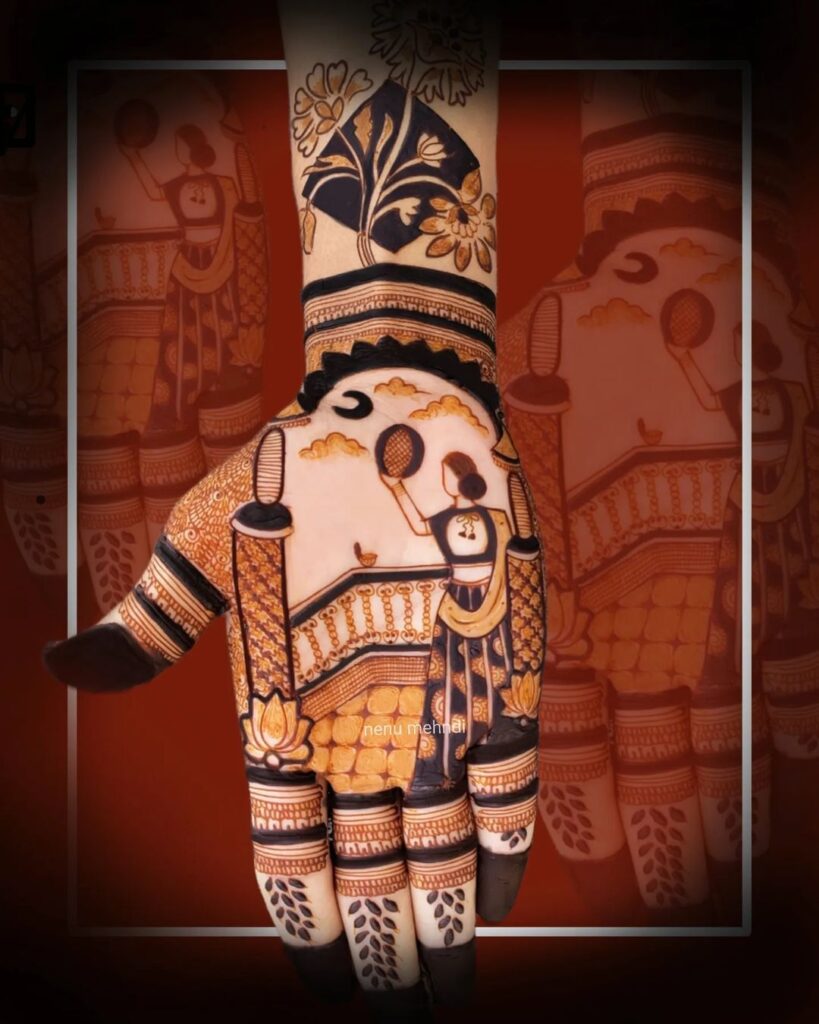 #15 This wrist mehndi design is eye-catching and we were absolutely mesmerized by it! If you want a full-hand mehndi design on Karva Chauth, then use this design as your wrist pattern as many Karwa Chauth mehndi designs only give a good look into the palm henna only. This will beautifully finish the henna pattern though!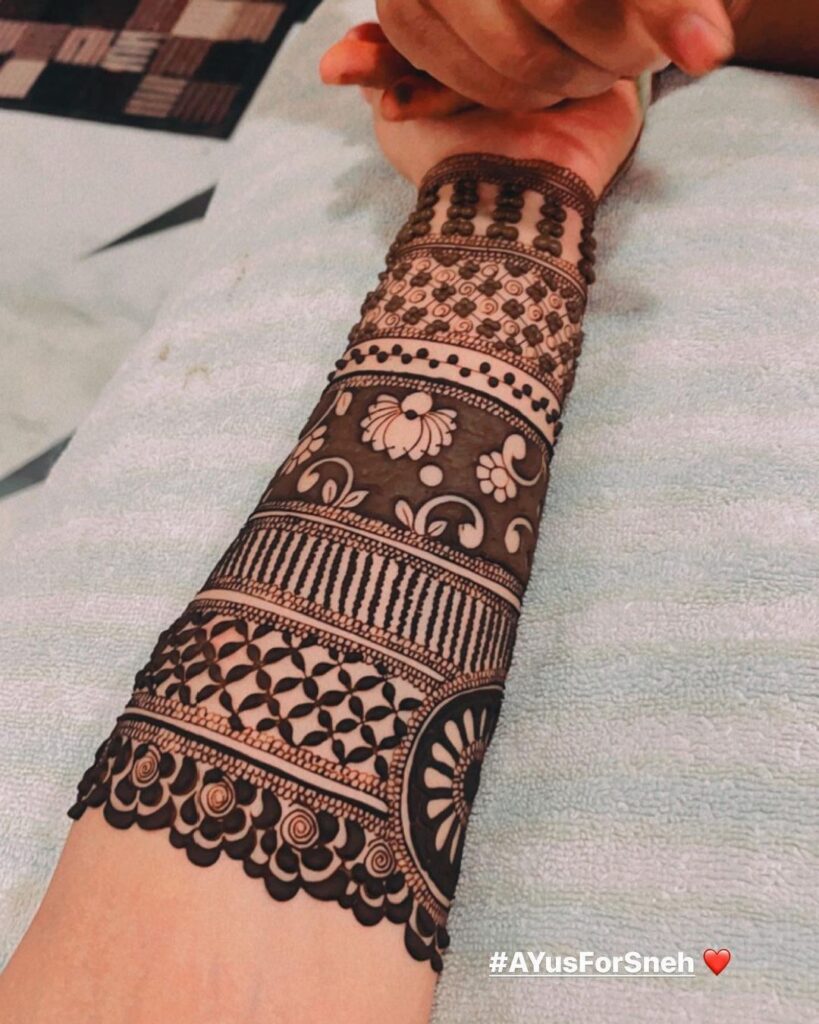 #16 Just another mesmerizing henna design impressing us with its spellbinding art. The placement of 3-D florals while leaving ample space is one magnificent attribute of this henna, but we also love how the lotus & pinjara – the most trending henna elements – takes the center stage in this design.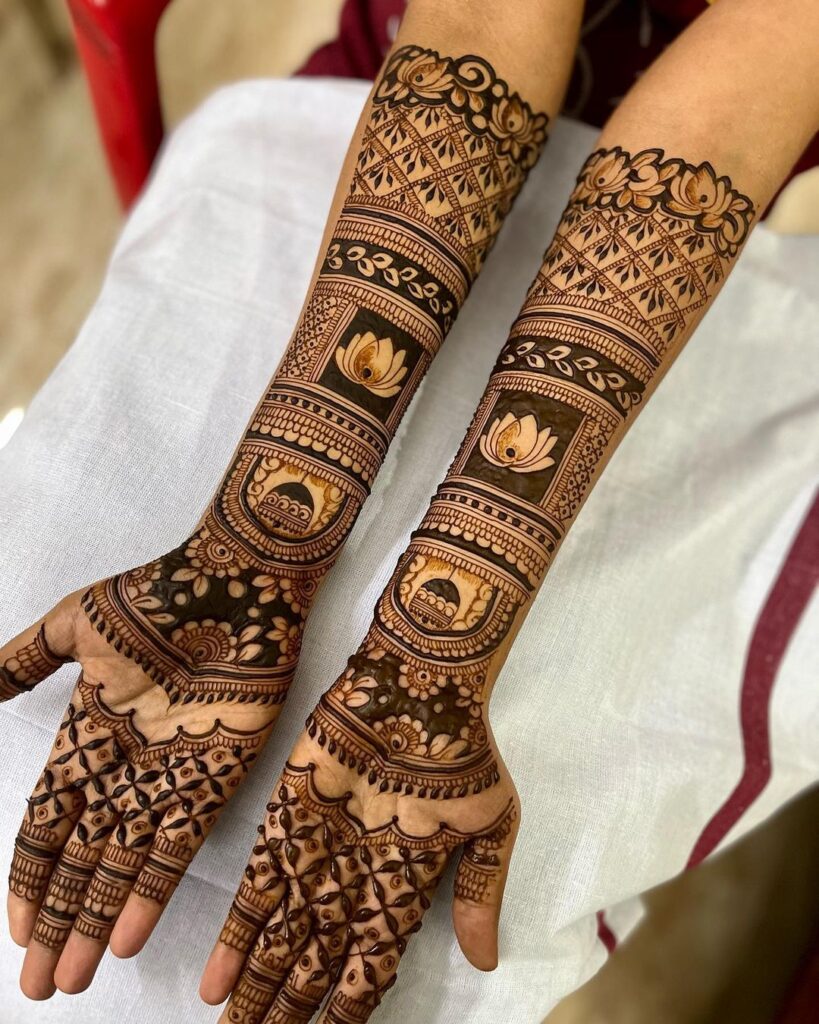 #17 If you're looking for DIY Karva Chauth henna and have beginner-level mehndi drawing skills, this KC mehndi with many concentric circles and empty spaces is your perfect pick.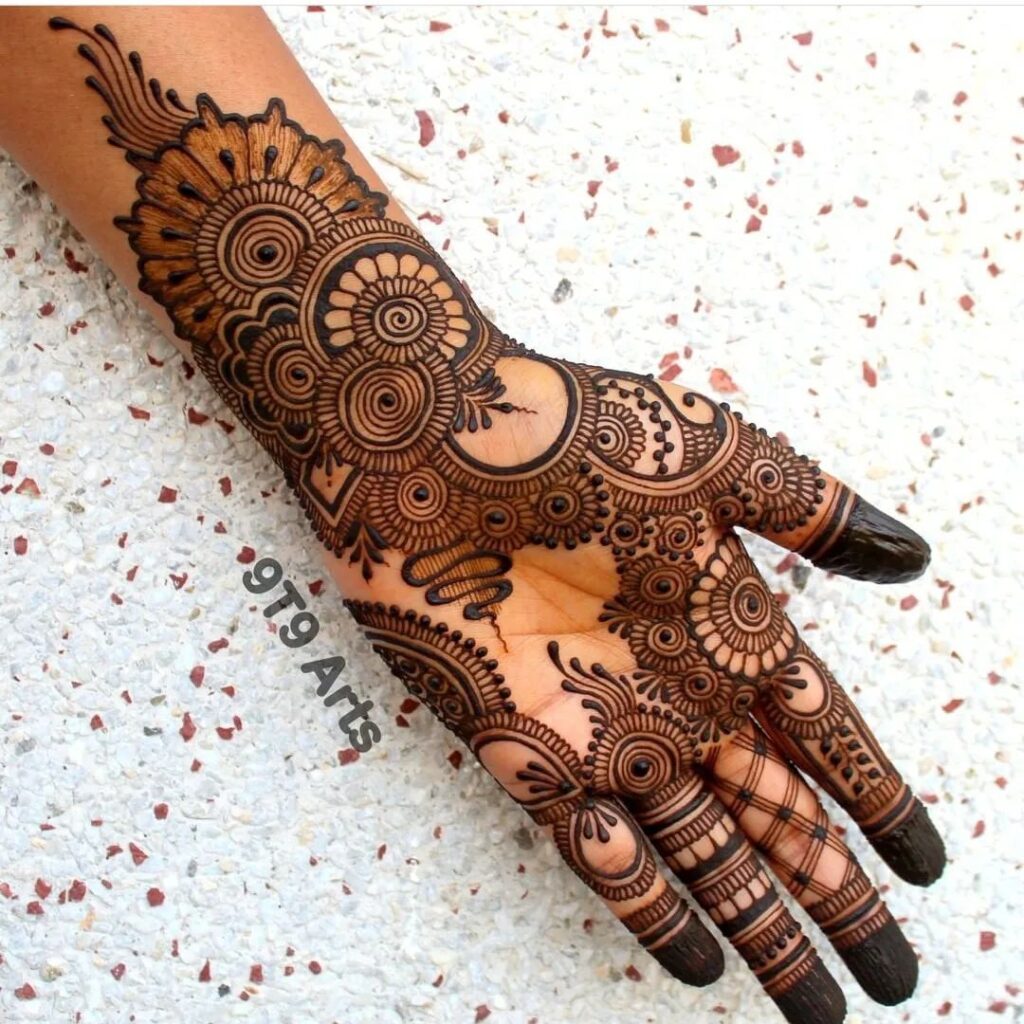 #18 Simplicity mixed with creativity is the best kind of art form you will see! Mehendi vendors are called mehendi "artist" for a reason. They have a way of infusing such artistic power into their designs that it's gripping, to say the least. To demonstrate, here's henna done predominantly using lotus & jaal patterns and yet manages to mesmerize in the first look.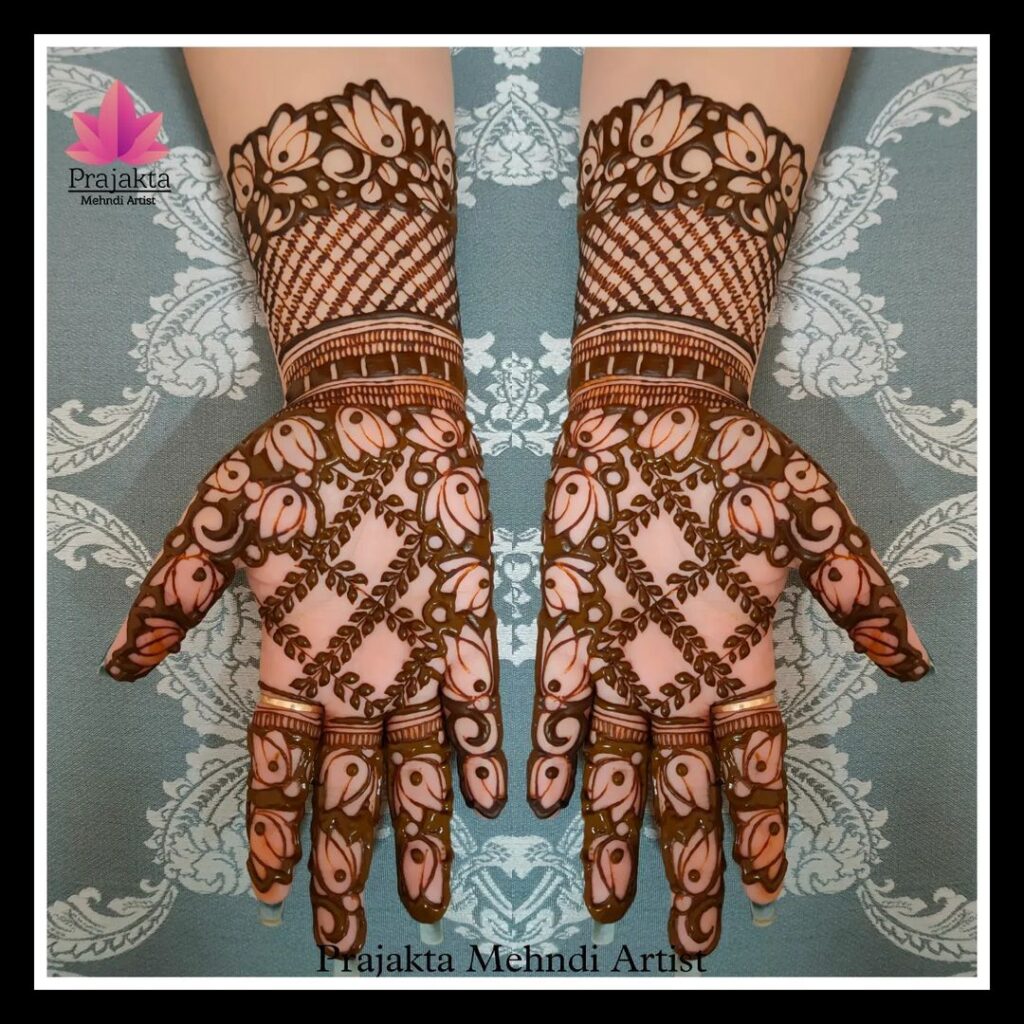 #19 For women who still value the traditional art form in their mehndi designs, including the Karva Chauth mehndi designs, you will love the next inspiration for KC henna. It has everything from chunky paisleys to statement circles to infuse the classic & old-world touch into your mehendi.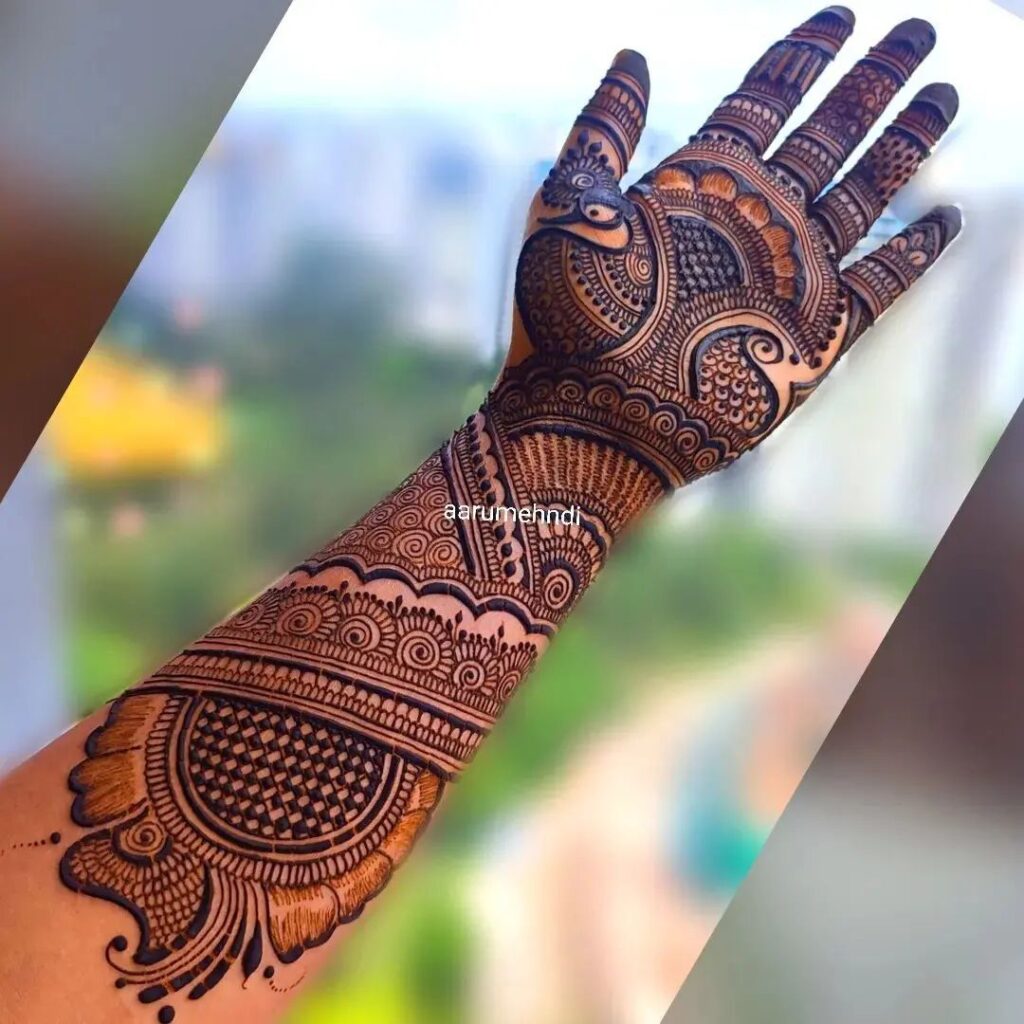 #20 To laden your backhand during Karva Chauth, pick a stunning and intricate mehndi design like this which uses fine lines & impeccable neatness everywhere you see. To complement, we'd recommend a front-hand mehndi design which also has the same intricacy and doesn't use the bold outline as that can cause a weird contrast between the two.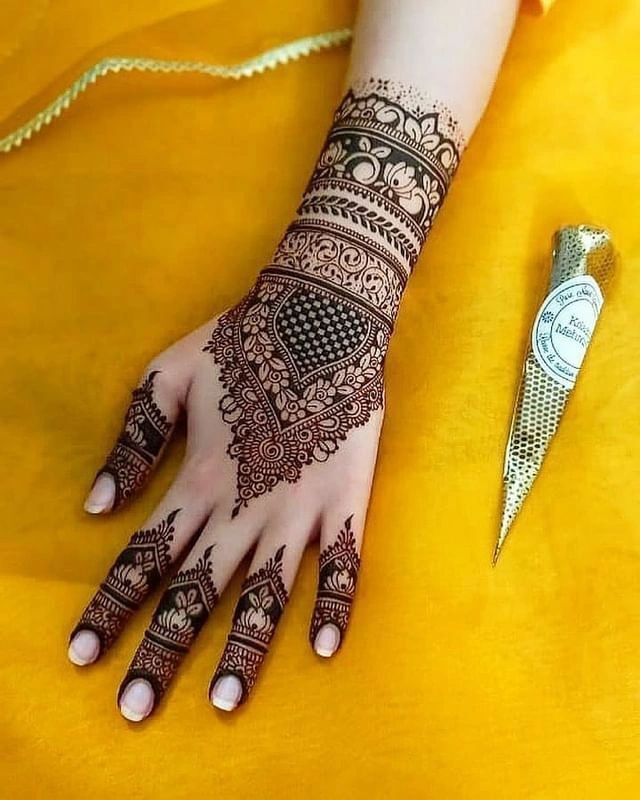 #21 In mehndi, many elements have a symbolic significance and thus are included in abundance in mehndi designs. For example, paisleys depict fertility in Hinduism and many henna patterns are replete with paisleys. Similarly, peacocks signify rejuvenation, confidence, pride, beauty, and sexuality, and thus peacock drawings often take a major space in the henna patterns.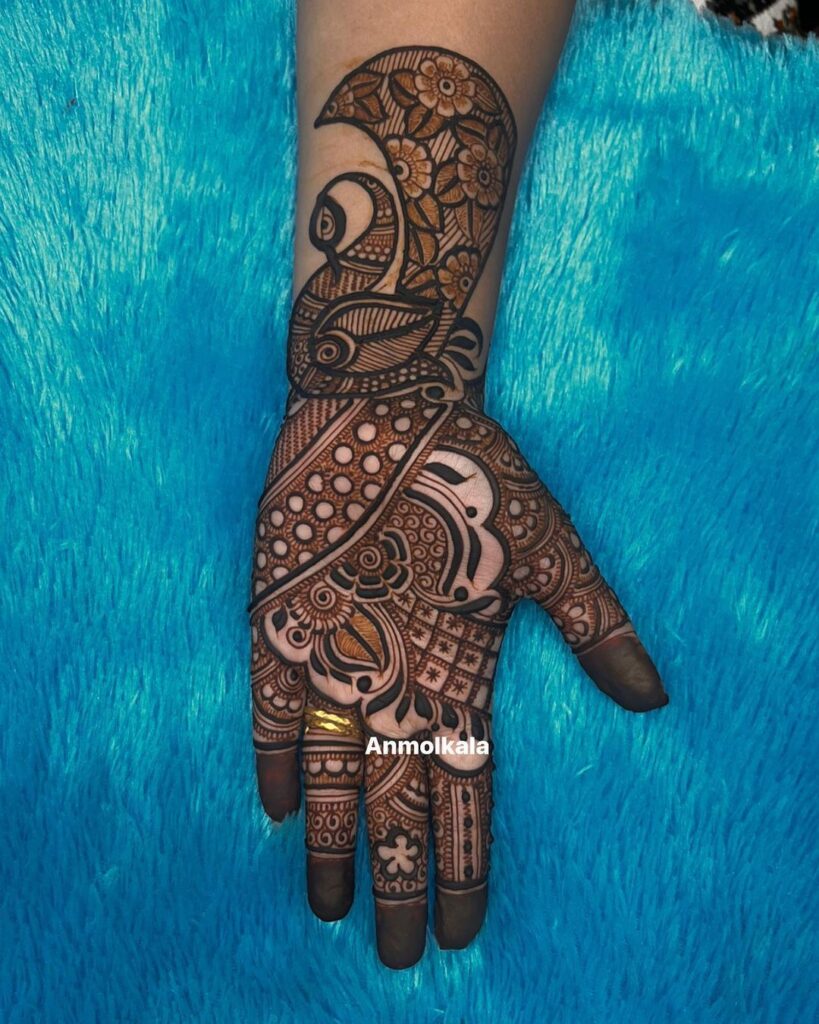 #22 When opting for mehndi patterns, many women take the route of mandala designs, which include a circular pattern in the middle of the palm with a finger and wrist covered in bharwa mehndi. The style offers space while covering the entire hand in henna. It's a classic henna style and you can't compete with the elegance it offers after staining.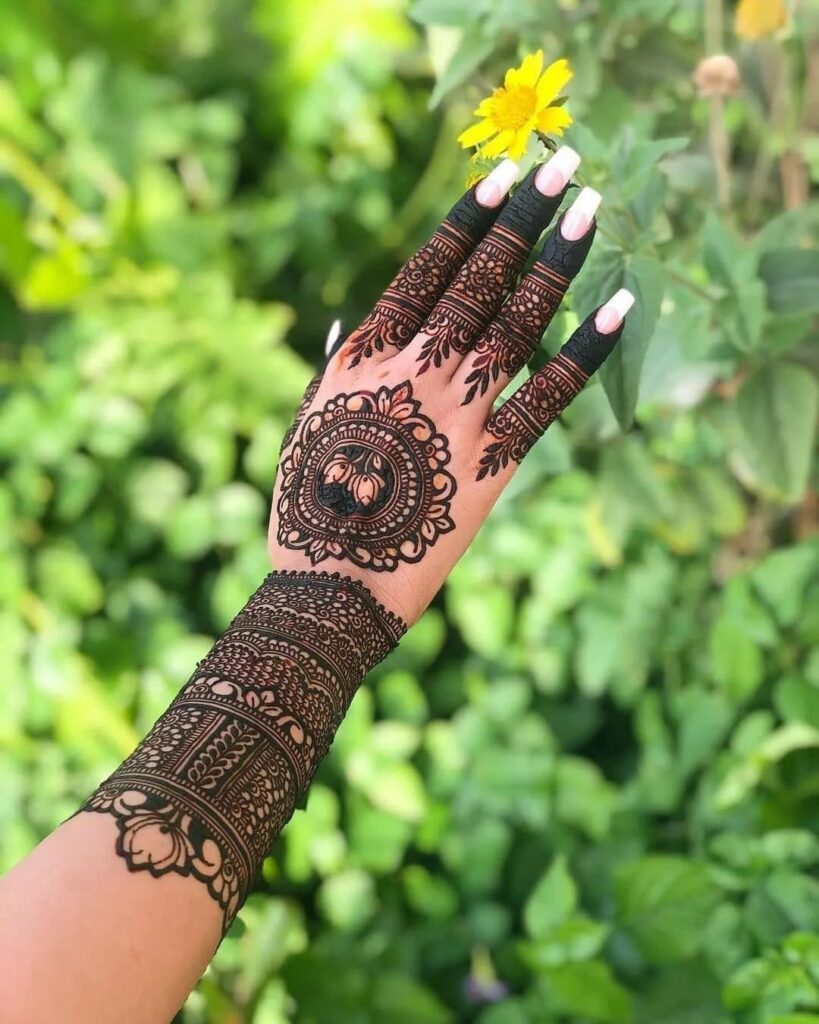 #23 The 3-D pattern has flooded the industry and for all good reason. Big strokes are often known to create bold statements and we can't deny how gorgeous it will look after staining. Replete with paisleys, bells, and leaves, it's one of the modern Karva Chauth mehndi designs.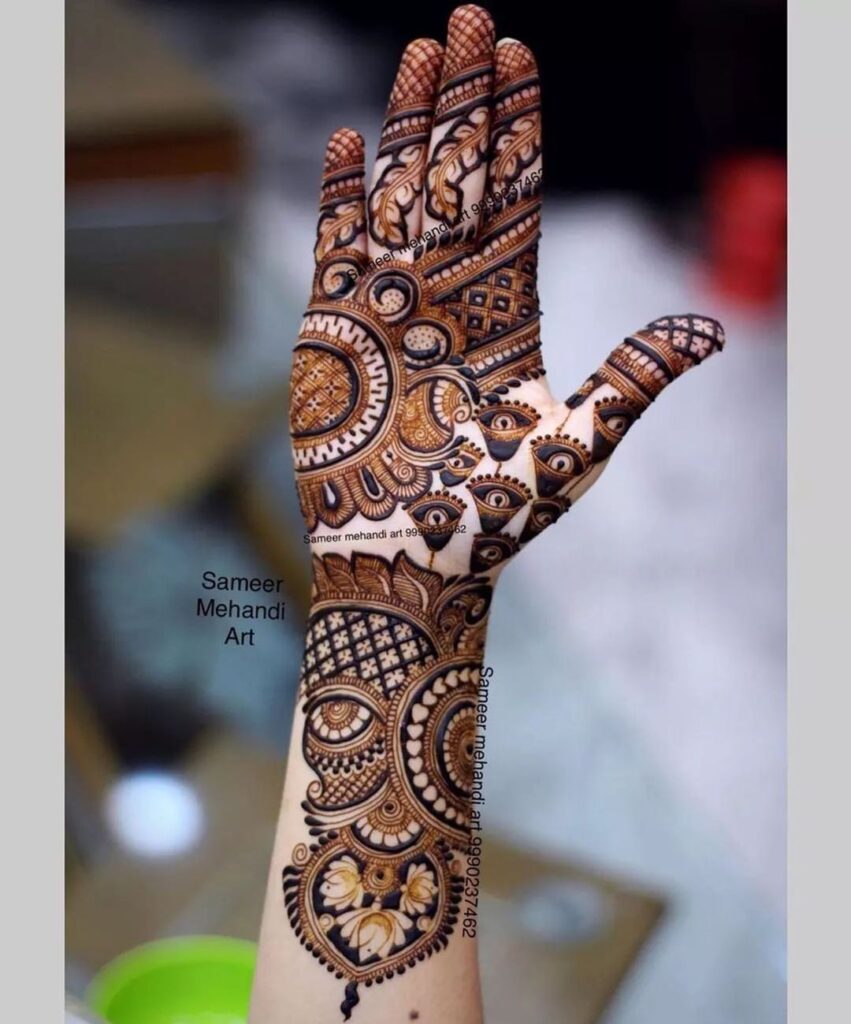 #24 This bharwa mehndi is just ideal for women who still prefer the traditional touch in their henna.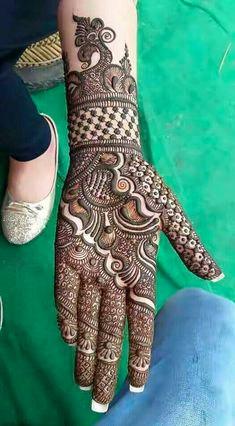 #25 The last one of the bridal Karva Chauth mehndi design is cheesy yet subtle at the same time. It involves writing his name in the heart leading to another heart connected by lines that include your name. How very romantic! Perfect for the festival of Karva Chauth.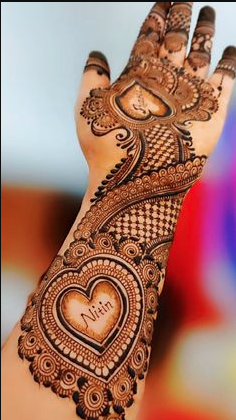 Karwa Chauth Mehndi Designs For Foot
#1 This gorgeous foot mehndi design of Karva Chauth wins the heart in the first look. It's minimal and gorgeous – something women desire in their KC henna. It only covers the thumb and leaves other fingers bare. The thumb mehndi is connected using a leafy pattern to the main section of henna so everything looks impressive to put together.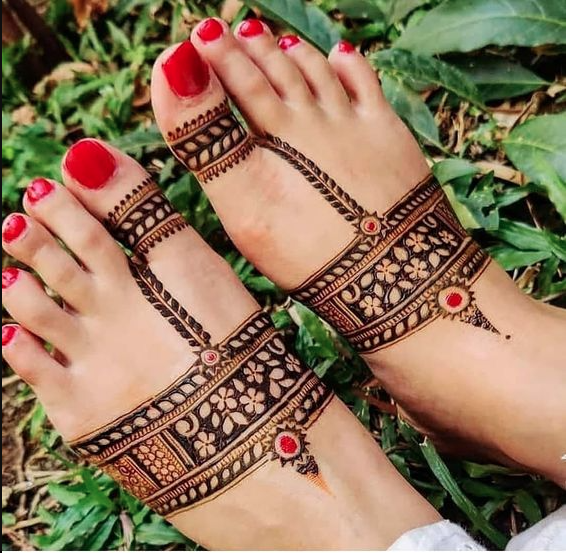 #2 The next henna design is a contrast to the above one. It also involves the minimal style but covers the finger area and the first half of the feet more while leaving the rest bare. An addition of pinjara on the top just makes the design look more complete.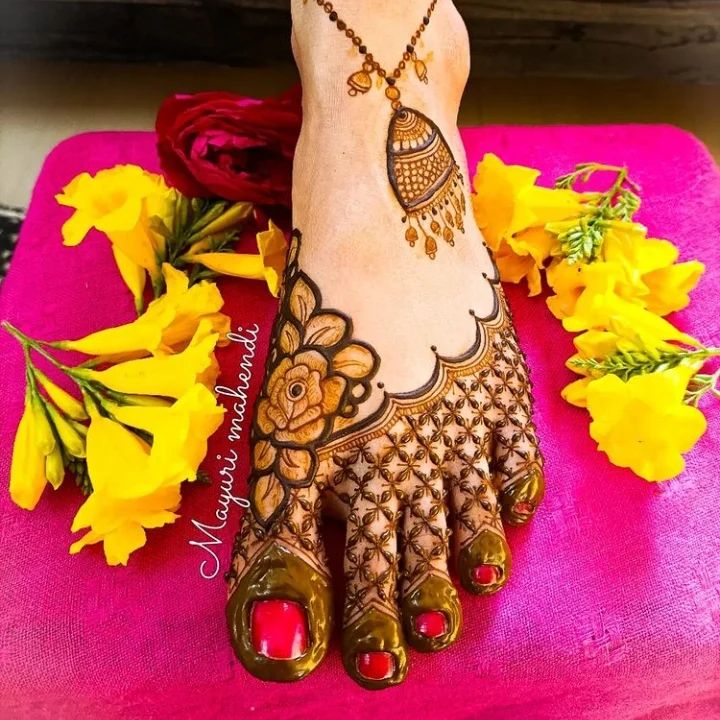 #3 There's just something about jaal patterns. They make any mehndi design visually appealing and flawlessly graceful. They also look amazing after the henna stains, so no wonder they're found in a good number of mehndi designs, especially bridal mehndi designs.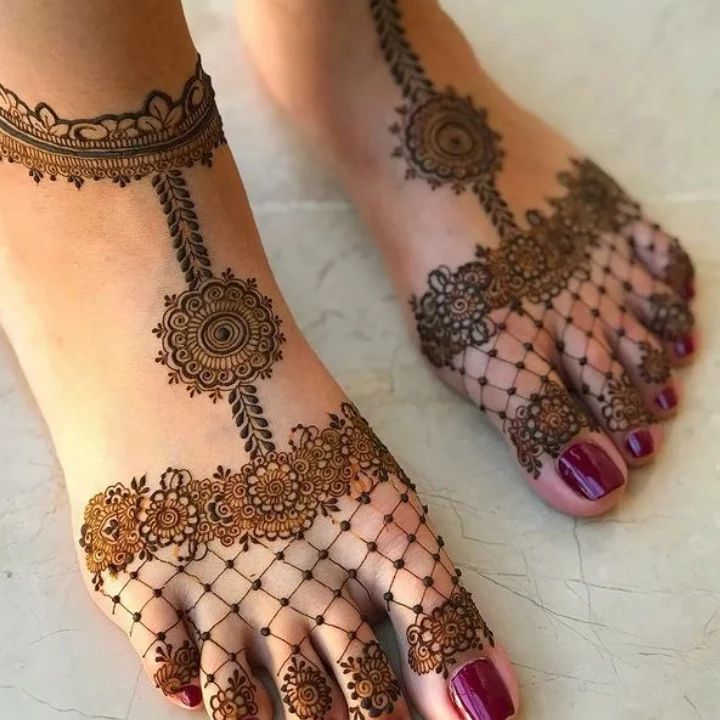 #4 Foot mehndi that only covers the side of the feet and leaves the other sections bare is quite popular. You know how women have a habit of folding keeping one leg on top of the other while sitting, thus helping in showing off this type of henna pattern nicely.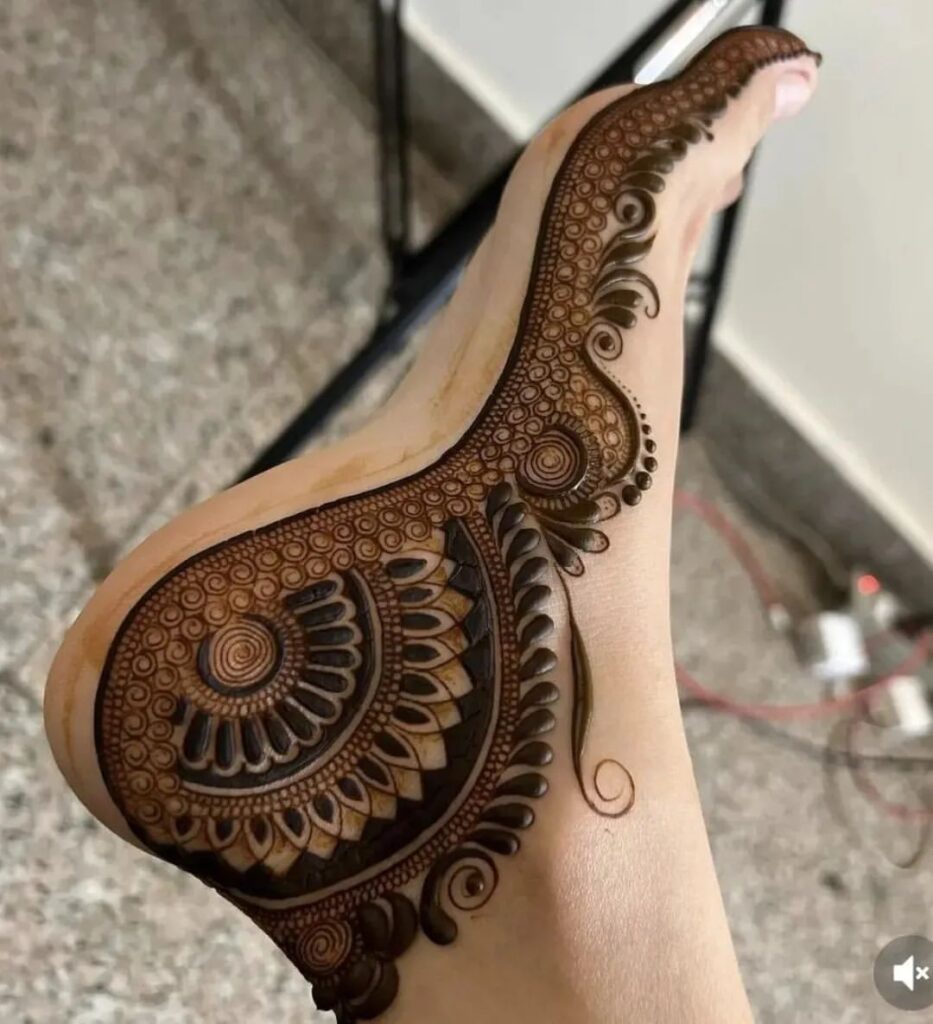 #5 Leave it simple & aesthetic! The next one of the Karva Chauth mehndi designs for the foot consists of the elegant jaal pattern only done on the front section of the foot. If you want a bharwa pattern, then extend the jaal to the ankle and follow up with a 3-D floral design for a completed look.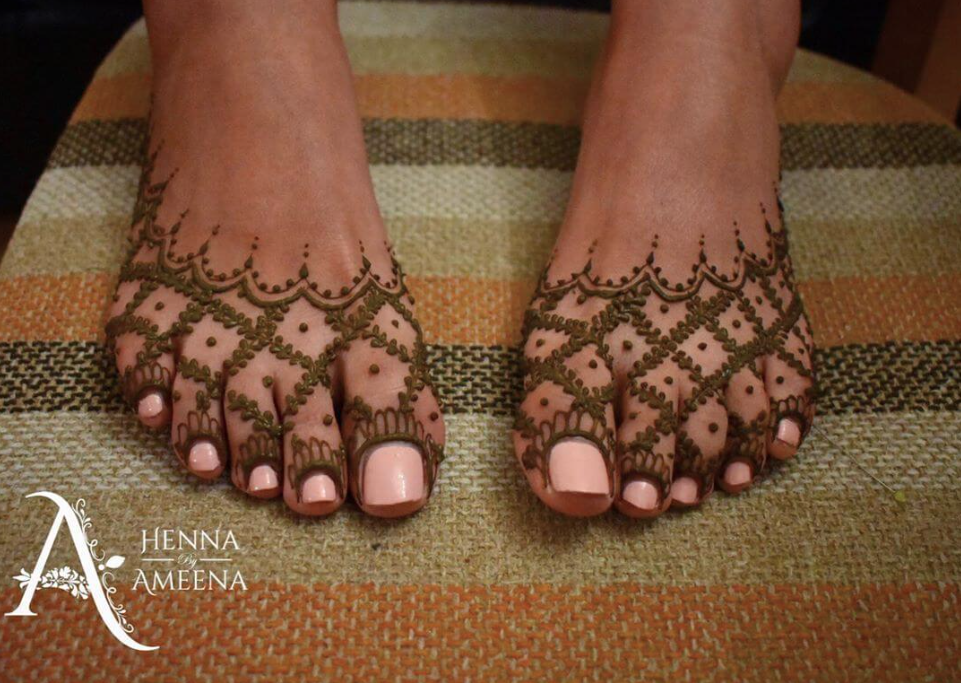 #6 Not just for KC, the next foot mehndi design on our list is a superb pick for brides who want simple yet eye-pleasing henna for their feet. This one covers the feet, leaves a section bare, and then has another filling mehndi for a completed yet stylish look.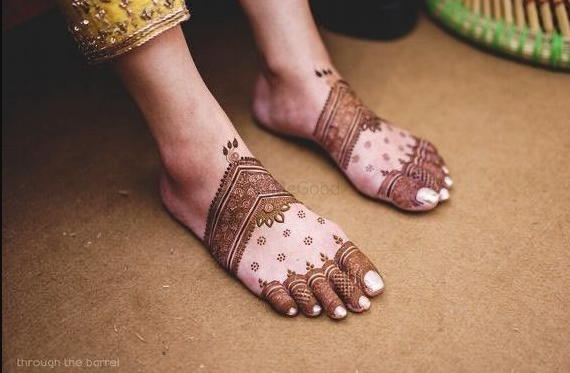 Karva Chauth Significance & Origins:
Karva Chauth is celebrated annually by Indian women to pray for the long life of their husbands. On this day, women observe a fast – some women don't eat or drink anything all day and only break the fast when they see the moon and offer their prayers to Lord Parvati & Shiva. It's observed on the fourth day of the full moon or Poornima in the month of Kartik, according to the Hindu Lunar calendar. The word "Karva" means an earthen pot with a spout and "Chauth" means "Fourth". The festival is mainly celebrated in the central, northern, and northwestern regions of India. 
Karva Chauth Pooja Steps:
The Karva Chauth pooja starts in the morning in some states with a ritual called Sargi. It involves waking up before sunrise with other married women of your family, dressing up in solah shringar, and consuming Sargi, which refers to the food and drink the married women have before sunrise. The sargi often comes from Bayaa – gifts that the woman receives from her mother like clothes, jewelry, fruits, dry fruits, etc. which she is supposed to consume during the Sargi ritual. When the ritual is performed, the woman's mother-in-law offers bayaa's items and other food items to her daughter-in-law so she can consume them when the fast starts. This is also the time for women to set an intention for the fasting day to come. 
After sargi, the next Karva Chauth pooja steps come right after sunset or during sandhya time. Right about this time, women dress up in their best attire and jewelry. Some newly-wed women who are observing the fast for the first time wear their bridal lehenga on the occasion. The next step of the pooja involves sitting down with other women to offer prayers to Goddess Gaura or Chauth Mata, who are both representations of Goddess Parvati. All the members of Goddess Parvati including Lord Shiva, Ganesha, and Karthikeya are worshipped on this day, but Goddess Parvati being Akhand Saubhagyavati is worshipped first. 
The women prepare their thalis before they sit in the pooja and it consists of karwa (an earthen pot with a spout) consisting of water (sometimes milk and valuable coins), dry fruits, kachi lassi, a diya made with wheat flour and lit, a sieve, and dry fruits and sweets to gift to the mother-in-law. The thali is covered by a cloth. The cloth is removed when the women sit during pooja. The pooja involves any women from the group saying kahani and other women silently listening to it. The thalis are then passed seven times around the circle. After the pooja ends, the women touch the feet of their mother-in-law and offer sweets & gifts to them as a sign of respect. 
The next step of the Karva Chauth pooja happens after the moonrise. The women go to the terrace to catch the glimpse of the moon. Their husbands are on the terrace too. When the moon rises, the woman uses the sieve kept with diya to see the moon and offer Lord Chandra prayers. They then see their husband's faces through the sieve. The husband then feeds them kachi lassi and something to eat after the ritual is done. This marks the end of their long fast. 
Karva Chauth Pooja Origins:
Karwa Chauth's celebrations are linked to many stories, these are the 4 most common anecdotes associated with the same. 
Queen Veervati:
Once upon a time, there was a beautiful Queen named Veervati. She was married to a handsome king and had seven brothers. She observed the fast of Karva Chauth strictly and didn't eat or drink anything throughout the entire day. Since the moonrise was late on the day, she started feeling uneasy. Her brothers weren't able to see her sister suffering. So they installed a peepal tree with a mirror which made it look like the moon. Veervati broke her fast thinking the moon has risen and soon after the news of the death of her husband arrived. She was inconsolable and started running towards her husband's house. She met Goddess Parvati on the way who told her that her brothers tricked her. She then kept the Karva Chauth fast again with full devotion, seeing that Yama, lord of Death gave life back to her husband. 
Queen Draupadi
One Arjuna, who loved Draupadi the most, went off to Nilgiri mountains in order to pray to Gods and perform penance. After he didn't come home for several days, Draupadi was worried and at the same time, his brothers were also facing challenges in their reign due to his absence. To seek assistance, Draupadi went to Lord Krishna and he told her to observe the fast of Kava Chauth. He told her how Goddess Parvati also kept the same fast in a similar situation. Draupadi observed the fast by listening to Krishna's recommendations and kept it with strict rituals and fasting. After the fast, Arjuna soon returned home in perfect health and Pandavas resolved their problem. 
Karwa
There was a woman named Karwa who was known to be a very devoted and loving wife. Once her husband was bathing in a river and a crocodile attacked her. Seeing this, the courageous Karwa bound the crocodile using a cotton yard and remembered Yama, the lord of death. When Yamadev came in front of her, she asked him to spare the life of his husband and sentence the crocodile to death. Yamadev refused at first, but Karwa was adamant and said she would curse him if he didn't spare the life of her husband. Even Yamadev was scared to be cursed by such a doting and loving wife, so he brought her husband to life and sentenced the crocodile to death. 
Satyavan & Savitri
It is said that Yama, the God of death came to acquire the life of Satyavan. Seeing this Savitri pleaded with the Lord to spare her husband's life, but Yamadev was adamant and took Satyavan with him. Savitri started following him, pleading on the way, and didn't drink or eat anything. Yamadev stopped and said that Savitri can ask for any blessing in return except the life of her husband. Savitri, being a smart woman, asked that she wished to have beautiful children. Knowing Savitri was a devoted wife, Lord Yamadeva knew the only way that could happen is by giving life back to Satyavan, so that's what he did.