When we talk about bridal lehenga colors that have been around for a long time, a few that come to mind are red, yellow, green, orange, and… well, there's one more that has made an appearance every now and then… Silver! We have seen brides wearing silver lehengas time and again. It looks completely ethereal in Indian outfits & there's a certain elegance and simplistic grace silver/ gray lehenga bestows on a bride-to-be. 
We really feel silver as a bridal outfit color doesn't get the appreciation it deserves. So consider this blog as a silver/ gray lehenga color appreciation post. We strongly recommend every bride should (not only consider but also) don this hue at least in one of her wedding functions. Here are some of the most stunning silver lehengas that will make you fall in love with this palette. 
Best Silver Lehengas or Gray Lehengas Brides Will Love!
#1 This bride's silver lehenga encrusted with crystals and sequins is a sight to behold! Paired with a diamond necklace, rope braided hairstyle, and au natural makeup – Devki looked like an absolute beauty on her Sangeet night!

Via @artfotostudios, @devkipaayal
#2 Another bride who opted for a gray lehenga for her Sangeet night! You can see for yourself how elegant it looks on stage and how picturesque it will look in your wedding album. 

Via @cupcakeproductions13
#3 All of Isha Multani's wedding looks were swoon-worthy and garnered utter attention on Instagram. For her sangeet/ reception night, she wore a beaded silver lehenga with a one-shoulder blouse. It's hard to not gawk at her pictures. 

Via @ishamultani
#4 For our simplistic brides who love to shine through their effortless style, this silver lehenga is worth pinning. The bride wore it for her Roka ceremony and teamed it up with chunky diamond haar & dewy makeup. Love her contemporary yet traditional look!
#5 We just did a blog on bride Ruchika's wedding. This one is hands down one of our favorite sangeet looks EVER! It's a custom-made lehenga. It's easy to wear and dance in but it's a glimmering style still makes it perfect for a bride's glam quotient. Don't you agree? 
#6 Bridesmaid Inspo Alert! You might have come across fashion designer Sonaakshi Raaj's wedding on social media, this is what her sister, Malvika Raaj, wore at her wedding. Isn't it just perfect? This gray lehenga with a tint of blush pink has our heart!
#7 The elegance this lehenga exudes is beyond words. And of course, the bride who carried it so effortlessly at her engagement ceremony. Falguni Shane Peacock makes one of the best silver lehengas and that's why they have made several appearances on this list!

Via @dipak_studios
#8 We're all suckers for glitter in lehengas or any other thing, as a matter of fact! It's our favorite color (no judging please!) Bride Aarti's glimmering silver lehenga is love at first sight. Bookmark it right away. 

Via @pawanguptaproductions, @frontierraas
#9 Another exceptionally gorgeous silver lehenga with net embroidery that looks so splendid. This bride paired it with smokey eyes, lightly contoured makeup, and dainty jewelry. Every part of her look complements each other so flawlessly. 
Via @asbaabofficial, @ruchikabaseraphotography, @makeupbyayushitayal

#10 This slightly embellished gray lehenga is such a stunning piece. And how cute does this bride look at her Sangeet night! Pairing her lehenga with a Kundan choker and blow-dried hair, she gushed ultimate bride goals. 
#11 Another silver lehenga with the slightest hint of pink in it. Wearing a zero neck full-sleeved blouse with her ravishing lehenga, this bride looks sophisticated and poised in every sense. 

Via @laamofficial
#12 Ah! A combination of silver and yellow. Who would have thought these two would make such a great pair. Designer Anushree Reddy ganged them up so impeccably. Isn't this superb choice for your Mehendi ceremony?

Via @anushreereddydesign
#13 One more minimalistic lehenga that brides will love! Probably something you would like to wear for any of your small ceremonies or after your wedding. This would make a great option for an Indian bridesmaid outfit too. We're also eyeing that green bindi with the outfit, an amazing way to stand out and look amazing at the same time!

Via Pinterest
#14 Another Anushree Reddy creation that's such a dreamy sight. Love the slight shimmer in her lehenga and the voguish blouse design to go with it. Picture how stunning you will look dressed in it and posing like this with your other half. 😍
#15 Simar wore a champagne silver lehenga for her Roka ceremony and looked breathtaking. This one has some subtle hints of pastel blue in it, which makes it all the more unique. A super feminine couture piece that's stylish in every sense. 

Via @thewhitebox.in
Check out her wedding blog here. 
#16 Looking for something subtle to wear? This gray lehenga is a complete charmer! The bride-to-be wore it for her intimate Roka ceremony and we think it's a perfect fit for the occasion. She teamed it up with sleek straight hair, fresh face, and a red lip – we have our eyes set on her.

Via @gomitchopra
#17 Over the years, Ricco India has given us some beguiling lehengas to crush on! And when the woman behind it all got married, she wore some enchanting pieces from her own collection. This sparkly silver one is our favorite. We love how she donned it for her wedding event with such perfection. 
#18 Anissa Malhotra's marriage was the last big B-town marriage we were all swooning over! For her reception, she wore this phenomenal silver lehenga by Manish Malhotra. And isn't it a piece of art? 

Via Samandekta
#19 Modish and chic! That's what this flared asymmetrical lehenga is dripping with. This bride struck a perfect chord between traditional and contemporary with her Gaurav Gupta outfit. Needless to say, the phenomenal updo by Ritika Hairstylist glammed up the whole look. 
#20 A pretty silver lehenga for the new age brides. Here's a little something for our fashion-savvy beauties who would like to include a silver hue in their wedding. We're obsessed with it. 

Via @markswaroop

#21 A beautifully bedecked Manish Malhotra silver lehenga for roka event that bride Reha carried off with such style and grace. For brides looking to add a bit of glam into their outfits, experiment with lehenga blouse styles. Reha added puffy sleeves with her sweetheart neckline to go with the princess trail of her outfit. Safe to say, she looked utterly gorgeous at the engagement function.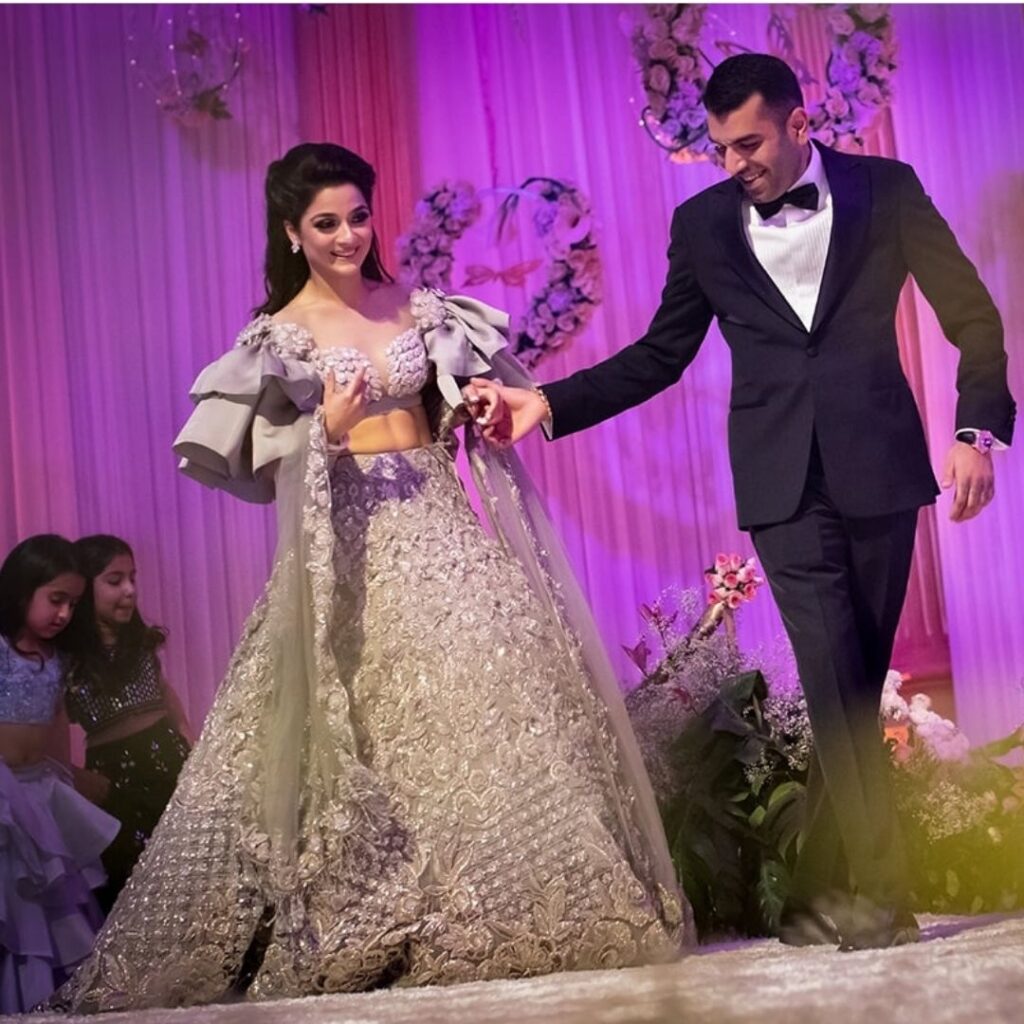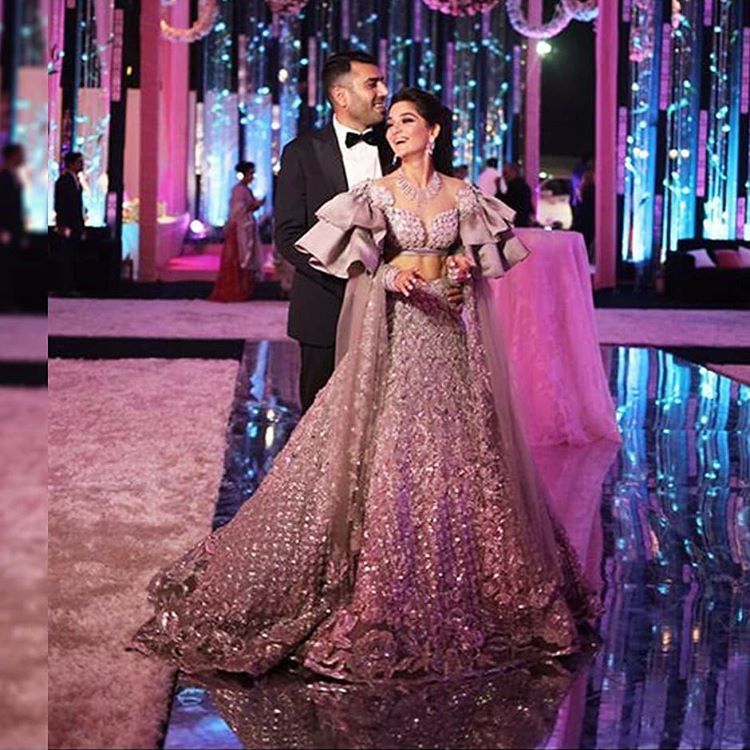 #22 Ejaaz Couture is famous on Instagram for its high-quality designer replicas, but also its own curated designs for brides and bridesmaids. We loved this silver shimmer lehenga from their collection. It's impeccably studded with sequins and paired with a beige dupatta to offer a gorgeous silver lehenga combination for their customers.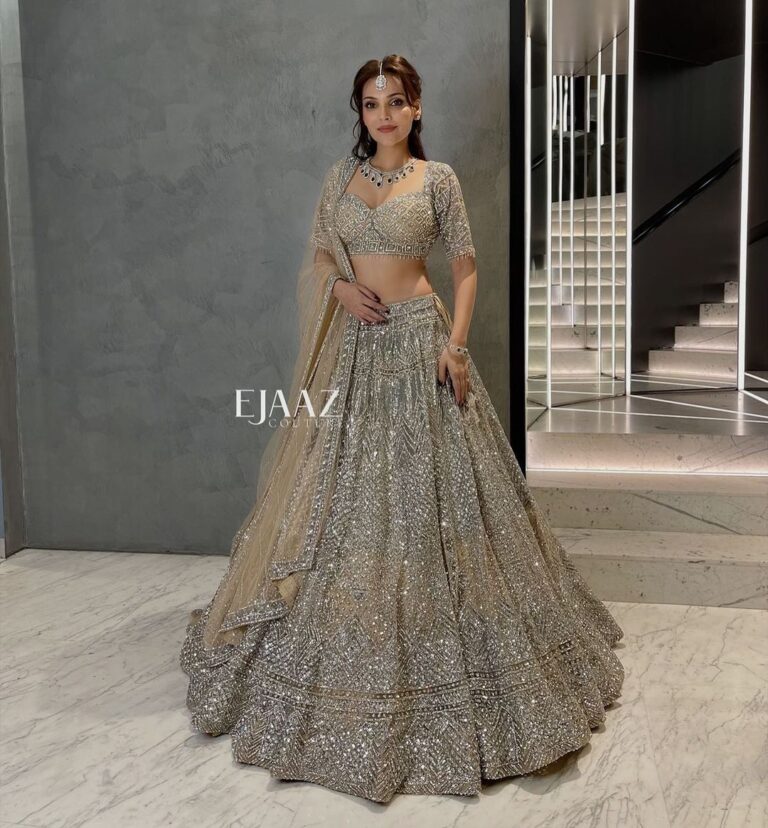 #23 Mumbai-based designer Nadine Dodhy is known to infuse her lehengas with some exquisite beads and sequin work to help you literally shine on your special day. This white silver lehenga with an off-shoulder blouse design is an absolute charmer and will keep all eyes on you in any event that you wear it. Dupatta attached to the blouse further adds convenience to the entire ensemble.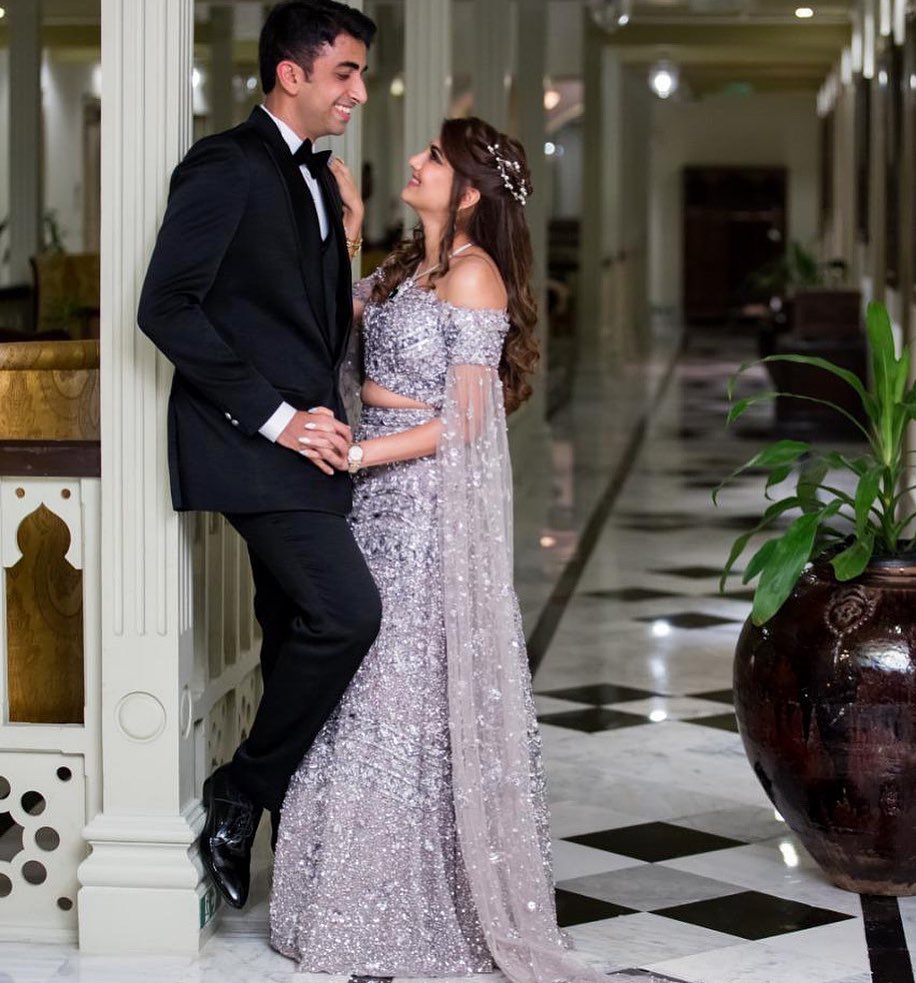 #24 A simple silver lehenga for brides who want to radiate minimalism coupled with elegance on their big day. Her Sabyasachi lehenga looks perfect for the day beach wedding and the groom coordinated in a beige kurta pajama is an ideal matching outfit for weddings. Pair the effortless lehenga with an equally graceful beauty look to let the charm of the outfit shine further.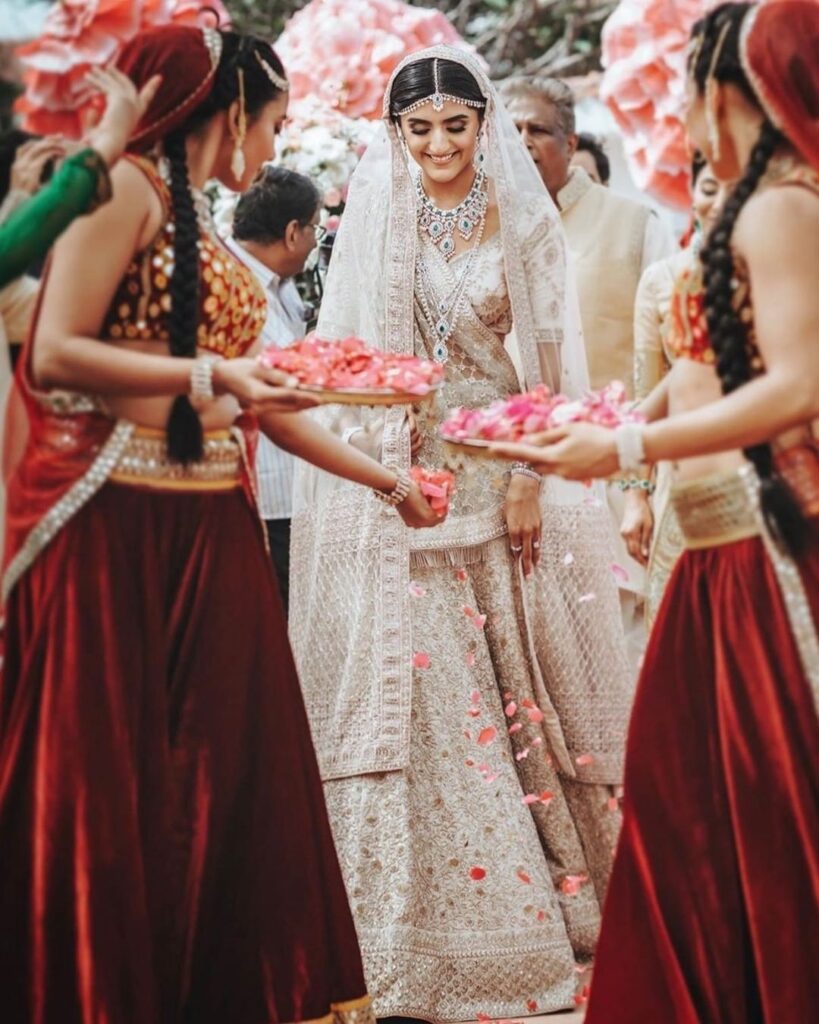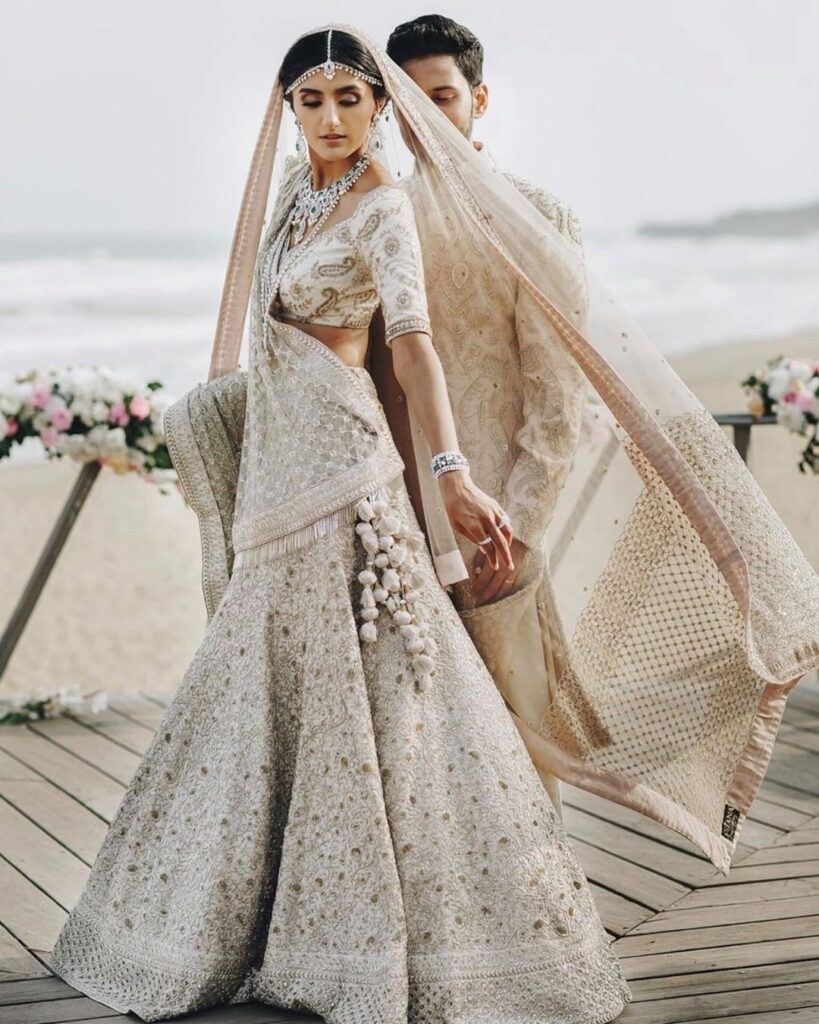 Courtesy: Shades Photography
#25 This simple foil-work grey lehenga is ideal for brides looking for a modest outfit for their intimate wedding event. We love how the bride kept the minimalism of the outfit alive with her styling choices. She paired the lehenga only with a diamond necklace, half-up half-down hairstyle, and simple base makeup with a smokey eye. The groom opted for an engagement dress that went with the bride's chosen attire superbly.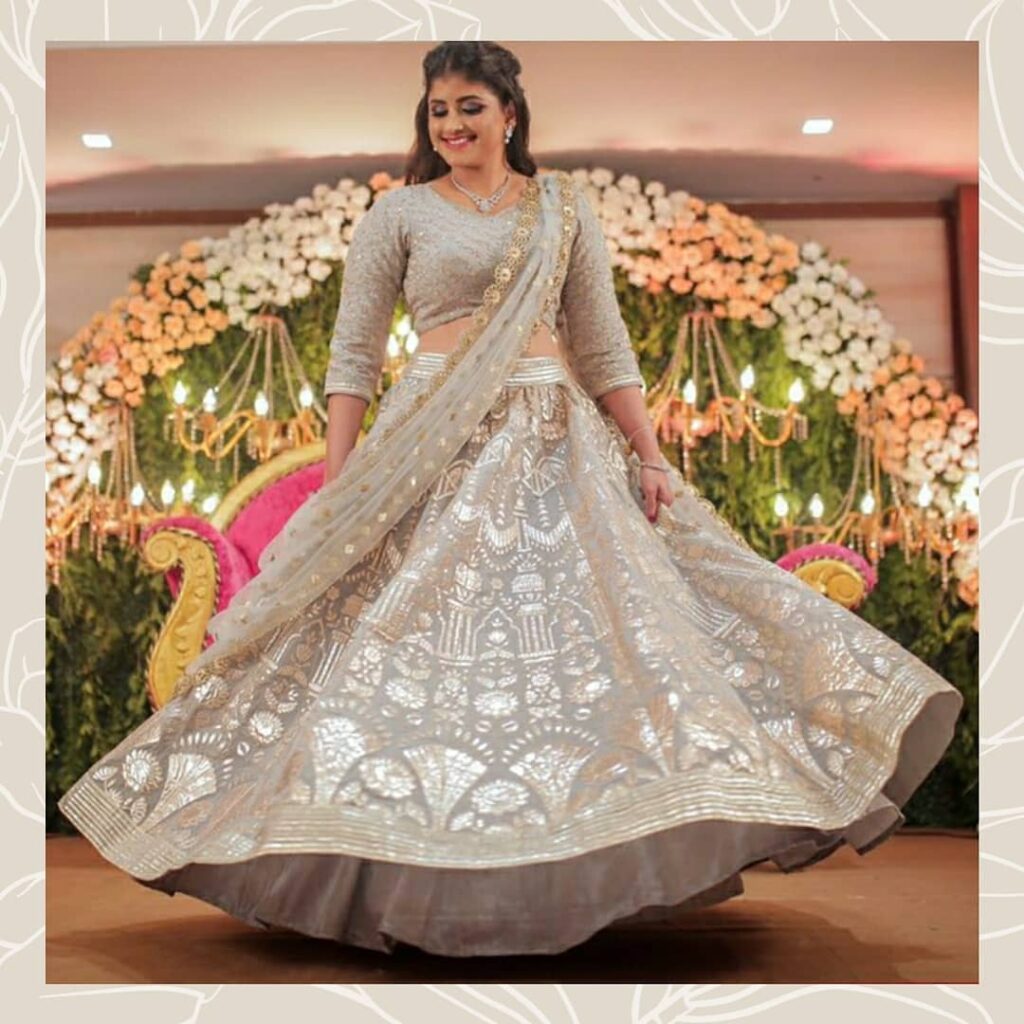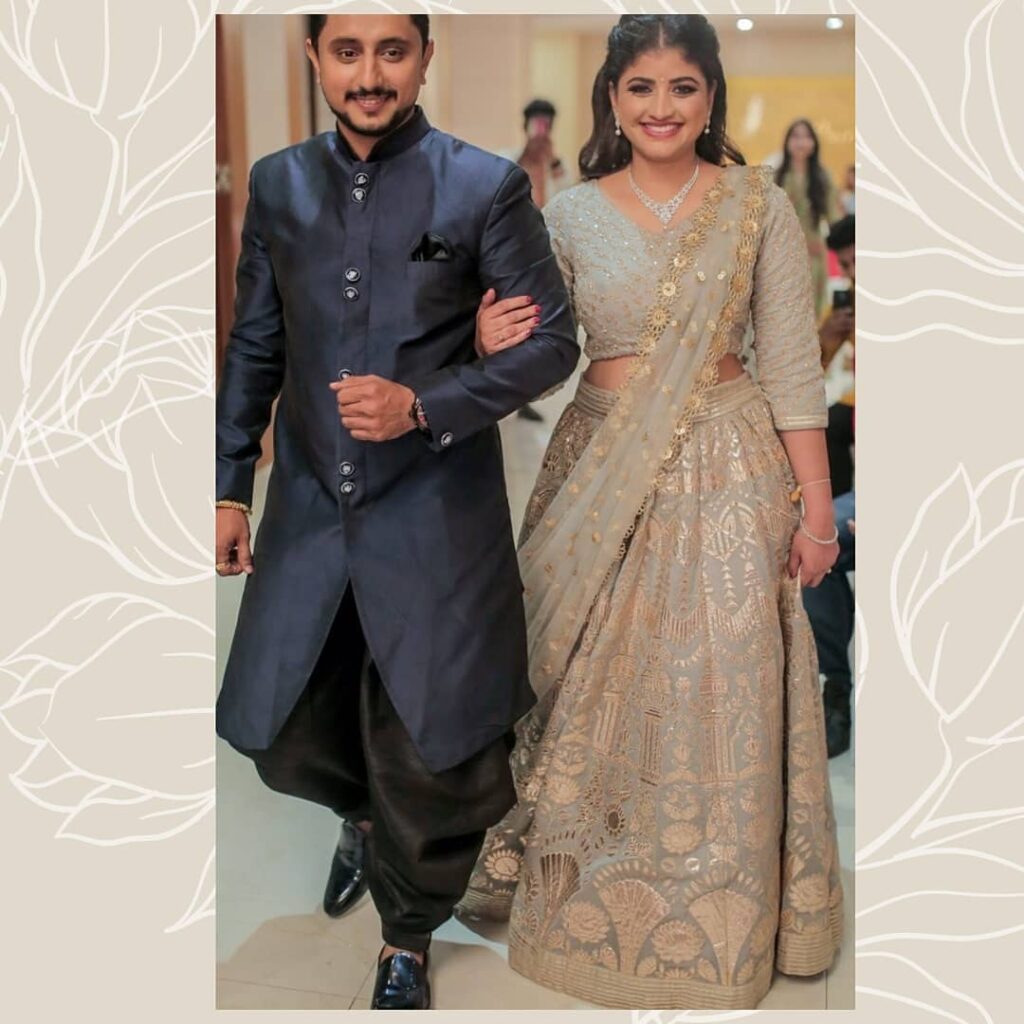 Courtesy: Divvya Kanakiyaa
#26 There's no one who does karigari quite like Pakistani designers. Their flawless & intricate threadwork makes their outfits stand out among the crowd, and one look at a design is enough to make you realize that this is a dress from our neighbor nation. This stunning gold and silver lehenga is created by Suffuse by Sana Yasir and the details are absolutely mesmerizing. You can place an inquiry on their website to purchase.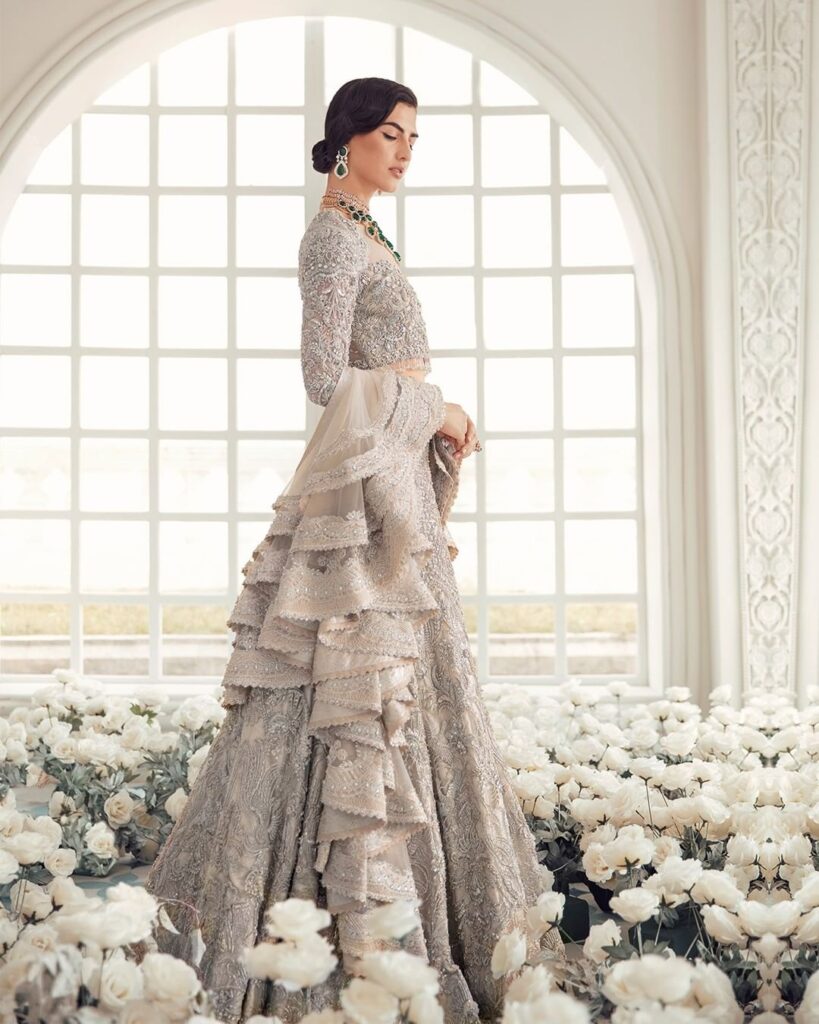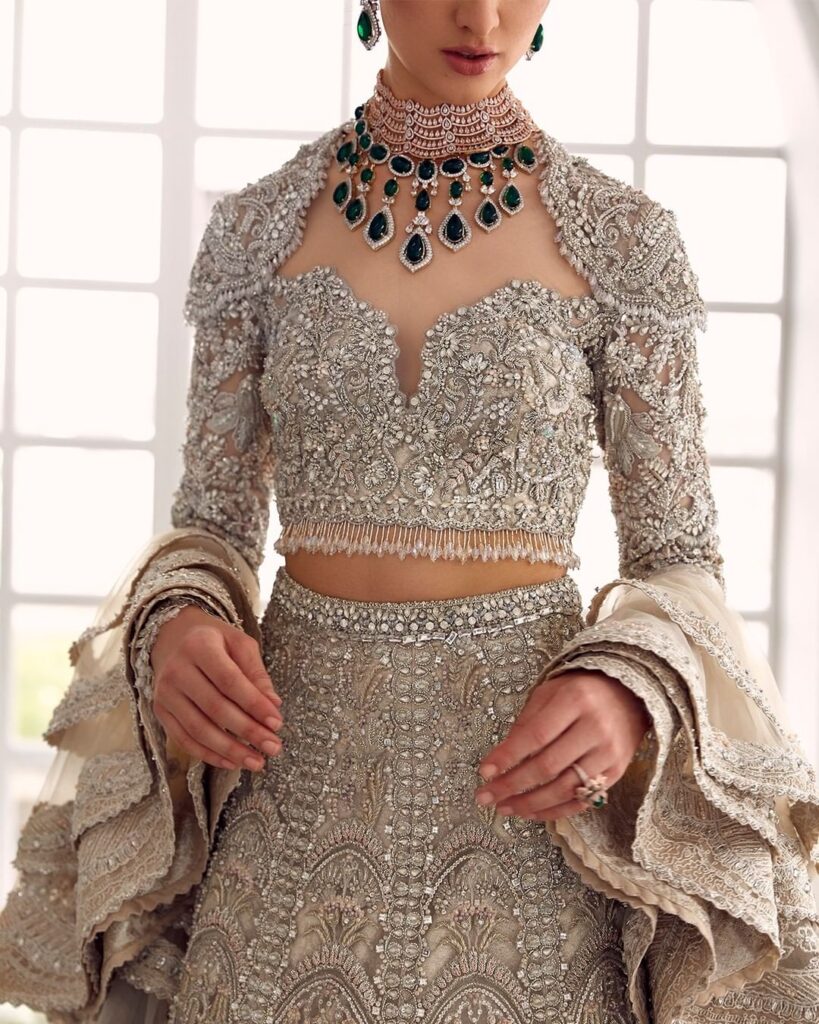 #27 Luxury blogger Hanna S Khan married her beau in a lovely destination wedding in Jaipur's Rambagh Palace. She looked spectacular in all her wedding looks, but the one that caught the most attention was her custom Ellie Saab gown, which made her the first Indian bride to don an outfit by the world-renowned Lebanese designer. For her D-Day though, she opted for a silver shimmer bridal lehenga by Ohaila Khan, her sister, and designer. The custom outfit took 4500 hours to finish and has 1,50,000 pieces of Swarovski crystals. Swipe to see the gorgeous ensemble.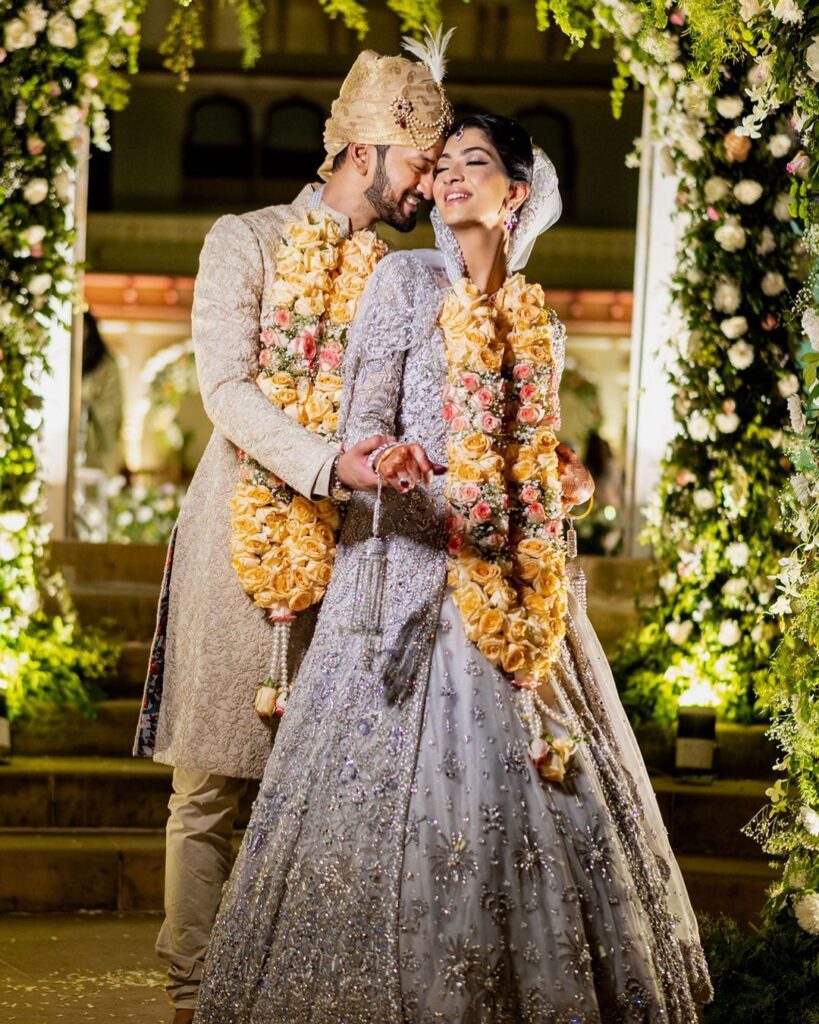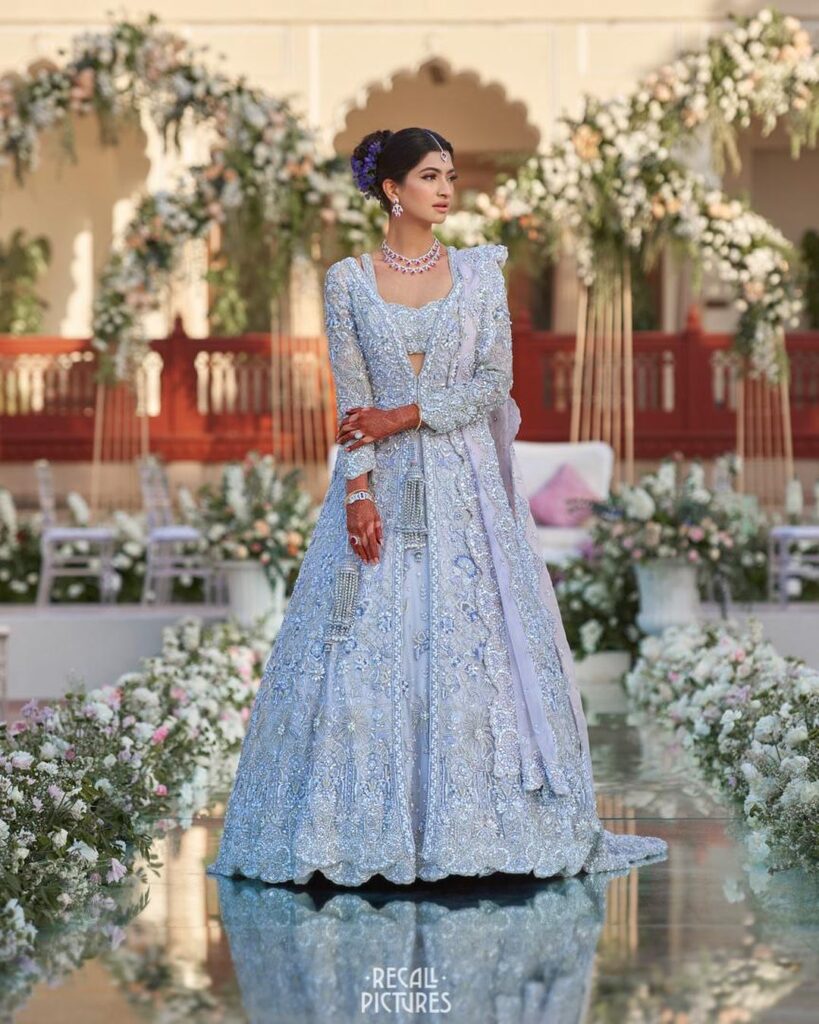 #28 A silver color lehenga has a grace and charm hard to put into words. That's why it makes for a popular color for brides on their roka and sangeet days. In these functions, they can draw a mid-line between traditional and millennial, and a grey bridal lehenga is perfect for these events. Here, you can see a bride in a stunning grey lehenga combination that looks superb for her high-tie engagement revelry.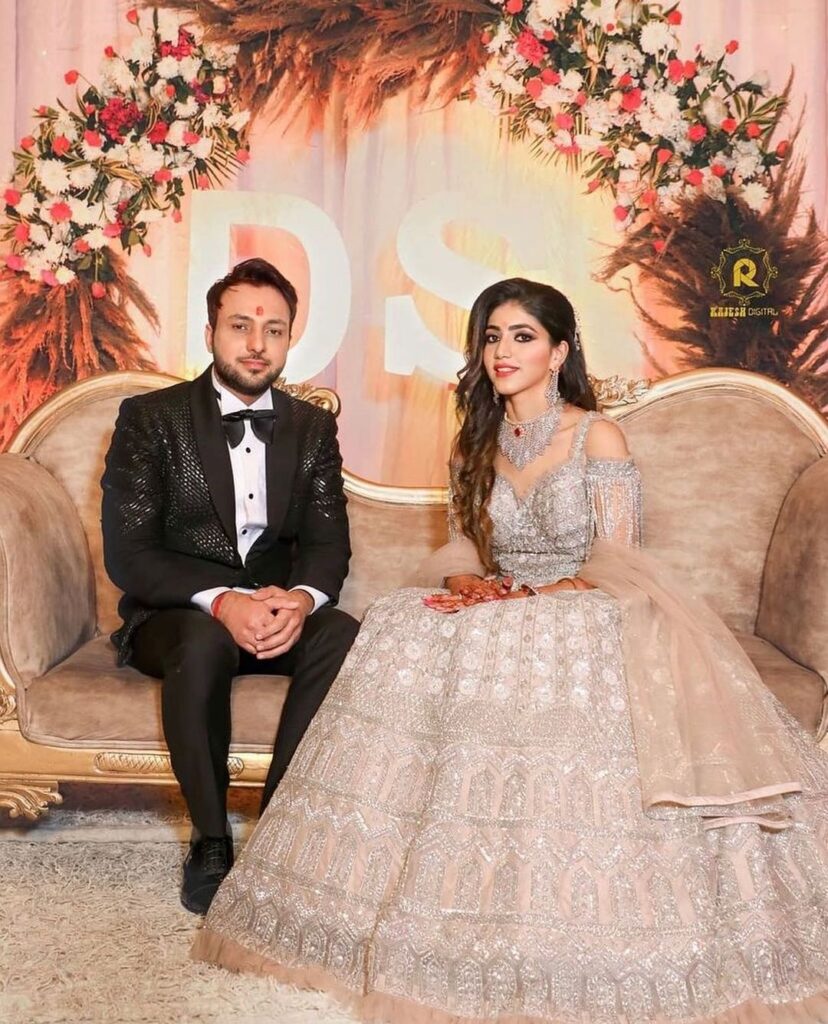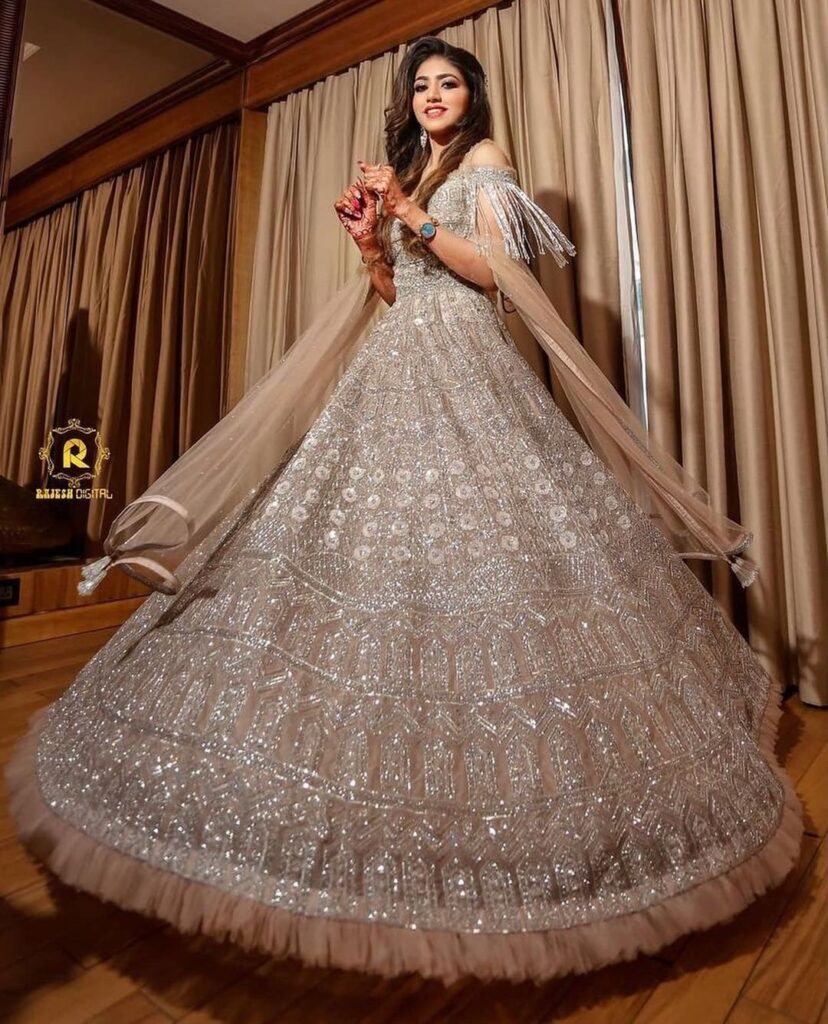 Courtesy: Rajesh Digital
#29 While Meera Sakhrani's Instagram is known to serve you with the best Indian bridal makeup looks inspiration, some of her brides are clad in such gorgeous outfits & jewelry, we have a "Stop and Stare" moment. Like this bride here, who donned such ravishing silver shimmer lehenga that it's hard to take our eyes off it. Sakhrani did a great job keeping her makeup minimal so the outfit can have a moment of its own on her sangeet day!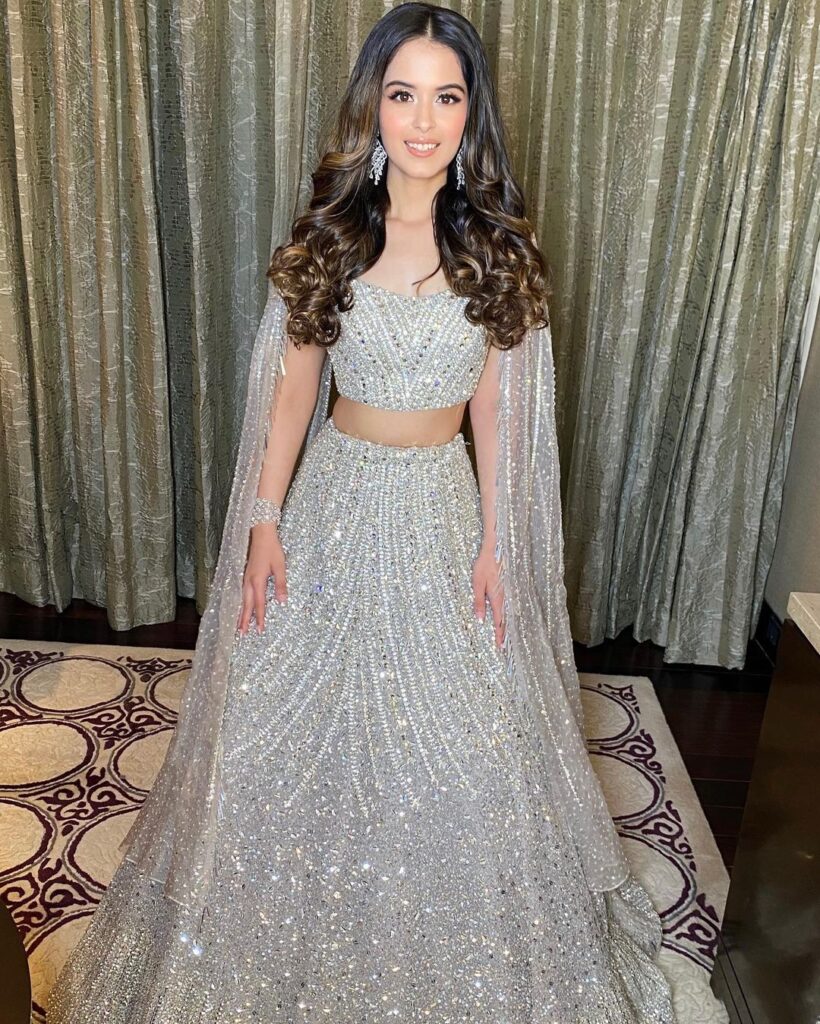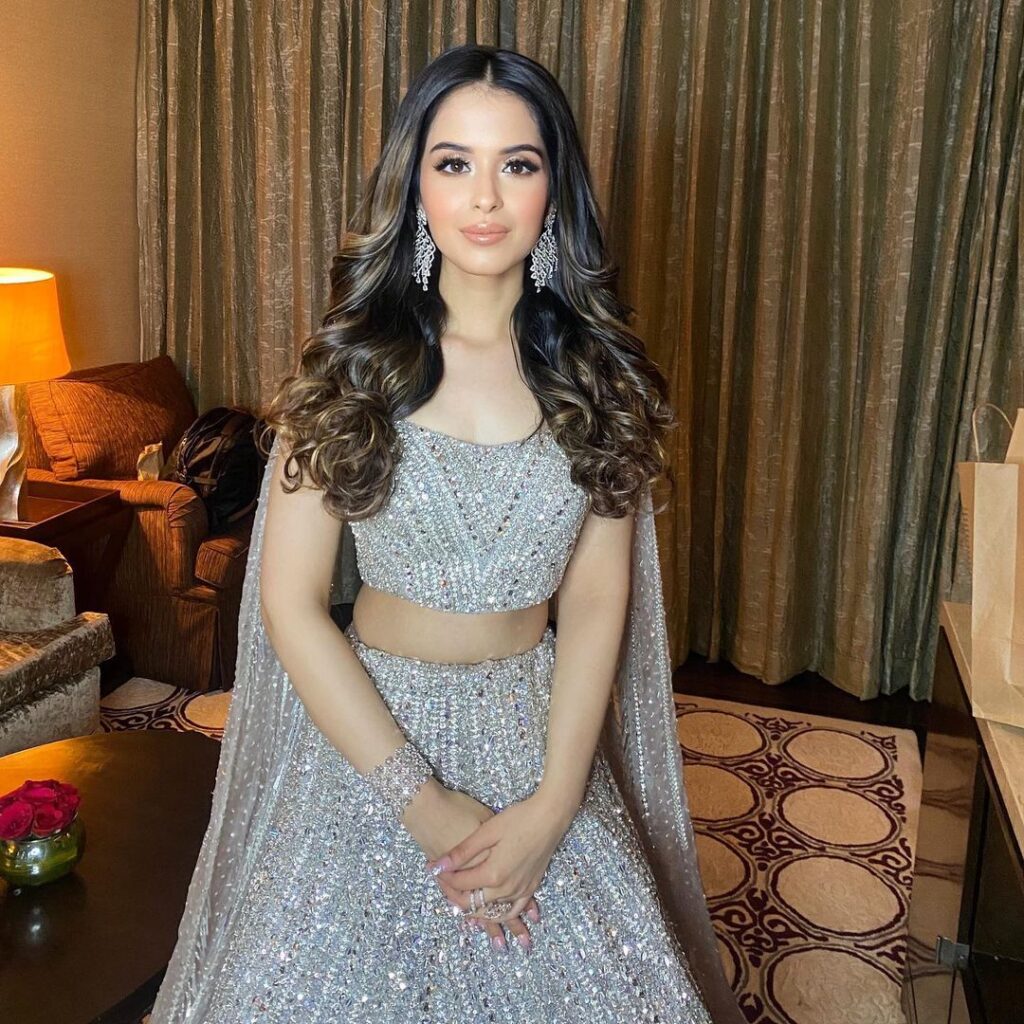 #30 Anissa Malhotra & Armaan Jain's wedding caught significant attention from the media – all thanks to the Kapoor clan's popularity in the public. For her reception/ sangeet night, Anissa wore a heavily embellished silver Manish Malhotra lehenga and paired it with dramatic diamond jewelry pieces and a glamorous makeup look. For brides who have a flair to dazzle on their wedding revelries, Anissa's look is the ideal inspiration for you!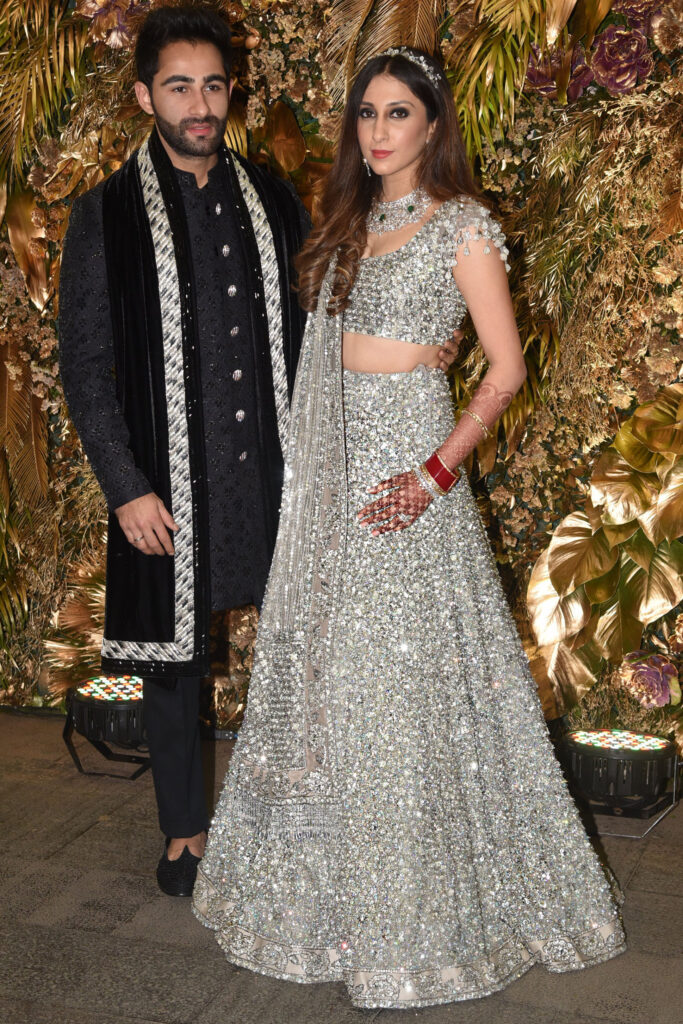 #31 Falguni Shane Peacock has some dazzling silver lehengas in their collection. Their designs are known to be crafted on organza and tulle base tulle voluminous skirts with intricate applique and mirror work that shines brighter than the diamonds. This lehenga is crafted on a silver base skirt and has the same work on all three pieces of the set. What stands out is the feather detailing of the blouse and her potli bag.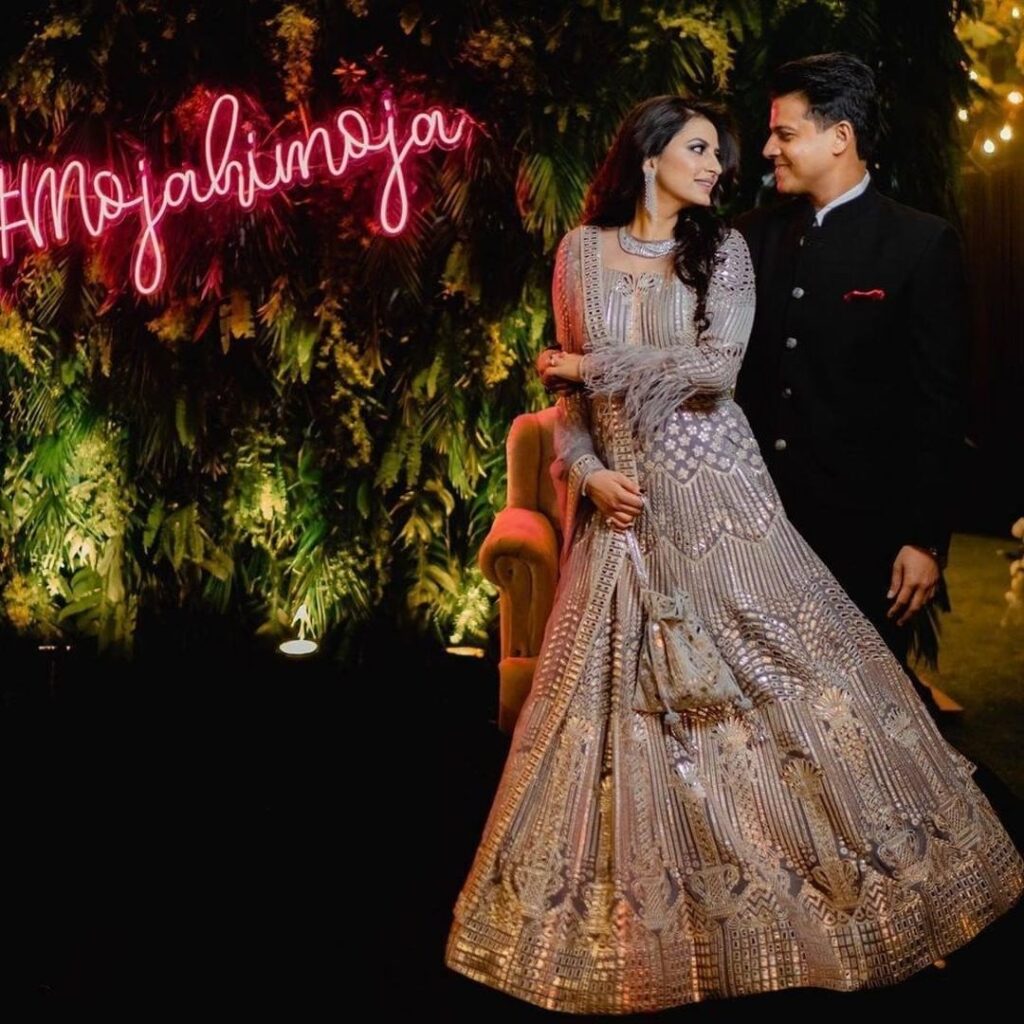 #32 Intricately crafted and beautifully designed, Ashwin Thiyagaraj designed this simple grey lehenga combination keeping the bride who values both tradition and convenience in mind. You can wear it for your engagement, sangeet, or even on Mehendi day! Pair with diamond jewelry pieces and keep your makeup ultra-glam for a beautiful look.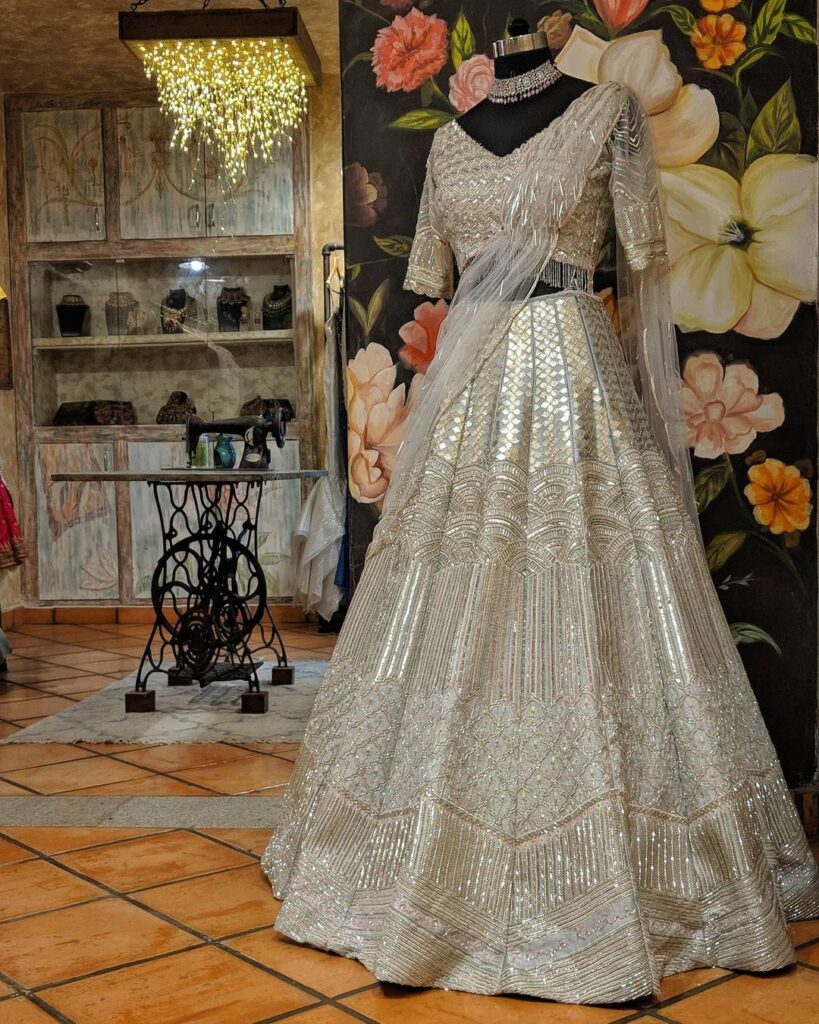 Courtesy: Ashwin Thiyagarajan
#33 Seema Gujral has been gaining momentum lately because of her unique lehenga designs, millennial touch, and impeccable work. One of her lehengas is this golden silver lehenga combination that merges two classic dazzling colors in the lehenga realm. While the model is wearing a silver choker, you can pair the attire with a diamond or poli set and keep things simple beauty-wise for a perfect look. Buy here for Rs.1,76,000/-.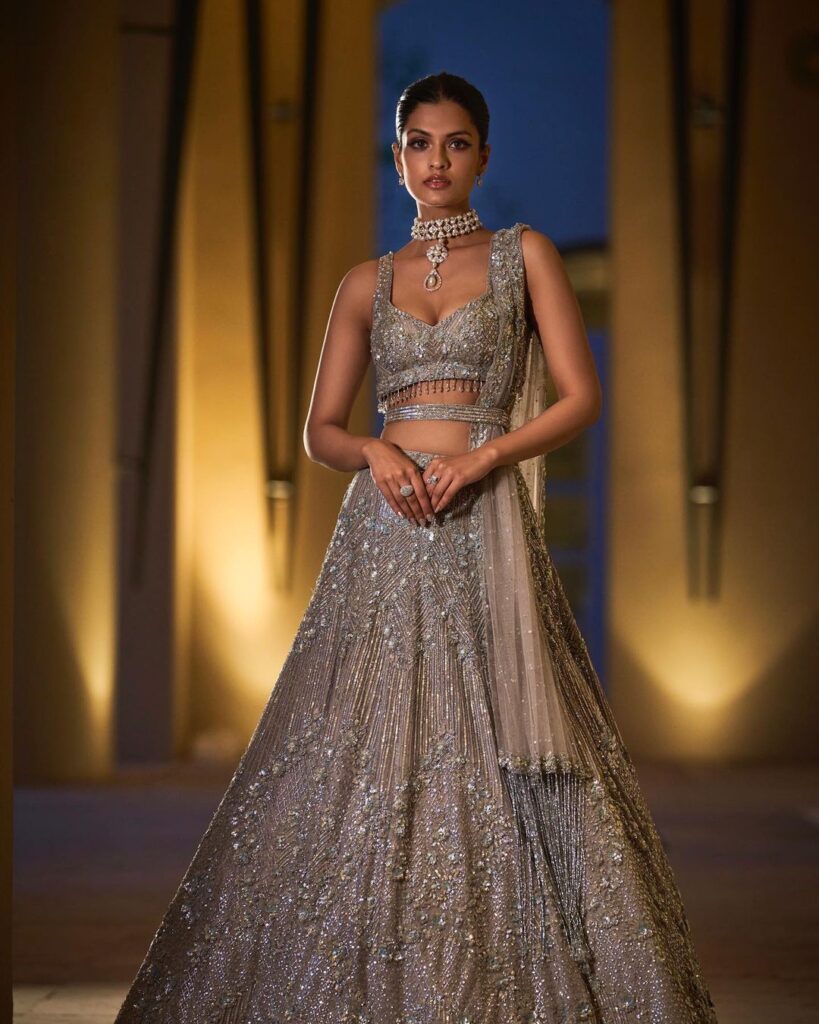 #34 This bride went for a simple silver lehenga for her sangeet and we're in awe! She paired the lehenga with an off-shoulder blouse and styled it with side-swept hair and just a pair of diamond earrings. If you're looking for inspiration for a simple, minimalist bridal look, you should definitely pin this to your mood board.  
Courtesy: Megha & Jigar
#35 If you like your lehengas to be customized and unique, then the Ricco India lehenga set with sequined beads is the perfect pick for you. The shimmer is enough to make you shine and you can keep things simple beauty-wise for minimum hassle. Purchase this lehenga set for Rs.94,000/- here.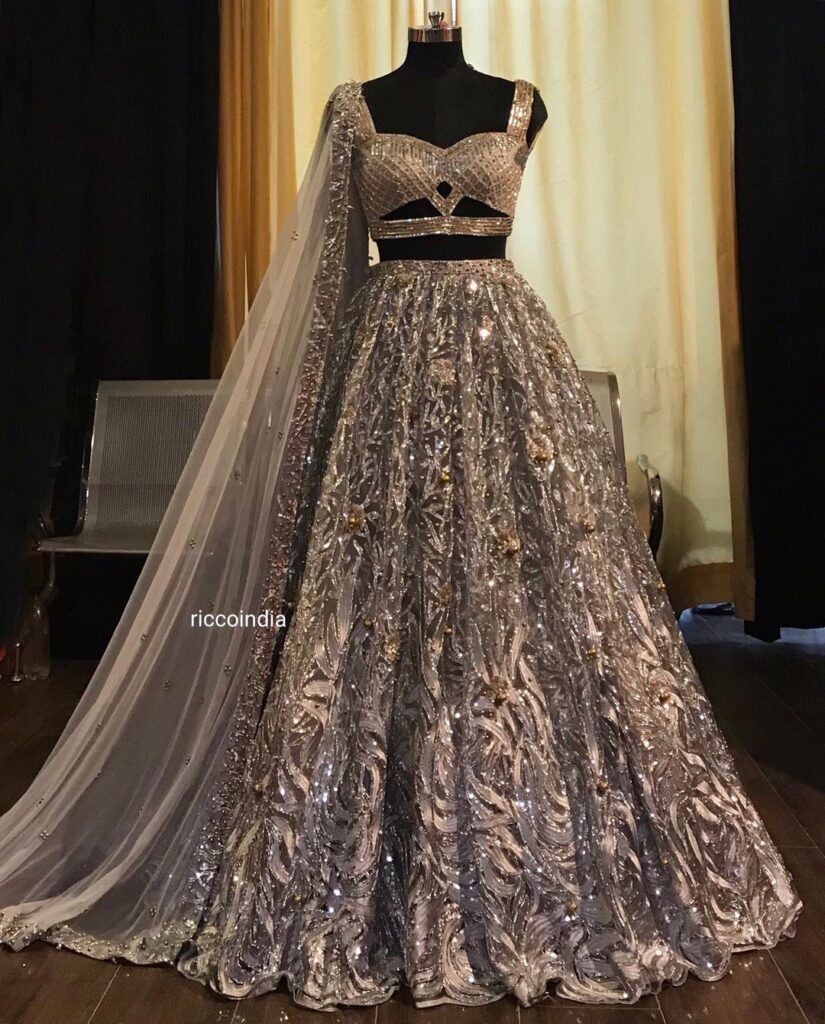 Have you bookmarked your favorite ones from this list? Stay tuned for more trending wedding ideas and inspiration.