Makeup can serve many purposes. For women, they can be used to hide their scars and acne, elevate their look, or just make them feel a bit confident. And although all types of makeup have been catered to women the most, men are increasingly finding good use of this classic beauty enhancer technique as well. We can see quite a lot of men using foundation to even out their skin tone and concealer to disguise their eye bags. In fact, the origins of makeup, dating back to 4000 BCE in Egypt, shows both men and women using kohl, white powders to lighten their skin tone, and malachite to color their lids. Fast forward to the 21st century, the makeup world isn't as uncomplicated and the types of makeup techniques, looks, and products have all formed a small realm of their own. In this blog, we're deciphering all of them so you can highlight the real beauty of your own! 
7 Types Of Makeup Looks (With Pictures)
Simple Makeup Look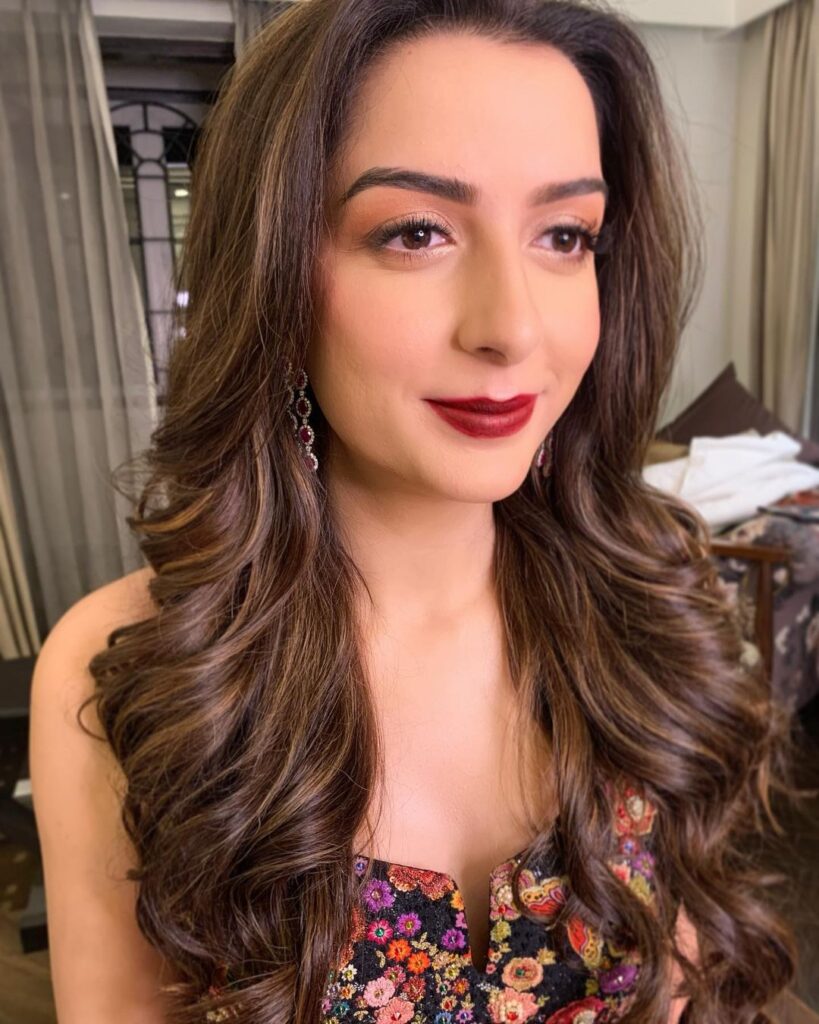 Courtesy: Urmi Kaur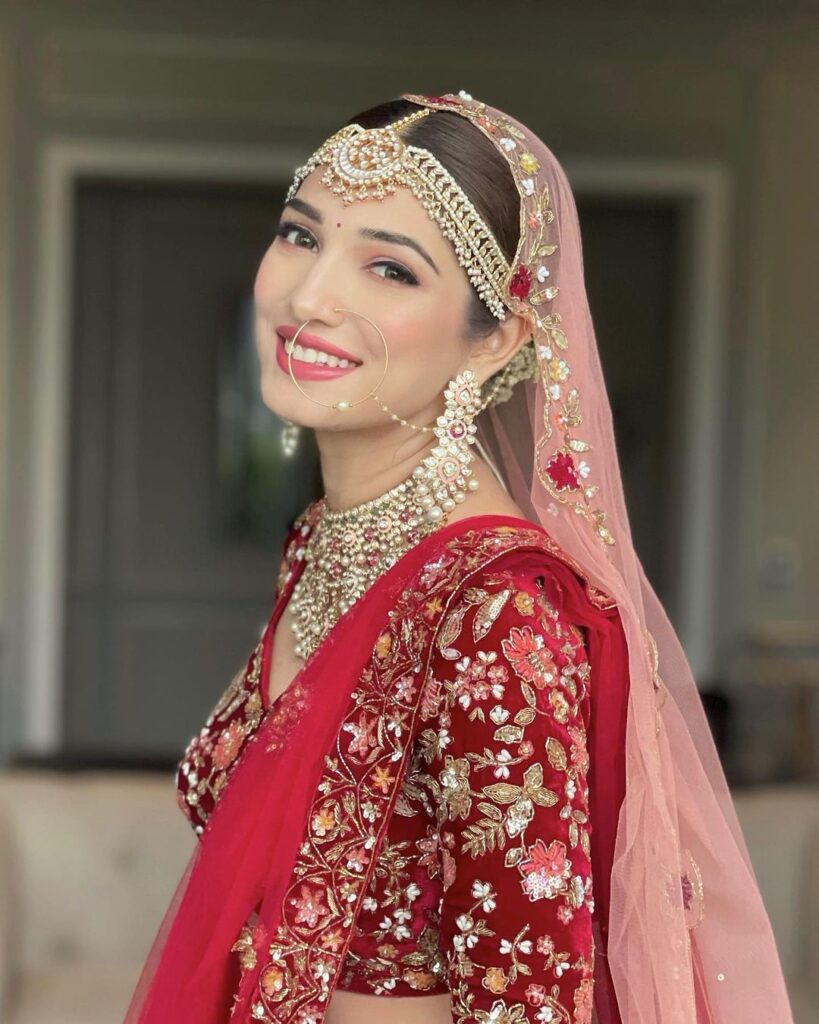 Courtesy: Shradha Luthra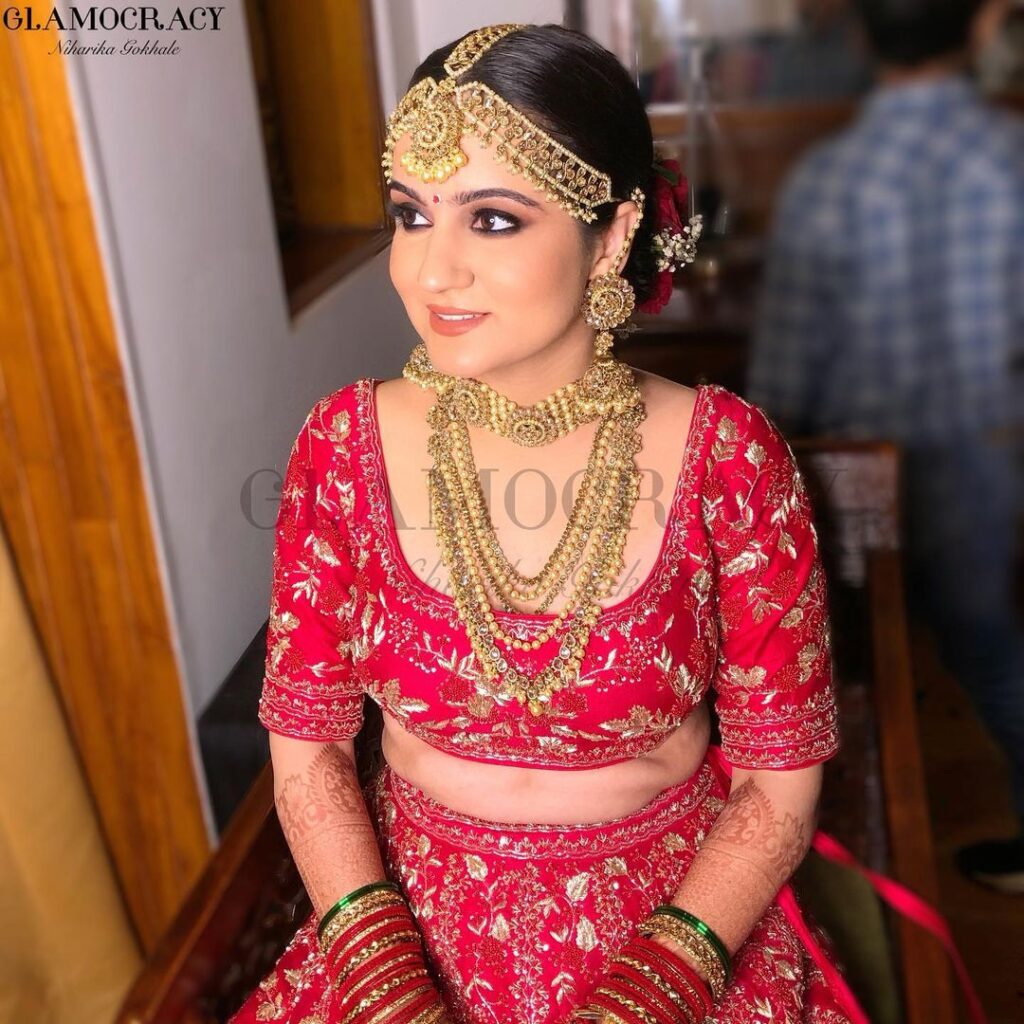 Courtesy: Niharika Gokhale
Minimal Eyes With A Dewy Base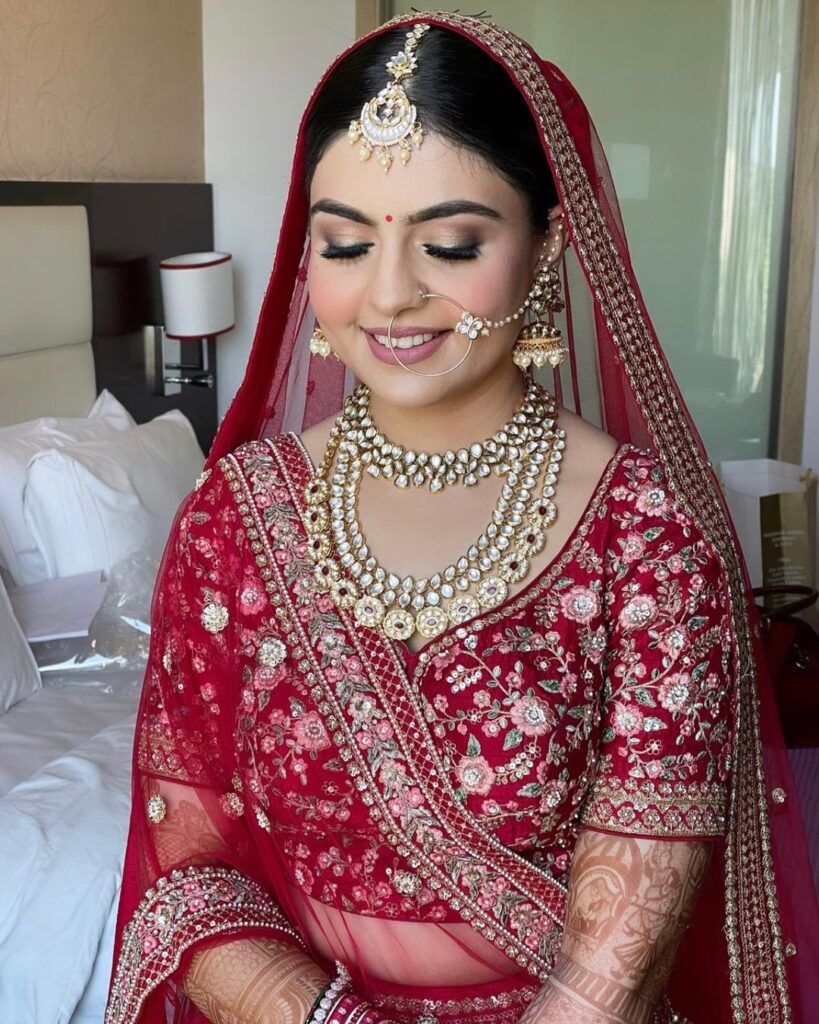 Courtesy: Isha Khanna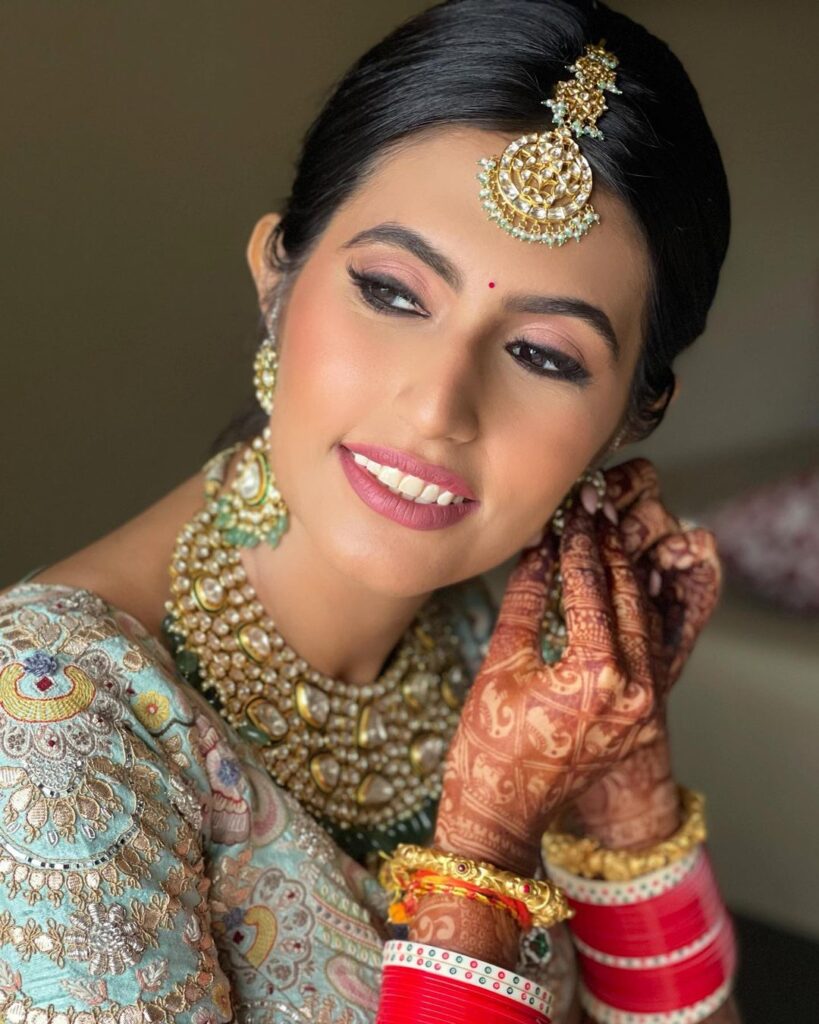 Courtesy: Urmi Kaur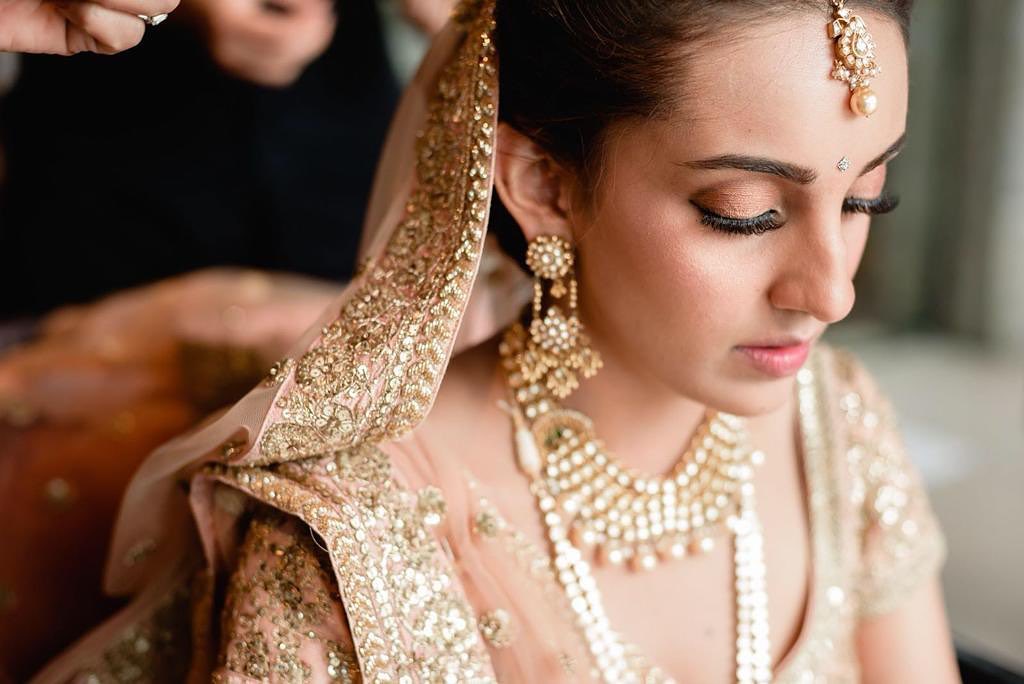 Courtesy: Simran Takkar
Smokey Eyes & Heavy Contour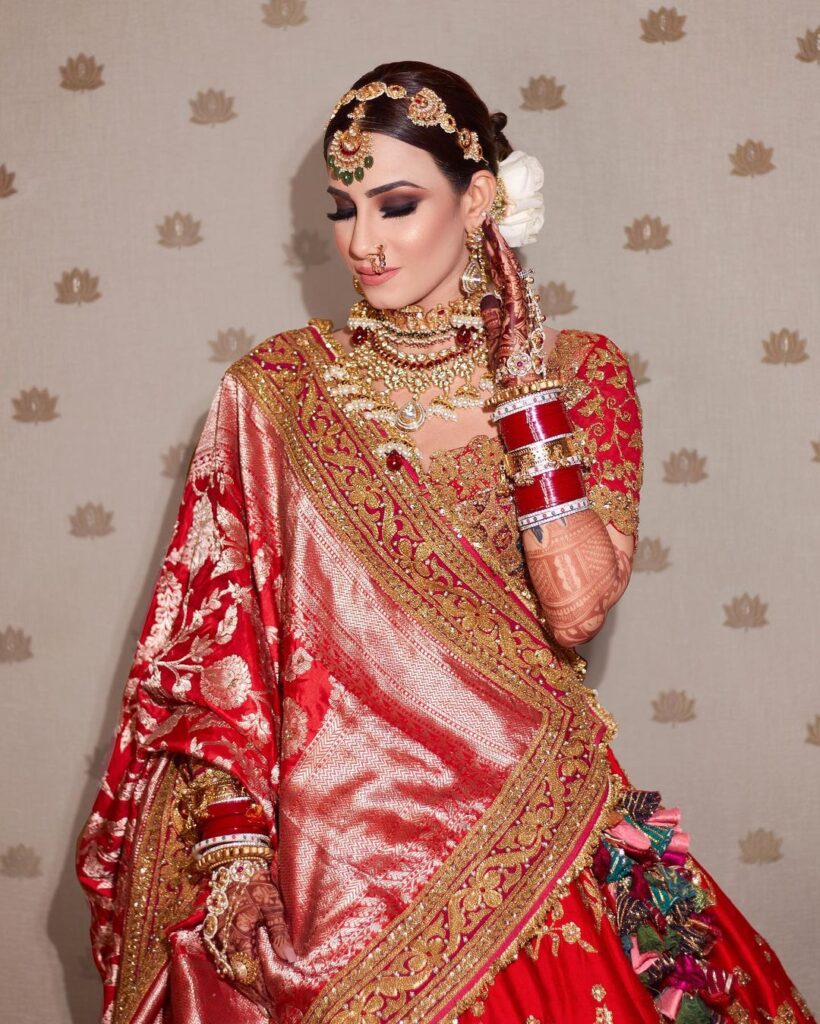 Courtesy: Amrit Kaur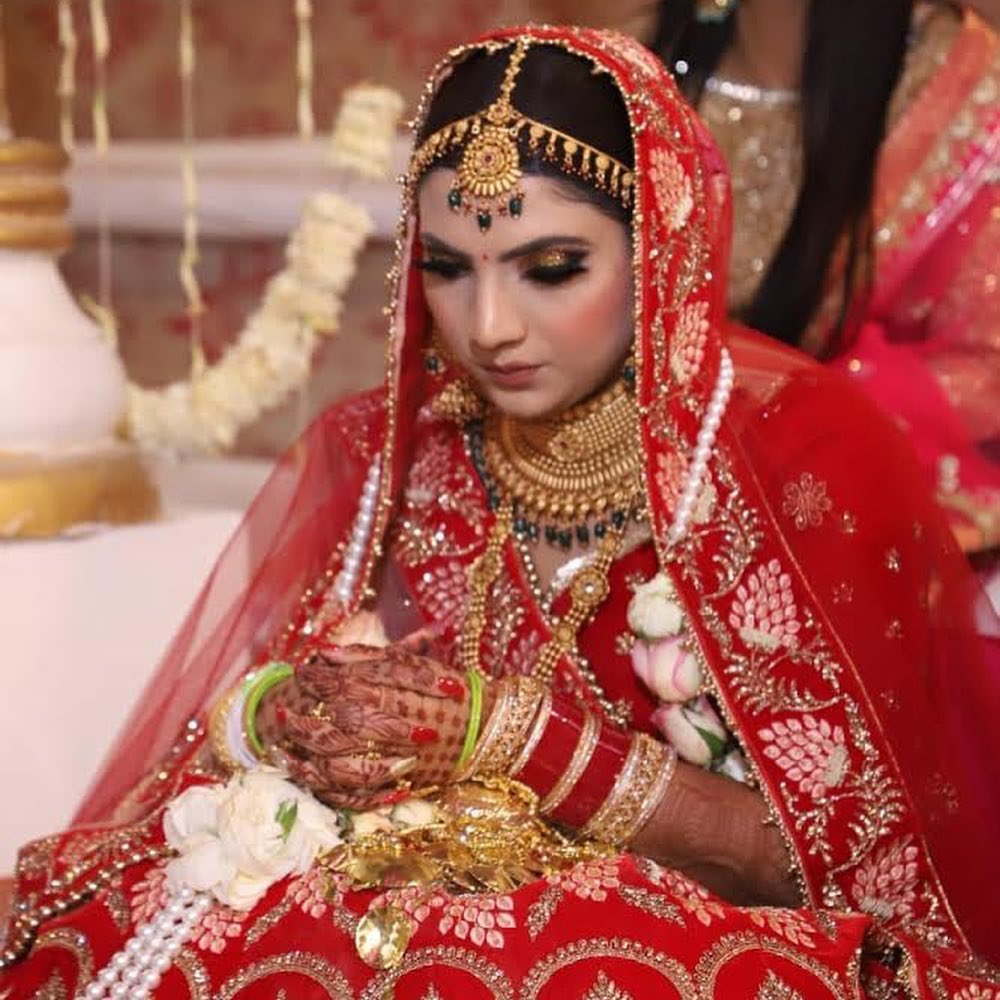 Courtesy: Shaifali Nagpal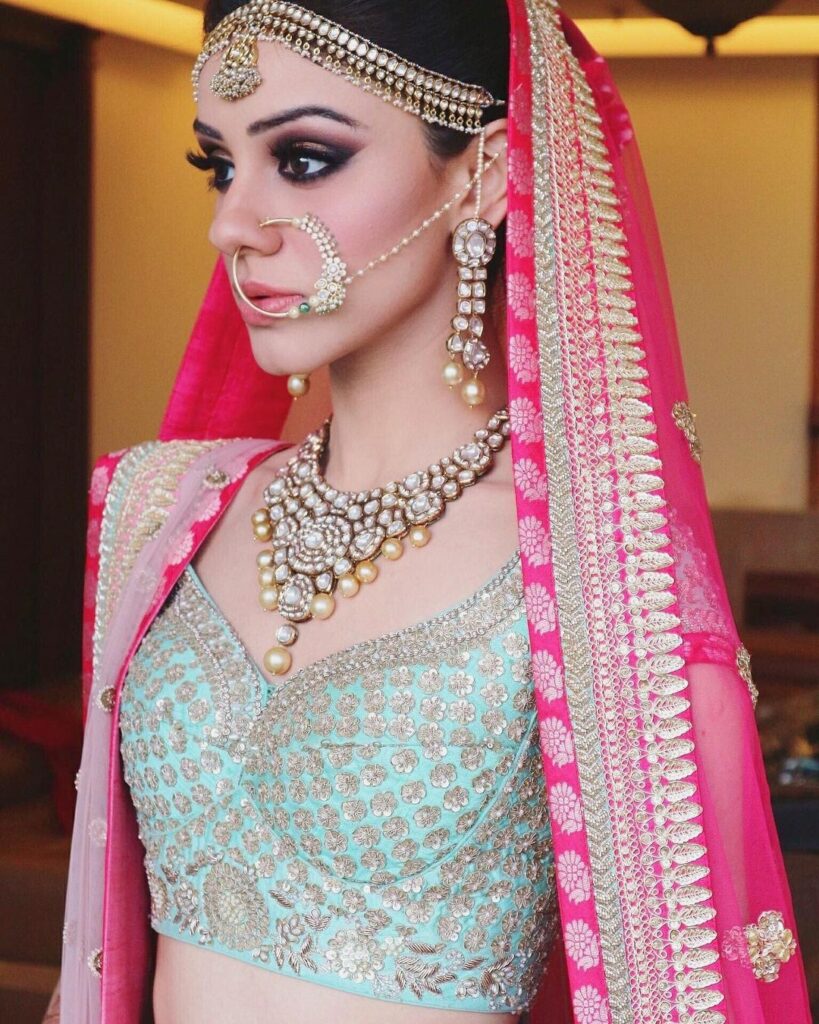 Courtesy: Simran Takkar
Dramatic Night Makeup Look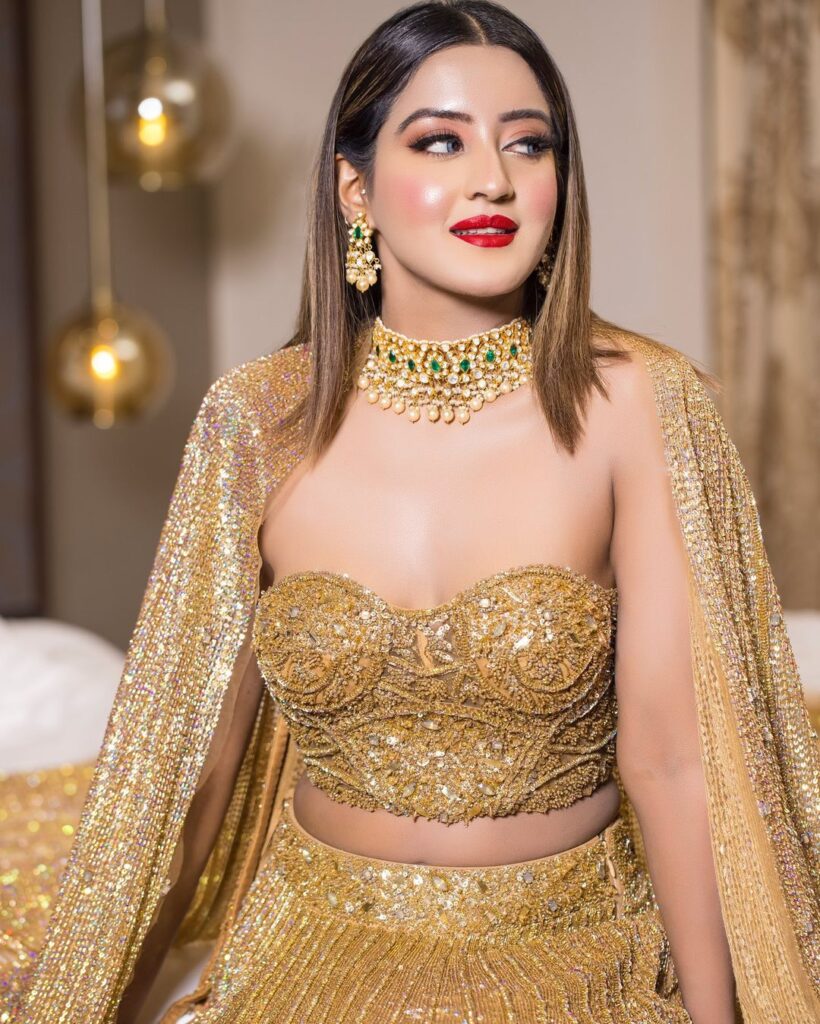 Courtesy: Guneet Virdi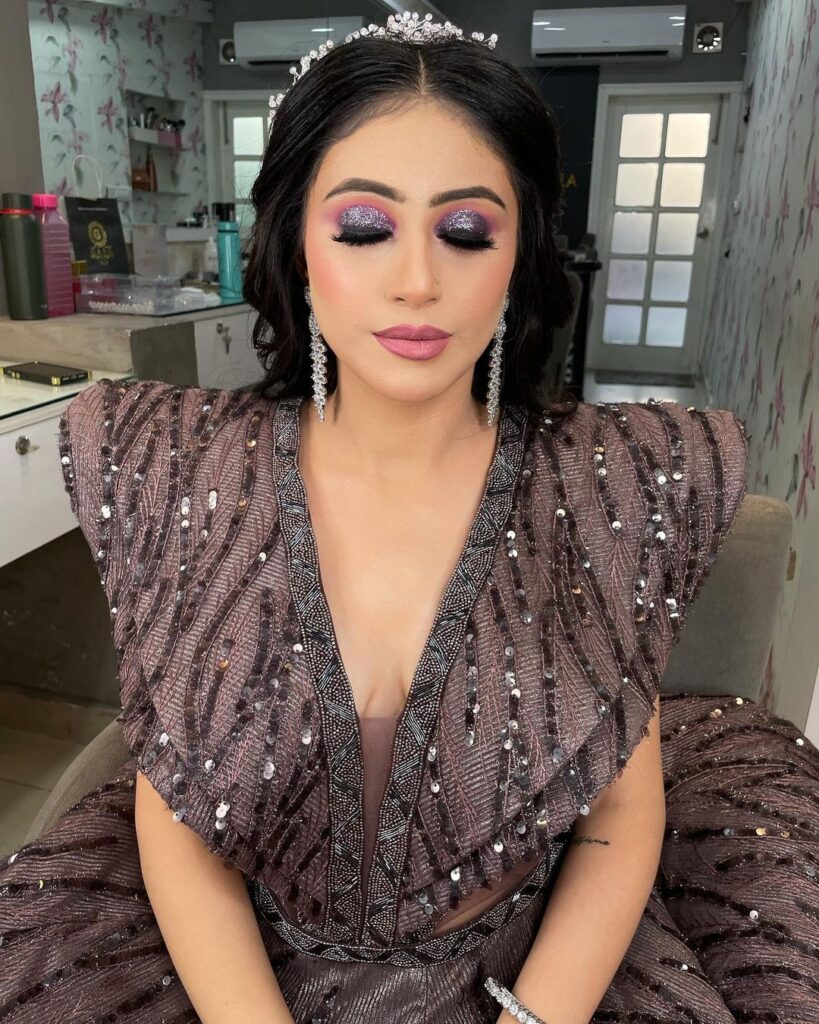 Courtesy: Aarushi Oswal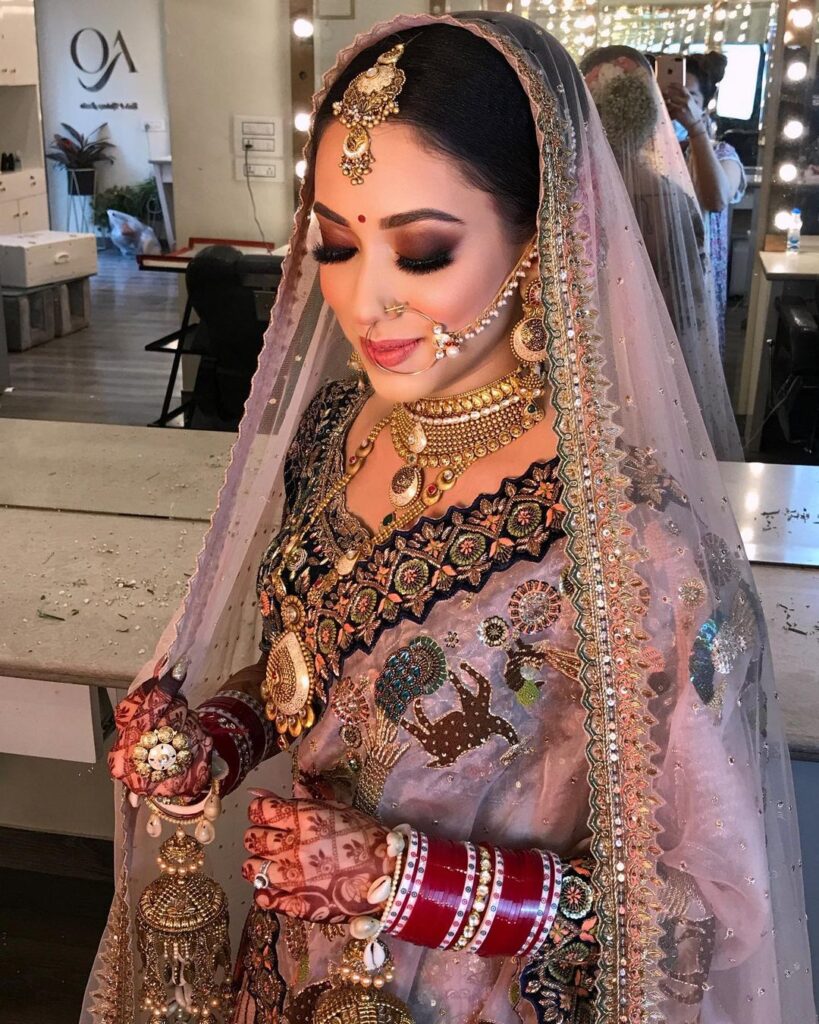 Courtesy: Aarushi Oswal
Red Lip & Golden Eyes Bridal Makeup Look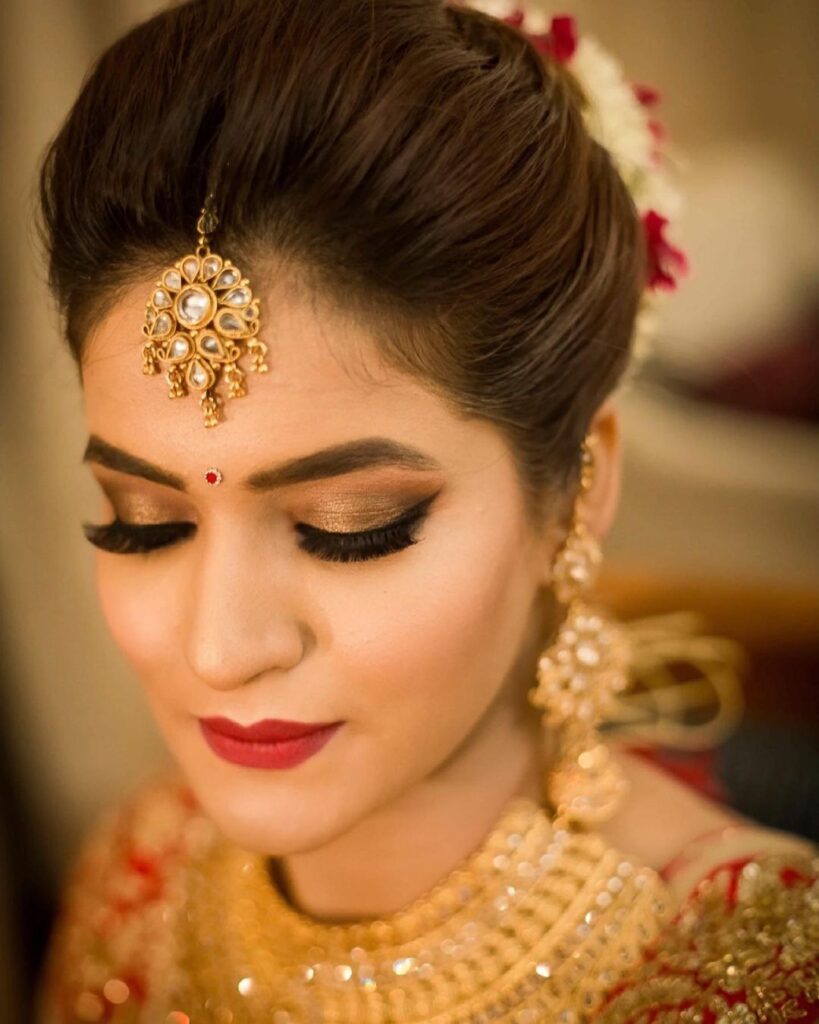 Courtesy: Shruti Sharma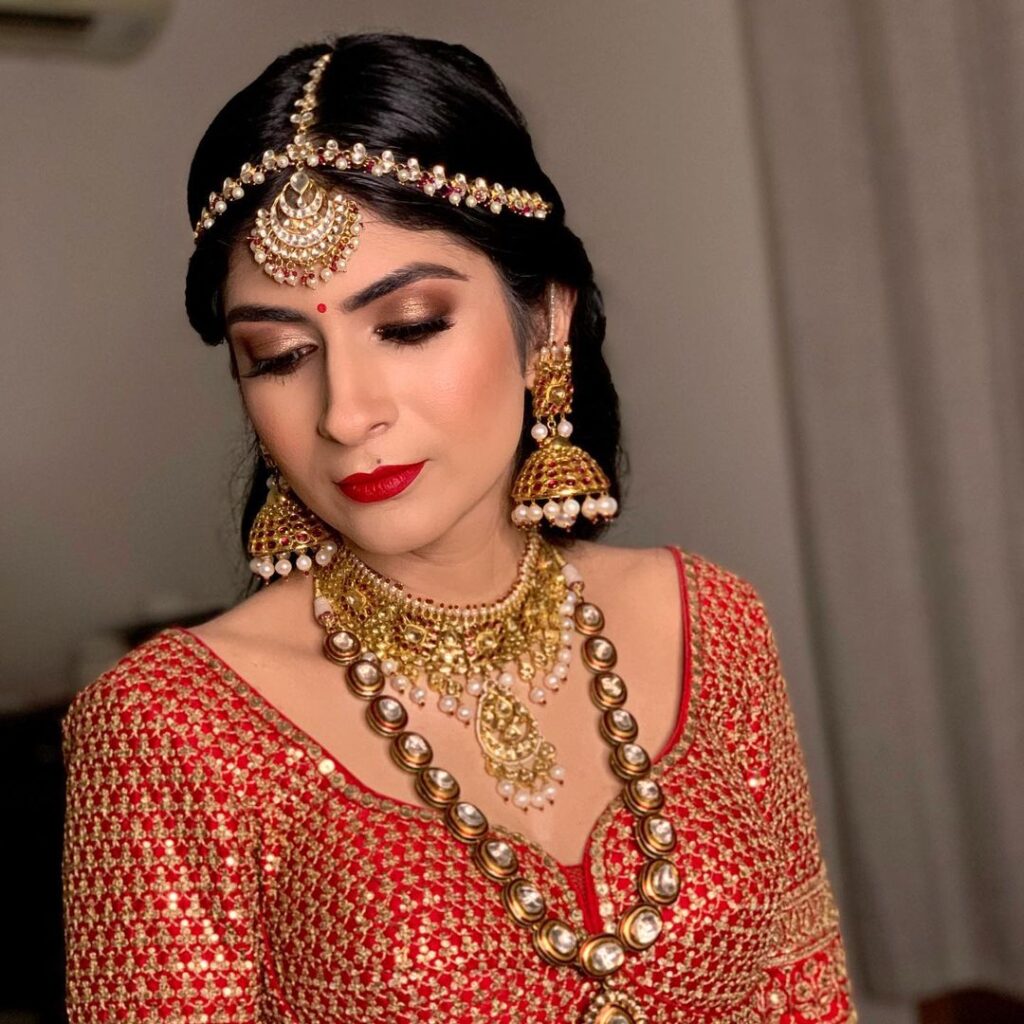 Courtesy: Pooja Khurana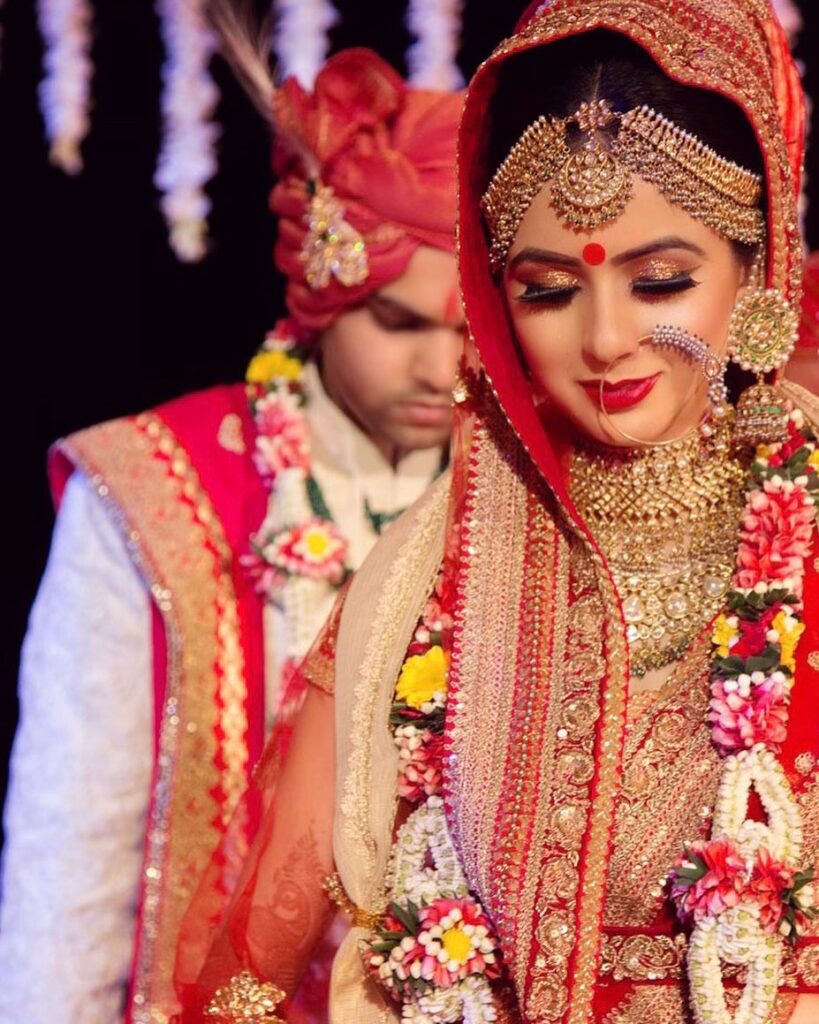 Courtesy: Samridhi Dhillon
Pop Of Color On The Eyes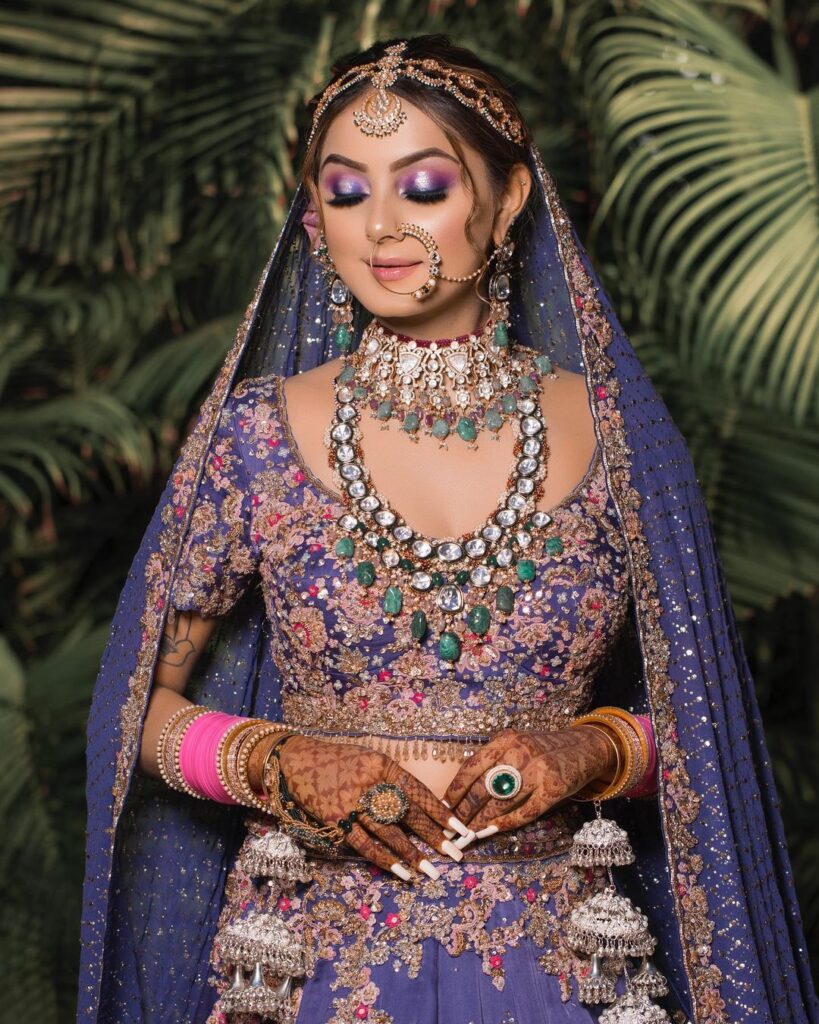 Courtesy: Guneet Virdi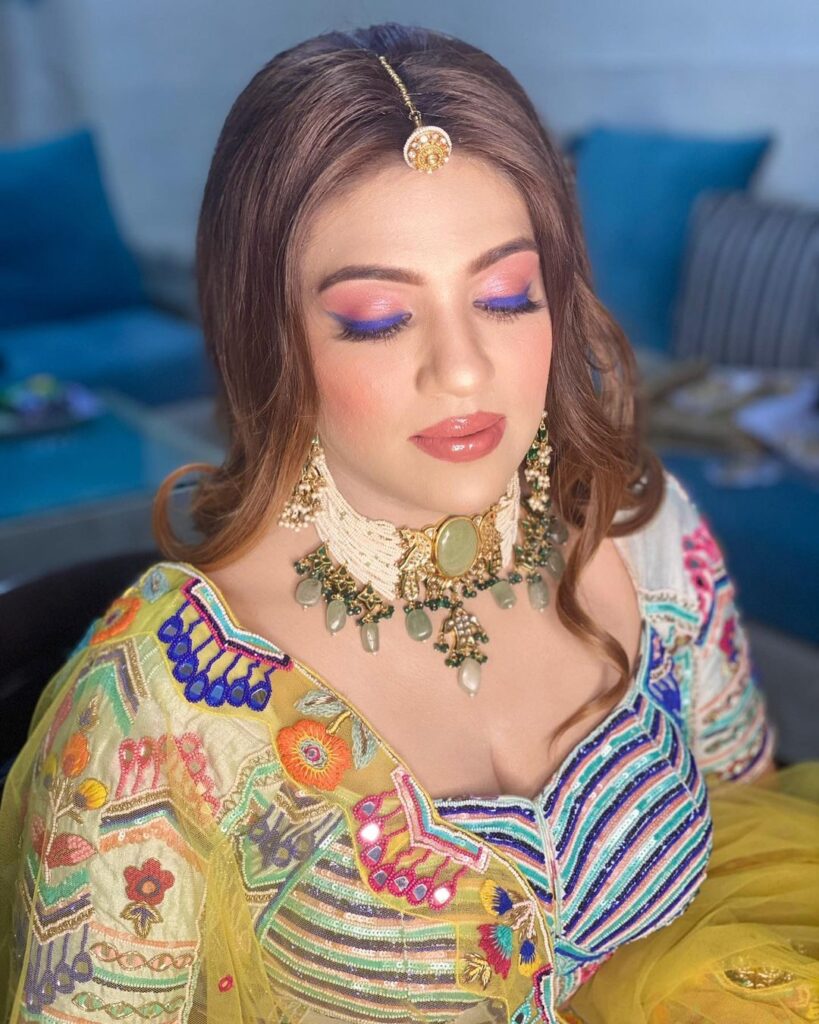 Courtesy: Samiksha Jai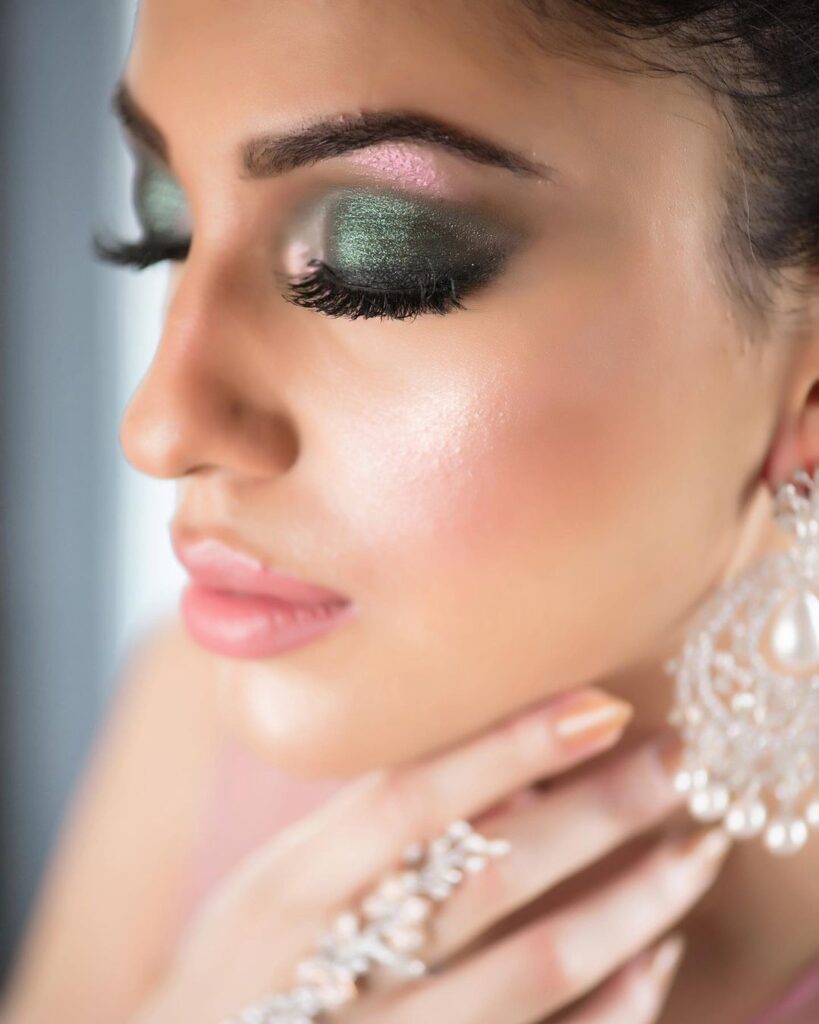 Courtesy: Urmi Kaur
Smudged Kohl Eyes & A Nude Base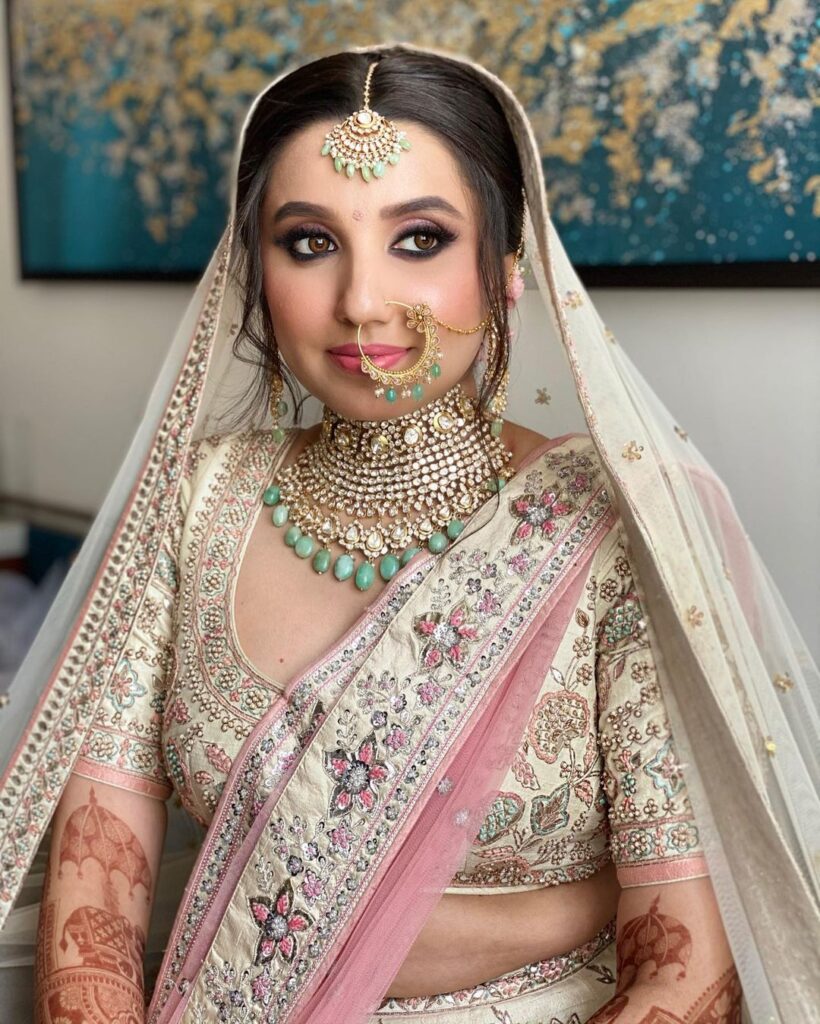 Courtesy: Varsha Gidwani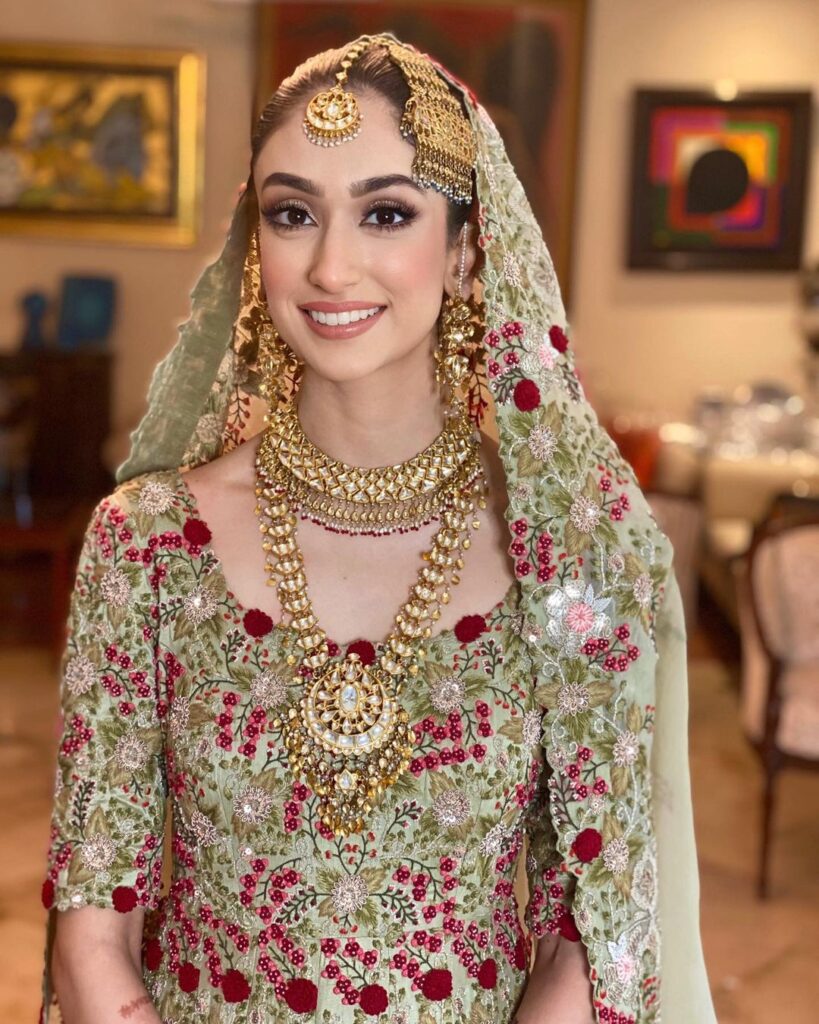 Courtesy: Meera Sakhrani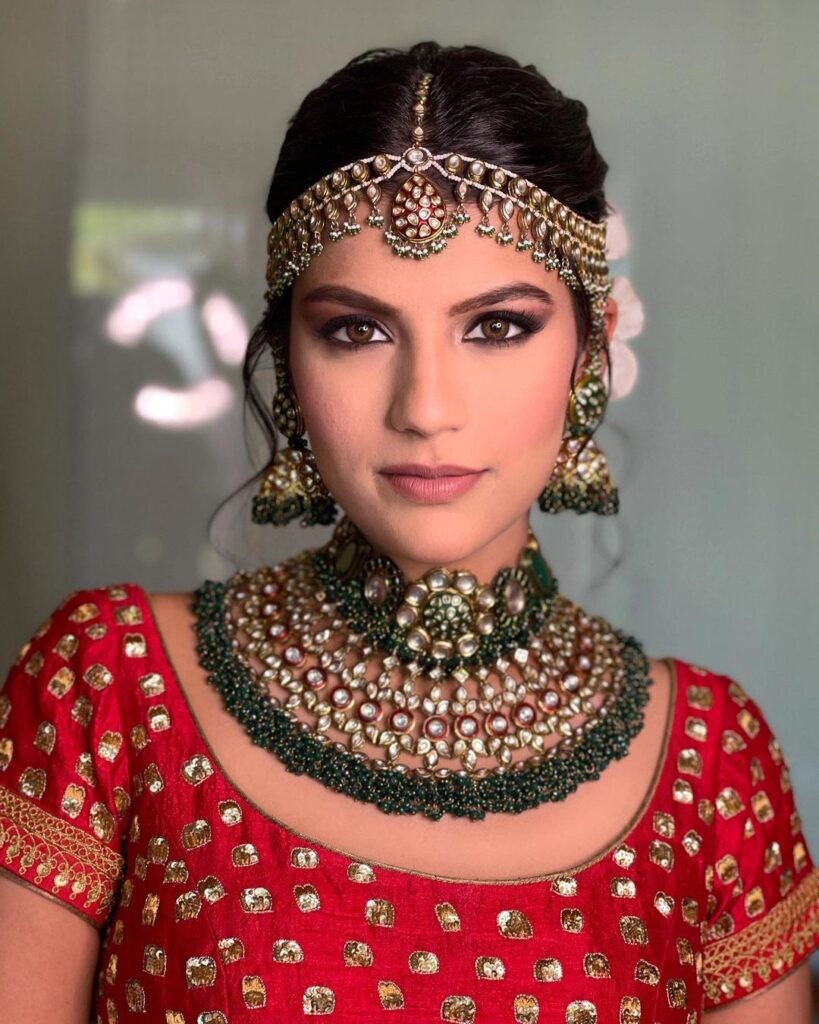 Courtesy: Urmi Kaur
3 Common Types Of Bridal Makeup
There are mainly two basic types of makeup for weddings – Airbrush & HD. Besides these two makeup techniques, there's also mineral makeup that's suitable for those sensitive and acne-prone skin. Let's look at these different types of makeup techniques separately. 
Airbrush Makeup Style 
In this type of makeup technique, the products are applied through an airbrush applicator which sprays on the product to your skin in a nice, even finish. Of course, you'd need an expert for this type of makeup application, otherwise, the results will be just the opposite. Airbrush gives a porcelain effect to your makeup and looks pretty flawless on brides. 
HD Makeup Type
Yet another popular type of makeup application is HD makeup. This makeup is done using regular brushes but products that contain pigments with light-diffusing coatings that blur the imperfections when light reflects onto them. Any product that claims to be HD will have one of the following: mica, silicone, crystals, and quartz. In pictures, this makeup would look next to flawless, but in real life too, the result will be a dewy, skin-like finish. If you've very dry skin, it's recommended to prep your skin with hydrating products and end with a moisturizing setting spray, or the mica in the foundation starts breaking down. 
Mineral Makeup Technique
Mineral makeup is all about getting that natural finish with makeup that looks like your skin, but better. The products for this type of makeup style are made using compressed minerals and they don't have any oil. This is generally the preferred makeup technique for oily skin types, but with the rightful application can work fabulously for any skin type.  
15 Types Of Makeup Products
#1 Primer
Primers are the first step of your makeup routine and the one that creates a smooth base for the makeup application. Primers can be used underneath foundation, eyeshadow, and even nail polishes to offer a long-lasting and even base. Depending on your skin concern, choose a primer that hydrates, fills the pores, or manages oily skin. 
#2 Foundation 
"Foundation" is exactly what the name suggests. It's the base upon which all your makeup products will rest & looks their best self. Having said that, there are unfathomable options for the foundation in the market. So, before heading to the store to buy one, know what you need. Are you looking for a product that blurs the scars? Or one that offers a dewy finish? Or perhaps, a long-lasting, oil-control one that doesn't fade away in a few hours? Once the specifics are narrowed, head to the store and try some products before picking the "one". 
Types of Foundation
Liquid Foundation

Stick Foundation

Tinted Foundation (BB/ CC creams)

Whipped Mousse Foundation

Powder Foundation
#3 Concealer
Concealers are generally used in tandem with a foundation to cover imperfections and give an impeccable base. They're also used alone for a natural makeup look, where they're applied below the eye area and any other places where you'd like to mask imperfections. One of the key types of makeup products, it's imperative you use a concealer to achieve that desired flawless base. 
#4 Compact
Compact powders are very lightweight products that even out the skin tone and lock in the makeup products in place. They can also play the role of setting powder, and you don't have to invest separately in a setting powder if you're purchasing a compact powder. For those with oily skin, a compact can be used to control the excess oil and shine. But those with dry skin, go easy on the compact powder and sticks to hydrating liquid types of makeup products. 
#5 Eyeliner/ Kohl
The bread & butter of a perfect eye look is a sleek eyeliner. And eye looks are the key to bringing your makeup together. It's safe to say investing in a good eyeliner is crucial. We have done the work for you! Find here a list of the 15 best eyeliners. 
#6 Mascara
Applying mascara – we'd like to say – is the most important stage of eye makeup. Fluttering, voluminous lashes bring the eyeshadow look together, make the eyes defined, and give you a wide-eyes beautiful effect. A good mascara can thicken, deepen, and give sharpness to the lashes. So choose wisely. Here's what we recommend: Option 1/ Option 2. 
#7 Eyeshadow
Eyes are the most attractive part of your face and a good eyeshadow look just enhances their beauty, and hence, yours. Many women tend to forget about eyeshadow and spend most of their time perfecting the base, when, in fact, they can create an impressive makeup look by pulling a good eyeshadow look together. Find videos of an easy one done using one palette and minimal brushes to get you started. 
The palette Shivangi uses – Wet n Wild Rose In The Air
#8 Contour
While the word contour conjures up images of Kardashian style strong and super-sculpted face, a soft contour isn't anything close to that. An everyday contour can make your makeup look more natural and enhance the structure of your face. Think sculpted cheeks, slimmer face, and an outlined nose. If the cream contour lines scare you, rely on a pigmented bronzer as a beginner. Find an easy contour strategy here. 
#9 Blush
Rosy cheeks & a coveted glow are a dream of many girls, and a good blush can turn that dream into reality. Blush & highlighter are the last steps of your makeup routine and are applied just before the setting spray. To put on, smile wide and apply some of the product on the apples of your cheeks. Blend and let the magic of this product surprise you! 
#10 Brow Pencil
An eyebrow pencil is a foolproof way to frame your eyebrows and add structure to your face. They're quite easy to use. But if you are a little skeptical or a beginner at makeup, just use them to fill the brows and not draw along the lines. Even filling can add the perfect texture and elevate your makeup look. 
#11 Makeup Brushes
It's hard to put an efficiency tag on a good makeup brush. They are the basis of an impeccable makeup application. With efficient types of makeup brushes, you not only ensure a smooth, even product application but also reduce the wastage of makeup products. However, don't go into things blindly (quality makeup brushes are costly), it's best to educate yourself on what types of makeup brushes are available in the market and which ones you need (or don't need!). 
Types of Makeup Brushes & Their Uses (Refer to the chart below)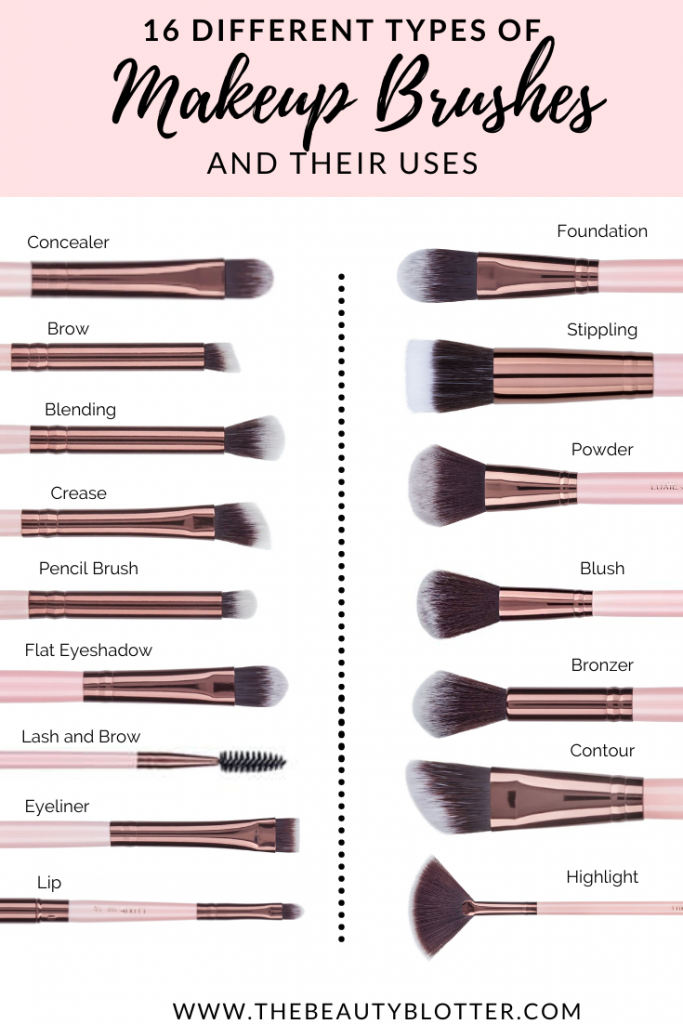 Courtesy: Beauty Blotter
Types of Makeup Sponges 
Besides varied types of makeup brushes, different types of makeup sponges have ruled the beauty world for quite some time. Although there are more than 10 types of sponges, we're including the 5 most common ones here. 
Egg-Shaped Beauty Blender:

The original beauty blender designed to blend any base makeup products like foundation, concealer, contour, and even highlight. When used rightly, they can give you a smooth, poreless finish. 

Wedge-Shaped Blenders:

These small blenders are ideal to reach every edge of your face and can also be used for simple eyeshadow looks. 

Tear-Drop Blenders:

A highly absorbent makeup sponge that makes sure you get the right amount of product to have a flawless base. 

Silicone Blenders:

These transparent makeup blenders ensure a proper blending for your makeup, but also are much easier to clean than traditional beauty blenders. 

Flat-Ended Blender:

These types of makeup sponges are an improvised version of traditional beauty blenders. These makeup products give the ease to apply cream blush and highlighter, while the pointy 
#12 Lipstick 
A good lipstick paired with some tinted moisturizer and a pigmented eye kit can instantly perk up your look. It's definitely hard to put value on a good lipstick in your makeup bag. 
Find here a list of the best lipsticks in India. 
Types of Lipstick
Liquid Lipsticks:

The most popular & preferred lipstick type in the world. These lipsticks – no matter the brand – offer good pigmentation, staying power, and a defined lipstick application with the easily used applicator wand. 

Stick:

These lipsticks come in a stick form with a pointed end to ensure a flawless lip color application. 
(Depending on the formula, both liquid and stick form lipsticks come in both matte and glossy finishes.)
Lip Stains:

Stains are all about offering a minimal pigmented lip with some sort of shine. 
#13 Highlighter
On the day, which would most possibly be the most photographed of your life (your wedding), the rewards of a highlighter go well beyond just serving you with a dewy, glowing makeup look. When placed strategically, highlighters can reflect the light back in flash photography and give you the ideal portraits showcasing the dewiest, most radiant skin of your life. Add a highlighter in your makeup bag to cover those hours of lost sleep, lackluster due to non-obeyance of skincare discipline, or simply adding some glimmer to your makeup look. 
#14 False Eyelashes
False eyelashes can make your lashes look fuller, bigger, and simply better. When chosen rightly, they can add the perfect drama and glam to your makeup look. However, the definition of right falsies can be different for everyone. Some lashes add the volume, some add length, while others just enhance the natural look of the eyelashes. Make sure you know what you want to avoid buying the wrong type. 
#15 Setting Spray 
Now that you've got a gorgeous makeup look, it's imperative you'd want that it looks fresh through the day. Setting sprays makes this possible and reduces the need for mid-day touch-ups. Invest in a good setting spray, it really makes the investment in quality makeup products worth it. 
Best Makeup Brands 
Lakme 
The number 1 made-in-India brand, Lakme products are the oldest and most trusted brand in our country. When it comes to curating a bridal makeup kit, you can't go wrong with the efficient and affordable products of Lakme. 
Best Makeup Products From Lakme:
L'oreal
L'oreal is a universal brand that stands for universalization and creating beauty products for all races, religions, and standards. Their strong global stance makes them a revered makeup brand and one every bride must consider to add to her trousseau. 
Best Makeup Products From L'oreal:
Wet n Wild 
An affordable makeup brand that includes some cult-favorite products like liners and lipsticks. They started in 1979 in the USA with just nail polishes and lipsticks for 99 cents, and those same products have stayed at the same price. With quality and efficient products, they have become worldwide popular for their makeup. 
Best Makeup Products From Wet n Wild:
Maybelline
With over 100 years in the cosmetics industry, Maybelline is an iconic-yet-accessible brand with many products being touted as the best drugstore products and at-par at high-end makeup brands. They have a tonne of merchandise for brides, but the consumer's (& ours) favorite are listed below!
Best Makeup Products From Maybelline:
SUGAR Cosmetics 
A cruelty-free makeup brand that has state-of-the-art facilities in Germany, Italy, Korea, the USA, and India – SUGAR cosmetics delivers high-performance products to their consumers in a convenient price range. Given their latest entry to the cosmetic world and rising to the top with an amazing exponential curve, there's no doubt their products will be a good addition to your trousseau. 
Best Makeup Products From SUGAR:
FACES Canada
FACES Canada is a Canadian company with 40 years of business in the cosmetics industry. They gained recognition when celebrity makeup artists started recommending and using their products. Right now, they're a reputable makeup brand worldwide. 
Best Makeup Products From FACES Canada:
MAC Cosmetics
One of the most revered high-end brands in India is MAC. Their lipsticks are already a favorite, but you can definitely add their foundations for an impeccable, long-lasting base too! 
Best Makeup Products From MAC:
Smashbox 
You must have seen Smashbox's Photo Finish primer everywhere – from vloggers to MUA's – its effectiveness is admired by many. Besides their primers, the company is widely known for to-die-for pigmentation and that's why their lip products are immensely popular. You can also try their eye palettes to experience their remarkable, long-lasting pigments for hours-long wedding revelries. 
Best Makeup Products From Smashbox:
How To Choose The Best Makeup Type On Your Big Day?
On your wedding day, you'd want to look perfect, that's a given. This perfection is a culmination of all the decisions and details you make during the wedding planning process. One of them will be choosing the type of bridal makeup look you want. To zero in on your wedding makeup, here is the 4-step procedure we recommend:
#1 Pin Away 
Curating a superb wedding ensemble requires you to have the inspiration you love, so you can sort them out later. Whichever social media you're using (we recommend Pinterest), start saving the makeup looks you're gravitating towards the most. Once you have around 40 to 60 looks in hand, see what kind of makeup connects them all. This will help you understand the natural inclination and what style impresses you the best! It can have dewy skin but a dramatic eye, a soft contour with a bright lip, or the classic smokey eyes with a nude base. At the end keep 4 to 5 bridal makeup looks for inspiration. 
#2 Keep The Theme & Season In Mind
If you're getting married in the summers, you'd want to keep your look fresh, matte, and waterproof so as to boost the staying power. The same thing goes for a day wedding. During the day, a peachy makeup look with a slight shimmer and soft contour works best. Night weddings give you the option to explore glamorous styles like smokey eyes, dark lips, and dramatic highlights. Similarly, you'd want to keep the location and theme in mind. For a mandap set in natural environments like a beach or the hills, a dewy/ minimal/ natural wedding makeup will make for an ideal fit, while for the black-tie night affair, bold eyes and vibrant red lips go flawlessly.

#3 Choose The Type Of Makeup Look Based On Your Dress 
One of the easier ways to pick your makeup technique on the wedding day is to take into account your attire. A simple pastel lehenga calls for a romantic, soft look, while a heavily embellished lehenga ensemble calls for a heavily-contoured, bold makeup style. To give you even more ideas on what type of makeup look will go with your wedding dress, search for the color or the style on Pinterest/ Google and see what the brides have paired the outfit with! This way you can choose from the already tried-and-tested styles and don a safe trend on the big day. 
#4 Find A Makeup Artist That Has A History In Your Envisioned Look
After you've decided on what type of makeup look for the wedding is your final choice, look for a makeup artist whose style aligns with the same. Every bridal MUA specializes in its own unique types of makeup techniques. It can be minimal magic, glamorous vibes, statement eyes, or a dewy base. Go through their Instagram account or contact them directly for a portfolio of their work. If you're still a bit confused, don't be afraid to ask them for advice. They are experts, after all. Most bridal makeup artists would be more than happy to do a makeup trial, so you get a clear idea of the envisioned look coming to life.