If you're looking for the best lipstick brands in India, you have come to the right place. All women need some good shades of lipsticks in their vanity bags. Besides an eyeliner, there's a lipstick that can instantly make you look polished and put together. And if you're on the hunt for some good ones, this blog will make your buying decision easier. Read on to know some of the best lipstick brands in India. 
Pro Tip: Before buying any lipstick, it's best you go through a YT video where a vlogger does the swatches. The company's brand image can be misleading. 
Please use the *table of contents* section to jump straight to your preferred eyeliner section.
P.S.: Many reviews mention that the product is made in China, so it's fake, but many mentioned on the list are global brands and some of their manufacturing facilities are in China. Second, reviews also mention the lesser time before the product expires. Most e-commerce platforms deliver products with an expiry date between 8 months to 3 years. 
(Our buying guides are written/ edited by avid beauty shoppers and reviewers. We, as a community, believe in only selecting products that have done well for the majority section of people. That's why some, not all, links listed below are affiliates. Thank you for supporting us!)
Best Sellers List: 
#1 Lakme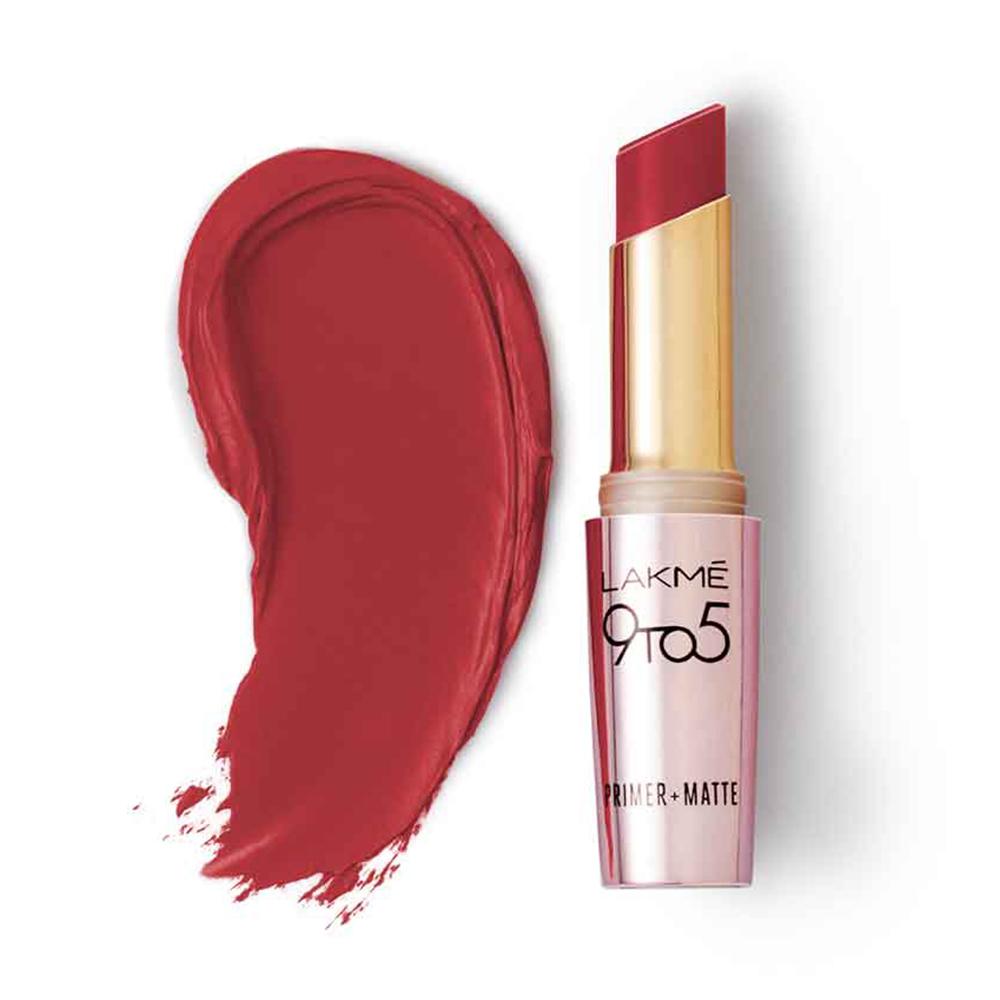 Indian women's go-to brand and our mother's favorite, Lakme has stood the test of time when it comes to delivering makeup & (now) skincare products. And it's definitely one of the best lipstick brands in India and the best lipstick brands "made in India". Proudly owned, started, and manufactured in India, the brand has been in the cosmetics industry for over 50 years now and has been ranked high on the trust scale by consumers. Besides the cosmetic line, they have salons all over India and hosts a fashion show "Lakme Fashion Week" (LFW) every year. In their cosmetic line, they have launched several lipsticks over time that suits the budget, needs, and preferences of all kinds of Indian women. Here are our top 4 picks: 
Lakme Absolute Precision Lip Paint – Buy here
The newly-launched Lakme Absolute Precision Lip Paint is one of the best of this favored lipstick brand in India. It comes with a brush that has a subtle precision and a pot with product in it. The formula is smooth and glides easily on the lips. It has a long-lasting, matte formula that dries within a few seconds. The brush certainly makes the product easier to put on and has a pointed end to get to the sides of your lips well. 
What Customers Say: "The product is perfect just like the case is with other Lakme products. It spreads evenly with the provided brush, compared to other lipstick brands in India, this lip paint is more effective. Lasts a long time, has no smudges, and is easy to apply. Instant beautiful lips and priced reasonably as well."
Cons: Product might waste because you'll have to pick up on the brush to apply. 
Overall Rating: 9.5/10 
Lakme Matte Liquid Lipstick  – Buy here
While other lipstick brands in India offer solutions thinking of other products, Lakme solves the problems of their own products. They know that the precision paint might not be as portable when you need a quick lipstick application. This is where Lakme Matte liquid lipstick steps in. The velvety, lightweight formula goes on smoothly and comes in an elegant glass bottle with colorful lids. There are a total of 10 limited-edition shades with some exciting nudes, reds, and wine shades. 
What Customers Say: "I was in doubt before purchasing but now it's my favorite ever. It's very smooth and feels light. Color is also pigmented. It doesn't feel like you have applied anything on lips…moisture content is good..not at all dry."
Cons: These are all mini-sized bottles meant to offer greater portability so the quantity of product is lesser than other lipsticks. 
Overall Rating: 9.5/10
Lakme Absolute Matte Lip Color With Argan Oil  – Buy here
In 2019, Lakme launched their Argan Oil product line with skincare, makeup products infused with the skin-healing properties of argan. They roped in Kareena Kapoor Khan to reveal and advertise their products. Since then, this part of their skincare line has been a hit among general crowds. One of their products is Lakme Absolute Matte Lip Color that offers the luxurious moisture feels of argan oil and the external allure of a lipstick. 
With 12 beautiful shades, the customers have a chance to choose between variety and explore with ease. The formula comes in a roll-on stick form and dries super matte for a gorgeous finish. Once dried, you can apply liquid gloss if that's what you're looking for! The thin stick with sharp ends makes sure the precision of your lip color application is pout-worthy & smear-proof. 
What Customers Say: "I ordered the shade brunch nude and OMG! This is my favorite nude shade ever! It's not brown unlike other lipsticks and dries light with a hint of beige. You need two coats for full pigmentation and it doesn't feel dry on lips even though it's matte! I am in love! Worth the bucks."
Cons: Really can't think of any except it's a little pricier. 
Overall Rating: 9.5/10 
Lakme Cushion Matte Lipstick  – Buy here
Budget-friendly and 35 comfortable matte shades, Lakme Cushion Matte lipstick is perfect for on-the-go girls who want inexpensive lipstick for everyday use. The stick formula is matte and feels soft on the lips. Infused with French rose-oil extracts, the popular ingredient is known to lock moisture, soften skin, and make your skin supple and hydrated. When used on lips, it can hydrate them and make them soft. Plus, not to forget the enchanting smell it adds to the product. 
What Customers Say: "What lovely lipstick! It's very soft. Matte but a creamy texture. Color is just awesome for daily wear."
Cons: Might have to re-apply every 3 to 4 hours for the same pigmentation.  
Overall Rating: 8.5/10
#2 Maybelline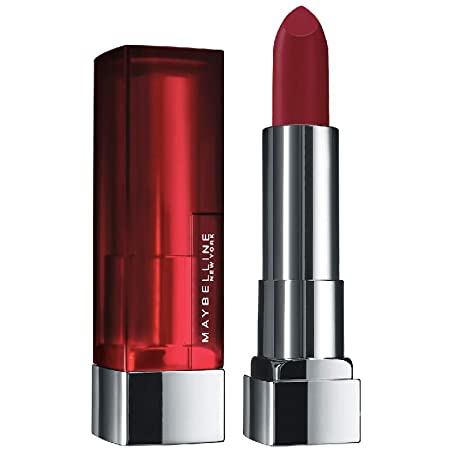 Creating cosmetics over 100 years and roping in top influencers of the time, Maybelline has made its way to one of the top lipstick brands in India. It's one of the most popular lipsticks worldwide. Their brand tagline "(Maybe she is born with it) maybe it's Maybelline" is one of the most recognizable taglines and is used by social media users & general banter quite a lot. 
Maybelline New York Super Stay Matte Ink Liquid – Buy here (Our favorite)
This has been my go-to lipstick for years now. The texture, quality, and staying power are amazing for the price and the colors are just beautiful. Plus, the final result looks winsome in the pictures. This lipstick comes with an arrow applicator that ensures precise application throughout the lip area and makes sure the lines stay put as time goes. 
What Customers Say: "Love this collection! They don't dry or bleed, unlike many other liquid lipsticks I have tried. If you have very dry lips, apply a lip balm for around half an hour, wipe it gently and then, apply the lipstick. My favorite shade is Delicate, which is such a peachy-pink nude shade and not brown like other nudes. At the end of the day, you can easily remove them Garnier Micellar water, a cheap option as well."
I second her opinion. Their nude lipstick is the best nude you can own from all the lipstick brands in India. And I have even invested in Huda, but this one is a good (even better) dupe for the same. 
Cons: It can feel a little sticky.
Overall Rating: 10/10
Maybelline New York Sensational Liquid Matte – Buy here
Another liquid lipstick under Maybelline's radar is the Sensation liquid matte lipstick, which I'd say is a budget version of the above formula. The quantity is amazing for the price, it's transfer-proof, and stays on for 3 to 4 hours before you have re-apply again. It dries super-matte and dries within seconds. If you want a gloss, shimmer effect, follow up with a clear gloss lipstick right after.  
What Customers Say: "I am using the Flush It Red 03 and it works great for every day, office-wear use. For the price, it's nice to have a lipstick that you can use every day without worrying about the budget. The best part is they have a packet of 4 clubbed colors for just Rs.350/- in sachet form so you can try and know which one you want the best. I think all lipstick brands in India should do the same. Thank you, Amazon for the fast delivery."  
Overall Rating: 9/10
Maybelline New York Super Stay Crayon Lipstick – Buy here
Maybelline New York's Super Super Stay Crayon lipstick comes in a twist-and-turn stick form and has a creamy, matte texture. Most of the lipsticks offered by Maybelline are matte, and matte is definitely preferred over glossy by women, so that's good. Among the lipstick brands in India, Maybelline has definitely created different formulas for women from different walks of life. And crayon lipstick is a great pick for women who hustle and need an inexpensive lip color on the go.
What Customers Say: "Initially I just ordered one lip color but satisfied with the quality, I ordered two more. The pigmentation is good, but you do need 3 to 4 swipes for a dark color. If you have very dry lips, use a lip scrub & lip balm before applying these. And if you suffer from rough, flaky lips continuously, skip these and go for a liquid formula instead."
Overall Rating: 9/10 
Maybelline Creamy Matte Lipstick – Buy here
Keeping in mind the needs of their customers and their desires to try different lipstick shades, Maybelline has come up with a dual lipstick package that contains two shades of the same palette. There are nudes and reds in the package deals. The lipstick comes in elegant silver packaging with a tic-tac cap and a roll-on product. The shape of the product comes in a sleek form to ensure smoother application and it's infused with shea butter, so no issues if you have dry lips. 
What Customers Say: "The color was as I expected. It's creamy and matte as mentioned on the product. Not 100% smudge-proof though and you have to redo it after 4 to 5 hours, but I don't mind that given the affordable price. Delivery and packing were also good." 
Overall Rating: 8.5/10 
#3 Colorbar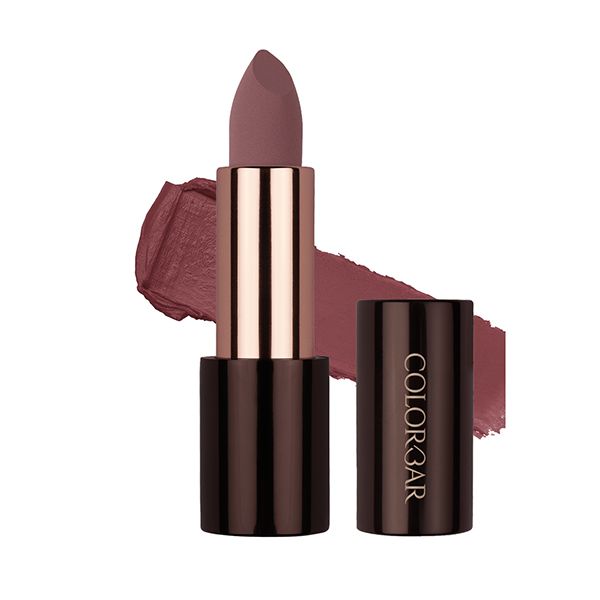 Colorbar Cosmetics is yet another one of lipstick brands in India and lipstick brands made in India. Founded by Samir Modi in 2003, it's now the third-largest cosmetics company in India. The company's quality standards are such that they meet stringent regulations of the US, UK, and Japan. They are also GMP (good manufacturing practices) certified and are moving towards clean beauty (cruelty-free, dermatologically & ophthalmologically-tested) with their skincare line. The company started as a color-cosmetics brand and are still going strong with their lipsticks. 
Colorbar Matte Touch Lipsticks
Rated as one of the best long-lasting, matte lipsticks in India, Colorbar Matte Touch lipsticks come in exciting shades and have a soft, moisturizing formula. Infused with Vitamin E, jojoba oil, and shea butter, Colorbar Matte touch lipsticks are a match made in heaven for those who suffer from dry lips. The textured outer covering in brown is an elegant packaging to carry anywhere and the smooth twist-and-turn ensures the stick doesn't break with usage. 
What Customers Say: "Very beautiful and attractive shades. The colors are just beautiful and glide on with one swipe. They're transfer-proof and stays on for 4 to 6 hours even if you eat anything. Very lovely creamy and matter texture. Definitely a must-buy."
Cons: It's pricey for the amount of product. 
Overall Rating: 9.5/10 
Colorbar Starry Flip Lip Color
If you're looking for a good sparkly lipstick for a night out, then the Colorbar Starry Flip Lip colors are your BFF. These amazingly pigmented formulas leave a glittery shine to your lips after application. And wouldn't they just look great when you're attending a night gathering? The formulas are all heavily pigmented and form a lightweight film giving a comfortable effect. It will last longer and is also transfer-proof so you don't have to worry about fading. Lastly, the formula is enriched with hydrating ingredients to prevent any flaking or dryness.
What Customers Say: "I am really impressed with the stunning color effects. You don't need a lot of the product or even need to dip again for the same area. It's highly pigmented and looks so amazing for going out at night. I'd highly recommend having them in your vanity bag for an extra effect." 
Overall Rating: 9/10 
Colorbar Velvet Matte Lipstick 
A budget option in the Colorbar's lipstick range is their Velvet Matte lipstick which comes in a sleek silver package with a transparent lid. The precision shape on the top makes sure the application is smooth and meticulous. There are a total of 30 shades that goes on flawlessly and has a good staying power. Infused with jojoba oil and shea butter, the result is a velvet matte finish that feels comfortable for long-wear hours. 
What Customers Say: "I have purchased 6 lipsticks from this collection and loved them all! Initially, I went with one, but went ahead and bought more colors. My mother & friends have taken my love too for this Indian lipstick brand. Not completely transfer-proof but doesn't dry your lips too." 
Cons: Not completely transfer-proof and fades when you eat or drink something. 
Overall Rating: 9/10 
Colorbar Sinful Matte Lipstick
Colorbar appeals to all your needs & preferences. While the above 3 are more of daily-wear, affordable lipstick, the Sinful Matte is a luxurious finish lip product that has such a smooth finish, it will look like you're wearing Dior. The creamy, lightweight formula comes in 24 gorgeous shades and has sea fennel wax for good adhesion and comfortable wear. It's also dermatologically tested so you can be assured that it won't harm your skin in any way. 
What Customers Say: "Such a nice shade and what a gorgeous lipstick. It's a little bit expensive, sure, but you can buy in an offer and you'd not regret the bucks. Don't think twice before purchasing."
Overall Rating: 9.5/10 
Colorbar Matte Me As I Am Lipcolor
This crayon lipstick is a perfect pick for those who are afraid of breaking the stick form of lipstick or the glass of their liquid lipsticks. And Colorbar has created a superb formula that gives a beautiful pigmented shade in one swipe and stays put for around 6 hours. The moisture-rich shades hydrate the lips and don't crack, only fade after a while. That's the case with all Colorbar lip products though. They come with oils & moisturizing ingredients so you don't have to deal with the dryness or flakiness that comes with applying lipsticks. 
What Customers Say: "One of the creamiest and prettiest lipsticks I got my hands on! I was using Nykaa Lip Crayon before, but this one is so much better. The colors are worth the hype and I'm hardly ever switching from this amazing product." 
Overall Rating: 9/10 
#4 Faces Canada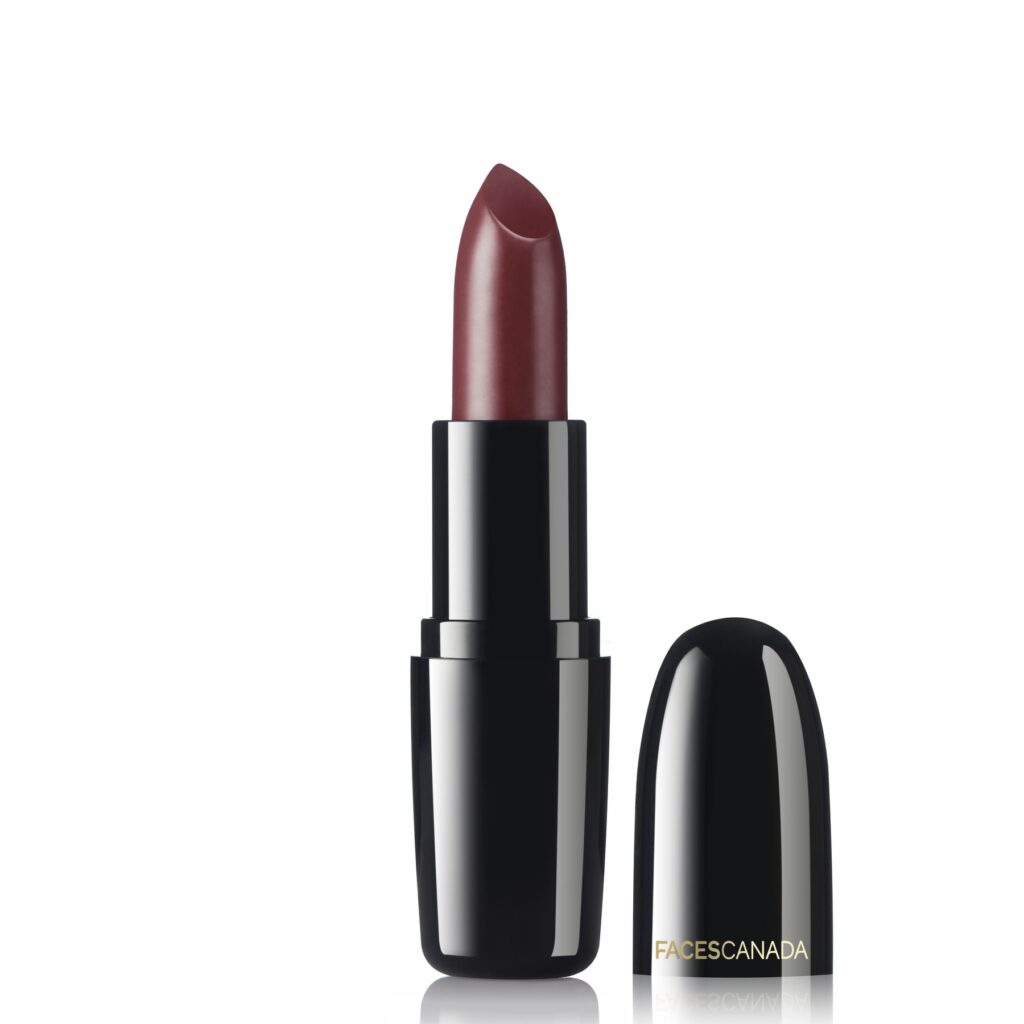 Launched in Canada over 40 years ago, Faces Canada had a good grasp of the North American market before it was acquired by an Indian venture company and launched here. Since then, India has been a key market for the cosmetics brand and their market share has been skyrocketing ever since. A 100% vegan brand with skin-friendly ingredients, their products deliver the results they claim and that's why they're favored much by Indian women. 
Faces Canada Weightless Matte Lipstick
Available in 30 flawless shades, Faces Canada Weightless Matte is one of the top matte lipstick brands in India. The impeccable matte black packaging looks stylish and easy to carry. It has a super-pigmented formula that goes off in one swipe and doesn't need much pulling. The reason why the lipstick doesn't cluster after a few hours or dries in cracks is that it has jojoba, almond, and Vitamin E oil. The combination of these three ensures you have soft, moisturized lips even after hours of product application. 
What Customers Say: "So in love with these colors. It's suitable for all skin types. My friend & I have the same shades – she being fair and me being dusky. It lasts for 5 hours, but if you eat, it will come off a bit. The texture is a bit dry. It's completely matte and you need a highlighter for a party look. The packaging is a matte finish and it just looks like Mac lipstick from the outside. No wonders Faces comes under top lipsticks brands in India." 
Cons: The staying power is poor and it's not completely transfer-proof. 
Overall Rating: 8.5/10 
Faces Canada Weightless Creme Glossy Lipstick
With the popularity of matte lipsticks, many lipstick brands in the world have taken a backseat in curating glossy lipsticks, but not Faces Canada. Their weightless creme glossy formula comes in 21 shades and has a very creamy texture – thanks to its moisturizing ingredients shea butter, Vitamin E, and jojoba oil. 
What Customers Say: "I was looking for a good nude lipstick in the budget, but every time I get a peachish pink tone. Faces Canada's sweet mocha shade is perfect though. Yes, you need to re-apply but the shade is lovely, the formula is creamy, and it's quite affordable. Just go for it!"
Cons: The shape might not allow a smoother application, so you'll need a separate lipstick applicator for the product. Also, the pigmentation doesn't last long. 
Overall Rating: 8.5/10
Faces Canada HD Intense Matte Lipstick
For my birthday this year, I received a Faces Canada box that had their eyeliner, nail paint, and their HD Intense Matte lipstick. I loved all their products. The eyeliner had a glossy finish and I like matte, so that's the only reason I'd be sticking to my trusty Lakme 9 to 5. Matte nail paint is just amazing and the lipstick is quite smooth and has long wear. I wore it the whole day and it didn't fade a lot, I only had to reapply once. It didn't flake or crack on my dry lips and the pigmentations look amazing in pictures and real life. 
What Customers Say: "This one has become my favorite. It's super matte, creamy, and doesn't dry, so it'd not cakey. It suits all skin types and I have just purchased my 3rd lipstick. The product lasts for 12 hours and the shade is so nicely pigmented. I just love it!"
Cons: The thin stick generally has less of a product. 
Overall Rating: 9.5/10 
Faces Canada Ultime Pro Matte Lip Crayon
The Faces Canada Ultime Pro Lip Crayon is marketed for its deeply pigmented, one-swipe color that gives a payoff with just a single glide. And customers attest to the quality and delivery that the company claims! With 29 impeccable shades, there's a color for your preference & choice. The formula comes enriched with cocoa butter and chamomile extracts to moisturize your lips and extend the staying power of the product. 
What Customers Say: "I have tried two shades from this crayon line – "Midnight Rose" and "Peach me". They are so gorgeous, tempting, soft, and smells so good! I bet any color you choose will make you fall in love with them. Faces is definitely a must-try best lipstick brand in India. 
Overall Rating: 9/10 
#5 L'oreal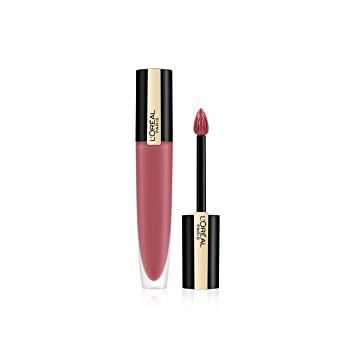 Founded and headquartered in France, L'oreal Paris is known to make affordable luxurious beauty products for women from all walks of life. Loreal is one of the top lipstick brands in the world, and has a stronghold in Indian too! It has been voted 61st among 1200 India's most trusted brands and is the world's largest cosmetics company. Undoubtedly one of the most favored lipstick brands in India, L'oreal is a cult favorite and you can trust their lipsticks to never fail to deliver their claims. Here are the top two global favorites from their brand. 
L'oreal Paris Rouge Signature Liquid Matte
Buy here (Absolute Favorite)
This spectacular lipstick comes in 32 shades and delivers an intense pigment with a satin finish in just one swipe. It's popular around the world, all because the quality is at par with the price and the formula stays amazing. The lipstick has a unique oil-in-water formula that makes you feel like you aren't wearing anything on the lips. And it lasts for a crazy 24 hours. It's also transfer-proof, and smudge-proof. Basically, name quality, and this lipstick has it! 
What Customers Say: "Love it! It goes on like water, but smoother. I hate being able to feel makeup on my face so this was a great option for me! The shape of the applicator is also super helpful and easy to use. And OMG, the staying power is so great. I could easily compare this attribute to Huda Beauty lipstick. Some mattes for me have come off clumpy as I drank something, but not this one. I am so pleased that I promptly ordered 2 more colors."
Overall Rating: 10/10 
L'oreal Paris Color Riche Moist Matte Lipstick
Another cult-favorite and globally available lipstick is the L'oreal Paris Color Riche lipstick. Its luxuriously pigmented and hydrating formula delivers a creamy, lasting finish with one glide and is rich in ingredients like argan oil, omega 3, and Vitamin E. Further, Blake Lively, Cardi B, and Helen Mirren have all revealed they're big fans of L'oreal Color Riche lipsticks and it's her favorite drugstore product. With over 14,000+ positive reviews on Amazon, there's no doubt that this lipstick choice won't fail you! 
What Customers Say: "I am not a lipstick person because my lips are always chapped and flaky lipstick doesn't look appealing. My go-to has been good lip blam with tint always, but that changed when my friend gifted me with the L'oreal Color Riche lipstick. And I Loveeeee it so much! It goes on super smooth and stays on for a good 7 to 8 hours before fading just a bit away. It's not super matte though, and has a bit of a gloss."  
Overall Rating: 10/10 
#6 Wet n Wild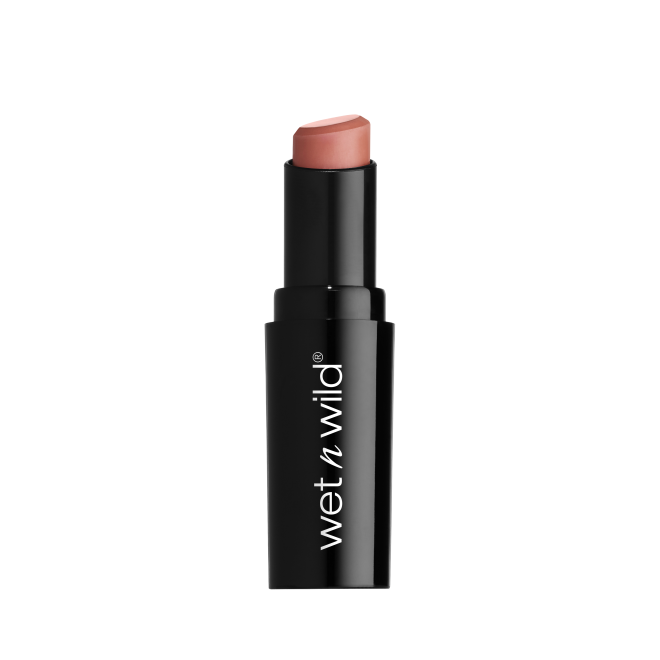 Wet n Wild comes under popular lipstick brands in the world. The brand launched in NYC in 1979 with lipsticks and nail colors. And those same lipsticks and nail polishes remain of the same price till today. Impressive, right? Over time, many celebrities like Jessica Beil, Rachel Bilson, Meryl Streep, etc, and popular makeup artists have named Wet n Wild their go-to drugstore makeup product – especially their blue-toned red lipstick Missy & Fierce has been loved by all! The company also prides itself in using the best ingredients in the market, same as their competitors, but pricing in an affordable manner, because they care about beauty reaching to women in all walks of life. All that being said, we love their Megalast range of liquid and stick lipsticks, so here's a review of them. 
Wet n Wild Megalast Liquid Catsuit Lipstick
The company claims that their Wet n Wild Liquid Catsuit lipstick "glides on like butter" and the customers attest to this specification. The lipstick has a very lightweight formula and feels like a second skin. Even though the lipstick goes on super glossy, it dries super matte within a few seconds of application. The hydrating formula ensures your lipstick doesn't crack with the long working hours and stays put within minimal re-application. All the colors offer intense pigmentation, so you can have good color in one go. 
What Customers Say: "I haven't bought many liquid lipsticks because I am still learning about makeup, but these ones are really gorgeous. The applicator is a doe-foot but there's a little curve in the end so you get flawless application even as a beginner. The formula is soft, and once dried looks super pretty. For the price and quality, you can't go wrong."
Cons: Can be a little dry if you have super flaky lips. Our recommendation is to use a lip scrub and let a lip balm sit for around 30 minutes before you put on any lip color, including this one. 
Overall Rating: 9/10
Wet n Wild Matte Lipstick
Another popular lip product from this world-renowned lipstick brand is its megalast matte lip color. The product comes in black packaging with a plastic cover and comes in a stick form. It's a long-wearing formula, and stays the same intensely pigmented for at least 4 hours – good to last for a party! One of the ingredients is a hyaluronic microsphere, a polymer complex that adheres well to the lips and gives smooth, comfortable wear. It also has marine plant extracts and Vitamins A & E that moisturizes the lips well. 
What Customers Say: "I love the formula of these Wet n Wild lipsticks. They are super creamy and don't make your lips dry. They are super smooth and quite easy to apply. There are so many beautiful shades for an occasion or everyday looks. I'd definitely recommend it."
Cons: It's not transfer-proof and will lose color when you drink something or kiss! 
Overall Rating: 8.5/ 10
#7 Revlon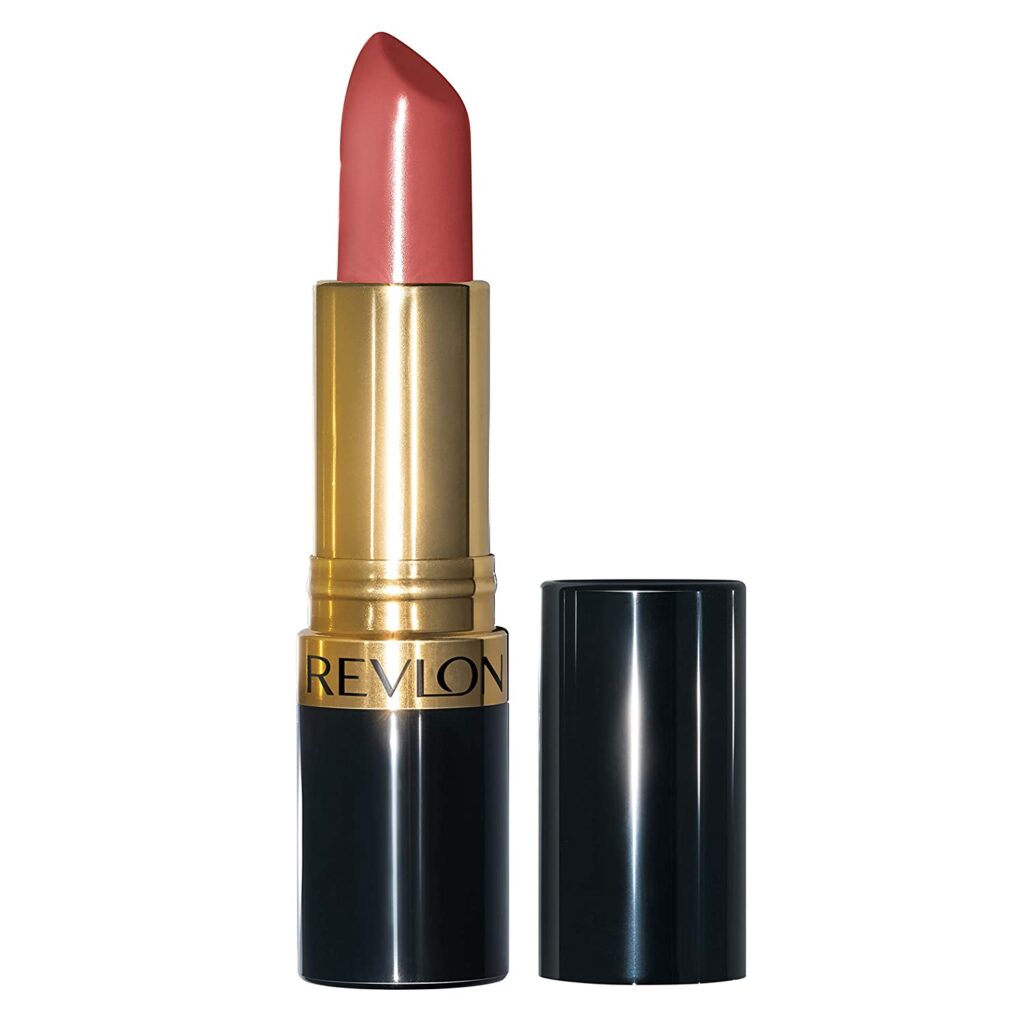 Revlon started in 1932, in the middle of the Great Depression, and was the first cosmetics industry to use pigments instead of dyes in their products. They started with nail enamels and soon became a multimillion-dollar company. Their next product was – you guessed it right – lipstick. Someone who has been manufacturing lipsticks for over 80 years can be trusted for a splendid formula and honest claims. Two of their lipstick types featured below are globally renowned and you just can't go wrong with them! 
Revlon Super Lustrous Lipsticks

The first of Revlon's recommended lipstick is Revlon Super Lustrous lipsticks. As the name suggests, they're smooth textured, glossy-finish lipsticks that stay on for 5 to 7 hours easily. The formula is enriched with Vitamin E and avocado oil, thus offers a smooth, butter-like texture, just perfect for those with chapped lips or lazy on their lip care regimen. This Revlon lipstick has been an iconic one since the brand's inception and they've really made them super-intense, high-quality, and buttery-like for everyday use or when you've to go to a party. 
What Customers Say: "I have extremely dry lips but that's not a problem with this lipstick. It has a beautiful, creamy texture and rich colors. I am always impressed by Revlon and how perfectly they balance quality with price. Definitely recommended to anyone looking to add a good lipstick in their makeup bag."  
Overall Rating: 9/10
Revlon Ultra HD Matte Lip Mousse
The Revlon Ultra HD matte Lip Mousse is a super matte formula that dries matte but feels super soft and comfortable on the lips. The colors are all beautiful to fit into the preferences of all types of women and deliver superslick moisturizing feels in one glide. It comes with a doe applicator that picks up just the right kind of product and draws well around the lines of the lips for a smooth finish. The packaging is also quite classy and has silver accents and deep color on the glass packing of your chosen shade. 
What Customers Say: "Cute and inexpensive. I know some people hate this because it's not super matte, but the formula feels like silk and smells amazing. It's not drying and my lips feel so plump and hydrated after application. Honestly, it should be called satin-matte rather than ultra HD matte. Either way, I liked it so much that I ended up buying 5 more tubes from the line. All in all, I think you really should give it a try."
Overall Rating: 9/10 
#8 SUGAR Cosmetics
Founded by Vineeta Singh in 2012, Sugar Cosmetics is highly known among lipstick brands in India. The founder & CEO Singh believes in delivering high-quality, cruelty-free customers to her customers and has manufacturing facilities in Italy, Japan, Korea, India, and Germany to have the best services on-hand from each region. Their best-selling products include for face, eyes, lips, and nails. And they have something for women with different kinds of preferences. Here are the best options from their lipstick range: 
SUGAR Cosmetics Nothing Else Matter Longwear Lipstick
With 35 exciting shades, this lipstick is just what you're looking for if you love to play with colors. The water-resistant, dermatologically-tested formula stays long all day without harming your skin. Further, the application is smooth and doesn't require much pulling & tugging. It dries matte and is quite comfortable to wear. Despite being a new brand in the market, you can see from the reviews & the following that matches any older brand, and you can't get so many customers through marketing, quality has to be there, and SUGAR delivers just that! 
What Customers Say: "This lipstick is exactly what I wanted. Attending zoom meetings daily, one thing that can instantly amp up your look is lipstick. So I was looking for a comfortable, long-wear lipstick brand and came across SUGAR. There's literally NO reason to not buy this lipstick. This company has a really strong makeup game and I'd love to try more of their products in the future."
Cons: It isn't completely transfer-proof and requires re-application after you eat or drink something. 
Overall Rating: 8.5/10 
SUGAR Smudge Me Not Liquid Lipstick
SUGAR cosmetics liquid lipstick is a creamy, matte formula that dries within seconds to reveal an intense, gorgeous color. That transfer-proof and waterproof formula stays for a good 12 hours and goes on with just one swipe. Enriched with Vitamin E, it hydrates the lips and doesn't dry them over the day. 
What Customers Say: "I can't praise this stuff enough! I am absolutely obsessed. First of all, the smell is delicious. Second, it feels soooo velvety smooth on the lips. Definitely the best matte formula I have tried. I love the look. It's so natural-looking. The matte absolutely does NOT crack or make your lips look dry. I bought two shades and am satisfied with both. Sugar is no doubt among known lipstick brands in India and for a reason! I hope this review helps others."
Cons: If you have very dry lips, the super matte formula can sit into the cracks and give a flaky appearance. Also, because of the long stay power and transfer-proof attribute, you need to put extra effort to remove the lipstick at EOD. Just swiping once with makeup remover won't do the job. 
Overall Rating: 8.5/10 
SUGAR Cosmetics Mettle Liquid Lipstick
The newly-launched SUGAR cosmetic lipstick is called Mettle because of its strong adhesion to the lip skin and long-staying power. The creamy formula goes satin-smooth on your lips with one swipe and feels comfortable for long-wear. It comes in 10 exciting shades to woo the preferences of every woman and cater to every occasion. Further, the sleek bullet-shaped lipstick comes infused with bentonite that hydrates, firms, and protects your lips. Basically, giving you the power of skincare & makeup in one product. 
What Customers Say: "I really love these lipsticks. The colors are pigmented and feel thin on the skin, quite comfortable to wear. The smell is delicious and even though it goes on smoothly, it doesn't budge for a long time. It's not sticky either and doesn't bleed for a long time. This is such a nice product for a good price. I highly recommend it!"
They also have a liquid version of their Mettle line – See here.
Cons: The price tag is high. 
Overall Rating: 10/10 
SUGAR Cosmetics Matte As Hell Crayon Lipstick 
The crayon lipstick is definitely a god-sent for women who dread their twist-and-turn lipstick can break anytime. The crayon lipsticks come with the same formula and can be sharpened easily when the top portion becomes blunt. These SUGAR Cosmetics "Matte As Hell" crayon lipsticks come in a silky matte finish formula and last for more than 10 hours. It offers full coverage and goes on easily on your lips. Although, we'd recommend putting the lip color on after you have got a good moisturizing lip balm on for around half an hour. Wipe the balm off and then put the lipstick for a smooth finish. 
What Customers Say: "My new favorite lipstick. Never buying anything else. I tried number 18, Nude Rose, and it's such a peachish pink nude shade. And I'm all about natural shades, and rarely ever wear any bright colors. This is just perfect. Satiny, stays long, doesn't crack, and a lot of product for the price. What's not to like!"
Overall Rating: 9/10
#9 Zayn & Myza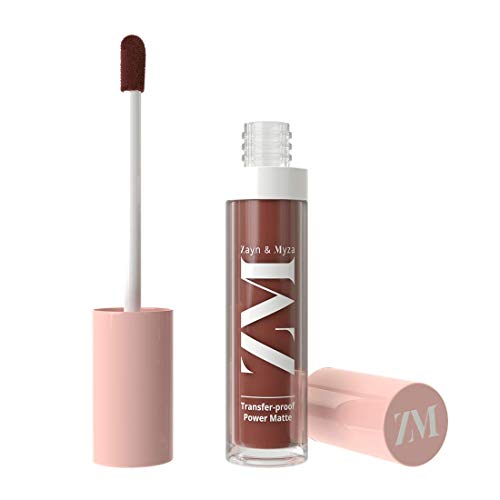 A newly-launched, one of the "Made-in-India" lipsticks brands in India, Zayn & Myza have been in the spotlight for their utterly-pigmented lips formulas and economical price. They're also 100% vegetarian, cruelty-free, and halal-certified lipsticks – one-of-a-kind to be available in India. Their liquid lipsticks are available in 8 shades and have a creamy, transfer-proof formula that delivers a beautiful color in one glide. The packaging is an endearing baby pink one and is easily portable to wherever you go! 
What Customers Say: "The best part about this product is that it's vegetarian and is cruelty-free, which I was looking for during my pregnancy. I ordered shade Mystic Mauve and it's so smooth. It doesn't smudge for 4 to 6 hours and doesn't make your lips dry either." 
Overall Rating: 9/10 
Purchase here.
#10 MAC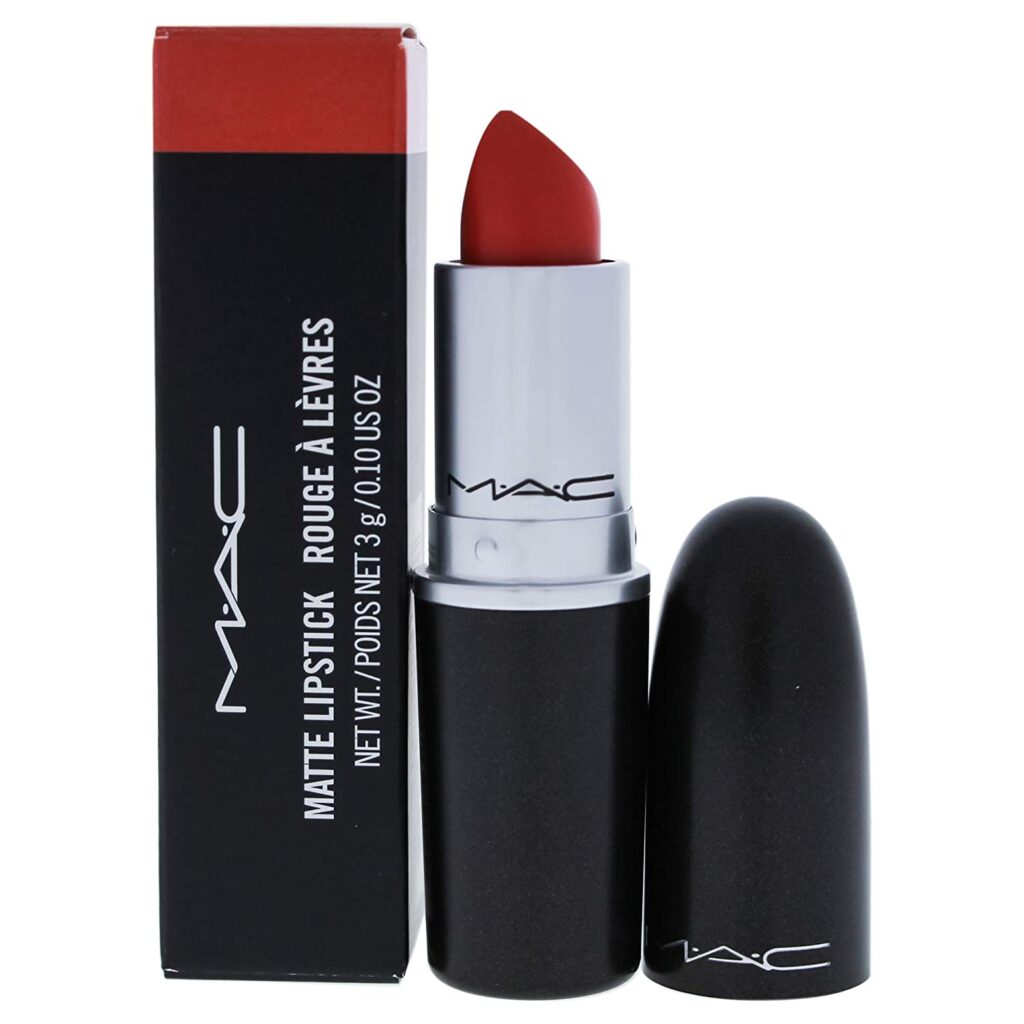 Since the company's inception in 1984, MAC has been at the forefront of curating cosmetics that are quality, delivers results, and are safe for the skin. One of their first products was the matte lipsticks, and the first people to use their products were makeup artists who worked with celebrities. Given the carefully crafted line of lipsticks, the MUA's loved them so did the celebrities and the word soon spread that Madonna was using a MAC lipstick for her public looks. Since then, there has been no looking back, MAC has grown into a global cosmetics company and is one of the best lipstick brands in the world. 
MAC Matte Lipstick
A no-shine matte finish formula that has hydrating ingredients to soothe your lips and highly pigmented colors to adhere to the quality standards. These MAC matte lipsticks are a favorite in the country and have certainly become one of the most popular lipstick brands in India. This is the iconic lipstick that made MAC famous. 
What Customers Say: "I am so excited that MAC launched their own website in India. I was fed up with the fakes even from the big e-commerce websites like Nykaa. And once you get hold of a true product, there's no way you'd want to go back to any other lipstick. Their Velvet Teddy is one of the best natural lip colors I have tried and I'm loving it!" 
Overall Rating: 10/10 
MAC Powder Kiss Lipstick
This luxurious lipstick made in Italy is a weightless, moisture-matte formula that delivers a gorgeous finish with ease. The product has moisture pigments that adhere to the lips for a moisturizing effect for long hours. With 26 exciting shades, you'll absolutely love the exciting colors and the after-results of this epic lipstick brand. 
What Customers Say: "Goes on super smooth, like butter, and feels like it's not even there. I got 2 shades – both nudes – to go with my everyday wear. It's an excellent color that stays through my office hours and doesn't budge a lot. Just one to two re-applications do the job. I highly recommend!" 
Cons: Can be drying, and does require re-application in 4 to 5 hours. 
Overall Rating: 9.5/10 
MAC Popular Lipsticks Dupes
#11 Smashbox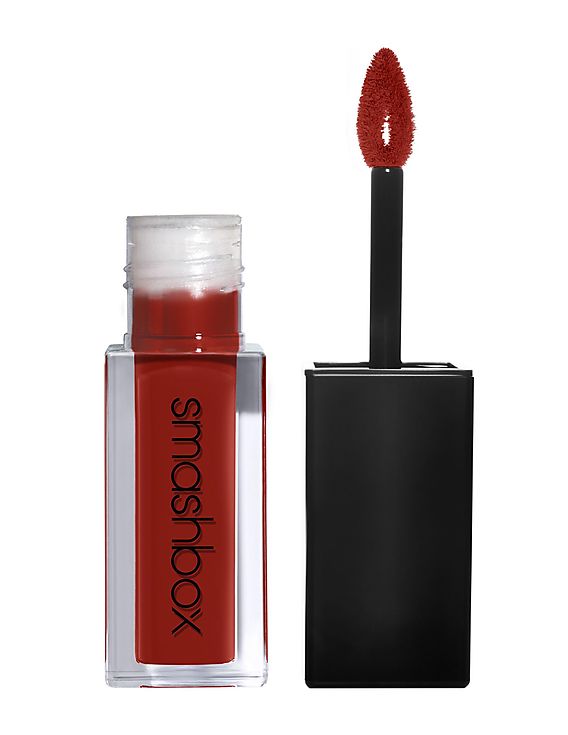 Smashbox uses advanced polymer technology in their lip products so they stay on for up to 10 hours. With a consumer rating of over 4.5 with their products, the brand is received well by the consumers and almost every product has created a niche of its own. Like the Smashbox Primer Water which is such an easy-to-use, effective product for makeup experts and the general public alike. The company launched in 2017 and became one of the most known lipstick brands in India. In 2020, they came out with India-specific colors for their lipsticks to cater to this vast market. Turns out the company loves the Indian market as much as the Indian market loves them!  
Smashbox Always On Liquid Lipsticks
The most popular liquid lipsticks in the range have always been the Smashbox Always On Liquid lipsticks. They're also their bestsellers in India. The 8-hour liquid matte lipsticks have a precision applicator for flawless application and don't smudge, budge, or feather. 
What Customers Say: "One of the best non-drying matte lipstick I've used. I used it for my brother's wedding, and it stayed on for a good 5 hours even after all the dancing, eating, and drinking. It's a really good price for the quality. After 5 to 6 hours, you just need one swipe to make it look as good as new again. I used a balm underneath to soften my lips and don't have very dry lips. The applicator is also very niche. Love it!"
Overall Rating: 9/10 
Smashbox Be Legendary
A creamy, peptide-infused, cruelty-free lipstick that has an intense color payoff with one gentle swipe. The moisture-boosting ceramides moisturize and plumps the lips, while the adhesive ingredients ensure the product doesn't budge for hours. 
What Customers Say: "This is one of the best luxury lipstick brands in India ever! I and my sister are such big fans. The quality is amazing. The quality is on-point for the price and the staying power is great. It goes on well and doesn't require much effort to get the pigmentation. All in all, a great product!"
Overall Rating: 9/10