In our quest to help you with inspiration related to anything and everything wedding, today it's all about blessing you with jaimala designs and varmala designs ideas that will suit every wedding theme and aesthetic. Find below 55 ideas and save the ones you love the most!
#1 Skip The Florals Entirely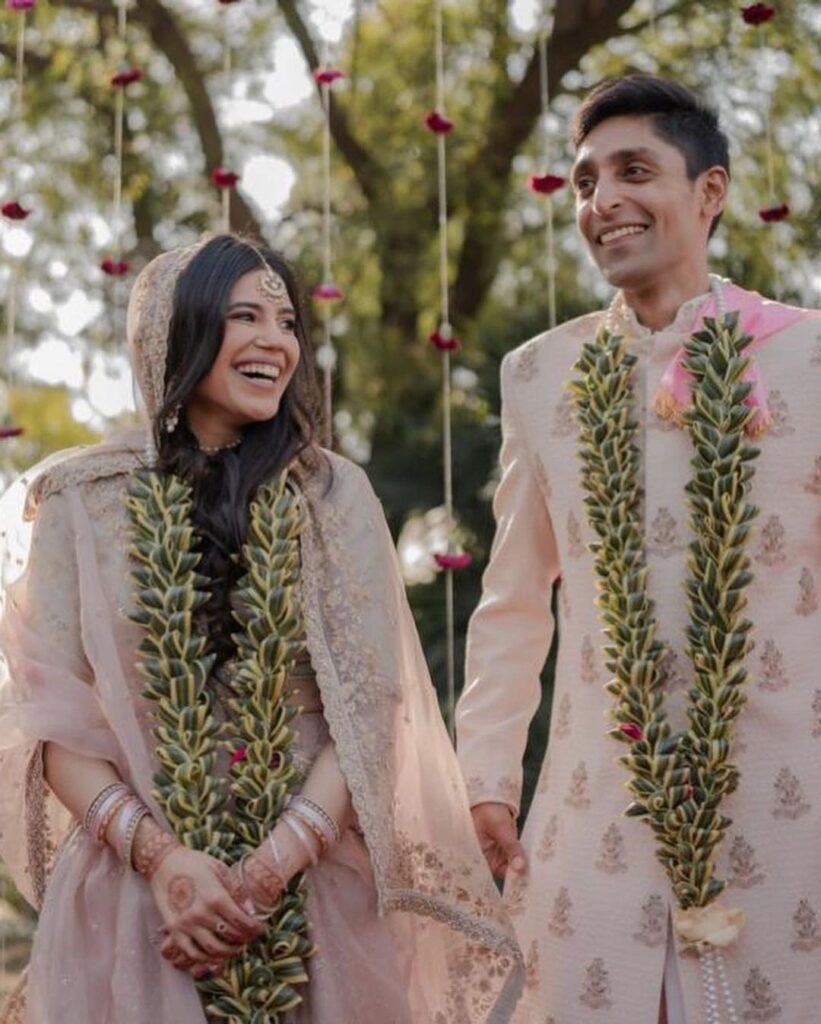 Courtesy: The White Box
For their minimalist, elegant wedding, this couple skip the florals entirely and made us all wow with their unique jaimala design done in lush foliage! Besides being impressive, it's also a cost-cutting approach since foliage is much less expensive than florals. 
#2 Embrace The Colors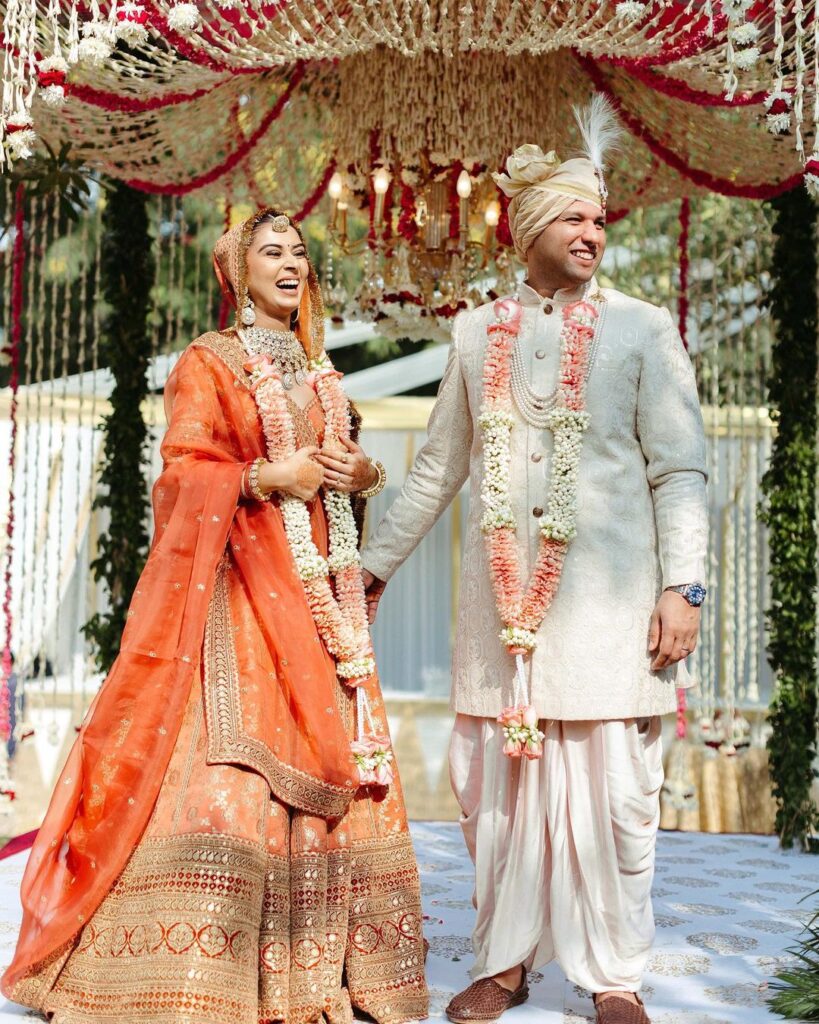 Courtesy: Gautam Khullar Photography
When the couple decided to coordinate their dresses in orange and white colors, they also made their varmalas match in the same colors! And I think it's an easy idea to try for your own celebrations too! 
#3 Stacked Tightly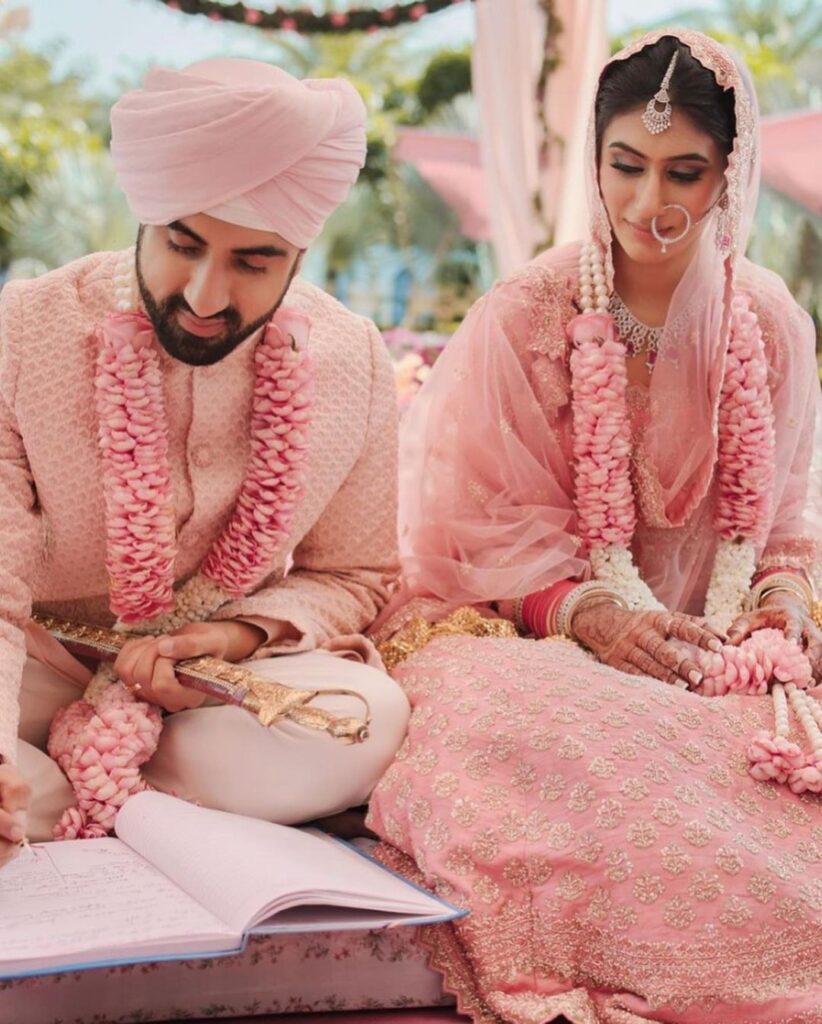 Courtesy: Cupcake Productions
While the couple's white and pink color combination for jaimala isn't such an unusual color alliance for varmala, it's the pearls that add to the notable and captivating appeal to this unique jaimala design.  
#4 Rose Varmala Designs For Wedding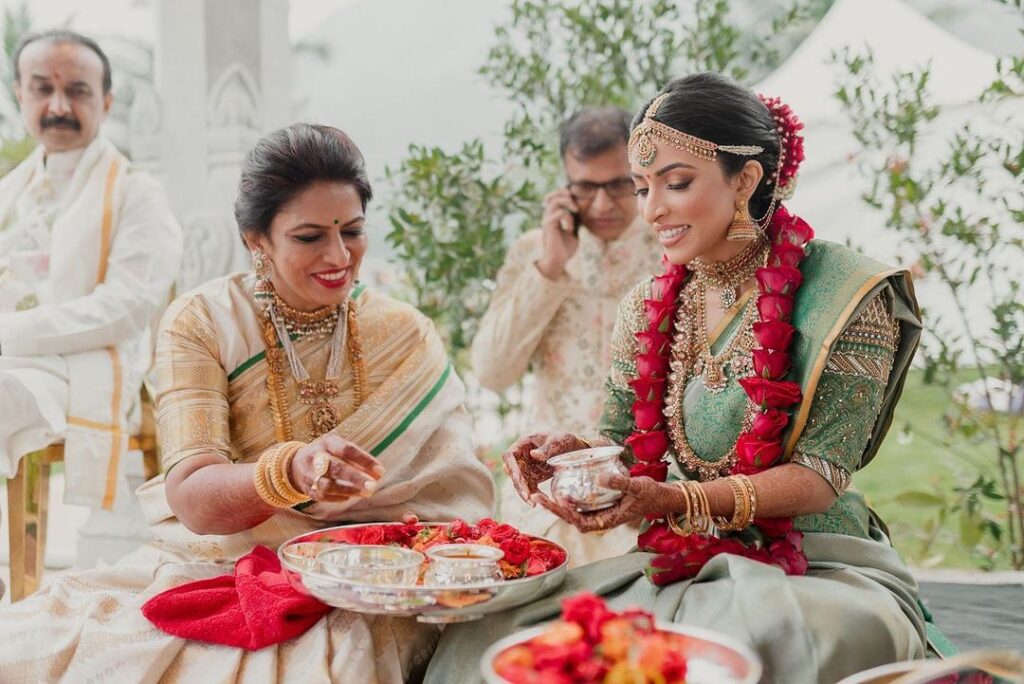 Courtesy: The Mogra Collective
This bride's fresh roses varmala design shows that roses, especially blooming red ones, always blend in with every theme and can be an amazing choice for your big day. 
#5 Pink Varmala Elevated With Baby's Breath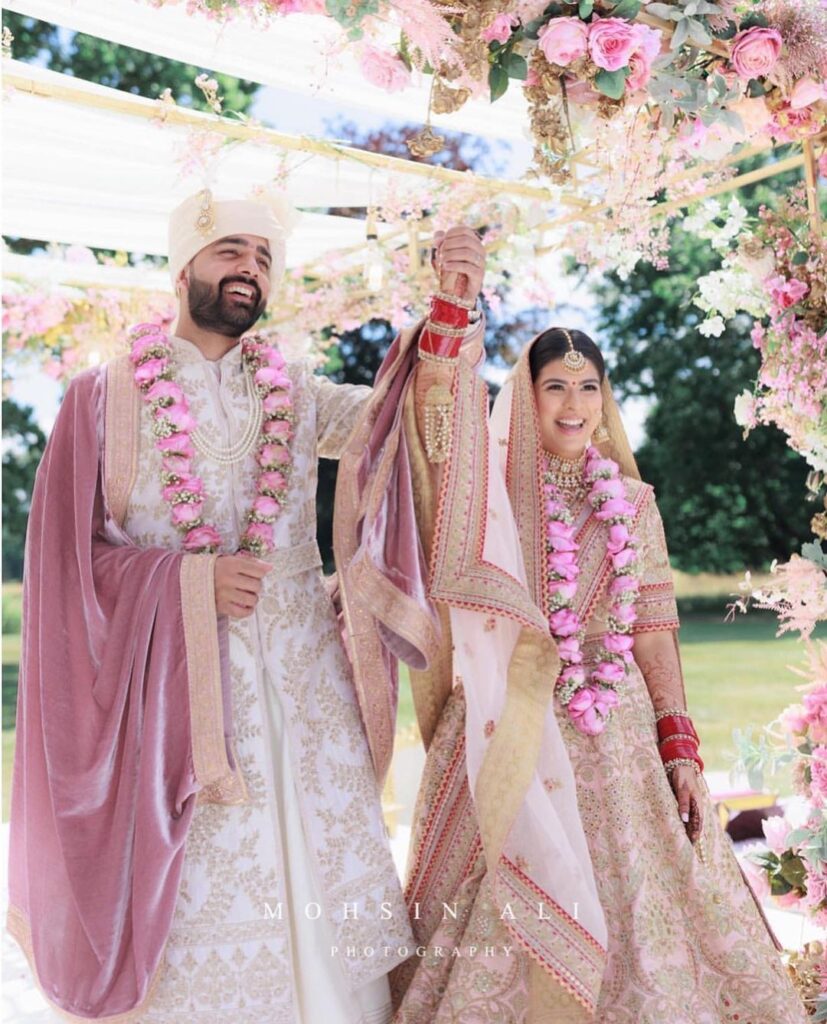 Courtesy: Mohsin Ali Photography
For their early-morning Anand Karaj ceremony, the couple thoughtfully coordinated all the elements in pink and white, including their varmala. A timeless and winsome combination for your big day that will never fail to impress! 
#6 All White, Everything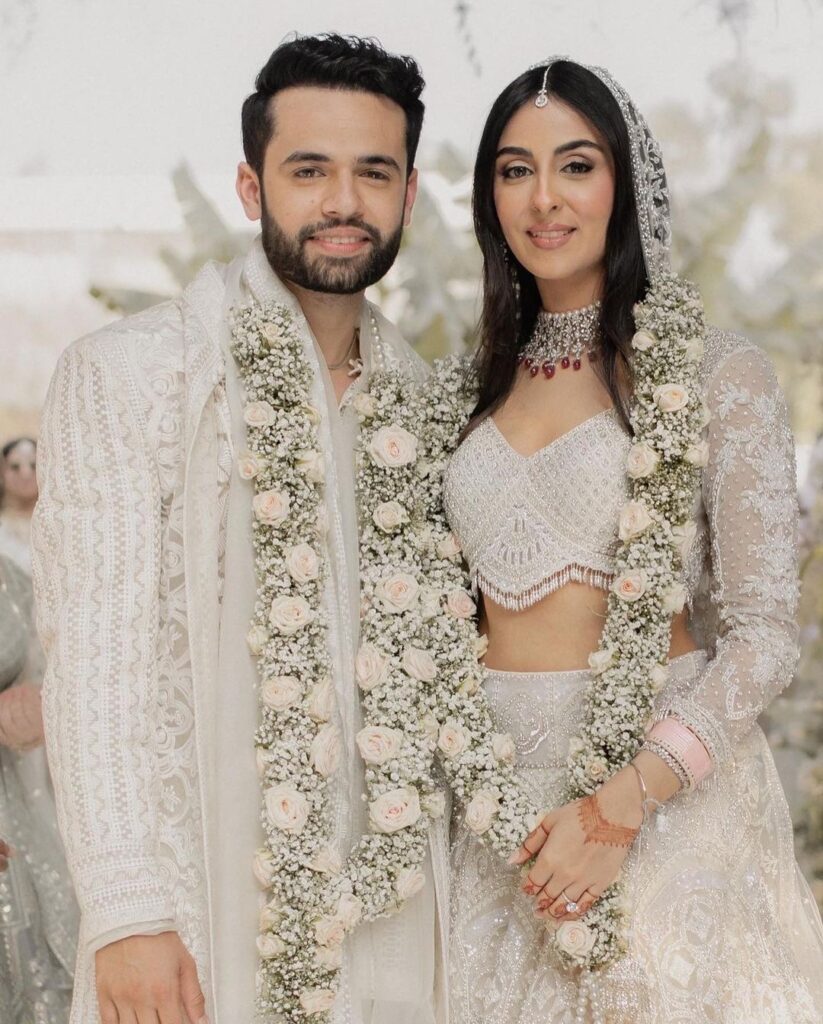 Courtesy: Colorblind Production
This minimalistic, white wedding calls for a trending varmala design in the same theme and thus, the couple's choice of white roses and baby's breath charming design for the wedding day! 
#7 Latest Varmala Designs For Modern Weddings!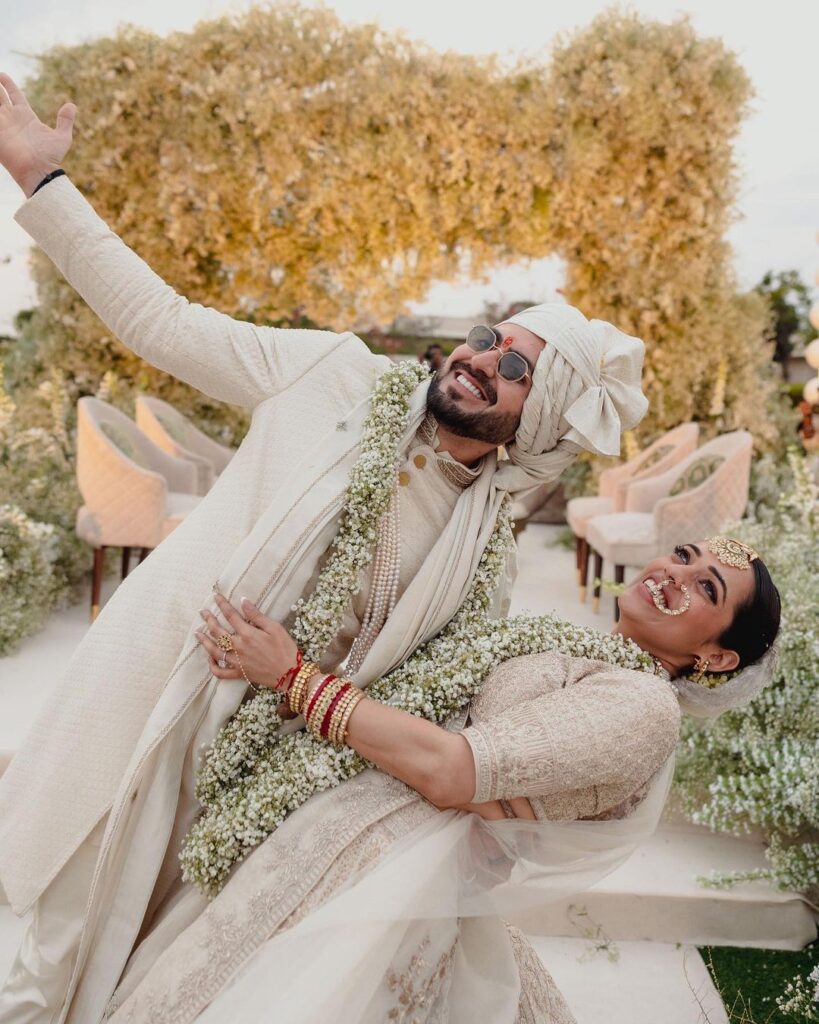 Courtesy: Palak Shah
White weddings – but make them Indian, are the trend in Indian weddings in 2023, and what's a better option for a varmala design for a wedding for white-theme than gypsophila flowers in full bloom. 
#8 Serene & Gorgeous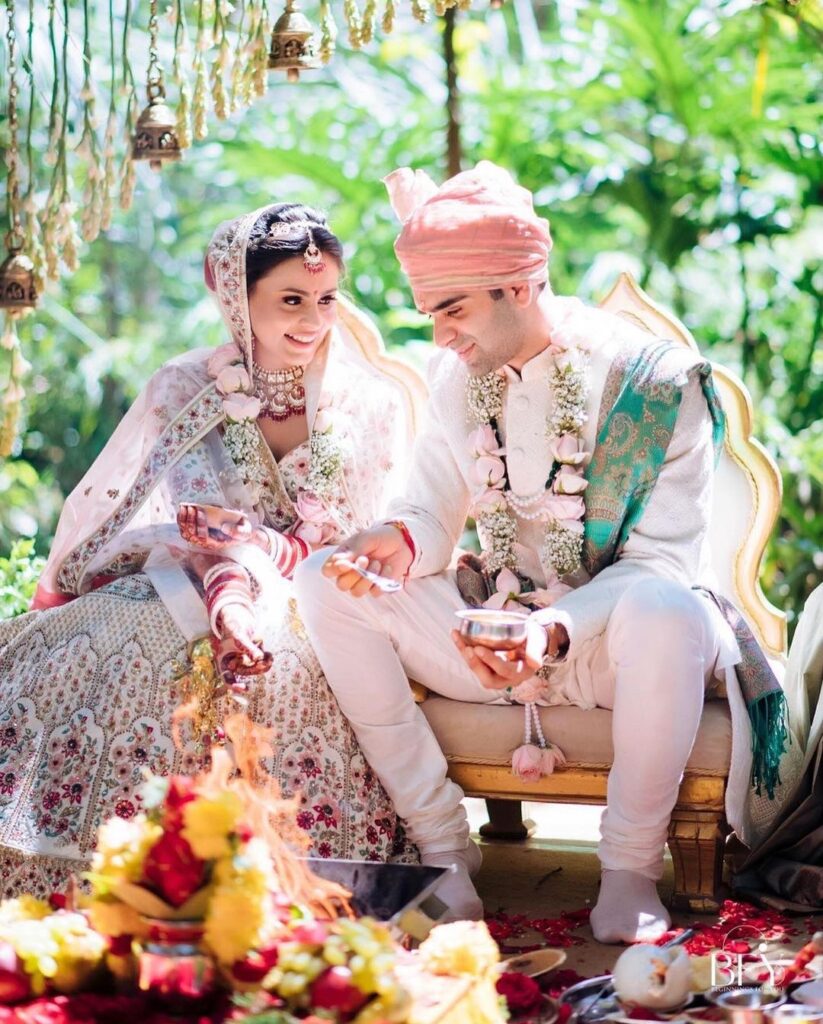 Courtesy: @beginnings_for_you
The combination of fresh pink roses and baby's breath flowers in the next one of the best varmala designs is pristine and modernistic for new-age couples and can be an amazing choice for your pink-themed wedding. 
#9 Real Flowers Varmala Designs For The Win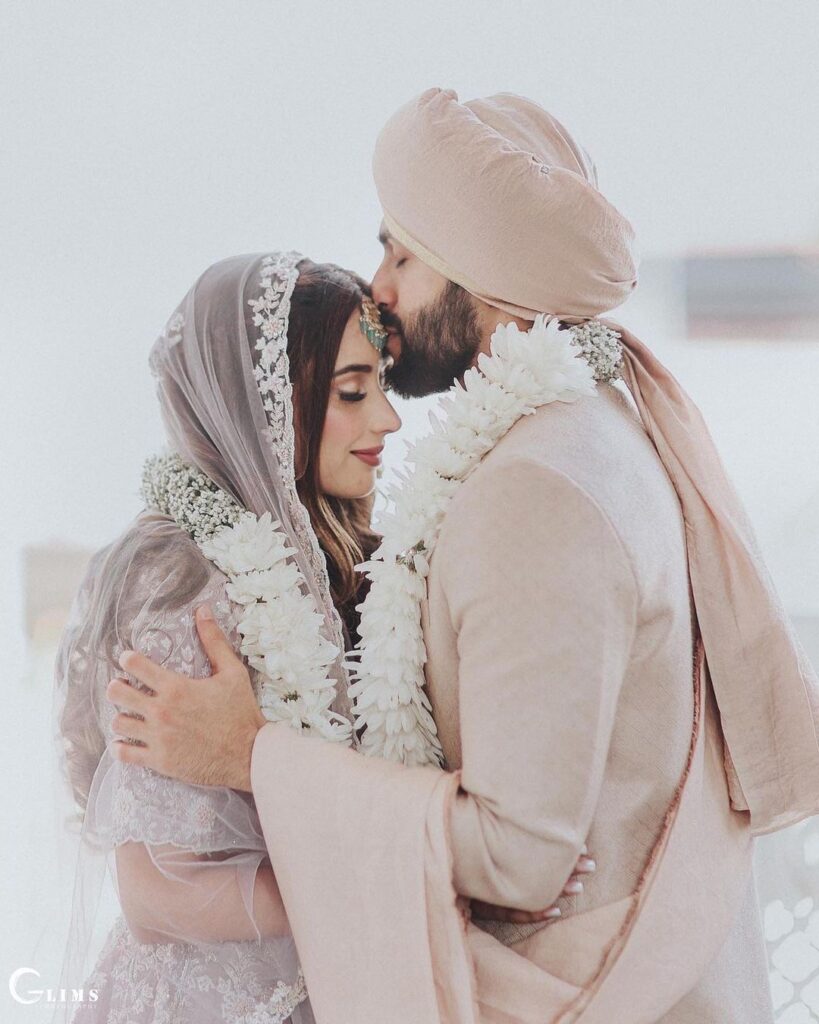 Courtesy: Glims Photography
Real flower varmala designs are always the hit and can certainly be a superb choice for a pastel wedding theme, just like the one portrayed below. 
#10 Entwined With Foliage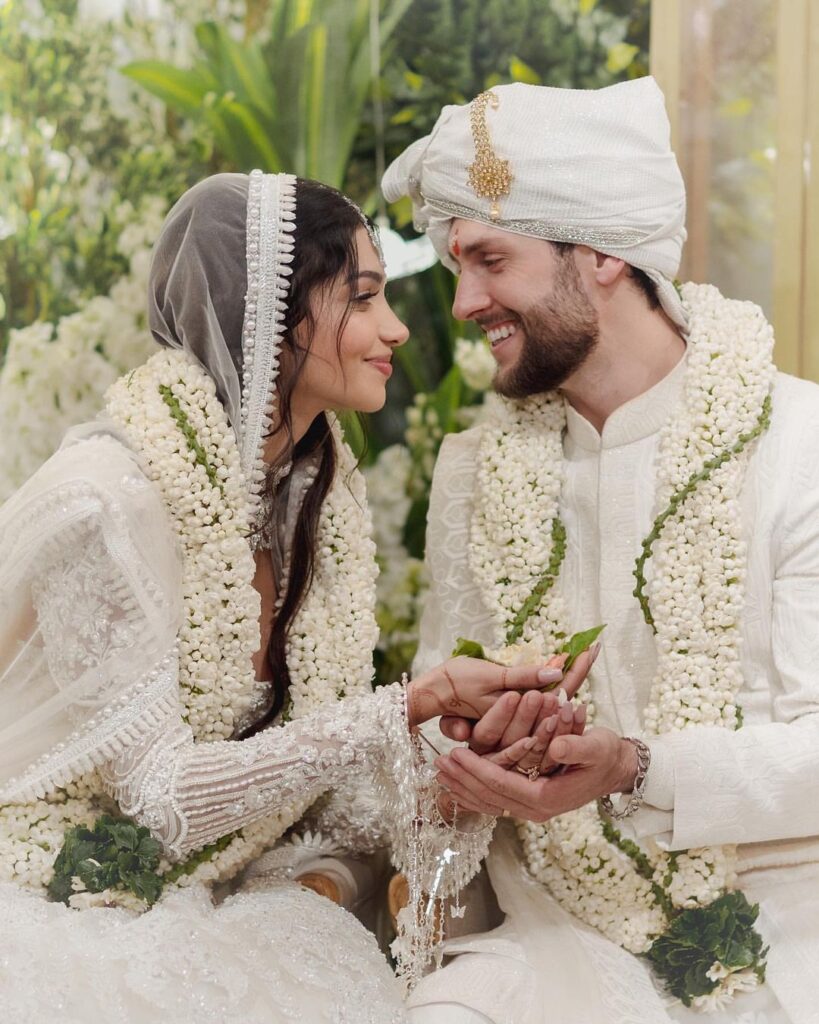 Alanna Panday & Ivor's wedding was the talk of the town lately. The couple's stunning outfits, chemistry, and thoughtful planning made their wedding a hit among the guests and gave us all inspiration to look at and admire for years to come! Needless to say, their unique jaimala was impressive in its design and versatility too, and can serve as a wonderful idea for many wedding themes and aesthetics. 
#11 Unique Jaimala Designs For A Statement Look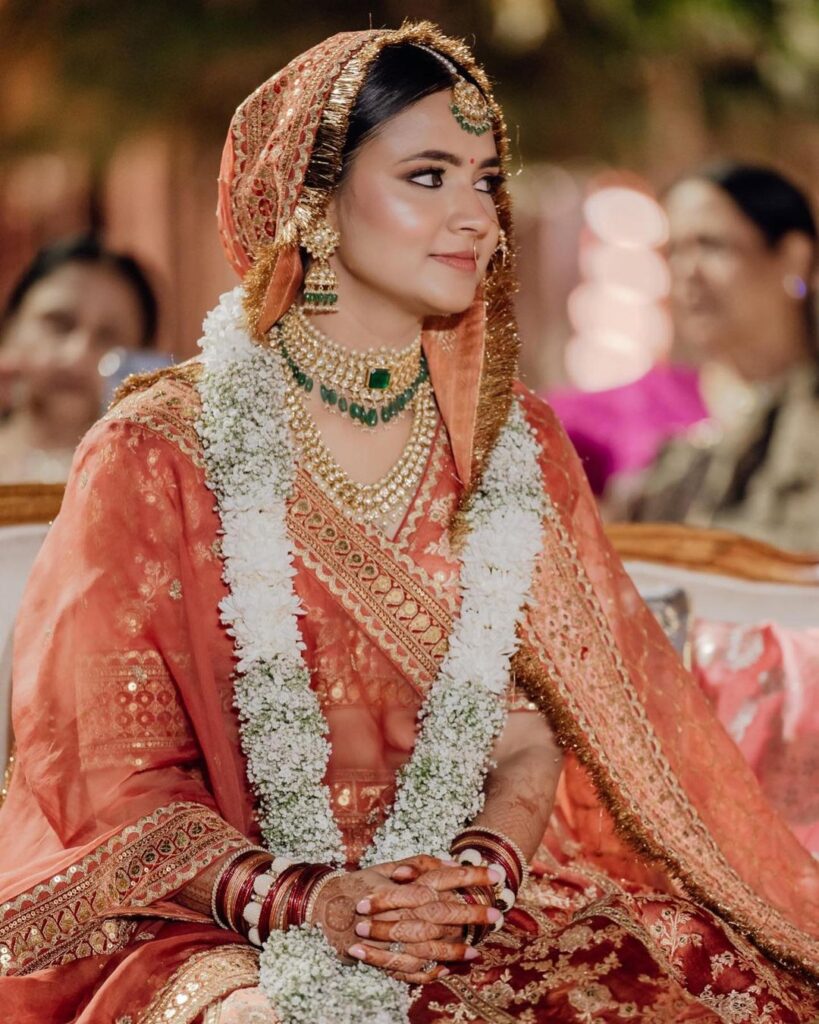 Courtesy: Makeover by Indu
This bride went for an orangish-red lehenga with green kundan jewelry for her styling but conversely complemented her look with a white and simple one of the varmala designs for the bride! 
#12 Just Pristine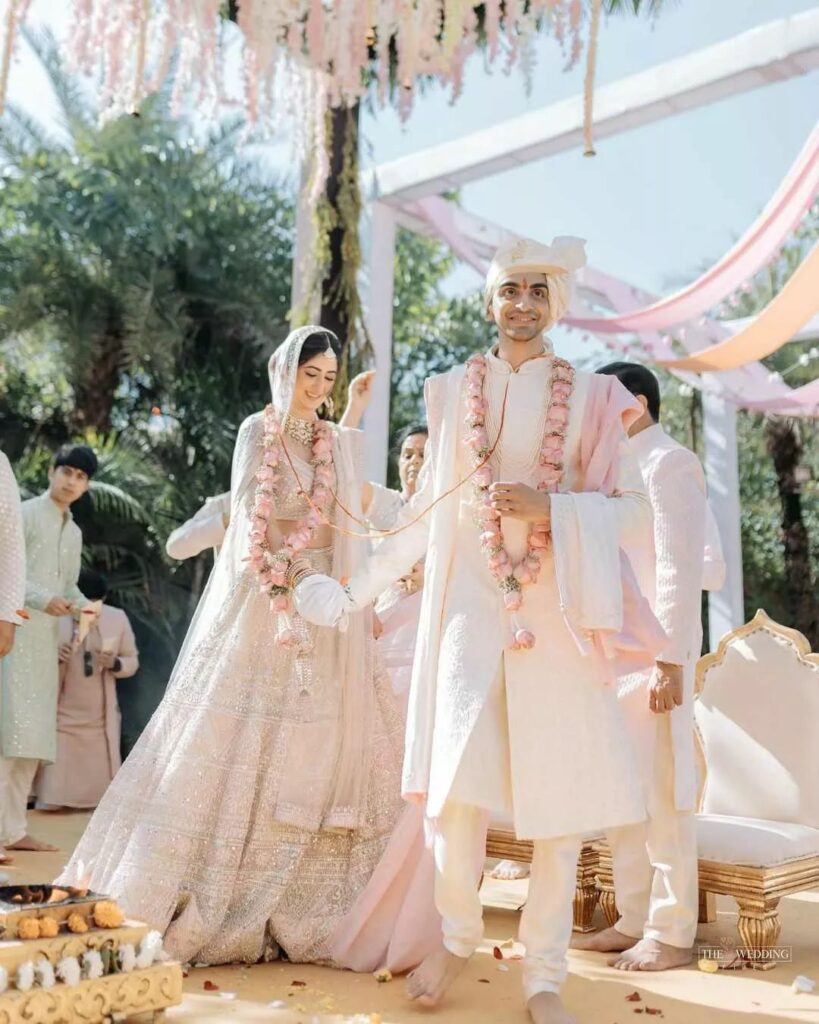 Courtesy: The Wedding Files
What a visually stunning wedding! Our hearts and mind stopped when we first looked at this picture. With all the elements in shades of pastel and ivory, the couple also gave us a varmala design image that's just ideal for anyone opting for a pastel-themed day wedding as well. 
#13 Shadi Varmala Designs To Elevate The Look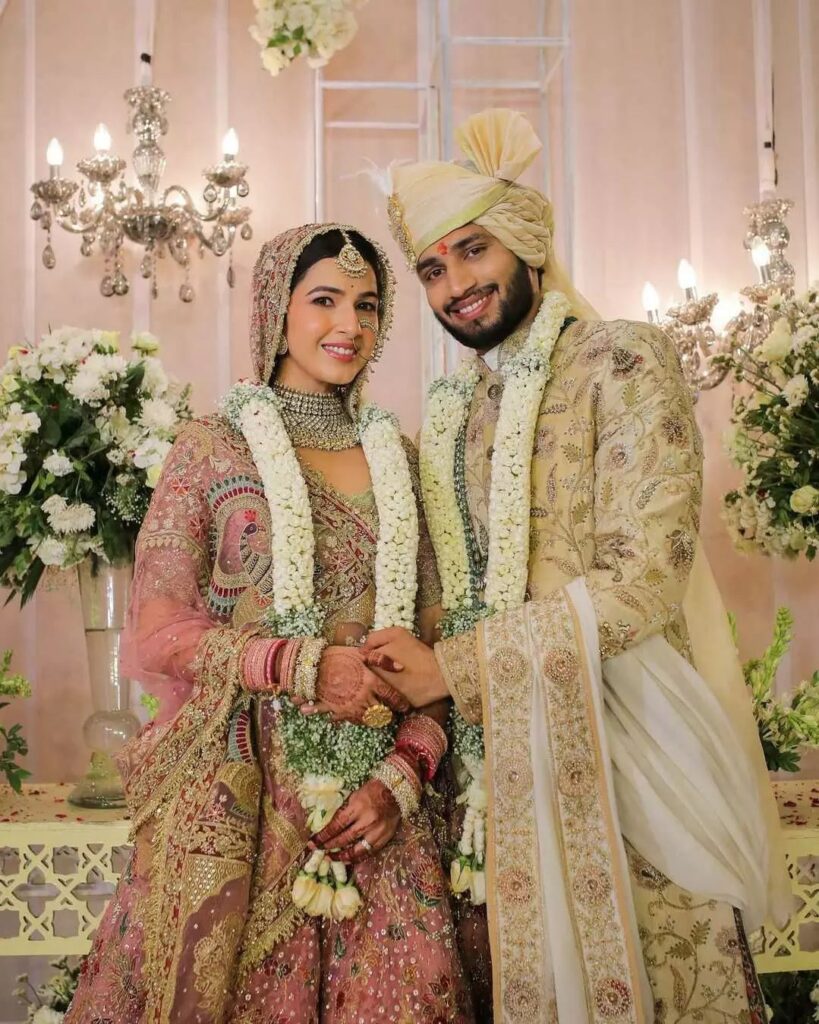 Courtesy: Bhavyata Sharma
This couple truly understood the task of coordinating your varmala with your stage decor so there's a synergistic blend between all elements. We love their wedding varmala done in different kinds of white flowers. 
#14 Varmala Designs In Orchids!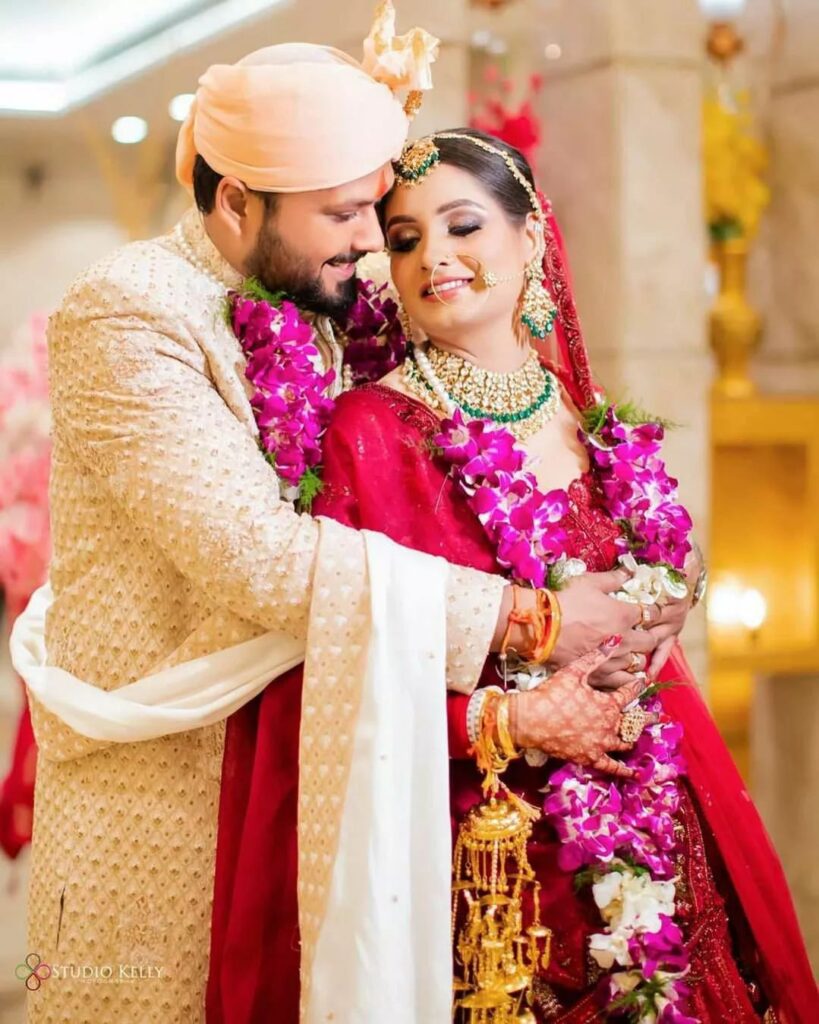 Courtesy: Studio Kelly Photography
Orchid varmala designs are popular, and beautiful, but can be expensive! They are considered to be one of the most expensive flowers in the world and a varmala designed with them will be on the higher range too. But if you have the budget and the theme matching to their color palette, we'd definitely suggest going for them for your wedding. 
#15 Red Flowers, But Skip The Roses 
Courtesy: @avigotvar
If varmala designs with real flowers and red hue is on your wishlist, then you don't necessarily have to opt for roses only, which can be priced highly during peak wedding season! Some other low-budget options to explore are carnations, chrysanthemums, and geraniums! While red tulips again come on the higher side of the money spectrum as well. 
#16 Rose Varmala Designs!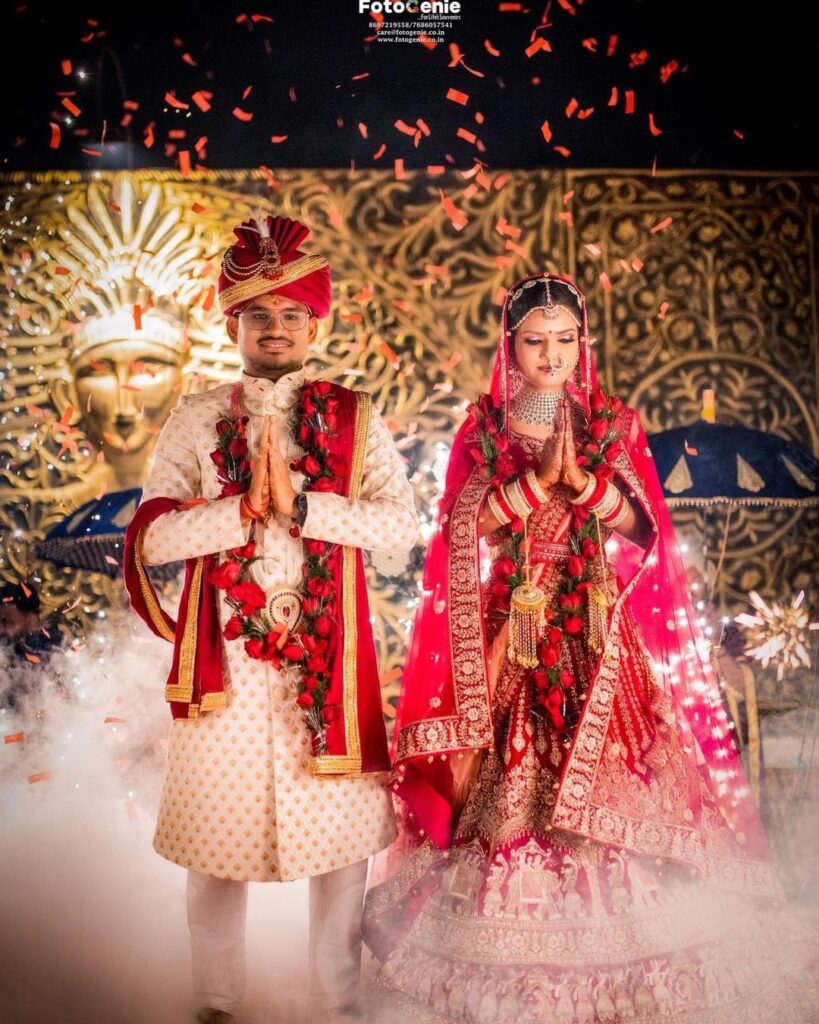 Courtesy: Cooks Flavours
Rose varmala designs are just the best and it's also a good option for varmala designs for red lehenga as it just blends in the entire color palette beautifully. Some lush foliage just adds to the beauty of the design!
#17 An Aesthetic Jaimala For 2023 Brides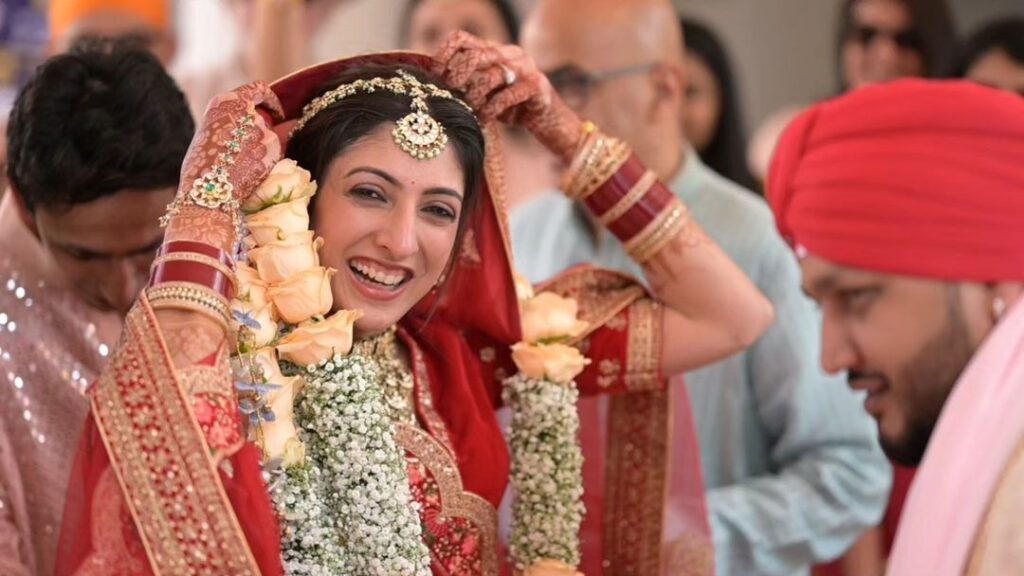 Courtesy: Sonam Dudani
Happy bride pictures are the best, but this one also gives us inspiration for simple varmala designs made with peach roses and gypsophila flowers. Peach roses are on the expensive side, and might not be a suitable option for those on a budget! 
#18 Complementing & How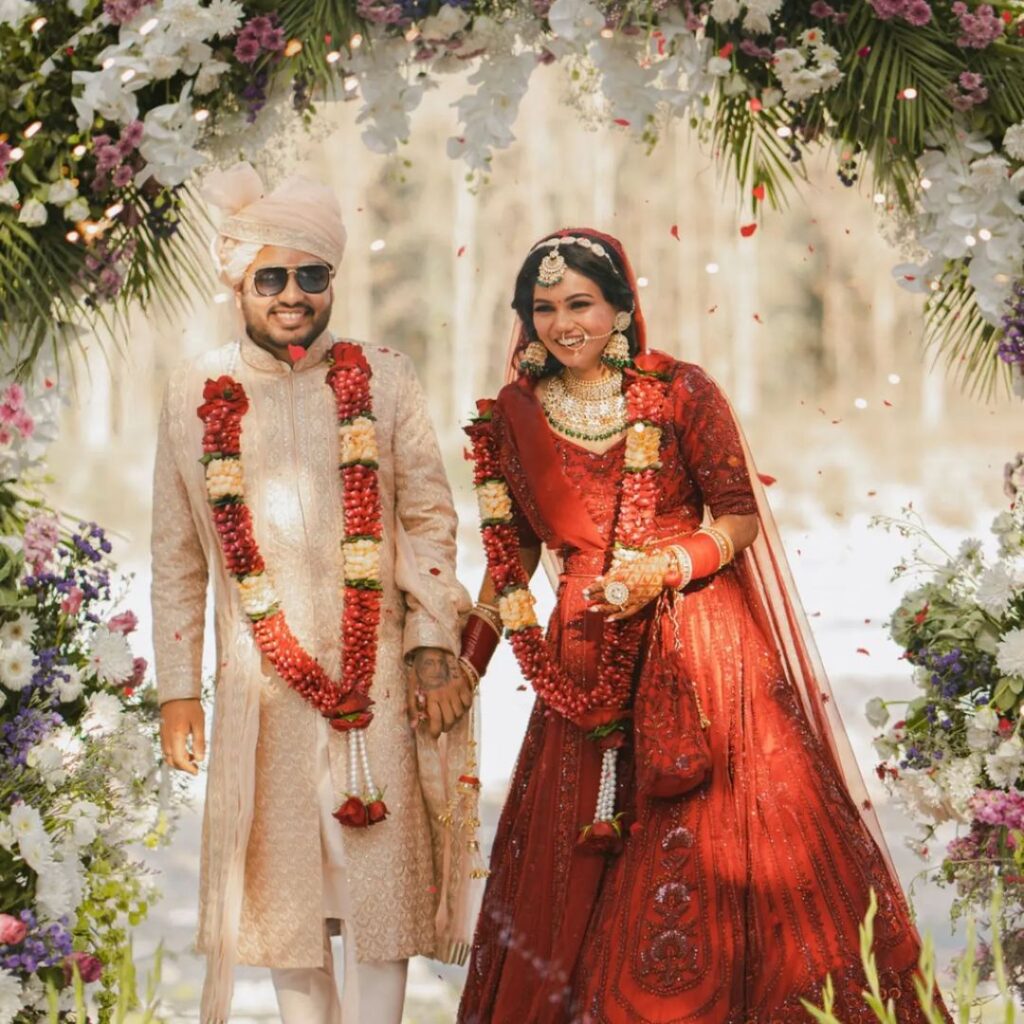 Courtesy: Shivani Dubey
This couple really planned the decor, outfits, and minute details to perfection and their wedding picture is portraying the same! The carnation flowers varmala design is surely a key aspect to take away from their wedding. 
#19 Those Winsome Blooming Florals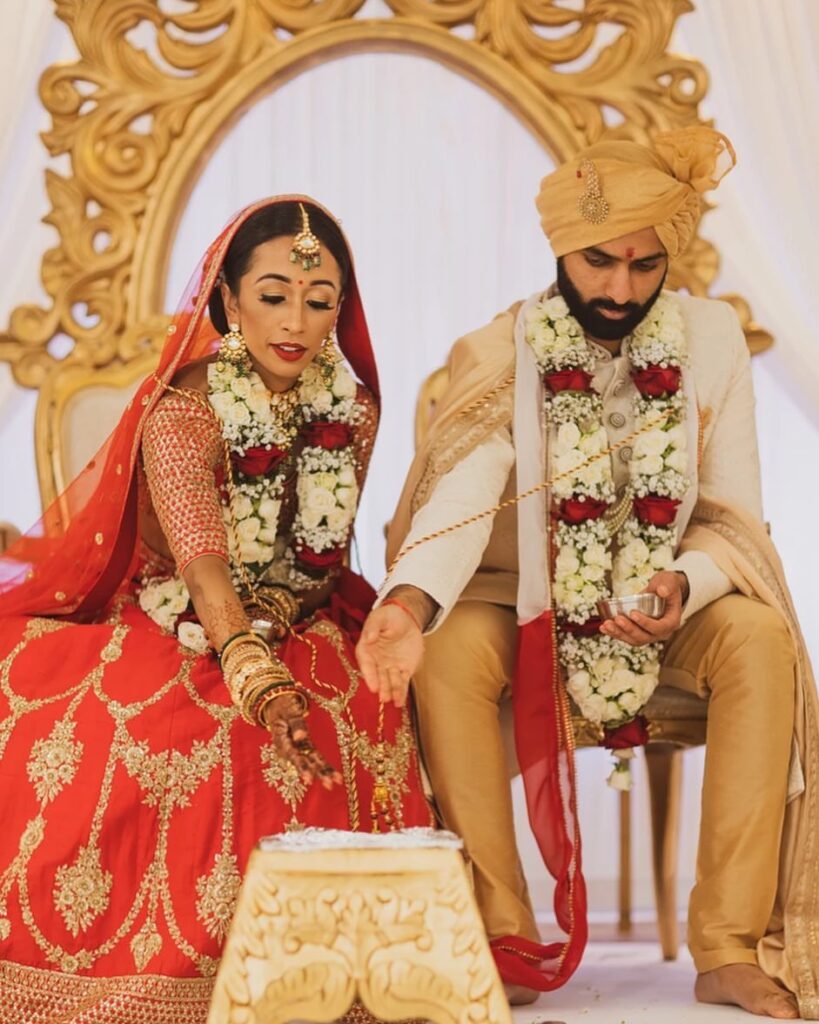 Courtesy: Anthony Chok Photography
This bride & groom went all aboard when it came to stacking blooms together in their varmala. They opted for a fuller one of the varmala designs for weddings and we adore the way it's enhancing the aesthetic of their entire mandap and outfit choices.  
#20 Orchid Flowers Varmala Designs!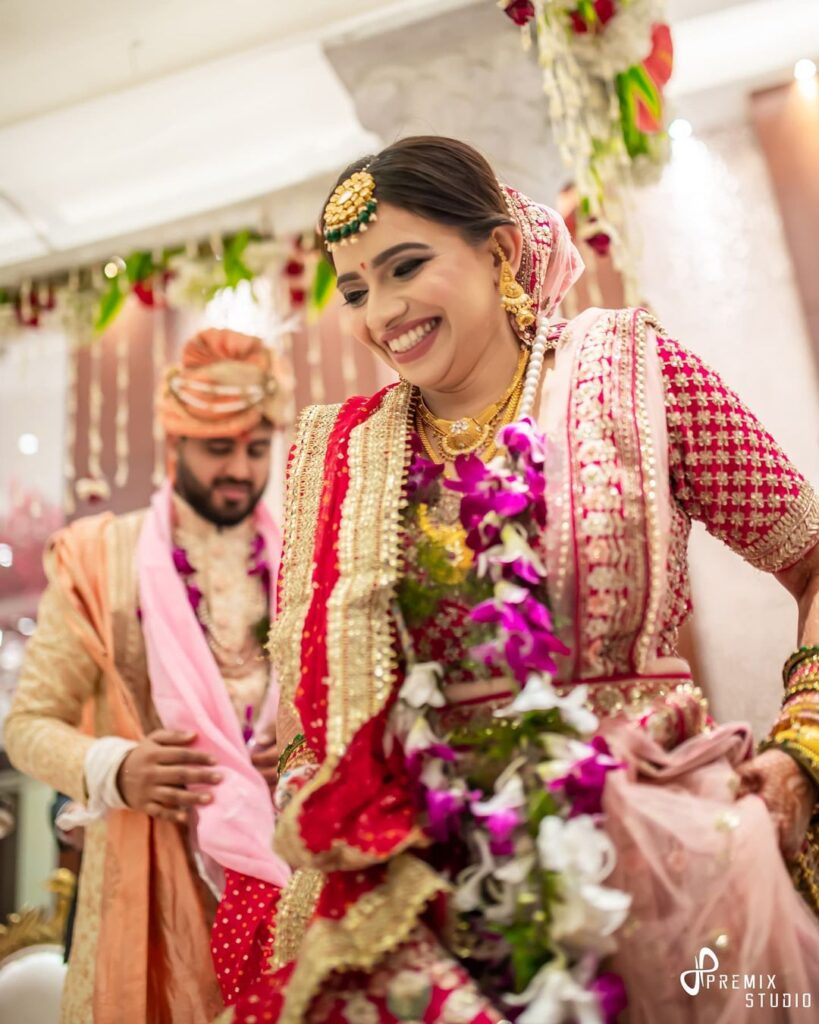 Courtesy: Premix Studio
Orchids are mother nature's masterpieces. With soft pink, blue, and white undertones, they are a true beauty and their appeal is slowly getting to Indian couples planning their wedding as well! A good choice for stage decor, varmala, or even mehendi jewelry, orchids is the best blooms to pick for unique varmala designs! 
#21 Roses Enhanced By Baby's Breath
Courtesy: Vaibhav Kalje Photography
Every part of this bride's look garnered much attention on social media. From her floral Mundavalya to her purple Benarasi saree and jewelry and the pristine varmala, everything is worth noting! If you're a Maharashtrian bride-to-be, her look can surely serve as a good inspiration. 
#22 Varmala Adding The Colors To Muted Outfits!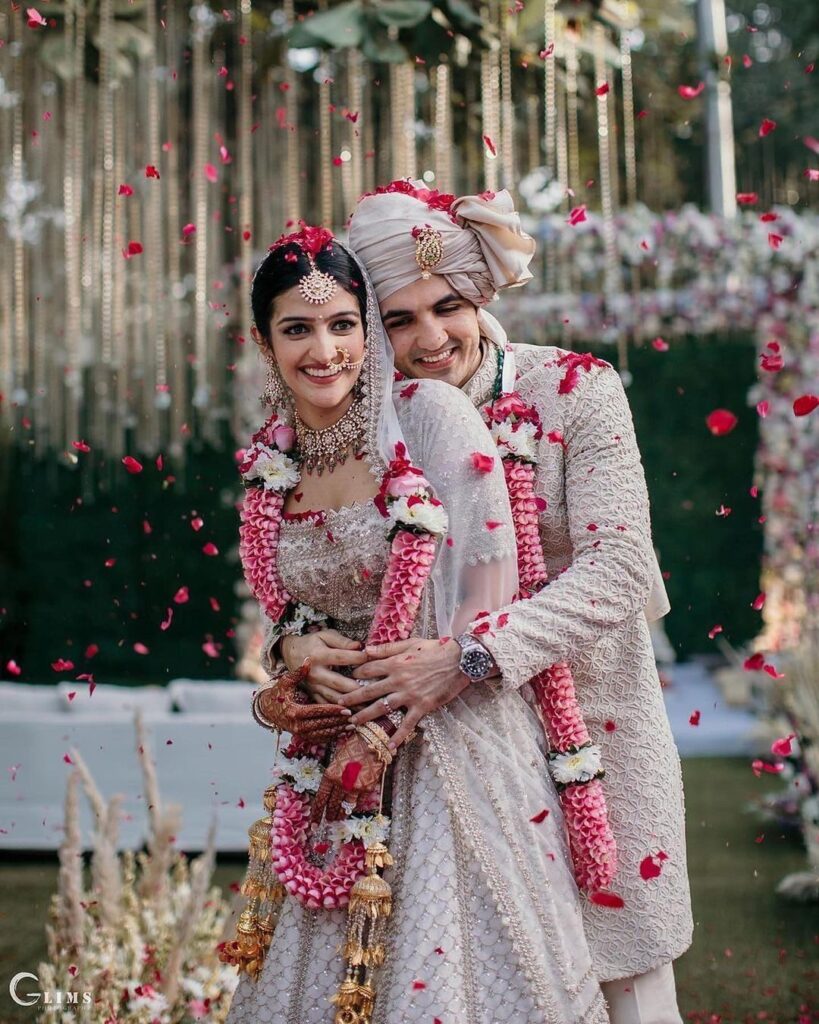 Courtesy: Glims Photography
Now, if you're opting for muted outfits for your wedding and are longing for vibrancy, add the colors to your varmala instead. It will give a visually appealing vibe and would nicely go with your wedding dresses. 
#23 Just Add The Colors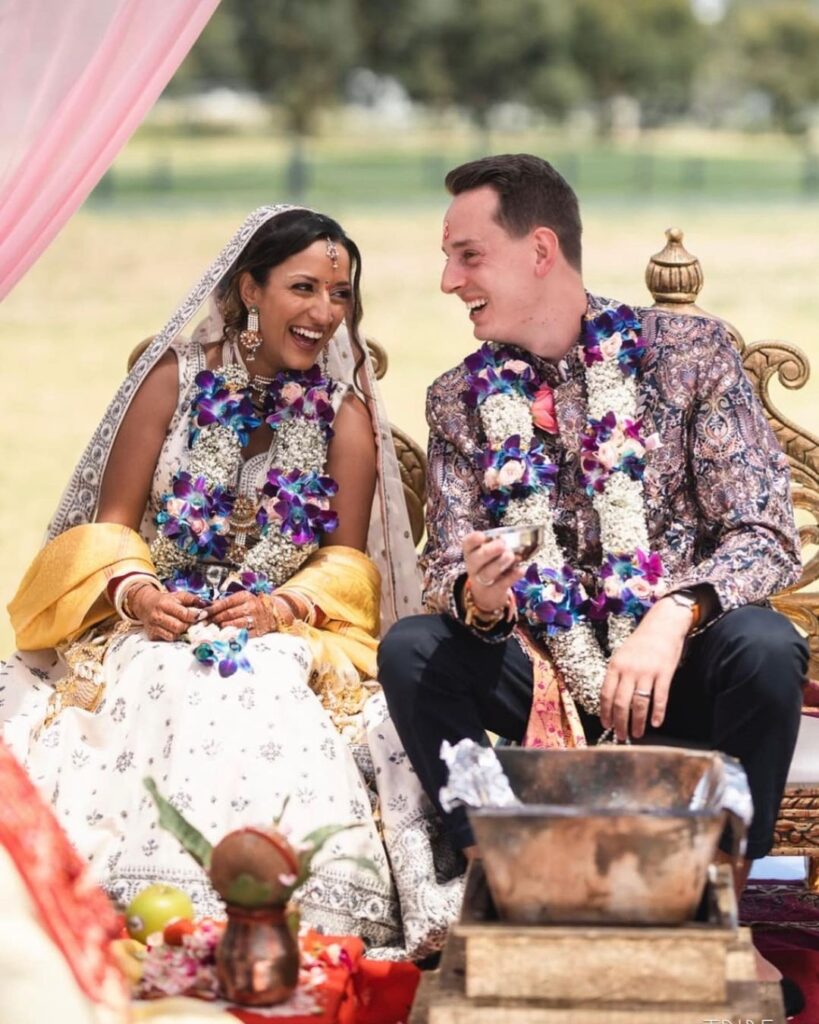 Courtesy: We Are Tribe Photographers
The next couple ditched the traditional colors for an Indian wedding and went for shades of blue for their outfits and varmala, and elevated the hues with white in the mix! Since Indian weddings are all about colors, a little playing with different buoyant shades is never a bad idea. 
#24 Rose Varmala Designs For Wedding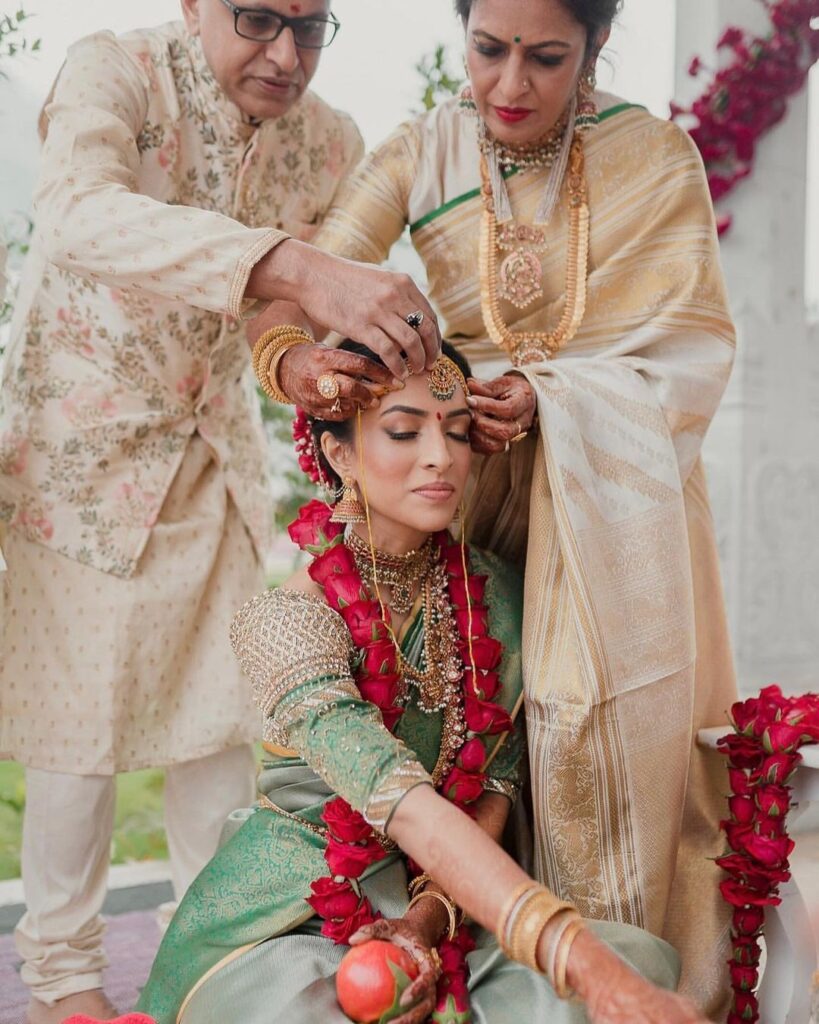 Courtesy: Naman Verma
This South Indian couple opted for an all-rose varmala design for the wedding and we are in awe! Red really never disappoints when it comes to Indian weddings! Aren't we right?
#25 Aesthetic & Plain Gorgeous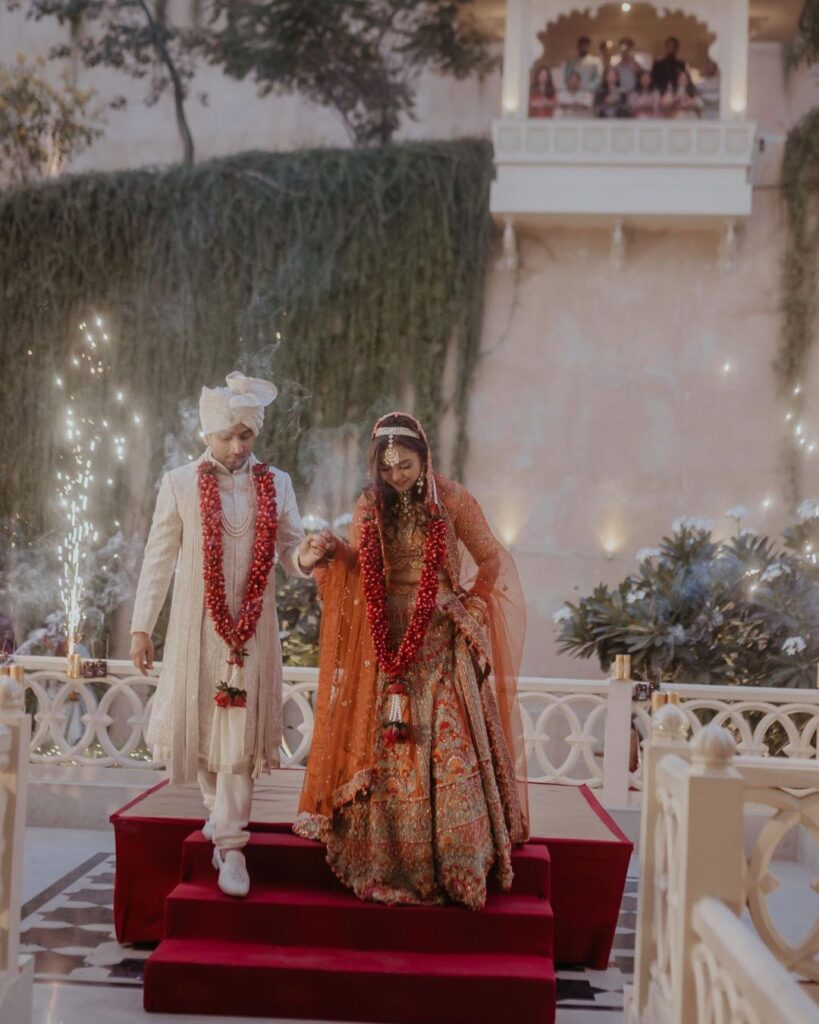 Courtesy: Chocolate Box Photo
Red has always been the color for Indian weddings! So it's imperative you'd want to include it in your wedding too! And a red rose varmala design is just the ideal way to incorporate that color, no matter the palette of your clothes or the wedding theme! 
#26 Try Lotus!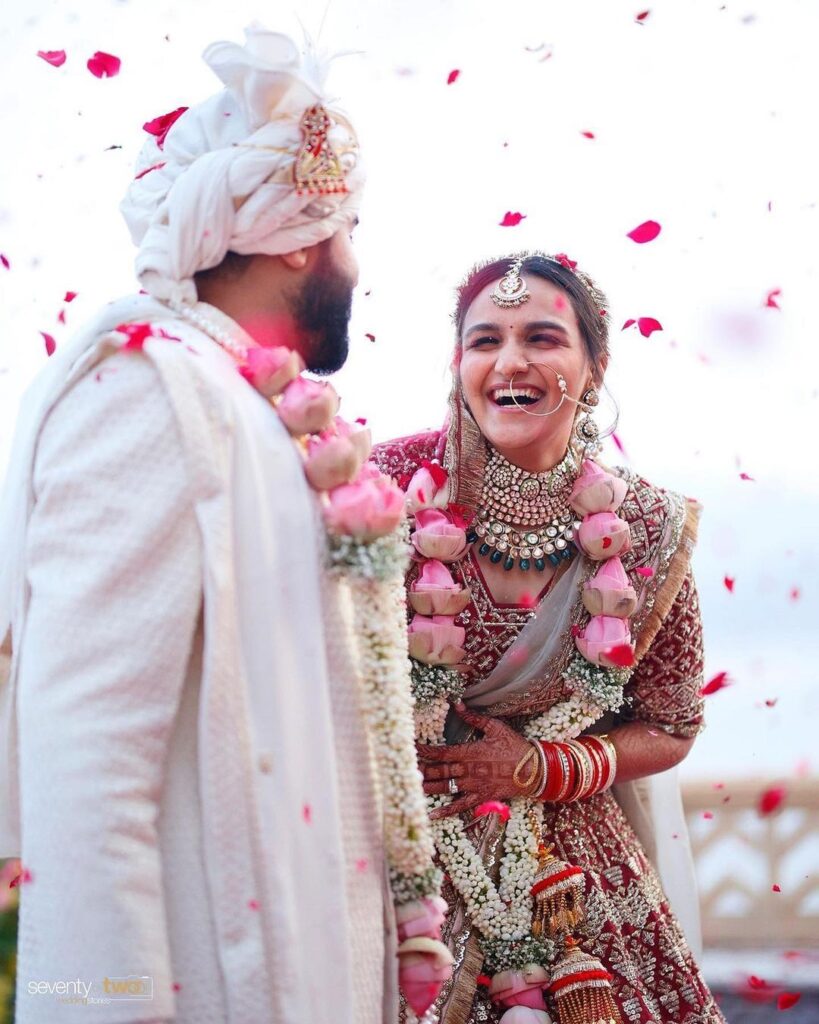 Courtesy: Seventy by Two
Lotus flowers are considered sacred in India and Hinduism. They are associated with purity, strength, and complete harmony. In marriages, they often also symbolize a complete reunion of heart and soul, and therefore, can make a superb pick for your celebrations in any form, decor, or personal additions like jaimala! 
#27 Red Roses & White Roses Jaimala Designs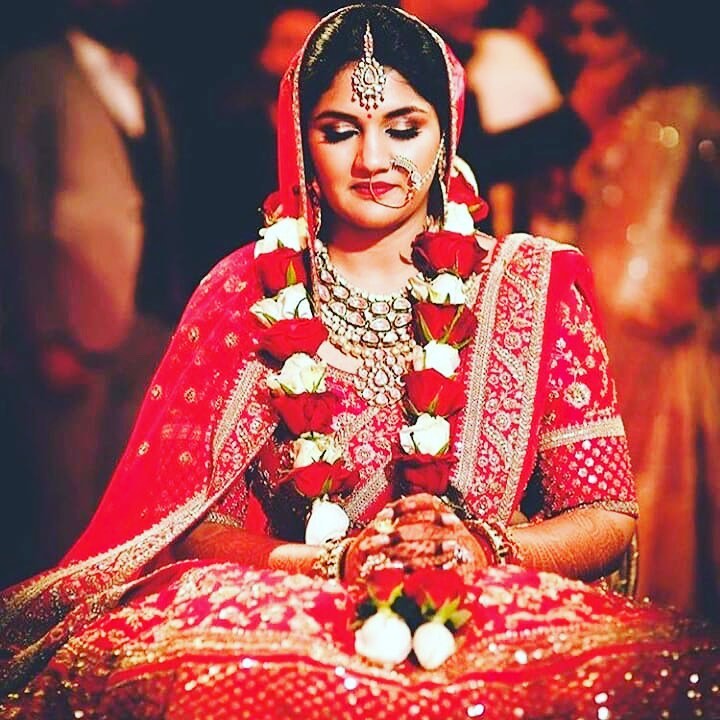 This is one of the simple varmala designs on the list and is perfect for brides who want a minimal and timeless varmala for their traditional red wedding. Make sure you use blooming, fresh roses for the jaimala though as their beauty is unmatched! 
#28 Trending Varmala Design For Your Special Day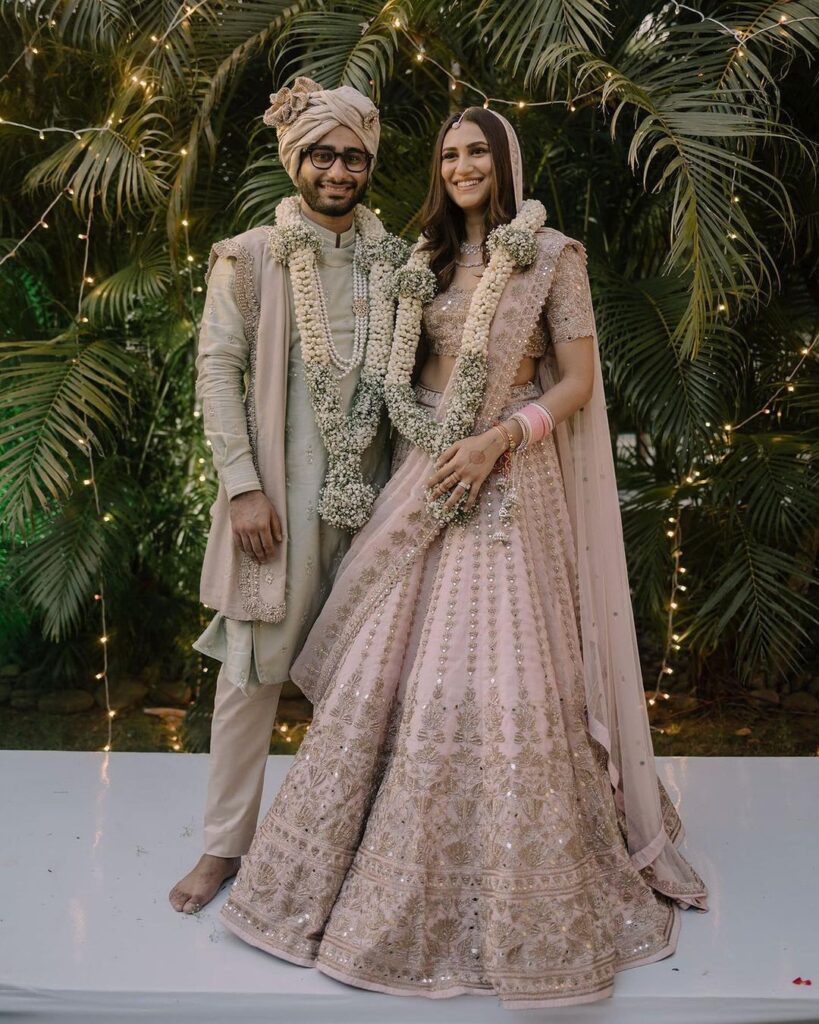 Courtesy: Cotton Candy
Clearly, white blooms are one of the most trending varmala designs lately. They are quite versatile and go with any outfit color. Plus, they have a pristine attribute that just elevates your wedding looks. Any varmala designers would be more than happy to create one with your own preferences and distinctive style. 
#29 Love For Peach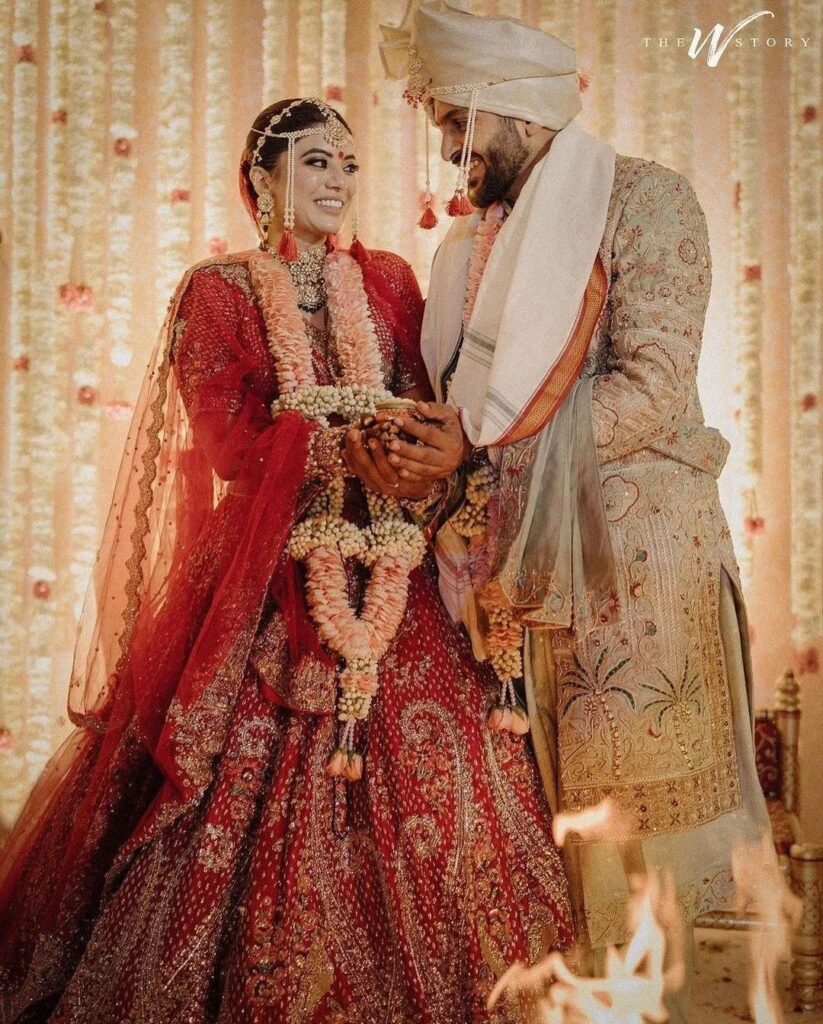 Courtesy: Shardul Thakur
Peach flowers are an ideal balance between those who want some color in their jaimala but still want it to be on the mellow side. This couple's jaimala design photo has neatly stacked peach flowers amped by gypsophila flowers in the middle. 
#30 White + Red = Most Aesthetic Combination!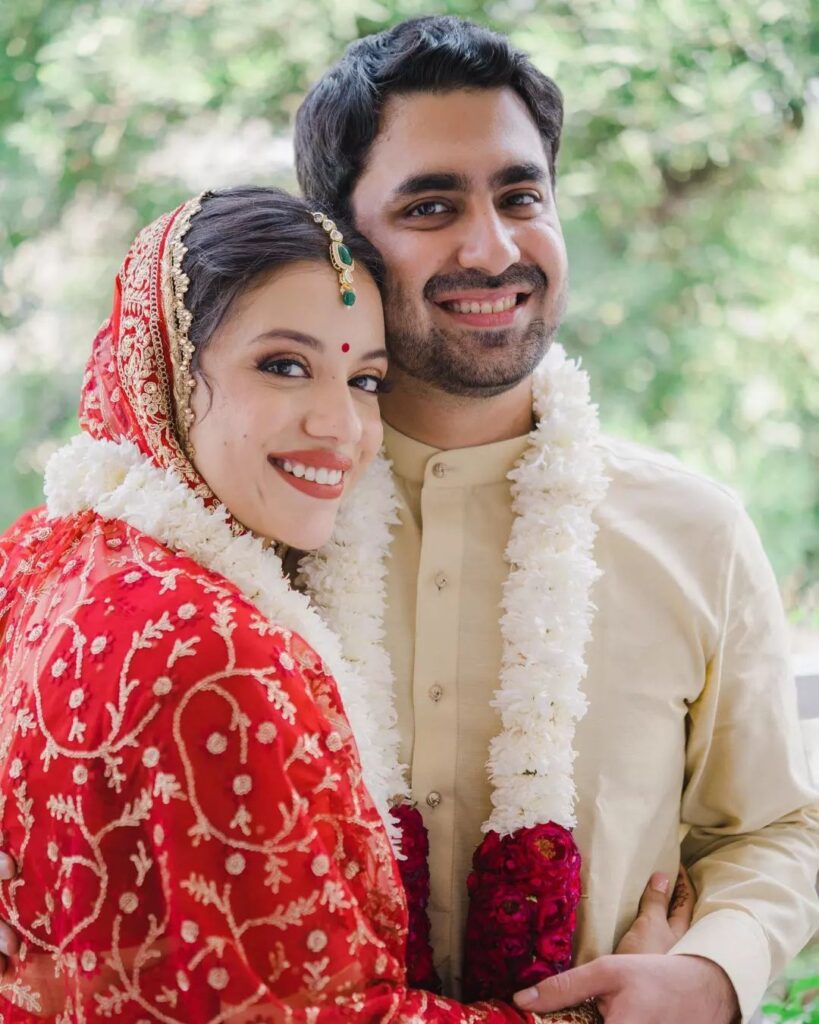 Courtesy: Satshya
We love how this couple nods to the palette of both bride and groom's dresses by picking fresh flowers varmala in the same combination for their D-Day. Grooms do opt for ivory and including them in your varmala is a nice way to create a harmonious aesthetic for your special day. 
#31 Winsome Gysophila Varmala Design
Courtesy: The Wedding Files
Gypsophila flowers have taken over the wedding industry in the past few years. They can be seen in bigger elements like decor or smaller ones like jewelry or hair accessories as well. Their inexpensive nature along with aesthetic appeal has made them popular in varmalas too. Here, they take the main stage in varmala design rather than use it as the accents for an ingenious jaimala for weddings. 
#32 OTT Varmala For The OTT Brides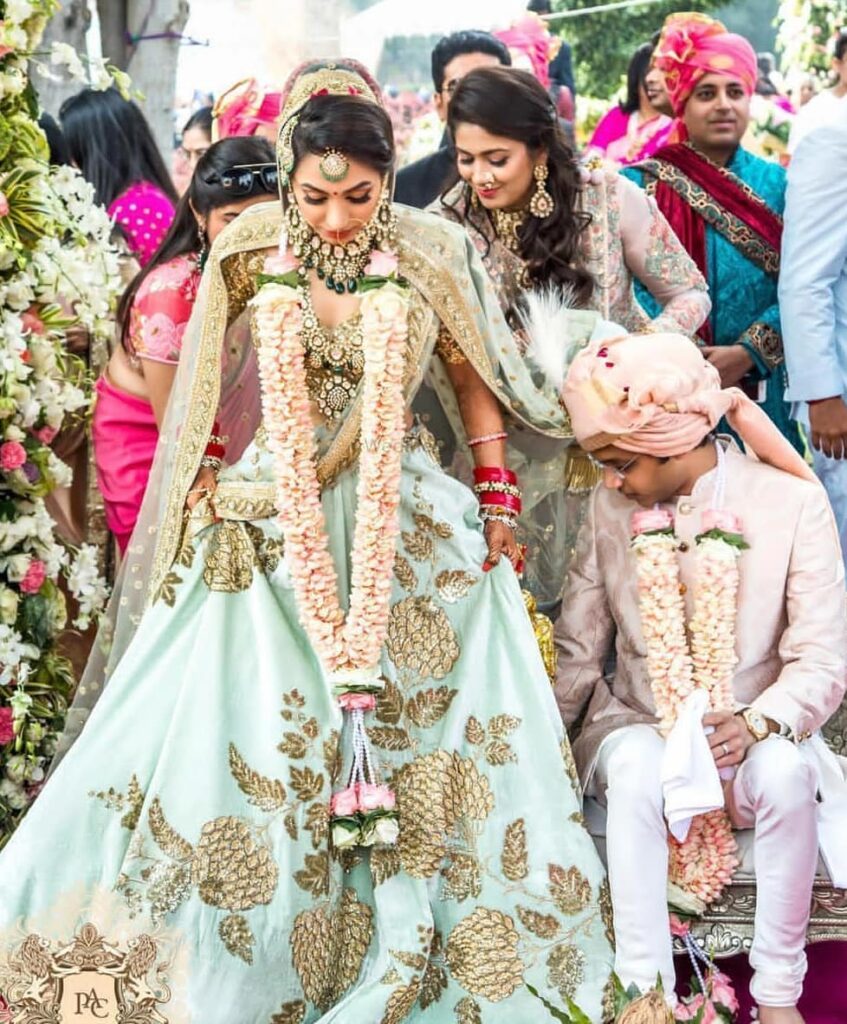 Courtesy: Picture Art Company
For brides who believe in opting for the maximalist approach for the wedding, a long varmala stacked generously with florals is the way to go! Opt for your favorite flowers and recreate the design in a version that's truly your own. 
#33 Mogra Real Flowers Varmala Designs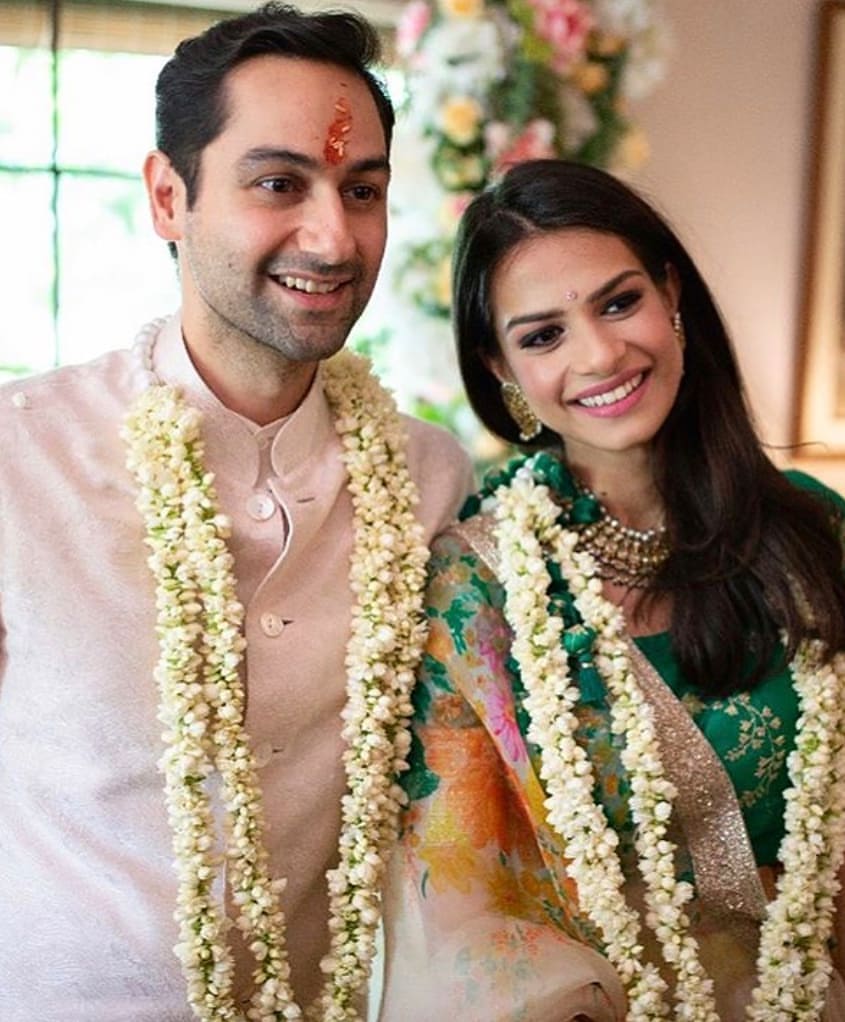 Mogra flowers are aromatic, pristine, and lightweight, and hence, they have been used continuously in varmalas for times immemorial. They can be woven into both thick and thin jaimalas and can also be paired with other florals for a unique jaimala design. 
#34 Replete With Roses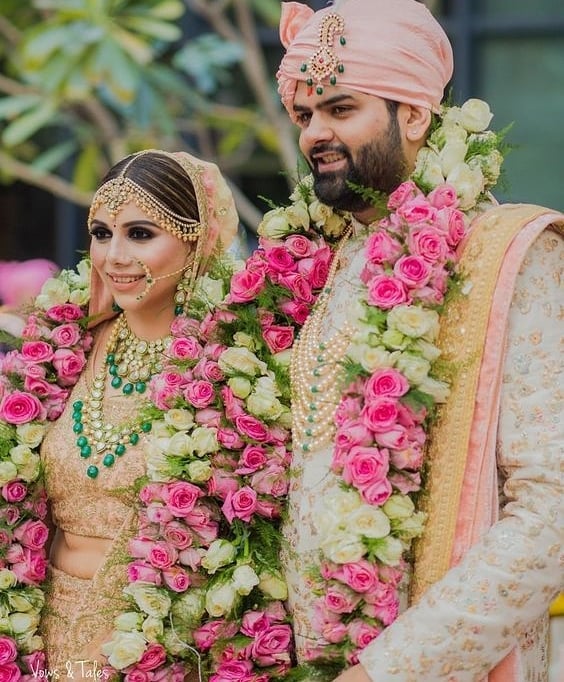 Courtesy: Pinterest
How do we absolutely adore this couple's choice of jaimala just overflowing with florals? It certainly makes their varmala stand out – but in a good way though! You can opt for any other color combination and it will look just as attractive as the one shown below. 
#35 Yellow & Pink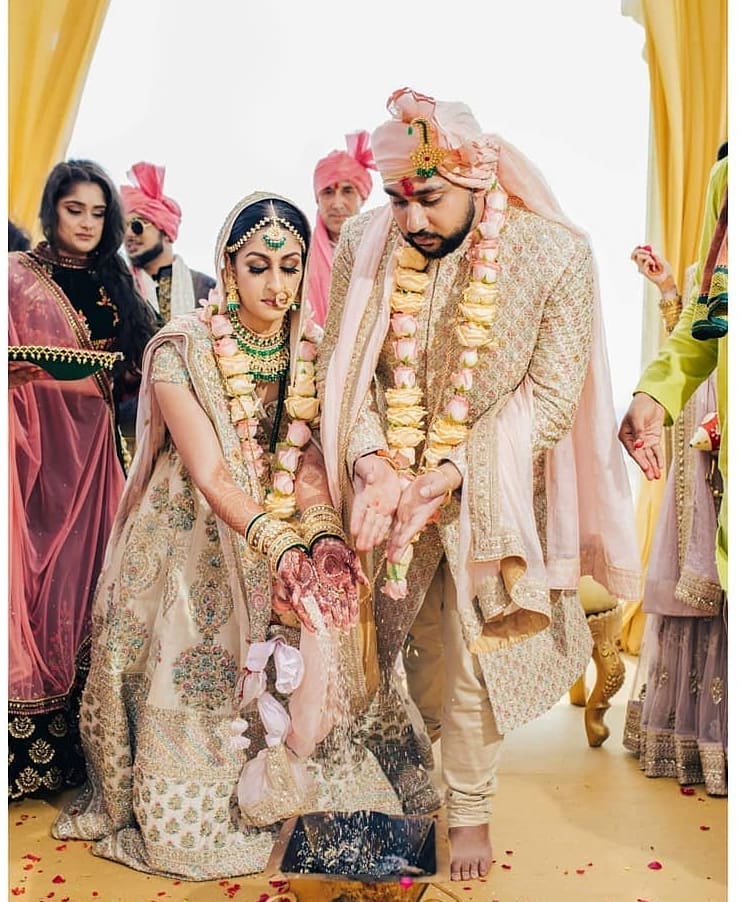 Yellow roses seldom appear in the jaimala designs, but they surely make for an attractive pick, don't they? Further, they also add some color to the existing color palette and add a certain freshness to your wedding look as well! 
#36 Roses Jaimala Design Photo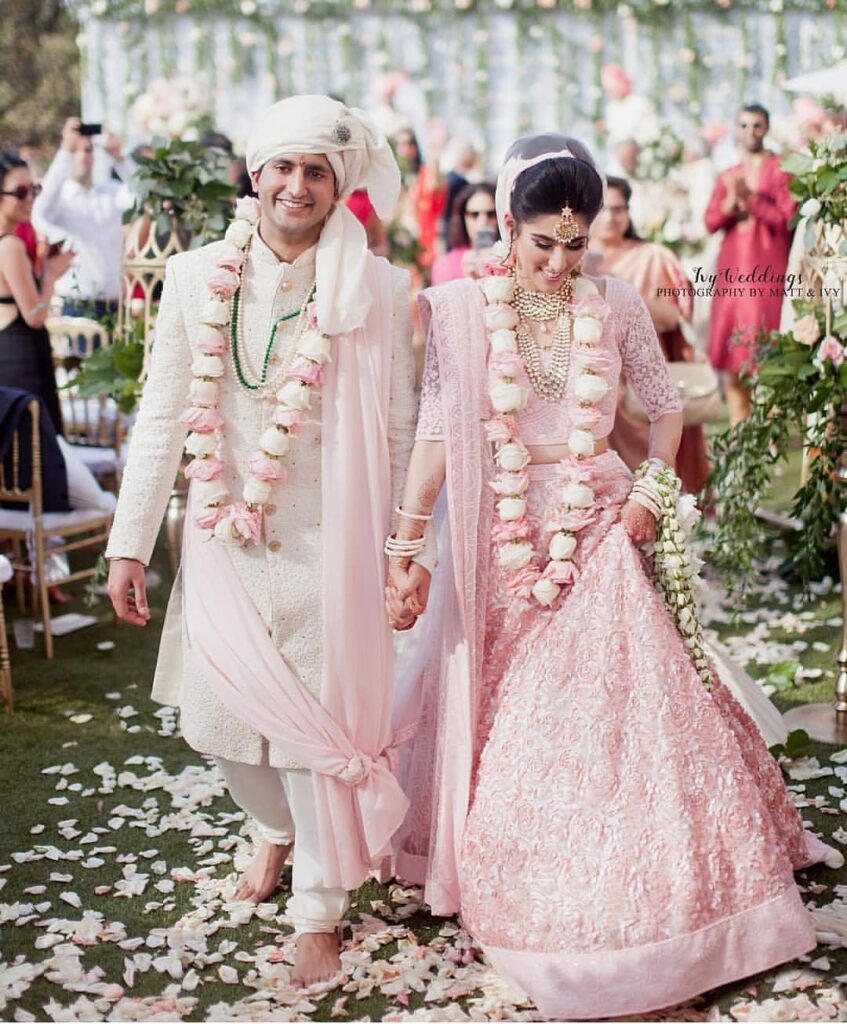 Courtesy: Ivy Weddings
All roses, everywhere, and we aren't complaining. Though, know that roses can be an expensive flower for varmala designs owing to their popularity and you can certainly consider other florals to recreate the jaimala in the same colors. 
#37 Such An Aesthetic Shot
Not only is this shot by Vinuthna Garidipuri have you awestruck for a few seconds, but it also captures the beauty of the red varmala design for a red lehenga! Extra brownie points to the floral vendor who made sure every rose is almost the same width for an eye-pleasing symmetry. 
#38 A Unique Jaimala Design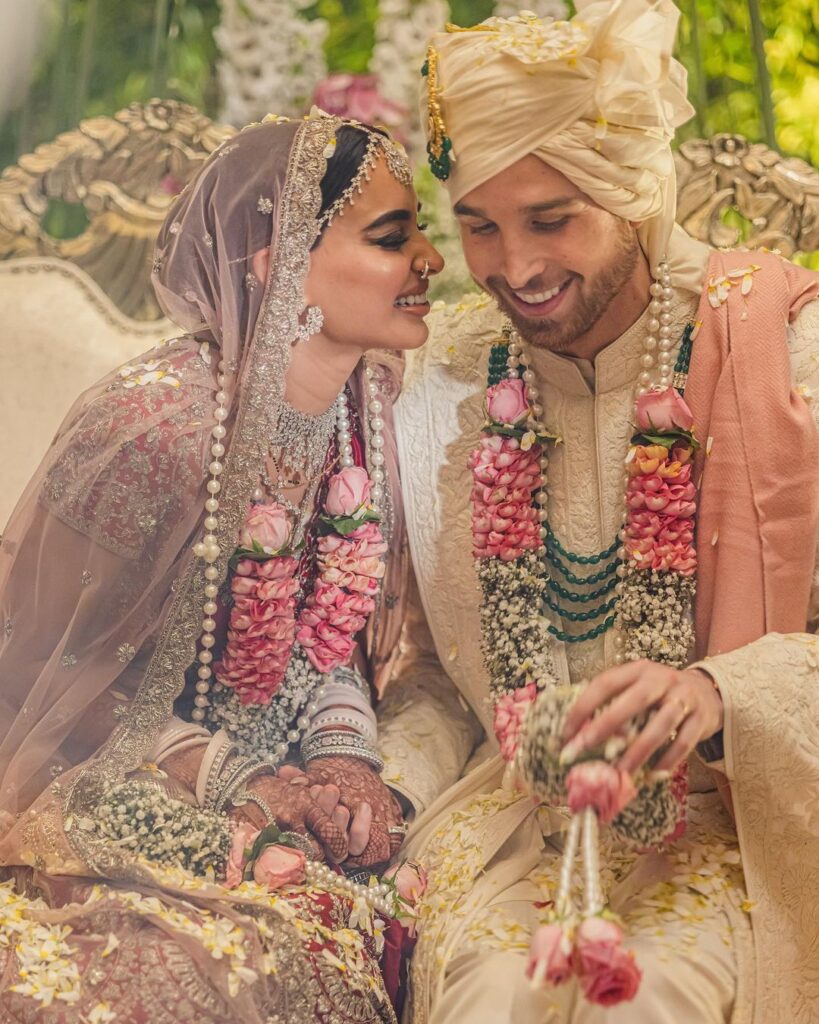 Courtesy: Arushi Mehra
We love this unique jaimala design consisting of different kinds of flowers and pearl strings for a winsome look. You can trust your varmala designer to create such a unique mix of flowers too! 
#39 The Red Supremacy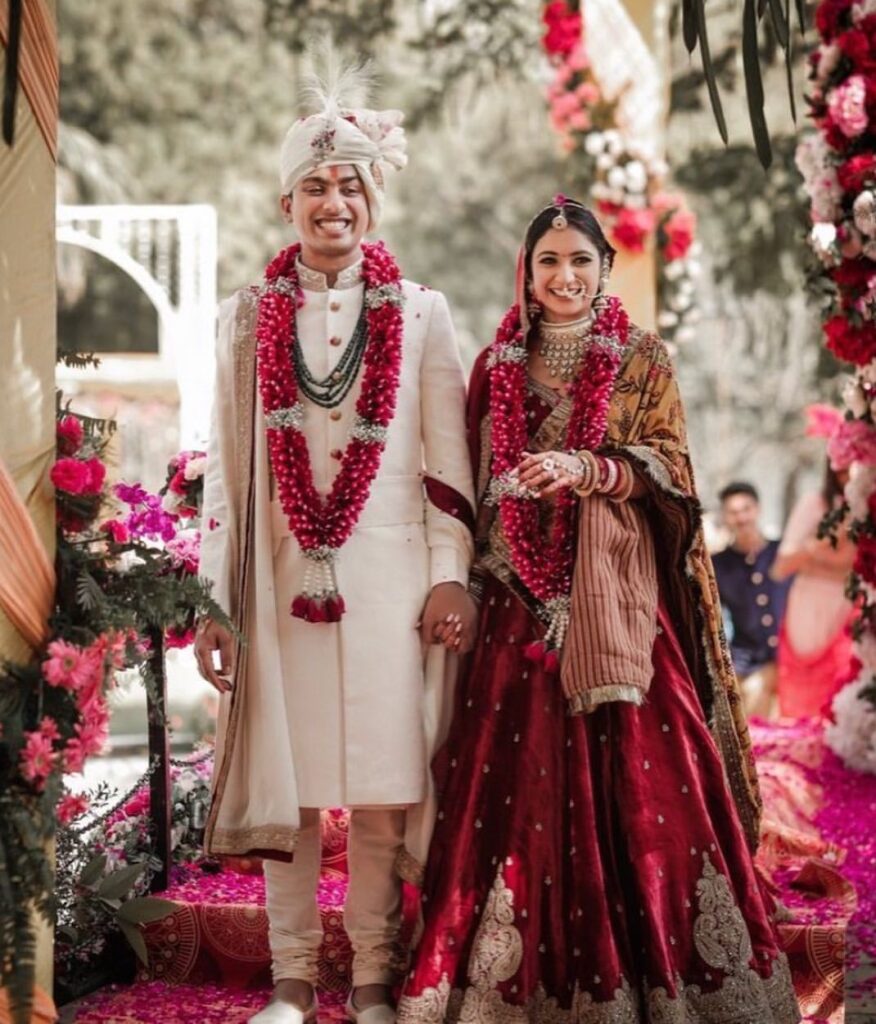 Red varmala designs are always a hit! But you don't have to rely on just red roses to recreate your red jaimala, carnations, geraniums, and chrysanthemums look just as gorgeous and can add a distinctive touch to your wedding look as well. 
#40 Timeless Varmala Designs For Wedding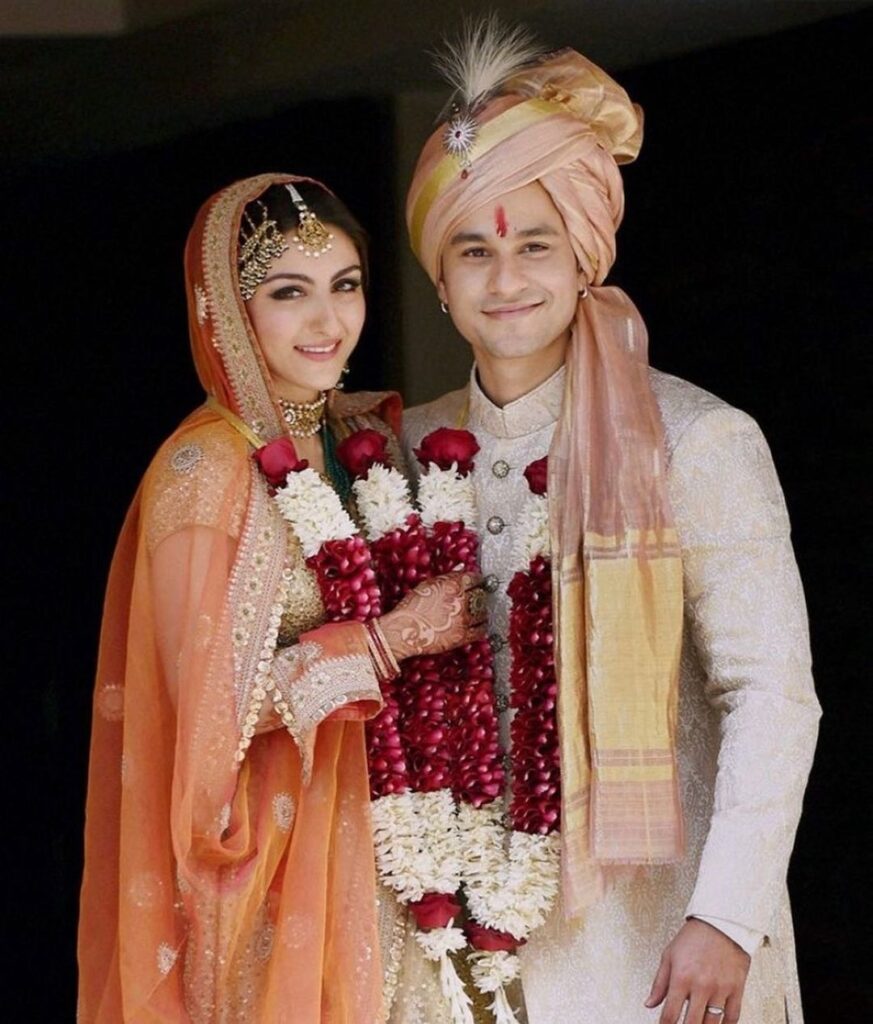 Soha Ali Khan & Kunal Khemu's wedding was infused with classic elements and that's a given since their varmala design is still considered a good idea for couples to consider for their own wedding! 
#41 Bedecked In Florals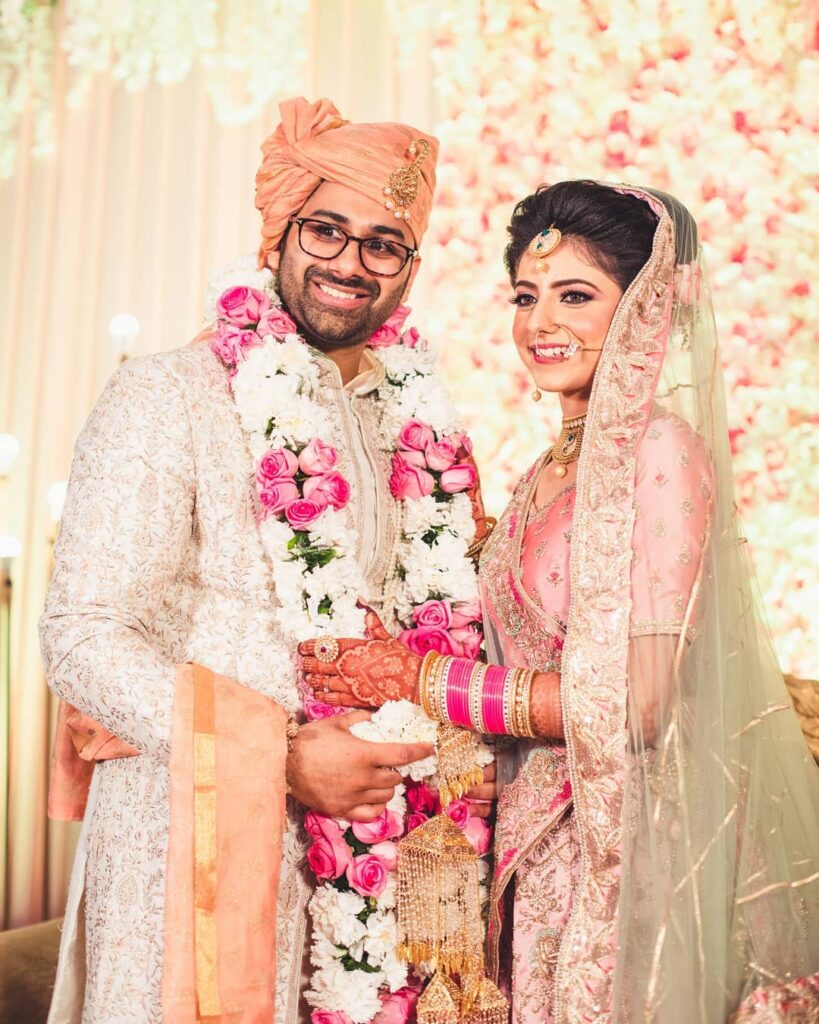 Courtesy: @shivramlab
Not skimping when it comes to florals in the wedding jaimalas, we love this couple's OTT jaimala design photo coordinating perfectly with vibrant colors in their wedding dresses and the decor! 
#42 Latest Varmala Designs To Inspire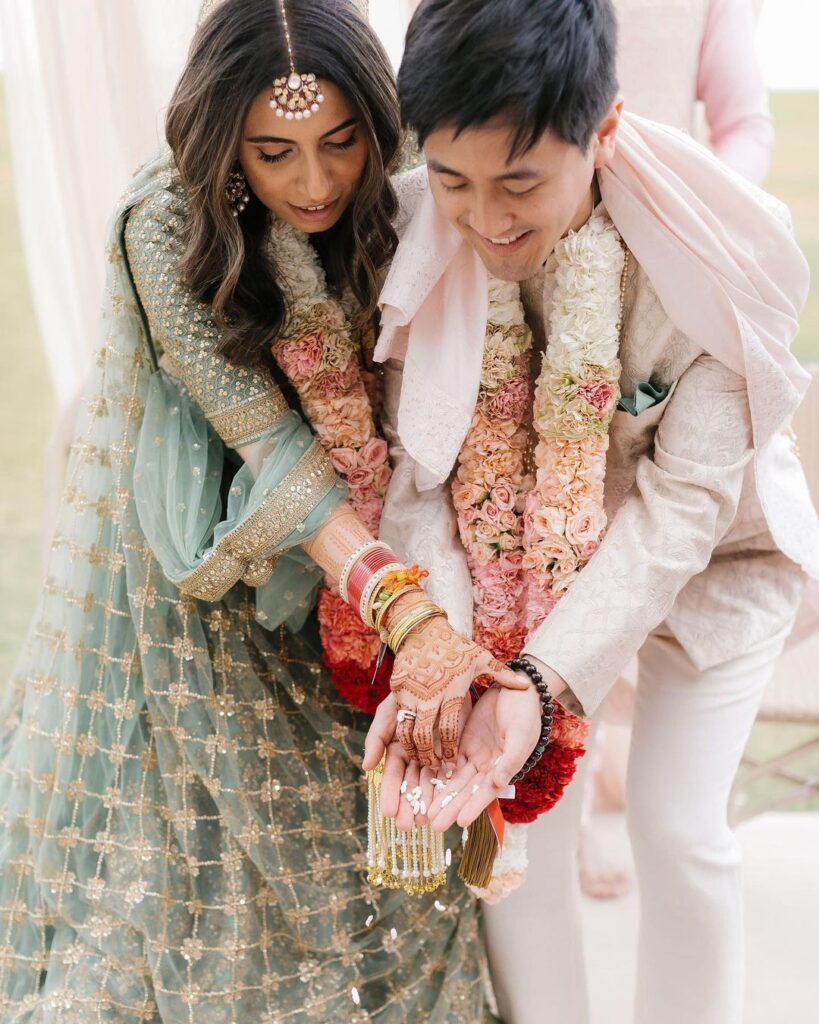 Courtesy: @aumgarlands
Bringing ombre into their garlands, this couple truly set an example of a unique jaimala design. This latest varmala design will go with all kinds of wedding aesthetics, and will immediately make your jaimala a hit among everyone! 
#43 Ranbir Alia's Simple Varmala Design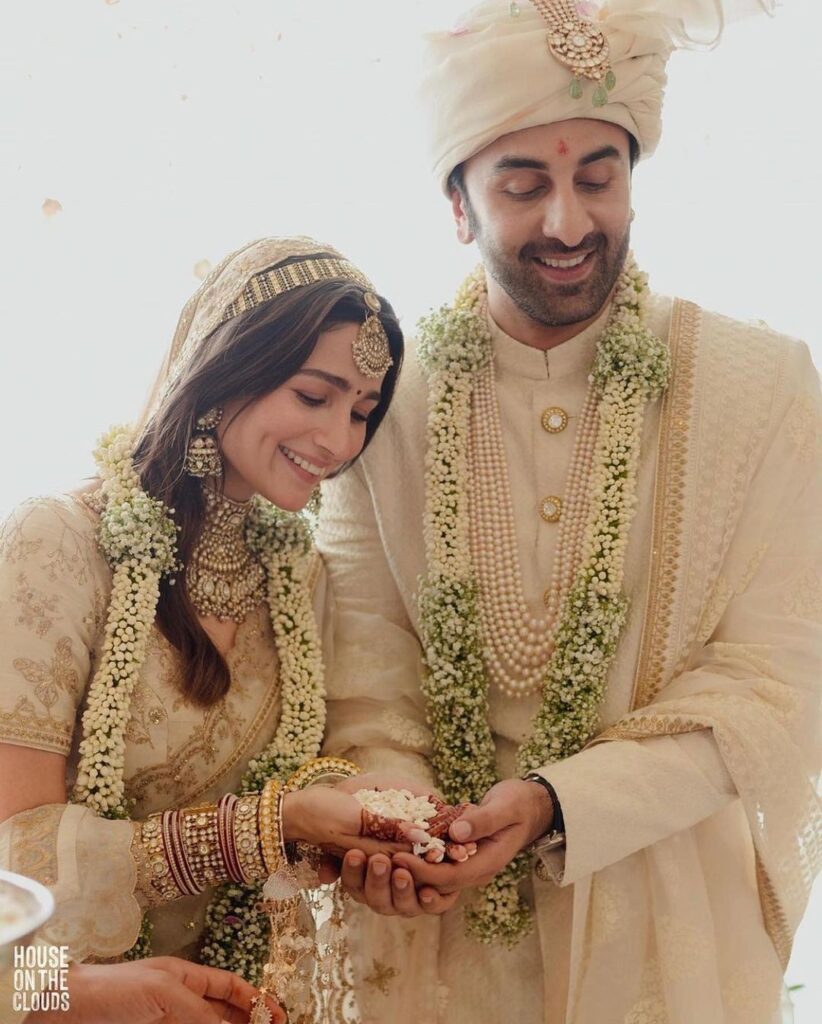 Ranbir Alia's cozy home wedding ceremony was all about an elegant, minimal, and white palette scheme. Their jaimala design in fresh florals and unique design was no different! Needless to say, this jaimala will look good on other dress colors as well, like red, pink, or even golden! 
#44 Orchid Flowers Jaimala Design For Wedding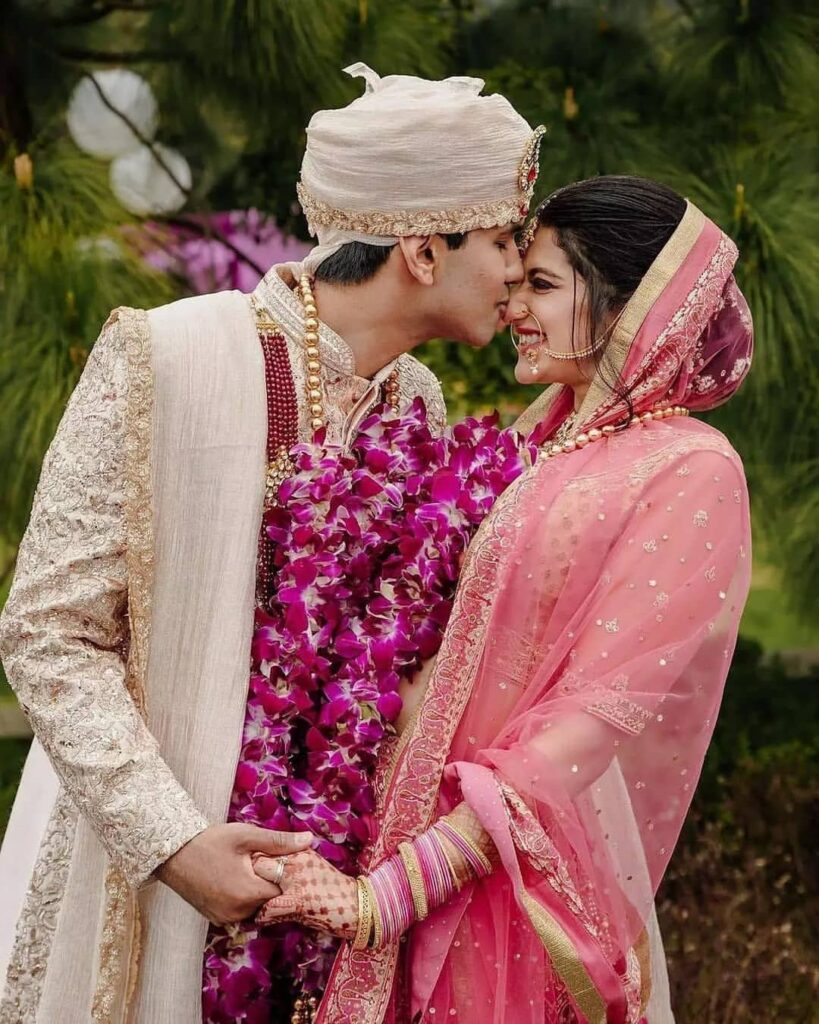 Varmala designs in orchids are definitely popular and go with almost all wedding color schemes, from pastels to traditional red! 
#45 Pink & White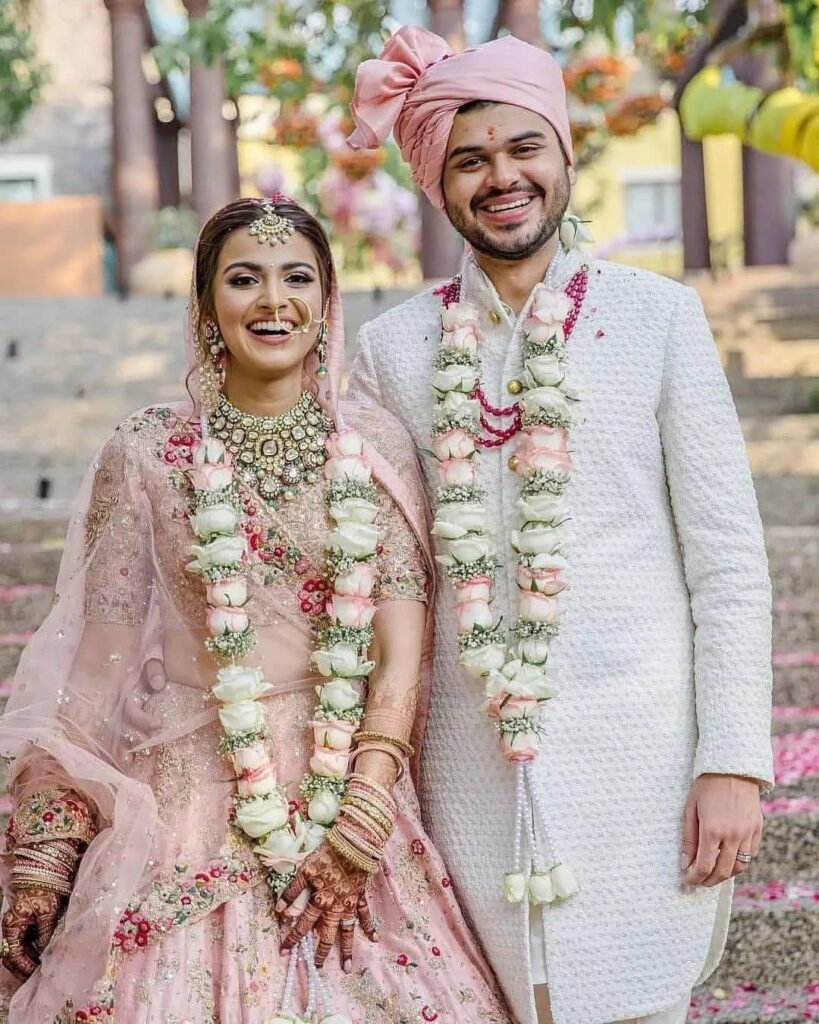 Just like red and white, pink and white is another Indian wedding color scheme that never fails to impress and is perfect for couples who want to warm and cozy hues for their wedding. If that's you, a white and pink rose varmala design will surely impress you. 
#46 Winsome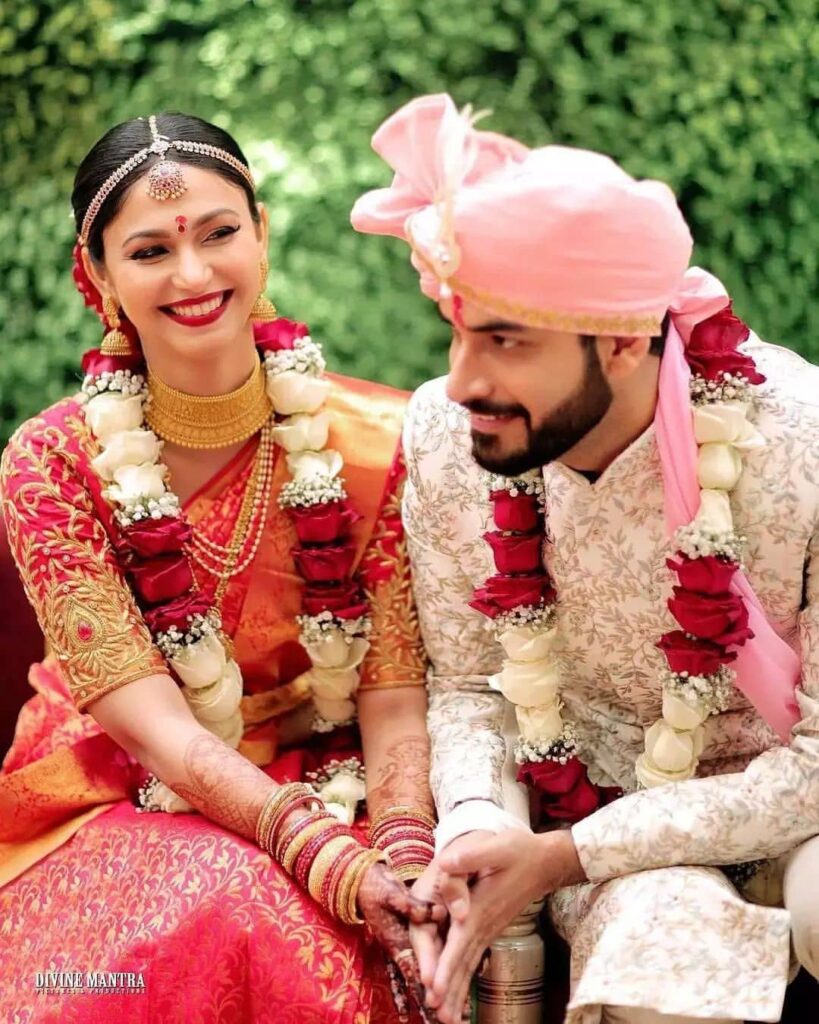 We are absolutely swooning over this couple's blossoming varmala design in fresh white & red roses enhanced by gypsophila flowers at every junction!  
#47 Fresh Blooms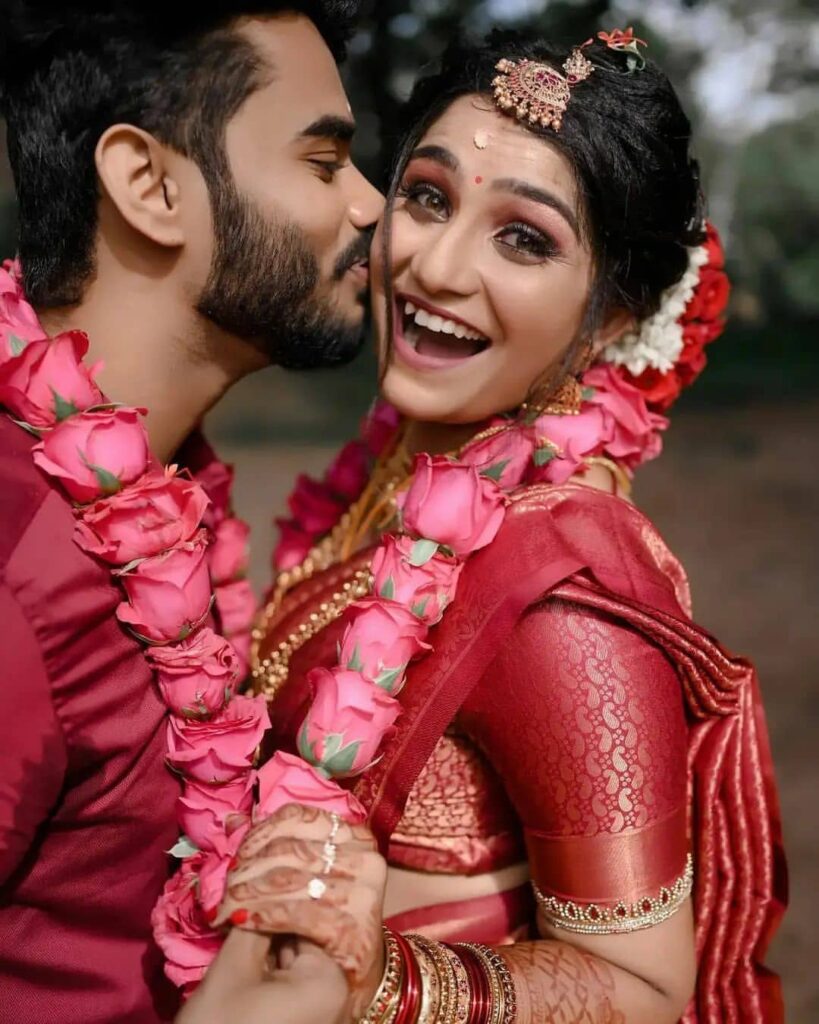 Real flower varmala designs are all the rage and their freshness and pristine nature sure make them a good choice! Opt for a monochromatic color scheme and keep it simple yet elegant when it comes to jaimala design for your wedding day. 
#48 Varmala Designs That Will Always Stay Relevant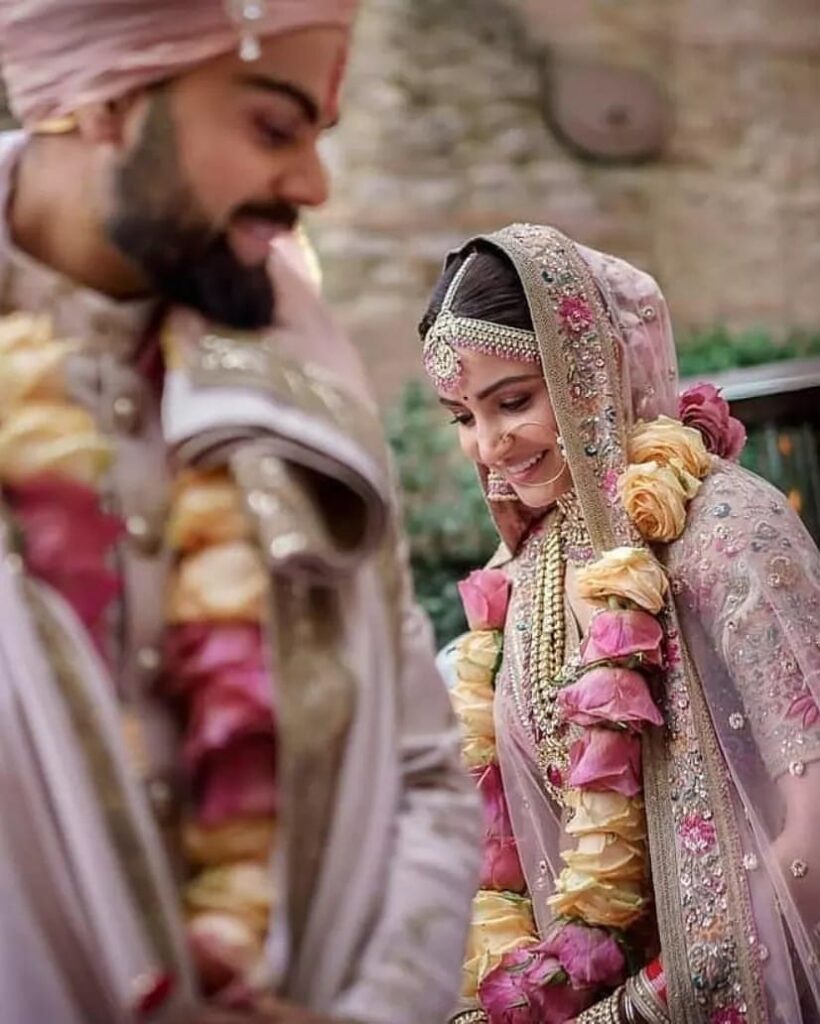 Anushka & Virat's wedding had the best of the inspiration for anyone wanting an elegant, minimal, and timeless celebration. One of the elements – their rose varmala design likely made from freshly-plucked flowers from Tuscany's expansive gardens. 
#49 A Galore Of Flowers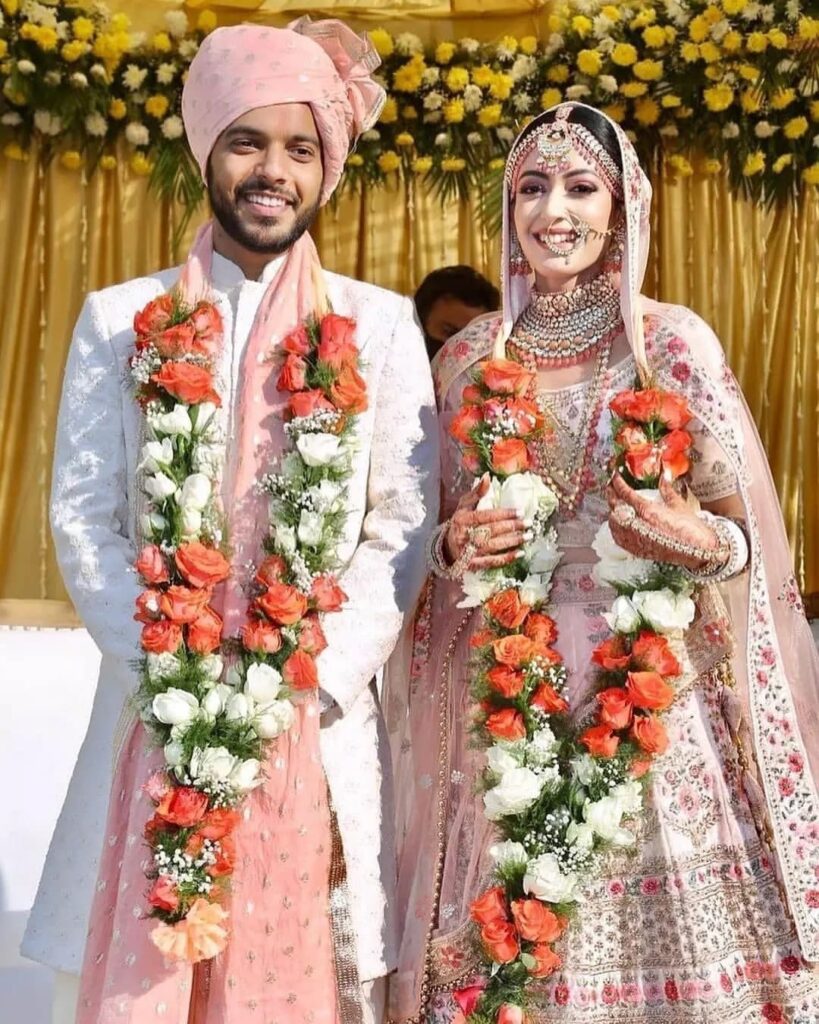 Replete with lush blooms and foliage, this rose flower varmala design experiments with orange color which certainly doesn't disappoint. This a clue to try your favorite rose color in your jaimala design for wedding too! 
#50 Such A Unique Color Palette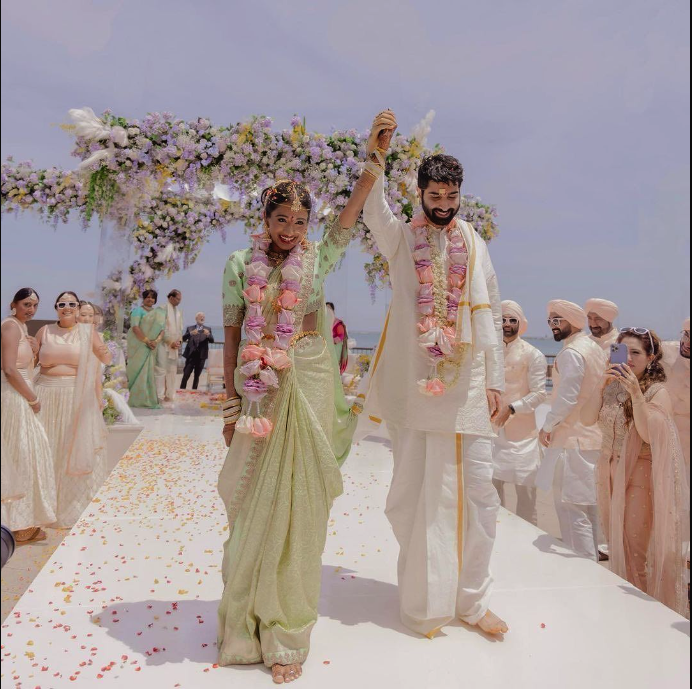 Not just the varmala design, but the complete color palette of this wedding caught our eyes. Done in all pastels, we love how the hues are soothing to the eyes and don't clash with each other at all! 
#51 Portraying Your Love For Blooms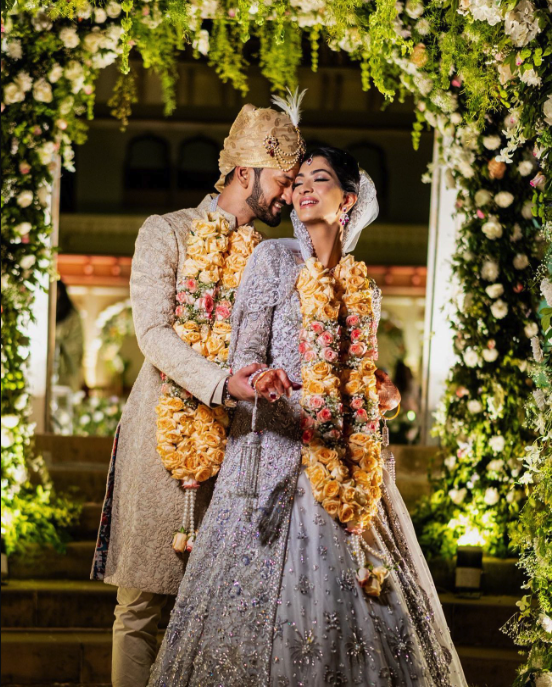 Hanna & Shahrukh's wedding saw many striking details and their varmala design photo along with the varmala stage surely in one of them and worth considering for your celebrations too! 
#52 Roses & Carnation Flowers Varmala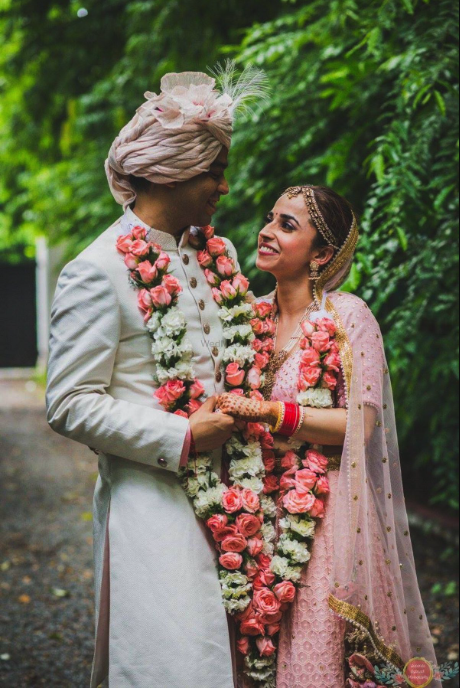 Just like the last one, this varmala design also tells us that there is no such thing as overdoing blooms on your jaimala. Even the ones completely stacked with them will look just as impressive and eye-catching as minimal ones. 
#54 Best Varmala Designs For Wedding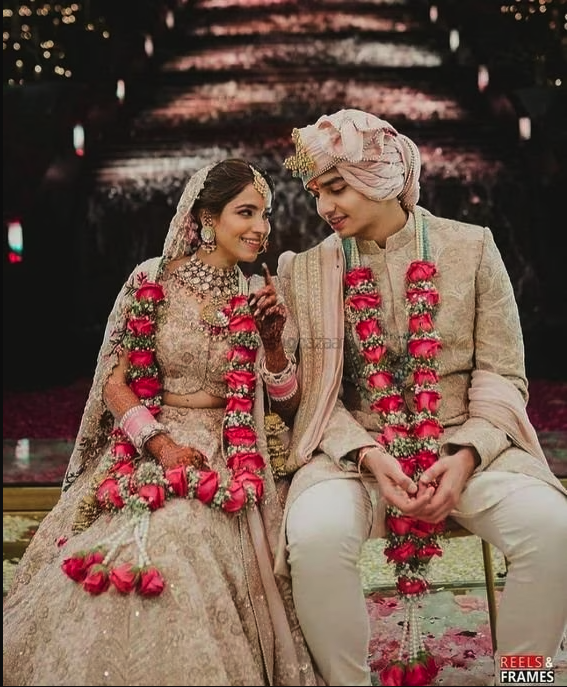 Courtesy: Reels & Frames
While the red roses and baby's breath are a common combination when it comes to varmala designs, it's the pearl detailing that makes it one of the best varmala for weddings on the list and certainly makes you consider adding pearls to your jaimala too! 
#55 White Tulips Jaimala Design!
Why stick to just roses, carnations, and baby's breath flowers, when you can also make an impressive jaimala design with tulips as well! Just keep in mind, tulips are expensive and if you're on a budget, you can put them in the mix instead of making them the main flowers. 
FAQ's 
What's The Symbolism Of A Varmala Ceremony?
Here are some of the key symbolism of the varmala ceremony:
#1 Beginning Of The Union:
The exchange of garlands signifies the union and acceptance of the marital bond by both the bride and the groom. It symbolizes their willingness to enter into a lifelong journey of the marital bond, accepting each other for better or worse and starting a new commitment as partners. 
#2 Mutual Respect & Equality:
The act of exchanging garlands also symbolizes mutual respect and equality between the bride and groom. It shows that both individuals are ready to give what it will take to make their marriage work and acknowledge each other's presence and significance in their lives. 
#3 Love & Commitment:
The Varmala ceremony is a public declaration of love as the bride and groom share the garlands in front of the entire ceremony. It shows their deep affection and devotion towards each other, promising to support and care for each other, and also showing respect towards each other's families throughout their married life. 
#4 Family Bond & Blessings: 
The varmala ceremony is witnessed by both families and the entire wedding gathering. It symbolizes the coming together of two families, indicating the establishment of a bond between them. It also means the couple is seeking blessings and good wishes for their future on this auspicious moment and it's customary for family members to wish them all the luck and happiness during the varmala ceremony! 
Which Flowers Are Best For Varmala Designs?
Here are some of the best flowers for varmala designs: 
#1 Roses
Roses are widely favored for varmalas due to their beauty, availability in various colors, and symbolism of love and passion. Red, white, and pink roses are commonly used, but other colors can be incorporated based on the desired aesthetic. 
#2 Baby's Breath
Baby's breath or gypsophila flowers are quite popular in varmala designs, and they are often used as flower filler arrangements in varmala designs to add texture, volume, and a soft ethereal touch. It pairs well with almost all kinds of flowers and is quite versatile to suit different wedding themes and personal preferences. 
#3 Mogra or Jasmine 
Jasmine is known for its delicate white flowers and sweet fragrance. It is highly popular in South Indian weddings and represents purity, beauty, and elegance. Jasmine varmalas exude a simple and timeless charm and can be incorporated into a variety of designs as well! 
#4 Orchid Varmalas
Orchids are truly beautiful and give off an exotic vibe. Orchid flowers varmalas have become popular lately but aren't seen much because orchids are expensive! Though, they do add a touch of sophistication and uniqueness to the varmalas and can be used in combination with other florals to reduce the cost and still enjoy their grace in your wedding look! 
#5 Tulips
Tulips are elegant flowers and come in a wide variety of colors. They can be a unique, exotic, and stunning choice for your varmalas. But they are also expensive and wilt quickly in warmer climates. It's important to only go with these florals under the guidance of a professional florist and include some other complementary flowers that enhance their beauty. 
#6 Carnations
Carnations are versatile flowers that come in a wide range of colors. They symbolize love, fascination, and distinction. These florals are also cheap and highly available. /you can use them to create intricate varmala designs or as fillers to add volume and texture to a mix of florals! 
What Is The Price Of Varmalas?
The price of the varmala ranges from Rs.5,000 to Rs.15,000/-, but the average does lie around the lower end of this range. The upper range only comes when you opt for flowers that are not readily available or are generally expensive like tulips and orchids. Although, if you opt for a varmala enriched with florals, then the price can be higher too! Fresh roses (especially red ones!) are also priced higher during the peak season, so it's recommended to pair them with white roses or inexpensive flowers like mogras or baby's breath to reduce the price. 
What To Do With Varmala After Marriage?
The varmala holds sentimental value and therefore, couples are always wondering what to do with it after marriage. Here are some common practices regarding what to do with varmala after marriage: 
#1 Preservation
Nowadays, preserving varmala flowers in resin has become extremely common. You can find many small businesses on Instagram offering such services to newly-married couples who want to get their varmala frozen and display it in their home as a symbol of their wedding day. The process generally involves drying the flowers and setting them in resin where it can be made into a glass box or a frame, depending on what you chose! 
#2 Offering To Deities:
In some cultures, the varmala is offered to deities in a temple which holds spiritual significance for the couples or their families. It also acts as a sign of reverence towards the shrine and the couple, in return, seeks blessings for a happy and prosperous married life. 
#3 Immersion In Water:
Another thing to do with your varmala after marriage is to immerse the varmala in a sacred water body. It's a beautiful way to honor your varmala because it's a representation of the release of the physical importance of the garland whilst preserving the memories and blessings associated with it in the hearts! 
#4 Planting
Lastly, you can choose to plant the flowers of the varmala in your home garden or a pot to keep it as a memory of the growth and nurturing of the couple's relationship just like the flowers bloom and florist over time. 
Who Puts Varmala First?
Traditionally, across all cultures of Indian weddings, the bride places the varmala first around the groom's neck and then the groom follows suit. The bride placing the varmala signifies the start of the wedding ceremony which is followed by other traditions simultaneously. Varmalas are the first of the rituals performed when the bride and the groom see each other for the first time and is a fun and joyful moment to witness by all the guests. 
What Is The Price Of Jaimala Design Stage? 
The average price of the jaimala design stage varies from Rs.20,000/- to Rs.5,00,000/-. The average cost of the jaimala stage design is around 1.5 lakhs. What affects the price is the complexity of the design, the area, and the kind of decorations you opt for! Floral decor done with fresh flowers often cost higher than one done with artificial flowers. When it comes to real flowers, the kind of florals you opt for also matters with marigolds, carnations, baby's breath, jasmine, and bougainvillea coming at the lower end of the spectrum, and lilies, tulips, and orchids at the higher end of the cost! Of course, the more experienced and known planner you go for also affects the price, and scouting for vendors who're just starting out but doing good work can also save you money on the varmala stage. 
Please See: 101 Low-Budget Wedding Stage Decoration Ideas