It's your day too – grooms! Don't forget to indulge in self-care before the wedding and pack the essential groom makeup kit for your D-Day. The landscape of weddings is slowly – but surely – changing. And one of the changes is more gender equality. Whether it's the videos we see where the grooms are also touching the bride's feet or where the bride chooses to have her own baraat – this industry shift has also led grooms' to feel like it's their big day too and hence, indulge in some self-care and getting-ready routine on their wedding revelries. Though men's makeup is often more subtle and doesn't require as much time and precision as the bride's makeup, it certainly enhances the features and makes them feel and look their best! Isn't that what makeup is all about anyway?
Below, find the best tips for groom makeup followed by the groom makeup kit list and product recommendations. As a bonus, we have also included some essential pre-wedding routines for grooms to consider before their wedding day! 
Groom Makeup Tips For Wedding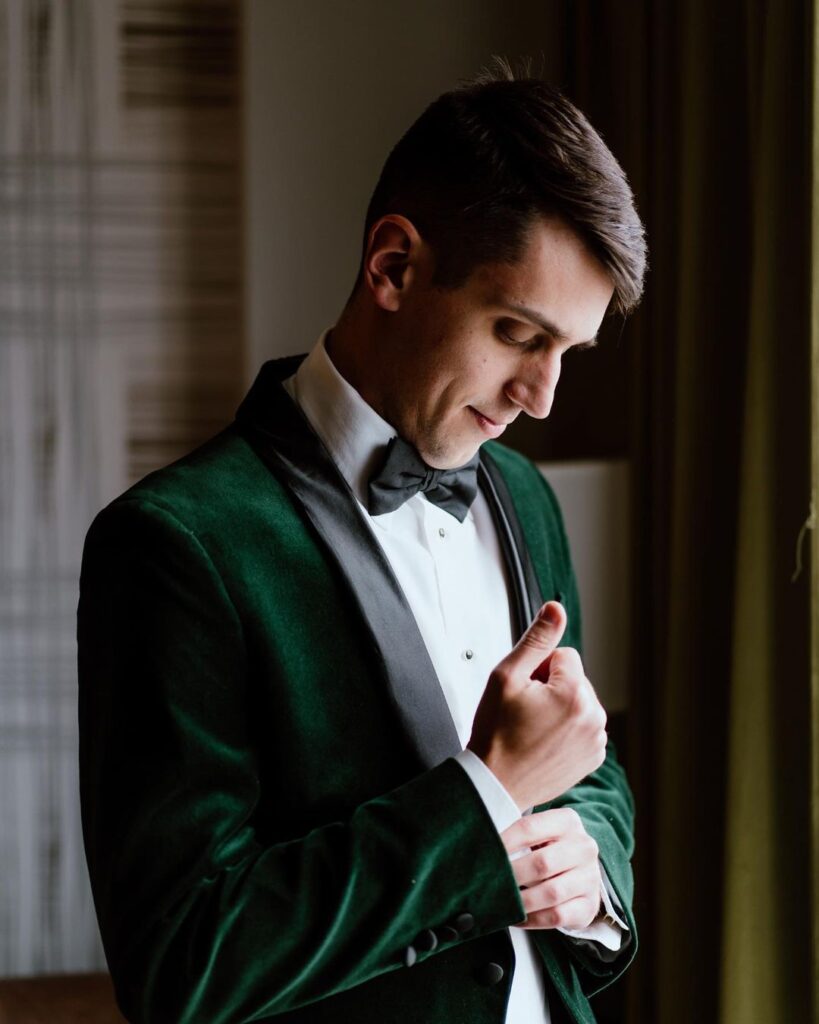 Courtesy: Steph Dee
#1 Skin First, Makeup Second
If you fall under the majority of men who use their soap as a cleanser and moisturize with whatever they get their hands on, it's time to take a U-turn. Ask any groom makeup artist and they will tell you to take care of your skin well in advance before the big day arrives. The reason is simple! Your makeup will only be as good as your skin. Though, you don't have to go overboard to achieve good skin. 
Start with a good cleanser based on your skin type. Those with oily skin should focus on oil-controlling face wash but those with dry should look for hydrating ingredients like ceramides and hyaluronic acid in their cleanser. The latter can also use milk cleanser or oil cleanser to preserve natural skin oils. Follow up with a good moisturizer and an eye cream (if you're starting to notice some fine lines around the eyes). Sunscreen is a MUST during the daytime and scrub at least twice a week. If you're confused about what products to use or want to target a specific issue, consulting an experienced dermatologist is a good start! 
#2 Enhance Your Best Features
When you're exploring wedding inspiration online, you will find grooms beaming in full confidence and the way they dress up definitely plays the role in the same. Makeup, when used rightfully, has the power to enhance your best features and withdraw attention from the ones you don't feel confident about. When you choose a groom's wedding makeup artist, you will find that most of them work on the same principle. Since most grooms prefer makeup on the lighter side, it's always about the enhancement rather than masking the skin underneath layers of makeup. 
If you're someone who is DIY-ing your groom's makeup, identify your best features and learn some tricks to amplify them. For example, to elevate the eye area apply some concealer on the inner corners and just below the pointed end of the eyes. Further, use some natural mascara and possibly line the lower lash line with a nude kajal. Similarly, you can reduce or sharpen the nose using contouring. Learn these tricks in advance so you're armed with the best of makeup skills for your D-Day! 
#3 Pick A Foundation & Concealer For Your Skin Type
After nailing the skincare routine and practicing it consistently, the next step is to pick a foundation and concealer that's right for you. We have added the best recommendations below but when you're searching for these products, choose a foundation that matches your skin tone and a concealer that's a shade lighter than your foundation. Pick products that last for a while and don't cake or oxidize with time. Carefully check the reviews and take your time doing the research when picking these products for your groom makeup kit. 
When it comes to both foundation and concealer, blending is a must to achieve that flawless, dewy look. The best part is both foundation and concealer can be blended with the same brush or makeup sponge. Brushes do absorb the lesser product and are much cleaner than sponges, hence preferred over the latter. But some believe sponges blend better. In the end, it's your call on what to choose. Just remember to use a damp blender or brush and take your time to blend the product completely. 
#4 Style Your Hair First
Style your hair first before starting with makeup. Doing your hair first ensures any residue from your styling products gets cleaned before the makeup starts. Wash your hair on the day of your wedding, using an appropriate shampoo and conditioner for your tresses. Select a hairstyle that complements your face and also goes with your groom's look. Do practice the hairstyle before the wedding day so you have an idea of how it's going to appear and how much time it will take to complete. 
If you're planning to use any heat styling tools, do use a heat protectant to safeguard your hair and once the styling is done, apply hair wax or gel which keeps the style in place through the ceremony and reception. Do keep in mind that the gel or wax doesn't make the hair oily and instead, just helps to retain the hairstyle. Have one or two groomsmen on board and let them know which hairdo you're going for so they can help you create it better whilst making sure everything happens on time. 
#5 Apply Some Lip Balm & Natural Lip Tint
One important aspect of the groom makeup for a wedding is the lips! The lip care should begin way before the special day though, especially if you're getting married in winter when chapped lips are a common problem for all! A simple lip care routine includes exfoliation followed by adequate hydration. Exfoliation can be done with a scrub like honey+sugar or coffee powder+honey, or if that seems like a task, just use your toothbrush to gently exfoliate the lips and apply a thick layer of lip balm right after and let it stay overnight. 
For your wedding revelries, make sure you apply lip balm whenever you get the time and you can also choose a natural lip tint to enrich the color of the lips. If your lips are pigmented, pick a lip lightener balm and follow up with a tint – either gloss or matte – to complete your look. Matte tints are often drying and if you're already suffering from dry lips, we'd recommend gloss or normal lip tint over the matte ones!  
#6 Set Your Beard
The beard should be set after you're done with foundation, concealer, and contouring, but right before doing your lip routine and finishing touches. Though, you should brush your beard before you start with your makeup routine. After these steps, consider using an oil or balm to moisturize your beard and make it more manageable. To set the beard, you can use a beard wax or styling balm to provide hold and control any unruly hairs. Warm a small amount between your fingers and evenly distribute it through your beard, gently shaping and styling it.
If you're looking to add a touch of sophistication, you can also use a beard comb to create a more defined and structured look. Throughout the day, carry a small comb with you to make quick touch-ups as needed. Just remember to keep your beard look in line with your groom's look. The style of the beard should complement your overall groom look and hence, elevate the appearance for the special occasion.  
#7 End With Finishing Touches
You'd want your makeup to last and the best way to make it last is to end the makeup with a finishing spray. But before you do that, you might want to refine the look and ensure everything is in place for a polished appearance.  Start by adding some concealer to any areas that need more brightening or blend a little more to give the DIY groom makeup a more natural look. Pay attention to the eyebrows; use an eyebrow gel or pencil to groom and shape them, enhancing overall facial symmetry.
Next, set the concealer with a setting powder with further elevates the makeup's longevity. Apply some blush if you feel that will amplify the appearance. Skip if you think it will just overdo everything. Lastly, use a setting spray to lock in the makeup and provide a refreshed appearance throughout the day. Here are our best recommendations. 
Groom's Makeup Kit List
#1 Moisturiser
You can use the moisturizer that you've been using for your skincare routine as the first step to your wedding makeup. Don't hesitate to splurge on a good moisturizer. Good skin is key to good makeup and moisturiser is key to good skin. So pick wisely and stay consistent with your basic skincare routine i.e. cleansing, toning, and moisturizing! 
Moisturiser Recommendations For Groom Makeup Kit List:
#2 Primer
Primer gives a smooth base for makeup and will make it last longer. Besides the flawless canvas, primers work to enhance or diminish any skin's inherent qualities like reducing oil for those with oily skin and increasing glow for those with dull skin. Look for the additional effects when picking a primer for your groom makeup for wedding. 
Primer Recommendations For Groom Makeup For Wedding:
#3 Foundation
Foundation that's just like skin but makes it better should be your pick for the wedding day. A good foundation can cost a bit extra but it will be completely worth it. Besides longevity, you also need to pick a foundation for your groom makeup kit that suits your skin and works with your skin tone. 
Foundation Recommendations:
#4 Concealer
The concealer is a boon for brides and grooms. It covers dark circles, which are a natural by-product of all the wedding stress and fun. Pick a concealer that's one shade lighter than the foundation and blend generously to avoid crinkly underyes. 
Concealer For Groom Wedding Makeup Recommendations:
#5 Beard & Hair Styling Tools
Your beard and hair should be trimmed just a day or two before the wedding and the styling should be limited to using wax or serum to keep the shape in place. 
Hair Wax Recommendations
Beard Wax Recommendations
#6 Lip Balm & Tint
For grooms, lip balms and tints will work in coordination. Apply some lip balm before starting the makeup and follow up with the tint at the end. You can re-apply throughout the day – as and when required! 
Lips Products Recommendations For Groom Makeup: 
Pre-Wedding Skin Care & Hair Care Tips For Grooms!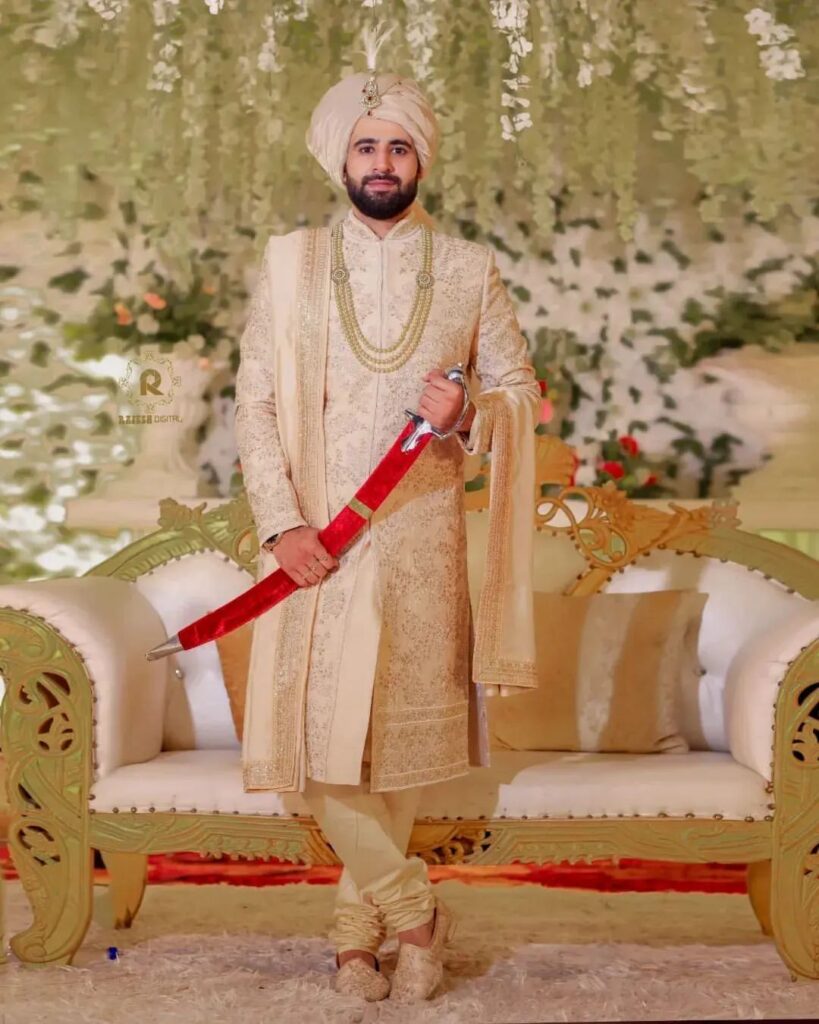 Courtesy: Rajesh Digital
#1 Eat Your Water
In the days that lead up to your wedding day, having adequate water intake is important. Water plays a significant role in maintaining both your skin health and hair health. When you're well-hydrated, your skin is better equipped to maintain its elasticity, suppleness, and overall vitality. More so, your hair also receives adequate nutrients through the hair follicles which reduces scalp issues like dandruff, hair fall, and itchiness. Besides drinking 2 to 3 liters of water every day, it's important to add fruits and vegetables rich in water to your diet. Fresh produce like tomatoes, watermelon, capsicum, oranges, and pineapple all have a high water content. 
#2 Manage Your Diet
The saying "you are what you eat" holds true in every context, as the foods you consume directly impact the health and appearance of your skin. A diet rich in nutrient-dense foods such as fruits, vegetables, whole grains, lean proteins, and healthy fats provides your body with the essential building blocks it needs for optimal skin function. These nutrients play a crucial role in promoting collagen production, maintaining skin elasticity, and protecting against oxidative stress and inflammation. Remember, the effects of dietary changes on your skin won't be immediate, so starting early and being consistent is key. A wholesome diet combined with proper hydration, a consistent skincare routine, and adequate sleep will collectively contribute to achieving a radiant complexion and healthy tresses on your special day. 
#3 Start A Skincare Routine
As soon as your wedding date is decided, start a skincare routine that targets your skin problems and aligns with your skin goals. Acne? Choose products with retinol/ retinoids, salicylic acid, and niacinamide. Pigmentation? Chemical exfoliators like mandelic acid and azelaic acid and whitening agents like kojic acid and arbutin work the best. Looking to brighten your dull skin? Vitamin C and gentle chemical exfoliation are a great combination. Remember to not complicate your routine. Stick with the basic cleanser, serum, and moisturizer routine, followed by sunscreen in the morning. 
#4 Hair & Beard Prep
Regular hair care and beard prep leading up to the big day requires identifying your key areas of concern and choosing products that help you tackle them. To begin with, consider your hair type and desired hairstyle. Choose shampoo, conditioner, and treatments that align with your concerns and if you're looking to make any significant changes to your hair, like a different type of cut or color, it's best to get the trial at least 2 months to allow for any adjustments and regrowth. For your beard, grooming, trimming, and applying serum or oil daily is important. In the days leading up to the wedding, consider scheduling a final haircut and beard grooming session – ideally at least a week before the special day. 
#5 Get Your Body Moving
The wedding day means you're in the spotlight and not to say that should add more pressure, but it should also not be taken lightly. Exercising and setting personal goals can help you look and feel your best. Do work with a trainer if you have something specific in mind. Starting early and staying consistent is key here! If you've never had a workout routine before, start with 3 to 4 days in a week and then, increase the frequency. Schedule your workouts when you know you can get it done and have some kind of motivation to help you stick to your routine. Besides helping you get in shape and keeping you healthy, exercising is also great to maintain your skin and hair health and will also reduce the stress hormones, which are often a natural result of wedding planning. 
#6 Focus On Stress Management
If you're a groom-to-be, I don't need to stress much about why the pre-wedding time is stressful. Though, you should know that you're not alone and with some helpful tips and effort, the stress can be managed. One of the best ways to manage pre-wedding stress by yourself is to indulge in self-care (doing something you love, expressing gratitude, walking in nature, etc.) and having a 10-minute or more routine dedicated to your mental health (meditation, journaling, reframing thoughts, etc.). Don't be shy to seek professional help and arrange for regular therapy sessions to manage your stress. No matter what you decide to try, remember that these feelings are normal and they will pass. If some methods don't work for you, it's okay. Everyone finds their mental peace differently and it's all about finding a method that works for you. 
#7 Don't Miss Out On Oral Care
Your teeth will be shown in possibly all the wedding photographs and it's time to get them glowing white. Spend some time on oral care by brushing and flossing daily. To whiten the teeth, you can get a professional treatment. Or, you can rely on a teeth whitening toothpaste (which takes regular use for a month or two to see results) or use teeth whitening strips (which show results in 2 to 3 uses) (Option 1/ Option 2/ Option 3)
FAQ's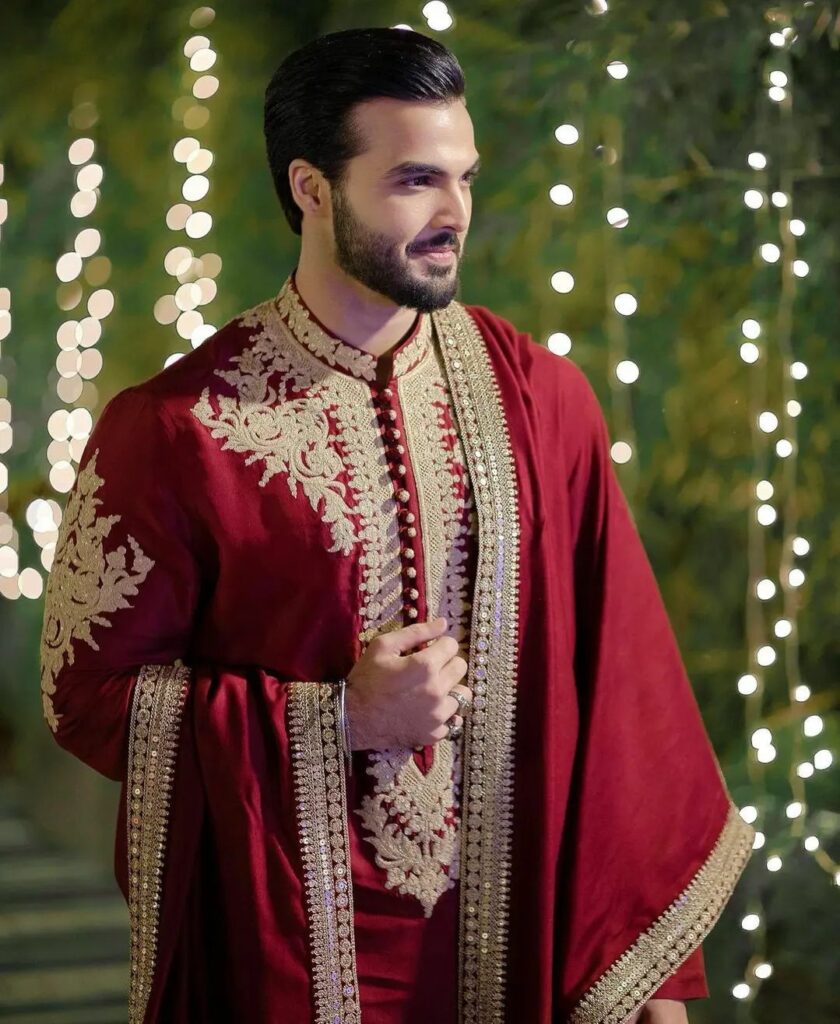 Courtesy: Nomi Ansari
What's Included In The Groom's Makeup Packages?
Typically, groom makeup packages include a variety of services and products aimed at enhancing the natural features and helping him look the best for his wedding day. Here are some components of the male groom makeup artist packages:
Skin Prep

Concealing & Correcting

Foundation

Grooming the Eyebrows

Contouring & Highlighting

Lip Balm & Lip Color

Finishing Touches

Dupatta Draping

Hair Styling

Consultation & Trial 
Do Grooms Really Need Makeup?
The groom wedding makeup is all about the industry shift that reflects similar gender expressions. In recent years, the collective effort has been to make the groom feel that it's their day too – and hence, an effort into helping them look their best on their wedding day. You will find many groom makeup artists near you, but if that's not something you'd want to indulge in, that's completely fine too. Makeup or no makeup, it's all about your personal choice and the desired wedding look. Ultimately the decision should be based on feeling authentic and comfortable with the choice. 
How To Do Groom Makeup?
Here's a step-by-step guide on how to do the groom's makeup:
Prepare your skin by cleansing, rubbing some ice, scrubbing, serum application, and moisturizing. 

Apply some primer to create a flawless canvas for makeup application. 

Style your hair before starting with the makeup. 

Take some foundation on the back of your hand, dot your face with it, and start blending. Apply a thin layer first and build as required. 

Use the concealer under your eyes and on any blemishes. Blend well. 

When you're happy with the base, set everything with powder. 

(This is optional and should be done only if you have successfully practiced it.) Contour your nose, cheeks, and jawline. Blend so the lines aren't harsh and mix with each other. 

Highlight the cheekbones, the bridge of your nose, the cupid's bow, and down the bridge of your nose. Adjust the amount of highlighter to how dramatic or subtle groom makeup look you prefer!

Enhance the eyes with some mascara, highlighting the inner corners, and applying some neutral eyeshadow if you want. 

Apply a moisturizing lip balm or a natural lip color that complements your skin tone. Avoid anything too bold or glossy for a subtle look.

Finish with a setting spray to lock in your makeup and ensure it stays put throughout the day.

Practice this routine before the big day to ensure you're comfortable with the products and techniques. Consider doing a trial run to make any adjustments. 
Can You DIY Groom's Makeup?
Certainly, DIY (do-it-yourself) groom's makeup is possible if you're comfortable with makeup application and have a good understanding of the products and techniques involved. Many grooms choose to do their own makeup for various reasons, including wanting a natural look, personal preferences, or being skilled in makeup application. To successfully DIY groom's makeup, start by selecting products that match your skin tone and type. We have included the groom makeup kit list above and you can select the best ones as per your needs and preferences. Remember to practice beforehand to ensure you're comfortable with the application process and the final look. DIY groom's makeup can be a great way to achieve a personalized, low-key appearance that aligns with your style and comfort level on your wedding day.