Rajasthan is at the top beat in India for destination weddings. The historic palace-turned-hotels, royal aura, and majestic setting make the state a perfect hub to have scenic nuptials. Priyanka Chopra got married here, and if sources are to be believed, Ranveer & Alia will be tying the knot here too. We can't help but feel smug considering we're based in the pink city – Jaipur, one of the popular cities in the state for a glorious union. So, we can give you insider knowledge of some amazing budget destination wedding hotels in Rajasthan. Scroll to see our curated list.
Destination Wedding Venues In Jaipur
1. Shahpura House, Jaipur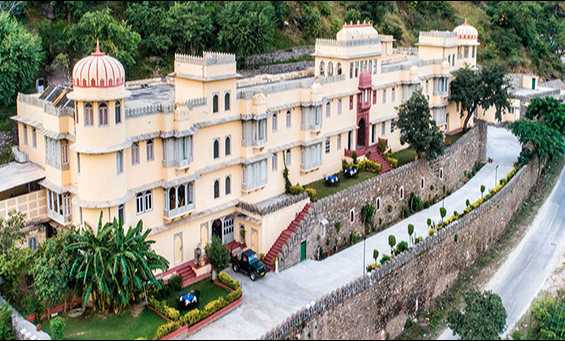 If you want to get married amidst the hustle and bustle of Jaipur city, there isn't a better venue than Shahpura House. Located just 4 km away from the famous landmark Hawa Mahal, the hotel is actually a palace inherited from the royals of Shahpura and preserved intact with world-class facilities. The insides are decorated with grand domes and frescoes and the outside offers the majestic view of the Aravalli hills. So, making a perfect backdrop for your indoor or outdoor wedding setup.
The hotel authorities have exclusive services to help out those wanting to plan a wedding here. Just get in touch with them to plan your exciting celebrations and they'll be with your right away.
Tariff: ~ Rs.3000/- per night
Check ratings & reviews: Shahpura House, Jaipur
Phone: 0141 4089100
2. Shakun Hotels & Resorts, Jaipur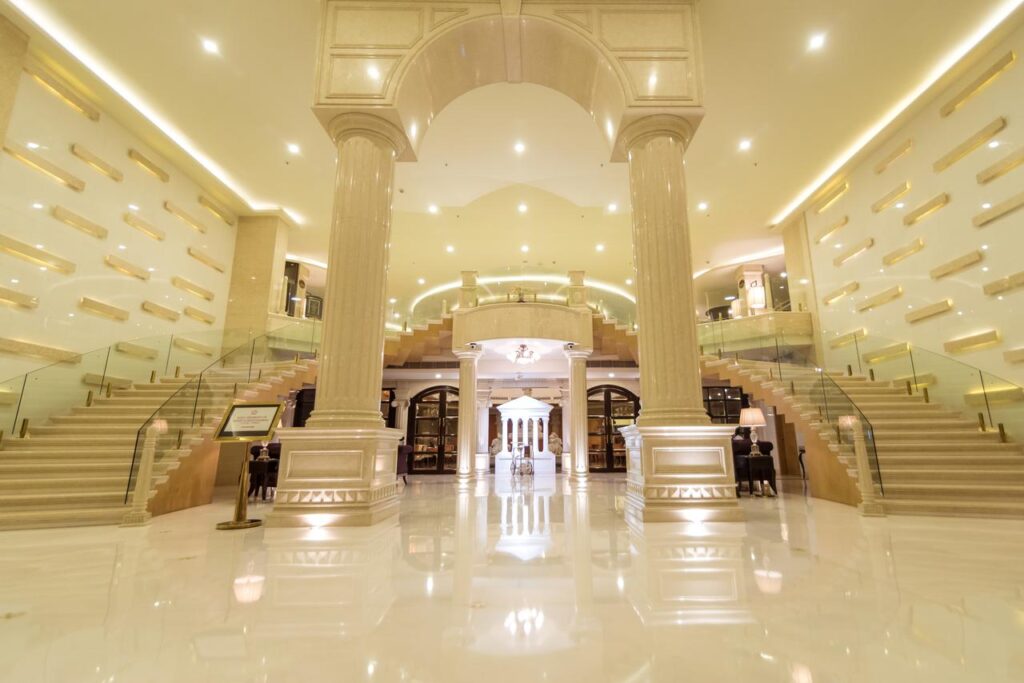 A newly developed property in Jaipur's posh colony C-Scheme, the hotel is all about offering a luxurious, comfortable and memorable experience to their guests. I have personally been to this hotel for wedding and roka events and can vouch for the superb event halls inside their premises that speak volumes of the grandeur they provide.
The venue is booked pretty well in advance though and I'd urge you to act fast. Some people have made a reservation as early as a year before. Again, due to its soaring popularity, the hotel's authorities are quite considerate and will sort any of your queries on time.
P.S.: It's a pure vegetarian hotel.
Tariff: ~ Rs.2000/- per night
Check ratings & reviews: Shakun Hotels & Resorts
Phone: 0141 7199100
3. DoubleTree by Hilton, Jaipur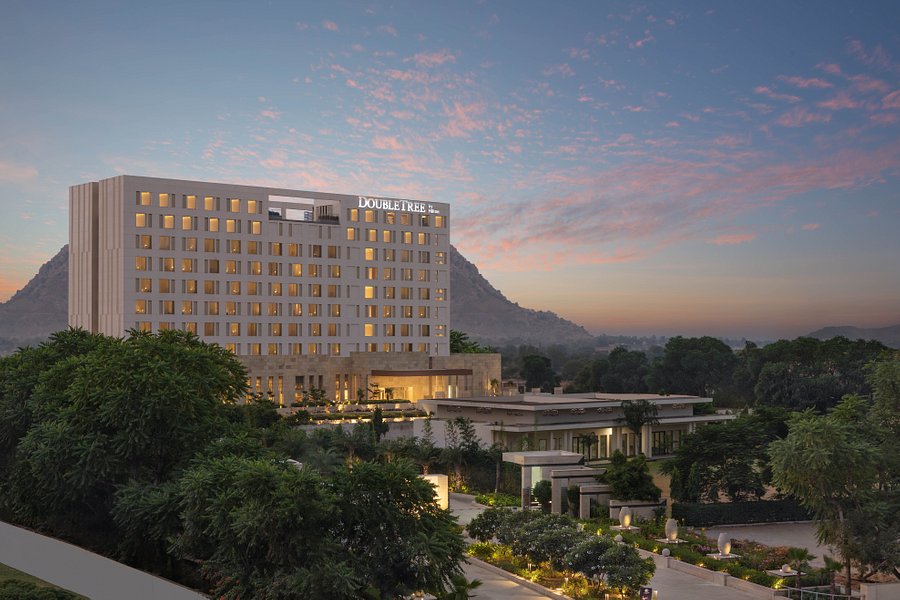 Spanning across the lush gardens and the background view of the Aravalli range, Doubletree By Hilton promises you a personalised wedding experience with everlasting memories. The hotel is equipped with a spacious lawn in the front with picturesque views for pheras and all-inclusive ballrooms inside.
Because of the affordable prices and amazing activities though, the hotel is in demand all throughout the year. So before you set your heart on it, just enquire if it's available on your wedding date to prevent any heartaches later.
Tariff: ~ Rs.3500/- per night
Check ratings & reviews: Doubletree By Hilton 
Phone: 0142 6227850
4. KK Royal Hotel & Convention Center, Jaipur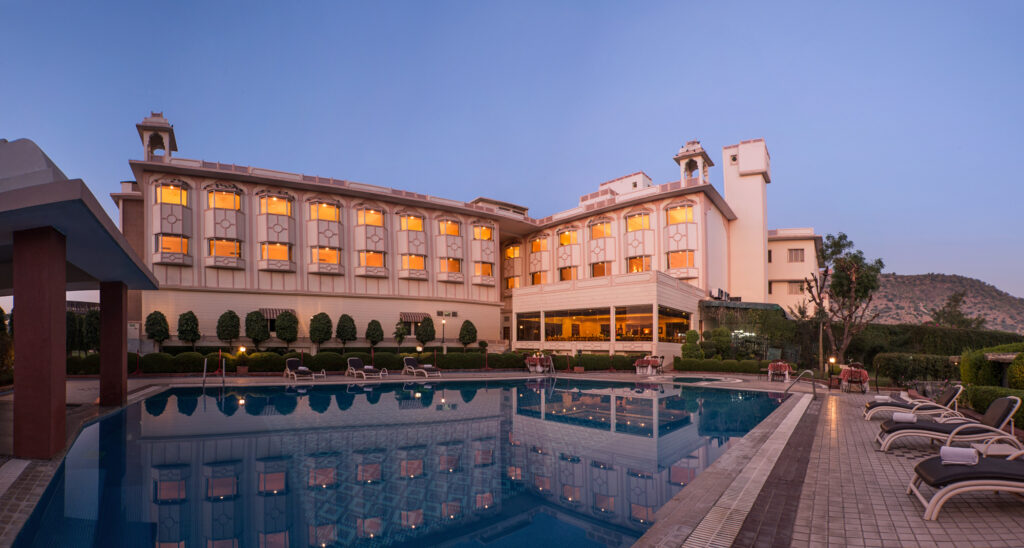 Built with 'weddings' in mind, KK Royal's alluring landscaped grounds and spacious accommodation makes it an ideal location for your big day. 'Beautifully built', 'amazing experience', 'courteous staff' and 'comfortable stay' are some of the common words used in their reviews. No doubt you'll have a seamless wedding experience over here.
Adding to that, the hotel is just minutes away from some of the heritage landmarks like Amer Fort, so you can treat your guests to an excursion they'll cherish forever.
Tariff: ~ Rs.3500/- per night
Check ratings & reviews: KK Royal Hotel
Phone: 0141 4055000
5. Mandawa Haveli, Jaipur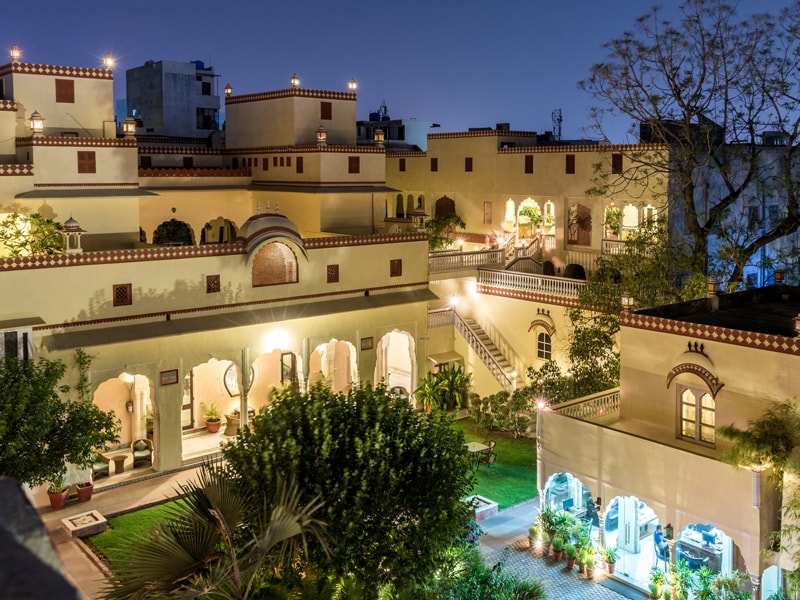 The regal lineage of Mandawa Haveli can be traced back to the 14th century and the royal Shekhawati family of Rajasthan. Getting married here will be like soaking up the magnificent history of the state while savoring your special day in an exceptional manner.
It's a hidden wonder of Rajasthan and one look at the pictures, reviews, and history will win your heart over, I promise! If you're all about exploring traditional gems and having a pristine, calm ceremony, Mandawa Haveli will be your top choice on this list.
Tariff: ~ Rs.3000/- per night
Check ratings & reviews: Mandawa Haveli
Phone: 0141 5106081
Destination Wedding Venues In Udaipur
6. Swaroop Vilas Hotel, Udaipur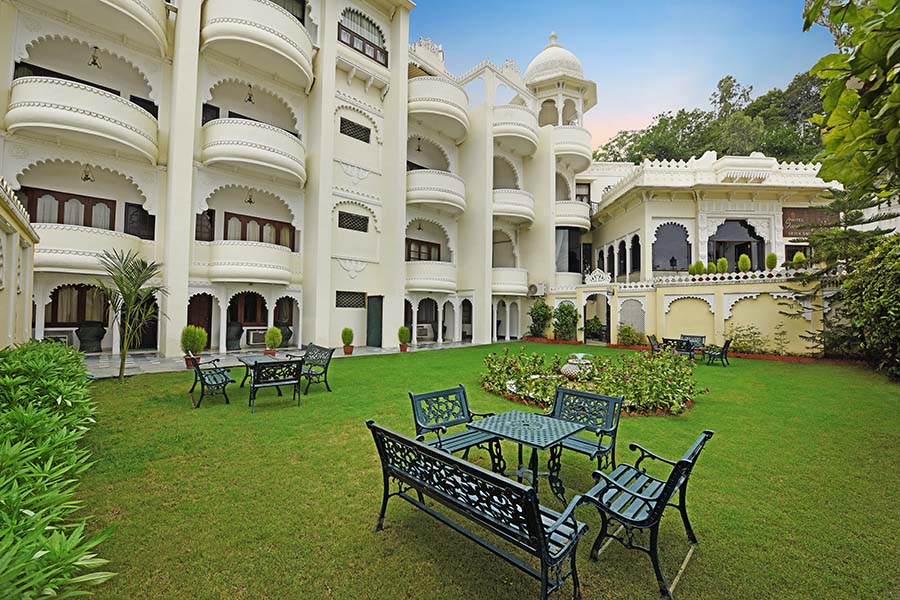 Coming to the 'city of lakes', Swaroop Vilas is our first pick from Udaipur. A boutique hotel located just opposite the scenic Swaroop Sagar lake, the beautiful accommodation offers luxury, comfort, and calm in their premises. The property is just 30 minutes from the airport and 10 minutes from the station, therefore, easily accessible to outsiders.
Plus, in terms of Covid-19 safety, you're required to have a negative report before your stay. With the second wave grappling the country, this is a great way to assure your guests. It has it all – doesn't it? An awesome place to say 'I do'.
Tariff: ~ Rs.3000/- per night
Check ratings & reviews: Swaroop Vilas
Phone: 0705 8023586
7. Bhairavgarh Resort, Udaipur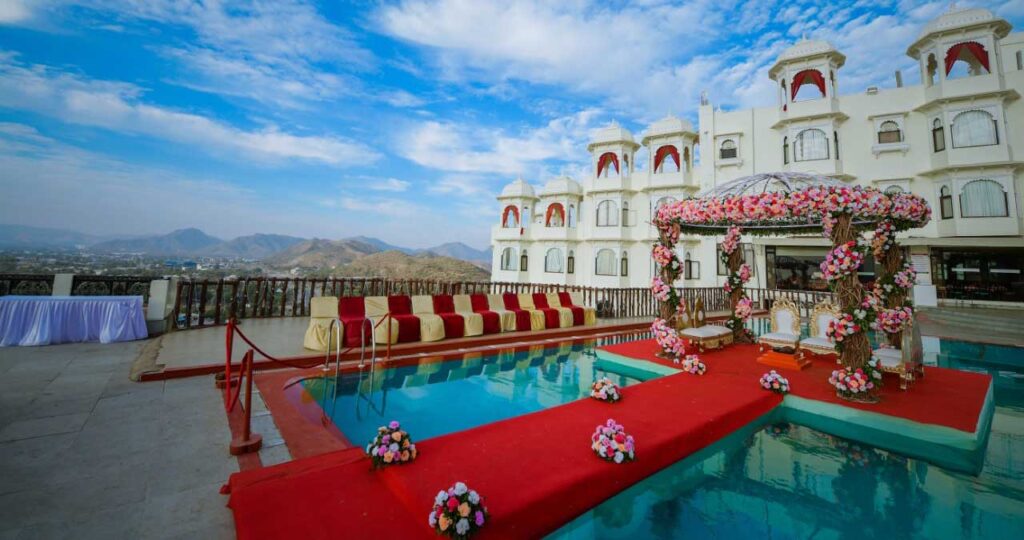 Ranked at the top in terms of the most prestigious hotels in Udaipur and an amazing wedding location, Bhairavgarh Resort has given many couples a satisfactory and memorable wedding experience. 'What a lovely place for a wedding. Helpful hosts, decent rooms, gorgeous views, and helpful staff. We're so glad we picked them' – says one reviewer.
Adding to the praises, the estate is also well-connected to the city, so there's no running around or worrying about amenities. More so, the beautiful panoramic hill views and spectacular ceremony sites provide limitless photo opportunities for a cherishable wedding album.
Tariff: ~ Rs.2800/- per night
Check ratings & reviews: Bhairavgarh Resort
Phone: 073400 47479
Destination Wedding Venues In Jodhpur
8. Indana Palace, Jodhpur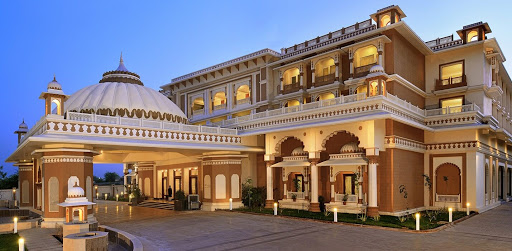 Wanting to marry in a Rajasthani hotel that echoes the state's regal architecture and rich history? Then you'll love the spectacular Indana Palace hotel bedecked with interiors reflecting Royal Marwar heritage.
Get married indoors in their picturesque courtyard or decorated halls. Or, pick their landscaped lawn with a pleasing and pristine backdrop. The options are plenty for each event. Get in touch with their team to discuss in detail their wedding packages and grab some awesome deals.
Tariff: ~ Rs.4000/- per night
Check ratings & reviews: Indana Hotels, Jodhpur
Phone: 0291 7184888
9. Lords Inn, Jodhpur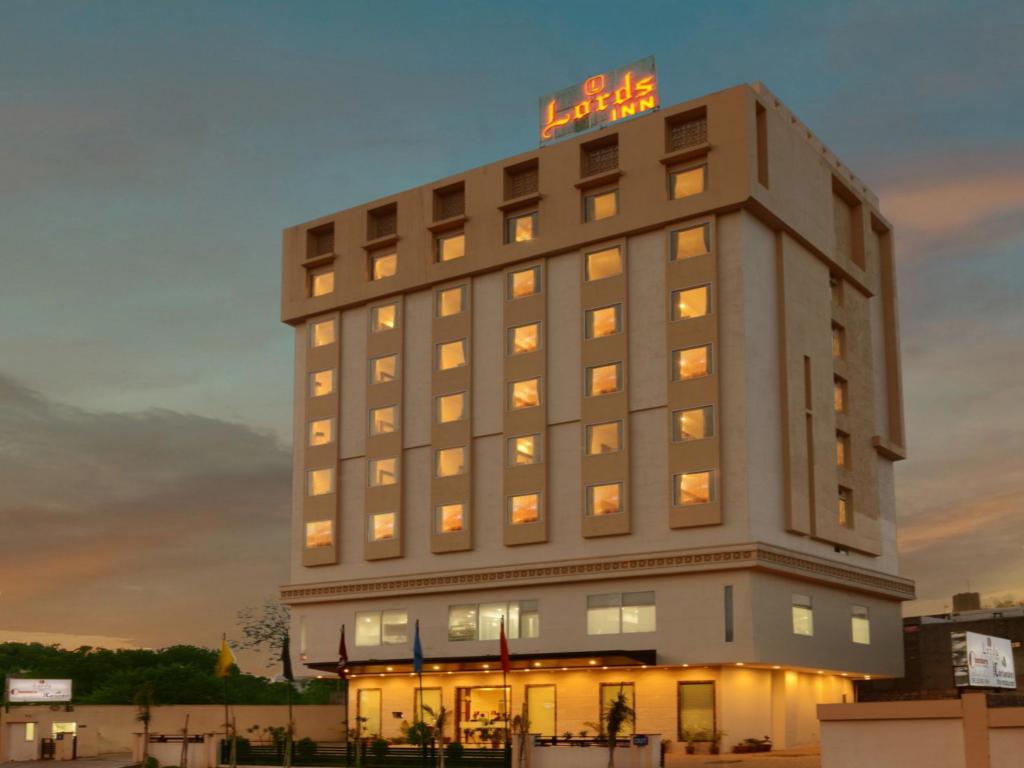 For our modernistic couples wanting a luxurious experience in the heart of 'Land of Kings', Lords Inn will flatter you well. Get married in their rooftop venue or the grand banquet hall for an immaculate wedding experience. With over 3000+ positive reviews, there's hardly anyone who hasn't had a good stay at this advanced hotel. And isn't that all you want for your special day? A great accommodation that cares about your special day just like you.
Tariff: ~ Rs.2317/- per night
Check ratings & reviews: Lords Inn, Jodhpur
Phone: 70732 21113
10. Bijolai Palace, Jodhpur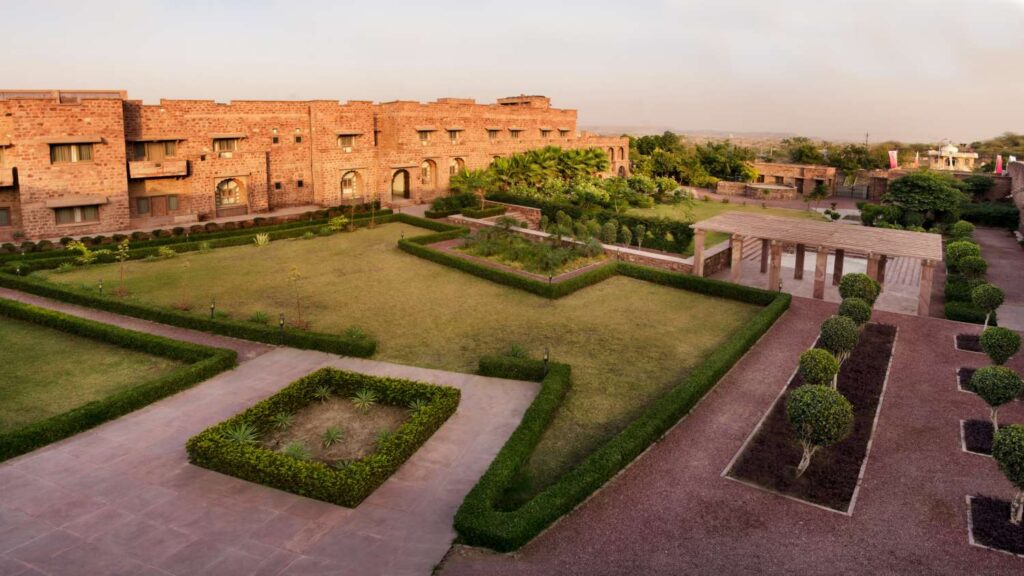 Nestled within the Aravali hills and surrounded by lakes, this is yet another palace-turned-hotel of Rajasthan which was built in 1849 by Maharaja Takhat Singh. You'll be mesmerized by the beauty of it on the first look. Just Google the pictures, and you'll know what I'm talking about. Coming back to your big day though, the property has 64 rooms, glorious gardens, and thoughtful amenities, so a 150 to 200 people wedding will be an unforgettable experience here.
Tariff: ~ Rs.1600/- per night
Check ratings & reviews: Bijolai Palace, Jodhpur
Phone: 72400 09640
Destination Wedding Venues In Bikaner
11. Lallgarh Palace, Bikaner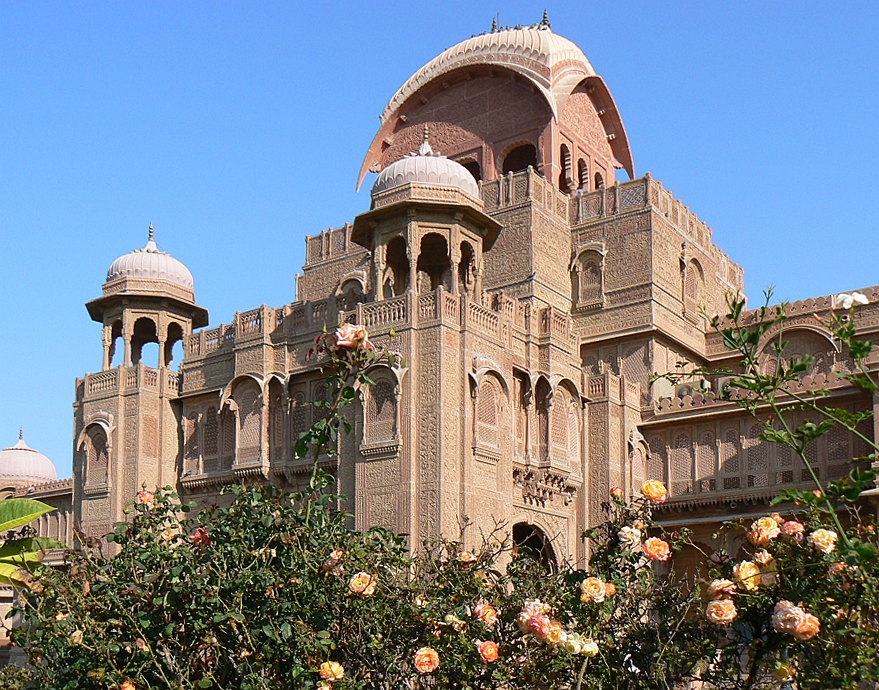 This 100-year old magnificent palatial hotel, which was once abode to the Maharaja of Bikaner, is the royal destination you'd love for your special day. The majestic hotel has also served as a backdrop for TV shows and films like Band Baaja Baarat and Yeh Rishta Kya Kehlata Hai. It's safe to say that the elegant, pompous Rajasthani wedding you've dreamt of can be fulfilled here. Did we also mention that they have an exceptional team of wedding professionals who only aim for perfection? Well, they do!
Tariff: ~ Rs.5000/- per night
Check ratings & reviews: Lallgarh Palace
Phone: 0151 2540201
12. Basant Vihar Palace, Bikaner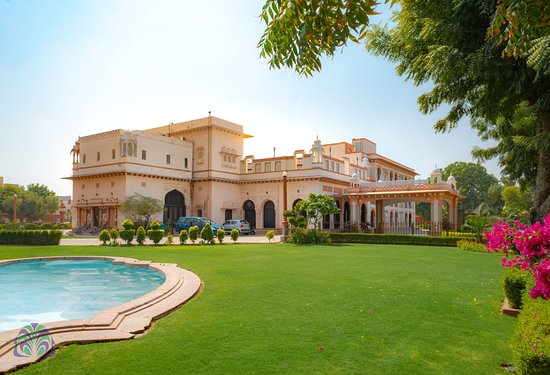 Basant Vihar Palace is a palace-turned-hotel owned by the famed Bikaji Group of India. It was built in the 19th century by Maharaja Gagan Singh and was turned into a heritage hotel later on. Although, the original regal architecture and aura have been well-preserved. So, if a palatial princess wedding has always been on your mind, this is a great budget destination wedding hotel in Rajasthan to have it in. Check their amazing reviews, there are more than 1400 to read!
Tariff: ~ Rs.4800/- per night
Check ratings & reviews: Basant Vihar Palace, Bikaner
Phone: 088249 94254
Destination Wedding Venues In Jaisalmer
13. Fort Rajwada, Jaisalmer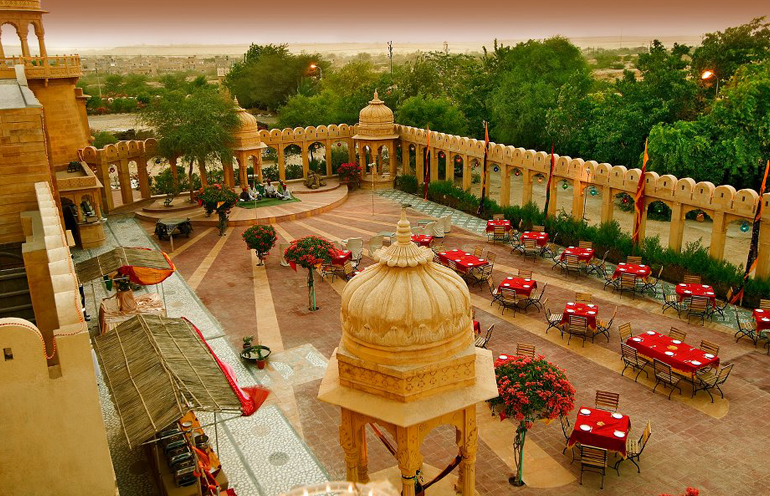 Jaisalmer, also known as the 'Golden City', because of its yellow sandstone architecture is abode to many hotels that respect its unique framework and heritage. Fort Rajwada is one such hotel. A little bit on the pricier side on this list, nonetheless worth every penny in all ways. Rajasthan is known for its grandeur and glory, and you'll be experiencing both at your stay in this hotel.
Coming to weddings, they have a separate section on their website assigned for the same. You can find almost all the necessary details there – from the number of rooms to cuisine and venue options. We love that they also give you an option of having a desert wedding – just how magical and extraordinary does that sound?
Tariff: ~ Rs.3800/- per night
Check ratings & reviews: Fort Rajwada
Phone: 098280 49555
14. Sairafort Sarovar Portico, Jaisalmer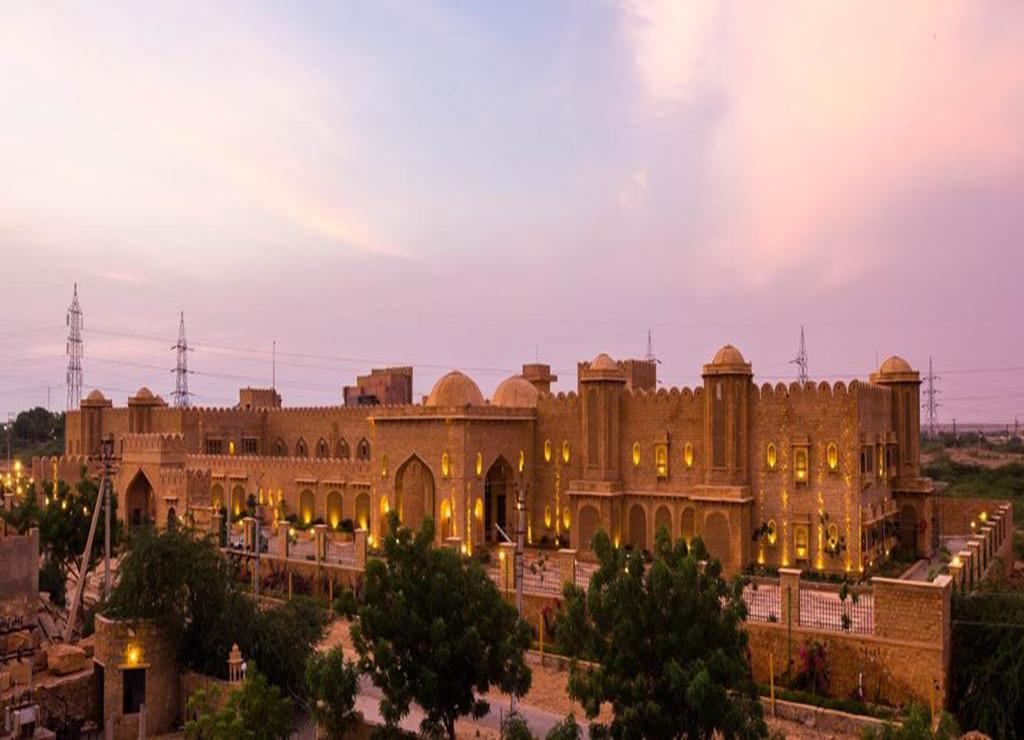 Sarovar Portico hotels are known for their amazing hospitality so that's a given in their Jaisalmer property. Besides, the stone-walled palatial hotel offers a rich experience, beautiful wedding venues, and scrumptious delicacies to the visitors. It's a popular choice for many to-be-wedded couples, no matter what season they are planning to get married in. This boutique hotel definitely has it all – visit their site or give them a call to know their packages.
Tariff: ~ Rs.2800/- per night
Check ratings & reviews: Sairafort Sarovar Portico
Phone: 7742211878
15. Gorbandh Palace, Jaisalmer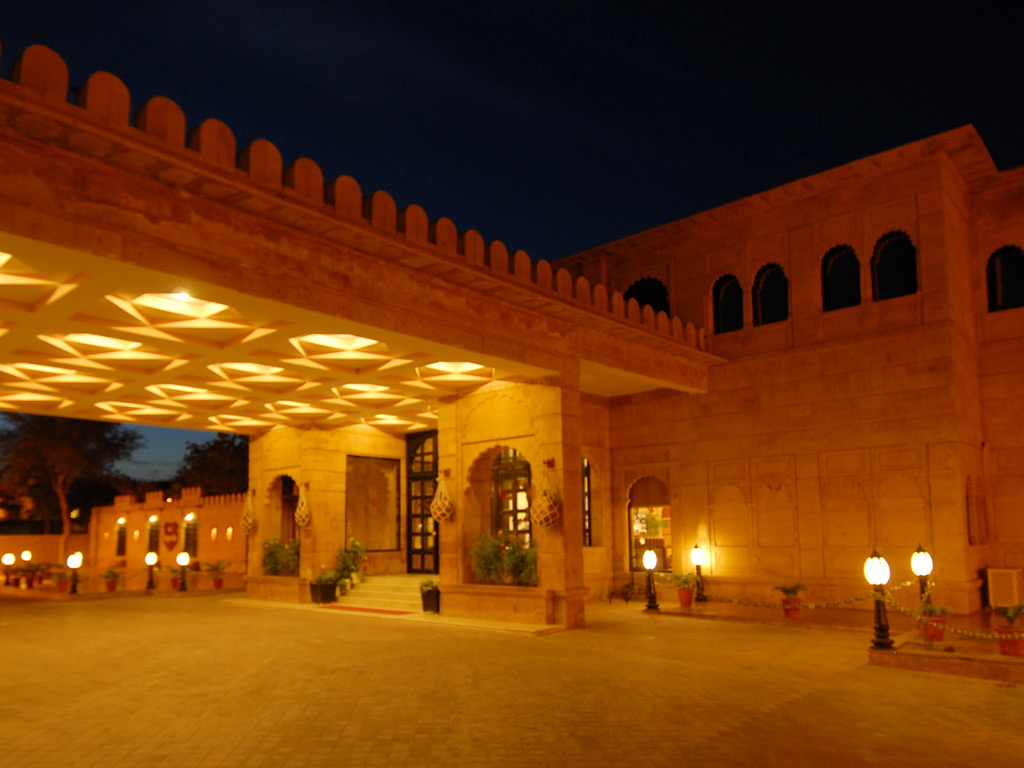 Neither we nor the visitors can stop raving about how great this royal retreat hotel is! Made to deliver the true Jaisalmer experience in mind, like the golden brick architecture, luxury interior, and authentic cuisines, this accommodation will not fail to impress you.
For a wedding, this will serve as a superb destination. You can hold the ceremony in their lush garden, swimming pool area, or the majestic banquet hall. After the nuptials, you can extend your stay for a surreal pre-honeymoon experience.
Tariff: ~ Rs.3500/- per night
Check ratings & reviews: Gorbandh Palace, Jaisalmer
Phone: 0299 2253801
Destination Wedding Venues In Pushkar
16. Gulaab Niwas Palace, Pushkar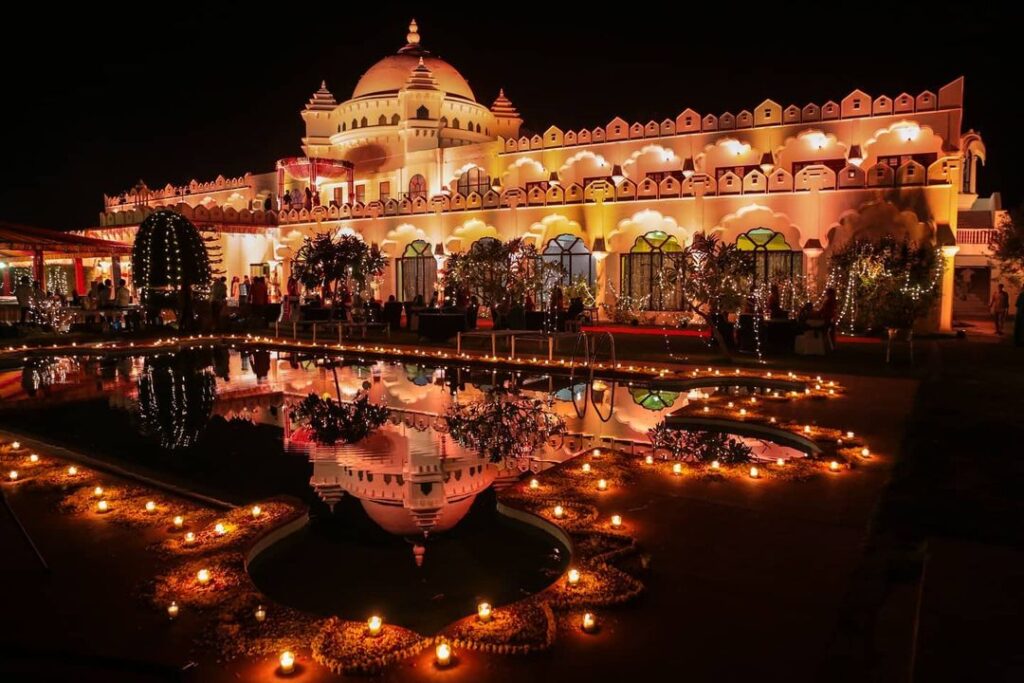 Pushkar is the CITY to plan a budget destination wedding in Rajasthan. It has gained a reputation of the hidden gem to plan a destination wedding in the state, and for all the right reasons. Stunning hills, breathtaking landscape, and a conventional aura are just some of the marked tourism factors. One of the popular, budget hotels in Pushkar is the Gulaab Niwas Palace. It's a family-owned business that offers spacious rooms with balconies and a wide, panoramic lawn for your nuptials. Your wedding will definitely be unforgettable here.
Tariff: ~ Rs.3000/- per night
Check ratings & reviews: Gulaab Niwas Palace
Phone: 0145 2772357
17. Dera Masuda, Pushkar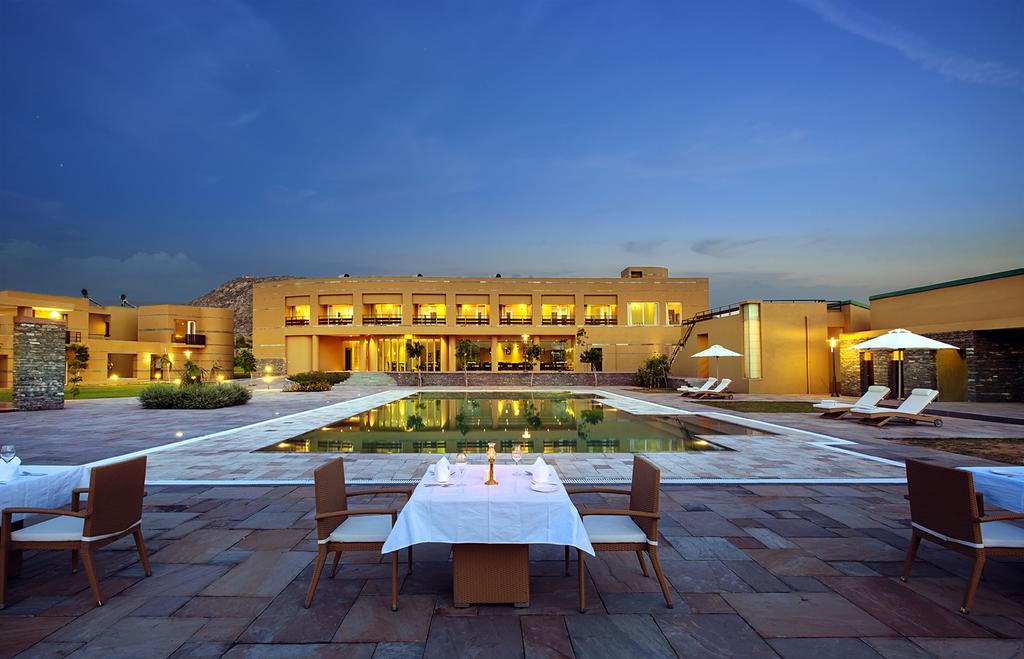 Enjoy a traditional Rajasthani wedding alongside the comfort of modern luxury in Dera Masuda resort Pushkar. The hotel is full of all the amenities you need to have the wedding of your dreams. From spacious, comfortable rooms to spanning lawns and a scenic backdrop, there's nothing to not love about this property. Moreover, they serve authentic Rajasthani food here, so you can enjoy the delectable cuisine of the region while savoring the best days of your life.
Tariff: ~ Rs.2500/- per night
Check ratings & reviews: Dera Masuda
Phone: 070580234373
Destination Wedding Venues In Mount Abu
18. Sterling, Mount Abu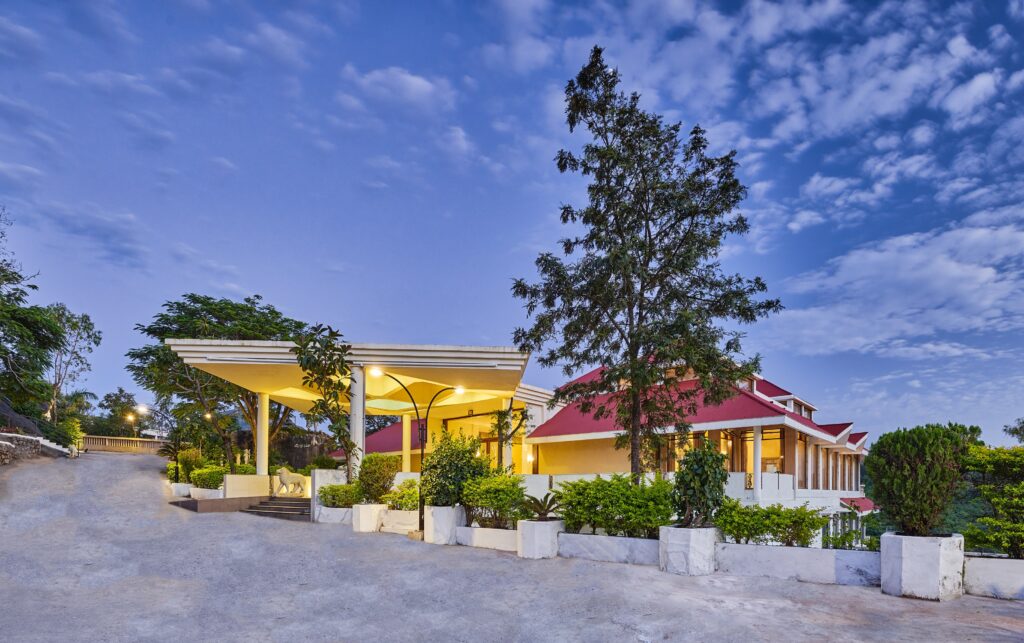 The scenic beauty of Mount Abu is known to many. Choosing a location offering natural beauty has many benefits. For starters, you don't have to spend much on decor, which kind of gives an artificial experience when not done right. Second, a hill station's remarkable views are unmatchable. Sterling Mount Abu is a cozy, well-equipped resort to serve as a superb destination wedding venue.
Another great part of this venue is they have a dedicated team to help with those planning a wedding there. So, it doesn't matter if you're coming out of the state. They will have almost everything ready for your arrival and nuptials.
Tariff: ~ Rs.4000/- per night
Check ratings & reviews: Sterling, Mount Abu
Phone: 0297 4238012
19. Hotel Toppers Corner Mount Abu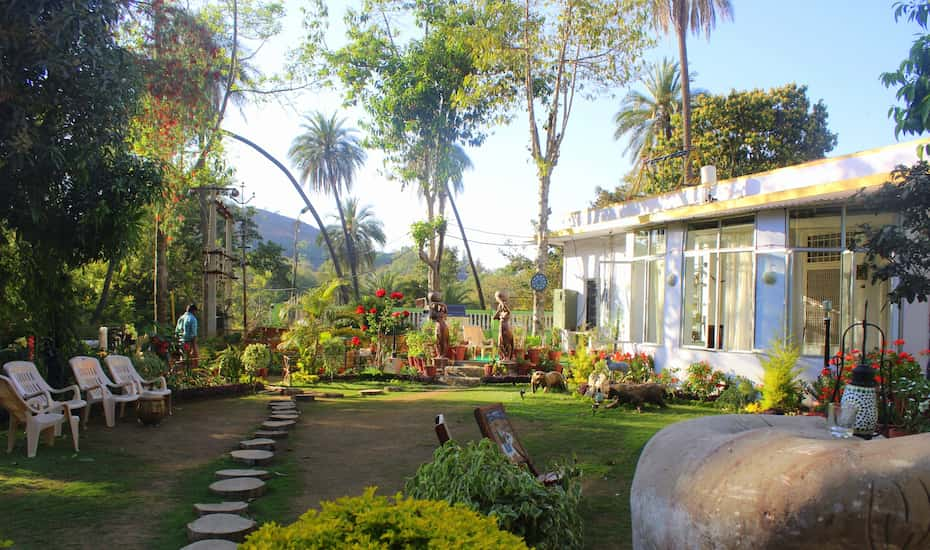 For those in love with the idea of intimate weddings, there's no budget option better than Hotel Toppers Corner. A 35-room boutique resort, surrounded by a 7-acre green cover and on-call facilities, the spectacular venue will make you fall in love with it on the first look. You can easily host a 100-people wedding here. Plus, they have hosted weddings before and have an idea of the event planners around. All you need to do is pack your bags and get here, they will handle the rest beautifully.
Tariff: ~ Rs1900./- per night
Check ratings & reviews: Hotel Toppers Corner
Phone: 094689 46660
20. The Fern Ratan Villas, Mount Abu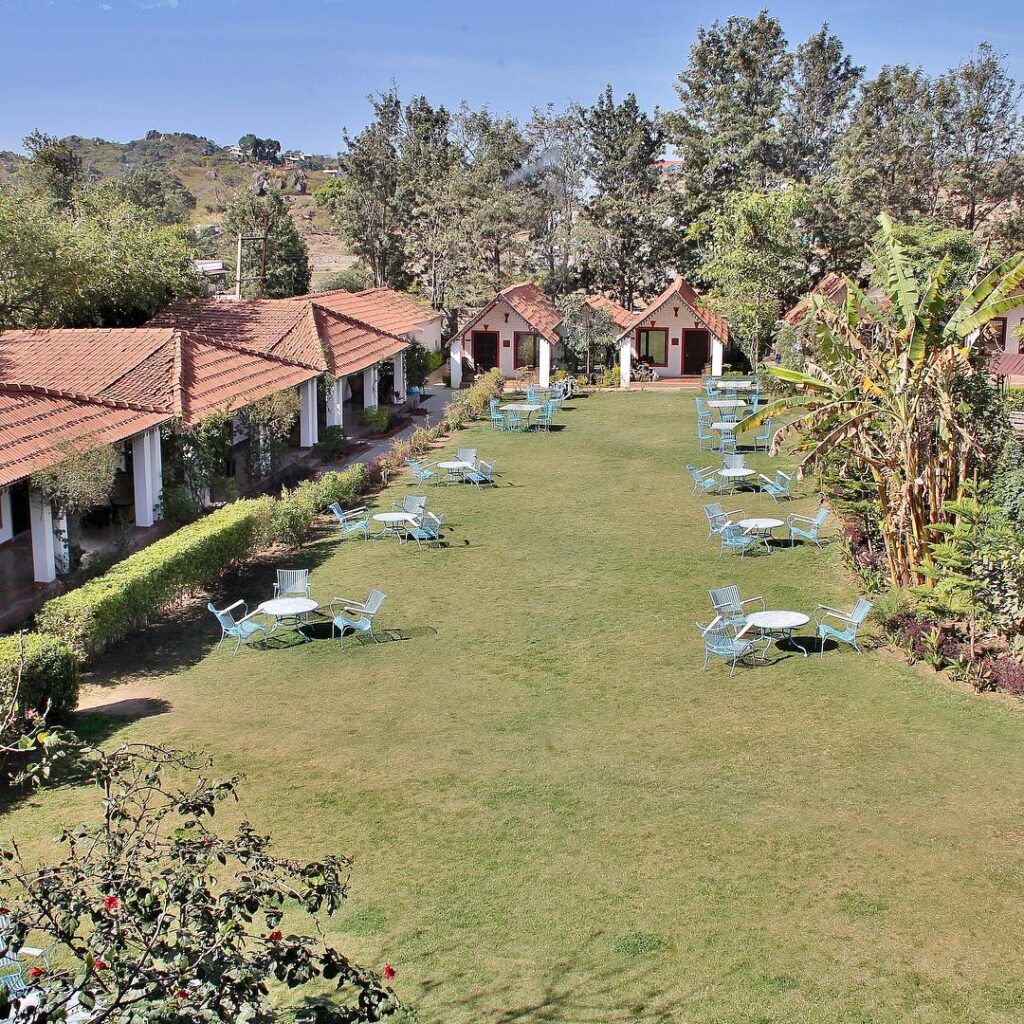 With over 1000 positive reviews on Trip Advisor and 600 on Google, The Fern Ratan is a luxurious, eco-friendly resort to host a peaceful wedding ceremony. 'Hotel is well-equipped, has a clean and modern design, offers ultimate hospitality and the food was just amazing' – says one of the recent visitors. The villas are ideal for hosting 100-150 people and have a ceremony that's surrounded by nature and love. Not to mention, a good time!
Tariff: ~ Rs.3500/- per night
Check ratings & reviews: The Fern Ratan Vilas
Phone: 094144 39090
Related FAQ for a budget destination wedding in Rajasthan:
How much does a destination wedding cost in Rajasthan?
It all depends on what your wedding venue is because, for destination weddings, the main cost is driven by the accommodation. So, let's say you have a hotel that charges 2,000 per night and 100 guests for 2 days. The cost of accommodation will be Rs.4,00,000. Although, if it's 10,000 per night, the cost jumps straight to Rs.20,00,000. And the costlier the property, the costlier the food offered there will be. So, it all depends on the accommodation.
In general, the lowest range of a destination wedding in Rajasthan is Rs.15,00,000 and the highest can go up to 1 crore for 100 to 150 guests, more if you invite a larger gathering.
What is the cheapest place to have a destination wedding in Rajasthan?
Jaipur, Jodhpur, Udaipur have become quite popular, but you can find some affordable options here and the same are mentioned on the list. Some of the hidden budget-friendly places in the state for destination weddings are Ajmer, Pushkar, and Bikaner. The vendors in this place also charge less due to less demand, so choose them if a traditional, easy-on-the-pockets Rajasthan wedding is on your mind.
Is having a destination wedding cheaper?
Yes, and no! The answer depends on the guest list. In general, when you're getting married locally, the number of guests tends to be more. But, when you travel outside, families only invite a certain number of people to the wedding. Although, this cost-saving attribute is balanced out by accommodation and meal cost. So, all in all, local or destination – both are priced the same. It all boils down to your choice.
How much does a destination wedding in Jaipur cost?
A budget destination wedding in Jaipur can cost anywhere between Rs.15,00,000 to Rs.20,00,000 for a 100-people for 2-days. The upper range is a limit of your imagination. There are hotels with tariffs of around Rs.50,000/- per night which can drive the cost to crores. In the end, it all boils down to what vendors you pick for your big day.