If your idea of the bachelorette is all about soaking in the Sun, tanning on the beach, and sipping on margaritas with your girl gang, consider one of these best beach destination for bachelorette party! Besides the location, we have also rounded up the best stay options and where to treat your taste buds at that particular destination. So dig into our detailed guide on the best beach destinations for bachelorette party around the world. 
Best Beach Destination For Bachelorette Party:
#1  Bali, Indonesia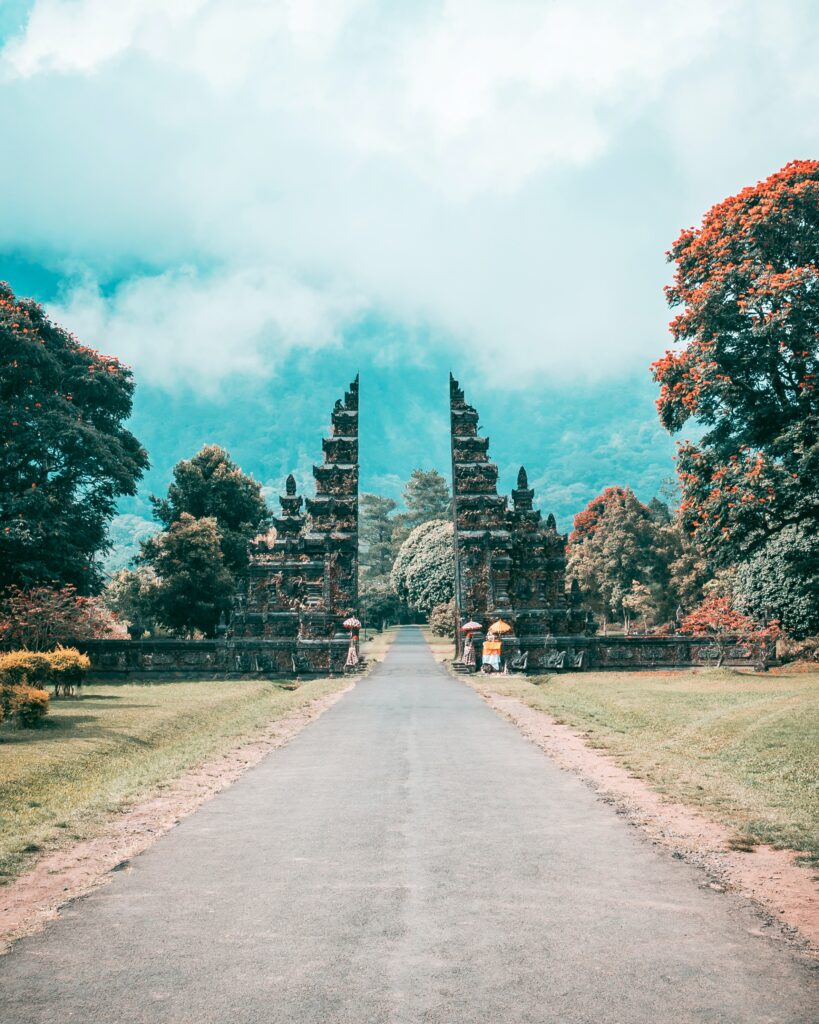 Bali is one of the best beach destination for bachelorette party. It has a gorgeous tropical climate, stunning scenic beauty, and a soft ocean breeze to make your girls' trip as memorable as it can be! More so, a trip to Bali will also be economical and won't burn a hole in your pocket. You can book 5-star hotels at convenient prices and the food plus shopping is available at economical cost as well. 
Estimated Cost For Group of 5: $2500/ Rs.2,00,000 for 4 nights, 5 days stay
Where To Stay: 
Grand Mirage Bali, Conrad Bali, and Sofitel Bali Nusa Dua are some of the 5-star establishments available at affordable prices in Bali. Their impeccable service and attention to detail are the ideal spots to unwind and celebrate the last few bachelorette days of the bride-to-be. For an intimate experience that's away from the beach, you can pick Canggu Hype Suites – located in aesthetic rice fields with spacious rustic rooms, infinity pools, sunloungers, and bamboo gazebos – or Amore Villas where you get access to private villas with pool and all other basic amenities to relax and unwind with your girl gang. 
Where To Eat: 
If a night out at a beach club is on your mind, we would recommend places like La Favela Bali, Finns Beach Club, and Mrs.Sippy Beach Club for those partying and dancing nights. For a more upscale experience, Ling-Ling's Bali, El Kabron Bali, and the Plantation Grill are places to try. The country is known for its multi-cuisine restaurants and serves everything from Mexican to Indian to authentic Chinese to cater to its diverse range of tourists. No matter the choice, you can find a good restaurant to savor your buds. 
#2 Vietnam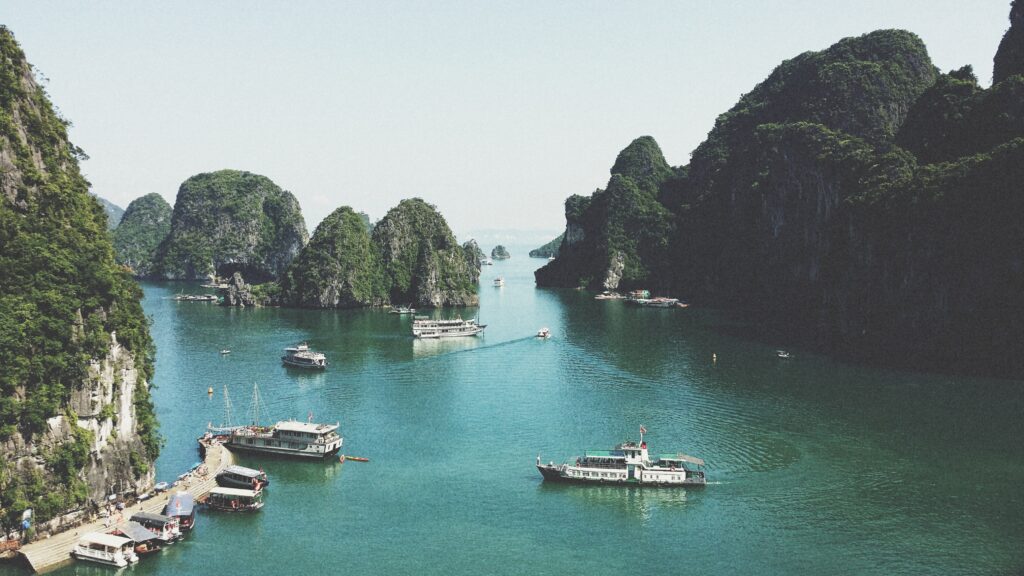 Vietnam comes among the best places for a destination bachelorette party around the world. Owing to its affordability, pristine natural beauty, and bustling city area that makes for the perfect Instagram pictures, Vietnam has become a go-to place for all things special yet affordable like hen parties or a honeymoon trip! There's also so much to do! Kayaking among the hidden caves, taking a road trip, hiking along famous trails like Sapa, Ha Giang, and Lang Bian Mountain, or just enjoying the coastal views at Phu Quoc or Da Nang. 
Where To Stay:
Unwind and relax at the 4-star beach properties like Sol by Melia Phu Quoc or Dusit Princess Moonrise Beach Resort, known for their winsome coastal views, charming hospitality, and curated experiences for all kinds of travelers. You can also choose villa rentals to enjoy a cozy group experience. There are many to fit into varied budgets. We liked Tam Coc Nature and Terracotta Villa Cuyen in this accommodation type for your beach destination for bachelorette party. 
Where To Eat:
Vietnam is known for its exotic meat. While it can bother some travelers, if your group of girls is seeking culinary adventure, the country serves meat from animals like dogs, cats, snakes, monkeys, and even porcupines. In fact, there are devoted restaurants/areas that specialize in any one kind of meat. There's Le Mat snake village near Hanoi who have perfected the art of eating snakes in a theatrical show! For regular eateries, try Propaganda Vietnamese Bistro, La Villa French Restaurant, or El Gaucho Argentinian Steakhouse. 
#3 Ibiza, Spain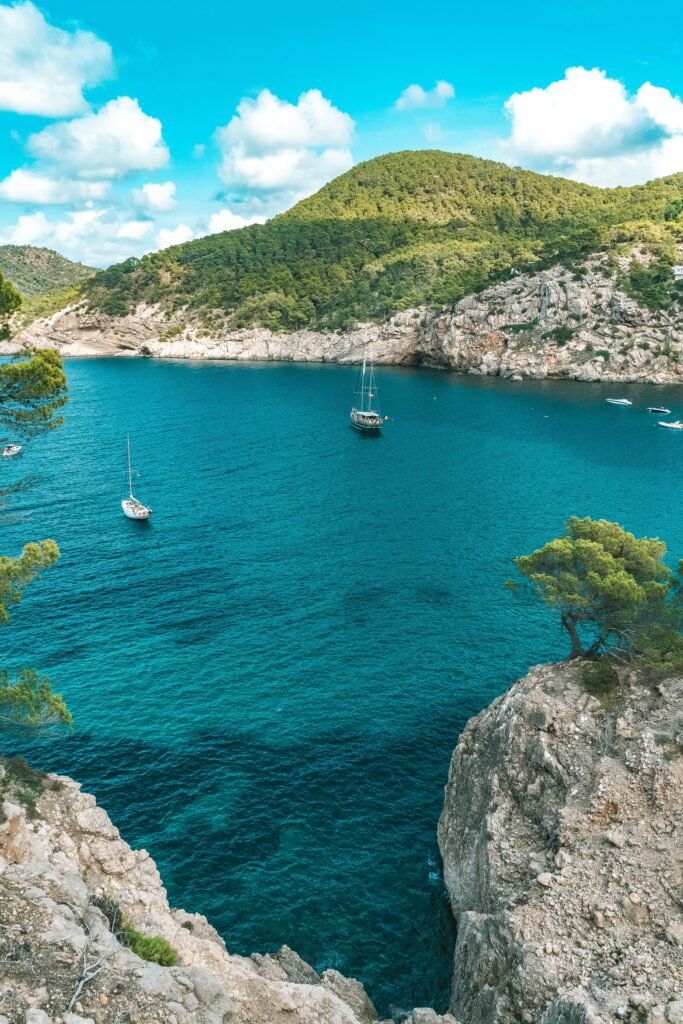 Ibiza is one of the best exotic locations for a bachelorette party and also, one of the best beach destination for bachelorette party. An archipelago in Spain, the destination is known for its nightlife and EDM dance music club scene in summer! Though, the tourism office has successfully worked to make it ideal for any kind of traveler – from those looking for a more sober experience to couples or families wanting a safe environment. As it's also a UNESCO World Heritage Site, the area is popular for its scenic beauty. You will find some amazing beaches and mountain trails here. Besides sightseeing and sun-soaking, you can also plan a 30-minute bachelorette shoot, which is quite popular on the island!  
Where To Stay:
Adults-Only Siau Ibiza hotel is for the group of girls who wants to relax in their comfortable and luxurious property with all that they need onboard. The hotel has an upmarket area overlooking the sea, two pools, a spa, a gym, lively nightlife, and sun terraces, making it perfect for those relaxed, celebratory occasions. Another similar stay option is the Petunia Ibiza. Affordable stays to explore are the Sol Bahia Ibiza Suites and Hotel Rosamar Eivissa. 
Where To Eat:
Your squad can enjoy some delectable Japanese food at Sushimi or try the bare-front beach shack restaurant – Chiringuito Manolito. The best bar in town is supposedly Bar Costa, which is also the oldest, and you can enjoy delectable brunch at La Paloma after a night of hangovers! If you're staying at a full-service hotel, do try the restaurants or room service at their property. Ibiza is known for its' tourist scene and the hotels try their best to perfect the food as per different preferences and tastes.  
#4 Phuket, Thailand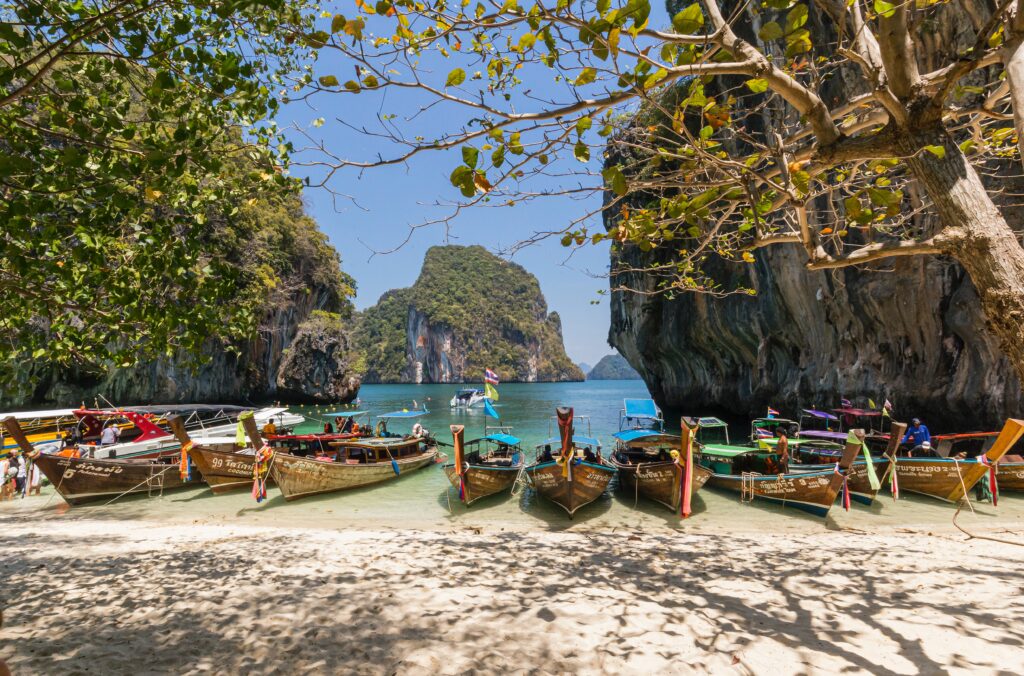 Phuket is popular for its vibrant beaches, colorful markets, dazzling nightlife, adventurous water sports, and flavorsome food! Given that it's also an economical country to travel, it is one of the favorites to plan your bachelorette party. You can book 5-star hotels for ~ 100 USD per night and all-inclusive packages for just about double the amount. Thailand is also known for its relaxing spas and massages, so booking an entire spa day with your girlfriends is a great idea if you do decide to celebrate your bachelorette here! 
Where To Stay:
For a luxurious trip with your girl gang wherein you'd want to enjoy most of your time just lazing around the hotel room, gossiping, and enjoying pajama parties, the Westin Siray Bay Resort & Spa is a beautiful property. Located on the peaceful Phuket coastline with 3 plunge pools, multiple dining options, and fitness centers, the resort is perfect for an indoor-oriented bachelorette party! Affordable options with easier access to the city area are MAI Morn Resort SHA+, Bedline Hotel, and Isara Boutique Hotel. 
Where To Eat:
Squad will love the local restaurants One Chun and Raya – both offering traditional Thai cuisine and upscale decor for brunch or evening dinner! Phuket is also popular for its food tours wherein you can book a private tour with just your group or take an old-town tour or a night food tour! Other popular options can be a sunset cruise where you will be served seafood cooked by a private chef on the deck as you enjoy the view of the Sun setting on the horizon! 
#5 Goa, India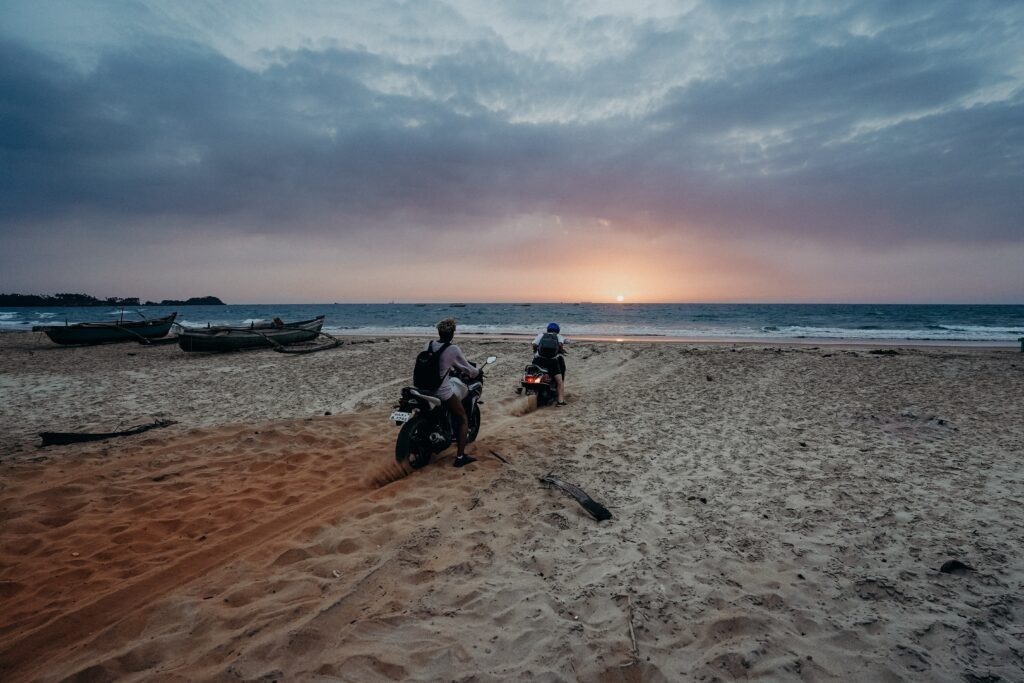 Goa is the best beach destination for bachelorette party in India, and also around the world. It's safe, it's cheap, it's gorgeous, it's versatile, and it has a vibrant vibe to woo any kind of traveler. While Goa is known for its splendid night-life and you can enjoy the eclectic soiree in the North of Goa and Central Goa, for someone who wants a peaceful ambiance and a more serene approach to travel, the South region of the North of Goa and South Goa are the ideal locations.  
Where To Stay:
There are many (many!) amazing options in Goa for your girl gang to stay. You can also book an Airbnb, but for affordable hotel options, our choices are Moustache Goa Luxuria, Zen Gardens Villa, and Nirvana Hill Resort. The best 4-star and 5-star options are Sterling Goa Varca, Lemon Tree, Novotel Goa, and Amadi Beach Front Resort! The last one is located on Ashwem Beach – one of the cleanest and quietest beaches located just 30 kms from Panaji city. It's affordable and has multiple room options for a group of girls who want to have a relaxed and chilled-out bachelorette party. 
Where To Eat:
Goa is lined with restaurants and pubs and cute cafes, and it's hard to find a bad eatery here! Since the place is a hub for tourists – both local and international – the eating houses also try hard to woo travelers and thus, serve rich dishes with impeccable hospitality! Try beachfront restaurants like the Goan Room and the Fisherman's Wharf serving local food with one-of-a-kind cocktails. Other options for economical food are Gunpowder, Martin's Corner, and the Lazy Goose. 
#6 Cancun, Mexico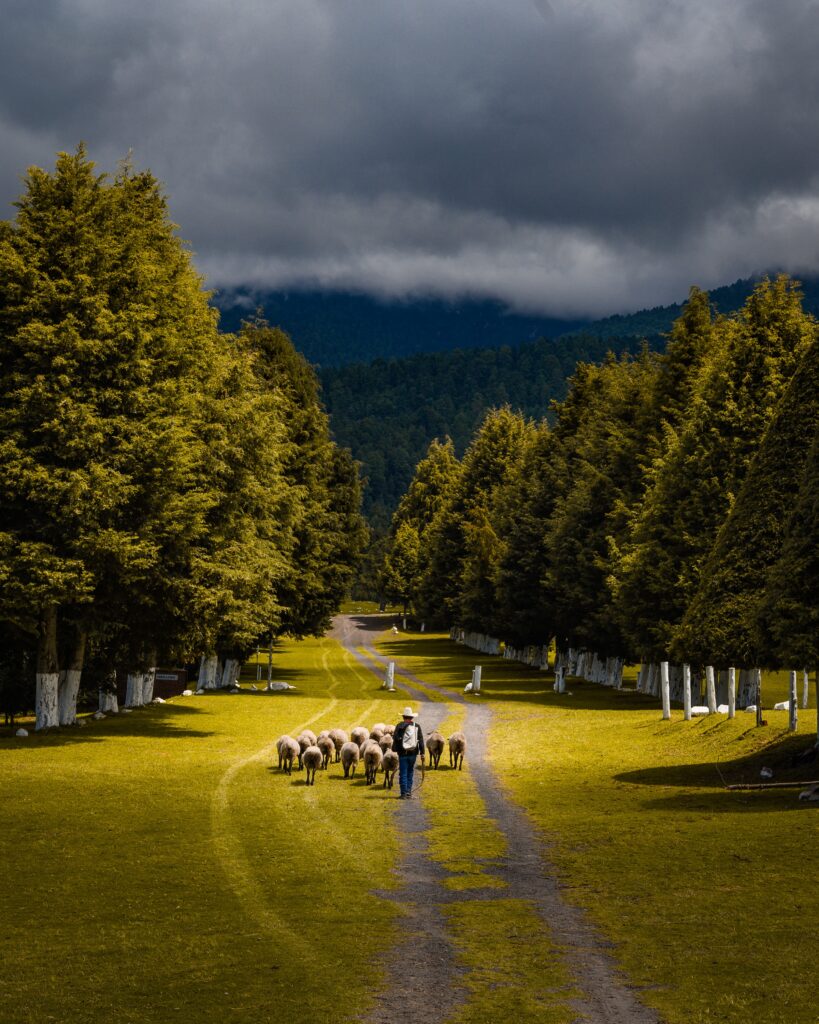 If you're looking for the best beach destination for bachelorette party near USA, then Cancun, Mexico is a top choice. The golden white-sand beaches, amazing crowd, and top-notch hotels make it a great combo to celebrate your last days of single life! There are so many things to do as well. You can just laze around the beach, go clubbing, enjoy a spa day, visit the many archeological sites, take a cruise, or turn on your adventurous side and sign up for scuba diving or surfing! Many planners also offer curated bachelorette packages and you can also take advantage of them to schedule everything for the trip. 
Where To Stay:
One of the best things about Cancun stay is many hotels have all-inclusive packages which include a stay, meals, drinks, entertainment, and some other activities. The kind of activities included will depend on the hotel. For example, if you choose an accommodation that's focused on wellness, let's say, Breathless Riviera Cancun Spa & Resort or Le Blanc Spa Resort then the package often includes spa credits, but if you book a package from a beach hotel like Kempinski Hotel Cancun or Renaissance Cancun Resort, then it can comprise of beach activities or food credits instead. 
Where To Eat:
We'd strongly recommend booking a food and drinks tour when you're in Cancun. It can be an exciting activity and can be done in both daytime and nighttime. The best one is the local food tour which includes street food like tacos and enchiladas along with local beer tastings! Some nice restaurants to enjoy delectable food with your girl gang includes Hacienda Sisal (Mexican food), La Buena Barra (a waterfront steakhouse), and Taste of India (homely Indian food). 
#7 Key West, Florida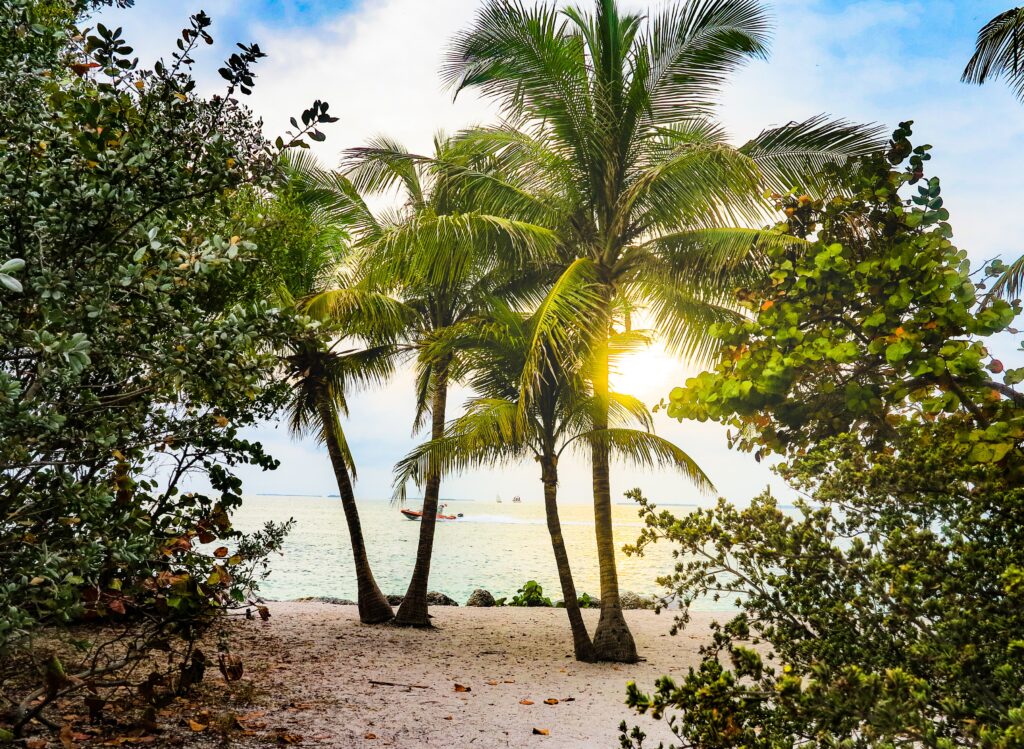 Key West, Florida is the southernmost point of the United States and is known for its calm beaches, colonial-style architecture, nightlife, luxurious resorts, and watersports. It's a great place to enjoy with your friend before she settles down with her forever partner. With a laid-back vibe and yet spirited lifestyle, your outdoor adventures can cover a number of things like exploring Duval Street or Mallory Square, partying the night away at a cruise or a local club, visiting the popular tourist attraction Buoy – the southernmost point of the country, or renting a bike and exploring the island. The Key West is also a year-round destination and there's never a wrong time to come to this city! 
Where To Stay:
For brides and her gang who want a luxurious bachelorette party without spending a lot of money, the Perry Hotel lies somewhere in the middle of budget and expensive brackets for a comfortable stay!  Suppose you want to enjoy panoramic views of the ocean while striking a balance between relaxing and party vibes in the place. In that case, we'd suggest Oceans Edge Resort & Marina Key West and Southernmost Beach Resort for your destination bachelorette party.  
Where To Eat:
Key West has many amazing restaurants. For Neapolitan-style pizza cooked traditionally till 1000 degrees and served with an old-wine list, trust Onlywood Pizzeria, perfect for those breezy brunches. For fresh, organic seafood coupled with tropical fruit and an elegant beachfront setup, try Michelin-starred restaurant Latitudes. If you're in the mood for a multi-cuisine set up to satisfy the taste buds of each one in the group, try the "Off The Hook" grill serving pizzas, seafood, sandwiches, and more! Another famous eatery in this beach bachelorette destination is the El Siboney restaurant known for its traditional Cuban food and homemade sangria.  
#8 Nice, France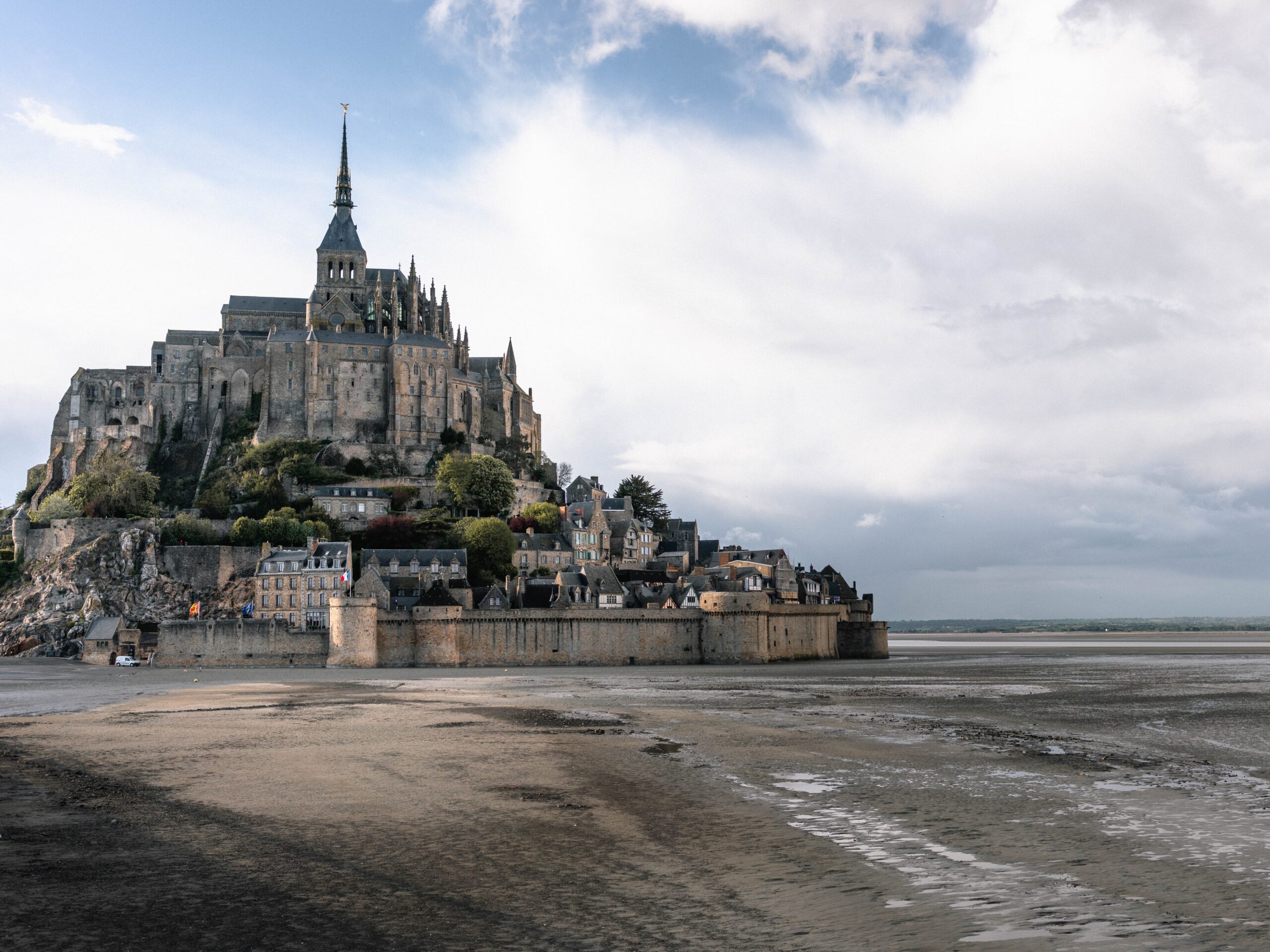 Nice, France doesn't come as the top choice for the best beach destination for bachelorette party in mind, but it's definitely worth considering. The city offers a perfect blend of stunning beaches, vibrant nightlife, delicious cuisine, and cultural attractions for a memorable trip and has many unique experiences which are hard to find anywhere else! One of them is the local wineries. Since every region in France has a unique wine, Nice's wine is hard to find anywhere else. A day-long trip to a nearby winery is a must-have on your itinerary. The city is also close to other destinations like Milan, Rome, and Barcelona to plan a multi-city bachelorette trip easily! 
Where To Stay:
For the group who wants to try out a nice boutique hotel, Villa Bougainville by HappyCulture is the place to book. It's an exotic 4-star hotel with modern furnishings and courteous staff to elevate your bachelorette destination party experience. Though, the most popular properties in the area are the ones overlooking the French Riviera, the picturesque Mediterranean coastline of the Southeast corner of France. Some of the best-rated properties in this category are Radisson Blu Hotel, Nice, and Hotel West End Nice – both offering rooms and suites with attached balconies to enjoy the scenic view from the comfort of your home. 
Where To Eat:
Dine at restaurants like Le Chantecler and the Rossettisserie for a gourmet French dining experience served alongside local wine. Nice is also popular for its regional dish Ratatouille and Nicoise salad, which can be enjoyed at these eateries, plus at other restaurants like Le Frog and Oliviera Restaurant. For a vibrant experience, try the beach clubs in the area serving chilled wine and seafood along with a stylish ambiance for a memorable culinary experience. The best bets are Le Galet and Plage Beau Rivage Nice. 
#9 Dubai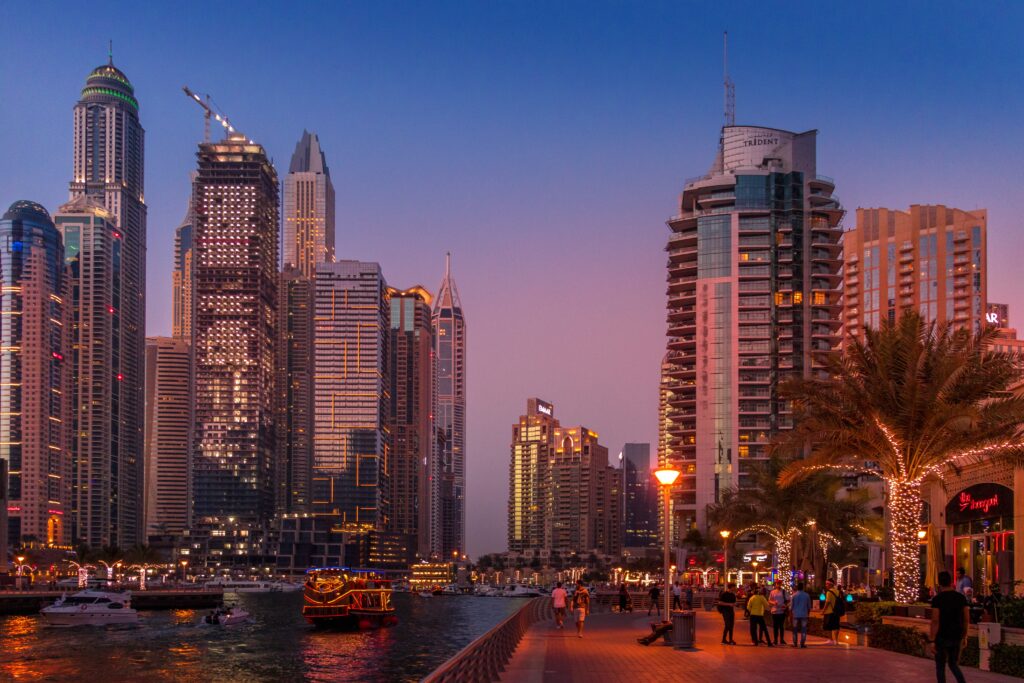 Picture feasting your eyes on the iconic Dubai skyline, spending indulgent spa days at world-class resorts, relaxing on pristine beaches with panoramic views of the Arabian Gulf, and exploring upscale shopping malls for exquisite fashion finds – that's Dubai for you! A bachelorette here will be iconic and leave you with memories for life. The nightlife in the city is one-of-a-kind as well. Witnessing the charm of Burj Khalifa, enjoying an array of dining options, or embarking on a private yacht charter are some of the activities to enjoy during the evening and night. Not to forget the desert safari adventures that are one of the main USPs of the Middle East! Find below the best places to stay and eat in the city. 
Where To Stay:
If you plan the Dubai vacation at the perfect time, it's likely that you will get good rates despite booking a 5-star hotel. Dubai is most crowded from mid-November through April and the shoulder season is October when the temperature will be comfortable and you can enjoy indoor luxury and outdoor adventure equally! Some of our favorite properties in Dubai are beachfront hotels like Fairmont, Radisson, and Park Regis Kris Kin Hotel. Another fantastic retreat is the Melia Desert Palm, Dubai. Located on a 64-hectare polo estate, you can book their 3-bedroom villa which can accommodate upto 9 guests and has amenities like a private pool, courtyard, and soundbar serving as the perfect backdrop for the much-coveted Middle-east opulence!
Where To Eat:
The fine dining experience comes alive at Michelin-starred restaurant Ossiano. Located in Palm Jumeirah, the restaurant is popular for its cuisine and ambiance, but mostly for its floor-to-ceiling windows offering striking views of the sea creatures like sharks, sting rays, and fish glides. Another amazing try is the Atmosphere, the world's tallest restaurant sitting halfway up the world's tallest building Burj Khalifa. The restaurant offers breathtaking views of the Dubai skyline as you savor some of the popular dishes like oysters, steak, and cheesecake! 
#10 Mauritius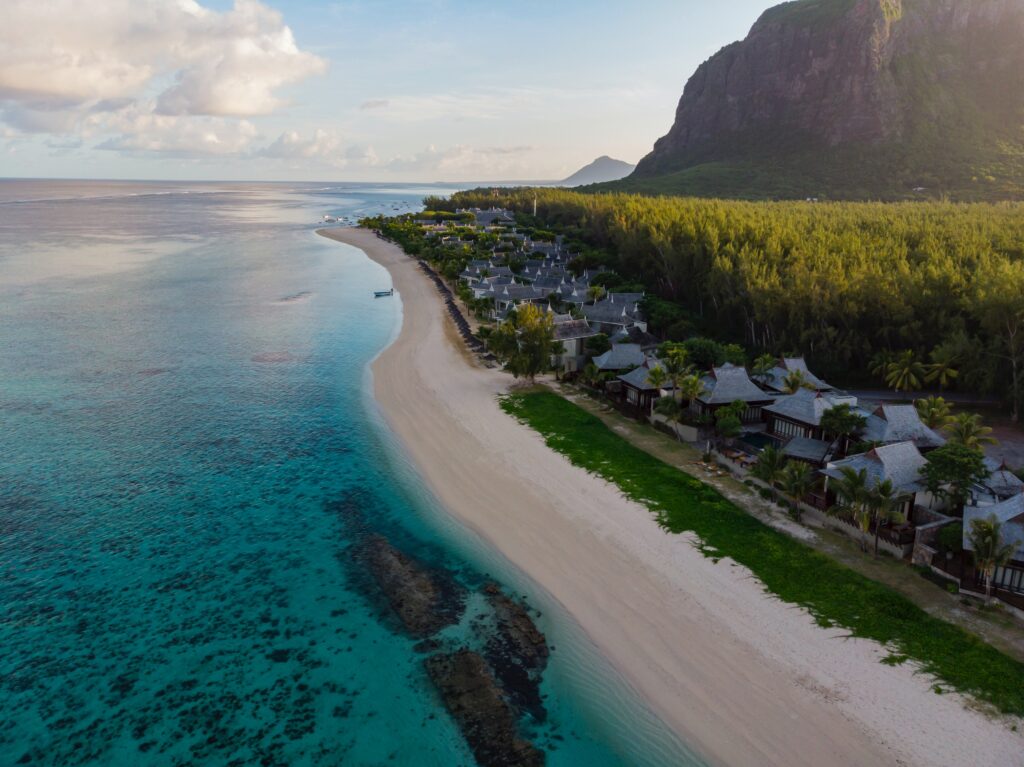 A bachelorette party in Mauritius promises a dreamy and exotic getaway filled with tropical charm and natural beauty. From mountainous terrain to deep blue waters, from the laidback lover of beach time to someone who enjoys water sports, from nature lover who loves spending time in flora and fauna to those who want to party with the best music, Mauritius has it all! All this and on top of that, the warm hospitality and soothing ambiance of the country make it an idealistic and idyllic destination for the bride and her best group of friends to spend their bachelorette here! 
Where To Stay:
Enjoy the blue waters of the Indian Ocean by booking your stay in an oceanfront property with decent reviews and a comfortable stay. For a bachelorette trip that's more about relaxation and rejuvenation, we'd recommend the Shanti Maurice resort covering 36 acres of exotic beauty and boasting of invigorating spa treatments, spacious accommodations, delish food, and golf & sports activities. Another option is Lux Grand Gaube, overlooking the gorgeous ocean views, islets, and lagoons from all angles. If you have a good budget, consider staying in their 300 square-meter villa which also has a private beach that's only accessible for those who book the villa! 
Where To Eat:
While most Mauritius resorts have restaurants on-site that serve amazing food, if you're in the mood to explore the island, we'd recommend Escale Creole. With a tropical setup, here you can authentic Mauritian cuisine created by two amazing ladies who're natives of the country and owners of the restaurant. Another place to try refined Mauritius cuisine is Le Chamarel, where you can also enjoy panoramic views of the mountainous landscape as you relish the delightful food.
FAQ's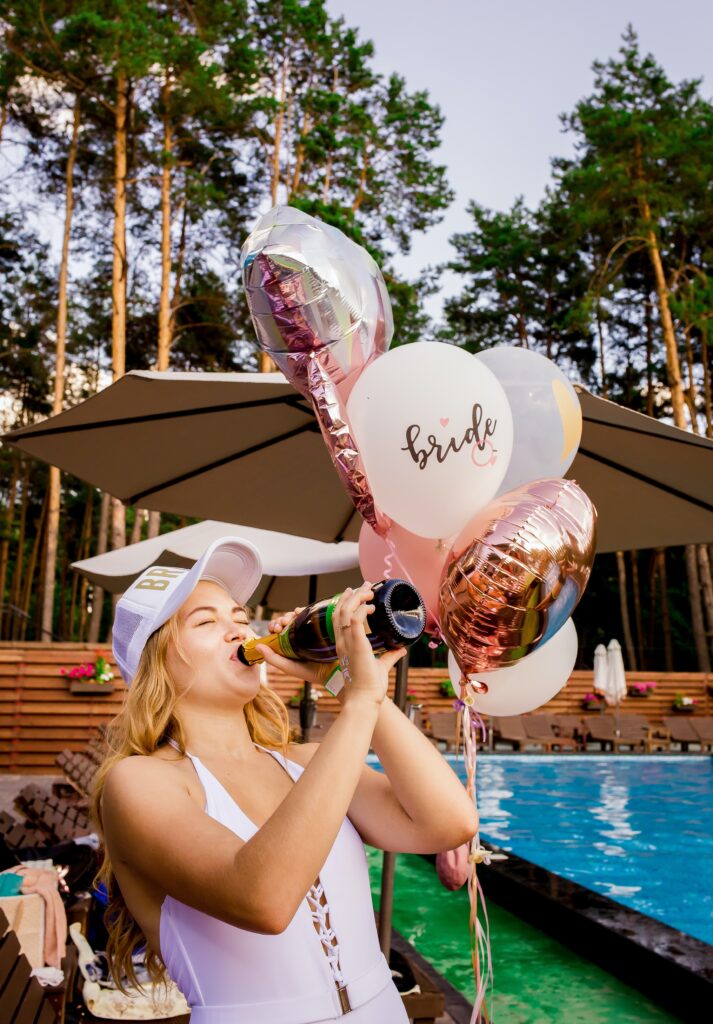 Do Bridesmaids Pay For Destination Bachelorette Party?
Yes, typically, the bridesmaids and the maid of honor are supposed to pay for the bachelorette party. The cost of the bride is distributed evenly among all the guests. However, when you're choosing one of the best beach destination for bachelorette party and going on a trip, the bride can cover some costs like travel and lodging while the other costs are covered by other members of the bachelorette party!
P.S.: When it comes to money matters, conversations can become personal and awkward, that's why it's important for everyone involved to be mindful and empathetic. Transparency is always the best policy and it's best to have all these conversations upfront and at the start to avoid any outbursts later!  
What Are Some Unsaid Rules Of A Bachelorette Party?
#1 Bridesmaids Shouldn't Wear White
It's almost standard to not wear white on any wedding-related events like the bridal shower or the rehearsal dinner. Not surprisingly, the bride also wears white at her bachelorette party, and the rest of the members should avoid the color completely. The rest of the guests can choose to don matching PJs or cute dresses if the event is something formal instead. 
#2 Ask For the Bride's Input 
It's crucial to create a celebration that will reflect the bride's idea of entertainment and celebration. As her best friend, you might be aware of the majority of her likes and preferences, but it's still nice to keep her in the loop so she feels comfortable with everything and can add anything she wants to beforehand. 
#3 Open (& Empathetic) Conversations Related To The Budget 
When planning any event, it's important to be mindful of everyone's budget. Before deciding anything, it's best to give room to everyone to speak up on how much they're comfortable spending. It's important to be mindful of anyone's financial situation at any point in time. Consider offering different ways so all the members feel comfortable and be flexible to make cuts or changes for what doesn't work for everyone.  
#4 Invite People Wisely
The guest list for the bachelorette is usually pretty straightforward and consists of the bridal party. Though, sometimes, other close friends and family are also invited. Some brides also choose to invite their mothers. More guests mean more planning and more accommodating of other people's choices, but it also means that there are more people to split the costs. 
#5 The Bride (Ideally) Shouldn't Pay
Typically, the bachelorette party costs are supposed to be covered by the maid of honor and the rest of the bridesmaids. If anyone else – besides the bridal party – is also invited to the bachelorette, they can be asked to chip in their share too! However, for the destination bachelorette party, these rules can change and the bride is supposed to pay for travel and lodging. The party expenses along with food and drinks should be covered by the bridal party. 
Can A Guy Go To A Bachelorette Party?
Yes! If a bride has a close male friend or her brother, perhaps, who she wants to invite to the bachelorette party, then it's totally okay to have them invited. It's her party and she should be able to enjoy it with her closest group of friends and family. If this is the case though, it's also advised to share the news with the bridal party and the maid of honor so they can be prepared for what kind of party to throw and make necessary arrangements for lodging and food beforehand. Just to add here that all the guests of the bachelorette are supposed to pay for the party, especially if it's a destination bachelorette party, and only the maid of honor and bridesmaids shouldn't bore the responsibility for the finances. 
Who Plans A Bachelorette Party?
The maid of honor is the bachelorette party planner, and organizer, and is responsible to have tough conversations with everyone regarding what they're comfortable with, finances, and more. She can take some help from the bride or any other bridesmaid(s), but the responsibility of taking the initiative falls on her head. The bride doesn't play any role in planning but it's nice to have her opinions heard on any key aspects so the celebration reflects her preferences and expectations. 
What Are Some Bachelorette Party Cake Ideas?
#1 Add Beautiful Florals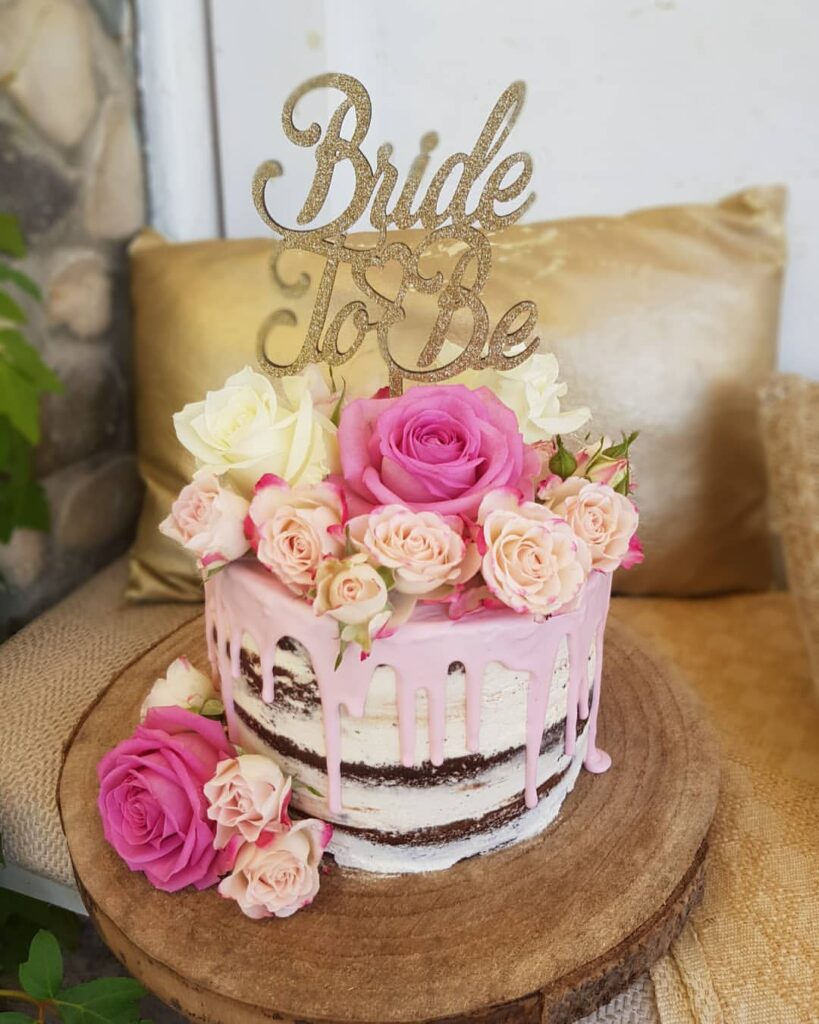 Courtesy: @cakehouse11
Gorgeous blooms are incorporated into this naked bachelorette cake for aesthetic appeal. Certainly, it's best to have some fresh flowers to give it a natural and whimsical look. 
#2 Dedicated To The Courtship Period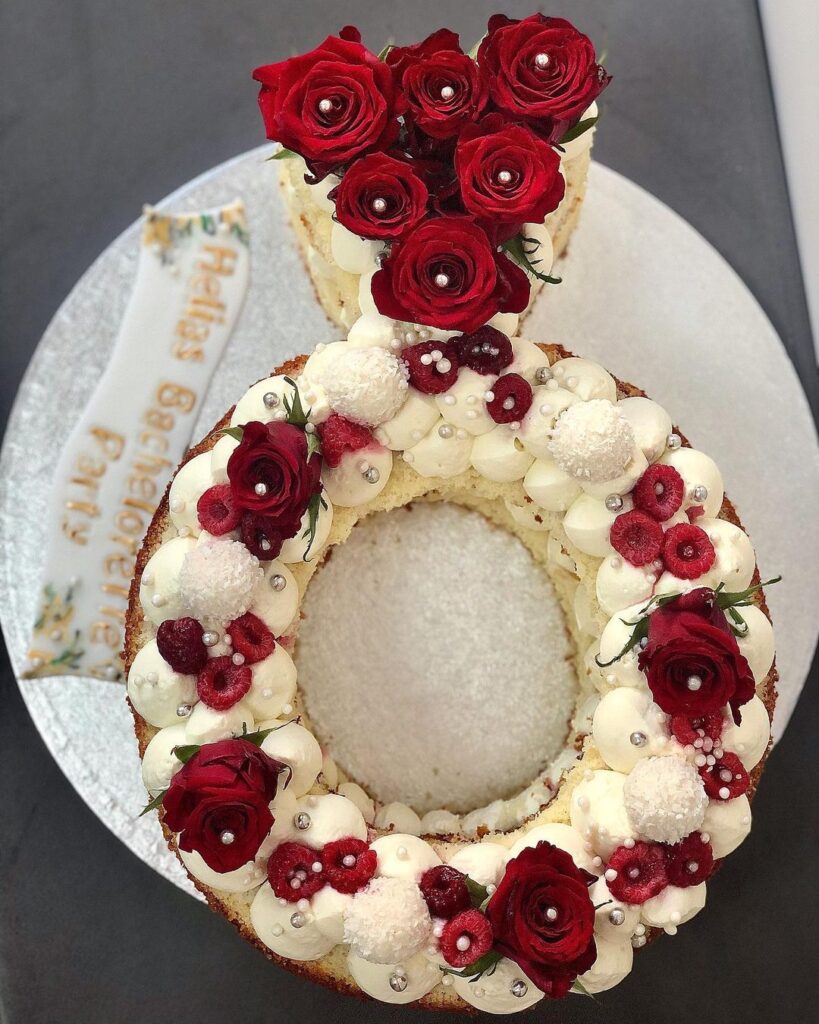 Courtesy: Khadija Cakes
Create a bachelorette by (literally) putting a ring on the table. It's a practical substitute for the traditional cake design and can be customized to be bedecked as per the bride's choices. 
#3 Make It Dirty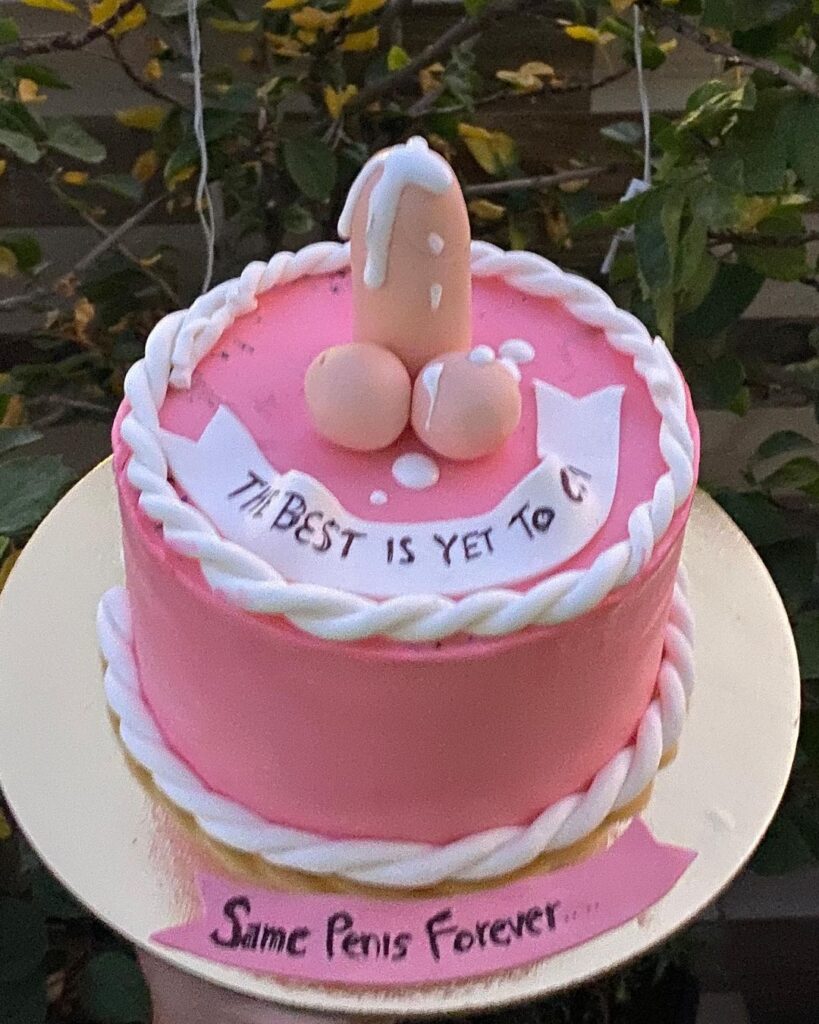 Courtesy: Xtraordinary
If the bride and the group are in the mood for a dirty cake for the bachelorette, the "best is yet to cum" is one of the reigning ideas to fit in the theme. 
#4 Go Traditional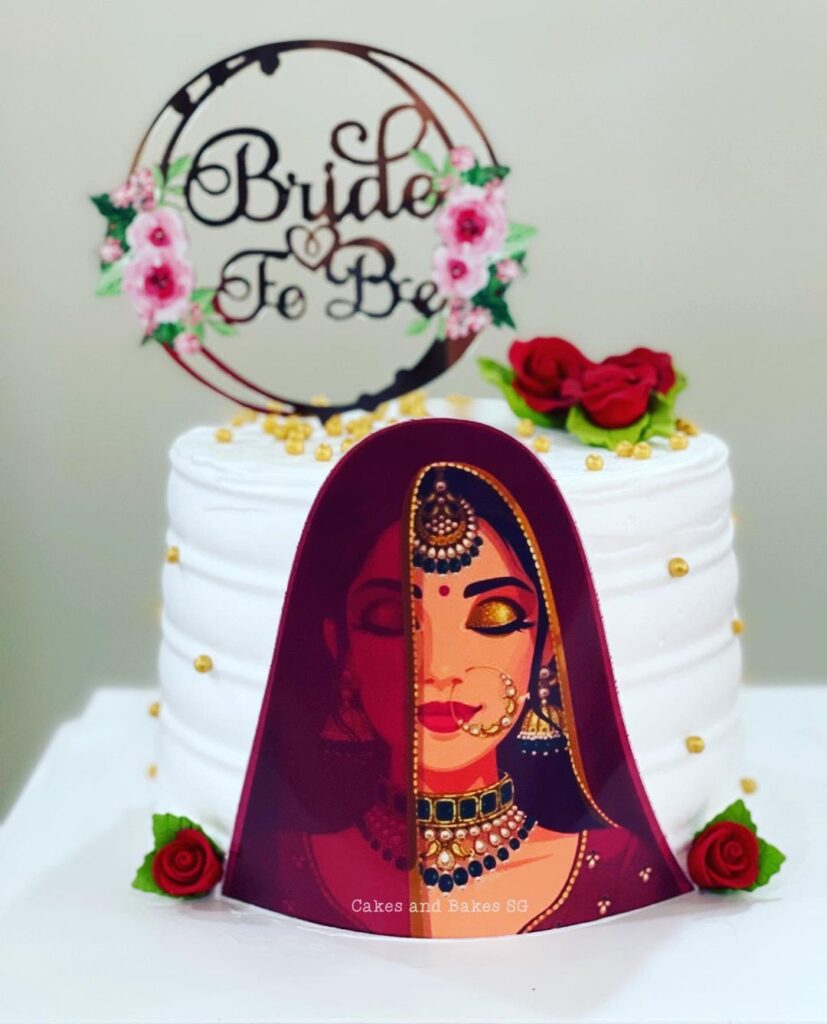 Courtesy: Cakes & Bakes SG
We can't get over the creativity of the cake artist and the brilliant design of this cake. 
#5 Classic & Chic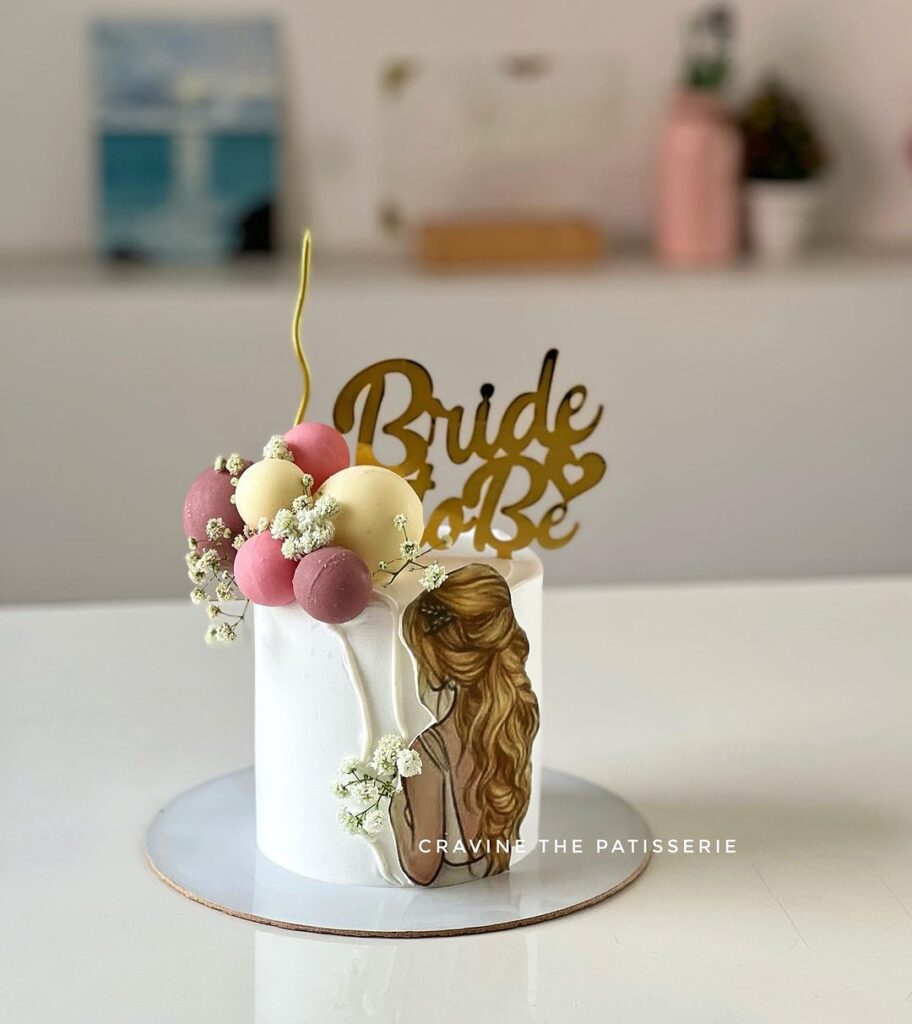 Courtesy: Cravine – The Patisserie
The "bride-to-be" is enjoying her tag and probably loving all the attention, so why not make it more obvious with an elegant cake and a topper that celebrates her? 
#6 Charming Pink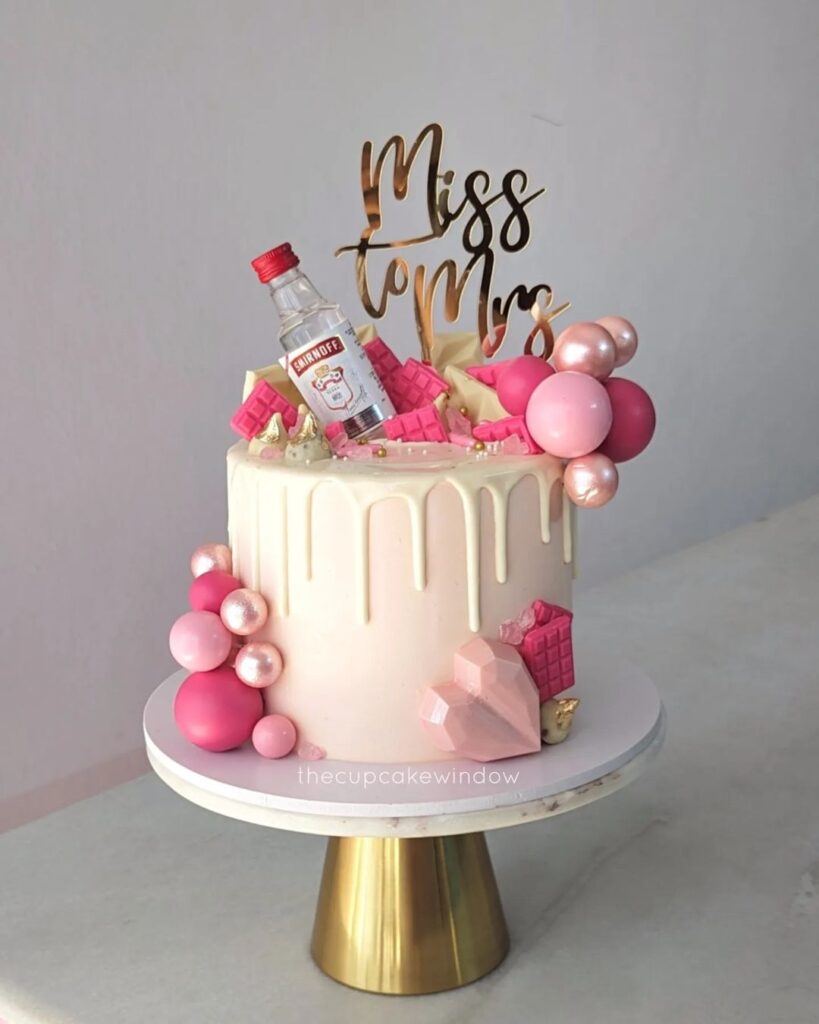 Courtesy: @thecupcakewindow
Blending the different shades of pink, this stunning bachelorette cake is just perfect for your pajama party or a formal celebration. It goes with all themes and is aesthetic enough to shine through pictures. 
#7 Subtle Naughtiness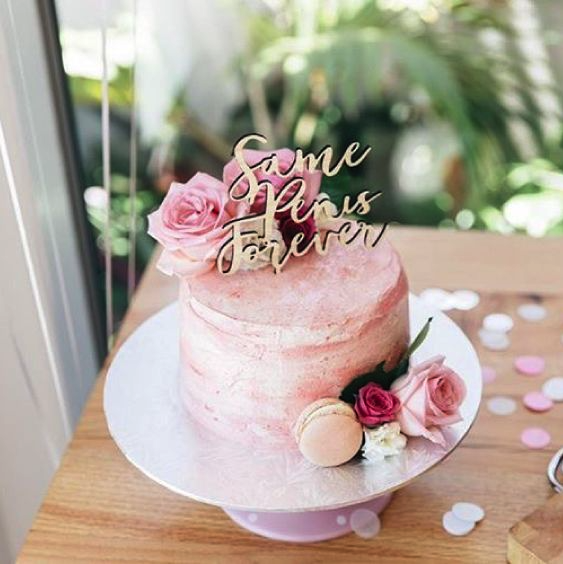 Courtesy: Pinterest
Naughty bachelorette cakes are fun, but they surely feel weird to eat. Try this subtle version instead which balances naughtiness with class. 
#8 Simple & Sophisticated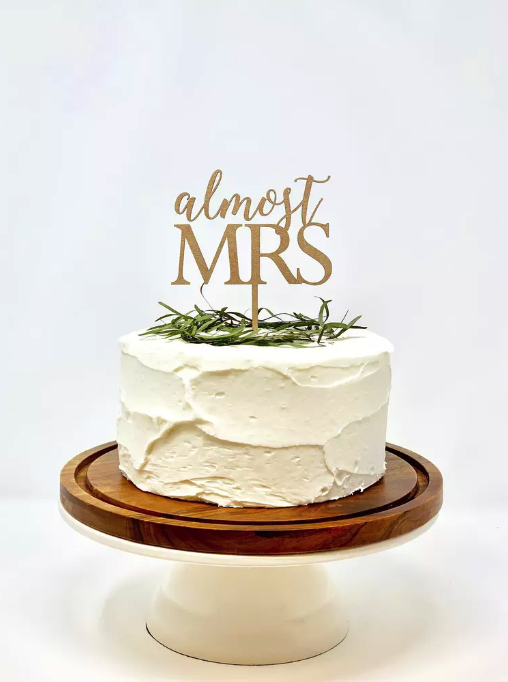 Courtesy: Oaky Designs
Keep things simple with this pristine white cake with some texture, greenery, and a statement cake topper! 
#9 Marble Cake For The Win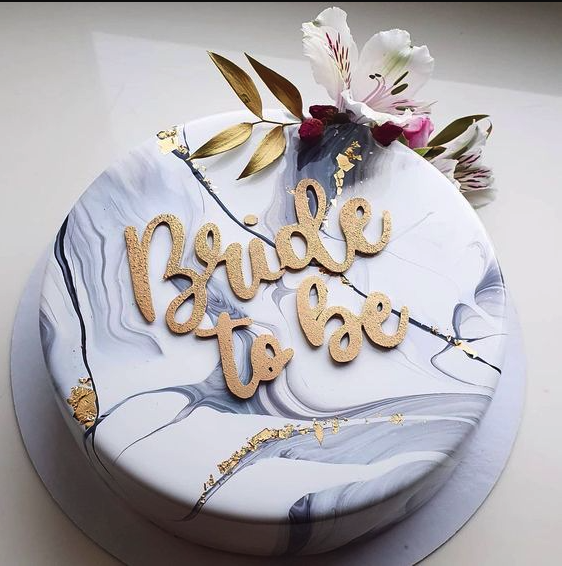 Courtesy: Pinterest
This creative marble cake adds a unique touch to the celebration, pleasing both the eye and the palate, making it a great idea for the occasion
#10 Sweet Message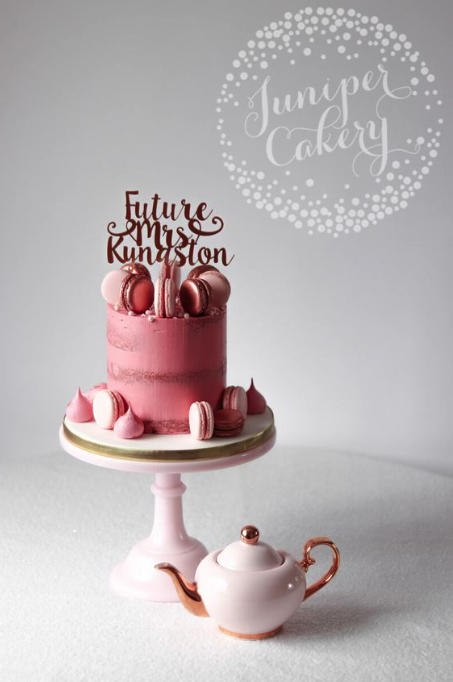 Courtesy: Juniper Cakery
This sweet bachelorette cake nods to the bride's future – which she is happily looking forward to! – and is decorated with macarons and pink buttercream for the perfect canvas.