Gajra hairstyles are popular in all parts of India. According to Hindu mythology, gajra flowers have a deep significance besides their aesthetic beauty and femininity. They are known to bring good luck, happiness, and positivity, and have been traditionally a part of "Solah Shringar". They have been the go-to flowers for bridal buns or bridal braids for a long time, and though, other types of blooms like lilies, carnations, and baby's breath have also started making an appearance in bridal hairstyles, gajras still remain prominent. Not just for brides, but for bridesmaids or any other event besides the wedding, gajra hairstyles are often chosen. If you're on the lookout for a stunning gajra hairstyle, we've compiled a list of 25 of them. The versatile list can help you choose the best one for the occasion – no matter the preference you have or the style you pick. 
#1 Gorgeous Gajra Hairstyle For Open Hair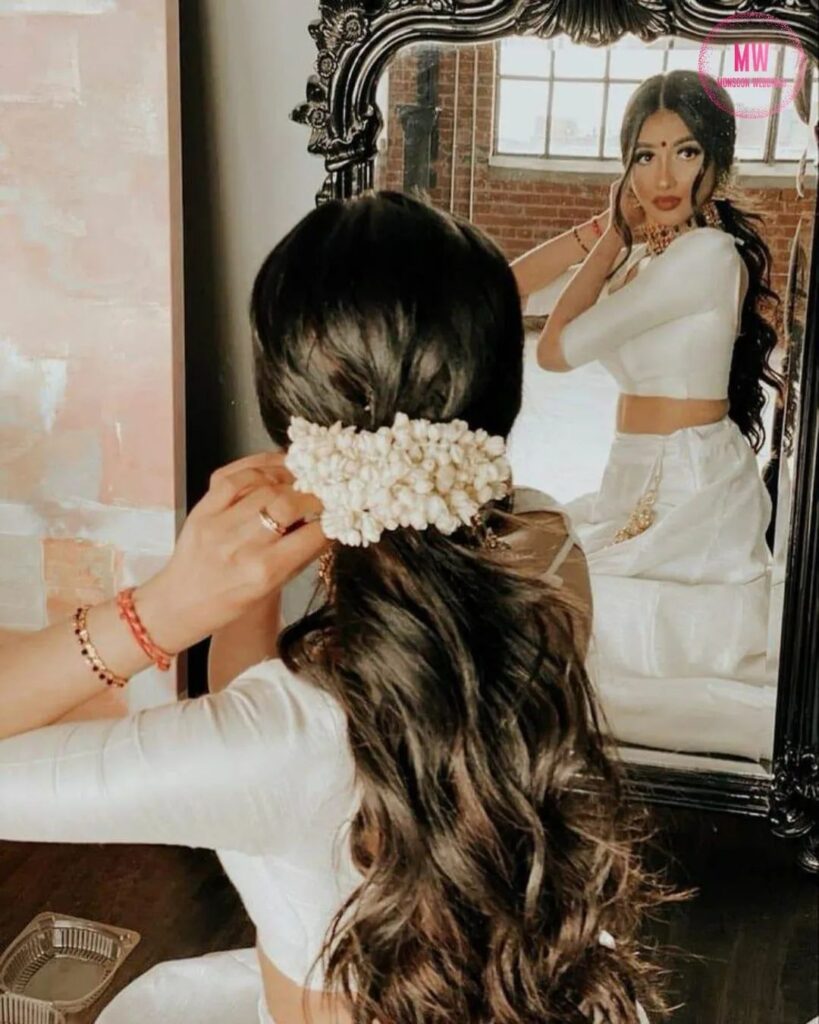 There are a lot of options for open hair gajra hairstyles. You can leave them in sultry waves, tie the upper-half portion of the hair and leave the rest open, or tie them all in a pony and use a gajra in place of the rubber band for an aesthetic look! The creativity of the artist has to be at the focal point behind the recreation of this hairdo. It caught on fire on Instagram and its simplicity yet ingenuity is what makes it even relevant today. This stunning coiffure can also be worn by a bridesmaid or the sister-of-the-bride/ groom for the special occasion. 
#2 Gajra Hairstyle For Short Hair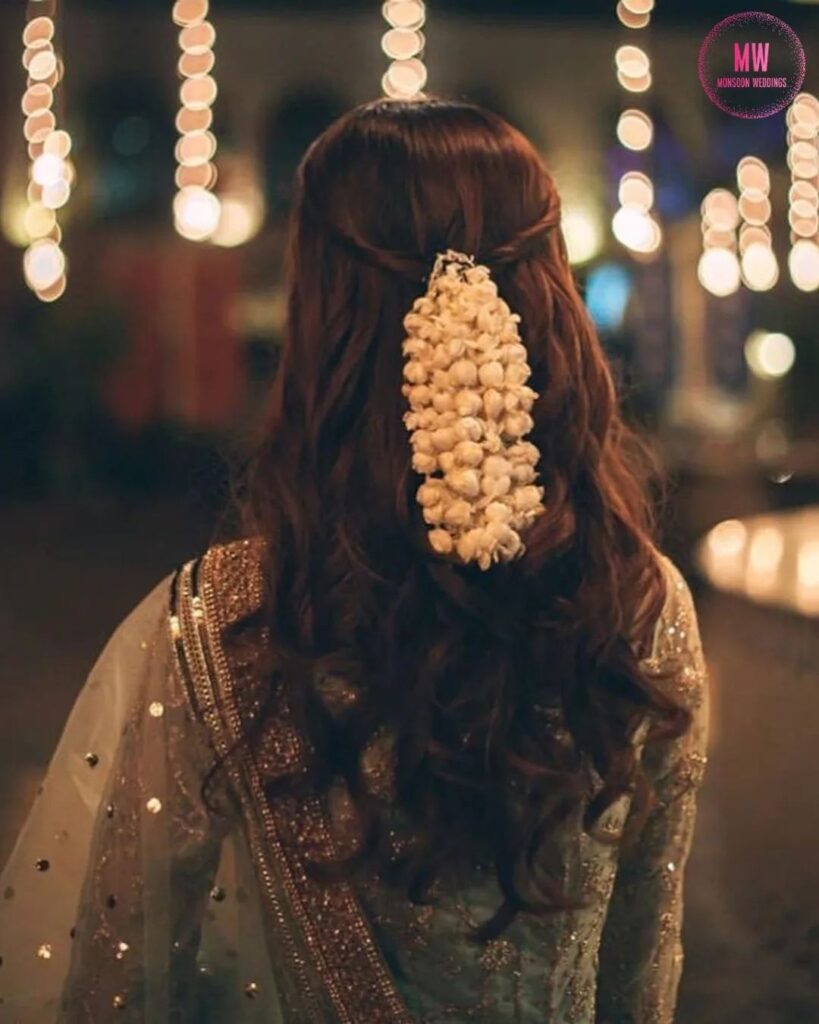 When you have short hair, you often think you won't have enough options to try with your hairdo, but whenever you search for ideas in any category, you will be surprised to know that short hair or not, there are always options for hairstyles for every length! So, if you're on the lookout for gajra hairstyles for short hair, the next gajra hairstyle image can be a perfect pick. It's also very easy to recreate. Just create waves in the lengths and braid two small strands on the side. Attach them on the back and then, affix the gajra garland to finish! 
#3 Half-Up, Half-Down Gajra Hairdo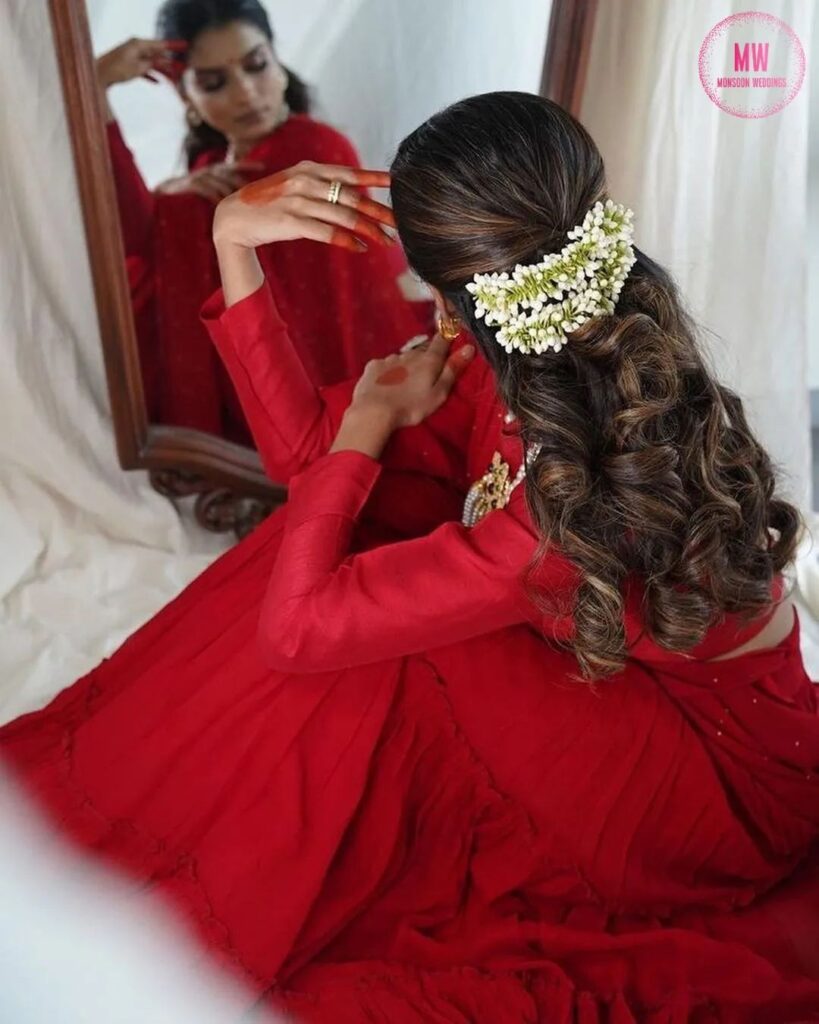 This is one of the gajra hairstyles for lehenga as it's feminine, graceful, and stylish just like the Indian garb! The next hairdo combines the sophistication of a half-up, half-down look with the timeless allure of gajras. We love the tight curls on the bottom and also admire the placing of the gajra as it nicely separates the tied-up part of the hair from the one on the bottom open side of the hair. This is also one of the gajra hairstyles for short hair as it will look good on any length! Just like with any other flower 'do, make sure the blooms are fresh so they don't wither with time. 
#4 Love The Flowiness Of This Hairstyle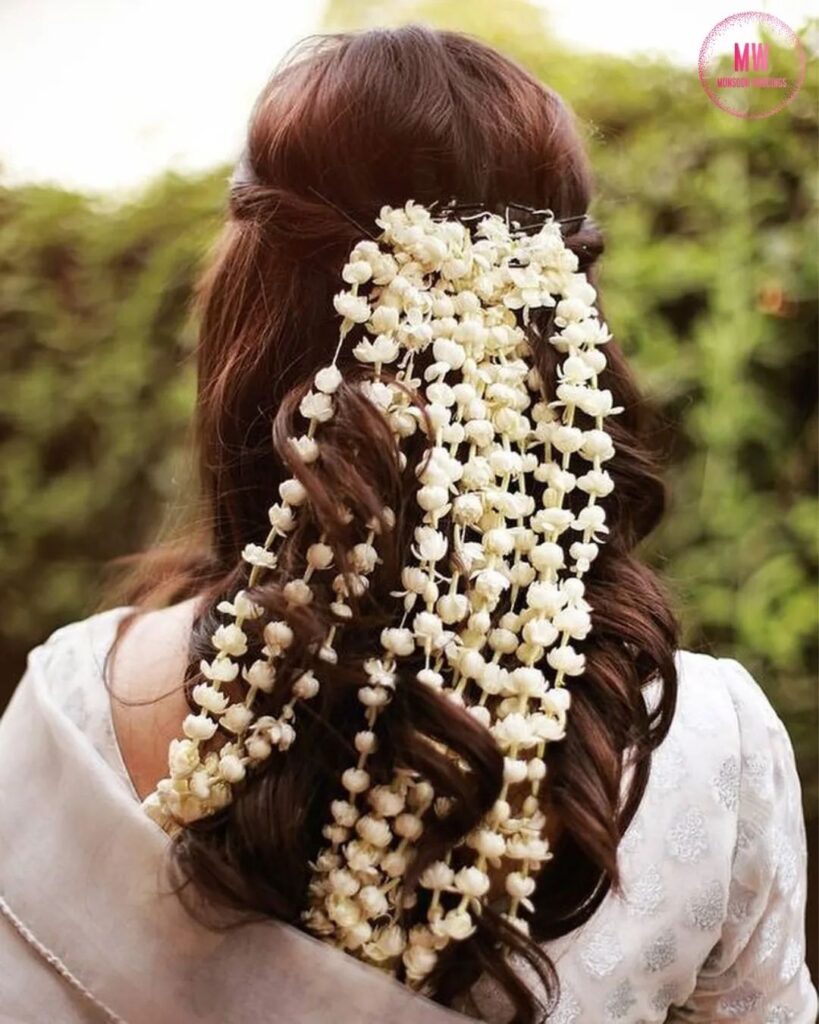 Wondering how would a gajra hairstyle for open hair look? The next image is visualizing that look for you beautifully. To recreate the look you'd need to first create beach waves in your entire length of hair and create a half-up, half-down 'do with a puff on the top for that extra volume. For this hairstyle, you will need thin strands of gajra and not thick garlands which are more readily available. Once your hair is attached, you can place these strands of gajra garlands in the middle for an exquisite, flowing look. 
#5 Just The Perfect Gajra Hairstyle For Bride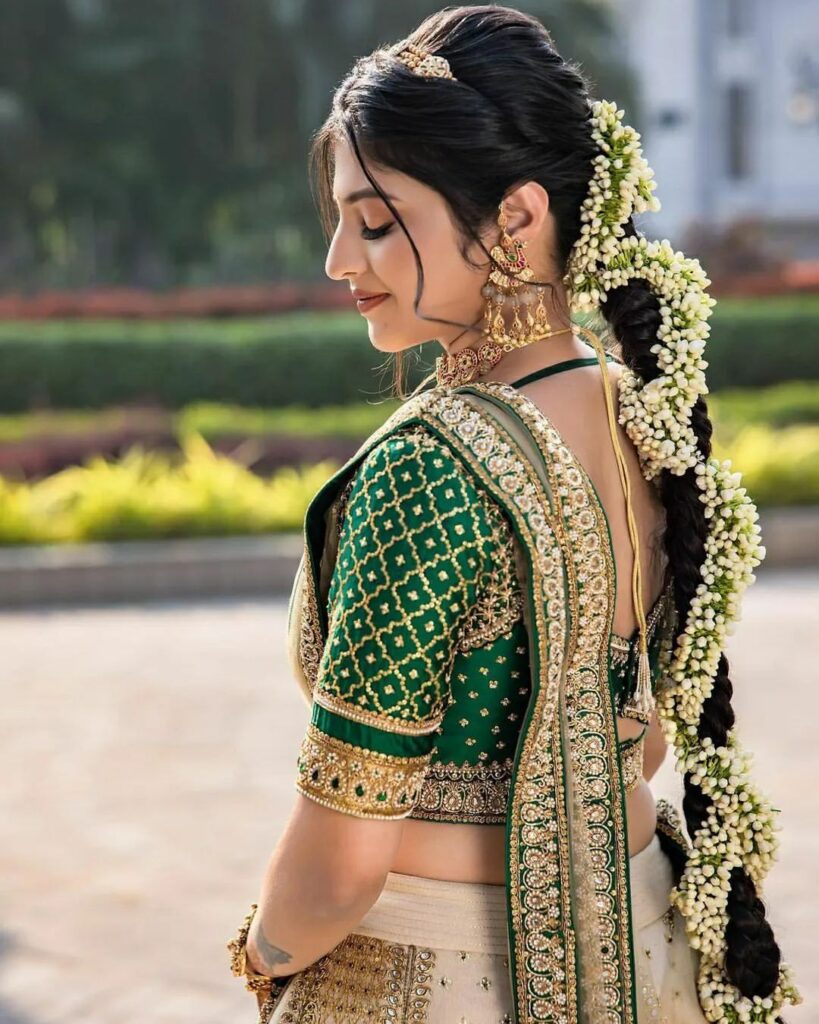 Gajras are versatile and can go with any kind of hairdo you choose. Braid bridal hairstyles are popular. In South India, brides often wear braids on their big day, but in North India, braids are often seen on other wedding revelries like mehndi or haldi as they typically go with a day event! If you're wondering how to elevate the look of your braid, try bedecking it with a gajra garland that's neatly woven for a tidy look. Besides the gajra braid, the bride also chose sheeshpatti for her 'do and we say it's the perfect example of the traditional Indian bride who goes all out with the accessories. 
#6 Such Vibrant Colors!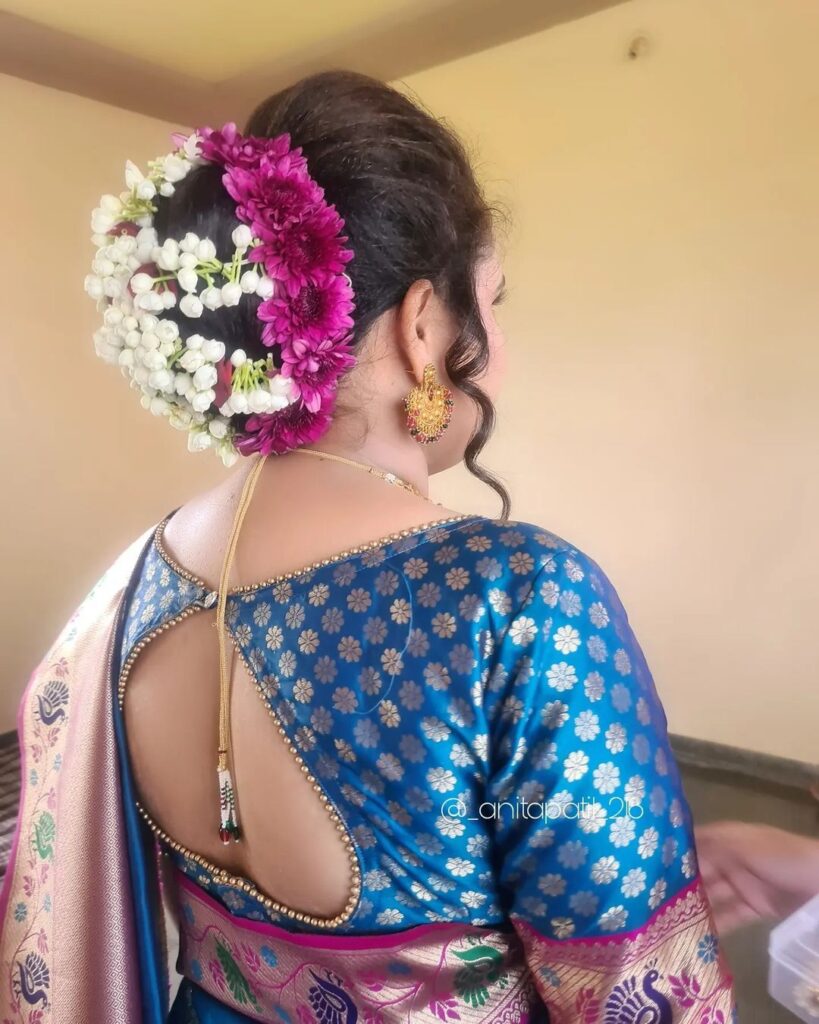 What's beautiful about gajra flowers is how their color can coordinate well with almost anything. So if you want a combination of flowers to go into your hairstyle then pick any that goes well with your dress and just don't worry about them complementing the gajra flowers! Besides choosing a different color bloom, we love how the hairstylist also chooses a lovely geometric pattern to go with the combination. This gajra bun hairstyle is perfect when you aren't taking a dupatta over the head and the hairdo can be flaunted just as it is! 
#7 Combined With Baby's Breath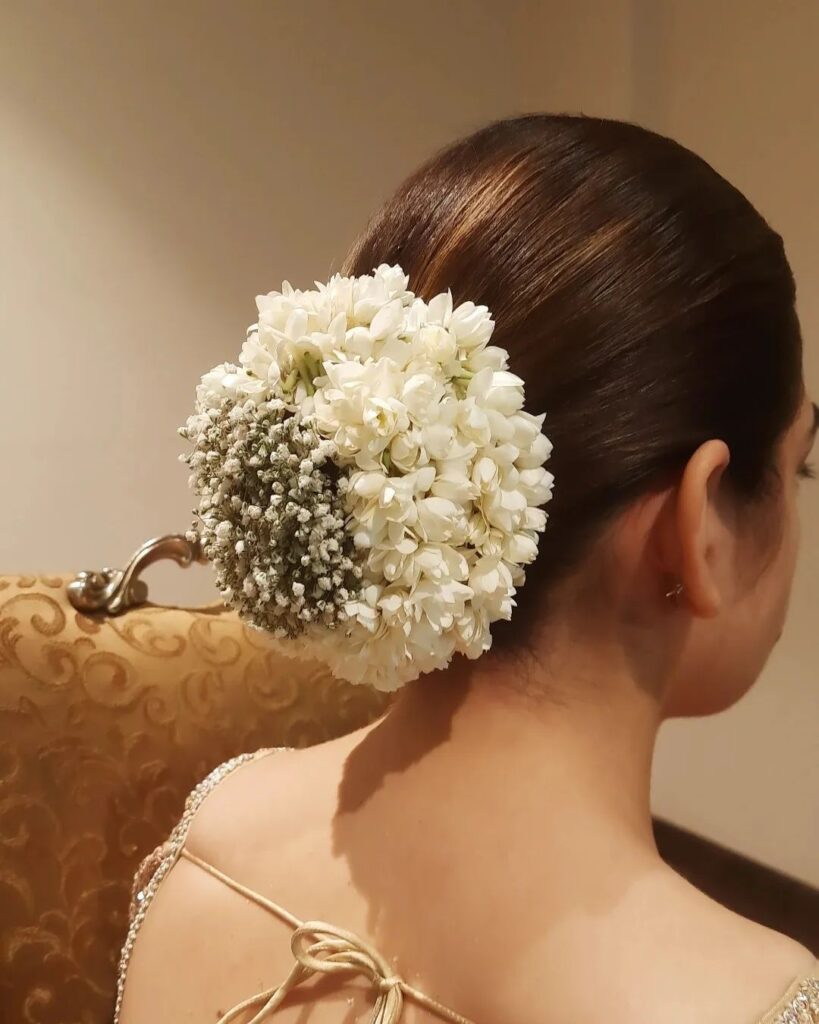 Elevate your elegance with the ethereal charm of the Gajra Bun adorned with delicate baby breath. This enchanting fusion weaves the timeless allure of jasmine gajras with the whispered charm of a baby's breath, framing a stunning bun that captures the essence of tradition and modernity in perfect harmony. Each blossom carries a promise of beauty and innocence, crafting a breathtaking hairstyle that's as delicate as it is captivating. Let your hair tell a tale of romance and poise, as the Gajra Bun with baby's breath takes center stage, a masterpiece of grace that blooms in every strand. 
#8 All In Pristine White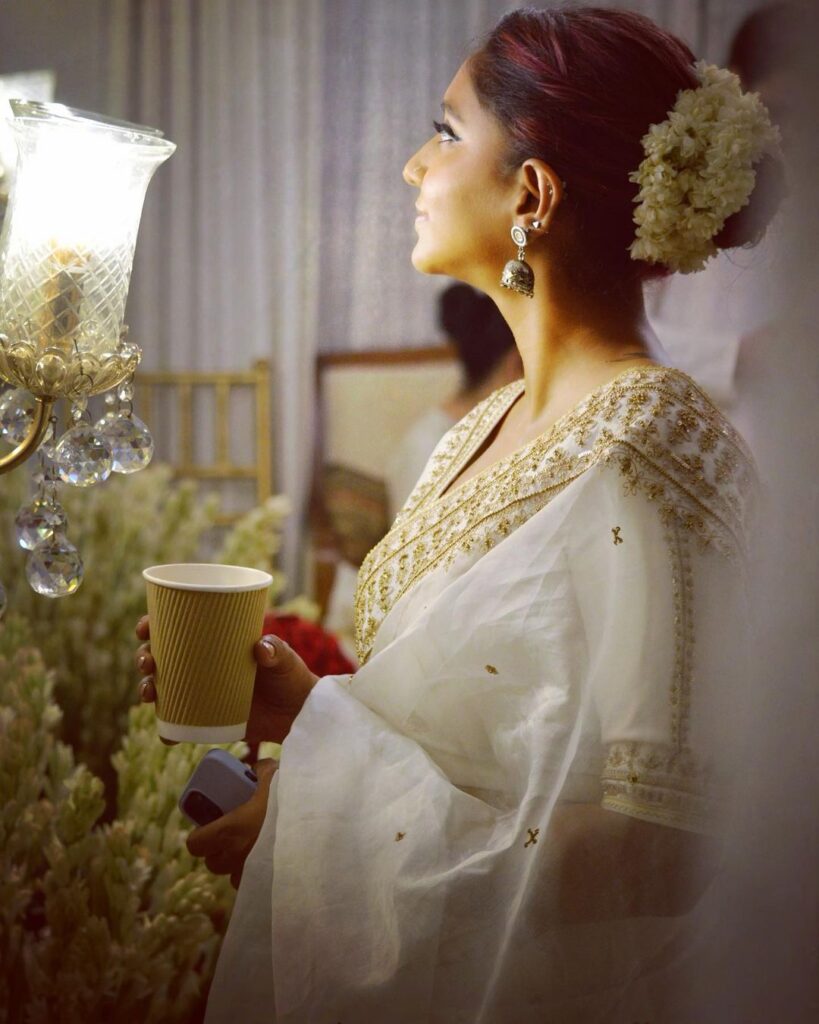 All white – everything! It seems like white lehengas, white decor, and white attires are reigning supreme in this wedding season. White is pristine, gorgeous, and looks eye-pleasingly pure. Christian weddings are all white and we often adore and admire their nuptials. The color has slowly made its way into Indian weddings and even celebs like Alia Bhatt and Alanna Panday wore the hue for their own big day! If you have become a fan of this color too, here's why you need to try white gajra hairstyles with the ensemble. The complete white look will surely look just perfect! 
#9 Adoring The Neat Checks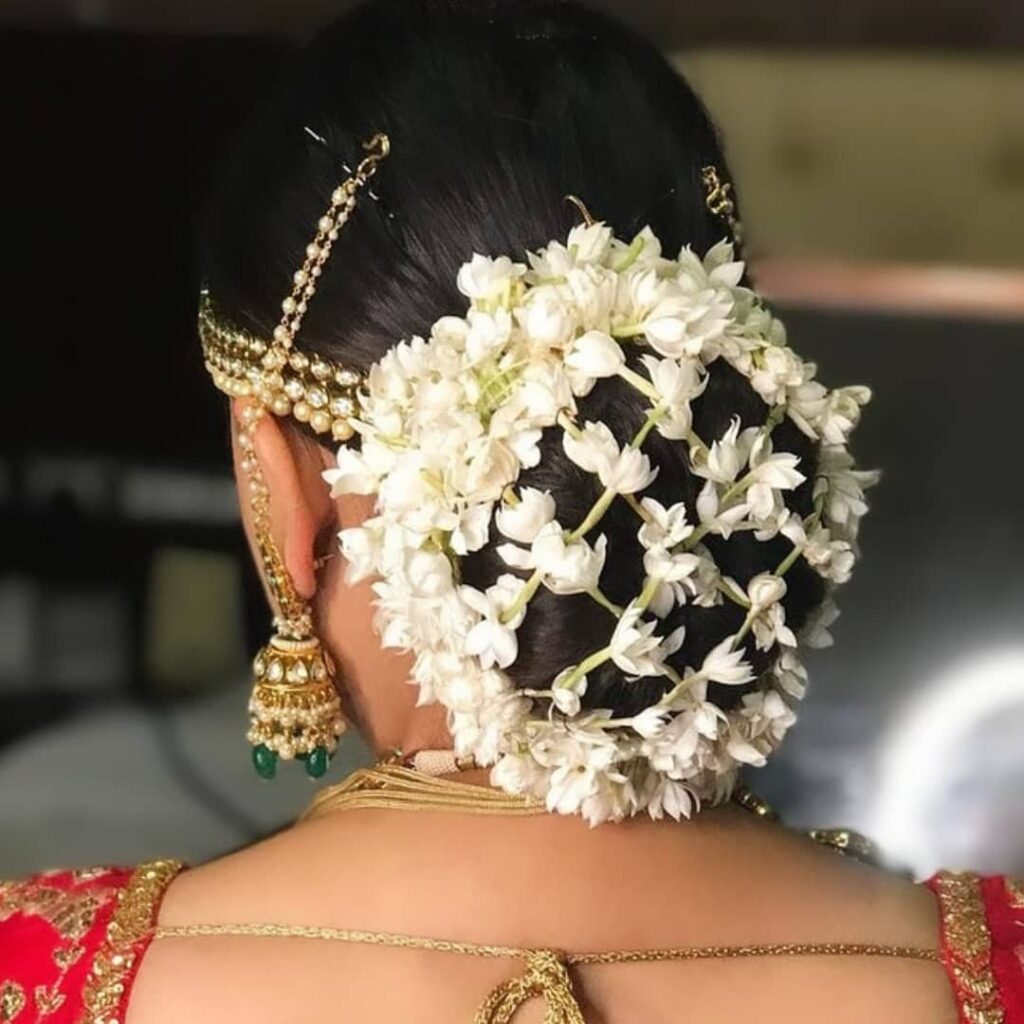 We love this chunky gajra bun hairstyle for brides. It's chic, feminine, and timeless, and can go with any type of lehenga color. No matter if you choose red lehenga, pink, pastel colors, or the ongoing trend of a white bridal lehenga, this gajra bun hairstyle will go with it all. Though, you will need to have a traditional look if you choose this hairstyle as modern hairdos go a little easy on traditional blooms. Nonetheless, if you do decide to try this one of the gajra hairstyles for wedding, it's imperative that the flowers are arranged neatly for an impeccable look. 
#10 Replete With Blooms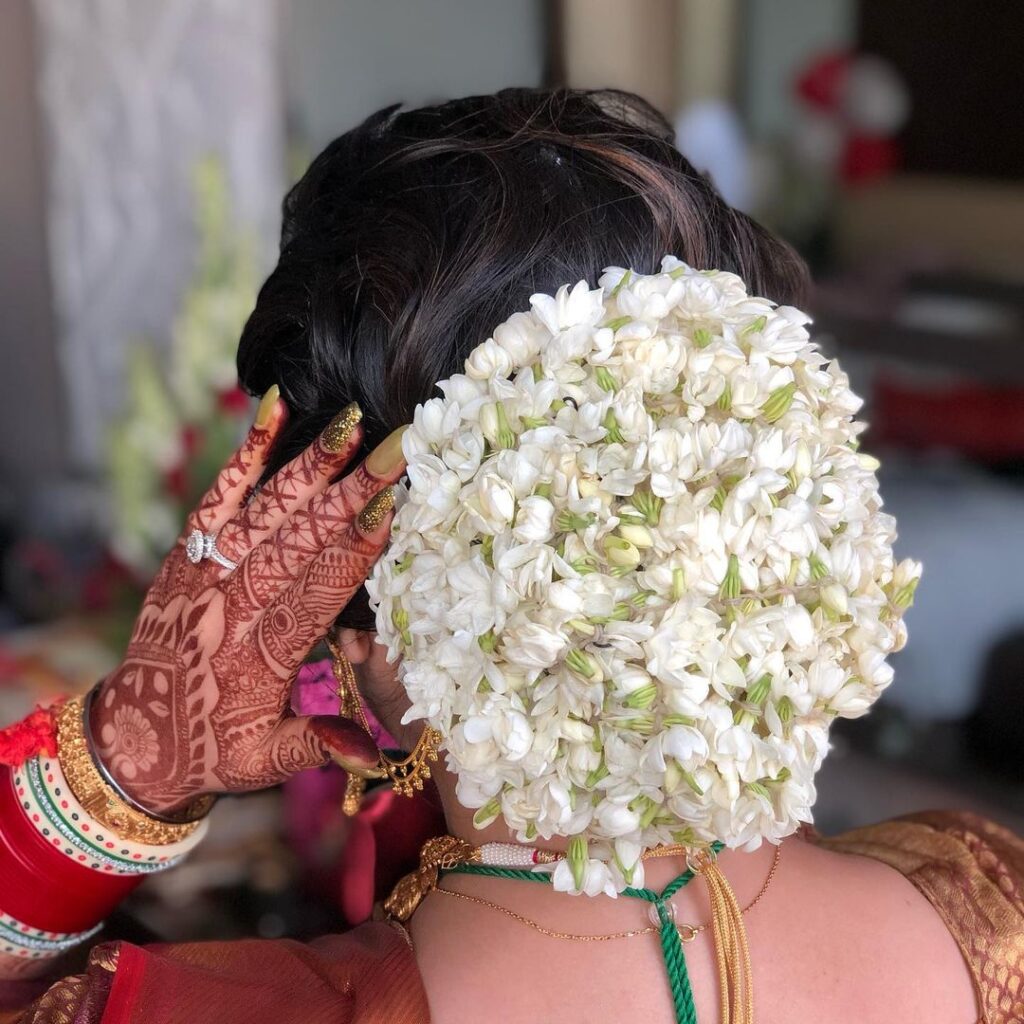 This classic gajra hairstyle transcends time. Instead of using the flowers just as a circular boundary, this time the entire bun is covered in fresh blooms so it looks bursting with freshness and yet doesn't give an appearance of being overdone. Instead of arranging them all at once, it's best to arrange each garland separately in concentric circles and adjust the size as per the needs. This will take an additional 10 to 15 minutes, so if you're in a rush and want to try this one of the gajra hairstyles, we'd recommend starting as early as you can. 
#11 Concentric Gajra Garlands With A Statement Accessory!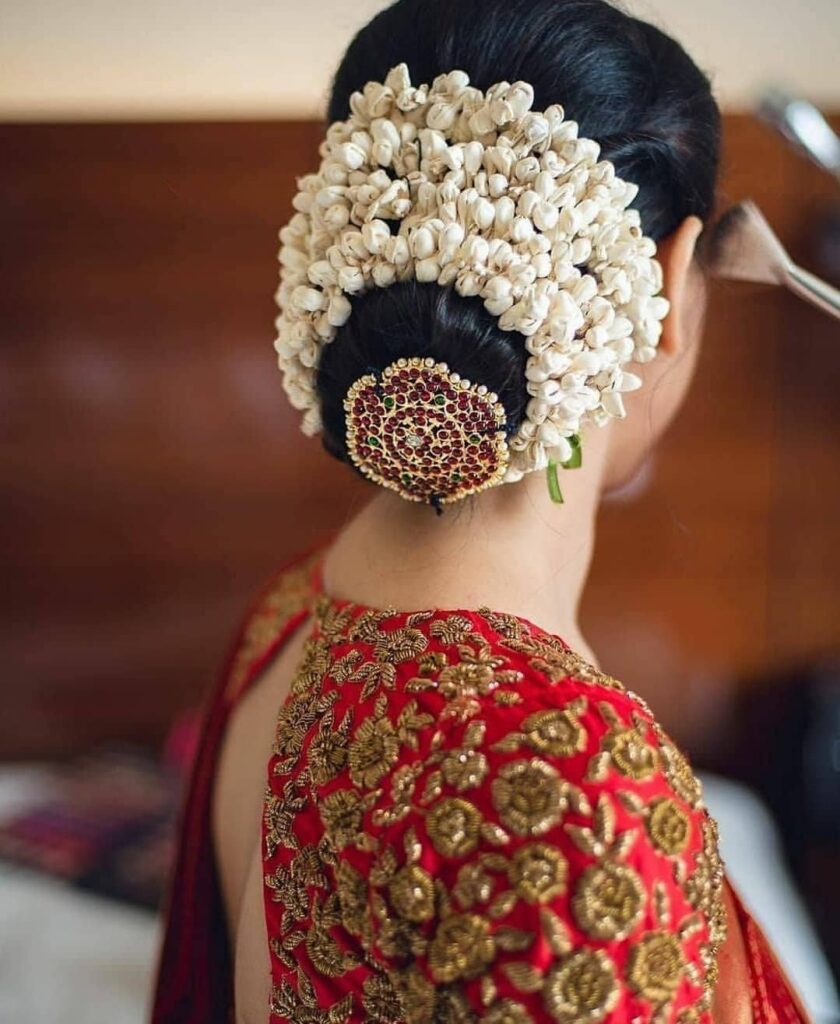 The heavy look of these concentric gajra garlands is spectacular and the neatness with which it is done is admirable. When you choose a hairstylist, some foremost qualities to look for are patience and understanding. These two things will make sure that the hairdo comes out looking pristine and gorgeous – no matter what you tell them to do! Further, when you choose someone with compassion, they put your needs first and are able to think creatively at the moment so your preferences are met but you still get a hairdo that garners compliments from everyone. This one is such a hairstyle and it sure has become a classic inspiration for Indian brides.
#12 Bun Gajra Hairstyle For Wedding!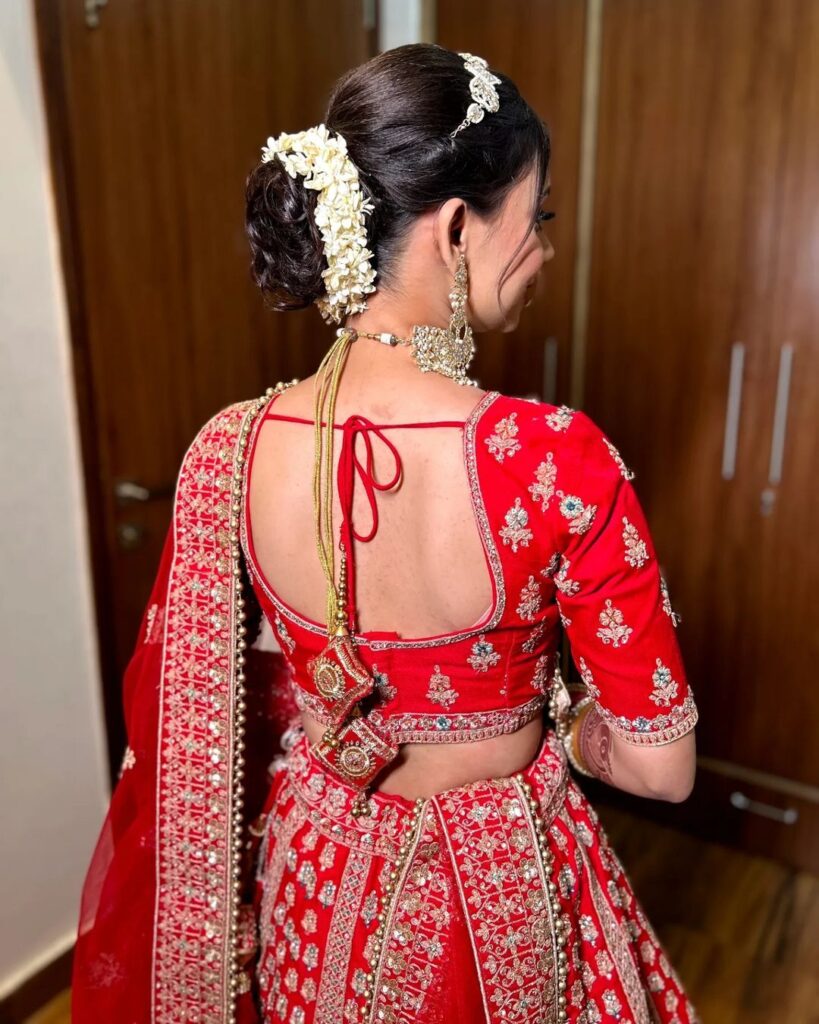 Keeping the essence of traditional bridal beauty alive, this bride opted for a gajra bun that's done in braid style on the nape of the neck and surrounded by the gajra garland. Though buns look like a monotonous style, there are many variations you can try as a bride. Buns can be made loose with braids, they can be made in a chignon, they can be made sleek, or they can be made a bit messy! You can also do variations on the front side by opting for a braid on the sides or soft tendrils for a romantic look. 
#13 The Classic Donut Bun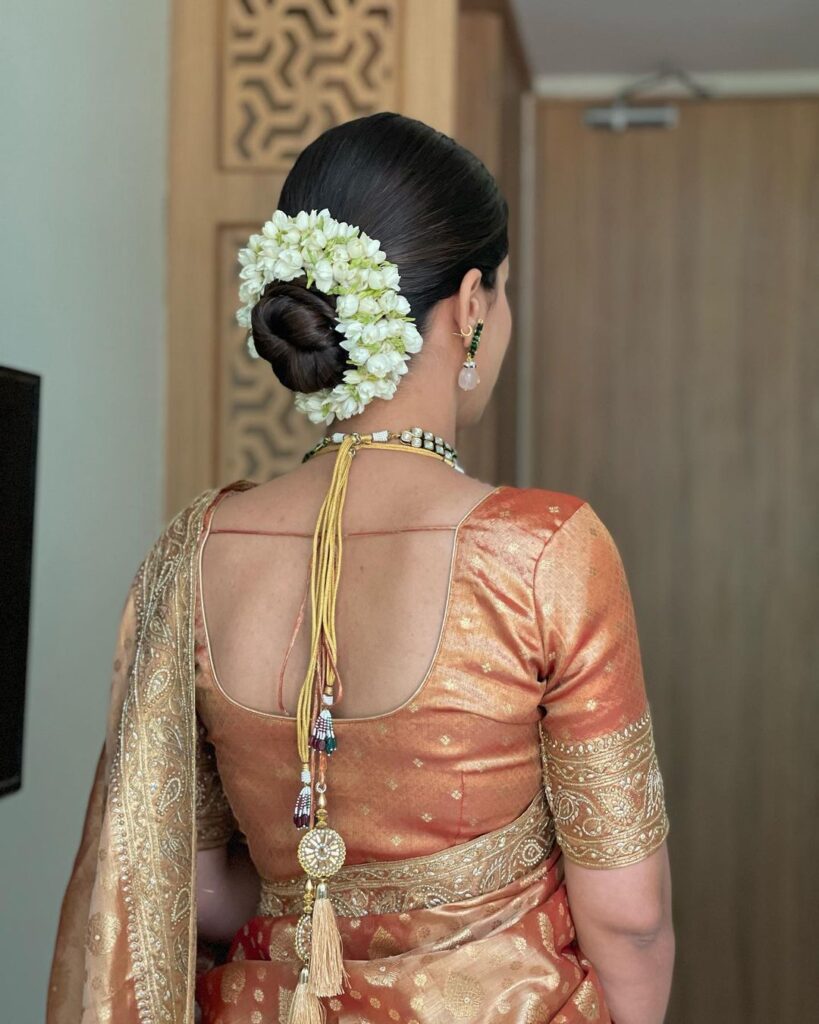 The Gajra hairstyle for saree is the perfect choice as both of them are traditional elements and go with each other flawlessly. If you're going for the classic saree reception look, a donut bun surrounded by gajra garland is the perfect hairstyle to opt for and will only elevate your ensemble further. Even when you google saree reception look, you will find many brides opting for gajra buns only because it's the perfect combination! Celebrity brides Anushka Sharma and Deepika Padukone also opted for buns with their benarasi silk reception sarees. For jewelry, opt for temple gold jewelry or kundan-polki and keep the makeup simple with statement eyes to complete the look. 
#14 Gajra Hairstyle For Bride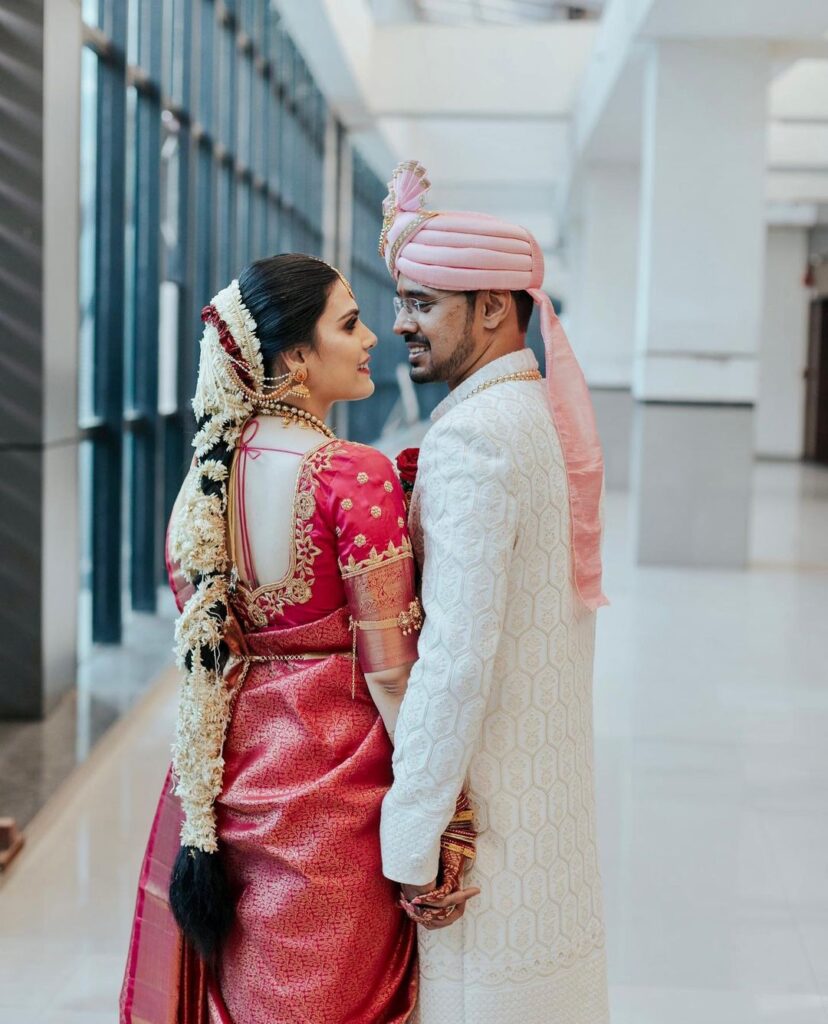 We love this gorgeous gajra hairstyle for open hair that's braided loosely for a romantic and feminine touch. The gajra braid is a regal choice for brides and best for those with long hair who want to flaunt them. We also adore how the bride didn't skimp on gajra garlands and put it generously throughout the lengths of her braid and also on the top. When you opt for a hairdo like this, it's nice to get a photography or two that flaunts this braid so you can seal in the memories of it forever! 
#15 Combined With Petals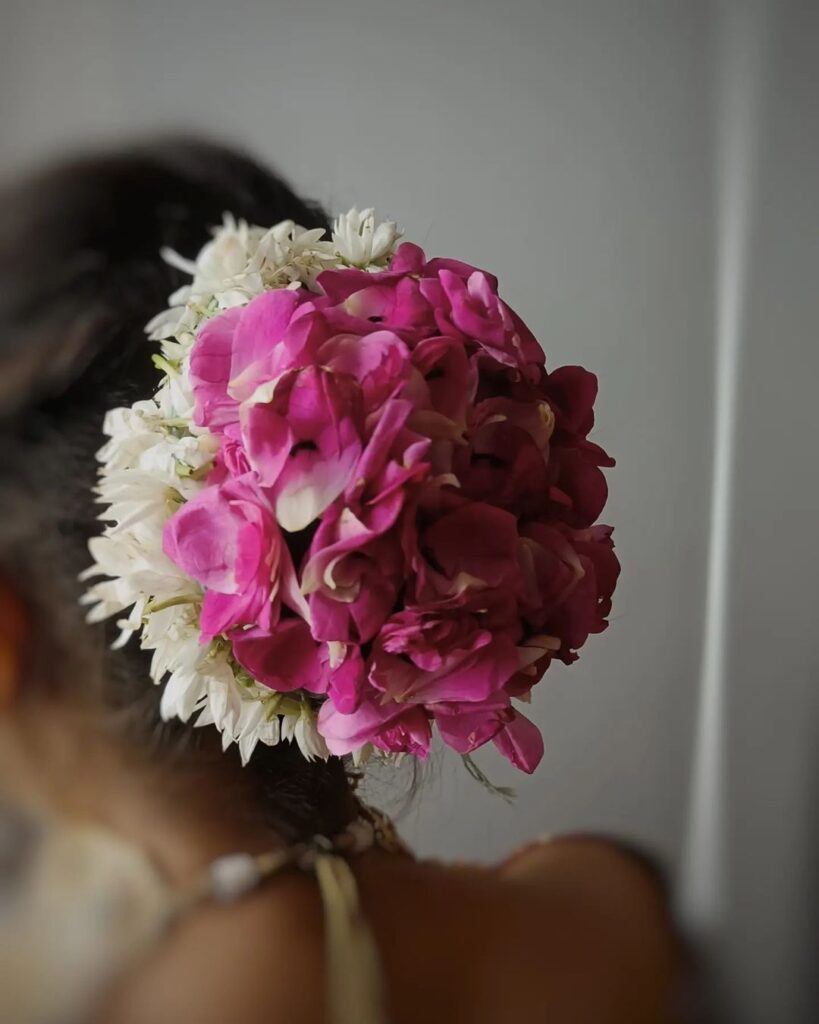 When we saw this one of the gajra hairstyles, we were absolutely stunned. It's done so neatly and precisely and a hair artist like this must have kept remarkable patience to create this hairdo! As the entire inner part of the bun is done with rose petals, each petal had to be picked and attached to the bun to complete the look. We'd only suggest going for this gajra bun hairstyle if you have time on hand and if your hair artist doesn't seem apprehensive about recreating it. Because if they are hesitant at the start, there are fewer chances they'd keep patience throughout the process and will just ruin the style for you! 
#16 Gracing Just The Lower Half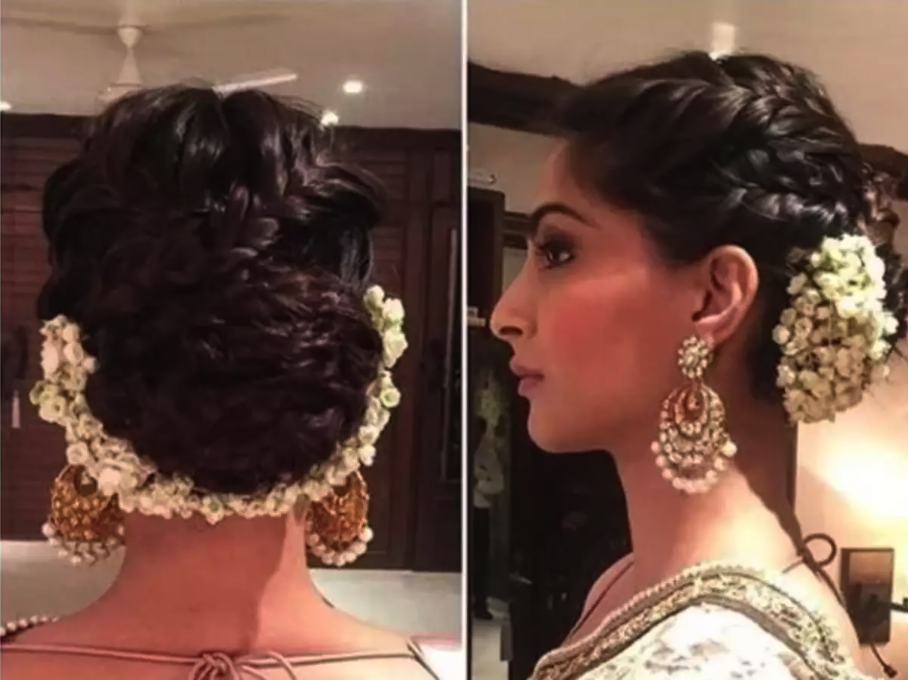 Sonam Kapoor loves to accessorize her hair. Be it with flowers like roses or jasmine or accessories like pins or a scarf – you will never see her lustrous locks without any adornment. For her textured braided bun, she chose a hairstyle with gajra on the bottom and absolutely ruled the look! The Gajra boundary is perfect for anyone – especially for someone who wants to try short hair gajra hairstyle as the gajra boundary adds volume to the bun and makes your hair look voluminous as well. 
#17 Favorite Of Celebrities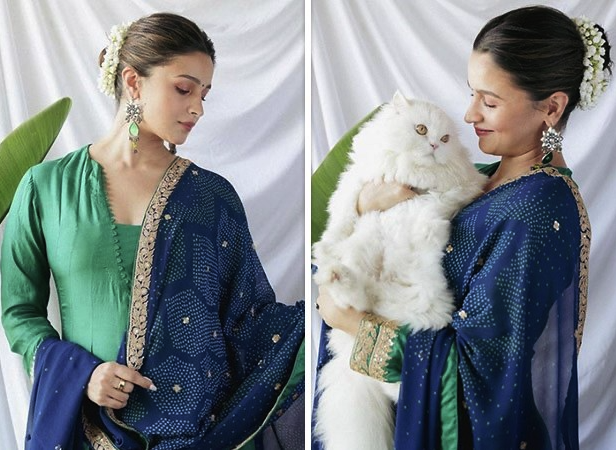 Gajra hairstyles are loved by celebrities as well and you will often see popular celebs carrying it with their Indian wear. From Alia Bhatt to Kriti Sanon to Deepika Padukone, the gajra bun is carried by all of them majorly with sarees, but also with anarkali suits! Buns with heavy ethnic outfits are a great way to uplift the outfits' inherent traditional vibe without taking away any attention from their beauty. Taut buns are also comfortable during summer seasons and also save you from the hassle of adjusting your hair every now & then. 
#18 Traditional Look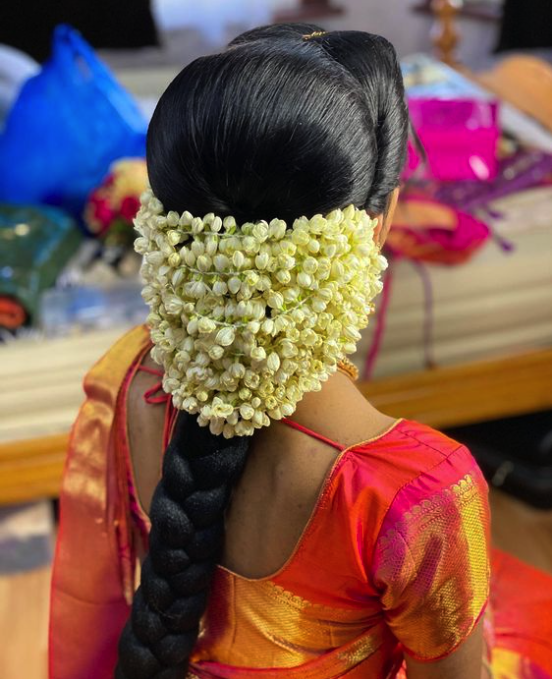 Venis is the traditional bridal accessory for South Indian brides and is often put in a semi-circular shape at the beginning of the braid! It's made of gajra garlands, but some brides can opt for combinations of gajra and other flowers like roses or carnations. Since foliage also goes well with the ivory color of gajra, you can also decide to add some leaves in the middle for an exciting blend of flowers and foliage for your bridal hairdo! 
#19 Breathtaking Twist!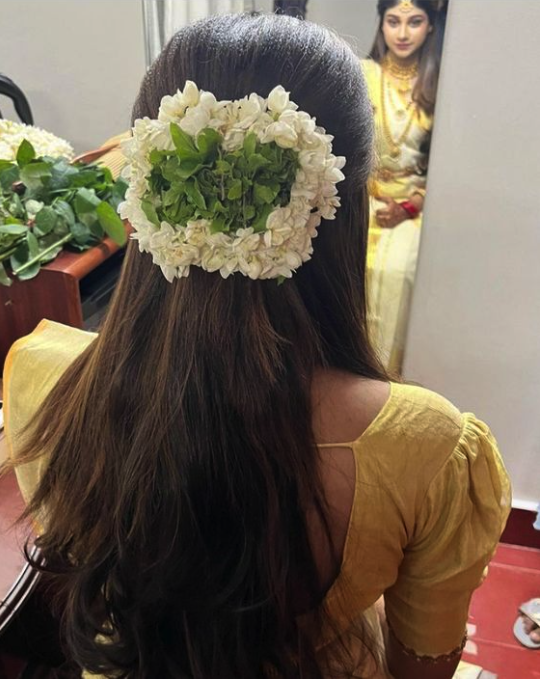 We are as stumped as you are! We love how this hairstylist used foliage in combination with the gajra flowers to complete the hairstyle. It's one-of-a-kind on the list and including foliage, anyways, gives a surprising twist to the Indian bridal hairstyles. If you are someone who wants to include an unexpected and yet tried-and-tested element in your wedding look, go for leaves combined with fresh florets for your bridal hairstyle and see the magic come alive. Ask your artist which kind of leaves will go with the flowers or you can pick fresh leaves yourself. Just make sure the length of the leaves doesn't overpower the florals and they're always either lesser or in equal proportion with flowers for that perfect ethereal look. 
#20 Adorn With More Accessories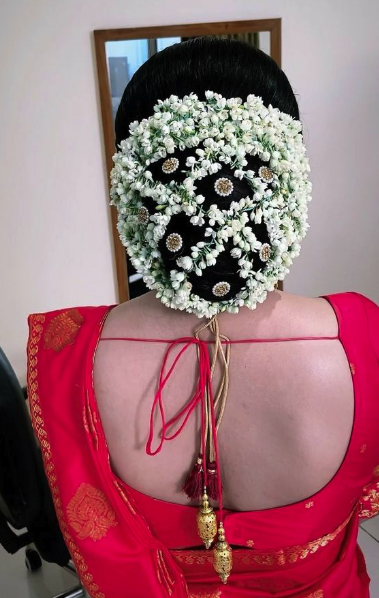 Accessories add a touch of glam and fun to this existing gajra hairstyle for saree! An oversized one of the gajra hairstyles is perfect in many ways and suits women of all ages! From mother-of-the-bride to bride herself, anyone can carry this bejeweled gajra hairstyle with saree. Though, just know that neatness is of utmost importance when you recreate this look as the sections have to be equal for the alluring appearance to come out. If you aren't in the mood to create a big bun, just go for a small bun, add garlands in concentric circles and put an accessory in the middle. 
#21 Easy-Peasy One To DIY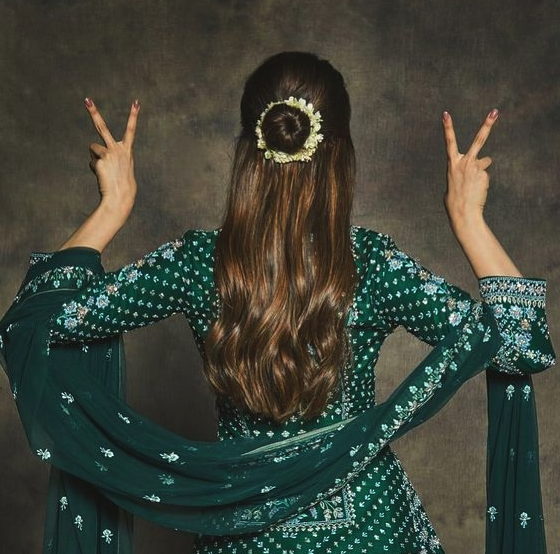 We have listed this hairstyle amongst the most easy-peasy bridesmaid hairstyle to DIY and we mean it! Worn by Shraddha Kapoor for promotions of one of her films, the half-bun hairdo can be done easily and be a perfect gajra hairstyle for suits or other Indian outfits. Begin by straightening your hair and then add loose curls on the bottom. Spritz some hair spray and start making a donut bun with the upper half of the hair. Put enough Juda pins so the bun doesn't loosen up throughout! Now, add the garland and fix it with more pins. Spritz some more hair spray to finish. 
#22 Best Gajra Hairstyles For Bride!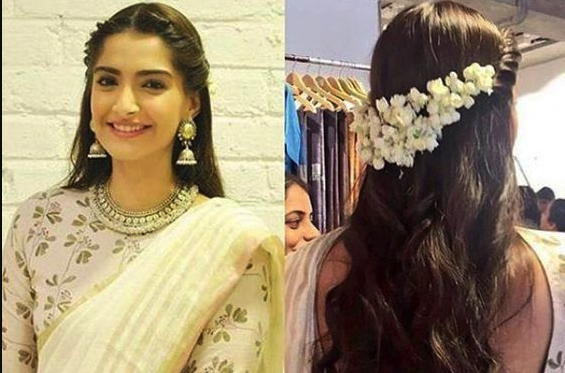 Sonam Kapoor is a true fashionista and has often been the trendsetter with her ensemble and beauty looks. She has worn gajra multiple times with her traditional wear, including at her wedding in 2018 to Anand Ahuja! Here, she adorns the hair with gajra diagonally on the back as the front middle parting and sleek braids look taut and elegant. If you see closely, she hasn't used gajra garland but instead jasmine flowers. The flowers are strategically placed for a magnificent look that looks as pretty from the front as it looks from the back. 
#23 Winsome Roses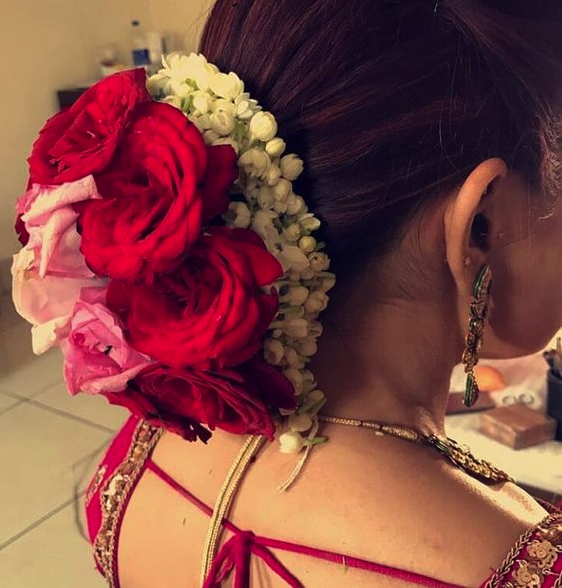 Next on the gajra hairstyles is this blossoming bun bedecked with whimsical roses in the middle and garland as the circular boundary. This is a simple gajra hairstyle for short hair and can be used as an inspiration for brides or even bridesmaids, as it's an easy DIY hairstyle and doesn't require much precision besides knowing how to make a donut bun! Roses are perfect for this hairdo but if you want to combine other flowers, carnations and baby's breath can serve as a great alternative. 
#24 Blooms Of Pink Combined With White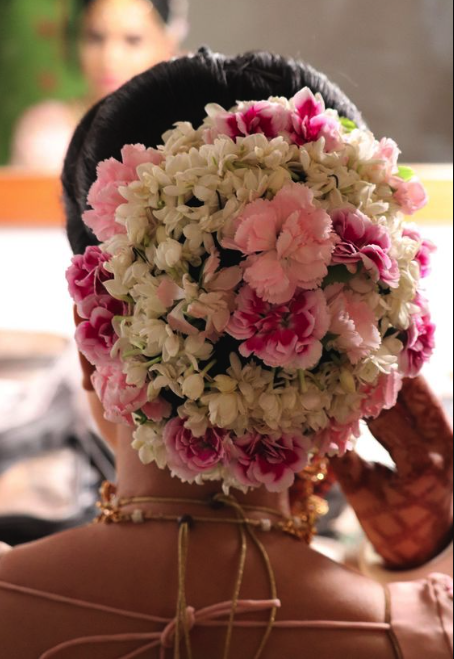 Pink is a forever romantic color and as a bride-to-be, romance is something you'd want to exude on your wedding day! This bride chose gajra for her D-Day but combined it with pink roses and carnations that also have mellow hues of purple for an alluring fusion of colors and flowers. We love the blooming bridal bun, but when you opt for a bun this big, just know that it will be heavy and quite difficult to carry for longer hours. Our tip is to remove them as soon as you can especially if you have donuts attached which just adds to the pressure. Moreover, don't add a dupatta to the bun, instead put it on the hair so it doesn't add any more weight. 
#25 Gajra At Proper Spaces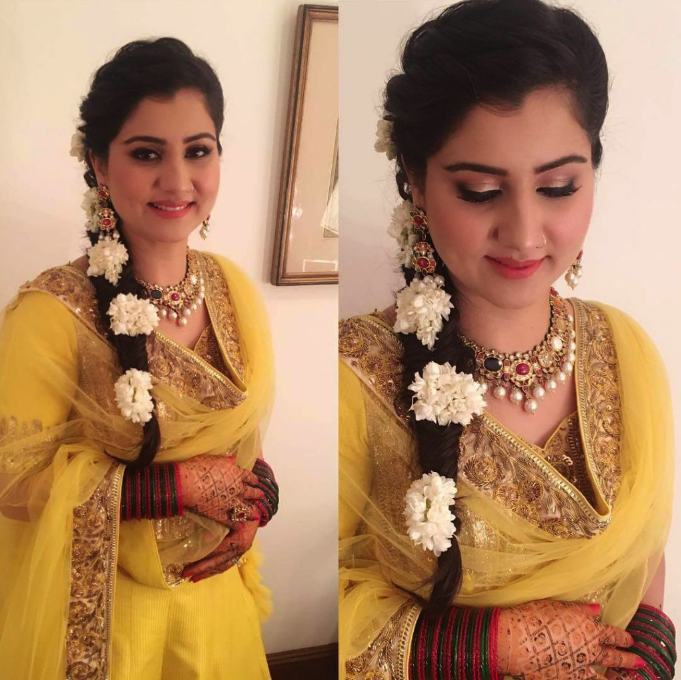 Now, this is something different. This bride-to-be opted for small circular garlands of gajra on specific sections of the braid and it's such an ingenuous way to adorn your braid with gajra. It's also very easy to do but you'd definitely need someone to cut these small garlands beforehand to save time and ensure all the circles are of equivalent size for the same kind of perfection. 
DIY Gajra Hairstyles 
If you're wondering how to wear gajra in a bun, here are two tutorials to help you DIY gajra for any special occasion!  
Purchase Links For Artificial Gajra For Hair
#1 Mogra-Scented Gajra Flowers For Hair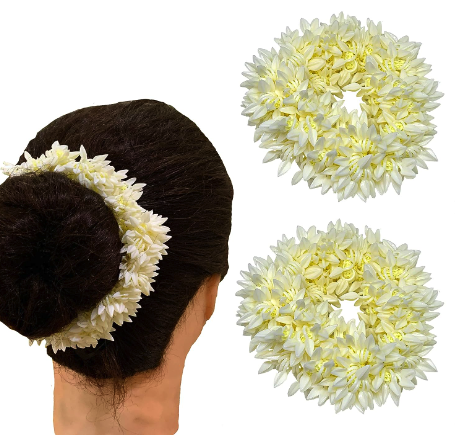 #2 Hair Mogra Complete Coverage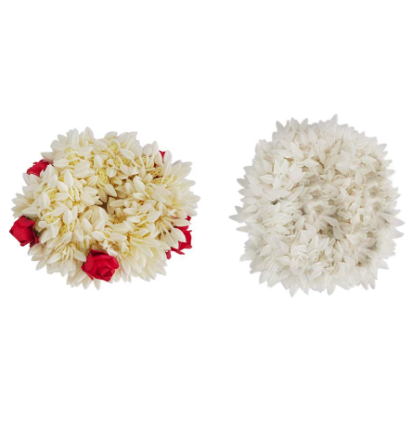 #3 Garland Gajra Hair Accessory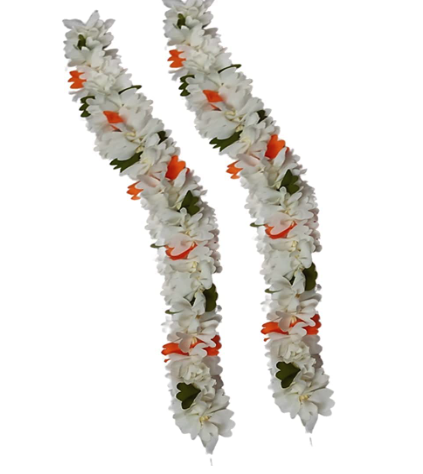 #4 Mogra Rubberband