Your hairstyle can make or break your entire look. That's why picking a bridal hairstyle is an important decision for a bride-to-be. To make things easier for you, we have dug out some of the latest Indian Bridal Hairstyles. This is an exhaustive list, so we have divided it into eight sections, you can scroll down to whichever one you're looking for. Here's a breakdown.
Something to keep in mind while you're picking the bridal hairstyle for any ceremony is to make sure it matches your personality and style. If you think of yourself as someone who loves to experiment, then go for a hairstyle that's unique. Although if you like to play safe, then pick the one that's timeless and elegant. Winter wedding season is coming up, and we knew we had to compile this list before you start planning your 2020-2021 winter wedding! Let's just jump straight to the list:
Please use the table of contents to jump straight to the
section you're here for! ☺️
Latest Bridal Hairstyles 2021
Bridal Bun Hairstyles:
Ah! The classic and timeless bridal bun. The most preferred hairstyle for the big day – a myriad of bun hairstyles can always be found on a bride's Pinterest board. This curated list features floral bouquet buns, messy buns, minimally styled buns,  and sleek & tight buns for you to pin, save and bookmark.
#1 Love Roses A Little Too Much?
These blooming red roses in the bride's bridal bun are adding such a charm to her bridal look!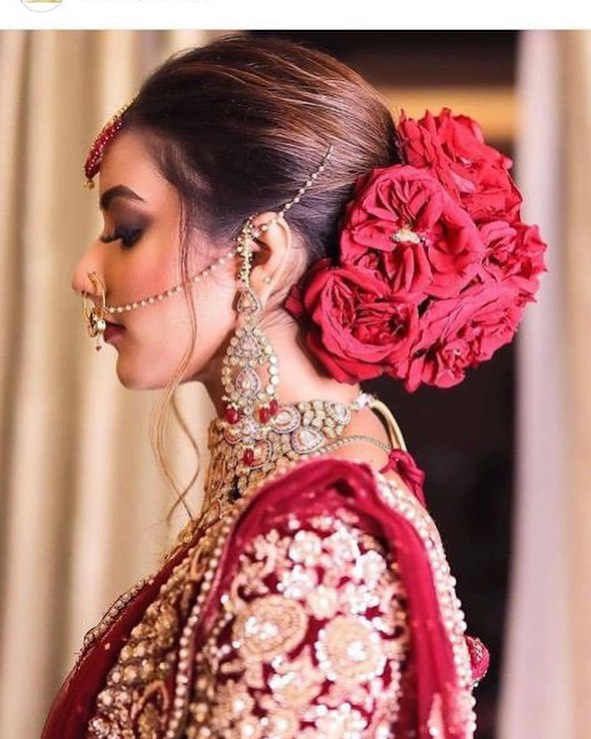 #2 Colorful & Pretty
Playful brides, where you at? This bride's floral bouquet bun with colorful roses and baby's breath is just so appealing. We can stare at it forever.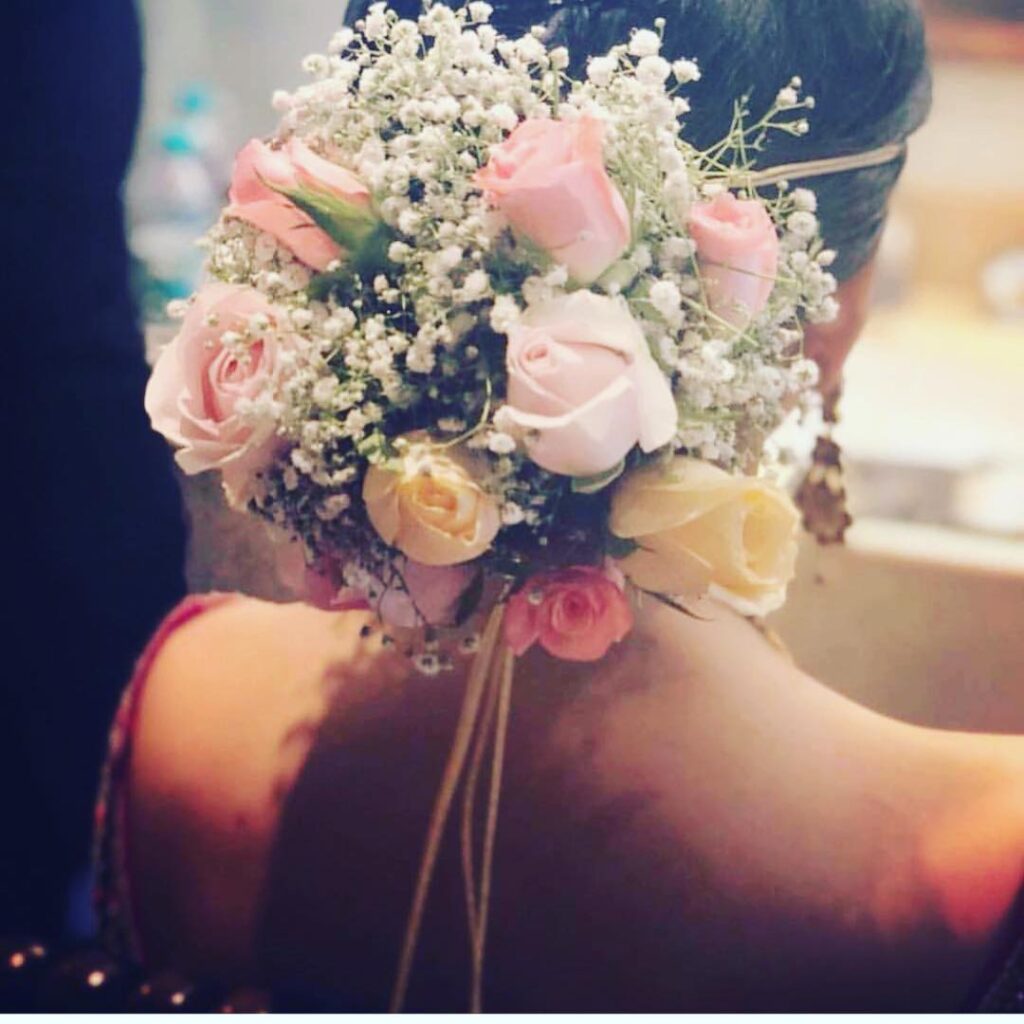 Via @hairbyakash
#3 Those Beautiful Pink Orchids
Decorate your entire bun with these winsome pink orchids and a few baby's breaths and strut like a diva as you walk down the aisle.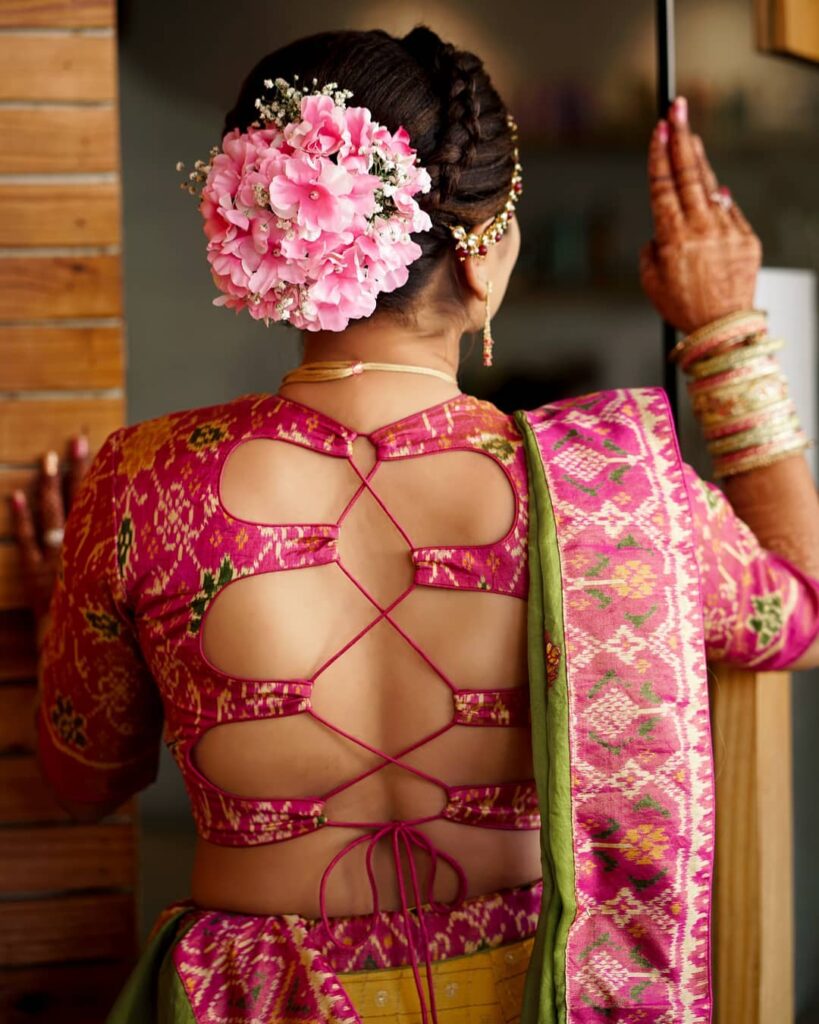 Via @aanalsavaliya
#4 Combination Of Mogra & Roses
There's elegance in simplicity. Love this bride's simple floral bun with roses and a mogra garland that's tightly pinned back to create a flaunt-worthy hairstyle! Purchase bun jooda accessory here.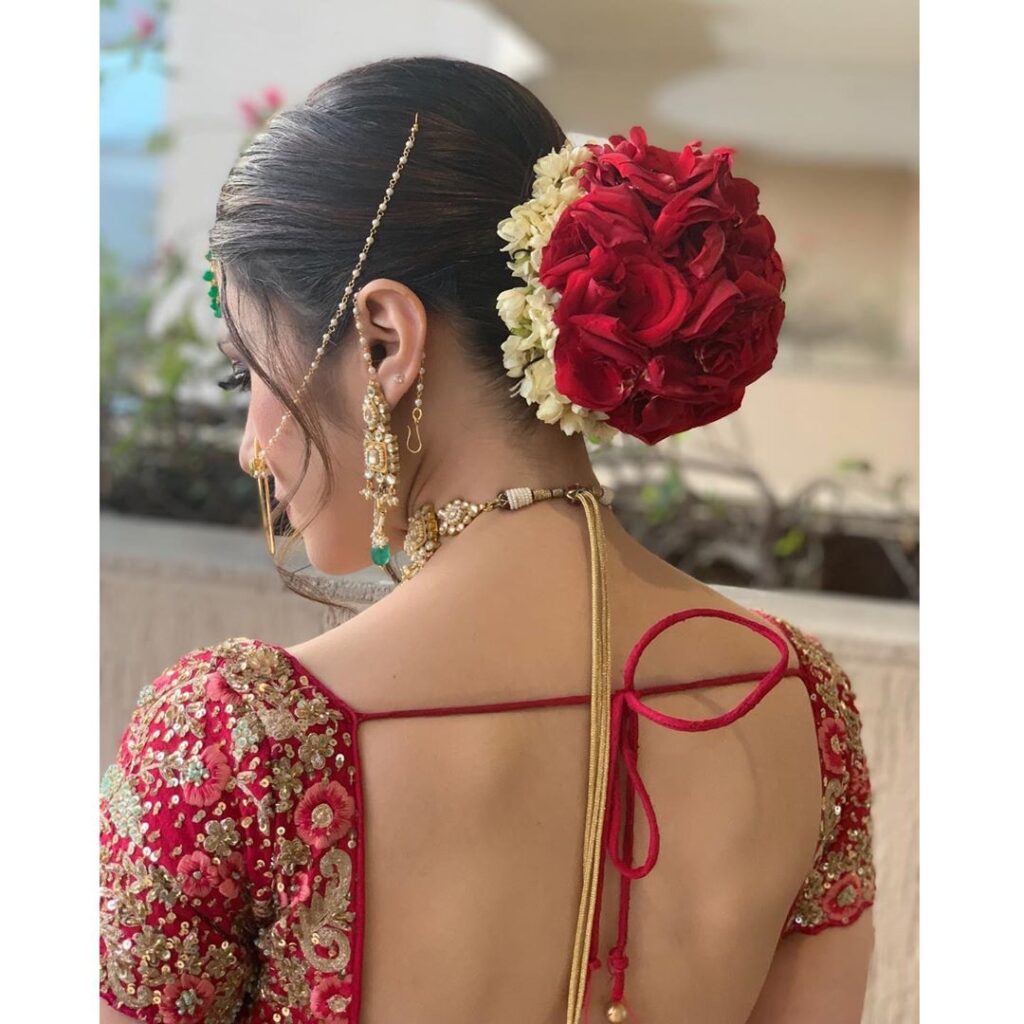 Via @makeupbyfizz
#5 All Love For Hydrangeas
This bride embellished her entire bun with nothing but white hydrangeas and it looks so chic yet elegant. Crushing on her bridal portraits as well!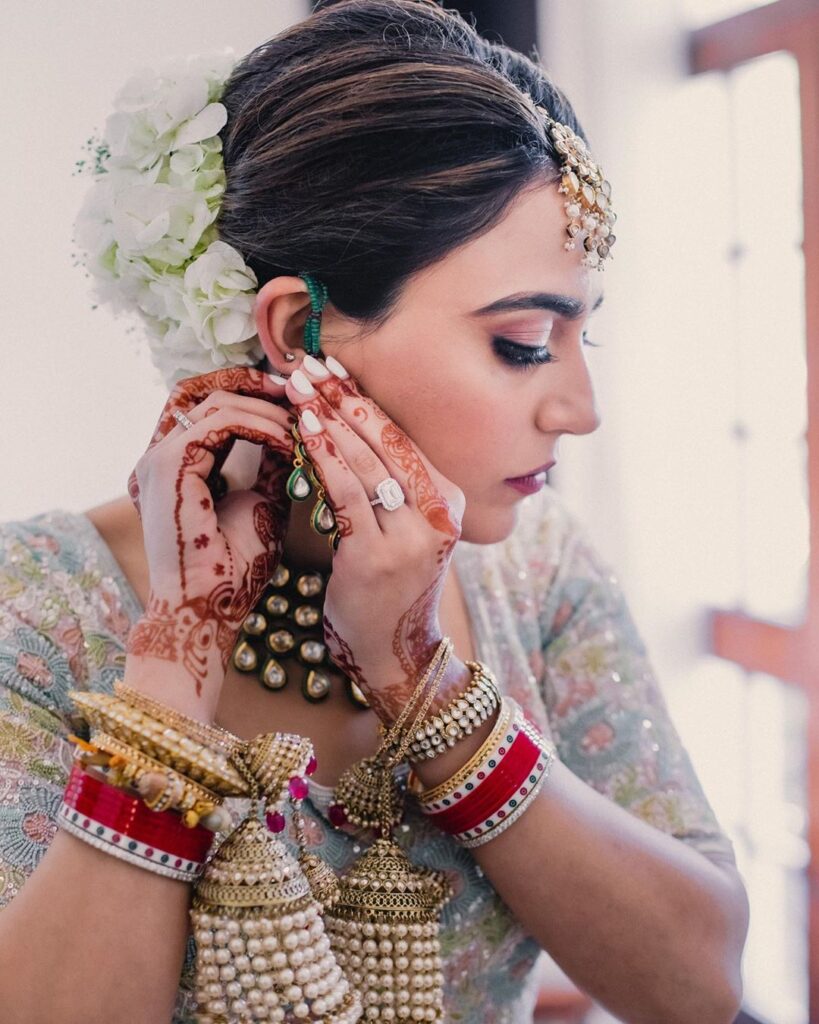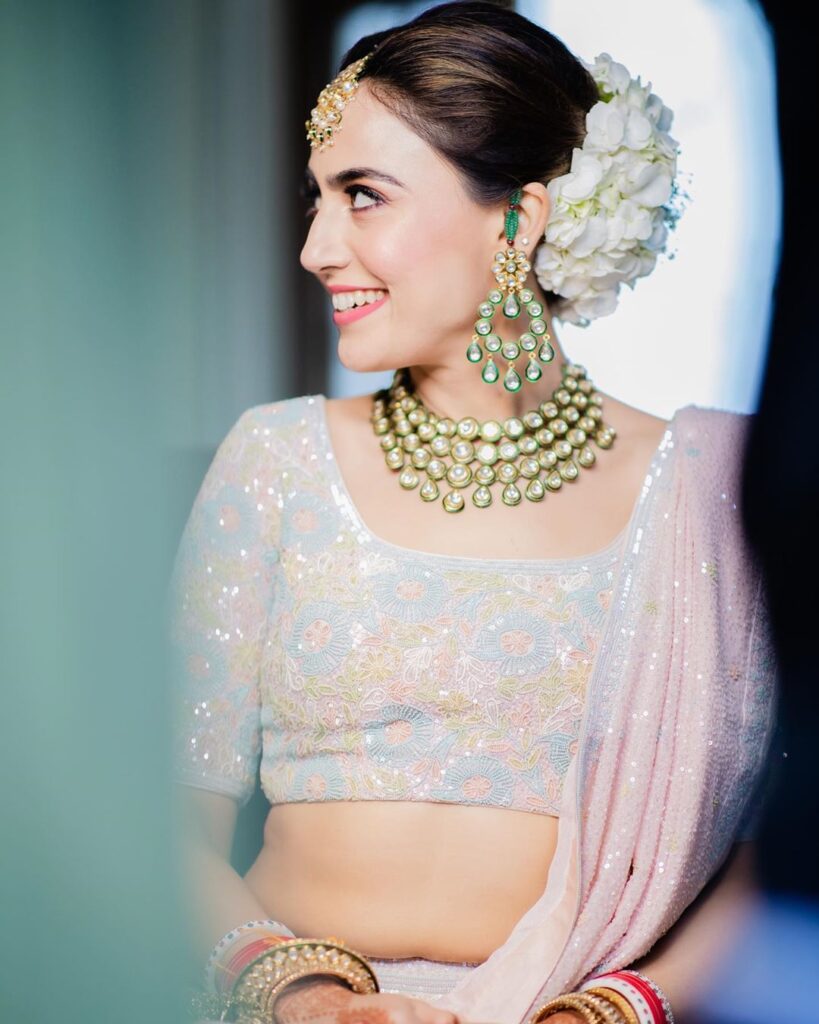 Via @makeupbyshagun, @colorblindpoduction
#6 Only White For The Win
The white orchids surrounding the bun complements the baby's breath beautifully. The unique floral setting will sure grab a lot of compliments.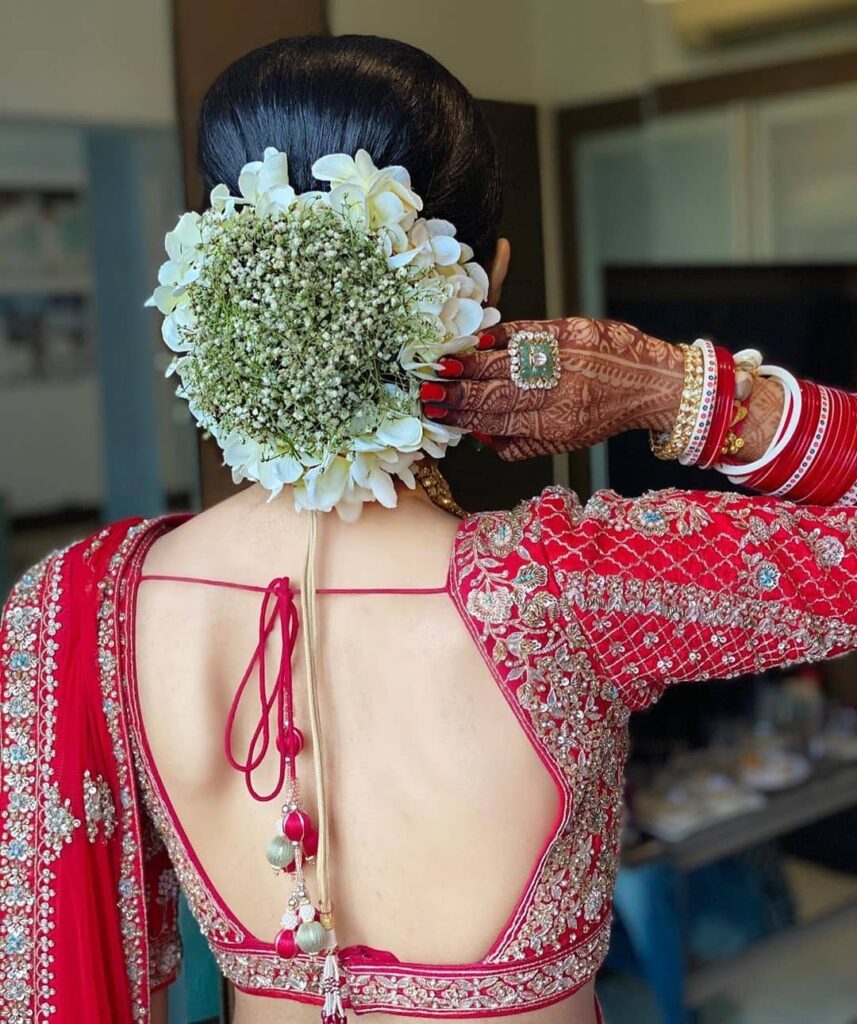 #7 Overloaded With Carnations!
We think having a white bun goes flawlessly with the colorful Indian outfits. Moreover, stuffing the bridal bun with flowers sure is the latest trend!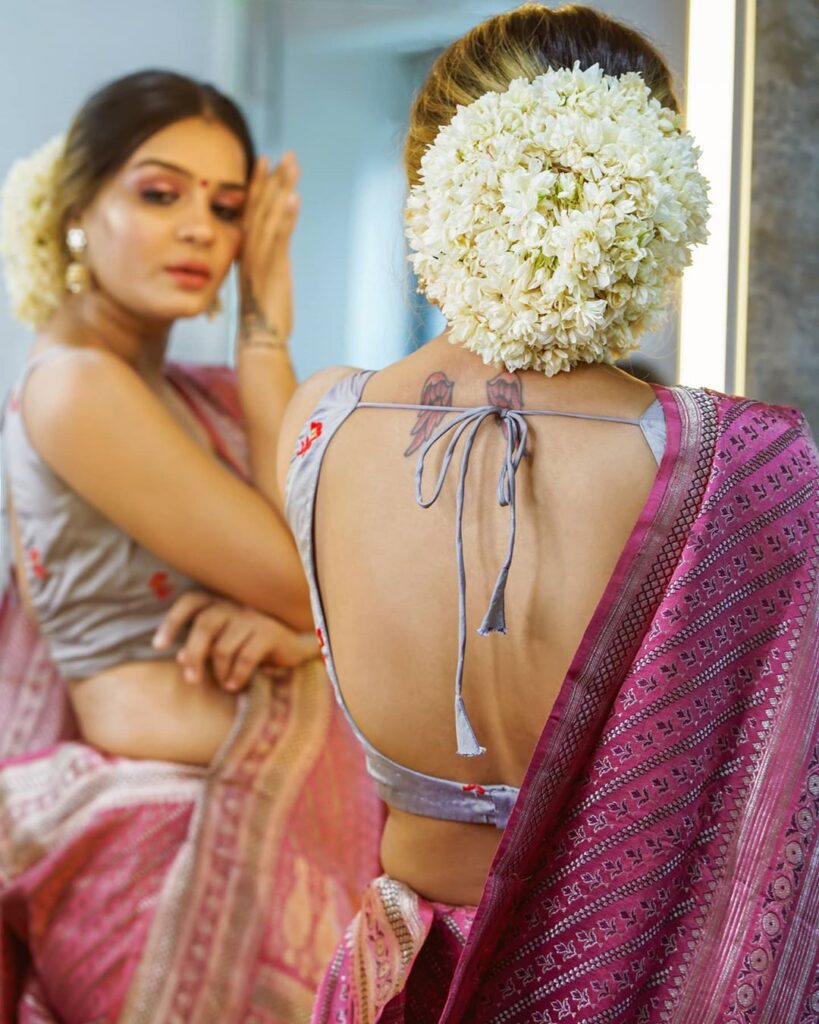 Via @aanalsavaliya
#8 Braided Bun With Minimal Decoration
There's no point in getting a braided bun if you don't show it off! Take cues from this bride on how she flaunts her bridal braided bun hairstyle while reaping the beauty of a floral bun.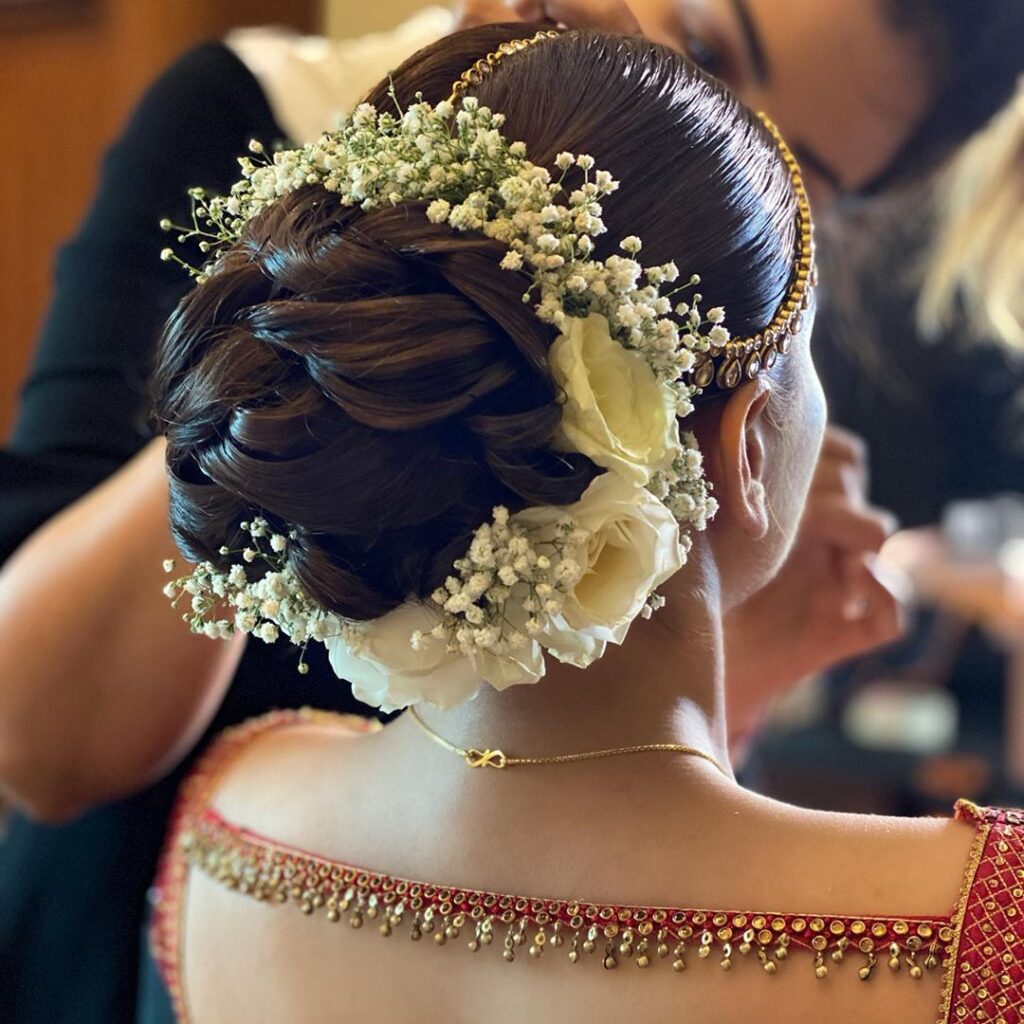 Via @archanarautela
#9 One-Sided Voluminous Braid Meets Twisted Bun
Yet another bridal bun for anyone looking to add a little drama to their wedding day hairstyle. You can leave the bun as it is, or just add a few flowers on the bottom end like this bride.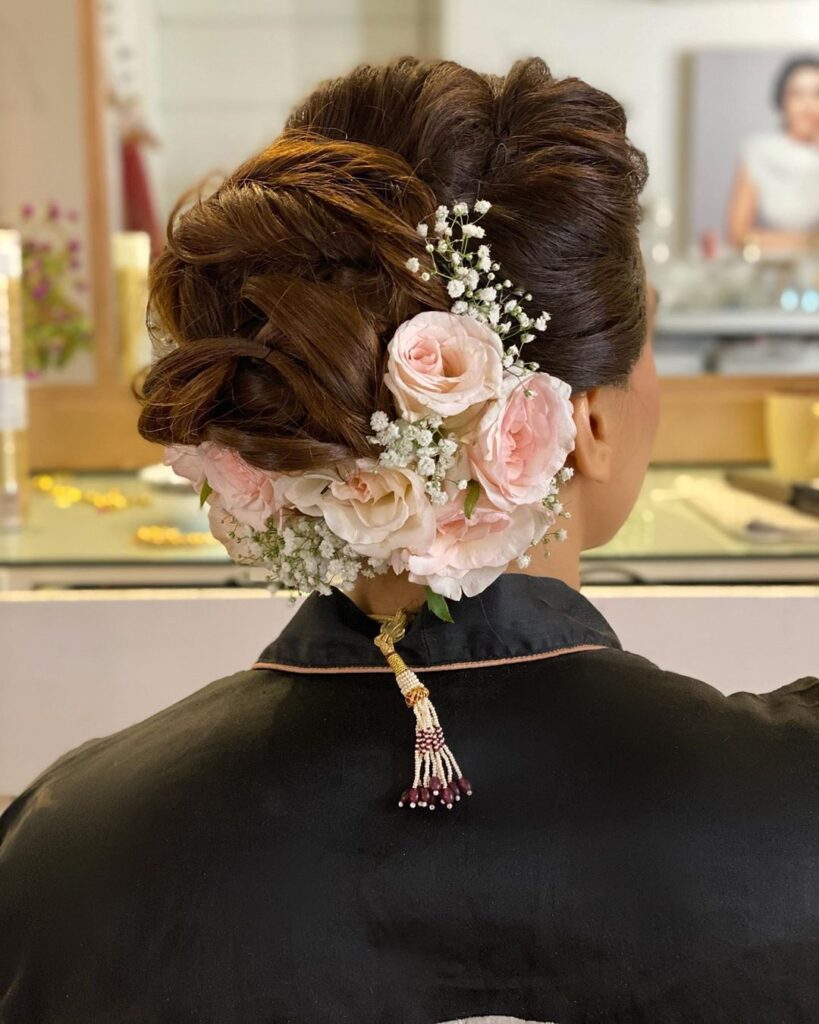 Via @archanarautela
#10 Twisted Bun That's So Modish!
Adorn your contemporary twisted side bun hairstyle with subtle lavender flowers & create a hairstyle that's beautiful beyond words.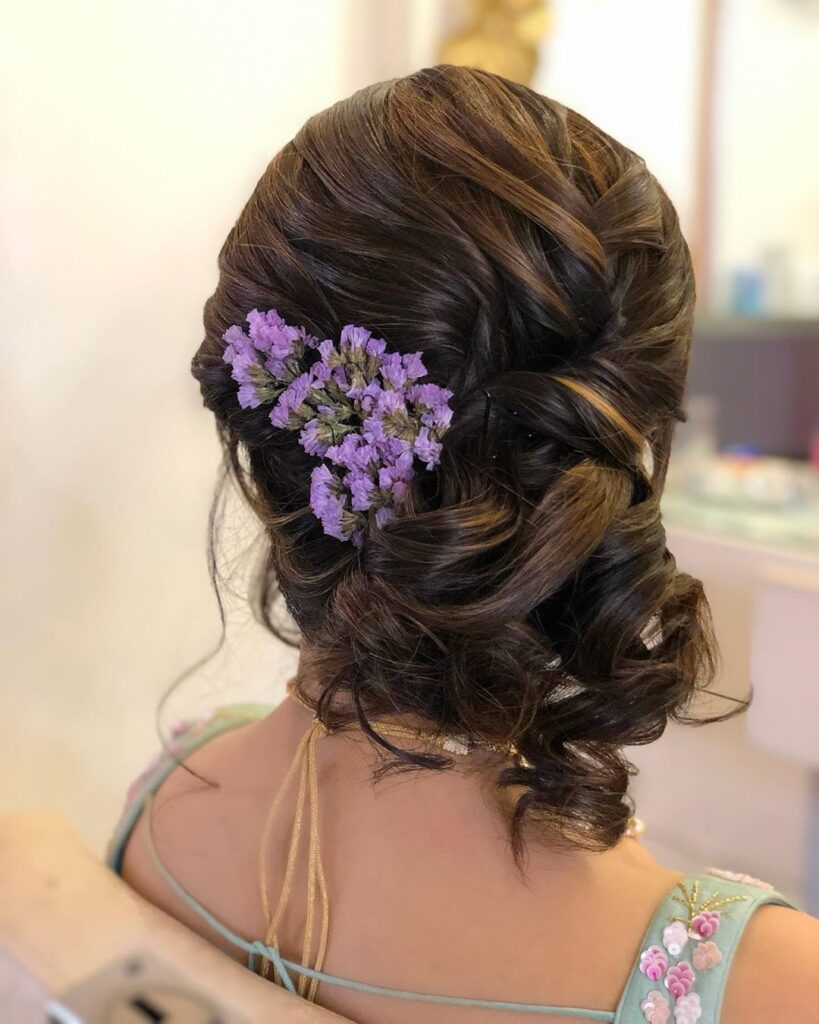 Via @archanarautela
#11 OMG! Now that's a stunner!
If you have got time, let your hair artist give you this dramatic hairdo. What a piece of perfection! An ideal pick for your roka or sangeet night.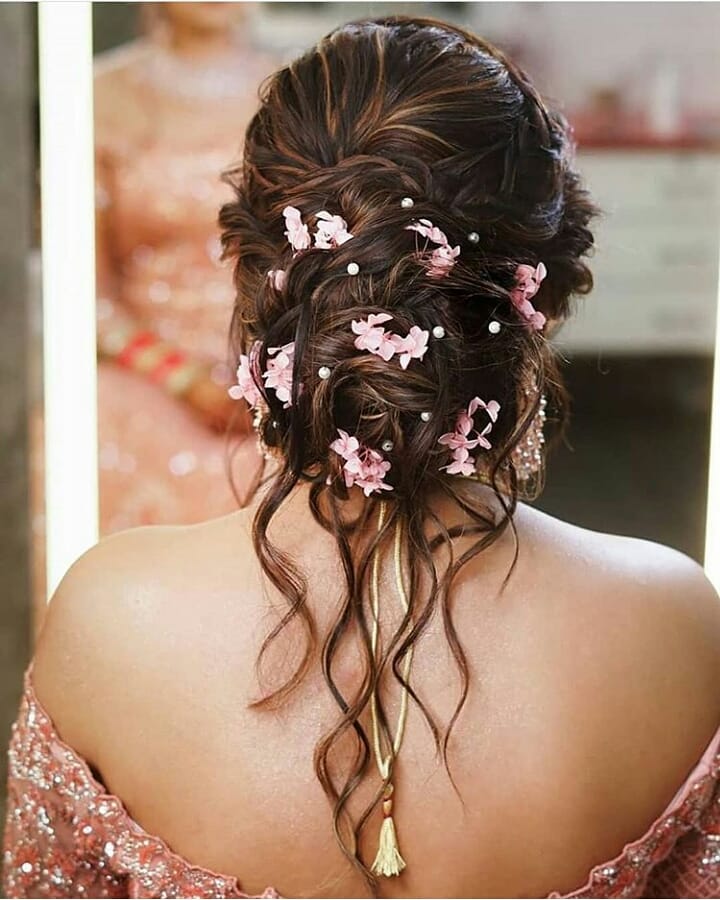 Via @aanalsavaliya
#12 Double Braids Come Together To Form A Neat Donut Bun
We are crushing hard over this two-sided crown braid that converges into a sleek donut bun. Love the creativity with which MUA Thushi adorned the hairstyle with baby's breath.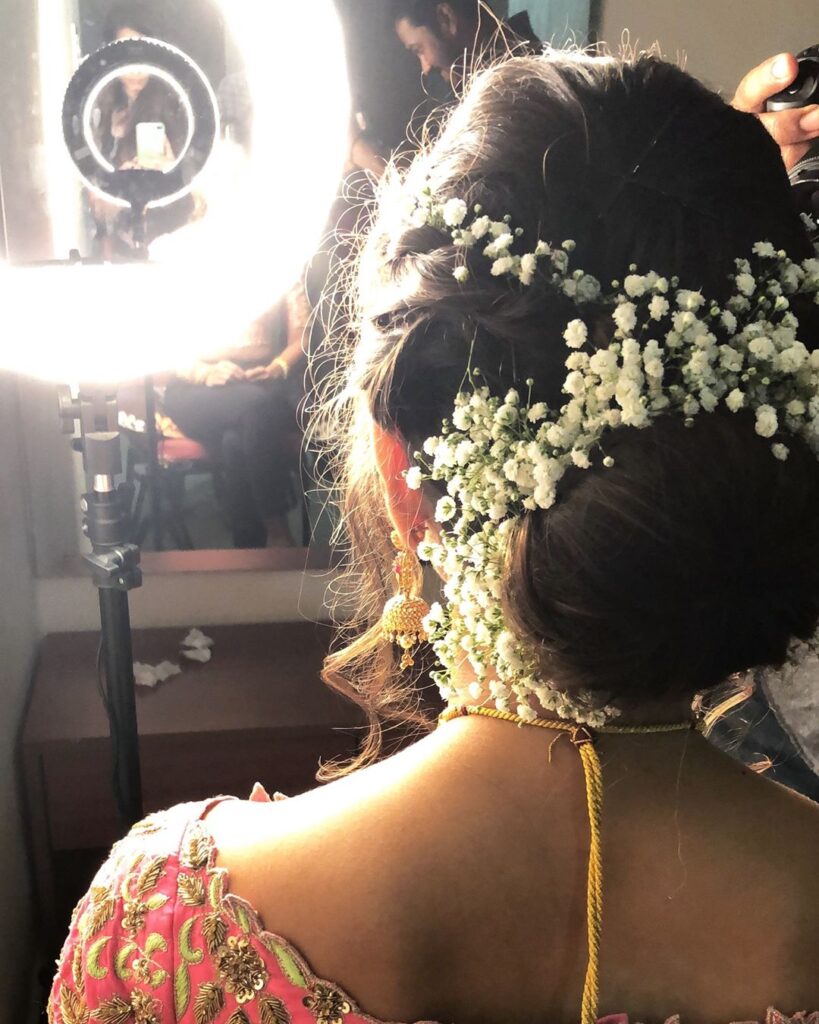 #13 Rope Braided Side Chignon Bun
Love this artistic bridal bun hairstyle! A low chignon hairstyle always looks elegant and posh. It not only makes up for an ideal bridal hairstyle, but would look amazing on bridesmaids or mother-of-the-bride.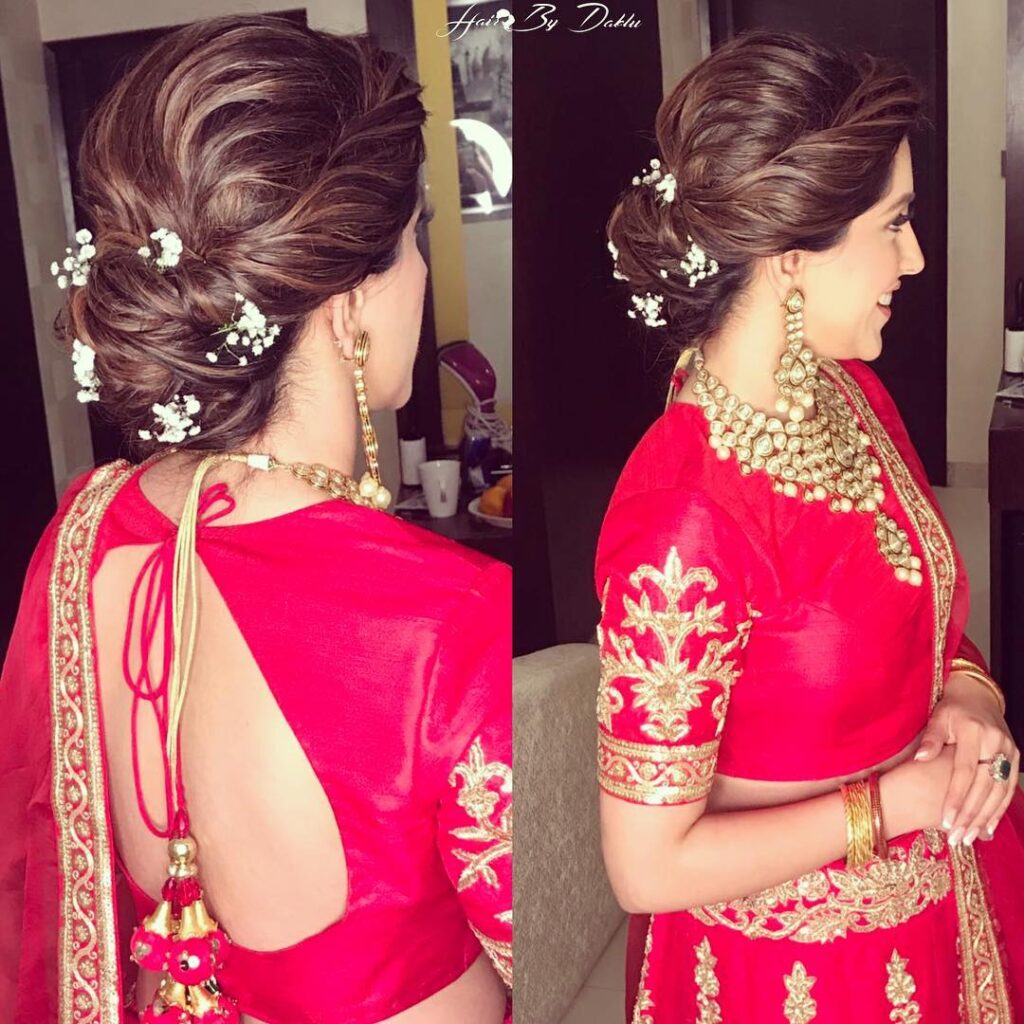 Via @hairbydablu
#14 Loose Textured Bun!
The bridal bun pictured below is such a unique combination of accessories, braids, and twisties. It adds a lot of puffiness and volume to your hair. Any brides-to-be with thin hair should definitely opt for it.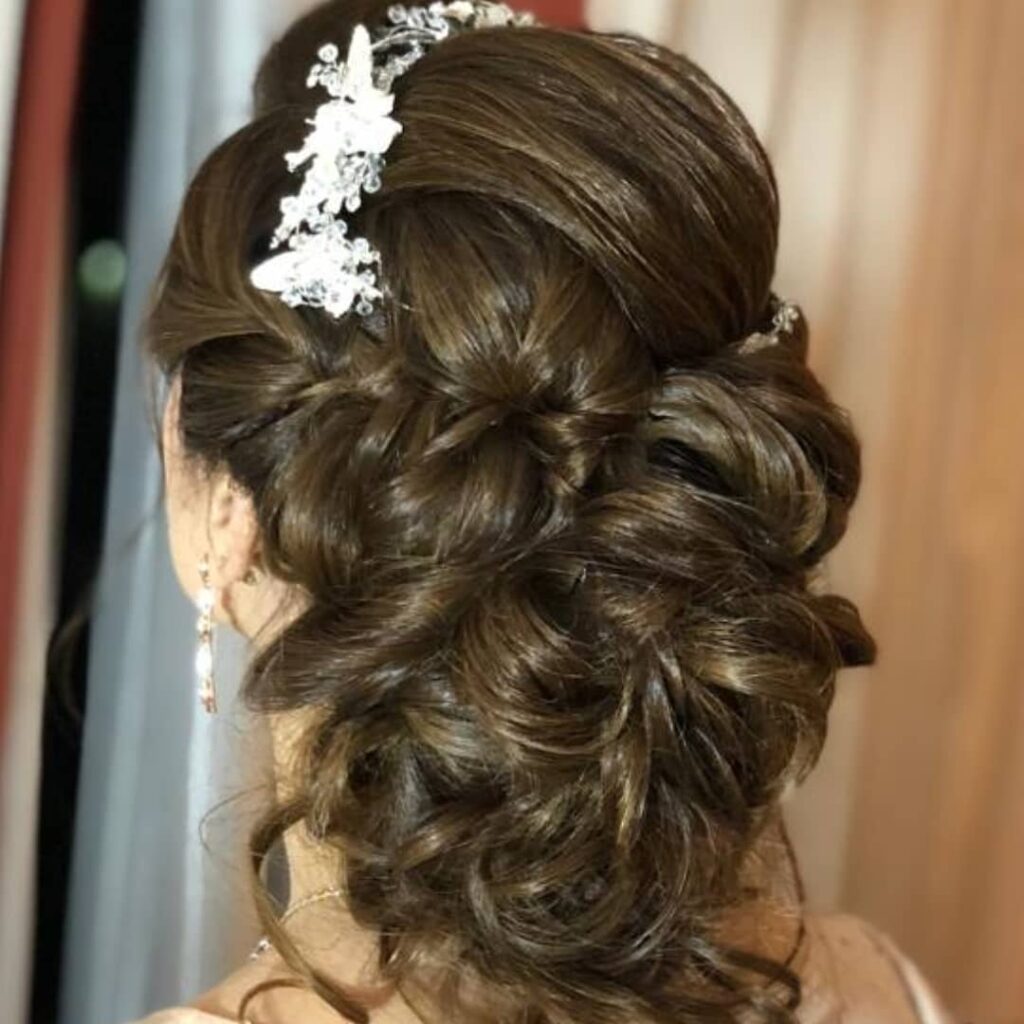 Via @hairbyahmad786
#15 A Voguish Rosette Bun
If you're bored of the floral buns, grace your hairstyle with a statement accessory instead of flowers! Get an accessory like this here.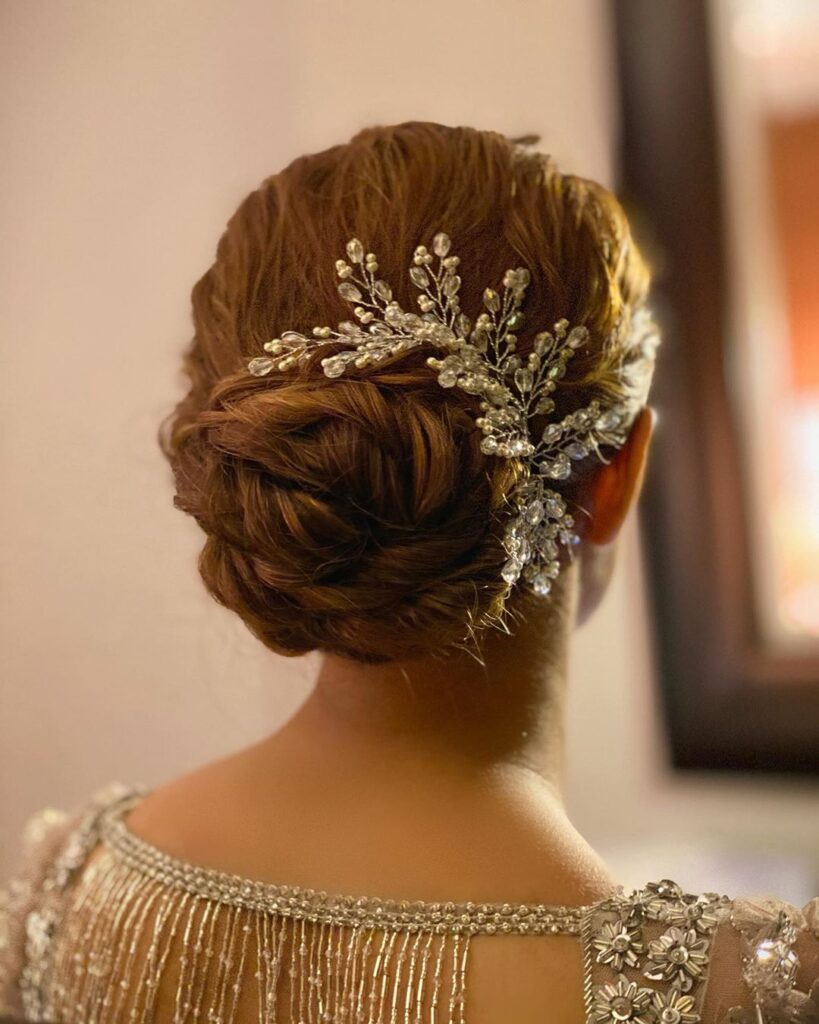 Via @archanarautela
#16 Another Messy Chignon 
Chignons are versatile, gorgeous, and elegant. They impart a fantastic fuss-free look to brides and are ideal for brides who don't want a heavy head on their D-Day!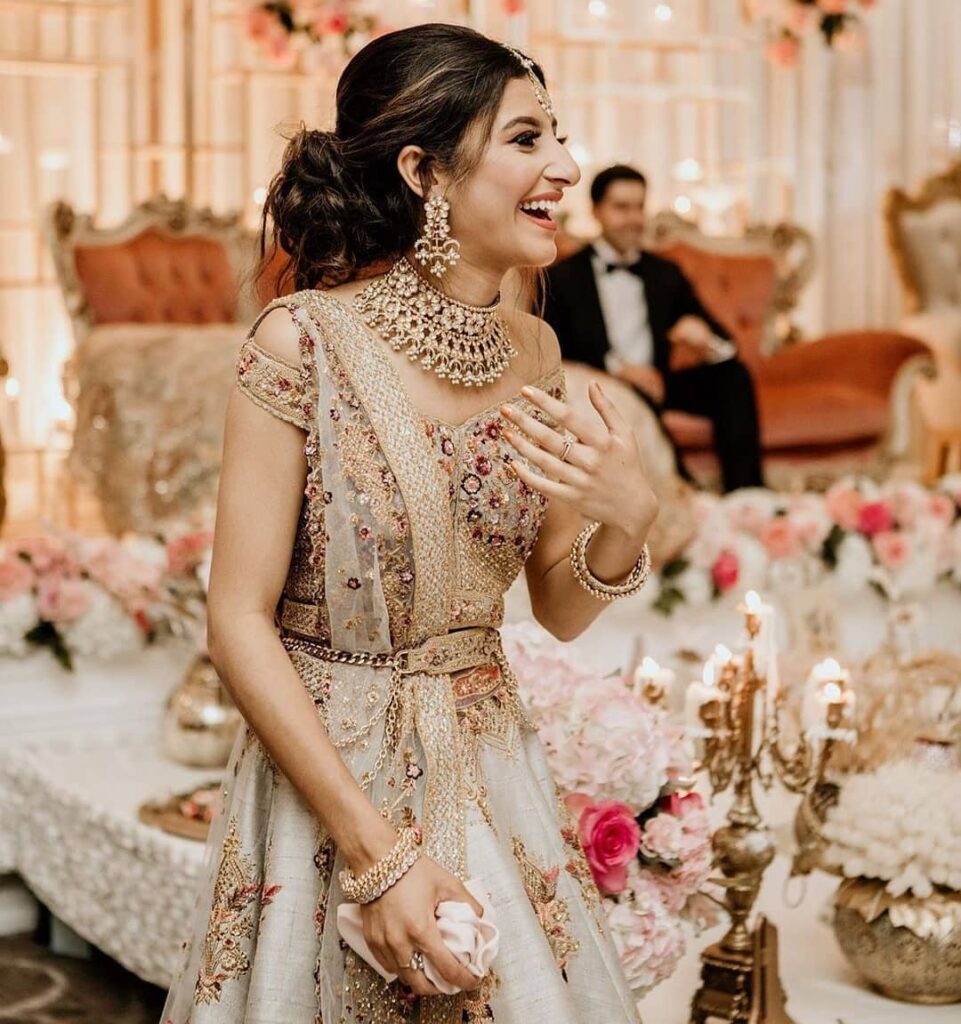 Via @lifesforliving, @wahidamakeup
#17 Head-Turner! 
Blossoming red roses with a red lehenga is a stunning, foolproof choice for your big day. Also, a timeless one. Because, unlike other flowers, roses, especially red ones, will always be in trend! Love how they grace this bride's neat bun hairstyle beautifully without looking extra.
Courtesy: Simran Shah
#18 Pretty Blooms & Baby's Breath
Besides the eye-catching braided bun, her lehenga blouse design is yet another reason to PIN this picture right away. Or just bookmark our blog by tapping the *bookmark now* button on the upper right-hand side.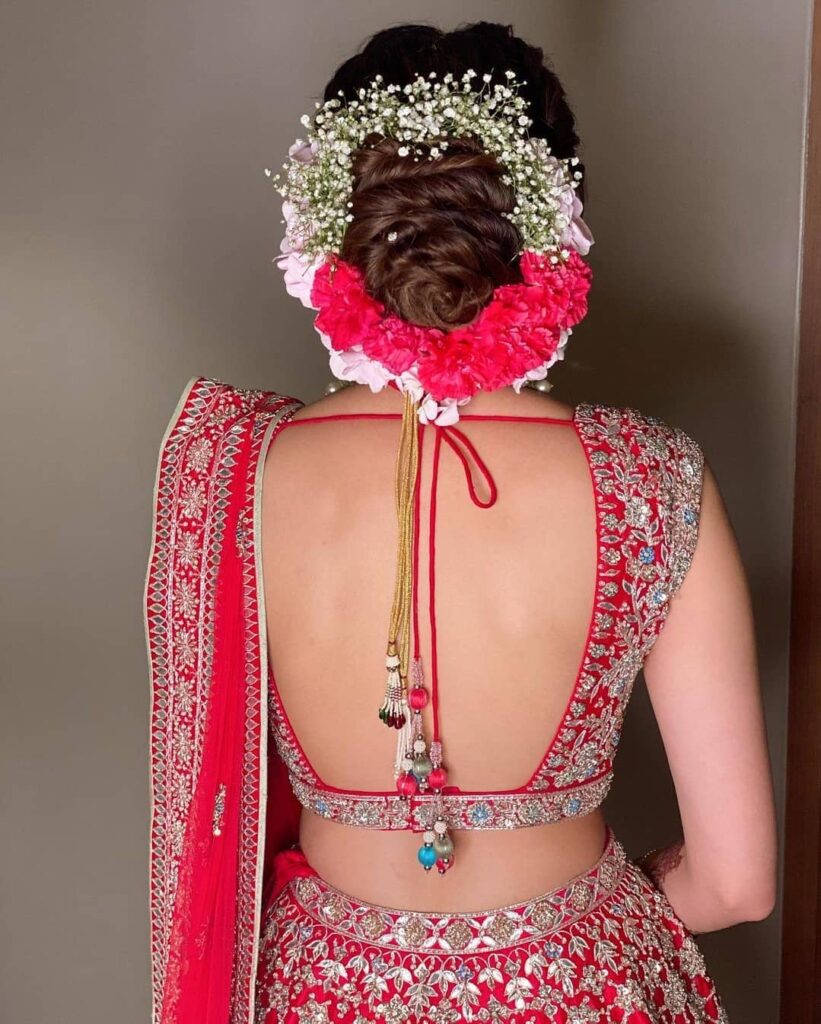 Courtesy: Ritika Kadam
#19 Embellished With Beads
If you're done with only florals gracing your bridal bun, why not combine them with some bead embellishments to create a striking wedding hairstyle! That's exactly what popular hair maestro Ritika Kadam did for her bride's big day. With a question, the creativity added a sharp contrast to her red ensemble, nevertheless a gorgeous one though!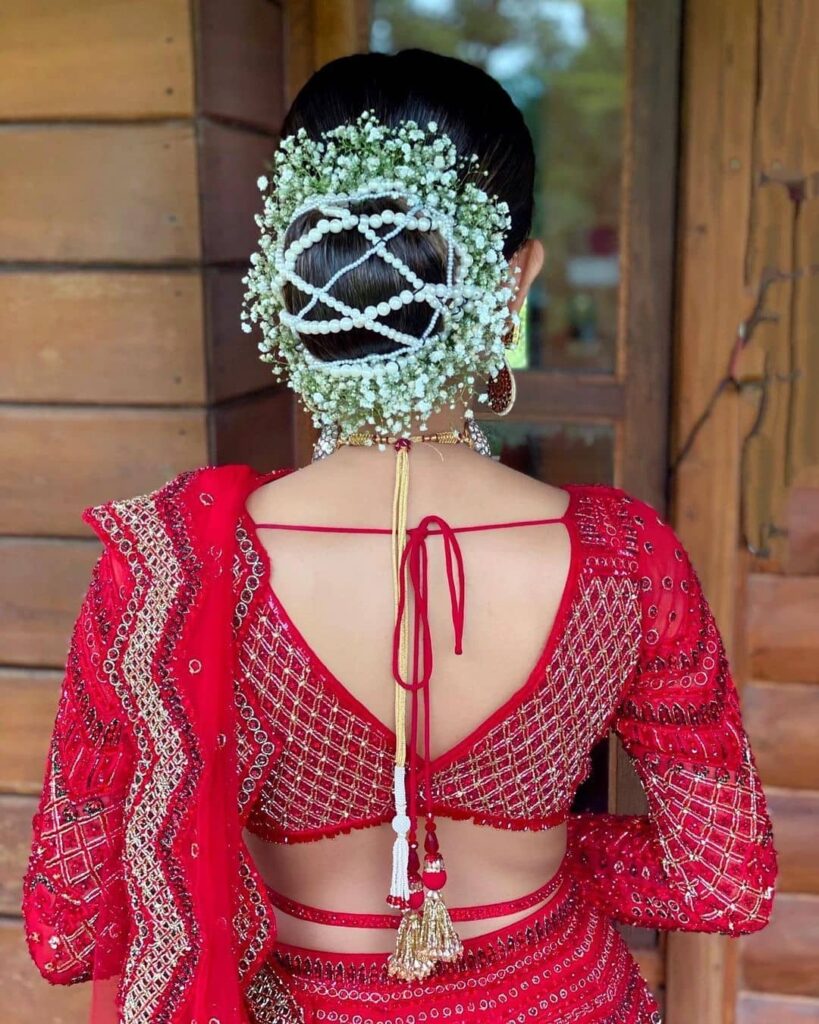 Courtesy: Ritika Kadam
#20 The Eternal Love For Roses
A bridal hairstyle with roses has become a go-to for Indian brides and can be spotted frequently in 2021 brides. This updo with blooming roses looks so refined and polished. It's impressive how the MUA places the flowers so neatly on her bun and complemented the same with side twists and flicks.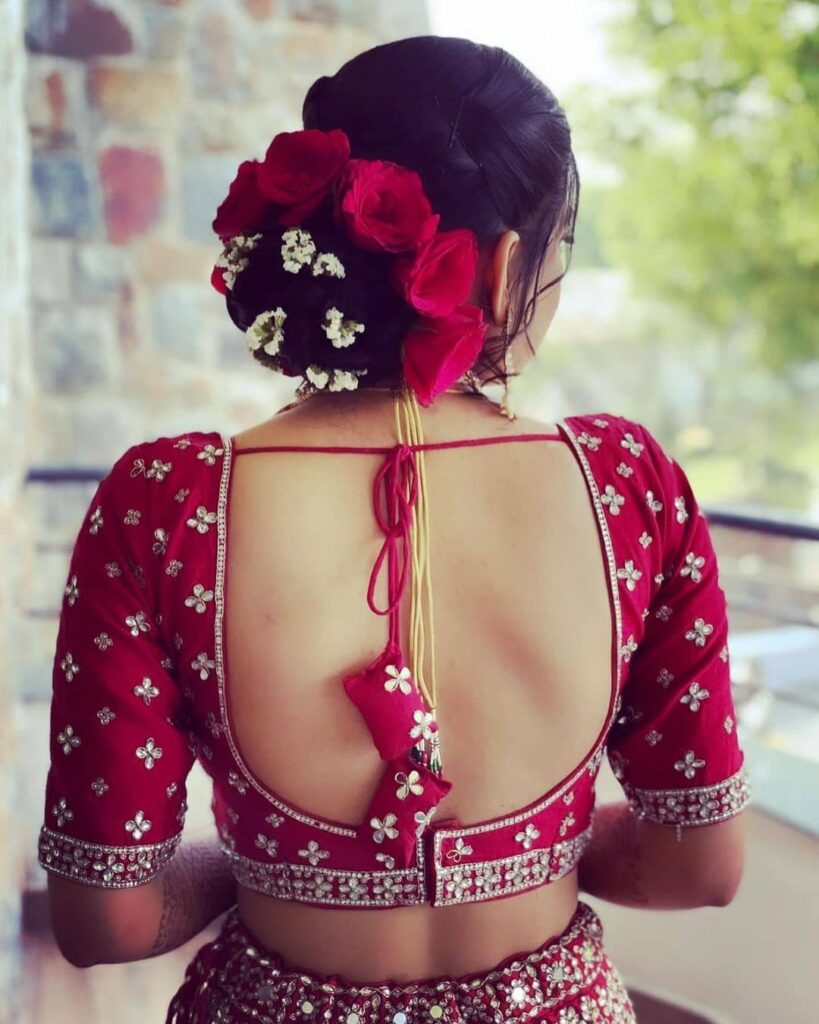 Courtesy: Geeta Makeovers
Check out more floral bun hairstyles for brides here.
South Indian Bridal Hairstyles
Every part of a South Indian bride radiates sheer elegance and royalty. From the simple kanjeevaram saree, they don to magnificent jewelry and exquisite hair accessories – we love it all! A significant part of their bridal look is the stunning hairstyle that's creative and artistic in every sense. When we were rummaging the Internet, we couldn't help but fall in love with South Indian bridal hairstyles. This section will be a long one, brace yourselves!
#1 Neat Puffy Low Bun With Added Flicks
This is such a feminine hairstyle for South Indian brides. With hair poofed up at the crown to create an attractive low bun that's further adorned with jasmine flowers, everything about this hairstyle is idyllic.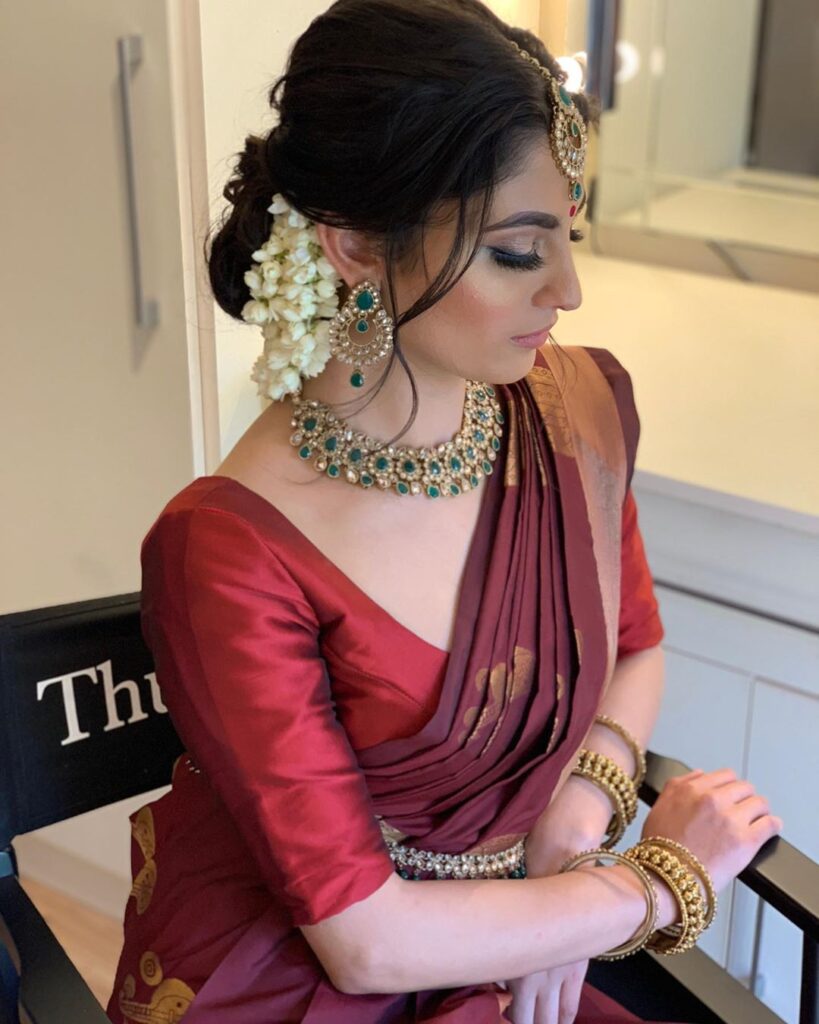 Via @thushi_mua
#2 We're Mesmerized!
We told you, South Indian brides will take your breath away! If you've spotted their bridal braid hairstyles with such exquisite accessories and wondered what they are – well, here's the answer. They are called 'jada billalu' or simply, jada sets or choti jadai. They come in string form, like the one the bride below is wearing or separately when it's also called 'billas'. They can be made in gold or using flowers.
Also, the giant juda pin she's wearing is known as raakodi, another common hair accessory used by South Indian brides.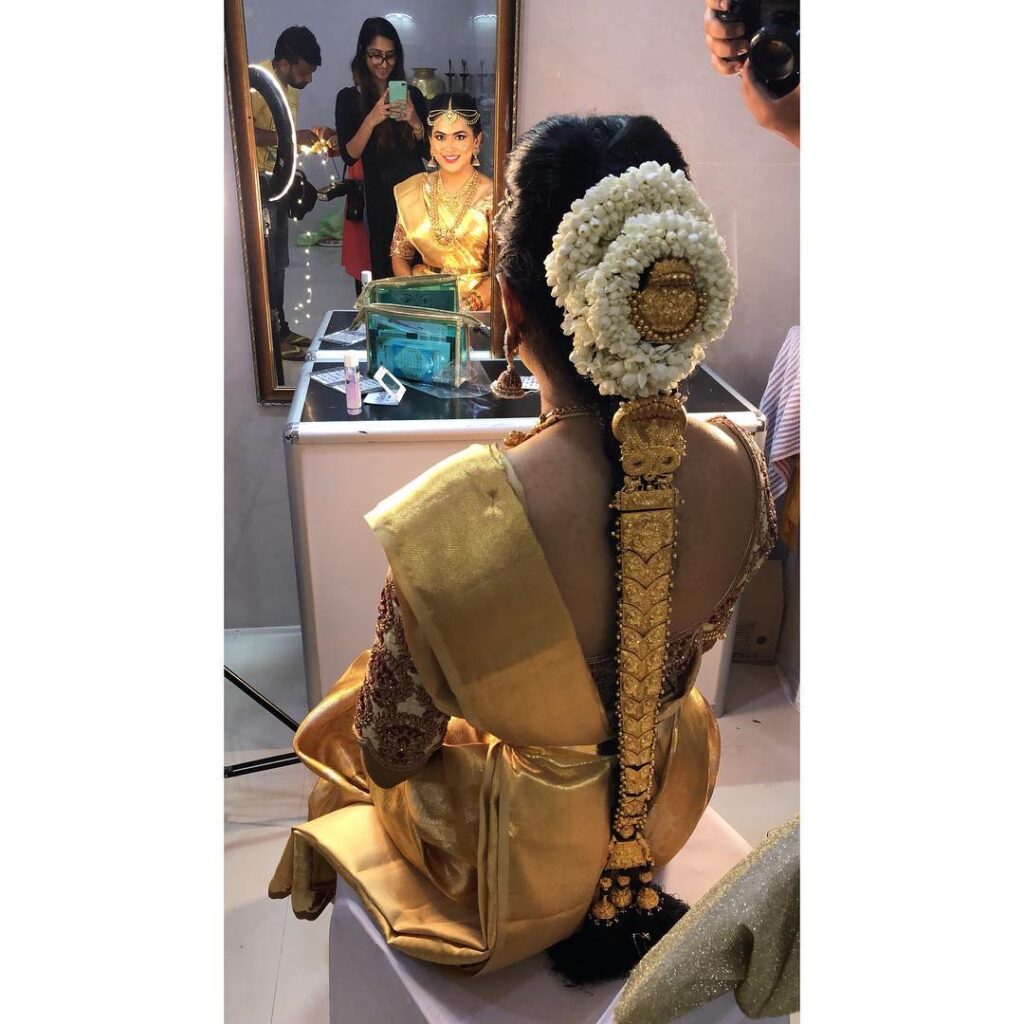 #3 Keeping It Simple
A classic voluminous braid beautified with another small braid and little bits of baby's breath.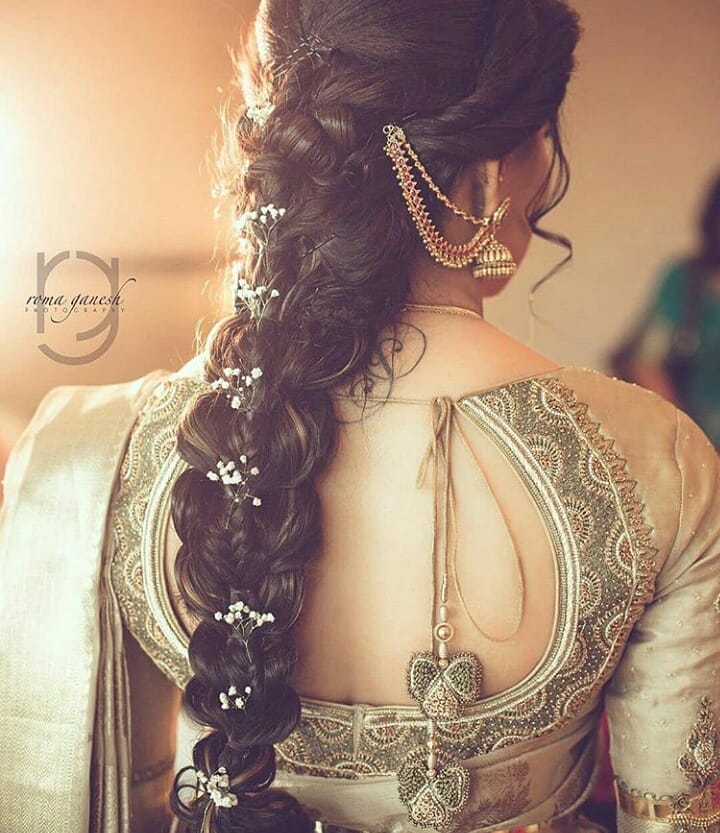 #4 A Winsome Bridal Ponytail
Ponytails add a polished and smooth finish to any look. Take inspiration from this bride on how to slay in it on your big day!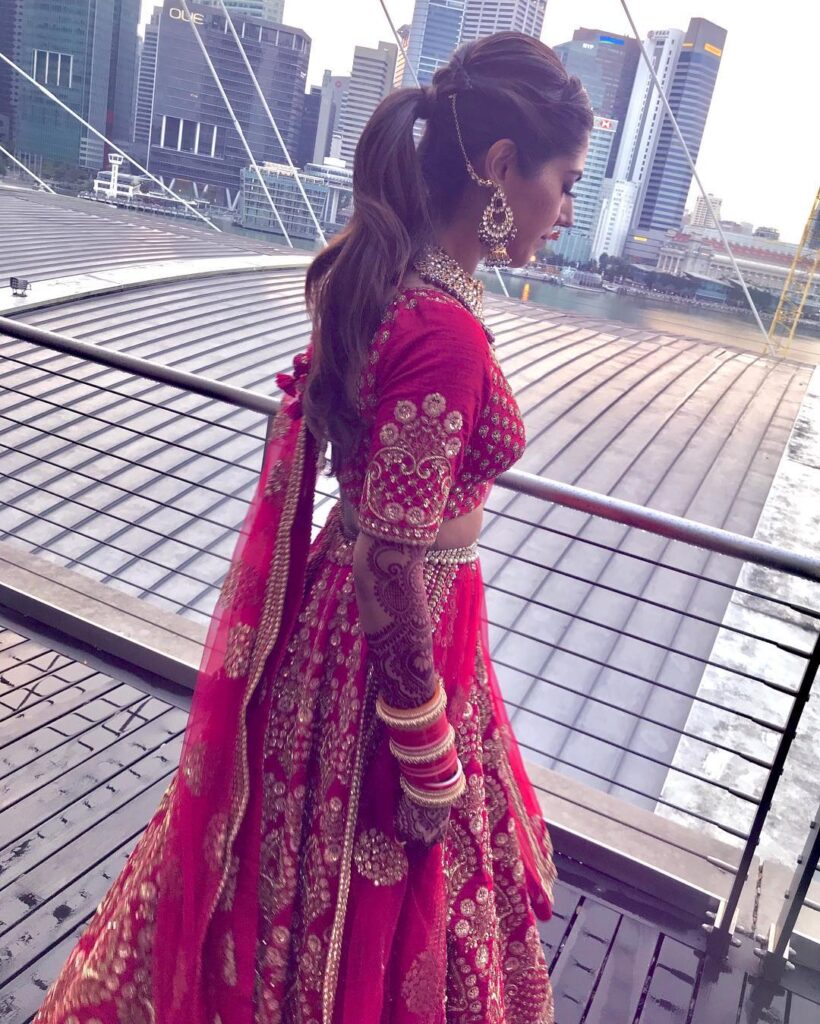 Via @makeupbyroxx
#5 A Bedecked Bun
As we mentioned above, juda pins in South Indian hairstyles are called 'raakodi'. It's generally placed at the center of the bun, but this bride didn't play by the rulebook. She graced her hairstyle with raakodis on the top and pink carnations on both sides – so gorgeous!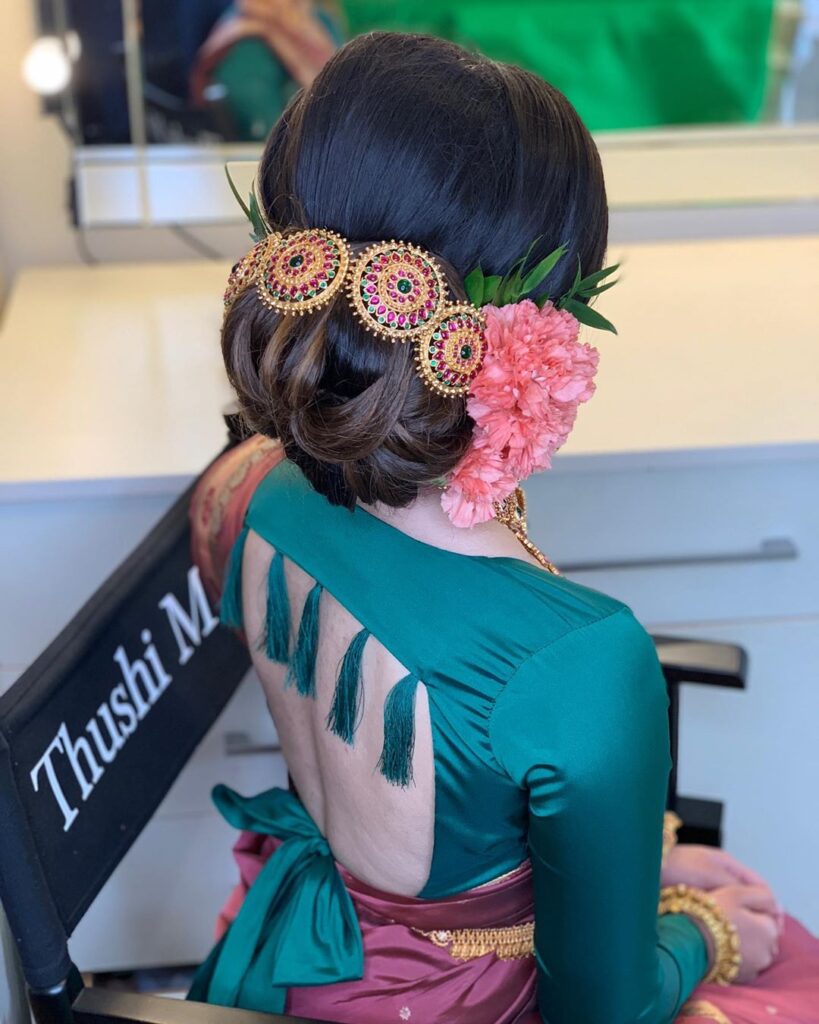 Via @thushi_mua
#6 Playing With Accessories
The jhumka strings you see are actually chain earrings (get them here). The MUA smartly used it to create a super-edgy hairstyle. She further primped the hairstyle with jasmine flowers.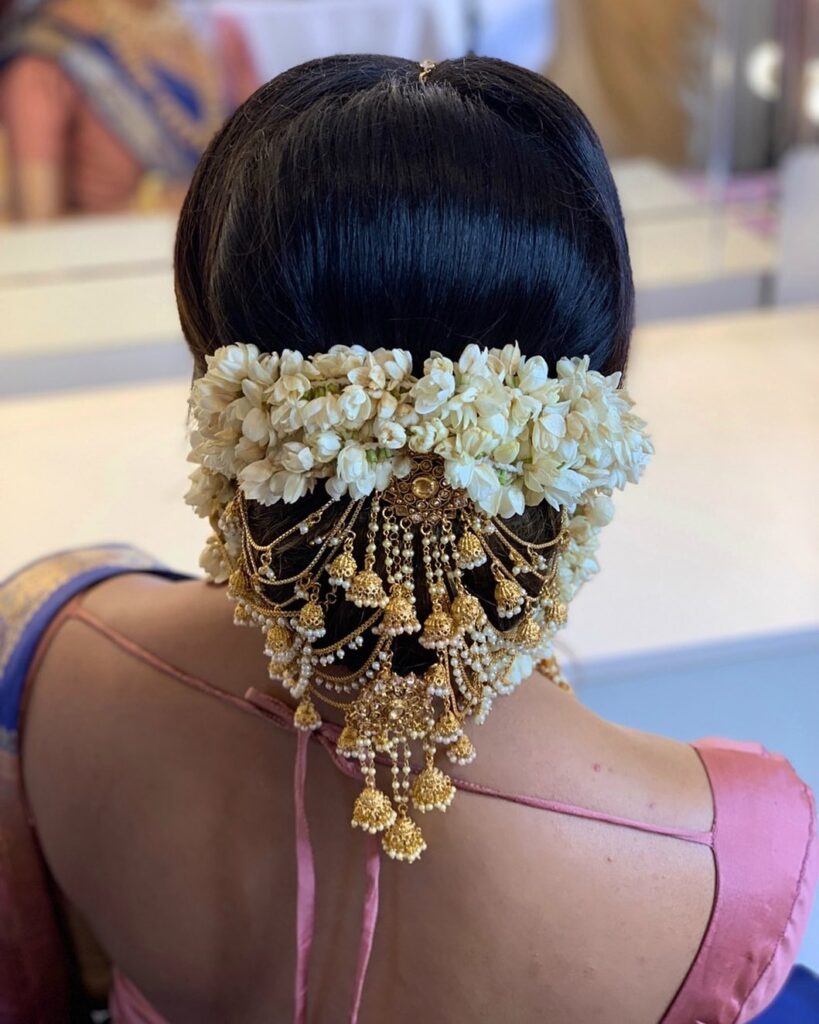 Via @thushi_mua
#7 Captivating Braid With Traditional Accessories
Keeping it simple and traditional, this bride accentuated her long braid with jadai billai hair pins and venis – a string of flowers that's a common addition to South Indian bridal hairstyles and is placed at the start of the braid. It can be a simple garland or strings of garlands like the one pictured below. Buy this jadai billai here.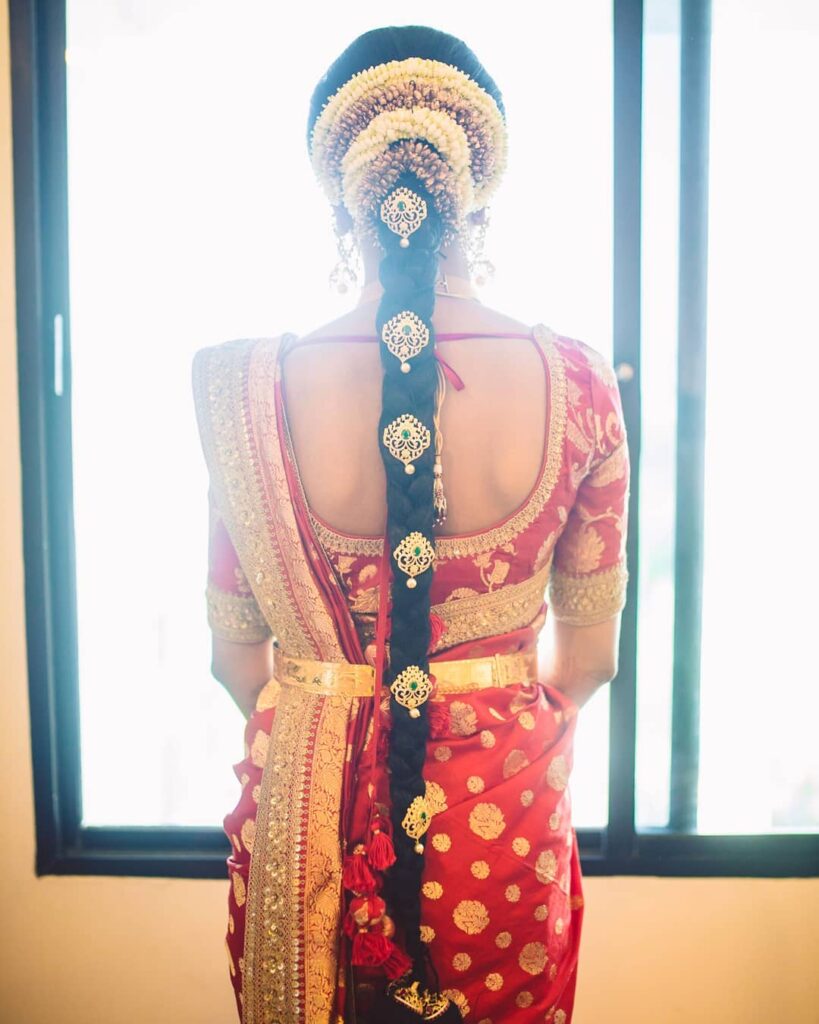 Via @ashfarangila_makeupartist
#8 Yet Another Customary South Indian Braid Hairstyle
Bejeweled with venis, jadai billai pins and raakodi, we absolutely adore this detailed bridal hairstyle.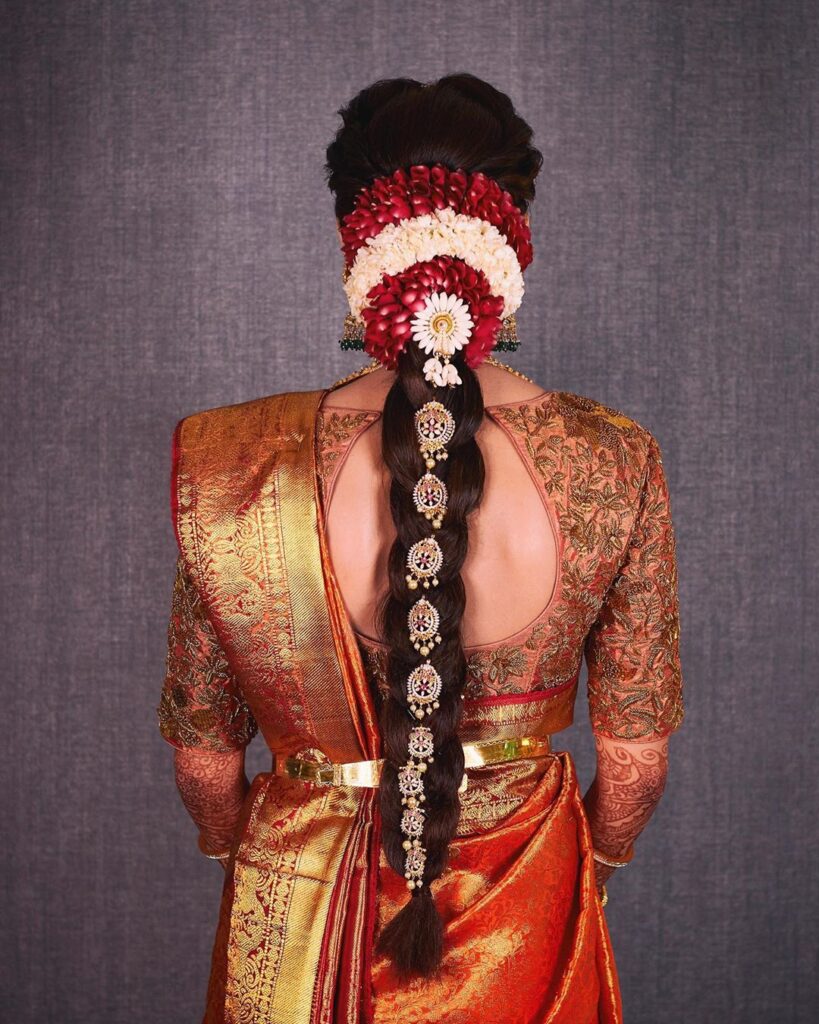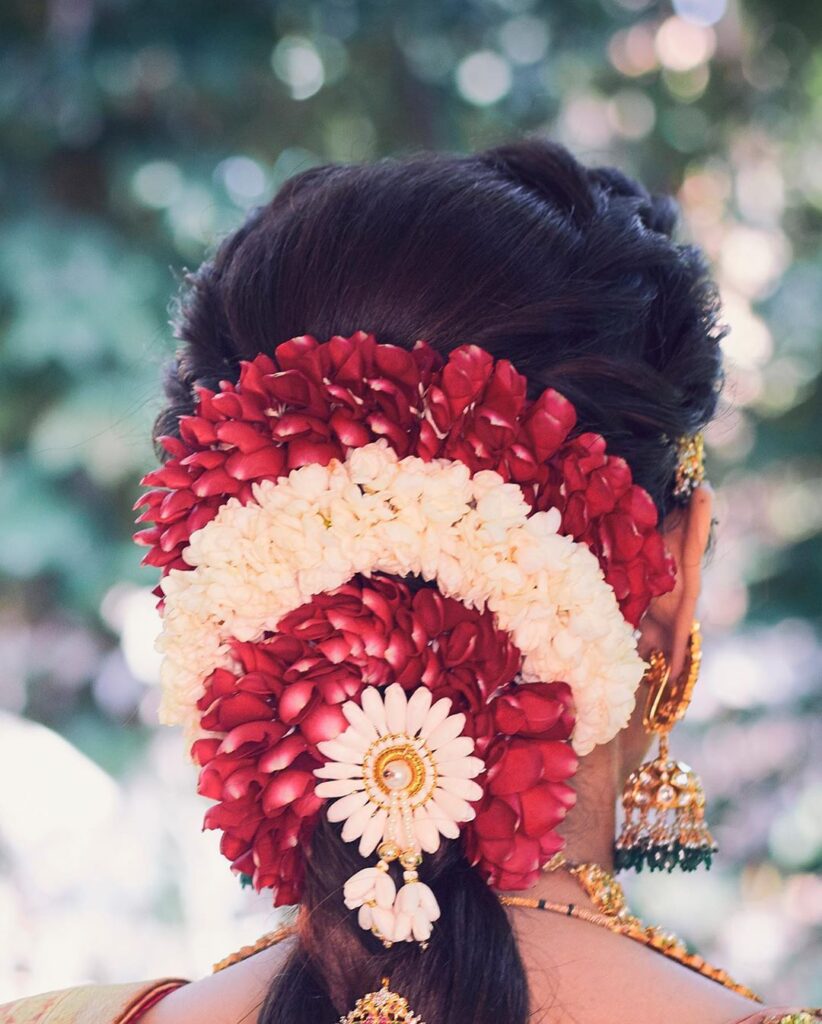 #9 Minimal Yet Attractive
Let your bridal bun breathe with a poofed up chignon hairstyle that's a go-to for minimalistic brides.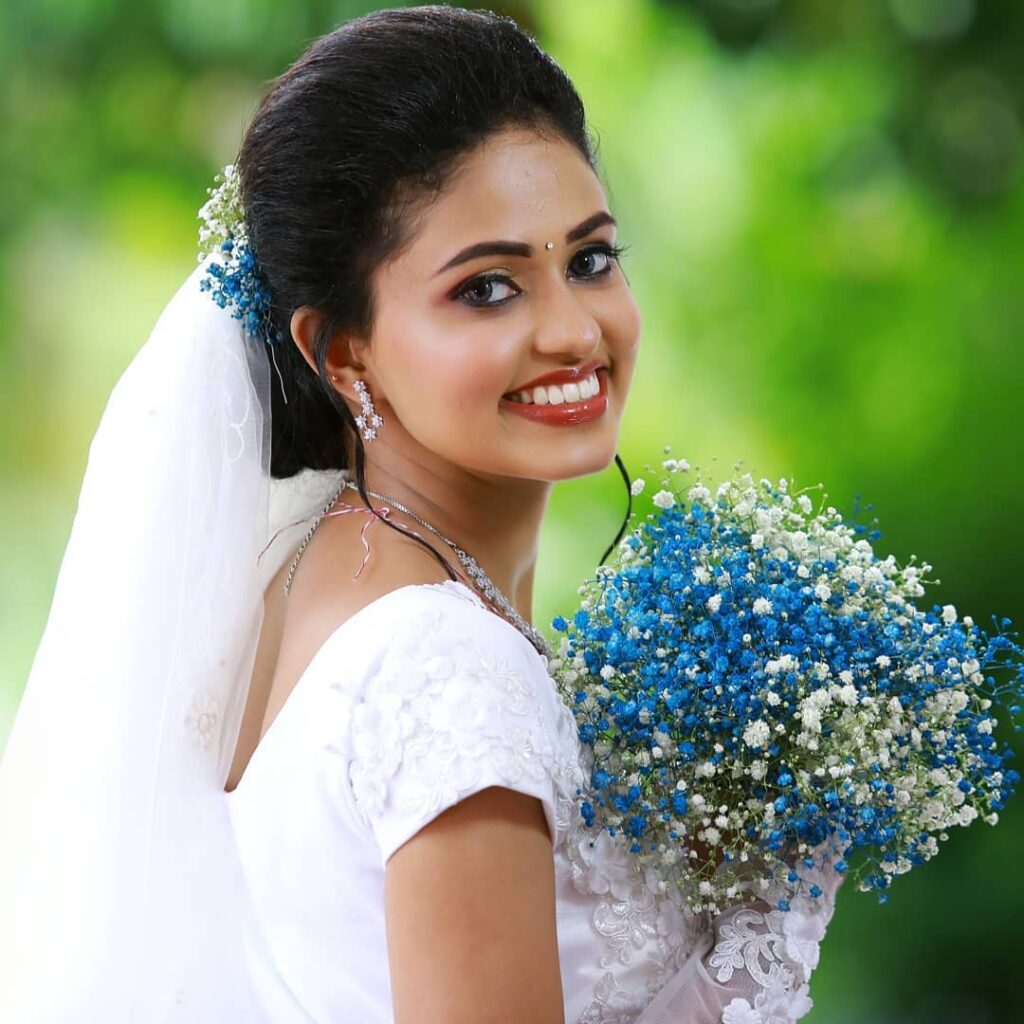 Via @kerala.brides
#10 A Fashionable Bun!
For a subtle yet attractive bridal hairstyle, try a low-tied stylish bun that's amped up by crown braids flowing from both sides of the head.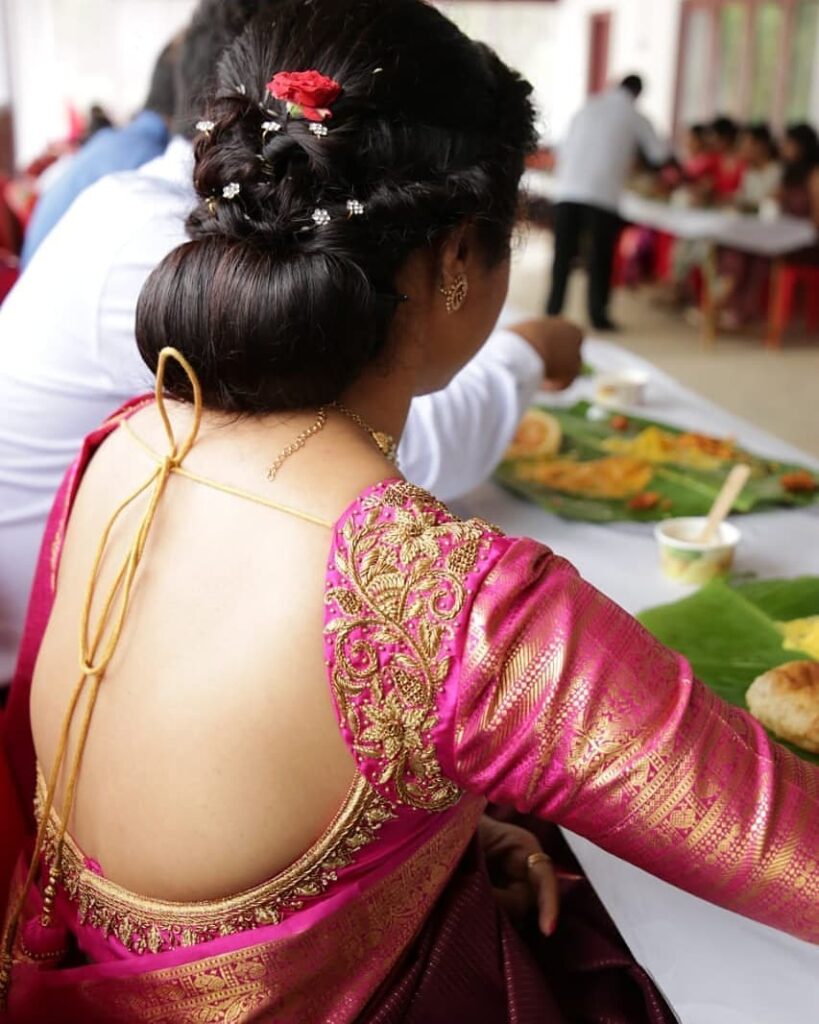 Via @aarna_studio
#11 Multiple Braids Bedecked With Strings Of Garlands
What a trendy and stylish bun hairstyle! Multiple braids tied at the bottom into a low bun and adorned with multicolor floral garlands, it looks so unique and edgy.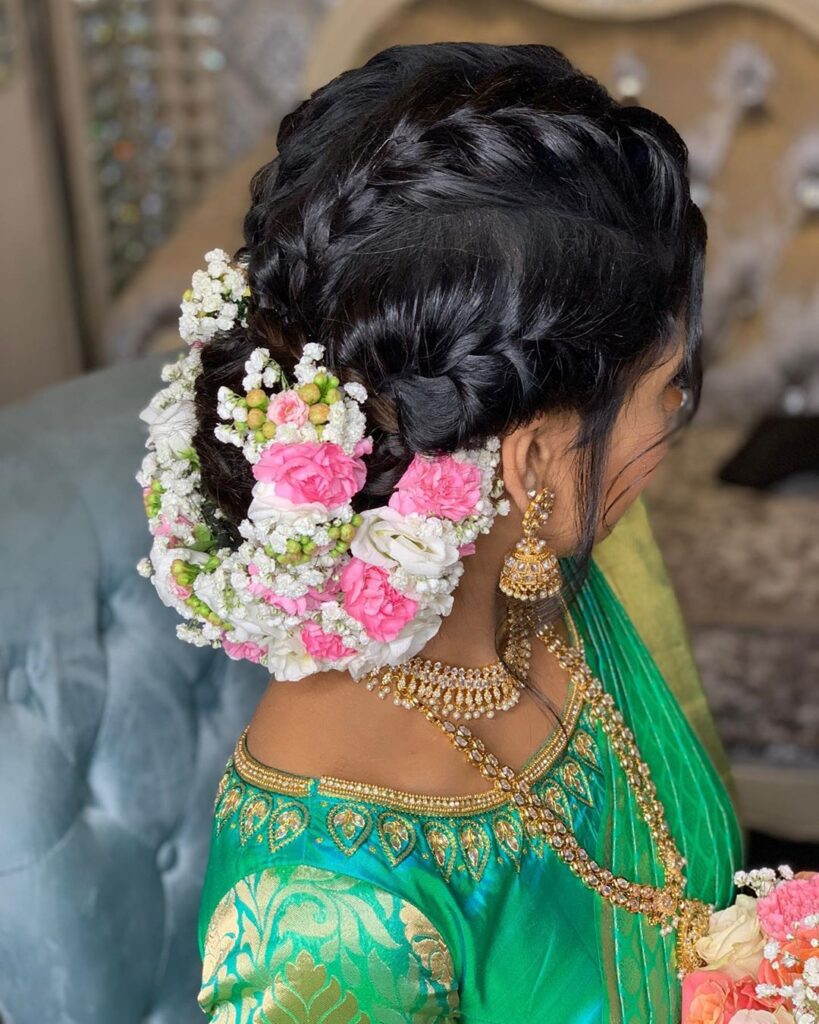 Via @thushi_mua
#12 So exquisite
If you want to turn head with your hairdo, look no further than this exquisite and breathtaking braid. Make sure that everything is properly pinned though, especially if your hair is silky.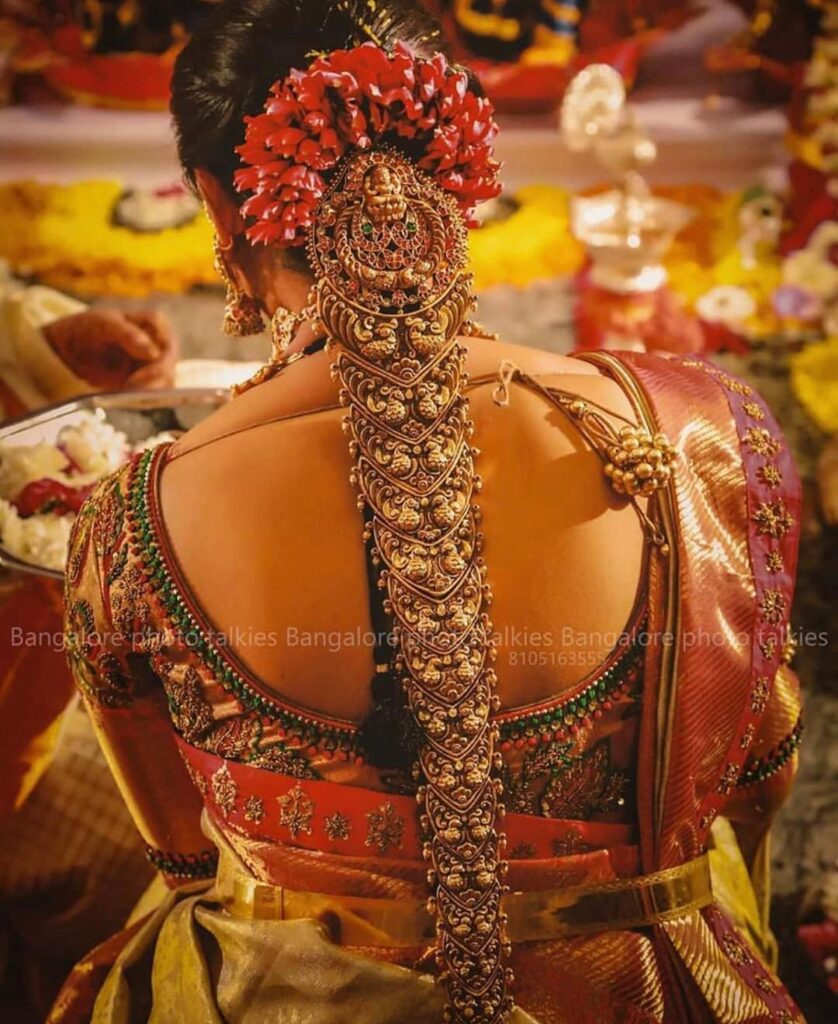 #13 Cascading Voluminous Braid
Another South Indian hairstyle that's a braid but excludes all traditional elements. Brides-to-be looking for a voluminous braid daintily styled, this one will have your heart.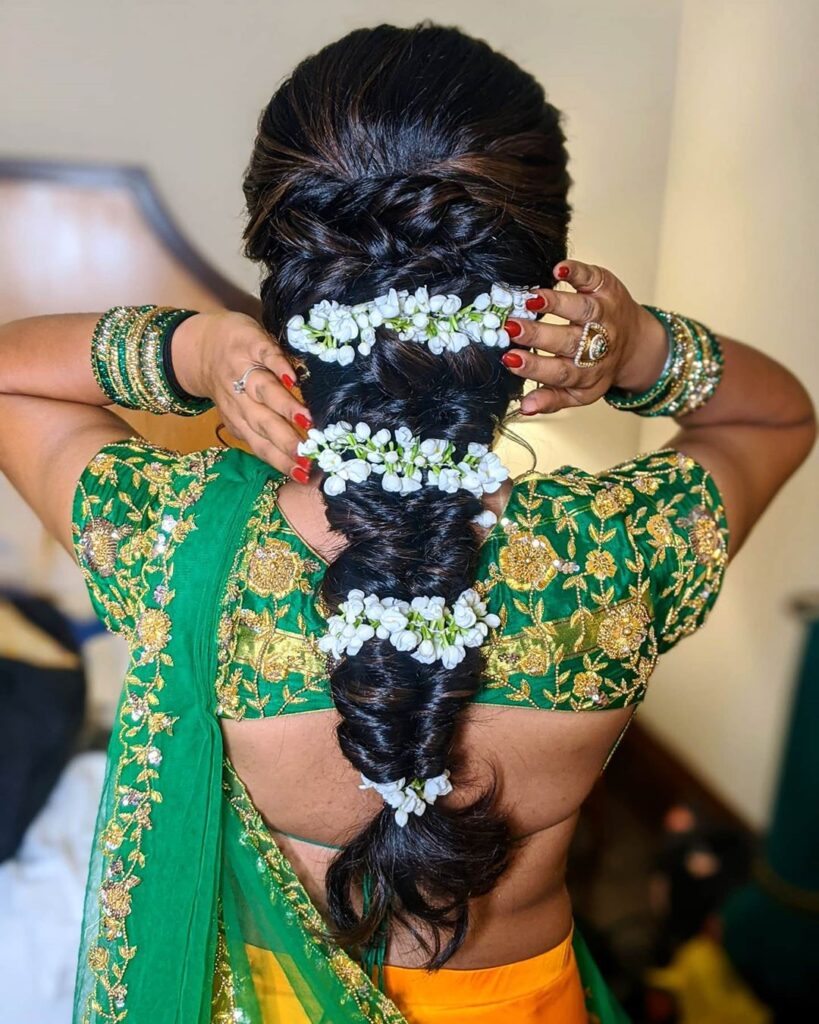 Via @ashfarangila_makeupartist
#14 Simple, Subtle, Stylish! 
Just how simple and gorgeous this hairstyle looks! Add a twist to your otherwise normal ponytail with a jasmine garland and voilà, you're all set to make a statement.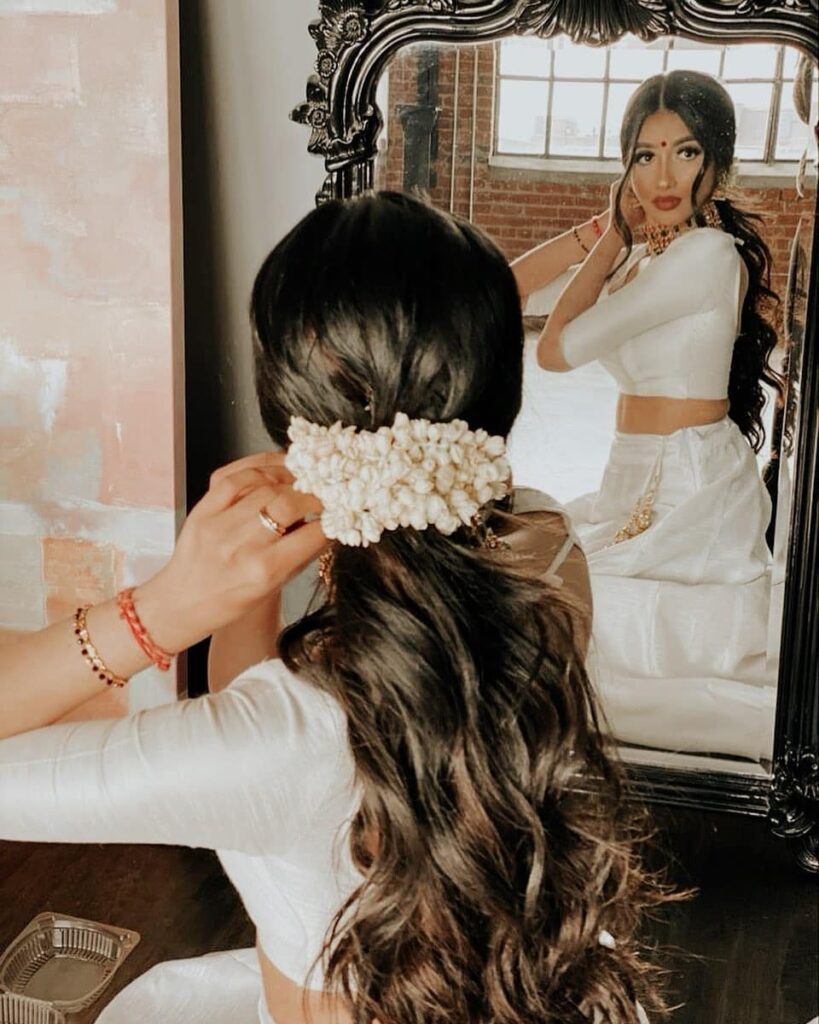 Via @glowbyabbi
#15 Shining In Yellow
An eye-pleasing layer of yellow flowers that complements the bride's yellow saree and lends her an ethereal look.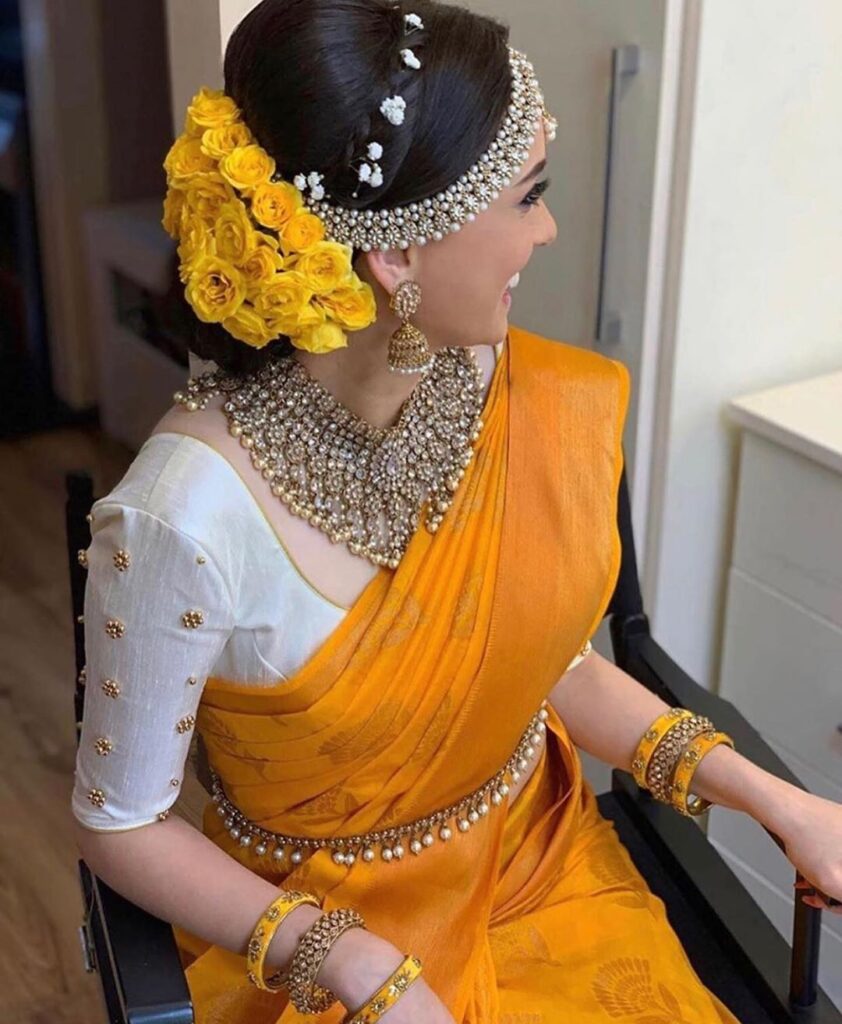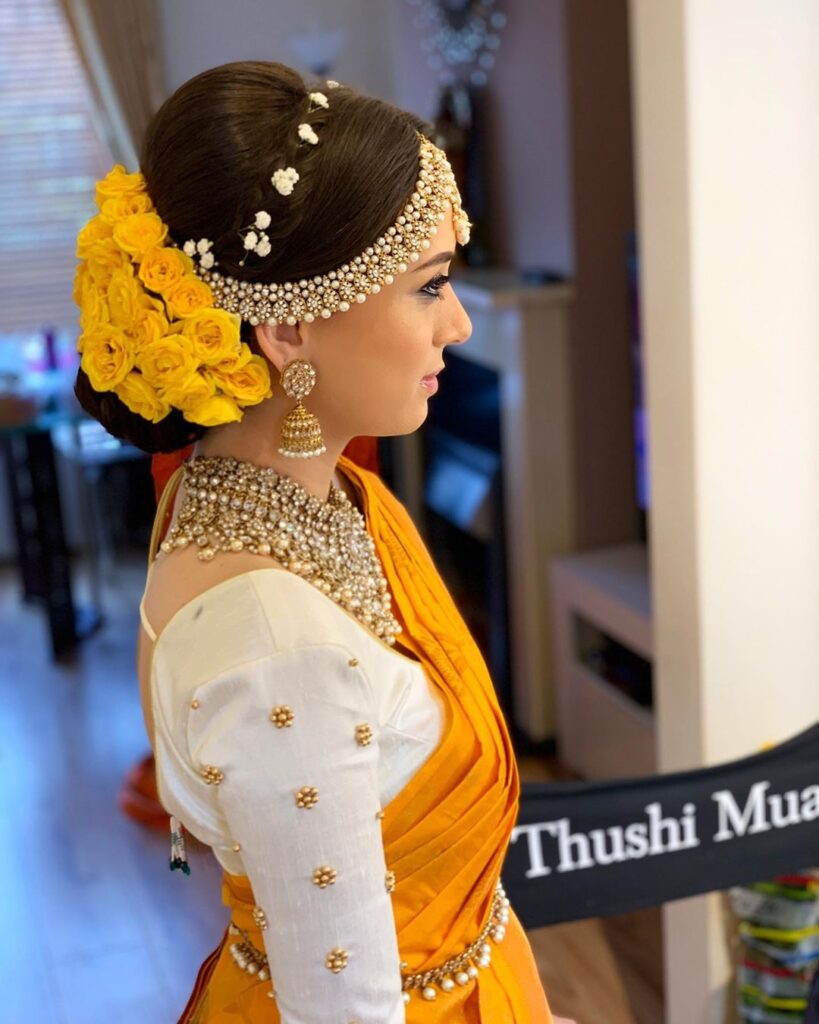 Via @thushi_mua
#16 Bejewelled Bun!
Here we can clearly see that the statement accessory is nothing but a chain earring that's been used to decorate the bridal bun. Looks spectacular, doesn't it?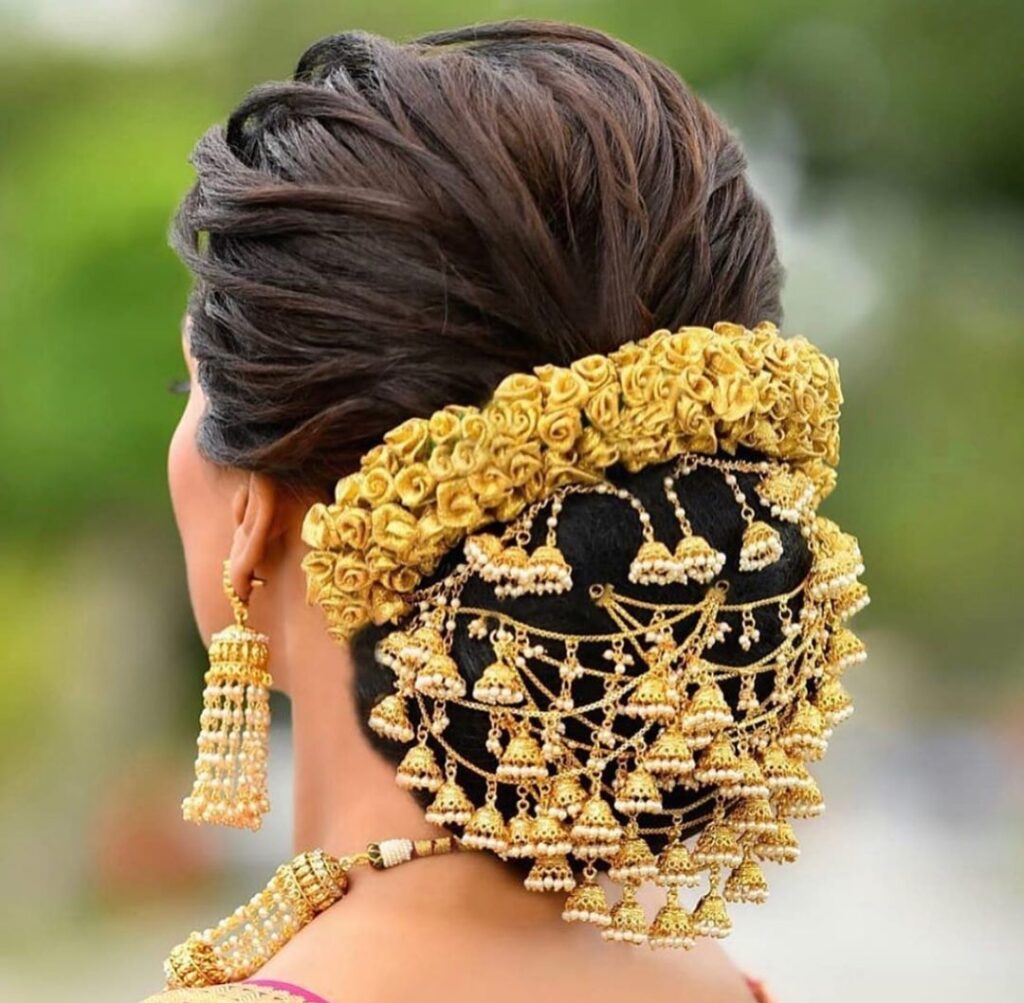 #17 An Ombre Floral Bun Hairstyle
If you're wearing a white outfit, go for mellow colors in your bun. Crushing on this bride's bubble pink and light pink flower combo that's scintillating in every sense.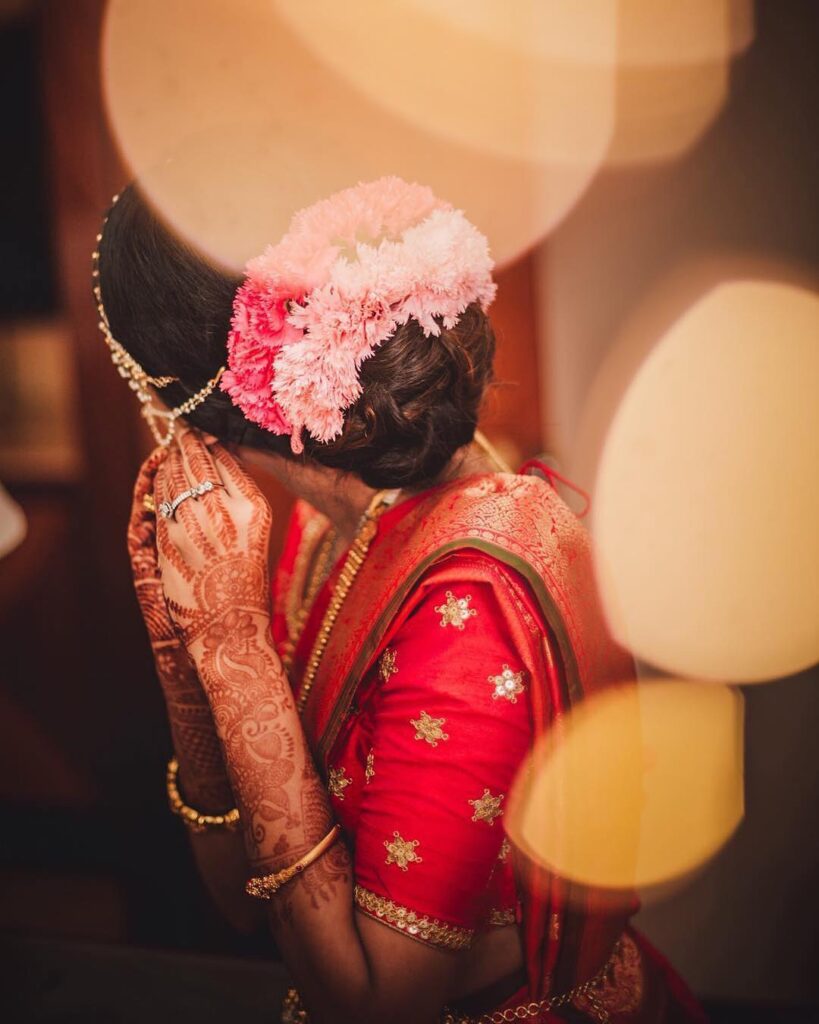 #18 Voluminous Bun Full Of Flowers
We can't help but admire this bride's pristine white floral bun. We are also kinda crushing on her blouse design with vintage sleeves and statement tassels.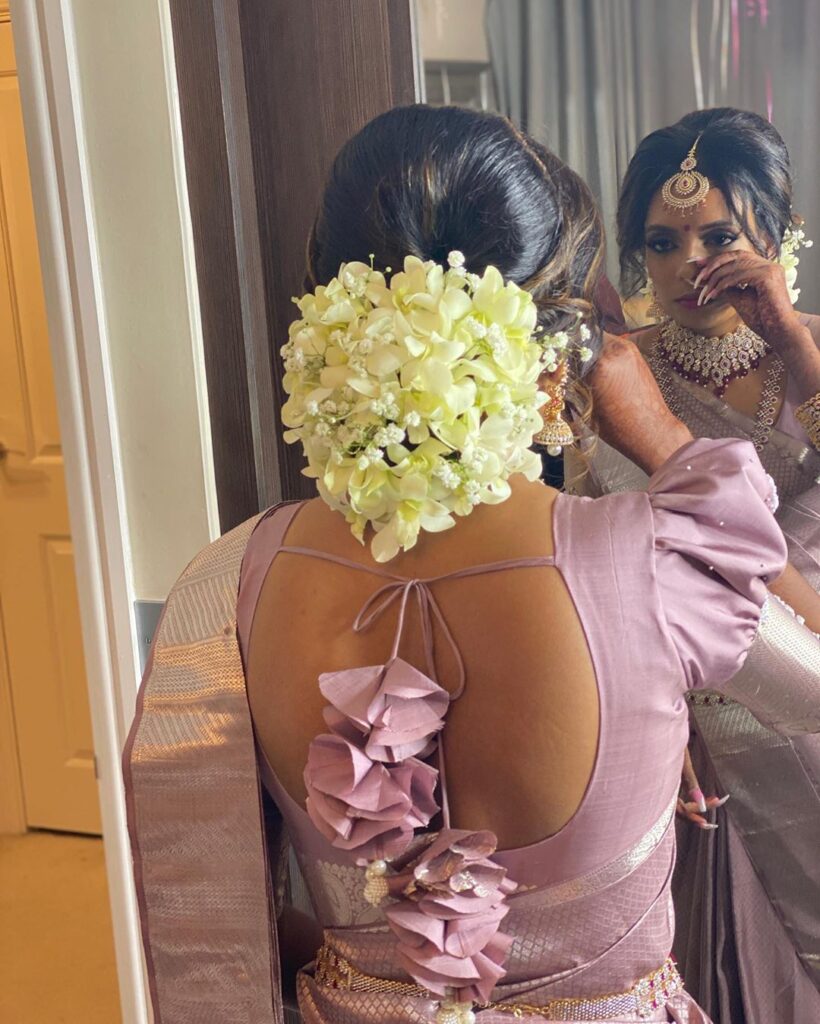 Via @thushi_mua
#19 Fan Of Roses?
We're living for her spruced up traditional South Indian hairstyle bedecked with blooming red roses.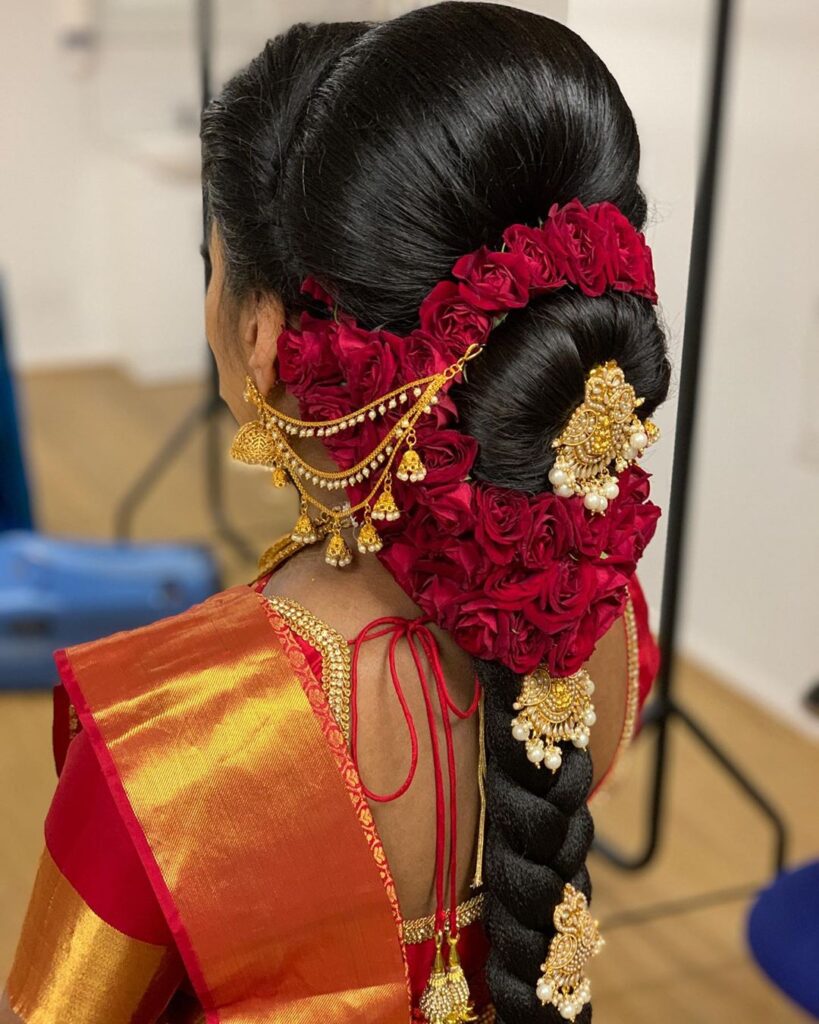 Via @thushi_mua
#20 Mogra Love!
Mogra or Jasmine is considered auspicious for an Indian bride. Using them as venis is a superb idea!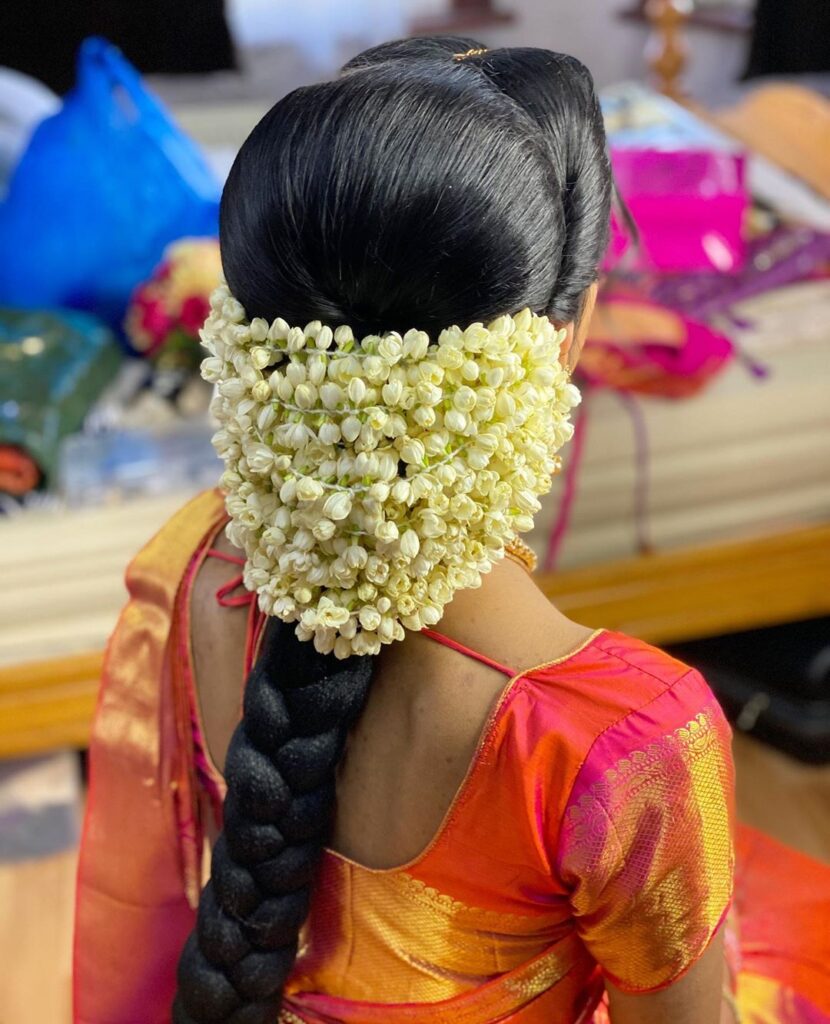 Via @thushi_mua
#21 Whimsical Curly Bun Updo
A simple curly bun with a floral garland beneath it makes for a great combo! We can't get over how beautifully the orange flowers complement her royal blue saree.
Via @thushi_mua
#22 Twin With Your Bridesmaid!
Your bridesmaid will be there for you through your bride-to-be journey, make her feel special by twinning your big day hairstyle as a small thank you for her patience through your bridezilla moments.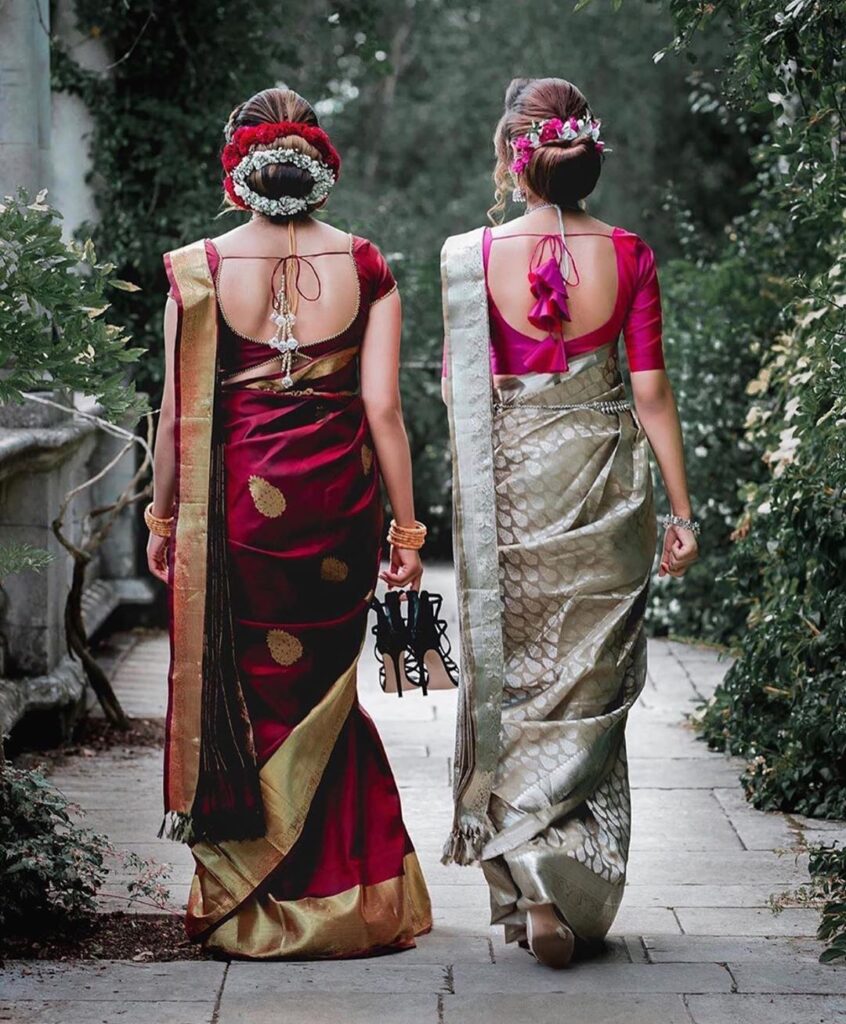 Via @kanchana_mua
#23 Basic South Indian Hairstyle With Spectacular Venis
A mesmerizing combination of mogra flowers pinned neatly with roses as an outline makes for a superb venis setting!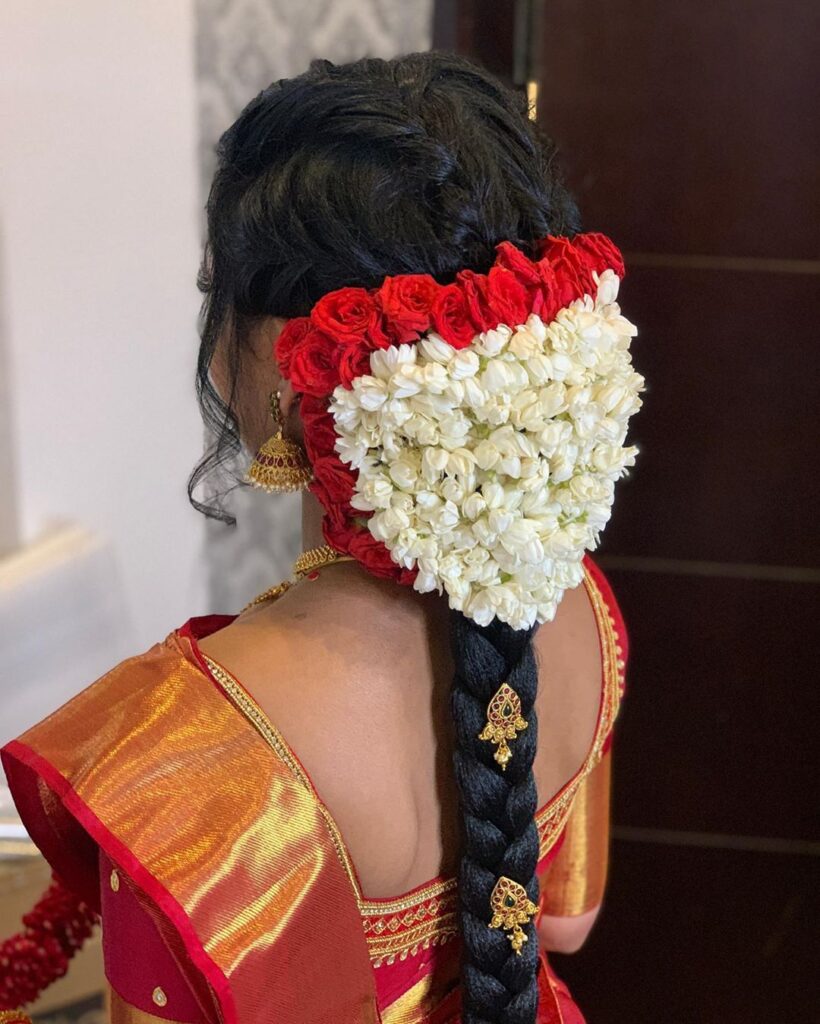 Via @thushi_mua
#24 Dazzle With Braided Bun
We're swooning over how beautifully this braided bun is done! Enhanced with raakodi and lilies at the bottom, this bride unleashed all her gloriousness on her big day.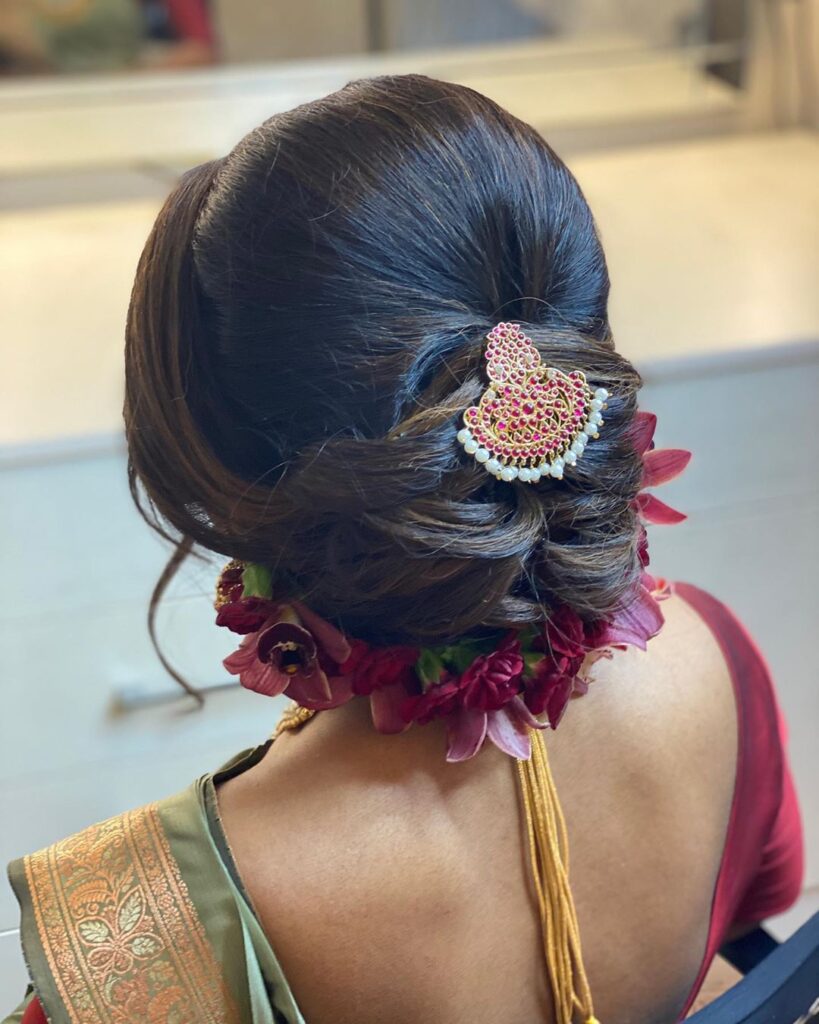 Via @thushi_mua
Bridal Hairstyles For Long Hair
Brides tend to take good care of their hair. From gulping down hair vitamins to masking regularly or trying to beat those split ends for faster, healthier growth – brides do it all to get the tresses of their dreams just in time for their wedding. Long, luscious hair gives anyone a spree of choices to choose from for their hairstyle. So we have smartly broken down this section into 4 sub-sections – open hair, half up half down hairstyle, braids, and buns – so as to make it easier for you to browse. We bet all the hairstyles in this section will leave you swooning,
#1 Flaunt Them!
If you have long, beautiful tresses, we say you leave them open on your big day, instead of tying them up. Especially if you have a winter wedding, so you won't feel that cold.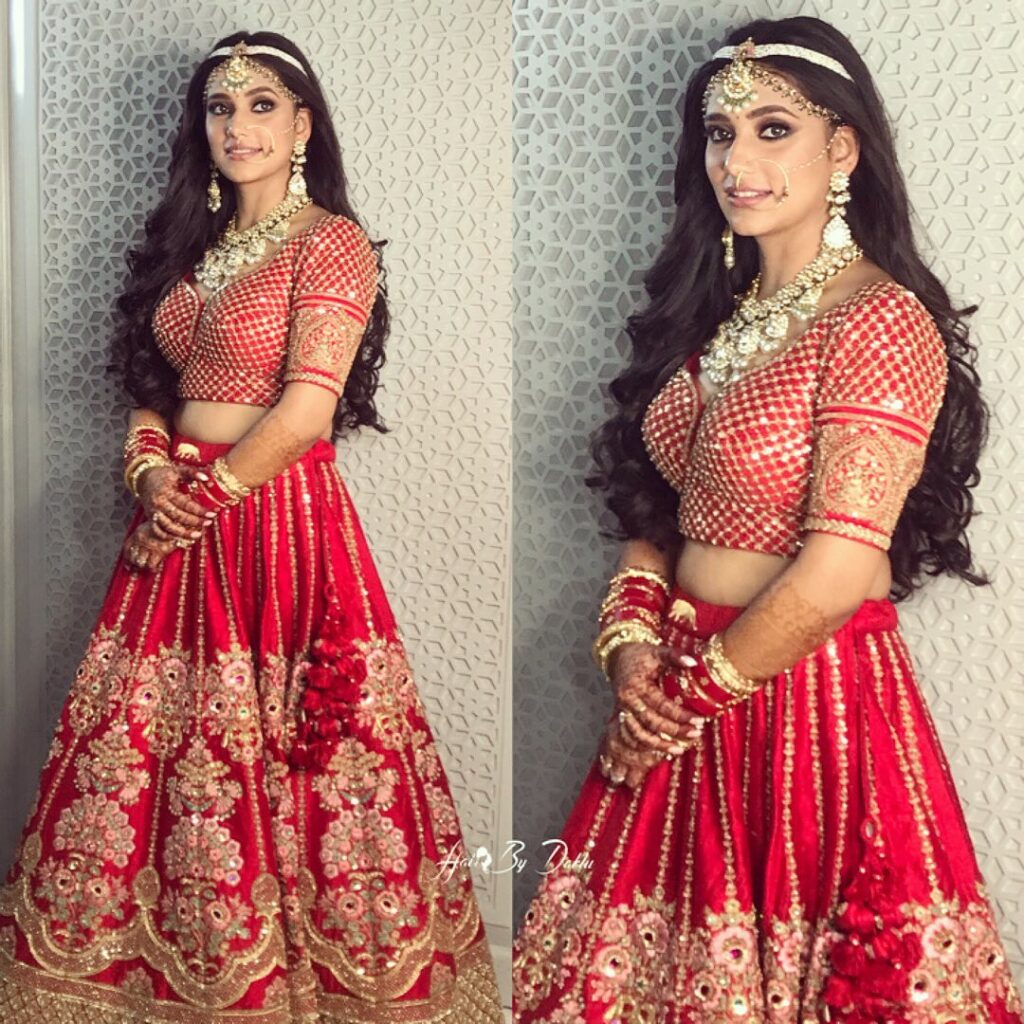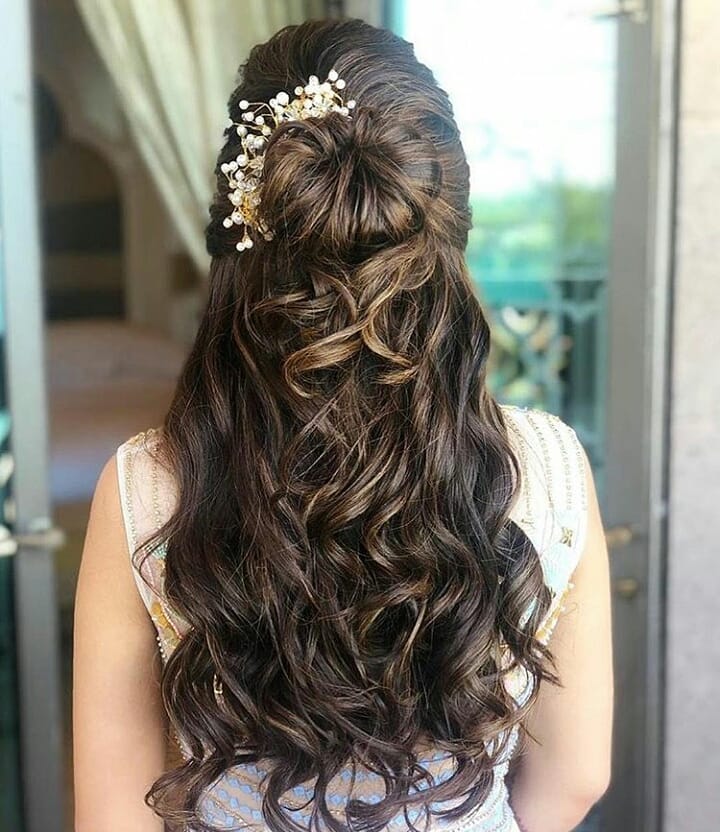 Via @hairbydablu
#2 Curl Them & Go For A Half Up Half Down Hairdo
Give your tresses a good curl, either waves or S-curls. Next, make a bun or a braid from the crown portion of your hair, and let the other hang loose. Keep scrolling for some inspiration on this idea.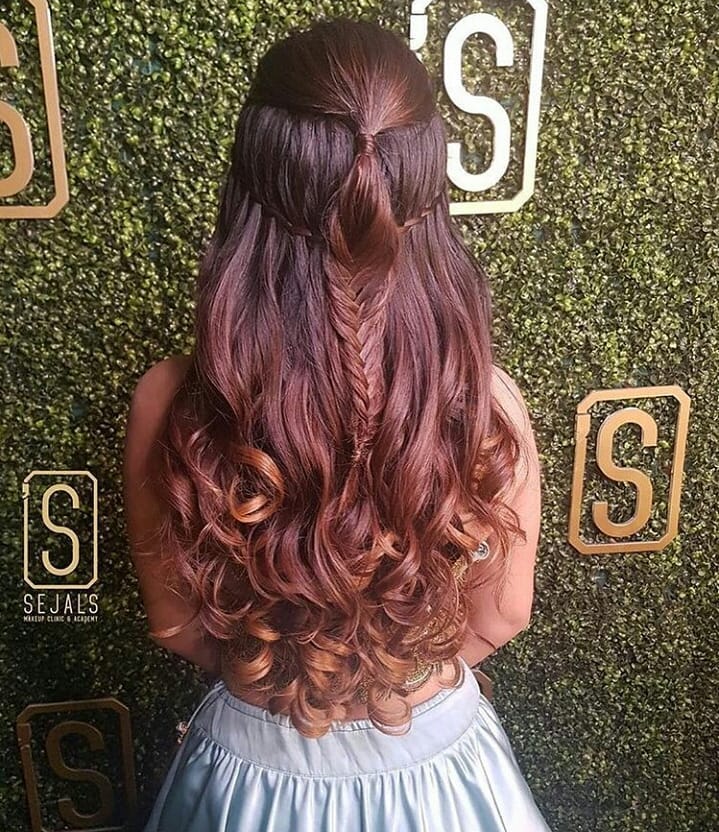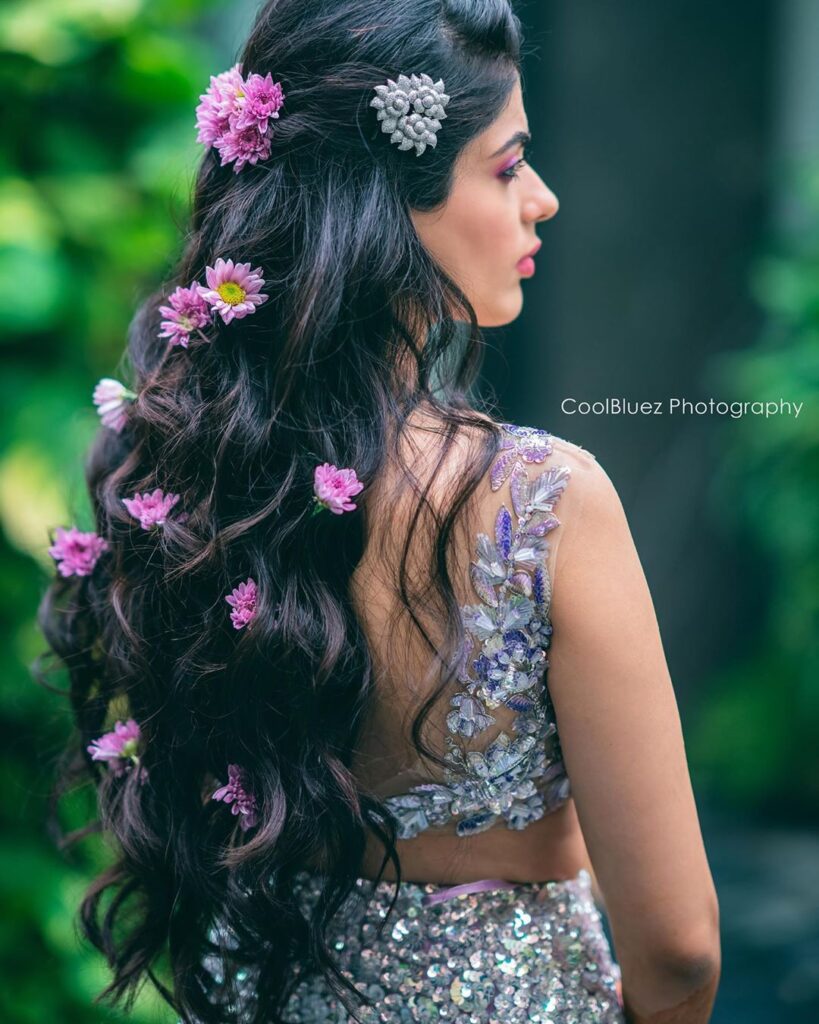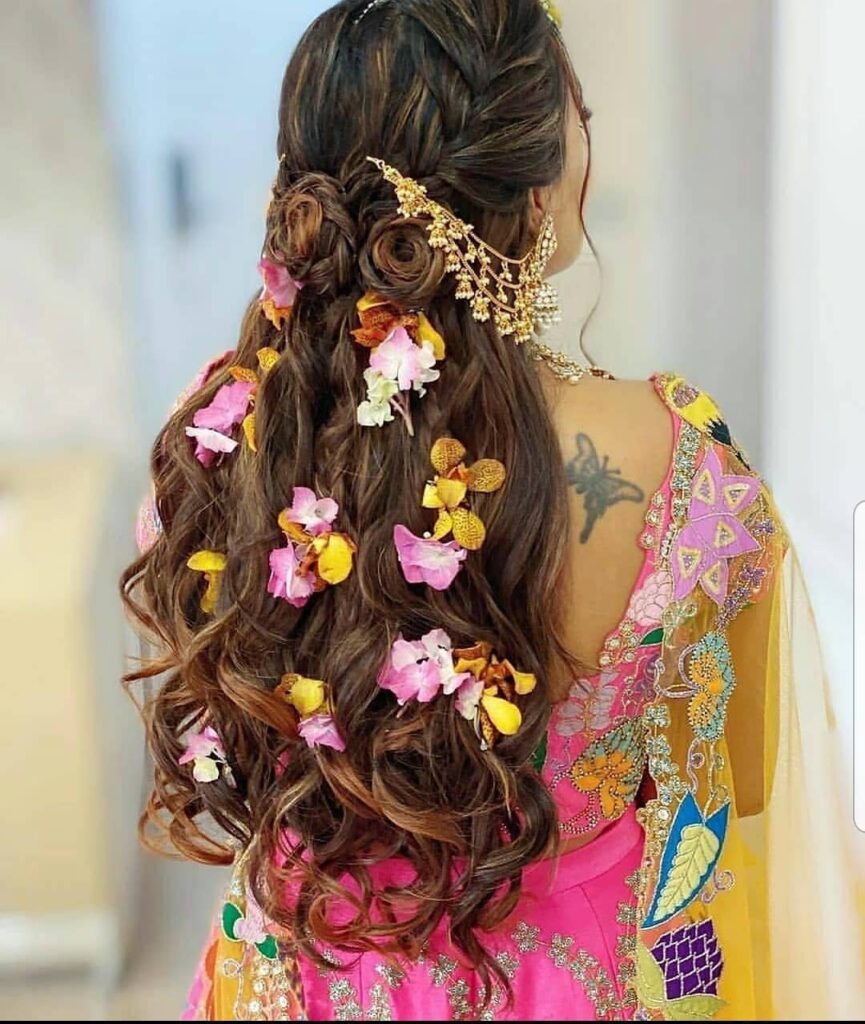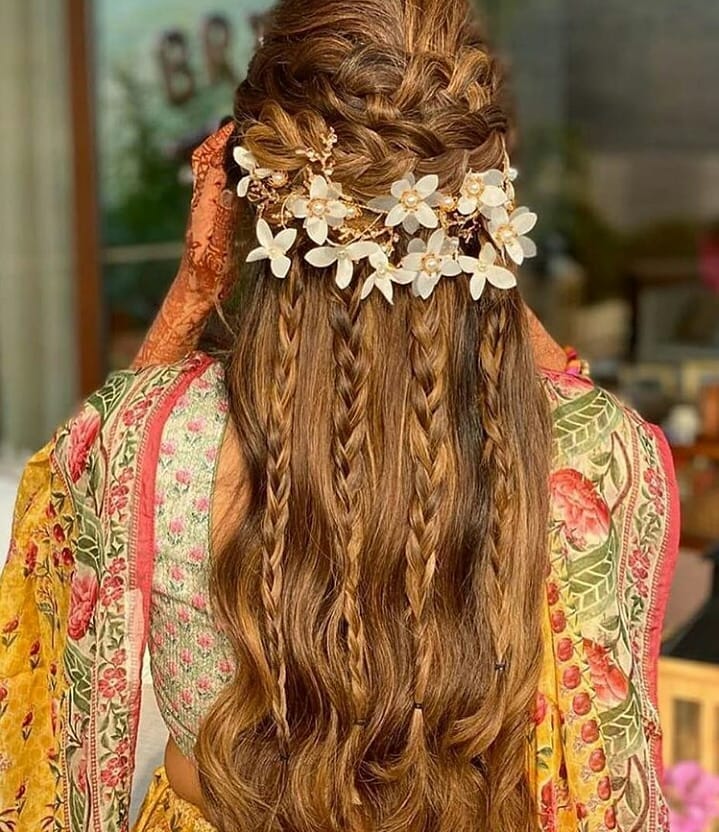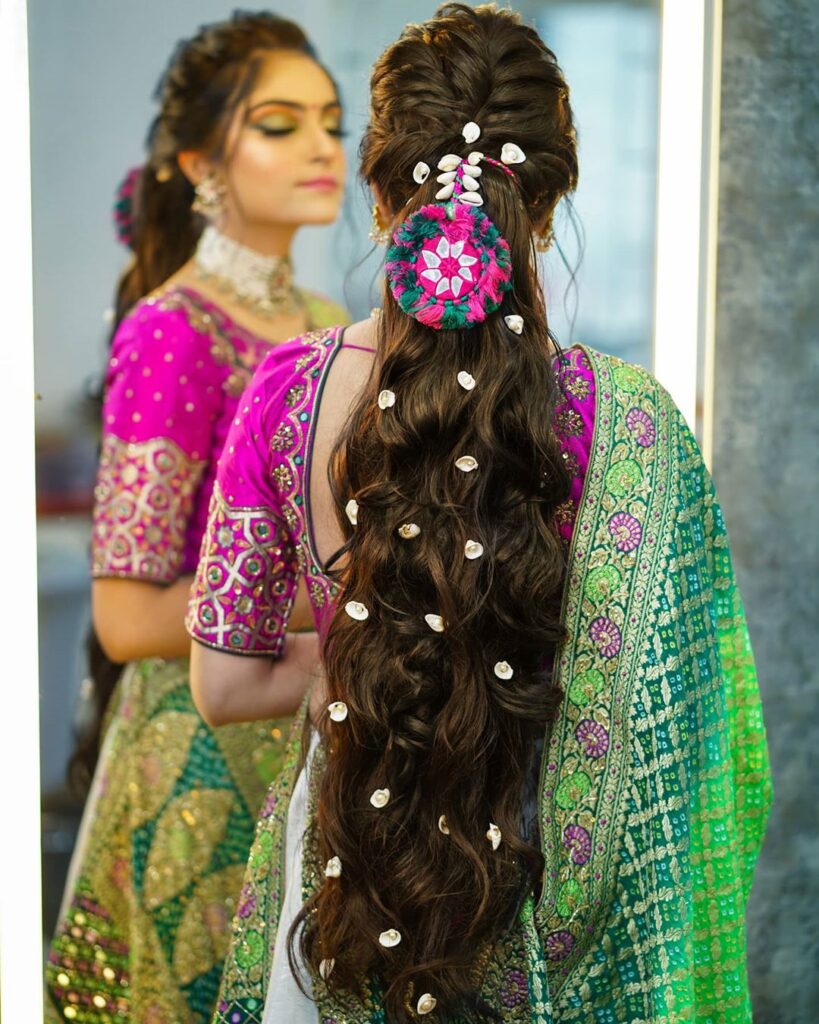 Via @aanalsavaliya
#3 Braid Them
We aren't talking about the boring braids. But the voluminous one embellished with florals and other kinds of hair accessories, have a look!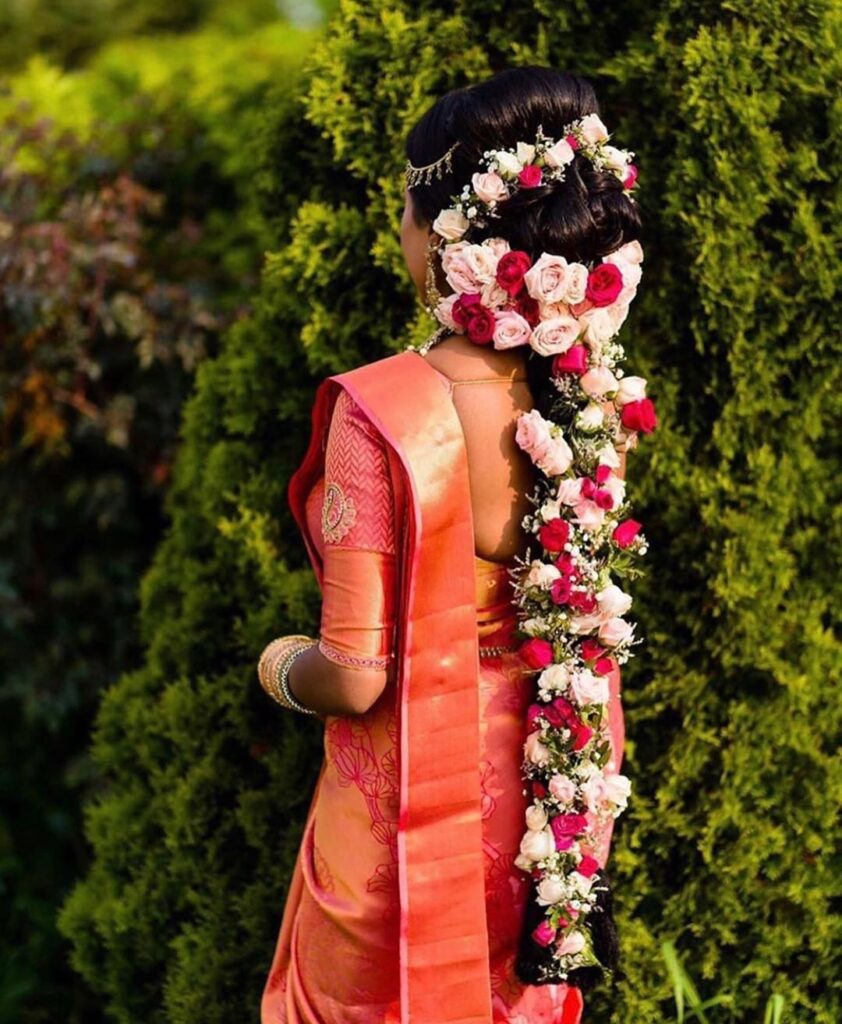 Via @imsylvie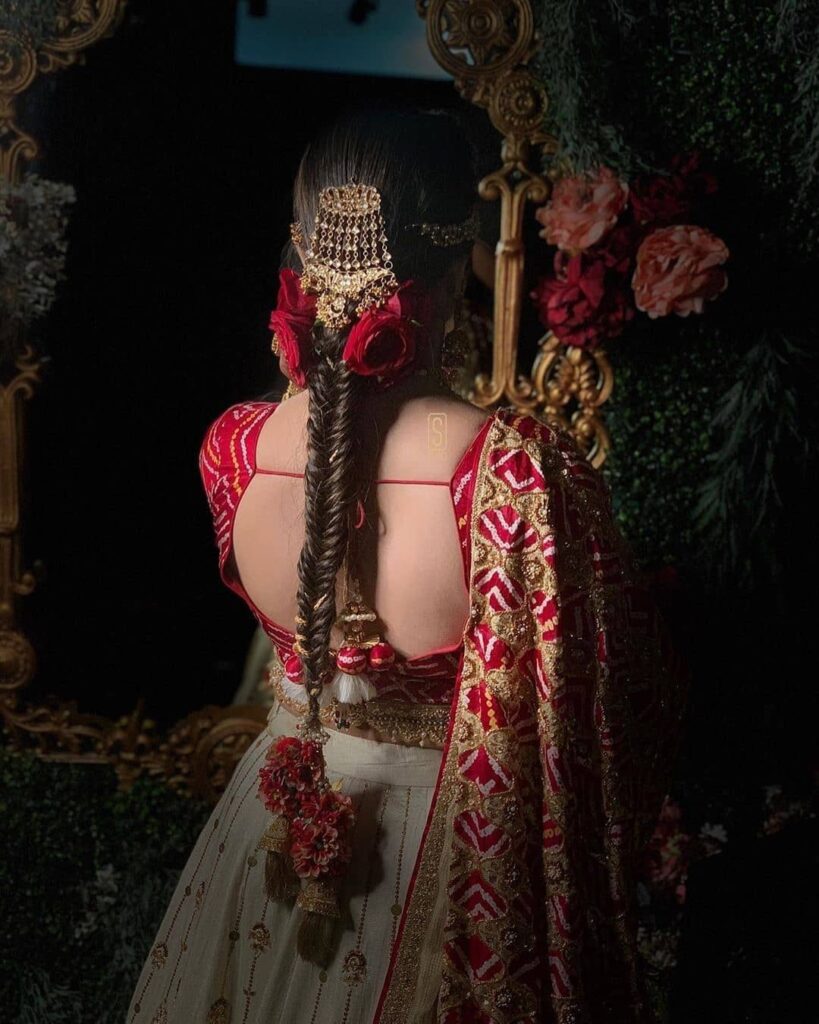 Via @aanalsavaliya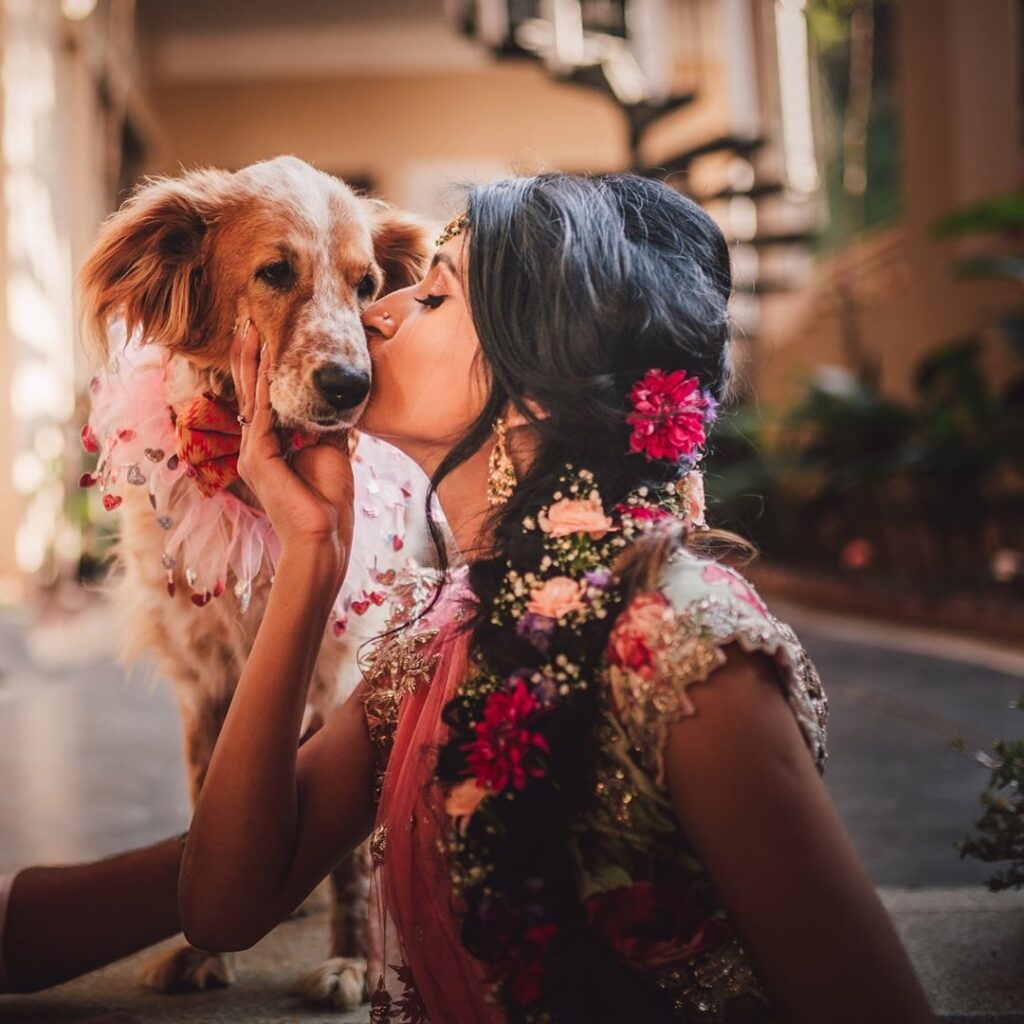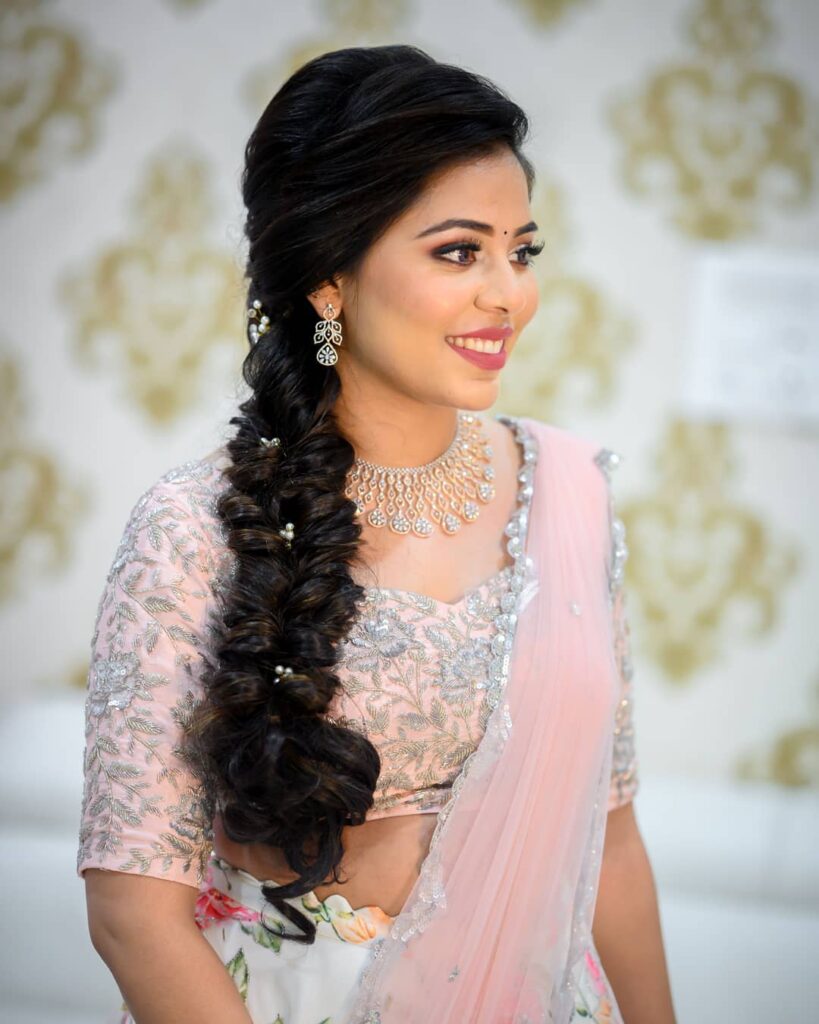 Via @ashfarangila_makeupartist
#4 Create A Voluminous Bun!
Go for the traditional yet elegant bun for your Rapunzel hair. It's a wonderful way to keep the hair away when you're dancing around, and they are a perfect addition to any kind of Indian outfit.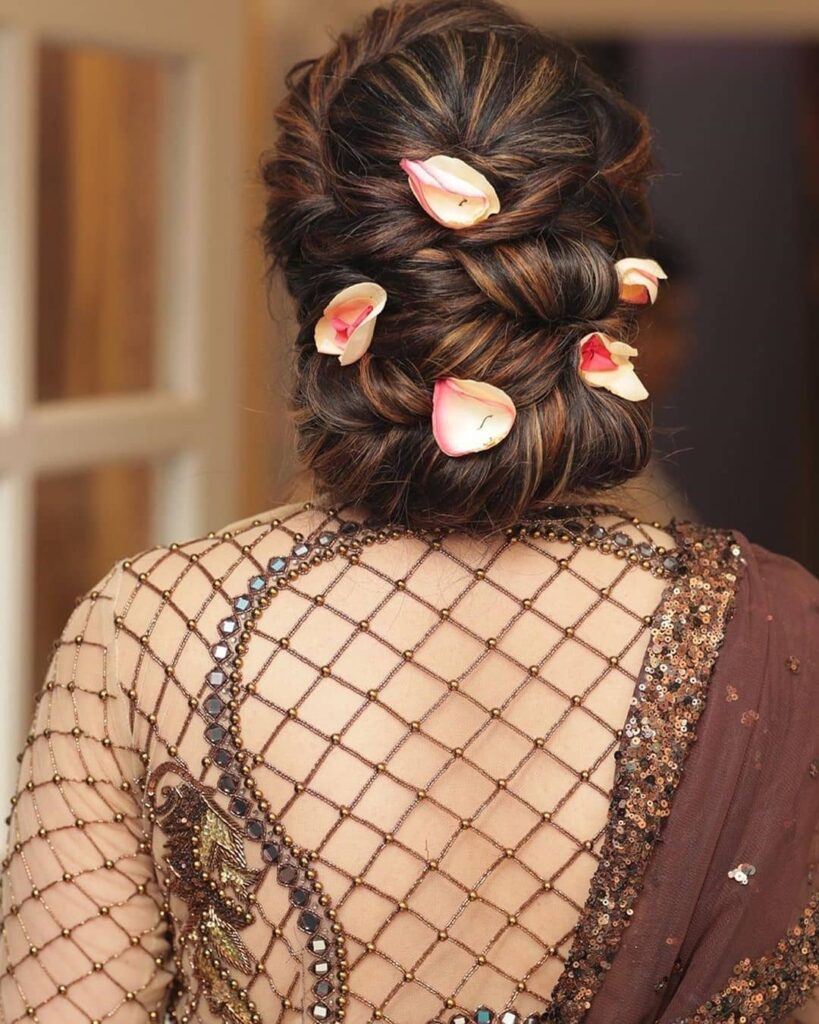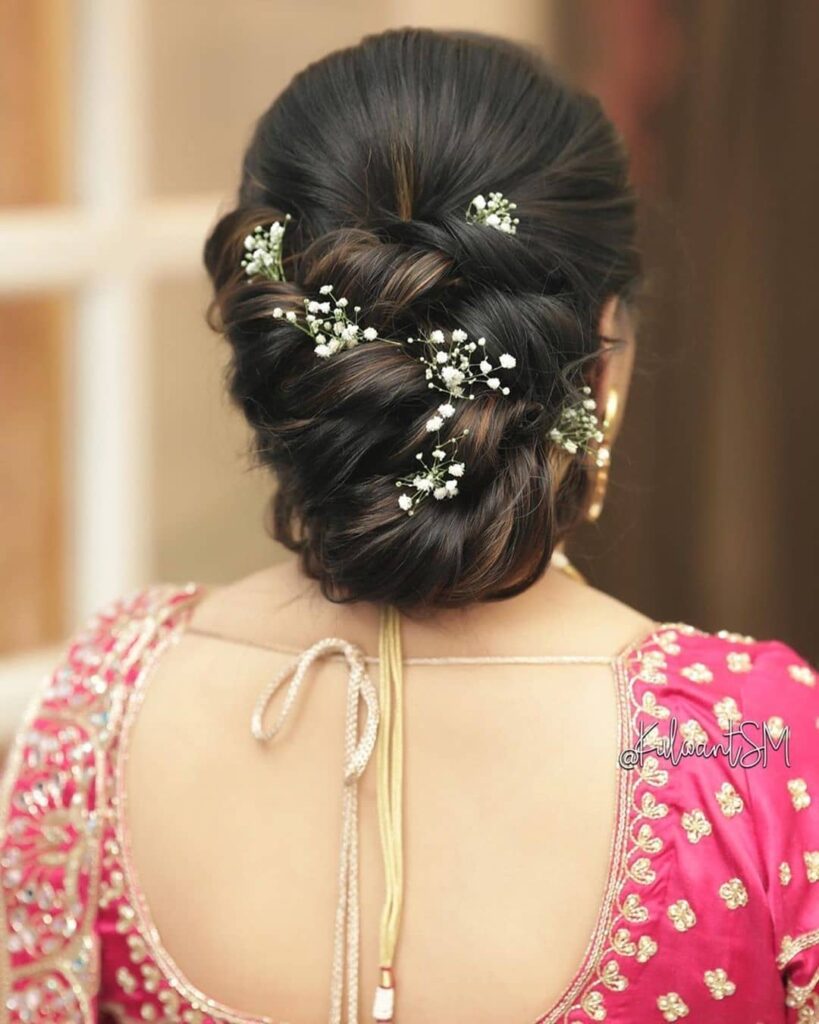 Bridal Hairstyles For Short Hair
Don't fret if you've got short hair. As opposed to what's generally believed, even women with short hair have a myriad of hairstyle options. And our list down below is the assurance for the same. Right from blow-dried wavy hair to sleek straight hair and sophisticated chignon bun – short hair beauties can indulge in them all! So let's gape at them one by one.
#1 Exploring The Charm Of Blowout Hairstyles
Having short hair means a voluminous and attractive look with just a simple blow-dry. These pictures feature brides happily showing off their effortless and romantic short hair updo.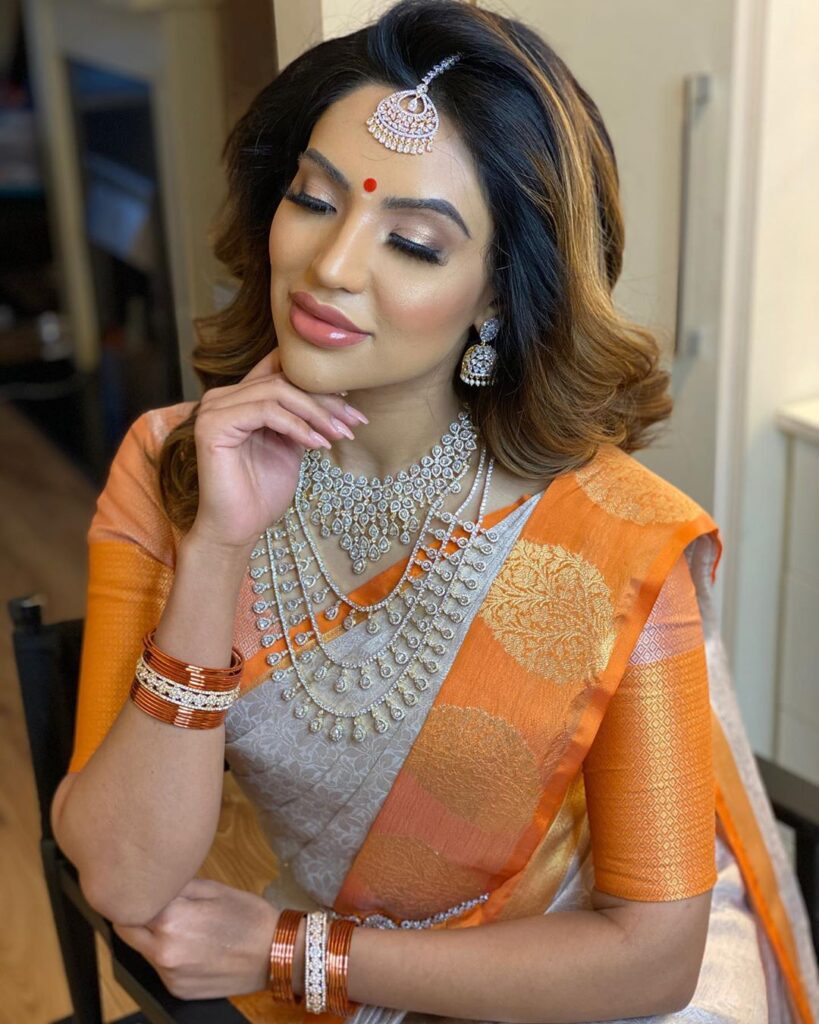 Via @thushi_mua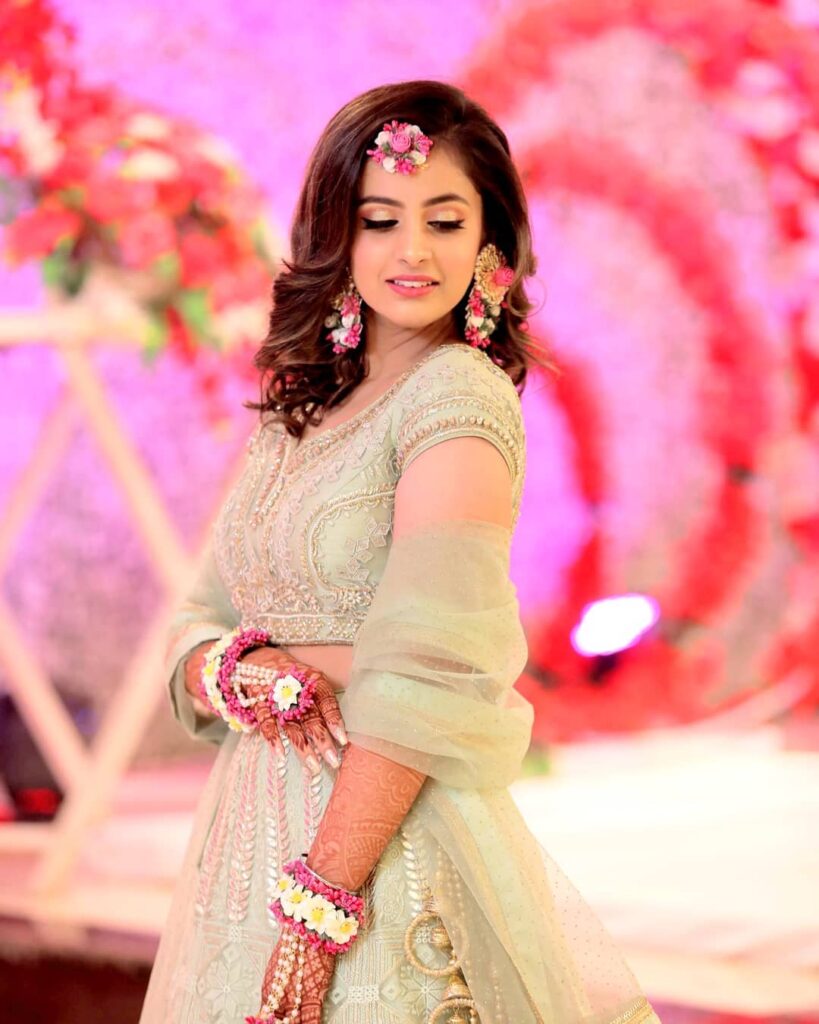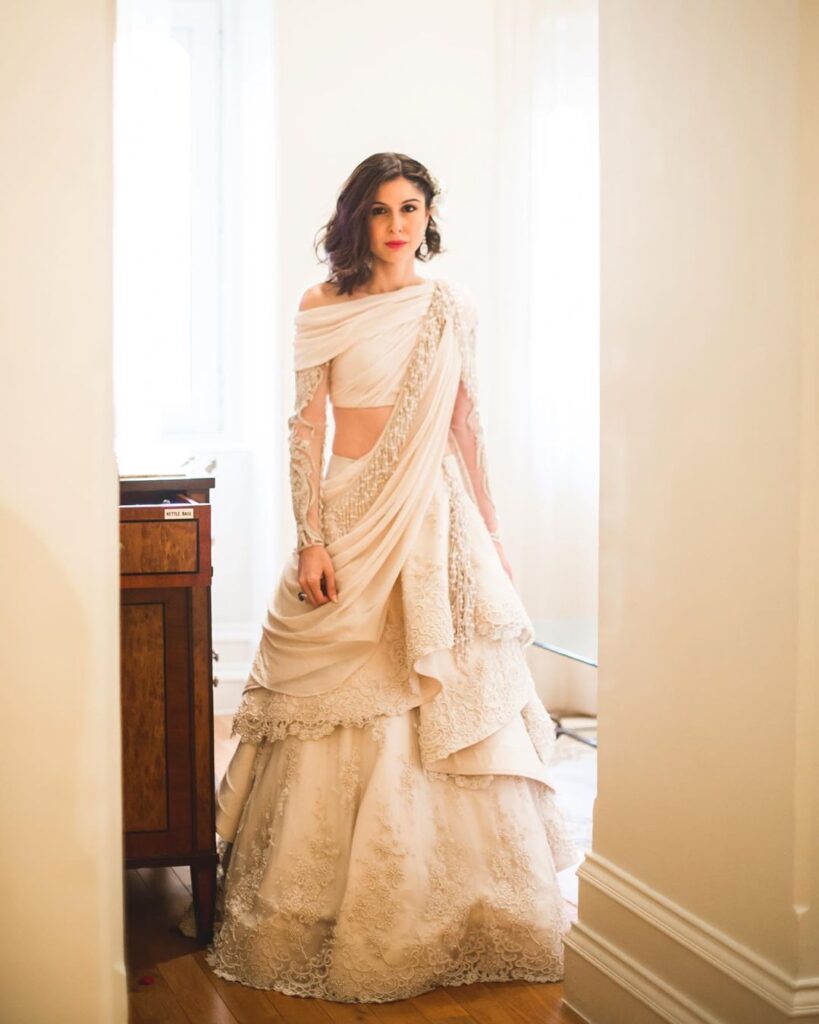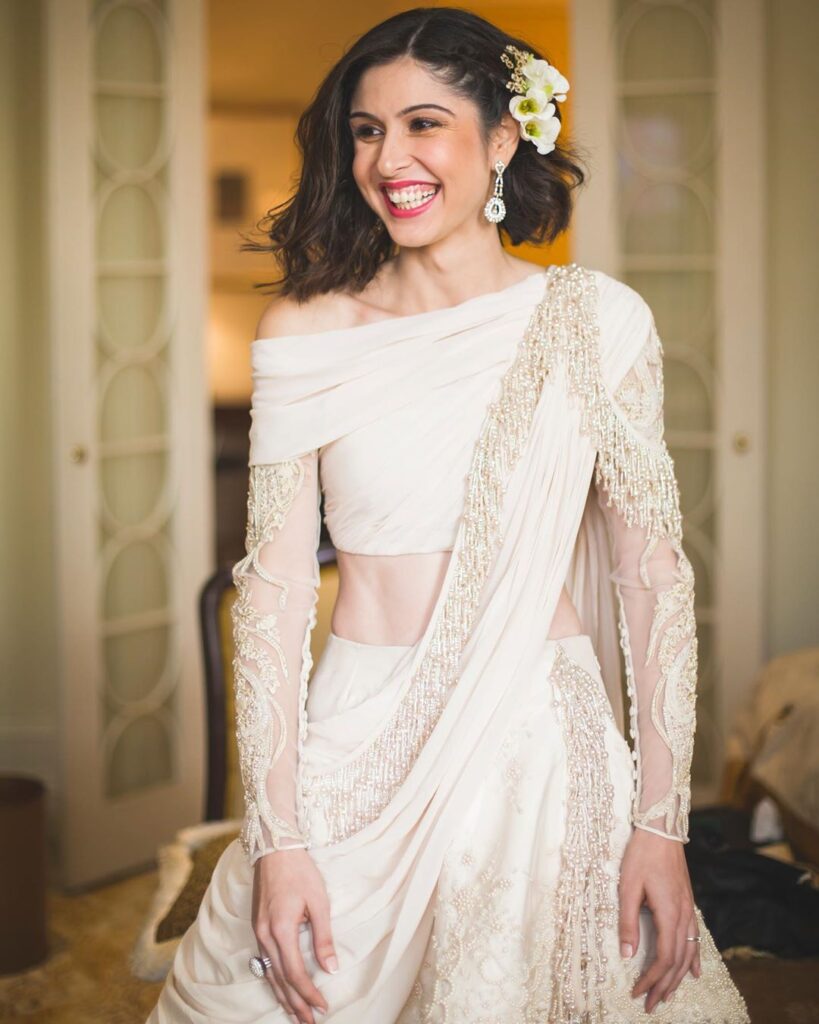 Via @sherryshroff
#2 A Curly Chignon With Side French Braid
A petite chignon bun embellished with baby's breath and made more prominent with a side french braid will sure win you a lot of compliments.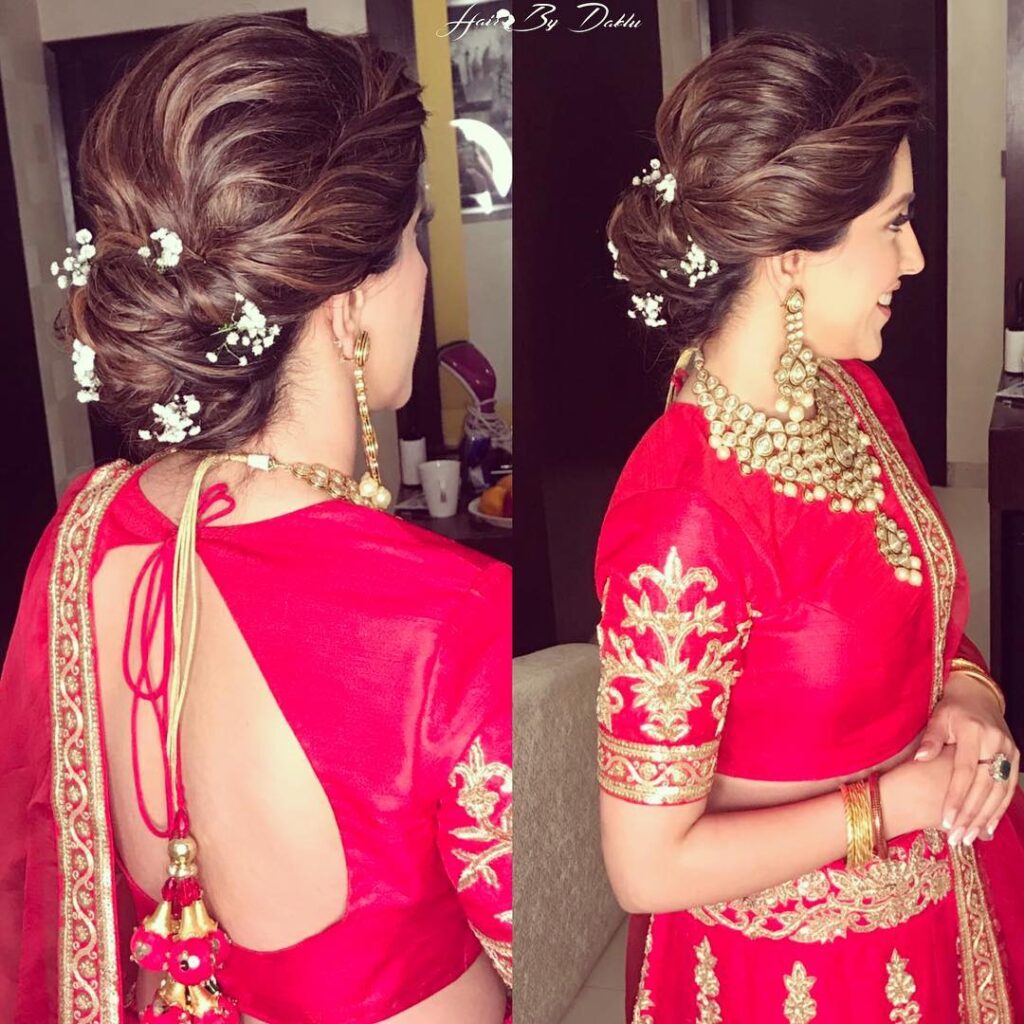 Via @hairbydablu
#3 Braided Voluminous Updo
And you thought braids are only meant for long hair. Adoring how this bride created a voluminous braid on her short hair and added baby's breath for some elegance.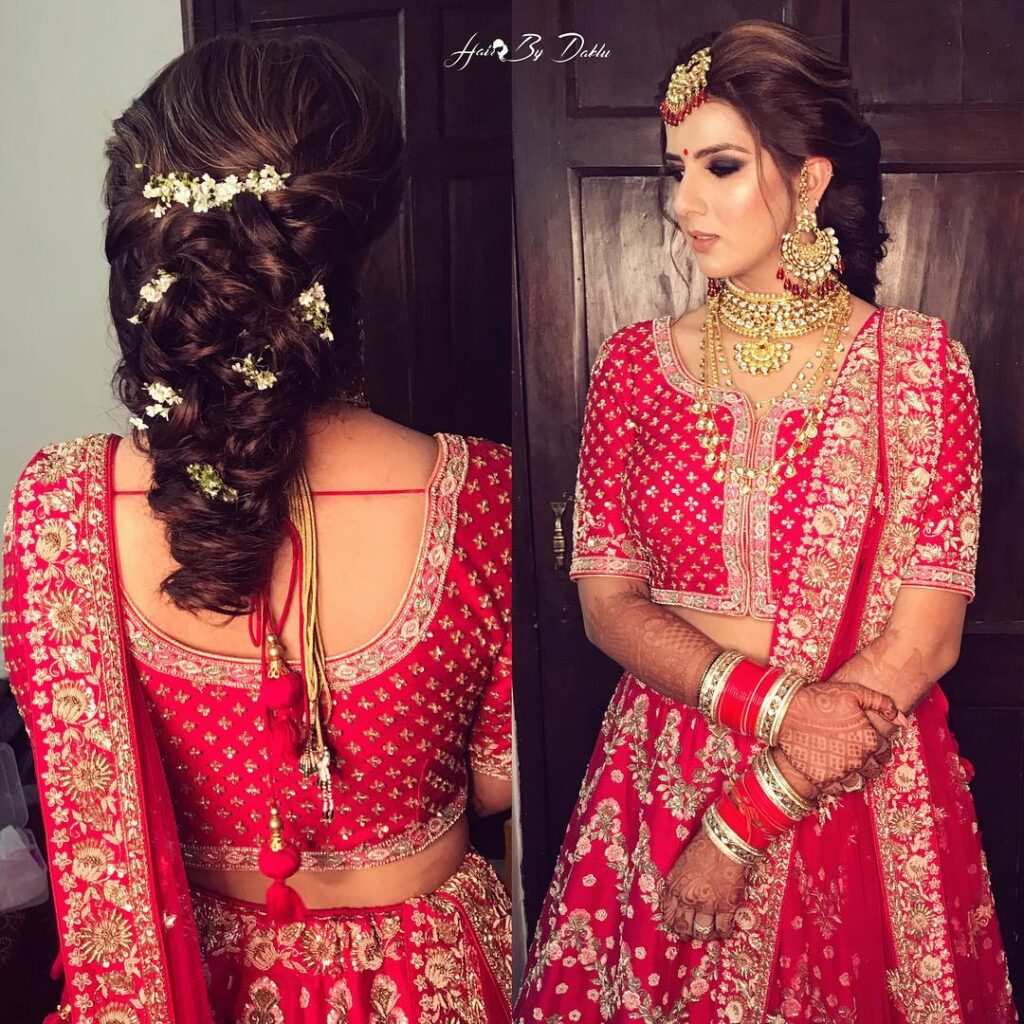 Via @hairbydablu
#4 Neatly Done Low Bun With A Few Flicks
A chignon that comes together through intertwined twists with a few graceful flicks in front. It's such a classic and chic hairstyle to wear on your big day!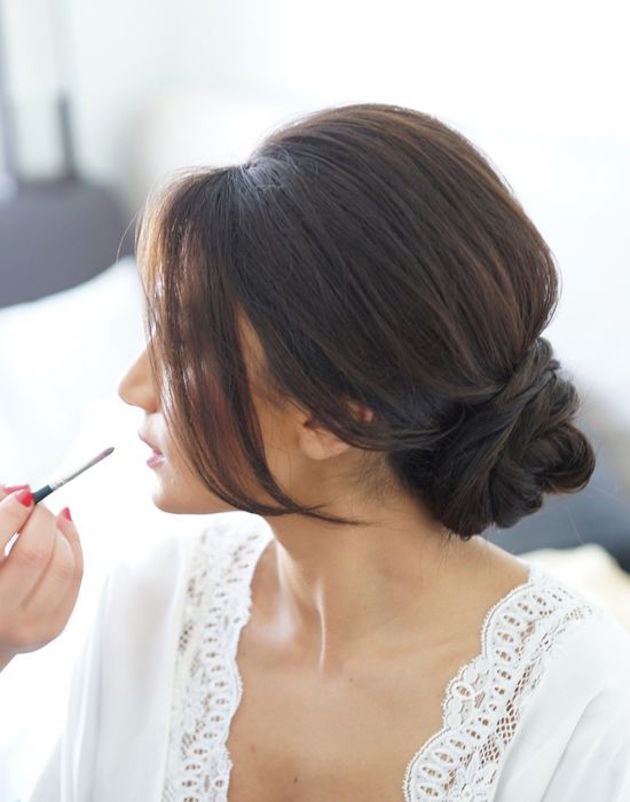 Via Pinterest
#5 Crisply Done Half Up French Braid
French braids are one of the most common options for a bride. It can be styled in so many unique ways and we love the modish way this bride sported it at her mehendi ceremony.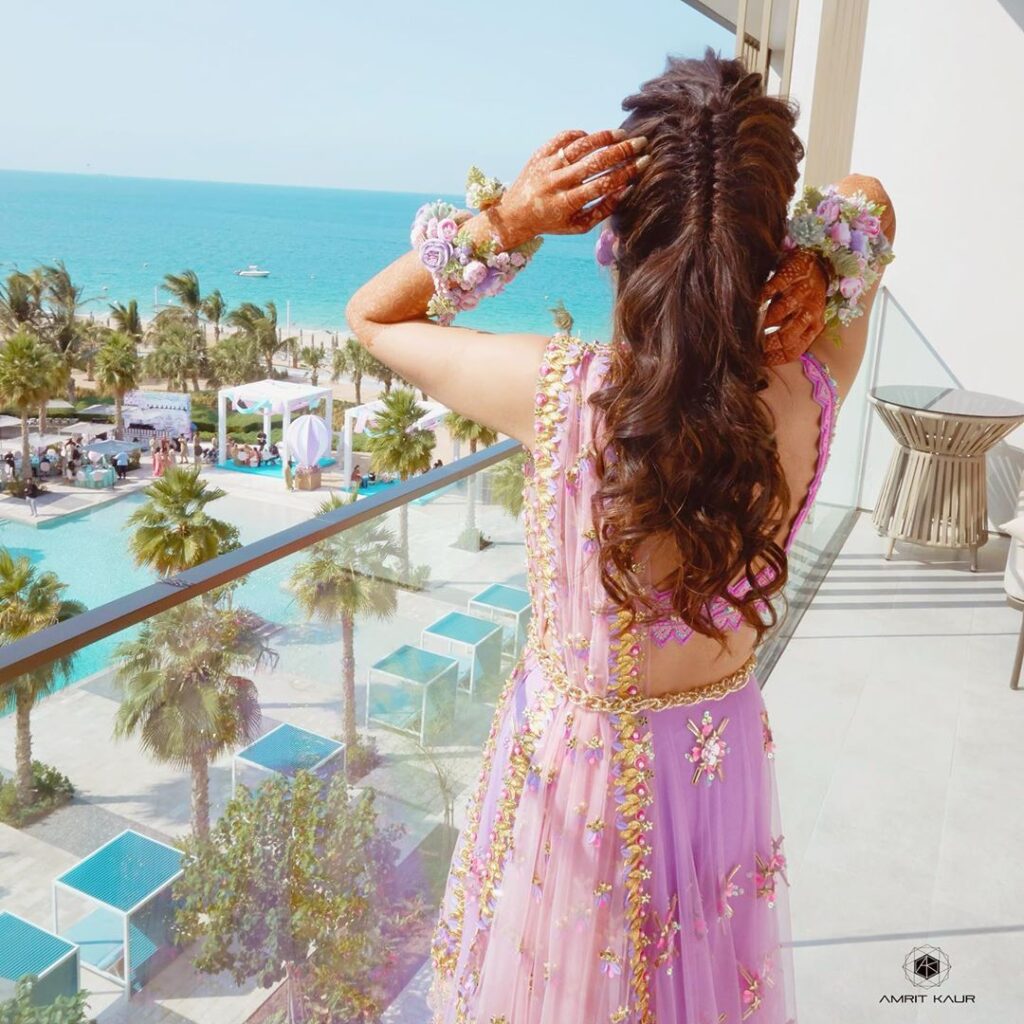 #6 Half Tied & Separated With Flowers
Braiding a part of your hair and letting the other part loose or doing it the other way around while improvising the hairstyle with dense flowers is such a whimsical option for brides with short hair.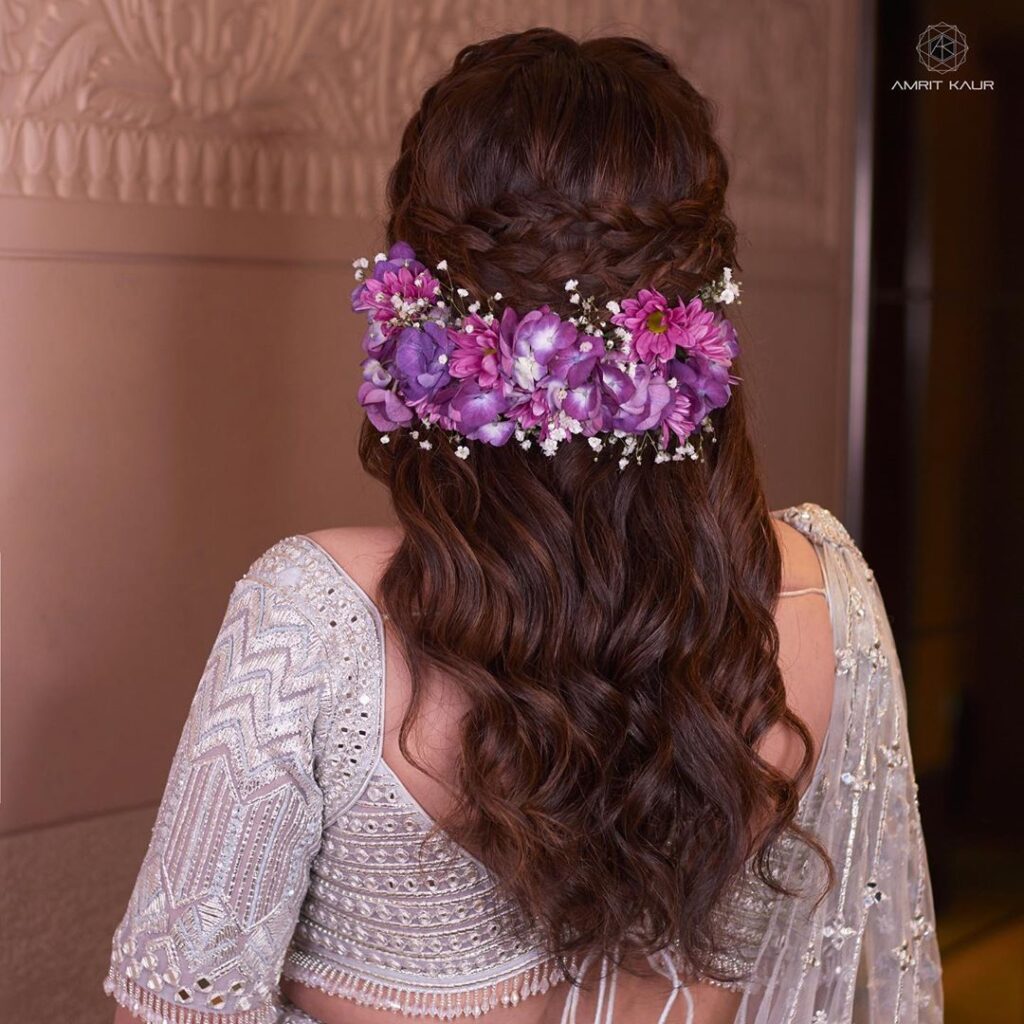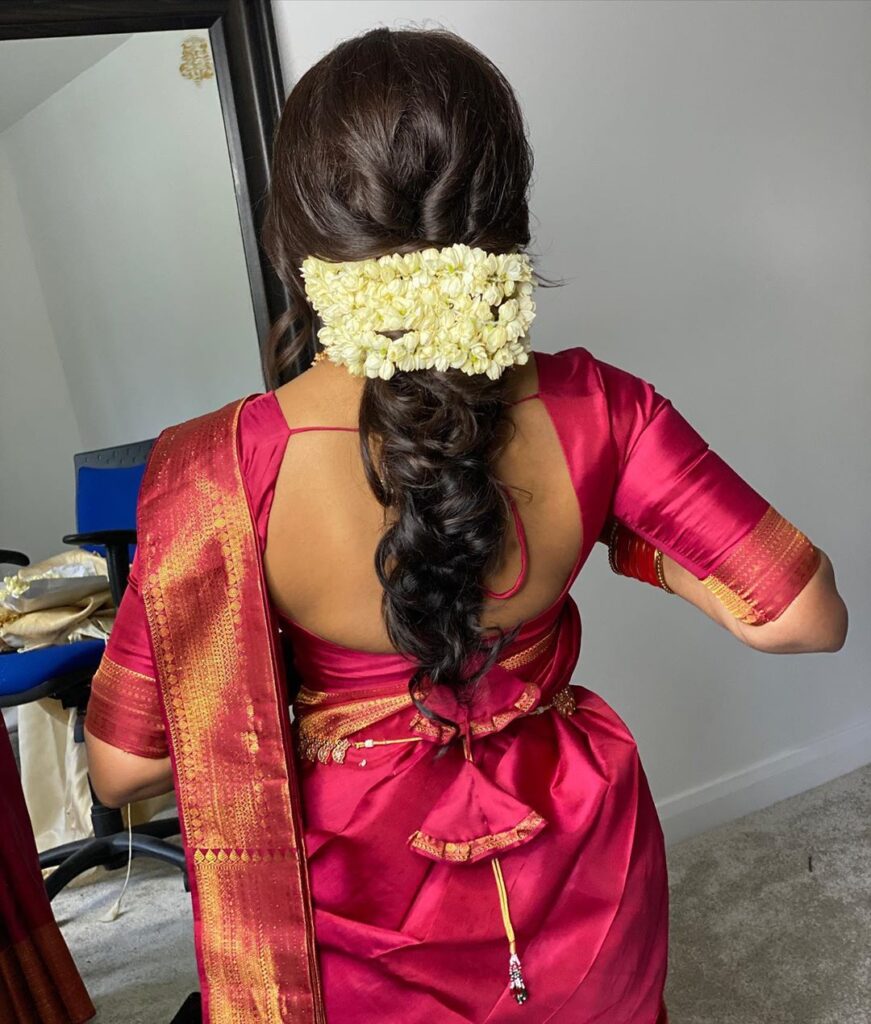 Via @thushi_mua
#7 Puff With Curls!
Adding a puff to the crown of the hair and curling the rest is such a quick & easy hairstyle for brides who have got no time! This bridal hairstyle for short hair is charming in every way.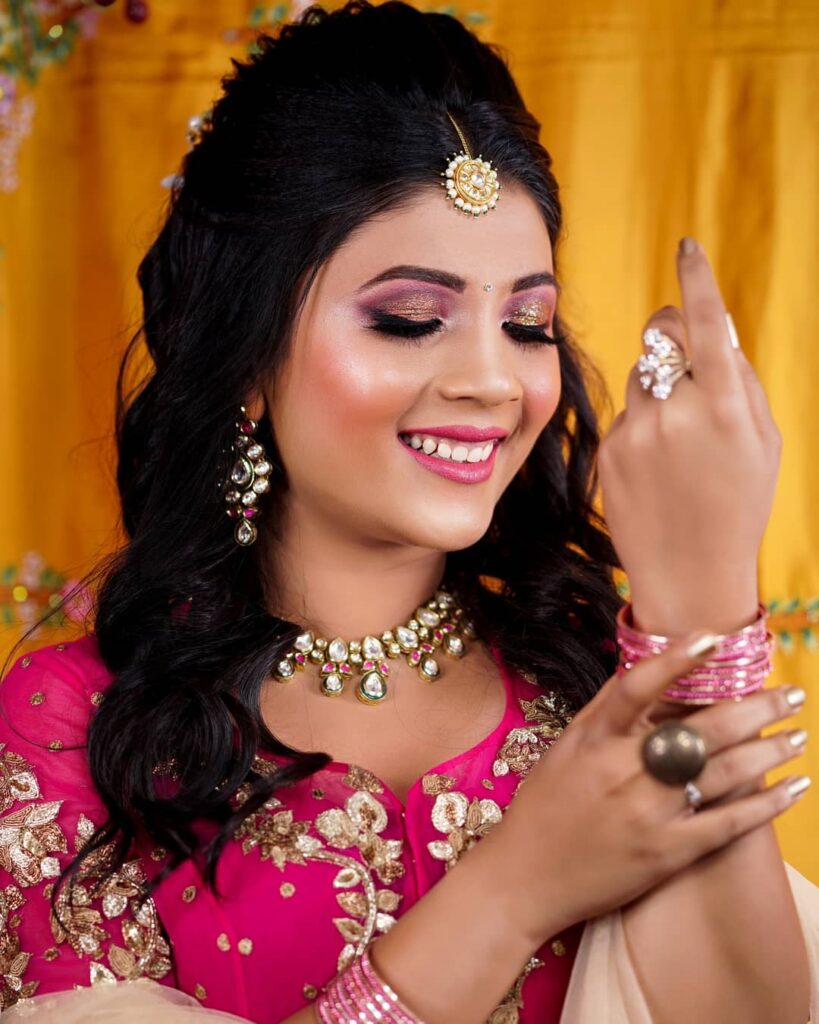 #8 Chic & Graceful
How stunning is this side-swept loose braid hairstyle beautifully enhanced with venis and white orchids?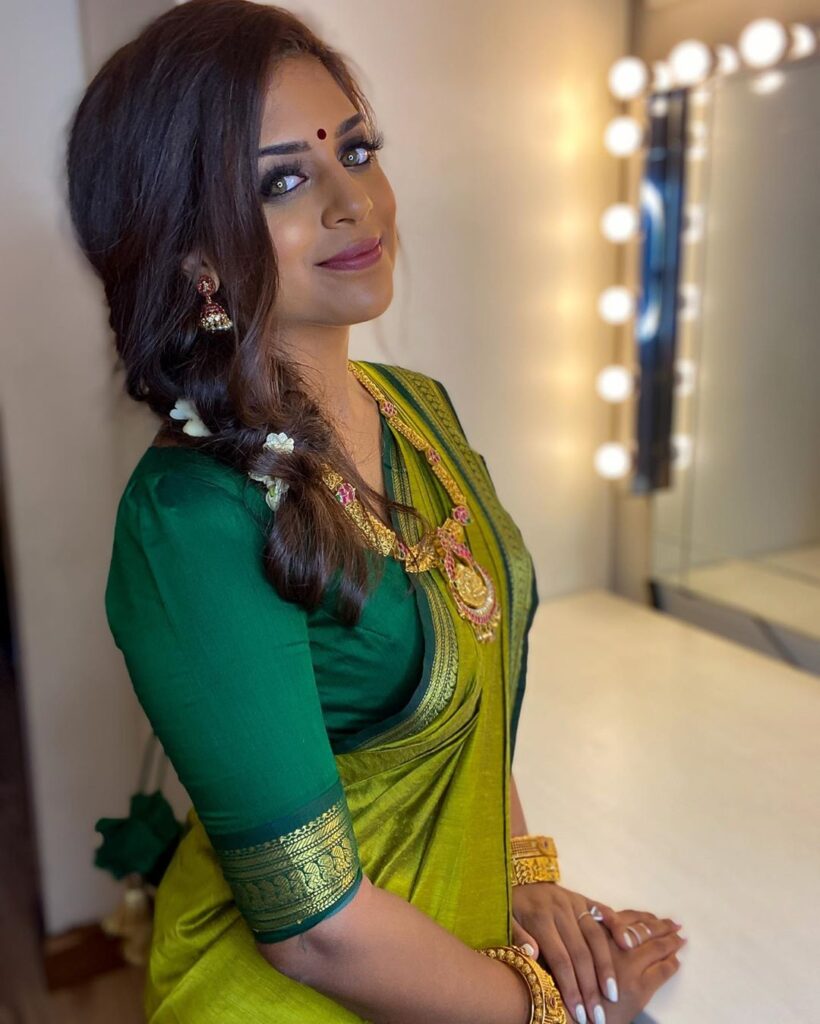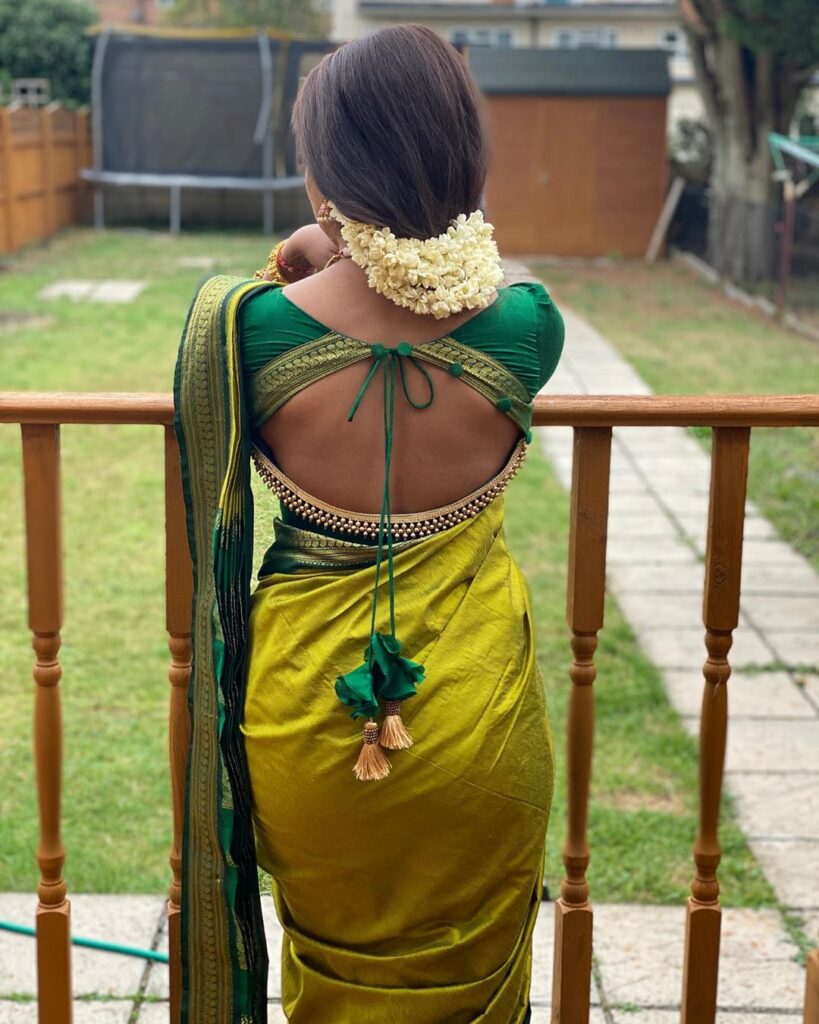 Via @thushi_mua
Bridal Braid Hairstyles
Around 2 years back, bridal braids, specifically the ones swept to one side, were the most preferred hairstyle for Mehendi, until open hair and half up half down hairstyles took them over. They are still popular and anyone looking for some bridal braid hairstyle inspiration,
you've come to the right place.
#1 Damn Cute!
Looking so elegant and adorable in her side french braid bedecked with baby's breath flowers.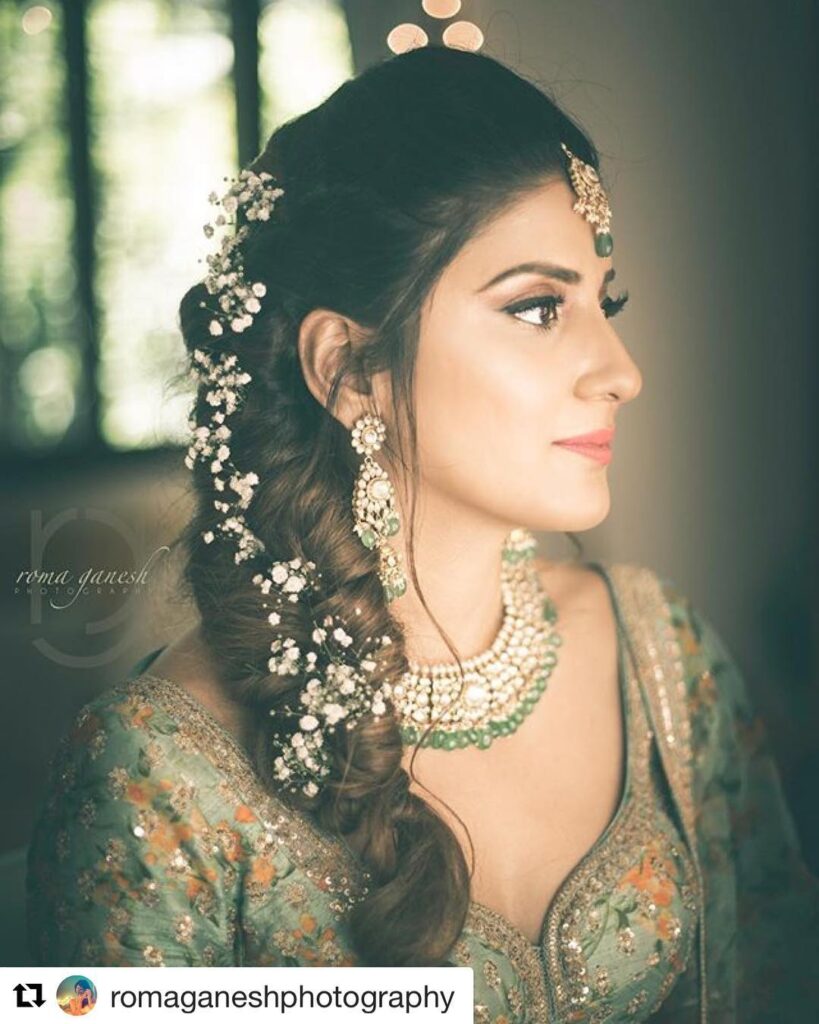 #2 A Pretty Bubble Braid
The creativity of hairstylists dazzles us! This loop braid with flowers at a distance is such a pin-worthy bridal braid.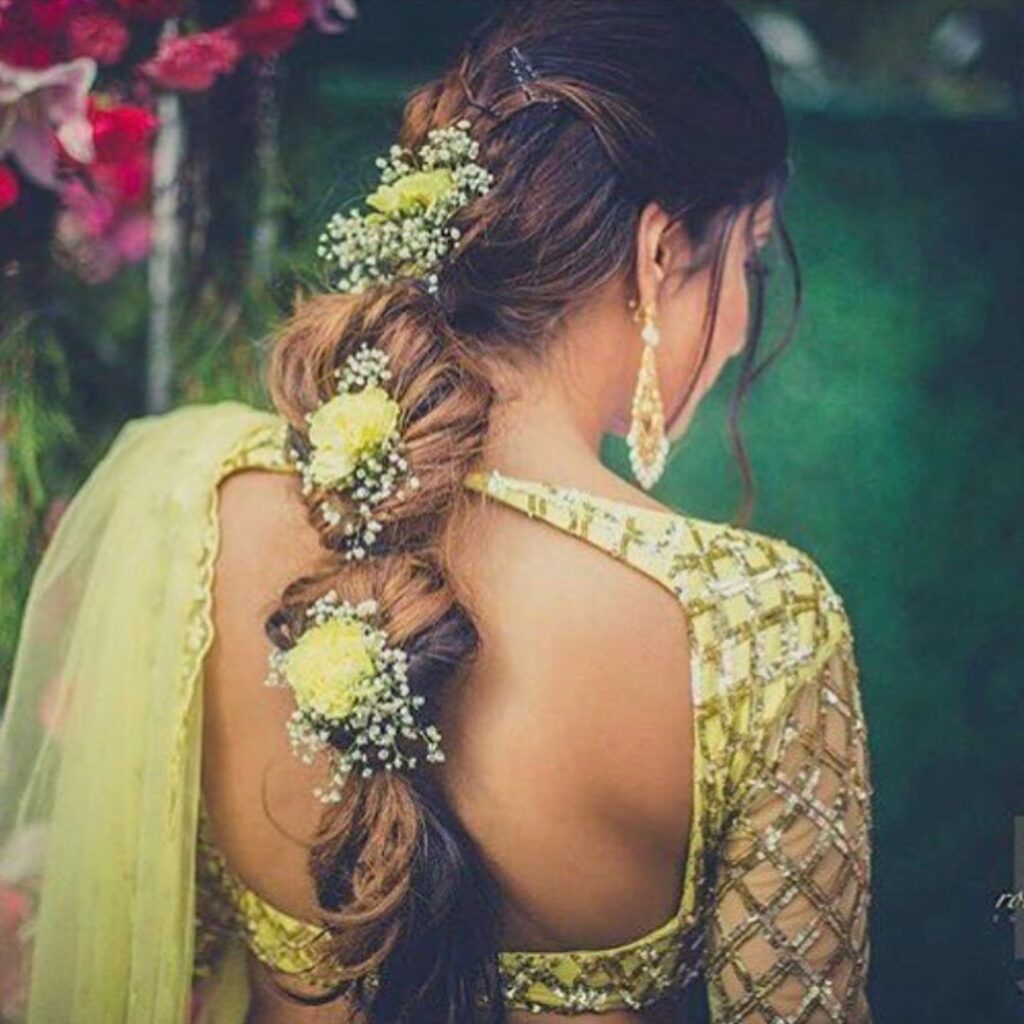 #3 Cinderella Affair
Everything about the picture is so princessy. From her pretty pink lehenga choli to an appealing braid with knots, twists, and dainty flowers – we're fascinated by it all!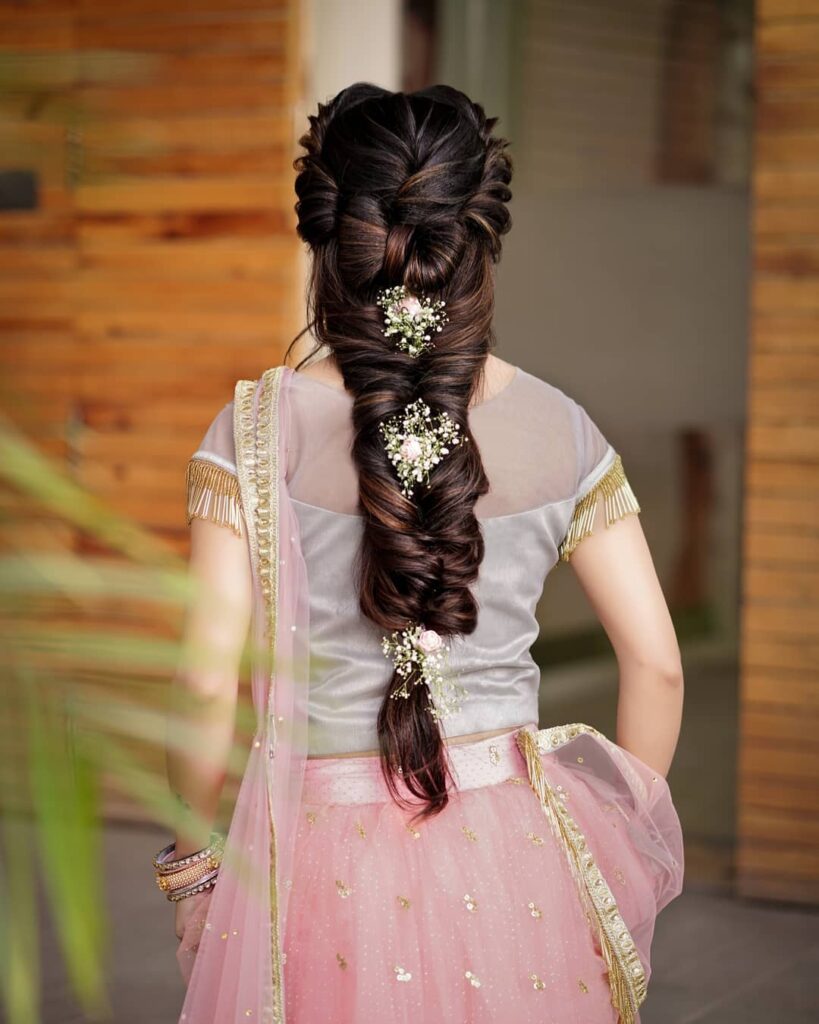 Via @aanalsavaliya
#4 Long Hair + Crown Braids + Roses + Tight Curls = Dreamy Hairstyle!
Now that's an interesting braid! Assembled with all impressive elements, it sure will turn heads at any ceremony you attend.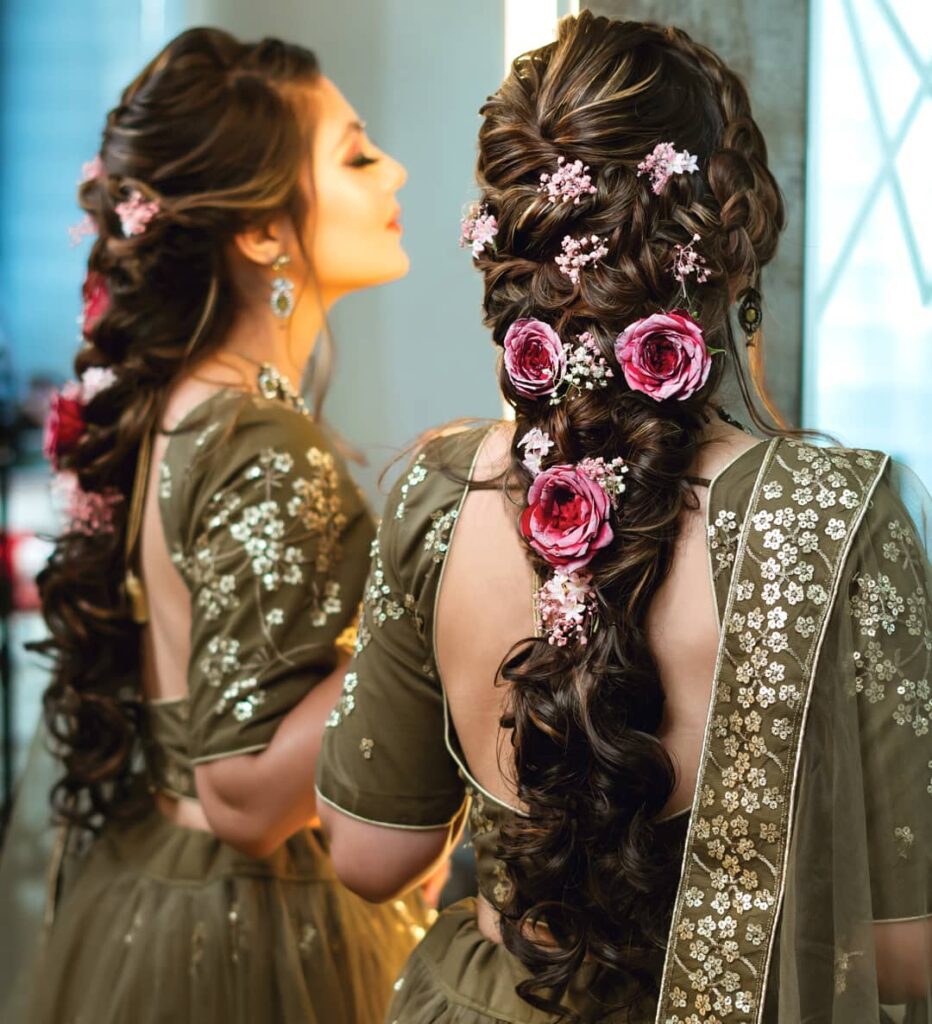 Via @aanalsavaliya
#5 When Simplicity Is Your Thing
The braid featured here is called a Greek Goddess Braid. They look divine, but only go for them if your hairstylist has a knack for it, otherwise, it won't look anywhere as neat as this one.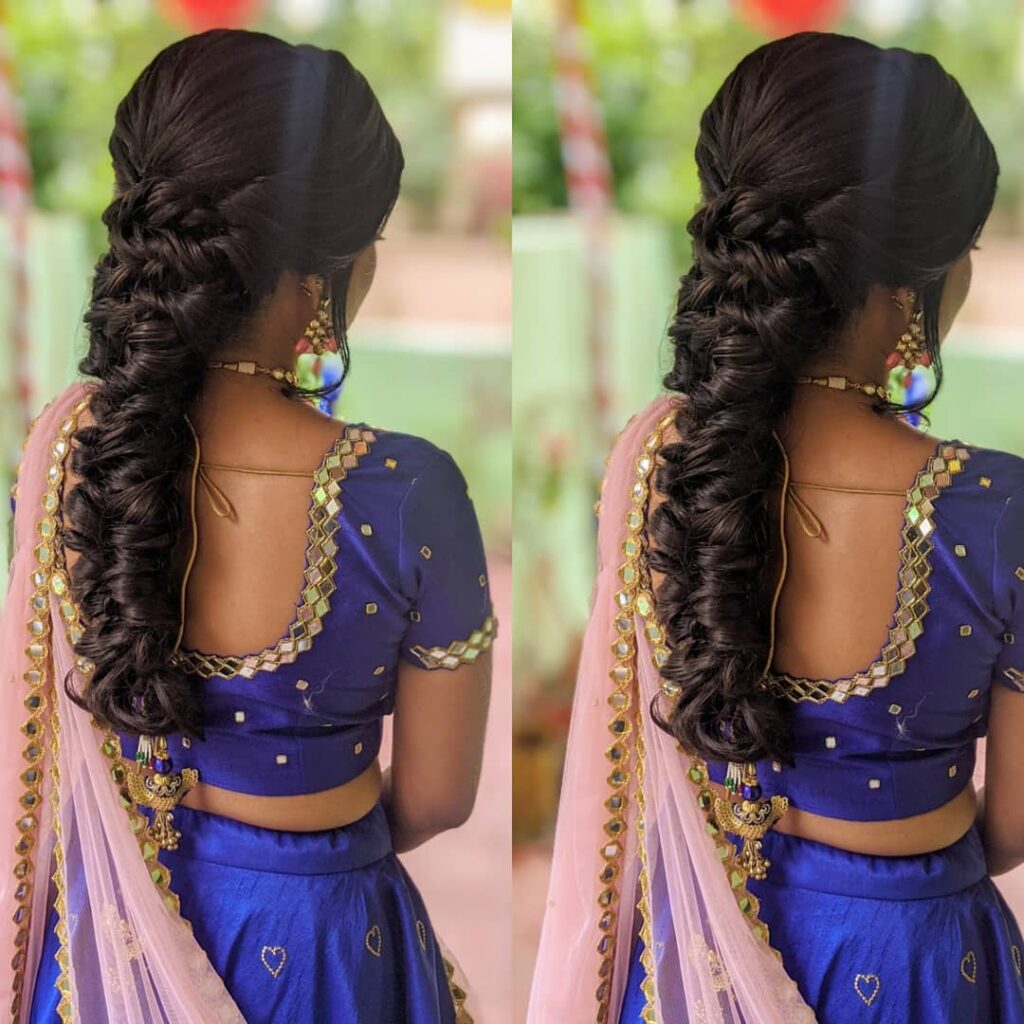 Via @afsharangila_makeupartist
#6 Braids, Braids & More Braids
Tightly knit braids from the top of the hair forming a loop one on the bottom is giving such an elegant and stylish look.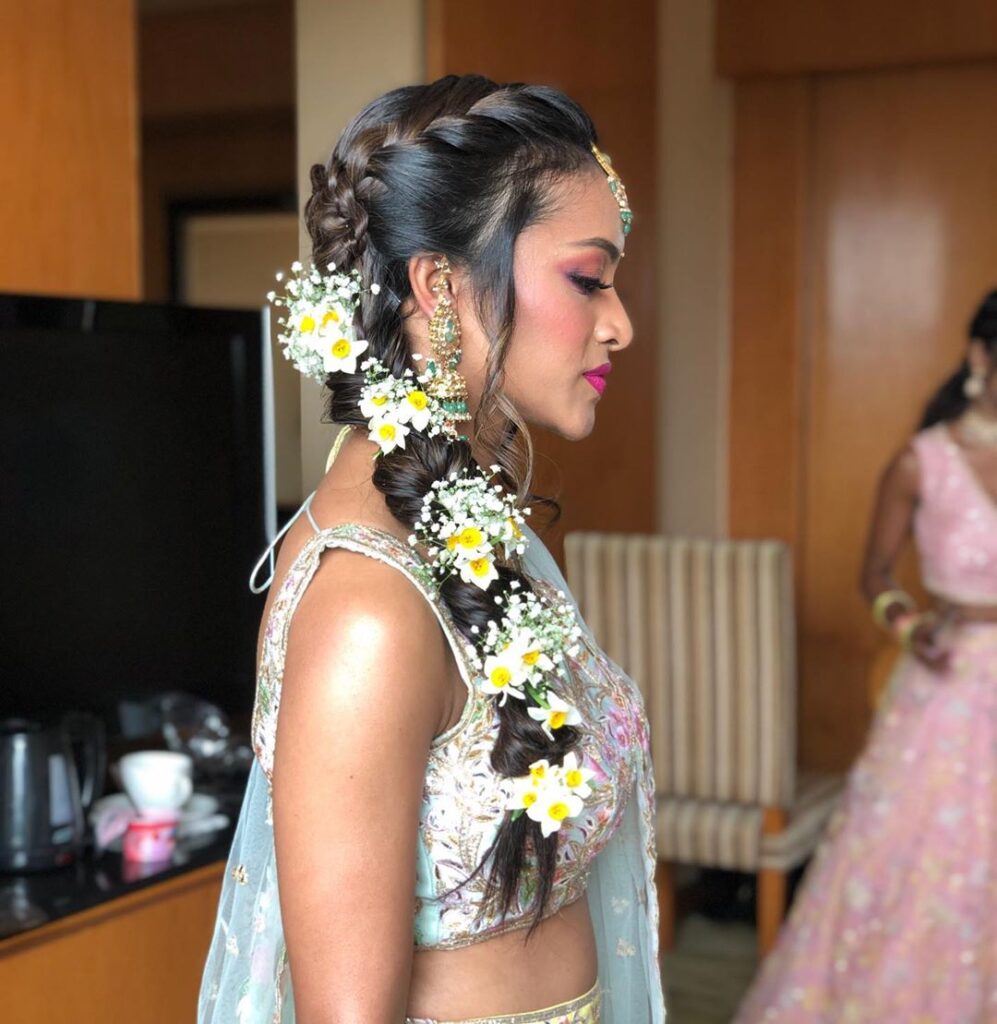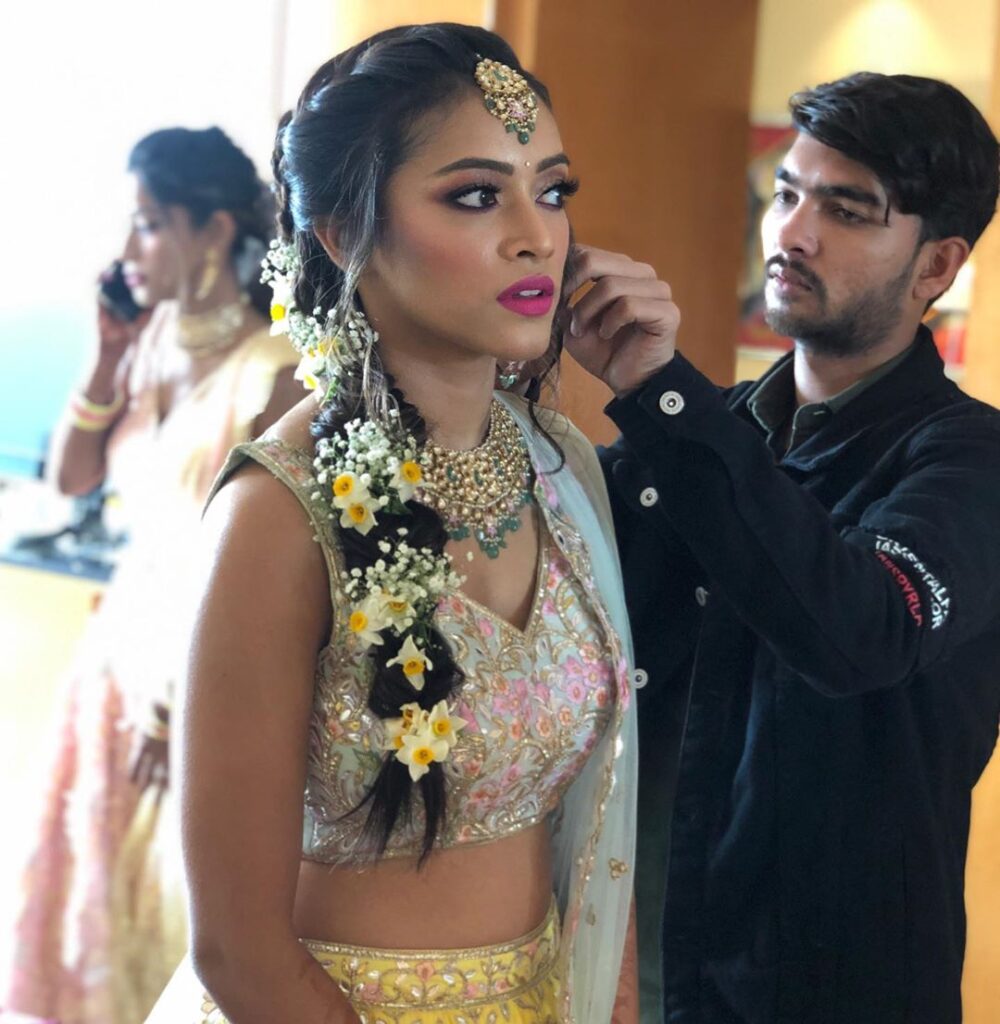 #7 A Loose One With Pretty Butterflies 
A max volume braid starting from the top of your head to all the way down. Instead of the usual flowers, this bride decided to adorn her updo with butterflies, and we're so here for it!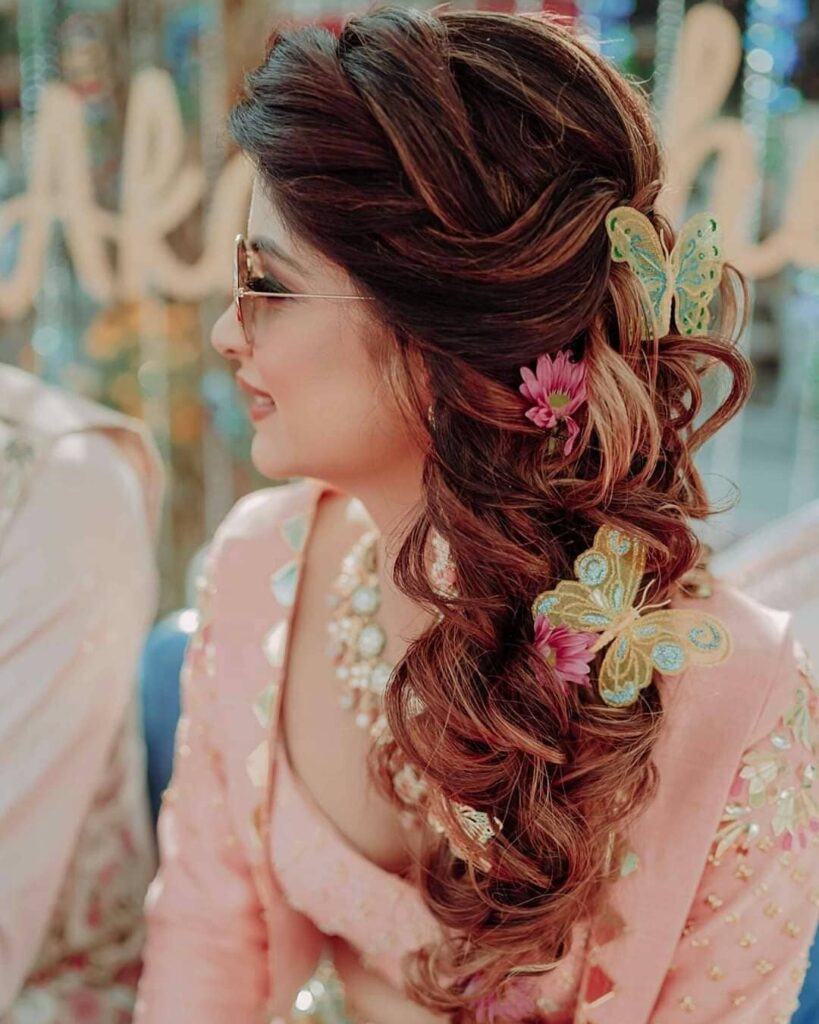 Via @shahid_naar
#8 Bridal Braid Goals? We Think So!
We love brides who include white in their bridal look. It's such a pristine color and balances out your colorful Indian attire. Let this bride inspire you on how to flawlessly make the hue a part of your bridal look.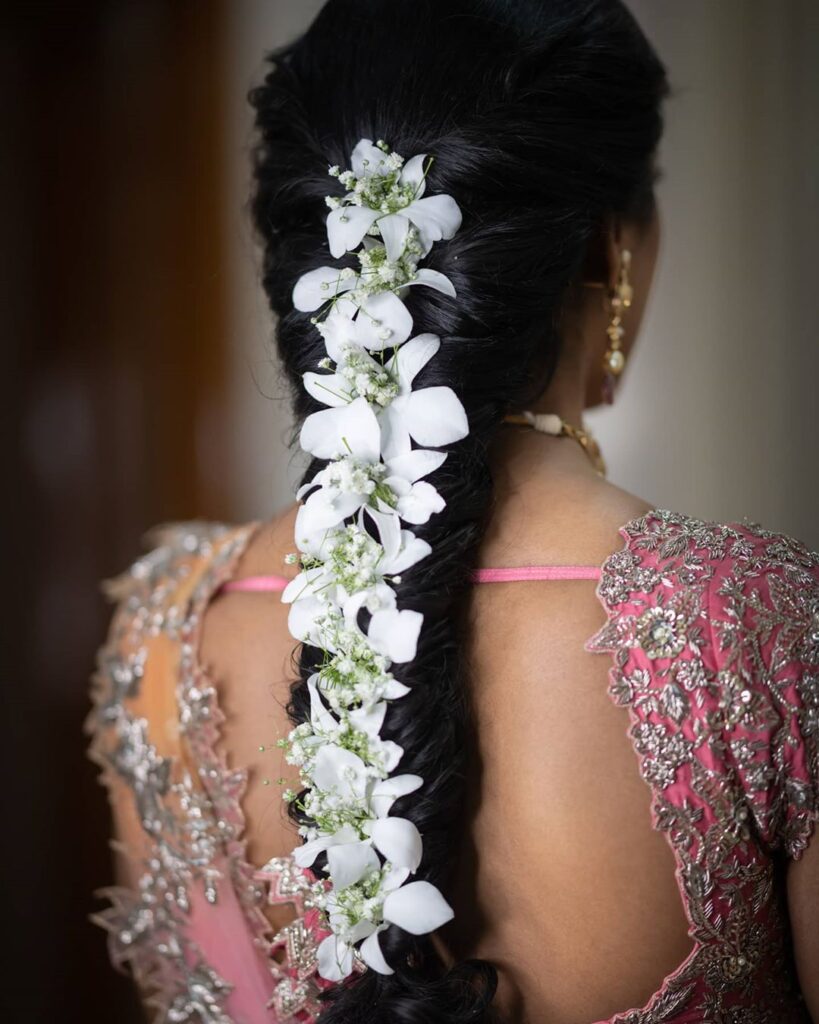 Via @afsharangila_makeupartist
#9 Spellbound!
It's just a regular 3-strand braid but the unique embellishments are making all the difference!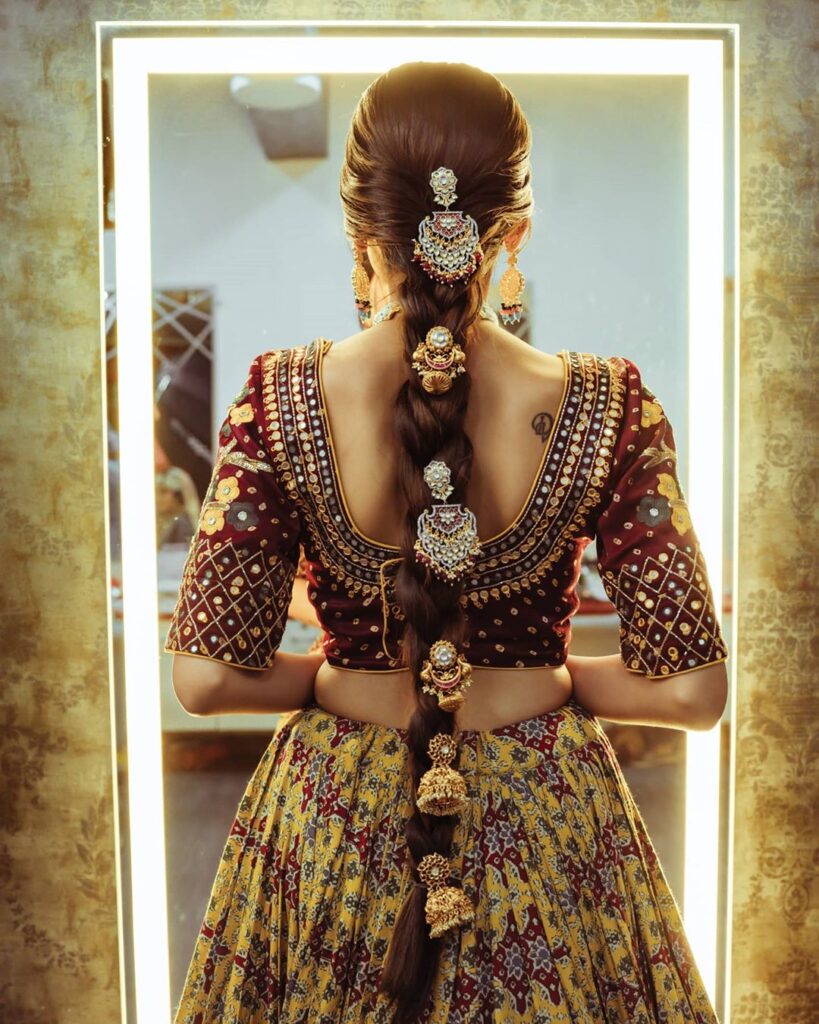 Via @aanalsavaliya
#10 Latest Indian Bridal Hairstyle 2021
This gorgeous hairstyle just caught our eye and it's amazing how well it's captured. That's why it's important to pick every vendor carefully. Everyone has their own bit to do in making your big day memorable.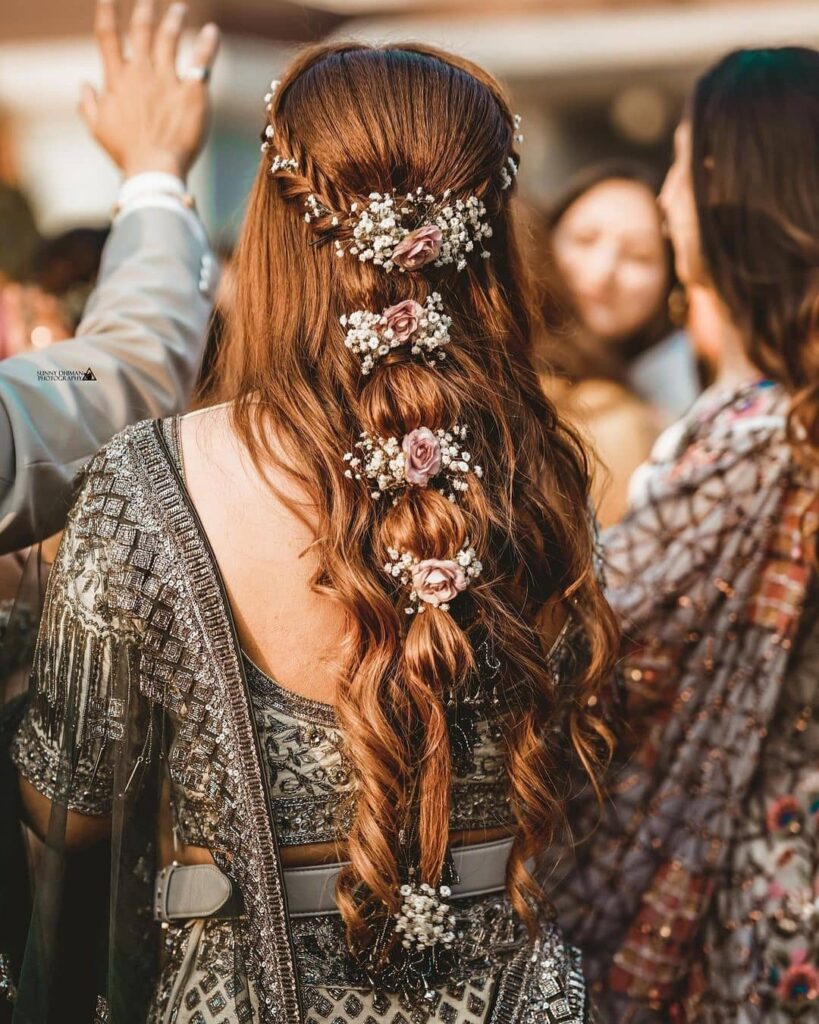 Courtesy: Sunny Dhiman Photography
Half Up Half Down Bridal Hairstyles
The trendiest hairstyle of the season is half up half down hairstyle. It's called so because a part of your hair is sectioned off at the crown and the other part is let down. There are so many ways to style them – with accessories, pins, flowers, or leave them at the natural texture. Brides are loving them and we're loving it on them. In this list, we feature different kinds of half-up half down hairstyles so you can bookmark the one that will instantly tug to your heart.
#1 Tight curls with braids on the upper section, bedecked with dainty florals and chain earrings.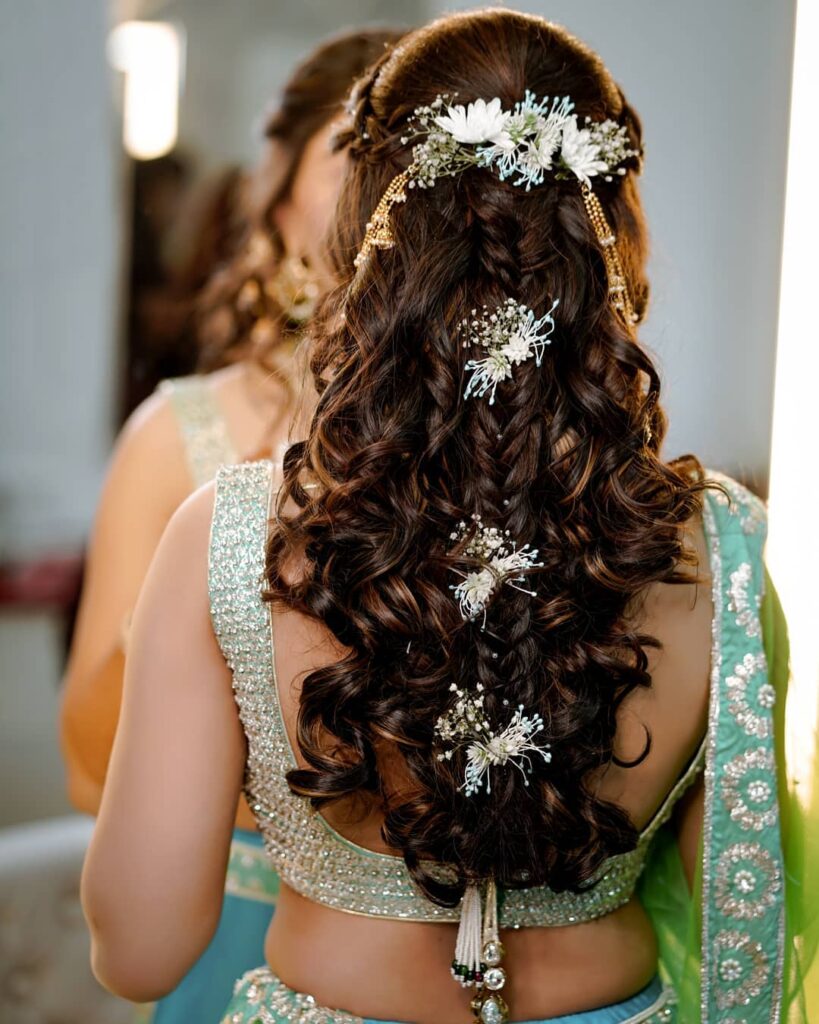 Via @aanalsavaliya
#2 Puffy one with a bubble braid and flowers fanned out all over the mane.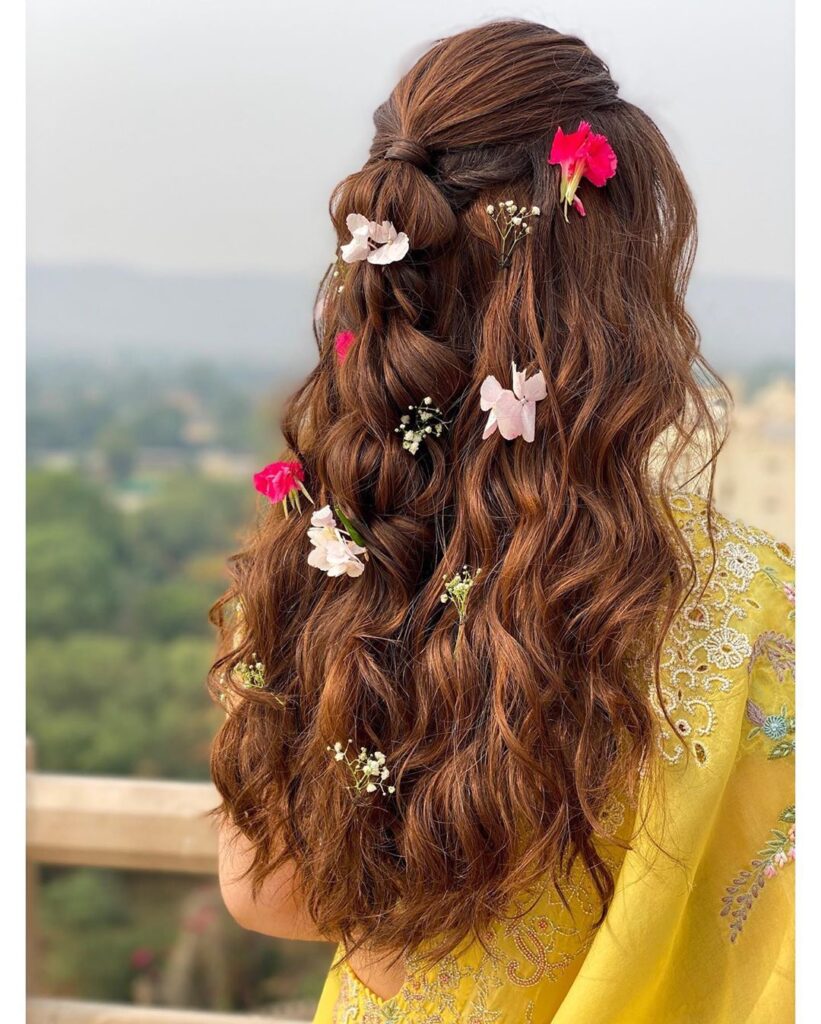 #3 A donut bun tucked with statement accessory on a side while setting the open tresses in beachy waves.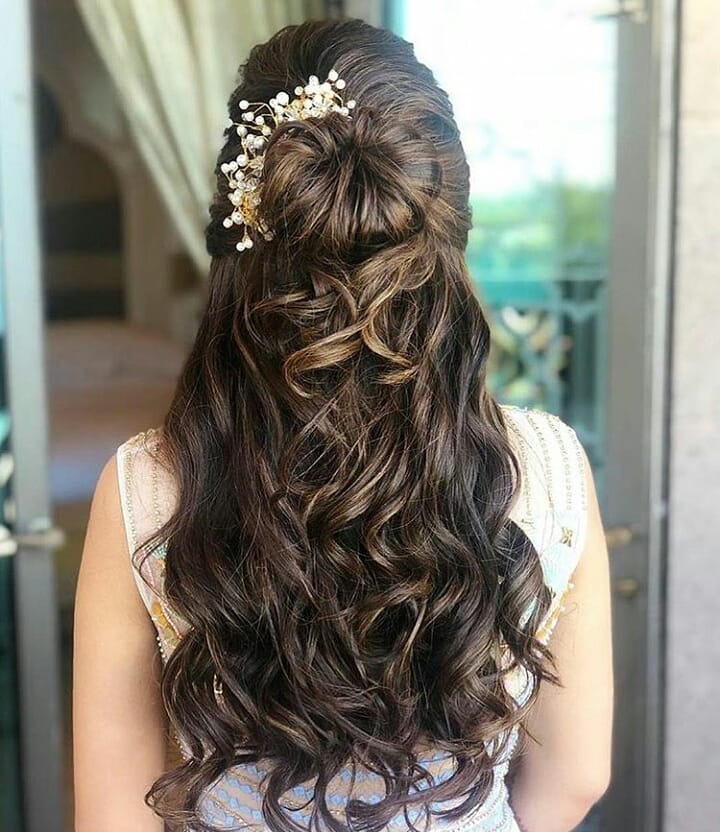 #4 Neat, gorgeous curls paired with a poofed up crown section and side french braid.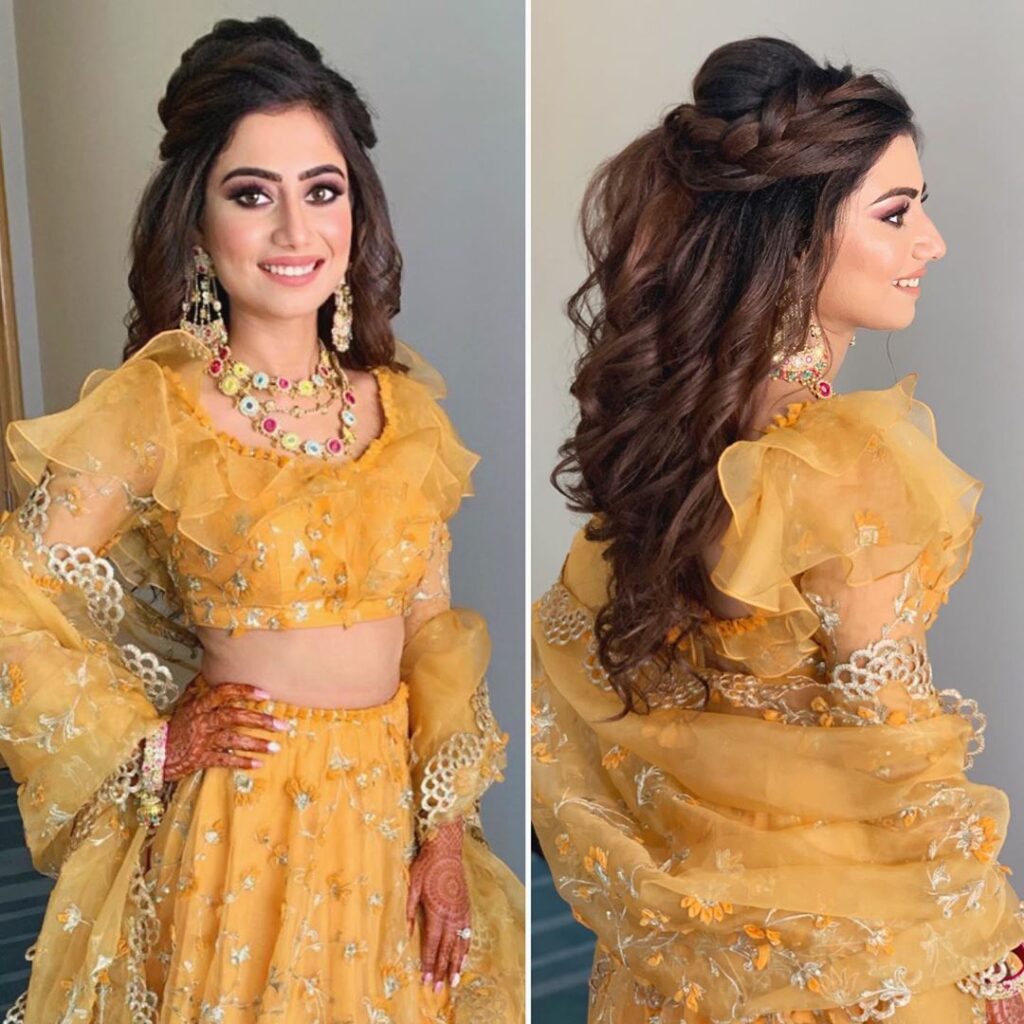 #5 Add an extraordinary accessory to make your half up half down hairstyle stand out!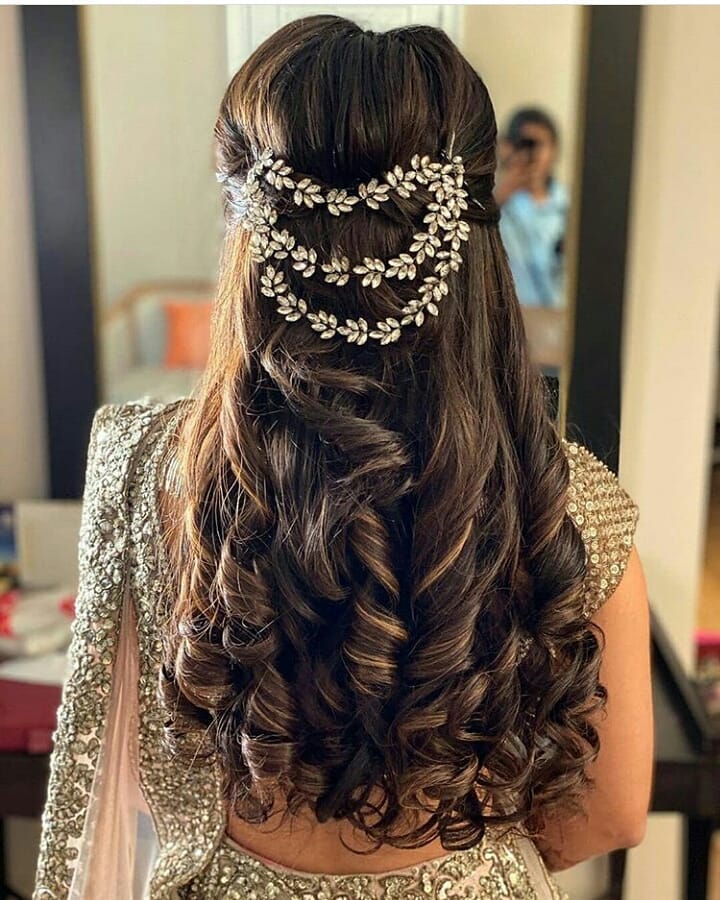 #6 Got no time? Opt for this effortless hairstyle, accentuated with a notable hair accessory. Buy this accessory here.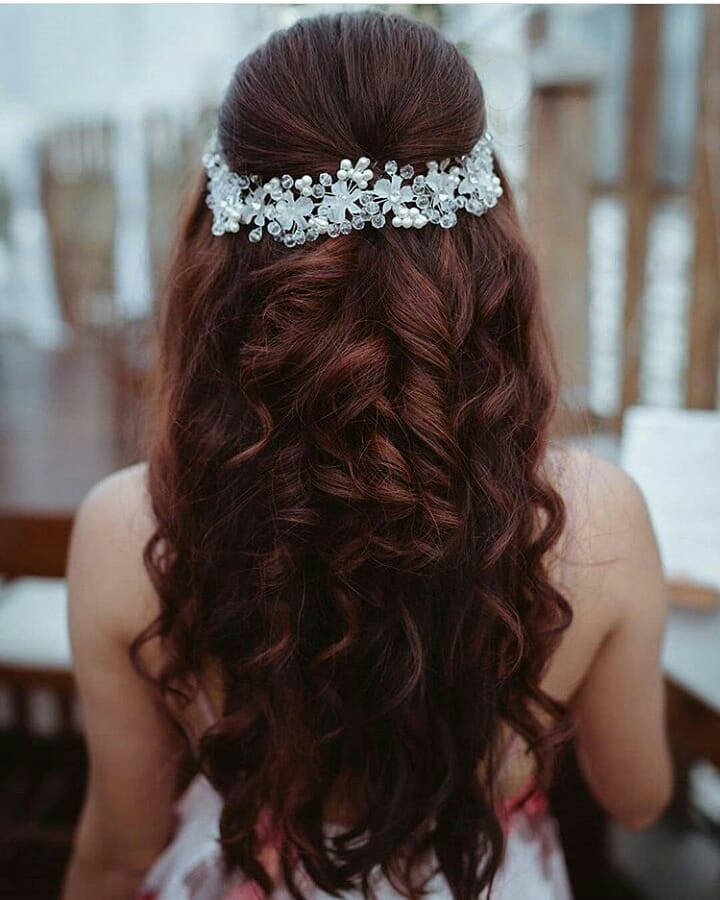 #7 Color contrasting your floral jewellery with your outfit is always a great idea! Add the same color accessories to your half up half down hairstyle too to make the whole look more stylish and elegant.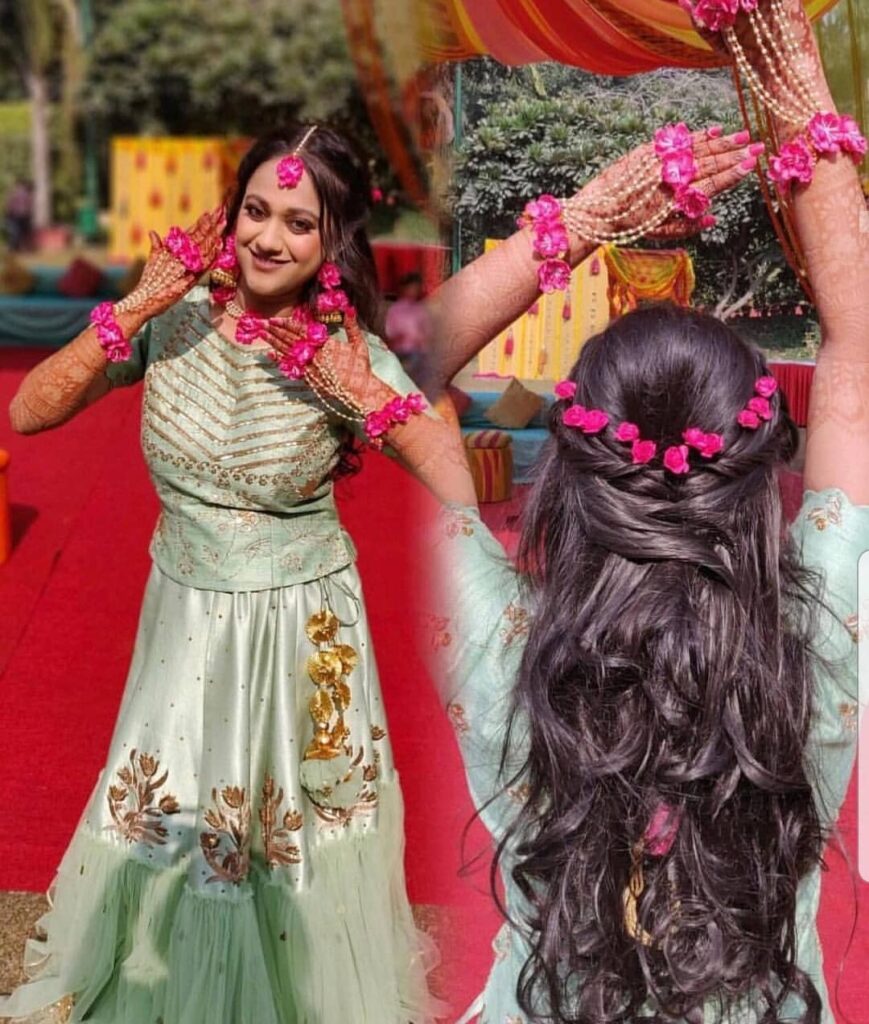 #8 Can never say no to some extra volume! It'll definitely give you a diva look.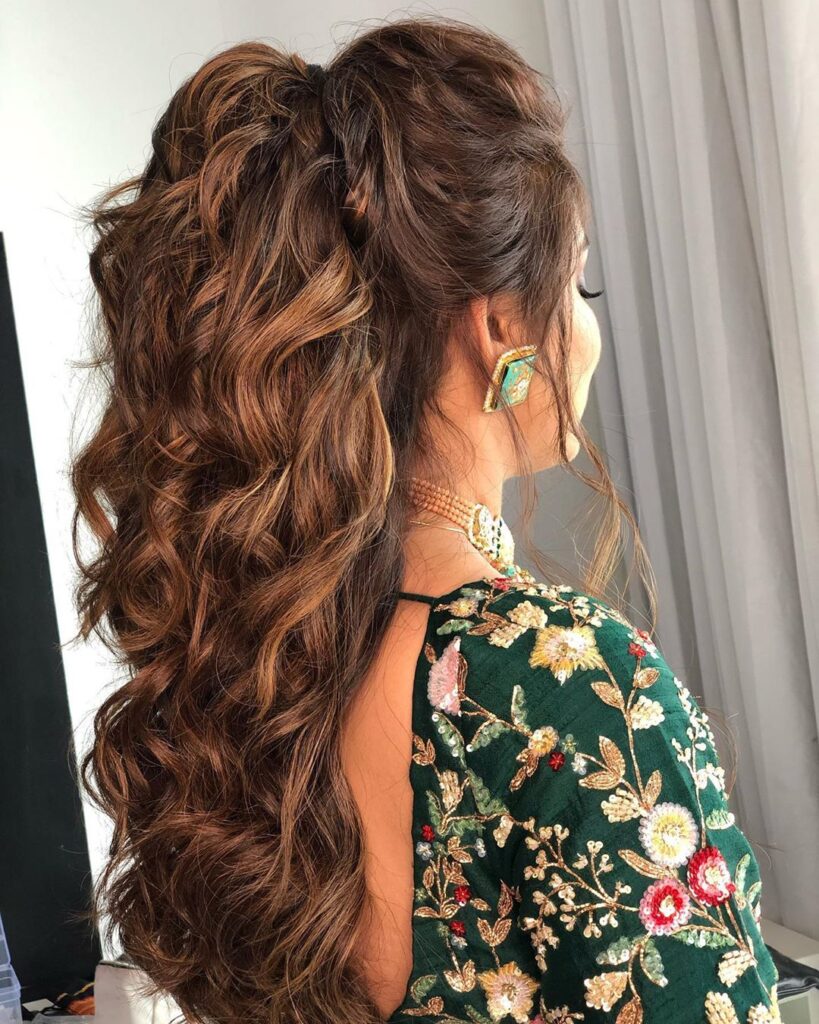 #9 Isha Multani's unicorn-inspired engagement look was made even more dreamy with her impressive half up half down bridal updo that's pin-worthy in every sense.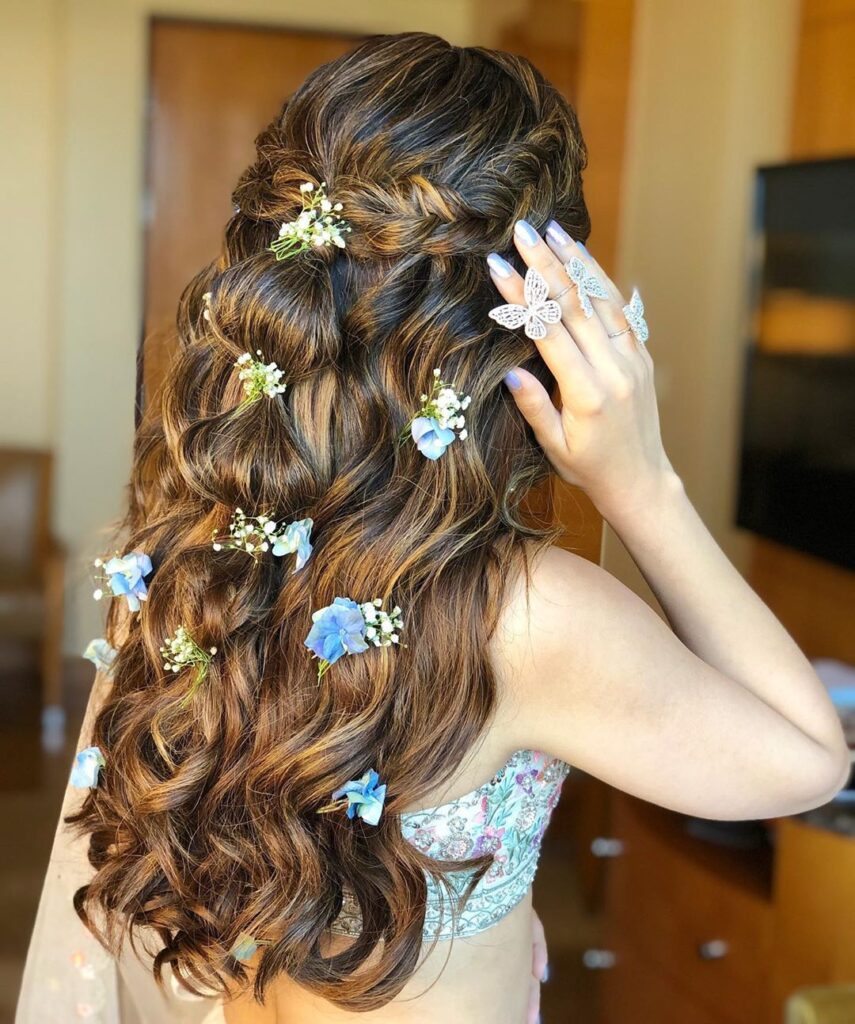 #10 Anj has won hearts with her Sangeet look & her glamorous hairstyle was such a sight to the sore eyes.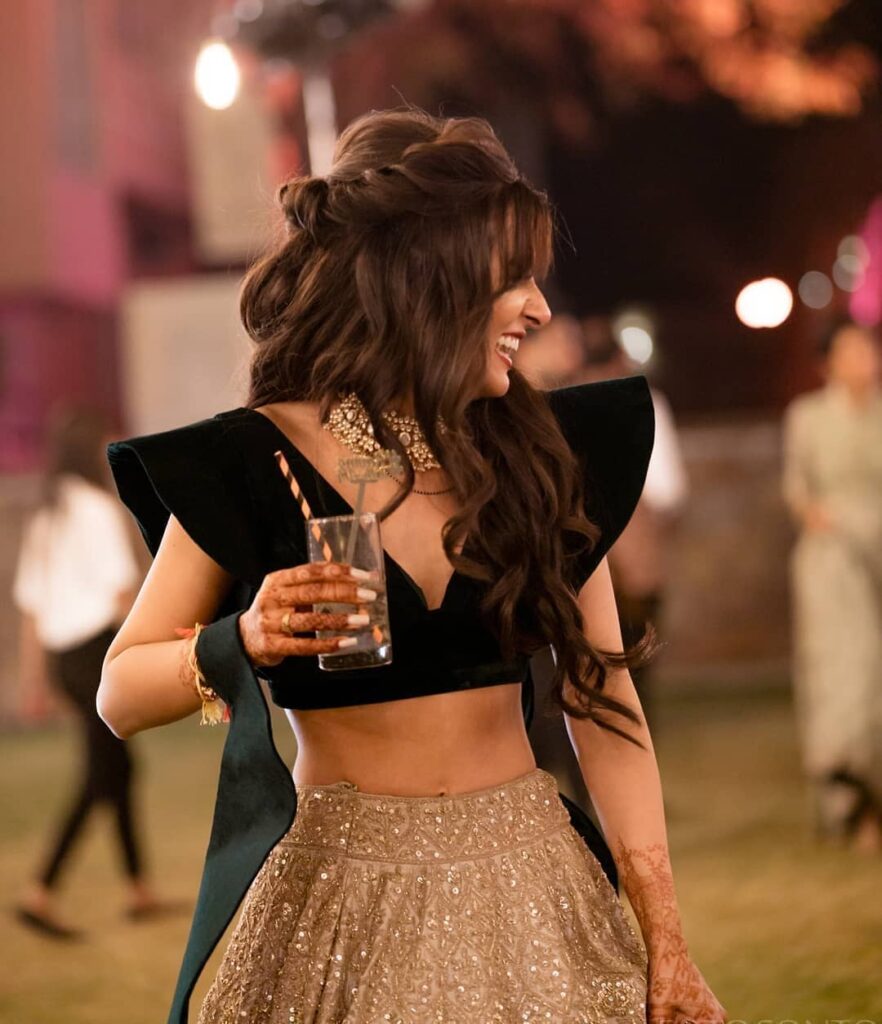 Via @anjandpri
Bridal Ponytail Hairstyles 
If you're following our social media, you know how much we've been crushing on bridal ponytail hairstyles. They are such a chic and modish option for our millennial brides. And there's something for every kind of bride in here – from fun and playful ponytails to classy and elegant ones! Scroll down to find the one that screams your style.
~ A low one with braids to impress!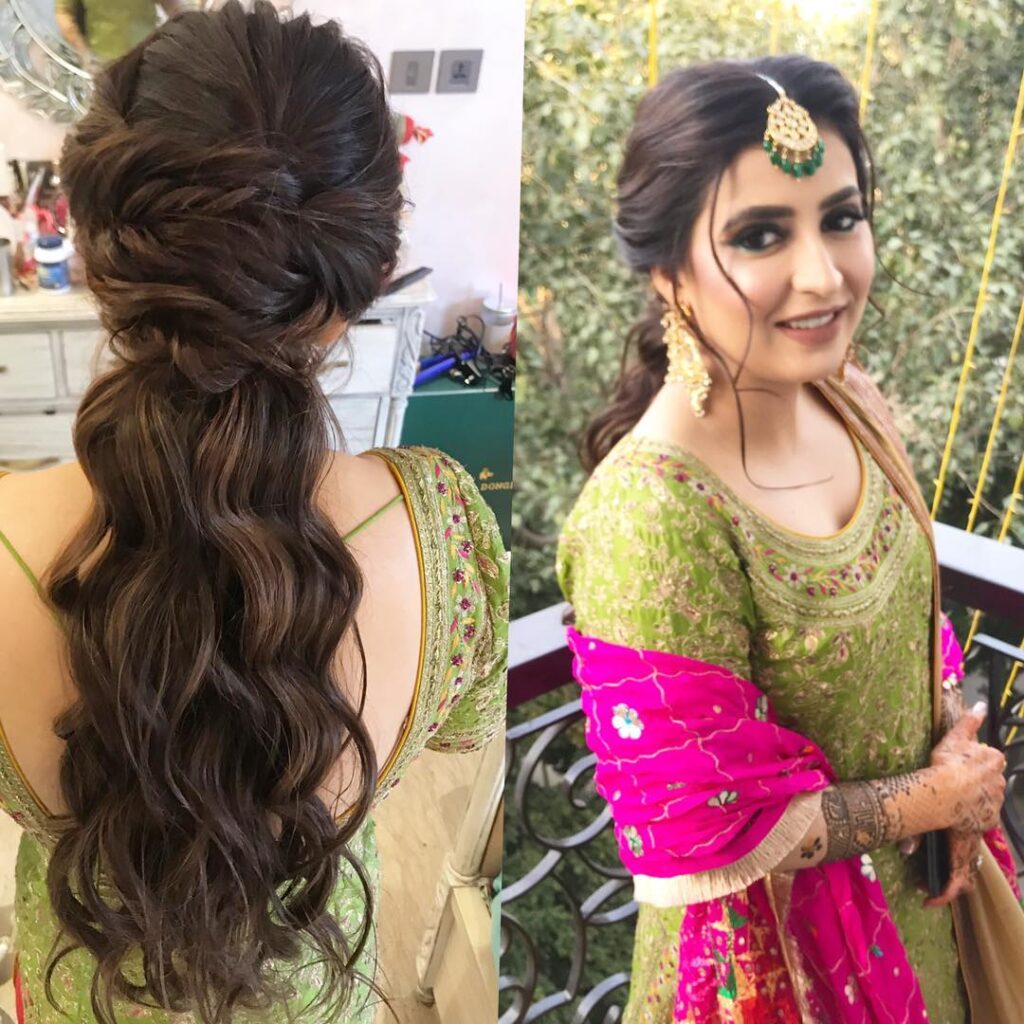 Via @hairbysantosh
~ Those beautiful placements of pearls on the high ponytail has our heart.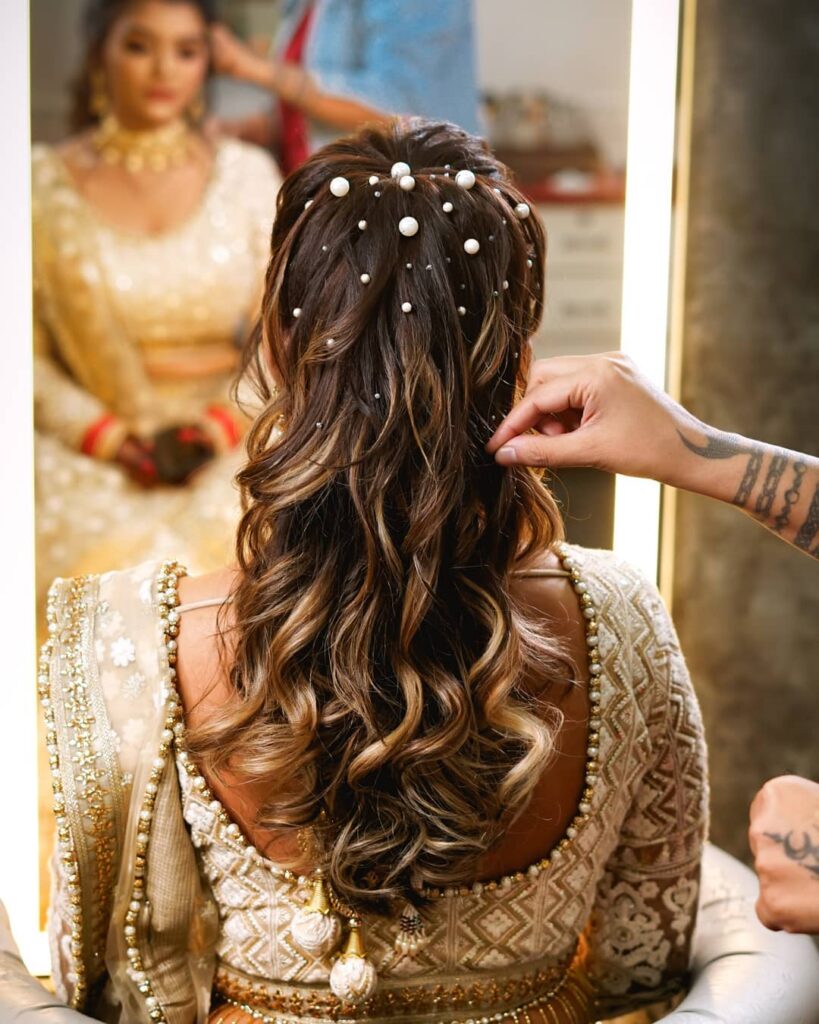 Via @aanalsavaliya
~ Strut like a diva at your cocktail with an updo like this one.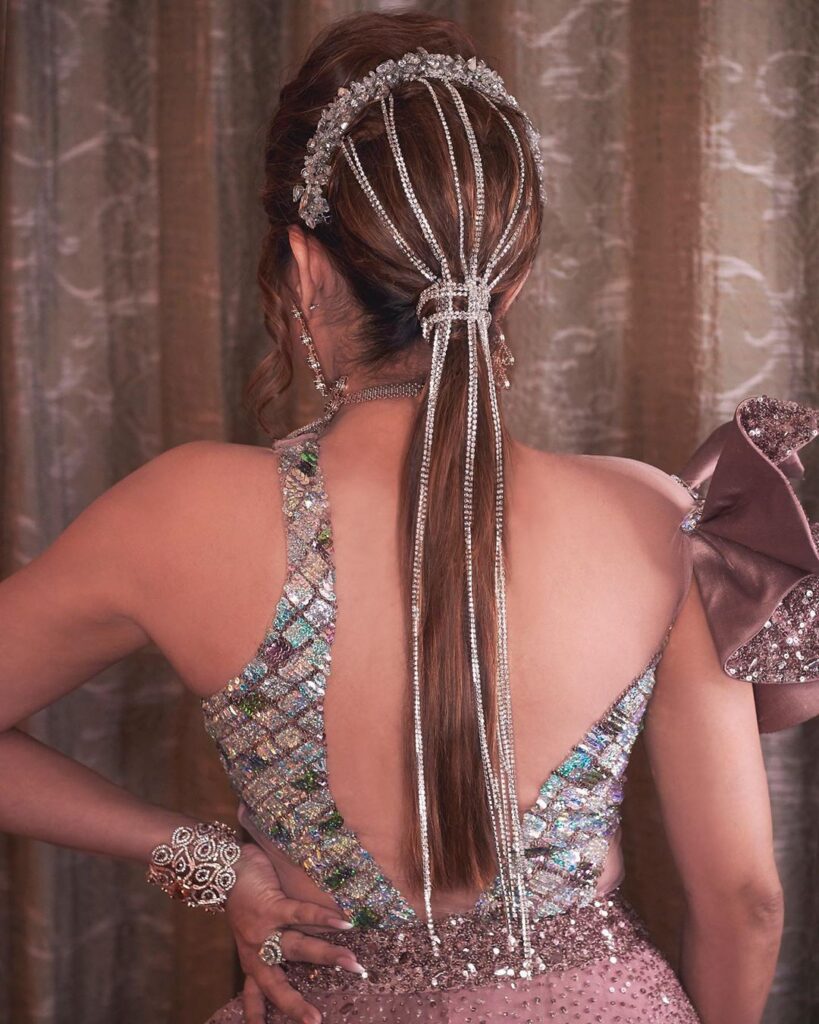 ~ High ponytail with minimal curls is bookmark-worthy!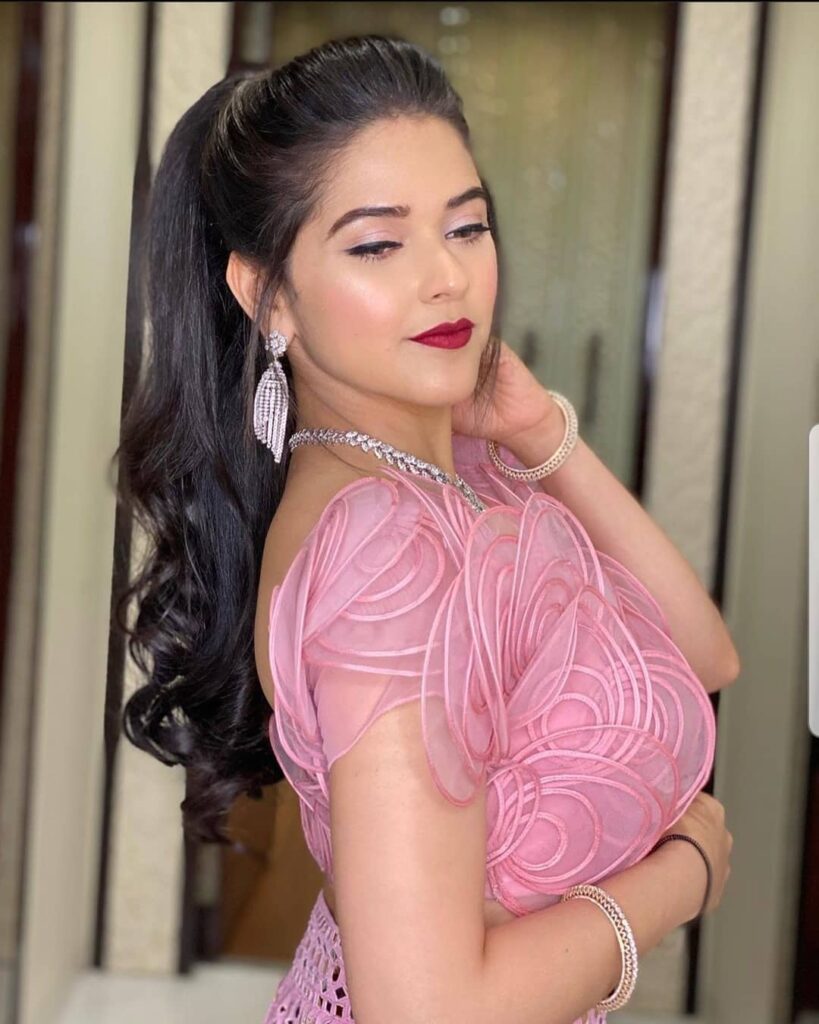 ~ Voluminous curls tucked into a ponytail and embellished flawlessly is such a beautiful hairstyle for Sangeet.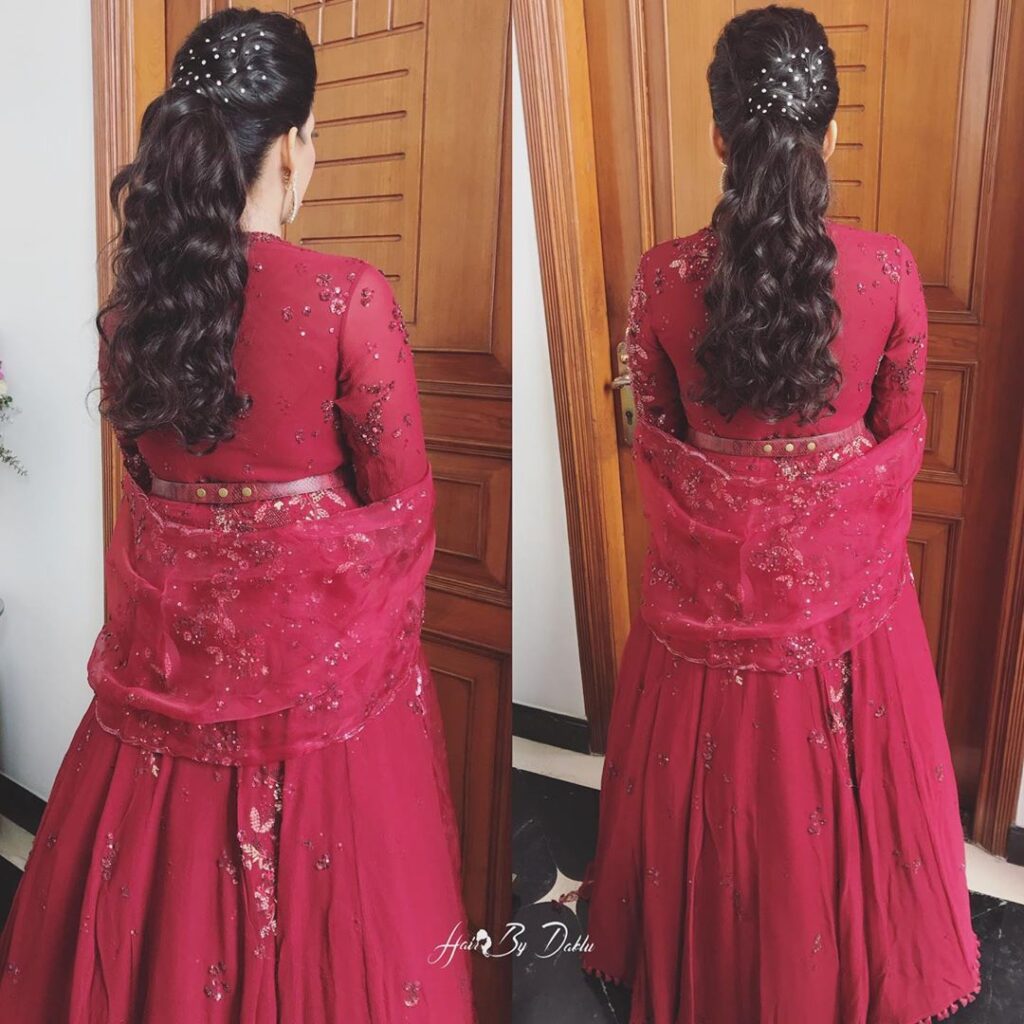 Via @hairbydablu
~ If simplicity is your style, this bridal ponytail hairstyle inspired by Kiara Advani is your best bet.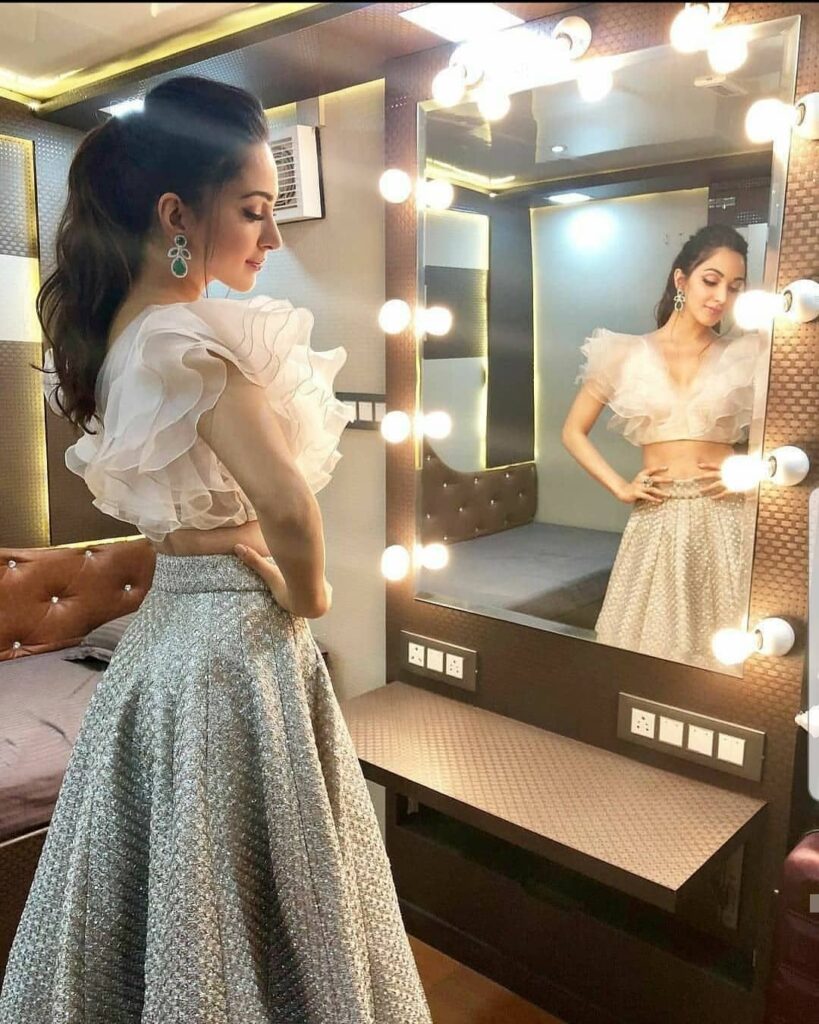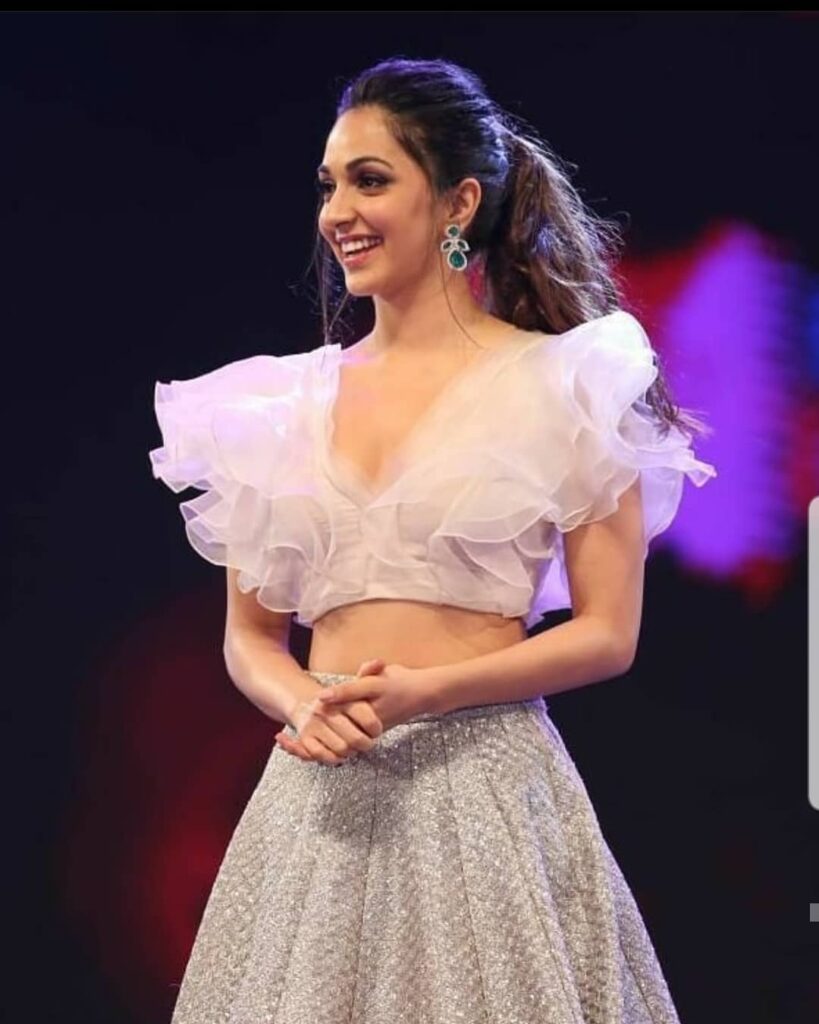 Check out more puffy ponytail hairstyles here. 
Easy Bridal Hairstyles
The last section on this detailed list are some DIY, quick bridal hairstyles. Because it's not possible to have an MUA for each of your functions or you might want to cut down on the cost. Whatever reason it might be, these easy bridal hairstyles are a perfect solution to them.
#1 A perfect donut bun with florals set all around will look perfect on brides.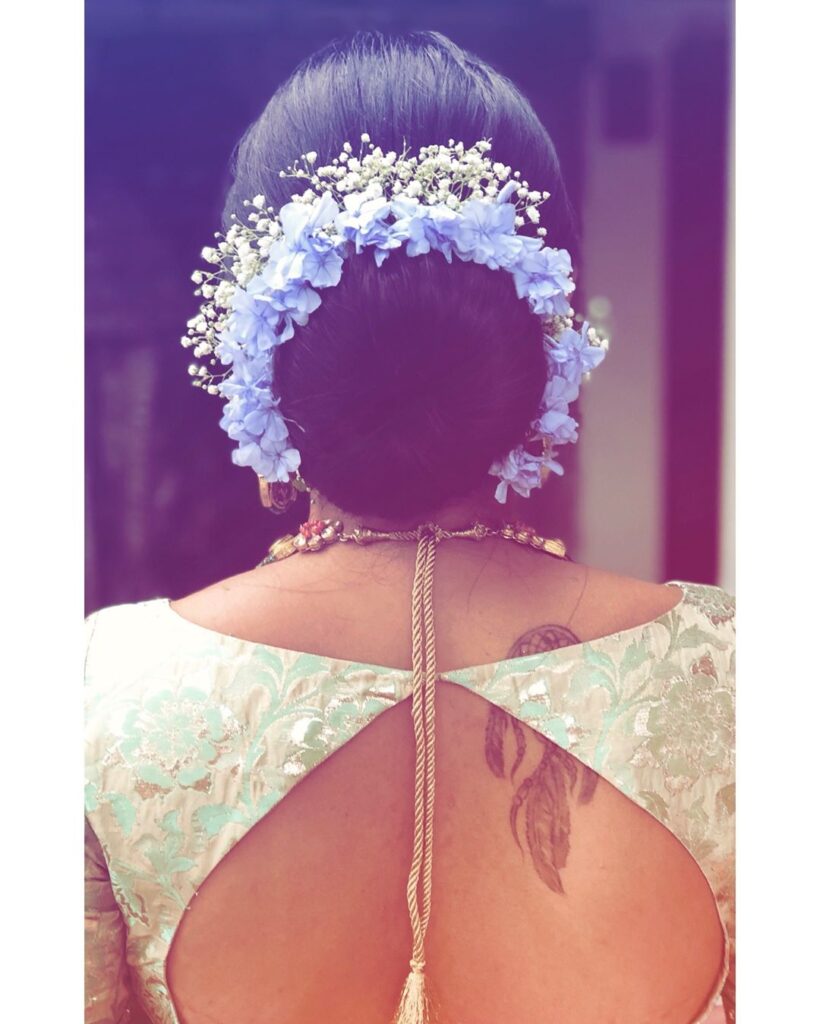 #2 Wavy, textured hair that's swept off to one side.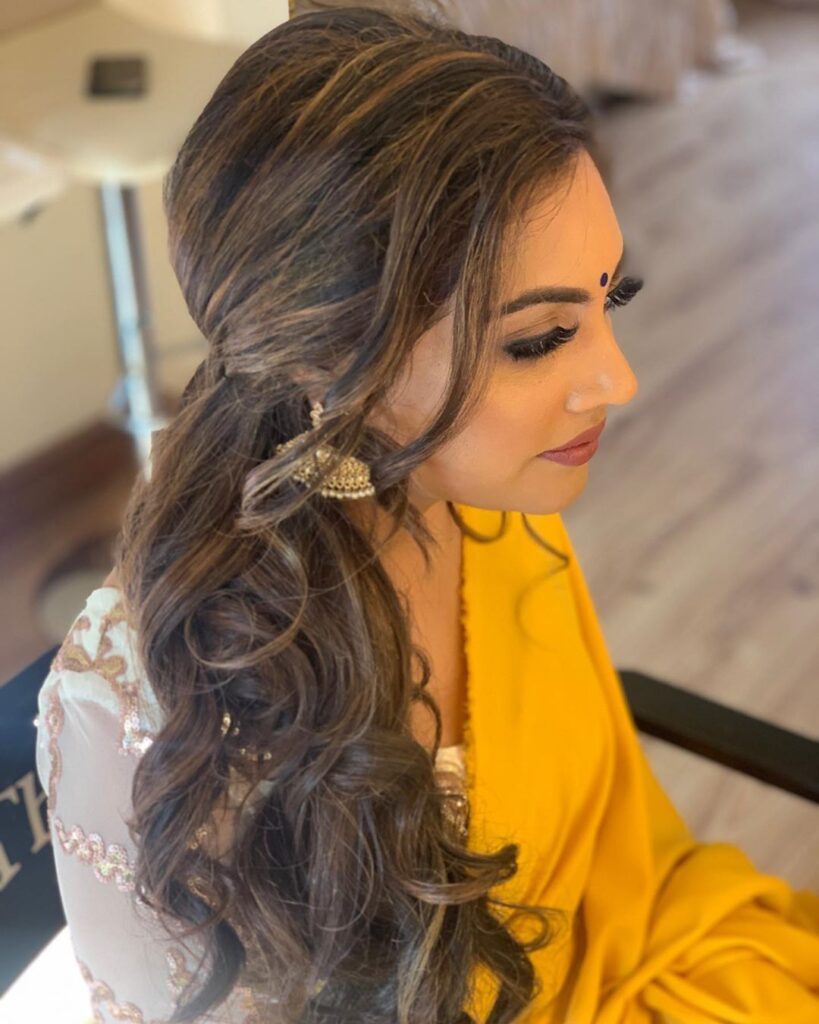 Via @thushi_mua
#3 Crown braid half up half down hairstyle with minimal embellishments.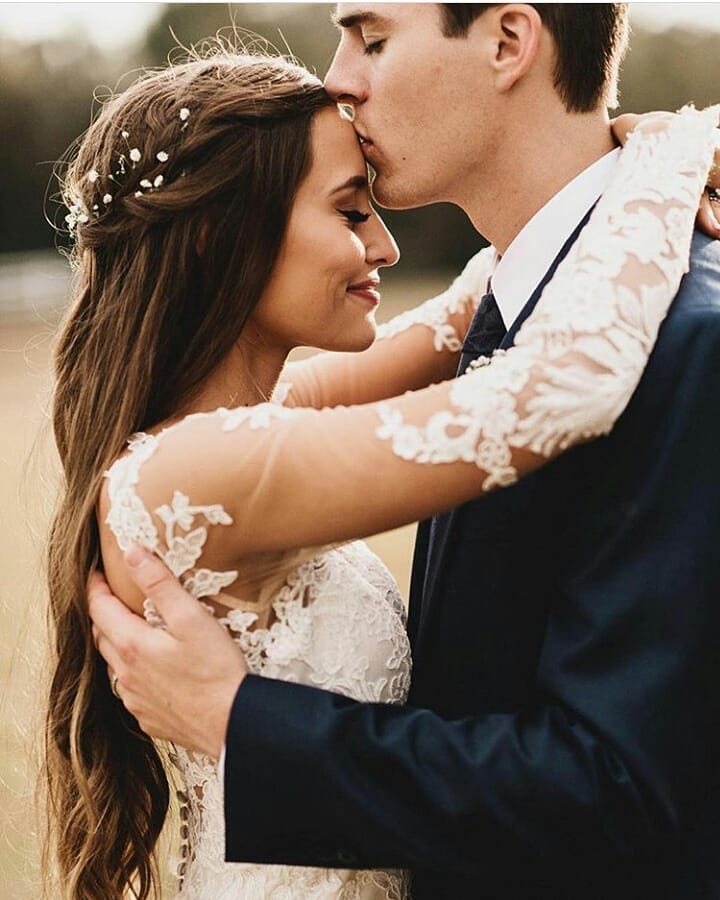 Via Pinterest
#4 A mini-donut bun with gajra setting and slightly wavy hair.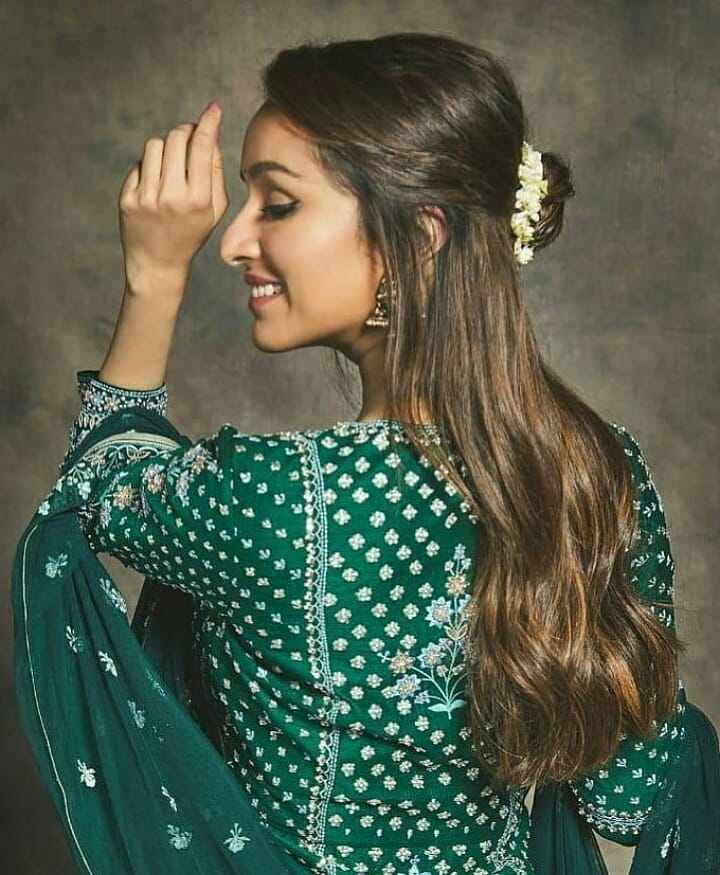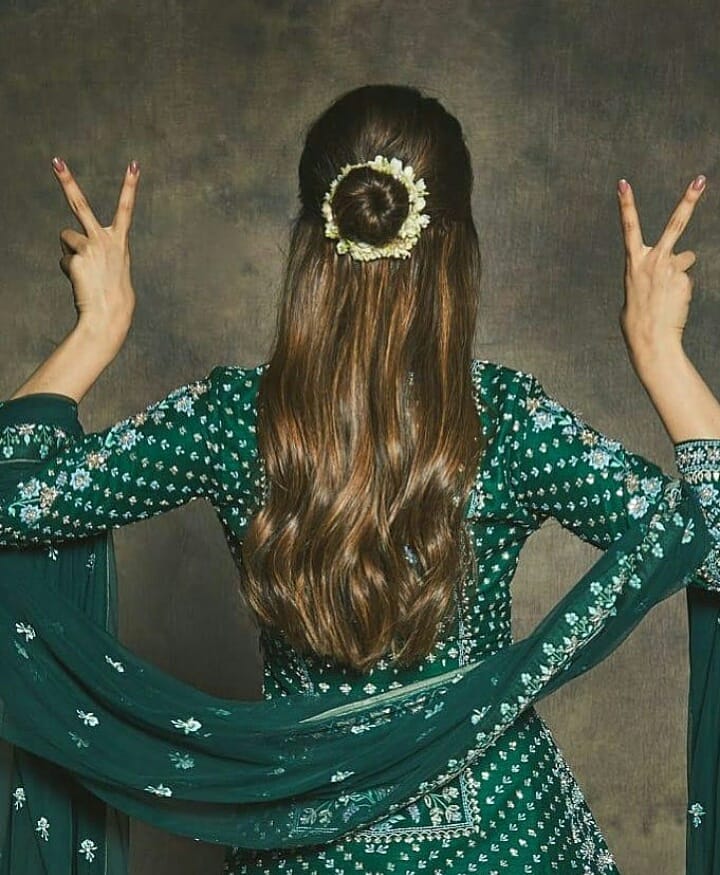 #5 Add a puff at the crown, curl the hair and set it with lots of hair spray. Tie the upper half portion and place baby's breath or a notable hair accessory to enhance the look!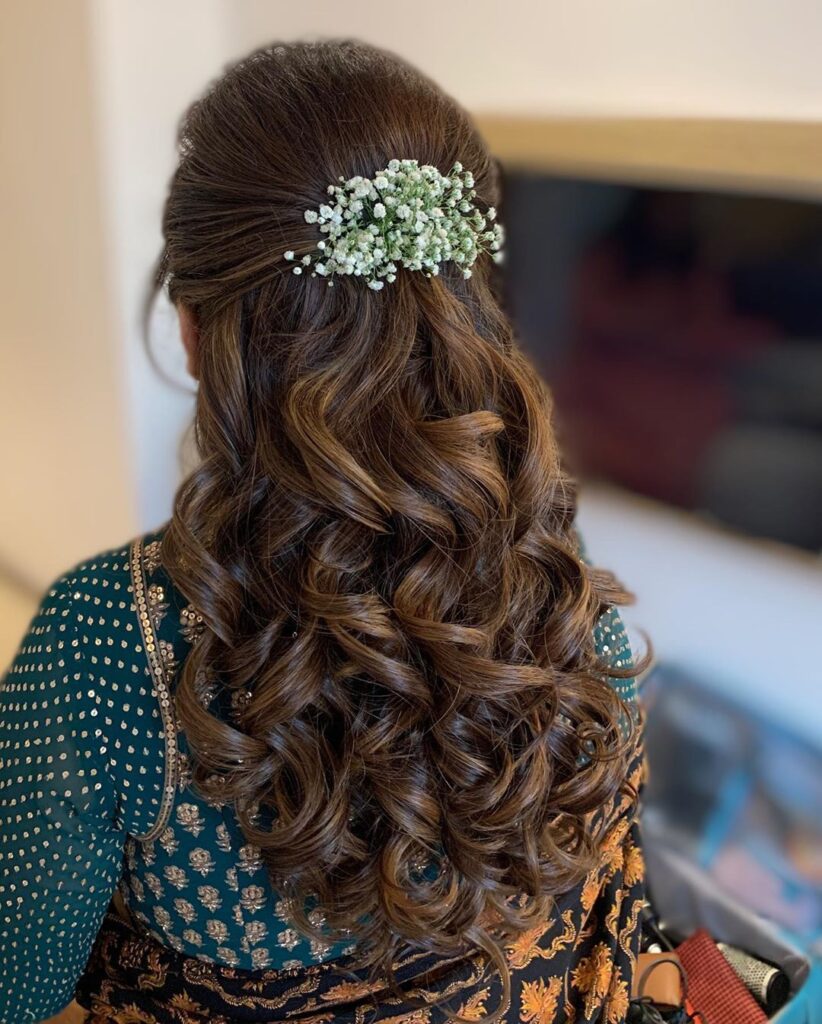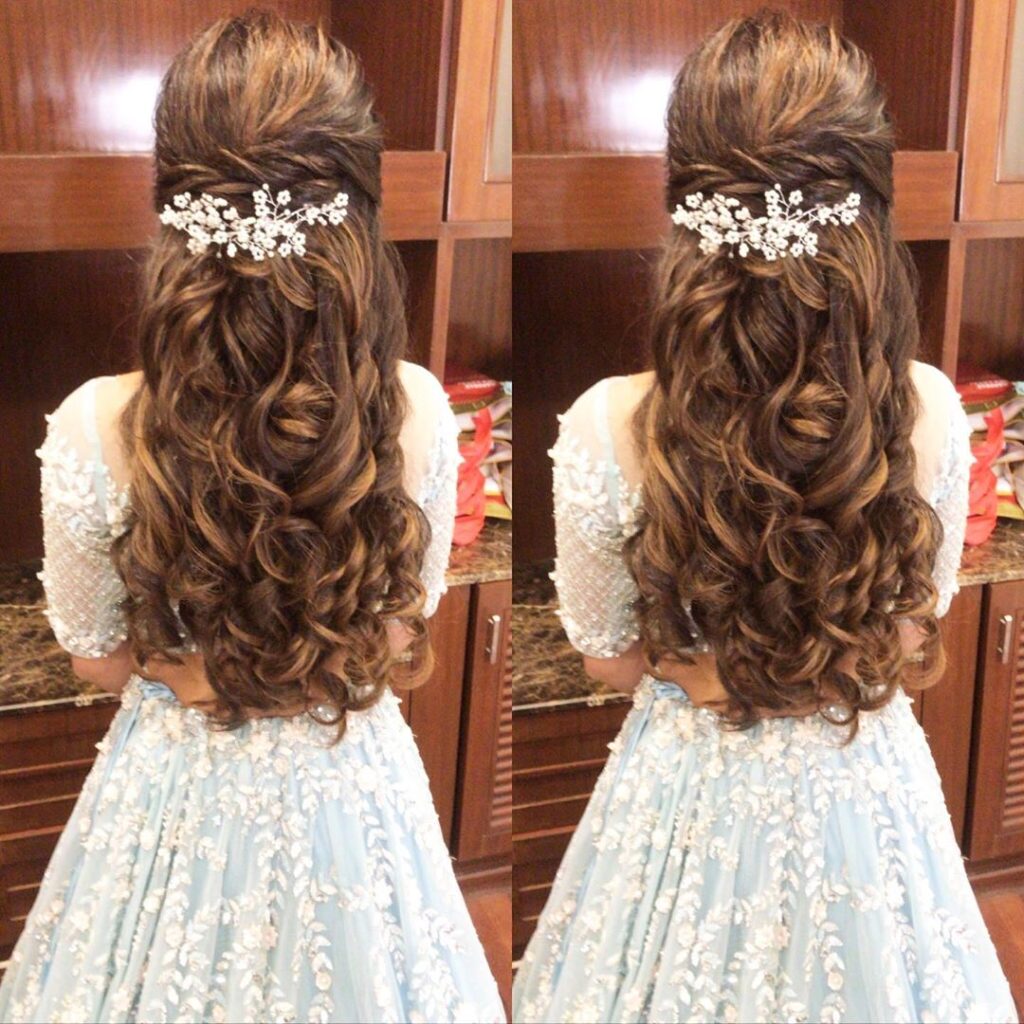 Via @shabajkhan_hairstylist, @hairbysantosh
#6 A simplistic hairdo that'll grab all the attention.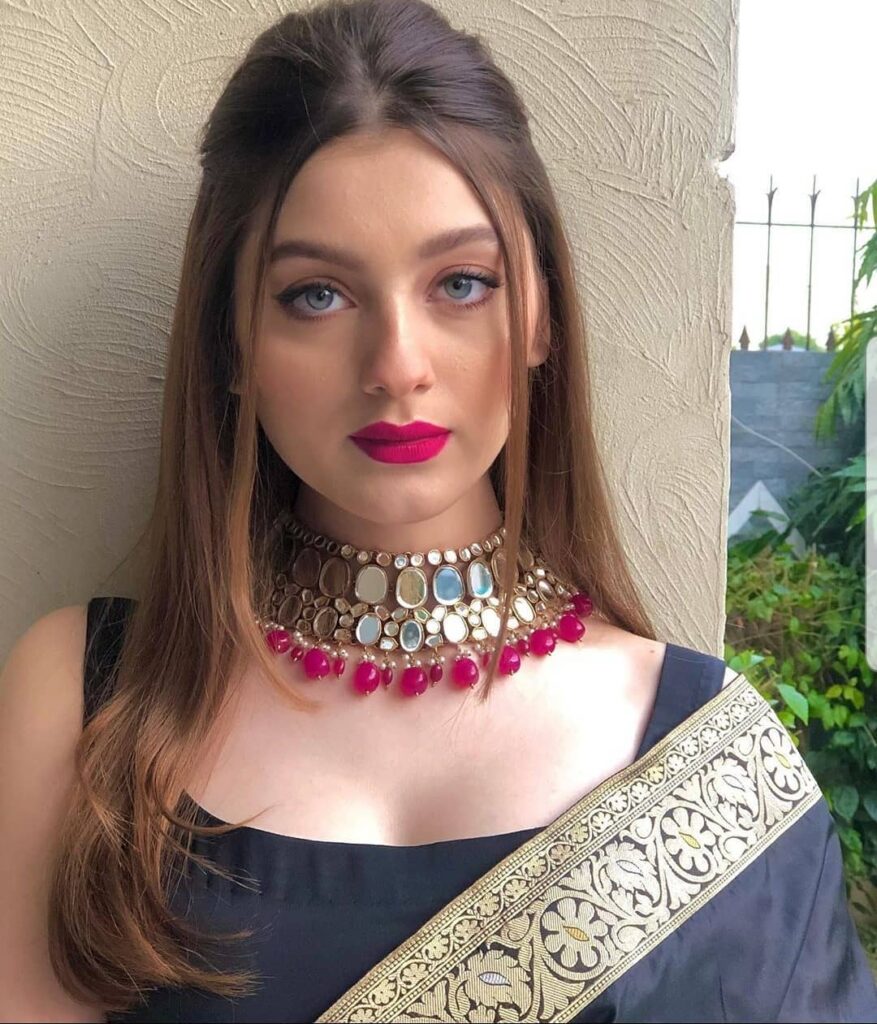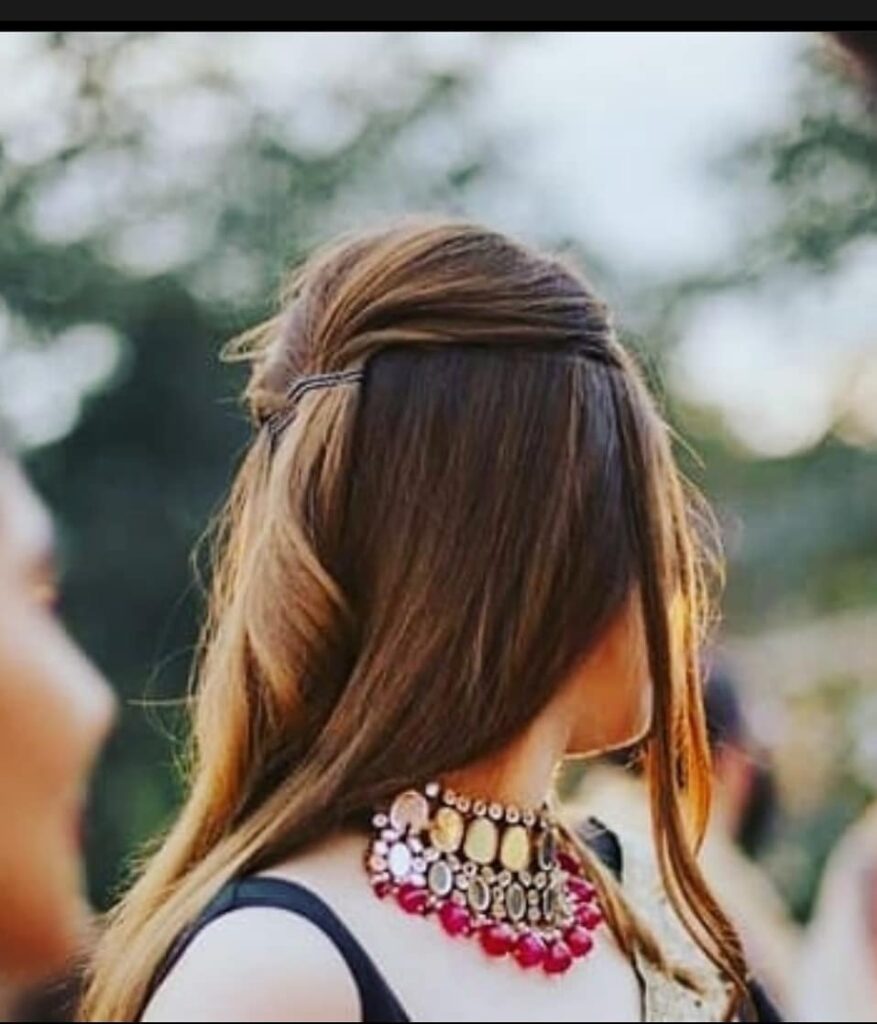 #7 Embellished crown braids from both sides meets sultry waves.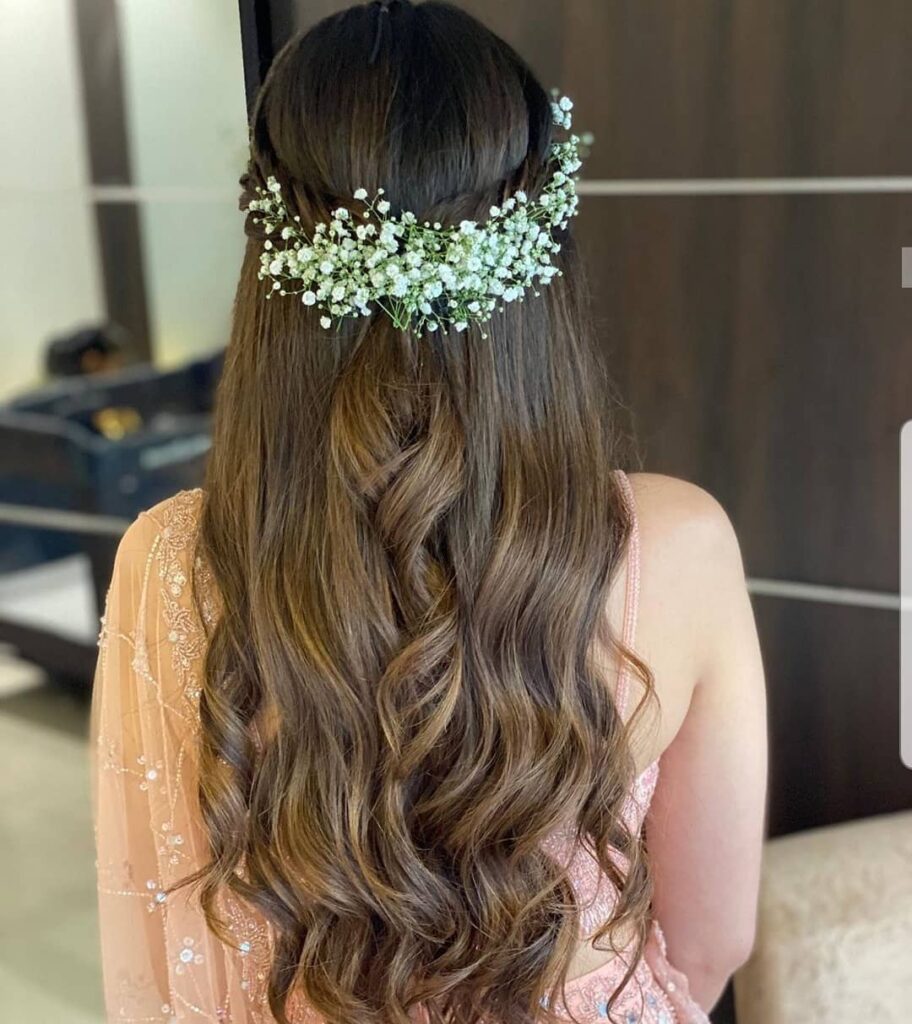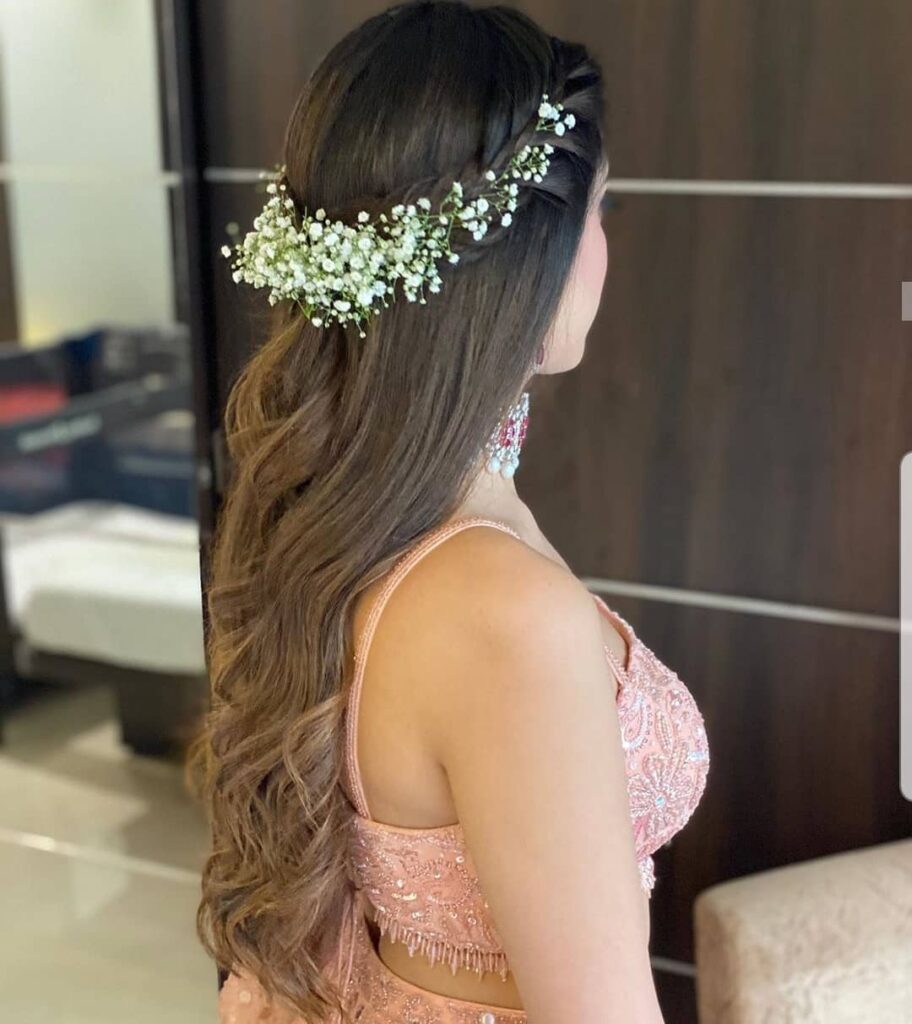 #8 Brides blessed with luscious locks, this easy-peasy bridal hairstyle is for you!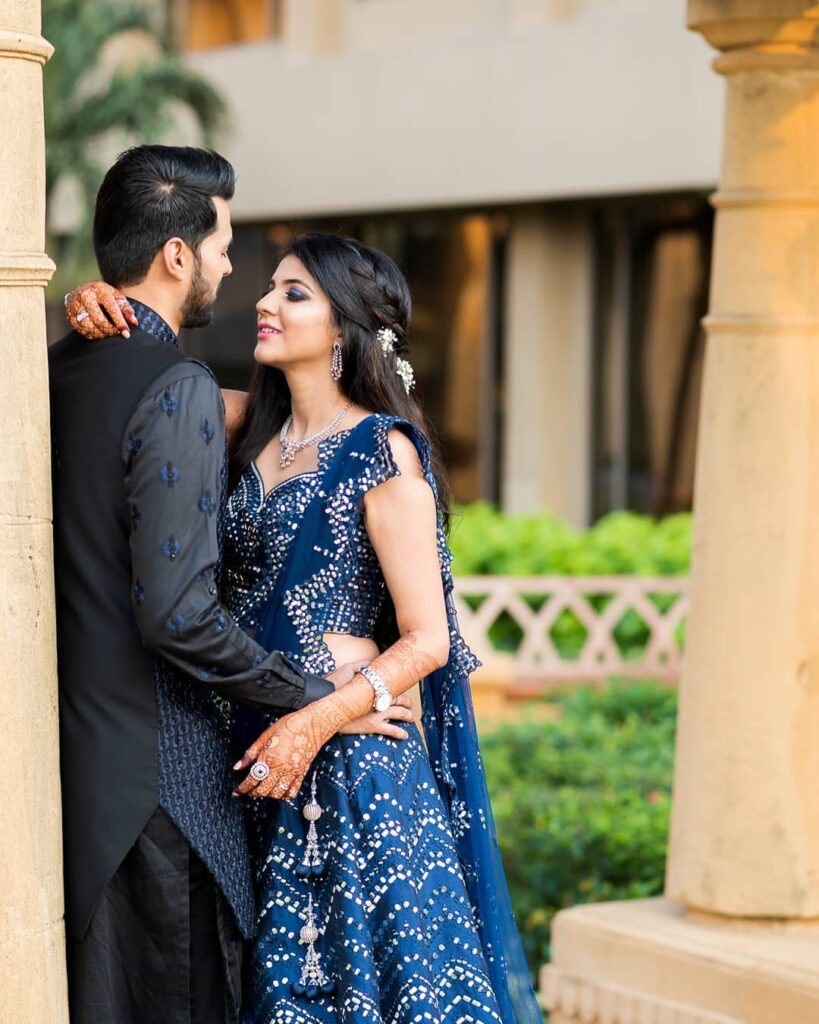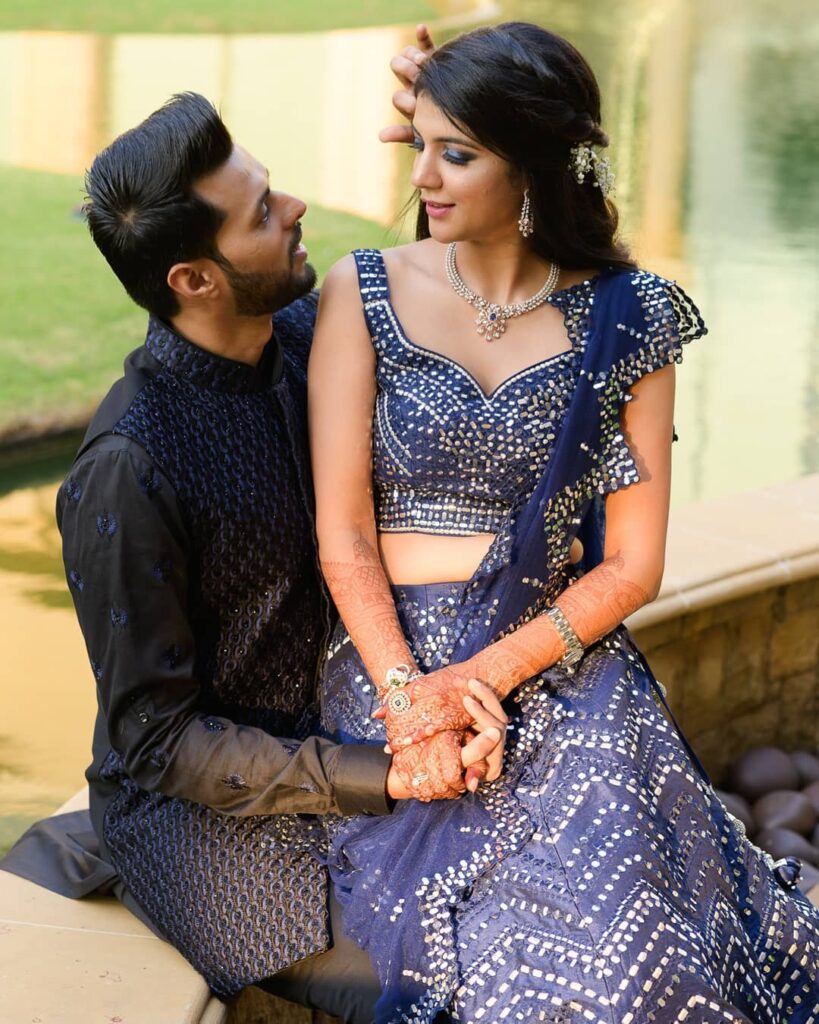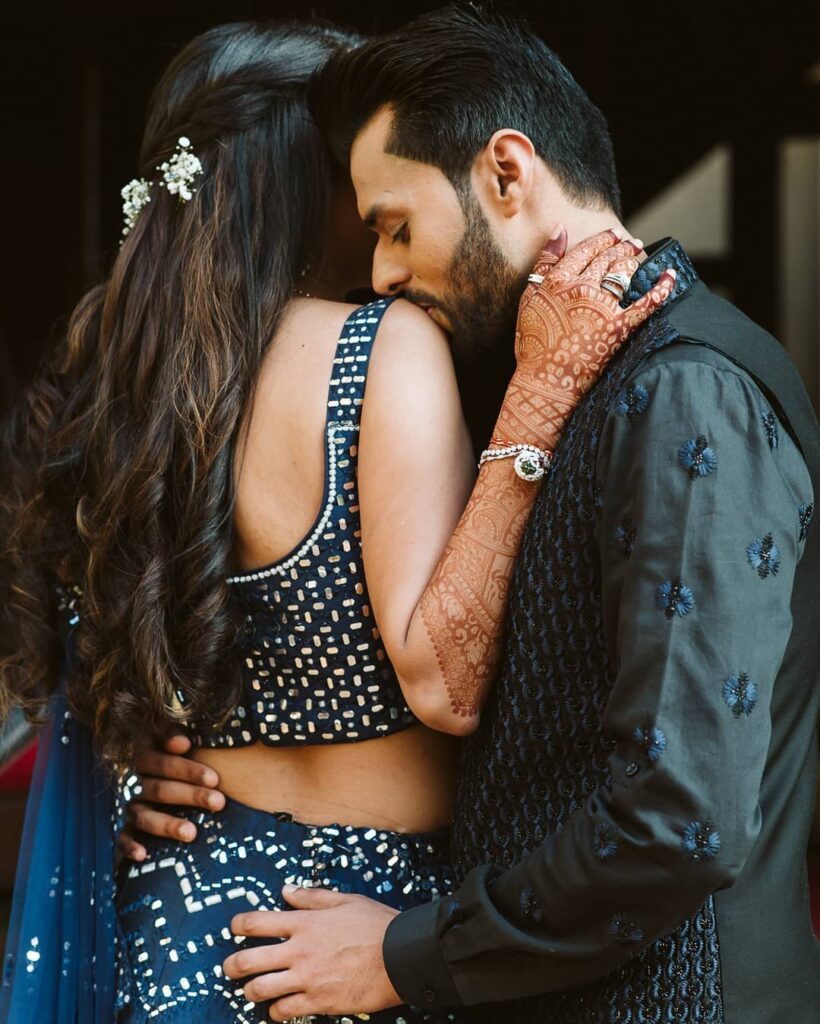 Via @notyourtree
Check out more easy-peasy bridal hairstyles here.