Your wedding day is one of the most special times in your life. It's understandable that couples and their families spend so much time and effort making this day as memorable as possible. This includes making sure the wedding decor represents the style, taste, and aesthetic of the entire theme. In the wedding arena, one of the main attractions is the wedding stage, so exploring options for wedding stage decoration is a must. Here, we've listed 101 wedding stage decoration ideas for every taste and style. From a low-budget wedding stage decoration to a simple wedding stage decoration or a grand wedding stage decor – there are options for all. 
So, scroll through the only wedding stage decor inspiration list you need, and don't forget to tap the *bookmark now* button on your upper right corner to find this blog in *your bookmarks* list later on. No need to log in, just tap the button and find it later anytime you visit our website. 
#1 Starting off with this stunning flower wedding stage decoration. Neutral and soft colors are trending at the moment and this decor employs this contemporary palette beautifully. You can use this idea for a wedding day or even a roka function done in a banquet hall.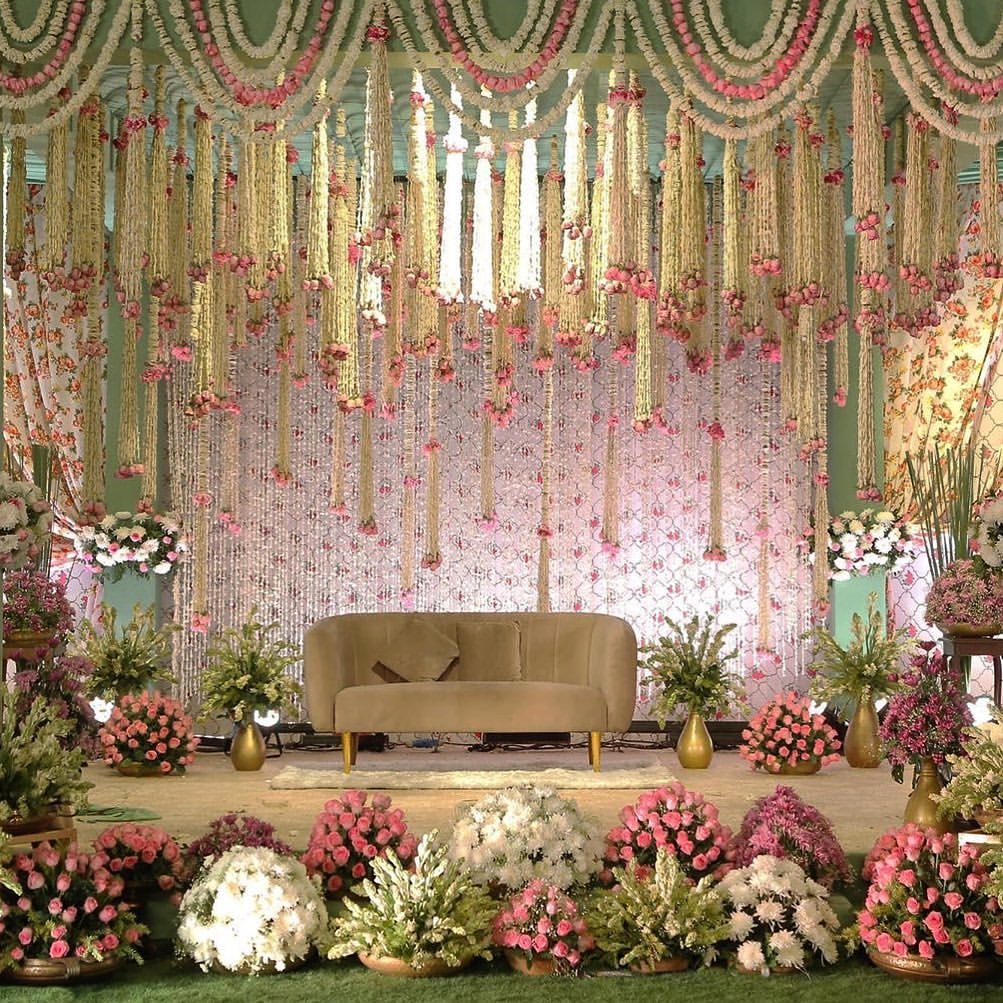 Courtesy: Flora Wedding Planners
#2 Looking for a mehendi day stage decor or perhaps a boho-chic wedding stage decoration in open ground, here's a stylish idea to save. Done dominantly in shades of red and ivory, this is a whimsical culmination of modernist and traditional colors.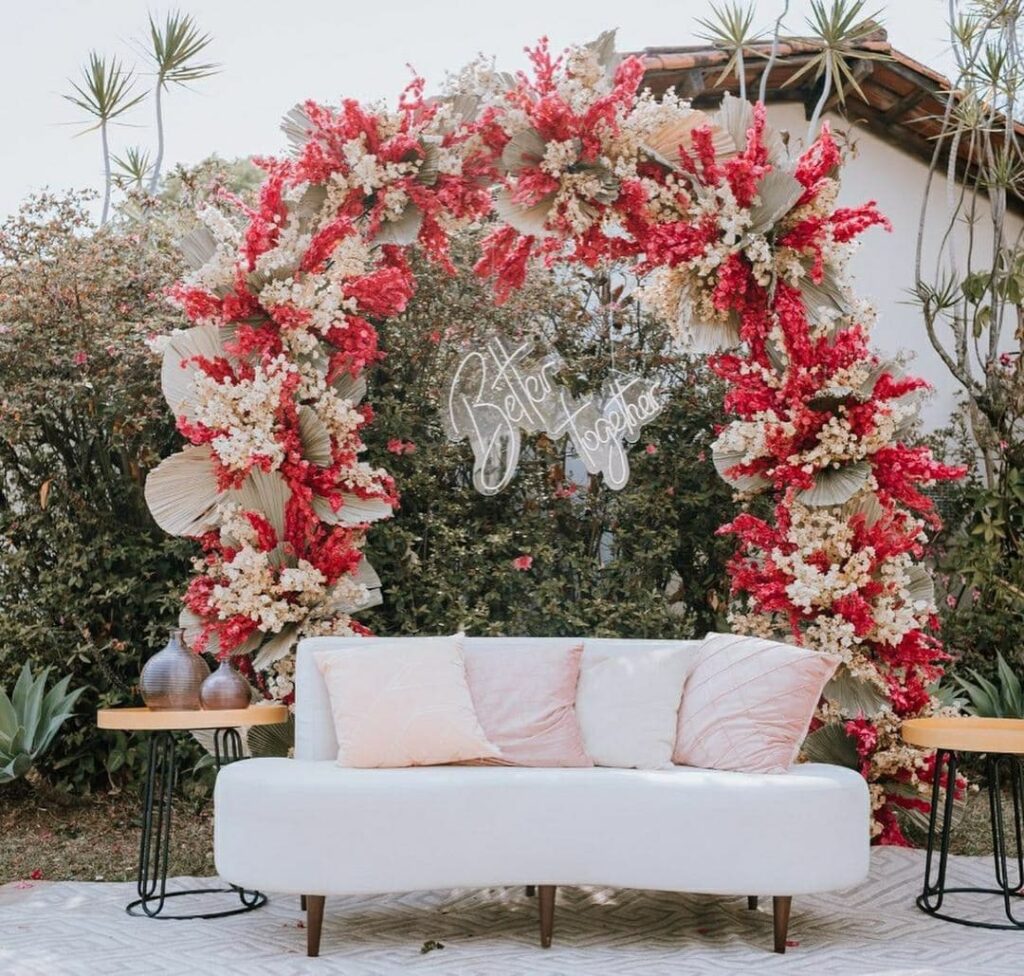 Courtesy: Leila Pevidor
#3 Now this one is a grand wedding stage decoration done using lush foliage, warm colors, and fairy lights for a unique pattern. This idea is truly a representation of big fat Indian weddings.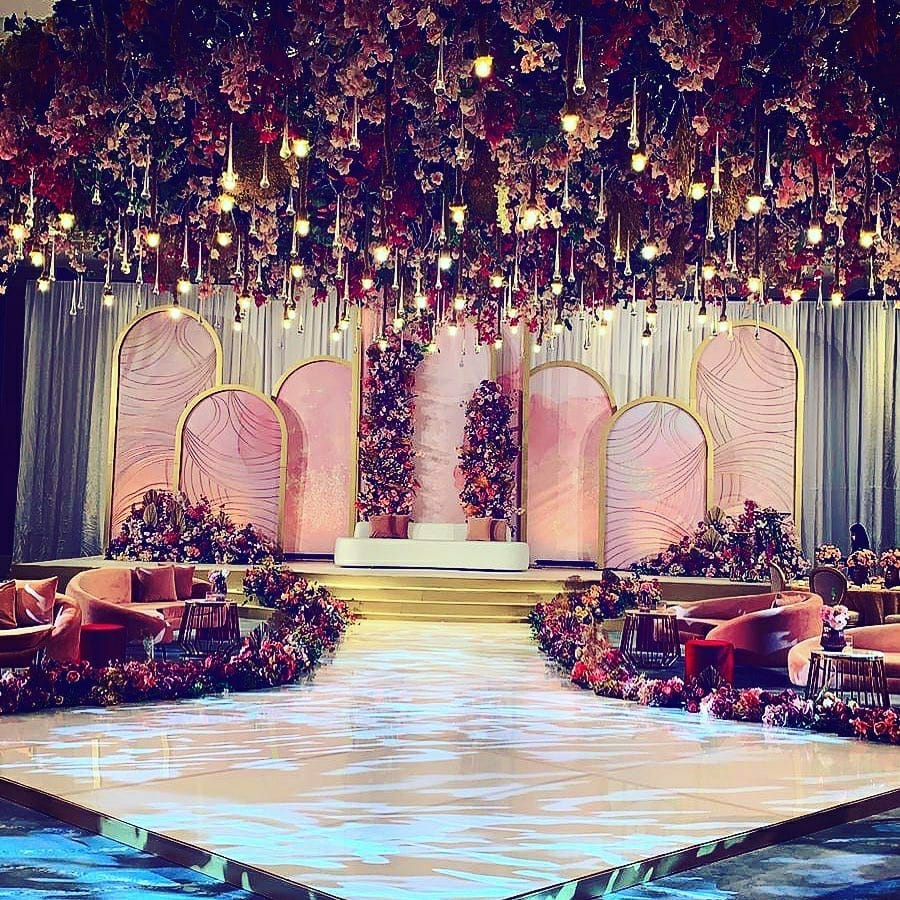 Courtesy: The Event Houzz
#4 While flowers often take over the stage decoration at weddings, the predominant foliage decor can be a different yet gorgeous setup to install on your main day. To complement the vividness of foliage, make the seating in a neutral color for a beautiful contrasting effect.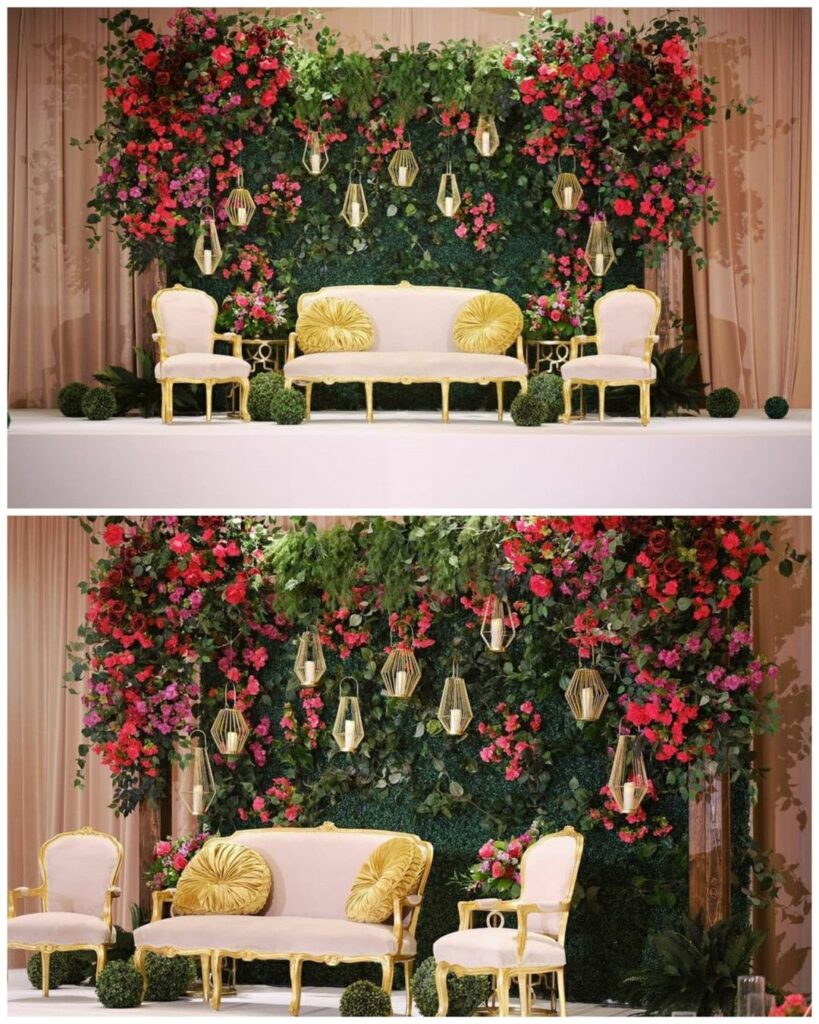 Courtesy: Chez Rose Floral Designs
#5 If your ceremonial venue is on an open lawn surrounded by natural beauty, you don't have to go overboard with the decor. Let the natural beauty of the place stand out by opting for a simple and low-budget wedding stage decoration like this one. Replete with mood lighting, this will also look gorgeous in the pictures.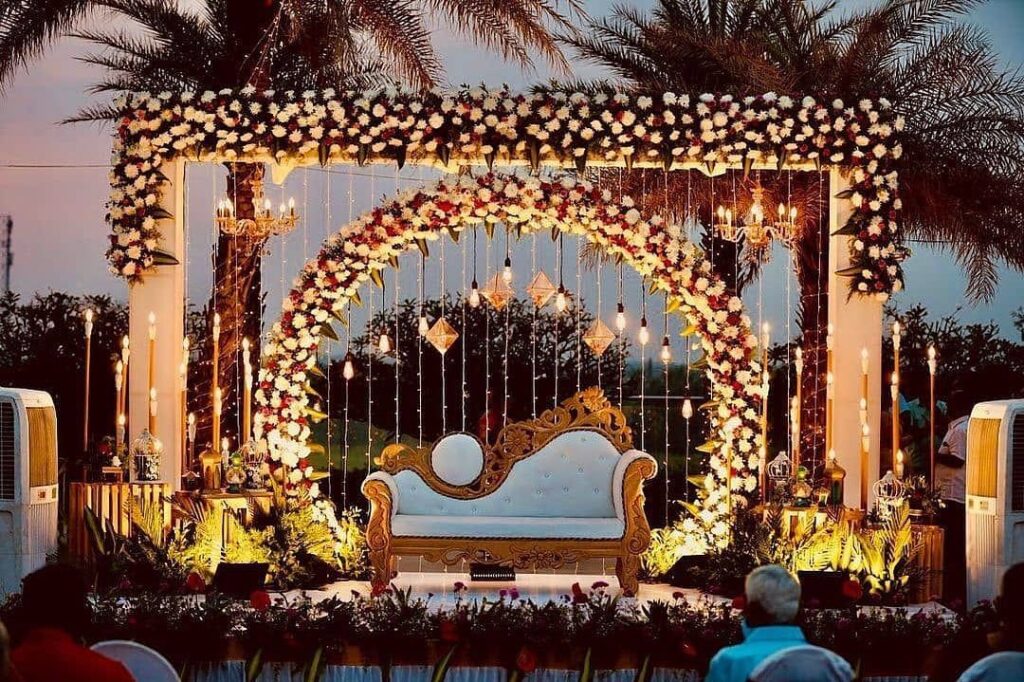 Courtesy: The Decor Journals
#6 Lanterns really have taken over the wedding decor and are one of the latest items to be spotted at Indian weddings. Here's one idea to include this voguish element in your indoor revelry. Roka, wedding day, or mehendi, can prove to be a perfect stage decor idea for any function.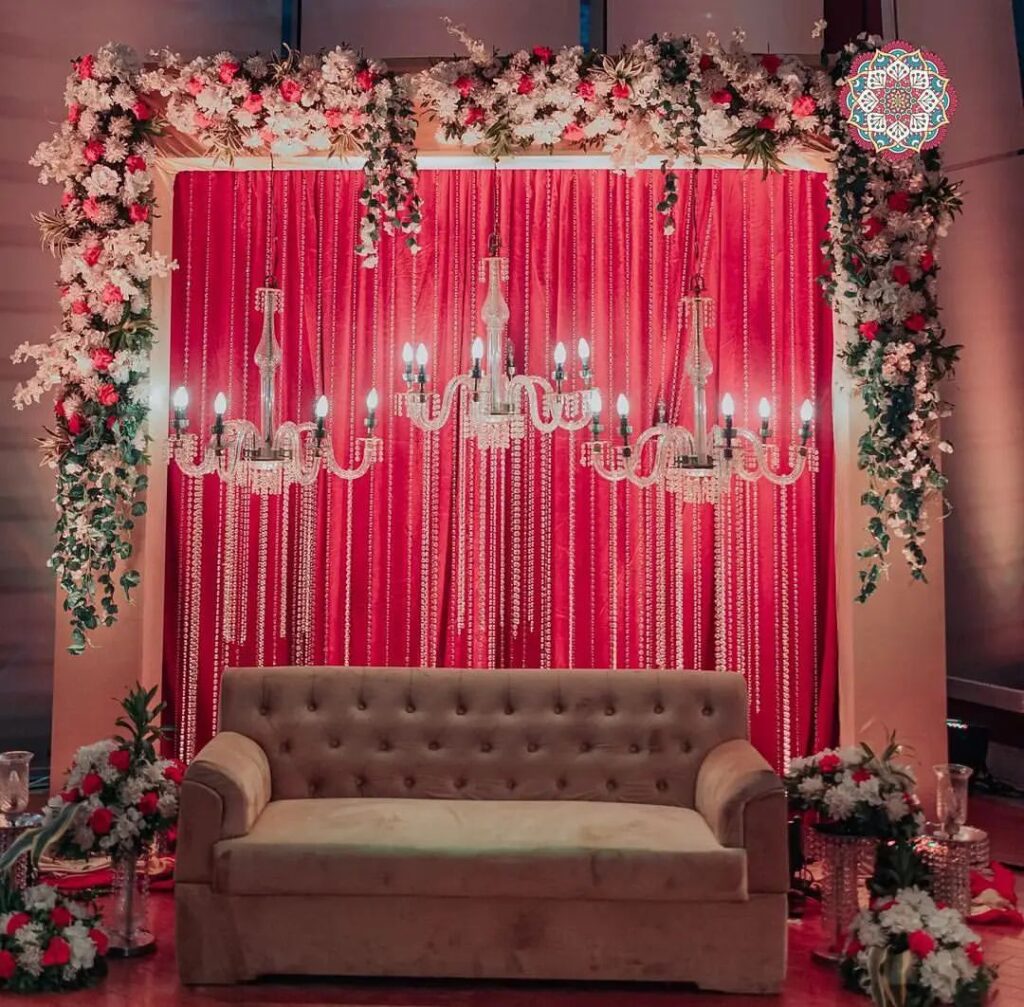 Courtesy: Arth Eventertainment
#7 What truly radiates the essence of a big fat Indian wedding is a rotating wedding stage that's surrounded by such mind-blowing setup and foliage to awestruck the guests and anyone seeing the pictures later. We love how only pink flowers are used in the foliage to keep the look striking without over-imposing.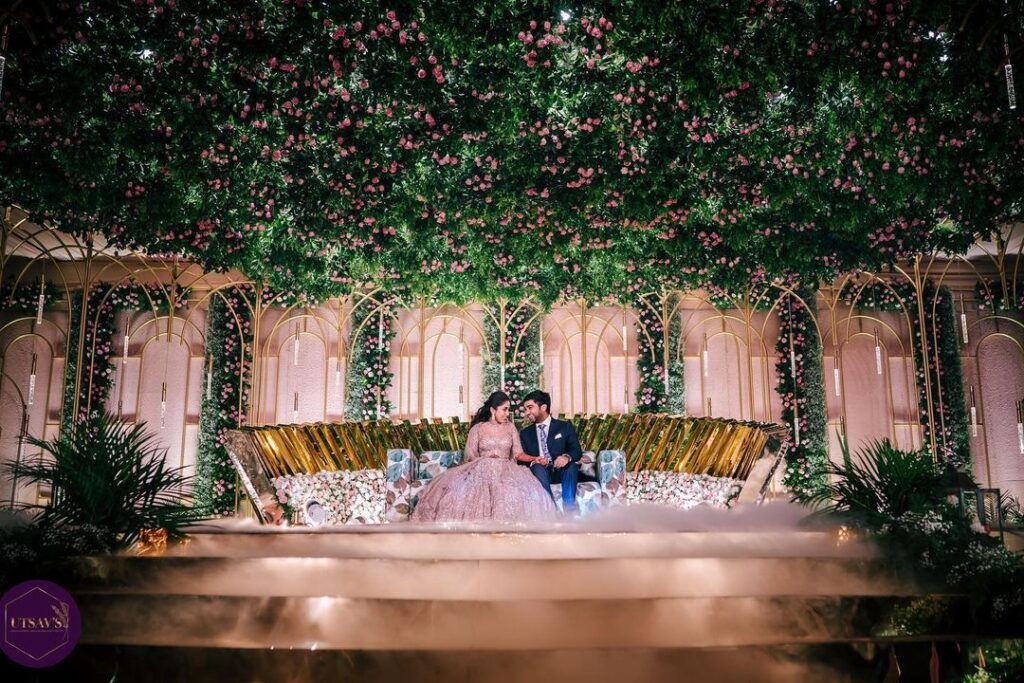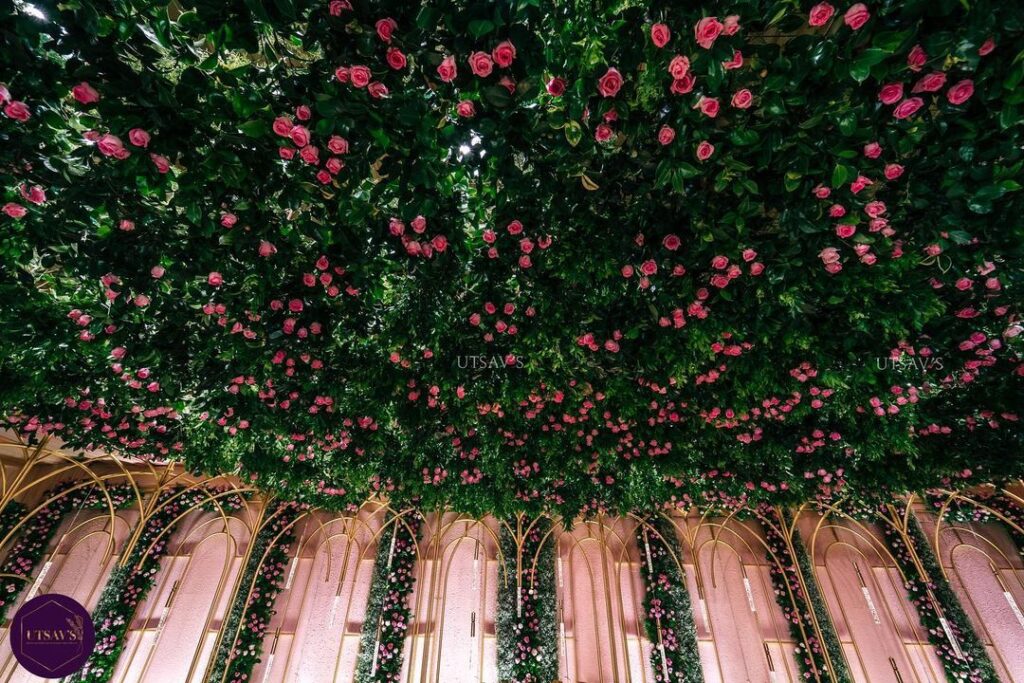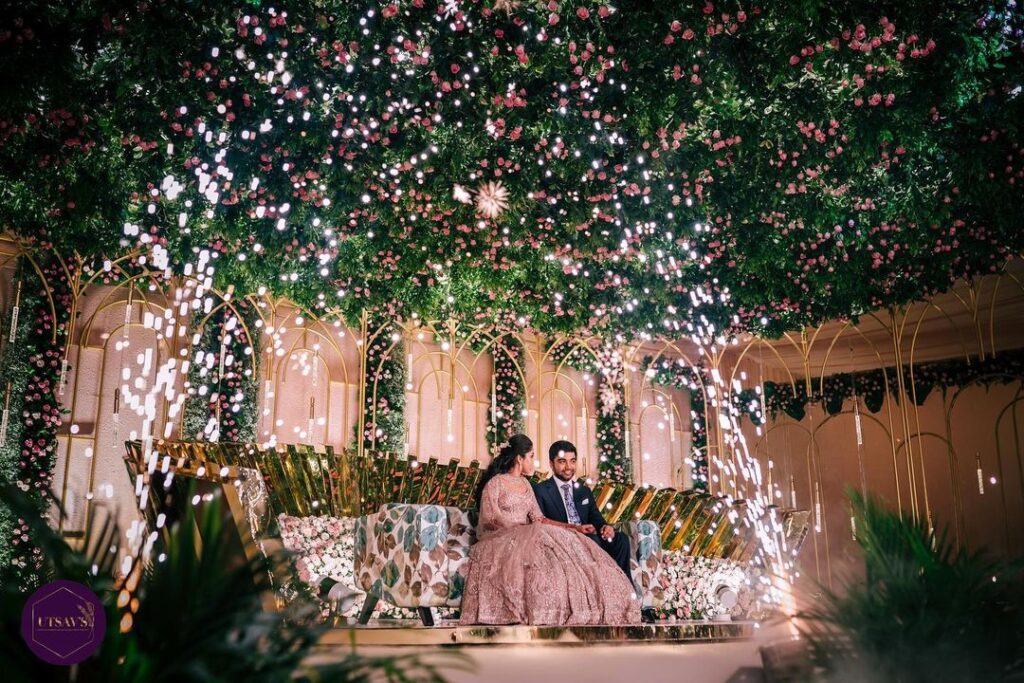 Courtesy: Utsav Wedding Planners
#8 For an indoor, banquet wedding event like engagement, sangeet, or even mehendi, majestic stage decor is a must. While the banquets don't need much decking up, a seating decor will draw the attention and this one can make your special day even more special instantly.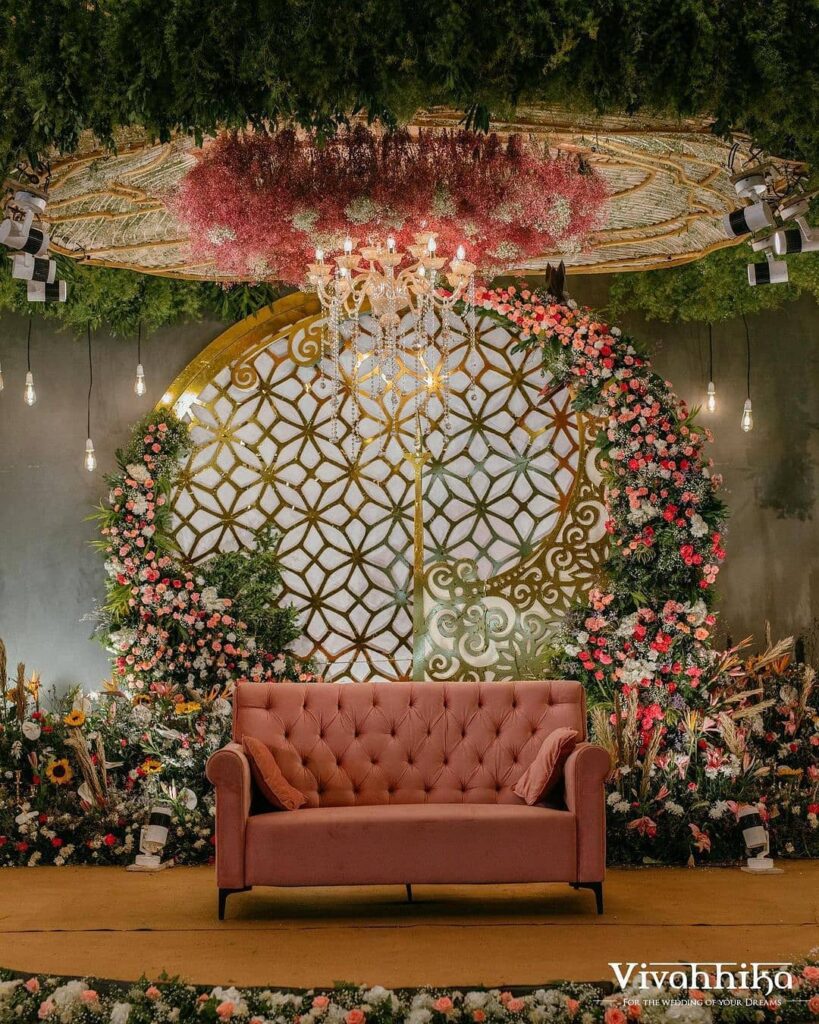 Courtesy: Vivvahika
#9 A grand floral wedding stage decor can be priced at ~ 30,000 but will make your wedding day memorable forever. The bright theme with neutral seating is a great way to complement the colors and make the decor stand out in pictures.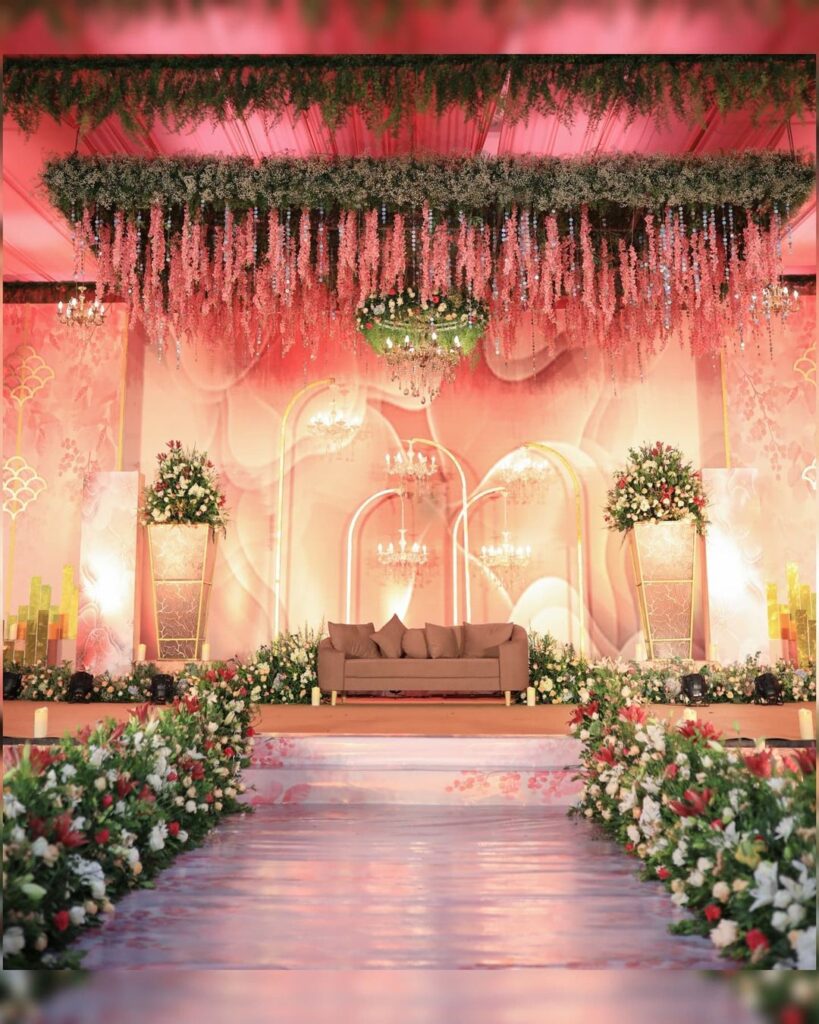 Courtesy: Two The Tee Experiences
#10 A simple wedding stage decor for as low as 5000 doesn't get any better than this. A simple seating, a plain white drape, minimal floral enhancements with a couple of initials are all it took to curate this gorgeous stage decor.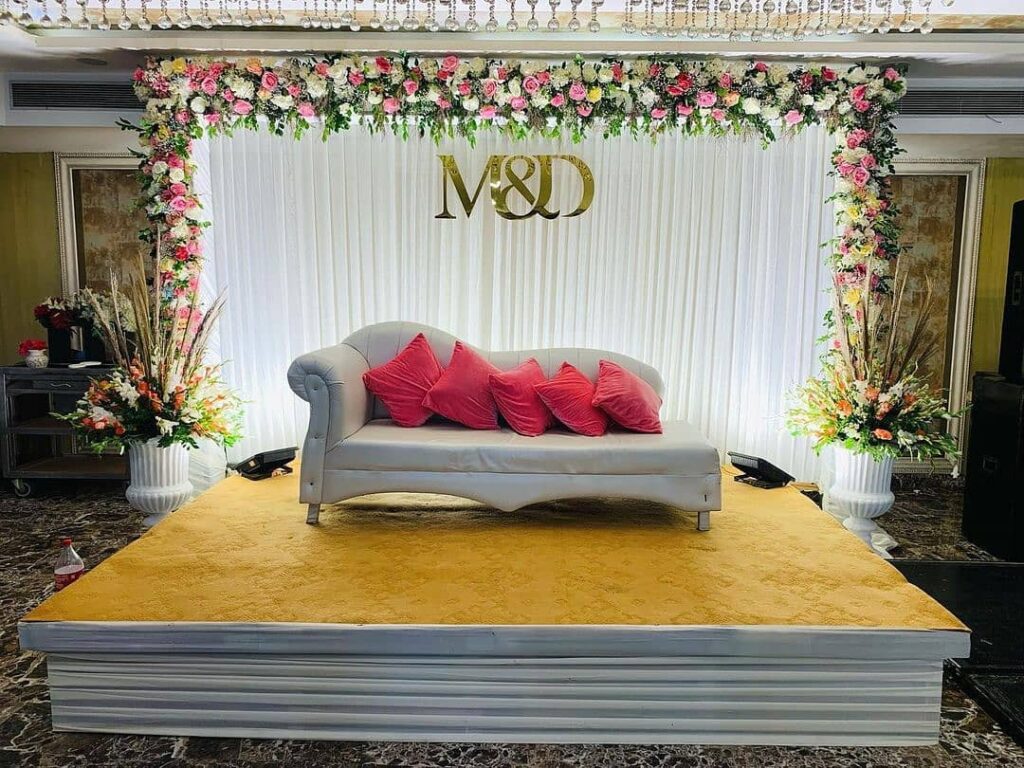 Courtesy: Jay Meldi Mandap Decoration
#11 Combining colors is an art that only a true creative can do flawlessly. The print installation at the back just adds the whimsical touch to an otherwise usual stage decoration. This kind of setup can look good both outdoors and indoors, and deserves a place in your wedding decor inspiration board. 
Courtesy: Sribhi Events
#12 Hanging florals are a trending wedding decor trend and certainly one that mesmerizes each time. If you're going with extravagance in the stage embellishments, ensure the same is radiated in other elements of wedding decor like seating for a uniform theme in the entire event.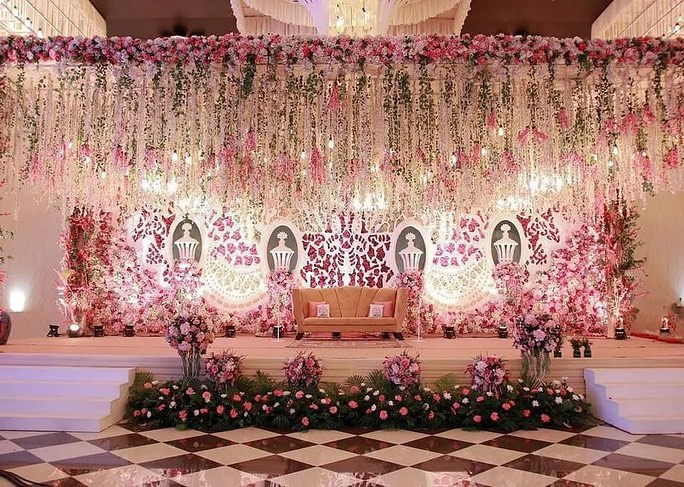 Courtesy: FNP Venues
#13 A low-cost wedding stage decoration for minimalist couples who don't want to spend a lot on their wedding day and still make a statement. While this setup has been done on an open lawn, this can look good in a banquet hall as well.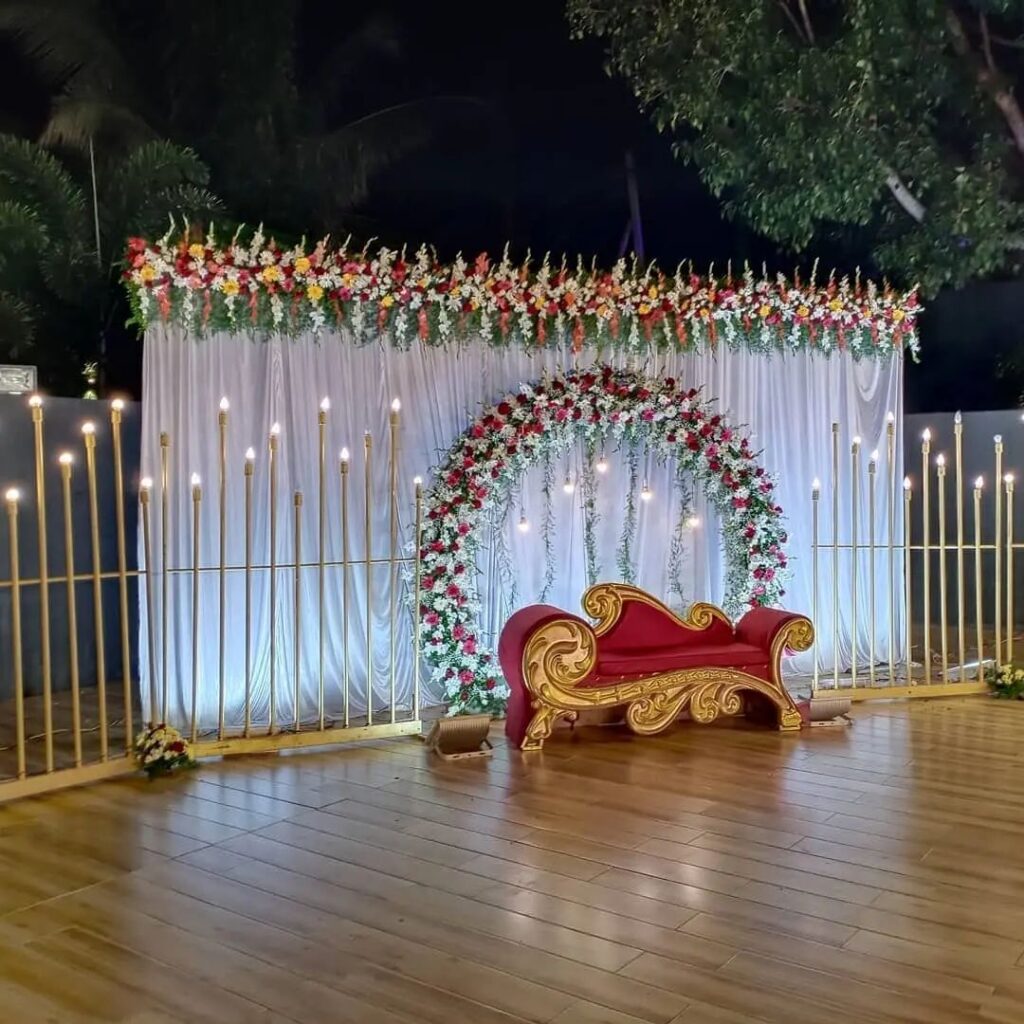 Courtesy: Ravi Kumar
#14 A floral wall is a common backdrop in wedding stage decorations and the one that never fails to catch the eye. They also give you the versatility to curate something that fits your wedding theme. Like this one is a timeless, modernistic setup, you can design one in ivory or foliage for a chic setup.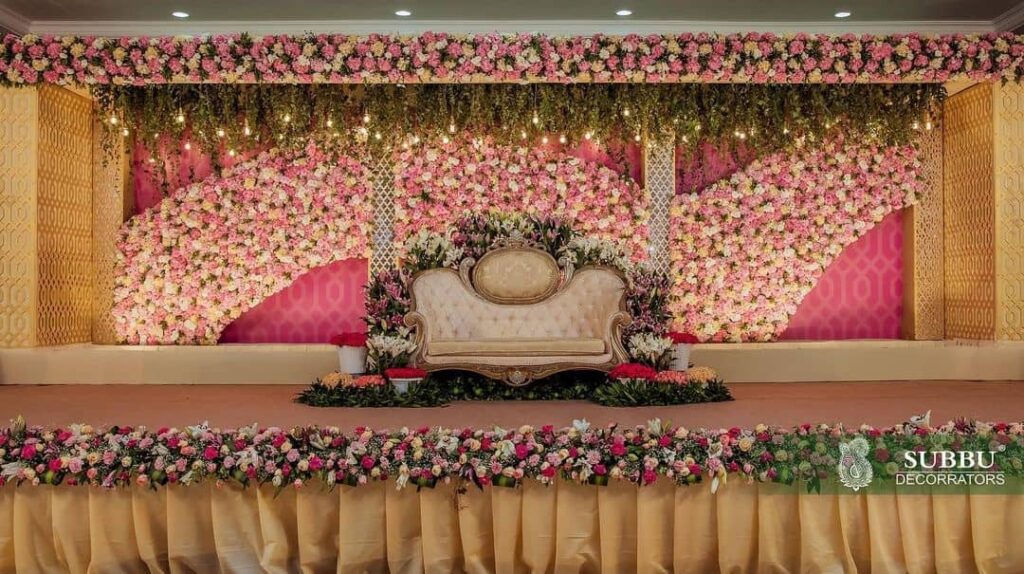 Courtesy: Subbu Deccorators
#15 Sometimes a statement floral arch is all you need to make a gorgeous wedding stage decoration. Peacocks are a symbol of beauty, pride, and immortality, and are often found in Indian weddings – in one way or the other. They're also a common part of many bridal ensembles.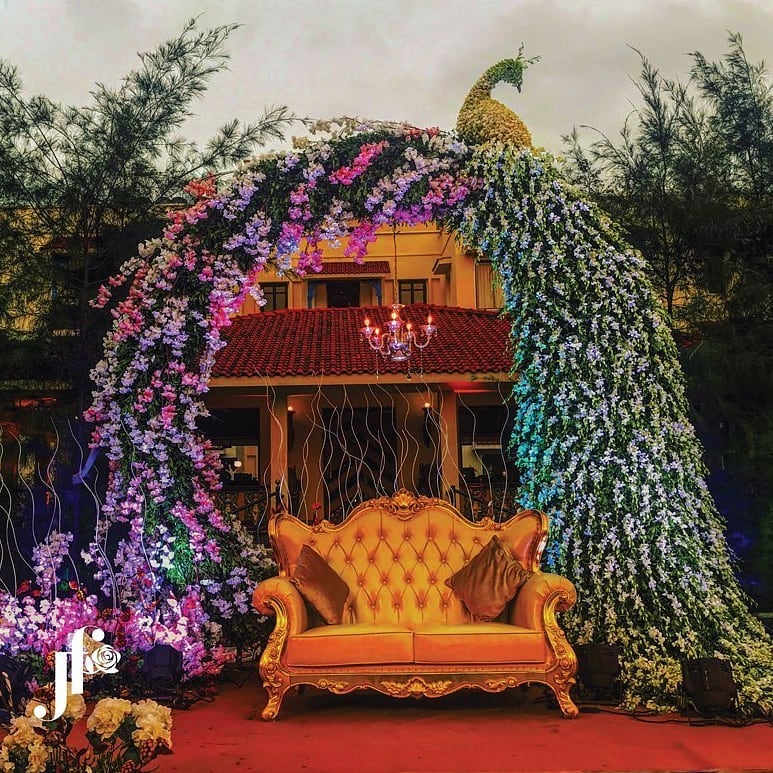 Courtesy: Jay Flower Mart
#16 Ivory and foliage make for an ethereal combination for a timeless and modernistic setup. If your wedding style represents these elements, this wedding stage decor will impress you amazingly.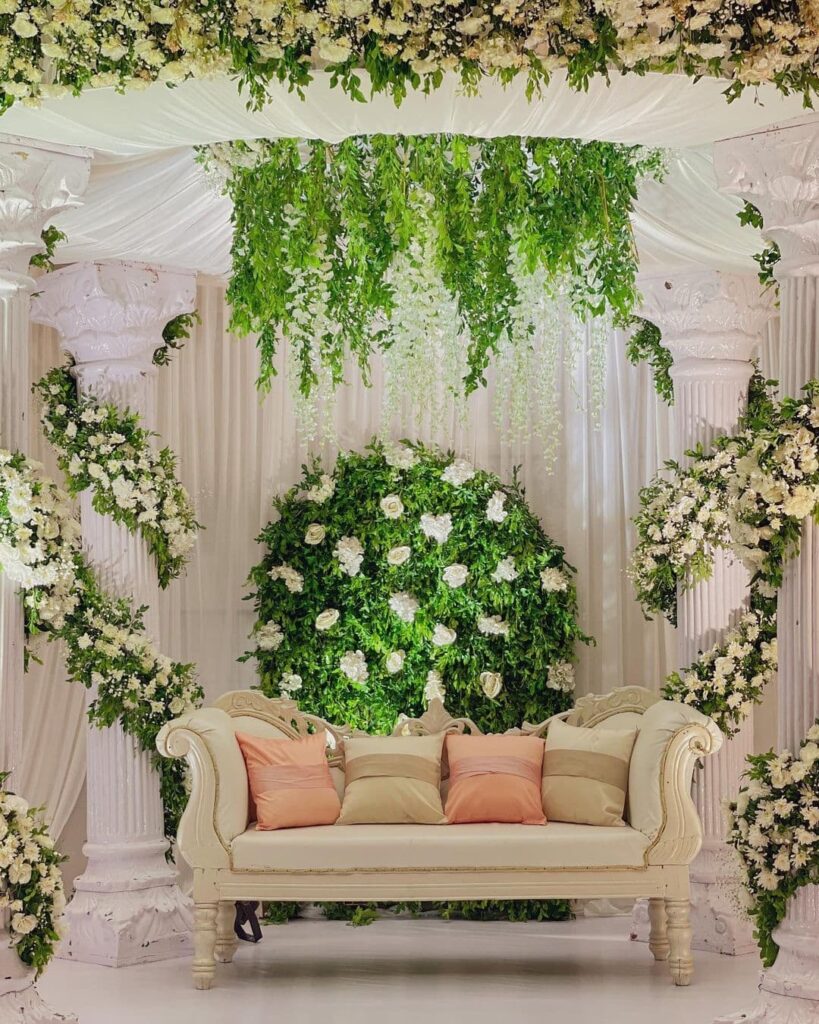 Courtesy: Maison De Decor
#17 Ivory is one of the latest trends in 2022 weddings and has been showing up in many wedding elements, like bridal lehenga, groom's sherwani, hair accessories, phoolon ki chaadar, etc. Naturally, if you want decor representing trending styles, then surely go for ivory with a touch of foliage on your wedding day.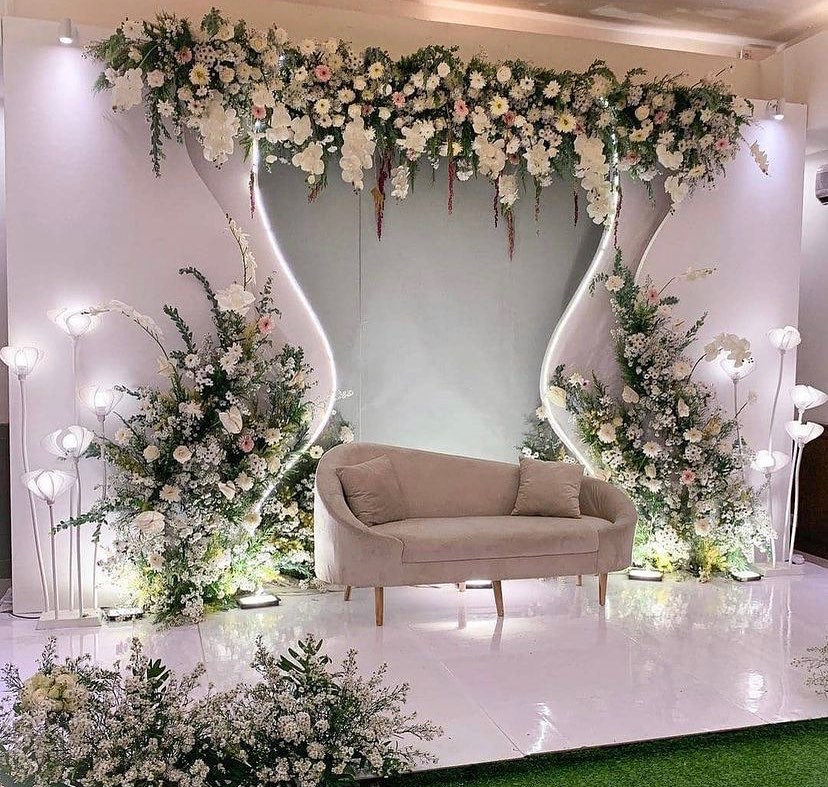 Courtesy: Enamoured Events
#18 As we said, lush foliage with ivory is one of the trending combinations in the wedding decor space at the moment. Here's another simple wedding stage decoration with this merger to show why you should invest in this combination at least on one of your events.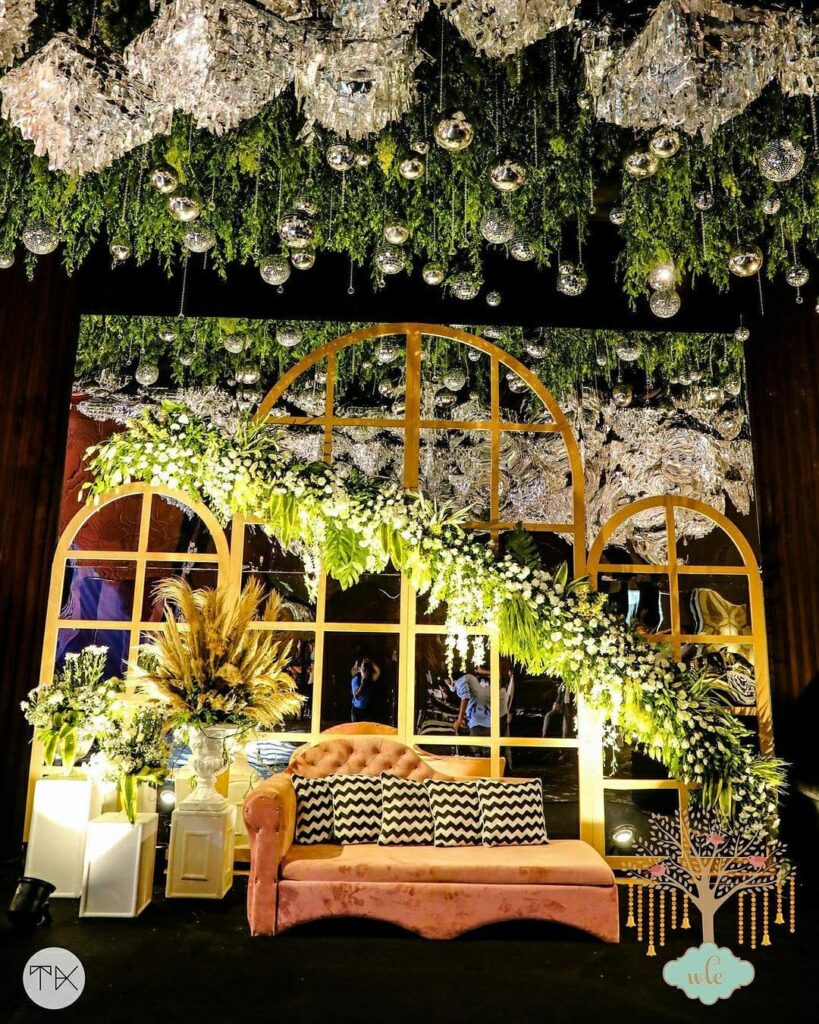 #19 Imagine walking into your open lawn ceremony and seeing this endearing seating decor in the midst. Quite a gorgeous sight, right? This can be a gorgeous mehendi seating decor idea or a day reception decor if you're holding a casual-themed wedding.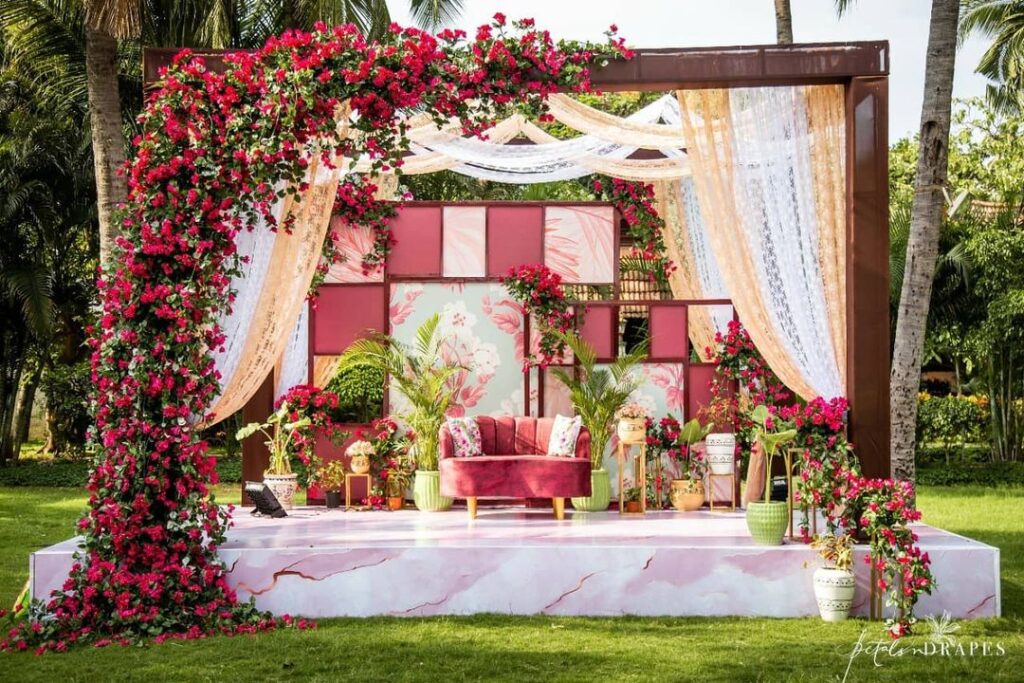 Courtesy: Petals N Drapes
#20 Arranged in prolific foliage set up with some florals and mood lighting, this is a gorgeous wedding stage decoration idea for weddings, roka, or even sangeet where bride and groom will be sitting.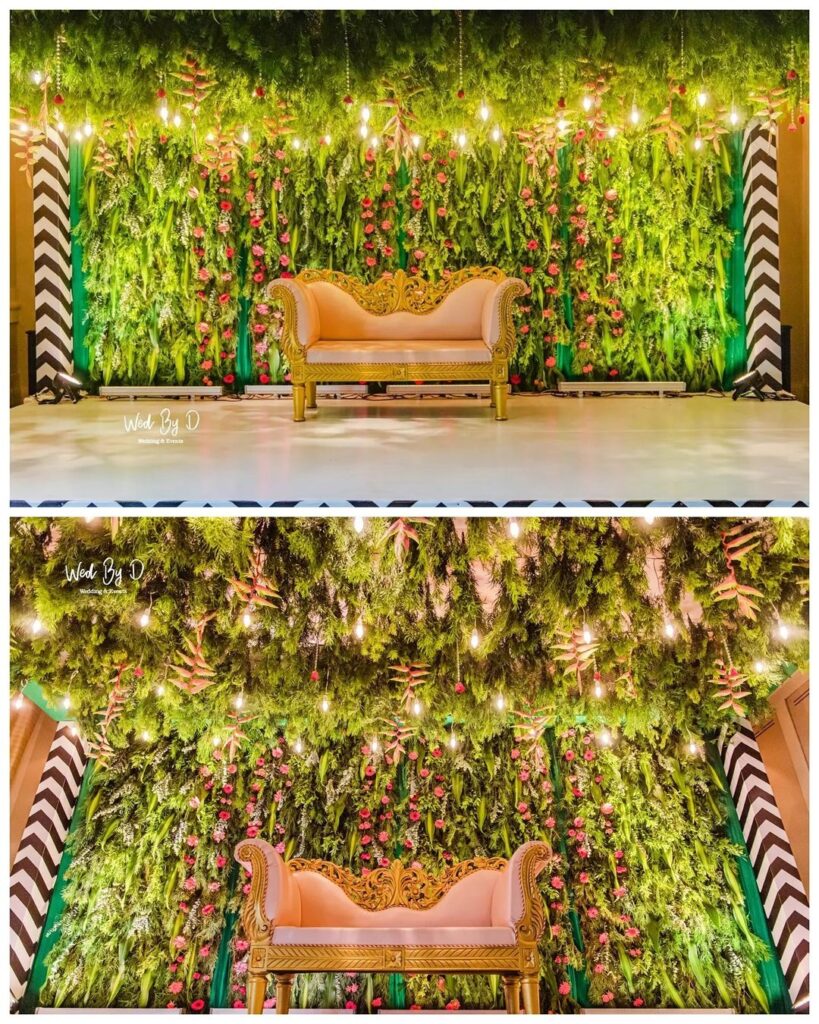 Courtesy: Wed by D
#21 A rustic wedding decor to dazzle the couple who love the elegance and sophistication this wedding theme exudes. Alternating floral and foliage wall on the back with an ivory floral ceiling makes the setup a whimsical one.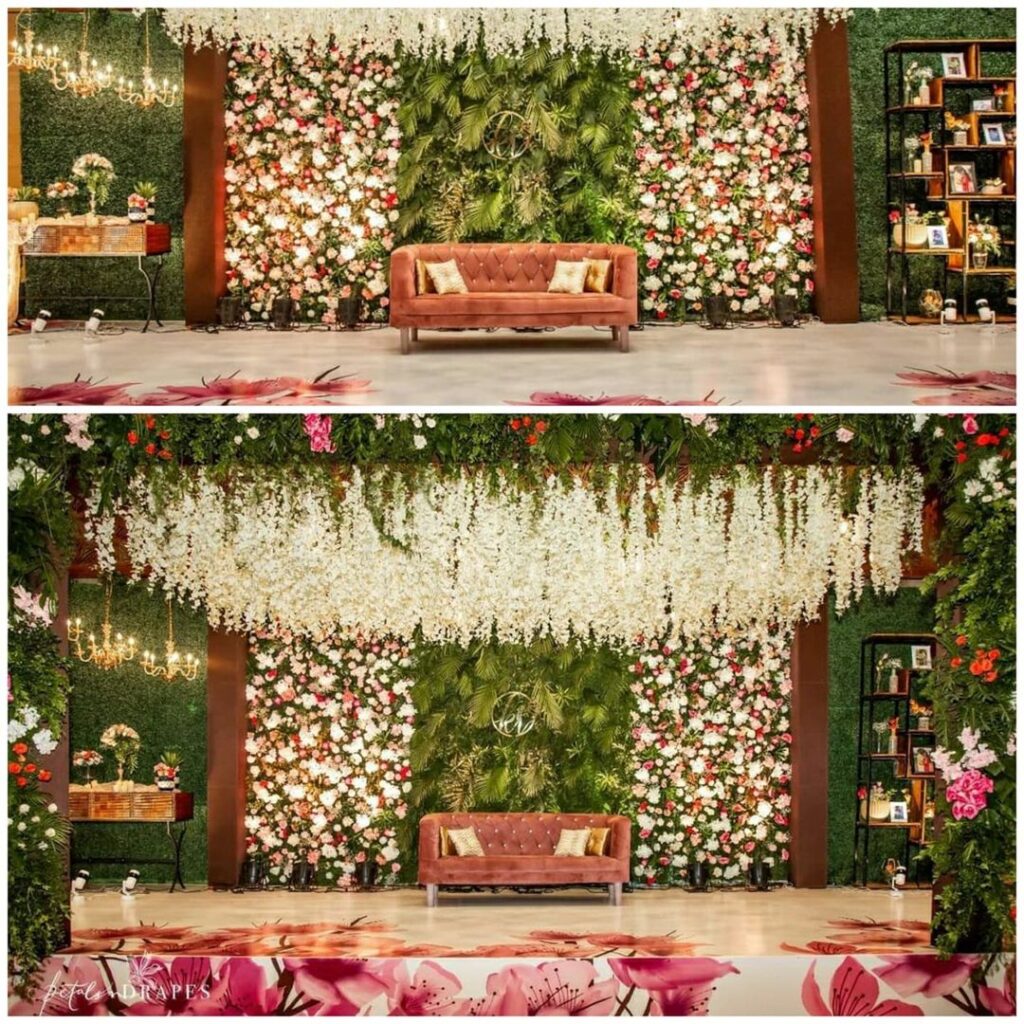 Courtesy: Petals N Drapes
#22 A low-budget wedding stage decoration doesn't have to also look low-budget. Here, the lanterns, minimal florals, and a neutral shade seating make the arrangement stand out without burning a huge hole in your pocket.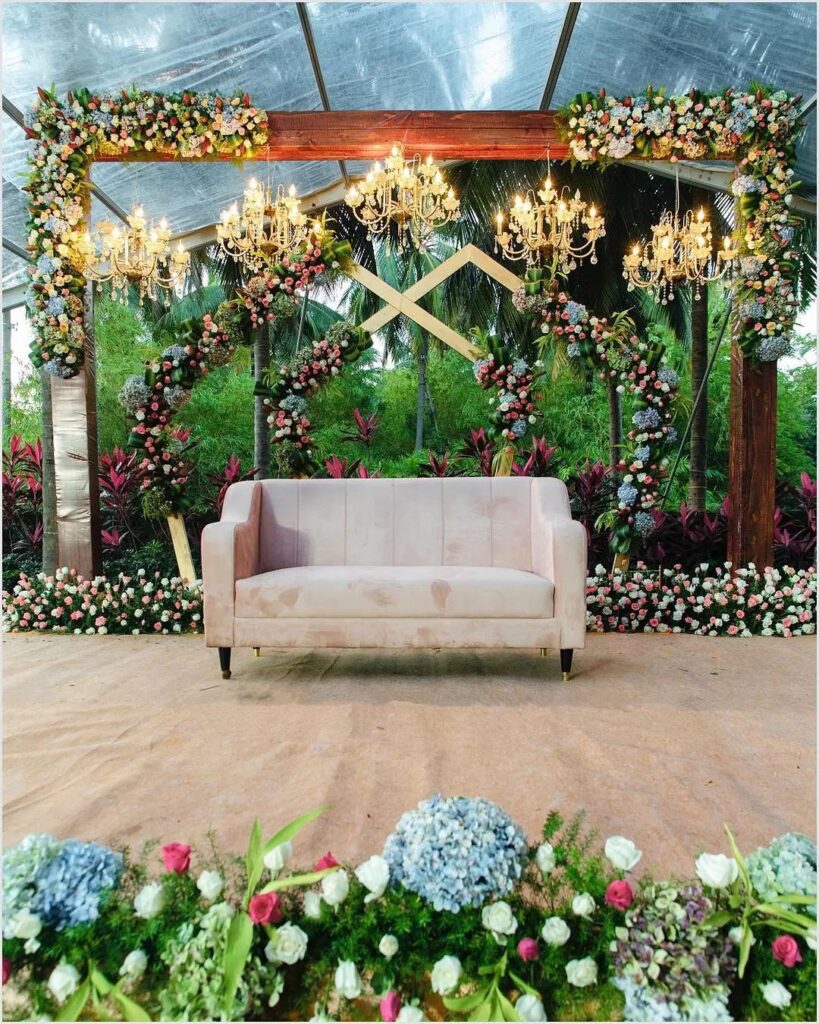 Courtesy: Raviappaa Decors
#23 Here's another low-budget wedding stage decoration that looks aesthetic without looking inexpensive. The trick here is to use an artificial foliage wall as the backdrop and decorate it minimally with florals and neon signage alongside some pillars for an ethereal effect. To save further, you can use artificial florals (blooming ones) instead of real flowers.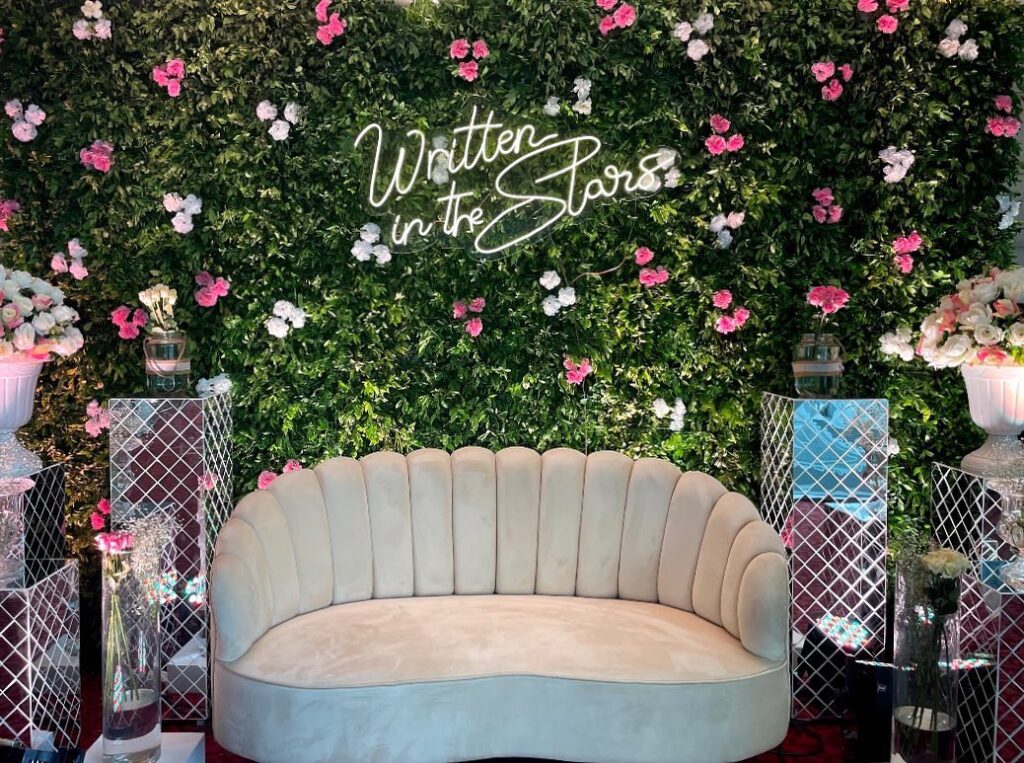 Courtesy: Amit Decorators & Mansi Events
#24 To give you an idea of how a good wedding stage decor can amp up your images, here's a bride & groom posing on the stage. Given their black-tie affair, they went with an equally contemporary and statement decor to complement their
theme.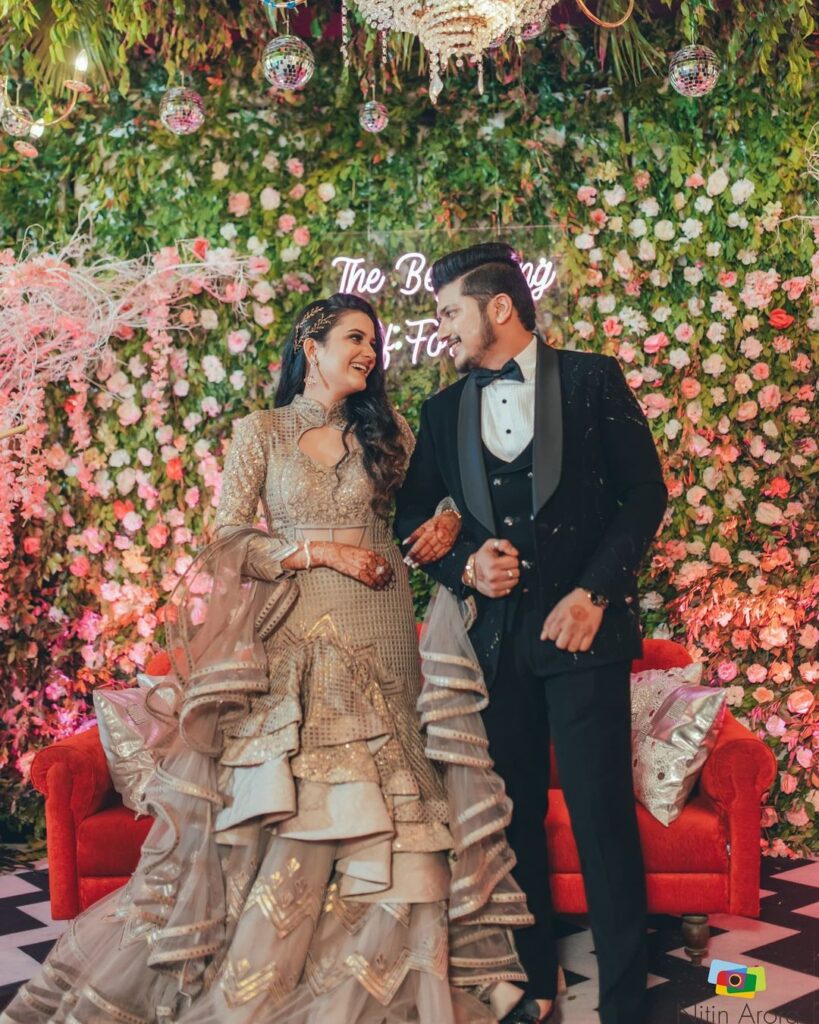 Courtesy: Nitin Arora Photography
#25 Given their ivory outfits, this bride and groom designed a wedding stage in the same palette so the colors don't contrast or look unmatched in front of their outfits. The mood lighting in the ivory embellishments just enhance the glow on their face and also makes the pictures come out to be super gorgeous.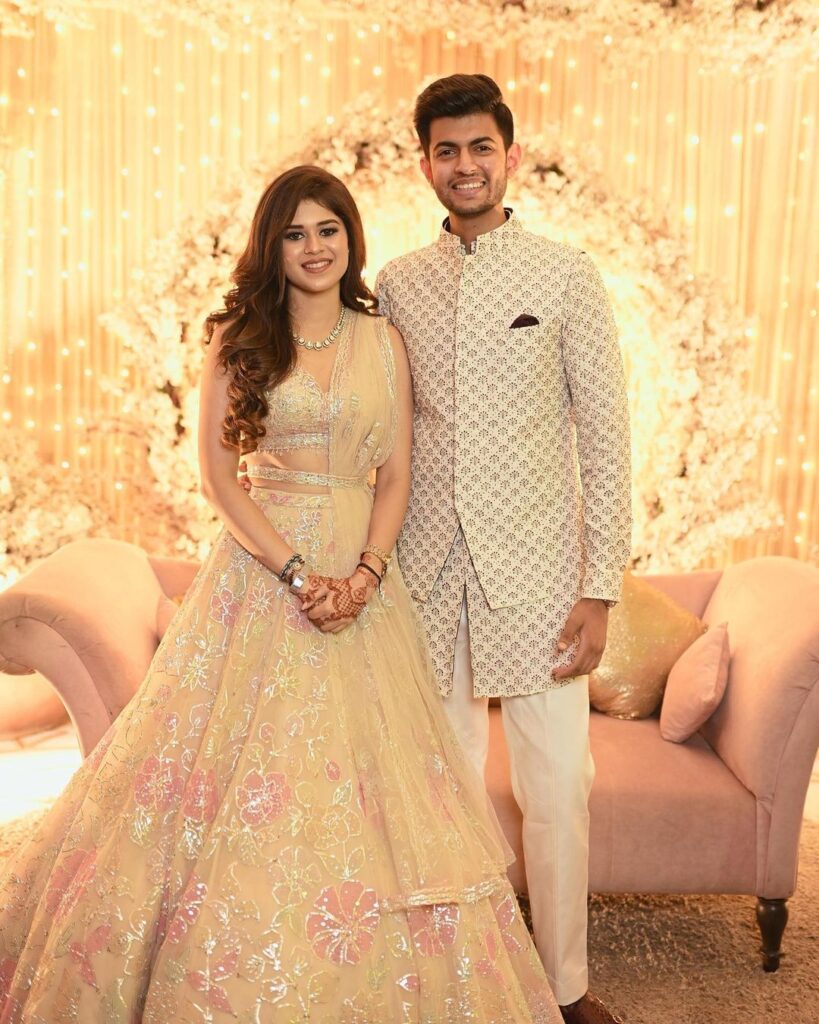 Courtesy: Inder Kaur
#26 A spectacular arch is a stunning backdrop for a wedding stage decoration and one you will often spot when you search for them. What this couple did is enhance the arch with a wooden door for a rustic effect on their outdoor reception. The stylish seating further elevated the glam of the setup.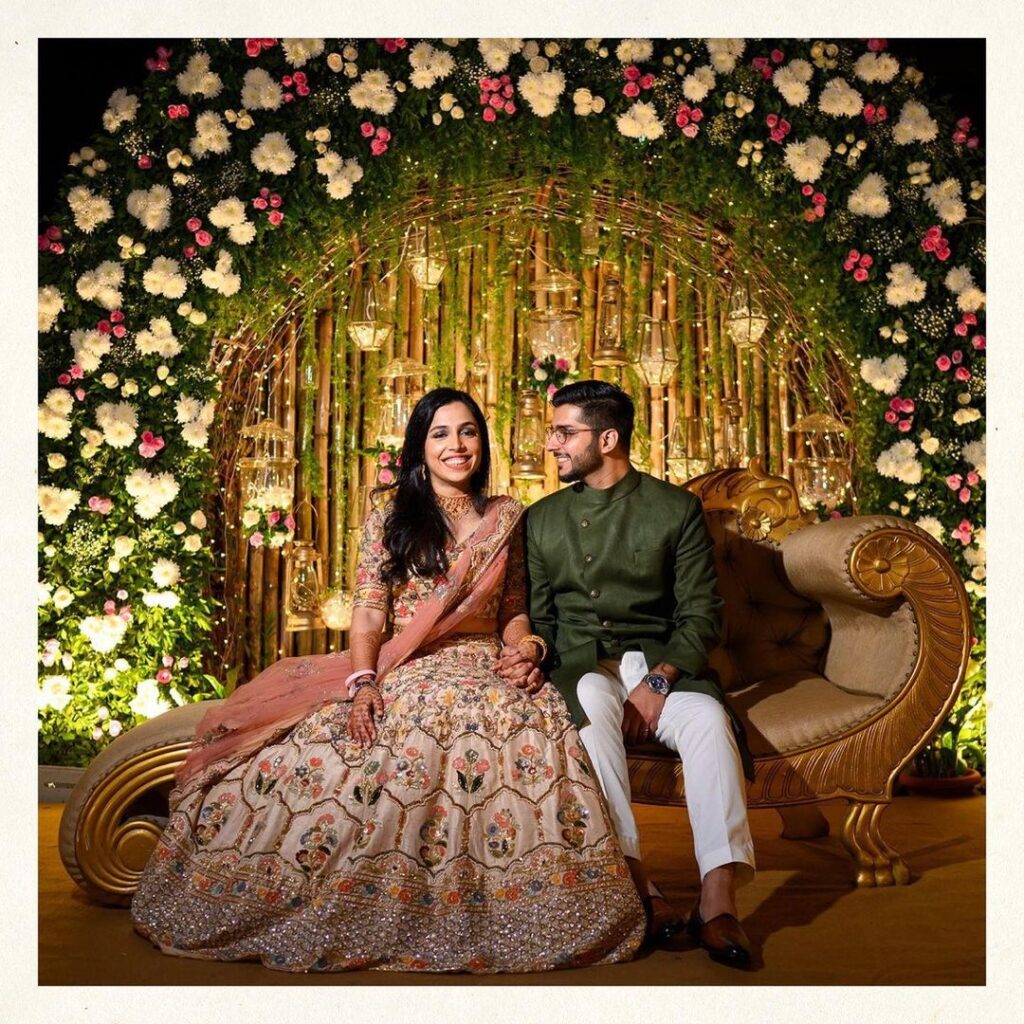 Courtesy: The Wedding Wale
#27 With your red lehenga, the mind often goes towards a vivid seating with many colors to round off the bright outfit. But even ivory-dominated seating can work well as the soothing palette offsets the rich color to bring out the best of both shades. Here's an image to convince you to opt for white wedding stage decoration.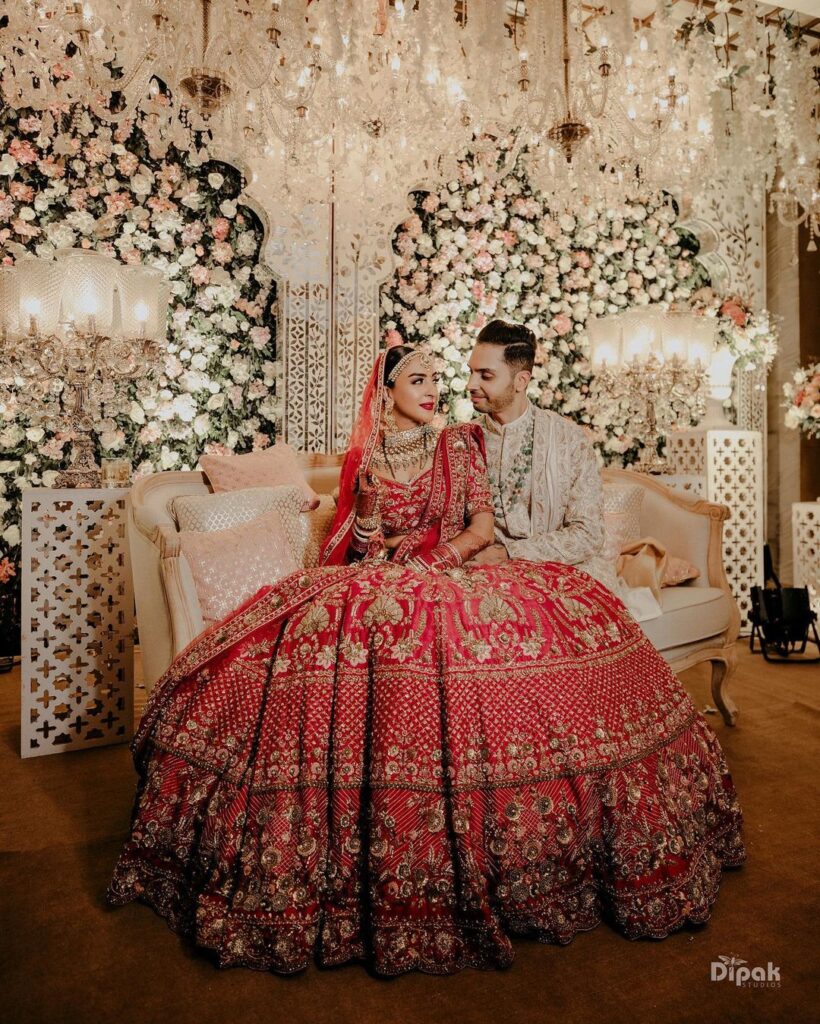 Courtesy: Dipak Studios
#28 Besides the wedding stage, you'd also want some ideas for sangeet stage decorations, and here's a trending one including a geometric pattern floor with lantern ceiling and foliage backdrop to grace your 2022 wedding.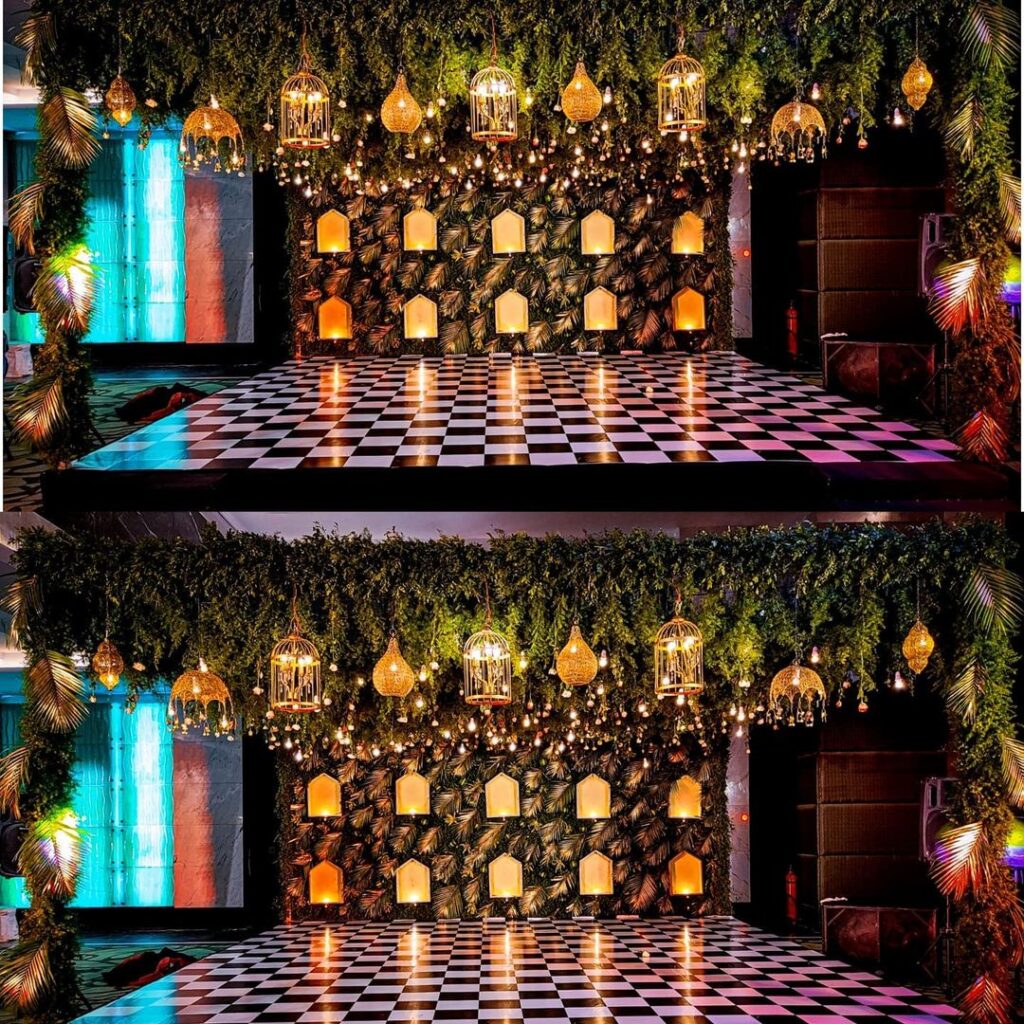 Courtesy: Zzeeh Weddings
#29 Yet another trending sangeet stage decoration dominated with foliage and a neon signage sign. A natural backdrop like that of flowers and leaves makes sure the pictures aren't offset by the background even with all the quick dancing moves. Minimal lighting also ensures the same.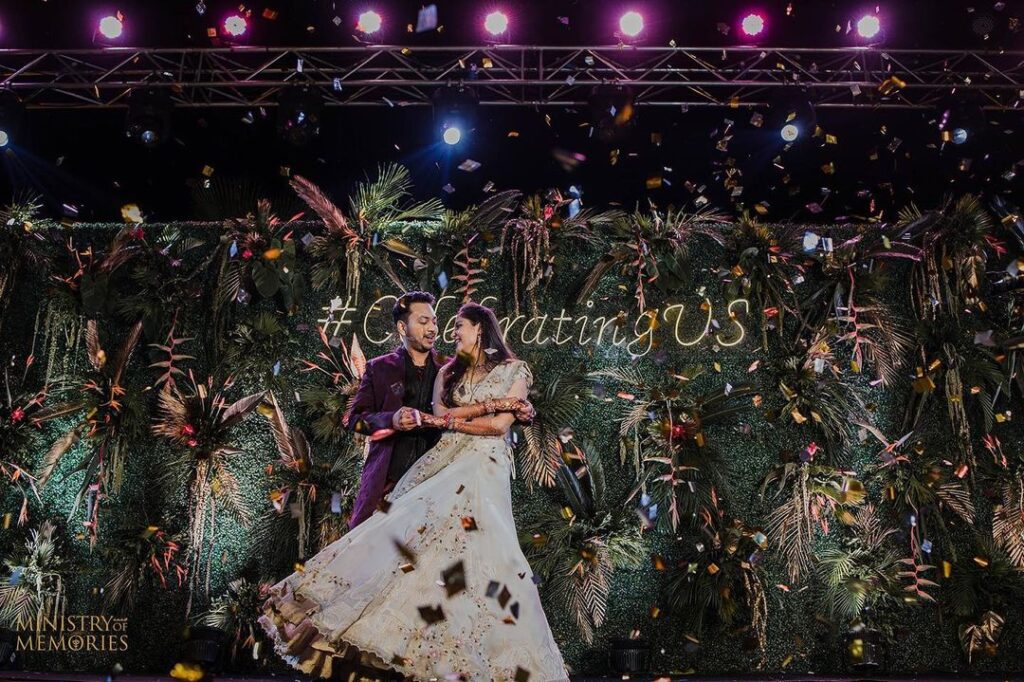 Courtesy: Vivaah by Rachana
#30 Now this is one of the latest wedding stage decoration ideas oozing with creativity and unmatched appeal. Hiring a creative and passionate florist pays off with the mesmerizing designs they will create, not just at the main arenas, but also in the nooks and crannies of the venue. 
Courtesy: The Wedding Connections
#31 Another low-budget wedding stage decoration dominated by two arches – rectangular and a semi-floral detached in between. The arches can be decorated with real or artificial flowers, depending on your budget. Finally, a couple of chandeliers is all that's needed to amp up the beauty of the design. 
Courtesy: Raviappaa Decors
#32 A glimmering reception stage decoration to celebrate your forever husband and wife status.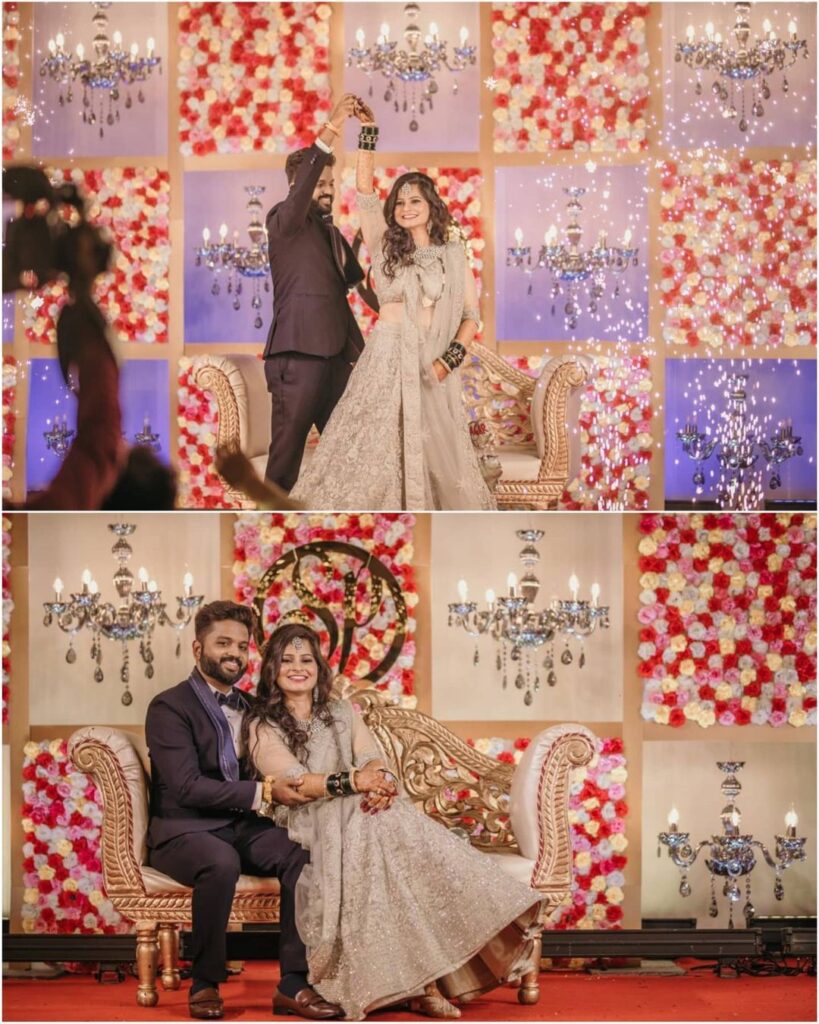 Courtesy: ALS Events
#33 A pretty pink mehendi stage decor for your laid-back and fun event. With ravishing chandeliers, a rectangular arch with blooming flowers, and a geometrically designed stage – there's subtle yet powerful beauty in this stage design. The glittering cushions were the perfect addition to the setup and a nod to the usual saying that *details matter*.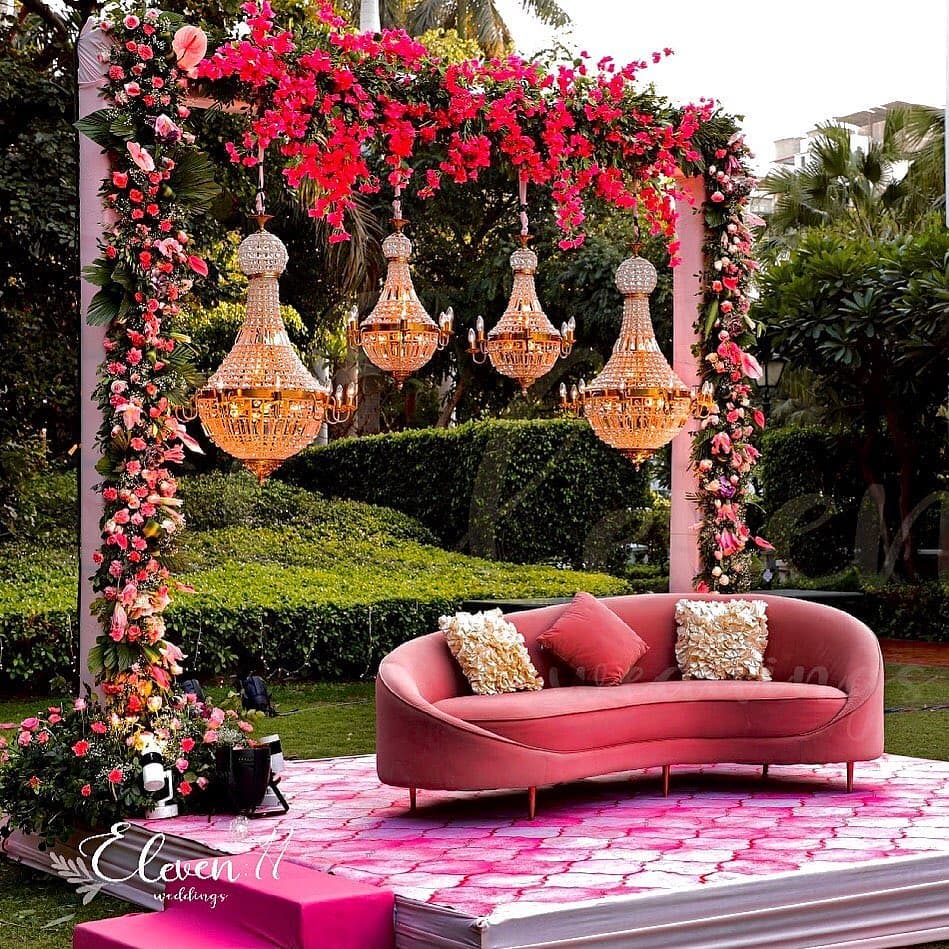 Courtesy: Eleven11 Weddings
#34 A simple wedding decor stage with a quirky element of a clock cabinet is an unusual yet eye-catching stage design on the list. With just a minimal foliage decor and some additions of ivory flowers in the arch, there's beauty in this simple and creative seating design.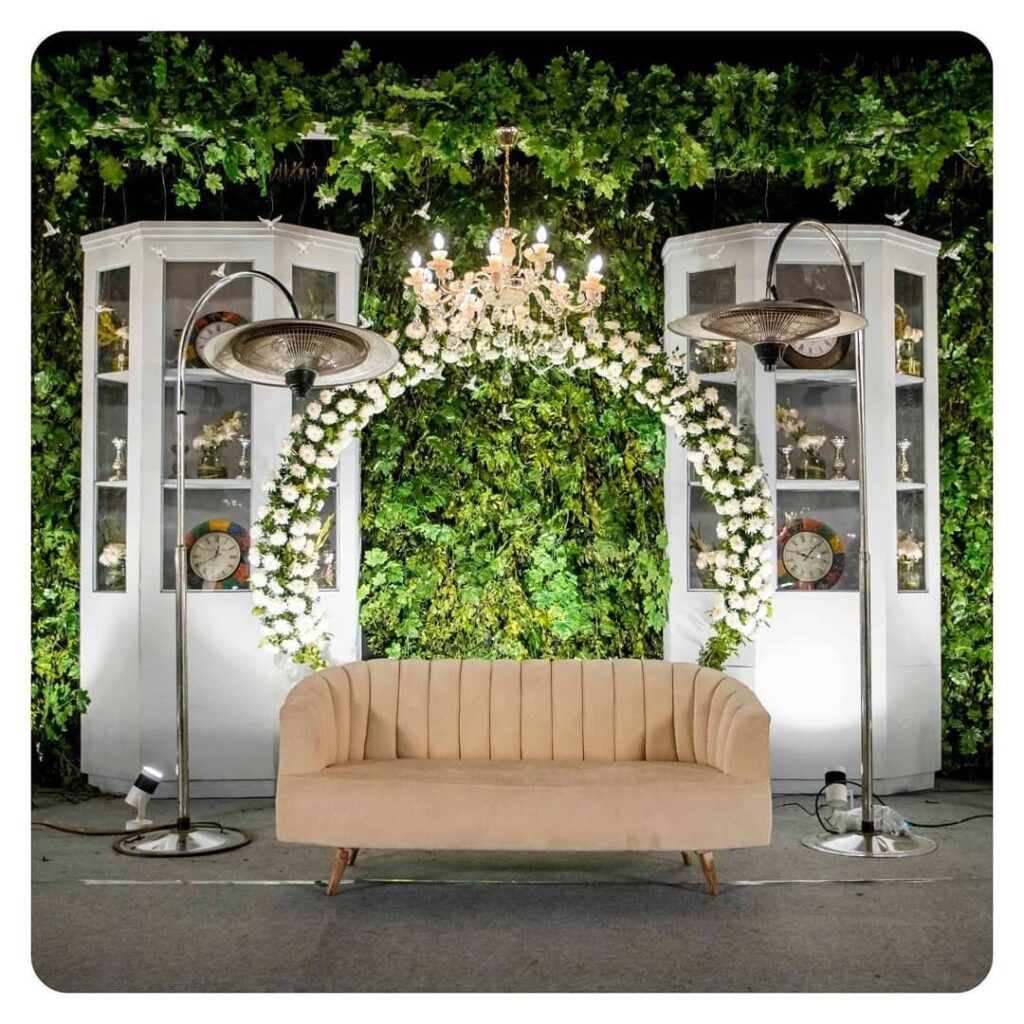 Courtesy: Goyal Event Organisers
#35 Another dazzling wedding stage decor in pink and majestic florals to impress your guests. The best part? It's also a low-cost stage design because the florals used are artificial and a very common arrangement for your wedding planner to the source.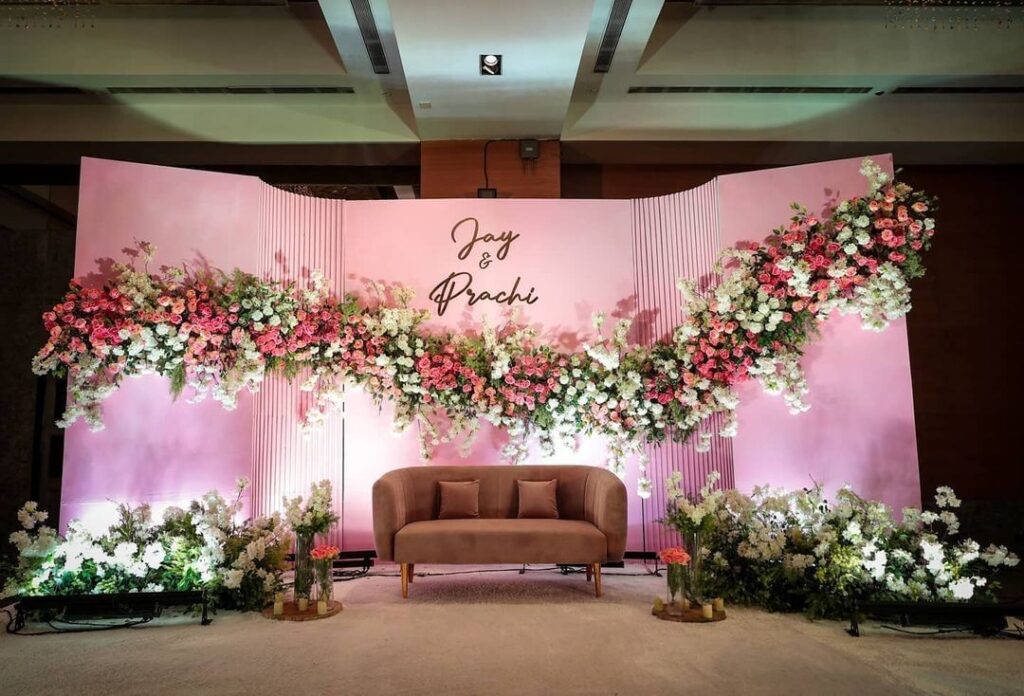 Courtesy: Two The Tee
#36 The whimsical charm of florals just can't be ignored in wedding decor. They have been profusely used for every kind of decor arrangement – from extravagant to simple. We love how the couple only bedecked the ceiling and background with florals and left the rest of the stage clean to let those majestic decorations stand out.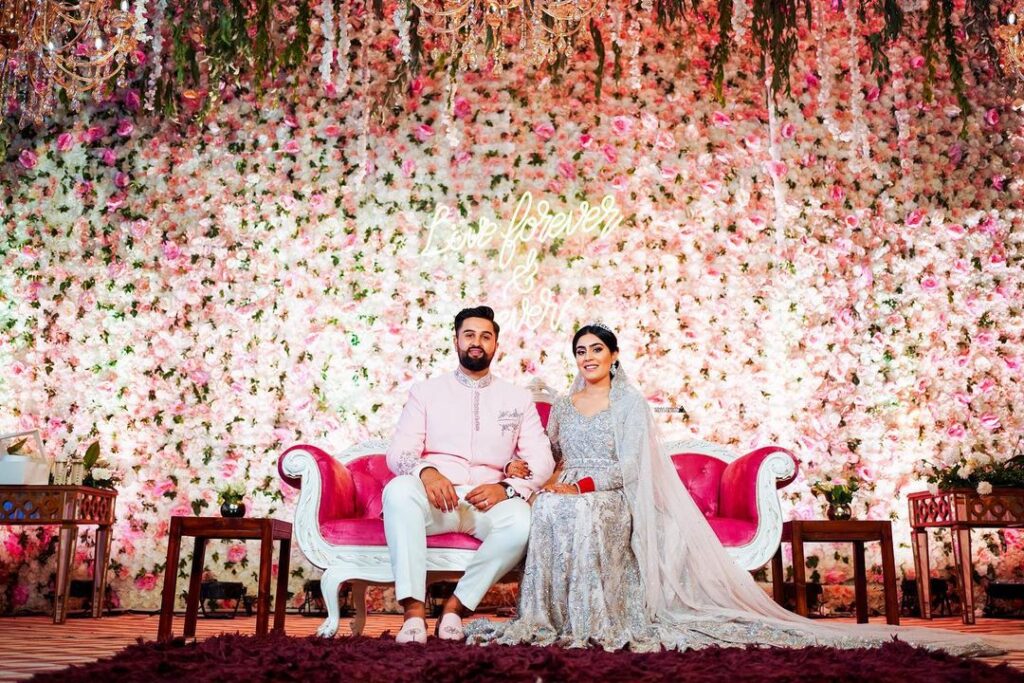 Courtesy: Sunny Dhiman Photography
#37 When planning a wedding stage decoration, it's important to take into account the colors of your outfits, so both the palettes match and look good in RL as well as photos. This couple complemented their red and pink ensembles with a wedding stage decor in the same palette and the result, as you can see, is outstanding.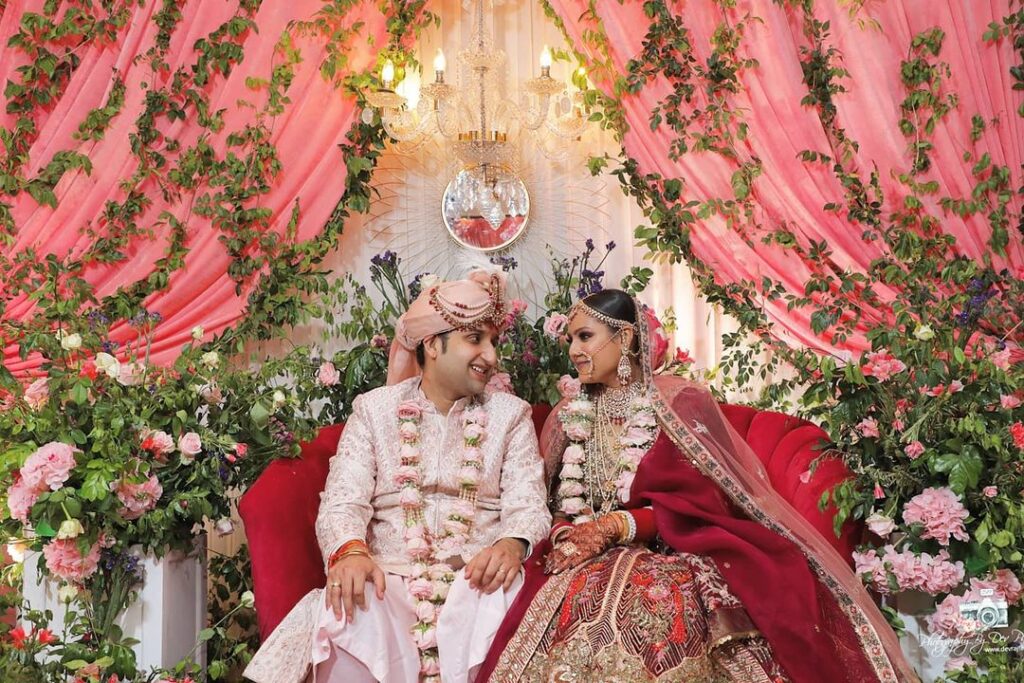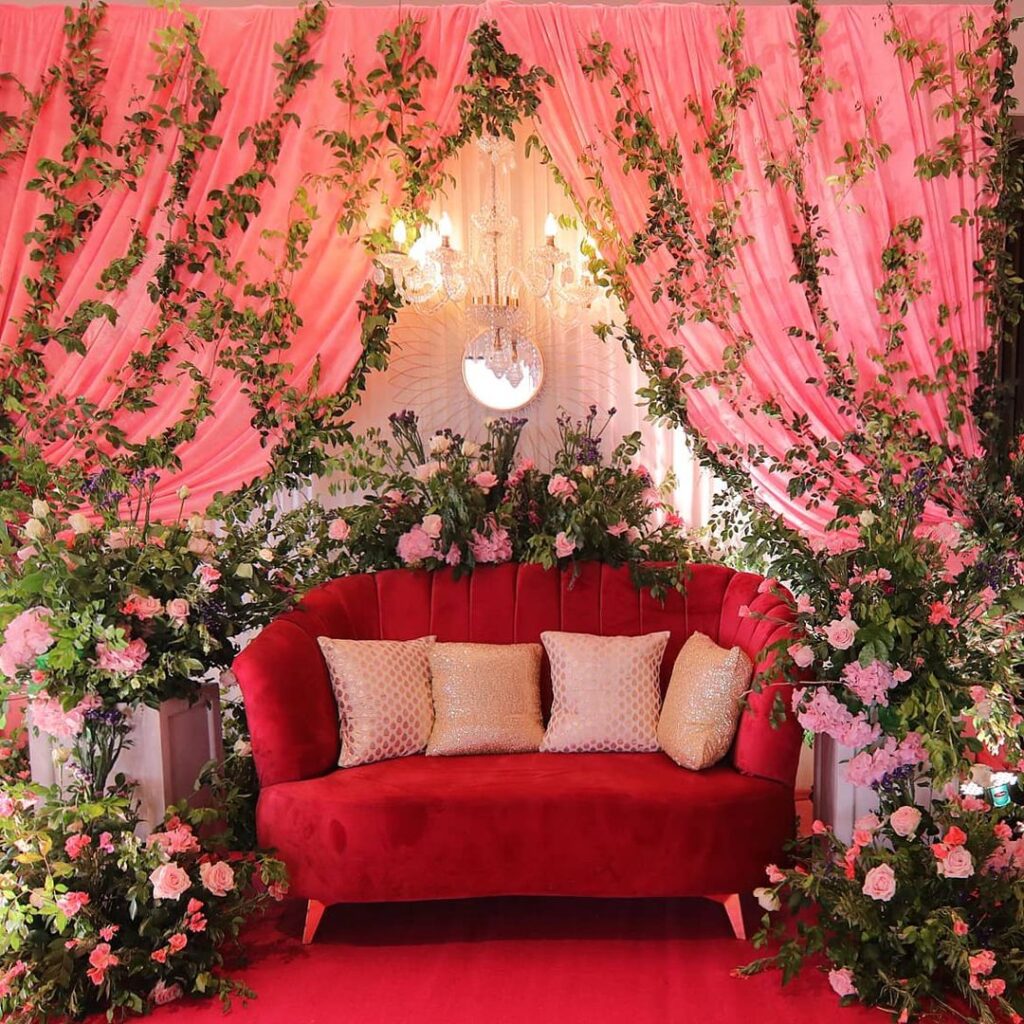 Courtesy: A Square by Apoorva
#38 Another trending element in the wedding decor has been the mirror stage and a walkway with this floor leading to your wedding stage is a great idea. With a lush ceiling and blooming florals around, this is definitely for the couple who'd want to radiate extravagance in their wedding decor.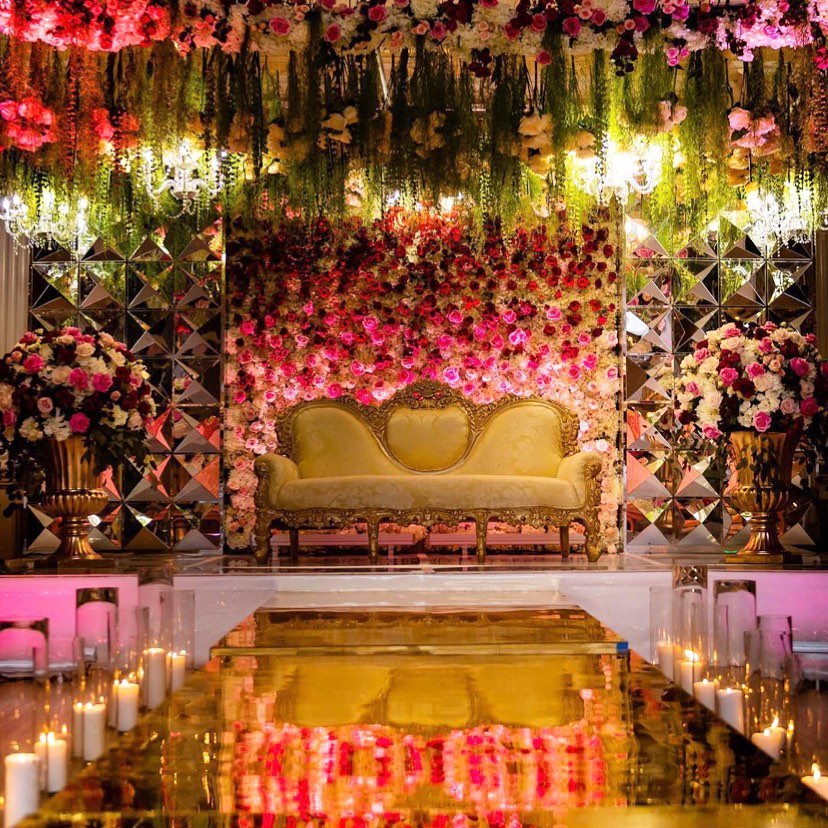 Courtesy: Stylish Events NY
#39 Happy couples make for the best pictures. But besides their drunk-in-love faces, we can't help but notice the gorgeous stage decor behind in green foliage and gorgeous chandeliers. A beautiful wedding stage decoration for outdoor lawns.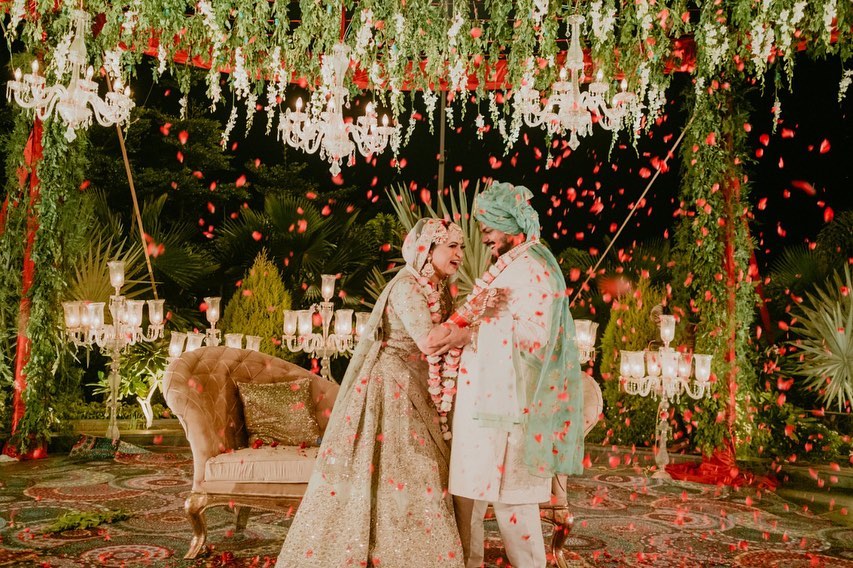 Courtesy: Recall Pictures
#40 A golden-themed reception party with a touch of bright florals here & there is a great theme for your cheery reception party. It has a black-tie appeal with a touch of casual to give couples and guests aesthetically appealing yet joyful feels.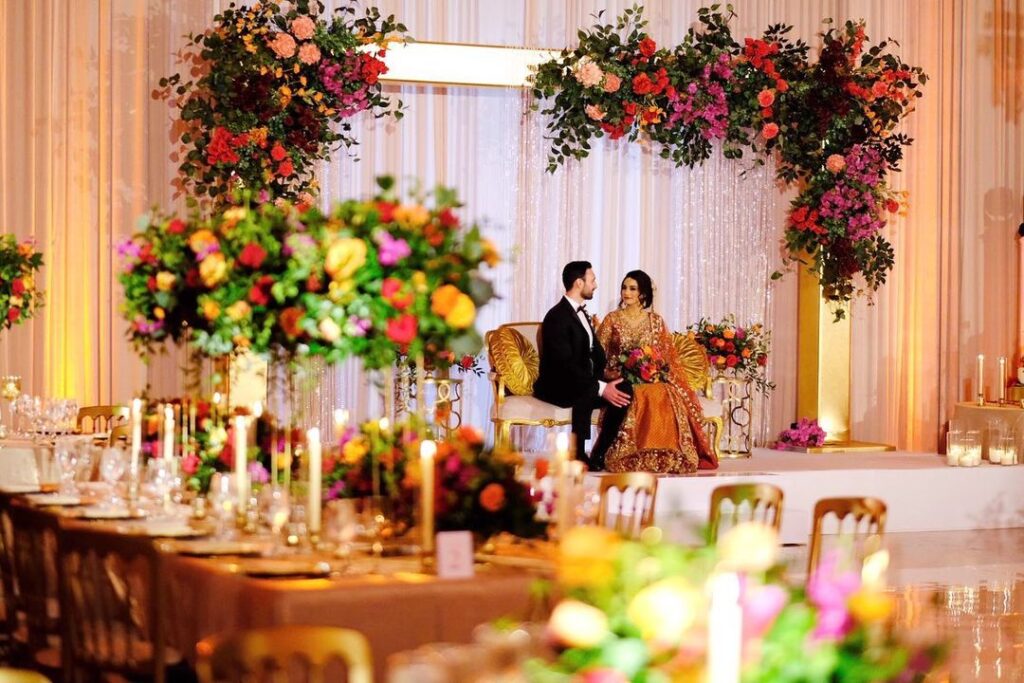 Courtesy: Chez Rose Floral Designs
#41 Planning a beach wedding? While beach mandaps are popular, so is the idea of having beach wedding stage decor. With such a stunning background, you don't have to spend a lot of effort or time on decoration, just some gorgeous bunch of blooming florets will do the job.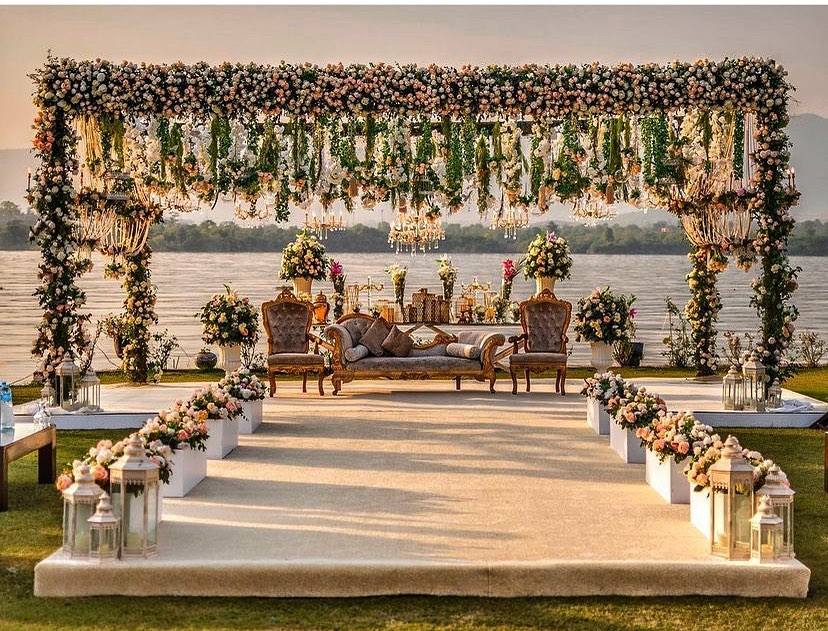 #42 If your big fat Indian wedding is scheduled in a majestic banquet, then here's a foliage-dominated setup ideal for the inside decorations. The vivid colors make for a rustic, modern decor good to install during the reception or even a sangeet seating arena.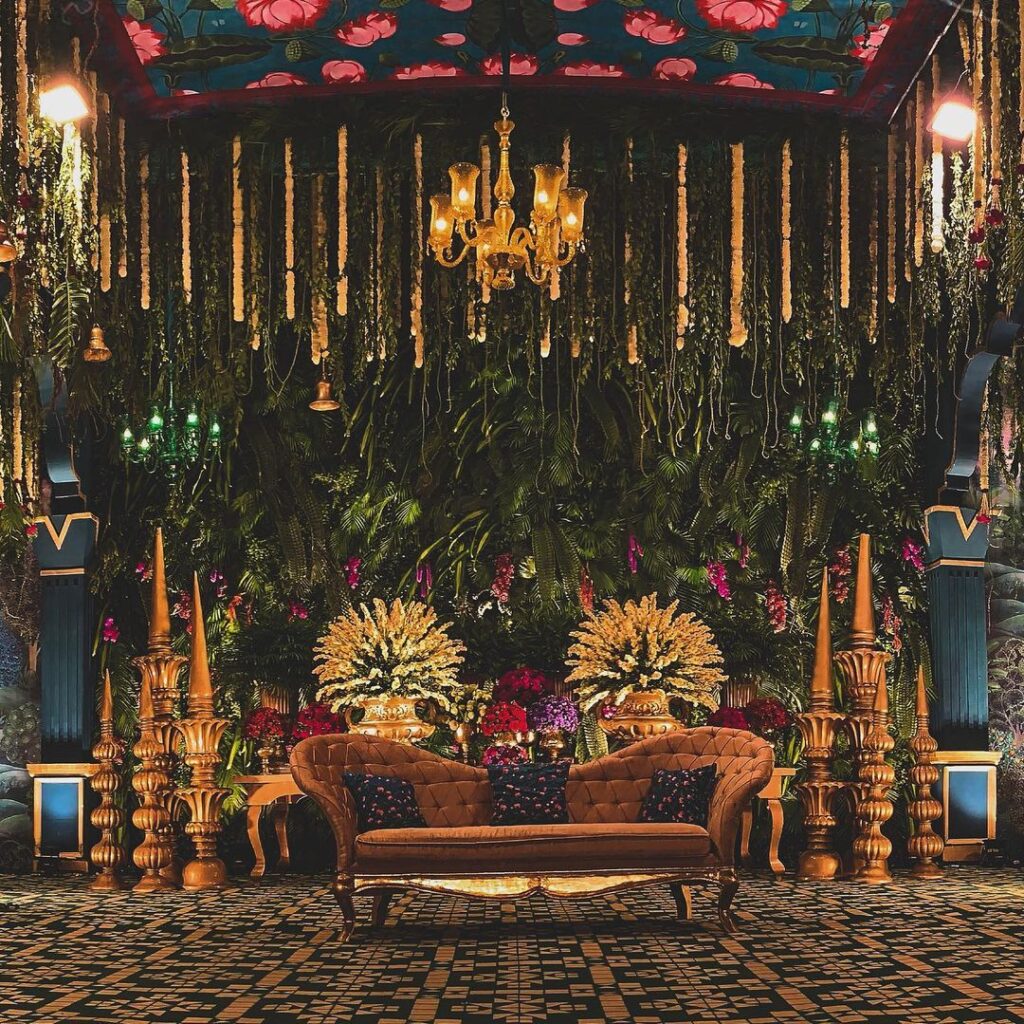 #43 Who says you can only have a stunning decor installed on your wedding, you can get the same done on mehendi or even your roka! In fact, if you're paying a handsome amount to the planner, then an extravagant stage decoration is a must-have.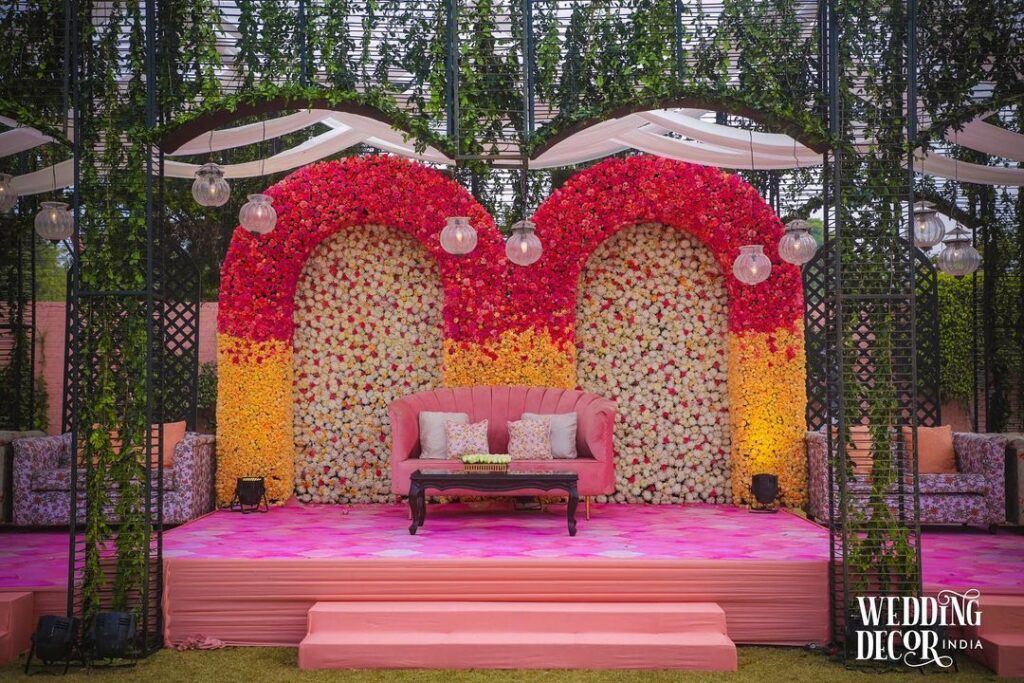 #44 Loving all the foliage inspiration in the wedding decoration lately? Then, take their whimsical element a step above and create this majestic setup for your special day.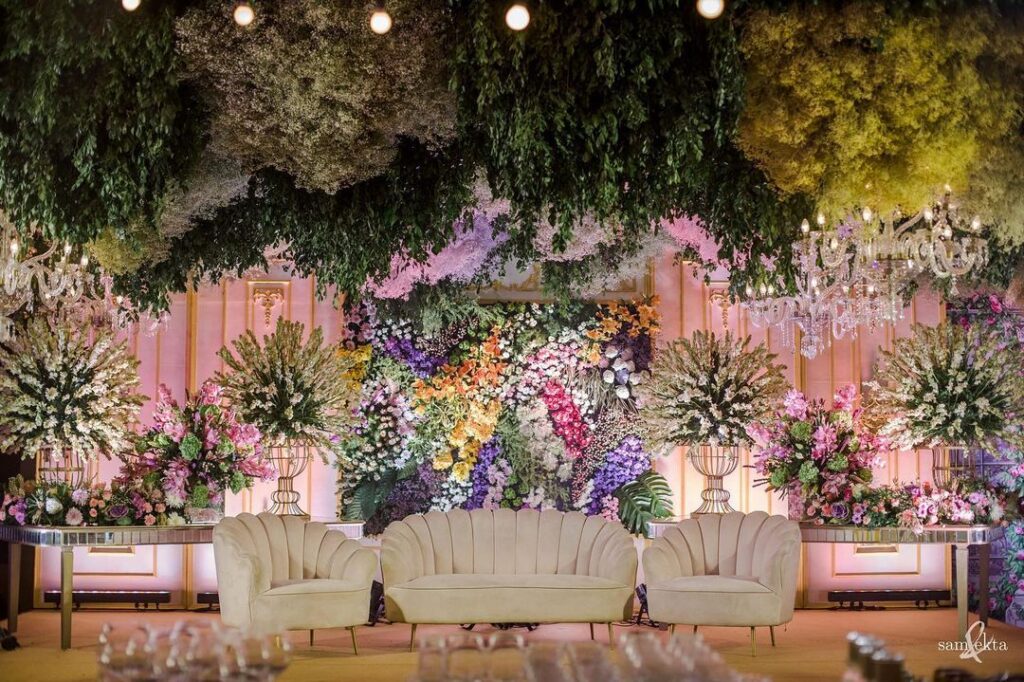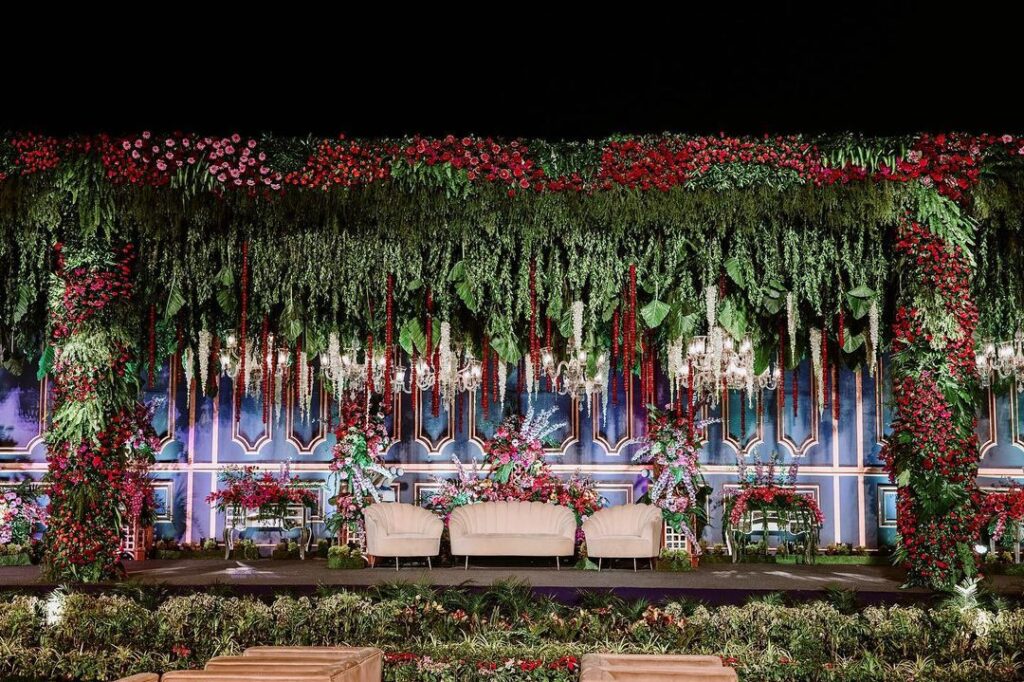 #45 Mixing different colors so they contrast and complement each other at the same time is no easy task. We'd suggest you only trust a creative floral designer to do the job. Here, the many hues of bright colors come together to create such an ethereal setup.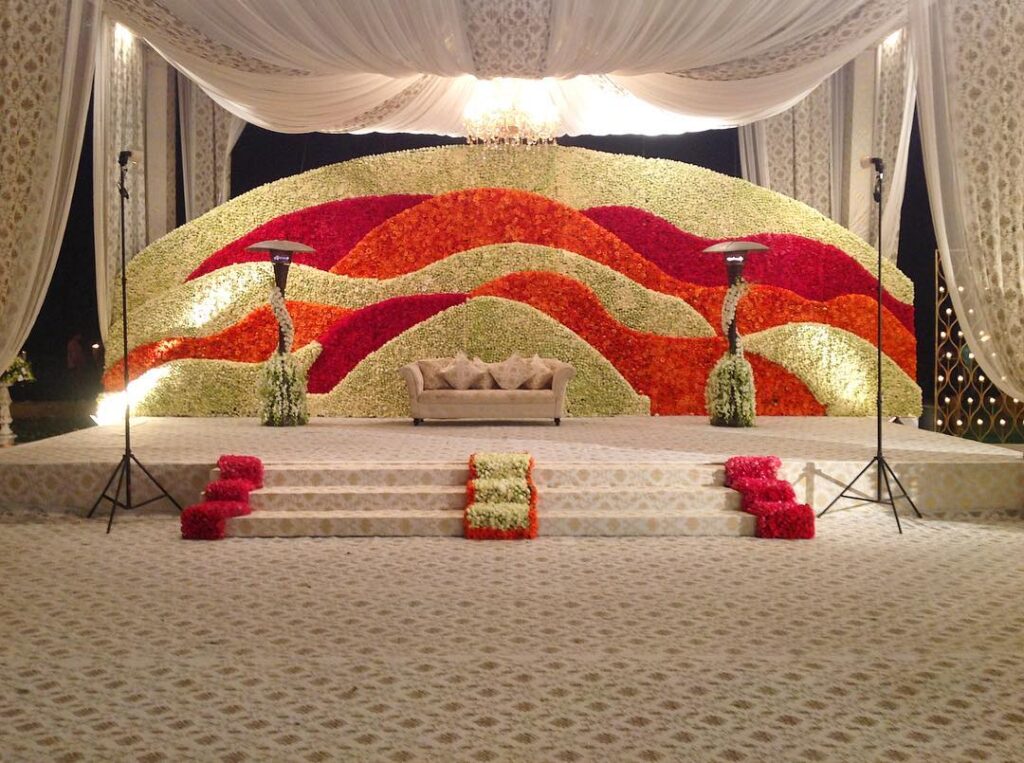 #46 Such a simple wedding stage decoration and also, a low-budget one. Couples who thrive on minimalism and have curated their entire wedding elements around the same theme, this idea is for you.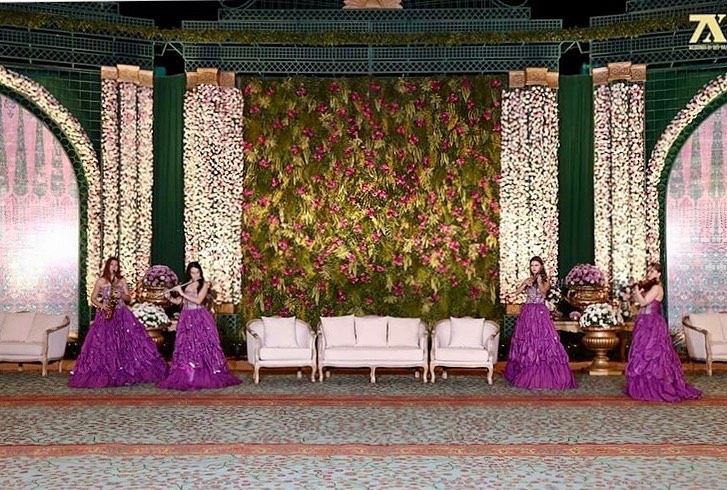 #47 Another simple yet extravagant wedding stage decoration for a grand setup. If you're already booking a banquet hall that looks good in appearance and is well furnished, you don't have to worry too much about the decor arrangements, as the aesthetic look is already ensured.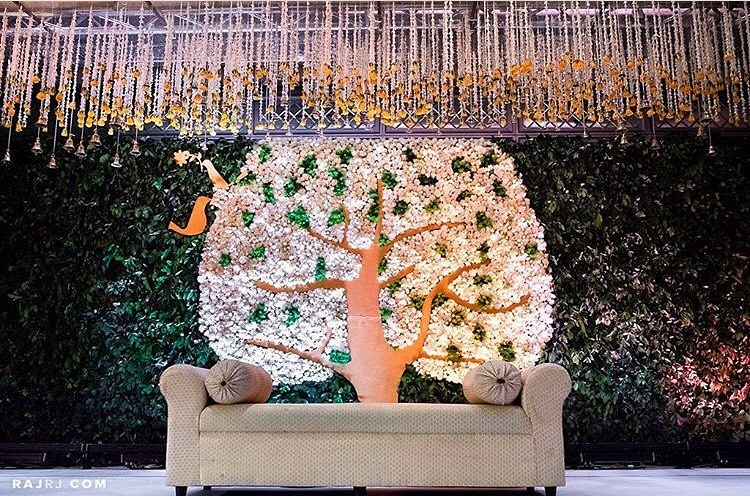 #48 Ceiling decor can really make or break your wedding decor. Be it during the mehendi when the tents add the joyful feels or sangeet when the lights add the dancing vibes, put some effort into deciding the ceiling decor for an eye-catching wedding stage decoration.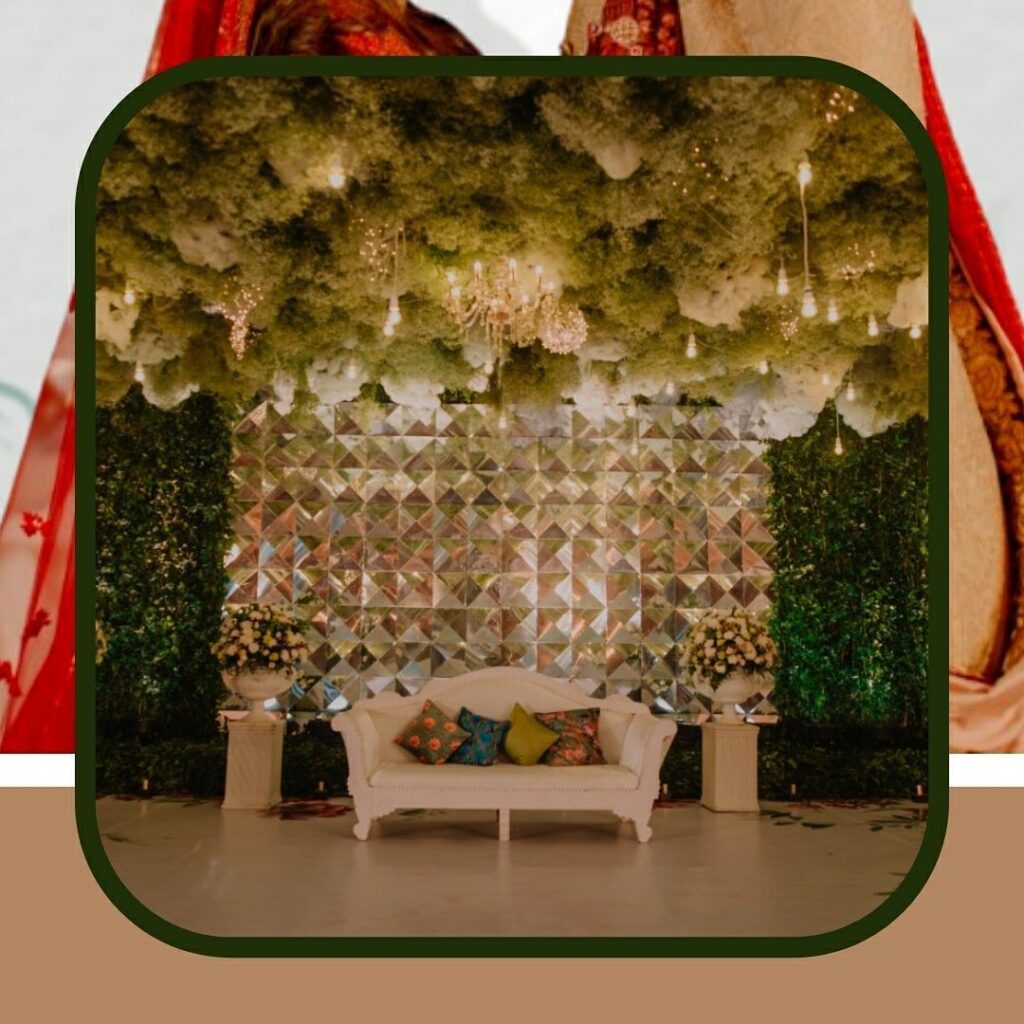 #49 As we said, if the banquet hall you've booked is already quite well-furnished, you don't have to spend much time deliberating on the decor. Love the slight embellishments enhancing the already beautiful venue.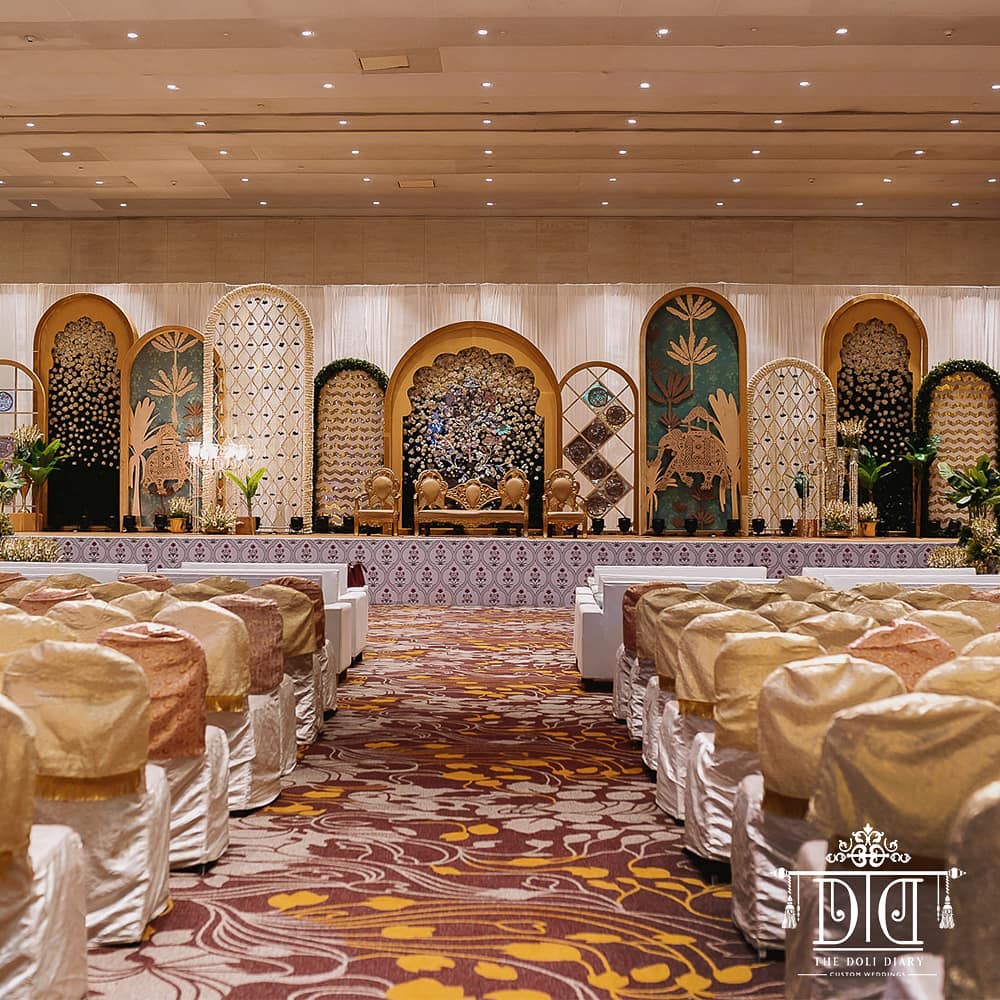 #50 Neon signage has been trending in the wedding decor space and can become a great addition to any part of your venue space, like entrance, photo booth, or wedding stage decor.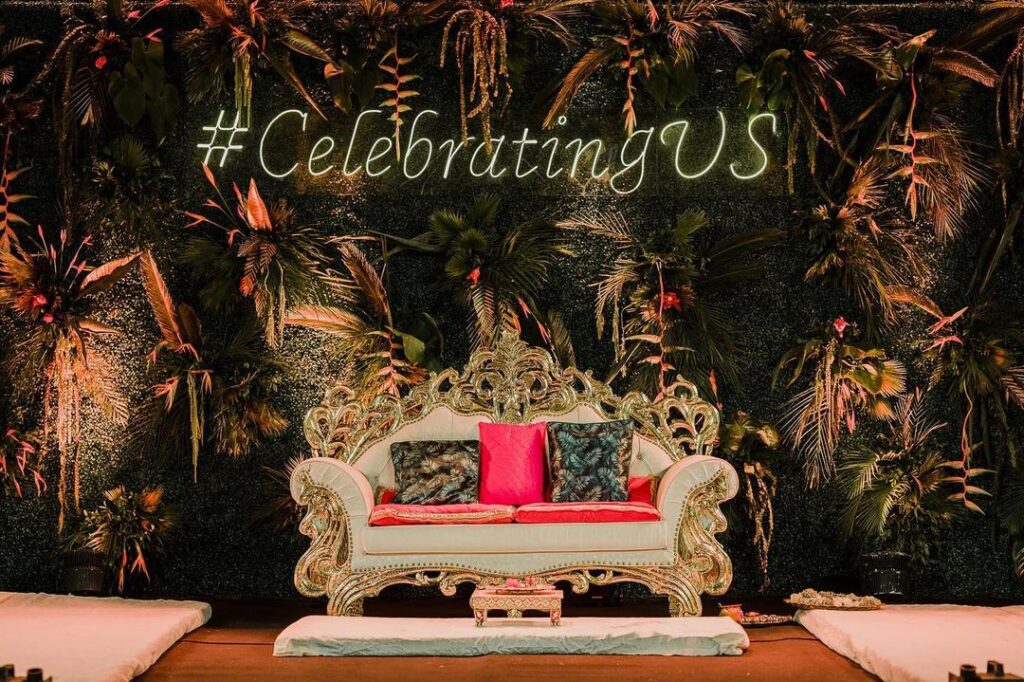 #51 A simple and low-budget wedding stage decoration that doesn't compromise with the aesthetic appeal of the wedding decor. Even if you hire an inexpensive vendor, make sure they're creative so they look even the low-budget elements eye-catching and stunning.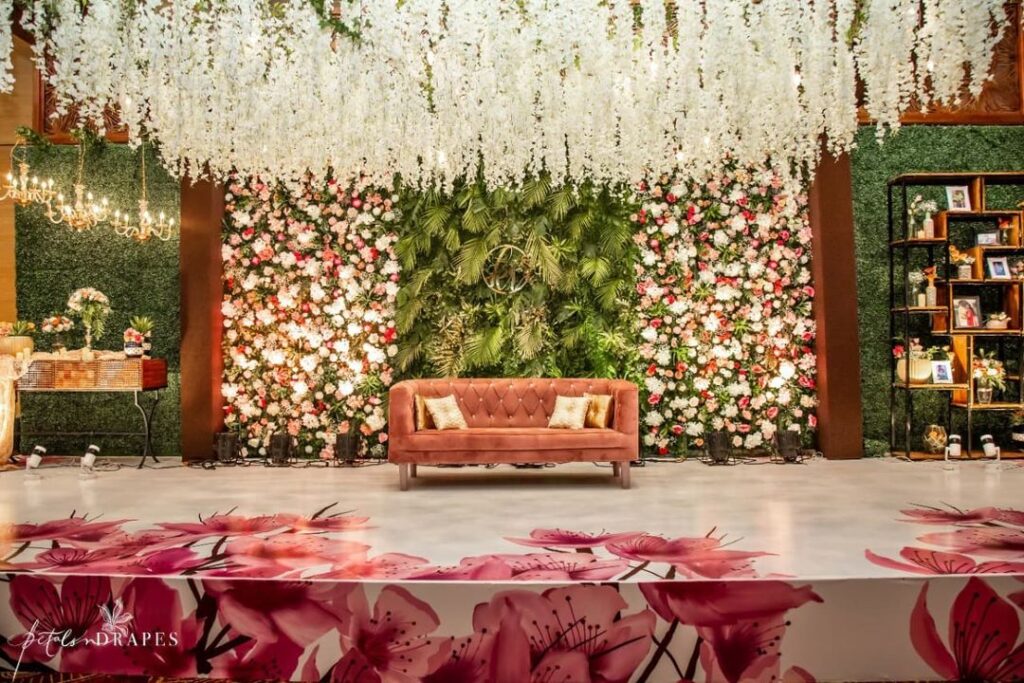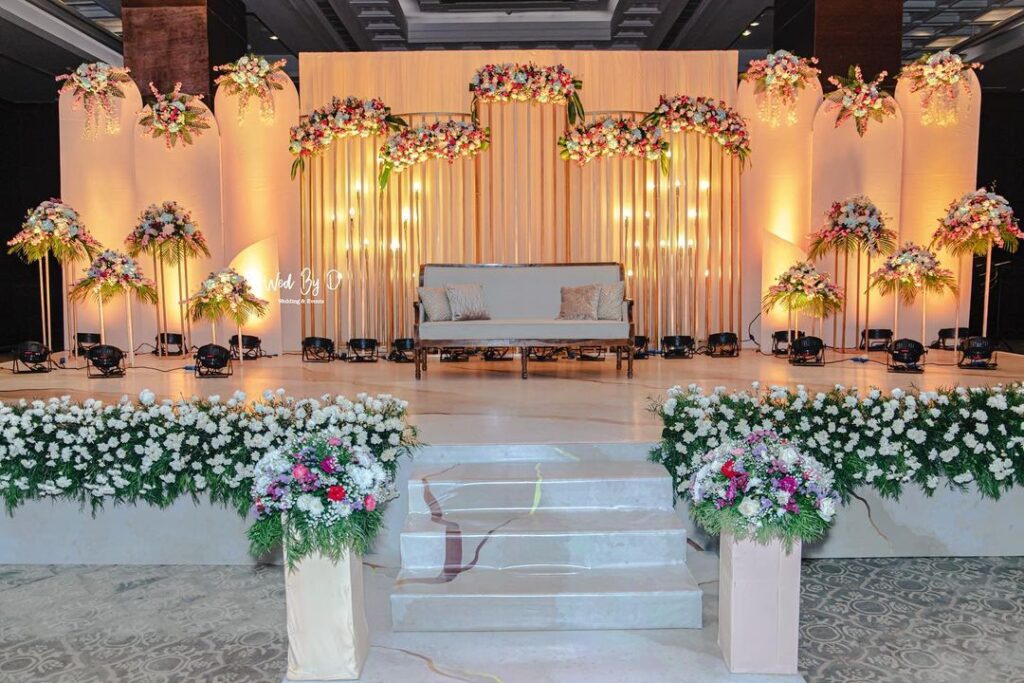 #53 Just look at that dreamy ceiling decor bedecked with chandelier, foliage, and disco balls. Not just for the stage design, this ceiling can look amazing above your sangeet stage, so save it on your Pinterest board right away.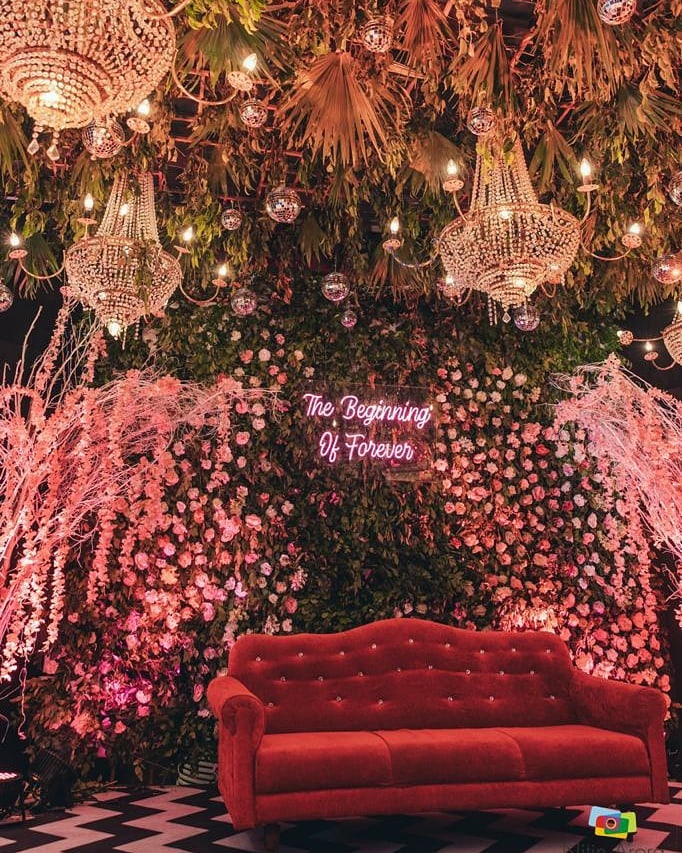 #54 A stage backdrop ideal for wedding, reception, sangeet, or even a cocktail night. If you're looking to include the latest decor ideas in your wedding, neon signage is a must. Not to forget how amazing the portraits look under these signages surrounded by foliage.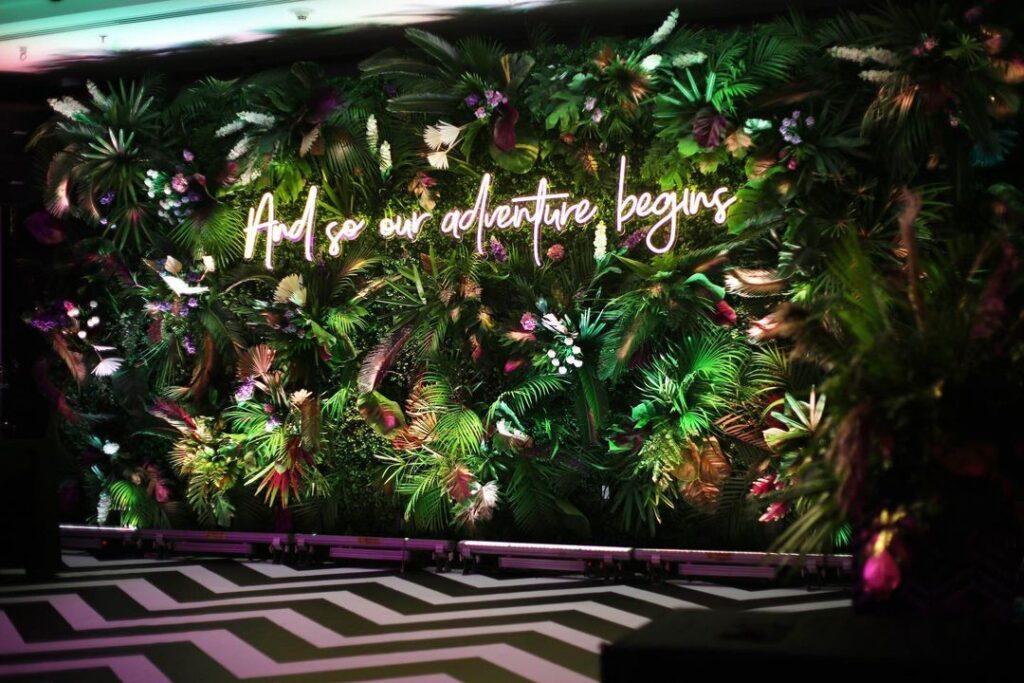 #55 Another sangeet stage decor idea that's different and unique in it's own right. For the sangeet, you need to pick decor elements that go with the cheery nature of the occasion whilst looking elegant.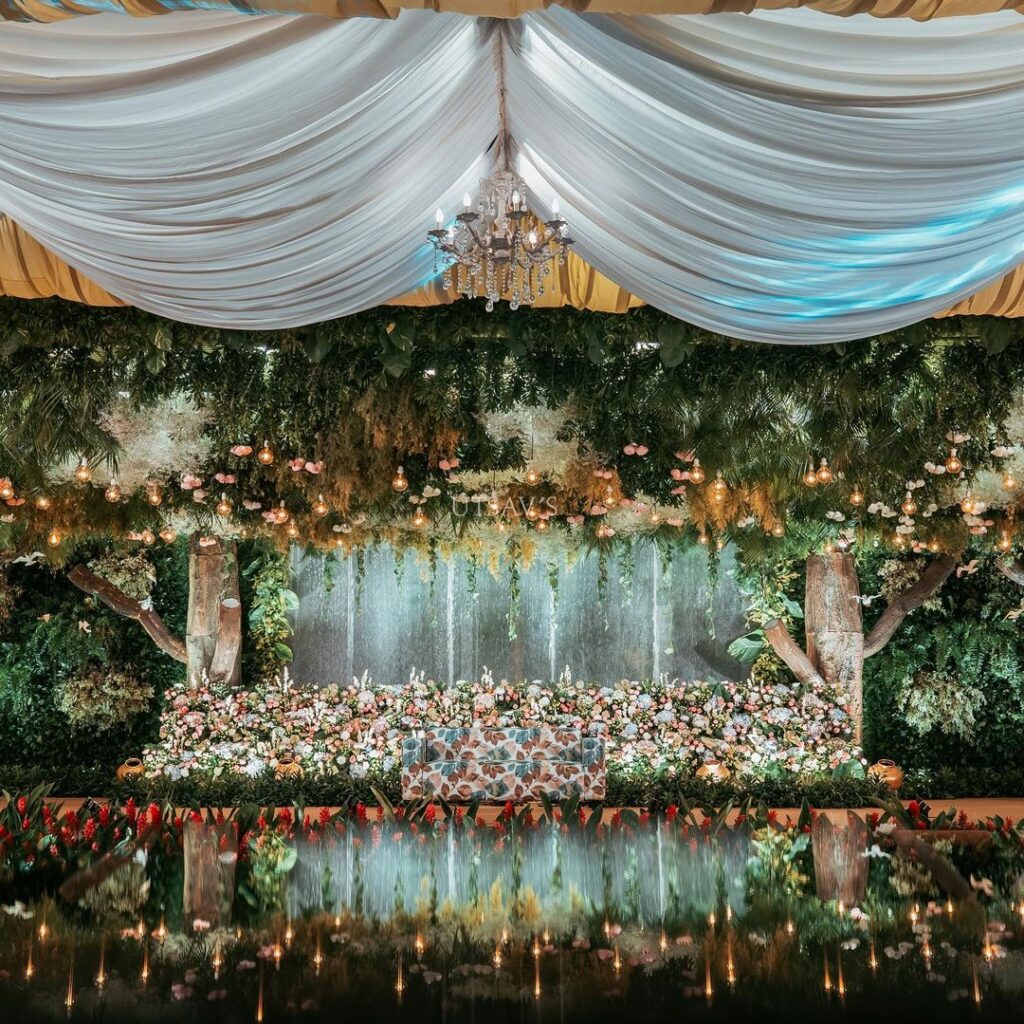 #56 While an Indian wedding full of beautiful colors has a beauty of its own, so does the white weddings with their pristinely and immaculate appeal. If you're fascinated by both, here's a hindu marriage wedding stage decoration with pampas grass that draws a gorgeous balance between both.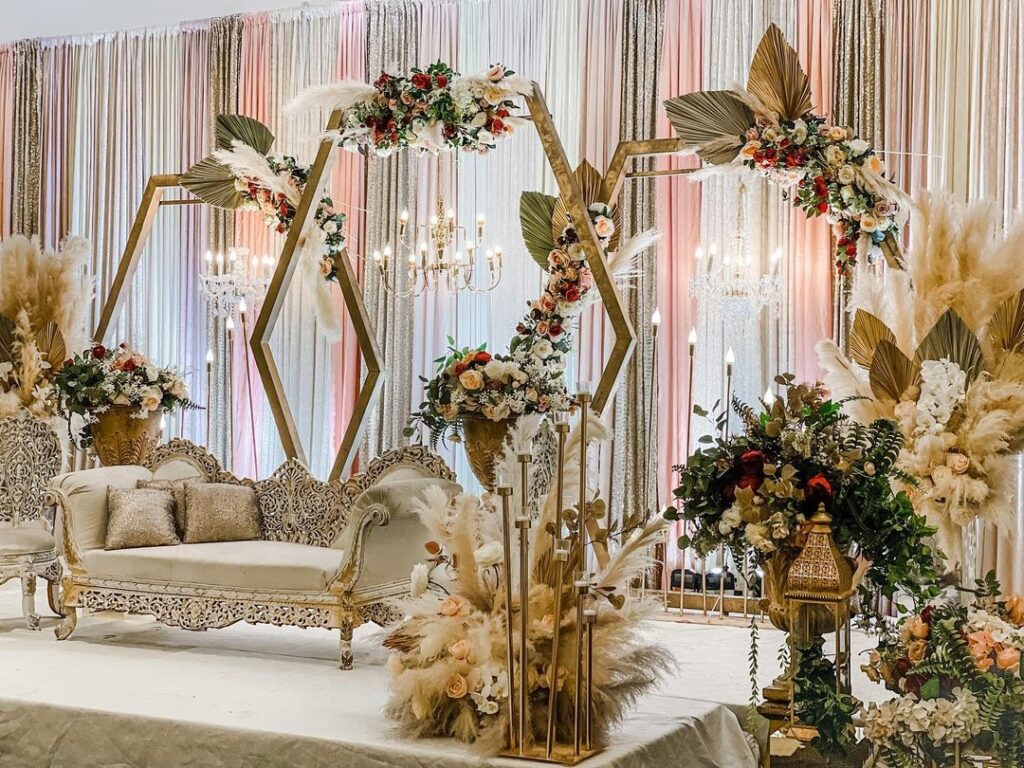 #57 Here's another ivory weddings stage decoration with just a few hints of blue to add the customary bright colors of Indian weddings into the pristine design.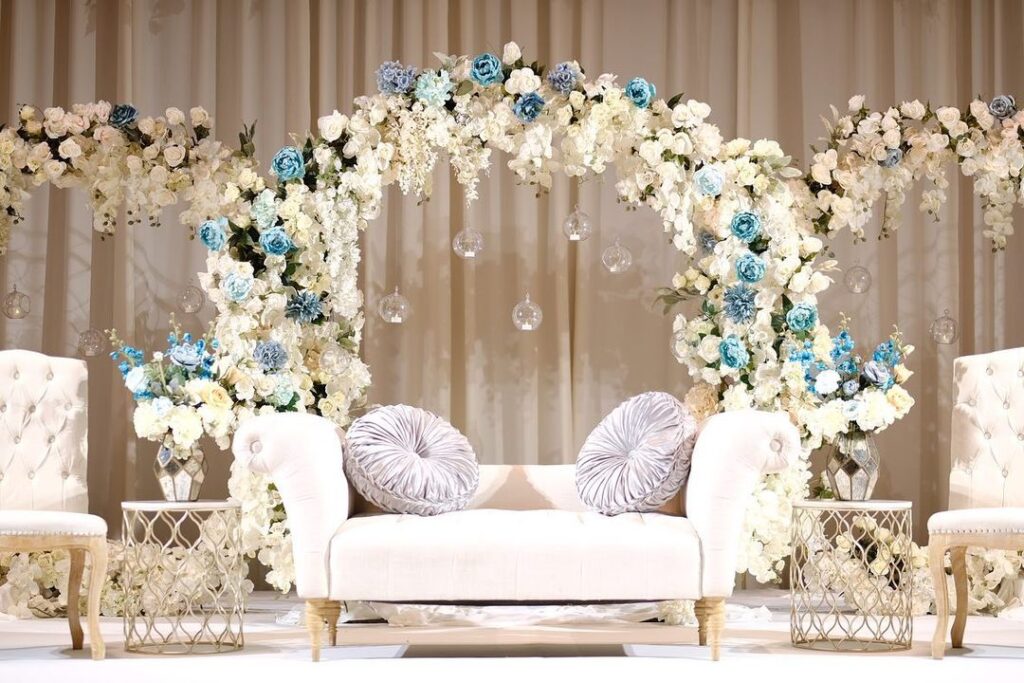 #58 A low-budget wedding stage decoration to please the minimalist couples who don't want to shell a lot on their wedding revelries. Just some mood lighting and florals is all that's needed to complete the decor of the entire ceremonial venue.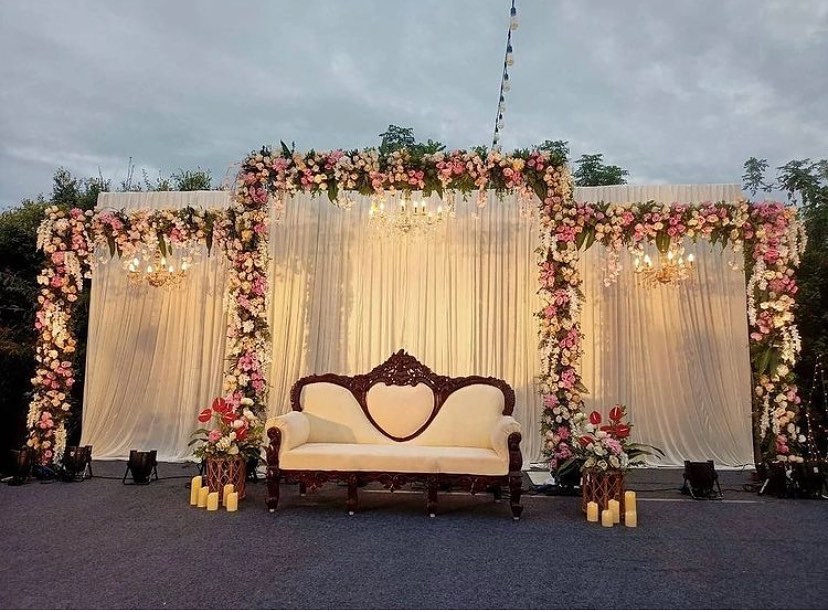 #59 While this can seem too simple for a wedding, a simple wedding stage decoration can make for a good idea for your roka ceremony. This one has beautiful signage, a floral decorated structure, and a bright carpet to enhance the dark-colored seating.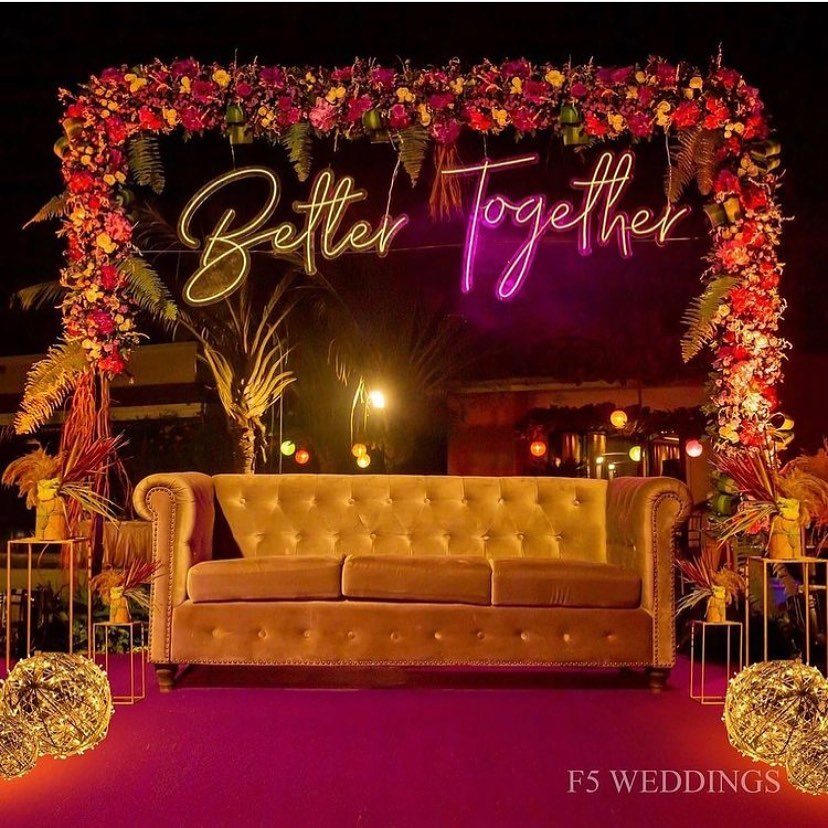 #60 For a small event, perhaps at home, here's a wedding stage decoration at home to wow the guests and make your special day memorable.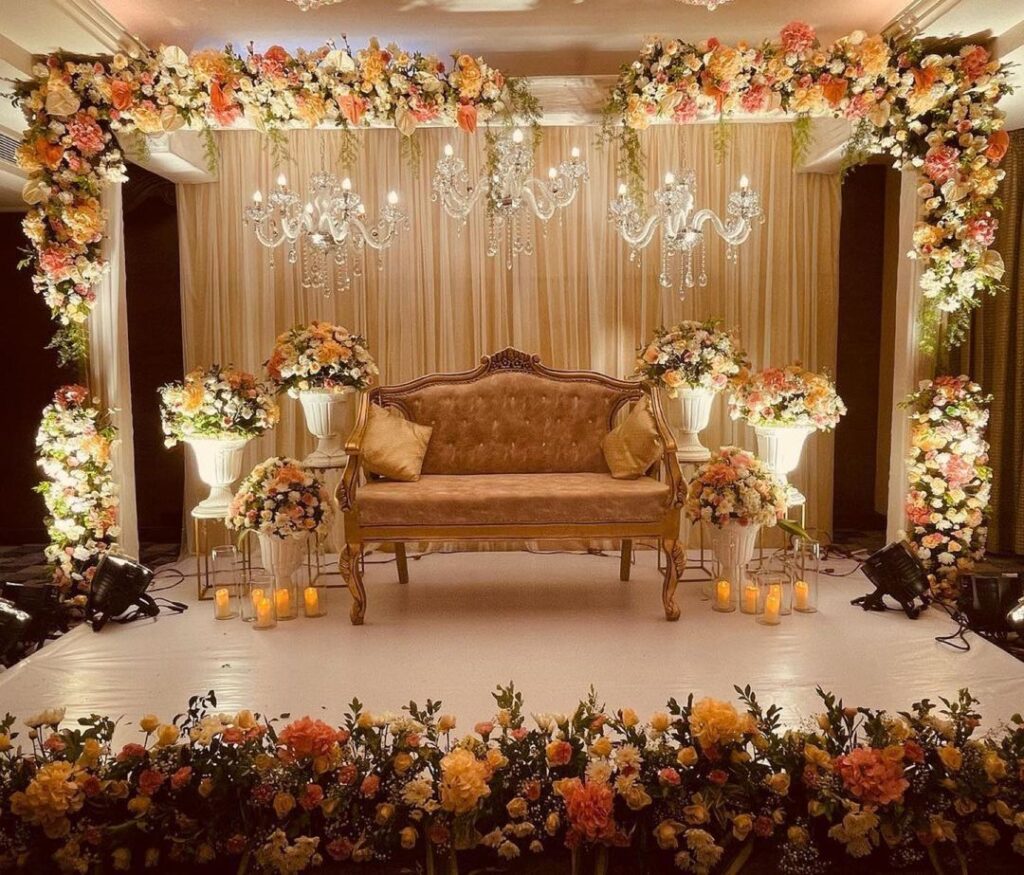 #61 In Indian weddings, bright colors like pink and red often form the center stage of many elements. This time it's in the seating decor where a gorgeous pink sofa lies right in front of a beautiful foliage backdrop for an impressive design.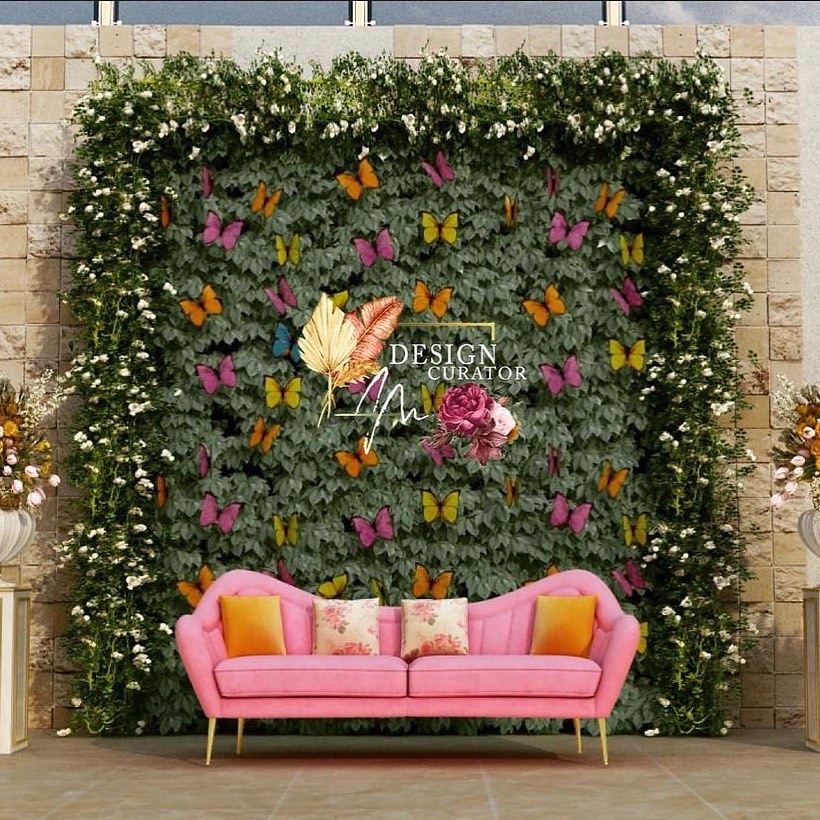 #62 This wedding stage decoration on the outdoor lawn looks so phenomenal in pictures, imagine how mind-blowing it will look in real life. If you're wearing pastel-themed outfits, a bright setup like this is a wonderful way to color complement the entire palette. 
#63 Instead of dripping foliage leaves, opt for drapes to decorate your ceiling. And skip the florals completely for a unique yet mesmerizing setup. If you have a day setup, but still want signage at the wedding, opt for a metallic finish one instead of neon for a great look.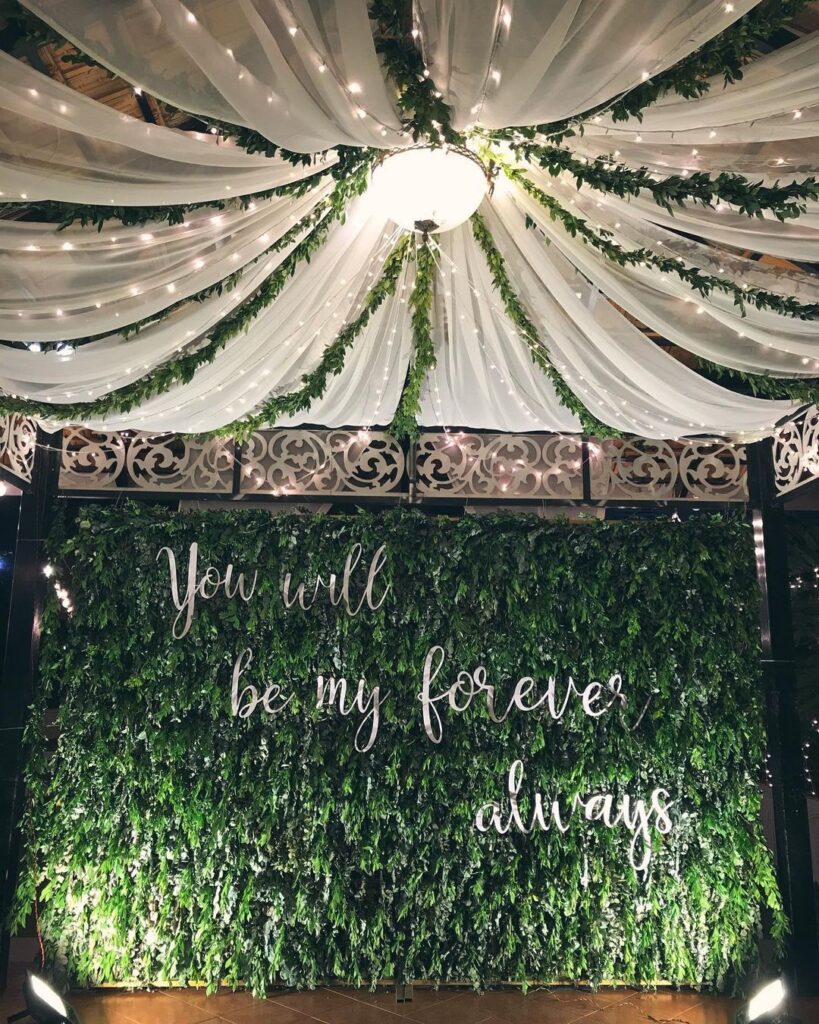 #64 Pastel pink and florals and ivory makes for a fabulous combination for this modern wedding stage decoration idea. Although, if you're planning to take pictures with guests on the stage, then you'd want to increase the length of the stage to accommodate everyone properly.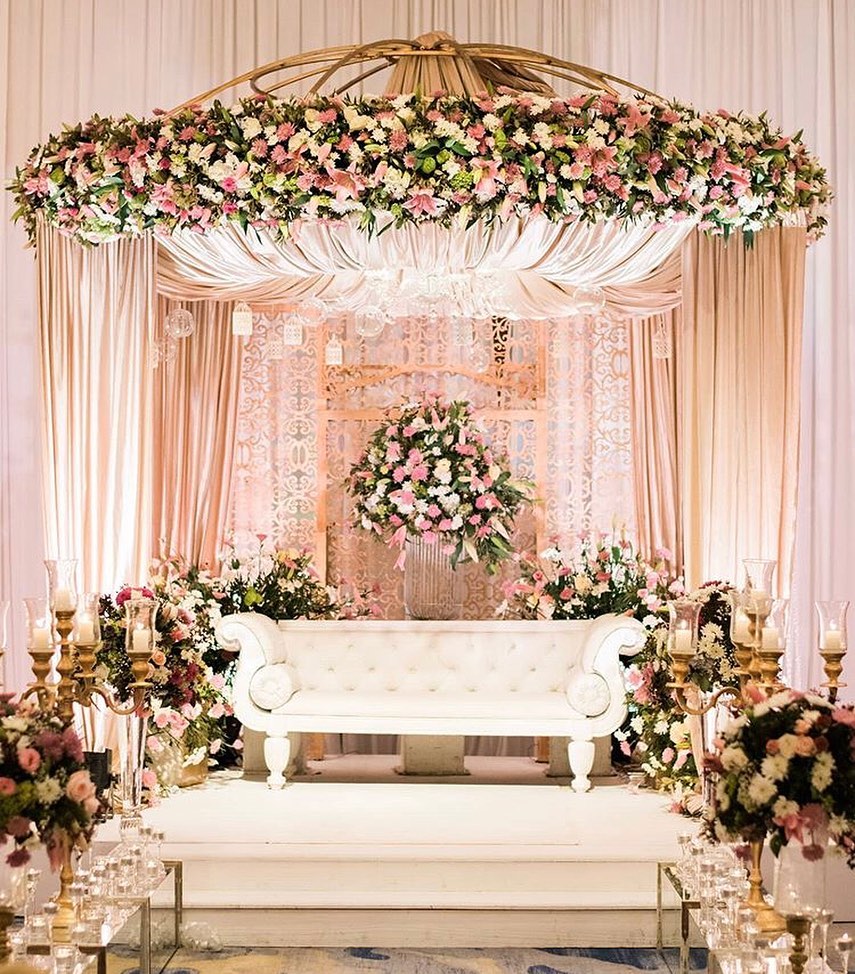 #65 A bright and neutral color when merged in a strategically thoughtful way can do wonders to elevate the aesthetic of any decor. Here the bright green and ivory do the trick for the florist as the low-cost wedding stage decoration gives an elegant vibe instead of looking inexpensive.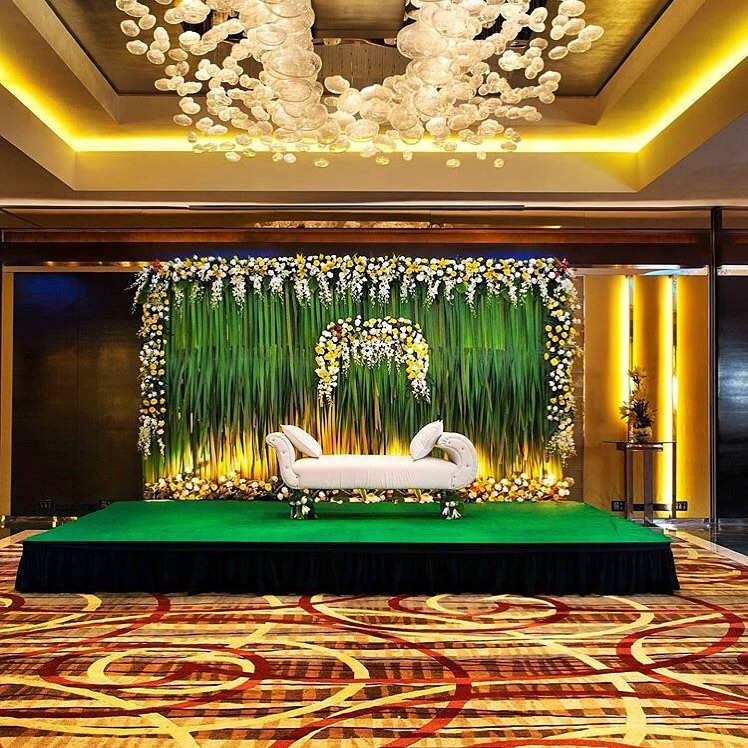 #66 If the banquet hall you've booked is already a gorgeous one, then even a low-budget wedding stage decoration can look amazing at the venue. Here, just some curated floral walls and pastel seating elevated the aesthetic of the banquet hall. 
#67 Even if you're having a wedding in an outdoor lawn immersed in natural beauty, you will need some kind of stage decor idea for the seating arena. Here's one bedecked in florals and warm colors to complement and enhance the natural beauty.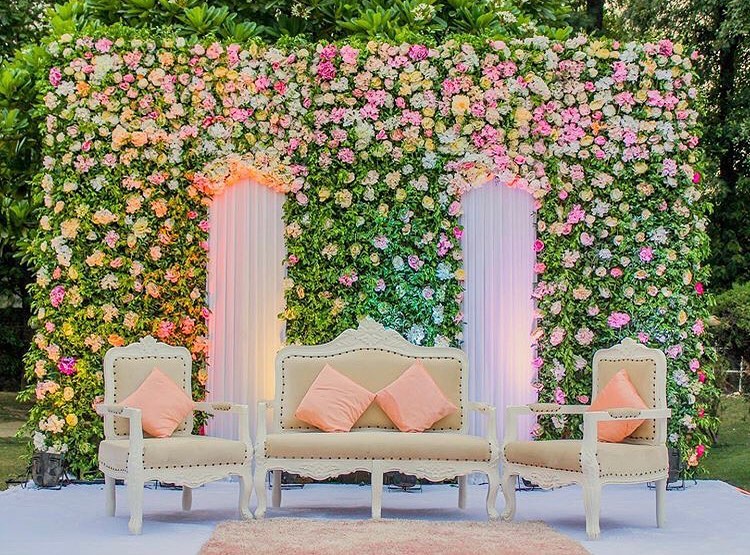 #68 A splendid culmination of mirror stage and mood lighting, this latest wedding stage decor is elegance and minimalism in one frame. We absolutely love the distinctive pathway leading to the seating, instead of the usual entry of bride and groom through stairs.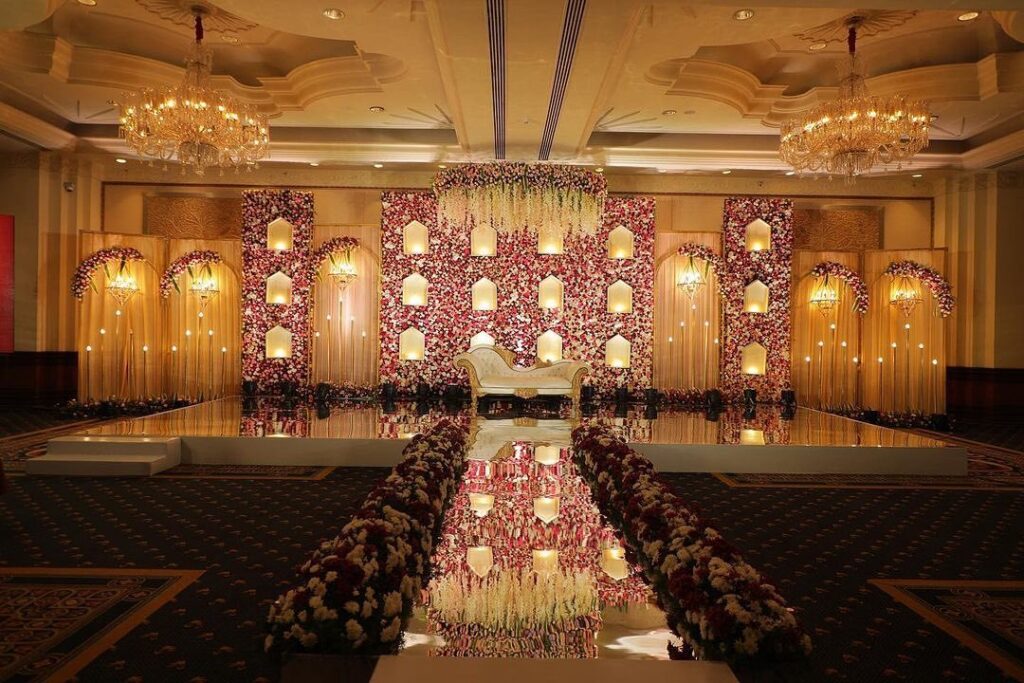 #69 For reception wedding stage decor should be full of extravagance as it marks the end of your memorable wedding revelries. Dripping with baby's breath, foliage, and chandeliers, we love how the bride curated a stage design that goes with her warm shaded ensemble.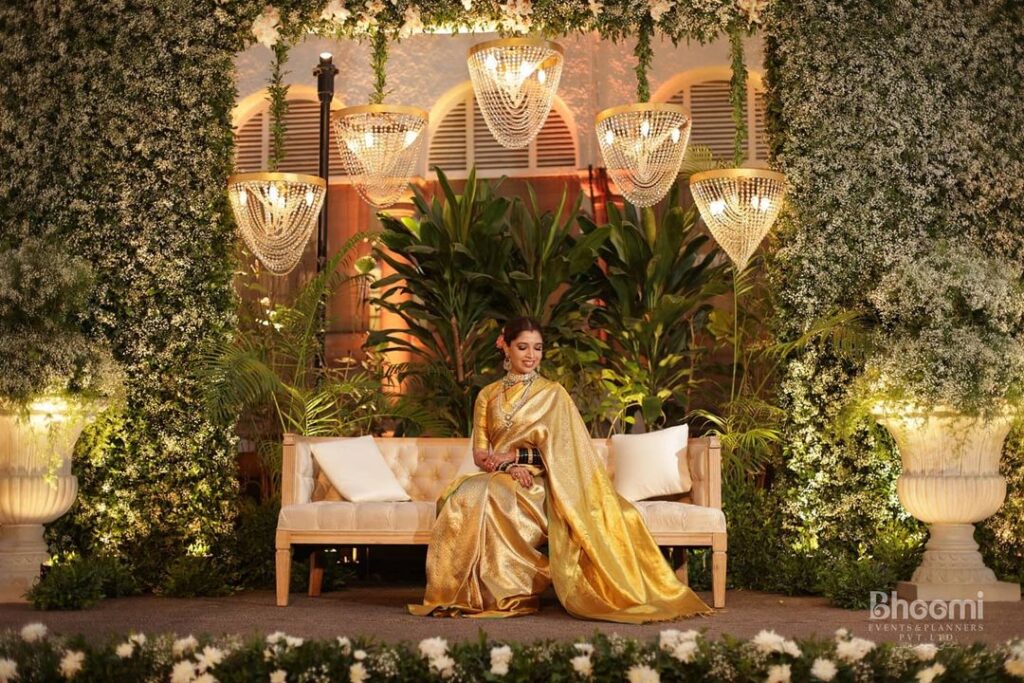 #70 Ivory and green really is a trending combination and one you will find in this list, and other inspiration boards, a lot. Clearly, their etherealness is unmatched and they look good with any ensemble shades you don – bright to pastels.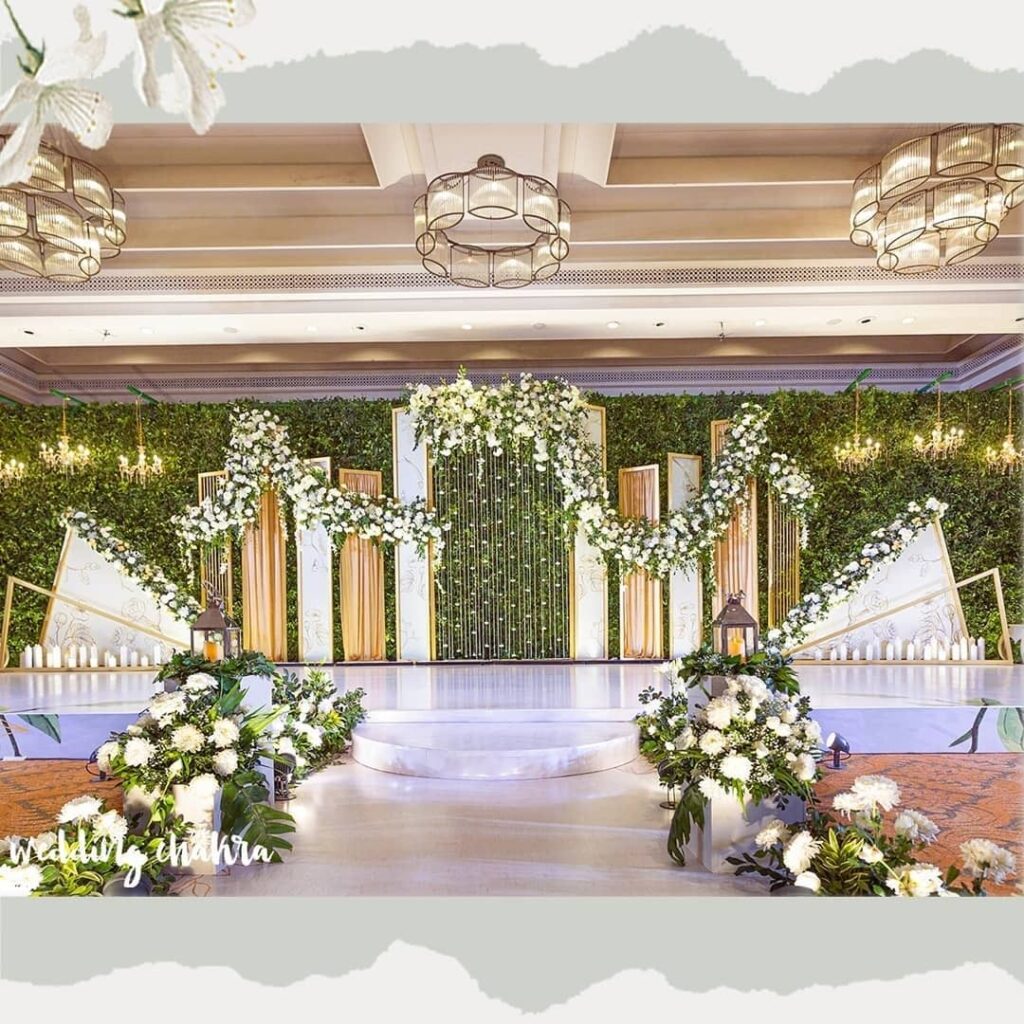 #71 A rustic decor idea with a brown sofa, a gorgeous floral arch, and some appealing mood lighting for a minimal and elegant decor idea. It's also a low-cost wedding stage decoration considering the simple embellishments required to complete the setup.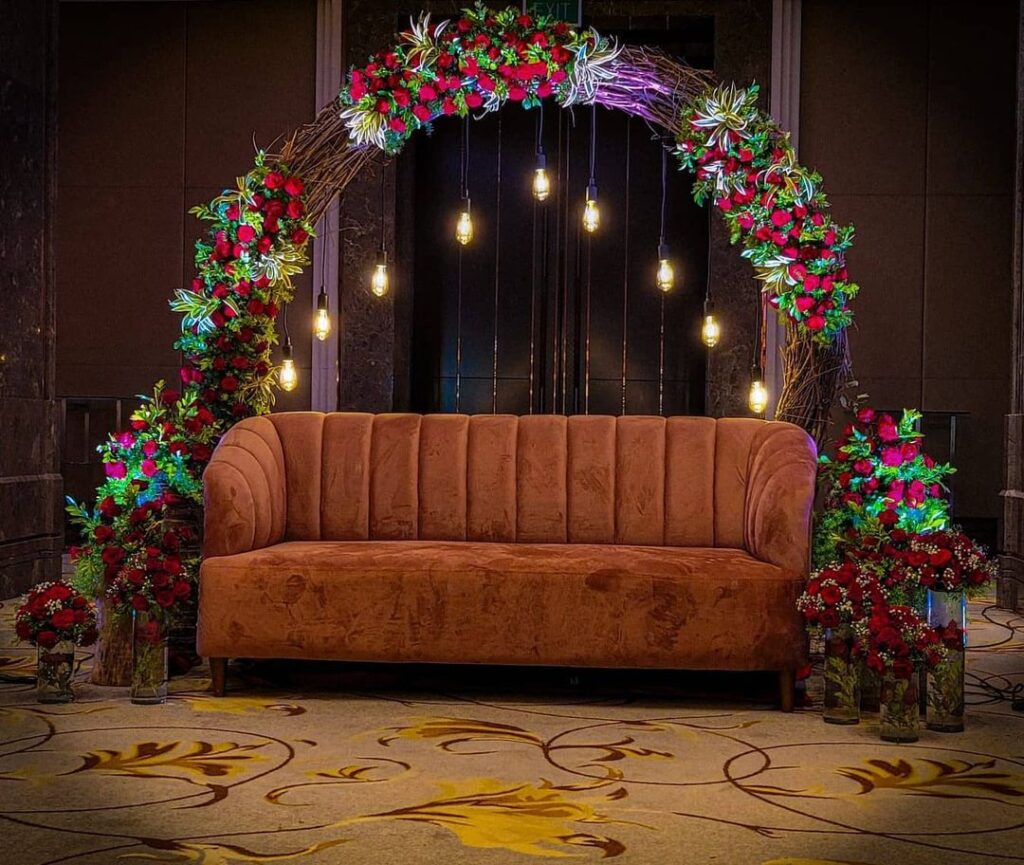 #72 For wedding stage decoration in an outdoor lawn, does the setup get any ethereal than this? Replete with neutral and pastel colors, the setup provides ample shade and an aesthetic setting to make your big day memorable. Not to forget how gorgeous the pictures will come out in this natural lighting.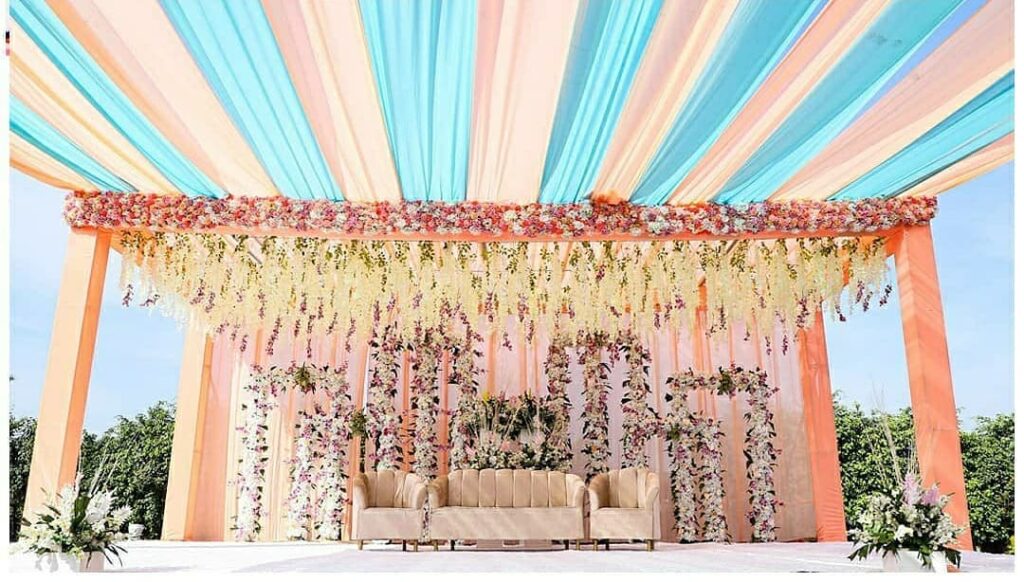 #73 The mirror-drop on the ceiling is just ravishing and definitely caught our eye. This marriage stage decoration is an outstanding one on the list and the beautiful lighting sure will make the pictures look incredible. It's a win-win situation in every way.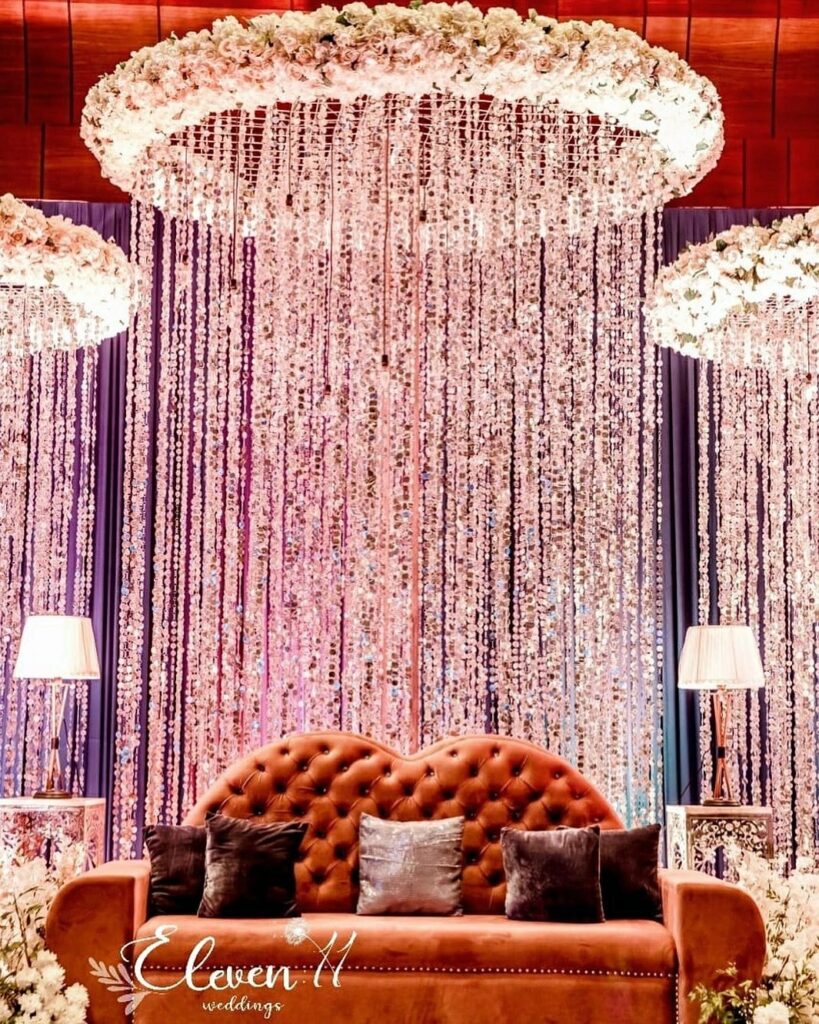 #74 An extravagant marriage stage decoration idea that doesn't break the bank. The glitter foil that makes the backdrop is easily available, so are the cluster floral arrangements and pillars. When you're hiring a florist – no matter the budget, make sure they're creative and you'll be surprised with what they can do in a limited budget and space.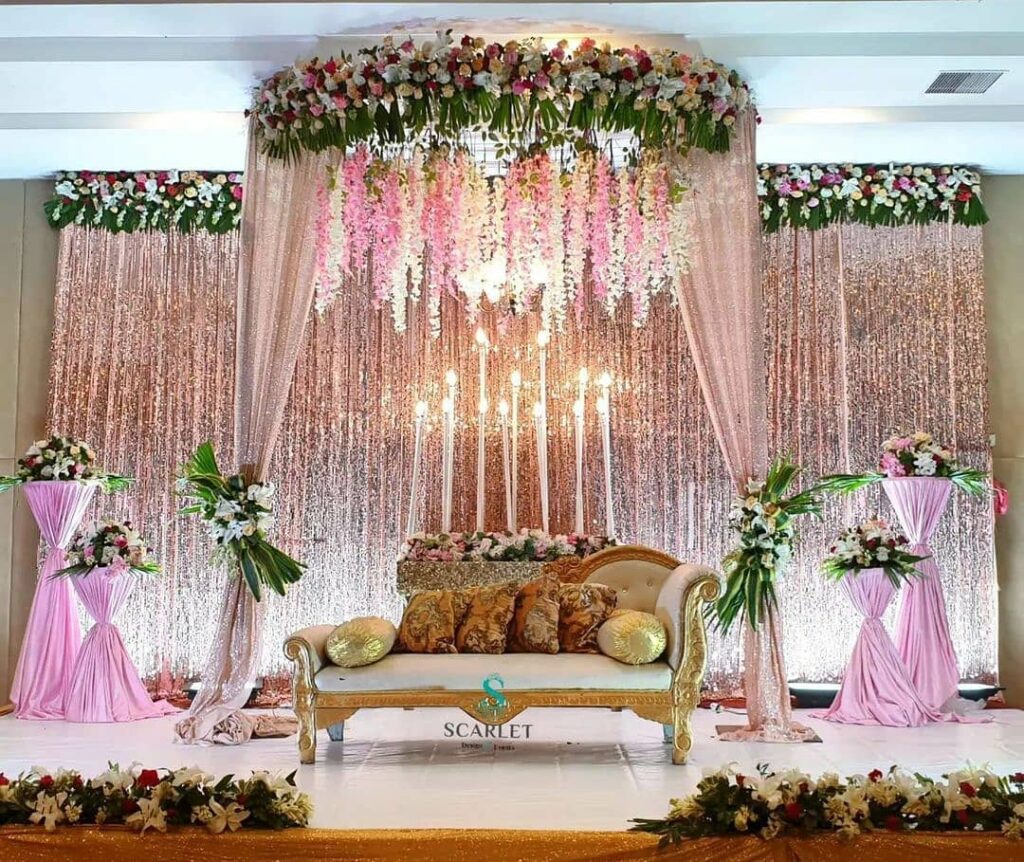 #75 With the shot taken a little vertically, you get a clear look at how mind-blowing the ceiling decor looks. Brimming with foliage alongside some florets here & there, the decor instantly allures the viewer and can make for a beautiful seating arrangement.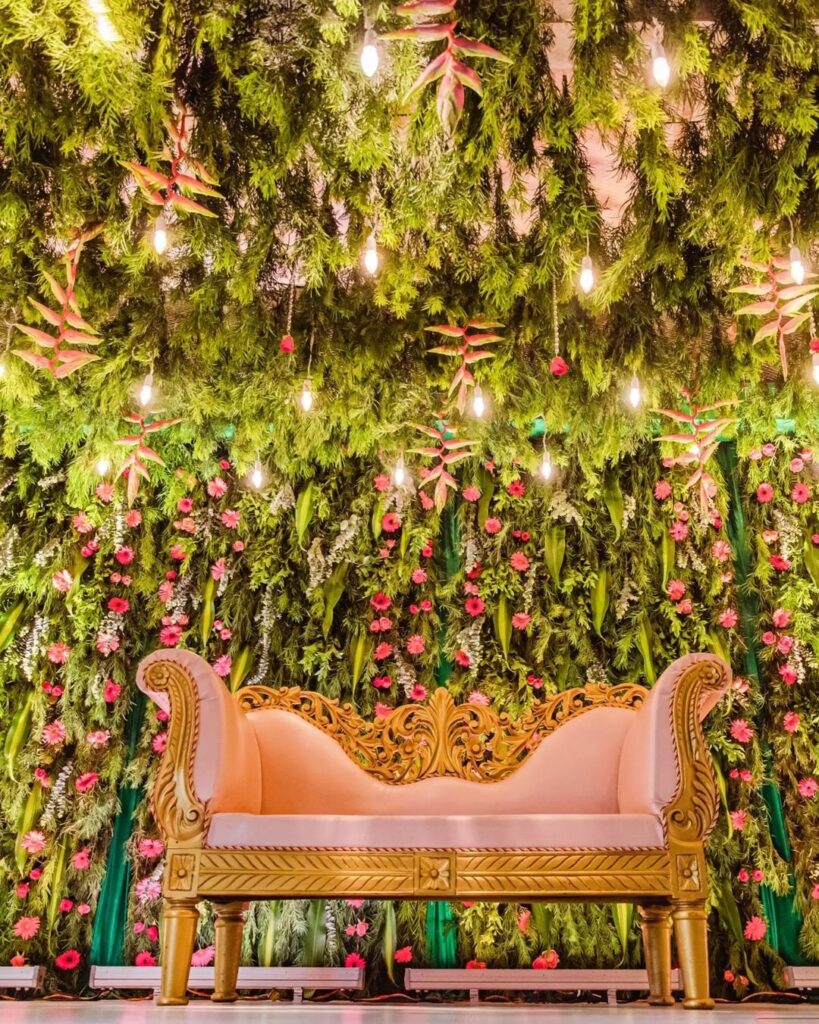 #76 This can make for a great wedding stage decoration at home, preferably for roka, but also for a small reception event. If you've someone creative in the family, this can be a perfect DIY wedding stage decor as well.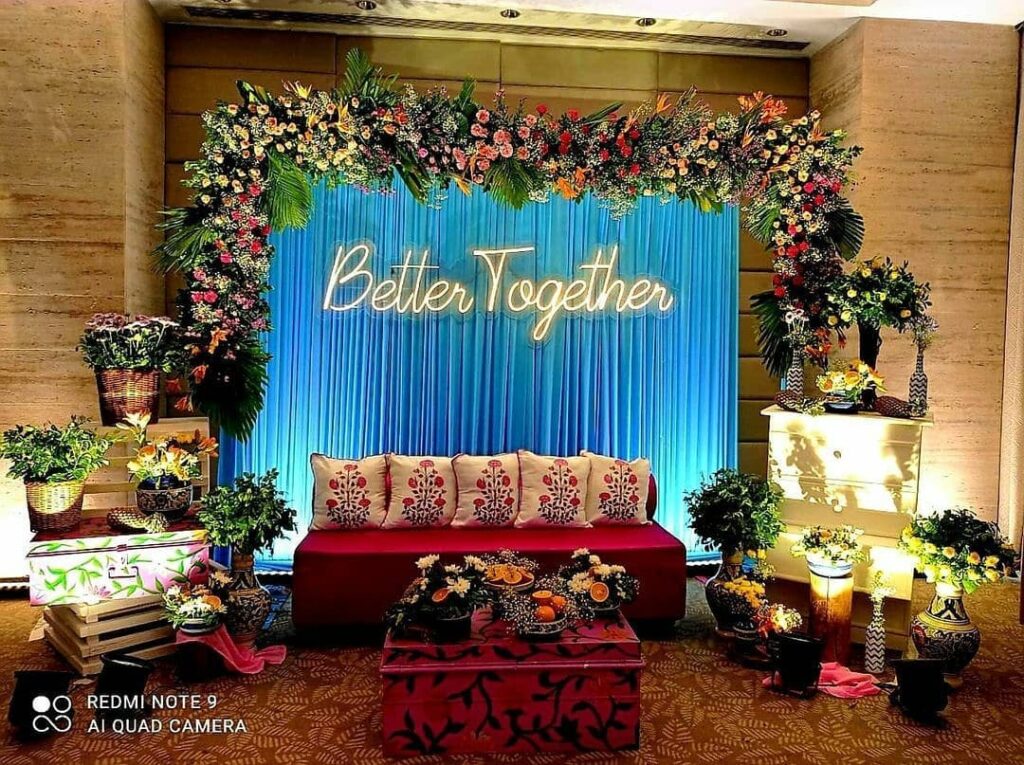 #77 A grand stage for a grand day. We love how the purple lighting gives the stage design a unique look. If you're going for such a theme though, make sure the photographer is okay with such lighting, because this can entirely change the photography experience.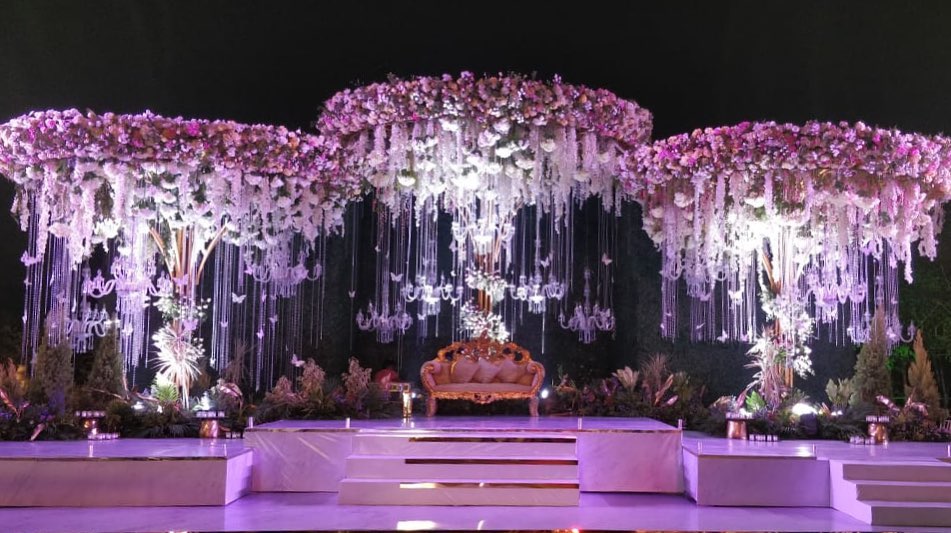 #78 A stunning ceiling decor, a floral arch, and a simple seating set up is best for couples looking for a minimalistic setting for their wedding day. This is the kind of setup that will look good in a banquet, but also outdoor lawn.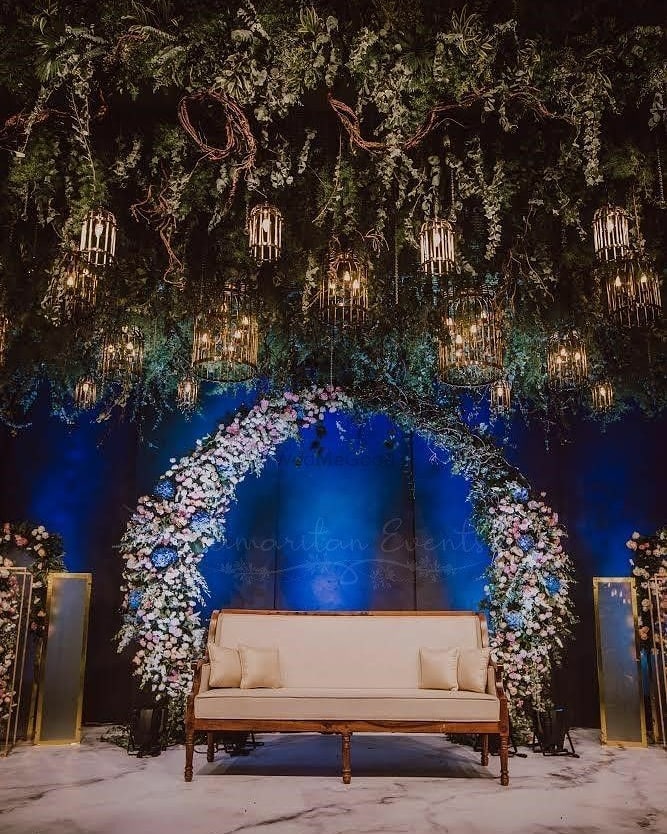 #79 Marriage is a lot like a tree. It needs strong roots nourished with love, patience, trust, and understanding from both sides, and when done right, it can blossom and survive any storm. Installing such a symbolic element will remind you of the adventurous journey laying ahead and make you feel excited about the life ahead.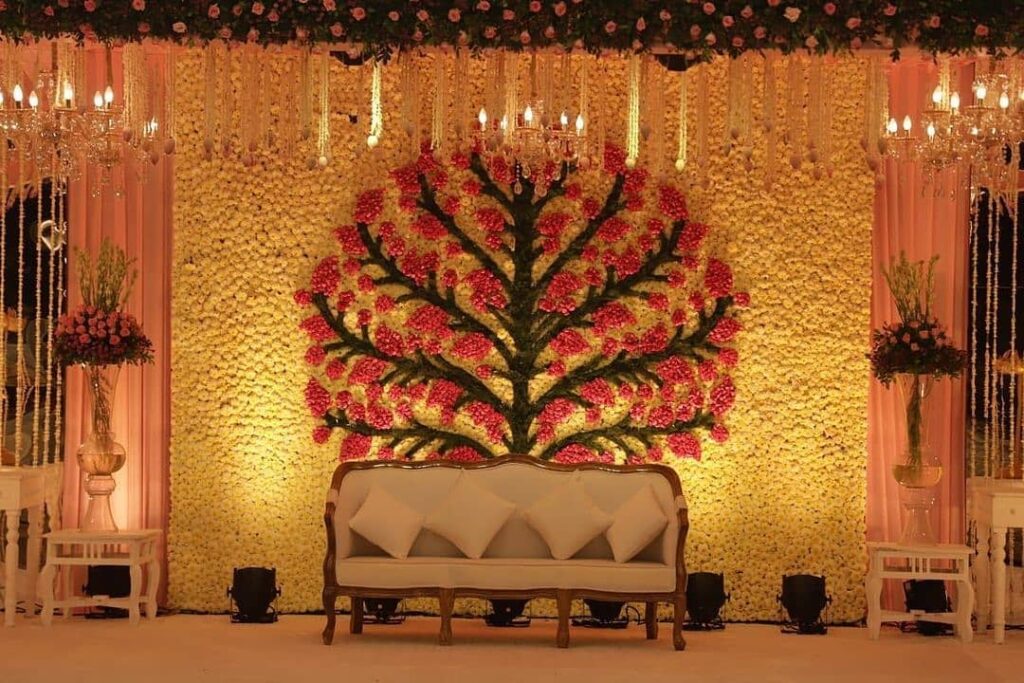 #80 Another simple and low-budget wedding stage decoration. The geometric structures can be embellished with floral clusters, pink drape behind is an inexpensive option, and so are the candles on the sides. This wedding stage decoration will be priced moderately around 5k to 10k.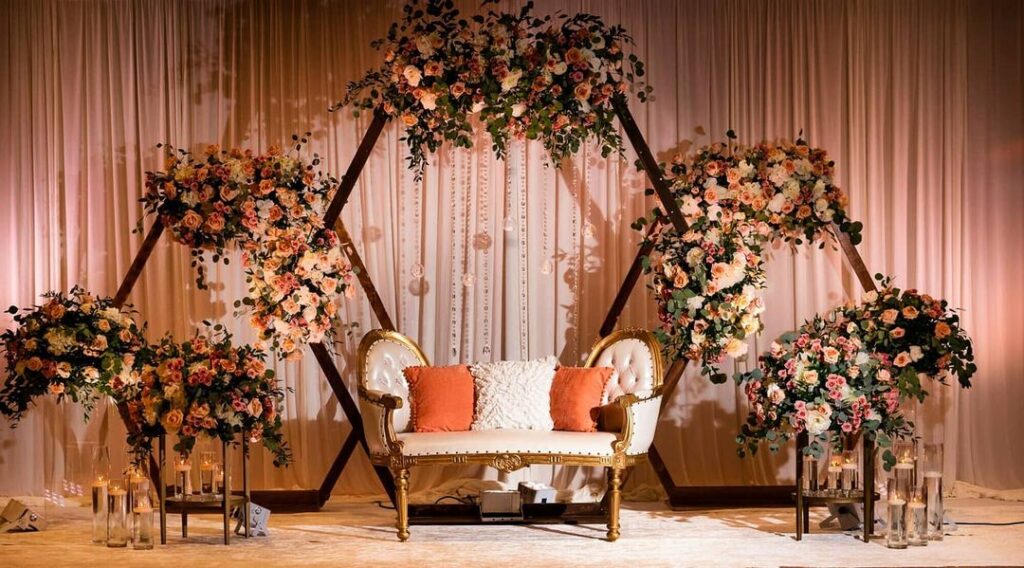 #81 A wedding stage with ivory and greens adds a subtle beauty and elegance to this seating design, ideal for wedding stage decor post a Nikah ceremony. The gorgeous floral arrangements on the front line gives the wedding stage a perfect ounce of grace and appeal.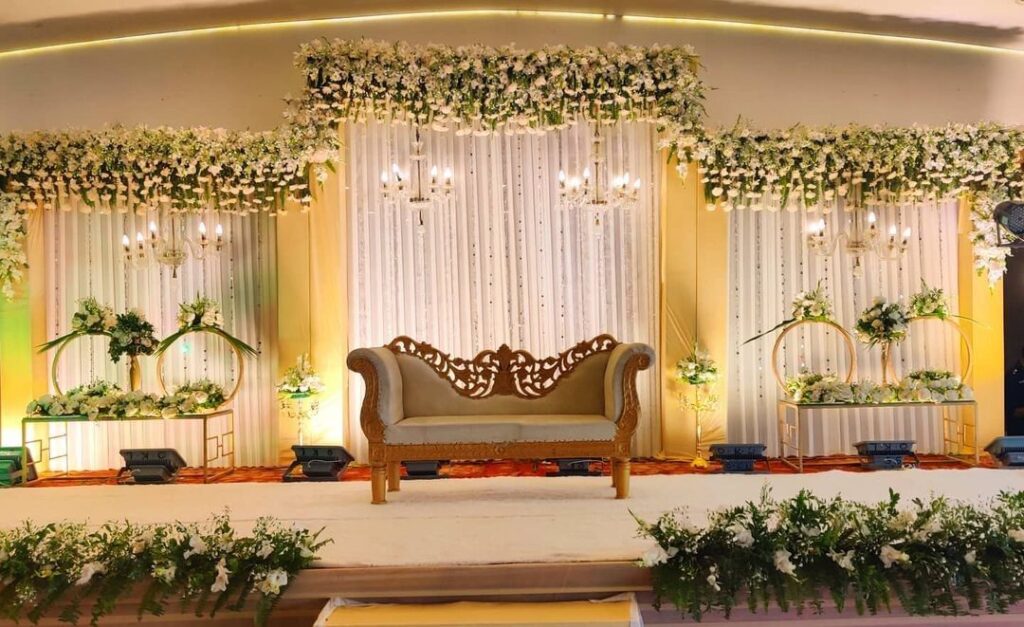 #82 Peach and pink florets in succession and a gorgeous boundary makes for an ideal modern setup for the wedding. When a ceremony takes place in a banquet, there's hardly an option to mess with the ceiling. This is why you should put some extra thought into the backdrop when contemplating wedding stage decoration in banquet halls.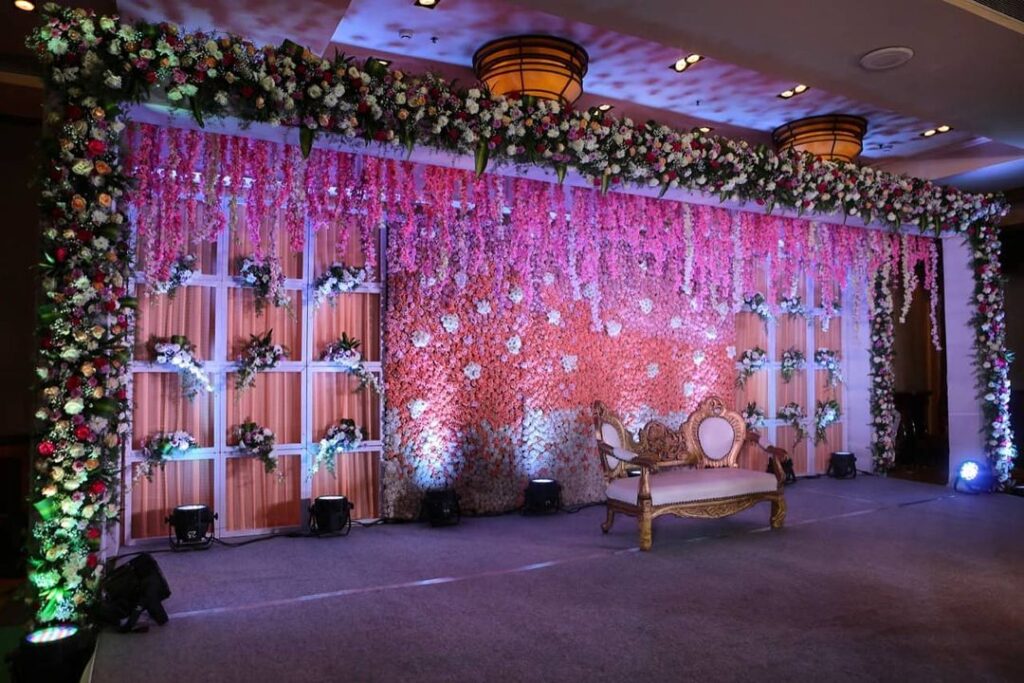 #83 Move over the foliage ceiling decor and experience the distinctive elegance of this mood lighting decoration. The distinctive-sized bulbs make for an eye-catching embellishment. Moreover, the floral wall has precise door-shaped cuts with lanterns and a table to further elevate the designer look of this seating.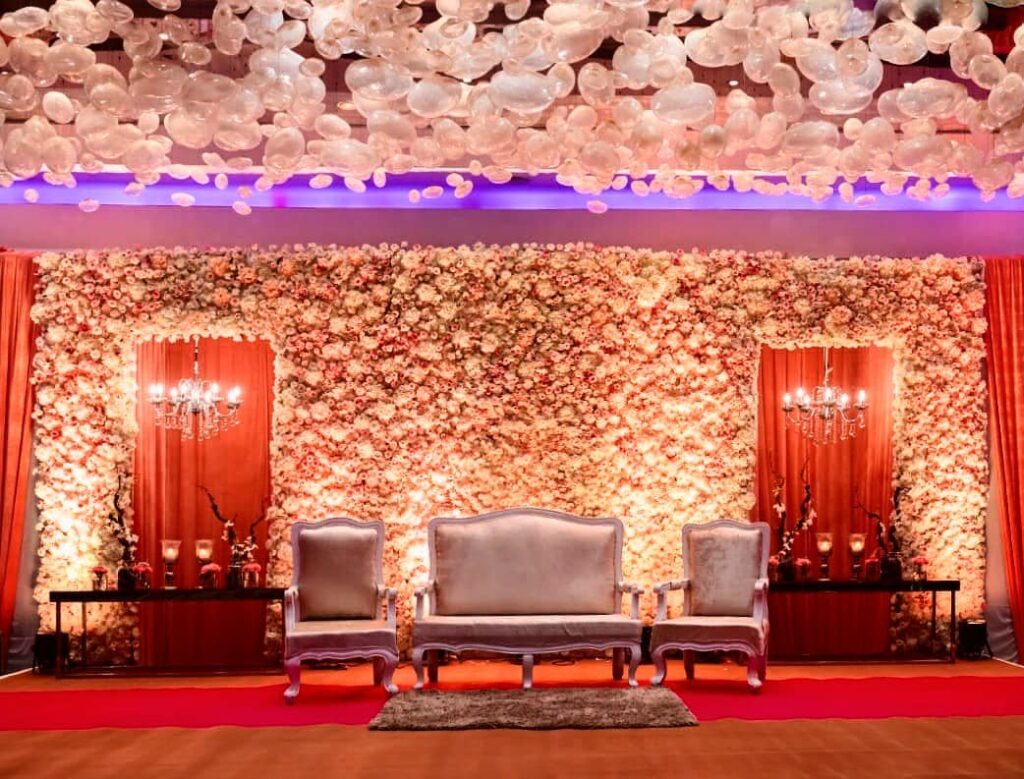 #84 Your wedding is a day when extravagance and opulence shouldn't be compromised with. Even if you're someone who favors minimalism, I'd suggest going maximalist at least on one day to really radiate the feeling of the big fat Indian wedding. And for that day, here's a lavish wedding stage decor idea waiting for you.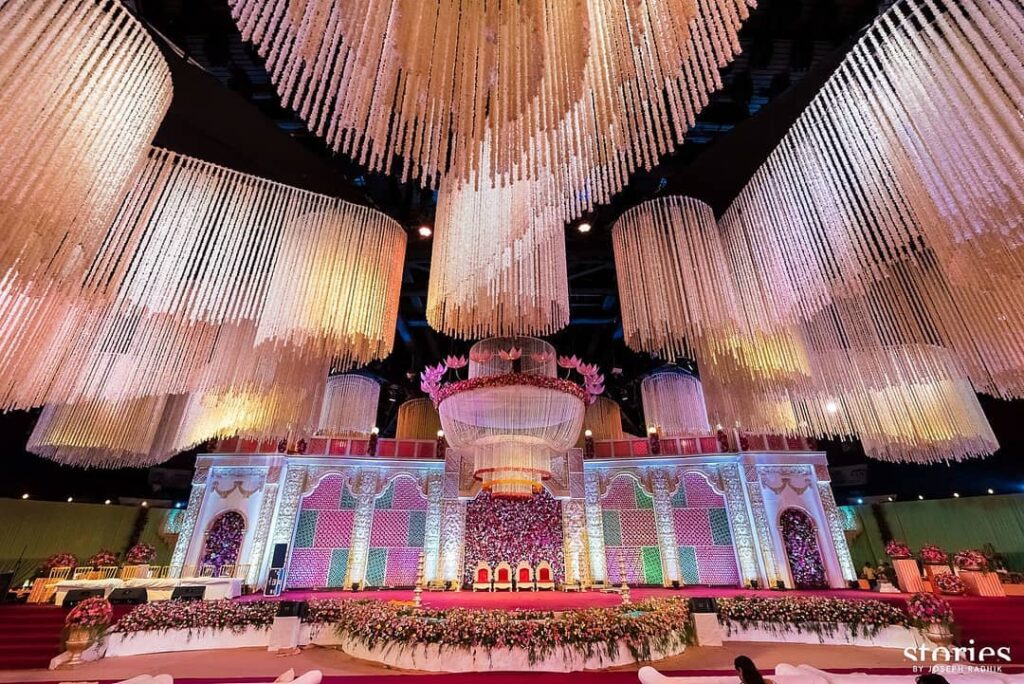 #85 For a day wedding or an outdoor ceremony, this can make for a great setup. We love the mandap-like setup used to deck up the space and the use of different style garlands to enhance the aesthetic.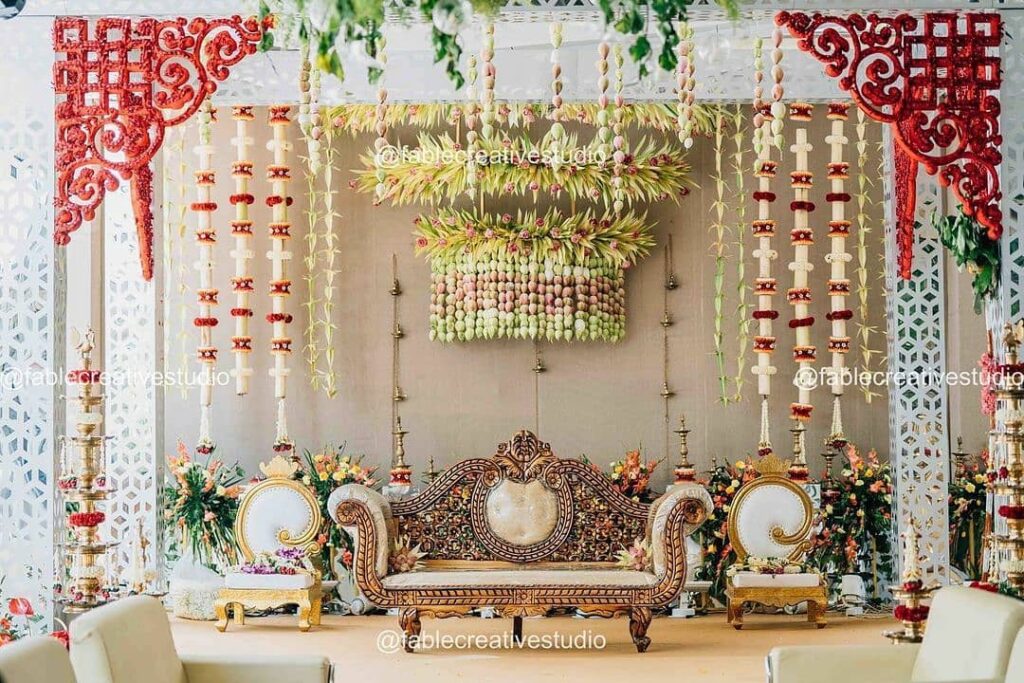 #86 In some weddings, you will see the lighting is changed to one theme for a party and a cheerful mood. Here, that lighting has been changes to purple and red, and just to add the special status of the couple's seating, a fancy light is installed in the background.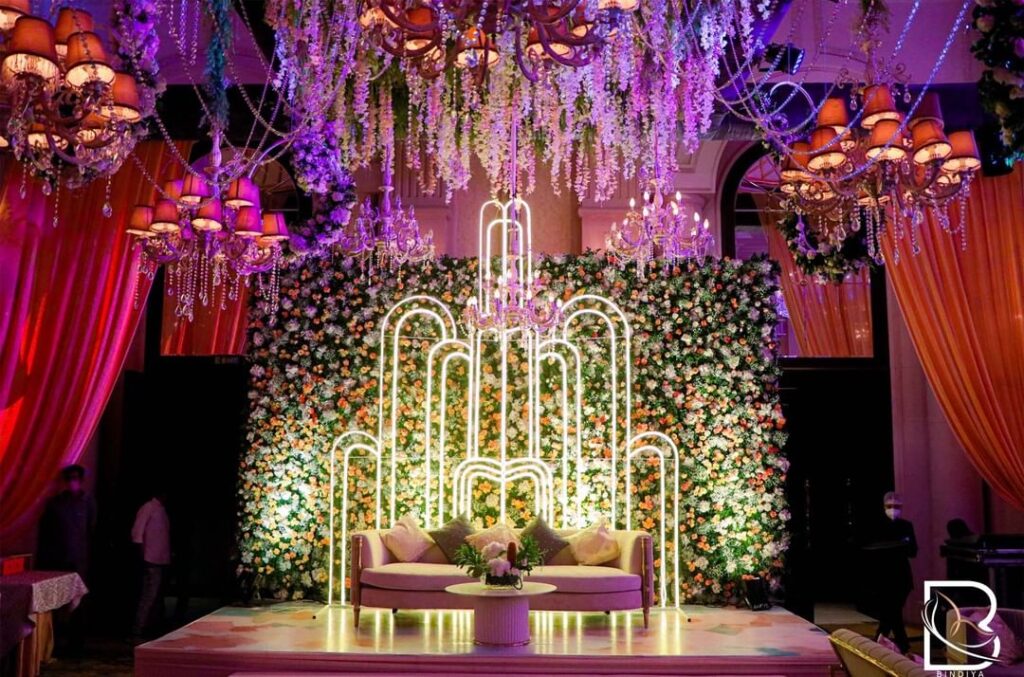 #87 Disco ball lights, geometric stage, a simple backdrop, yes, this is a sangeet stage decor and a gorgeous one to install for your outdoor sangeet event. Don't you think?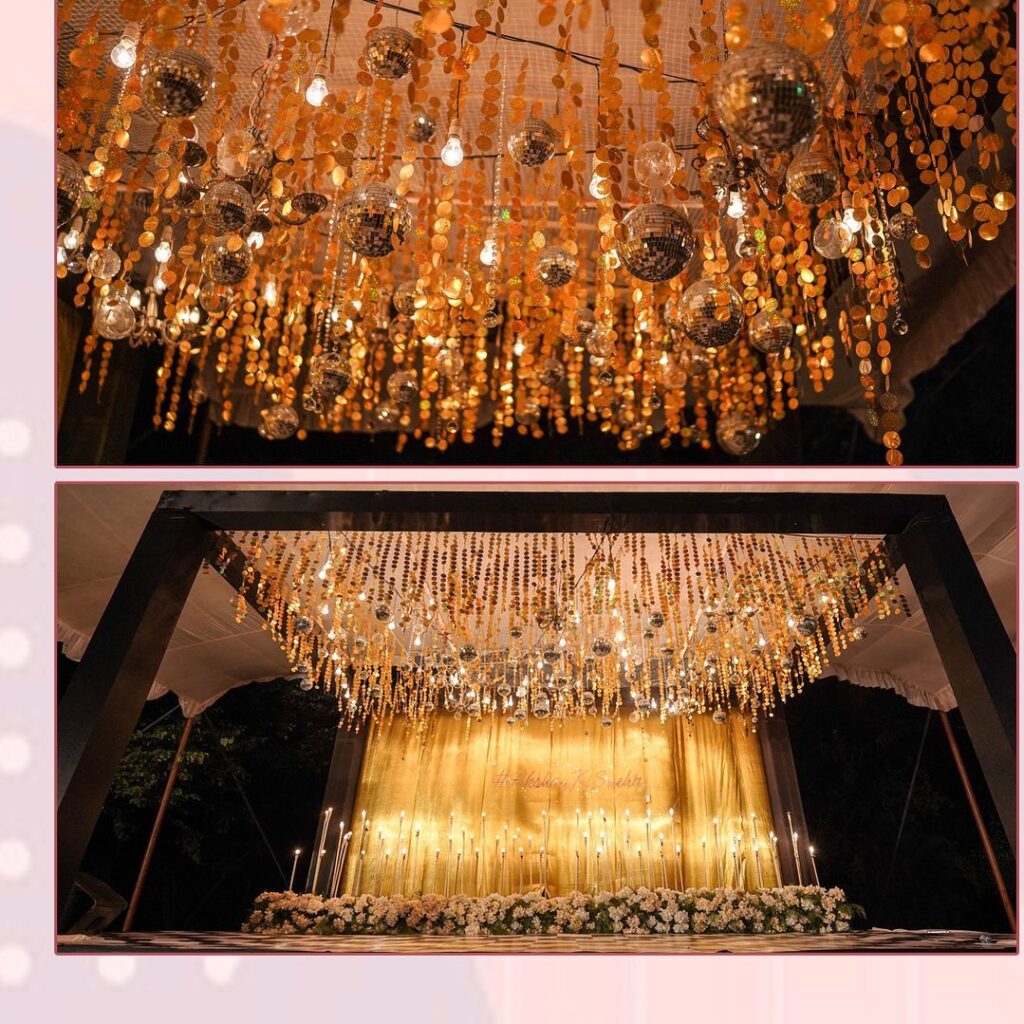 #88 A simple wedding stage decoration doesn't get any better than this. More so, a low-cost wedding stage decoration doesn't get any better than this. It's also an easy DIY one, in case you're looking for an idea for a home ceremony or an intimate revelry.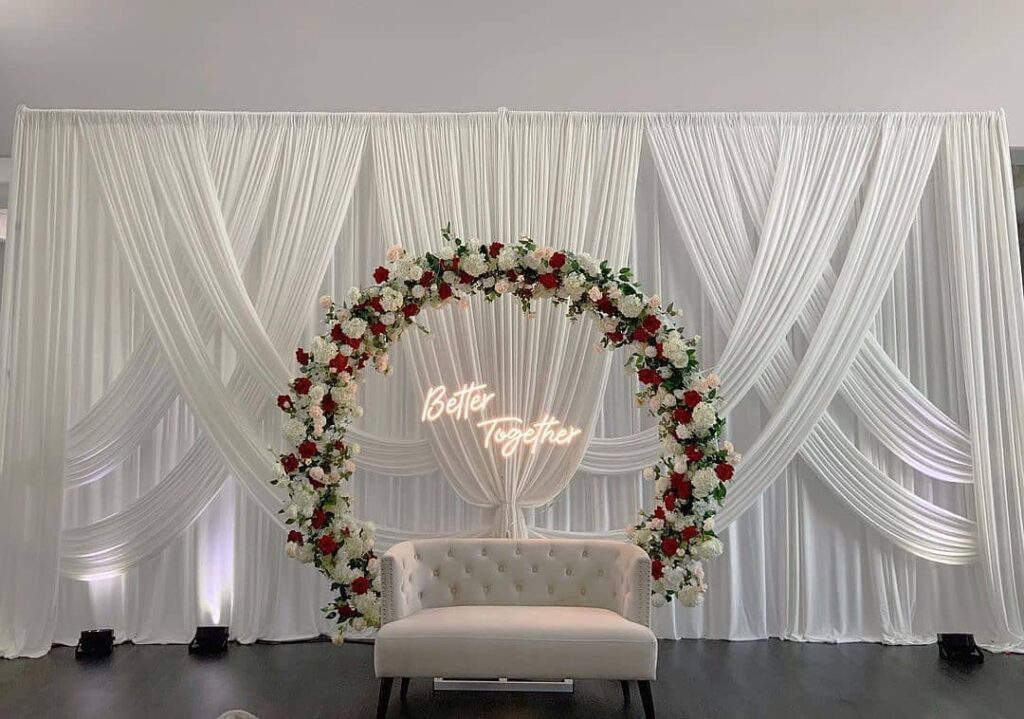 #89 This wedding stage gives such vintage vibes. It remind us of the era of our parents, and yet includes modern elements like white flowers and lanterns to give a subtle touch of modernistic wedding stage decoration.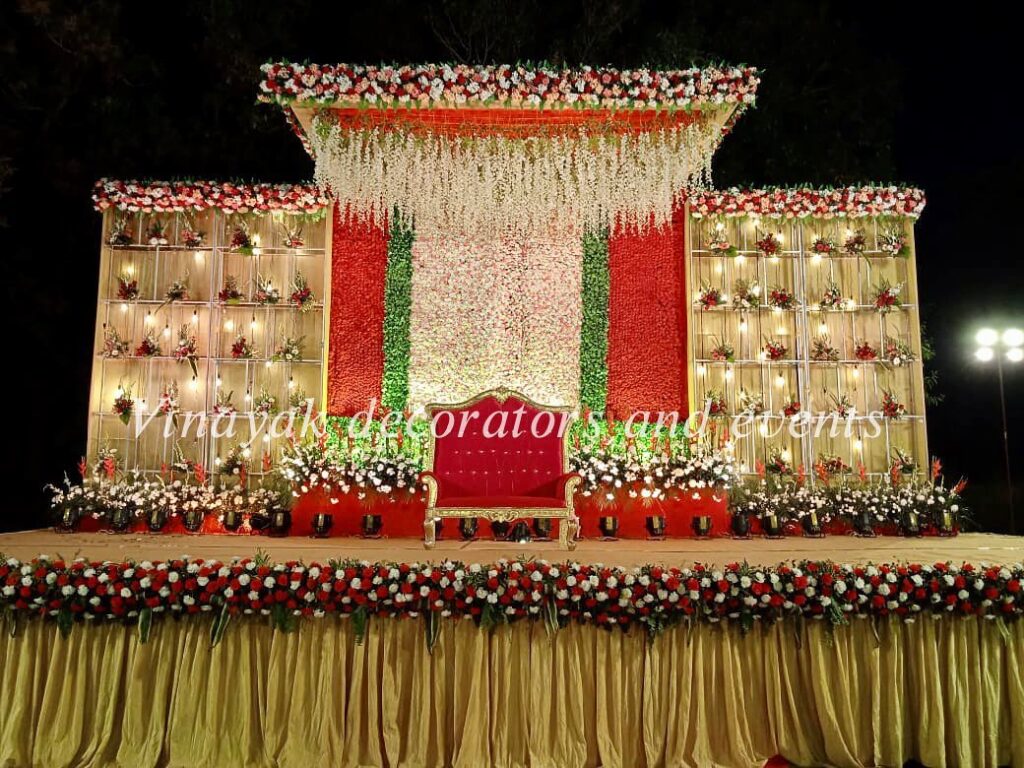 #90 All things ivory – everything with just a hint of purple to infuse color into a monochromatic weddings stage decor.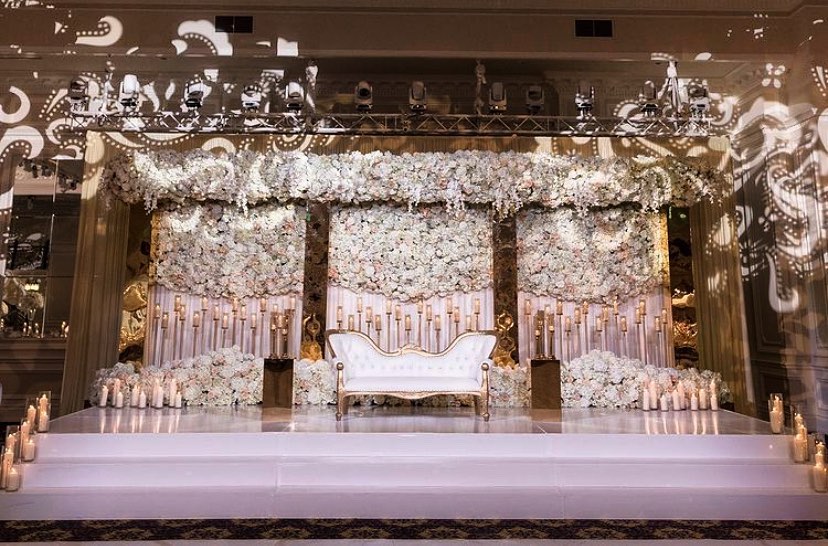 #91 A simple, low-budget wedding stage decor that's all kinds of modern, romantic, and aesthetic. The florals spread in clusters, the chandeliers, and the initials of the couple on the backdrop is a beautiful way to make this day memorable.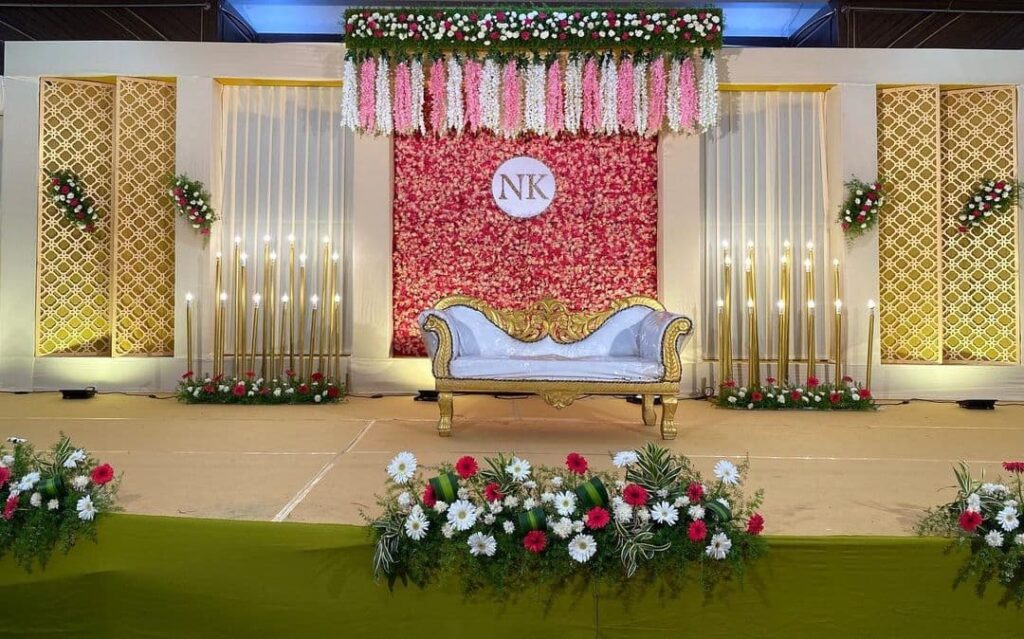 #92 Another minimalistic and low-cost wedding stage decoration for couples who don't want to shell out much for their big day. If you're someone who'd want to save for the future instead of spending it all for one event, this idea is for you.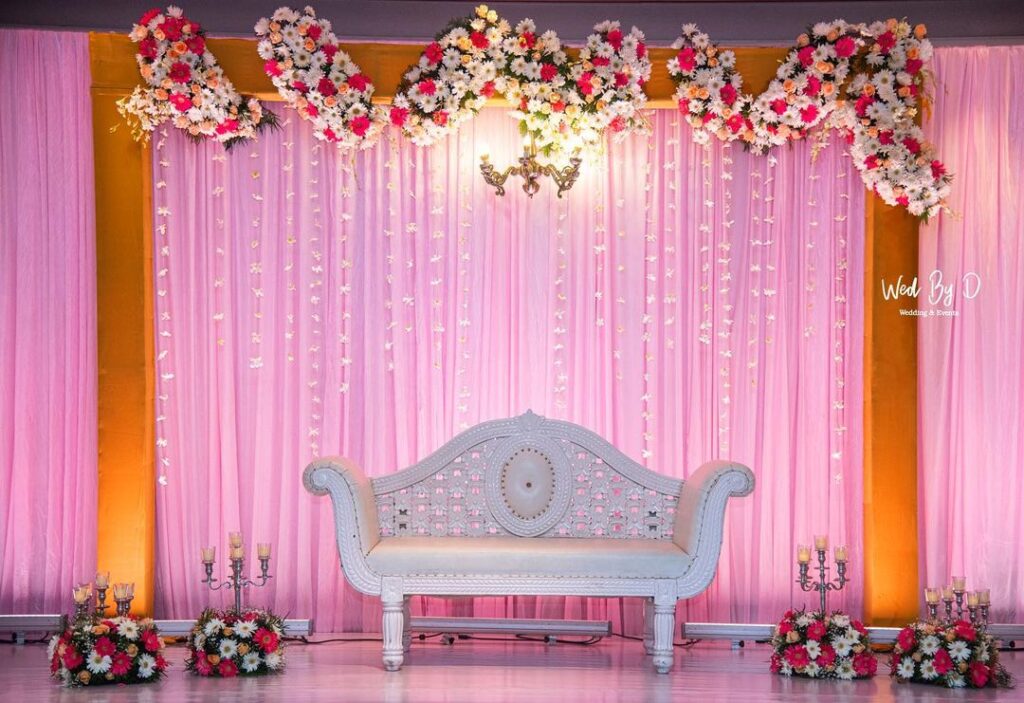 #93 Florals really have an unmatched and whimsical charm and that's why they're one of the most common elements in any kind of decor. Here the vivid florals arranged in a strategic manner creates such a beautiful setup.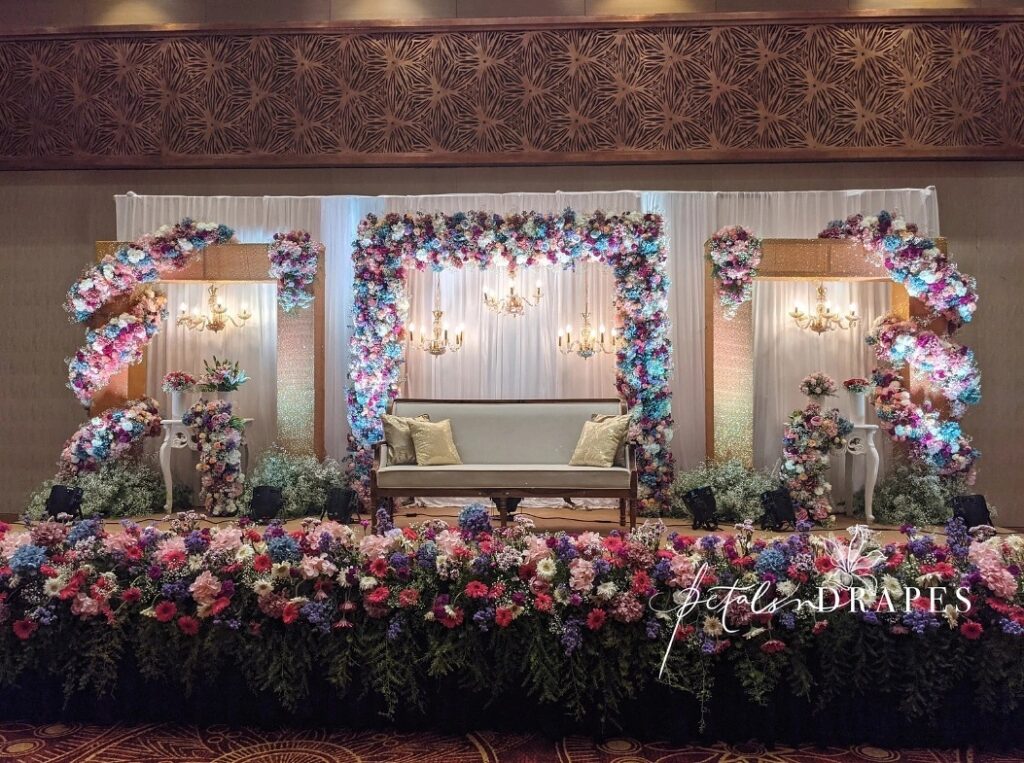 #94 A small ceremonial setup done in pristine ivory to appeal to the guests and make the couple's big day truly special. We love how even the seating was bedecked with florals to match the entire backdrop and arrangements.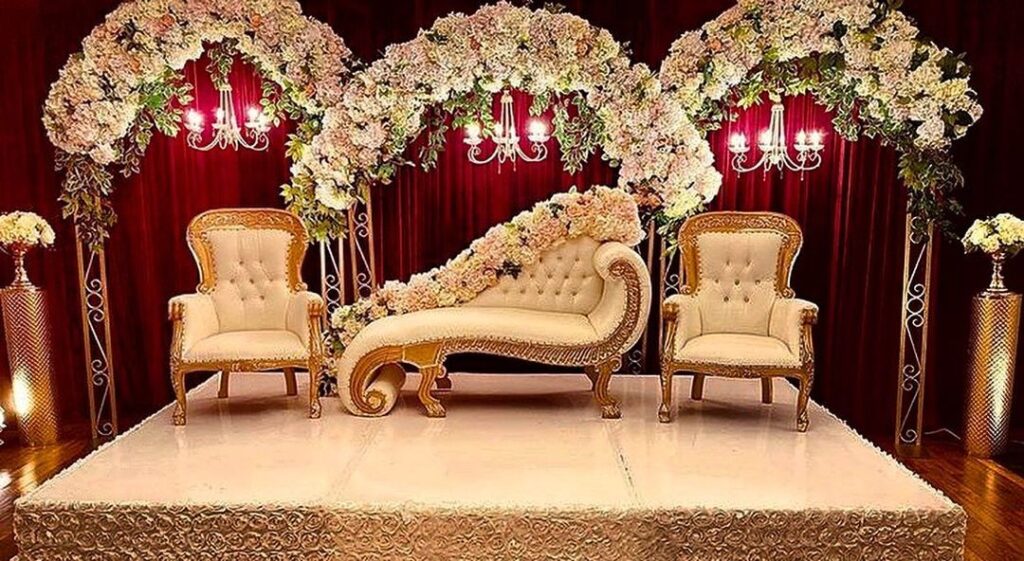 #95 If your ceremonial venue already has a majestic setting, we'd suggest curating the wedding stage at that point for a wonderful backdrop. This is what this couple did and doesn't it look just plain gorgeous.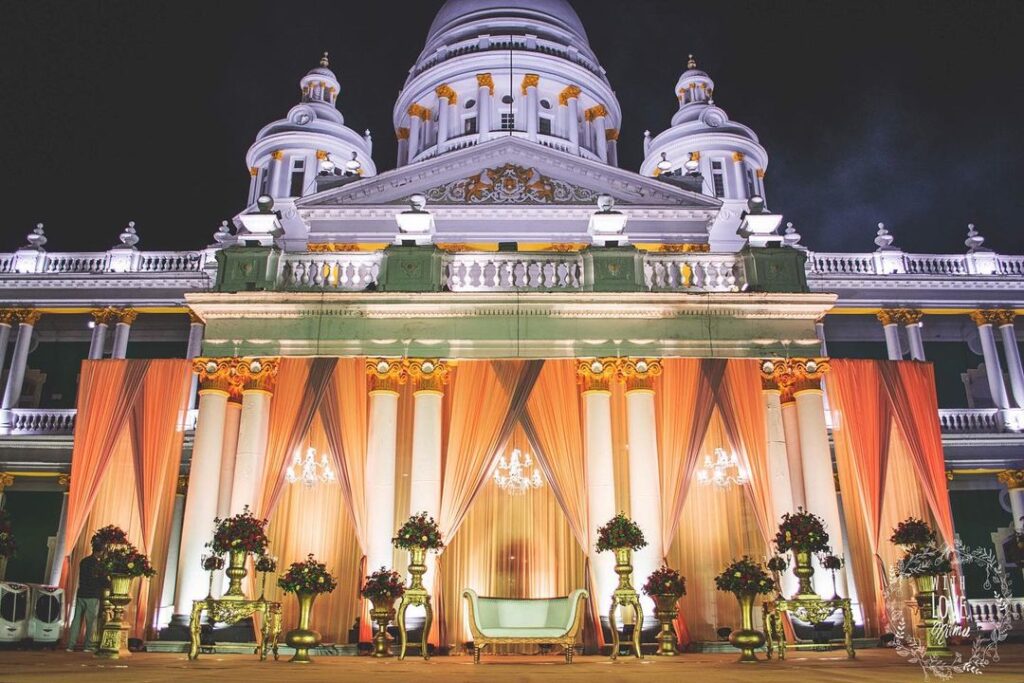 #96 We were just so in love with this eye-catching and ethereal setup in the first look. So, we will just let the pictures do the talking here.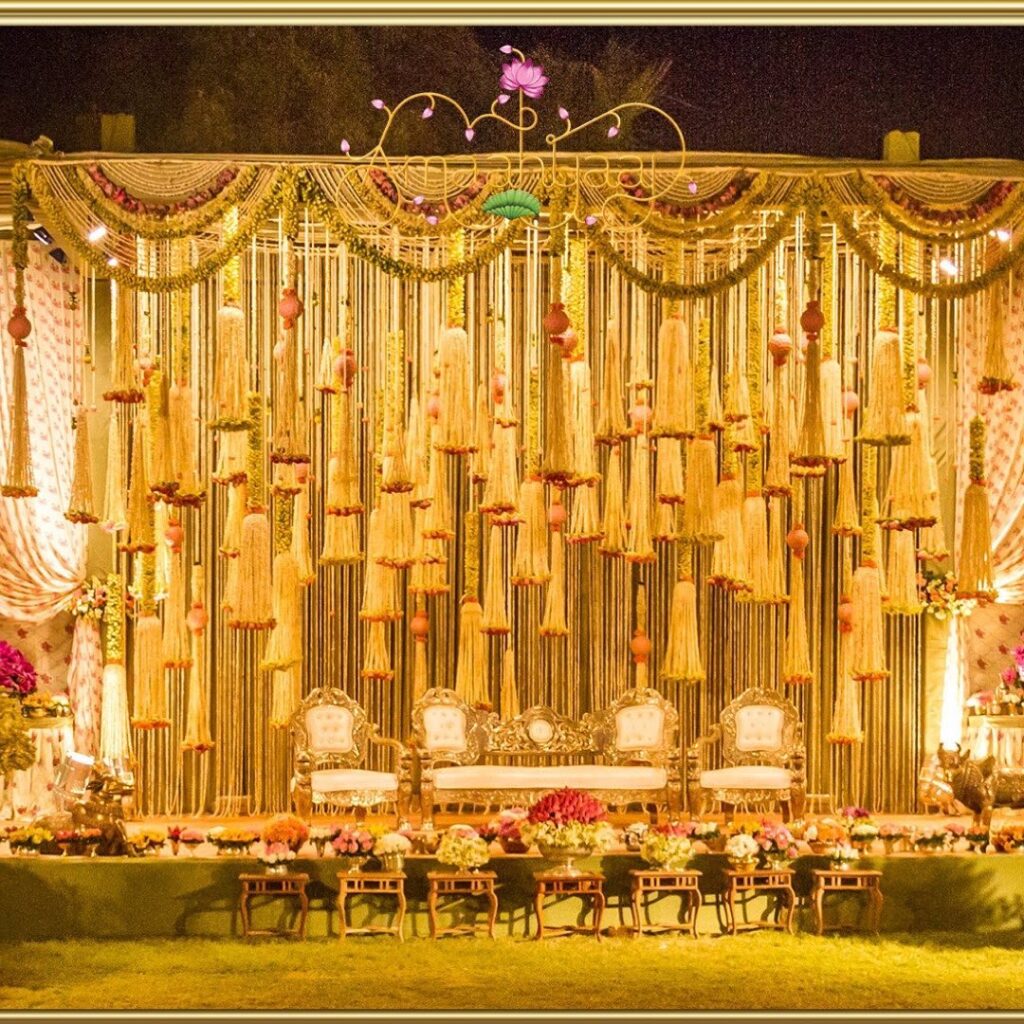 #97 Florals on florals on florals. We really have to credit the florist's creativity here, who created multiple floral walls as the backdrop for a unique setup. The drape on the ceiling surely completed the look.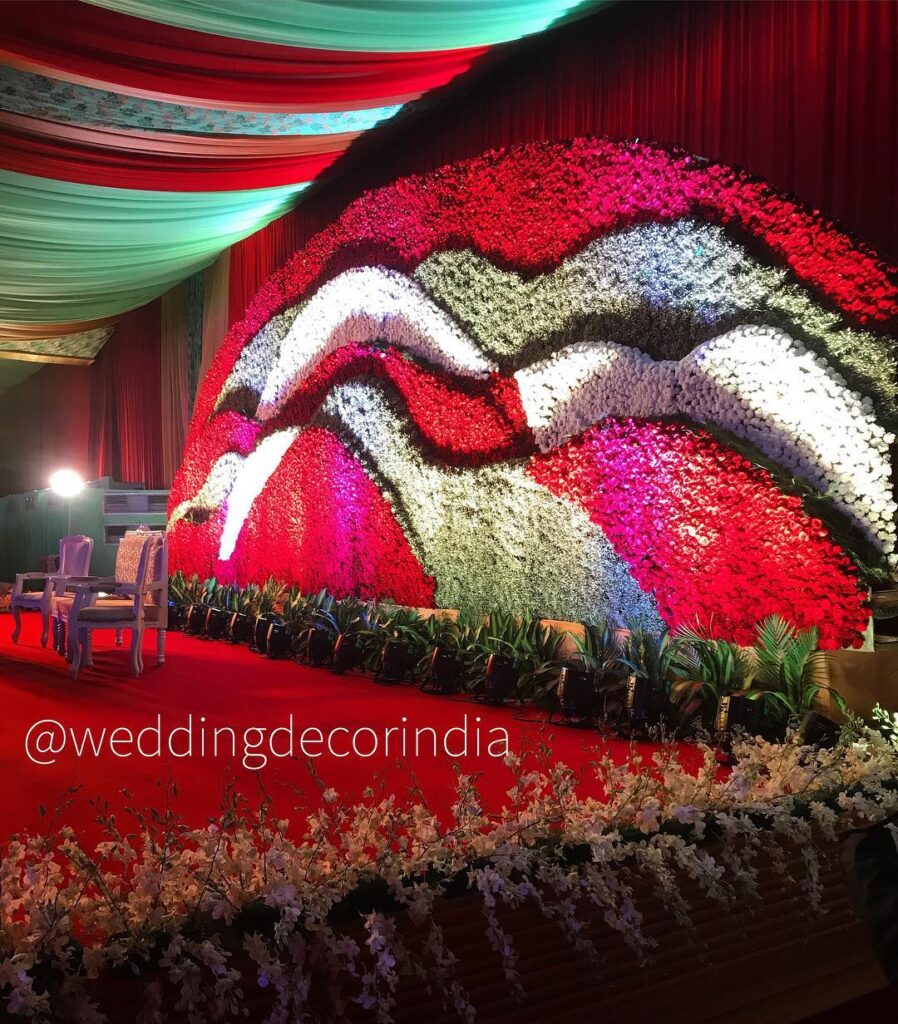 #98 A seating in ivory and white that's beautifully designed and immaculately created. What's not to love really? The cabinets on the side added a voguish and distinctive touch to the entire setup.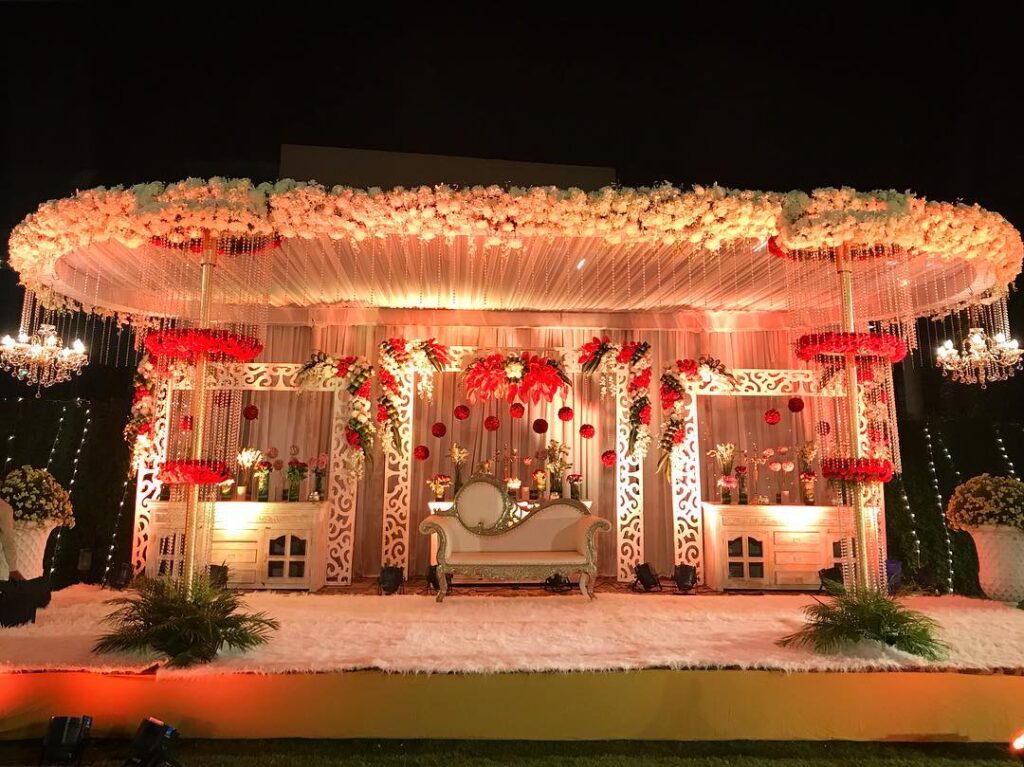 #99 Whoever is doing your wedding stage decoration – be it the wedding planner, florist, or wedding designer, make sure they align with your vision. This stage is gorgeous, but might not appeal to all couples. Same goes with other inspirational pictures. Make sure the vendor's basic style matches yours.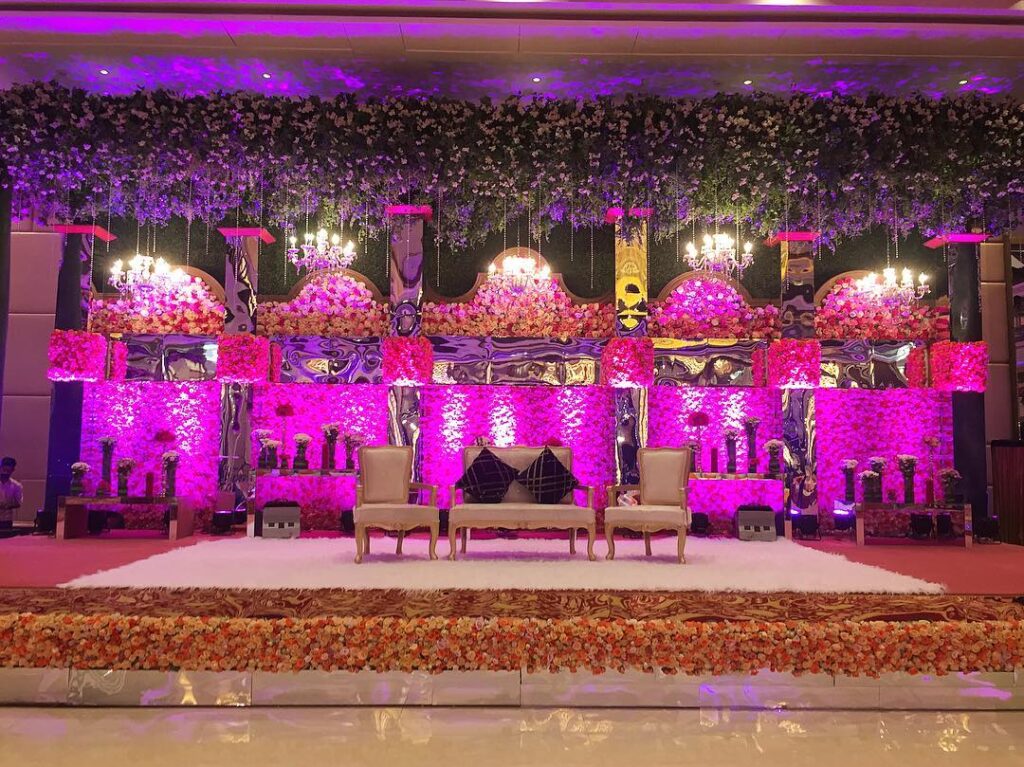 #100 This marriage stage decoration truly captures the vision of modern Indian couples. Modern, elegant, and minimal, it has everything to inspire the 2022 brides and grooms.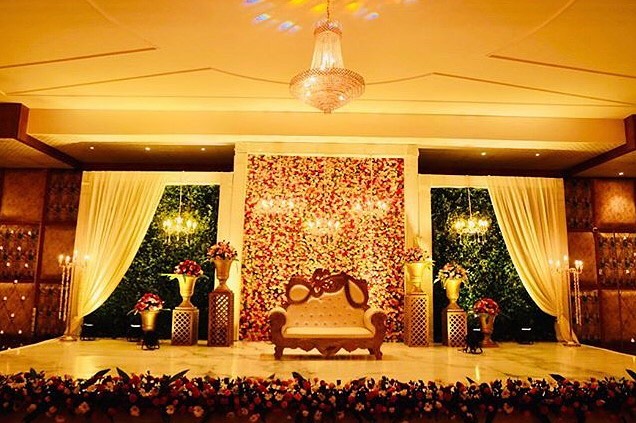 #101 Ending the list with this stunning wedding stage decoration for an outdoor lawn. A subtle, sophisticated, yet appealing setup to inspire newly-engaged couples.