A bride's wedding trousseau is incomplete without bridal jewelry. While donning gold jewelry has been the convention for women walking down the aisle for decades, the modern bride has decided to change the status quo. Now, gold might have a tradition on its side, but diamonds will forever be a girl's best friend. Diamond jewelry has an undeniable brilliance and spectacular charm that could leave the onlookers mesmerized. Remember Julia Roberts from Pretty Woman? That's pretty much it. Even a simple diamond necklace set can make you feel fancy, extravagant, and magical. Who wouldn't want to feel special like that on their big day? The best thing about diamond jewelry is that there is a design for everyone. So, scroll down to see the 75 most beautiful diamond necklace set designs that will suit every style preference.
#1 The waterfall diamond necklace designs are the perfect foundational jewelry piece in a modern bride's jewelry arsenal. Such designs exude a unique regal charm that is ever so impressive. The multiple strands of dangling diamonds are carefully crafted to give you an extravagant and enchanting look. If you dreamed of a fairytale-esque wedding, then this is the one piece that you should get your hands on. This diamond necklace set will look good with necklines that sit below your collarbone. It will accentuate your beautiful neck while adding grace and grandeur to the whole look.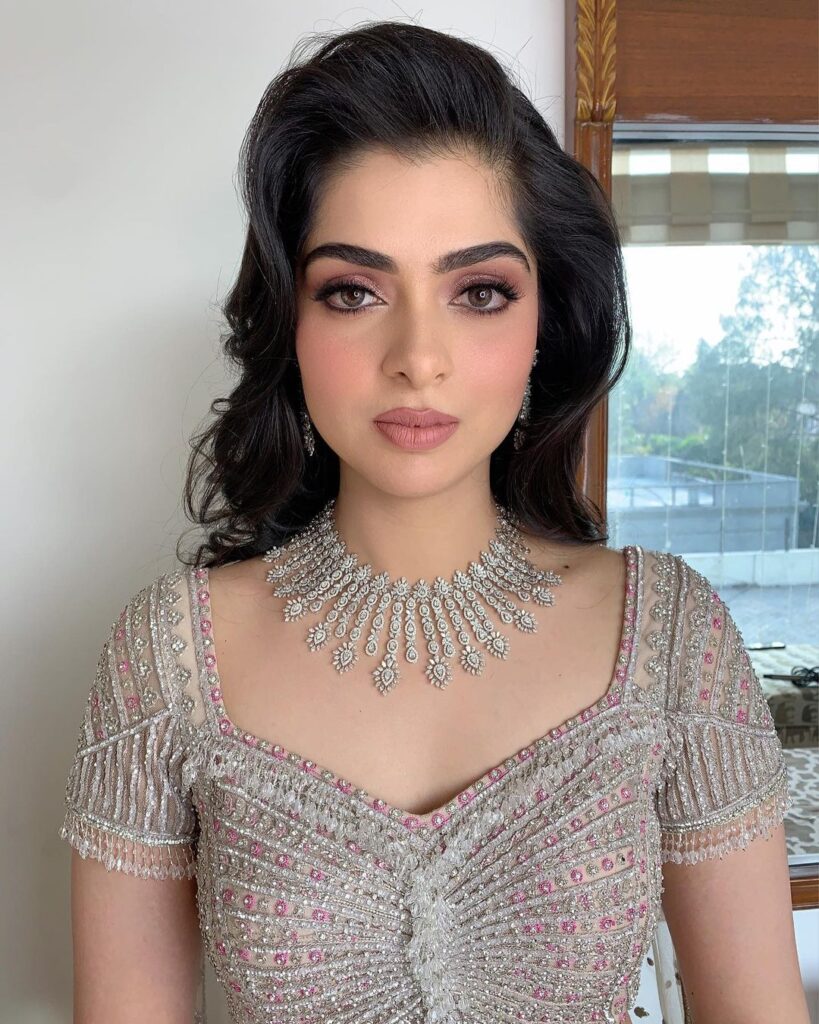 #2 Go big or go home. If this is the mantra that you live by, then you will love this bridal diamond necklace set. It is a statement piece and all it exudes is elegance, grace, and grandeur. This whole look with diamond maangtikka, diamond earrings, diamond nath, and a diamond choker is giving serious modern queen Jodhaa vibes. The choker diamond necklace has a jaal design that gives it a traditional touch. The rubies complement the diamonds as well as the red color of the bridal attire. Even though all the jewelry pieces are extravagant, they stand out on their own instead of clashing with each other. You can look for a similar American diamond necklace if you wish to save money.  
#3 This is a simple diamond necklace set with matching diamond earrings. It might be simple but it has an elegant style that comes with a traditional touch. It is set in gold as well as silver which gives it a defined contrast. It has a minimal and eye-catching contemporary design. This diamond necklace can easily become your everyday companion. Since most jewellers get the diamond necklace set made for you after receiving your order, you can also suggest customizations to make the available design fit your aesthetic.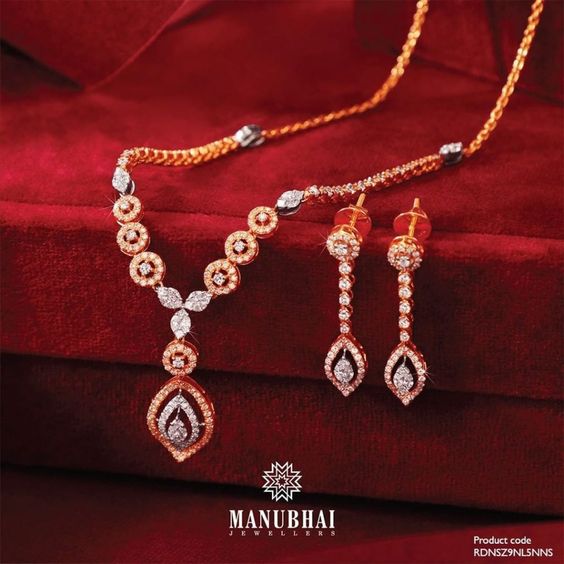 #4 The waterfall bridal diamond necklace designs are very popular. But there is a lot more going on here. The drop diamonds coupled with the ever-so-popular round cut diamonds present a pretty picture. This is a combination that will never go out of style which makes it a piece worthy of being passed down to upcoming generations. While the design of this diamond necklace itself is eye-catchy and extremely gorgeous, it is the matching theme that takes the cake. The diamond mathapatti, diamond earrings, as well as diamond nath have a graceful charm.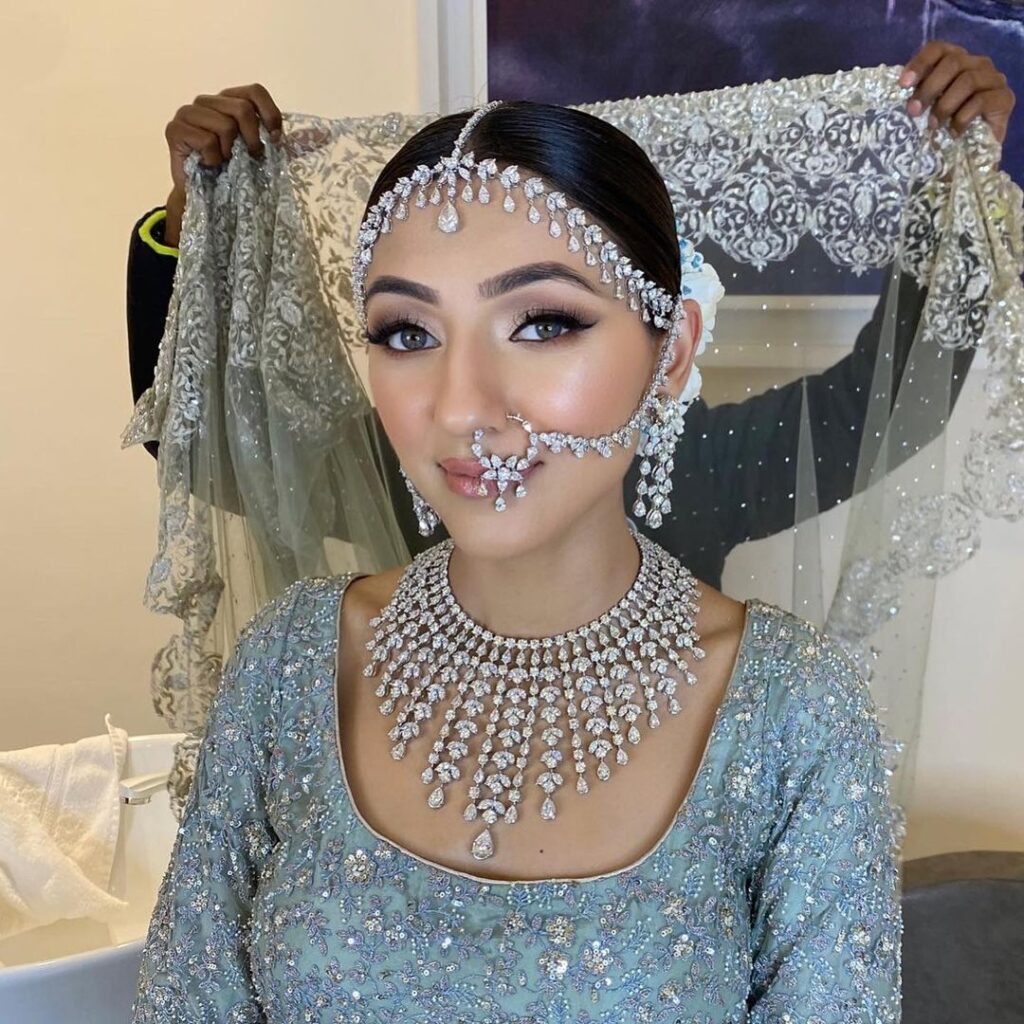 #5 There are so many different ways of styling your favorite diamond necklace designs. Here is a diamond choker necklace in a fringe style that will leave you mesmerized from the first look. This type of diamond necklace goes pretty well with sweetheart necklines. Since it has an intricate design worthy of being the showstopper piece of your whole bridal look, pair it with chandelier earrings and a dainty diamond maangtikka to balance the look. This will give a modern character to your bridal trousseau.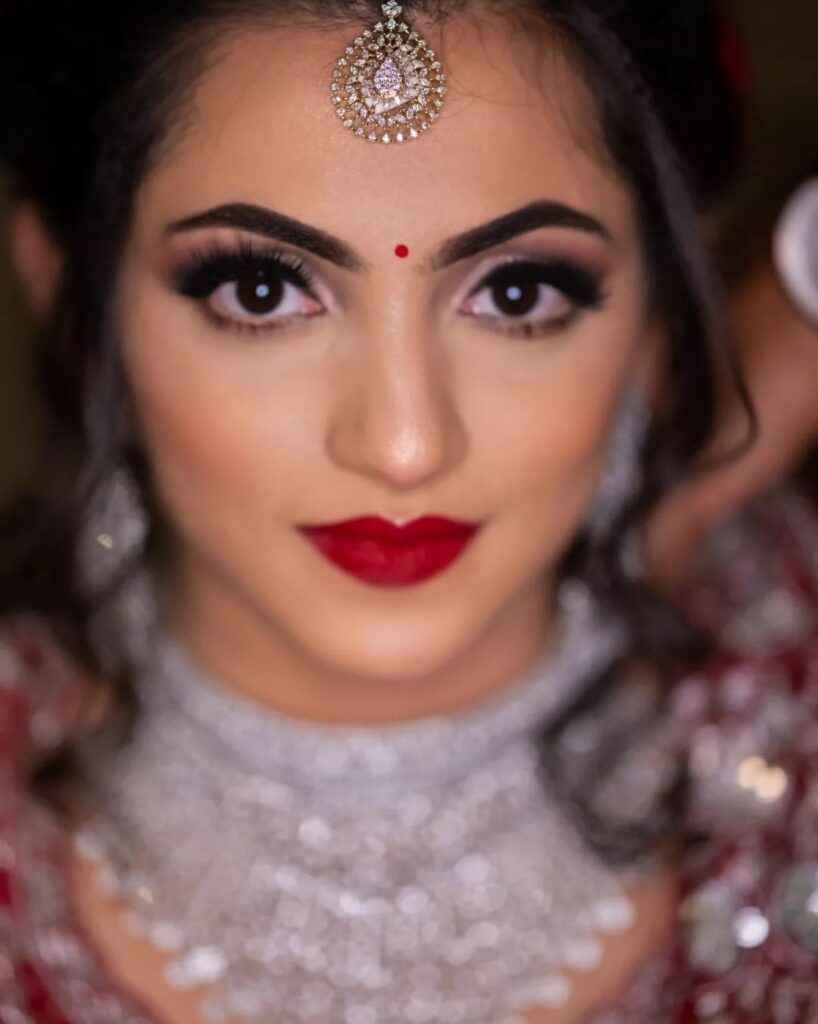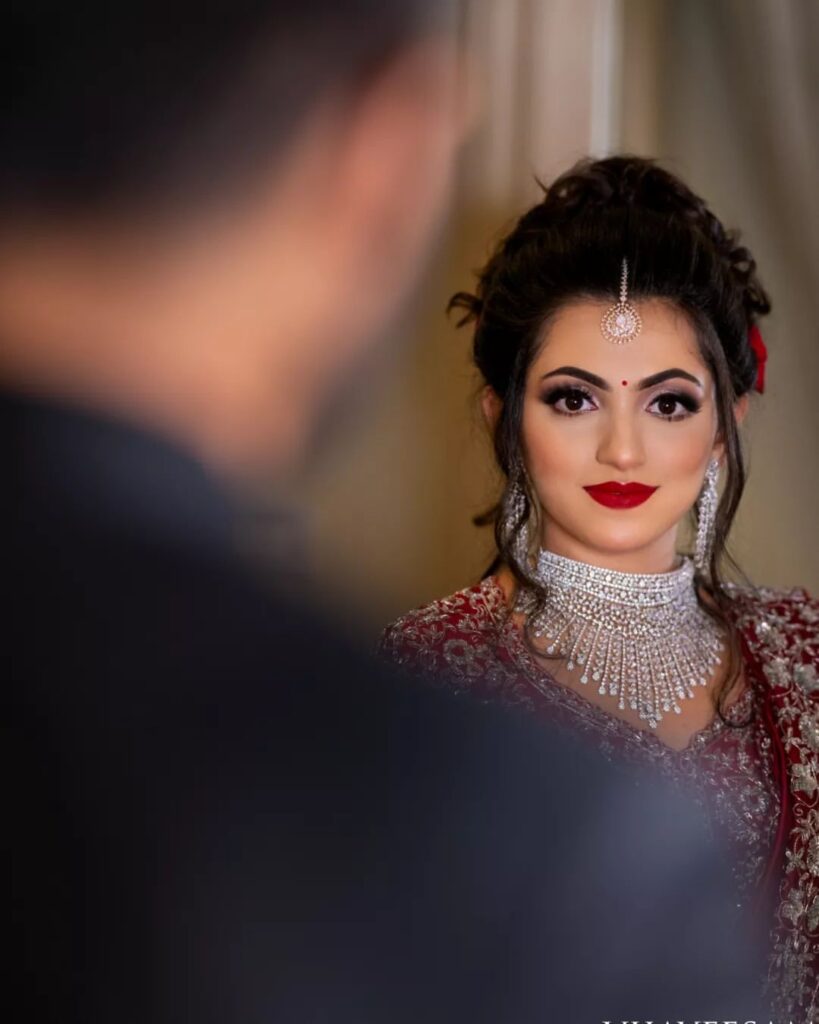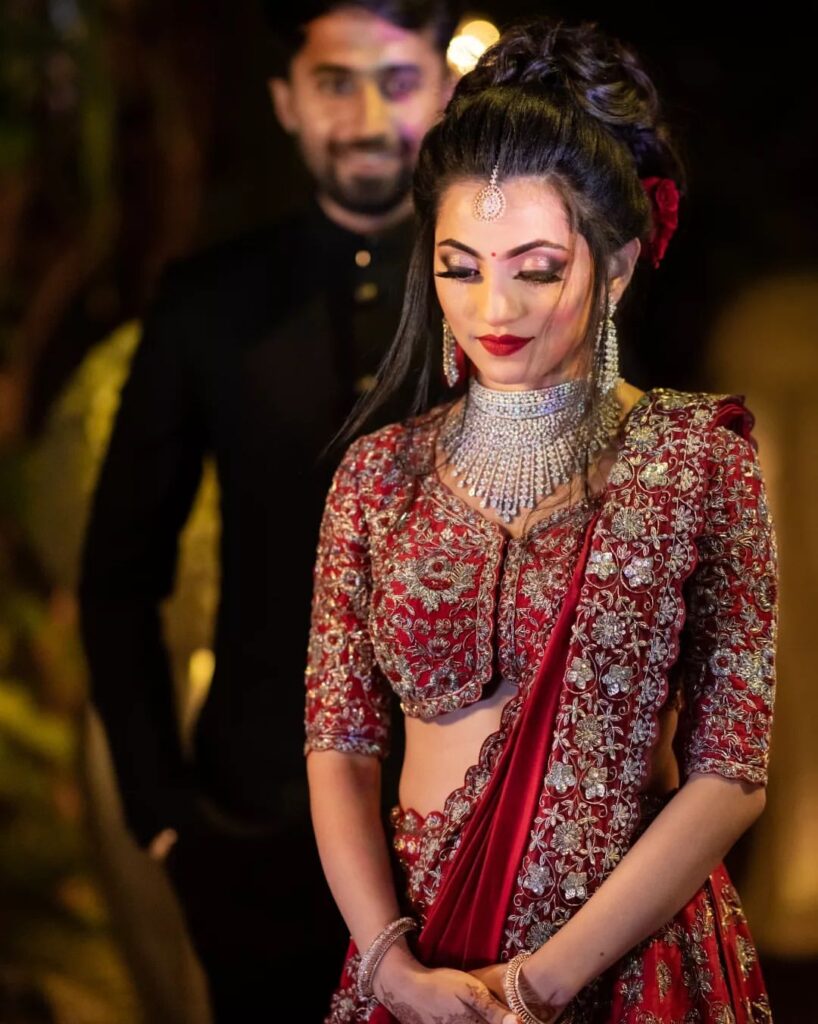 #6 Creating diamond jewelry is an applaud-worthy craft and this intricate diamond necklace design is a masterpiece. This is a diamond necklace set that boasts ethereal beauty and royal elegance. The very attractive floral design takes the center stage while the strands of closely placed round-cut diamonds give the required support. The emerald gives this diamond necklace a more refined look. While emeralds are a popular choice, you can also opt for other precious and semi-precious gemstones including rubies, sapphires, pearls, and aquamarine among others.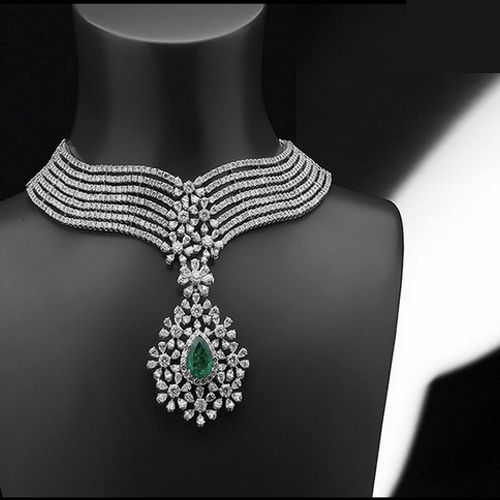 #7 Modern diamond necklace designs come with a variety of style options with each piece being more captivating than the other. While the availability of a lot of options can be a good thing, it can also lead to confusion. In such a situation, you can use your bridal lehenga as your guide while choosing that perfect style of diamond necklace set for yourself. One way can be to choose the design of your diamond earrings as well as necklace based on the embellishments on the bridal attire. You can also get some matching diamond bangles and a statement diamond ring to complete the look.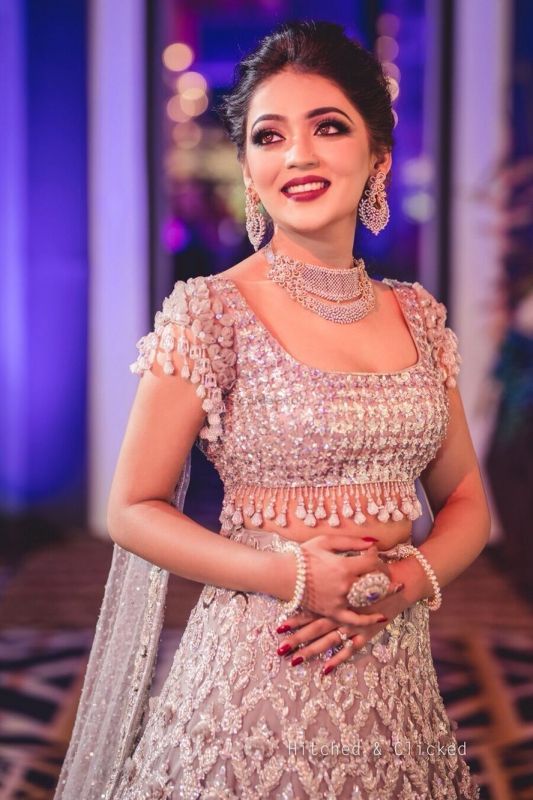 #8 This is an incredibly interesting diamond necklace set. It boasts of a beauty that is a culmination of contemporary as well as traditional designs. It makes use of diamonds of different shapes and sizes. The round cut diamonds form the brilliant base but it is the pear-shaped diamonds that have taken center stage. Both are extremely popular and beautiful choices on their own. But when used together in a design, they create some of the most uniquely beautiful modern diamond necklace designs. This is a very fuller-looking piece so it will cost you some extra bucks. You can always opt for an American diamond necklace and matching earrings to keep things within your budget.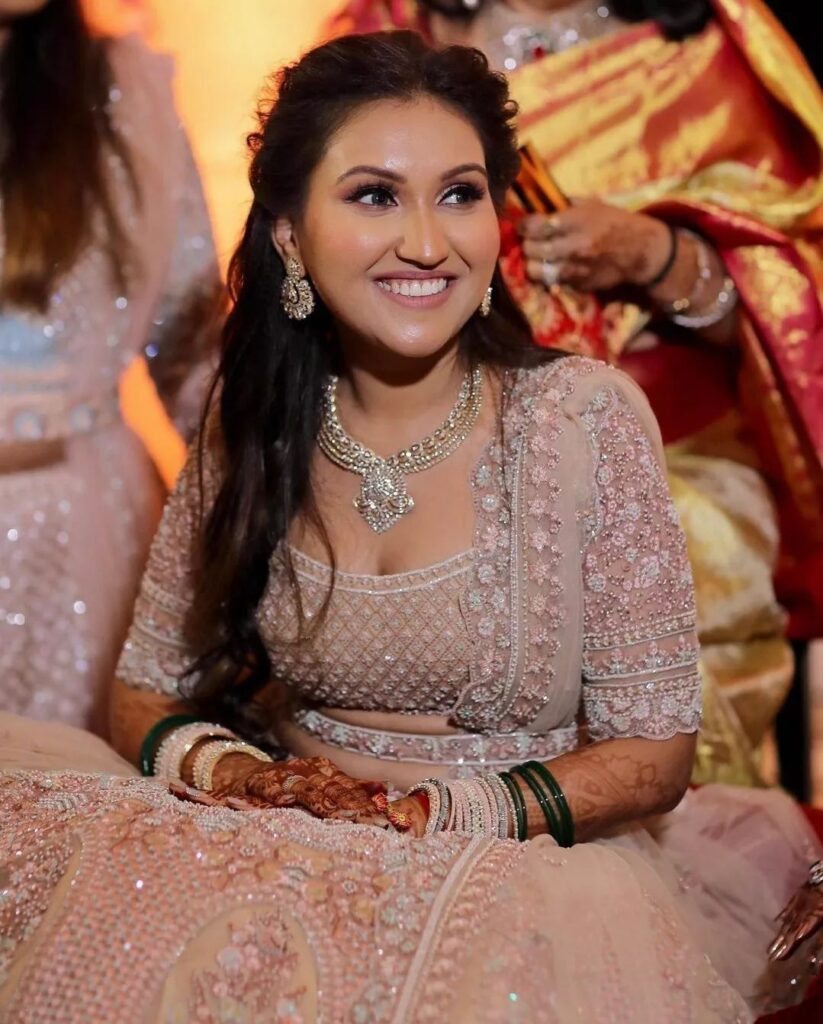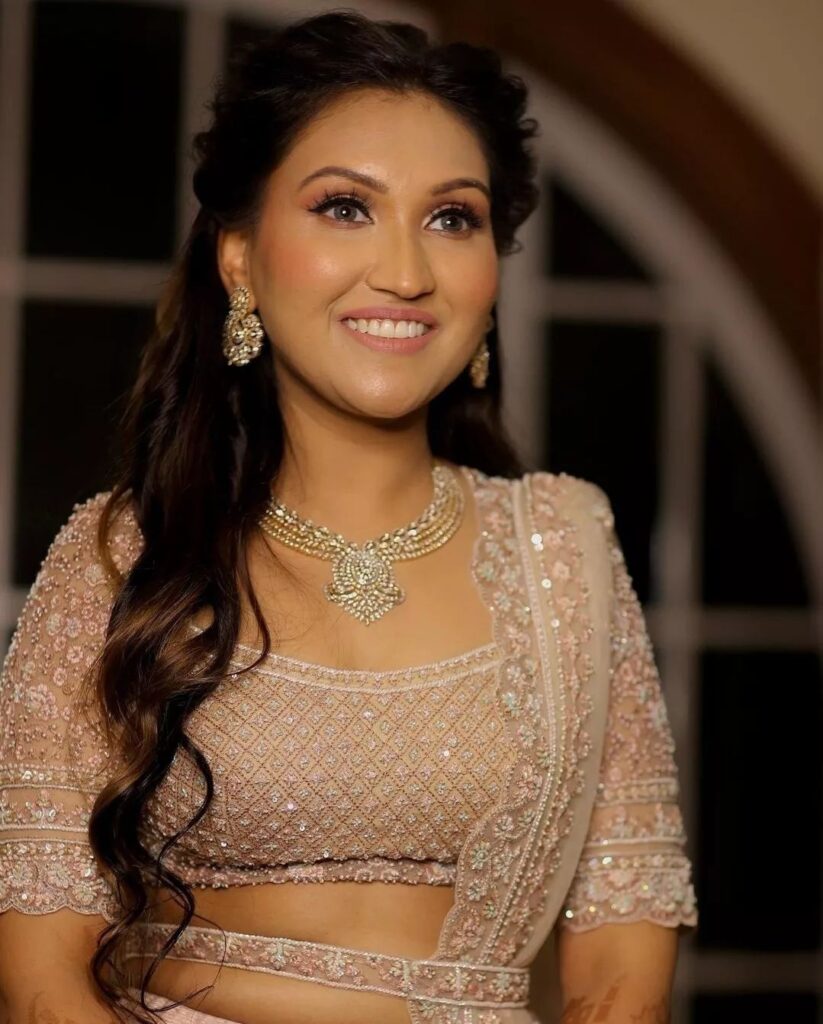 #9 This multi-layered choker diamond necklace is straight out of the modern bride's minimal euphoric dreams. This is an elegant piece of contemporary diamond jewelry. It uses the most popular round-shaped diamonds that can never go wrong. While single-lined solitaire necklaces have always been famous, this multi-layered diamond necklace comes with a modern uniqueness which makes it impossible for anyone to take their eyes off it. It has a timeless design that you can wear on a variety of occasions and not just at your wedding. It would go perfectly with sweetheart necklines as well as the classy Queen Anne necklines.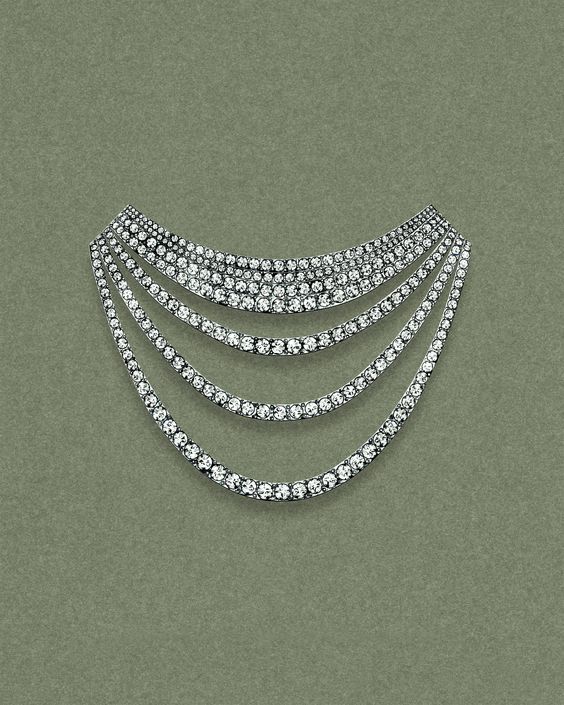 #10 When it comes to choosing a bridal diamond necklace, one of the most popular styles is the rani haar. This style of necklace has been a part of the Indian wedding tradition for ages. Usually, the polki diamond necklace designs take the cake here but there are so many style variations available to the modern bride when it comes to diamond-studded rani haar. It becomes the perfect culmination of tradition with trend. From its multiple diamond-studded strands to the elaborate pendant, everything exudes royal elegance. The emeralds pair well with the diamonds as well as most of the colors of the Indian bridal attire.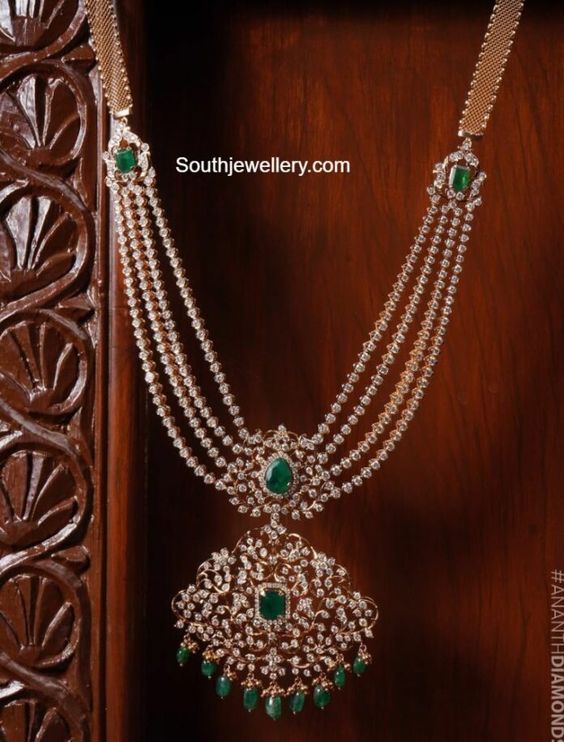 #11 Take your love for diamonds, emeralds, and everything extravagant to the next level with a Hazoorilal diamond necklace set such as this one. It is a heavy piece and will fit well with the grandeur of the Indian wedding festivities. It has a spectacular design that is enough to give a larger-than-life feel. You can pair this beauty with lower necklines. It will look great against the red bridal lehenga and you will be decked in the colors that have been traditionally considered auspicious. Make sure the design of your diamond necklace set complements the design of your bridal attire.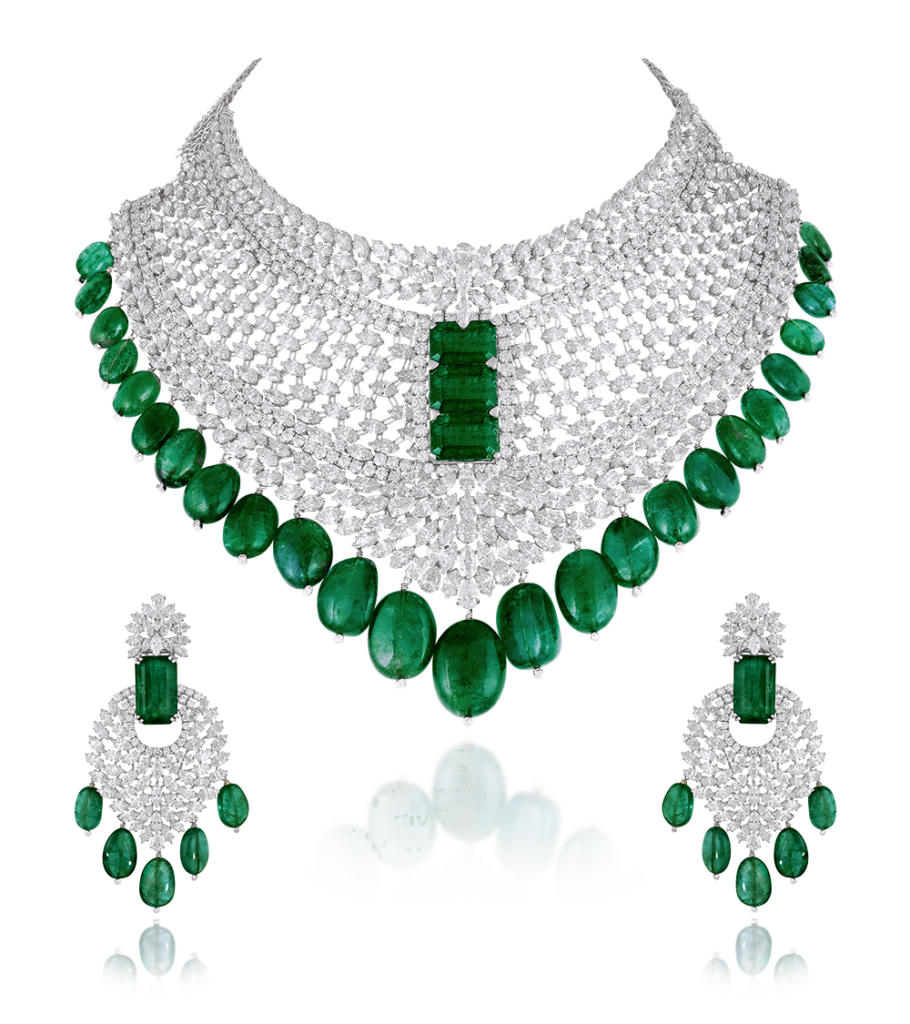 #12 This is the era for designer diamond necklaces. The customer of today is spoilt for choice thanks to the creativity and innovative design ideas circulated by the jewellers. Have you ever seen a Tanishq diamond necklace that does not take your breath away? These diamond necklace designs incorporate the traditional styles with an air of modernity.  The diamond necklace set pictured here is a good example of such a design. It has been inspired by the shapes from nature. The round diamonds studded in a mesh-like form coupled with leaf patterns in rose gold are enough to arrest everyone's attention.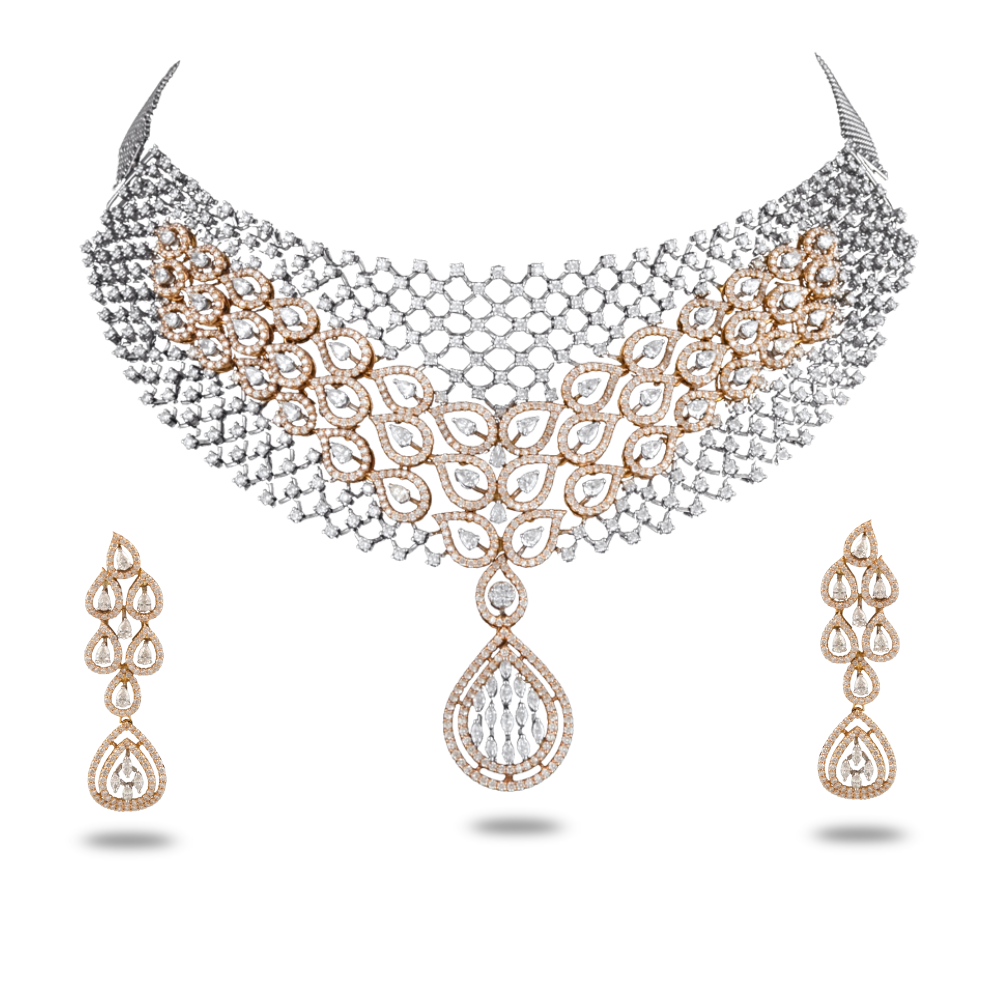 #13 If you prefer a heavenly look that will transform you into a goddess on your wedding day, then you should opt for diamond necklace designs with precious and semi-precious stones. Rubies are a popular choice amongst brides owing to their regal beauty. The shine of the diamonds and the stunning color of the rubies match perfectly. This diamond necklace set pictured here is a contemporary design fit for a modern bride. It is a design that you can easily pair up with a variety of outfits from sarees to evening gowns even after your wedding.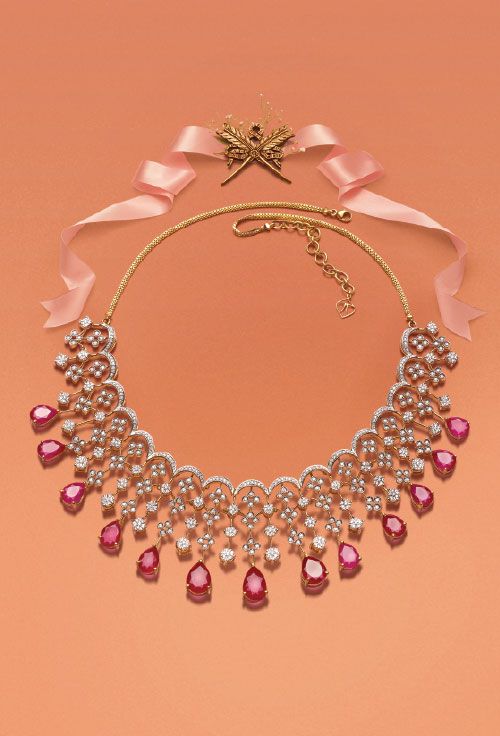 #14 A fuller-looking diamond necklace set is all you need for that breathtaking gorgeous look. This choker necklace emulates a waterfall necklace but the strands of diamonds are all connected giving it an extra dose of fullness and luxury. This necklace will be your perfect companion if you want to channel some royal elegance without going overboard. If a modern-day queen is the vibe of your day, then go for a diamond necklace such as this one and pair it with matching chandelier earrings. You can wear the necklace and the diamond earrings together or as standalone pieces. You will look stunning either way.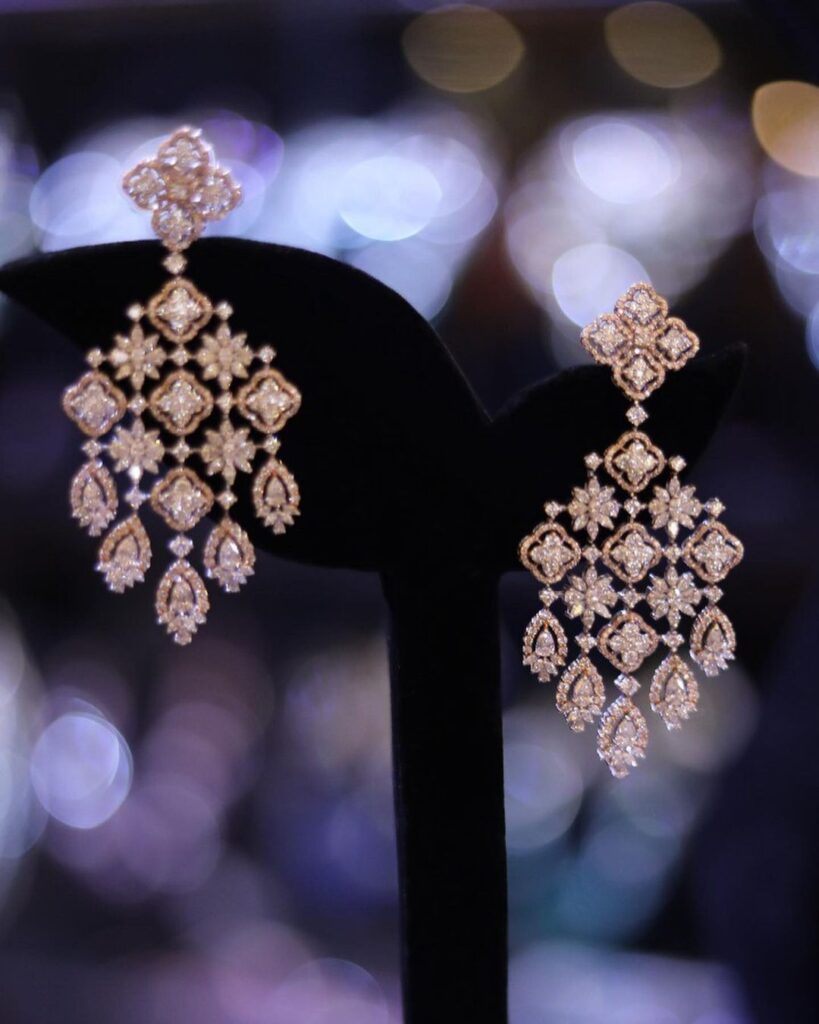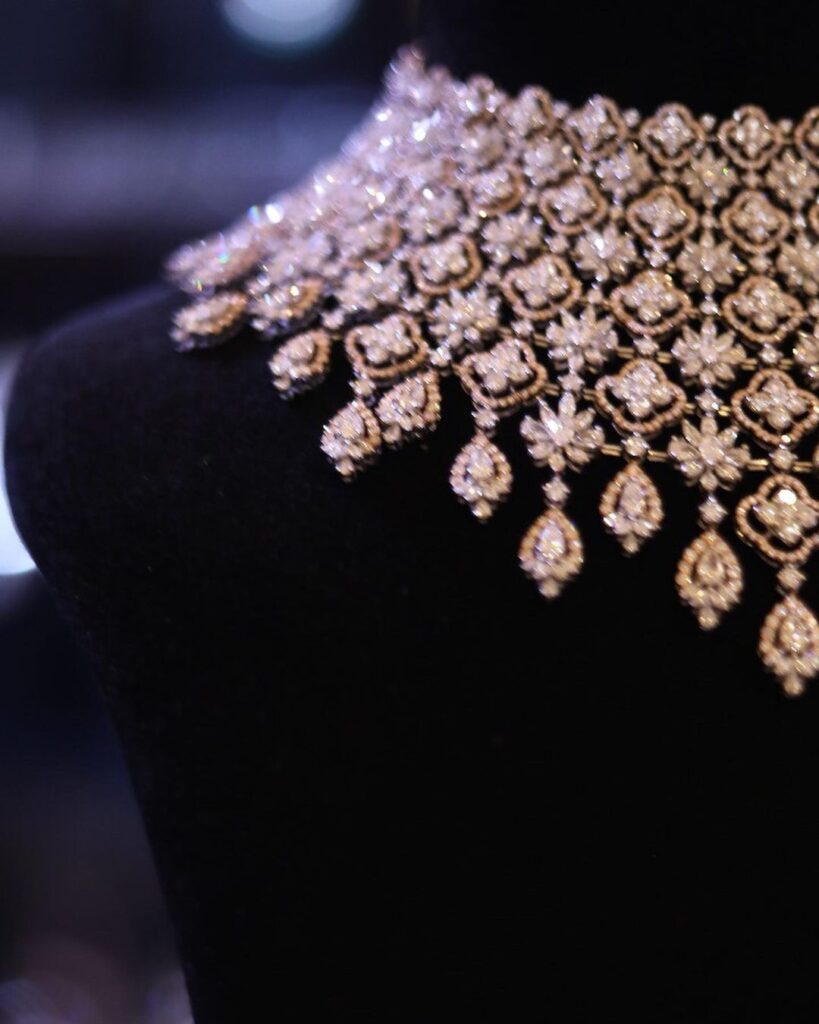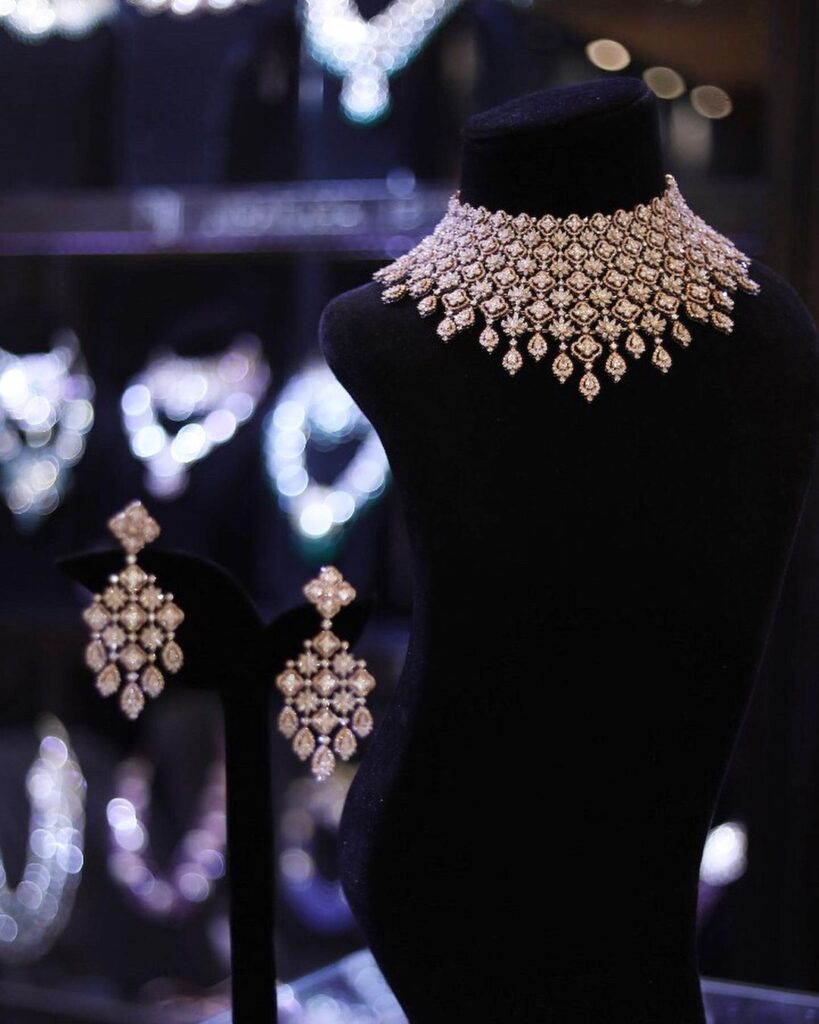 #15 Modern diamond necklace designs are crafted with excellence as well as elegance. This is a diamond necklace set with a stunning timeless design. This is a diamond jewelry set that rings true with the sentiment of diamonds are forever. Because this is something that will stand the test of time and the trends making it a classic piece that can be passed on through generations. It beams with bewitching beauty and a shine that will blind your eyes. Something like this can be paired with heavy sarees and other ethnic wear as well as evening gowns.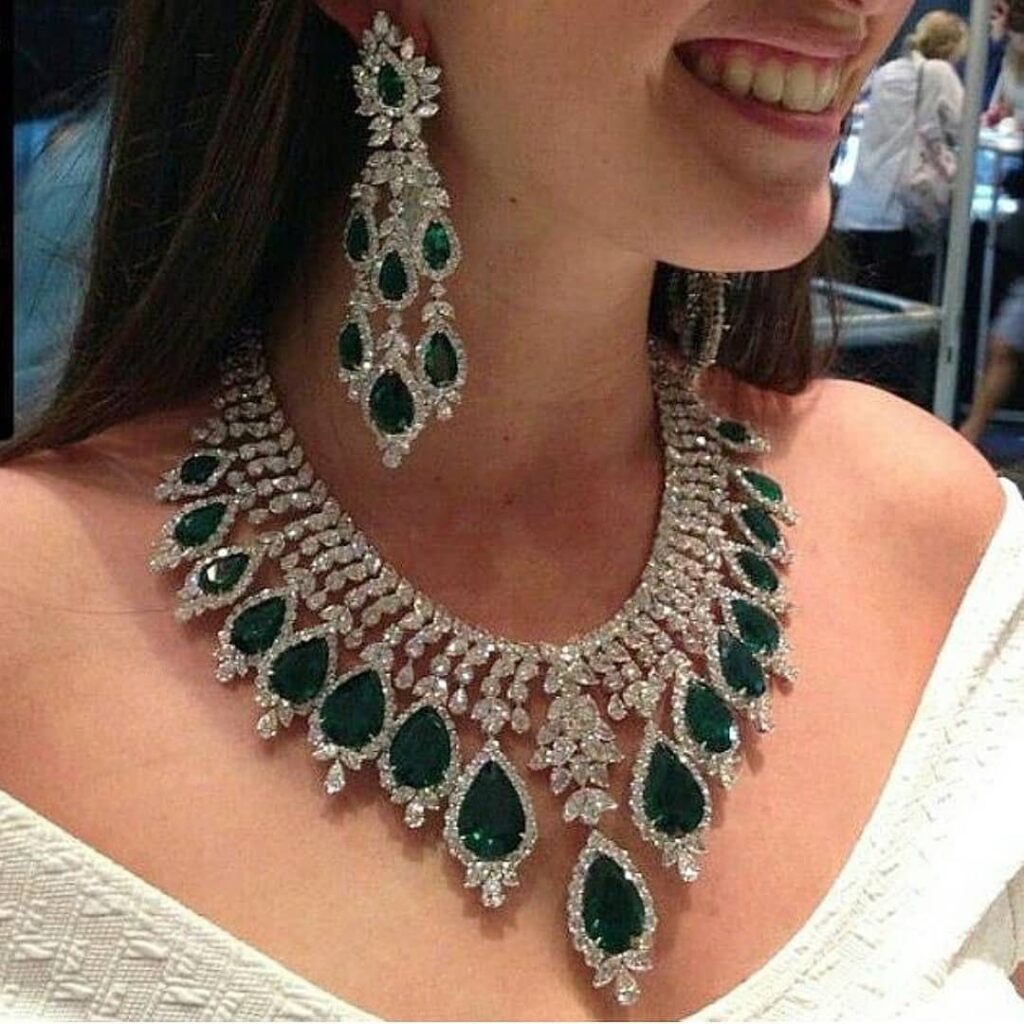 #16 Here we have a gorgeous multi-layered choker diamond necklace that will sit beautifully on your neck. It's the sheer brilliance of the round cut diamonds paired with pear-shaped diamonds that gives it a bewitching look. You can pair this with necklines that are high as well as low. It will look fabulous with ethnic, western, or indo-western outfits. You can pair it with anything and the bottom line will remain the same: it is going to look exquisite. You can keep the look simple and pair this diamond necklace with diamond studs or you can pair it with a gorgeous set of drop diamond earrings. Even the budget version in the form of an American diamond necklace will look great.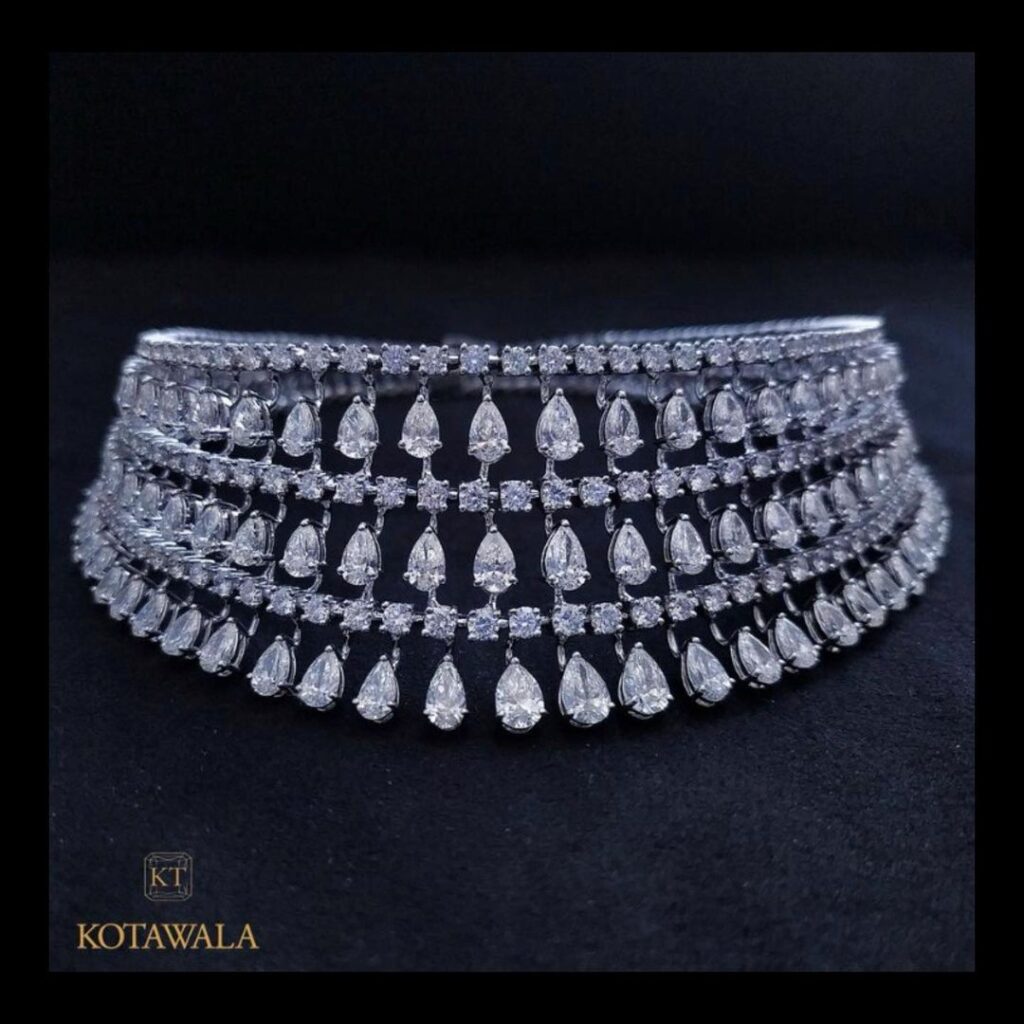 #17 Modern diamond necklace designs with precious and semi-precious stones have taken the fancy of many brides as well as celebrities. Such a jewelry piece can add more of a beguiling charm to your jewelry collection. This bridal diamond necklace comes with a choker necklace set in diamonds, rubies, and pearls paired with a longer necklace of the same theme. You can pair it with matching diamond maangtikka and earrings. Or you can also simply opt for a pearl maangtikka. The diamond necklace price in such a case can go high. If you want to balance out the price you can always go for an American diamond necklace.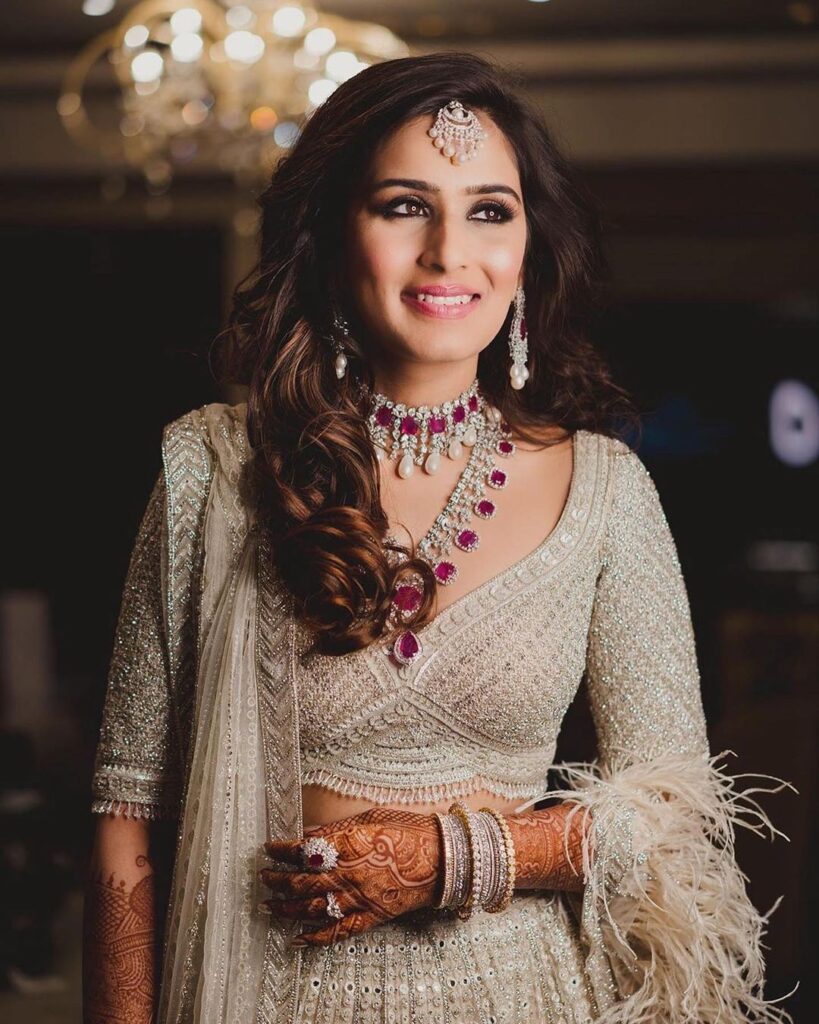 #18 A diamond pendant makes for a classic wedding present not only for brides but also for bridesmaids and other women in the family. You can get matching diamond pendants to mark one of the most memorable days of your life aka your wedding. Cement those memories that you are going to make during your big fat Indian wedding by way of this cute and shimmery gift. You can either get the same design depending on the theme of your wedding or you can personalize this gift idea by choosing a pendant that best suits the personality of the gift receiver.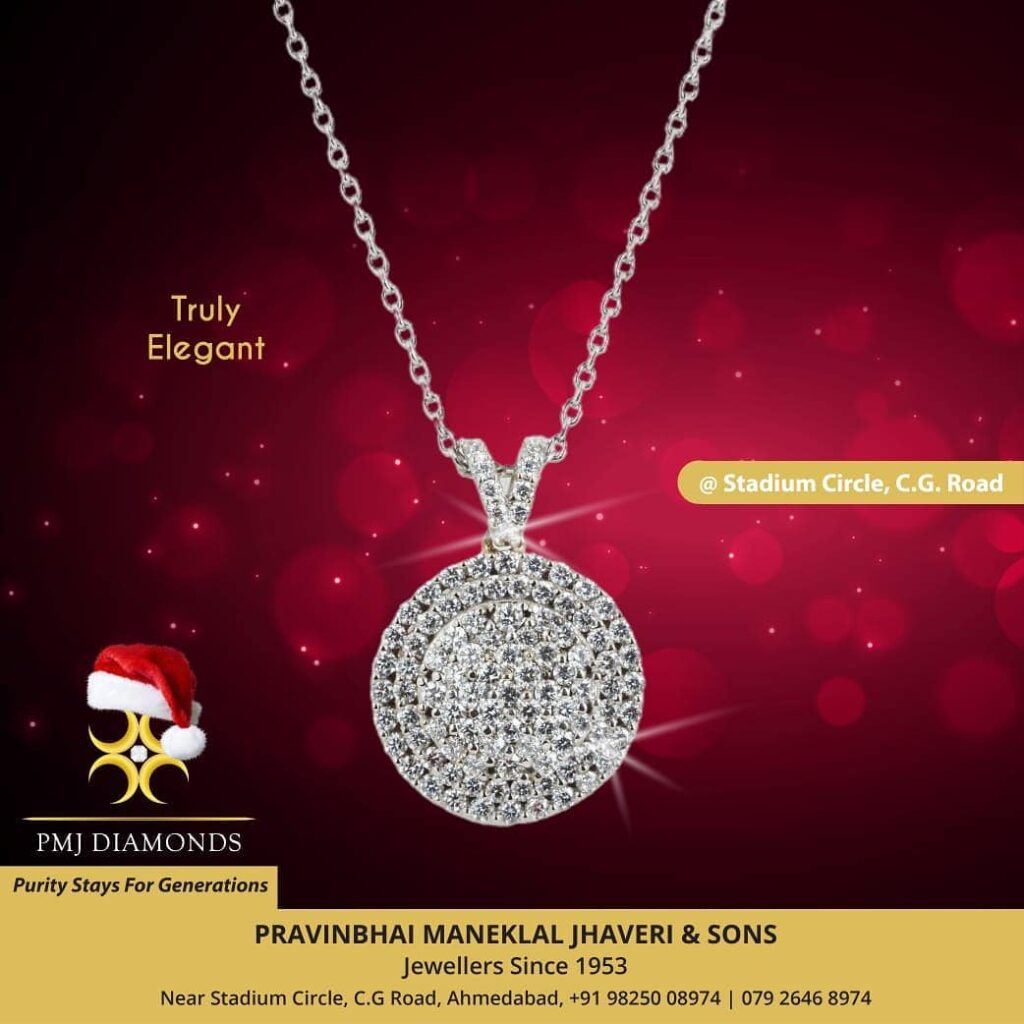 #19 Nothing says grand wedding celebrations more than a bride decked up in diamonds from head to toe. From the brilliant diamond mathapatti to diamond bangles, you name it and this bride has it as part of her ensemble. You can take inspiration from her if your goal for your wedding day is also to like an enchanting Indian maharani. The layered diamond necklace paired with an elaborate diamond choker is a classic choice. Everything from the neckpieces to the diamond earrings and the diamond kamarband is flamboyant. The elaborate design and the whole layered setup look stunning. The layered diamond necklaces sit in perfect balance with the traditional silk saree.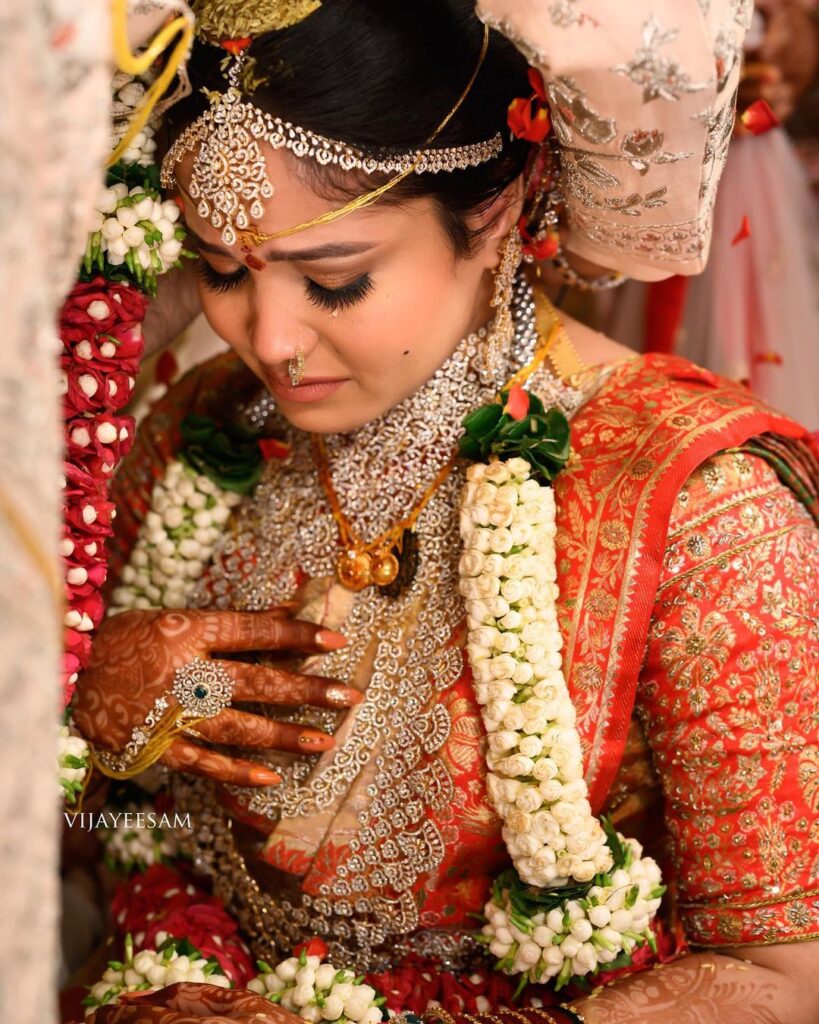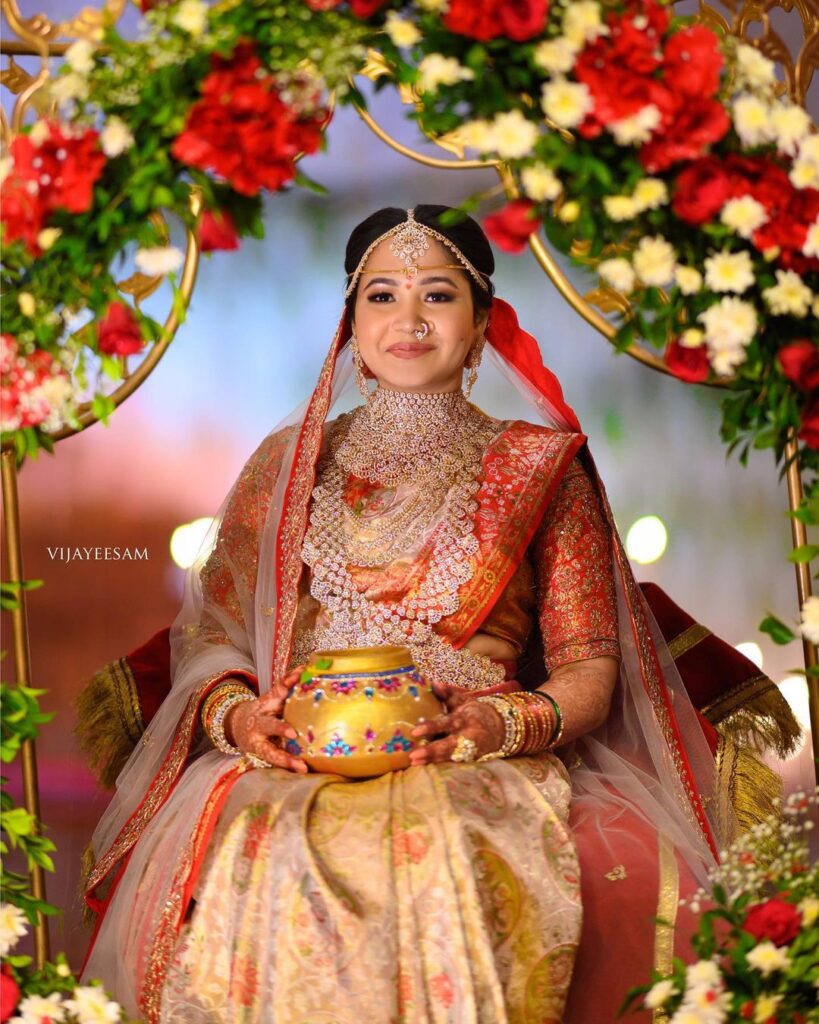 #20 If a simple diamond necklace has your heart but you don't want your look to be that simple for your big day, then maybe you should look up to this bride pictured here for some blingy inspiration. Because she has done it all so artistically that her bridal diamond necklace set up looks like a masterpiece. You too can pair different necklaces with diamonds having a different cut, clarity, and color. This will add more charismatic character to your look while making sure that it is you who shines the brightest. You can go for a basic matching look in pairs. Like you can pair a simple solitaire necklace with a similar-looking waterfall diamond necklace, diamond mathapatti with your diamond ring, a multi-layered diamond rani haar with your diamond bangles, and so on.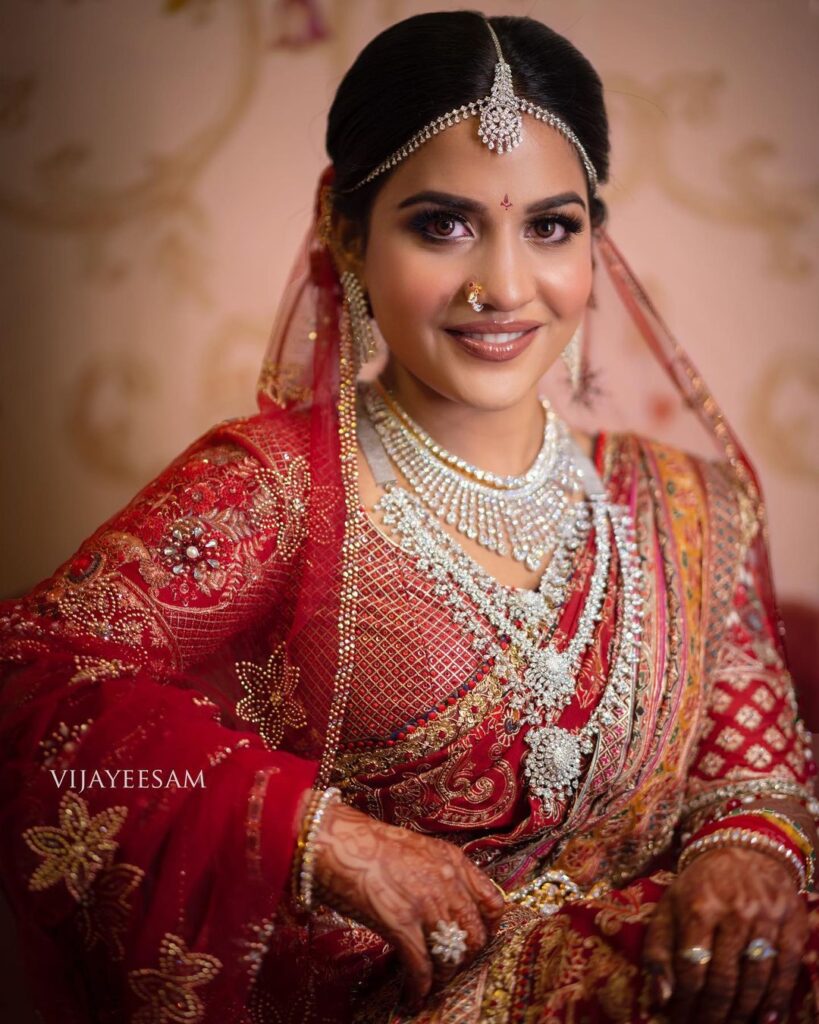 #21 Polki bridal jewelry comes with a larger-than-life and extravagant feel. It bears the mark of Indian wedding tradition that has been in practice ever since the Mughal reign. It is quite popular amongst brides of today. The uncut diamonds come with their old-world charm that is sure to win hearts. A polki diamond necklace set not only is an ode to tradition but also an acknowledgment of the fact that you deserve the best. You can pair a matching set of polki diamond earrings with your multi-layered polki diamond necklace. This is one of the most popular looks that will never fail the style test.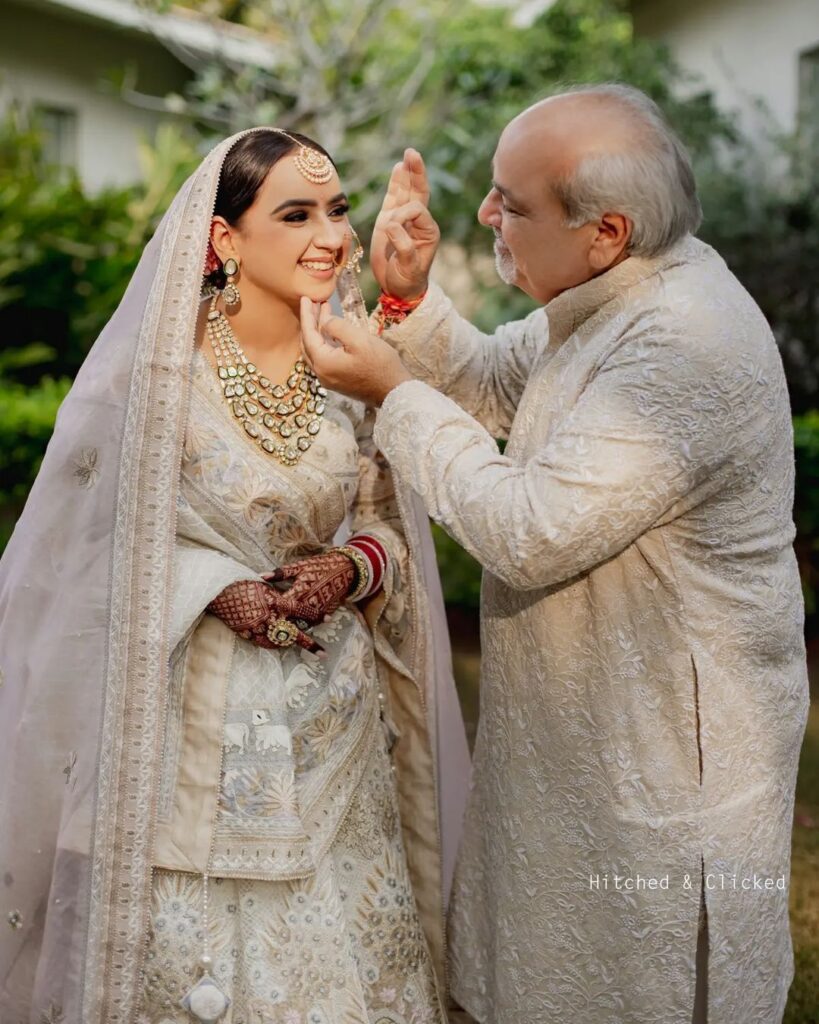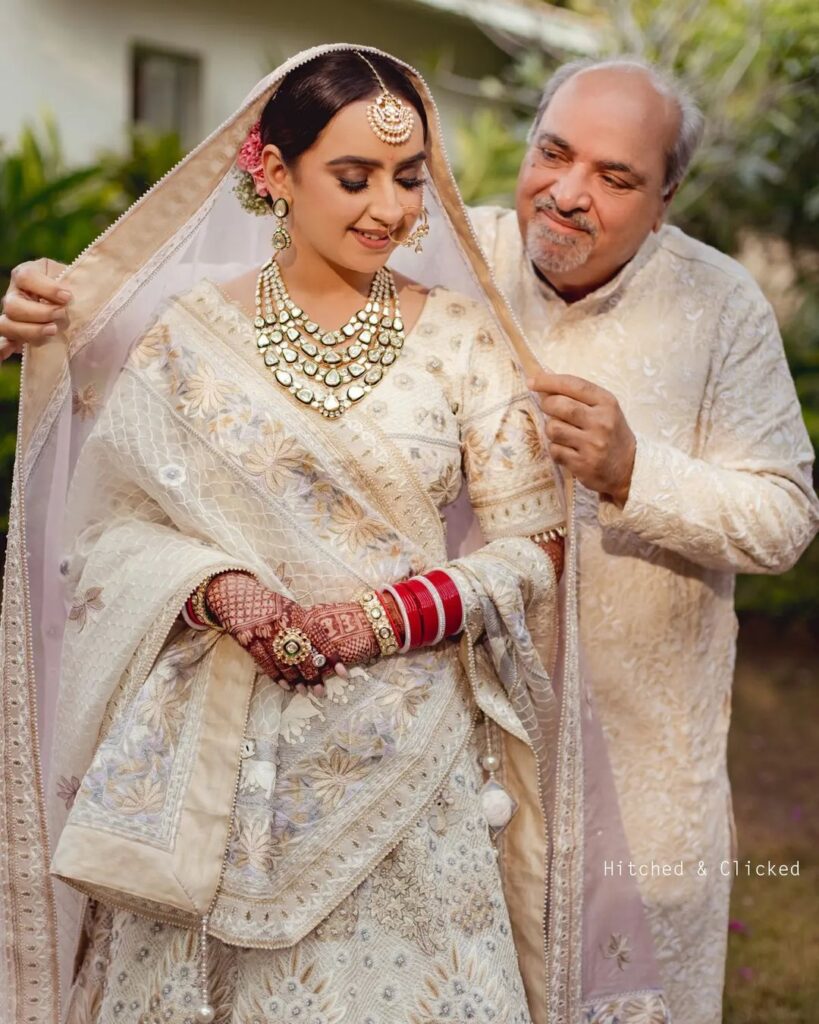 #22 Modern diamond necklace designs are a class apart due to the sheer brilliance of their contemporary design. This is one such diamond necklace set that can be easily labeled as a statement piece. The waterfall-esque design paired with diamonds studded in a drop shape gives it regal elegance and grace. It looks like a very elaborate, extravagant, and shiny grapevine. You can flaunt this diamond necklace set with an air of royal charm. Let your hair down and keep the rest of the look simple to make this diamond necklace set as the centerpiece. You can pair a matching set of diamond earrings or something that matches its overall pattern to create a more refined yet interesting look.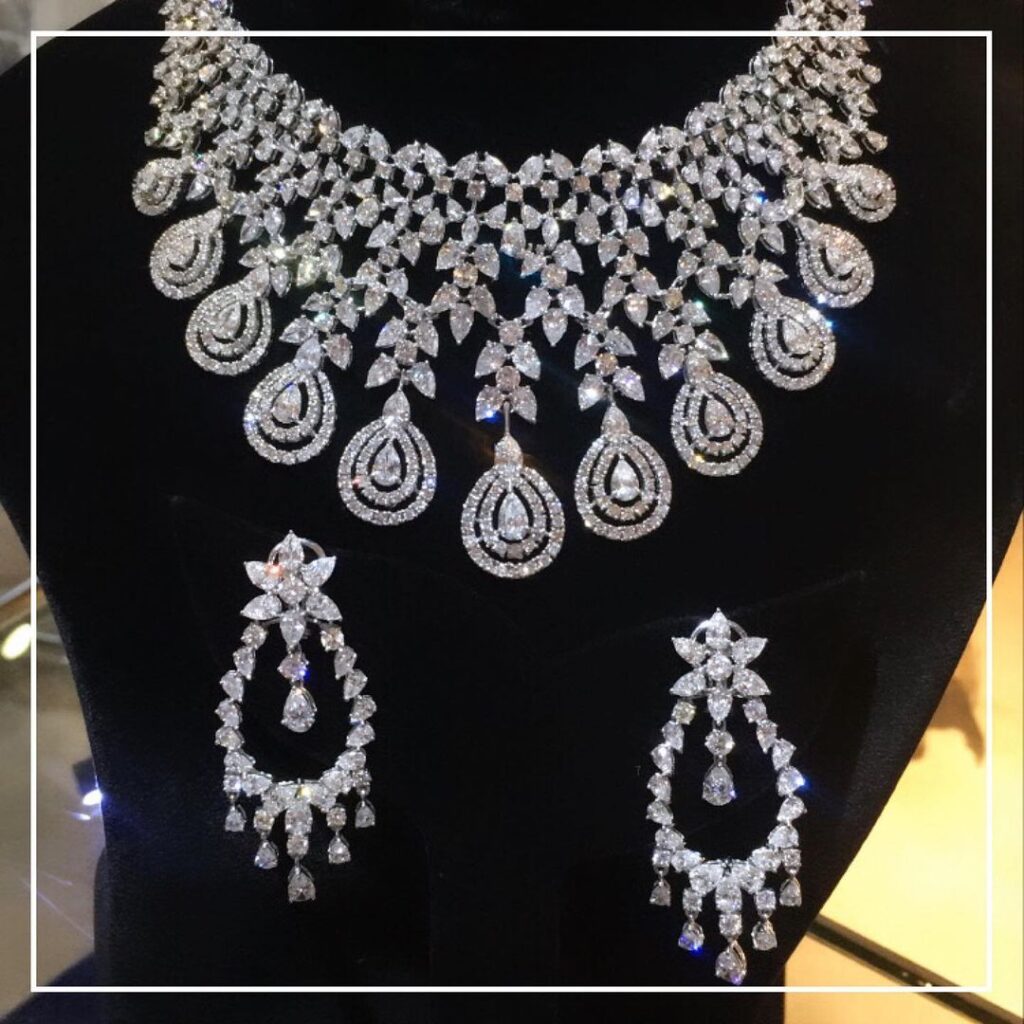 #23 Diamonds are a girl's best friend so when it comes to the jewelry choices for you and your best friend, isn't the choice rather obvious now? Bridal diamond necklace designs are popular but that doesn't mean that as a guest of the bride you cannot flaunt some serious bling yourself. That's the beauty of diamond jewelry. There is a style option for everyone and every need. You can also buy all this diamond jewelry together and grab a good discount on that diamond necklace price.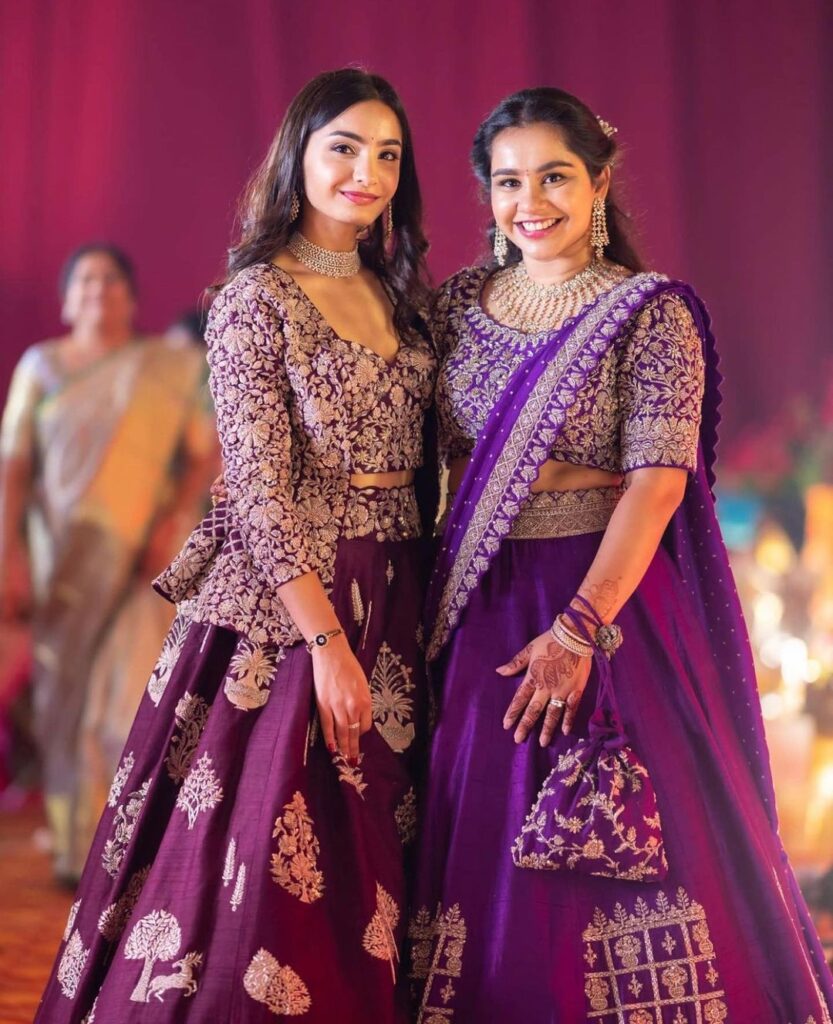 #24 Diamond jewelry with pearls is a gift of contemporary diamond jewelry designs which are not only unique and expressive but also inventive. With such a variety of cuts, clarity, color, and combination of designs available in the market, you can choose your bridal jeweller with ease. Make sure it complements your bridal outfit as is showcased by the bride pictured here. She has chosen a look that is dreamy, ethereal, and mystical. You too can get decked with diamonds from head to toe to have an elegant and refined look. Everything from the diamond kamarband and diamond bangles to the diamond jhumkas and the diamond necklace is an ode to tradition while also celebrating the modern grandiose.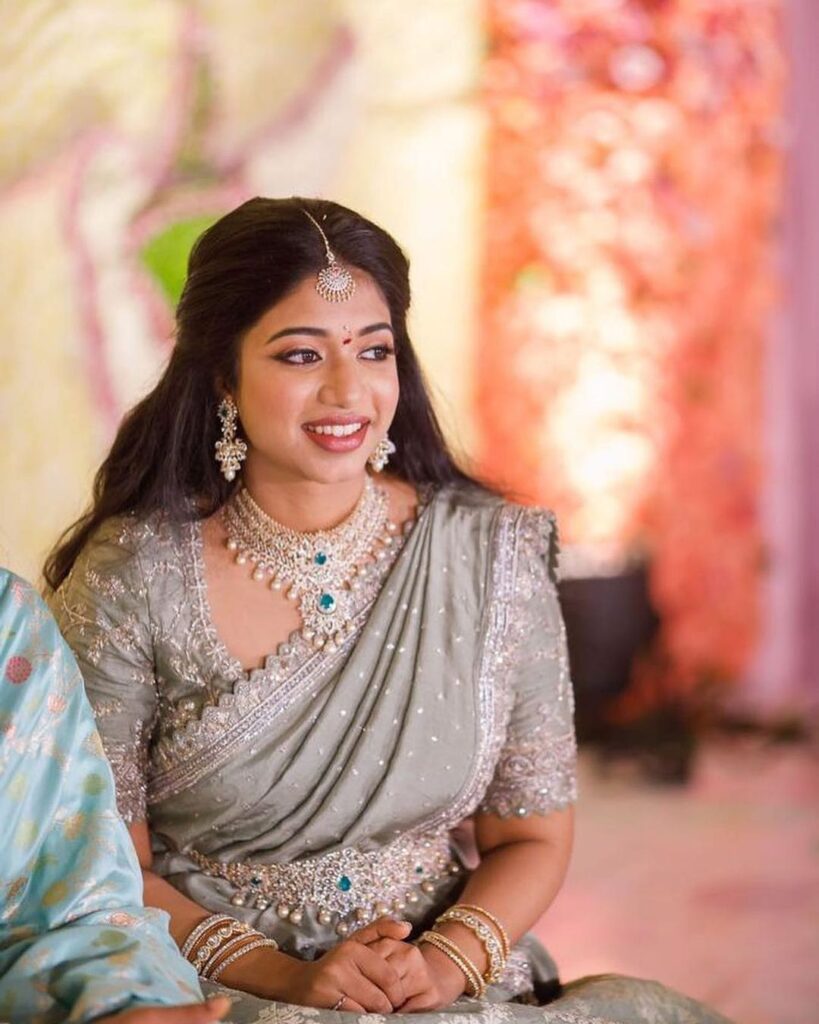 #25 Diamonds are not always colorless. Some diamonds have a hint of color that might not be as clearly visible to untrained eyes. But some diamonds show a clear color. Yellow and blue diamonds are very popular in this aspect. Diamond necklace designs with such diamonds have a luxurious feel to them. The yellow diamond necklace has become more popular ever since Lady Gaga wore it to the Oscars. While wearing a necklace like this, you must keep the rest of the look simple and let your diamond necklace set do all the work. Finish the look with a matching diamond ring or bracelet. Don't wear matching earrings as it will be too much. Instead, pair this necklace with a set of dainty leaf-style earrings.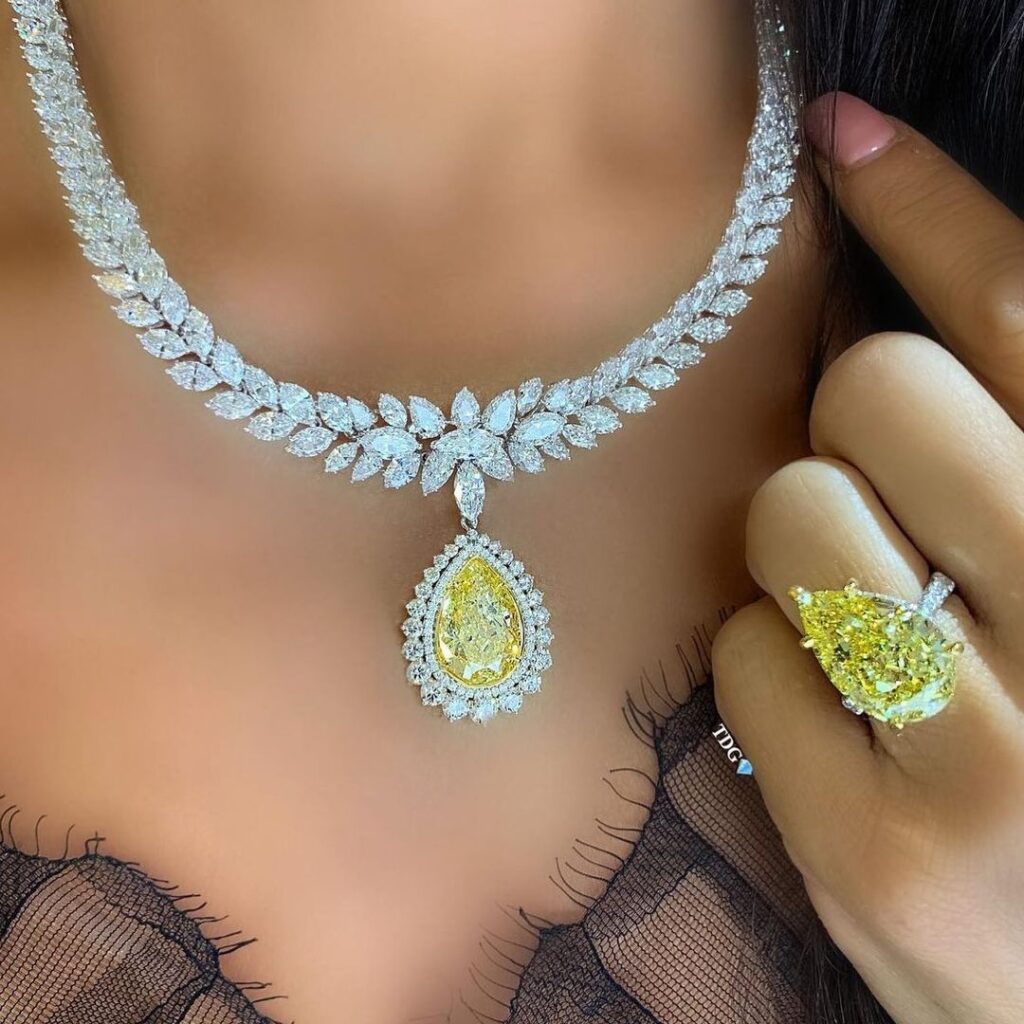 #26 Want to bring the focus to your swan-like neck and shapely collarbones? Opt for a fringe diamond necklace like this one. This diamond necklace design goes with a variety of necklines too. The lower the better. Paired with precious gemstones like sapphires, this necklace comes with an aura of grace and elegance. A set of matching chandelier earrings will look incredible. Or you can choose sapphire studs outlined with small round cut diamonds. You can skip the diamond maangtikka with this look. Instead, add a sapphire and diamond bracelet to complete the look.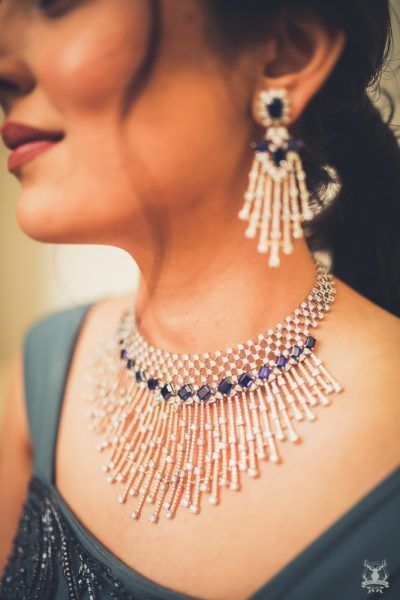 #27 With so many diamond necklace designs, the focus always switches to necks. But they are not the only part of your body that you can accessorize with a statement piece. Adorn your wrists with some beautiful diamond jewelry like this bride has done. She has kept her look classic, elegant, and full of regal grace. You can create a similar look with jewelry sets that have a huge yellow diamond to act as the highlight of your whole look. To maintain balance, don't go for more than two jewelry pieces with colored diamonds.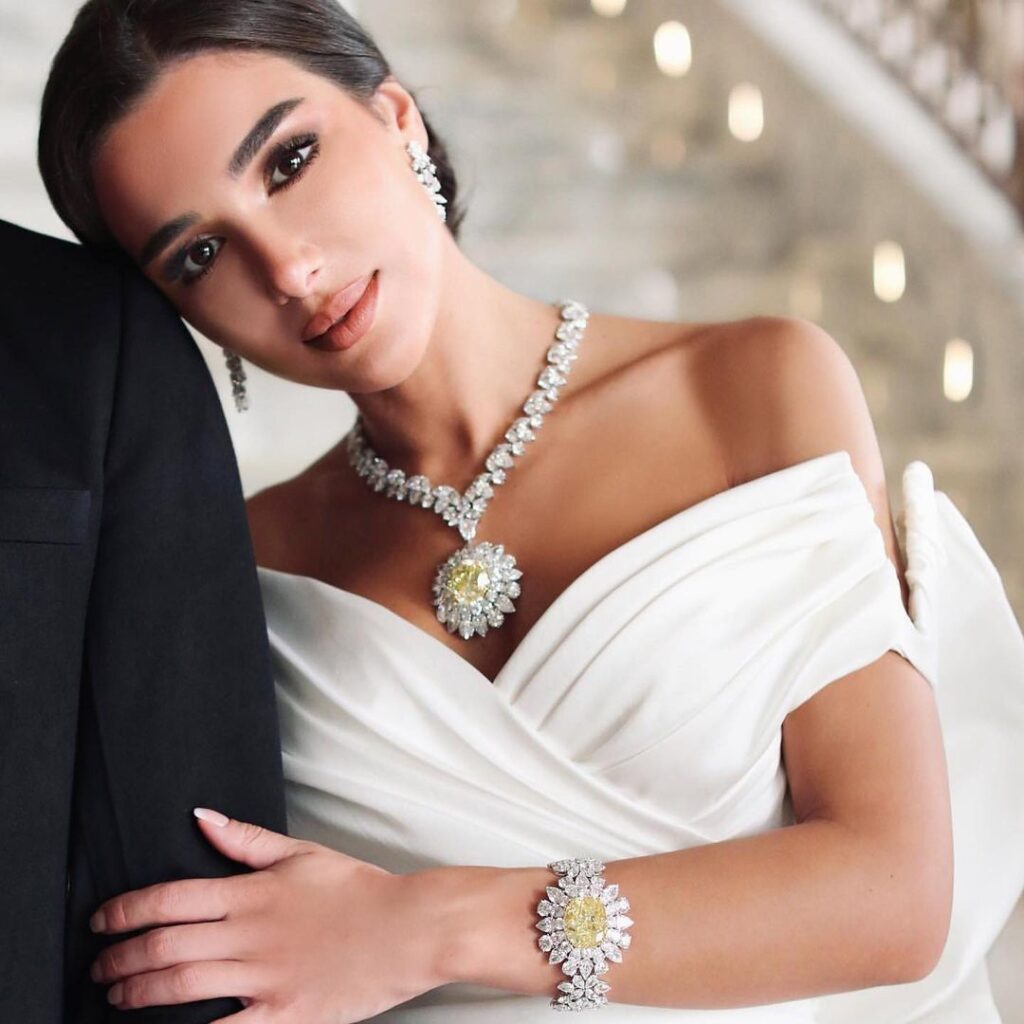 #28 You can never go wrong with a classic like this one which also happens to be one of the most popular combinations. Diamonds and emeralds are a classy combination that has stood the test of time. It is truly timeless. With a heavily studded diamond necklace design like this one, you can ask your jeweller if they can make it a detachable piece. The detached pieces can be used as a maangtikka, a simple diamond pendant, a diamond bracelet, or even diamond earrings. The possibilities of styling a new look with just one diamond necklace become almost endless. Plus, you will get more jewelry at the price of one.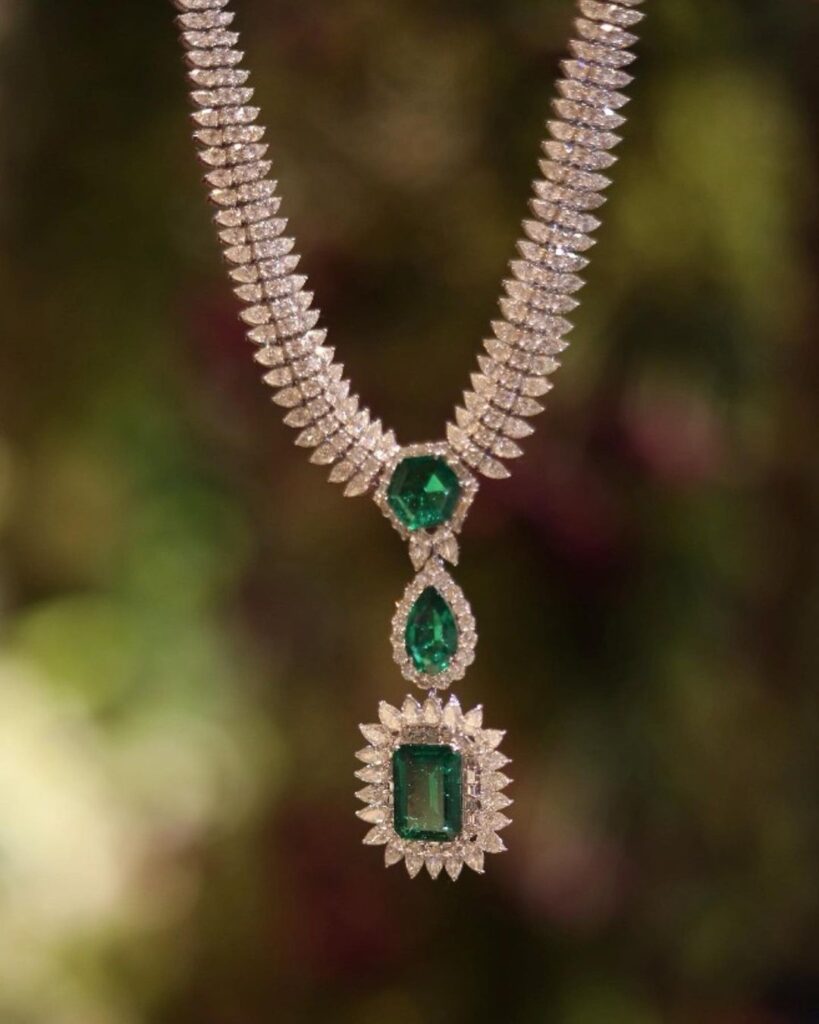 #29 Celebrate your big fat Indian wedding with a big fat diamond necklace. And nothing says Indian wedding more than a dazzling diamond choker necklace that is reminiscent of the old-world charm. It is indeed one of the most beautiful jewelry pieces that you can lay your eyes on. It is elegant, graceful, and has a rich refined look. The dangling drop pearls add more character to the diamond necklace. It exudes some serious modern-day queen Jodhaa vibes. If you want to experience the royal grandeur in terms of diamond jewelry without wearing the heavyweight pieces, then something like this will be your best bet. Its arrangement lets this necklace have a fuller look and the design itself coupled with pearls promises regal grace.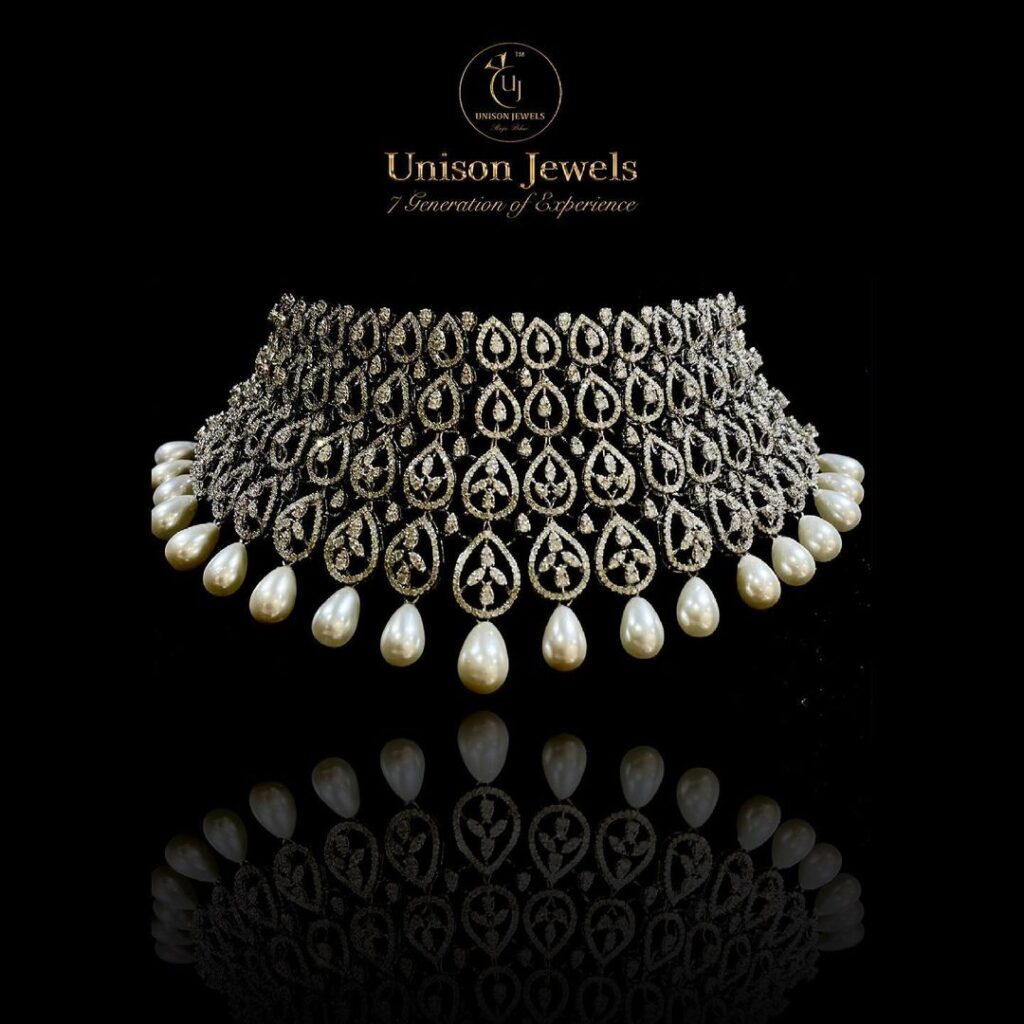 #30 Talk about modern elegance and this diamond necklace will fit the bill. While round cut diamonds are the most popular, pear-shaped diamonds as well as the marquise diamonds, boast of an ethereal charm that cannot be matched by any other cut to the same degree. Most diamond necklace designs use natural patterns like stars, leaves, and flowers among others. Pear-shaped diamonds and marquise diamonds allow for some creative designs that will leave you spellbound. Look for something with a leaf or a floral pattern. You will be able to style such a bridal diamond necklace with most of your outfits.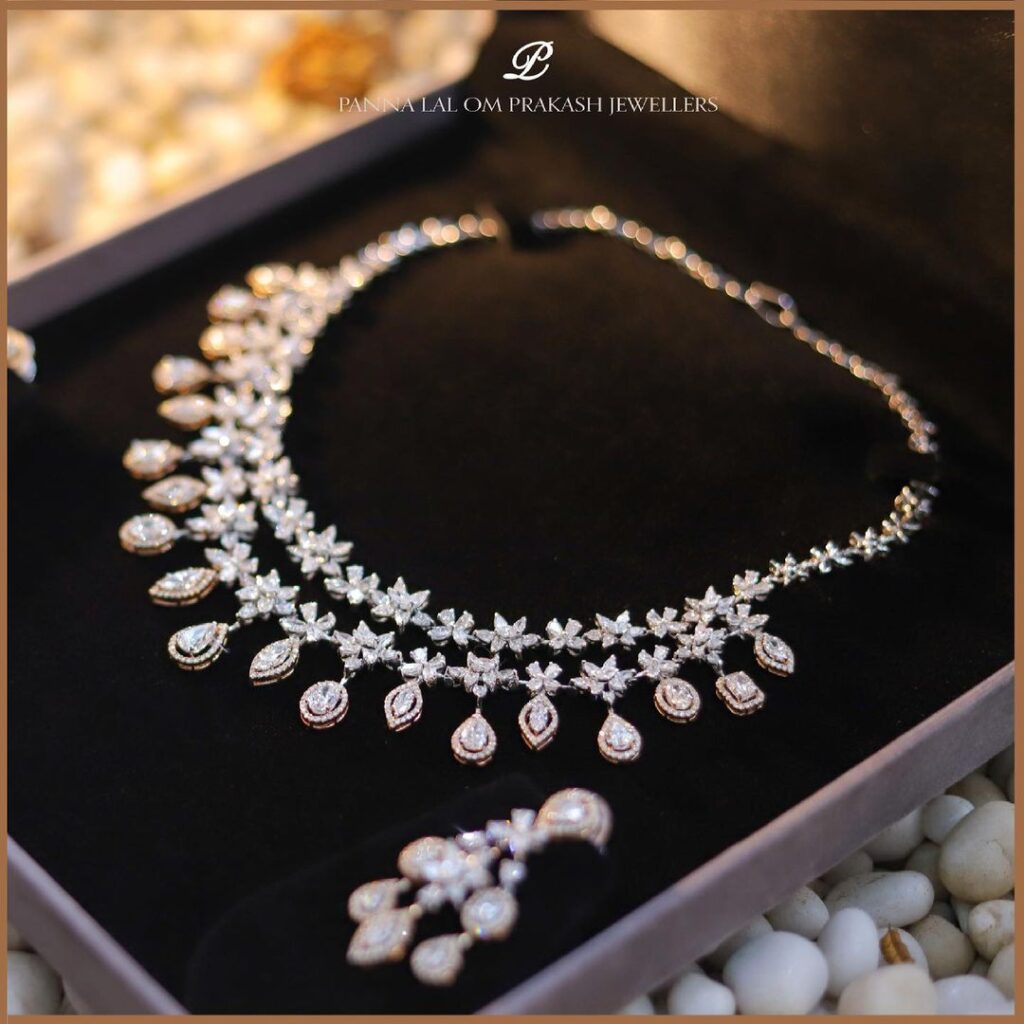 #31 A choker necklace is a great way to add some dazzling diamond jewelry to your bridal trousseau. Choker diamond necklace has been a part of the Indian wedding tradition for ages and continues to be a top choice amongst brides even today. It is a classic and timeless jewelry piece that you can also pass down generations. The chances of you receiving a choker necklace from your mother or grandmother as a family heirloom are also high. The diamond necklace price in this case definitely goes high depending upon the design and the diamonds used. Make the best of your purchase and choose a design that is classic but also has modernity about it like this diamond necklace pictured here. Pair matching earrings for an extravagant look or go for simple pearl earrings to balance it out.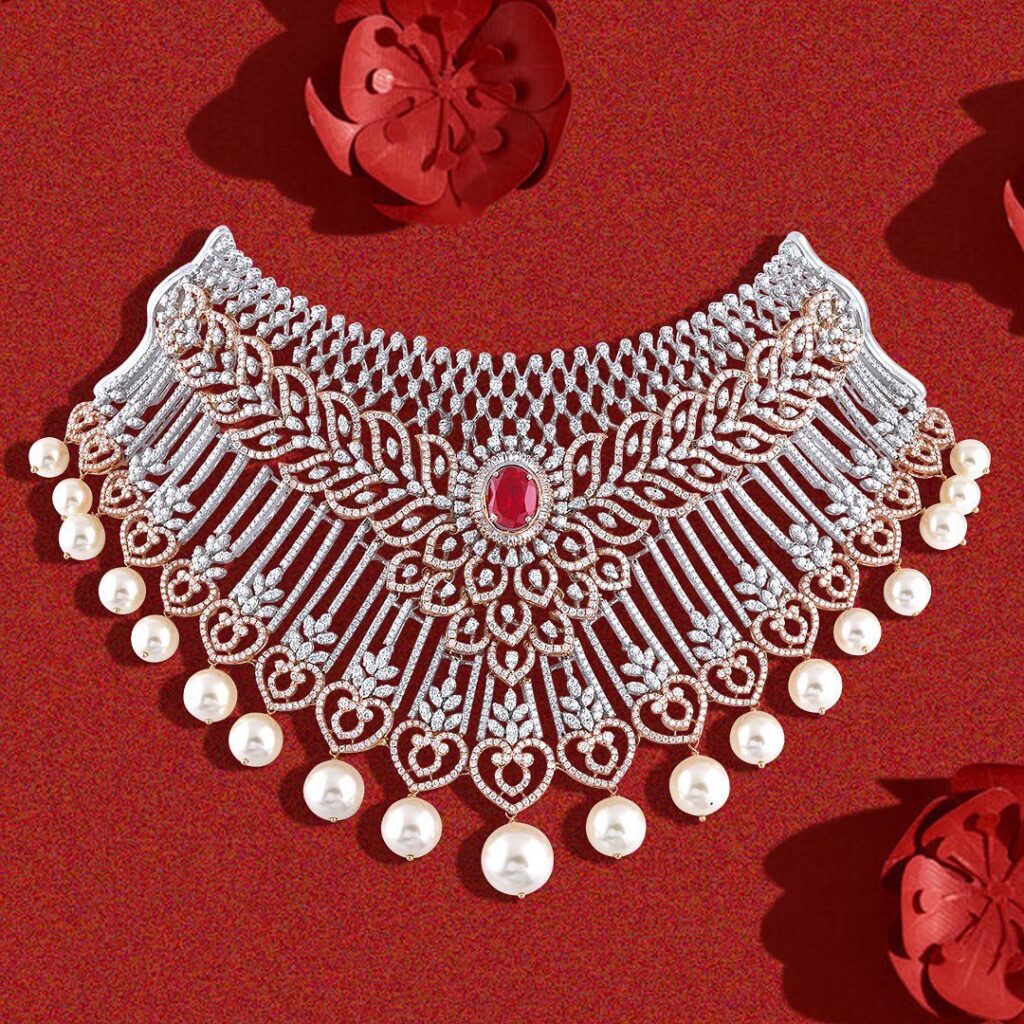 #32 The combination of diamonds and pearls is the perfect choice for you if you want your wedding to be something straight out of a fairytale. The charm and elegance of this popular combo are unmatched. The necklace pictured here is proof of what we are talking about. The elegant and ethereal design has a certain softness to it that will make you feel like a fairy queen. The pearls and the rose gold arrangement makes this diamond necklace pleasing to the eye. You will surely be a head-turner and a trendsetter with something like this as your bridal diamond necklace. A matching pair of drop earrings will complete your look. Wear this masterpiece with a white, ivory, or a cream-colored lehenga for a completely magical and mystical fairytale look.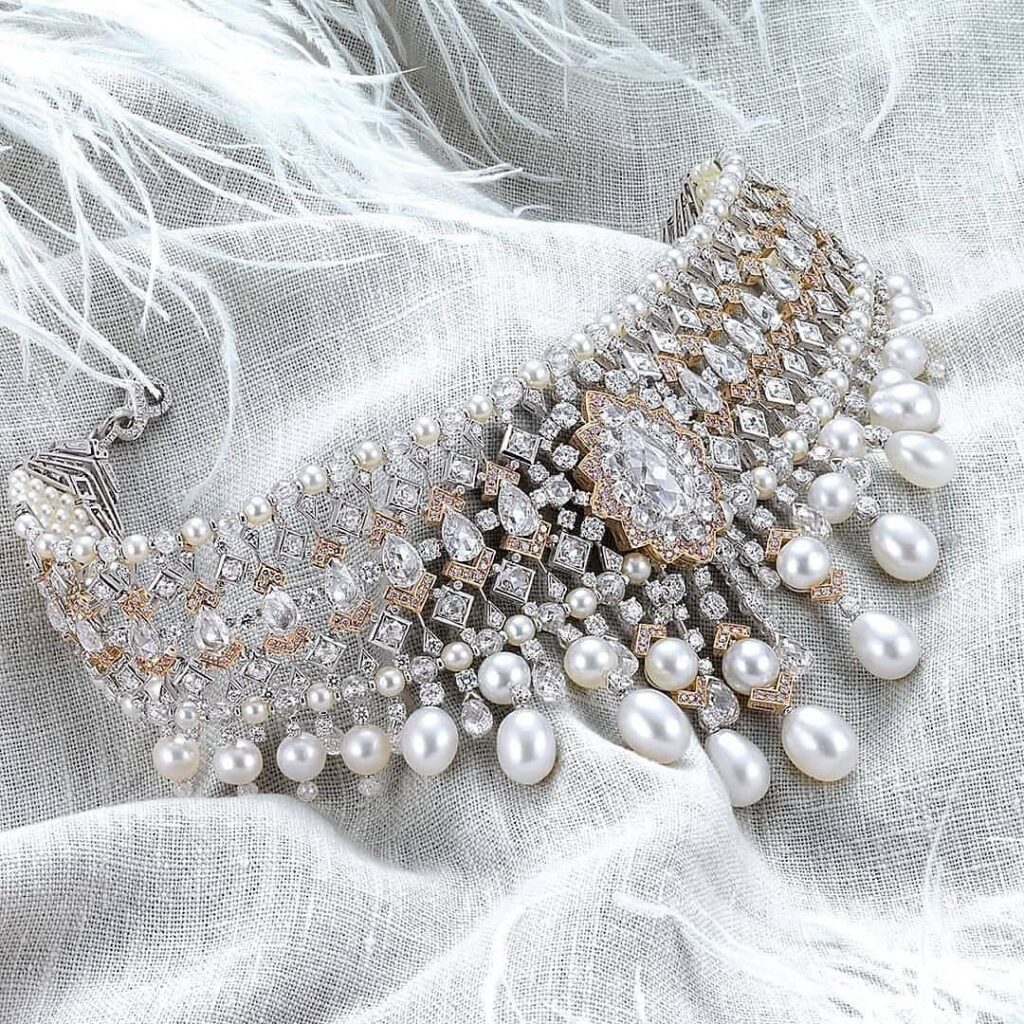 #33 A diamond pendant is a must-have jewelry piece in your collection. It is something that you can easily wear in your day-to-day life. There is a wide variety of designs available in the market today when it comes to a diamond pendant. They might be small and simple but that does not mean they are not impressive. If less is more is how you run your life, then a bridal diamond necklace like the ones pictured here can be your best choice. You can wear these with studs of the same design. You can also layer different or even the same pendants via chains of different sizes to create a layered look. This dash of dazzling beauty on your neck will be edgy but elegant.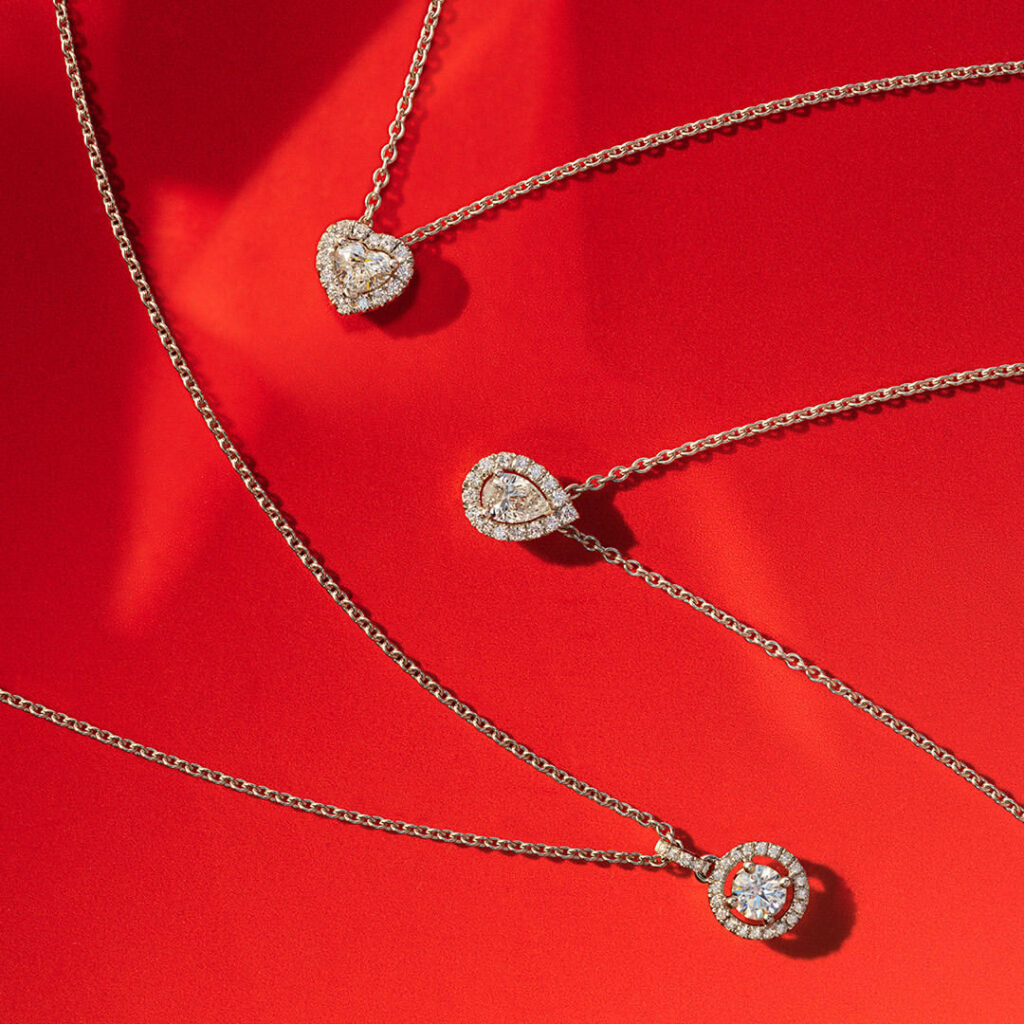 #34 There is a beauty like no other in handcrafted and gorgeously designed dainty diamond jewelry. This choker diamond necklace set has an ethereal glam that looks magical and mystical. Such an arrangement of diamonds within a drop-shaped design has gained popularity amongst the brides this year. But you will find that each piece has an outworldly shine. The gorgeous symmetrical look is very pleasing to the eye and offers a luxe glamor. To create a look of heavenly grace, wear a pearl and diamond necklace like this one with gray, silver, as well ivory lehengas.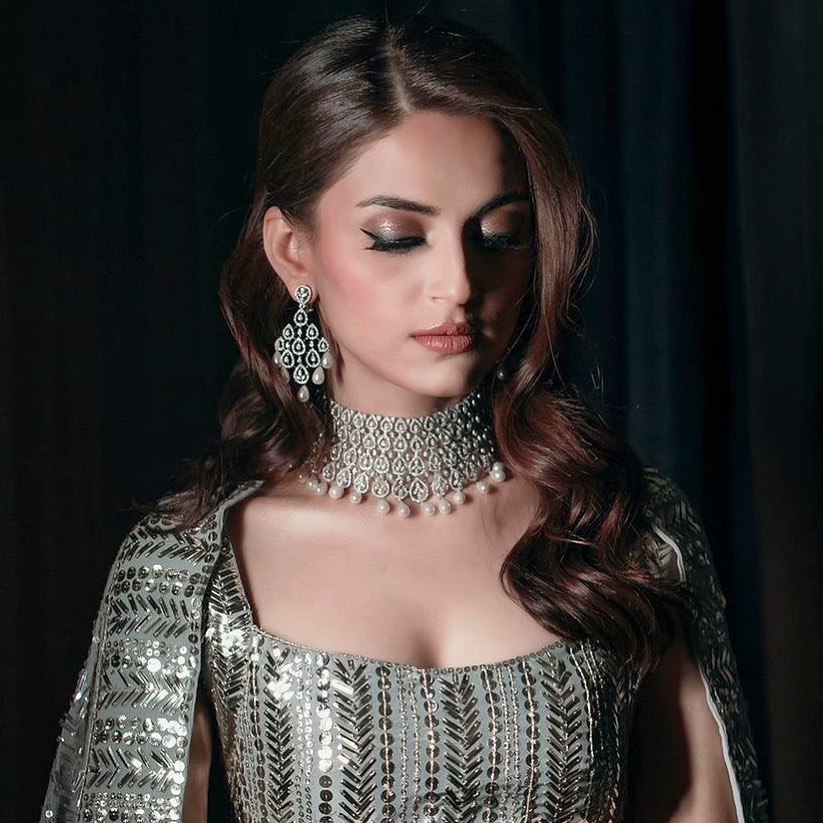 #35 Here is a diamond necklace set with an edgy elegance and luxe glam. Its spectacular design radiates pure and divine beauty. This diamond necklace showcases the height of luxury and elegance which makes it the perfect companion of an elegant evening gown in black or midnight blue. You can also make this your ultimate wedding day look as it will look brilliant when paired with a white wedding gown that has a low neckline. With this set of diamond necklace and matching diamond earrings, you won't need any other jewelry pieces. But if you still want to add more bling to your look, finish things off with a simple diamond ring or solitaire bracelet.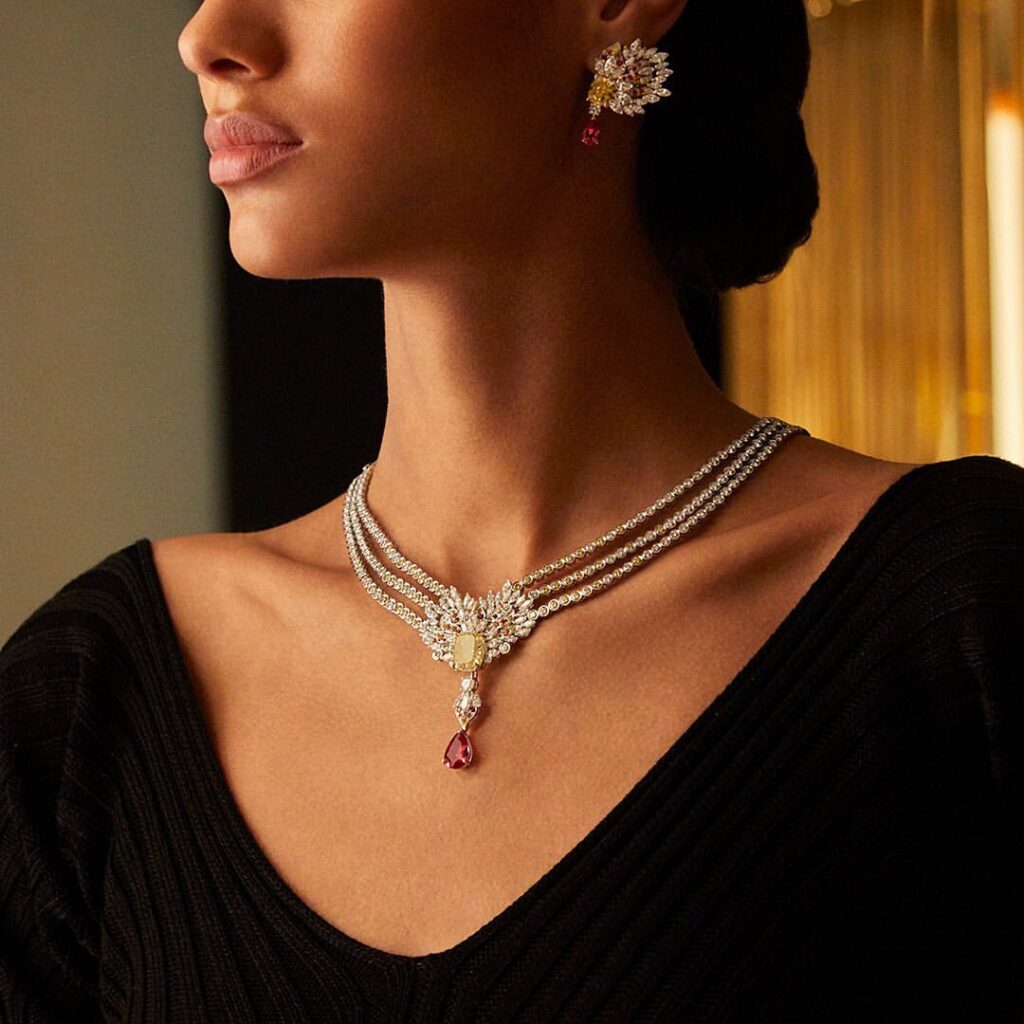 #36 While certain diamond necklace designs can strictly be worn with western gowns, certain diamond necklace sets can be paired with both ethnic wear and western wear with ease. One such necklace is this V-shaped diamond and emerald necklace pictured here. From sarees to bridal lehengas, this diamond necklace can be paired with them all. Make sure the necklines are low and open. The rose gold and green color scheme of this necklace will not clash with the bright colors of your bridal attire. This is a design that you can trust with your eyes closed.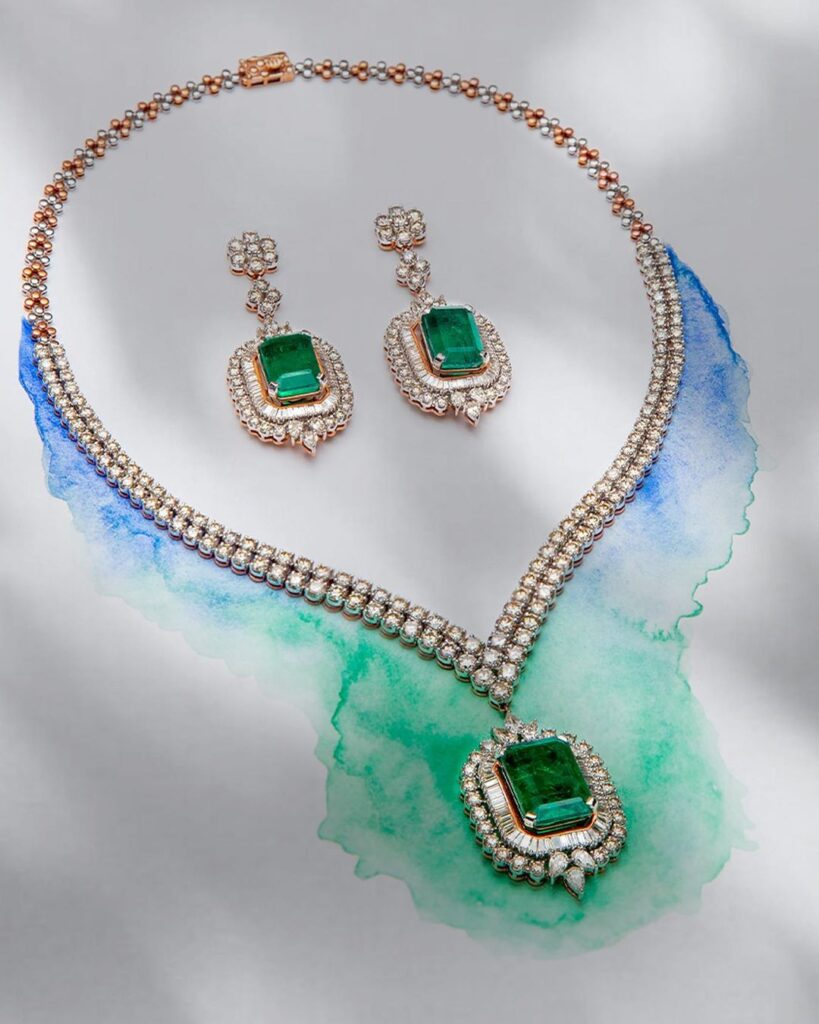 #37 Round and marquise diamonds are quite popular owing to their sheer beauty and brilliance when it comes to modern diamond necklace designs. But, drop diamonds are not far behind when it comes to remarkable beauty. Here is a gorgeous drop diamond necklace with emeralds. This necklace boasts of a beauty that will be approved even by Aphrodite. It radiates a magical and mystical elegance. Wear it with an ivory bridal lehenga to live your forest fairy dreams or pair it with a gorgeous red bridal attire to make the look mystically traditional.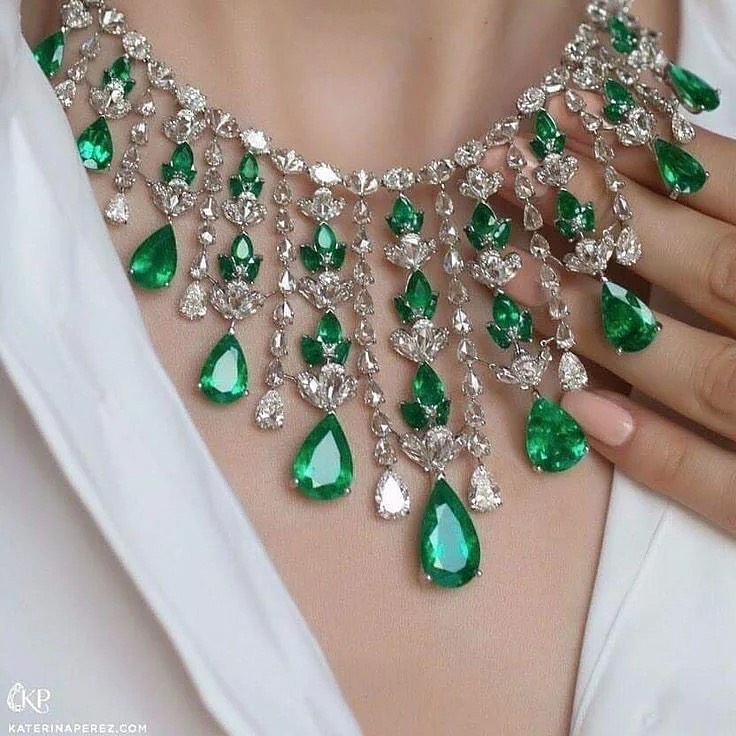 #38 Gold glitters and diamonds dazzle. With this diamond necklace set in gold, you can have the best of both worlds. Both gold, as well as diamond jewelry pieces, have been integral to the Indian wedding scene. While gold jewelry has tradition on its side and has been the conventional choice for ages, diamond jewelry has a more modern appeal. This is why this diamond necklace set is the bridge between traditional beauty and modern elegance. It is a statement piece that can be paired with silk sarees as well as embellished bridal lehengas. Drop earrings with golden pearls or even diamond jhumkas in the same theme will look good with this necklace.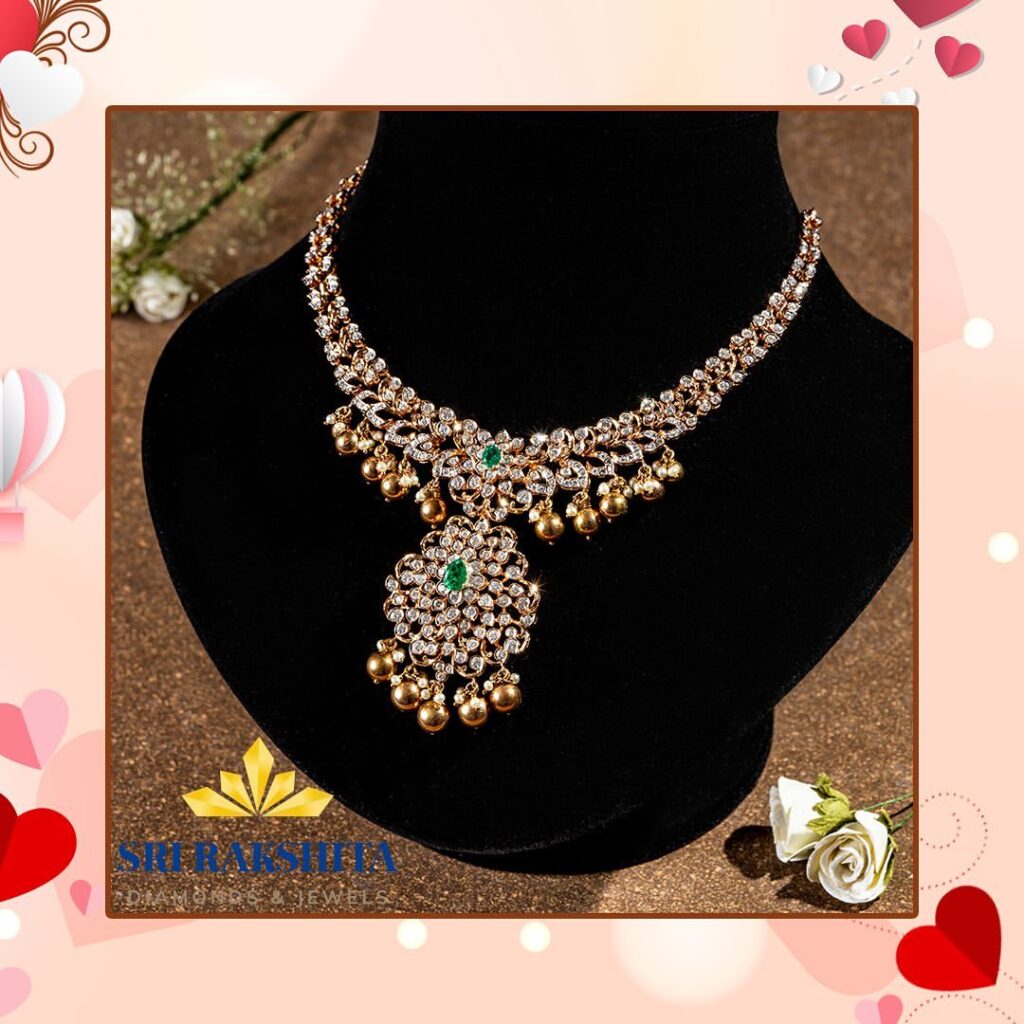 #39 This is a statement piece, the show stopper if you may call it. It has an exquisite design that is creative and unique. It paints a pretty picture that can be mostly found in fashion magazines. It is a perfect confluence between the dainty aesthetic and regal grandeur. A matching set of chandelier earrings will be the ones to do justice to this look. With a necklace like this, you must ensure that the rest of your look doesn't clash with it. You have let this diamond necklace set be the main focus of attention.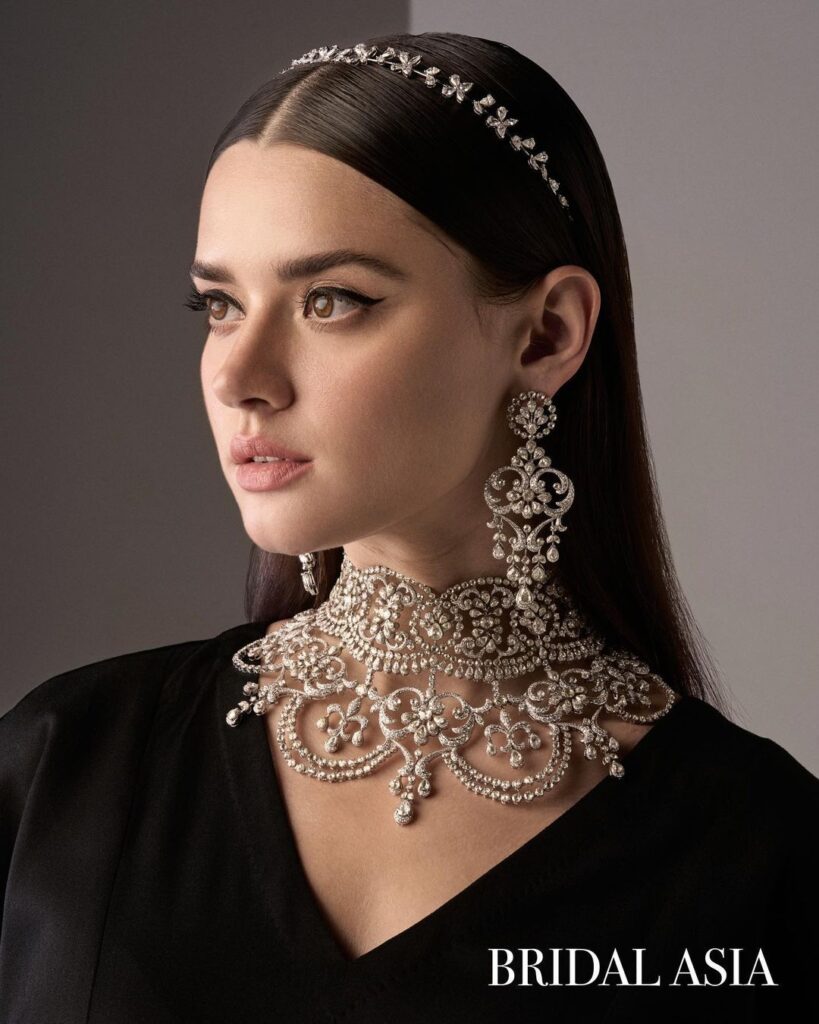 #40 Bridal diamond necklace designs can be worn even after the wedding festivities are over. It will depend upon the style of your diamond necklace set but rest assured, you won't have to lock away your precious bling after wearing it only once. The cardinal rule of styling diamond jewelry is to find an outfit that will go with it. Modern jewelry pieces are easier to style. A classic solitaire necklace can be paired with anything from ethnic to western wear. For a necklace that has a traditional design, you can try matching its cut and design with the embroidery and embellishments on your saree.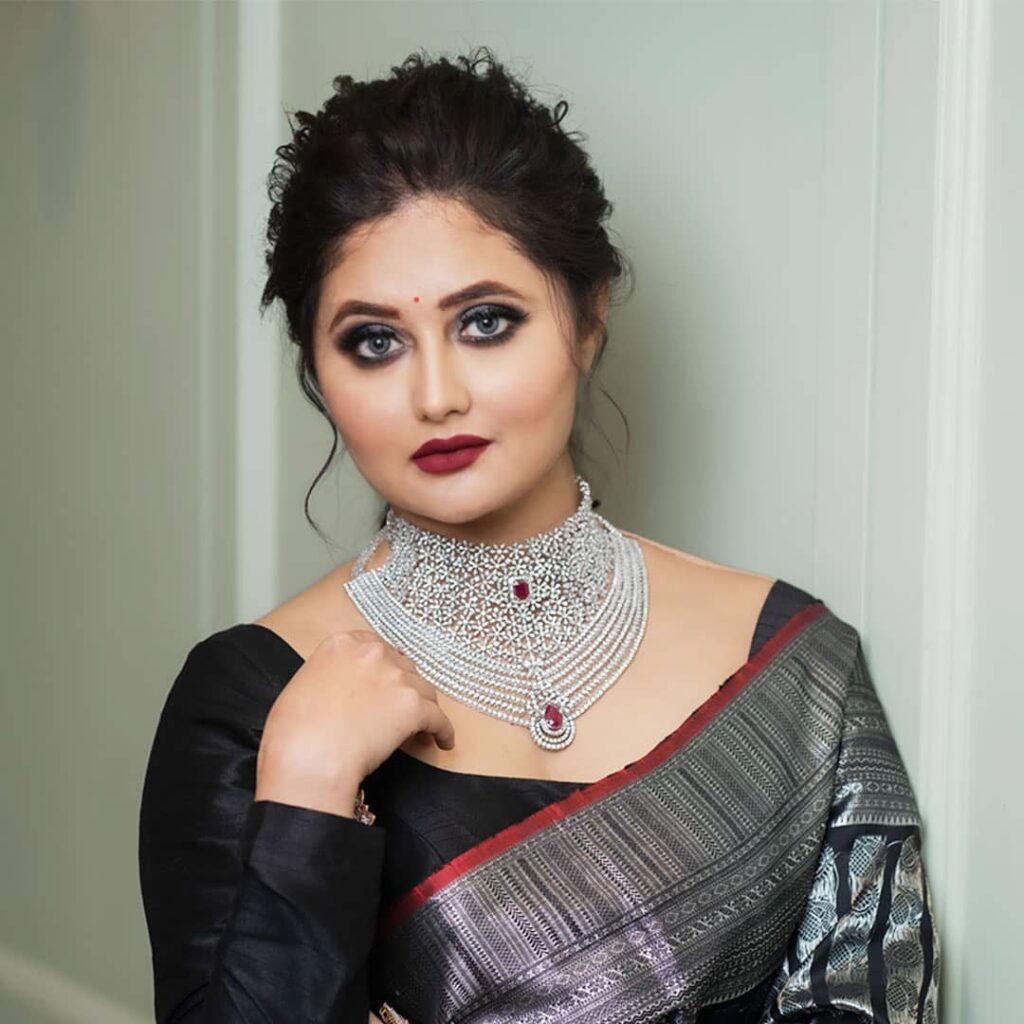 #41 Modern diamond necklace designs can be a visual treat with their fancy and fabulous looks. The brilliant-cut and flawless design are often inspired by nature and the shapes found therein. The diamond necklace pictured here proves that emeralds can make a look more expressive. The pop of green adds an irresistible charm to the necklace. Pair it with a gold or beige lehenga to accentuate the beautiful green color. For a diamond necklace with dangling rubies as the center of attention, pick a pastel pink bridal lehenga. Sapphire-based necklace of the same nature will go brilliantly with ivory, gray, and silver bridal attires.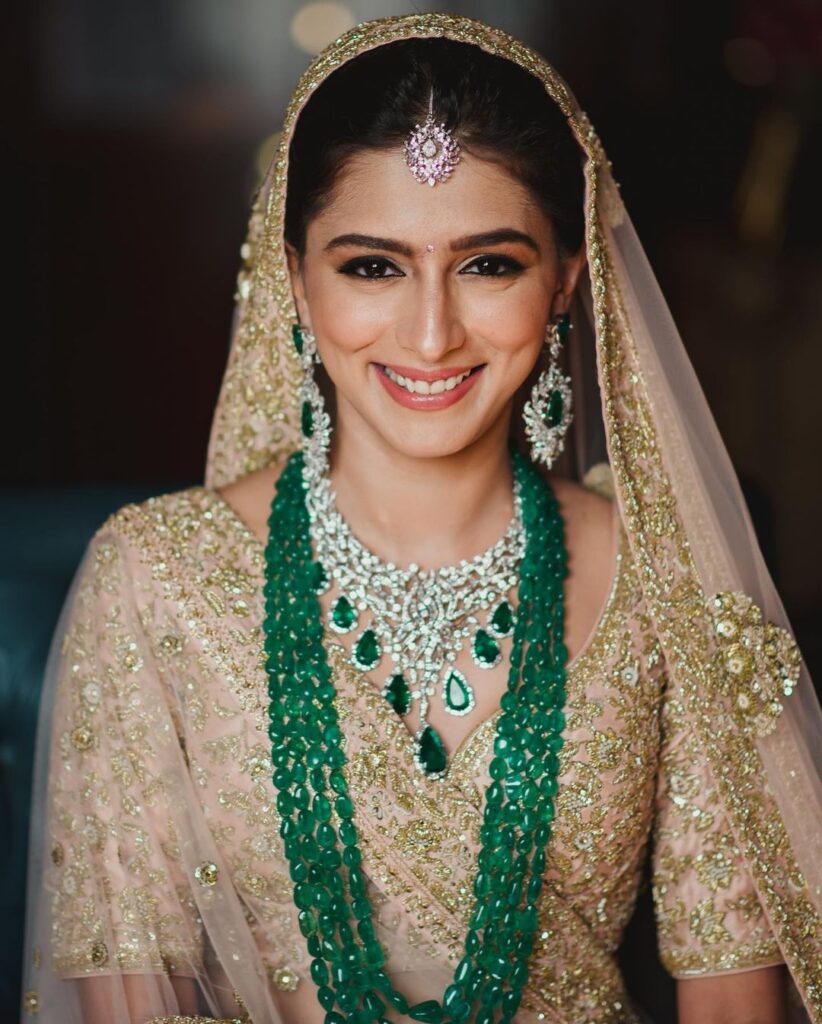 #42 jewelry can be used to create memories that can last generations. When this is the sentiment you are looking for, choose bridal diamond necklace designs that not only act as a reminder of the old-world charm but also bear the marks of excellent craftsmanship. This translates into an artistic expression that is an ode to the heritage, culture, and aesthetic of Indian ethnicity. Statement neckpieces with diamonds and emeralds bring that perfect dose of nostalgia. A statement rani haar will look good with traditional Indian bridal wear as well as evening gowns.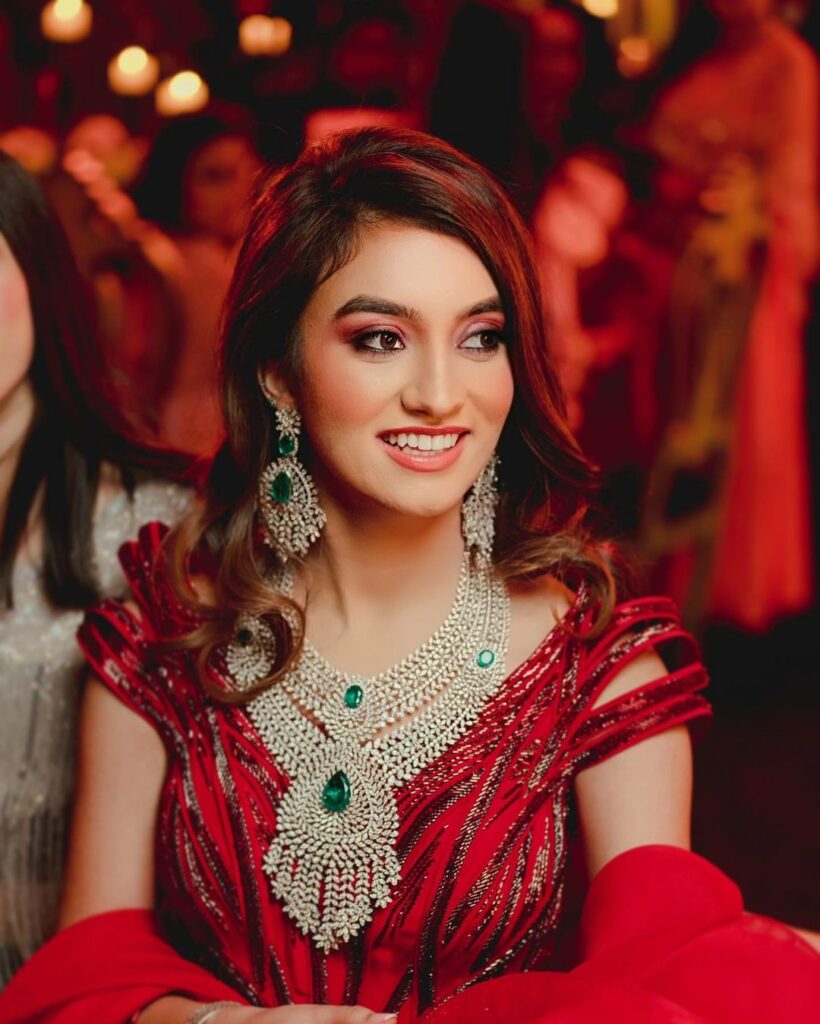 #43 Emeralds when paired with diamonds create a masterpiece that radiates elegance and an aura of grace. It becomes an iconic piece of jewelry that should be a part of your bridal jewelry collection. Gone are the days when you had to buy two different necklaces to create a layered look. That's the beauty and fun of contemporary bridal diamond necklace designs. These days the choker necklace comes attached with strings of diamonds arranged differently than the design of the choker but in a similar theme to give the illusion of wearing different necklaces. This is also a good model for detachable diamond jewelry.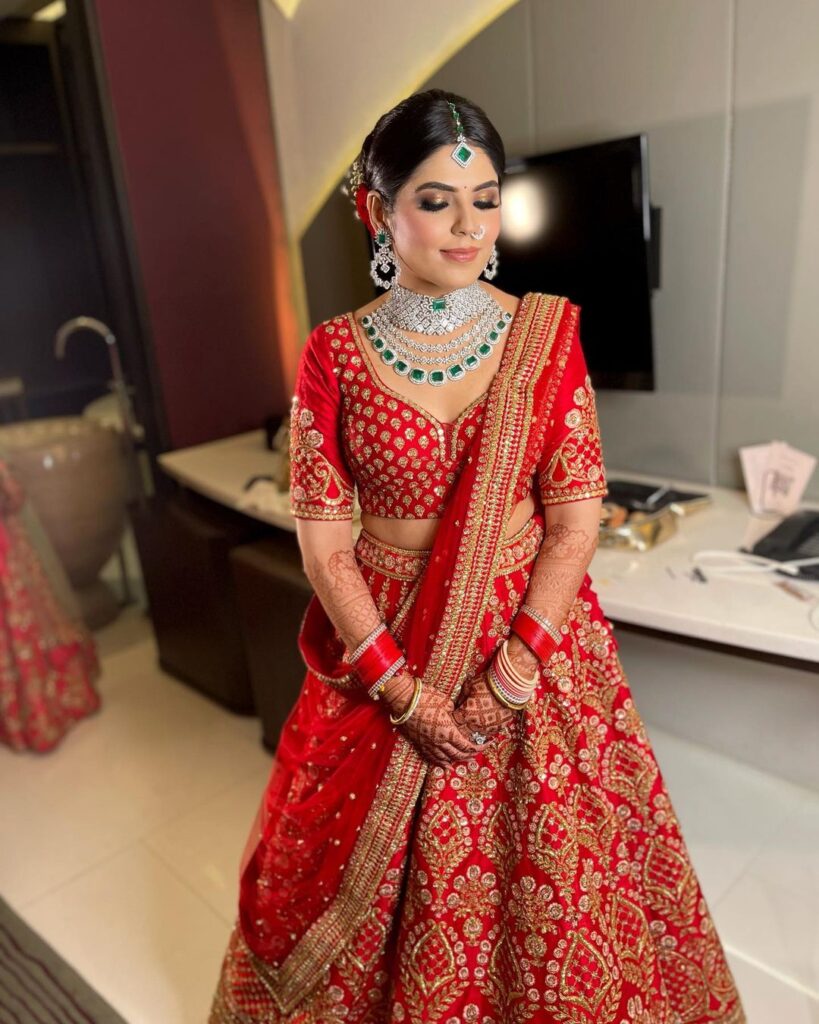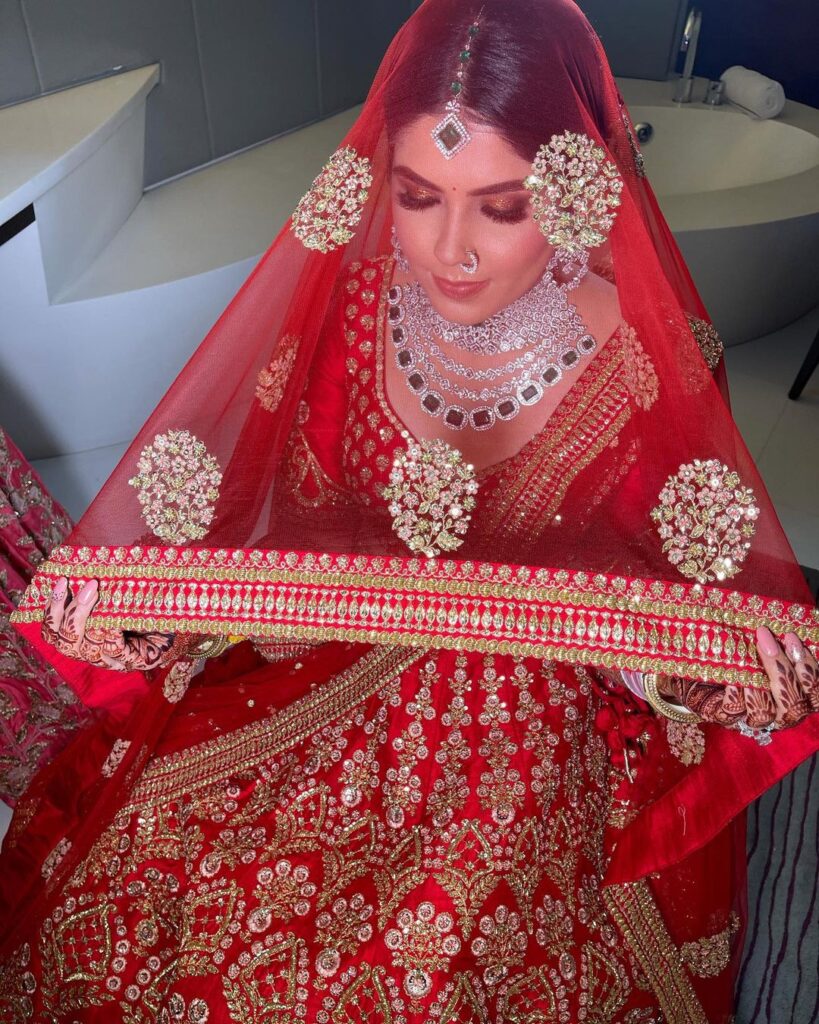 #44 This is the diamond jewelry look for the fashion-savvy modern bride. From the diamond mathapatti to the diamond necklace set, everything radiates an elegance that is synonymous with contemporary designs. Its clever design gives it a fuller look while staying lightweight. Pick a diamond necklace set that not only matches the style of embellishments of your bridal attire but also matches its shine. This will take the beauty of your whole look up by a few notches.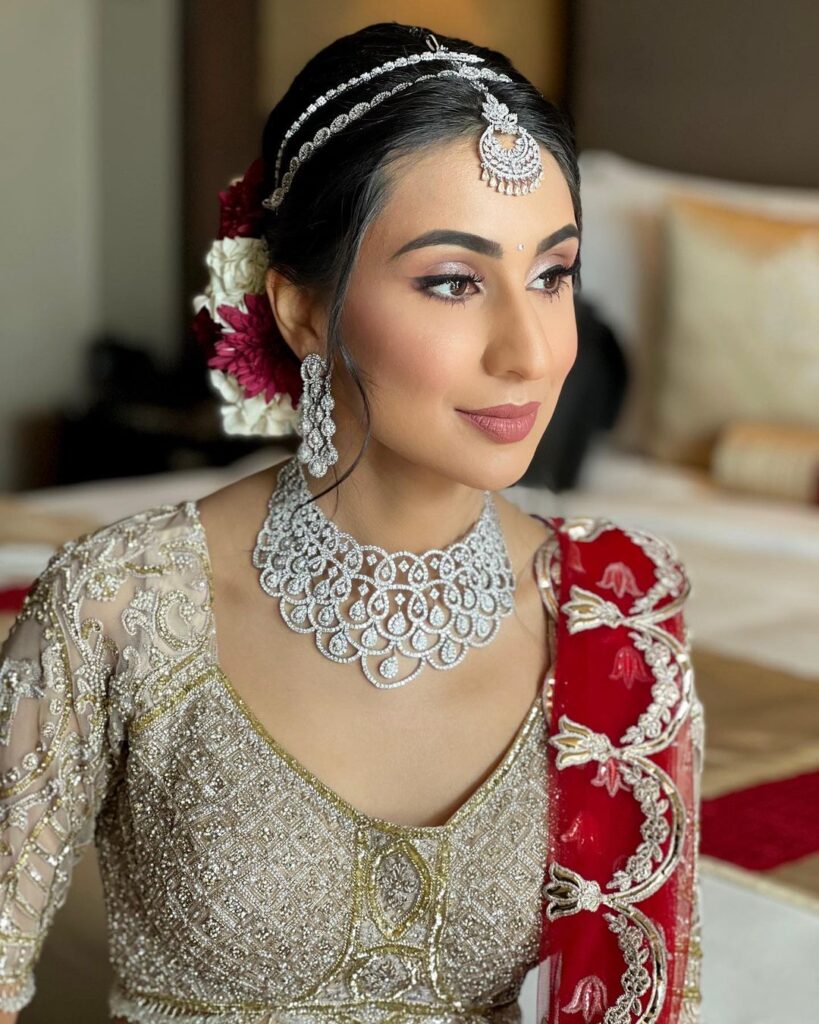 #45 It is not always that you will find a diamond necklace set that perfectly matches the work on your bridal lehenga. But when you do find something along these lines, do not let it go. Because this will let you create an iconic look with a fabulous eye-catchy symmetry. This bride did the same with her wedding day look. From the diamond mathapatti to the diamond bangles, all of the jewelry pieces complement the embroidery and embellishments of the bridal lehenga. You can try matching the size of diamonds to the size of the embellishments for a similar aesthetic.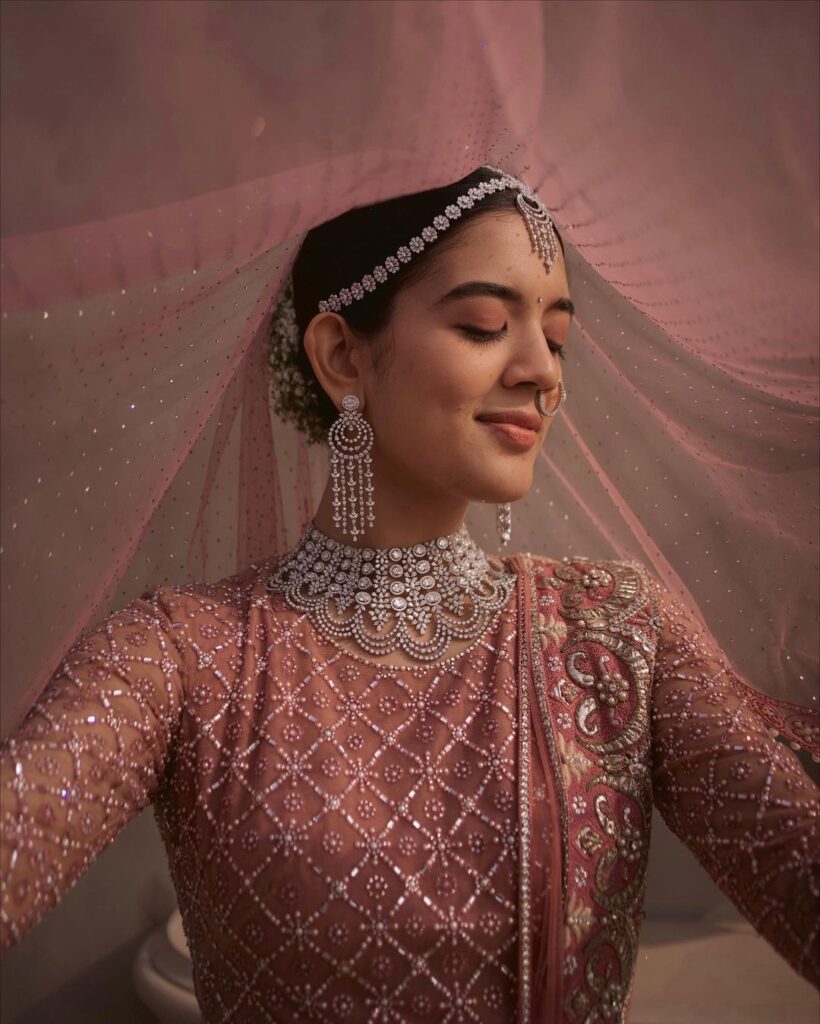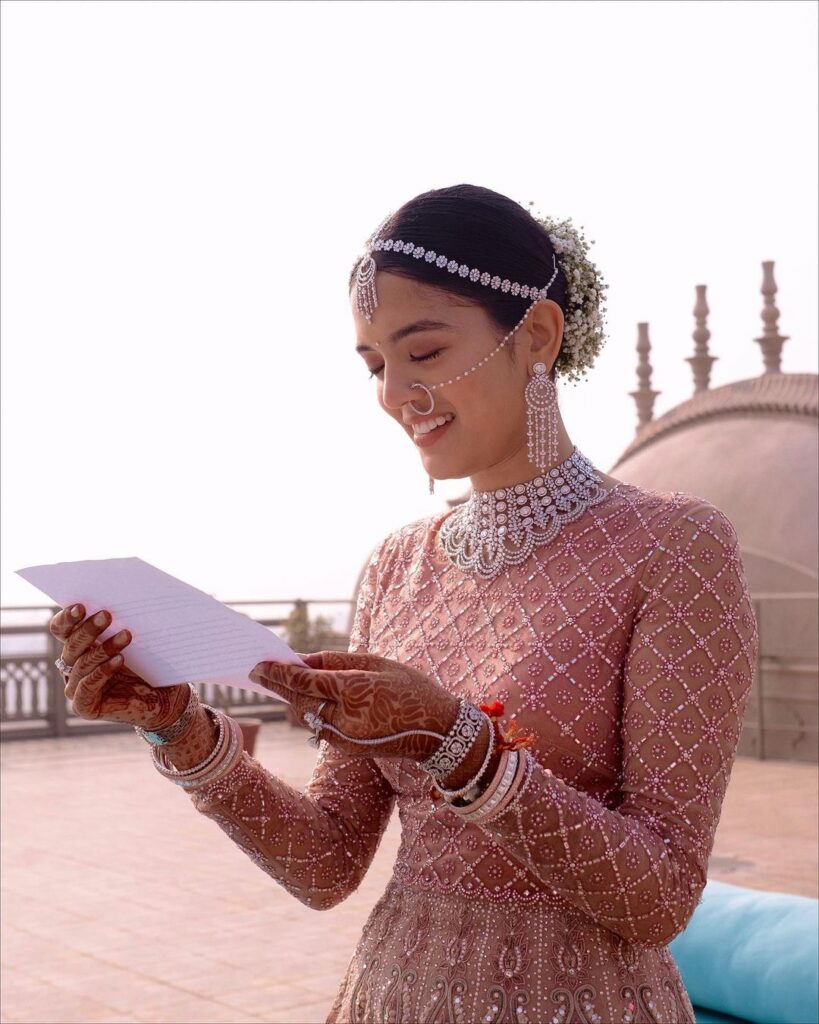 #46 While rubies and emeralds are popular as gemstones that are used in diamond jewelry, they do not fit everyone's style preferences. Black gemstones like black opal, black onyx, black tourmaline, or black obsidian will make for an unconventional choice but they will set a gorgeous contrast when set with dazzling diamonds. You can choose to match your diamond necklace with black gemstones with other jewelry pieces for an air of gothic grace. Or you can just keep one jewelry piece with the black stones while keeping the rest of the pieces dazzling and minimal.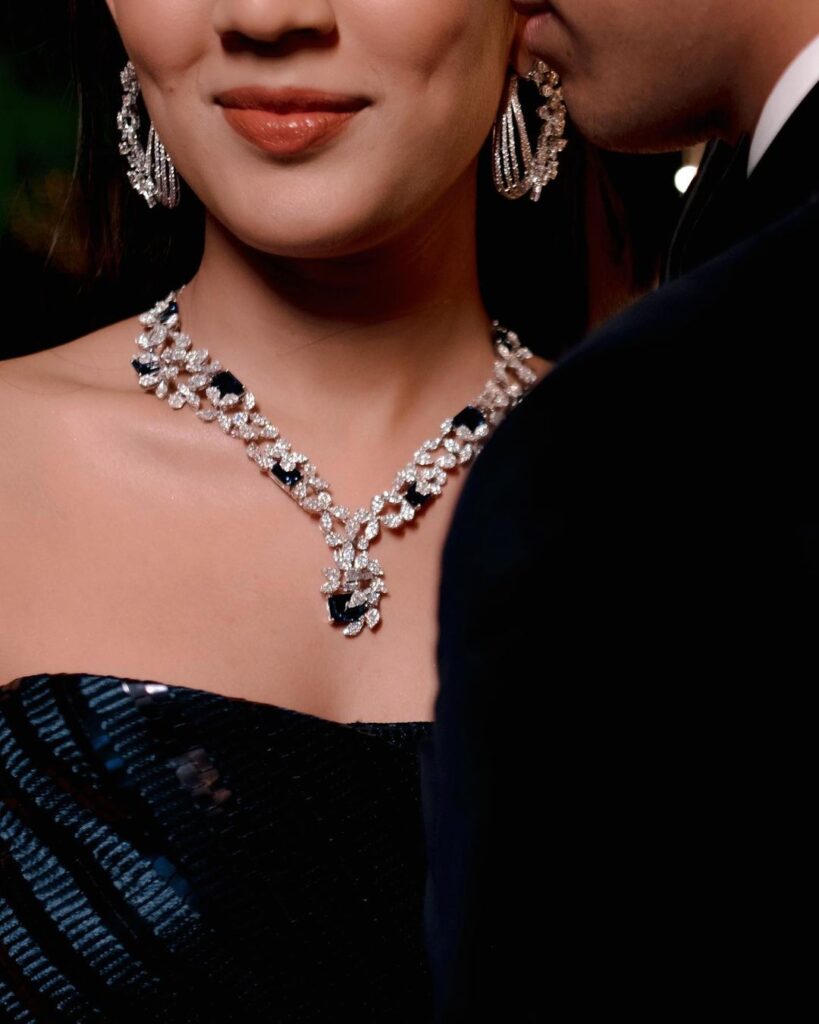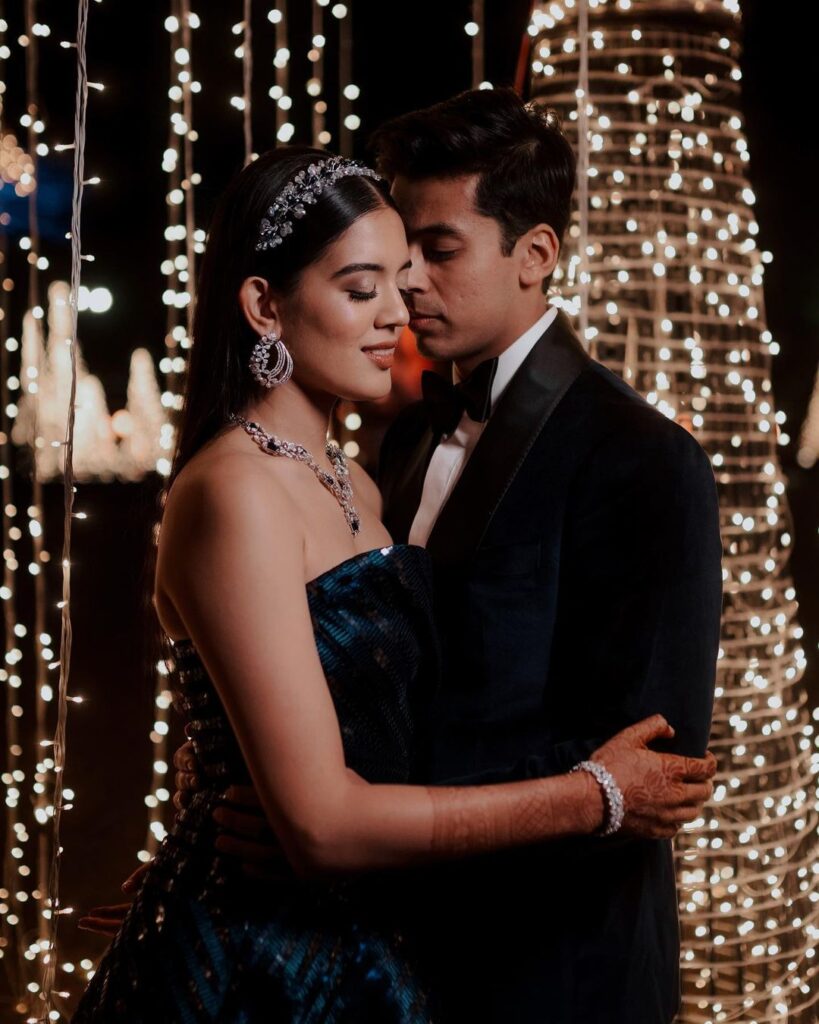 #47 If you are more into colored gemstones than diamonds but cannot ignore their blingy appeal, then you can opt for a bridal diamond necklace like the one pictured here. This diamond necklace set has pushed emeralds at the center stage while the cluster of diamonds is arranged to play a supporting role. They add a gleaming grace to the necklace and enhance the beautiful green color of the emeralds. A good styling idea would be to try out different diamond necklaces from the same collection. For instance, if you are buying a Tanishq diamond necklace from a particular collection, you can ask to see more designs from that same collection. This way you can create an enchanting look while working with jewelry of the same theme and design.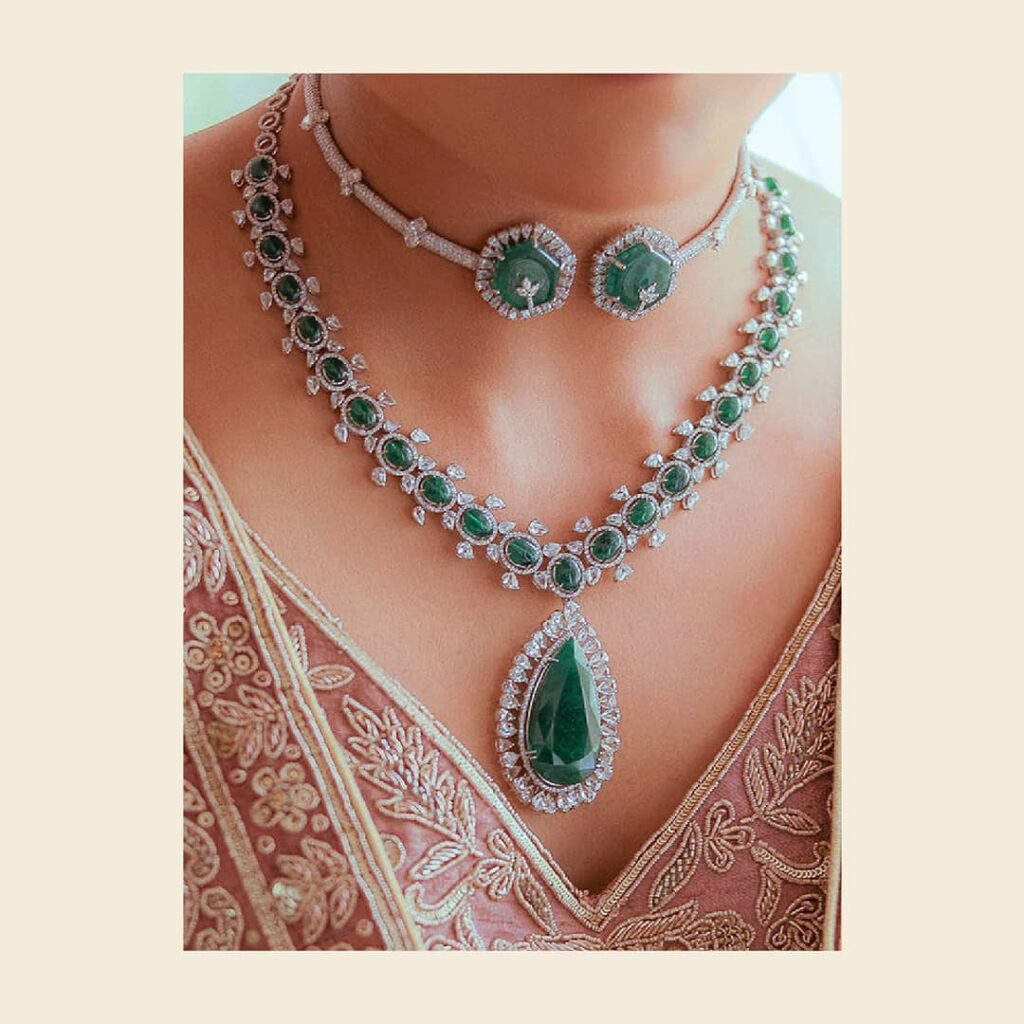 #48 You can never go wrong with the traditional polki diamond necklace set designs if you want your wedding look to be regal, elite, and majestic. While polki diamonds won't have the same dazzling shine as the other diamond jewelry pieces, it offers you a rustic old-world charm that complements the Indian bridal look quite well. It has an undeniable mesmerizing elegance of a bygone era. Just like your usual cut diamonds, polki diamond sets often incorporate precious and semi-precious stones. Emeralds are a popular choice. The beauty of this combination will be enhanced further when paired with an ivory bridal lehenga. It will set a flamboyant contrast against a red bridal attire as well.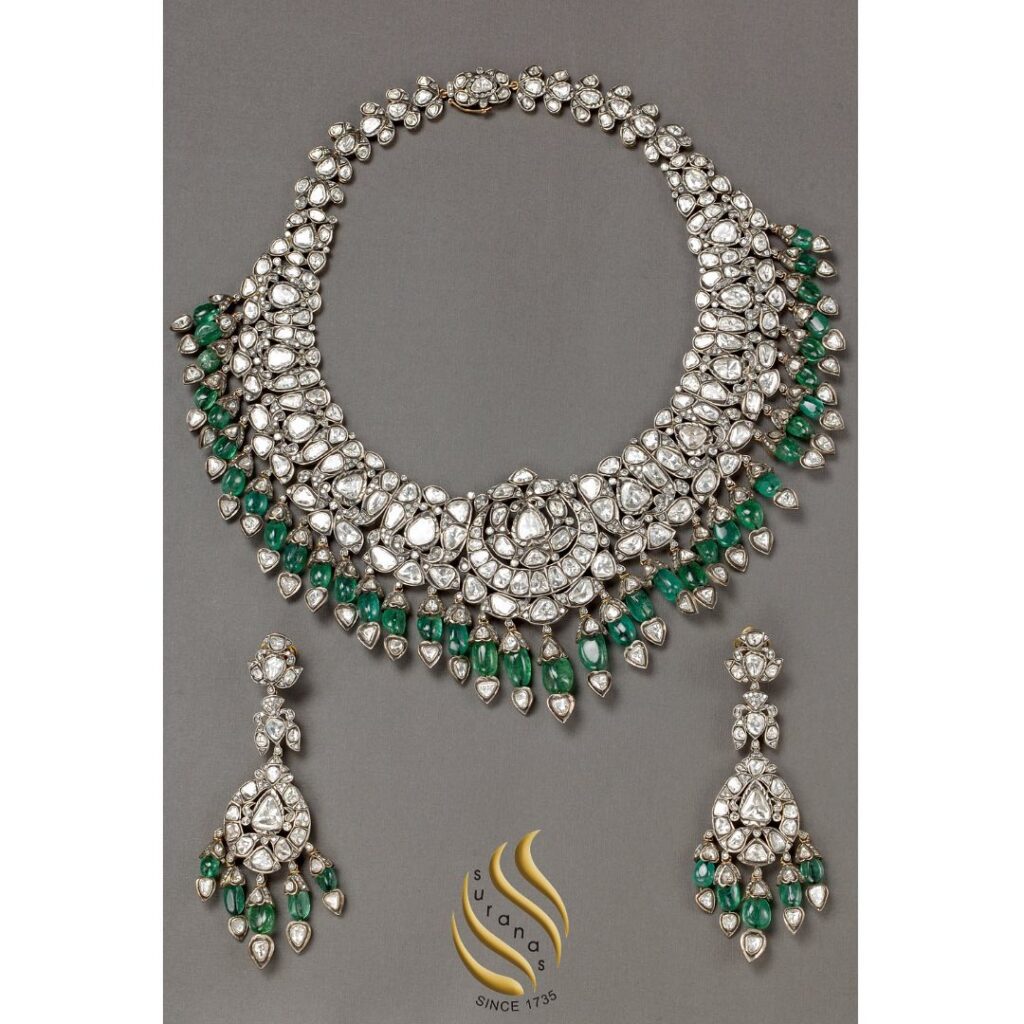 #49 Play into your forest goddess aesthetic with this diamond necklace set designed with emeralds. It is an intriguing combination that has stood the test of time and stayed as one of the topmost trends. This diamond necklace is a result of the unparalleled skill, artistry, and creativity of the makers. The awe-inspiring design of this floral diamond necklace is one of a kind. It has a delightful character that almost feels mystical. It has an elegant presence that you can carry with all sorts of bridal attires as well as non-bridal attires.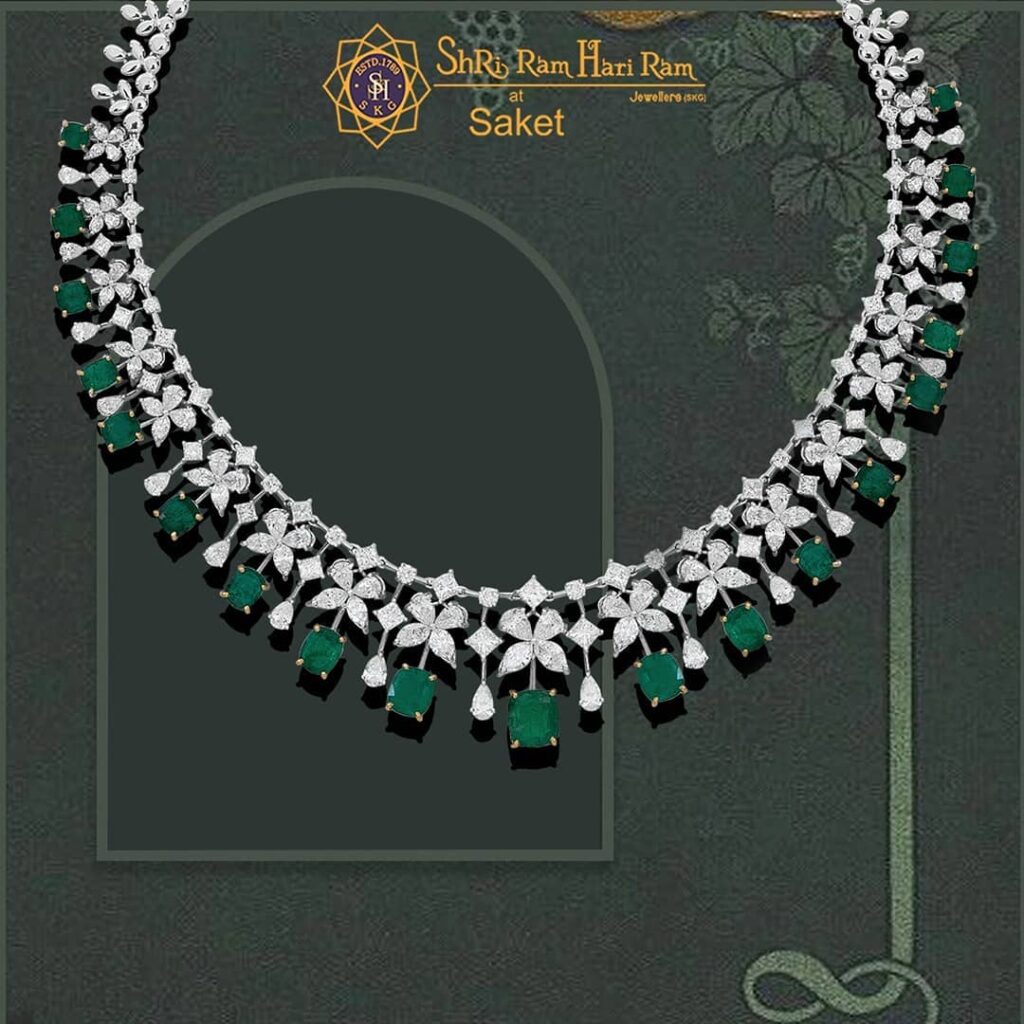 #50 Flowers in diamond necklace designs are a common phenomenon. Depending upon the cut and carat of the diamonds, there is a wide variety of such diamond necklace designs available in the markets. If you are choosing a simple yet impressive design like this bride, you should spice things up with a bold makeup look. And if you prefer extravagant jewelry pieces, balance the look by keeping your makeup look subtle. For more interesting pieces look for a diamond necklace set with a combination of different diamond cuts.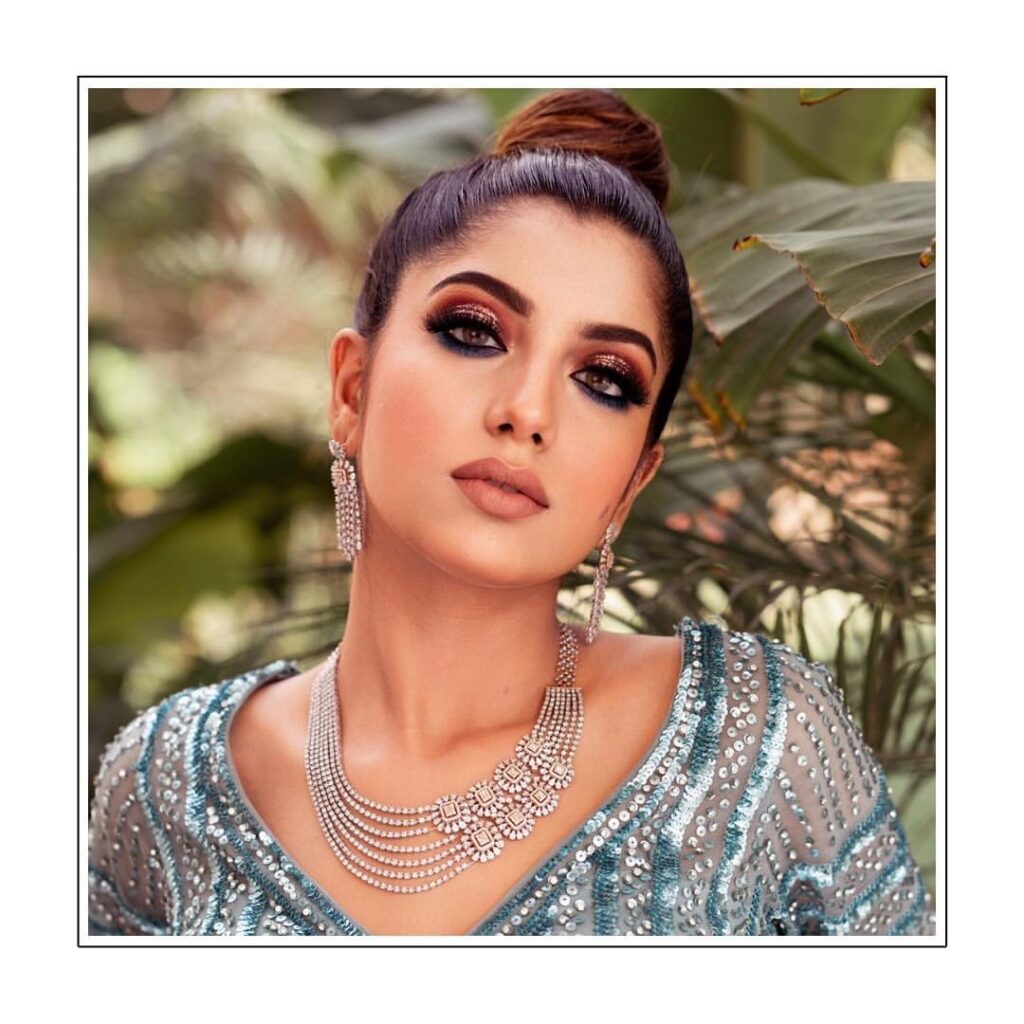 #51 Indian culture is a celebration of extravagance. This sentiment is very well reflected in Indian jewelry, especially bridal jewelry. Even contemporary diamond jewelry designs are touched by the aura of extravagant elegance. The glittery gold has been replaced by sophisticated rose gold. Designs have become more elaborate but the patterns remain mostly the same. Contemporary designs like the one flaunted by this bride are usually an ode to the timeless tradition and Indian heritage. You can take this confluence further by replacing the diamond mathapatti with a diamond hairband.   
#52 Modern diamond necklace designs are unique, inventive, as well as creative. The magnificent and flamboyant silhouette of this diamond necklace set is a result of unparalleled artisanal craftsmanship. With an increased diamond necklace price, in some cases, you can ask your jeweller to make a detachable diamond necklace. This way you can enjoy several jewelry items that can be created from a single necklace. You will get a unique design as well as value for money.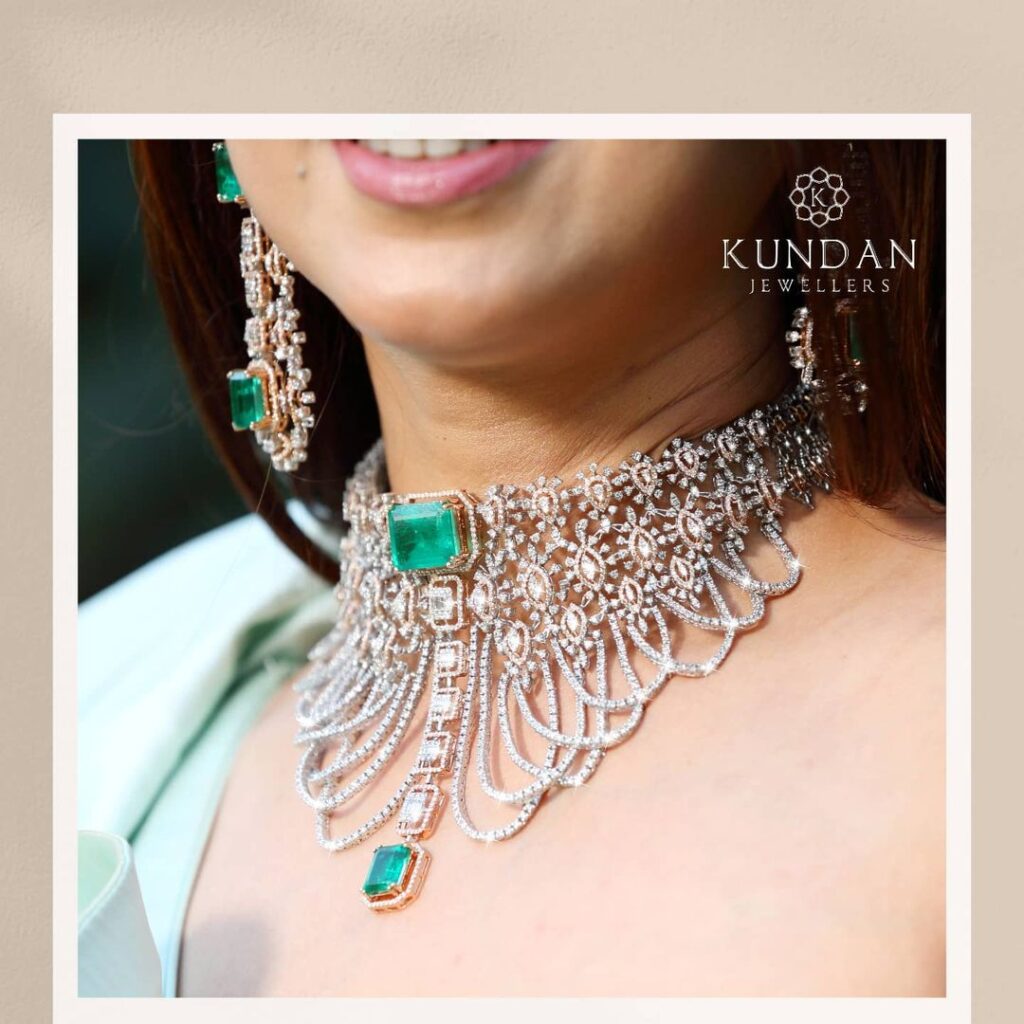 #53 For a pop of color and flamboyance in your wedding day look, go for a diamond necklace set with a multi-color appeal. The diamond necklace pictured here is a work of art. It is true to its multi-hued character but maintains its grace. It is the best of all the worlds as it incorporates rubies, emeralds, as well as pearls in its design. The matching diamond maangtikka and chandelier earrings complete the look. This is modern royal elegance and grandeur. While such pieces look lovely, you must be careful while choosing such a diamond necklace. Make sure your choice of multi-hued jewelry complements the tone of your bridal attire. Such diamond jewelry is the best match for multi-colored lehengas, monochrome looks, or bridal wear in pretty pastel shades.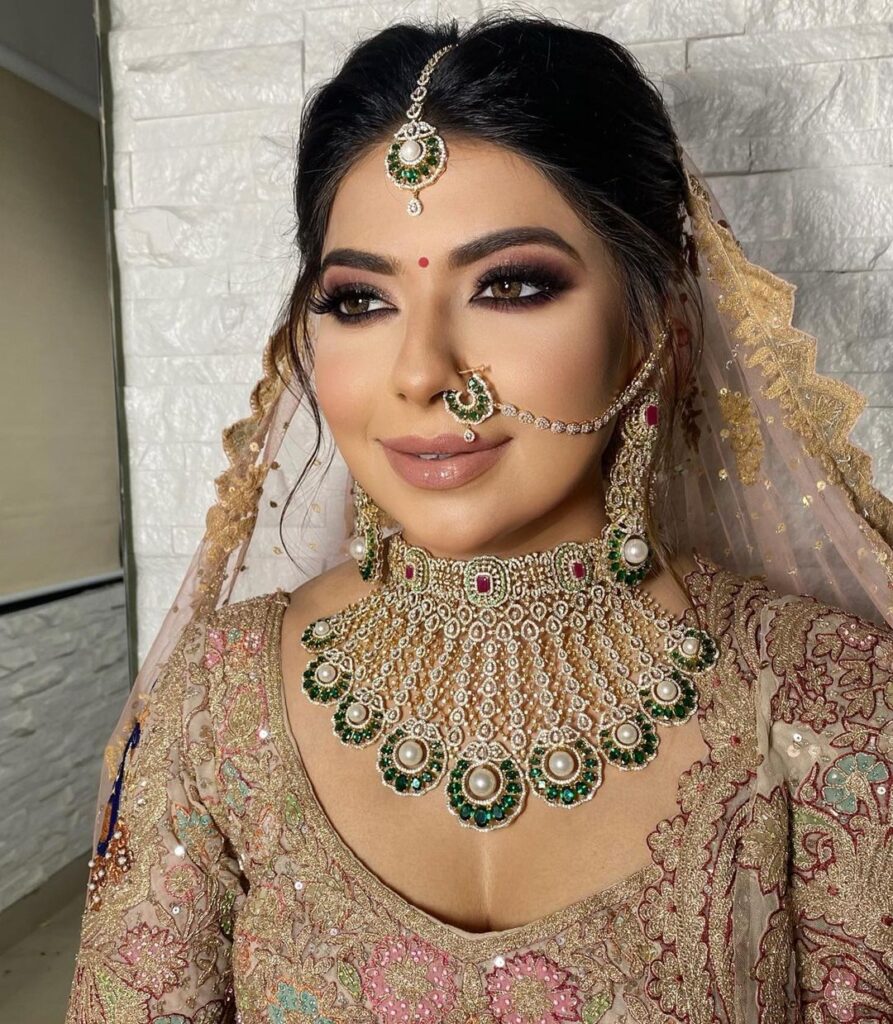 #54 V-shaped diamond necklace designs with a huge pendant are a style statement that is loved by many modern brides. Choose a style that is so fabulous and bedazzling that it will even make Tiffany jealous. Such diamond necklaces are a great way of introducing a pop of color to your bridal attire. It will look especially good on a monochrome look. You can look for a single ruby, emerald, or sapphire as the centerpiece of the pendant. Or you can take inspiration from this diamond necklace set pictured here and go for a more luxurious appeal with a yellow diamond.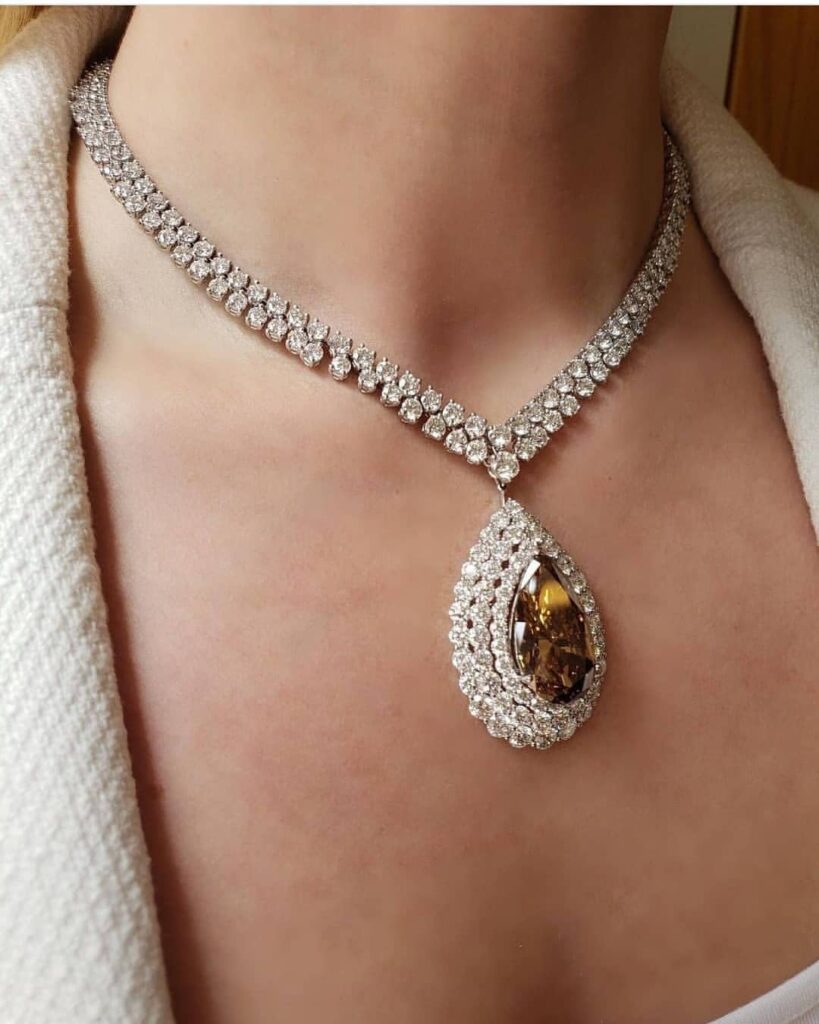 #55 The best thing about modern diamond necklace designs is the variety that is offered to the customers. It is not only due to the myriad of creative designs but also due to the uniqueness that is offered by diamonds. Depending upon the cut, clarity, and color, each diamond jewelry piece bears a different look and shine. So, even if you are going for a fairly popular and common design, you can rest assured that your jewelry pieces will still come out looking different just like this emerald and diamond necklace pictured here. It is a pretty common combination that has found favor amongst the Indian brides but the arrangement and the different types of diamonds give it a unique and blinding appeal. 
#56 There are a lot more maharani looks than you can imagine. The delicate handcrafted diamond jewelry can be your ode to the tradition that was once historically adorned by the Indian maharanis. Embrace the rich cultural heritage that is offered by our nation's history and incorporate it into your wedding look. For inspiration, you can look up the old photographs of our mothers and grandmothers because nobody can do the maharani look better than your ancestresses. Look how they dressed during their days. This will not only let you have a unique wedding look but it will also become personalized. You can play around with some modern touches in the design and make the jewelry designs something your own.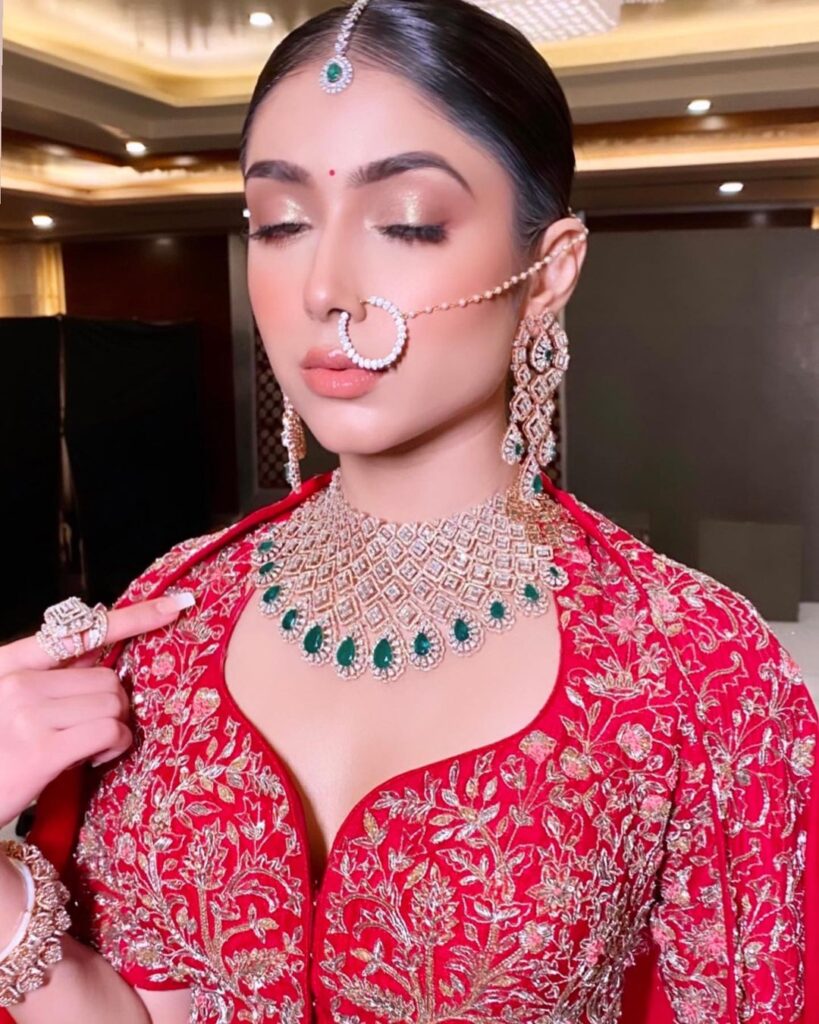 #57 Modern diamond necklace designs and their unique arrangements are perfect for achieving that ultimate show-stopper look. This collar necklace makes a bold and stylish statement with a dainty and close-knit jaal like design and an emerald as the connecting point. It will sit snugly on your neck and accentuate your collar bones. Something like this must be paired with low and open necklines. Since the necklace is unique, you can pair it with an equally unique pair of earrings or you can keep it simple and finish the look with emerald studs and a gorgeous emerald ring.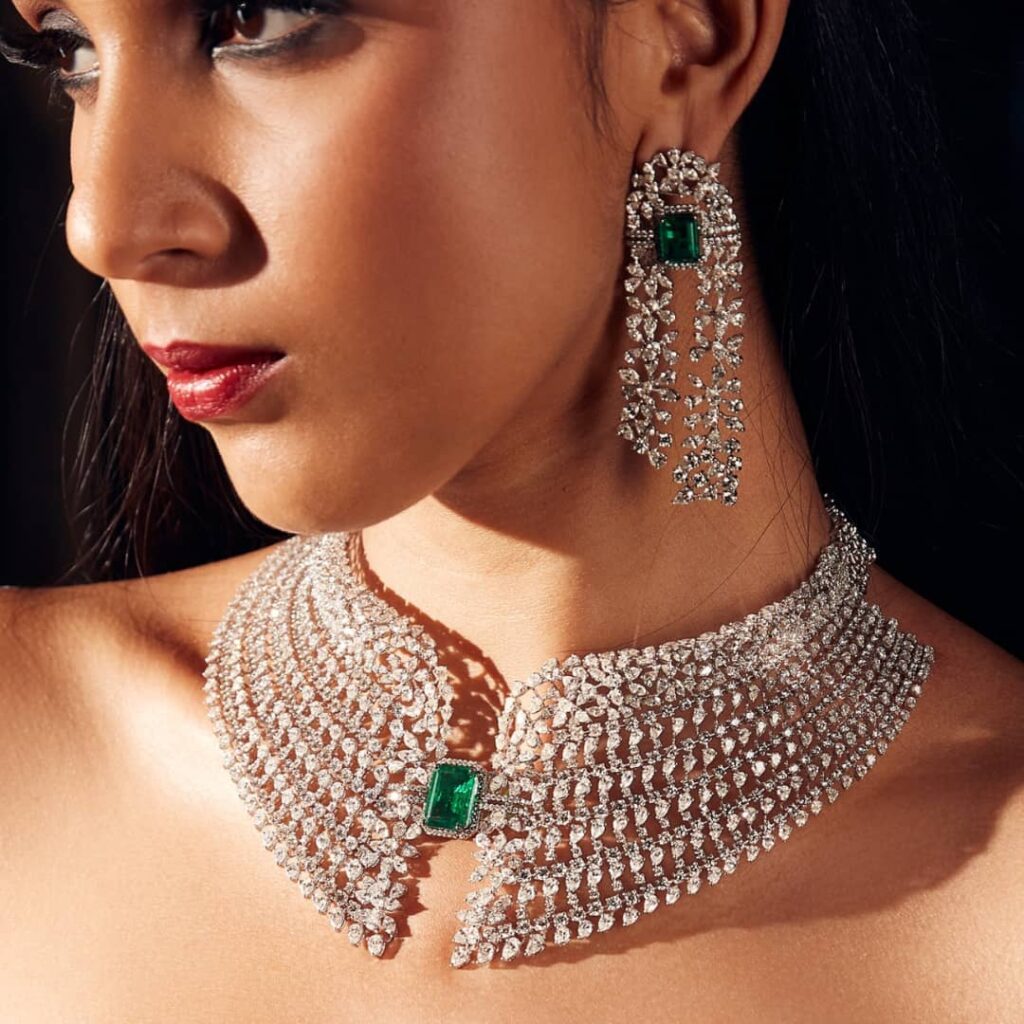 #58 There is beauty in simplicity. You don't have to deck up in layers of diamonds to look breathtakingly stunning. This can be done with a simple diamond necklace or even a diamond pendant. The necklace pictured here takes a middle ground between the two. The drop-shaped diamonds on the chain and the huge dangling diamond pendant give a fine look. It is a classic look with a touch of modern elegance. The beauty of this diamond necklace is that it can be paired with both western as well as ethnic attires.
#59 Most of the modern diamond necklace designs are uniquely shaped. The creative setting of diamonds gives it a show-stopping look that radiates grace. The modern diamond necklace sets can incorporate classic designs with the latest trends. They are crafted with elegant excellence. Apart from unique settings, the cut of the diamond can make a huge impact on the beauty of the whole set. The diamond necklace set pictured here features the marquise diamonds which has given the necklace a beautiful dainty look. A dainty diamond maangtikka of a similar design will do wonders for your look with a necklace like this one.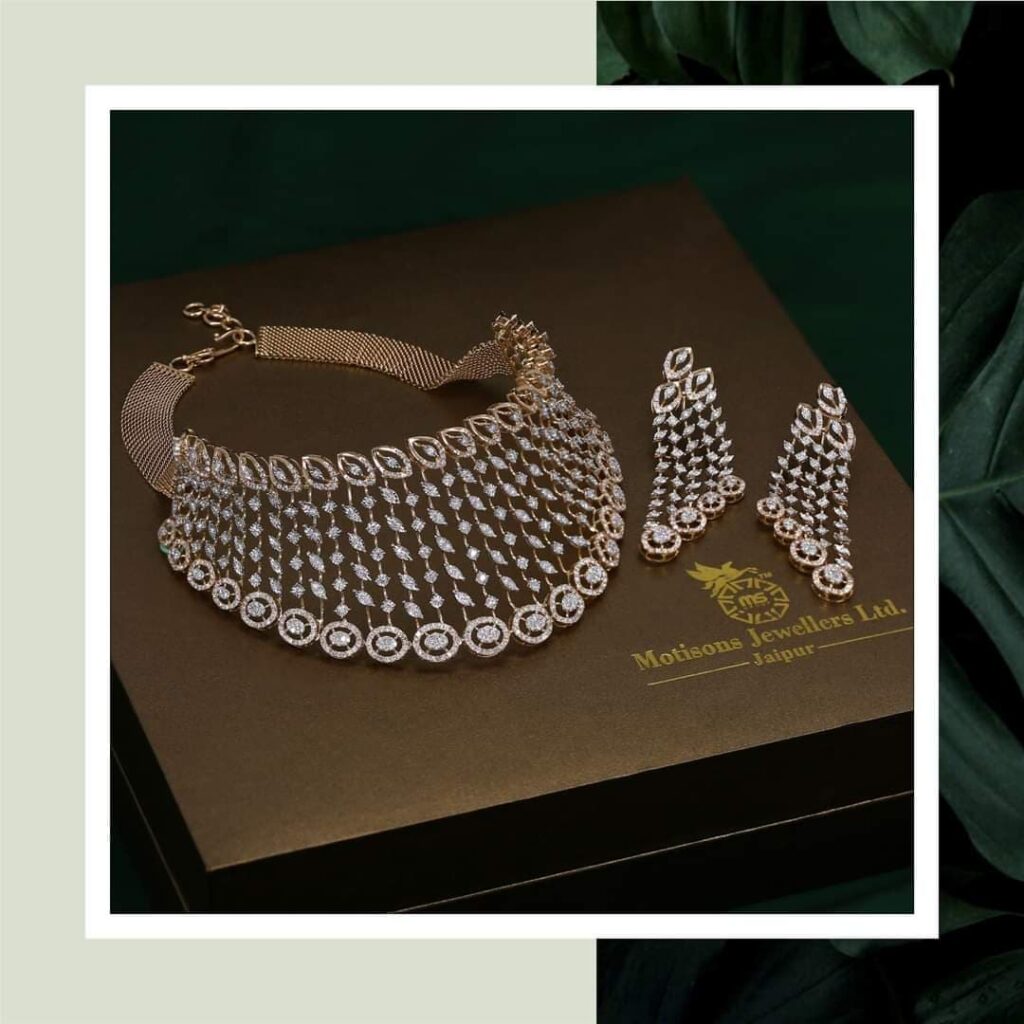 #60 Are you someone who likes to stand out from the crowd? Then, you should not compromise when it comes to choosing the right diamond necklace set for your wedding festivities. Let this sentiment dictate your jewelry choices. Go the non-conventional route and choose diamond necklace designs that are uncommon but fit your aesthetic. You will be true to your character while also making a style statement with a unique piece of diamond jewelry. The one pictured here is an item full of grace and elegance. It gives a sophisticated look that can be paired rather well with western and indo-western attires. The diamond necklace price will surely reflect the unique character but if it is in your budget, it will be worth it.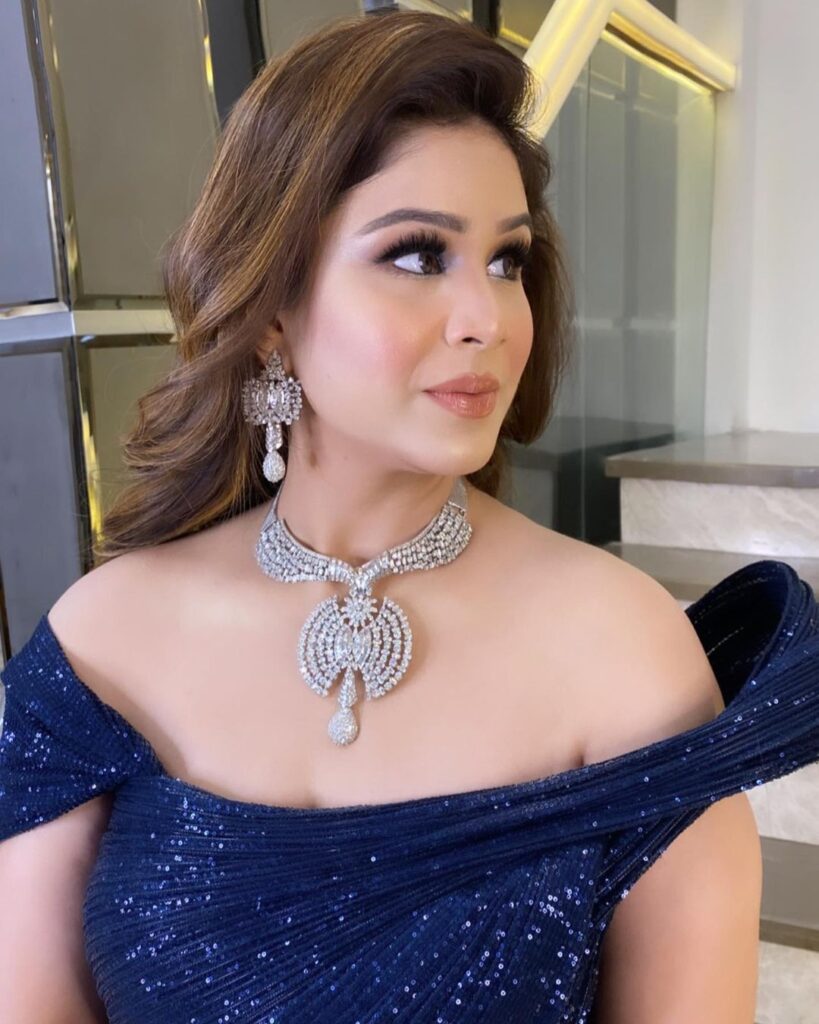 #61 Take a look at any Tanishq diamond necklace and you will be left mesmerized over its arresting beauty. That's the beauty of the modern diamond necklace designs that you will find not only with Tanishq but other jewellers as well. One such design is pictured here which exudes a minimalistic charm. It is neither too simple nor too extravagant but just the right amount of spectacular that you can wear to a variety of occasions. The small leaf-like clusters give it a refined look which is enhanced by the dazzling emeralds. You can opt for any other stone of your choice such as ruby, aquamarine, peridot, amethyst, citrine, topaz, and garnet among others.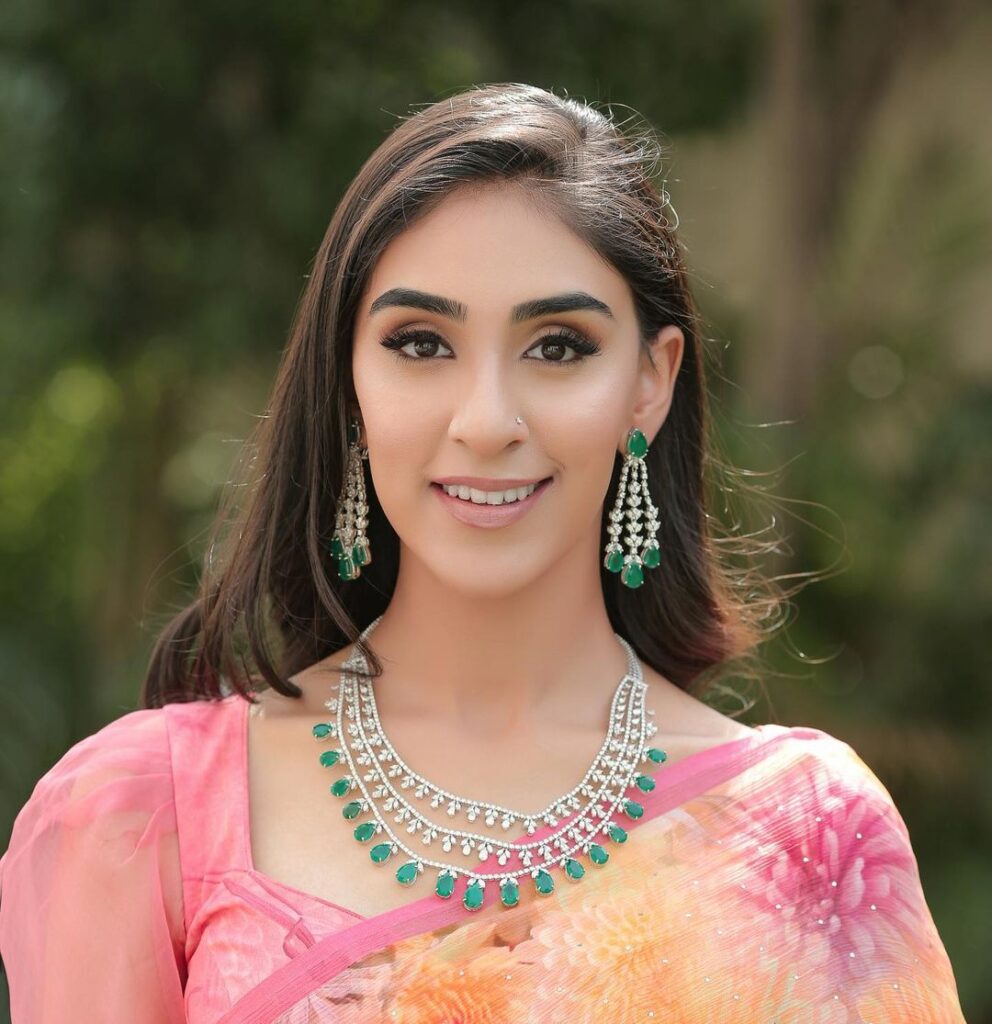 #62 Here is a diamond necklace set that has such a timeless grandeur that it is worthy of being made into a family heirloom that is passed down to generations. You can make a legacy out of your investment on a diamond set such as the one pictured here. This necklace is a culmination of diamonds and pearls that guarantees some serious bling. The cluster of diamonds takes the form of floral patterns while the pearls add to its already spectacular beauty. It is also the perfect confluence of contemporary indo-western jewelry designs. You can pair diamond studs and matching diamond bangles to complete the look.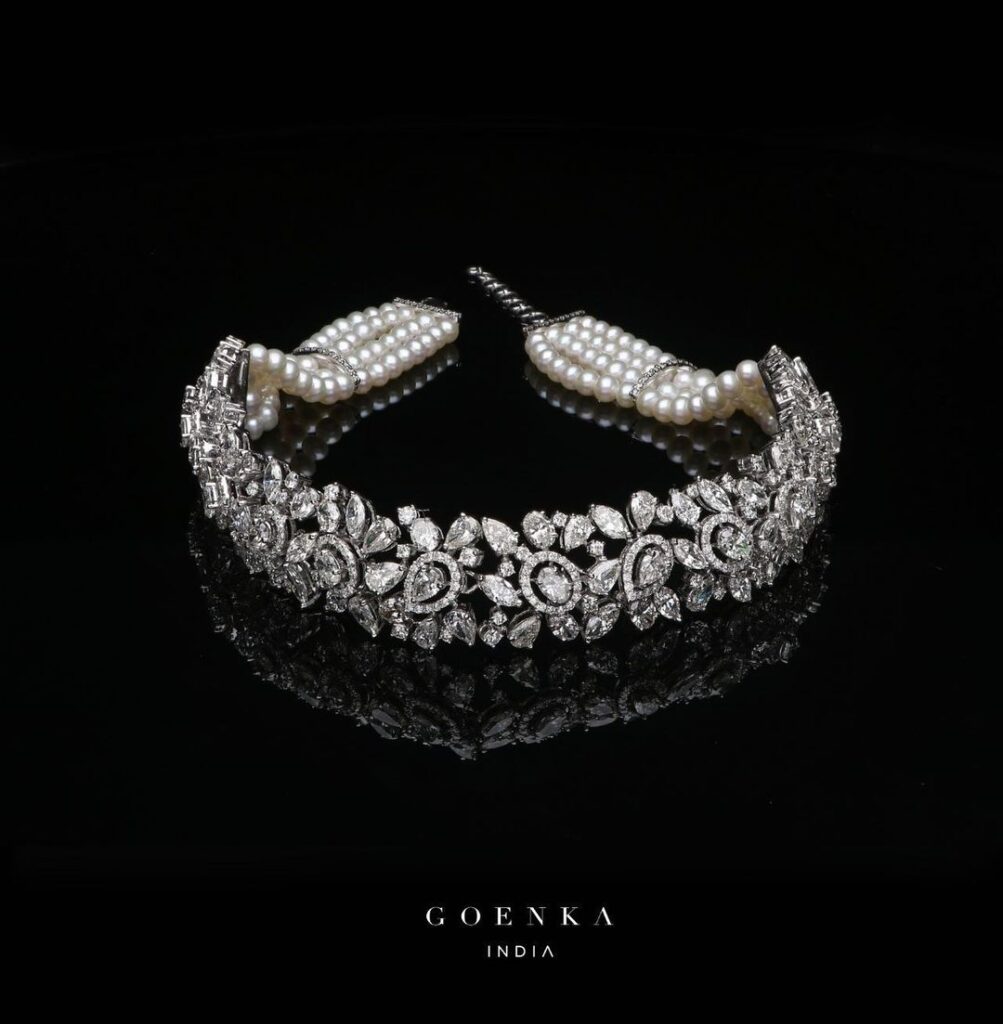 #63 This is a diamond necklace that will make you the life and the talk of any party. It will be the highlight of your look and you will be the highlight of the evening. It is yet another exquisite example of the beauteous contemporary diamond jewelry designs. It is unique and inventive in the sense of its design as well as the color scheme. It uses gold which fades as it moves towards the center.  The huge drop cut sapphire set within a beautiful designer outline of diamonds is eye-catchy. A set of matching drop earrings with sapphire will look great.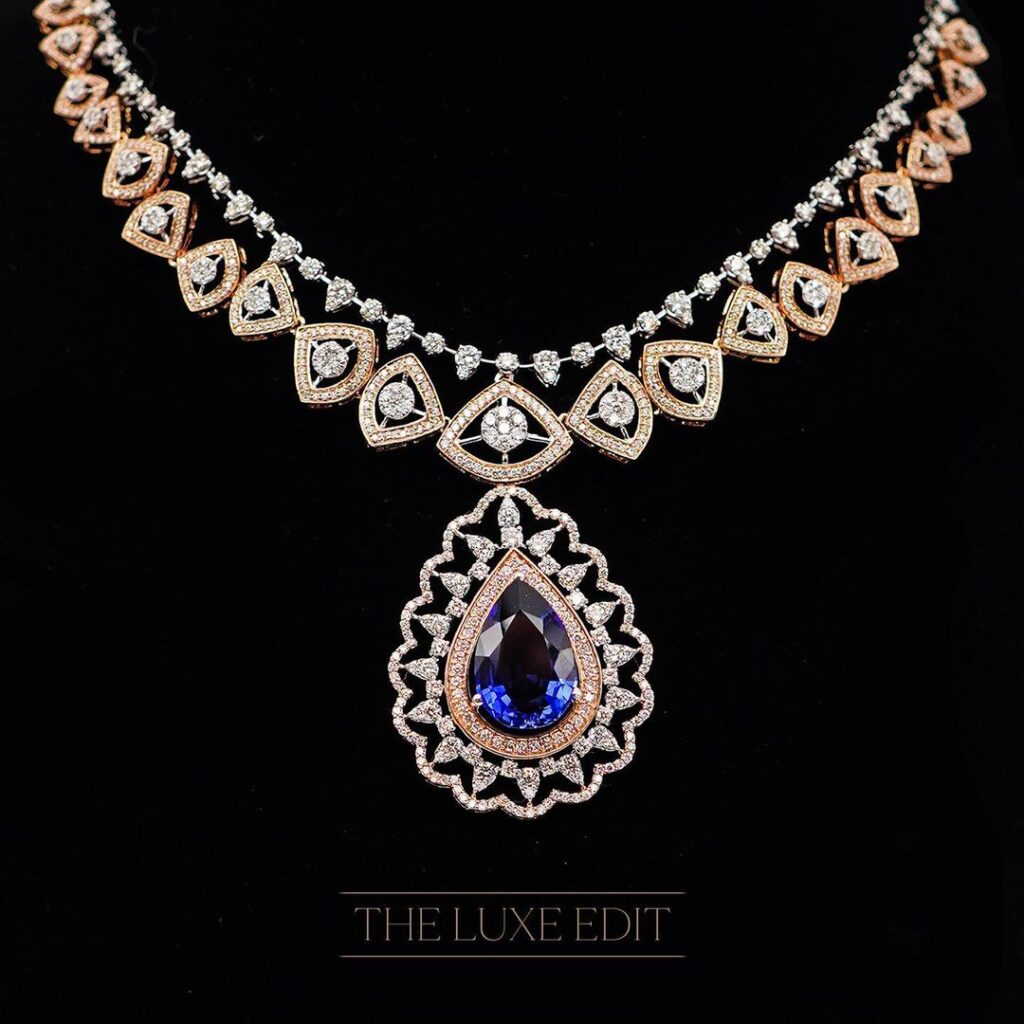 #64 You don't need a diamond necklace to complete your look. A pair of stunning statement diamond earrings can do the job of being a showstopper piece as a standalone. This is something that you can try as the modern bride who loves everything minimalistic. You can either give a chance to a pair of chandelier earrings or go even more minimal with something on that is dainty. It will do wonders for your whole bridal look. It will also not cost a bomb. Since you are dropping off the diamond necklace set from your look, you can add some bling to your hair in the form of a diamond maangtikka or a diamond hairband.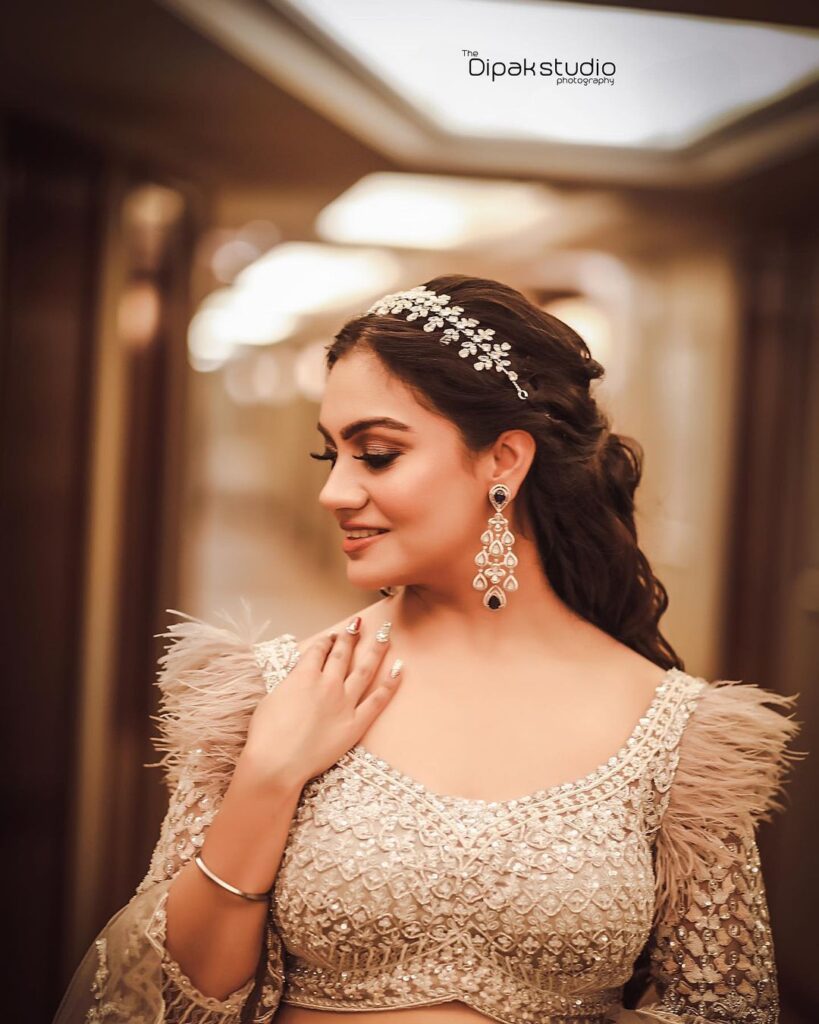 #65 Diamonds and sapphires are a terrific combination when it comes to diamond necklace designs. While emeralds and rubies are quite popular these days, give the dazzling blue sapphire a chance if you are someone who likes to do things a little different from the rest. This is a classic combination of precious stones that not only looks appealing because of their respective colors but also because they exude a royal grace and elegance. Wear this diamond necklace and you will have that queen-like feeling instantly. Make your look modern chic by replacing your diamond mathapatti with a dainty diamond hairband.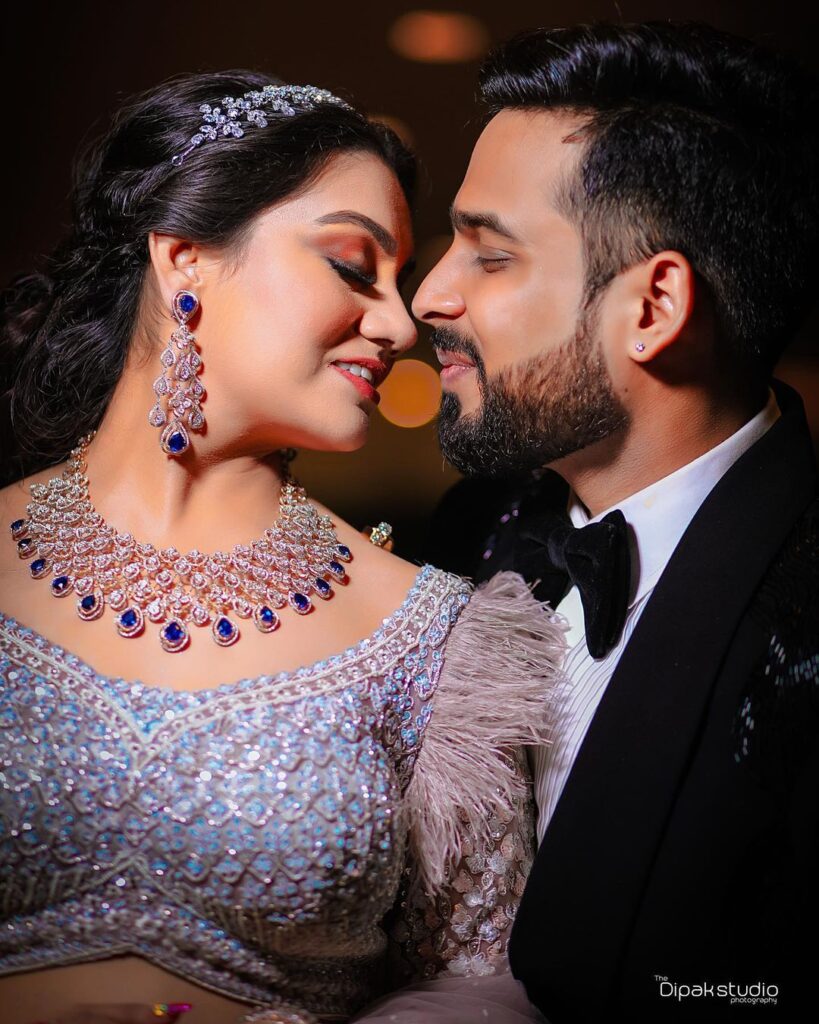 #66 It is common for a bridal diamond necklace to have precious and semi-precious stones such as emeralds and pearls. When these two come together, the beauty of such a piece increases by many folds. This is a heavy statement neckpiece that not only has a gorgeous and graphic silhouette but also has an aesthetic cut and setting. It has an irresistible beauty that exudes luxury. You can pair it as a standalone piece or go all out by pairing it with matching diamond earrings with emeralds or simple pearl earrings.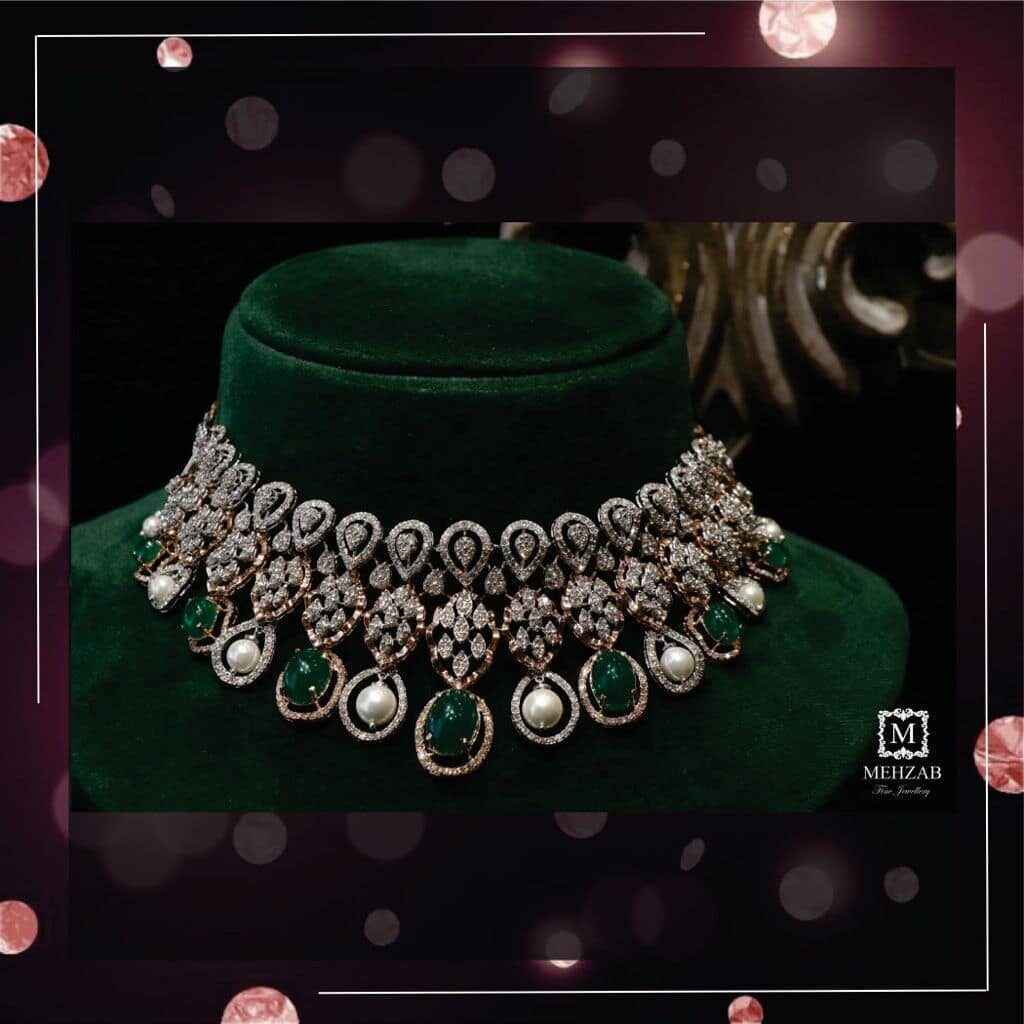 #67 Take your love for diamonds to the next level with a contemporary design such as this one. Diamond jewelry generally comprises a variety of cuts but this particular diamond necklace set shows how to bring it all together. A design like this truly promises the best of all worlds as it uses several cuts including the pear-shaped cut, oval cut, and the princess cut. No wonder it radiates a unique charm and character. Such a necklace will of course come under expensive jewelry sets but looking at how heavenly and magical it is, we say it is worth it.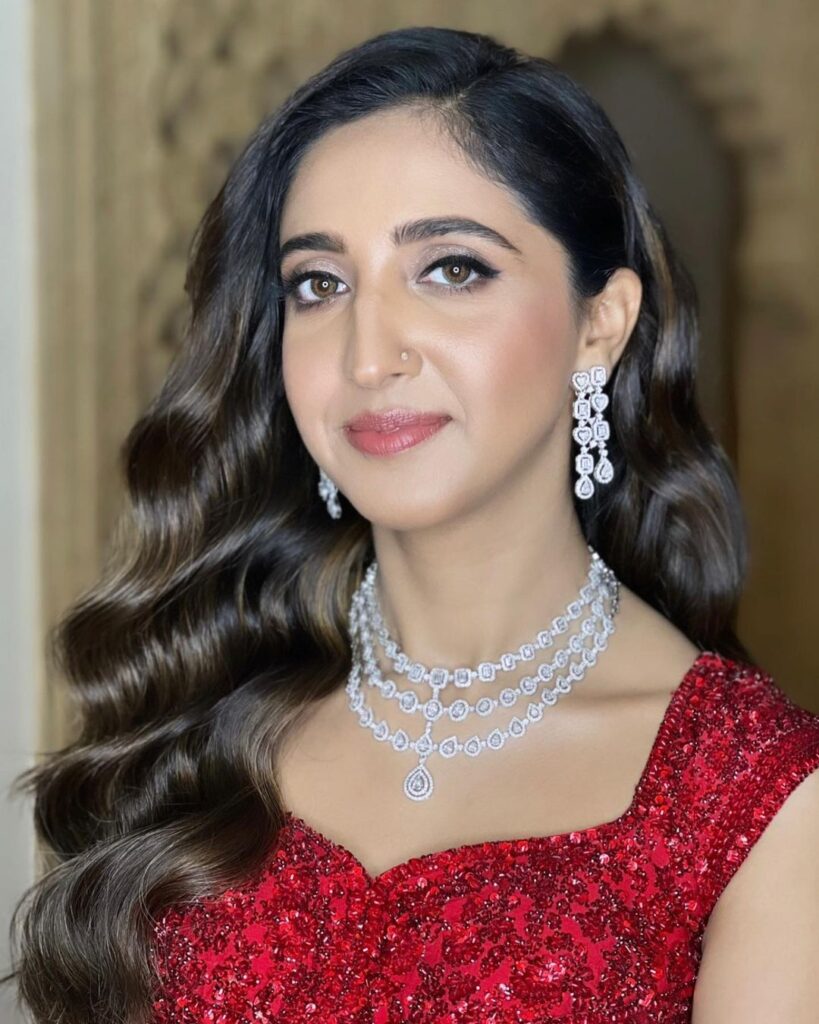 #68 This is yet another gorgeous design that is infused with elegance and sophisticated beauty. The close-knit dainty arrangement of diamonds in this choker looks spectacular. Since diamond chokers are gaining a lot of popularity, you can try the trend out with a statement necklace like this one. The bib necklace is perfect to pair with low-cut blouses or a one-shouldered attire like the one adorned by the bride pictured here. You can complete the look with a pair of chandelier earrings and some dainty diamond bangles or bracelets. While making a purchase keep in mind that the diamond necklace price will vary from jeweller to jeweller even if it is for a similar design.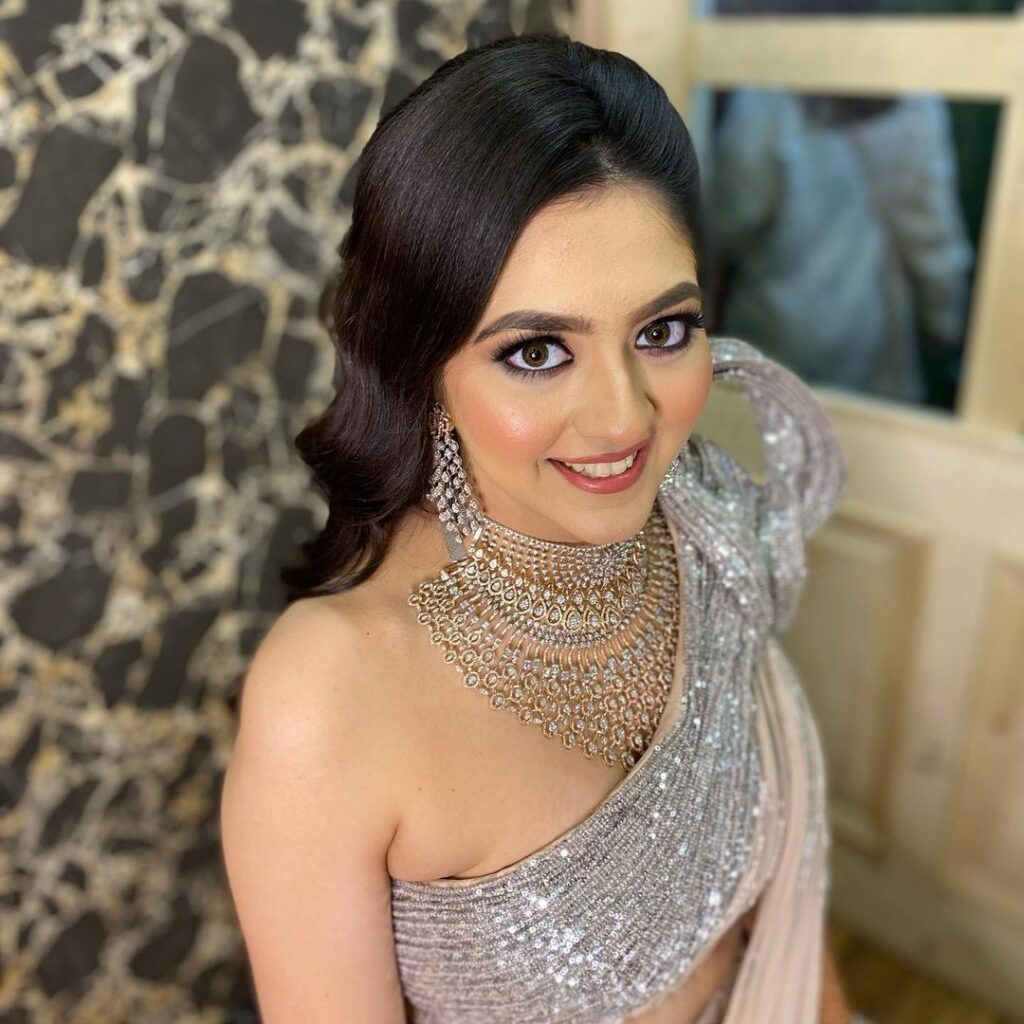 #69 Here is a regal bridal diamond necklace inspiration for all of you queens. This look screams the modern-day Indian maharani vibes. The elaborate design of the diamond jewelry matches the elaborate embroidery of the bridal attire. This is something you should keep in mind as you browse through the catalog of diamond necklace designs. If you are going for a pastel-colored monochrome attire, then diamond jewelry with a bright-colored precious stone such as emerald makes sense as it adds a pop of color. From the diamond earrings to the diamond maangtikka, you can choose a combination of emerald and diamonds but to keep within the look of subtle elegance, don't go overboard with the emeralds.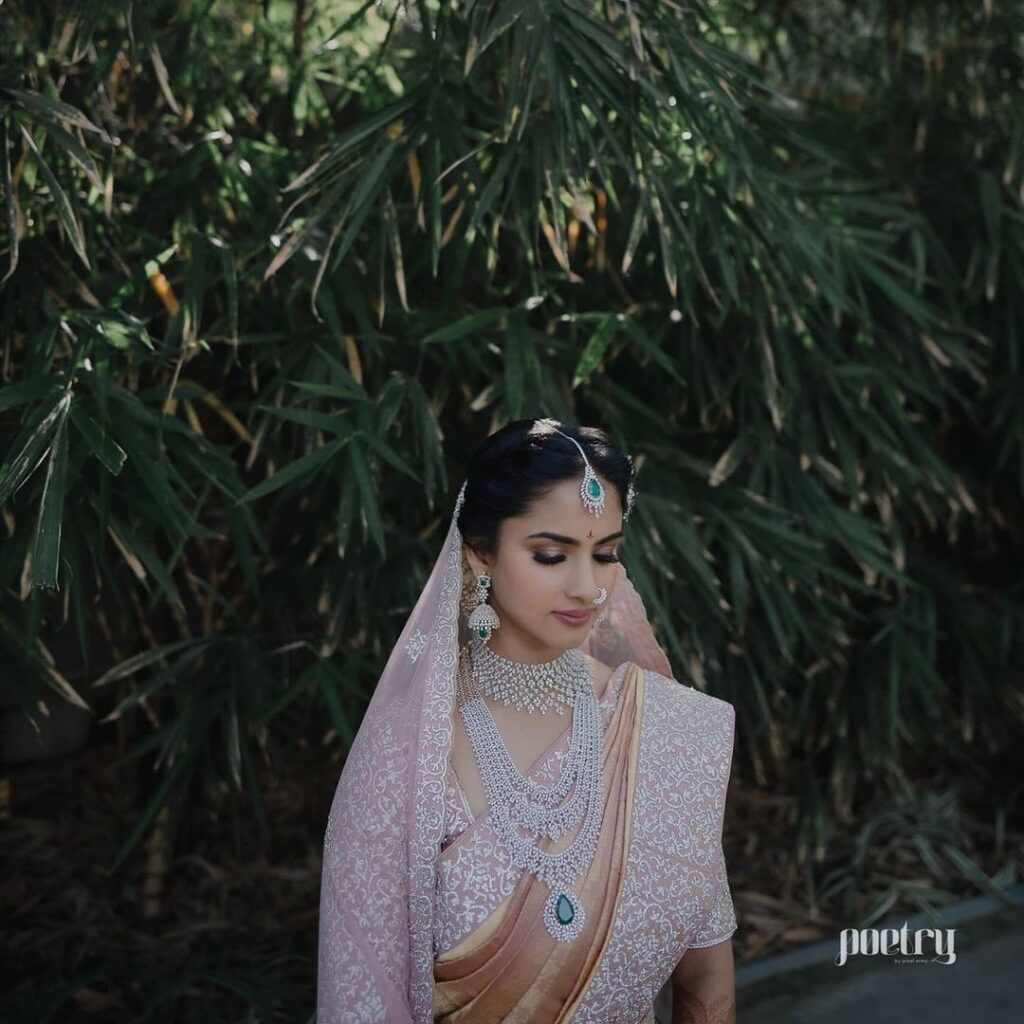 #70 Modern diamond necklace designs come with unique beauty and boast inventiveness. This choker and collar-shaped diamond necklace set is a great example of such designs. It only proves how far the craftsmanship has come. While chunky chain necklaces have been doing the rounds for everyday fashion jewelry with many takers across all age groups and genders, the market for bridal diamond jewelry is not far behind. The necklace pictured here uses a design similar to that of a chunky chain necklace and is connected via small chain links. This gives it an appeal that can only be called funky elegance. A good way to complete this look would be to finish it off with some simple and dainty diamond bangles and diamond maangtikka.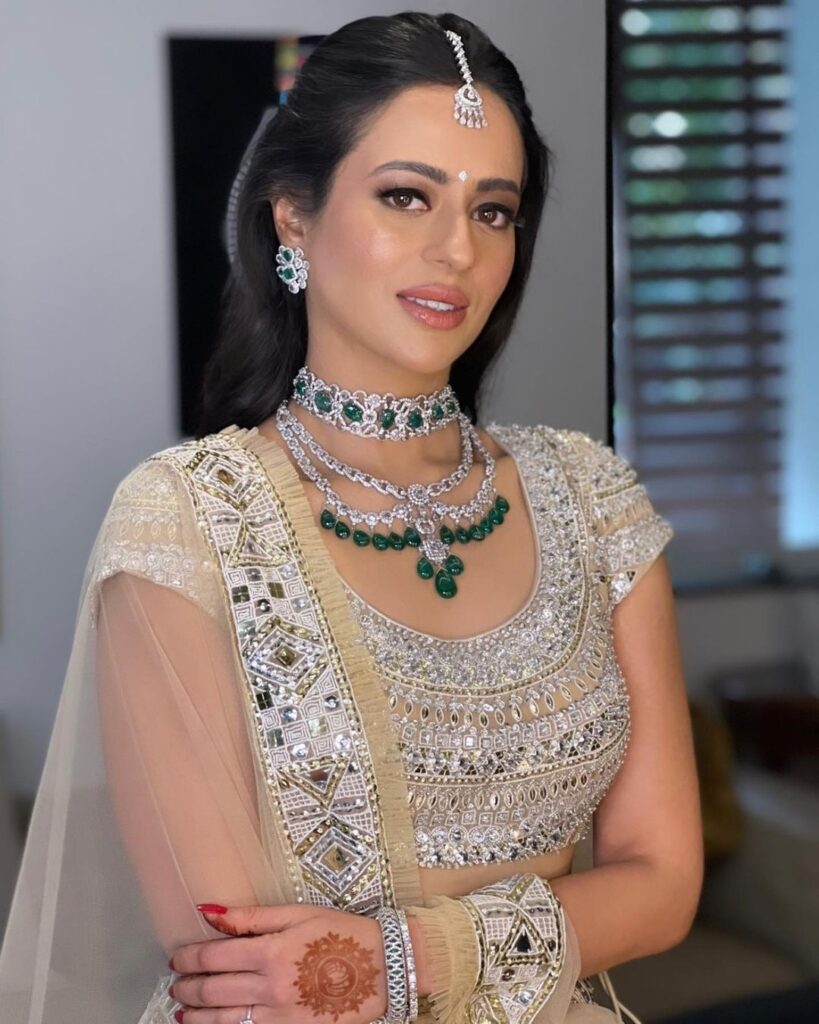 #71 A cluster bridal diamond necklace can make for a gorgeous addition to your bridal jewelry collection. Such necklaces often come with a regal charm and grace. Is there anything better than feeling like royalty on your big day? We think not. A cluster choker such as the one pictured here is a heavy statement piece. It is a work of art with the ability to bewitch your mind, body, and soul. It is a showstopper whose beauty is further enhanced by the ruby surrounded by dainty drop diamonds. The good thing about such pieces is that you can wear the earrings and the necklace separately as well as together and create different looks depending on your look of the day.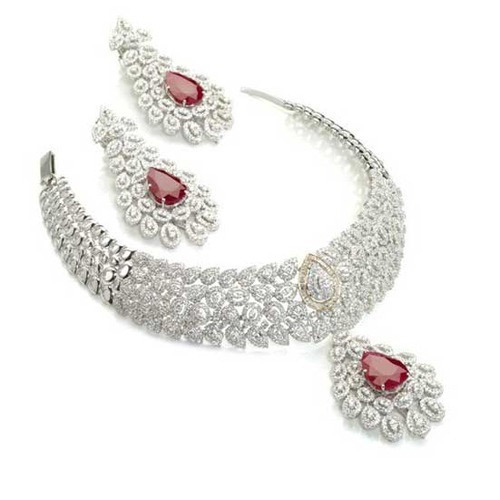 #72 Is it a flower? Is it a heart? It is actually a diamond necklace in rose gold with patterns that mimic both hearts as well as flowers. It has elegance and an understated brilliance when it comes to its design. The cluster of diamonds fills every drop-shaped pattern that is either used to form a cute heart shape or a full flower. The sheer uniqueness of this design gives it an exquisite beauty. Such necklaces often come with a matching pair of earrings. If flowers and hearts are not what set your heart racing, then you can choose from the variety of patterns offered by your jeweler.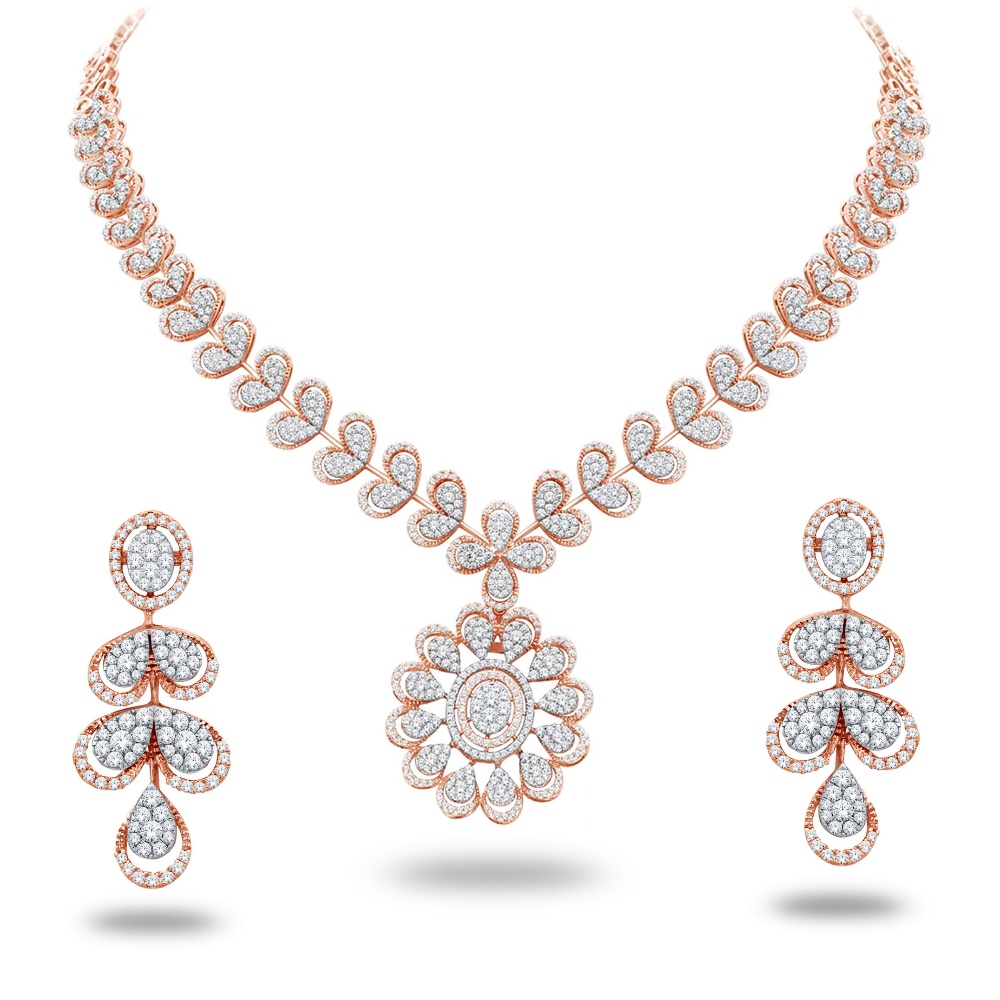 #73 This is a simple diamond necklace that comes with exquisite beauty. It has a minimalist diamond chain set in gold making it the perfect pick for the bride who prefers modern and minimalistic diamond necklace designs. This design with a cluster of diamonds forming a set of flowers is something that has gained immense popularity on the Indian wedding scene. This is why you can find quite some American diamond necklace designs with a similar floral look. From your sangeet to reception, this necklace can be a perfect partner to your festivities with its regal grace.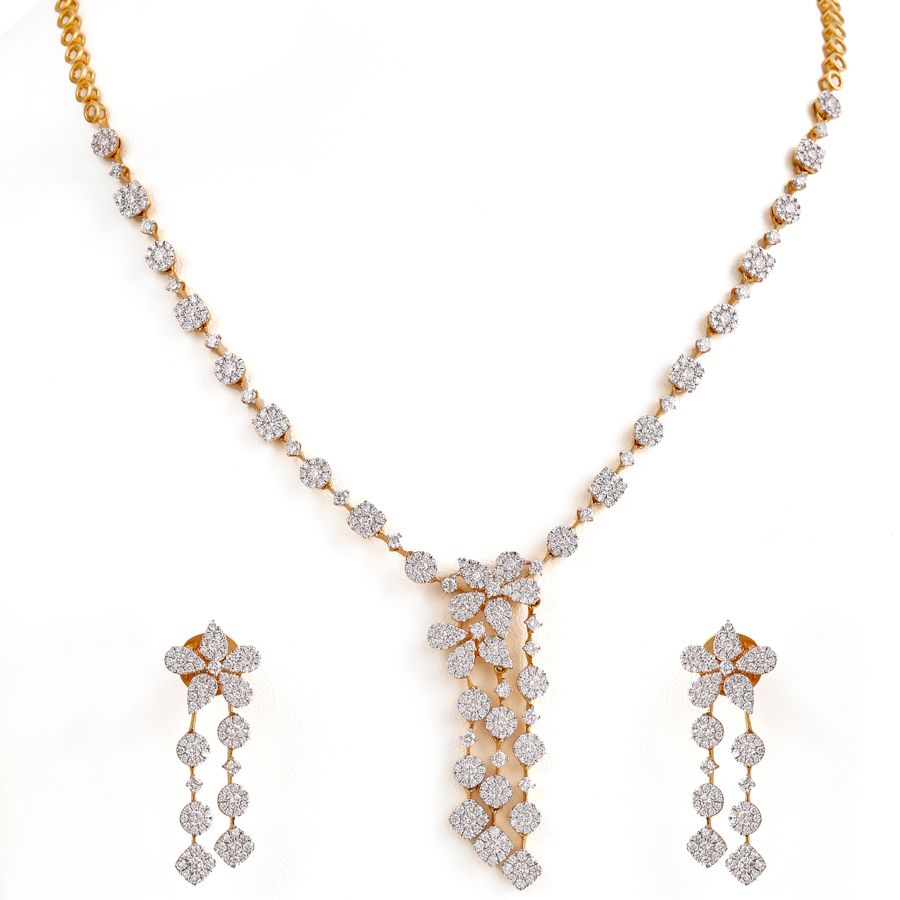 #74 Nothing will help you make a statement more than this V-shaped diamond necklace. Such diamond necklace designs come in a lot of variety with each having its unique personality and charm. The teardrop ruby is the center of attention here which gives this diamond necklace an understated elegance. You can pair this necklace as a standalone piece for your engagement. Add a matching pair of jhumkas and diamond maangtikka to complete the bridal look. Make sure that the other pieces that you choose follow the style of your necklace.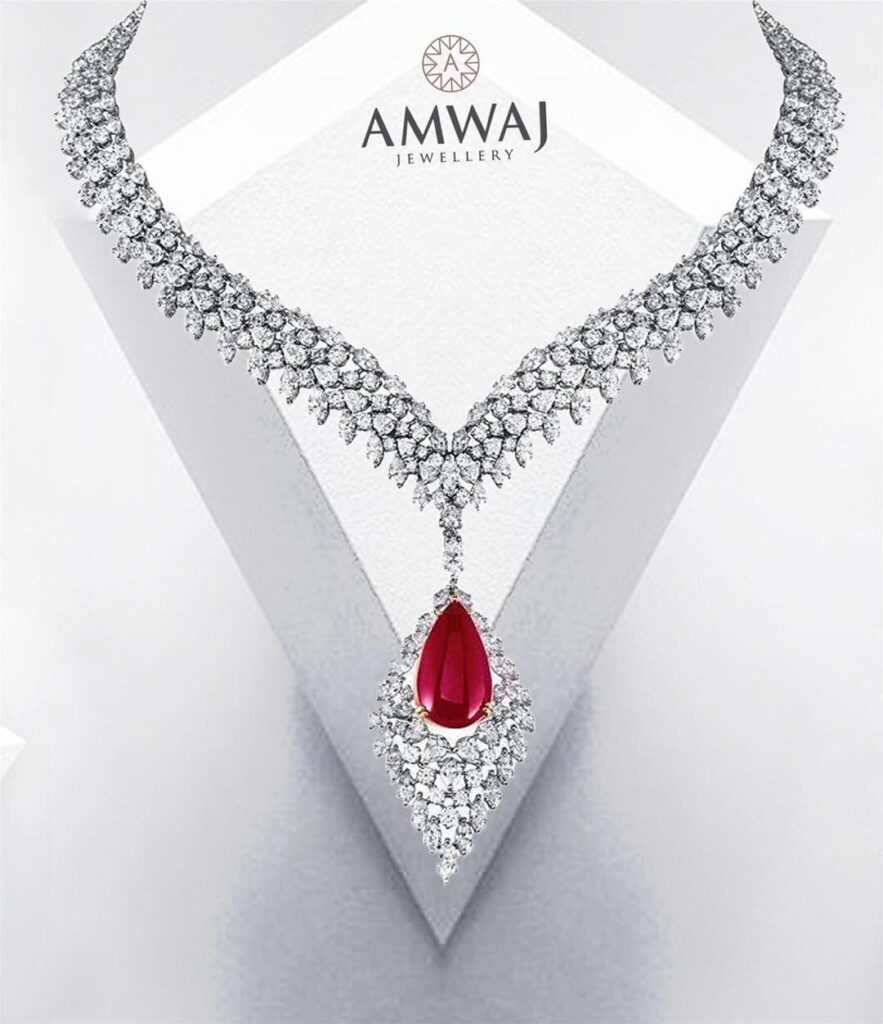 Via Amwaj Jewellery
#75 Here is a simple diamond necklace straight out of your modern minimal dreams. If dainty necklaces don't fit your style, then you should get your hands on a contemporary style like this which is the perfect middle ground between dainty and bulky. This is a wearable piece of jewelry in the sense that you won't have to keep it locked until those specific few functions come around. This is a diamond necklace set that you can wear on several occasions. You can even wear it to a dinner date with your husband. The rose gold gives it an interesting yet charismatic look which is quite popular at the moment.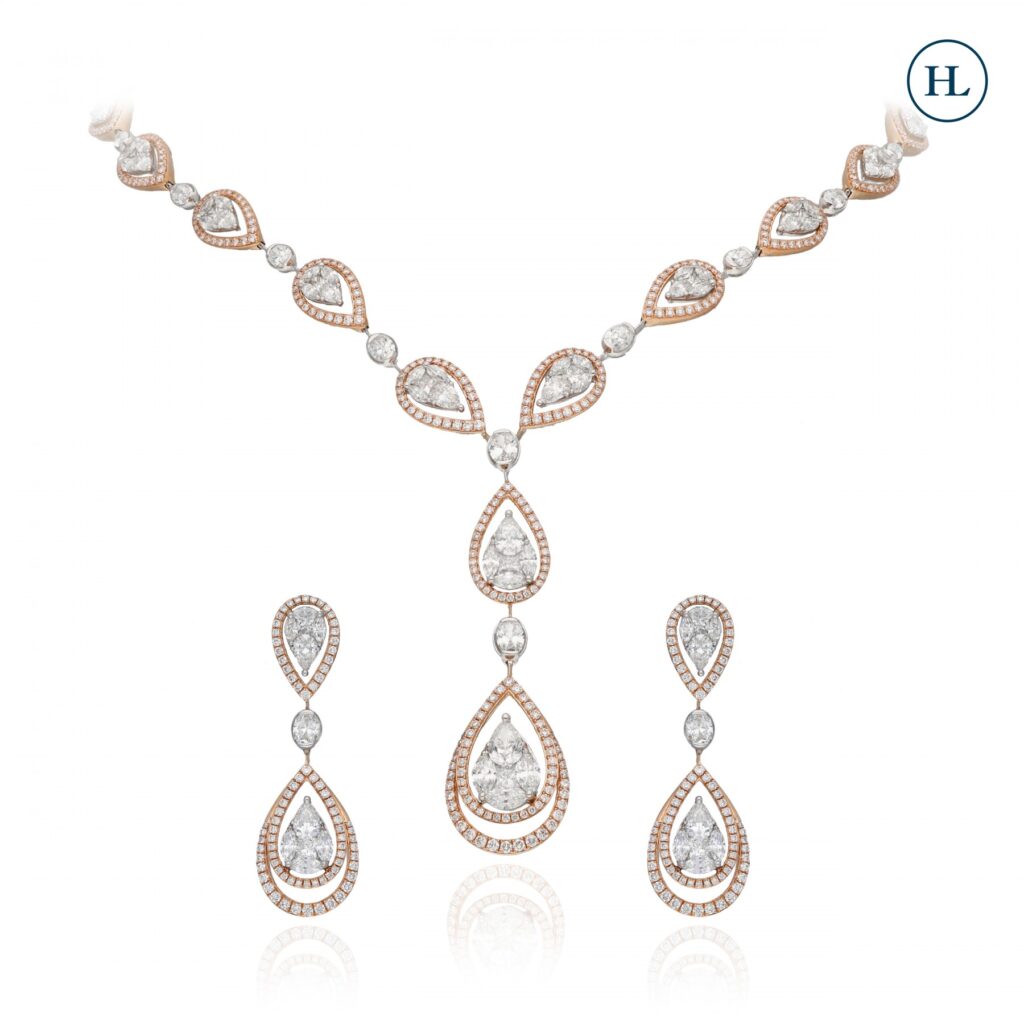 Buy at Hazoorilal Jewellers for ~ 11 lakhs