Before you jump onto questions to ask your wedding photographer, we hope you've read their reviews, dug through their style (from the website, social media, etc.), and know they are somewhere around your budget. Without analyzing these three things, you'd be wasting your (and the vendor's) time. These elements are non-negotiable for the couple and the vendor (can be flexible, but not entirely changeable). Thus making these basic background research elements a necessity. 
Here are the top 20 questions to ask your wedding photographer, sequence-wise. 
1. Is my wedding date available? If yes, how long in advance do I need to book you?
Of course, there's no point in taking the conversation forward with the vendor if they aren't available on your wedding date. So, before asking anything, ask them if they're available on your wedding date. This should be done in the very first email/ WhatsApp message you send the vendor. Since you must have shortlisted a few other wedding photographers as well, also ask the vendor by what time you need to book them. It gives you an idea of how early you need to act and pay the booking amount if you need a certain photographer on your wedding day. 
2. Can I see your primary wedding style?
This should be one of the first few questions to ask your wedding photographer and it can be a make-or-break deal for both of you. Why? Simply because if the photographer's aesthetic and style doesn't match yours – no matter how skilled they are in business, you won't be satisfied with the end result and they won't be able to deliver what you want. While you might have judged their style from social media and websites, it's recommended to have them described so you can see if they are a good fit. 
3. How many weddings have you shot?
The number of years in business doesn't always equate to a more number of weddings shot by the photographer. Some don't take as many bookings as others, so it's quite possible that a photographer with 2 years in business has more experience than the one who is in this line of work for 5 years. Knowing how many wedding they have shot gives you an idea of their on-ground experience and how many couples have trusted them over the years. 
4. How many weddings do you photograph together? Do you have any other wedding bookings (or planning to take any) on that particular date?
Some wedding photography studios have multiple people working for them and take as many as 3 bookings on a given date. This is fine as long as the studio has the resources to handle multiple weddings. But imagine a small studio with just 5 to 6 people taking multiple bookings. Unarguably, the service and the quality will suffer. 
5. Will you be the one photographing my wedding? If not, who will be the one on-site? Will you be bringing any assistants as well?
It's nice to know the people who will be there with you on your wedding day. Getting to know them, understanding their vision, and communicating your expectations beforehand make the wedding day work so much smoother and easier. You can even send them any specific inspirational shots you have saved, so they keep them on the back of your mind while shooting. 
6. Have you ever worked with any of our wedding vendors?
This is one of the missed yet important questions to ask your wedding photographer. If they have worked with any of your other wedding vendors, or you're planning to book someone they already know, this means they already gel up with them and can also give you an insider review of how they are on the set. 
7. Are you okay if I hire a separate photographer/ videographer besides you?
Some couples prefer to hire a second photographer for candid or fine-art photography. The reason simply can be they love their work, want another photographer so they get versatility in their wedding day shoot, or don't want to put all their eggs in one basket. But before you do decide to hire someone else, make sure the main studio is okay with the idea. Some vendors will not be as thrilled because the shared experience can hinder their work. Nonetheless, if you inform them before, they will make the arrangements accordingly. 
8. Can we see the entire galleries of any of the recent weddings you have shot?
Pictures speak louder than words. Among the questions to ask your wedding photographer, this can give you the best idea of their work. While you'd have gone through their social media and client testimonials, those only show the best shots and you never know what the complete gallery looks like. This will give you an idea of how the events' pictures will be delivered, how they will look, and how many pictures will be given to you as part of the delivery process. 
9. Can we request any specific shots we want?
One of the most important parts of wedding planning is accumulating inspiration on Pinterest boards. Chances are, you'd want to recreate many of those things that you have saved. Many vendors are more than happy to help you recreate them. Some photographers also ask you to share any shots that are close to you so they know what matters to their clients and remember to take them on the big day. This one of the questions to ask your wedding photographer gives you an idea if they're open to meeting clients' expectations of them or not. 
10. Are you more of a "capturing the candid moment" photographer or do you like to take charge of choreographing portraits?
For good wedding photography, you need someone who can do a mix of both. You need good portraits and someone who can guide you on how to make the poses while they focus on good angles and you also need someone who can capture those emotionally charged moments where you are completely immersed at the moment without having to worry about it being captured. Look for clues for both when you ask this question to your wedding photographer.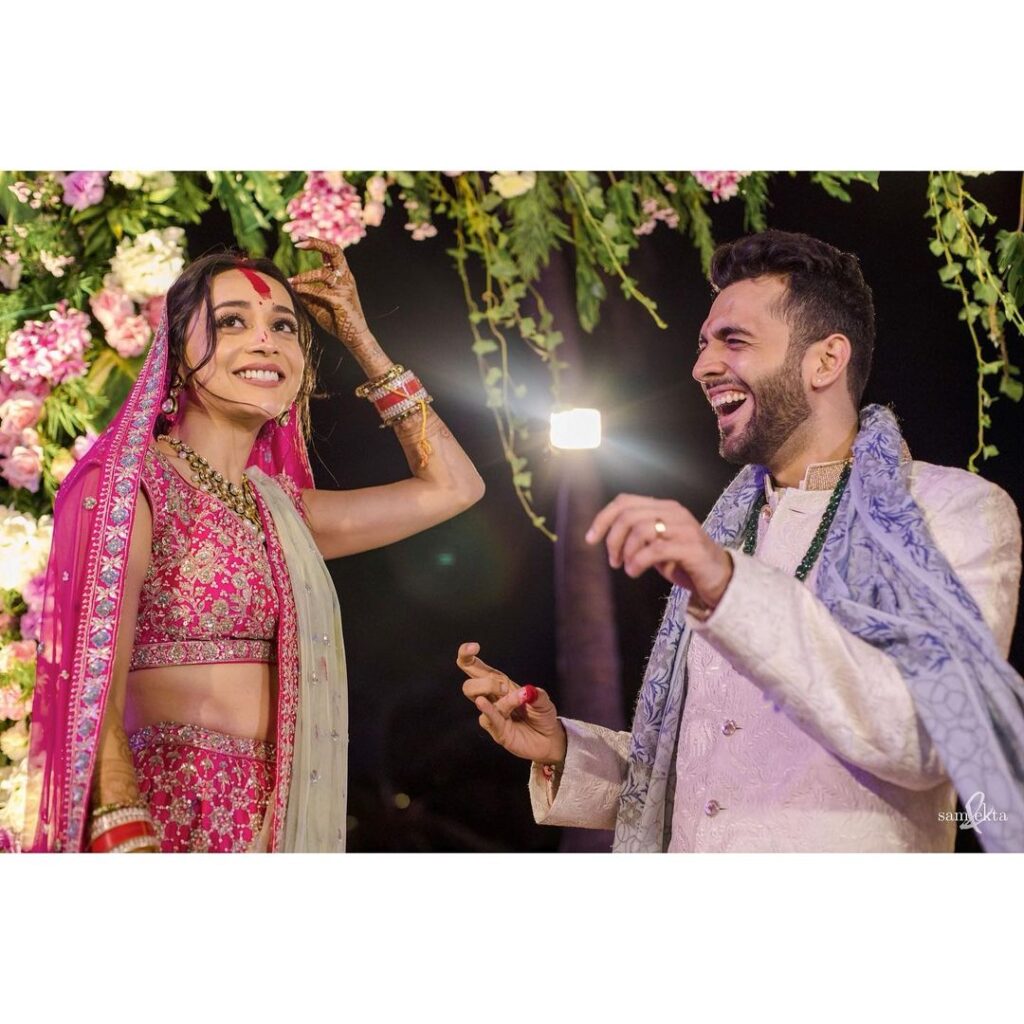 Courtesy: Sam & Ekta
11. Do you provide a photography contract?
A photography contract is a legally-binding agreement that protects both the couple and the wedding photographer. It includes things like photography services, deliverables, payment terms, policies, etc. Should any party breach any of the agreement terms, the other persons can sue the other one. Things don't always go to that extent because the legal issues waste time and money resources for both parties. So, chances are, both parties will abide by the terms in the agreement without non-complying to any points. 
12. What will be your backup plan?
A backup plan in case the photographer falls ill or has an emergency situation where he won't be able to shoot your wedding is mandatory. The same goes for photography equipment and other logistics. A professional vendor will think of these situations and have an answer to these questions already. From the day of the booking to the actual wedding, a professional photographer will take all these precautions. This also includes keeping extra memory cards in place and different cameras to make sure the photos of the important moments aren't missed. 
13. What's included in your standard package? Do you have any more packages?
Talking about packages and prices is a must. You need to ask what's included in the package they're talking about or the prices you saw online. Most photographers will have different packages that will include a pre-wedding shoot, candid photography, cinematography, album, prints, travel costs, or a mini-shoot after the wedding day. 
14. Can I curate a package as per my needs?
Once you have enquired about the packages, there must be something or the other you'd want to eliminate or add to the package. Ask the photographer if they're flexible enough to curate a package, especially for you. This will make sure you're only paying for what you really want. 
15. What's the pricing break up? (Advance amount, on-delivery fees, and remaining)
After the package and general expectations from your wedding photographer have been straightened out, the next thing to straighten out is the pricing break-up. All photographers/ wedding vendors take the prices in installation. Around 50% to 60% for booking, another 20% to 30% on the day of the wedding, and the rest after the delivery. This is also the time to discuss any negotiations on price. 
16. Should the event last longer than expected? Will you stay?
Knowing the photographer's policies up front is great. You don't want a sudden "you owe me an extra $500 for the 2 hours extra I spent before submitting images" when you call the vendor after the wedding. Or worse, seeing them leave when the ceremony is still not over. Discuss their charges for any extra time they have to stay. 
17. Are travel and lodging charges included in your costing?
If the wedding is within 4 to 5 hours of their city, most photographers will not charge for any travel or lodging. But, if the ceremony venue is far away, the photographer might need to reimburse travel and lodging costs. It's advisable to discuss these questions with your wedding photographers to avoid any uncalled surprises (and expenses) on the big day. 
18. When & how will you deliver the photos?
Each photography studio takes a different time to produce and deliver the pictures. The excitement to see the pictures once the wedding day builds every moment. That's why you should know when the pictures and videos will be delivered so you don't refresh your email 24/7. Some deliver a few photos within 2 to 3 days after the wedding so the couple has a few snaps to reminisce their memories and deliver the complete pictures 4 to 6 weeks after the wedding day. 
19. Do you offer any re-editing services? In case, we need any?
Even after you've received the finished and edited pictures, there can be some pictures you want differently edited or want color correction/ photoshop in some images. Ask the photographer if these requests will be entertained. Some photographers give the unfinished pictures to a post-production studio. In case, they outsource, there are chances they will charge extra for the editing. But if they're in-house, a few changes can be entertained free of charge for the couple.
20. What is your refund or cancellation policy?
Given the pandemic situations, weddings are uncertain and anything can happen anytime. One of the questions to your wedding photographer during this time is what's their cancellation and refund policy. Make sure you write these policies in the photography contract as well so you're also protected, legally. 
Wedbook Tip: 
In the midst of these questions, you will also get an idea if you click with the photographer on a personal level. Since you'll be spending a lot of time around the vendor – especially during portrait sessions and scheduled shoots, it's important you feel at ease with them, so the poses (and as a result, photos) can come out natural and authentic. 
Keep in mind, that sometimes things just don't work out if the vibes aren't right. It doesn't matter if the photographer is a professional in the field or you're the sweetest person ever. Think of it in terms of dating someone, if there's no connection, no matter how many tickmarks they get on your checklist, they're just not the one for you.
FAQ's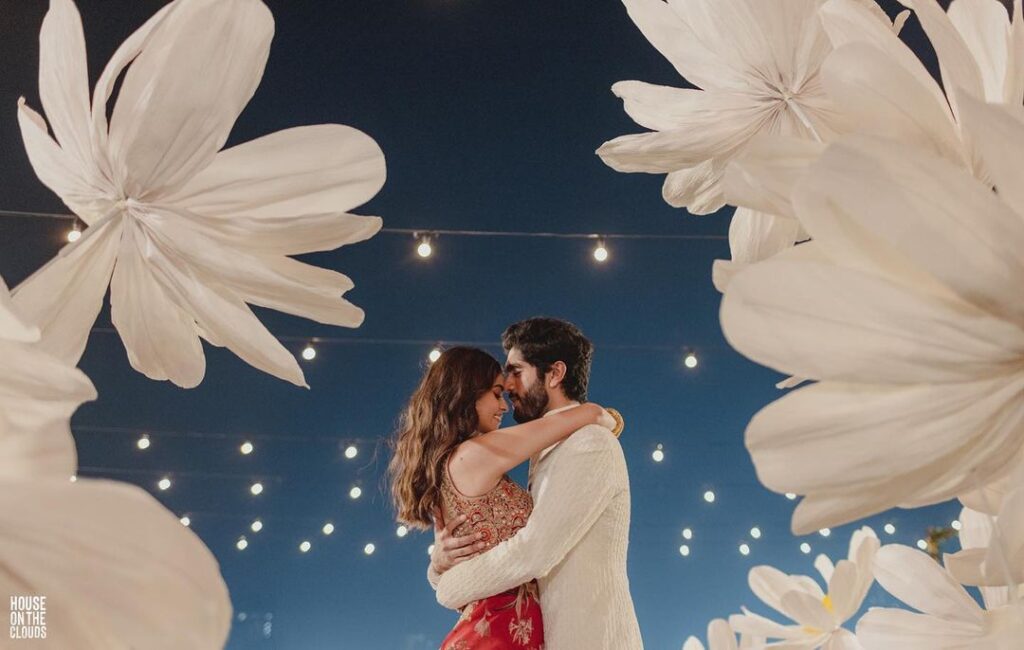 Courtesy: House On The Clouds
What should you never ask a photographer?
While you should feel open and approachable to your booked vendor, there are some questions to ask your wedding photographer that better not be asked, or molded in some other way. Here are 4 of them: 
#1 Can you change your style for our session?
If you've seen the pictures of popular Bollywood celebrities' weddings – Virushka, Deepveer, Nickyanka, and Vickat, all of them have been photographed by the same photographer, and all look so similar – especially the one with captured during pheras. It's hard for a photographer to change their style because every artist is different and sees things differently. A bit budging from their usual approach is alright, but if you ask them to change a lot, then it's probably best to book someone else. They won't be able to deliver what you're asking for and you'd be left disappointed. Certainly not worth the risk on the most special day of your life. 
#2 Do we need to provide you with food?
On a wedding day, when stakes are high and every moment can turn into a memory, would you want your photographer to run low on energy and miss any of those moments. No, right? Most photographers will appreciate an offer for food so they can recharge and bring their best self throughout your wedding day. A hot meal will give them the required energy needed to sustain through the long hours of wedding rituals and deliver a high caliber of work. 
#3 Do you charge less if the guests are fewer/ need fewer photos/ edit the photos ourselves/ etc.?
Negotiations are fine, but there should be a fair basis for those negotiations. We completely understand that the prices of wedding photography can seem a little high, but when you understand what actually goes behind the scenes, from taking pictures, staying aware, and editing the photos, you will know that the price is more than justified.
That's why a much better question will be what goes into the sessions and why are you priced the way you are? 
This will also make the photographer more comfortable to explain and justify his prices and give you peace of mind that your hard-earned money is going into the pocket of someone who very well deserves it. 
#4 What camera/ equipment do you use?
This question makes no sense because it's likely most couples, and people, don't understand professional photography equipment and gear. You're most likely asking them so you Google the gear they're talking about and judge their expertise with the price of the equipment. Expensive equipment seldom gives an idea about the talent of the photographer. A photographer's true talent lies in his love for art, passion for capturing people's emotions and delivering the best to his clients. Unless you're a photographer yourself, this question is completely unnecessary. 
Are these questions valid for a videographer also?
Yes! Almost all questions to ask your wedding photographer can be asked to a videographer as well. Nuances of speech and movement are a different way to relive the D-Day memories than photos and can be invaluable for some people. If you do decide to hire a separate videographer, make sure you're comfortable with their cinematic style and general vibe to get them on board with your wedding vendors. 
How much does a wedding photographer cost?
An average photographer can charge anywhere between $1000 to $10,000 in USD ($2000 to $4000 on average) in Western countries, while in India, the prices are between 25,000 to 4 lakh/ day for photo + video (1 lakh on average). This price generally includes an album, but might or might not include an engagement shoot. Another thing to note is that a higher price doesn't always mean a better wedding vendor. Many vendors charge on the basis of the experience as well and increase their prices manually. It's also best to discuss what the package includes and what will be delivered at the price to assess if the vendor is the right fit for you. 
How far in advance should you book a wedding photographer?
Wedding photographers should be booked at least 6 to 9 months in advance. Many popular wedding photographers get booked a year in advance, so if you've been eyeing someone in particular, the earlier, the better. All wedding vendors only consider it a confirmed booking when an advanced payment has been made, the percentage of the total amount depends on the particular vendor. It's also helpful if you draw a photography contract just to stay safe if something goes wrong. 
How do you evaluate a wedding photographer?
Evaluate a wedding photographer based on your budget, style, professionalism, the vibe when you speak to each other, and reviews of other couples. It's an important task, but not that difficult. We understand there will be anxiety attached to any wedding vendor you chose, wondering if they will do the job right, but that's a leap of faith you will have to take. If one meeting or call doesn't give you the sense of peace to book the photographer, feel free to schedule another one. The other person also wants the things to be comfortable and seamless, so there are no hesitations and doubts before the final binding takes place. 
How many photos do you get from a wedding photographer?
Honestly, there is no standard number for the number of photos a wedding photographer delivers. It all depends on the number of hours they shoot, how big is the wedding, and lastly, the photographer. For a full day of wedding and reception, the photographer should deliver anywhere between 600 to 1000 photos. Keep in mind that the photographers don't deliver all the photos they capture, which they call the RAW photos. After they're done capturing, they come back to their editor's chair and sort out photos that are keepers and remove ones (for example repetitive, weird faces, low lighting, etc.) that are not so appealing. The edited, best version also represents their true work and art, for precisely which you hired them for! 
What is included in a wedding photographer package?
Coverage of the entire event is included in a wedding photography package and delivery of images, either in a separate USB or through an online portal. Photographers also have a few packages which can include many options like an engagement shoot, a second photographer, videographer, travel and accommodation, albums, etc. Moreover, be sure to understand the photographer's advance payment policies, booking arrangements, refund policy, and the photographer's B plan in case there's sickness or absence on his part.