Researching romantic honeymoon suites with jacuzzi in the room? It's certainly a task worth spending time on, as your honeymoon will be an important trip with your significant other – one you'd want to enjoy to the fullest and cherish for the rest of your lives. On that note, we decided to do the research work for you and rounded up some of the best honeymoon suites with jacuzzis around the world. So, whether you're looking for a beach vacation, a European holiday, or an adventurous trip – there is an option for your needs. Find a detailed review of them all below: 
Also See: Napa Valley Honeymoon: Best Hotels & Romantic Things-To-Do || 10 Best Poconos Honeymoon Suites For Couples + Things-To-Do
#1 NH Collection Amalfi Cost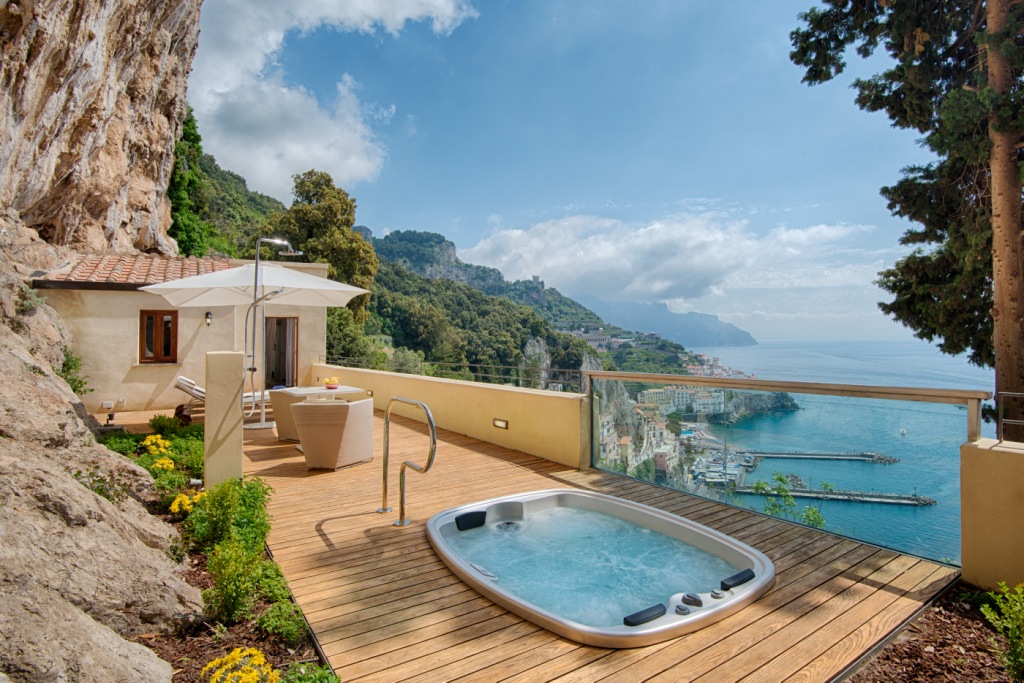 Amalfi Coast is one of the most popular tourist spots in Italy. It's a shoreline that stretches 30 miles and is located around 35 miles south of Naples. It's a UNESCO World Heritage Site and is lined with stunning accommodations, scenic restaurants, and pristine beaches. One of the luxurious properties on the shore, backed by amazing reviews, is the NH Collection Amalfi Coast. A 13th-century former monastery, the NH collection has a rich history and enjoys a spectacular location overlooking the admired coastline. 
The 800-years old property has 53 rooms, which were earlier monks' cells. They are now mindfully furnished to retain the historic architecture whilst blending it with modern amenities. Their honeymoon suites with jacuzzi in room is a junior suite that has a terrace. The terrace has a jacuzzi overlooking the Mediterranean sea, and lounge chairs. Besides the Junior suite with a view and a terrace, you can also check out their Presidential Suite for your honeymoon. Earlier a monks' refectory room, the suite offers unrivaled privacy and an unforgettable experience. 
When it comes to amenities, the hotel has 2 restaurants, the main one is on a panoramic terrace view and has delectable Italian and Mediterranean cuisine. There's also a luxuriating spa offering special massages and treatments for couples.
Room: Junior Suite With Special View & Terrace
Average Price: $1100 per night/ Rs.80,000/- per night
Check Ratings & Reviews Here. 
#2 Conrad Maldives Rangali Island 
If there's one place in the world where any couple would love to honeymoon, it's the Maldives. Gorgeous beaches, unmatched seclusion, and five-star resorts with impressive amenities – are just the top reasons why the Maldives is an ideal honeymoon destination. Perched on two idyllic islands of Maldives' South Ari Atoll is the Conrad Maldives resort. Conrad hotels, a high-end luxury hotels and resorts chain operated by Hilton, currently offers accommodation in 39 locations and is known for its modern spin on luxury and seamless, unique experience. Their Maldives property is no different. 
Spread over two picturesque and peaceful islands (connected by a bridge), Conrad Maldives has spacious villas and suites, and a luxury, two-level residence, MURAKA, with a master bedroom submerged 16 feet below sea level, and an integrated living, dining, and entertainment spaces. Don't worry though! You don't have to shell out that much to enjoy a honeymoon suite in-room jacuzzi. Their Grand Water Villa has a whirlpool on the deck offering uninterrupted views of the horizon. With a 1600 sq ft area, the thatched roof villa also has a spacious living room connected to a stunning bathroom featuring a sunlit bathtub, rain shower, and double vanity. 
In terms of amenities, you will find an all-glass underwater restaurant, 2 award-winning spas, 12 world-class restaurants, and bars, and over 600 bottles of premium wine at the Wine Cellar. 
Room: Grand Water Villa
Average Price: $1500 per night/ Rs.1,50,000/- per night
Check Ratings & Reviews Here. 
#3 Red Rock Resort, Vegas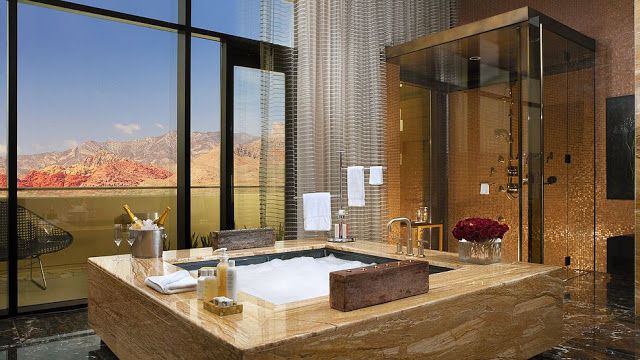 The Sin City offers an adventurous, fun-filled, and pleasure-packed honeymoon. It's endless entertainment choices blended with lavish resorts offering the much-needed seclusion for honeymooners has made it a top pick for honeymoon destination among couples worldwide. 
While we have done a separate blog on Vegas honeymoon suites with jacuzzi in room, the Red Rock Resort is the one that offers premium opulence, elegant amenities, and not one but two whirlpool jacuzzis in their Top Of The Rock Penthouse Suite. To immerse in the ultimate lavish experience on your honeymoon. Top Of The Rock penthouse suite is surely worth all the bucks spent. The 4,400 sq ft area features 2 master bedrooms, each with bath salons, marble furnishings, and a rain shower, a grand living and dining space, and floor-to-ceiling windows offering majestic views of the Red Rock Canyon and the surrounding Las Vegas valley. Other highlights include private butler service, fireplace, and lighting control systems. 
Other suites like the One 80 suite, Canyon suite, Presidential suite, and Grand Villa Suites also have jacuzzi tubs. The newly-renovated luxury resort in Vegas in 2020 also has a 118,309 sq ft casino, a 3-acres pool area, a spa, and a 16-screen movie theatre. There are also 9 resorts in this accommodation, including a Japanese sushi restaurant, Hachi, and a seven-tenant food court. 
Room: Top Of The Rock Penthouse Suite, Grand Villa Suites, Presidential suites
Average Price: $8000 per night/ Rs.6,00,000/- per night
Check Ratings & Reviews Here. 
#4 Art Maisons Aspaki & Oia Castle Suites, Santorini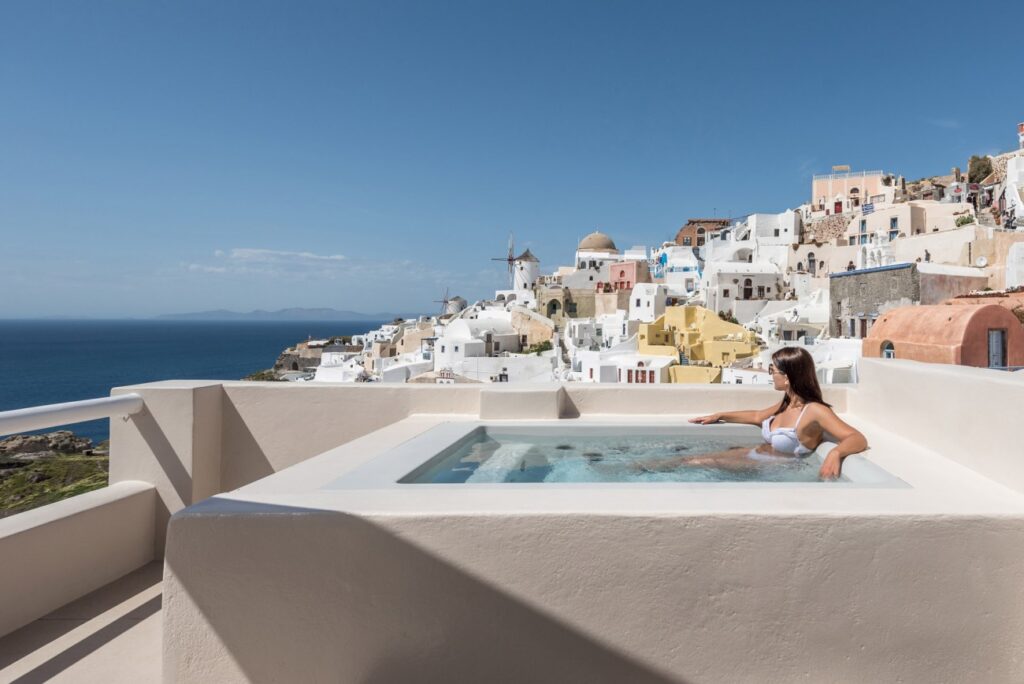 With the rugged landscape, dome-shaped churches, postcard locations, and romantic vibes, a honeymoon in Santorini is an obvious choice for couples looking to mix adventure, fun, and top-notch luxury in their dream trip together. The coastline is lined with many amazing resorts and most of them feature a plunge pool overlooking the beach, but only a few also have the feature of a whirlpool tub. To give you the best honeymoon suites with jacuzzi in the room, we have found one of the highly-rated resorts in Santorini which also offers an in-room jacuzzi. It's the Oia Castle Suites, Santorini. 
This all-suite luxury hotel offers magnificent views of Caldera, the legendary volcano of Santorini, the pristine Aegean sea, and the entire village of Oia. Their best suite that caters to honeymooners is named the Honeymoon suite. It features a detached spacious veranda with an outdoor jacuzzi, a bottle of sparkling wine upon arrival, and the signature white furnishings of Santorini. Other suites also have a jacuzzi tub, except the Cave Pool suites. Other amenities include spas and curated activities for their guests like yacht cruises, wine tours, horse riding, etc. 
Room: Honeymoon Suites Oia Castle
Price: $700 per night/ Rs.50,000/- per night
Check Ratings & Reviews Here. 
#5 Shamwari Private Game Reserve, South Africa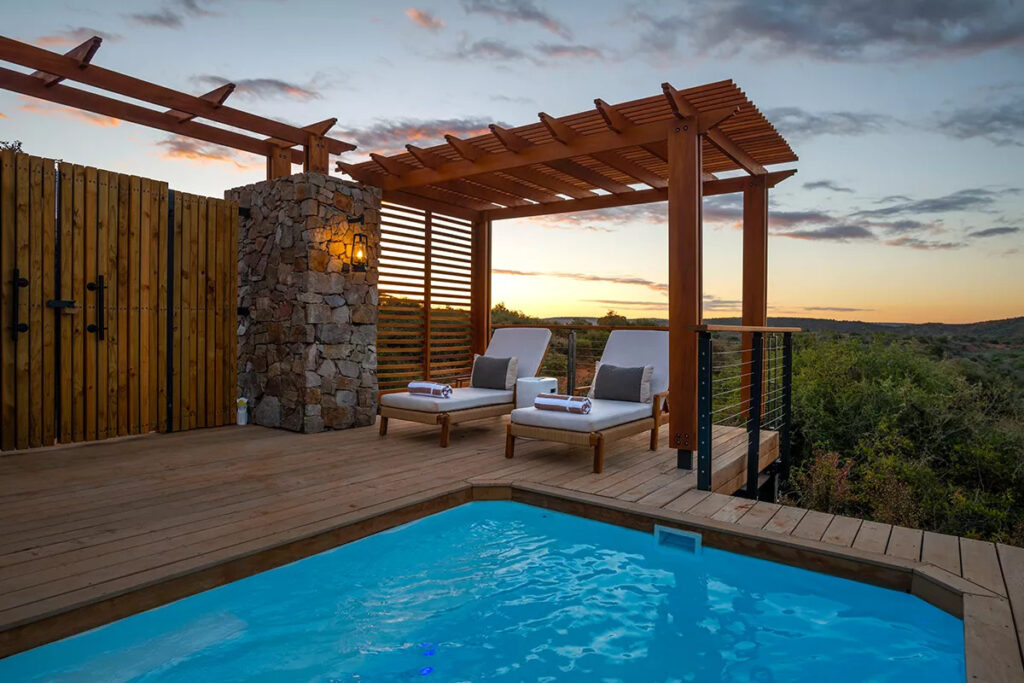 Being voted as the world's leading safari and game reserve, Shamwari Private Game Reserve is a privately owned national park and is one of the most successful private conservation initiatives in South Africa. Their lodge focuses on responsible tourism blended with luxury for couples, families, and solo travelers alike. It's located 75 kms outside Port Elizabeth and the rugged location offers abundant wildlife, flora, and fauna unique to the region. The untouched wilderness and unique nature experiences will make your romantic trip memorable for years to come. 
While the reserve offers many unique accommodations, the one that includes a whirlpool plunge tun is the Sindile Safari Lodge. The lodge has nine luxury free-standing tents with each one elevated above the surrounding level to provide uninhibited views of the surrounding area. Other notable elements include a dining room with a fireplace, a deck with a fire pit, and a spacious bar/ lounge. You can spend your romantic vacation relaxing in your luxurious lodge or immerse yourself in the many experiences offered by the lodge like game drives, birding, walking safaris, etc. 
Room: Sindile Safari Loge
Price: $1500 per night/ Rs.1,00,000/- per night
Check Ratings & Reviews Here. 
#6 Triple Creek Ranch, Montana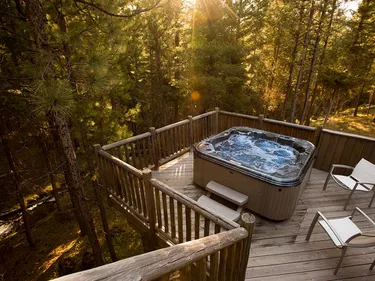 If you're looking for a honeymoon experience surrounded by rugged landscaped, untouched nature, and seclusion, on the whole, another level, a ranch honeymoon will offer an outdoor escape like no other. And one of the most popular honeymoon suites with jacuzzi in room in the world includes the Triple Creek Ranch, Montana, situated in the Bitterroot Valley of Montana. This adults-only resort offers rustic elegance, an amorous atmosphere, 5-star service, and gourmet cuisine perfect to celebrate your newly-married status and build some unforgettable memories together. 
The forested mountain retreat has some amazing accommodation options that include cabins, suites, and luxury ranch homes – all ideal for honeymooners. Though, their riverside luxury cabin has a gorgeous deck outside with a large hot tub and a fire pit. It also has sumptuous king beds in both of their bedrooms, a private bath with a steam shower, and a wood-burning fireplace with a vaulted ceiling and floor-to-ceiling windows offering picturesque views of the West Fork. You can spend your days luxuriating in the cabin and enjoying their all-inclusive activities or fill your day with numerous activities arranged by the ranch authorities like mountain biking, archery, hiking, horseback riding, etc. 
Room: Riverside Luxury Home 
Price: $1500 per night/ Rs.1,00,000/- per night
Check Ratings & Reviews Here. 
#7 Grand Hotel Tremezzo, Lake Como, Italy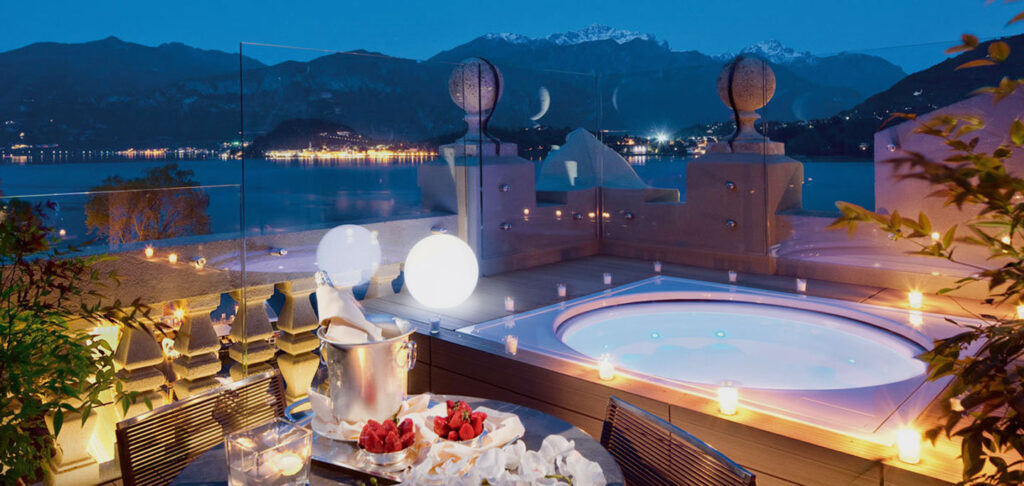 An Italian honeymoon is always irresistible. From the historic cities of Rome and Sicily to the majestic coasts of Amalfi and Lake Como, there are many stunning honeymoon locations in Italy. Lake Como, however, can be deemed as the most star-studded spot with the likes of George Clooney and Richard Branson owning homes here and Deepika Padukone-Ranveer Singh typing the knot in a Lake Como villa 4 years back. If you're planning to vacation here whilst searching for some honeymoon suites with jacuzzi in the room, then Grand Hotel Tremezzo, Italy can be a good pick, and here's why!
The 100-year-old hotel is a 3-minute walk from the famed Villa Carlotta botanical gardens and has 76 elegant rooms and 12 splendid suites offering unparalleled views of the Bellagio, Lake Como, and the stunning Grigne mountains. All the suites feature a whirlpool tub, a terrace offering a birds-eye view of the surrounding nature, and a contemporary design with modern comfort. Other amenities of the accommodation include a private beach, a panoramic T spa, and 5 upscale dining venues with one curated in collaboration with Maestro Gualtiero Marchesi, an icon of the Italian culinary world, and is named La Terrazza (signifying its lovely location on the terrace). 
Room: All Rooftop Suites
Price: $1500 to $3000 per night
Check Ratings & Reviews Here. 
#8 Amangiri, Utah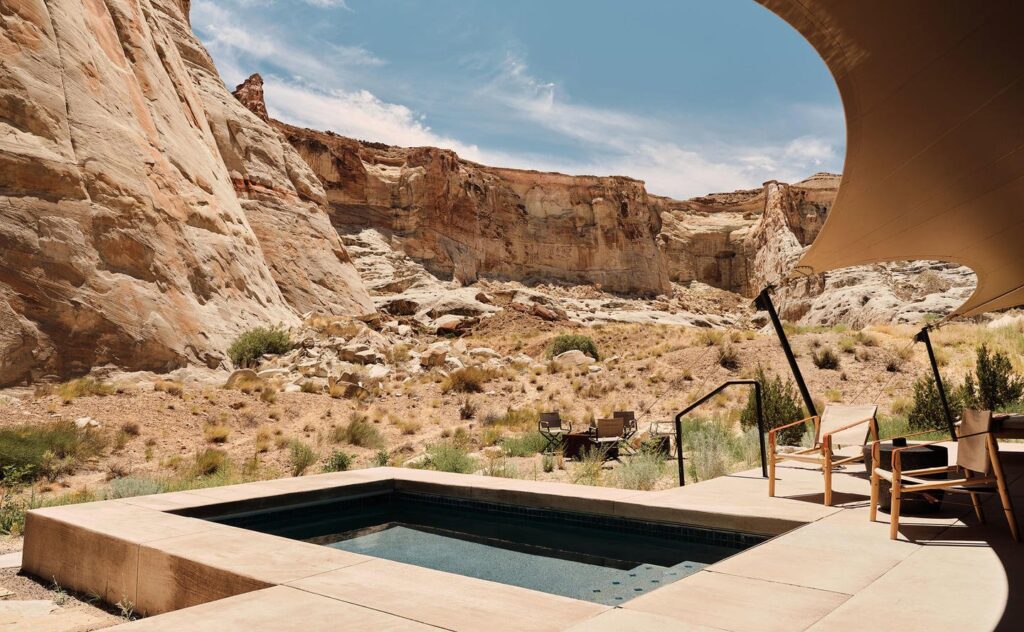 One of the favorite properties of the Kardashian family and where Kylie Jenner recently stayed with her girls, Amangiri is a resort hotel in the Lake Powell region of Utah. It opened in 2009 on 900 acres of untouched desert mountains and is praised & known for its minimal yet serene aesthetic, subtle connection to nature, and a palpable sense of exclusivity. In 2020, it added 10 tented pavilions which can accommodate 30 guests each. There's hardly any doubt that this secluded resort with spectacular views and ultimate luxury is a honeymooner's paradise. And if you're wondering which one of their rooms has an in-room jacuzzi, it's the one-bedroom private canyon Pavillion.
The suite, also deemed by the resort as ideal for your honeymoon getaway has an outdoor terrace, a living area complete with a private plunge pool with a jacuzzi function, a firepit, an outdoor shower, terrace, a bedroom with plush bedding, elegant living & dining area, a soaking tub, and rain shower is perfect for an invigorating stay for honeymooners to enjoy their newly-wed status whilst letting go the tiredness from the wedding. Besides luxuriating in your Pavillion, immerse in the resort's curated experiences of hiking, private air tours, and cultural encounters. 
Room: One-Bedroom Private Canyon Pavillion 
Price: $5000 per night/ Rs.4,00,000/- per night
Check Ratings & Reviews Here. 
#9 Raffles, Dubai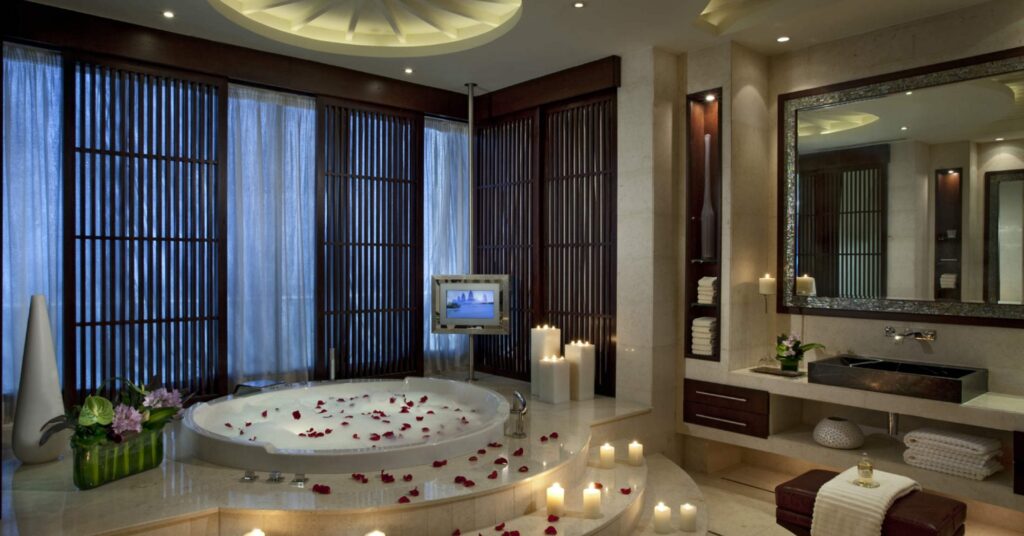 For couples who want their honeymoon destination in a bustling city with plenty of adventures, high-end shopping, and oodles of glamor, a Dubai honeymoon can just fit into their needs. Besides the endless activities and rich cultural traditions, Dubai houses some of the most luxurious hotels in the world offering top-notch architecture and stunning accommodations. One of them is Raffles Dubai. 
Raffles is a luxury hotel chain with hotels in just 15 locations around the world. Their Dubai property opened in 2017 and features 252 luxurious rooms and suites and has a distinguishing pyramid shape that merges Asian style with an Egyptian aesthetic. The hotel is a short drive from many of the city's commercial attractions like Jumeirah's pristine beach coast, Burj Khalifa, World Trade Center, and Dubai Mall. 
For couples looking for honeymoon suites with jacuzzi in Dubai, the unmatched opulence and superior amenities of the Presidential suite of Raffles Dubai can be your perfect location. The suite has an area of 3240 sq ft with a sunken jacuzzi tub in the bathroom, a private terrace with great views of Dubai, and exclusive entry to Raffles club benefits. Other amenities of the hotel include 7 hotels and bars, a rejuvenating spa, and a fitness center. 
Room: Presidential Suite
Price: $2500 per night/ Rs.2,00,000/- per night
Check Ratings & Reviews Here. 
#10 Art Deco Hotel Lucerne Switzerland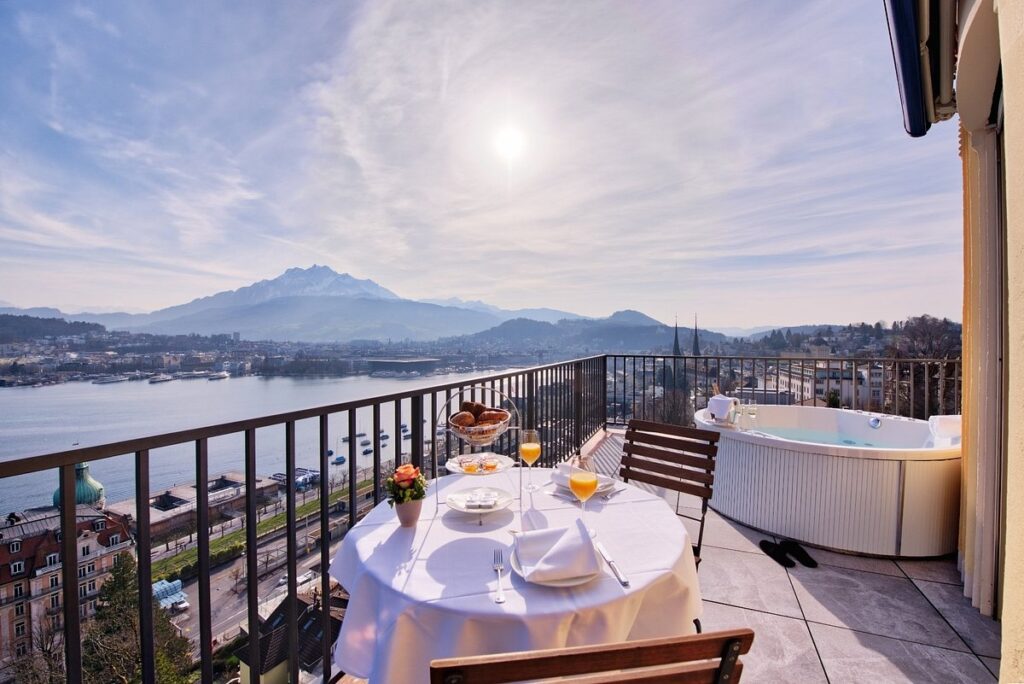 Scenic old towns, riveting natural beauty, cozy mountain chalets, snow-capped mountains, picturesque train journeys, delectable cheese, wine, and chocolates, there are many reasons why Switzerland is considered one of the most romantic destinations in the world. All parts of it are equally beautiful. Whether you decide to spend your time in the developed cities of Geneva or Zurich or explore the charming villages of Grindelwald or Interlaken or visit the resort towns of Zermatt or Saint Moritz. There is beauty and adventure everywhere. For those searching for honeymoon suites with jacuzzi though, a budget option in Switzerland is the penthouse suite Art Deco Hotel in Lucerne, Switzerland. 
Lucerne, Switzerland is a beloved tourist destination. With Lake Lucerne flowing through the midst of the city and the majestic mountainous landscape visible from all sides of the city, the colorful old town has preserved its medieval architecture and has plenty of postcard sites to explore when you're done luxuriating in your penthouse suite. The Art Deco Hotel sits in the middle of the city and overlooks Lake Lucerne. From their penthouse suite, you will get an eagle-eye view of the lake and the surrounding snow-capped mountains. There are 4 types of penthouse suites available and the ones with the hot tub on the terrace are the suite-type penthouses. 
Room: Signature Penthouse Spa Suite Lakeside/ Penthouse Spa Suite Lakeside/ Penthouse Junior Suite Lakeside
Price: $700 to $1500 per night/ Rs.50,000/- per night to Rs.1,00,000/- per night
Check Ratings & Reviews Here. 
#11 Hard Rock Hotel Ibiza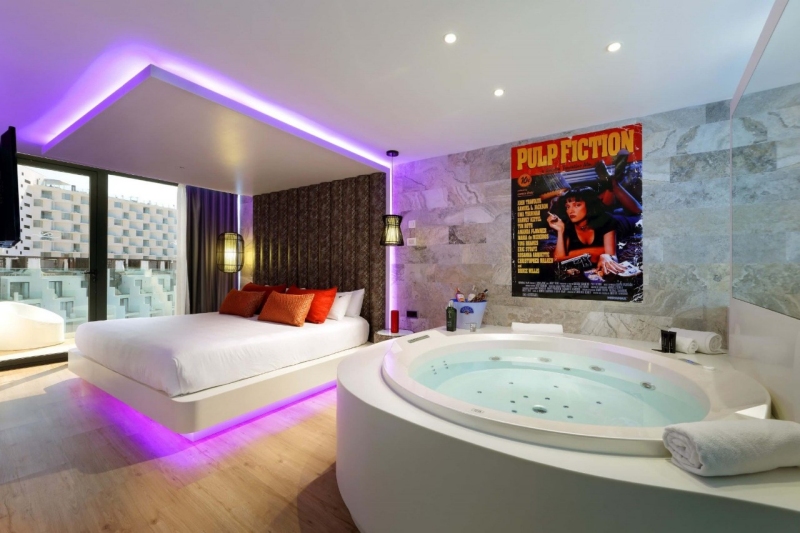 A UNESCO World Heritage site – Ibiza, Spain is an untouched beauty with distinctive landscapes, curious architecture, powdery beaches with plenty of solace-seeking spots for honeymooners, and stunning hotels offering top-notch services. One of the best 5-star hotels in Ibiza, garnering 4.5+ ratings with 3.2k ratings on Google and 4.4k ratings on Trip Advisor, is the Hard Rock Hotel Ibiza. It sits on the coastline of Ibiza and has a stylish, modern look coupled with refreshing amenities for a relaxing and enjoyable stay for newlyweds. 
The hotel has many different kinds of rooms and suites, but for ultimate luxury and an in-room jacuzzi experience, their rockstar suites (premium & diamond) and the 80's suite offer the best stay. Besides stunning suites, there are 6 on-site restaurants and bars at the hotel, a 1350-meter square spa, and an exclusive private beach club with a beach bar next to the hotel. 
Room: Rockstar Suites Premium & Diamond/ 80's Suite 
Price: $1000 per night/ Rs.80,000/- per night
Check Ratings & Reviews Here.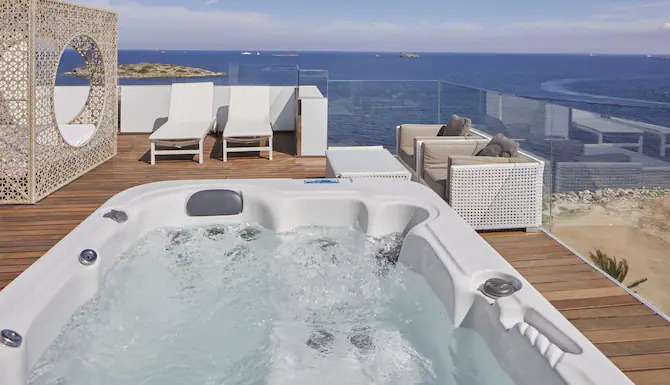 Another hotel in Ibiza where you can get honeymoon suites with jacuzzi is Hotel Torre del Mar which has a hot tub in many of their junior suites but it's the penthouse suites that boast a large whirlpool tub on the terrace with panoramic sea views. Check the ratings & reviews of this place here. 
#12 Grand Fiesta Americana Coral Beach Cancun, Mexico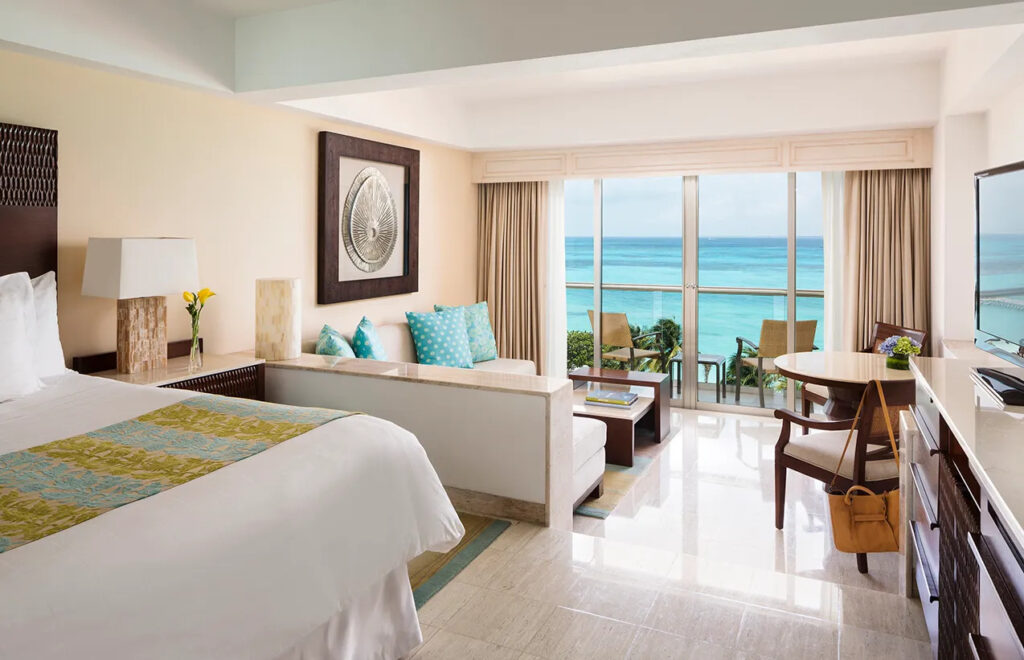 Yet another popular beach honeymoon destination is Cancun, Mexico. With its white sandy beaches, tropical seclusion, and scenic landscape, the Mexican city is a vibrant destination for honeymooners. Many of their resorts, including the Grand Fiesta with its incredible honeymoon suites with jacuzzi in room, offer all-inclusive honeymoon packages for a stress-free vacation. The package includes water sports, food, spa services, etc, and can be catered to the couple's needs. Their Infinite Ocean Front Suite is the ideal stay for couples and includes a whirlpool tub and a large terrace. 
When in the mood to explore, there are numerous activities to indulge in like adventurous water sports (snorkeling with whale sharks, jet skiing, etc.), visiting the ancient town of Tulum, touring Sian Ka'an reserve, walking alongside Lake Bacalar, and making your own real chocolate from crushed cocoa beans. 
Room: Infinite Ocean Front Honeymoon Master Suite
Price: $1000 per night/ Rs.75,000/- per night
Check Ratings & Reviews Here. 
#13 Four Seasons Resort Oahu, Hawaii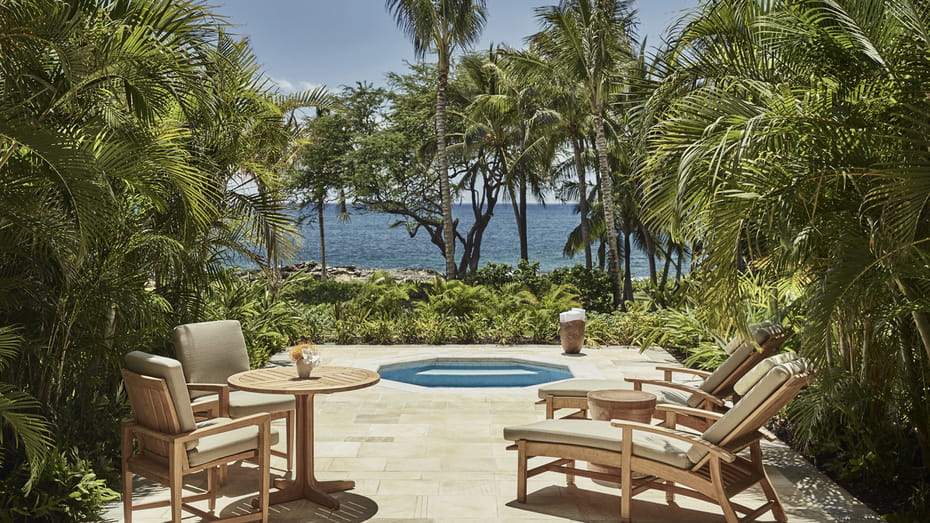 We hardly need to explain why Hawaii makes for a romantic honeymoon destination for couples. And if you're looking for a luxurious Hawaii honeymoon hotel, then Four Seasons is an obvious choice. The luxury resort chain has 5 properties in Hawaii – each uniquely designed with opulence and grandeur. The Ko Olina, Oahu property is located on an expansive white sand beach on the island's sunny west coast. The hotel redefines modern luxury and is deeply rooted in tradition. They have a variety of rooms & suites to cater to every budget, but if you're looking for honeymoon suites with jacuzzi in room, their deluxe accessible room with an outdoor spa tub is an ideal choice. 
Besides stunning accommodation, the hotel has many other ways to make your honeymoon a memorable one. This includes a private dinner on the beach, a spa experience under the stars, luxury yachting, adventurous ocean activities, visiting local farms with the resort's chef to experience local, sustainable cuisine, and hiking some remote and scenic trails of the island. There are also 7 restaurants on-site to indulge yourself in some delectable food on your honeymoon trip. 
Room: Deluxe Accessible Room With Outdoor Spa Tub
Price: $2000 per night/ Rs.1,60,000/- per night
Check Ratings & Reviews Here. 
#14 Vakkaru Maldives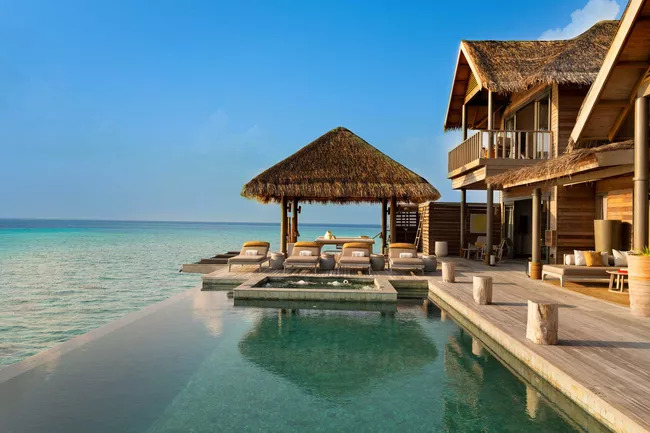 If you've come across a stunning overwater villa with turquoise waters around and sandy beaches in the vicinity, chances are it's from a Maldives resort. The island's many resorts offer unique amenities but only a few offer the blissful seclusion and timeless memories of the Vakkaru Maldives resort. Located on a secluded reef island and within the UNESCO biosphere reserve of Baa Atoll, the accommodation offers spellbinding ocean views, powder-soft white sands, luxurious villas & residences, and unique marine diversity. 
For superlative grandeur, pick their 2-story Vakkaru Over Water Residence which has a 12-meter square plunge pool and 55-meter square private infinity pool on the deck amongst other amenities like a dedicated chef on standby, a private spa and terrace, private movie screening, private spa terrace, and both indoor and outdoor dining area. The resort also offers honeymoon packages for couples which includes complimentary seaplane transfers, one-time floating breakfast, romantic room decor on arrival, one-time signature couples massage, one-time "dolphin quest" excursion, and complimentary breakfast and dinner every day. 
Room: Overwater Residence
Price: $20,000 per night/ Rs.14,00,000/- per night
Check Ratings & Reviews Here. 
#15 Jumana Bali Ungasan Resort, Bali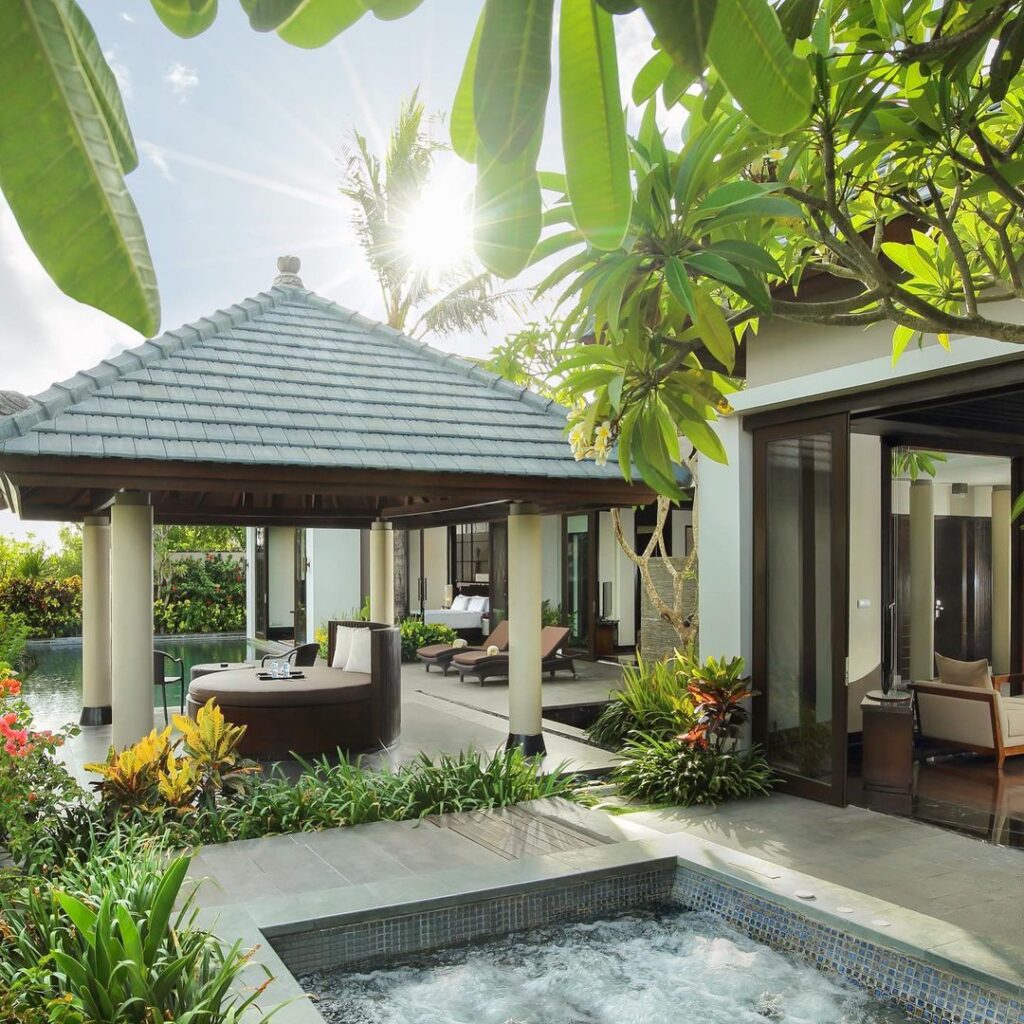 Besides the tropical paradise that is the island of Bali, there are other advantages of a Balinese honeymoon. The island has a spiritual vibe to promote all-around wellness and relaxation, there's a sense of thoughtful service, and the prices are quite economical. Their honeymoon suites with jacuzzi in room, for example, rank among the lowest priced on this list despite the same quality accommodation and experience. The Jumana Bali Ungasand Resort is an all-pool villa resort in Bali. Plus, all their rooms have a jacuzzi, a considerable sized one that too – in addition to a grand pool! 
The hotel is currently undergoing a renovation, given the ongoing process of being rebranded under Hilton resorts,  which is set to be finished by 2022. Besides the hot tub and pool, their villas also have a separate dining room, living room, spacious marble bathroom, and private courtyard. Their specialty restaurants, spas, on-site activities, and a dedicated concierge will make your honeymoon a memorable one. 
Room: All Pool Villas
Price: Starting from $500 per night/ Rs.25,000/- per night
Check Ratings & Reviews Here. 
#16 The Corinthia Hotel, London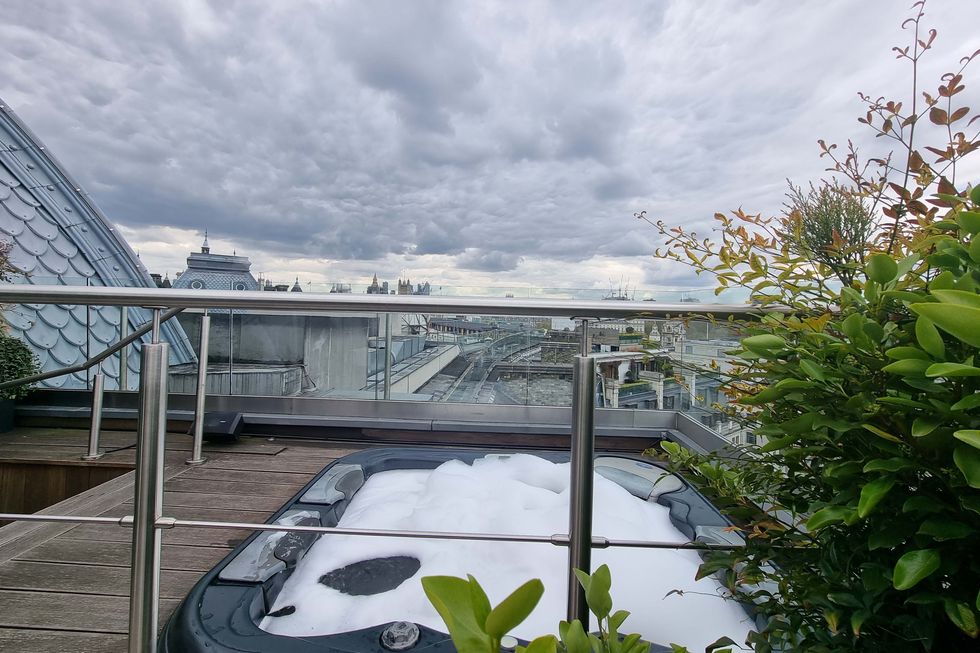 If you're all about iconic hotel stays with a rich history and also looking for honeymoon suites with jacuzzi in room, then the Corinthia Hotel in London blends the two aspects beautifully. The hotel opened in 1885 and provided accommodation for government staff during World War I and World War II. In recent times, the hotel has been praised for keeping its deep history intact whilst spinning the interiors and services for modern luxury. Many celebrities have stayed at the hotel. The list includes Lady Gaga, Beyonce, Bill Clinton, George Clooney, Johnny Depp, and James Corden. 
Immerse in the ultimate luxury on your honeymoon in their Hamilton penthouse which has a 45-meter square terrace with a central gas fire and jacuzzi. Other amenities include a personal butler, walk-in wardrobe, access to an extensive private wine collection, complimentary access to ESPA life facilities, 24 hours in-room dining, and personal shopping upon request. On-site, you will find many delectable dining options including Michelin-starred chef Tom Kerridge's first London restaurant at the hotel, and award-winning spa and health treatments at ESPA Life at Corinthia. 
Room: Hamilton Penthouse
Price: $9,000 per night/ Rs.7,00,000/- per night
Check Ratings & Reviews Here. 
#17 Twin Farms Barnard, Vermont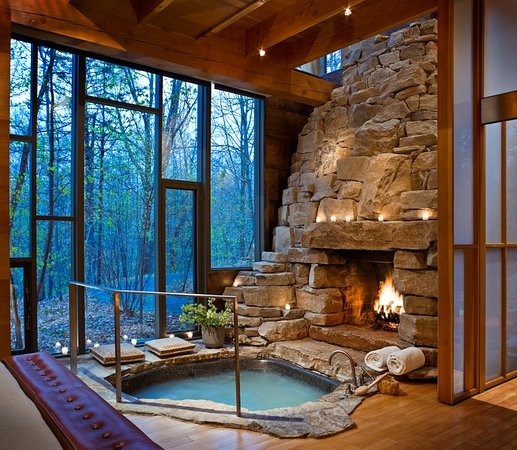 We have saved the best one for the last. Really. Dubbed as the globe's most luxurious accommodation by Forbes Travel Guide in 2020, Twin Farms Barnard is spread over 300 forested acres of Vermont countryside. Though its roots date back to 1793, it gained recognition in the 1930s as the countryside retreat of novelist Sinclair Lewis and his wife, Dorothy Thompson. The hotel, with nine rooms, first opened its gates to guests in 1993, and over-time spread to 20 individually-designed cottages and suites. 
They don't have honeymoon suites with jacuzzi, they have honeymoon cottages with jacuzzis. Their ten freestanding cottages include fireplaces and screened porches and each is designed with a distinctive concept in mind. There are three cottages that feature a hot tub: Aviary with a stone hot tub, Chalet with a hot tub on the porch, and Studio with a hot tub on the outside. Indulge in the fresh mountain air, breathtaking scenery, and get-away-from-it-all feeling. The hotel's staff offers personalized services catered to your individual needs. Some amazing thing-to-do are enjoying private dinners and intimate picnics deep in the forest, skiing on a private mountain, and biking on some gorgeous, untouched trails.
Room: Aviary, Chalet, and Studio Cottages
Price: $4000 per night/ Rs.3,00,000/- per night
Check Ratings & Reviews Here.