One of the most coveted destinations throughout the world is Vegas. Whether you want to explore the party life of the city or just explore the luxurious experiences in the city with your other half, there's a curated experience for any kind of traveler. What's more? The city has some of the best-imitated tourist attractions in the world: be it the Eiffel tower or Venice's famed Gondola rides. If you're someone who wants to experience the opulence of the city, find below the 15 best luxury hotels in Las Vegas to have a
fabulous stay in Sin City. 
#1 Caesars Palace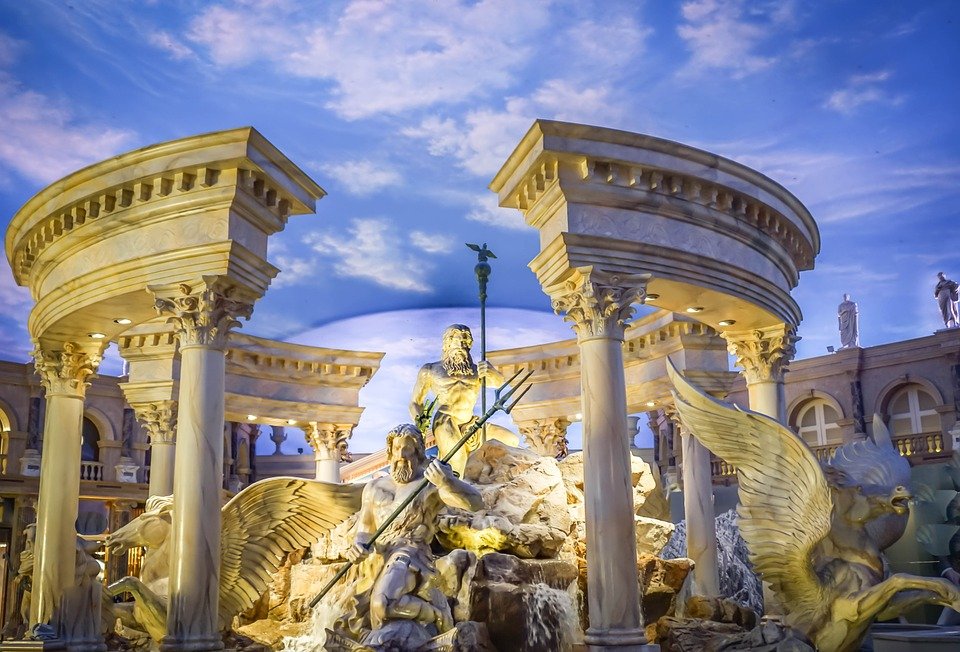 One of the most iconic luxury hotels In Las Vegas is the Caesars Palace. Built in 1966, the hotel was created to give guests the opulence of the Roman Empire. The entire hotel, including the new towers, is dripping with this basic sumptuousness and contains many statues and columns to remind guests of Roman life. There's a statue of Augustus Caesar near the entrance and replicas of Venus and David to greet the guests as well. Caesar's Palace also houses a magnificent replica of Rome's Colosseum and many artists and singers like Adele, Celine, Sting, etc. 
On the hotel's premises, you'll find 18 dining options. Restaurants by chefs like Gordon Ramsay, Bobby Flay, Nobu, and popular chains like Starbucks are here to satiate your taste buds and cravings. There are also 7 pools with private cabanas in the hotel itself. That's not all. You also have forum shops housing more than 160 brands from around the world. This includes luxury ones like Versace, Gucci, Valentino, and Giorgio Armani.
For couples traveling on their honeymoon or anyone wanting a more private experience, opt for the newest towers Augustus and Octavious for the stay. Not only are they away from all the party and gaming action, but the newly-built rooms are also spacious, offer contemporary elegance, and have state-of-the-art facilities to please their guests. Also, on the hotel premises is the first-ever Nobu hotel with a restaurant. This new tower immerses the guests in luxury like no other. Guests at Nobu hotel receive priority seating at Nobu restaurant and dedicated concierge service. 
Location: On the famous Las Vegas strip, 12 minutes away from the McCarran International airport
Amenities: Opulent Roman empire vibes, striking architecture, grand suites, 7 pools, 18 restaurants, 124, 181 sq ft gaming space, World's first-ever Nobu hotel, entertainment shows at Colosseum, shopping place with more than 160 brands like Prada, Valentino, Gucci, and Giorgio Armani. 
Price (Low/ High): $100/ $1500
Check Ratings & Reviews Here. 
#2 Bellagio Las Vegas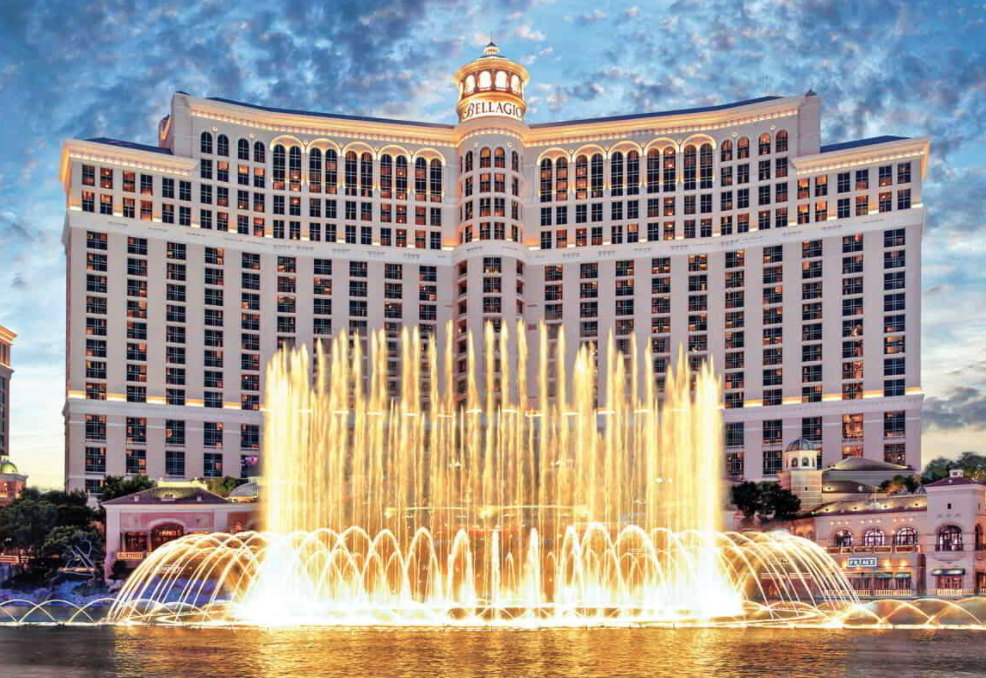 Even if you don't stay at Bellagio in Las Vegas, you will be coming here anyway owing to their spectacular fountain show considered to be one of the best tourist attractions in Vegas. The Bellagio hotel is one of the classic and oldest hotels associated with the name Vegas, like the Caesars Palace and the Venetian. Without a doubt, you can experience those typical Vegas feels as you step into the hotel. The premises are inspired by the Italian town of Bellagio and instill Italian elegance in every inch of the hotel. One of the notable features is the 8-acre lake between the building and The Strip, which includes the Fountains of Bellagio. The water show/ dance runs every 30 minutes and every 15 minutes from 7 PM to midnight. Before the show starts, the hotel lights turn to a purple hue (mostly, can also be red, white, or blue) and nozzles begin to break the water surface. 
While the fountains of Bellagio are iconic, another unmissable feature of the hotel is the Cirque du Soleil's aquatic production "O". If you don't know, Cirque du Soleil is the world's largest circus producer in world with its origins and headquarters in Canada. The hotel also has the world's largest chocolate fountain in one of it's restaurants – Bellagio Patisserie. Besides the pastry Bellagio Patisserie, there are 19 more dining options to choose from – like AAA Five Diamond winner Le Cirque, a fresh juice bar with organic produce, and Starbucks. Many restaurants offer dining with the view of the Bellagio fountains – but you'd want to make the reservation for the table beforehand. 
Another element you'll appreciate at the Bellagio is their retail shopping experience housing brands like Louis Vuitton, Alexander McQueen, Prada, Tiffany, Bvlgari. Dior, Fendi, Gucci, Guerlain, Omega, Hermes, and many more. As for the accommodation, you have to option to choose from more than 20+ variety of rooms and suites, each one offering a panoramic view of either the Strip, Bellagio fountains, or the mountains. 
P.S. This is one of the best hotels in Las Vegas for couples and is rated highly by them at a score of 9.5.
Location: On the famous Las Vegas strip, 10 minutes away from the McCarran International airport 
Amenities: Houses the Bellagio fountain and Cirque du Soliel's aquatic production "O", Bellagio patisserie has the world's tallest chocolate fountain, luxury retail therapy (brand like LV, Hermes, Tiffany, Prada, Gucci, Bvlgari, etc.), 20 dining options, spacious rooms, expansive casino, and gaming room
Price (Low/ High): $300/ $1500
Check Ratings & Reviews Here. 
#3 Skylofts at MGM Grand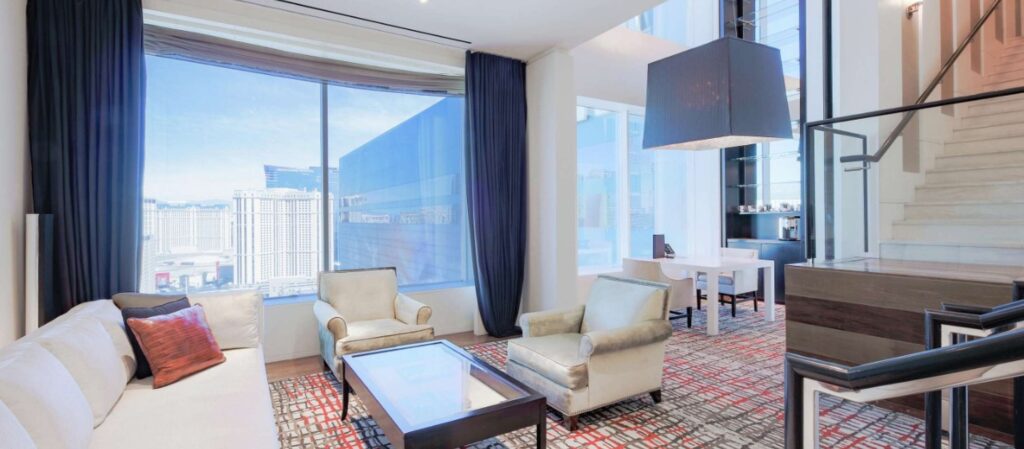 MGM Grand is the third-largest hotel complex in the world and one of the most popular luxury hotels in Las Vegas strip. Built in 1993, the hotel has gained recognition through its many renovations and experiences designed to entertain and attract the stereotypical Vegas visitor who values grandeur, thrill, and luxury more than anything else. The MGM's Skylofts are considered to be one of the most expensive yet worth-it suites in Las Vegas, and all for good reasons. The amenities when you opt for any of the 1, 2, or 3 bedroom Skylofts at MGM Grand are worth swooning over. Some lucrative ones include private check-in and lobby, personal staff, personal 24 X 7 butler, concierge services, infinity tub, immersion shower, and complete freedom to host a party in the suite with an experienced mixologist, bar setup, and a curated party menu.
Besides the luxurious suites, the MGM grand has some extraordinary amenities for its guests. They house the largest gaming floor in Las Vegas, have 30 restaurants, some curated by celebrity chefs like Joel Robuchon, Masaharu Morimoto, and Wolfgang Puck, and have various entertainment shows like stand-up comedy going on in multiple venues of the premises. With more than 83,000+ reviews on Google and 4.4-star ratings, it's rated highly as one of the best hotels in Vegas for couples and adults. 
Location: Located on the Las Vegas Strip, Just 5 minutes away from the McCarran International airport 
Amenities: expansive suites, spacious rooms, convenient price starting range, multiple entertainment shows going on, 30+ restaurants (some curated by celebrity chefs and holds Michelin star designation), largest gaming floor in Vegas
Price (Low/ High): $100/ $1000
Check Ratings & Reviews Here. 
#4 Conrad Las Vegas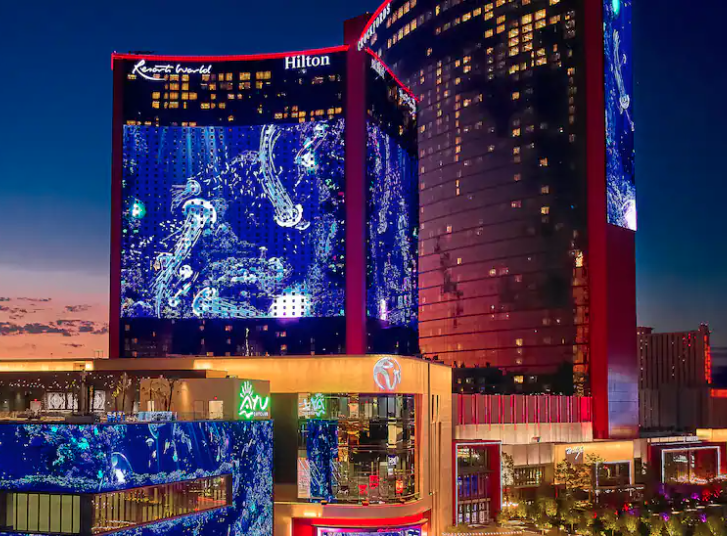 Acquiring 1496 rooms at the newest luxury hotels in Las Vegas in Resorts World, Conrad Las Vegas shares the premises with two other hotel chains from the Hilton brand – Crockfords and Las Vegas Hilton. Sharing might seem like there's less privacy, but the entire resort acquires an area of 87 acres leaving room for substantial amounts of serenity for guests looking for a calm Vegas experience, but at the same time, also includes a 117,000 sq ft casino, bars, 40+ restaurants, and event area to soothe the thrill of adventurous visitors coming to the Sin City. Including other chains means you can experience the unique style of each hotel on one trip and enjoy their amenities at any time.
In terms of lodging, Conrad's opulence and luxury nature is known by all. Their rooms and suites are spacious and equipped with state-of-the-art facilities. The design is the classic blend of neutrals and bright hues common in Conrad hotels at all 39 locations in the world. Step out of your gorgeous abode to experience the highest bar in Las Vegas – Starlight 66, traditional Italian at Brezza, and many more dining and leisure experiences we can even list here. The overall rating of the hotel is 
Location: Resorts World on Las Vegas Strip, 10 minutes away from McCarran International airport
Amenities: Unrivalled luxury of Conrad, spacious rooms and suites, 7 pools including an infinity pool of the Las Vegas strip, one of the newly built luxury hotels in Las Vegas which opened on June 24, 2021, includes 3 hotel chains in one premise allowing guests to enjoy an inclusive experience with 40+ restaurants, casinos, spas, and much more. 
Price (Low/ High): $150/ $3000
Check Ratings & Reviews Here. 
#5 Crockfords Las Vegas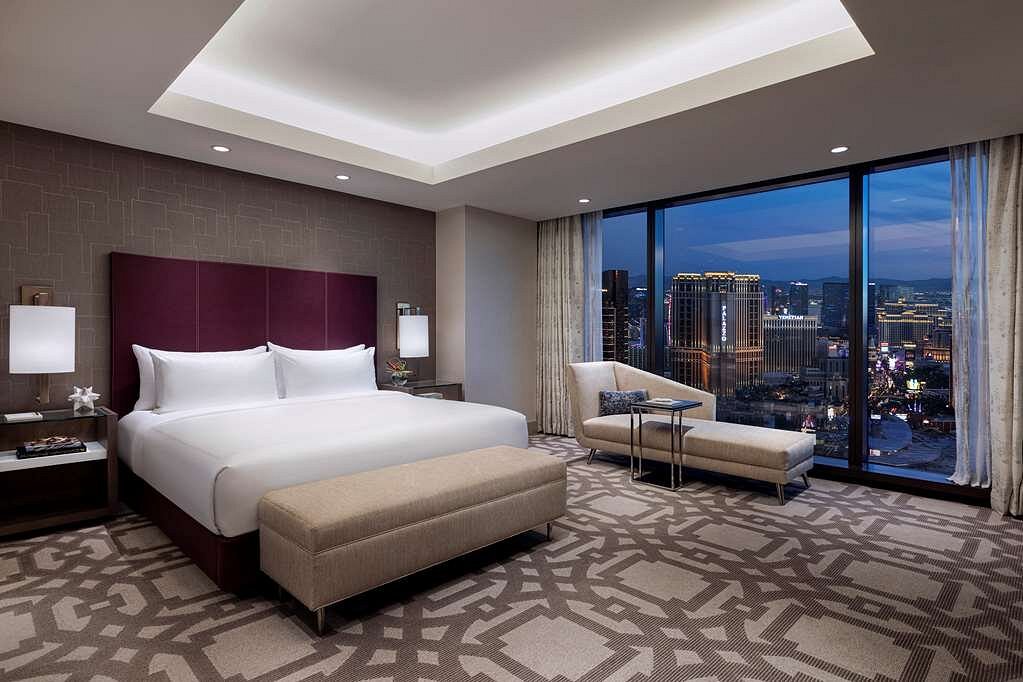 Located inside the Kadrashians' preferred stay hotel in Las Vegas – The Resorts World, the Crockfords Las Vegas has 236 rooms in the hotel premises and shares the 59-story tower with two other Hilton hotels – Conrad and the Las Vegas Hilton. While the Crockfords own a lesser number of rooms when compared to the other two, their lodging variety is top-notch, has a simple yet elegant style, and impeccable service by the staff. Not only does the Crockfords Las Vegas have rooms and suites, but the accommodation also offers the option of villas and palaces. The palaces boast 6500 sq ft space with 2 rooms, 2 suites, karaoke room, game room with billiards space, private outdoor oasis with pool, fully stocked bar, rain shower, soaking tub, and walk-in closet. 
What's more is that when you stay at Crockfords Las Vegas luxurious accommodations, you get access to the amenities offered by other resorts in the aggregated resort as well. This includes a 117,000 sq ft casino, more than 40 restaurants, superlative spa experiences, theater, and many other entertainment spaces. The restaurants include Caverstreak, the largest steakhouse in Vegas, and a food street called "Famous Food Streets" which includes food stalls by popular chefs and restaurateurs so enjoy the best feast by famed cooks in one place. 
Location: Resorts World on Las Vegas Strip, 10 minutes away from McCarran International airport
Amenities: located in an expansive space with 3 other hotels giving guests access to 40+ restaurants, top-notch spas, theaters, and cuisine, 236 rooms in Crockfords Las Vegas are a private unit on its own with a serene space and ultimate coziness 
Price (Low/ High): $250/ $3000
Check Ratings & Reviews Here. 
#6 Waldorf Astoria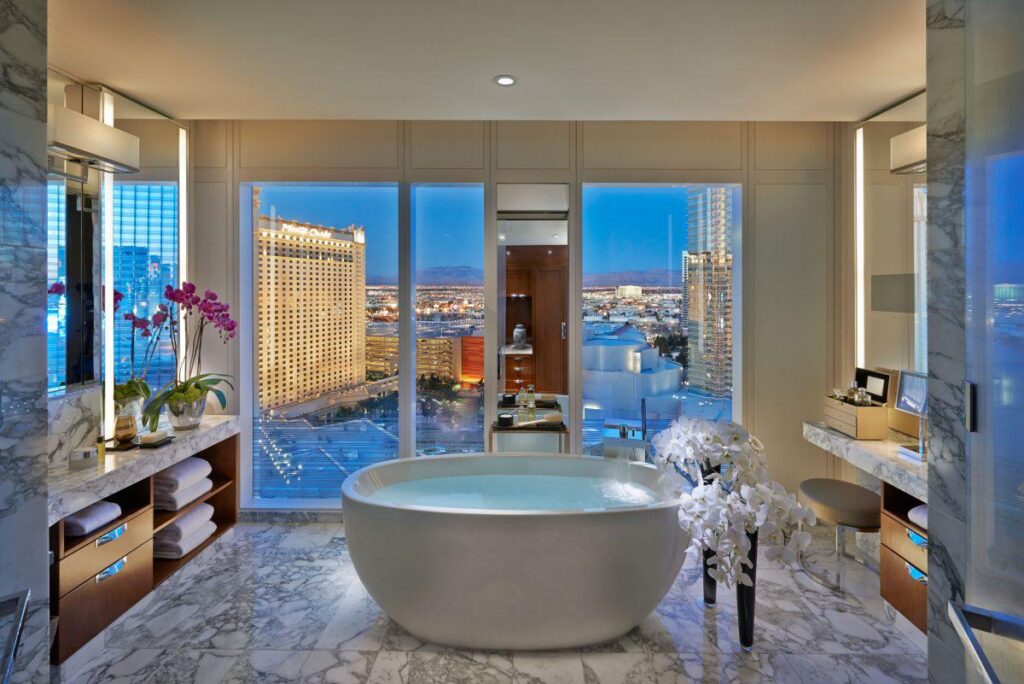 The 47-story luxury hotel in Vegas, Waldorf Astoria is located in the notable Las Vegas strip and offers breathtaking views from every room type offered. The hotel also has condominium residences on the building's floors, with prices listed at around ~ 4 million dollars each. The hotel's lobby is located on the 23rd floor and there are 392 rooms & suites (2 kinds of rooms and 9 types of suites) available for guests. You'll be stunned by the elegant hotel interiors, designed by Adam Tihany who has also worked with the likes of Belmond, Four Seasons, and Mandarin Oriental. The Waldorf Astoria holds the AAA Five Diamond award and three Forbes Five Star awards (for it's hotel, spa, and restaurant), a designation owned by only 6 hotels in the United States. 
One of the most expensive hotels in Las Vegas, the Astoria is also quite popular for the lavish Presidential suite they offer.  Starting from $1500 and going upto $3000 a night, the Presidential suites offer 1, 2, and 3 bedroom options and each offers magnificent views from the city and the bathroom, so you can enjoy the sweeping Vegas skyline while luxuriating in your bathtub. And when you're done relaxing in your private space, step out in the 23rd-floor restaurant options – Skybar and Tea Lounge to experience the dining experience like never before. Further, relax in the Forbes Five-Star spa offering wellness therapy services as well like Karmic Happiness ritual and Journey Into Stillness, Or enjoy some lazy time in the pool and cabana on the eighth-floor of the hotel. Surely, the luxury, comfort, and unmatched service of this hotel will make your trip memorable. 
Location: Las Vegas strip, 10 minutes away from McCarran International airport
Amenities: Restaurants with sweeping views, Forbes 5-star spa, spacious rooms & suites, unmatched luxury and service of Waldorf Astoria, pool exclusive for guests
Price (Low/ High): $150/ $3000
Check Ratings & Reviews Here. 
#7 ARIA Resort & Casino
One of the best luxury hotels in Vegas for adults, ARIA resorts and casinos has 4004 guest rooms and suites, 16 restaurants, 10 bars and nightclubs, 150,000 sq ft casino, 182, 985 sq ft pool deck with 34 cabanas, and an 80,000 sq ft spa. All the accommodations have floor-to-wall ceilings with magnificent views, plush bathrooms amenities, a fully stocked mini-bar, and an in-room tablet for ordering, room controls, and other services. To elevate the grandeur of your stay, pick the ARIA Sky Suites. This Forbes 5-star rated retreat has a AAA five-diamond designation and includes luxury airport transportation, a private lounge, a pool for Sky suites guests, preferred dining reservations, a personal concierge, and a serene spa-like bathroom. 
Besides the gorgeous accommodations, the resort has a private shopping area, fine art collection by acclaimed painters, Forbes 5-star designated spa and salon, state-of-the-art medspa, and a fitness center. Another notable aspect of the resort is the reduced energy consumption through their consistent and concerted efforts making them the world's largest hotel to earn LEED gold certification. Given the smart rooms with tablet-based controls, regulation of temperature based on the guests' entrance into the room, switching off unused lights, Aria was described by Popular Mechanics as the most technologically advanced hotel ever built. 
Location: On the Vegas strip right in the middle of Bellagio and Monte Carlo, 10 minutes away from McCarran International airport
Amenities: state-of-the-art technology in rooms, courteous staff, expansive suites with AAA five-diamond rating, pool deck, 5-star spa, LEED gold certification for energy conservation, art installations, casino
Price (Low/ High): $200/ $1500
Area: 66 acres 
Check Ratings & Reviews Here. 
#9 Venetian Resort Las Vegas
Imagine having the Venice-famed gondola rides right in the hotel you're staying at! This sweet vision comes true at the Venetian Las Vegas, a palatial Venetian-themed hotel with 36 stories and a ¼ mile-long canal. The gondola ride is a top tourist attraction in the city. Float below the bridge, beside cafes, and next to balconies as you go through the entire trip of Grand Canal Insider tip: The Gondolier March special tradition happens twice a day where the gondoliers sing as they march through the inner canal. Timings are 9:50 AM and 4:20 AM.
The canal is one of the main aesthetic spots of the hotel, but there are many others like the recreated version of the St.Mark's Square of Venice, the grand gallery at reception and atriums, Rialto bridge, luxury retails shops, and state-of-the-art dining with each restaurant having its own story. Coming to the lodging, each room of this 5-star Vegas hotel is basically a suite, designed keeping the modern architecture in mind while giving a subtle nod to the Venetian theme of the premises. 
Palazzo at The Venetian
Right next to the Venetian hotel is the Palazzo towers owned and operated by the Venetian resorts. Palazzo towers redefine classic Italian luxury for guests with a modern taste. With 8 different types of suite options, the grandest one is the Chairman suite with 4 bedrooms, limo service, private pool, spa, terrace, and a 6367 sq ft of space. Because of the immense privacy, grand spaces, serene spaces, and luxurious feels, Palazzo is one of the best luxury hotels in Las Vegas for couples to enjoy a romantic stay or for their honeymoon. 
Location: Las Vegas strip, 10 minutes away from McCarran International airport
Amenities: Gondola Rides, ¼ mile canal, retail shopping with luxury brand stores like Coach and Fendi, various art installations, rock climbing, spa, over 60 restaurants, massive spaces where each background is photo-worthy
Price (Low/ High): $100/ $1500
Check Ratings & Reviews Here. 
#10 Four Seasons Resort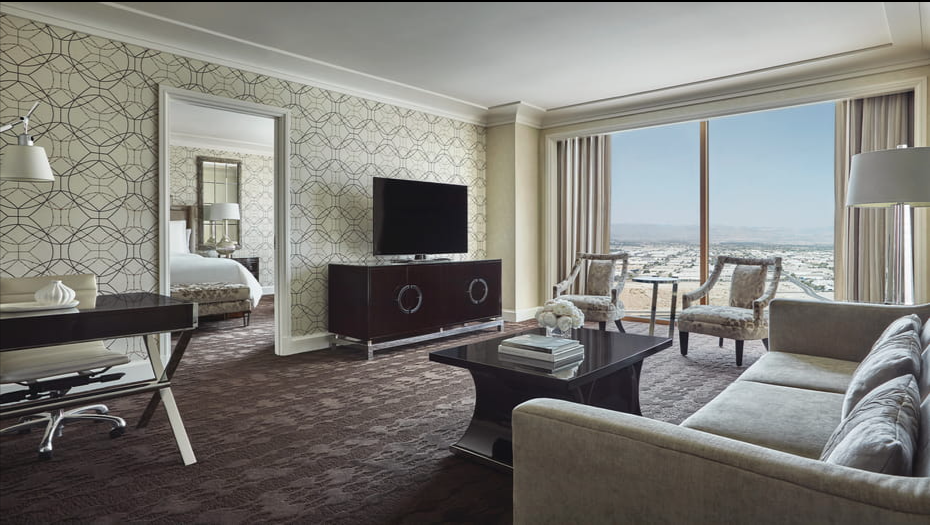 It's hard to not be lured by the consistency of experience offered by Four Seasons – no matter the location. Four Seasons Las Vegas acquire 35 to 39 floors at the Mandalay Bay resort & casino. Not only is the hotel a 5-star hotel in Vegas, but is also certified AAA Five Diamond (a designation only 186 hotels in the world have). Despite being in the quarters of a popular resort chain, the hotel has its own lobby, elevators, restaurants – and best of all, pool and spa. 
In this one of the luxury hotels in Las Vegas, you have basic studio rooms and suites options with a separate living area, dining area, and a bedroom. The design is the classic and elegant Art Deco-inspired rooms common in Four Seasons everywhere. The bathroom, as usual, doesn't disappoint either with marble floors and massive bathtubs in every kind of room type.
The hotel is gaming-free so you can enjoy the peace & quiet in the premises. But if you do want to game, you're allowed into the Mandalay Bay Casino located in the same building. The same perk can be enjoyed with the pool as well. While you have a private pool area (where you can also book a private cabana) in the Four Seasons area in the building, you also have complete access to the famous 11-acre Mandalay beach with three heated pools, a wave pool with a connecting area for small children, and a lazy river that features a waterfall. A curated experience offered by the hotel is a private helicopter ride to enjoy the bird's eye view of Vegas' deserts and grand canyon. The hotel can also pack picnic lunches and beverages so you enjoy a scenic date in the midst of the state's grand beauty. 
Location: 35 to 39 floors of the Mandalay Beach Resort, Located on the Las Vegas strip just 10 mins away from McCarran International airport
Amenities: Private lobby, elevator, pool, restaurants, spa, bars, and access to the casino and beach at Mandalay Bay
Price (Low/ High): $300/ $1500 per night
Check Ratings & Reviews Here. 
#11 JW Marriott Las Vegas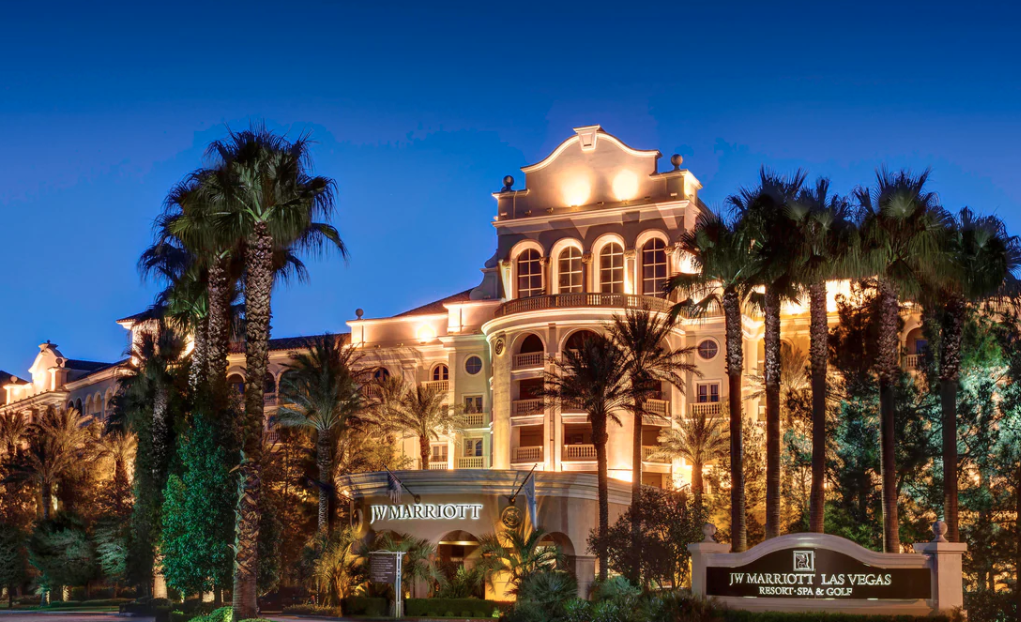 Away from the hustle & bustle of the Las Vegas Stripe lies an oasis, JW Marriott Las Vegas. A casino, luxurious hotel in Las Vegas' most affluent area – Summerlin has a 57,610 sq ft casino with 1560 slot machines and 28 table games. The hotel has 469 rooms and 79 suites and the property has lush gardens and aesthetically-designed buildings designated for different amenities. This includes a waterfall swimming pool, golf course, a 40,000 sq ft spa space with yoga centers, and meeting spaces. 
Irrespective of the type of lodging you select, all accommodations have a contemporary, spacious design, high-speed Wi-Fi, marble bathrooms with jetted tubs, luxury toiletries, walk-in closets, and a coffee maker (worth a mention because many resorts in Vegas don't offer a coffee maker). There are eight dining options in the hotel premises – all located in various areas of the building. This includes Starbucks and a gorgeous waterside cafe. Because the lodging is located far away from restaurants, you can be assured of no noise reaching the comfort of your room. 
Location: 20 minutes from the McCarran International airport, 13 minutes from the Las Vegas strip
Amenities: room equipped with extensive amenities, a posh golf course with expansive views of the Las Vegas dessert, 40,000 sq ft spa, separate building for the casino so the noise doesn't reach lodging space, enormous space to stroll around in lush gardens, waterfall pool, 8 dining options including Starbucks and a water-side cafe
Price (Low/ High): $350/ $1000
Check Ratings & Reviews Here. 
#12 Encore At Wynn Las Vegas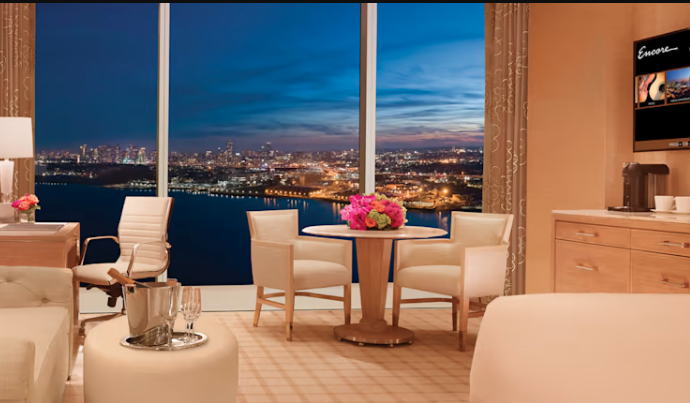 Encore Las Vegas is one of the best hotels in Las Vegas for adults. The luxurious casino Las Vegas resort is located right next to its sister resort, Wynn Las Vegas. Both are operated by the hotel chain Wynn resorts, but the Encore is a newly built property, has bigger rooms and each room is basically a suite in itself. Encore guests also enjoy exclusive access to Encore's and Wynn's pool, but Wynn's guests aren't allowed at  Encore's pool. In rest amenities, the resorts are quite the same and just a short 5-minute walk away from each other. In the middle, you will also find Wynn Plaza, a 76,000 sq ft shopping complex with over 120 top-tier brands. 
Encore is one of the luxury hotels in Las Vegas which has been awarded a AAA Five Diamond rating every year since its inception. Both Encore and Wynn hold more Forbes Travel Guide 5-star ratings than any other resort in the world.
The tower suites of both hotels are also considered one of the best & most luxurious suites in the whole of Las Vegas. We have included a separate section for Wynn Tower suites, and Encore's Tower suites redefine luxury in themselves. Serene in neutral tones with bold accents, the tower suites have a panoramic view with floor-to-ceiling windows and have a massive area of 745 sq ft. Other amenities include private check-in, 507 thread-count linens, breakfast credit, complimentary valet, and an opulent marble bathroom.
Location: Right beside Wynn Las Vegas and 12 minutes from the McCarran International airport
Amenities: Private casino and pools, walking distance to the Wynn plaza and all the other amenities of the Wynn resort, breakfast credit, curated experiences according to the occasion, theater exclusive to guests, and private shows
Price (Low/ High): $300/ $1400
Check Ratings & Reviews Here. 
#13 Delano Las Vegas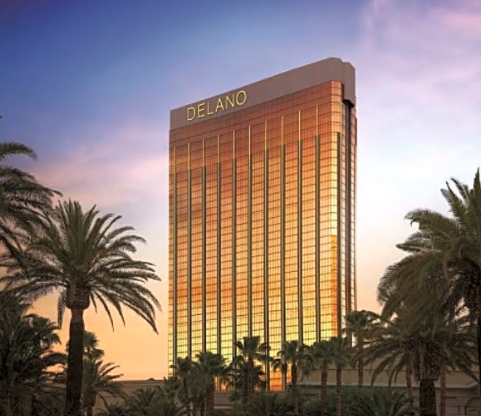 Another luxury hotel in the Las Vegas strip is the Delano Las Vegas. It's one of the newest luxury hotels in Las Vegas that opened in 2014 and is located on the Northwest side of the Mandalay Resort. The 43-story, 1117 room luxury-suite hotel is the first one to allow dogs on the property in Vegas and has the largest standard suite size in the state, measuring 725 sq ft. The hotel has many unique amenities like an Alain Ducasse restaurant "Rivea" on the 64th floor with floor-to-ceiling windows offering breathtaking views of the Las Vegas strip. There's also a Skyfall lounge – a rooftop bar with panoramic views of the city and an outdoor patio. Guests recommend going to Skyfall during sunset and enjoying the breathtaking landscape. There's also a coffee bar, 3940 Coffee + Tea, named after the hotel's address. 
Delano Las Vegas luxury resort doesn't have a casino on-spot but you have access to the Mandalay Bay Casino on the premises itself. There's also a beach club exclusive for Delano guests. Outside guests are only allowed if they book a private cabana, which the Delano guests also need to book prior to arrival. The best part is the club is just a few steps away from the famed Mandalay Beach & Resort. The Mandalay's shark reef aquarium, one of the top tourist attractions of the city, is also just a short walk away from Delano's rooms. The hotel's concierge is also known to book jeep tours for their guests at a nominal fee to see the scenic spots in Vegas like Grand Canyon. 
Location: Northwest side of the Mandalay Beach Resort, located on the Las Vegas strip just 10 mins away from McCarran International airport
Amenities: Private beach club, restaurants Rivea and Skyfall with panoramic views, largest standard suite in Vegas, located just a few steps away from Mandala Bay casino, Mandala Bay beach and Mandalay's shark reef aquarium, arrangement for a pink jeep tour to city's wonderful desserts and tourist attractions
Price (Low/ High): $500/ $1400
Check Ratings & Reviews Here. 
#14 Red Rock Casino Resort & Spa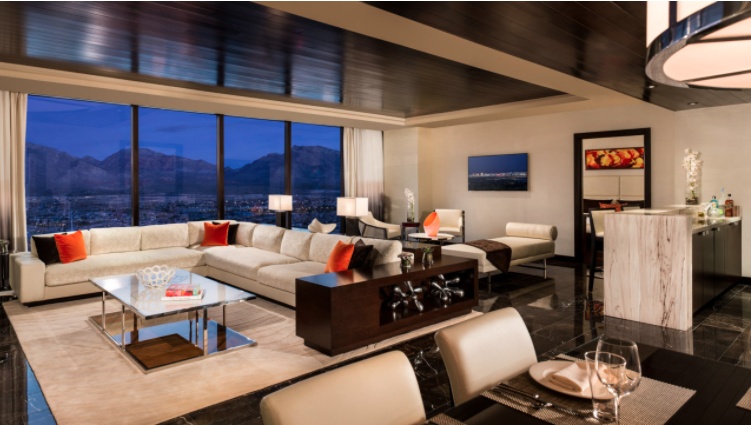 The Red Rock Casino Resort & Spa is one of the newest luxury hotels in Las Vegas. Established in 2010, the hotel has a grand area of ~ 59 acres which includes a 118,309 sq ft casino, 796 rooms, 3-acre pool space, 10 bars, 10 restaurants, 16-screen movie theater, kids arena, bowling alley, and a shopping arena with many coveted brands. They also have a state-of-the-art spa on their premises which will feel like a health retreat in itself. Guests visiting can't stop appreciating the commendable experts at the spa and recommend it as one of the best experiences to have this luxurious hotel in Las Vegas. 
There are 4 types of accommodations for you to choose from rooms, suites, villas, and penthouse suites. The last one is definitely one of the most luxurious kinds of accommodation. It's exquisitely designed and there are 7 types of penthouse suites to choose from: each offering opulence in its own manner. While penthouse suites offer sumptuous comfort, other accommodation types are spacious as well, with even the lowest-priced room having an area of 515 sq ft and boasting of incredible views, marble bathrooms, and a soaking tub. 
Their unrivaled aesthetic, multiple amenities and award-winning service has made them a favorite among guests. One of the recent reviewers writes, "The resort is amazing. We had a great time on the premises. The spa is fantastic, the bowling alley is fun, and the movie theatre is just top-notch. The staff is friendly and welcoming. We loved everything about our stay and will come back soon enough."
Location: 17 minutes away from McCarran International airport, 18 minutes away from the Vegas strip, located right alongside the Red Rock Canyon National Conservation Arena in Downtown Summerlin (one of the most prestigious neighborhoods of Las Vegas)
Amenities: 3-acre pool space, 10 bars, 10 restaurants, rooms including villas and penthouse suites, spa, movie theatre with VIP movie booths, shopping arena, playing rooms for poker, bowling, etc. 
Area: ~ 59 acres
Price (Low/ High): $150/ $1500 (Penthouse Suites)
Check Ratings & Reviews Here. 
#15 Wynn Tower Suites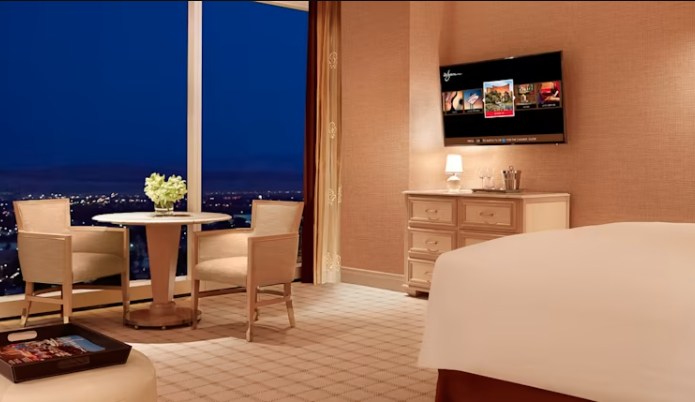 One of the well-renowned 5-star luxury hotels in Las Vegas is Wynn Las Vegas. While their normal rooms are comfortable & pleasant accommodation as well, their tower suites offer undeniable opulence to those seeking that splendor in Sin City. When Vegas is busy (which is pretty much every month except the end of May and June due to heat and December when people are busy preparing for the holidays; weekdays are less busy than weekends), you can find yourself waiting in the line for almost everything. The line for check-in, line for eating at a restaurant, line for the elevator, etc. This is an exceptional advantage of choosing Wynn Tower Suites wherein you have private check-in and a private bank of elevators to lead to your room. 
The Wynn Tower suites have an area of ~ 600 sq ft with the duplex three-bedroom suite having a massive area of 5829 sq ft. All suites are made in elegant hues of cream and are open and spacious. There's a complimentary Internet connection, touch controls to change the draping and lighting from the comfort of your bed, and a marble bathroom with a luxuriate jacuzzi tub. While the tower suites have just one restaurant, you can explore an array of fine-dining experiences throughout the property. Indulge in the fresh fish flown daily from the Mediterranean at Costa Di Mare to chef Mark LoRusso's regional Italian seafood and quality Chinese at Wing Lei. Besides lounging in the room and dining at the finest eateries, there's a lot to do at the Wynn: acrobatic shows, 24-hour casinos, live theater, water plays, electrifying clubs, and much more. 
Location: Located on the Las Vegas strip just 10 mins away from McCarran International airport
Amenities: high-speed Internet, private check-in and elevator, connected Wynn shopping complex with luxury brands like Celine, Stella McCartney, Cartier, Givenchy, Prada, etc., more 4-star restaurants than any other resort in North America, 24-hour casinos, 507-thread count sheets in the bedroom, private on-site restaurant for Wynn Tower suites where you enjoy the complimentary breakfast every day
Area: ~ 215 acres
Price (Low/ High): $300/ $1200
Check Ratings & Reviews Here. 
FAQ's 
Why are Vegas Hotels cheap?
All luxury hotels in Las Vegas make money through their casinos, restaurants, and a variety of other amenities they offer. You will find that the hotels with no casino will generally have a higher price than those who have their own gaming floors. 
Where do the Kardashians stay in Vegas?
The Kardashians – of course, stay at the best of the luxury hotels in Las Vegas. Their stay is mostly at the Caesars Palace, Venetian, or the Palazzo. 
Which Vegas hotel has the most rooms? 
The Venetian Resort Las Vegas (The Venetian and The Palazzo) has 7092 rooms and has the most rooms in Vegas. It also holds the record of the second largest hotel in the world. The MGM is stated in most sources as the Vegas hotel with the most rooms because the Venetian includes two hotel buildings. The MGM has 6853 rooms and has the record of third-largest hotel in the world. 
Which part of Vegas should you avoid?
The popular areas of Las Vegas like the strip, Summerlin, some residential neighborhoods, and scenic attractions are quite safe. But there are some areas you should avoid as a tourist. These include downtown Las Vegas and East Las Vegas as they both have 91% and 191% higher crime rates than the national average. Other areas to avoid are Naked City, Meadows Village, Hunt Ridge, and West Las Vegas
What is the coldest month in Las Vegas?
Vegas starts getting colder from November (46°F/ 66°F) and stays cold till February (42°F/ 64°F). The coldest month is December when the temperature remains a low/ high of (39°F/ 56°F). On the other hand, the hottest month is July when the temperature remains a low/ high of (80°F/ 104°F).