The Poconos, or the Poconos Mountains, encircles a scenic area of 6200 kilometers square covered with forested lands, towering peaks, and azure lakes. One look – virtually or otherwise – and it will be easy to see why it's considered one of the top honeymoon destinations in the United States. Given that it's the couple's favorite hideaway, many romantic resorts, charming inns, and cozy hideaways are located in the area. To make your search for the best Poconos honeymoon suites easier, we have narrowed down the best among them in our latest issue. Scroll to see. 
#1 The Lodge At Woodloch (Adults-Only)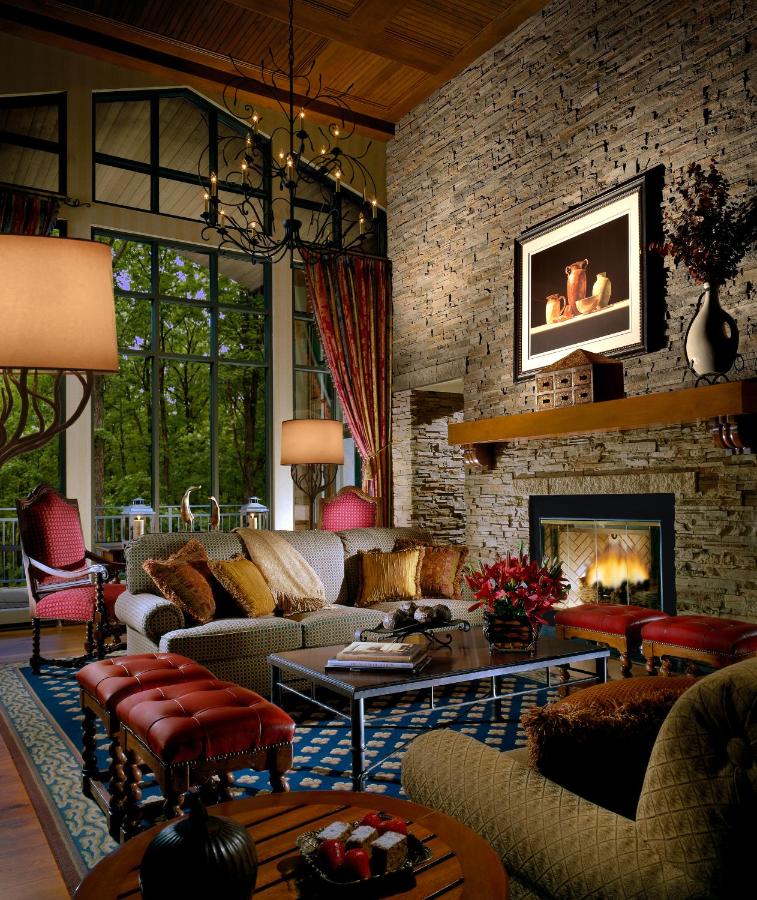 Spread over 500 pristine wooded acres with a 15-acre private lake, this adults-only Poconos mountains accommodation is an award-winning destination spa resort perfect for honeymooners. The unmatched tranquility paired with tons of activities for leisure and relaxation will make your honeymoon trip whatever you want it to be. That's what the resort's philosophy runs on anyway. Choose what suits you the best so as to connect to your creative and stress-relieving outlets. Speaking of what you can choose, there are around 36 classes & offerings each day with activities like archery, biking, birding, kayaking, hiking, disc golf, garden tours, etc. being guided by a professional to make your experience effortless. 
Coming to the Poconos Honeymoon Suites, the Lodge at Woodloch's one-bedroom suite comes with private verandas, marble bathrooms with walk-in showers, and a fireplace ideal for couples wanting some peace, comfort, and luxury on their vacation. The other room types also offer scenic views and spacious stays for couples who are tight on their budget. The resort also has a 23-treatment room spa with a hydro massage pool that offers unobstructed views of nature through its floor-to-ceiling windows. 
What's better is that the resort offers curated all-inclusive packages for their guests, which is often what you'd also be looking for in a Poconos honeymoon resort. Their all-inclusive package includes lavish accommodation, 3 artfully-crafted gourmet meals, scheduled workshops and activities, access to a gym and spa (with credits), and baking and cooking demonstrations by the chef. To satiate your taste buds while catering to your health, most of the resort's dining experience encompasses farm-to-table ingredients picked from local farms around and prepared with healthy cooking techniques to give you the freshest of flavors. 
Check Ratings & Reviews Here. 
#2 Poconos Palace Resort/ Coco Haven Resort (Adults-Only)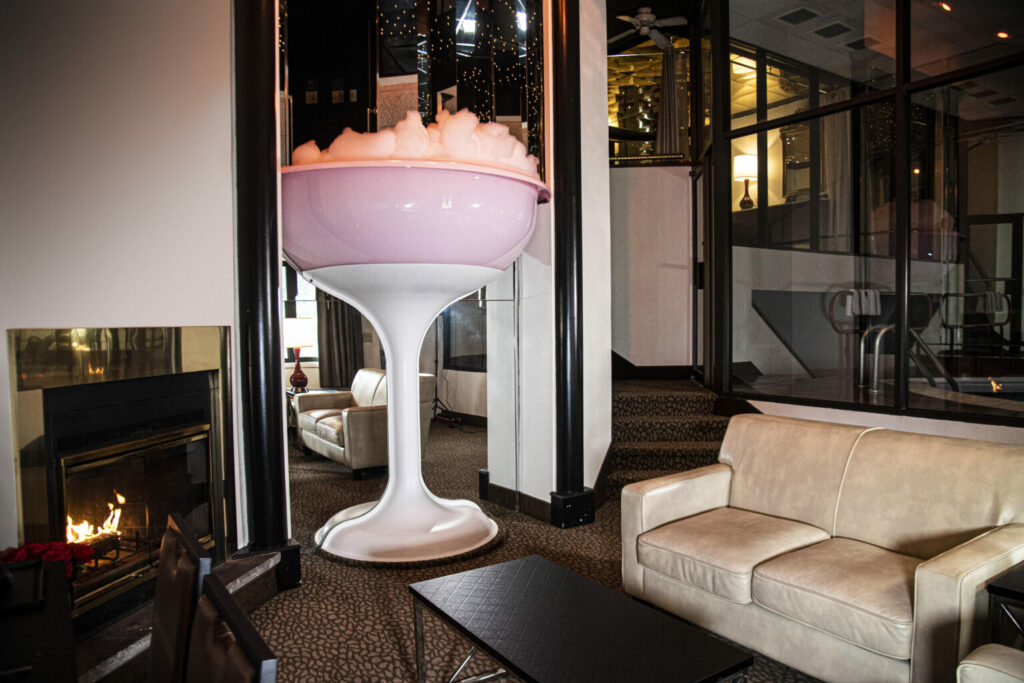 This lakeside couples-only resort is a 3 property complex and features 189 romantic Poconos honeymoon suites with round beds, whirlpool tubs in heart shape, and some having a seven-foot-tall Champagne Tower Tub. Because of their couples-only policy, suites that are designed to ooze romance, and personalized services, the hotel has become quite popular among honeymooners with many rating it as their number-one choice. One of their top-rated rooms is the Lakeside Chalet suite which includes an updated living room, outdoor seating overlooking views of Echo lake, a cozy log-burning fireplace, a heart-shaped whirlpool bathtub, and a king-sized blush bed. Another luxurious option is Diana's Oasis Suite in the Paradise Stream Tower which also has your private heated indoor pool. 
Besides amazing accommodations, there are a lot of activities and experiences in the hotel to add unforgettable memories to your honeymoon. These include themed events, bands, pool parties, and specialty acts for entertainment. In terms of activities, there are speedboat rides, pedal boats, tennis, and nature trail walks in summer and spring, and in winter, you can enjoy skiing, snowmobiling, and snow tubing. Indoor activities include swimming, racquetball, tennis, video game arcades, and more. 
The resort also has many great offers running on its website – it can range anywhere from upto 30% off for the stay in your favorite suite to a meals package or a romantic experience package which includes things like a cozy dinner and aphrodisiac treats like chocolate-covered strawberries. The all-inclusive honeymoon package also gives you other benefits like unlimited breakfast and dinner, a special discount in cafes, complimentary champagne, and an exciting outdoor activity like horseback riding. 
Check Ratings & Reviews Here. 
#3 Camelback Resort & Indoor Waterpark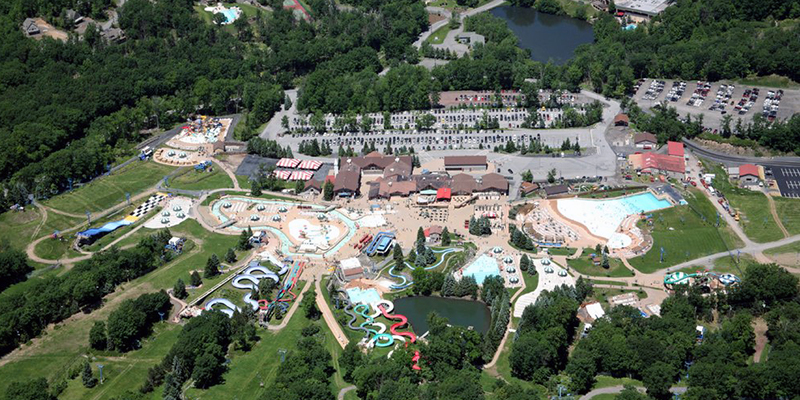 Make your honeymoon a fun-filled adventure coupled with utmost relaxation at the Camelback Resort. The resort hosts both an indoor and outdoor waterpark. The outdoor waterpark only operates during the summer season and is one of the largest waterparks in Pennsylvania state. These adventure parks are equipped with thrilling water slides, relaxing cabanas, and fun rides to give you an all-around experience. Access to the waterparks is included with the stay, and they are open till 9 PM at night every day so you can enjoy them on your own time. While summers don't offer the excitement of an outdoor water park, it does offer the excitement of ski and snowboarding activities. 
Camelback is the largest ski resort in Poconos and will offer some of the best unforgettable experiences for your honeymoon. Their ski and snowboarding terrain expands to an area of 166 acres and has a total of 35 slopes and two terrain parks. An additional attraction was added at the resort recently with Camelback Mountain Adventures, which features multiple zip lines, a mountain coaster, sun bowl tubing, and more. And when you're starving after a day of adventure, the resort has some delectable restaurant options like Berrelli's serving prime dry-aged chops and classic Italian pasta, and Graffiti pizza serving New York-style pizzas among 19 other options. 
One of the best Poconos honeymoon suites for couples is offered by Camelback resort. Among their lavish suites, the best for couples is the one-bedroom suite which is the ideal size to be comfortable and cozy at the same time. It has spacious living/ dining rooms, a coffeemaker, two bathrooms, a cozy fireplace area, and a balcony overlooking the scenic Poconos mountains. The resort also offers all-inclusive packages catered to the couple. Get in touch with them to book your ideal Poconos honeymoon package. 
Check Ratings & Reviews Here. 
#4 The French Manor Inn & Spa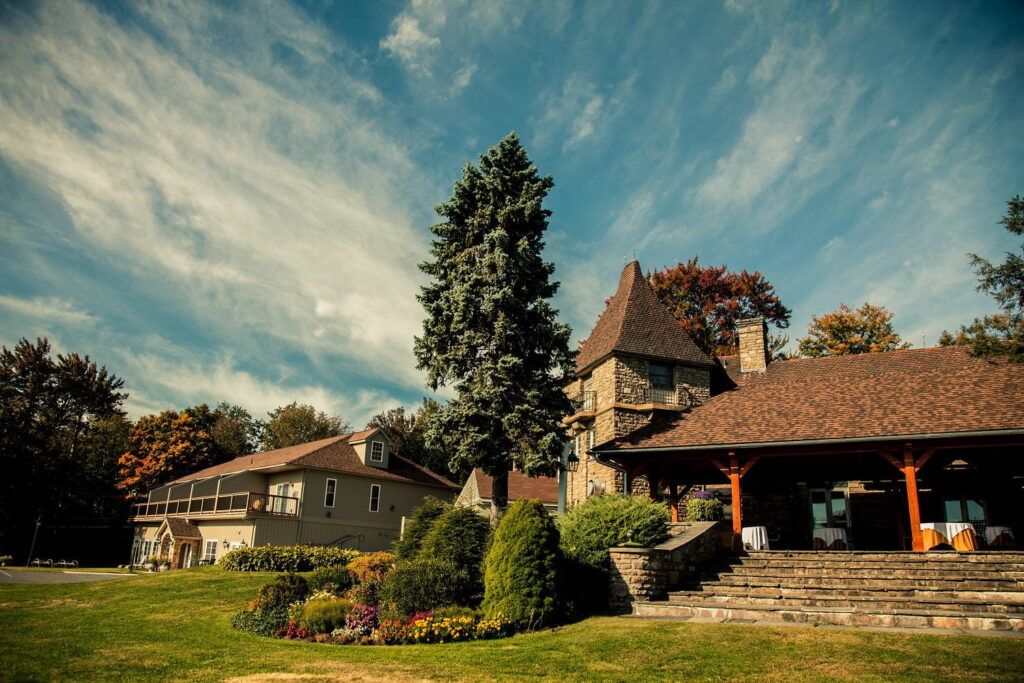 Spend your blissful newly-wed days in a splendid resort resembling a stone chateau modeled after the traditional chateaus in the South of France. Built in the 1930s, this B&B houses 19  elegant guest rooms all complete with fireplaces, bathtubs, and balconies offering gorgeous Poconos mountain views. The whole vibe of the place is furnished and curated to ooze romance and comfort for couples. For the best experience for two, we'd recommend choosing their luxury spa suites which are opulent, and spacious and comes with a cozy fireplace, whirlpool tubs, and a wide balcony with a seating area to enjoy the inspiring views around. Or enjoy the romance and tranquility in the two-level Turret suite with the bedroom reached via a private staircase and give you some unmatched views of the mountains from the elevated ground. 
One of the best onsite amenities includes a luxury spa suite offering premium spa services and a variety of other amenities like delectable snacks, herbal teas, fruit-infused spring water, and an indoor salt-water pool. Opt for their enticing Chocolate Lovers couple's spa package which lasts for 2 hours and includes a French cocoa wrap, champagne-inspired bath fizzer, and Godiva chocolates take-away gift.  
Located on Huckleberry mountain, the resort is also closer in proximity to some of the best Poconos couple's adventures like hiking trails and shopping centers. Also, present on the property is some delicious dining options like the Poconos Inn restaurant in the elegant dining room of the manor or a more casual dining option on the terrace as well as the Chef Garden Tours. Enjoy authentic, thoughtfully-prepared cuisine during your romantic stay besides luxuriating in some comforting and relaxing stay as well. 
Check Ratings & Reviews Here. 
#5 Mount Airy Casino Resort
The Mount Airy Casino Resort is just the pick for couples who want a bit of fun, games, and play on their honeymoon. This casino hotel in Poconos has many amenities that will make your honeymoon a trip you will reminisce happily for years to come. It has a 62,000 sq ft casino with more than 1800 slot machines and 70 table games including blackjack, roulette, craps, and baccarat. The casino is also open at night so you can enjoy the fun any time of the day. 
Besides the casino, other salient amenities include an 18-hole golf course designed by famous architect Hal Purdy offering picturesque views, splendid fairways, and stunning golf course conditions. There's also a rejuvenating spa on the grounds offering luxurious pampering and pools (outdoor & indoor; indoor is heated) with lavish cabanas available. That's not all though! There's also live entertainment consisting of band performances, stand-up comedy, and parties on the grounds on a regular basis. 
This romantic Poconos resort has accommodations perfect for couples. We'd recommend their King suite for the utmost romantic, elegant, and lavish experience for couples. The suite consists of a spacious living room with balconies offering majestic views, mini-bars, and bathrooms with walk-in showers and porcelain tubs. Besides lounging in your comfortable suite, enjoy gourmet meals at some of the amazing dining options in the resort. These include the authentic and surprising flavors of contemporary American kitchen at Guy Fiere's Mt.Pocono Kitchen, pan Asian cuisine at Lucky 8 Noodles & Sushi Bar, hand-crafted pasta at Bistecca, and fresh coffee at the resort's very own Starbucks. 
Check Ratings & Reviews Here. 
#6 Great Wolf Lodge Waterpark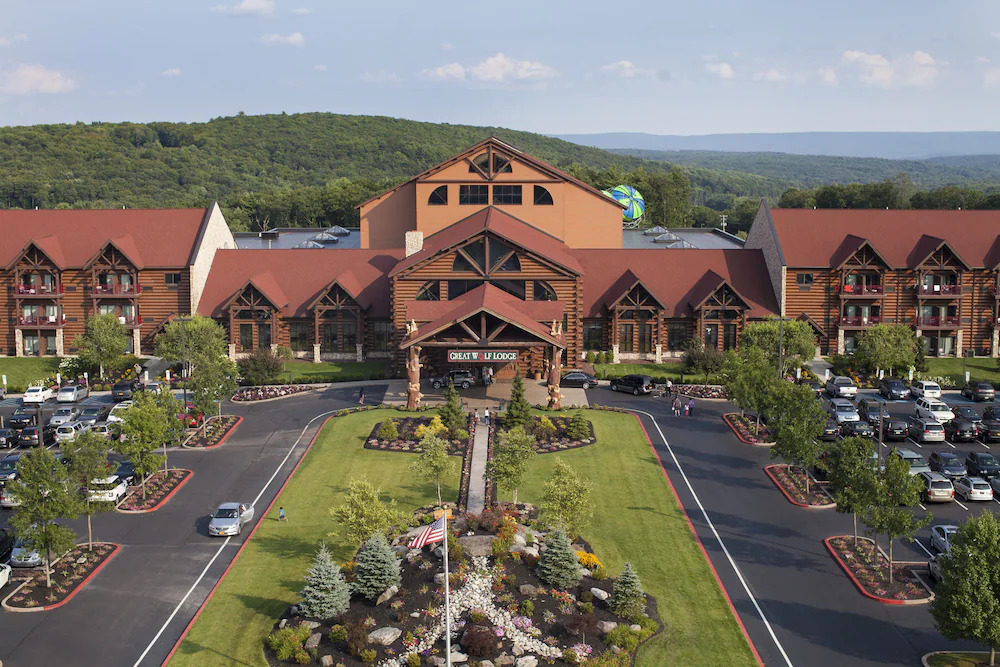 The Great Wolf Lodge is the perfect couple's paradise for the ones who love a bit of adventure and thrill with their romantic stay. On the resort's premises, Poconos' highly-rated waterpark – the access to which is free when you stay for even one night in any room type. The indoor waterpark is just ideal for a fun-filled day or days, as it's hard to cover all the exciting activities in the waterpark in just one day! 
Some of these activities include a four-story water treehouse complete with sweeping slides, a crooked creek where you grab a tube and laze away in a river for a high-energy adventure, Alberta Falls where you descend 4 stories in a tandem tube ride, Hydro Plunge where you experience the fun of a roller-coaster with water splashing fun, and more. And if you're in the mood to just laze around, relax in North Hot Springs, which is an adults-only hot tub area with high-octane thrills of the water park. 
While that's enough boasting about the amazing water park, coming to their Poconos honeymoon suites for couples, we'd recommend the Whirpool Fireplace suite that includes a whirlpool tub right beside a bed, a spacious fireplace area, and a luxurious king-size bed to come to after the end of an adventurous day. To treat your taste buds, there are many restaurants on-site offering delicious pizzas, burgers, and wings, there's also a bar right beside the water park, a Dunkin Donuts to have your cup of joe, and a creamery offering delectable ice creams in a cup or cone.  
Check Ratings & Reviews Here. 
#7 Silver Birches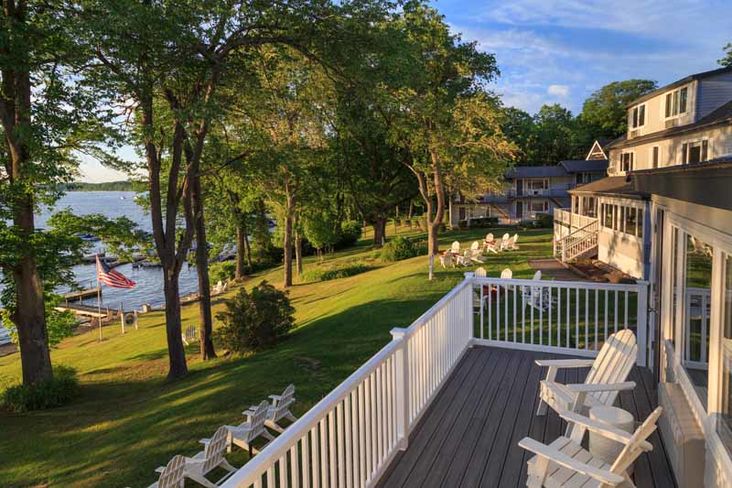 One of the recently renovated resorts at the Poconos, Silver Birches has its roots tracing back to the 1920s when it was just a 14-bedroom inn. Since then, many rooms and buildings have been added to support the growing number of tourists in the area, and now, the resort consists of 13 historic structures with five different types of guest rooms, a bunkhouse, several cottages, and three houses on the property. Their luxury king suite and Inn junior suite are some of the best Poconos honeymoon suites for couples. While the former consists of one bedroom, whirlpool tub, fireplace, and an expansive balcony, the latter has two bedrooms, a jacuzzi or a jetted tub, walk-in showers, and most importantly, it's located on the top floor so you get unobstructed views of the surrounding beauty from the comfort of your room. 
Located on the gorgeous Lake Wallenpaupack, the resort is popular for boat rentals, campfires around the lake, and comfortable lounging in the Adirondack chairs. Several lawn games are also organized by the resort every now & then. To satiate your taste buds, there's the resort's own restaurant called the Dock on Wallenpaupack which serves fresh seasonal food and comfort dishes along with live music for an utterly romantic experience. The property also hosts many food events where you can pizzas for $5 and margaritas for $3 only. Before visiting, we'd suggest you go through the resort's lineups of dining events, entertainment, and special packages which include a romantic date arrangement on the lakefront and assorted breakfast baskets for a cozy breakfast-in-bed. The resort also has a sister property, Settler's Inn, which serves delicious farm-to-table food, and access is included with the stay. 
Check Ratings & Reviews Here. 
#8 Paradise Stream Resort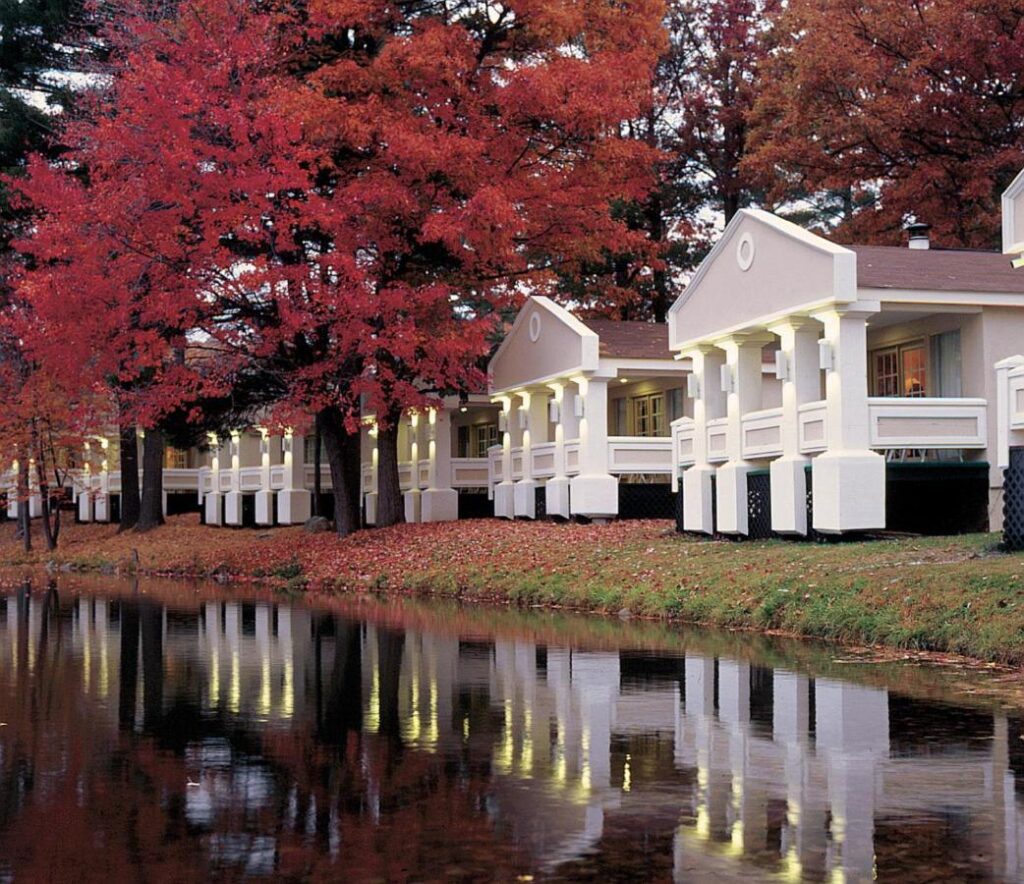 This adults-only romantic Poconos resort for couples consists of elegant suites featuring a heart-shaped whirlpool tub, king-size beds, and log-burning fireplaces in each suite. When you search for romantic Poconos honeymoon suites and come across the heart-shaped tubs, know that it's a snap from one of the suites of Paradise Stream Resort. A sister property of the Coco Haven Resort, this couples-only destination has details that conjure up a charming and romantic stay for couples who visit. You have the option to choose from many suites available and there's also a suite that features an indoor heated pool as well. Yes, your very own pool for your honeymoon, what's more romantic?
For utter relaxation, visit their massive spa offering a number of treatments, aromatherapy massages, and other services to help you unwind and relax. If you are in the mood for some adventure though, then some water sports like waterskiing and speedboating can boost the mood. Other outdoor activities include hiking in some of the most scenic nature trails of the Poconos mountains where the resort can also arrange for picnics and romantic dates in between. Entertainment is ongoing with comics, magicians, tarot card readings, and live bands. 
The stay also comes with unlimited breakfast, dinner, and nightlife as part of an all-inclusive package. The hotel is also popular for events like engagements, weddings, etc. So if you're looking forward to a destination wedding, then this place can serve as the host to your wedding as well as your honeymoon.
Check Ratings & Reviews Here. 
#9 Skytop Lodge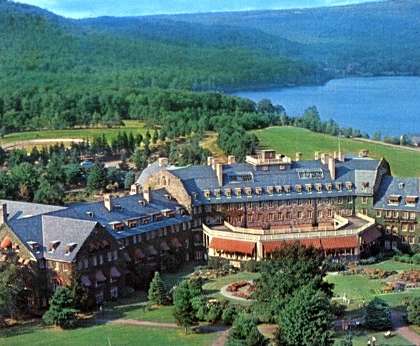 Nestled atop 5,500 acres of lavish greenery on the Poconos mountains, this 1928 property is built in Dutch Colonial style and has several elegant accommodations in different structures ranging from premium suites and streamside cottage rooms to traditional lodge rooms. Pick anyone as your stay and it promises you a memorable stay in one of the best Poconos honeymoon suites for couples. In terms of exploration, there's plenty going on at the resort's property like yoga, archery, Pictionary, guided bike ride, water balloon toss, air hockey tournament, butterfly house tour, wooden square painting, summer crossword puzzle, campfire with marshmallows and many more. An updated schedule of the activity timings and places is uploaded on the resort's website every day. You can check it out here. 
While these are scheduled group activities, the property offers a number of activities catered to you which includes an intro to shotgun, fishing, treetop adventure course, ax throwing, lawn bowling, kayaking, archery tag, paintball, and hiking tours. There are also 6656 yards of the award-winning golf course with a variety of terrains to challenge players of all levels. 
This luxury Poconos honeymoon resort is also home to 7 restaurants, each offering a different selection of food. There's the comfortable Windsor restaurant offering traditional farm-to-table cuisine, the casual Lakeview eatery offering breathtaking golf course and lake views and serving Mediterranean and Italian, then there's the Library Lounge perfect for a cozy, quiet date with some crafted cocktails and a wooded fireplace, and the Corner Roast which serves trade-free, organic, locally roasted coffee with a selection of freshly made pastries. There's also the Market which serves old-fashioned egg creams, ice cream sundaes, and milkshakes. Clearly, the resort is ideal for a lavish stay, adventurous activities, and delicious meals all in one. 
Check Ratings & Reviews Here. 
#10 Kalahari Resorts Poconos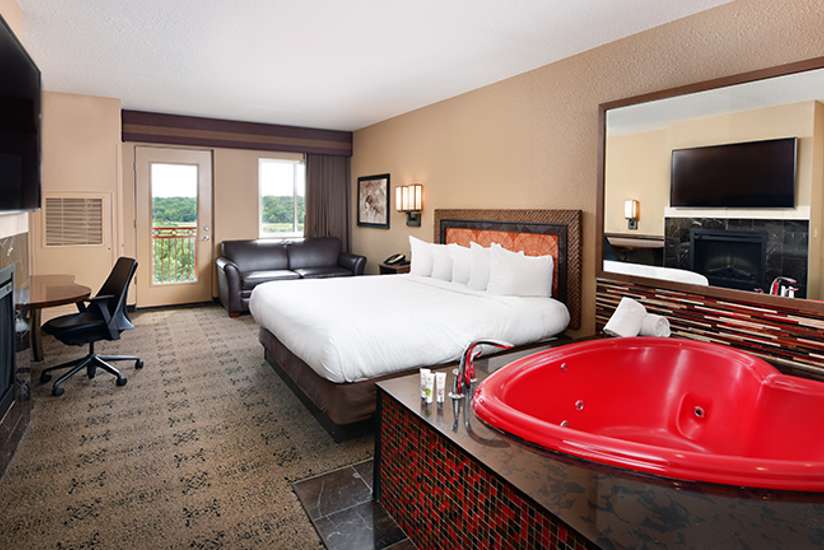 The last one of the best Poconos honeymoon suites is the King honeymoon suite of the Kalahari Resorts which features a heart-shaped whirlpool tub, balcony, fireplace, king-size bed, and twin-size sofa sleeper. Another option for honeymooners is the King Whirlpool Suite which includes a large whirlpool tub right beside the bed and a balcony to enjoy scenic Poconos mountains view from the comfort of your room. 
The Kalahari Resorts Poconos is a part of the Kalahari water park resort chain and also has branches in Wisconsin, Sandusky, and Round Rock. The Poconos, Pennsylvania branch opened in 2015 and completed the expansion in 2017. It has the largest East Coasts Indoor Waterpark with an area of 200,000 sq ft, an outdoor waterpark (not open in winters), 977 guestrooms, a fully equipped fitness center, a full-service spa, unique retail shops, and a 40,000 square foot arcade. Access to both waterparks is included with the stay. 
Besides the waterparks, there are many other things to do on the resort's premises. There are 2 escape rooms, one is a deep space adventure, and the other drops you in the middle of an ancient Egyptian Pyramid. There's also mini-golf and mini-bowling set in an African theme, which is the basic theme of Kalahari resorts in all locations. You can further tickle your thrilling nerves at the 7-D motion theater presenting zombies, werewolves, carnival, etc. Further, for satisfying your cravings, there are 12 dining options inside the resort which include a Steak House, authentic Italian at Sortino's, freshly baked pizzas at the Pizza Pub, and much more. 
Check Ratings & Reviews Here. 
10 Romantic Things-To-Do In Poconos
#1 Hiking
Is there anything more romantic than walking hand-in-hand with your partner exploring some of the best scenic lookouts of the Poconos mountains? We don't think so! Poconos is replete with some gorgeous trails for hiking – both easy, medium, and hard-level depending on your comfort. There are also smaller trails that will take around 3 to 4 hours to come back to your starting point, like the Wallenpaupack lake trail which gives you majestic views of the lake on one hand and covered vegetation on the other, and a 4.5 miles Levee Loop Trail which has multiple access points through four different local parks. For an adventurous hike with untouched floral and unmatched views, check out the Hickory Run State Park Hiking which is lined with thick foliage, streams, waterfalls, and rocky areas all in one!  
#2 Horseback Riding
If the idea of walking sounds a little tiring for your honeymoon, especially after the long wedding festivities, consider exploring Poconos on horseback riding. Some resort chains offer horseback riding as part of their adventurous activity as well and can be a part of your Poconos honeymoon suites package, but if yours isn't, there are plenty of third-party horseback riding services in Poconos to help you explore the area by horseback. If you want a private, romantic ride with your special one, the mere addition of $20 above the average $30 per hour is all you need to pay for horseback riding for two. Some of the most beautiful stretches to explore this way are Bushkill Riding Stables, Apollo Farms, and the Woodlands Stable. 
#3 Share A Candlelit Meal 
Still, get butterflies thinking about your first date with your lovely? Relive the memories by going on a romantic date with your sweetie in one of the Poconos' most inviting restaurants. The area is lined with tourists all around the year so the fine dining in the area is above & beyond the lavish experience, you'd want on your honeymoon. Some of the best dining options for couples to explore in Poconos include Timber Trails Grill, Frrogtown Chophouse, French Manor Inn & Spa, and Lake Naomi Clubhouse. Make sure to get a reservation as soon as your trips are booked, because the places get filled up fast.  
#4 Go Brewery & Winery Hopping
From beers to wines, there's a lot fermenting in the Poconos mountains, ready to be explored by anyone visiting the destination. Step out together and taste delectable crafty beers at a Poconos brewery. Some like Barley Creek Brewing Company and Wallenpaupack Brewing company also serve delicious dishes in their in-house restaurants where you can satiate your taste buds while enjoying some brews. There are also some incredible vineyards where you can schedule tastings and tours for your honeymoon. Some packages for Poconos honeymoon suites also include wine tasting given the romance associated with the drink. Try Mountain View Vineyard, RAW Urban Winery, and the Capra Collina Winery for an amazing experience. 
#5 Explore The Water Parks
Some of the resorts offering the best Poconos honeymoon suites for couples have their own water parks which are included with your stay. But if you're opting for a resort that doesn't have a water park, don't worry, you can still access the water parks at Camelback, Kalahari, and The Great Wolf Lodge for a small fee. Exploring water park activities and the ride comes with a certain thrill and adventure which can bring you two closer and help you create a special bond together. We'd definitely suggest taking a day out to the water park together. If you're not visiting during winter, both Kalahari and Camelback have outdoor parks as well for you to explore and have fun. 
#6 Get A Couple's Massage
There's nothing as rejuvenating, relaxing, and lets you feel connected to your partner than a de-stressing couple's massage. Thankfully, many of the resorts boasting of the best Poconos honeymoon suites have full-servicing spas on their own premises. But they're often expensive, especially when they are not included in your package. To explore, we'd recommend some off-site massage chains for a calming and bonding couple's massage in Poconos like the Serenity Spa & Massage, Pure Day Spa, and Tranquil Moments of the Poconos.
#7 Hit The Slots
You don't have to be in Vegas to enjoy the fun & excitement which comes with gambling. We'd definitely recommend visiting one of the best casinos in Poconos, which is the Mount Airy Casino Resort in Poconos. With an area of 62,000 square feet, the casino has 1800 slot machines and 80 table games including blackjack, roulette, baccarat, and craps, we bet there's a game you'd love to play and add some delightful tingle on your honeymoon trip. 
#8 Just Explore
The Poconos mountains are a region rich in history, so why not explore it with your companion? You have the Old Jail museum which dates back to 1871 and stands as a two-level jailhouse with gallows, dungeons, and cell blocks, Grey Towers National Historic Site which was the ancestral home of Gifford Pinchot, a former Governor of Pennsylvania, Quiet Valley Living Historic Farm which dates back to 1765 and still encompasses some farming experiences of that era, and Frazzera Art Museum which has the largest collection of artwork by Frank Frazetta, an American Science Fiction and fantasy artist. When in town, you can also visit the Crossings Premium Outlet – one of the best shopping districts in the Poconos mountain area. 
#9 Admire The Beauty Around
Poconos is an area boasting of natural beauty and scenic attractions. If you & your other-half love to admire the scenic attractions and untouched wilderness, you're in luck, because Poconos is replete with a plethora of places like this. There are the Bushkill falls which combine nearly eight waterfalls with a soothing ambiance around and the Big Poconos State Park located on top of Camel Mountain with many picnic areas and hiking trails around. Then, there's Seven Tubs Recreation Area, Claws N Paws Wild Animal Park, and Daisy Field Farm which offers a host of horse-related activities. 
#10 Tickle Your Adventure Nerves 
Whether you're visiting in a warmer climate or a colder climate, there are many activities for you to explore in and around Poconos. In winter, there are many adventurous sports to try like skiing, snowboarding, winter paintball, snowshoeing, sleigh rides, snowmobiling, and ice skating. Many resorts with the best Poconos honeymoon suites like the Camelback is famous as ski resort with an area of 166 acres available for winter activities. In summers, there are other activities to indulge in like sports adventure parks like Poconos TreeVentures, horseback riding, hiking, rafting, canoeing, and much more.