We've zeroed in on the best Hawaii honeymoon resorts based on their unique location, privacy, facilities, and user reviews to make for an epic honeymoon experience. Every couple dreams of vacationing here someday and it's easy to see why. The breathtaking beaches, laid-back vibes, remarkable landscapes, and balmy weather are just some reasons. You also want comfortable and romantic accommodation whilst there, and based on the many factors by which couples rate romance like privacy, suites, bathrooms, attention to detail, service, etc. we've listed the 10 best honeymoon resorts in Hawaii 2022. Scroll to see. 
1. Grand Hyatt Kauai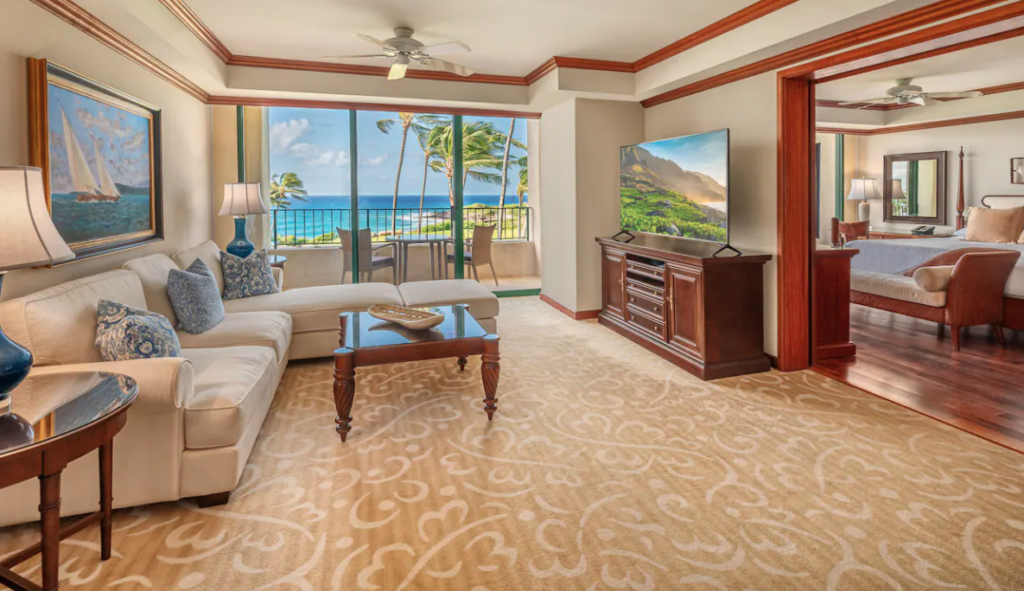 For honeymooners, the idyllic island of Kauai is the paradise to spend these first few days of married life together. Also called "the Garden Isle" thanks to the tropical and lush rainforests in the region. Perched on the Southern shore of a former sugar plantation and spreading over 50 acres of beachfront of Poipu beach (ranked as America's best beach several times) is the Grand Hyatt Kauai Resort. Doused in classic Hawaiian architecture featuring open courtyards and lush gardens, tonnes of sunlight and balmy ocean breeze will warm your heart at all times. 
All the rooms and suites are spacious (with basic rooms having an area of 500 sq ft and suites 1000 to 2000 sq ft) and have a huge ceiling height to give guests a secluded, private experience in their abode. Designed in ivory base with bright accents, all accommodations have beautiful views and private patios.  
There are many dining options in Grand Hyatt, but the one that stands out among the rest is Tidepools. The restaurant has the most romantic setting with a background of waterfalls and thatched-roof bungalows which seem like they are floating over a tropical lagoon. Since the place is popular in Kauai, it's best you make the reservations during the time of booking itself. There's also a Grand Hyatt Kauai Lau feast where you will enjoy a fantastic journey of Hawaiian culture depicted by singing and dancing while you dine at an eat-all-you-can buffet and an open bar. Additional facilities include an adults-only poolside, a golf arena, and a spa featuring open-air treatments using island-fresh botanicals. 
Check ratings & reviews here. 
2. Montage Kapalua Bay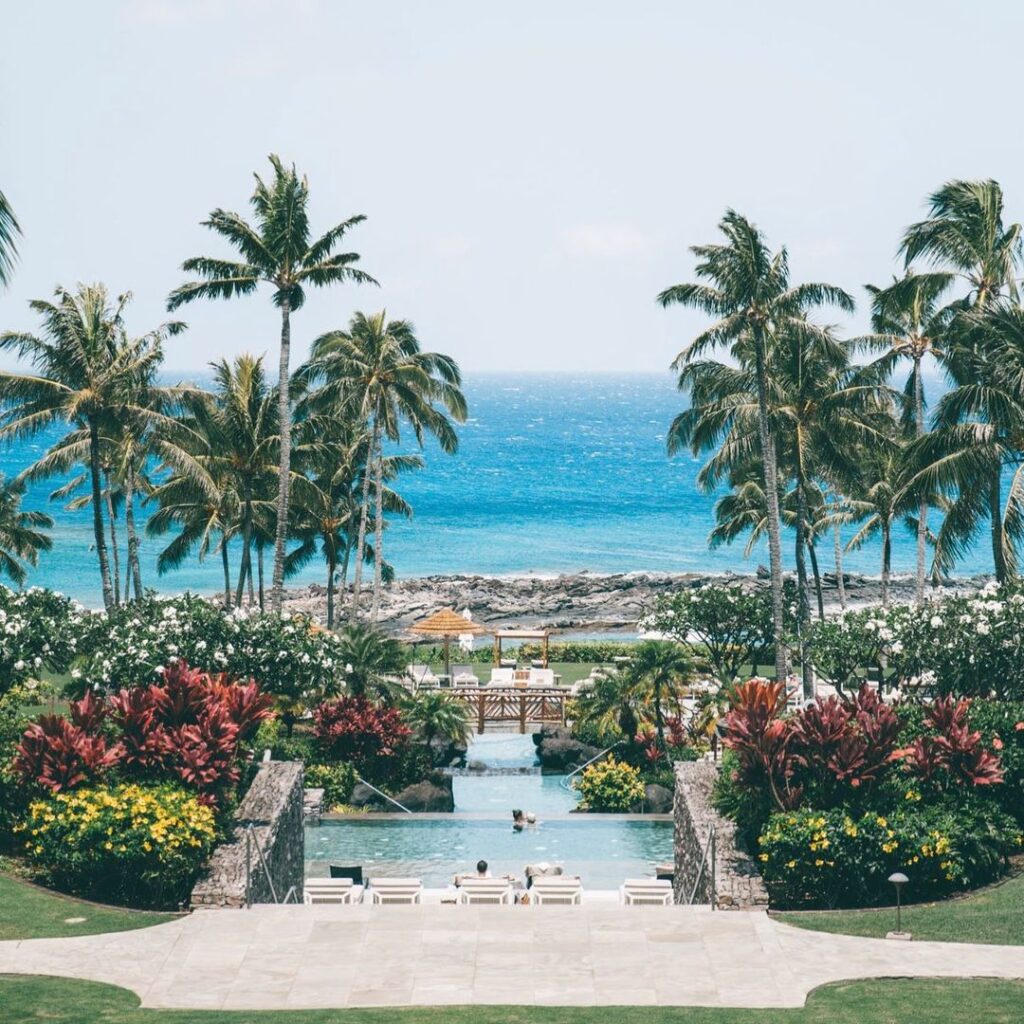 One of the famed Hawaii Honeymoon Resorts, Montage Kapalua Bay is located in its namesake bay in Maui island. Expanding 24 acres on the beachfront, this idyllic paradise offers spacious accommodations, world-class facilities, and a traditional Hawaiian experience imbued with modernism. 
Their accommodations are not normal rooms, but residences. Each one of these residences has its own lanai, living room, gourmet kitchen with dishwasher, hardwood flooring, good ceiling height, soaking bathtubs, and plenty of light. In Montage Kapalua Bay, we can safely say, every room is a suite. Many facilities at the resort add to some memorable experiences to your honeymoon. This includes a private culinary experience where a trained chef can treat you to a fine dining evening in your residence or give you some heritage cooking classes. 
The hotel is also partnered with luxury car company Cadillac, which means you get to explore Maui in their latest automobiles driven by a chauffeur. Live musical sessions are arranged in their upscale, oceanfront restaurants. And when you're in a mood to just relax, head to their award-winning spa and treat yourself to a day of couple's spa treatments – best to unwind after the long wedding festivities and travel. 
Check ratings & reviews here. 
3. Four Seasons Resort Hualalai, Hawaii Island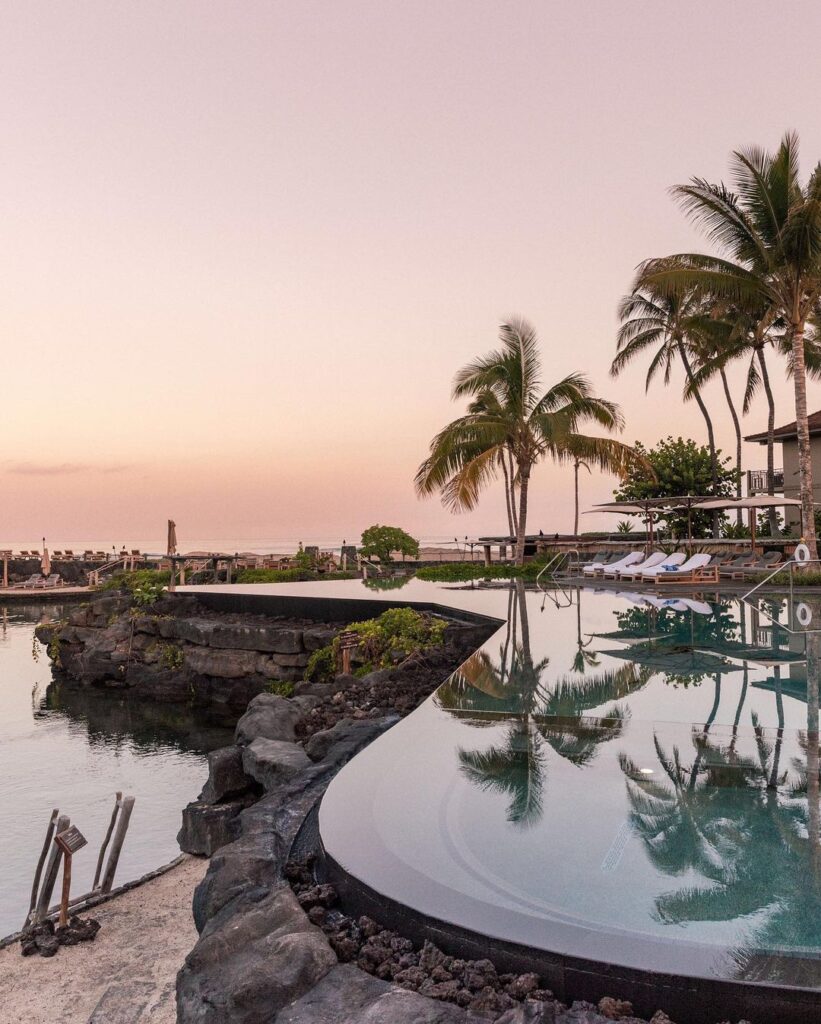 Located on the Island of Hawaii, the southernmost island of Hawaii, and part of a chain of volcanic islands in the North Pacific Ocean, the Four Seasons Resort Hualalai is named after the Hualalai volcano visible from the resort's premises. Surrounded by white sand beaches and black lava landscapes, the hotel is an idyllic retreat ideal for honeymooners who want to spend a secluded and luxurious honeymoon. 
The resort's accommodations are a treat to the eyes, even in pictures. Each one has a private lanai, luxury bath amenities, stunning views, and an outdoor shower open on the top to the majestic Hawaiian skies and designed in rustic stone aesthetics. Staying for 3 nights or more also gives you USD 50 to 200 credits per extra night to be used towards spa, food, or activities. 
With the basic package, you will be treated to a delectable Four Seasons breakfast hard to miss. Further dining options include a private beachfront dinner with your curated menu, poolside restaurants, an ocean grill serving fresh seafood alongside 5 other restaurants in the resort. Other impressive experiences by the hotel comprise a Hawaii tour where you will explore the volcanoes by helicopter, swim at hidden beaches, and dine at exclusive areas. There's also guided snorkeling by a trained marine biologist, an interactive session at King's Pond – a 1.8 million gallons swimmable aquarium with 4000 diverse tropical fish, and a 3000 sq ft golf course. 
Check ratings & reviews here. 
4. Andaz Maui at Wailea Resort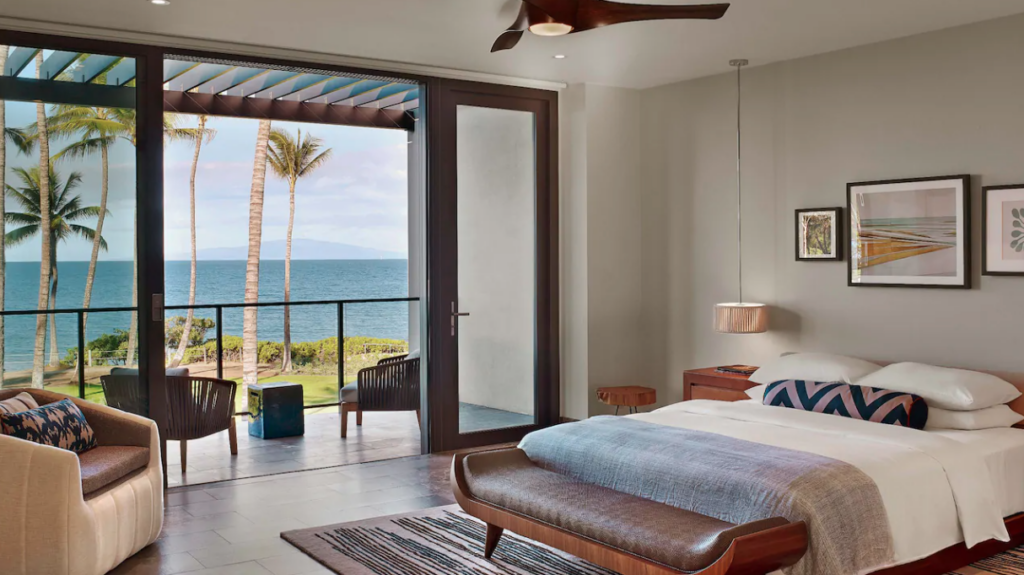 Stretched across 15 beachfront acres of Mokapu Beach, the Andaz Maui is one of the recent properties to be developed in Maui and opened in 2013. The contemporary architecture, thoughtful space design, and modernistic amenities all make it immediately clear that it's one of the newest resorts here. Adding to this comforting feel are the 321 stunning rooms, inclusive of 35 suites and 31 luxury villas. Each room has a soothing neutral tone and wood furnishing to radiate a relaxing vibe at the onset. 
Besides the impressive accommodation, there are many other admirable facilities at the hotel. At check-in, you don't have to wait in line. All check-ins happen via tablet as you relax in the welcome lounge and enjoy some complimentary drinks. Your room key is also on the scanner on your phone, which requires no apps to launch, just hold your phone near the doors. On the premises, there are 5 pools, 6 restaurants, and a spa to treat you. May special events are also held throughout the year giving guests an opportunity to take away a unique experience with them. 
This one of the Hawaii Honeymoon Resorts is also NEED-LC Silver Certified for its eco-friendly and sustainable practices. Couples have rated this location 9.5 on a scale of 10, which is quite a high rate. The resort was also rated highly for the comfortable beds and less noise inside the bedrooms ensuring complete privacy. 
Check ratings & reviews here. 
5. Four Seasons Resort Lanai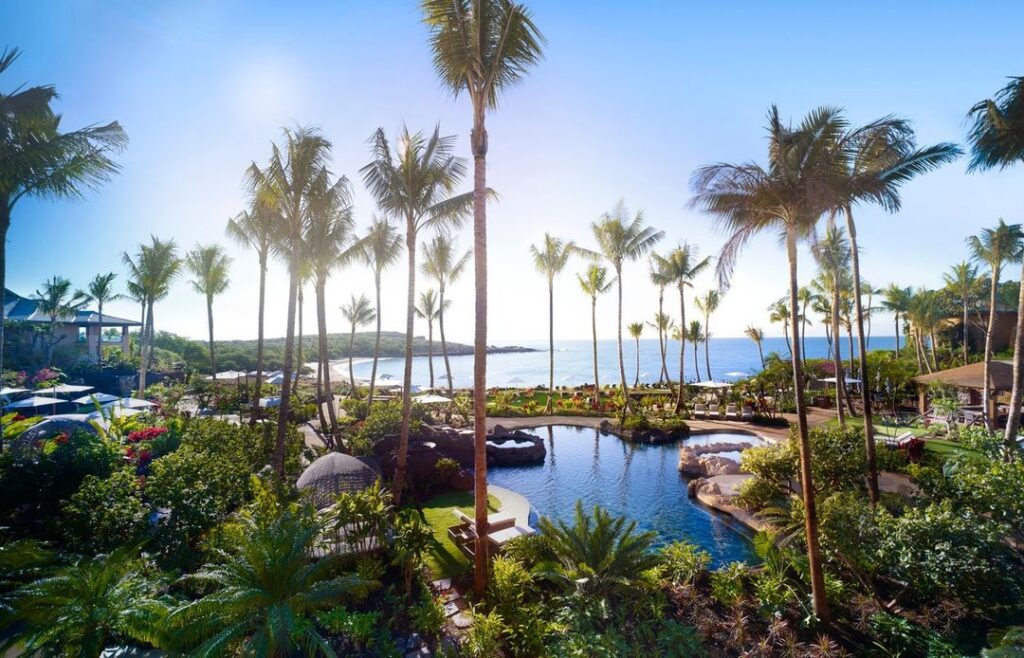 Lanai is one of the unspoiled islands of Hawaii and perched on the Southeastern coast of the island is the Four Seasons Resort Lanai overlooking the Pacific Ocean and Hulopoe Bay, a beautiful marine life conservation area and playground to dancing dolphins and whales – which some reviewers wrote they spotted every day during their stay.
The luxury hotel has 213 guestrooms in a series of low-rise buildings occupying the beachfront of the coastline, providing a secluded residential experience in each accommodation. Additional facilities include 7 dining options including an authentic Japanese restaurant by celebrity chef Nobu Matsuhisa, a poolside restaurant serving locally sourced, organic produce, a wellness spa, luxury retail options, private aviation transfers, and botanical gardens. 
The smallest inhabited island in Hawaii, Lanai, is also home to another Four Seasons Resort, Senses Lanai. An adult-only wellness resort, this one of the honeymoon resorts in Hawaii is perfect for couples traveling to indulge in wellness treatments, pampering spa sessions, customized experiences, and a calming mind so as to reach the highest level of well-being. You will have a private wellness consultation and an itinerary personalized just for you. Their wellness philosophy focuses on three paths – move, nourish, and rest – to help you familiarize and maintain a connection between mind and body. 
If you want you can divide your stay between the two resorts, which are just 9 miles away from each other. 
Check ratings & reviews here. 
6. Hotel Grand Wailea, A Waldorf Astoria Resort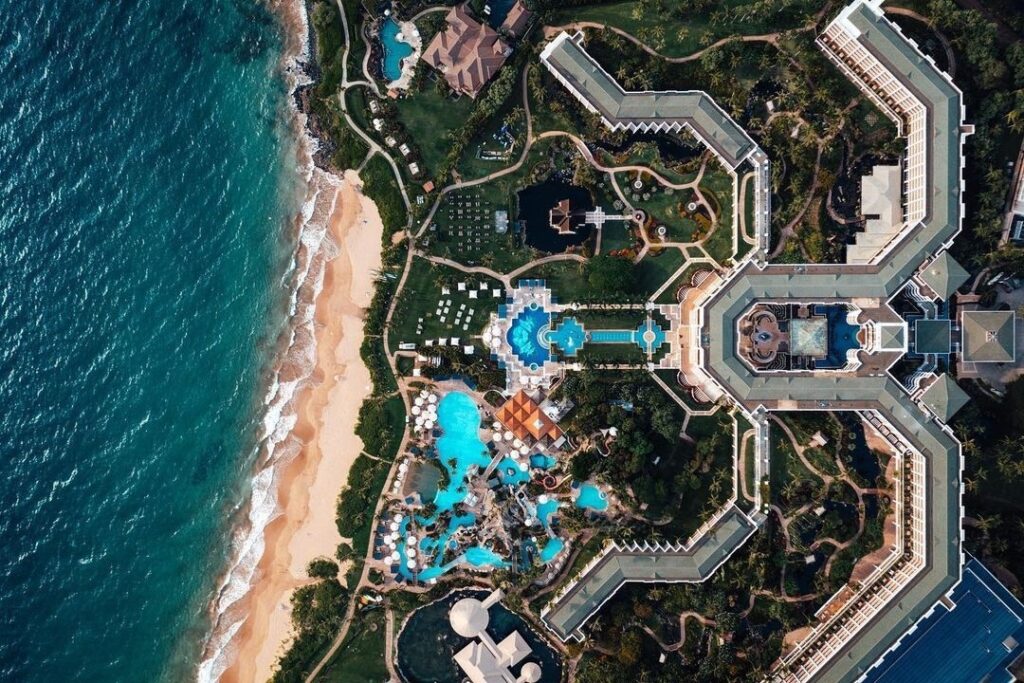 One of the most popular luxury beachfront hotels in Hawaii and the location of many Hollywood movies like Just Go With It, Hotel Grand Wailea has unparalleled luxury and amenities in its premises. Right as you enter you will be amazed by the lush lawns, contemporary architecture, and courteous staff – all radiating the true sense of Hawaiian culture and traditions. Expanding over 40 acres of lush gardens, the hotel opens on Maui's beautiful Wailea Beach, voted as one of the best beaches in North America. 
Couples seeking luxury can choose from their Napua club rooms and suites. These accommodations are situated in the Napua tower of the resort and offer unrivaled views over the Pacific and tropical greenery from a private lanai. Napua guests also get access to two concierge-level private lounges for breakfast, cocktails, and happy hour. 
Besides the lovely stay, this is one of the honeymoon resorts in Hawaii that will send you with numerous experiences home. Events run all around the year on the premises. There's a guided tour by a Hawaiian cultural ambassador who informs you of the tradition, culture, and medicine of the country. All around the year, the hotel runs many impressive pre-booked packages like massage treatments to relax and de-stress, free upgrades, credit scores to be used in hotel activities, etc. Waldorf Astoria is known for its extraordinary luxury in every bit of its offering, and you can be assured of your Hawaii honeymoon to be dripped in indulgent lavishness and unforgettable memories. 
Check ratings & reviews here. 
7. Turtle Bay Resort Oahu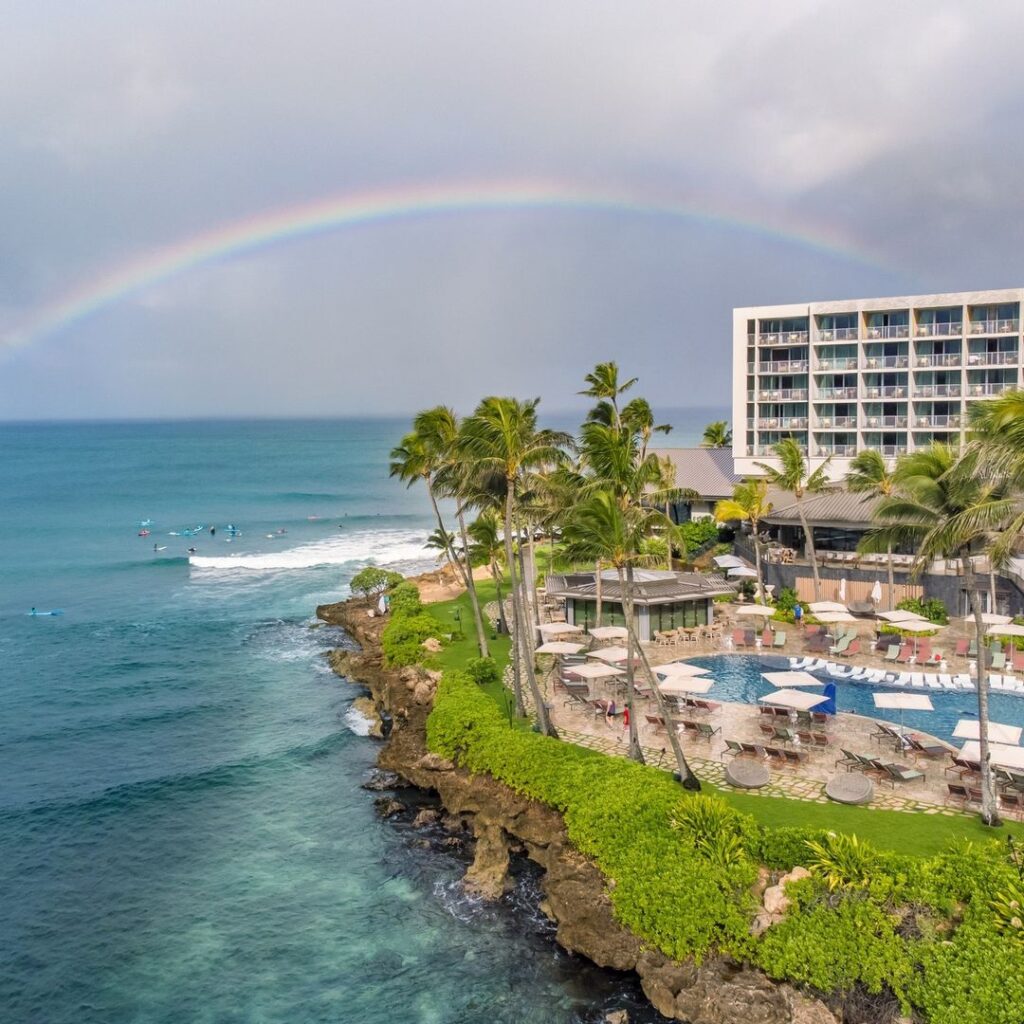 45 miles from the Honolulu International Airport, Turtle Bay Resort is located on a secluded and scenic 8 km stretch on Oahu's North Shore. This stunning honeymoon hotel is spread on 1300 acres of lush land with many areas and vegetation preserved intact, five miles of untouched coastline, and twelve miles of breathtaking trails. With a massive area, you can have the much-needed privacy with your boo as you stroll hand-in-hand with blue skies above and mushy sand beneath. 
An array of rooms and suites are available with oceanfront views and views of the rolling hill. For those who want optimal privacy, opt for their Ocean Club villas and bungalows equipped with a dedicated concierge, check-in area, access to private lounges and seating areas, late check-out, and the best views of the surrounding area from the facility. The Ocean bungalows are their own private paradise and have an expansive area to lounge in, an outdoor lanai, and a private infinity pool. 
Besides the fantastic accommodations, the resort offers some lovely dining options – all local, fresh, and sustainable, and some exciting activities like helicopter expedition, guided snorkeling, and surfing, a marine research drive where you'll be intimated about the ocean life by a world-renowned environmentalist and a weekly entertainment dinner demonstrating Hawaiian local culture and living. 
Check ratings & reviews here. 
8. Mauna Lani, Auberge Resorts Collection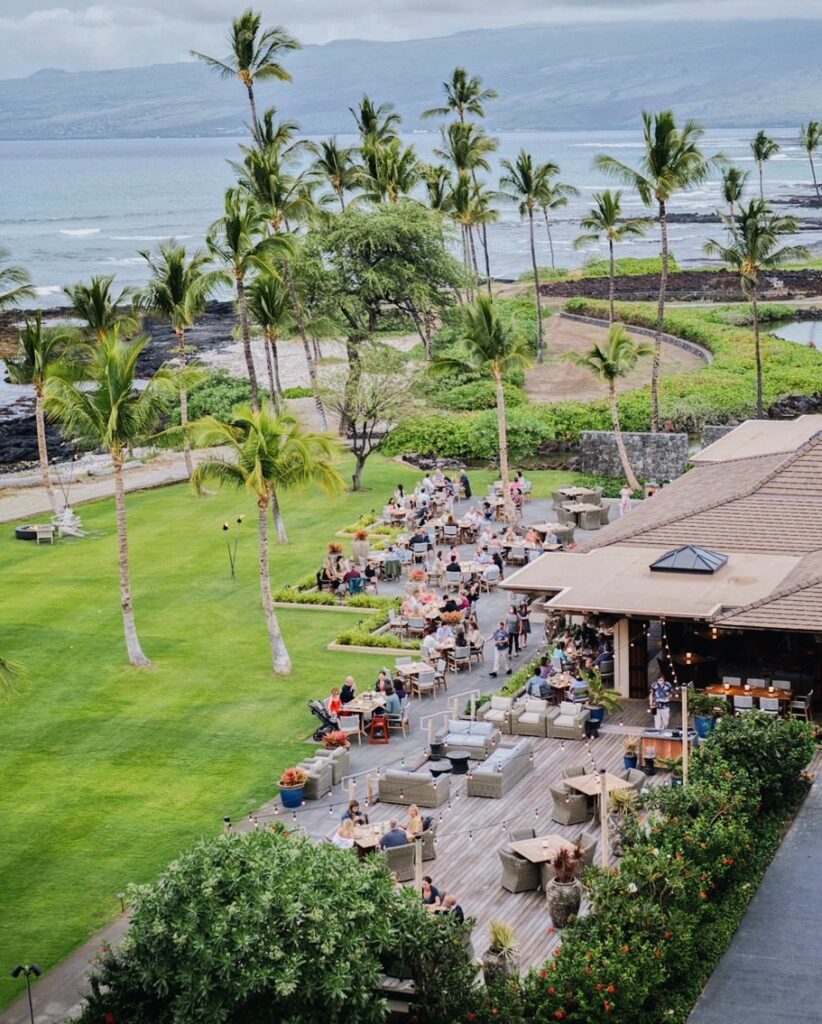 "An oceanfront haven steeped in Hawaiian culture" – the hotel's tagline resonates the truth of the experience this Hawaii honeymoon hotel will give you. Several room options give the traveler to pick the one based on their preferences and budget. There are guest rooms and marvelous suites all magnificent in their own right, but for unmatched luxury, opt for their 4000 sq ft oceanfront or ocean view residences inclusive of a private entrance, dedicated concierge, two master suites, a private pool, and a spacious lanai (Hawaiian word for patio).
Step out to experience breathtaking scenery all around you. The resort is located in the sun-drenched and glorious Kohala coast and is in the center of five great mountains giving you an eye-catching view from each part of this stunning Hawaii honeymoon resort. There are five dining options each having its own curated menu and unique design. The best part yet, the hotel is running discounts on extended stays all over the year. By extended we mean even on the fourth and fifth night, you can get some impressive discounts and credits. Definitely, a bonus if you're on a tight budget.
Numerous adventures and experiences await you at the resort and they want their visitors to go back home with wonderful stories. With 4.5+ ratings, the guests are in awe of the hotel's beauty, services, and traditional local experience. Go through the reviews and you'll know why this is among the best honeymoon resorts in Hawaii at the moment. 
Check ratings & reviews here. 
9. The Westin Hapuna Beach Resort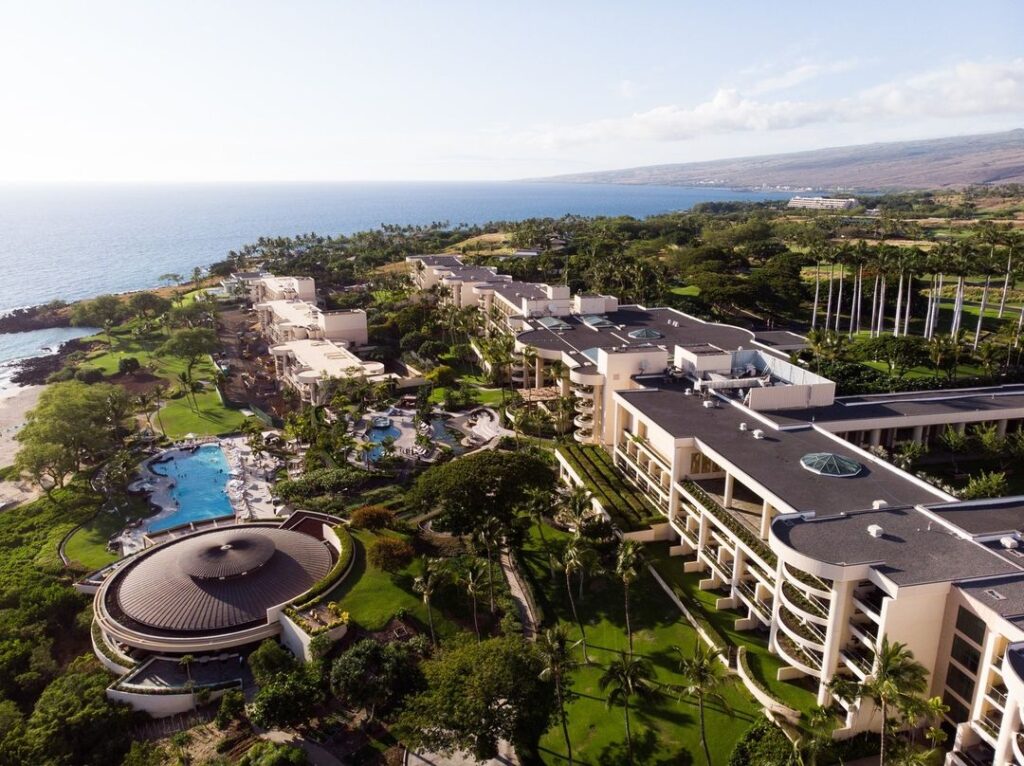 The Westin Hapuna Beach Resort stretches along the coastline of its namesake white-sand beach, one of the largest beaches in Hawaii and often listed as one of the best beaches of the island. Located in the Waimea county of Hawaii, known for its cowboy culture, ranching lifestyle, and gorgeous landscape of rolling hills, dark skies, and lush greenery, this Westin facility will treat you to the wonders of Hawaii in a contemporary style. 
With just 249 guest rooms in its vast area, you can be assured of each room having ample space to relax and unwind after the wedding revelries. The 17 newly-developed suites give impeccable luxury to honeymooners and a fantastic unobstructed view of the ocean. All the rooms have a double-door system to allow the natural ocean breeze to flow in and are equipped with comfortable Westin beds, five-fixture bathrooms, and HD television. 
On the premises, enjoy strolling through the perfectly manicured gardens, playing in an award-winning 18 hole Hapuna golf course, dining in 4 gorgeous venues, and chilling in two swimming pools – one adult-exclusive. Or explore the nearby region and visit some popular tourist attractions like parker ranch, Waimea homestead farmers' market, anna ranch heritage center, etc. Owing to the amazing location and amazing facilities, Westin Hapuna is definitely one of the best honeymoon resorts in Hawaii for couples. 
Check ratings & reviews here. 
10. Kahala Hotel & Resort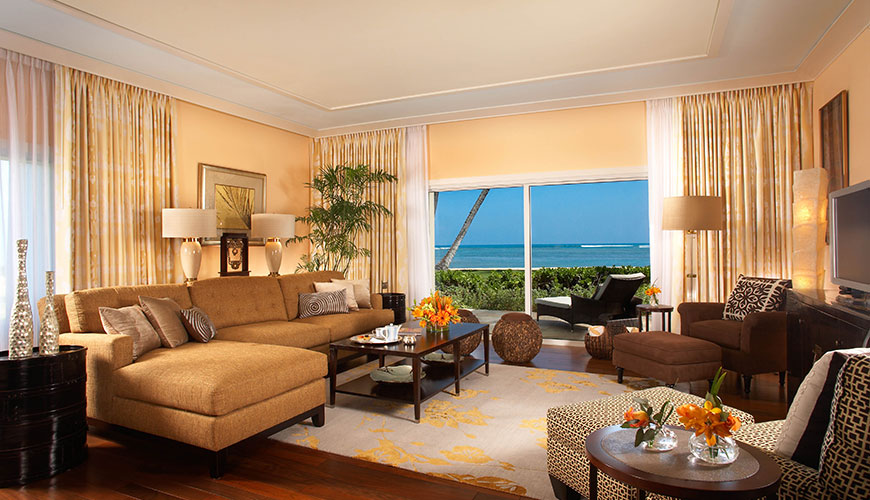 The cheapest 5-star hotel you can find in Hawaii is the Kahala Hotel & Resort. However, don't misconstrue their affordable prices with quality. Their impeccable services, utter privacy, and picturesque rooms will make your stay as newlyweds truly memorable. Located on a private beach in Honolulu (that's right, only those who stay at the hotel can access this part of the beach area), the Kahala is a legendary hideaway resort popular amongst presidents, celebrities, and international royalty. 
There are many types of rooms and suites available in the accommodation with gorgeous views of beach, mountains, or dolphins dancing as an option. Private oceanfront villas on a secluded part of the resorts are also available for a truly splendid and cozy honeymoon experience. On the hotel premises, you will find 5 delectable restaurants and an indulgent in-room dining menu. Amongst activities, the resort houses dolphins in their water lagoon who'd win your heart with their cuteness in one look. 
The resort also has several interesting activities and seminars going on (for free!) throughout the year and some can be a wonderful way to pass your time without shelling any extra bucks. More so, the resort has a saving policy where you can avail yourself of upto 30% off alongside some complimentary services when you stay for 7 days or more. 
Check ratings & reviews here. 
FAQ's 
Which Hawaiian island is best for a honeymoon?
Maui is considered the most romantic island for honeymooners. It has some of the best luxury honeymoon resorts in Hawaii offering indulgent acitivities, outstanding scenery, and better privacy than the mainland. You will find many drunk-in-love honeymooners just like you, so a similar crowd makes the fun better. Other private islands for your honeymoon can be Kauai and Lanai. Both have housed a few opulent resorts for the perfect honeymoon experience and of course, the unparalleled scenery of each Hawaiian island is unmissable. 
How much will a honeymoon in Hawaii cost?
One week in Hawaii can easily round up to $2000 per person and $4000 for a couple. Luxury honeymooners spend as much as $10,000 on their week-long trip. This estimate doesn't include travel – only accommodation, food, and a normal range of activities. A honeymoon in Hawaii is certainly expensive, but you can budget the same. Here are some tips: don't island-hop, food is expensive so look for economical restaurants, local produce, and food trucks, travel during the off-season, hit up during happy hour, and opt for free activities. 
How long should your honeymoon be in Hawaii?
Hawaii's honeymoon length should depend on what islands you're planning to visit. If you want to cover just one island, a week's time is more than enough. But if you want to hop from one island to another, we'd recommend staying on one island for at least 5 days so you can explore the island well and don't compromise on the relaxation as well. For a 2-week long honeymoon, you can easily explore the 3 islands of Hawaii. 
What's the best time to visit Hawaii?
The best months to visit Hawaii are April, May, September, and October. December and January are also good times but this is considered to be the peak and busiest months, hampering the budget and privacy of honeymooners. March is also a good month if you want an off-season Hawaii honeymoon on budget and good weather. Some rain showers will be there in March though as the rainy season is November to March. June through November is the stormy season. Although, big hurricanes are rare, do check the weather report before making any plans. 
Is the food in Hawaii expensive?
Hawaii has the highest food price in the USA and their big MAC is the most expensive one in the country. But the prices aren't just unnecessarily expensive just to get more out of the tourists' pockets. There's a simple and reasonable reason for the same. Most of the food is imported from the mainland shooting up the transportation costs of every raw material and hence, the raw product. This means food will be costlier at honeymoon resorts in Hawaii as well. Some of the ways to save up on food on your Hawaii honeymoon is to book an all-inclusive resort with all the meals, stock up on snacks, shop for some local fruits and veggies, and find restaurants online that might fit your budget.