Marked by a band that artfully divides as it reaches the center stone, a split shank engagement ring is a great pick for when you want your engagement ring to have both modern and timeless touch. This style automatically accentuates the center diamond and makes it look prominent and bigger. Plus, this engagement ring style works great for any of your favorite diamond shapes and setting. To help you decide on your favorite design, we have put together a variety of split shank ring designs, styles, and settings below:
#1 This is one of those dazzling split shank engagement rings for those who prefer brilliance in their rings like no other. The round diamond is accentuated by itself as it's set a little above the other settings, and further bedecked by a double halo band encrusted by smaller diamonds. There are also diamonds lined in pave setting on the split shank band for an ethereal appearance.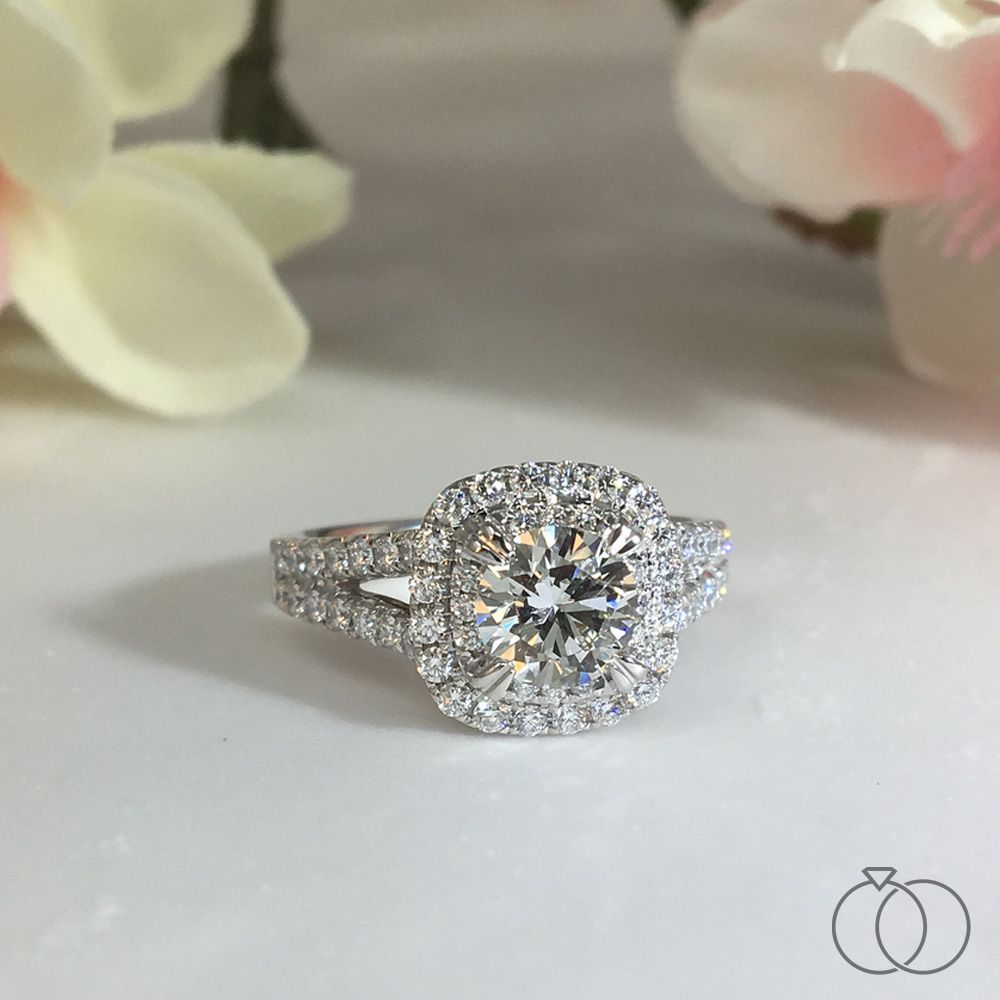 Courtesy: Pinterest
#2 Holding a mug with your left hand showing off your engagement ring is one of the popular and less-tackier ways of flaunting your ring on social media or just generally announcing your engaged status to your friends. Here, however, the mug saying "does this ring make me look engaged" is replaced by a Starbucks logo mug to make it more subtle. Obviously, the highlight is the twisted split shank band in the ring though, right?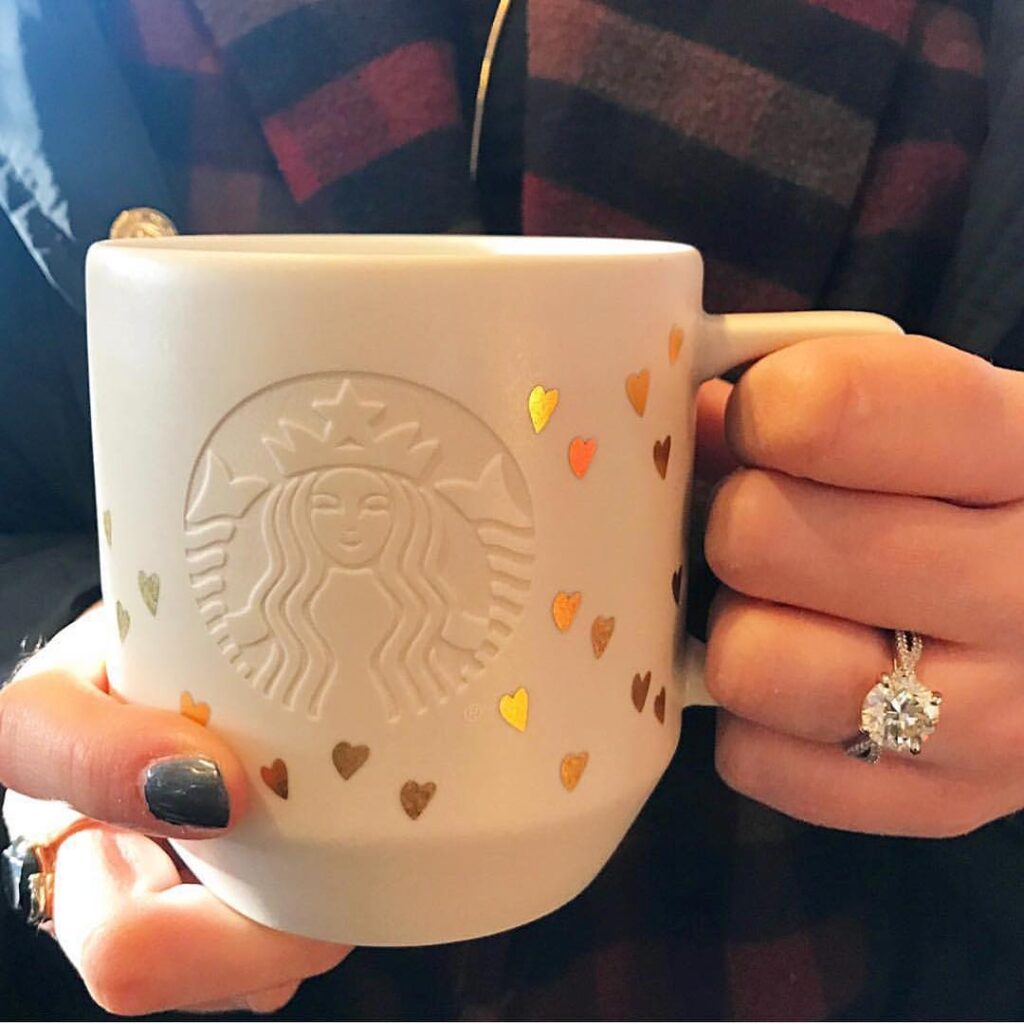 Courtesy: Lisa Marie
#3 This split shank engagement ring with a wedding band is a great pick. Clearly, you can opt for these types of engagement rings and still match your favorite wedding band. Artfully designed, this princess-cut split shank ring has some gorgeous pave diamonds on the band, which plays nicely with the platinum color of the band.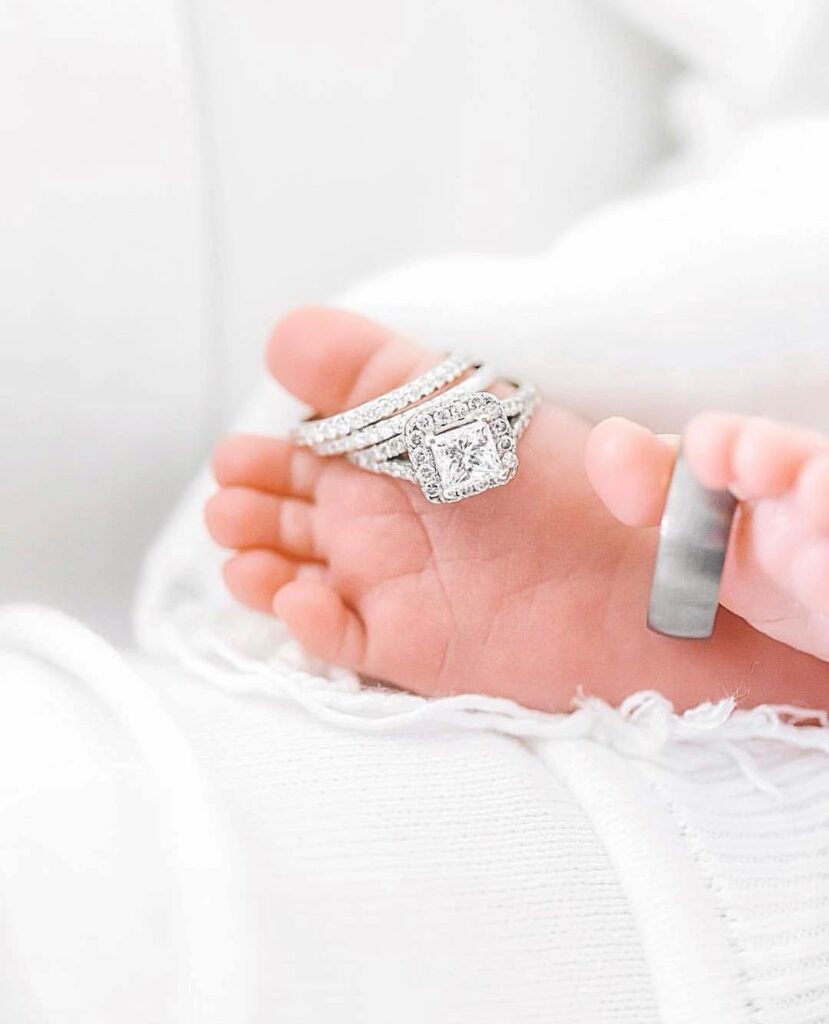 Courtesy: @siarralynnstudios
#4 The split shank band is different than others. This design is ideal for those who want a creative and different ring design for their special ring. The pear-cut diamond lends a modern touch itself, and on top of that, the curved split shank which meets all the way to the back further adds a fresh and stylish touch to the ring design.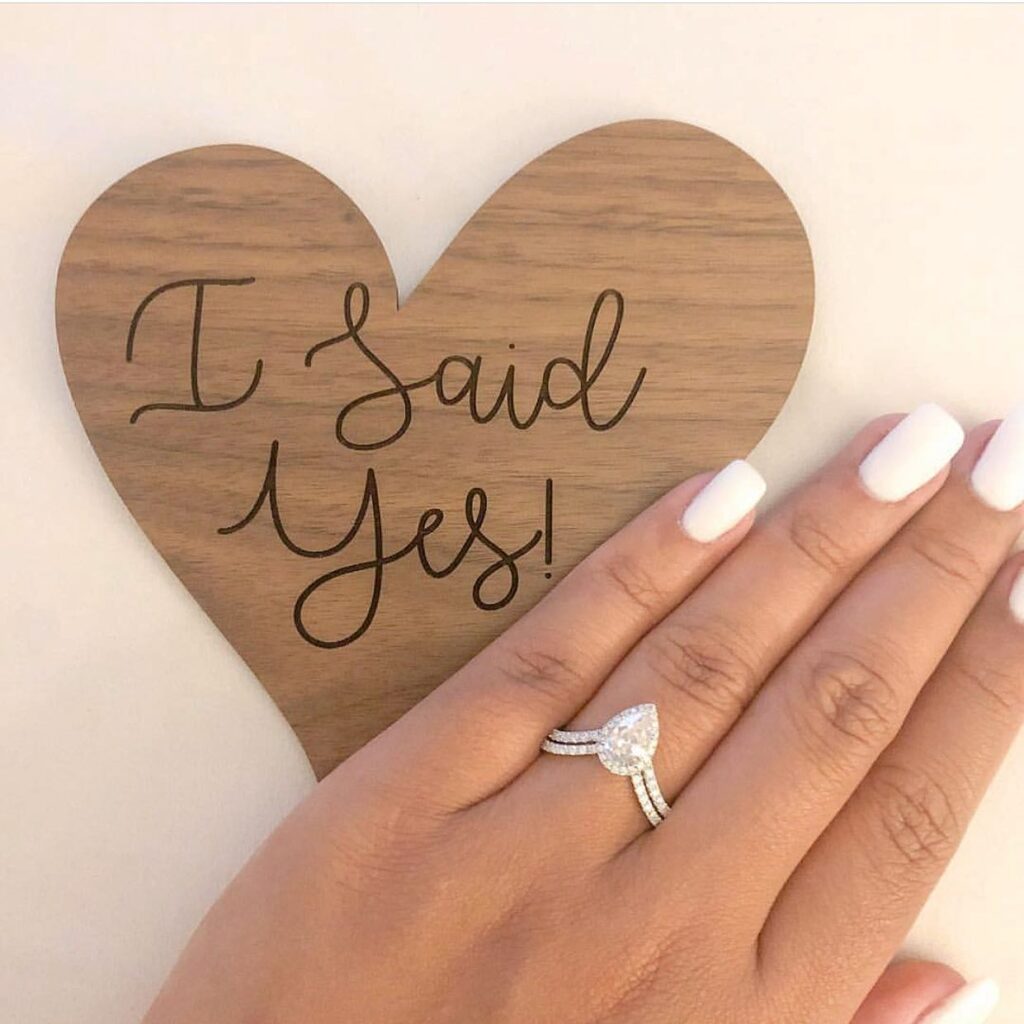 Courtesy: Cindy Caicedo
#5 For a simplistic and exquisite design, look no further than this Tiffany split shank engagement ring in a clean-look solitaire diamond. Featuring a one-carat princess-cut diamond in the middle followed by pave-lined split shanks on either side, this split shank engagement ring with a wedding band is ideal for women who love a minimalistic look with a touch of glamour in their jewelry.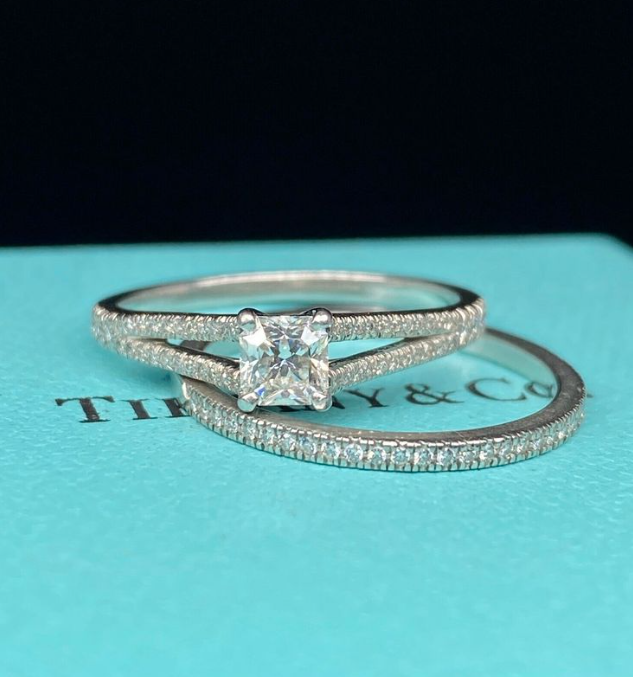 Courtesy: Tiffany
#6 If you're looking for a chunky bauble to wear as your engagement ring, this is the one. It has a big solitaire in the middle followed by a single halo lined by small but attention-seeking diamonds, and a twisted split shank band – done spaciously and intricately to give this ring the stunning aspect it deserves. 
Courtesy: Marissa Costeira
#7 For those who feel diamonds are overrated or just aren't into them as much, this yellow diamond engagement ring in the split shank is just what they needed for inspiration. Just know that there are many kinds of yellow gemstones and not all work for the rings. Only trust a known jeweler in your area to design a gemstone ring for you.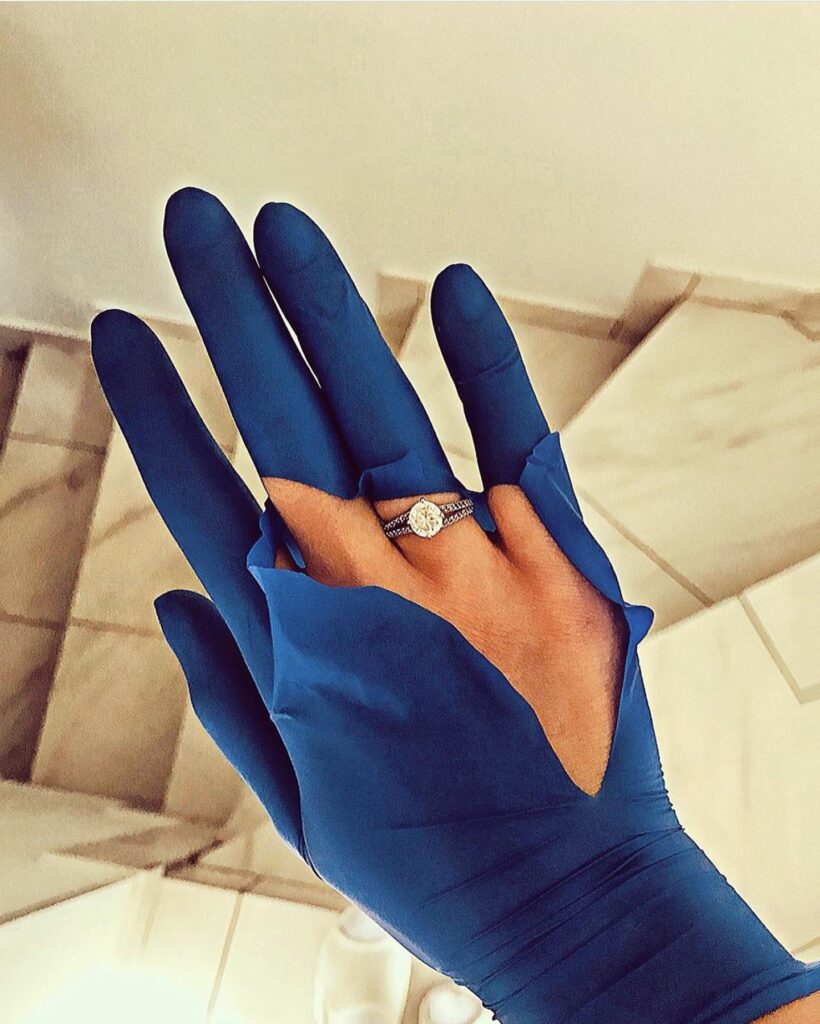 Courtesy: @daniela.joian
#8 The split shank here is lined by small and equally-sized diamonds for an intricate appearance, but it's the halo that also grabs the attention. In general, halo engagement rings are lined with equally-sized diamonds as well, but this one's different. The halo is lined with diamonds of equal size, but alternately, giving it an edgy appearance. 
Courtesy: Engagement Rings
#9 For those who prefer a cleaner look for their ring, just like their everyday style, this split shank engagement ring in the round cut is here to woo you. It has a round solitaire in the middle with the band separating as it reaches the ring. The band is also lined with a smaller set of diamonds than usual to maintain the minimalistic touch of the ring.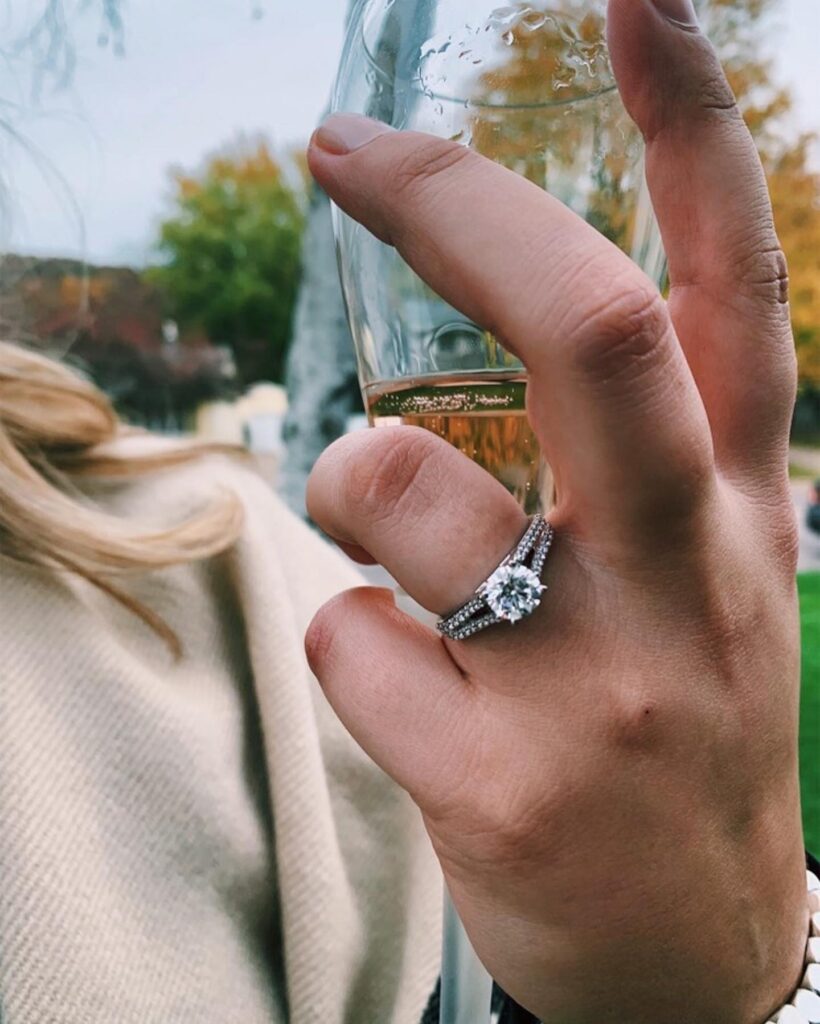 Courtesy: Kate Klug
#10 Yet another split shank engagement ring setting in the same style as above, with the only difference being the size of the diamonds which is more pronounced in the solitaire as well as the band than the one featured above. You can also customize it to your liking, choosing the metal and shape of the ring as you please.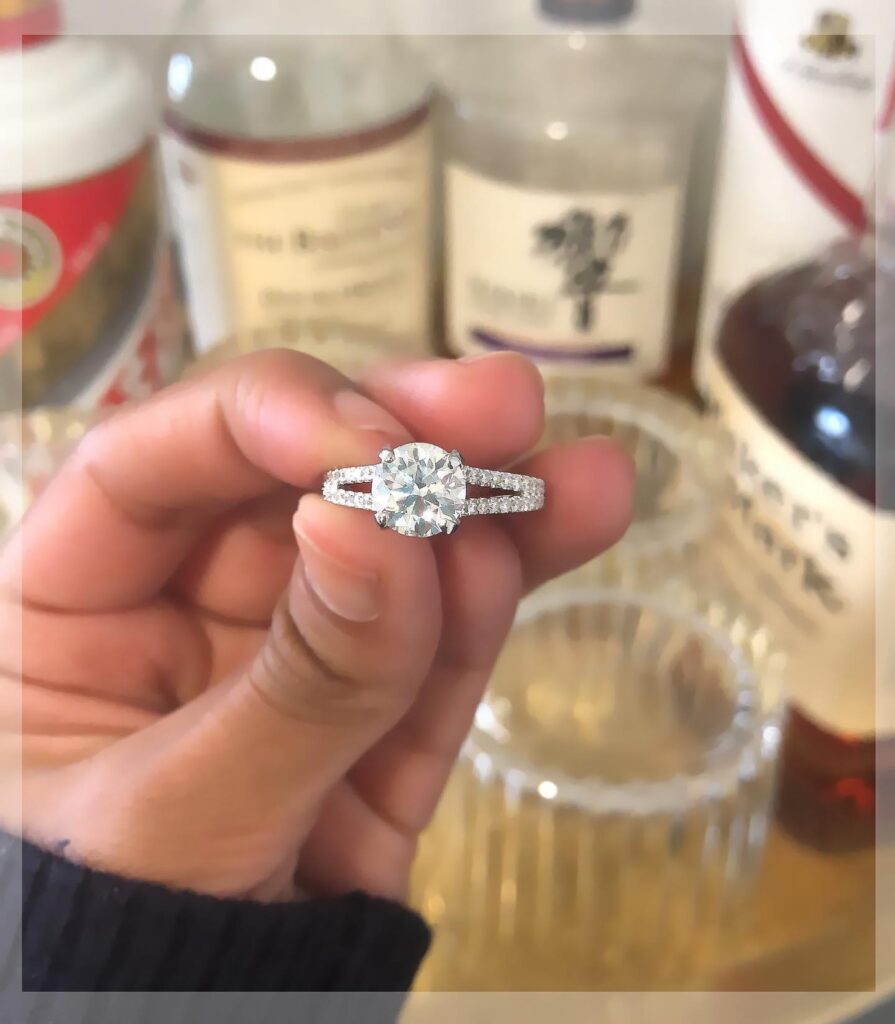 Courtesy: @diamondstoryus
#11 The next picture on the list shows you how a split shank ring setting will look from the sides so you get an idea of the complete look. Both crossover shanks and split shanks look amazing and go with many different solitaire styles, so you can choose your favorite shape to go with your favorite type of ring shank.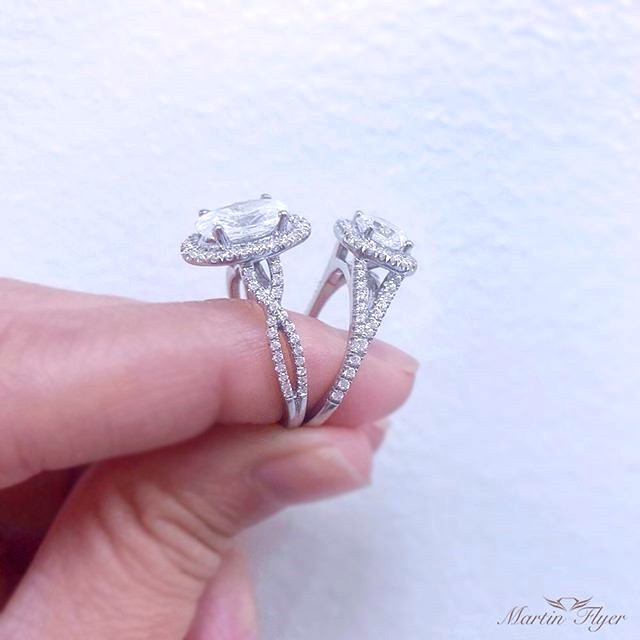 Courtesy: @ramseysdiamondjewelers
#12 Double band engagement rings have their own cult following and this ring is no exception. The diamond is round with the halo featuring a little bigger-sized diamonds than usual at a distance. Then there's the center-of-attention, the split shank band which starts at the diamond and splits – meeting at the back of the band. We also love the way the bride-to-be used a felt letter board to announce her engagement.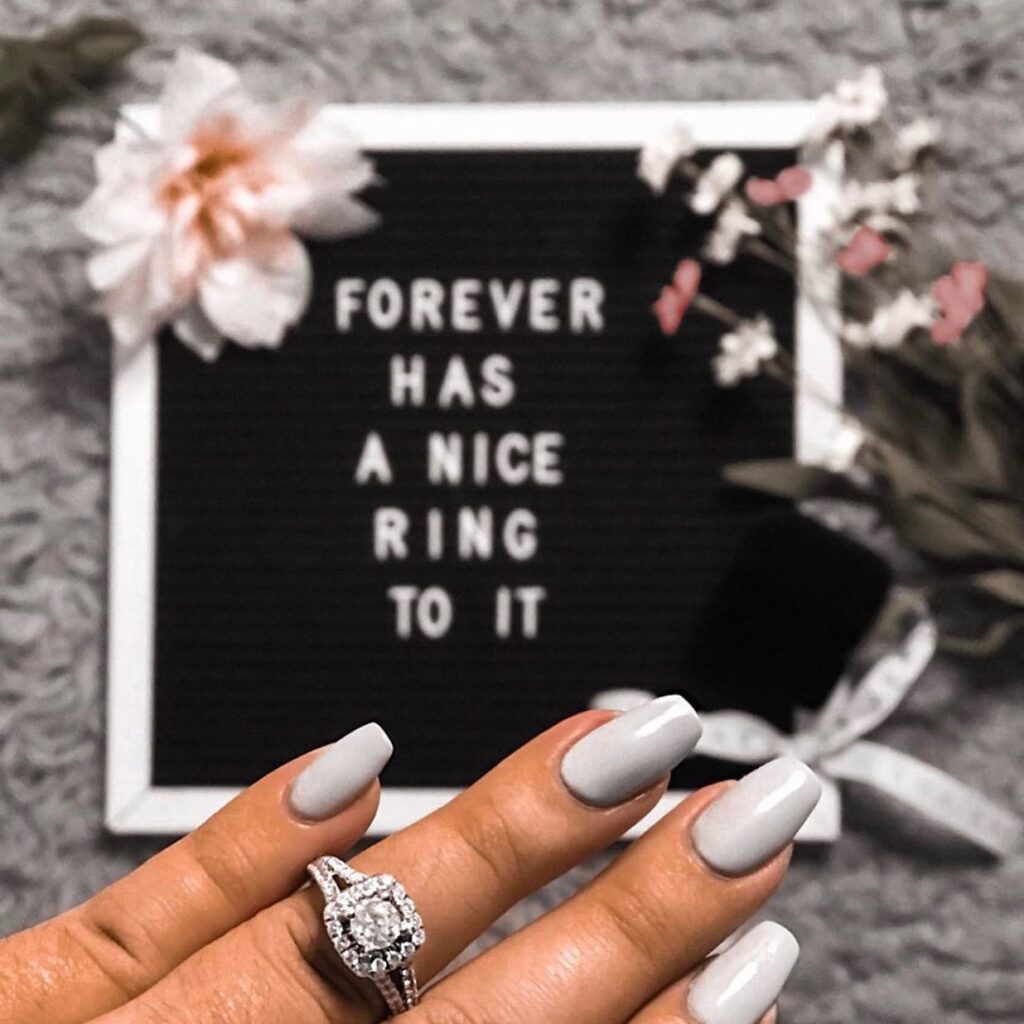 Courtesy: @valennapf
#13 When the bands of the split shanks are at a wider distance than usual, like the one portrayed below, it's called an open split shank band. Now you know if you like this style, what to tell your jeweler! This pear-cut split shank engagement ring is sure beauty and is the epitome of classic-meets-modern style.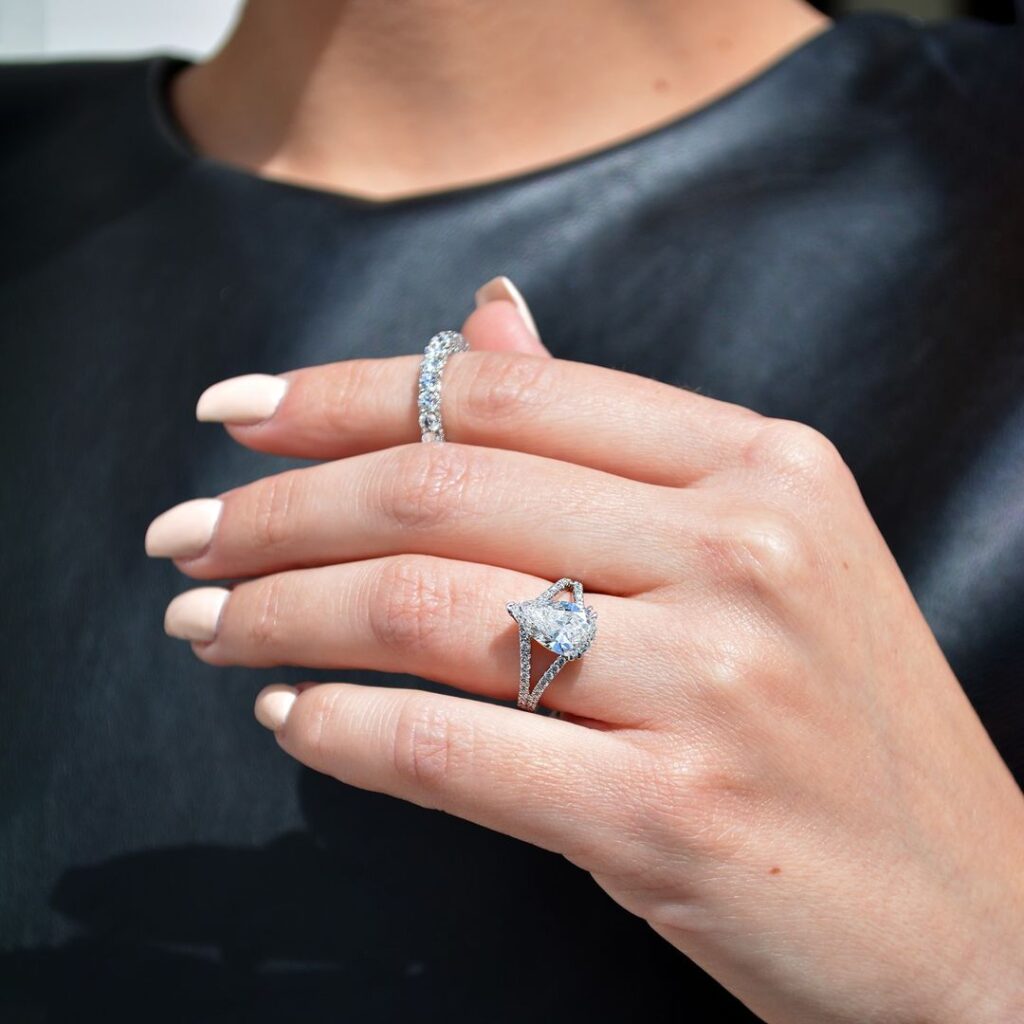 Courtesy: @burdeensjewelry
#14 Not all rings call for a bigger diamond stone to be at the center of the ring. Sometimes, a gorgeously-colored gemstone will show the same attractiveness and draw more eyes than usual because of its unusual style. This emerald-cut yellow stone has a halo on the sides and pave diamonds on the split shank for a beautiful look. You can play with other colored gemstones like blue or pink to replicate the same style.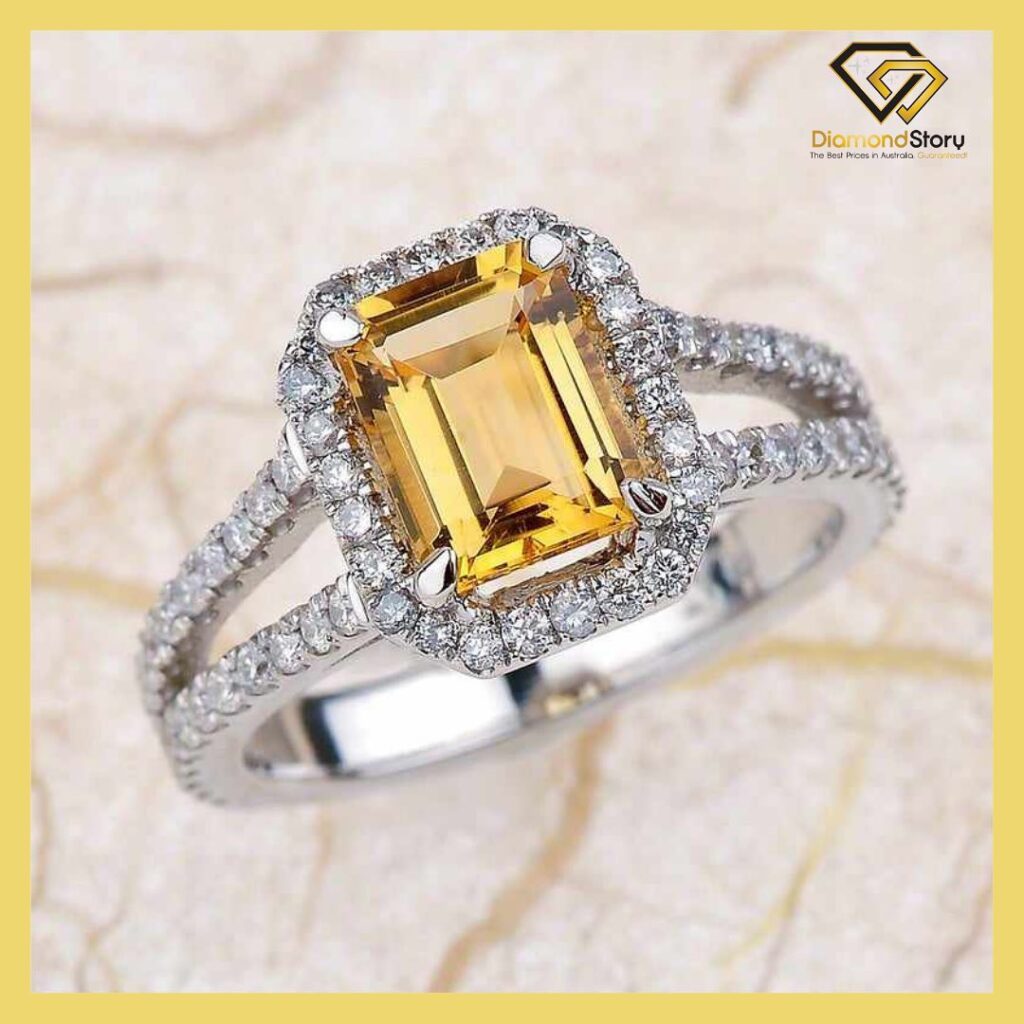 Courtesy: @diamondstoryus
#15 Featuring petite hollows on either side of the diamond, this split shank engagement ring in an oval cut is ideal for women who don't want a pronounced split shank on their solitaire diamonds. Honestly, the subtlety is what makes this split shank band stand out from the rest and gives it a simple and elegant vibe.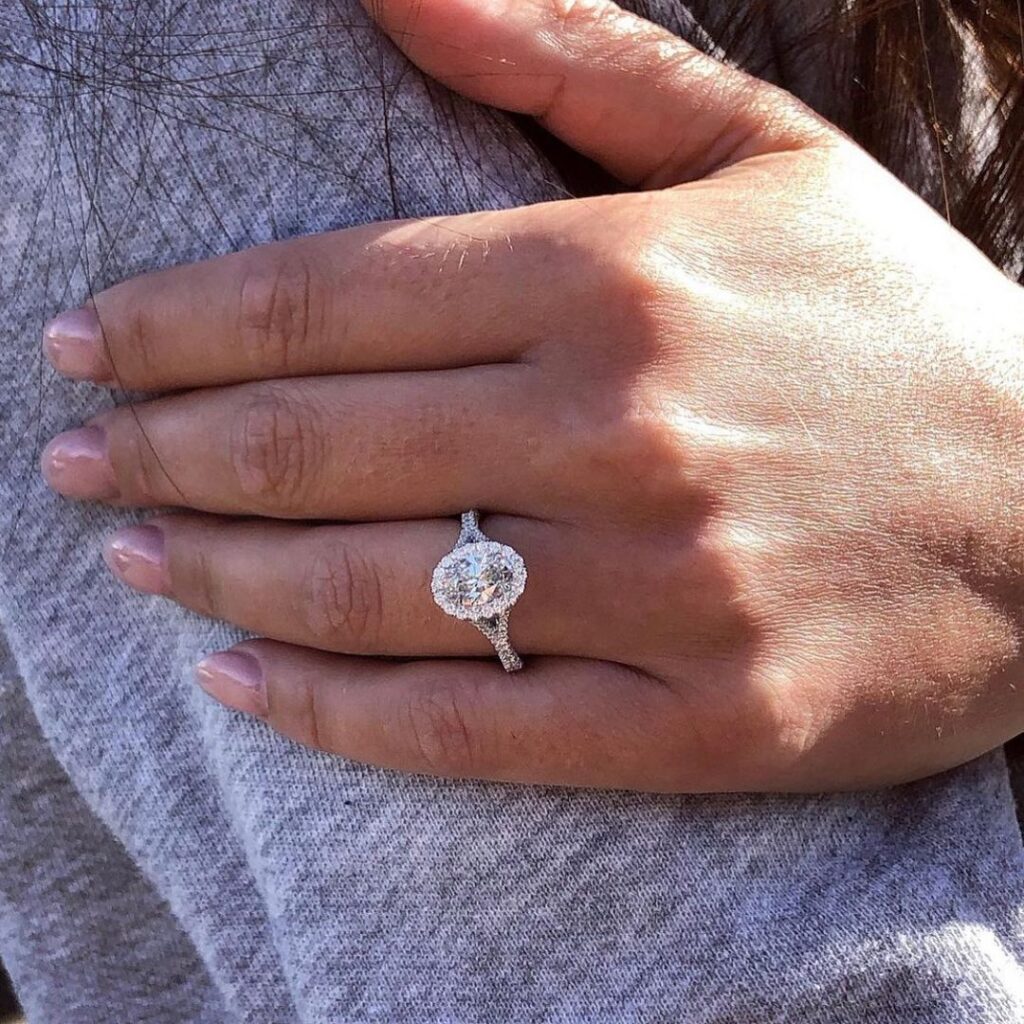 Courtesy: Pinterest
#16 This moissanite split shank engagement ring is shining with utter brilliance and clarity in the center diamond. The beauty of the round brilliant cut diamond is enhanced by the single halo around and pave setting on the split shank. Round brilliant cut diamonds are the most expensive diamond cut though, and they can definitely increase the cost of your engagement ring budget.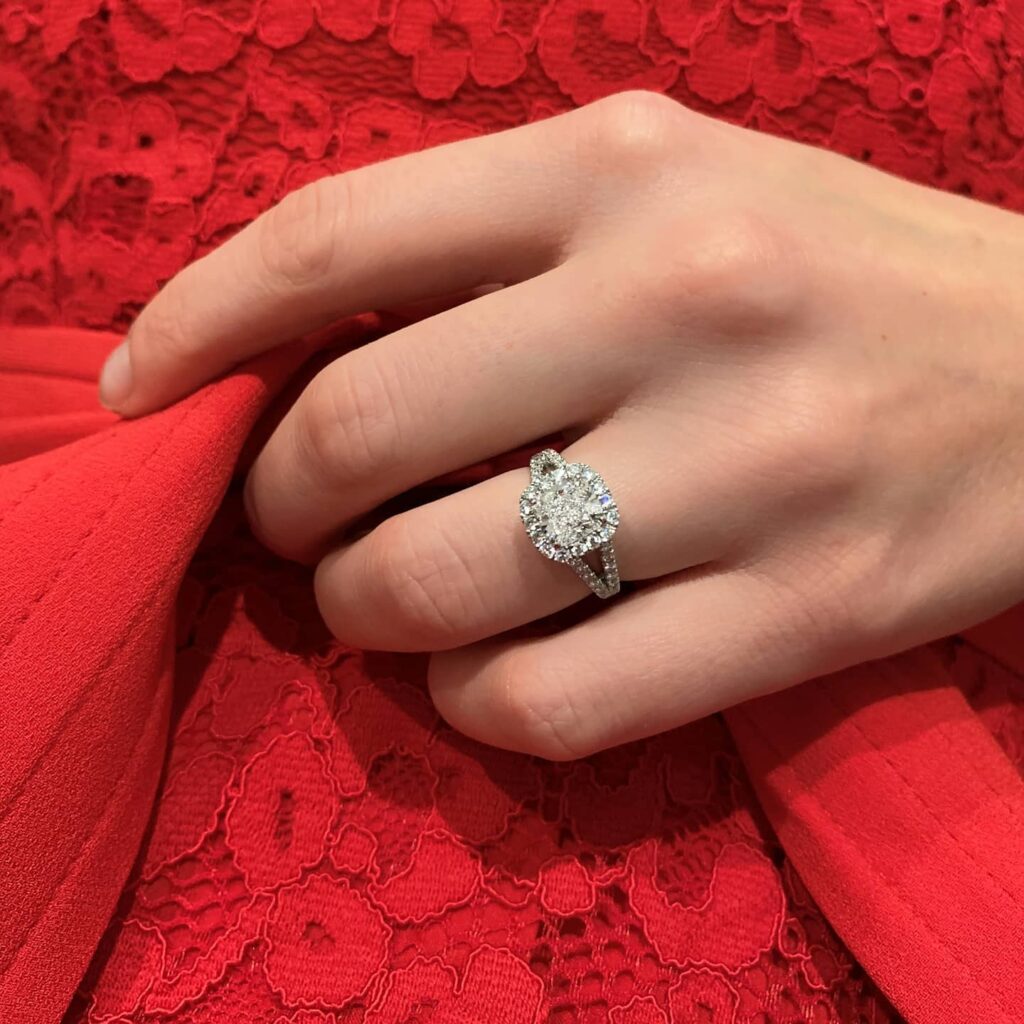 Courtesy: @blackacreldn
#17 For those who love a clean and elegant look more than any other attributes in their engagement ring, this is a bauble you will absolutely love! It has a round-cut brilliant diamond and a spacious split shank that meets at the back of the band. The pave diamonds are much smaller in size than usual so the focus is all on your solitaire and the gorgeous setting around.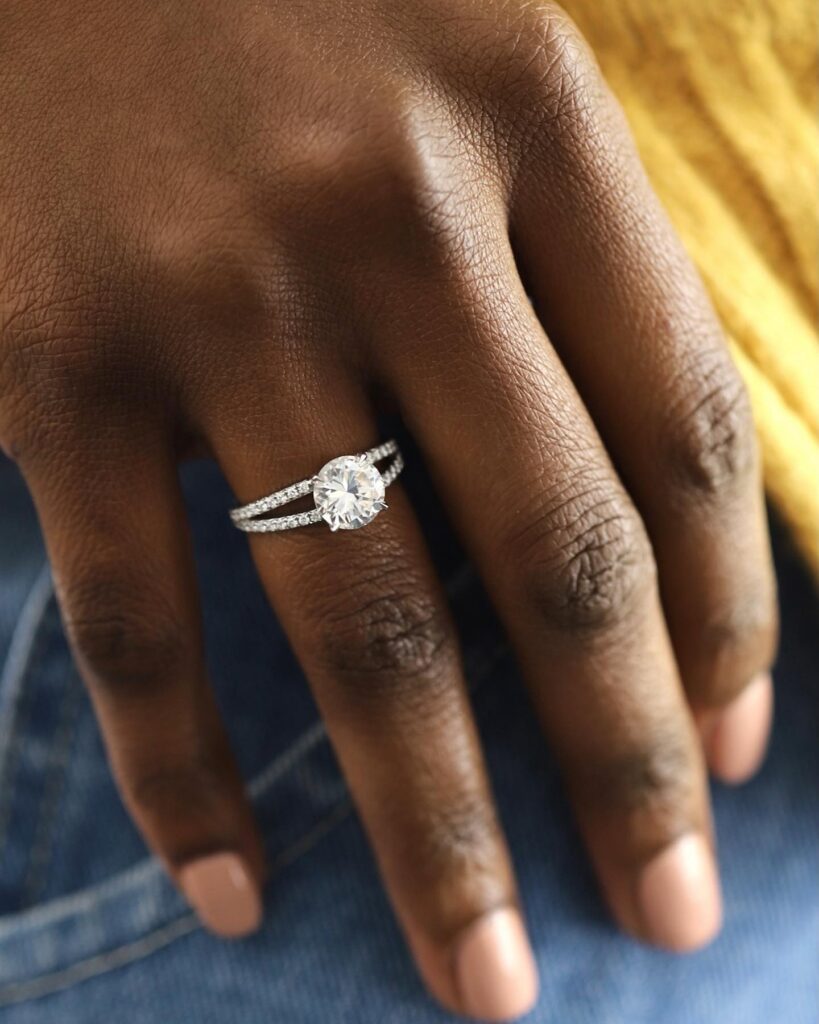 Courtesy: @greenwichstjewelers
#18 If you're bored of the pave diamond setting on the split shank bands, this open split shank in an emerald cut is just what you need to see on this list. While halo and pave are the most common settings, some women chose to forgo both to keep all the attention on their glistening solitaire. And as you can see, choosing that route is quite amazing too!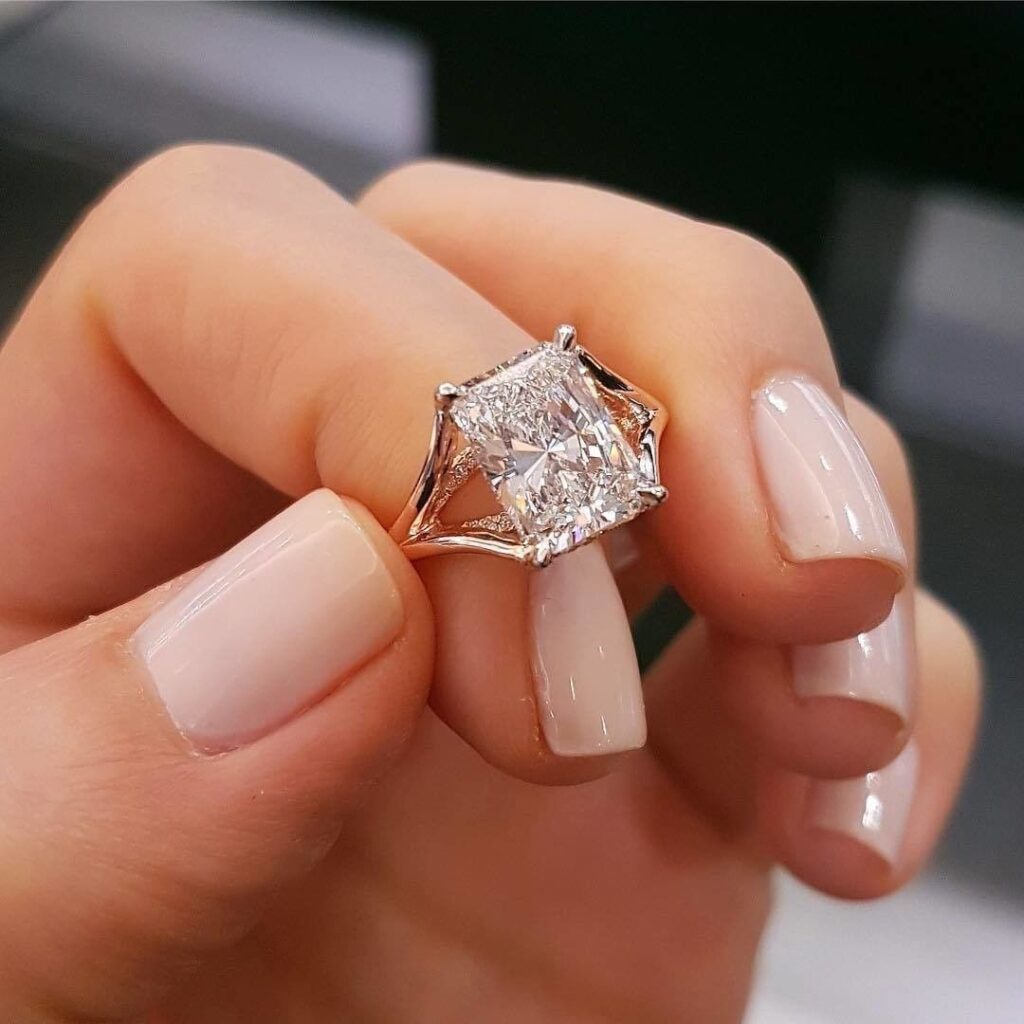 Courtesy: Lauren B Jewelry
#19 Instead of the pave diamonds, this split shank is instead lined giving it a glamorous, rich, and stunning look all at once. The emerald-cut diamond with no halo is another starry attribute of this ring. If you're opting for rectangle and square shape diamond cuts like emerald, cushion, or princess, then a four-prong diamond is a great option because it enhances the shape of the four sides, letting the center stone the star of the show.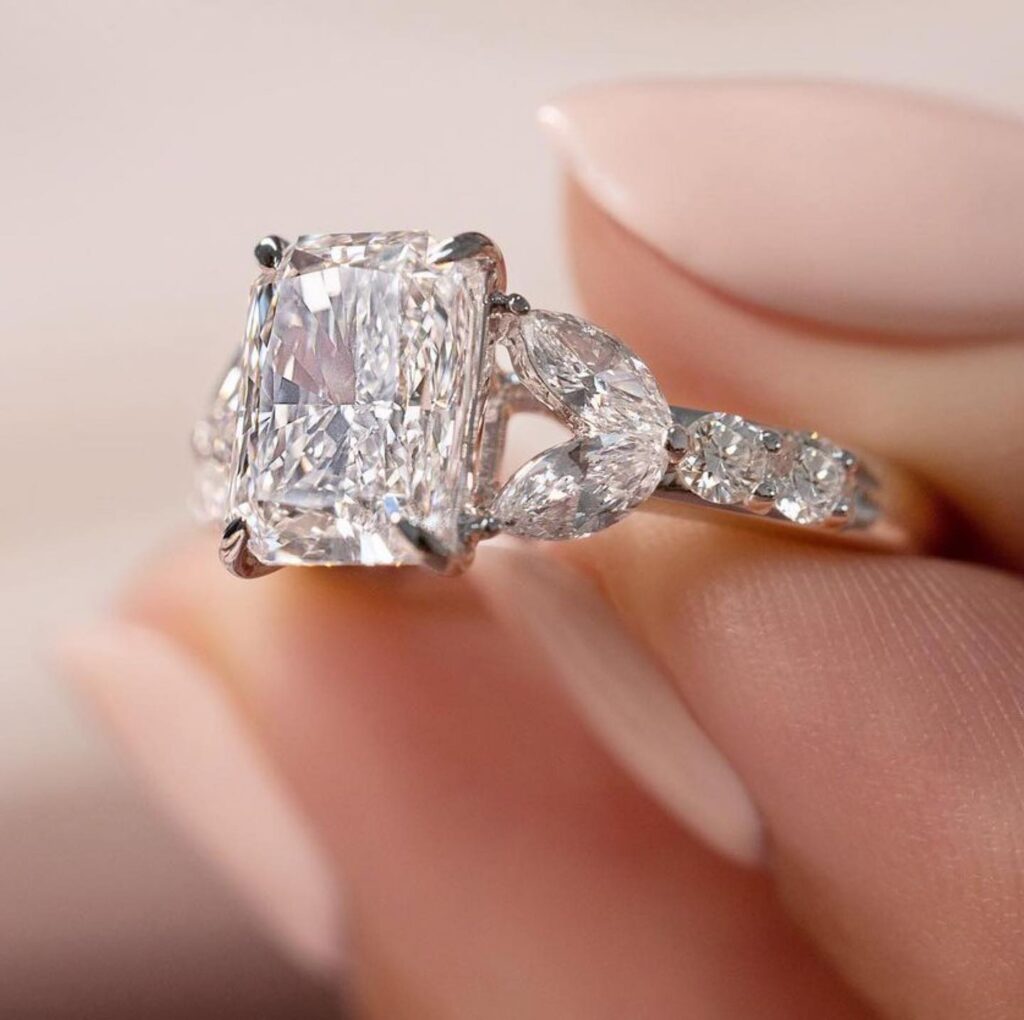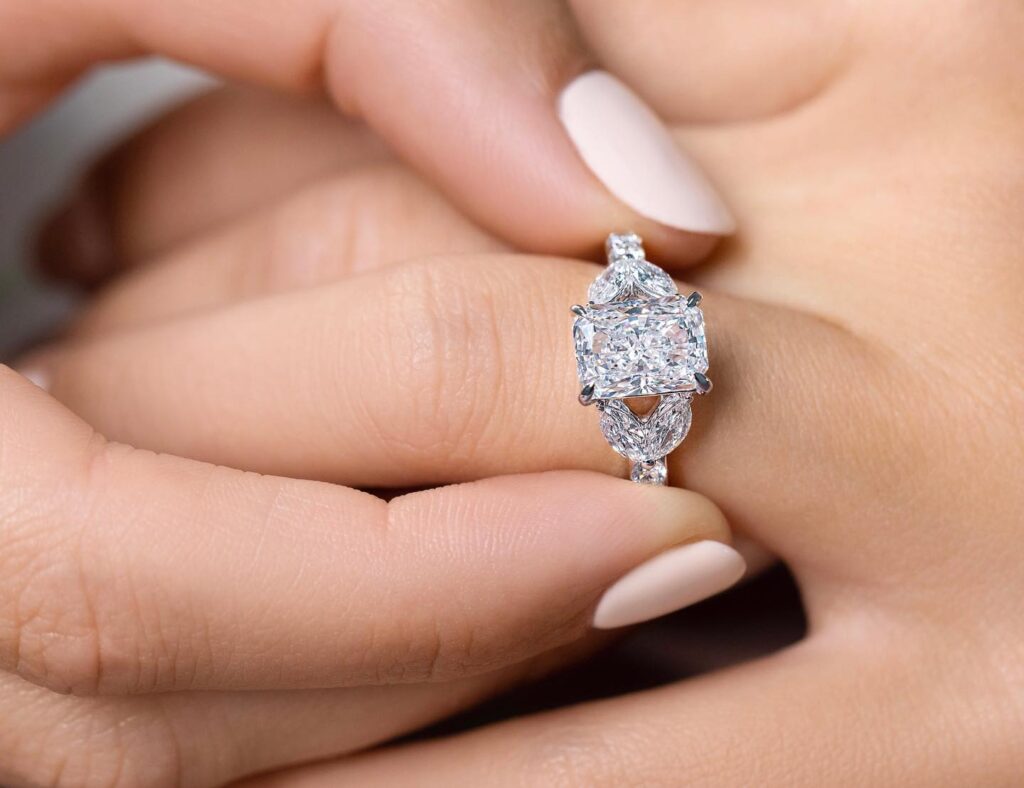 Courtesy: Fergus James Diamonds
#20 These rings demonstrate many settings of the band in just one image. It also demonstrates that split shank engagement rings with a golden back look just as appealing as white gold or platinum. We love the emerald stone in the middle, which makes for a great choice for engagement rings, as it symbolizes romance, foresight, and rebirth, and is associated with the planet of Love – Venus.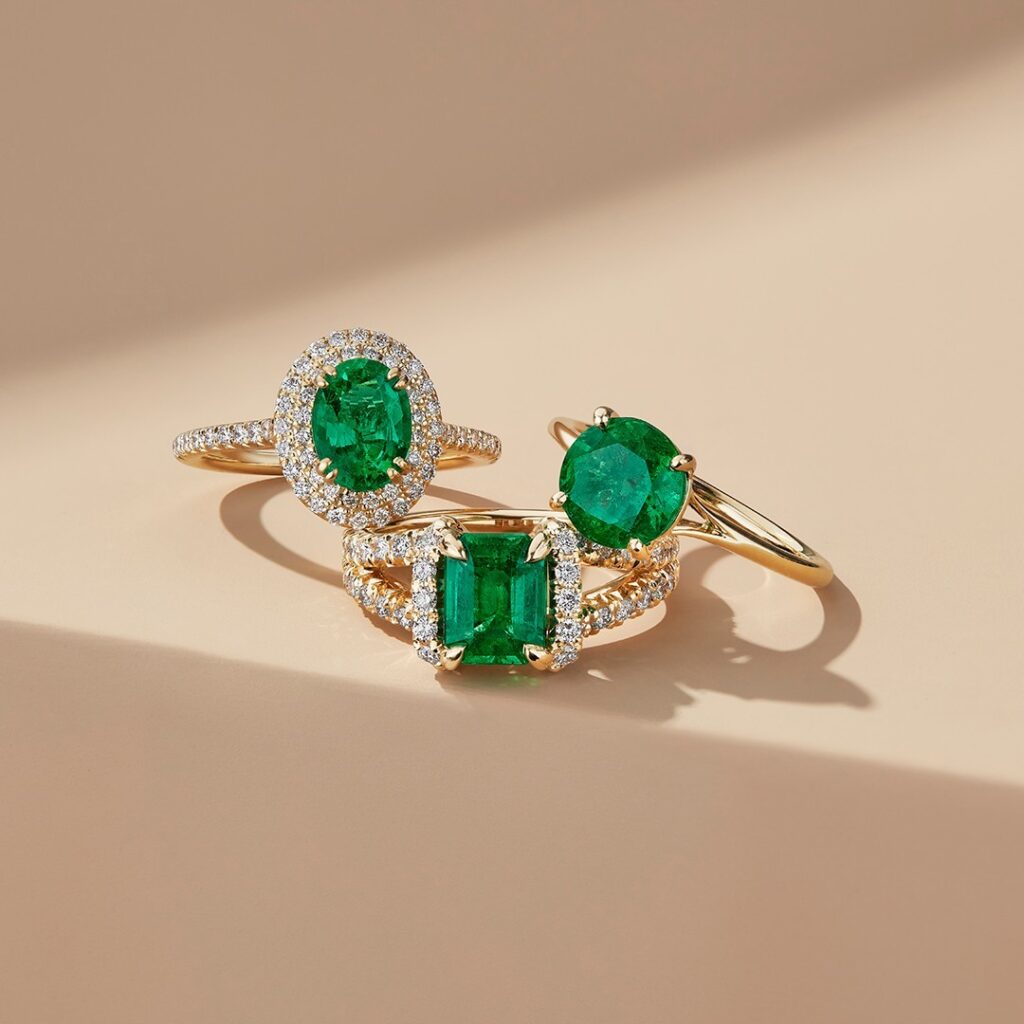 Courtesy: @bluenilediamond
#21 The marquise-cut split shank engagement ring is another great pick for brides-to-be. Why? These diamonds have the largest crown surface areas than any other diamond shape, making it look bigger than other diamonds of the same carats. It also costs lesser for the same carat; around 20% less than the round diamonds for the same carats. The elongated shape of the diamond also gives the finger of the wearer a longer and slimmer shape.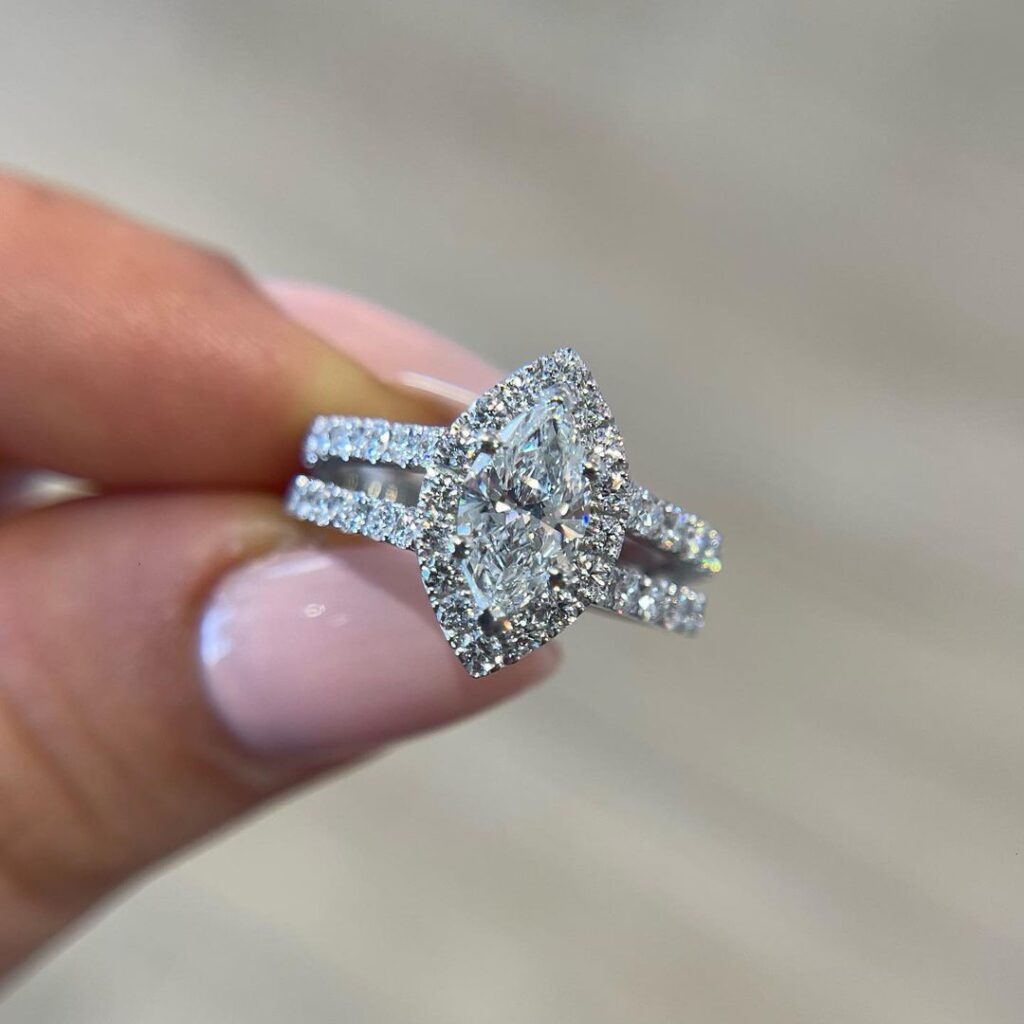 Courtesy: @directdiamonds
#22 This cushion-cut split shank engagement ring gives an appearance of the double band ring style and combines both styles in one. The nesting brilliant-cut round solitaire is at the center of the bauble and has a closer halo setting around the bigger stone in the middle. The thinner bands make it a perfect setting for stacking other rings.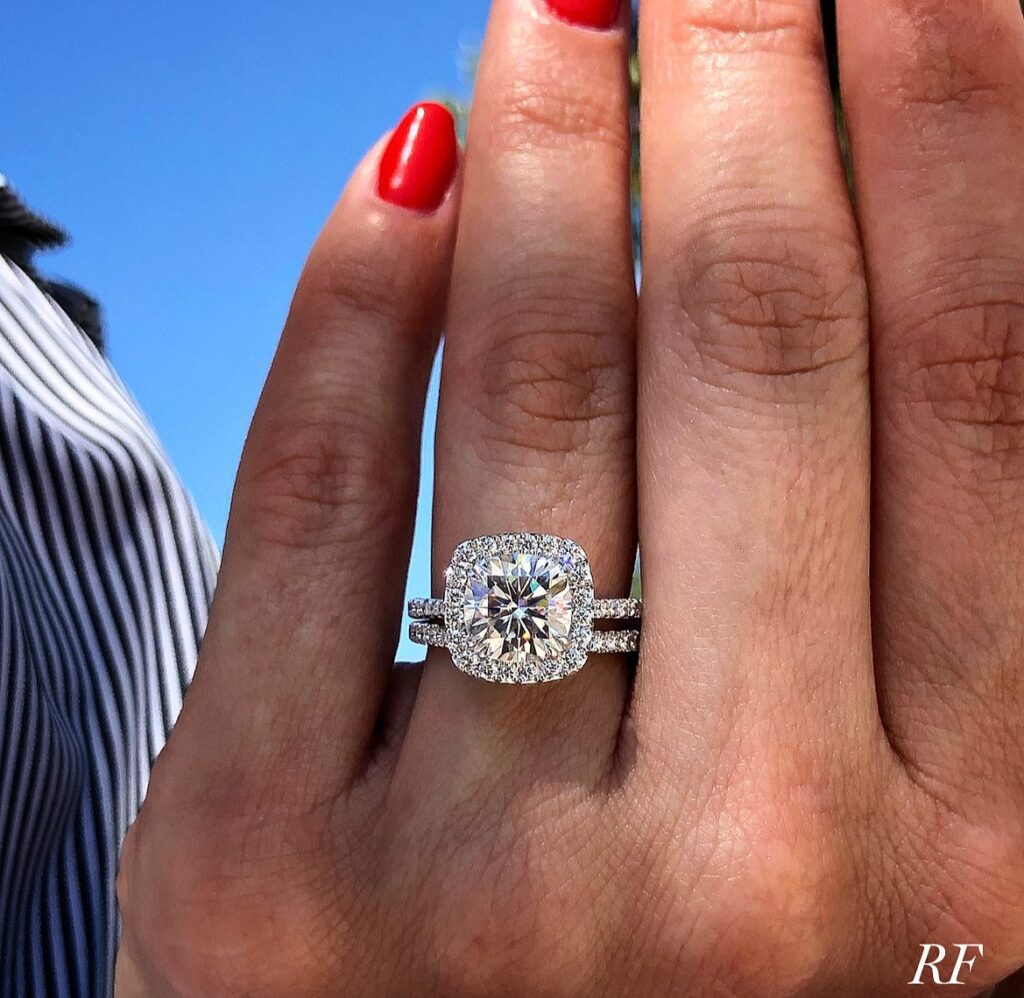 Courtesy: R F Collection
#23 Clearly, gemstones are a popular choice for diamond rings. Sapphire is popular among gemstones because they are associated with royalty and is known to attract abundance, blessings, and gifts, and of course, because it's also on the ring of Kate Middleton – one of the most famous baubles of them all. Sapphire comes in different shades though and we love this unique blue color used in this engagement ring.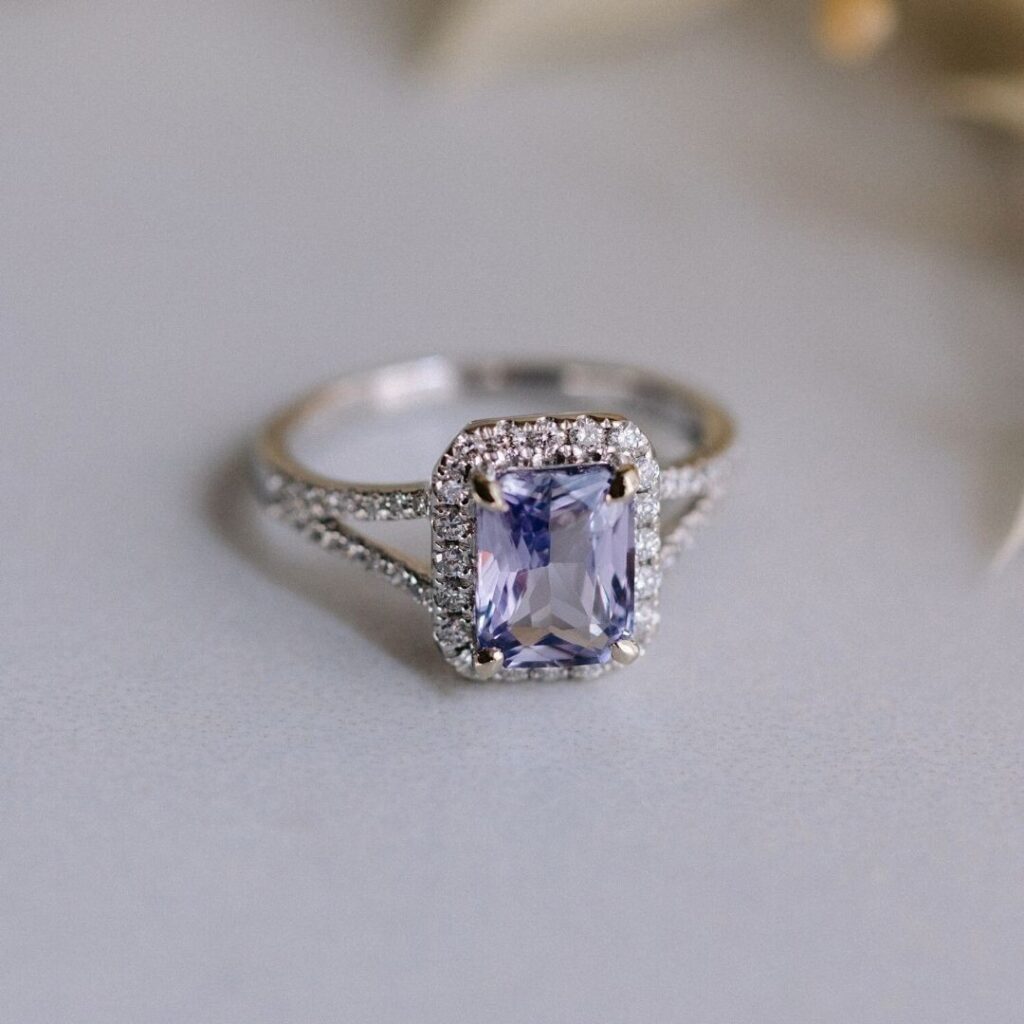 Courtesy: @eidelprecious
#24 It's always easier to purchase a split shank engagement ring with a wedding band because you'd know how the ring would look when stacked together. The round-cut solitaire followed by a single halo and a minimal split shank is absolutely captivating! What we further love is the inclusion of pretty sapphire stones in the ring just to add a refreshing touch to the entire design.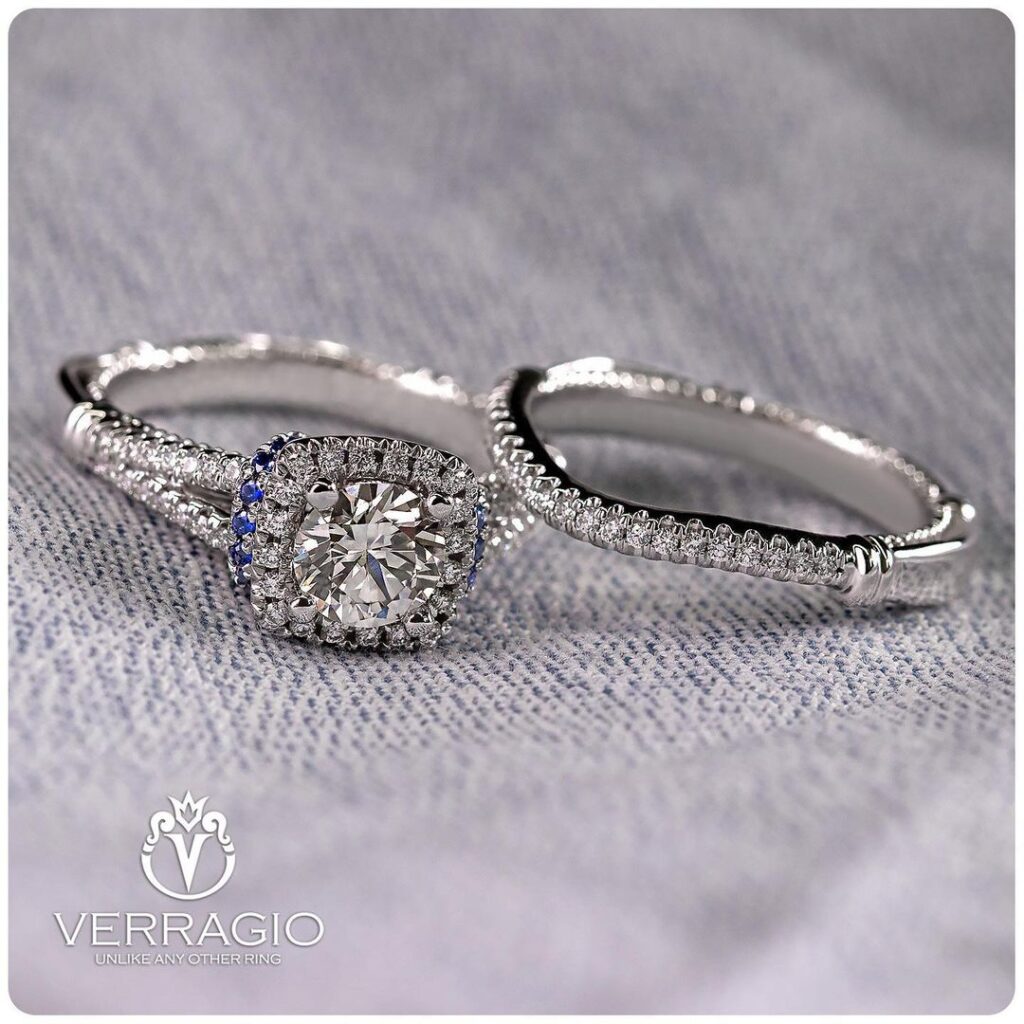 Courtesy: Verragio
#25 This twisted split shank engagement ring in gold and silver is a beauty to stare at! All rings by Verragio are a beauty though, and you'd love scrolling through their Instagram account if unique and refreshing is your take on engagement rings as well. A double halo sure adds some texture and increases the size of the ring nicely.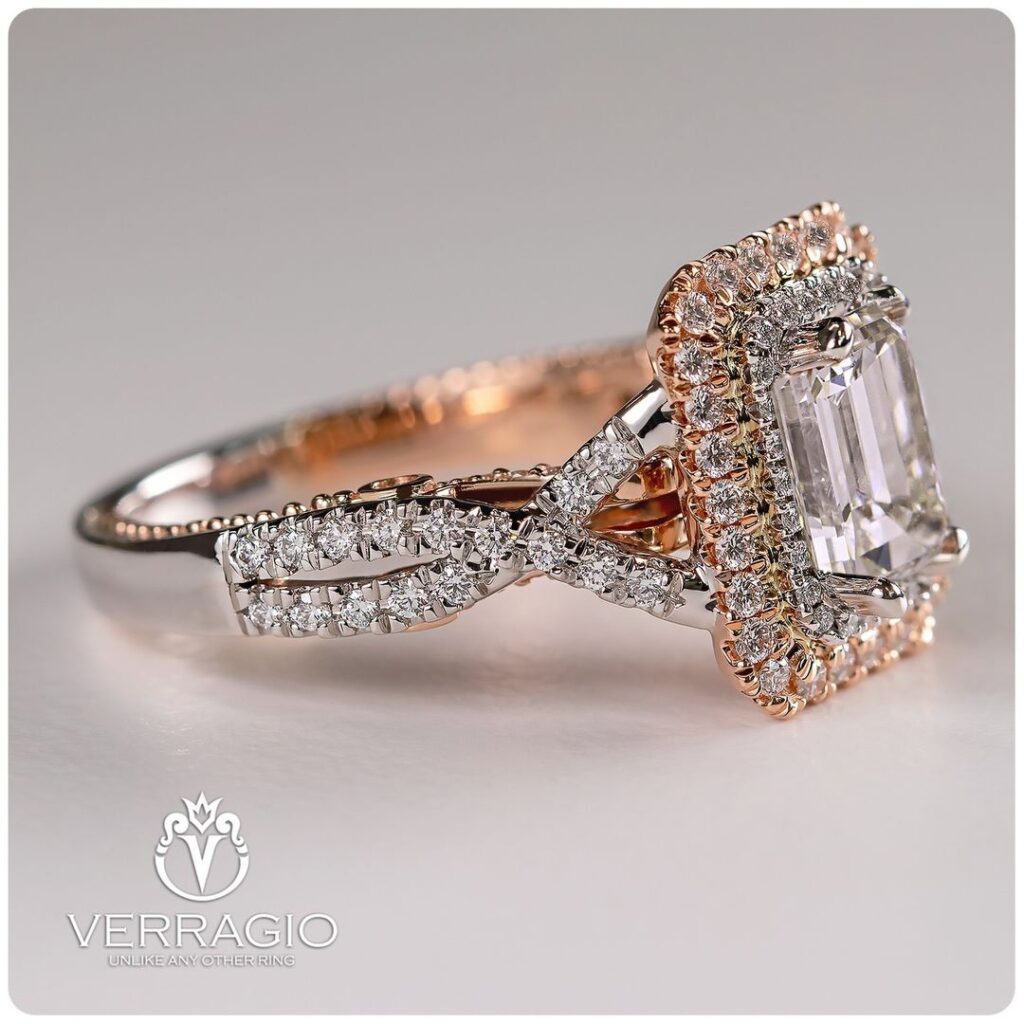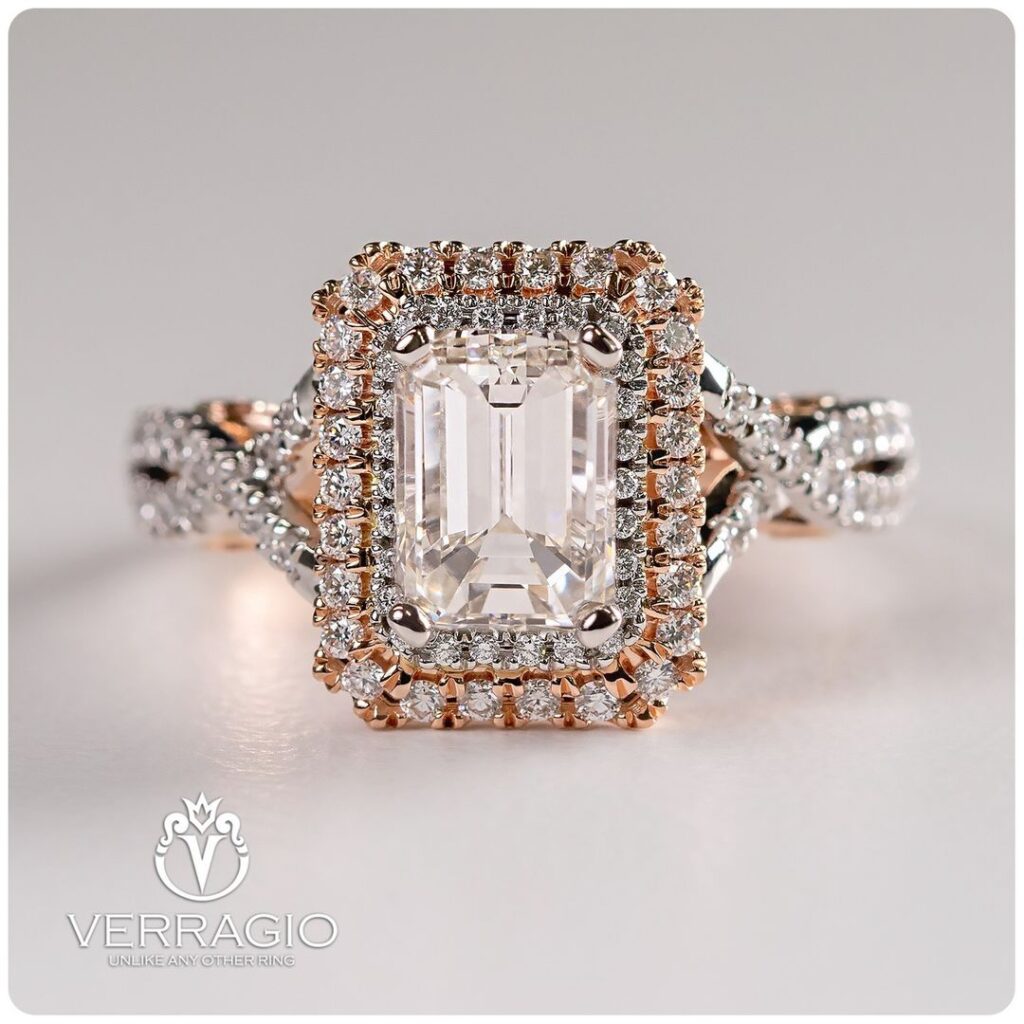 Courtesy: Verragio
#26 This princess-cut solitaire is accentuated by a split shank, but also by a unique halo setting. The halo isn't done in the usual style with the sharp edges but has slant ones to amp up the design aspect of the ring. Princess-cut solitaires are anyways quite romantic and would make for a perfect bauble to present to your lady-love at the time of engagement.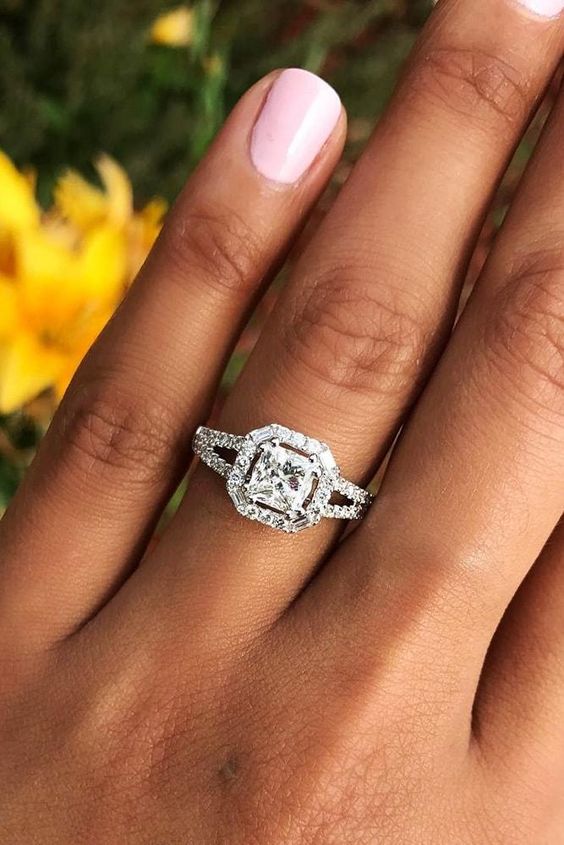 Courtesy: Pinterest
#27 If you're looking towards the celebrity world to get some inspiration, look no further than Queen of Pop – Beyonce. Her 24-carat emerald engagement ring priced at $5 million dollars comes with a split-shank band and is designed by Lorraine Schwartz. She has also designed engagement rings for Lady Gaga, Kim Kardashian, and Kourtney Kardashian.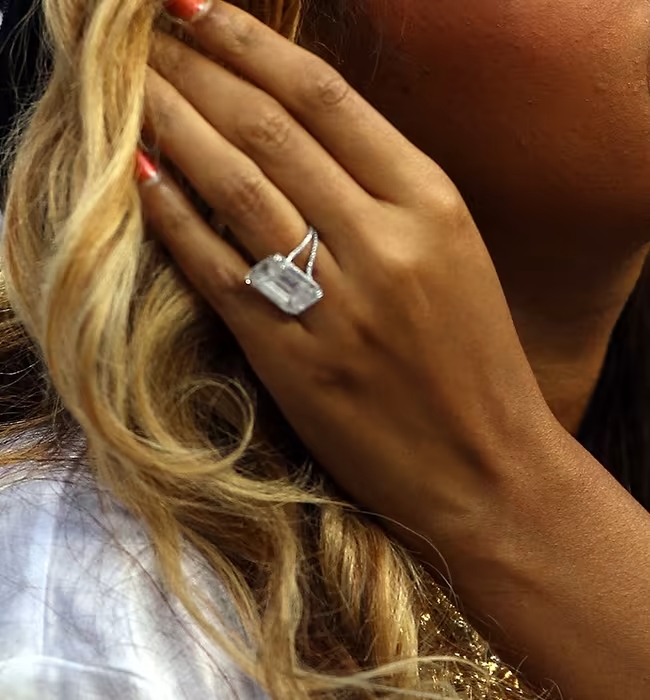 #28 Move away from the usual pave setting on the band and look to these solitaire-style split shanks. Choosing marquise-cut diamonds are a smart choice because they are less costly than other solitaires for the same carats. This piece has a more modern look than traditional, and it can become one of those timeless & vintage pieces to pass on to future generations. 
Courtesy: Berlinger Fine Jewelry
#29 This oval split shank engagement ring stands out from the rest because of the closer setting of both halo and pave diamonds. The smaller size of diamonds also helps put more attention on the solitaire – which is also what you'd generally want for a solitaire ring as well.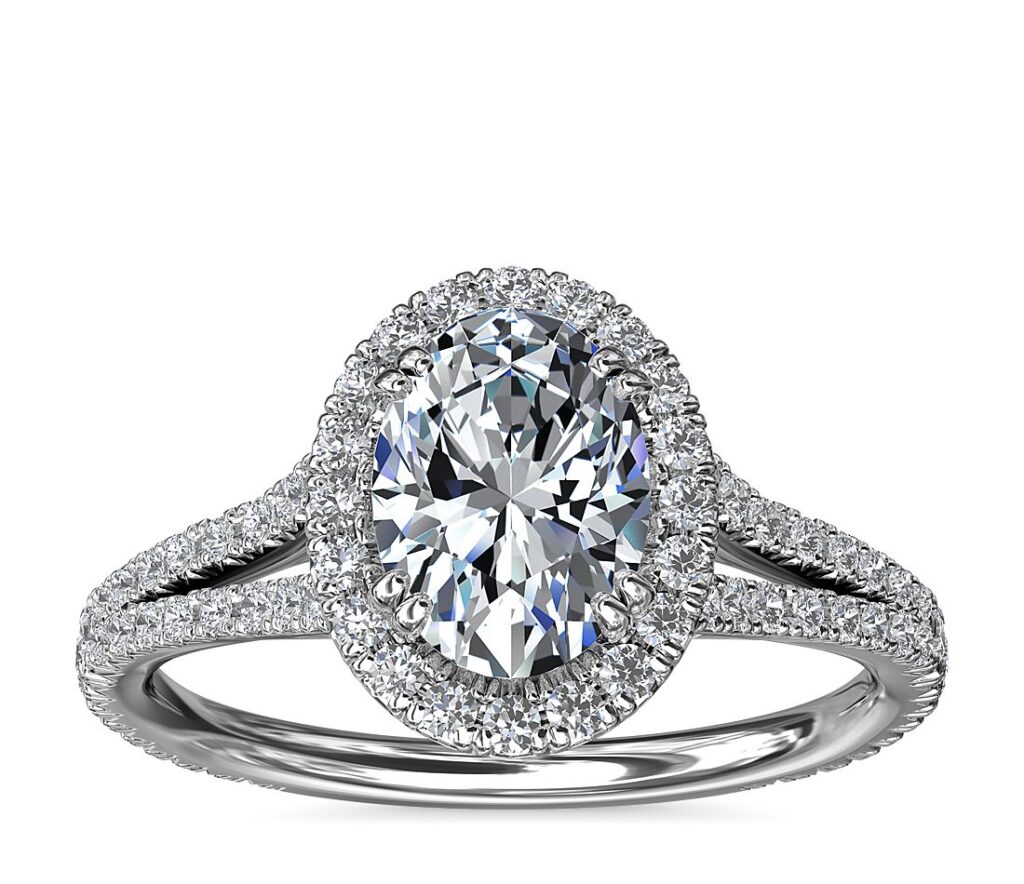 Courtesy: Blue Nile
#30 This rose-gold split shank engagement ring is just love at first sight! Rose gold is feminine, romantic, and elegant, and is popular in engagement rings and high jewelry. Also, despite the rich appearance, rose gold is also cheaper as it's an alloy of gold, and consists of pure gold and copper. The more the content of the latter, the more the appearance of redness in the jewelry – hence, the cheaper the price. For those on a budget, rose gold is a good option for the band as it looks stunning without costing much.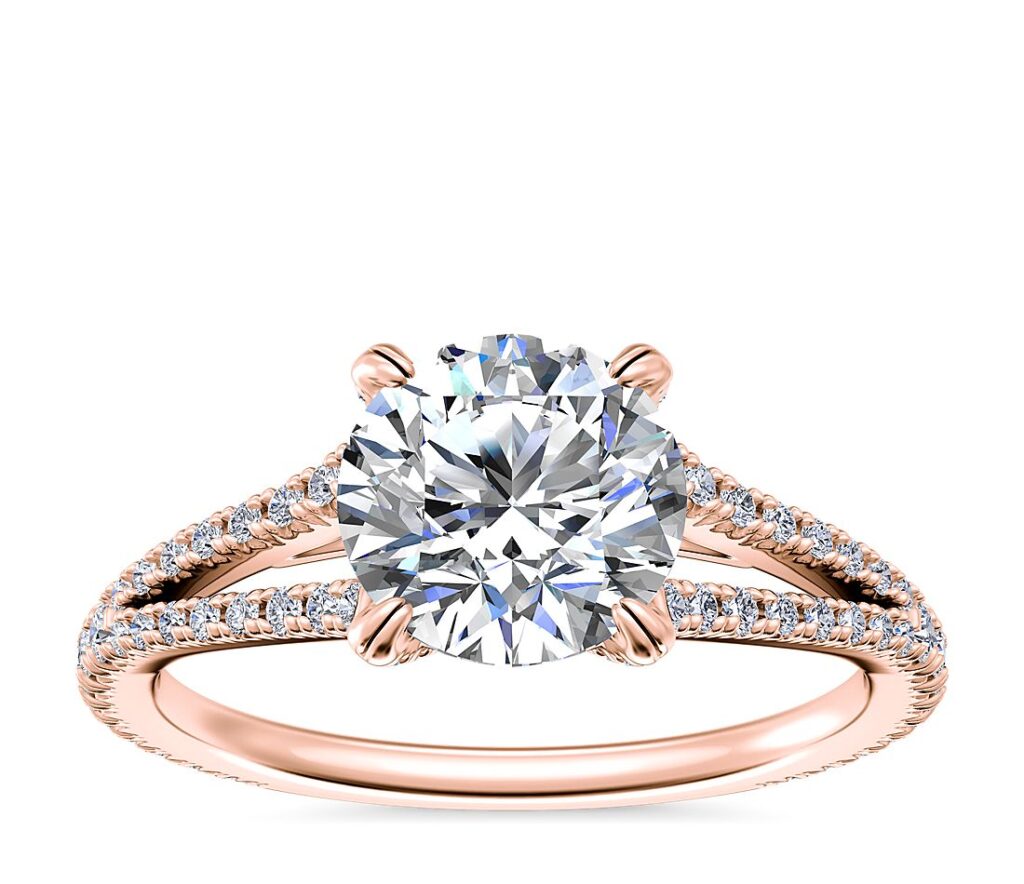 Courtesy: Blue Nile
#31 Get creative with your engagement ring shank and put three bands to merge into a single one, essentially giving a triple band look. With a triple split shank band though, you've to be extra careful to keep the engagement ring to a clean setting, so don't opt for halo when you're choosing the triple split shank band. This setting also makes the solitaire pop out well as there's nothing just around the gemstone.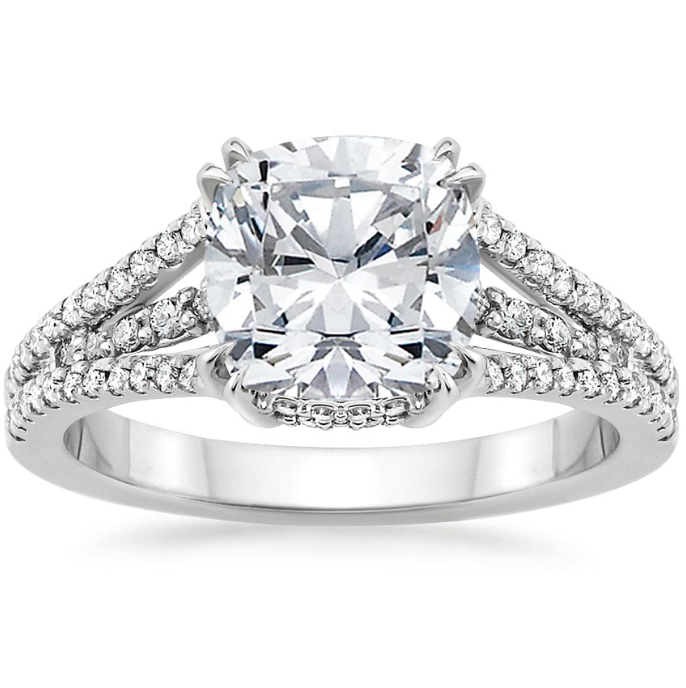 Courtesy: Brilliant Earth
#32 This princess-cut split shank engagement ring with a wedding band gives it a gorgeous look. When purchasing your wedding band, make sure you start the search early. Most couples wait till the end to shop for their wedding bands and find it hard to find something that complements their ring. Don't worry about matching, complementing the ring will do the job too.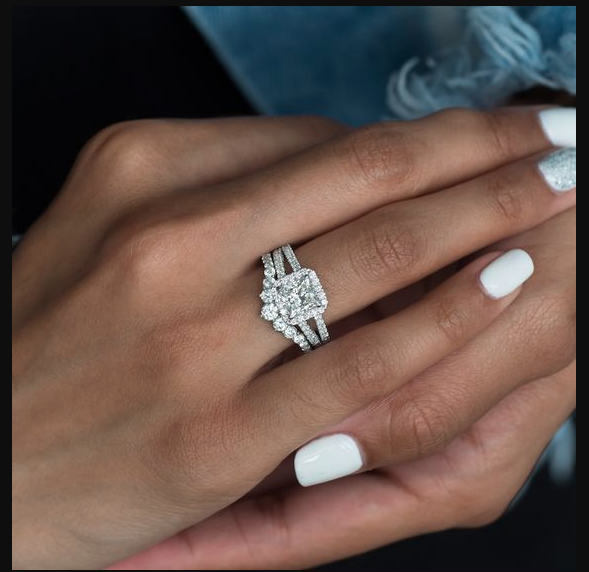 Courtesy: Etsy
#33 This twisted split-shank band is just gorgeous, and the entire ring design with a single halo and the twisted style will look amazing even when you recreate it with some other diamond shape, like round or pear.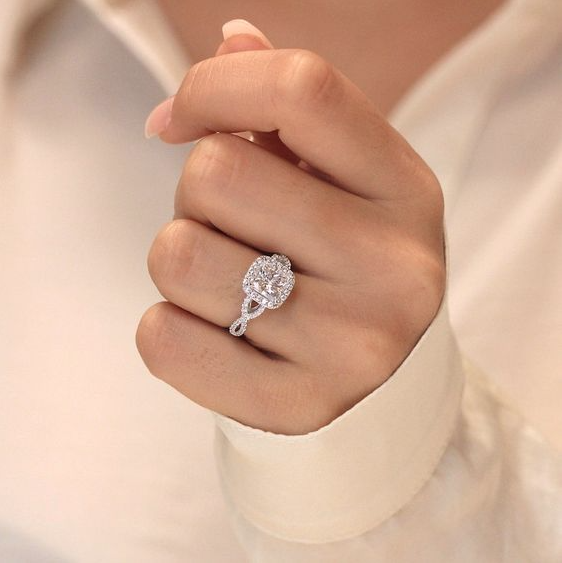 Courtesy: Etsy
#34 We fell in love with this split shank engagement ring setting the minute we saw it! The ring has a beautiful pink diamond in the middle followed by a rose-gold halo setting, a white-gold halo setting, and split shank band with pave diamonds. The play of pink in the middle is eye-catching and unique. If you're someone who'd prefer a colored gemstone rather than a diamond in the middle, this can be an ideal choice.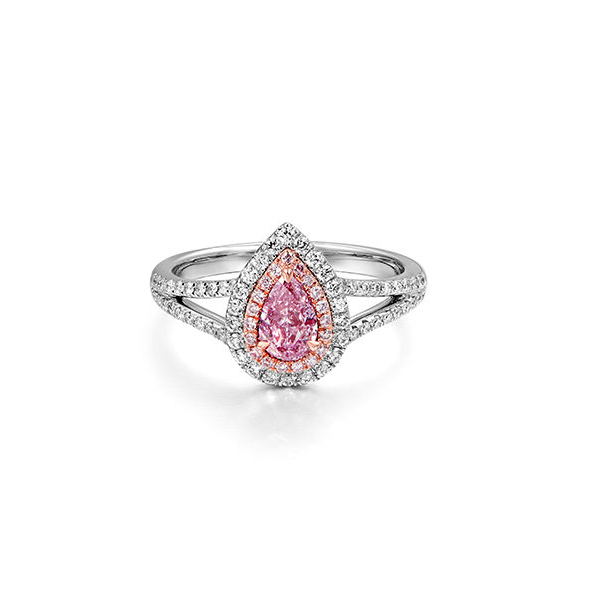 Courtesy: gemmafj.com
#35 Yet another eye-catching pink diamond ring, which is stunning and extraordinary at the same time! Believe it or not, if your heart's set on the ring because of the pink color, we completely understand, and so does evolution and biology, which states that women are hardwired towards pink and other reddish tones more than any other color.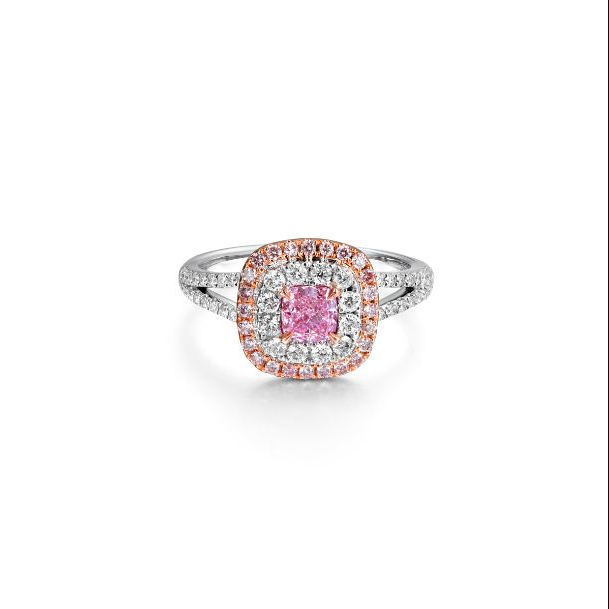 Courtesy: gemmafj.com
#36 This princess-cut split shank ring is just gorgeous! It's a usual design, but that's what makes it timeless and a good bauble to pass on to your future generations. The neon pink nails and the bright sunlight further bring out the sparkle of the gemstones. Or, you can wear nude nail paint so all the glistening action and attention go to your precious bauble only.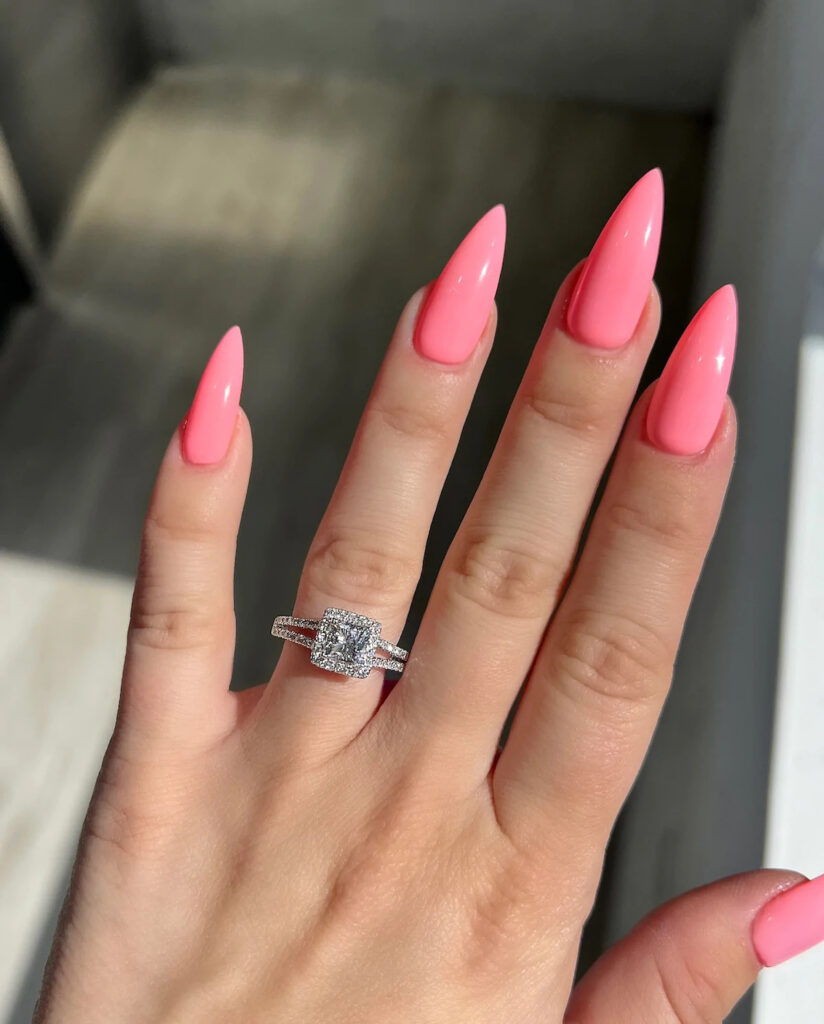 Courtesy: Happy Jewelers
#37 We love a reverse split shank and this one adds to the structure of the diamond solitaire nicely and will draw a lot of positive comments and questions for your ring. This engagement diamond ring is definitely made for someone who wants a unique touch in their ring without swaying away too much from the usual. Besides cushion, you can try this design with other diamond shapes like round and princess cut as well.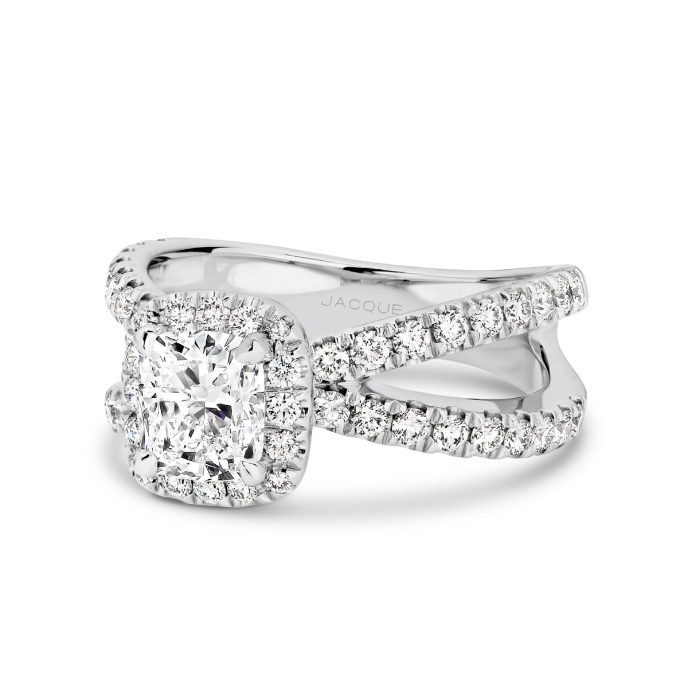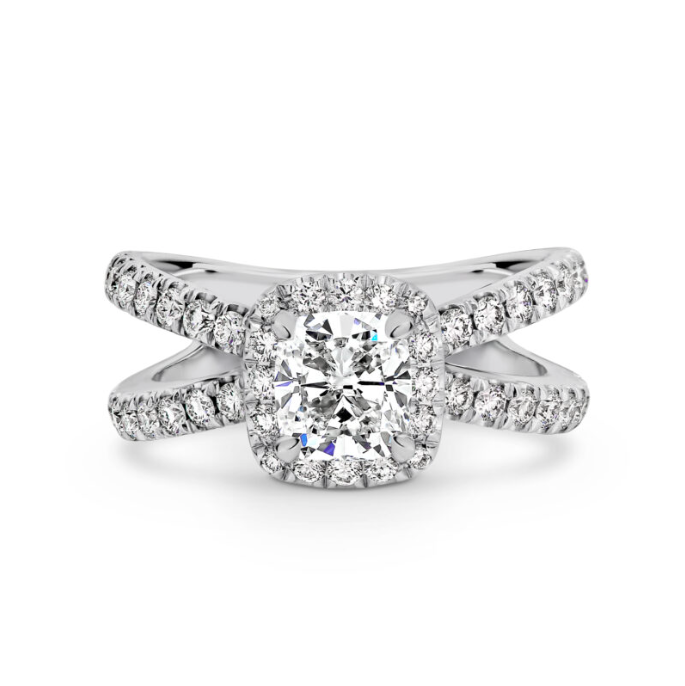 Courtesy: Jacque Fine Jewellery
#38 For the brides who value minimalism in their style more than anything else, this is the ring you will absolutely adore! Best part? You can recreate this design with your favorite diamond shape and the attribute of minimalism will stay intact nonetheless.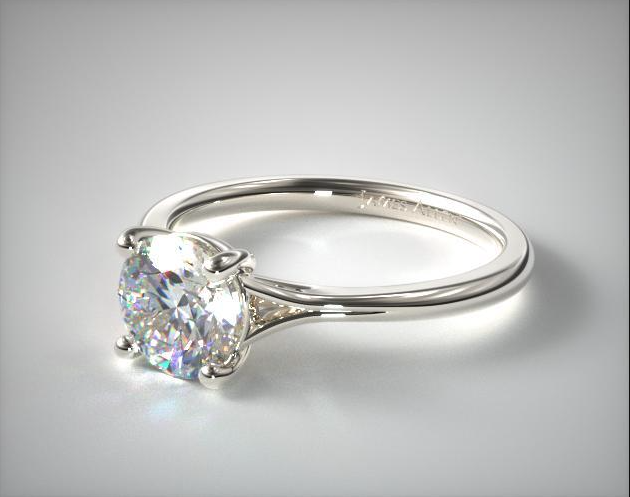 Courtesy: James Allen
#39 It's not every day you spot a ring that's as gorgeous as the next one on this split shank engagement ring of the 2022 list. Two exceptional structure of halo nestles the center stone, which is set a little above the setting to give it the maximum attention to the solitaire diamond. A flurry of sparkly diamonds on the split shank band adds a magical touch.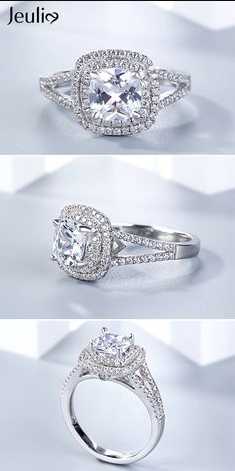 Courtesy: jeulia.com
#40 A split shank band where the band opens in the middle more than the sides is called a reverse split shank, like here. The difference is more pronounced in the next one as compared to this round-cut split shank ring, so you get a clear idea of what a reverse split shank engagement ring is!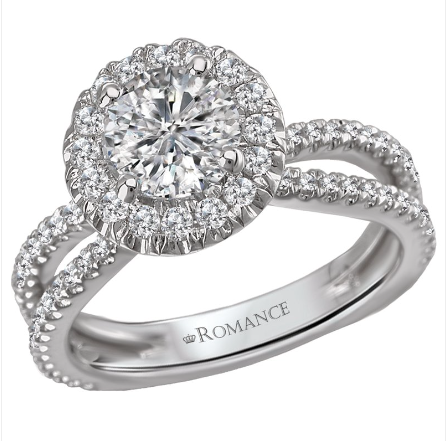 Courtesy: kingsjewelry.com
#41 This reverse split shank engagement ring is just stunning! It has a very usual setting:  cushion-cut diamond with a single halo and pave diamonds on the band, but that's what also makes it timeless. We love how the band is minimal though so the attention is on the center part of the ring more – the solitaire!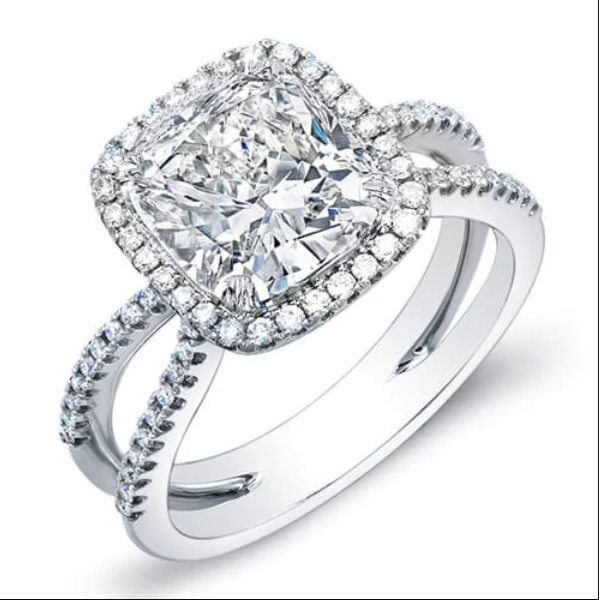 Courtesy: kingofjewelry.com
#42 This emerald-cut split shank engagement ring is love at first sight! We don't know if size matters in other things, but it certainly matters when it comes to diamond rings. Here, the huge emerald solitaire takes the attention but the minimal open shank lined with smaller-sized pave diamonds enhances the huge bauble well.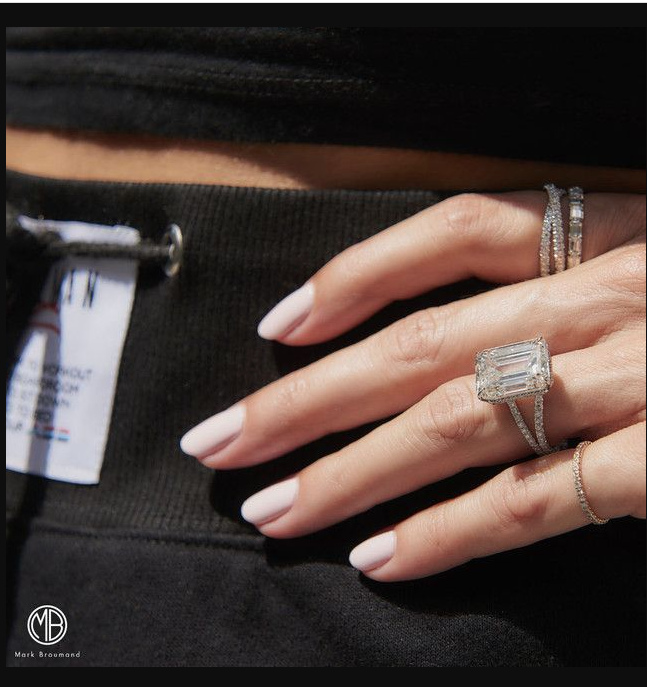 Courtesy: Mark Broumand
#43 Pear-shaped ring is quite unique in itself and symbolizes joy and dependence, and so is strongly associated with love and marriage. Pair it with a split shank band and rose gold metal and you have got yourself a ring that is eye-catching and utterly extraordinary. You can replicate this style with other unique cuts as well like marquise or baguette.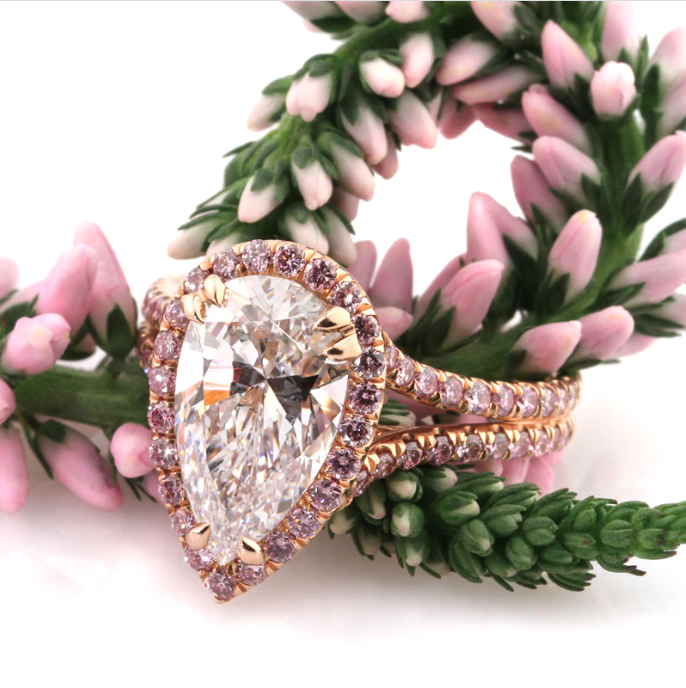 Courtesy: Mark Broumand
#44 Rose Gold is a popular gold color to be included in jewelry these days because of its femininity and romantic vibes. Despite their luxurious and rich look though, rose gold is cheaper than yellow gold, white gold, and platinum – other popular metal choices for the band. Thus, it's the perfect fit for when you want something inside a budget, but a solitaire style nonetheless.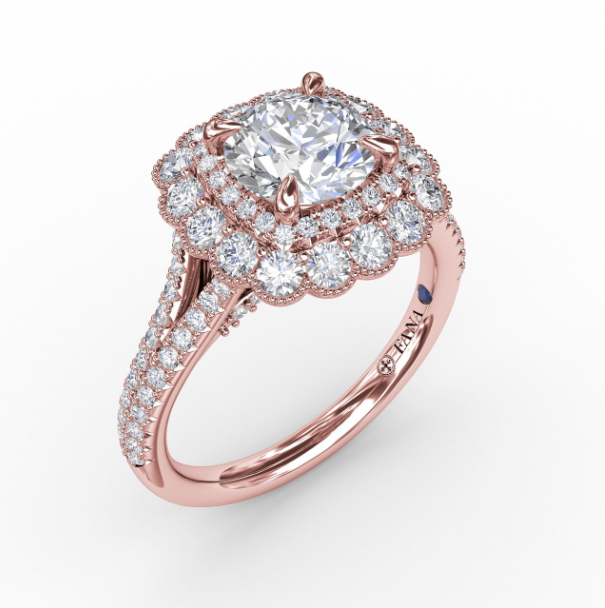 Courtesy: Meyers Jewels
#45 We love this spacious halo on the round diamond engagement ring with a split shank that further accentuates the beauty of your precious ornament. Double halos can often feel like they stuff the diamond and take away from its attention, but this spacious one ensures to counteract the sole disadvantage of a double halo setting.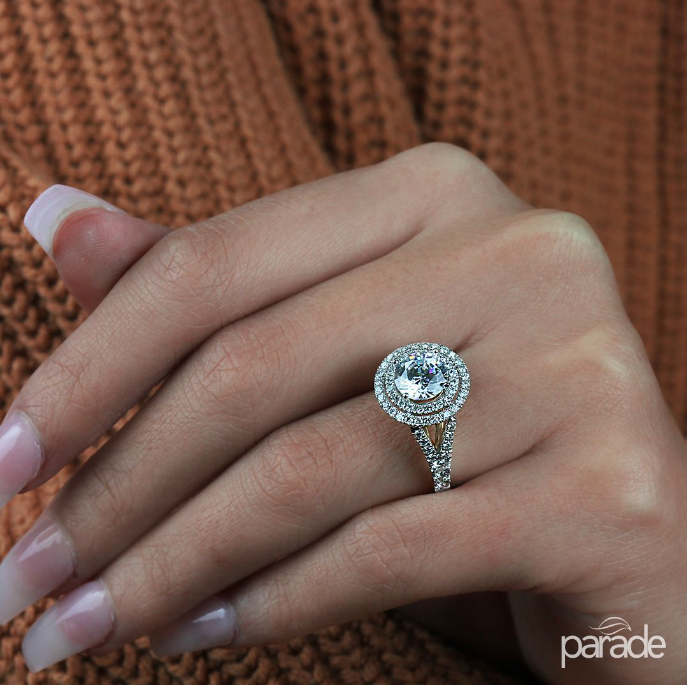 Courtesy: Parade Jewellers
#46 This heart-shaped solitaire is cut so brilliantly that the shine is visible through this faint light of sunset as well. If you're opting for a heart-shaped solitaire, we'd recommend keeping it without a halo as it will lose the touch of its perfect shape with a halo. You can definitely amp the design with a pave diamond split shank though!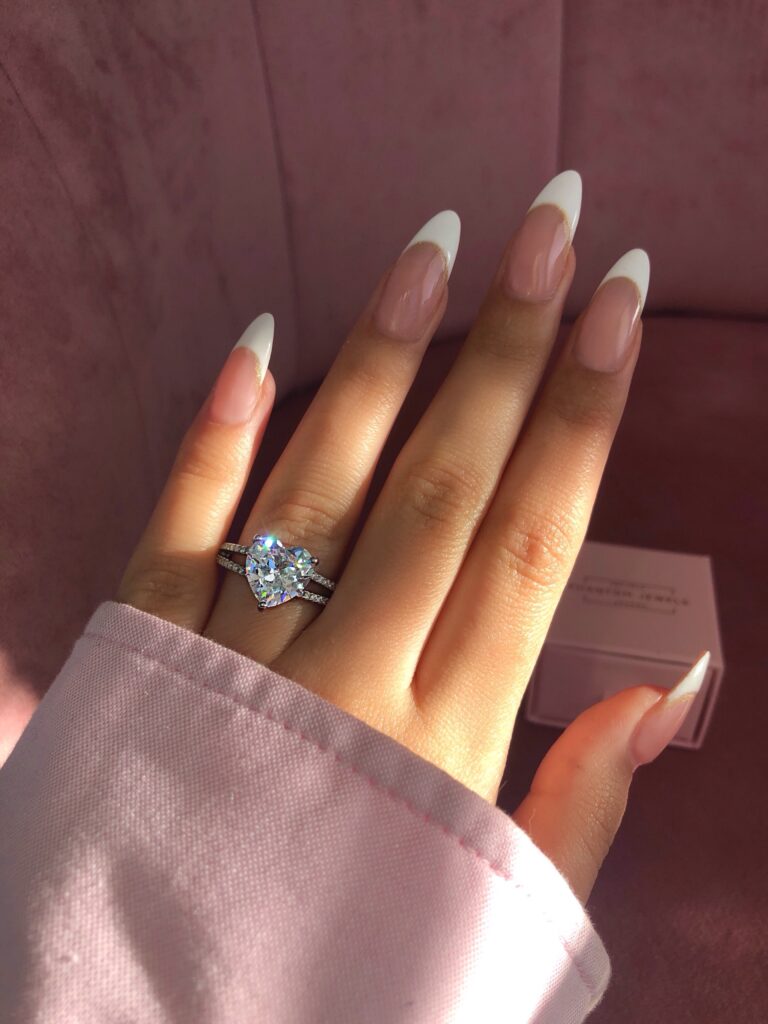 Courtesy: Phantom Jewels
#47 The split shank engagement ring with a wedding band is just plain gorgeous. You can decipher that because this is such a simple picture and it managed to go viral on social media for its majestic allure. Besides round, you can pick your choice of stunning stone for this ring like emerald, Asscher, cushion, pear, princess, marquise, and can be done in gold or rose gold as well. Pick whatever suits your style and preference the best.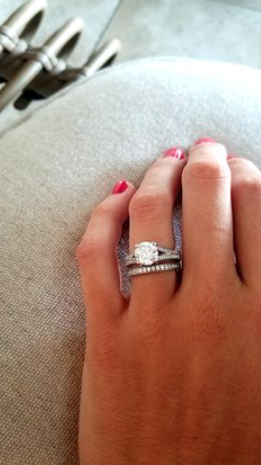 Courtesy: Pinterest
#49 Taking the prong-style ring setting to another level, this engagement ring not only places prongs on the emerald solitaire in the middle but also puts them on the halo and pave diamonds on the sides. Know that this style can look stuffed and tacky when not done as neatly, so trust a reputed jeweler to recreate this one for you.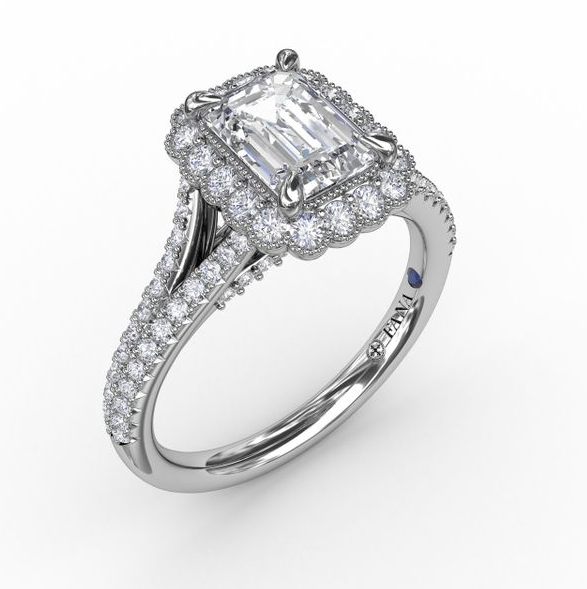 Courtesy: Reed & Sons
#50 Halo diamonds and pave diamonds are generally smaller than the bigger solitaire diamond used in the center of the ring, but this design takes a different approach to the usual setting. This split shank engagement ring setting uses just slightly smaller diamonds on the halo and pave to accentuate the ring design. This is what sets it apart from other baubles on this list.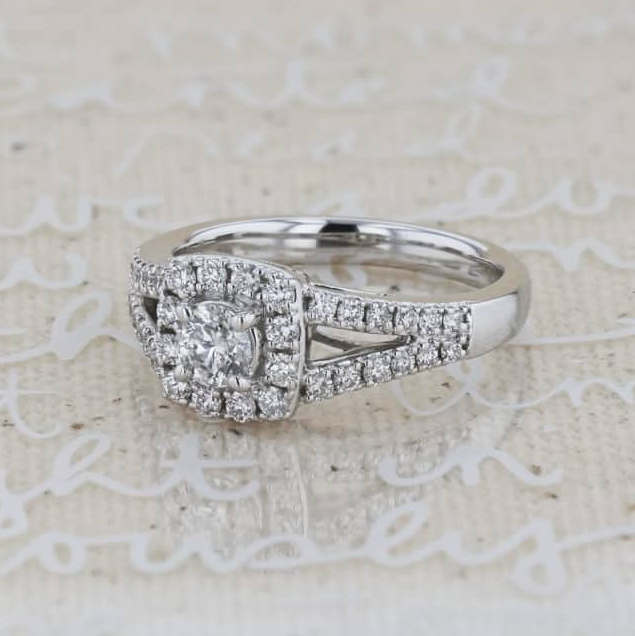 Courtesy: Robbins Brothers
#51 This round solitaire engagement ring is set with a double halo, with the solitaire being set just a bit above the halo to give it a sharper and accentuated appearance. The split shank is just minimally-created to add a subtle allure to the beautifully-designed ring style.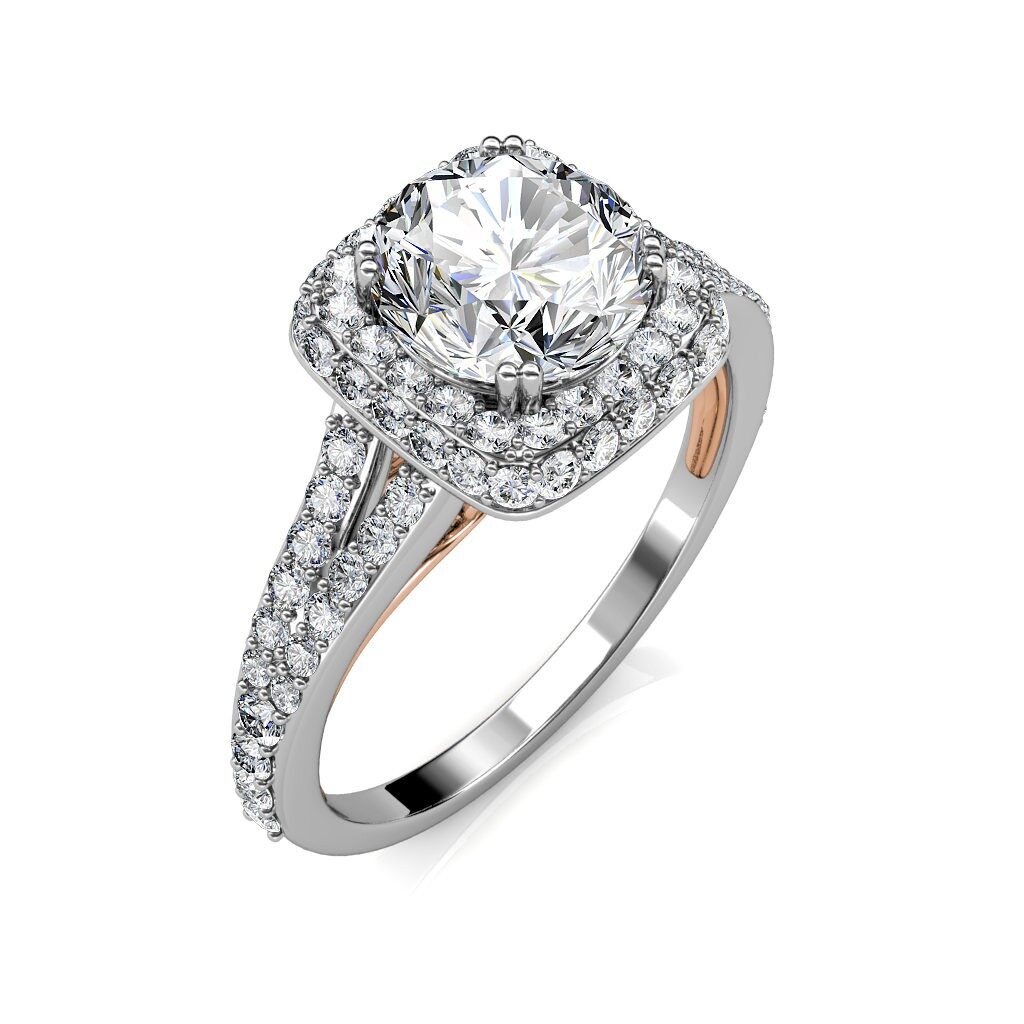 Courtesy: Sarvada Jewels
FAQ's 
What Is A Split Shank Engagement Ring?
A split shank ring design is easy to spot and explain. It's the one where the ring's band splits into two (mostly) or sometimes three strands as it approaches the center gemstone. The shank basically refers to the band of the ring and the split shank makes the term quite explanatory in itself. Shanks are often customized on the basis of the wearer's preference like metal color, metal type, lined with pave diamonds, etc. 
Are Split Shank Rings Popular?
Yes, they are very popular. They rose to prominence in the 1920s and 30's Art Deco Era and gained further popularity in the past two decades when many celebrities like Beyonce, Blake Lively, and Victoria Beckham also sported a split shank engagement ring style. 
Does Split Shank Make Diamond Look Smaller?
No, in fact, it's the opposite. Split shanks create a great center stage for your stone and give it a bigger appearance rather than a smaller one. It also helps keep the attention on the bigger gemstone even when you opt for settings that can mask it like a halo. 
What Is The Style & Significance Of Split Shank Engagement Rings?
Split shank engagement rings are quite stylish and yet manage to keep a timeless touch alive in their style. One of their best benefits is their versatility making them available to be included with a ton of variations and styles. 
Are Split Shank Engagement Rings Durable?
Yes, split shank engagement rings are durable and long-lasting. It also offers protection to the center stone as any side damage or accidental bump will be taken by the split shank before reaching the setting of the center stone itself. 
Can Split Shank Engagement Ring Work With Moissanite?
Yes, split shank engagement rings can be made with any kind of stone, including moissanite. The split shank style is about the band and has nothing to do with the stone. We have included many inspirational styles in colored gemstones in this list to give you an idea.